I was in Sri Lanka for a conference last year and met Mary Kalymnou, the jet-setting Greek luxury travel blogger behind Maryhop. I told her we were visiting Santorini for the first time so she started giving me all these helpful pointers for our trip, things like where to stay and which Greek dishes to look out for.
Of all the great advice she gave, the one recommendation that really resonated with me was her suggestion to have dinner in Amoudi Bay. I had never heard of it before but she described it as being one of the best places on the island to watch the sunset. Located about 300 steps below the famed town of Oia, in this tiny port are six or seven waterfront restaurants offering unobstructed views of the horizon and some of the best seafood in Santorini.
Santorini is famous for its sunsets and seafood so any place that could bring us the best of both was definitely going on our itinerary.
Save This on Pinterest!
No time to read this now? Click on the red save button and pin it for later!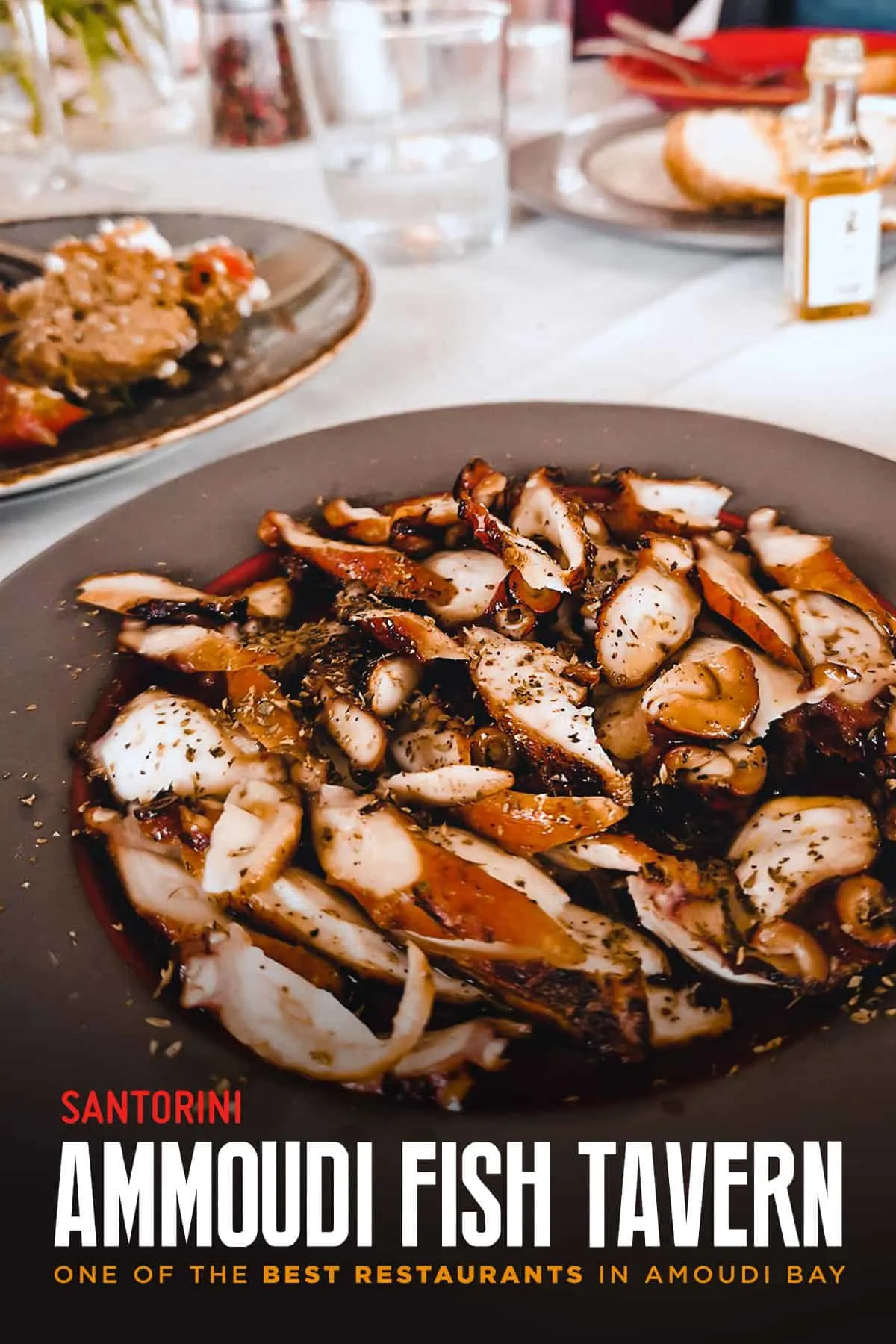 WHAT IS AMOUDI BAY?
Framed between volcanic red rocks and the Aegean Sea, Amoudi Bay is a tiny fishing port located about 300 steps below the town of Oia. It isn't easy to get to but that doesn't seem to stop people from making the long trek down. In spite of its remote location, it's become one of the island's worst kept secrets and is often cited as being one of the best places to watch the sunset in Santorini.
There are about six or seven seafood restaurants in Amoudi Bay. Each one is situated right by the water, giving you clear views of the setting sun and the white cycladic houses of Oia.
To get to Amoudi Bay, you'll need to cut through Oia then down this flight of about 200-300 very wide steps. Walking at a leisurely pace, it'll take you about fifteen minutes to get all the way down.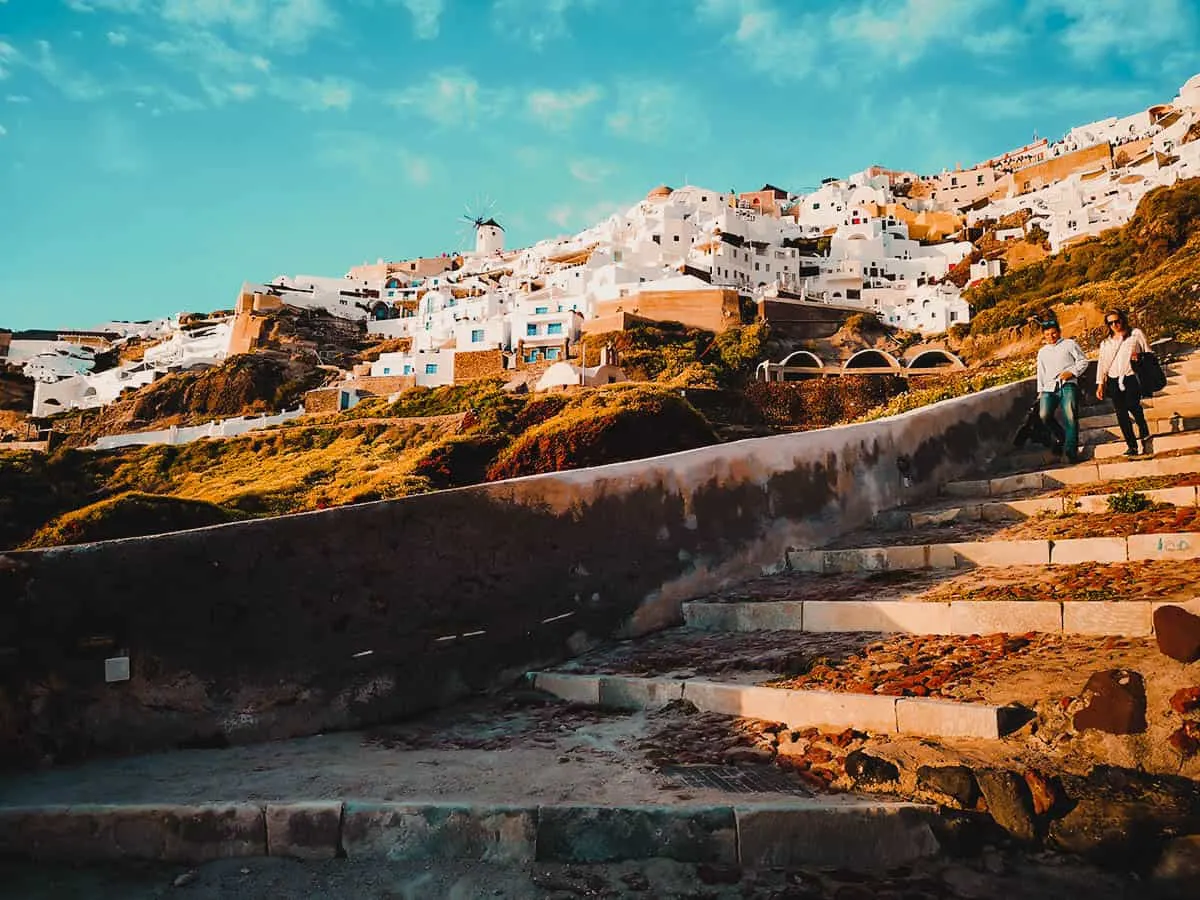 We were running late for our reservation so I took off running. Had I known how long and picturesque this walk would be, then I would have insisted on arriving earlier so we could go slowly and enjoy the view! The white sugarcube houses perched above the deeply red volcanic cliff face was an extraordinary sight.
Donkeys sometimes carry tourists up and down these steps so be careful where you step. As beautiful as the surroundings were, it was like a minefield of manure.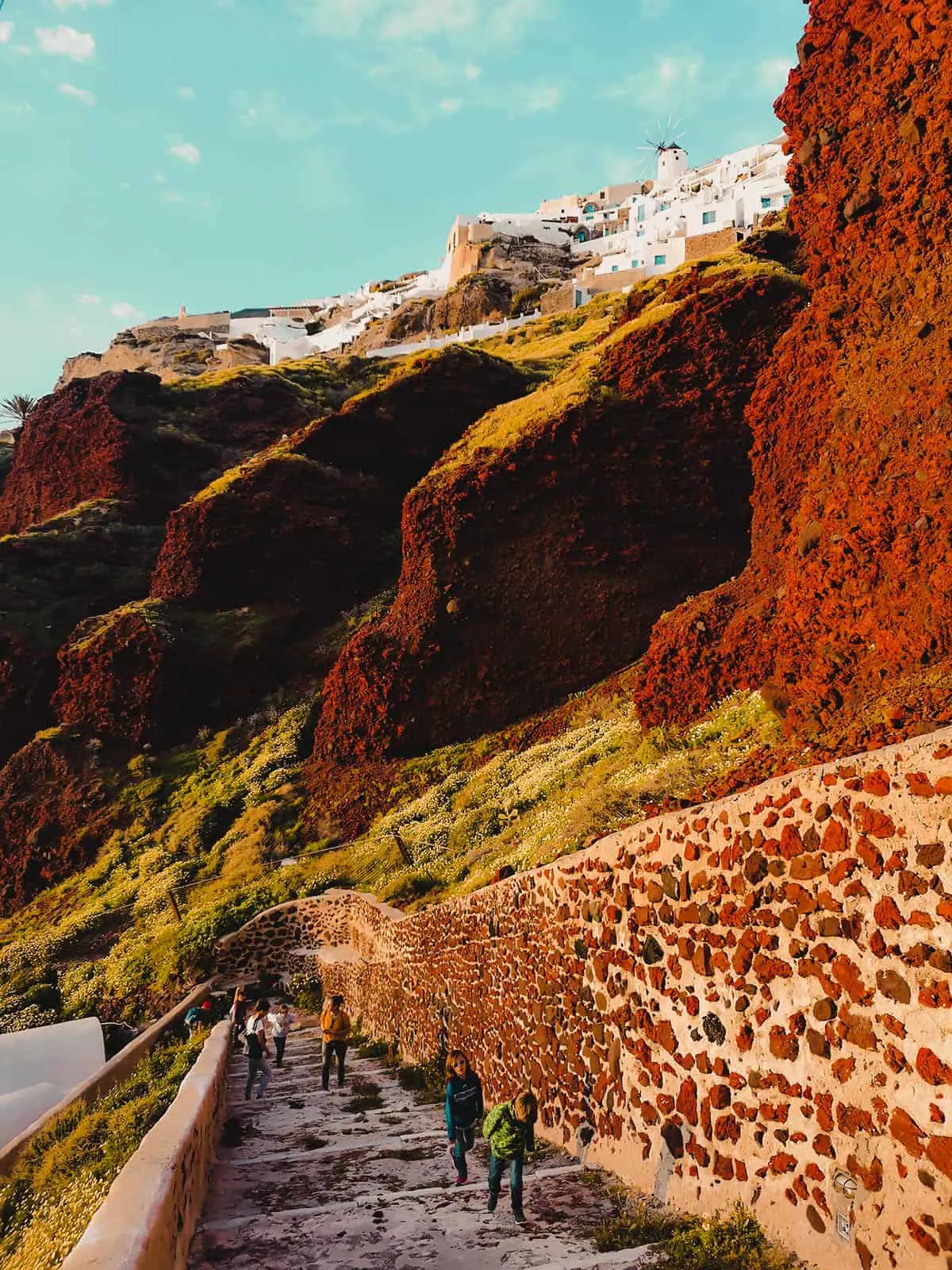 The views from Amoudi Bay are spectacular any time of day, but it pure magic bathed in the golden glow of the setting sun. This is when Santorini is at its most stunning.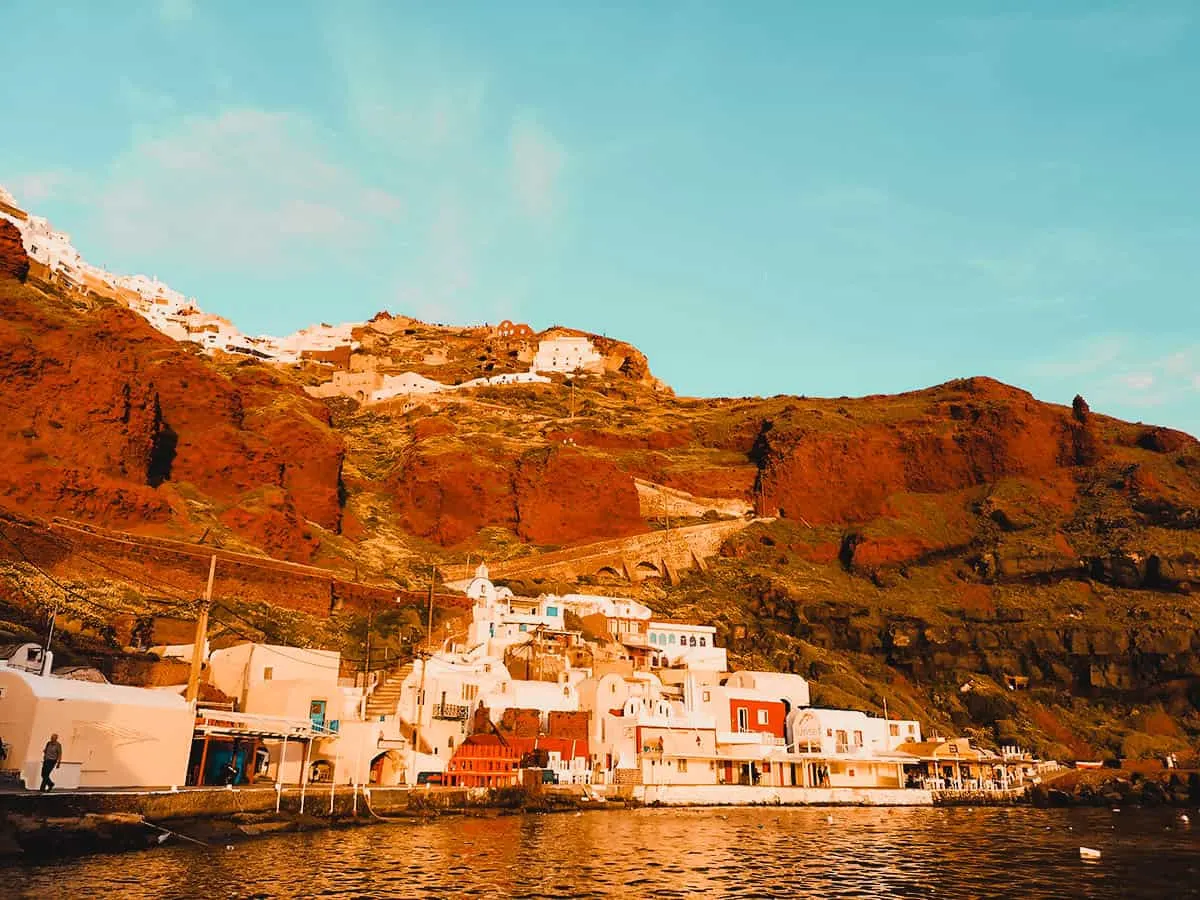 As described, there are about six or seven seafood restaurants located in Amoudi Bay. It's ok to walk in for lunch but be sure to make reservations for dinner as its much more popular later in the day. Also, there's nothing much here other than these restaurants so it would be a shame to walk all the way down only to be turned away. What goes down, must come up.
To make sure we were there for sunset, I checked sunset times in Santorini and booked our table for a half hour before.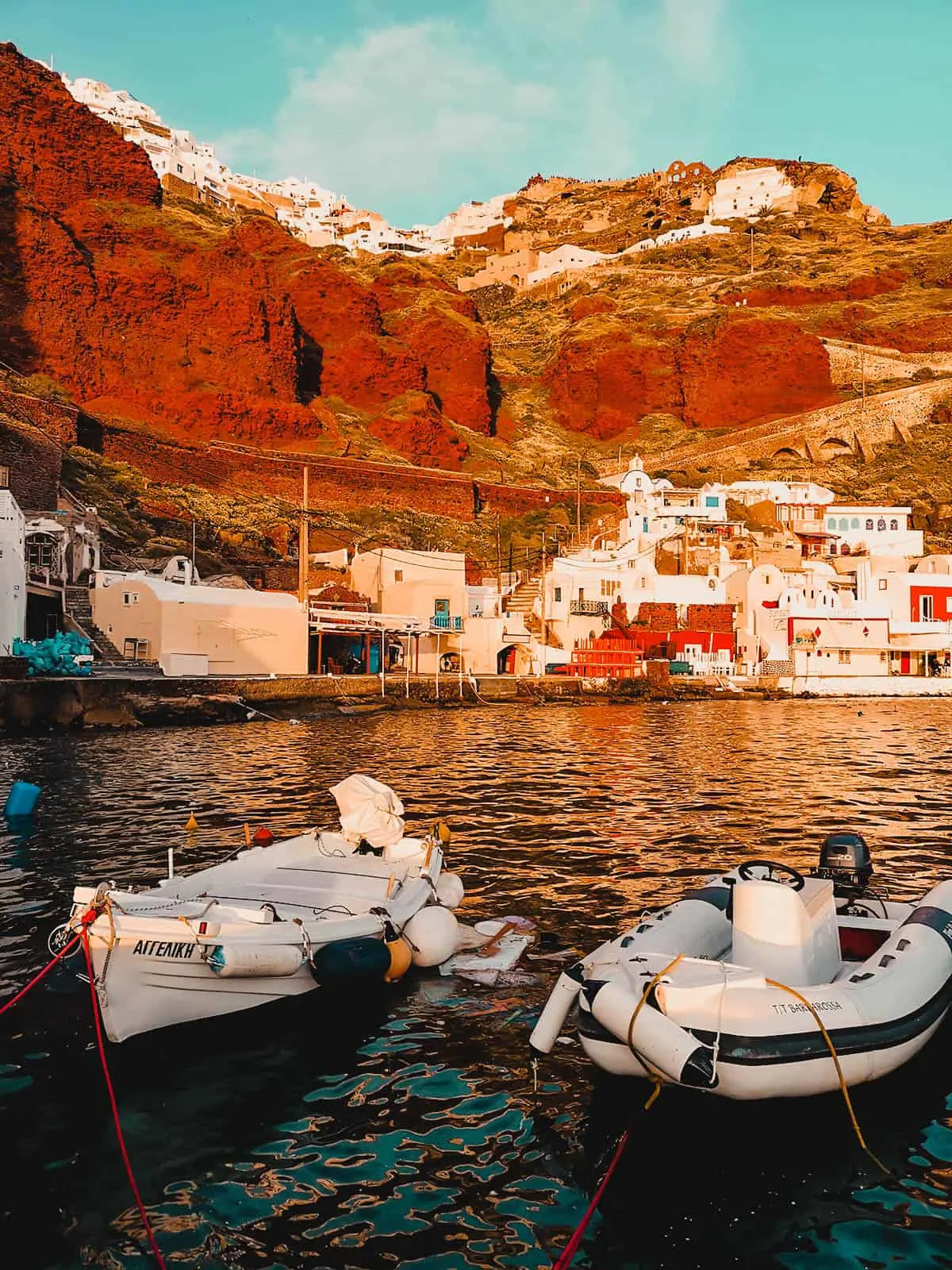 SEAFOOD & SUNSETS IN SANTORINI
Mary specifically recommended Taverna Katina. I was about to make a reservation there when I decided to look at all of their ratings on TripAdvisor. Katina's ratings were very high, almost perfect, but one was even better – Ammoudi Fish Tavern. I booked there instead. Sorry Mary!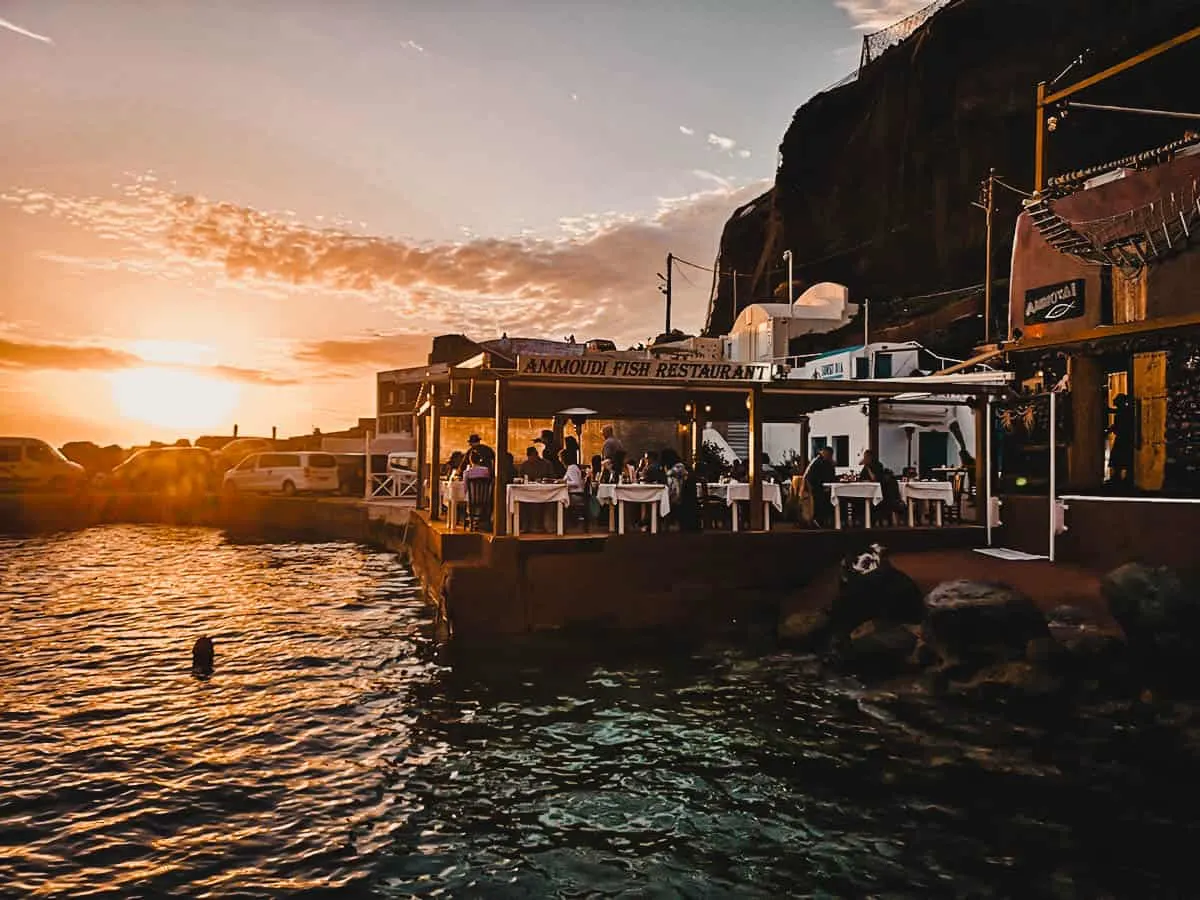 Octopuses hanging out to dry are a common sight in Santorini. Grilled octopus is one of the most popular dishes in Santorini so you can't visit this island without enjoying it at least once. We must have had it everyday.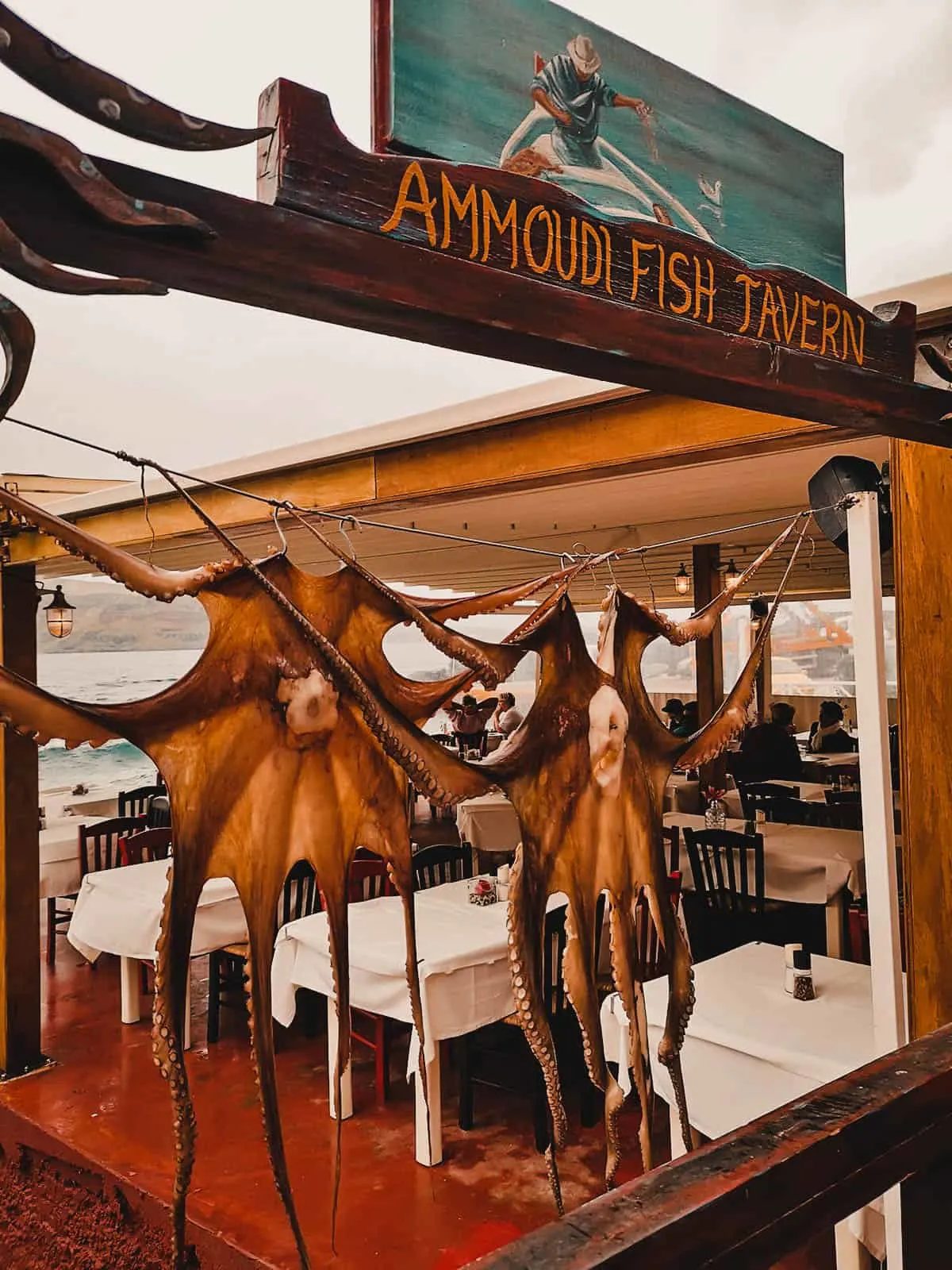 When Greek fishermen catch an octopus, they kill it with a quick slice to the neck before grabbing it by the head and smacking it repeatedly against the seaside rocks. They would then rub the octopus in a circular motion against the rocks until it foamed from all pores and changed color. They call this process paragouliasma.
What this does is tenderize the octopus and get rid of its slime to help prepare it for cooking. It's a labor-intensive process but necessary, unless you prefer octopus as tough as rubber boots.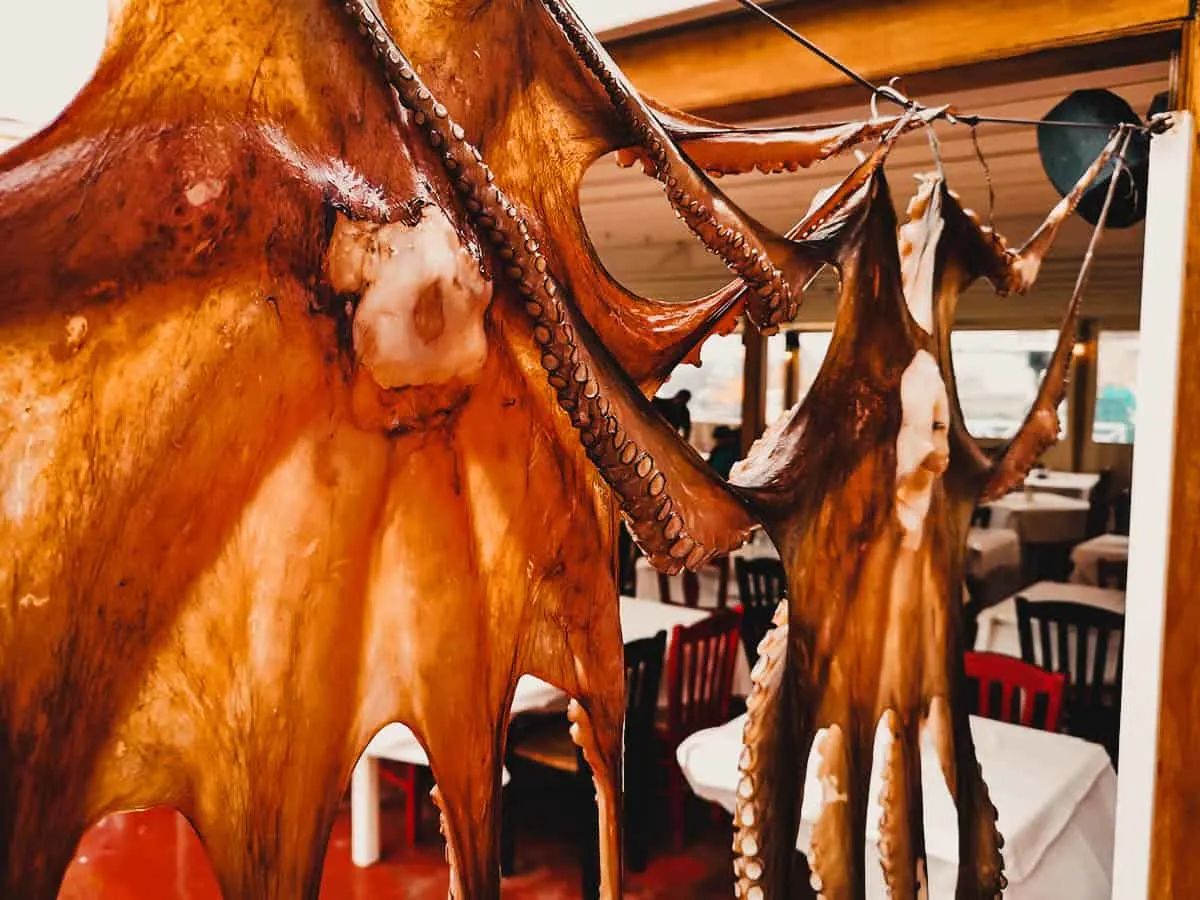 How great is this view? We were right by the water's edge!
I made a reservation at Ammoudi Fish Tavern through their website. There's a EUR 10 booking fee per person which is deducted from your total bill.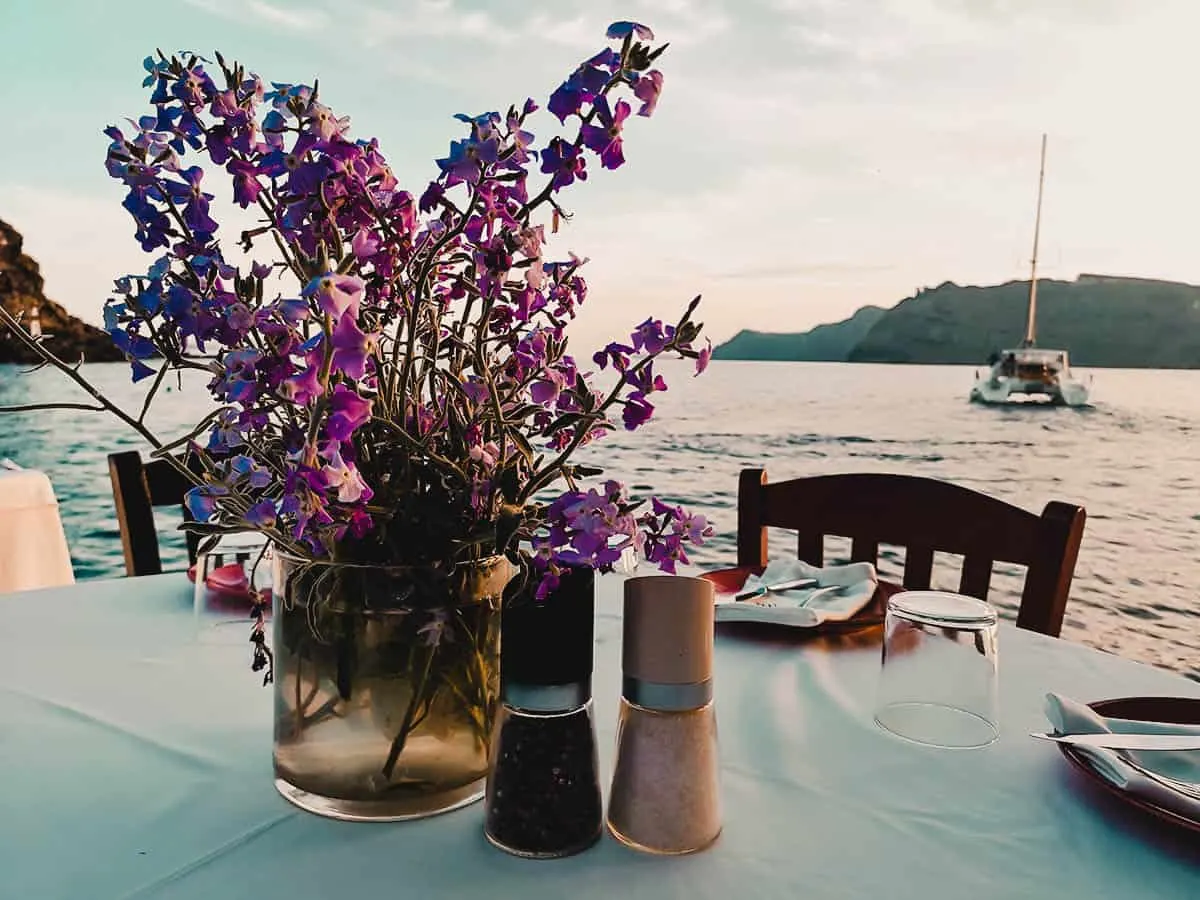 We started our meal with this plate of crusty toasted bread with olive oil, oregano, and Kalamata olives (EUR 2).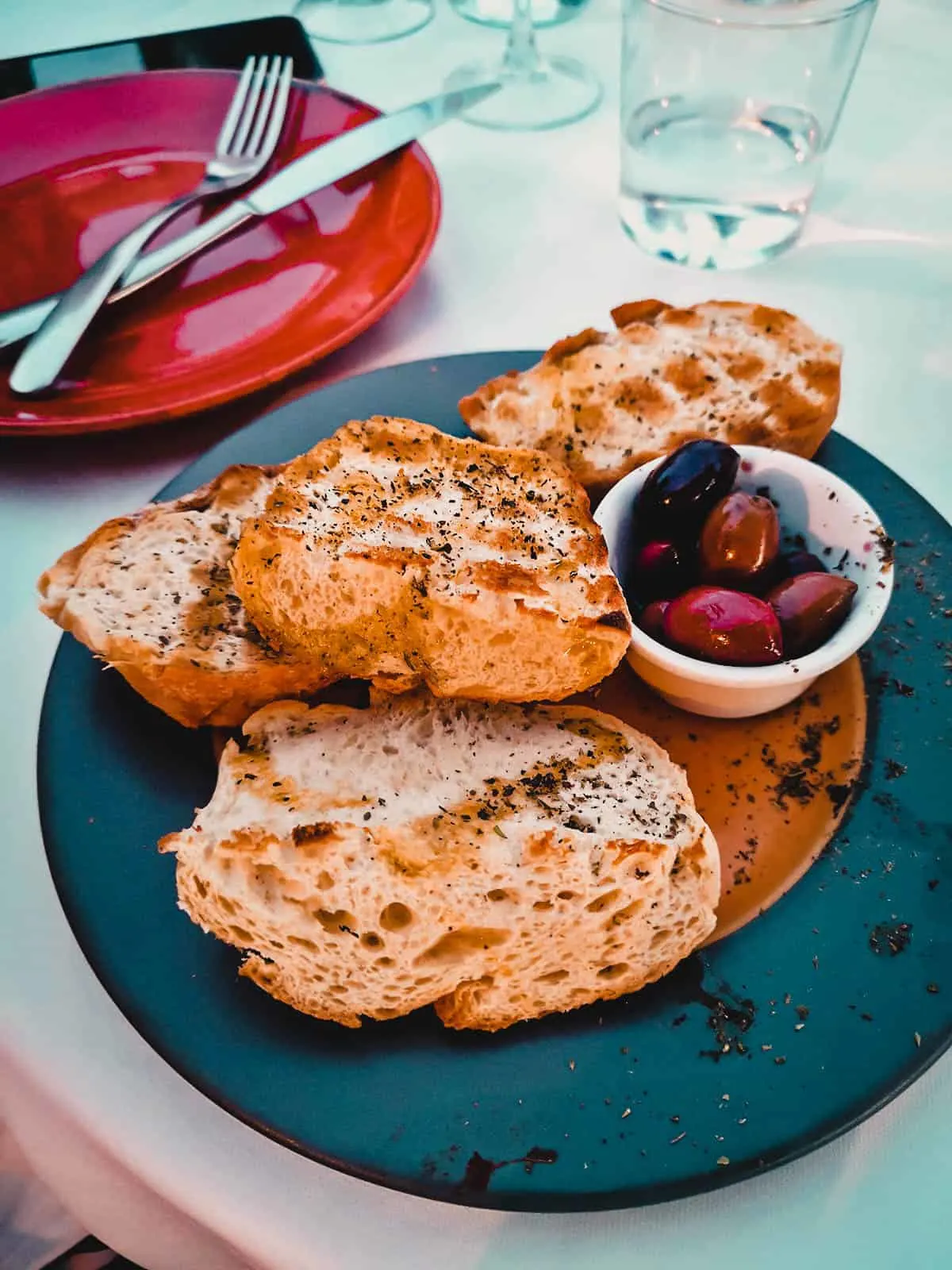 They call this Emily's salad. It's made with smoked salmon, lettuce, arugula, baby spinach, black raisins, Domokos katiki cheese, tomato, capers, and sunflowers seeds with a vinaigrette dressing (EUR 18). Katiki is a type of cottage cheese made from a blend of goat's and sheep's milk from Domokos in central Greece.
Apologies for the poor photos as it was getting pretty dark at this point making it harder to take clear pictures.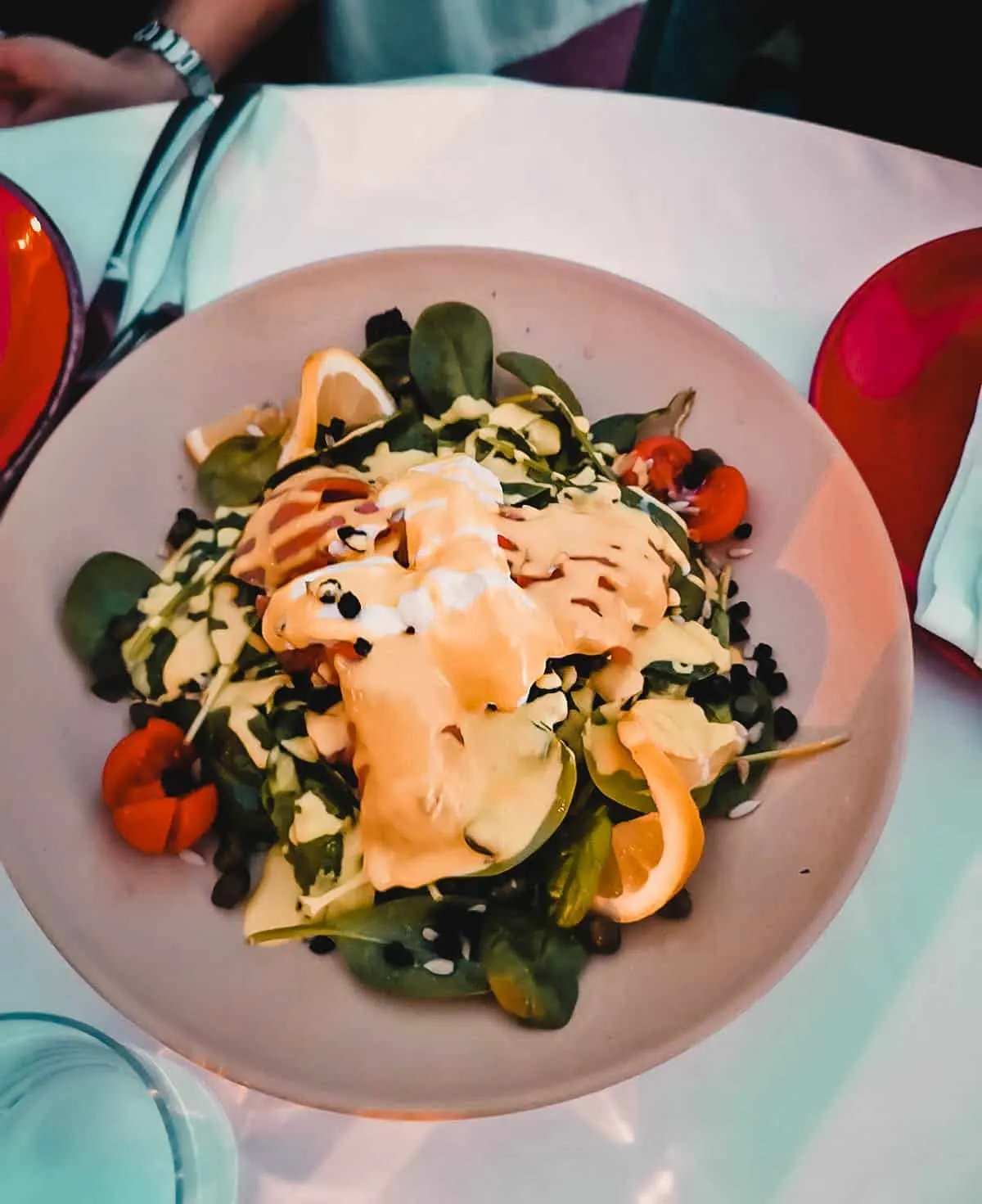 This looked interesting so we tried it. It's an appetizer of mastelo cheese drizzled with honey and sesame seeds (EUR 9.80).
Mastelo is a type of cow's milk cheese similar to halloumi. Creamy and chewy, it's described as an ideal cheese for grilling which is often used in wraps and salads. This one was sweet and milky, almost like a dessert cheese.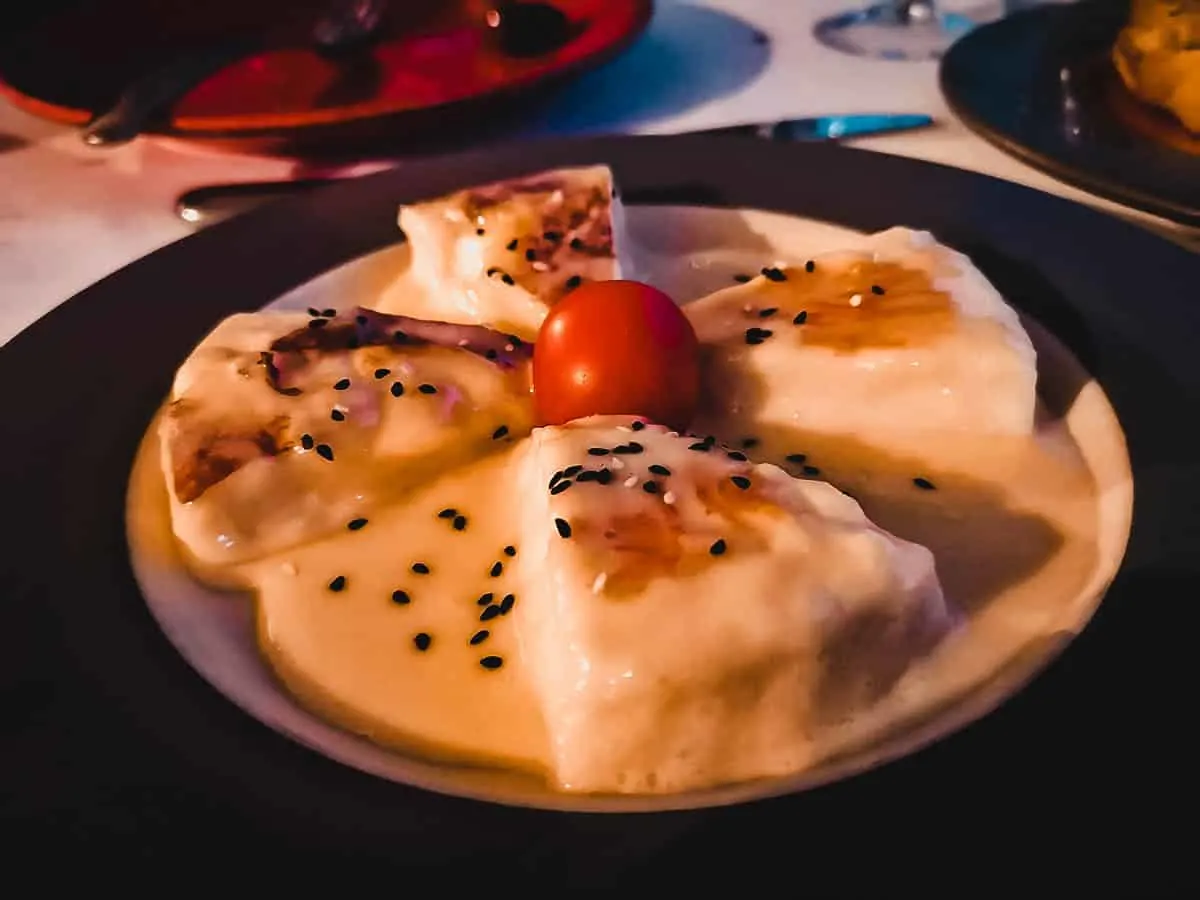 A plate of the most tender fried calamari served with lemon and a creamy sauce made with its own ink (EUR 11.80).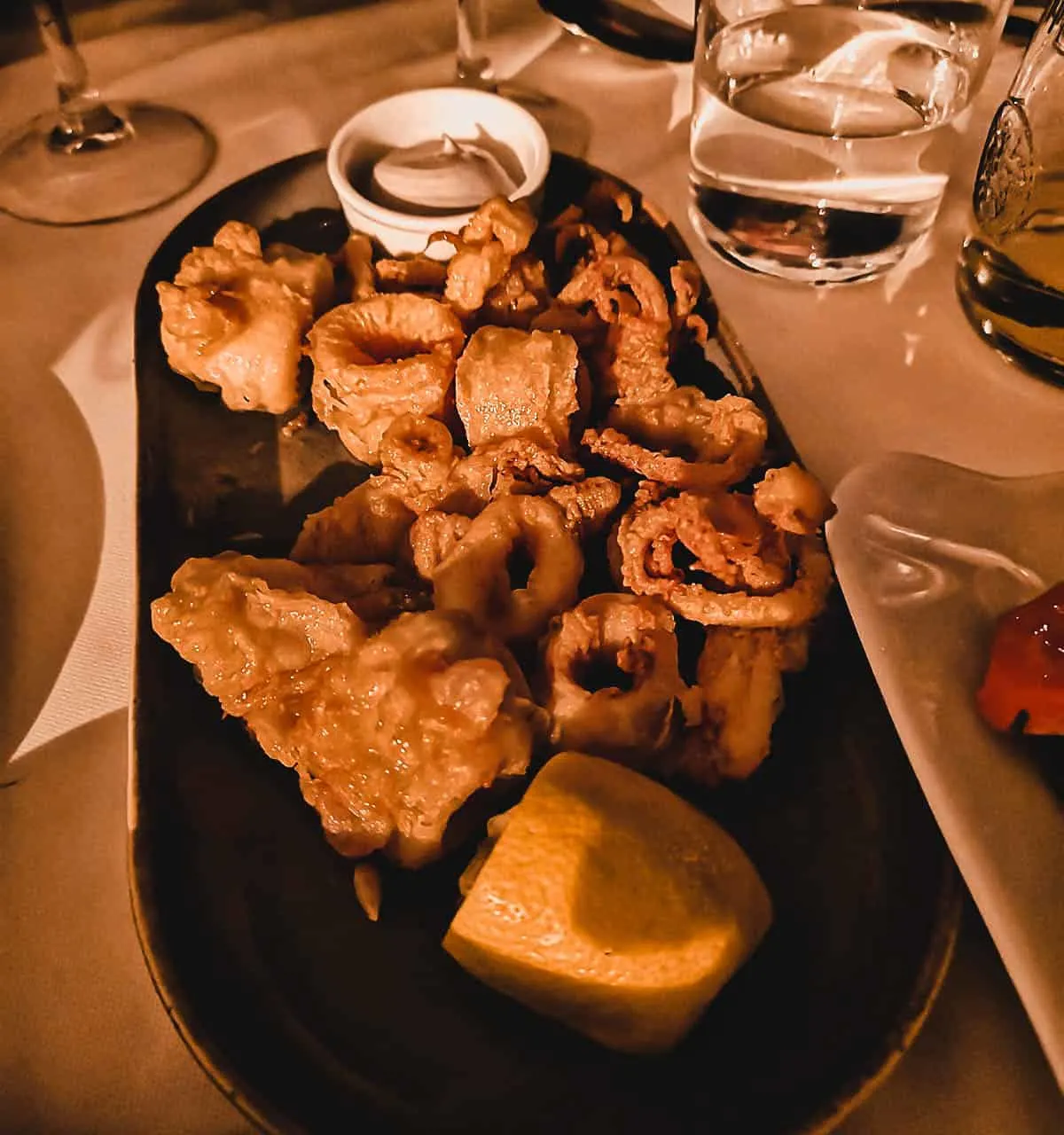 Greek-style seafood risotto (EUR 22.50) with mussels, squid, and shrimp. Yum!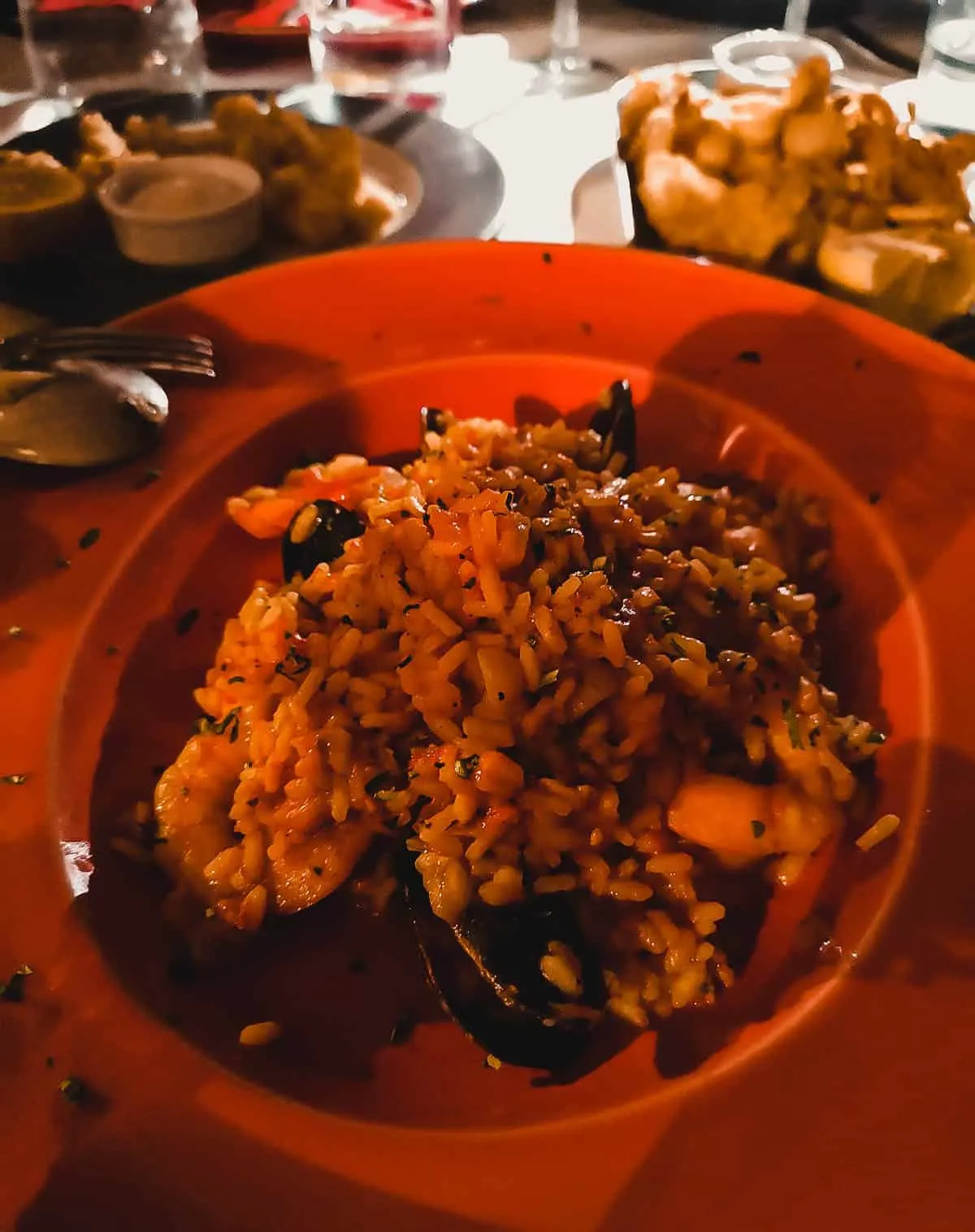 A whole charcoal-grilled red mullet (EUR 58 per kilo) with potatoes and vegetables.
Grilled fish is clearly the star at Ammoudi Fish Tavern. They offer many different kinds like cod, sea bass, sea bream, sole, and grouper. They have grilled lobster and crab legs as well.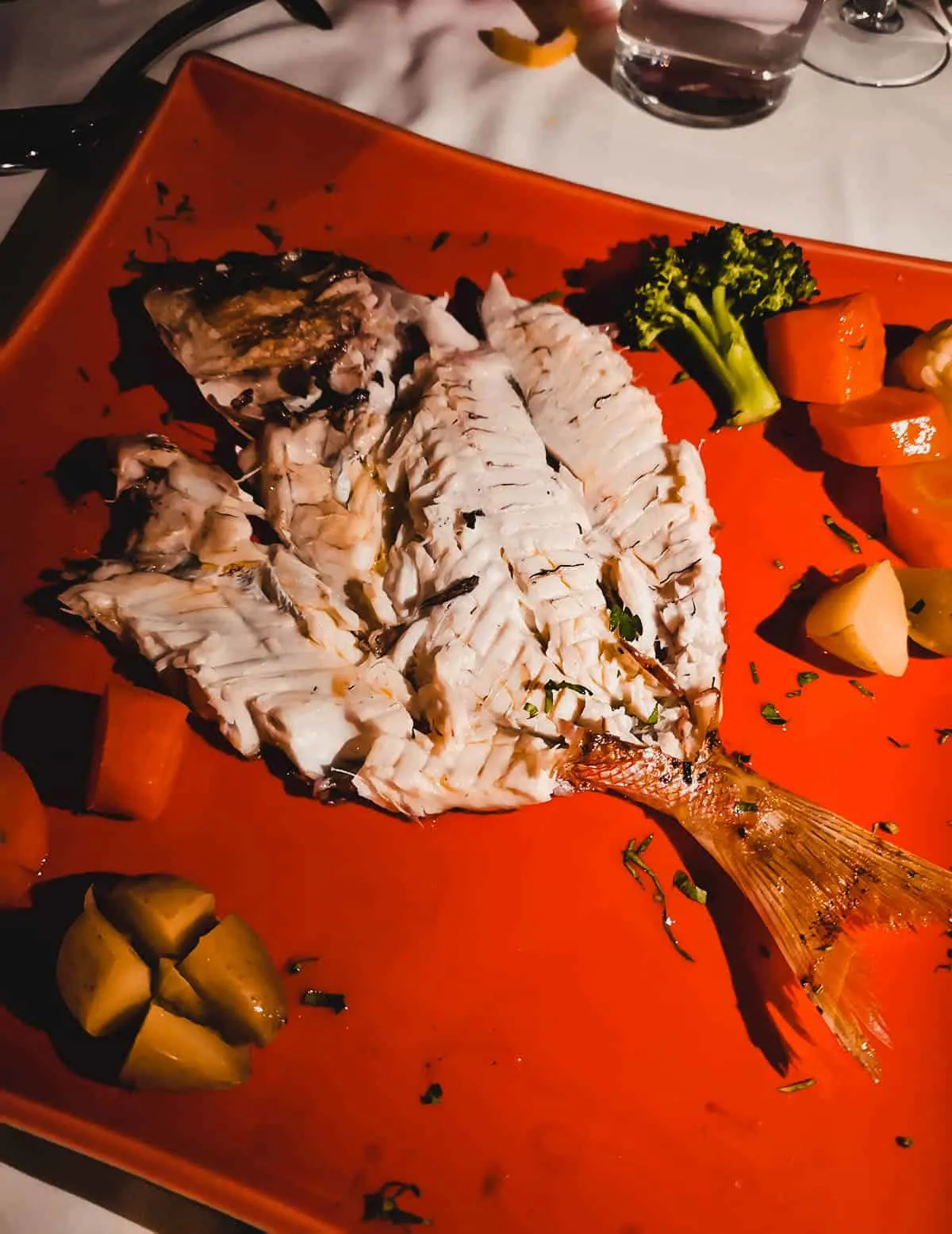 AMOUDI BAY AT NOON
We enjoyed our meal at Ammoudi Fish Tavern so much that we decided to come back for lunch on another day. The bay looks beautiful even when it's overcast.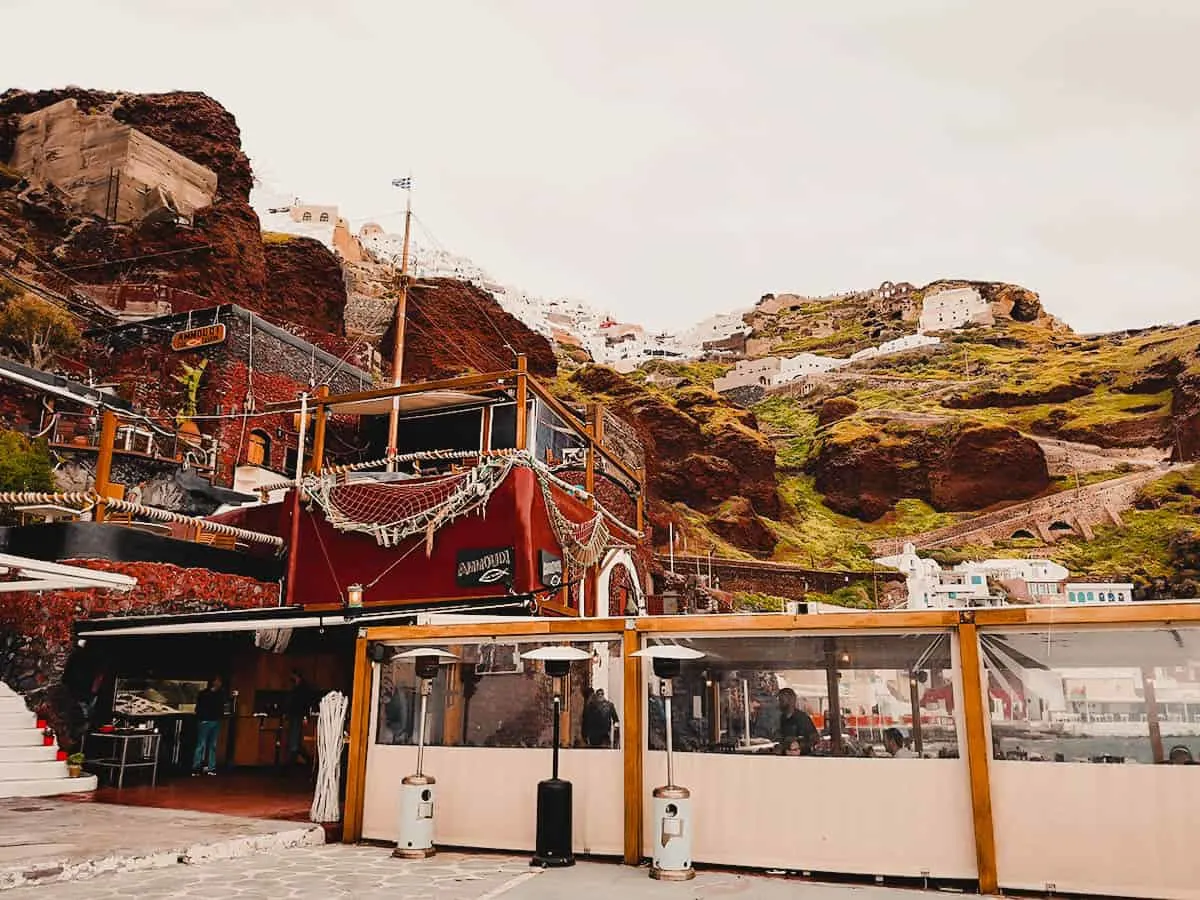 This was one of our favorite things to eat in Greece. We had something similar in Athens as well.
Dakos (EUR 7.80) is a Cretan meze or appetizer made with a slice of soaked dried bread or barley rusk topped with chopped tomatoes, crumbled feta cheese, olives, capers, and herbs. Crunchy and sharp-tasting, it's a simple dish with loads of flavor and texture. Love it!

A platter of the juiciest fried anchovies (EUR 11.80) served with a wedge of lemon.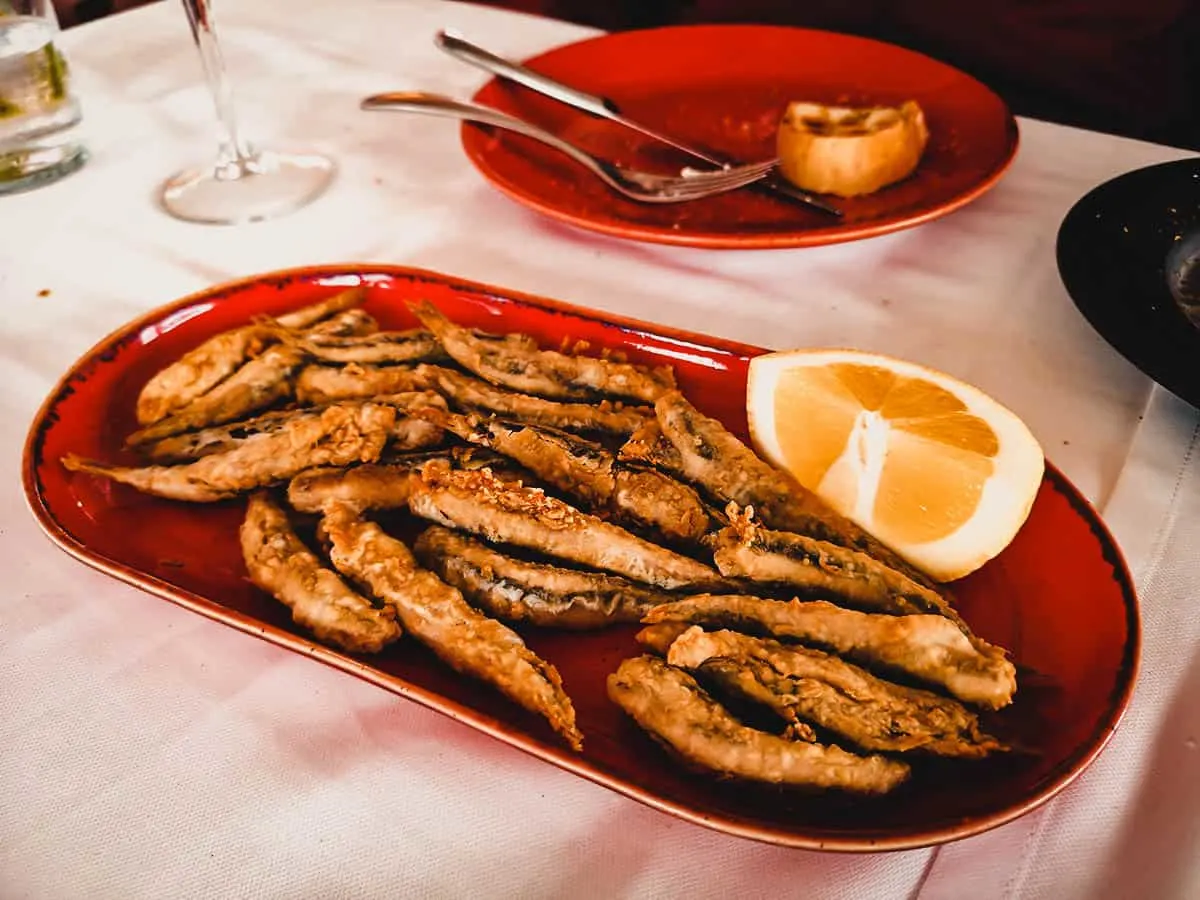 This was one of the most interesting dishes we had at Ammoudi Fish Tavern. It's a plate of sun-dried octopus (EUR 17.80) sliced into thin slivers and served with herbs and a slightly sweet dressing. We were always served whole octopus tentacle grilled and seasoned with olive oil, but this was the only time we had it prepared like this. Very nice.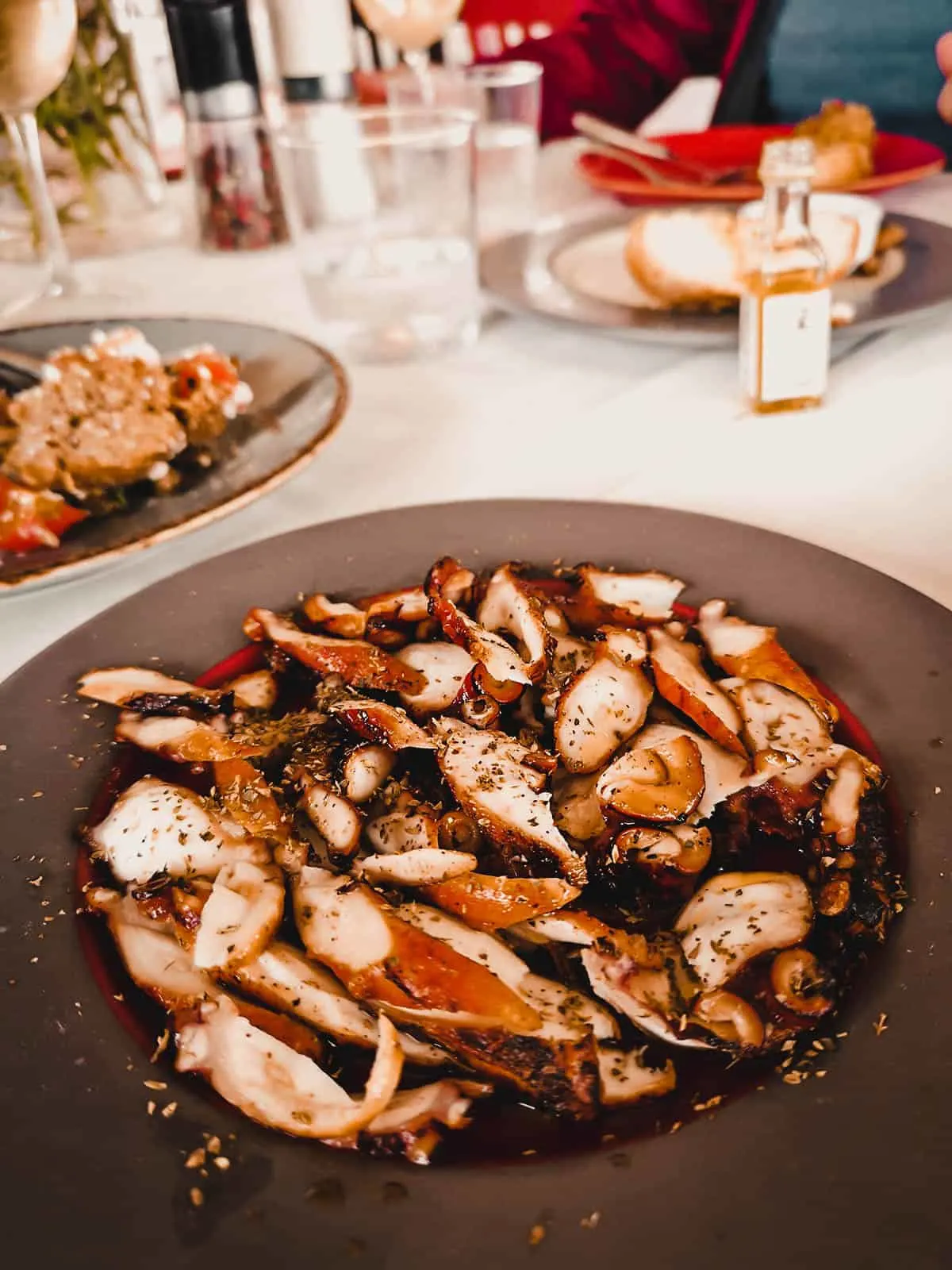 FINAL THOUGHTS
You'll be surrounded by beauty no matter where you go in Santorini. It's such a picturesque island with several lovely little towns along its western side. I did the 10 km cliff walk from Fira to Oia and was in awe of how beautiful this place is. From its cliffside caldera views to the cycladic architecture, it's every bit as picture perfect as it looks in post cards.
Speaking of the architecture, when I reminisce about Santorini now, the first thing that comes to mind are its sugarcube houses. I think about its golden sunsets and abundant seafood too. That's probably the way it is for most people whether they've been there or not.
Located on the banks of the Aegean Sea on the northwestern tip of the island, Amoudi Bay is arguably the best place to enjoy all three.
We chose Ammoudi Fish Tavern and Mary recommended Taverna Katina, but I honestly don't think it matters as much where you go. I'm pretty sure the seafood will be fresh anywhere in Amoudi Bay, and the sunset views, just as spectacular.
Here's Ren looking lovely basking in the golden glow of Santorini's setting sun. Thank you for the amazing recommendation Mary!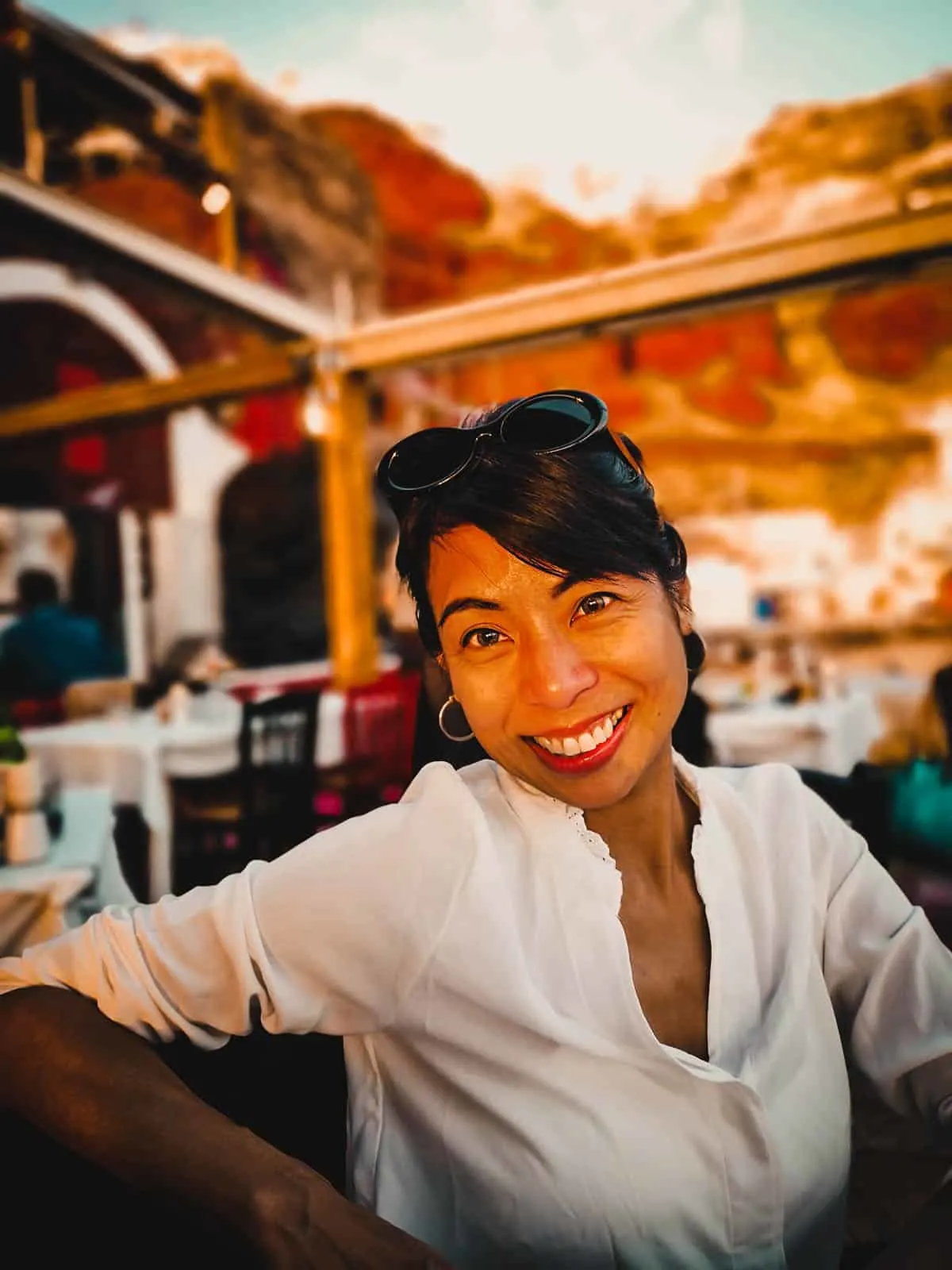 Ammoudi Fish Tavern
Ammoudi Bay, Santorini, Oia, Ammoudi 847 02, Greece
Tel: +30 22860 72298
Operating Hours: 10AM-12MN, daily
Website: ammoudisantorini.com
Expect to Pay: About EUR 30-40 per person
HOW TO GET THERE: There are two ways to get to Amoudi Bay. In the words of our server, there's the shorter but harder way, then there's the longer but easier way. Pictured above is the shorter but harder way that entails walking down a flight of 200-300 manure-laden steps, each about the width of two strides. It's fine walking down, but walking up when it's dark makes it so much harder.
To get back to our car, we walked on the opposite side, up a smooth road that was longer but not as sharply inclined as the steps. If you have a car, then driving down this road and parking your car as close as possible to the bottom will be the easiest way.
Disclosure
The TripAdvisor links in this post are affiliate links, meaning we'll earn a small commission if you make a purchase or booking at no extra cost to you. We really appreciate your support as this helps us keep this website going. Thank you!