This was the last leg of our Spanish trip. Up to this point, we had traveled between cities by plane, bus, and train, and we were now trying to figure out the best way to get from San Sebastian to Santiago de Compostela.
I don't remember the source, but I saw something in a blog post or forum that made my eyes light up. It read something like this: "Between San Sebastian and Santiago de Comspotela are thousands of restaurants along the Spanish coast."
The idea hadn't occurred to me at all till then, but after reading that, I knew there was only one way for any food-obsessed traveler to make this journey. We had to drive.
Save This on Pinterest!
No time to read this now? Click on the red save button and pin it for later!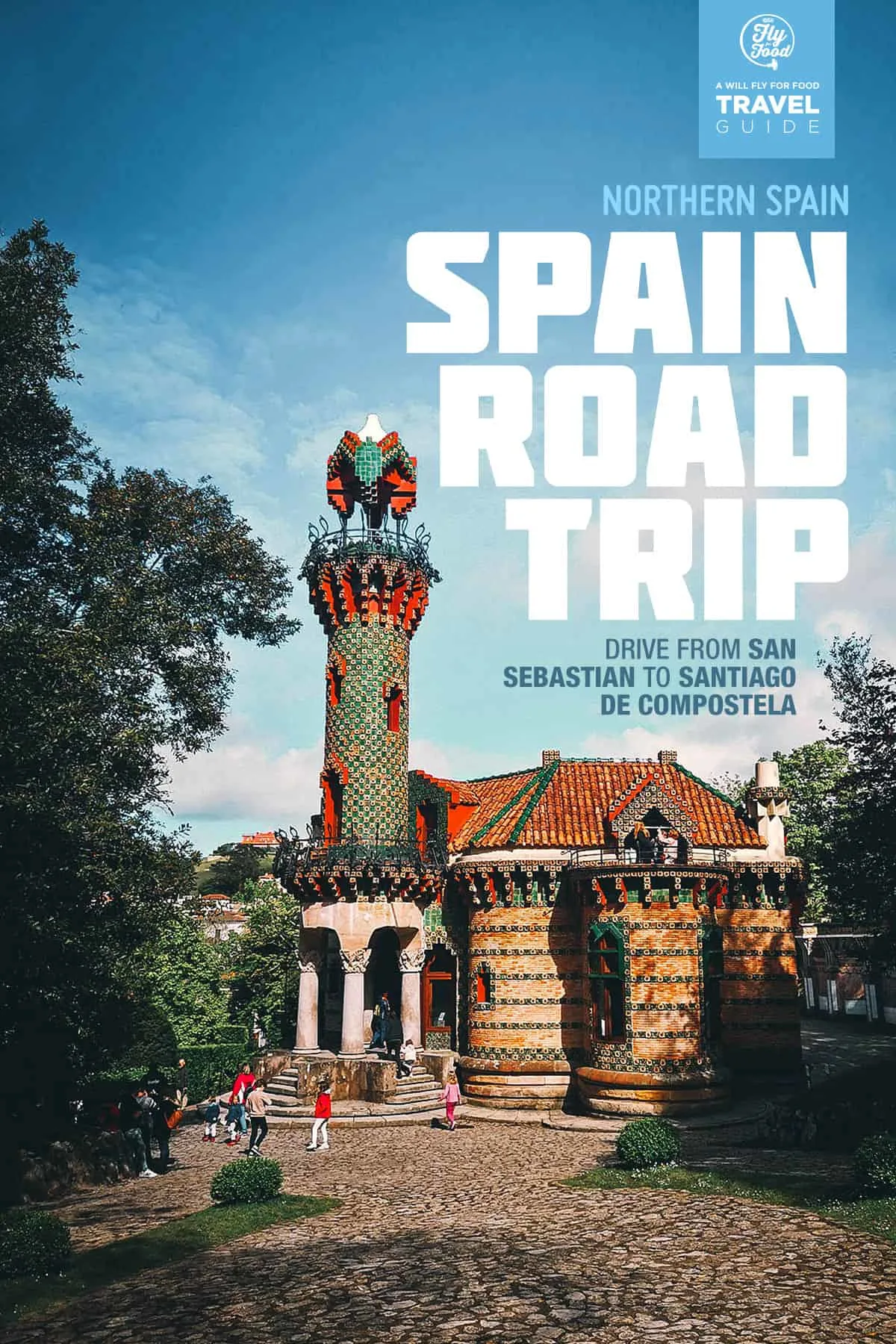 GUIDE TABLE OF CONTENTS
TRAVEL RESTRICTIONS
Because of the current global situation, travel guidelines have been changing often. Our friends at SafetyWing created a website that lists detailed information on travel restrictions around the globe.
Before doing any serious trip planning, be sure to check the Flatten the Curve website for information on travel restrictions to Spain.
WHY DRIVE?
Driving from San Sebastian to Santiago de Compostela is better than taking the bus or train for one obvious reason – freedom. With a car, you'll have the freedom to go at your own pace and stop wherever and whenever you want. For us, it wasn't just about getting from point A to point B. We wanted to see (and taste) as much of this beautiful part of the country as we could, so renting a car and driving was the most appealing option for us.
You're probably thinking that renting a car costs more than going by bus or train. It does, but not as much as you think. I'll get into it in more detail below, but renting a station wagon for three days with a second city as a drop-off point cost us a total of EUR 324.55. This already included full insurance. Between the five people in our group, that came out to less than EUR 22 per person per day. Not bad!
In comparison, the cheapest train fare I could find on Loco2 was EUR 45.50 for a 10 hr 30 min journey. Alsa buses are even more expensive at EUR 61.24 for a 12 hr 30 min bus ride. I just checked the cost of flights and the cheapest I could find was EUR 48, but you'll have to go to Barcelona first and transit for 7 hrs before continuing on to Santiago de Compostela. Not exactly the most ideal of scenarios.
If you're traveling alone, then going by train or bus would definitely be more practical. But if you're traveling in a group, then renting a car is a great option to consider.
RENTING A CAR IN SAN SEBASTIAN
We rented a car in San Sebastian through easyterra.com, a car rental aggregator similar to those flight booking websites. We haven't rented cars too often so the process makes me a little nervous, but I went with EasyTerra because their prices were competitive and they had a good 8.2 rating on TrustPilot. I booked the car in advance through their website which was then fulfilled by Europcar. We didn't have any problems at all.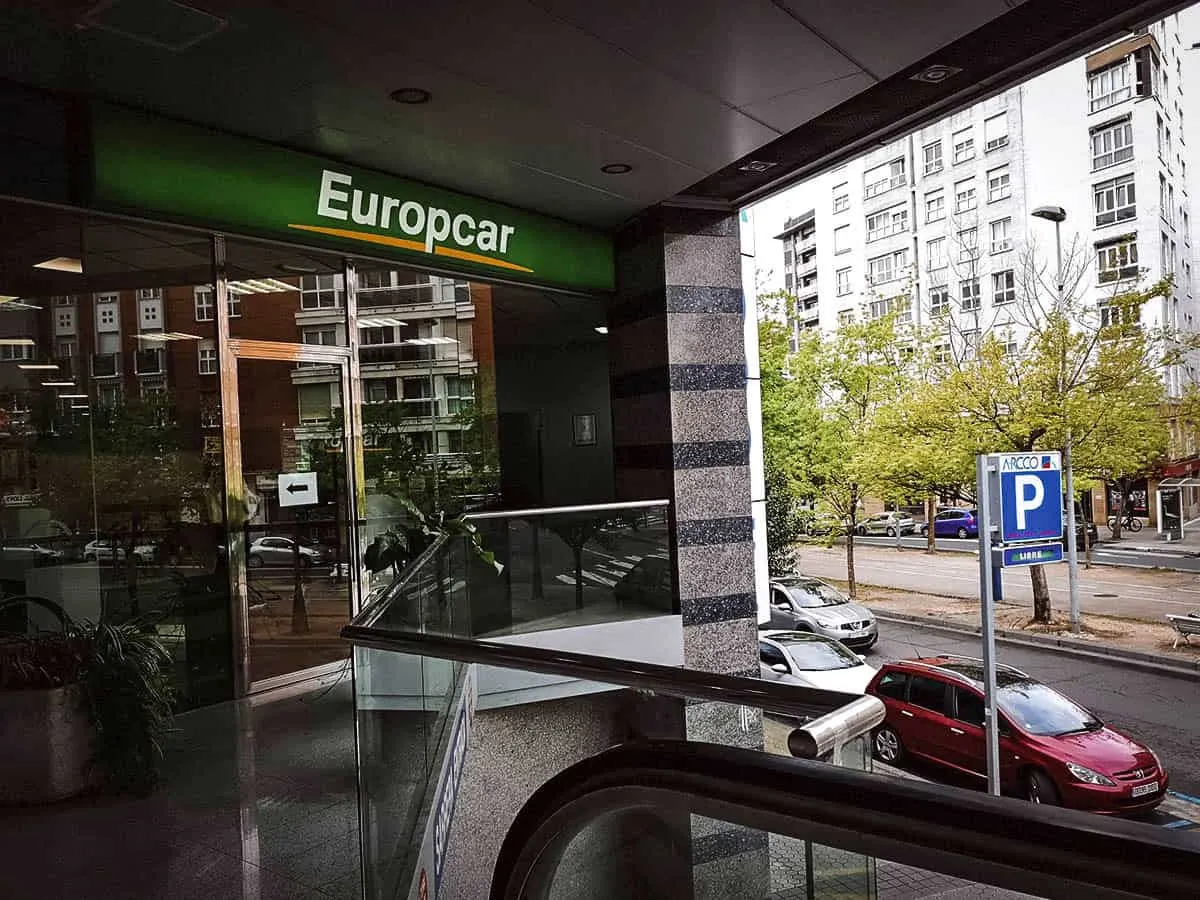 The car rental procedure went smoothly. We had already reserved it a month or two before our trip, so we just filled out some paperwork and we were out of there in less than half an hour.
Since we were picking up the car in one city and dropping it off in another, we had to pay a standard one-way charge. You also have to pay extra for every additional driver you want to register.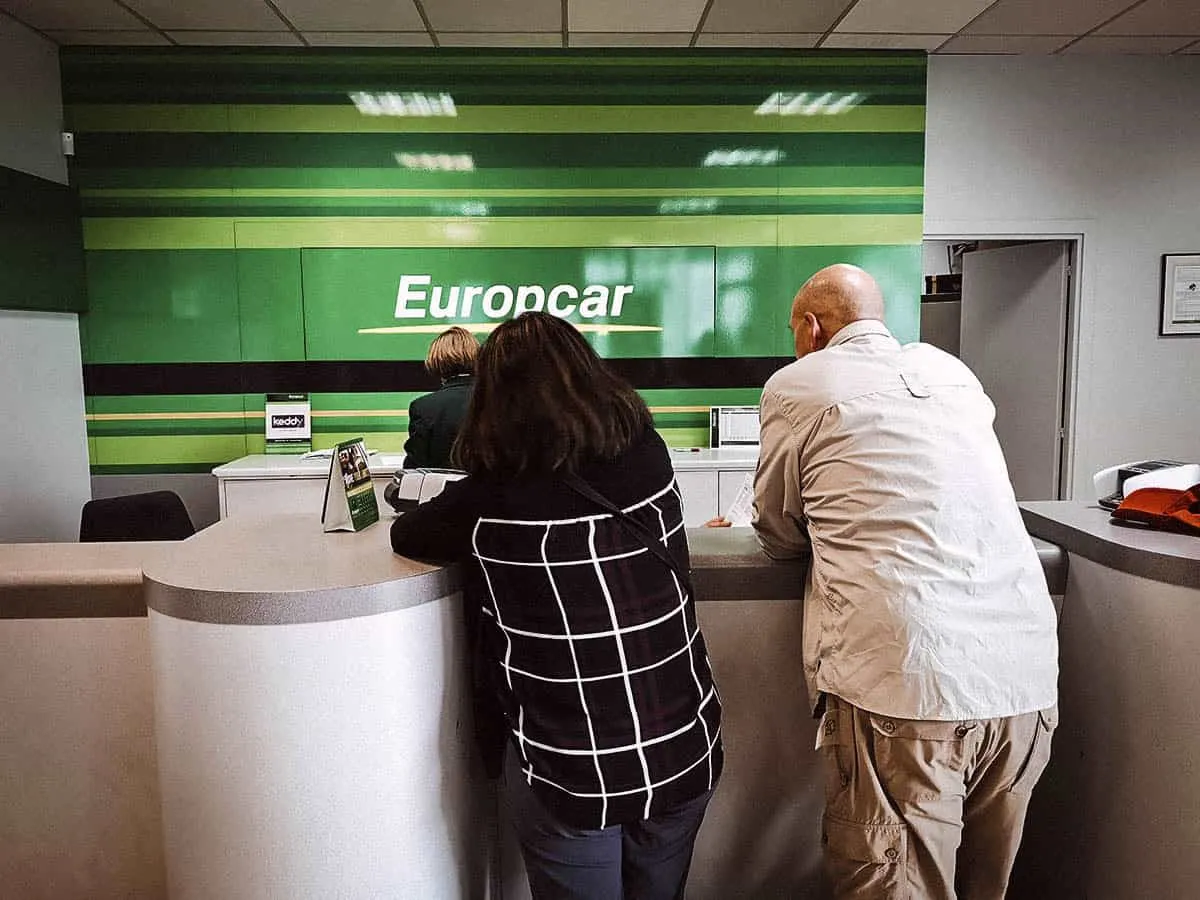 And there she is, our iron steed for the next three days. It's an Opel station wagon that can fit up to seven people with no luggage. There were five people in our group and we had no problem fitting all our luggage in the back.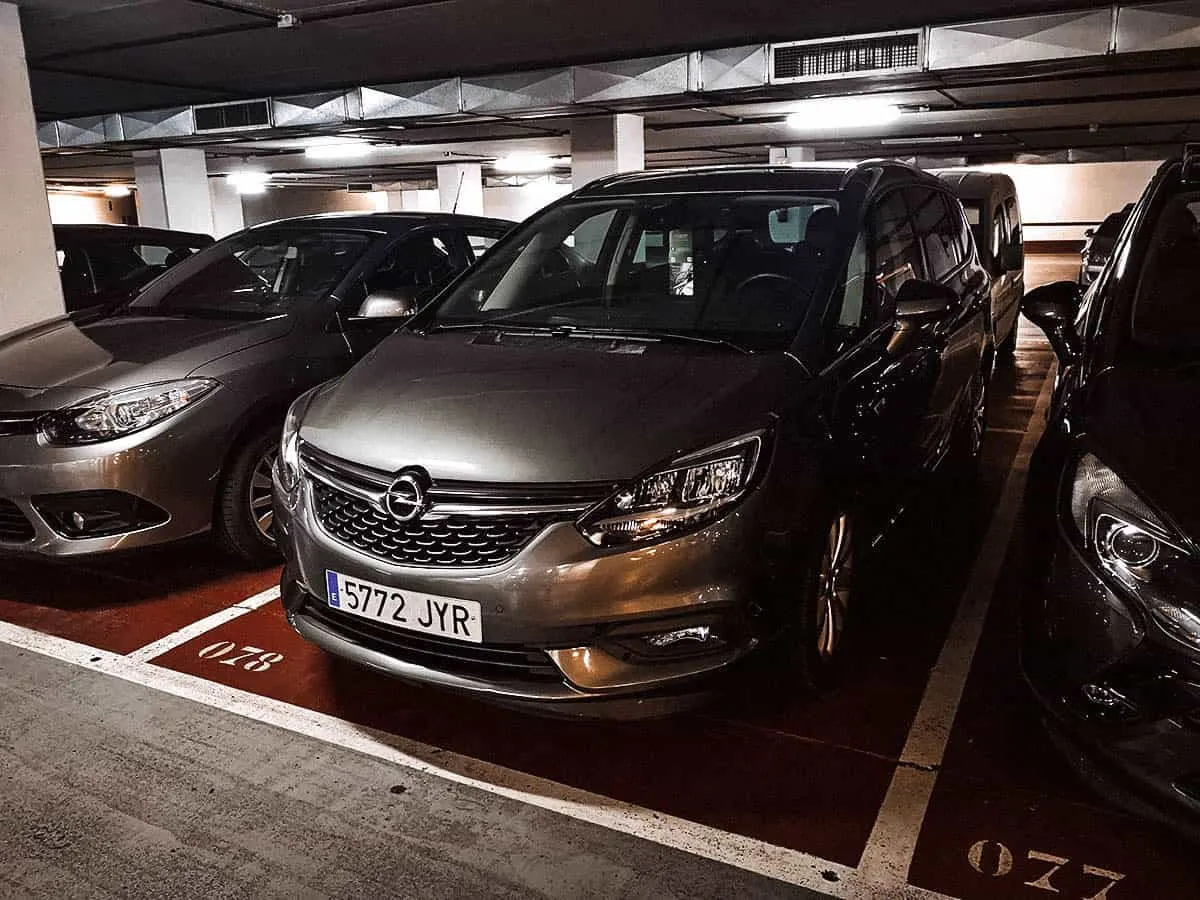 Before you drive off, make sure you thoroughly check the car for damages and make sure they match up with the damages listed in your rental agreement. I took lots of pictures and a video to ensure we wouldn't have any problems when returning the car.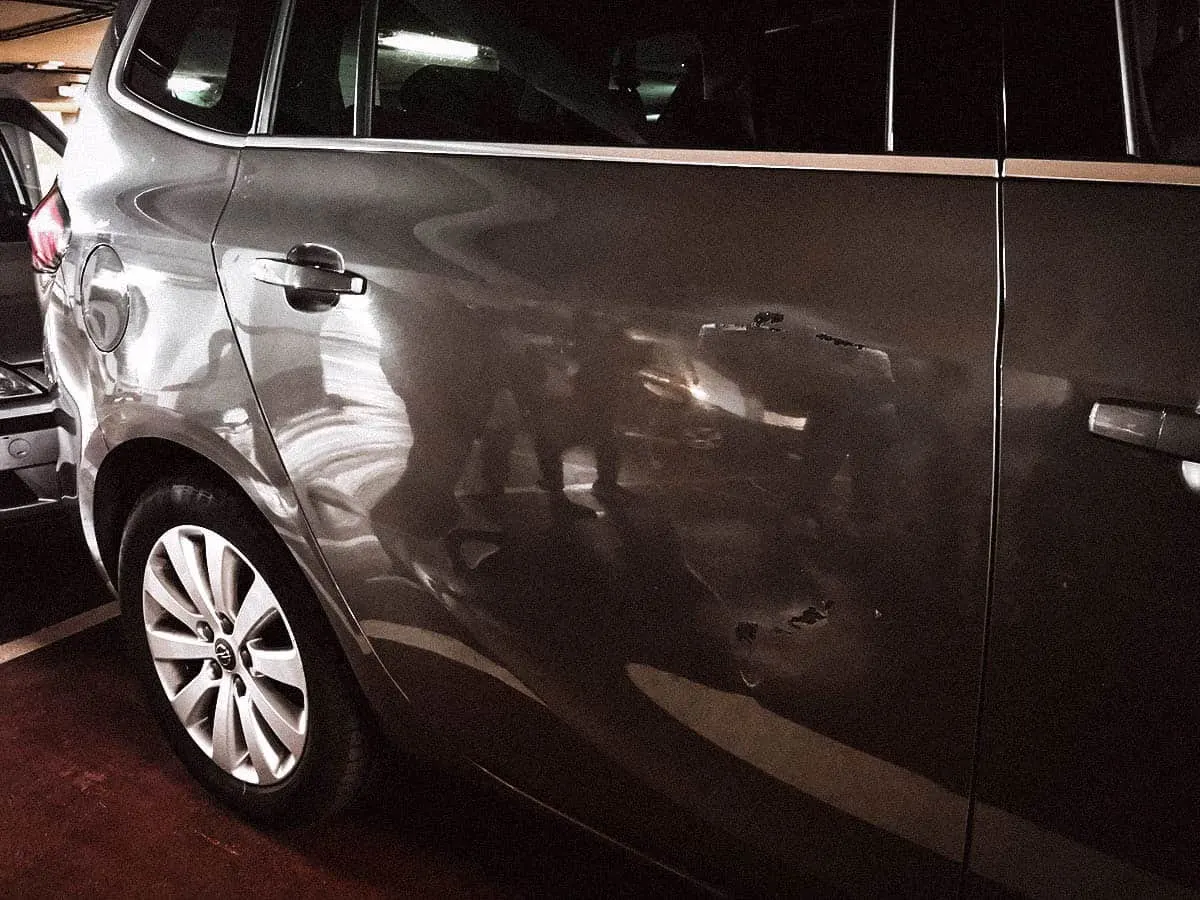 After picking up our car, we went straight to Logroño which is less than two hours south of San Sebastian. It's known for having the best pintxos in the region. If you're interested in doing that, then check out our Logroño pintxos guide for more pictures and information.
We parked the car in a San Sebastian garage that night (EUR 16.50 overnight) then left for our two-day road trip early the next morning.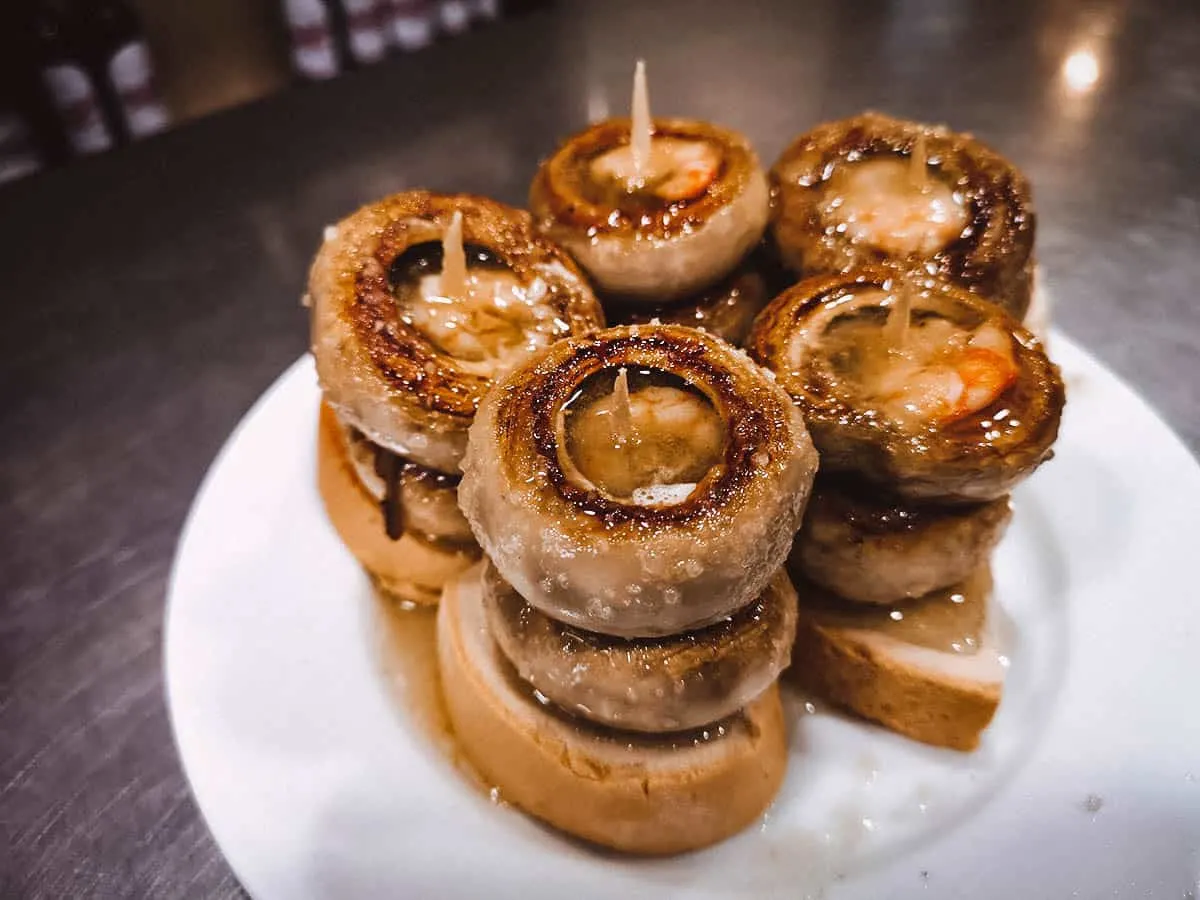 LEG 1: SAN SEBASTIAN TO BILBAO
DISTANCE: 102 km / Driving Time: 1 hr 15 mins
Our first stop was Bilbao, the capital of Basque Country. It's 102 km (63.4 miles) west of San Sebastian and takes about 1 hr 15 mins to get there.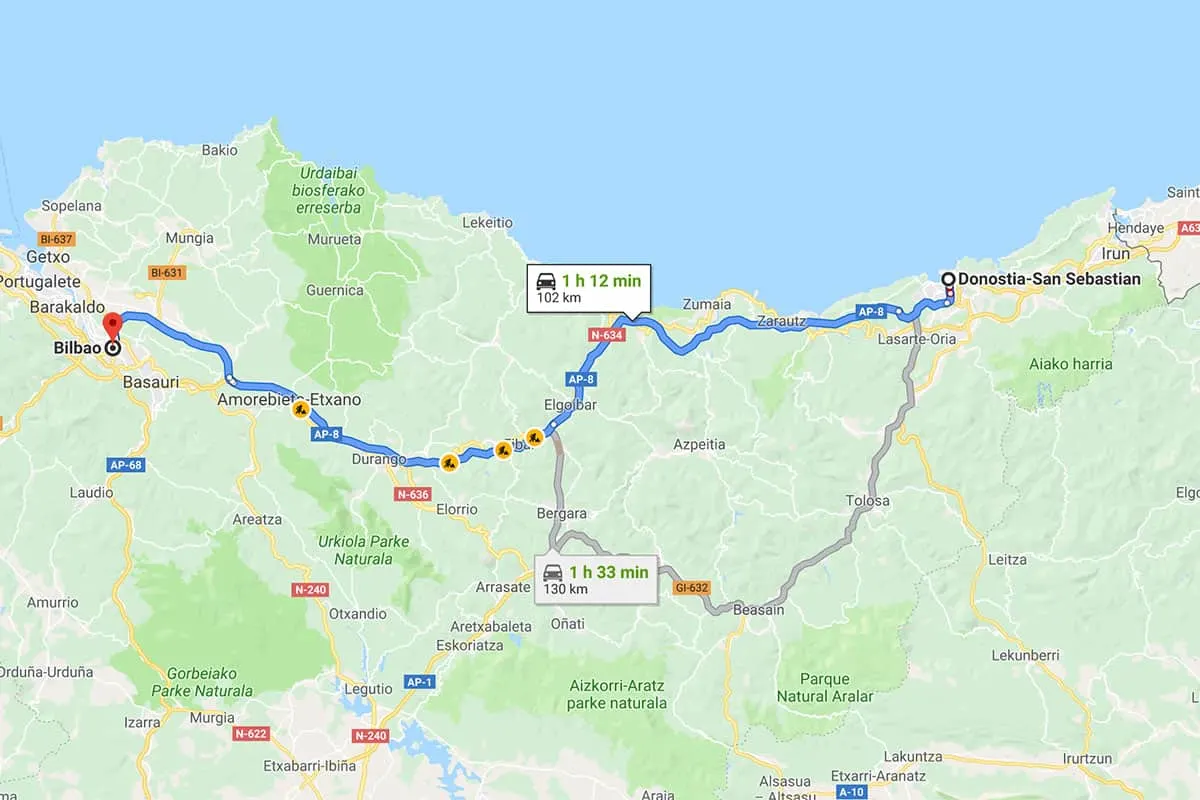 Northern Spain is gorgeous. We drove along fast highways with lush greenery and mountains on either side. Occasionally, we'd catch glimpses of the coast but not as much as I was expecting. I guess it depends on which highways you take. We just followed whatever route Google Maps laid out for us.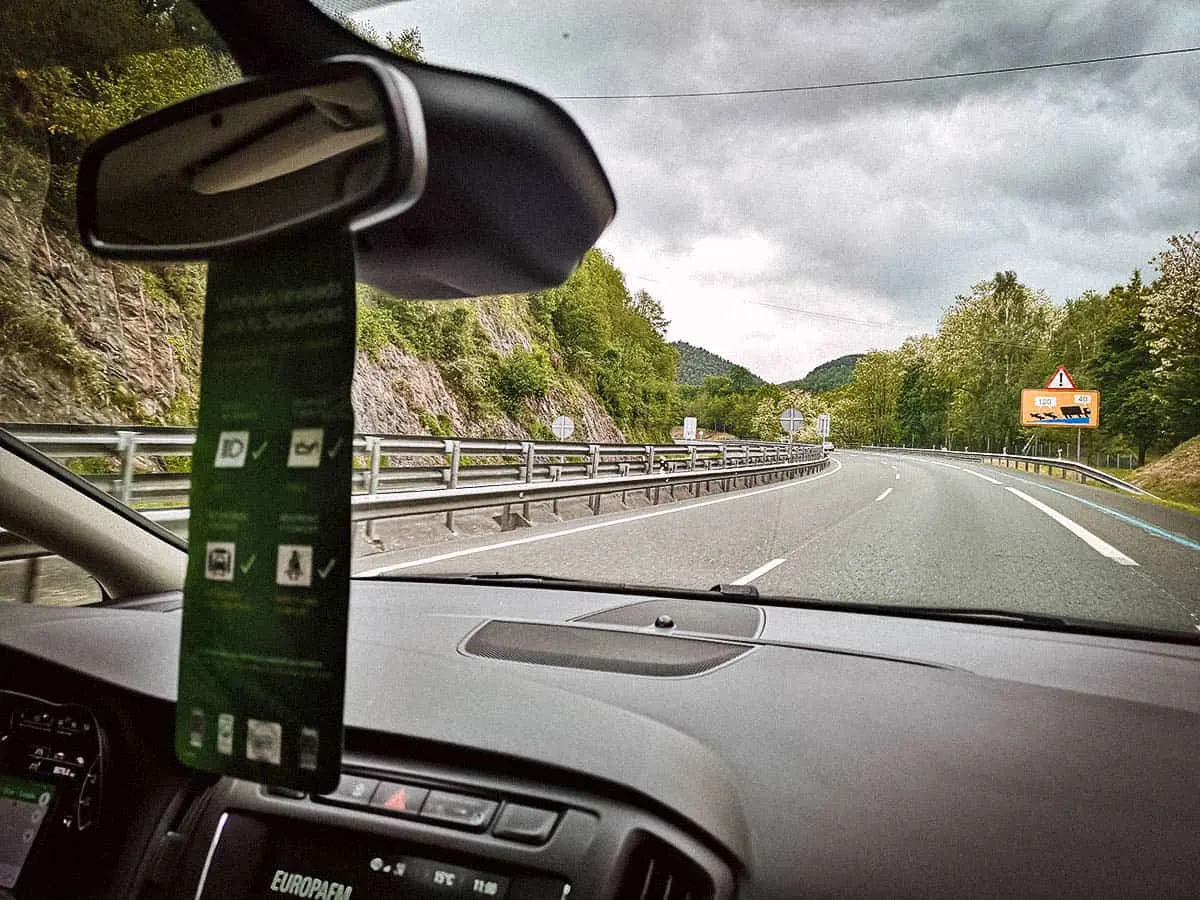 BILBAO
We had a lot of ground to cover so we only had a couple of hours to spend in Bilbao, just enough time for lunch and a quick walk around the city. As described, it's the capital of Basque Country and its biggest city.

Totopo Mexican Food
I usually stick to local food when we travel but we had been in Spain for over two weeks already so we were craving for something different. This Mexican restaurant had excellent reviews so we decided to have lunch here. Totopo is a TripAdvisor Certificate of Excellence awardee with a near perfect 4.5-star rating.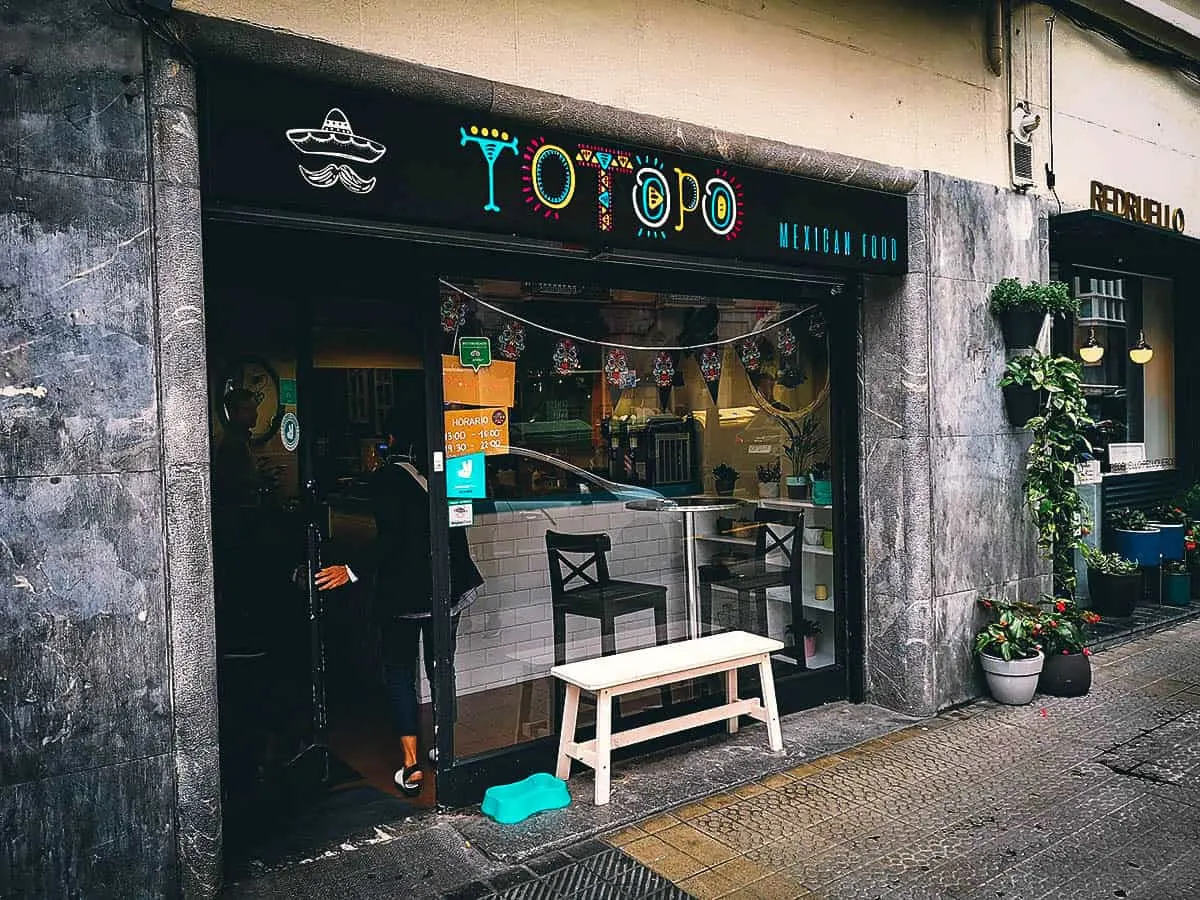 Our haul of popular Mexican dishes like quesadillas, burritos, and totopos smothered in melted cheese and sour cream. A totopo is basically a tortilla chip.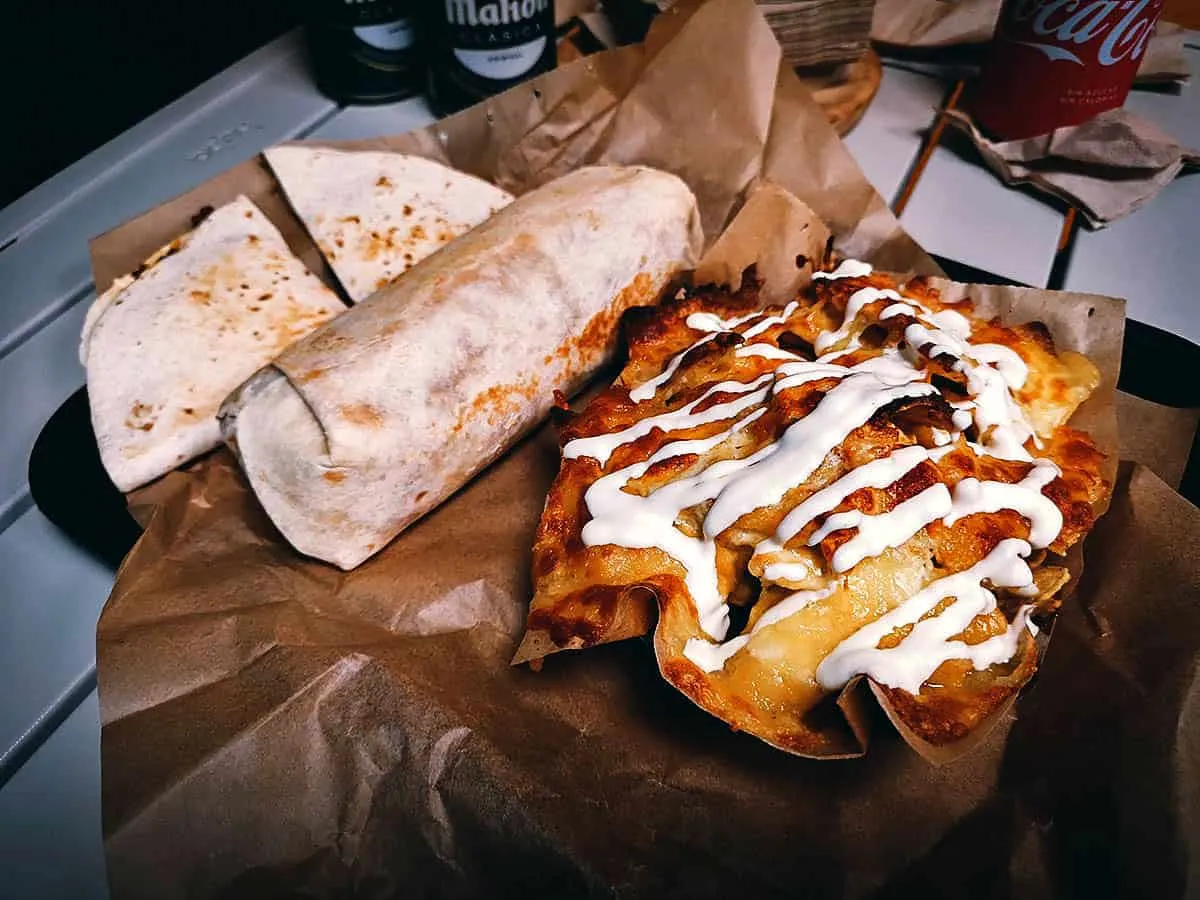 I had been craving for a good burrito for days and this one satisfied me nicely. They have chicken, pork, beef, and Mexican tofu burritos for EUR 6.50 apiece.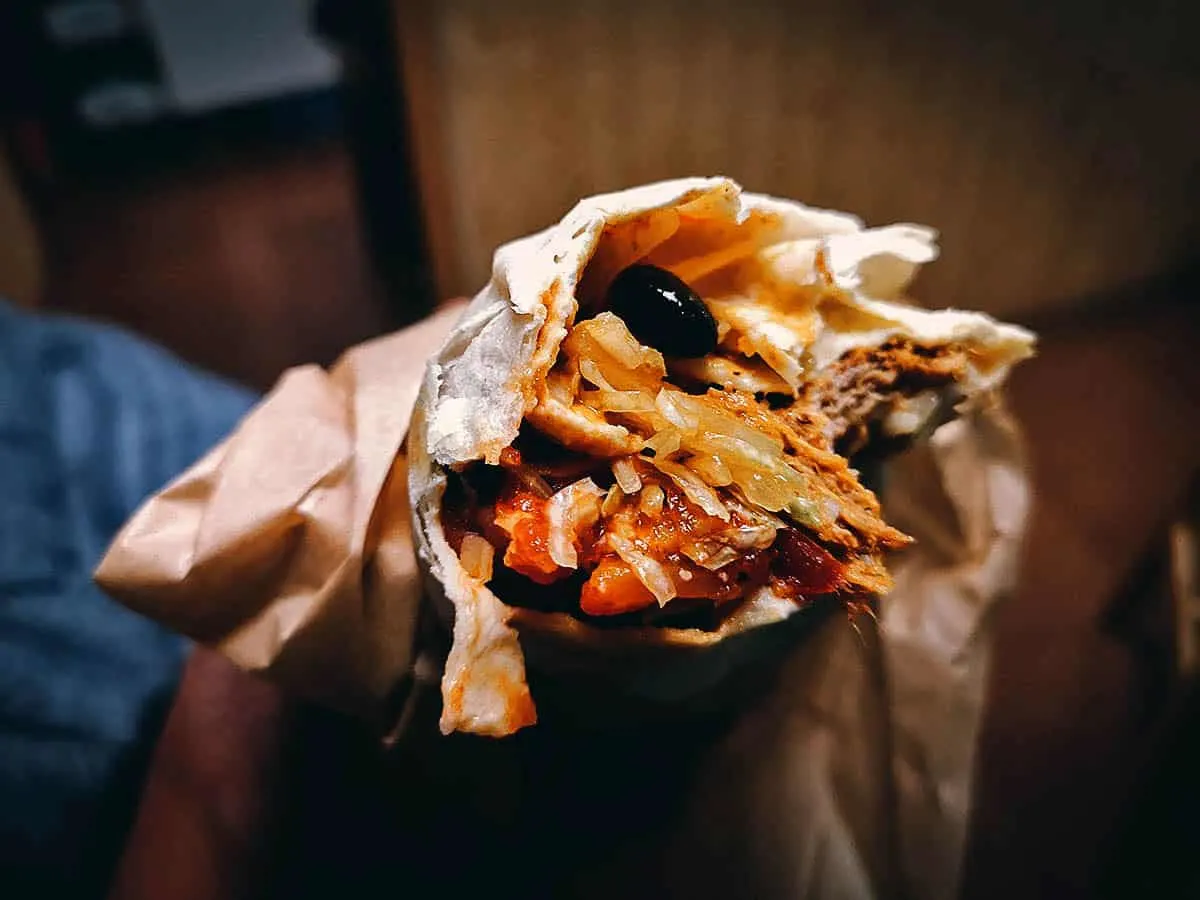 Guggenheim Museum
One of the attractions Bilbao is most famous for is the Guggenheim. It's a striking contemporary art museum designed by iconic architect Frank Gehry. I really wanted to go inside this museum but we didn't have time, so we just took a few pictures from the outside.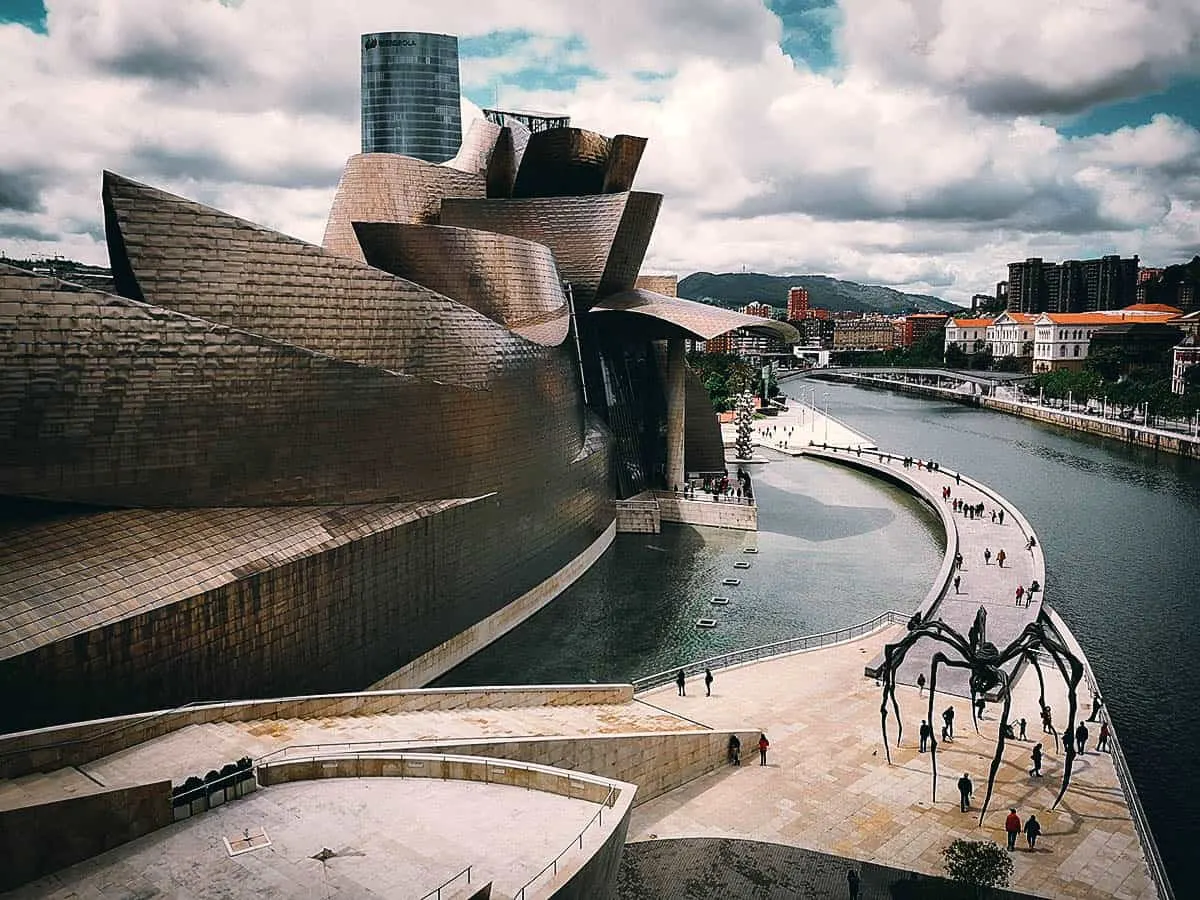 Isn't it stunning? The building itself is a sculpture. I've heard nothing but great things about the Guggenheim in Bilbao so you should definitely make a stop here if you have the time. Admission is EUR 17.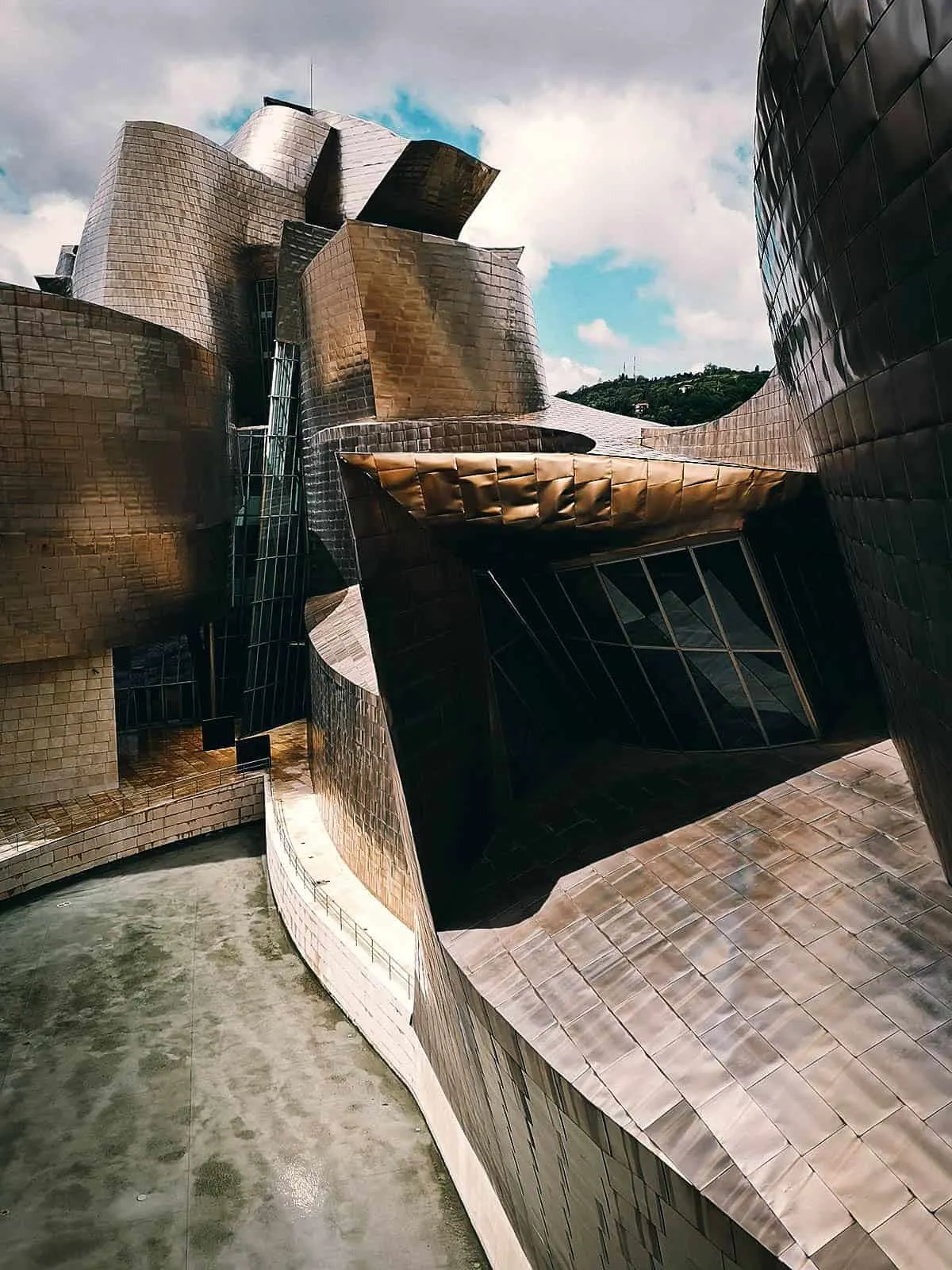 I don't know much about architecture but I read that the design for the Guggenheim was universally well-received by both critics and the general public, which is rare. The World Architecture Survey called it one of the most important works to be produced since 1980.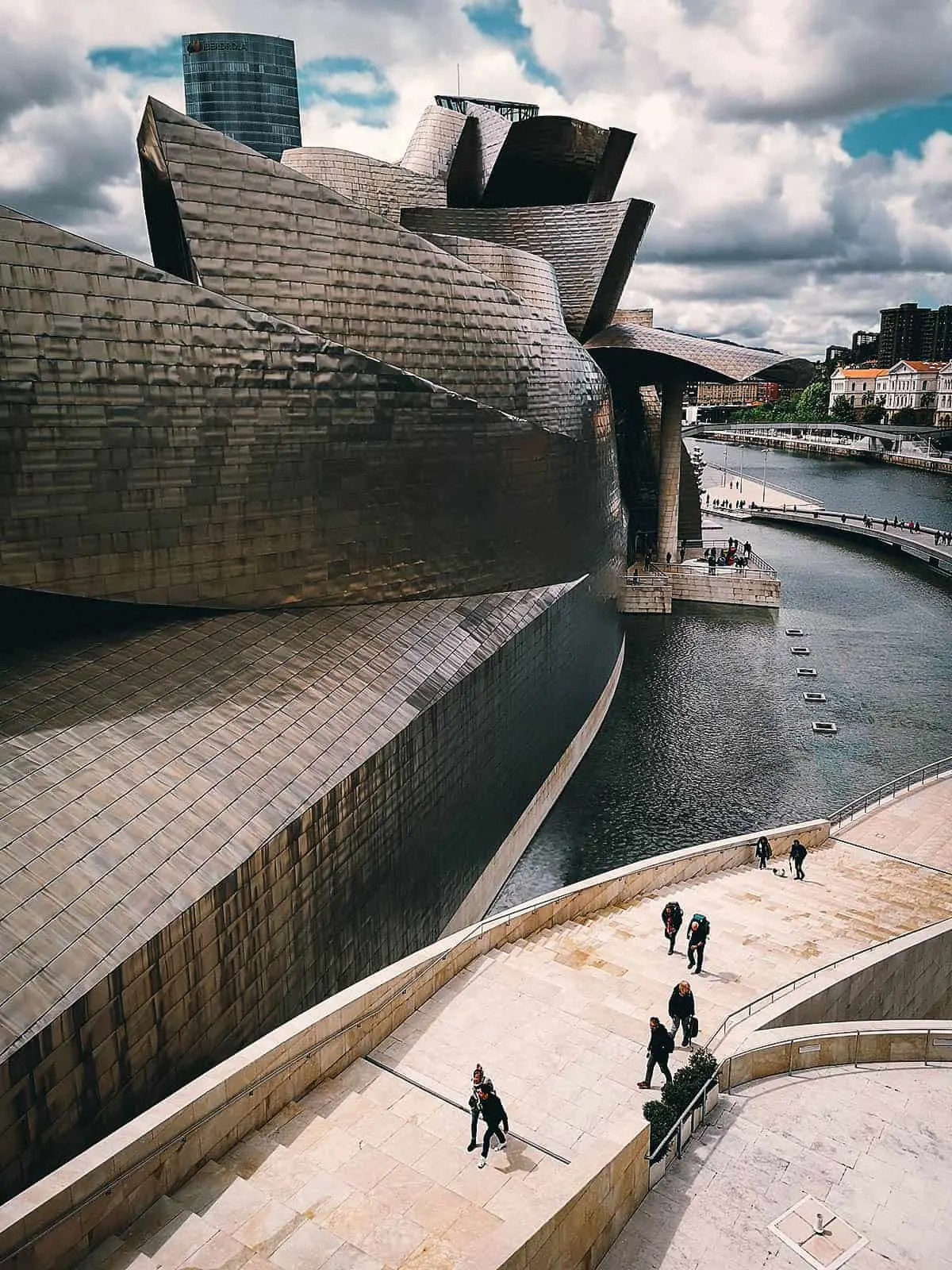 In front of the Guggenheim is this 13 meter (43 ft) topiary sculpture of a dog called Puppy by American pop artist Jeff Koons. It's obscured by the scaffolding but the sculpture is covered in a variety of different plants and flowers. They change the flowers every few months which is what they're doing here.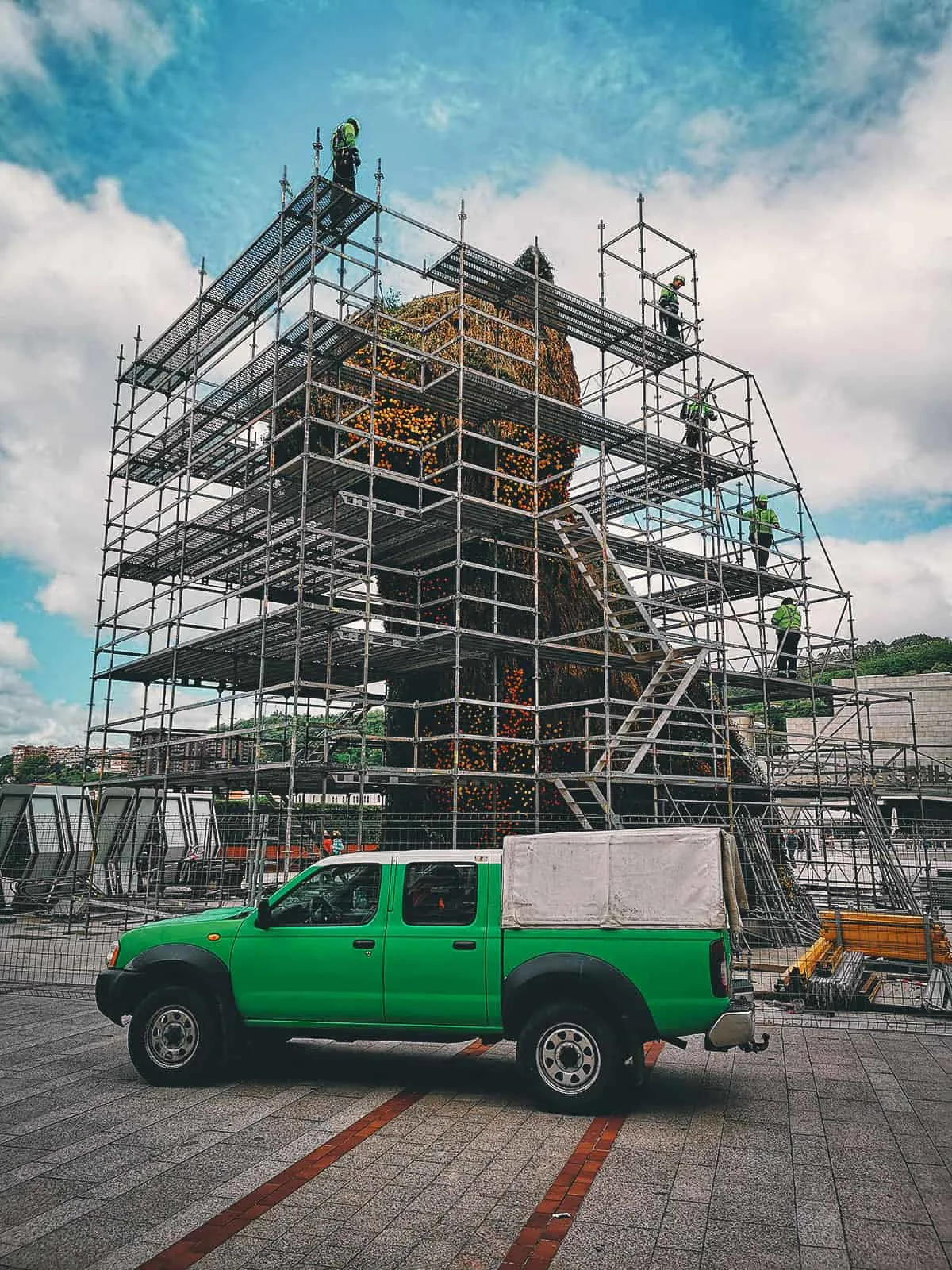 There was a sign explaining what these men were doing and it looks like they change the types of flowers used to match the season. In one picture, the puppy was covered in red, orange, and yellow flowers while in another, it looked more lilac blue and white.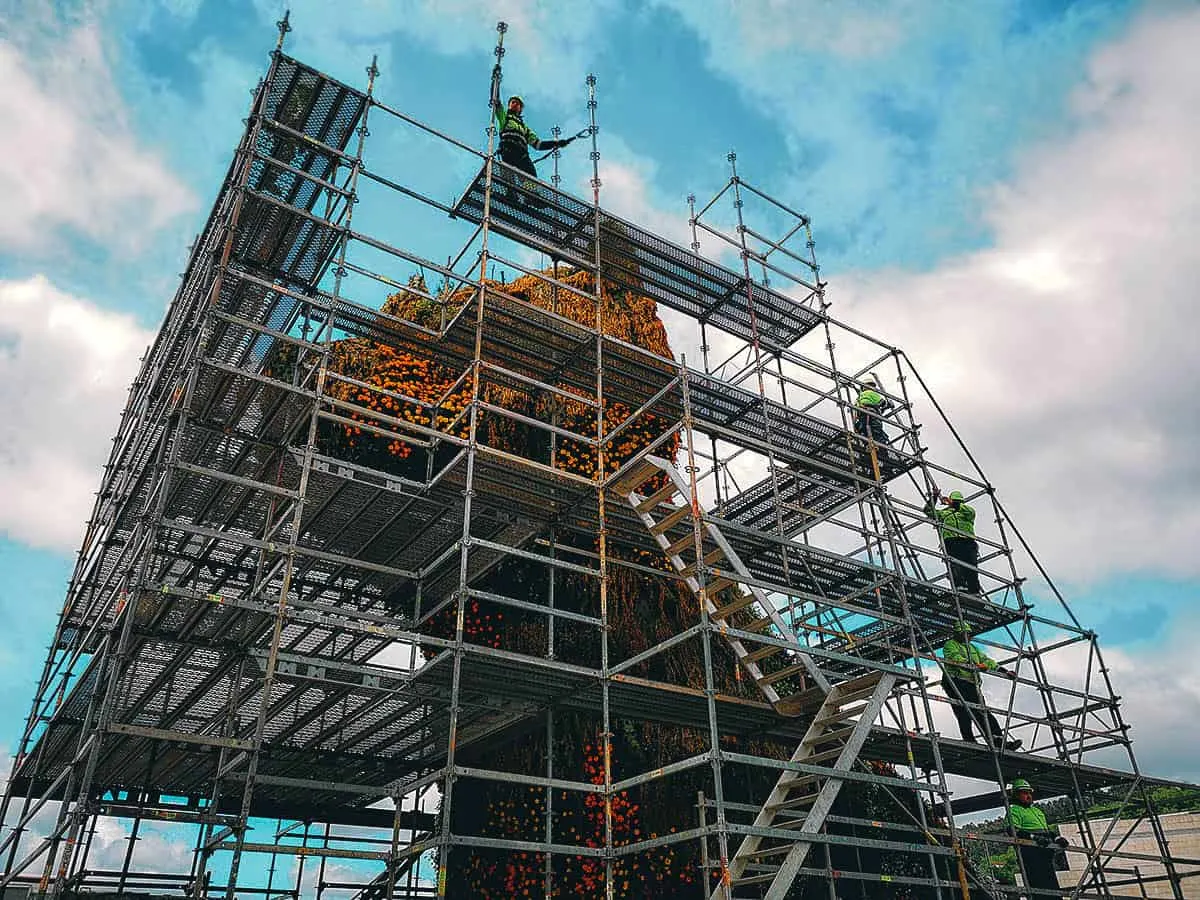 LEG 2: BILBAO TO COMILLAS
DISTANCE: 143 km / Driving Time: 1 hr 45 mins
The next leg of our road trip took us from Bilbao to a small town in Cantabria called Comillas. We stopped here to see an unusual house that I just happened to spot on a map when planning this trip. You'll see what I mean below.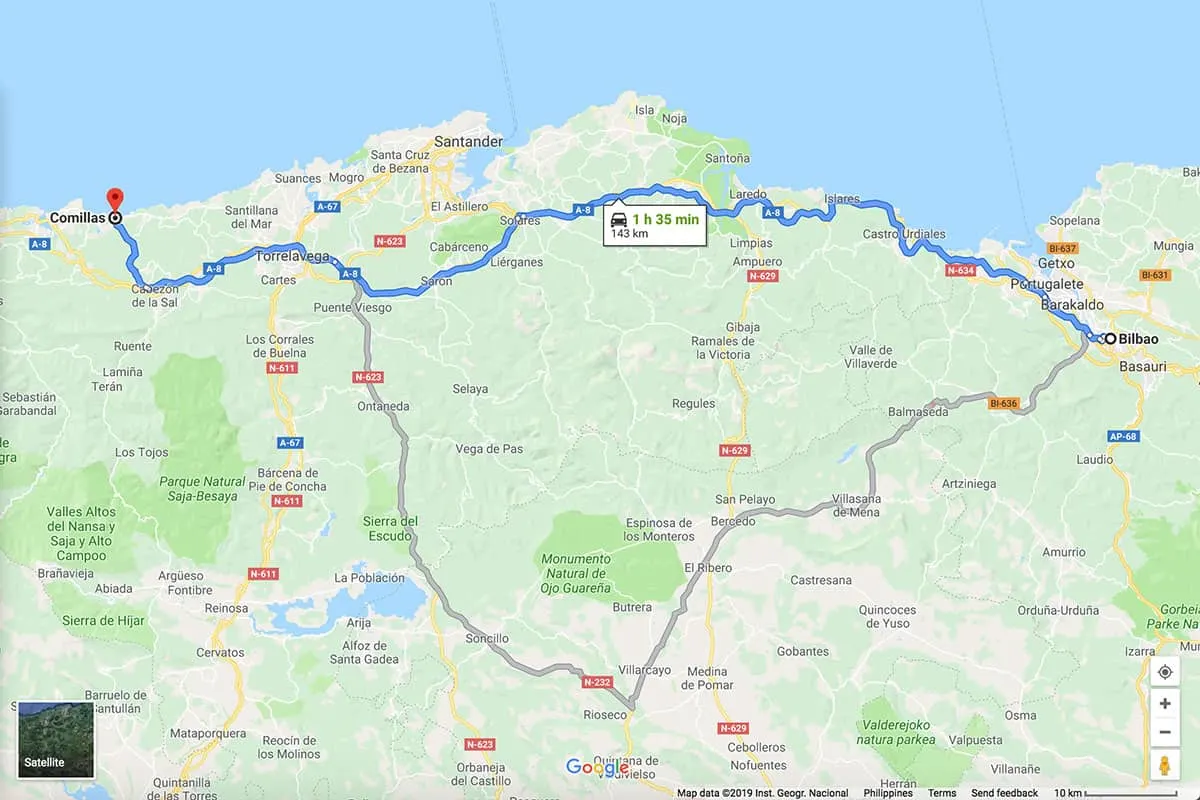 This quick detour to Comillas treated us to beautiful scenery, some of the best we experienced on this two-day drive. We had to get off the main highways and onto smaller, more scenic roads.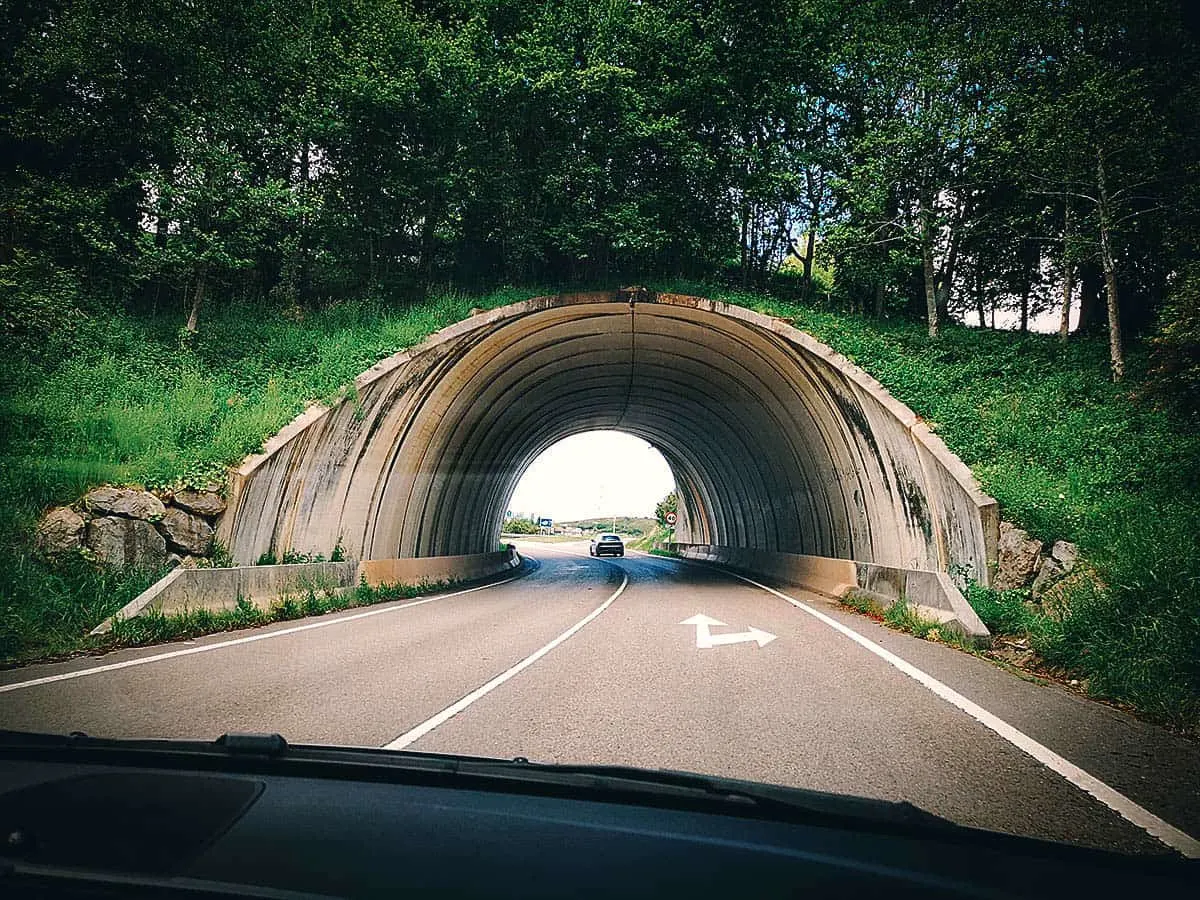 It took us to pasture land with farms, lakes, and trees everywhere. The house we were going to was near the ocean so it gave us terrific coastline views as well.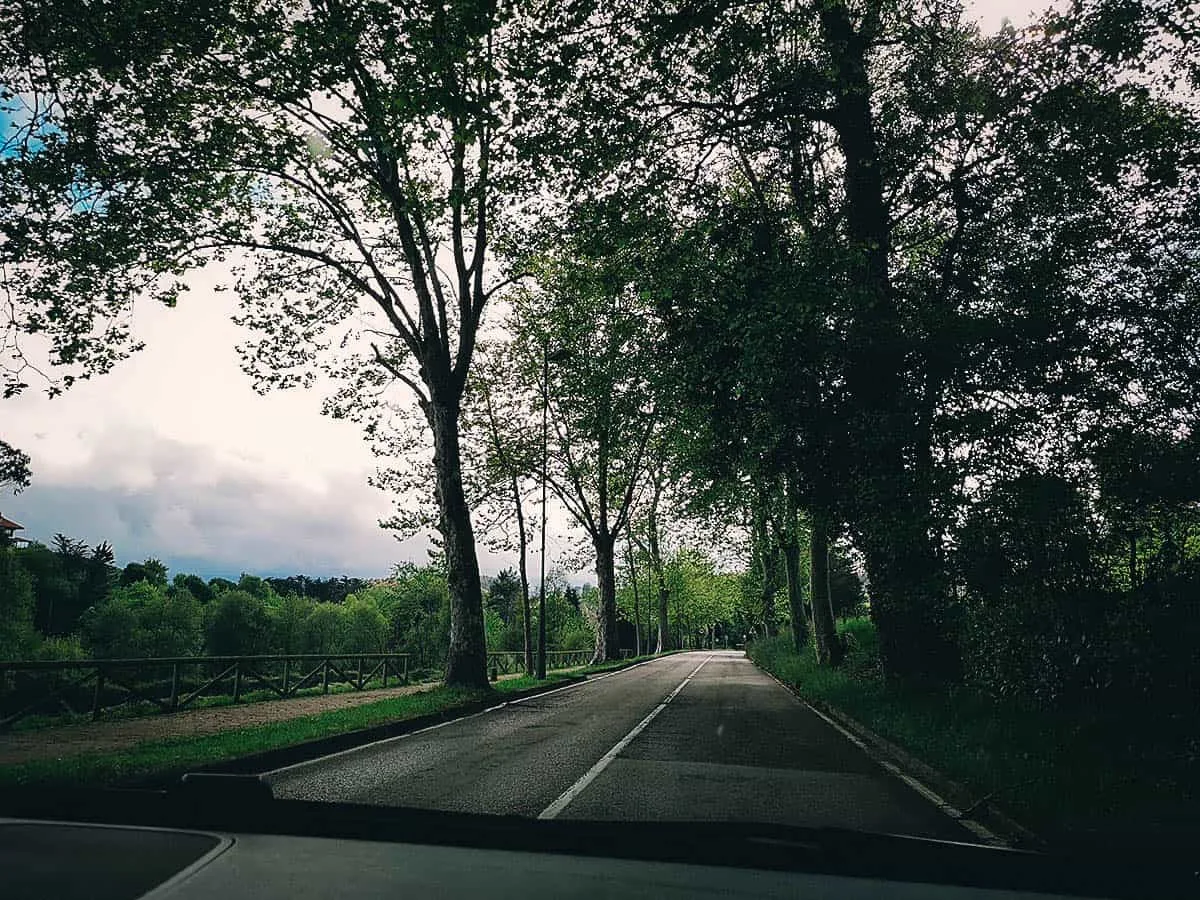 COMILLAS
As described, Comillas is a small town in the autonomous community of Cantabria. The Spanish royal family used to spend their summers here, as did a large part of the Spanish nobility. We were here to see one special house, a castle-like residence designed by iconic Catalan architect Antoni Gaudi.
El Capricho de Gaudi
Have you ever seen a building so strange? What looks like a castle made of Legos is actually a house owned by the lawyer Maximo Diaz de Quijano. Known as El Capricho or Villa Quijano, it was built by Gaudi in 1885, one of just three buildings he designed outside Catalonia. Admission to the house museum is EUR 5.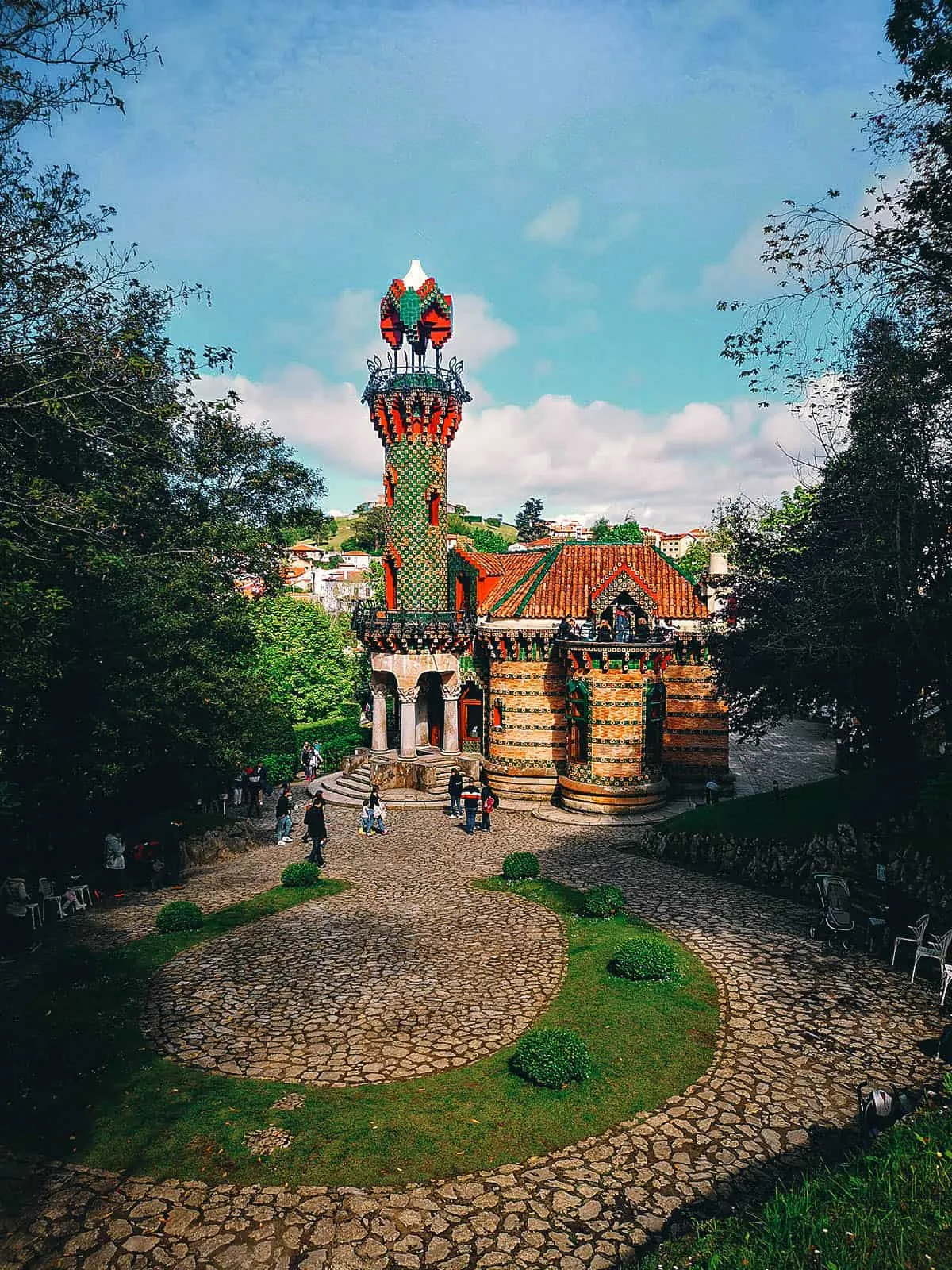 Gaudi constructed this house when was just thirty years old. It's considered one of his earliest works of importance.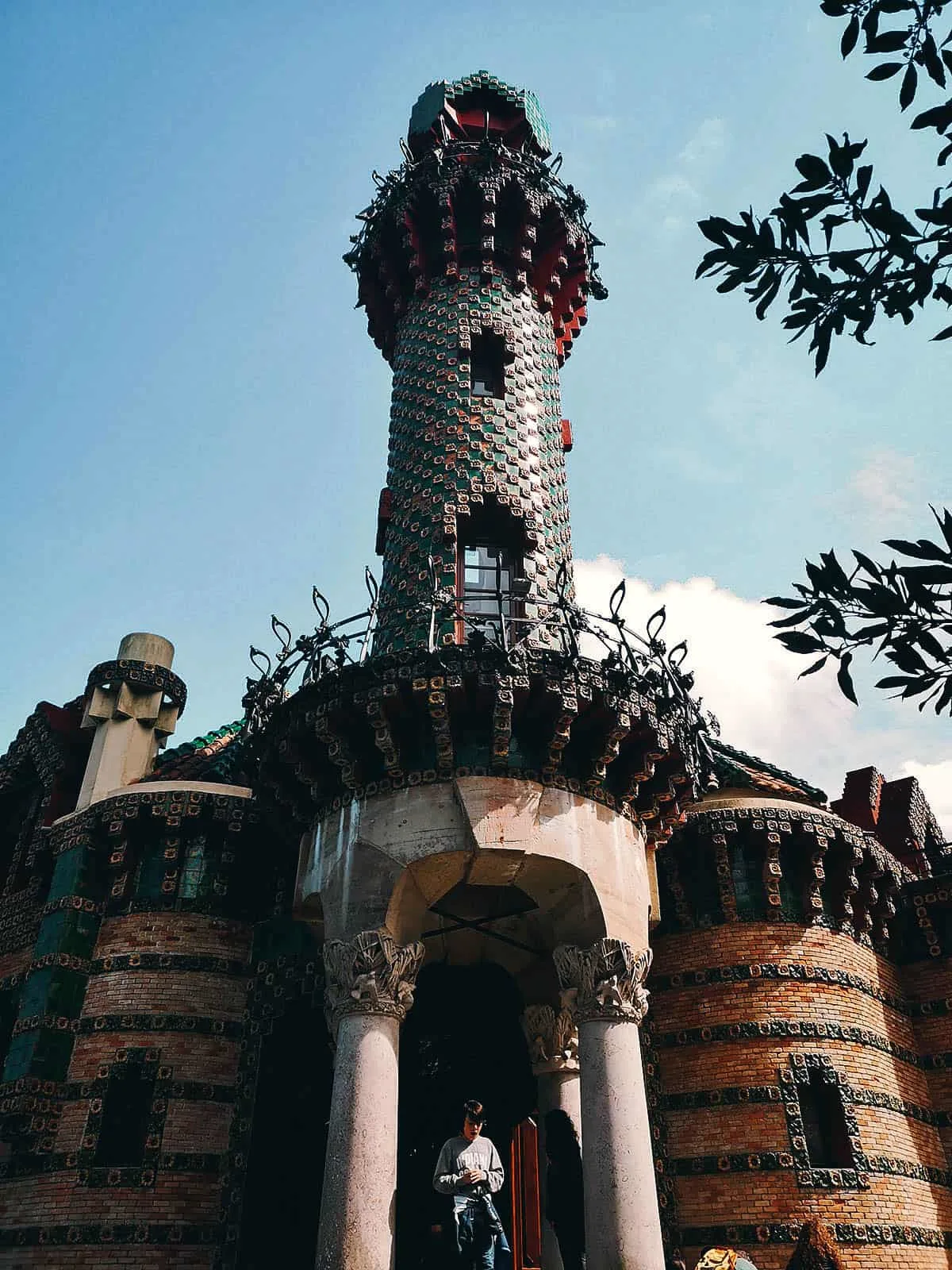 I visited his most famous creations in Barcelona so it was nice to see something like this in a more rural part of the country. You always hear about Sagrada Familia and Casa Batlló but I had never heard of this one.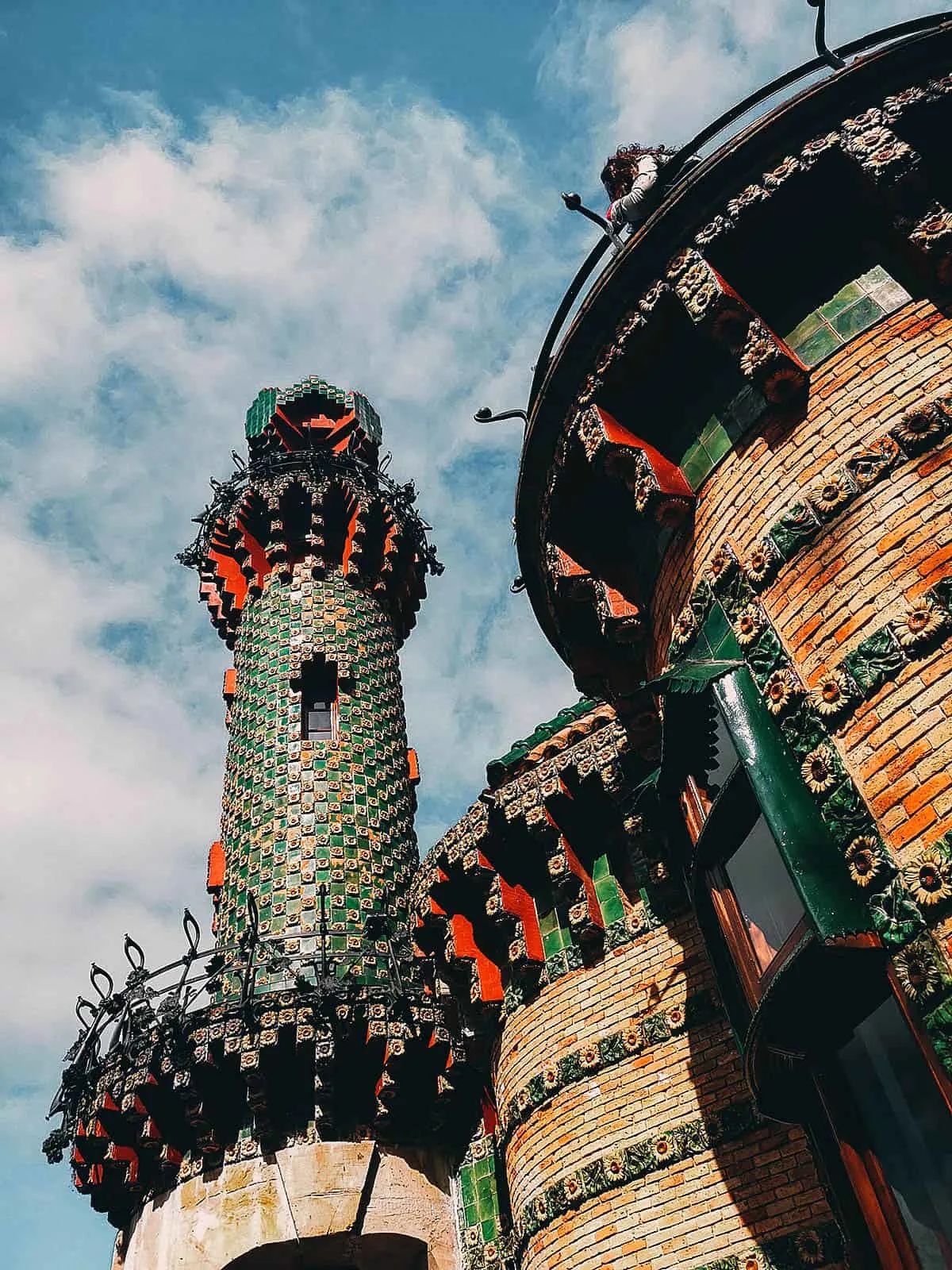 Adorning the facade of the house are these three-dimensional glazed ceramic tiles of sunflowers. Nature is a common theme in Gaudi's works. In Barcelona, I was admiring the large metal doors at Sagrada Familia and found sculptures of insects hidden in plain sight amongst the metallic leaves.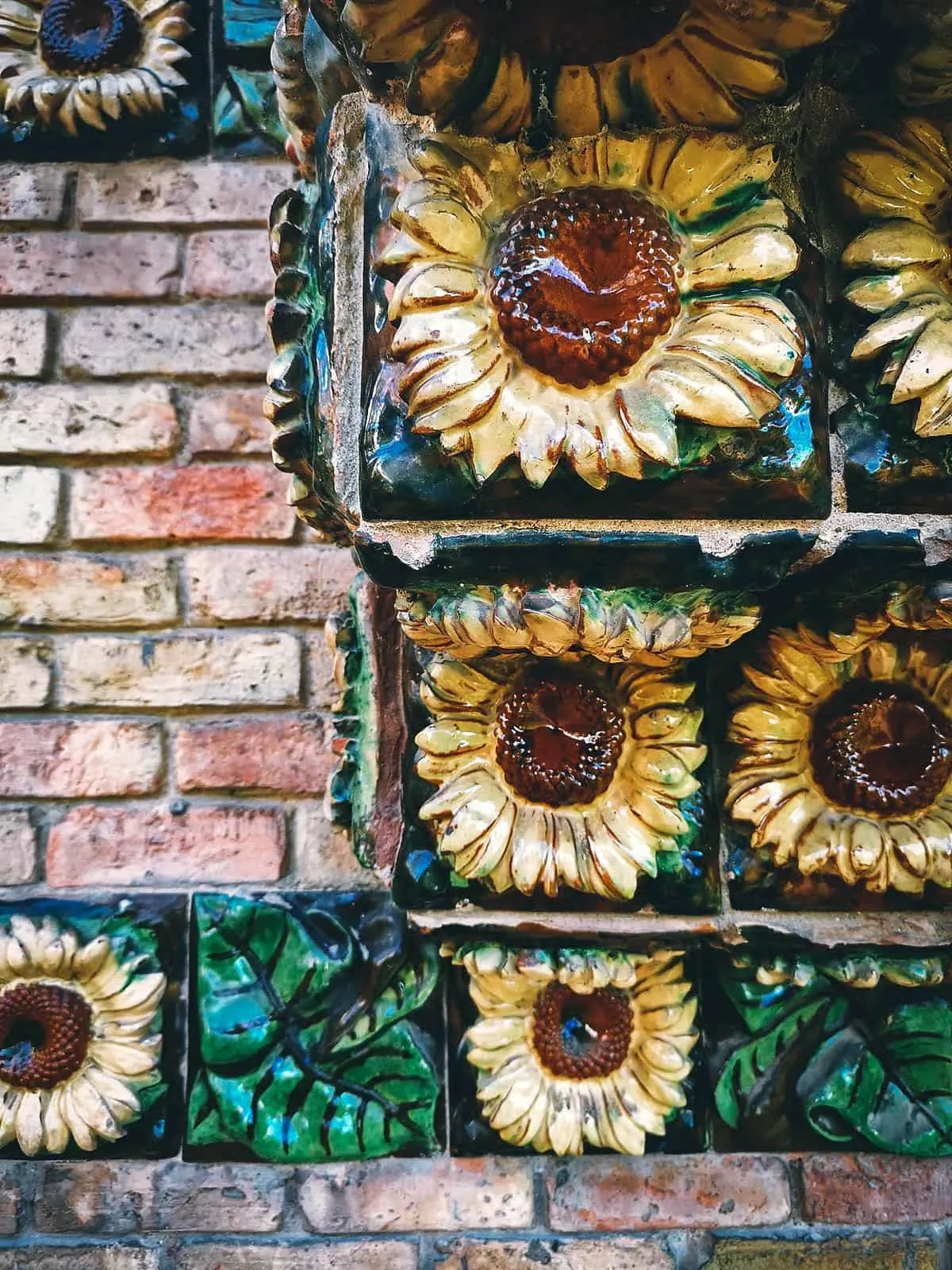 This was a section of the main floor. Gaudi's creations are always so wrought with detail.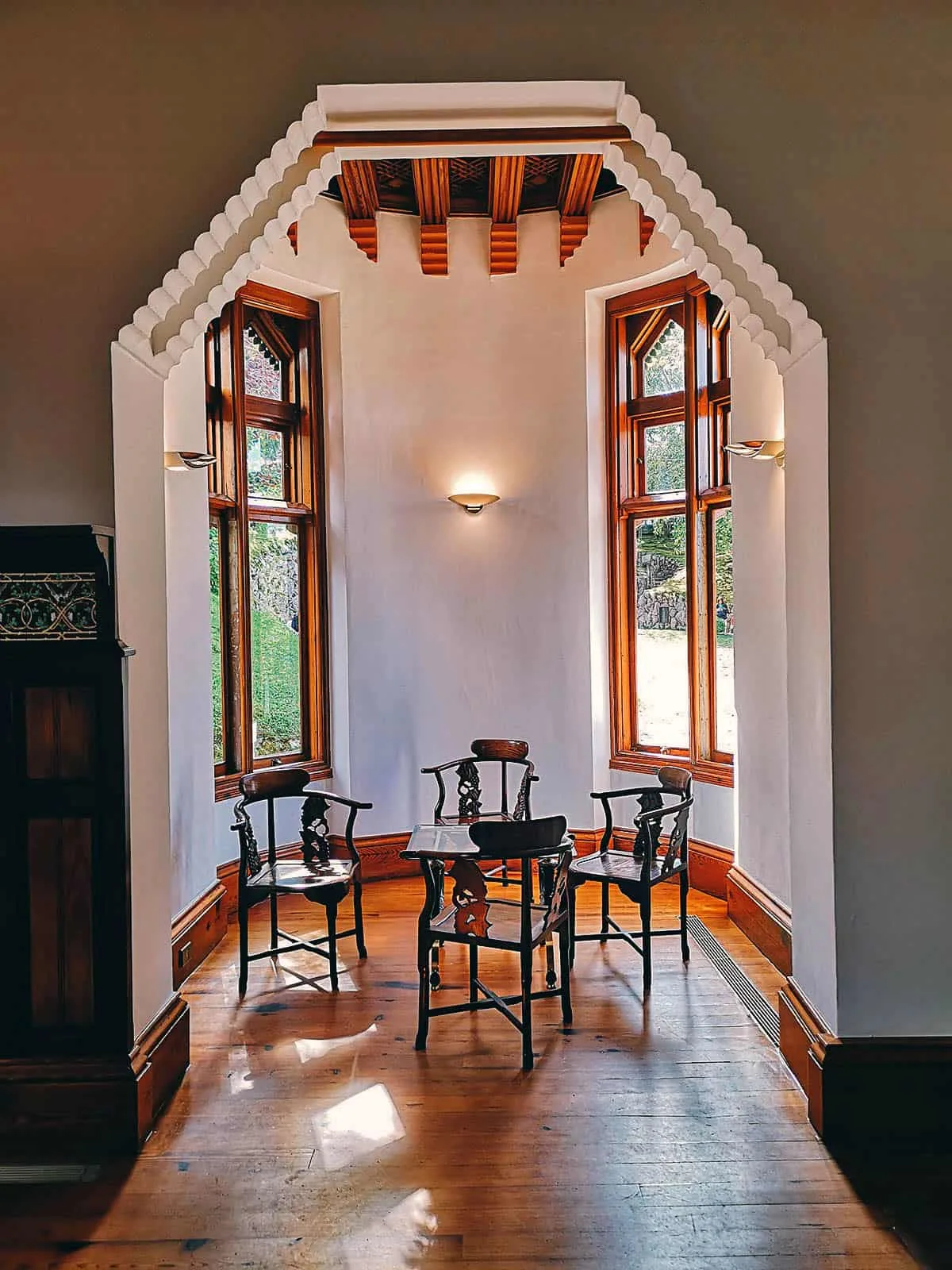 Even the furniture he designed was interesting. I wasn't able to take a picture of it but there's a lovely greenhouse on the main floor of the house. If I remember correctly, Gaudi positioned the house with the greenhouse facing west, so light would stream into it in the afternoon.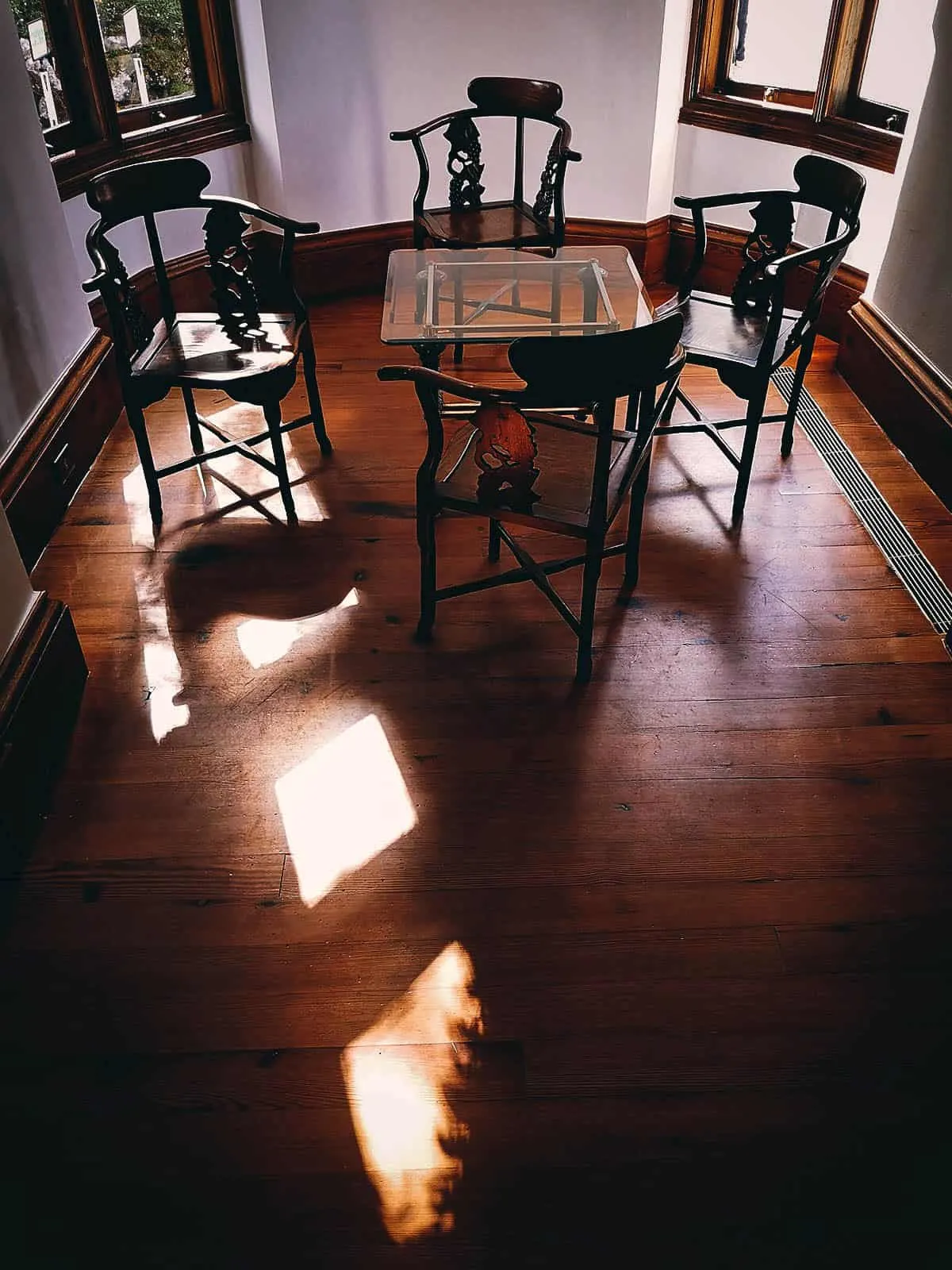 Here's a look at the second floor with more of Gaudi's organic-looking furniture.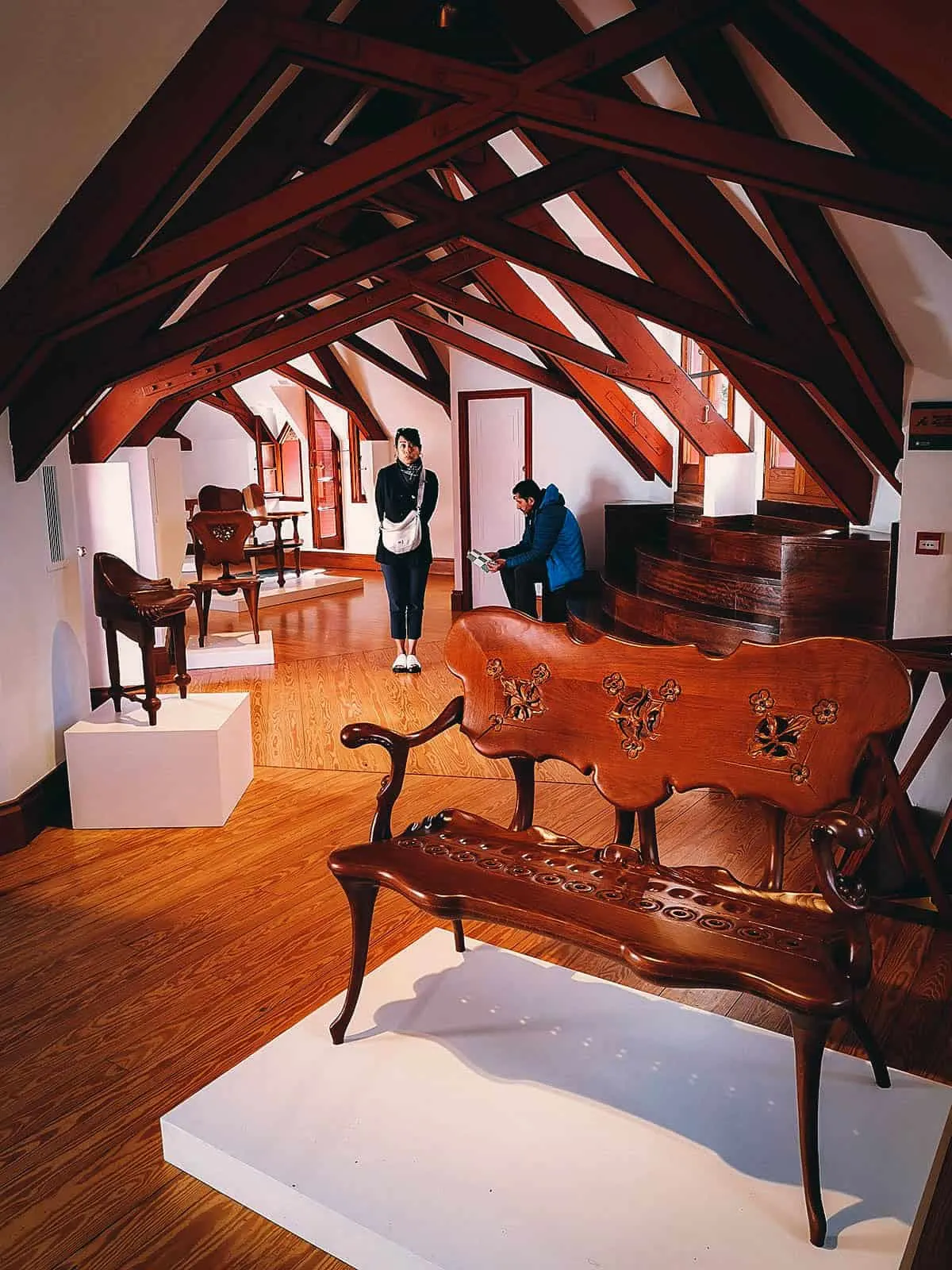 Artsy cabinet door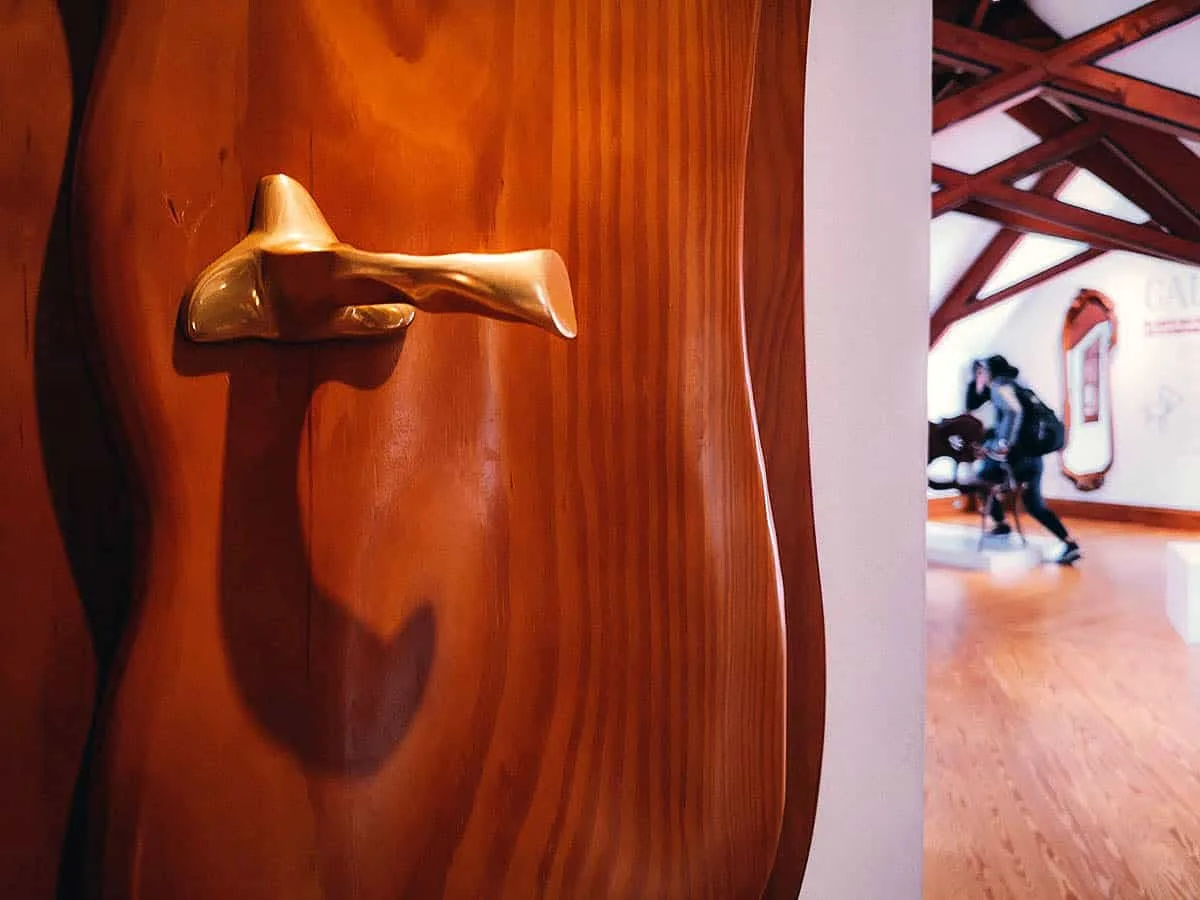 Notice how even the knobs are unique and shaped differently from one another.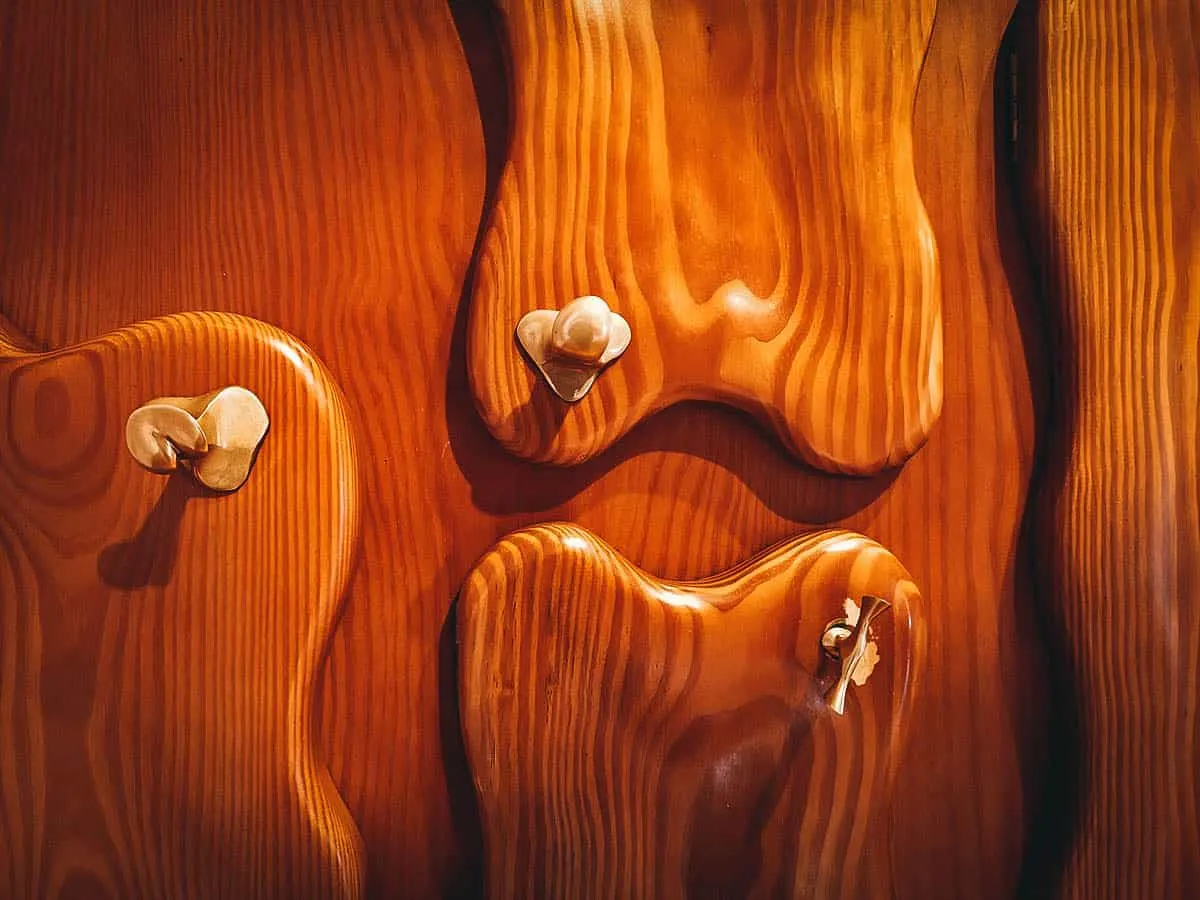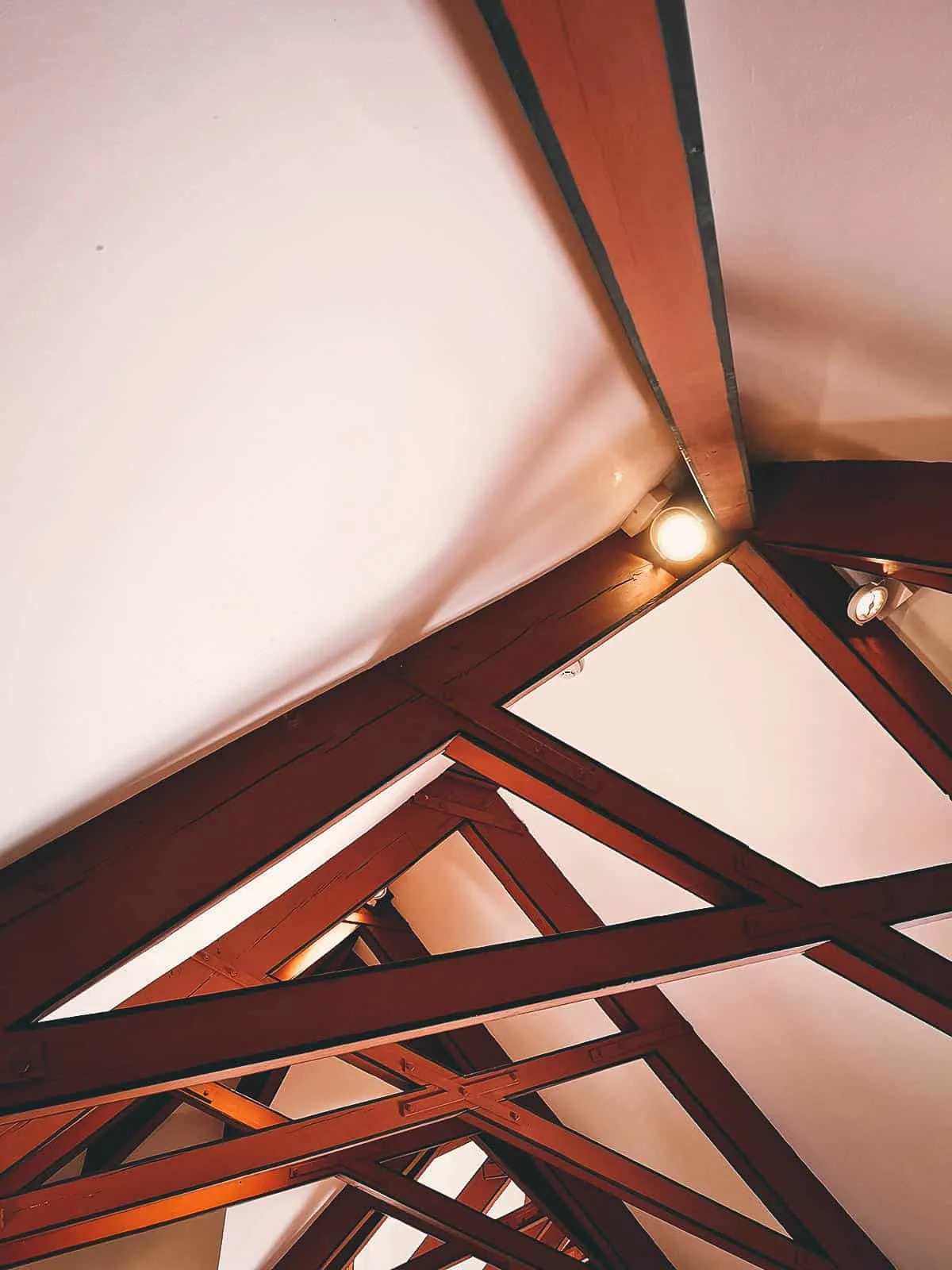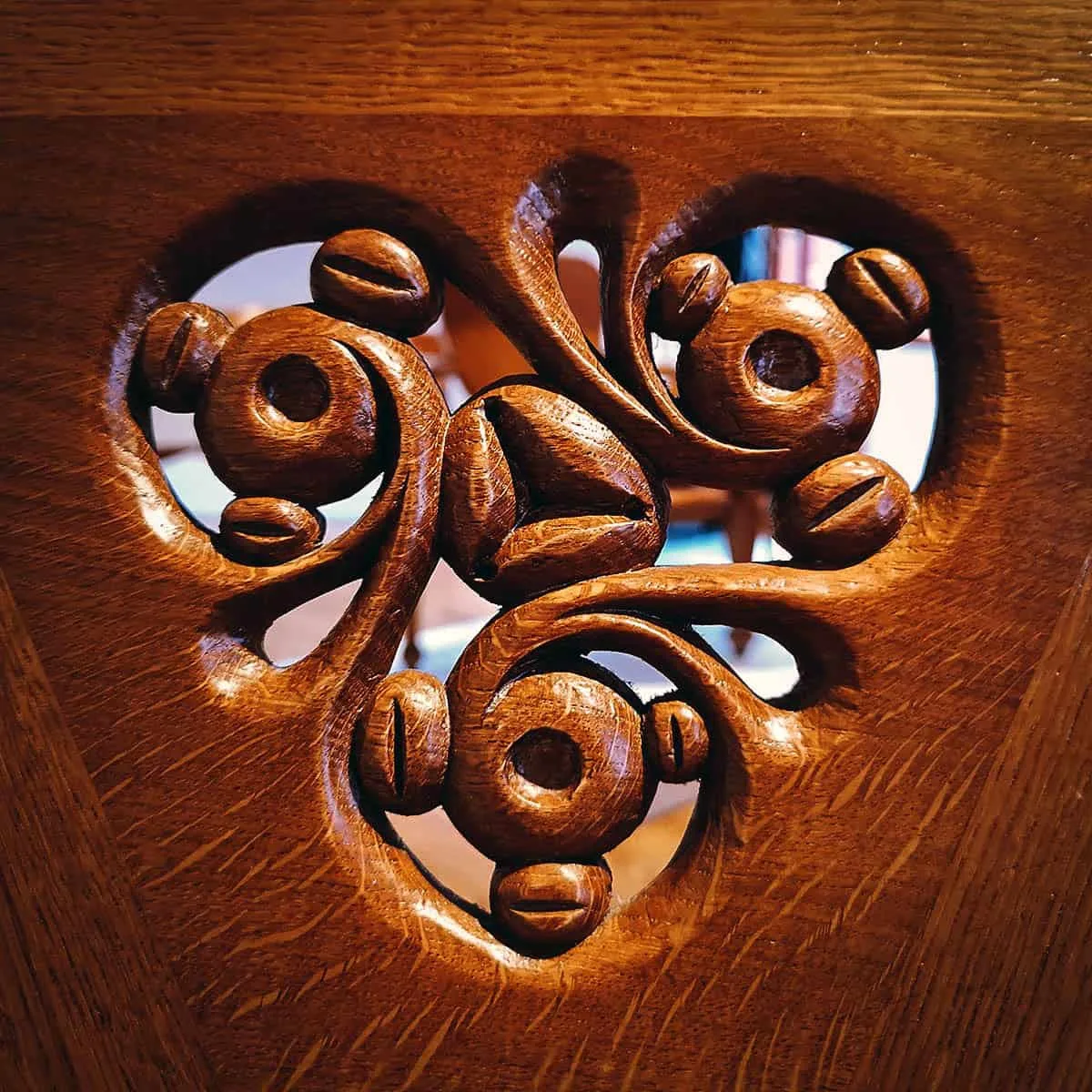 Renée: Have you been outside yet? Have you? Have you?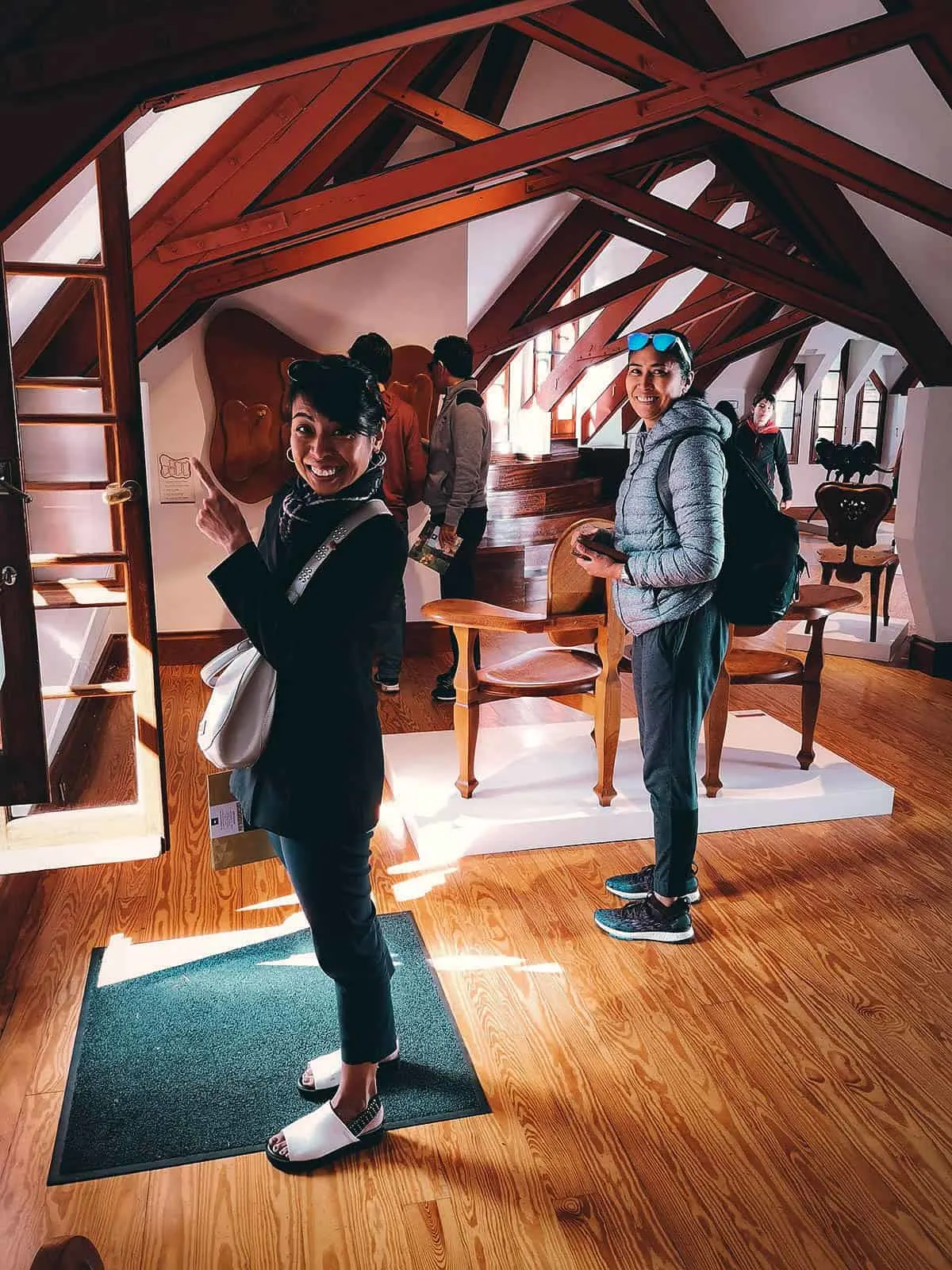 Going through that window-like door takes you out to a circular balcony where you'll find more of his ceramic tiles and ornate ironwork. I read that many of Gaudi's earlier works, including this house, was inspired by the oriental movement.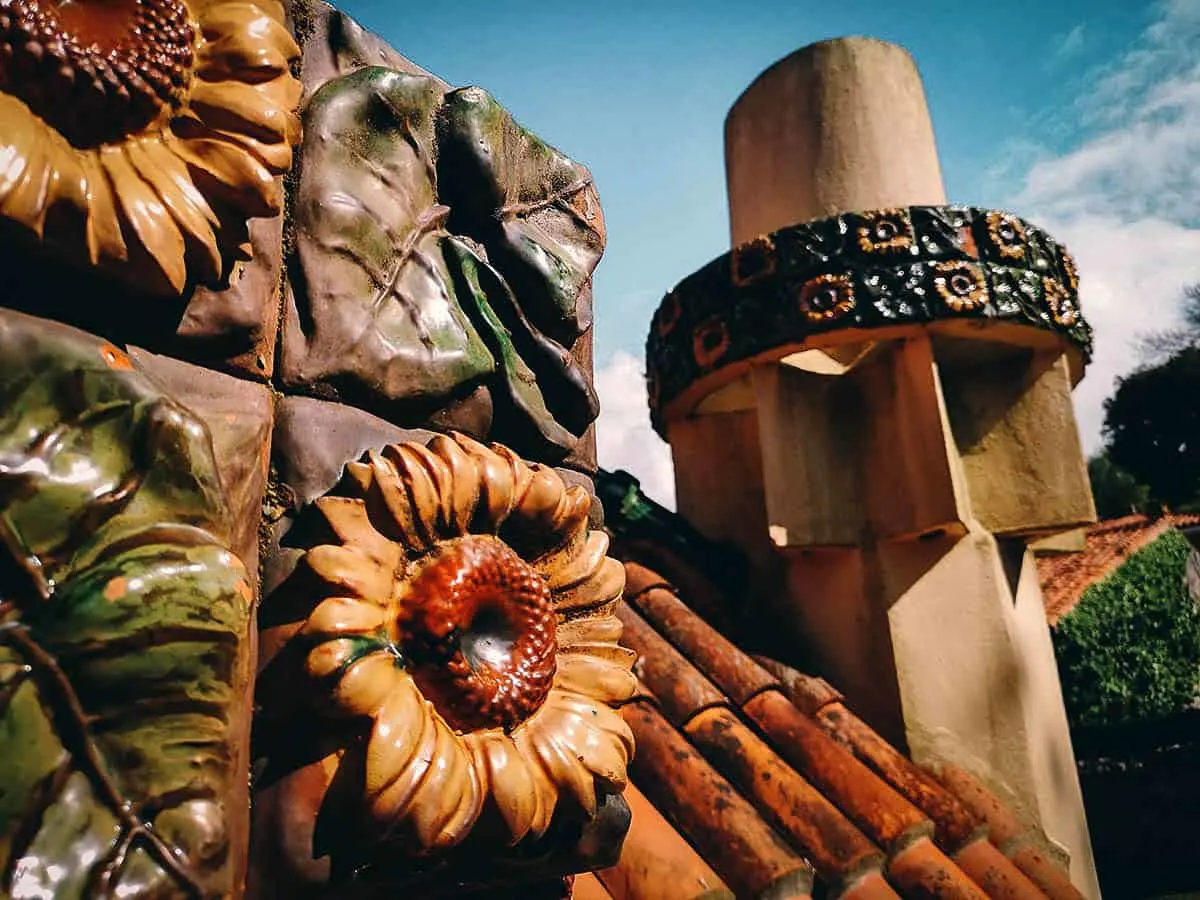 Unfortunately, you couldn't enter and climb up that tower. Unlike the rest of the house which is covered in brick and adorned with ceramic accents, the tower is faced entirely in ceramic tiles. Now why a Spanish lawyer would want a minaret-like tower in his residence, I have no idea.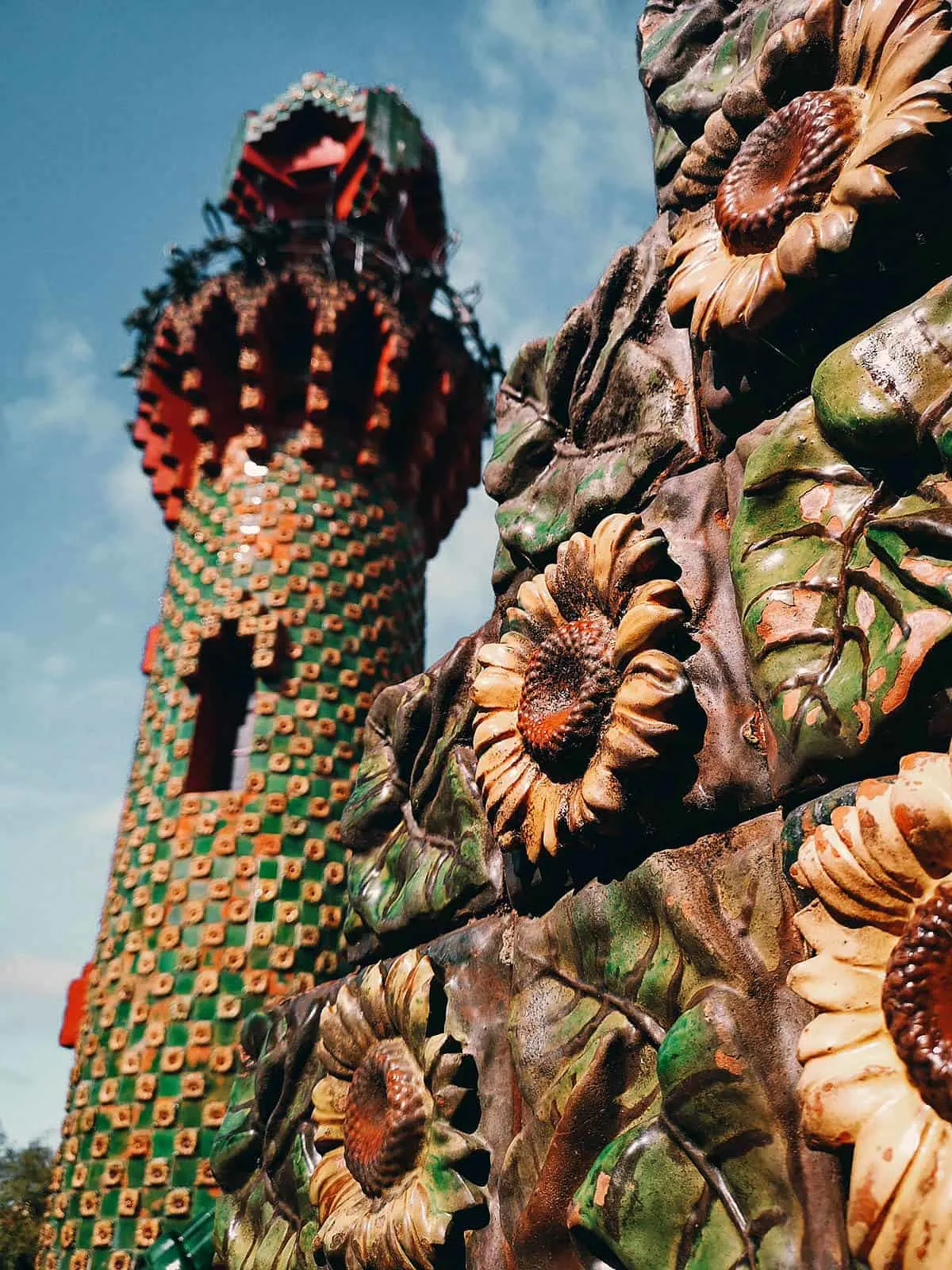 There were two spiral staircases leading up to the second floor. The first was fine but this one was a super tight squeeze and difficult to walk through. A passive-aggressive way perhaps of keeping the homeowner's weight in check?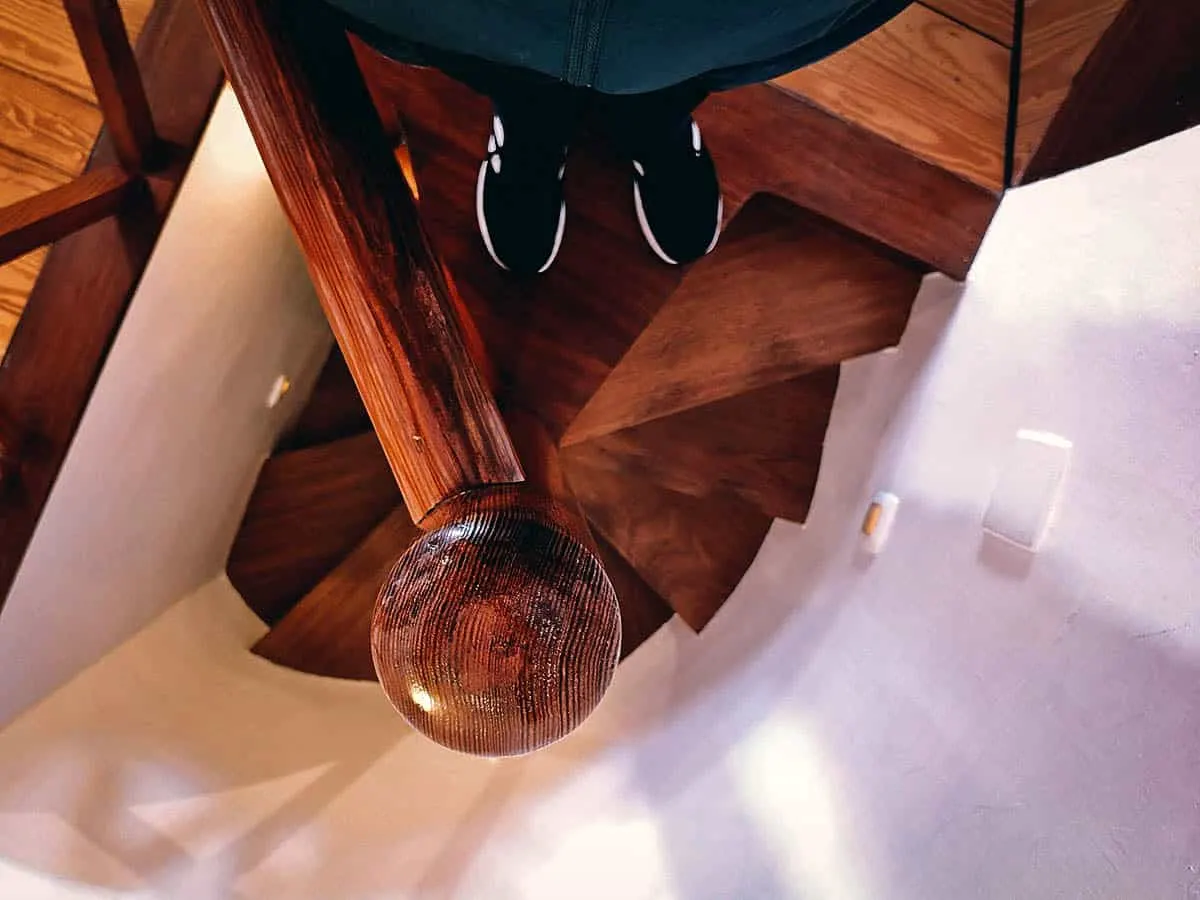 A parting look at El Capricho de Gaudi, an interesting but lesser known gem in northern Spain. If you're a fan of Gaudi's work, then you should definitely make a stop here. It felt great being here because not as many people see this house compared to his more famous creations in Barcelona. Again, a benefit of having your own car.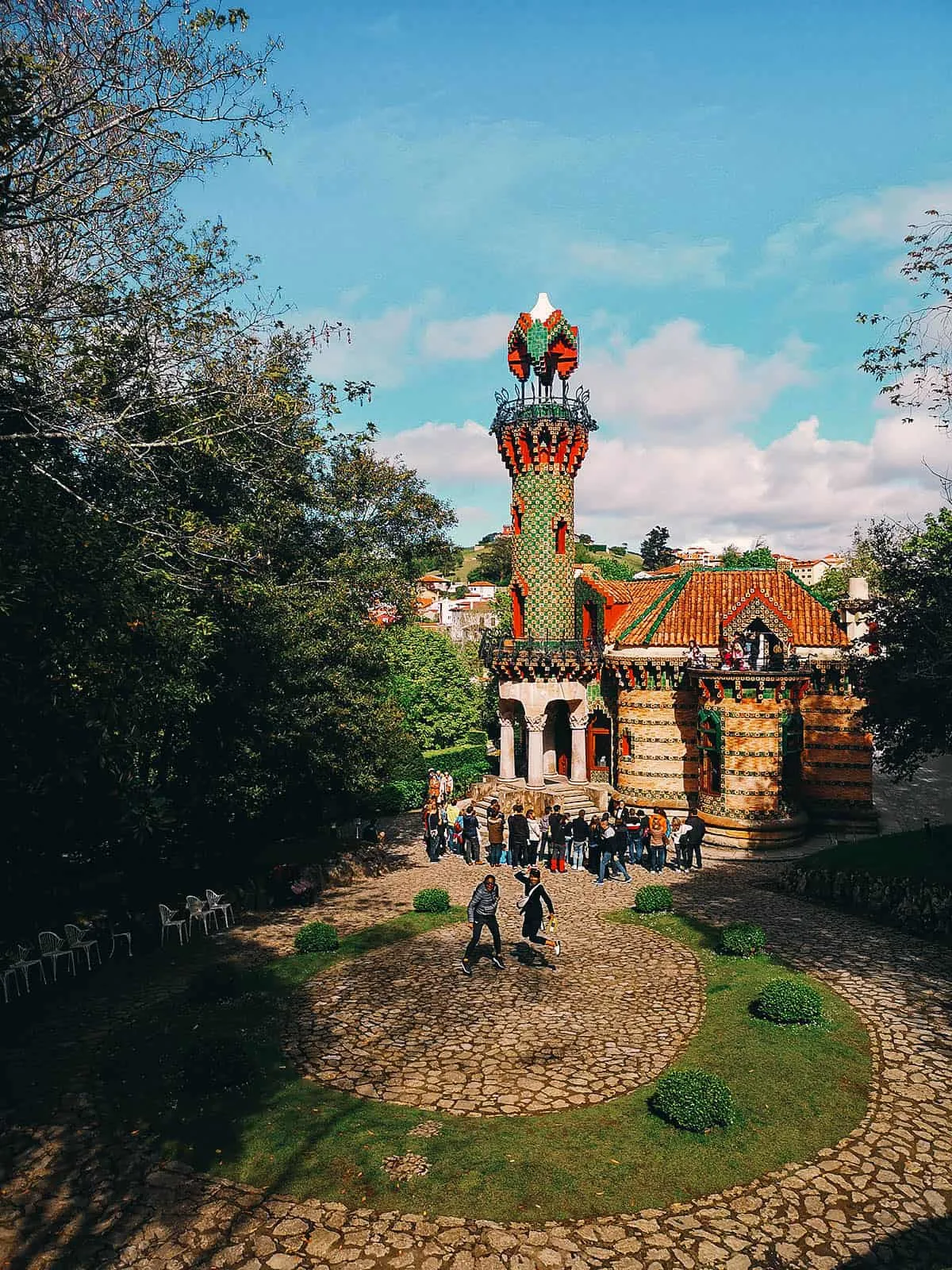 LEG 3: COMILLAS TO OVIEDO
DISTANCE: 147 km / Driving Time: 1 hr 45 mins
The third and final leg on the first day of our road trip would take us from Comillas to Oviedo where we stayed for the night.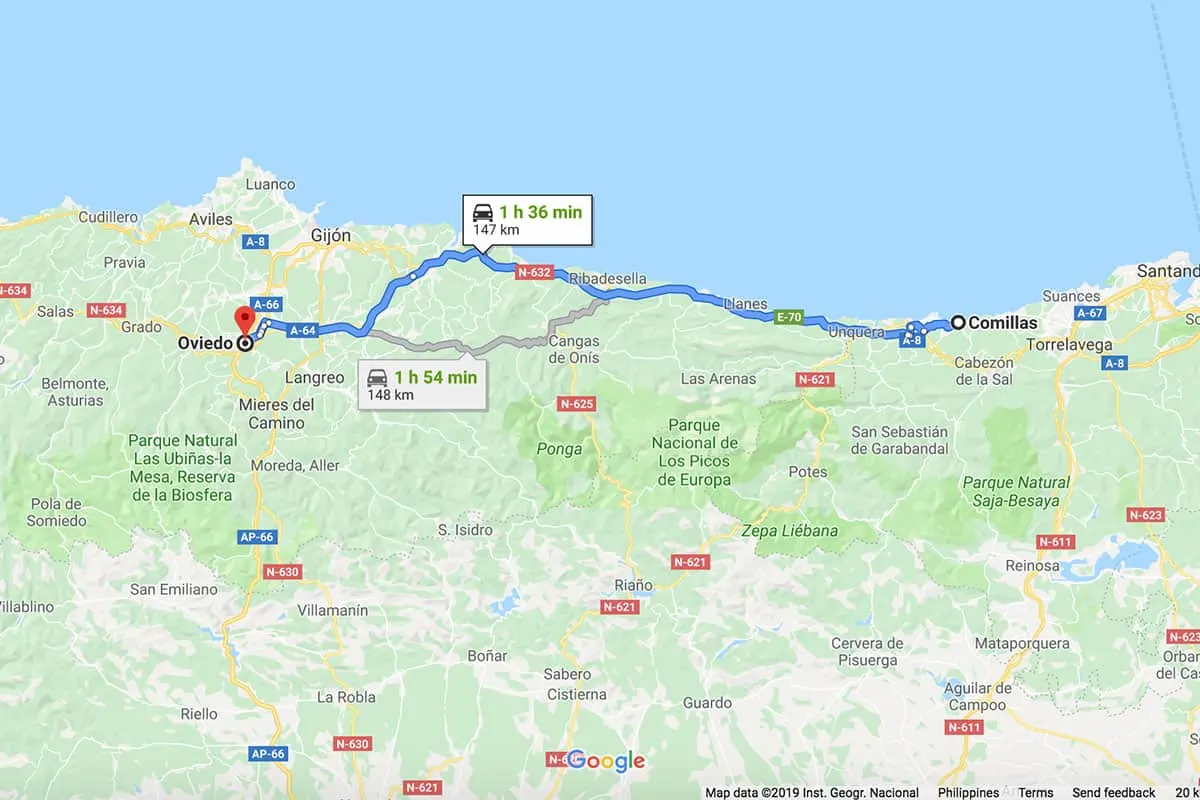 OVIEDO
Oviedo is the capital city of Asturias. It's known for its medieval old town and featured prominently in Woody Allen's 2008 film Vicky Cristina Barcelona. In fact, the director once named Oviedo as his favorite Spanish city, likening it to a fairy tale.
As beautiful as Oviedo is, we chose to spend the night here because they're known for many interesting Asturian dishes, tasty things like fabada, Cabrales, cachopo, and carbayones. In fact, we celebrated my 45th birthday here over a bowl of the best fabada Asturiana any of us had ever had in our lives.
A quick note on parking – it's a bitch in Spain, and I imagine in most of Europe. We had no idea what a challenge street parking could be. That was the only thing I didn't like about having a car. Luckily, we found this free parking space not too far from where we were staying.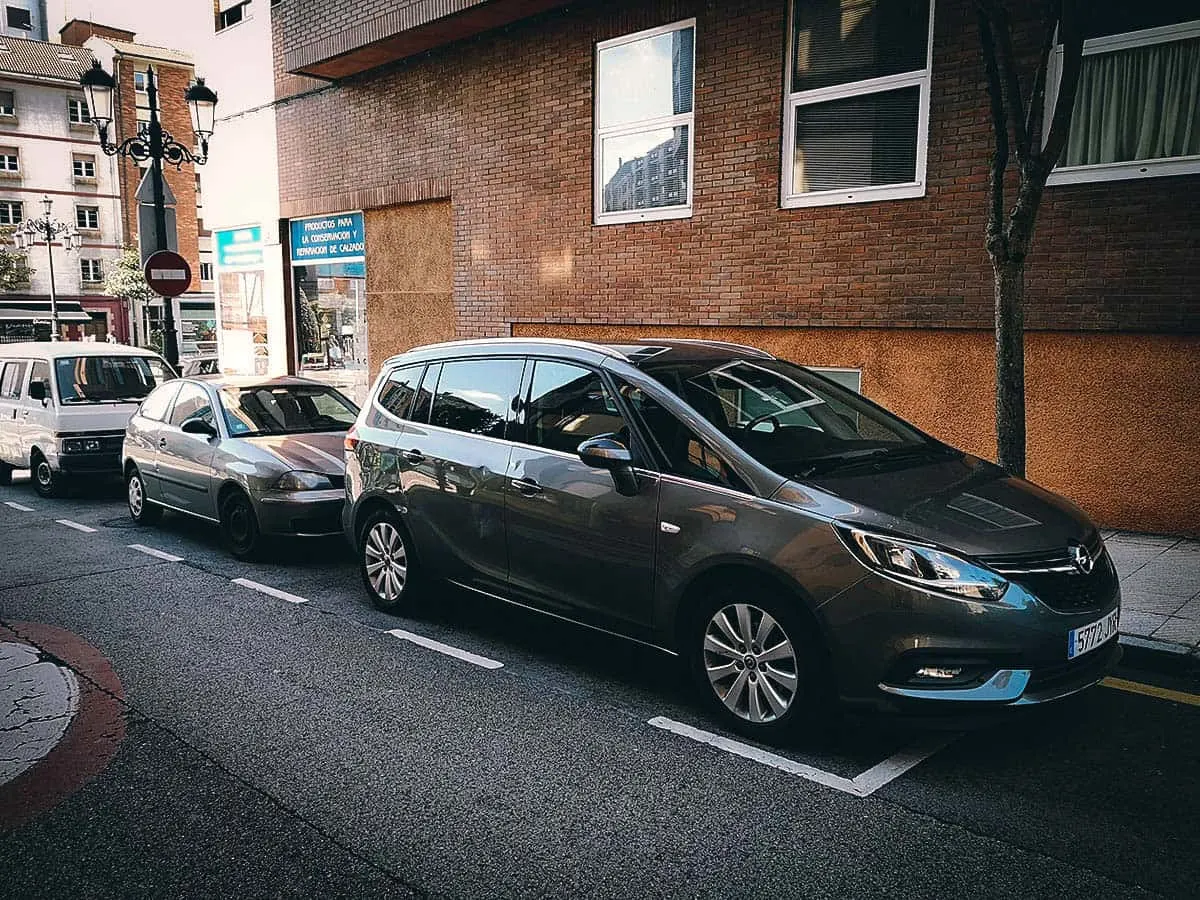 Restaurants in Oviedo
As described, we chose to stay the night in Oviedo because of the food, none more enticing perhaps than its famed Fabada Asturiana (pictured below). We ate at five highly-rated restaurants during our overnight stay, all of which you can read about in our list of must-eat restaurants in Oviedo. You'll learn where to find the best fabada, the best cachopos, and the best carbayones in the city. Muy delicioso!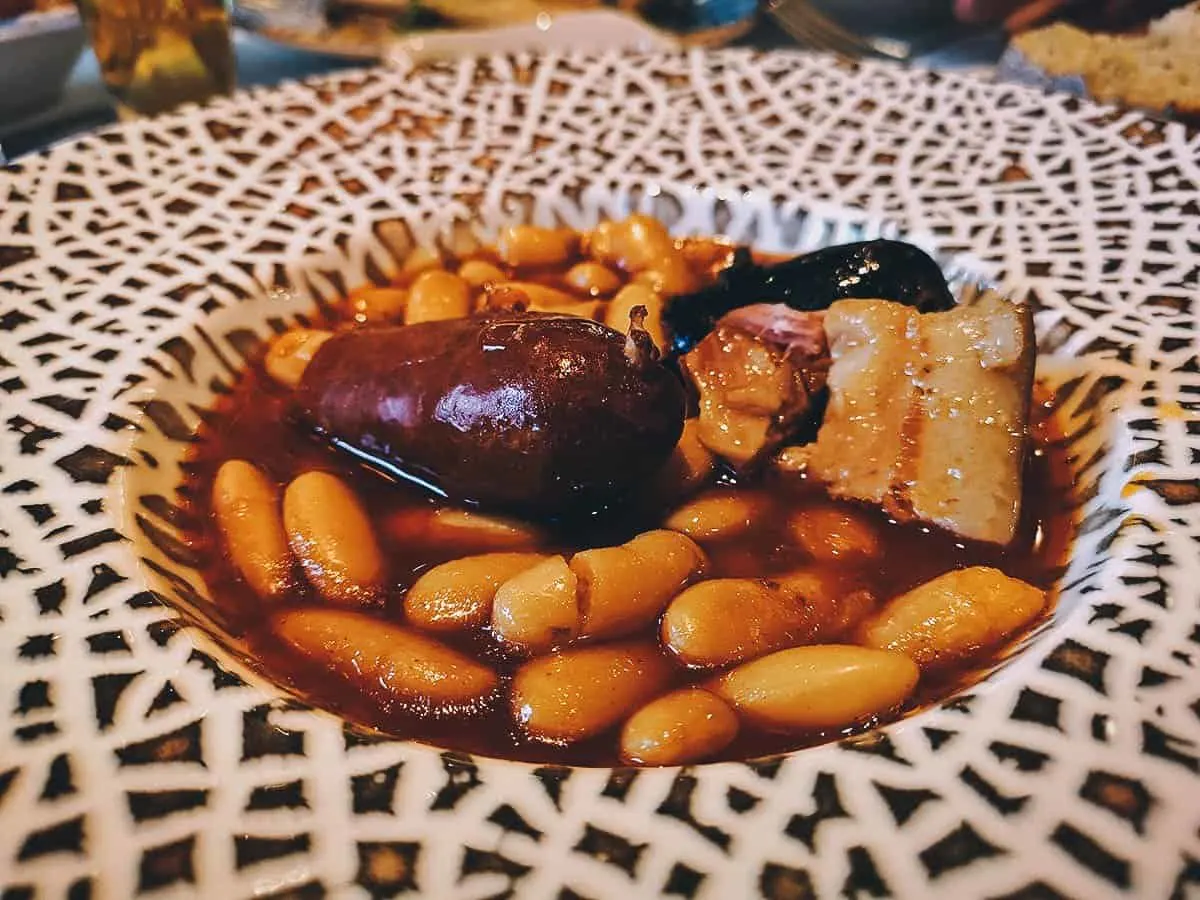 The Old Town
Oviedo is fascinating. Driving into the city, it looked more modern and with less character than the other cities we had visited in Spain. But walk into the Old Town and you're instantly transported to medieval Spain. Many of the buildings here date back to the 8th and 9th centuries. Entering an alley into the Old Town, it was like walking through a time warp. You could feel the atmosphere change.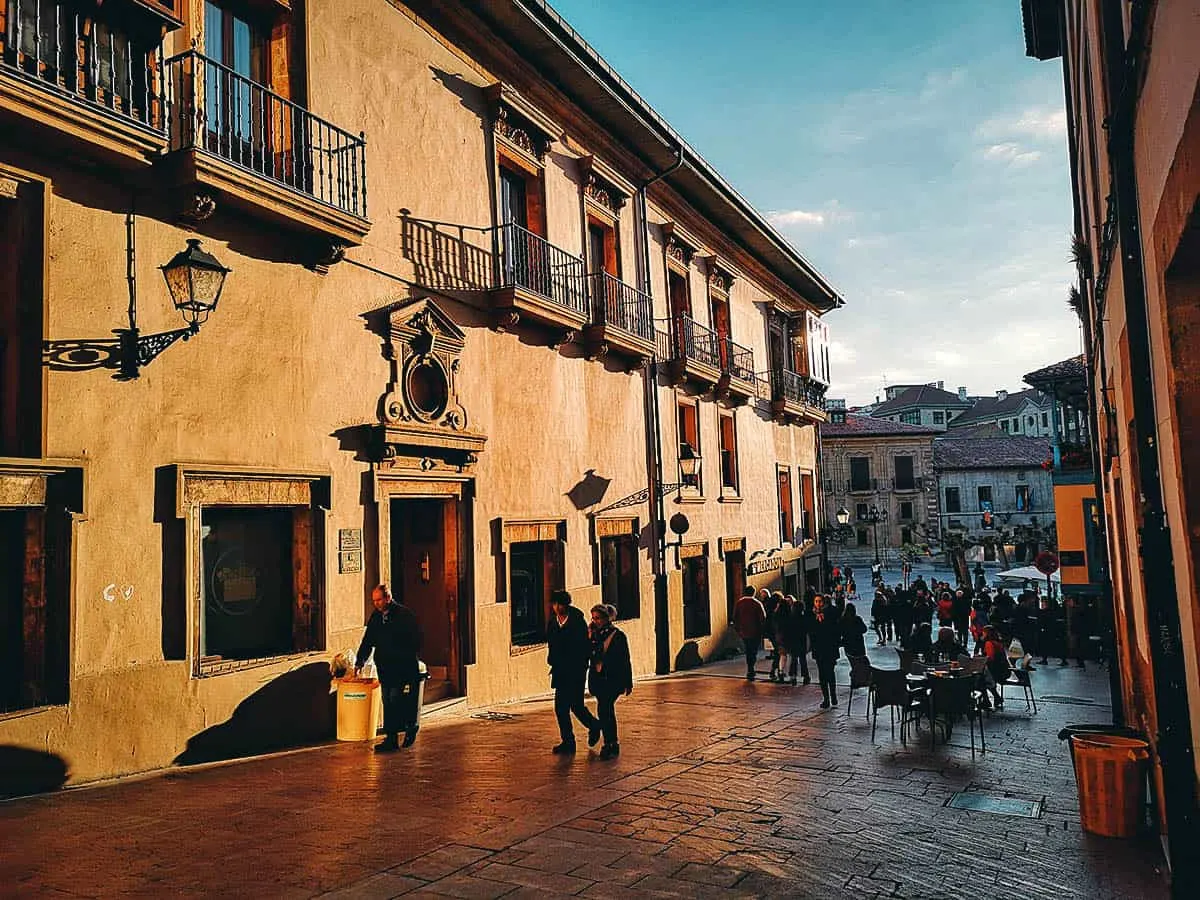 On one side of Plaza de la Constitucion is Oviedo's City Hall.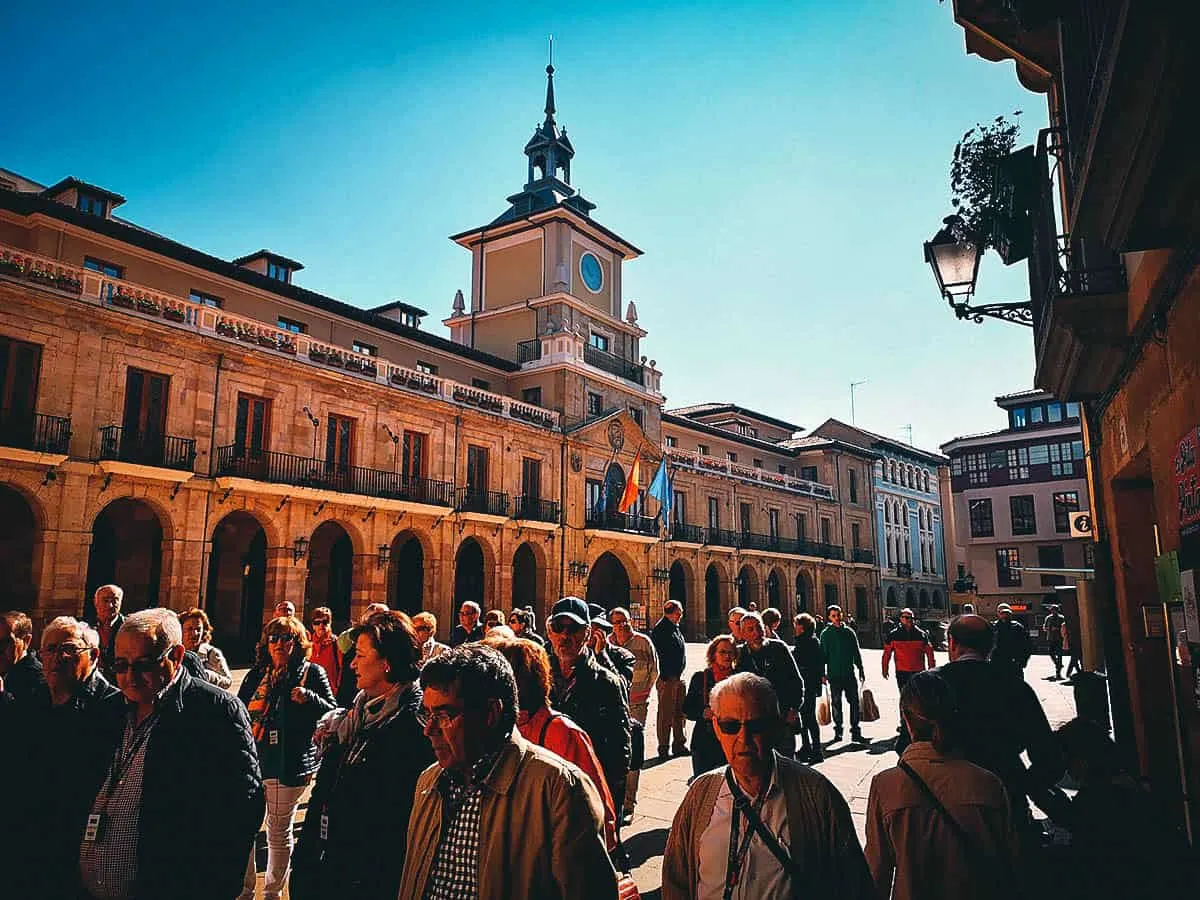 The beautiful San Isidoro El Real Church is in Plaza de la Constitucion as well. It was the first of two churches we'd visit in Oviedo, the second more grand than this one.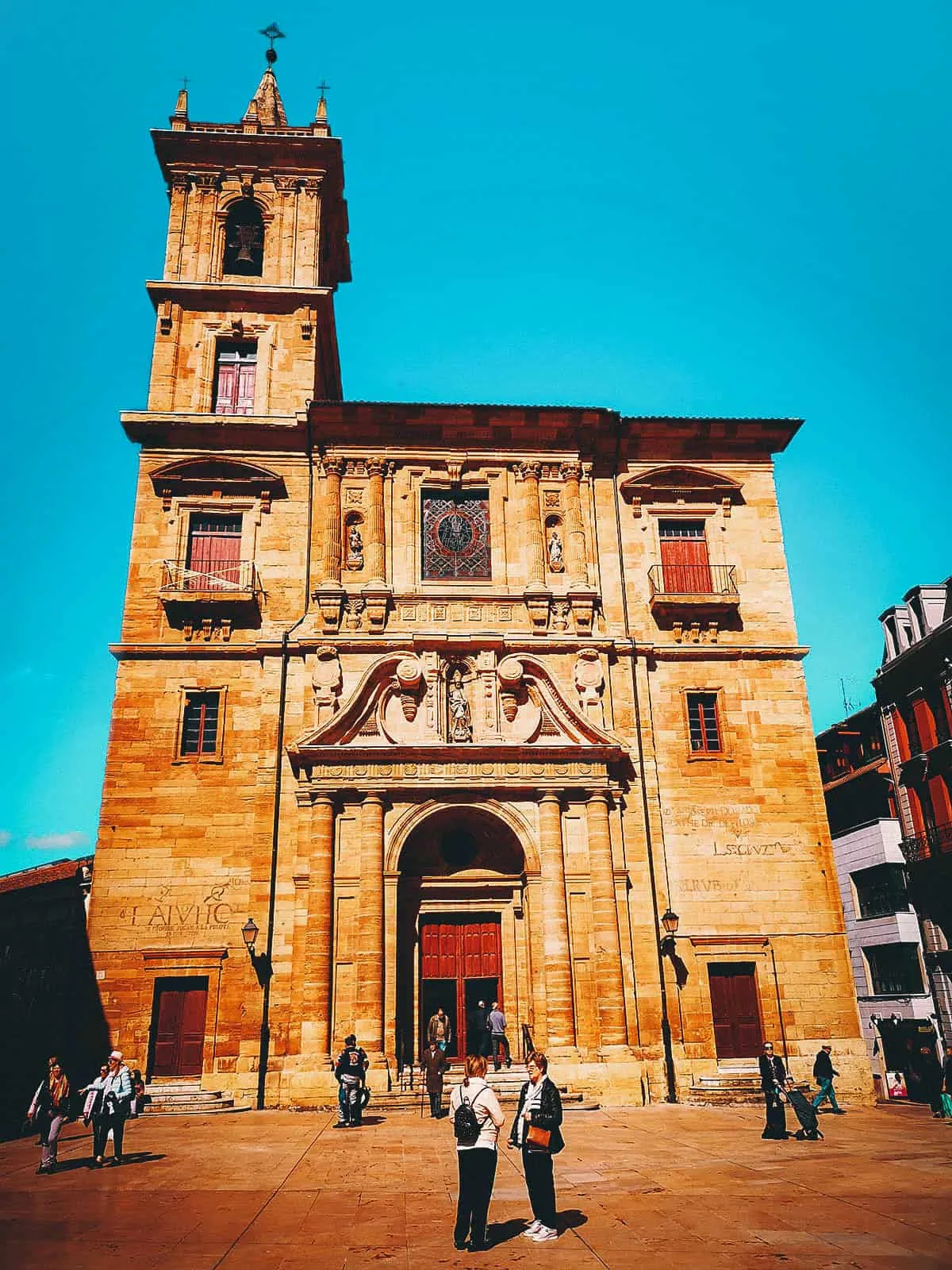 As with every church we visited in Spain, the interior of San Isidoro El Real Church was breathtaking. We're from the Philippines and there's a belief that entering a new church for the first time allows you to make three wishes. I must have made the same three wishes dozens of times throughout our stay in Spain.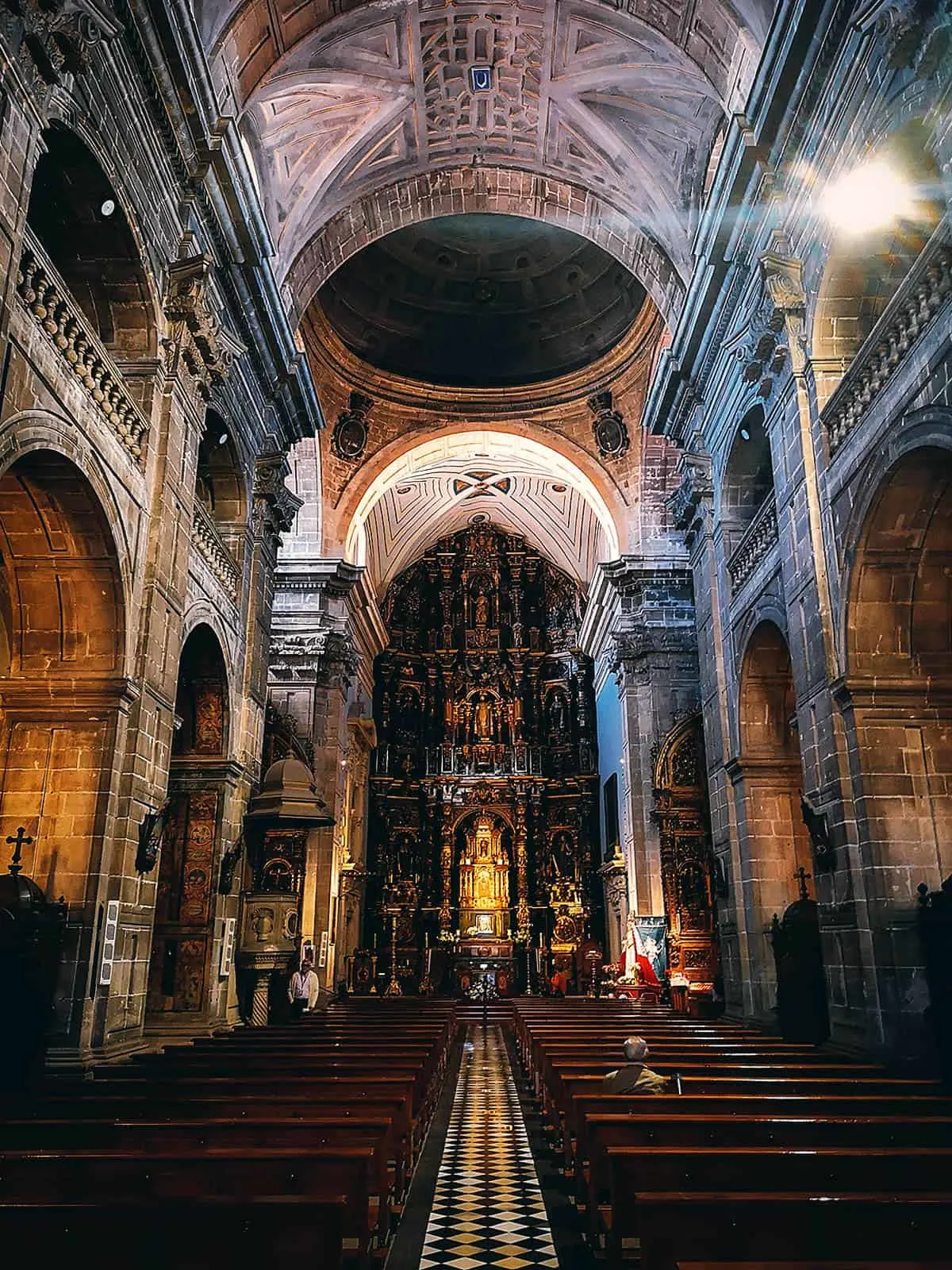 Beautiful ornate altar and sanctuary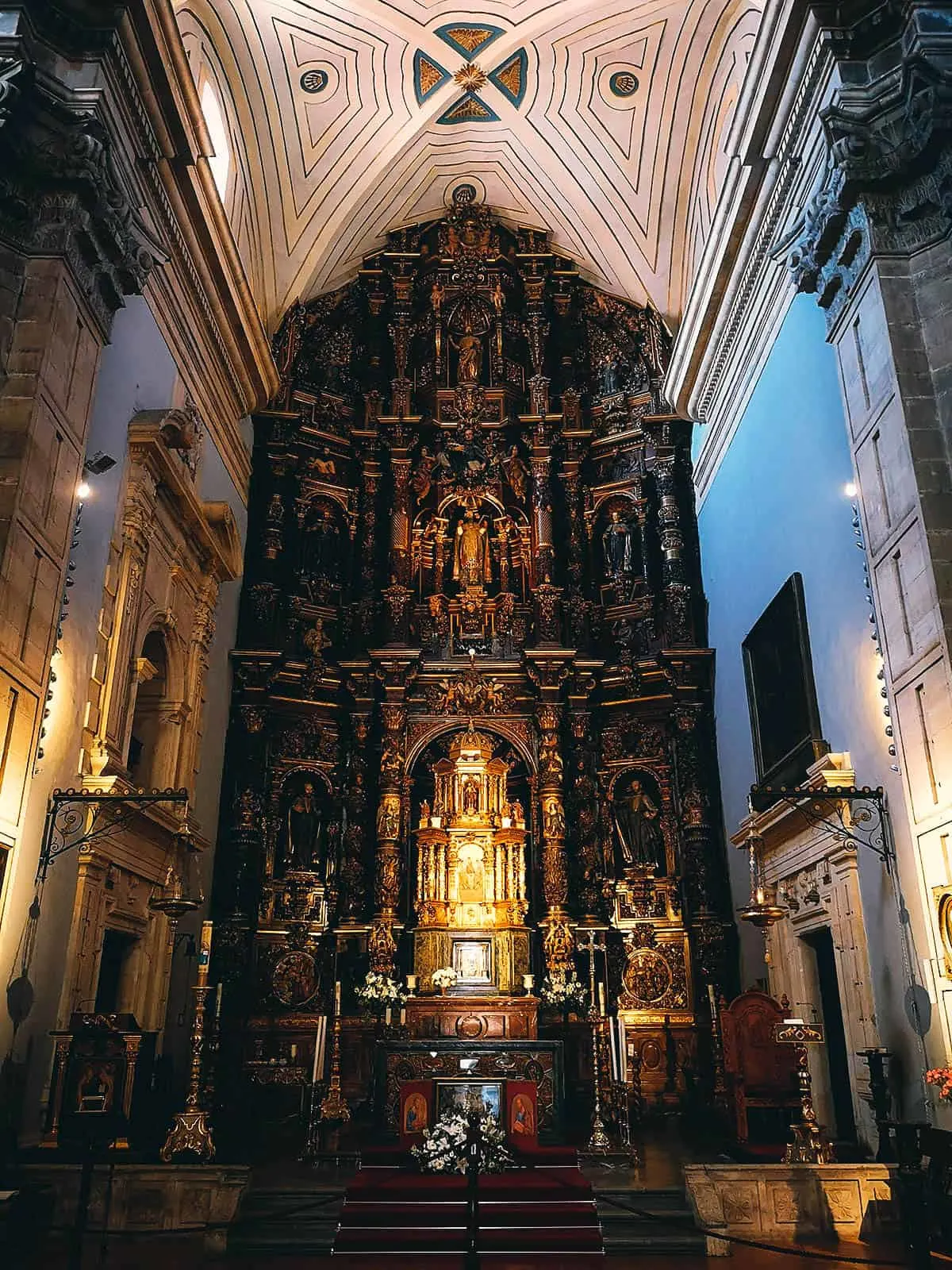 When we stepped out of the church, we were surprised to find these locals in costume standing in a circle and playing bagpipes. I'm not sure what the significance of this was but we were here on May 4th, so this may have been a precursor to the annual Ascension Fair which happens forty days after Easter.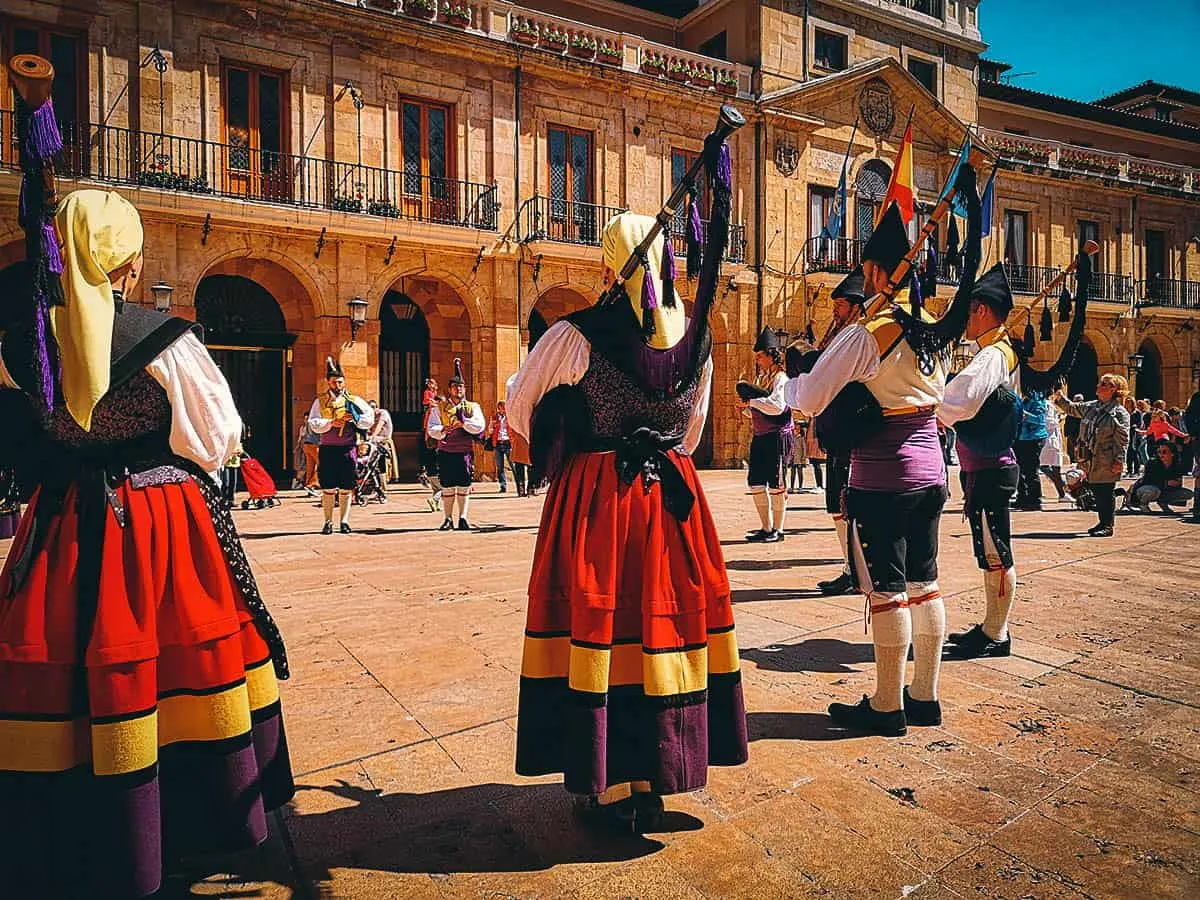 If this was indeed a precursor to the Ascension Fair, then we were getting a taste of an important Asturian festival that dates back to the 16th century. What started as a livestock contest has since grown into a festival showcasing the various food items produced in the Asturian countryside. Another great reason for food-obsessed travelers to visit Oviedo!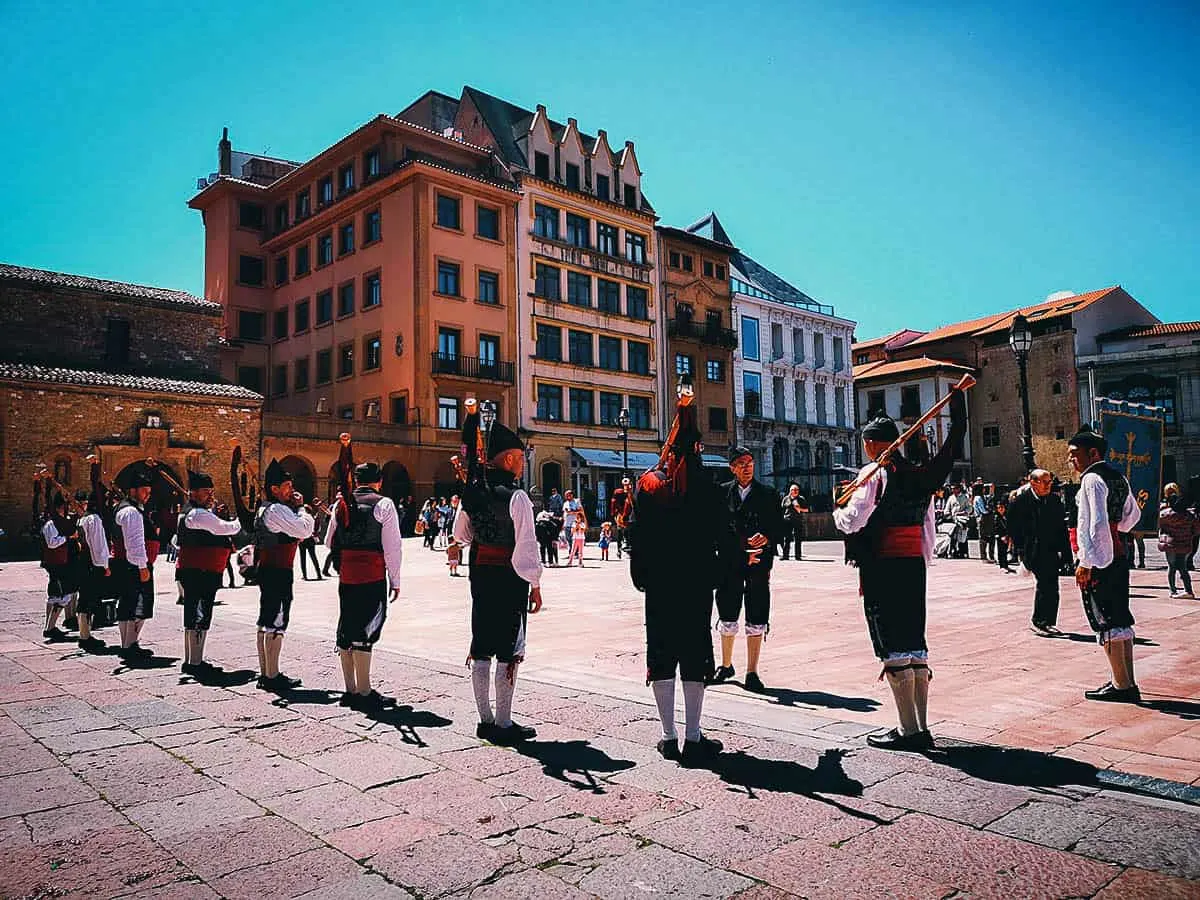 The actual festival typically happens around the end of May. Lucky traveleaters who visit during that time may get to experience this gastronomic event featuring the region's best Spanish food products like sausages, breads, liquor, beans, and over forty different varieties of world-class Asturian cheeses.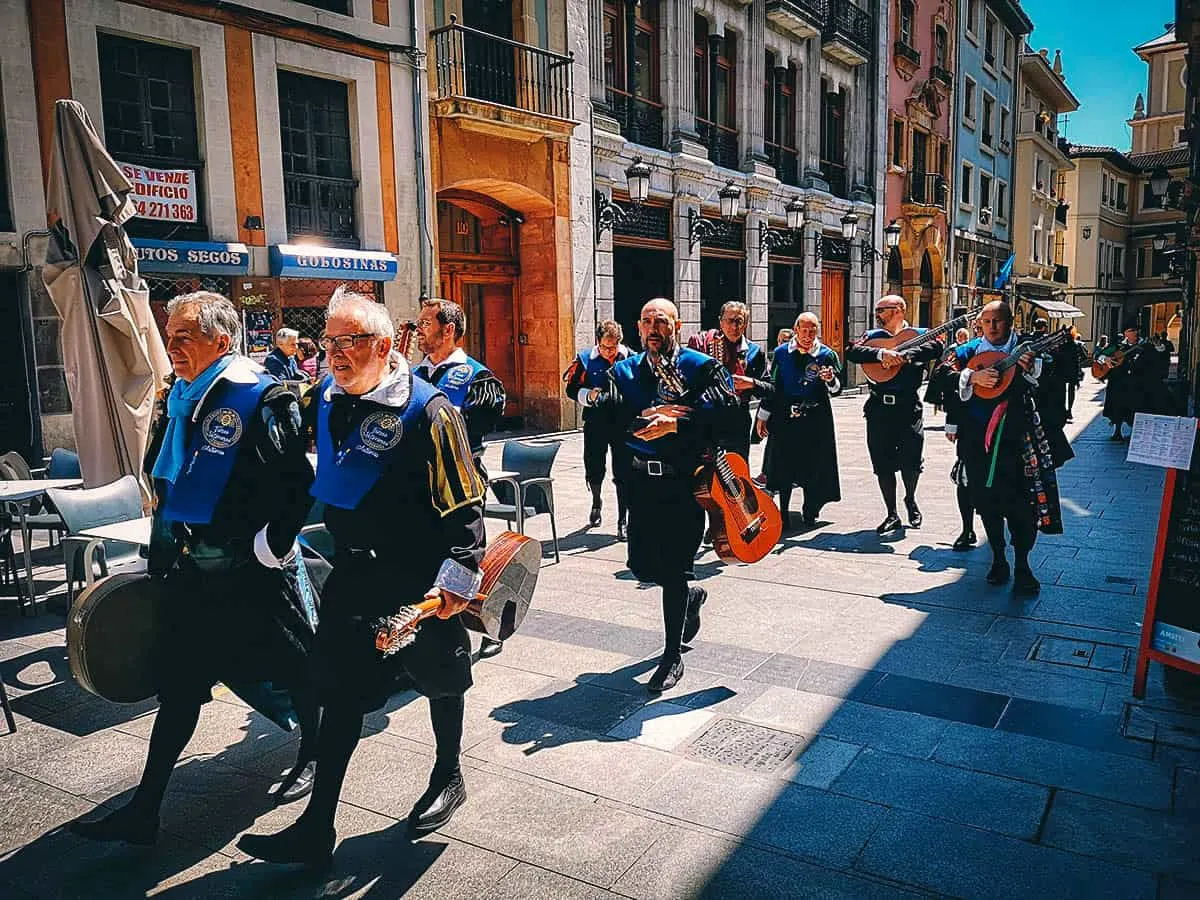 A statue of La Regenta with the Cathedral of San Salvador in the background. La Regenta is a novel written by Spanish author Leopoldo Alas y Ureña. It's set in a fictional city that's believed to have been based on Oviedo.
I read that there are hundreds of statues in Oviedo similar to this one, including one of Woody Allen.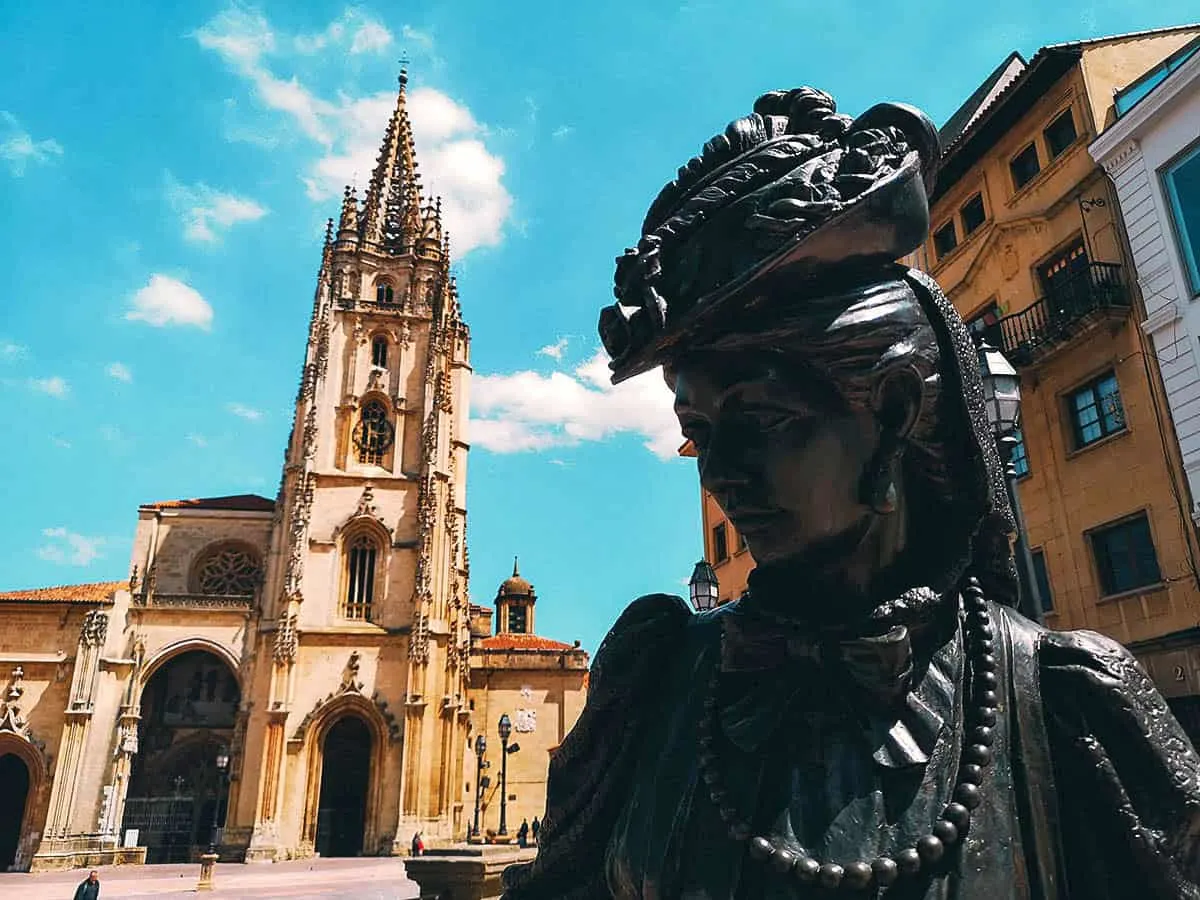 Facade of the Cathedral of San Salvador which was founded in 781 AD. This current version of the cathedral was built in 1388.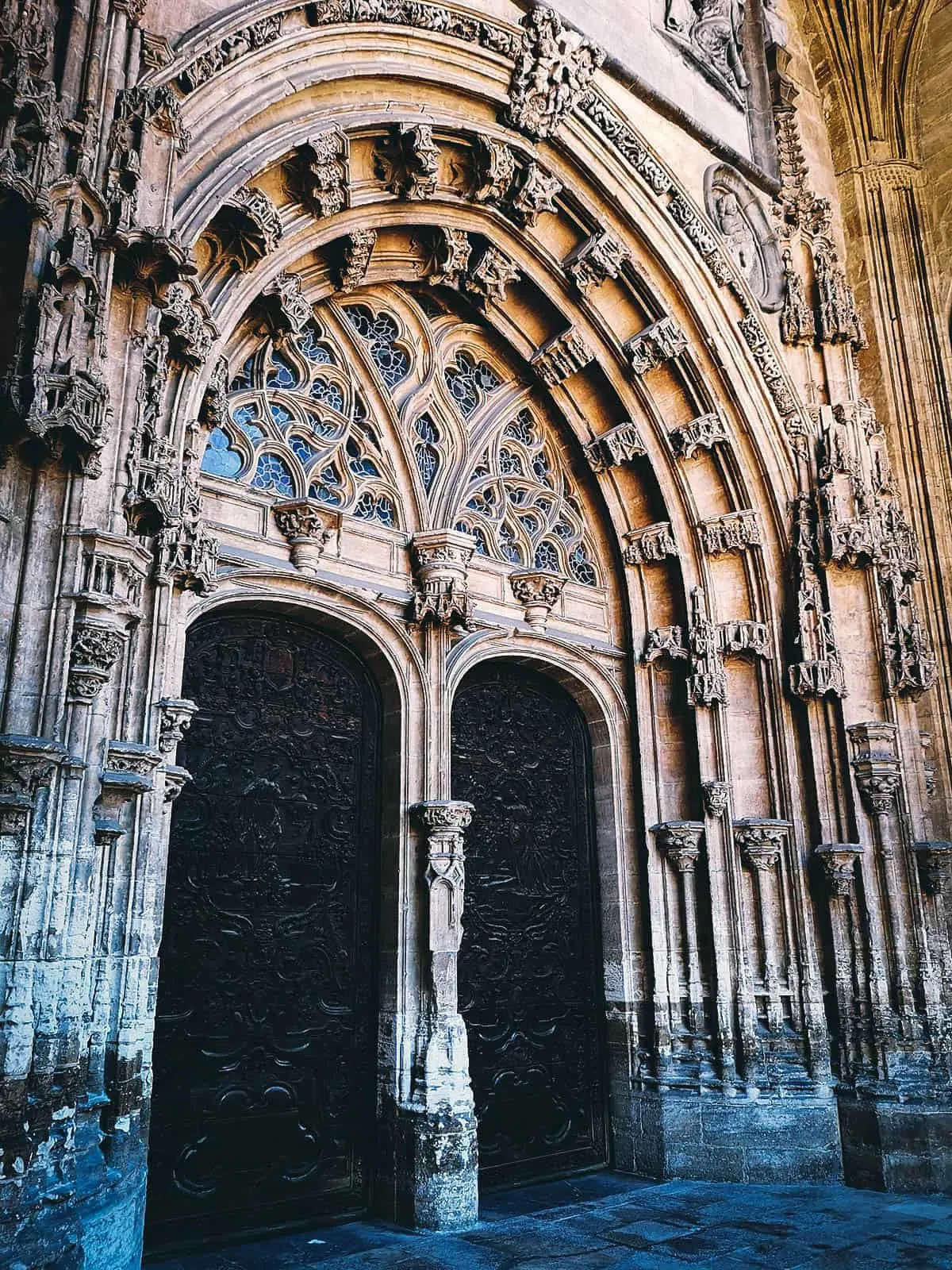 Ornate carvings on the cathedral's front doors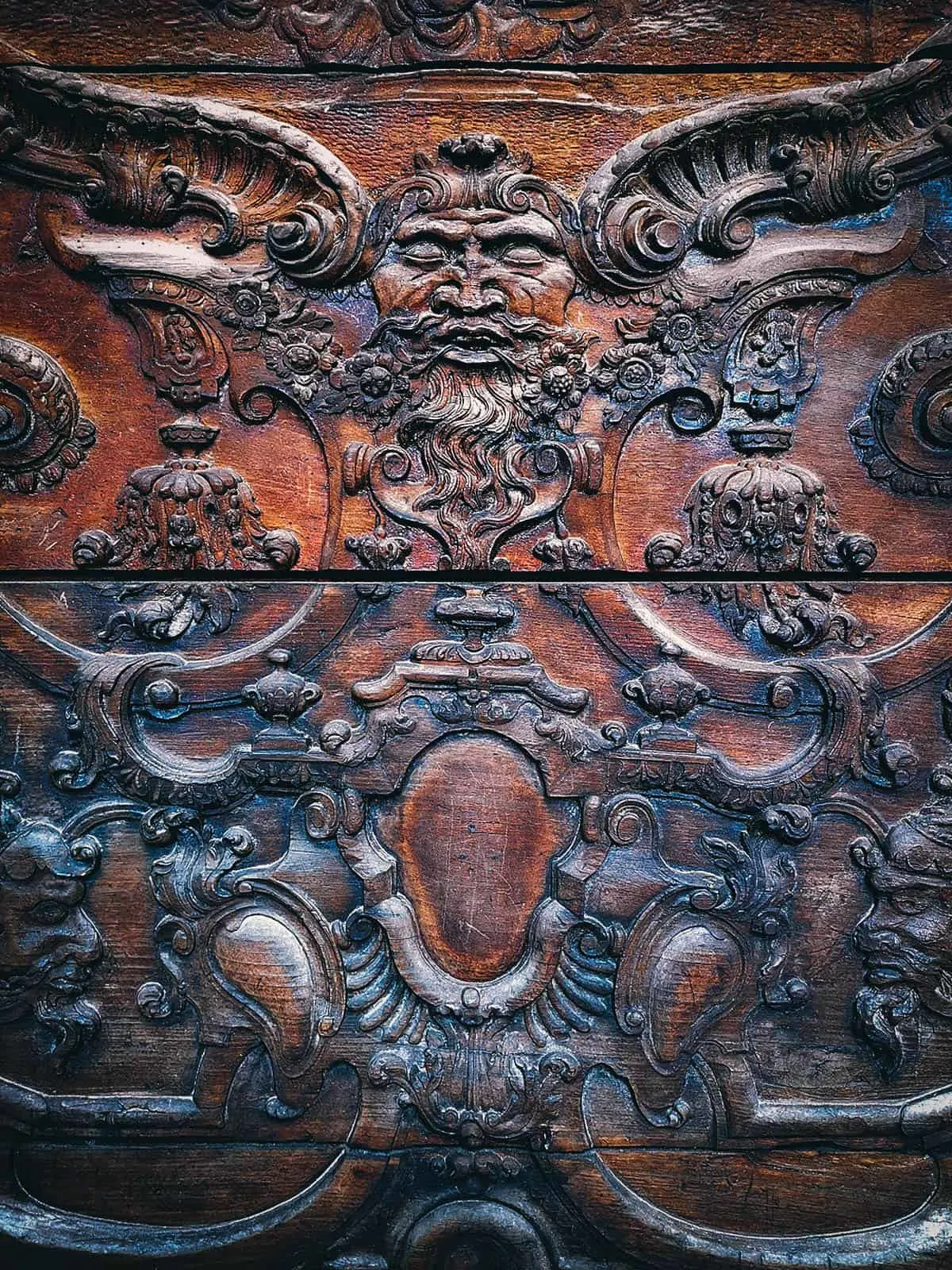 Oviedo is home to many noteworthy churches and architectural sites, none more grand perhaps than the Cathedral of San Salvador.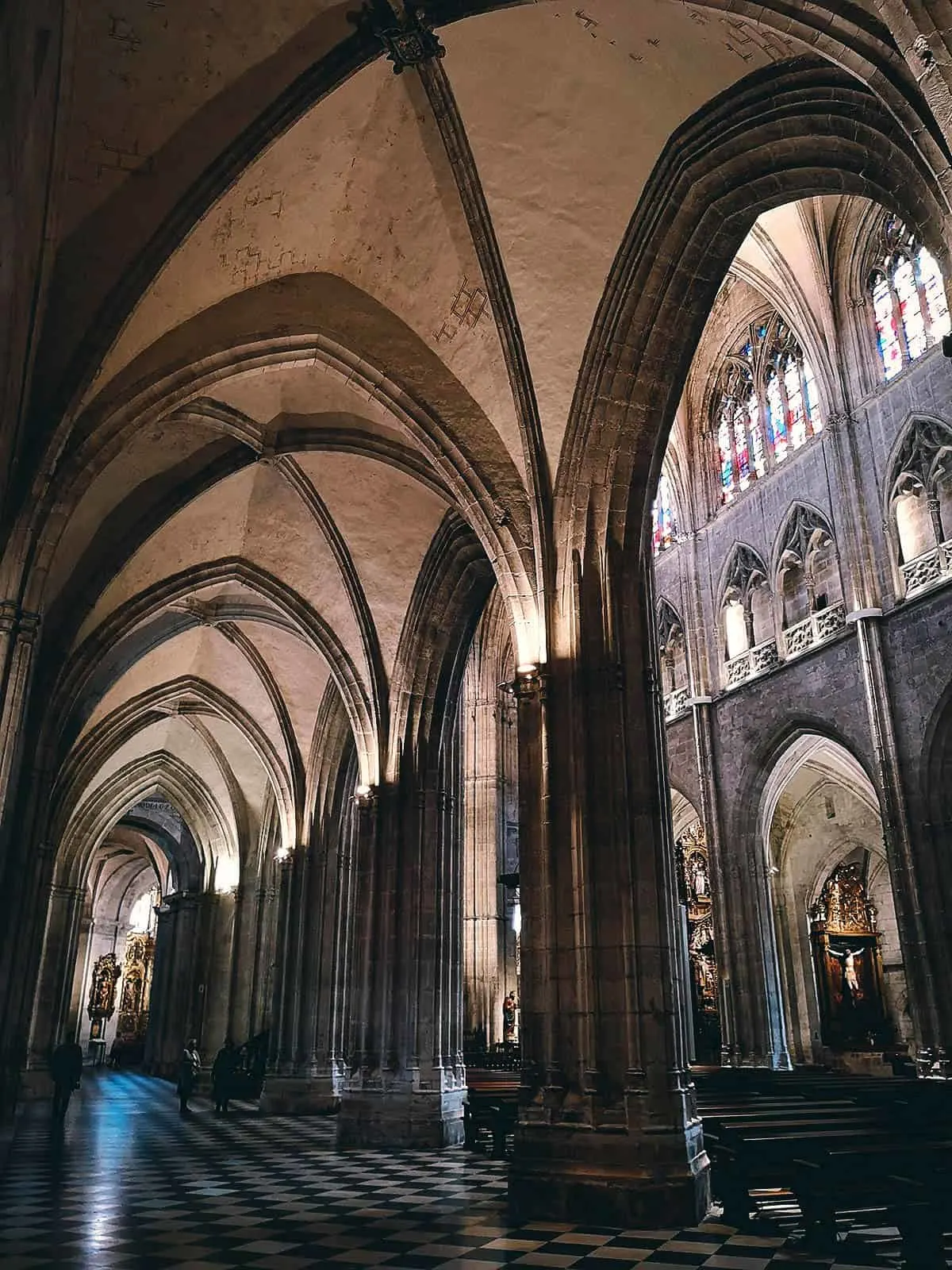 The Old Town is a great place to get lost in, especially if you like architecture and a festive but relaxing vibe. The people of Oviedo were some of the nicest and warmest we encountered in our seventeen days in Spain. We fell in love with this city and would be happy to go back.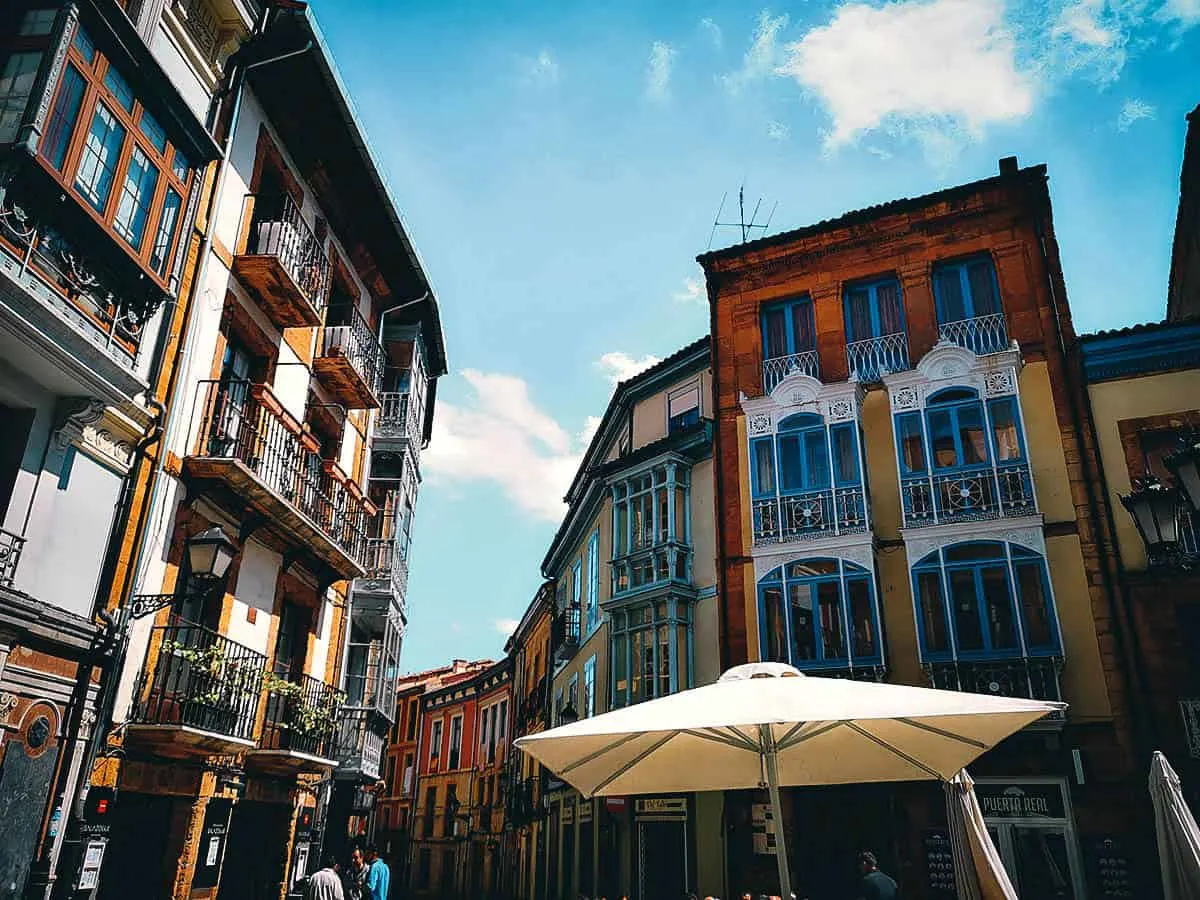 Outside the Parliament building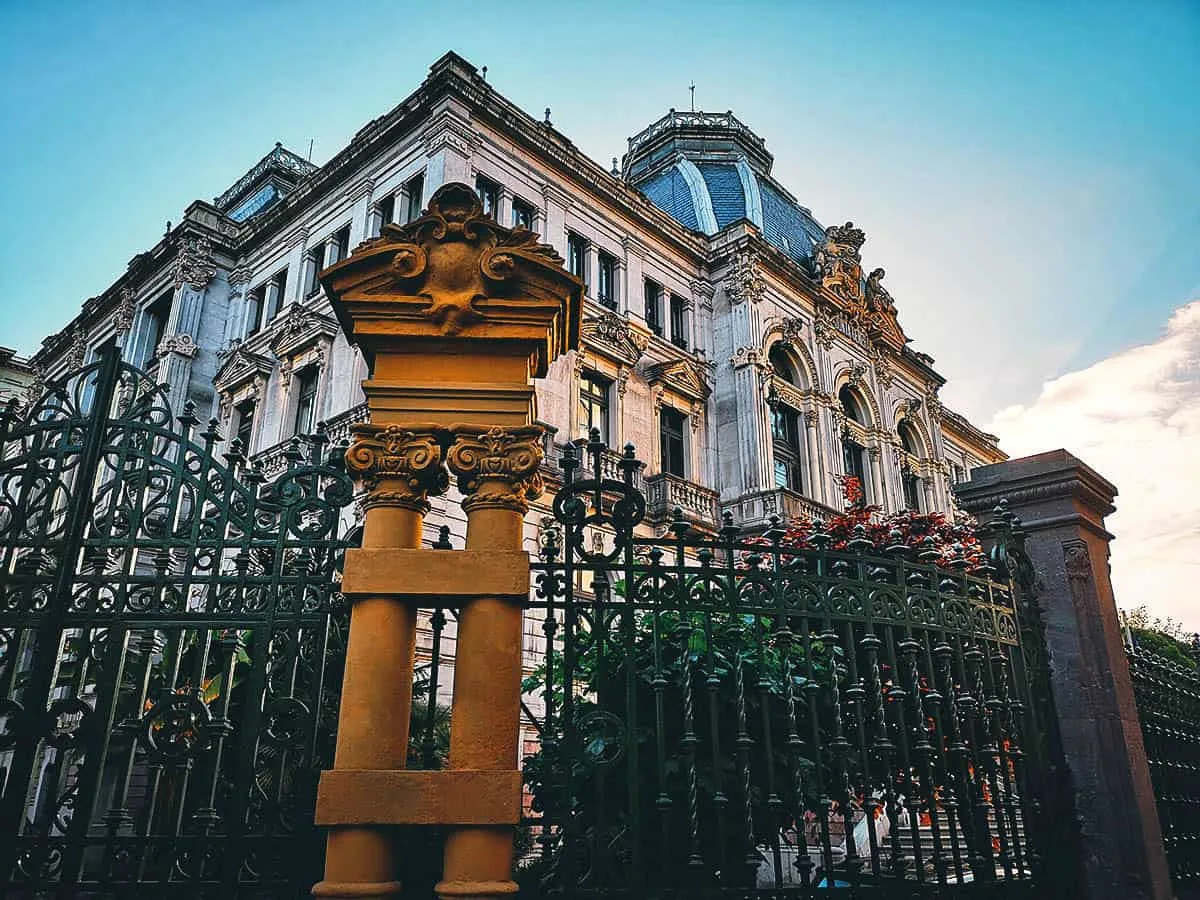 Mercado El Fontan
Being the traveleaters that we are, the one stop we were most excited about in Oviedo was the market. You can see it up ahead on the left.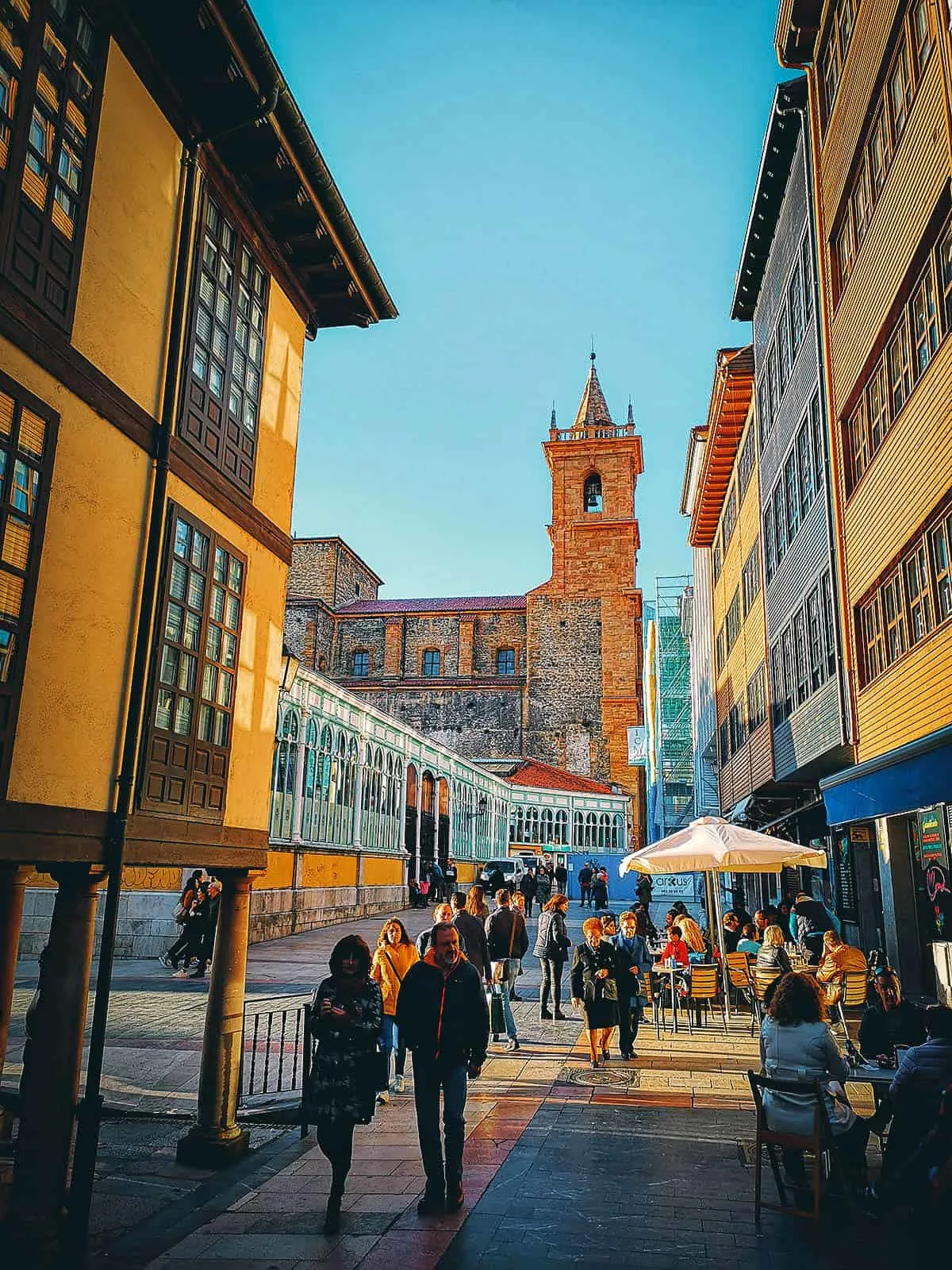 Mercado El Fontan resides in a more modern building now but the original market was built in the 17th century.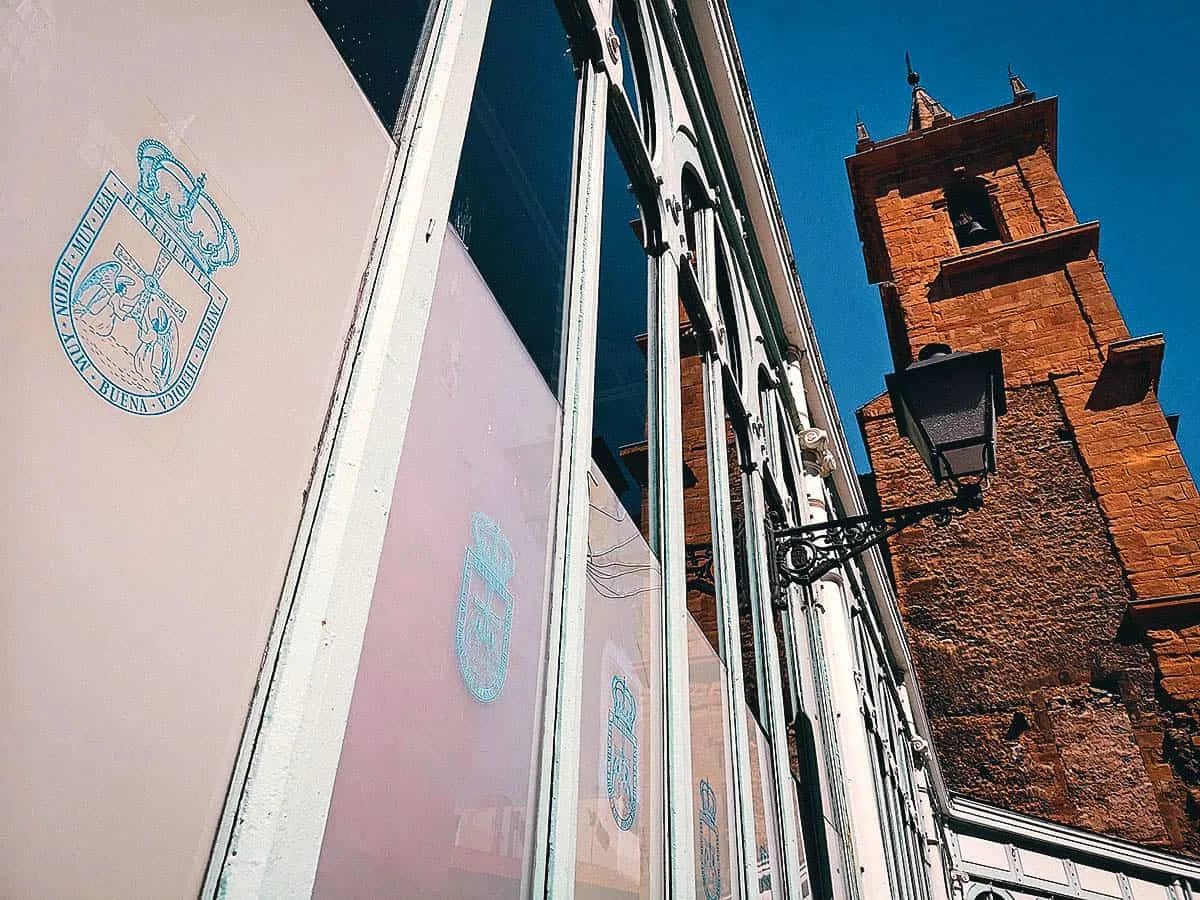 If you enjoy the experience of food, then visiting traditional Spanish markets is a must. We visited at least one market in every city we went to in Spain.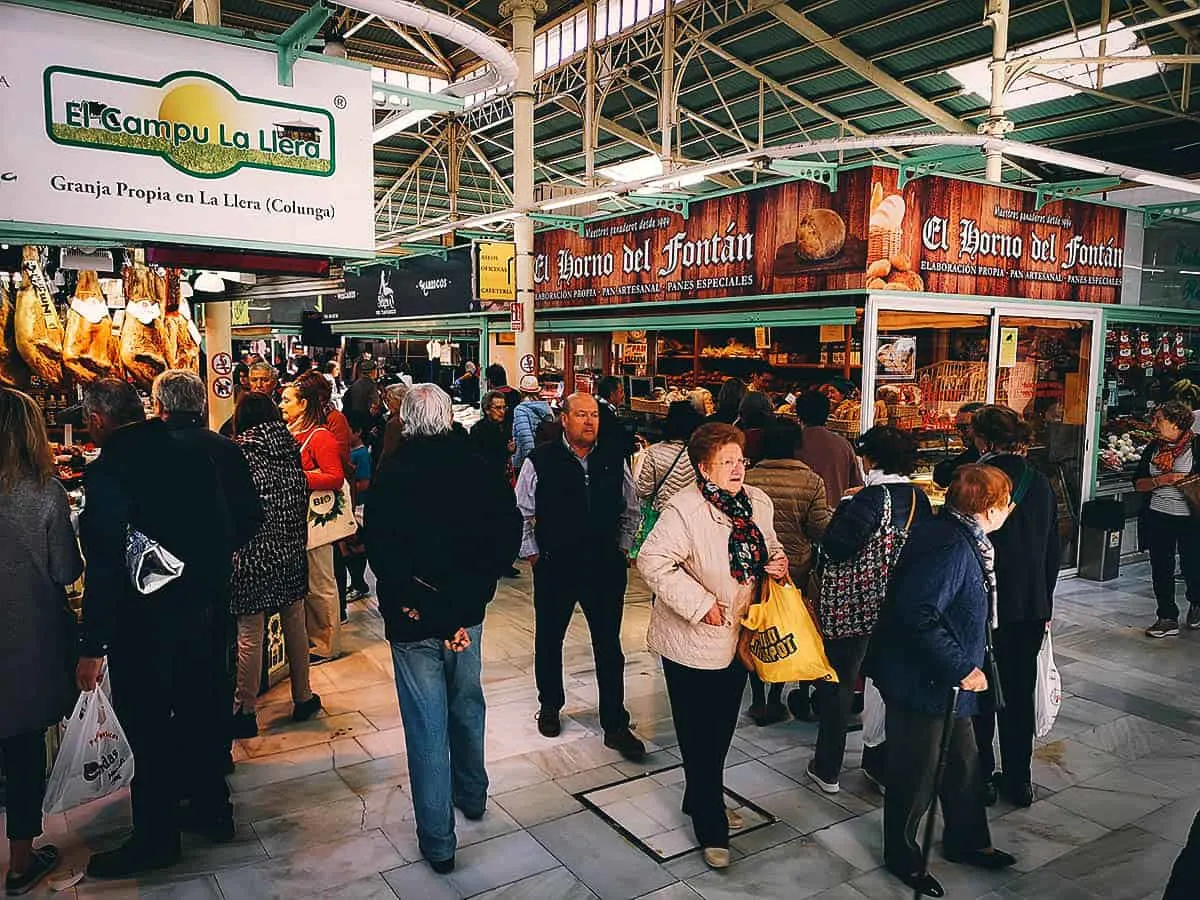 Most of the Spanish markets we visited had vendors selling fresh produce as well as kiosks offering prepared food. If I remember correctly, Mercado El Fontan had only the former.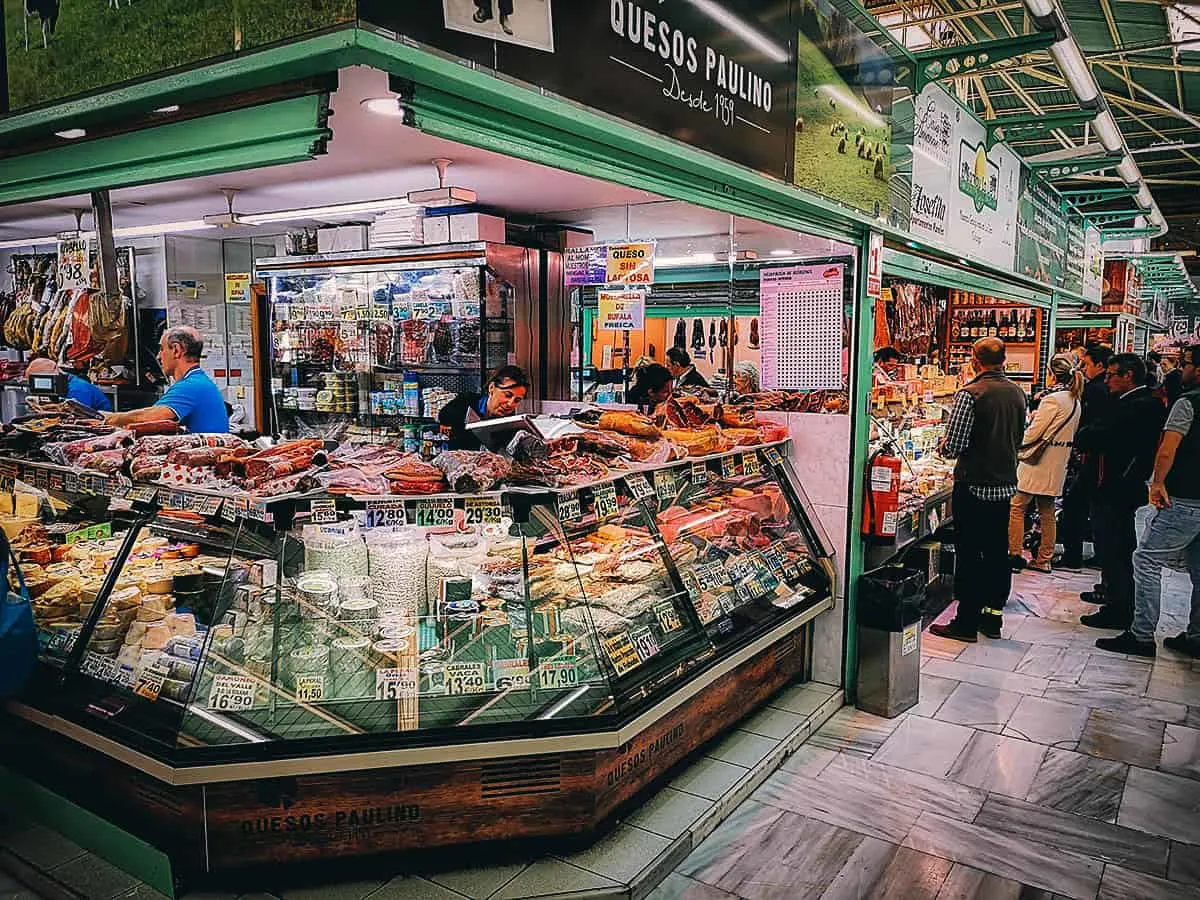 Being so close to the Atlantic coast, the seafood in Oviedo and the rest of the Asturias region is fresh and abundant.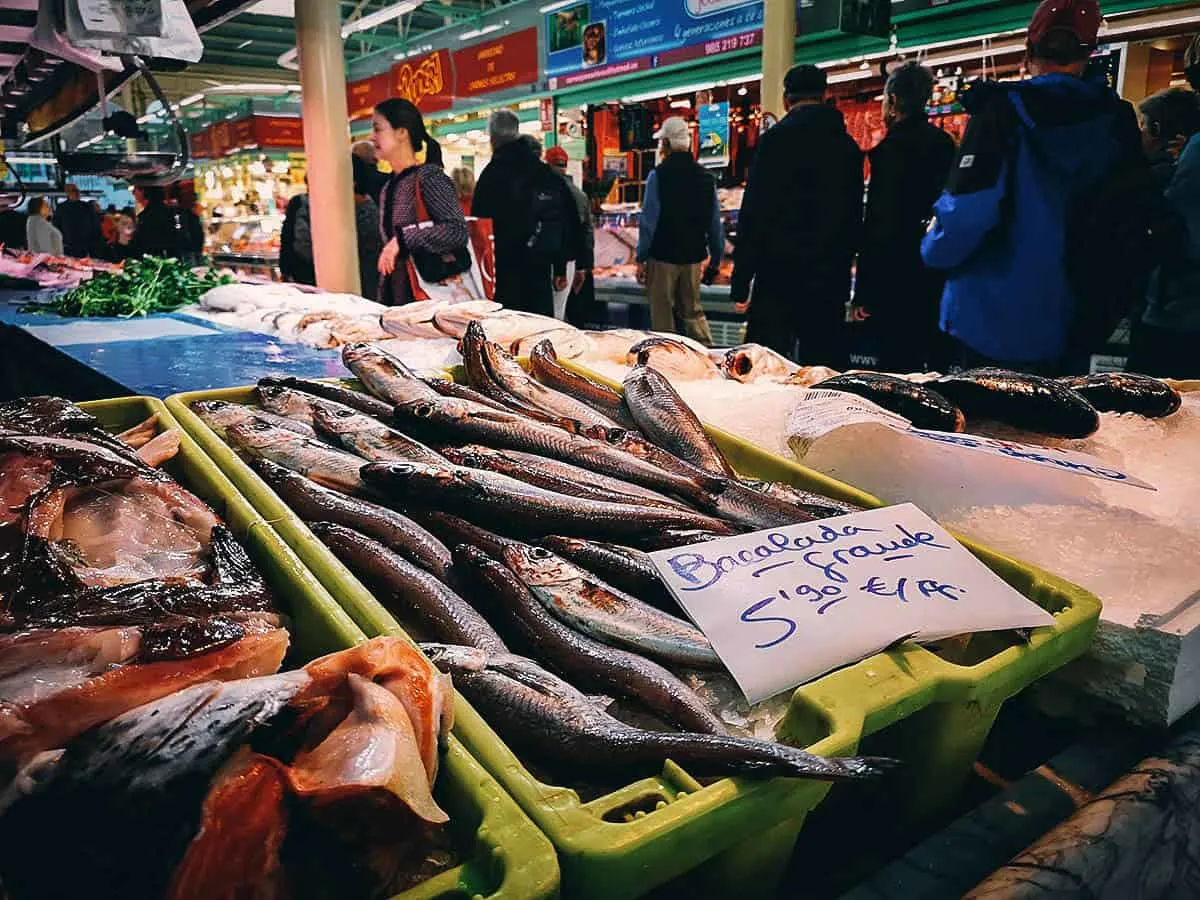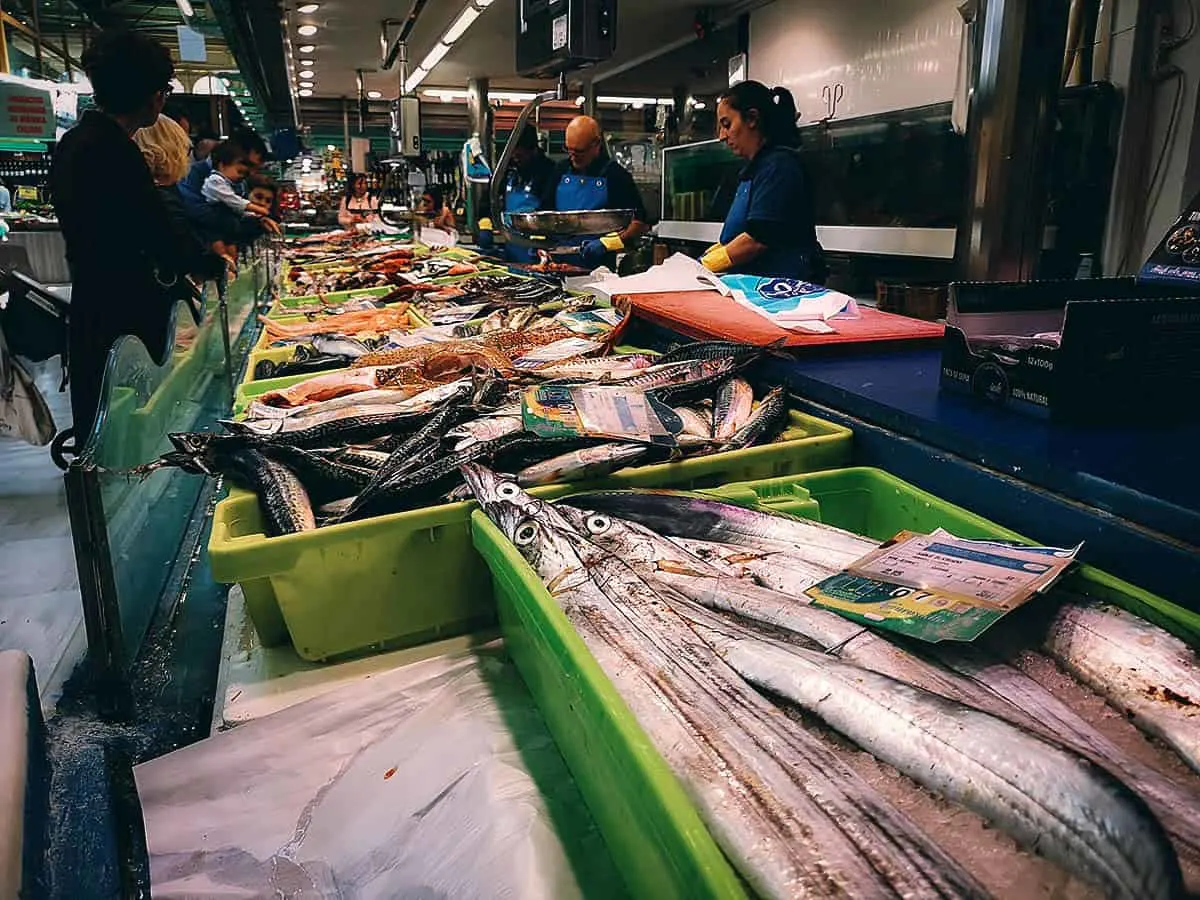 We ate many delicious things in Oviedo, but my favorite was the fabada which you can order in restaurants or take home in vacuum-packed sets. It's a hearty Asturian bean stew made with large white beans or fabes and a variety of meats like bacon, chorizo, and morcilla or blood sausage. Fabada Asturiana is commonly eaten in our native Philippines but the fabada we had at La Corte de Pelayo was the best we've ever tasted. My god was it good!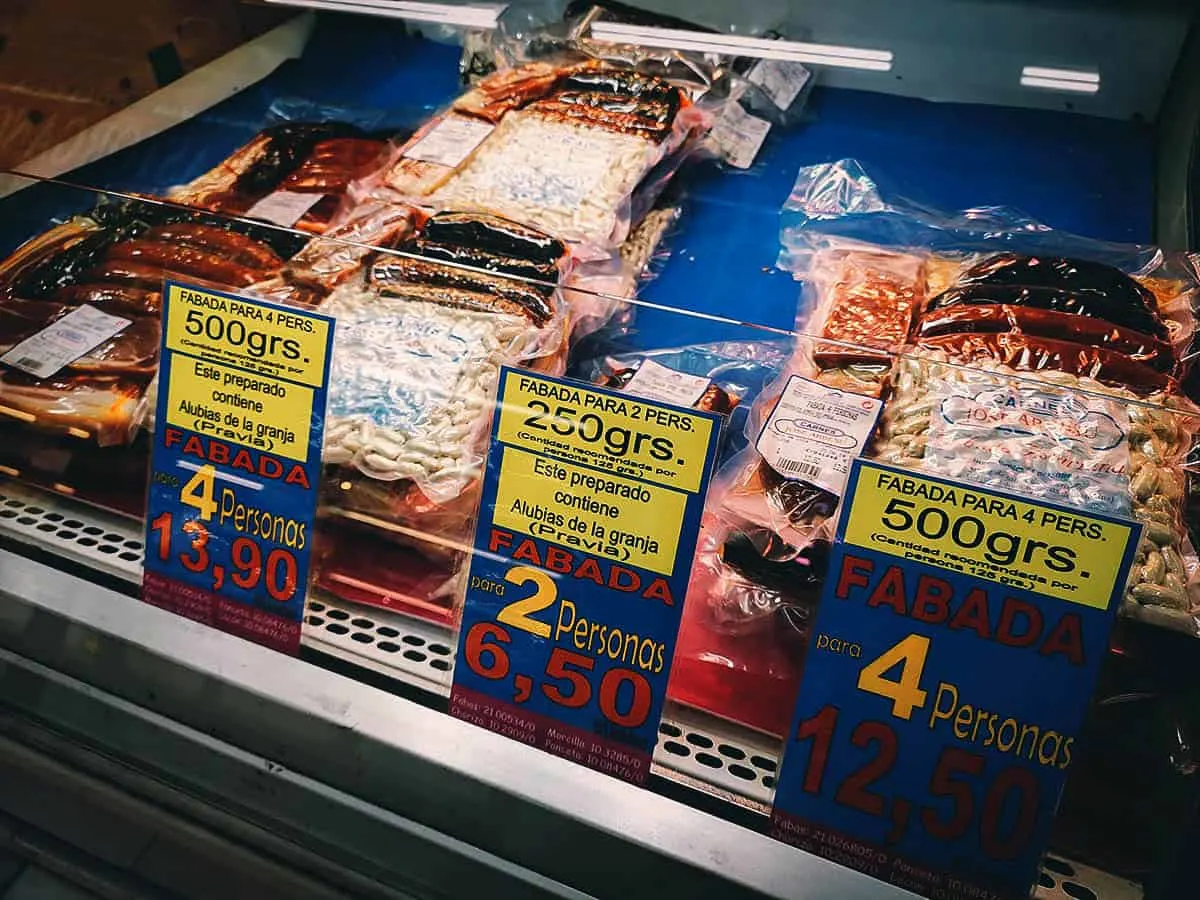 If you were to bring home just one souvenir food item from Oviedo, then it should probably be a pack of fabada. We brought home a 500 gram pack for a little less than EUR 12 if I remember correctly.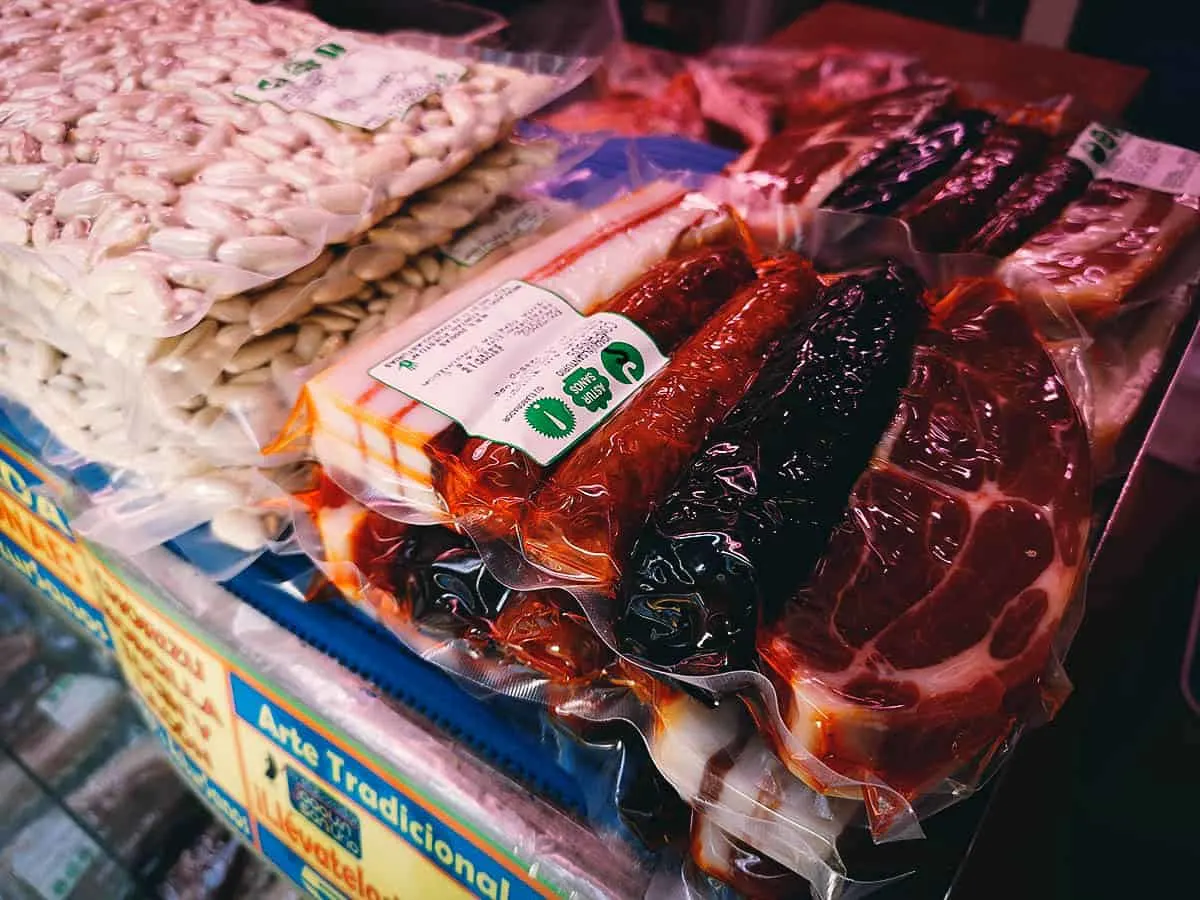 For traveleaters with a sweet tooth, be sure to try Oviedo's famed carbayon which in many ways has become a cultural symbol of the city. It's basically a sugar-coated puff pastry featuring ground almonds as its prominent ingredient. Check out our Oviedo restaurant guide to learn which cafe makes the best carbayones in the city.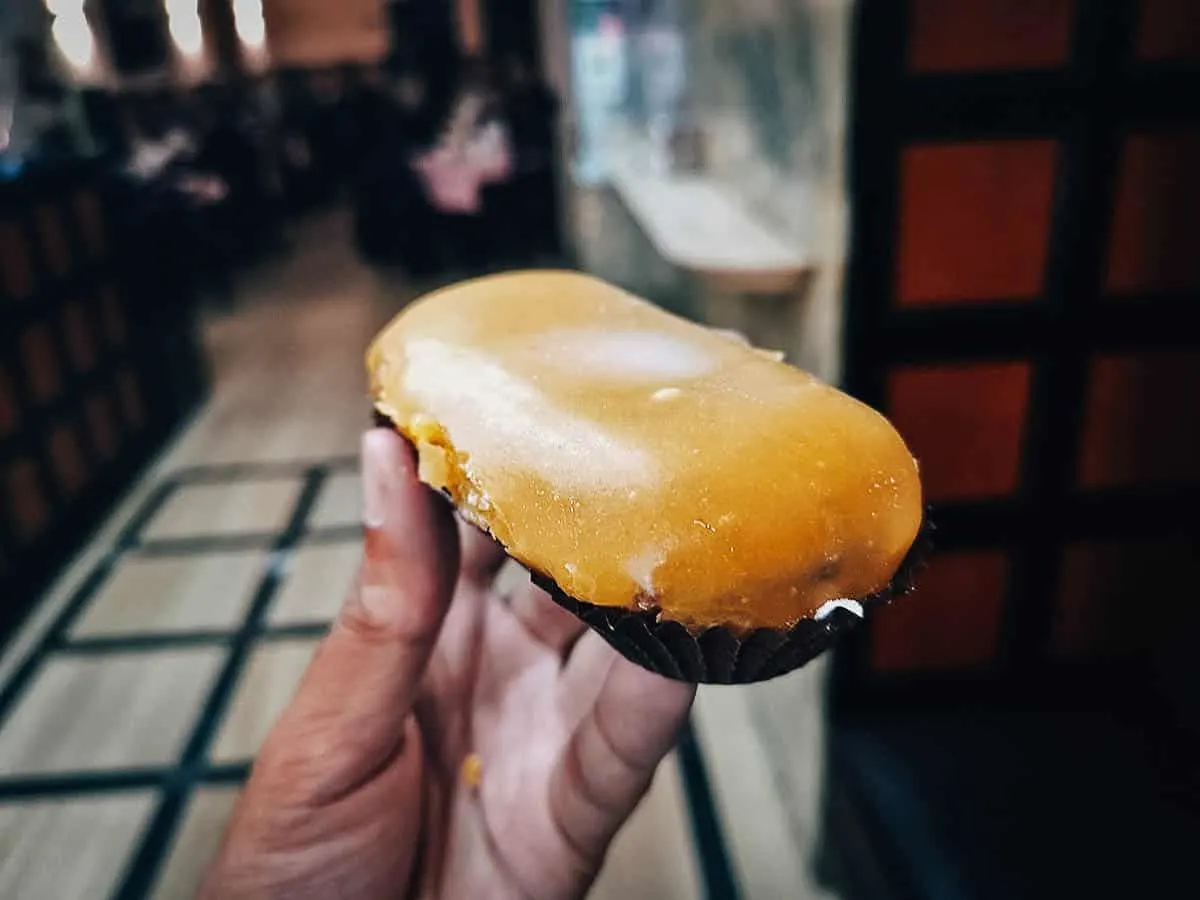 LEG 4: OVIEDO TO LUGO
DISTANCE: 231 km / Driving Time: 2 hrs 45 mins
After getting our fill of delicious Asturian dishes, it was time to say goodbye to Oviedo and make our way to Santiago de Compostela. We would make just one stop before Santiago, at the city of Lugo in Galicia. This wasn't a city we had planned on visiting. We wanted to break the journey and chose this one, all because of a unique wall. More on that below.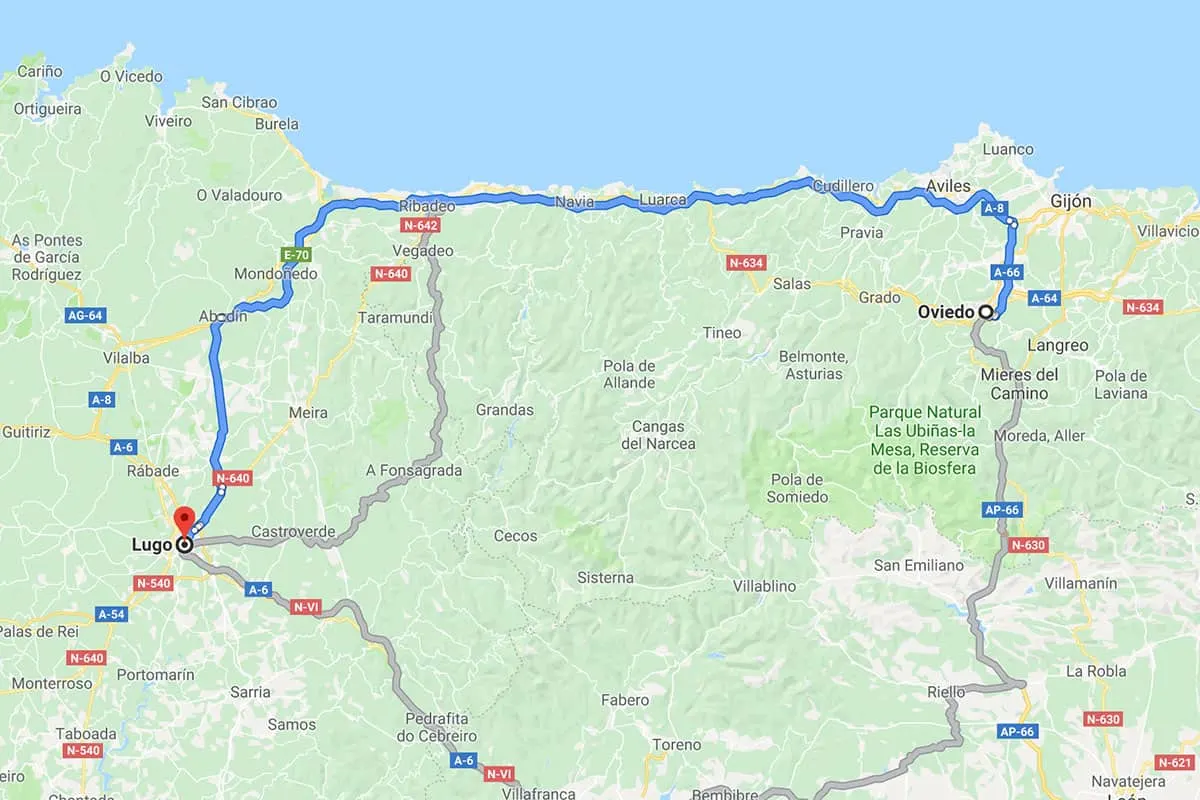 LUGO
Lugo is the fourth most populous city in Galicia and the only city in the world to be surrounded by completely intact Roman walls. Reaching a height of 15 meters (49.2 ft), Lugo's walls date back to the 3rd century and are inscribed as a UNESCO World Heritage Site.
Muralla Romana de Lugo
We parked our car in a garage, enjoyed coffee and cake at a cafe, then made our way to the wall.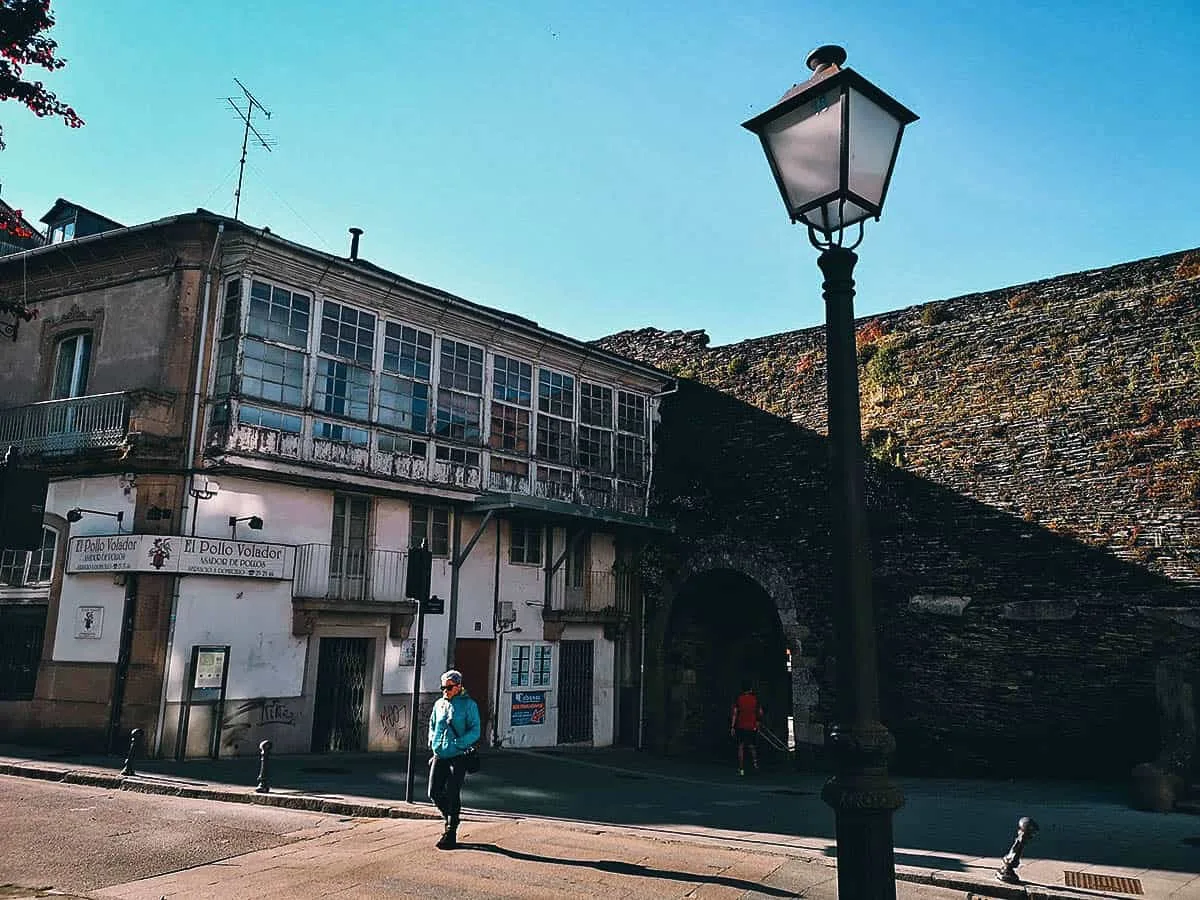 As described, these walls range in height from 10-15 meters and form a 2,117 meter ring (6,946 ft) which you can walk in a continuous loop.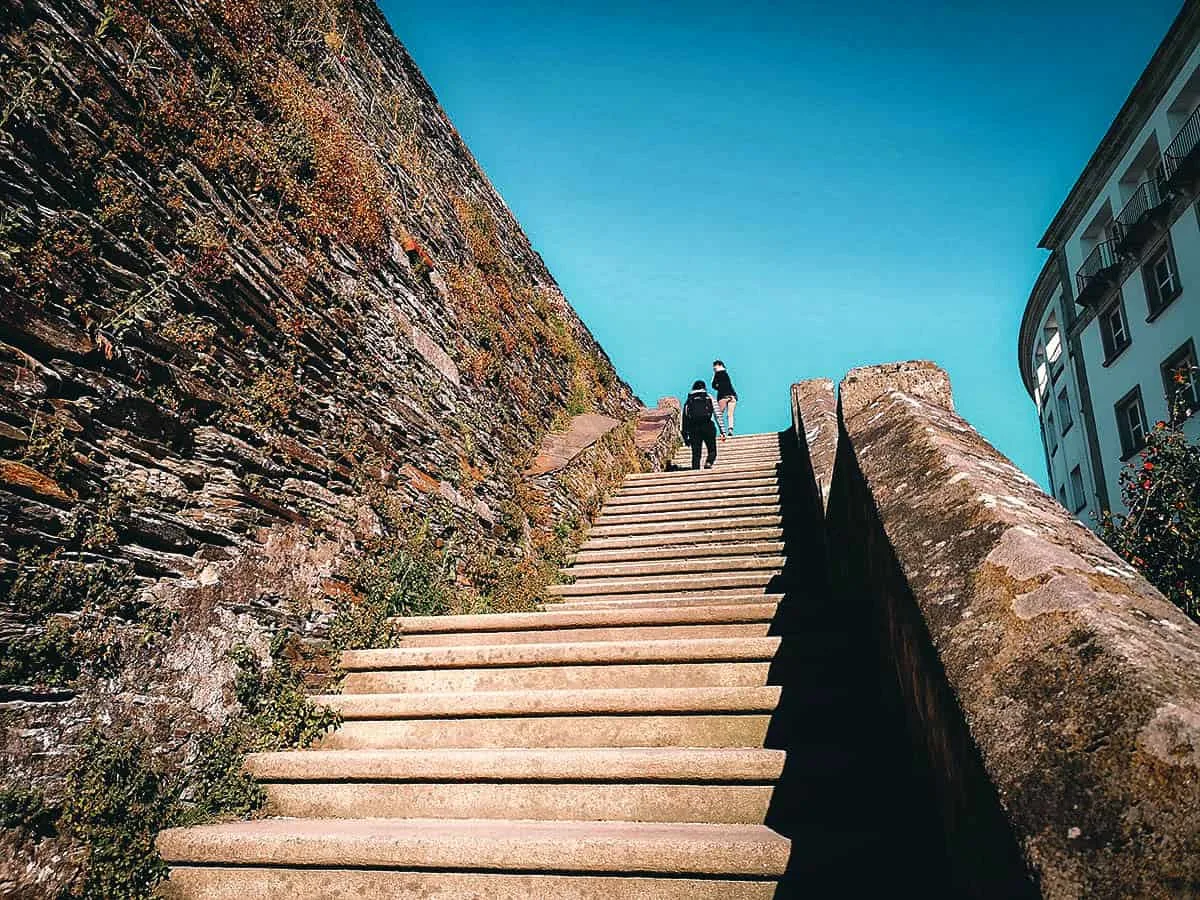 Peering over the edge and down onto the street below. With more time, I would have loved to walk along this entire loop which features 71 towers and 10 gates. The wall is remarkably well preserved considering its been standing here since the 3rd century.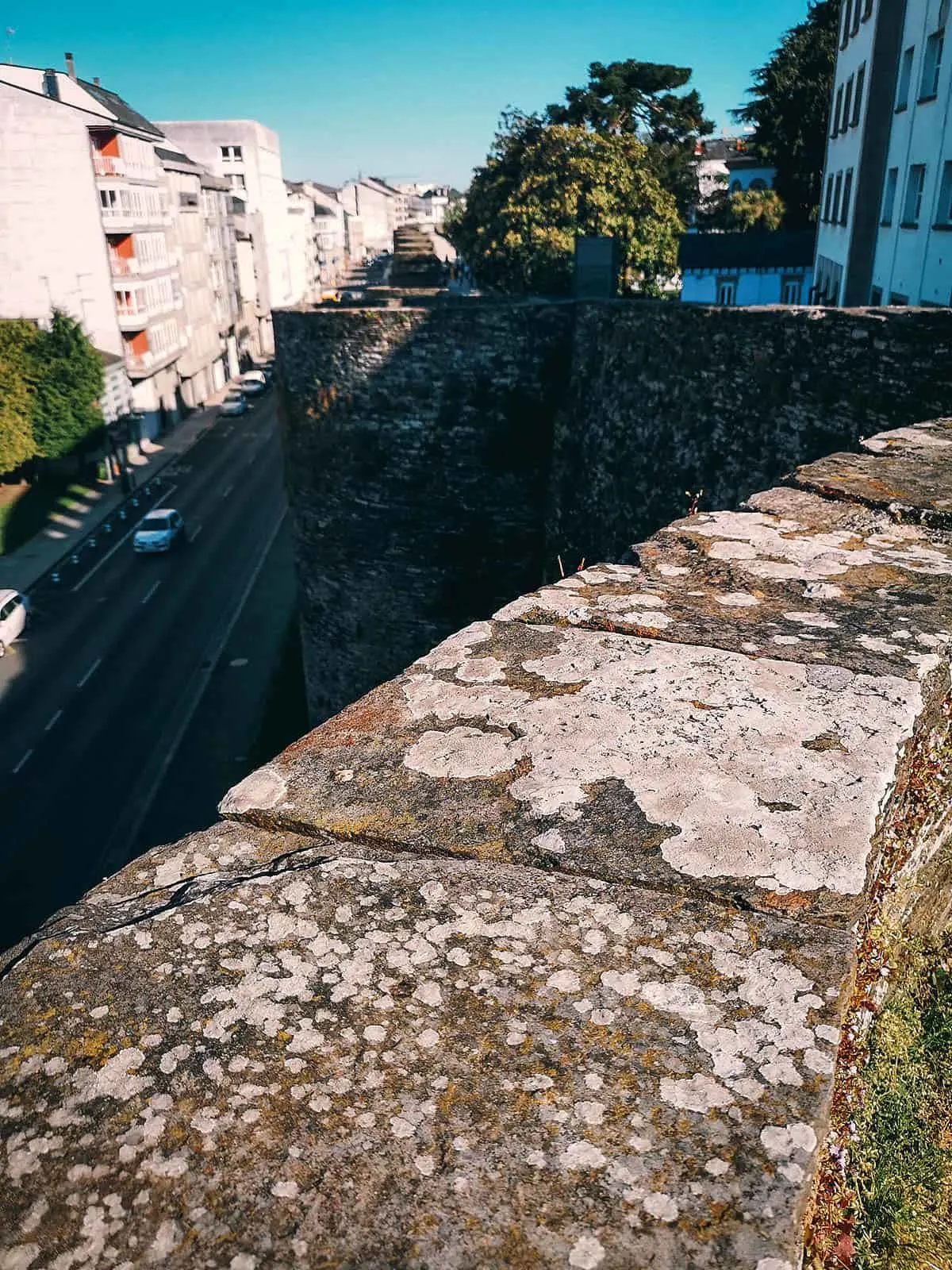 I do a lot of planning for our trips but it's spontaneous moments like this that I often cherish the most. In fact, I didn't even know we were stopping here! I let Ren and her cousin Brooke decide where our pitstop would be and I just went along for the ride.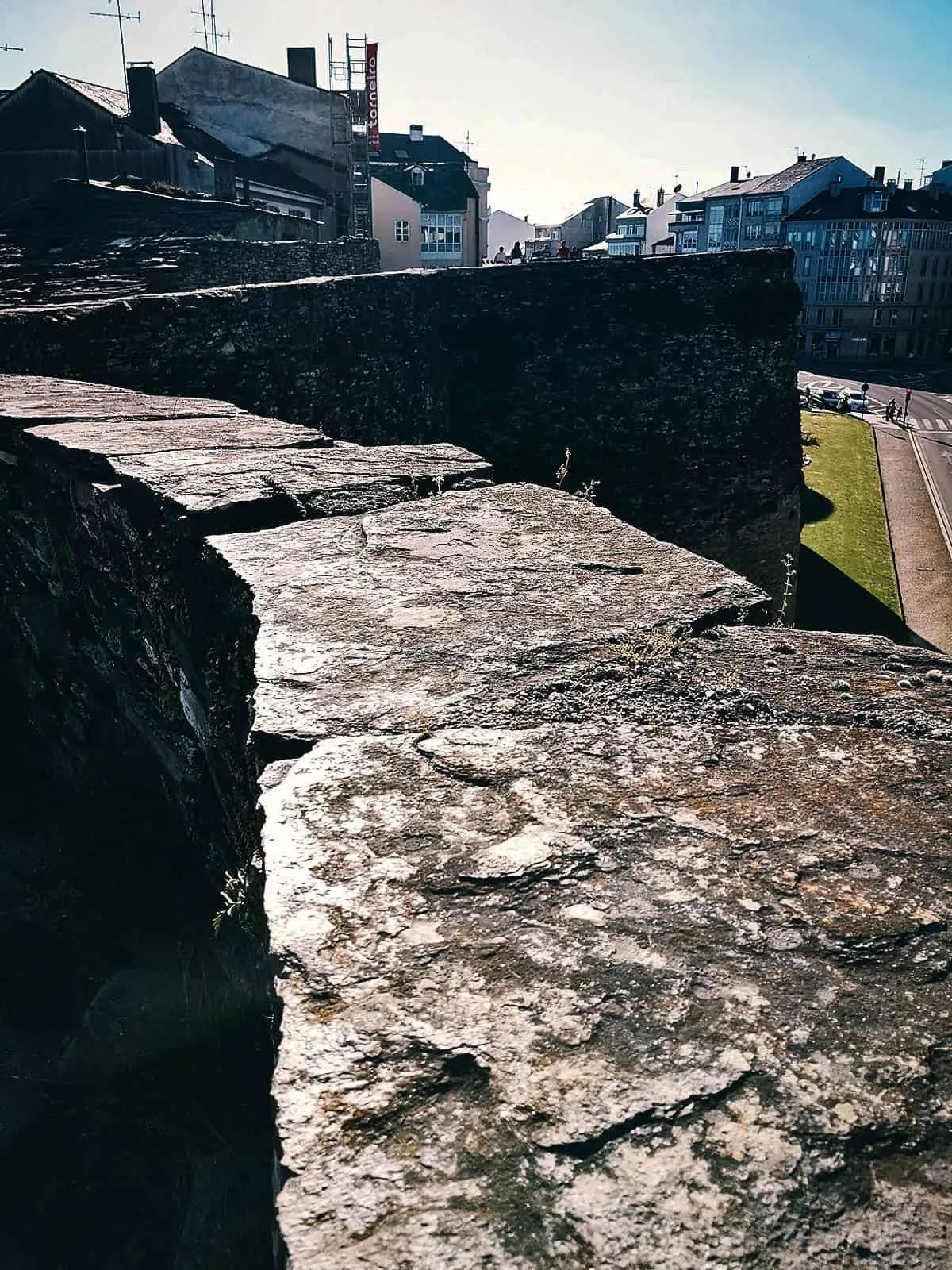 LEG 5: LUGO TO SANTIAGO DE COMPOSTELA
DISTANCE: 115 km / Driving Time: 1 hr 45 mins
After a quick visit to the wall, we left Lugo and made our way to our final destination – Santiago de Compostela.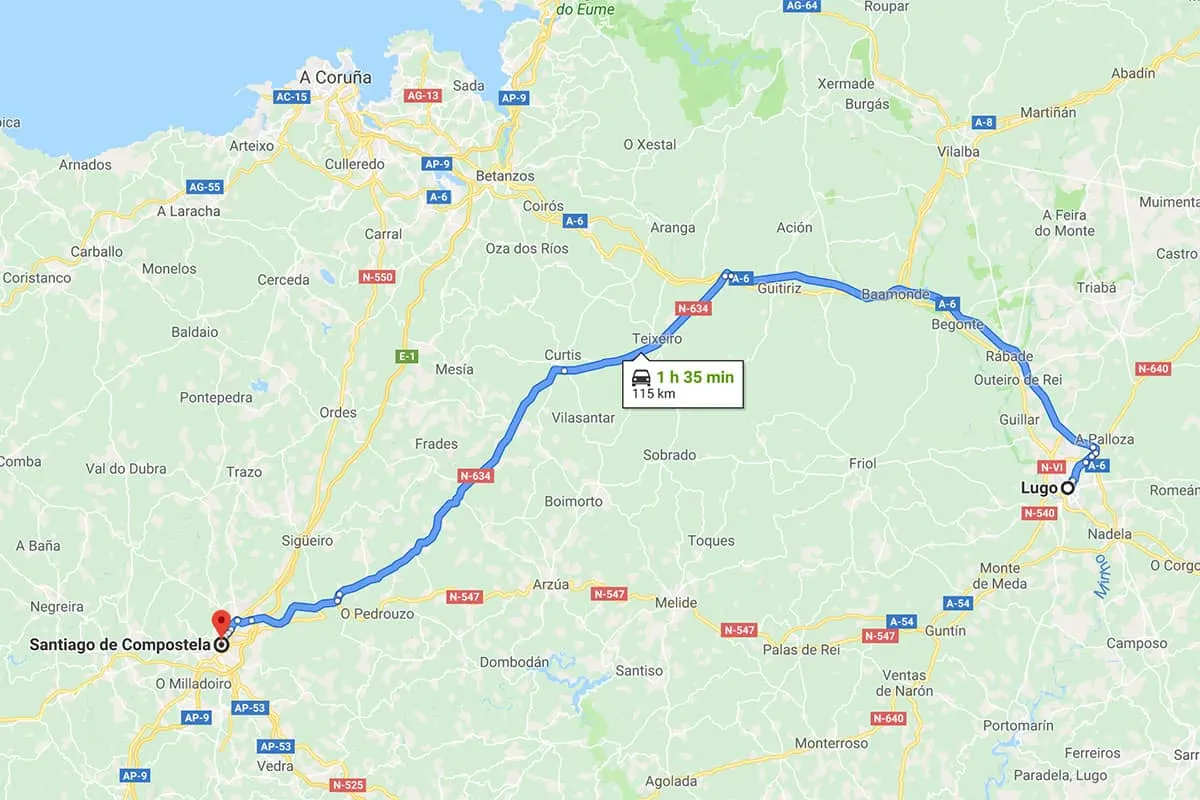 It's funny, it was only at this point in the road trip did we figure out how to link our phones to the car's audio system. With less than two hours left in our journey, we went through Ren's playlist and did our own version of carpool karaoke.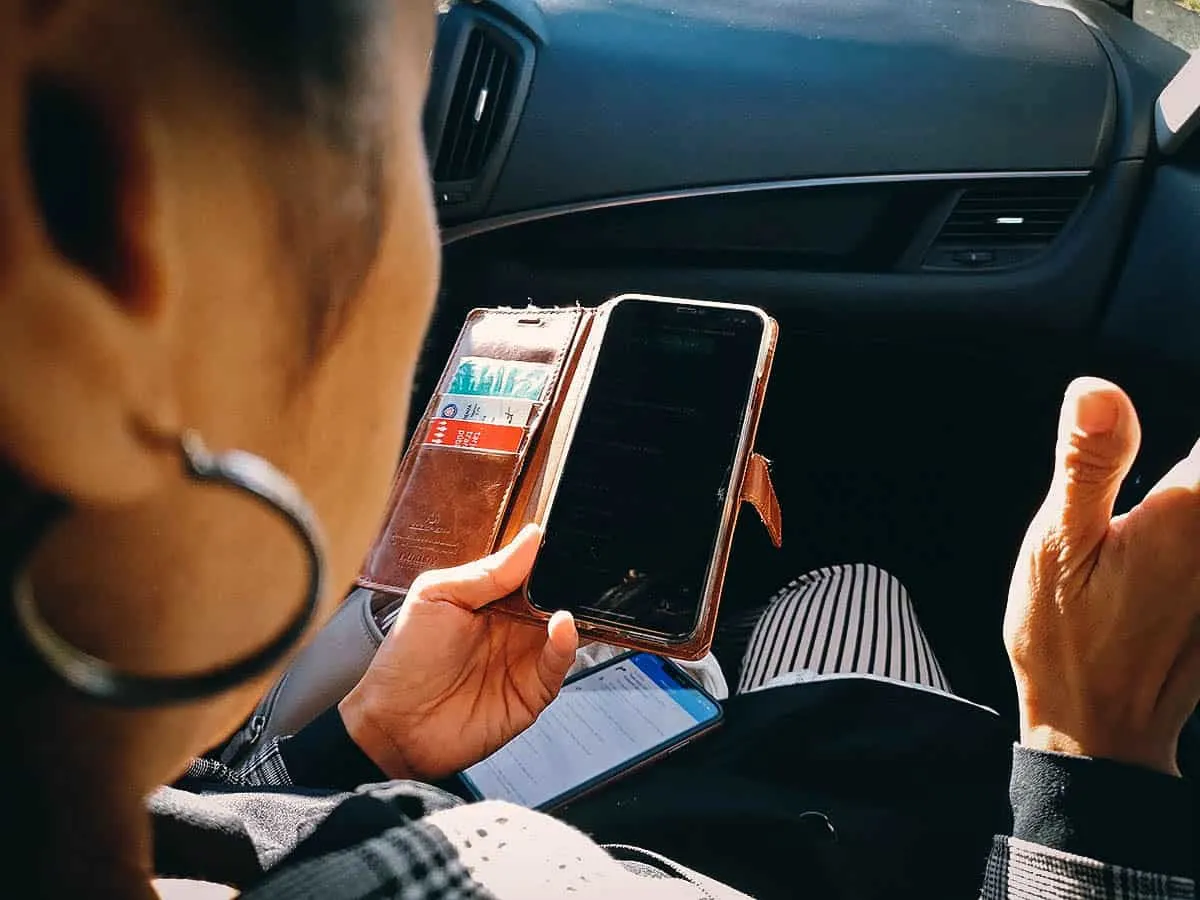 Most fun carpool karaoke song? Bohemian Rhapsody. The sun was setting on our journey and here we were belting out verses from Queen's rock classic. After a few "Bismillahs" and "Beelzebubs" we'd find ourselves driving into the city of Santiago de Compostela, our final destination on this unforgettable road trip through northern Spain.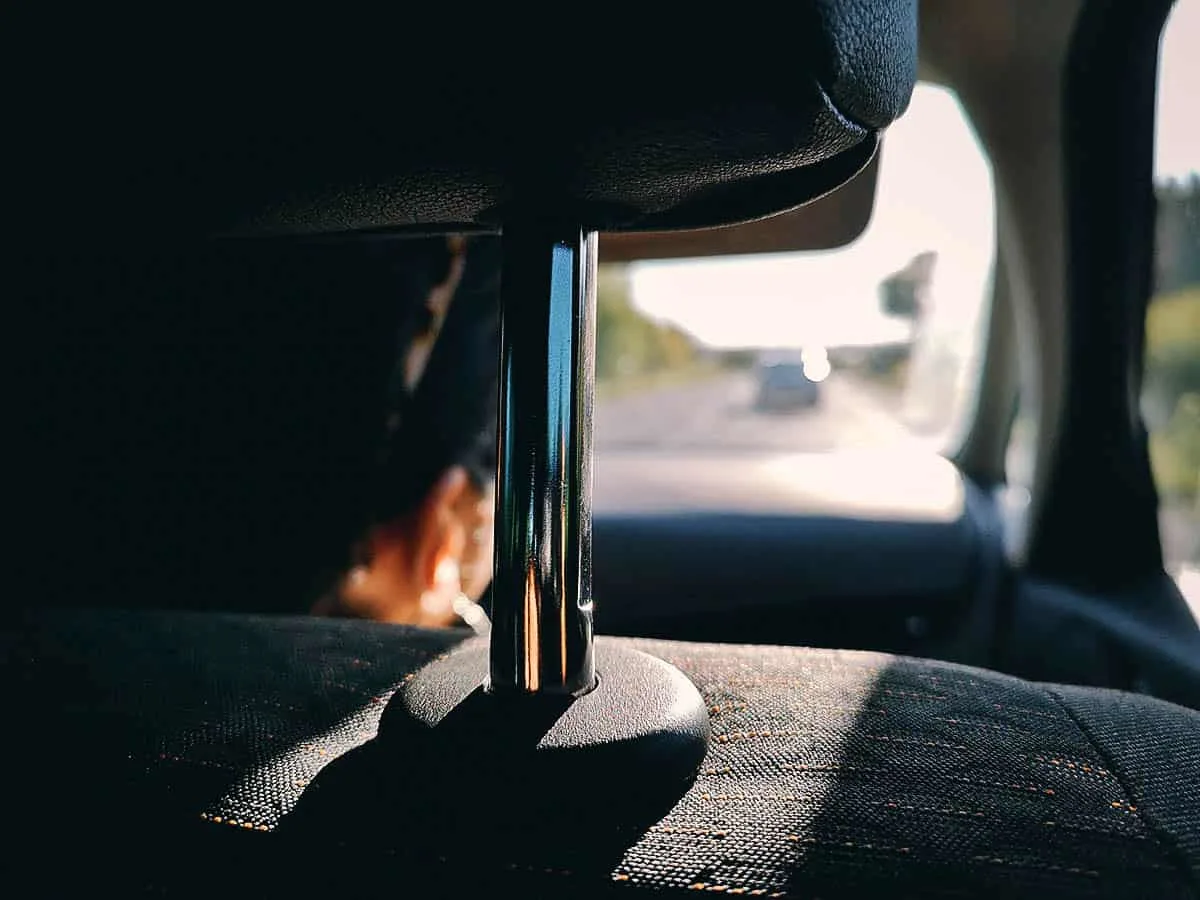 CONCLUSION
Having our own car made such a difference. Sure, traveling by train, bus, or plane is easier because it gives you less to worry about, but we wouldn't have had the freedom to make all the stops we did and go by our schedule.
Had it not been for our rental car, then we wouldn't have made it to an obscure place like El Capricho de Gaudi or visited a unique World Heritage Site like the Roman walls of Lugo. We would have just gone straight from San Sebastian to Santiago de Compostela and missed everything in between.
If you're visiting both cities and want to maximize your time in northern Spain, then I highly recommend renting a car and doing a road trip of your own. Stop whenever and wherever you want. Eat whatever interesting dish you might find. Planning for trips is important, but the best moments often come when you least expect them.
With that, I'll leave you with a few tips for planning your own road trip through northern Spain. Thanks for reading!
THINGS TO KNOW BEFORE YOUR SPAIN ROAD TRIP
1. People Drive on the Right
Luckily for us, people in Spain drive on the right side of the road. If they drove on the opposite side, then we may have had second thoughts since we're accustomed to right-side driving. People in Spain drive pretty fast so ask yourself if you're comfortable with right-side driving before renting a car.
2. Most Rental Cars are Stick Shift
Most rental cars in Spain – and perhaps in most of Europe – have manual transmission. EasyTerra did offer automatics as well but they were considerably more expensive.
3. International Driver's License: Necessary or Not?
We got an international driver's license just in case but Europcar never asked for it. This is the third time we've rented a car on a trip and no one's ever asked us for an international driver's license, which we had in every instance. Not sure if this is universally the case for all car rental companies but this is something you may want to confirm before your trip.
4. Navigate with Google Maps
The Google Maps app is a godsend. Without it, it would have been much harder to do this trip. It told us exactly where to go in the shortest amount of time. We only missed a turn or an exit once or twice and the app was quick to give us an alternate route.
5. Autopista vs. Autovia
There are two types of major highways in Spain – autopistas and autovias. Autopistas are newer and faster while autovias tend to be upgrades of older roads and relatively slower. The most important difference is that autopistas are generally toll roads while autovias never are.
We took whatever road Google Maps told us to take, but if you'd like to save money on tolls, then you should plan your route beforehand and take just autovias. They're more circuitous so they tend to be more scenic as well.
6. Parking's a Bitch
As described, parking can be challenging in Spain. We had trouble finding street parking pretty much everywhere we went. If you can't find any street parking, then be prepared to pay a little more to park in a garage.