It's no secret. Santorini is stunning. It's considered by many to be one of (if not) the most beautiful islands in the world, which is why it receives an estimated two million visitors annually.
People come to Santorini mostly for the same reasons. They want to see its breathtaking caldera views. They want to take pictures of its bone white cubic houses and blue-domed churches.
And that sunset.
We're from a tropical country so we've seen our fair share of gorgeous sunsets, but they're different in Santorini. When viewed from a stage of cycladic houses on a cliff overlooking the Aegean Sea, every sunset in Santorini feels like an event. Like something people could sell tickets for. Other than Santorini, I don't think I've ever wanted to cross a sunset off my bucket list.
If you'd like to cross it off yours, then I hope this first-timer's Santorini travel guide can help you plan your trip.
VISIT SANTORINI QUICK LINKS
This travel guide to Santorini is long. For your convenience, I've compiled links to hotels, tours, and other services here.
HOTELS
Top-rated hotels in Fira, one of the most popular places to stay in Santorini.
TOURS
OTHER SERVICES
Save This on Pinterest!
No time to read this Santorini travel guide now? Click on the save button and pin it for later!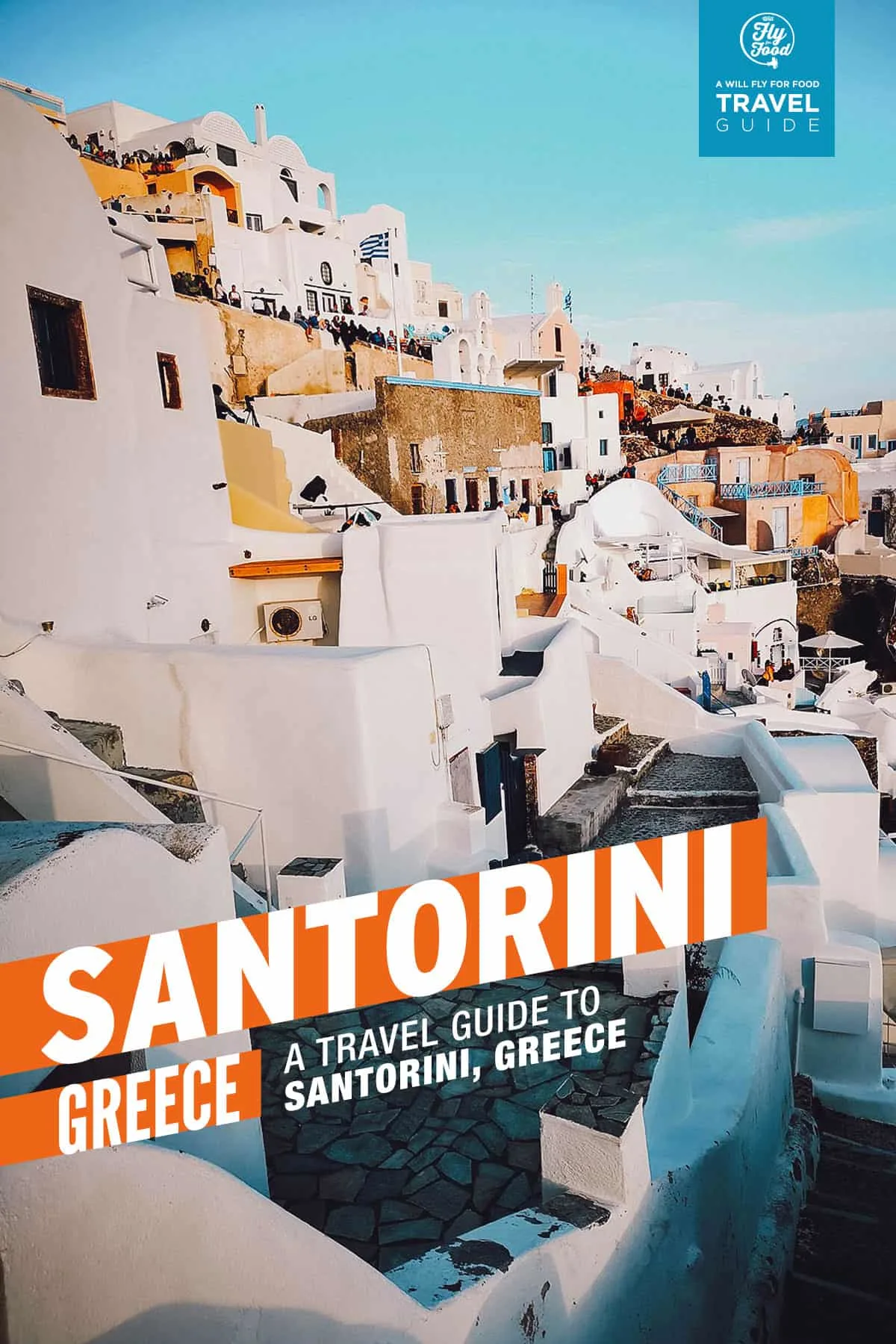 GUIDE TABLE OF CONTENTS
SANTORINI TRAVEL RESTRICTIONS
Because of the current global situation, Santorini travel guidelines change regularly. Our friends at Booking.com created a website that lists detailed information on travel restrictions around the globe.
Before planning a trip to Santorini, be sure to check Booking.com for information on travel restrictions to Greece. If you do decide to visit Santorini, then you may want to seriously consider getting travel insurance with COVID coverage.
GREECE VISA
Depending on your passport, you may need a visa and other documents to travel to Greece. Visit iVisa.com to learn about the requirements and to apply for a visa (if necessary).
SANTORINI AT A GLANCE
Santorini is one of the Cyclades islands in the southern Aegean Sea, about 200 km (120 miles) southeast of Greece's mainland. It's the largest of this group of islands, and perhaps its most popular.
Santorini was the site of one of the largest volcanic eruptions in recorded history. It left a massive caldera, at the rim off which are the island's key villages of Fira, Oia, Imerovigli, and Firostefani.
Perched on a cliff overlooking the Aegean Sea, the brunt of tourism on the island is centered around these caldera towns noted for their sparklingly white cubic houses and blue-domed churches. They're a picture perfect sight that's been immortalized on many postcards.
Santorini is incredibly beautiful, making it a popular destination for honeymooners and cruise liners. It can get annoyingly crowded at peak times so it's important to plan your trip well and know when to go.
BEST TIME TO VISIT SANTORINI
Santorini is an island destination so it's best to go when the weather is ideal. It's warmest with the least amount of rain from April till November. However, July and August are peak months on the island making it the busiest and most expensive time to visit.
For that reason, you may want to go from late April till June or September till early November. These are the shoulder seasons in Santorini. The weather is great and it doesn't get as crowded nor as hot as July and August.
We went in mid-April. The weather was pleasant with alternating sunny days and overcast skies, though it still got chilly at night and early in the morning.
There were many tourists in Fira and Oia but not enough to make it unpleasant. I'll talk about it more in the HOW TO GET AROUND section of this guide, but local buses weren't fully operational yet at this time.
APR-JUNE: I prefer traveling when there are fewer people so I think shoulder seasons are best. The weather from late April till June is nice and there aren't as many tourists yet.
JULY-AUG: This is peak season in Santorini. July and August are the hottest months of the year so it's the best time to lay on the beach and go swimming. However, it's also the most crowded with hotel prices at their peak.
SEPT-NOV: Like late April till June, this is shoulder season in Santorini. The weather is pleasant and the crowds thinner than in July or August.
DEC-MAR: This is the low season in Santorini. I enjoy cool weather so I normally wouldn't mind going at this time, especially since the island receives relatively little rain, but I read that much of the island shuts down during these winter months. That means fewer restaurants open so not an ideal time for traveleaters like us!
For more information, check out this very insightful post from santorinidave.com for an in-depth look at Santorini's tourist seasons.
Climate: Annual Monthly Weather in Santorini
To help you better understand the climate in Santorini, I've created the average temperature and annual rainfall graphs below. Suggested months to visit are highlighted in orange.
Average Temperature

Annual Rainfall

TRAVELING TO SANTORINI
The fastest and easiest way to get to Santorini is by plane. We flew from Athens to Santorini but you can make that trip via ferry as well.
This guide assumes you'll be coming from Athens but there may be other ways to get to Santorini from wherever you are. You can go to Bookaway to search for route options available to you.
By Plane
The flight from Athens to Santorini takes about 45-55 minutes. We flew on Aegean Airlines but there are multiple carriers that service this route. You can do a search on Skyscanner to find options available to you.
Most flights will be via Athens International Airport but you may be able to find direct flights to Santorini from whichever European city you're flying from.
Personally, I prefer buying tickets directly from the airline's website but booking through Skyscanner is fine as well. I've bought many airline tickets through them and have never had any issues.
I heard it can be hard to change things like dates or flight times after purchasing a ticket from third-party aggregators, but if you're 100% sure about the details of your trip, then you shouldn't have any problems.
By Ferry
The ferry from Athens to Santorini takes anywhere between 5-8.5 hours, depending on the speed of the ferry. Most ferries depart from Piraeus ferry terminal but a few start from Rafina port as well. Piraeus is closer to downtown Athens and accessible via mrt (last stop on the green line), while Rafina is closer to the airport.
Your choice of port depends on your schedule and where you're coming from. You can check schedules and book tickets on Bookaway. They sells tickets to ferry routes throughout the Greek islands.
We haven't taken a ferry but I read that the slower ferries (7-8 hrs) are larger and tend to be more stable, while the faster ferries (5-6 hrs) are bumpier.
If you're prone to seasickness, then it may be best to go with the slower ferries. You'll have the option of walking around outside as well unlike high-speed ferries that don't have open-air decks.
Blue Star Ferries seems to be the most recommended carrier. They'll get you to Santorini in about 8 hrs. You can book tickets through Bookaway. Regardless of which ferry you go with, it's a good idea to book tickets in advance especially if you plan on going during peak season.
Airport/Port Transfers
Once you get to Santorini, you'll need to figure out a way to get to your accommodations. If you haven't pre-arranged a transfer with your hotel, then you can go by taxi, bus, shared transfer, or rental car. We had pre-booked rental cars so we picked them up from the airport and drove to our AirBnB in Megalochori.
Taxi: Plenty of taxis will be waiting for passengers at Santorini Airport and Athinios Port. The cost for a taxi to Fira will be around EUR 25 and EUR 35 respectively.
Shared Transfer: Another option is to pre-book a transfer. It costs around EUR 18 for one person, and EUR 15 per person if there are two or more in your group. You can pre-arrange a transfer from the airport or port to your hotel through Get Your Guide.
Bus: This is the cheapest option but it may me the most unreliable. The local bus schedule is erratic in Santorini, especially when it isn't peak season, so you may find yourself waiting up to an hour for the next bus. The one-way bus fare to Fira from the airport and port is around EUR 1.80 and EUR 2.30 respectively. Most buses will go directly to Fira so you'll need to change buses there or take a taxi if your hotel is in another village.
Rental Car: This is what we did. Santorini is best enjoyed with a rental car so our group booked two cars and picked them up upon arrival at the airport. We booked them through EasyTerra and it cost us about EUR 40 per day at the time to rent a M/T compact. It doesn't look like EasyTerra offers pickup from Athinios port but there are other companies there that you can rent from. If there are enough people in your group, then this may be a great option for you. I'll talk more about rental cars in the HOW TO GET AROUND section of this guide.
WHERE TO EXCHANGE CURRENCY
The unit of currency in Greece is the Euro (EUR).
We always withdrew EUR from ATMs so we never had to exchange currency in Santorini. From what I understand, there are few currency exchange offices on the island and none offering good rates. It's best to withdraw EUR from an ATM or bring it with you.
NOTE: Some ATMS will ask if you'd like to proceed "with or without conversion". NEVER proceed with conversion because this authorizes the bank operating the ATM to do the conversion for you, usually at terrible exchange rates. Instead, choose WITHOUT conversion so it's performed by your local bank.
BEST AREAS TO STAY IN SANTORINI
There are many places to stay in Santorini. Where you choose to stay will depend on your budget and what type of experience you'd like to have. To make it easier, I've grouped them into three general categories – caldera views, beaches, and local living.
I've also created the color-coded map below to help you better understand where each of these villages are and why I've grouped them in the way I have. Click on the link for a live version of the map. (Please note that marked areas are approximations only)
LIGHT BLUE – Fira
ORANGE – Oia
PURPLE – Imerovigli
LIGHT GREEN – Firostefani
BURGUNDY – Kamari
DARK BLUE – Perissa
PINK – Akrotiri
BROWN – Pyrgos Kallistis
YELLOW – Megalochori
DARK GREEN – Emporio
I'll provide targeted links under each description but you can book accommodations in Santorini through Booking.com or Agoda.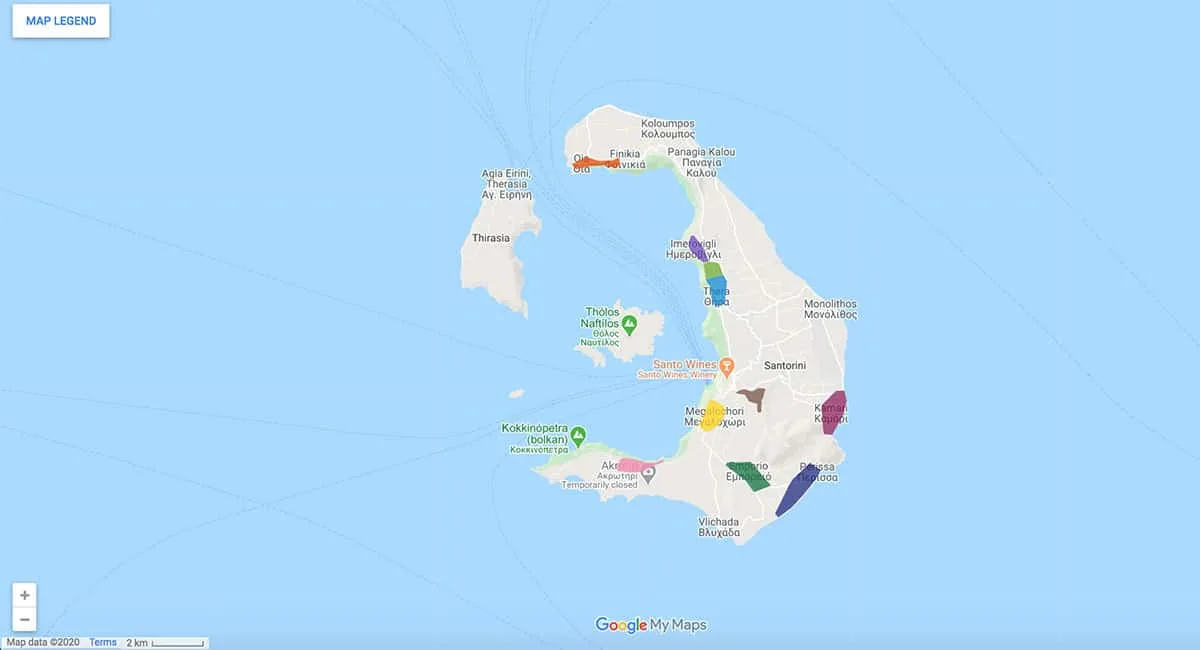 CALDERA/SUNSET VIEWS
This is prime real estate on the island and why many people flock to Santorini year after year. They're the villages perched on the rim of the caldera, offering the most spectacular cliffside views of the Aegean Sea and neighboring islands.
Most visitors to Santorini want to stay here so this is where you'll find the island's most expensive hotels. There are plenty of shops and restaurants in these villages as well.
Fira
Fira is the capital of Santorini and its busiest town. It has the biggest number of hotels, shops, restaurants, and bars, not to mention a few nightclubs. If you're looking to party it up in Santorini, then this is probably where you'll want to be.
It's also the island's transportation hub so local buses going to other parts of the island will start and end here. If you don't have a rental car, then Fira is the most convenient place to stay on the island. Check out these top-rated hotels in Fira:
You can search for more accommodations in Fira through Booking.com or Agoda.
Oia
Situated on the northwestern tip of the island, Oia is Santorini's most picturesque town and offers some of its best sunset views. It's the most visually striking village on the island and one of its most romantic.
Hotels here are the most expensive not just in Santorini, but in all of Greece. If you want to go all out and have a truly memorable stay, then Oia is probably where you'll want to be.
It's worth noting that Oia doesn't get as crowded as Fira but people do flock here every afternoon to catch the sunset. There are plenty of restaurants and high-end boutiques in Oia, not to mention regular bus service that shuttles tourists to and from Fira. Check out these top-rated hotels in Oia:
You can search for more hotel rooms in Oia through Booking.com or Agoda.
Imerovigli
Imerovigli is the quietest among the four caldera towns and a popular place to stay for honeymooners. Like Oia, it's one of the island's most romantic and offers spectacular views of the sunset.
However, there aren't nearly as many restaurants or shops here. If you don't mind that, then Imerovigli is one of the most ideal places to stay on the island. Check out these top-rated hotels in Imerovigli:
You can search for more hotels in Imerovigli on Booking.com or Agoda.
Firostefani
Firostefani is a small caldera town sandwiched between Fira and Imerovigli. If you want to be close to the action of Fira without actually staying in Fira, then Firostefani is a great choice. It's quieter and just a 10-minute walk away. Check out these top-rated hotels in Firostefani:
You can search for more hotels in Firostefani through Booking.com.
BEACHES
None of them are great but there are a few black sand beaches in Santorini. If you're visiting the island in July or August and want to be close to the surf, then you'll probably want to stay in any of these three locations.
Kamari
Located in the southeastern half of the island, Kamari is known for its pebble beach and pedestrian beachfront walkway. There's a direct bus to Fira from Kamari and back, making day trips to the capital easy. There are plenty of restaurants here as well. Check out these top-rated hotels in Kamari:
You can search for more hotel rooms in Kamari on Booking.com or Agoda.
Perissa
Perissa is south of Kamari. Like Kamari, there are local buses to and from Fira from Perissa, making it a convenient place to stay if you want to be near the beach but still have easy access to the rest of the island. Check out these top-rated hotels in Perissa:
You can search for more hotel rooms in Perissa on Booking.com or Agoda.
Akrotiri
From what I understand, Akrotiri refers specifically to a village, but it's also the general term used to describe the southern peninsula of Santorini which includes the archaeological ruins and lighthouse.
Staying in Akrotiri may not put you as close to the surf as Kamari and Perissa, but it does situate you near some of the island's best beaches like Caldera Beach, White Beach, Red Beach, and Vlychada Beach.
Akrotiri may have more to offer in general than Kamari and Perissa, but you should only consider staying here if you have a rental car. Buses to and from Fira stop only at Akrotiri archaeological site, making it more difficult to get around the island.
We explored Akrotiri with our rental cars and found spots with great views of the caldera. You can find accommodations in Akrotiri on Booking.com or Agoda. Here are a few of the top-rated hotels in Akrotiri:
LOCAL LIFE
These next three villages are located more inland so they don't offer caldera views or easy access to the beach. However, they were my personal favorite places on the island because they provided the most authentic look at local life in Santorini.
If you want to be as far away as possible from the touristy atmosphere of Fira and Oia, then you may want to stay in any of these three villages.
Megalochori
This was where we stayed. Megalochori is a traditional village located in the wine-making region of Santorini. All around are vineyards and wineries offering tasting tours. It's much quieter here than in Fira or Oia, making it a great place to stay if you want a more authentic experience in Santorini. I loved the atmosphere in Megalochori and would happily stay here again.
Local buses to Fira do pass along the main road but getting around isn't as easy from Megalochori, so it's probably best to stay here only if you have a rental car. We were here in mid-April when the buses weren't fully operational and I had to wait over an hour for the bus to Fira.
We stayed at a lovely 3-bedroom house which we rented on AirBnB for around USD 310 a night. If you'd rather stay in a hotel, then you can look for accommodations in Megalochori on Agoda.
Pyrgos Kallistis
Like Megalochori, Pyrgos is a traditional village in Santorini's wine-making region. It's situated in one of the highest points on the island, offering sweeping panoramic views of Santorini and the Aegean Sea.
I read that you can catch a Perissa-Fira bus from Pyrgos, though it's probably best to stay here only if you have a rental car. You can search for accommodations in Pyrgos Kallistis on Agoda.
Emporio
Emporio was one of my favorite villages in Santorini. If I had my way, then I'd love to stay here on our next trip. For me, it offers one of the most authentic local experiences in Santorini with its maze of narrow alleyways and lived-in cycladic houses. Emporio felt like a real community with real residents.
You can find accommodations in Emporio on Agoda. Like Megalochori and Pyrgos, it won't be as easy to get around from Emporio so it may be best to stay here only if you have a rental car.
You can also book hotels and AirBnBs in Santorini using the handy map below.
PLACES TO VISIT IN SANTORINI
1. Caldera Towns
These white cubic villages perched on the rim of the caldera are a large reason why so many tourists flock to Santorini every year. They're a fascinating sight and can only be found here in the cyclades group of islands in the Aegean Sea. They look gorgeous at any time of the day but at sunset, they look absolutely magical bathed in the golden glow of the setting sun.
Fira and Oia are the most popular but be sure to visit Firostefani and Imerovigli as well. You can explore all four if you do the 10 km hike from Fira to Oia.
If you'd like to go on a guided sightseeing tour of the island and its caldera towns, then you can book one through Get Your Guide.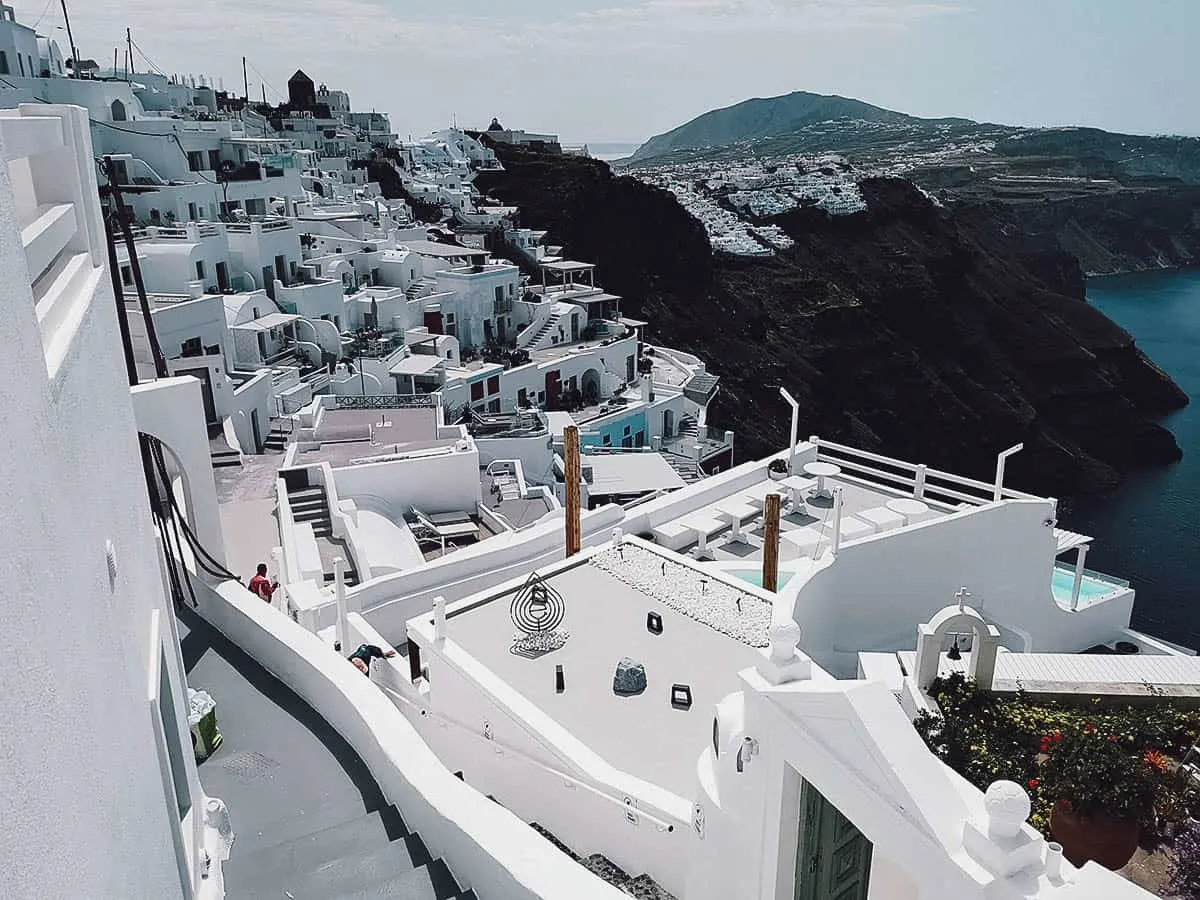 2. Red Beach
Red Beach is a volcanic sand beach near Akrotiri. It's known for its reddish-orange cliff face and sand comprised of black and red pulverized volcanic rock.
We spent a day driving around the island and made a quick stop here. It was still too cold in mid-April but Red Beach gets packed with beachgoers in July and August.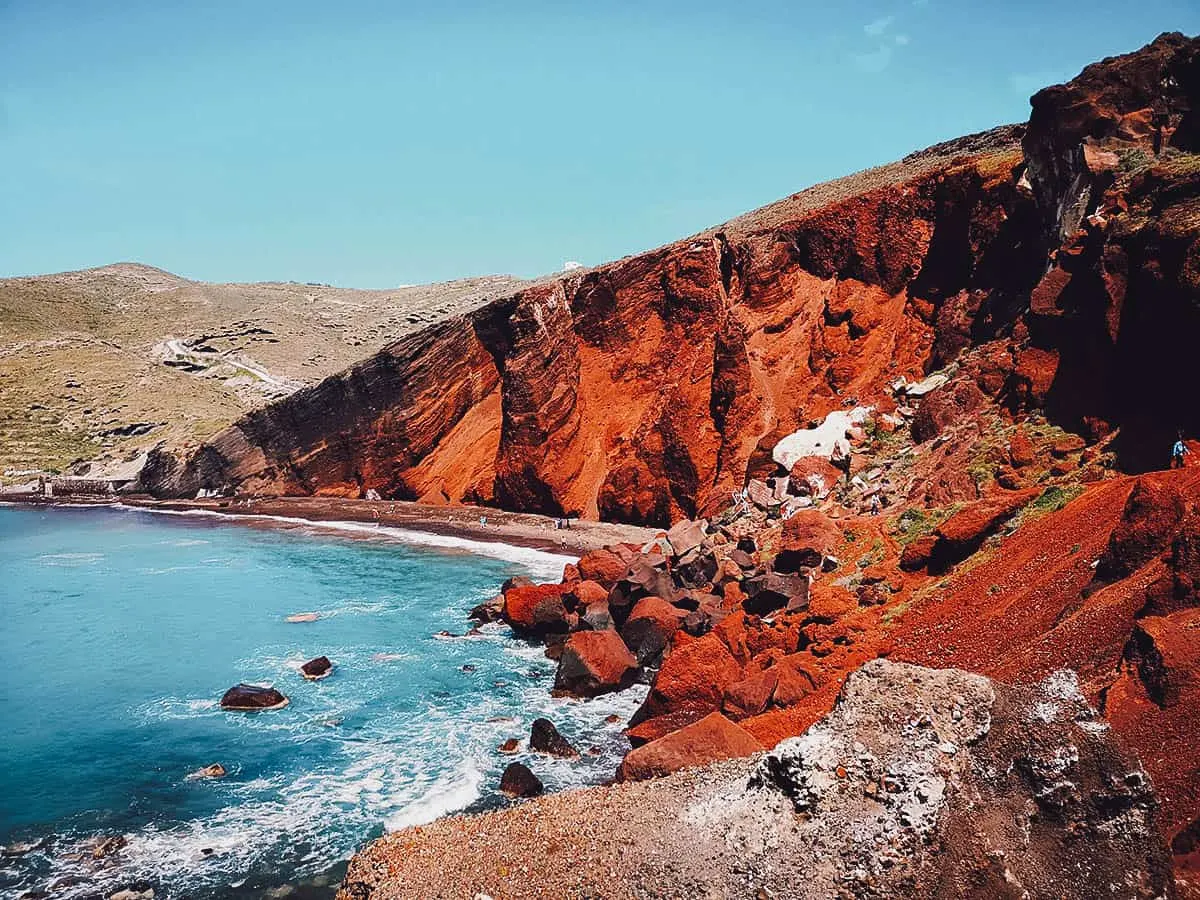 Suggested Length of Visit: 30 mins – 1 hr
Admission: FREE
3. Akrotiri Archaeological Site
If archaeological sites are of interest to you, then you may want to visit Akrotiri. It was once a thriving Minoan settlement that was destroyed by the same volcanic eruption that shaped Santorini in the second millennium BC. The town was covered in volcanic ash that helped preserve many of its houses and their contents.
Based on its well-preserved remains, Akrotiri appears to have been an advanced settlement for its time, with multi-storied buildings and elaborate drainage systems. Due to its sophistication, historians believe that Akrotiri was the inspiration for Plato's Atlantis.
If you don't have a rental car, there's a local bus that can take you from Fira to the Akrotiri archaeological site and back. Alternatively, you can book a guided tour.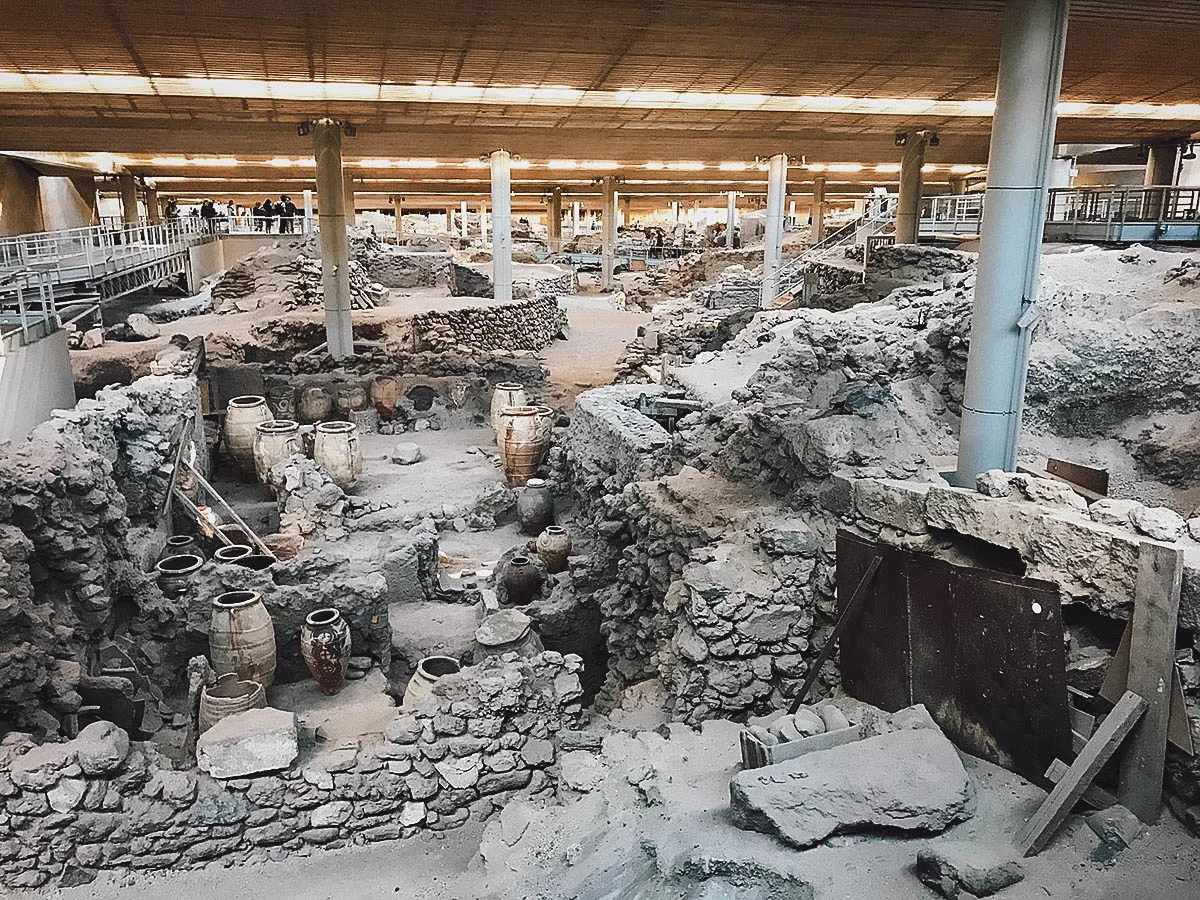 Rt44, CC BY-SA 4.0, via Wikimedia Commons
Suggested Length of Visit: 1-2 hours
Admission: EUR 12 per person
4. Akrotiri Lighthouse
I don't know what it is about lighthouses. They have such a grip on the human imagination that many of us can't help but be drawn to them. I think our fascination with lighthouses has as much to do with their symbolism as it does with their beauty. For many, they're a beacon of hope.
If you enjoy lighthouses and have a rental car, then you may want to drive to the southwesternmost tip of the island and catch the sunset from Akrotiri Lighthouse.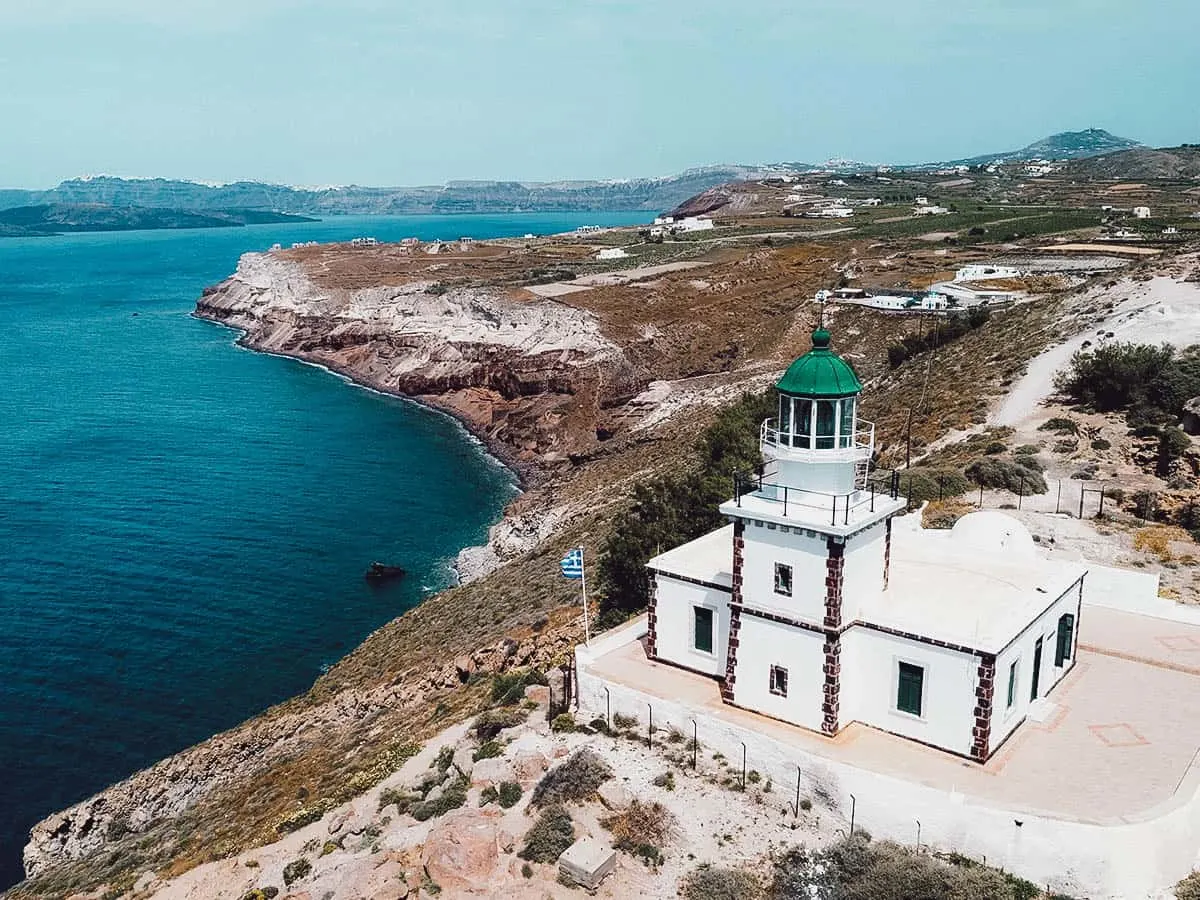 Photo by Ventura via Shutterstock
Suggested Length of Visit: 1 hour
Admission: FREE
5. Prophet Elias Monastery
We didn't go but Prophet Elias (Profitis Ilias) Monastery is an 18th century monastery situated on the highest point of the island, about 567 meters (1,860 feet) above sea level. It offers some of the best panoramic views in Santorini.
Most people come for the views but there's a chapel you can visit here as well, along with a shop selling various products made by the monks like sun-dried tomatoes, olive oil, and wine. The monastery seems to keep erratic hours but you can still enjoy the view even if it's closed.
Located about 4 km (2.5 miles) southeast of Pyrgos, Prophet Elias Monastery is best visited with a rental car or on a guided tour.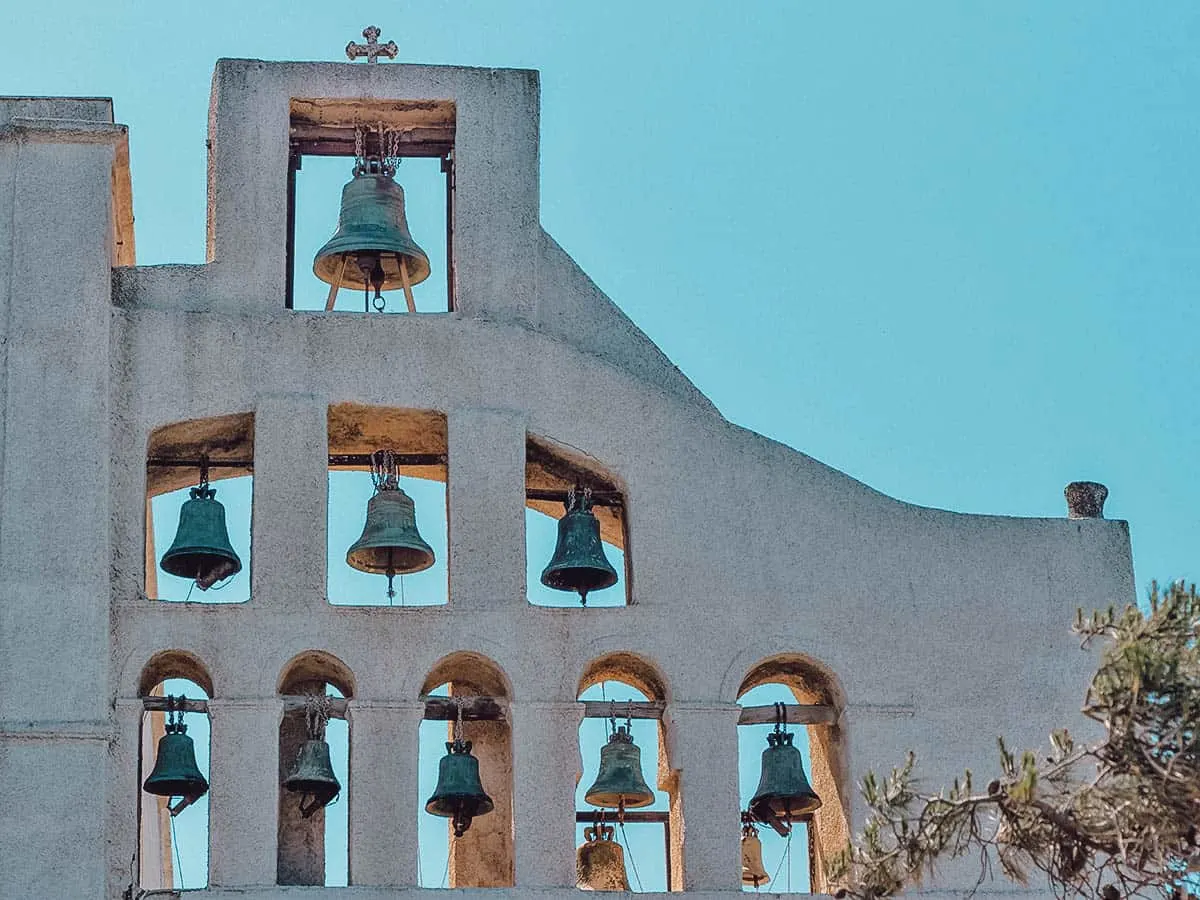 Photo by stoyanh via Shutterstock
Suggested Length of Visit: 30 mins – 1 hour
Admission: FREE
6. Skaros Rock
Skaros is an elevated rock formation and collection of ruins that was once used for defensive fortifications. I passed it while hiking from Fira to Oia. It's easily accessible via a short walk from Imerovigli and you can climb to the top for great views of the caldera.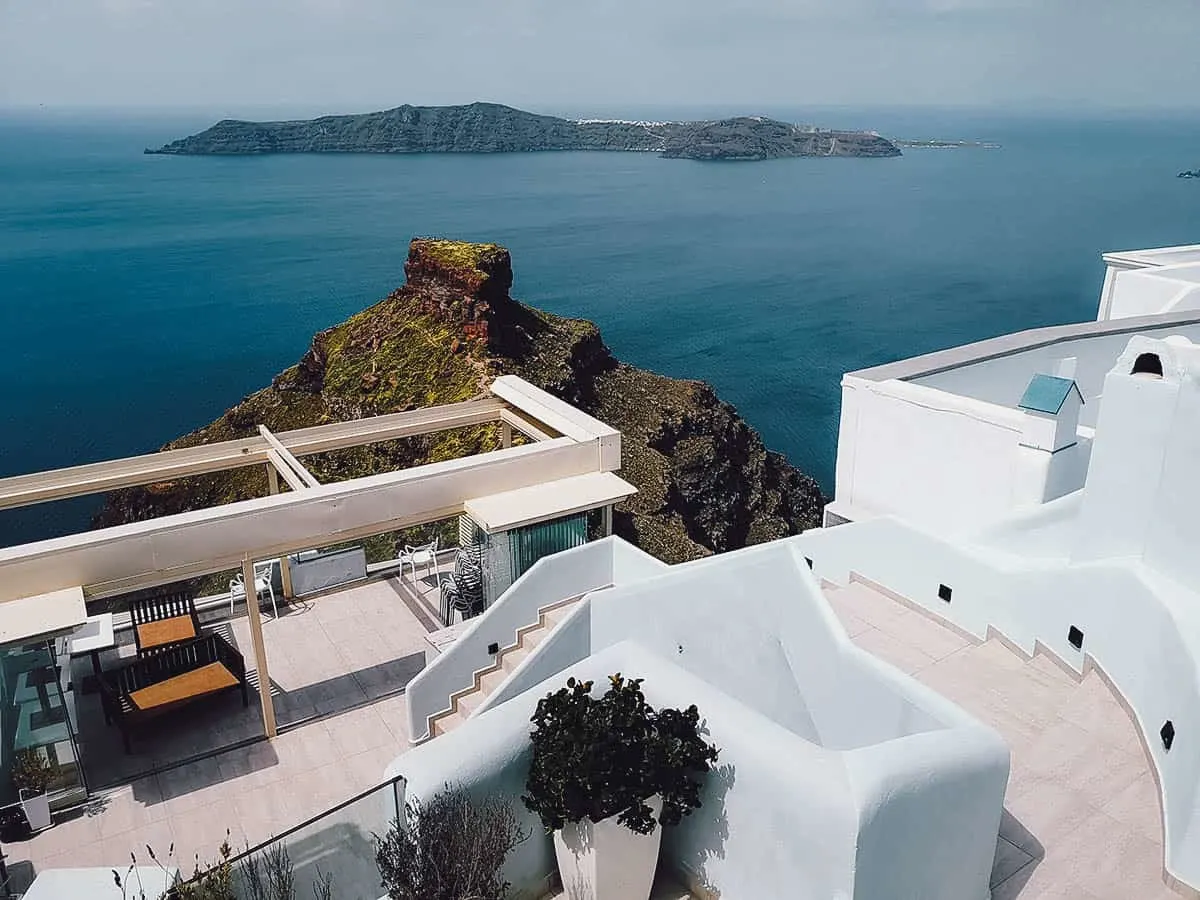 Suggested Length of Visit: 30 mins – 1 hr
Admission: FREE
7. Atlantis Books
I first learned about this curious little bookshop in Oia when I chanced upon author and owner Craig Walzer's TEDx Talk. Opened on a whim by two friends vacationing in Santorini, it's a tiny shop with a fascinating story to tell. Whether or not you buy anything, it makes for an interesting stop between sunsets in Oia.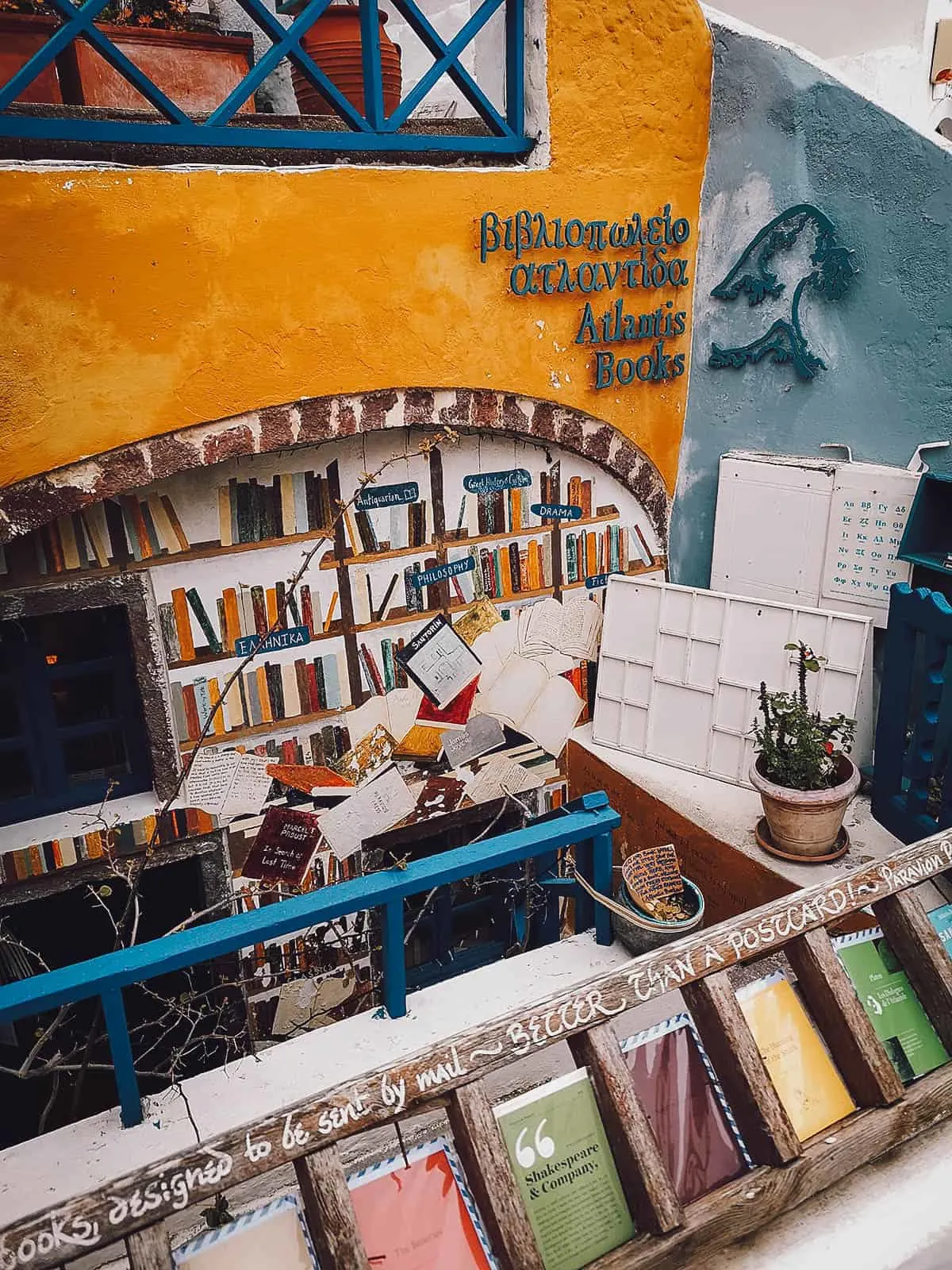 Suggested Length of Visit: 15-30 mins
Admission: FREE
THINGS TO DO IN SANTORINI
1. Explore the Island
There are a few tourist attractions in Santorini as enumerated above, but for me, the best attraction in Santorini is Santorini itself. We rented cars and had a blast just aimlessly driving around and exploring the island. It isn't that big so you can easily cover it in one day.
If you aren't renting a car, then there are plenty of Santorini sightseeing tours you can book. Check out my Santorini in photos post for pictures of this beautiful island.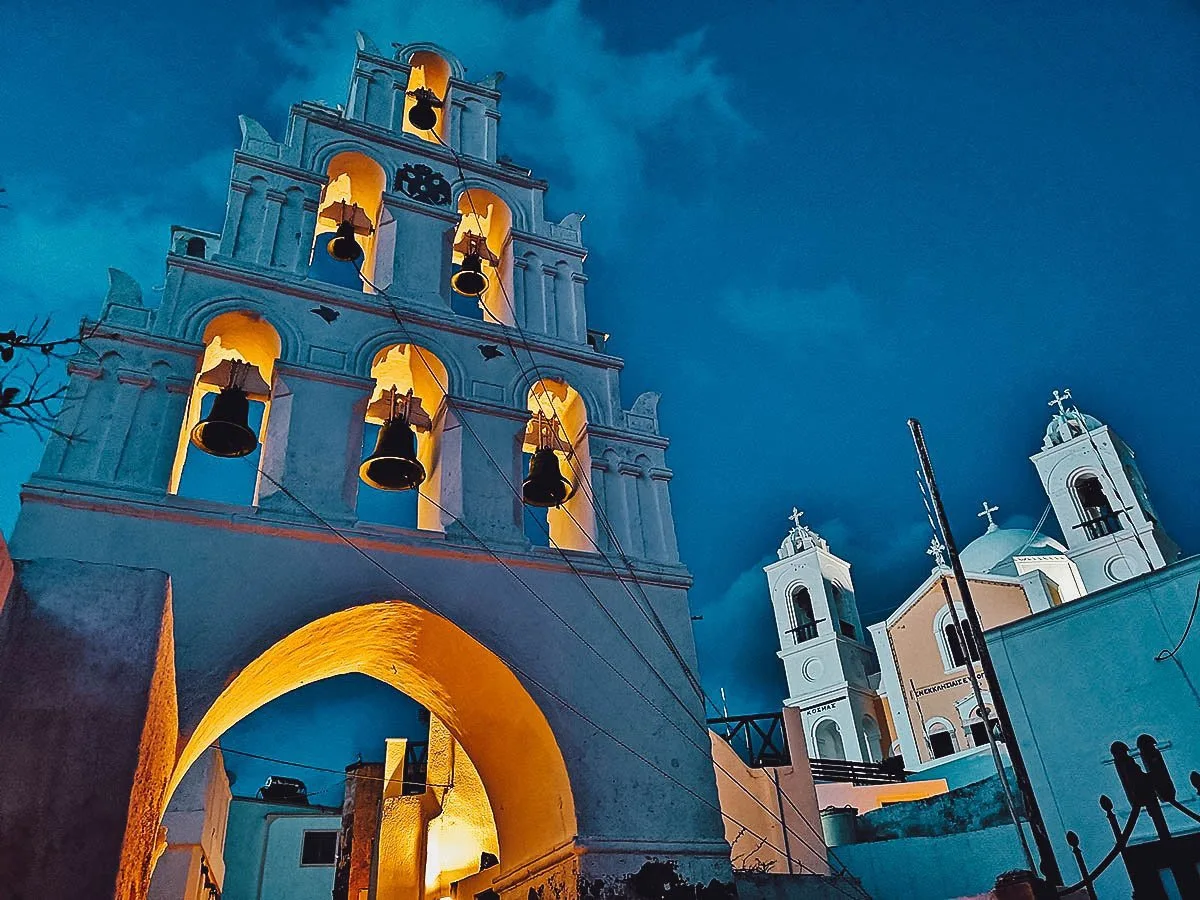 2. Enjoy the Sunset
Santorini sunsets are legendary. They're beautiful from anywhere on the island but the caldera towns of Oia, Imerovigli, Firostefani, and Fira offer the best views. They're so magnificent that there are many tours you can book that highlight its sunsets.
If you like seafood, then I suggest enjoying one sunset from Amoudi Bay, a small port about 300 steps below the town of Oia. There are six or seven waterfront restaurants there offering great views of the horizon and some of the best seafood in Santorini.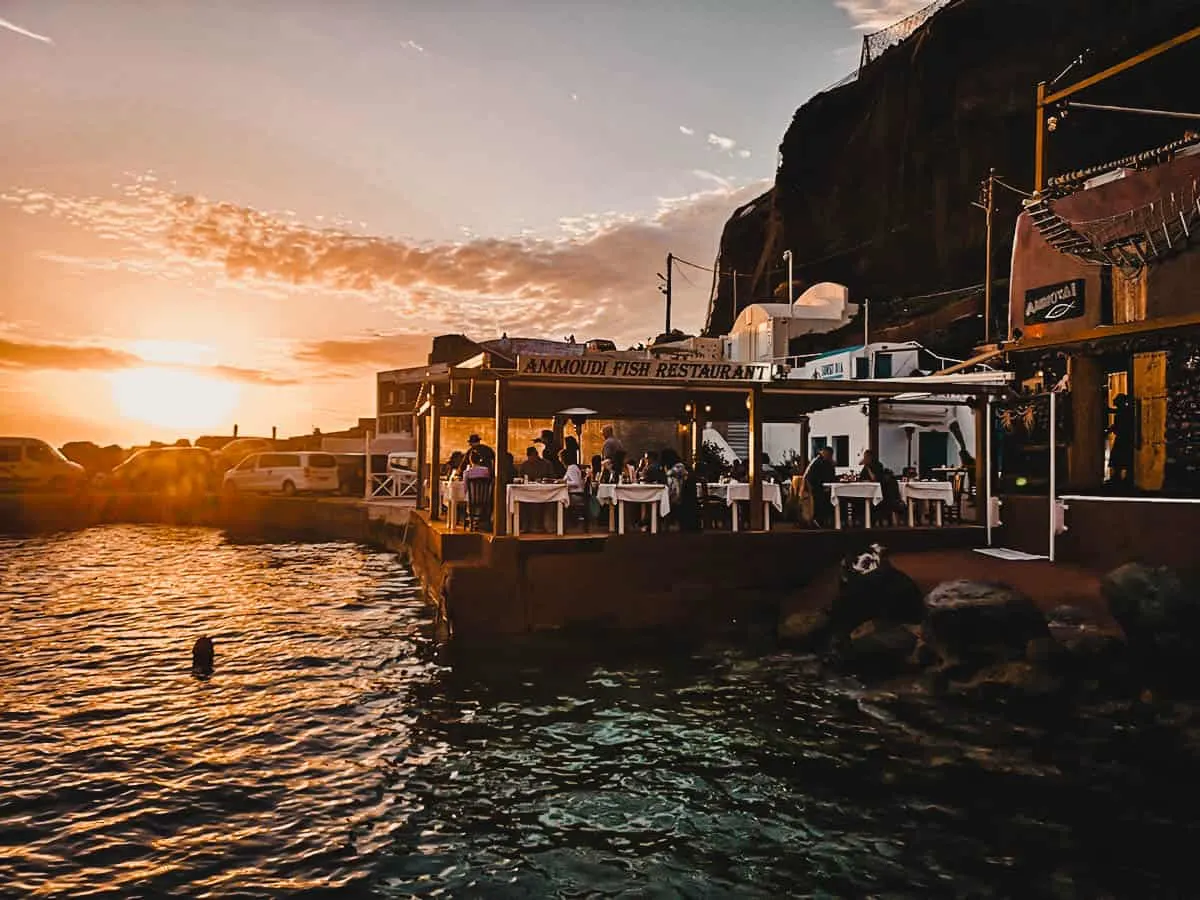 3. Visit a Winery
Like many people, I knew about Santorini's cycladic houses and caldera views, but I didn't know that the island is an important wine-making region as well. They're known for a range of wines produced from their heritage Assyrtiko grape.
We went on this fascinating wine tasting tour that took us to three of the island's best wineries. You can book the same tour on Get Your Guide or choose from their other Santorini wine tasting tours. It's a popular activity on the island so there are plenty to choose from.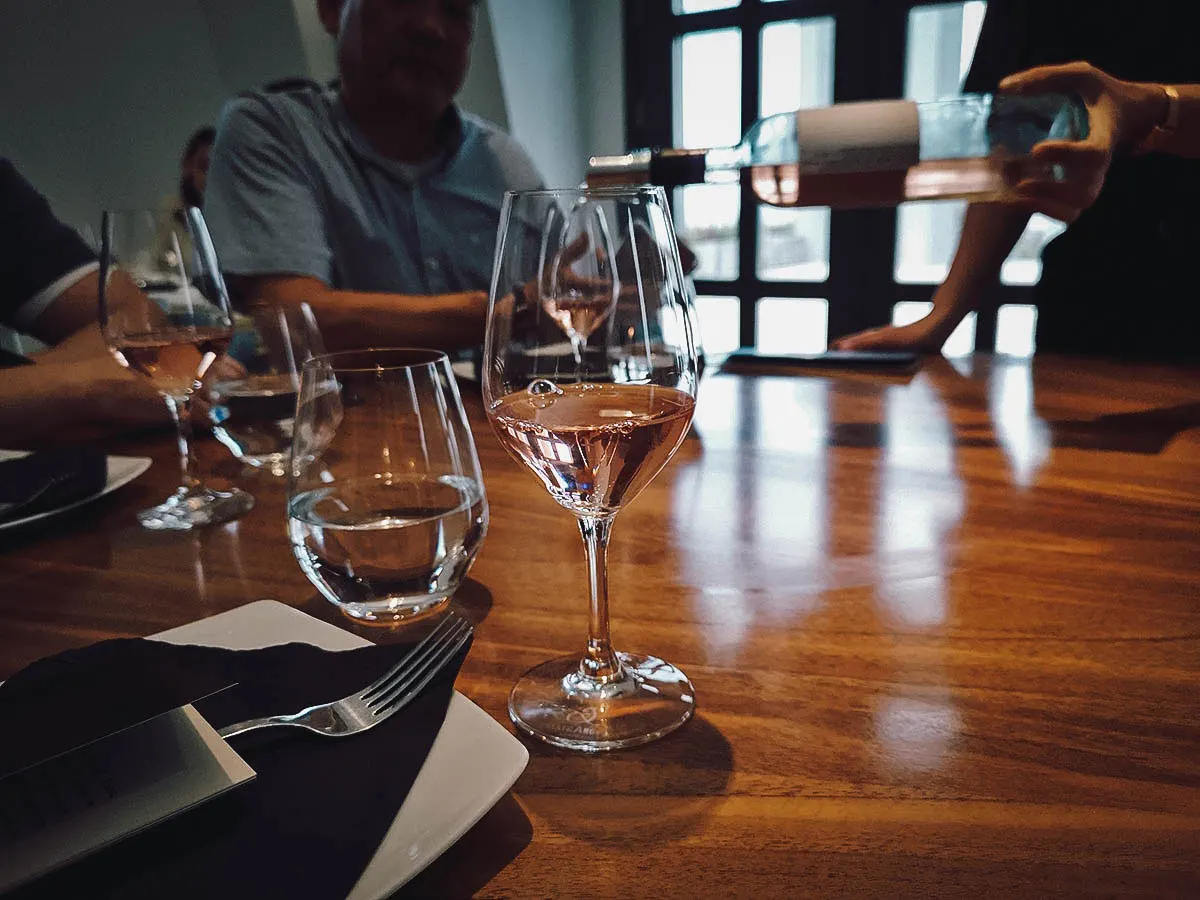 4. Go Sailing
Another popular activity in Santorini is to go sailing. We aren't fans of boats so we didn't do this, but there are plenty of sailing tours and luxury cruises in Santorini.
Many happen around sunset and a few will even take you to Santorini Volcano and other neighboring islands. There are plenty to choose from so be sure to check each one and find the right cruise for you.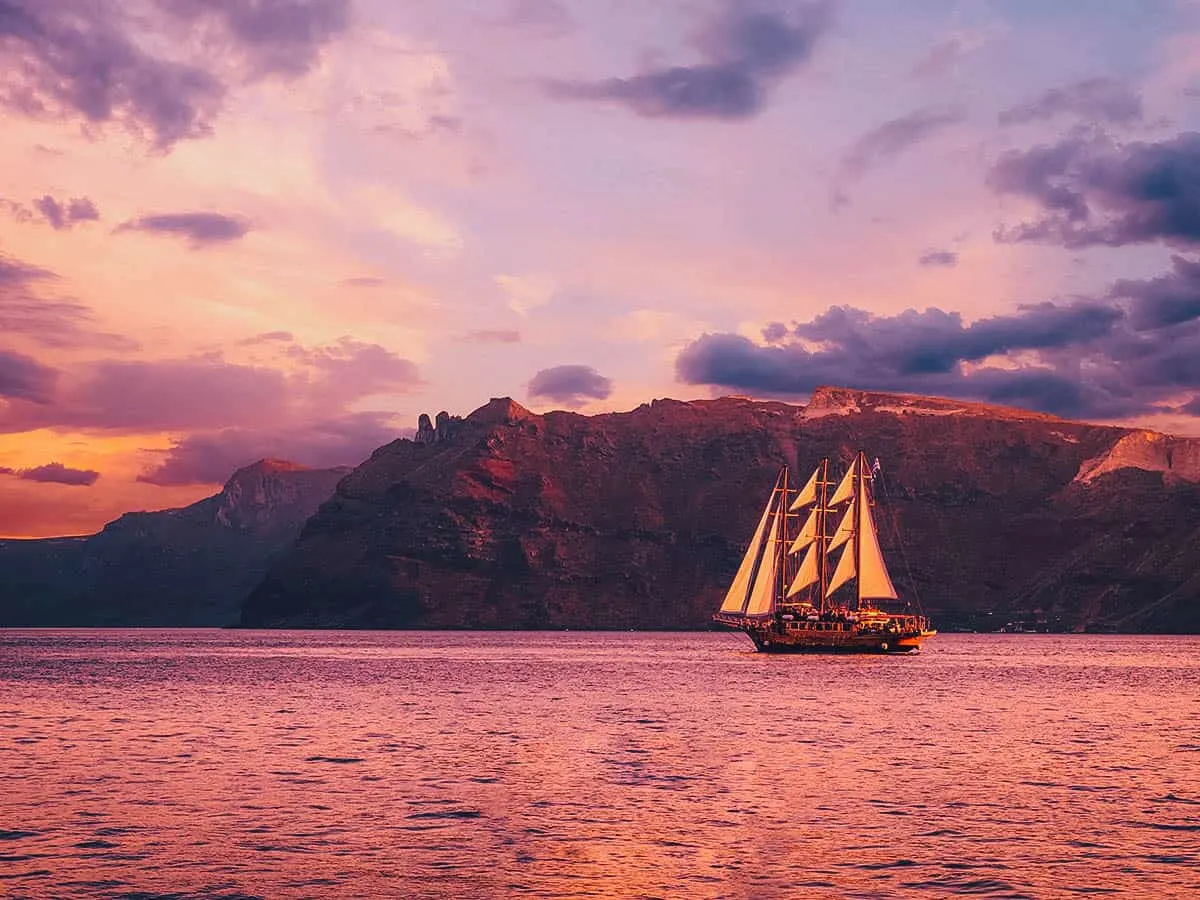 Photo by Lucian BOLCA via Shutterstock
5. Do the 10 km Hike from Fira to Oia
This was one of the best things I did in Santorini. It was a beautiful clear day so I went on this easy 10 km hike from Fira to Oia.
It takes you through all four cliffside towns and you'll be walking along the caldera's rim for most of the time. Walking at a leisurely pace, it'll take around 2-3 hours to complete the hike.
Check out my article on this Fira-Oia hike for more pictures. If you like going on walks, then this is a must-do in Santorini.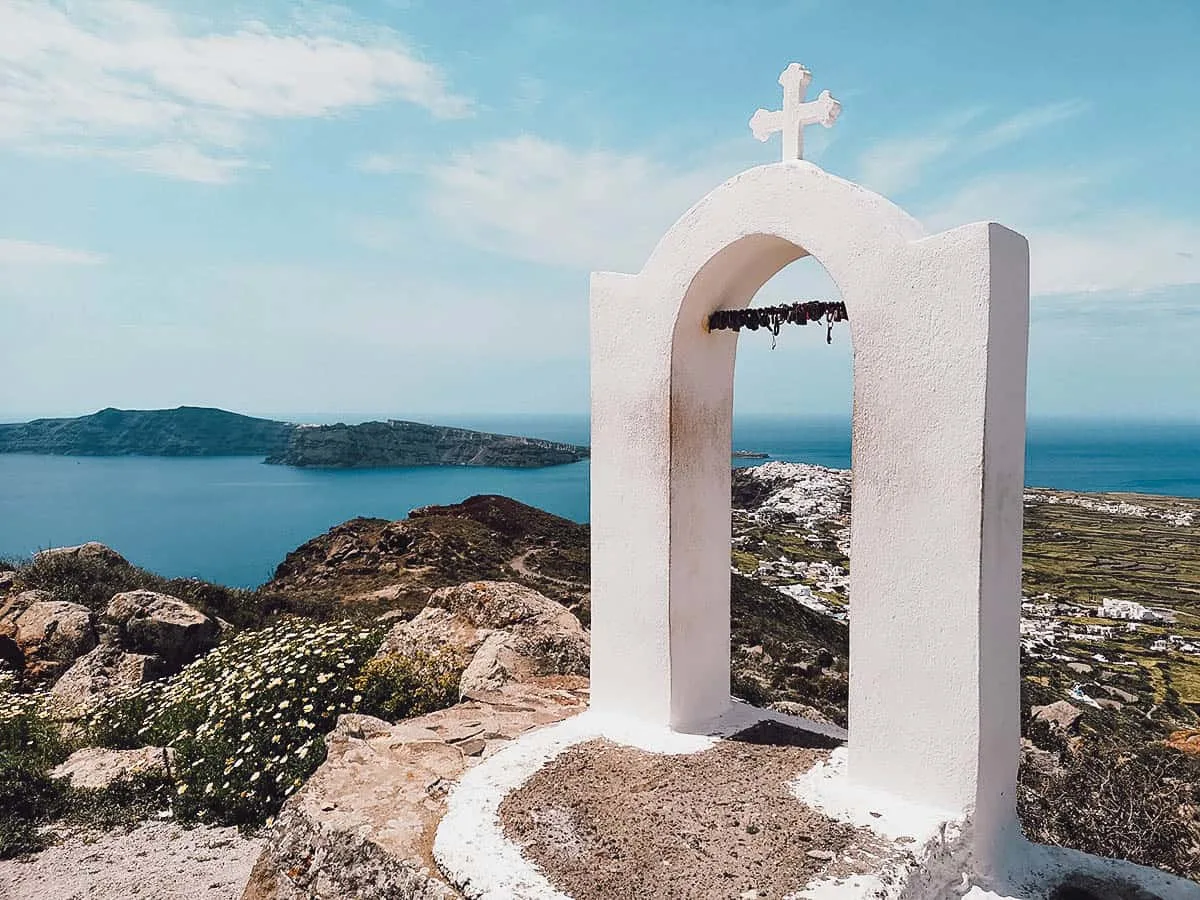 6. Lay on a Beach
Santorini's beaches aren't great. Most have black dirty-looking sand that isn't that fine. But if you come in July or August when the mercury is at its highest, then you may want to cool off on the beach and do some swimming. Staying in Kamari, Perissa, or Akrotiri will put you closest to the island's beaches.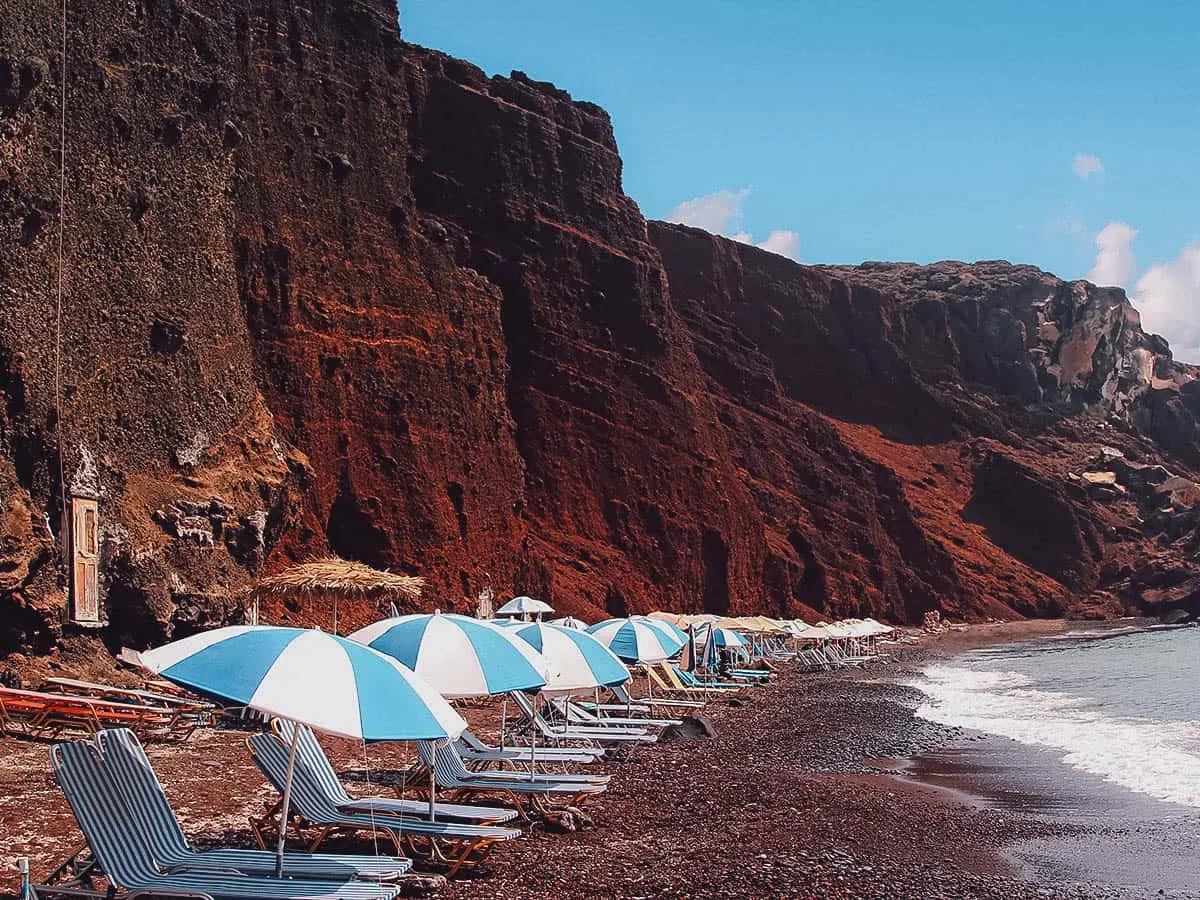 Photo by Olga Lipatova via Shutterstock
GREEK FOOD GUIDE
Greek cuisine is founded on the "Mediterranean triad" of olive oil, wheat, and wine. Olive oil is used in most dishes while wheat is the cuisine's grain of choice.
If you'd like to eat like a local in Santorini, then check out our Greek food guide for a list of 25 must-try dishes in Greece.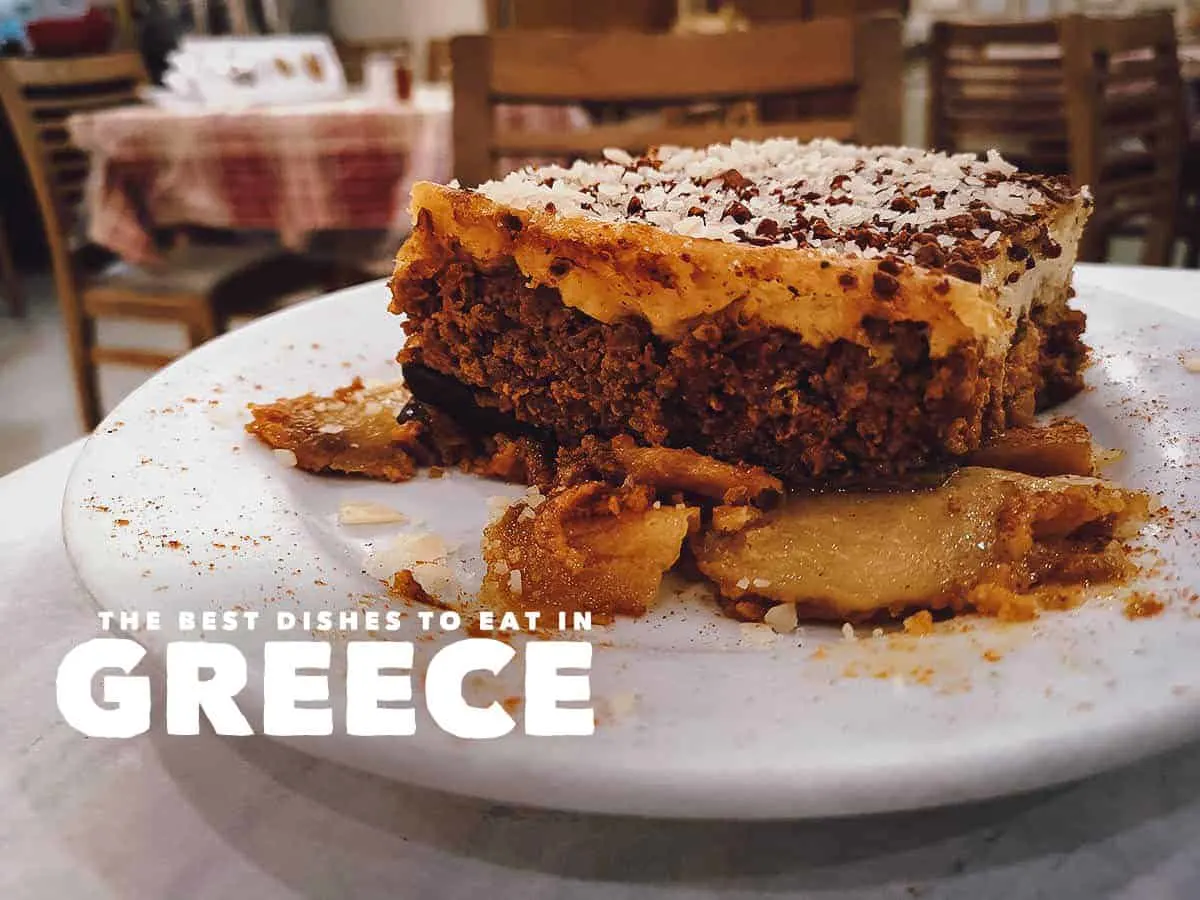 WHERE TO EAT IN SANTORINI
As beautiful as Santorini is, it's also very touristy. There are plenty of restaurants on the island, many of them no doubt serving overpriced touristy food.
Finding the best local food is important to us so we came up with this guide of 9 must-eat restaurants in Santorini. Check it out if you're looking for great but inexpensive examples of classic dishes like souvlaki, gyro, fava, and ntomatokeftedes.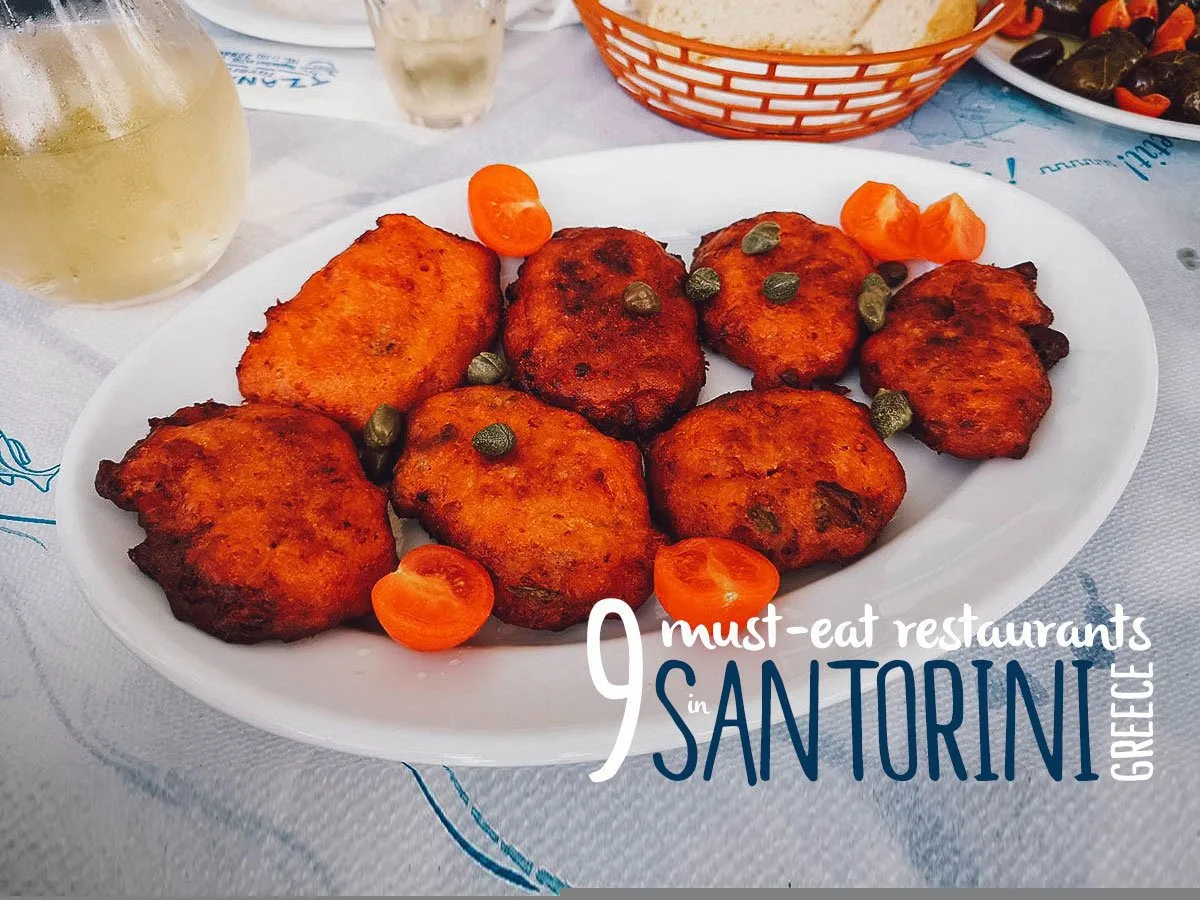 If you aren't staying long enough in Santorini, then we recommend starting with these four restaurants.
1. Metaxi Mas
Ask a local what the best restaurant in Santorini is, and many will point you to Metaxi Mas. It's a Cretan restaurant in the village of Exo Gonia serving terrific dishes like grilled octopus, boneless pork chops, and this wonderful oven-baked asparagus. We enjoyed many delicious meals in Santorini but this was easily our favorite.
Metaxi Mas is easy to get to if you have a car, but you'll need to catch a taxi if you don't. Trust the locals, it's worth it. Check out my article on Metaxi Mas for more pictures and information.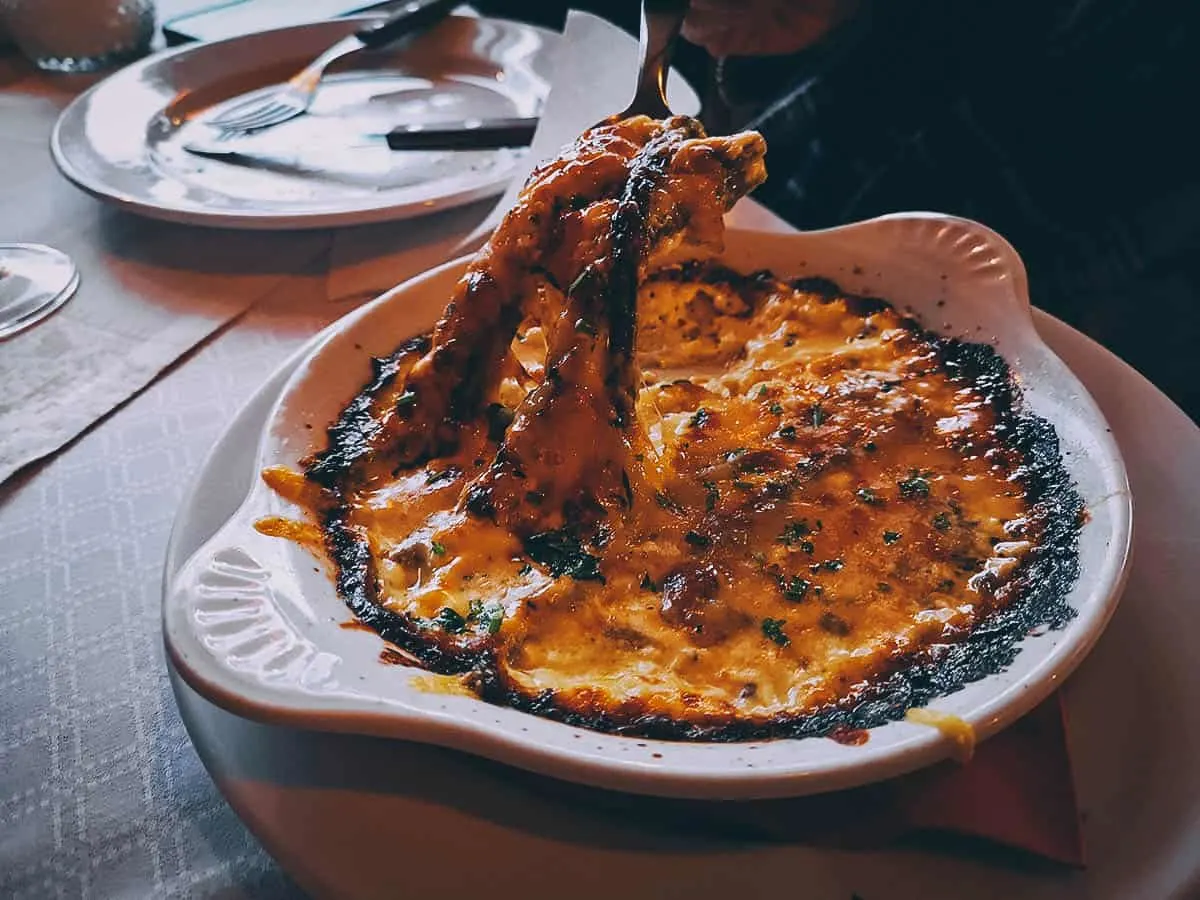 2. Lucky's Souvlakis
I googled "best souvlaki in fira" and Lucky's Souvlakis dominated the search results. Google wasn't wrong.
Lucky's serves great souvlakis and gyros loaded with meat, fried potatoes, vegetables, and tzatziki in a warm piece of thick pillowy pita bread. It's cheap too, just EUR 2.30 per souvlaki pita wrap. I could have eaten here everyday.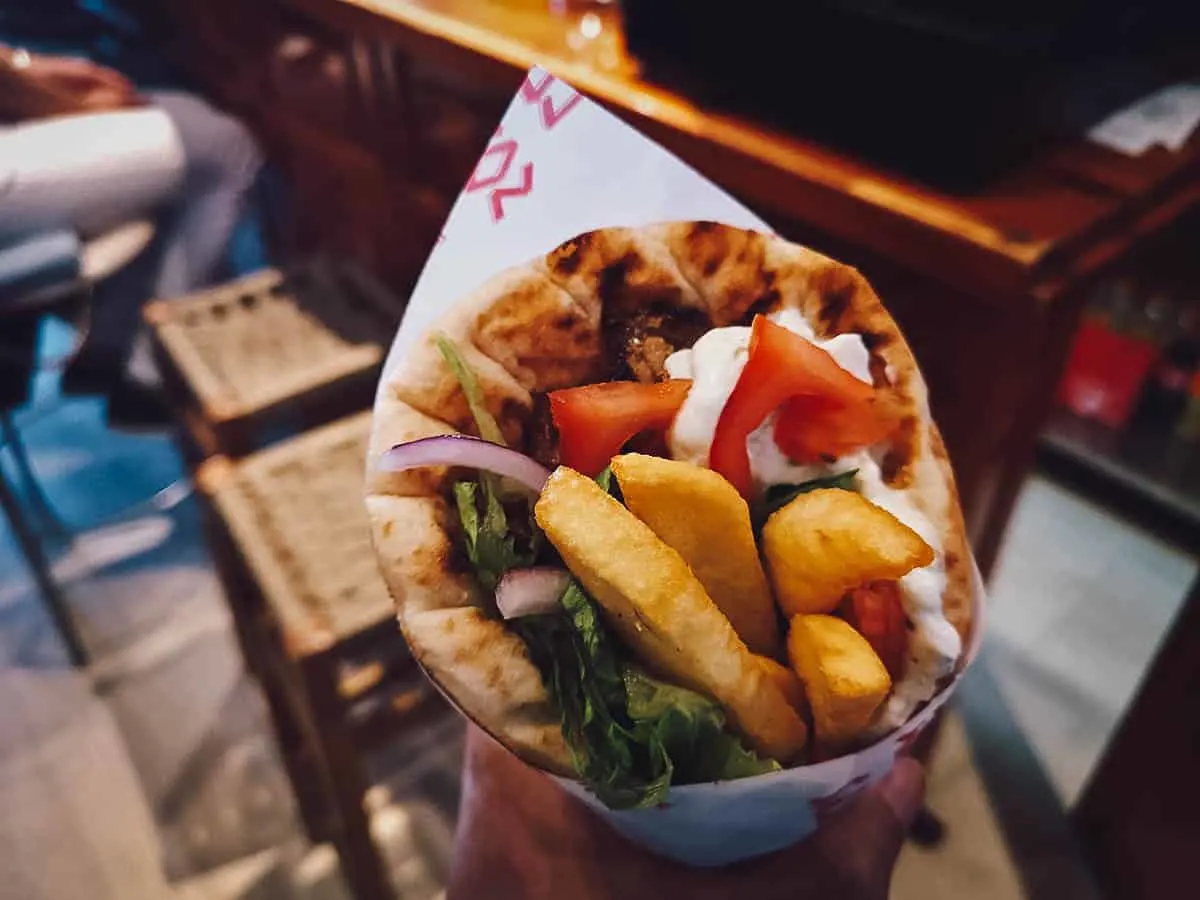 3. Tavern Tzanakis
If you want a delicious home-cooked Greek meal that's far removed from the touristy chaos of Fira, then Tzanakis in Megalochori is a great choice.
Open for 26 years, it's a family-run restaurant serving classic Santorinian dishes like fava, grilled white eggplant, and tomato fritters. Check out my post on Tavern Tzanakis for more pictures and information.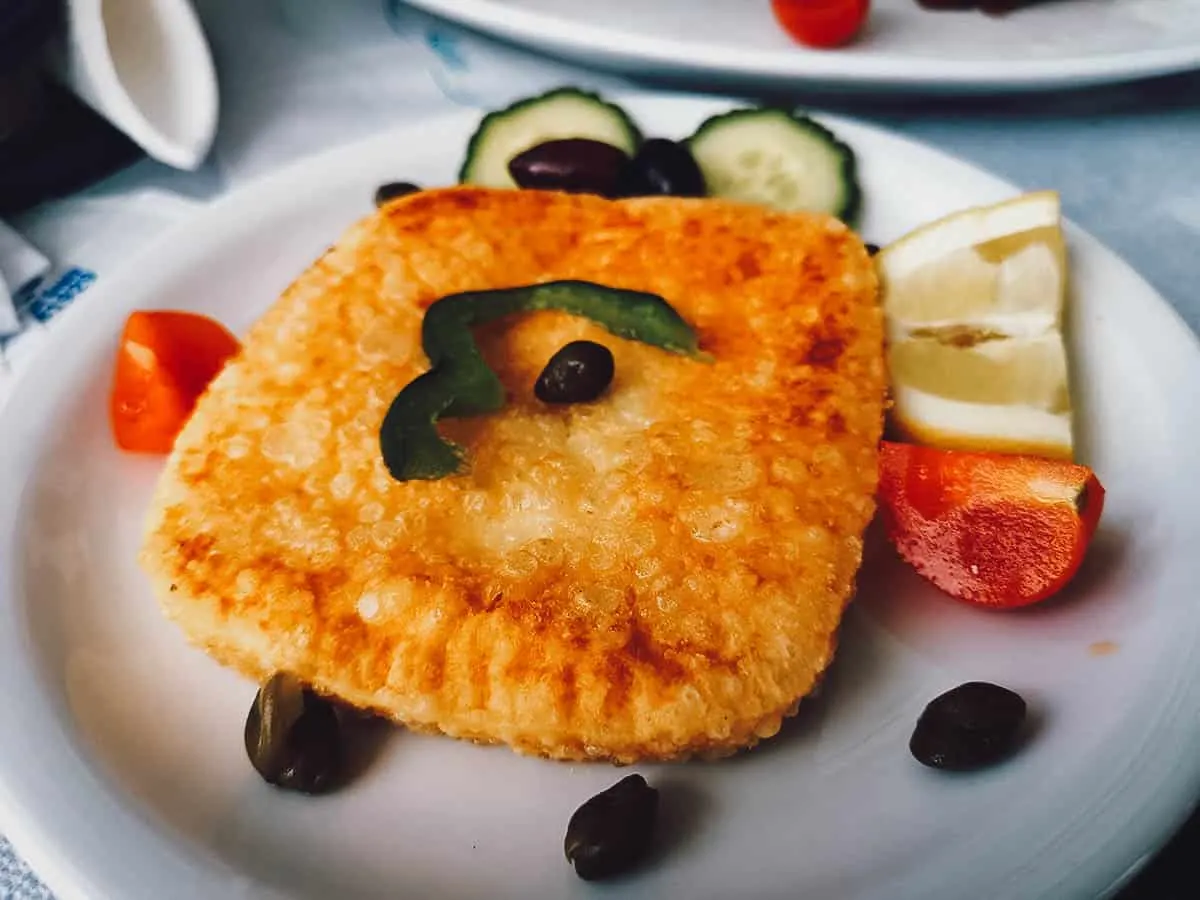 4. Ammoudi Fish Tavern
Amoudi Bay in Oia is one of the best places to enjoy great seafood while watching the sunset in Santorini. It's a small port with several waterfront restaurants, each with a clear view of the horizon. We had one of our best meals on the island here at Ammoudi Fish Tavern.
Check out my article on Ammoudi Fish Tavern for more pictures and information. Amoudi Bay is a popular choice for dinner so reservations are a must.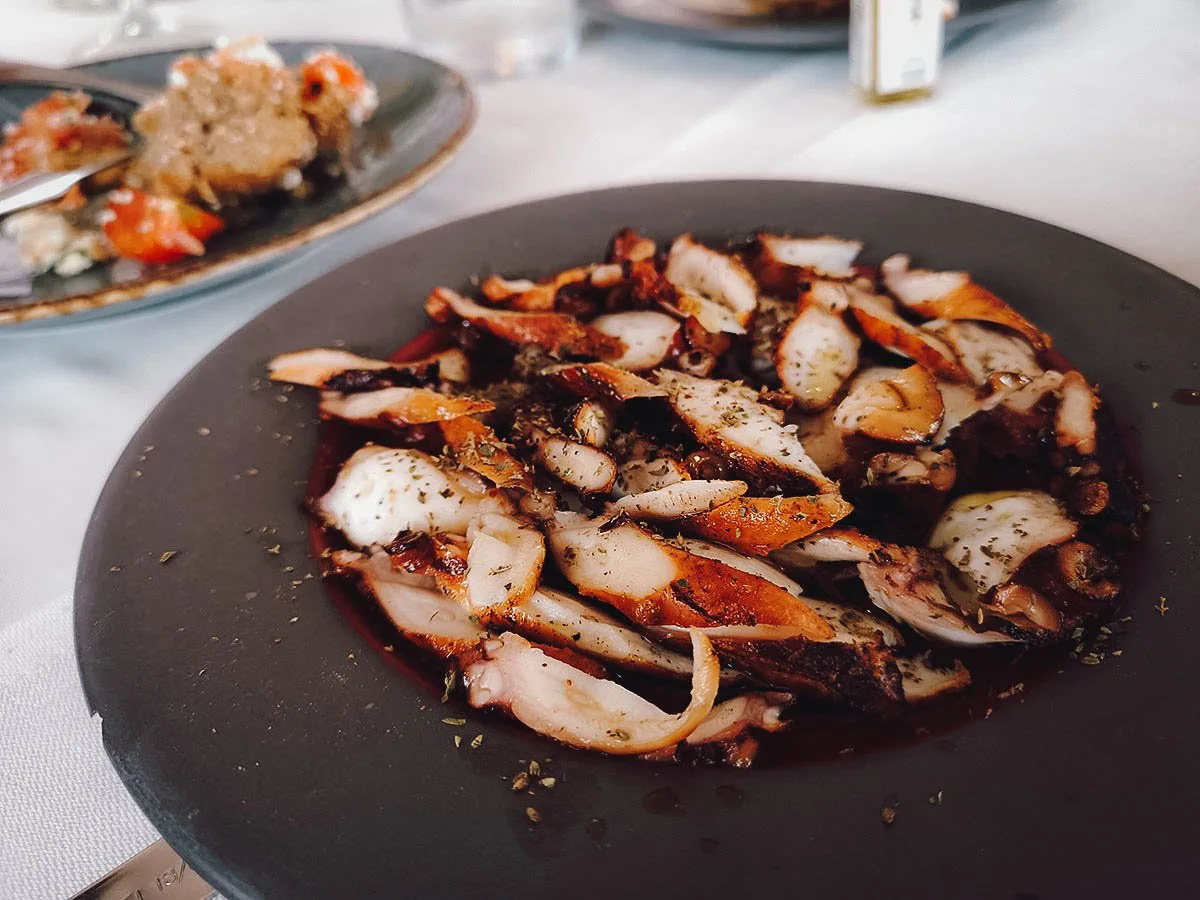 POINTS OF INTEREST IN SANTORINI
To help you get a better understanding of the island, I've pinned all the places recommended in this guide on this map. Click on the link for a live version of the map.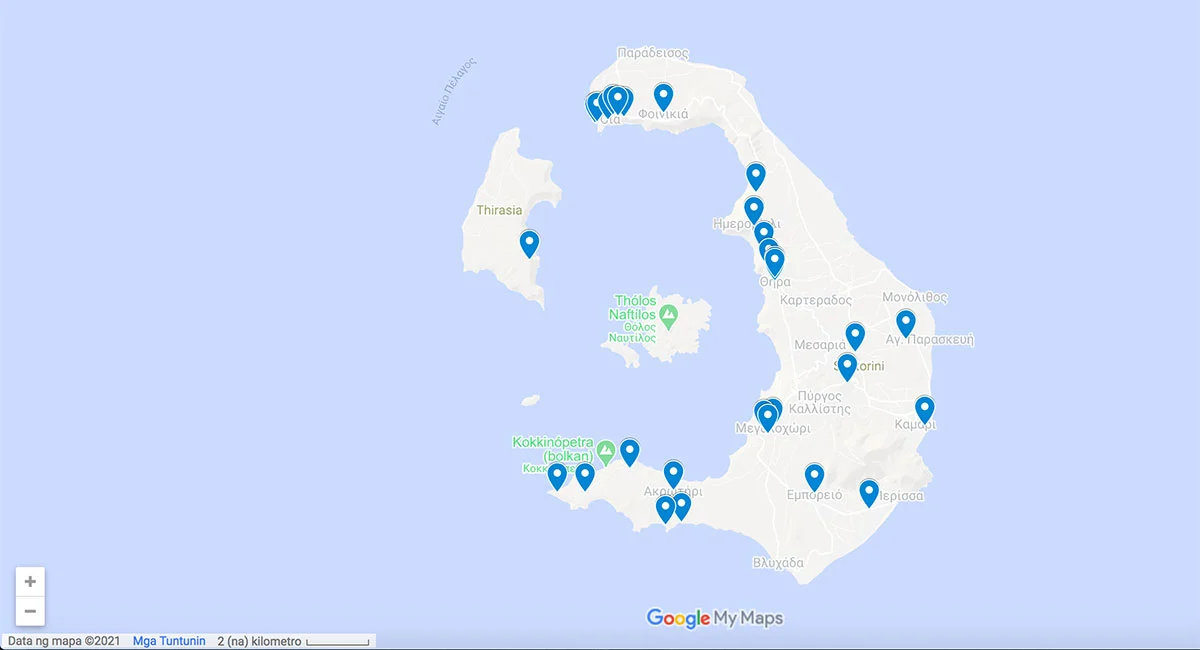 HOW TO GET AROUND IN SANTORINI
KTEL Buses
Santorini isn't that big but it doesn't have a reliable public transportation system. It does have a fleet of local buses called "KTEL Buses" that depart from Fira and take you to key points on the island and back.
All buses go through Fira so if you want to go from Perissa to Oia for example, then you'll need to go to Fira first, change buses, before continuing to Oia.
KTEL Buses are the cheapest way to get around, between EUR 1.80-2.40 per ride, but they're fully operational only in the peak season. They operate at a limited capacity in other months.
We were there in mid-April and I had to wait over an hour for a bus to pass Megalochori. The Greek woman waiting with me had to get to work so she wound up hitching a ride with a passing car!
Rental Car
The best and most convenient way to get around Santorini is by rental car. There are plenty of car rental offices at Santorini Airport and Athinios Port, so you can book one upon arrival or reserve it in advance.
We booked two M/T compacts through EasyTerra and paid about EUR 40 per day for each car. We split the cost, so between six people, that amounted to just EUR 13 per person per day.
Gas is expensive in Santorini – well over EUR 50 to fill up a compact – but the island is small so you won't need to gas up often. During our 4-day stay, we only filled up each car once.
Having your own rental car provides you with transfers to and from the airport/port. On top of that, it'll give you access to other parts of the island not serviced by local buses. If there are enough people traveling in your group, then I think a rental car is your best option.
The only potential headache when renting a car is finding parking. Each village has a few designated parking areas but not enough to make parking a breeze.
We had little difficulty in mid-April but I imagine it to be harder in July or August. Just keep that in mind and be prepared to circle around a few times until a spot opens up.
To navigate, I highly recommend using the Google Maps app (iOS|Android). It'll tell you exactly how to get from point A to point B. We used it throughout our stay in Santorini and never got lost once.
This was our Nissan compact. The other was a Toyota. Other than rental cars, people rent ATVs, motorcycles, and scooters to get around as well.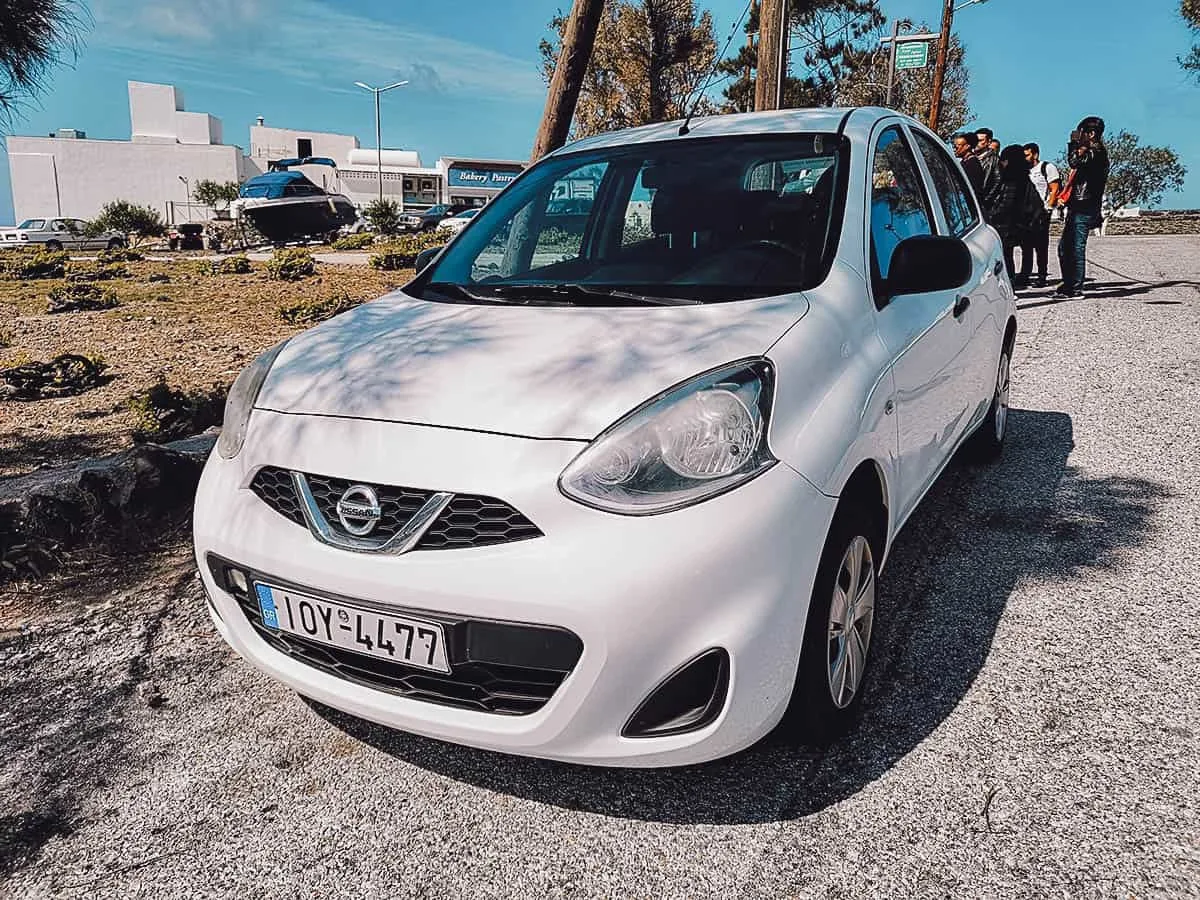 HOW MANY DAYS TO STAY / SANTORINI ITINERARY
Santorini is a small island but it isn't the type of destination you'd want to rush through. It's ideal for lazing around and enjoying its unique atmosphere. With that said, it isn't the cheapest destination so you'll need to find a balance between budget and length of stay.
I think three full days for a first trip to Santorini is enough. It'll give you a good taste of the island without making you feel too rushed. Stay longer if you can. Here's a sample 3D/4N Santorini itinerary to help you plan your trip.
DAY ONE
• Fira
• Firostefani
• Imerovigli
• Skaros Rock
• Oia
• Atlantis Books
• Amoudi Bay
DAY TWO
• Pyrgos Kallistis
• Prophet Elias Monastery
• Megalochori
• Emporio
• Akrotiri Archaeological Site
• Red Beach
• Akrotiri Lighthouse
DAY THREE
• Wine tasting tour and/or cruise
SANTORINI TRAVEL TIPS
1. Plan your Trip with Sygic Travel
Each and every one of our trips starts with this free trip planning app. I've been using it for several years now to create all our itineraries.
What it does is allow me to pin points of interest on a map so I can see where everything is and figure out the best way to fill up our days. I can then group them by day to come up with an efficient itinerary. Check out my post on the Sygic Travel app for more information.
You can view our Santorini itinerary on Sygic Travel or download it in editable Word format from our EAT-ineraries page. It covers Santorini and Athens.
2. Rent a Car
I've said it often in this guide but renting a car is the best way to enjoy your Santorini holiday. It'll give you the most freedom. The buses are unreliable during the off-season and they don't take you everywhere on the island.
Renting a car sounds expensive but it doesn't have to be. In fact, I was surprised by how cheap it was in Santorini. As described, our two M/T compact cars came out to about EUR 40 each per day. Divided between 6 people, that was just EUR 13 per day plus gas. For me, that's a no-brainer for the amount of flexibility it gives you.
You can rent a car from Santorini Airport or Athinios Port but I recommend booking one in advance. You can do so through EasyTerra or Rentalcars.com. We rented two compacts through EasyTerra and had no problems whatsoever.
3. Rent a Pocket Wifi Device
If you don't have a data plan, then it's a good idea to rent a pocket wifi device or buy a sim card so you have uninterrupted access to the internet.
It becomes especially important if you rent a car because you'll need it to navigate with Google Maps. Having a steady wifi connection is so important these days that we'd never think of going anywhere now without it.
We own Pokefi pocket wifi devices so we didn't have to rent one in Europe. But if you need a device that works for your trip to Greece and Europe, then you can rent one through Get Your Guide.
4. Don't Ride the Donkeys
This was one of the few sad sights in Santorini for me. These poor donkeys have been used to carry tourists and their luggage up and down nearly 600 steps from the old port to Fira.
This sometimes causes spinal injuries and saddle sores to the animals. Thankfully, Greece has recently banned overweight tourists from riding these donkeys.
Personally, I don't think you should be riding these animals regardless of your weight. There's a perfectly good cable car system to take you to and from the port. It costs just EUR 5 each way as opposed to EUR 20 to ride a donkey.
If you care for the well-being of animals, then please take the cable car.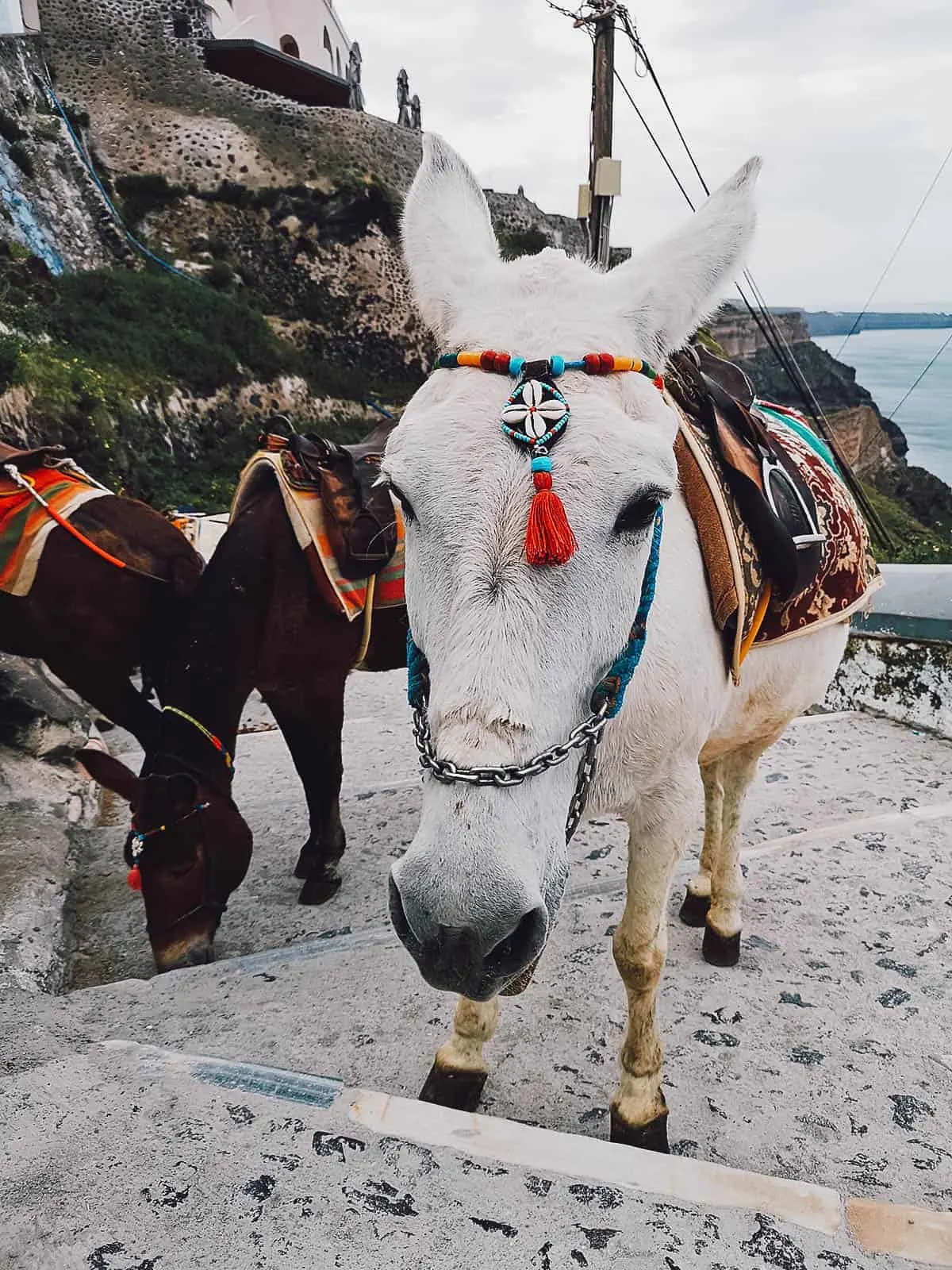 5. Check Sunset Times
Sunsets in Santorini are so sought after they don't feel like daily occurrences. Instead, they're more like events.
You don't want to come late for an event so be sure to check for sunset times, especially if you're making dinner reservations in Amoudi Bay. When we were there, the estimated sunset time was 7:48PM so we made our reservation for 7PM.
6. Check for Tour Vouchers
I buy tour and travel vouchers from several websites, but for Europe, I only bought from one – Get Your Guide. They have the biggest selection for destinations in Europe. I booked our Santorini wine tasting tour through Get Your Guide.
If you're looking for interesting tours and other travel-related activities in Santorini, then I suggest searching through Get Your Guide.
7. Get Travel Insurance
Getting travel insurance is something you should seriously consider before every trip. For us, it depends on what we'll be doing.
If we plan on doing physical activities like skiing or riding an ATV, basically anything that could get us hurt, then we'll definitely get it. But if all we'll be doing is eating our way through a city like Hong Kong for a couple of days, then we may not. Our credit cards give us free basic coverage anyway.
When we do feel the need for it, then we'll buy insurance from SafetyWing or Heymondo. They're both popular travel insurance companies used by many digital nomads. Follow the links to get a free quote from SafetyWing or Heymondo. Get 5% off on Heymondo when you use our link.
8. Bring the Right Power Adapter
You'll find Type C or Type F electrical outlets in Greece so make sure you bring the right power adapters for your devices. Electrical voltage is 230V and the standard frequency is 50Hz.
Have Fun!
Santorini may be small but in no capacity am I an expert on this island. I'm only sharing the things I learned from our trip. If you have any questions or suggestions, then please let us know in the comment section below. You're welcome to join our Facebook Travel Group as well.
Thanks for stopping by and have an incredible time in Santorini!
OUR GEAR
These are some of the things we brought with us to Santorini. For a complete list of our travel gear, you're welcome to have a look inside our backpack. (NOTE: The following links are Amazon and other affiliate links.)
Disclosure
This Santorini travel guide contains affiliate links, meaning we'll earn a small commission if you make a booking at no extra cost to you. We only recommend products and services that we use ourselves and firmly believe in. We really appreciate your support as it helps us make more of these free travel guides. Thank you!