UPDATE (7 July 2022): Backstreet Academy appears to have ceased operations till further notice.
Ren and I enjoy taking cooking classes whenever we travel. It's a great way to experience the cuisine and to better understand how authentic local food is supposed to taste.
Compared to Thai or Vietnamese food, we weren't as familiar with Indonesian food. Outside of sate and nasi goreng, we really didn't know that much about it giving us even more incentive to take this cooking class. Thanks to Paon Bali, my Indonesian culinary vocabulary has expanded to include dishes like kuah wong sup jamur, pepes ikan, and base gede bumbu kuning. Sate, as expected, was on the syllabus, and we even learned how to make gado gado which like sate, is considered one of Indonesia's national dishes.
If you're interested in learning more about Indonesian cuisine, then you may want to take this cooking class on your next trip to Ubud, Bali. It's a fun and entertaining four hours led by the hilarious wife-husband tandem of Puspa and Wayan. They'll have you laughing out loud whilst guiding you through the basics of Indonesian cooking.
Save This on Pinterest!
No time to read this now? Click on the red save button and pin it for later!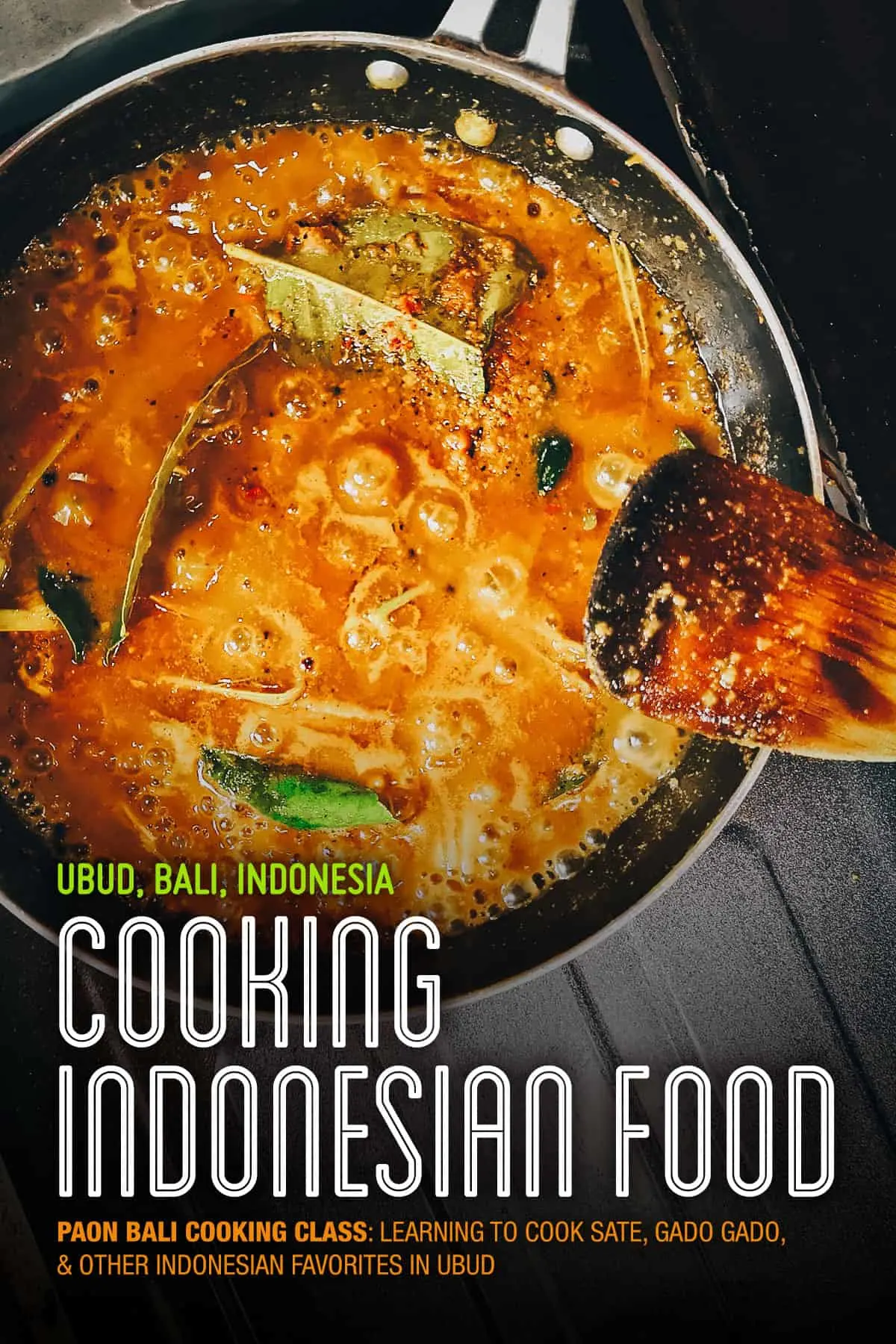 Ubud Morning Market
We took the morning class which starts with a visit to Ubud's morning market. There we'd pick up many of the ingredients we'd be using for today's class.
The market visit is only available with the morning class. There are two class times – 8AM and 4PM – at USD 25 per person. We're ambassadors for Backstreet Academy and booked this cooking class through their website. You can learn more about Backstreet Academy and impact travel at the bottom of this post.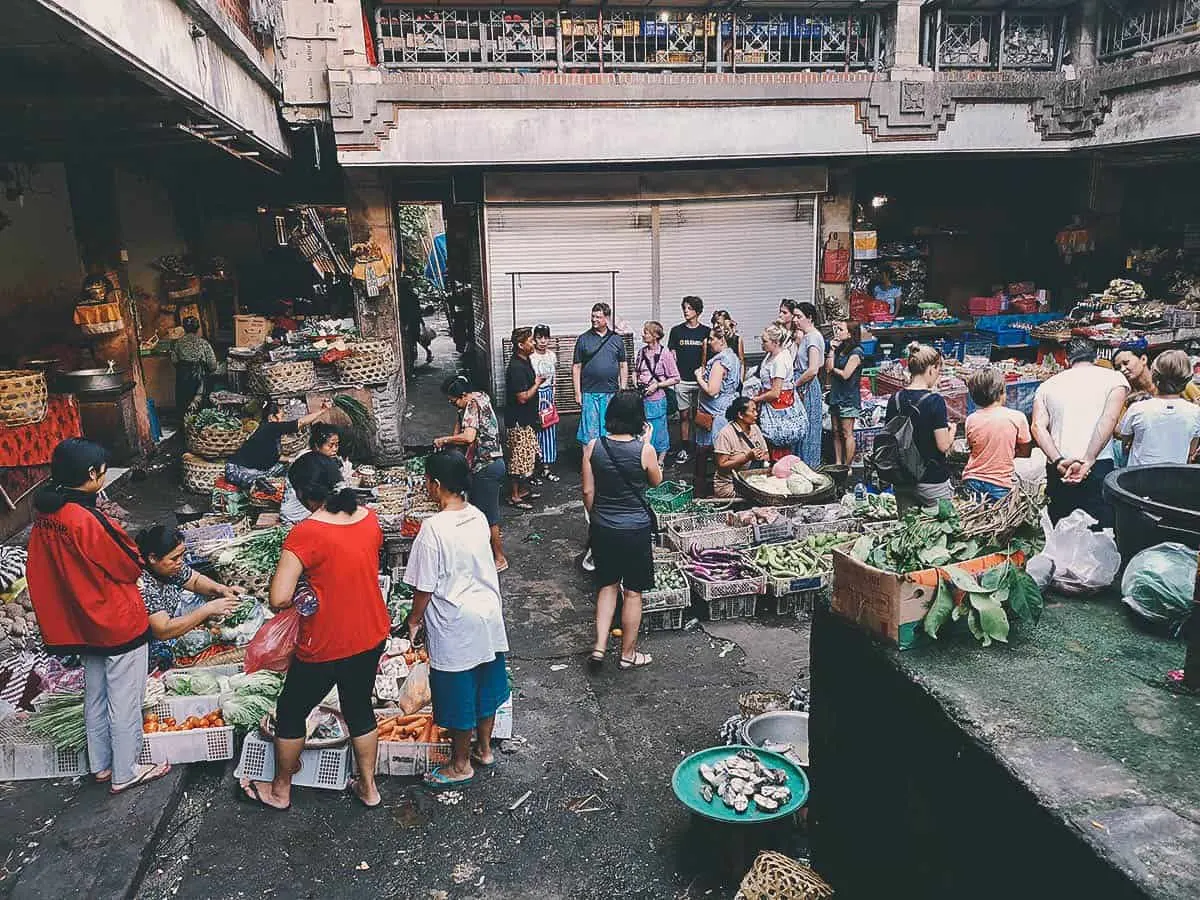 As its name suggests, this market is open only in the morning, from 6-9AM. That's why a market visit isn't part of the afternoon class.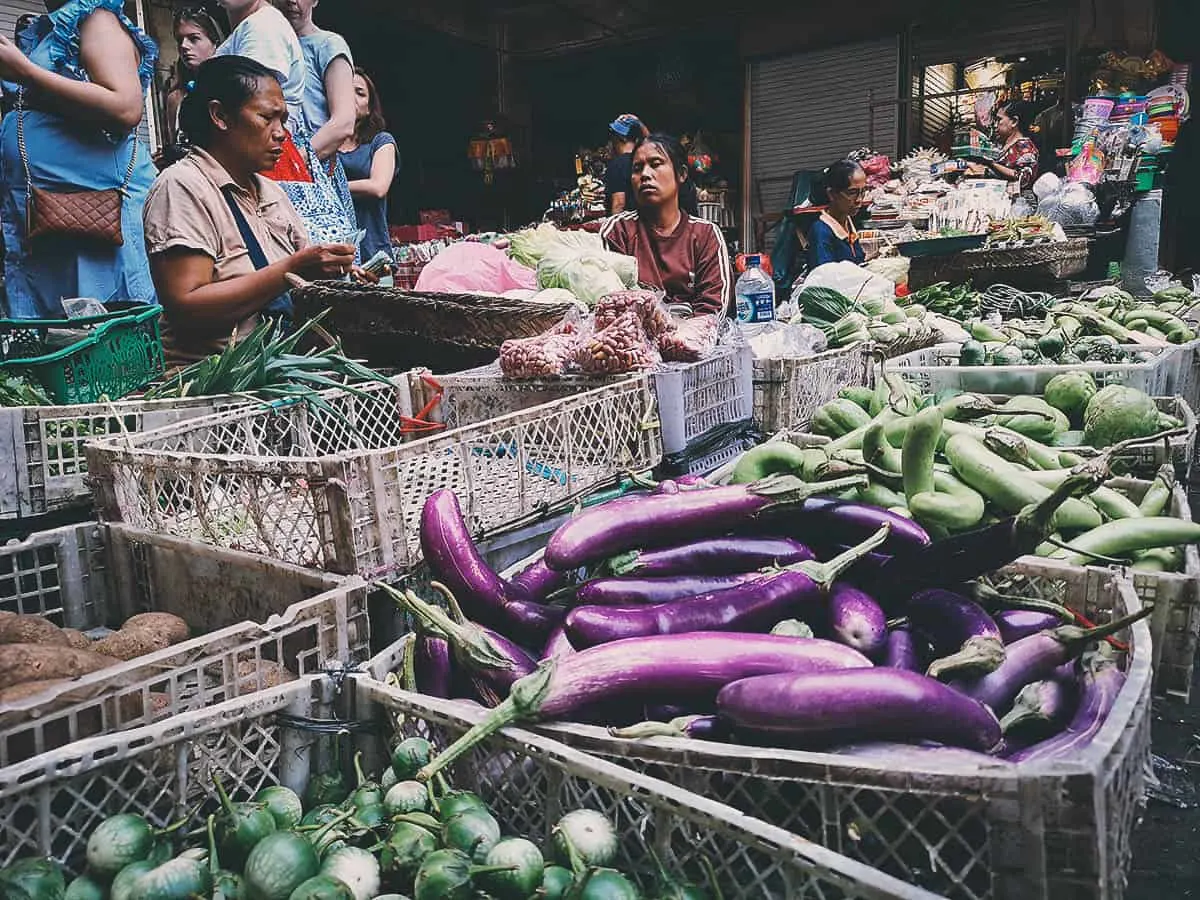 Ubud's morning market is where and when the locals do their marketing. I've read that the market stays open throughout the day but it becomes more touristy after 9AM. The real stuff, the good stuff, comes and goes in the wee hours of the morning.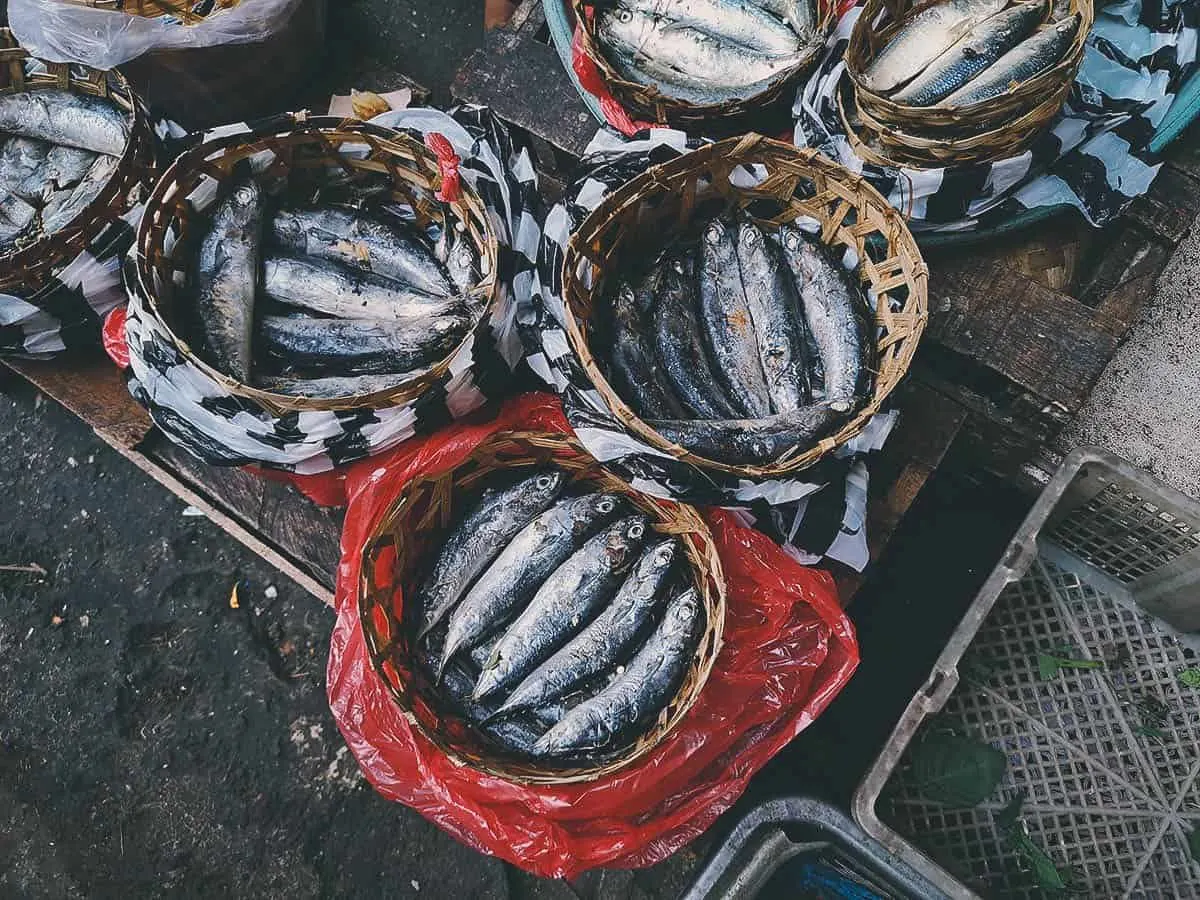 Rice Terraces
After filling our baskets with ingredients, we made a brief stop at this picturesque spot to admire the rice terraces. Our driver and guide gave us a quick talk about the terraces before taking us to the cooking school.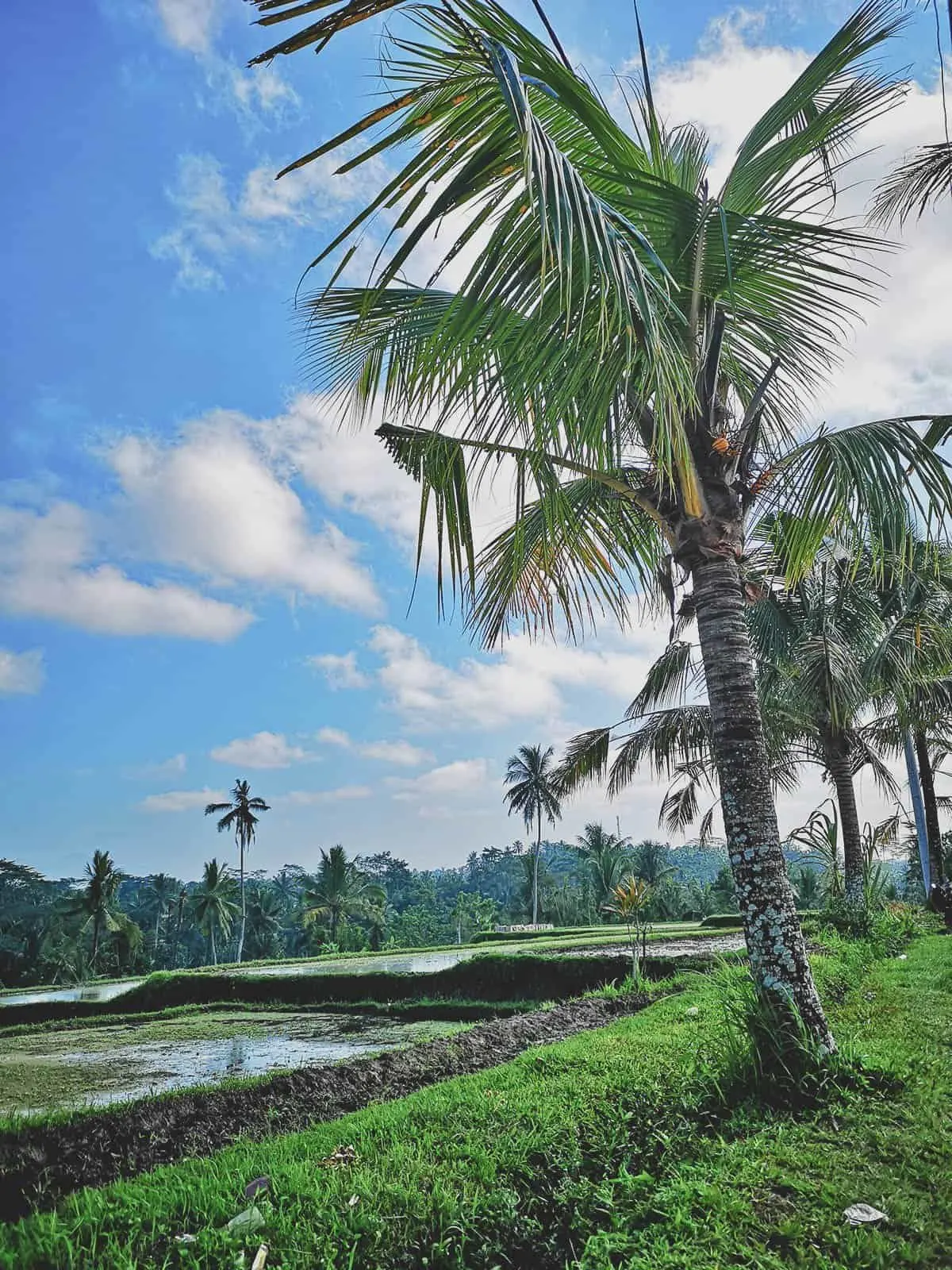 Paon Bali Cooking Class
There's Puspa holding up strands of string beans, or were they snake beans? Puspa is the owner and instructor at Paon Bali. She and her husband Wayan are hilarious and had everyone in stitches throughout the class.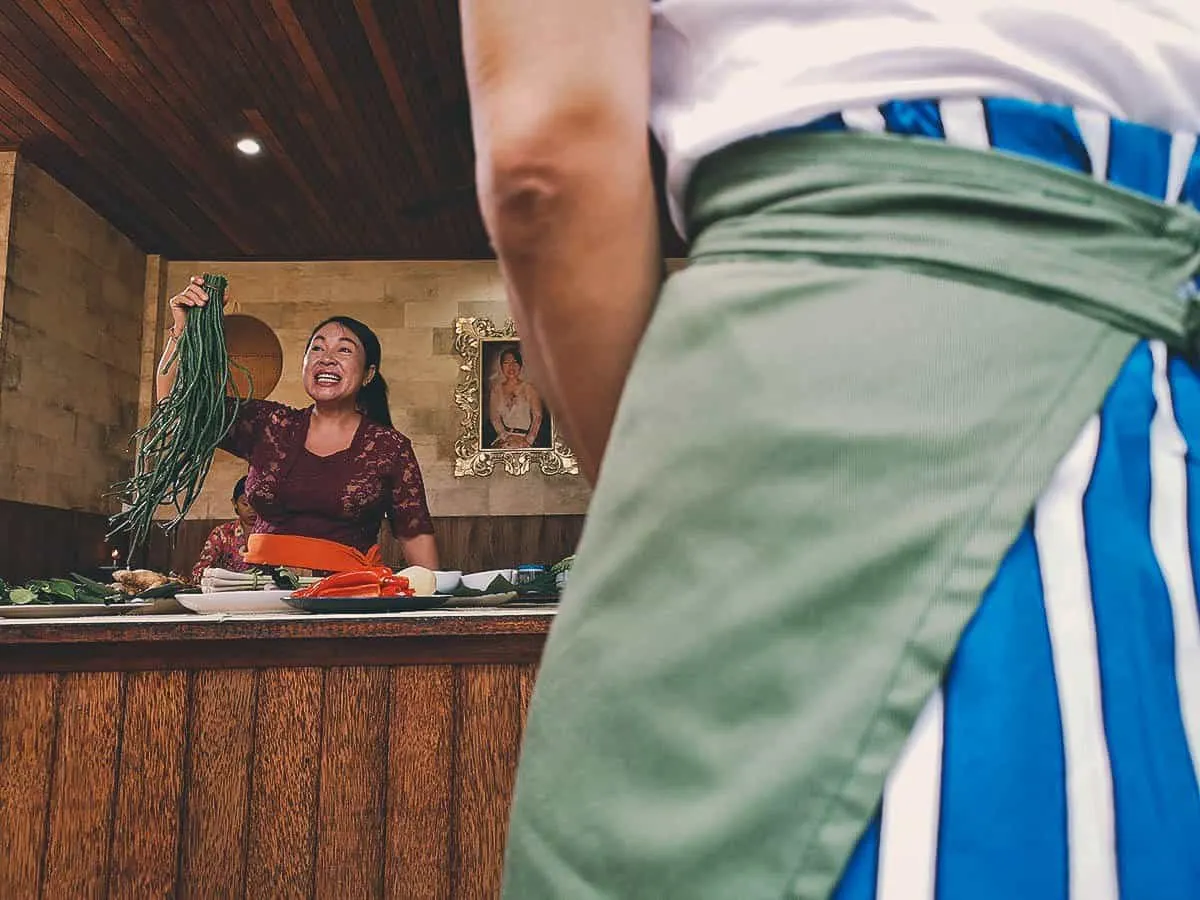 When we arrived, all our ingredients were neatly laid out on a banquet table. Puspa would describe the ingredients briefly before proceeding to prep. We had a good-sized class today, maybe a dozen people or more from different parts of the world.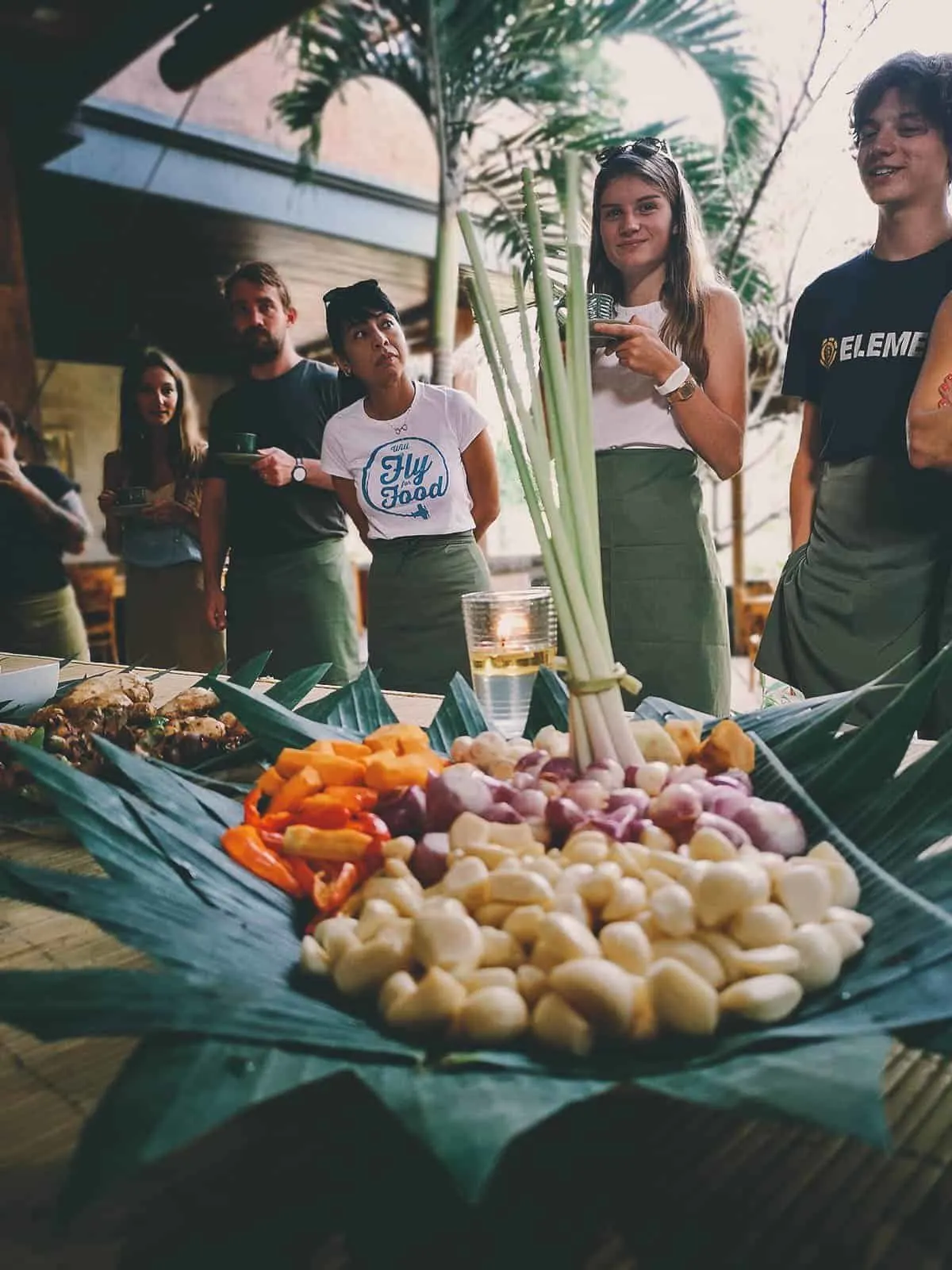 You can tell Puspa and her team have been doing this for a long time. They ran the class like a well-oiled machine – smoothly and with no hiccups. Paon Bali is a TripAdvisor Certificate of Excellence awardee with a perfect 5-star rating from nearly 3,700 reviews to date. They definitely know what they're doing!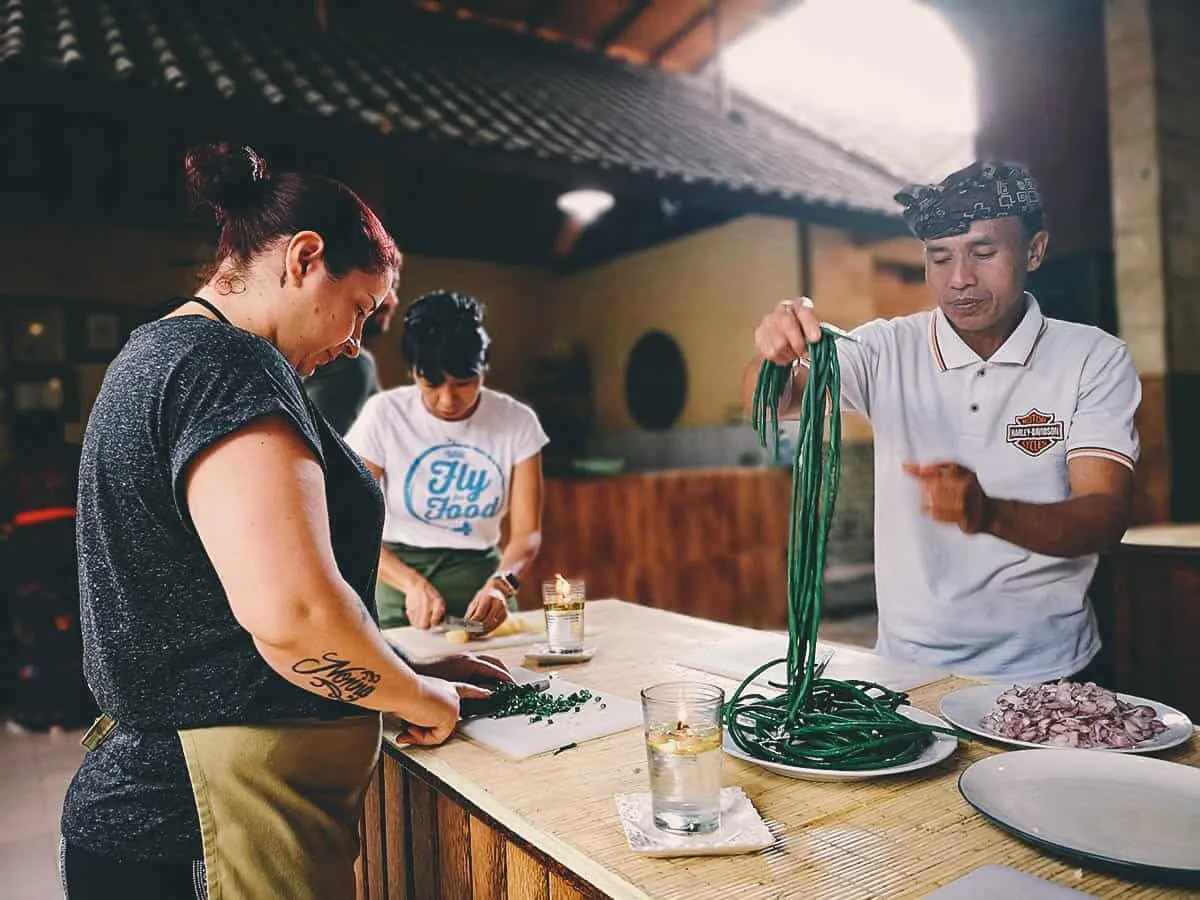 Here's Ren chopping up some tempeh. You like her shirt? 😉 Tempeh is a traditional soy product often used in Indonesian cooking. It comes in cake form and is said to be the only major traditional soy food that didn't originate from Chinese cuisine.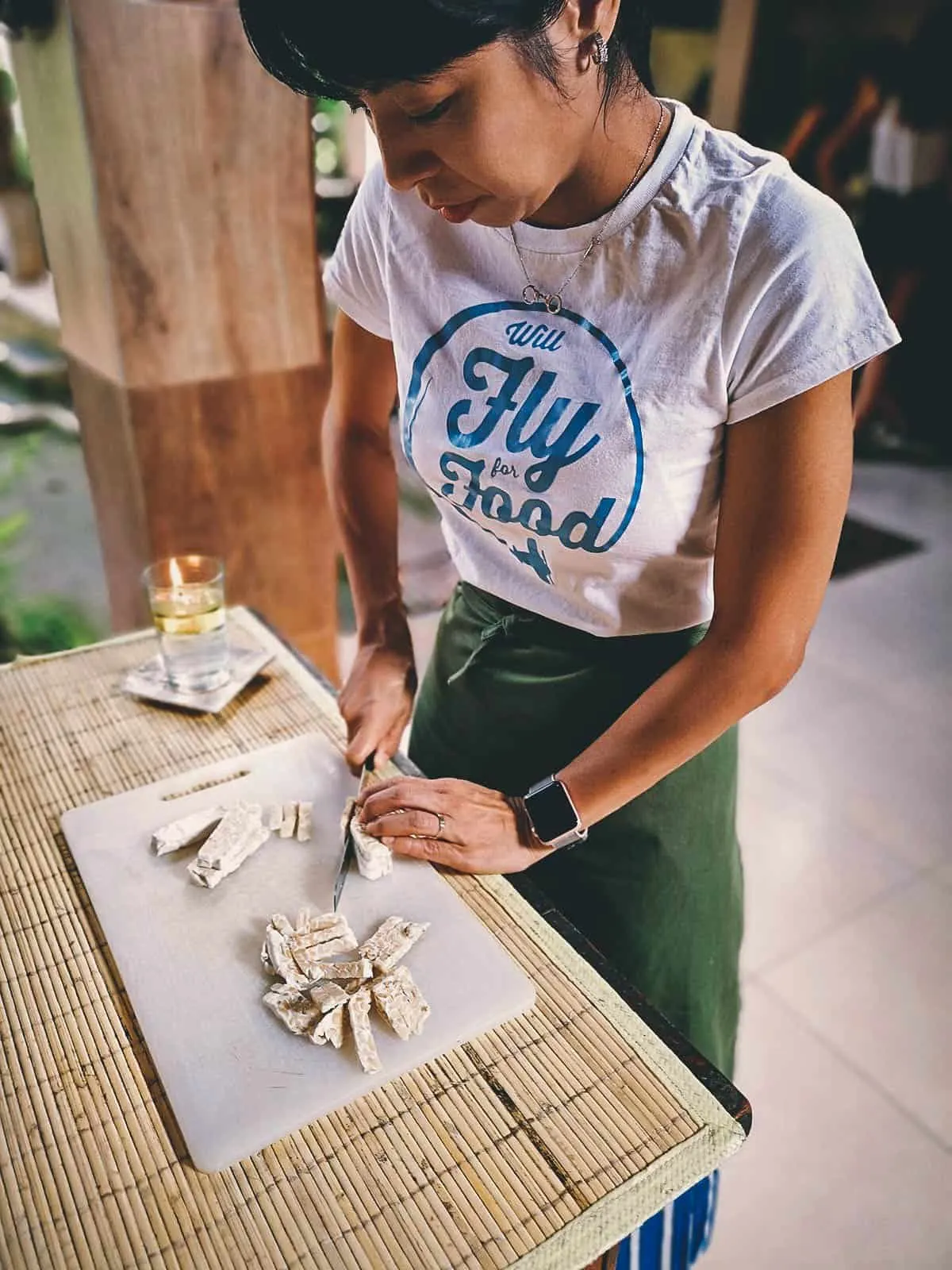 Cutting, chopping, mashing, slicing…prepping ingredients is a lot of work! Instead of working individually, Paon Bali had us working in teams so everything we made felt like a group effort.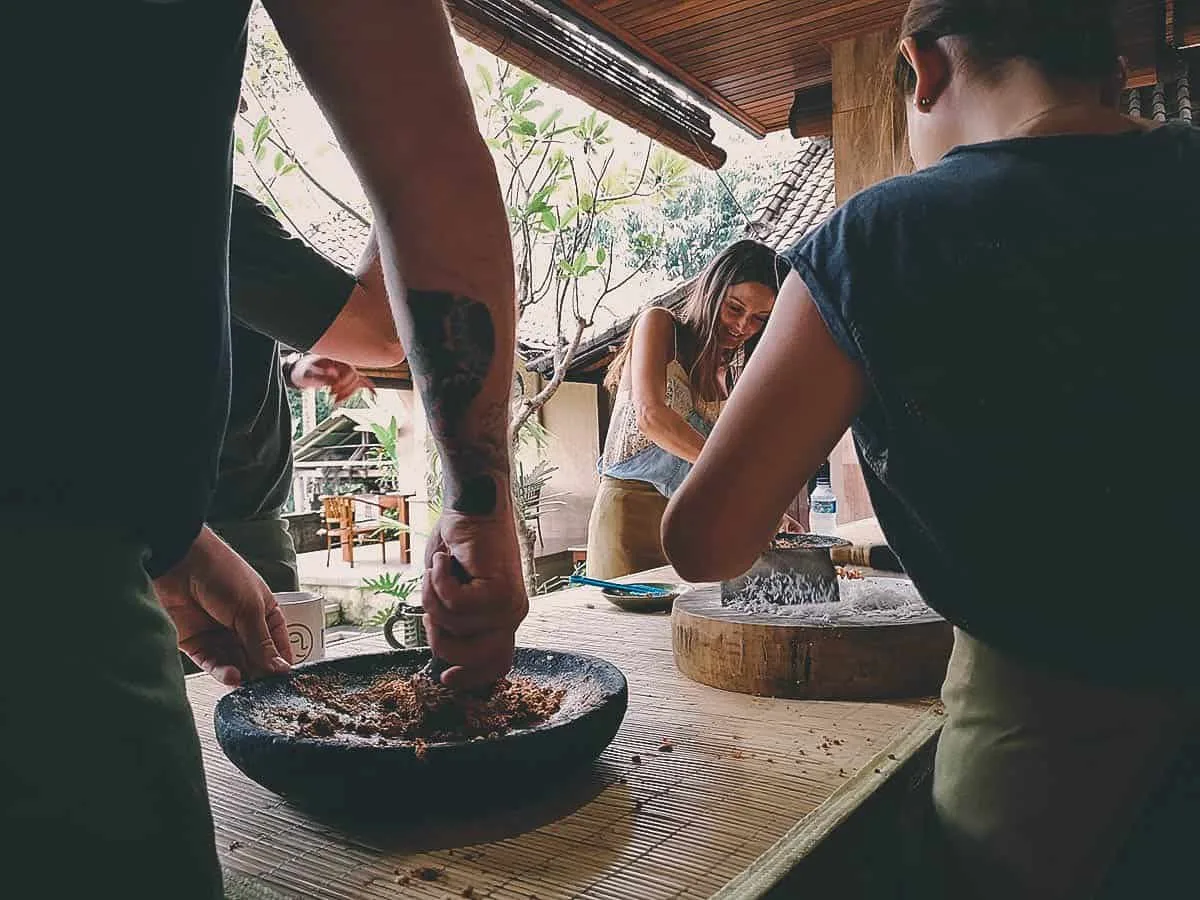 They had us take turns pounding a whole mess of ingredients like galangal, ginger, turmeric, garlic, shallots, chilies, and candle nuts into a fine paste to be used as the base for the basic yellow sauce. Known as base gede bumbu kuning in bahasa Indonesia, this yellow sauce is a key ingredient in many Indonesian recipes.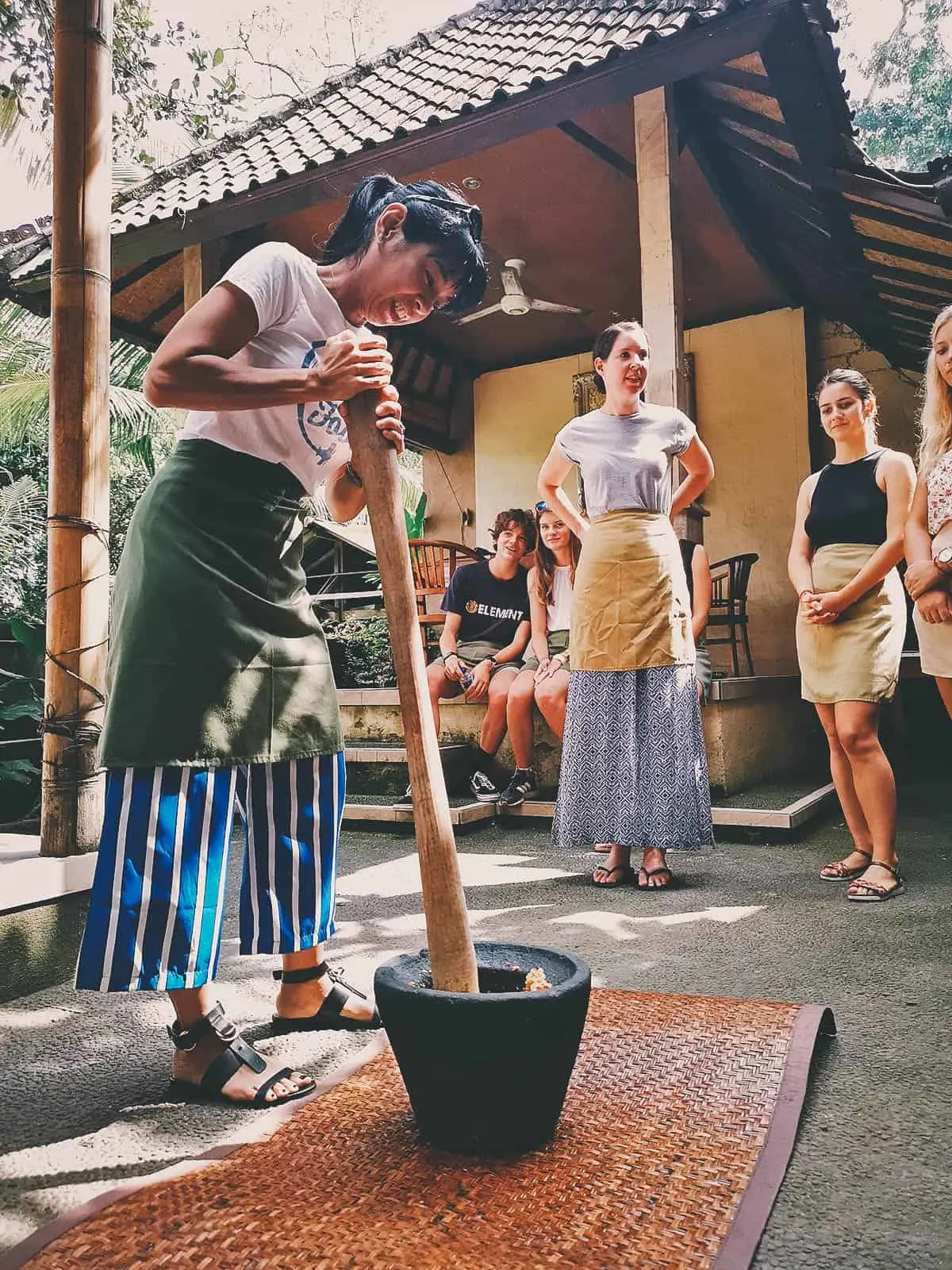 Here's a better look at the mortar's contents. It takes a long time and effort to pound it all into a fine paste.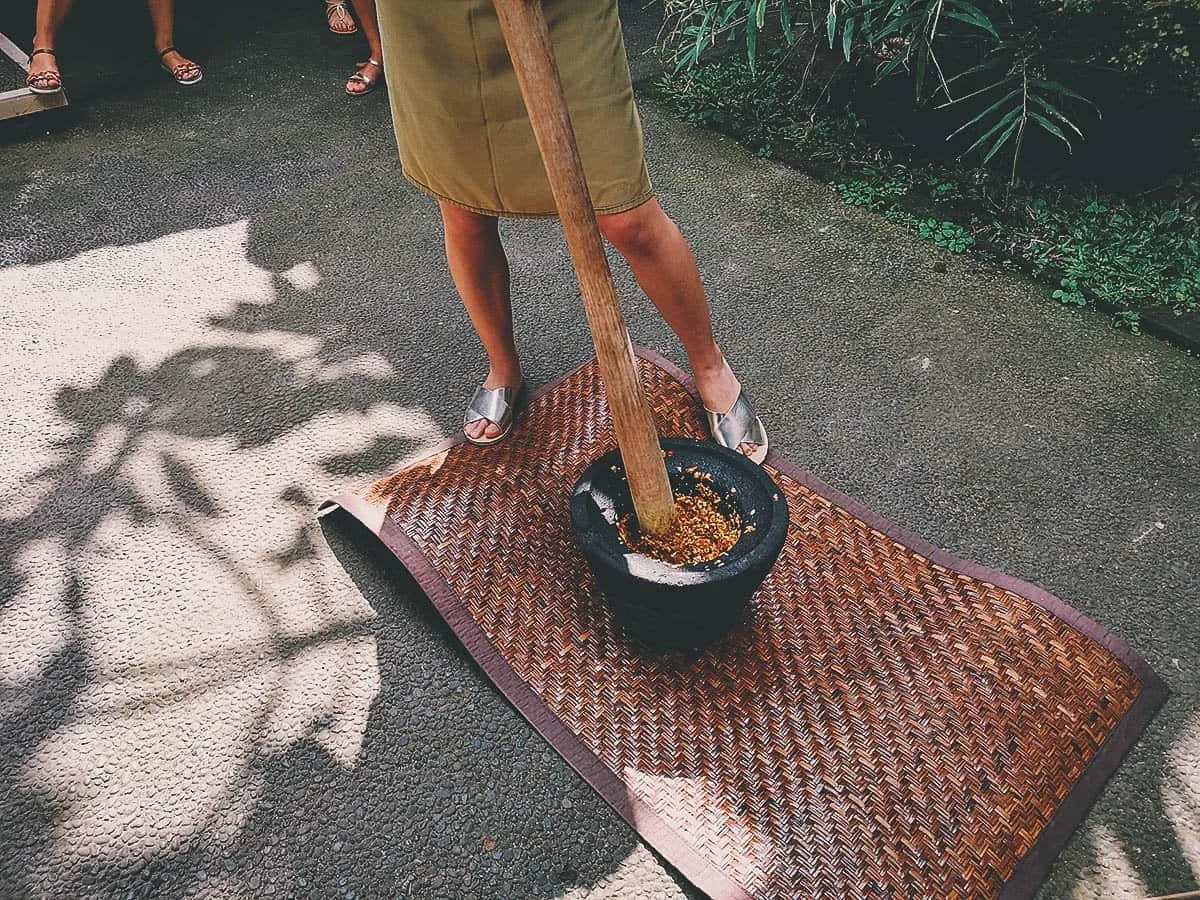 After all the prepping was done, Puspa gave a quick demo before leading us all to our stations to cook.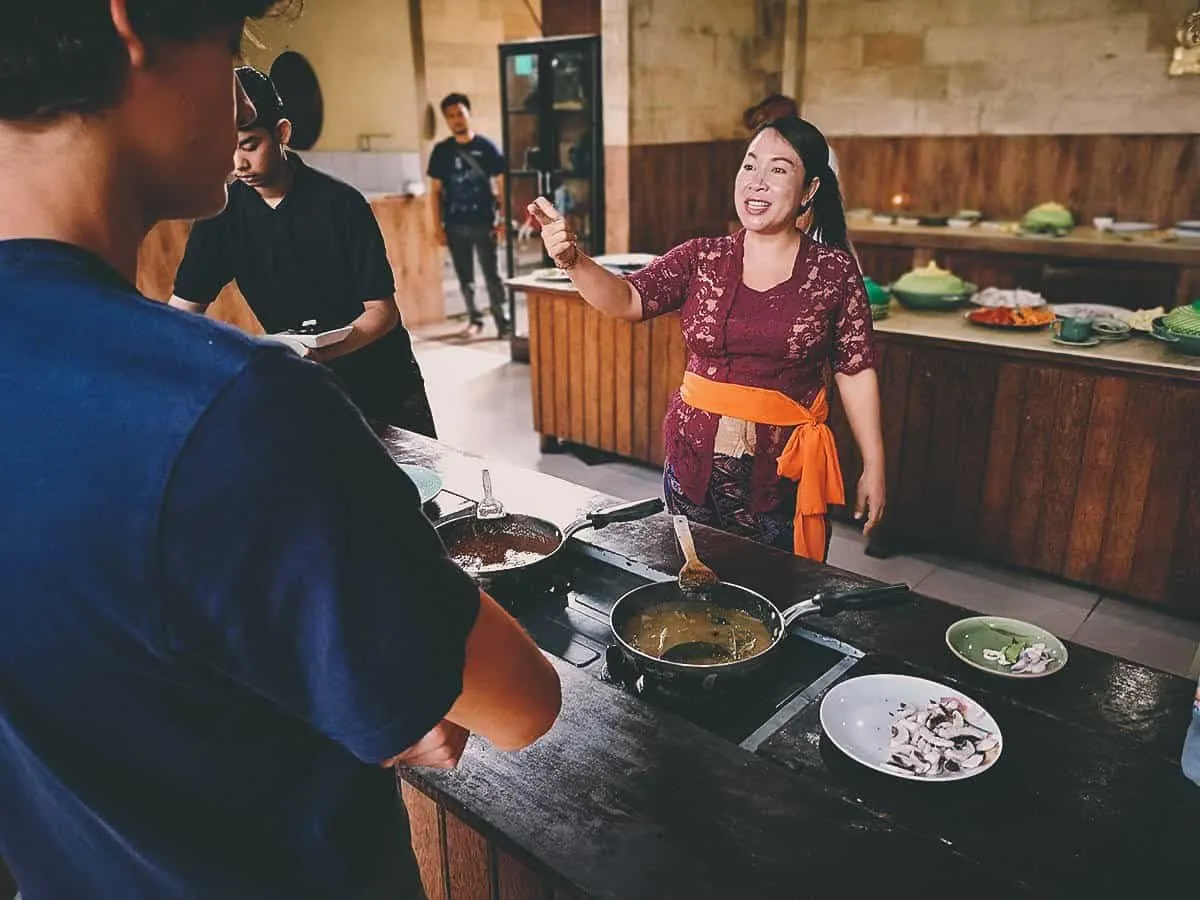 "Yeeeeh…tempeh!" Here's Puspa (very) happily frying up some tempeh. We used these to make tempe me goreng tempe kering, or deep-fried tempe in sweet soy sauce.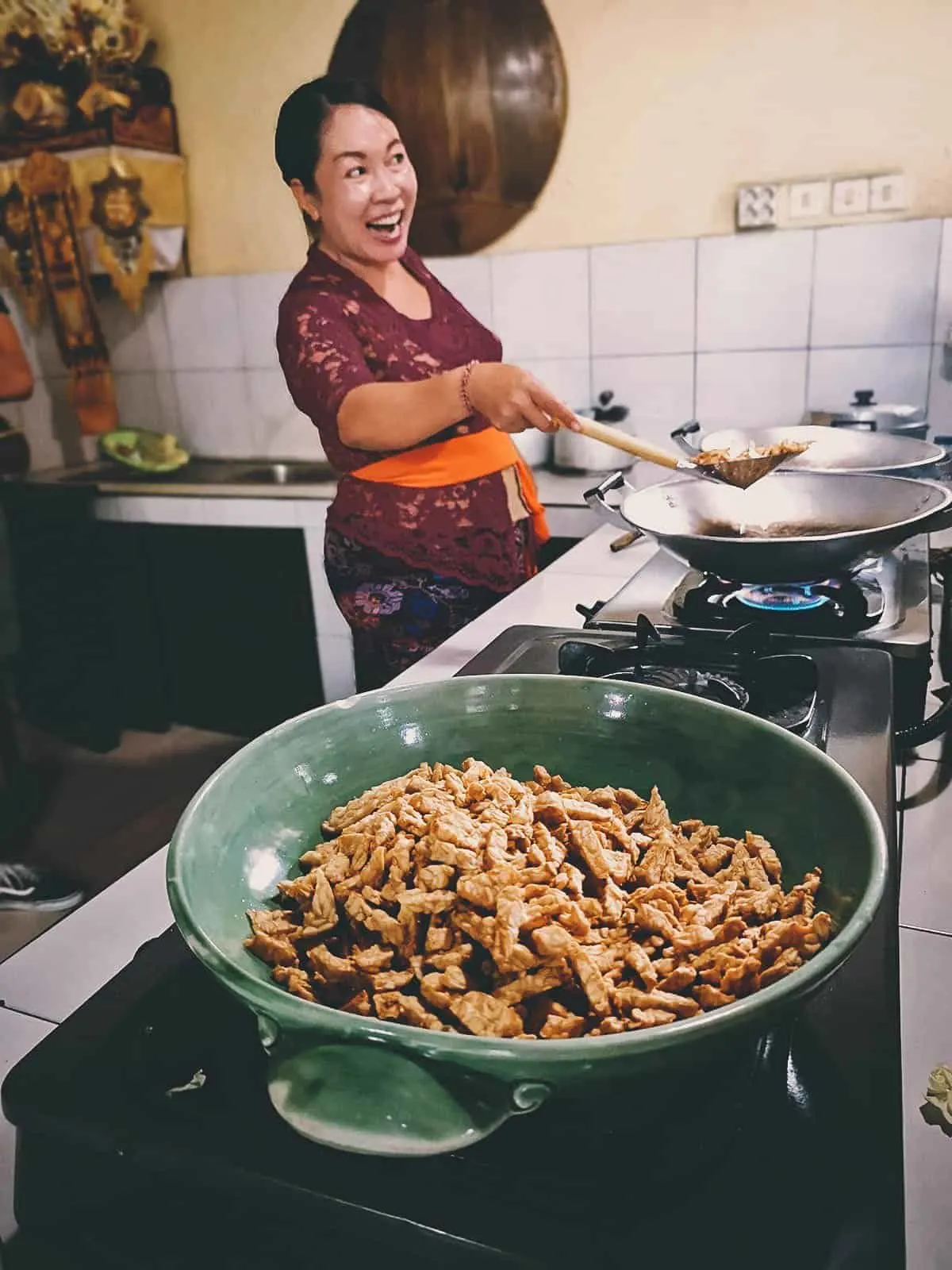 Teamwork is the name of the game at Paon Bali.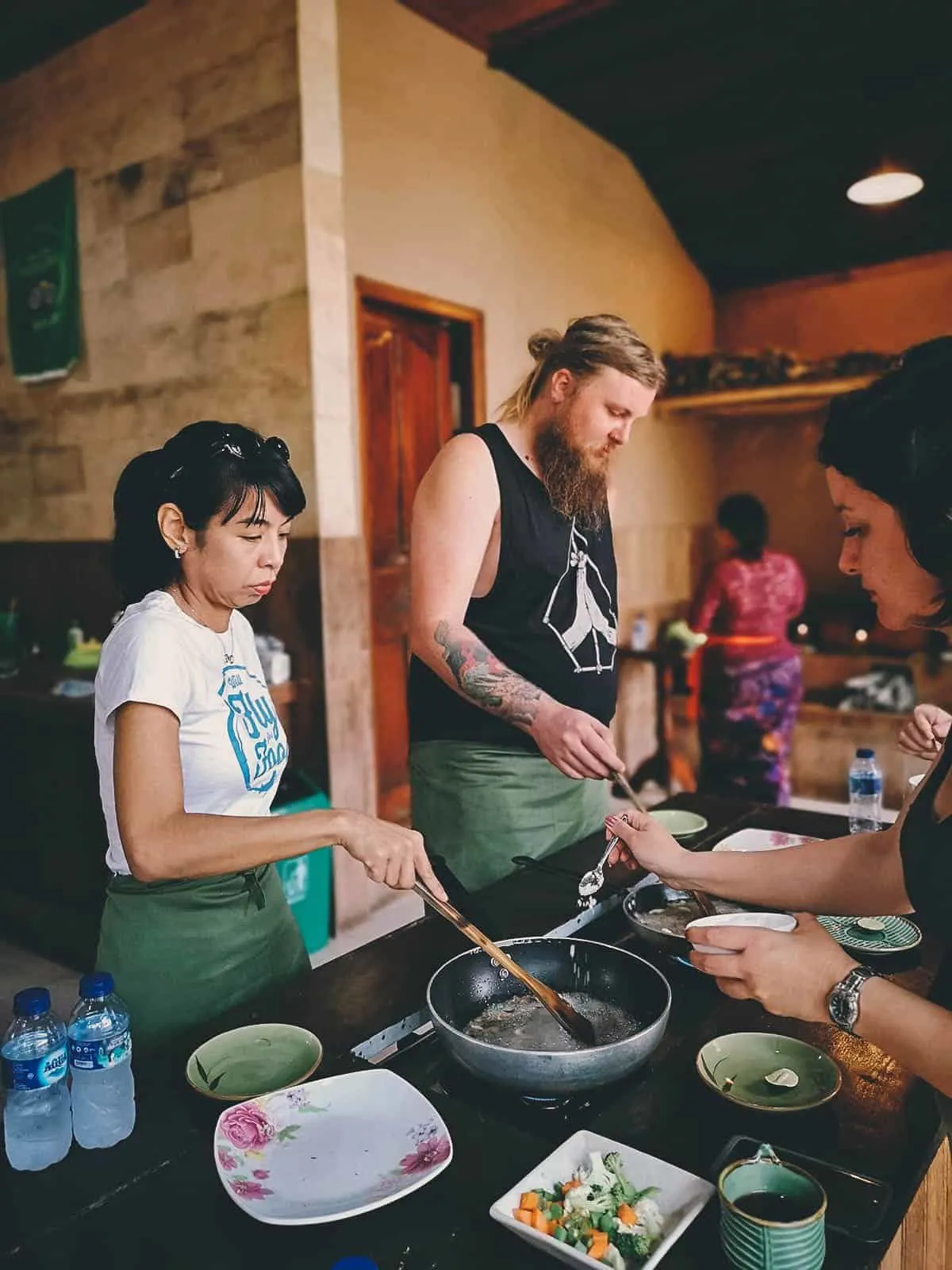 Lemongrass, bay leaves, and that paste we mashed earlier for the basic yellow sauce. We would later use this sauce for several dishes like chicken sate, steamed fish in banana leaves, and snake bean salad.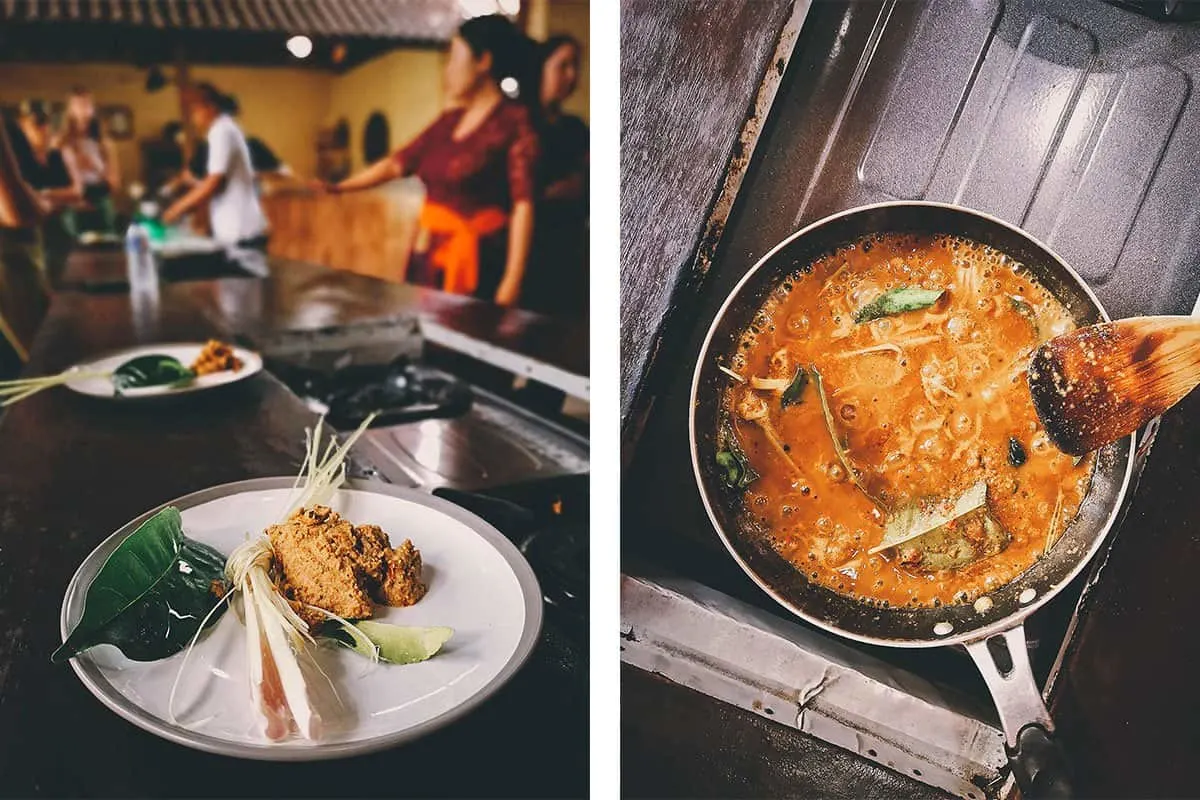 Cooking up a pan of be siap mesanten kare ayam, or chicken in coconut curry.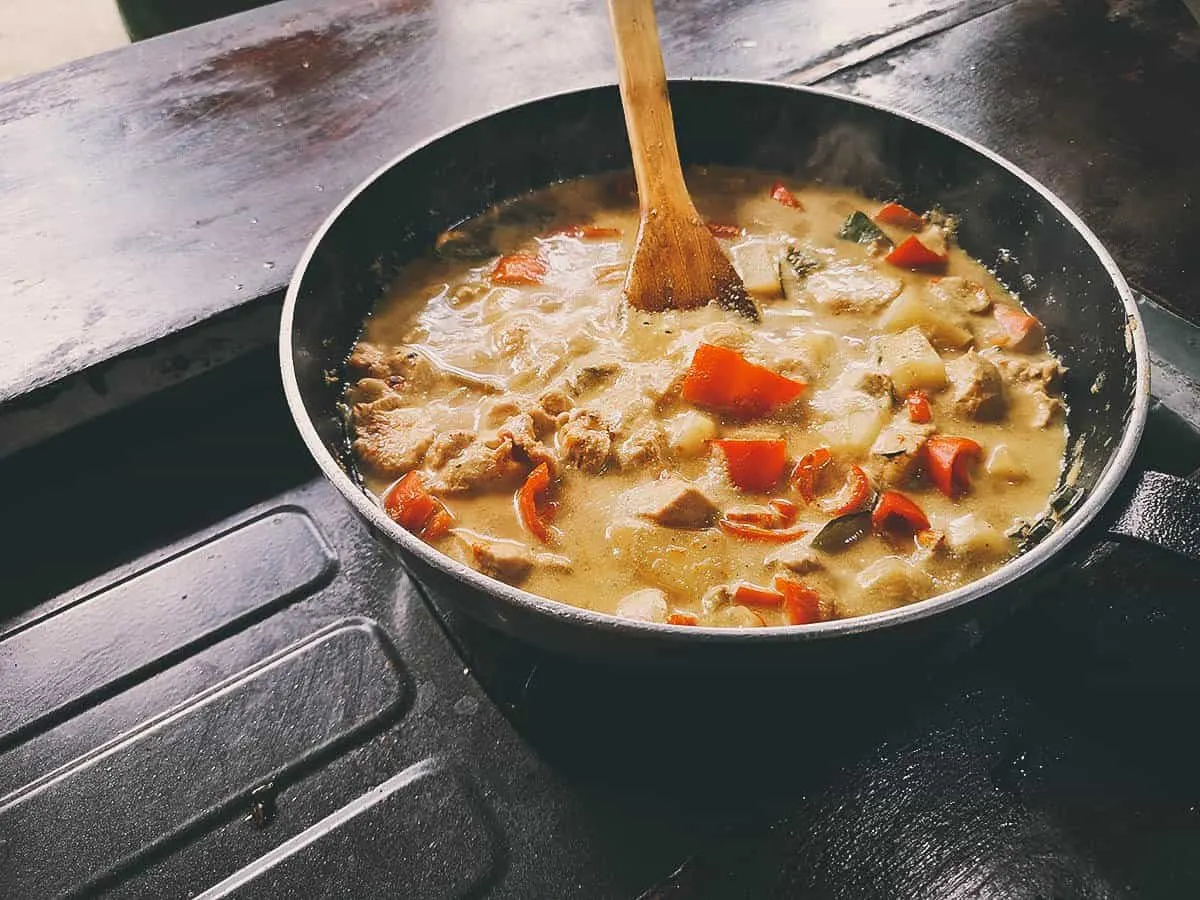 Here's Ren showing off her sate meat stick then using it in a sword fight. Sate is probably the most popular and recognizable Indonesian food, and with good reason. It's delicious. Grilled on bamboo skewers, we made minced chicken sate today but it comes in many different forms like beef, pork, fish, and other seafood.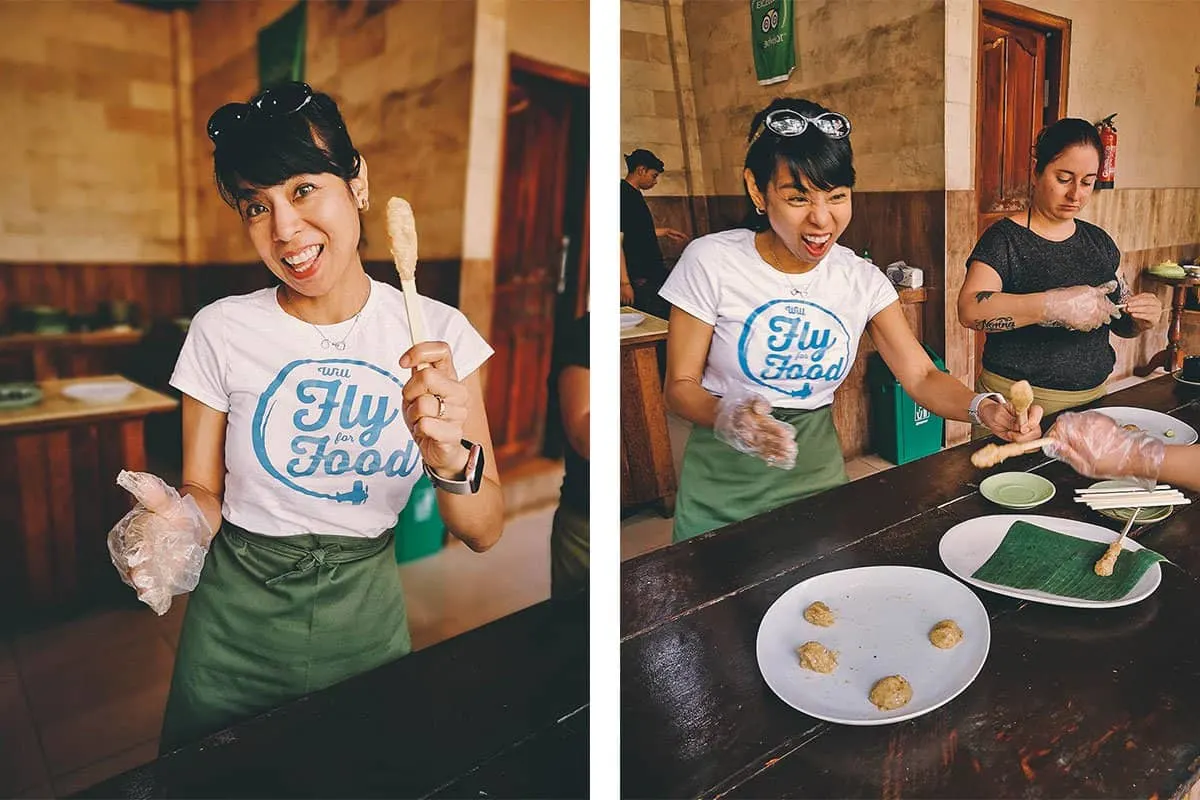 Grillin' like a villain. These were starting to smell awesome! Did you know that sate is fully integrated into Dutch everyday cuisine? Indonesia was a Dutch colony for three and a half centuries so sate has become an integral part of Dutch cuisine. It's readily available as snacks and sold at supermarkets. Interesting!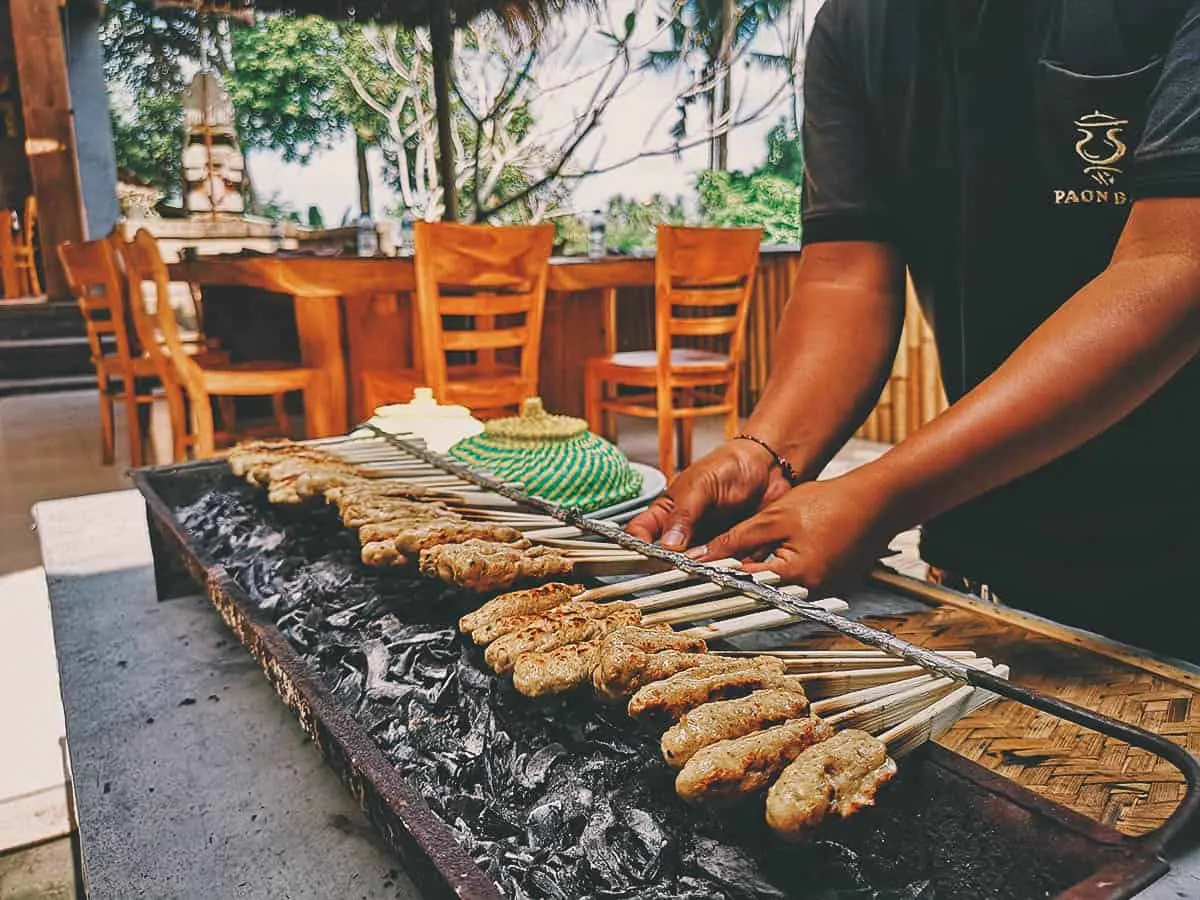 We prepared and wrapped the fish mixture into banana parcels which the staff then steamed in these traditional conical baskets.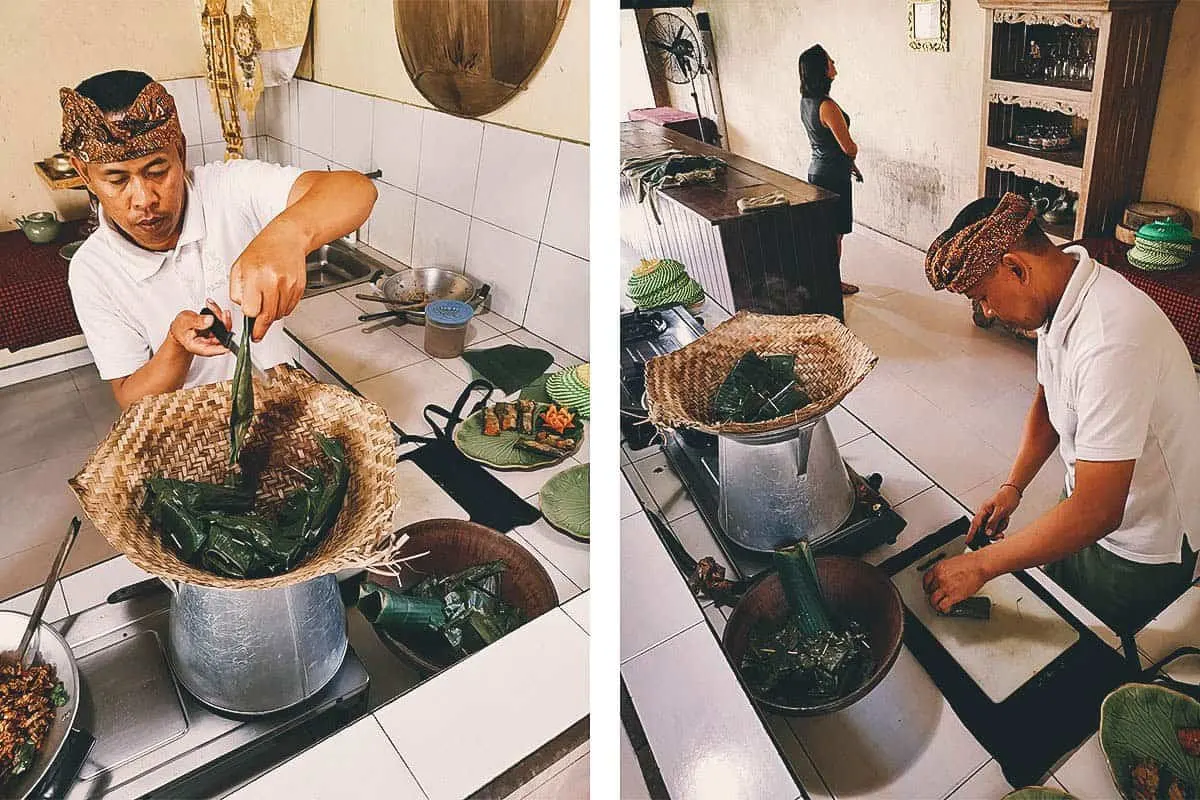 And voila! The fruits of our labor beautifully presented and served banquet-style.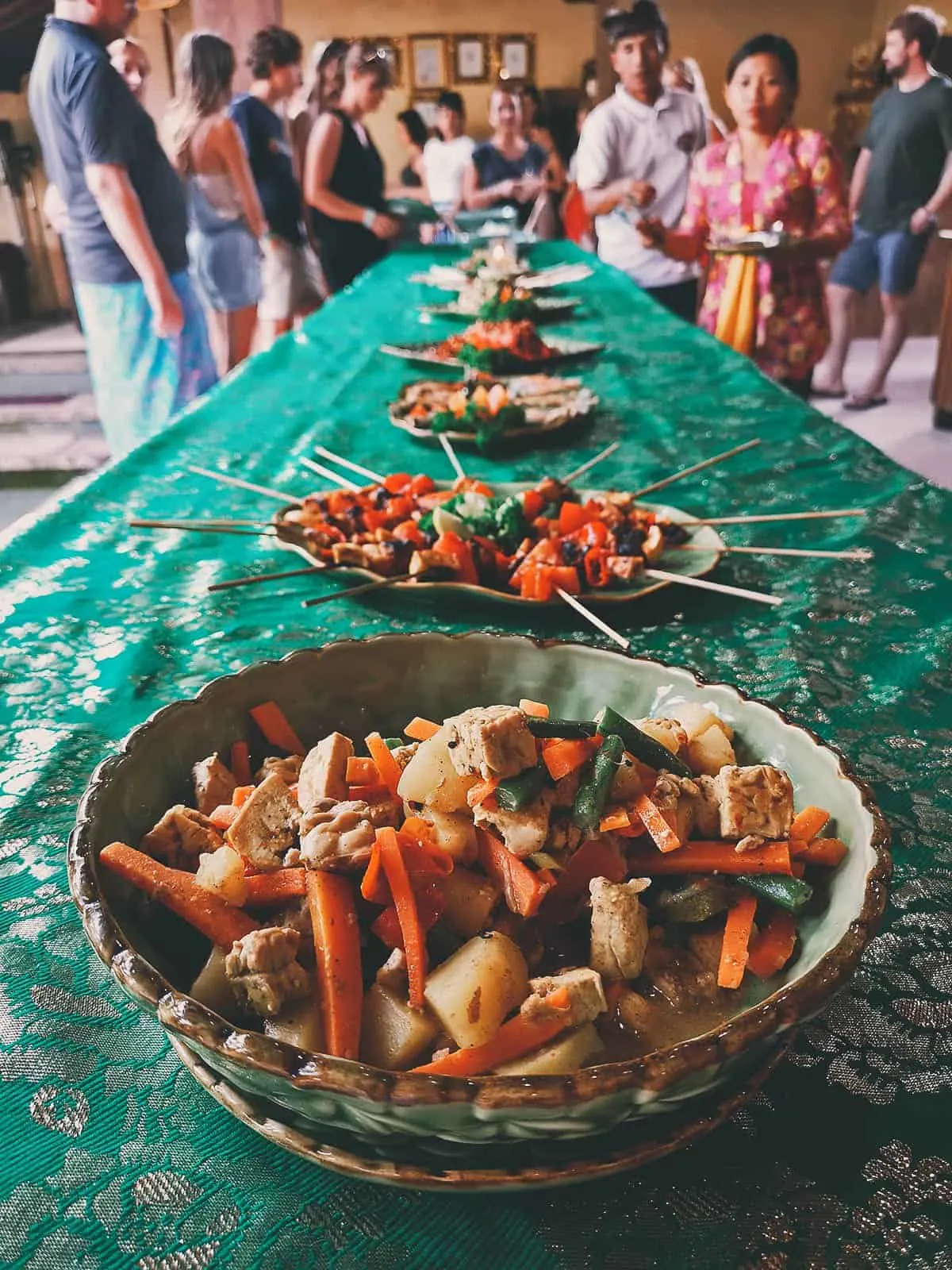 There's Ren eager to taste her food.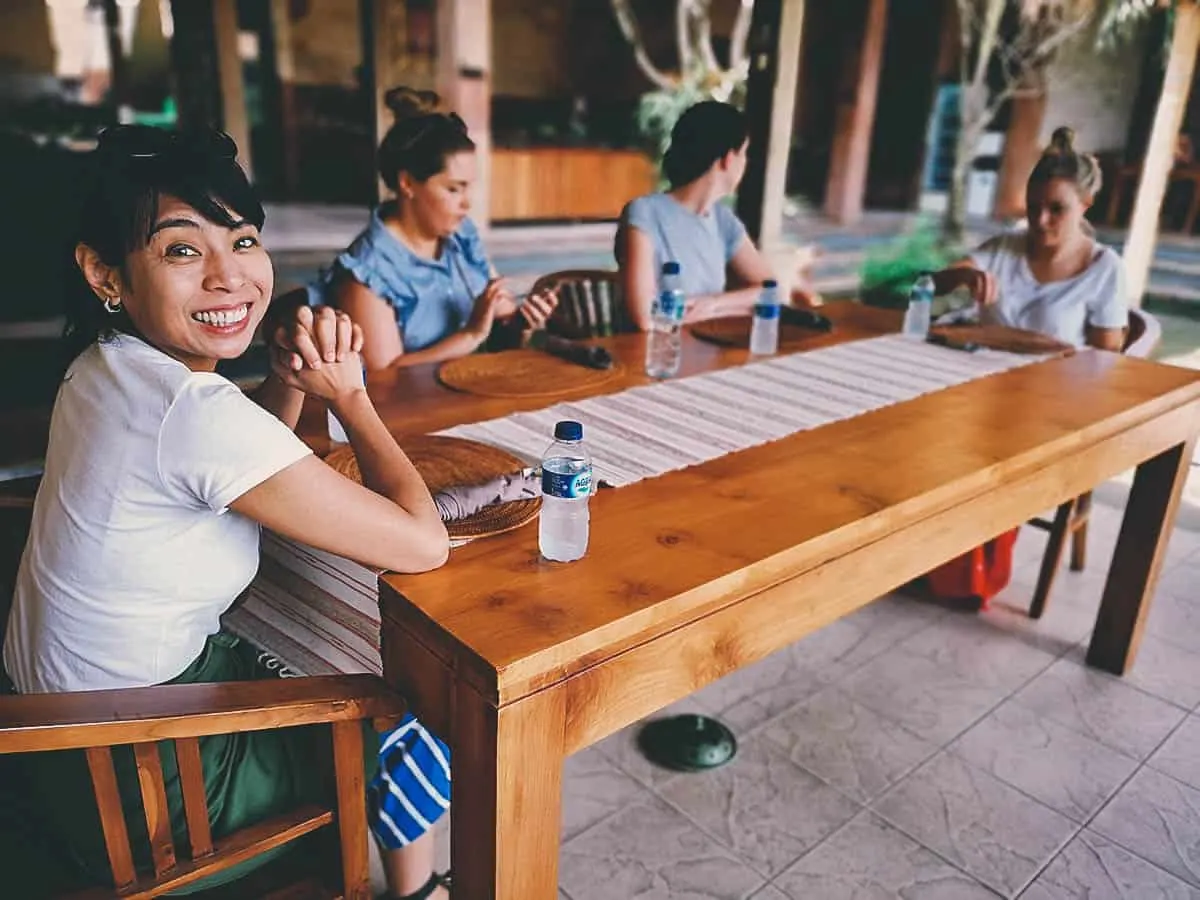 Isn't that beautiful? On this plate with rice are chicken sate (sate siap sate lilit ayam), steamed fish in banana leaves (pepesan be pasih pepes ikan), deep-fried tempeh in sweet soy sauce (tempe me goreng tempe kering), vegetables in peanut sauce (kacang me santok gado gado), coconut and snake bean salad (jukut urab), and chicken in coconut curry (be siap mesanten kare ayam). Everything was delicious.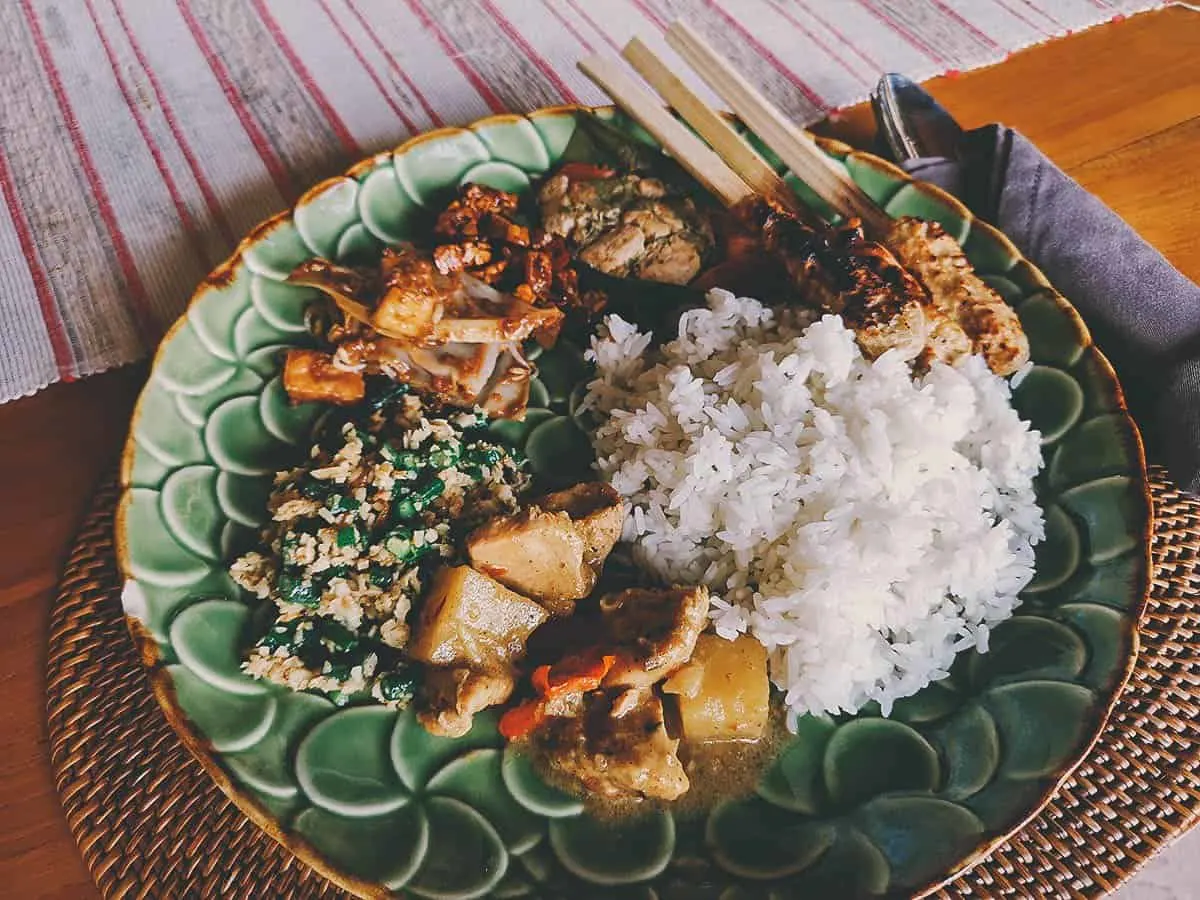 Ren flashing a contented smile whilst enjoying her kuah wong sup jamur or clear mushroom and vegetable soup. Well done Reneelicious!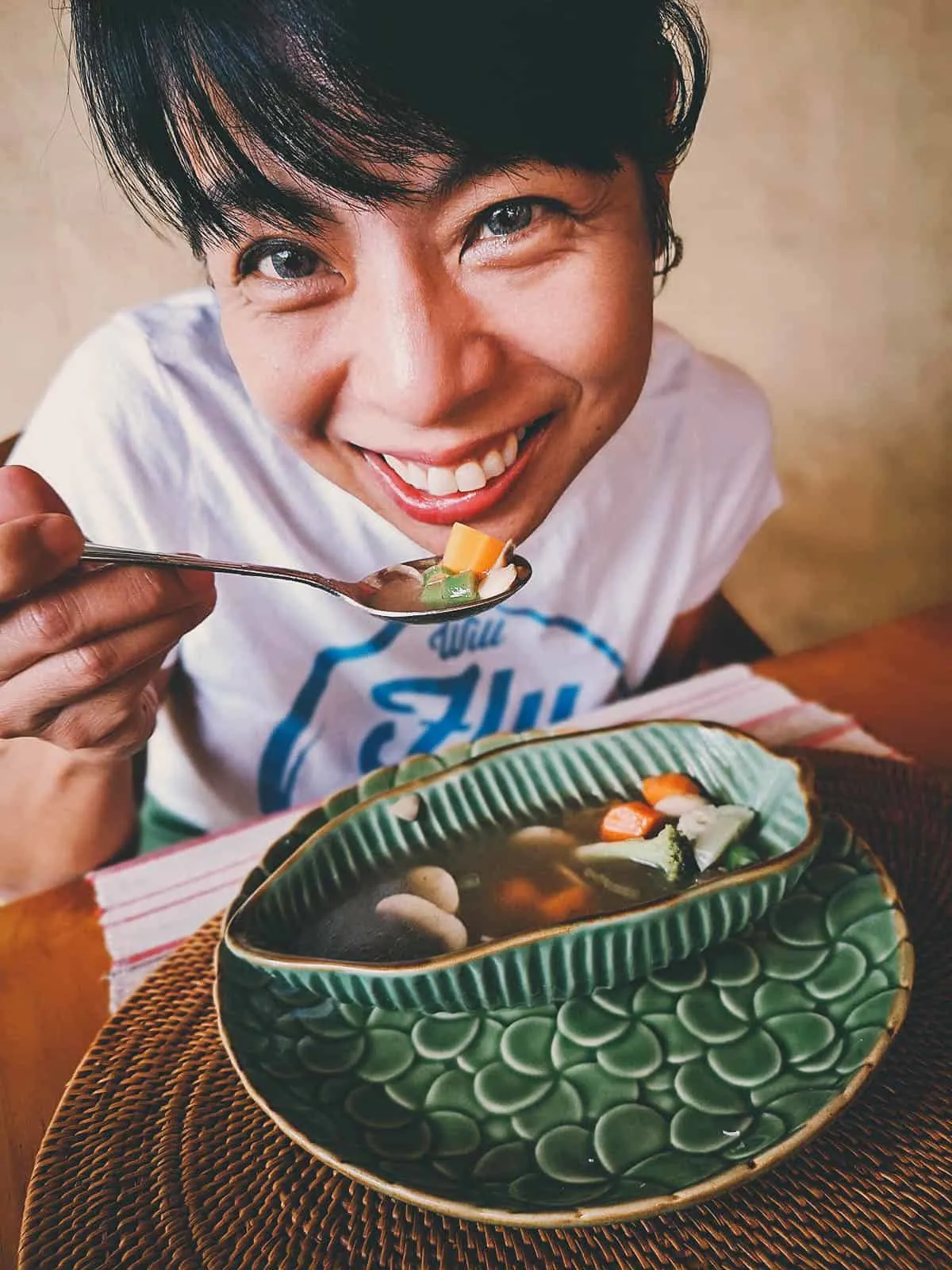 Backstreet Academy
As described, we're Backstreet Ambassadors and booked this cooking class through Backstreet Academy. Backstreet Academy is a tour provider with a focus on impact travel, a movement that aims to provide tourists with authentic experiences whilst leaving an enduring social impact on local communities. What that means is that tourists can enter a community and learn how to fish from an actual fisherman, create a bracelet under the tutelage of a silversmith, or learn coconut carving from a practicing craftsman with up to 80% of activity revenues going back into the communities.
When Backstreet Academy invited us to join their Ambassador Program, they sent me a link to this video explaining their vision and describing how this social enterprise got started. If you have a moment, then I suggest watching it as it tells the story of how skilled but struggling locals like fishermen and craftsmen earn additional income by providing tourists with immersive, authentic experiences.
If you enjoy one-of-a-kind activities when you travel, especially the ones that bring you deep into the local communities, then I suggest giving Backstreet Academy a try. They offer activities in many developing countries throughout Asia, including Indonesia, Thailand, Cambodia, and Nepal. Not only will you be experiencing something authentic and unique, but you'll be giving back to the community as well.
Conclusion
Sampling the local cuisine is exciting enough, but having the opportunity to learn what goes behind each dish makes the experience that much more enriching. It's like admiring a painting in a museum then being taught how to paint it yourself. Like anyone, we go on tours and do a lot of activities when we travel but cooking classes almost always wind up being the most enjoyable, and rewarding.
If you're visiting Bali and are interested in booking this cooking class, then you can do so through Backstreet Academy.
Paon Bali Cooking Class
Jalan Raya Laplapan, Petulu, Ubud, Petulu, Ubud, Bali, 80552, Indonesia
Tel: +62 813-3793-9095
Website: paon-bali.com
Class Times: 8AM-12NN, 4-8PM
Cost: USD 25 per person
For travel tips to Ubud, check out our The First-Timer's Travel Guide to Ubud, Bali, Indonesia.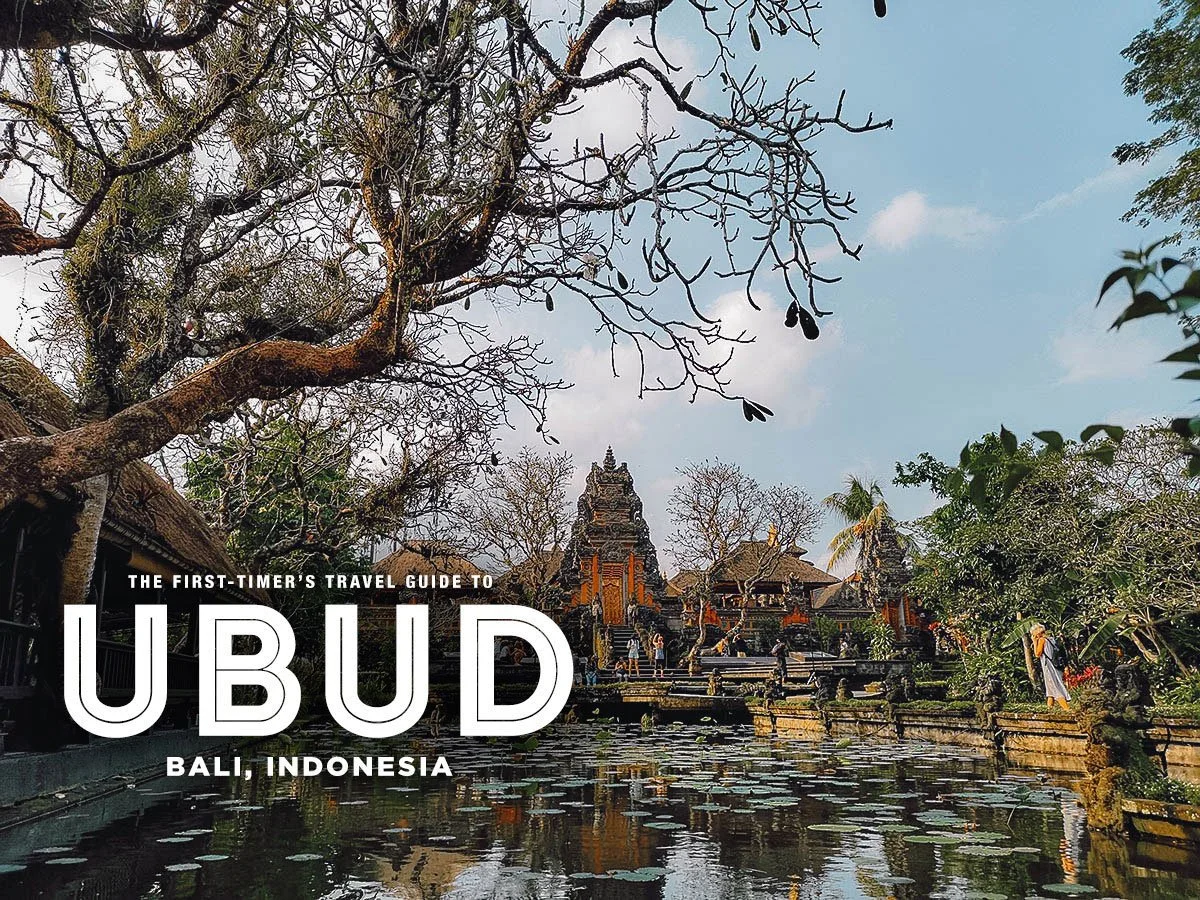 Disclosure
We're Backstreet Ambassadors so our cooking class was sponsored by Backstreet Academy. They didn't ask me to do this. I went through their site and chose this activity on my own volition. As always, all words and opinions expressed in this post are mine and mine alone.
As Backstreet Ambassadors, we make a small commission on every booking made through our website. They've given us the opportunity to donate that amount back to the local hosts, which is what we're choosing to do. It's our small way of saying thanks and giving back to the communities that hosted us.