Ren and I rented a car and drove from San Sebastian to Santiago de Compostela. It's a 7-hr drive that we split over two days, so we could enjoy the drive and explore the northern region of Spain.
We made our way west and visited a few nearby cities and towns before stopping and spending the night in Oviedo. It's the capital of the Asturias region, known for its medieval old town and interesting regional dishes like fabada Asturiana, Cabrales, and carbayones. Being near the Atlantic coast, the seafood is sensational as well.
We didn't need to get to Santiago de Compostela till later in the afternoon, so we took our time in Oviedo to savor some of its most delicious food. If you're visiting the Asturias region in Spain, then here are five great restaurants to visit in Oviedo.
Save This on Pinterest!
No time to read this article on the best restaurants in Oviedo? Click on the save button and pin it for later!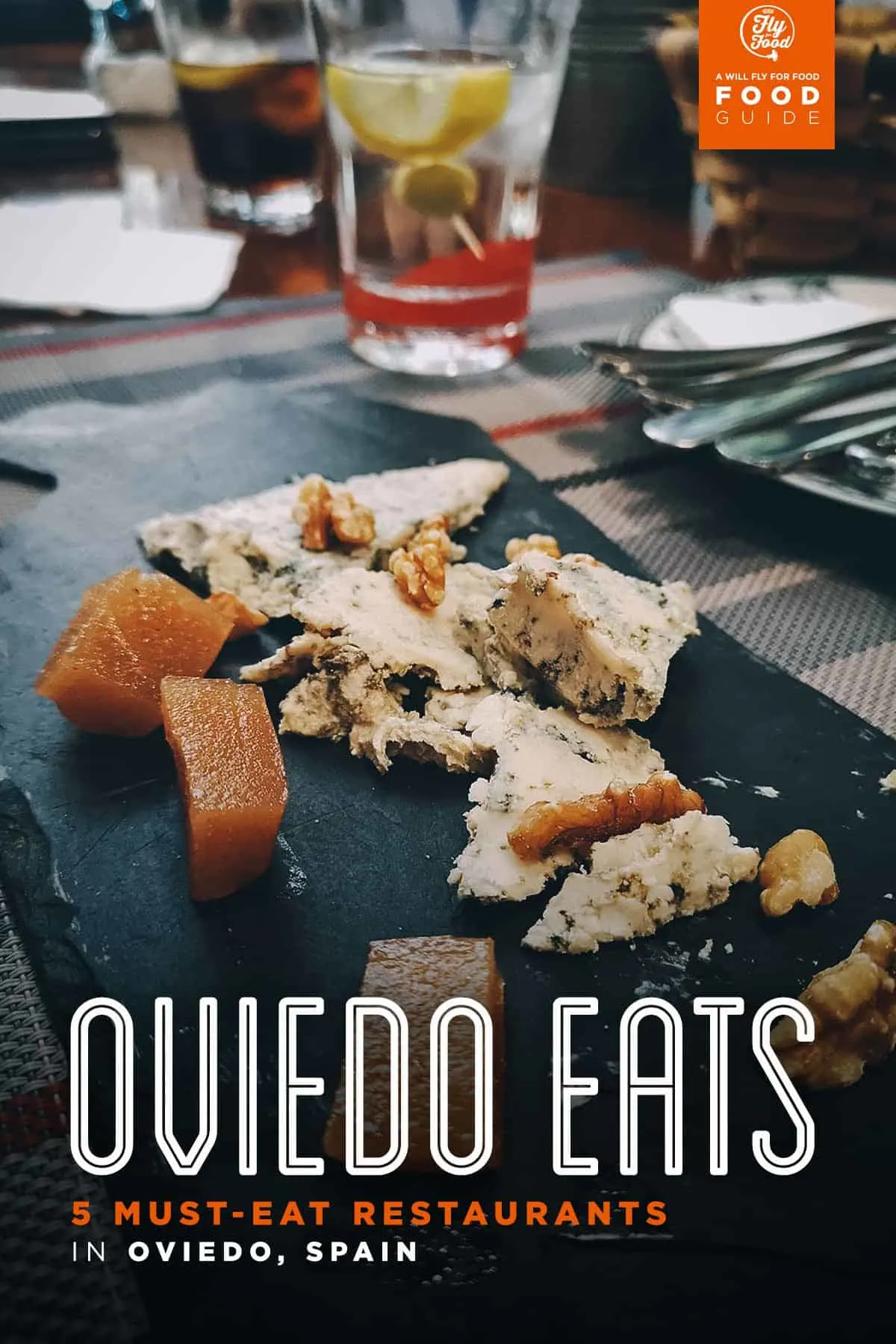 5 MUST-TRY RESTAURANTS IN OVIEDO
If you're familiar with our food guides, then you'll know that we rarely walk in to random restaurants. Some of these places were recommended to us by our homestay host while the others were found through thorough research. Most are located within the Old City. You can jump to the bottom of this post for a map showing where each of these places are.
1. La Corte de Pelayo
This was the restaurant we were most excited to try in Oviedo. They serve different types of meat and seafood dishes made with the freshest ingredients, but perhaps the one thing they're best known for is their fabada Asturiana.
Fabada is one of the most well-known Asturian dishes and La Corte de Pelayo was a finalist in the 2018 Fabada World Championships. Without question, this is one of the best places to have fabada in Oviedo.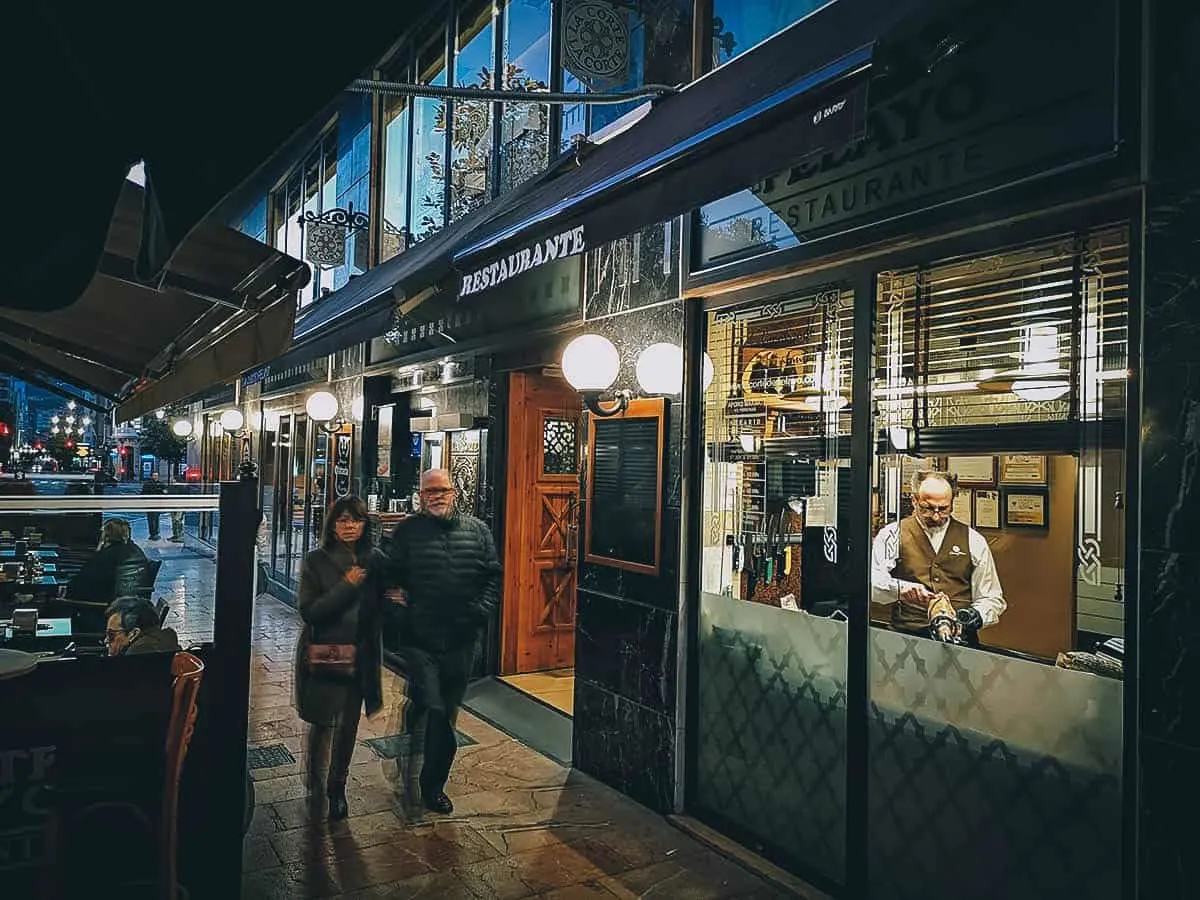 They'll start you off with some delicious wheat bread. Just don't finish it all cause you'll need it for your fabada! La Corte de Pelayo is a TripAdvisor Certificate of Excellence awardee with a solid 4-star rating.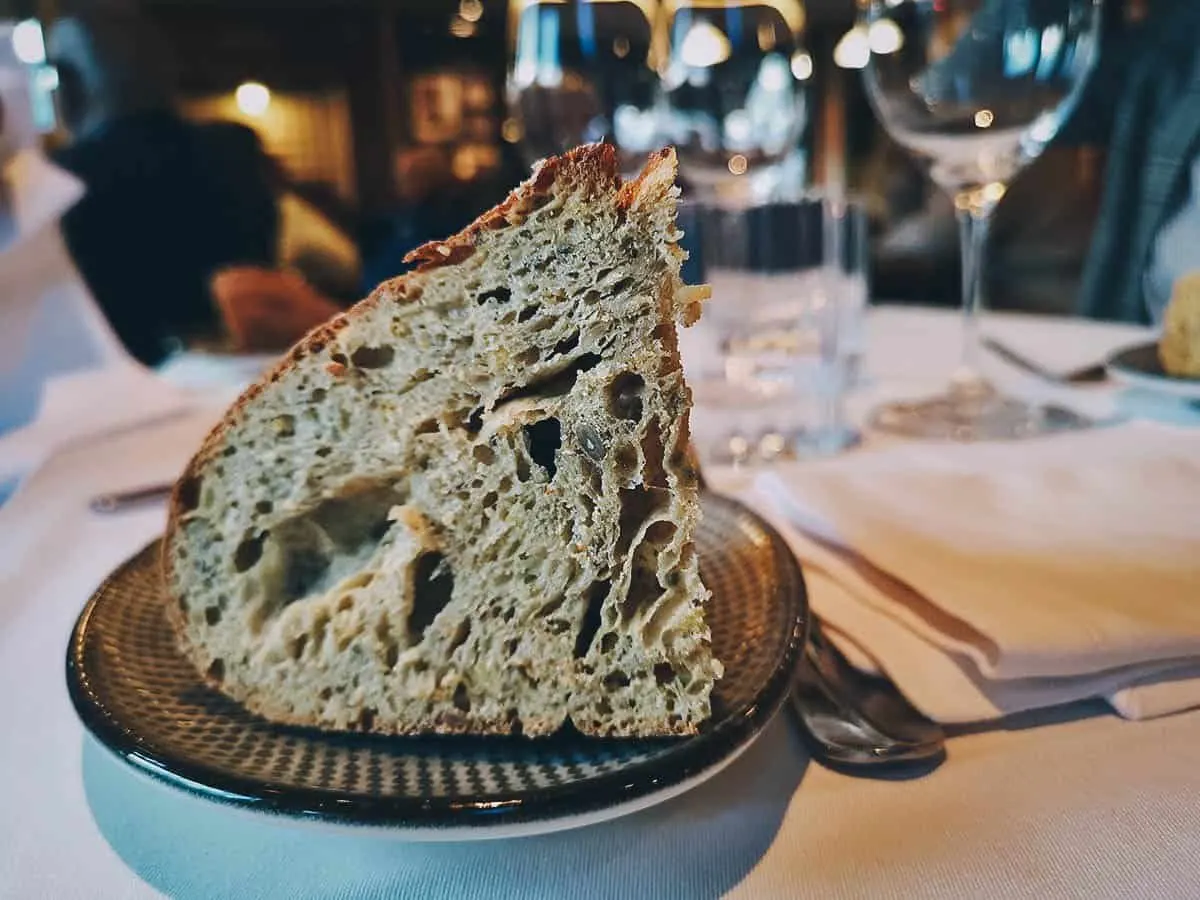 If I remember correctly, we got to the restaurant at around 6-7PM, just when they were starting to prep the tables for dinner. Being in Spain, that was too early for dinner so all the locals were still having drinks and tapas.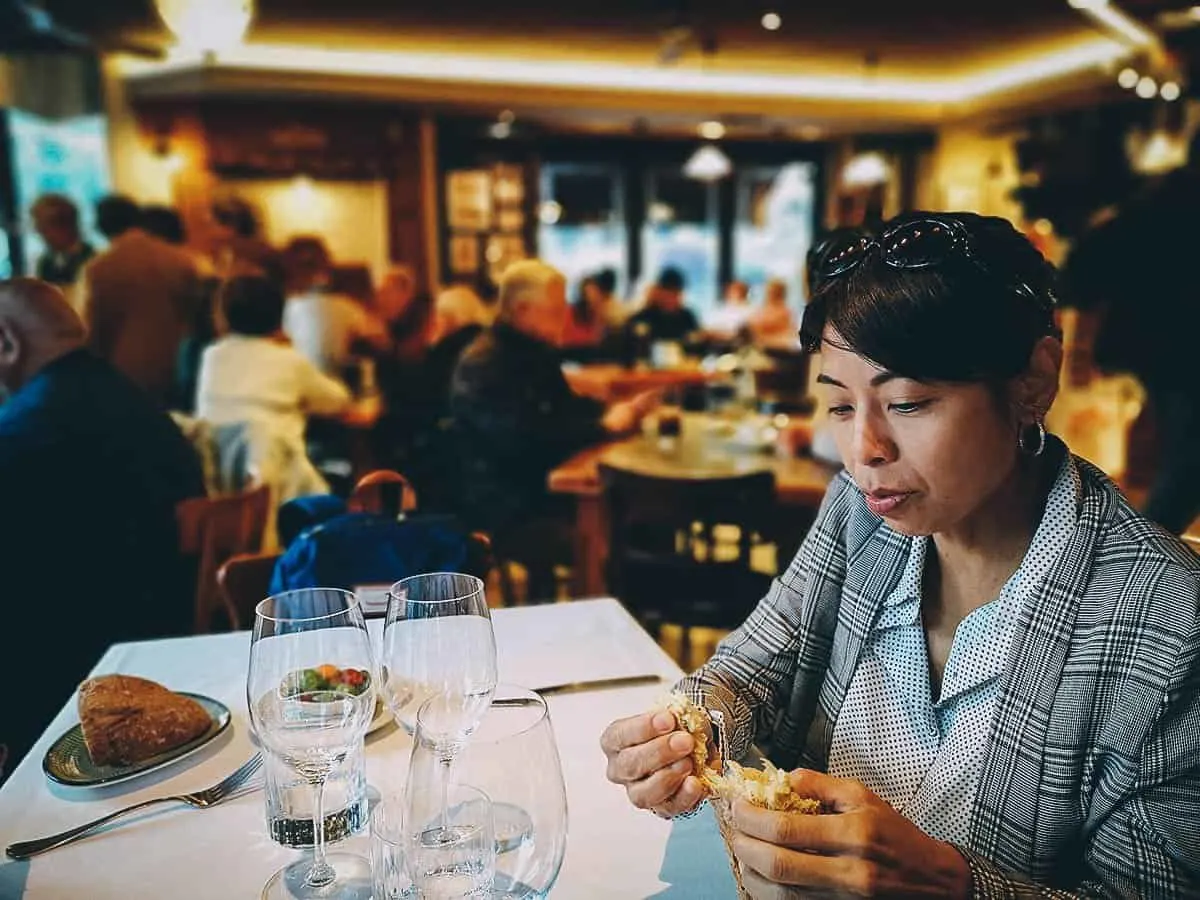 The beautiful and plump fabes or white beans that serve as the cornerstone of any fabada. We're accustomed to eating fabada in our native Philippines where all the ingredients are served together in a stew. I'm not sure how they do it in other restaurants in Oviedo, but at Le Corte de Pelayo, they serve the beans separately which the server will ladle into your bowl.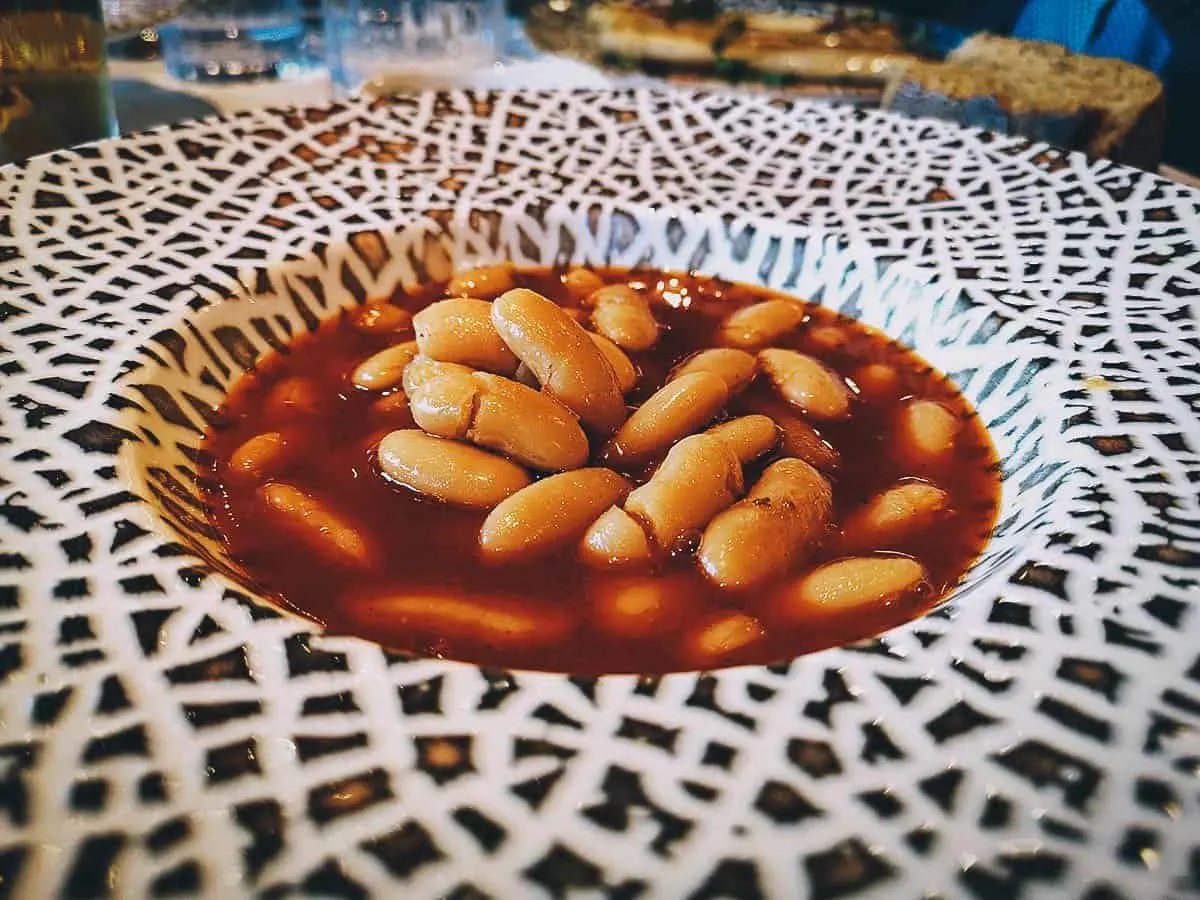 The meats are served separately which you can freely add to your bowl of beans. Typical fabadas are made with bacon, Asturian chorizo, and morcilla or "black pudding" which is a type of blood sausage.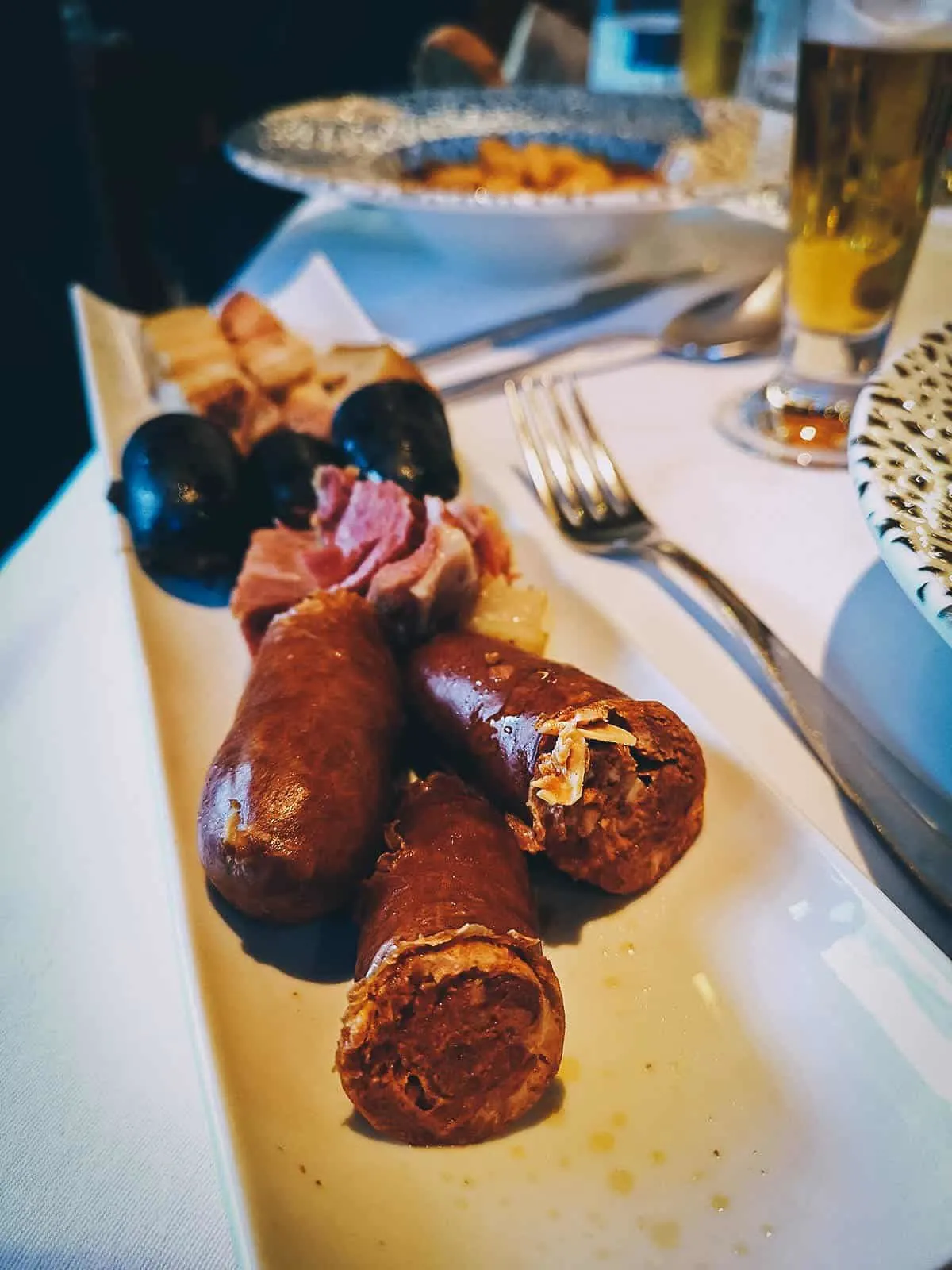 As described, we eat this dish in the Philippines but this was by far the best fabada we've ever had in our lives. The meats are smokey and delicious and the fabes bigger and meatier than the beans we get back home.
Remember what I said about the bread? Save some to dunk in this thick and hearty broth for the most enjoyable fabada experience. Deliciosa and an absolute must in Oviedo, especially if you enjoy comfort food.
If you enjoy fabada and want to bring some home, then you can buy vacuum-sealed fabada sets at Mercado El Fontan in the Old Town. A 500 gram pack good for four people will cost about EUR 12.50.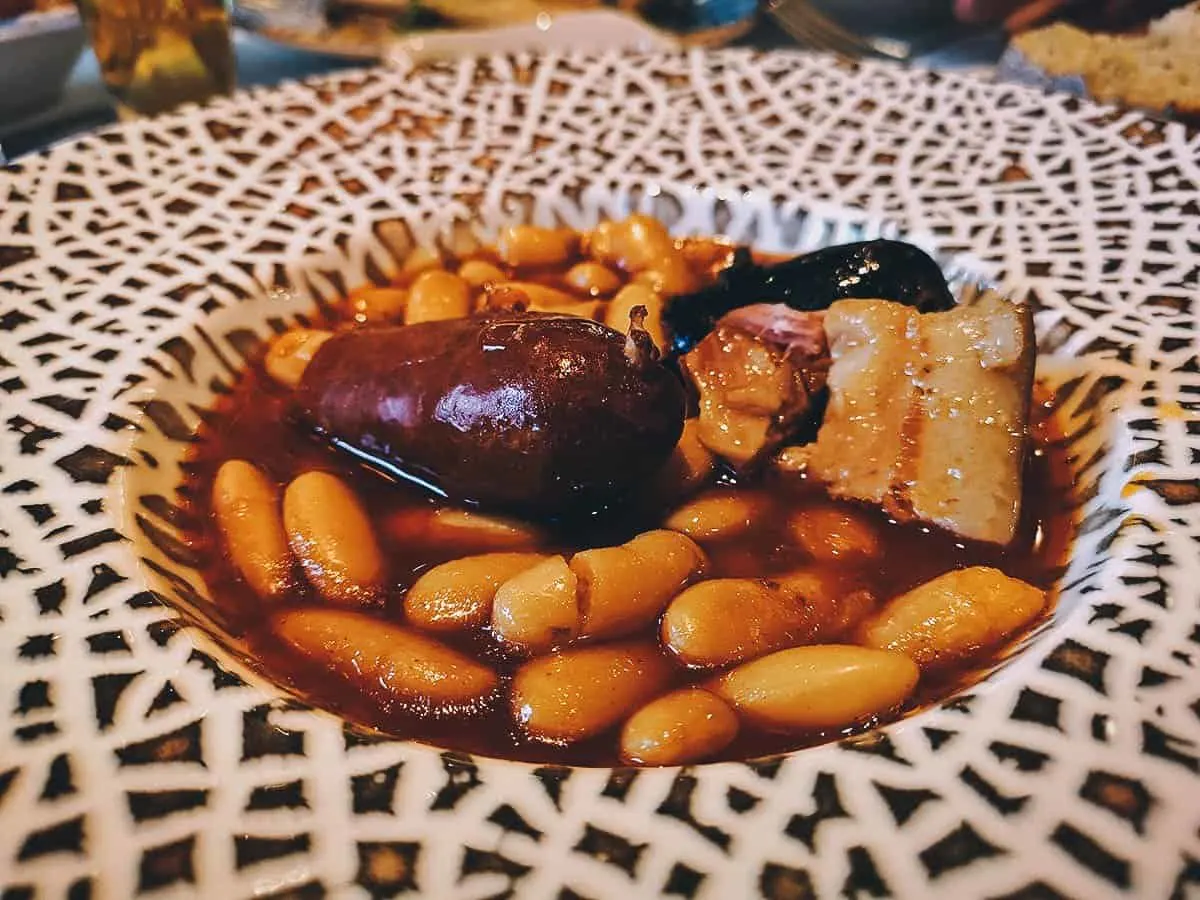 As you can imagine, fabada is a heavy dish with all those meats and big white beans. We wanted to try other things as well so we shared two orders of fabada between the three of us, and got this plate of grilled white asparagus as a second dish. Like the fabada, it was fantastic.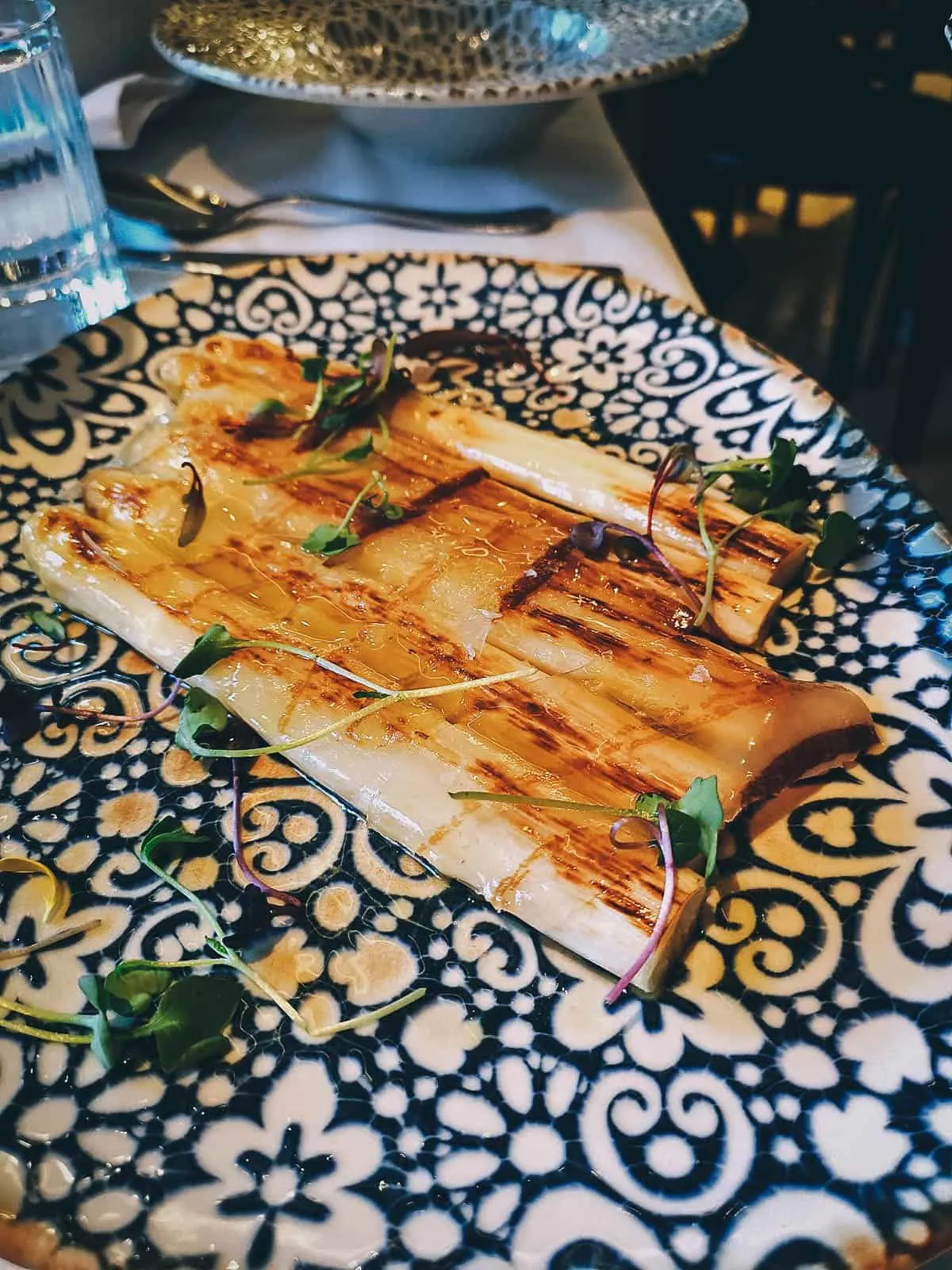 Can you see that? The asparagus spears were wrapped in thin translucent sheets of bacon. I enjoyed white asparagus so much I wanted to bring some home from the market. They taste somewhat different from the green variety.
I read that white asparagus are essentially the same as green asparagus except they're grown without sunlight. It's for that reason why the Huffington Post once referred to white asparagus as the "vampire of the vegetable world".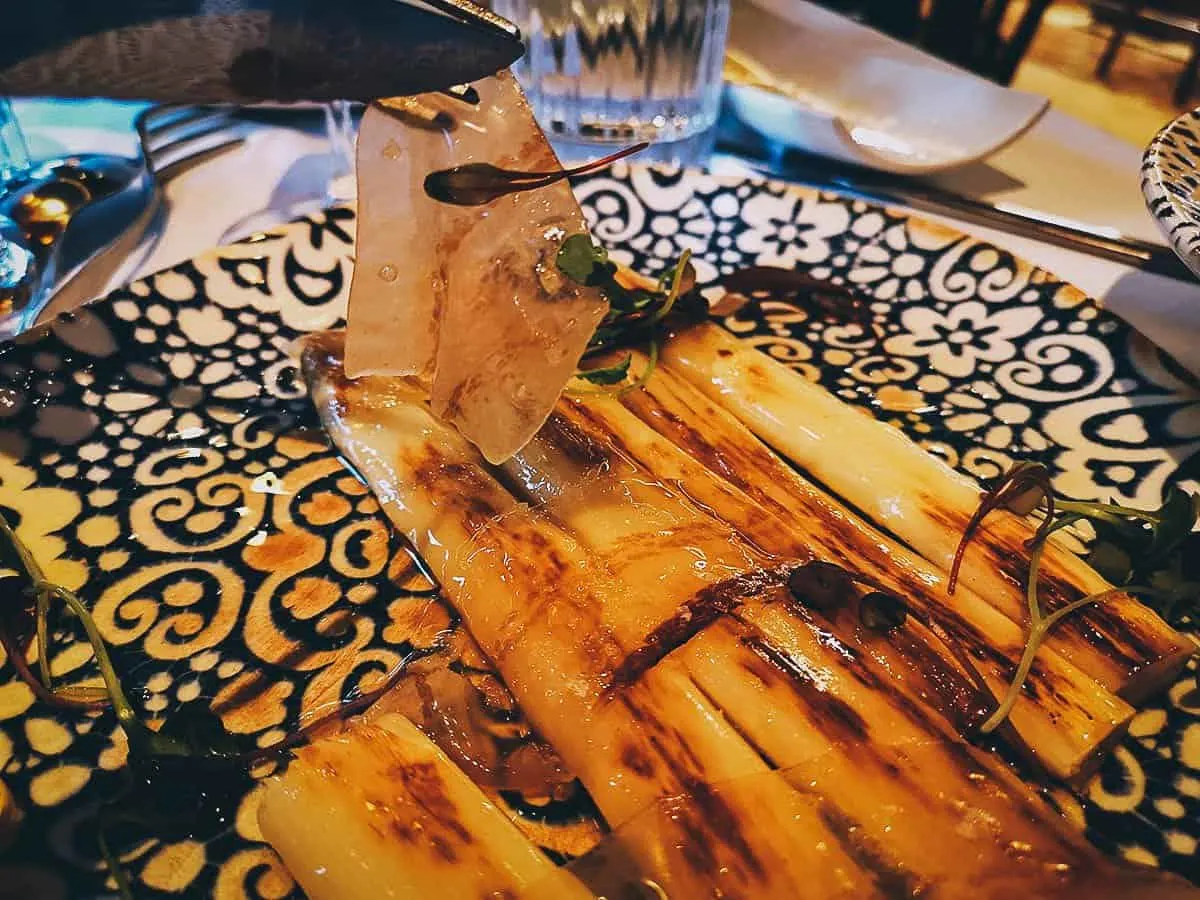 La Corte de Pelayo
Address: Calle San Francisco, 21, 33003 Oviedo, Asturias, Spain
Operating Hours: 7:30AM-1AM, Tues-Fri / 8AM-2AM, Sat / 9AM-5PM, Sun (closed Mondays)
Expect to Pay: EUR 14 per order of fabada
2. La Genuina de Cimadevilla
La Genuina de Cimadevilla is a highly-rated arroceria in the Old Town. Like La Corte de Pelayo, they're a TripAdvisor Certificate of Excellence awardee with an even more impressive 4.5-star rating.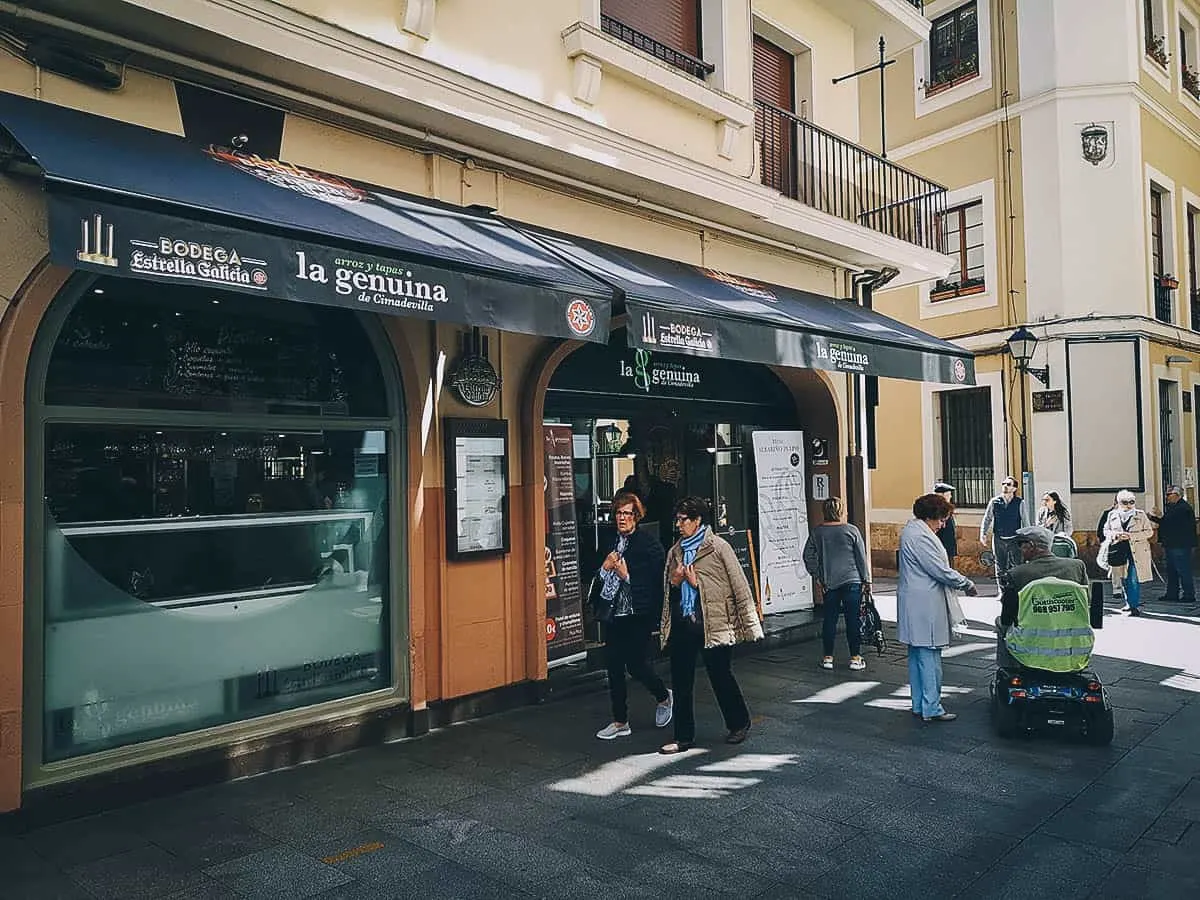 Tanks of cerveza are always a pleasant sight.
La Genuina de Cimadevilla seems to be divided in two parts – a tapas bar in front and a proper sit-down restaurant in the back.
They're an arroceria so they're known for serving different types of paella, some served with the classic squid, mussels, and shrimp to more extravagant versions with scarlet shrimp and lobster. They also offer meat and seafood dishes as well as local specialties like Asturian cheeses and cachopos.
At the time, only the tapas bar was open with many locals enjoying aperitivos and the cutest little pans of paella. You'll see what I mean below.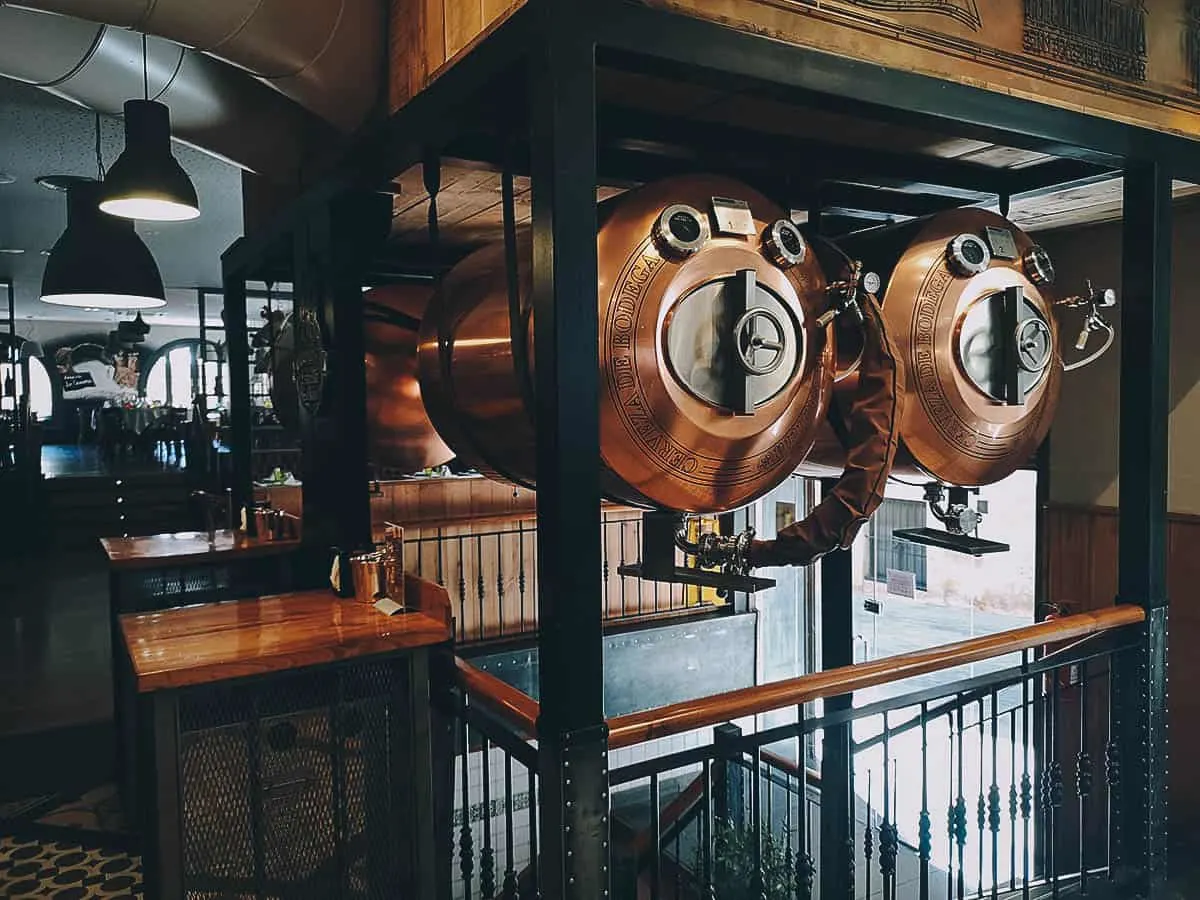 Aren't these mini paelleras the best? Each drink you get comes with a free tapa-sized portion of paella. I love Spain.
We each had 2-3 servings of mini paella before moving to the next place, but you may want to have a full meal here. The paellas look really interesting. They have fideua as well which is a type of paella made with noodles instead of rice.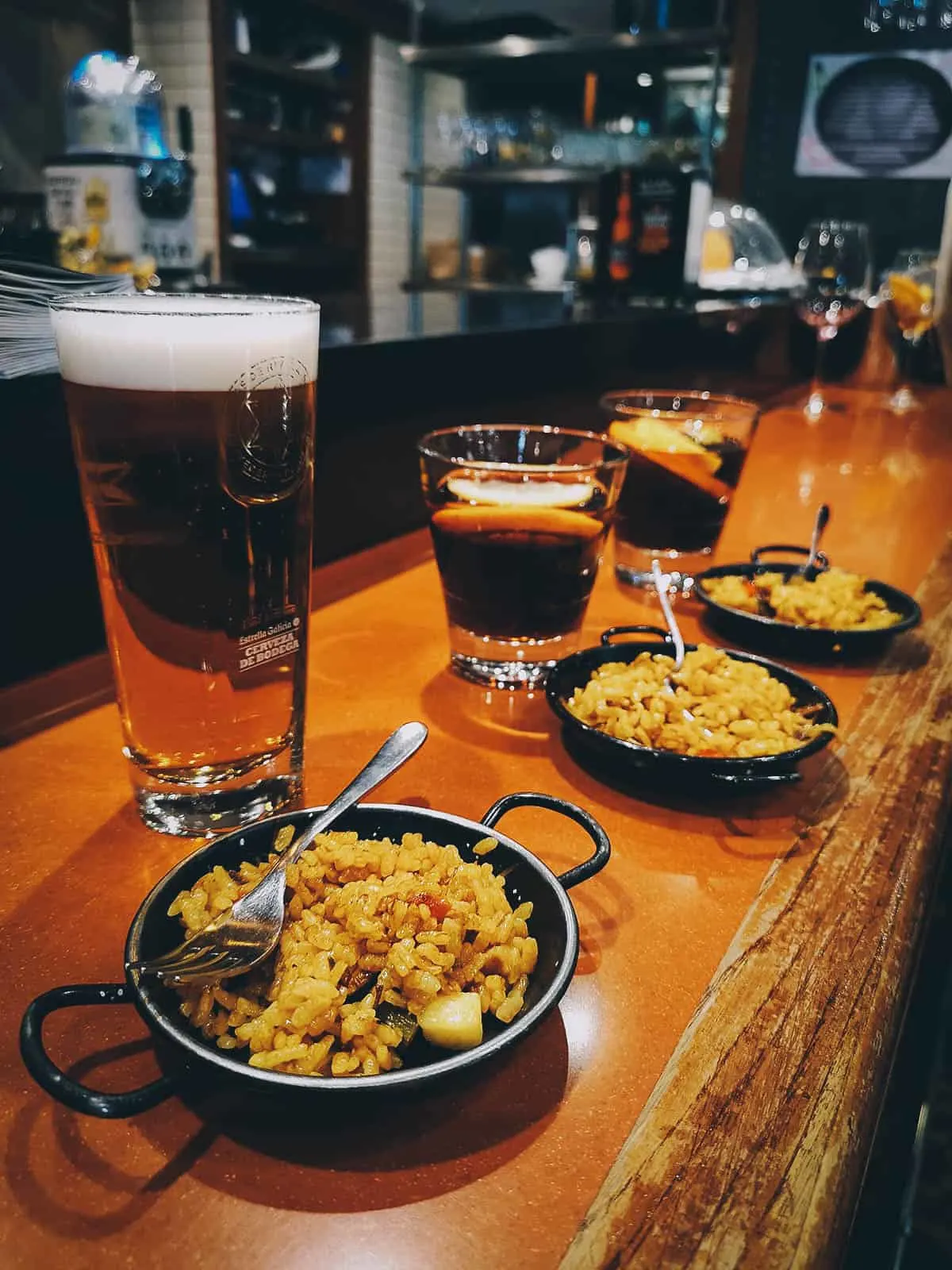 La Genuina de Cimadevilla
Address: Calle Cimadevilla, 2, 33003 Oviedo, Asturias, Spain
Operating Hours: 11:30AM-11PM, Mon-Tues, Thurs / 11:30AM-4:30PM, Wed / 11:30AM-12MN, Fri / 12NN-12MN, Sat / 12NN-11PM, Sun
Expect to Pay: EUR 12-22 per person for paella
3. Bodega El Molinon
Bodega El Molinon is also a TripAdvisor Certificate of Excellence awardee with an impressive 4-star rating. They have a good selection of tapas dishes, including several types of Asturian cheese. I believe they have a wine bar as well.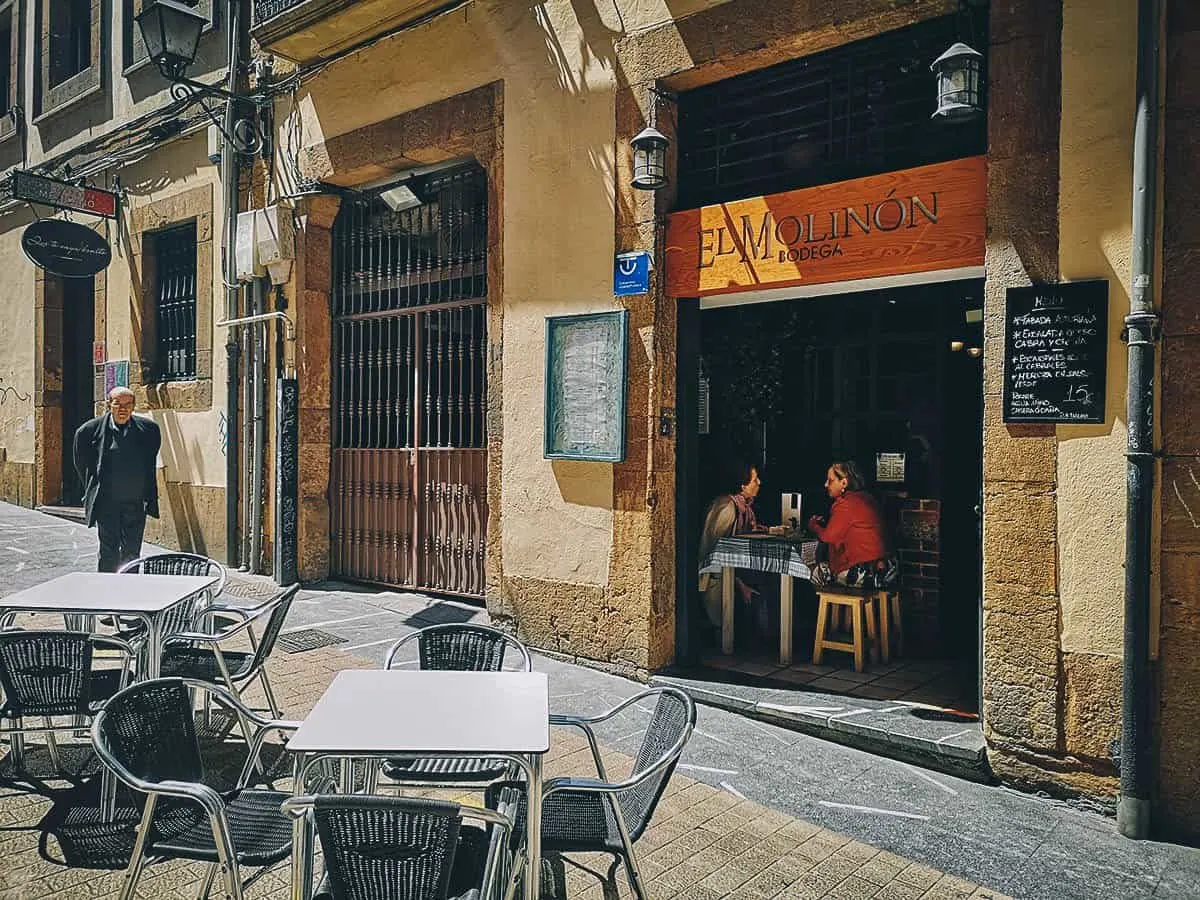 The most basic tapa – bread with a wedge of cheese. With kilometer upon kilometer of green pasture land, the Asturias region is home to some of the most productive dairy cows in Europe. From those cows come over forty varieties of world-class cheeses that are said to rival anything produced in France.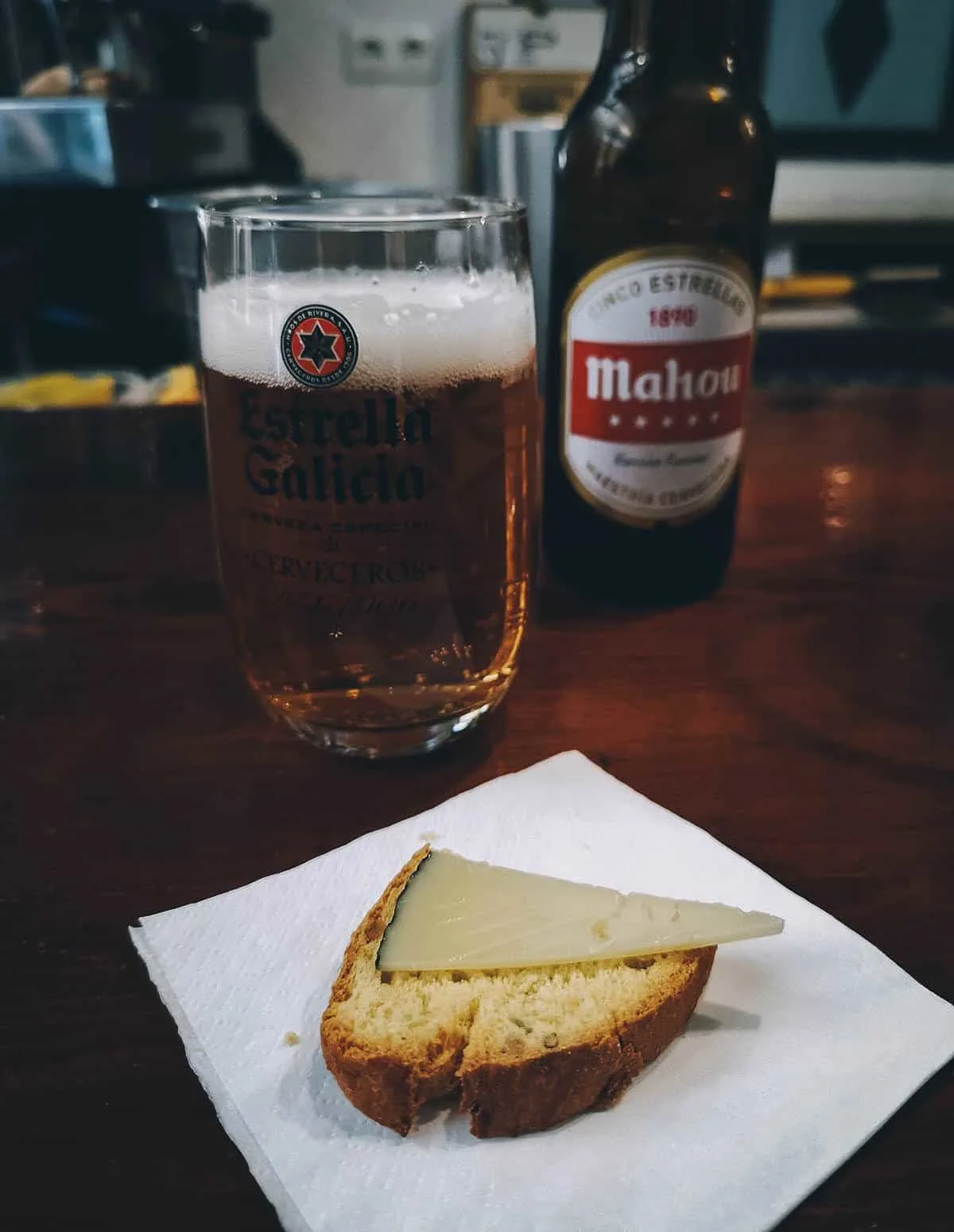 Of all its world-class cheeses, none are more prized perhaps than its Queso Cabrales or Asturian blue cheese. They're aged for 2-5 months in caves in the Picos de Europa mountains, where an abundance of penicillium mold gives them their characteristic strong and spicy flavor. Like Gorgonzola and Roquefort, the Cabrales name is protected by EU law.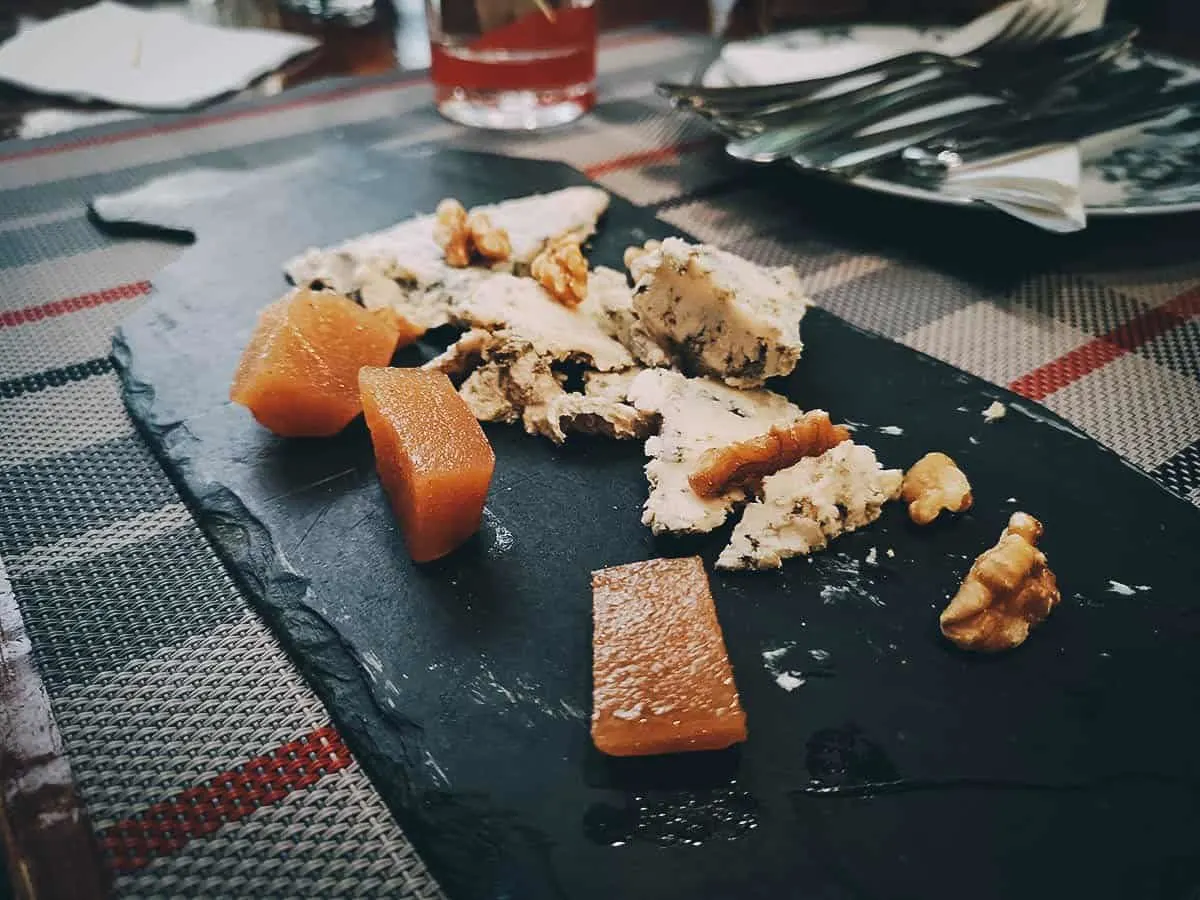 Cabrales is often served with fruits and nuts to balance its robust flavor. Bodega El Molinon also has other types of Asturian cheese available, so you may want to get the sampler platter (Tabla de Quesos Asturianos) if you'd like to try a variety of different cheeses.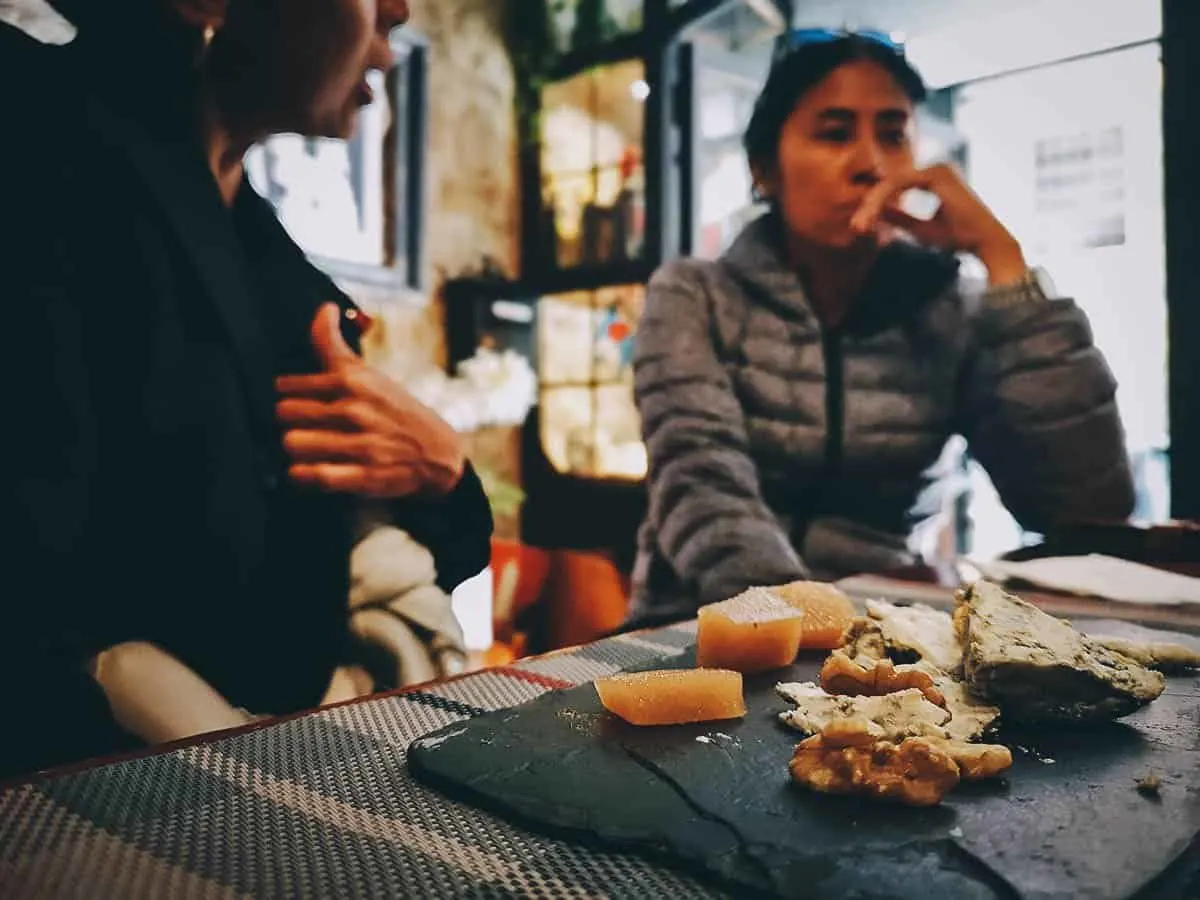 Bodega El Molinon
Address: Calle del Águila, 13, 33003 Oviedo, Asturias, Spain
Operating Hours: 12NN-4PM, 8PM-12MN, Mon-Sat / 12-4PM, Sun
Expect to Pay: EUR 6 per half-order of Cabrales, EUR 10.50 for a full order
4. Las Tablas del Campillin
Our homestay host recommended a few restaurants to us, most notably a local breakfast place and this restaurant that's known for serving some of the best cachopo in Oviedo.
Looking at their website, it seems that their cachopo has indeed received numerous awards. I'll get to what cachopo is below, but like every other restaurant on this list, Las Tablas del Campillin is a TripAdvisor Certificate of Excellence awardee with a solid 4-star rating.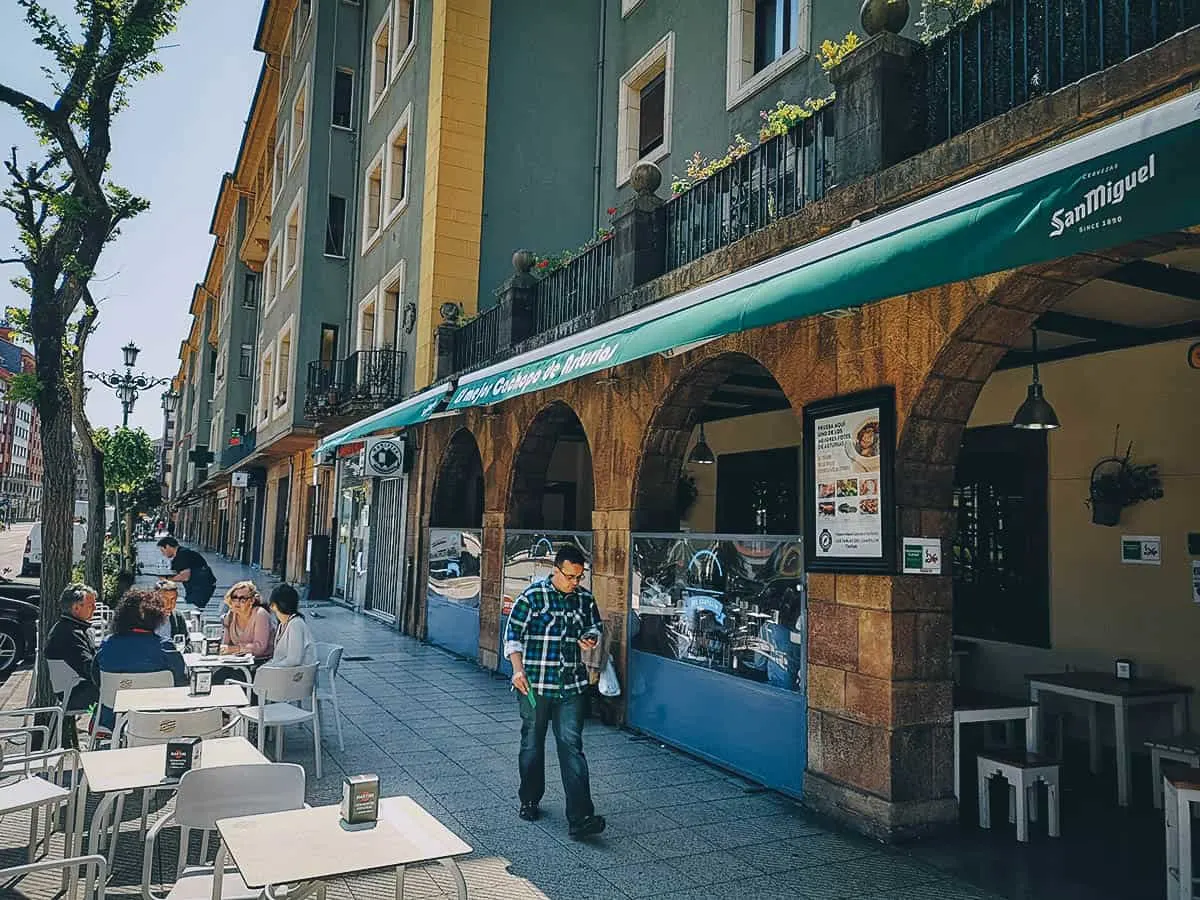 Cachopo is another core Asturian dish. It consists of two breaded and fried veal fillets made with ham and cheese.
I had only eaten veal once before in the late eighties when I was still in high school. Back then, veal was considered a cruel dish because calves were kept in tight spaces to restrict their movements and keep their meat tender. Because of that, I was reluctant to eat cachopo despite reading how important a dish it is to Asturian cuisine.
However, much seems to have changed since the eighties in regards to veal production. According to this article from The Telegraph, the practice of housing veal calves in tiny crates was outlawed in the UK in 1990 and the rest of Europe in 2007. An increasing number of farmers are trying to change public perception by raising ethical veal.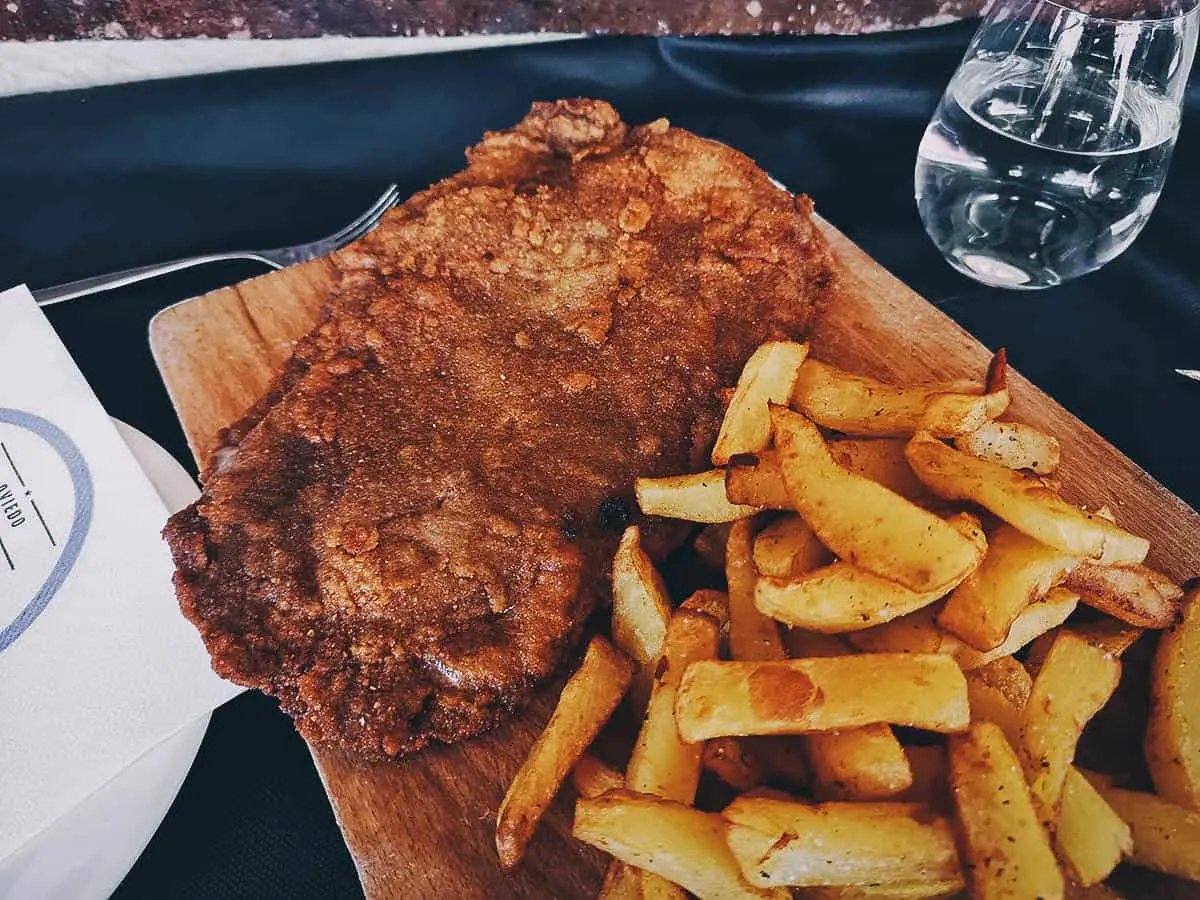 I didn't know about the reforms in veal production at the time, so I limited myself to just one bite. It was pretty much how I remember it to be – like beef but more tender.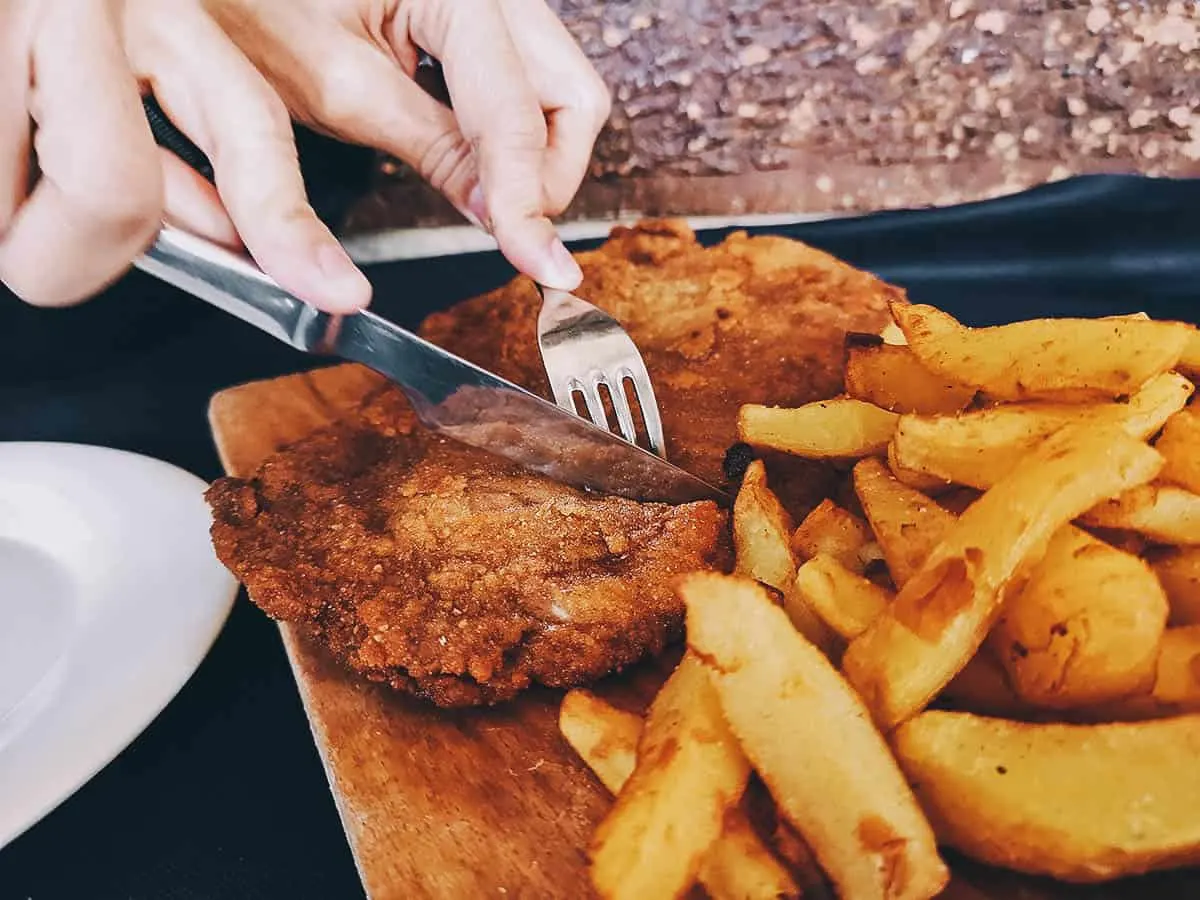 Here you can see the inner layer of ham and cheese sandwiched between the two veal fillets. The dish is typically served with a side of french fries.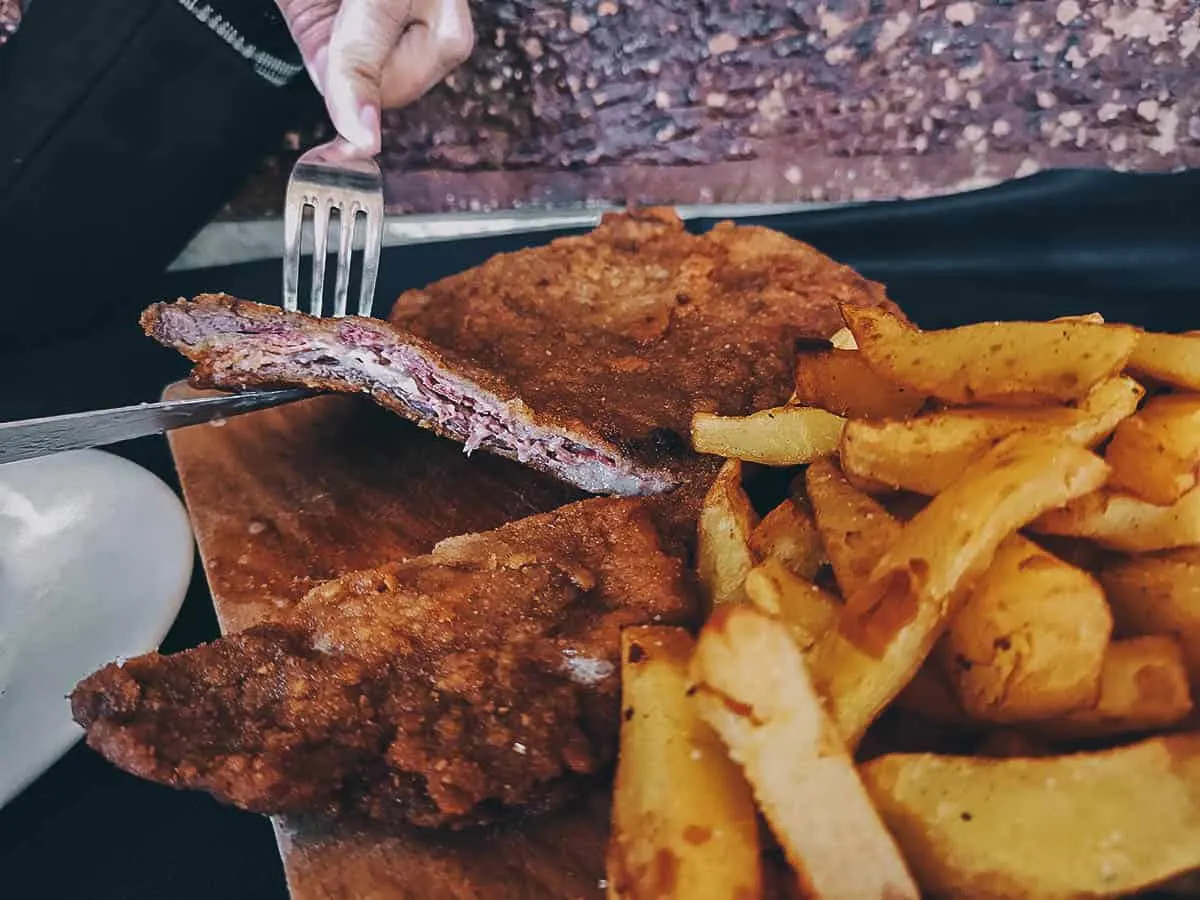 Veal is good but it isn't something I'd necessarily look for so I didn't mind limiting myself to just one bite. If you believe that farmers are indeed making efforts to raise ethical veal and want to try this dish, then Las Tablas del Campillin is as good a place as any to have it.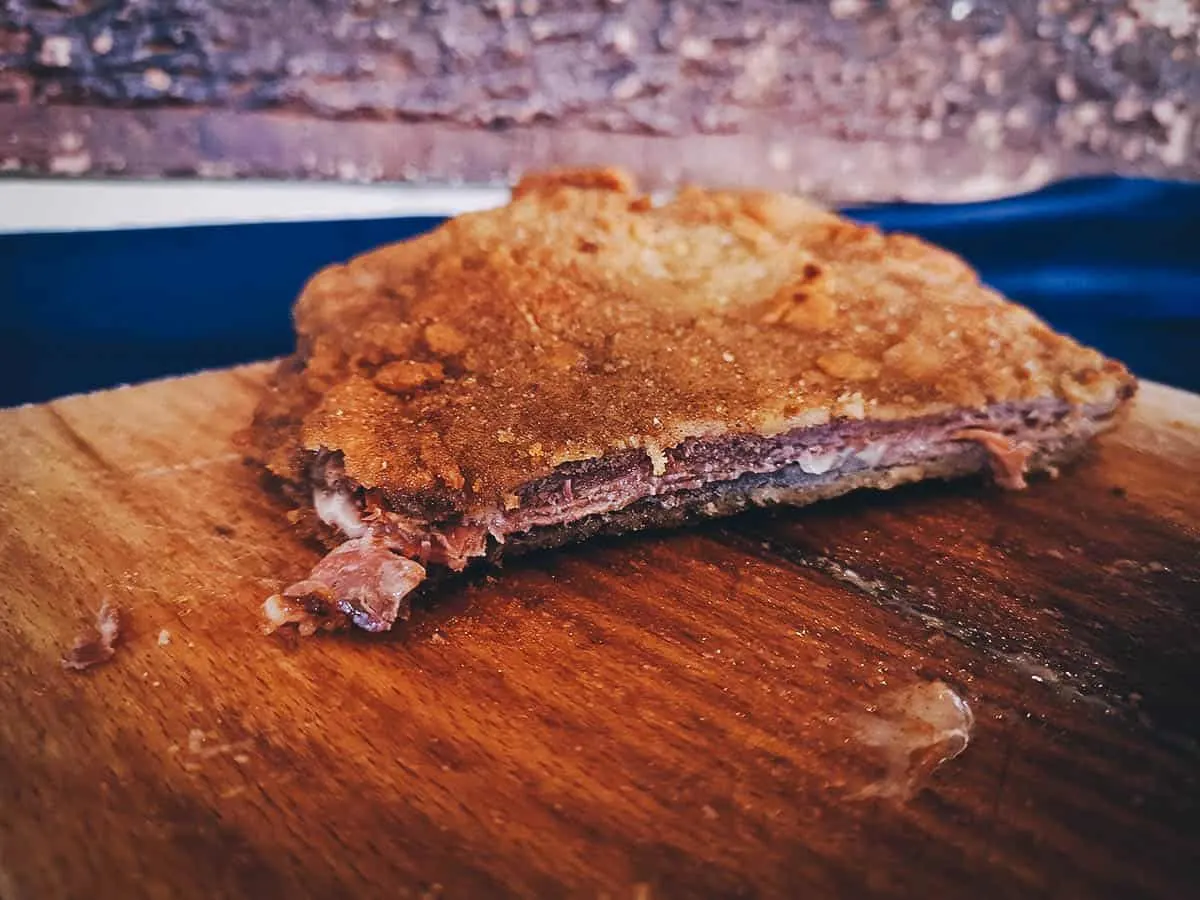 Las Tablas del Campillin
Address: Nº24, Calle Arzobispo Guisasola, 33009 Oviedo, Asturias, Spain
Operating Hours: 7AM-12MN, Mon-Fri / 10AM-12MN, Sat / 11AM-12MN, Sun
Expect to Pay: EUR 16-19 per cachopo
5. Confiteria Rialto
Open since 1926, Confiteria Rialto is an Oviedo institution. They're known for serving some of the best pastries in the region, none more beloved perhaps than their carbayones and moscovitas.
One reviewer went so far as to say that visiting Oviedo without having either pastry would be like going to Italy without eating pasta. Again, Confiteria Rialto is a TripAdvisor Certificate of Excellence awardee with a near-perfect 4.5-star rating.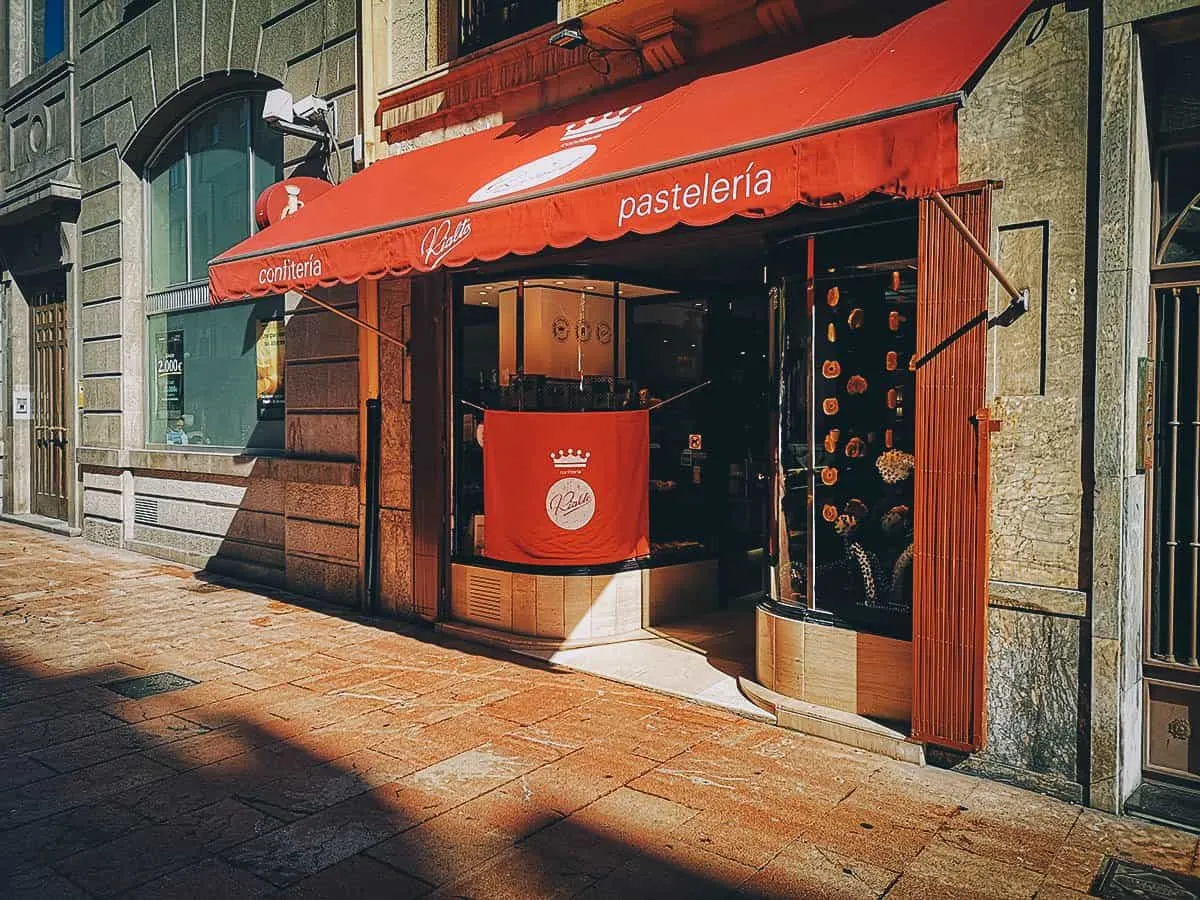 Confiteria Rialto makes a wide array of delicious-looking Spanish pastries and desserts. Looking down into this vitrine, it was very difficult to decide what to get!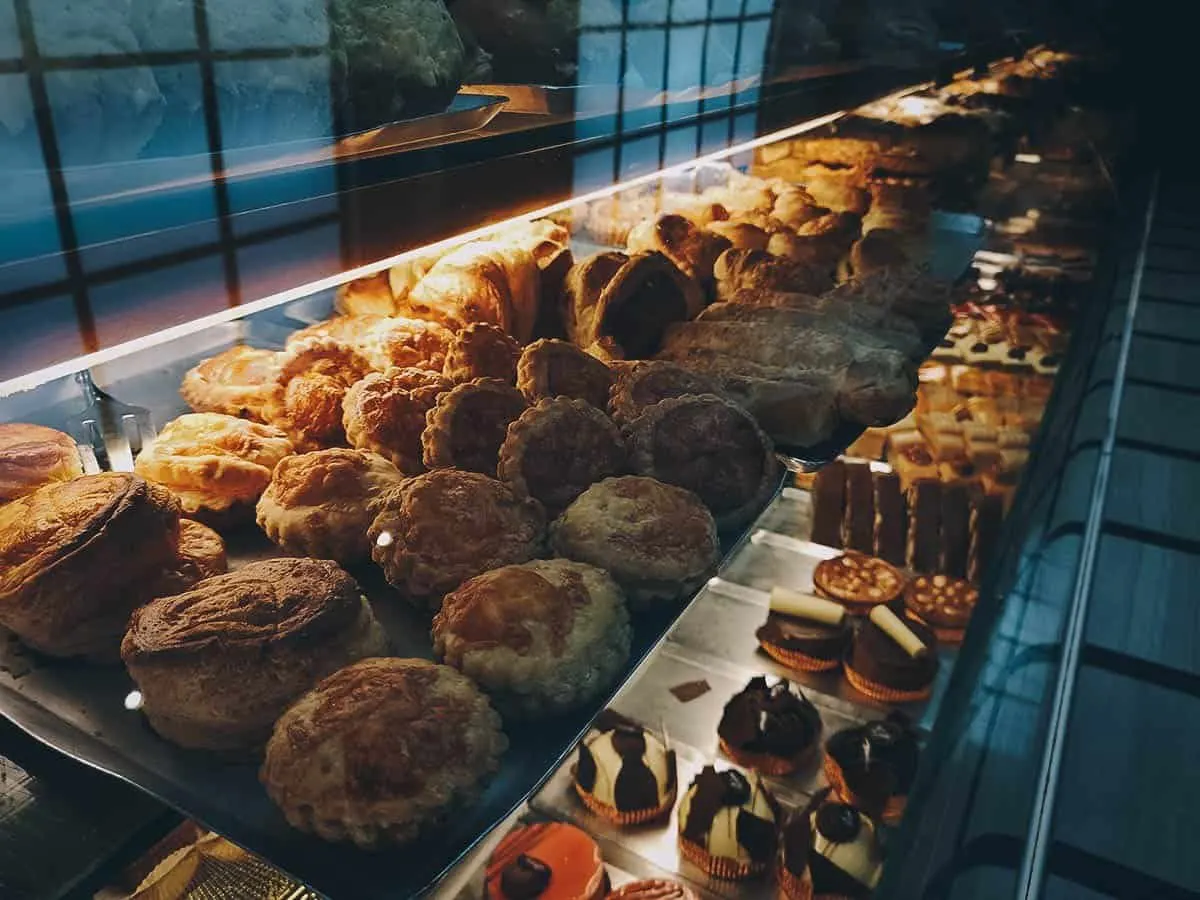 The chocolate eclairs looked delicious. So did the cheesecake. And the kouign-amann. And the croissants and danishes and chocolate cake. Like I said, so hard to decide!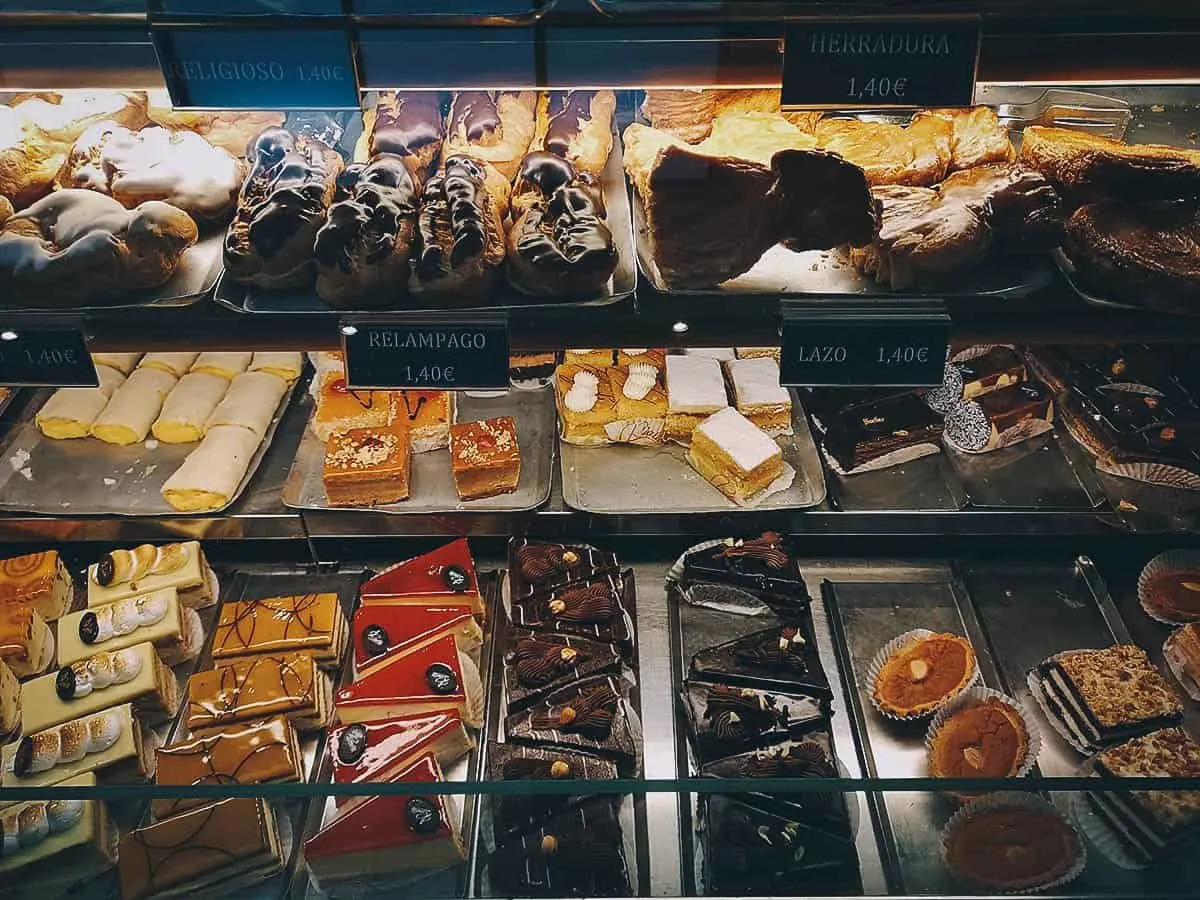 Being famous for their carbayones, we had to get that. They didn't invent this pastry nor are they the only place to serve it in Oviedo, but many say they make the best.
So famous are Rialto's carabyones and moscovitas that they ship them all over the world. I read that people originally from Asturias will ask you to bring them back carbayones if they find out you're going to Oviedo.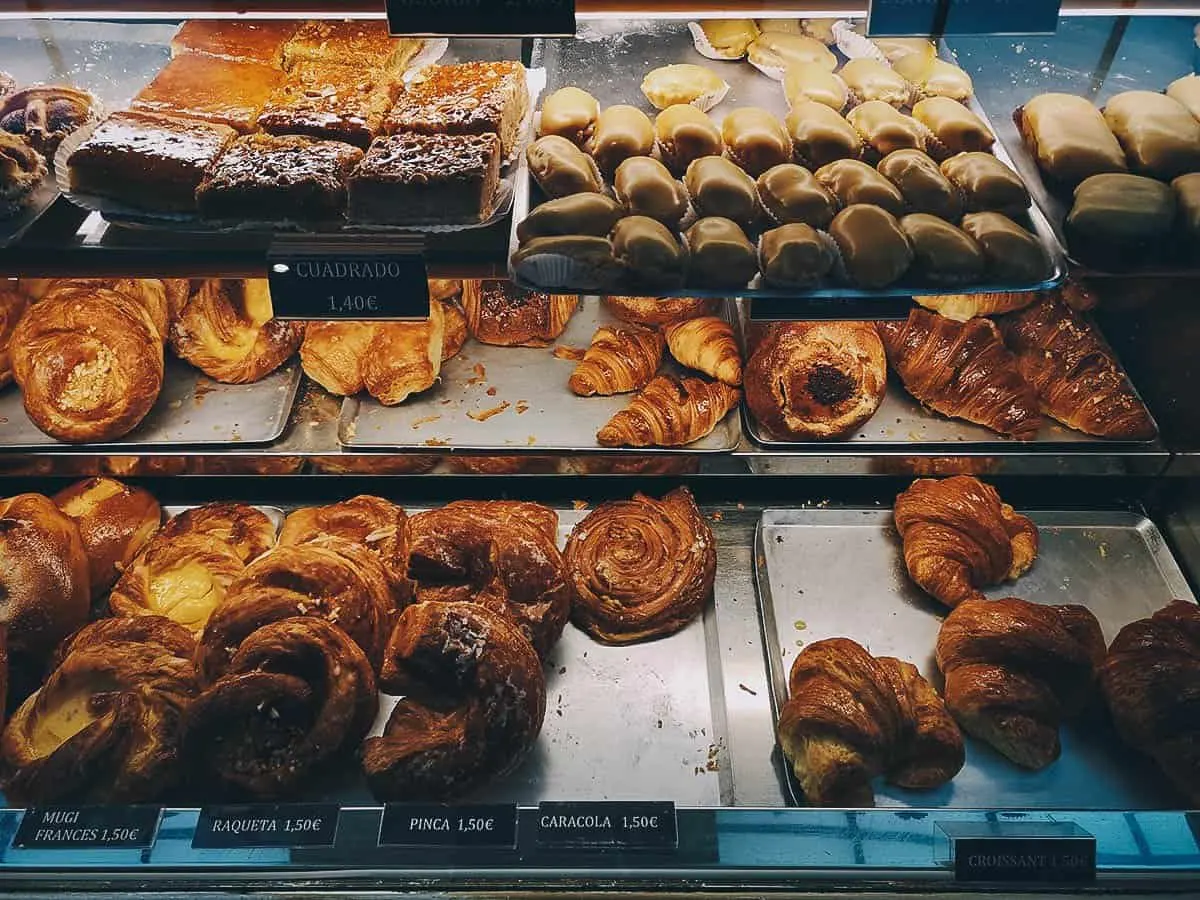 And there she is, Confiteria Rialto's famous carbayon. Before we get into what it is and what makes it so special, there's an interesting backstory to this pastry.
I read that the term carbayon has several meanings. One, it refers to a native of Oviedo. Two, it refers to an oak tree that was for centuries a beloved symbol of Oviedo, until it was cut down in 1879 to make way for the construction of Calle Uria. And three, it refers to this almond pastry that was invented in honor of the oak tree that the people of Oviedo loved so much.
The pastry was an instant hit, evolving to become the Oviedo cultural symbol that it is today.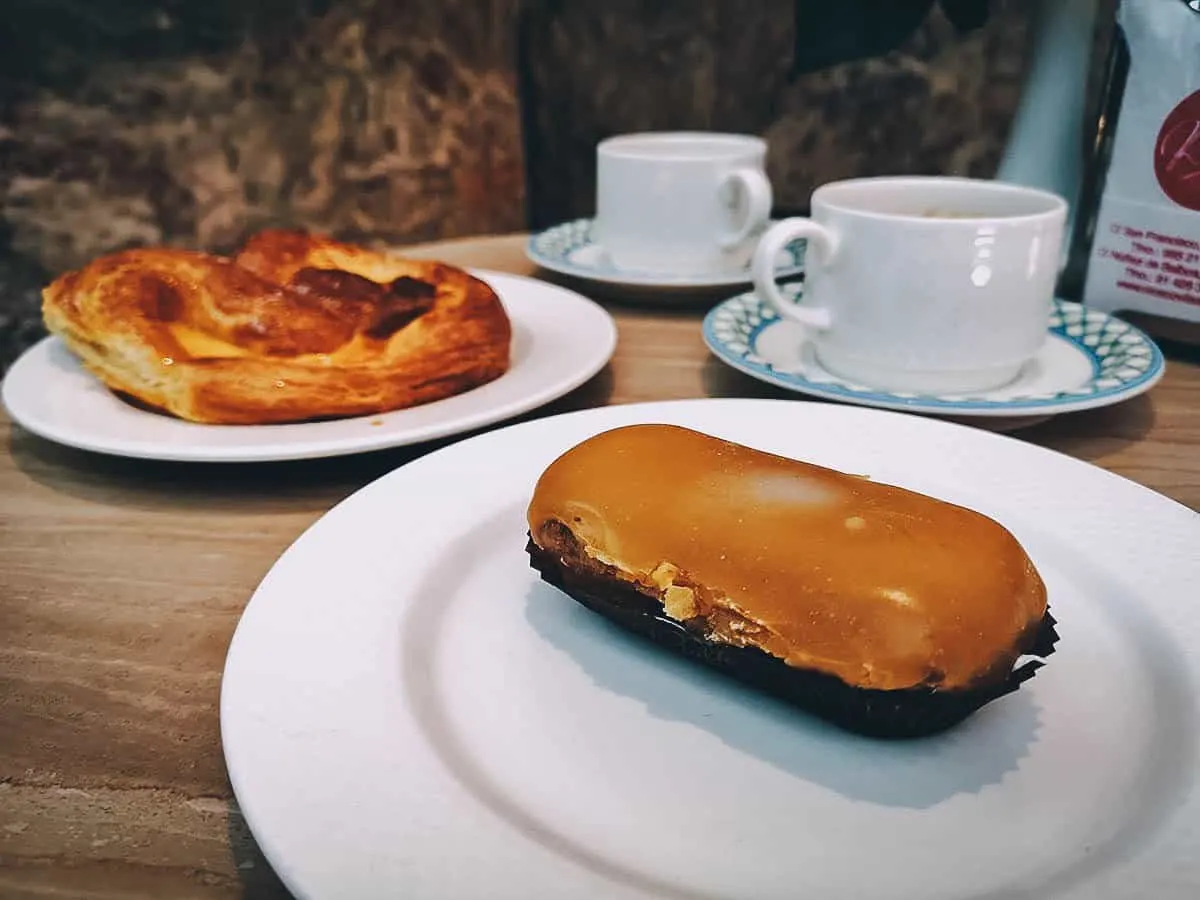 Here's a look at what's inside a carbayon. It's a puff pastry filled with a mixture of egg, ground almonds, cognac, and sugar, then covered with a crusty layer made with lemon juice, syrup, and cinnamon. It's very sweet and also pretty expensive, one regular-sized carbayon costing you EUR 2.60. Confiteria Rialto makes them in two sizes – regular and small.
We didn't have any but Rialto is equally famous for their moscovitas which is a type of chocolate and almond biscuit. We were hoping to try just one but they weren't selling them individually, only in pouches or boxes of at least fifteen pieces. You might want to pick up a box when you visit Oviedo.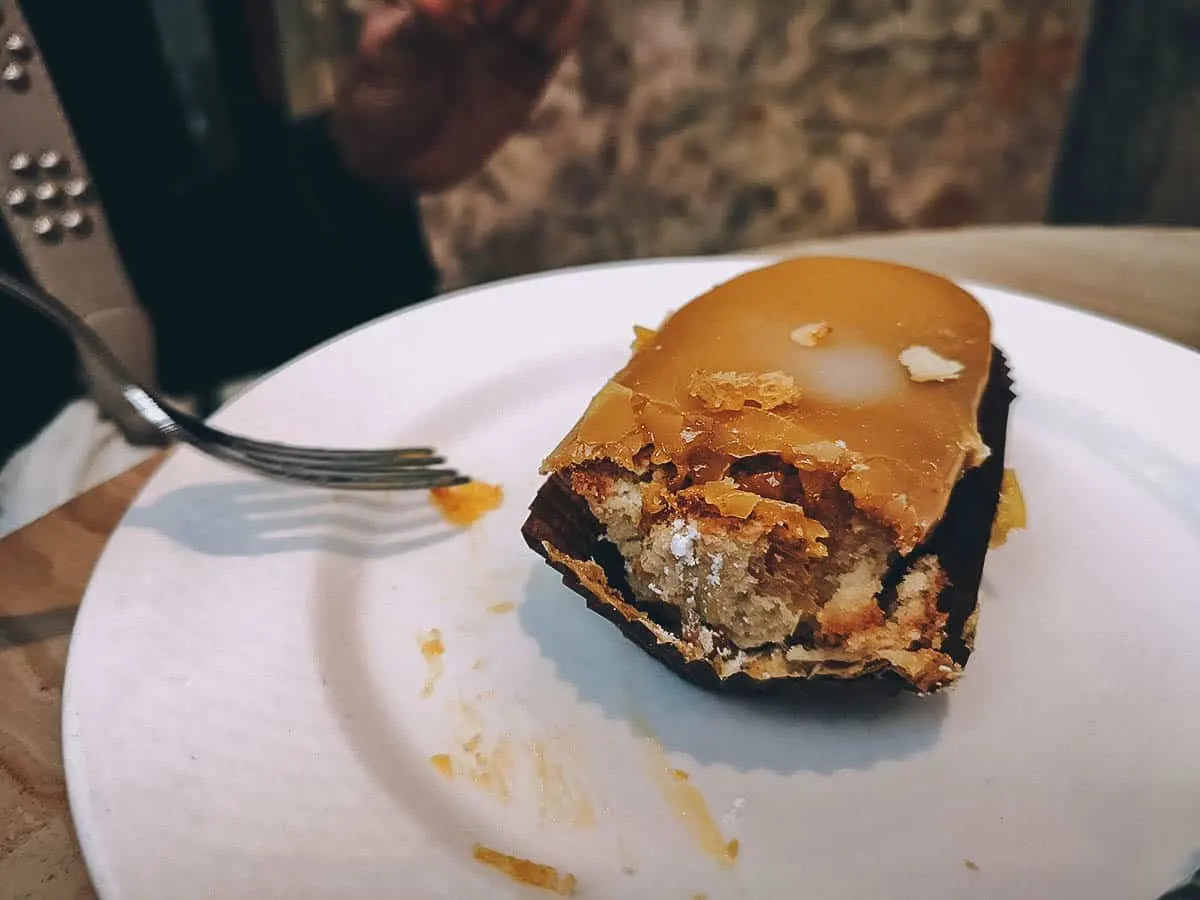 Confiteria Rialto
Address: Calle San Francisco, 33003 Oviedo, Asturias, Spain
Operating Hours: 9AM-9PM, daily
Expect to Pay: EUR 2.60 per carbayon
BONUS: Taberna km 0
As a bonus, I added this bar which is a good inexpensive place to get a drink. It was packed with locals and located just down the block from Las Tablas del Campillin.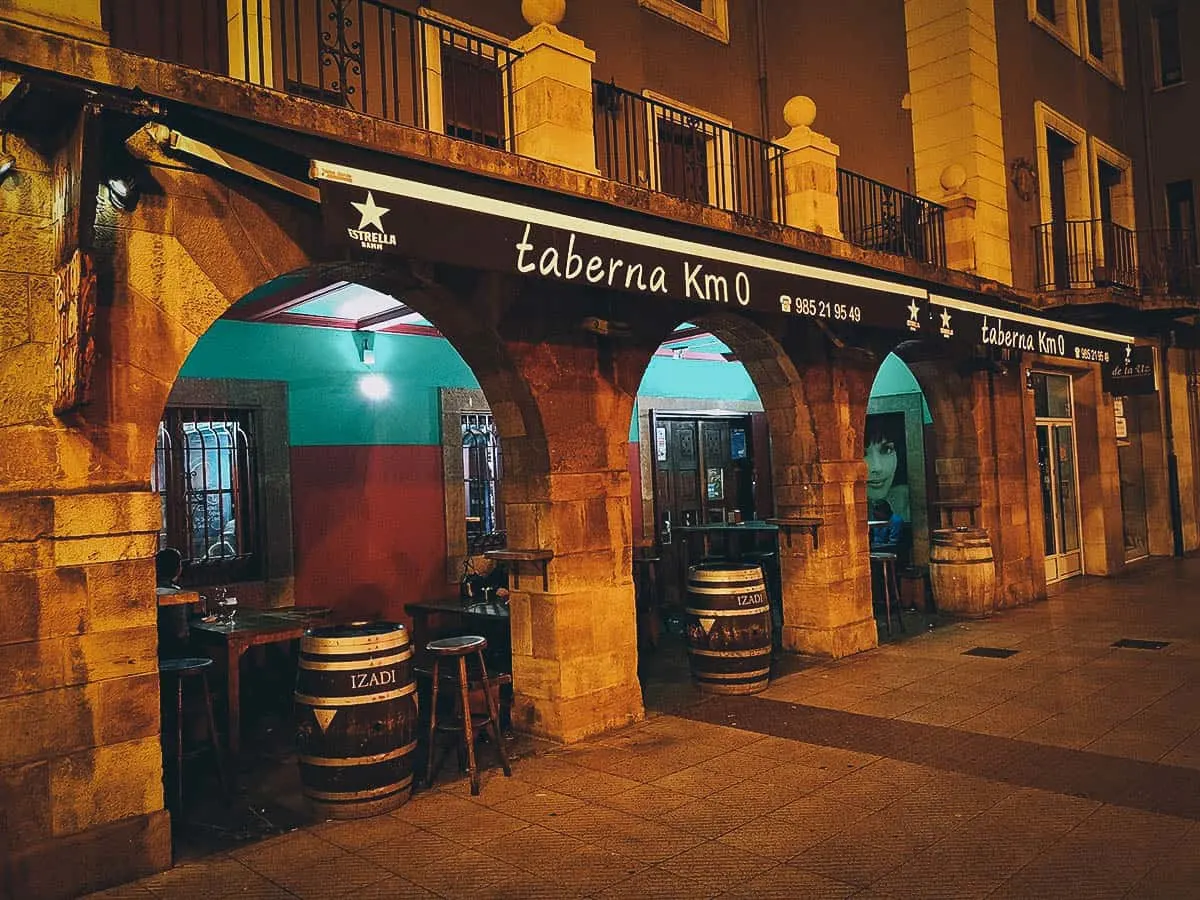 It's interesting, we went to many bars and restaurants all throughout Spain, and not once did I see an adult on their mobile phone.
In Asia, you often find families or group of friends sitting together at a table but everyone is busy fiddling with their phones. In Spain, everyone is engaged. They're talking, drinking, eating, and enjoying each other's company. It was refreshing to see and showed just how much more connected Spanish people are to one another.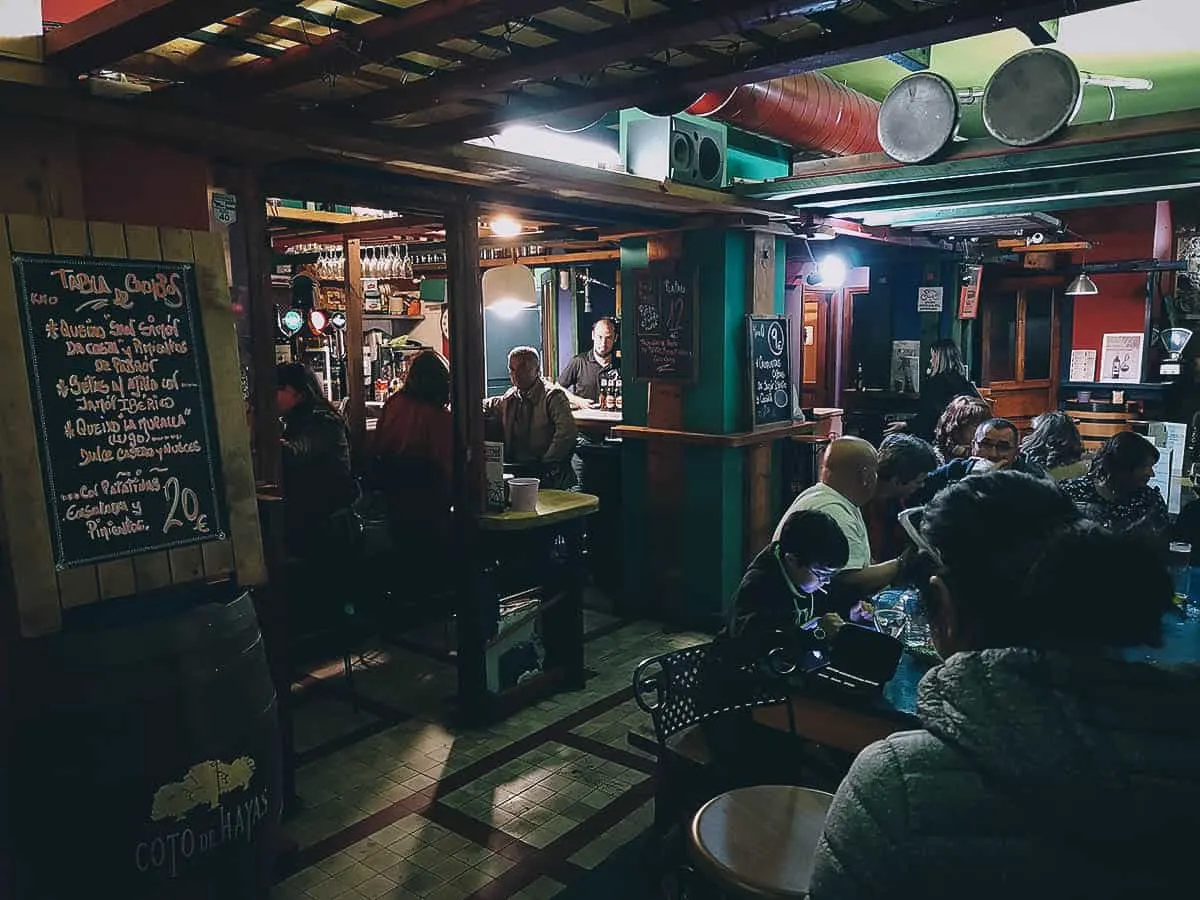 Taberna km 0
Address: Calle San Roque, 2, 33009 Oviedo, Asturias, Spain
Operating Hours: 11AM-4PM, 7PM-12MN, daily
LOCATION MAP
To help you find these restaurants in Oviedo, I've pinned them all on the map below. Most are in the Old Town so they're easy to get to on foot. Click on the link for a live version of the map.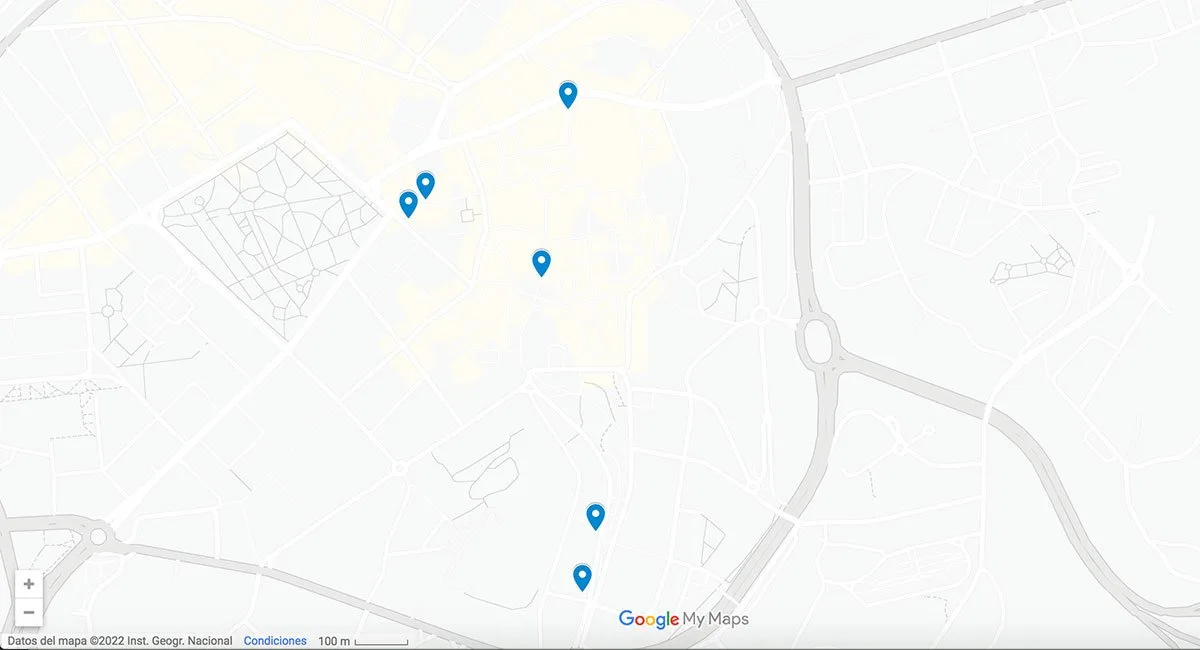 FINAL THOUGHTS ON THE BEST RESTAURANTS IN OVIEDO
I would have loved to add more restaurants to this list but we were only here for about half a day. I didn't expect this city (and its great food) to make such an impression on us but it did. Everyone we met in Oviedo was warm and friendly and seemed genuinely happy to see tourists exploring their city.
I don't know how many travelers make it to Oviedo compared to more popular destinations like San Sebastian and Santiago de Compostela, but our experience here was a very positive one. In fact, when reminiscing about this trip to Spain, we often mention Oviedo as one of the biggest surprises. We absolutely loved it here and hope to explore more of it, and its delicious regional Spanish food, in the future.
Disclosure
Some of the links in this article on the best Oviedo restaurants are affiliate links. What that mans is that we'll make a small commission if you make a purchase at no extra cost to you. We really appreciate your support as this helps us make more of these free travel guides. Thank you!