If Ephesus was a hub for trade and commerce, then Aphrodisias was a center for the arts. An ancient city named after the goddess Aphrodite, Aphrodisias was renowned for its school of sculpture that produced masterful works made from the finest marble.
A sacred site since 5,800 BC, Aphrodisias enjoyed a long period of prominence stretching from the 2nd century BC until the 6th century AD. It was a prolific period that produced beautiful buildings, reliefs, marble sculptures, and public inscriptions, many of which have survived to this day and been described as some of the most well preserved in Turkey. In fact, we had already visited the ancient cities of Ephesus, Hierapolis, and Laodicea, and Aphrodisias for me was the most impressive. It isn't as grand as Ephesus, but what it lacks in size it makes up for in beauty.
A two-and-a-half hour drive from Pamukkale, Aphrodisias is remote and a little difficult to get to, but worth it. We weren't sure if we would go at first, but with this being our 10th anniversary trip, we thought it fitting to make the pilgrimage and give thanks to the Goddess of Love. ♥
Aphrodisias
Visitors to Aphrodisias are shuttled to and from this parking lot by tractor. On top of the 15TL admission fee to the archaeological site, I believe it costs an additional 7TL to park your car here. Audio guides can be rented for 10TL.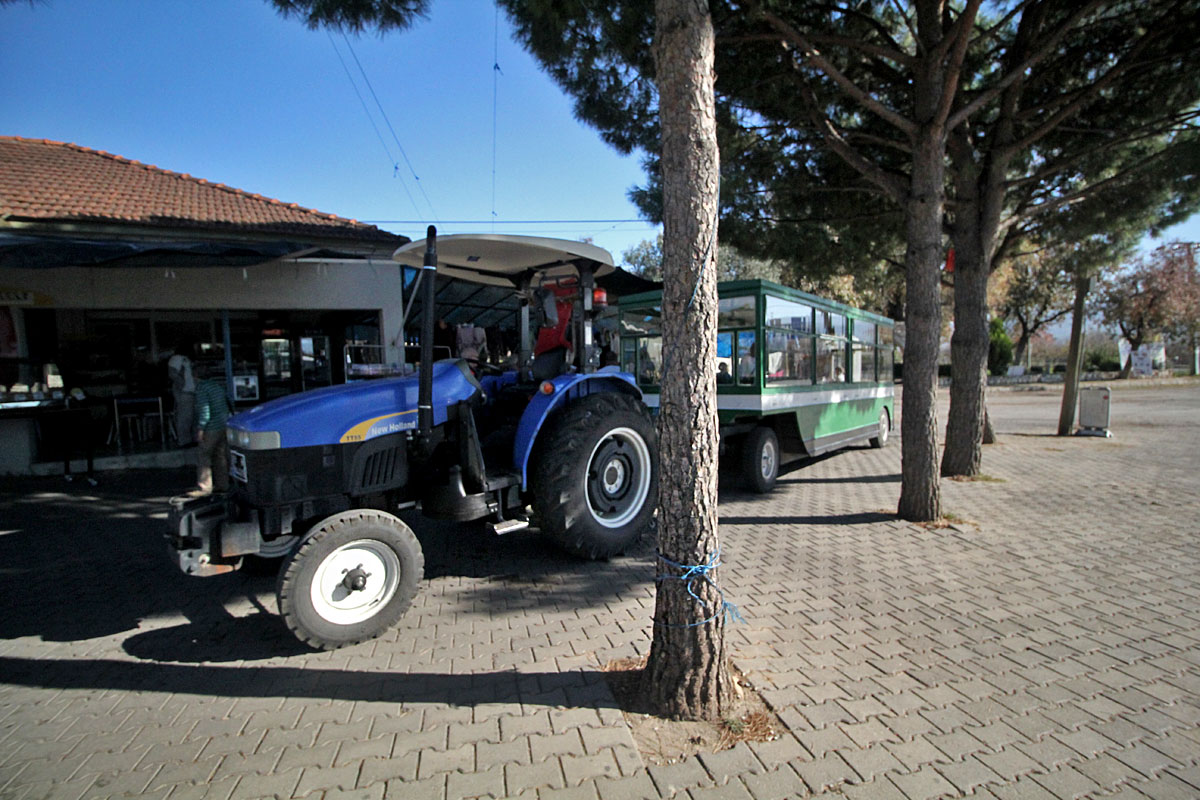 Walking towards the site, you're greeted by these sarcophagi expertly adorned with garlands and figures. Sculptors in Aphrodisias were masters in relief and sarcophagus production.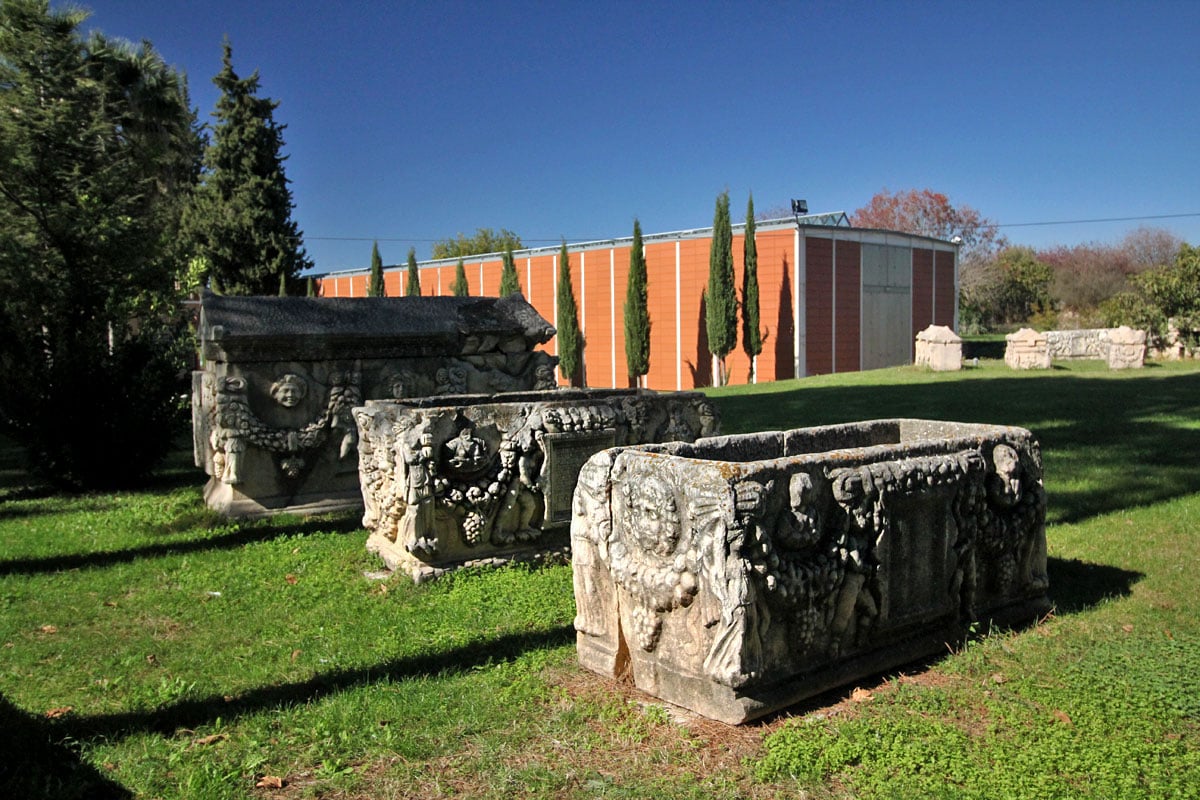 Atrium House
A large townhouse dating back to the Hellenistic period that may have been a school of philosophy in Late Antiquity.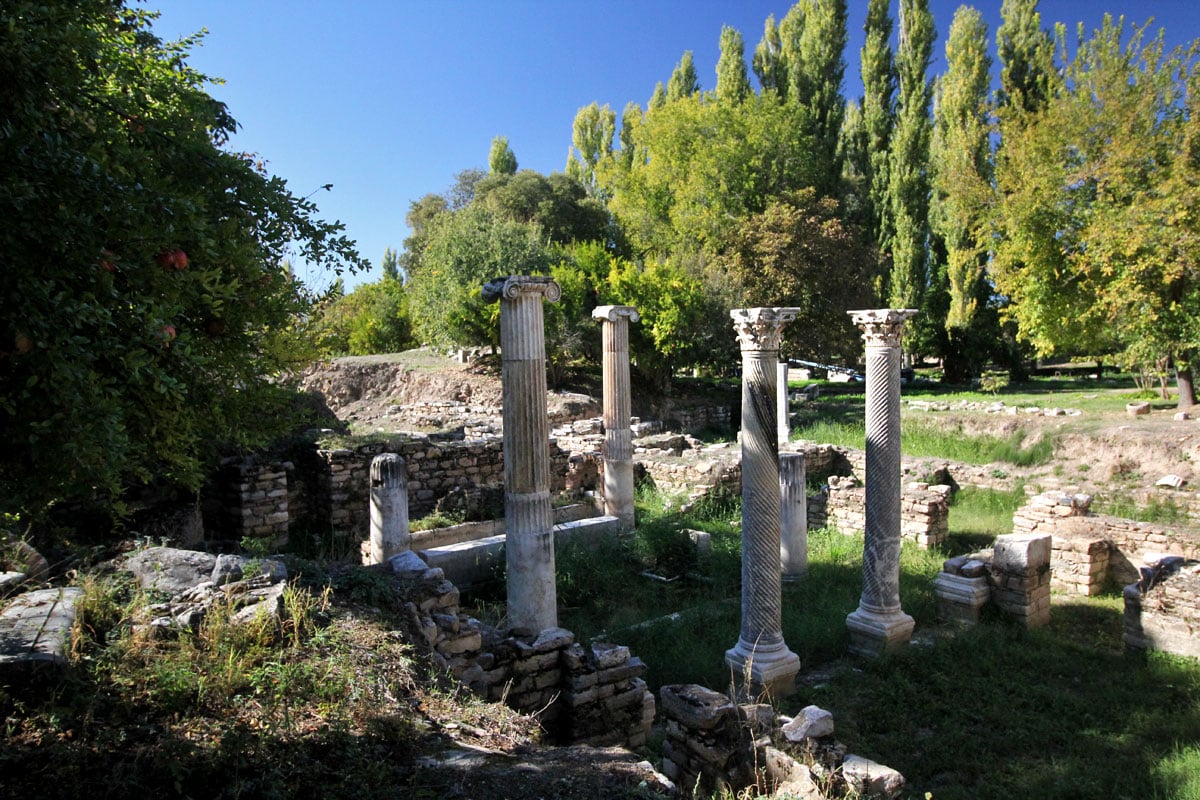 Tetrapylon
One of the most striking structures in Aphrodisias, this monumental gate greeted pilgrims as they approached the Temple of Aphrodite.
Notice anything peculiar about this image? There are no people! Because of its remote location, Aphrodisias receives just a fraction of the visitors of Ephesus, which is partly why I enjoyed it so much.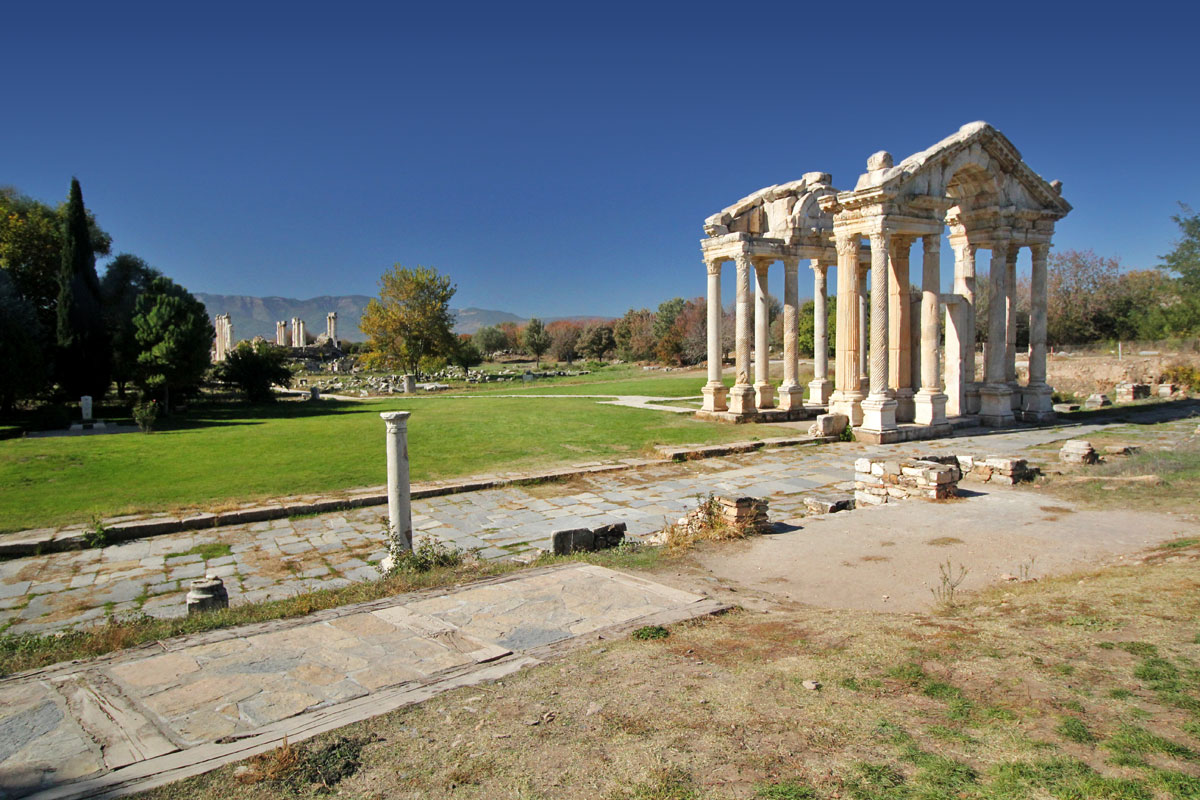 Built in 200 AD, the tetrapylon consists of four rows of four columns. Tetra in Greek signifies "four" while pylon means "gateway".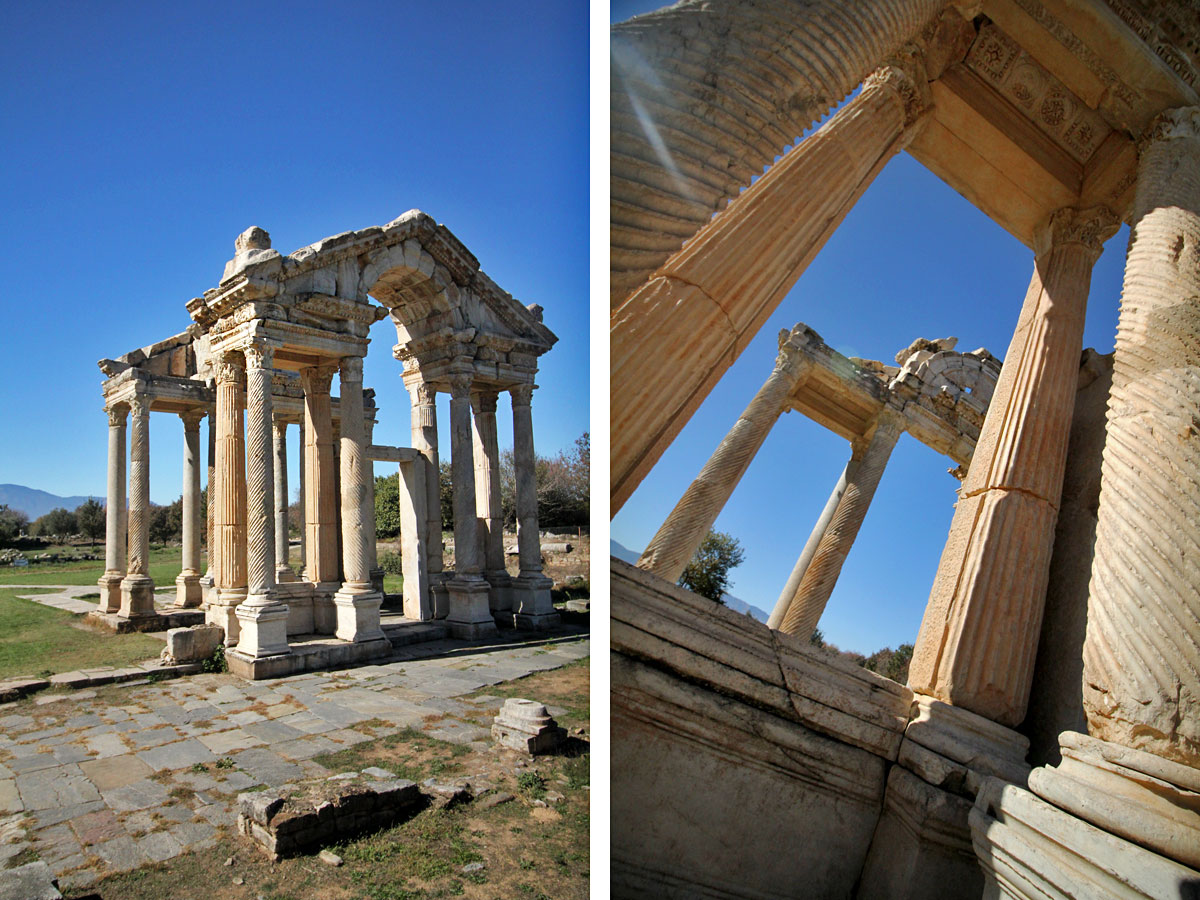 Gateway to the gods. This massive structure must have been at least 10 meters tall. It connected the major street to the sacred path leading towards the sanctuary of Aphrodite.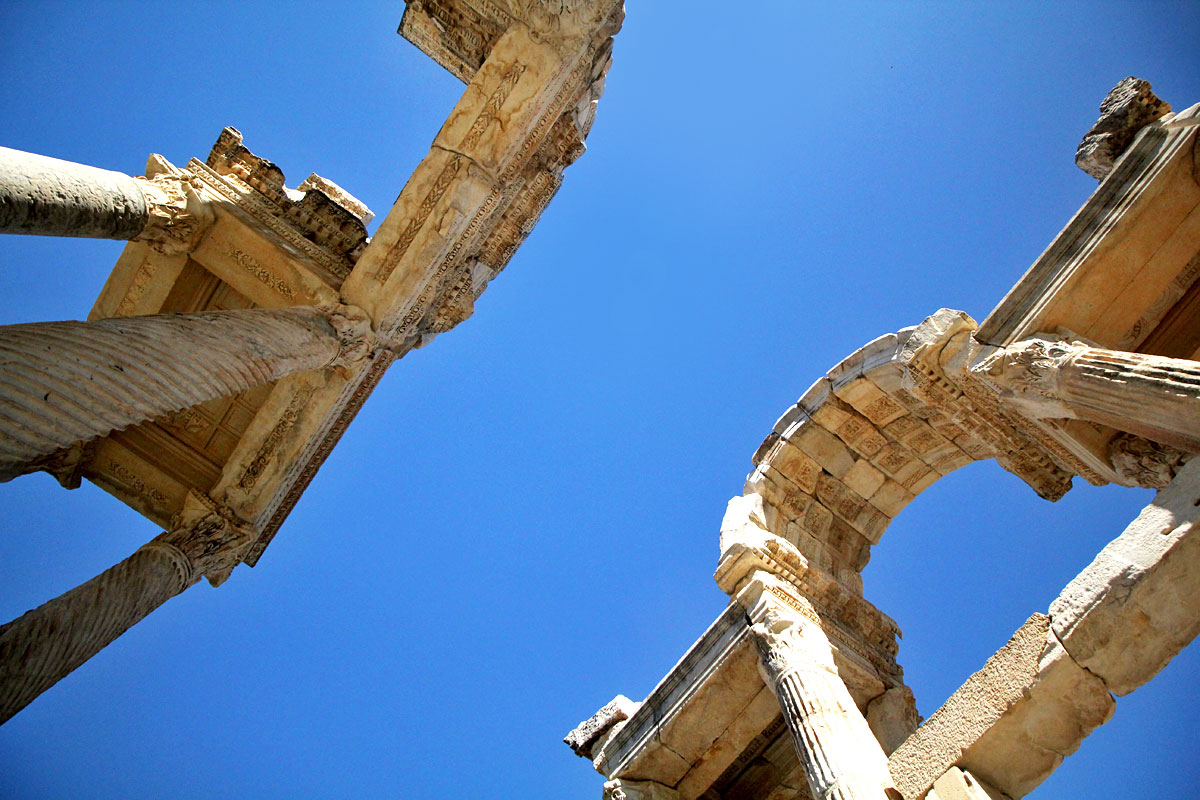 The tetrapylon is as detailed as it is big. Check out all those carvings.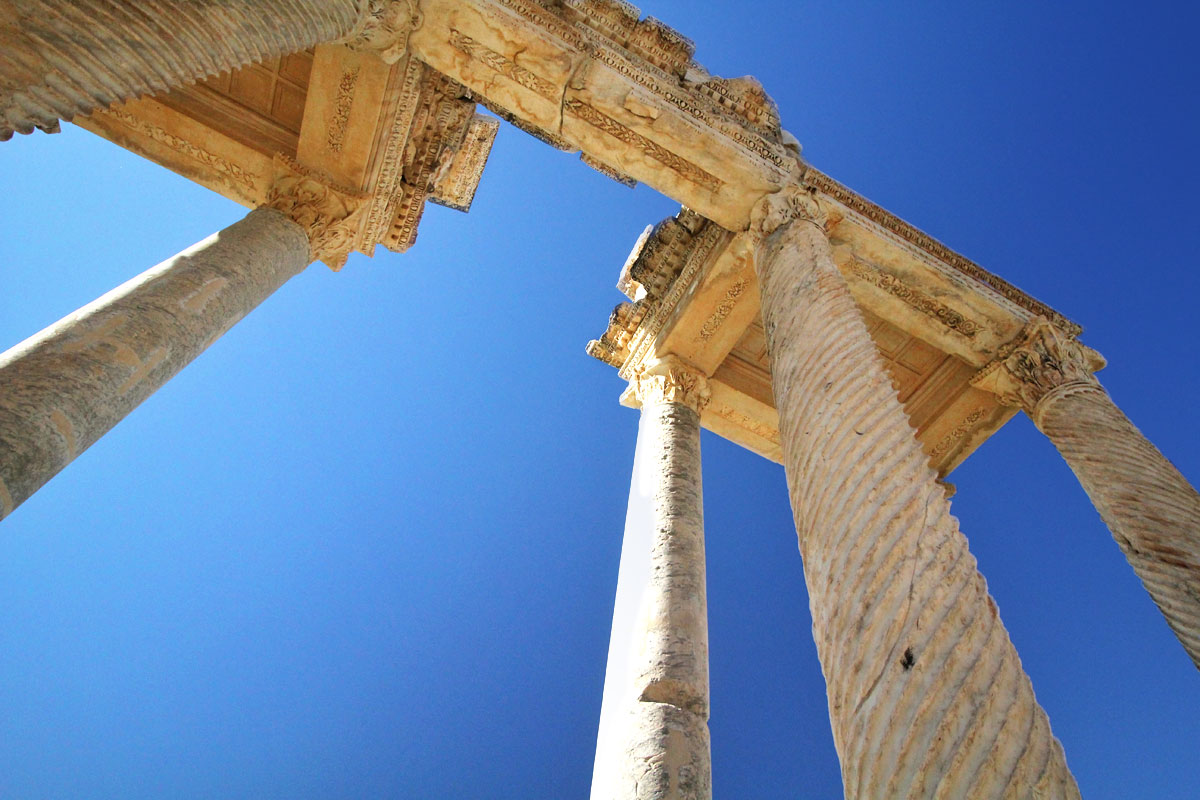 Did I lie? It's huge! And true to its original purpose, it's one of the first buildings to greet you as you enter the archaeological site.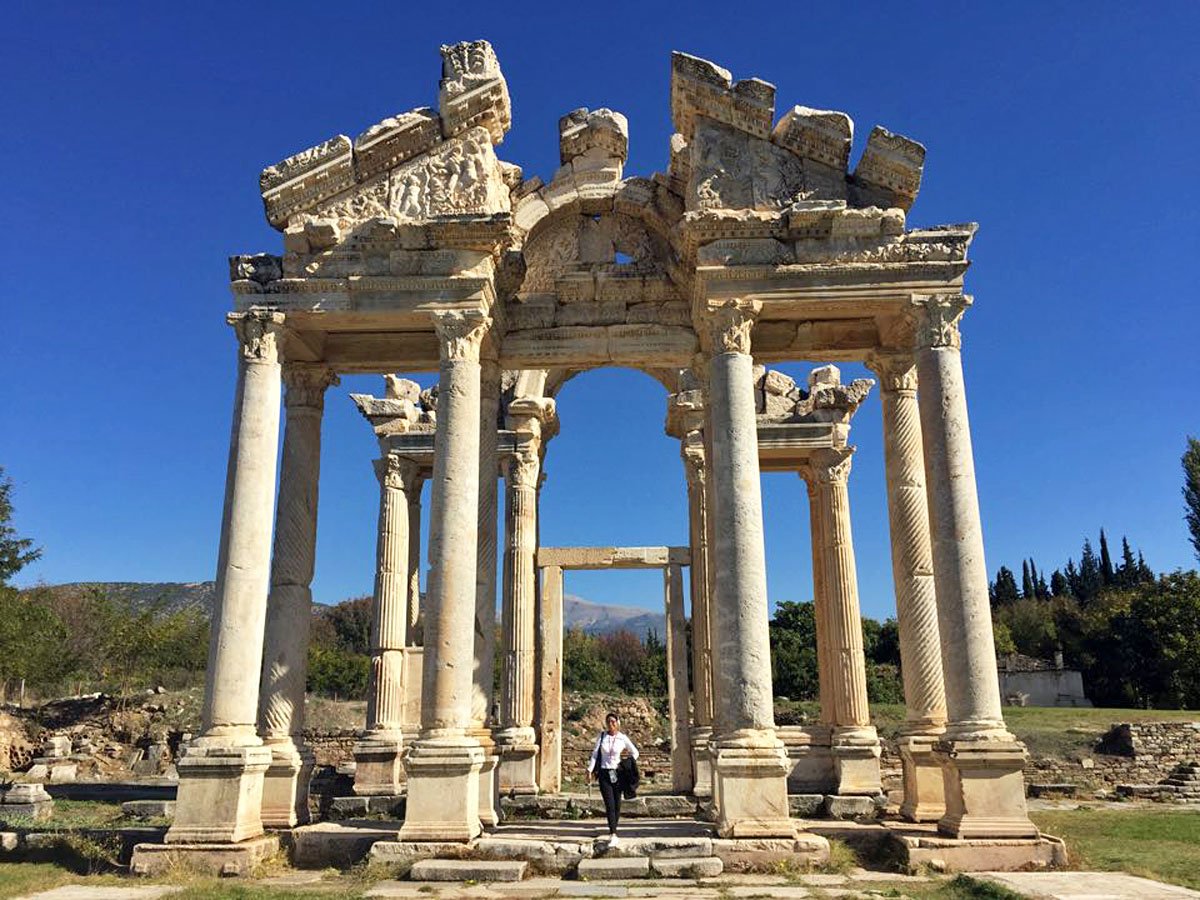 Stadium
This stadium is said to be the most well-preserved and biggest of its kind in the Mediterranean. It's 262 meters long and 59 meters wide with 22 rows of seats that can accommodate up to 30,000 heckling fans. "Aiiiiirbaaaaaall!…"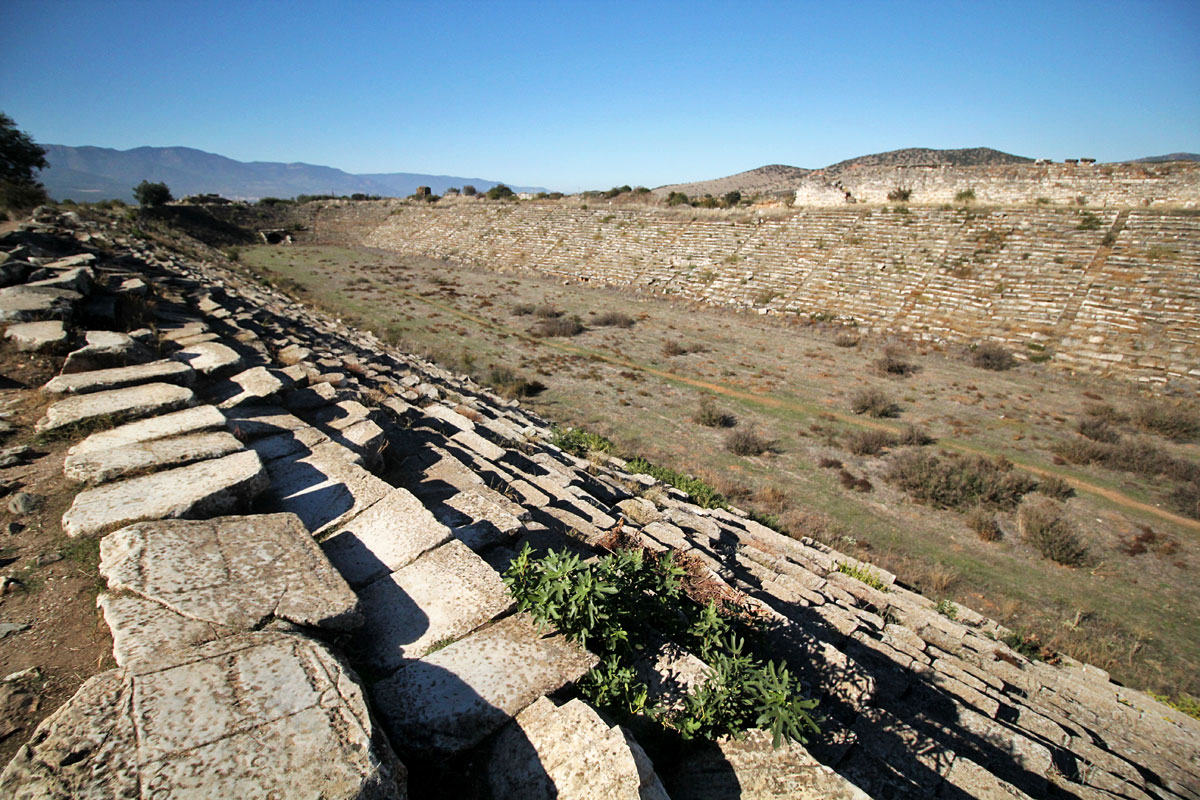 The stadium was originally designed and built for athletic events, but it came to be used for circuses and gladiatorial combat as well.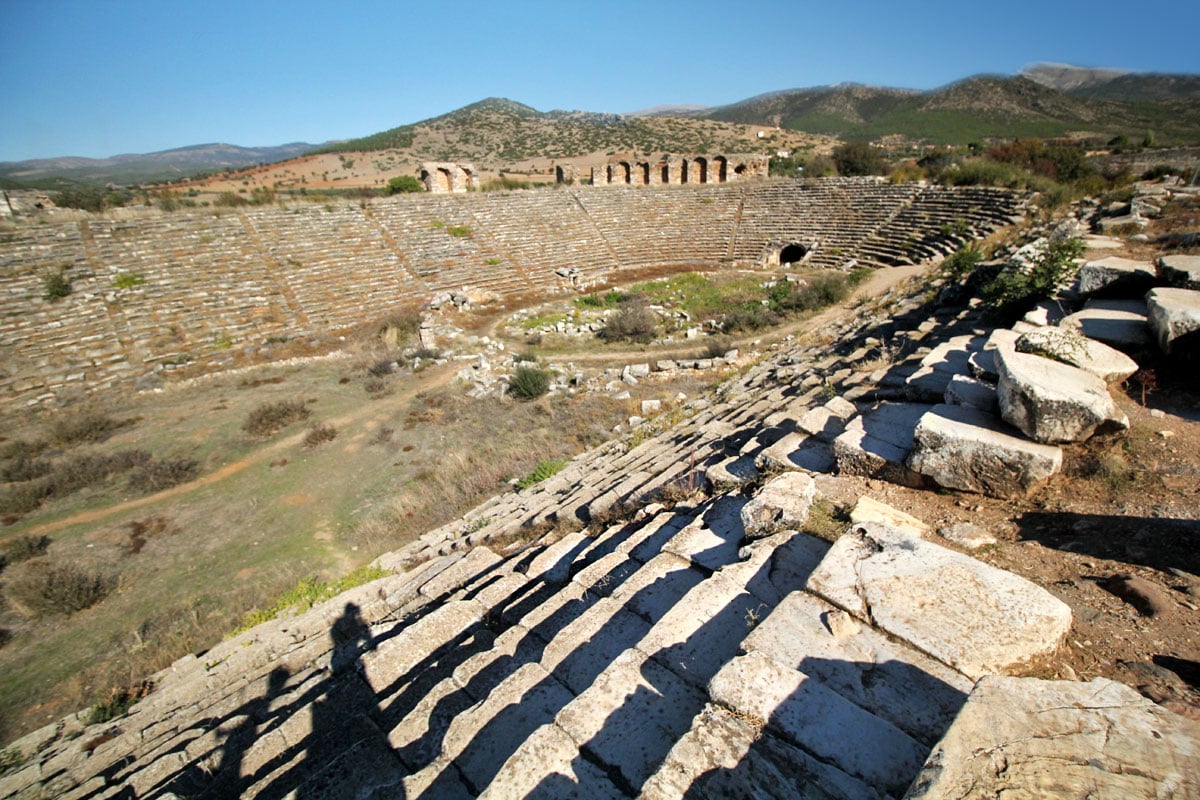 Temple of Aphrodite
The focal point of Aphrodisias. Once the center of the city, much of the temple now lies in ruin. Only fourteen of the forty plus Ionic columns that once surrounded it remains. Described as an octastyle temple, it had thirteen columns on each side and eight columns at the front and rear.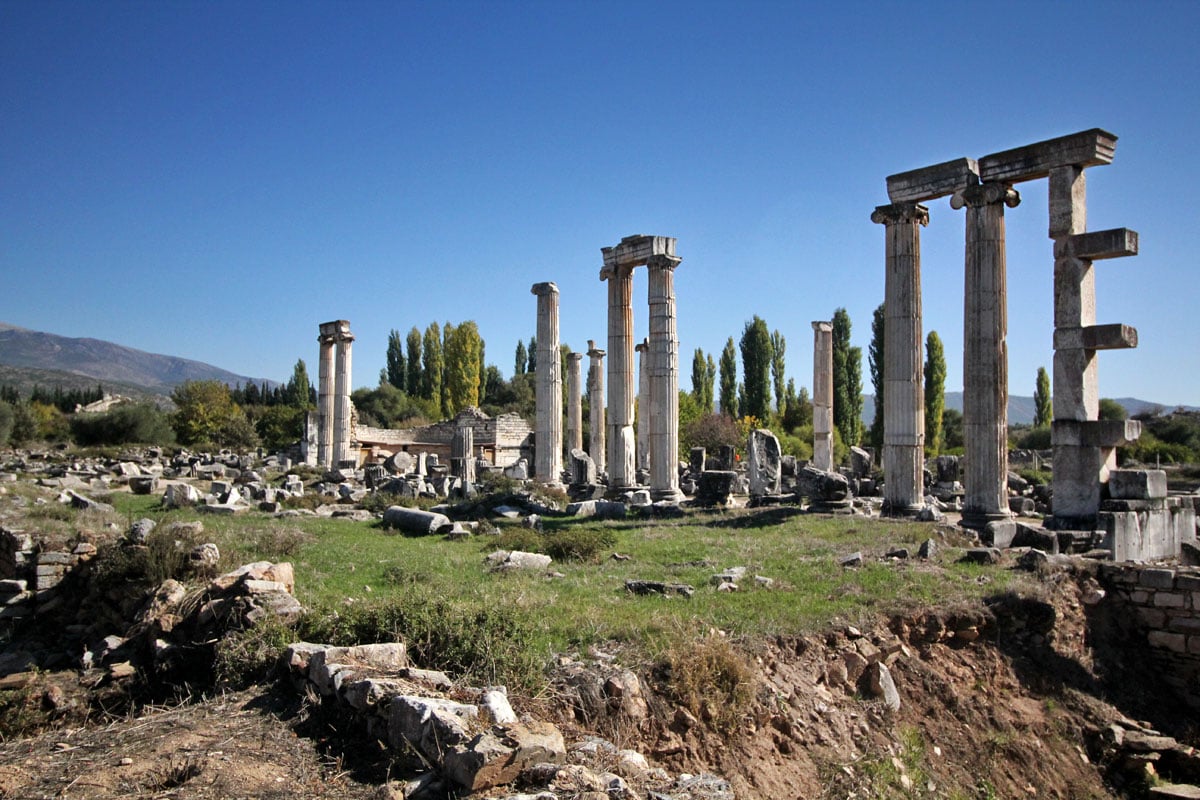 Known as Venus to the Romans, pilgrims used to visit Aphrodisias to pay homage to the Goddess of Love. With the onset of Christianity however, the temple was converted into a basilica which was said to have contributed to its demise. Without the steady flow of pilgrim money, the city of Aphrodisias fell into slow decline.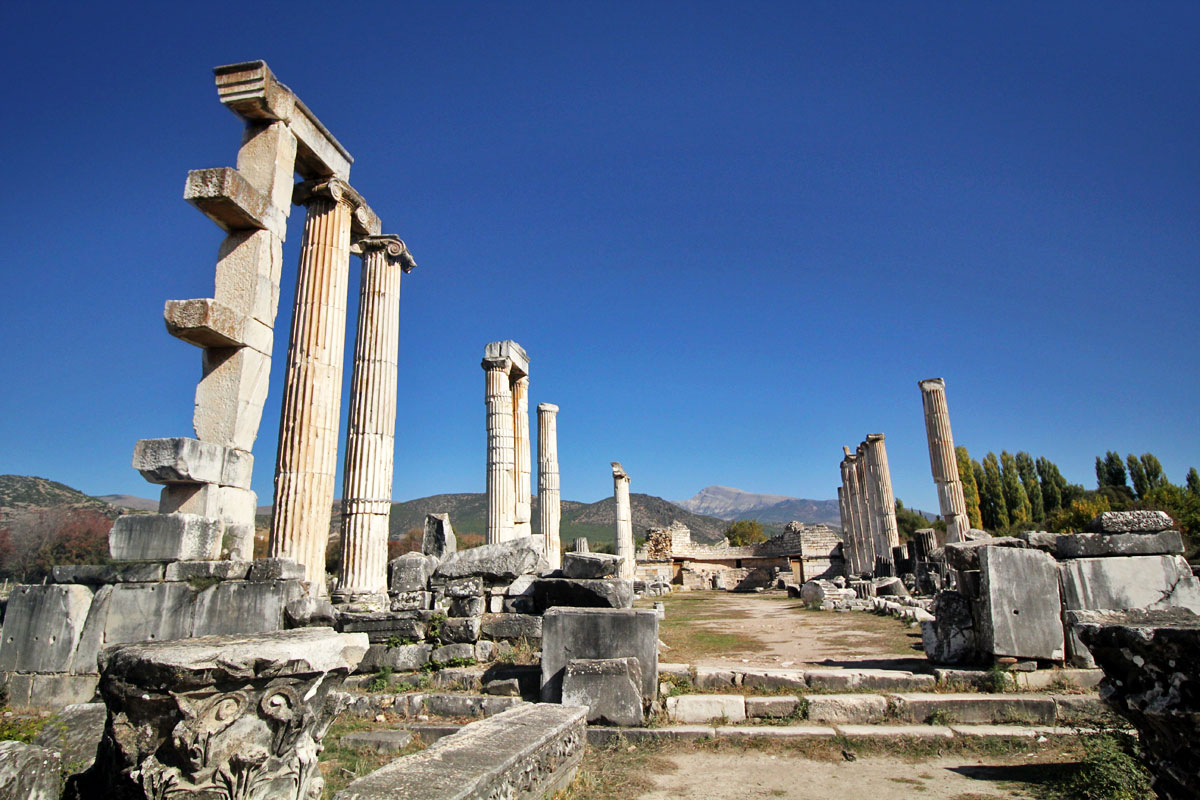 The Bishop's Palace
Private residence located between the Temple of Aphrodite and the Odeon.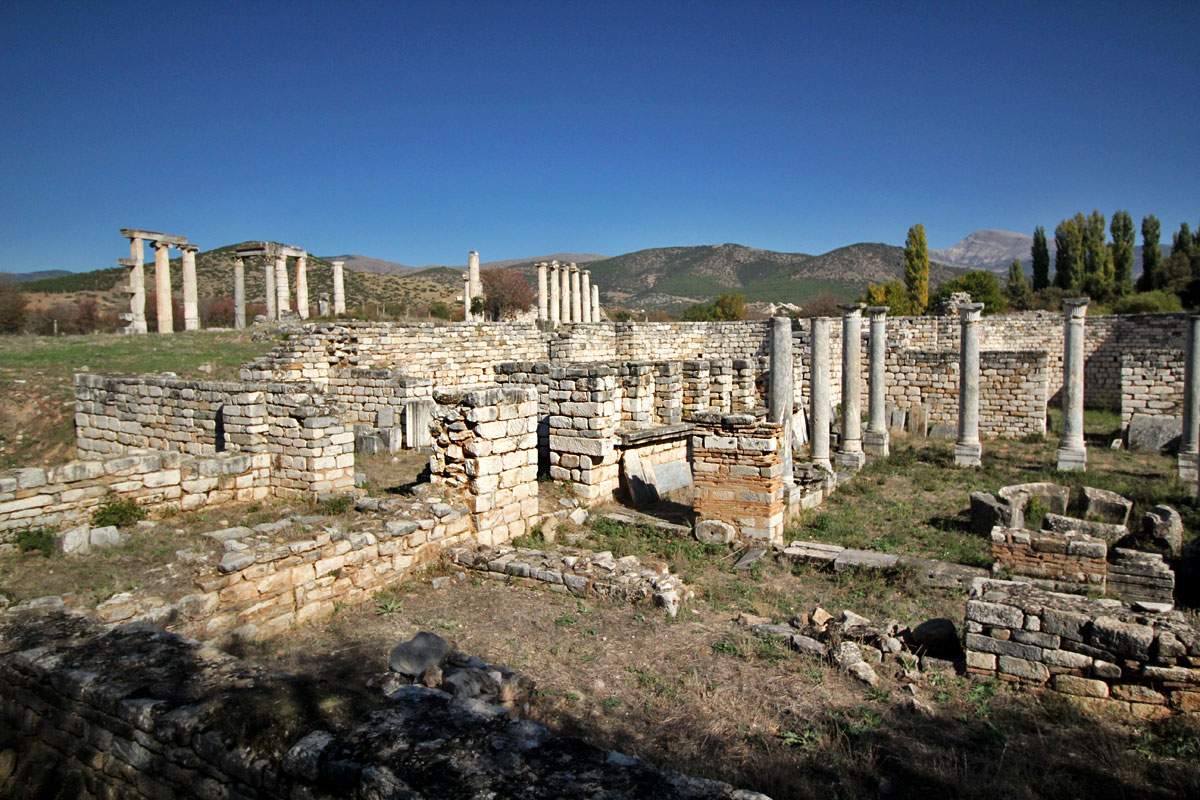 Odeon or Bouleuterion
This remarkably preserved structure was the city's concert hall as well as its Senate House. Semicircular with twelve tiered rows of seats, it had a capacity of around 1,700. Apart from its use as a bouleuterion (Senate House) for Senate meetings, it also functioned as a place to hold lectures, performances, and various types of competitive displays.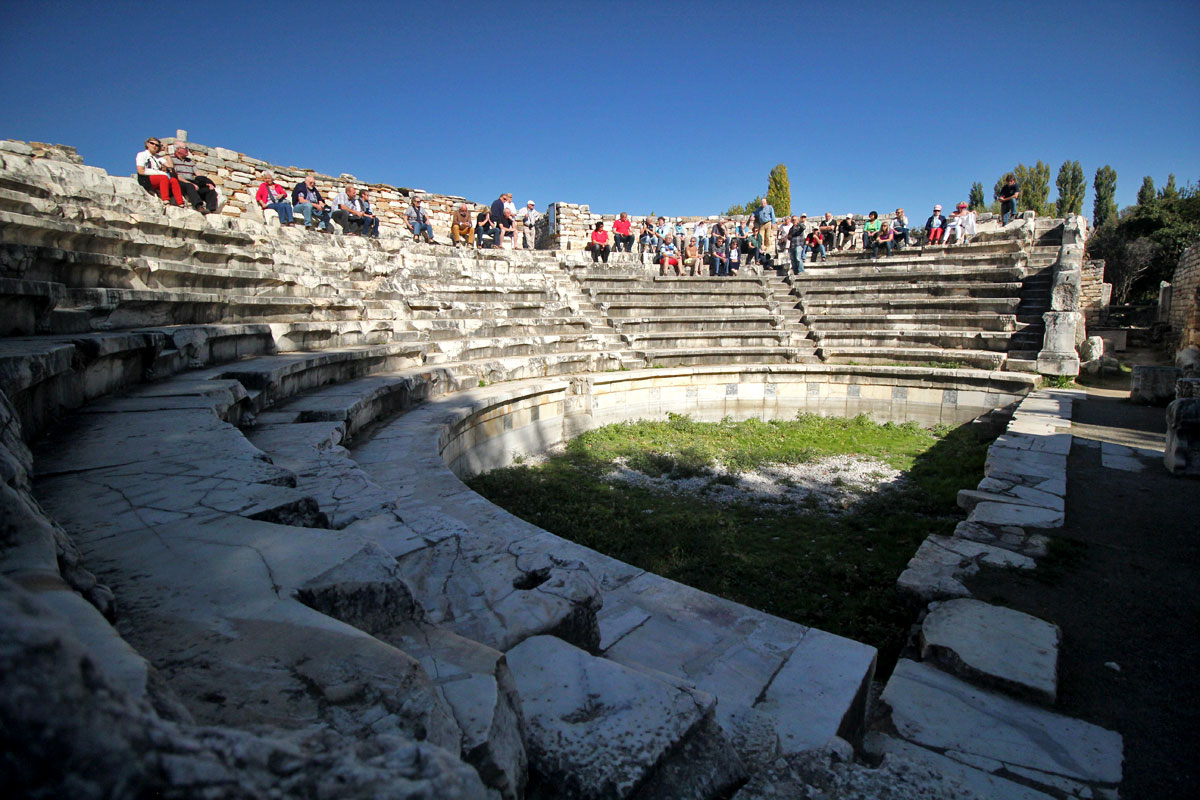 Baths of Hadrian
These baths were built in the 2nd century BC in honor of Emperor Hadrian. The complex once contained changing rooms for men and women, a cold room, a lukewarm room, and a hot room. Baths at the time were important centers for public life and designed for cultured relaxation.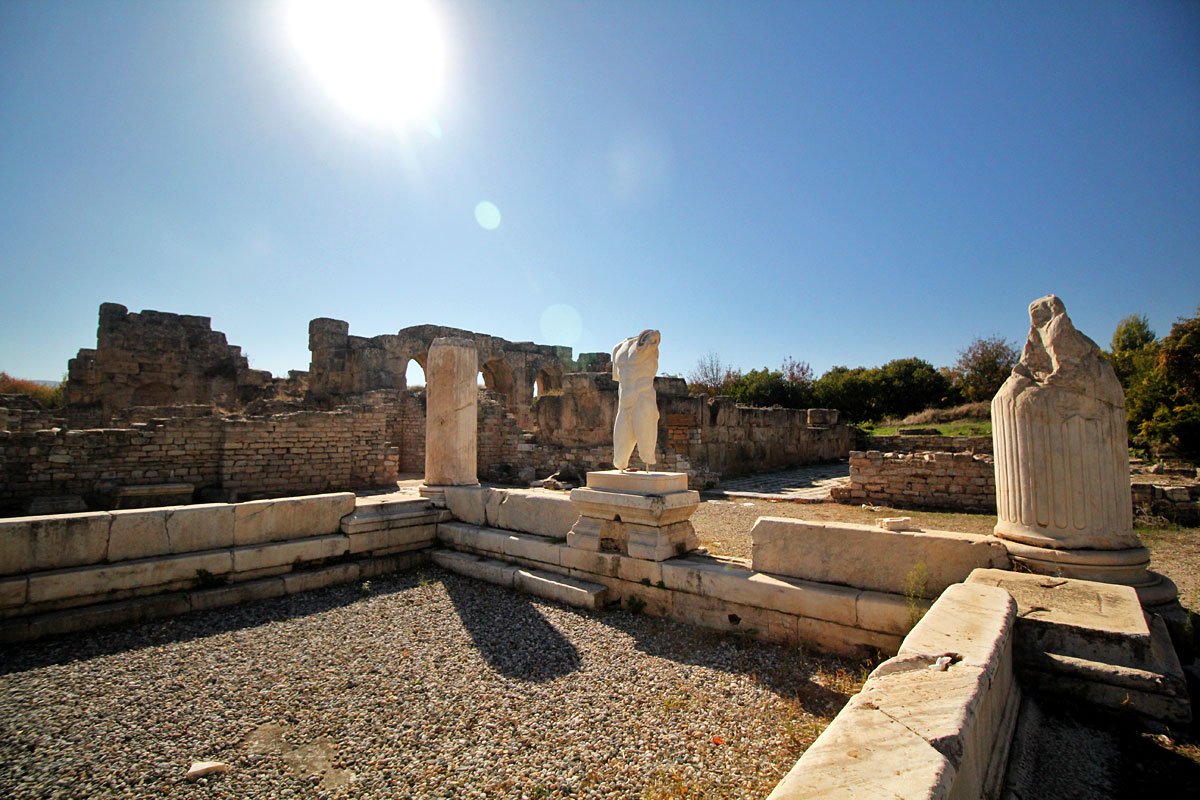 Agora
Meaning "gathering place" or "assembly", an agora was the center of any Greek city-state's athletic, artistic, spiritual, and political life. Aphrodisias had two agoras — north and south.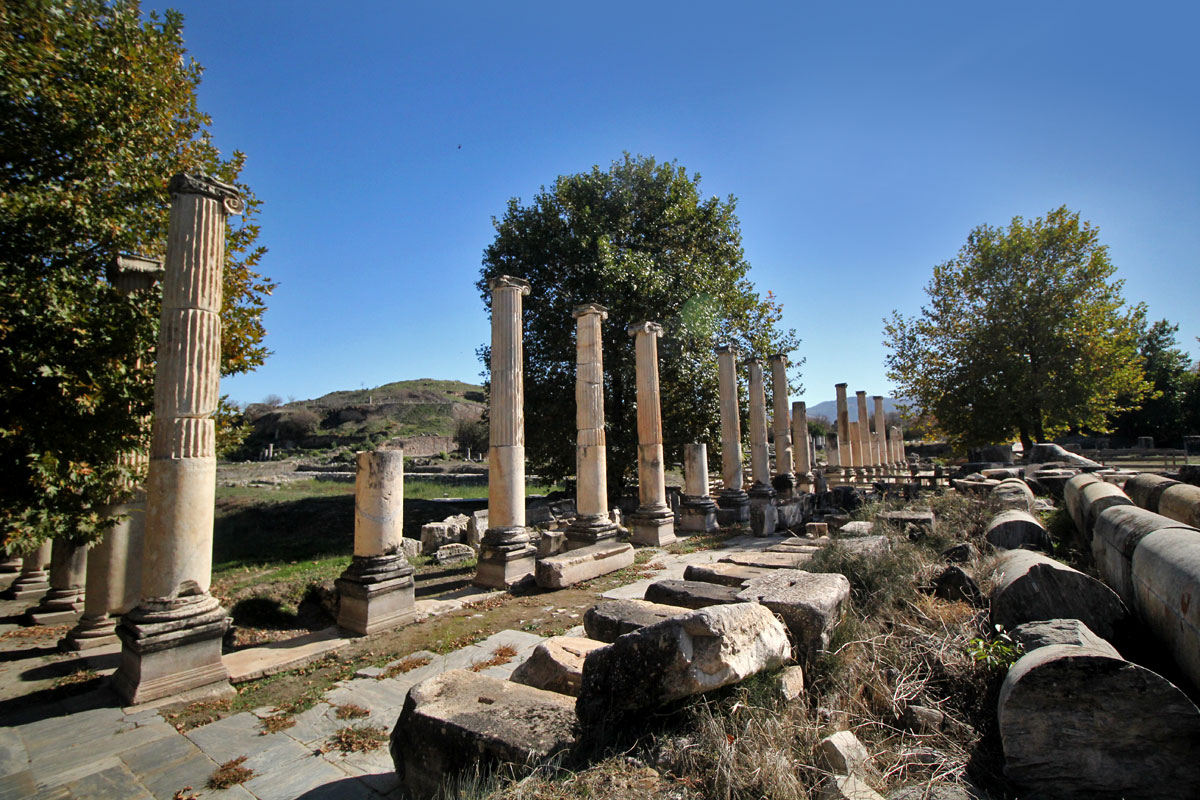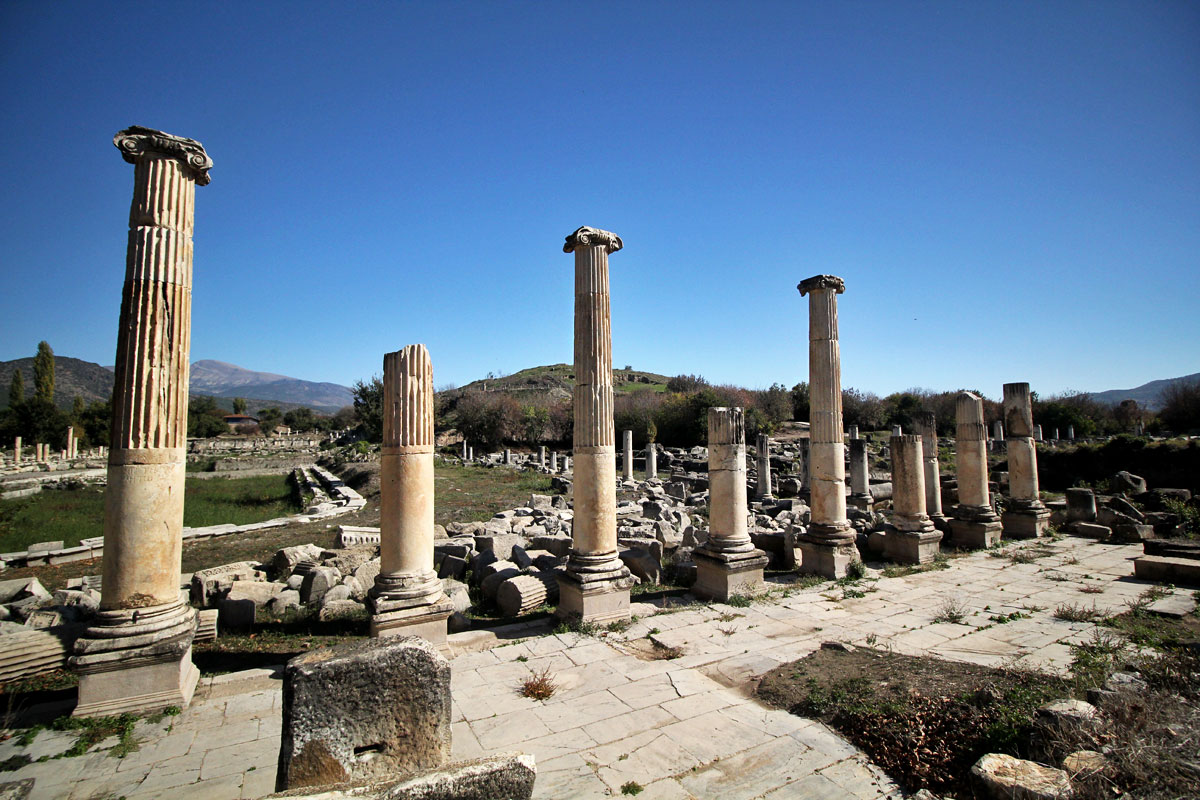 The agora in Aphrodisias was built mostly for musical events, though it was eventually used to hold public speech gatherings and literature competitions as well.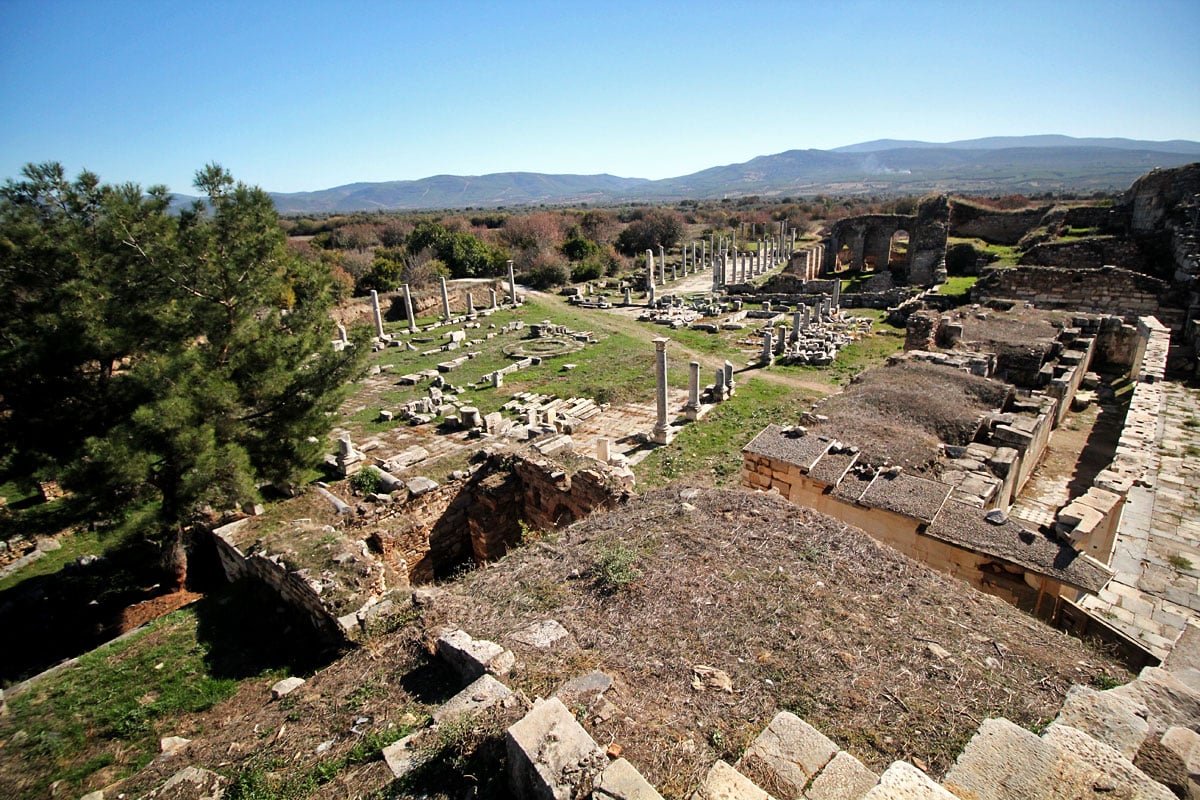 Portico of Tiberius
Porticos are structures consisting of a roof supported by columns at regular intervals, typically attached as a porch to a building. The portico of Tiberius had a huge pool at its center — 175 meters long by 25 meters wide and 1 meter deep with two semicircular extremities at its north and east ends.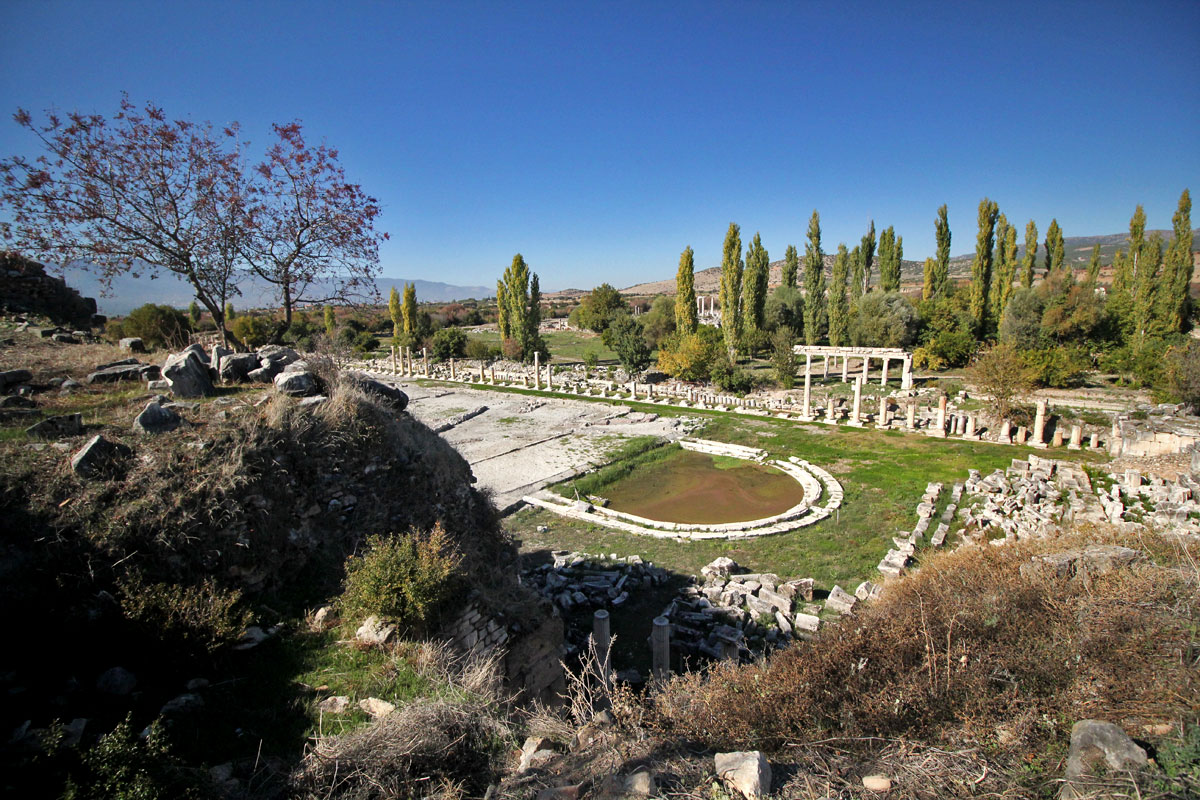 Friezes with garlands and masks of mythological figures, Medusas, and gods that once adorned the portico.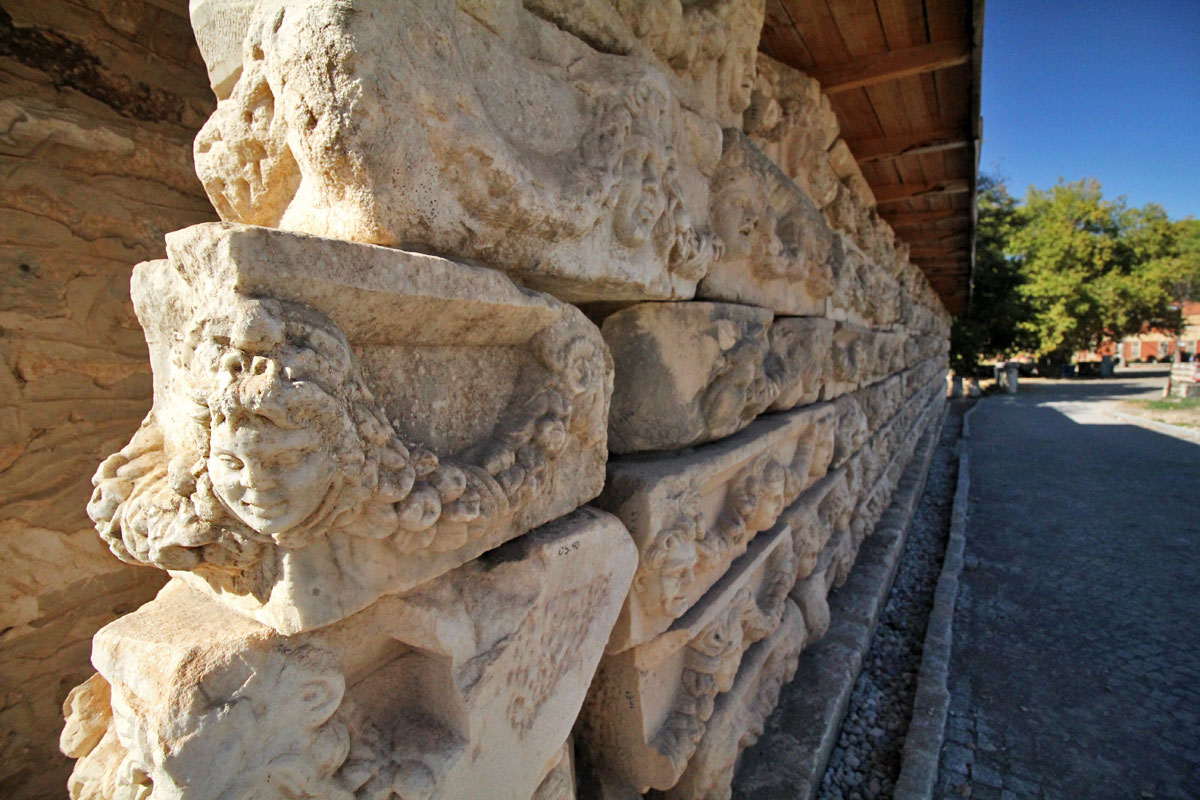 Theatre
The theatre, for me, is the best part of any ancient Roman city. Built in the 1st century BC, this well-preserved theatre has twenty-seven tiers of seats that can accommodate up to 8,000 bloodthirsty spectators. #beforetheufc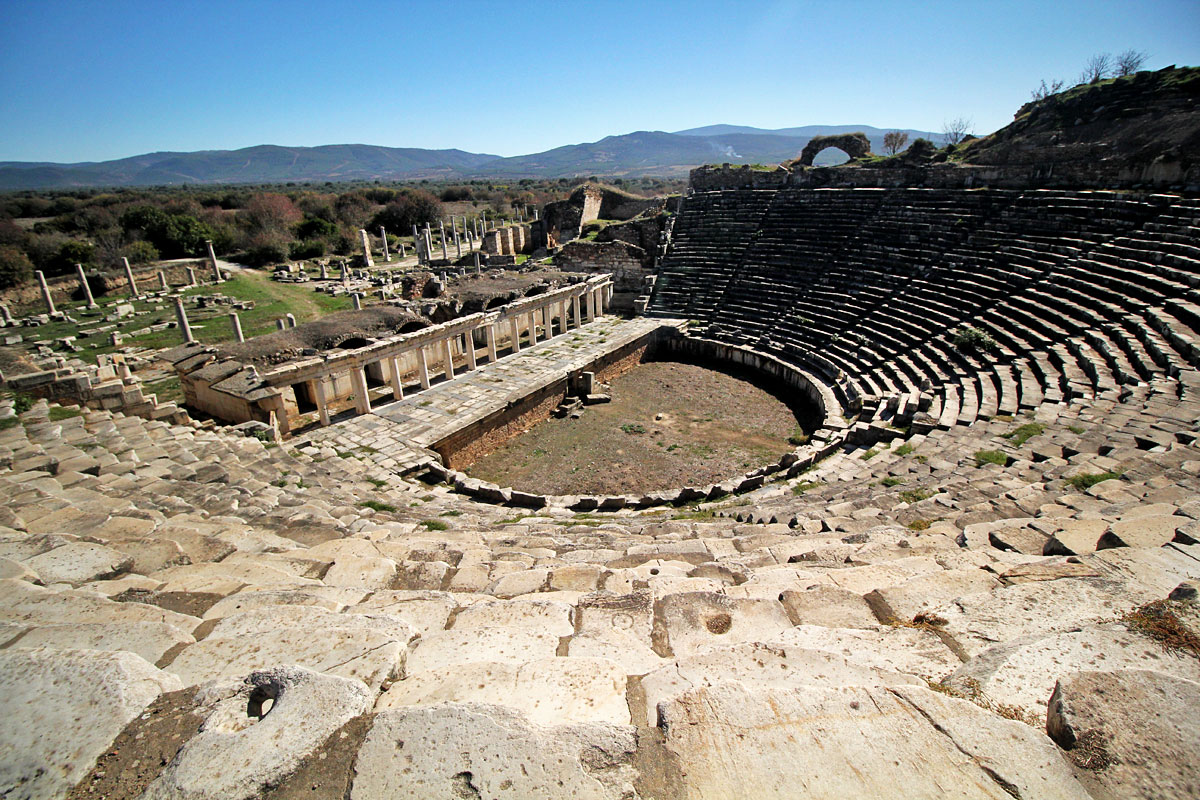 The squared circle. Amazing to think that this pit was once a stage for animal and gladiatorial combat. "Are you not entertained?!"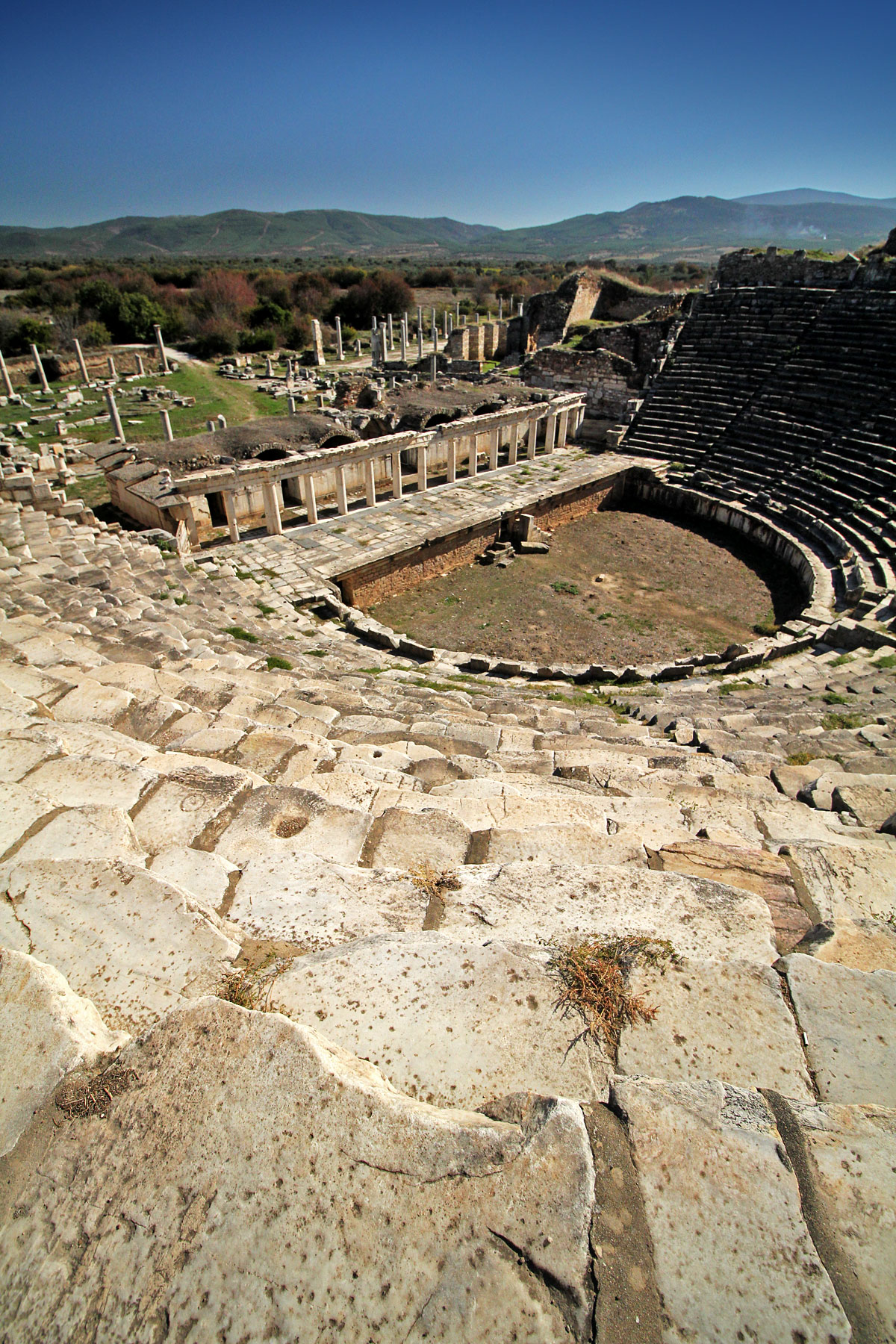 Sebasteion
Built in the 1st century AD in honor of Aphrodite and Imperial Sebastos, the Sebasteion in Aphrodisias was comprised of a courtyard with two parallel three-storied porticos. The portico on the left is in remarkable condition considering that it's almost 2,000 years old.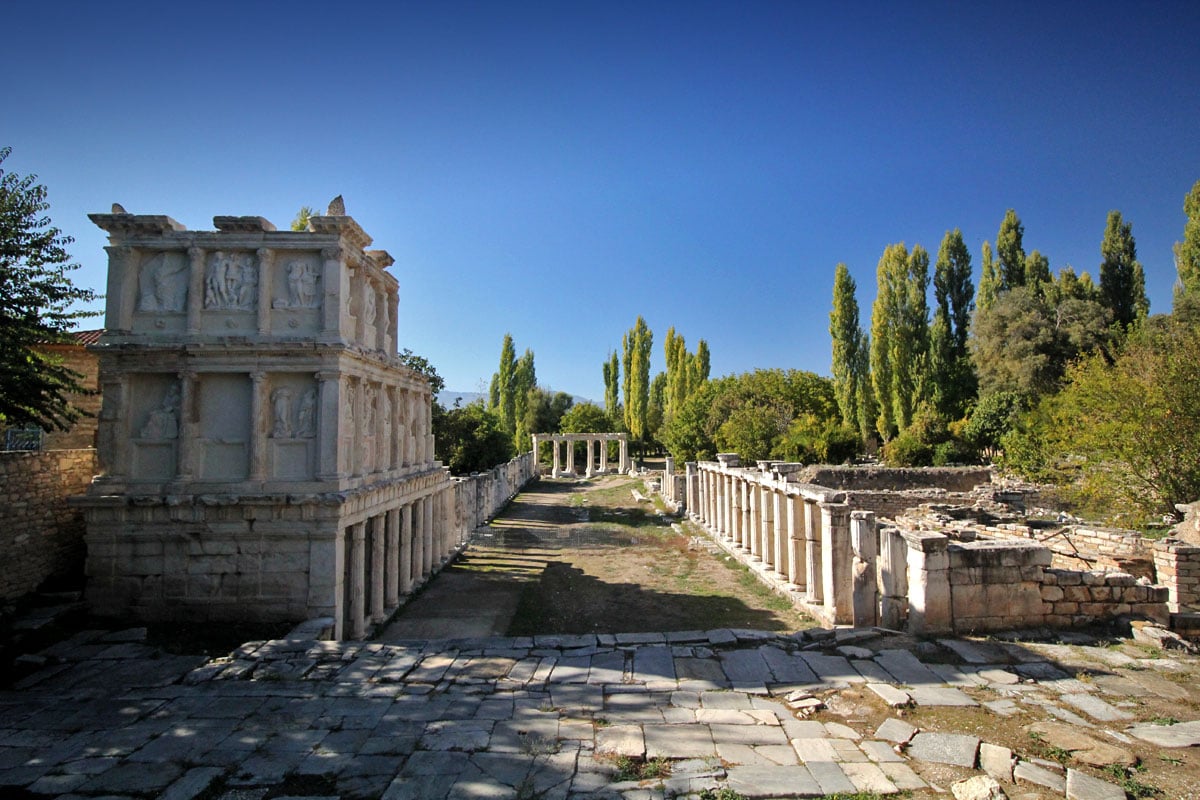 Check out the intricacy of those reliefs! If I understand correctly, a Sebasteion (or Augusteum) was a temple built for Imperial Cult worship.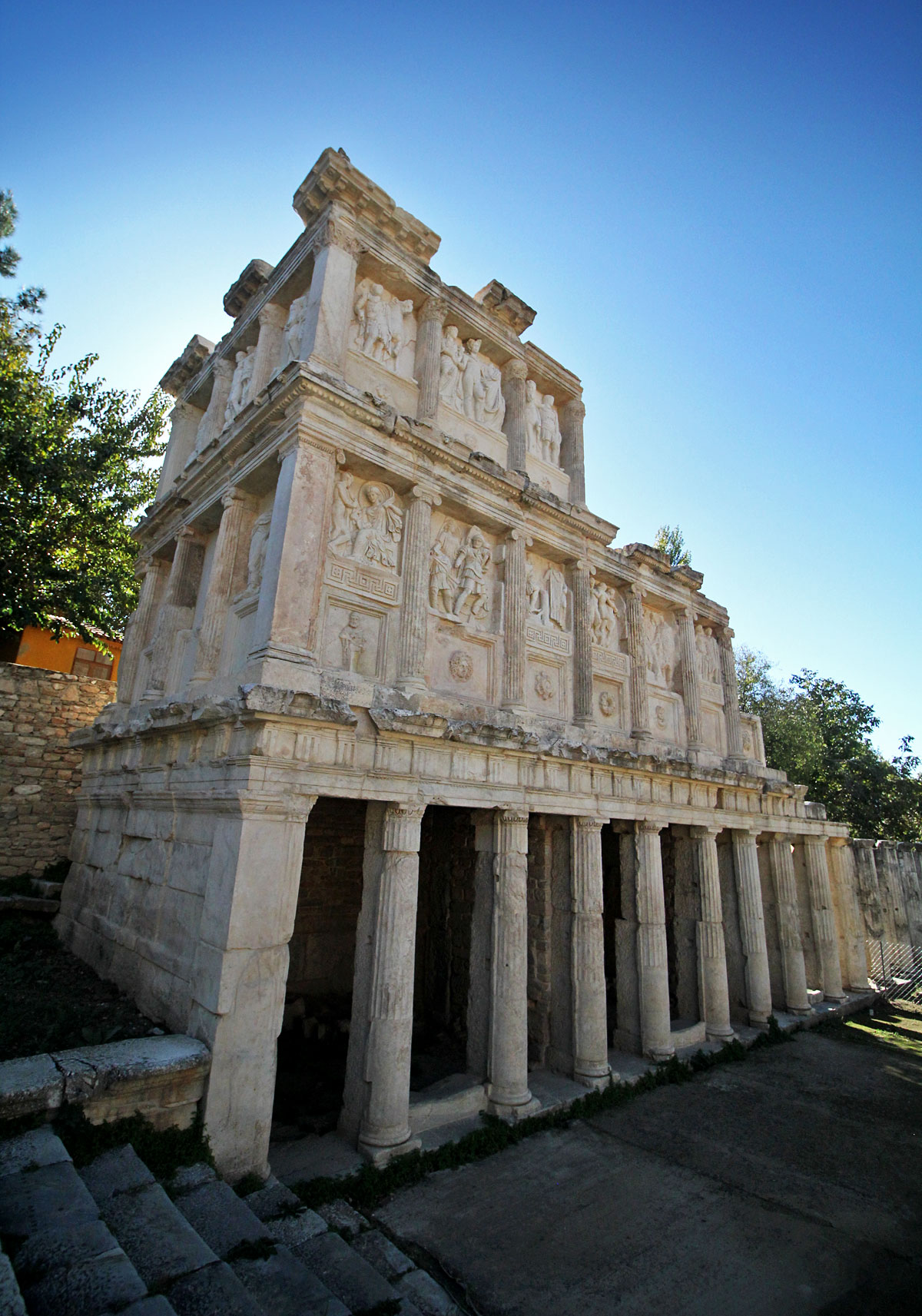 Archaeology Museum
As mentioned up top, Aphrodisias was famous for its school of sculpture. Work produced during that period — sculptures, relief, and artifacts — is on display at this small but exceptional museum. Entrance to the museum is already included in the site admission fee.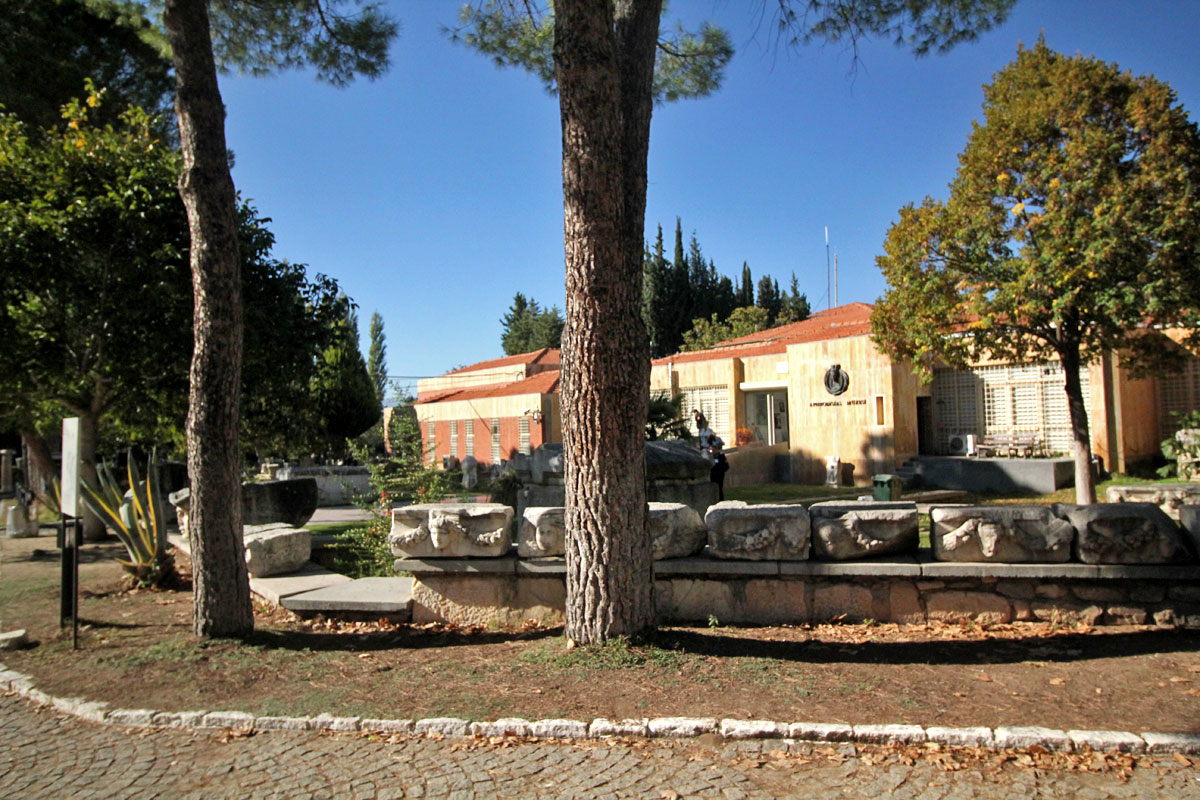 Boasting a stunning collection of works from the Roman and Hellenistic periods, the museum is comprised of the Imperial Hall, the corridor of Zoilos, the display cases gallery, a courtyard, and the halls of Melpomene, Odeon, Penthesilea, and Aphrodite.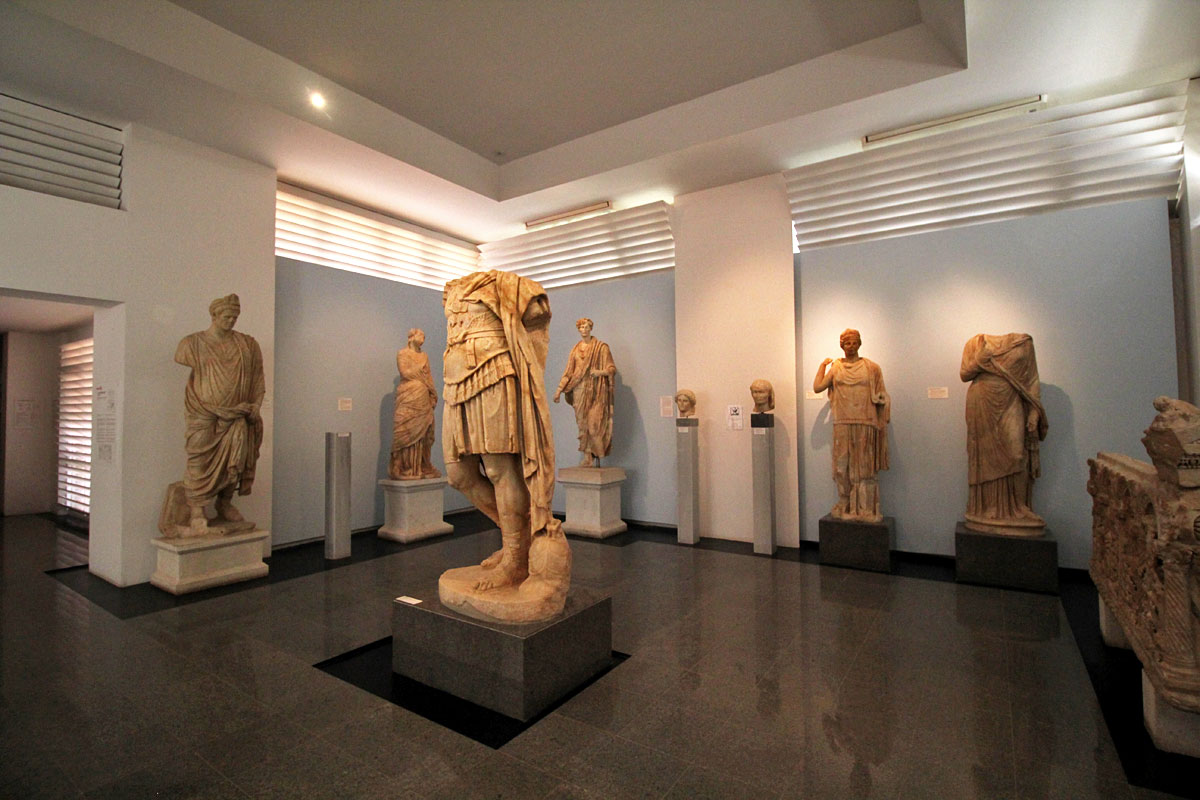 Impressive relief, even with all the damages.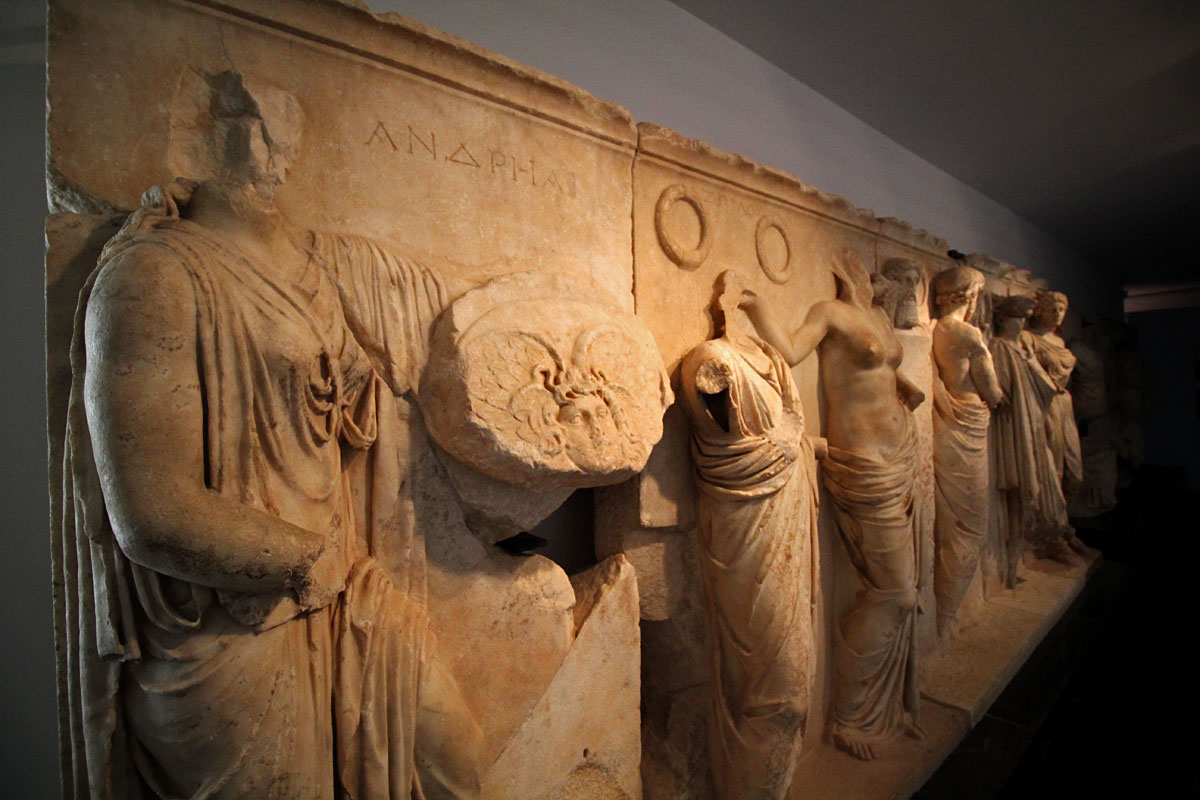 The sculpture school likely owed its popularity to its use of high-grade marble quarried just a few kilometers away at Babadağ.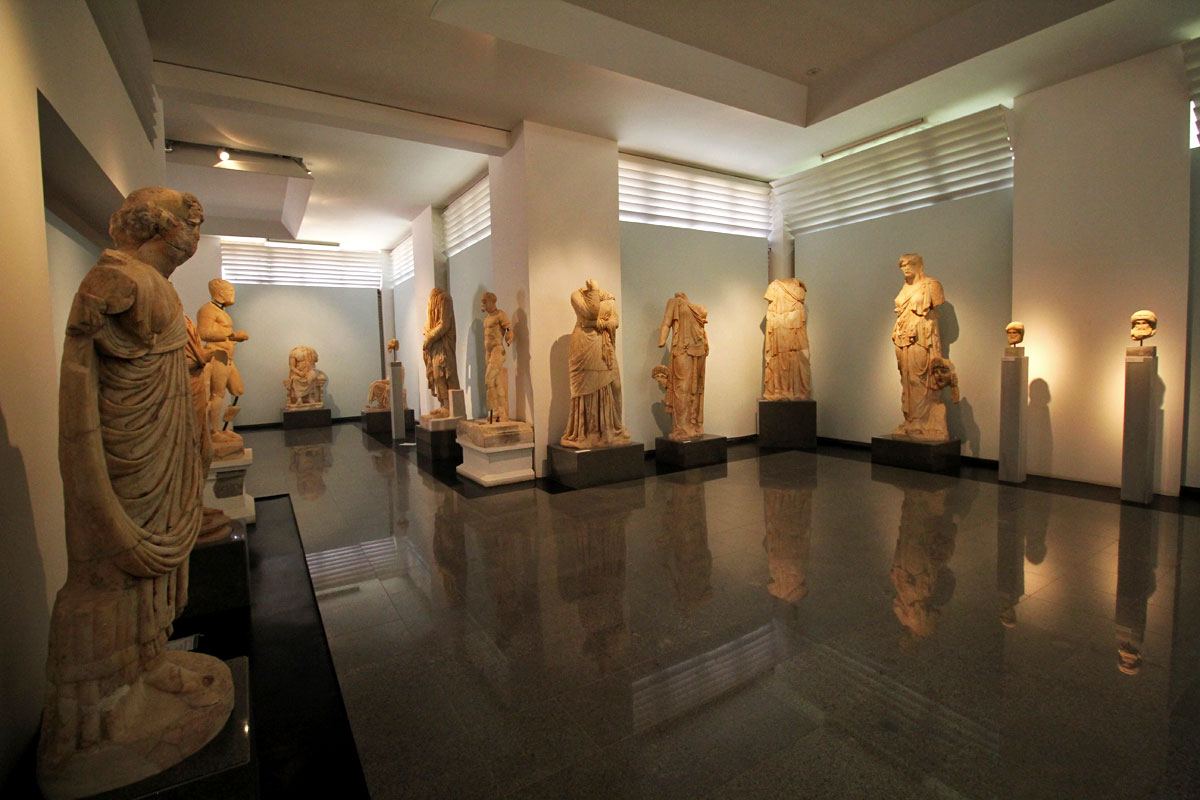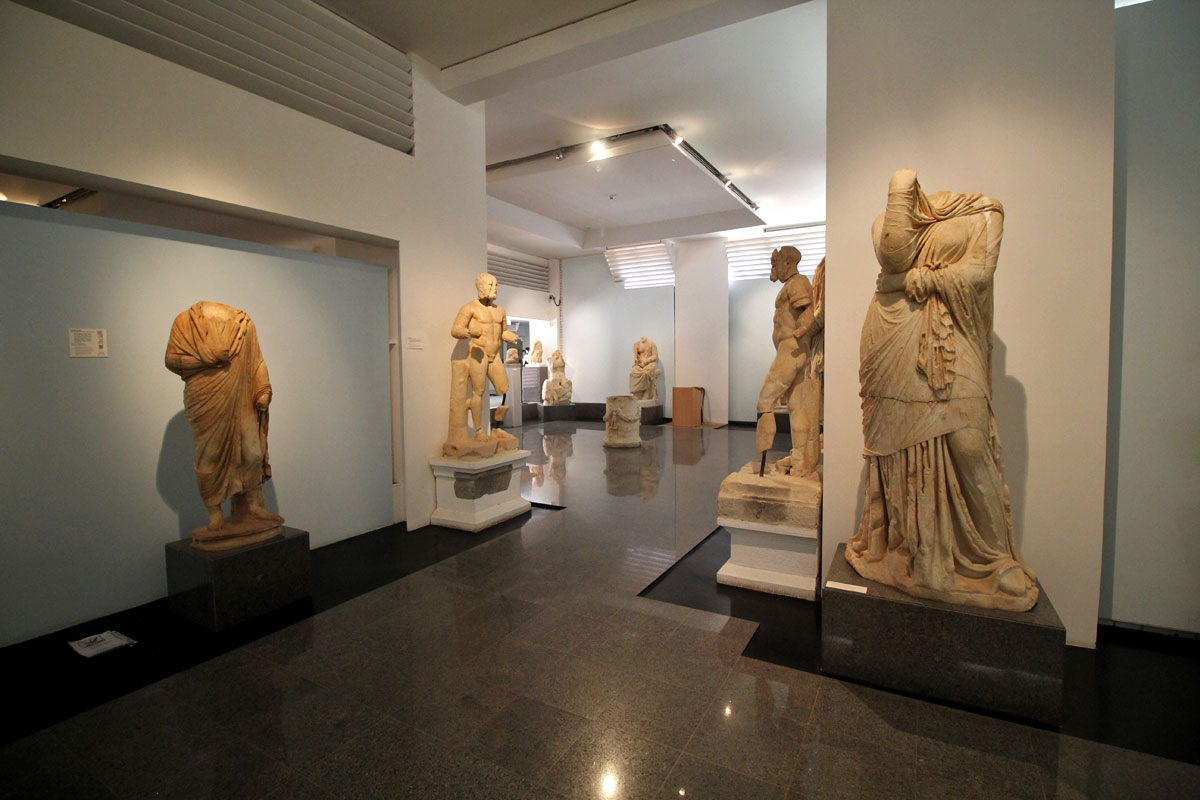 Producing finely detailed works such as this, the sculptors at Aphrodisias imposed their creative mastery over marble.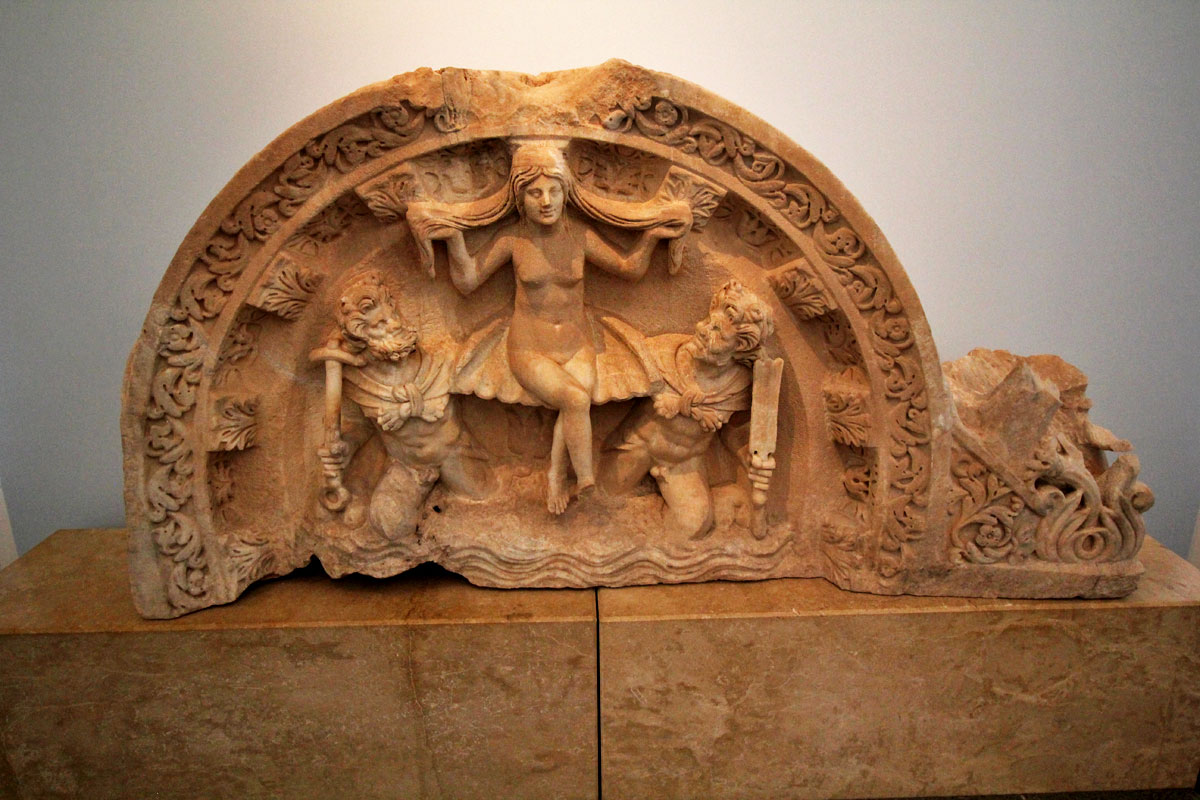 They loved sculpting faces and fabric.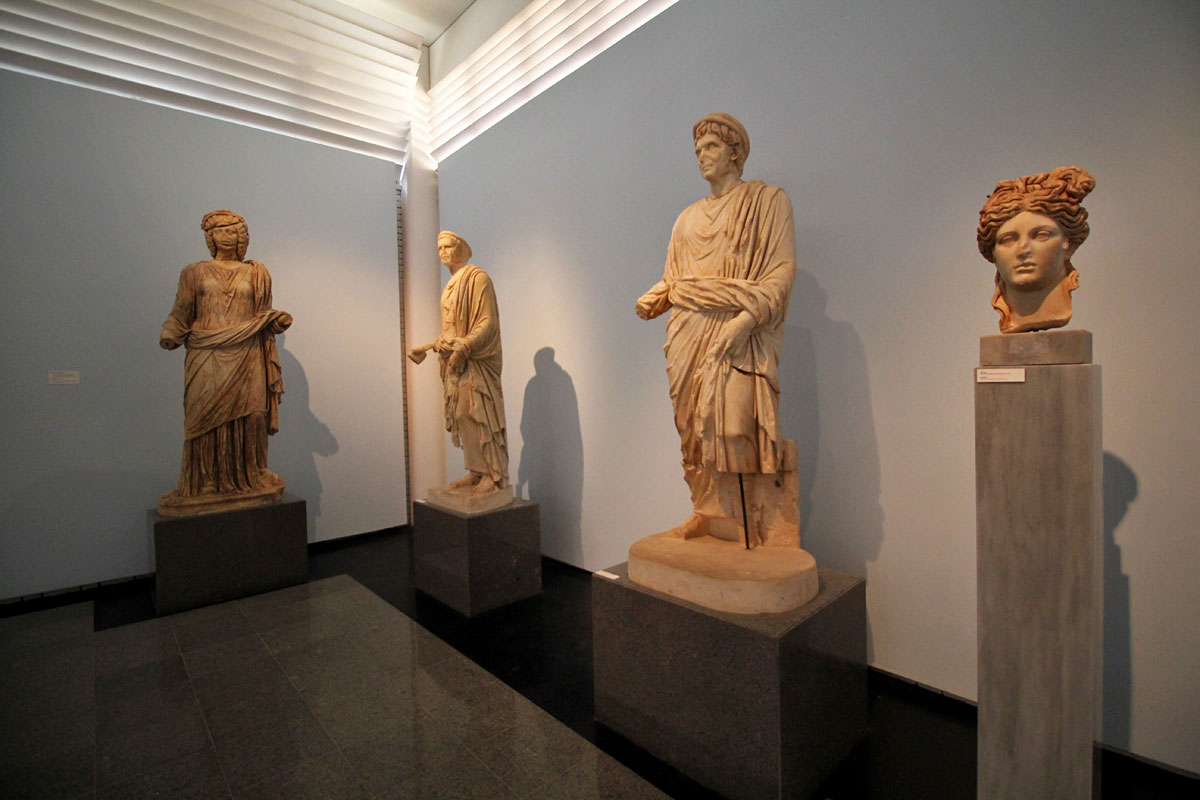 The museum isn't big so you can go through all the exhibits in about an hour. I suggest reserving it for the end of your tour. You'll need around three hours to explore all of Aphrodisias including this museum.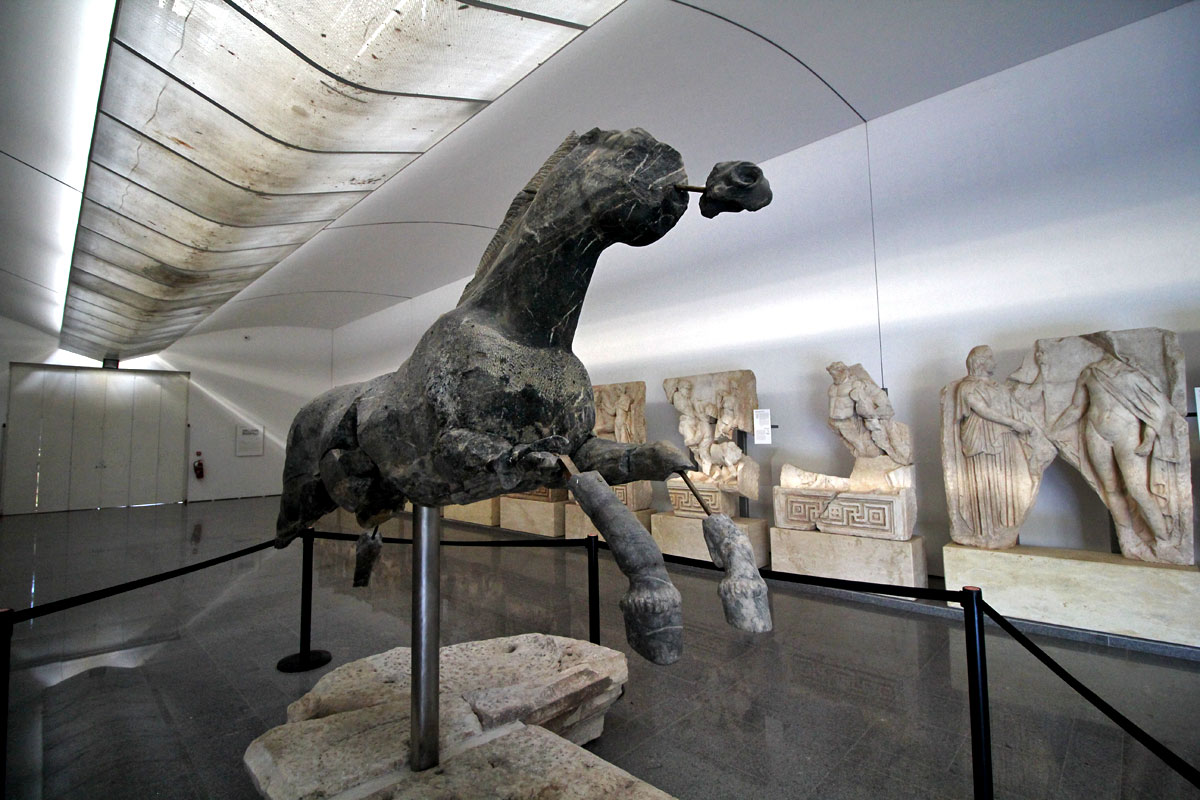 As described up top, Aphrodisias is off the beaten path so it isn't as accessible as other sites. It's around 2 hours east of Selçuk and 2.5 hours west of Pamukkale. If you don't have a rental car, then your best bet would be to stay the night in Pamukkale and arrange for private transportation to and from Aphrodisias the next morning. That's what we did. Leaving at 9AM and getting back around 5PM, we paid 215TL each (entrance fees included) for round trip private transportation to Aphrodisias, Laodicea, and Kaklik Cave which we arranged with our hotel — Bellamaritimo. Alternatively, if you're staying in Selçuk or Kusadasi, then you can take a day trip to Aphrodisias from either city.
If you have a rental car, then you can drive to Aphrodisias yourself. I've read that travelers often stop at Aphrodisias en route to Pamukkale. It's also possible to get there using public transportation but it's a little tricky. Directions below as sourced from turkeytravelplanner.com.
Aphrodisias, Geyre, Turkey
Geyre Beldesi, Karacasu, Turkey
Tel: (256) 448 8084 (museum)
Email: [email protected]
Entrance: 15TL per person (parking 7TL)
OPERATING HOURS:
Archaeological Site: Mon-Sun, 8AM-7PM (summer) / 8AM-5PM (winter)
Museum: Tue-Sun, 9AM-7PM (summer) / 9AM-5PM (winter)
HOW TO GET THERE:
The easiest way to get to Aphrodisias is to arrange for round trip private transportation from Pamukkale. But if you have a car, then you can drive to the town of Nazilli, a town east of Aydın, and turn south for Karacasu (42 km). From Karacasu, it's another 13 km to Aphrodisias.
To go via public transportation, catch the earliest bus or train to Nazilli. From Nazilli, catch a minibus to Karacasu. They leave every 30 minutes or so. From Karacasu, there are several minibuses a day to Aphrodisias, departing every 1.5 – 2 hours. Return minibuses from Aphrodisias to Karacasu are said to leave in the afternoon at 3:30PM, 5PM, and 7:30PM, but it's important that you confirm this in Karacasu upon arrival. Otherwise, you may find yourself stranded in the area should these times be inaccurate.