Prague is one of the most popular tourist destinations in Europe. And why shouldn't it be? It's incredibly beautiful. So beautiful in fact, that it almost doesn't seem real.
I asked a well-traveled friend of mine to name the most beautiful cities he's ever visited in Europe. He rattled off names like Istanbul and Budapest but conspicuously absent from his list was Prague. I asked him about it and he said that Prague, for him, was "too pretty".
At first, I didn't understand what he meant by that. How could a city be so pretty that it becomes a negative? I didn't understand it until I finally saw Prague with my very own eyes.
He was right. "Pretty" is indeed the perfect word to describe Prague.
Home to breathtaking castles and spires, Prague is like a living fairy tale. It's by far the prettiest city I have ever visited in my life.
VISIT PRAGUE QUICK LINKS
This travel guide to Prague is long. For your convenience, I've compiled links to hotels, tours, and other services here.
HOTELS
Top-rated hotels in Stare Mesto (Old Town), the most convenient area to stay for first-time visitors to Prague.
TOURS
OTHER SERVICES
Save This on Pinterest!
No time to read this Prague travel guide now? Click on the save button and pin it for later!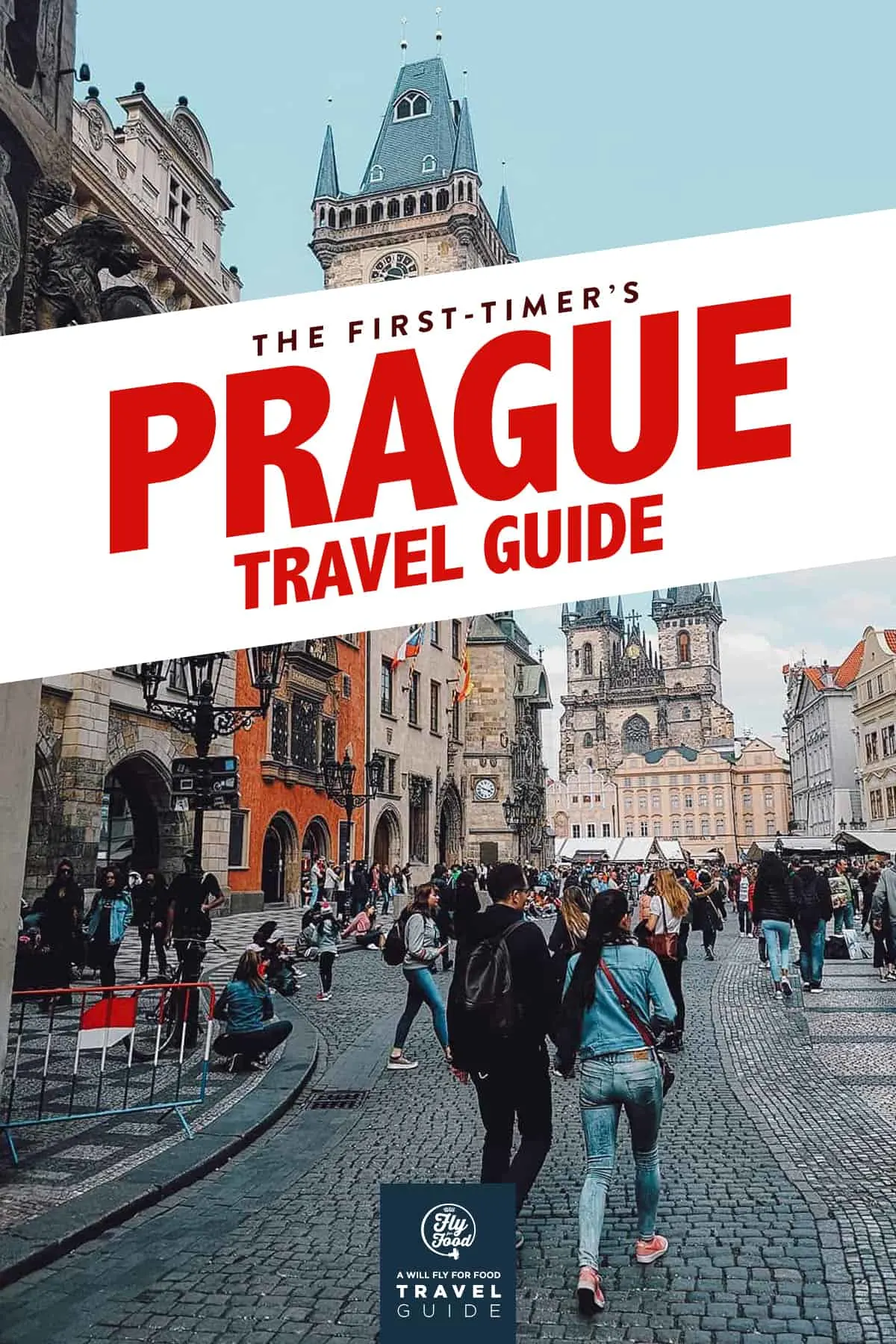 GUIDE TABLE OF CONTENTS
PRAGUE TRAVEL RESTRICTIONS
Because of the current global situation, Prague travel guidelines change almost everyday. Our friends at Booking.com created a website that lists detailed information on travel restrictions around the globe.
Before planning a trip to Prague, be sure to check Booking.com for information on travel restrictions to the Czech Republic. If you do decide to visit Prague, then you may want to seriously consider getting travel insurance with COVID coverage.
CZECH REPUBLIC VISA
You may need a visa and other travel documents to visit the Czech Republic depending on your passport. Check out iVisa.com to learn about the requirements and to apply for a visa (if necessary).
PRAGUE AT A GLANCE
Prague is the capital of the Czech Republic (Czechia for short) and its largest city. Founded in the late 9th century, it's been a capital city throughout most of its history.
Prague's historic center is a UNESCO World Heritage Site famous for its 14th century medieval architecture. It was left largely undamaged by World War II, leaving a well-preserved labyrinth of cathedrals, bridges, and cobblestone streets that attract millions of visitors annually.
But Prague's fairy-tale-like beauty isn't without its pitfalls. Like Barcelona and Venice, the city has fallen prey to overtourism in recent years. This constant influx of tourists (and local businesses catering to tourists) help make the Old Town feel somewhat artificial, almost like Disneyland.
Personally, I found Prague to be incredibly beautiful. It's an atmospheric city that's home to breathtaking architecture and some of the best lager in the world. But at times, it can also be very touristy.
Such are the pitfalls of a city as pretty as Prague.
BEST TIME TO VISIT PRAGUE
Weather-wise, spring and fall are the best seasons to visit Prague. The weather is mild and there are relatively fewer tourists.
We visited in mid- to late-April and the weather was indeed fantastic. It was sunny everyday with cool temperatures that required little more than a sweater and a light jacket. It did get a bit colder at night but it was never uncomfortable.
MAR-MAY: As described, spring is a great time to visit Prague, especially in April and May when it gets a little warmer. Temperatures are mild and it's still considered the low season so you can expect a more tolerable number of tourists.
JUN-AUG: Summer is peak season in Prague. The weather is ideal for sightseeing but it's far and away the busiest time of the year. Tourist areas get fairly crowded even during shoulder seasons so I can only imagine what it must be like in summer.
SEP-OCT: Like spring, autumn is an ideal time to visit Prague. The weather is moderate and the leaves turning color make it one of the most beautiful times of the year to be in the city.
NOV-FEB: Prague experiences cold winters so this may not be the most comfortable time to go. However, it's also one of the most picturesque with the least number of tourists. If you can brave the cold, then winter may be one of the most rewarding times to visit Prague.
Climate: Annual Monthly Weather in Prague
For more on Prague's weather, check out these climate graphs from holiday-weather.com. I've also created the average temperature and annual rainfall graphs below with the most ideal months to visit marked in orange.
Average Temperature

Annual Rainfall

TRAVELING TO PRAGUE
We took a train to Prague from Budapest but there are several ways to get there depending on where you are.
By Plane
Many national and budget airlines fly to Prague from different cities in Europe. You can do a search on a flight aggregator like Skyscanner to find cheap flights to Vaclav Havel Airport Prague (PRG) from where you are.
Vaclav Havel Airport is about 18 km west of downtown Prague. You can make your way to the city center in one of the following ways.
BUS/METRO: At just CZK 40, this is the cheapest way to get from the airport to the city center. You can buy a 90-minute transport ticket and catch Bus 119 from the bus station in front of Terminal 2 (Exit D). This will take you to Nadrazi Veleslavin metro station. Transfer to the metro's green line (Line A) and take the train to Mustek station (or the nearest station to your hotel). Bus 119 is the most frequent but you can also take Bus 100 to Zlicin station or Bus 191 to Andel station then take the yellow line to the city center. Click on the link for a metro map.
AIRPORT EXPRESS: A more convenient but slightly more expensive option is the Airport Express Bus. It costs CZK 60 and you can catch it from the parking lot in front of Terminal 1. It will take you to Prague Main Station in the New Town.
SHARED TRANSFER: A shared transfer is a good compromise between public transportation and a private transfer. You can book it in advance through Get Your Guide. Depending on which service you book, it can drop you off right at your hotel or at designated points in the city center.
PRIVATE TRANSFER: A private transfer is the most convenient option but it's also one of the most expensive. You can book it in advance through Get Your Guide.
UBER: We took Uber to go from the city center to the airport. They've been operating in Prague since 2014 and are more popular than taxis. It should cost you about the same as a private transfer or taxi.
TAXI: This would be my last resort. Like in many big cities, taxis in Prague have been known to rip off tourists so I suggest going by Uber or private transfer instead.
By Train
If you're relatively near Prague, then traveling by train may be the more convenient option. The train from Budapest to Prague took about 6 hrs 30 mins and we booked our tickets on the Ceske Drahy website. If you're traveling by train from within Czechia, then you can search for tickets on Bookaway.
By Bus
Traveling by bus is perhaps the cheapest way of getting to Prague. We took buses often in Europe and found them to be almost as comfortable as trains. You can search for bus routes to Prague on FlixBus. If you're traveling by bus from within Czechia, then you can search for tickets on Bookaway.
By Car
Traveling by car is one of the best ways to experience Europe. We rented cars in Greece and in Spain. Unlike public transportation, it gave us the freedom to follow our own schedule and stop wherever and whenever we wanted.
If you're looking to rent a car and driving to Prague, then you can do so on Rentalcars.com.
WHERE TO EXCHANGE CURRENCY
Czechia is a member of the European Union (EU) but the country's unit of currency is the Czech Koruna (CZK).
I withdrew CZK from an ATM so I didn't have to exchange any currency, but you can check this article for recommended currency exchange offices in Prague. Personally, I find myself withdrawing from ATMs more often on trips. It's more convenient and rates are competitive.
If you plan on using your ATM card abroad, then it's a good idea to inform your bank before your trip. That way they don't flag any transactions. In my experience, my ATM card works in most machines but not in all. I didn't have any problems in Prague.
NOTE: Many ATMs in Europe will ask if you'd like to proceed "with or without conversion". Always proceed WITHOUT conversion. Proceeding with conversion authorizes the foreign bank operating the ATM to do the conversion for you, usually at terrible exchange rates.
BEST AREAS TO STAY IN PRAGUE
They're the most touristy parts of the city but if it's your first time in Prague, then it's best to stay in the Old Town, New Town, or Lesser Town (collectively known as Prague 1). Staying in these areas will put you closest to the city's top tourist attractions.
Listed below are some of the most convenient areas to stay in Prague, along with a color-coded map to help you understand where each of these areas are. Click on the link for a live version of the map. (Please note that marked areas are approximations only)
RED – Stare Mesto (Old Town)
BLUE – Nove Mesto (New Town)
PURPLE – Mala Strana (Lesser Town)
ORANGE – Zizkov
GREEN – Vinohrady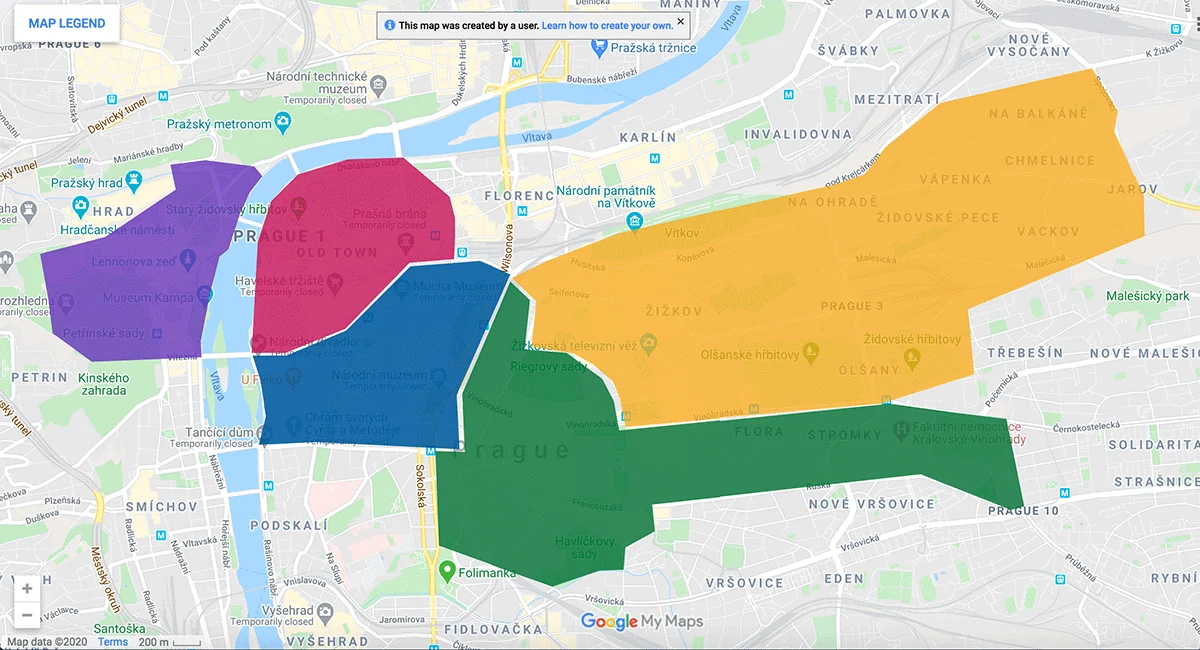 OLD TOWN
Stare Mesto or the Old Town is the busiest and most touristy part of Prague. However, it's also the most beautiful. This is where you'll find many of the city's top tourist attractions like the Old Town Square, the Astronomical Clock, Charles Bridge, and Josefov.
If it's your first time in Prague and you're staying for just a few days, then the Old Town is definitely the most convenient place to stay. You can search for accommodations in the Old Town on Booking.com or Agoda. Check out some of the top-rated hotels in Stare Mesto:
NEW TOWN
Nove Mesto or the New Town refers to the area surrounding the south and east of the Old Town. It's a little less convenient than staying in the Old Town but it's close enough and has a few notable attractions of its own like the National Theater and the Dancing House.
It's home to plenty of bars and restaurants as well. You can book a hotel room in the New Town on Booking.com or Agoda. Check out some of the top-rated hotels in Nove Mesto:
LESSER TOWN
Mala Strana or Lesser Town refers to the area on the other side of the Vtava River, just south of Prague Castle. Despite being close to one of the city's top tourist attractions, it's a quieter area and a good choice for people looking for a calmer stay in Prague's historical center.
Aside from the area immediately surrounding Charles Bridge, the Lesser Town didn't feel nearly as busy as the Old or New Town. You can look for accommodations in the Lesser Town on Booking.com or Agoda. Check out some of the top-rated hotels in Mala Strana:
ZIZKOV
This is where we stayed. Zizkov is a residential neighborhood east of the New Town. It's a much quieter and slightly gritty working-class neighborhood with no tourist attractions.
If a calmer stay in Prague is what you're after and you don't mind taking the bus everyday, then Zizkov is a good place to consider. There are plenty of very local restaurants in the neighborhood.
We stayed at a 3-bedroom AirBnB within walking distance of Zizkov Television Tower. If you'd rather stay at a proper hotel, then you can book a room on Booking.com or Agoda. Check out some of the top-rated hotels in the area:
VINOHRADY
If we were to go back to Prague, then this is where we'd like to stay. Located just east of the New Town, Vinohrady is a lovely neighborhood that offers a more authentic stay within walking distance of the city's top tourist attractions.
Charming and more cosmopolitan in feel, Vinohrady is considered one of Prague's "it" neighborhoods. You can look for accommodations in Vinohrady on Booking.com or Agoda. Check out some of the top-rated hotels in the area:
You can also book hotels and home stays in Prague using the handy map below.
PLACES TO VISIT IN PRAGUE
1. Old Town Square
Staromestske namesti or the Old Town Square is the heart of Prague's historic district. It's been Prague's main public square since the 10th century and its main marketplace until the beginning of the 20th century. Like Charles Bridge and Prague castle, it's one of the most beautiful but busiest areas in the city.
Any first-time visit to Prague begins in the Old Town Square. It features many of the city's most spectacular buildings like St. Nicholas Church, the Prague Orloj, and the Church of Our Lady before Tyn (pictured in the distance below).
There are countless beautiful buildings in Prague but for me, Tyn Church tops them all. Seeing it for the very first time literally took my breath away. It is so indescribably beautiful.
Aside from its historical attractions, the square is a common meeting area for tourists. It's home to many restaurants, cafes, and street food stalls. It's crowded throughout the day but it's one of the best places to sit and enjoy Prague's atmosphere.
You can explore the the square and the rest of the Old Town on your own, but if you'd like to go on a guided tour, then you can join one of many Prague city tours offered on Get Your Guide.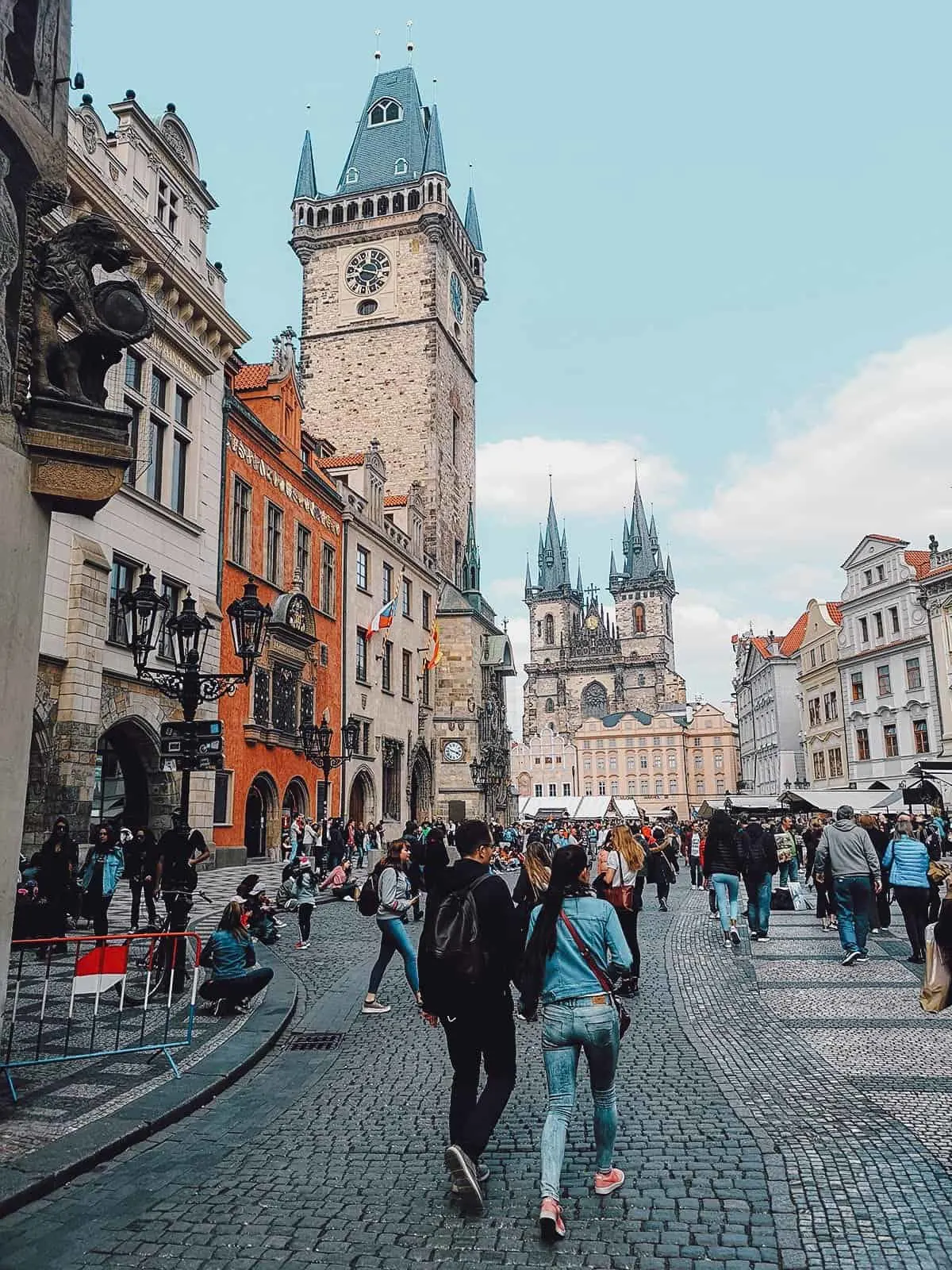 Prague Orloj or the Prague Astronomical Clock is one of the square's most popular attractions. Attached to the side of the Old Town Hall, it was installed in 1410 and recognized as the oldest working astronomical clock in the world.
Every hour, dozens of tourists gather around the clock to watch its procession of moving characters which features the twelve apostles and a skeletal figure representing death.
If you have a particular interest in Orloj, then you may want to book this city tour that takes you inside the astronomical clock.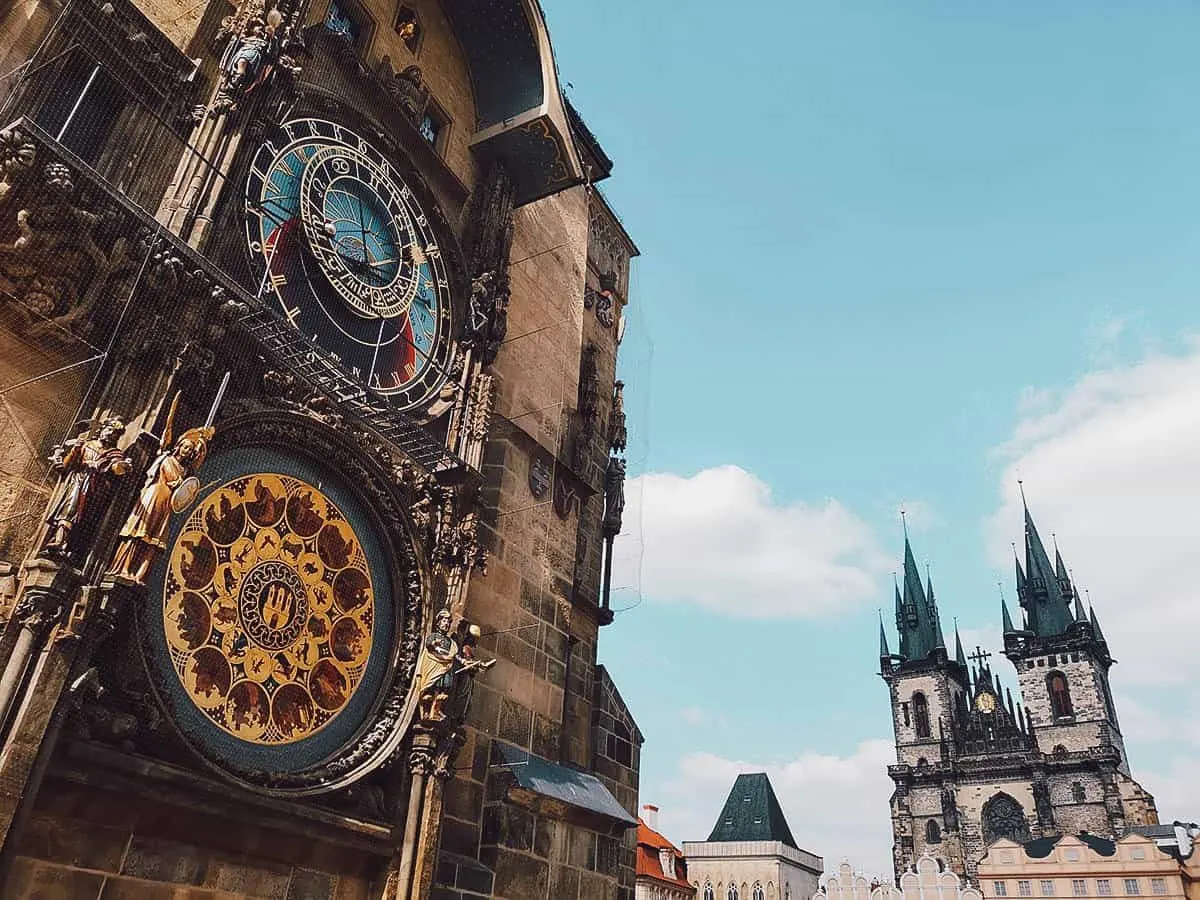 2. Charles Bridge
The Charles Bridge is perhaps the single most iconic structure in Prague. It's one of the first things that comes to many people's minds when they think of this city.
Completed at the start of the 15th century, the Charles Bridge is a stone pedestrian bridge that connects the Old Town with the Lesser Town over the Vltava River. It measures 516 meters long (1,693 ft) and features thirty baroque-style statues of saints and patron saints on either side.
Charles Bridge has to be one of the most beautiful and busiest pedestrian bridges in the world. During the day, it can feel like the entire city has descended upon this bridge so it's best appreciated (and photographed) early in the morning, right before sunrise.
The Charles Bridge is an icon of the city and a focal point on many tours. You can walk along the bridge on your own or go on a guided tour.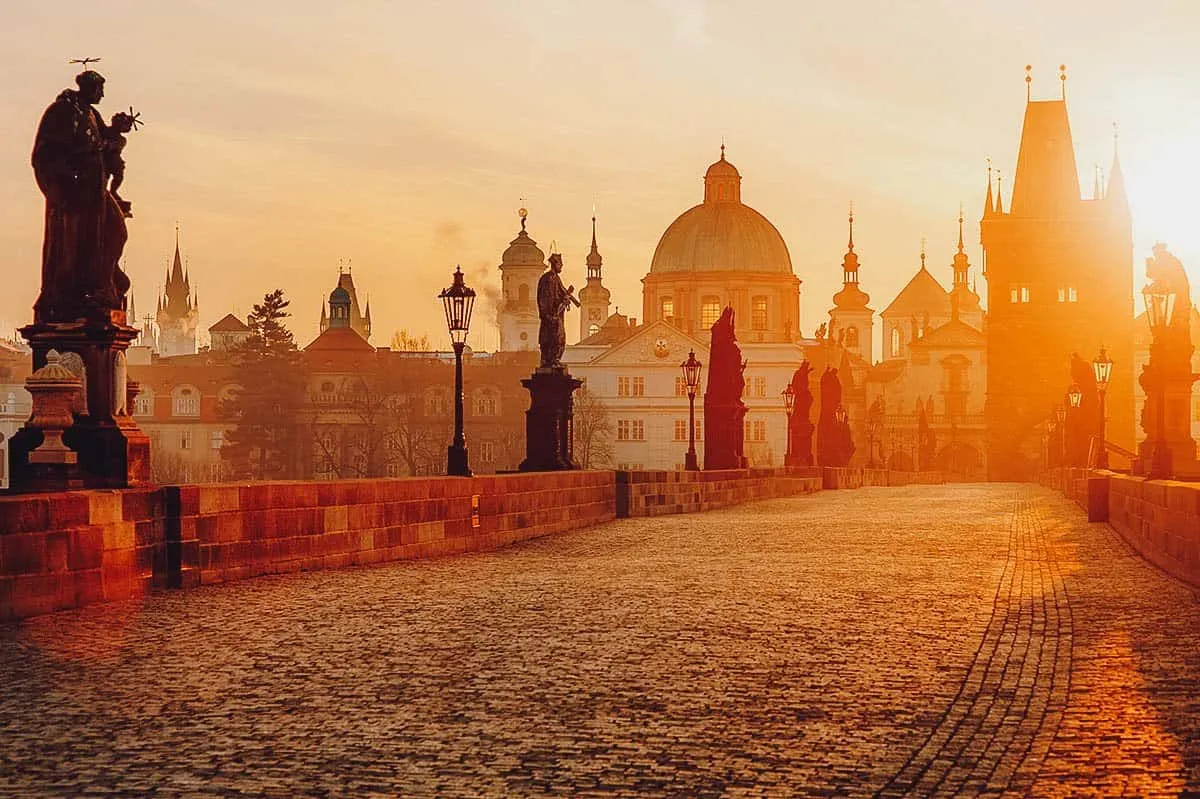 Photo by tanialerro.art via Shutterstock
3. Prague Castle
Located across the Vltava River, Prague Castle is one of the city's most impressive structures. It occupies an area of almost 70,000 square meters (750,000 square feet) and is recognized by the Guinness Book of Records as the largest ancient castle in the world.
The castle is comprised of multiple sections but its most important buildings include the Old Royal Palace and St. Vitus Cathedral. Tickets start at CZK 250 and you can refer to the Prague Castle website for ticketing information.
We explored Prague Castle on our own, but if you'd like to go on a guided tour, then you can book one on Get Your Guide.
Old Royal Palace
The Old Royal Palace is one of the oldest structures at the castle. It dates back to the 12th century and was used as the king's palace between the 13th and 16th centuries. Pictured below is Vadislav Hall.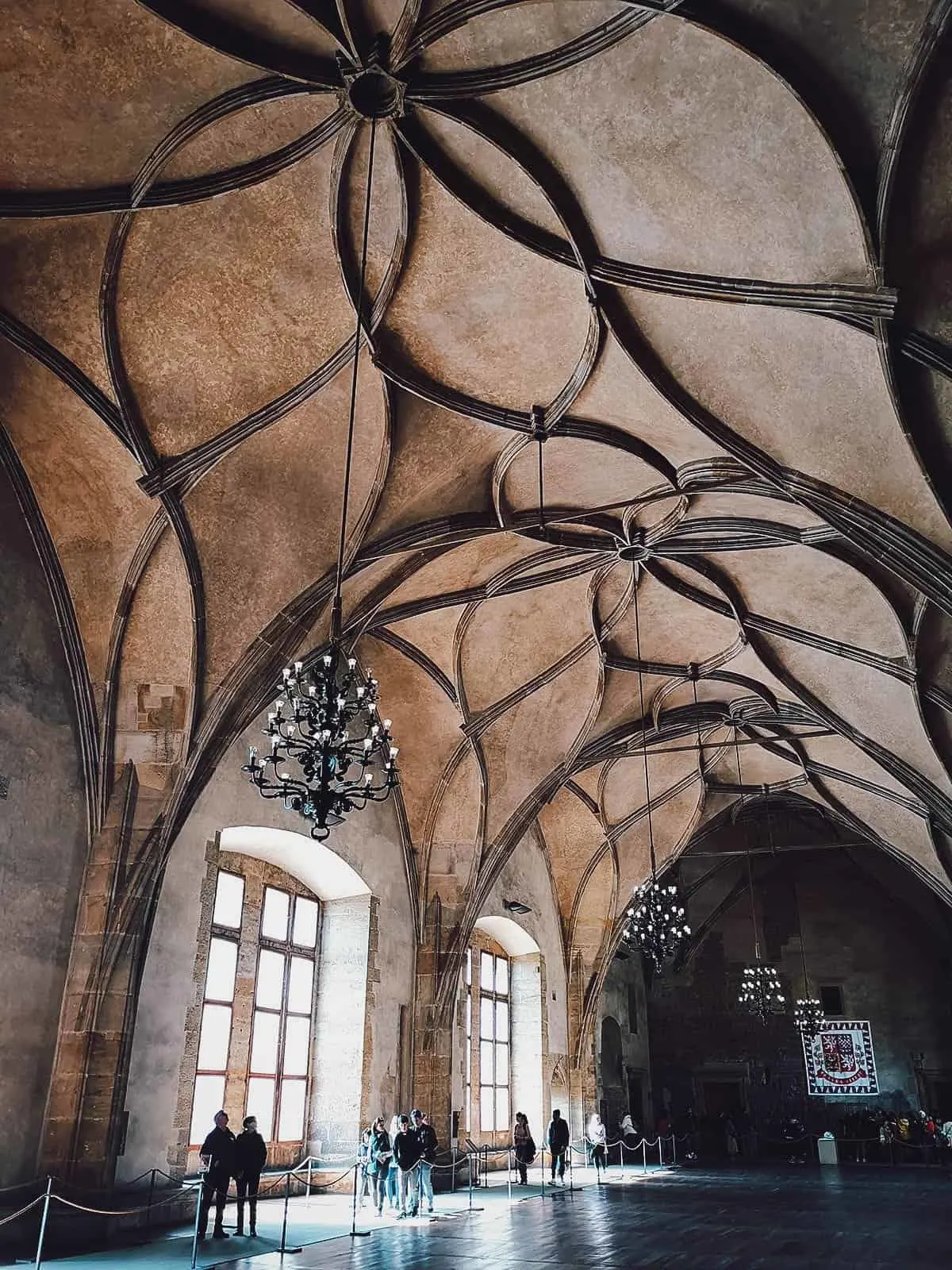 St. Vitus Cathedral
St. Vitus Cathedral is the most awe-inspiring building at the castle complex. It's the largest and most important church in the Czech Republic and houses the tombs of many Bohemian kings and Holy Roman Emperors.
The cathedral is wrought with intricate detail from floor to ceiling so you'll probably be spending most of your time here.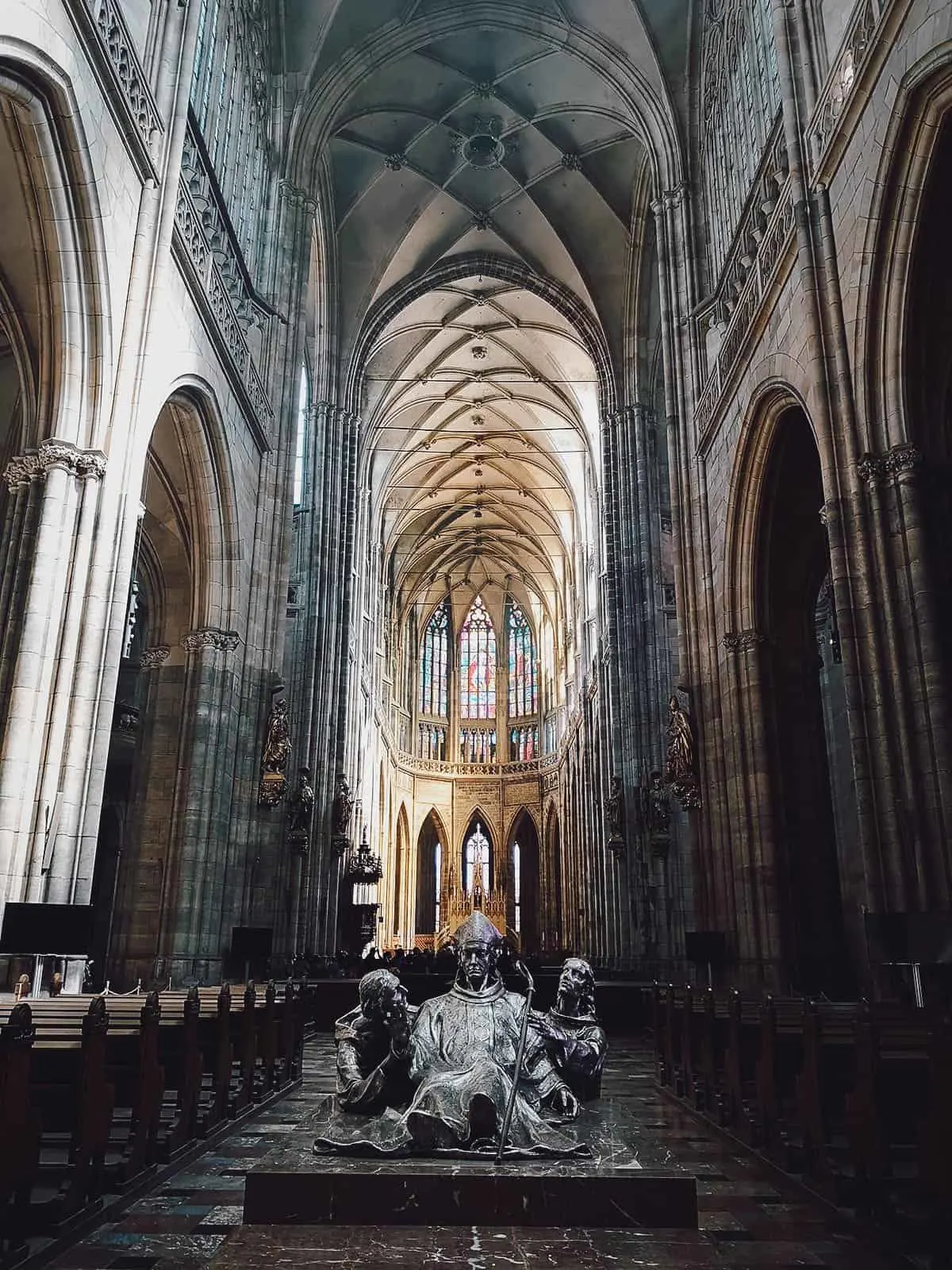 Admission: At least CZK 250
Estimated Time to Spend: About 2-3 hrs
4. John Lennon Wall
The John Lennon Wall is one of the more unusual attractions in Prague. Located in the Lesser Town, it's a wall dedicated to the musician who became a pacifist hero to many of Czechia's youth.
Authorities have painted over the wall numerous times only to find it covered again and again in political graffiti. Eventually, they gave up and the wall has become an ever-evolving canvas of political messages aimed at Czechia's government.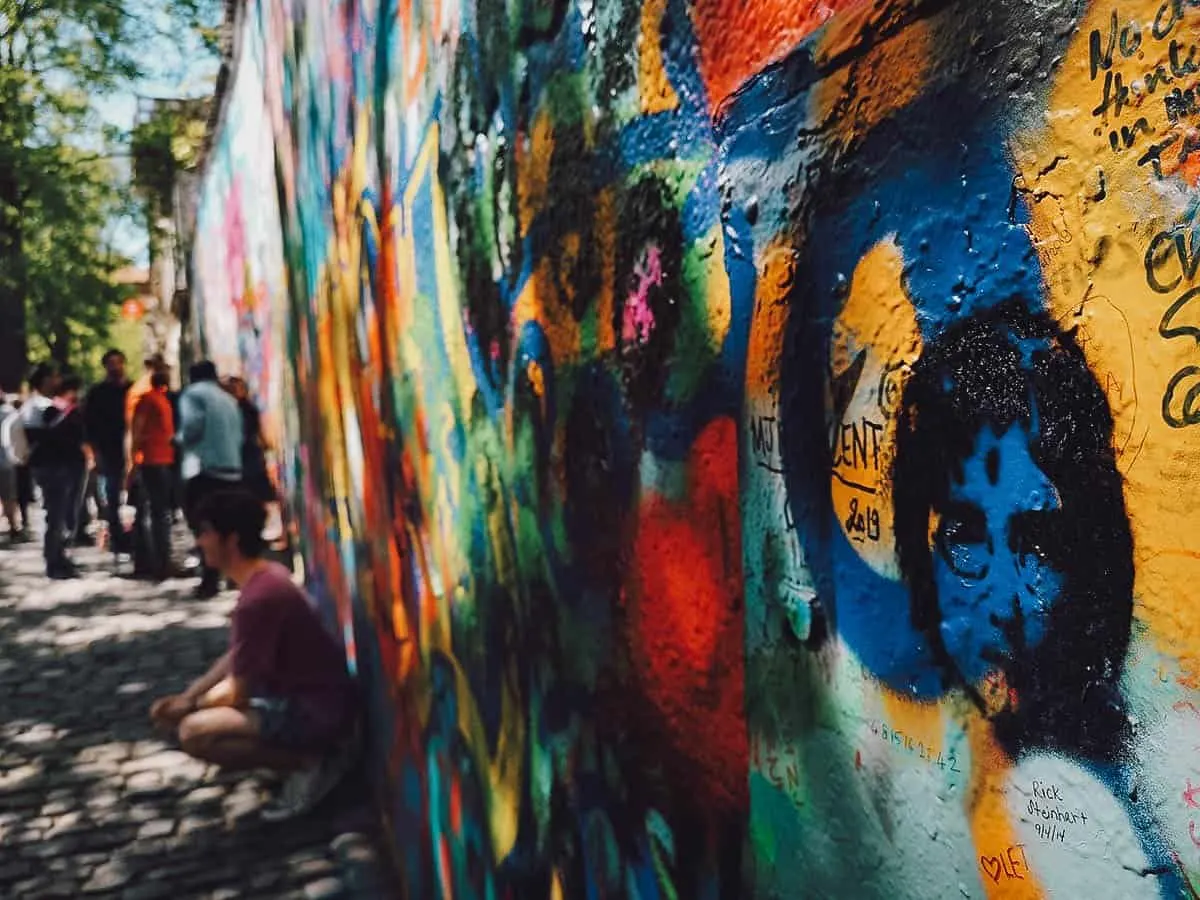 5. Infant Jesus of Prague
Christian tourists may be familiar with this image. Located in the Lesser Town, the Infant Jesus of Prague is a 16th-century wooden statue of Jesus housed in the Church of Our Lady Victorious.
Legend has it that the statue spoke to a priest who was praying before it. According to the priest, it asked him to: "Have pity on me, and I will have pity on you. Give me my hands, and I will give you peace. The more you honour me, the more I will bless you."
Since then, the statue has received thousands of Christian devotees from different parts of the world. Many blessings and healings have been attributed to this statue.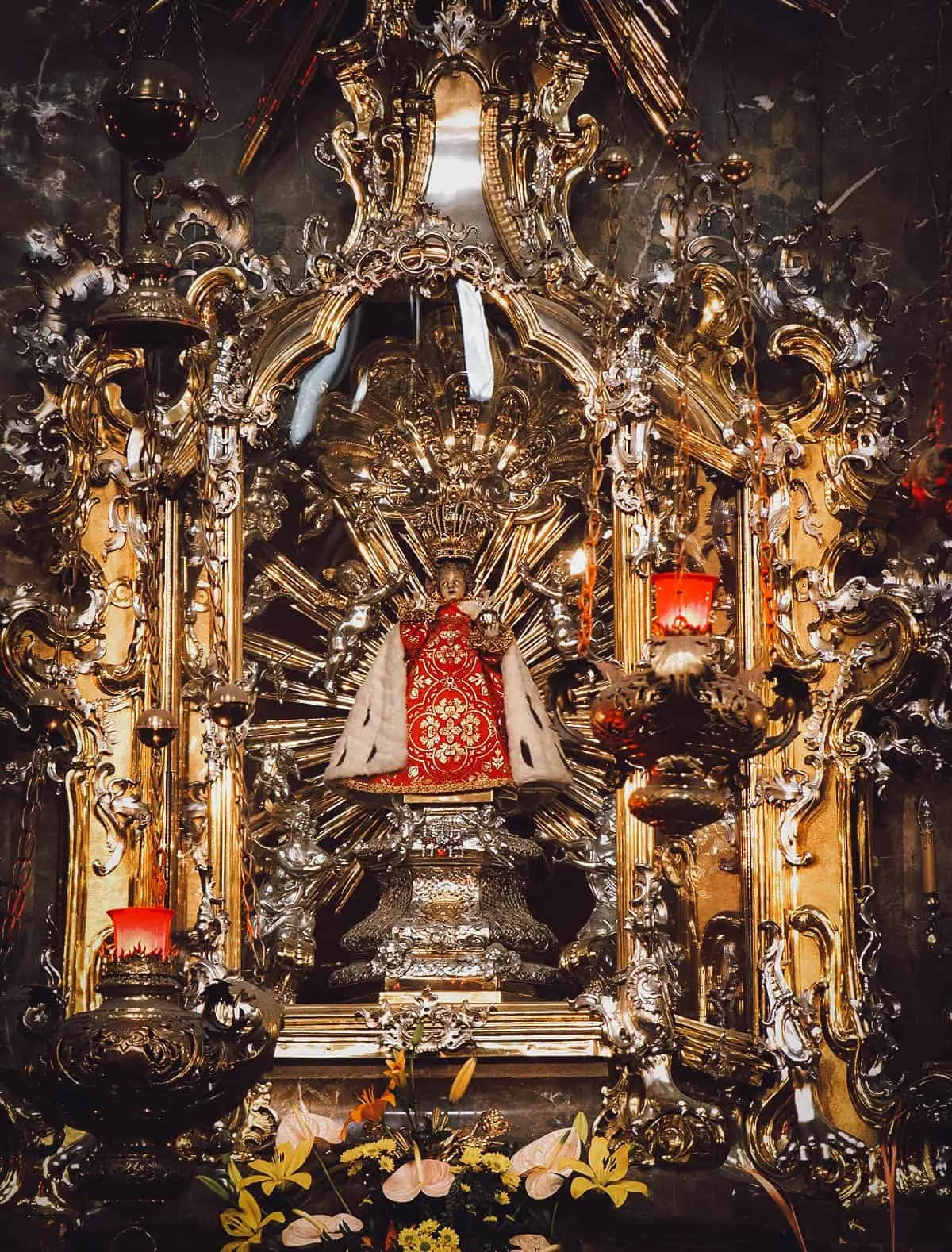 Photo by Renata Sedmakova via Shutterstock
Admission: FREE
Estimated Time to Spend: About 30 mins
6. Dancing House
This unusual building is one of the most eye-catching structures in Prague. Located in the New Town, it's a deconstructivist building that stands in stark contrast to the city's collection of medieval architecture.
Designed by renowned architect Frank Gehry, it was inspired by iconic dancers Fred Astaire and Ginger Rogers and is sometimes referred to as "Fred and Ginger". It consists of office spaces, a restaurant, an art gallery, and a bar with a rooftop terrace.
You can purchase tickets to the art gallery at the door. Tickets will give you access to the building's rooftop terrace.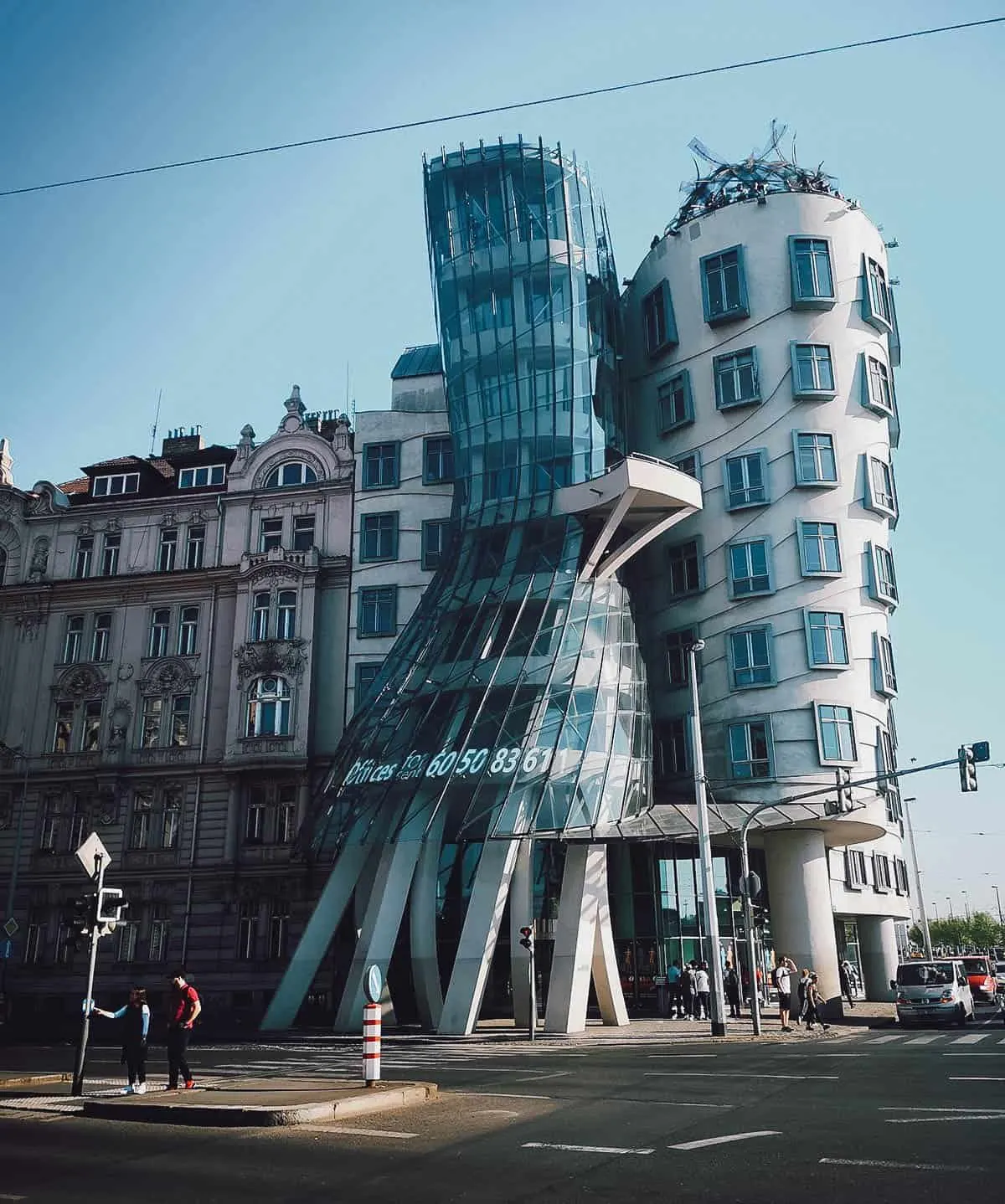 Admission: CZK 190 (art gallery)
Estimated Time to Spend: About 1-2 hrs
THINGS TO DO IN PRAGUE
1. Ride Tram 22
Tram 22 is one of Prague's most scenic tram lines. It goes through key neighborhoods in the New and Lesser Town before taking you to the Castle District.
Aside from walking across Charles Bridge into the Castle District, taking Tram 22 is one of the best ways to visit Prague Castle. We boarded the tram at Namesti Miru (Peace Square) in Vinohrady and took it all the way to the castle.
TIP: Most tourists will get off at Prazsky hrad which precedes an uphill climb to Prague Castle. I suggest staying on the tram and getting off two stops later at Pohorelec. You'll be rewarded with a more pleasant 15-minute downhill walk to the castle.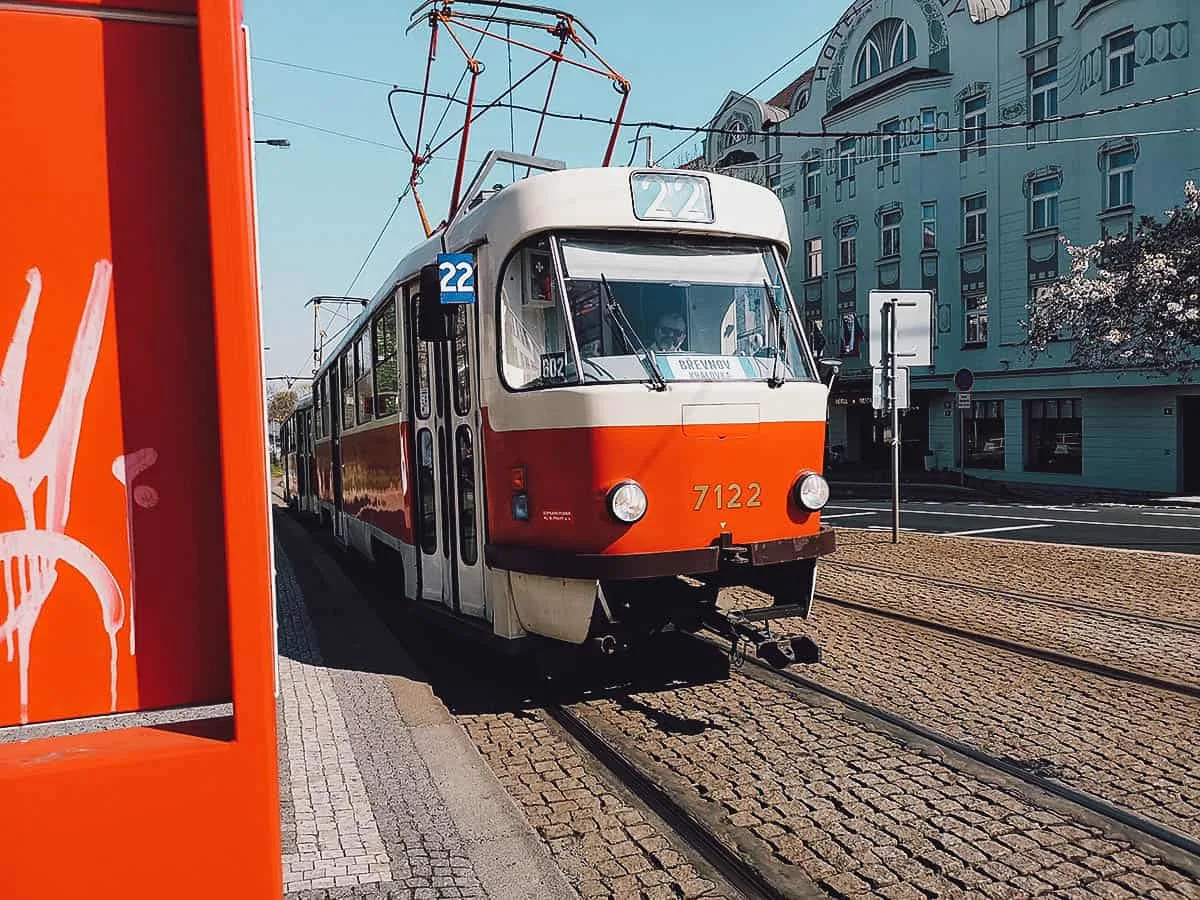 Tram Fare: CZK 30 (30-min), CZK 40 (90-min), CZK 120 (24-hr), CZK 330 (72-hr)
2. Find David Cerny's Sculptures
David Cerny is one of Prague's most popular contemporary artists. He's known for creating these large public and sometimes controversial sculptures throughout the city.
Pictured below is a sculpture of Sigmund Freud called "Hanging Out". It's attached to the roof of a building and hangs about 20 meters (65.6 ft) over Husova Street in the Old Town.
I spent an afternoon visiting as many of Cerny's sculptures as I could find. I located nine, most of which are in the historical Prague 1 district. You can read my article on David Cerny for more pictures and information.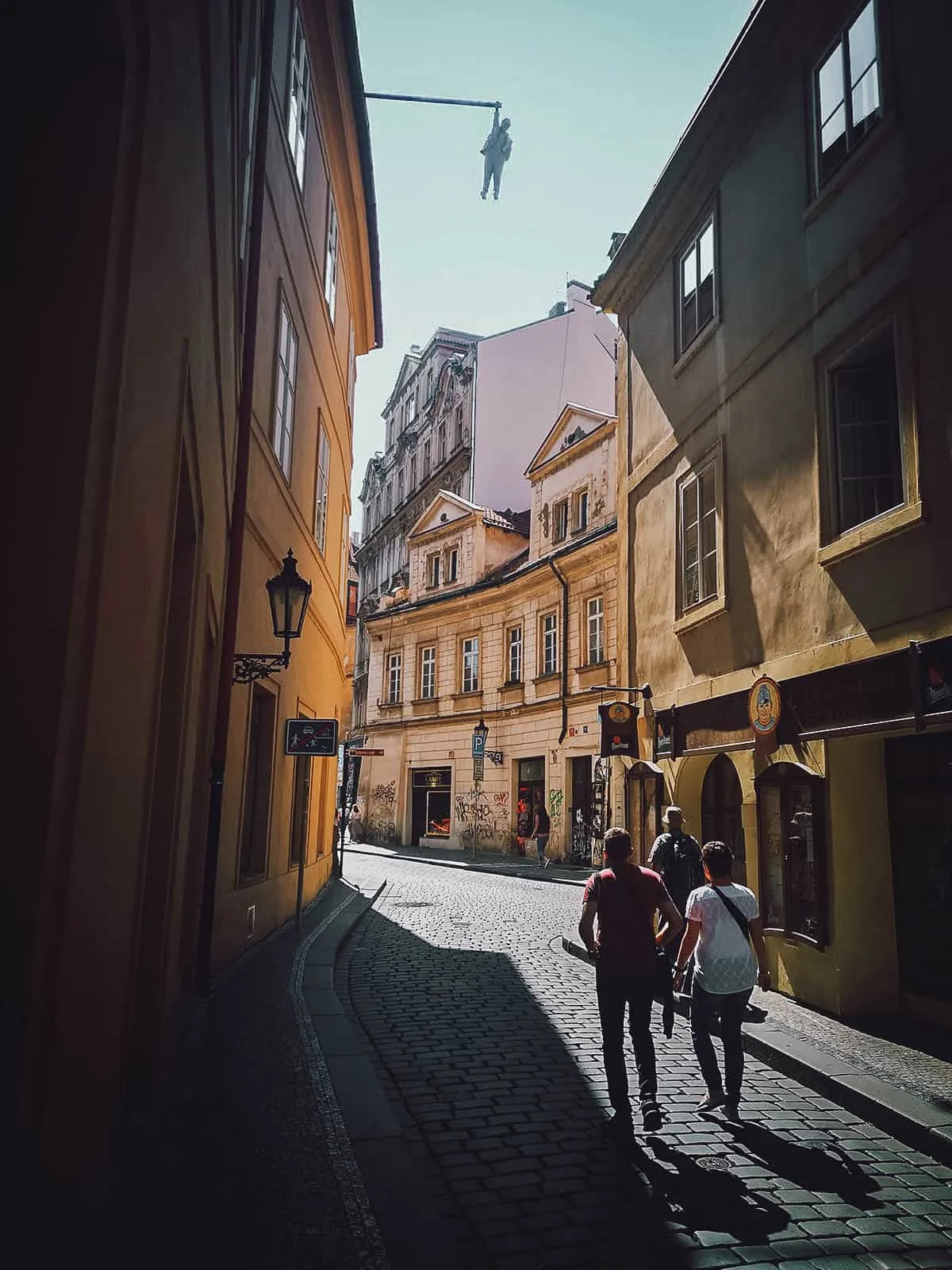 3. Go to a Museum
When doing research for our trip, I came across an article that described Prague as a "city of museums". Go through this list of over 70 museums and galleries in Prague and you'll quickly understand why!
Many of the museums in Prague are traditional spaces showcasing art and artifacts, but there seem to be just as many quirky exhibits in this city. Some of the more unusual museums in Prague include the Museum of Communism, a museum of alchemy, and the Sex Machines Museum.
We went to the excellent Apple Museum that recounts the history of the Apple technology company from its earliest days. Why Prague has an Apple museum we have no idea.
Other interesting museums include the Franz Kafka Museum, the Alfons Mucha Museum, the Giant Railway Model Museum, and the LEGO Museum.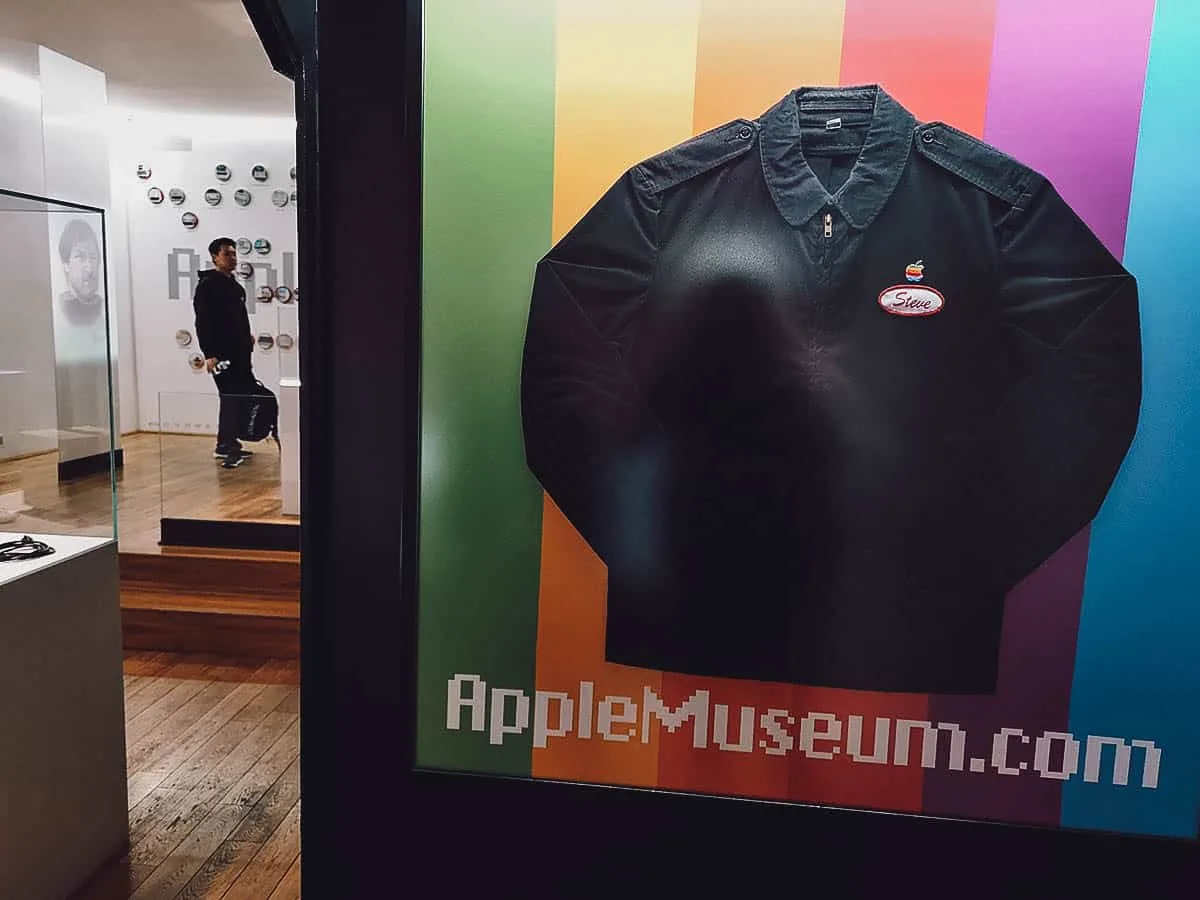 4. Go on a City Sightseeing Tour
As described, Prague is home to many unusual museums, but it seems to offer just as many quirky tours! You can do classic sightseeing tours but you can also take part in more unusual tours like ghost tours, beer bike tours, and electric trike tours.
If you'd like to do something other than a traditional walking tour in Prague, then listed below are a few popular alternatives.
Vintage Car Tour
We saw these open-top vintage cars everywhere in Prague. They're used mostly for sightseeing tours and might be an interesting way of exploring the city. Check out Get Your Guide for a list of vintage car tours.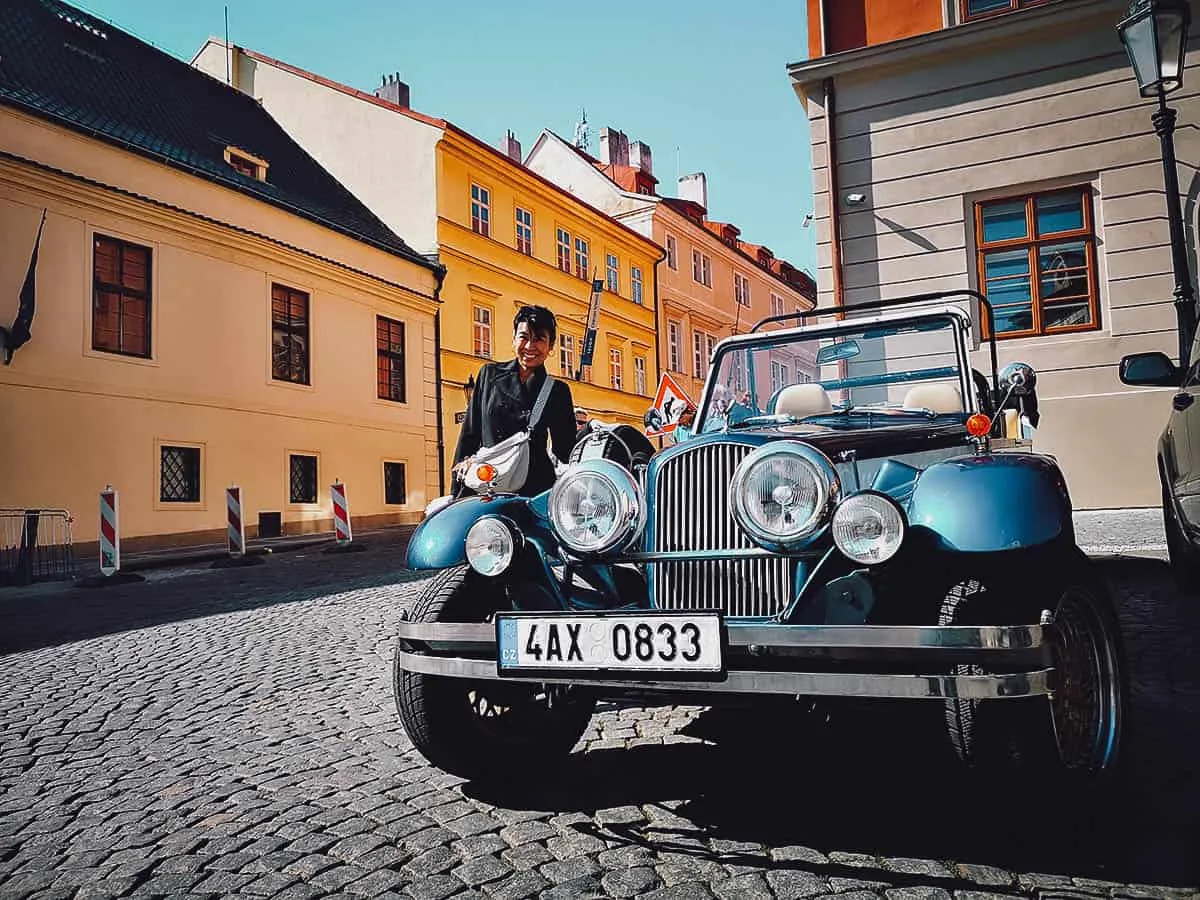 Segway Tour
An elderly couple we were traveling with did a Segway tour in almost every city we visited. If you aren't big on walking or have mobility issues, then cruising around Prague on a Segway is a great alternative. You'll find many Segway tours to choose from on Get Your Guide.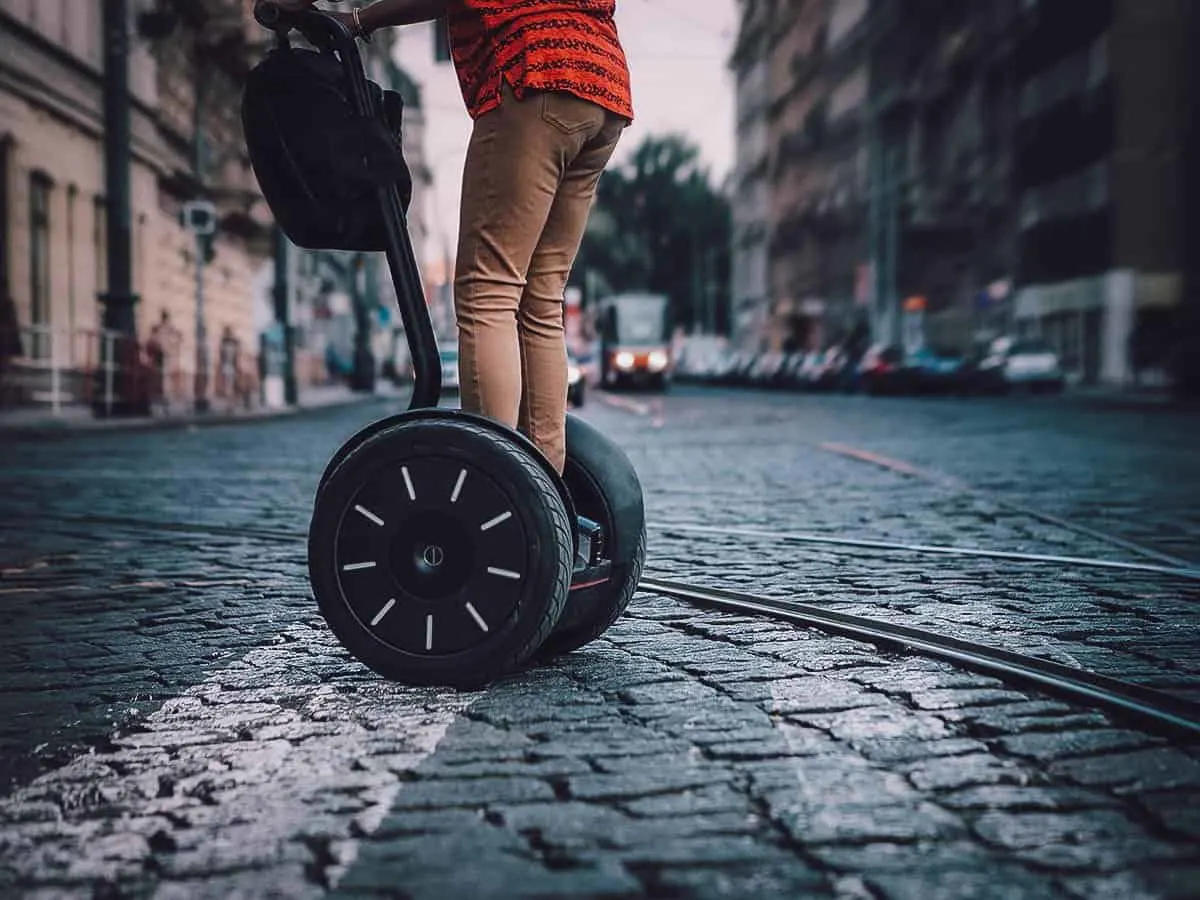 Photo by Soloviova Liudmyla via Shutterstock
Bike Tour
I think going on a bike tour is one of the best ways to explore a city. It's faster and can take you farther than a Segway. Plus, it's a great way to get some exercise in on a trip. Get Your Guide offers many bike and e-bike tours in Prague.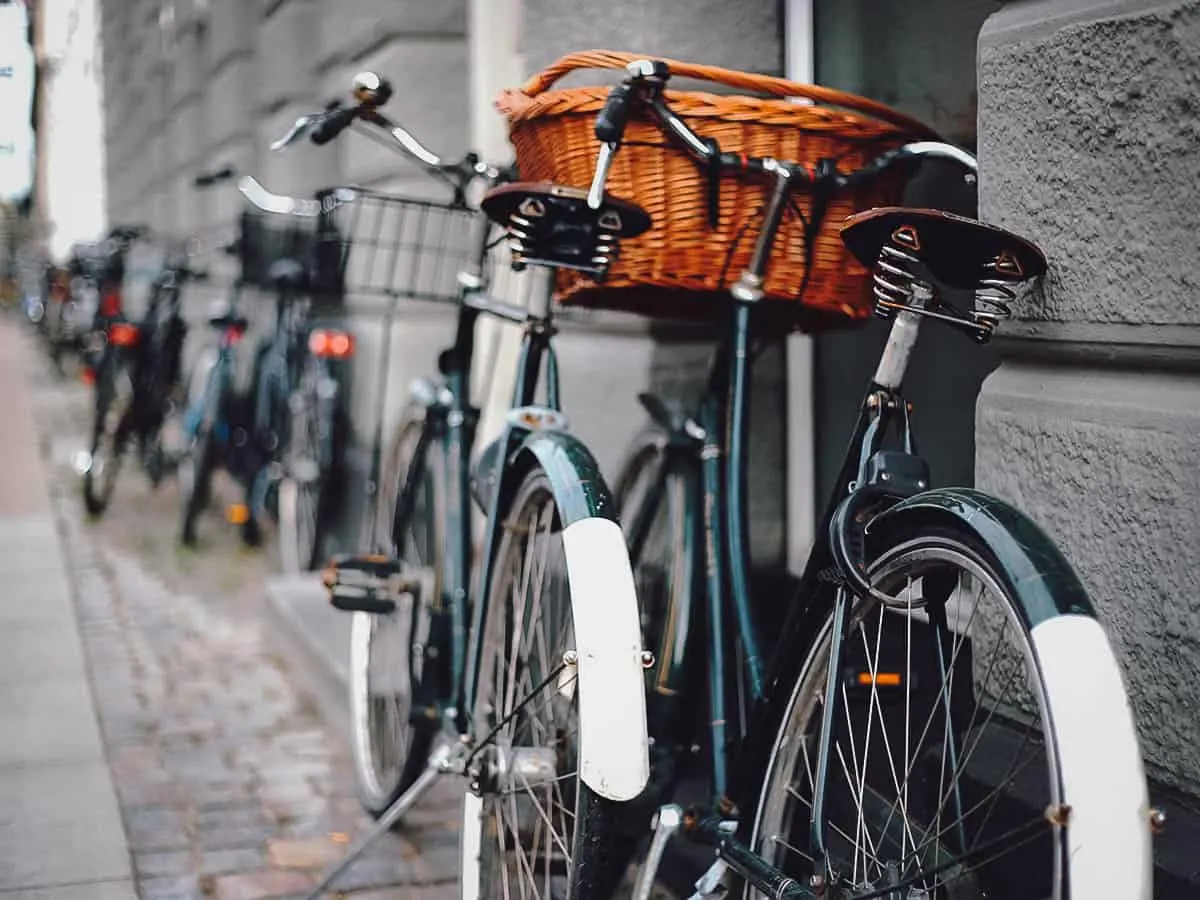 Photo by CAN KAYA via Shutterstock
5. Enjoy Flights of Beer
Prague is beautiful, but the one thing we enjoyed most about this city was the beer. Czechia has the highest beer consumption per capita in the world. With lager this good, it isn't hard to understand why.
Beer has a long history in the Czech Republic with beer brewing taking place as early as 993. One of the most famous Czech beers is the Pilsner Urquell which is recognized as the very first pilsner beer in the world.
Pilsner is the most common type of Czech beer though microbreweries producing a variety of beers have become very popular. Going to a bar like U Kunstatu and ordering flights of beer was one of our favorite pastimes in Prague. They offer hundreds of beers on tap and you can choose six different kinds at a time.
You can go to any bar in Prague and be rewarded with the best beer you've ever tasted in your life. But if you'd like to go on a beer tour or other beer-related activity, then you can book one on Get Your Guide. They offer beer tastings, beer bike tours, even beer baths!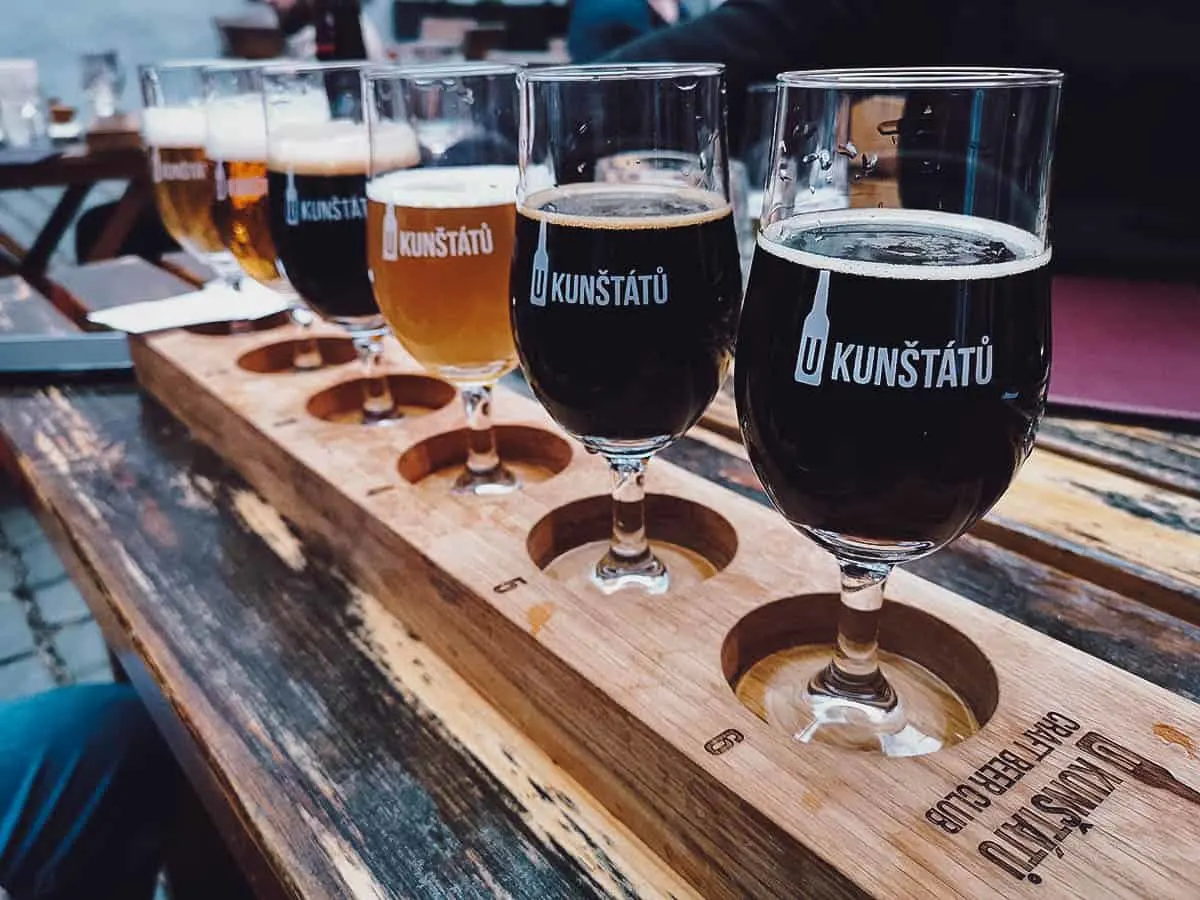 6. Try Absinthe
If you've had your fill of beer and would like to try something different, then you may want to check out Absintherie. It's a popular bar in the Old Town that offers over a hundred different types of absinthe.
Absinthe refers to a spirit derived from anise, wormwood, fennel, and other herbs. It's typically green in color and has a reputation for producing mild hallucinations, though much of its hallucinogenic properties is probably exaggerated. It's an alcoholic drink that's long been associated with Bohemian culture.
Bohemian-style absinthe often involves a bit of theatrics which is part of what makes it so much fun. A sugar cube soaked in absinthe is set ablaze before being poured into the drink. This fire ritual is believed to have originated in Prague.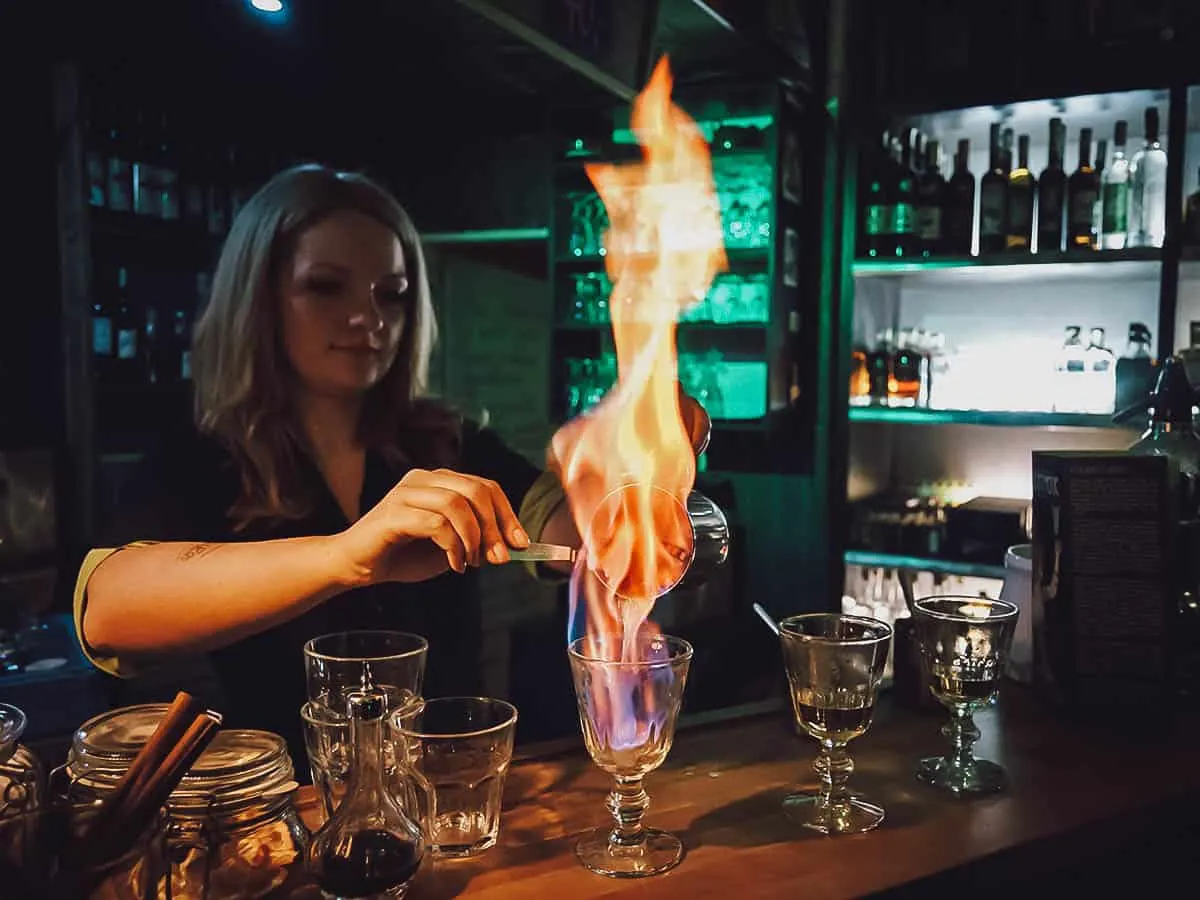 Photo by Roman Yanushevsky via Shutterstock
DAY TRIPS FROM PRAGUE
1. Kutna Hora
Kutna Hora is one of the most popular day trip destinations from Prague. A UNESCO World Heritage Site, it's a former silver mining town that was once the second most important town of the Bohemian Kingdom after Prague.
One of the town's most interesting (and macabre) attractions is Sedlec Ossuary, a unique Roman Catholic chapel decorated with 40,000-70,000 real human bones.
You can travel to Kutna Hora by train from Prague's main railway station. It costs about CZK 100 each way with a journey time of about 1 hr 15 mins. Alternatively, you can book a guided tour on Get Your Guide.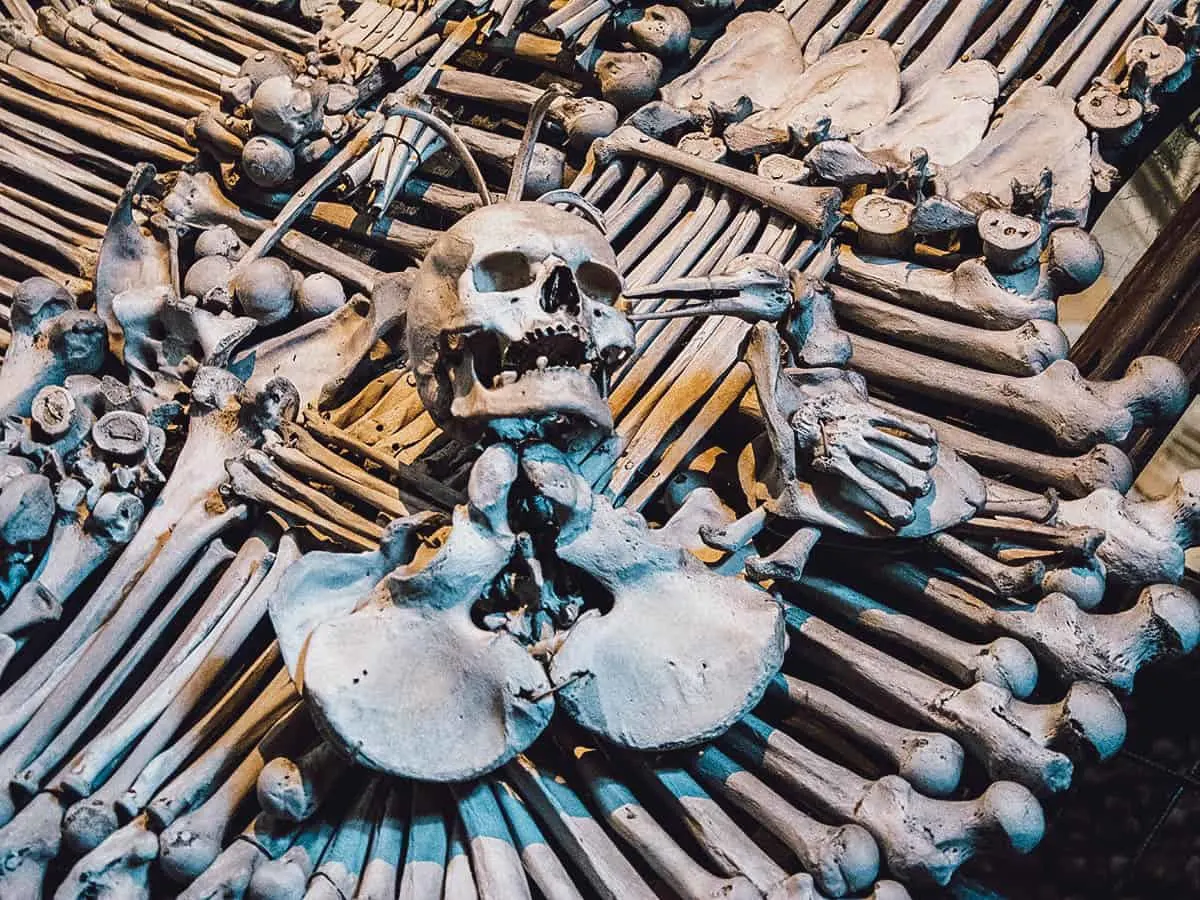 Photo by Vika Lilu via Shutterstock
2. Bohemian Switzerland National Park
If you aren't familiar with it, then the name Bohemian Switzerland may be confusing. It refers to a national park that isn't in Switzerland at all, but in the Czech Republic.
Also known as Czech Switzerland, the park lies on the Czech side of the Elbe Sandstone Mountains. It covers an area of 79 sq km (31 sq mi) and features a picturesque landscape of pine forests, valleys, and majestic rock formations.
The area is bisected by the Czechia-Germany border and consists of two national parks – Bohemian Switzerland on the Czechia side and Saxon Switzerland on the German side. It gets its name from two Swiss painters who described the region as being reminiscent of their homeland.
Bohemian Switzerland National Park is about two hours north of Prague and is best visited on a guided tour.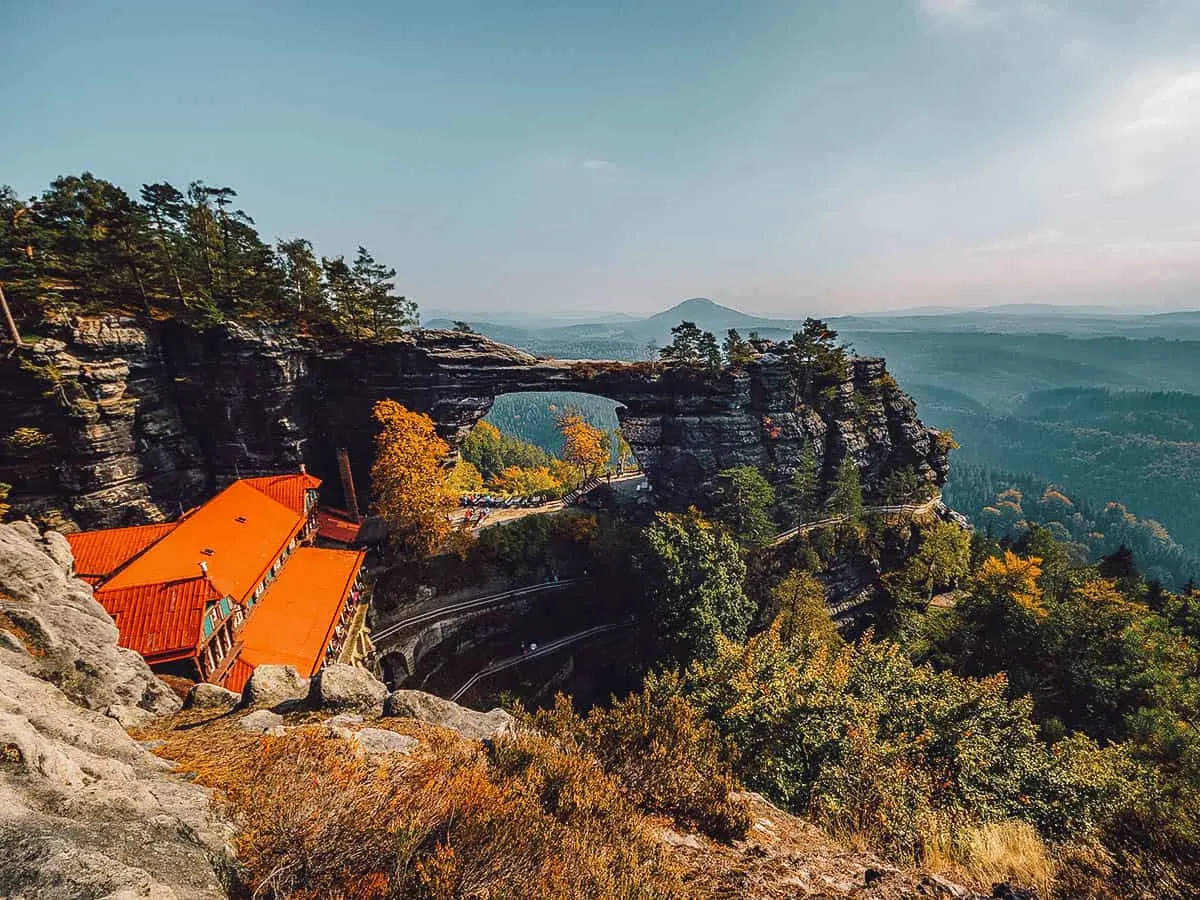 Photo by Pavel Tvrdy via Shutterstock
3. Karlovy Vary
If you enjoy spa treatments, then you may want to spend the day in Karlovy Vary. It's a spa town about 130 km (81 mi) west of Prague. The area is home to numerous hot springs which make Karlovy Vary the most visited spa town in Czechia.
You can visit Karlovy Vary by bus from Prague. The journey takes around 2 hours and costs about EUR 6. I read that walk-ins aren't always welcome so it's best to book spa treatments in advance.
If you'd like to visit Karlovy Vary on a guided tour, then you can book one through Get Your Guide.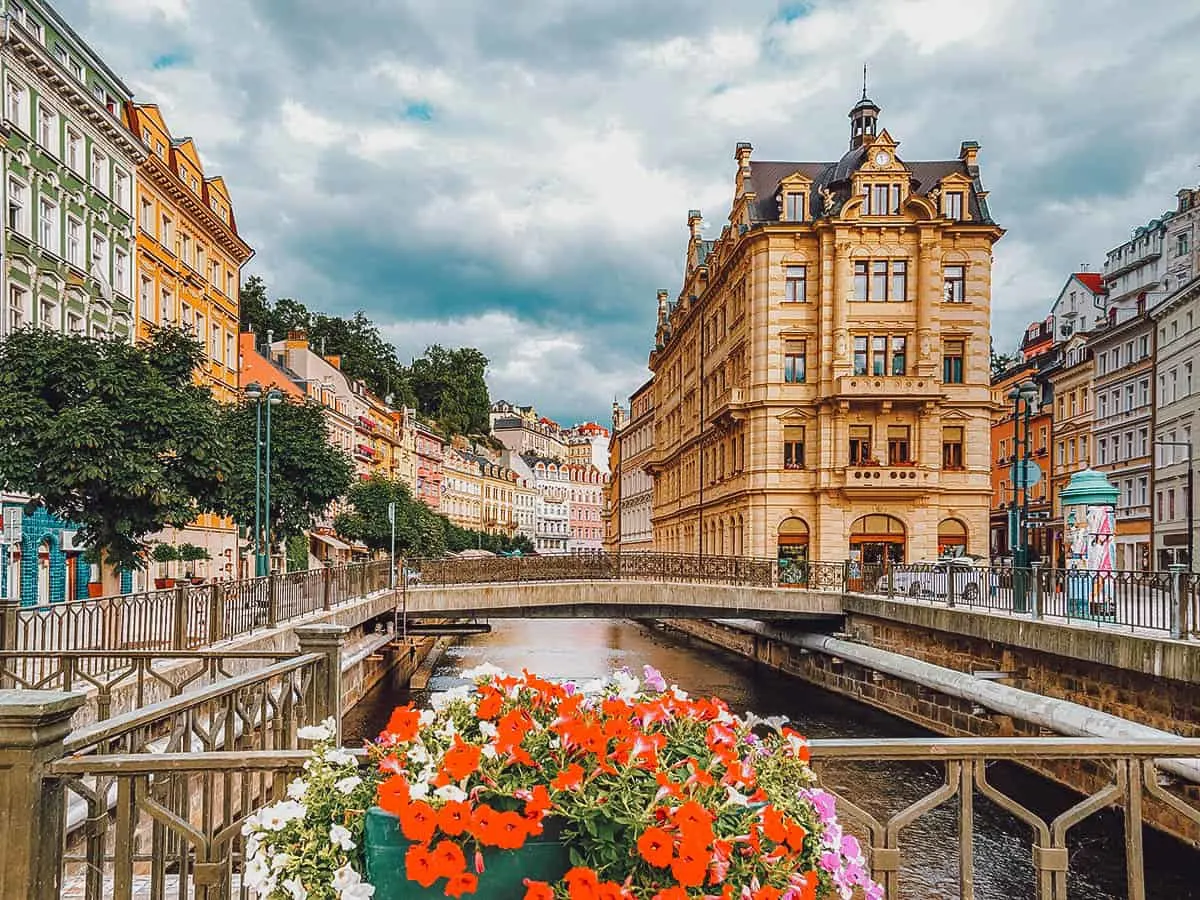 Photo by NaughtyNut via Shutterstock
4. Cesky Krumlov
Cesky Krumlov is a town we would have loved to visit with more time in Prague. It's a UNESCO World Heritage Site buried in the hills of southern Czechia, about 30 km (18.6 miles) north of the Austria border.
I first learned about Cesky Krumlov after reading about it on Rick Steves' website. He was glowing in his description of this fairy tale town that's often described as a miniature version of Prague.
With a population hovering around 13,000 people, Cesky Krumlov shares many of Prague's old world charms without its big city pitfalls. In Rick's words, it's the "quaint, small-town Europe that many people dream of experiencing".
Cesky Krumlov deserves one or two nights but if you're pressed for time, then you can visit on a guided day tour with Get Your Guide.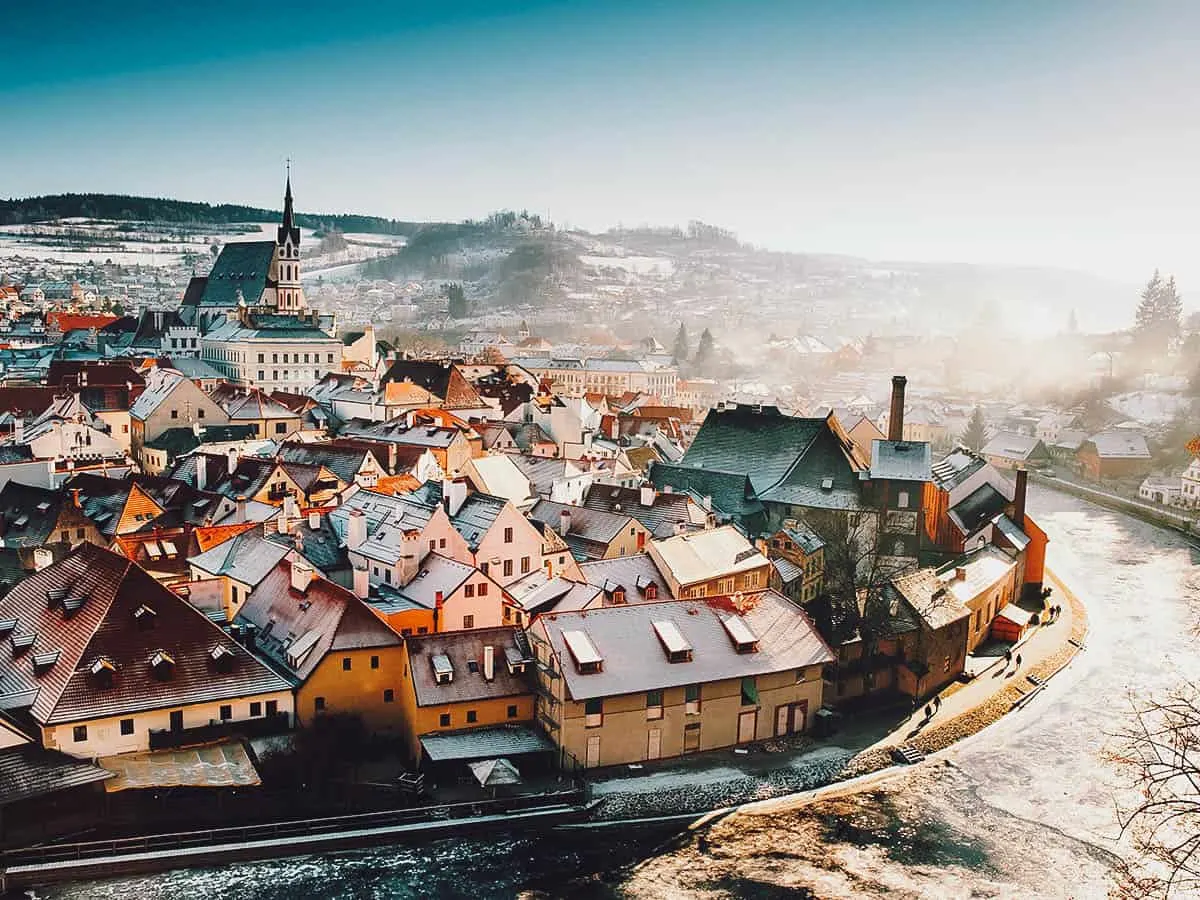 Photo by Natalia Deriabina via Shutterstock
CZECH FOOD GUIDE
Czech food is largely a meat and gravy type of cuisine. It's heavy on roasted meats and starches and is the type of cuisine you'd expect from a country that experiences harsh winters. If you travel for food like we do, then be sure to check out our Czech food guide for a list of must-try dishes in Prague.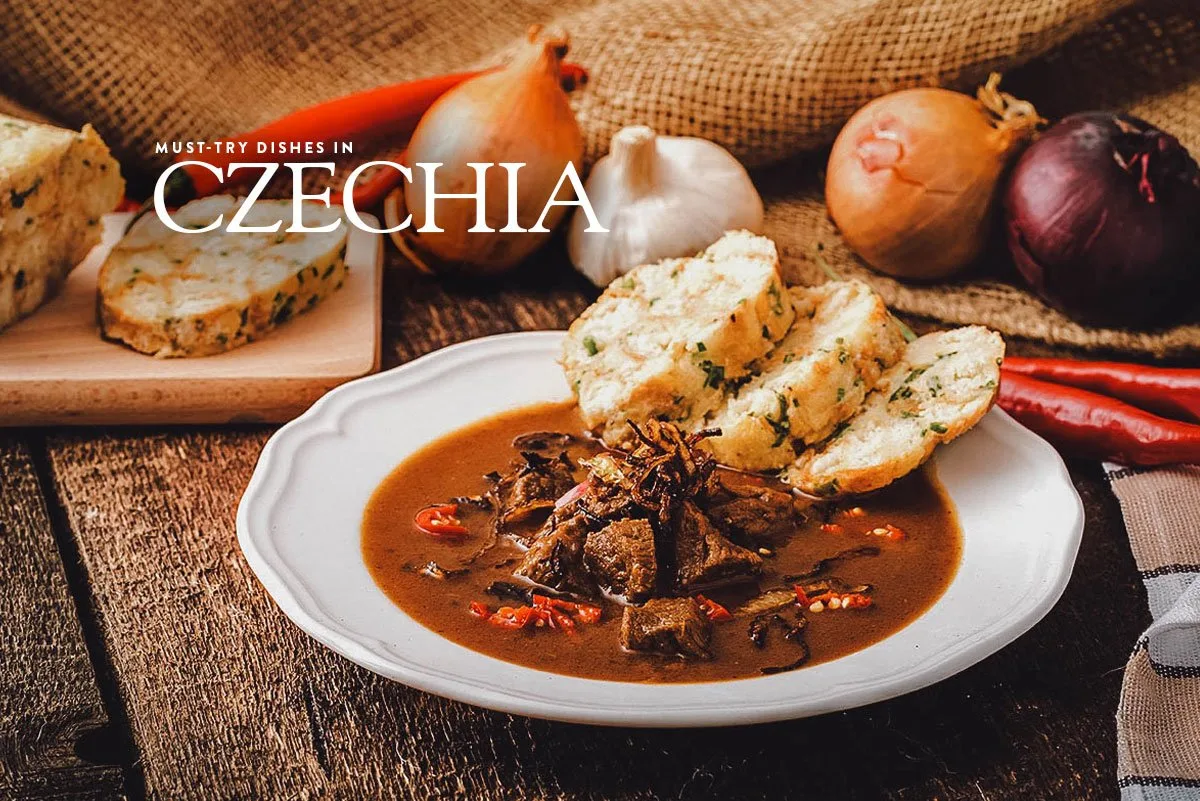 Photo by Peteer via Depositphotos
WHERE TO EAT IN PRAGUE
Our Czech food guide offers suggestions on what dishes to look for in Prague. If you're searching for recommendations on which restaurants to visit, then check out our food guide with a list of great restaurants to try in Prague.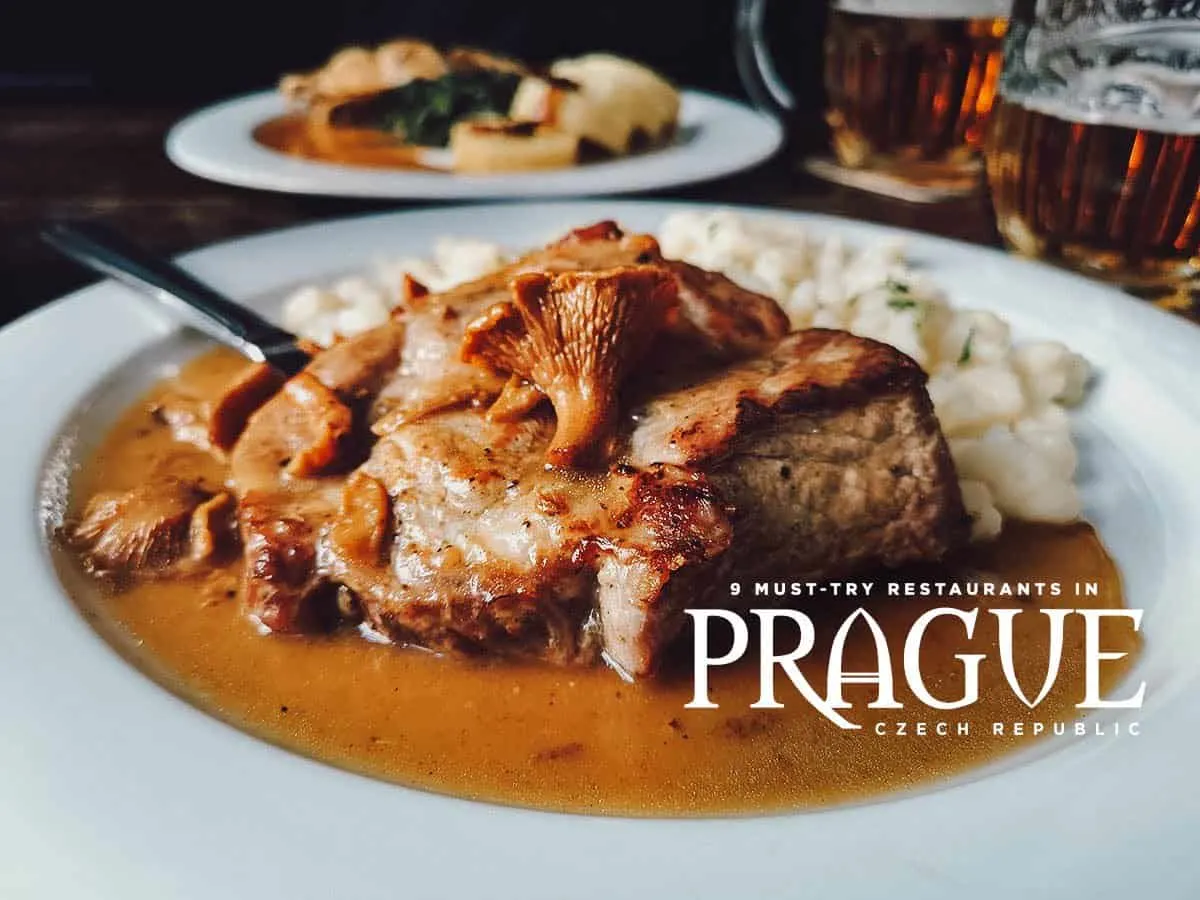 Nine may be too many for most people so I've listed three of our favorites below. Be sure to click through to the full food guide for more pictures and information.
1. Lahudky Zlaty Kriz
Lahudky Zlaty Kriz specializes in oblozene chlebicky, a type of open-faced sandwich popular in Czech cuisine. It's similar to Spanish pintxos except it's more artfully presented and made with softer bread.
As described, Czech food is typically heavy so it was nice to try something light like chlebicky. Another popular place to try it is Bistro Sisters which is located directly opposite Nase Maso.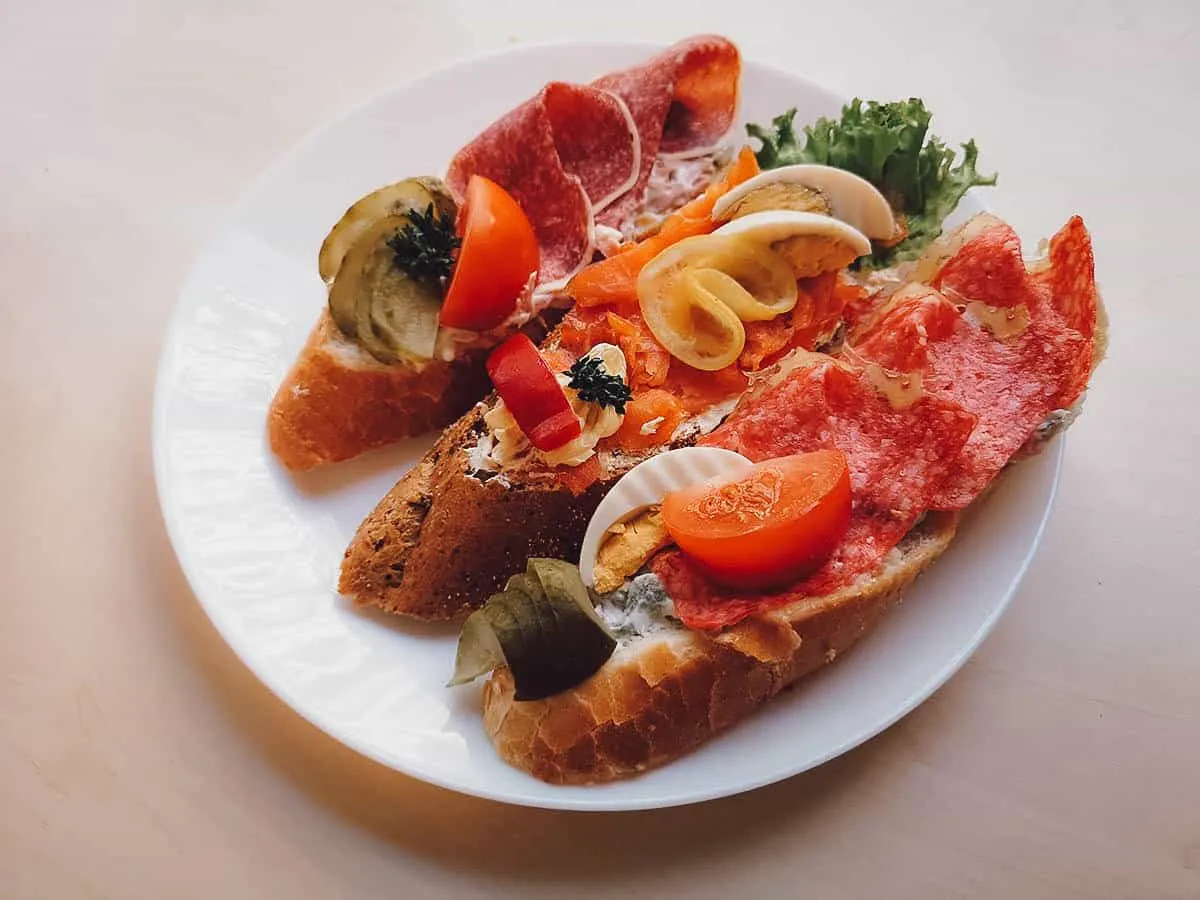 2. Nase Maso
If you're a big meat eater, then you're going to love Nase Maso. It's both a butcher shop and restaurant that's known for serving some of the best meat in Prague.
We enjoyed Nase Maso so much that we wound up eating here twice. Aside from this delicious plate of roasted bone marrow, we had bone-in ribeye steak, house-made sausages, and some of the most fantastic dry-aged burgers.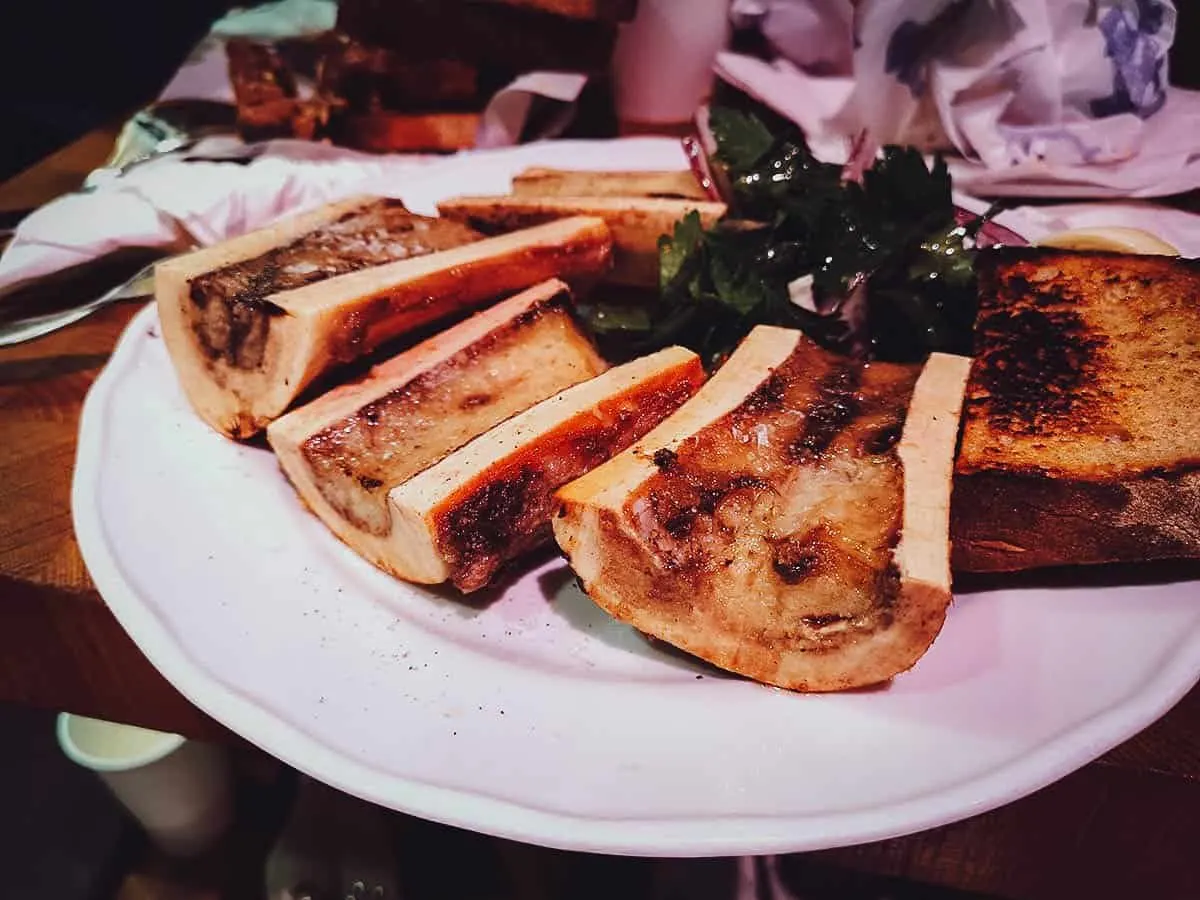 3. U Parlamentu
U Parlamentu is a great place to try traditional Czech food. They serve the usual meat and potatoes fare like this tasty pork chop with golden chanterelle sauce and a side of buttery spaetzle.
Opposite my plate is Ren's rabbit roast in garlic sauce with spinach, potato dumplings, and onion jam. Delicious!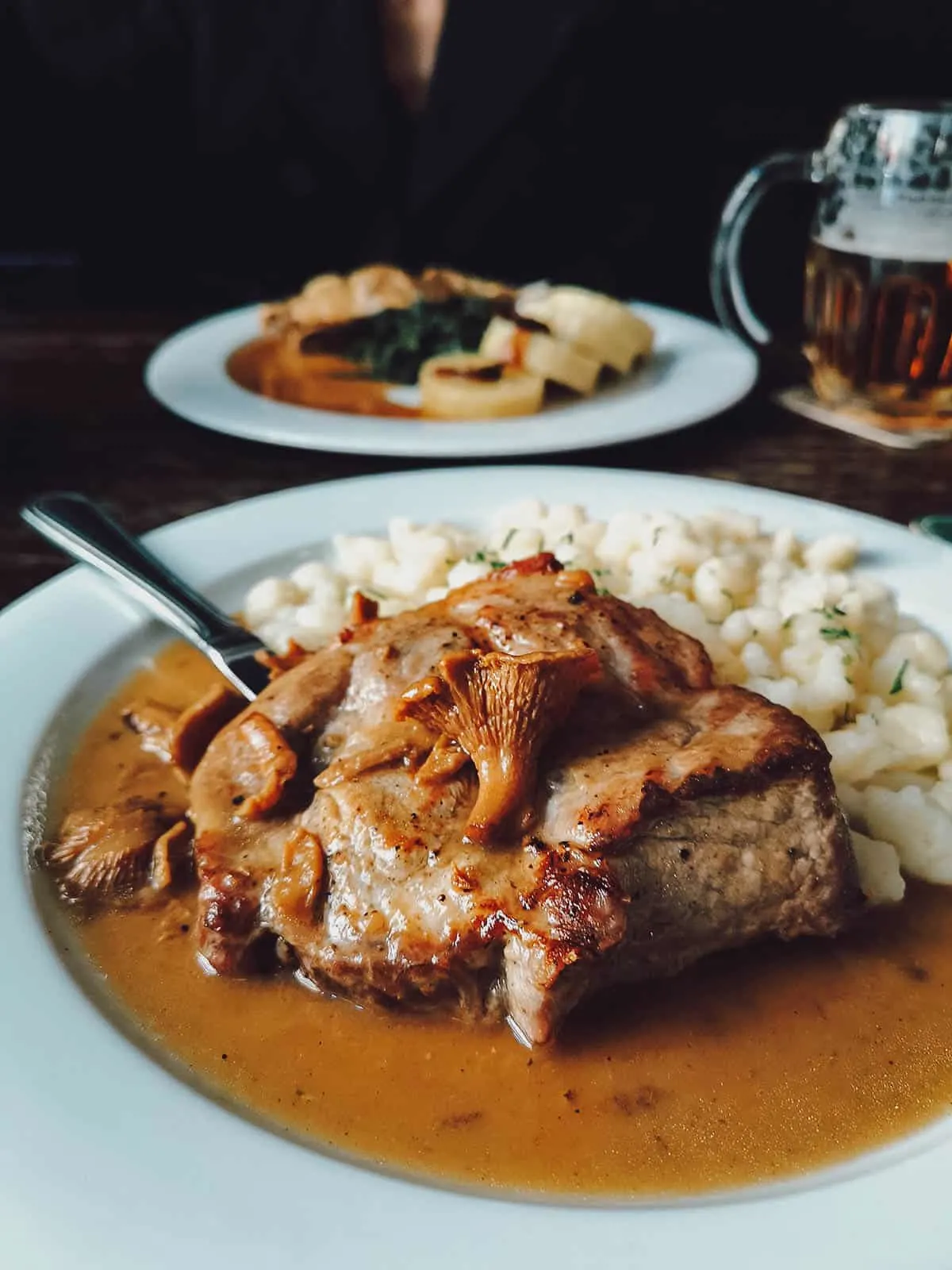 POINTS OF INTEREST IN PRAGUE
To help you find the places recommended in this guide, I've pinned them all on a map. Click on the link to open the live map in a new window.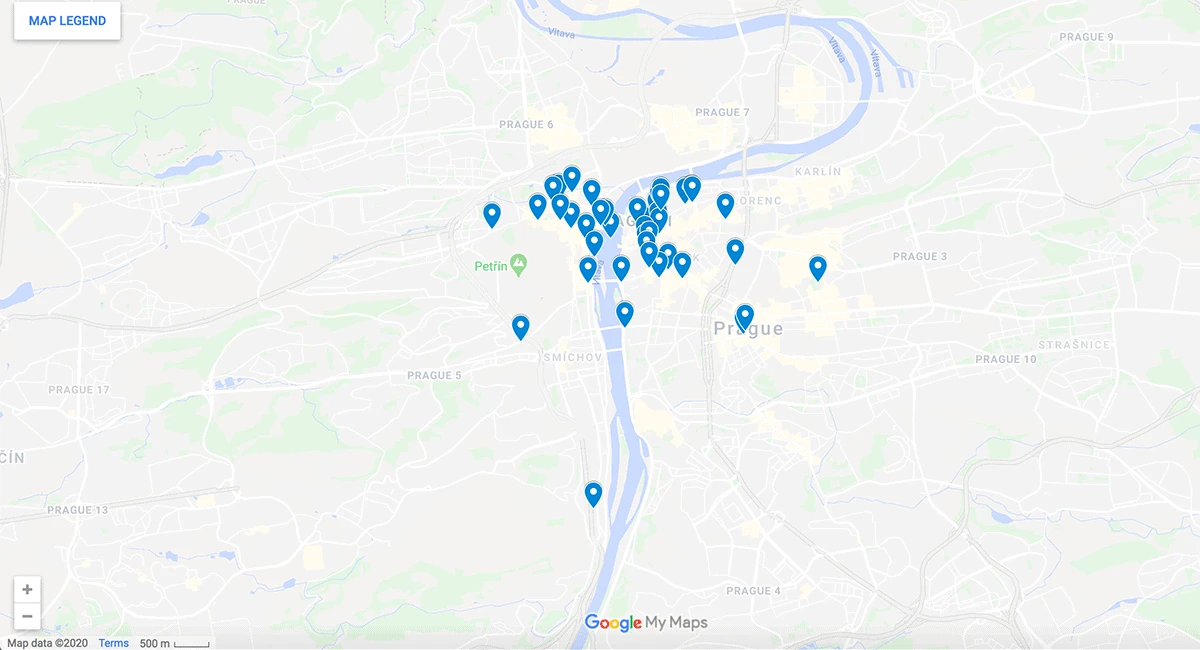 HOW TO GET AROUND IN PRAGUE
Prague is fairly compact with most of its major tourist attractions located within the historic Prague 1 district. If you like to walk and don't plan on venturing too far from the Old, New, and Lesser Towns, then you can easily explore the city on foot.
If you'd like to use public transportation, then you'll need to purchase a transport ticket. They can be purchased from any metro station and from the orange/yellow ticket machines at major tram and bus stops.
Public transport tickets in Prague will give you access to all metro, tram, and bus lines. They're valid for 30 minutes, 90 minutes, 1 day, or 3 days. You're allowed to make as many transfers as you need – between trams, buses, and subway lines – for the duration of your ticket.
It's important to remember to validate your ticket at the start of your journey. If you don't, then you could be facing a hefty fine if you get caught. Here's a summary of ticket prices.
| | | | | |
| --- | --- | --- | --- | --- |
| Ticket Type | | Adult | | Child (10-15) |
| 30-min ticket | | CZK 30 | | CZK 15 |
| 90-min ticket | | CZK 40 | | CZK 20 |
| 1-day pass (24 hrs) | | CZK 120 | | CZK 60 |
| 3-day pass (72 hrs) | | CZK 330 | | CZK 330 |
No matter how you get around, I suggest downloading the Google Maps app (iOS | Android) if you haven't already. It'll tell you all the different ways to get from one place to the next either by walking or using any city's public transportation system. It's incredibly useful.
Be sure to have Uber installed on your phone as well in case you need to book a ride. We only needed it once in Prague, to go from our AirBnB in Zizkov to the airport.
HOW MANY DAYS TO STAY / PRAGUE ITINERARY
If all you're interested in are Prague's top tourist attractions, then you should be able to see everything in two full days. You can explore the Old and New Town on your first day then spend the next at Prague Castle and the Lesser Town.
Here's a quick 2D/3N itinerary but be sure to check out our full Prague itinerary for more information.
DAY ONE
• Jewish Quarter
• Franz Kafka Monument
• Municipal Library of Prague
• Old Town Square
• Astronomical Clock
• Man Hanging Out
• Franz Kafka's Head
• Dancing House
DAY TWO
• Namesti Miru (Tram 22)
• Prague Castle
• St. Vitus Cathedral
• Golden Lane
• Waldstein Garden
• Infant Jesus of Prague
• John Lennon Wall
• The Narrowest Street in Prague
• Franza Kafka Museum
• Charles Bridge
PRAGUE TRAVEL TIPS
1. Plan your Trip with Sygic Travel
I've been using this free trip planning app for many years now. What it does is allow me to pin points of interest on a map – places like our hotel, metro stops, attractions, and restaurants – and then group them by day to create as efficient an itinerary as possible.
Click on the link to read more about the Sygic Travel app. You can download it for free on iOS or Android.
2. Rent a Pocket Wifi Device
Going on a trip with a reliable wifi connection is as important as packing a toothbrush. You'll need it to navigate, convert currencies, and do last-minute research. Having access to Google Maps alone justifies the cost.
We brought Pokefi devices with so so we didn't need to rent any in Czechia. But if you do need a device that works in the Czech Republic and Europe, then you can rent one through Get Your Guide.
3. Validate Your Ticket
As described, it's important to validate your ticket before entering a metro station or when boarding a tram or bus. It's a little machine that you stick your ticket into to get it stamped.
If you don't validate your ticket and you get caught, then you could be facing a fine of CZK 1,500. That's a lot to pay for a transport ticket that costs as little as CZK 30!
4. Store Your Luggage
Apartment rentals like AirBnB and Vrbo are becoming increasingly popular these days. They're often cheaper than hotels and make you feel more at home. However, there's no front desk so finding a place to store your luggage can be a problem if you arrive before check-in.
That happened to me in Prague but luckily, I was able to store my suitcase in a locker at the train station. You can do that as well but if you'd like to arrange for luggage storage beforehand, then check out Luggage Hero for storage options in Prague.
5. Check for Prague Travel Deals
There are many websites that offer vouchers to tours and other travel-related services. For trips to Prague, I suggest going through Get Your Guide and Klook. They're both leading travel ecommerce websites that offer a good selection of deals on tours, transfers, museum tickets, and more.
6. Rent a Car
If you're comfortable driving in Europe, then renting a car is one of the best ways to get around. It frees you from train or bus schedules and allows you to travel at your own pace.
We didn't rent one in Czechia but we did rent cars in Santorini and Spain. It gave us the freedom to go wherever we wanted, whenever we wanted.
If you're considering renting a car in the Czech Republic or anywhere else in Europe, then you can do so on Rentalcars.com.
7. Get Travel Insurance
We don't always get travel insurance. It depends on where we're going, what we'll be doing, and how long we'll be away for. If we plan on doing any physical activities, anything that could land us in the hospital, then we'll definitely get it.
When we do feel the need for insurance, we get it from SafetyWing or Heymondo. They're both popular travel insurance companies used by many long-term travelers. Click on the links to get a free quote from SafetyWing or Heymondo. Will Fly for Food readers get 5% off on Heymondo when using our link.
8. Bring the Right Power Adapter
Czechia has Type C or Type E electrical outlets so be sure to bring the right power adapters for your devices. Electrical voltage is 230V and the standard frequency is 50Hz.
Have Fun!
I'm definitely not an expert on Prague but I do hope you find this guide useful. I'm only sharing some of the things I learned from our trips. If you have any questions or suggestions, then please leave them in the comment section below. You're welcome to join our Facebook Travel Group as well.
Thanks for reading and have a magical time drinking the pilsner in Prague!
OUR GEAR
These are some of the things we brought with us to Prague. For a complete list of our gear, take a peek inside our backpack. (NOTE: The following links are Amazon and other affiliate links.)
Disclosure
Some of the links in this Prague travel guide are affiliate links, meaning we'll earn a small commission if we make a sale at no added cost to you. We only recommend products and services that we use ourselves and firmly believe in. We really appreciate your support as this helps us make more of these free travel guides. Thank you!