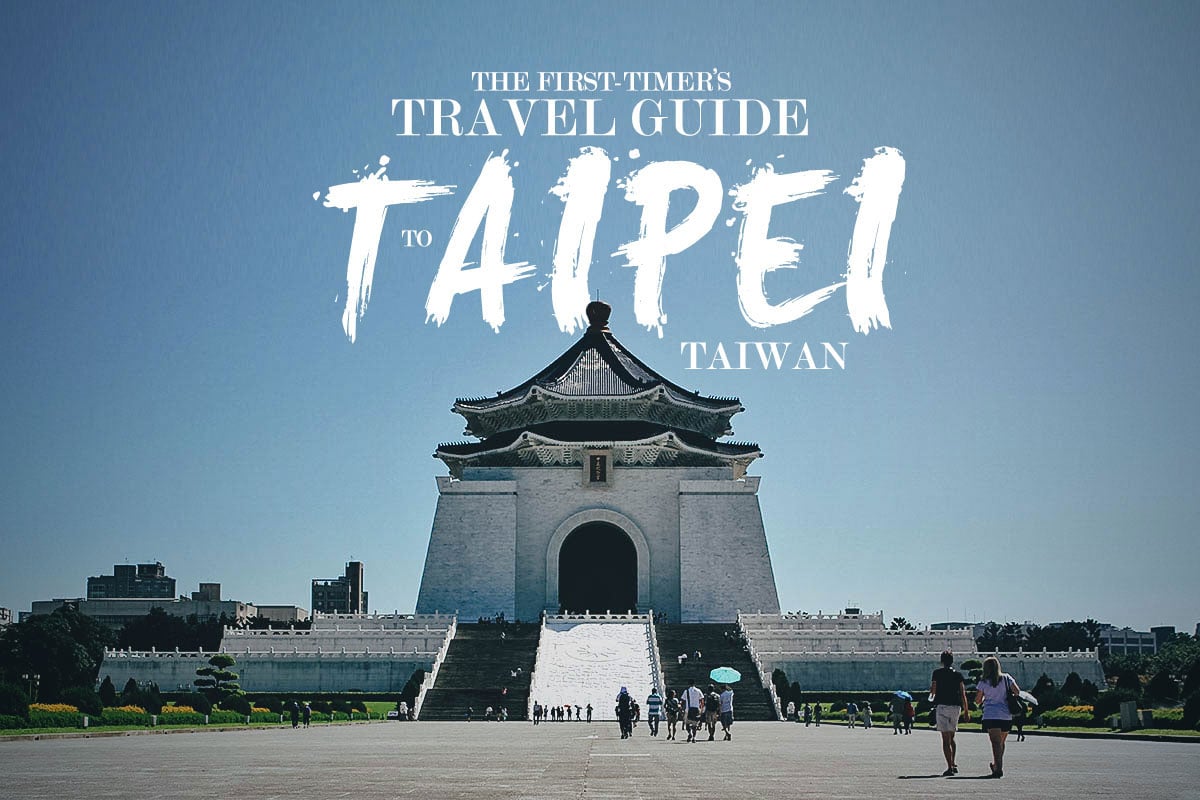 The First-Timer's Travel Guide to Taipei, Taiwan
I have OCD. I obsess and obsess and obsess over certain things until I think they're (near) perfect. Which is why this Taipei travel guide, or at least the first version of it, has been eating me up for almost four years now.
When we first visited Taipei in 2014, it was a spur of the moment trip that lasted just three days. I wasn't expecting much from that trip, but to my surprise, I wound up falling in love with Taipei and Taiwan. The problem was, three days didn't give us enough time to do all the things we wanted to do. It didn't give us enough time to see all the places we wanted to see, it didn't give us enough time to eat all the food we wanted to eat, which is why I've been dying to come back to Taipei ever since. Those three days gave me enough material to come up with a decent travel guide, but to me, it was painfully incomplete. I had to do it again, and this time, I had to do it right.
I finally got my chance this March when we took a two-week trip to Taiwan, five days of which were dedicated to this city and finishing what we started four years ago. This travel guide is by no means perfect (yet), but it paints a much better picture of what this charismatic and surprisingly progressive city has to offer.
GUIDE TABLE OF CONTENTS
TAIPEI AT A GLANCE
Taipei is the capital of Taiwan. Located in the northern part of the country, it's comprised of twelve districts with a total population of around 2.7 million. It's the cultural, financial, and political center of the island so any first-time visit to Taiwan should begin here.
To be honest, I didn't know what to make of Taipei when we first visited in 2014. At first, I wasn't as excited to go because I hadn't heard much about it and its popular attractions didn't seem all that interesting to me. But as described above, that short three-day visit was all it took to make me a fan of the city and of Taiwan. Ren and I have fallen in love with this country so much that we're actually toying with the idea of moving here.
There are many things to love about Taipei like its night markets and many museums. But beyond its attractions, what makes Taipei so alluring for me, is the city itself. With conveniences like a cheap but incredibly efficient metro system, and its plethora of well-maintained public parks, it's a city that clearly puts its people first.
BEST TIME TO VISIT TAIPEI
Generally speaking, Taiwan enjoys mild weather year-round with an average temperature of about 23°C (73°F). The rainiest months are from May to September, with June to August being the height of typhoon season. Avoid those months at all costs. I had an aunt who visited Taipei during that time and she couldn't go to a single night market because it was raining hard every night. Night markets are a big part of the Taiwan experience so you don't want that to happen to you. Ideally, shoot for late October to March if you can. The weather is cool and dry and air pollution is at a minimum.
OCT-MAR: The weather in Taipei is most pleasant from around the end of October to March. This is the driest time of the year and temperatures are relatively mild. Spring is the time to go if you'd like to catch the cherry blossoms. They're notoriously difficult to predict but shoot for around February till mid-March. Some forecasts say April but that may be too late. We traveled throughout Taiwan from 12-24 March and we only saw cherry blossoms once, at Sun Moon Lake.
APR-SEPT: As advised, it's rainier, warmer, and more humid during these months so it's best to avoid them if you can. Temperatures often exceed 30°C (86°F) during the summer and it gets uncomfortably humid as well. June till August is the height of typhoon season while September is the rainiest month. Avoid that stretch at all costs because it sucks having to stay indoors and not be able to go to a night market. That happened to us during our one and only night in Tainan and it really did suck.
Climate: Annual Monthly Weather in Taipei
To help you better understand the weather in Taipei, I've included average temperature and annual rainfall graphs below. Suggested months to visit are indicated in orange.
Average Temperature


Annual Rainfall


TRAVELING TO TAIPEI
Most travelers to Taiwan will be arriving by plane. Taipei has two international airports — Taoyuan and Songshan — but the vast majority of international flights are served by Taoyuan. You can get to the city from Taoyuan Airport by MRT, bus, taxi, or private transfer.
BY MRT: The airport MRT is the fastest way to get into the city from Taoyuan Airport. It takes about 35 minutes to get to Taipei Main Station from either terminal 1 or 2. The fare is NTD 160 with trains running from 6:12AM until 10:42PM. From Taipei Main Station, you can continue on the MRT to the station nearest your hotel.
BY BUS: The Kuo-Kuang Bus (Taiwan Bus Corp.) is a good alternative to the MRT, especially if you're arriving late in the evening. After going through immigration and collecting your luggage, proceed to the city bus ticketing counters. Kuo-Kuang Bus 1819 operates 24 hrs and will take you to Taipei Main Station for NTD 140. Follow the link for more information on Kuo-Kuang Bus 1819. From Taipei Main Station, you can then take a taxi or the MRT to your hotel. If you plan on going back to Taoyuan Airport by Kuo-Kuang Bus at the end of your trip, then you can purchase roundtrip tickets in advance through Kkday for just NTD 240.
BY PRIVATE TRANSFER: The most comfortable option would be to go by airport transfer which you can book through Kkday. They offer private transfer options for up to 3 people and up to 8 people, starting at NTD 808 and NTD 1,158 respectively.
BY TAXI: Taoyuan is around 45 minutes away from the city center so a taxi will be expensive, around NTD 1,000-1,200 depending on traffic. This should be your last resort.
WHERE TO EXCHANGE CURRENCY
Taiwan's unit of currency is the New Taiwan Dollar (NTD). I find that changing currency is less stressful in Taiwan because currency exchange services are strictly regulated by the government. Here, you exchange your currency at banks. You won't find any independent money changers in Taiwan like you would in other Asian countries, which is a relief.
It's best to exchange your currency at big local banks like Bank of Taiwan, China Trust Bank, or South China Commercial Bank. We walked in to a smaller bank once and they advised us of a service charge, so I made sure to look for a Bank of Taiwan every time. I did a search on Google Maps and found many Bank of Taiwan branches in Taipei.
Alternatively, you can also withdraw NTD from an ATM. The rates are competitive. Just be sure to advise your bank you'll be using your ATM card overseas so you don't run into any problems. In my experience, my ATM card works in some machines but not in others.
WHERE TO STAY IN TAIPEI
We've only been to Taipei twice thus far so I'm not as familiar with its neighborhoods yet. But in my experience, I found the Ximending area in Wanhua District to be one of the best and most convenient areas to stay. It's a fun and lively commercial area with plenty of shops, restaurants, and cafes.
To be honest though, I think deliberating on which area to stay matters less in Taipei because the public transportation system is excellent. The MRT is so convenient that it almost doesn't matter where you stay. We stayed in Datong District on our first trip, and although it isn't as exciting as Ximending or as close to tourist attractions as Zhonzheng or Xinyi, we never found its location to be an inconvenience. It was close to an MRT station which I think is the case for most hotels in Taipei.
In any case, here are the two places we've stayed at in Taipei, as well as a brief description of other notable areas to consider.
XIMENDING (WANHUA): AirBnB Rental
As described, Ximending in Wanhua District is a fun neighborhood with lots to see and do. It's an energetic neon-lit environment that's often referred to as the "Harajuku of Taipei". For travelers like us who enjoy being close to plenty of food options, I think Ximending is one of the best areas to stay in Taipei. Conveniently, walk a little south and you'll find yourself in a starkly less commercial and more historical part of town. A mere 15-minute walk from trendy Ximending are some of Taipei's most popular cultural attractions, like Longshan Temple and Bopiliao Historical Block.
We booked the large studio apartment below through AirBnB for just USD 40 a night. It was cozy and conveniently located and had everything we needed. It would get a little noisy around the same time every night, probably from a garbage truck running its route, but it wasn't too much of a bother. Follow the link to book this apartment through AirBnB. You can also check these links for alternate listings in Ximending: AirBnB | Booking.com | Agoda. If you're new to AirBnB, then you can get USD 31 FREE travel credit by signing up through THIS LINK.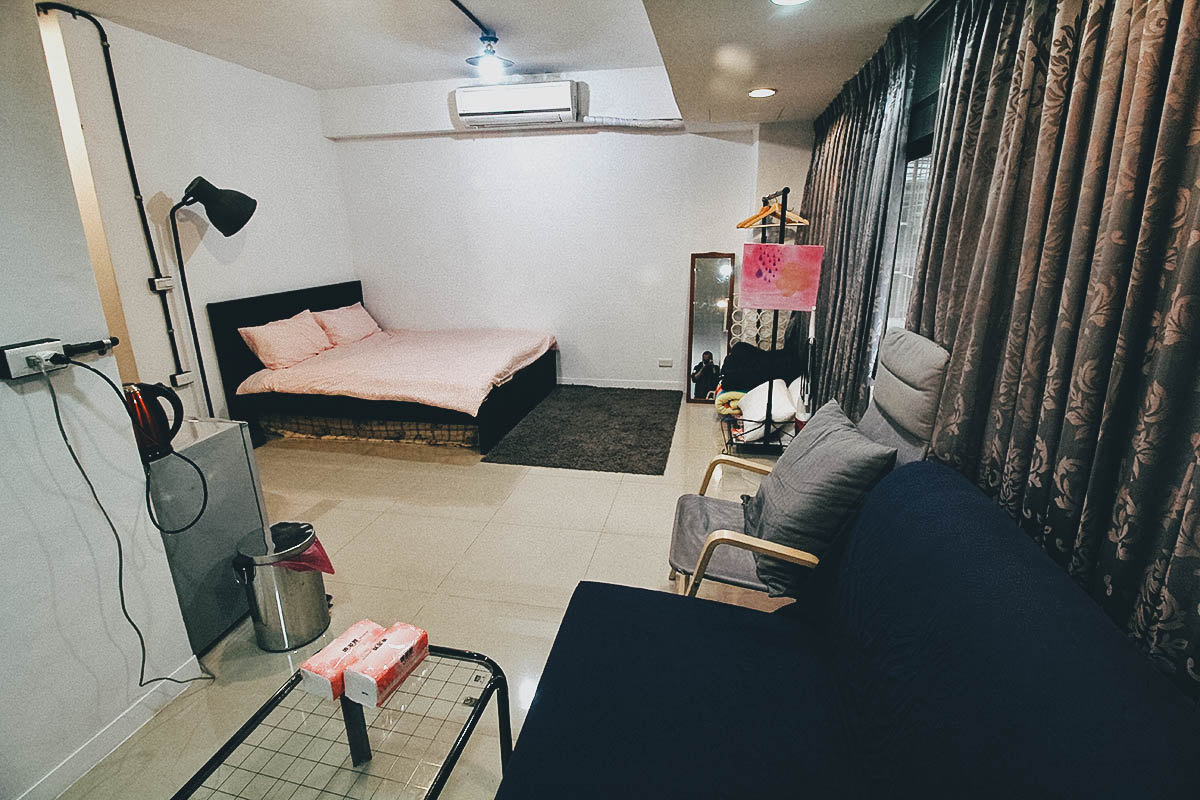 Approximate Room Rate: USD 40 per night (as of May 2018)
DATONG: Dong Wu Hotel
Dong Wu Hotel looks like it's stuck in the 80s so it doesn't get a lot of style points. Where it does excel though, is in comfort and size. The rooms here are big and very comfortable. There's a Family Mart at the corner and Daqiaotou MRT Station is just minutes away. Notable attractions in Datong District include the Museum of Contemporary Art (MOCA), Ningxia Night Market, and Dihua Street with its Japanese colonial and Qing dynasty architecture and Chinese herbal shops.
You can book a room at Dong Wu Hotel through Booking.com or Agoda. Be sure to check both sites to find the better deal. The room rate as of May 2018 is around USD 65 per night.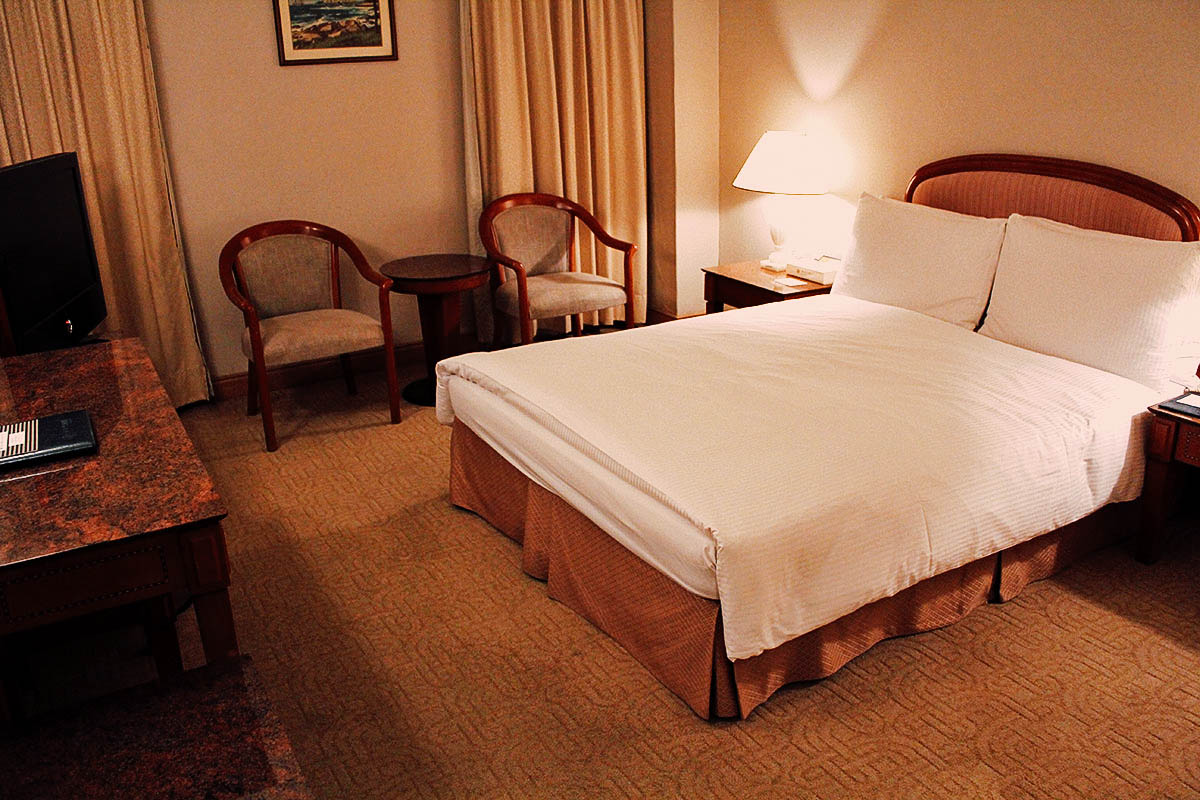 Approximate Room Rate: USD 65 per night (as of May 2018)
Other Districts to Consider
If you don't think either of these areas is right for you, then you can follow these links to find alternate listings in Taipei: AirBnB | Booking.com | Agoda. As described, you can get USD 31 FREE travel credit if you're new to AirBnB by signing up through THIS LINK.
Aside from the two mentioned above, the remaining central districts in Taipei are Zhongzheng, Xinyi, Zhongshan, Da'an, and Songshan. There are five suburban districts as well but those may be too far away to be convenient, especially if it's your first time in Taipei. Here's a brief description for each of the remaining central districts:
ZHONGZHENG: Central; close to Taipei Main Station, Chiang Kai-shek Memorial Hall, Huashan 1914 Creative Park
XINYI: Modern financial district; upscale shopping with lots of restaurants; close to Taipei 101
ZHONGSHAN: Older luxury hotels; many riverside parks; close to Taipei Fine Arts Museum, Xingtian Temple
DA'AN: Modern "green" district; quieter neighborhoods; close to Da'an Forest Park, Shida Night Market
SONGSHAN: More residential area; close to Raohe Night Market
THINGS TO DO IN TAIPEI
1. Get to Know the City on a Hop On Hop Off Tour
I'm a big fan of these Hop On Hop Off tours. For me, there's no better way to get acquainted with a new city. Kkday offers 4- or 24-hour passes to the Taipei City Sightseeing Bus, where you can get on and off as often as you like for the duration of your pass. They ply set routes through Taipei's top attractions like Taipei 101, National Palace Museum, Chiang Kai Shek Memorial Hall, Ximending, and more. Not only is it the easiest way to see Taipei's top sights, but you can also use it as a way of getting around the city. Follow the link for more information and to purchase tickets to Taipei's Double Decker Bus Tour on Kkday.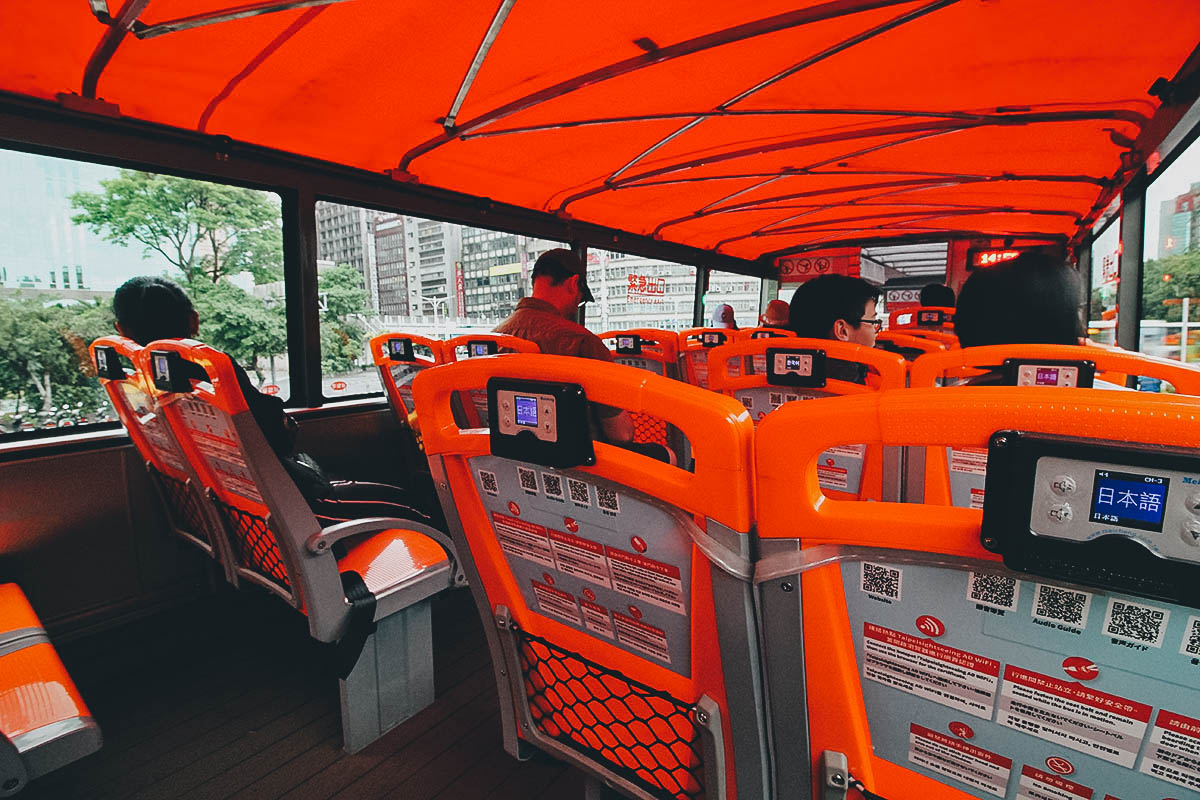 Length of Tour: 4 hrs or 24 hrs / Cost: Starts at NTD 270
2. Get a Killer View of Taipei from the Taipei 101 Observatory
Once holding the distinction of being the world's tallest building, there's no better place to get a bird's eye view of Taipei than from the Taipei 101 Observatory. Located on the 89th floor, the world's fastest elevators will shoot you up to the observatory in a mind-numbing 37 seconds. It sure makes up for that 45-minute wait! Tickets normally cost NTD 600 but you can get them for just NTD 510 if you buy tickets through Kkday. Follow the link to purchase Taipei 101 Observatory tickets through kkday.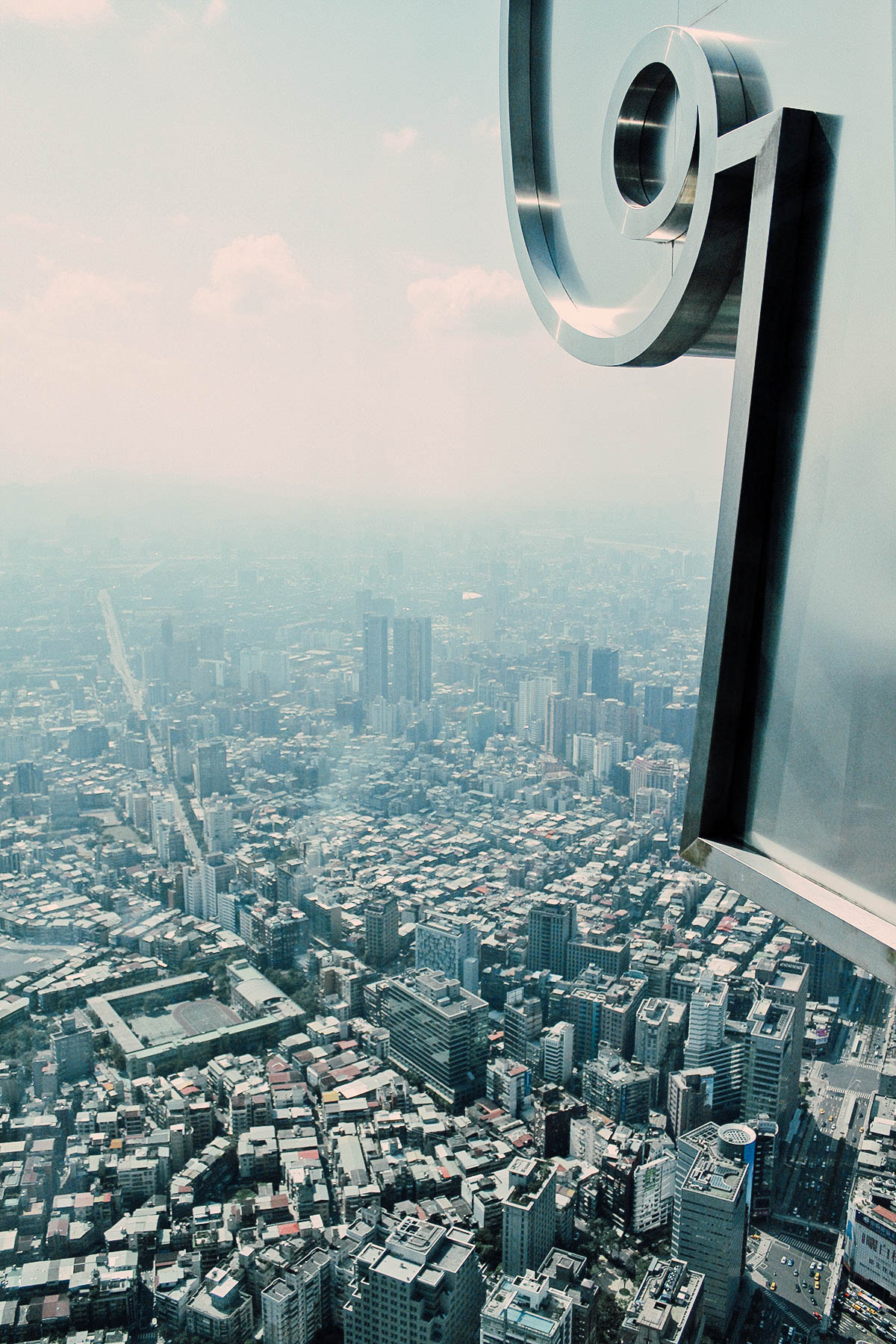 Suggested Length of Visit: 1-2 hrs / Admission: NTD 510 for adults
3. Eat Your Way Through Shilin and Raohe Night Markets
Taiwan is all about night markets. You can't go to Taiwan without eating your way through at least one. There are several you can visit in Taipei, but Shilin and Raohe night markets are the city's biggest and most popular. There you'll find a dizzying array of delicious and cheap street food dishes like flame-torched beef, giant chicken chops, sausages, pepper buns, and a whole lot more. Aside from all the food you'll be tempted by, many night markets have shopping and game stalls as well, so there are plenty of other things you can do aside from eating. Don't be surprised if you wind up spending your whole evening at a Taiwanese night market.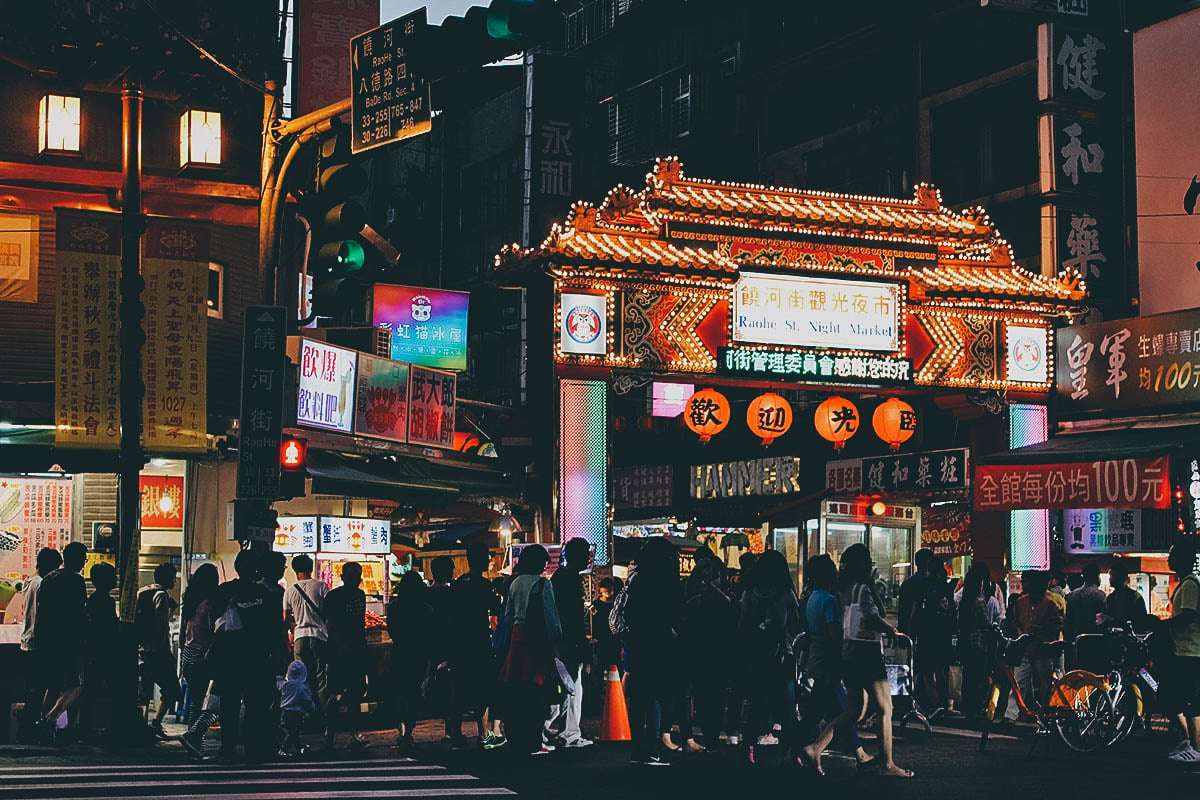 Suggested Length of Visit: 2-3 hrs per night market / Admission: FREE
4. Get Artsy at a Museum or Creative Park
There are plenty of museums you can visit in Taipei. I've been to two thus far – the Museum of Contemporary Art (MOCA) and the National Taiwan Museum, both of which were excellent. But if you had time to visit just one museum in Taipei, the it should probably be the National Palace Museum. It's a gigantic museum with a permanent collection of nearly 700,000 pieces of ancient Chinese imperial artifacts and artworks. Just the sound of it is making my legs wobbly! We'll visit that and the Taipei Fine Arts Museum on our next trip to Taipei.
If you're into the arts but want something a little less conventional than a museum, then you can check out one of Taipei's creative parks. Popular throughout Taiwan, creative parks are typically abandoned industrial spaces like factories and warehouses that have been repurposed into full-time arts and cultural venues. Apart from holding art exhibits and live cultural shows, they host fashion shows, product design expos, art seminars, and lifestyle bazaars all within an historic, industrial setting. Two of the most popular in Taipei include Huashan 1914 Creative Park and Songshan Cultural & Creative Park.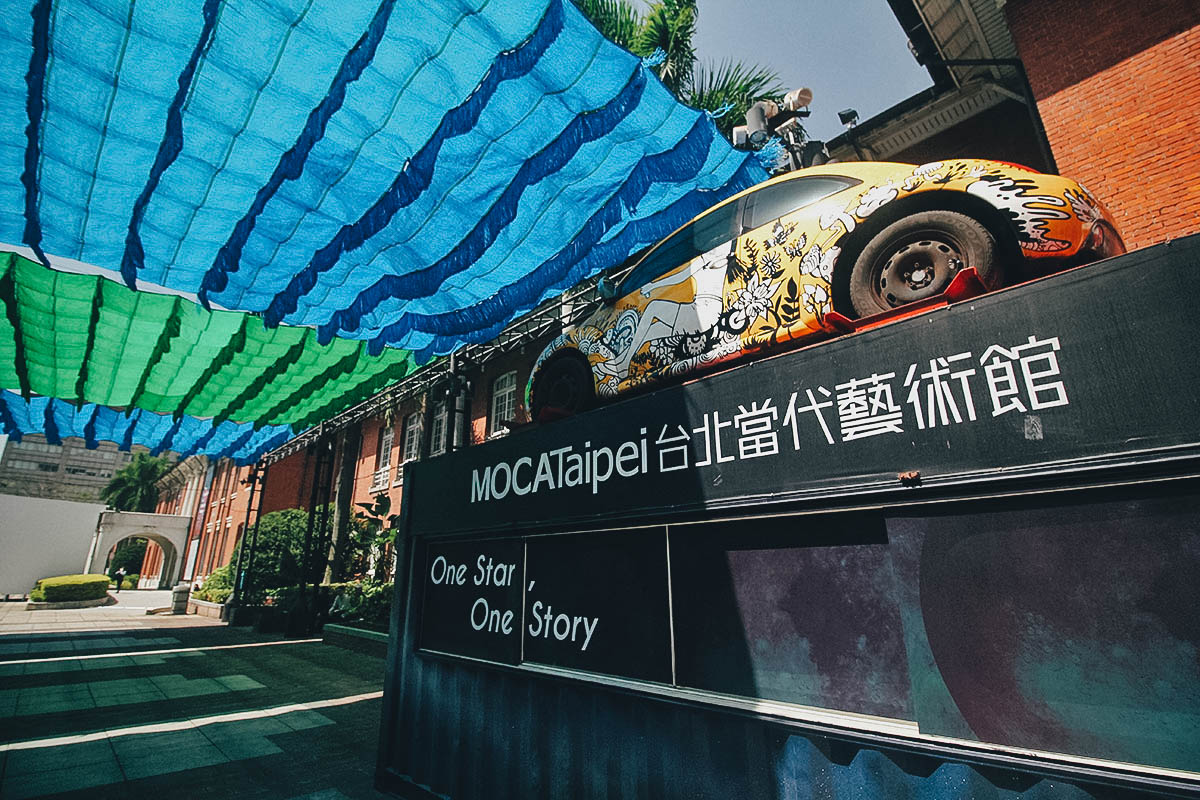 Suggested Length of Visit: 2-3 hrs each at each museum or creative park / Admission: Varies
5. Go on a Free Walking Tour
Aside from the Hop On Hop Off Tour, another great way to get to know Taipei is to join a free walking tour. Like It Formosa offers three types of free walking tours – Historic, Modern, and Golden Age. The Historic Tour covers historical attractions like Longshan Temple, Bopiliao Historical Block, and Chiang Kai-Shek Memorial Hall. The Modern Tour takes you to more contemporary destinations like Taipei 101 while the Golden Age Tour brings you back to the 20s which was a period of much cultural and commercial growth in Taipei. All of these free tours are tip-based so give whatever amount you feel comfortable with. Check out Like It Formosa's website for tour schedules.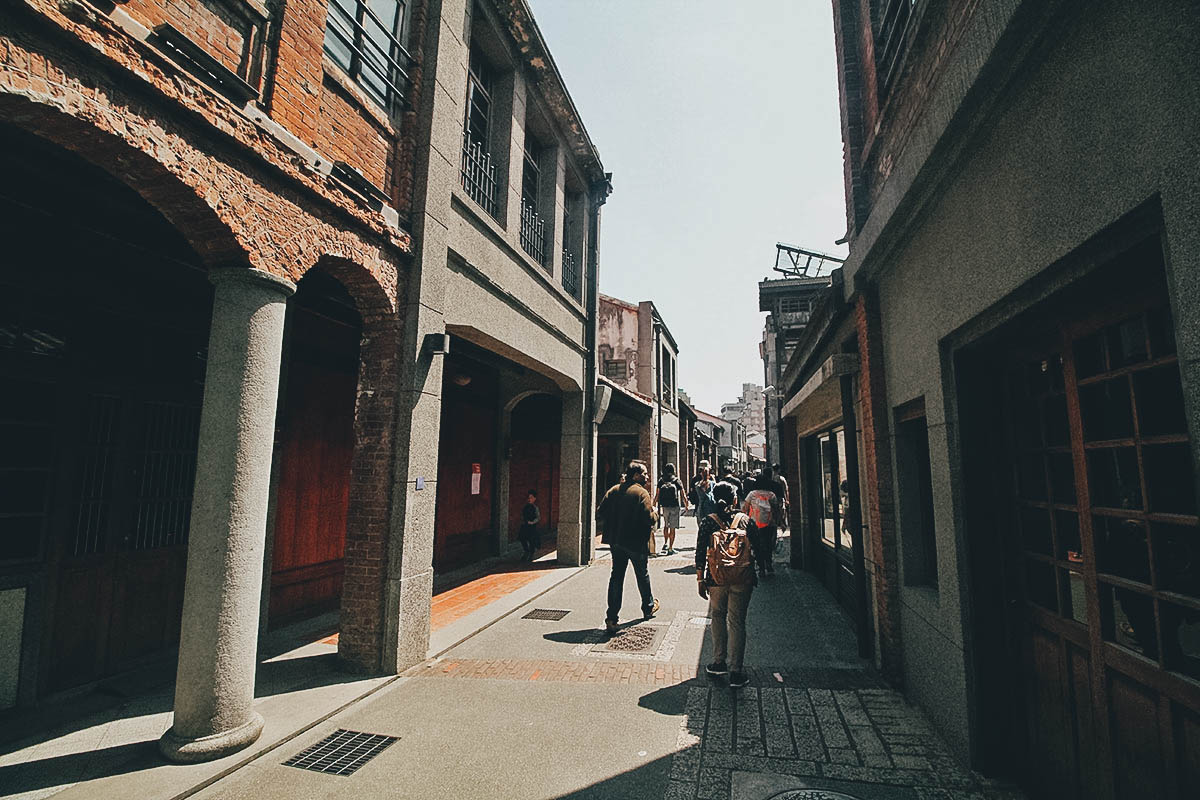 Length of Tour: 2-3 hrs per tour / Cost: Tip-based
6. Feel Tiny at Chiang Kai-shek Memorial Hall
This is one of the most iconic structures in Taipei. If you have a friend or relative who's been to Taipei, then chances are they've posted a selfie on social media with these massive blue and white gates in the background. As you can probably guess, Chiang Kai-shek Memorial Hall is a national monument and landmark built in honor of former ROC president and KMT general, Chiang Kai-shek. The sheer size of this place is remarkable. If you time your visit and come on the hour between 10AM till 4PM (till 6PM on Wed), then you'll get to see the changing of the guard.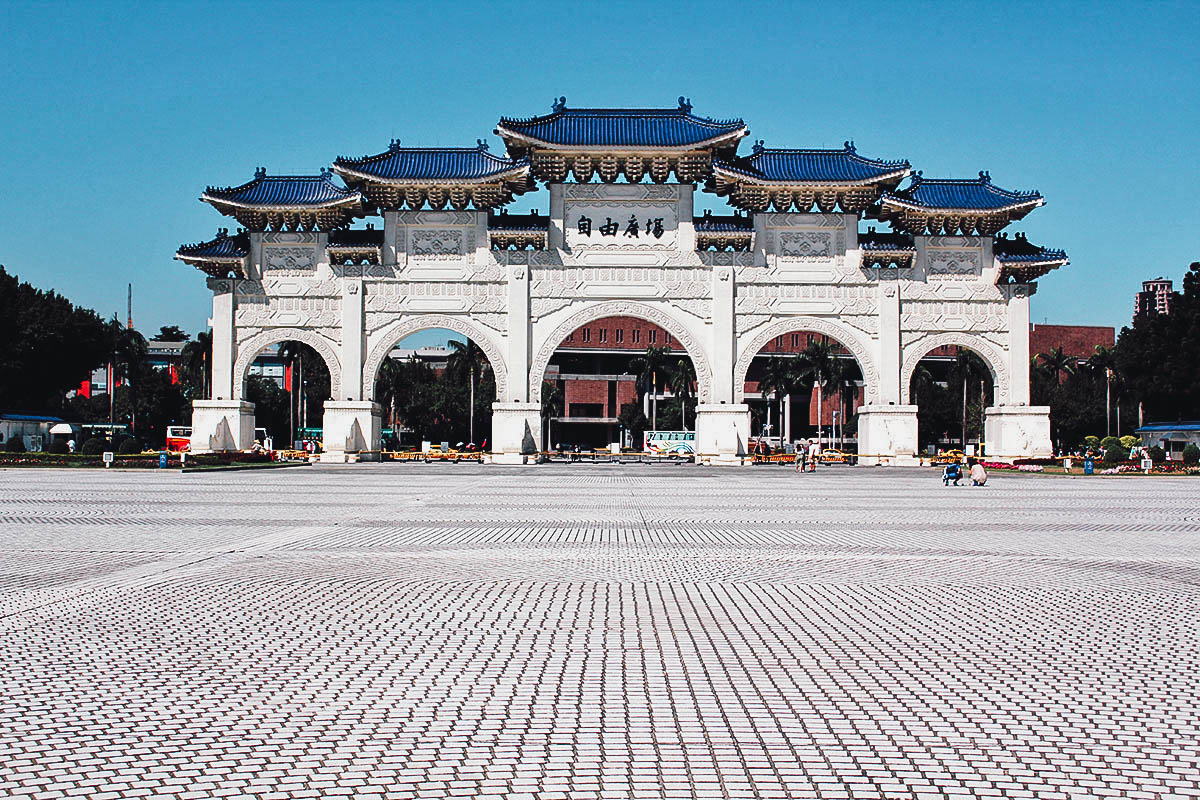 Suggested Length of Visit: 1 hr / Admission: FREE
7. Get a Killer View of Taipei 101 from Elephant Mountain
Now that you've gotten a killer view of the city from Taipei 101, how about getting a killer view of Taipei 101 from Elephant Mountain? We didn't do this but if you're in the mood for an easy hike, then you may want to climb up Elephant Mountain which is conveniently located at the edge of the city. Just take the MRT to Xiangshan Station (Red Line, Exit 2) and walk 10 minutes south to the start of the hiking trail. Don't worry about your fitness level either. There are plenty of steps but it's a relatively easy 15-30 minute hike to the top.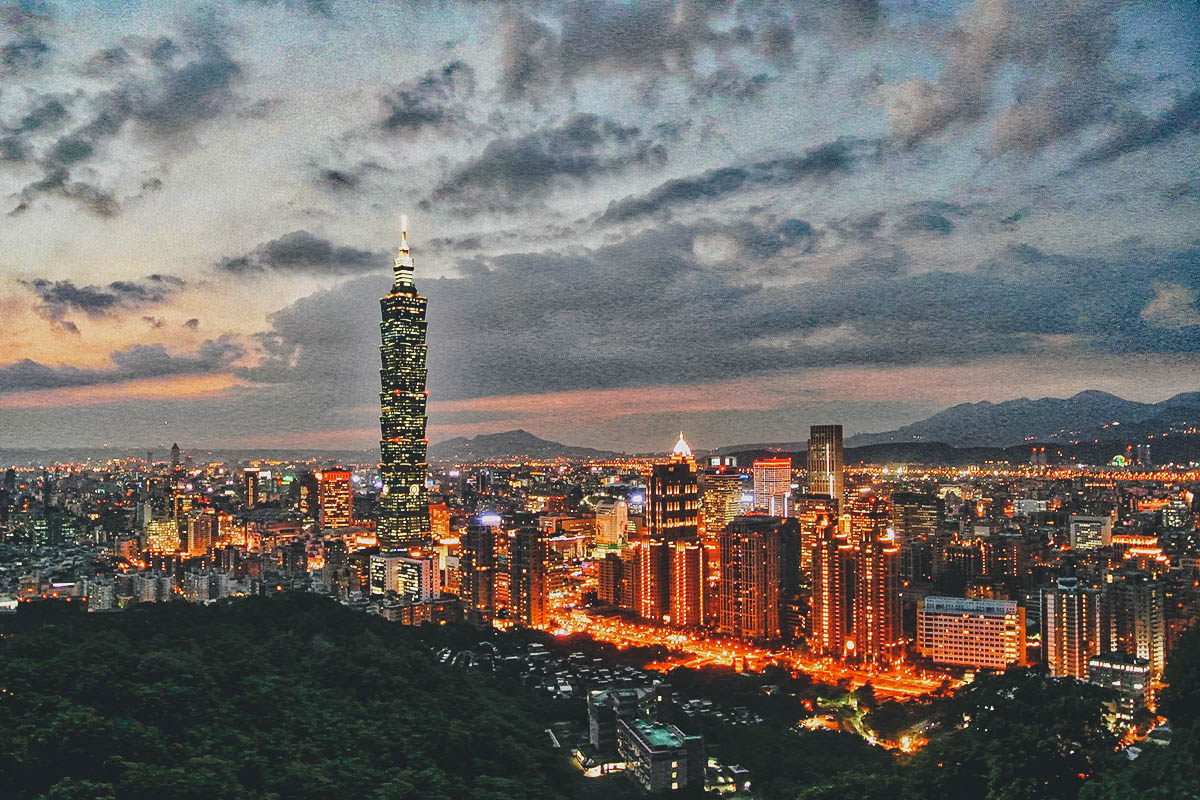 Suggested Length of Visit: 1-2 hrs / Admission: FREE
"View from the Elephant Mountain" by Sara Wanderlust, used under CC BY 2.0 / Processed in Photoshop and Lightroom
8. Shop Till You Drop in Ximending
Filled with trendy shops, boutiques, restaurants, and cafes, the Ximending area is where young Taiwan goes to shop and kill time. If you're traveling to Taipei to go shopping, then you'll probably be spending a lot of time here. As described, we stayed in Ximending on our last trip and the place was always buzzing with activity no matter what time of day it was, kind of like Myeongdong in Seoul. It's especially fun at nights on weekends when young Taiwan flocks to the area to party. The atmosphere is electric.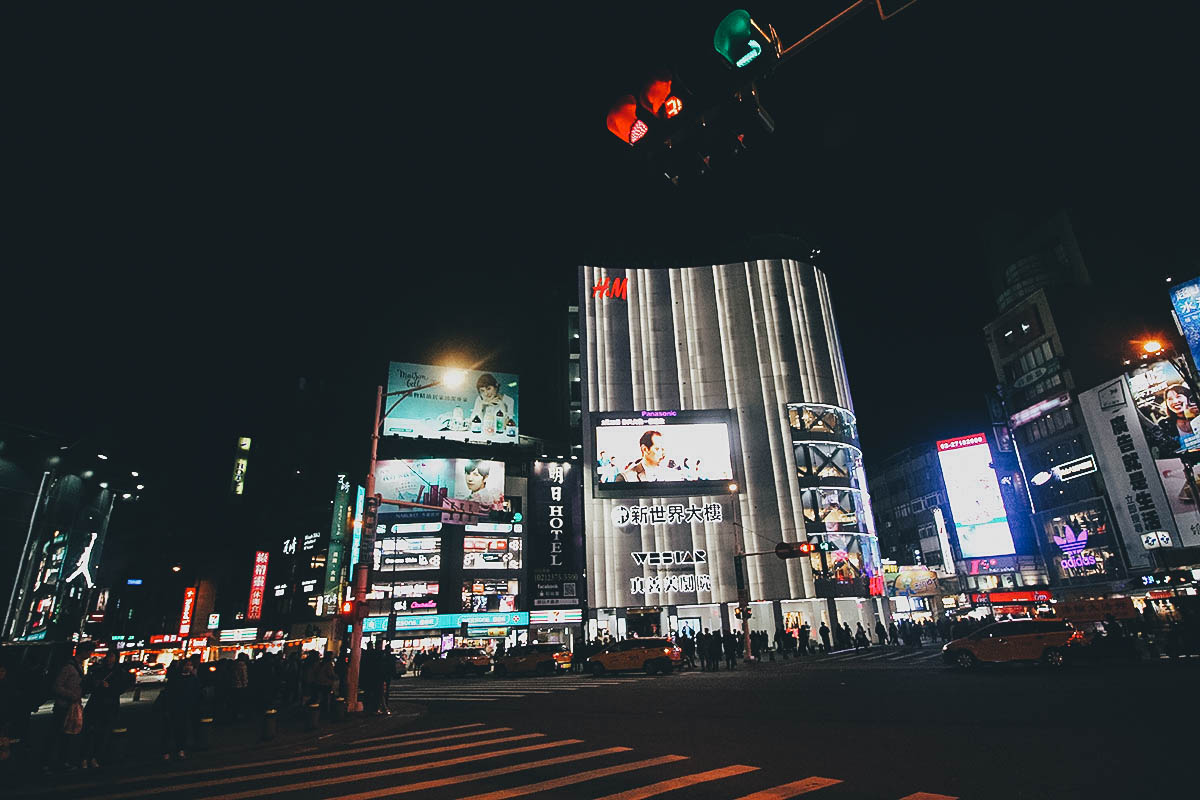 9. Catch and Grill Your Own Shrimp
This is one of the quirkier things you can do in Taipei but it's also one of the most fun. Urban shrimping is a popular Taiwanese pastime where locals cast lines into indoor concrete pools filled with live shrimp. You pay to shrimp by the hour and whatever you catch within that time limit, you can barbecue and eat on the premises. We went shrimping for an hour before heading over to nearby Shilin Night Market. Check out my post on urban shrimping in Taipei for more pictures and information.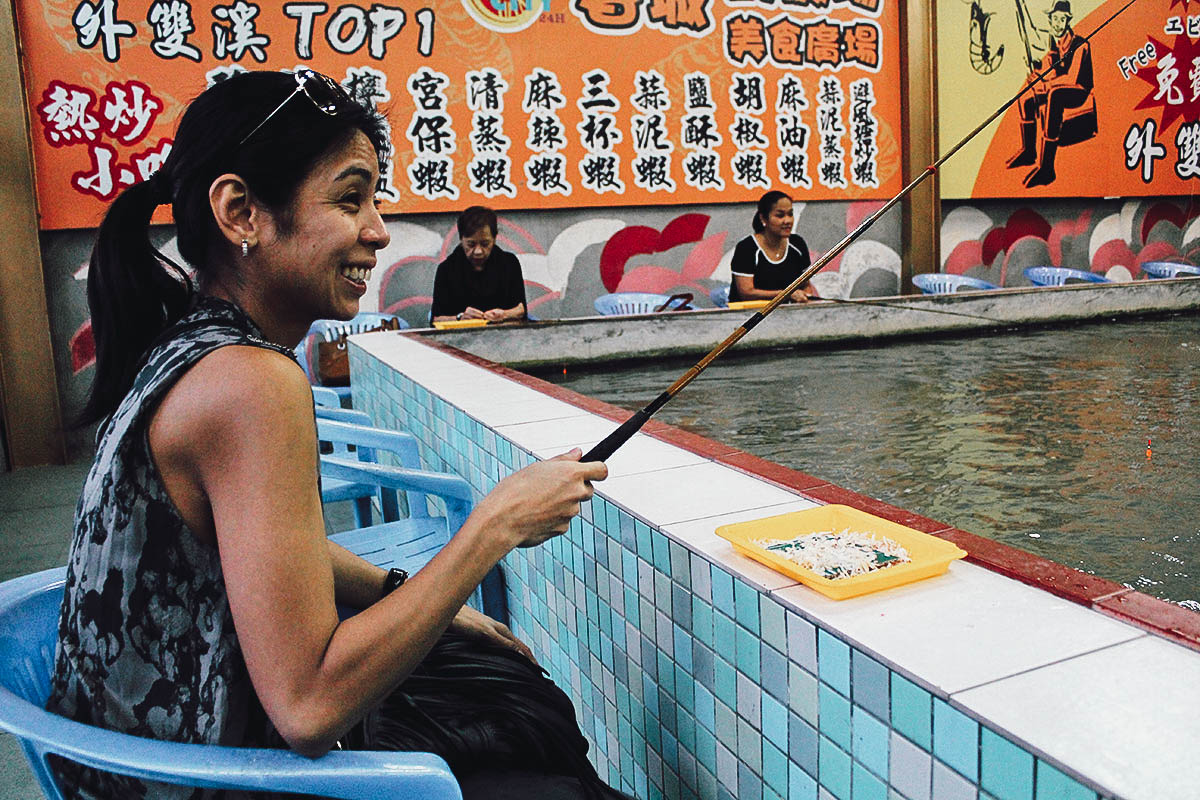 Estimated Time to Spend: At least 1 hr / Cost: Starts at NTD 350 per hr
DAY TRIPS FROM TAIPEI
1. Explore Yehliu Geopark, Shifen, and Jiufen on a Day Tour
This is one of the most popular day tours you can do from Taipei. It's popular because it takes you to four distinctly different attractions in one day. Your first stop is Yehliu Geological Park, a protected area that's home to these unusual, alien-like rock formations called hoodoo stones. You'll then proceed to Shifen to release sky lanterns at a former railroad town before visiting the "Little Niagara of Taiwan". The tour ends in Jiufen, a decommissioned mining town that's home to charming buildings and some of the best street food in Taiwan. For just NTD 1,000 per person, this tour is definitely worth it. Follow this link to book the tour with Kkday. You can check out my post on the Yehliu Geopark, Shifen, and Jiufen tour as well for more pictures and information.
A trip to Jiufen and Shifen is one of the most common side trips people make from Taipei. If you'd rather not go on a guided tour, then you can easily visit either or both places on your own. You can even stay the night in Jiufen which is what we did. Check out our Jiufen and Shifen travel guide for more information.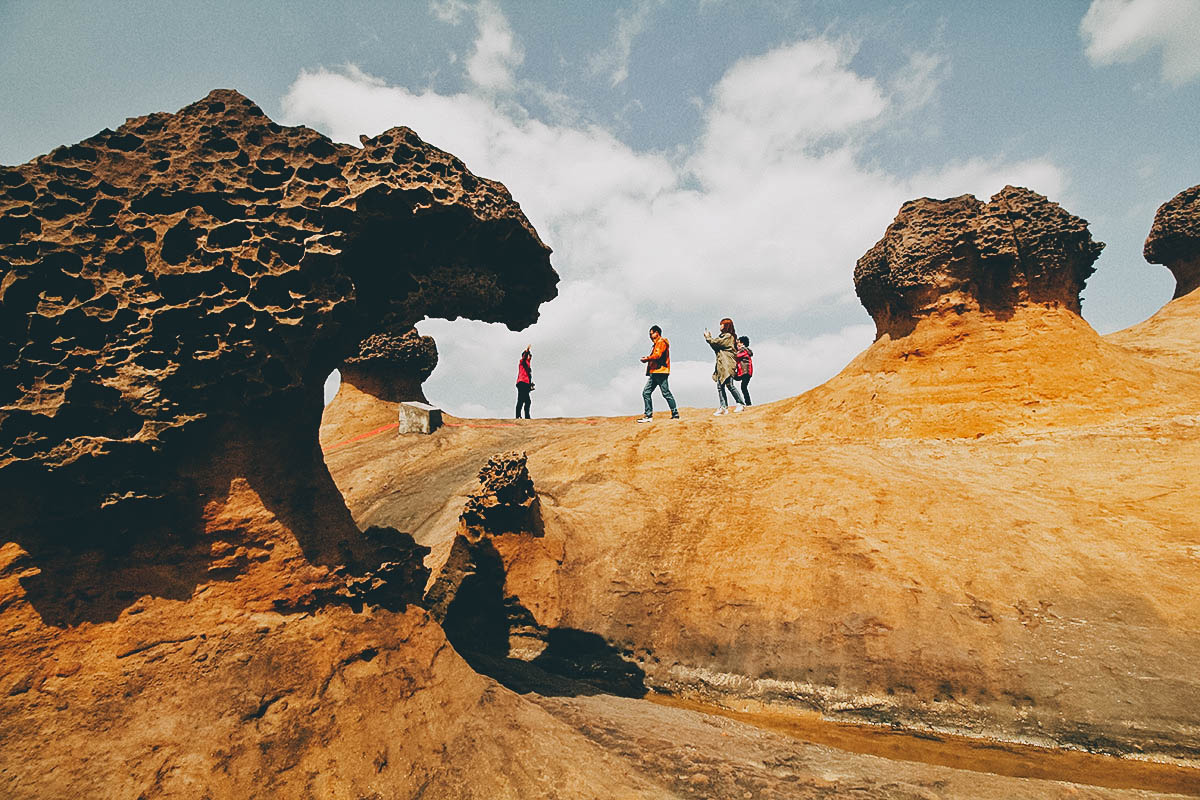 Estimated Time to Spend: Whole day
2. Soak in a Hot Spring at Beitou
Beitou is the northernmost district of Taipei. It's a lovely mountainous area that's famous for its thermal springs. Developed into a hot spring tourist destination during the Japanese occupation, what I enjoyed most about Beitou is that it looks and feels like you're in an onsen town in Japan.
If you find yourself in Taipei during the winter months, then I strongly recommend you visit Beitou to soak in one of its many hot spring resorts. If you've never experienced a thermal bath before, then you'll be surprised by how good it can make you feel. It warms you to the core so you feel almost impervious to the cold. Check out my post on taking a day trip to Beitou for more pictures and information.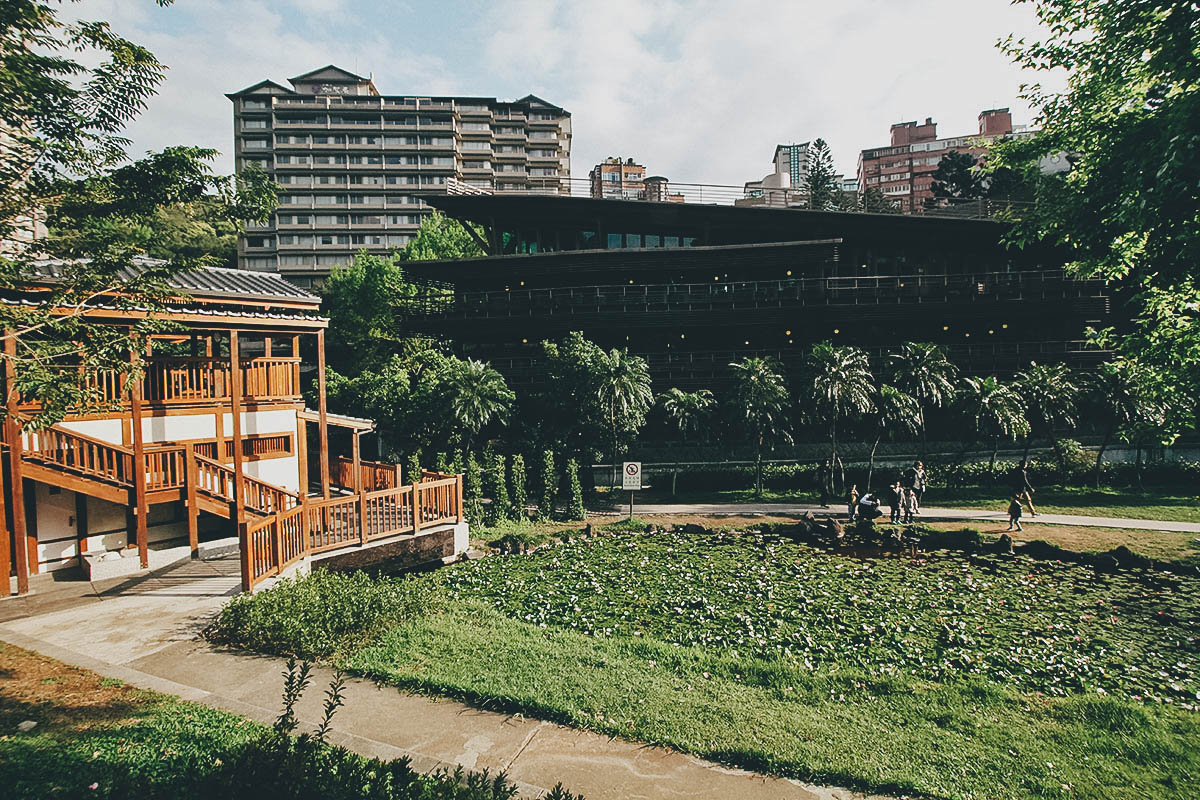 Estimated Time to Spend: At least half a day
3. Explore Tamsui Old Street and Fisherman's Wharf
If you decide to visit Beitou, then you may want to check out Tamsui as well. Both are accessible via the Taipei MRT's Red Line, with Tamsui being the very last stop on the line. It takes about 40 minutes or so to get there from downtown Taipei.
Tamsui is a seaside district in New Taipei City, located at the northern tip of Taiwan. It's a fishing town that was once a Spanish settlement and the largest trade port in Taiwan. Today, it's a popular tourist destination known for a few attractions like Lover's Bridge (pictured below), Fort San Domingo, and Tamsui Old Street where you can find street food dishes unique to the area like ah-gei and iron eggs. Check out my post on taking a day trip to Tamsui for more pictures and information.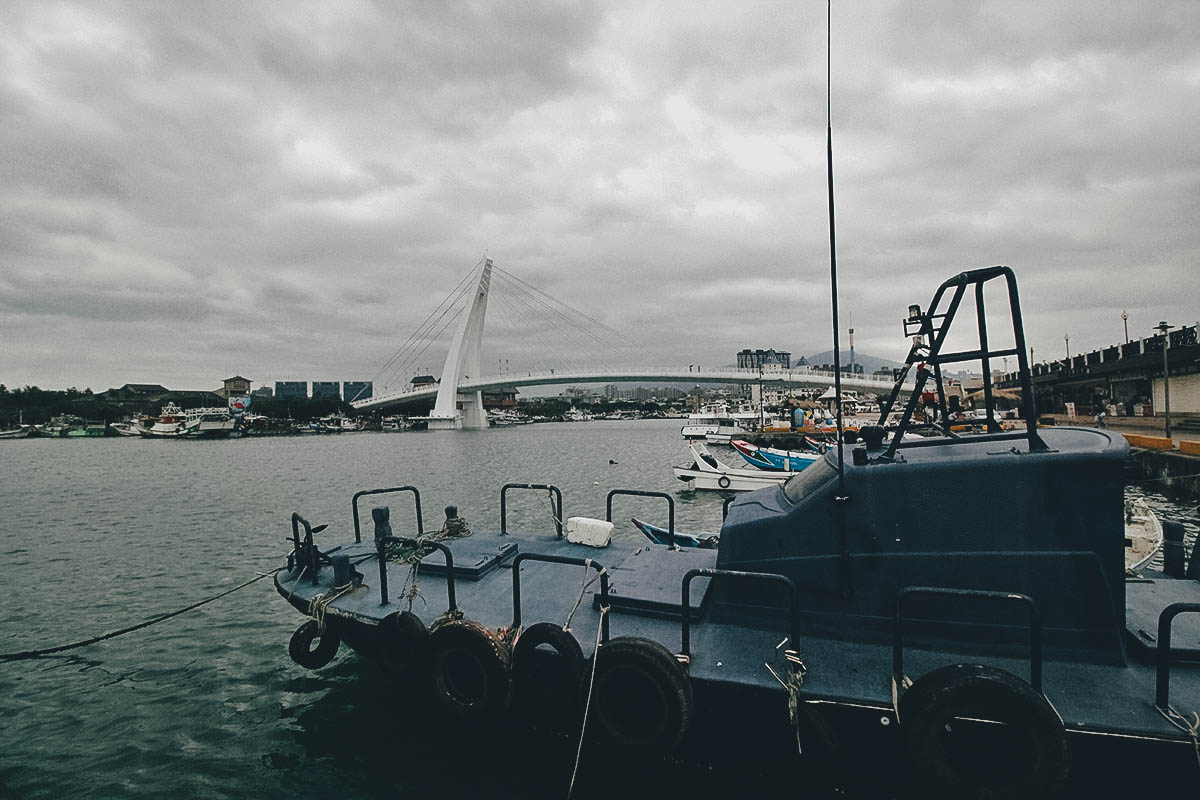 Estimated Time to Spend: At least half a day
4. Spend the Day in Taichung and Visit Fengjia Night Market
Located about an hour south of Taipei via HSR train, Taichung is Taiwan's second biggest city by population (after New Taipei City). If you enjoy the arts and travel for food like we do, then there are plenty of things to love about Taichung. It's home to Calligraphy Greenway and its pockets of quirky boutiques. It's the birthplace of boba or bubble tea, and it's where you can find the biggest night market in Taiwan – Fengjia Night Market. That alone makes it worthy of a day trip!
I went on a sponsored trip to Taichung not too long ago in relation to the Gourmet Taiwan Festival. The point of the trip was to show people exactly what you can do in Taichung on a day trip from Taipei. I enjoyed the city so much that Ren and I recently spent three nights there. Check out our Taichung travel guide to help you plan your trip.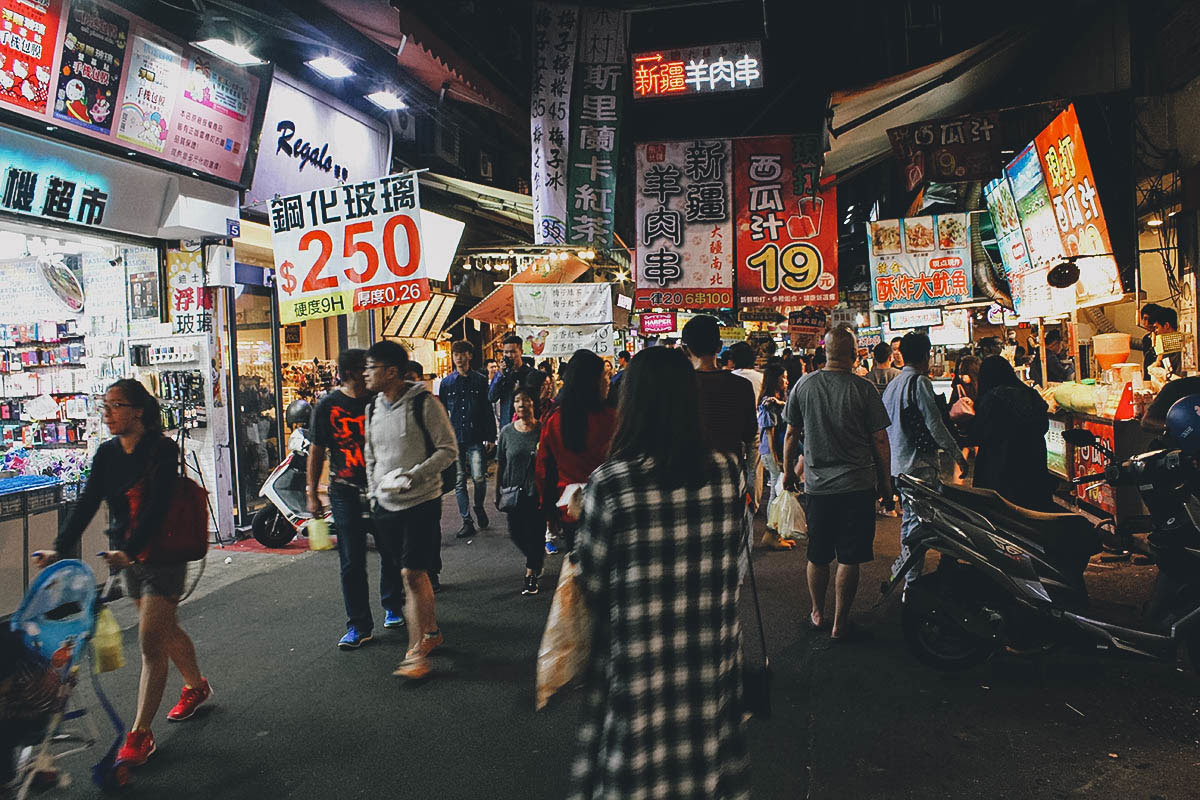 Estimated Time to Spend: Whole day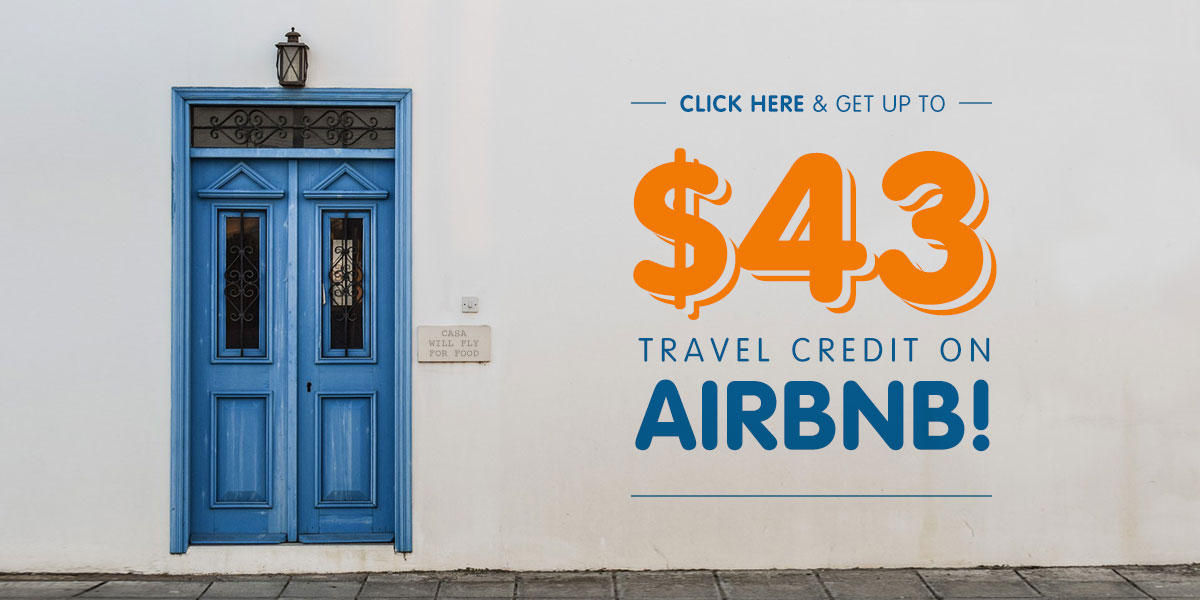 TAIWANESE FOOD GUIDE
As described, Taiwan is all about night markets and street food. There are so many delicious and interesting things to eat in this country, especially in the capital city of Taipei. If you're wondering what you can eat in Taipei, then check out our list of 57 things to eat in Taiwan.
WHERE TO EAT IN TAIPEI
1. Ay-Chung Flour Rice Noodles
Google "where to eat in taipei" and this mee sua specialty shop will be on nearly every list. Ay-Chung Flour Rice Noodles offers just one item on their menu, and that's Taiwanese-style vermicelli or mee sua with braised pork intestine. It's absolutely delicious and one of the best things I've eaten in three trips to Taiwan. It's smokey and flavorful and contains the most tender rings of braised pork intestine. They were so tender I could swear I was eating baby squid. So damn good.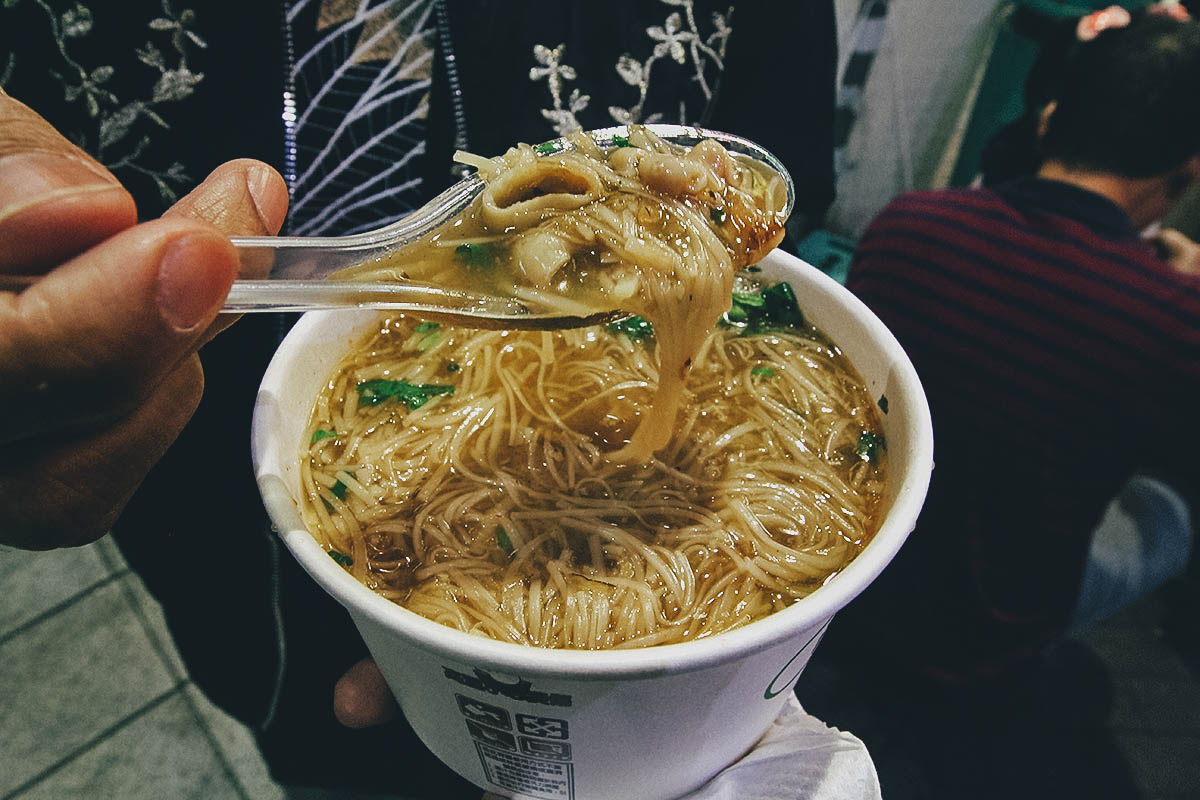 Expect to Pay: NTD 70 (large), NTD 40 (small)
2. Jin Feng Lu Rou Fan
Lu rou fan or braised pork rice is one of the most beloved comfort dishes in Taiwan, second perhaps only to beef noodle soup. The dish consists of minced pork belly that's been stir-fried and slow cooked in soy sauce till tender, then served over a bowl of steamed rice, usually with a hard-boiled egg on the side. Many people believe that Jin Feng serves some of the very best braised pork rice in Taipei. It was delicious and comforting and one of the things I miss most from our trip.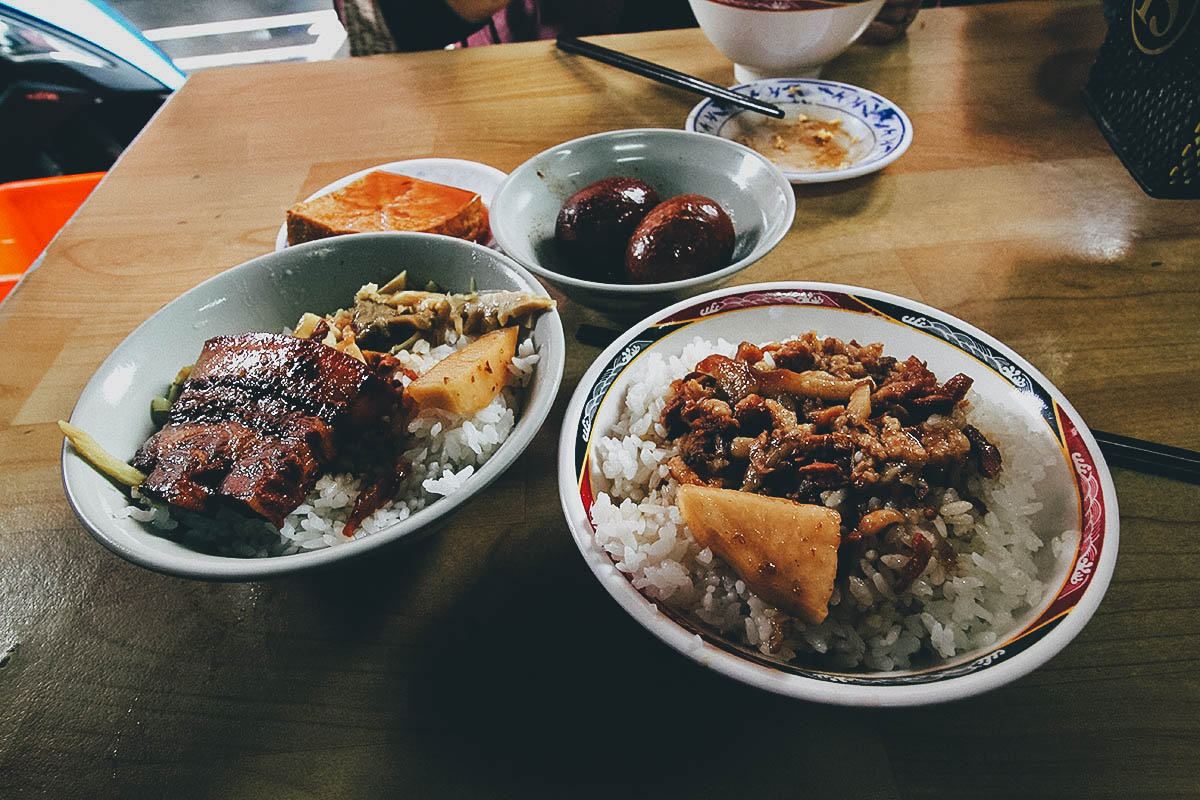 Expect to Pay: NTD 30 (small) / NTD 40 (medium) / NTD 50 (large)
3. Orange Shabu Shabu House
Hot pot or shabu shabu is another must-eat Taiwanese dish. It consists of a simmering pot of soup stock containing a variety of ingredients like thinly sliced meat, seafood, leaf vegetables, tofu, noodles, and various fish and meat balls. I asked my Taipei-based Taiwanese friend to recommend a good hot pot restaurant in the city, and he pointed us to Orange Shabu Shabu House. According to him, they serve the best hot pot in Taipei hands down. He was right. I'm no expert, but this was indeed the best hot pot I've ever had in my life. Watch the video below to understand why.
What We Spent: NTD 1,474 for two
4. Shao Shao Ke
Not only was this one of the most delicious meals we've had in Taipei, but it was also one of the most intriguing. Shao Shao Ke serves Shanxi cuisine which is the cooking style of Shanxi Province in China. Noodles and lamb figure prominently in the cuisine, as does this unique type of vinegar called Shanxi mature vinegar which is produced exclusively in the area. If you like the flavors of lamb and cumin, then you have to eat here. Be sure to get the deep-fried soy cheese puff pastries for dessert as well. They're divine.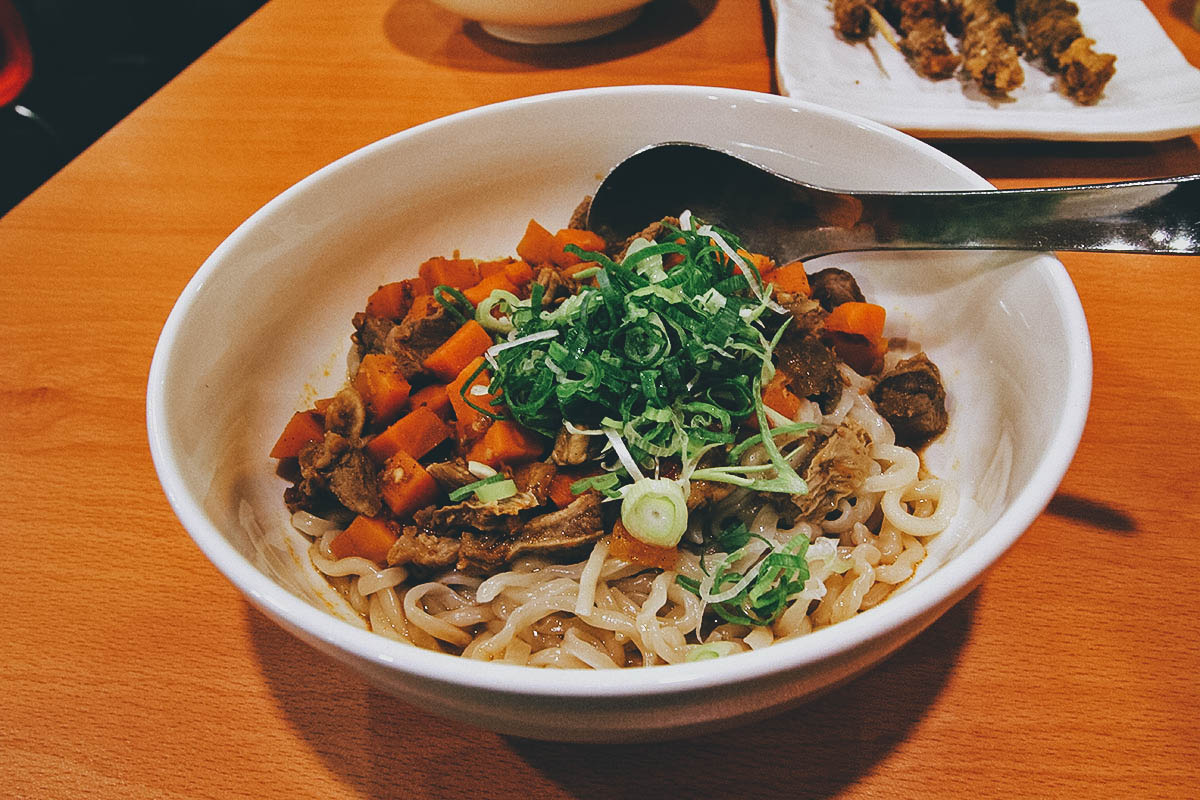 What We Spent: NTD 704 for two with drinks
5. Addiction Aquatic Development
Addiction Aquatic Development is one of our favorite places in Taipei. It's a unique concept that's basically an upscale live seafood market, gourmet food supermarket, seafood bar, sushi bar, oyster bar, seafood barbecue restaurant, and hot pot restaurant all rolled into an uber stylish space. Like creative parks, it's one of those places that defies description. You have to see it for yourself to fully grasp the concept. But the bottom line is, if you like seafood, then you absolutely cannot miss Addiction Aquatic Development.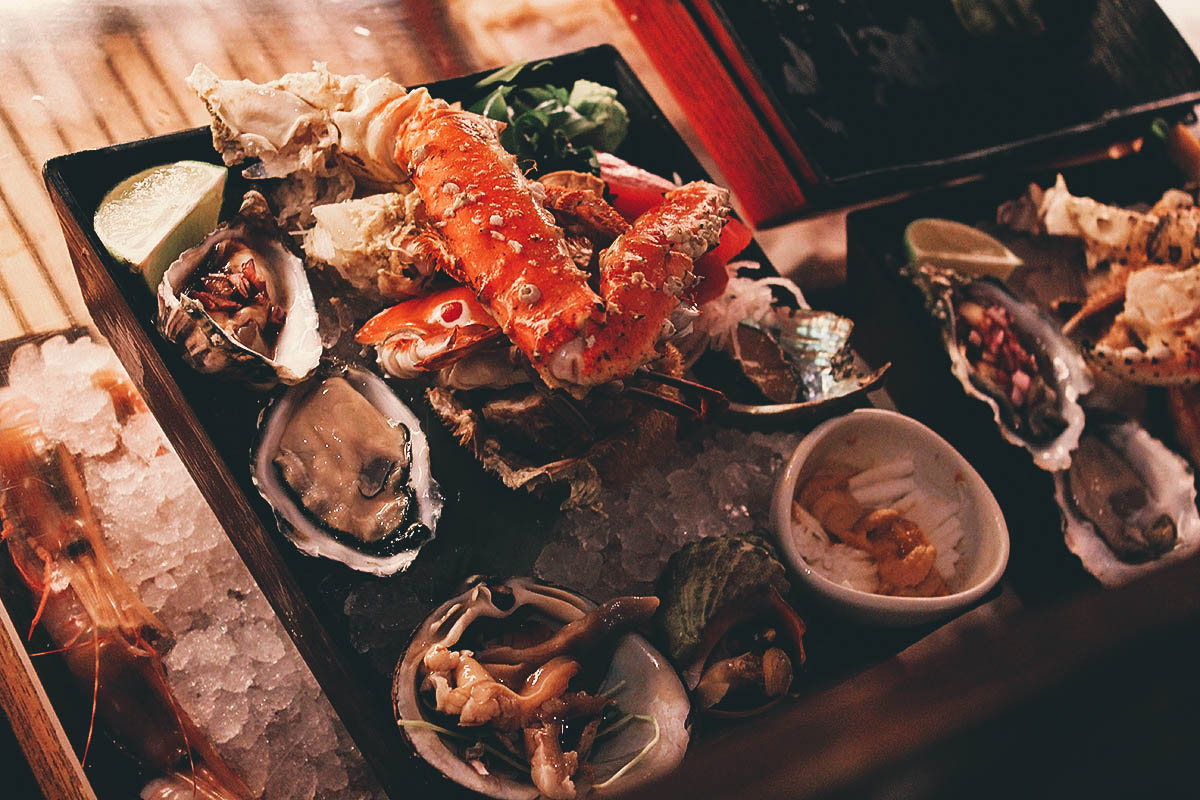 Expect to Pay: Around NTD 750 per person with drinks
6. RAW
If you've been saving up for that one truly special meal in Taipei, then this is where you need to go. Helmed by Chef André Chiang of Restaurant André fame in Singapore, RAW is a one Michelin star restaurant ranked number 15 on the latest list of Asia's 50 Best Restaurants. They offer beautiful degustation experiences featuring the best of Taiwan's local seasonal ingredients. Be warned however, that it it notoriously difficult to get a reservation at this restaurant. Check out my post on RAW for more pictures and information.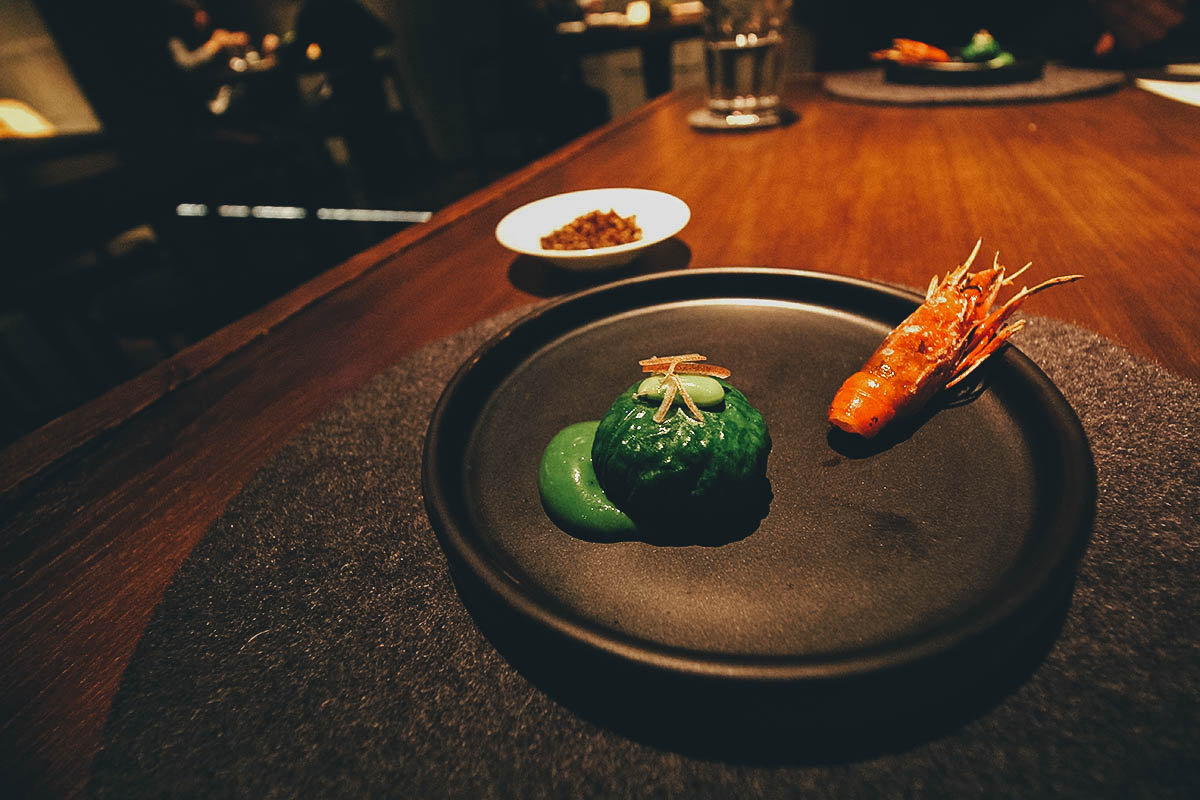 Expect to Pay: NTD 1,850 / 2,680++ per person
If these six aren't enough to whet your appetite, then check out our post on 13 Must-Eat Restaurants in Taipei. It includes more pictures and information about the places listed above, as well as instructions on how to get to each restaurant using public transportation.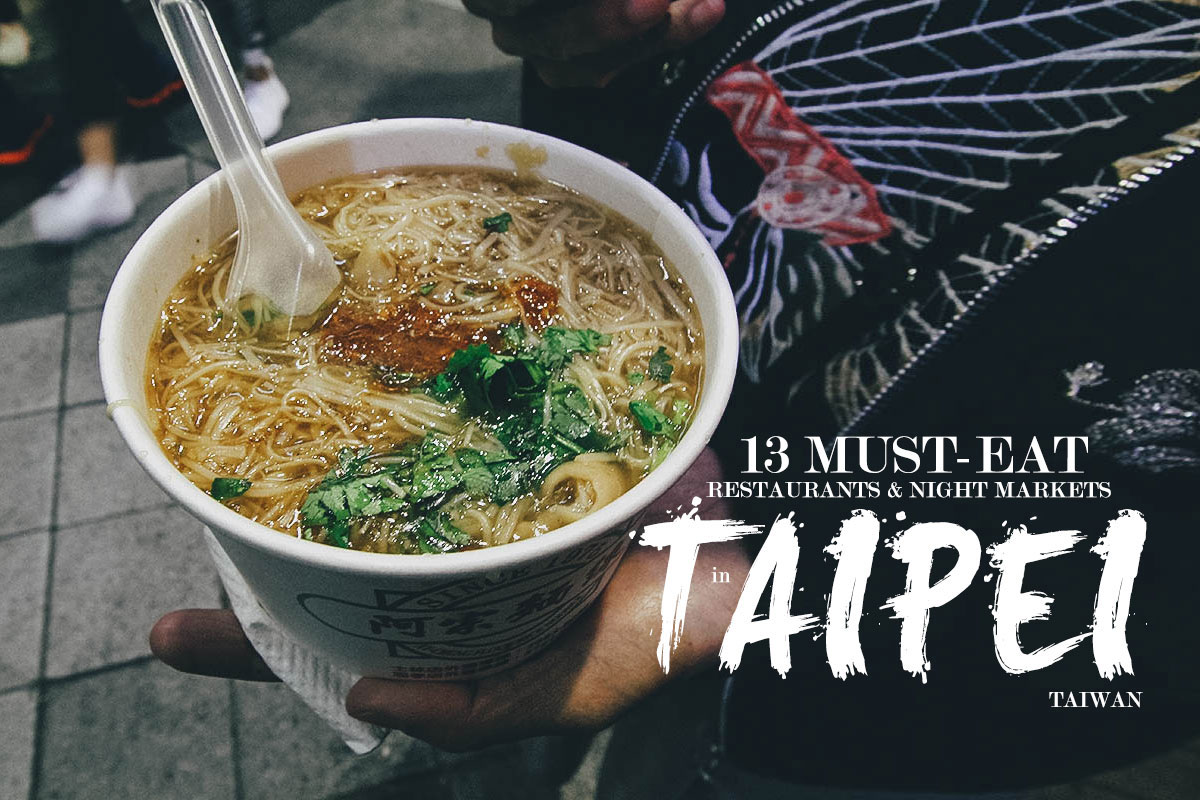 POINTS OF INTEREST IN TAIPEI
To help you get your bearings, I've created this map so you get a better sense of where everything is. Nearly all the places mentioned in this guide, as well as a few others, are pinned on this map.
HOW TO GET AROUND TAIPEI
Taipei has a great public transportation system so it's a breeze to get around. We found their metro system to be one of the easiest to understand. You can get to most of the places recommended in this guide using the Taipei MRT, but if for some reason you can't, then you take the bus or use Uber.
We didn't need to take the bus in Taipei but if you do, then I suggest using the Google Maps app (iOS | Android). I'm usually intimidated by a foreign city's bus system because I find it so much more confusing than the subway. But to my surprise, this app makes it a lot easier. It tells you exactly how to get from one place to the next using any city's public transportation system. I've always been afraid of hopping onto the wrong bus and winding up somewhere in China, but this free app, which I used for the first time ever in Kaohsiung, makes it practically idiot-proof.
There are several transportation cards you can use in Taiwan but the EasyCard has worked well for us so I haven't looked into anything else. If you plan on taking public transportation a lot in Taipei, then getting an EasyCard is a must. It works on both the MRT and bus systems. Aside from the convenience, using an EasyCard gives you a 20% discount over single-journey tokens on the MRT. You can purchase it at any MRT station and it will work throughout Taiwan, including Kaohsiung which is the only other city in Taiwan with its own metro system. Go to the travel tips section of this guide for more information on the EasyCard.
HOW MANY DAYS TO STAY / SAMPLE ITINERARY
To my surprise, Taipei is only the third biggest city in Taiwan by population. Nonetheless, there's a lot to see and do in Taipei so you should spend more time here than in any other city in Taiwan. I'd say four full days is the absolute minimum for a first-time visit to Taipei. It will give you just enough time to see the major attractions in the city as well as make one or two day trips. If it's your first time traveling to Taipei, then here's a sample 4D/3N itinerary to help you plan your trip.
DAY ONE

• Hop On Hop Off Bus
• Chiang Kai-shek Memorial Hall
• Taipei 101
• Taipei Fine Arts Museum
• National Palace Museum
• Shilin Night Market

DAY TWO

• Longhsan Temple
• Bopiliao Historical Block
• Ximending
• Huashan 1914 Creative Park
• Songshan Cultural and Creative Park
• Raohe Night Market
DAY THREE

• Shifen Old Street
• Shifen Waterfall
• Jiufen
• Ximending at night
DAY FOUR

• Tamsui Old Street
• Tamsui Fisherman's Wharf / Lover's Bridge
• Fort San Domingo
• Thermal Valley
• Beitou Hot Springs
BUDGET / SUMMARY OF EXPENSES
Assuming you'll be traveling with one other person and staying four full days in Taipei, then a budget of around NTD 1,800 per day should be enough. This takes into account moderately priced accommodations, inexpensive meals, attraction costs, transportation, and pocket wifi rental. Taipei is generally more expensive than other cities in Taiwan so expect to spend more here.
ACCOMMODATIONS

This is highly subjective. It depends on several factors like hotel preference and number of travel companions. We booked a an AirBnB rental for about NTD 1,200 a night. Expect to pay much less if you're staying in a dorm room.
MEALS

Again, this is subjective, but based on our experience, I'd say around NTD 300-400 for the day per person with drinks. Budget more if you plan on dining at fancier restaurants like RAW or Orange Shabu Shabu House.
POCKET WIFI RENTAL

If you're sharing the cost with one other person, then you'll each be paying NTD 40 per day.
TRANSPORTATION

As advised, it's a good idea to invest in an EasyCard while in Taipei. The base cost of the EasyCard is NTD 100 plus whatever amount you'll be needing for the duration of your stay. If you plan on traveling exclusively by MRT, then a transportation budget of around NTD 150 per day should be enough.
ATTRACTION COSTS

Again, this is highly variable because it all depends on what you want to do. But assuming you're basing it off my sample itinerary, then an average budget of around NTD 560 per day for attractions should be enough.
TOTAL



This comes out to about NTD 1,775 per day for each person. This doesn't take into account any shopping, so be sure to raise this amount (significantly) if you plan on spending most of your days boutique hunting in Ximending. Ren and I are middle of the road travelers who enjoy good food and drink, so this is a budget that works for us. Feel free to adjust based on your own travel habits.
TRAVEL TIPS
1. Plan your Trip with Sygic Travel (formerly Tripomatic)
This free app is incredibly useful. It enables you to plot points of interest on a map, including your hotel, so you can see exactly how far you need to travel between points. You can then group attractions together per day based on their location. With pocket wifi, it can turn your mobile phone into a GPS tracking device so people with a terrible sense of direction (like me) never get lost again. Pretty cool right? Check out my post on the Sygic Travel app for more information.
Sygic Travel is what I used to create the location map above. You can view it as a day-to-day itinerary as well. Follow this link to check out our five-day Taipei itinerary on Sygic Travel. You can also download our entire 2-week Taiwan itinerary in editable Word format by signing up for our FREE newsletter below.
2. Rent a Pocket Wifi Device
Having a constant and strong wifi connection is a must when traveling these days. You'll need it to navigate, convert currencies, post on social media, and do last minute research.
We rented a 4G pocket wifi device through Kkday for NTD 80 a day. You can pick it up and drop it off at Taoyuan, Songshan, or Kaohsiung International Airports. It gave us a strong wifi signal no matter where we were in Taiwan. Beach, mountains, intercity trains, it didn't matter. Our wifi signal was always good. Battery life was decent, maybe 6-7 hours so I suggest bringing a power bank as you'll probably need to charge it before the end of each day. Follow this link to rent a pocket wifi device in Taiwan through Kkday.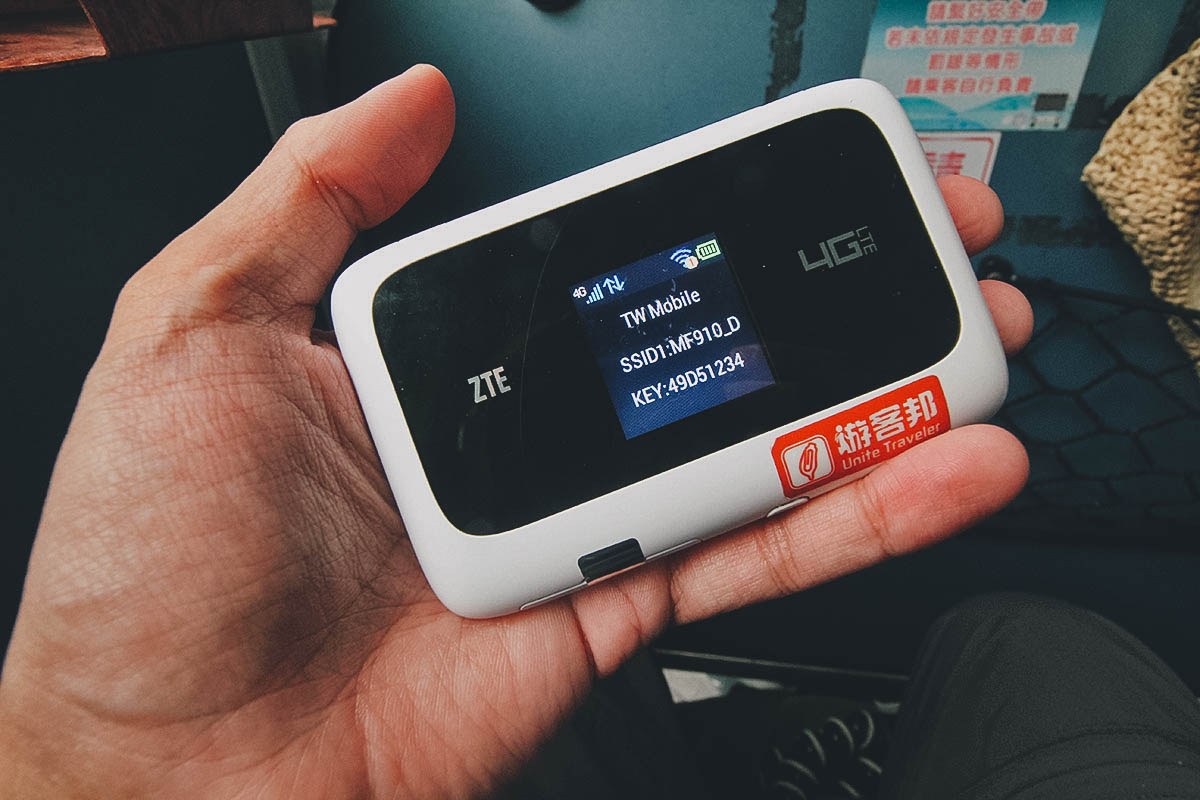 3. Store Your Luggage with lalalocker
More and more travelers are staying at AirBnBs these days. We do, and it can be a problem when we can't check in to our accommodations until 2PM, sometimes even later. We arrived by train early in every city we visited in Taiwan. It wasn't a problem with hotels because we could leave our luggage at the front desk till check in. But in some instances, like in Kaohsiung for example, we were staying at an AirBnB so it wasn't possible to leave our bags there. Thankfully, we were able to leave our bags at a luggage storage facility so we could tour the city before checking in.
If you run into the same problem, then you can use lalalocker to find places where you can temporarily store your luggage. Think of them as the AirBnB for luggage. They connect travelers with establishments like hotels, shops, and cafes where you can safely leave your luggage for a fee. They serve multiple areas in many cities throughout the country, including Taipei. Just go to their website to find a storage place convenient for you. You can then make a reservation directly on their website. Check out the lalalocker website for more information.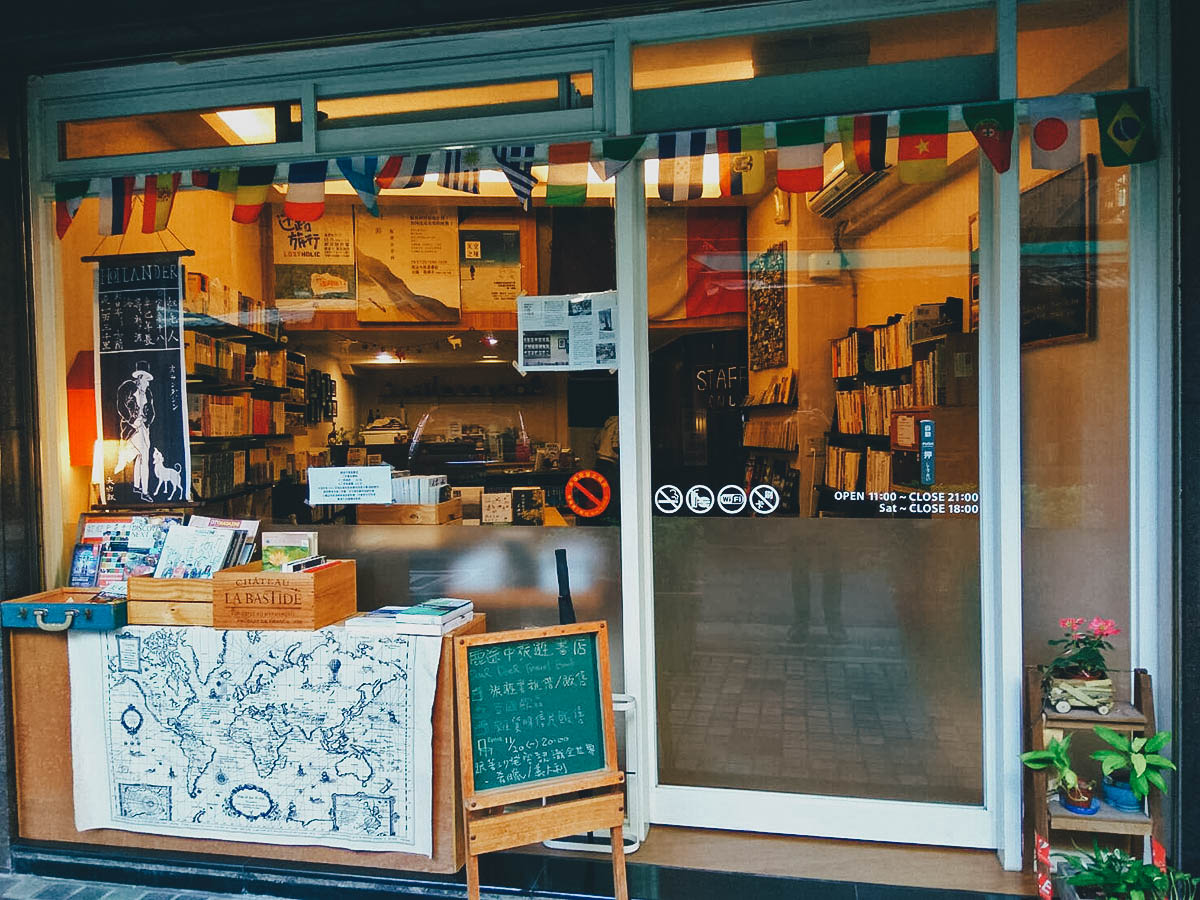 Bookstore that stores your luggage in Taipei
4. Travel with an EasyCard
If you plan on using public transportation a lot in Taiwan, then an EasyCard is one of the best investments you can make, especially if you're spending any time in Taipei or Kaohsiung. Aside from eliminating the hassle of having to buy single journey tokens each time, you'll get a 20% discount with every ride on the Taipei MRT and 15% off on the Kaohsiung MRT with an EasyCard. That alone makes it worth it for me.
On top of discounts on the Taipei and Kaohsiung MRT, it works on most city bus systems and several inter-city buses in Taiwan as well. I read you can get discounts and free rides in some cities, but what I really like about it is that it eliminates the need to pay in exact change. Bus drivers can't give you change so you don't have to worry about scrounging up exact amounts every time.
We never used it for anything but transportation but you can use it for other things as well like taxis, ferries, TRA trains, supermarkets, convenience stores, even some restaurants and cafes. Follow this link to see the full scope of use of an EasyCard.
As described, you can purchase an EasyCard from any MRT station for a non-refundable NTD 100. You can then top it up at any station in multiples of NTD 100. You can use it throughout Taiwan, meaning if you bought it in Kaohsiung like we did, then you can use it on the Taipei MRT as well and vice versa. At the end of your trip, any unused amount can be refunded minus a service charge of NTD 20. It's super convenient so I'd never go to Taipei or Kaohsiung without getting one. You can refer to the EasyCard website for more information.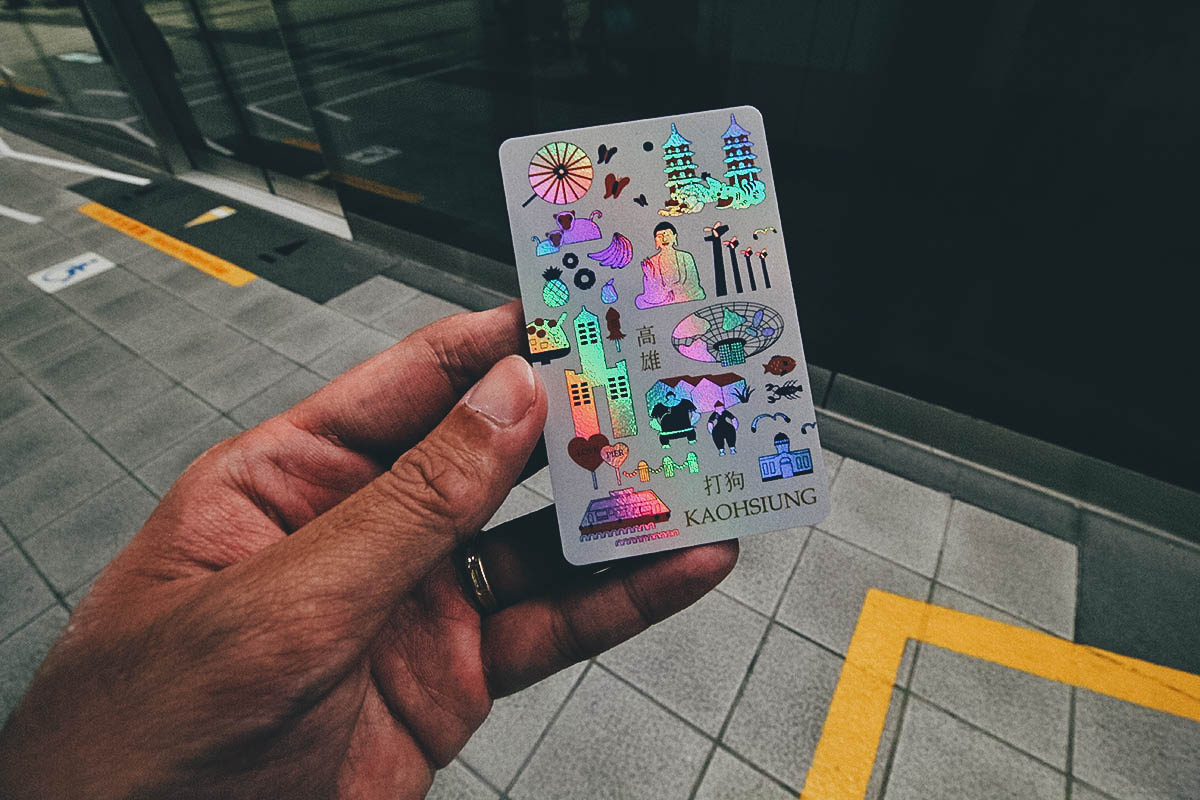 5. Check for Discount Passes
There are many websites that offer discount passes to tours and services. One of my favorites is Kkday. They offer deals to many destinations around the world, including Taiwan where they're based. They're a Taiwanese e-commerce travel platform so in my opinion, there's no better website to purchase deals from in Taiwan than Kkday. They have the widest selection.
If you're looking for deals on tours, shows, transfers, pocket wifi rental, etc, then you may want to search through Kkday's website for a list of Taipei attractions. You'll often find interesting activities that you wouldn't normally think of yourself, so it's definitely worth a look. Here's a list of some of Kkday's most popular deals in Taipei: (pictures borrowed from kkday.com)
6. Get Travel Insurance
To be honest, it was only recently when we started buying travel insurance. Back when we traveled just once or twice a year, travel insurance felt like a luxury, something we could do without. But now that we travel more, I understand how important it is to have it. Fact is, you never know what can happen. It's one of those things that you hope you never have to use, but if you do wind up needing it, then you'll be thanking the gods that you had it (or cursing them if you didn't).
Though I do find it more necessary now, it's still up to you if you think you need it. A 3-day trip to Kyoto just sightseeing and eating may not really call for insurance but if you plan on doing more active things like skiing, snowmobile riding, or even going on a city bike tour, then I'd say travel insurance is a must. We went bike riding twice in Taiwan so we did get travel insurance for this trip.
We buy travel insurance from World Nomads because every long-term traveler I know recommends it. From the sound of it, they're the best in the industry by a mile. Not only do they provide a high coverage limit for medical expenses (up to USD 5 million with the Standard package), they also cover things like trip delays, missed flight connections, theft/loss of passport and luggage, etc. Follow the link or use the widget below to learn more and get a free travel insurance quote from World Nomads. It's super quick and easy.
7. Bring the Right Power Adapter
Taiwan has Type A and Type B electrical outlets so be sure to bring the right power adapters for your devices. Electrical voltage is 110V and the standard frequency is 60Hz.
For Filipinos
VISA-FREE TRAVEL TO TAIWAN
TECO has made an official announcement that beginning 1 November 2017, Philippine passport holders will be able to travel to Taiwan visa-free for stays of up to fourteen (14) days, provided the following requirements are met. The visa-free program will be on a 9-month trial period from 1 November 2017 until 31 July 2018.
The applicant's passport is valid for at least six months starting from the date of arrival in Taiwan.
The applicant has an onward/return air/ferry ticket and a visa for that destination (if required).
The applicant has no criminal record in Taiwan.
The applicant can provide proof of accommodation (or host/sponsor's contact information or arrangements of tour, travel, visit, events and meeting etc.) in Taiwan.
HOW TO GET CHEAP AIRLINE TICKETS
Ever since I scored my first piso fare from Cebu Pacific, I've been hopelessly addicted to cheap airline tickets. Our tickets to Taipei with a shared 15 kg baggage allowance came out to just a little over PHP 5,000 each roundtrip. How awesome is that?
These piso fare tickets are limited and sell fast, so you have to be quick. To give yourself an advantage, I suggest liking their Facebook page and following them on Twitter to quickly find out about these seat sales. If you check off "Get notifications" on Facebook, then you'll receive instant alerts every time they post something new.
Other airlines that have direct flights from Manila to Taipei are Philippine Airlines, EVA Air, and China Airlines.
Have fun!
I'm not an expert on Taipei but I do hope that you find this post useful. I'm only sharing some of the things that I learned from our trip. If you have any suggestions or simply want to share your own experiences, then please feel free to do so in the comments section below. You're welcome to join our Facebook Travel Group as well. We'd love to hear from you.
Thanks for stopping by and have a ridiculously fun time in Taipei!
OUR GEAR
These are some of the things we brought with us to Taipei. As you can tell, I document a lot of content for this blog so most of the things I bring are photo and video equipment. 😆 If you'd like to see what other gear we use, then you can check out our "What's in Our Backpack?" post. (NOTE: The following links are Amazon affiliate links.)
Disclosure
We're a Kkday affiliate and worked with them on this trip. We paid for our airfare, accommodations, and incidental expenses like transportation and food, but we were allowed to go through their website and choose activities and services in exchange for an honest account of the experience. They gave us vouchers to the Hop On Hop Off tour, the Yehliu Geopark, Shifen, and Jiufen day tour, and Pocket Wifi rental. They didn't ask us to do any of these things. We chose them on our own volition. As always, all words and opinions expressed in this post are mine and mine alone.
Some of the links in this guide are affiliate links, meaning we'll get a small commission if you make a purchase at NO extra cost to you. We only recommend products and services that we use ourselves and firmly believe in. We really appreciate your support as this helps us make more of these free travel guides. Thank you!
JB and Renée are the Traveleaters behind Will Fly for Food, a travel blog for the gastronomically inclined.  They enjoy experiencing food from different cultures so they've made it their mission to try every country's national dish.  Read more about them and their National Dish Quest here.