The majority of travelers who visit Taiwan never make it past Taipei. It's a shame because as much fun as Taipei is, there are many cool places to visit around Taiwan's capital city. Jiufen Mining Town is one, Taichung is another.
If you've never heard of Taichung, it's Taiwan's second biggest city with a population of around 2.78 million people. It's located south of Taipei in Central Taiwan and is home to the National Museum of Natural Science and the National Taiwan Museum of Fine Arts. If you've been to Taipei, then you know that Taiwan is all about those awesome night markets. There are plenty of night markets like Raohe and Shilin to satisfy your appetite in Taipei, but Taichung boasts the biggest Taiwanese night market of them all – Fengjia Night Market. That alone makes it worthy of a side trip!
We were a few days away from a two-week trip to Thailand when I received an invitation to attend a one-day blogger event in Taichung. On the day's itinerary were visits to several restaurants in celebration of the Gourmet Taiwan Festival. Being a lover of Taiwan and all things delicious, I obviously couldn't say no. Located just an hour south of Taipei by High Speed Rail, here's what you can do with a full day in Taichung.
Save This on Pinterest!
No time to read this now? Click on the red save button and pin it for later!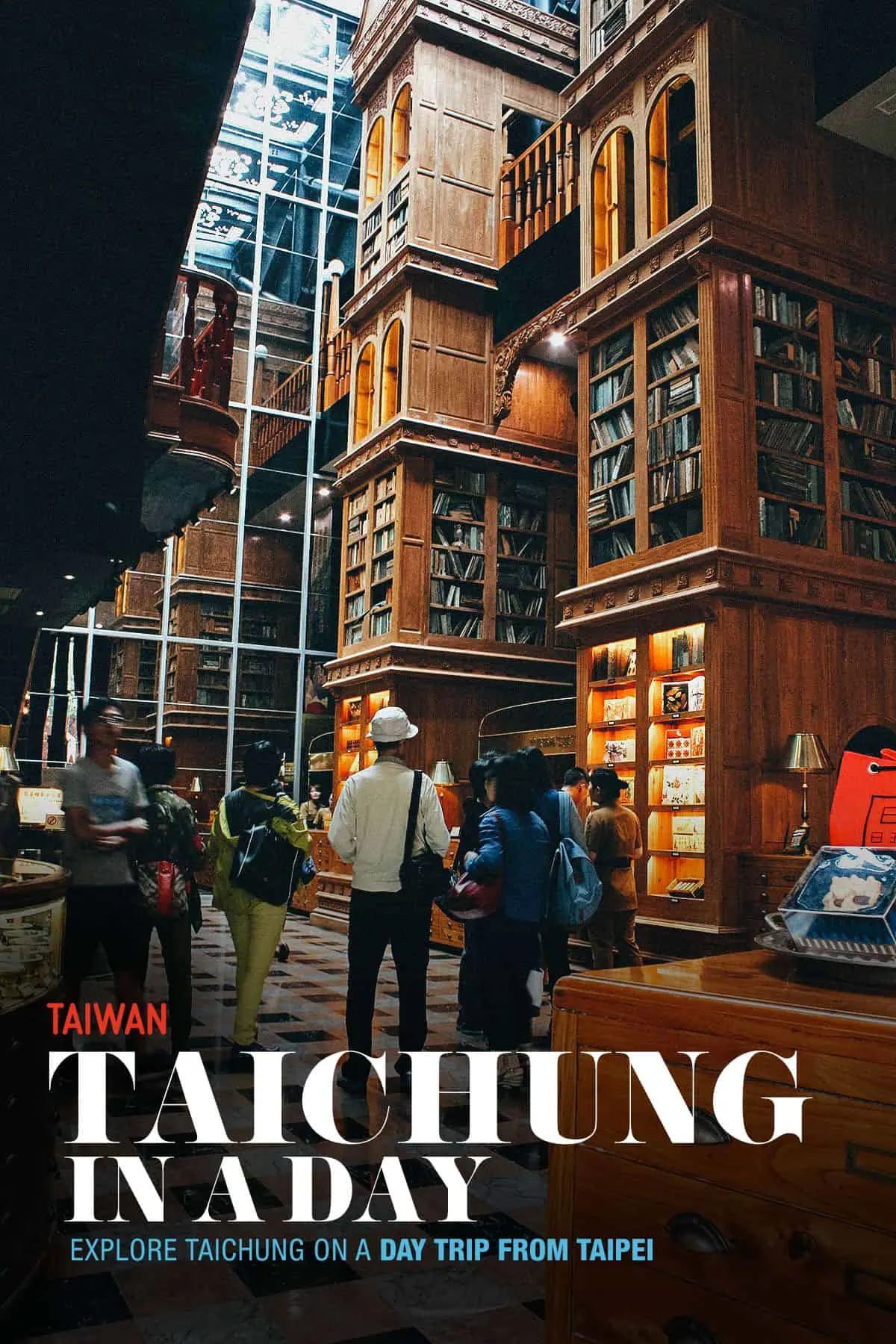 HOW TO GET TO TAICHUNG FROM TAIPEI
BY HSR TRAIN: By High Speed Rail is the fastest way to get to Taichung from Taipei. It takes about one (1) hour and costs NTD 700 each way for a standard car ticket. If you purchase tickets from Klook, then you can save 20% on the fare. The earliest train departs from HSR Taipei Station at 6:26AM. You can check the HSR website for a train timetable.
BY BUS: It takes much longer to get to Taichung from Taipei by bus – around 2.5 hrs – but it costs considerably less, just NTD 260 each way. You can take Ubus route 1619 or 1620, both of which depart from Taipei Bus Station. If you'll be following the suggested itinerary below, then be sure to take it all the way to TRA Taichung Station as it's in a more strategic part of the city. The first Ubus departs from Taipei Bus Station at 6AM.
If you don't mind the extra hour or so traveling by bus, then taking the Ubus into Taichung will save you money. TRA Taichung Station is closer to the downtown area than HSR Taichung Station as well (see map below). Please be advised that the last Ubus to Taipei leaves at 9PM while the last HSR train departs at 11:03PM, so it may be best to take the HSR train back to Taipei if you want to maximize your day in Taichung.
SAMPLE 1-DAY ITINERARY & MAP
Here's a sample itinerary you can follow as well as a map indicating where each of these places are. Some of these distances you can easily walk, while others are best traveled via Uber. As confirmed by locals, Uber is cheaper than taxis in Taichung and a great way to get around the city.
Around 10AM – Arrive in Taichung.
10:15-10:45AM – Make a quick visit to Miyahara.
11-11:45AM – Enjoy bubble tea at Chun Shui Tang.
12NN-1:30PM – Have lunch at Smokey Joe's.
1:30-5PM – Explore Calligraphy Greenway.
5-5:45PM – Have coffee and pastries at Hui-Sun Coffee.
6-7PM – Have dinner at 瓦御滷肉飯 (Braised Pork Rice Restaurant).
7:30-9:30PM – Explore Fengjia Night Market.
10PM – Head back to HSR Taichung Station to catch a train back to Taipei. The last train departs at 11:03PM.
Miyahara
After Fengjia Night Market, Miyahara is arguably the second most popular tourist attraction in the city. It's virtually in every travel guide and blog post about Taichung. Housed in an old opthalmology clinic that became Taichung's Public Health Bureau before being turned into a pastry shop, Miyahara is famous for its Taiwanese desserts, most notably its pineapple cakes.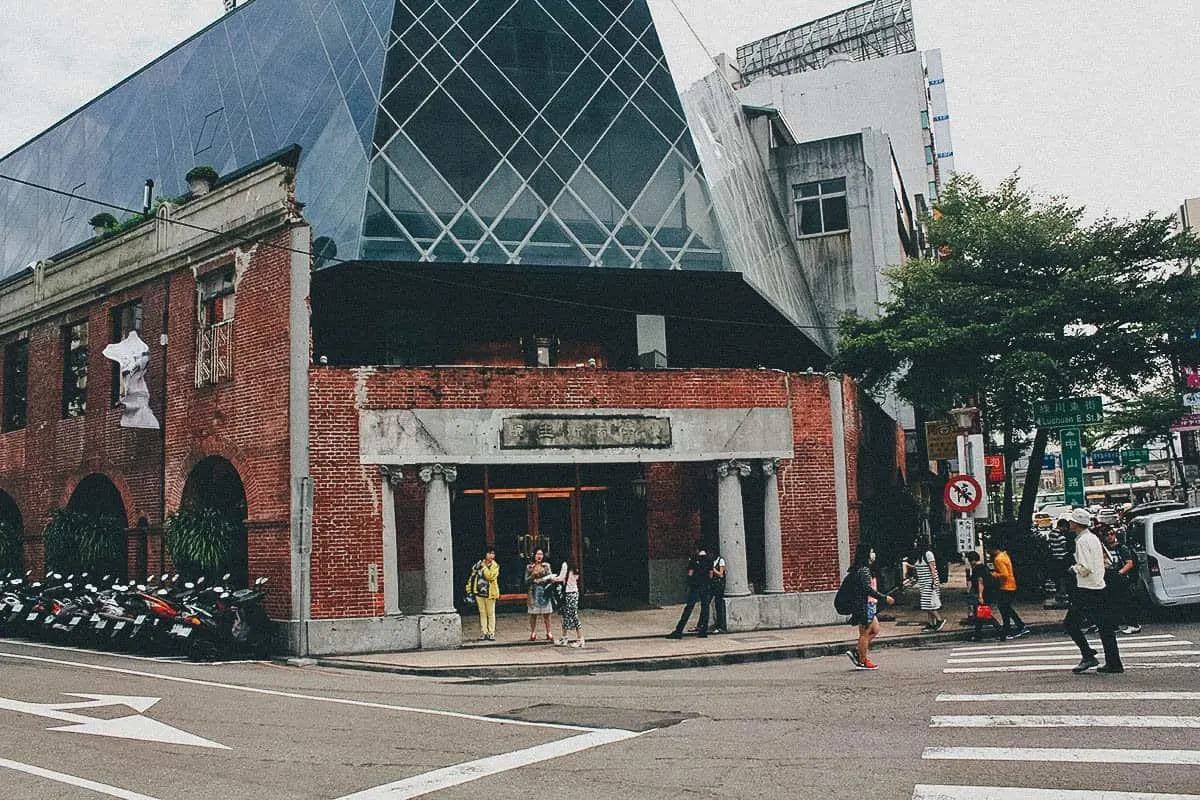 Miyahara may have become famous for its pineapple cakes, but it looks like a majority of tourists now flock here to see its interiors. Isn't it stunning?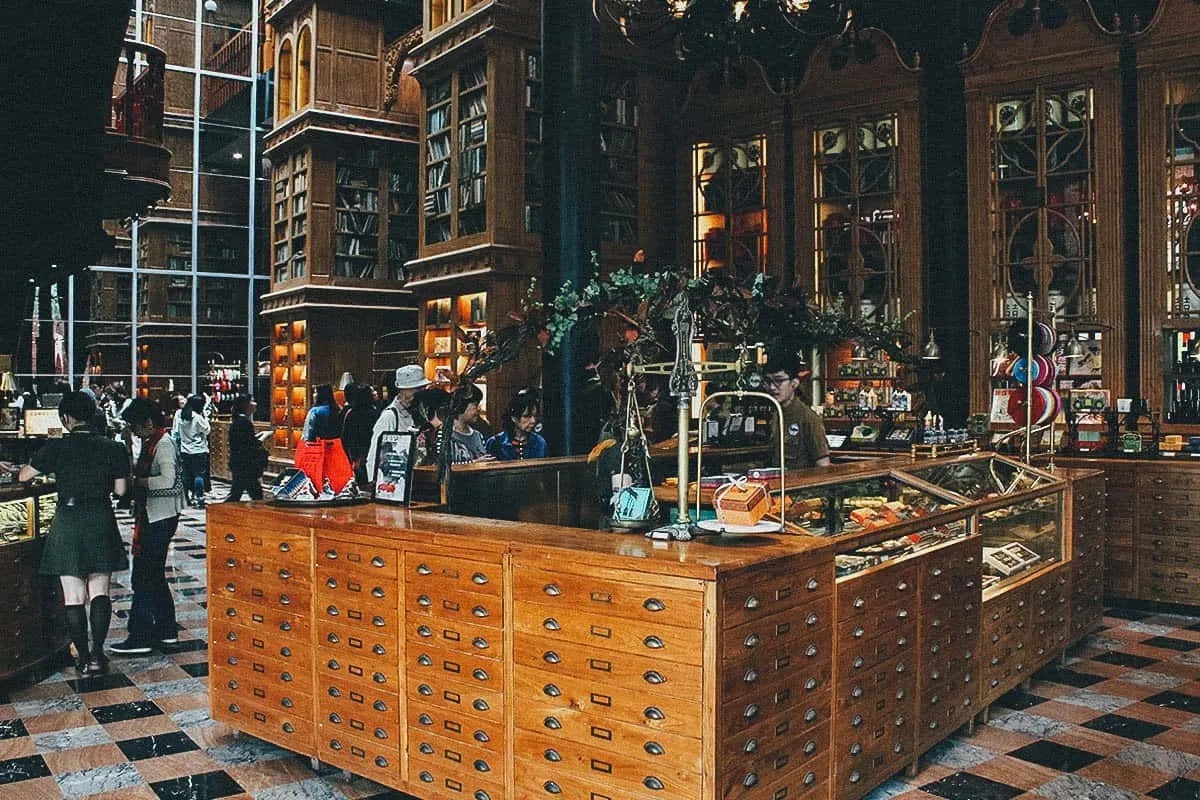 With its cathedral ceilings and heavy wooden furniture featuring floor-to-ceiling bookcases, it really does feel like you're in Harry Potter's world. In which section can I find the wands?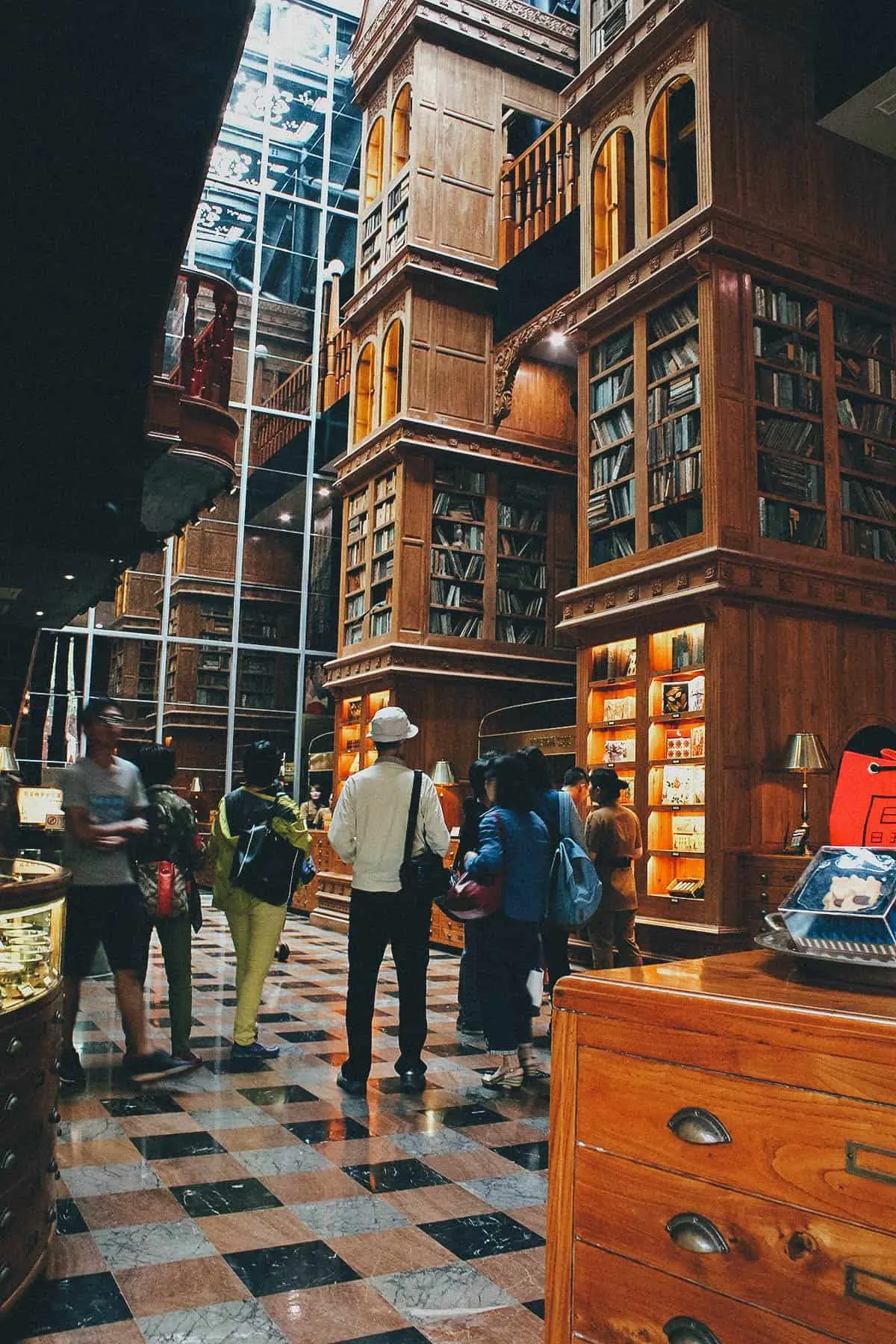 The packaging at Miyahara is exquisite. Aside from pineapple cakes, they also sell other desserts like chocolate, ice cream, and milk tea.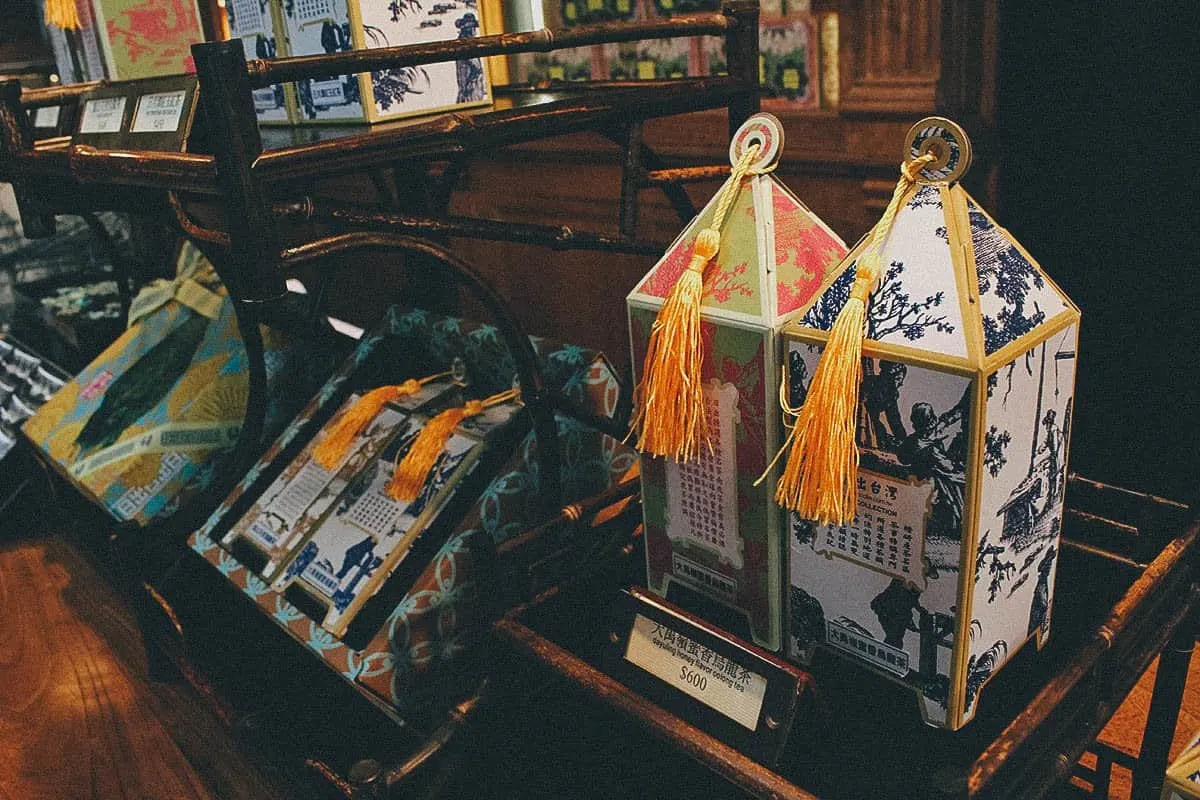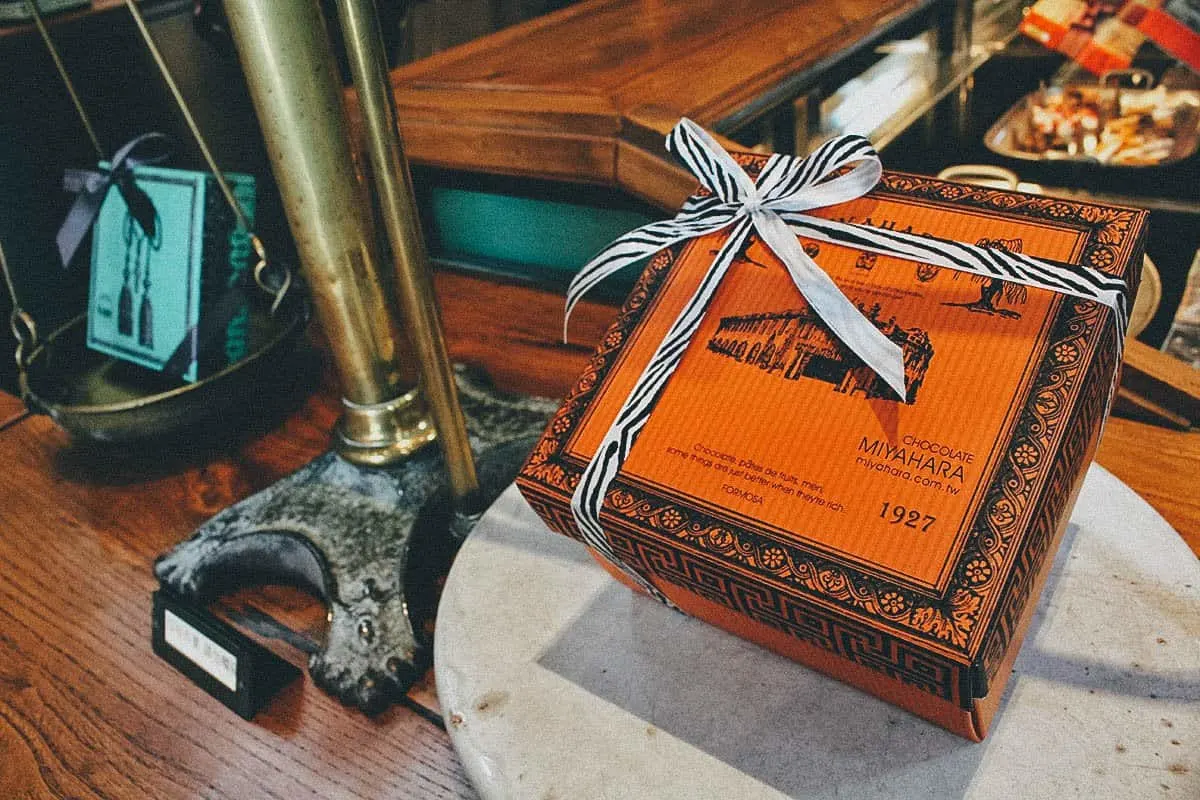 If you're looking for a good souvenir food item from Taichung, then Miyahara's pineapple cakes are an excellent choice. I brought back a box for Renee and she loved them. They were delicious!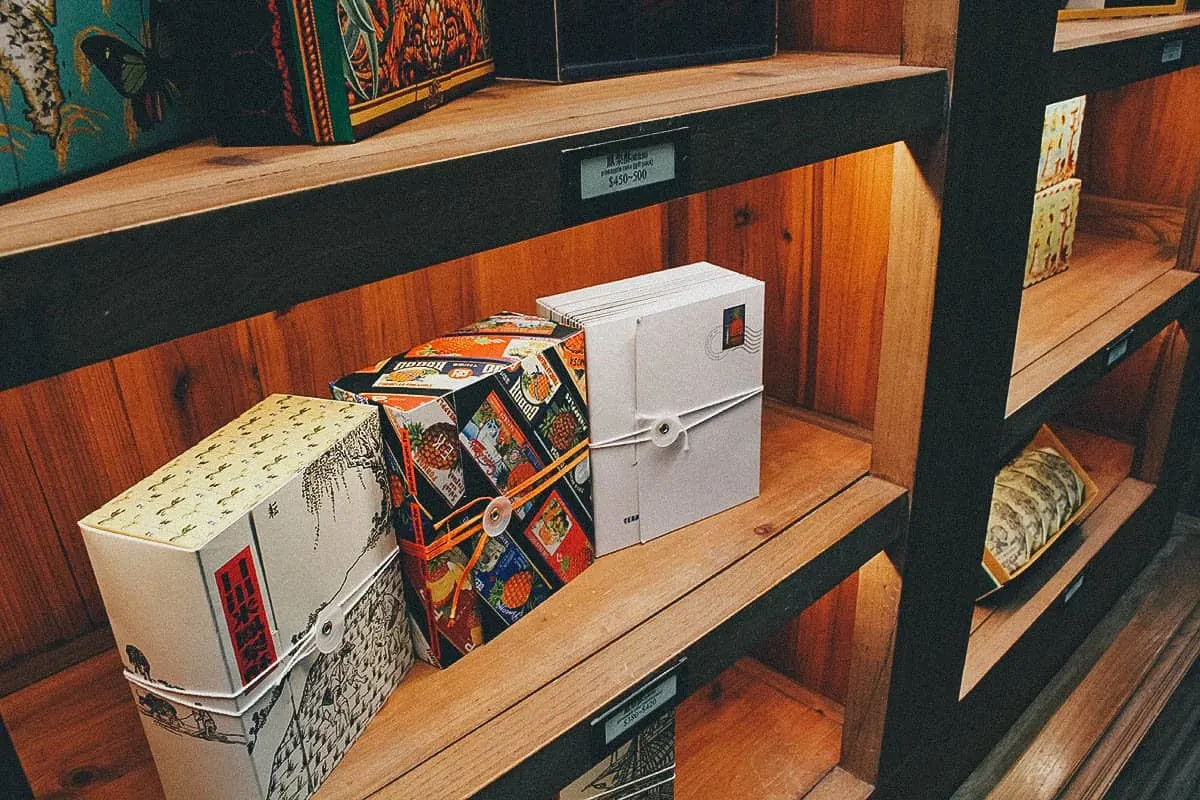 Miyahara
Address: No. 20號, Zhongshan Road, Central District, Taichung City, Taiwan 400
Operating Hours: 10AM-10PM, daily
Chun Shui Tang
You've heard of bubble tea or boba, yes? But did you know that this fun and refreshing milk tea drink was invented right here in Taichung? It's true! Chun Shui Tang Cultural Tea House is believed to be the inventor of bubble tea. I read that the owner, Mr. Liu Han-Chieh, had the idea of serving Chinese tea cold after a trip to Japan in the early 1980s and seeing coffee served in the same way. His manager included Taiwanese tapioca pearls called fen yuan into the drink, thereby sparking the worldwide phenomenon we now know as boba.
Chun Shui Tang has since grown into a nationwide chain. They have multiple branches in Taichung alone, but the one I marked in the map above is the original store. They're also known for their dimsum but they're perhaps still most famous for their bubble tea. I suggest getting the pearl milk tea. It's the original and comes in two sizes. I got the big one (iPhone 6 for scale) and every drop of it was glorious.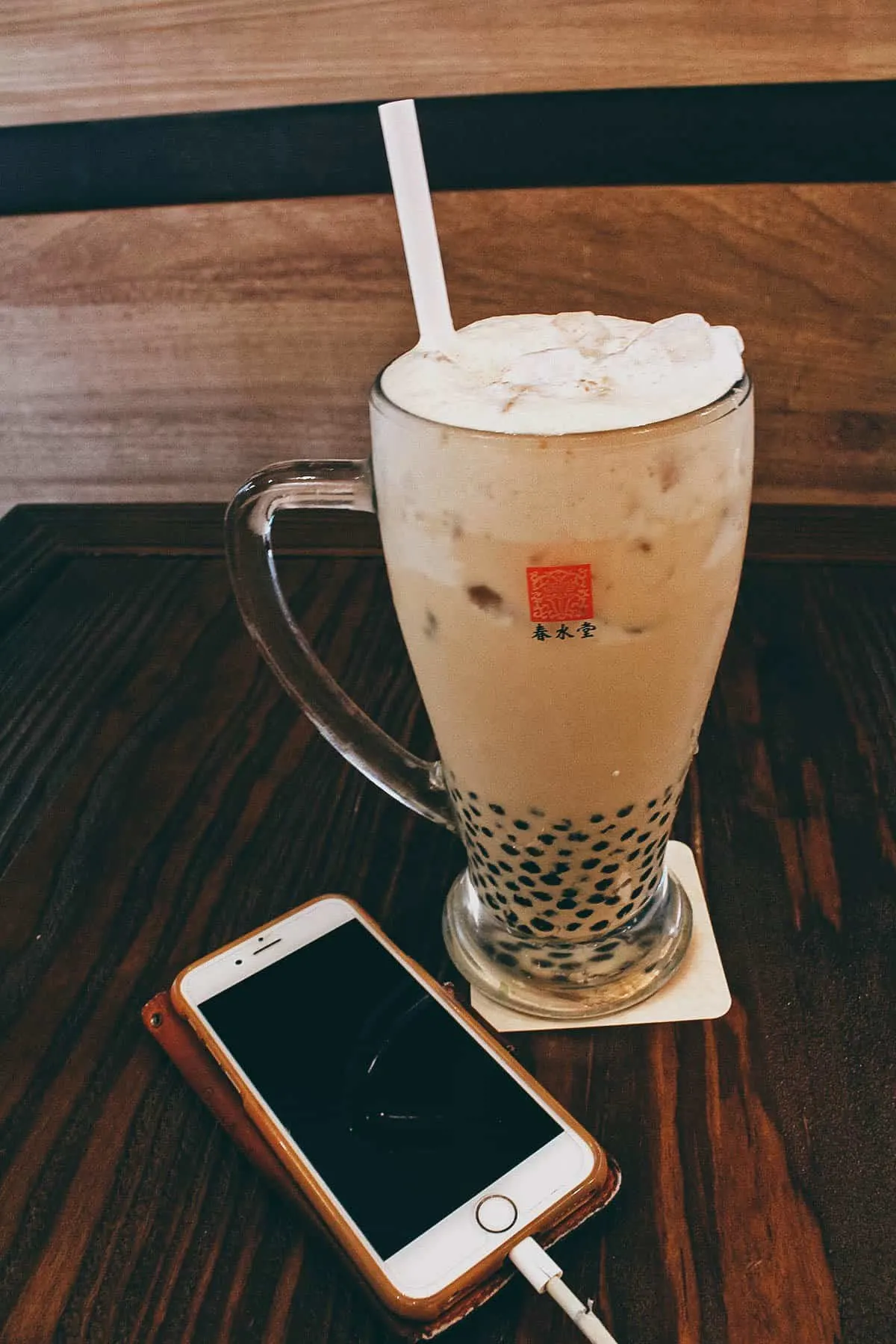 Chun Shui Tang
Address: Several branches. Origin store at No. 30 Siwei Street, Taichung, Taiwan.
Operating Hours: 8:30AM-11PM, daily
Smokey Joe's
This was one of the places we visited for the Gourmet Taiwan Festival. It's a big, beautifully designed theme restaurant that does to vintage bric-a-brac what Hard Rock Cafe does for music memorabilia. I kid you not, there isn't a square inch of this space that isn't beautifully designed or well-thought-out.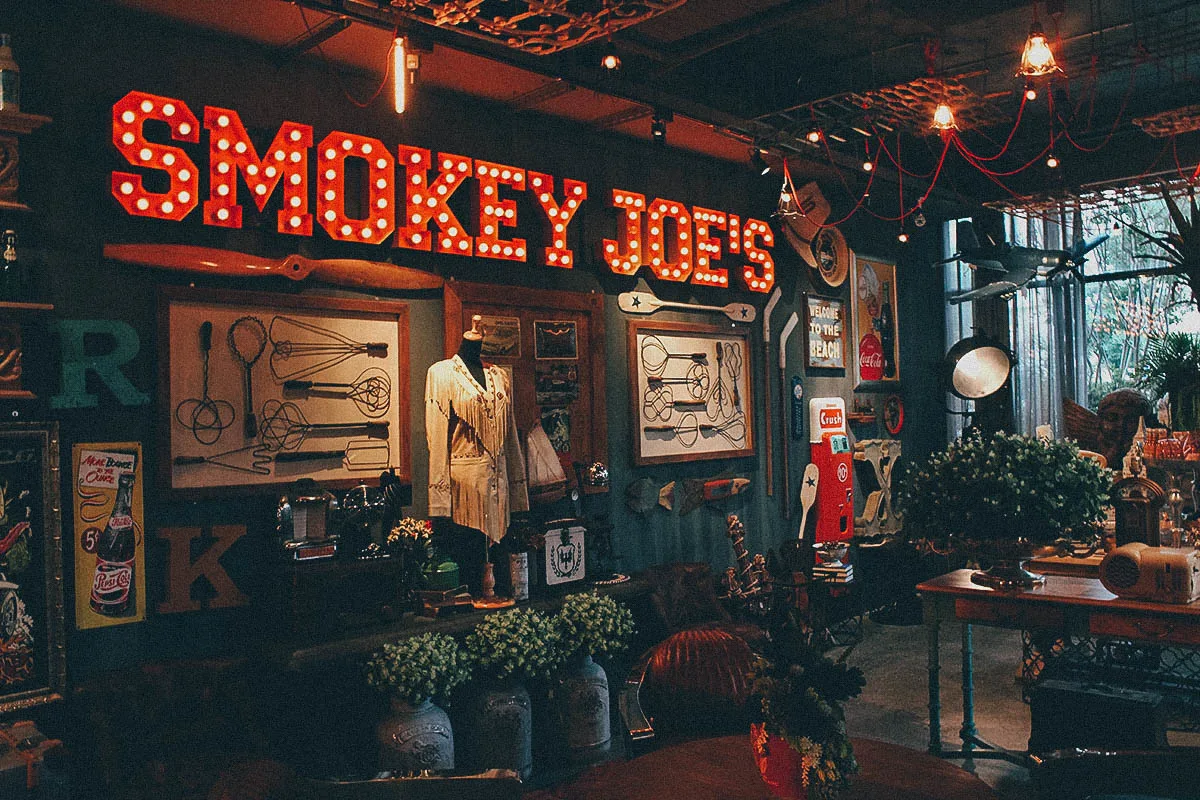 This is the main dining area. We were upstairs in a private room away from all the masses. 😛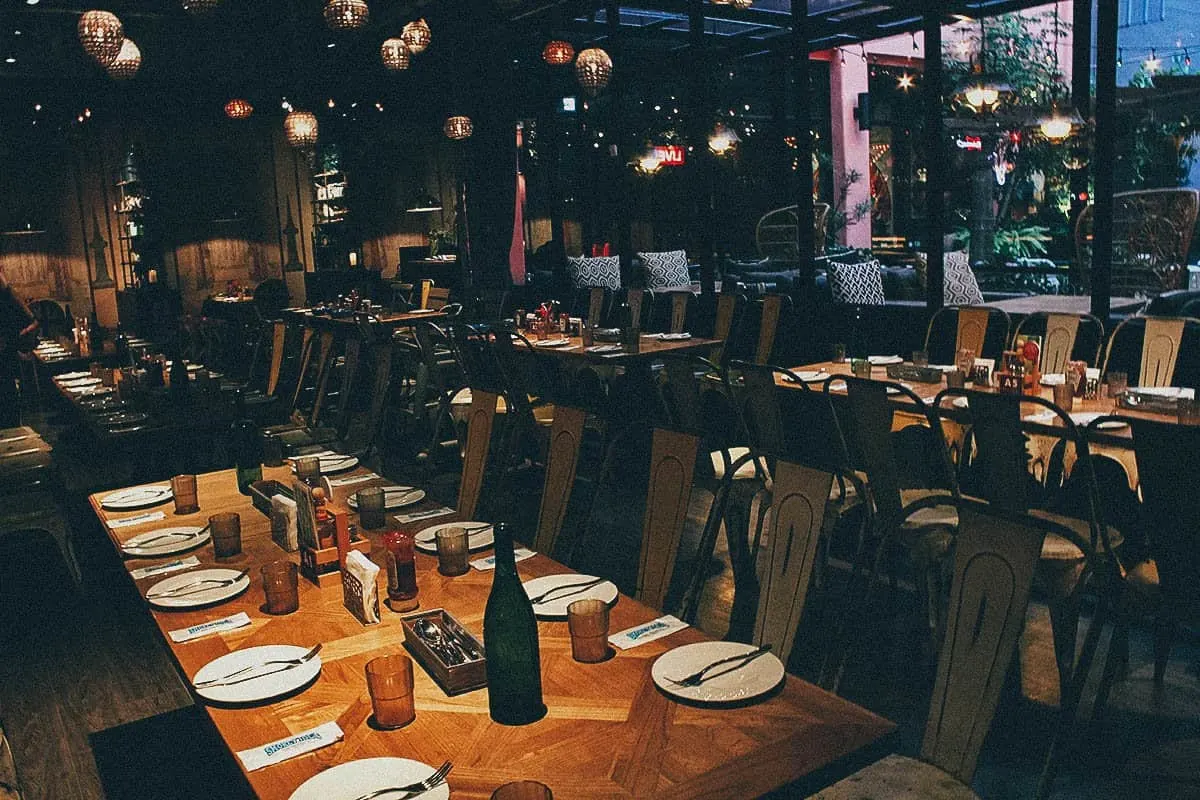 Smokey Joe's serves mainly Tex-Mex cuisine but they do offer a few global dishes as well. This Wild Wolf Platter goes for NTD 750 and features Bavaria sausages, German sausages, homemade chorizo, chicken satay, Sichuan spicy beef, pork knuckles, potato wedges, sauerkraut, and pickled red onions.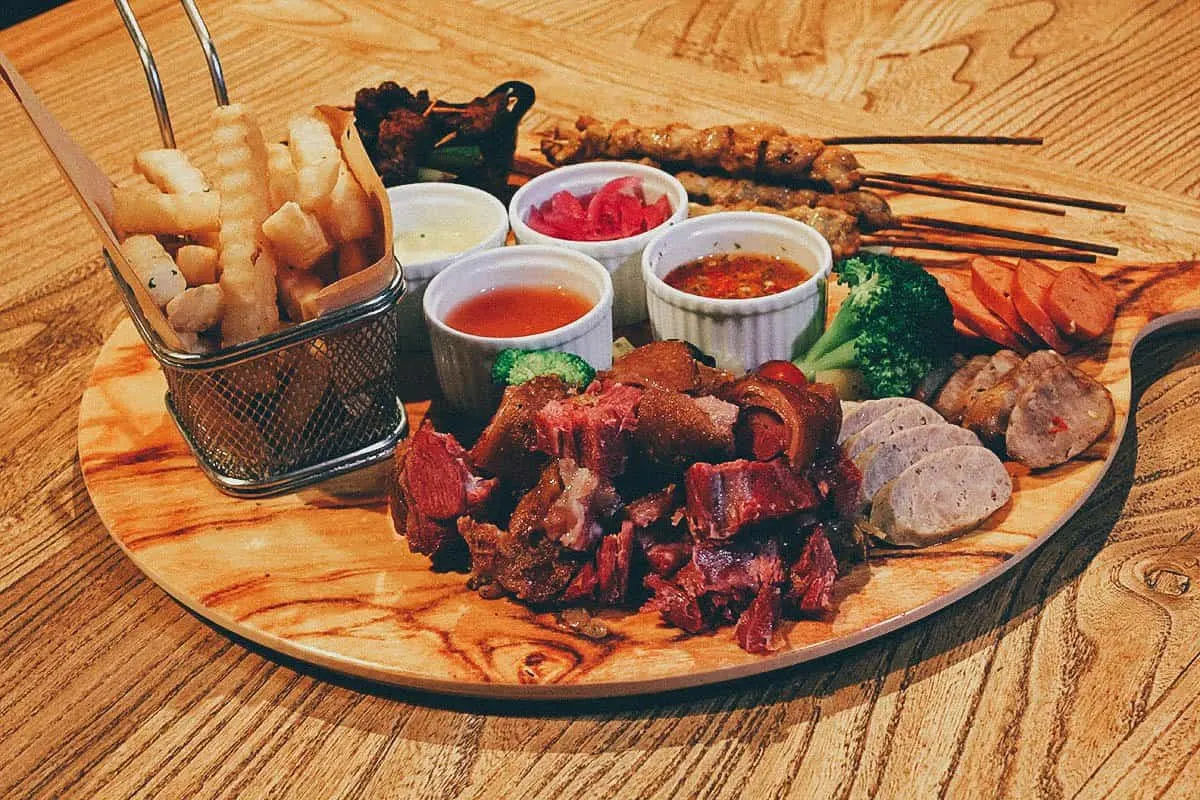 See what I mean about the vintage paraphernalia? What a unique presentation of Seafood Paella (NTD 420). This was one of my favorite dishes from the evening. And no, you don't get to keep the pink convertible. I already asked.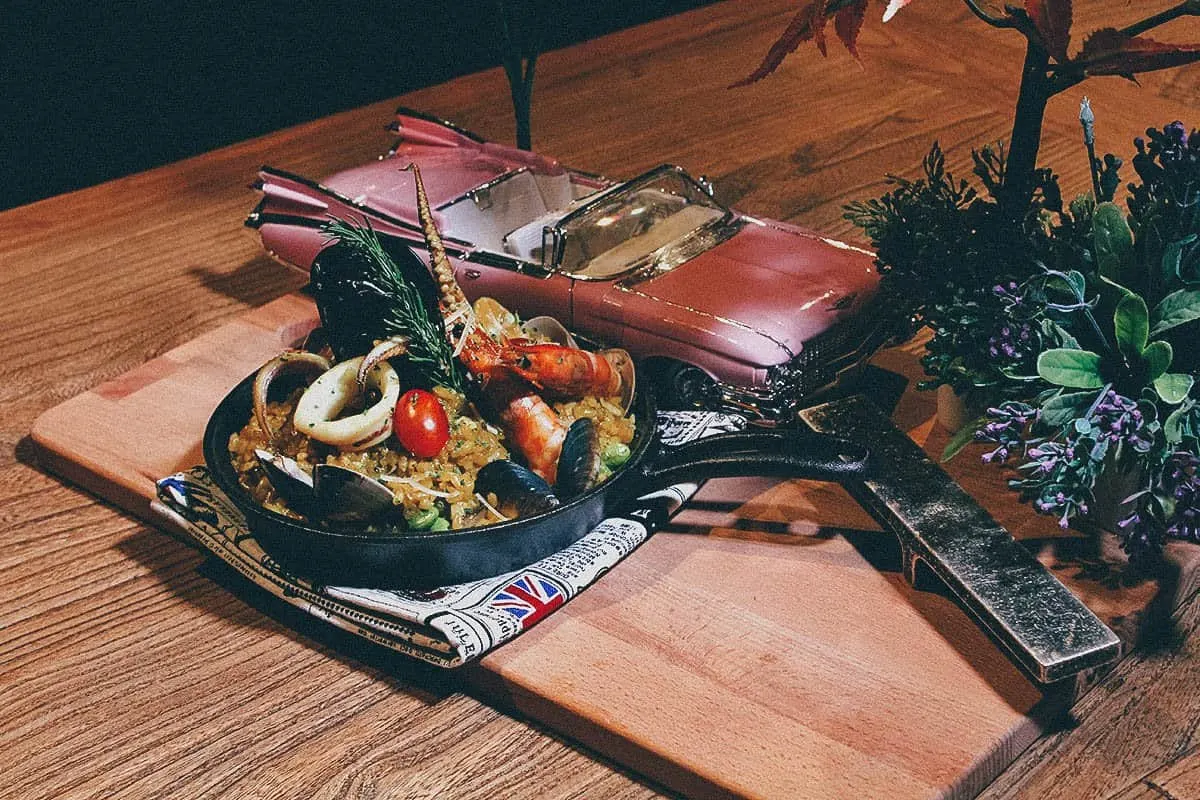 Chicken Fajitas – NTD 390 (small), NTD 500 (big)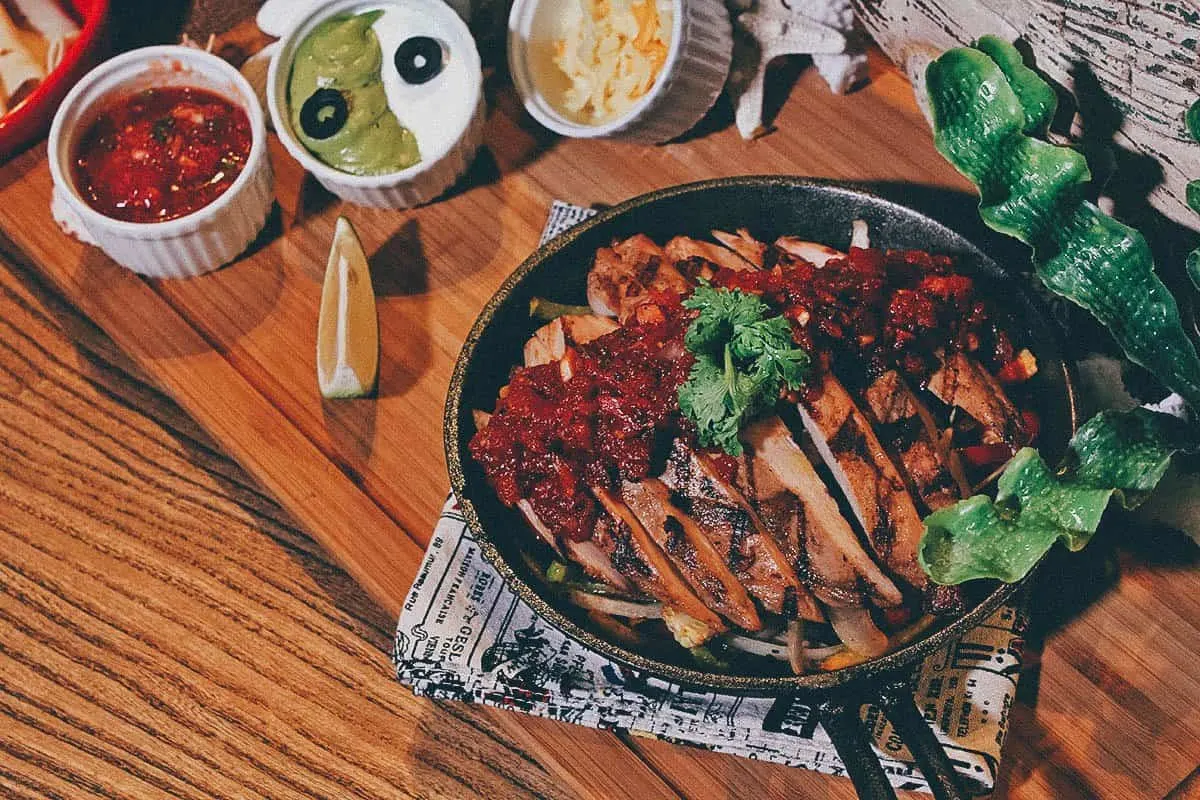 Isn't this cool? I think it's meant to be a play on Malaysian lok lok.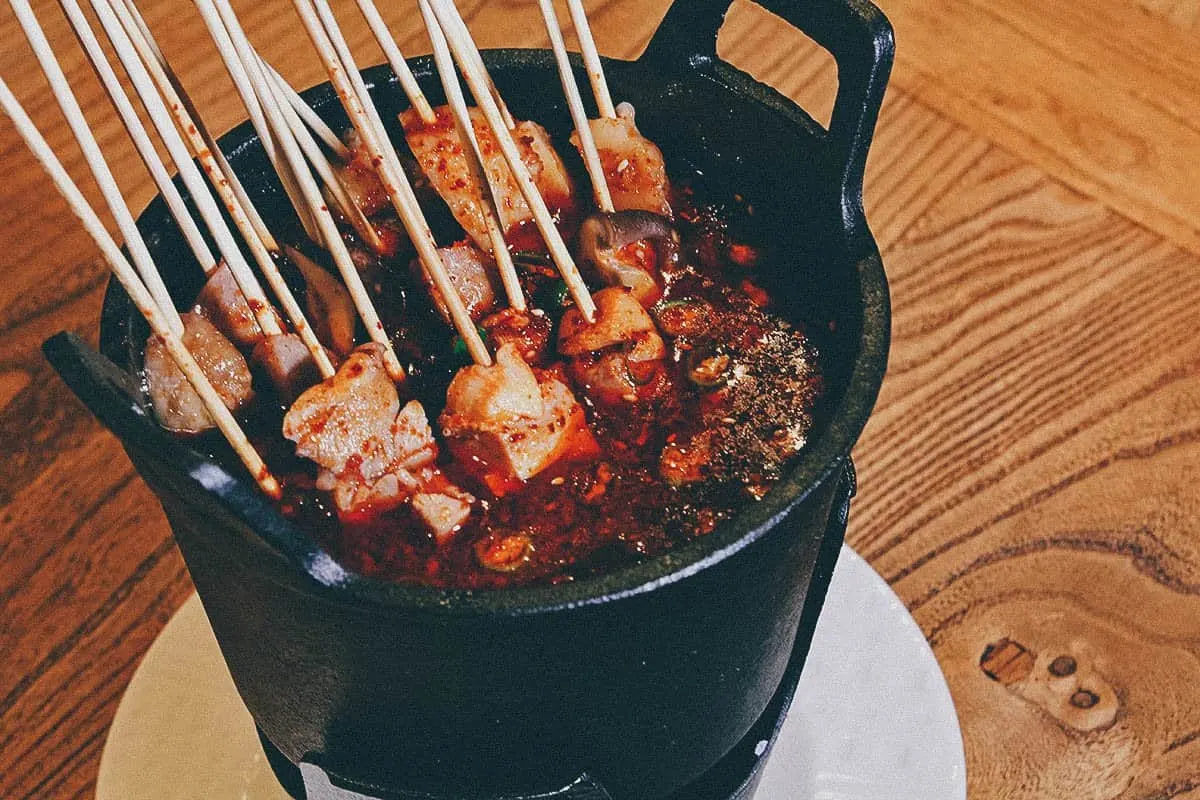 We ended the night with these mango and strawberry margaritas. Delicious! And no, you can't take that piñata home either. We tried many dishes tonight, too many to all post here, so I'll write a dedicated post about Smokey Joe's soon.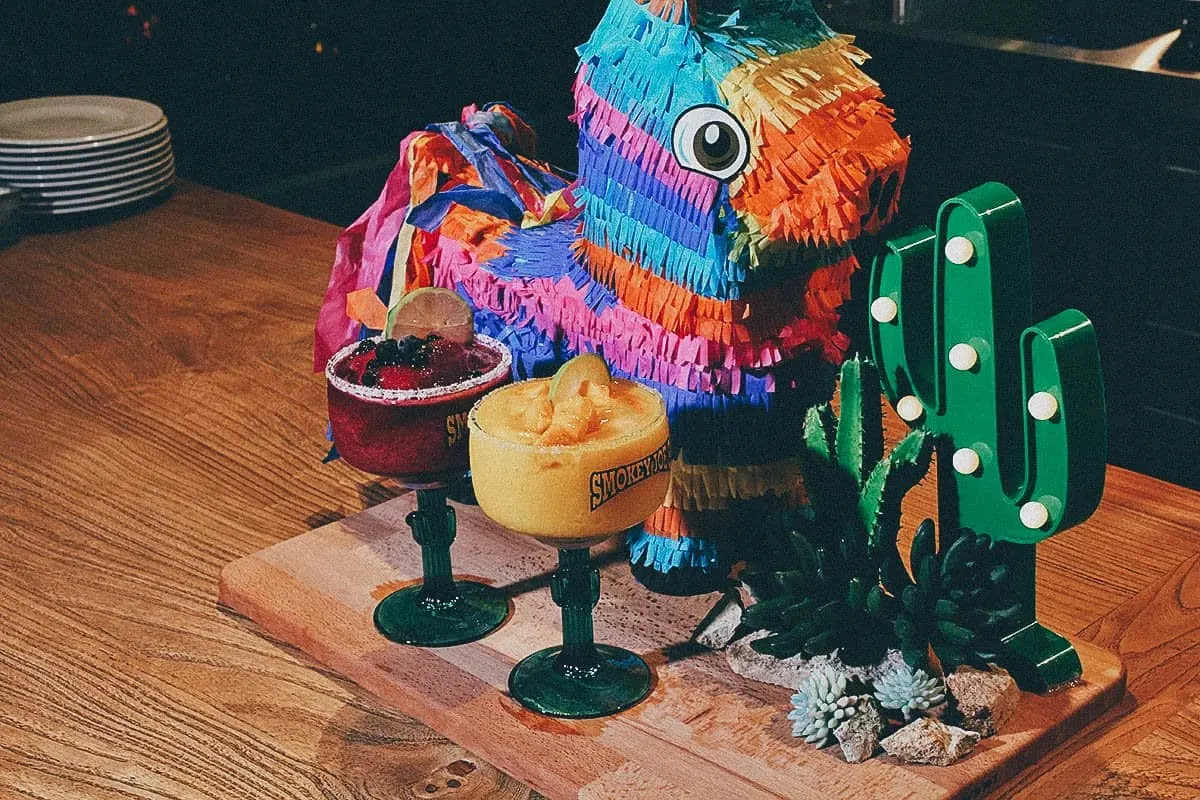 Smokey Joe's
Address: 台灣, No. 7, Section 1, Meichuan West Road, West District, Taichung City, 403
Operating Hours: 11:30AM-3PM, 5:30-10:30PM, Mon-Fri / 11:30AM-10:30PM, Sat-Sun
Calligraphy Greenway
This place is awesome. I wasn't sure what it was at first but it's basically an open space dedicated to arts and culture. Similar in feel and function to a creative park, Calligraphy Greenway is a 3.6 km long park that stretches from the National Science Museum to the National Art Museum. It's home to Caowu Square, a food market, and clusters of converted houses filled with interesting coffee shops and boutiques.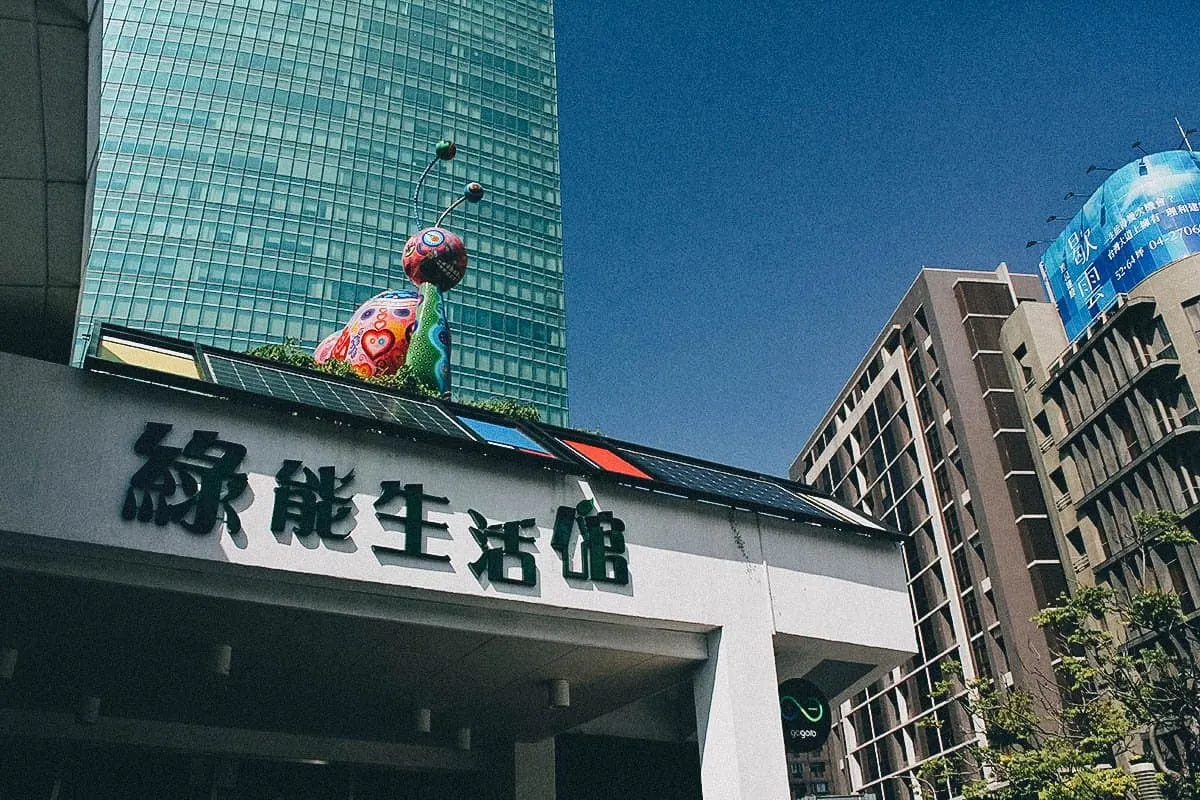 Inside Caowu Square. From what I understand, Caowu Square is an arts and cultural events venue. It's also home to a design supermarket that sells unique products most of which are created by Taichung-based designers.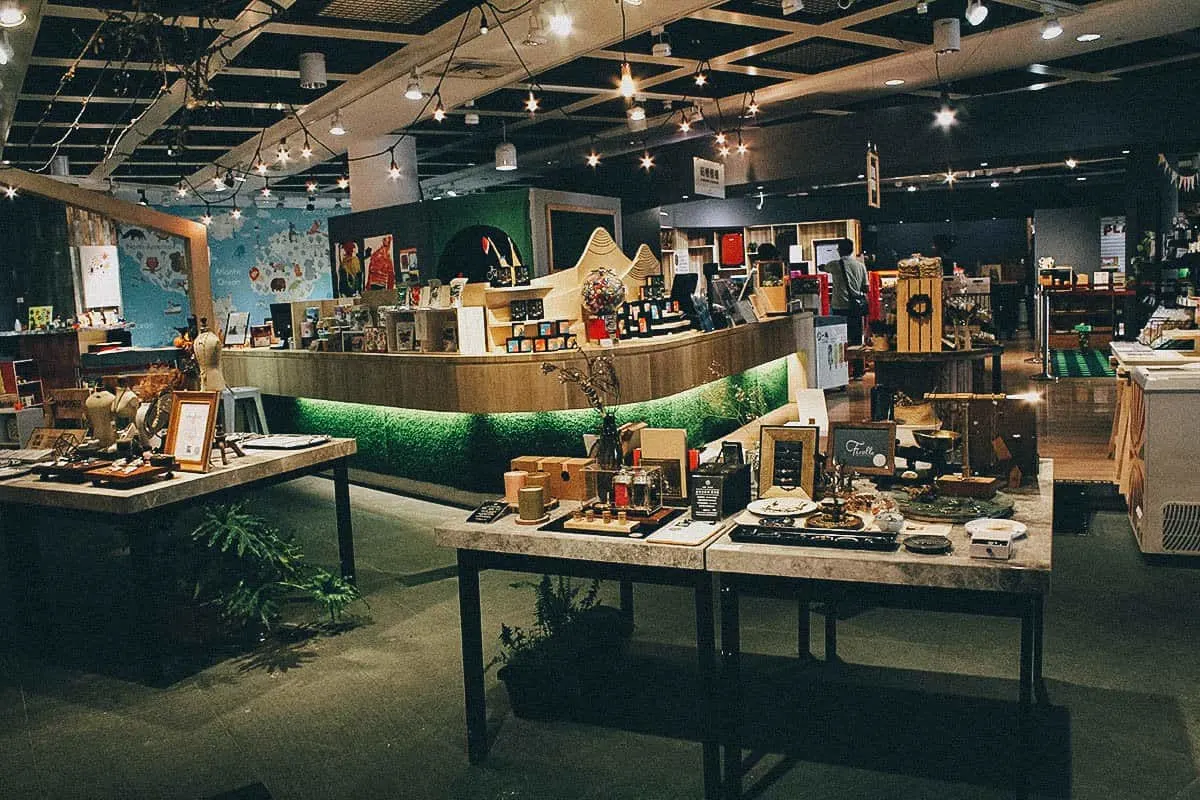 We blitzed through everything but you can spend an entire day here just perusing all the displays. There was so much cool stuff! It was nice to see them support local designers and manufacturers as well.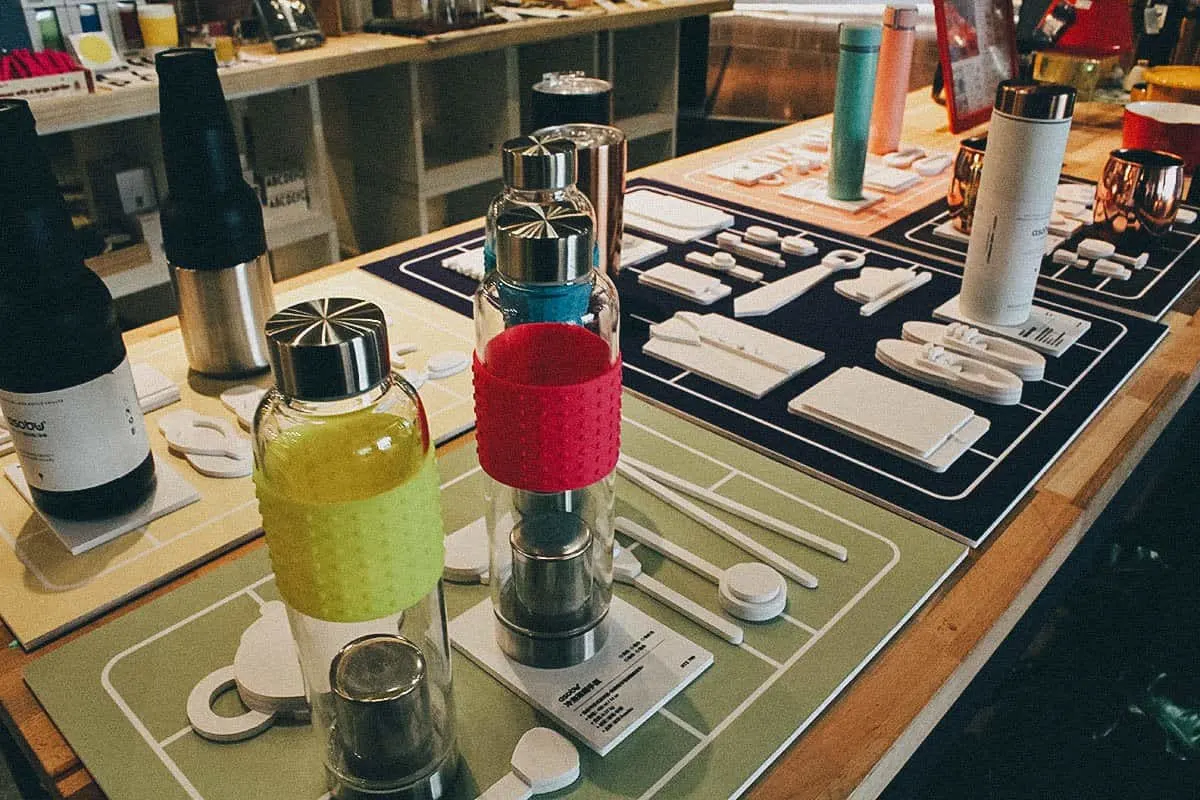 We had a quick Segway demo in the courtyard. You can rent Segways or bikes to explore Calligraphy Greenway.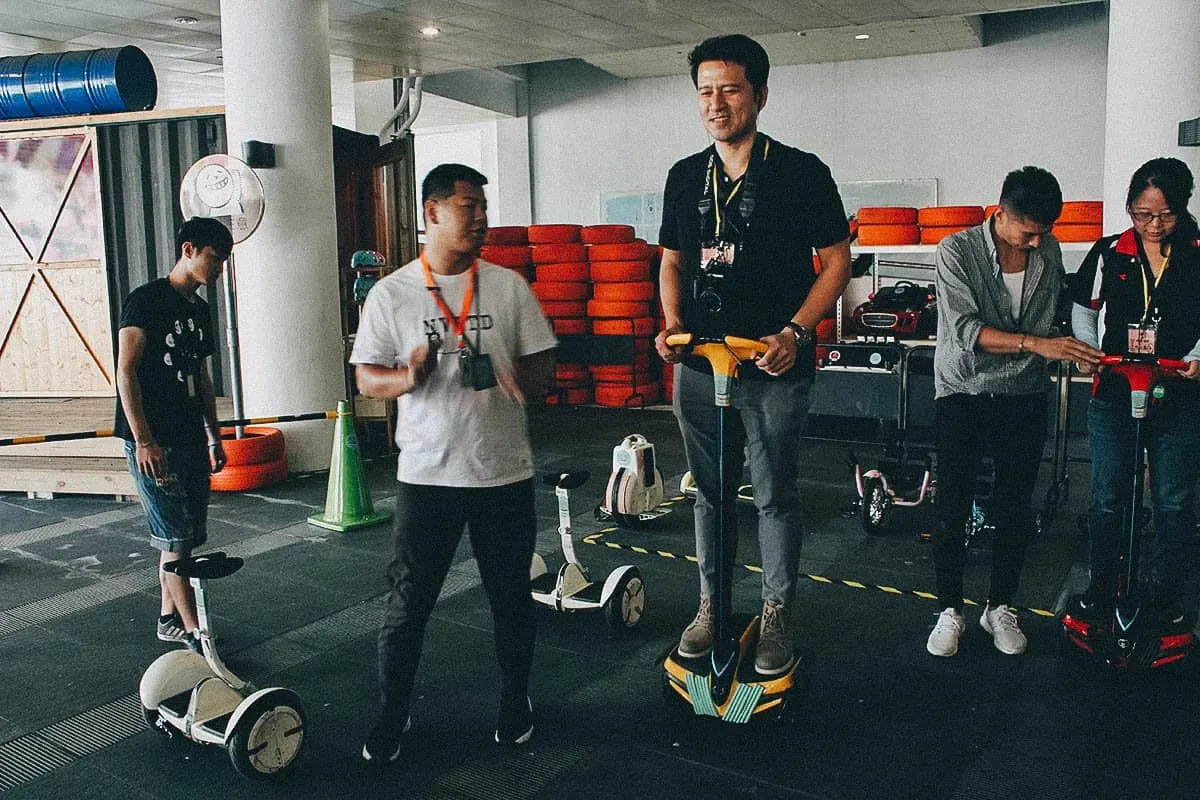 This is that cluster of old, converted houses I was referring to earlier. Still gritty in feel, they're now home to coffee shops and funky boutiques. Again, this would have been so much fun to explore with more time.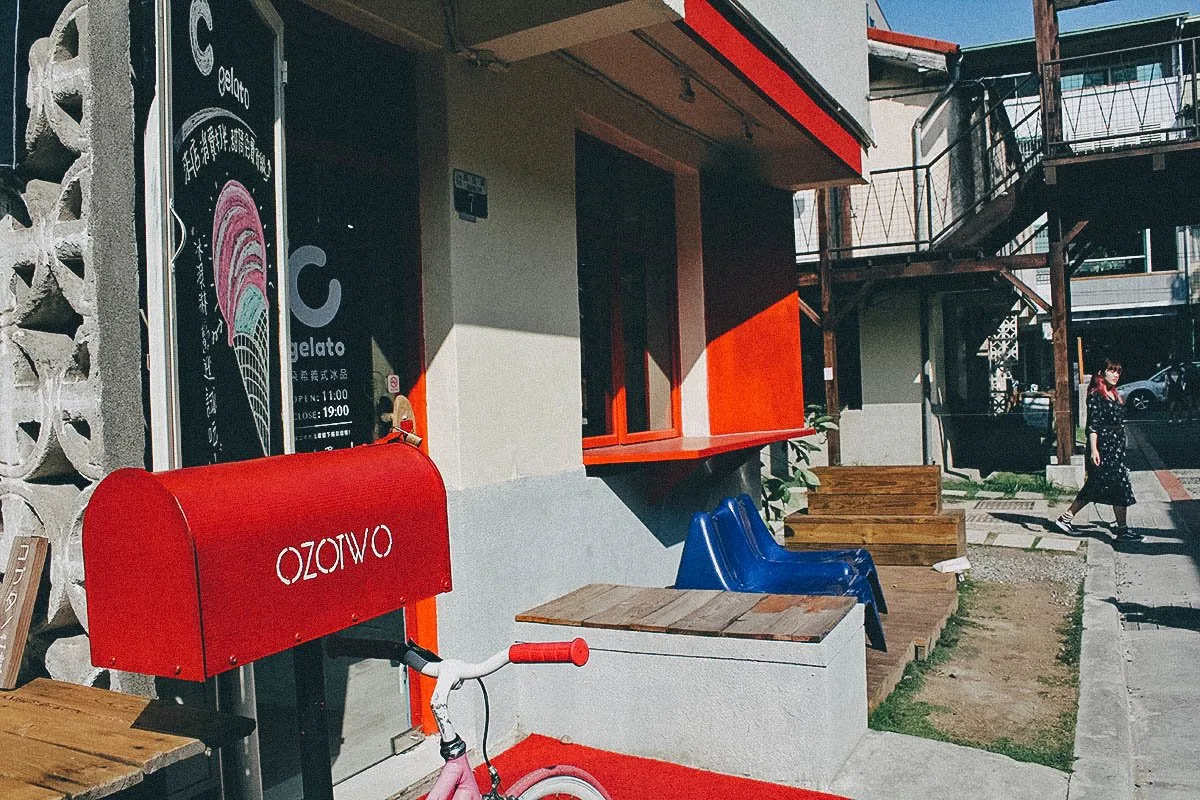 If I heard correctly, these buildings are old government dorms that haven't been in use for a long time. They've been renovated and converted to a commercial space to attract both locals and tourists alike. From what I saw at Huashan and Songshan, the Taiwanese are excellent at repurposing industrial spaces like these and turning them into cool arts venues.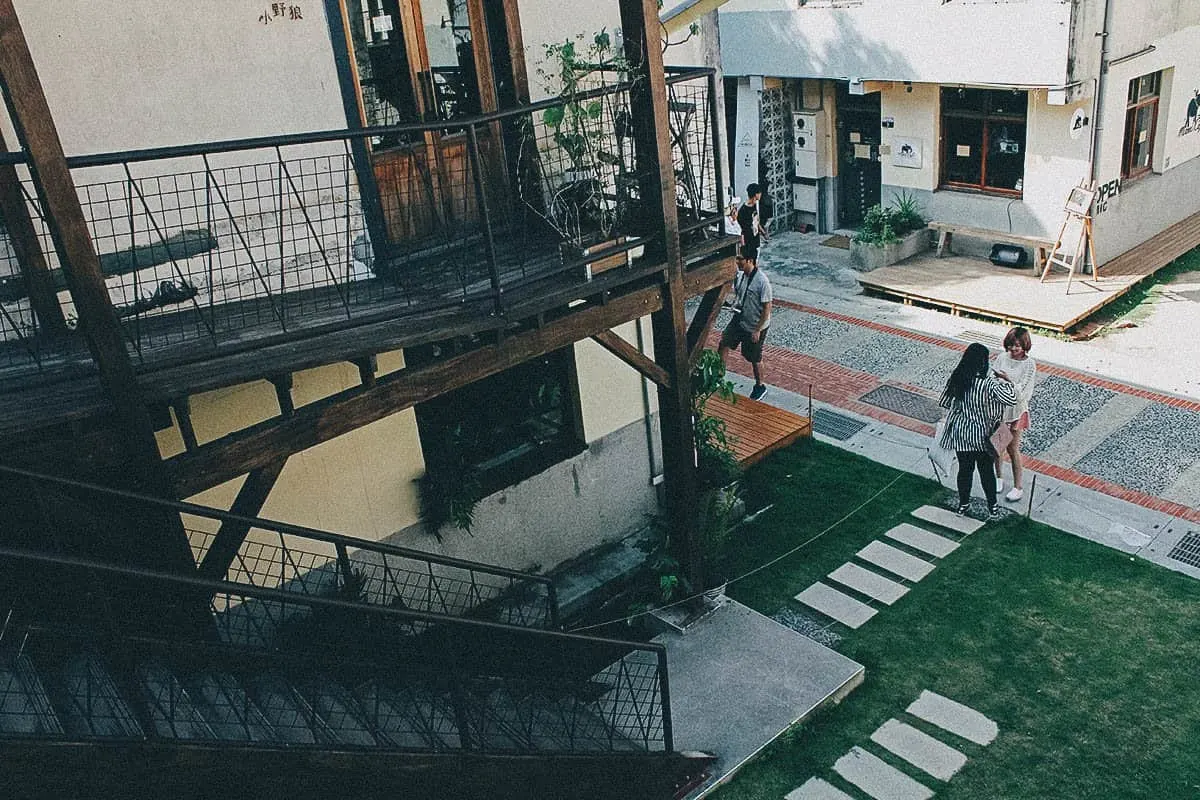 When Ren and I go back to Taiwan (and Taichung) in March of 2018, we'll spend as much time as we can exploring the nooks and crannies of this place. There are so many interesting things to see and do here. I actually took a lot more pictures of the space which I'll put up in a dedicated post about Calligraphy Greenway.

Calligraphy Greenway
Address: Xiangshang North Road, West District, Taichung City, Taiwan 403
Operating Hours: 10AM-10PM, daily (Caowu Square)
Hui-Sun Coffee
This was another place they took us to for the Gourmet Taiwan Festival. Located a few blocks from Calligraphy Greenway, Hui-Sun Coffee is a popular cafe in Taichung.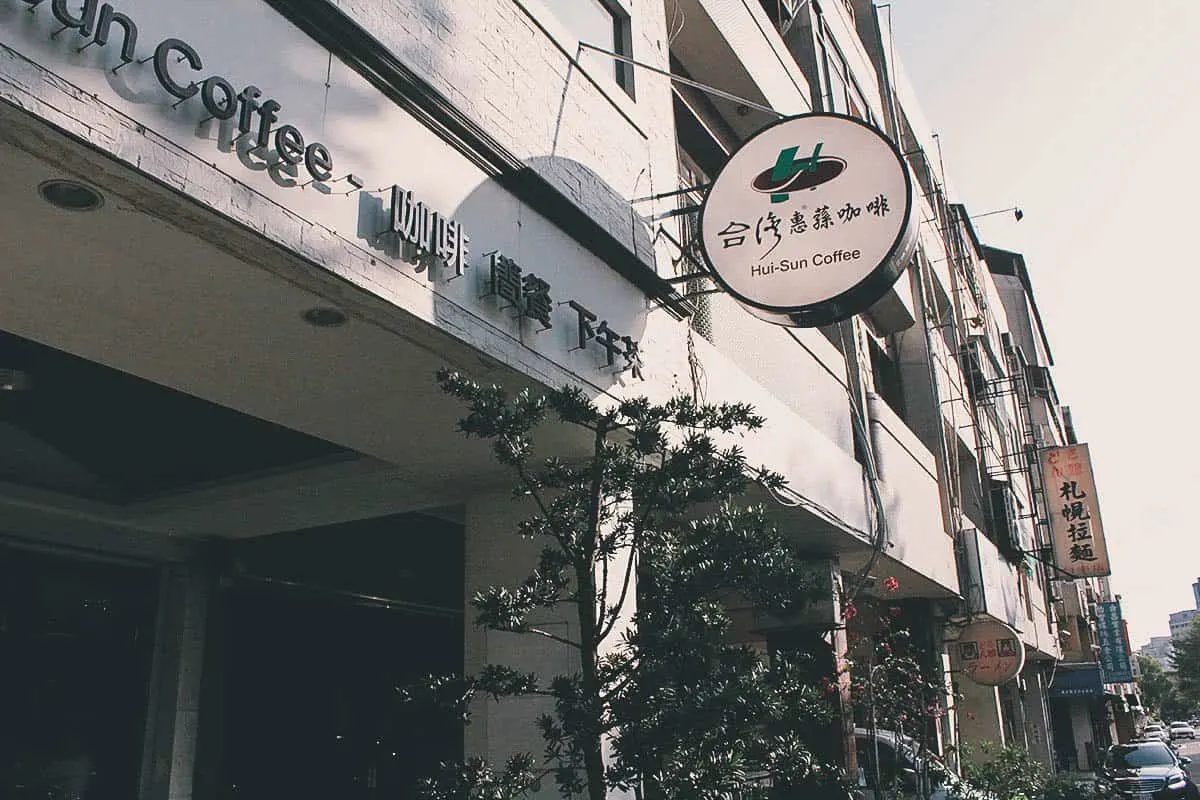 There's our group of rowdy food bloggers causing a ruckus at the cafe. How dare these paying customers get in our way! 😛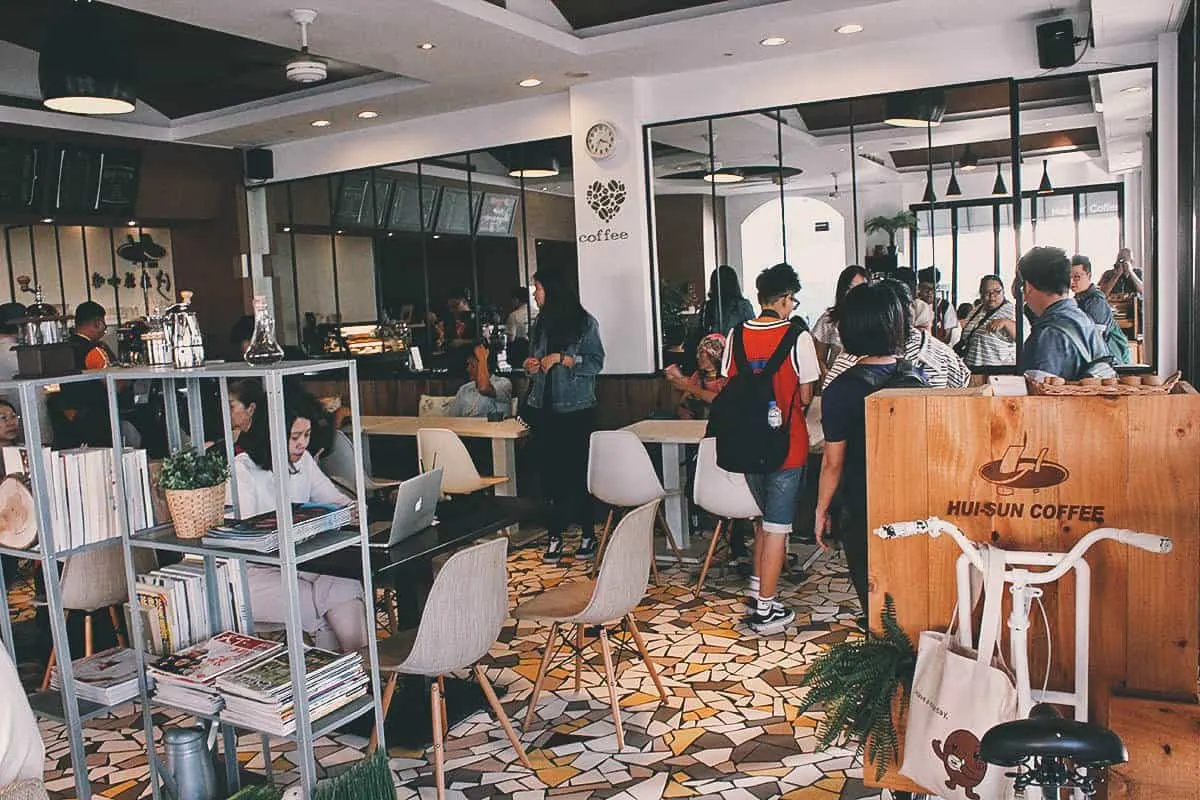 Coffee is life. *Takes a sip of my instant.*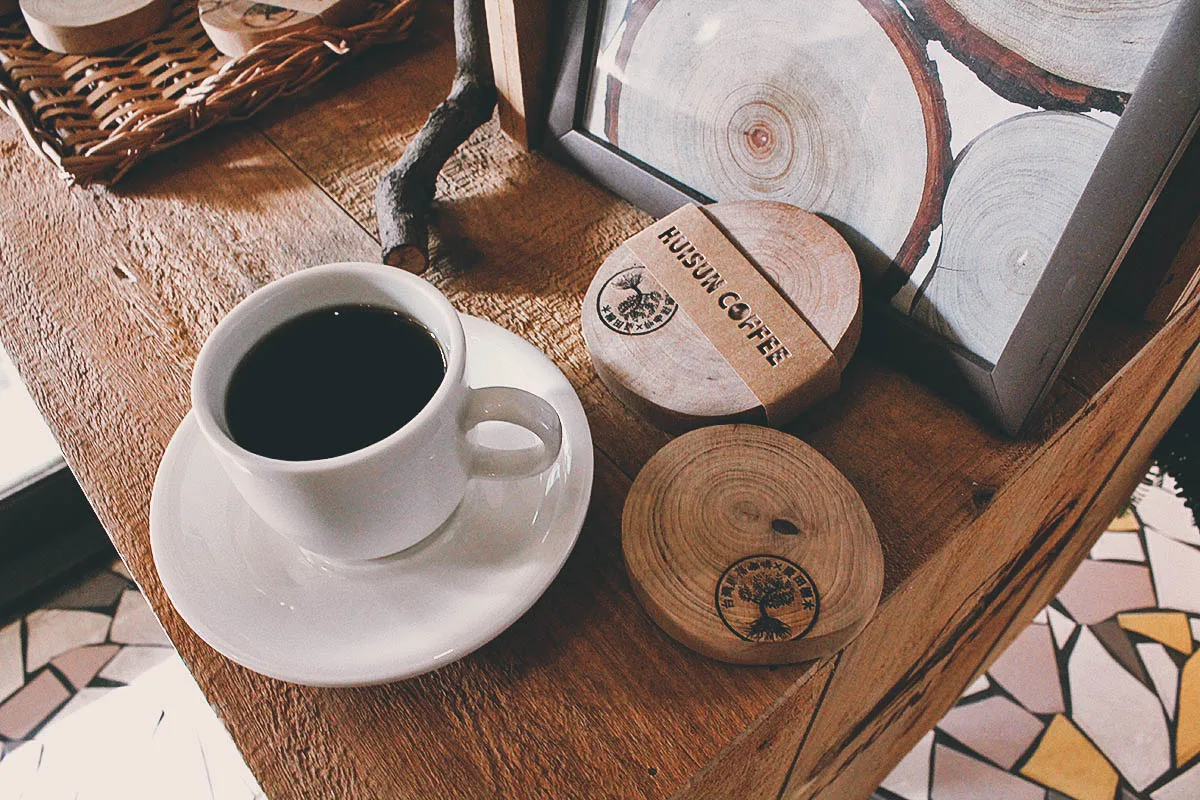 They treated us to coffee brewing demonstrations and an onslaught of pastries and desserts. Hot or cold, the coffee here was fantastic.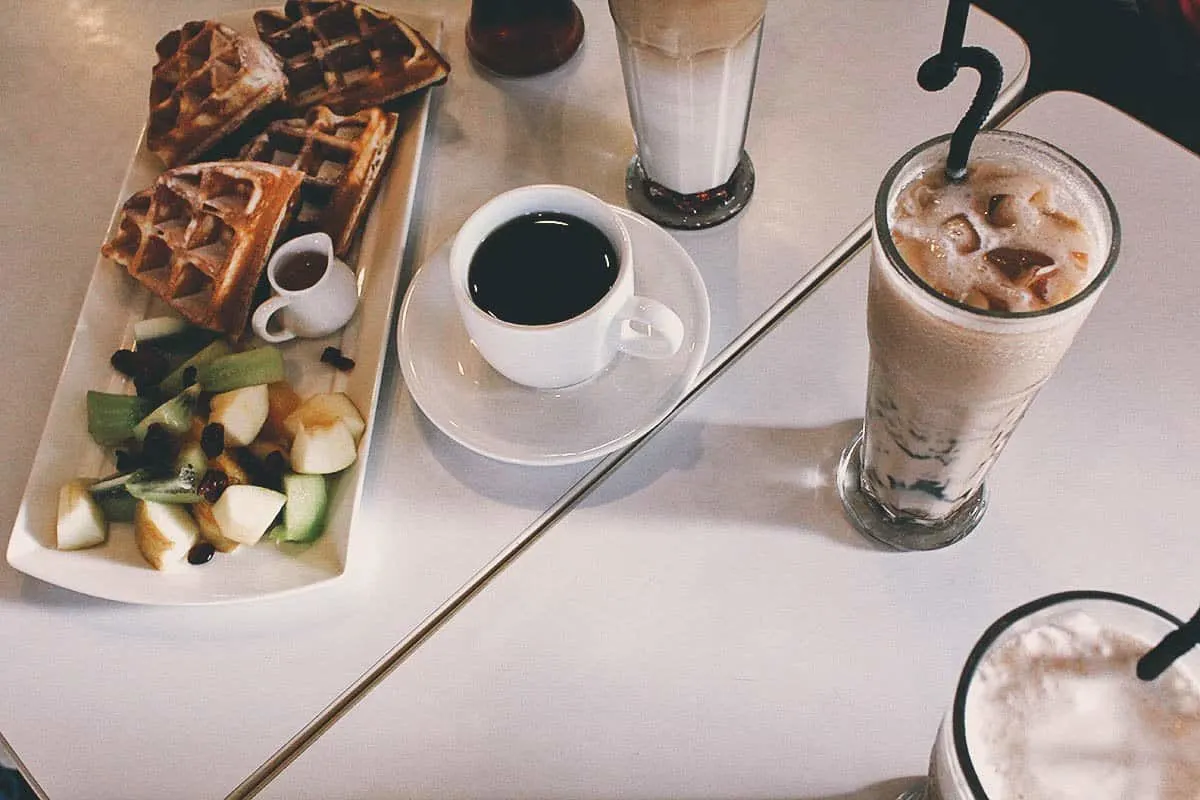 This matcha waffle was delicious!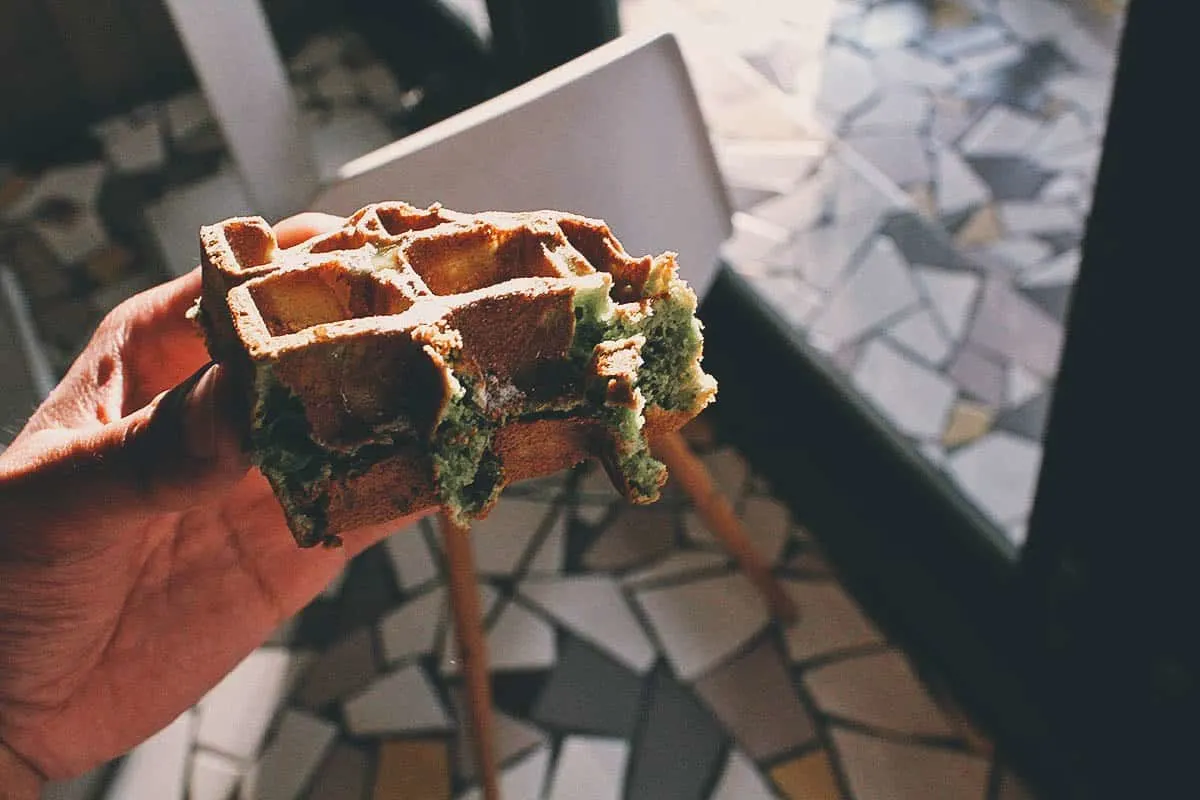 Quiche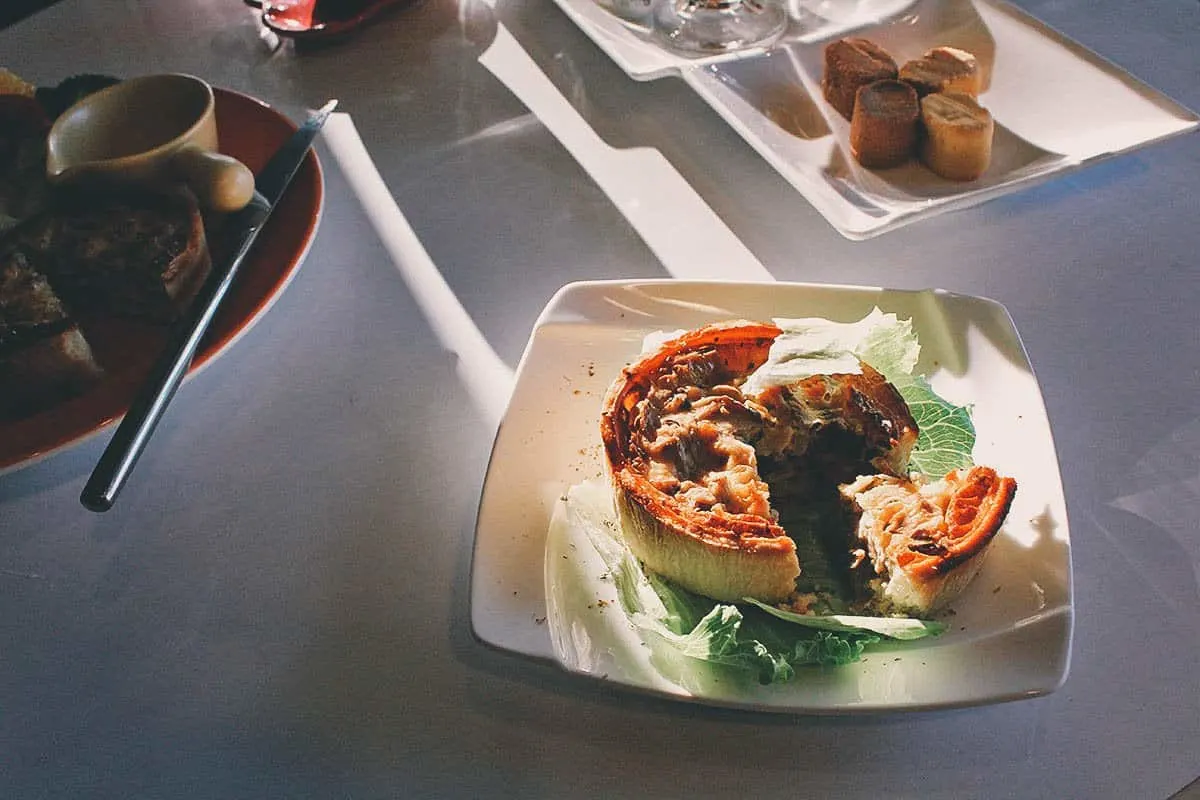 These are Hui-Sun's best-selling custard pastries. If you do decide to get a cup of joe here, then be sure to pick up one of these. They're really good.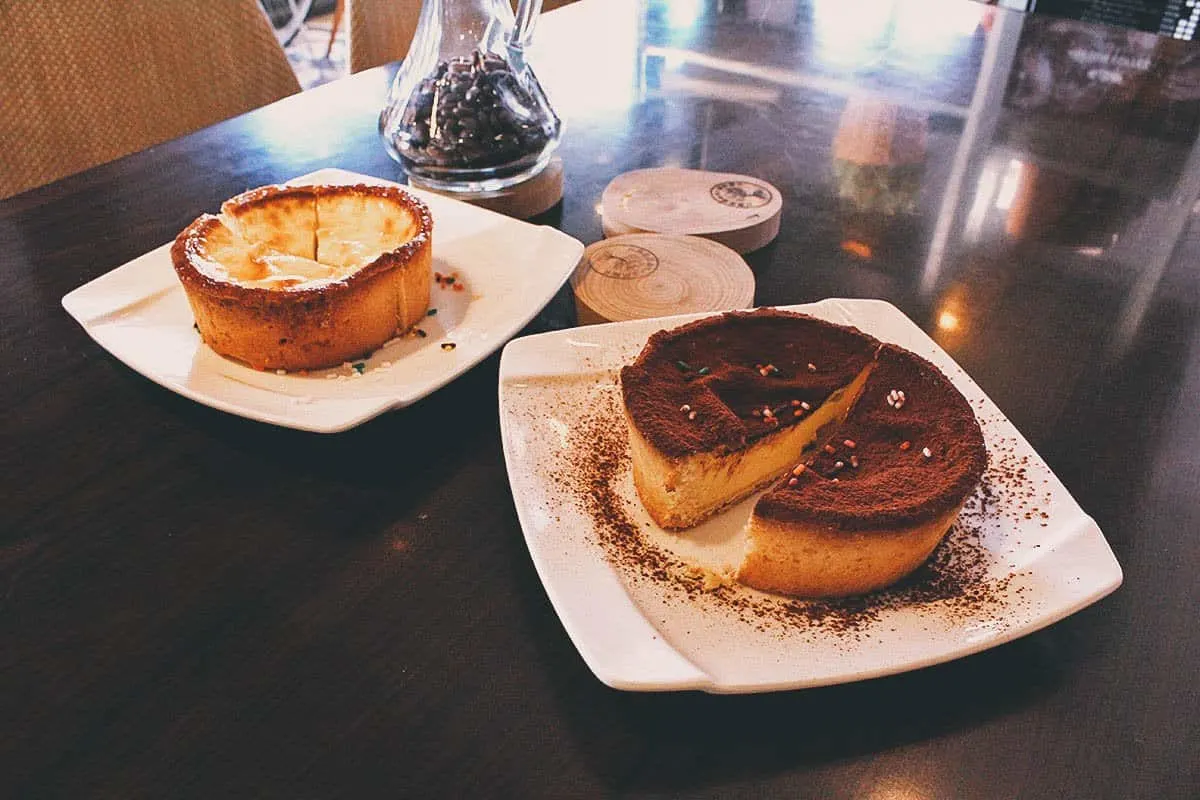 Hui-Sun Coffee
Address: 494, Huamei Street, West District, Taichung City, 403臺中市西區華美街494號1樓
Operating Hours: 8AM-7:30PM, daily
瓦御滷肉飯 (Braised Pork Rice Restaurant)
There are specific types of restaurants/stalls Ren and I like to visit when traveleating. We only go to eateries frequented by locals, and this place is exactly that. I couldn't understand anything but the fact that everything was in Chinese spoke volumes. With no formal English name, 瓦御滷肉飯 offers many dishes but they specialize in Lu Rou Fan, or rice bowls topped with braised pork. Yummers.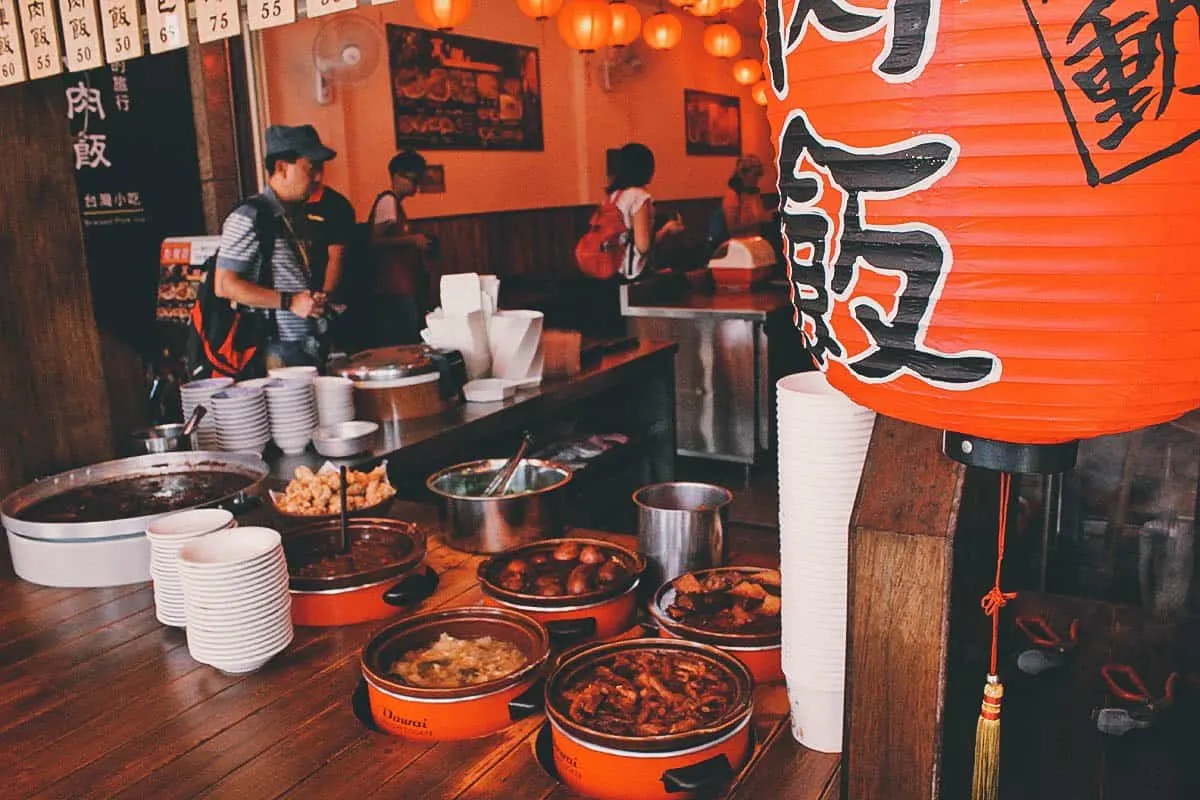 Now how good does that look? Even from just looking at this picture, you can tell how melt-in-your-mouth tender this piece of braised pork leg was.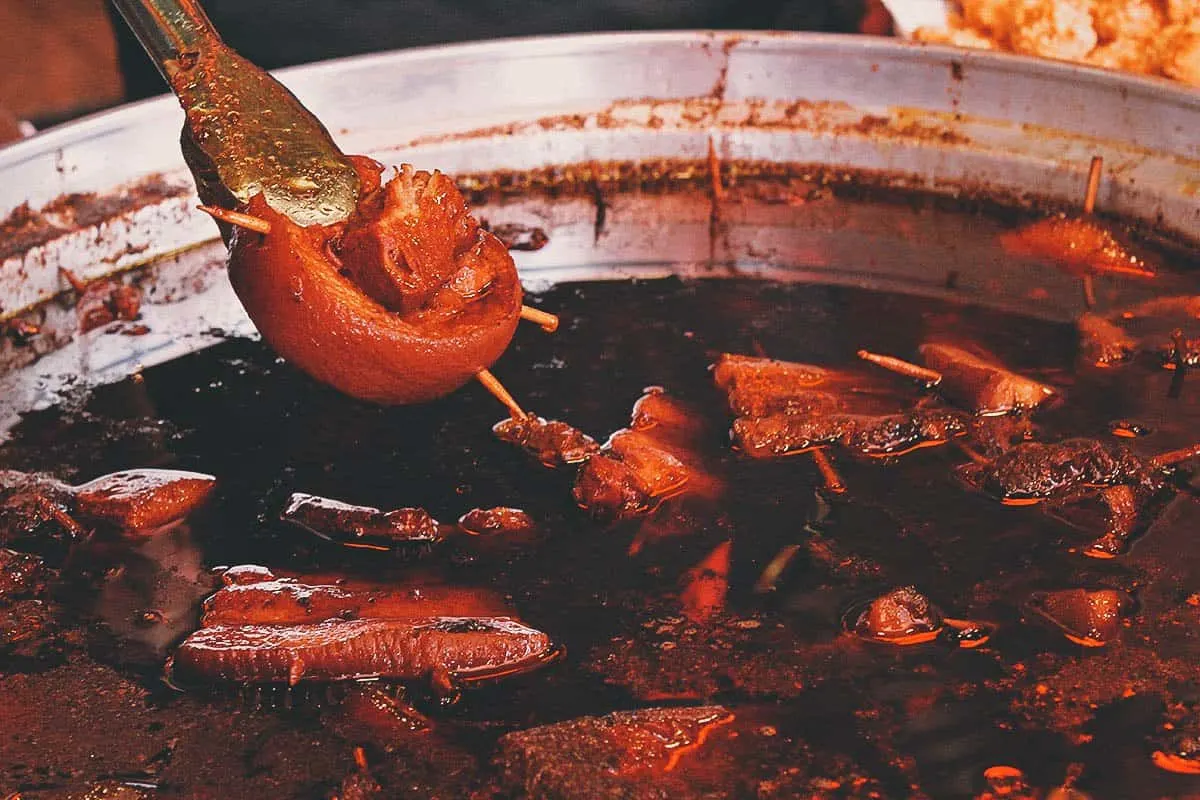 A feast fit for a king. Where do I even begin?!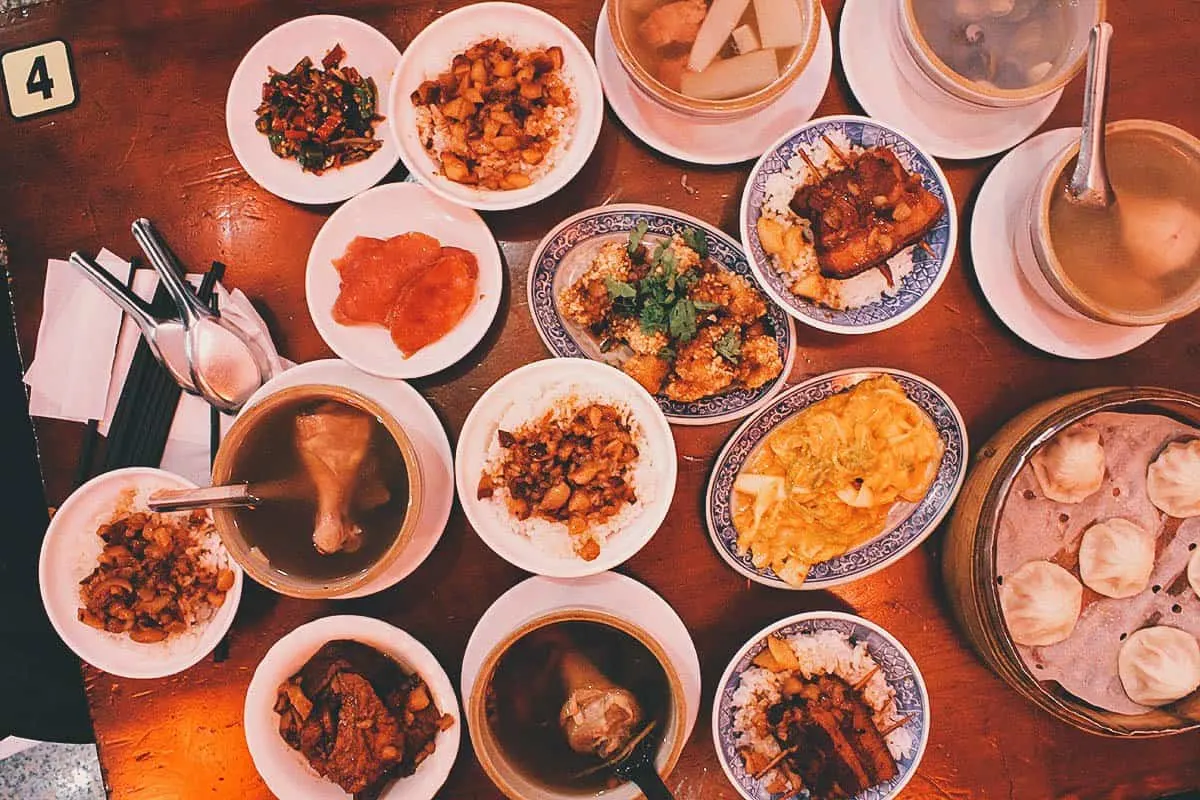 Check out that delicious hunk of braised pork belly! (NTD 50)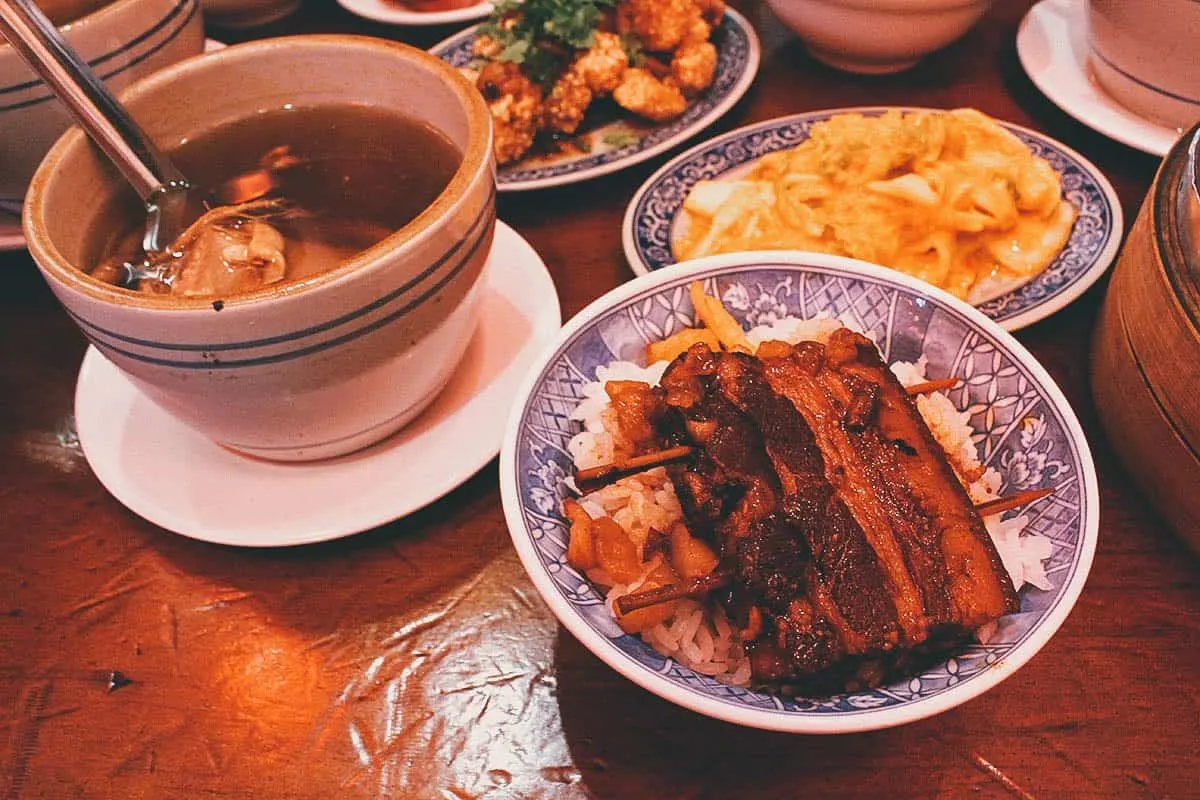 Almost everything we had here was good, but this braised pork rice (NTD 30) was one of my favorites. The meat practically dissolves in your mouth so you don't even really need to chew. From what I understand, lu rou fan is one of the most beloved Taiwanese comfort dishes, perhaps second only to beef noodle soup, so be sure to order this. That yellowish plate of Taiwanese kimchi was delicious too and went great with the braised pork.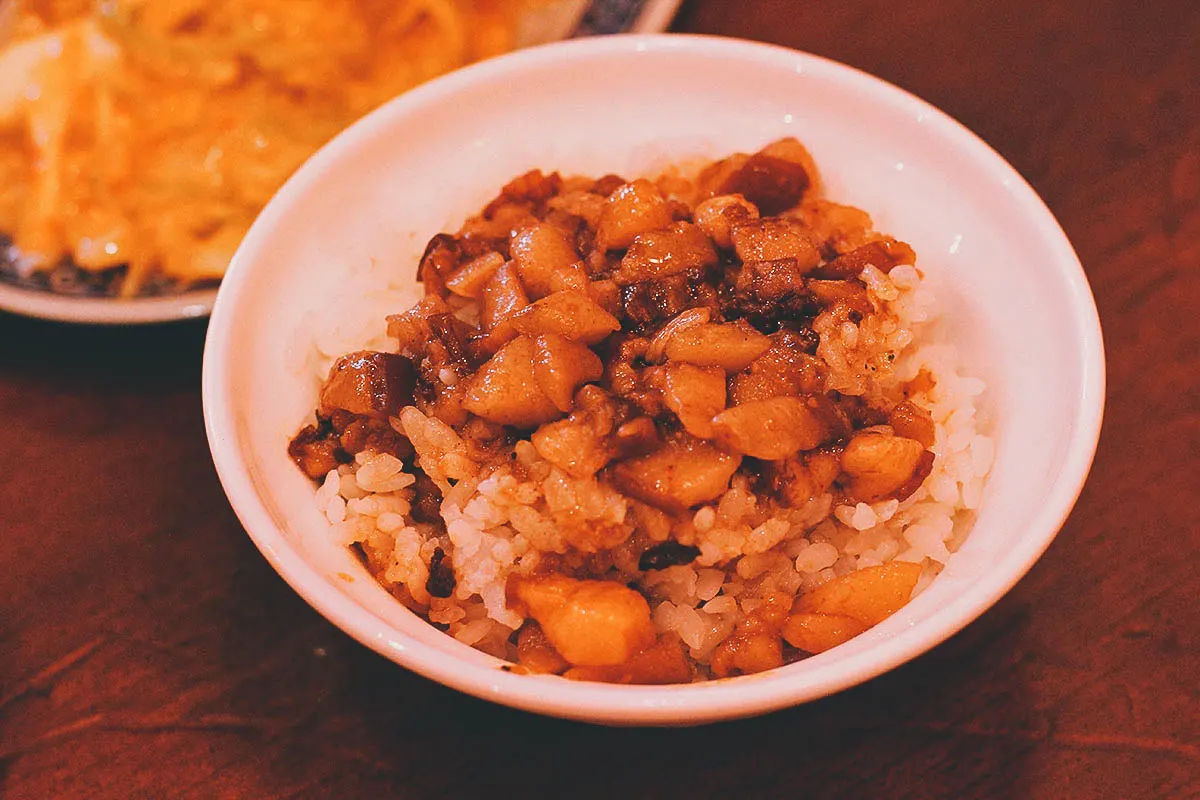 瓦御滷肉飯 (Braised Pork Rice Restaurant)
Address: No. 586, Shizheng Road, Xitun District, Taichung City, 407
Operating Hours: 11AM-11:30PM, daily
Fengjia Night Market
There's no better way to end a day of traveleating in Taichung than a visit to Fengjia (or Feng Chia) Night Market. As described at the top of this post, Taiwan is home to many night markets, but Fengjia is the biggest of them all. I'll take that entire rack of scallops please.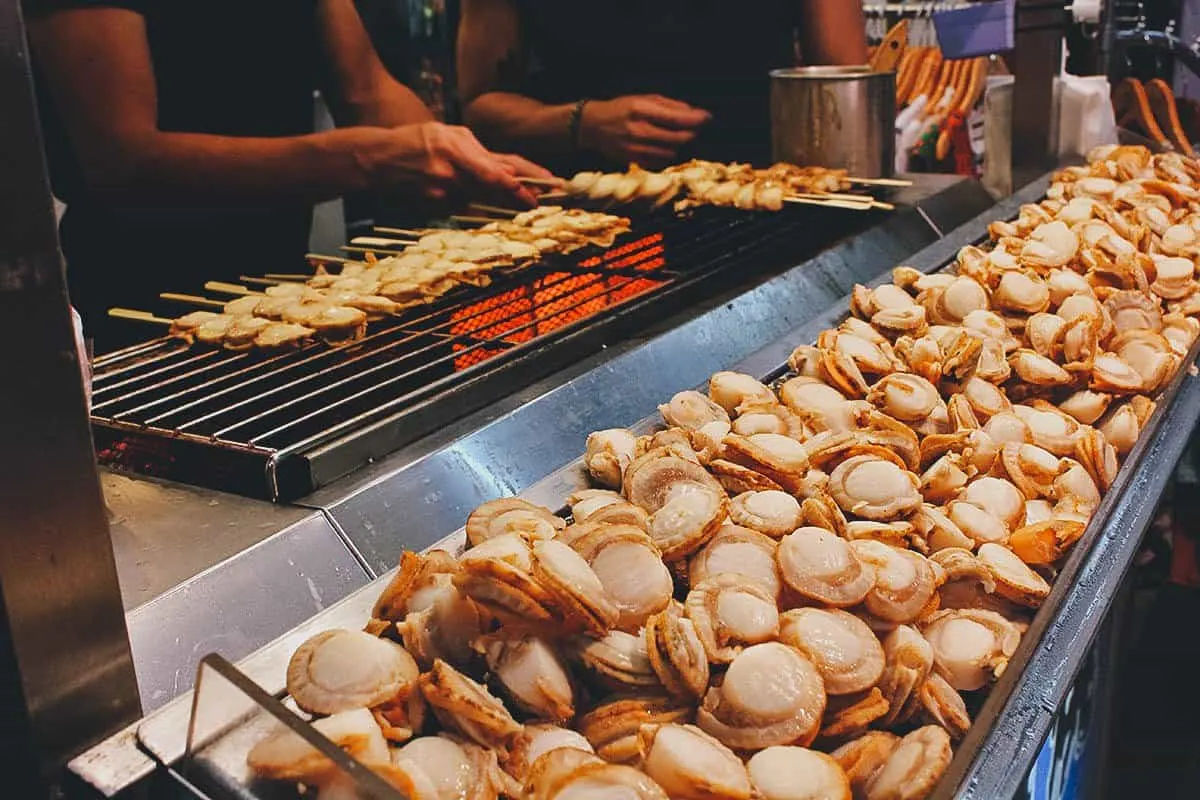 As one traveler put it, no one goes to Taichung without visiting Fengjia Night Market. Without a doubt, it's the city's biggest attraction.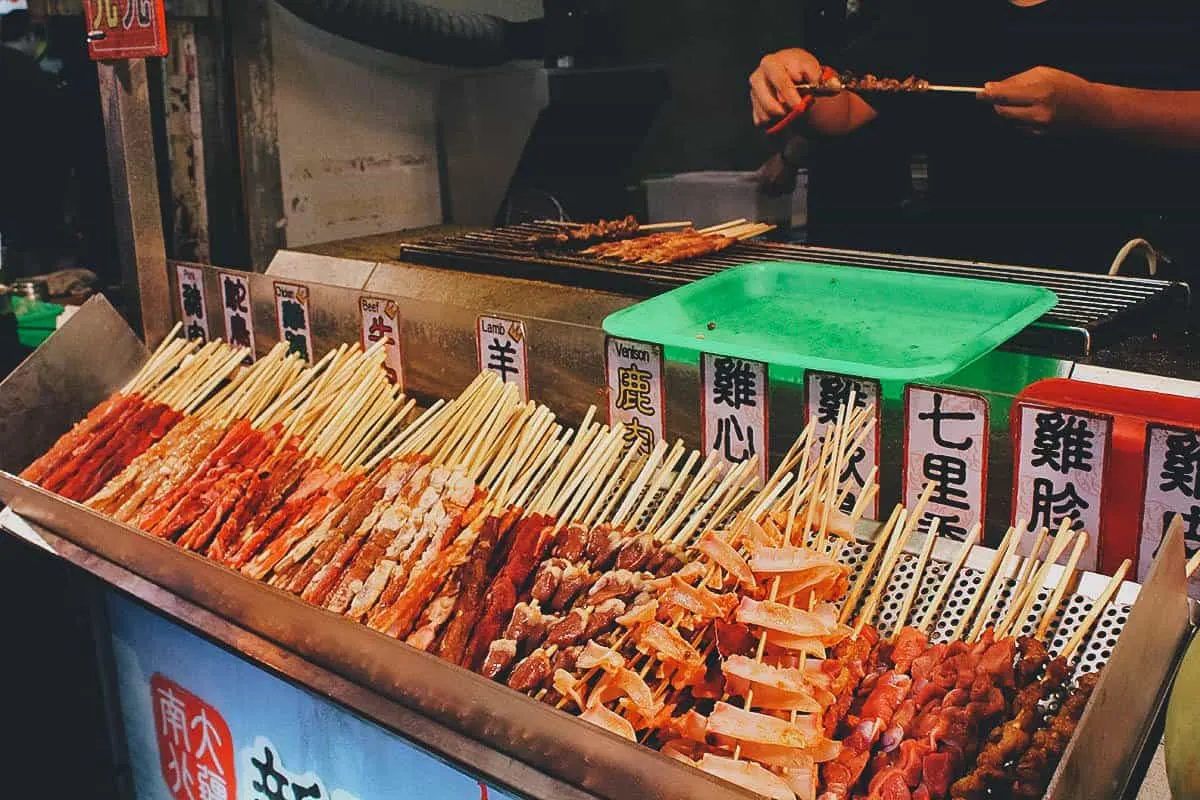 Check out the size of those oysters! 😯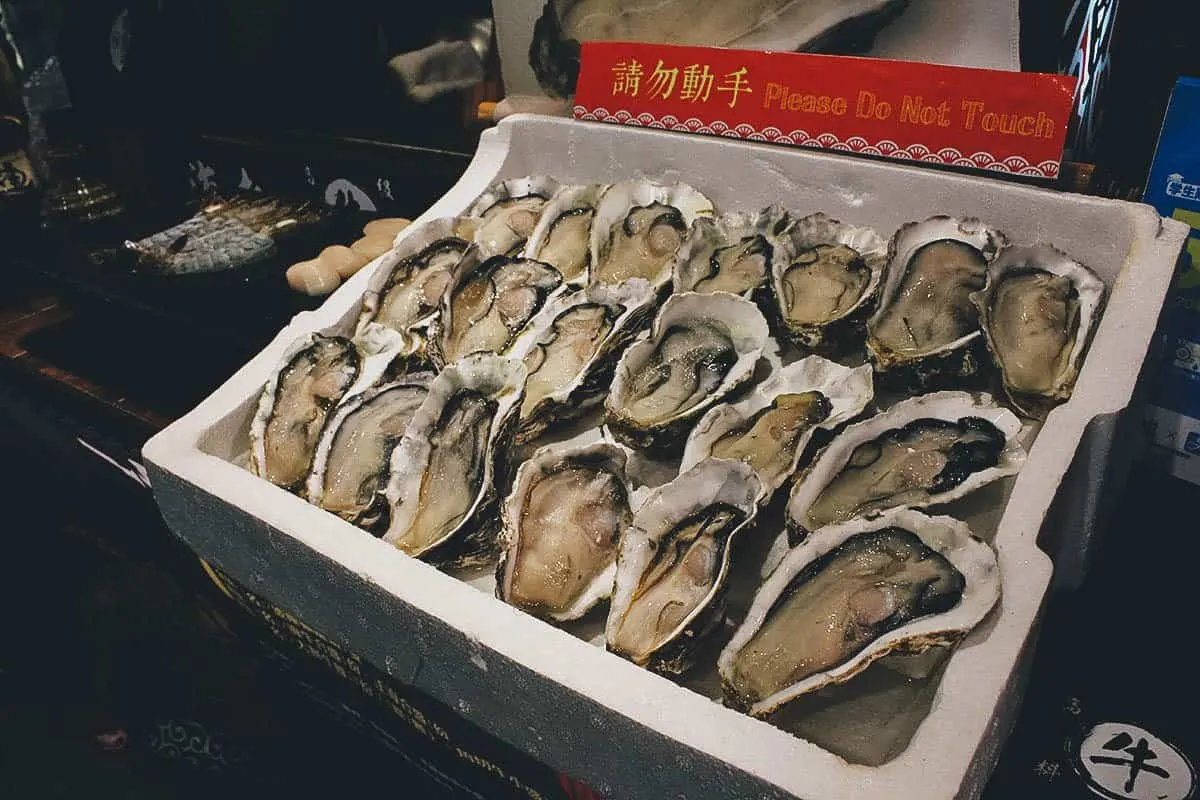 Jumbo prawns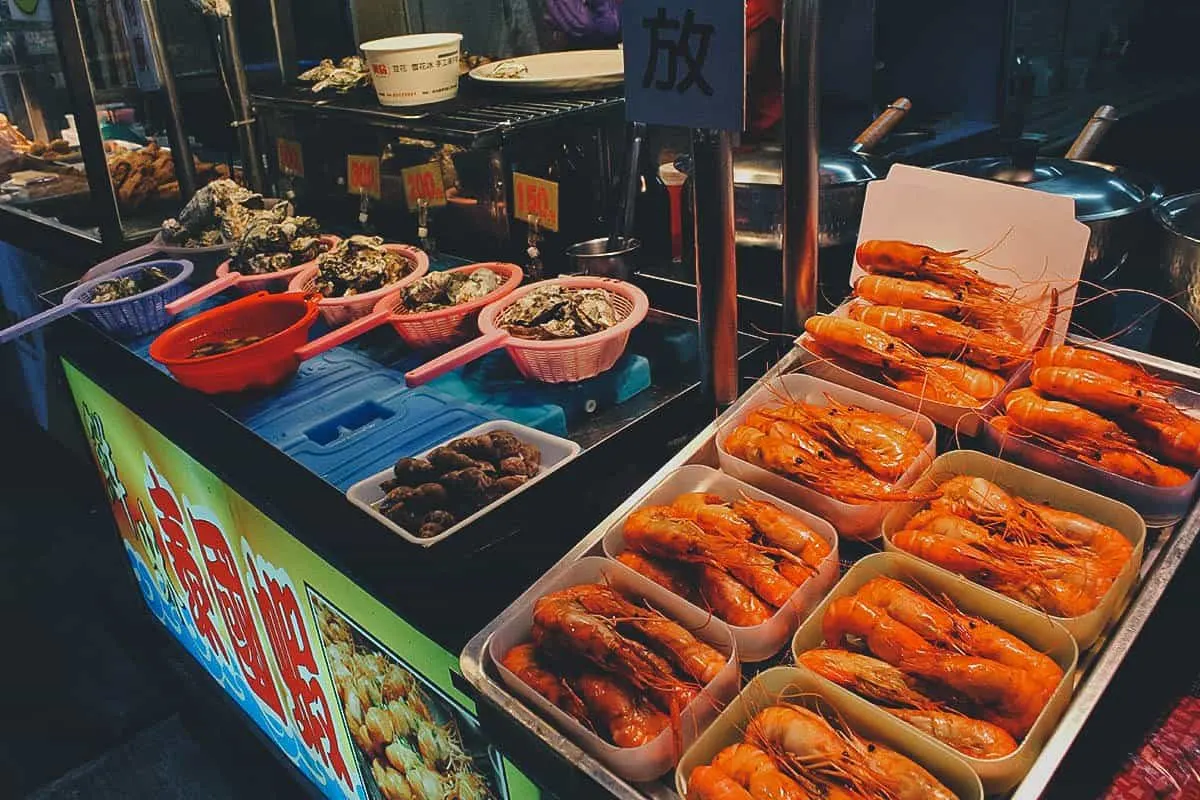 Abalone grilling on the bar-b. I was stuffed by the end of the day so I had no intention of eating at the market, but I just couldn't resist these. After all, it isn't everyday I can find abalone as street food! I took a lot more photos at Fengjia which I'll put up in a dedicated post soon. This place is bonkers for Taiwanese street food lovers and I can't wait to go back in March!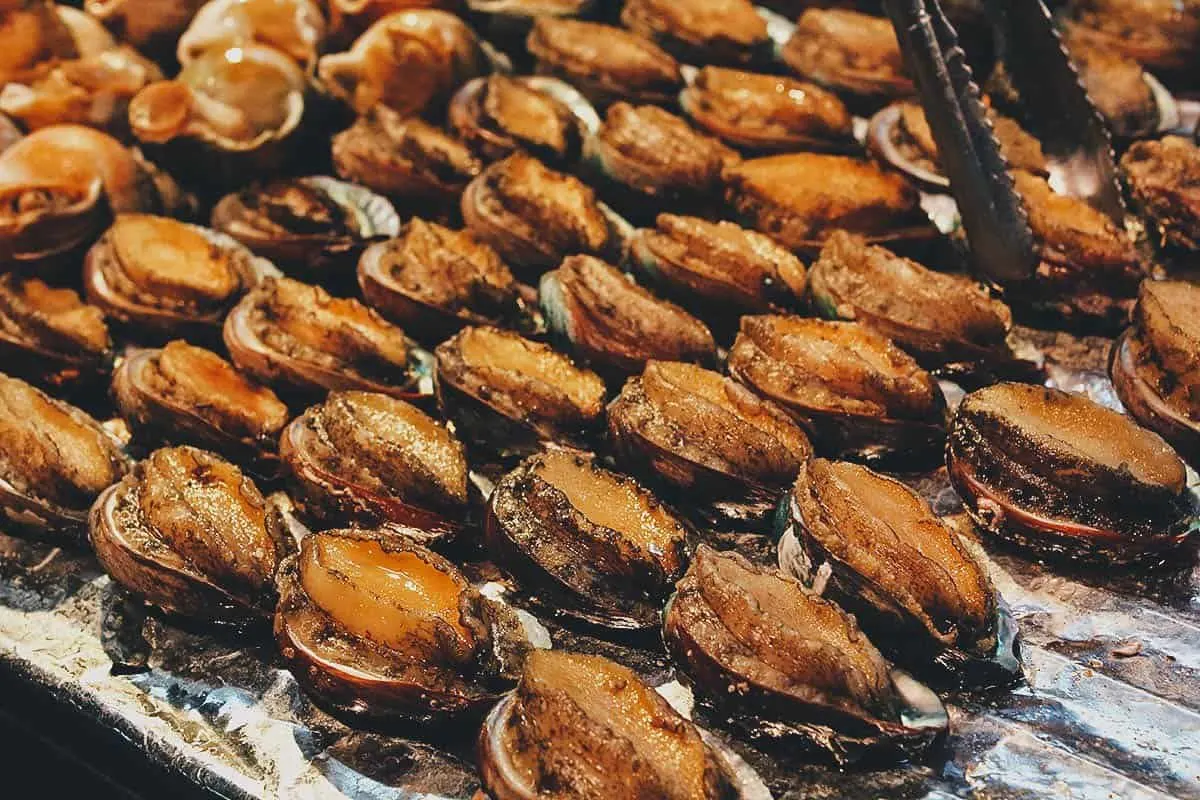 Fengjia Night Market
Address: Wenhua Road, Xitun District, Taichung City, Taiwan
Operating Hours: Operating Hours: 4PM-1:30AM, daily
CONCLUSION
We've only been to Taiwan once, for three days in Taipei back in 2014. We weren't expecting anything but to our surprise, that short stay was enough to make us fall in love with the city and its people. I don't know what it is. We've visited many countries in our travels but we felt a real connection here, like we were truly welcome. Many travelers have said that Taiwanese people are friendly. While that's true, I think it's more than that. I think they're also genuinely kind.
This trip to Taichung was even shorter than our previous visit to Taipei but it's only fueled my love for this country even more. It isn't a fleeting, infatuated kind of love either, the kind that burns intensely but just as quickly fades away. No, what we feel for Taiwan is a genuine affinity and appreciation, one that makes us want to come back and grow roots here. We often talk about moving to Taiwan when there's nothing tying us to the Philippines anymore. And not necessarily to Taipei either. More likely somewhere else, someplace more intimate. Taichung perhaps?
I read on CNN how a 2013 survey revealed that most Taiwanese feel Taichung is the country's most livable city. I was here for less than two days but based on the little that I saw, I can understand why. I can't wait to come back and see more.
For travel tips to Taichung, check out our First-Timer's Travel Guide to Taichung, Taiwan.

Disclosure
I was invited by China Productivity Center to attend a one-day event in Taichung in relation to the Gourmet Taiwan Festival. They covered my airfare and gave me an allowance for my stay. They took me along with a group of Taiwanese bloggers to 瓦御滷肉飯, Calligraphy Greenway, Huisun Coffee, and Smokey Joe's where food and beverages were provided. Everything else mentioned in this post I visited in my own time. As always, all words and opinions expressed in this post are mine and mine alone.
Some of the links in this post are affiliate links, meaning we'll get a small commission if you make a purchase at NO extra cost to you. We really appreciate your support as it helps us keep this website going. Thank you!