We spent three full days on our most recent trip to Taichung. We spent the first day exploring the city and the second going on a day tour of Gaomei Wetlands and Rainbow Village. That left us with a third full day to play around with.
I was deliberating between three day trips – to Cingjing Farm, Alishan Forest, or Sun Moon Lake – to fill up our last day in Taichung. Each of those three places had its own charms and I wish we could have gone to all three, but in the end, I had to choose one. We went with Sun Moon Lake all because of an article I had read on CNN. According to them, the bike path around the perimeter of the lake is one of the most breathtaking cycling routes in the world. I was sold.
If you plan on spending the day at Sun Moon Lake, then I hope this guide can be of use to you. Included below are details on how to get there from Taichung or Taipei, as well as information on some of its most popular attractions.
Save This on Pinterest!
No time to read this now? Click on the red save button and pin it for later!
WHERE IS SUN MOON LAKE?
Sun Moon Lake is located in Nantou County in Central Taiwan. It's the largest body of water in the country with a surface area of about 7.93 sq km (3.06 sq mi). Surrounded by mountains on all sides, it lies about 748 meters (2,454 ft) above sea level with a water depth of around 27 meters (89 ft).
Designated as one of thirteen national scenic areas in Taiwan, this picturesque lake gets its name from its shape. The eastern side of Sun Moon Lake is said to resemble the sun, while the western side resembles the moon.
HOW TO GO TO SUN MOON LAKE
As efficient as Taiwan's intercity rail system is, no trains go directly to Sun Moon Lake so your best option is to go by bus from Taipei or Taichung.
From Taipei
From Taipei Bus Station, which is located next to Taipei Main Station, you can take Kuo-Kuang Bus 1833 directly to Sun Moon Lake. Buses run from 7AM till 5PM and the fare is NTD 470 each way. It takes about 4 hrs 30 mins each way so a day trip to Sun Moon Lake from Taipei may be difficult, especially since the last bus back departs from the lake at 4:20PM (5:50PM on Sundays). You can check the Taiwan Highway Bus website for more information.
From Taichung
This is what we did. As described, we stayed three nights in Taichung and spent one of those days at Sun Moon Lake. From Gancheng Bus Station, which is a few minutes' walk from Taichung TRA Station, you can catch the Nantou Bus to Sun Moon Lake. Buses run from 7:45AM till 7:45PM and costs NTD 195 each way (NTD 360 roundtrip). It takes a little less than 2 hours to get to Sun Moon Lake so it's much more doable as a day trip. The last bus back to Taichung departs from Sun Moon Lake at 7:25PM. You can check the Nantou Bus website for a timetable.
Gancheng Bus Station isn't really a station but a collection of Bus Line offices located next to each other in a row. You can refer to Google Maps for the exact location. Just look for the Nantou Bus office pictured below. It'll have "Sun Moon Lake" on the sign.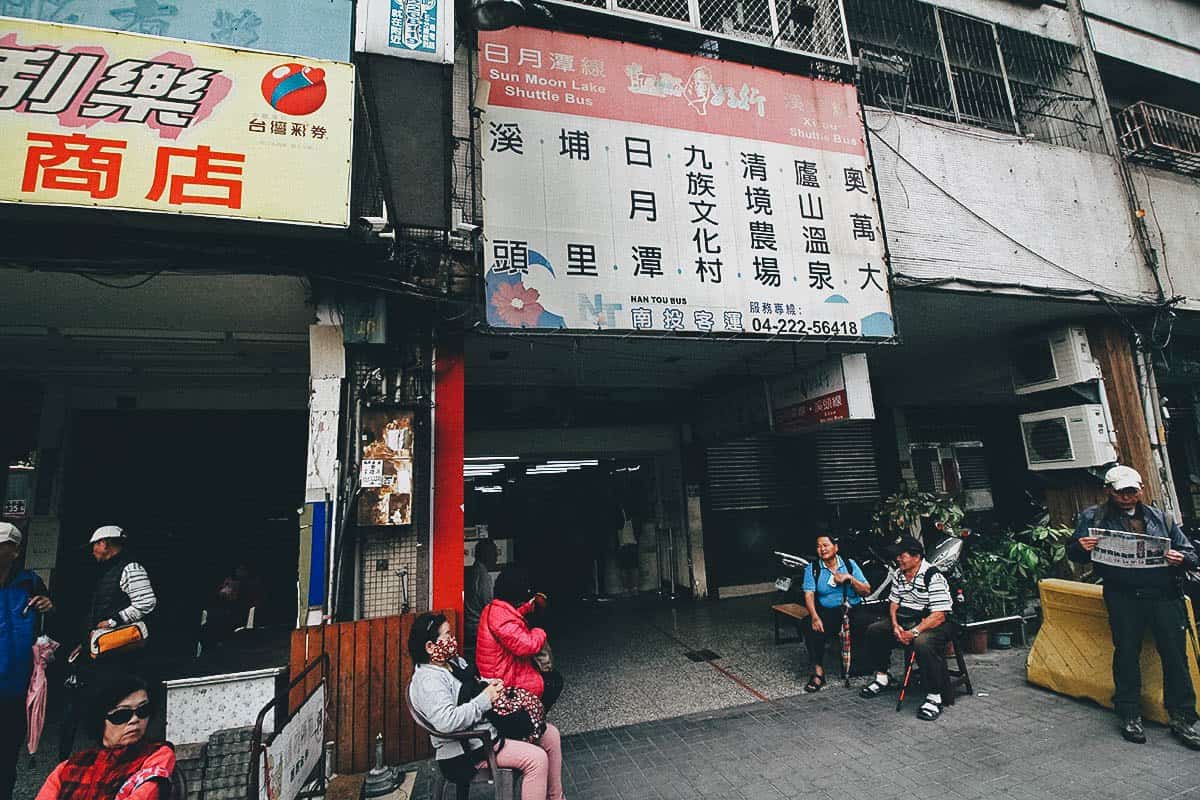 Instead of buying just bus tickets, I suggest getting a Sun Moon Lake Pass. Depending on which pass you get, it'll give you discounts to many Sun Moon Lake attractions like the Ropeway and Formosan Aboriginal Village. Available at the Nantou Bus terminal office, we purchased the popular NTD 730 package which gave us discounts to boat vouchers, the Sun Moon Lake Ropeway, and a bike rental coupon, among others. According to their website, buying each ticket separately would have cost us NTD 1,122 apiece. You can check their website to learn more about Sun Moon Lake Passes.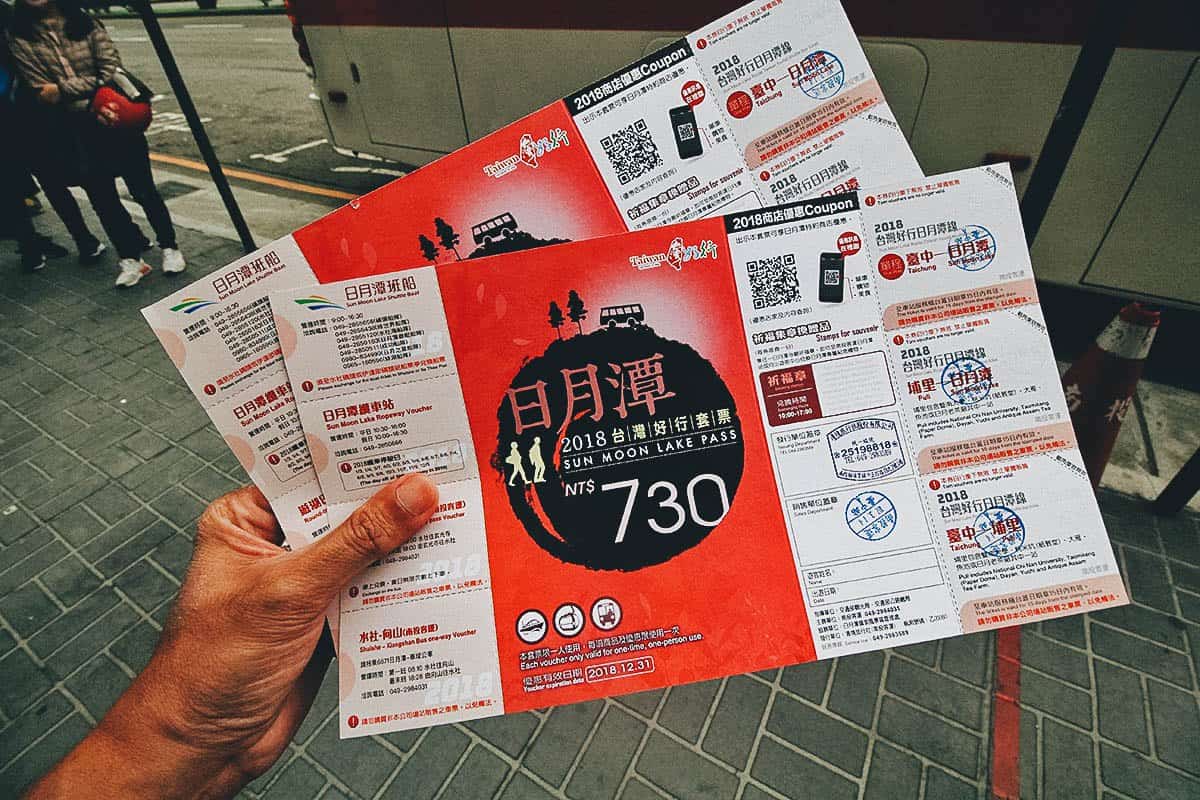 HOW TO GET AROUND SUN MOON LAKE
By Boat
This is the best and most popular way of touring the lake. Not only will it take you between the three major piers – Shuishe, Xuanguang, and Ita Thao – it's also a great way of experiencing the beauty of the lake. It costs NTD 100 to go from one pier to the next and NTD 300 for one trip around the entire lake.
The Nantou Bus will drop you off at the Shuishe Visitor Center so your journey around the lake will begin at Shuishe Pier. You can check the Sun Moon Lake website for a ferry timetable. It only takes about 10 minutes to go from pier to pier.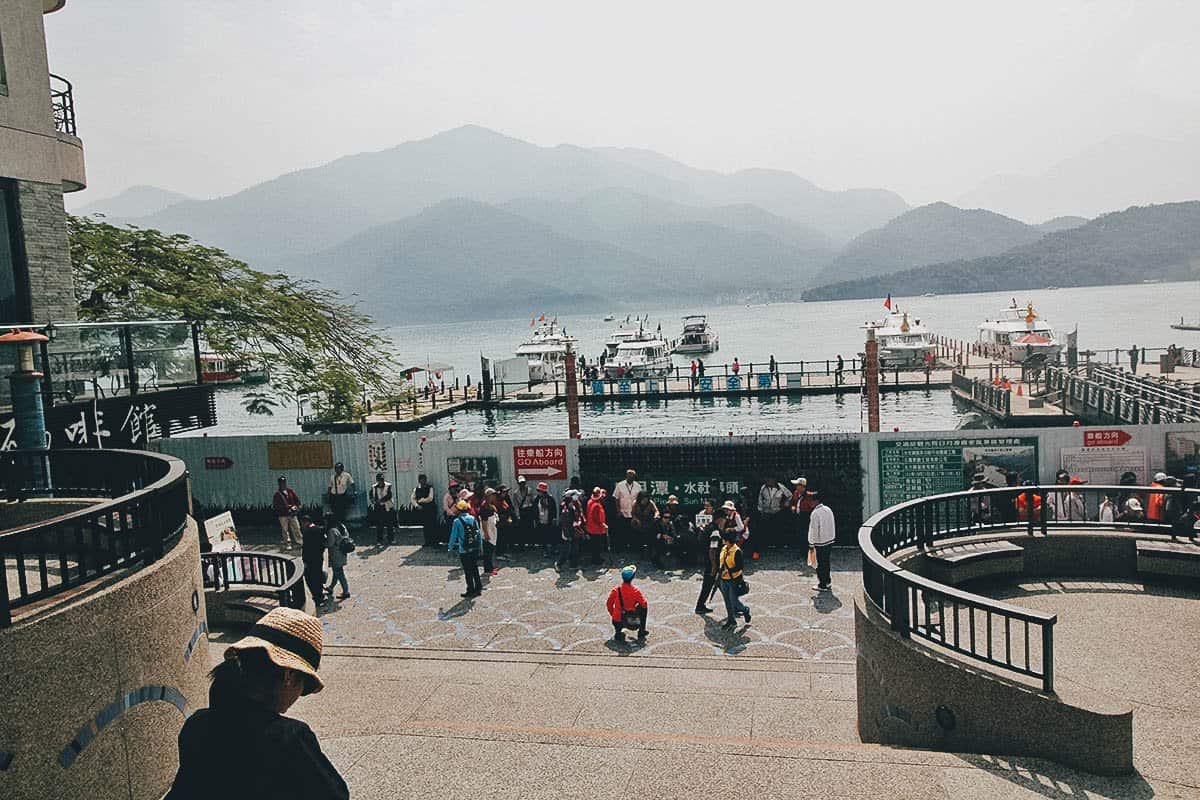 Several versions of the Sun Moon Lake Pass already include boat vouchers which is another good reason to get it. Not only will you get everything at a discount, but it saves you the hassle of having to buy tickets every time. If for some reason you didn't avail of a Sun Moon Lake Pass, then you can save on boat tickets by purchasing them in advance through Kkday. Instead of NTD 300, it'll cost you just NTD 100 for a trip around the lake. Follow the link to purchase round-the-lake boat vouchers from Kkday.

By Round-the-Lake Bus
We didn't use it but our NTD 730 Sun Moon Lake Pass included a one-day voucher for the Round-the-Lake Bus. It appears to be operated by the Nantou Bus line as well. You can check their website for a round-the-lake bus timetable. If you don't have a Sun Moon Lake Pass, then it costs NTD 80 for a one-day ticket.
By Bike
Having been named one of the world's most scenic bike paths, getting around by bike has to be the most fun way of exploring Sun Moon Lake. The NTD 730 Sun Moon Lake Pass entitles you to a discount from several bike rental shops around the Shuishe Visitor Center. We rented ours from the biggest shop – Giant Bike Rental – which is located at the basement of the visitor center. If I remember correctly, we got a 20% discount with our Sun Moon Lake Passes on the most basic bikes, which go for NTD 200 per hour.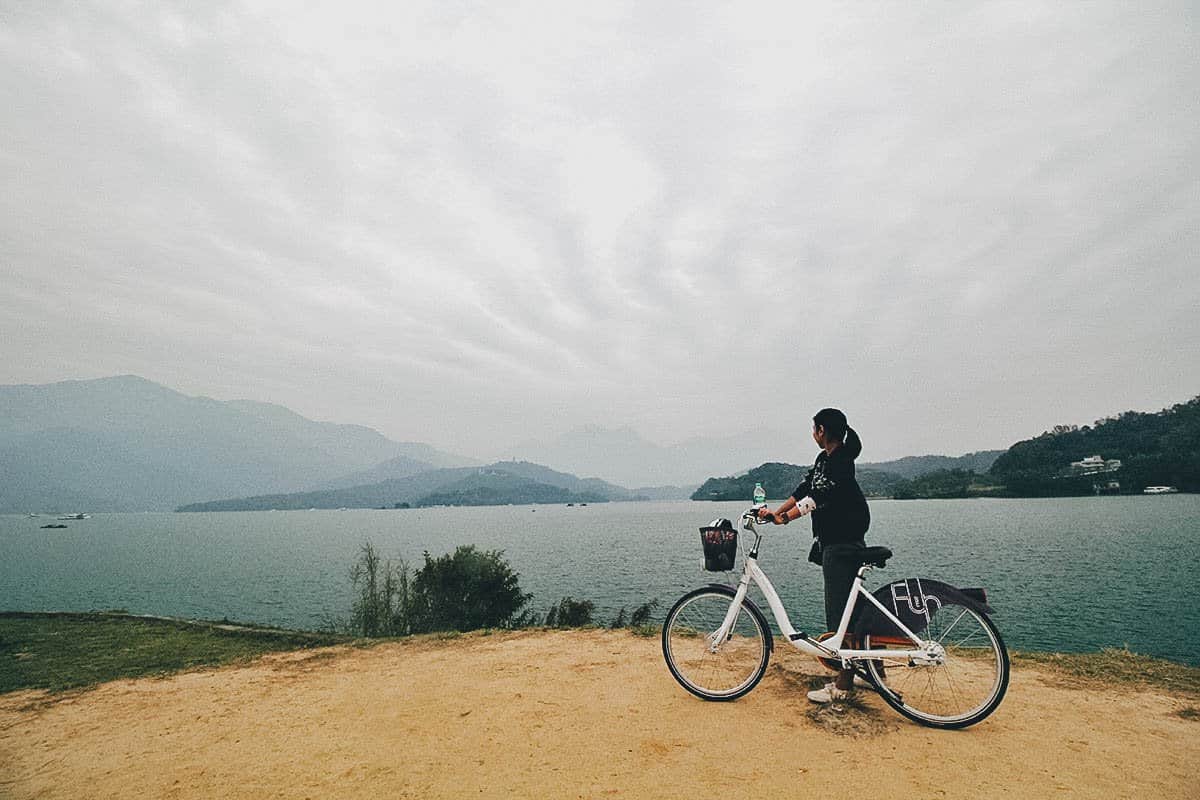 Riding our bikes around the lake was super fun. We went from Shuishe Visitor Center to Xiangshan Visitor Center before heading back, but you can go farther if you like. You can check their website for bike paths around Sun Moon Lake. The lake is so beautiful you can't help but stop and take pictures often.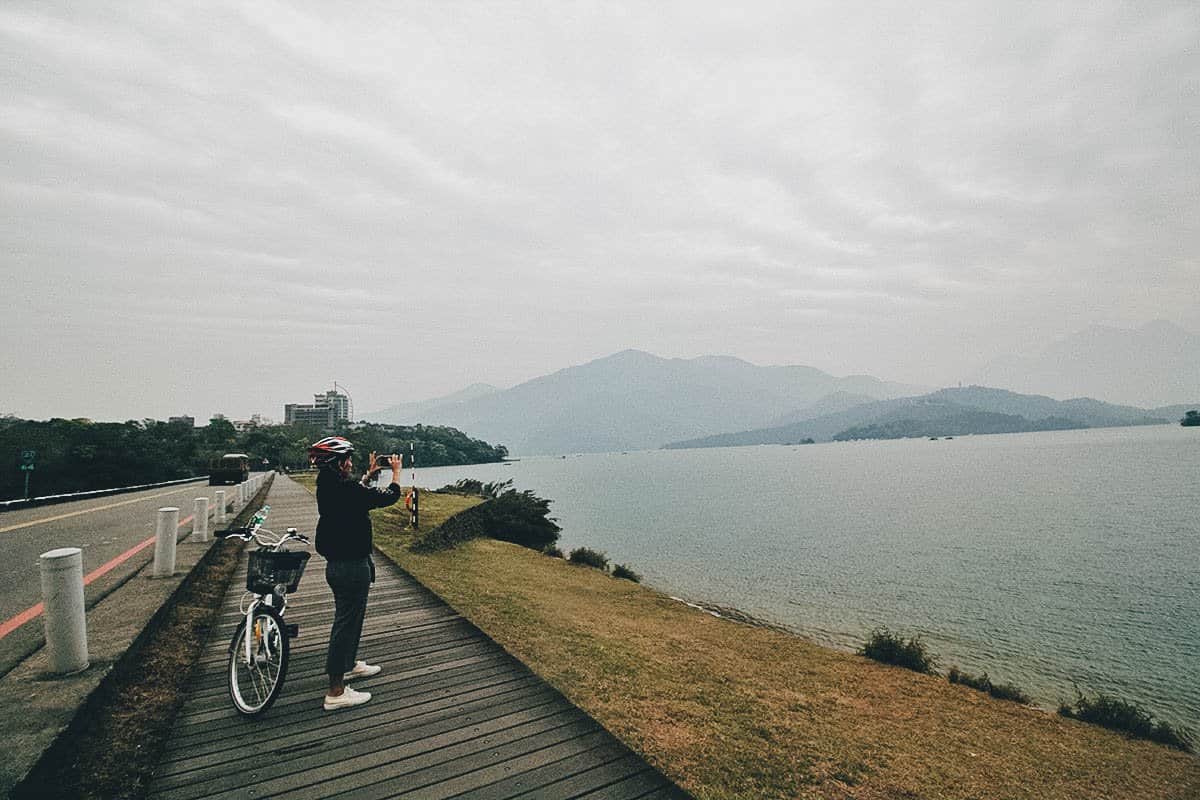 I brought my Mavic Pro so I was able to get a flight in over the lake. As of March 2018, you're allowed to fly your drone at Sun Moon Lake as long as you stayed away from heavily populated areas like the piers and the ropeway. Check out this useful drone map of Taiwan to learn where the no-fly zones are at Sun Moon Lake.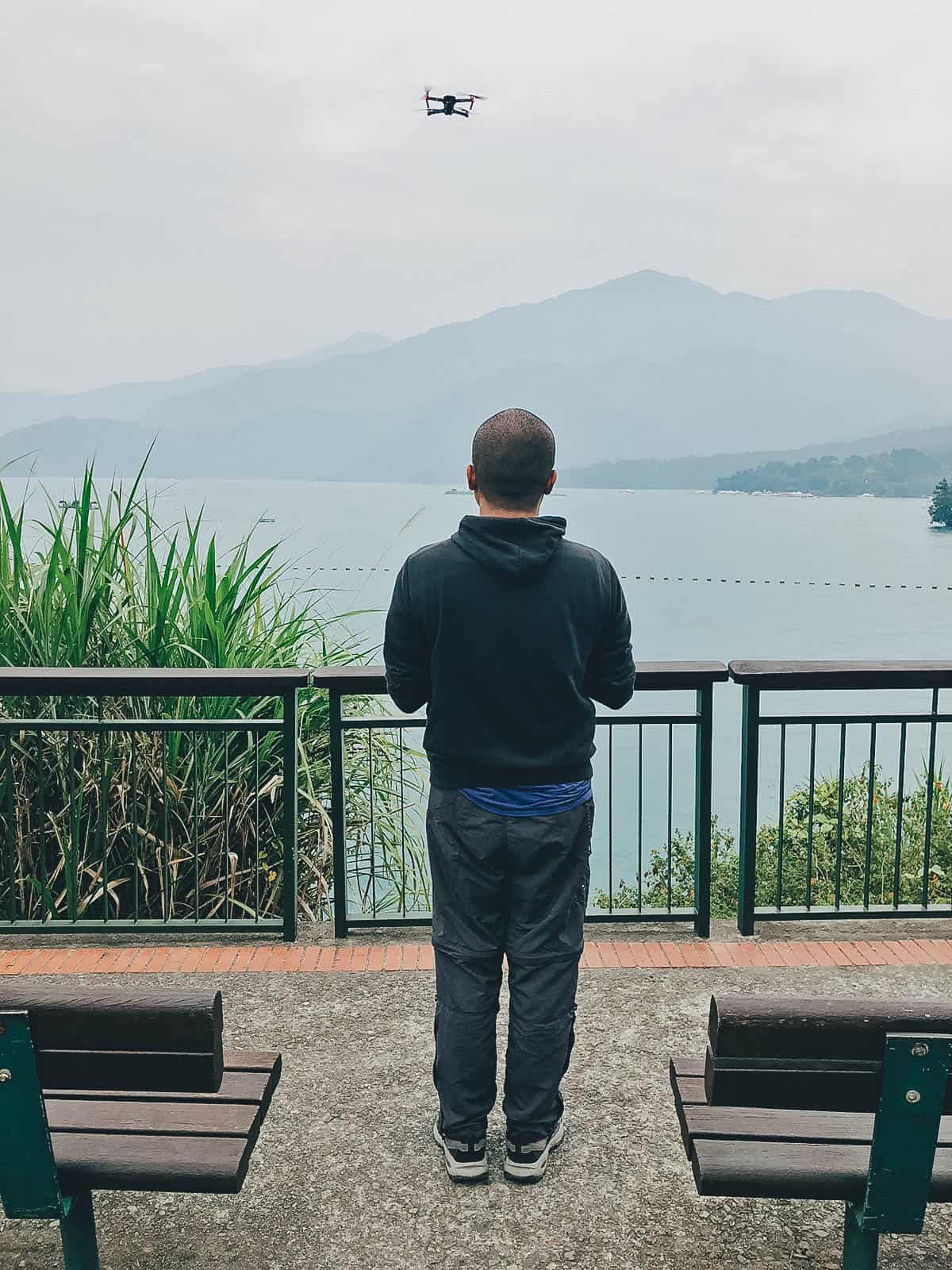 SHUISHE PIER
As described, boats ferry you between three piers – Shuishe, Xuanguang, and Ita Thao – so much of your activity at Sun Moon Lake will revolve around these three piers. Most people will be arriving at Shuishe so your journey around the lake starts and ends here.
Shuishe Visitor Center
The Nantou Bus will drop you off across the street from Shuishe Visitor Center. If you bought a Sun Moon Lake Pass with boat vouchers, then you can go straight to the pier which is about a 5-minute walk from here.
We wanted to beat the crowds so we did the tour around the lake as soon as we arrived. We went to Xuanguang Pier, then to Ita Thao Pier and the ropeway before heading back to Shuishe Pier to go on our bike ride. The Giant Bike Rental shop is located at the basement of this building. You'll find smaller bike rental shops around the visitor center as well.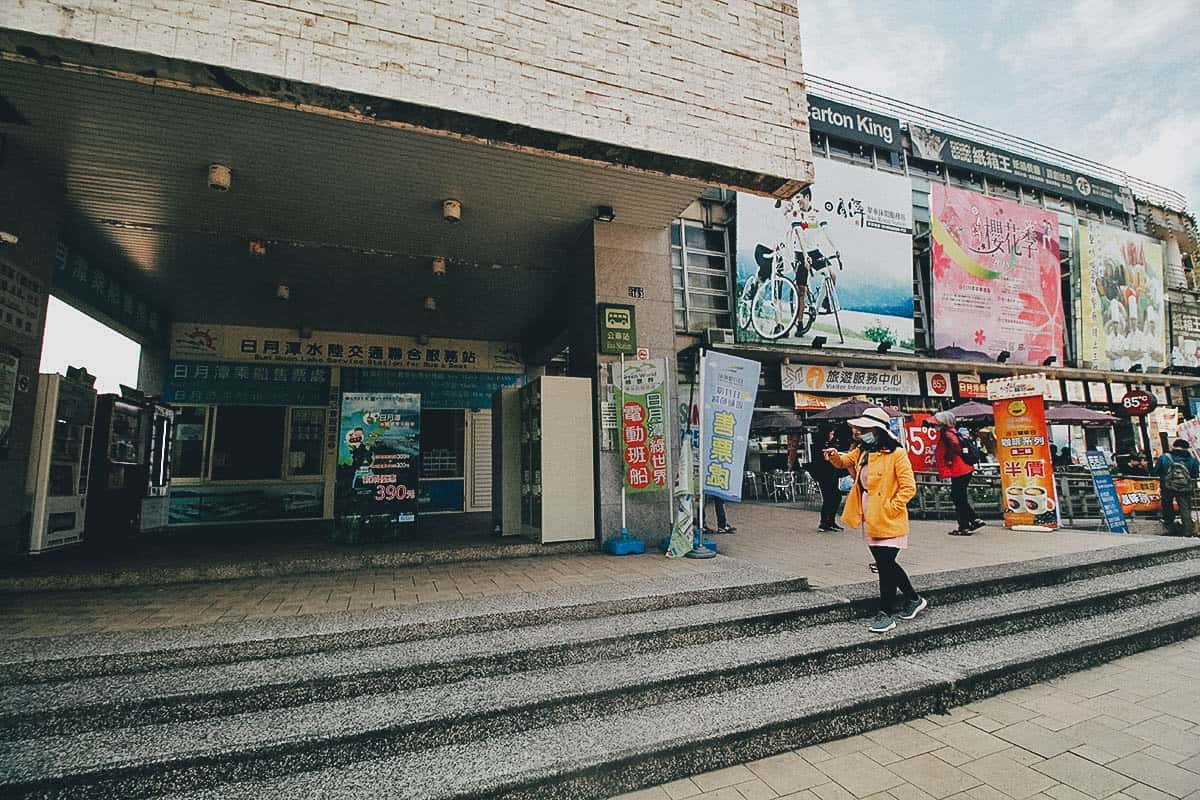 A quick side note, we're all about food so it's worth mentioning this stand which sells the most delicious scallion pancakes. It's located inside Shuishe Visitor Center.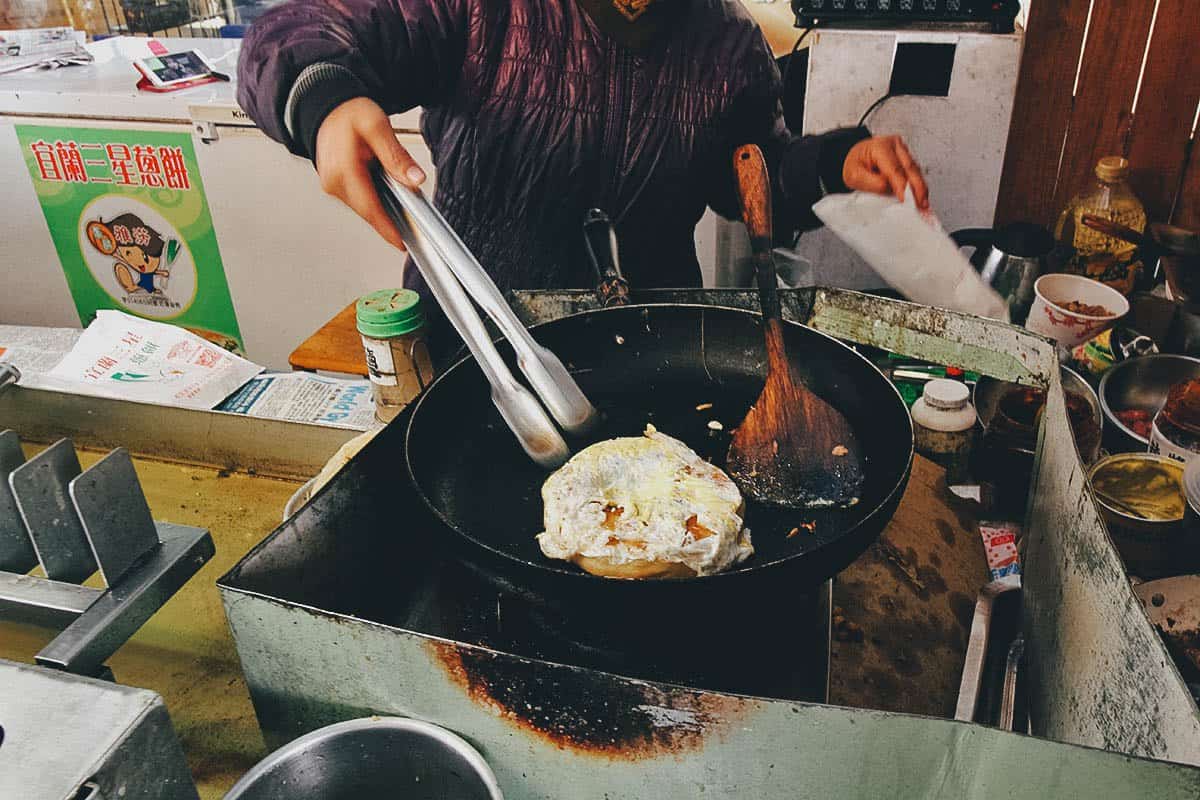 Known locally as chong zhua bing, a scallion pancake consists of a pan-fried piece of dough with plenty of green onions layered inside. Crispy on the outside and chewy on the inside, you can get it with egg or without.

We had scallion pancake a few times in Taiwan but this one was by far the best. It was delicious and one of my favorite things to eat in Taiwan. Don't miss it!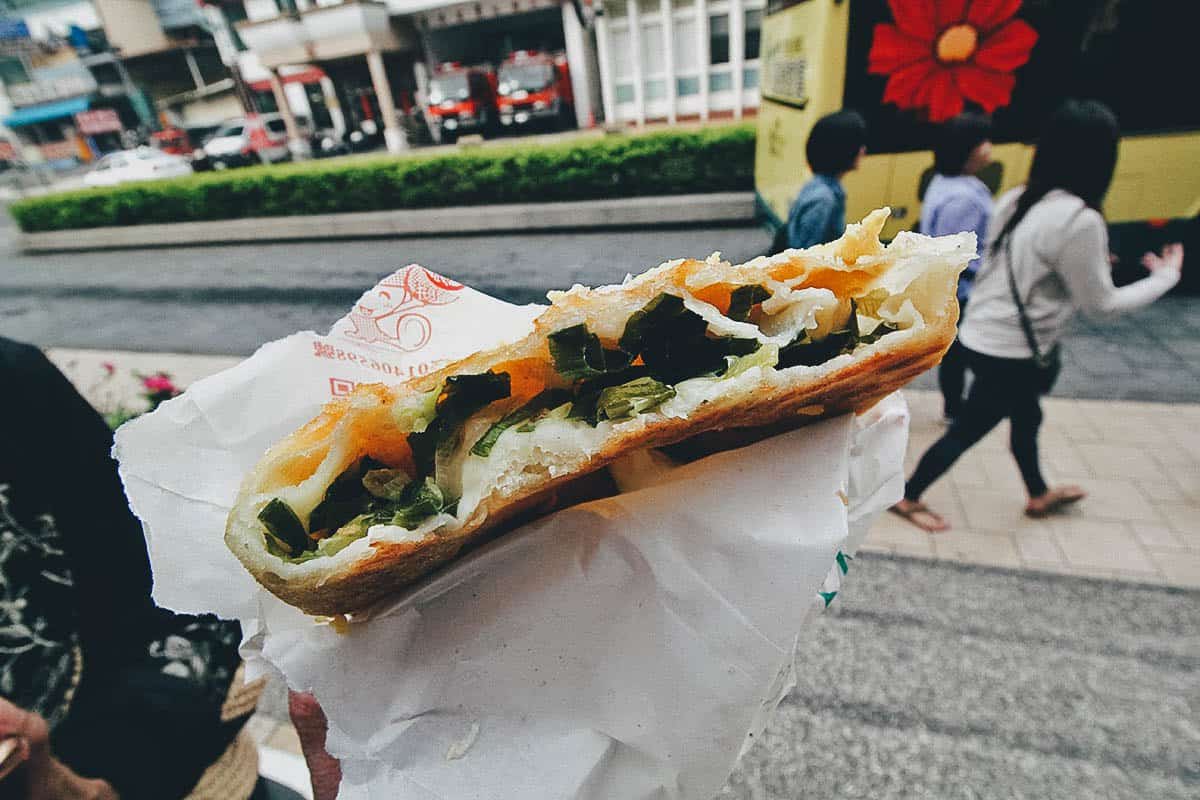 XUANGUANG PIER
From Shuishe Pier, you'll be taken to Xuanguang Pier which for me, is the least interesting of the three. Unless you're into hiking, there isn't much to see and do here so you'll probably be spending the least amount of time at this pier.
Xuanguang Temple
Here's the view going up the hill to Xuanguang Temple. That tiny island in the distance is Lalu Island. Interestingly, that tiny shred of an island used to be much bigger and once separated the lake into its round sun and crescent moon shapes. The Japanese built a dam in the 1930s that raised the water level, practically wiping out the island save for that small piece you see there.

This rock was in front of Xuanguang Temple. I don't know what it's significance was, but it was clearly important from the long queue of people waiting to take pictures with it.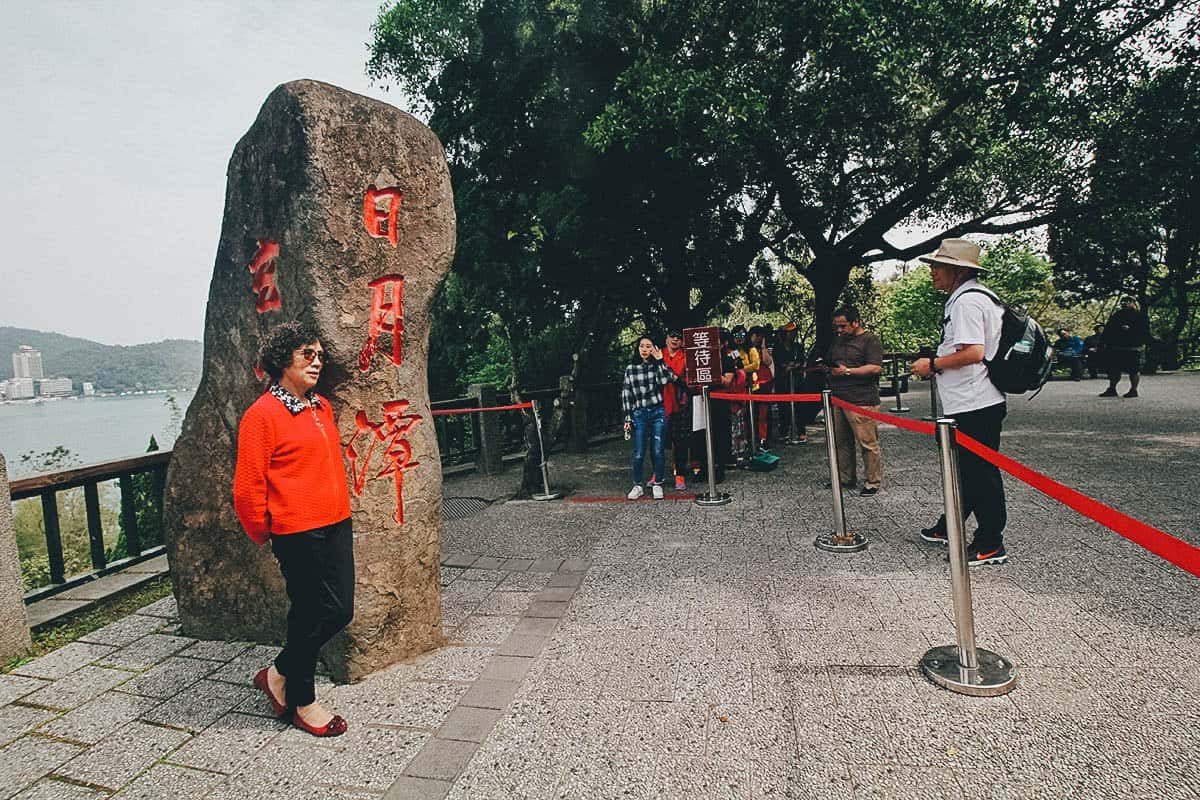 Xuanguang Temple is a Buddhist temple built in memory of Xuanzang, a Chinese Buddhist monk who embarked on a 17-year journey to bring Buddhist teachings from India to China. Because of his work, Buddhism became more prevalent and more widely understood in China and the rest of the world.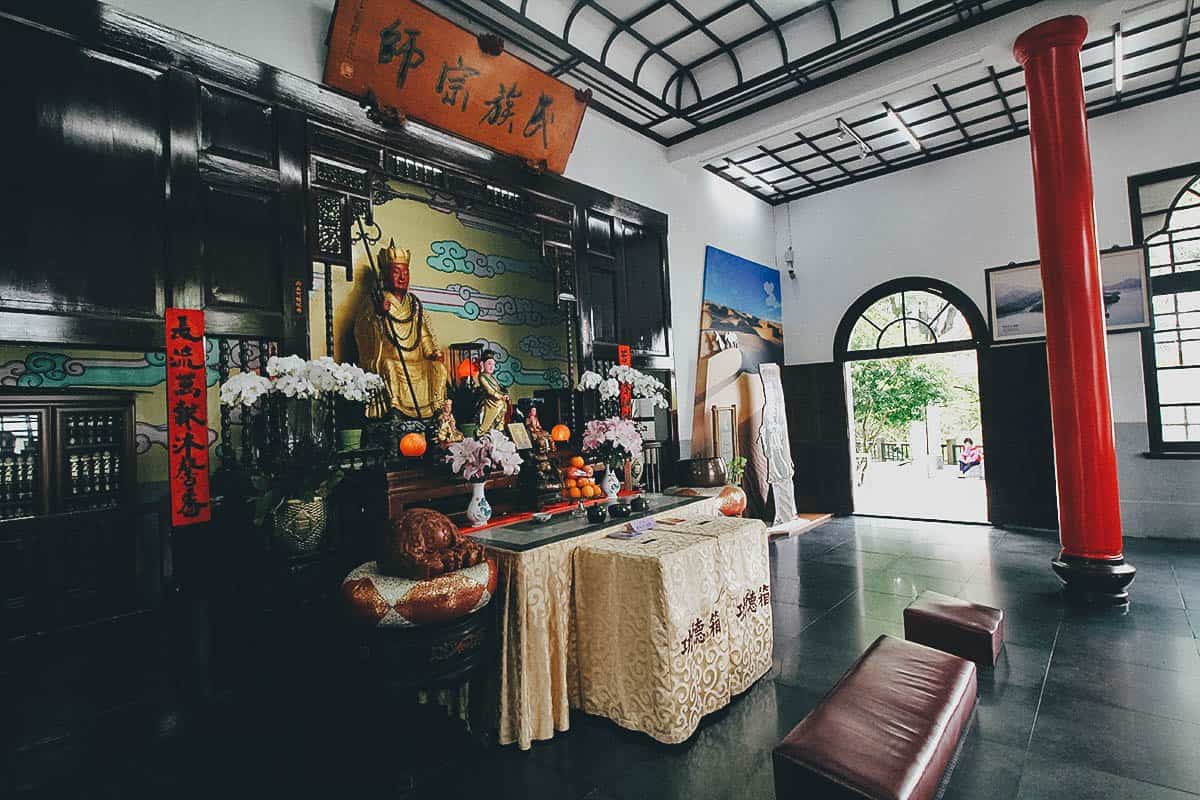 ITA THAO PIER
This is probably where you'll be spending most of your time at Sun Moon Lake. Ita Thao was where the old village of the aboriginal Thao people of Taiwan used to be. Today, it's a popular tourist spot known for its abundance of street food along Ita Thao Shopping Street. It's also where you'll find Sun Moon Lake Ropeway, a cable car system spanning two mountains which gives you the best views of the lake.
Ita Thao Shopping Street
There are many delicious Taiwanese dishes to be had along Ita Thao Shopping Street. If you want a proper sit down meal, then you may want to try aruzay fish which is a specialty of Sun Moon Lake. Aruzay fish is a type of fish that breeds extensively in the lake. When former President Chiang Kai-shek visited Sun Moon Lake, the locals presented him with aruzay fish which he enjoyed. From that moment on, it's also been known as "president fish".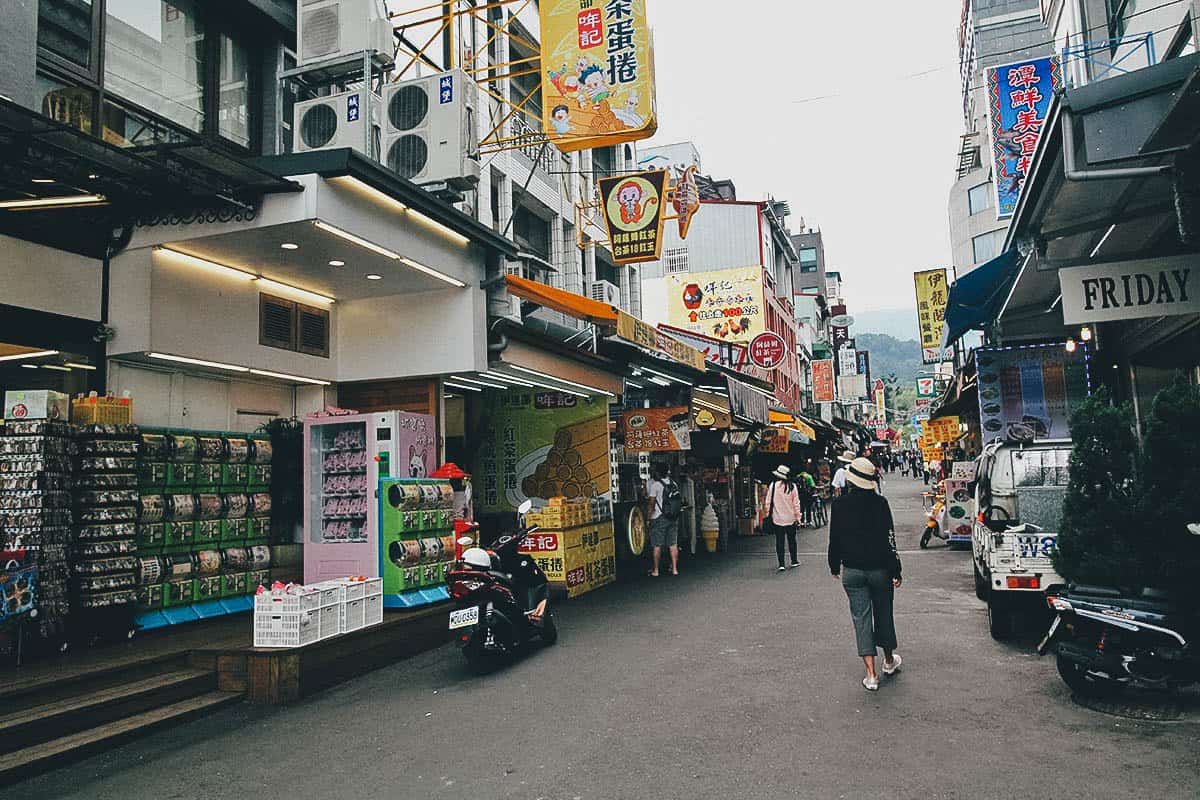 We didn't try the aruzay fish but we did have this Taiwanese sausage served with a glutinous rice bun. It's tasty but very filling.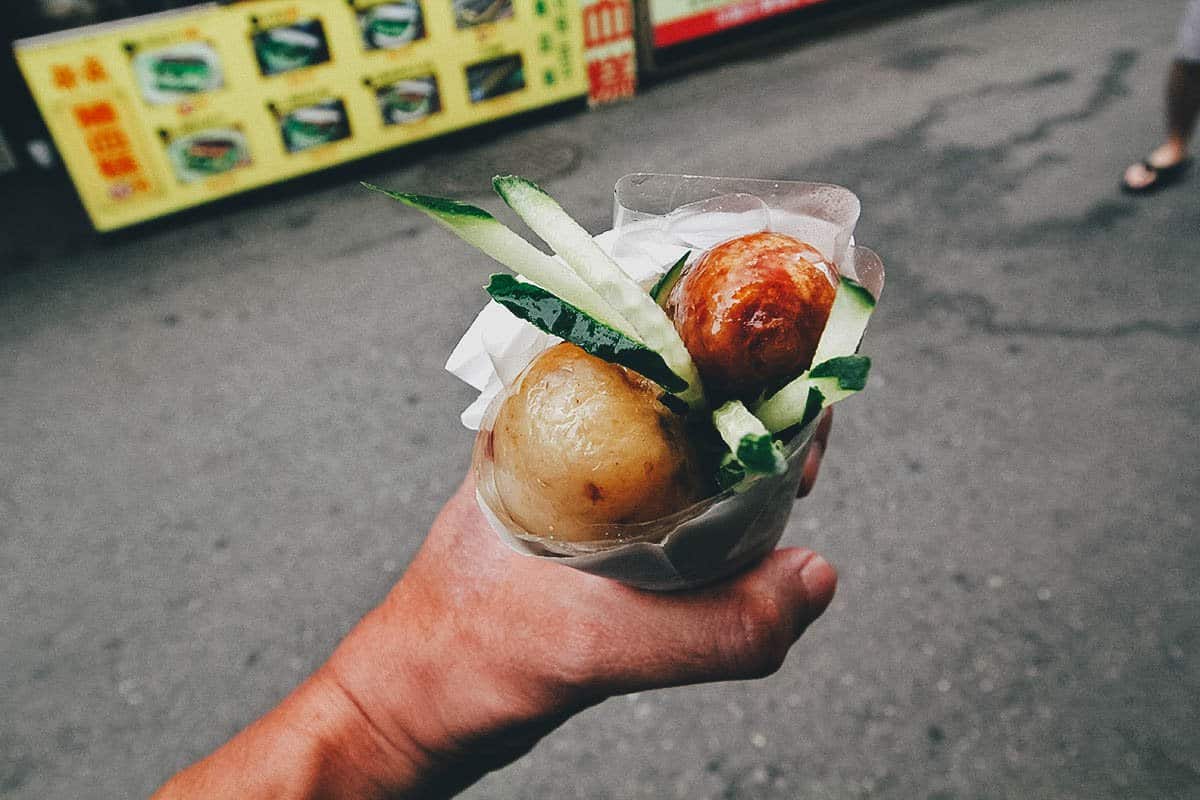 This cua pao (or gua bao) was awesome. Cua pao is a popular dish that's often referred to as a "Taiwanese hamburger". It's a type of sandwich typically made with braised pork belly sandwiched between two halves of a Chinese steamed bun (baozi).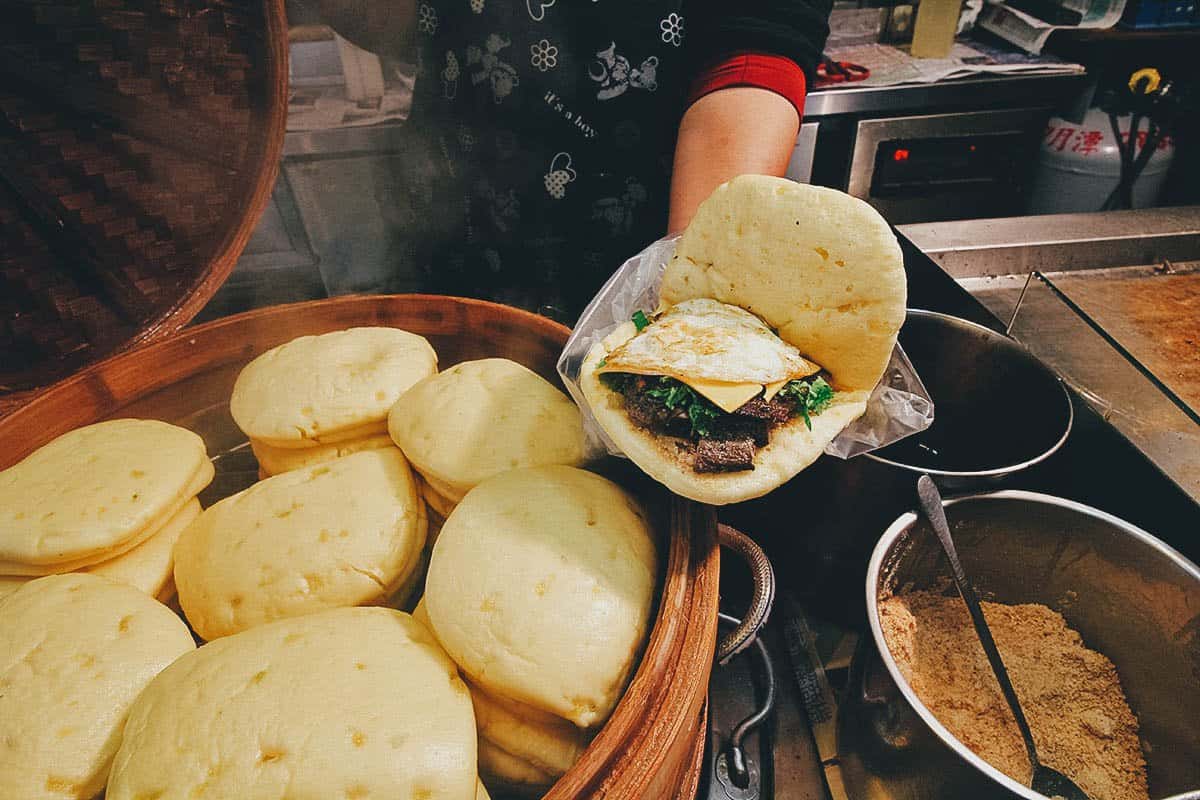 Like the scallion pancake, we had cua pao several times in Taiwan but this was one of the best. It was delicious.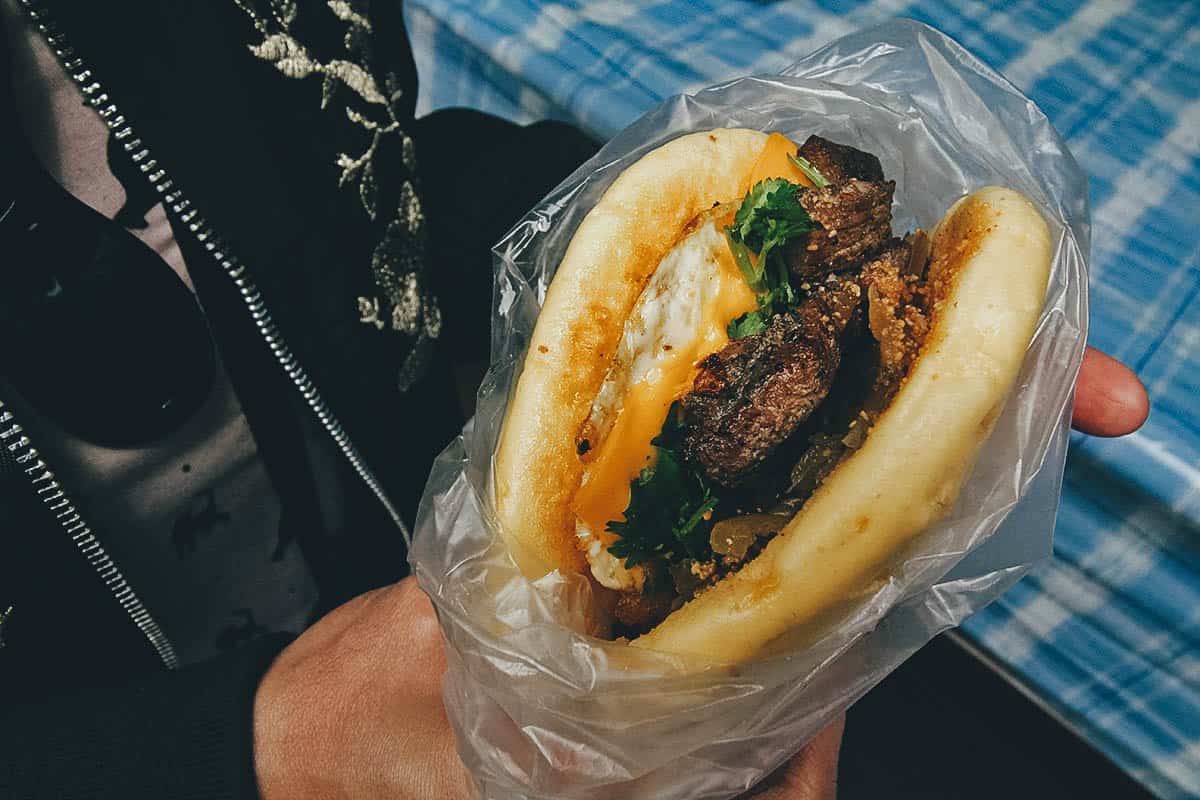 Sun Moon Lake Ropeway
A few minutes' walk from Ita Thao Shopping Street is the Sun Moon Lake Ropeway. A roundtrip ticket on the ropeway is already included in several versions of the Sun Moon Lake Pass. Otherwise, it costs NTD 300 per person.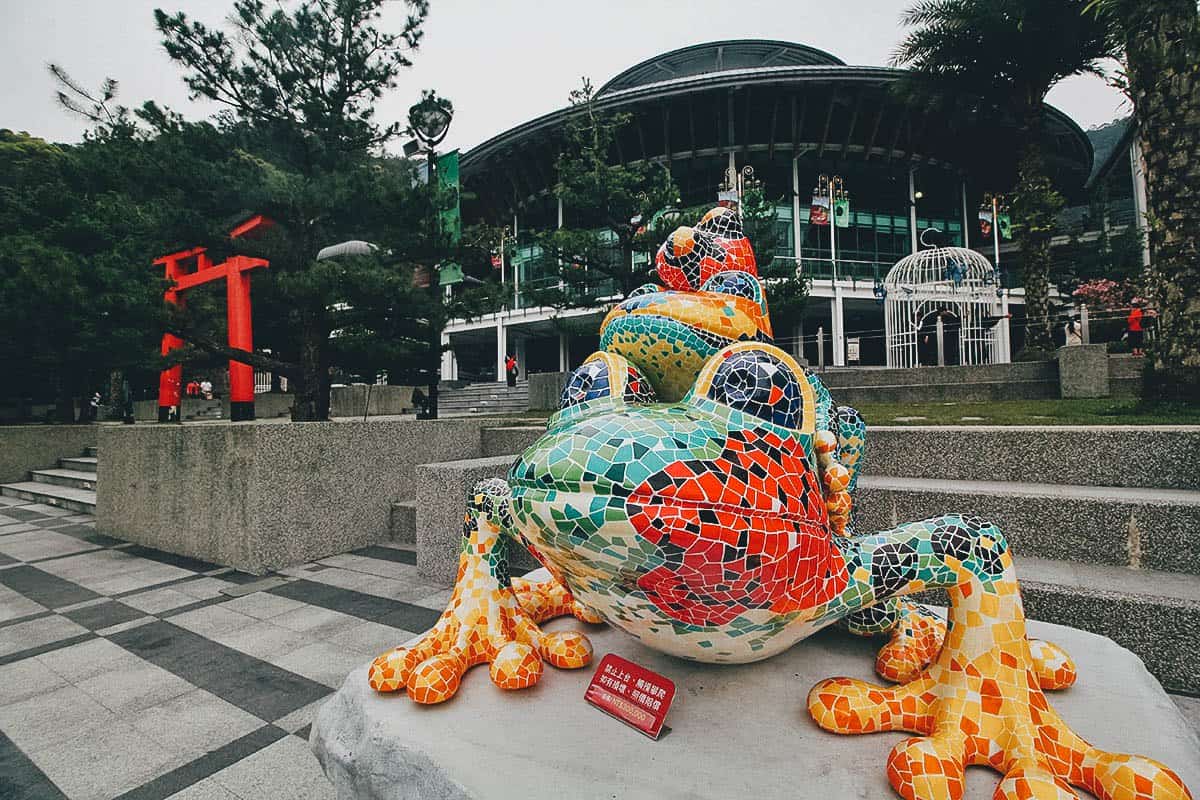 Here I am showing my love for K-dramas before getting on the ropeway. ♥ This part of the lake was stunning by the way. You can't really tell from this picture but the water from here was a shade of deep emerald green, like jade.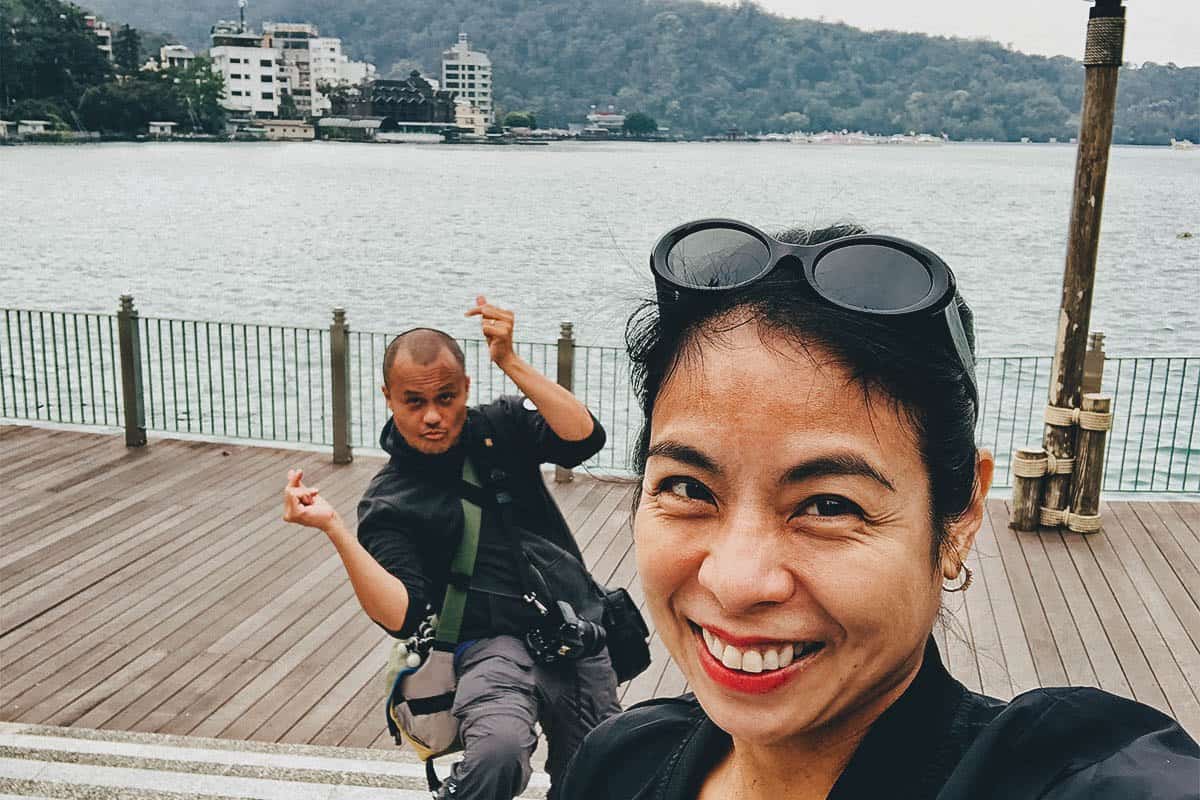 The Sun Moon Lake Ropeway connects Ita Thao with the Formosan Aboriginal Culture Village. It takes about ten minutes each way and covers a distance of around 1,877 meters (6,158 ft).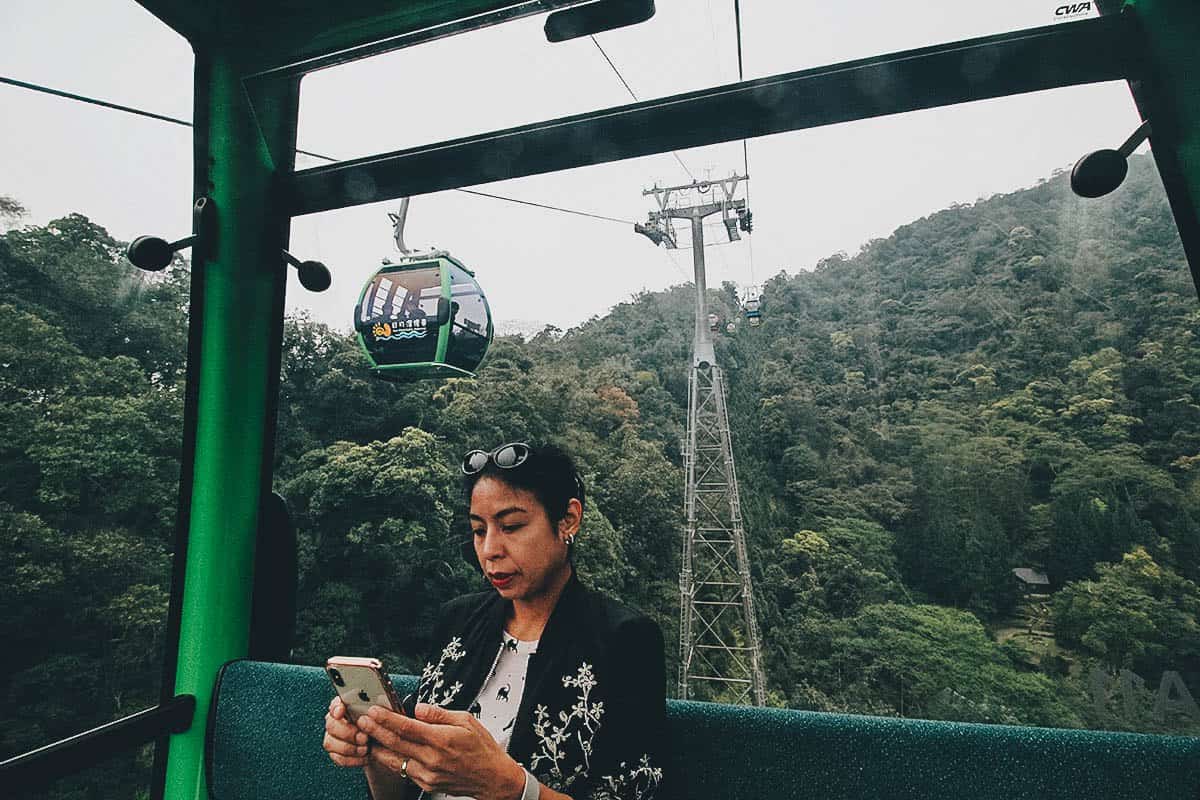 I believe there are two types of cable cars here, some with a glass bottom and others without. Lines are typically longer for glass bottom cars but we were here early so we didn't have to wait.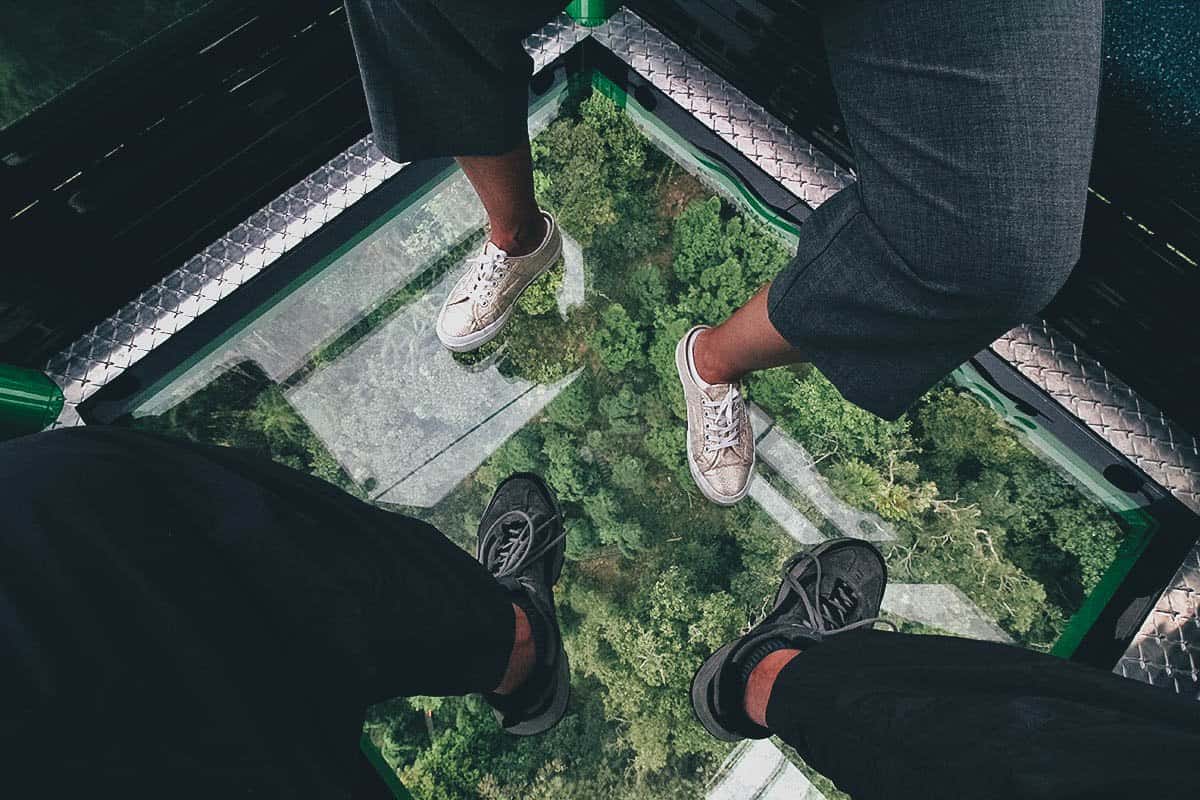 I'm not that into cable cars but this really does give you the best views of the lake. Some people have said that your trip to Sun Moon Lake wouldn't be complete without it. The ropeway operates from 10:30AM till 4PM on weekdays and 10AM till 4:30PM on weekends and holidays.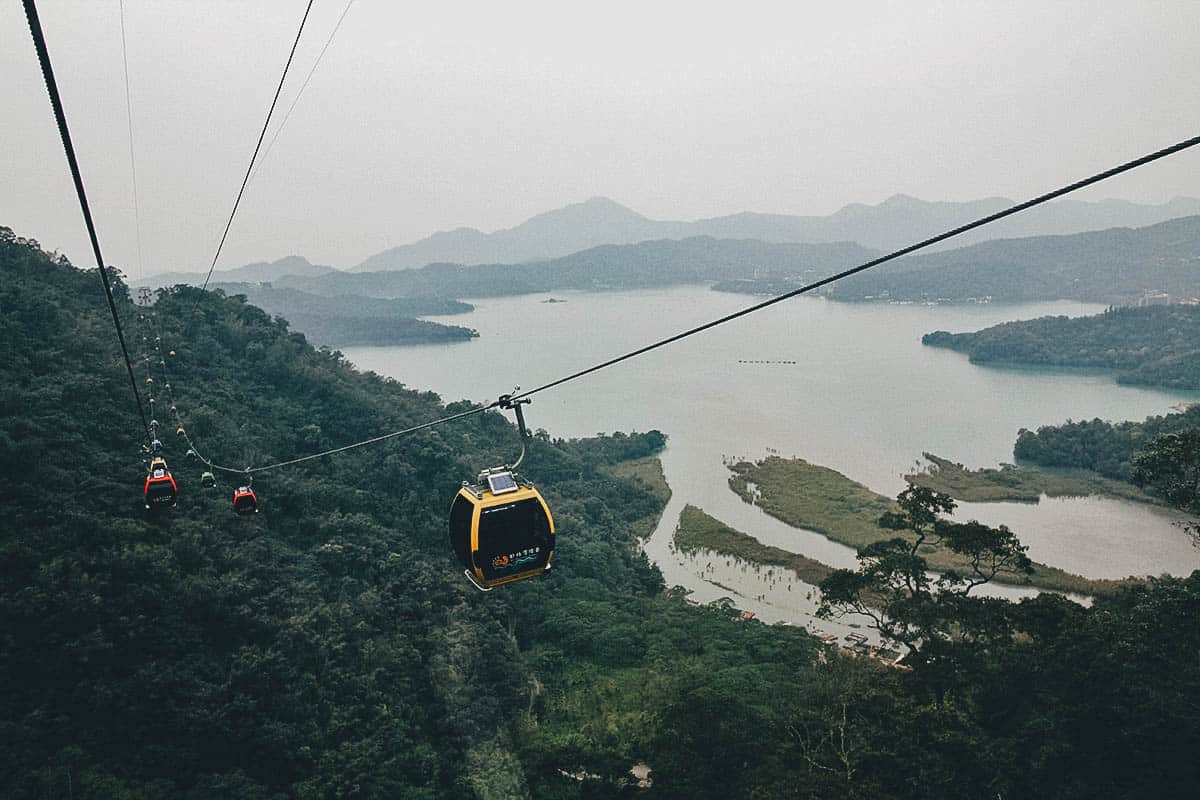 At the end of the ropeway is the Formosan Aboriginal Culture Village which is an amusement park with an aboriginal theme. We didn't go in but the cost of entry is NTD 850 for adults and NTD 650 for children, inclusive of ropeway roundtrip tickets. If you purchased the NTD 1,100 Sun Moon Lake Pass, then it already includes entry into the amusement park. If you don't plan on spending time at the park, then there's little else for you to do than take the ropeway back to Ita Thao and eat. That's what we did.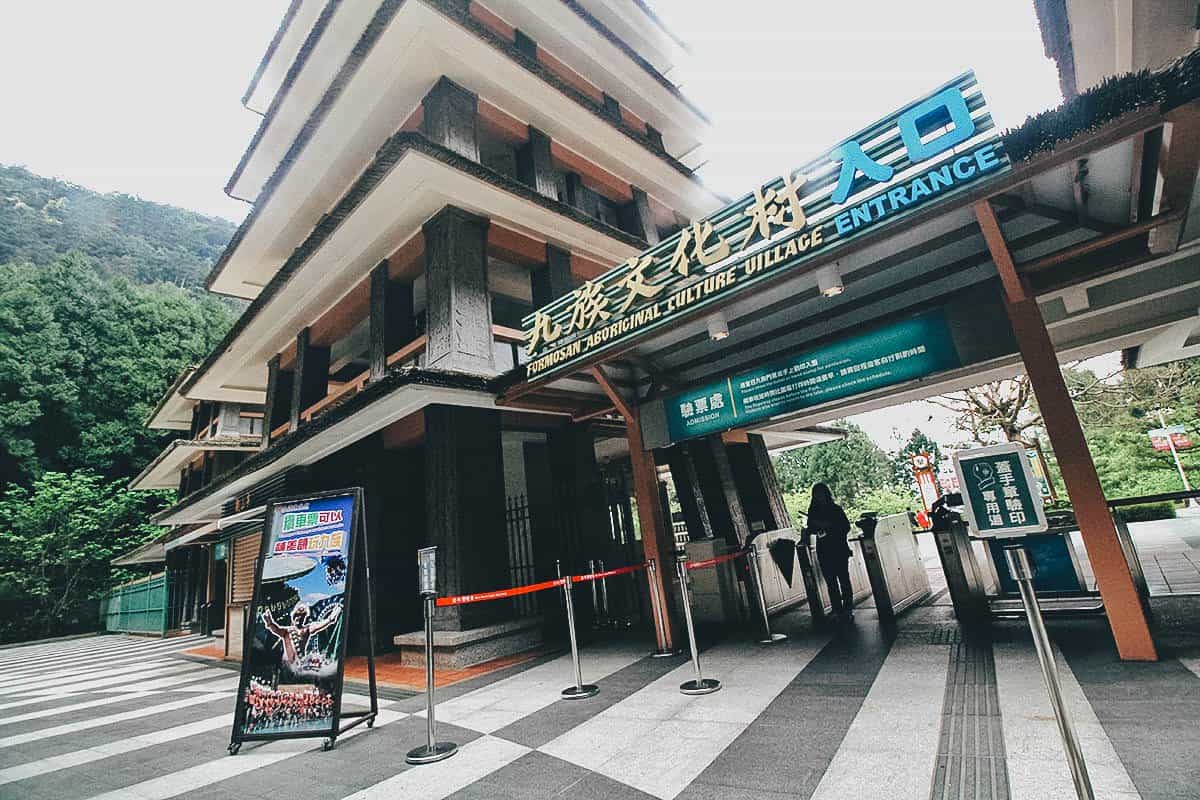 In parting, check out these lovely cherry blossom trees at the Sun Moon Lake Ropeway station. It doesn't get as cold in Taiwan so cherry blossoms bloom earlier here than they do in Japan or Korea. We were here on the 14th of March and that was already the tail end of cherry blossom season. If you plan on catching these fickle fleeting flowers in full bloom, then it's best to go around February or early March.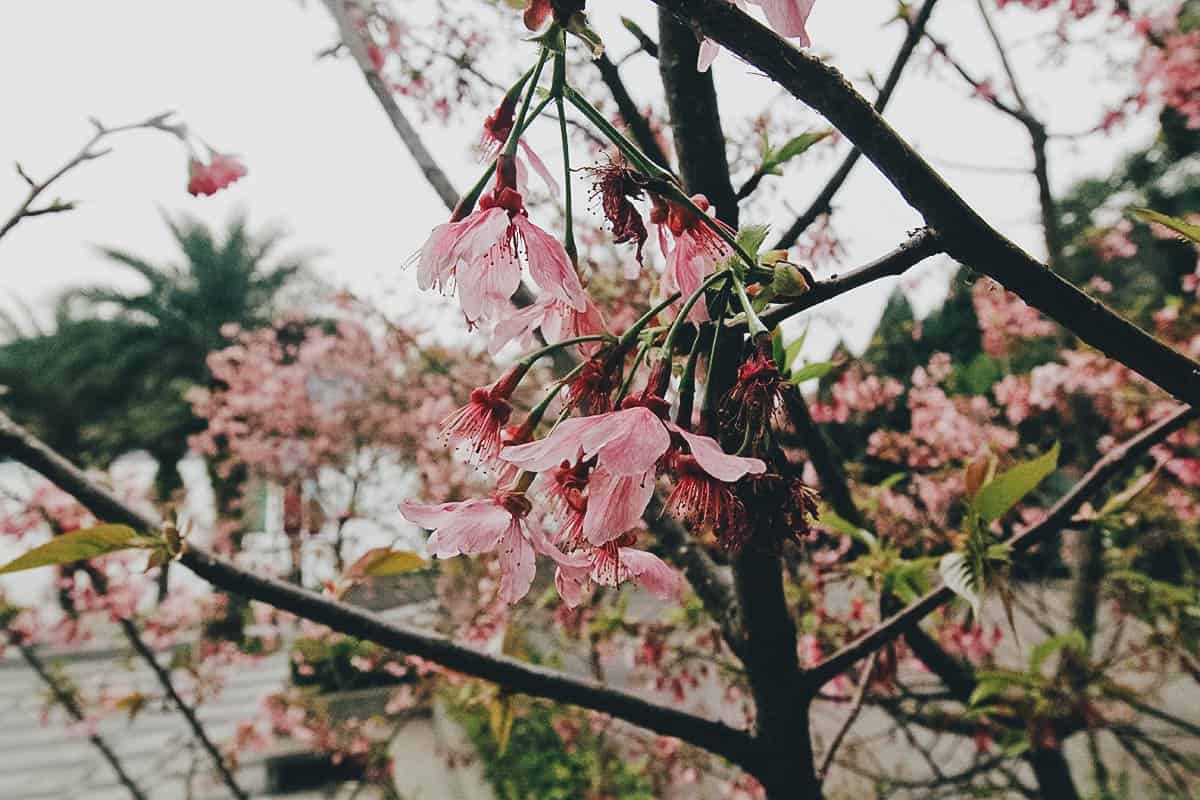 CONCLUSION
Choosing to spend our last full day in Taichung at Sun Moon Lake was an excellent decision. It turned out to be one of my favorite days from our two weeks in Taiwan. The lake really is beautiful and riding bikes around its perimeter was a lot of fun. It's an easy path that's flat for most of the way so there's no need to worry about your fitness level. I'm one of the most out-of-shape people I know and I didn't have any trouble during the two hours we spent cycling.
Sun Moon Lake is easy enough to get to on your own from Taichung, but if you'd rather go on a tour, then you can do so through Kkday. They offer a day tour to Sun Moon Lake from Taichung for NTD 1,611 per person inclusive of lunch, roundtrip transportation, boat vouchers, ropeway tickets, bike rental, and insurance. You can follow this link to book a day tour to Sun Moon Lake from Taichung through kkday.
For travel tips to Taichung, check out our First-Timer's Travel Guide to Taichung, Taiwan.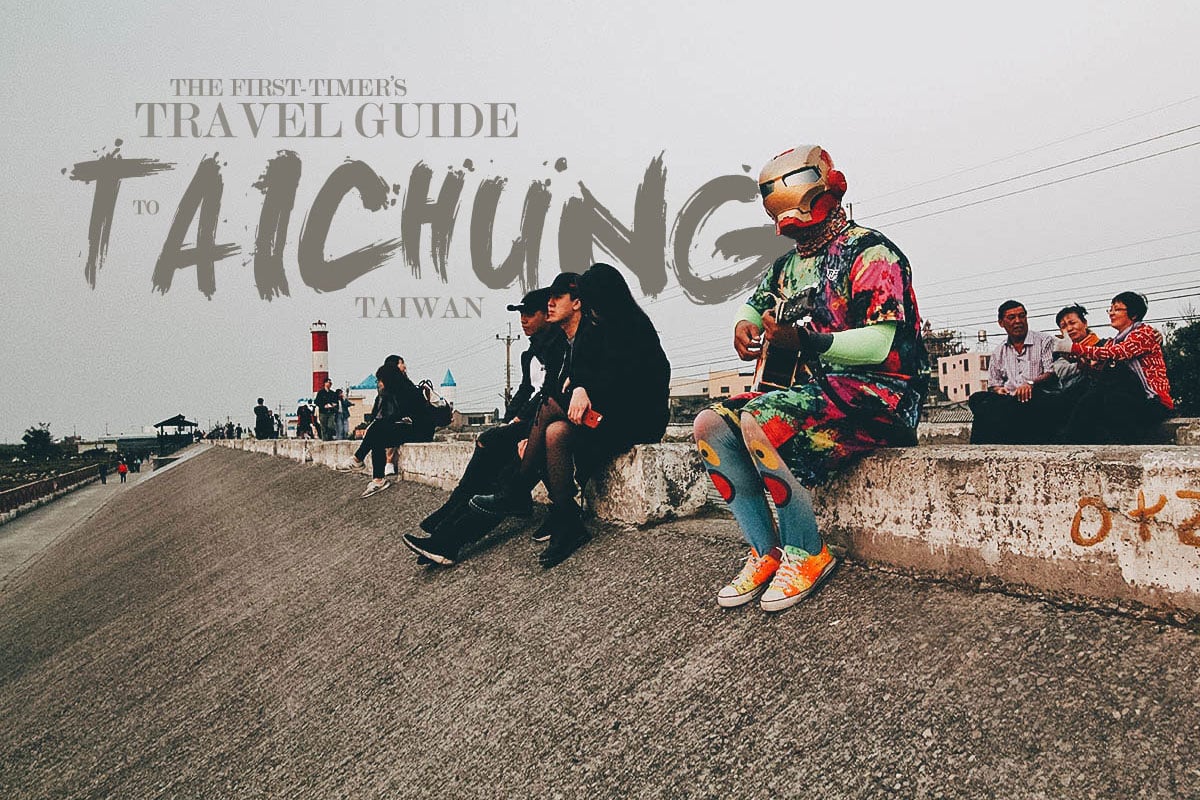 Disclosure
The Kkday links in this post are affiliate links, meaning we'll get a small commission if you make a purchase at NO extra cost to you. We really appreciate your support as it helps us keep this website going. Thank you!