"It's more fun in the Philippines!"
You've heard that tourism slogan right? For many Filipinos, this is true. But I think the more accurate phrase would be, "Filipinos have more fun!" This couldn't have been more evident today.
Trying our hand at urban shrimping, which is a popular activity in Taiwan, onlookers could tell that we were Filipinos not so much by our looks, but by our volume. Because unlike the Taiwanese and Caucasian tourists that were quietly shrimping with us tonight, you could count exactly how many shrimp we were catching by the amount of noise we were making.
"Oh my God look! Ren's got one! Yeheeeeeey!!!!!!" *clap clap clap*
"Wow! BJ's got one too!! Good job good job!!!"
"Yes! Mom finally caught one! Oh no it got away!!! Hahahahaha!!!!!"
This went on for the whopping four shrimp that we caught as a group in the 1-hr that we spent fishing. And each time we caught one, the entire room would turn to look at us. Like I said, we Filipinos have more fun. 😆
Here's how our day went, urban shrimping in Taipei.
Urban Shrimping
We saw many shrimping pools like this one along Zhìshàn Road in the Shilin District. As mentioned above, it's a popular pastime among the Taiwanese, one that's usually enjoyed over a few beers. It's obvious that some take it pretty seriously though. They even bring their own rods and bait! 😆 Fun for all, it was nice to see a few shrimpers with their dogs waiting patiently beside them tonight.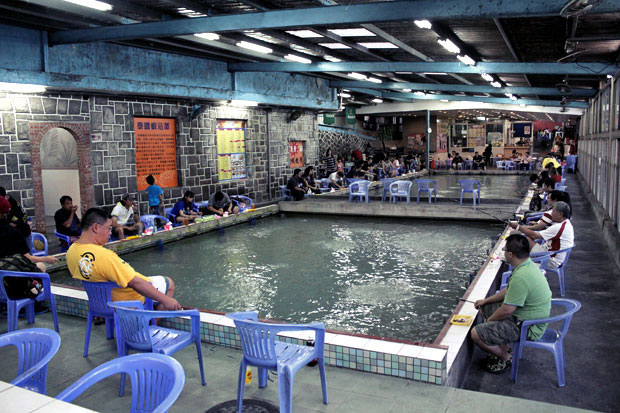 What's the best way to catch big shrimp? With small shrimp of course! We used tiny sergestid shrimp for bait. Charged by the hour, we each paid NT$ 350 for an hour's worth of shrimping. This included bait, rod rental, and all the shrimp that we could catch.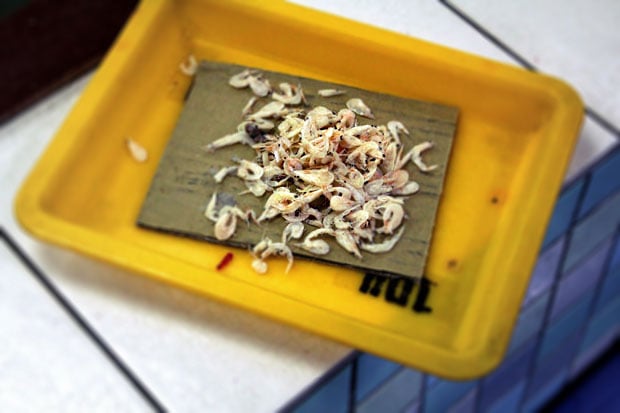 Our lines had two hooks each for twice the fun.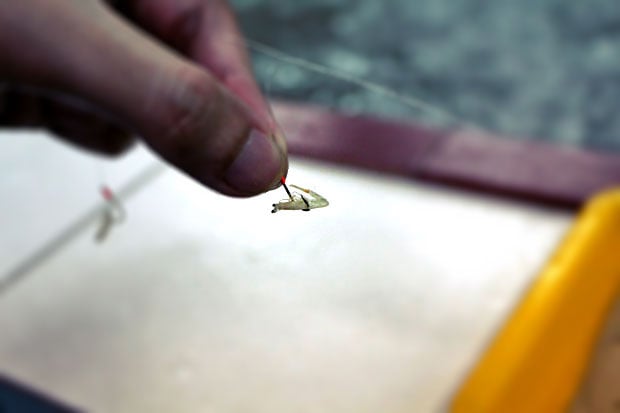 After hooking your bait, you cast the line and wait.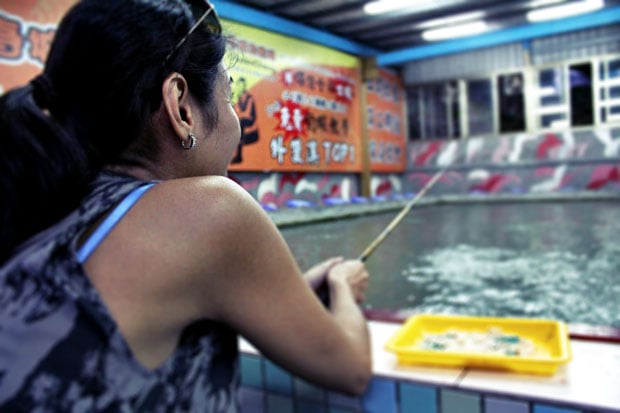 The trick is to keep an eye on that orange float. If you see it start to sink, it means that a shrimp is nibbling on your bait. Yank it up immediately. You'll know right away that you've hooked one if the line feels heavy.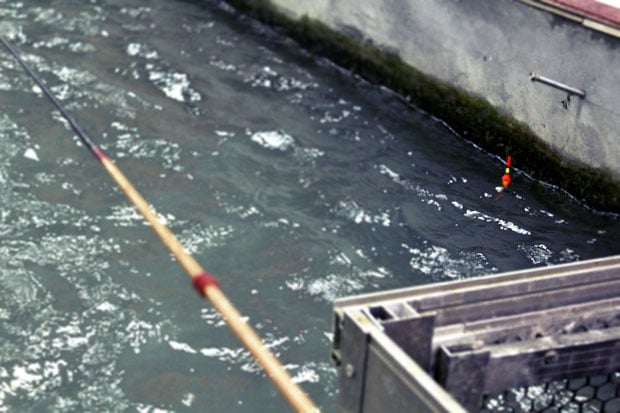 Just as I predicted, Reneelicious would be the first among us to cath one. Good job mama! *clap clap clap* 😀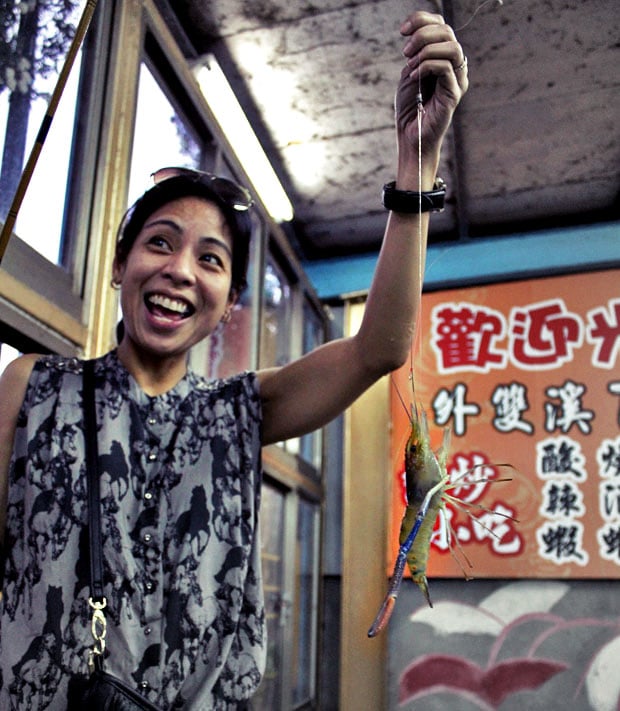 After pulling off its pincers, you drop the shrimp into this holding net suspended in the water. We agreed to stop only when we each caught at least one. My mom caught hers right at the 1-hr time limit. Woohoo!! *clap clap clap*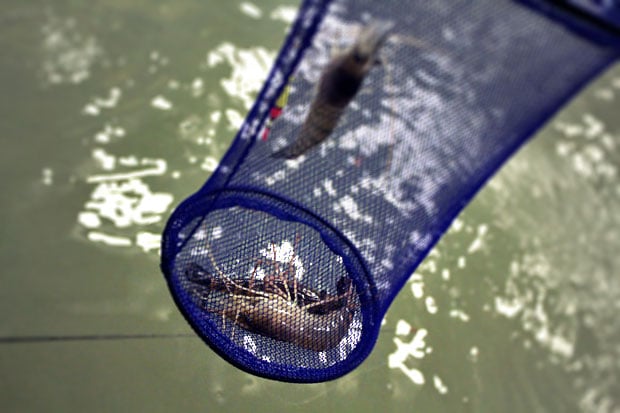 After briefly rinsing them in water, you pierce barbecue sticks through their bodies starting from the tail. The shrimp are still alive making it a little difficult at first, but you get used to it. Being the cheesy treehugger that I am, I just thanked my shrimp brothers for nourishing us (a la Avatar, hence the wistful expression).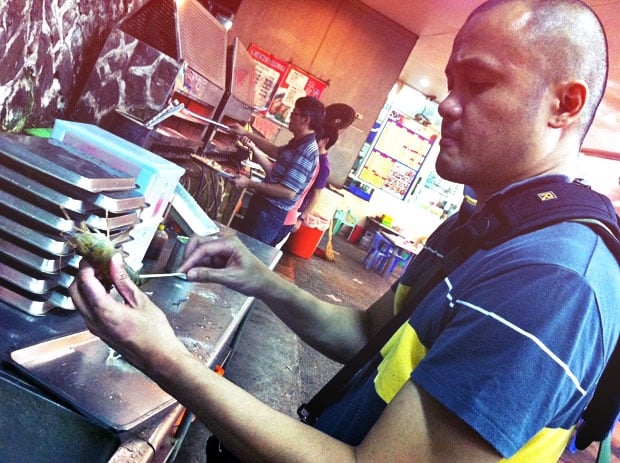 You roll the pierced shrimp in salt before sticking them in the grill. Though we each only caught one, our instructor caught us the fifth shrimp. The sixth was given to us by a local who plucked it out of the water using just his bare hands. Show off! I think he was amused by how much fun we were having. 😆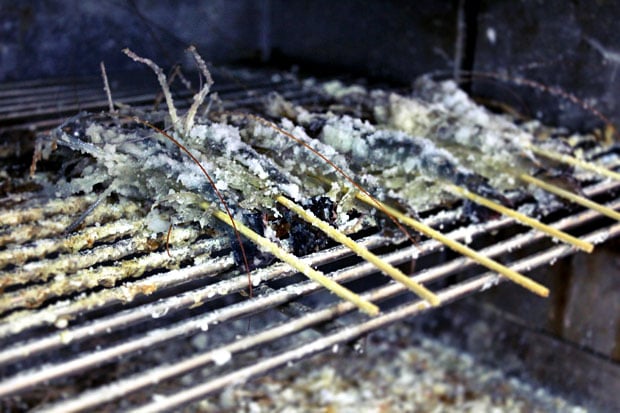 Turn now and then for even cooking…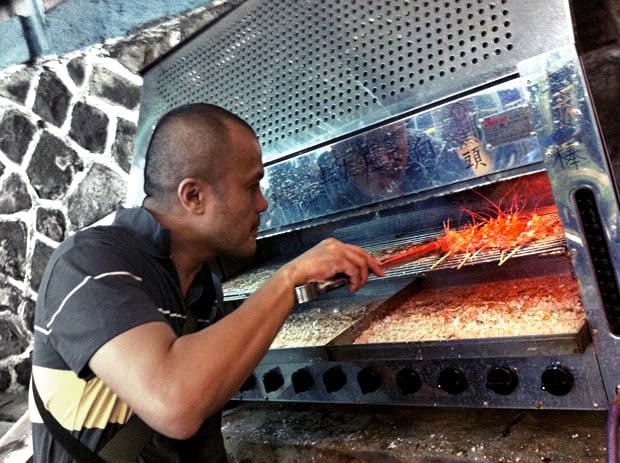 …until any black is gone and all you're left with are these beautiful, fiery orange specimens. Time to dig in!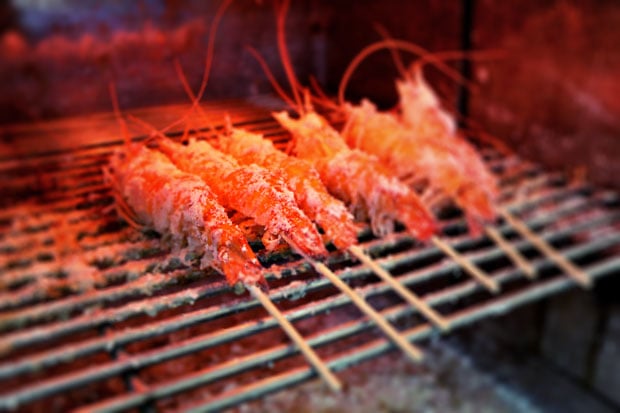 There's my sister about to get her first taste of Shrimp ala JB. Because I cooked these shrimp in Taiwan, does it count as Taiwanese food? 😛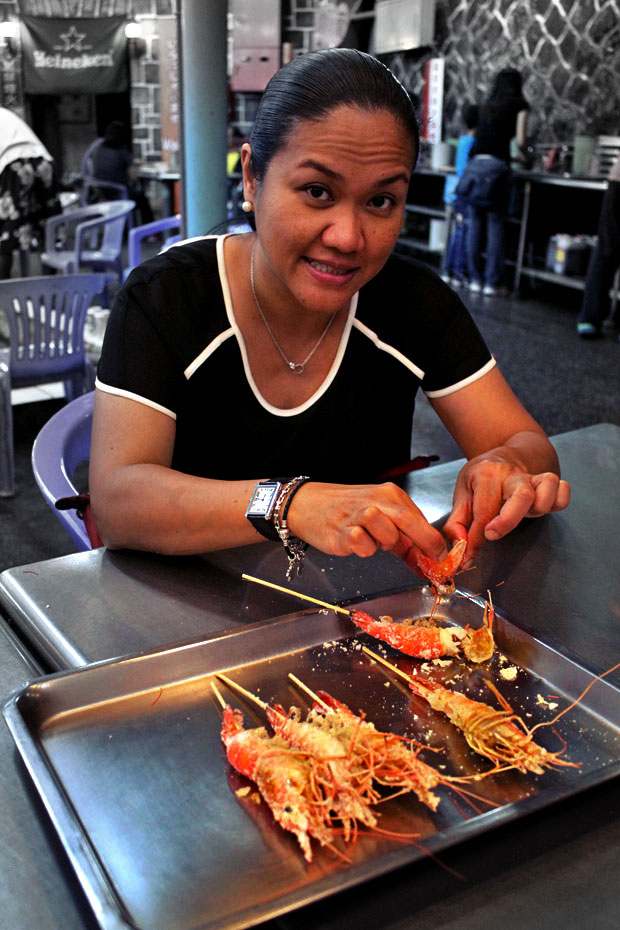 That's some perfectly cooked shrimp y'all! Fresh as can be, they were tasty and very succulent. Yum!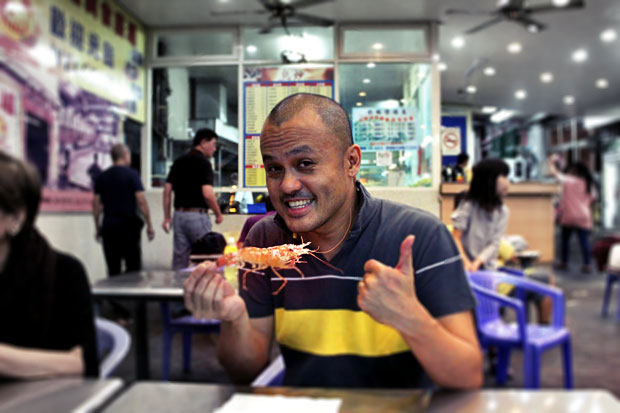 It's funny, I didn't think that fishing for shrimp in a concrete pool would be much fun, but it was. A lot. It's something that I would recommend highly to any first-time visitor to Taiwan, especially since the city's shrimping pools are clustered around Shilin Night Market. I suggest going shrimping late in the afternoon, then taking a taxi back to the night market early in the evening. Night markets citywide open at 5PM and close at midnight.
Though the more seasoned shrimpers caught a lot more shrimp than we did tonight, I think our four were the most fun. They were definitely the loudest. 🙂
Urban Shrimping
No. 471, Section 2, Zhìshàn Rd., Shilin District, Taipei City, Taiwan, ROC
Hours of Operation: Mon-Sun, 24 hours
Expect to spend: Minimum NT$ 350 for 1 hour of shrimping
HOW TO GET THERE:
By subway, get off at Shilin MRT station. Hop into a taxi and show the driver the Chinese address – 臺北市士林區至善路二段471號. There are many shrimping pools in the area but No. 471 is the one we went to. The fare will run you around NT$ 140 each way.
For travel tips to Taipei, check out our First-Timer's Travel Guide to Taipei, Taiwan.