Jiufen is a charming mountain town in Ruifang District. Located about an hour east of Taipei, it's a former mining town that's become a hugely popular tourist destination, largely because of its resemblance to a town in Hiyao Miyazaki's critically acclaimed anime film, Spirited Away.
Because of its proximity to Taipei, many people come to Jiufen for the day either on their own or by guided tour, usually to do two things – take lots and lots of pictures, and eat lots and lots of Taiwanese street food. This guide covers the latter.
At the heart of this food trip is Jiufen Old Street, a twisty labyrinthine alley noted for its hanging red lanterns and array of shops selling souvenirs and street food. If you're looking to spend the day eating your way through Jiufen, then here are ten delicious snacks that you need to look for.
FOOD IN JIUFEN QUICK LINKS
To help you plan your trip to Jiufen, I've compiled links to recommended hotels, tours, and other activities here.
HOTELS
Recommended hotels near Jiufen Old Street, the most convenient areas to stay for first-time visitors to Jiufen.
TOURS
OTHER SERVICES
JIUFEN & SHIFEN TRAVEL GUIDE
If you're visiting Jiufen for the first time, then be sure to check out our detailed Jiufen and Shifen travel guide. It'll tell you everything you need to know – like when to go, how to get there, which attractions to visit, etc. – to help you plan your trip.
Save This on Pinterest!
No time to read this Jiufen food guide now? Click on the save button and pin it for later!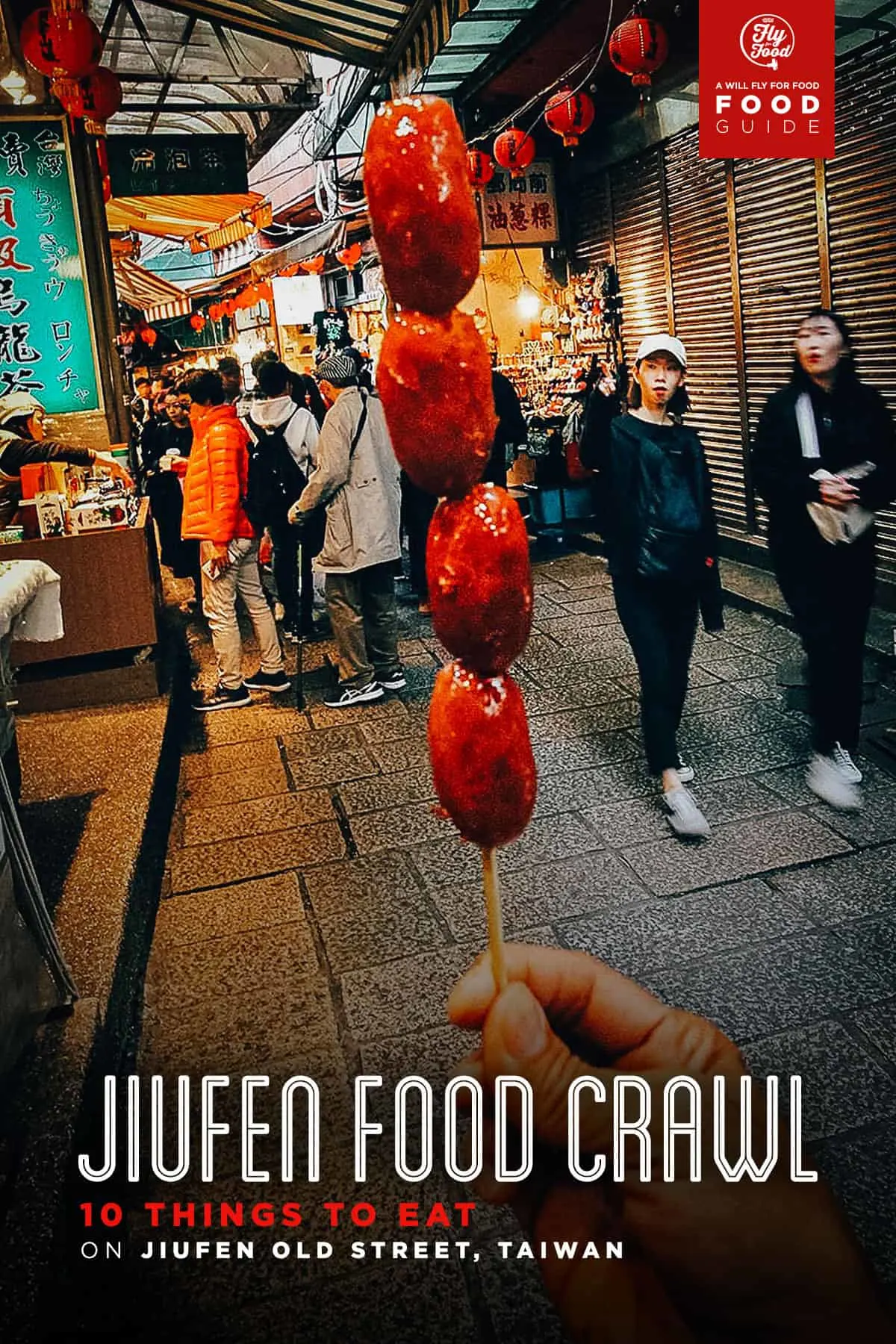 MUST-TRY DISHES ON JIUFEN OLD STREET
1. Coffee Nougat Biscuit
This was the first thing we tried on our trip to Jiufen. It's made by the Saint Peter bake shop which is located by the base of the steps going up to Jiufen Old Street.
Our tour guide hyped it up as a delicious snack beloved by her son. She may have been just working us for a commission so I didn't believe her at first, until I tasted it myself. She wasn't lying. I'm not usually into snacks like this, but these coffee nougat biscuits are damn delicious. They're chewy and not too sweet with a robust coffee flavor. We enjoyed it so much we brought home two boxes.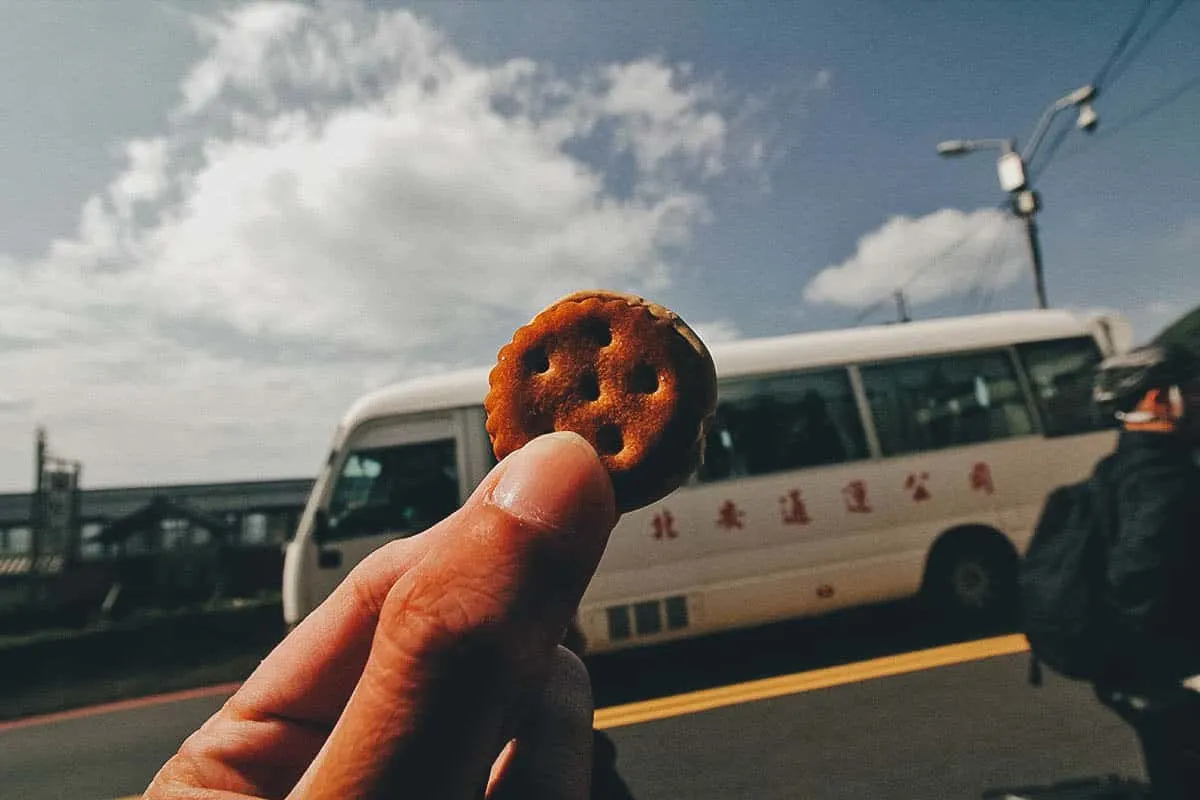 Where to Try it: Saint Peter shop
What We Paid: NTD 500 for two boxes
2. Deep-Fried Battered Seafood
You'll find stalls selling deep-fried battered seafood in virtually every night market in Taiwan, and Jiufen Old Street is no exception. At this stall, they make them with different types of seafood like crab and shrimp, but my favorite by far, and the one I always get, is the squid. It's tender, crunchy, and delicious. It's easy to eat too while walking which is ideal for a place like this.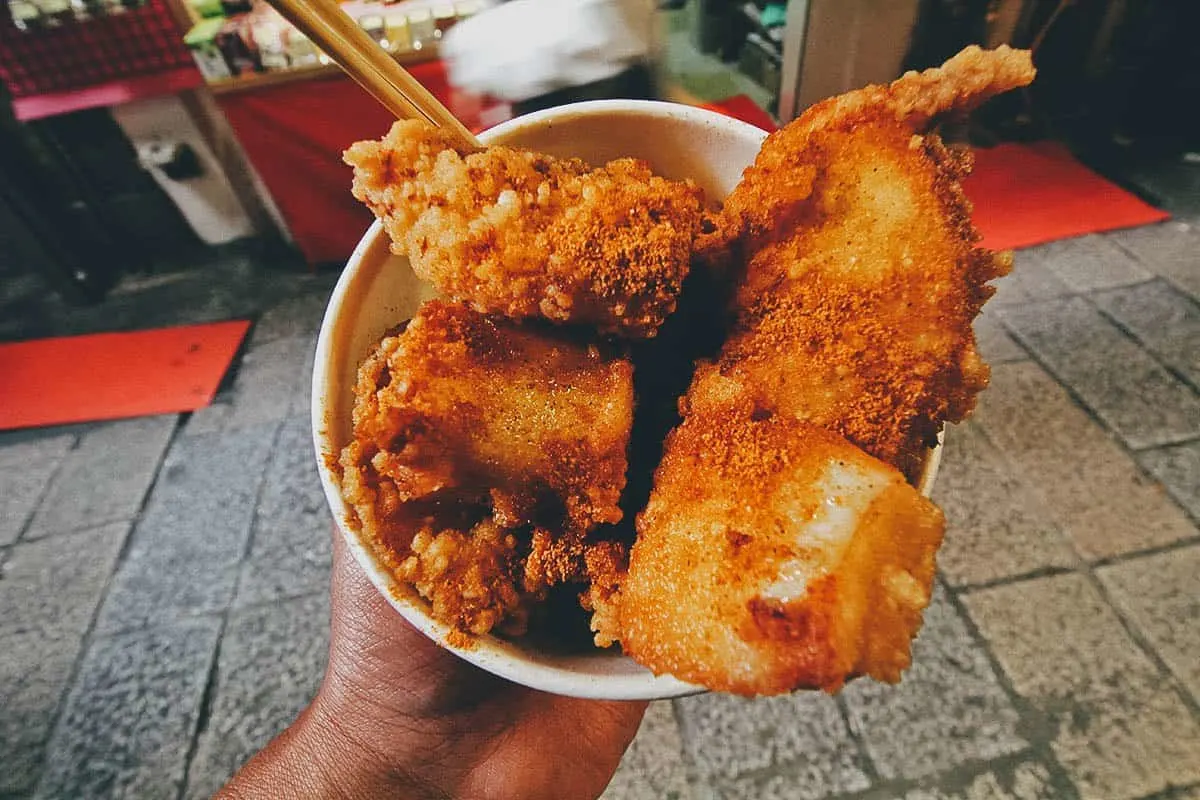 On display here are the different types of battered seafood you can destroy your face with. Yum.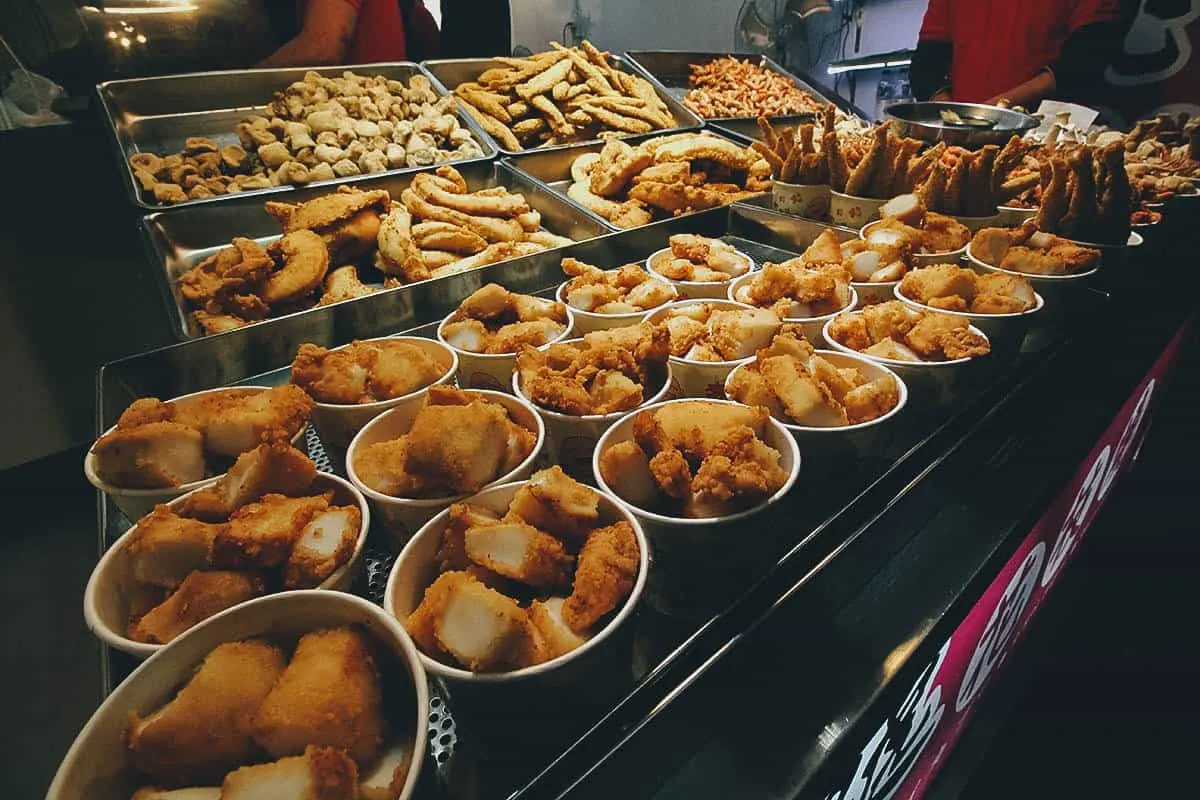 What We Paid: NTD 50 for a cup
3. Fish or Meat Ball Soup
We didn't eat at either place but there are stalls along Jiufen Old Street called Zhang Ji and Jin Zhi which are known for their fish ball and meat ball soup respectively. Nonetheless, this combination meat ball soup we had from some random restaurant was pretty darn good.
I don't know what they're made of but they came in different sizes and appeared to be a mix of fish, pork, squid, and vegetable. They're hearty and fun to eat.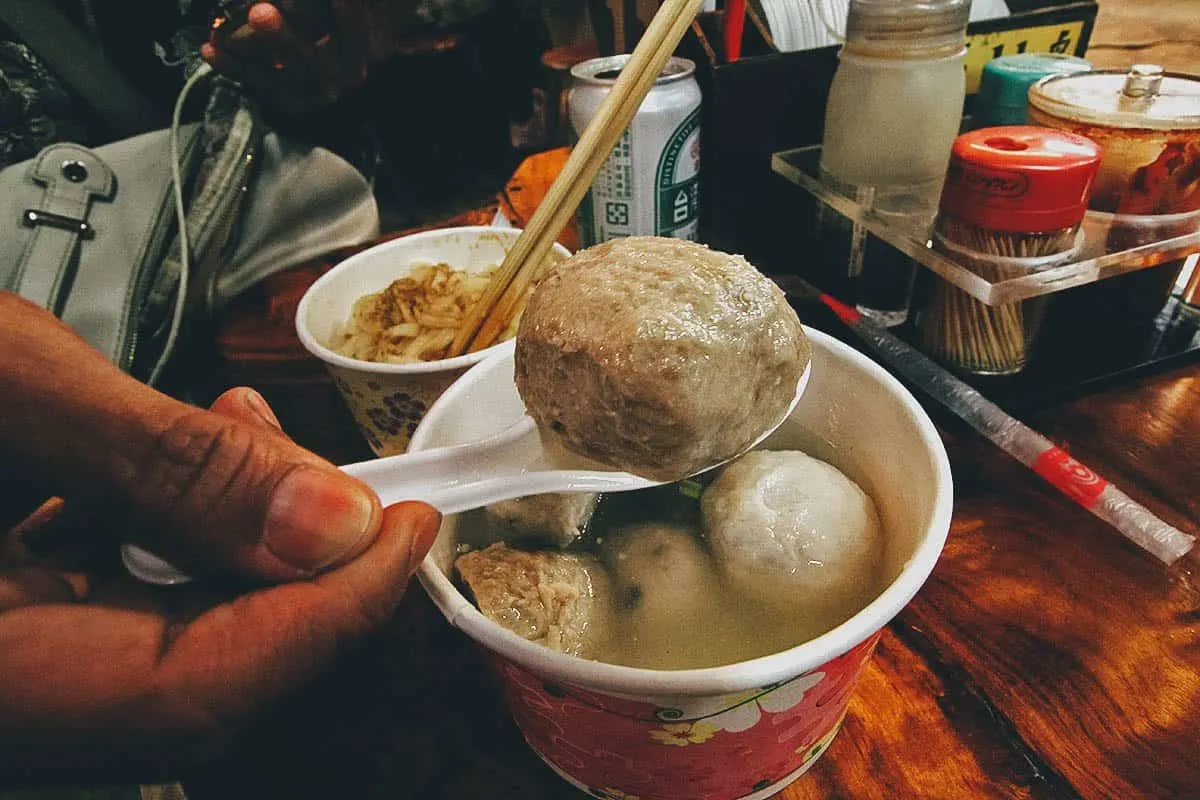 Where to Try it: Zhang Ji Traditional Fishballs, Jin Zhi (meat balls)
What We Paid: NTD 65 per bowl (combination meat ball soup)
4. Glutinous Rice Cake
This was one of the most interesting things we ate in our two weeks in Taiwan. It's a Hakka glutinous rice cake made with a variety of fillings like salted vegetable, preserved turnip, and sweet red bean. Hakka cuisine is the cooking style of the Hakka people who are originally from China.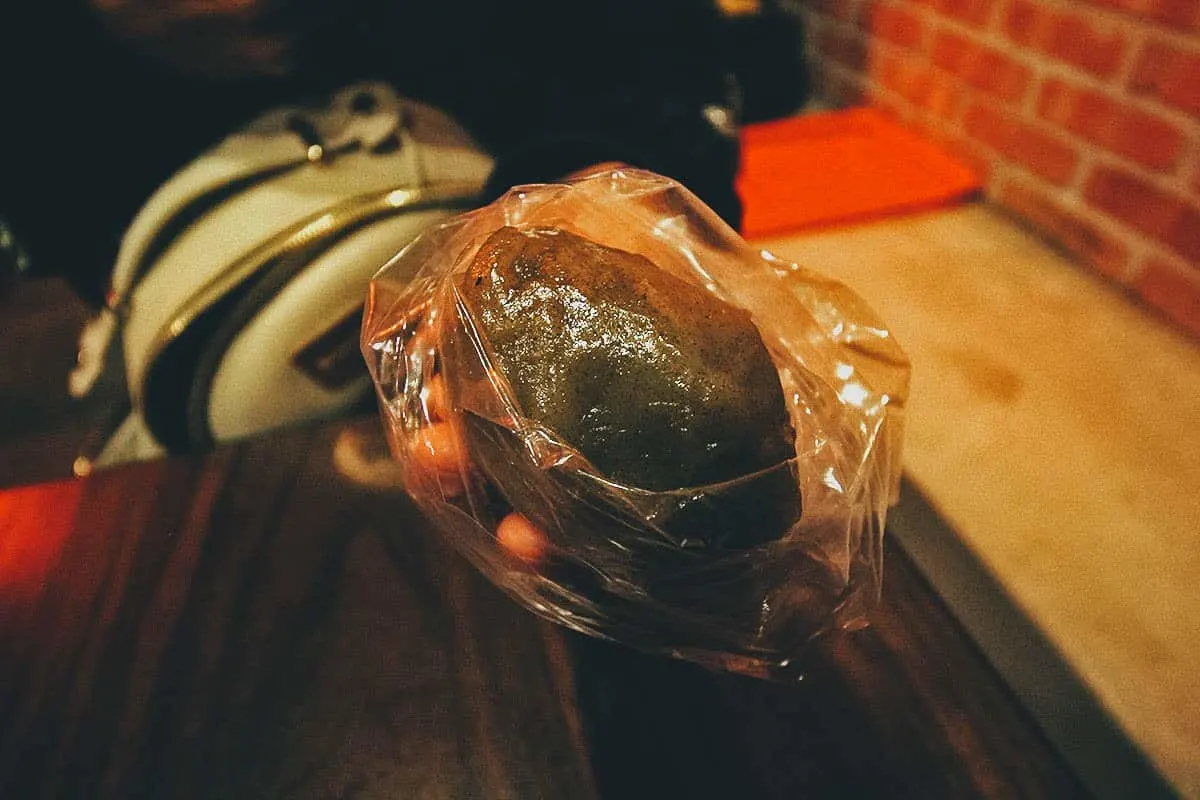 I'm pretty sure the one we got contained preserved turnip. It was an odd and unexpected flavor that took me by surprise. Because of the glutinous rice casing, I was expecting to find something sweet inside, like a mildly sweet taro or red bean filling. Instead, I got a strong and salty vegetable flavor that was like a punch in the mouth! I was caught off-guard so I was put off by it at first, but it grew on me with each bite.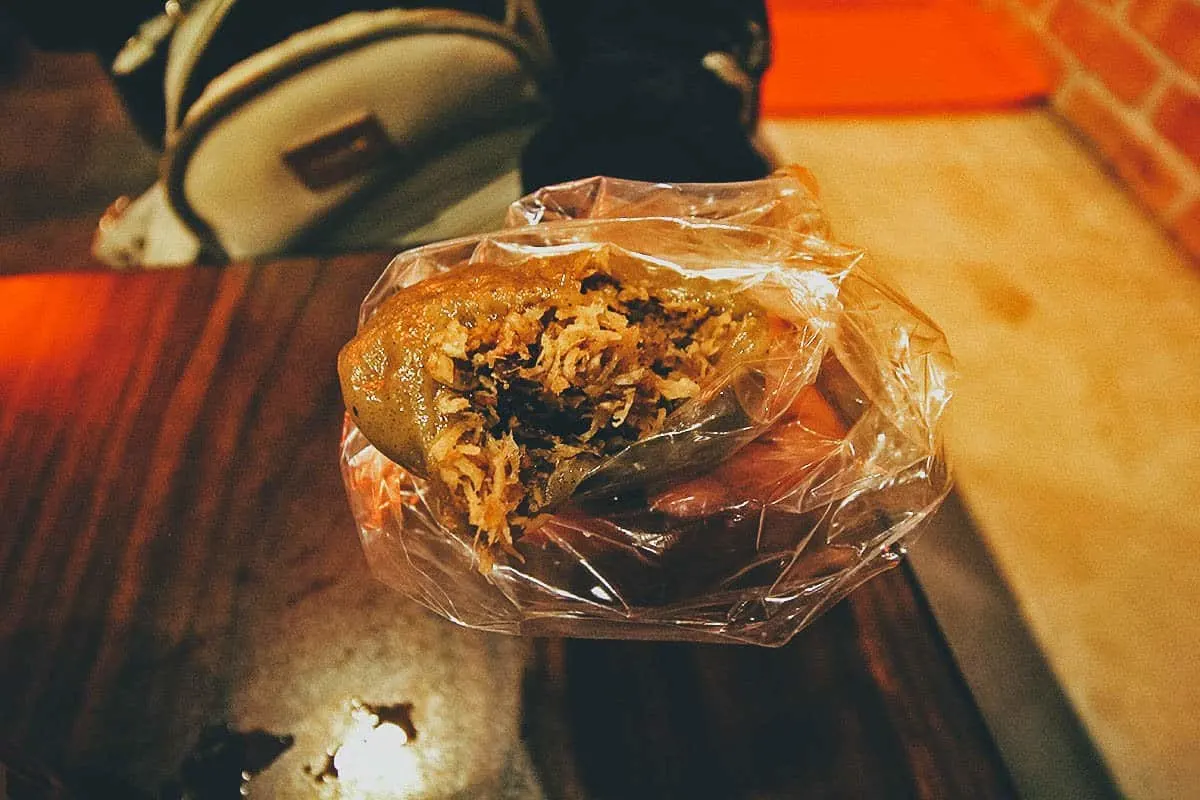 Several stalls sell these glutinous rice cakes in Jiufen, but none are more popular than Ah Lan Hakka Glutinous Rice Cake. In fact, they're one of the most popular stalls in Jiufen. They're easy to spot too. Just look for the stall with the longest queue.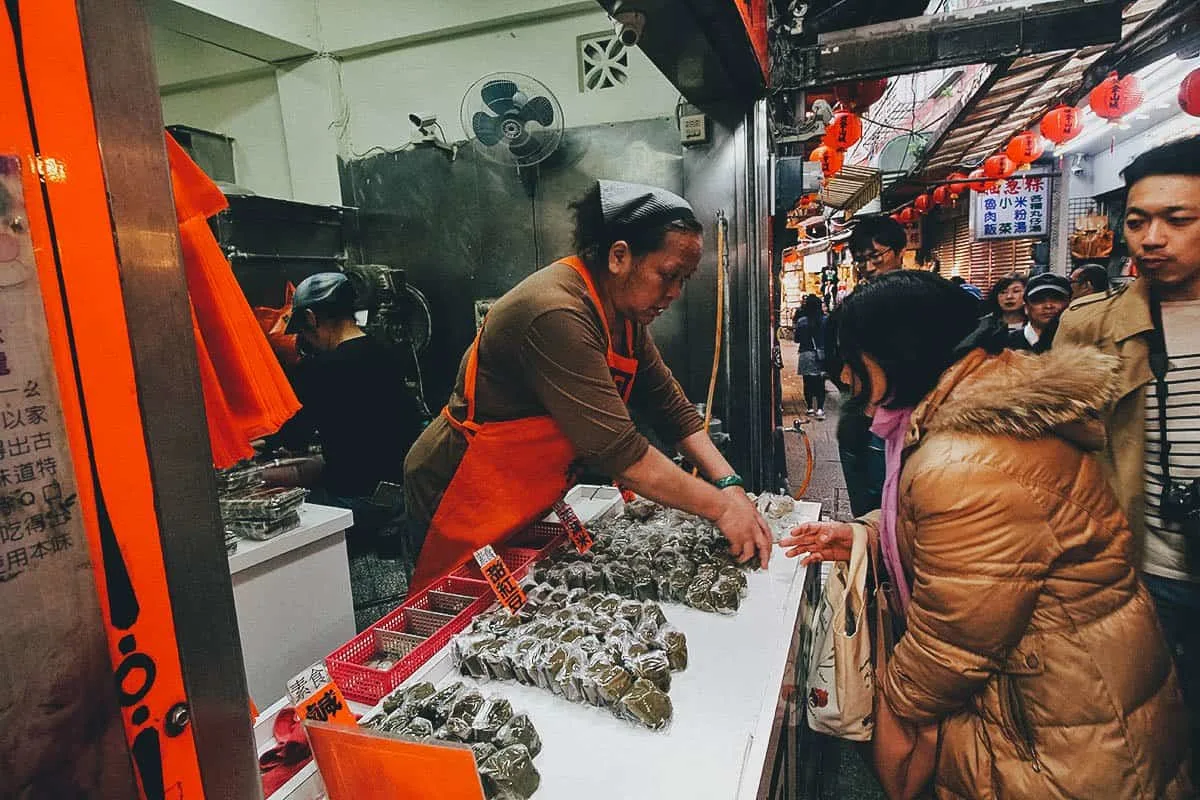 Where to Try it: Ah Lan Hakka Glutinous Rice Cake
What We Paid: NTD 10 per piece
5. Ice Cream Puff
We saw many tourists smashing their faces with these things so we had to do it too. Made by Misty Cake, you can choose any two scoops of ice cream which they'll sandwich between two halves of a large, flaky puff pastry. We went with raspberry and dark chocolate.
Misty Cake offers many delicious-looking cakes and pastries, but these ice creams puffs really stood out for us.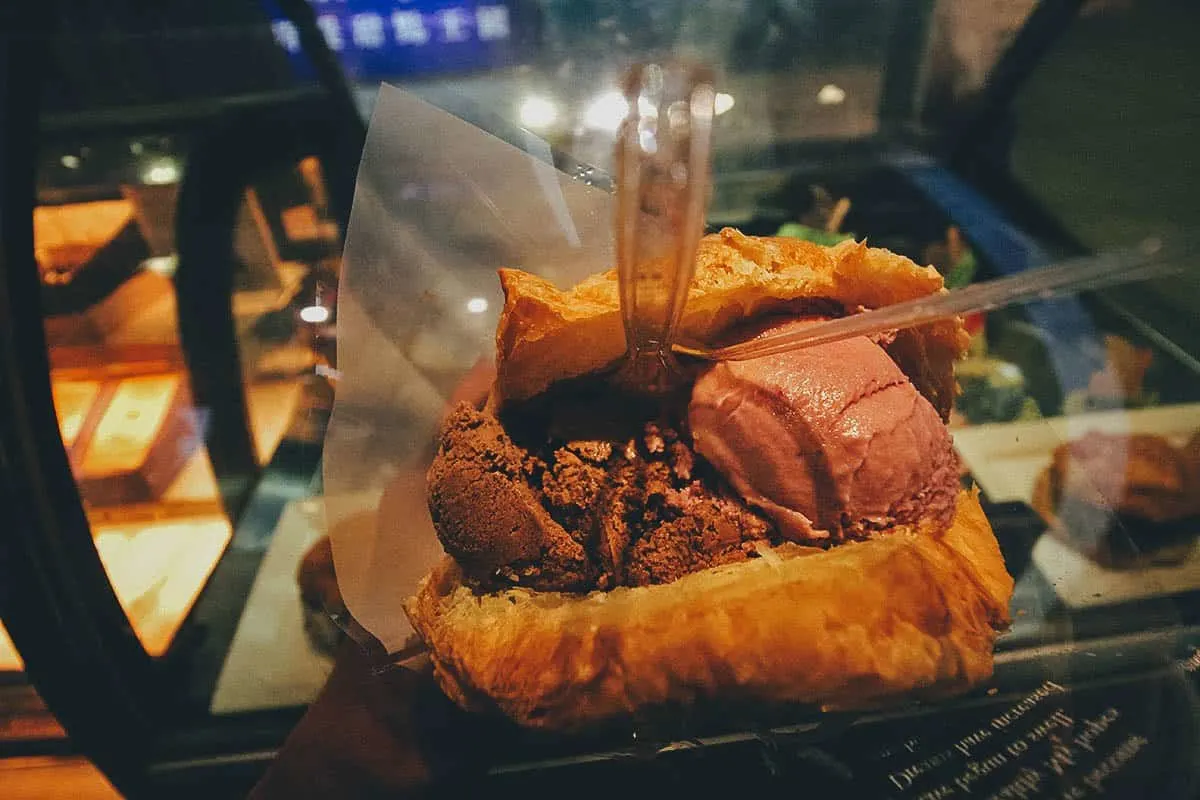 Where to Try it: Misty Cake
What We Paid: About NTD 250 for a large puff pastry with two scoops of ice cream
6. Noodles
You'll find noodles in many forms along Jiufen Old Street (or anywhere else in Taiwan for that matter), but here we saw them often enjoyed with bowls of fish or meat ball soup. It was either served on the side or together in one bowl. It seems to be a common pairing so you may want to do the same. We did, and it was glorious. #hallelujah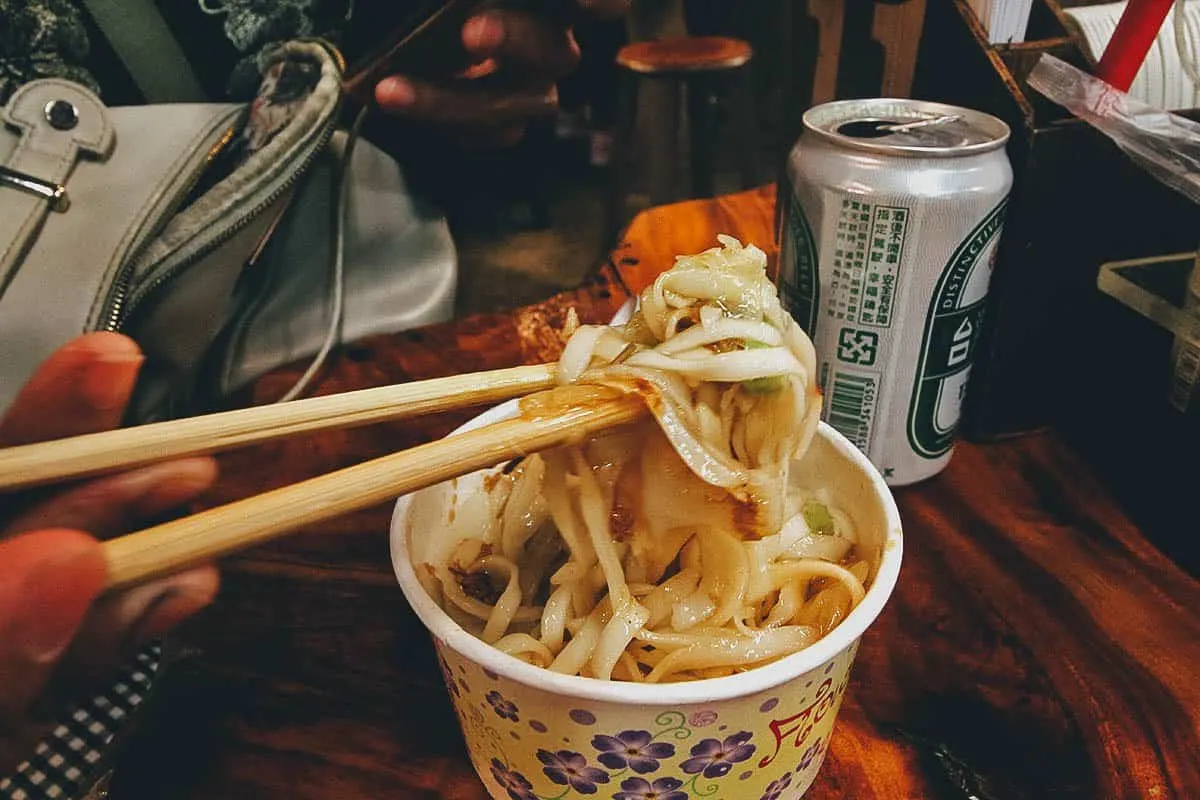 What We Paid: About NTD 45 per bowl
7. Peanut Ice Cream Roll
This was one of the oddest things we ate in Taiwan. It's like an ice cream peanut burrito. To make it, peanut shavings are spread out over traditional popiah skin and topped with two small scoops of ice cream. It's then folded up like a thin flat burrito before being cut into two and served. It sounds weird but it was actually pretty good! They didn't do it here but we had a peanut ice cream roll at Dongdamen Night Market in Hualien which was rolled with heaps of coriander. Even weirder, but delicious!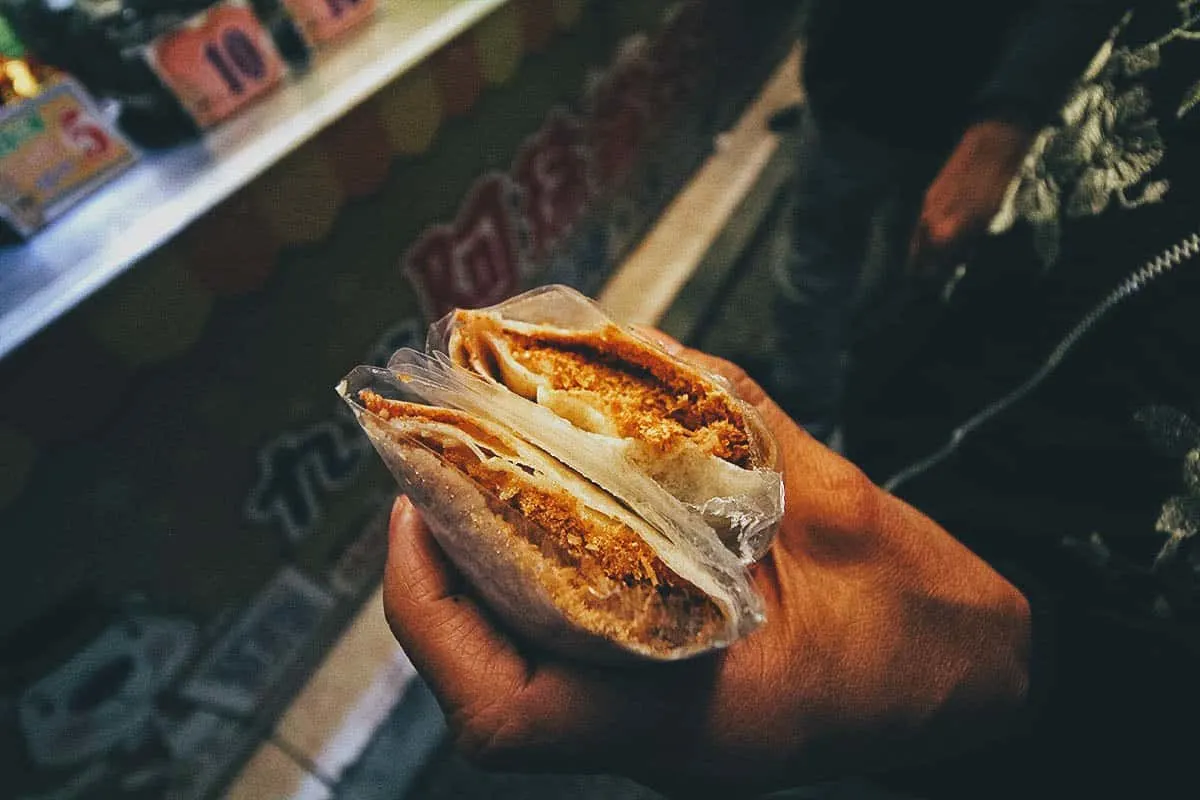 Ah Zhu Peanut Ice Cream is one of the most famous stalls on Jiufen Old Street. If you want to try peanut ice cream roll in Jiufen, then this is the place to have it.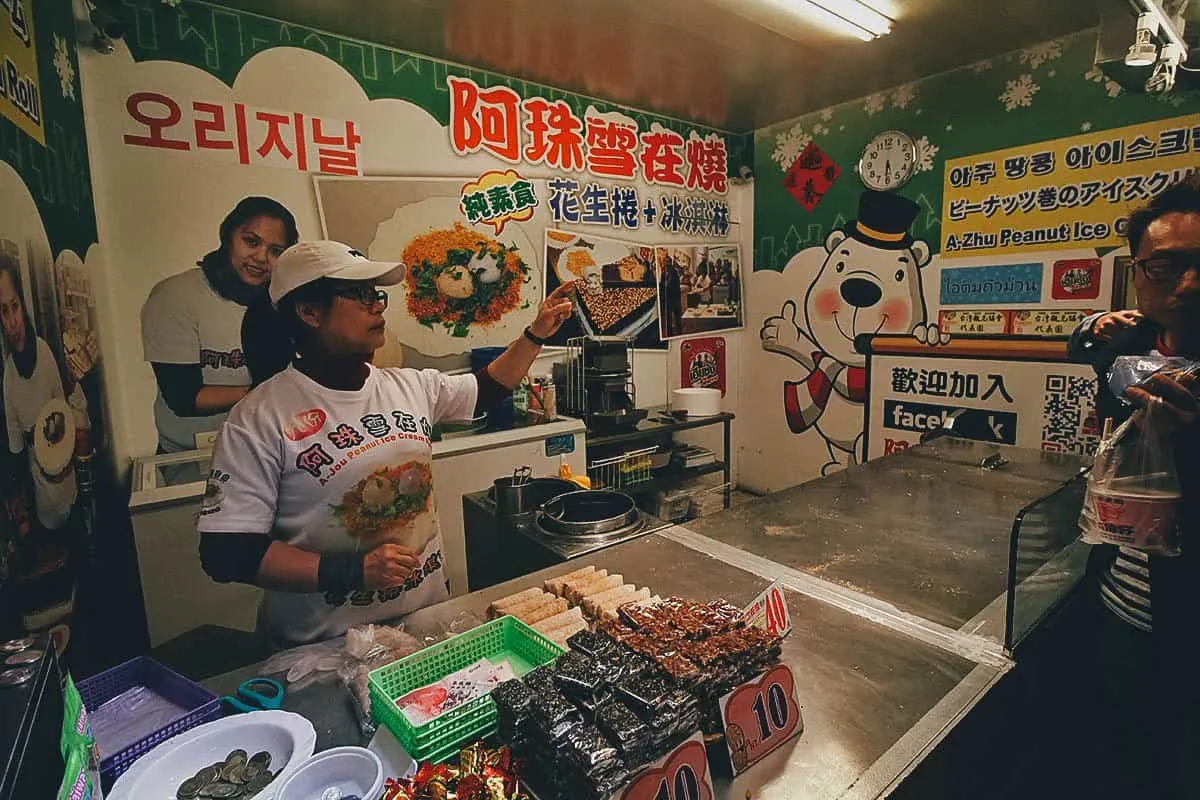 Where to Try it: Ah Zhu Peanut Ice Cream
What We Paid: NTD 40 per roll
8. Taiwanese Sausages
Sausages are popular throughout Taiwan, including Jiufen. Here you'll find multiple vendors selling different kinds of sausages like pearl sausages (pictured below) and Kurobuta sausages.
Pork is the most common but I remember seeing one stall selling sausages made with less conventional ingredients like fish roe, squid, and wild boar. Check out them ladies admiring my sausage.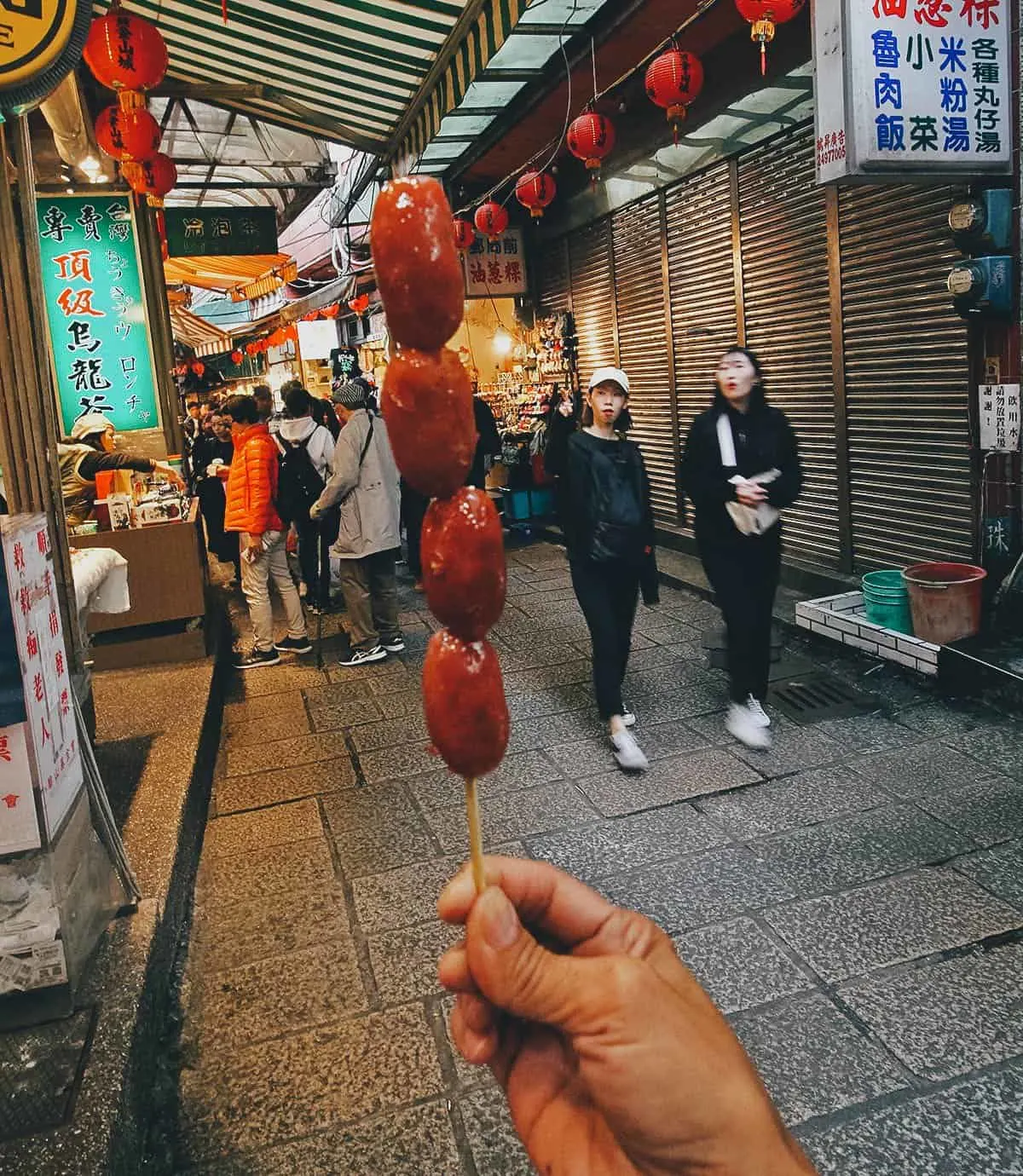 What We Paid: Around NTD 35 per stick
9. Steamed Taro Cake
These steamed taro cakes were also made by Ah Lan Hakka Glutinous Rice Cake. For me, it wasn't as interesting as the glutinous rice cake but it still made for a tasty, albeit slightly mushy snack.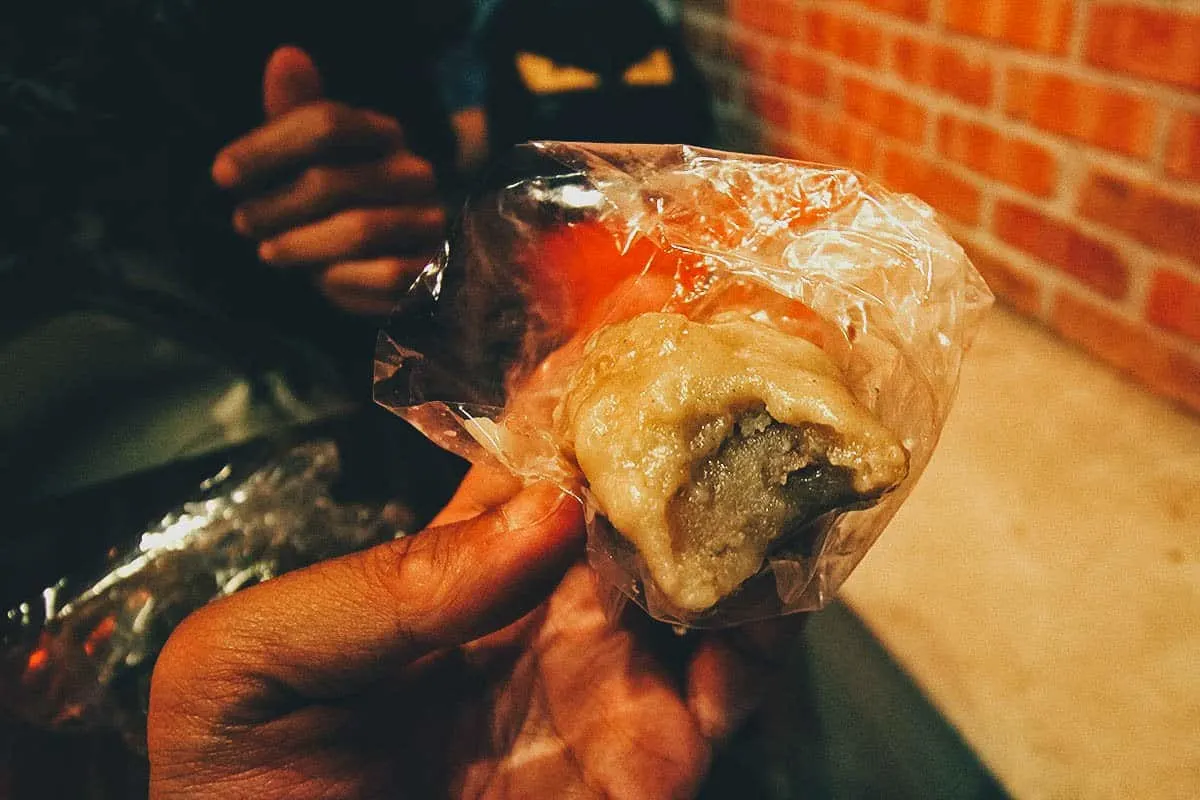 Where to Try it: Ah Lan Hakka Glutinous Rice Cake
What We Paid: NTD 10 per piece
10. Taro Balls
Like glutinous rice cakes and peanut ice cream rolls, these bowls of taro balls are among the most popular snacks in Jiufen. They're served either hot or cold, and filled with chewy handmade taro balls, sweet potato balls, green tea balls, and kidney beans.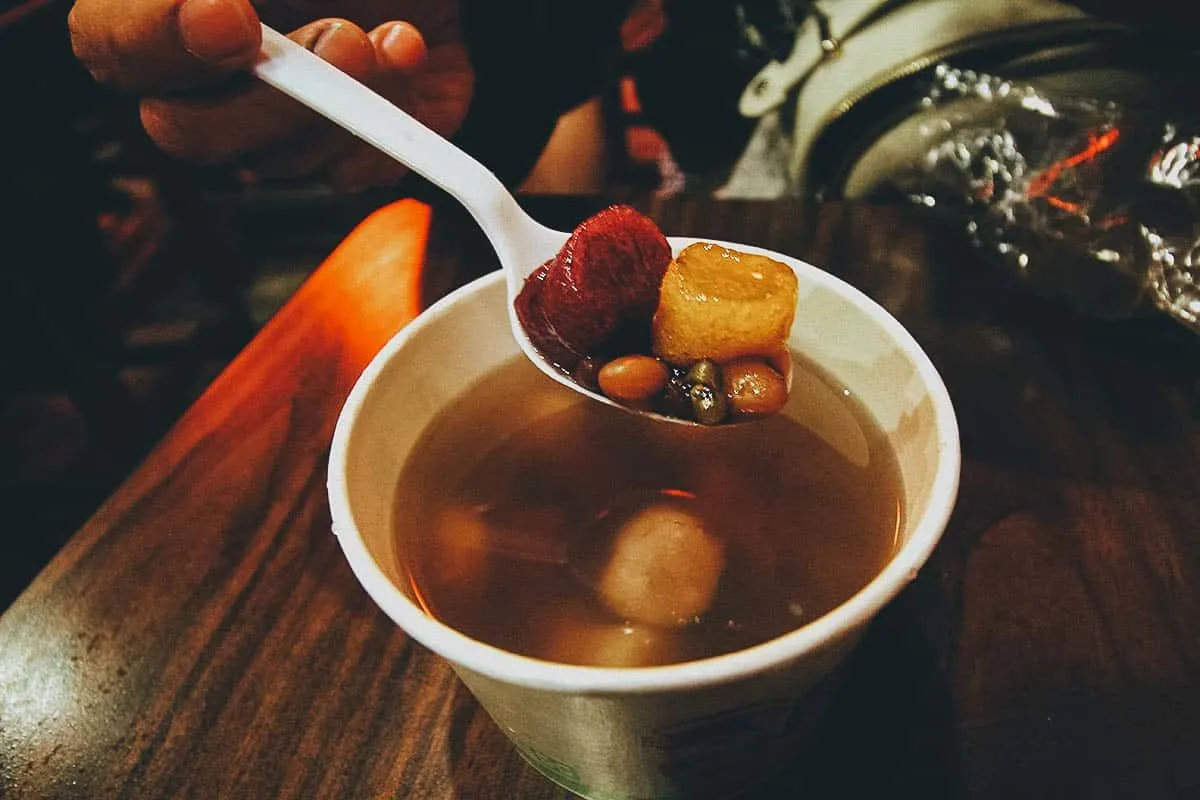 There are many stalls offering taro balls along Jiufen Old Street, but none more popular than Grandma Lai's Taro Balls. You'll recognize it from the long line of people waiting to have their taro ball soup.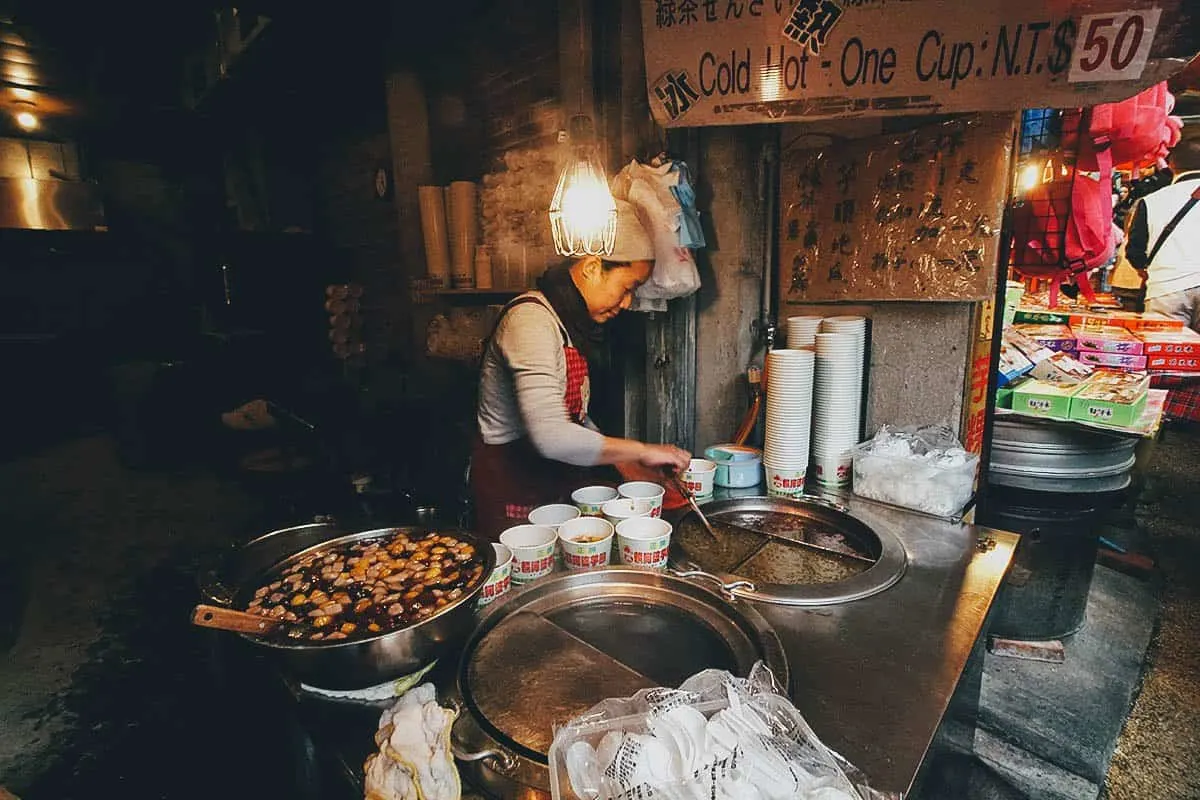 Where to Try it: Grandma Lai's Taro Balls
What We Paid: NTD 50 per bowl
FINAL THOUGHTS ON THE FOOD IN JIUFEN
Jiufen Old Street is one of the most popular food streets in Taiwan so there are plenty of other delicious things to be found there. This list is a good place to start, as it does include some of Jiufen's most popular dishes and stalls.
If you had to cut it down to just three, then you can probably go with the glutinous rice cakes from Ah Lan Hakka Glutinous Rice Cake, the peanut ice cream rolls from Ah Zhu Peanut Ice Cream, and the taro balls from Grandma Lai's Taro Balls. This isn't based on my personal preference, but from the long lines of customers and blog posts recommending these same places.
With that said, I honestly don't think it matters all that much where you go. With the exception perhaps of Ah Lan Hakka Glutinous Rice Cake, you can try these dishes anywhere along Jiufen Old Street and still have a great experience. The street food here is pretty good overall so I don't think you'll be disappointed anywhere.
In any case, this is by no means an exhaustive list but I do hope it points you in the right direction. After all, with just one full day in Jiufen, there's only so much one can eat!
Enjoy your time in Jiufen!
For more suggestions on night markets and food streets, check out our guide on 13 Night Markets and Food Streets to Visit in Taiwan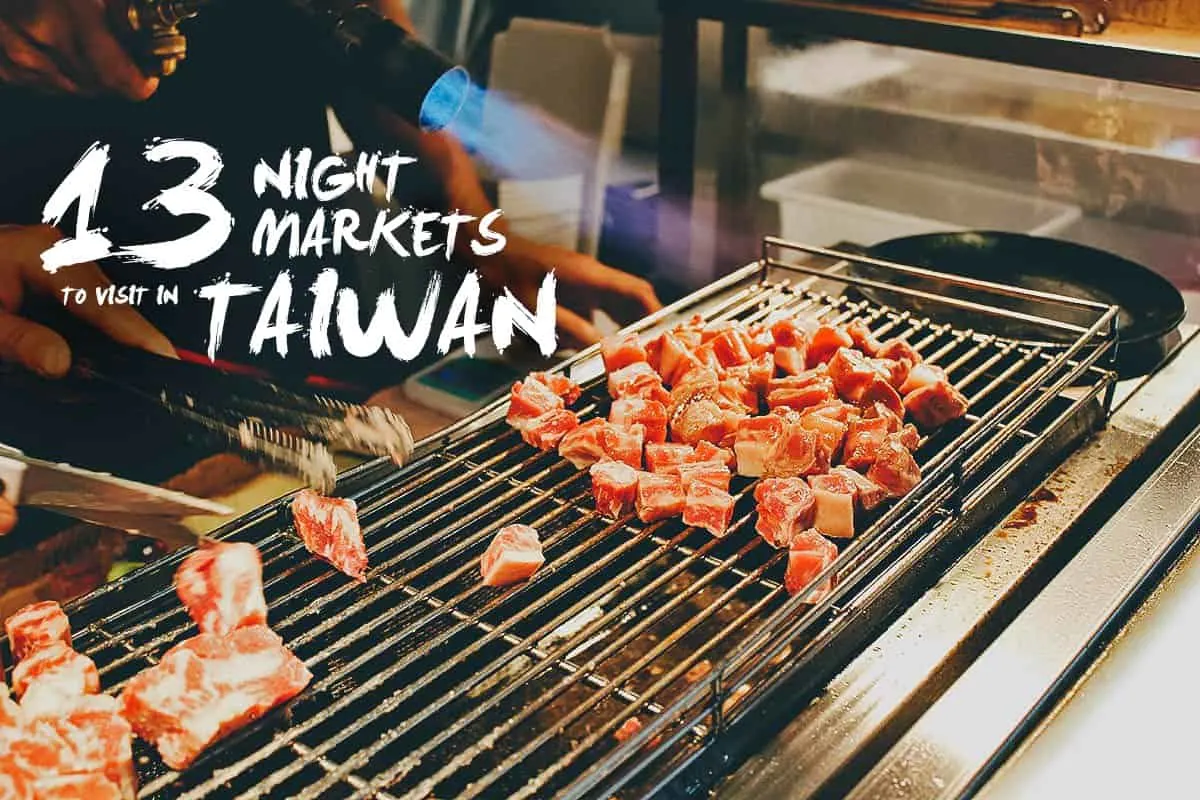 Disclosure
Some of the links in this Jiufen food guide are affiliate links. What that means is that we'll earn a small commission if you make a purchase at NO additional cost to you. We really appreciate your support as it helps us keep this free website going. Thank you!