There are many fun day trips you can make from Taipei, but this guided tour to Northern Taiwan is one of the most interesting. It's interesting because it takes you to four locations that are starkly different from one another.
On this tour, you'll get close to alien-like hoodoo stones that have been naturally sculpted by centuries of erosion. You'll get to write wishes and prayers on paper sky lanterns before releasing them into the sky over an historic but still active railroad track. You'll spend time taking selfies at the "Little Niagara of Taiwan" before ending the day at a decommissioned mining town that's home to some of Northern Taiwan's best street food.
Based on diversity of attractions, this was easily one of the best guided tours we've been on in Taiwan. If it's your first trip to Taipei and you had time to go on just one tour, then this should probably be it.
Save This on Pinterest!
No time to read this now? Click on the red save button and pin it for later!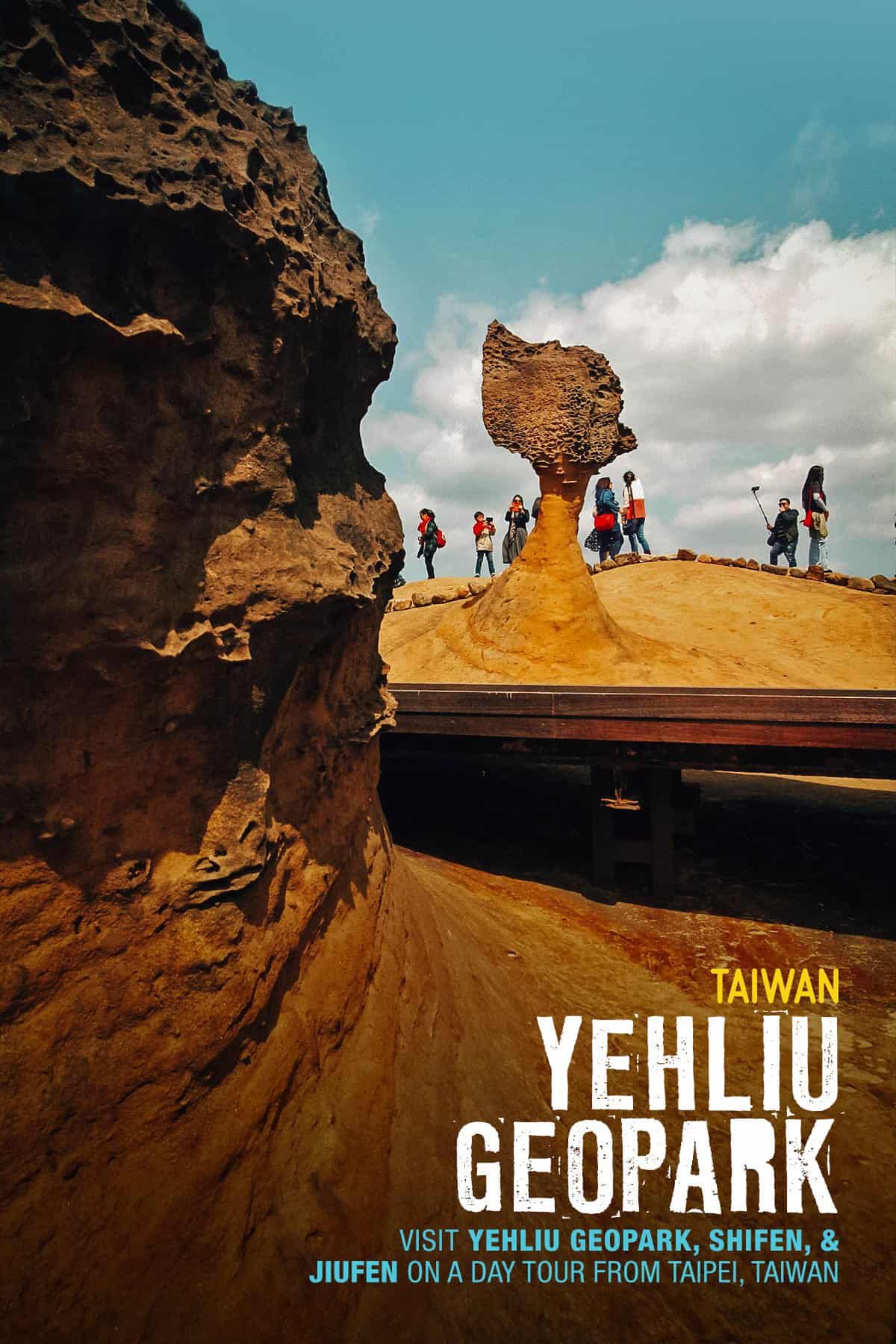 Yehliu, Shifen, and Jiufen Tour Synopsis
Many providers offer different versions of this tour, but we went on the Jiufen, Yehliu, and Shifen Day Tour from Taipei with Kkday. It costs NTD 1,000 per person and lasts about 8 hours.
You'll meet up at 8:45AM at Taipei Main Station East 1 Exit before proceeding to Yehliu Geopark. Entrance to Yehliu Geopark costs NTD 80 but this is included in your tour fee. You'll have about an hour there before proceeding to Shifen Old Street to release sky lanterns. This isn't included in the tour cost so you'll need to purchase a sky lantern separately starting at NTD 150 per lantern. You'll have about an hour there before being taken to nearby Shifen Waterfalls where you'll spend another 30 minutes or so.
Your last stop will be Jiufen where you'll be given about an hour and a half. Jiufen is only an hour away from Taipei by bus so your tour guide will give you the option of staying longer and taking public transportation back if you like. I'll describe how you can do that at the bottom of this post. Jiufen is quite beautiful at night so many people opt to stay longer. Otherwise, you can take the tour bus back to Taipei which will get you into Taipei Main Station at around 5:30PM.
We were given bottles of water on the bus but lunch isn't included so be sure to bring enough money for food. You'll have plenty of food options in Shifen and Jiufen.
Yehliu Geopark
This place was fascinating. Yehliu Geological Park is a reserve located within a 1.7 km stretch of cape in Wanli District, New Taipei City. It's home to these unusual mushroom-like rock formations that have been shaped through the centuries by wind and water erosion.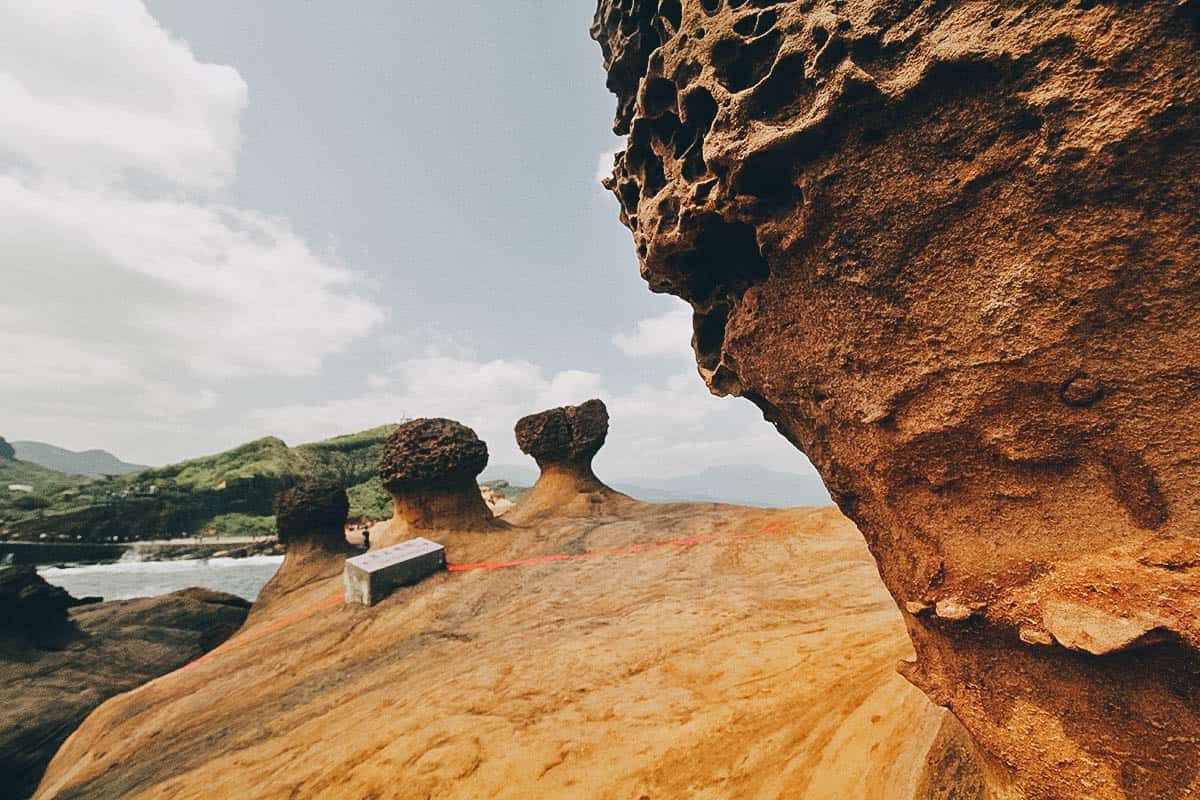 Known as hoodoo stones or fairy chimneys, these types of rock formations typically occur in areas where a thick layer of soft rock, like mudstone, is covered by a thin layer of a harder rock, such as limestone or basalt. Over the centuries, the softer rock at the bottom erodes at a faster rate than the harder rock up top, creating these strange top-heavy forms that look like mushrooms.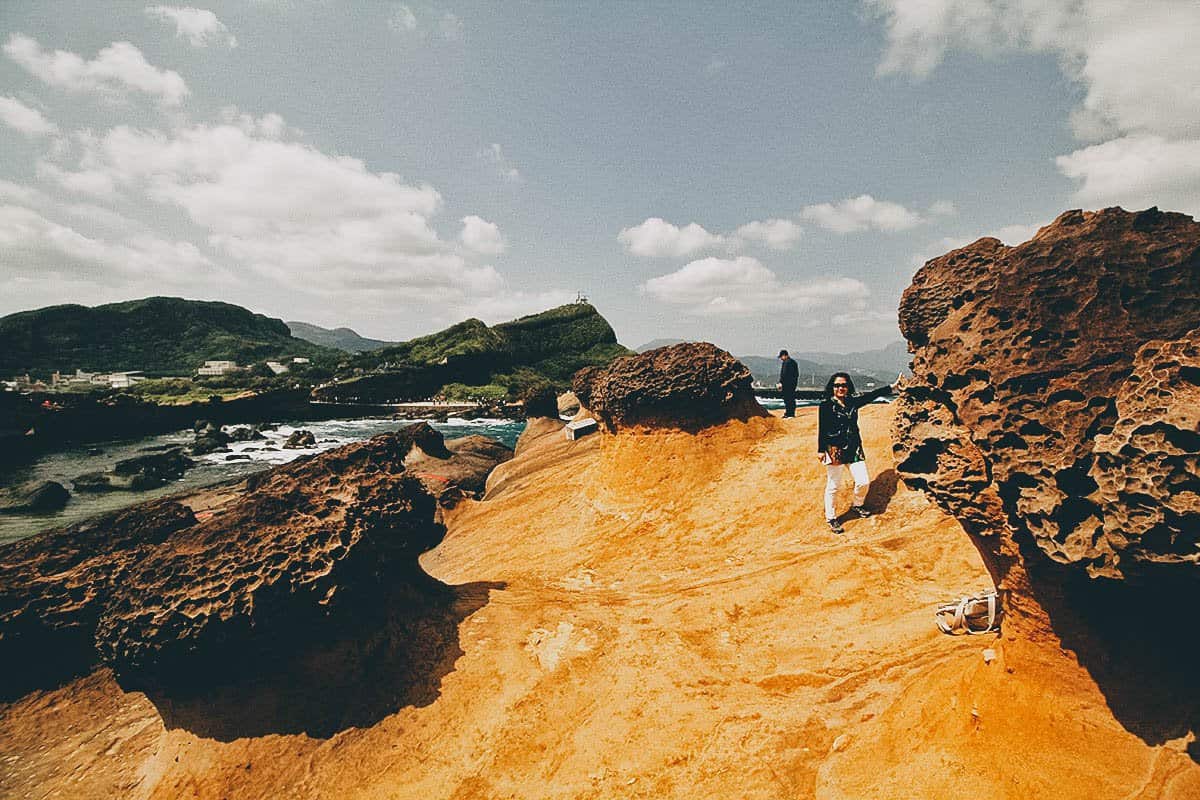 We visited Cappadocia in Turkey a few years ago and the landscape was dotted with countless fairy chimneys much larger than these. I was awed by them then and I was awed by them now. These hoodoo stones are a peculiar sight and not something you see everyday.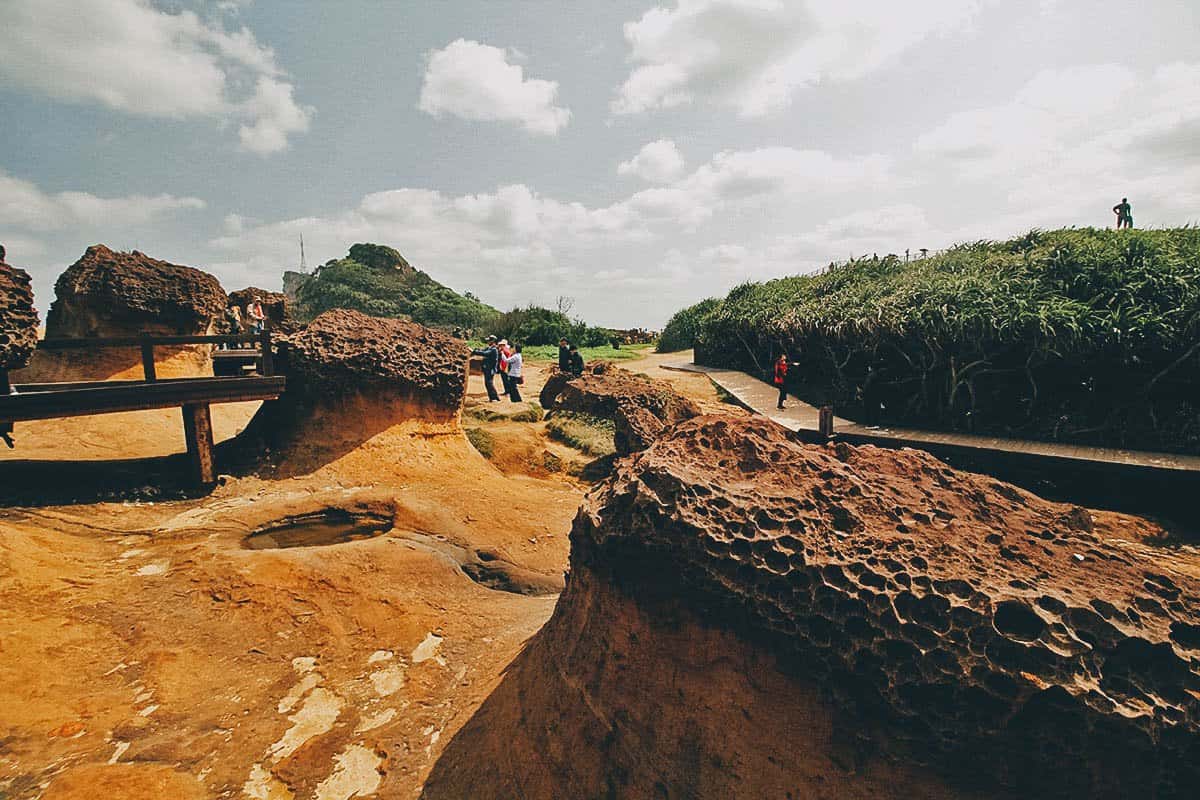 Through the power of suggestion, many of the rock formations here are said to resemble things like gorillas, ice cream cones, even pineapple buns. But none are more famous than the Queen's Head rock pictured below. When viewed from a certain angle, it's said to resemble Queen Elizabeth with its slender neck and regal profile. The rock is estimated to be at least 4,000 years old.
The Queen's Head is the most famous rock formation at the park so it's the most popular and protected. As you can see from the ring of rocks surrounding it, you aren't allowed to go near it to keep it from getting damaged. At its most slender, the neck is down to a fragile 138 cm (54″) in diameter.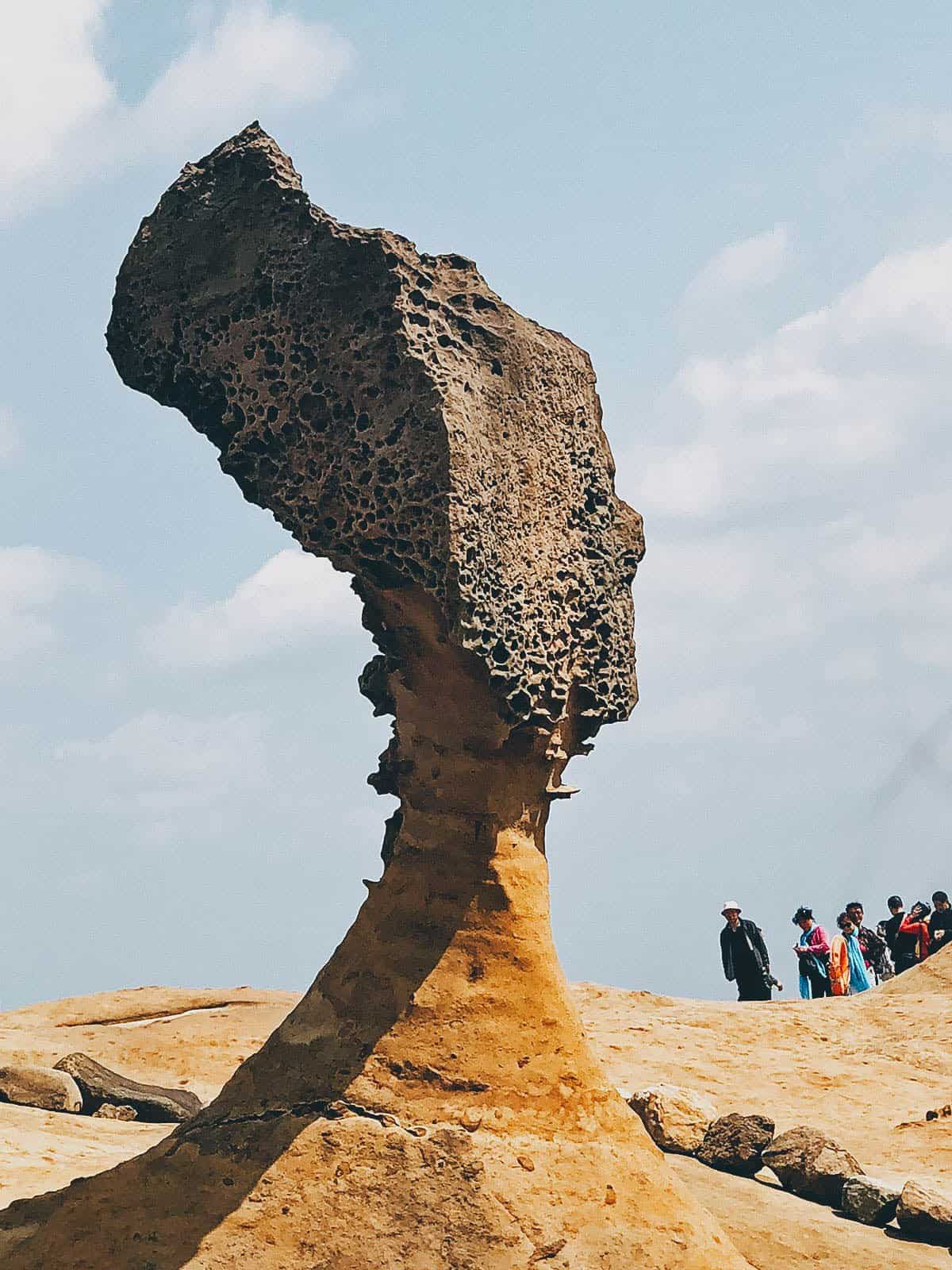 It's all a matter of perspective. From a different angle, the rock looks nothing like a queen. Because you can only see the queen's profile from a specific angle, you'll need to fall in line to take a selfie with it. We were lucky to arrive when the line wasn't bad, but the wait can get pretty long so you may want to skip this if time is short. As described, you'll only have about an hour here.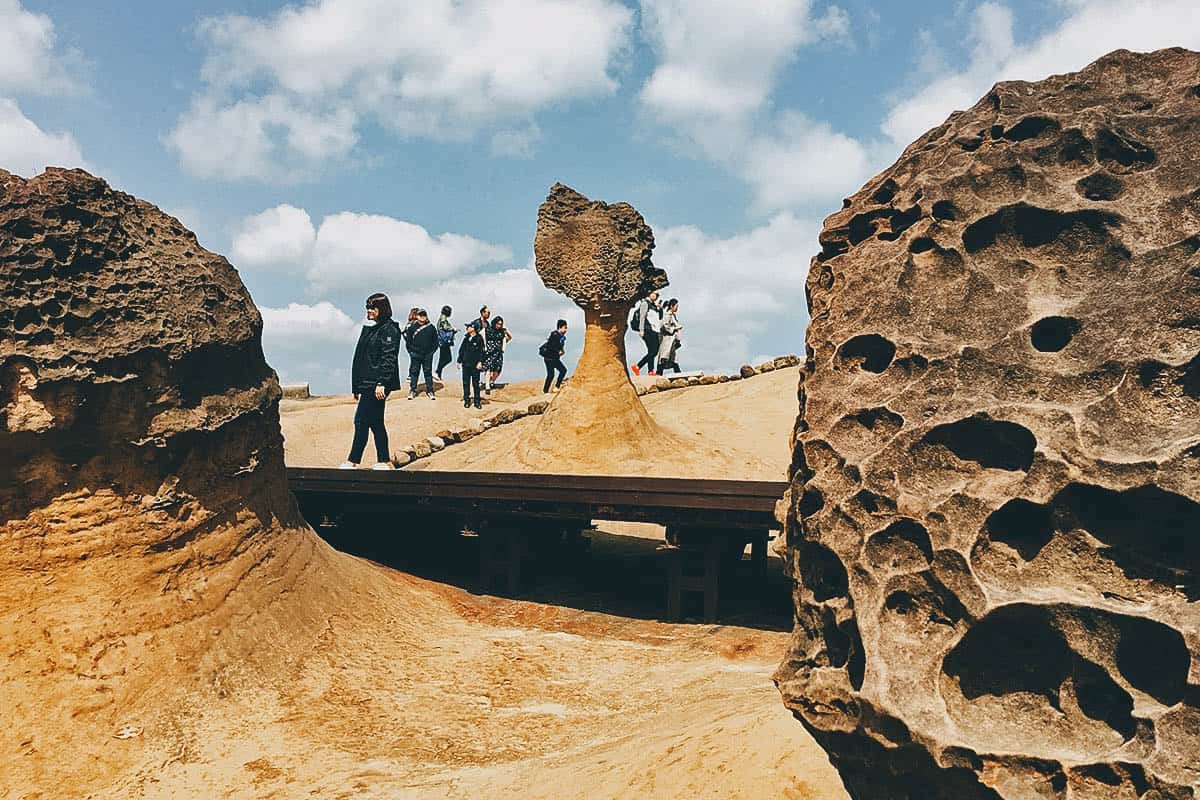 Here she is again looking more like a toadstool than royalty. The Queen's Head is the only rock formation that people queue up for. Because it's so popular, you'll find a couple of smaller replicas made of cement (I think) leading up to the park.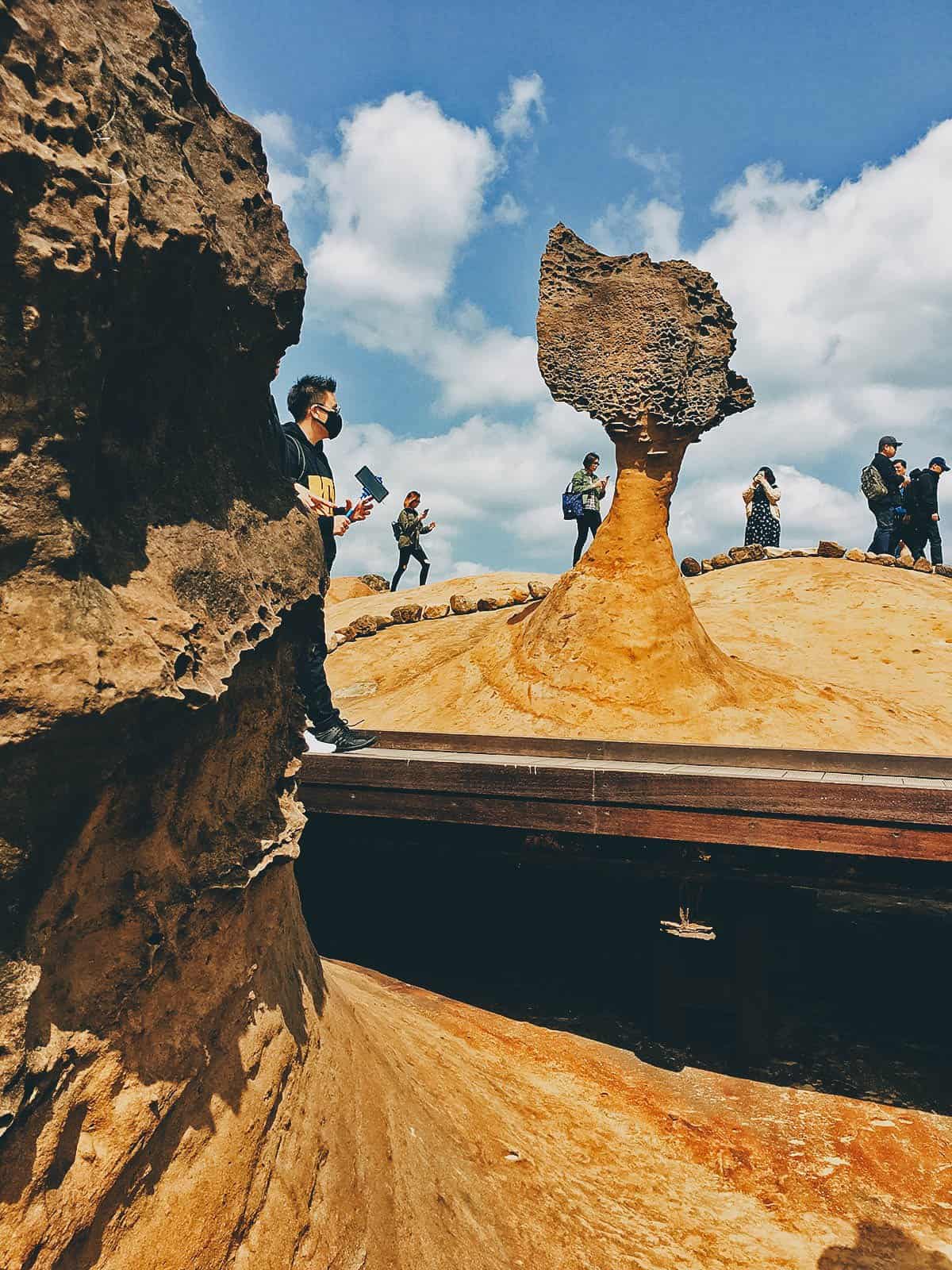 Personally, I found all the rock formations interesting. Take away all the people and it feels like you've landed on some strange alien landscape.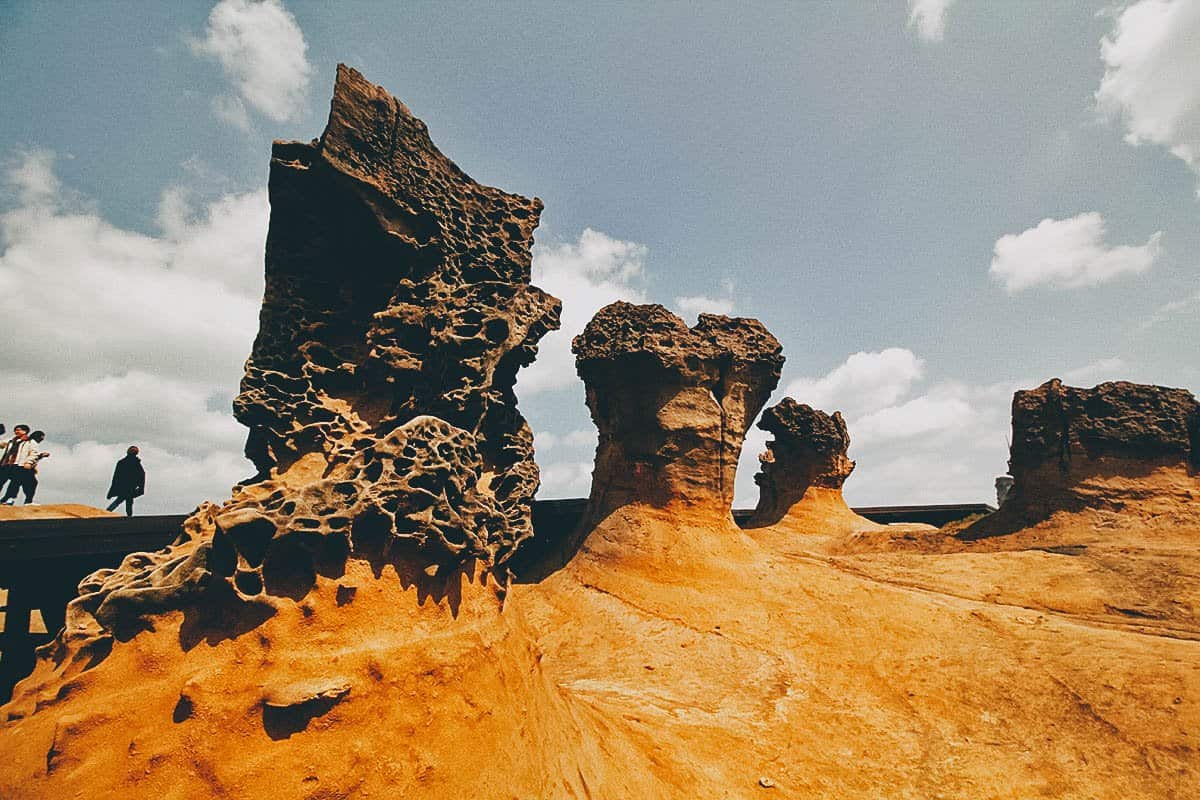 You can't tell from these pictures but Yehliu Geopark gets super crowded. We were here before 11AM and it was already crawling with tourists.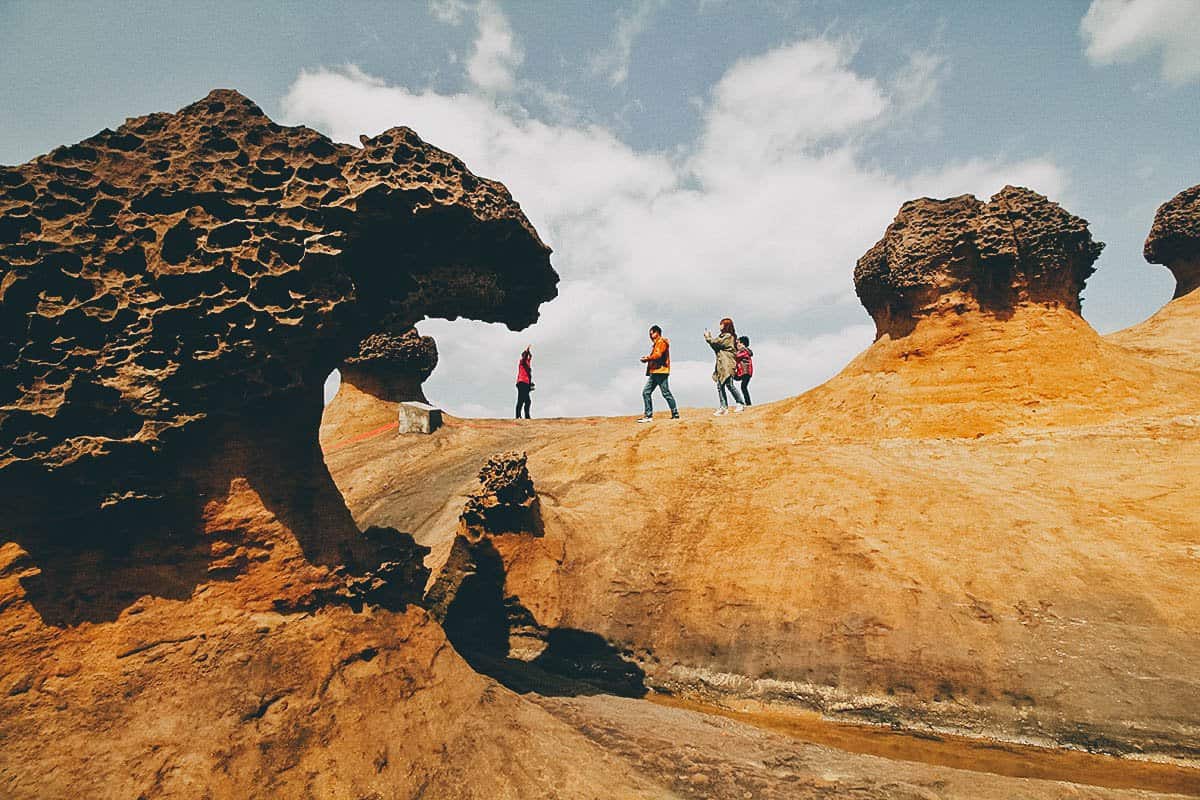 If you own a drone and are foaming at the mouth thinking about all the cool aerial shots you can take here, don't bother. Flying drones is strictly prohibited at Yehliu Geopark.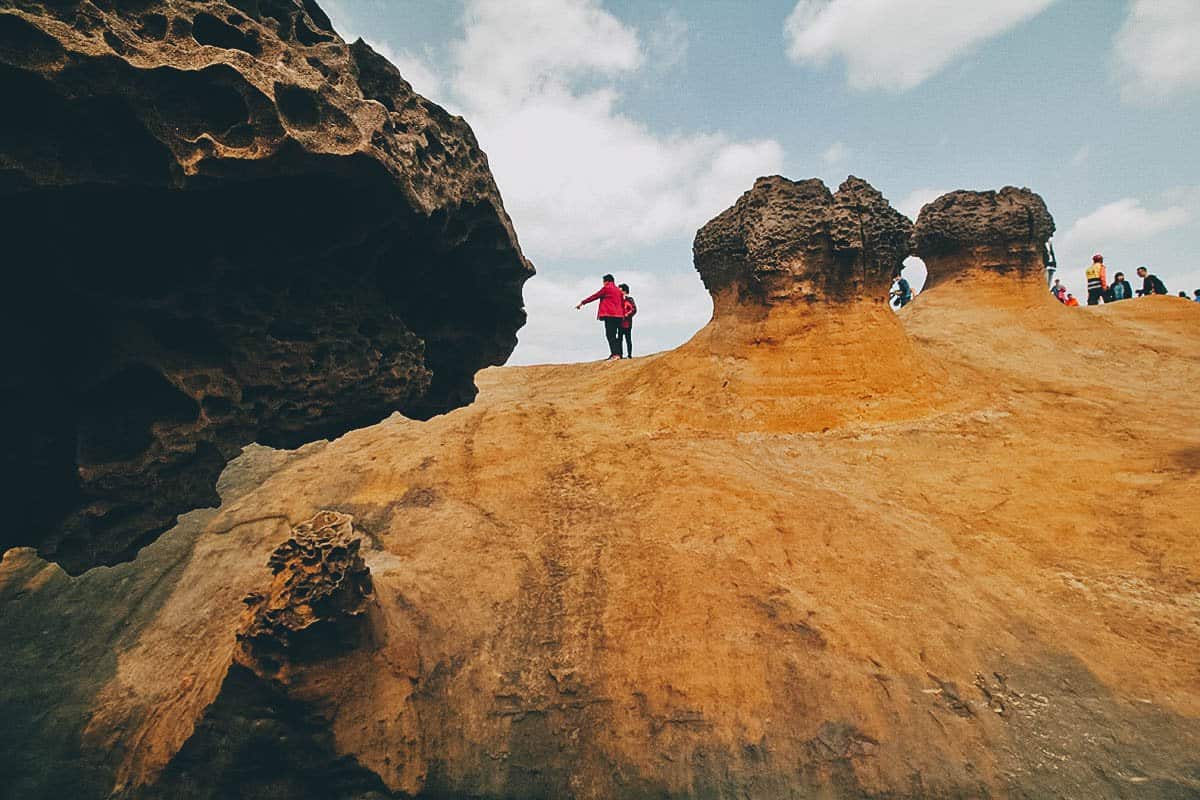 Yehliu Geopark
Address: No.167-1, Kantung Rd., Yehliu Village, Wanli District, New Taipei City 20744, Taiwan, R.O.C.
Tel: +886-2-2492-2016
Fax: +886-2-2492-4519
Email: [email protected]
Operating Hours: 8AM-5PM, daily
Admission: NTD 80 (included in the tour cost)
Shifen Old Street
Shifen Old Street is a former railroad town in Pingxi District, New Taipei City. It used to be the most well-known stop along the Pingxi Branch Line which was originally built to transport coal. Though the train still runs to this day, mainly for tourism, Shifen Old Street has become a popular tourist attraction famous for the releasing of these sky lanterns.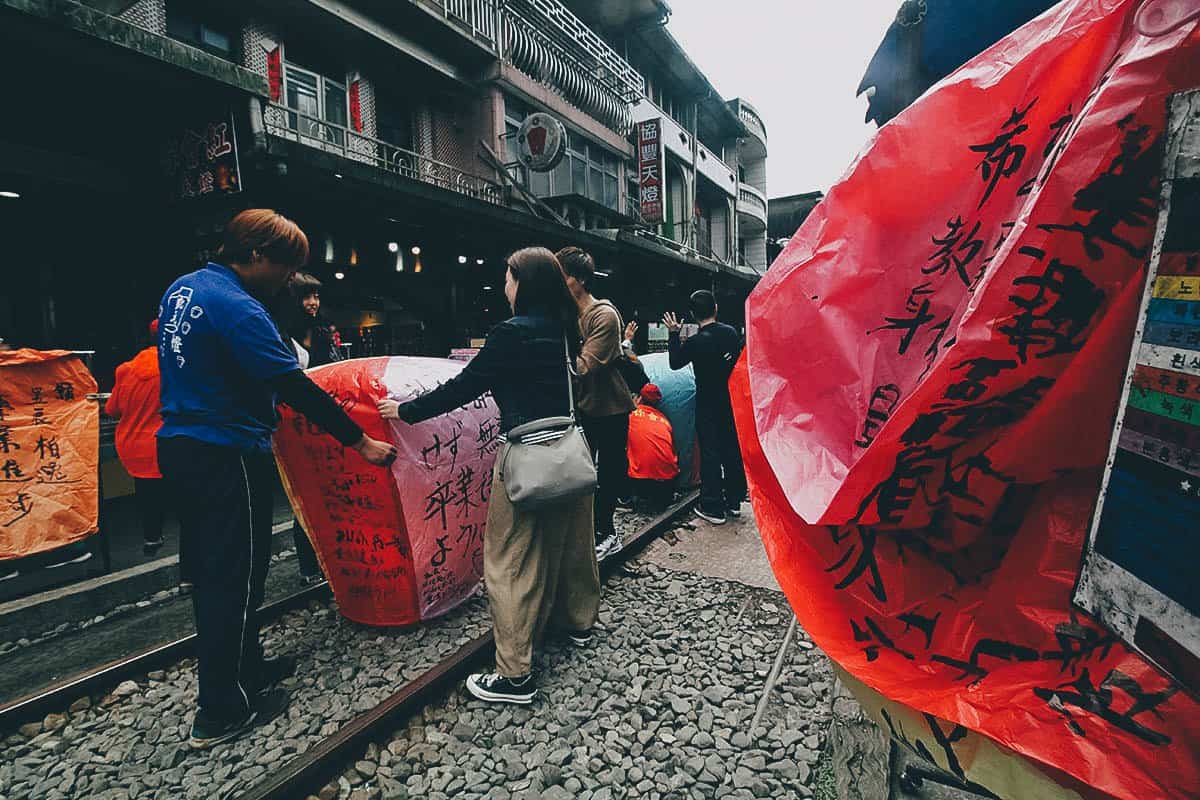 These large paper lanterns were once used as a signaling system by people in the railroad industry. Today, tourists paint wishes and prayers on the lanterns with brushes before releasing them into the sky.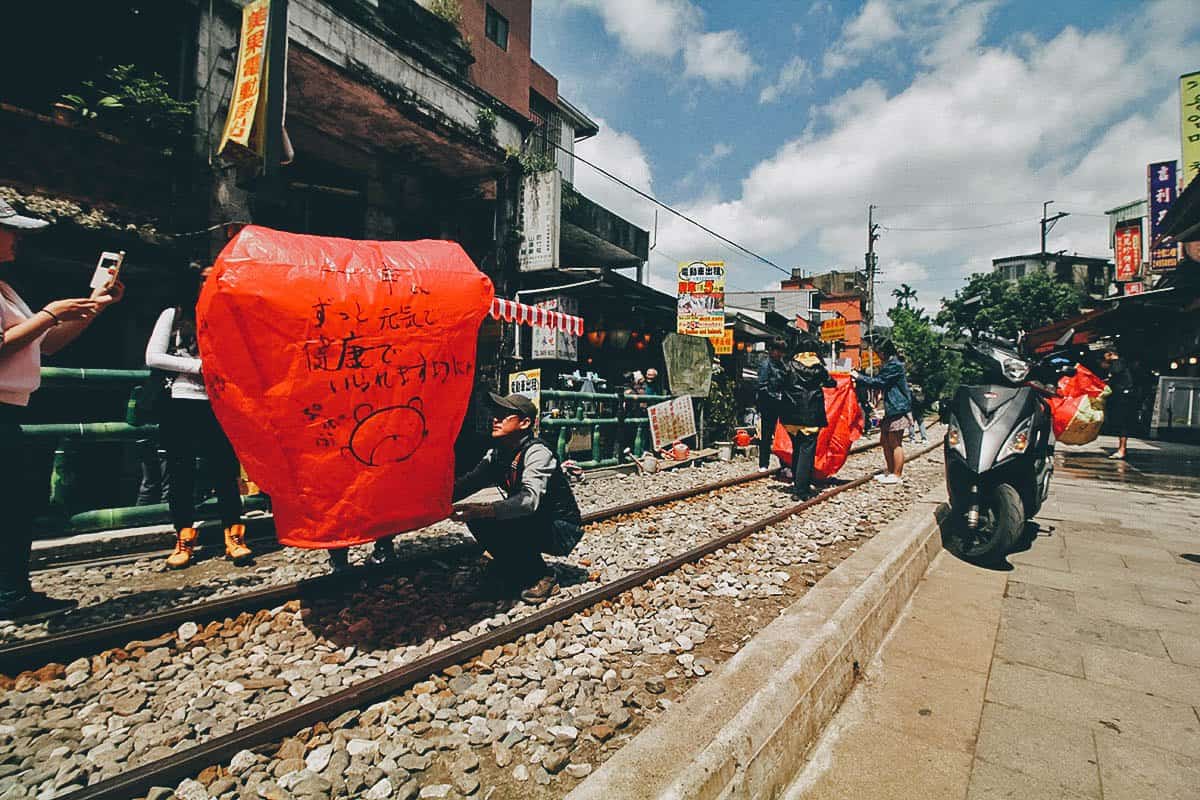 You can visit Shifen Old Street to release sky lanterns any time of the year, but huge lantern events are held on specific dates every year. In Pingxi, I believe the Sky Lantern Festival is held every March. Watching a few lanterns go up into the sky is cool enough, but imagine over a thousand sky lanterns being released all at once! We attended the Yee Peng Festival in Chiang Mai, Thailand in 2017 and it truly was a magical sight. It was like being in a fairy tale.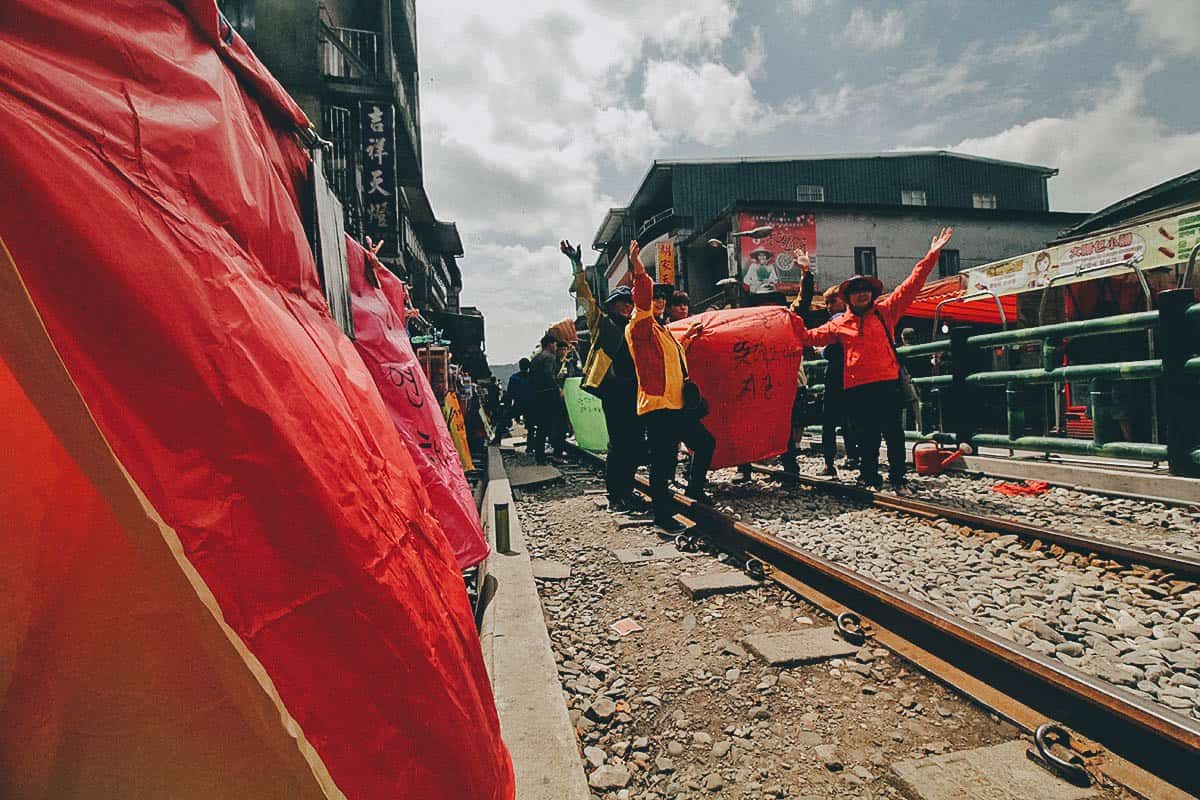 As described, sky lanterns aren't included in the tour cost so you'll need to purchase one separately. There are plenty of sky lantern shops on either side of the tracks but there's no need to shop around for the best price. Our tour guide explained that sky lantern pricing here is fixed so prices are the same everywhere.
Sky lanterns come in different colors and color combinations, with each color representing a certain wish like good health, success, luck, and love. Single-color lanterns go for NTD 150 apiece, 4-color for NTD 200, and 8-color for NTD 350. We wanted maximum luck so we went with the 8-color. Once you've paid for your lantern, they'll pin it to a rack so you can paint wishes in black ink with a brush on all four sides.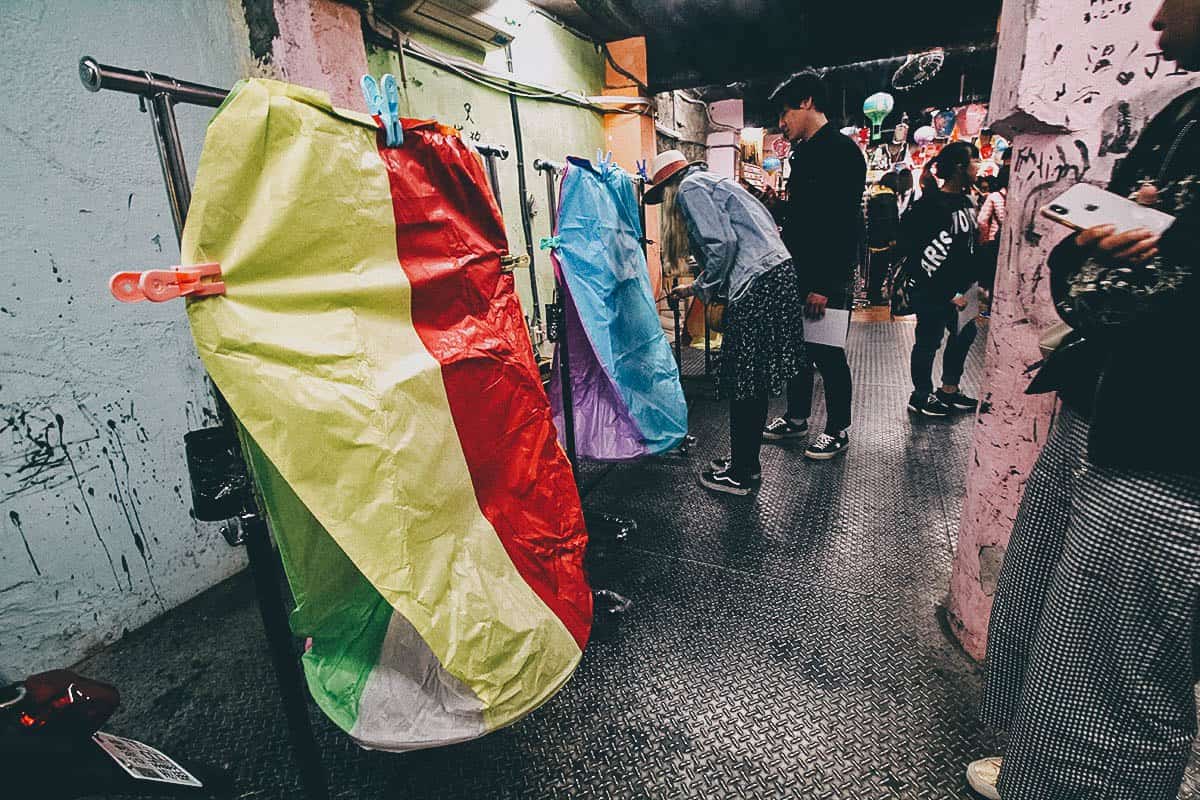 JB & Ren forever! ♥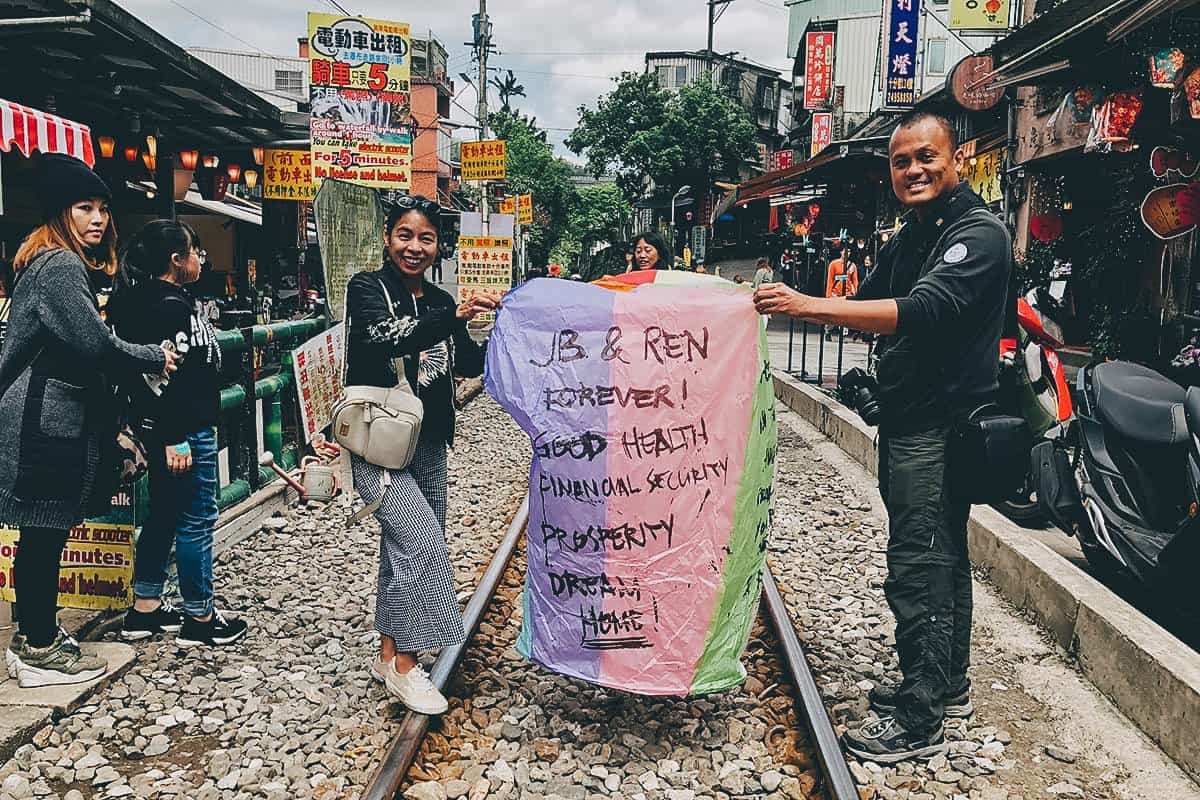 Someone will help light your lantern so you don't have to worry about messing up and burning it to the ground. You don't have to worry about taking pictures either because someone else will do that for you using your phone or camera. Just smile, concentrate on your wishes, and let go.
And there she goes! As you can see, one side of our lantern was dedicated entirely to this blog. Here's to wishing that all our hard work pays off. ♥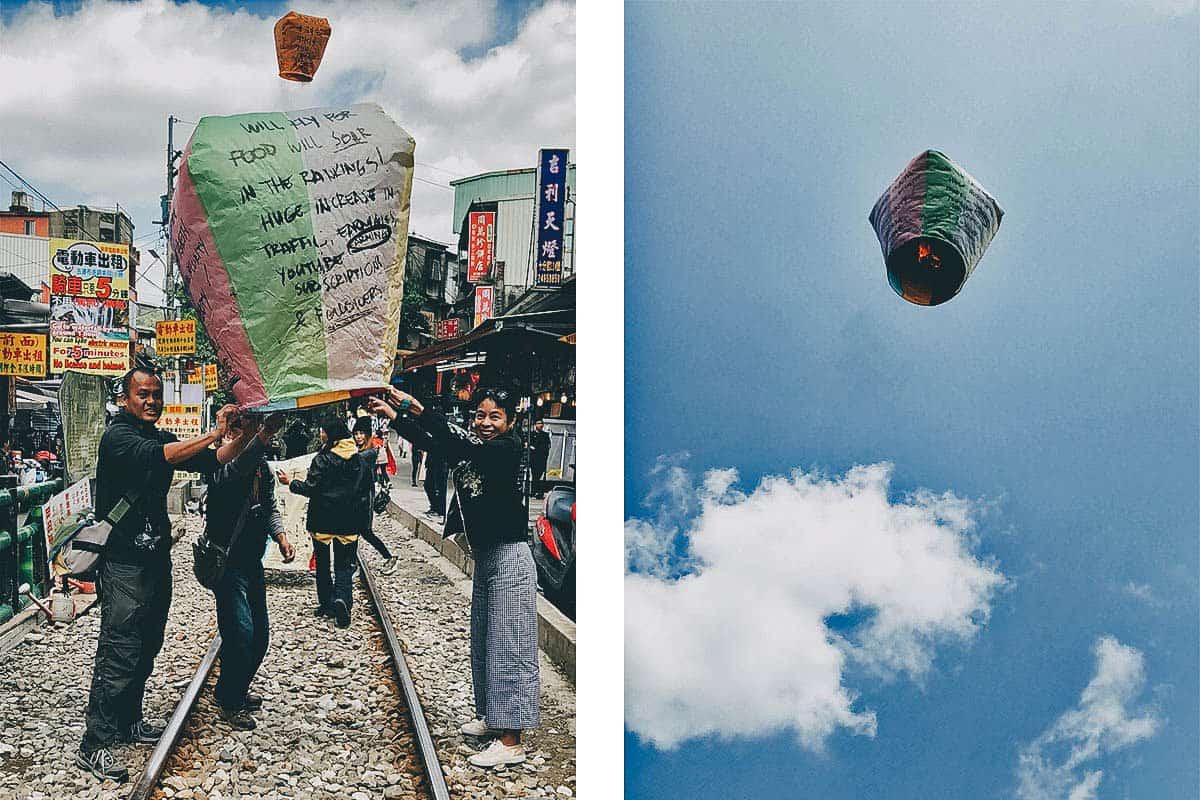 You'll be at Shifen Old Street around noon so you may start getting hungry around this time. You'll find a few food options on either side of the tracks like this sausage and barbecued wings vendor. But if you can, then I suggest waiting till Jiufen to do any serious eating. Jiufen is known for its street food so you'll be spoilt for choice there.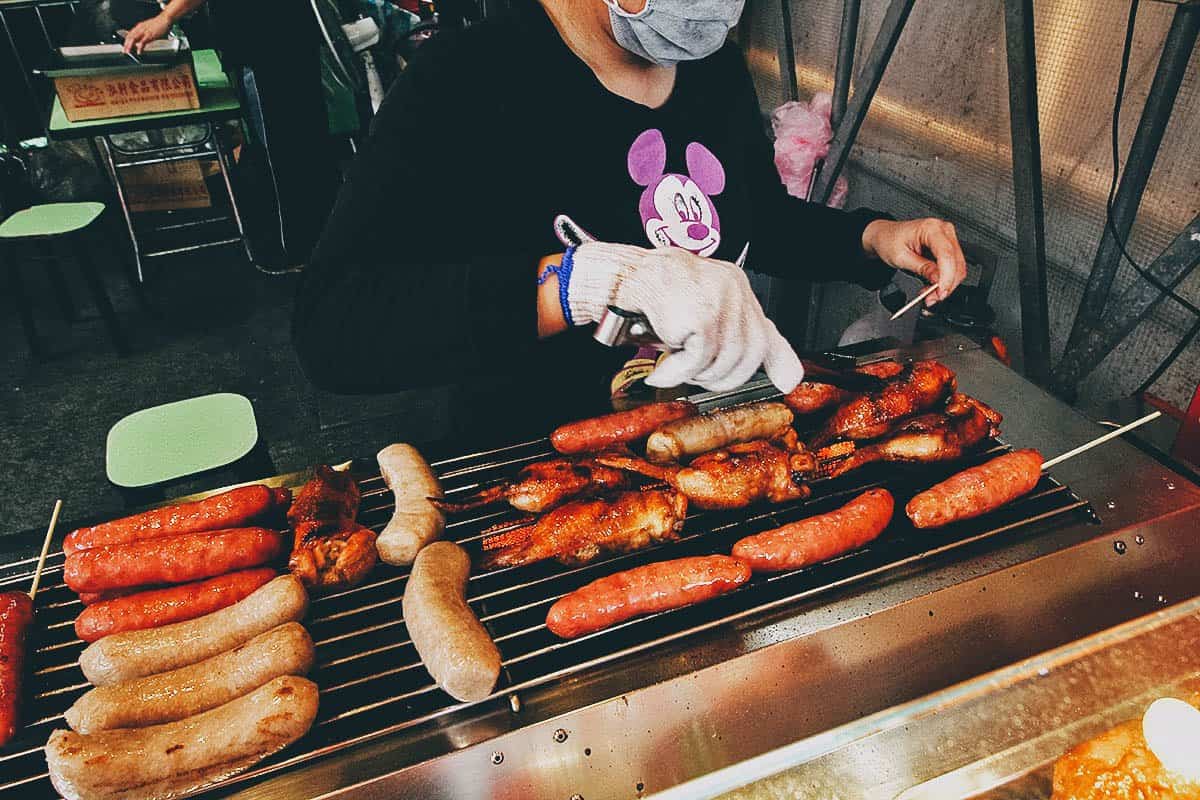 Shifen Old Street
Address: 226, Taiwan, New Taipei City, Pingxi District, 十分老街
Cost of Sky Lantern: At least NTD 150 for a sky lantern (not included in the tour cost)
Shifen Waterfalls
After Shifen Old Street, you'll get back on the tour bus and head to nearby Shifen Waterfalls. It's a 20-meter tall cascading waterfall known as the "Little Niagara of Taiwan". Emphasis on "little". 😛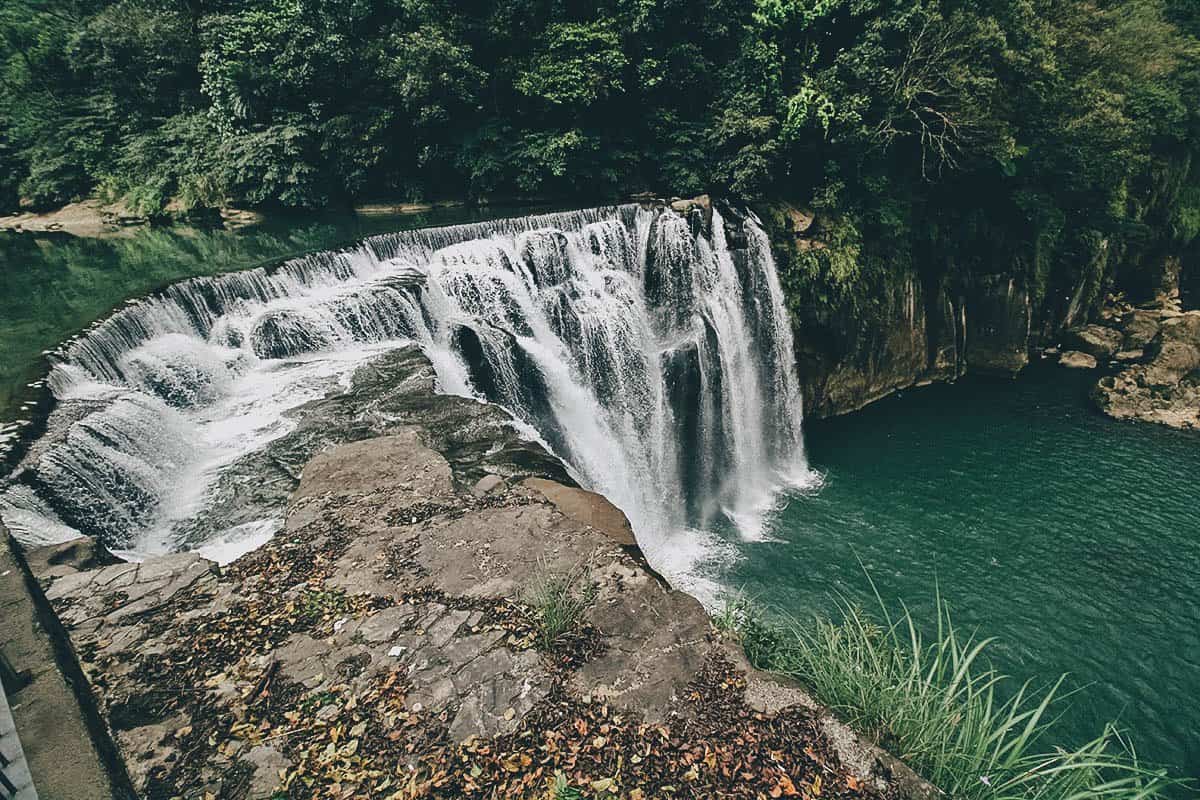 In all seriousness though, Shifen Wateralls may not be very big, but it's pretty. I would have loved to fly my drone here with more time. There are viewing decks around the falls for you to take pictures for up to half an hour before moving on to Jiufen, the final stop on this tour.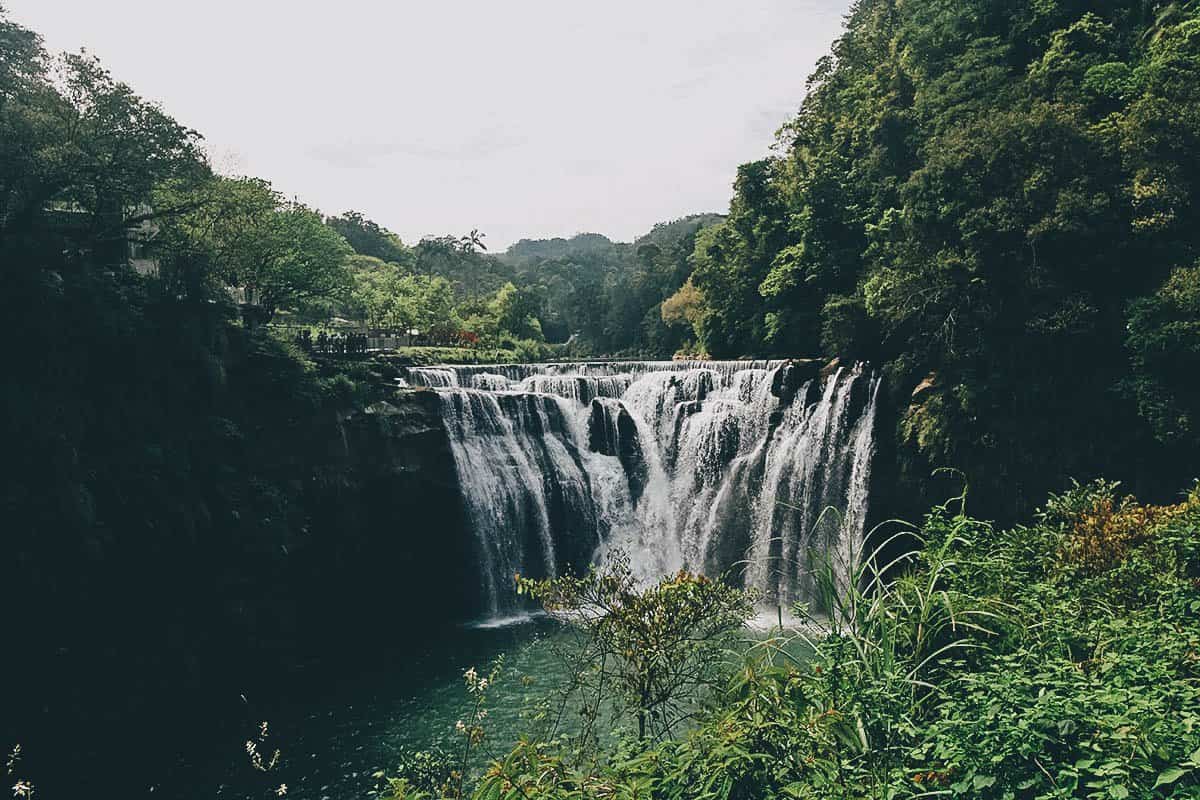 Shifen Waterfalls
Address: 226, Taiwan, New Taipei City, Pingxi District, 乾坑10號
Tel: +886-2-2495-8409
Operating Hours: 8AM-7PM, daily (Feb-Oct) / 8AM-6:30PM, daily (Nov-Jan)
Admission: FREE
Jiufen
Of all the stops on today's tour, Jiufen may be the most popular. It's a former mining town that saw its peak during the gold rush of the Japanese era. Apart from being a charming mountain town that retains much of its original architecture, Jiufen became popular as a tourist destination largely because of two films – A City of Sadness in 1989 and Spirited Away in 2001.

Jiufen is known for these hanging red paper lanterns that are lit up at night. As described, your tour guide will give you the option of staying here and taking the public bus back to Taipei. We had already planned on staying in Jiufen for the night so that's we did. You can check our Jiufen and Shifen travel guide if you plan on doing the same.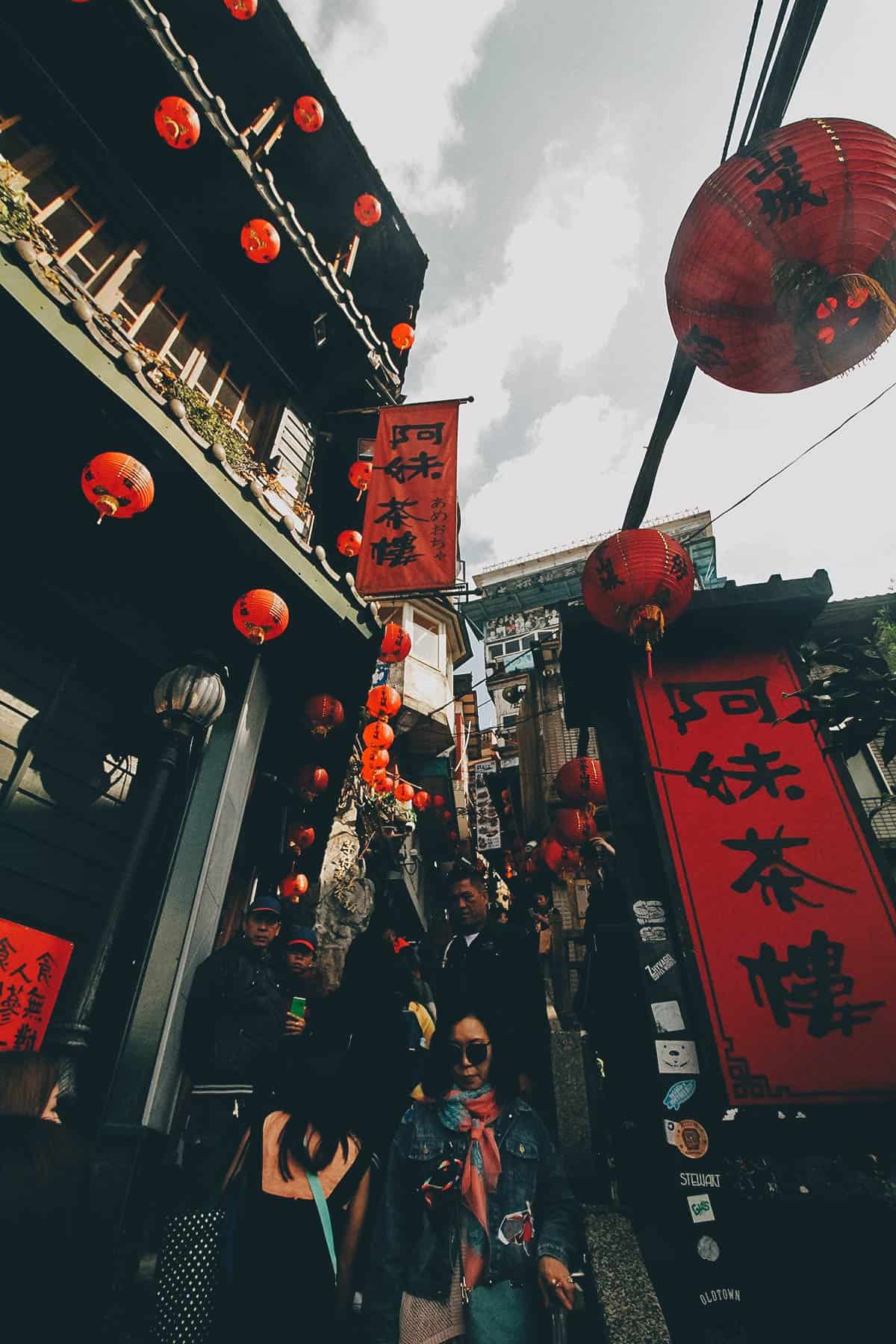 The tour bus will drop you off at the base of a narrow stairwell leading up to Jiufen Old Street. Jiufen is popular so it's always extremely crowded here.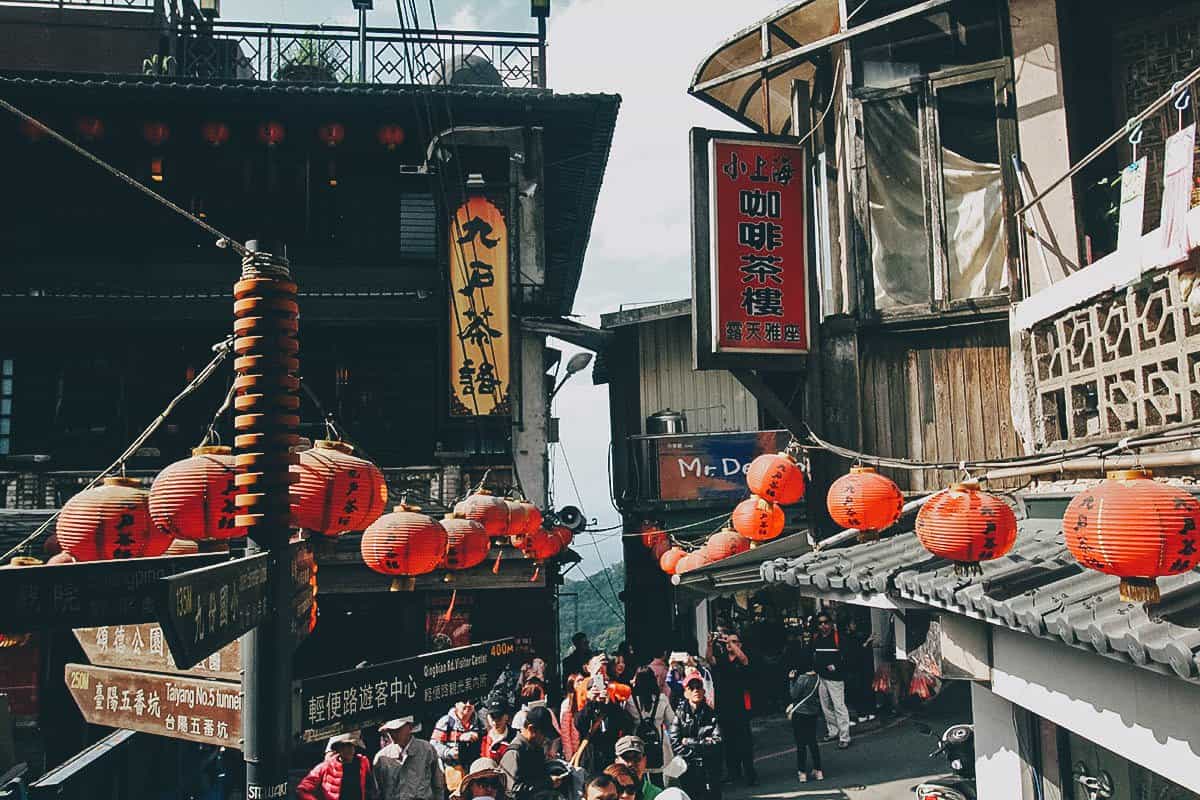 Pictured below is A-MEI Teahouse which is the most recognizable building in Jiufen. If you do a search for "jiufen" on Google Images, you'll find that most of the pictures will be of this building.
Drinking tea is a popular pastime in Jiufen so there are many traditional teahouses in town, none more popular perhaps than A-MEI Teahouse and Jiufen Teahouse. If you're interested in having tea while you're here, then you can book a tea drinking experience at Jiufen Teahouse through Kkday. Unfortunately, they don't offer one for A-MEI Teahouse so you can just walk in if you like.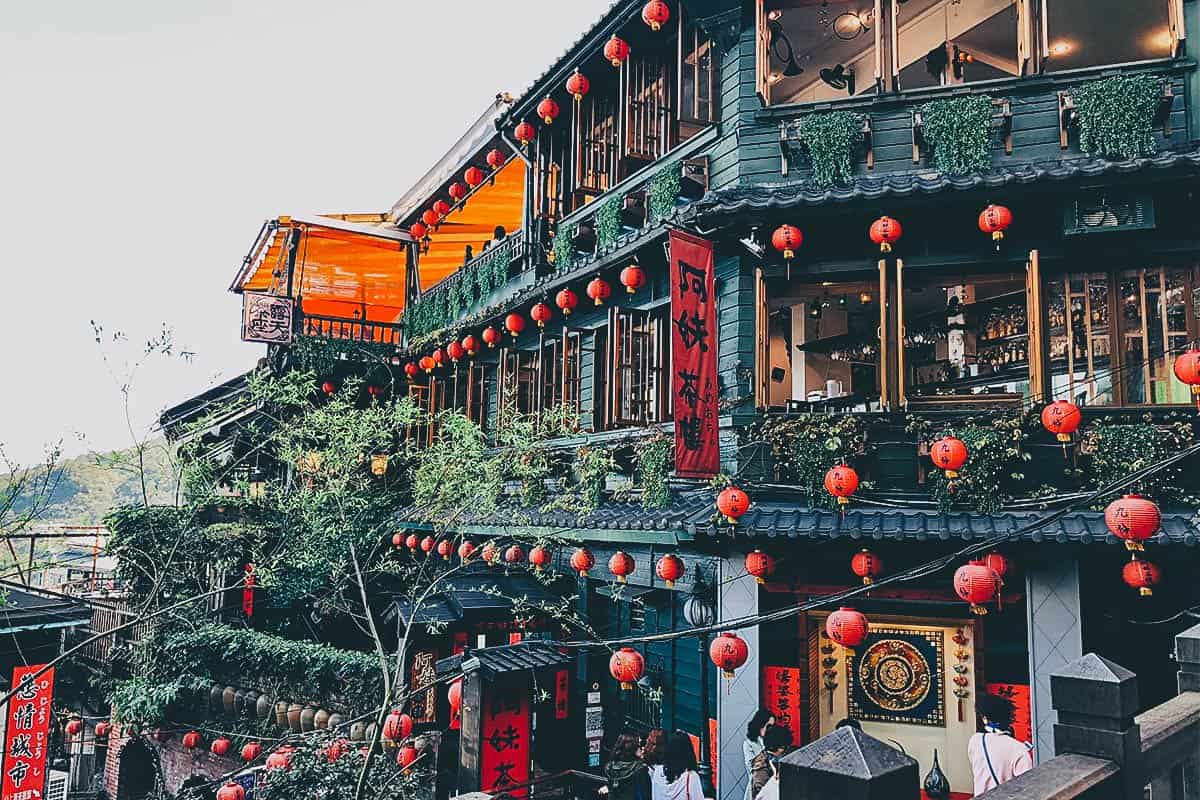 As described, Jiufen became popular because of the hugely successful animated film Spirited Away by Hayao Miyazaki. People believe that it served as the inspiration for the town in the film, although Miyazaki himself has denied it. Nonetheless, people still come and associate Jiufen with the film so you'l find many stores here selling Spirited Away and Studio Ghibli merchandise like these Totoro figurines.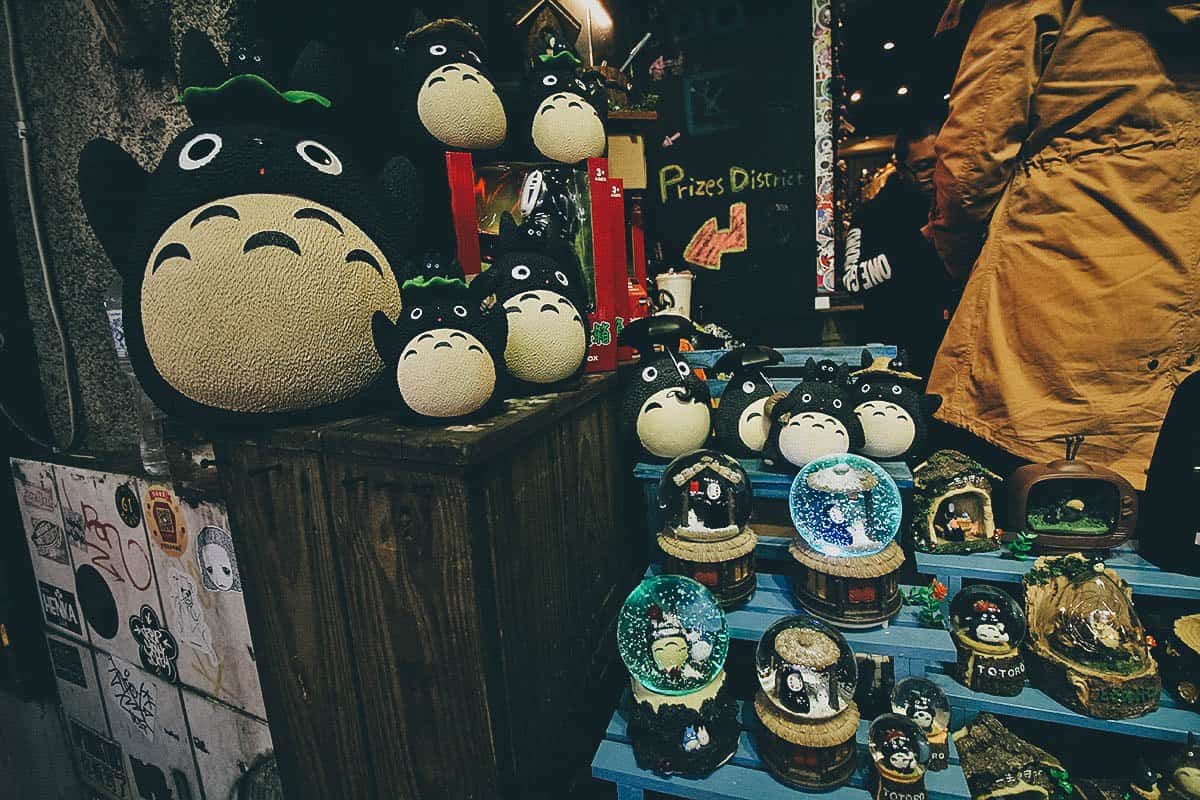 One of the things Jiufen is best known for is its food. All along on either side of Jiufen Old Street are stalls selling different types of Taiwanese street food. Pictured below is one of the most popular stalls in Jiufen – Grandma Lai's Taro Balls.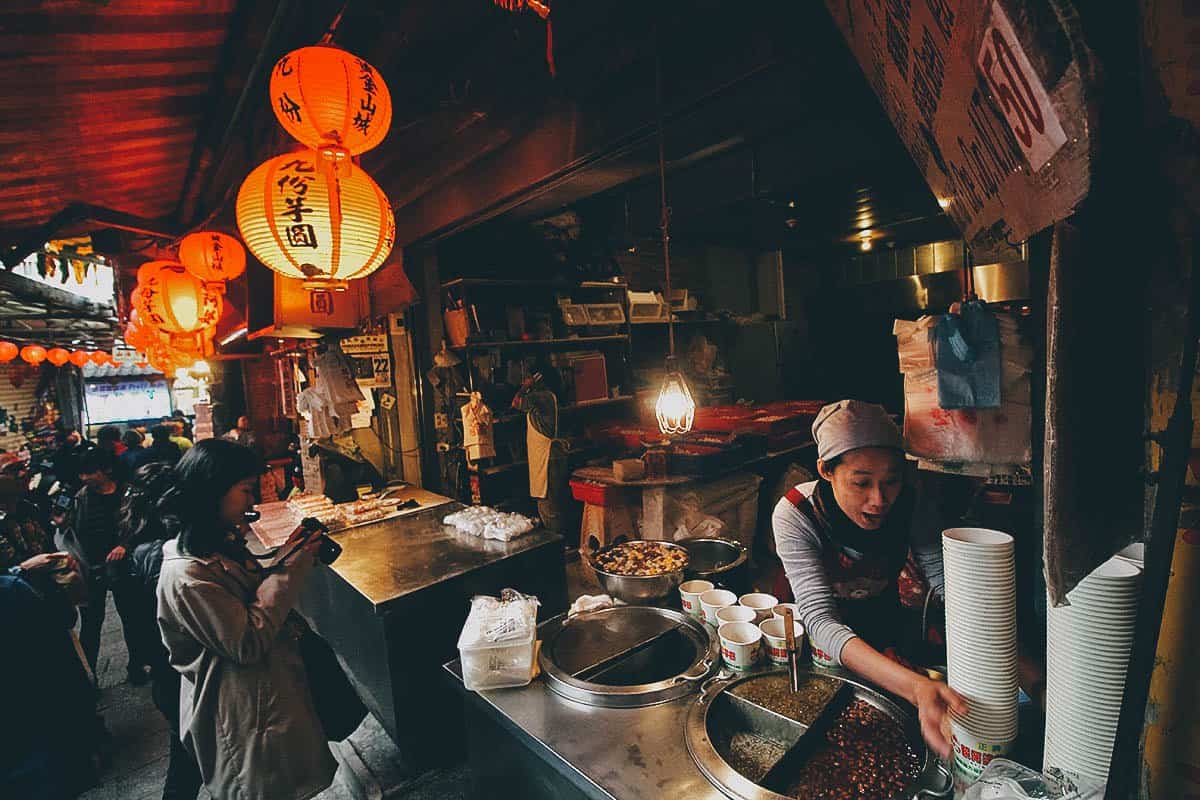 As its name suggests, Grandma Lai's Taro Balls specializes in taro ball soup. They're made with chewy handmade taro balls, sweet potato balls, green tea balls, and kidney beans which you can have either hot or cold.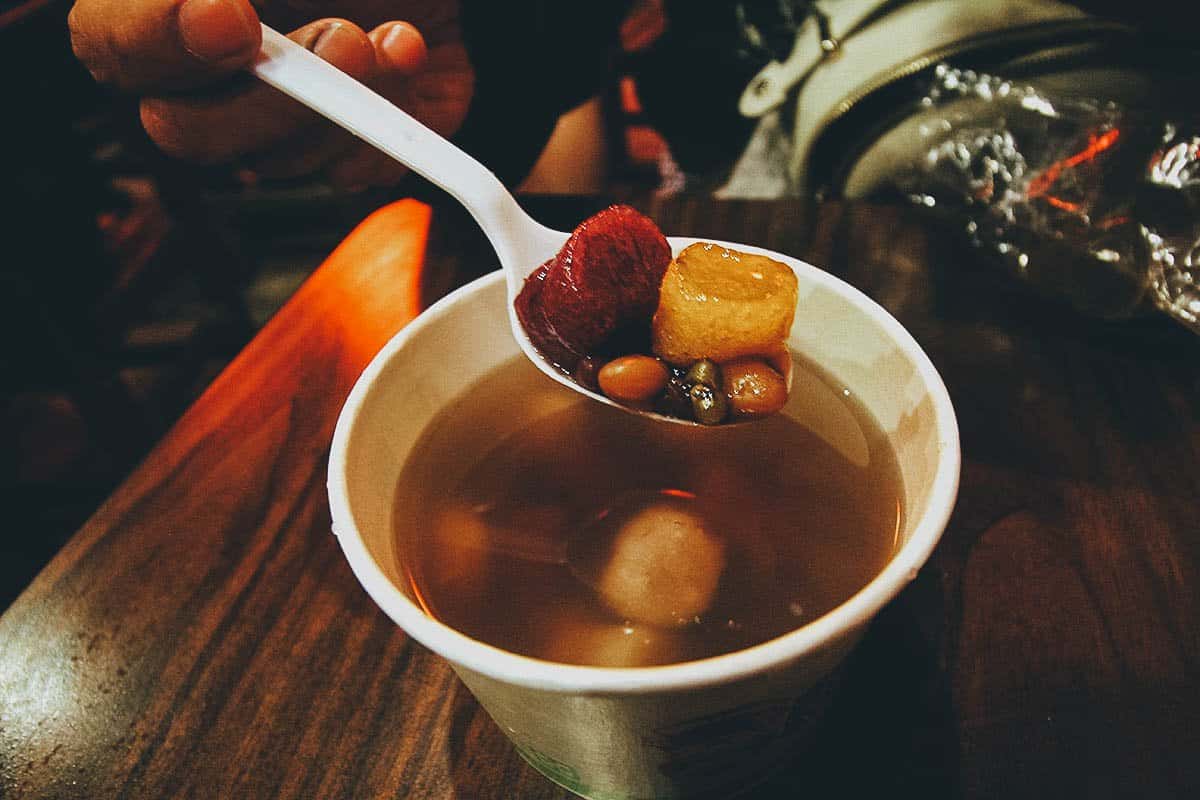 Another vendor you shouldn't miss is the Ah Lan Hakka Glutinous Rice Cake stall. They specialize in these glutinous rice cakes which are made with a variety of fillings like salted vegetable, preserved turnip, and sweet red bean. It was one of the most interesting dishes we had in our two weeks in Taiwan.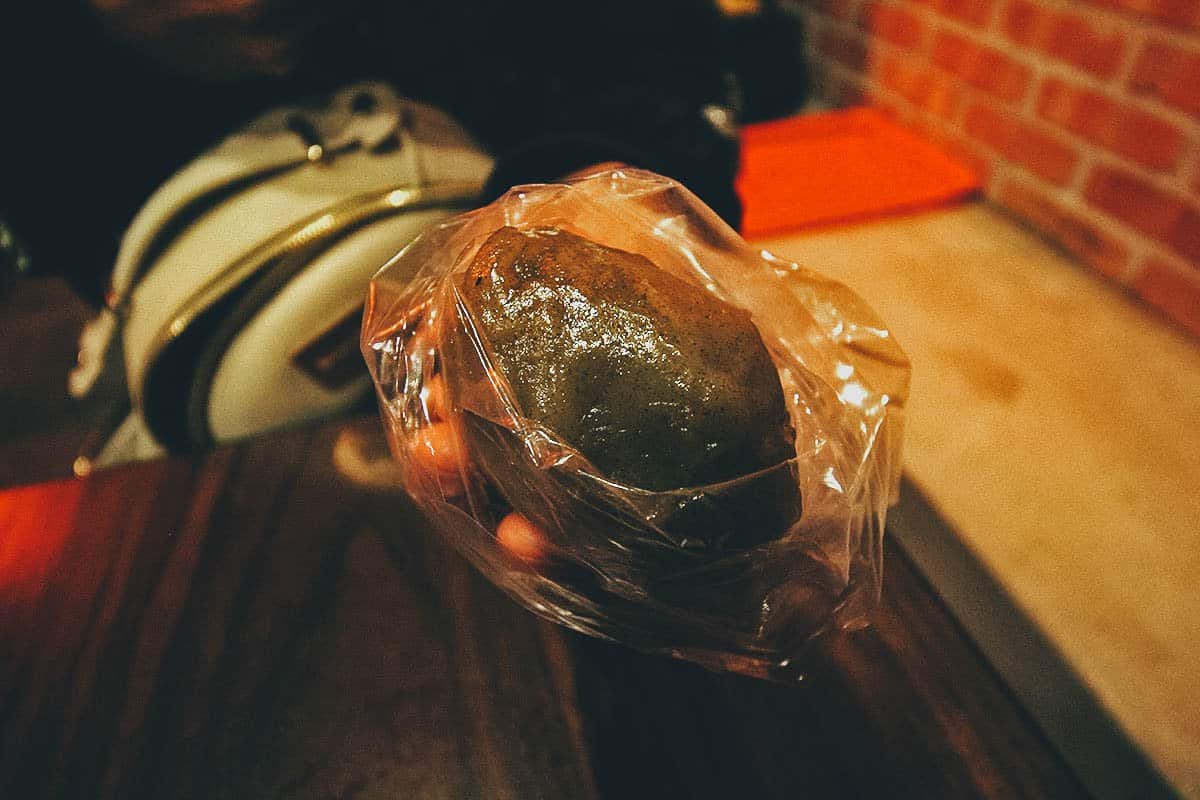 Another unusual dish is this peanut ice cream roll offered by the Ah Zhu Peanut Ice Cream stall. It's basically an ice cream burrito made with peanut shavings spread over traditional popiah skin and topped with two scoops of ice cream, sometimes even cilantro. It sounds a little strange, but it works!
These are three of the most popular dishes you can have here but there are more. Check out my post on 10 things to eat in Jiufen for more food suggestions.

The lanterns lit up at night. Aren't they pretty? They make you feel like you're in a different era.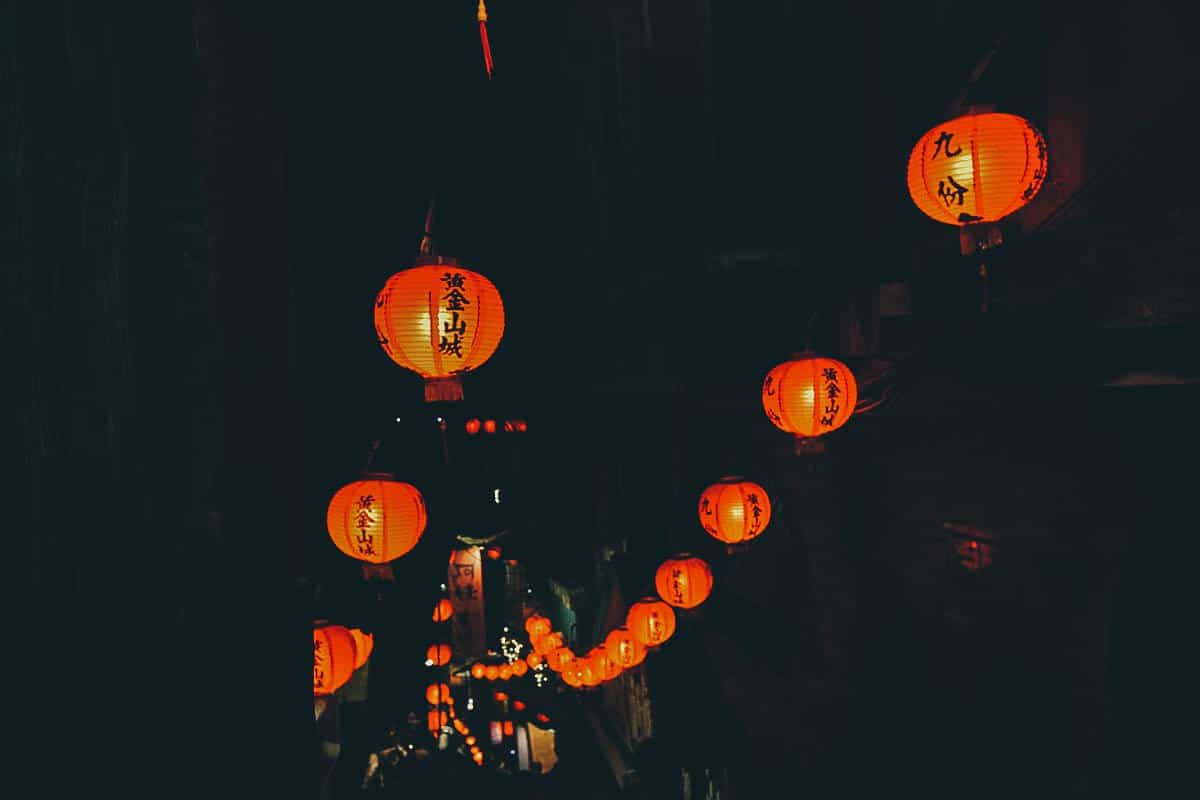 See what I mean by Jiufen always being crowded? This was later in the evening too, well after the tour bus had left and just moments before many of the shops started shuttering their doors. Jiufen is crowded through much of the day so it's best appreciated early in the morning.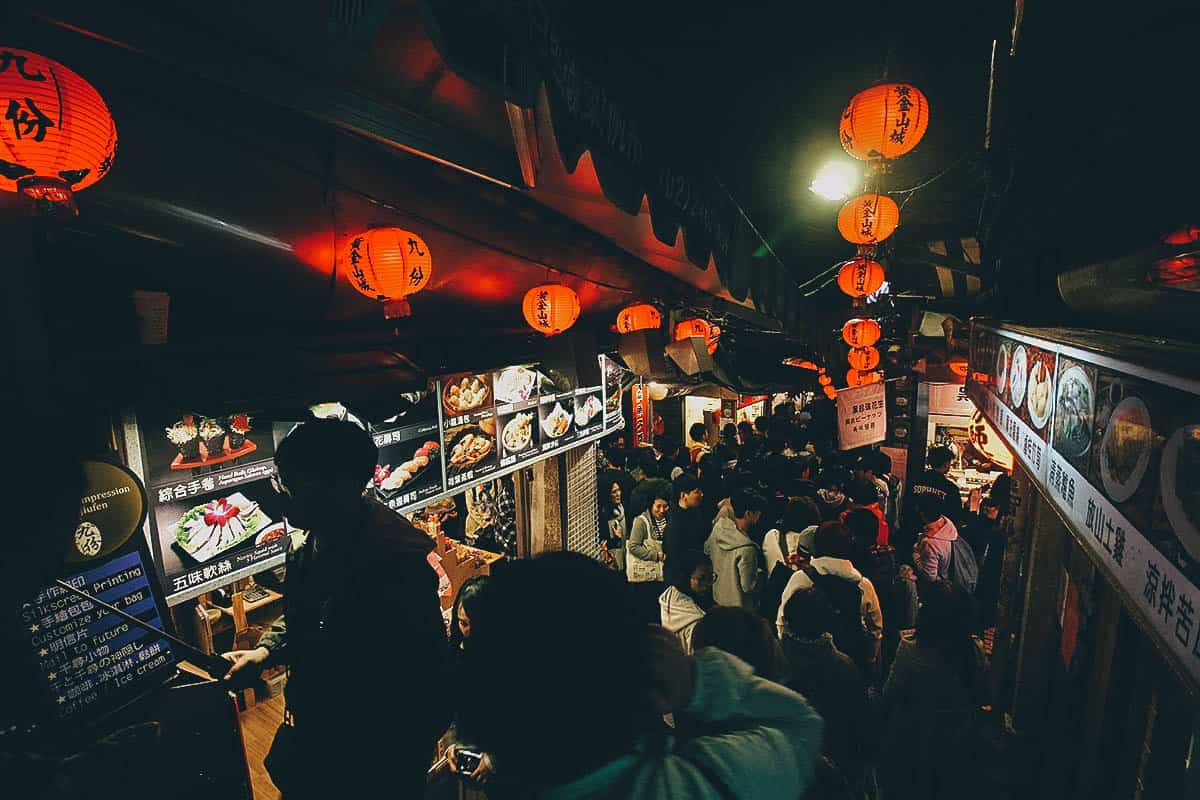 The sea of tourists was a buzzkill but these rows of hanging red lanterns (almost) made up for it.

This is the bus stop where you can catch bus 1062 back to Zhongxiao Fuxing MRT station in Taipei. When you walk down the steps from Jiufen Old Street, you'll find this stop at the opposite side of the road (going down the mountain). Be sure to flag the bus when you see it, otherwise it won't stop. The fare is NTD 98 (bus driver can't give change) and the ride takes about an hour.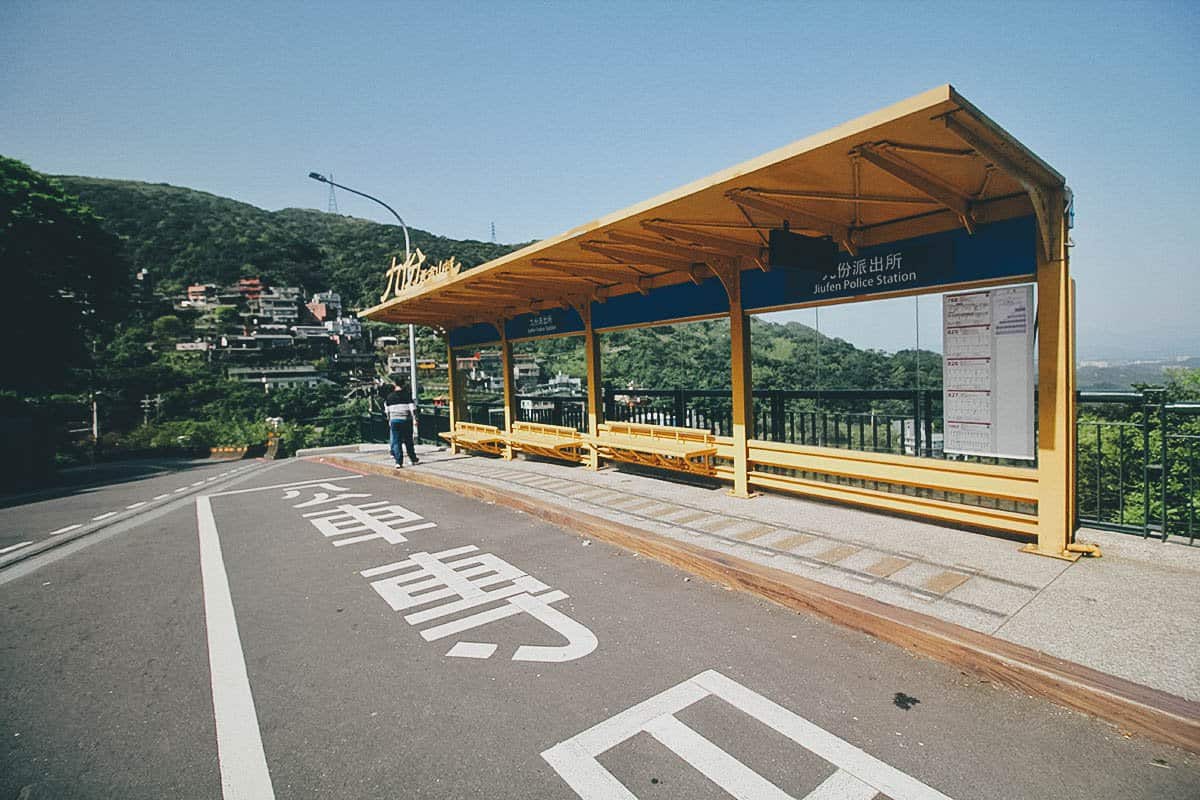 Conclusion
As I mentioned at the top of this post, this is probably the one day tour you should do if you had time for just one during your stay in Taipei. It'll take you to four interesting locations in Northern Taiwan for a very reasonable NTD 1,000 per person. Considering that you need to take multiple buses and trains to get to all three places on your own, the convenience alone makes it worth it in my opinion.
I enjoyed every stop on this tour though my favorite was easily Yehliu Geopark. I like unusual landscapes and that was the strangest place we've been to since Cappadocia. The only thing I didn't enjoy was how crowded each place gets, but that had nothing to do with this tour. It became especially annoying in Jiufen because the combination of narrow streets and thick crowds of people often made it frustrating to walk. For that reason, I suggest staying the night if you can because Jiufen really is charming without all the people.
If you're interested in booking this tour, then you can do so on the Kkday website. Follow the link to book this Jiufen, Yehliu, and Shifen Day Tour from Taipei with Kkday.
For more Jiufen travel tips, check out our First-Timer's Travel Guide to Jiufen & Shifen in Taiwan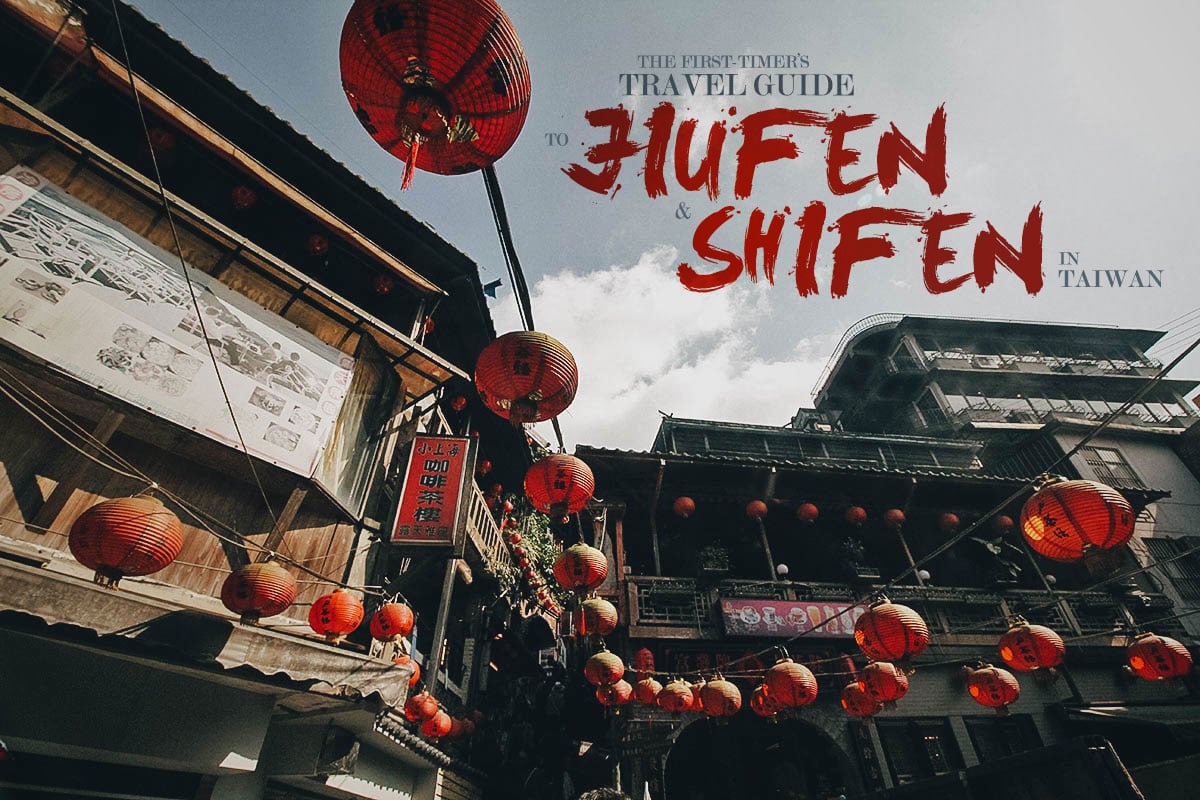 For travel tips to Taipei, check out our First-Timer's Travel Guide to Taipei, Taiwan.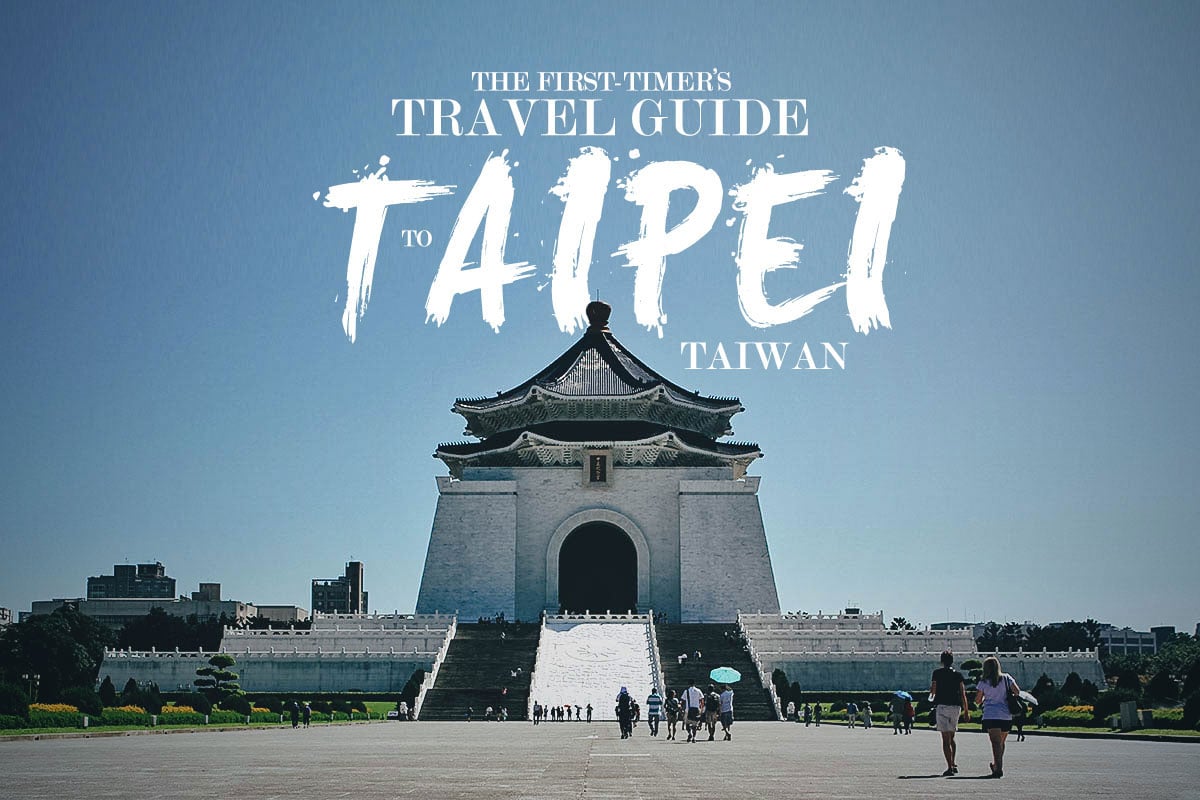 Disclosure
Kkday sponsored our Yehliu, Shifen, and Jiufen tour from Taipei in exchange for an honest account of our experience. They didn't ask me to do this. I went through their site and chose this activity on my own volition. As always, all words and opinions expressed in this post are mine and mine alone.
The Kkday links in this post are affiliate links, meaning we'll get a small commission if you make a purchase at NO extra cost to you. We really appreciate your support as it helps us keep this website going. Thank you!