Seoul is a shopaholic's paradise. There is so much to buy here. From cosmetics to brand name clothing to K-Pop souvenirs to artsy bric-a-brac, there's no shortage of it in Seoul. Even the subway stations were like mini shopping malls.
Luckily for me, Ren isn't too crazy about shopping so we were happy just soaking up the atmosphere of these mega shopping areas. That and sampling all the Korean street food of course.
Aside from the bargains, what makes these places even more enjoyable is the sheer abundance and variety of street food carts. There is so much delicious Korean food to be had that you can eat your way to a coma without ever having to step foot in a restaurant. That, for us, was the real attraction here.
Shopaholics and foodies take note. These are three places that you need to seek out on that first-time visit to Seoul.
VISIT MYEONGDONG, INSADONG, & HONGDAE QUICK LINKS
To help with your Seoul trip planning, we've compiled links to popular hotels, tours, and other activites here.
HOTELS
Top-rated hotels in Myeongdong, the best area to stay for first-time visitors to Seoul.
TOURS
OTHER SERVICES
SEOUL TRAVEL GUIDE
If you're visiting Seoul for the first time, then be sure to check out our detailed Seoul travel guide. It'll tell you everything you need to know – like where to stay, which restaurants to visit, how much to budget, etc. – to help you plan your trip.
INSADONG
The cultural shopping area. Home to almost half of the nation's antique shops and art galleries, Insa-dong is a popular place for both locals and tourists alike. It consists of one main road with a network of alleys on either side, housing galleries, artisan shops, traditional restaurants, teahouses, cafes, and street food carts. This is the place to be if you're looking for unique, cultural items.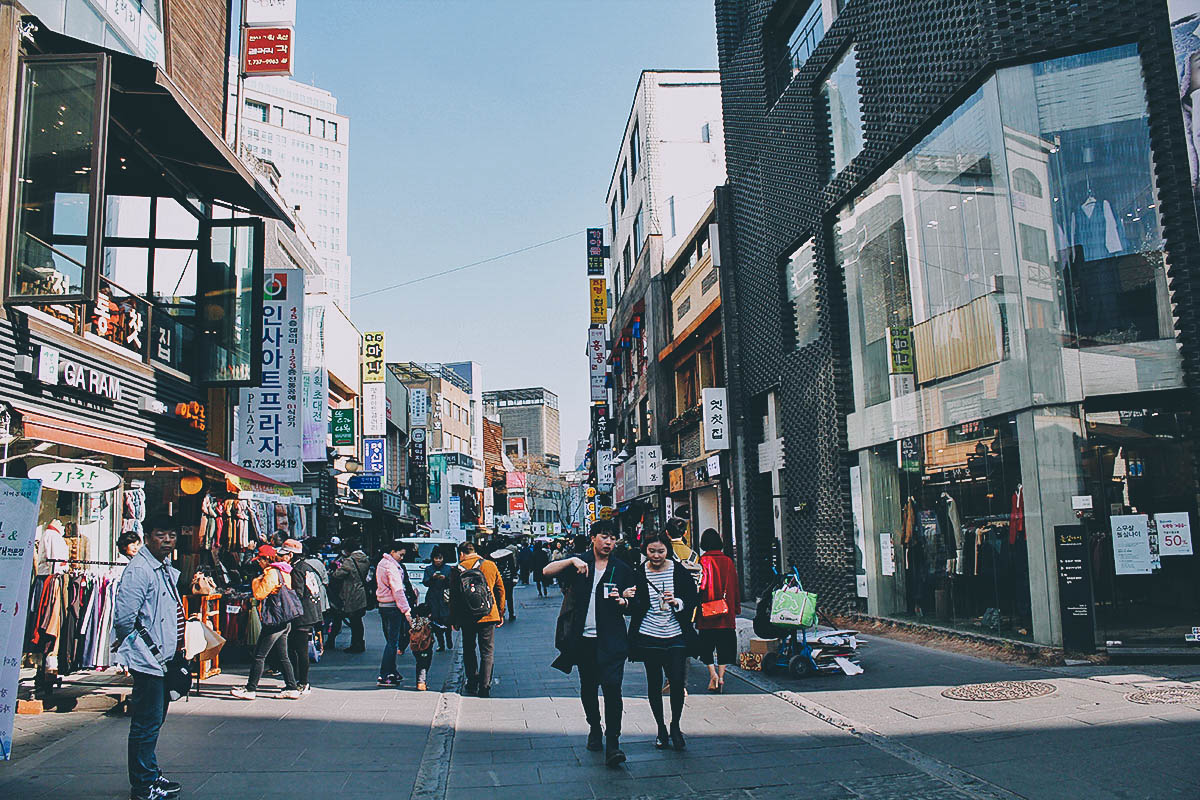 Even if you're not that into arts and crafts, you'll still have fun here. It's an entertaining area with a pleasant vibe and lots of good street food.
There's no shortage of stimuli in Insadong. There is much to see here.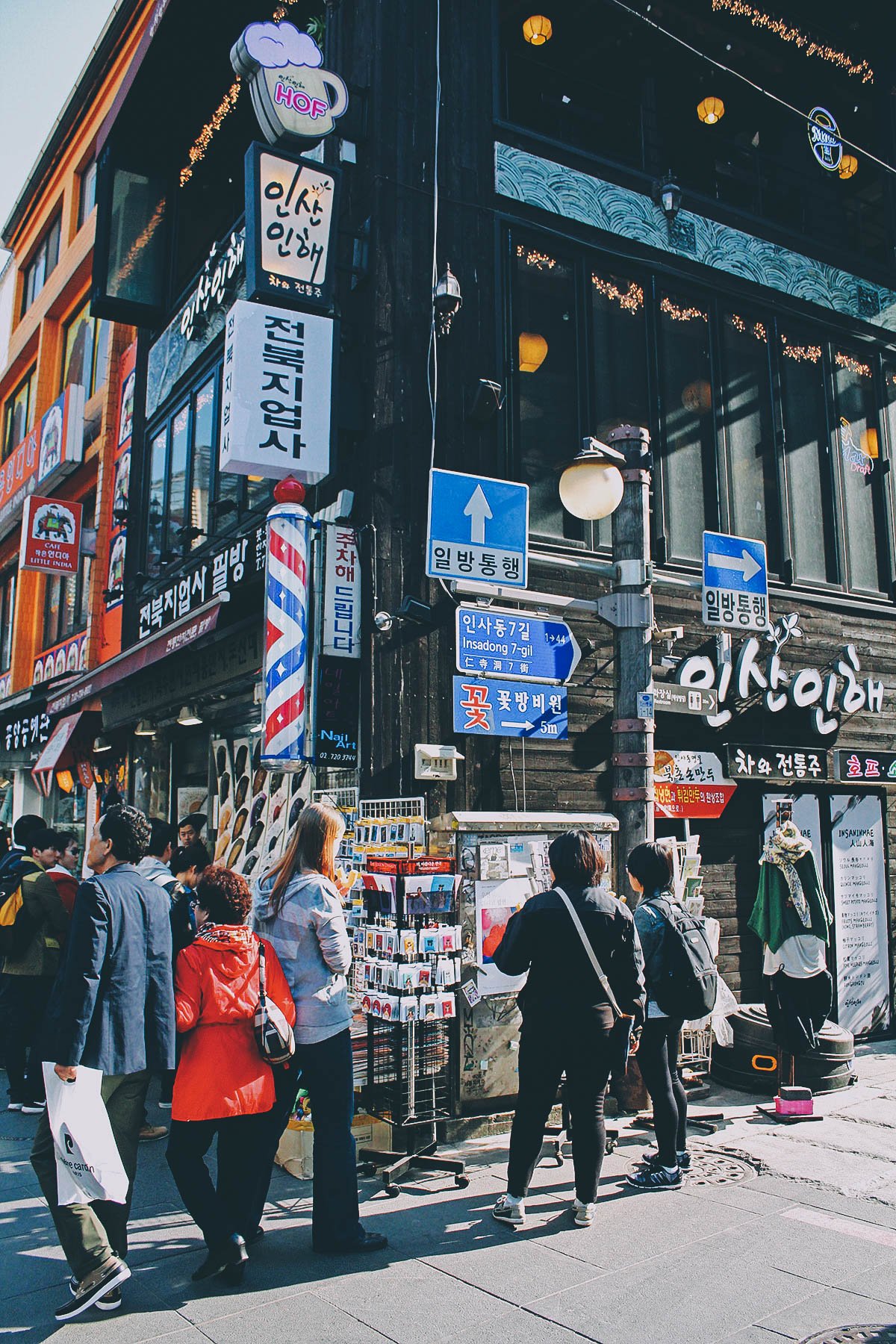 Insadong is home to Ssamzigil, a popular shopping mall filled with specialty stores selling all kinds of handicrafts. There's also an Alive Museum here. It's an interactive museum with all kinds of fun things to do for adults and kids.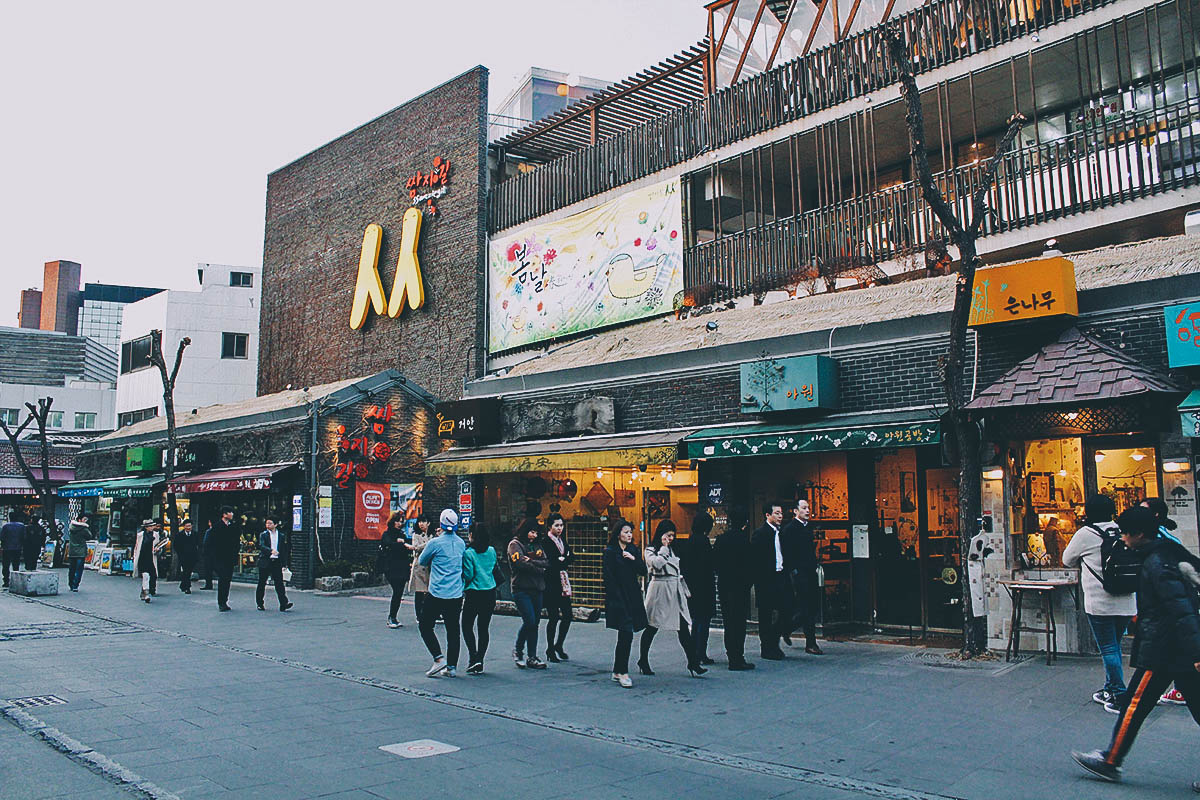 Floor upon floor of craft shops at Ssamzigil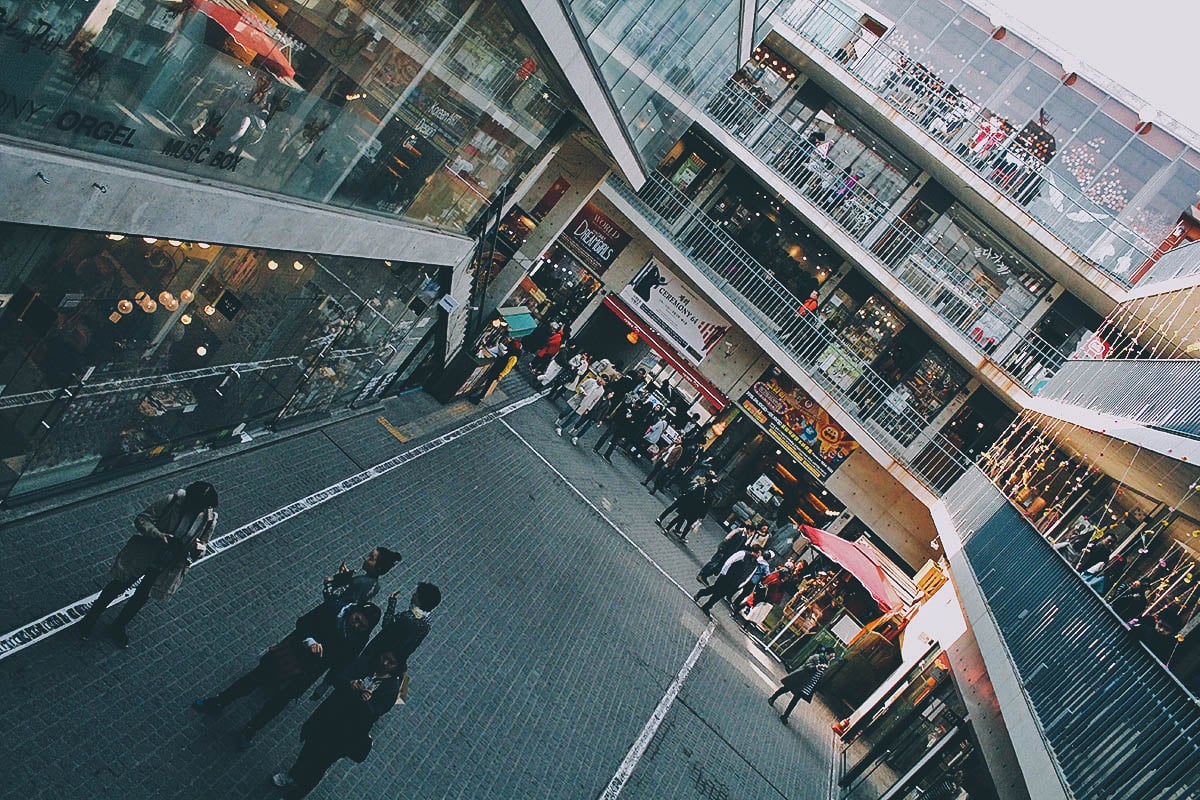 We didn't go down but there must have been 3 or 4 more floors below street level. I think this was where the Alive Museum was along with a few arts and crafts workshops for kids. You can purchase discount tickets to Alive Museum on Klook.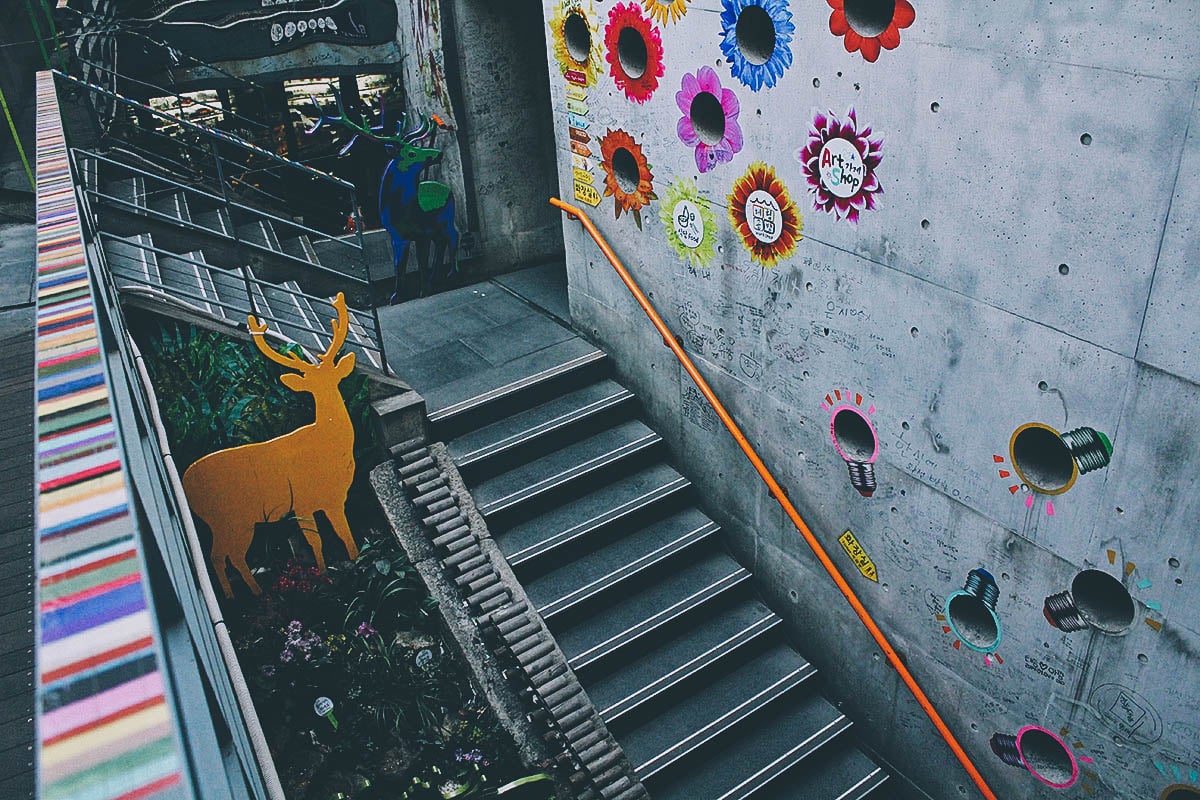 Too bad I didn't have a Sharpie on me.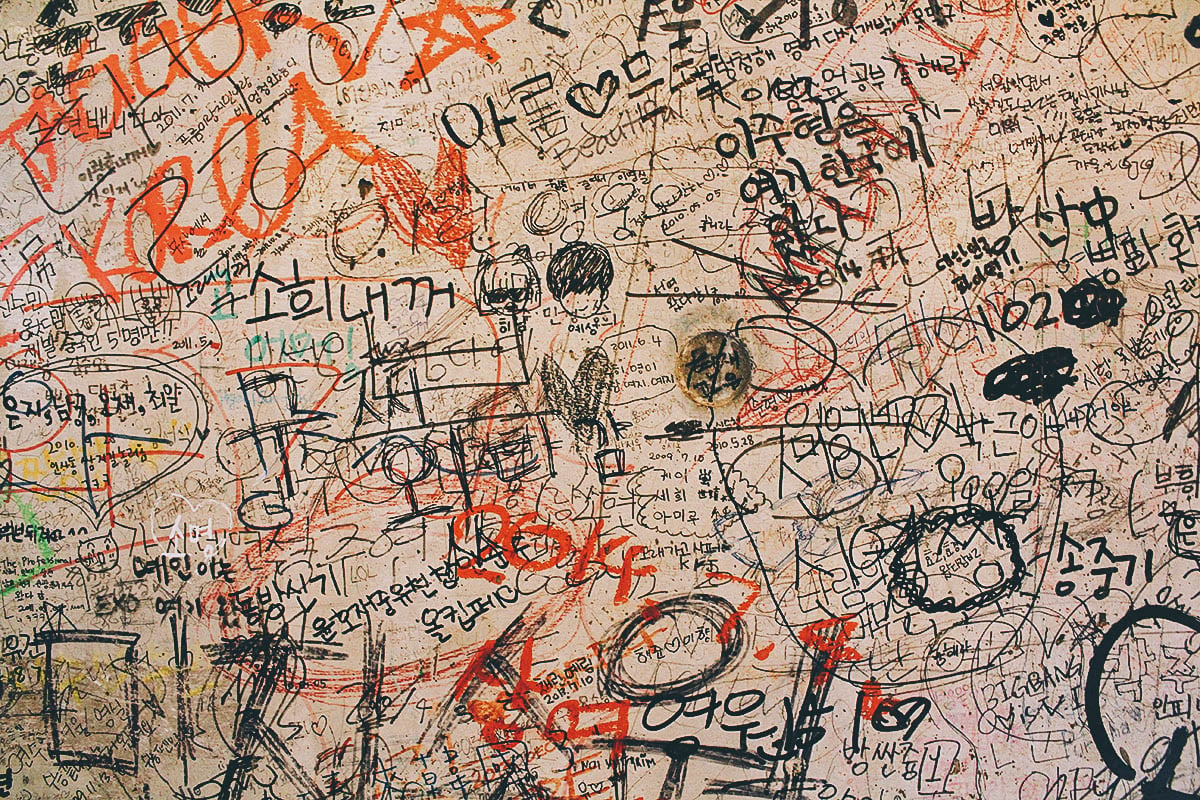 Ren riding the Trojan horse? With just one foot up?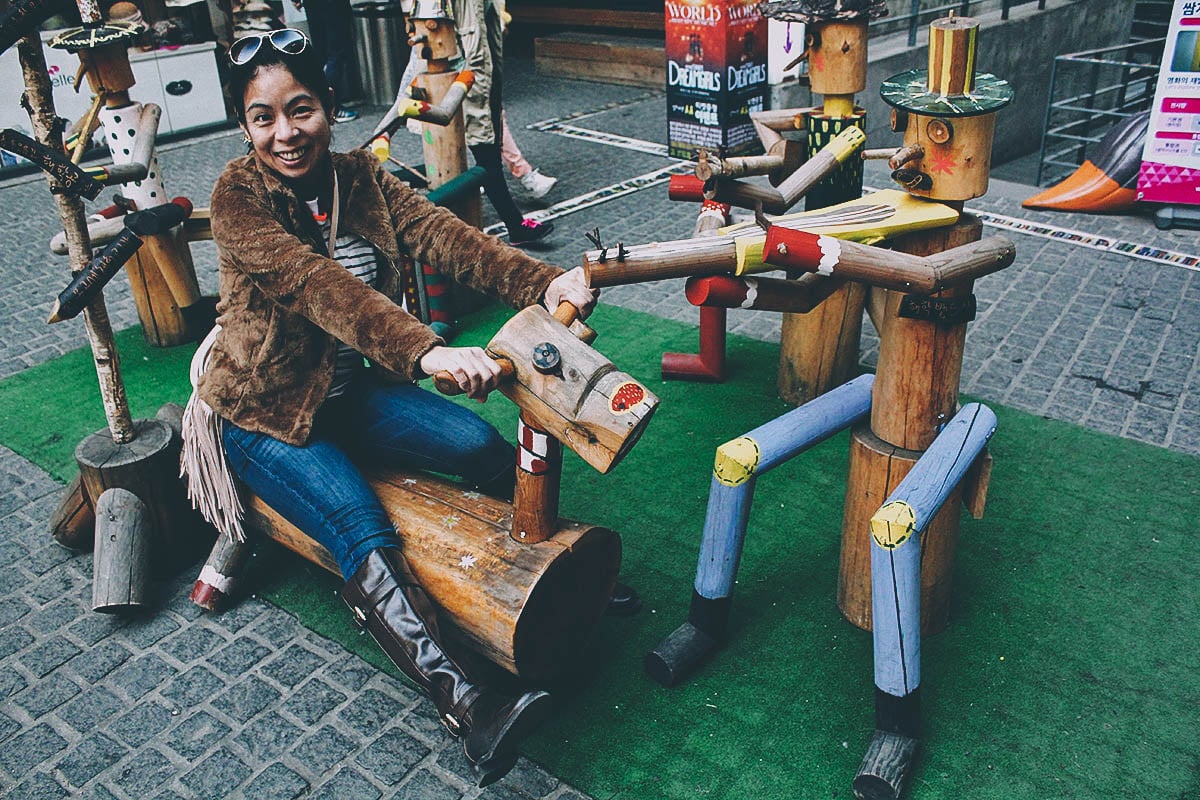 Some of the crafty, artsy things on sale at Ssamzigil.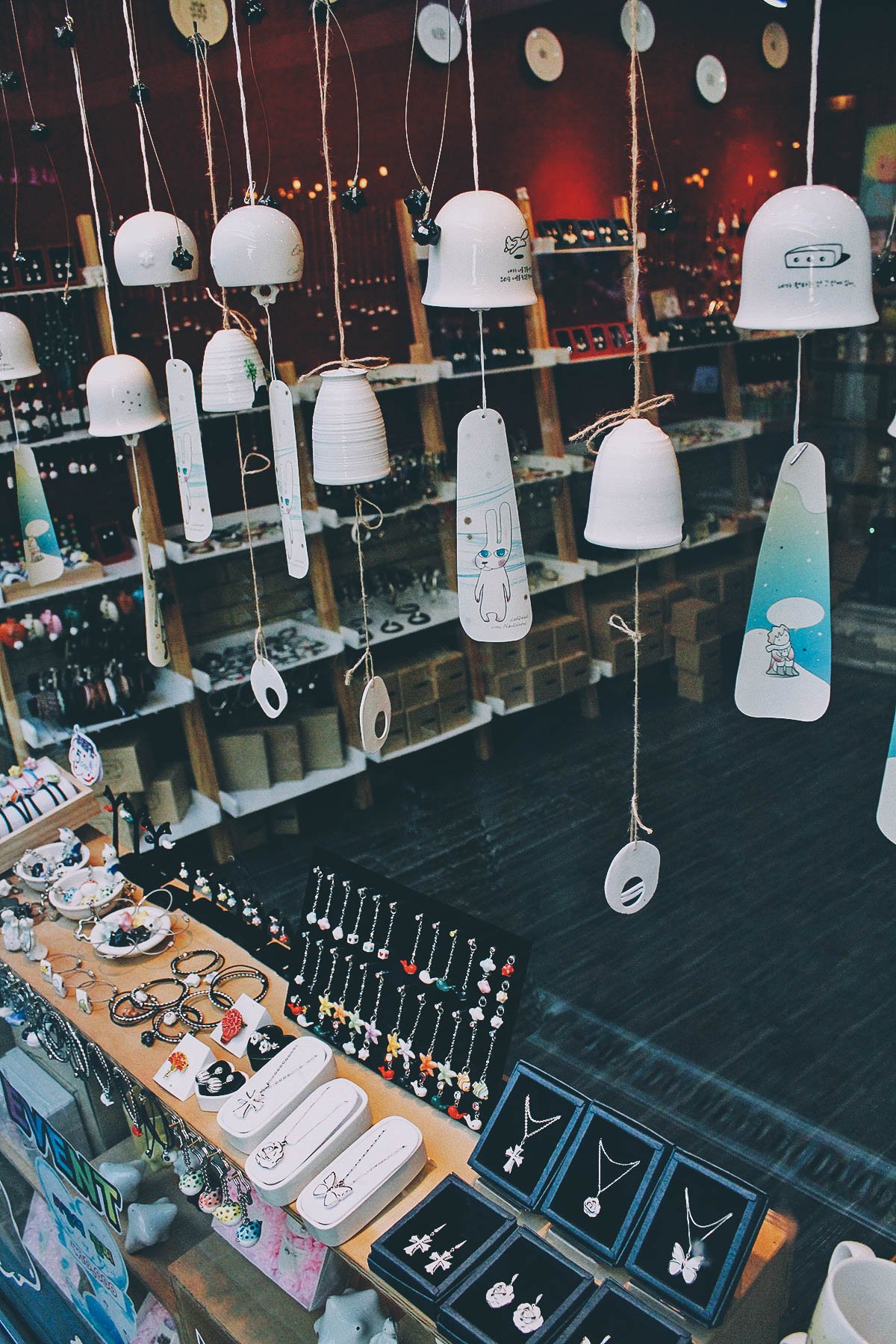 Being the dork that I am, it's no surprise that these cardboard thingies caught my attention. Isn't Boba Fett cute?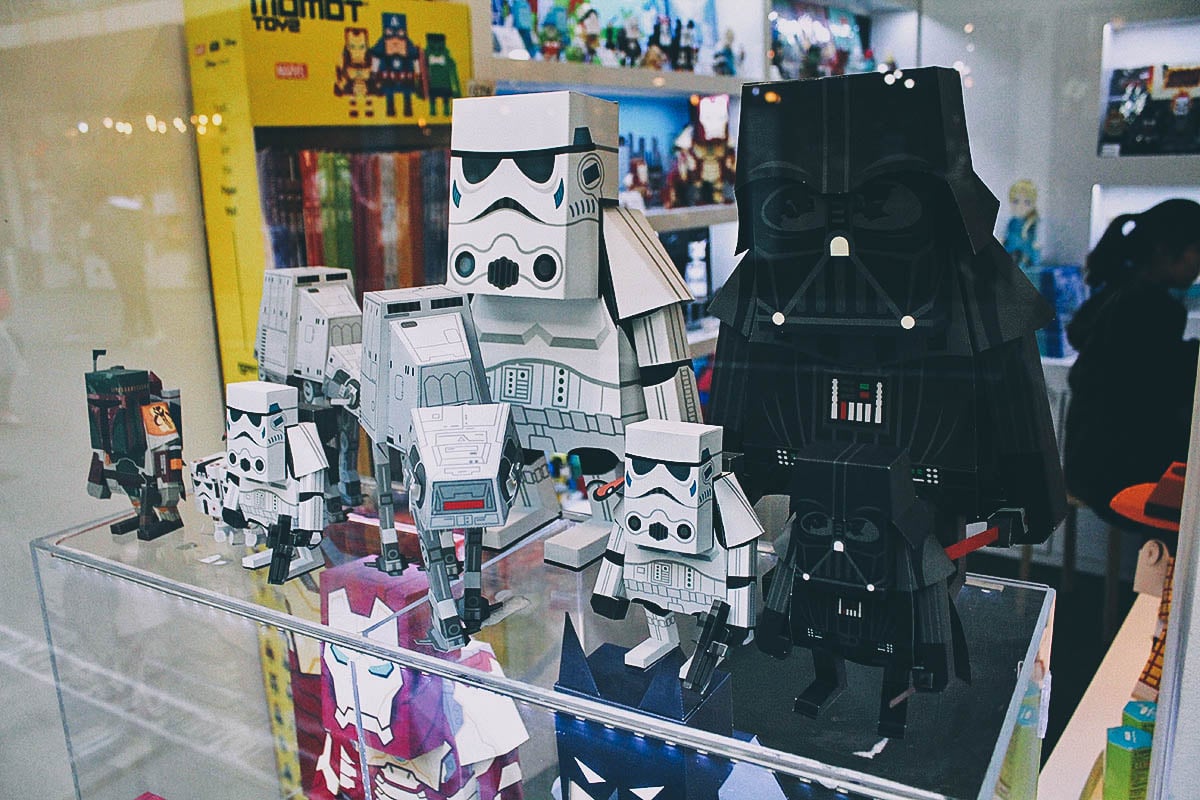 And what we enjoyed most about Insadong, the street food! Poop cakes anyone?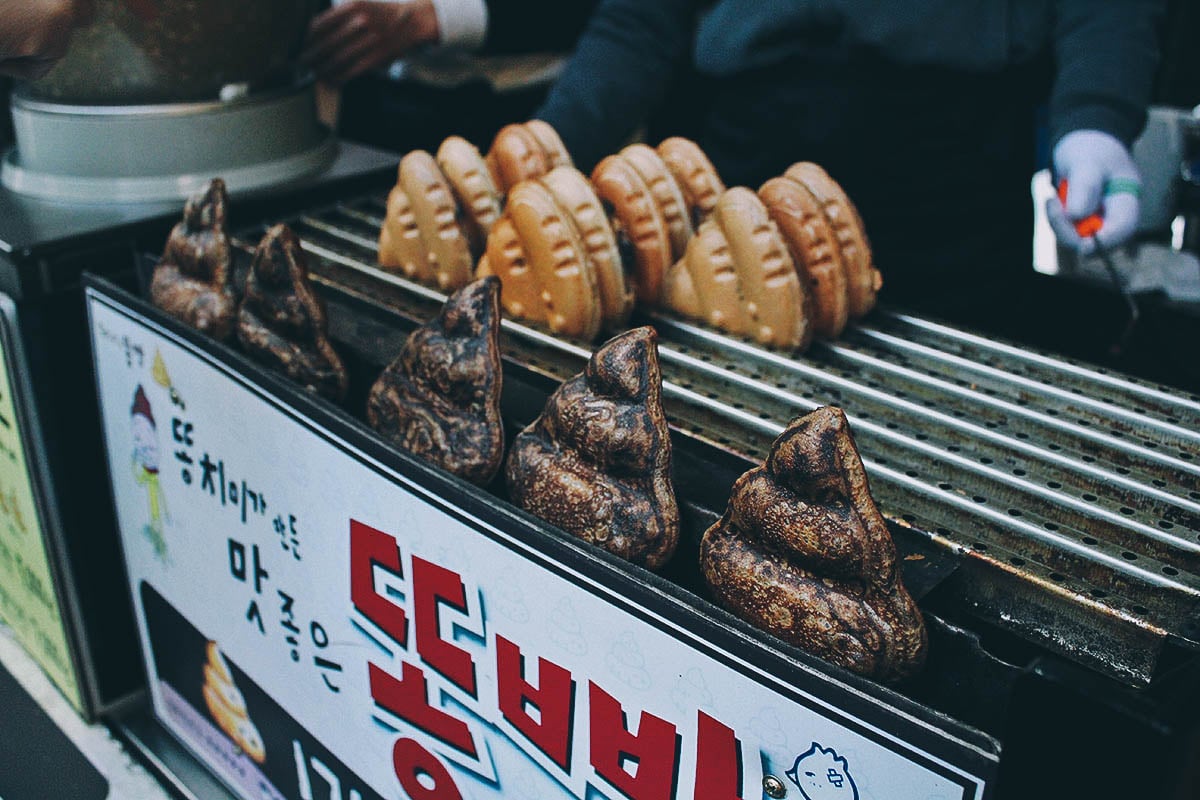 This was some good shit. Filled with red bean or chocolate, these fun poop-shaped snacks can be had for just 1,000 KRW a piece. Crisp and doughy, they were so good I could have had a second, maybe even a turd.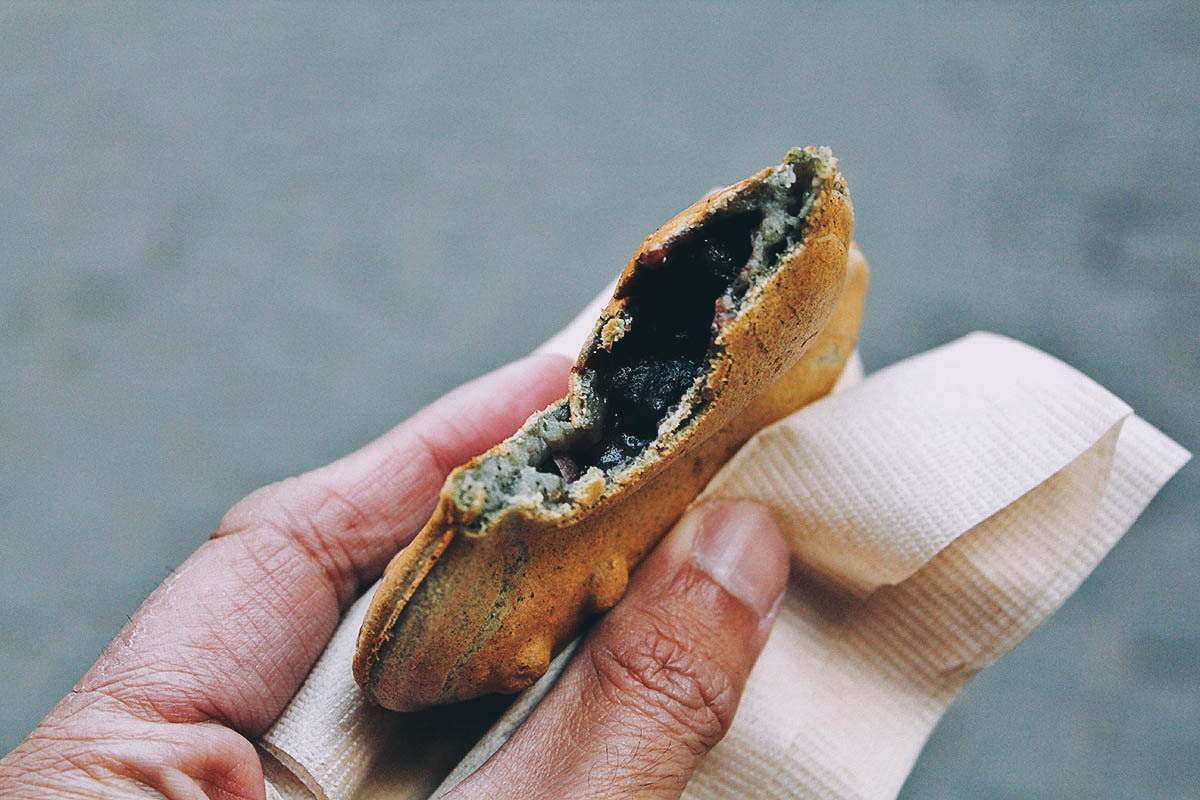 Stuff on skewers. Some steamed conch…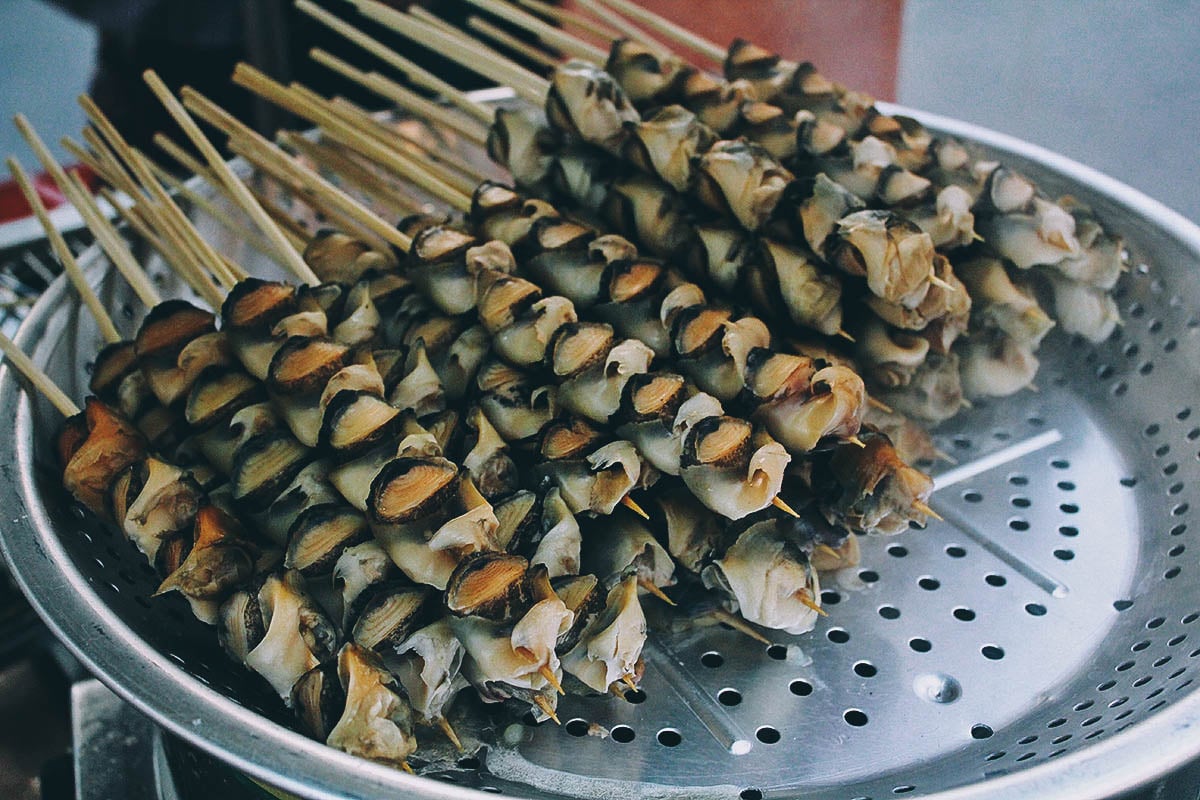 …and grilled octopus.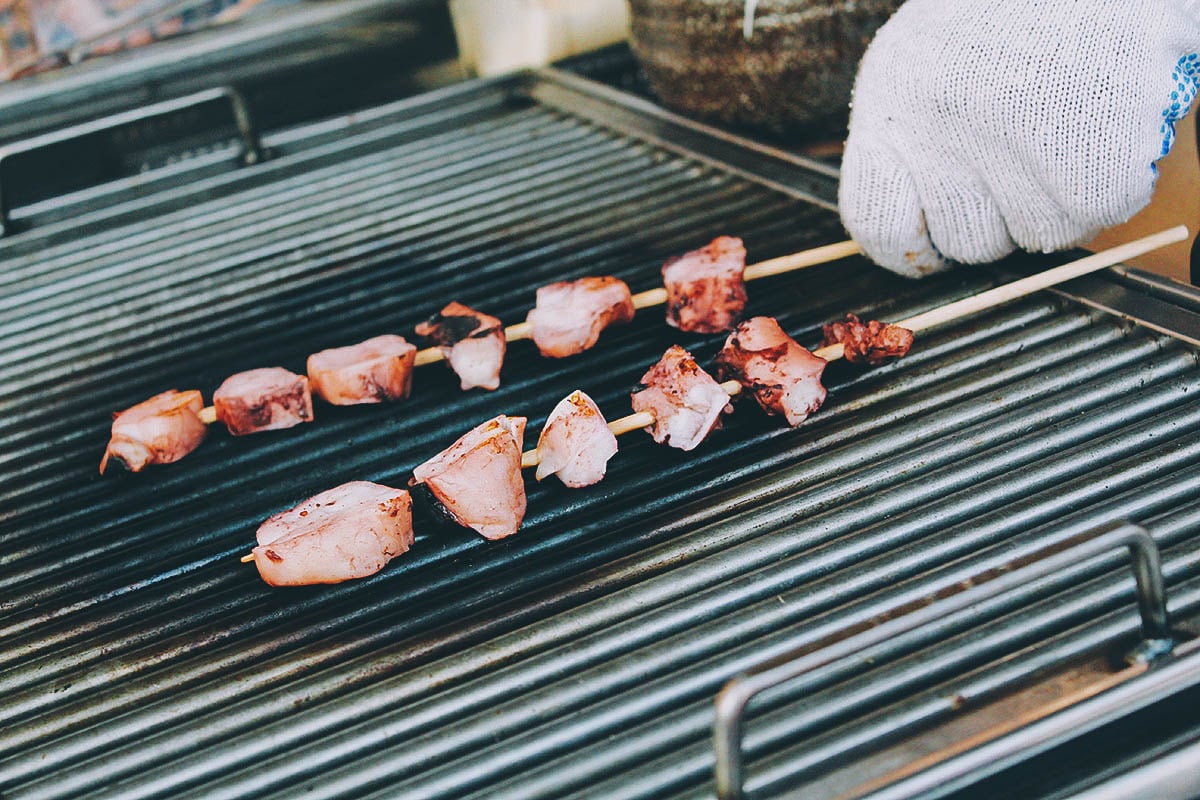 Available for 3,000 KRW a stick, both the conch and octopus are brushed with gochujang (spicy Korean condiment) and dredged in bonito flakes before serving. Really good.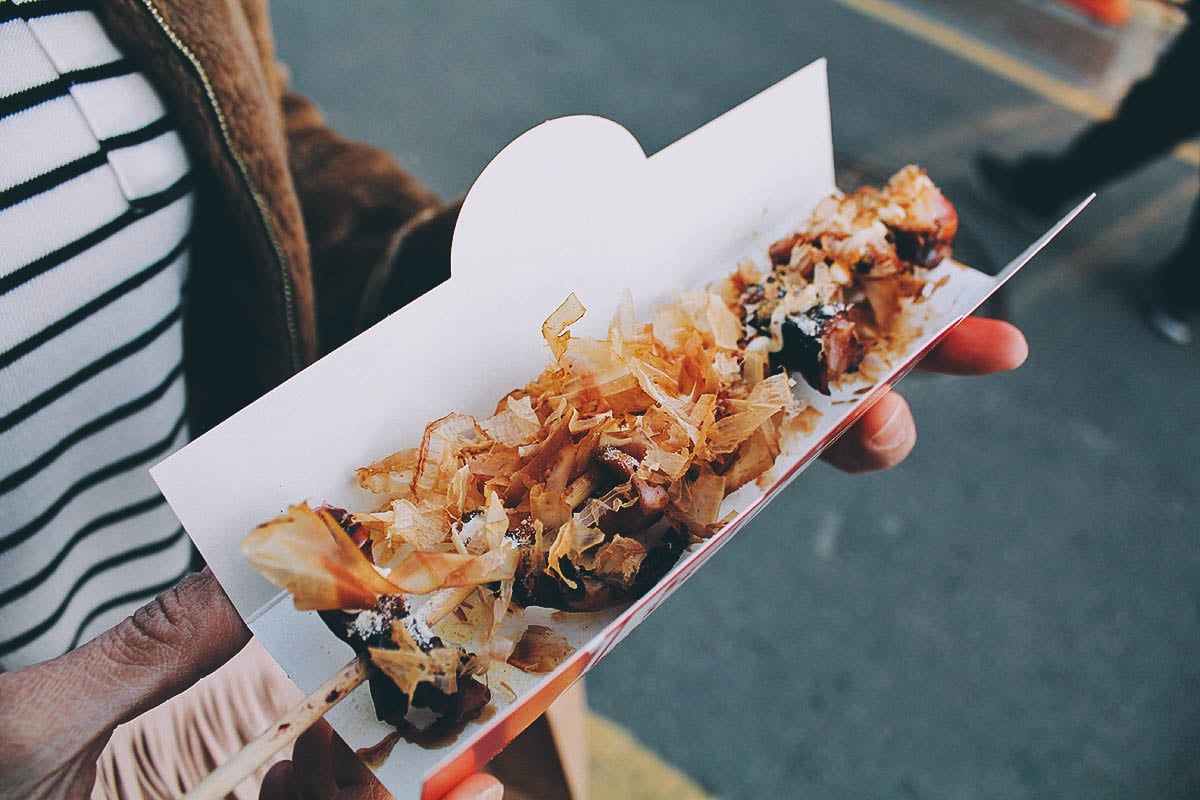 Chicken with green onions. Absolutely delicious and one of our favorite things to eat on this trip. These go for 3,000 KRW a stick as well.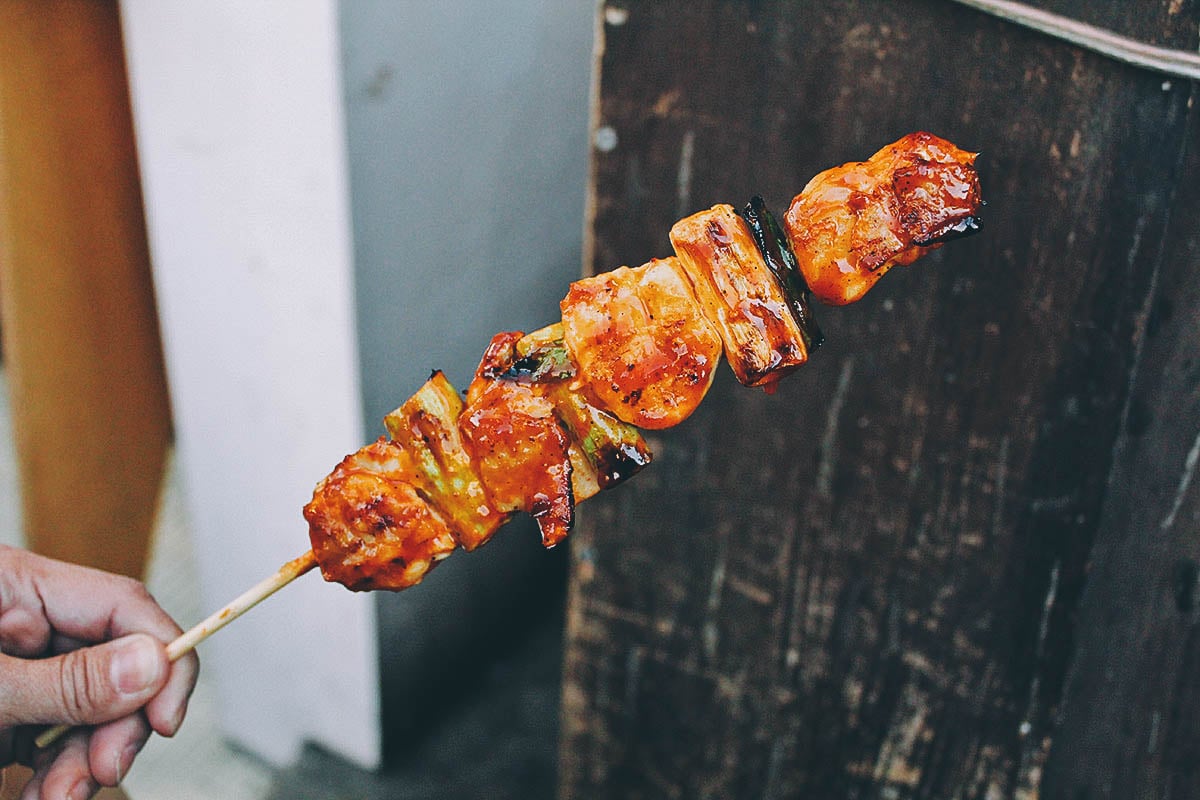 Jipangyi ice cream canes! These were fun and interesting. Made with corn and filled with soft serve gelato ice cream, these cane-shaped cones really do taste like sweet corn snacks!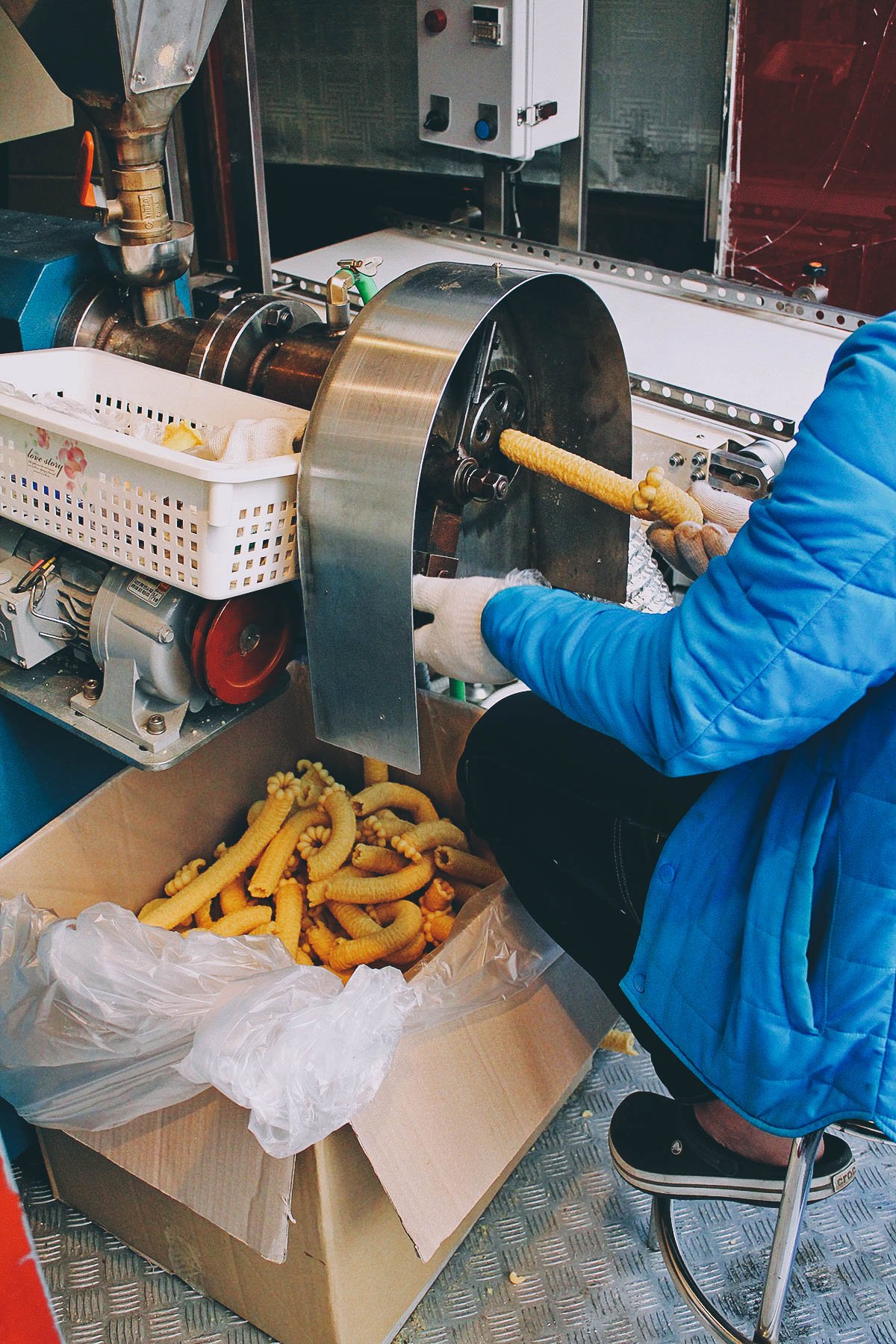 You can enjoy one of these sex toys for 3,000 KRW a cane.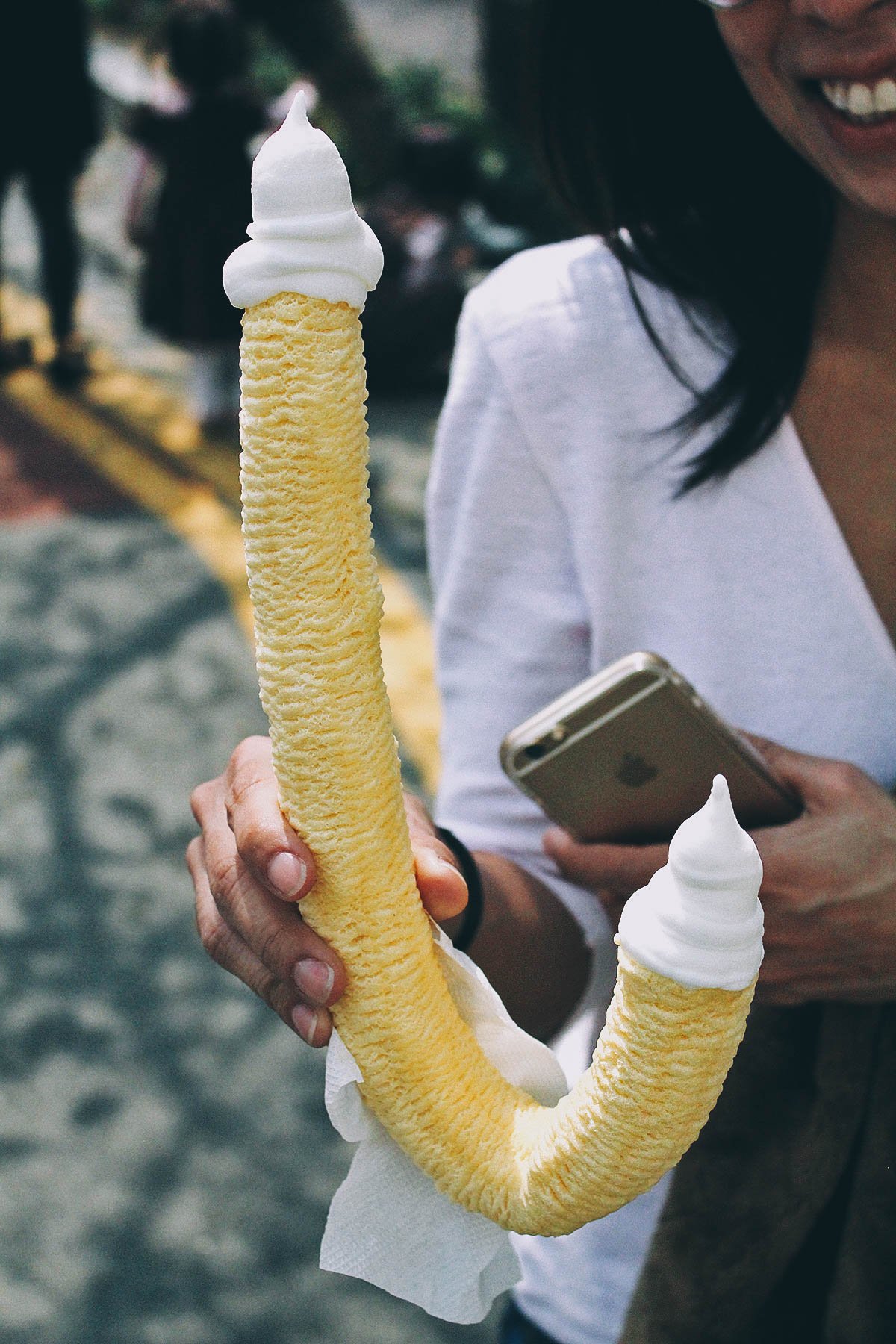 Dondurma, or Turkish ice cream, is popular in Seoul so you'll find a few of these places around. Unlike regular ice cream, Turkish ice cream has a sticky, chewy texture and doesn't melt as quickly.
Available in several flavors and usually served in a cone, we got blueberry sandwiched between two macaron cookies for KRW 4,000. Yum!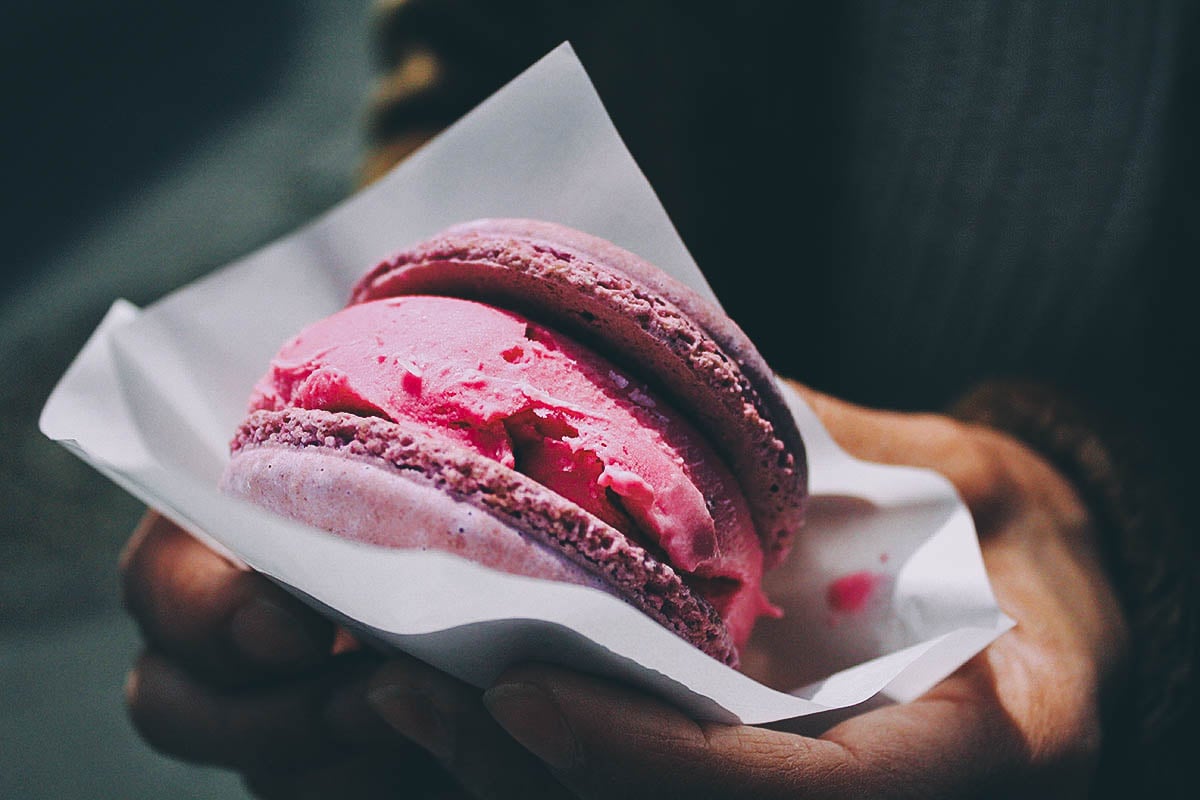 Insadong, Seoul, South Korea 인사동
130-4, Insa-dong, Jongno-gu, Seoul, South Korea 서울 종로구 인사동 130-4 일대
Best Time to Go: Around lunch or dinner
HOW TO GET THERE
By subway, get off at Anguk station (line 3), exit 6. Walk straight for about 2-3 minutes then turn left into Insadong. It's a busy commercial area so you can't miss it.
MYEONGDONG
Myeong-dong is one of the primary shopping districts in Seoul and arguably its most impressive. It's home to many mid- to high-end stores like Lacoste, Ralph Lauren, Forever 21, Bulgari, and Louis Vuitton, not to mention row upon row of Korean cosmetic shops.
When you hear people talking about Korean cosmetics, they're probably talking about this place. An attraction on its own, these cosmetics are what many tourists come here for.
Bustling by day, wait until you see this place at night. It's electric.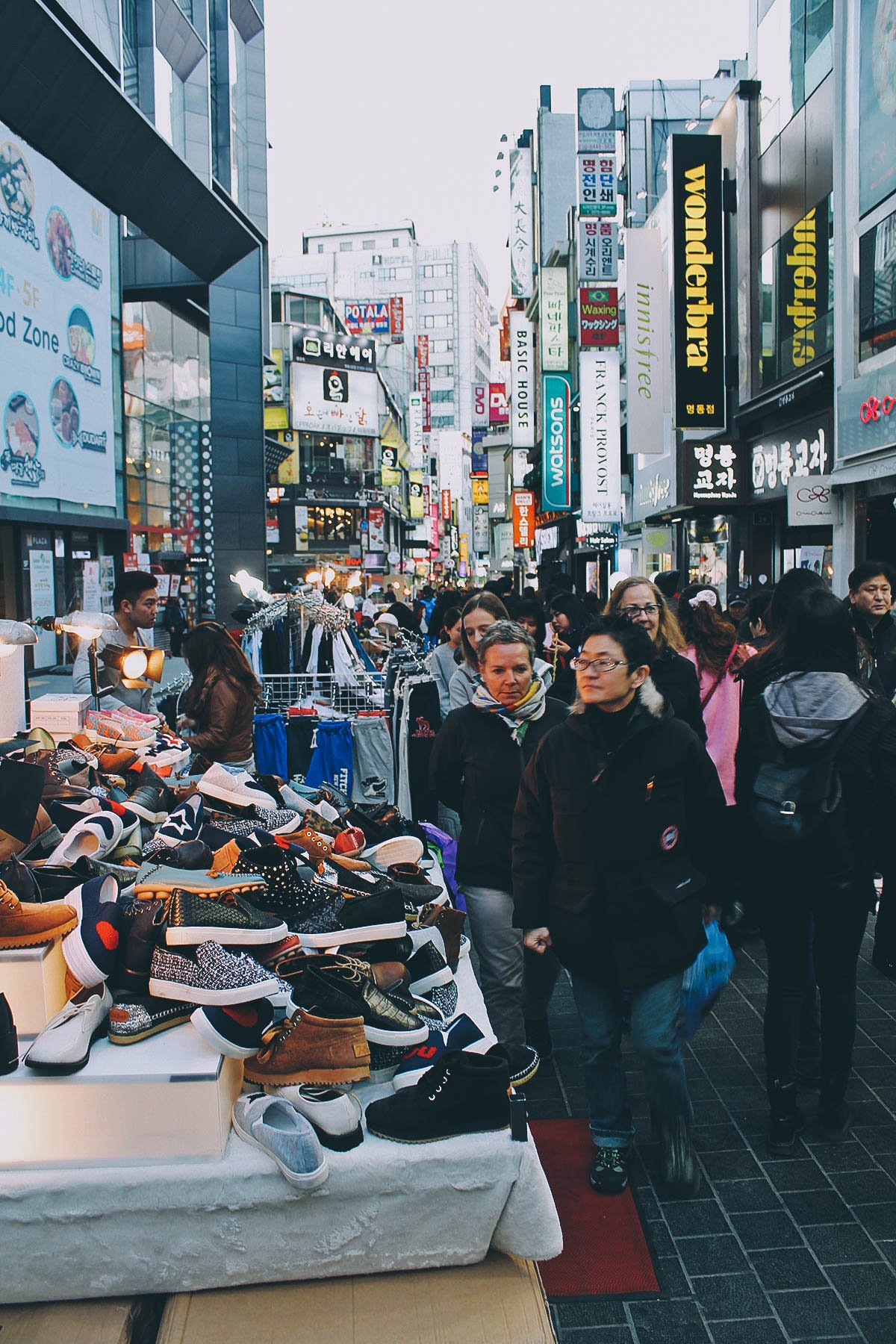 Stores in Myeongdong are open during the day but the street stalls don't open until early evening. I suggest coming here around dinner time so you can feast on street food while shopping.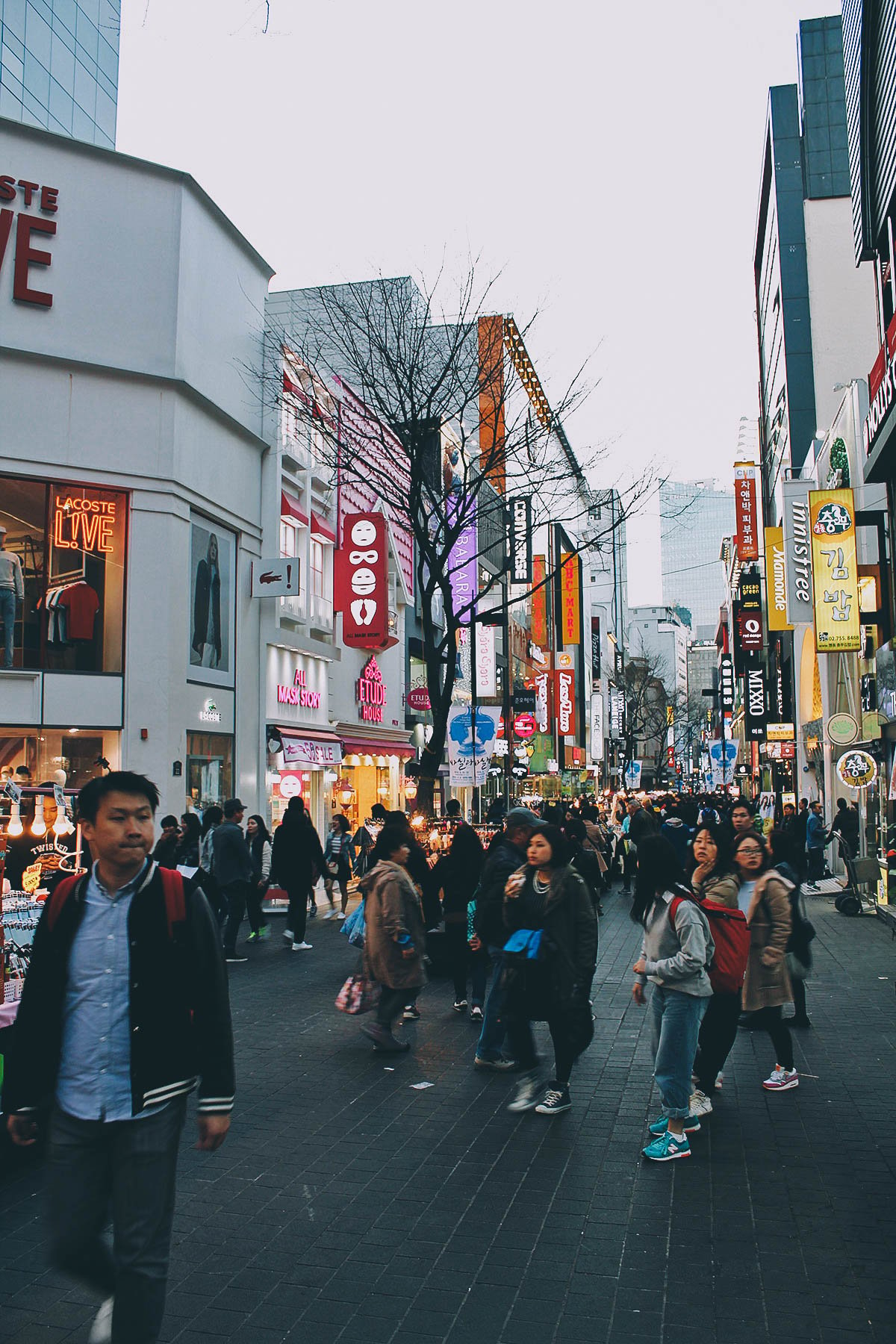 Ren ready to go (window) shopping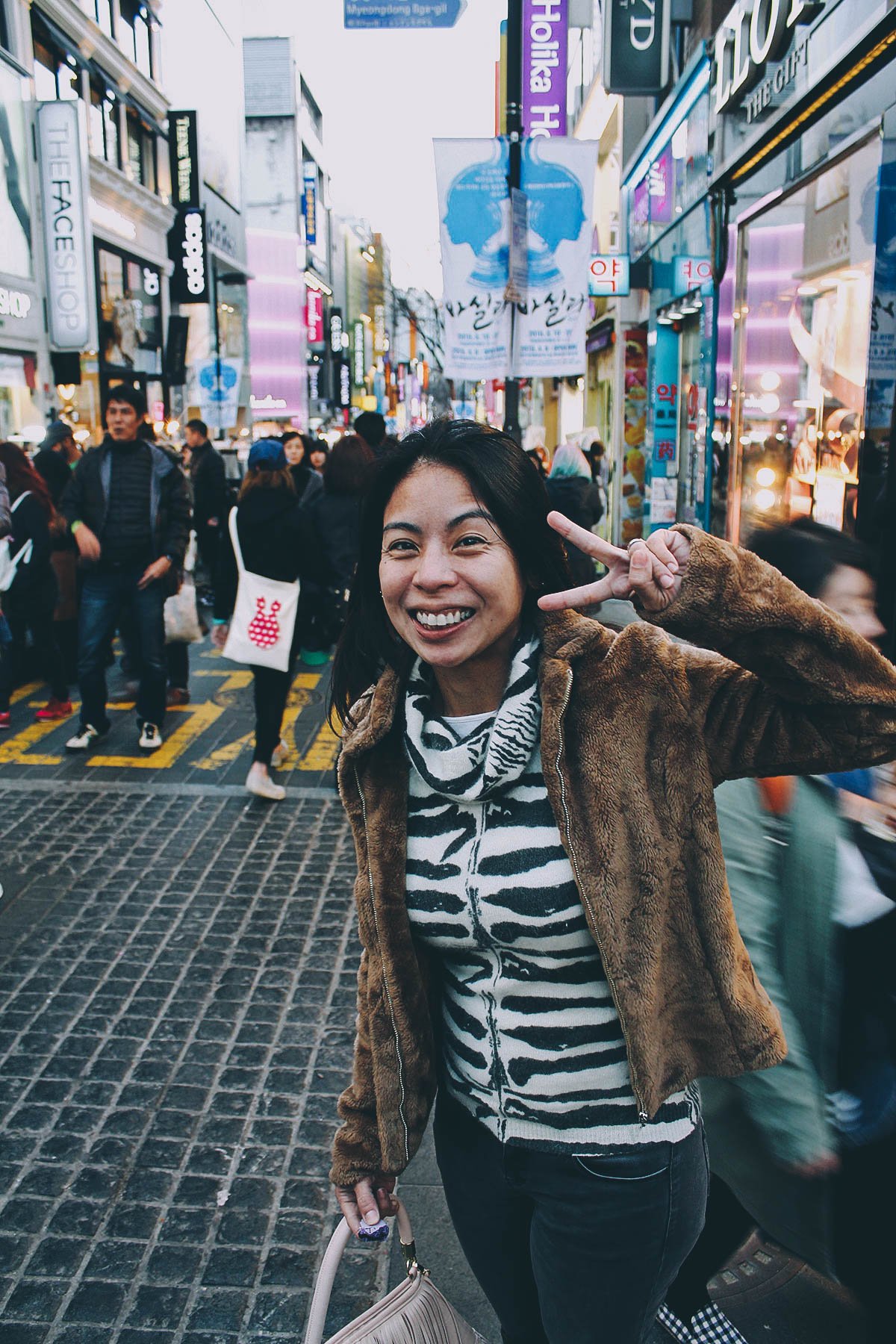 Myeongdong after dark. Vibrant with the sounds of shoppers and the smells of street food, this place really comes alive at night.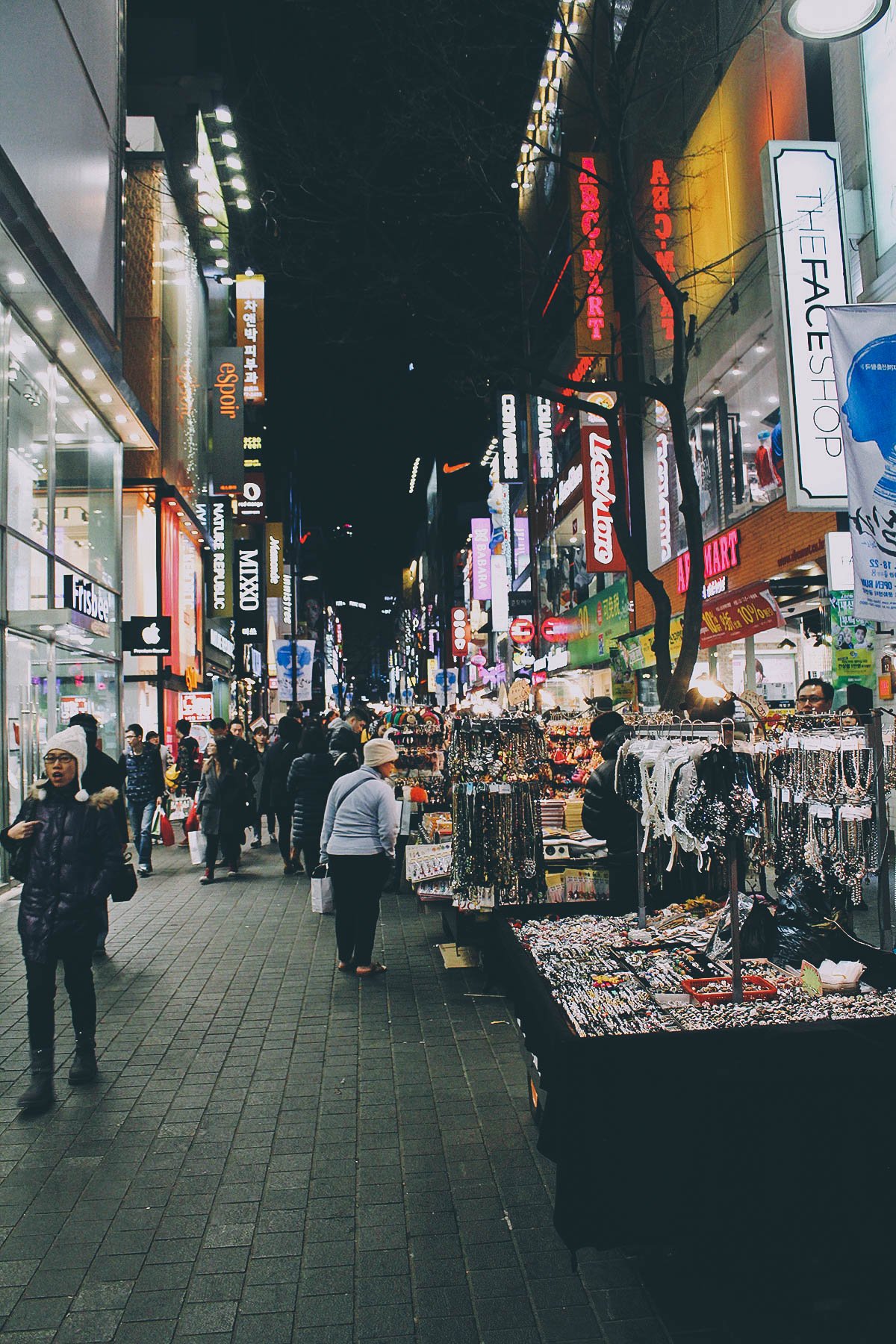 Lights lights everywhere!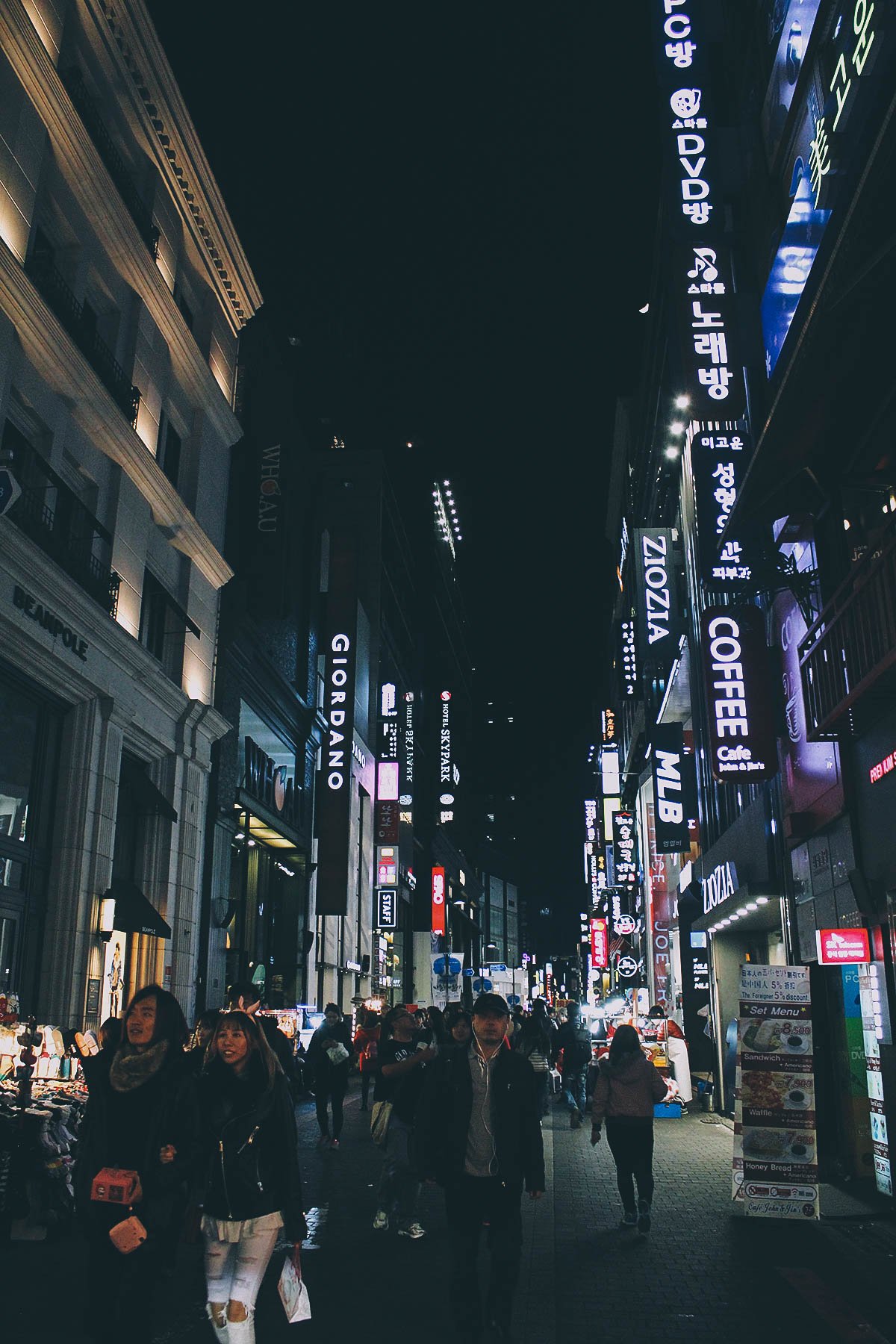 According to the Seoul metropolitan government, cosmetic shopping in Myeongdong is one of the most popular things to do in Seoul for tourists.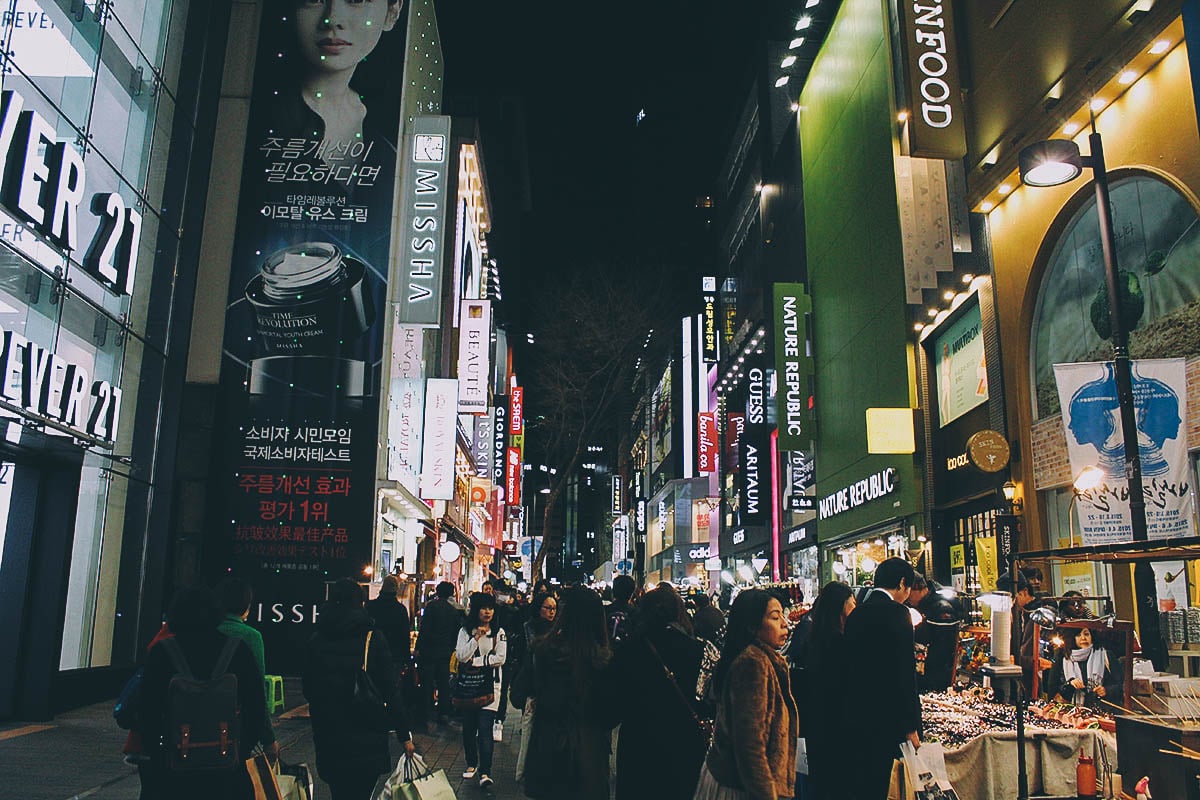 Like I said, toys never fail to catch my attention.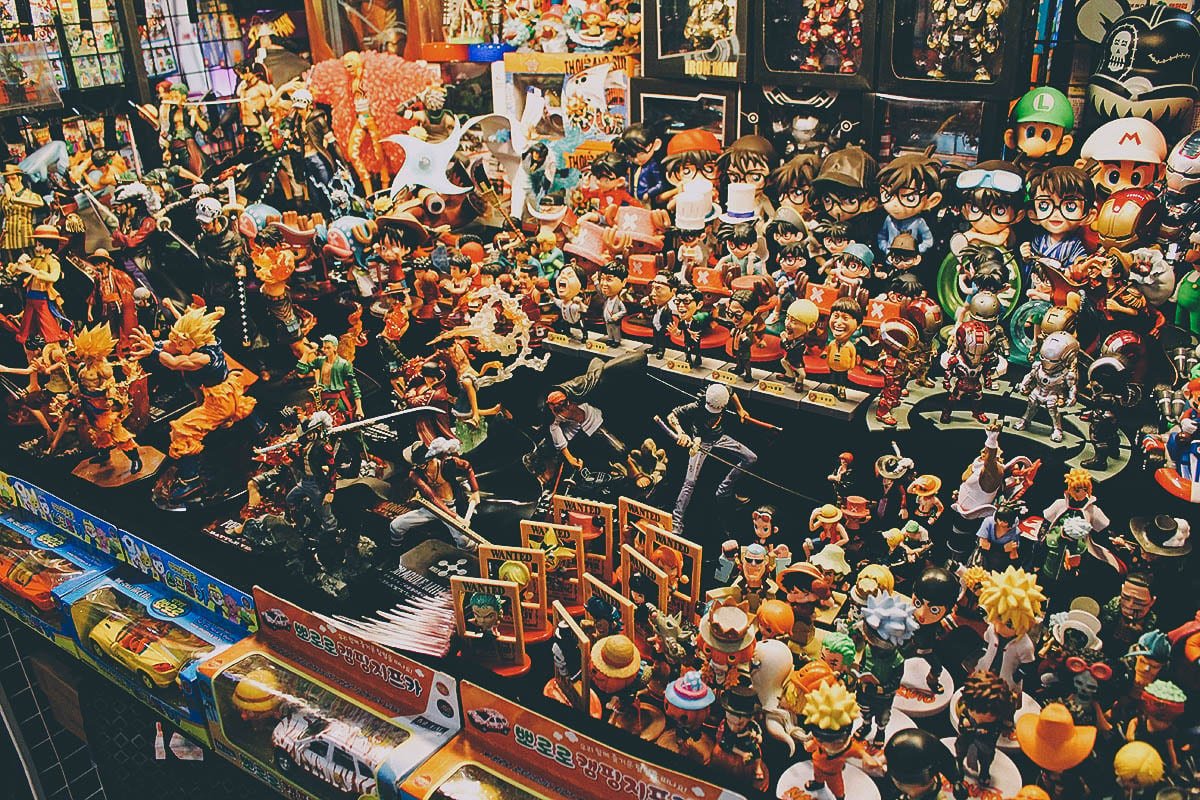 Apart from all the street food, the area is also home to Myeongdong Kyoja, which is said to serve some of the best kalguksu (knife-cut noodles) and mandu (Korean dumplings) in the city.
To get there by subway, get off at Myeong-dong station (line 4), exit 8. Soon as you exit the station, make an immediate left into the first alley that you see. Walk straight for about 5 minutes and you'll see the restaurant pictured below on your right. It's popular so don't hesitate to ask anyone if you can't find it.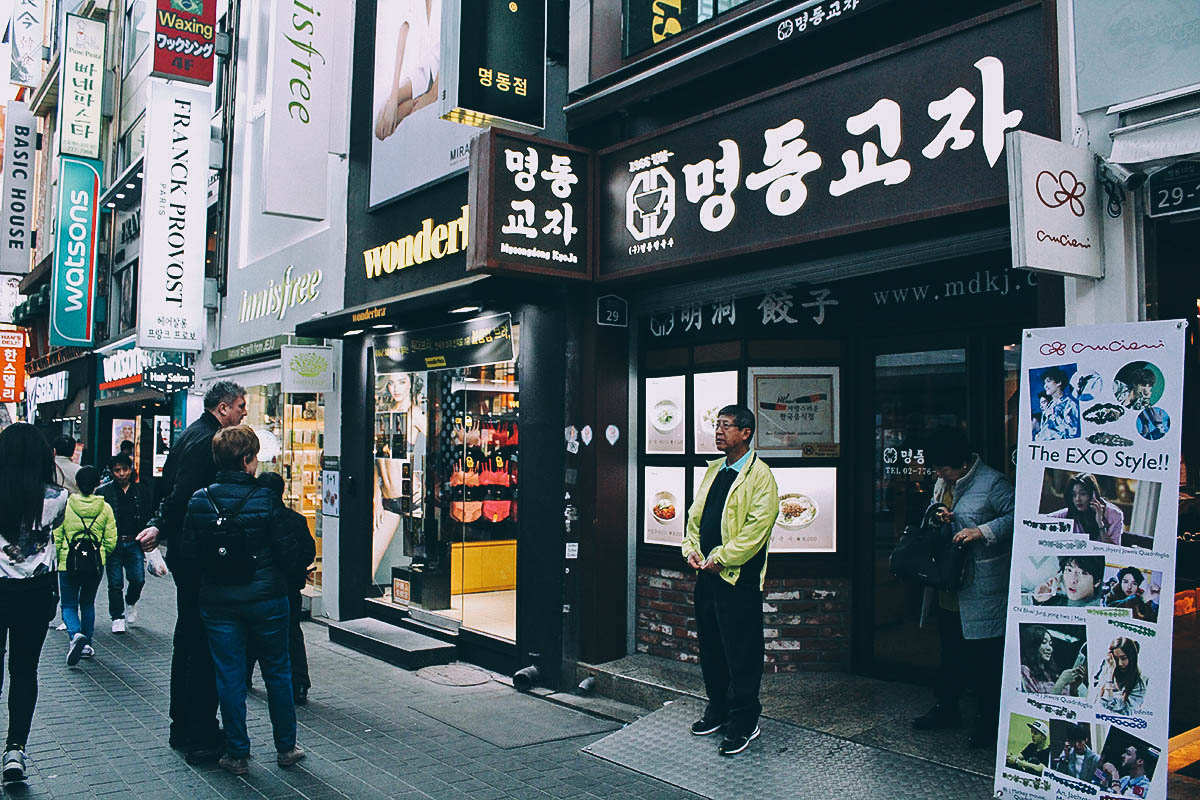 Myeongdong Kyoja's famed kalguksu. For just 8,000 KRW, you get this big bowl of handmade, knife-cut wheat flour noodles served in a delicious broth. Really good and one of Ren's favorite things to eat on this trip.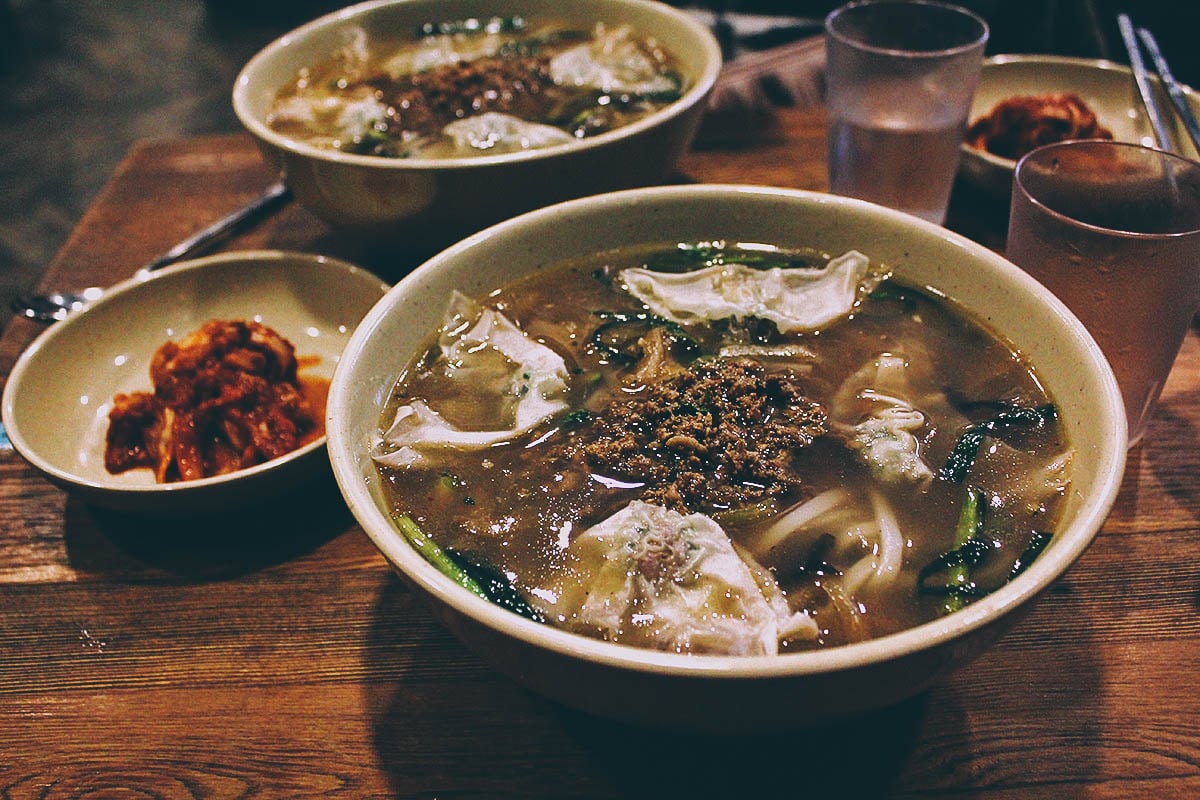 As previously described, there is so much street food to be had here at night. Unfortunately, we were already full from the kalguksu so we could only manage a few things like these sausages with fish cake and tteokbokki (soft rice cake).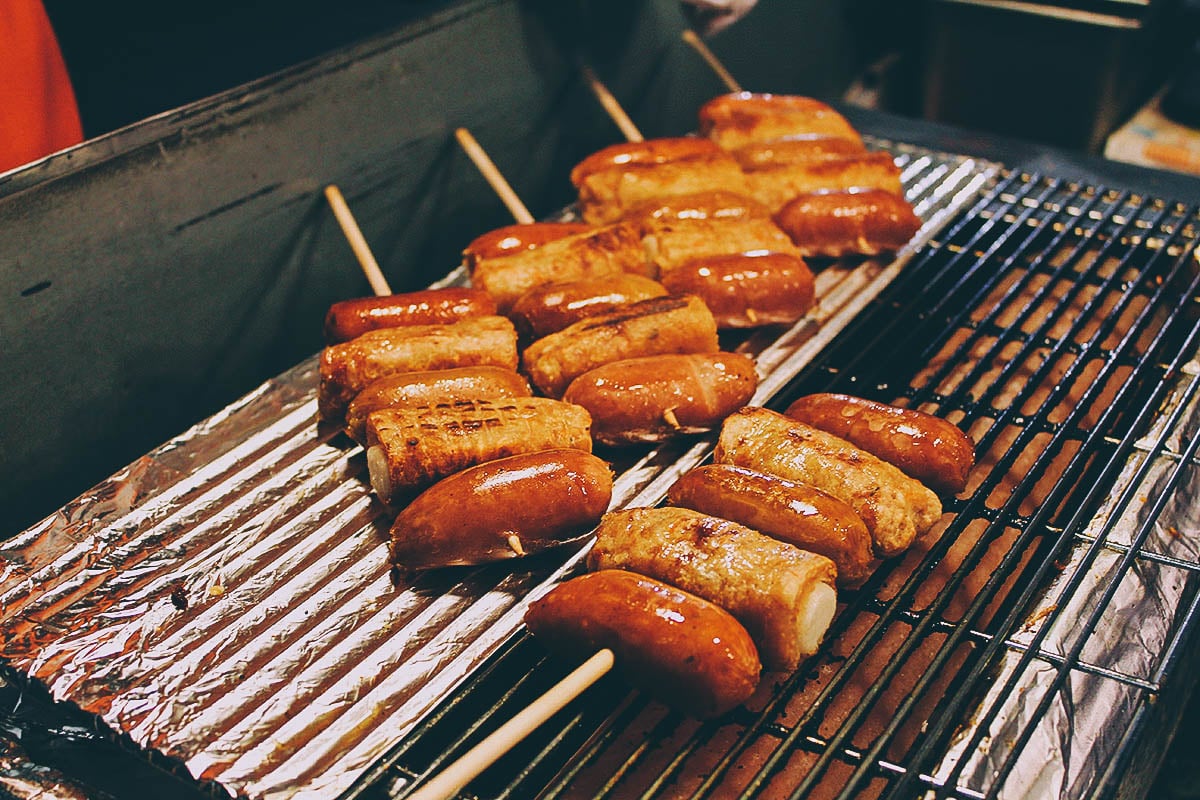 These were insanely good. Called gyeranppang which means "egg bread", these reminded me of Filipino bibingka made even richer by the egg. You can enjoy these for KRW 1,500 apiece. Absolutely delicious and probably the one dish that I miss most from this trip.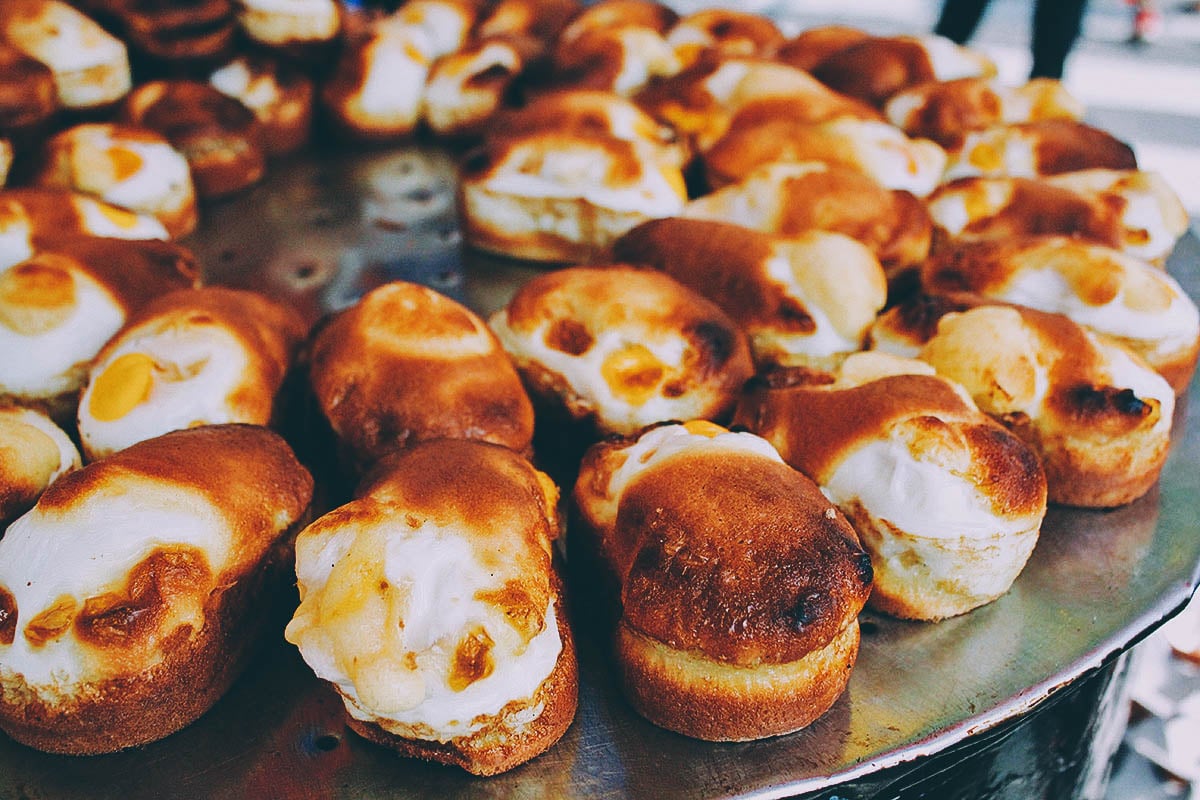 Myeongdong, Seoul, South Korea 명동
30, Eulji-ro, Jung-gu, Seoul, South Korea 서울특별시 중구 을지로 30 (남대문로2가)
Best Time to Go: 5PM onwards
HOW TO GET THERE
By subway, get off at Myeong-dong station (line 4), exits 5, 6, 7, or 8.
HONGDAE (Hongik University)
This was one of my favorite places to visit in Seoul. Hongdae is an abbreviation of Hongik Daehakgyo and refers to the area surrounding Hongik University, one of the top fine arts colleges in South Korea.
Bustling with hip college students, Hongdae feels very much like a trendy US college town, similar to Greenwich Village and NYU. Many of the stores and cafes here are unlike any that you'll find elsewhere in Seoul.
Located at a four-way intersection, here's the entrance to the university. All around are interesting shops, restaurants, and cafes.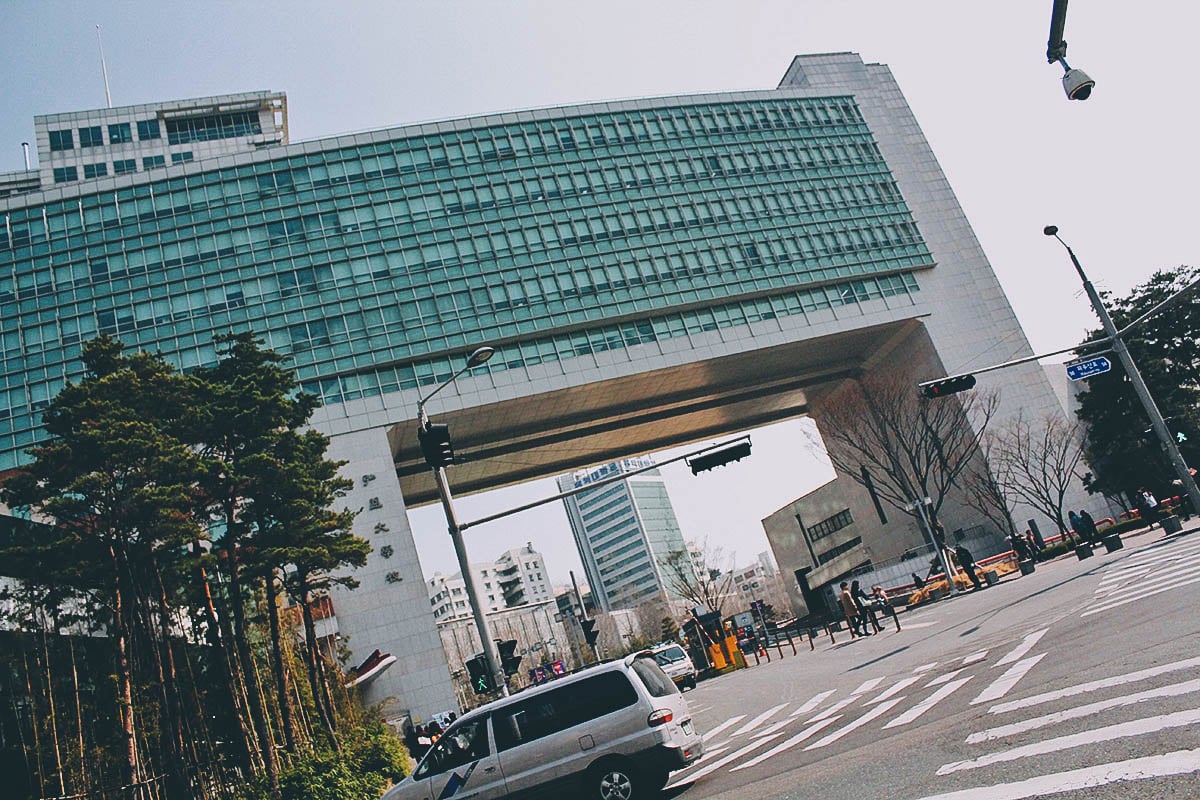 We loved the vibe of this place. It felt young and bursting with energy. Club-goers will be pleased to know that Hongdae is the center of club culture in Seoul. It's where young Korea goes out to party.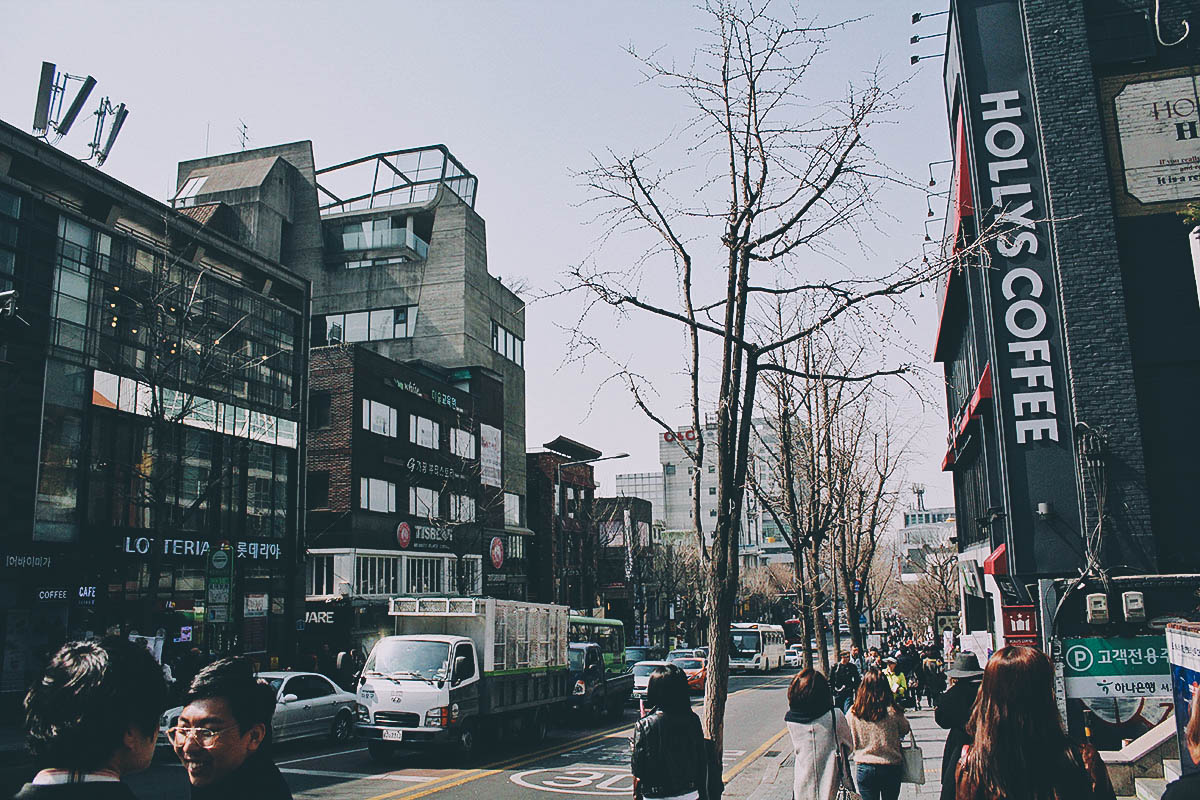 See that building on the left? It's not just a bike repair shop.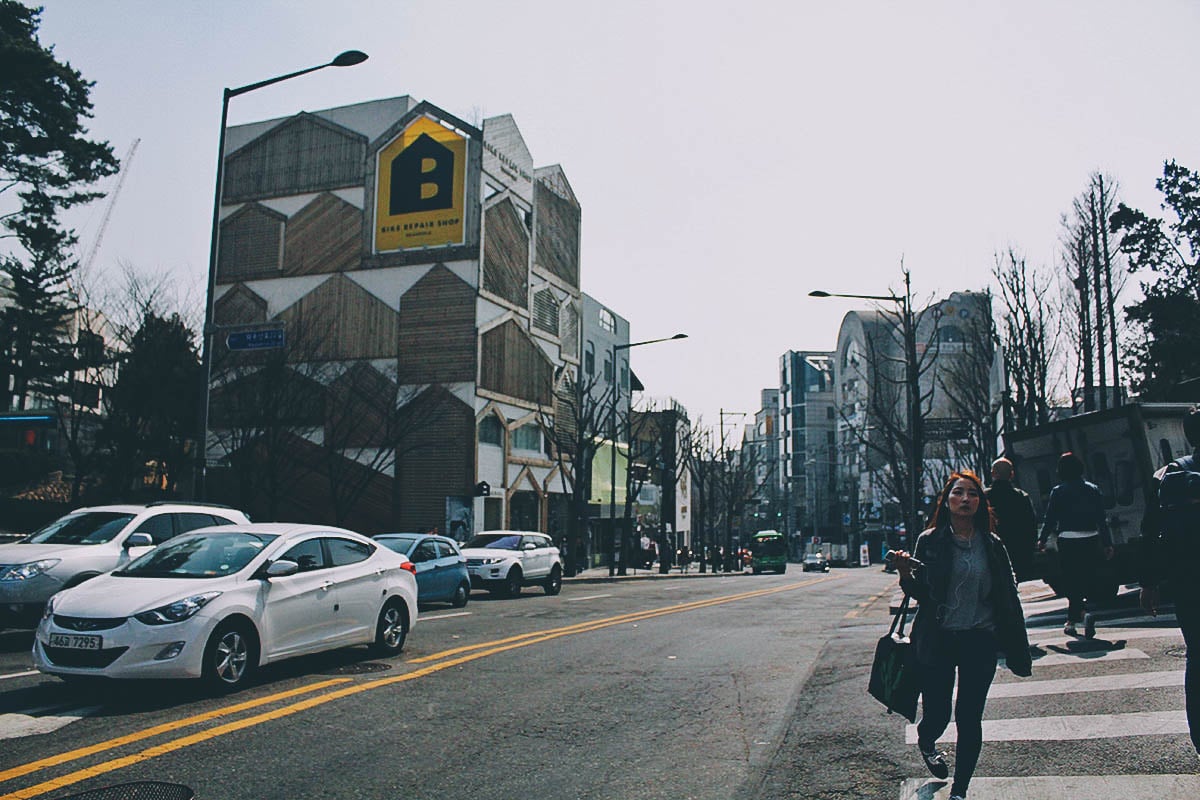 It's the coolest bike repair shop ever!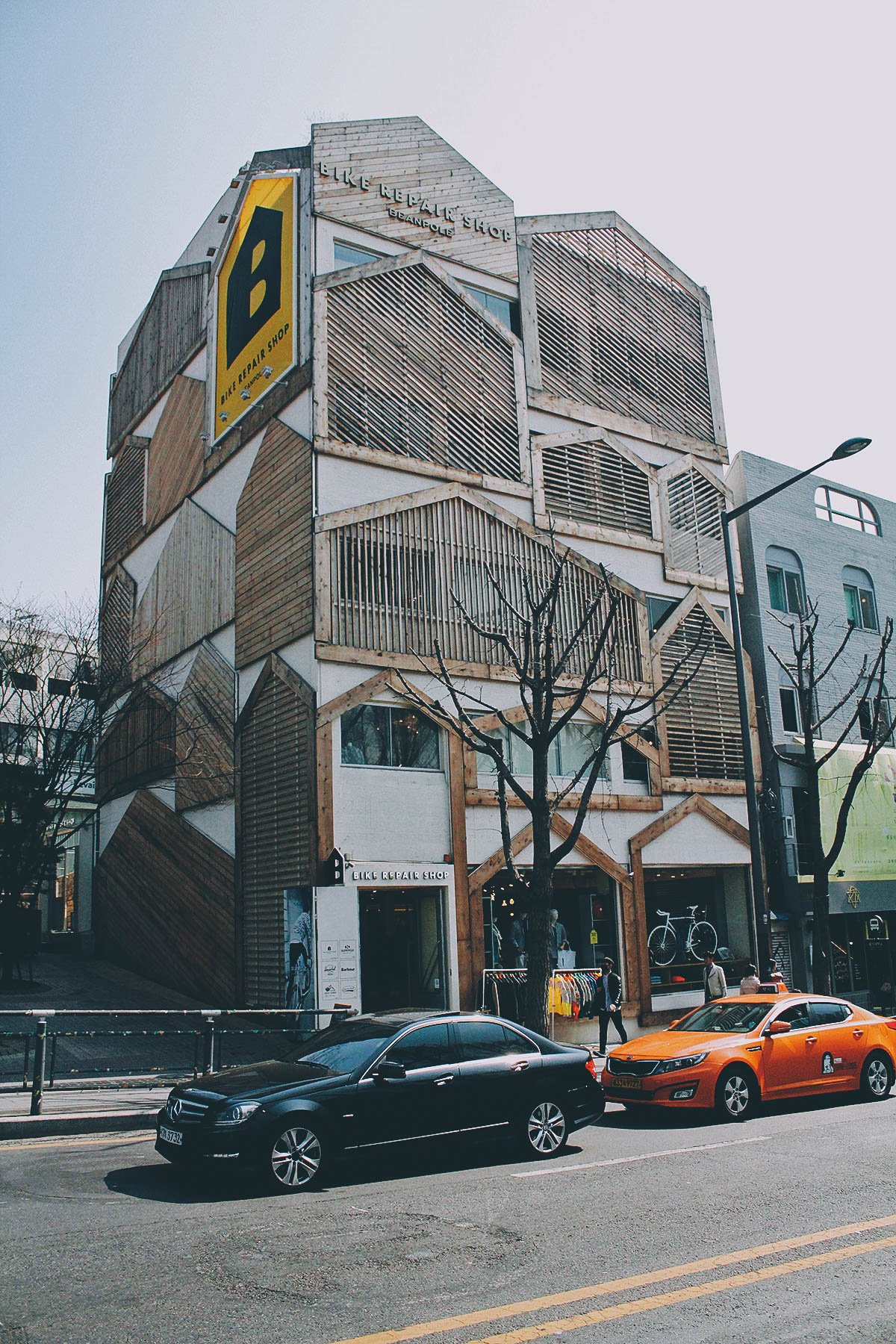 I wonder if they have them in kimchi flavor?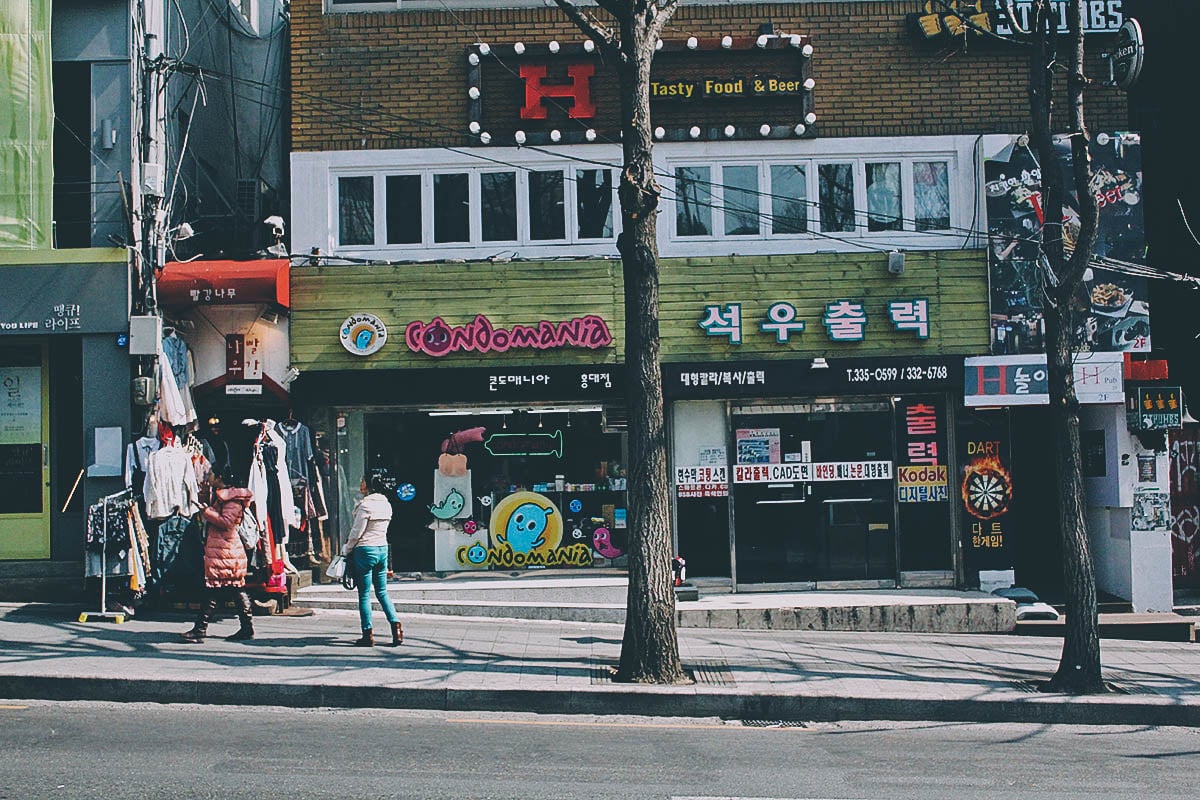 If I were to redo anything about our trip, I'd probably book a guesthouse in Hongdae instead. Myeongdong is nice and convenient but Hongdae is right up our alley.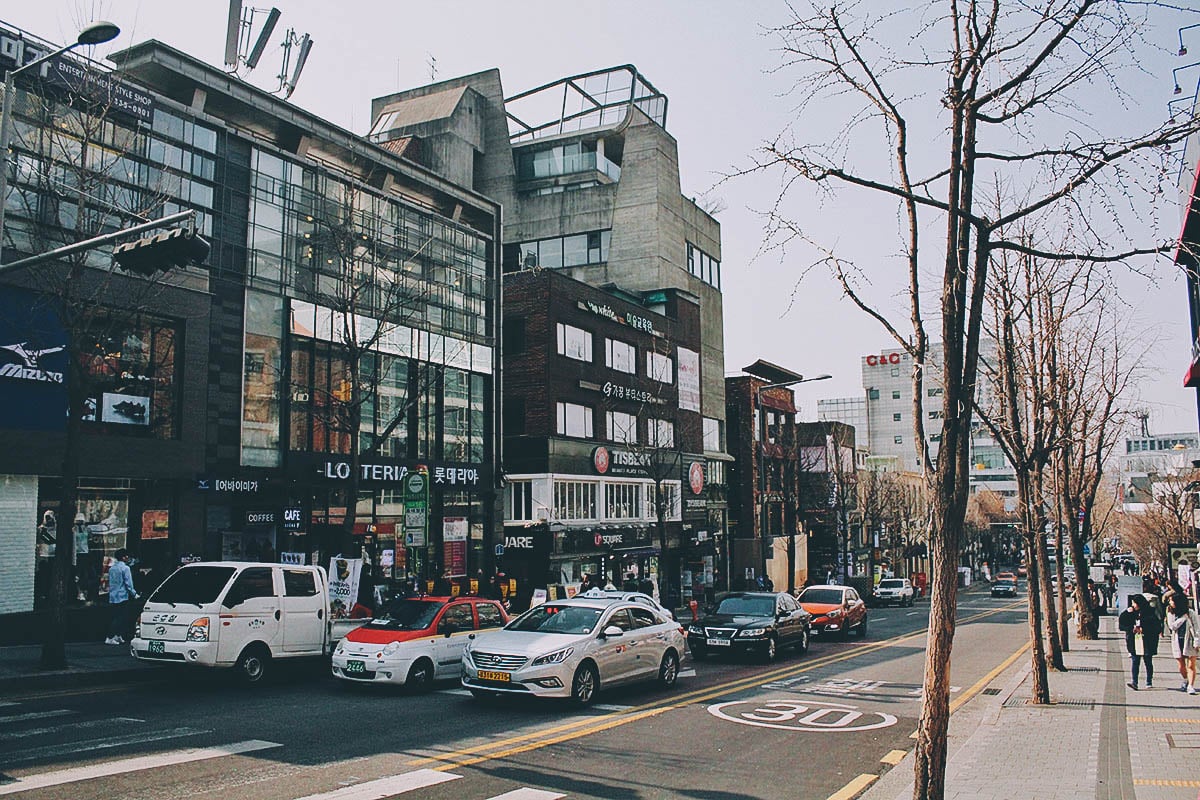 Wonderbra seems to be popular in Seoul. Check out those colorful steps next to it.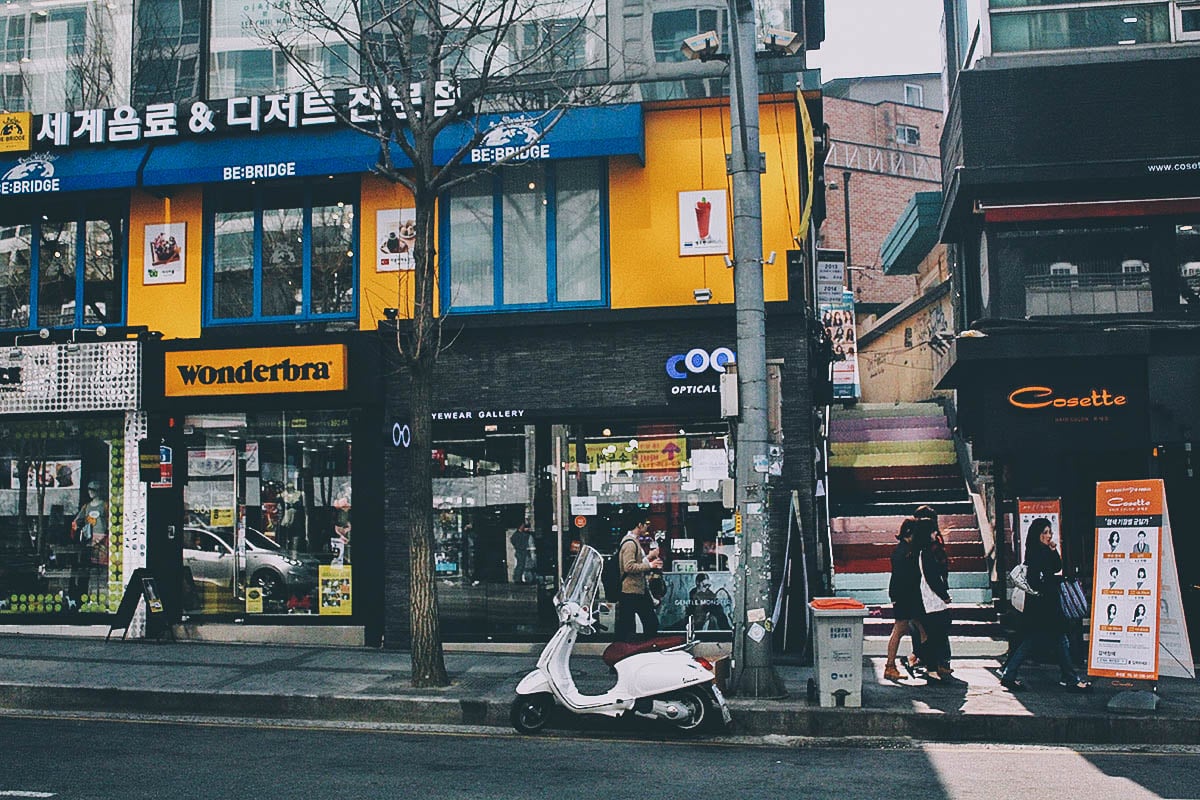 If there's one place to get lost at in Seoul, Hongdae would be it. So much cool shit to discover here.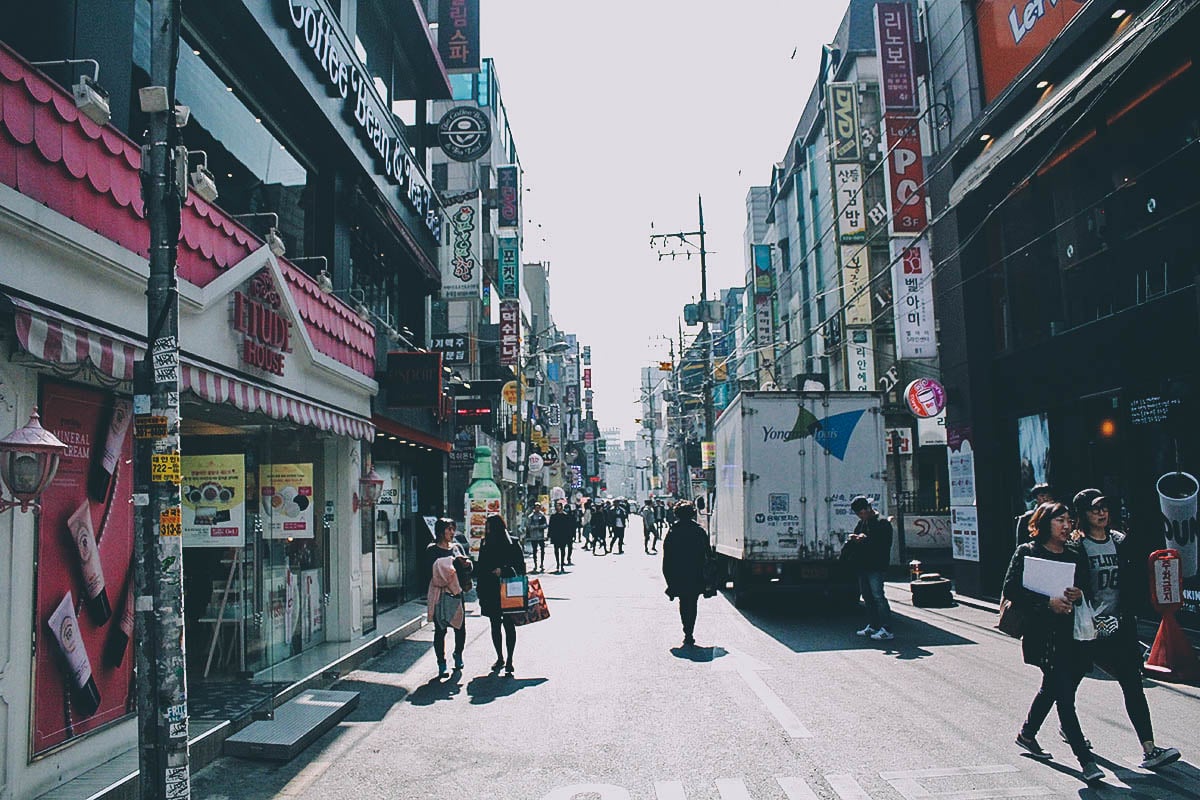 Here's another street performer making big-ass bubbles.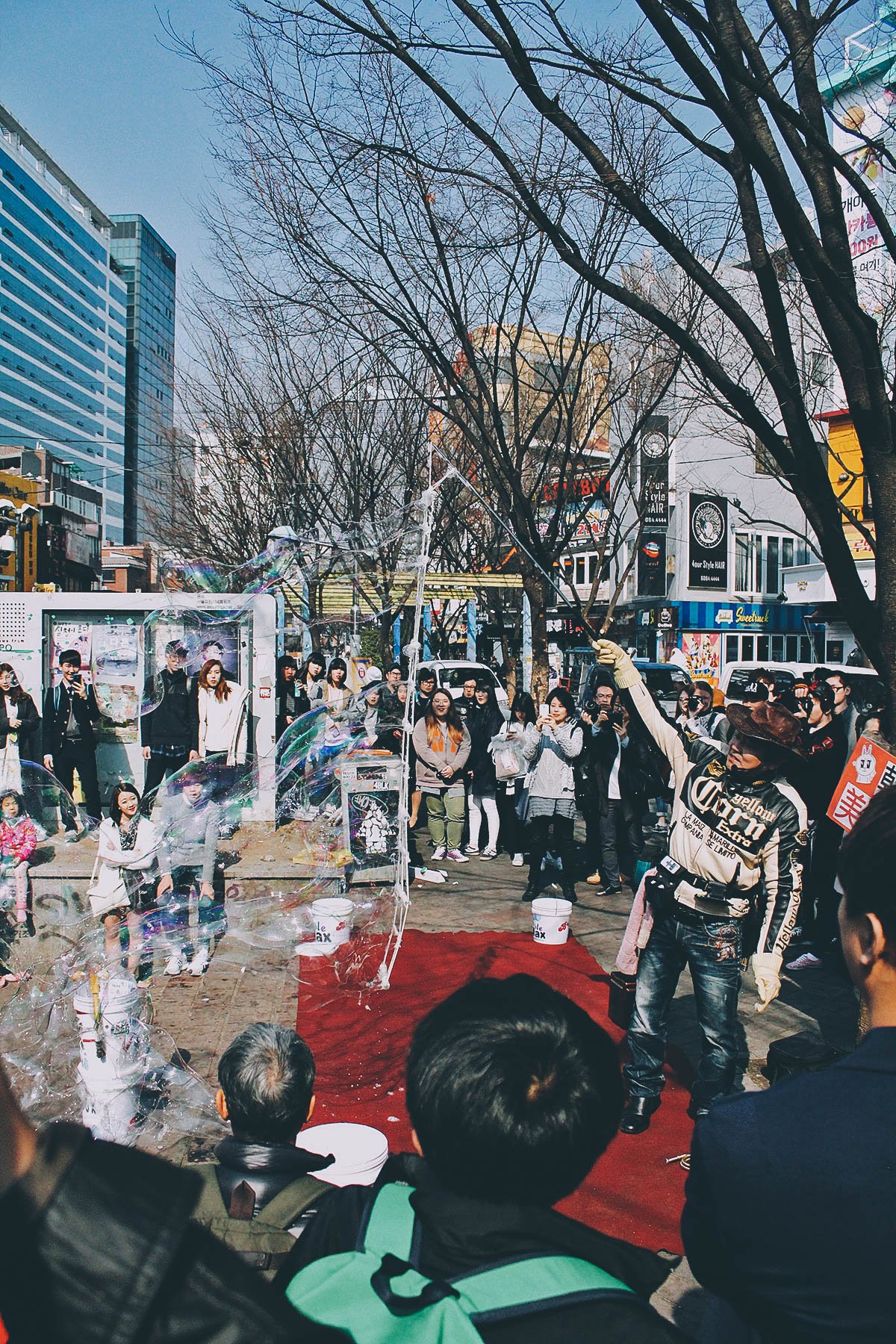 If dog and cat cafes aren't interesting enough for you, then maybe you'd prefer this one.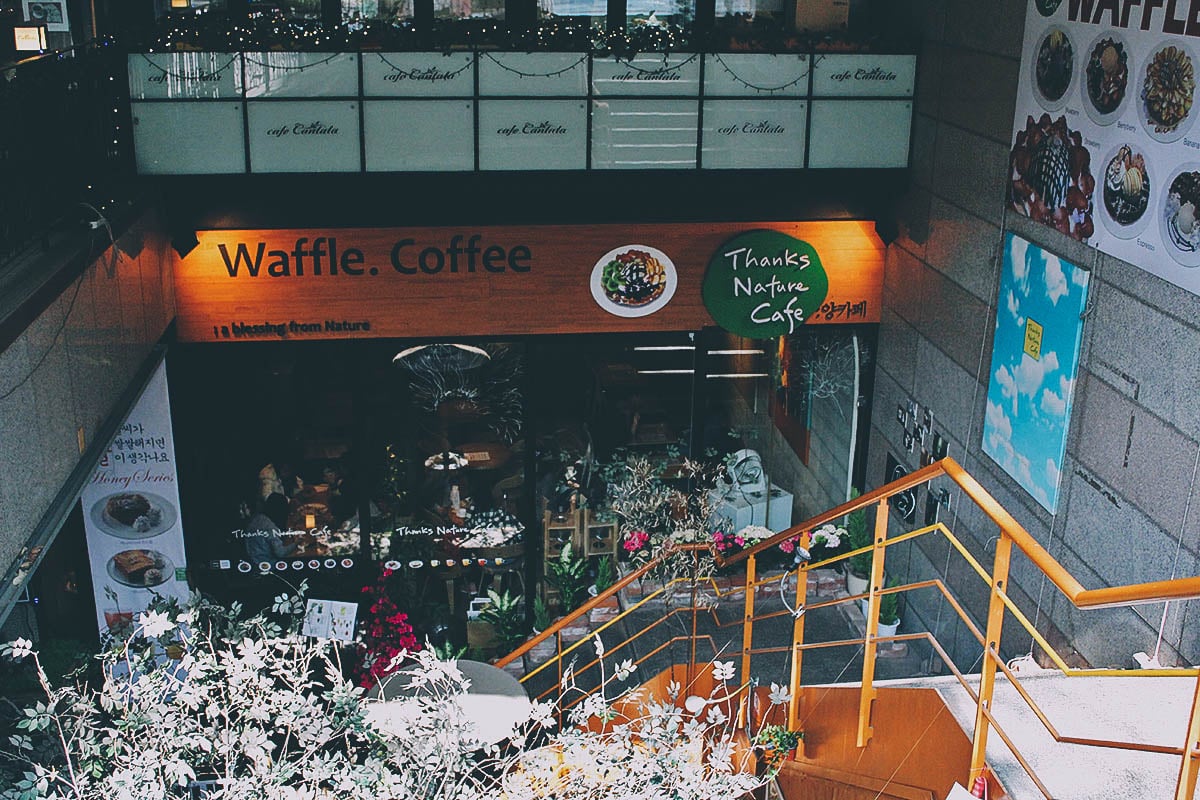 A sheep cafe! Can you believe it? The first of its kind in Seoul, Thanks Nature Cafe lets you interact with its cute resident sheep over coffee and dessert.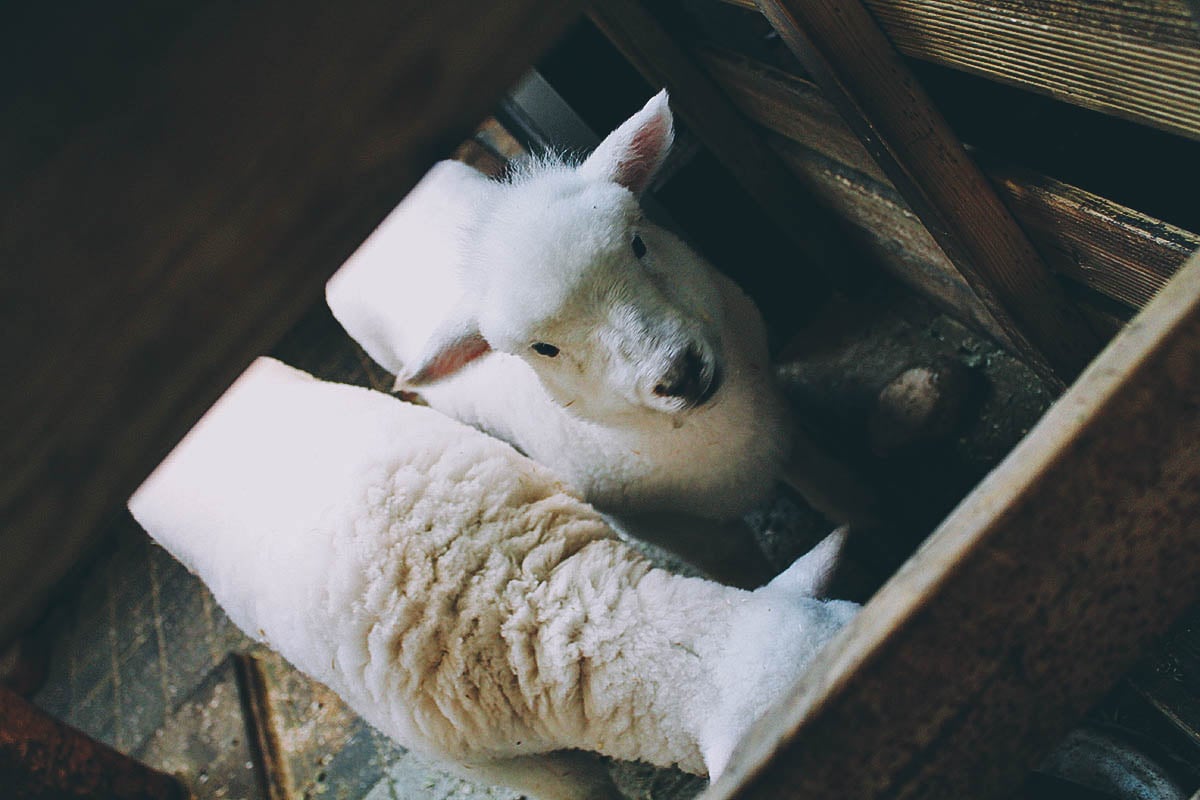 Smiling but unamused, this was Ren after I told her that she just petted her favorite protein.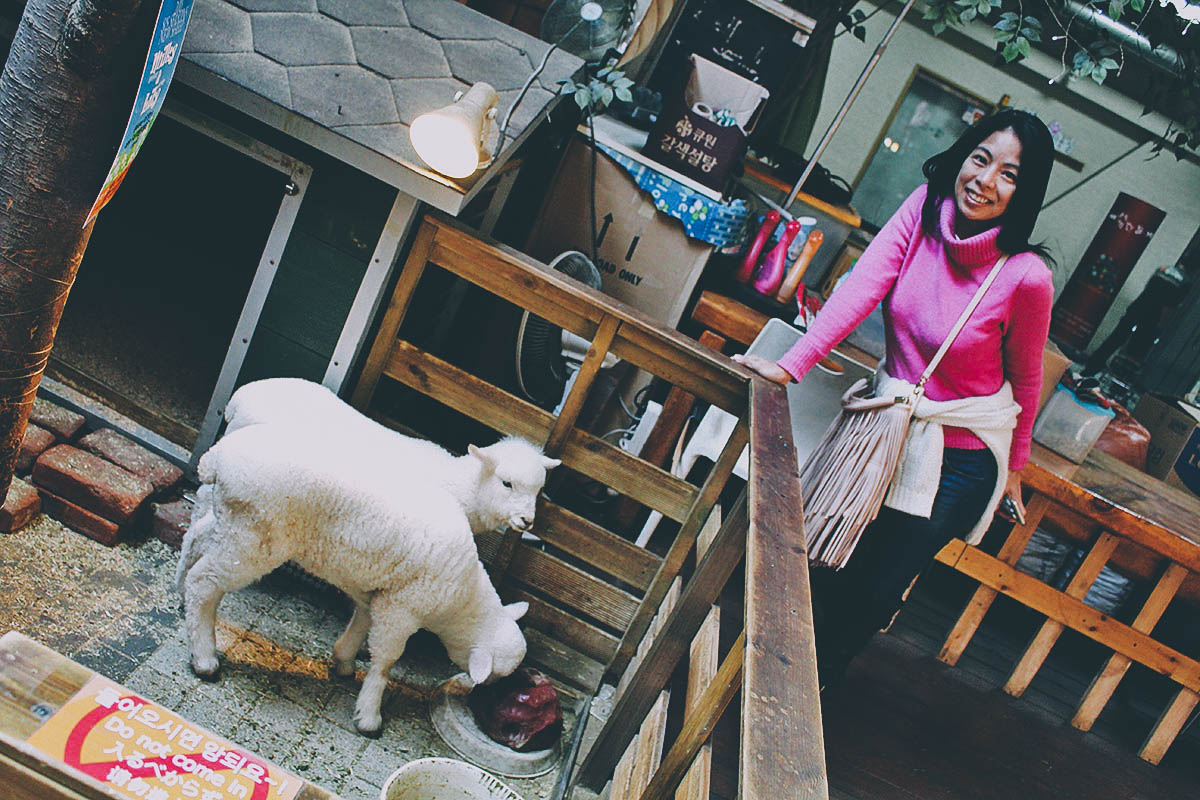 Hongik University, Seoul, South Korea 홍익대학교
94, Wausan-ro, Mapo-gu, Seoul, South Korea 서울특별시 마포구 와우산로 94 (상수동)
Best Time to Go: Anytime
HOW TO GET THERE
By subway, get off at Hongik University station (line 2), exit 9.
FINAL THOUGHTS ON MYEONGDONG, INSADONG, AND HONGDAE
I only listed three here but there are many cool shopping neighborhoods like this one in Seoul. There's cosmopolitan Itaewon for one. Dongdaemun Shopping Complex is another. If you like upscale cafes, you'll find many along trendy Samcheongdong-gil Road. If markets are your thing, there are Nandaemun and Gwangjang markets.
It felt like no matter which metro stop you got out of, there would always be something interesting waiting for you in Seoul. It reminded me of Manhattan in that sense. The city felt alive no matter where you were or what time of day it was.
Disclosure
Some of the links in this article on Myeongdong, Insadong, and Hongdae are affiliate links, meaning we'll get a small commission if you make a purchase at NO extra cost to you. We really appreciate your support as it helps us keep this free website going. Thank you!