EDITOR'S NOTE (25 September 2022): All prices indicated in this article are from our last visit to Addiction Aquatic Development in 2019.
I still remember the first time we visited Addiction Aquatic Development in Taipei. It was in October of 2014 and I had randomly stumbled upon their website when doing research for our trip. It looked amazing in pictures, but nothing I saw nor read on the internet could possibly prepare me for the awesomeness that is AAD.
Addiction Aquatic Development is a seafood lover's ultimate wet dream.
It's hard to describe exactly what it is because AAD is so much more than just a fresh fish market or restaurant. It's like the IKEA of seafood, the likes of which I have never seen anywhere else. If you're visiting Taipei and have a love for seafood, then it's something you need to see for yourself to understand.
FOOD IN TAIPEI QUICK LINKS
To help you plan your trip to Taipei, we've put together links to recommended tours and other travel-related services here.
TOURS
OTHER SERVICES
TAIPEI TRAVEL GUIDE
If you're visiting Taipei for the first time, then be sure to check out our detailed Taipei travel guide. It'll have all the information you need – like where to stay, which attractions to visit, where to eat, etc. – to help you plan your trip.
Save This on Pinterest!
No time to read this article on Addiction Aquatic Development? Click on the save button and pin it for later!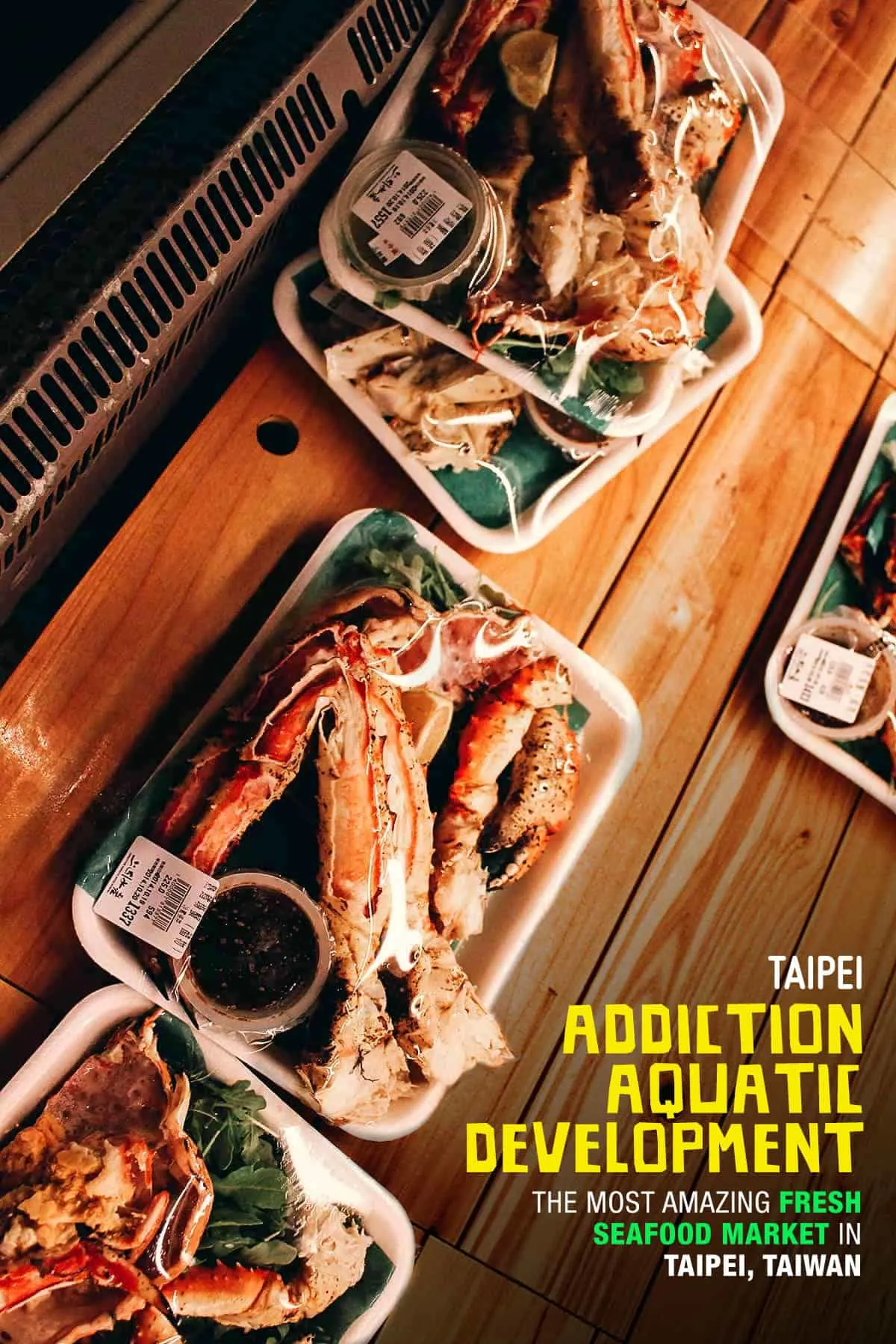 WHAT IS ADDICTION AQUATIC DEVELOPMENT?
Addiction Aquatic Development (AAD) is a Disneyland for seafood lovers. Seriously. There's no better way to describe it than that.
To put it in more concrete terms, it's an upscale Taipei fish market, gourmet supermarket, standing sushi bar, oyster bar, seafood bar, hot pot restaurant, seafood barbecue restaurant, and flower market all packed into a 1,983 square meter space.
At AAD, you can find everything from live king crabs, hairy crabs, abalone, geoduck, diver scallops, uni, sushi, and fresh sashimi. Think of it as a Taiwanese Tsukiji fish market, but smaller, more stylish, and less expensive. I know it sounds too good to be true, but trust me, this place is real.
One thing to remember, if you plan on dining at AAD, then please be advised that it's a cash-only facility. They don't accept credit cards anywhere at Addiction Aquatic Development so make sure to bring enough cash with you. Directions on how to get there at the bottom of this post.
ADDICTION AQUATIC DEVELOPMENT MAP
AAD is comprised of the following ten sections: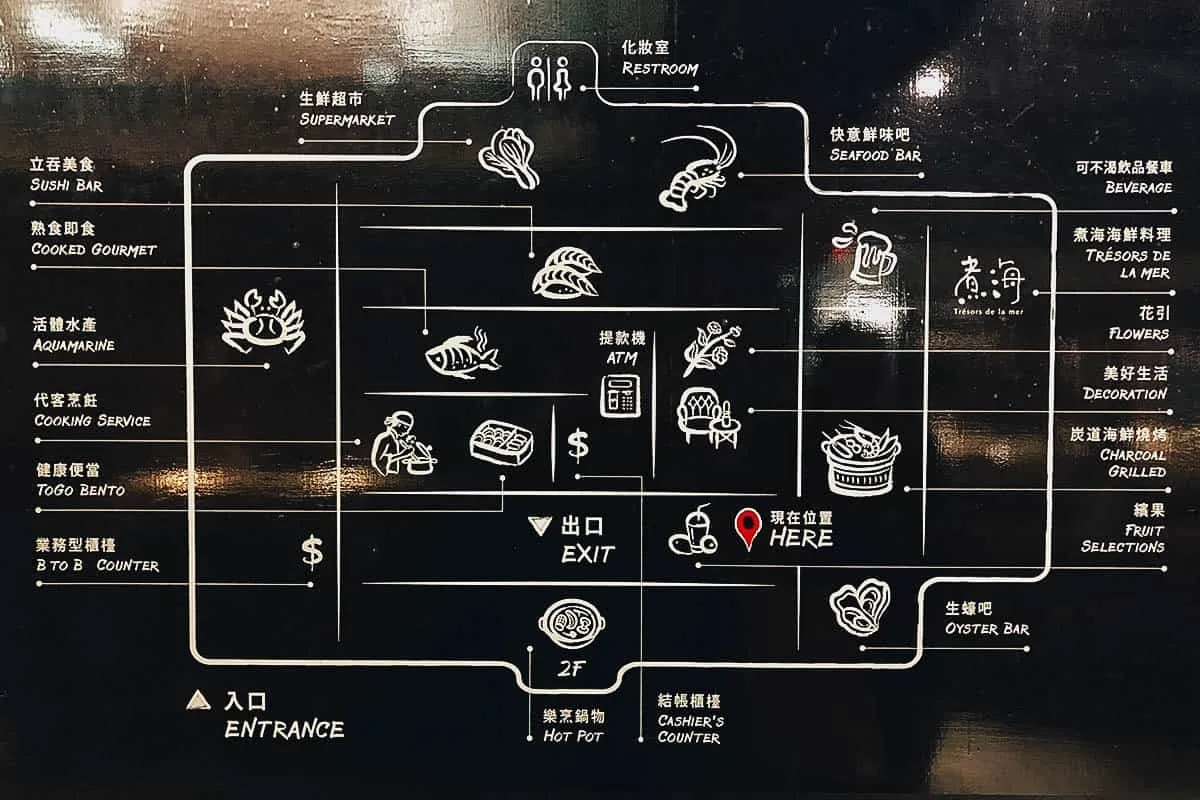 1. Aquamarine
This is the first section you see when you enter the facility. It's comprised of large tanks filled to the brim with live seafood like king crabs, hairy crabs, abalone, and scallops, just to name a few. It's an impressive sight which really sets the tone of your visit.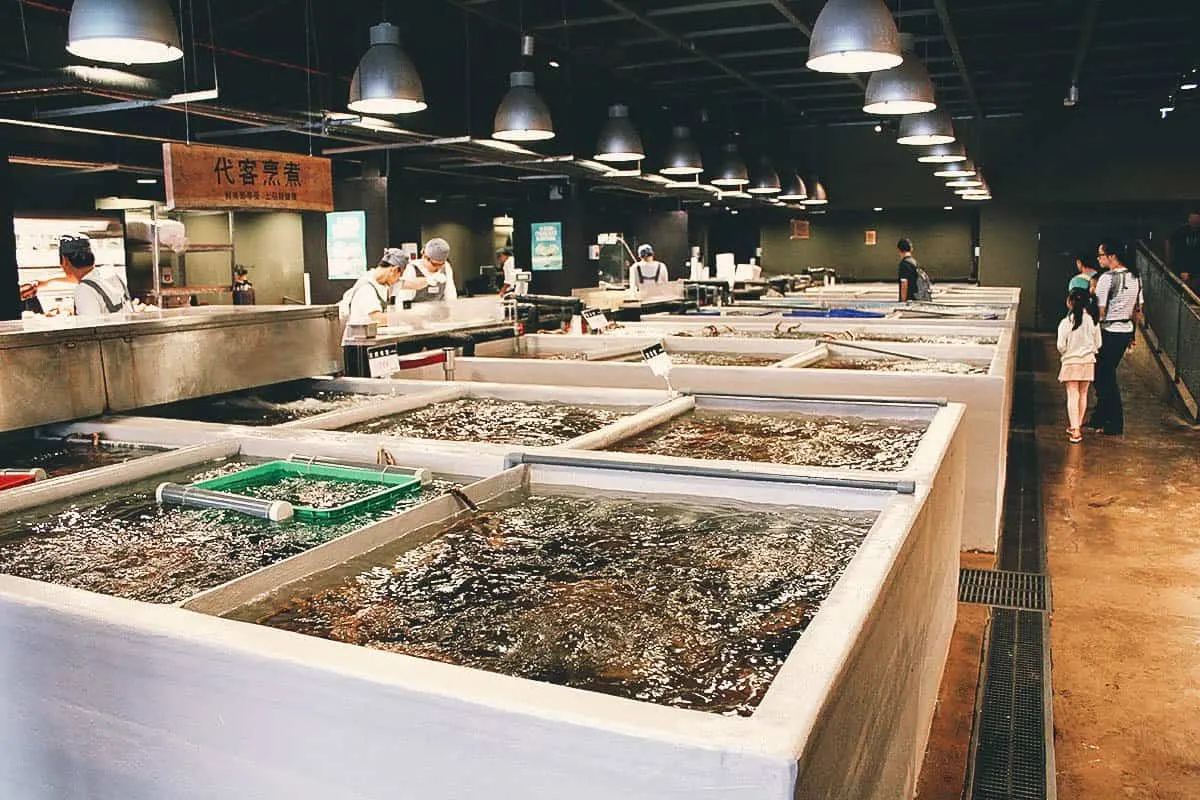 I don't know how often the tank contents change, but when we went, most were filled with humungous crabs and scallops.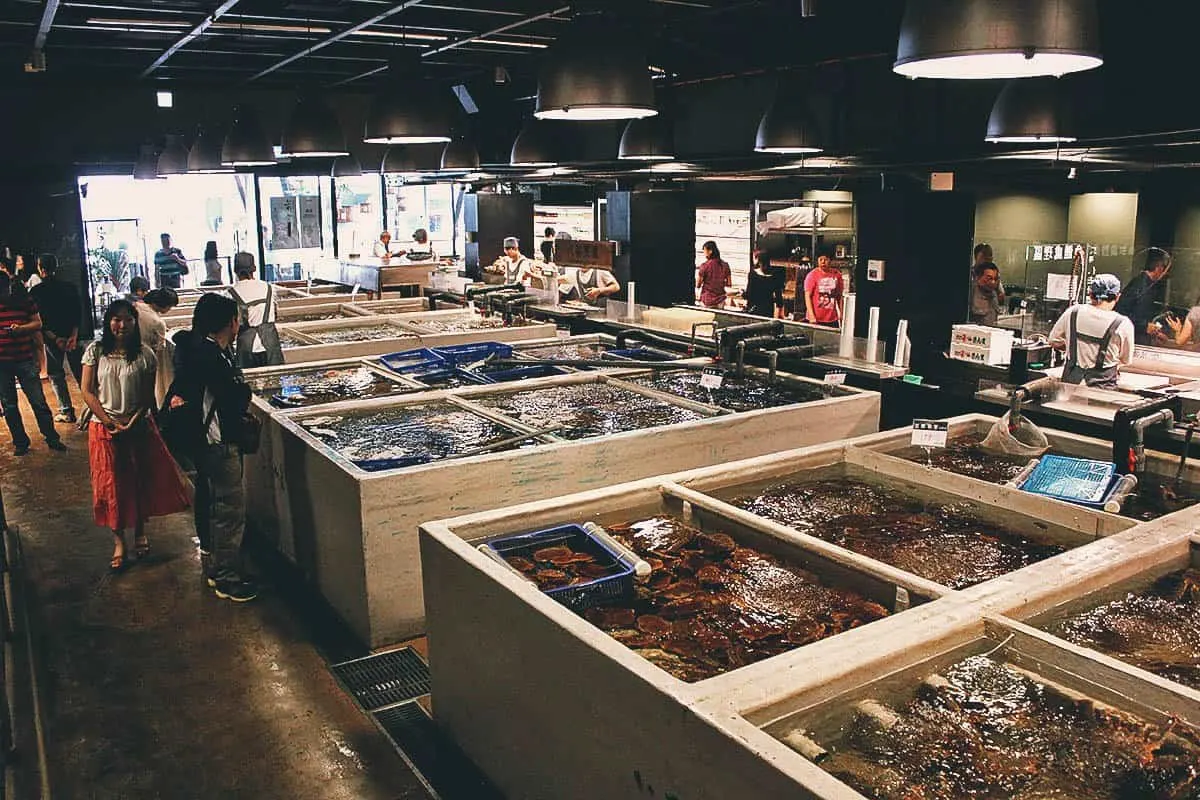 Saucer-sized scallops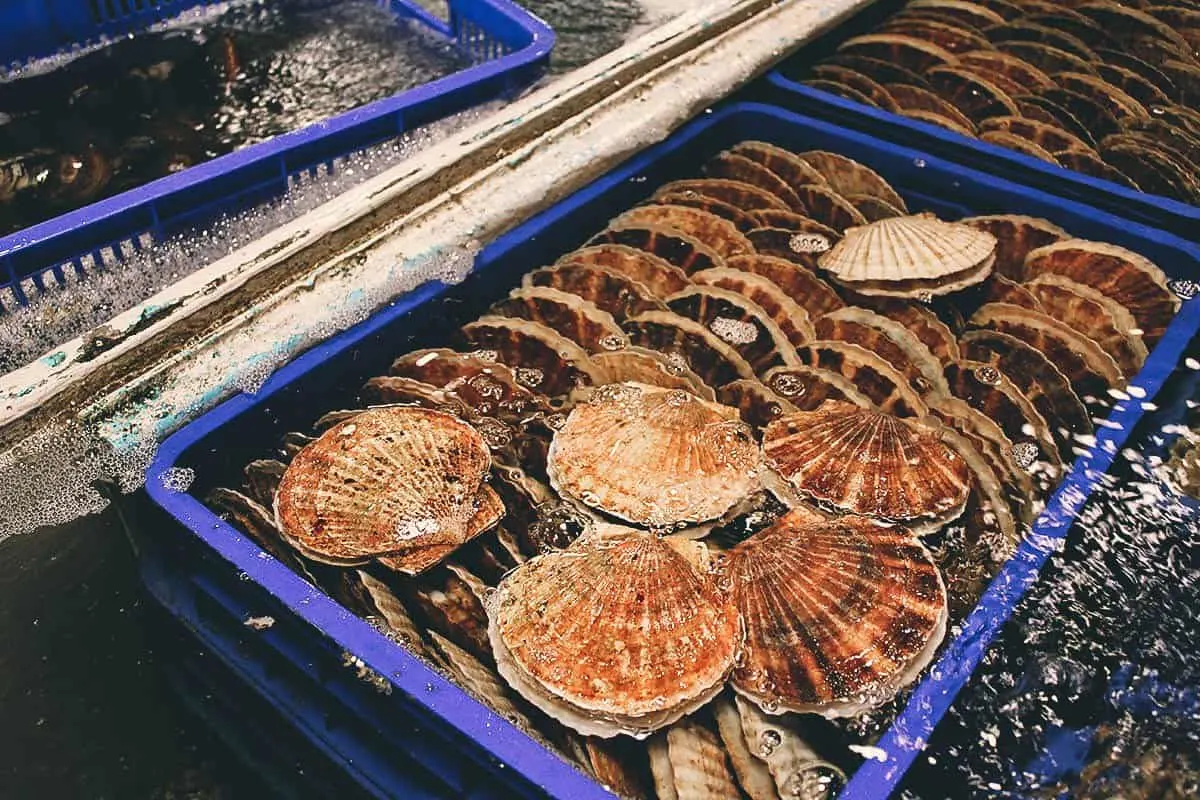 Abalone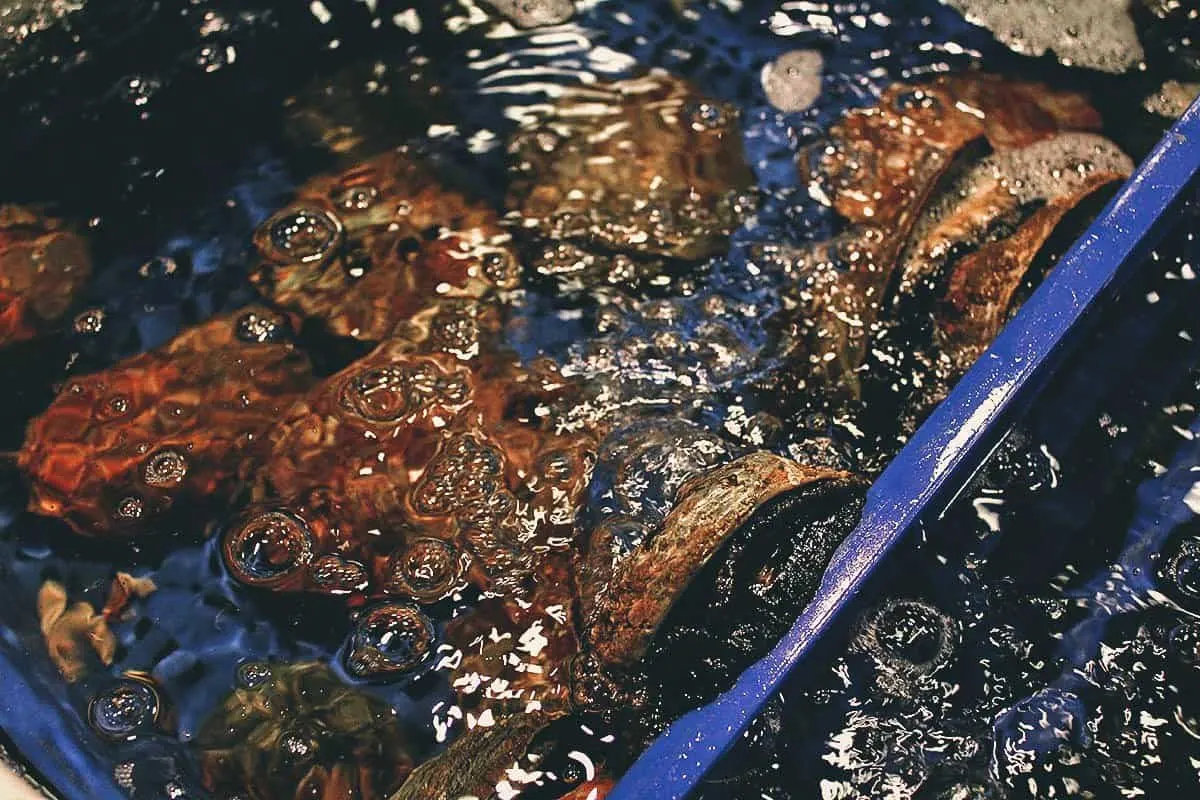 King crab. These things were MASSIVE. About half the tanks were overflowing with these monsters.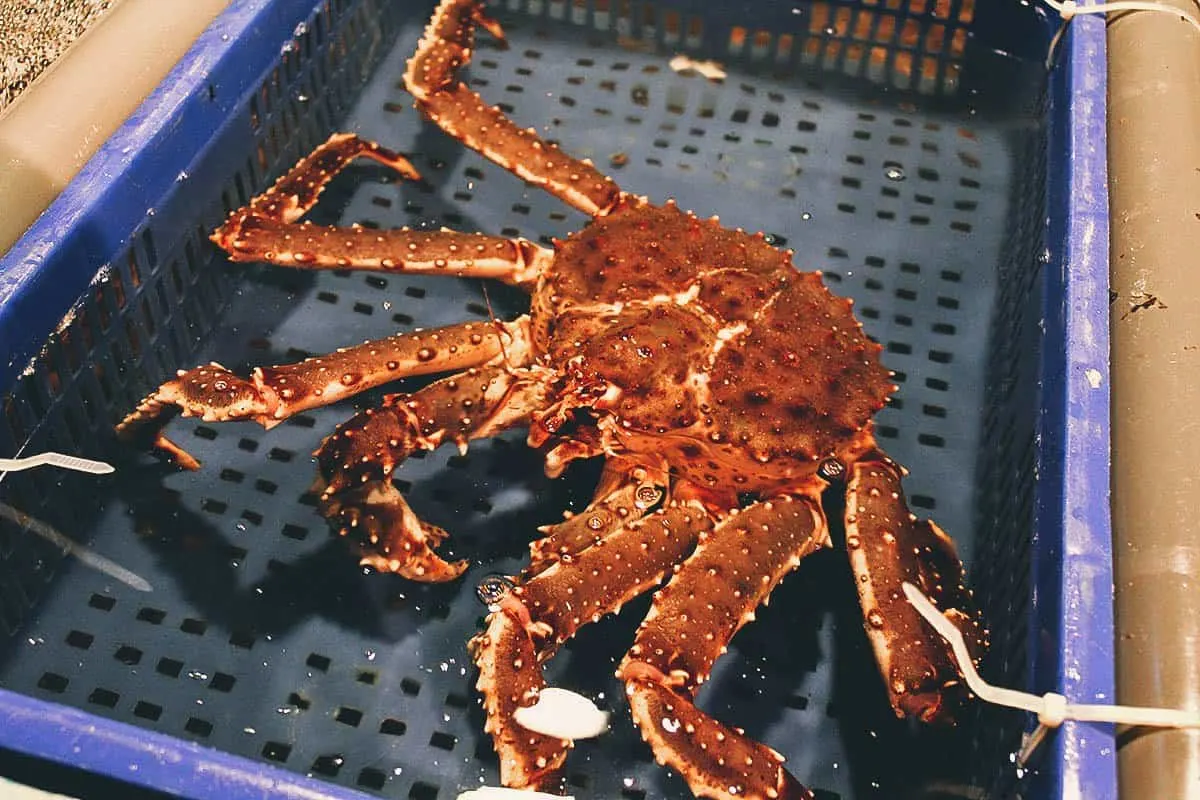 There's a king crab saying hi to that kid. Can you get a sense of how big it is?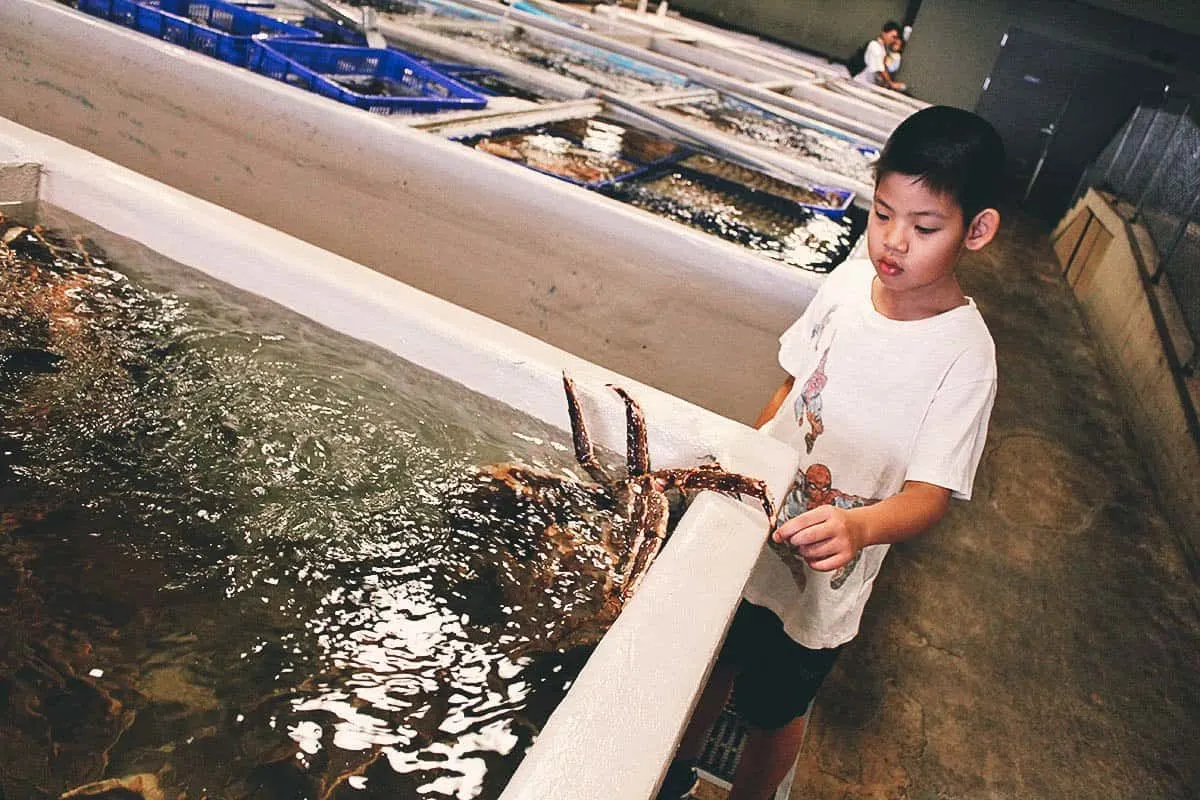 Geoducks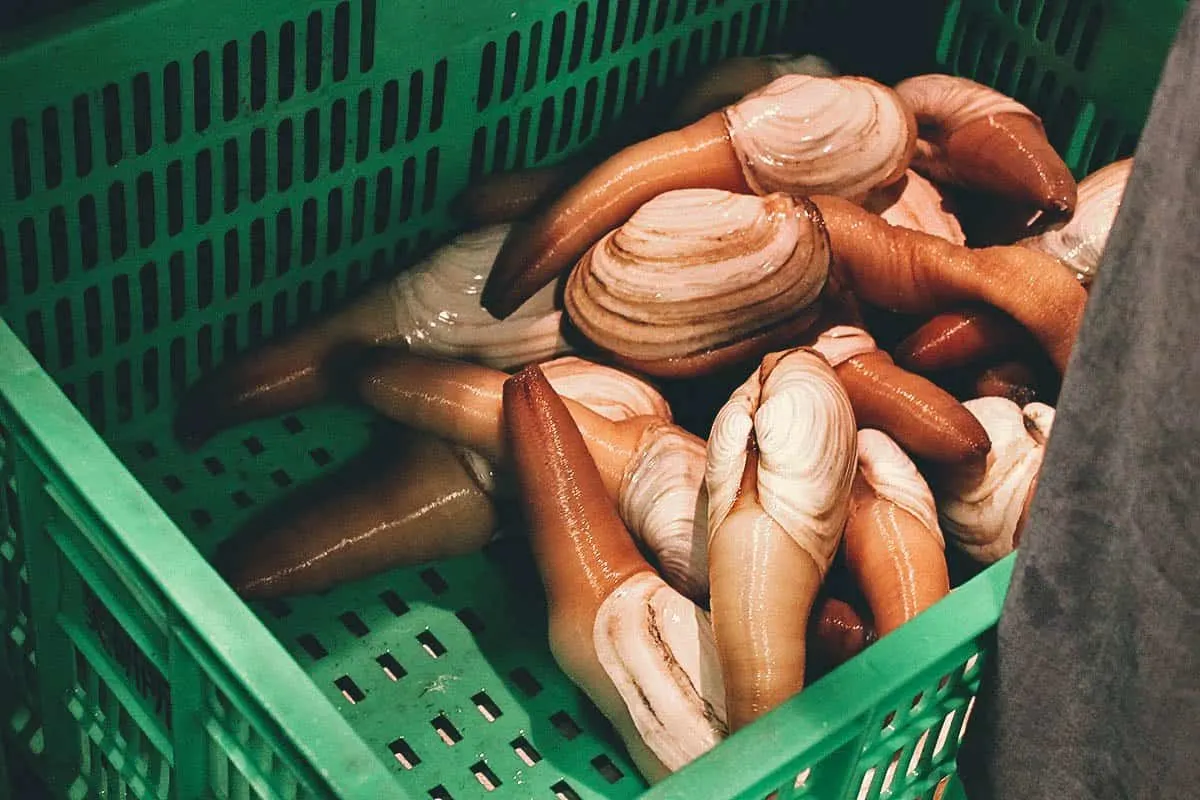 Basket of fresh oysters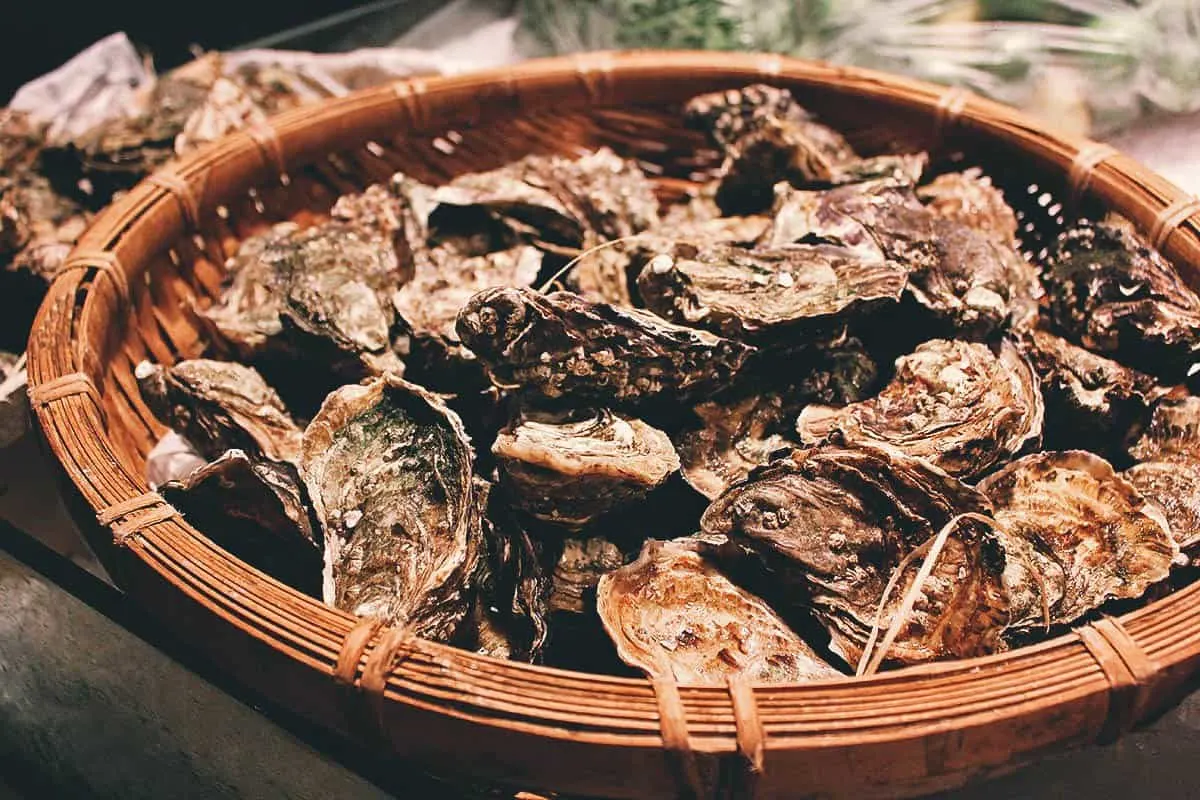 Abalone doesn't get any fresher than this. If you like abalone, then Taiwan is a great place to have it. We saw abalone many times throughout the country, both in restaurants and at night markets. It was never too expensive either.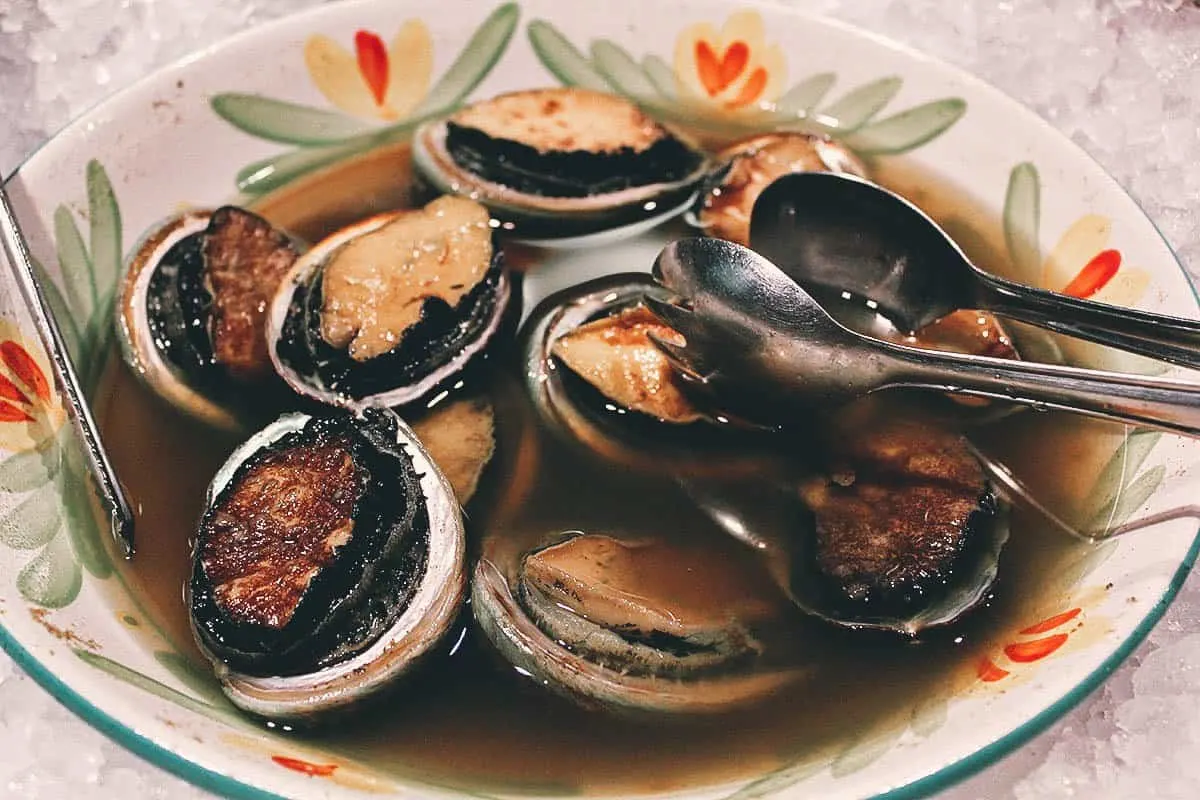 Cooked hairy crab on ice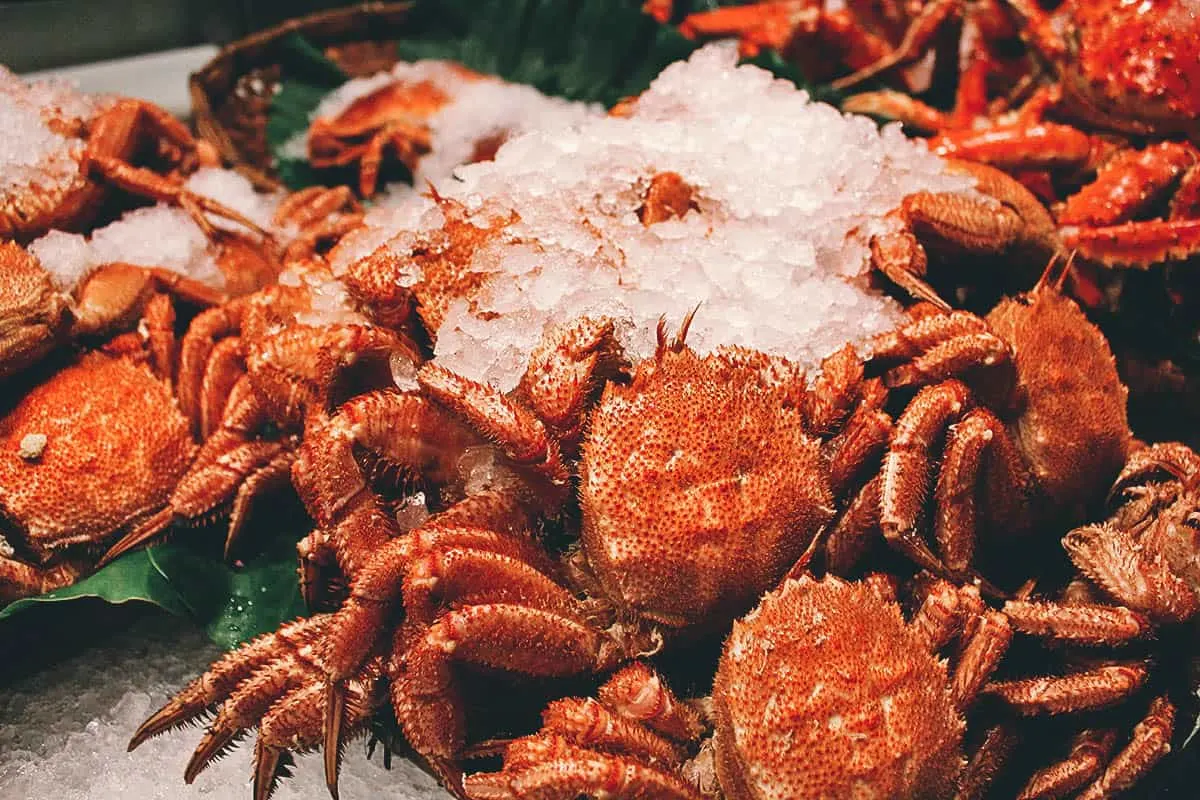 Cooked king crabs. Wait for it…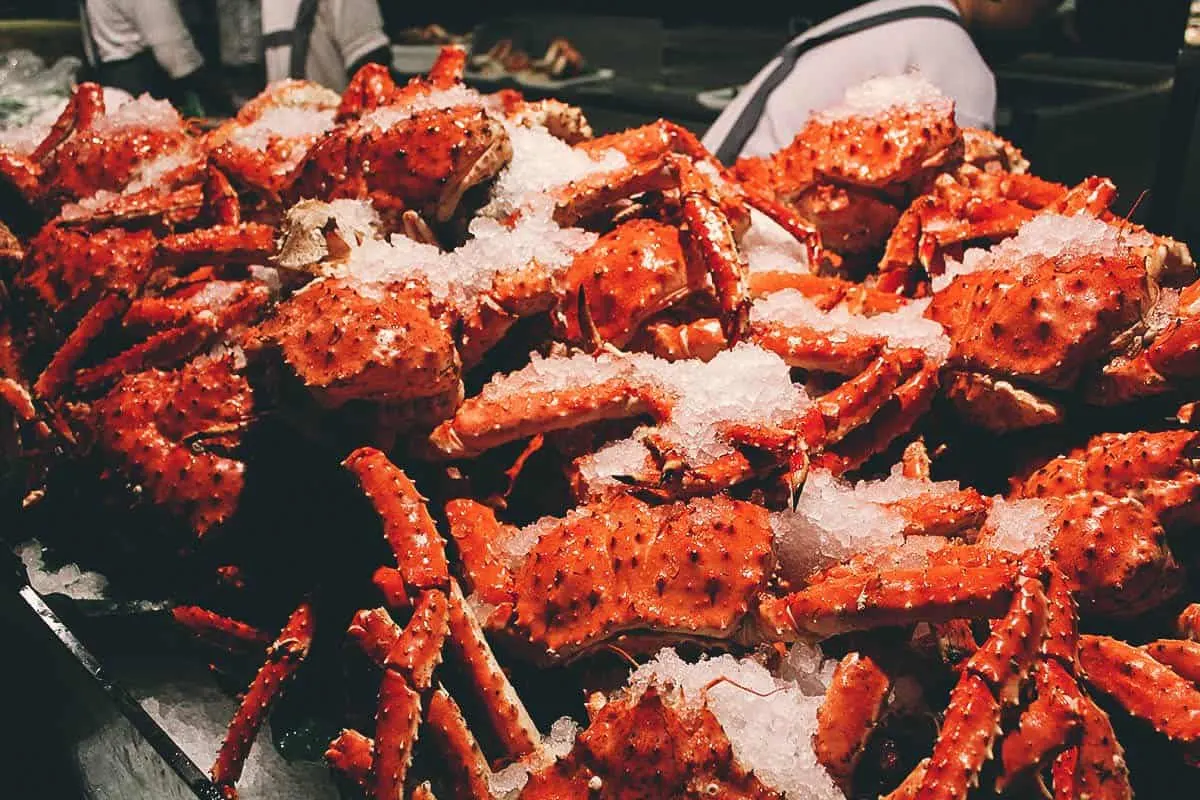 BOOM! I told you they were massive. Most of them were bigger than Ren's head!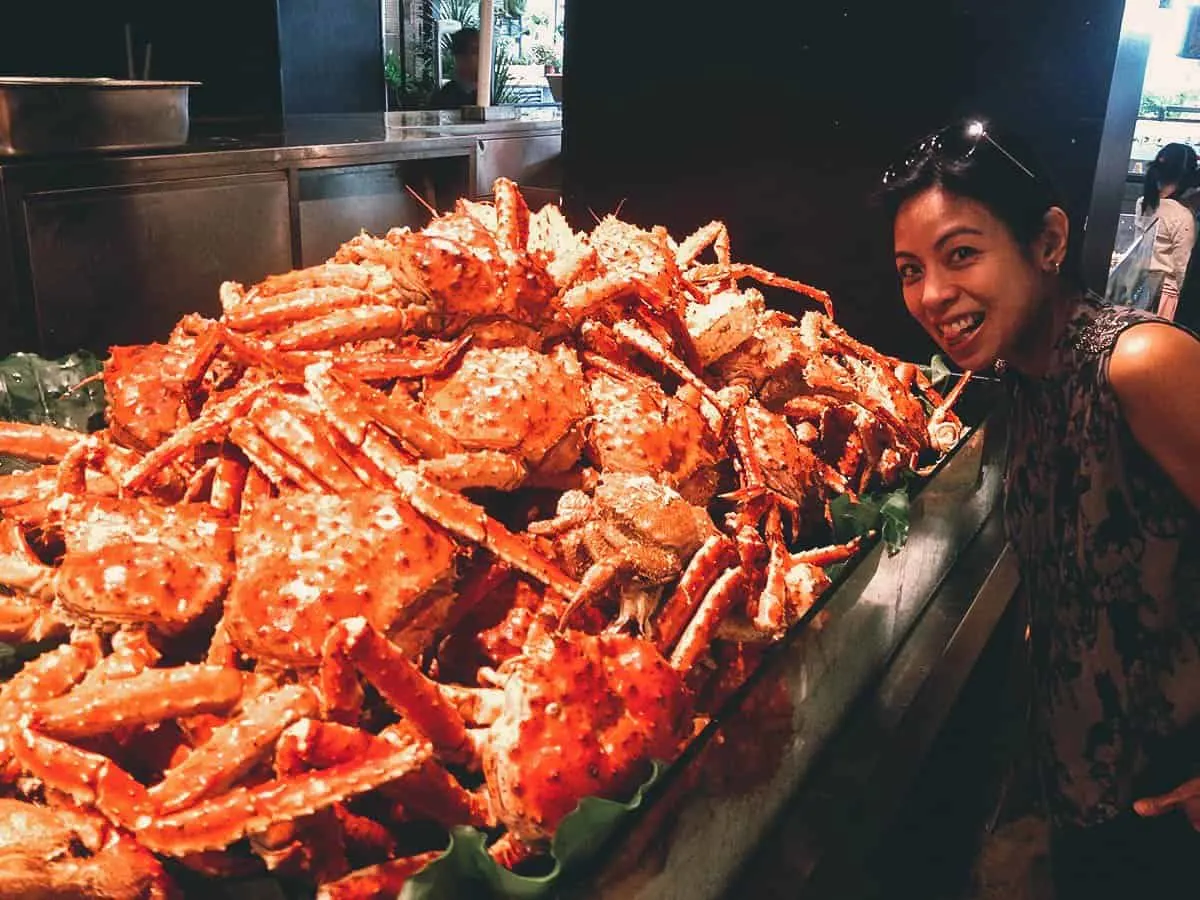 2. Supermarket
Equally impressive was the supermarket which sold not just seafood, but fruits, vegetables, wines and spirits, and meats of the highest quality.
Operating Hours: 6AM-12MN
Salmon fillets and heads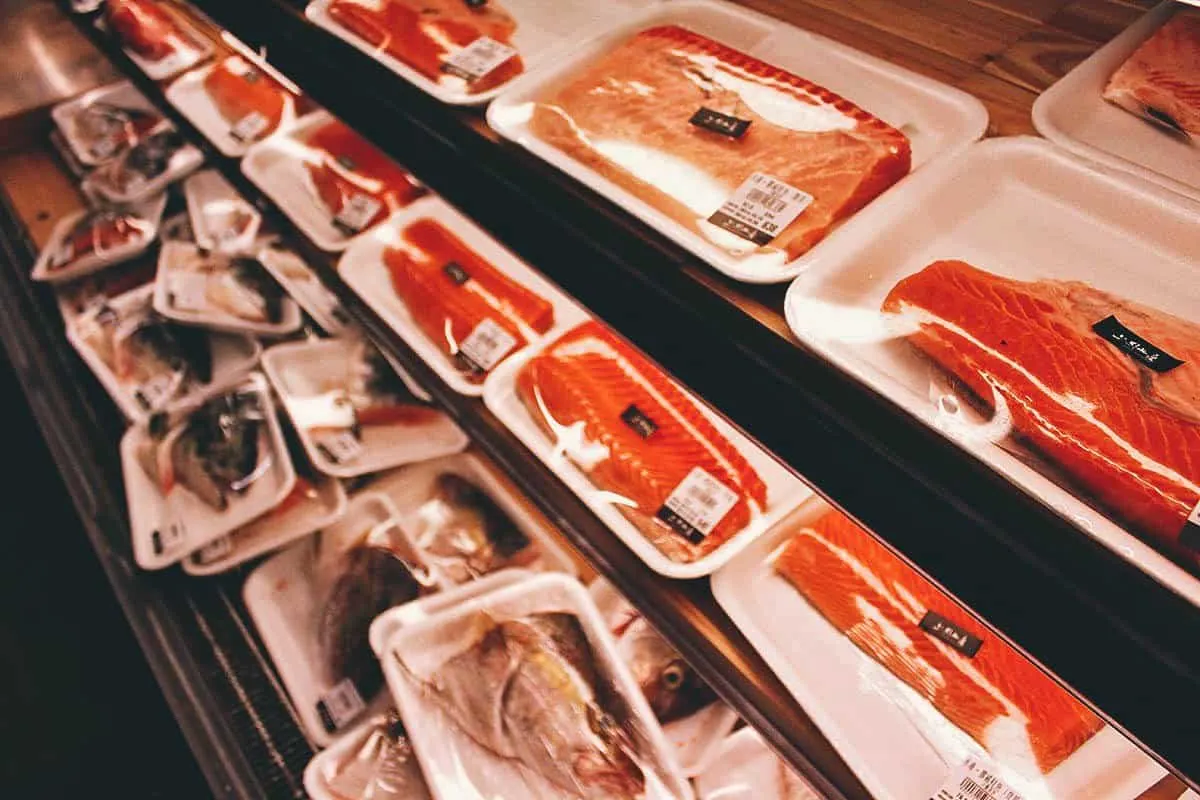 Different cuts of meat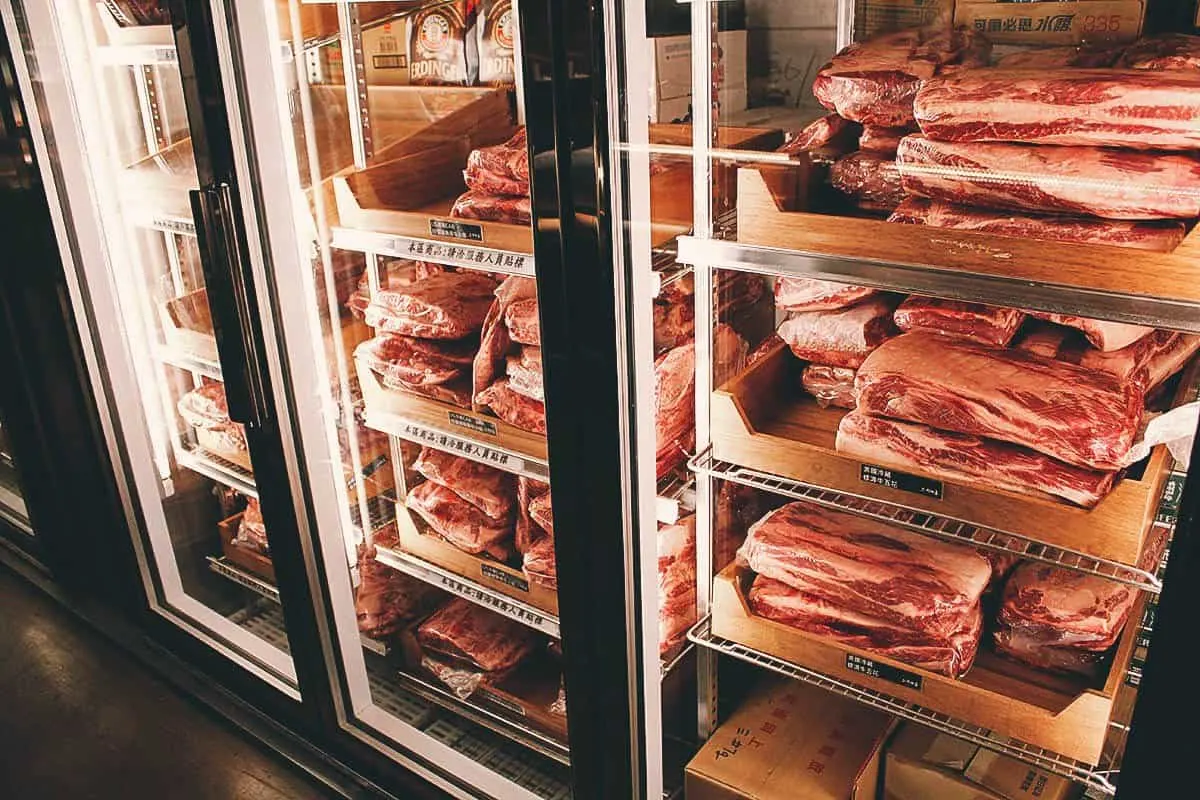 Foie gras! These two chunks went for NTD 345.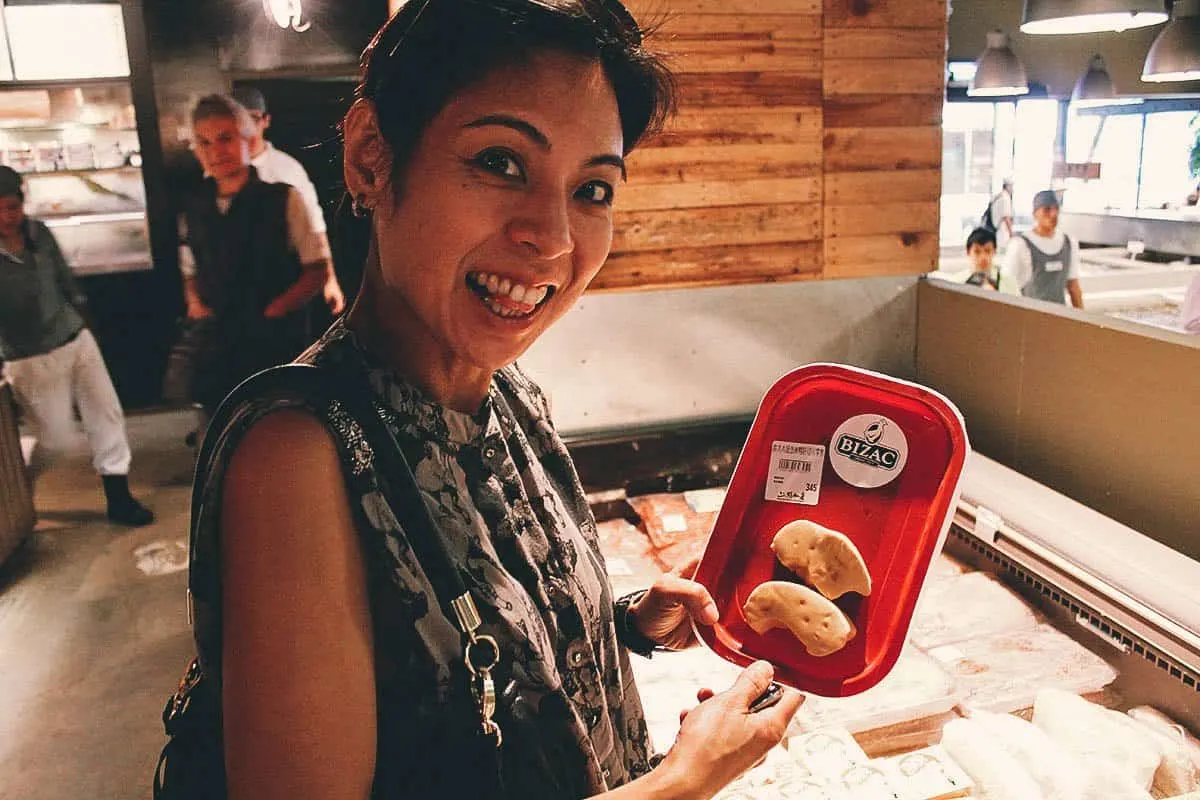 Two measly pieces not enough for ya? How about kilogram bags of frozen duck foie gras? Looking at the label, the 1.09 kg bag was selling for NTD 2,405.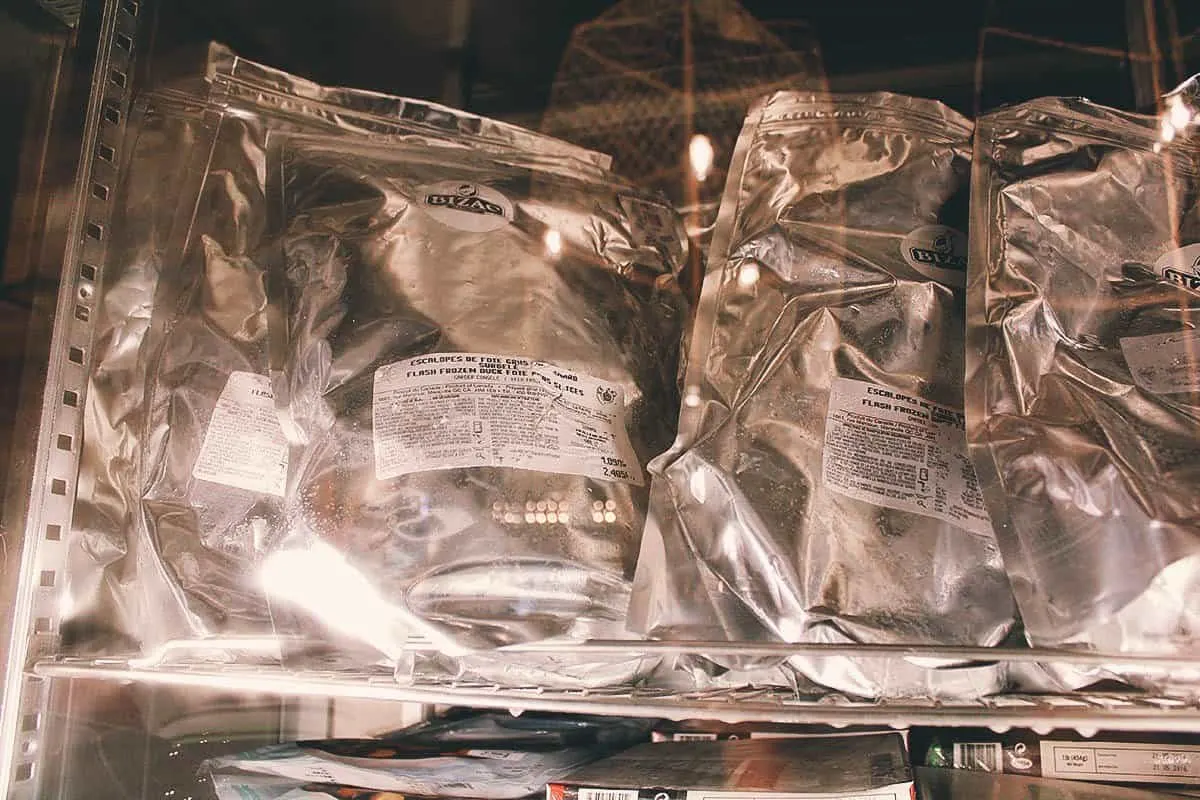 Ren proudly showing off her pillow-sized bag of bonito flakes. It cost us just NTD 278 for that 600 gram bag!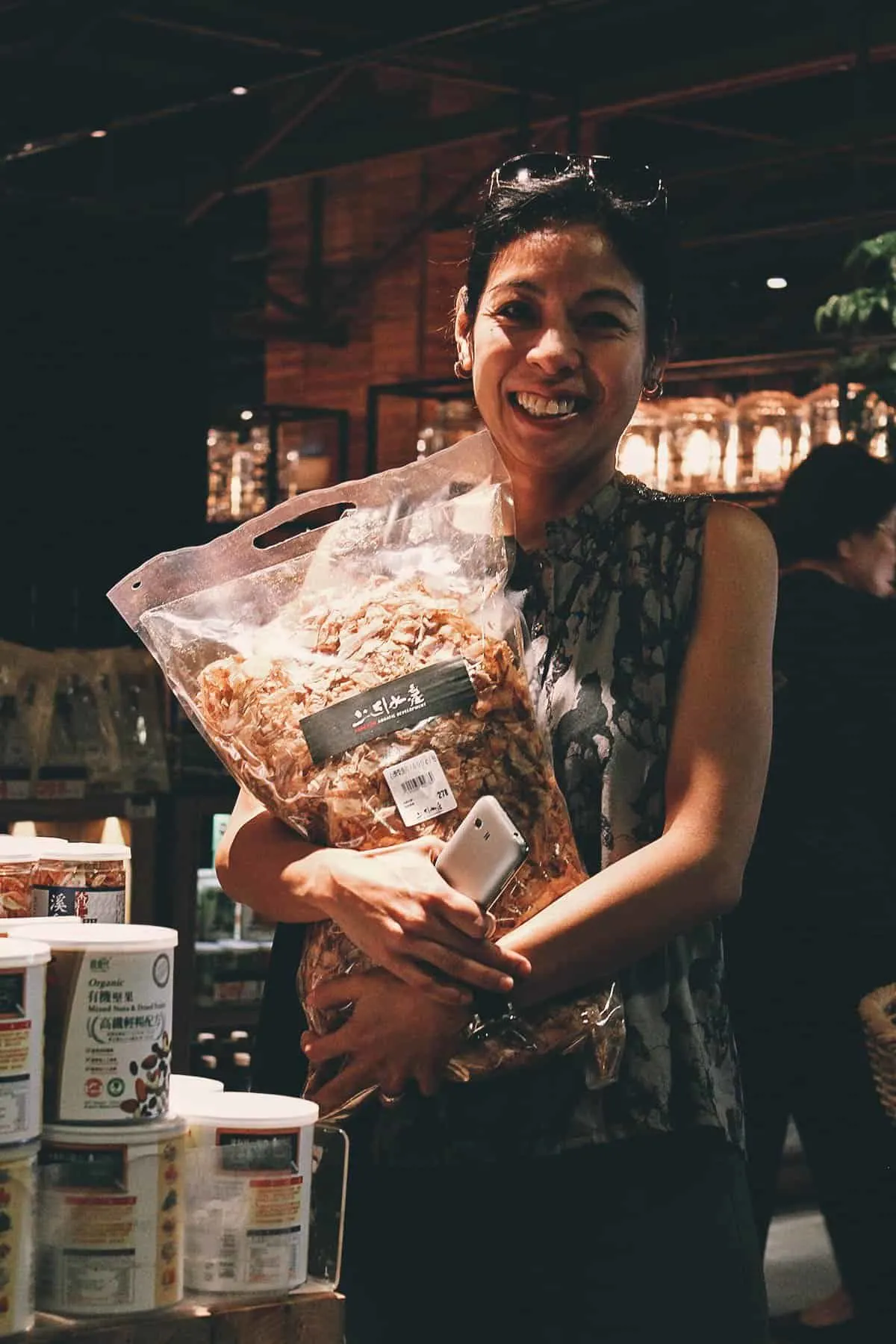 These 72-pc boxes of French macarons could be had for NTD 2,160.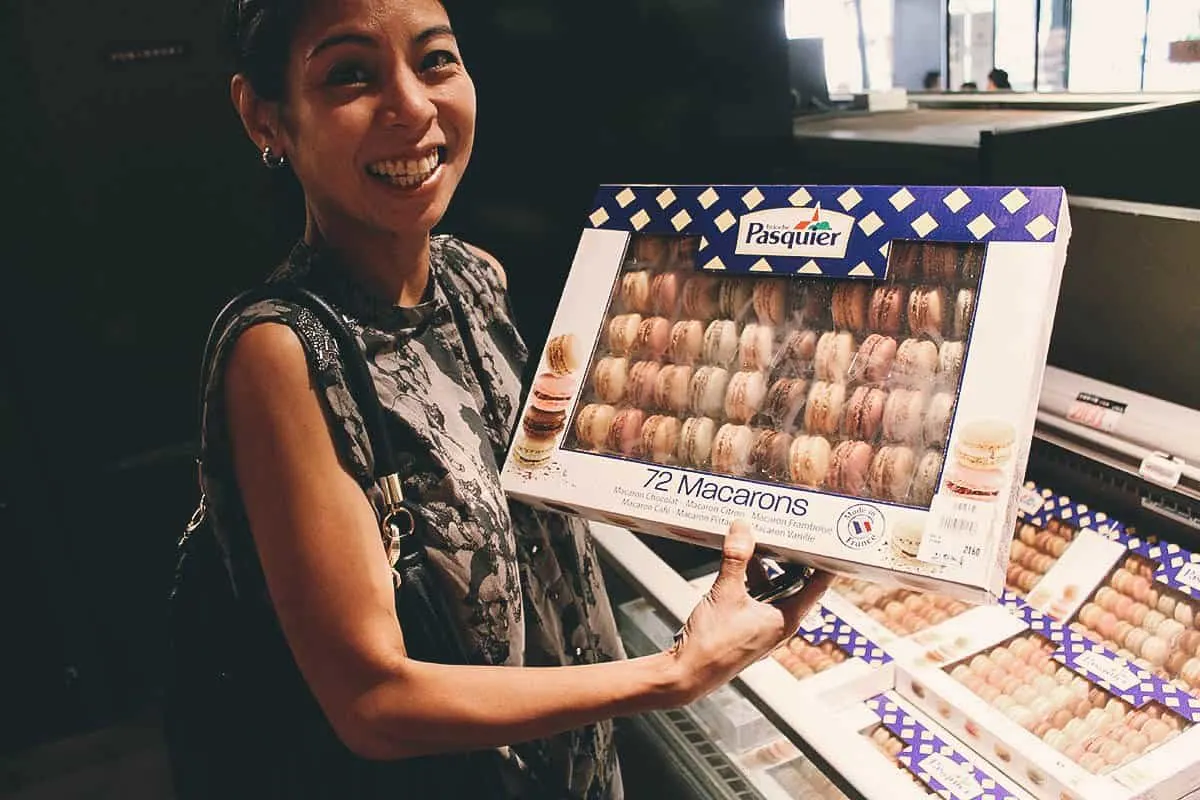 Scallop and sea urchin as far as the eye can see. Well, maybe not that far. But there was a lot.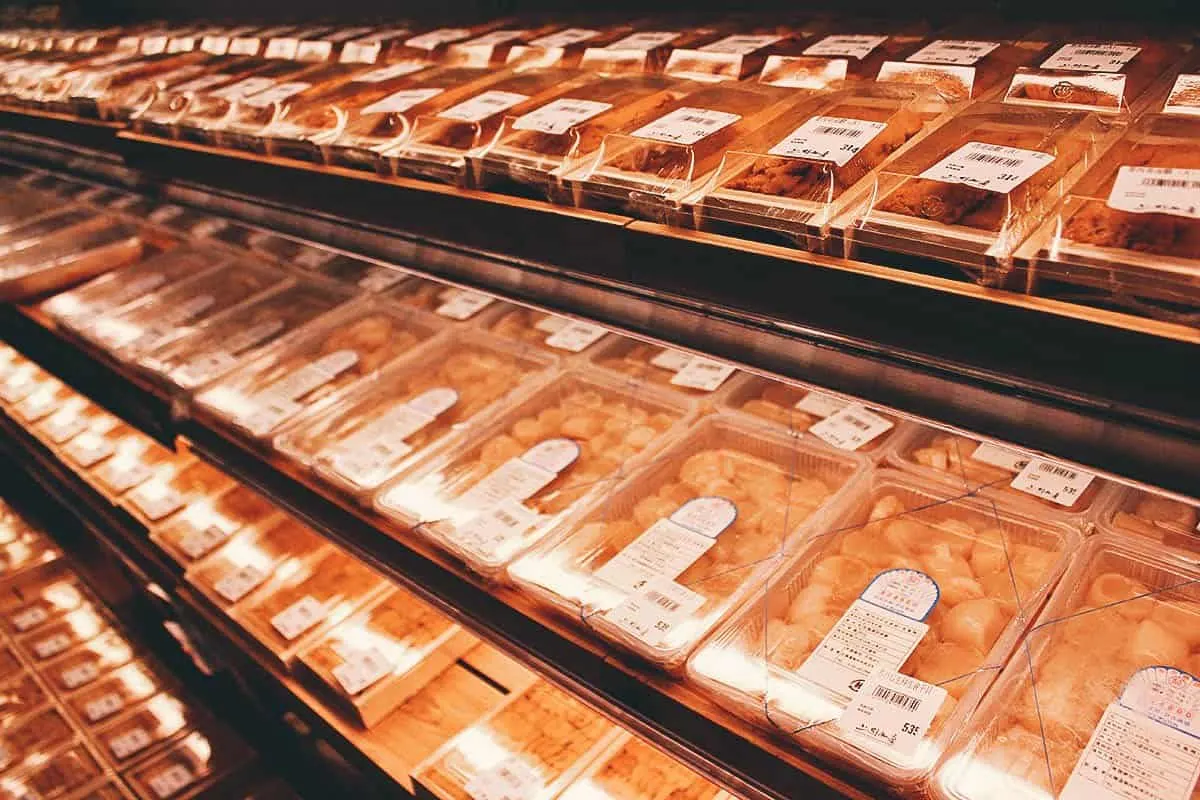 Fruit Selections
Do you know what those yellowish orange fruits are? They're called star fruits, or balimbing in my native Philippines.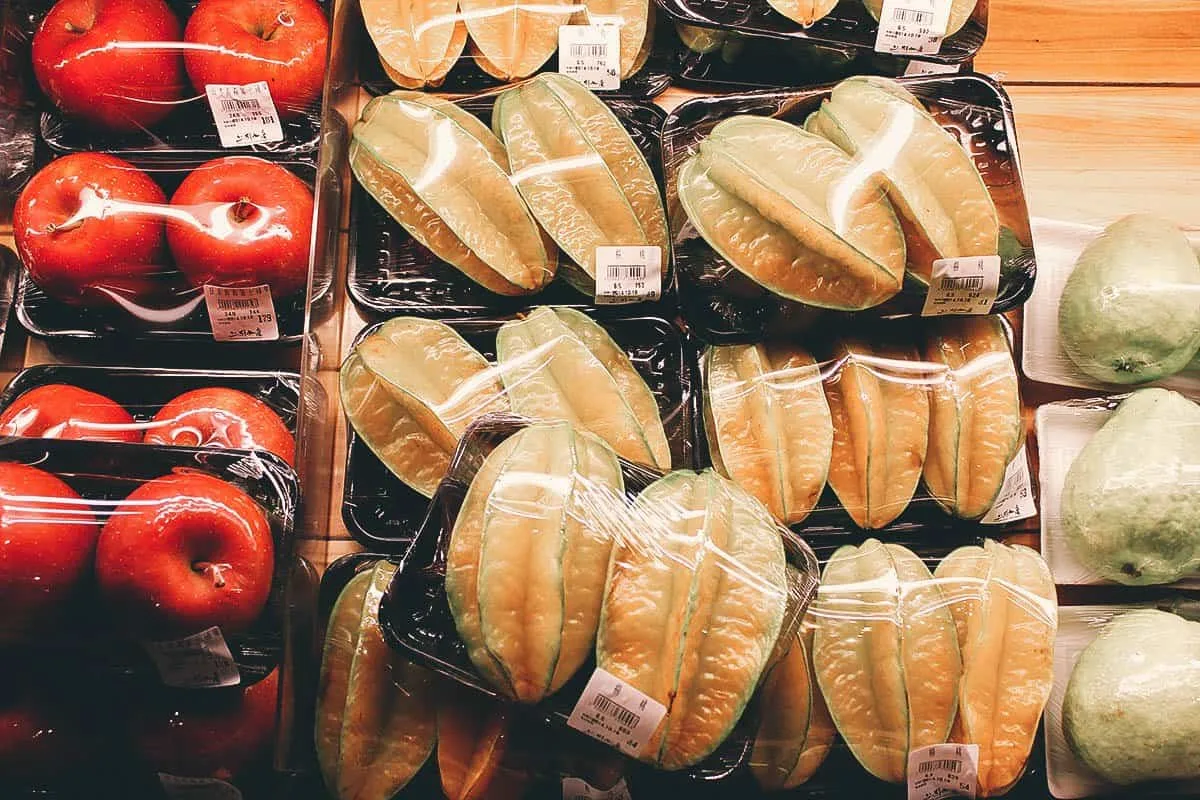 Not sure what those red thingies are but they look good.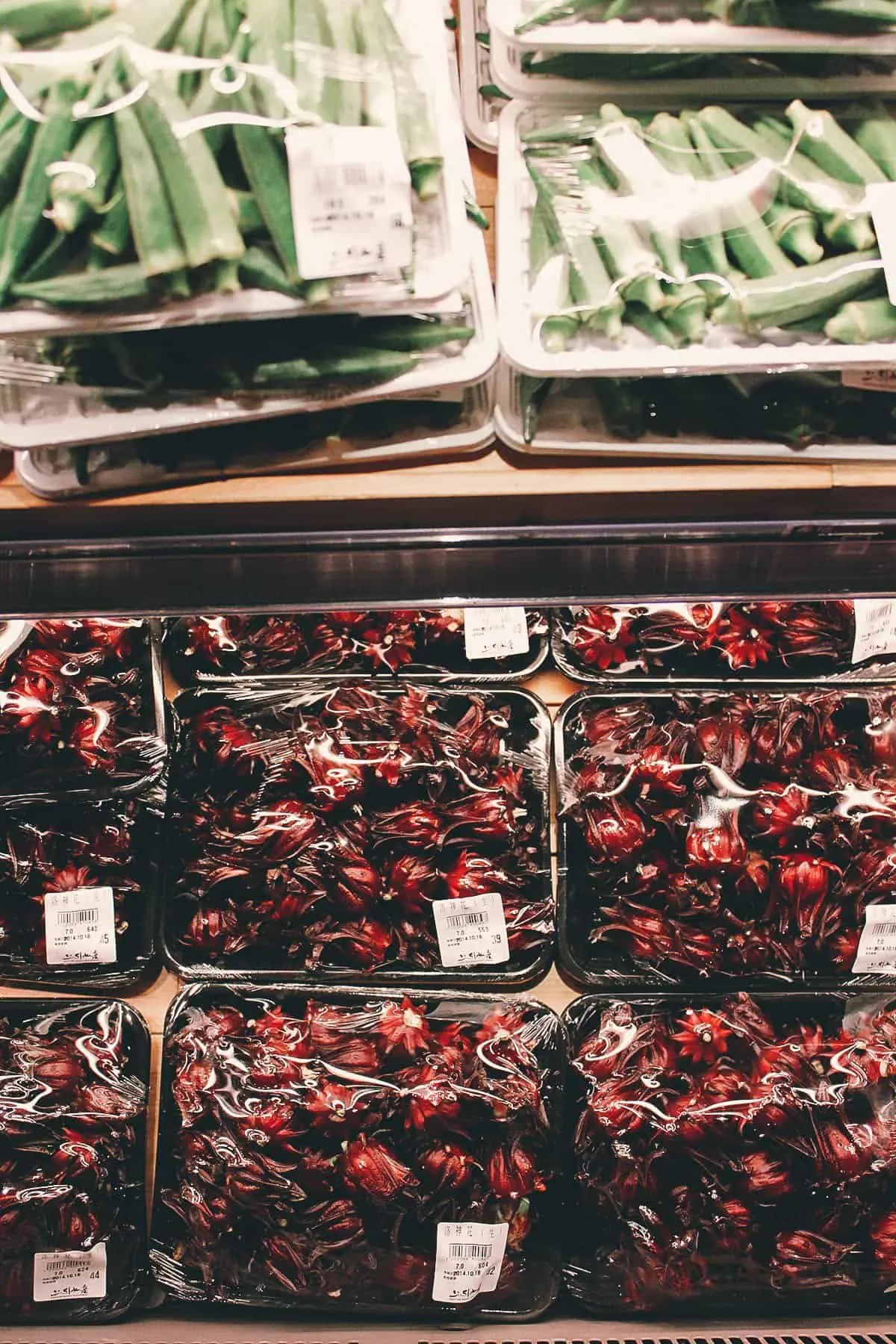 3. To-Go Bento / Cooked Gourmet
Though there are many dining stations here, you can also buy these pre-packaged meals and eat them outside. Fresh as can be, most were reasonably priced too. I forgot to take pictures but they offer plenty of cooked food options here as well.
Amaebi or sweet shrimp. I LOVE these things. Each box contained ten pieces and sold for just NTD 240.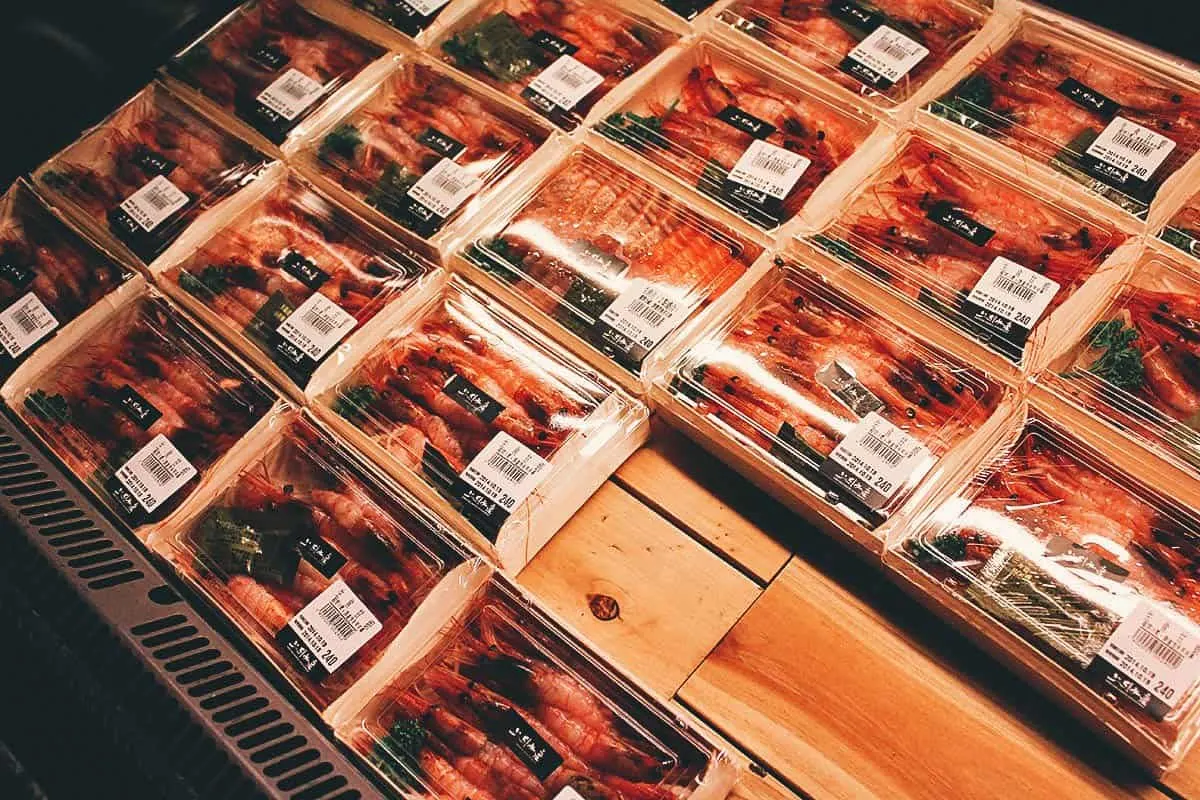 Fresh sushi selection. The ones you see here went for NTD 460 per box. Not bad at all, especially considering the quality.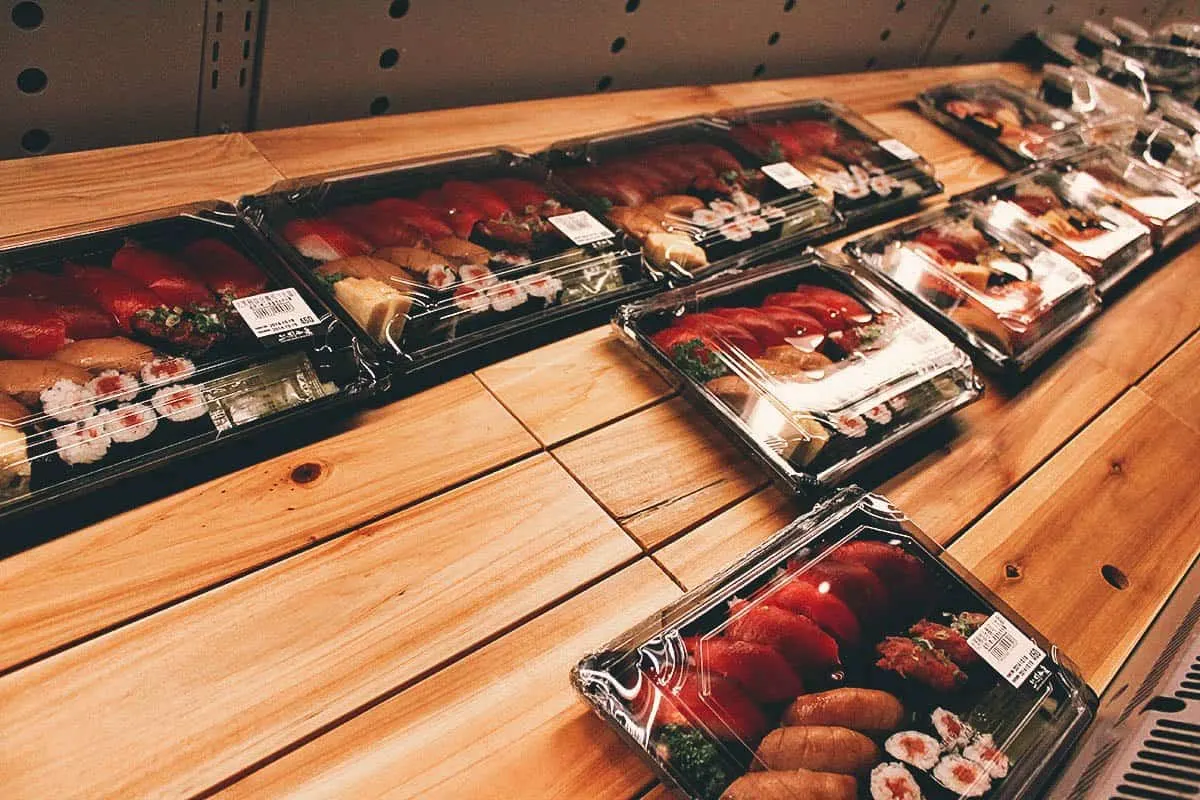 They go fast, but they're replenished just as quickly.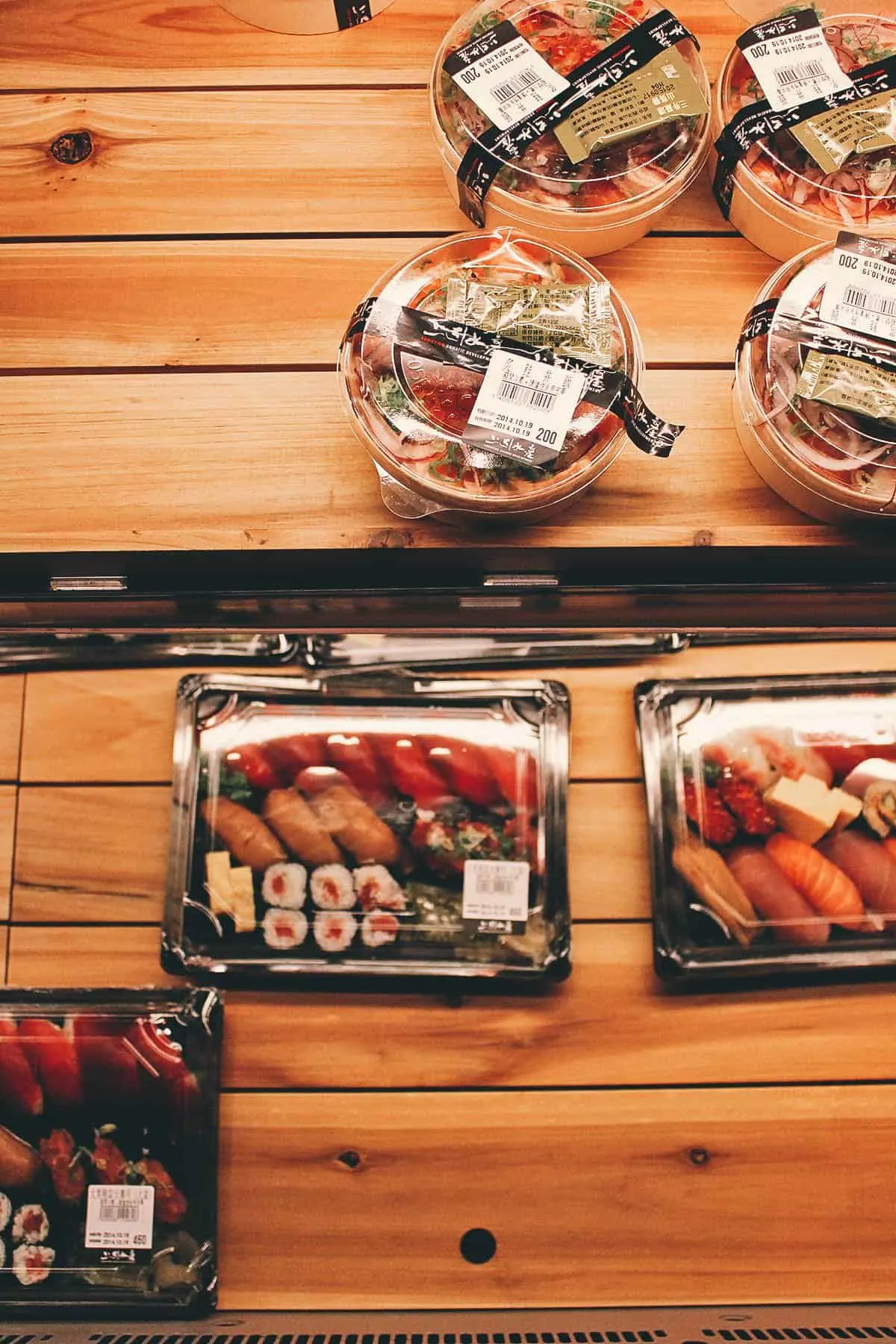 Uni for NTD 604 per box.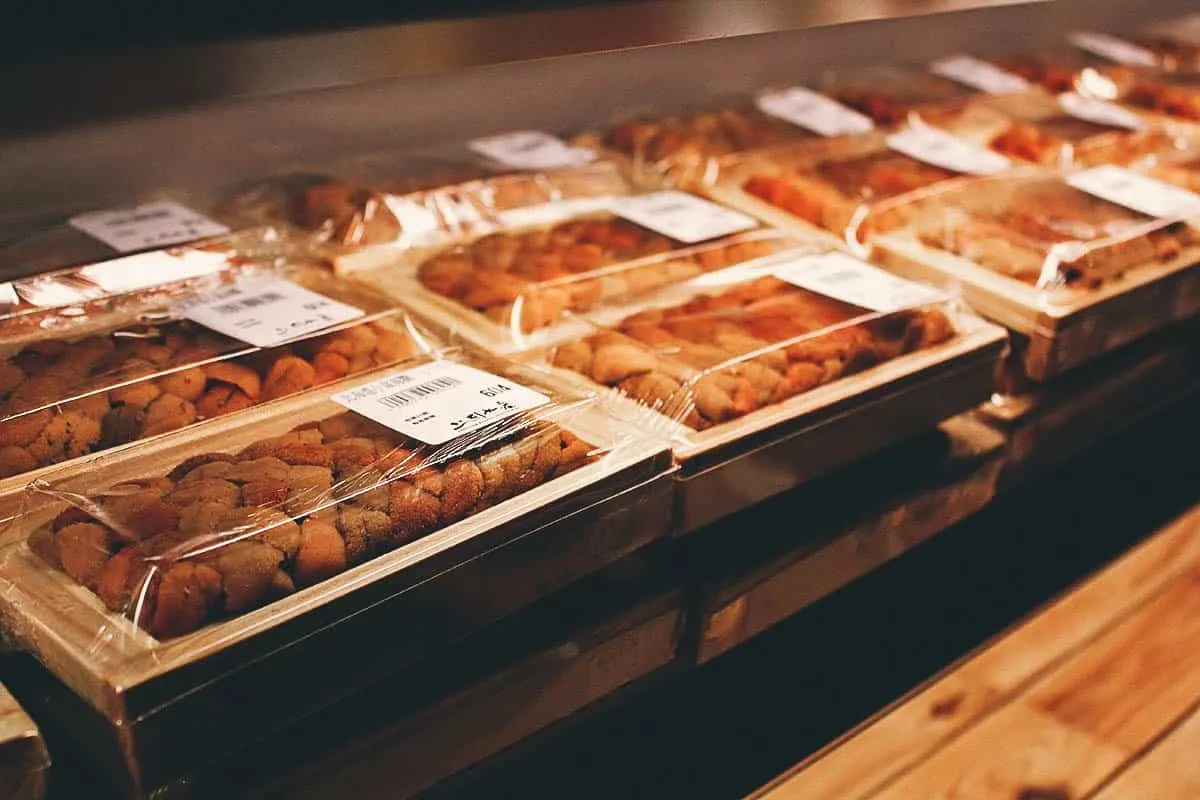 King crab legs for around NTD 1,450 per pack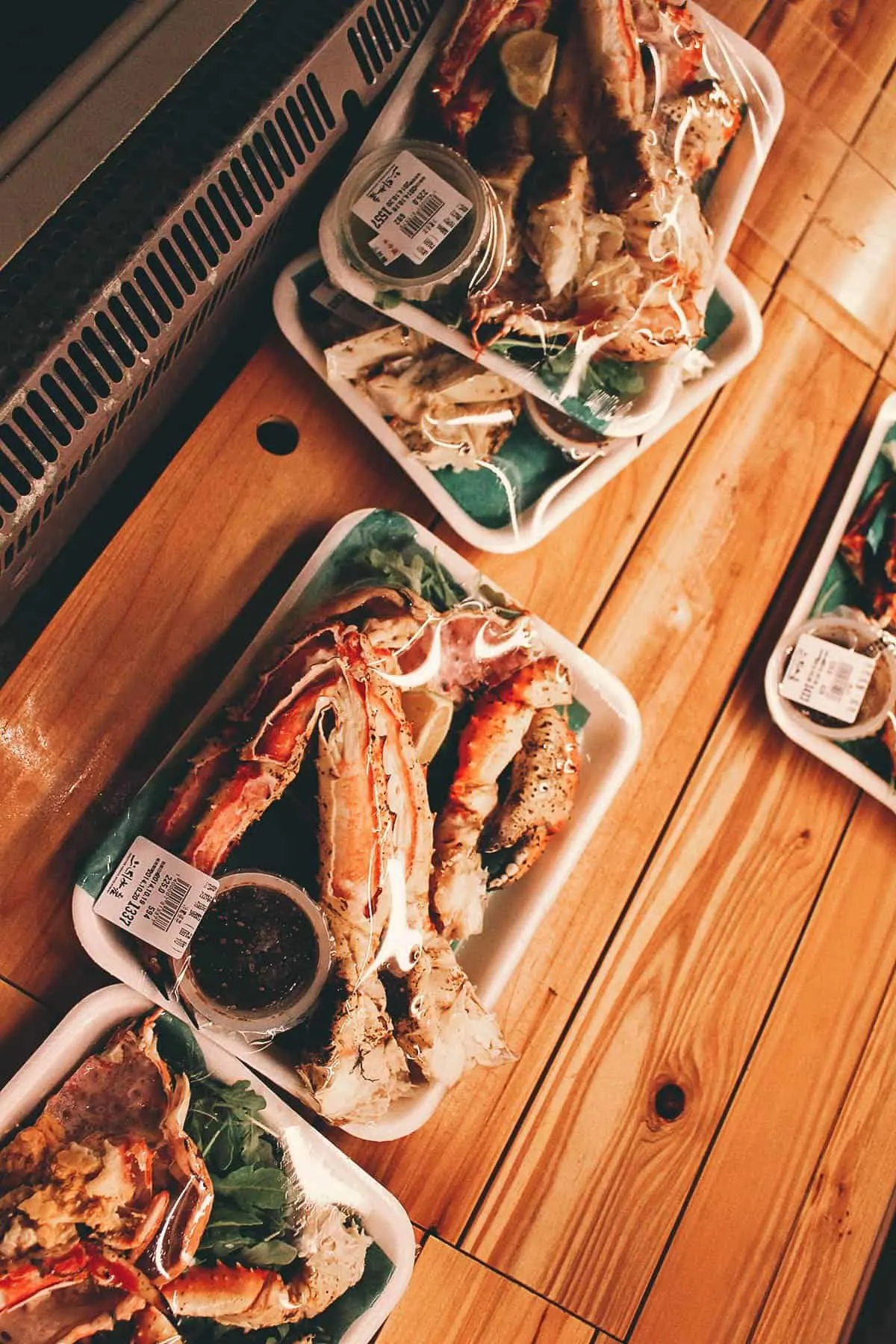 Even the dessert selection was impressive!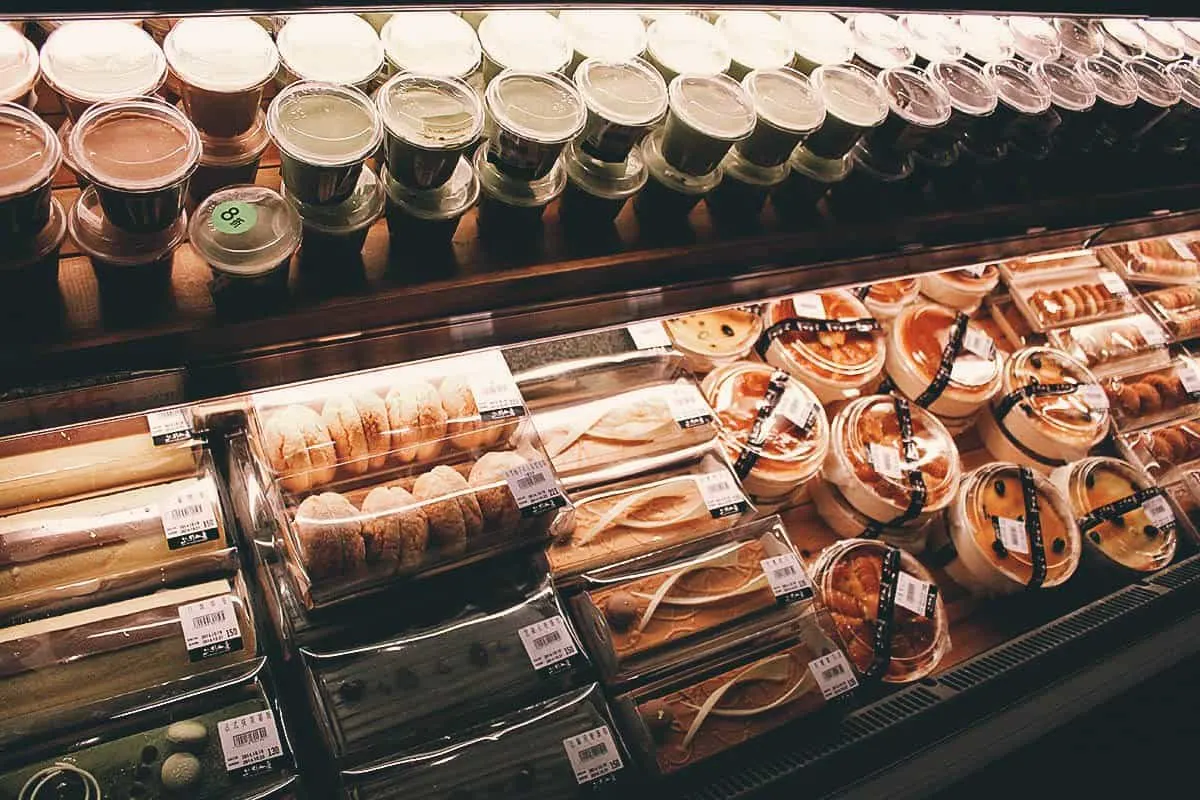 Not many restaurants in Manila serve amaebi so I made sure I got my fill. So sweet and delicious.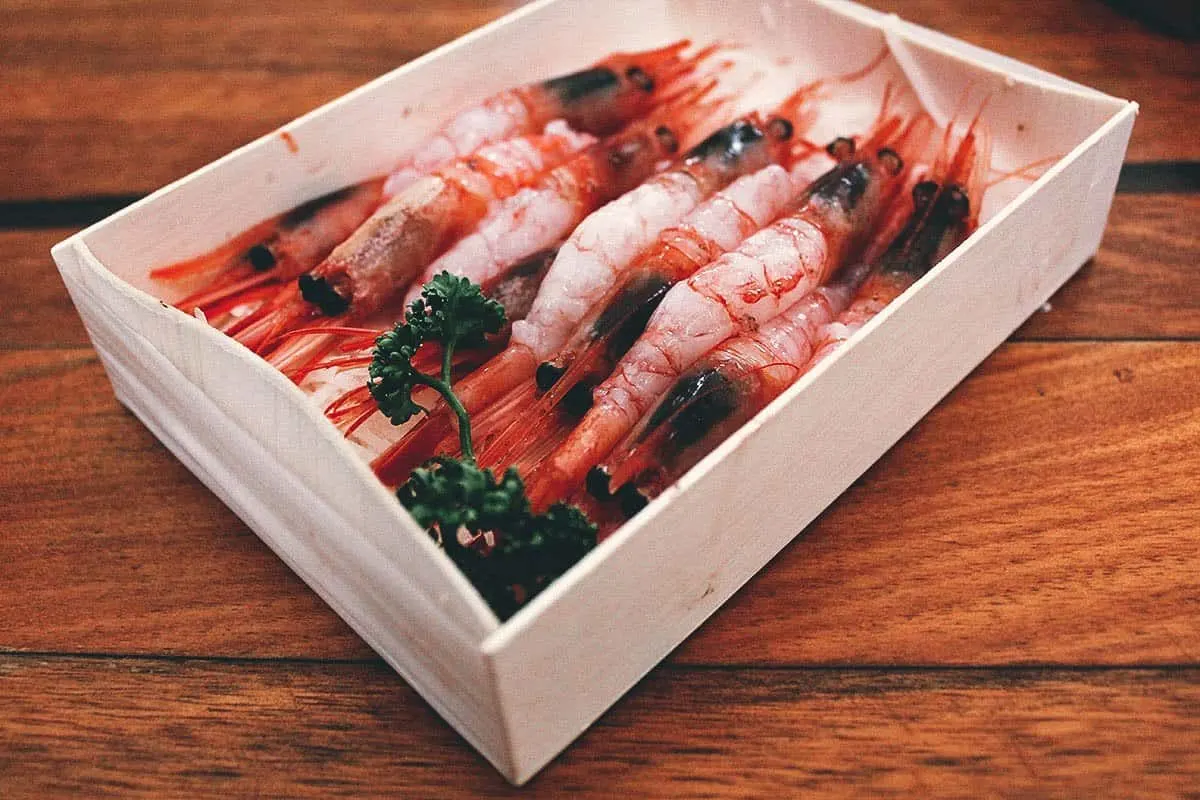 For dessert, we had this entire matcha cake with red beans and French macarons for just NTD 130!
4. Seafood Bar
This seafood bar is one of many dining stations at AAD. To accommodate the large numbers of diners, many of the dining stations are standing room only. I love how they're incorporated into the supermarket section as well. Opposite the seafood bar in this picture are chillers showcasing different types of frozen food.
Operating Hours: 10AM-12MN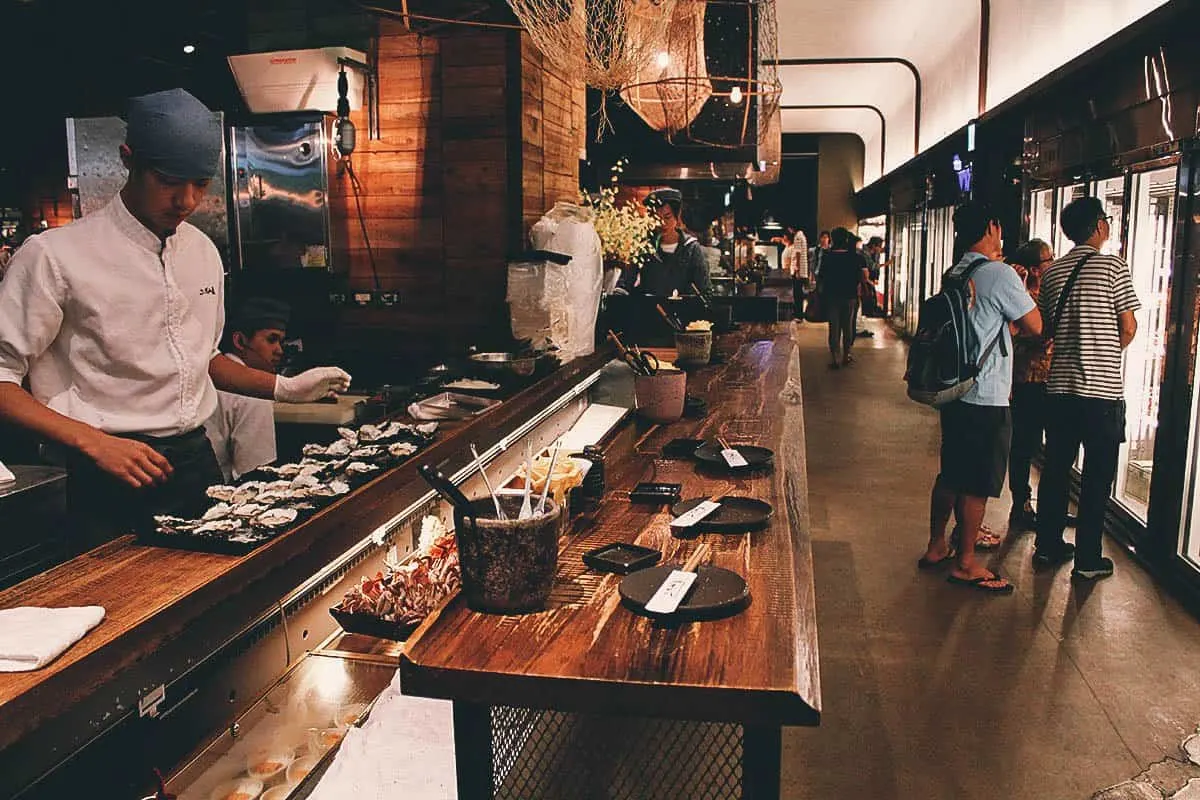 I loved all the colors and textures here. Everything just looks and feels so well put together.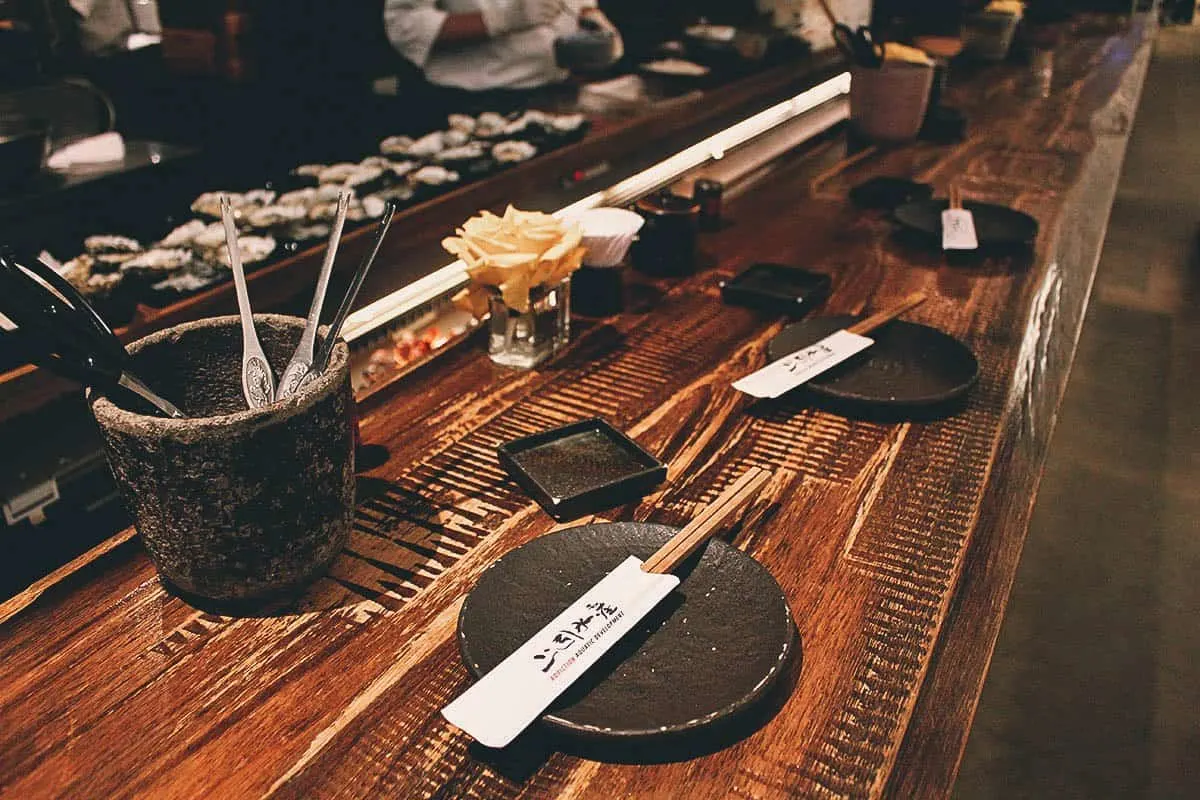 I still can't get over them king crabs! Seriously WOW!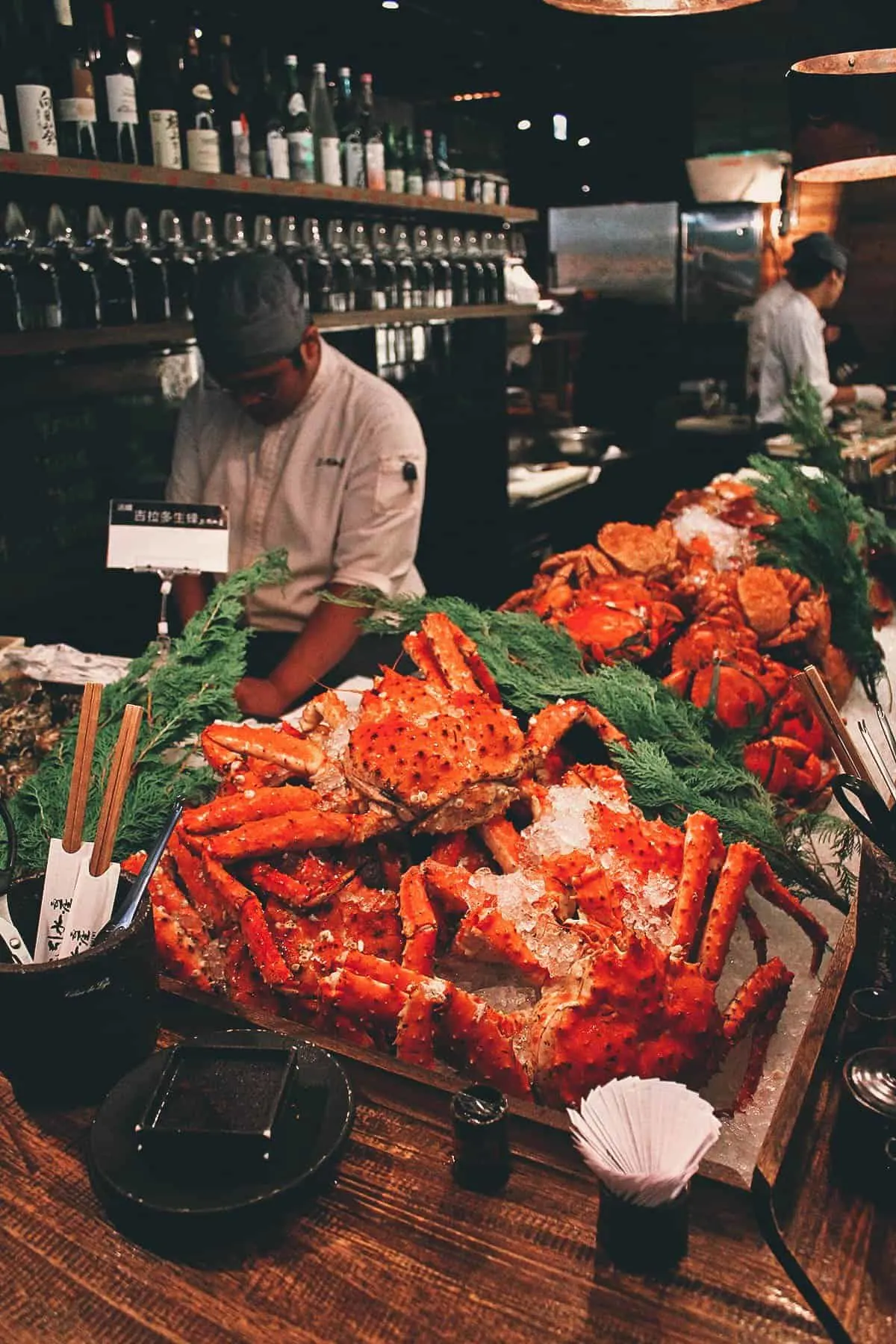 These seafood trays were super popular. They contain different types of seafood like crab, shellfish, and fresh sashimi.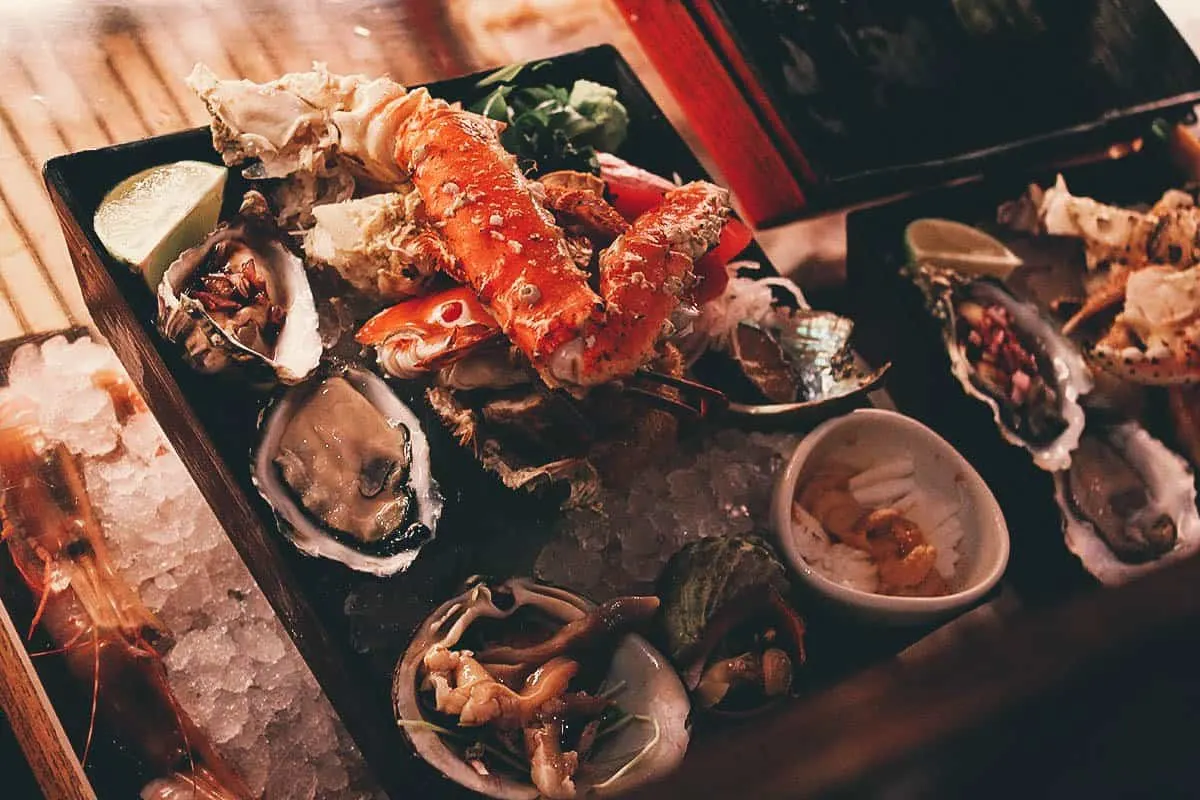 Keep em coming boys! These things were practically flying off the shelves.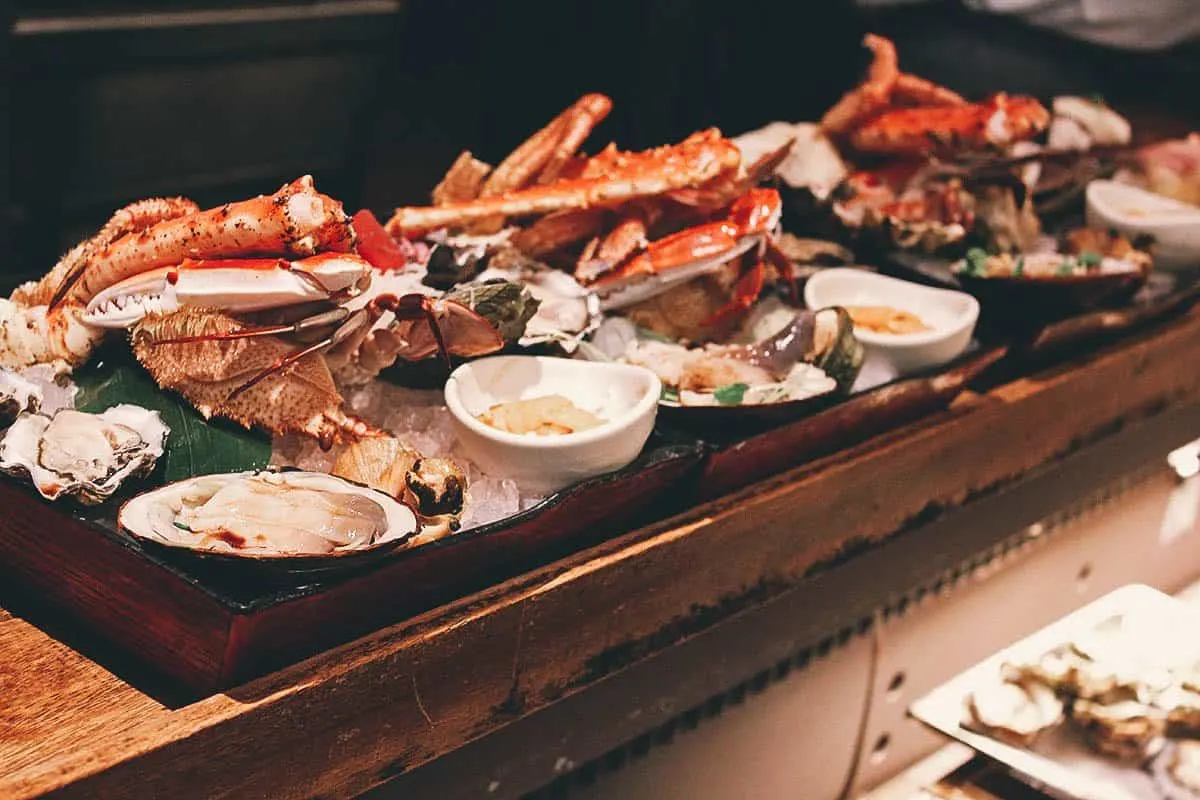 5. Sushi Bar
At the very center of the space is this standing sushi bar. It's very popular, perhaps the most popular section at AAD, so be prepared for a wait.
Operating Hours: 9:30AM-12MN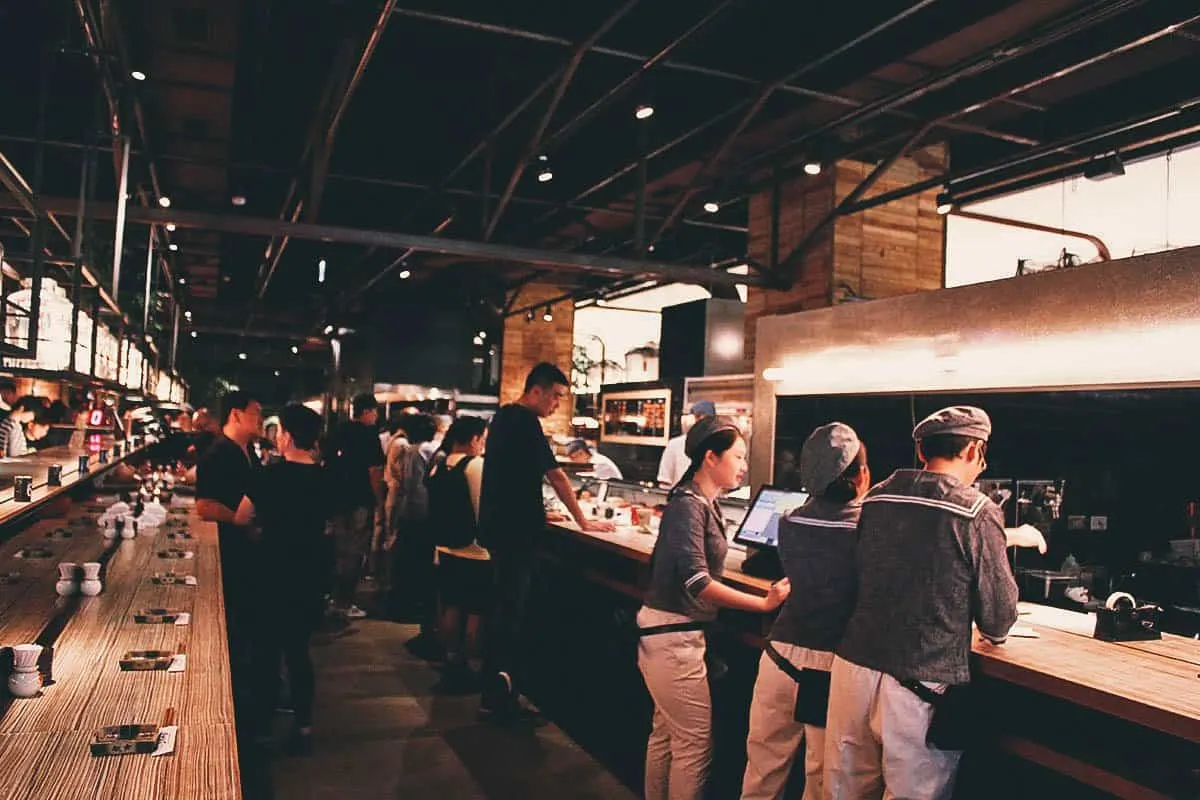 Thankfully, lines moved fairly quickly. Let's eat some sushi!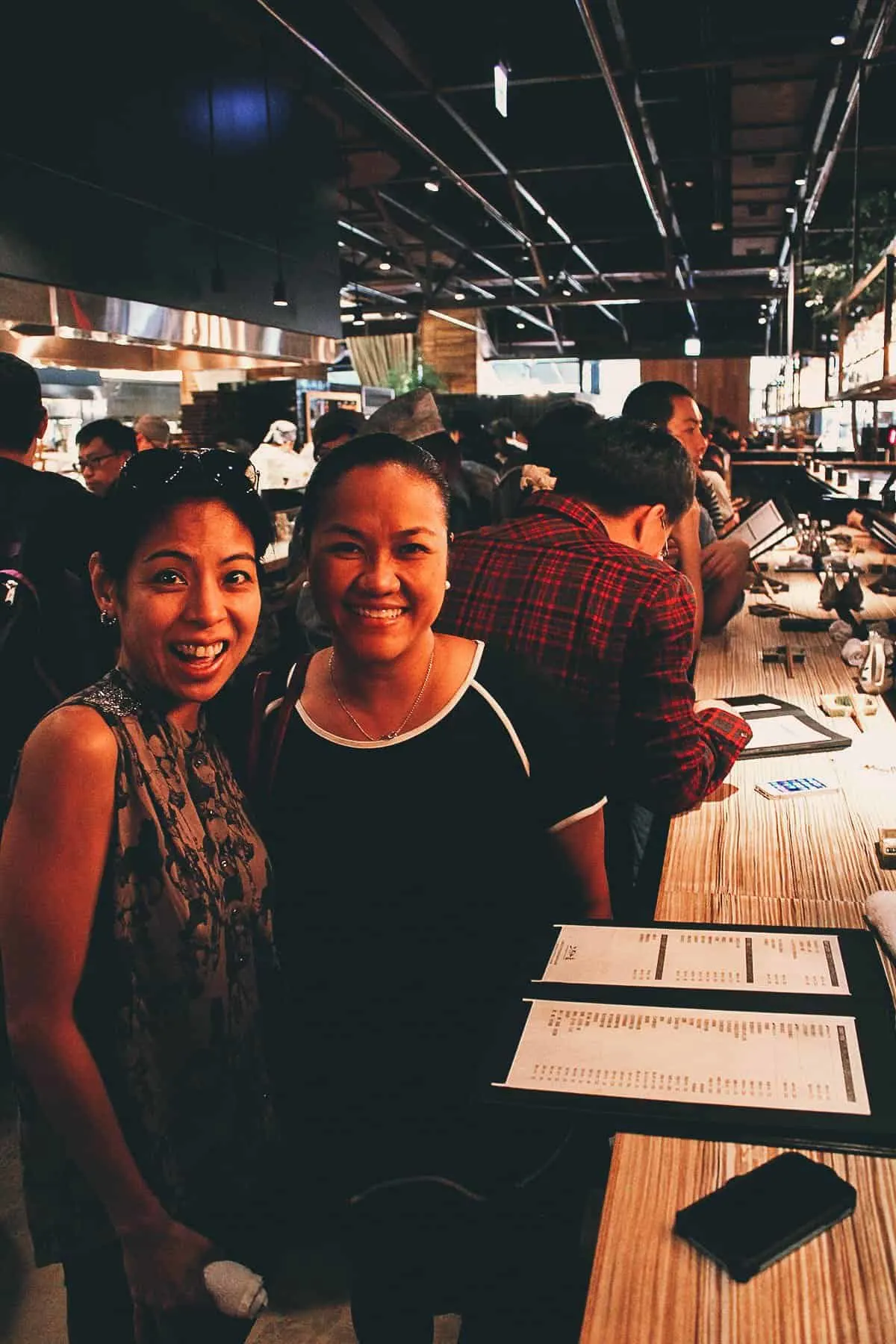 The freshest, most buttery salmon sashimi. These slices of salmon practically dissolved in your mouth.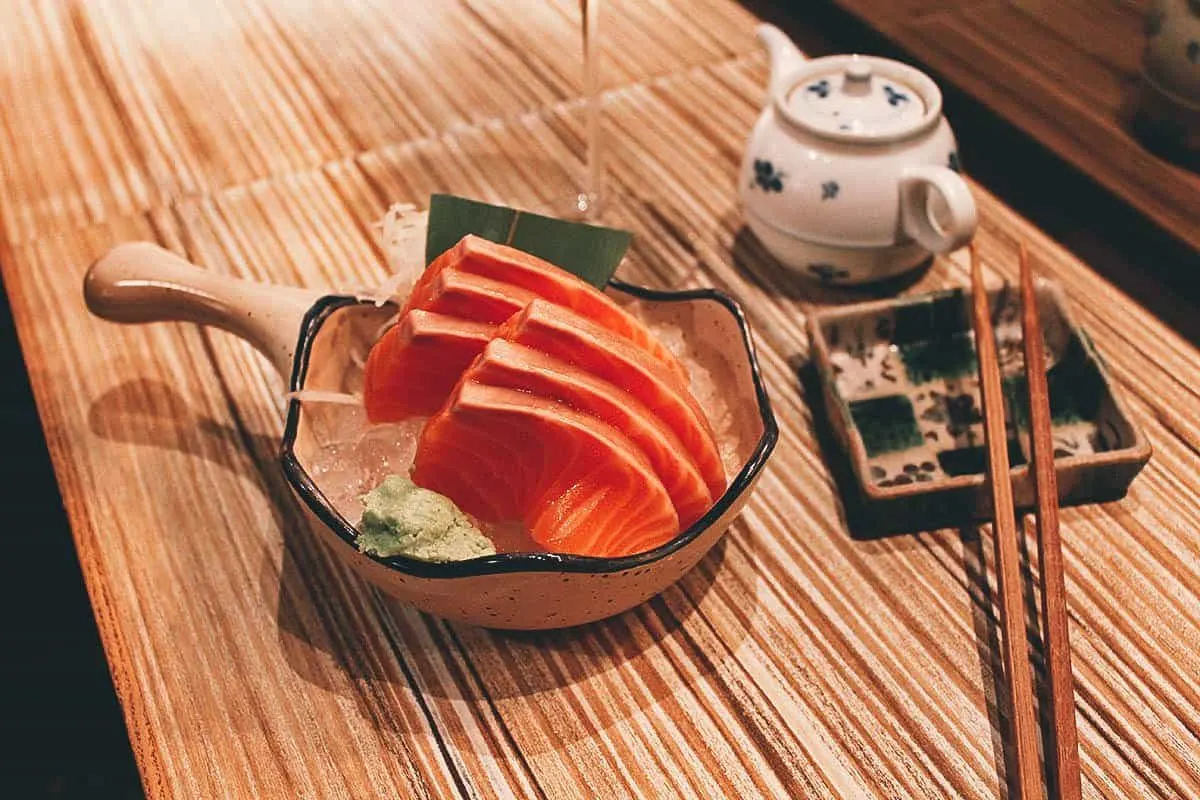 Grilled abalone. Serious yum!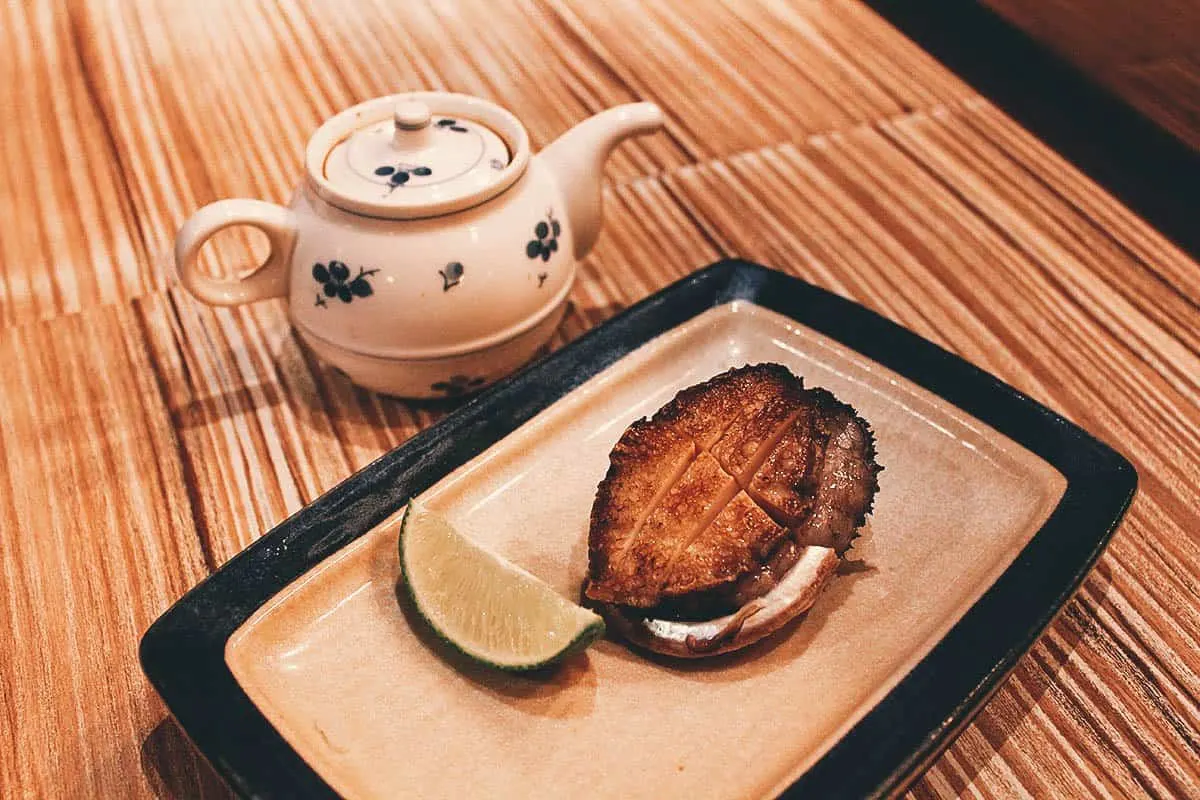 Amaebi sushi. Spot prawns aren't as common in the Philippines so I try to have them whenever I can.
Hamachi collar. If I remember correctly, these four dishes with two beers and a glass of white wine went for around NTD 1,200.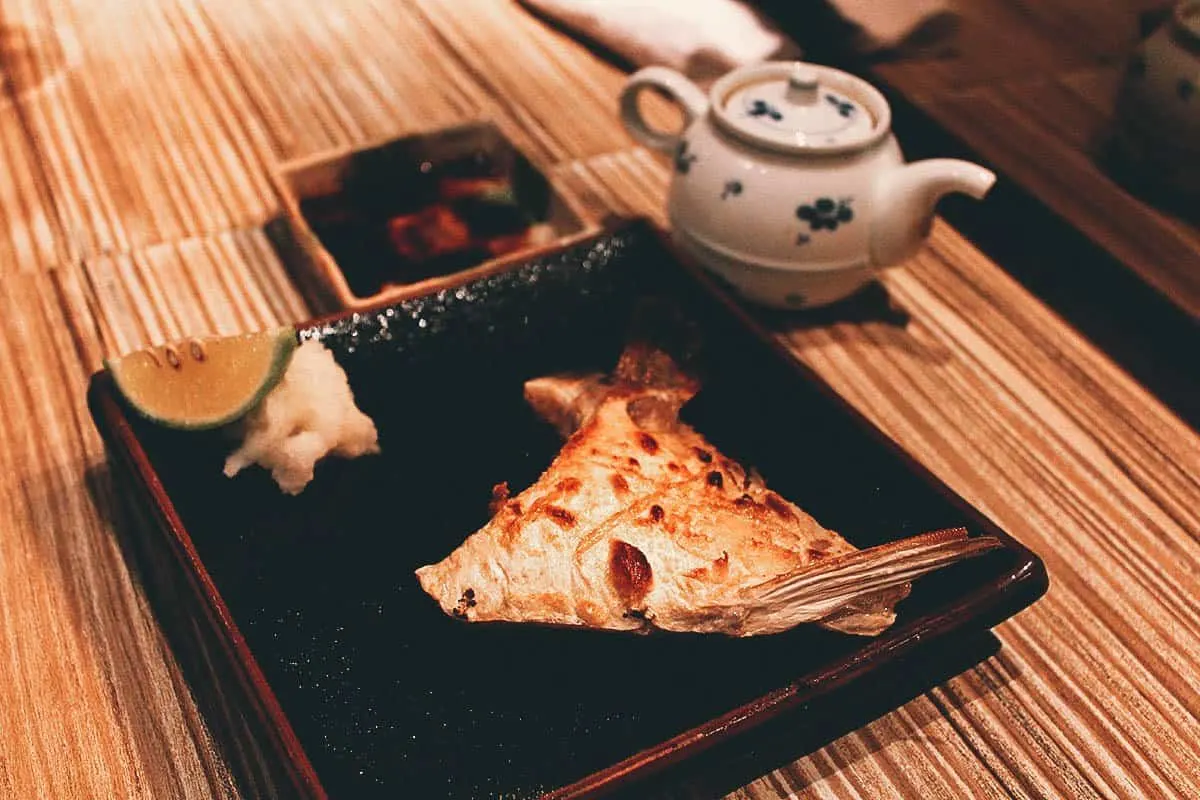 We haven't eaten at the next four sections but I'll describe them as best I can.
6. Oyster Bar
The Oyster Bar is located inside the AAD facility, in the same large room as the Supermarket. Based on the map, it's on the opposite side of the Seafood Bar. I believe they serve wine here as well.
7. Hot Pot
I didn't go upstairs but the hot pot restaurant is located on the second floor of the facility. Along with Trésors de la Mer, it's the only dining section that takes advanced phone reservations.
Operating Hours: 11AM-12MN
8. Charcoal Grilled
This is the outdoor seating section of AAD where you can get all kinds of grilled seafood.
Operating Hours: 11AM-12MN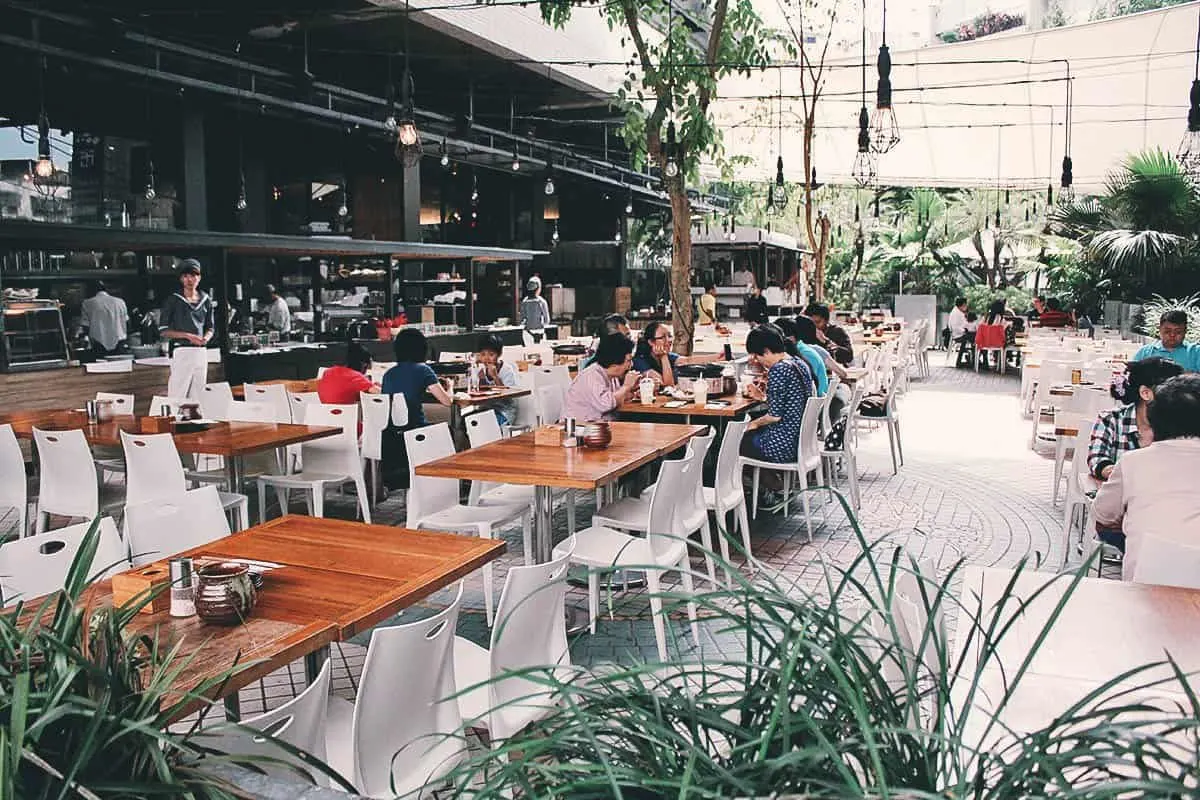 9. Trésors de la Mer
Trésors de la Mer is the high-end sit down dining section of AAD. Like the hot pot restaurant, it's the only section that takes advanced phone reservations.
Operating Hours: 11AM-12MN
10. Lifestyle & Flower Market
Apart from all the delicious food, there's also a section here selling cookware, cookbooks, utensils, and flowers.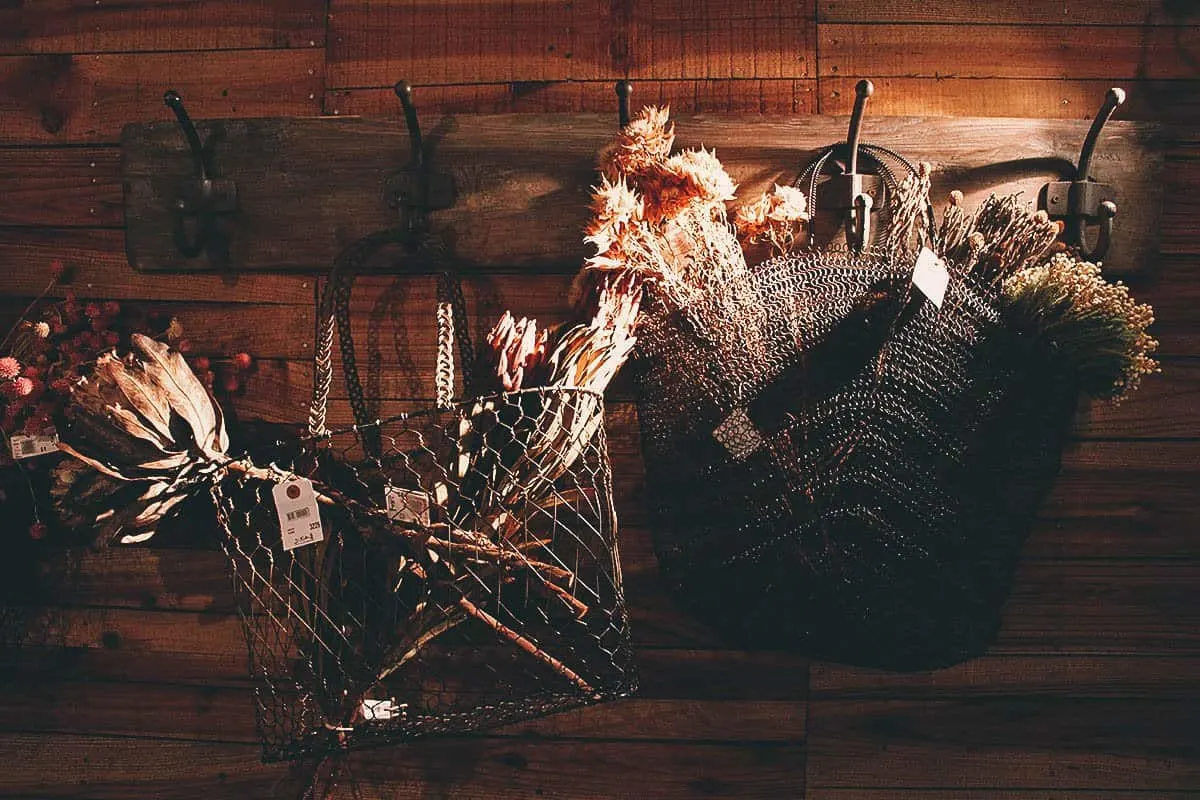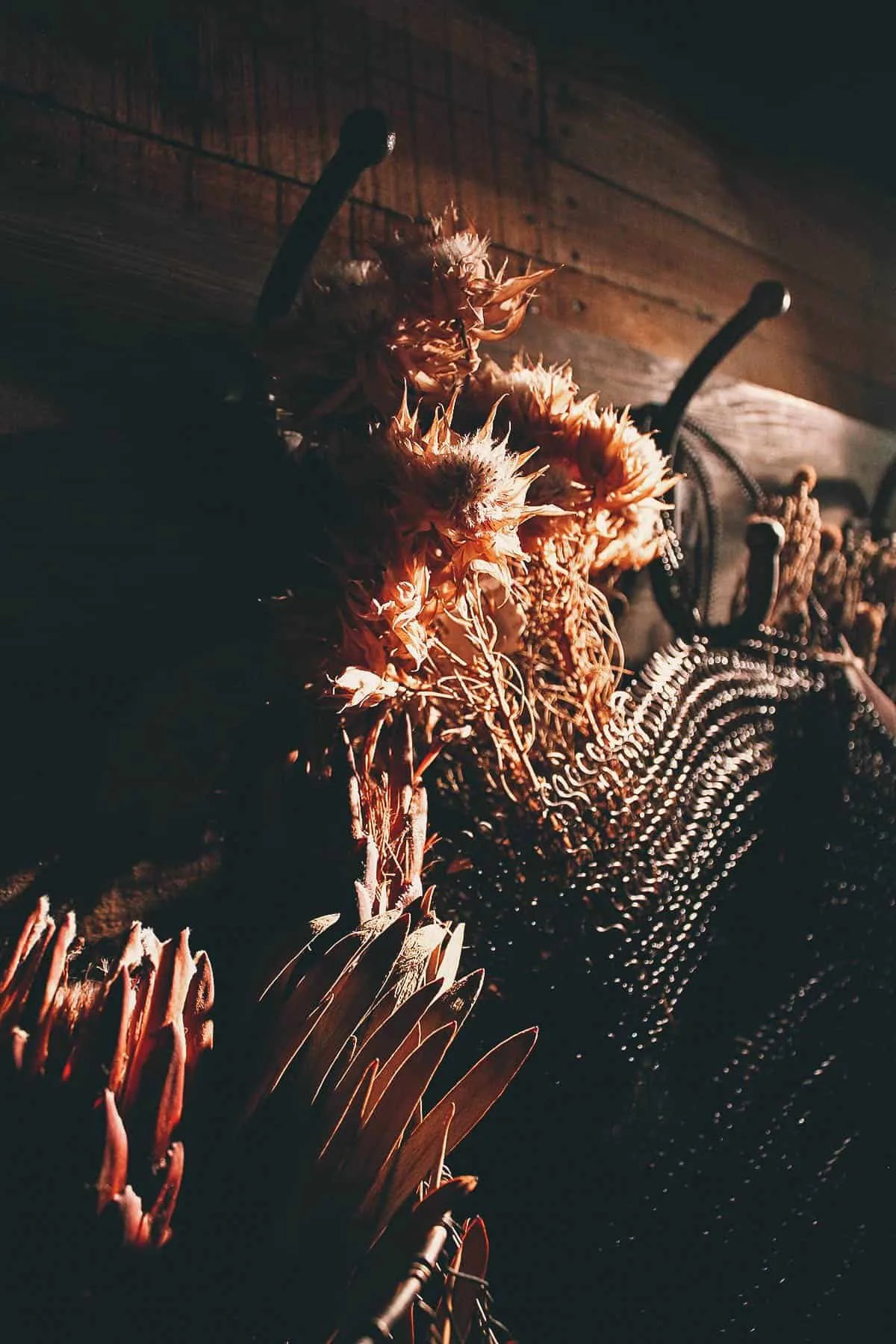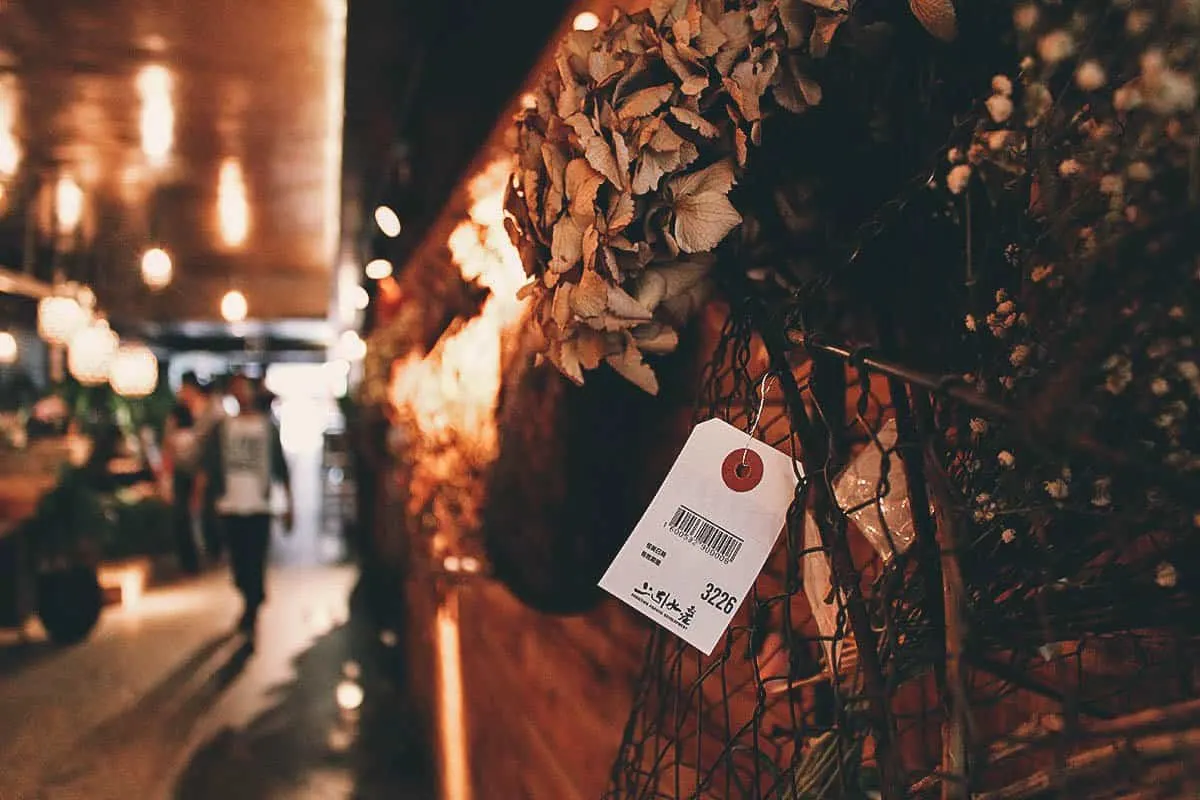 FINAL THOUGHTS ON ADDICTION AQUATIC DEVELOPMENT
Ren and I make it a point to explore new places when we travel so we rarely go back to the same restaurant twice. But AAD is one of those rare exceptions.
We enjoy Addiction Aquatic so much that we're guaranteed to come back here on every return visit to Taipei. And we aren't the only ones either. Several of our friends and family whom we've introduced to AAD now do the same. This place is THAT good and affordable enough that you can dine here without having to worry about the cost. In fact, it's surprising how affordable it is, especially considering the quality.
Whether it's your first or fifth time in Taipei, one thing's for sure. If you love seafood, then you HAVE to go to Addiction Aquatic Development.
Addiction Aquatic Development
No. 18, Alley 2, Lane 410, Minzu East Road, Zhongshan District, Taipei City, Taiwan 104
Tel: +886 2 2508 1268
Fax: +886 2 2508 0268
Website: addiction.com.tw
Email: [email protected]
Hours of Operation: 6AM-12MN, daily
Expect to spend: Around NTD 750 per person with drinks
How to Get to Addiction Aquatic Development
Take the MRT to XingTian Temple Station, Exit 3. Though not far, it's a bit of a walk so it's best that you take a taxi or Uber from there. The fare will run you around NTD 70.
For more restaurant suggestions, check out our post on 13 Must-Eat Restaurants & Night Markets in Taipei.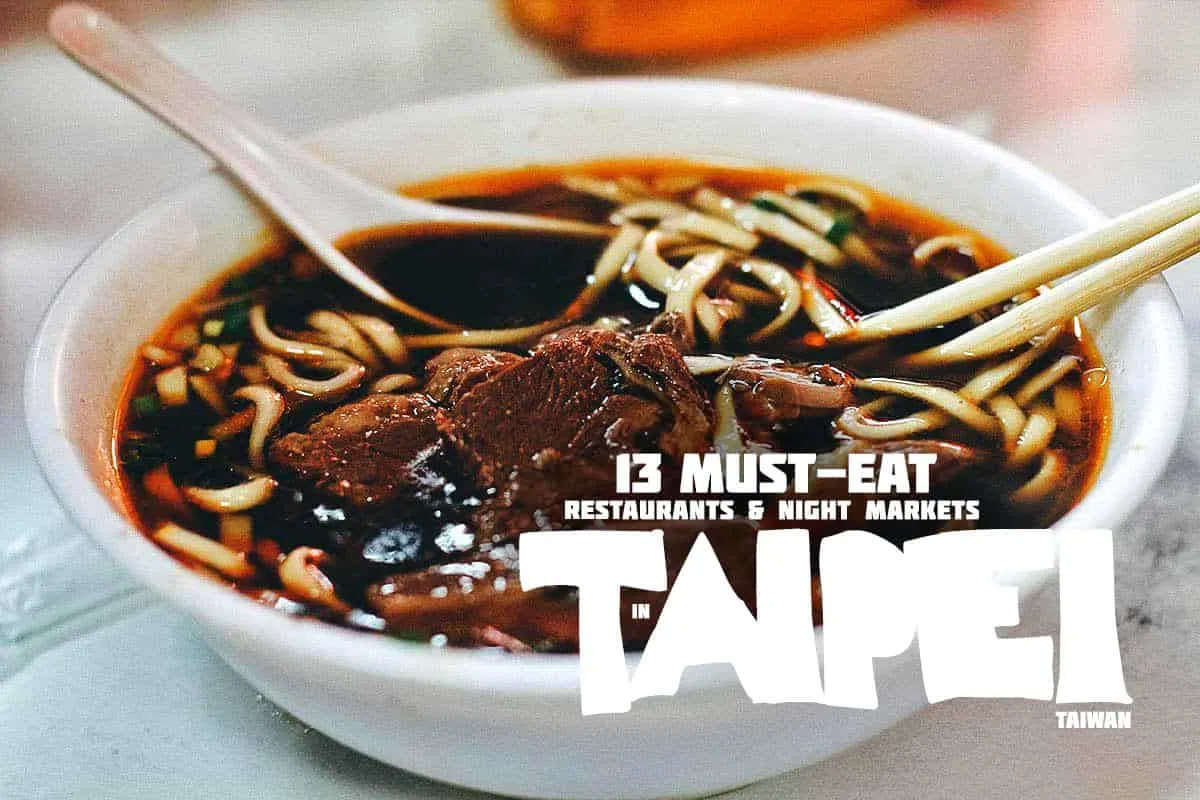 Disclosure
Some of the links in this article on Addiction Aquatic Development are affiliate links. What that means is that we'll earn a small commission if you make a booking at no additional cost to you. As always, we only recommend products and services that we use ourselves and firmly believe in. We really appreciate your support as it helps us make more of these free travel and food guides. Thank you!