There are many fun day trips you can make from Taipei. Some of the most popular include Shifen, Jiufen, and Taichung.
But because of their proximity to the city and the convenience of the MRT system, one of the easiest day trips you can make is to Tamsui and Beitou. Both are stops on the Red Line so you can easily visit them both on the same day trip. Tamsui is a seaside district famous for its street food while Beitou is one of the most popular hot spring destinations in Taiwan.
If you're spending enough time in Taipei and have already seen its major sights, then this day trip to Tamsui and Beitou is another fun thing you can do.
BEITOU & TAMSUI QUICK LINKS
To help you plan your trip to Tamsui and Beitou from Taipei, we've put together links to recommended tours and other activities here.
TOURS
OTHER SERVICES
TAIPEI TRAVEL GUIDE
If you're staying a few days in Taipei, then be sure to check out our detailed Taipei travel guide. It'll have all the information you need – like when to go, where to stay, which restaurants to visit, etc. – to help you plan your trip.
Save This on Pinterest!
No time to read this travel guide to Tamsui and Beitou? Click on the save button and pin it for later!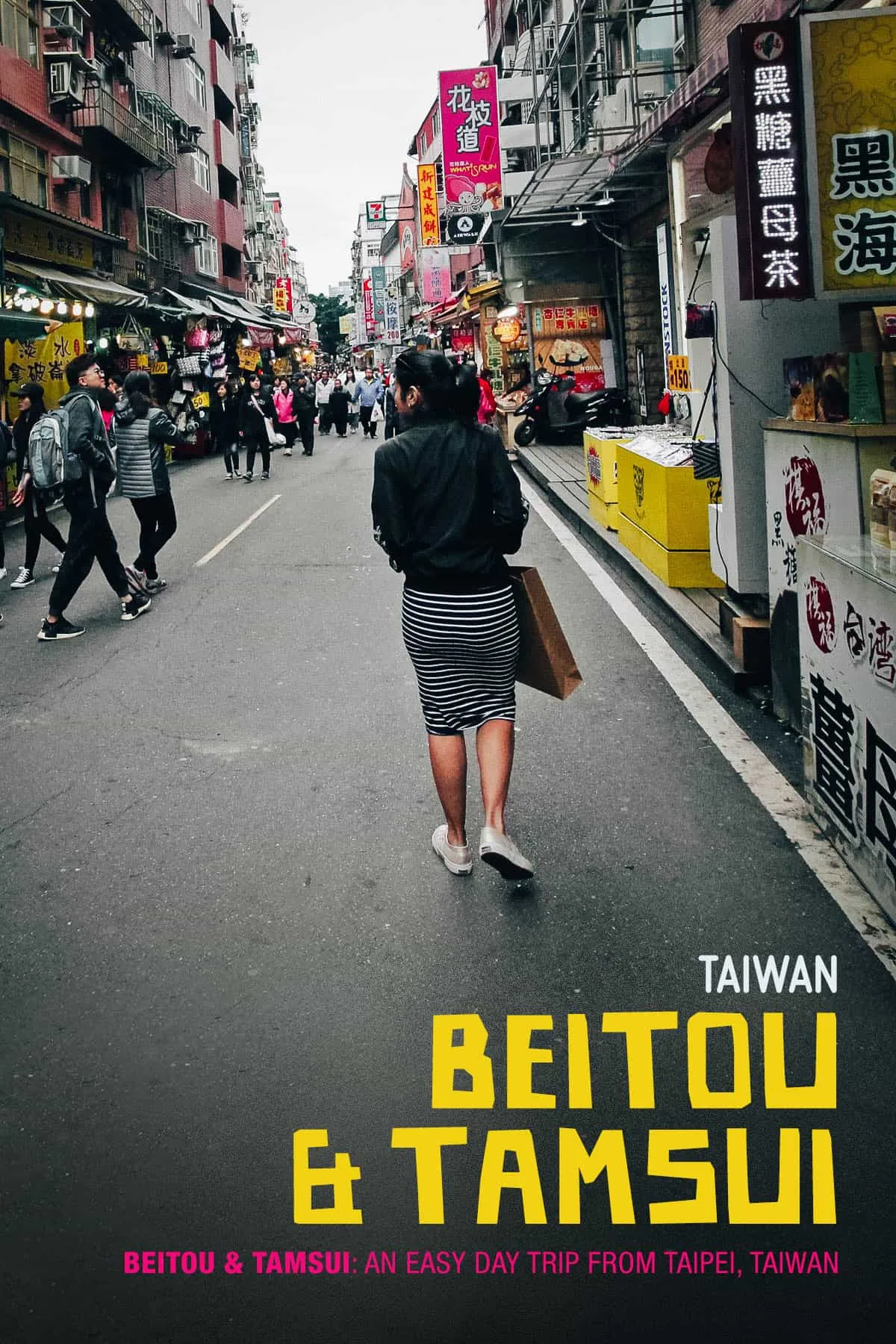 TAMSUI AT A GLANCE
Also known as Danshui, Tamsui is a seaside district in New Taipei City, located in northern Taiwan. It's a fishing town that was once a Spanish settlement and the largest trade port in Taiwan. Tamsui is named after Tamsui River, a 158.7 km (98.6 miles) river that flows into the Taiwan Strait.
Today, with its proximity to the city and the completion of the Tamsui MRT Line, Tamsui has become a popular tourist destination, attracting visitors to its riverside parks, fisherman's wharf, and open-air markets selling different types of street food.
HOW TO GET TO TAMSUI FROM TAIPEI
MRT Tamsui Station (aka MRT Danshui Station) is the last stop on the Red Line. You can get there from any downtown Taipei MRT station in about 40 minutes.
THINGS TO DO IN TAMSUI
Most tourists who spend the day in Tamsui do so to enjoy the water and eat lots of street food. Tamsui District is known for interesting street food snacks like ah-gei and iron eggs. It's also famous for its fisherman's wharf and a beautiful walking bridge called Lover's Bridge.
1. Explore Tamsui Old Street & the Waterfront
To be honest, I don't know exactly which street in Tamsui is Tamsui Old Street. They all look old to me and they're all bustling with vendors selling souvenirs and different types of street food. I think the term may refer to a general area and not just one specific street in Tamsui.
In any case, it's a fun lively area with plenty of things to see and do. We did lots of eating here which I'll get into in the what to eat section of this post.
Once you arrive by MRT, exit Tamsui Station and head left. Tamsui Old Street, the waterfront, and the ferry to Fisherman's Wharf are all there.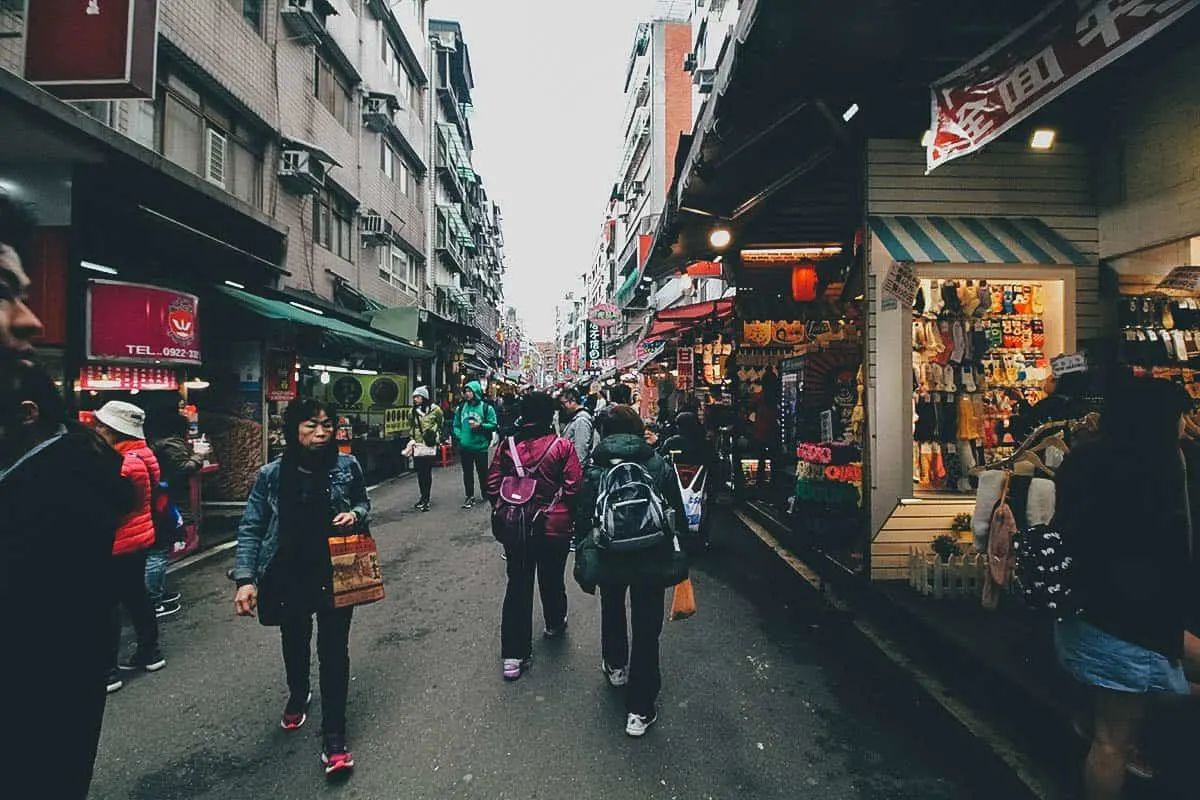 2. Visit Tamsui Fisherman's Wharf & Lover's Bridge
This is the ferry you need to take to get to Fisherman's Wharf and Lover's Bridge. I believe there's more than one ferry provider at Tamsui ferry pier but the one we took charged NTD 120 roundtrip. It takes about 20 minutes to get to Fisherman's Wharf.
You can purchase tickets at Tamsui ferry pier or in advance through Klook.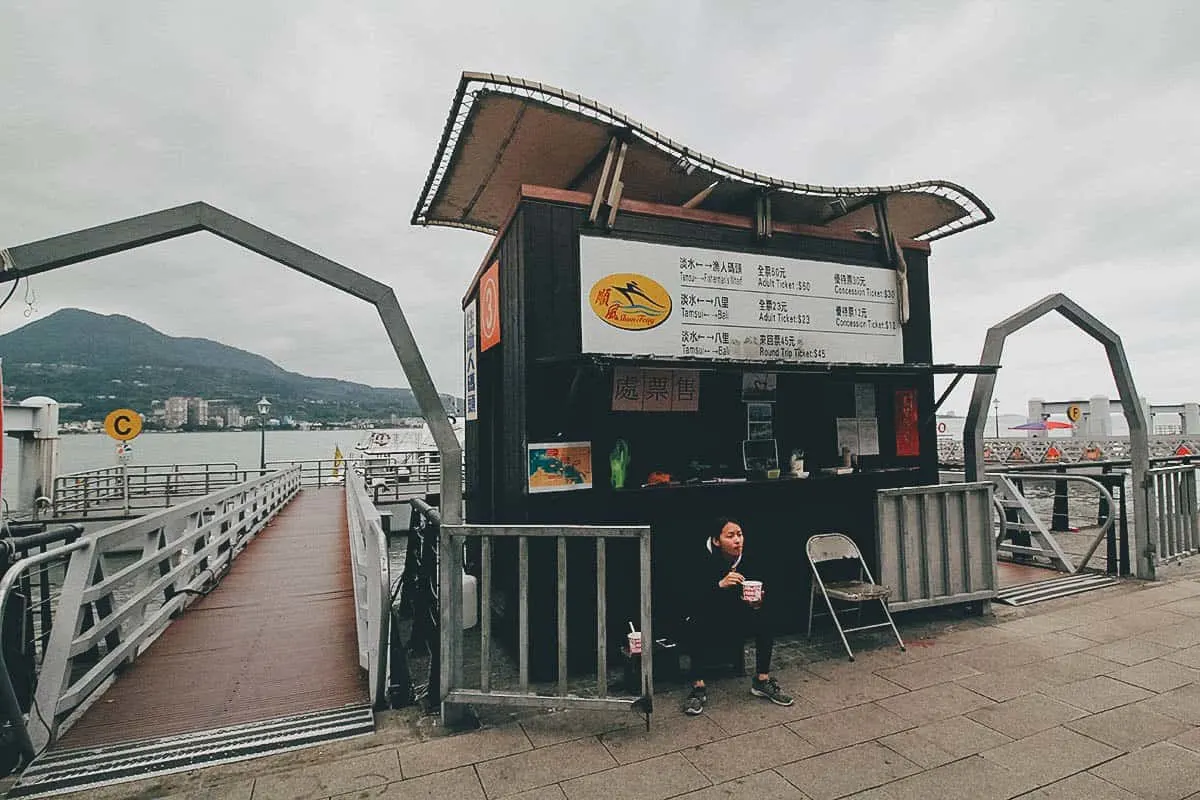 Here we are docking at Fisherman's Wharf with Lover's Bridge in the distance. If you're planning on going on a cruise along Taiwan's scenic northeast coast, then your boat will likely depart from here.
Lover's Bridge is a short pedestrian bridge that you can easily walk to from Fisherman's Wharf. As you'll see in the following pictures, it's a popular spot for photo shoots and Taiwanese serial dramas.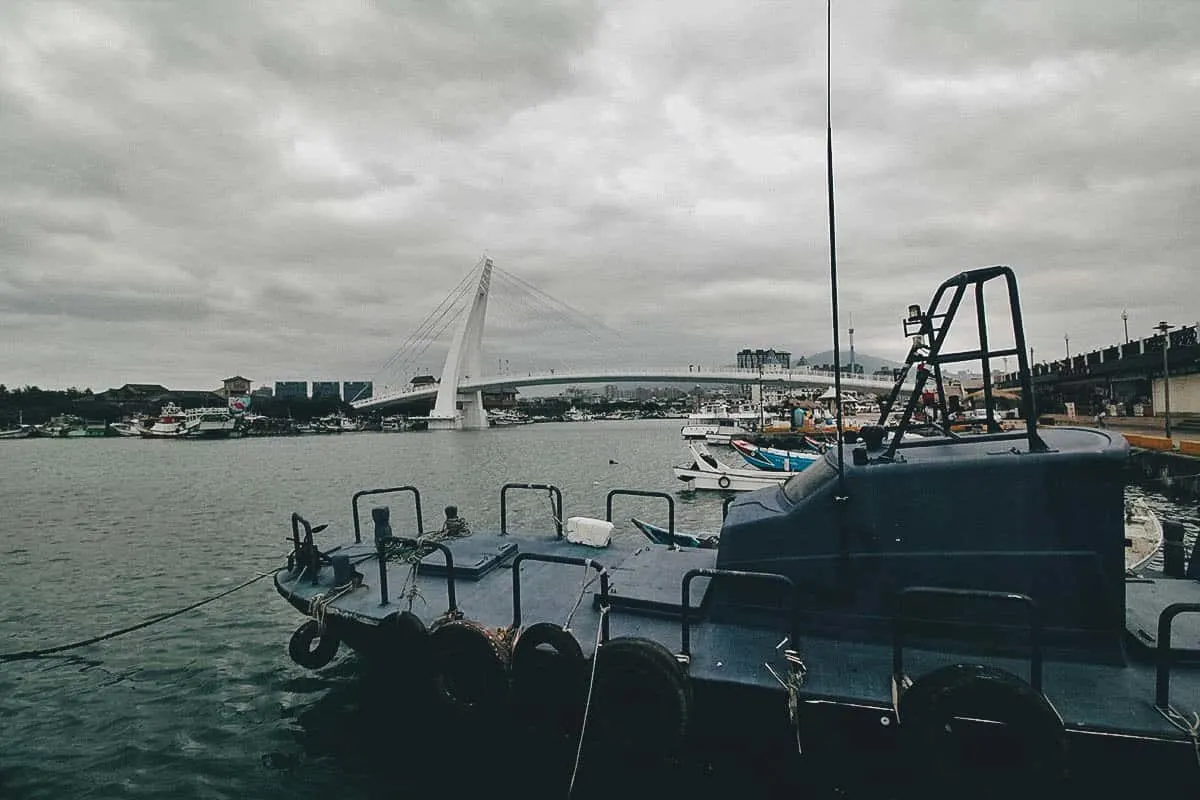 See what I mean? A pair of newlyweds was having their photos taken on the bridge. The wind was bone-chilling so kudos to the bride for braving the cold in that dress!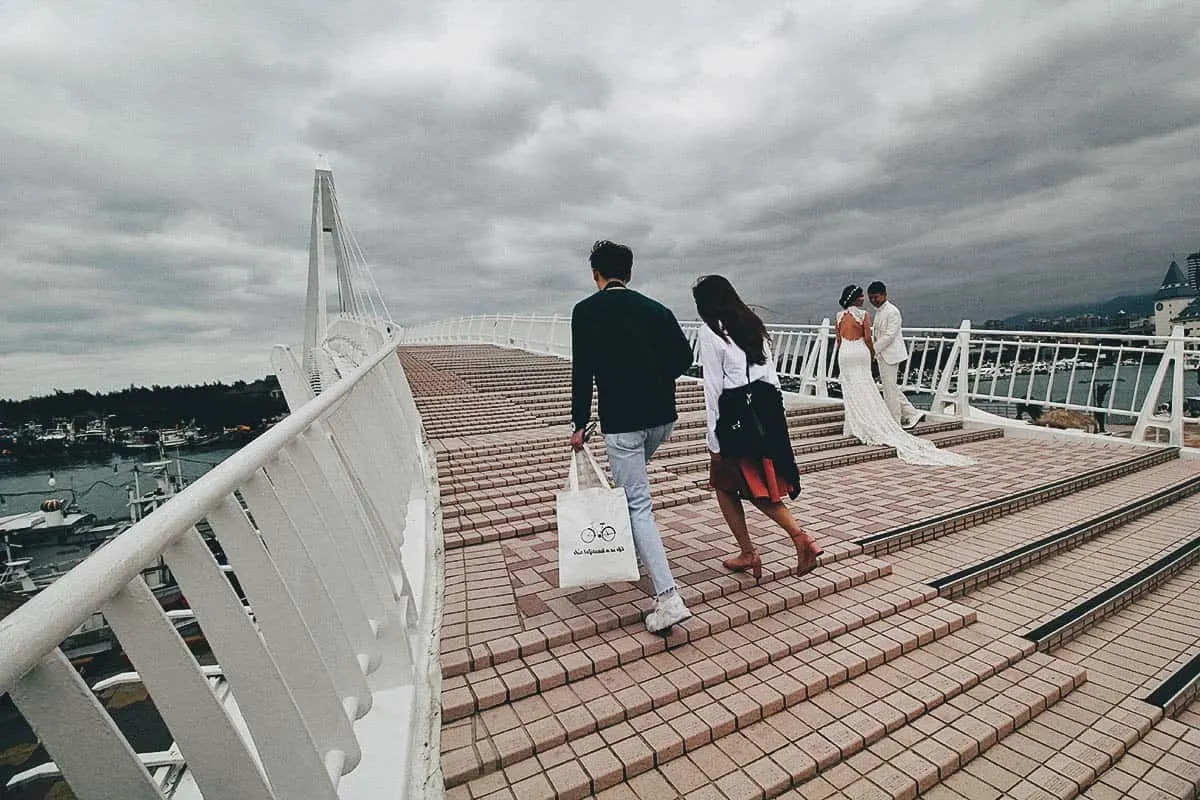 We didn't stay here long but the bridge is illuminated at night with different-colored lights. It looks pretty spectacular in pictures so you may want to stick around till evening to see it. I've read that sunsets are beautiful here too.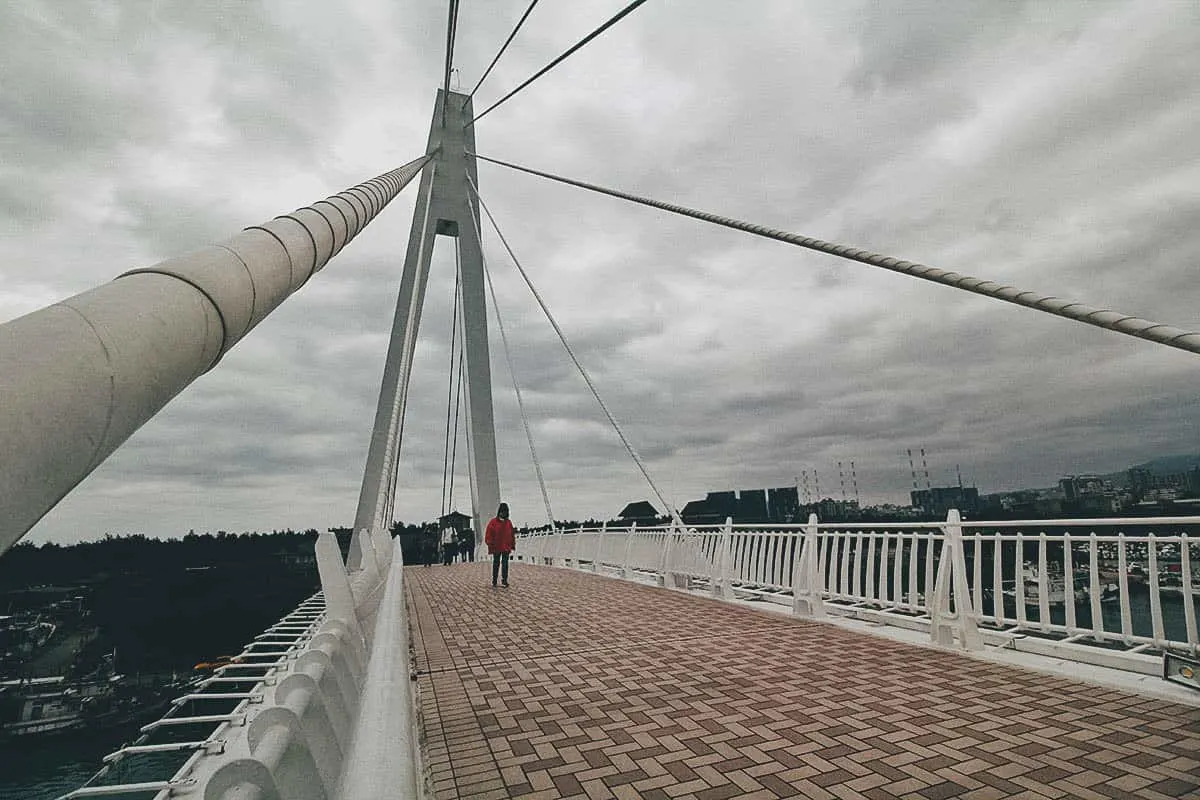 At the other end of the bridge is this sign that says "Love". As you'd imagine, it's one of the most popular spots for selfies in Tamsui.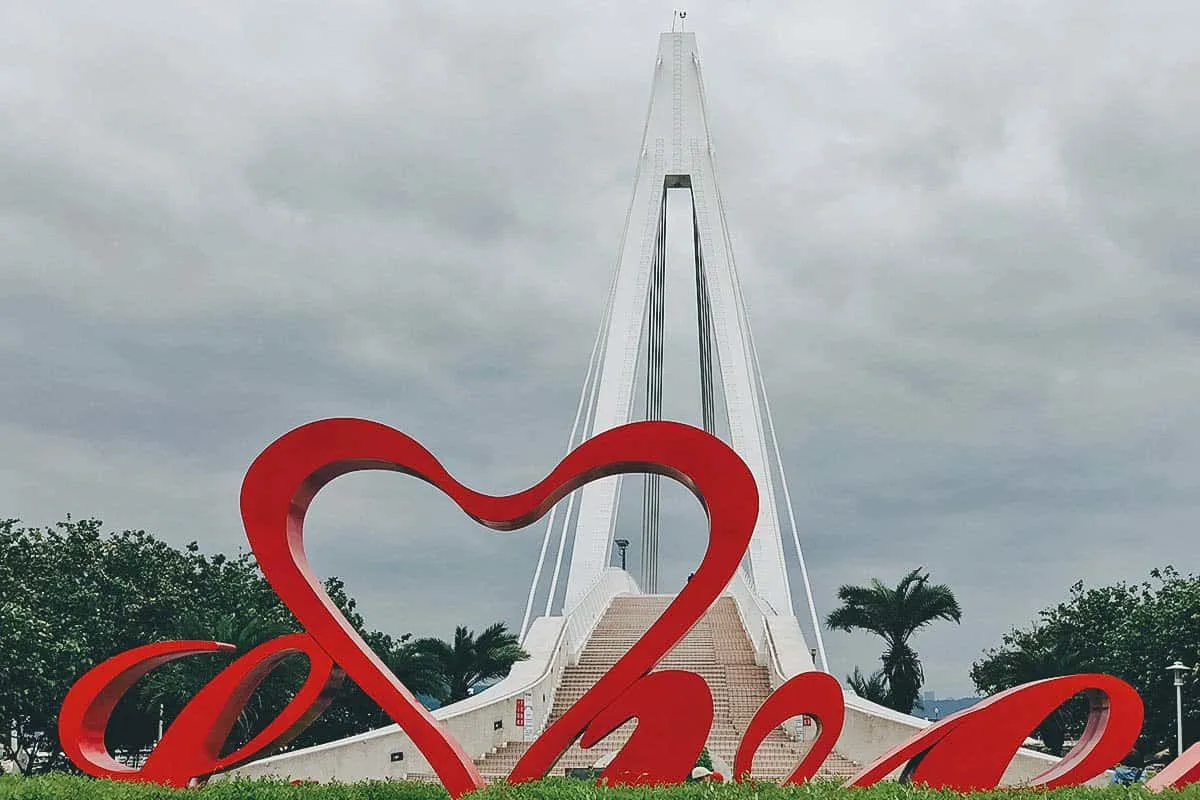 3. Visit Fort San Domingo (Tamsui Historical Museum)
We didn't go but another popular tourist spot in Tamsui is Fort San Domingo, which you can walk to from Tamsui Old Street. Now known as Tamsui Historical Museum, it was originally built by the Spanish in 1628 before being torn down and rebuilt as Fort Antonio by the Dutch.
Interestingly, local residents of Tamsui at the time had a disdain for the Dutch – referring to them as "red-haired savages" – so they nicknamed the fort Hong Mao Chen, meaning "red hair fortress".
The cost of admission to Tamsui Historical Museum is NTD 80. You can purchase tickets at the gate or in advance through Klook.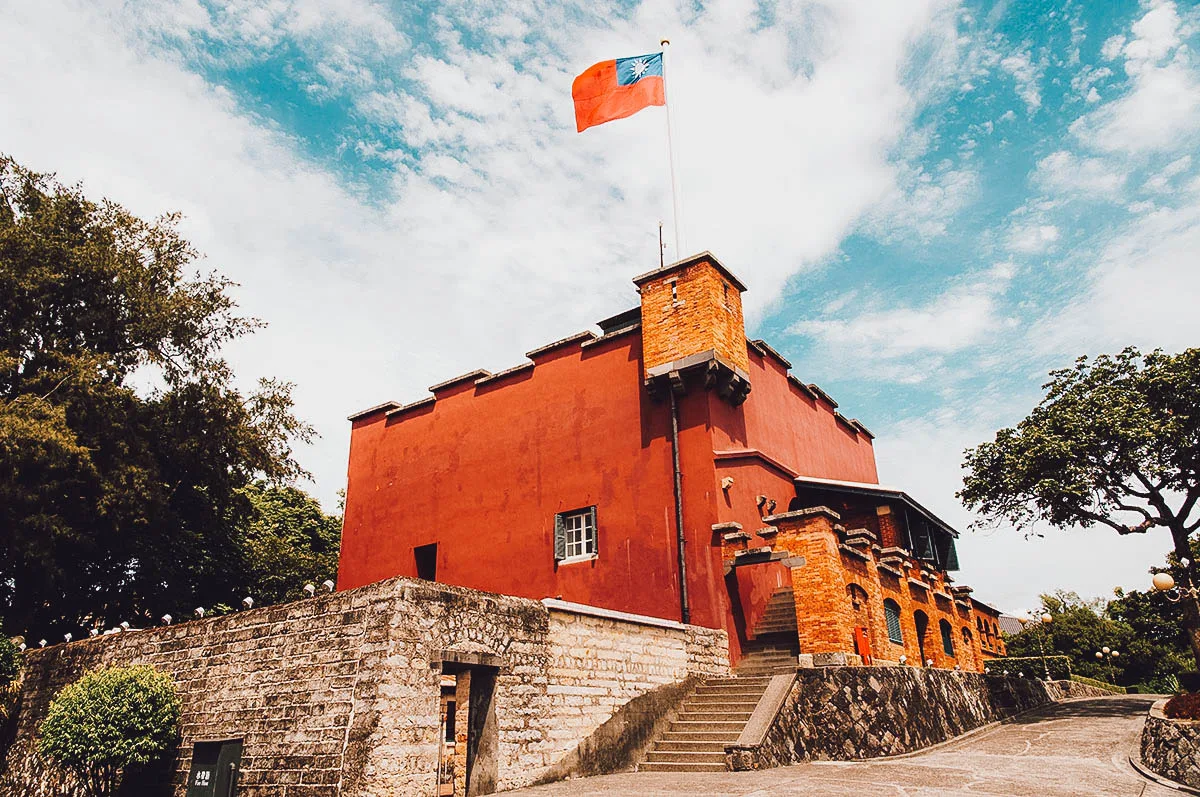 Photo by Philos Chen via Shutterstock
Operating Hours: 9:30AM-5PM, Mon-Fri / 9:30AM-6PM, Sat-Sun (closed on the first Monday of the month)
Admission: NTD 80
MUST-TRY DISHES IN TAMSUI
Eating street food was our favorite thing to do in Tamsui and the main reason why we were here. You can find all kinds of Taiwanese food in the area, though you should sample Tamsui's local specialties like ah-gei, fish balls, and iron eggs.
1. Ah-gei
If you were to eat just one dish in Tamsui, then this should probably be it. Ah-gei is a specialty of Tamsui District and consists of fried tofu skin stuffed with cooked green bean noodles and sealed with surimi, a fish paste mixture commonly sold in the area. It's an interesting and tasty dish that you probably can't find as easily outside of Tamsui.
There are many shops offering ah-gei in Tamsui, but three places are cited for serving the best – Original Ah-Gei, Three Sisters Ah-Gei, and Wenhua Ah-Gei – all of which are located just doors from each other in the same alley leading to the waterfront. We had it twice, at Three Sisters Ah-Gei and Original Ah-Gei, the latter being credited for inventing the dish in 1965. Both were delicious.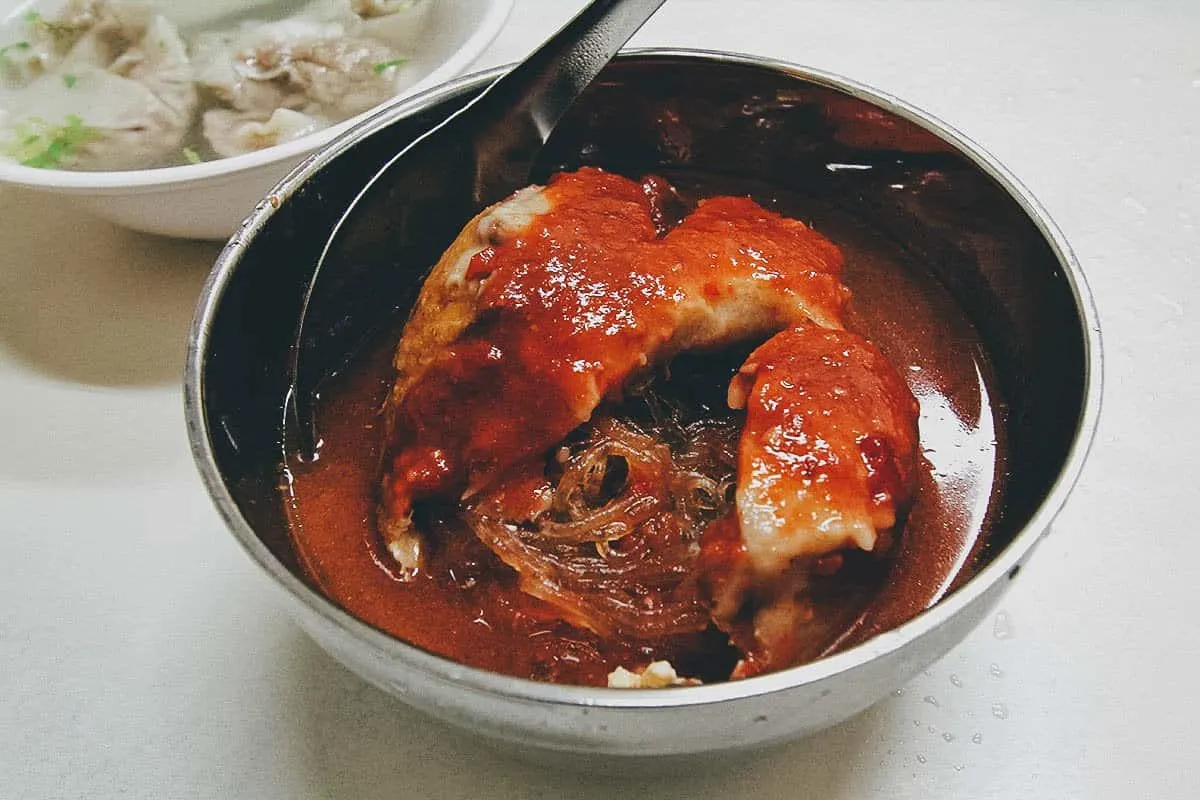 Where to Try It: Original Ah-Gei, Three Sisters Ah-Gei, Wenhua Ah-Gei
Expect to Pay: Around NTD 35 per order
2. Fish Balls
Literally every customer we saw eating ah-gei also had a bowl of Tamsui fish ball soup so we tried it as well. Pictured below is the ah-gei and fish ball soup from Original Ah-Gei. You can find Tamsui fish balls throughout much of Taiwan but Tamsui is famous for these oblong-shaped fish balls.
Original Ah-Gei makes them fresh daily. They're delicious, very clean-tasting with a nice springy texture.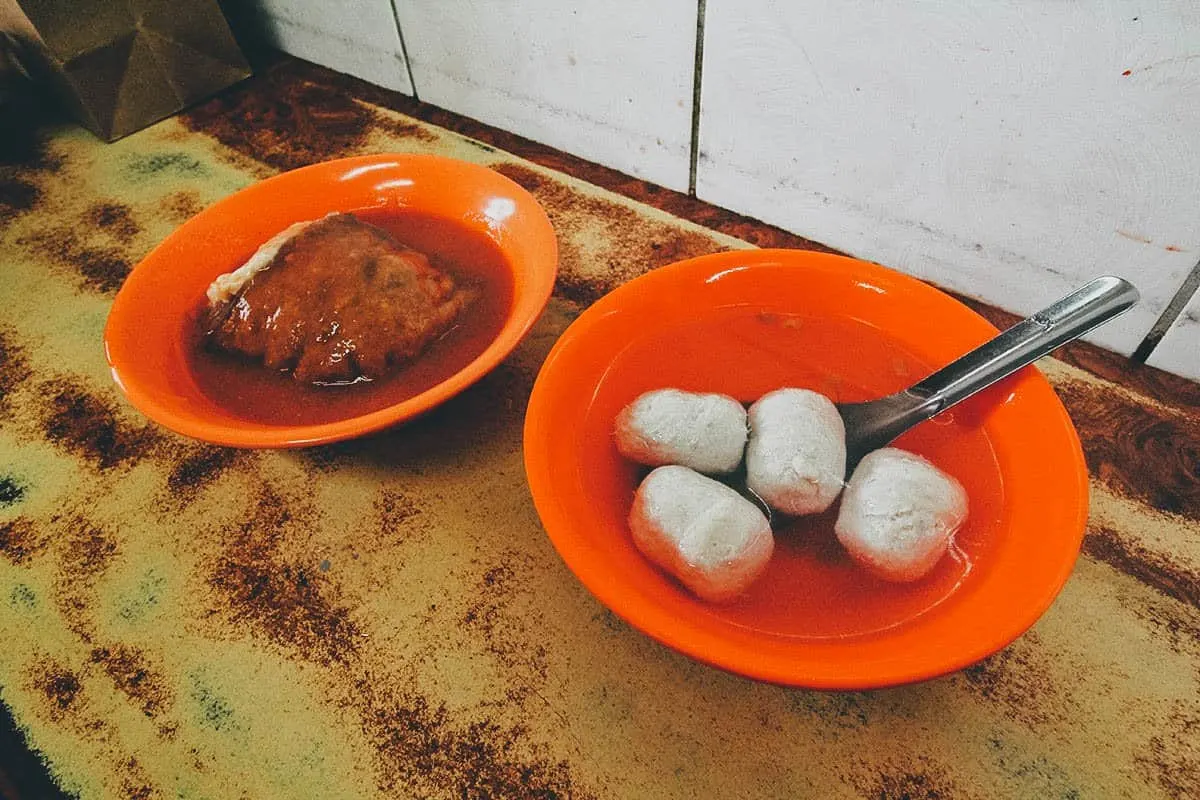 Where to Try It: Original Ah-Gei, Three Sisters Ah-Gei
Expect to Pay: Around NTD 35 per order
3. Iron Eggs
Iron eggs are another specialty of Tamsui District. You'll find vacuum-sealed packets like these being sold in many shops throughout the area.
Iron eggs are made with chicken, pigeon, or quail eggs that are repeatedly stewed in a tea, soy sauce, and spice mixture before being air-dried. The process shrinks the eggs, turns them a dark brown color (almost black), and makes them chewier and more concentrated in flavor.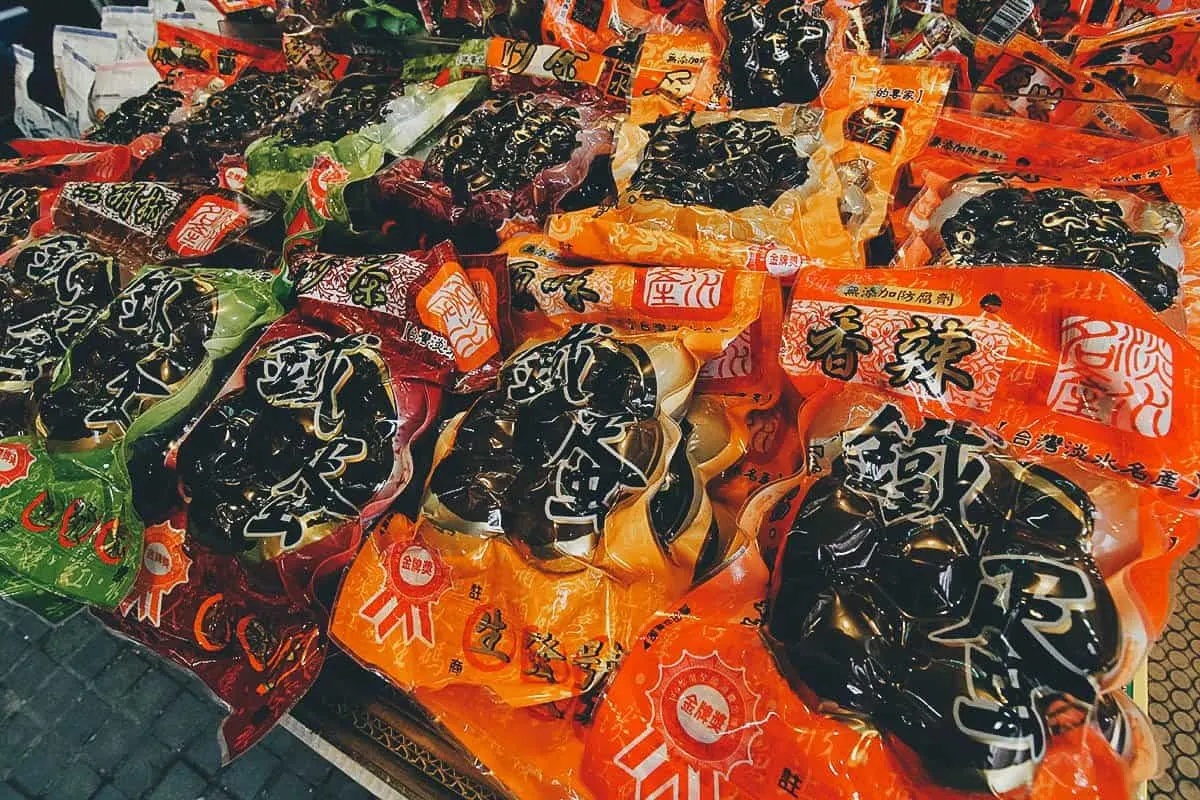 Where to Try It: Anywhere in Tamsui
Expect to Pay: Around NTD 25 for the smallest pack
4. Tower Ice Cream
If you like sweets, then you'll enjoy these light sabers of milk and cream called tower ice cream. It's soft serve ice cream that you can get in one or two flavors piled high in a cone. We got taro and mango.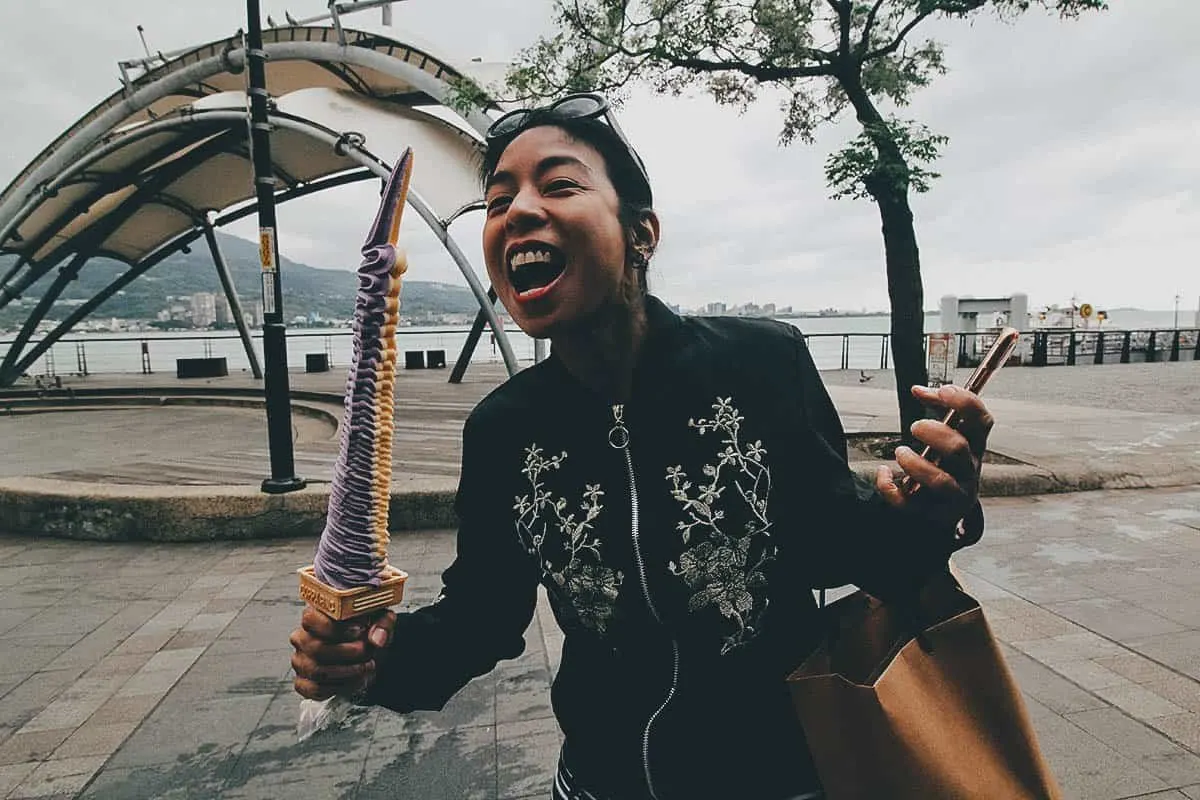 Where to Try It: Tamsui waterfront
Expect to Pay: Around NTD 35
5. Crispy Pork Paper
These are delicious and highly addictive. Crispy almond pork paper, or pork paper for short, is a snack made with pork and almonds flattened out into thin, paper-like sheets. They're crisp and delicate and taste almost like a savory sweet potato crisp.
They're sold throughout Taiwan but we bought four packs from a shop in the same alley as Original Ah-Gei and Three Sisters Ah-Gei. If I were to bring back just one souvenir snack from Taiwan, then this would probably be it.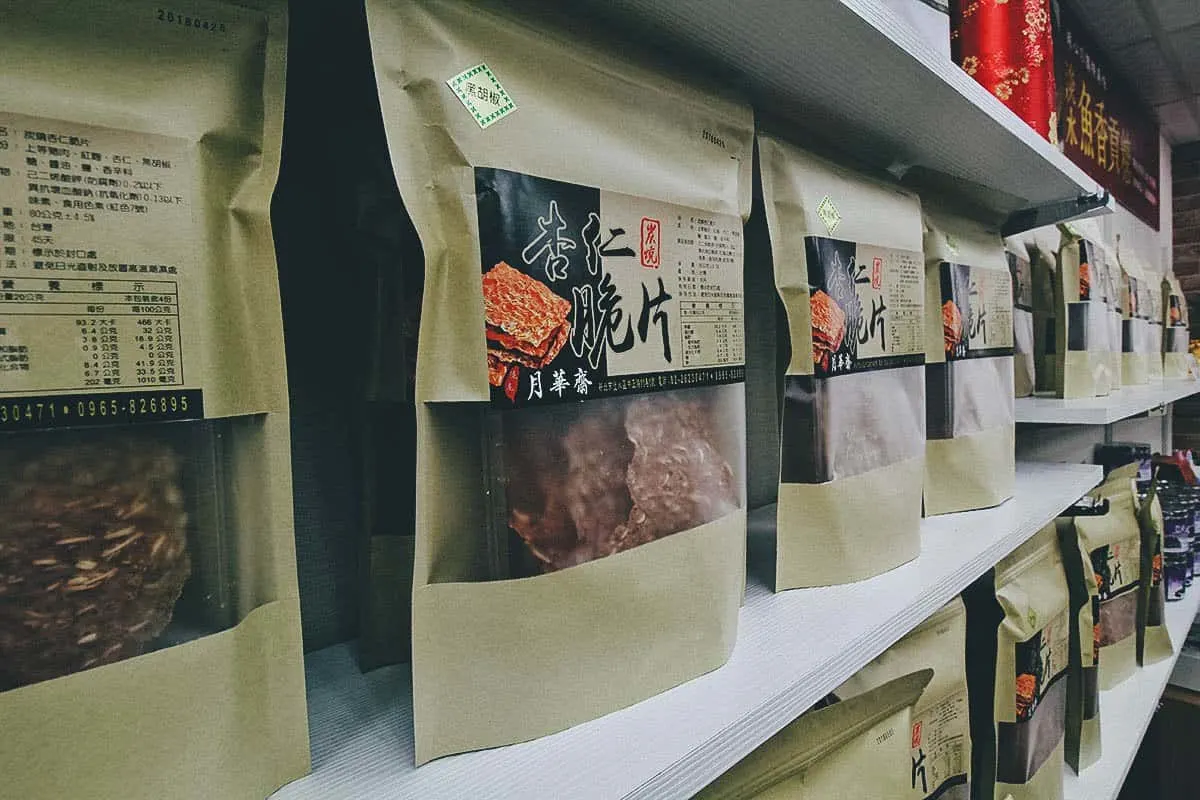 Where to Try It: Nationwide
Expect to Pay: Around NTD 150 per pack, NTD 500 for four packs
BEITOU AT A GLANCE
After exploring Tamsui, you can hop back into the MRT and take the Red Line back to Beitou, which is the northernmost district of Taipei. It's a famous hot springs area located at the foot of Yangmingshan, a collection of mountains that includes a dormant volcano known as Seven Star Mountain.
During the Japanese occupation, Beitou District was developed into a tourist destination featuring inns with mineral baths filled with water from thermal springs. Its proximity to downtown Taipei, just half an hour by MRT, makes it an ideal place to soak in thermal hot springs before heading back to the city.
Interestingly, the historical name of Beitou is Peitou, which comes from the aboriginal word paktaaw meaning "witch". This was the name given to the area by aboriginals because of the constant smell of sulphur and sight of steam rising from the valley. Peitou is the Sinicized form of that name.
HOW TO GET TO BEITOU FROM TAIPEI
Beitou District is remarkably easy to get to from Taipei, which is part of the reason why it's such a popular day trip destination. Just take the metro to MRT Beitou Station (Red Line) then transfer to the Pink Line which takes you to just one stop – Xinbeitou. From there, you can walk to all the places mentioned in this guide.
On the train are these interactive displays providing information on Beitou.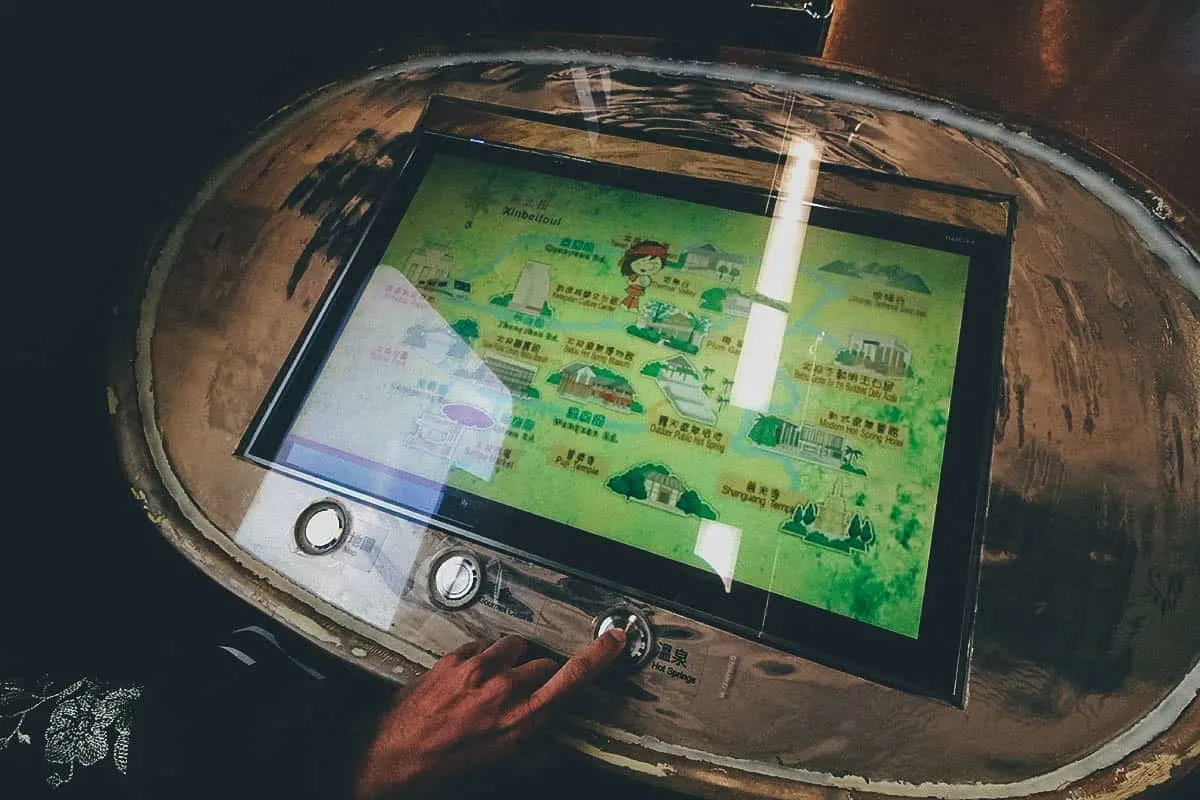 THINGS TO DO IN BEITOU
The majority of tourists who come to Beitou do so to bathe in the thermal hot springs, but there are other attractions here as well, most of which can be found in and around Beitou Hot Spring Park. Also known as Qinshui Park, it's a beautiful Japanese-inspired central park area with plenty of trees and water features like fountains and outdoor hot springs. When you're here, it feels very much like you're in Japan.
1. Soak in the Beitou Hot Springs
Hot springs are the main attraction in Beitou. Within the vicinity of Xinbeitou Station are several hotels and resorts offering public and private hot spring baths. Nothing beats a long day of walking and exploring than a soak in a hot spring, especially in winter. More on that in the hot spring section below.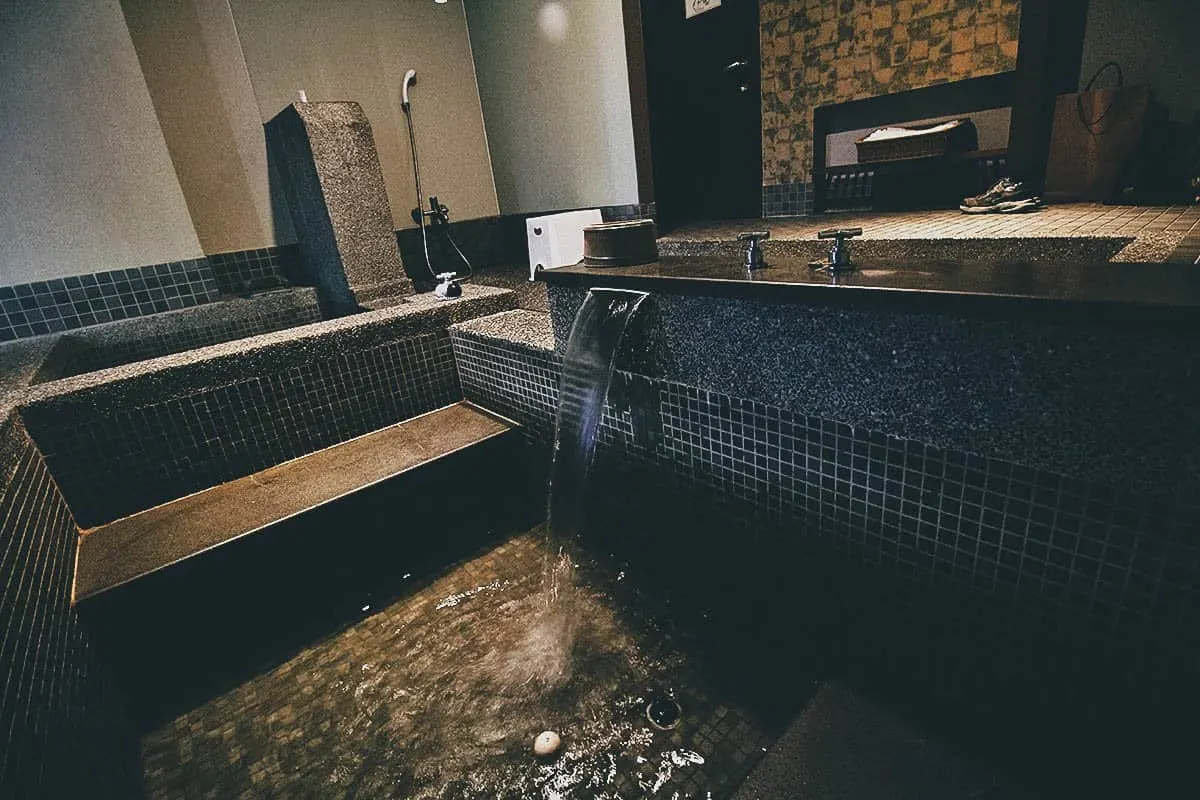 2. Visit Beitou Library
When you're walking alongside Beitou Hot Spring Park, this is one of the buildings you'll notice. This beautiful two-story wooden building is the Beitou branch of Taipei Public Library.
Aside from being beautifully designed, it's an award-winning eco-friendly building as well. I didn't go inside but you can if you like.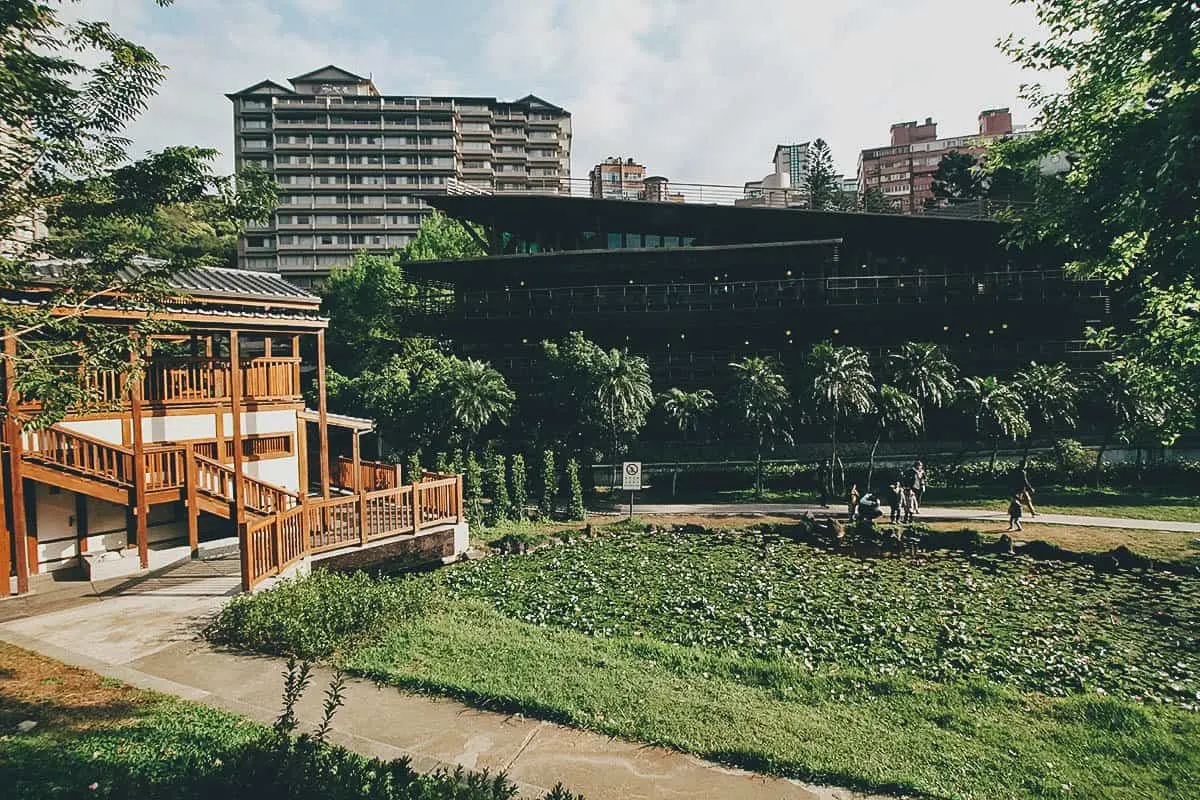 Operating Hours: 8:30AM-9PM, Tue-Sat / 9AM-5PM, Sun-Mon (closed first Thursday of every month)
Admission: FREE
3. Make a Quick Stop at Plum Garden
The Plum Garden isn't actually a garden of plums, but a museum dedicated to Yu Youren who's regarded as one of China's modern masters of calligraphy. It's a small museum without much to see so you can make a quick stop here en route to Hell Valley.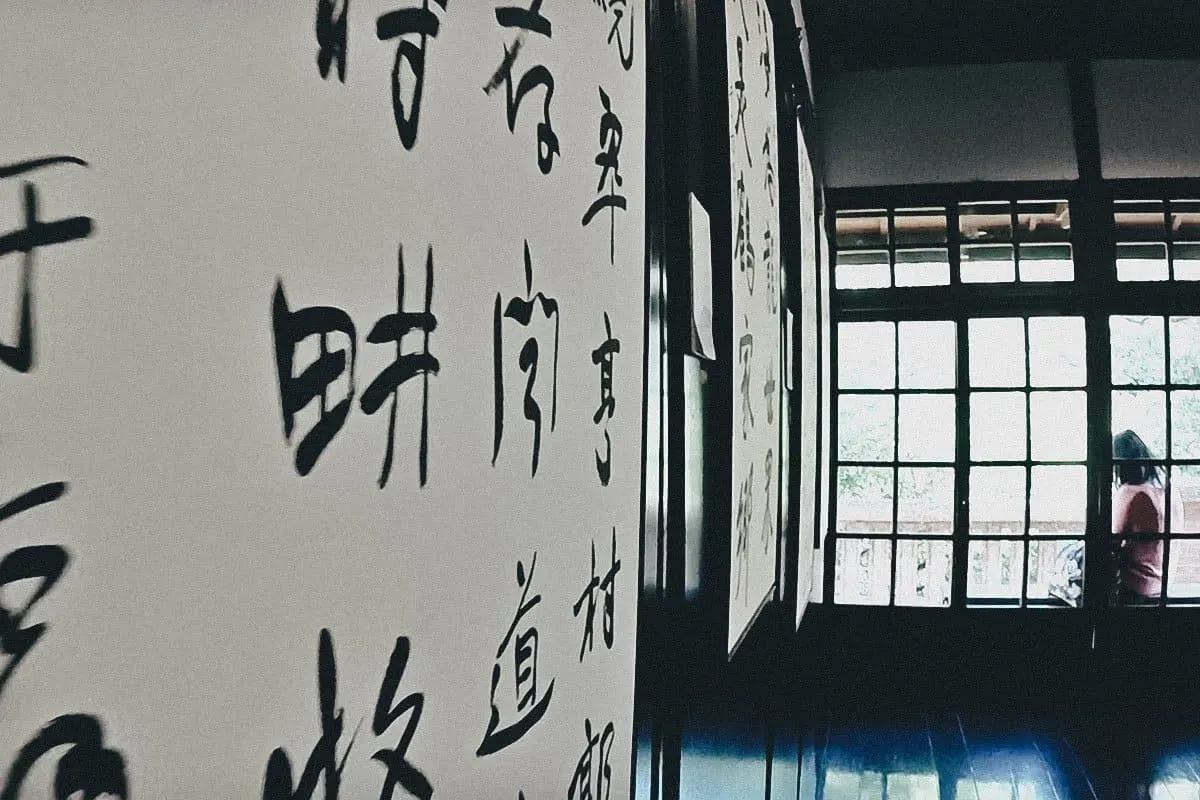 Operating Hours: 9AM-5PM, Tue-Sun (closed Mondays)
Admission: FREE
4. Visit Beitou Hot Spring Museum
I wanted to visit Beitou Hot Springs Museum but it was closed for renovations until 27 October 2018. Built by the Japanese in 1913, this building served as the original public hot spring bath in Beitou.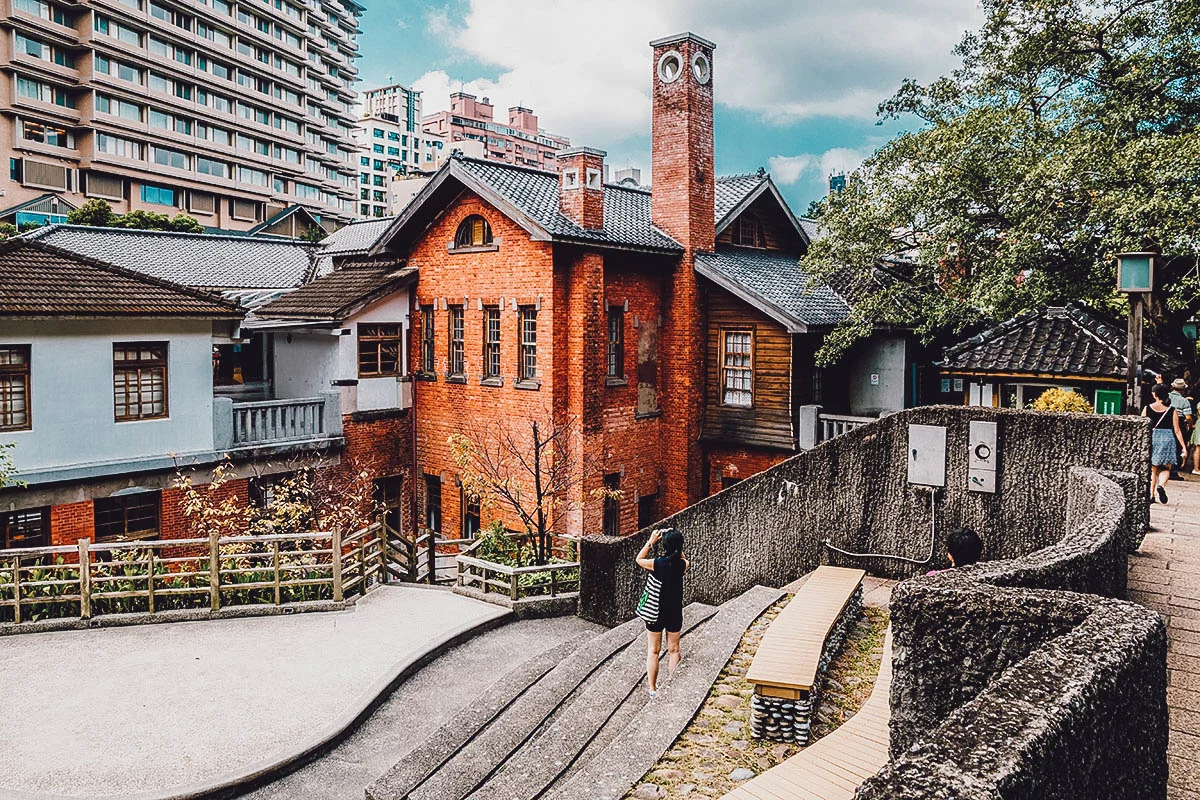 Photo by H-AB Photography via Shutterstock
Operating Hours: 9AM-5PM, Tue-Sun (closed Mondays)
Admission: FREE
5. Enjoy Beitou Thermal Valley
At the far end of Beitou Hot Springs Park is Thermal or Hell Valley. This rock-strewn pool giving off a steady current of steam is the water source for many hot spring facilities around Beitou. Water temperatures in this volcanic valley often reach a scalding 90°C (194°F), making it unsuitable for bathing. It's a beautiful sight though and one of the most popular attractions in Beitou.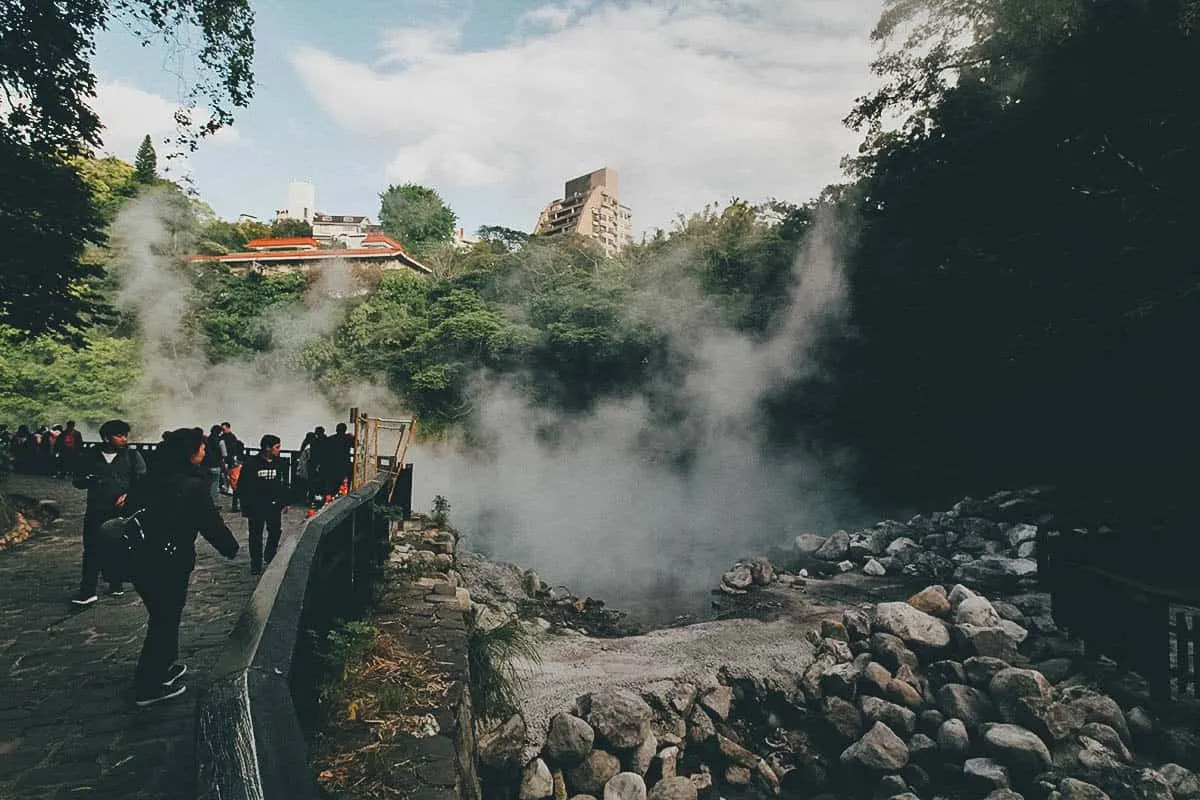 I read that the public used to have access to the water, to boil eggs and what not, but it's since been closed off for safety and water sanitation reasons. The water in Hell Valley is said to contain radium, a radioactive element with purported healing properties.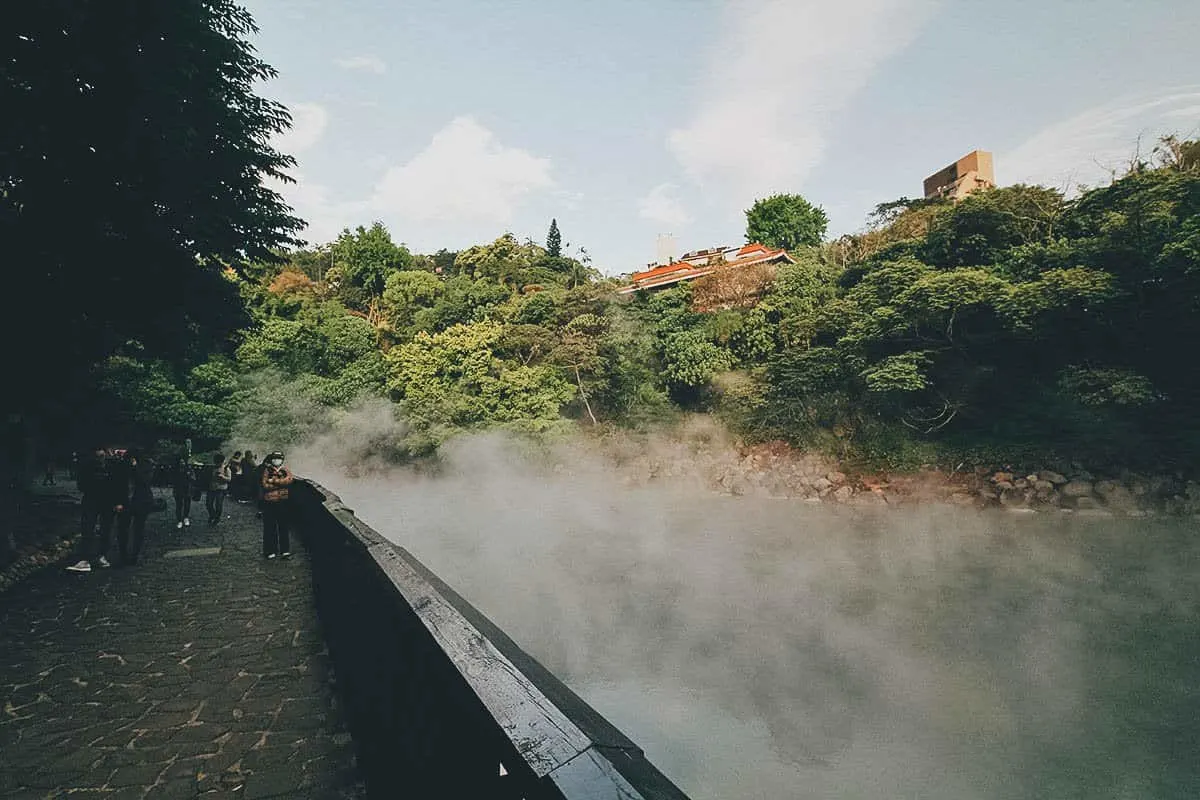 Operating Hours: 9AM-5PM, Tue-Sun (closed Mondays)
Admission: FREE
WHICH HOT SPRINGS TO VISIT IN BEITOU
There are several hot spring resorts to choose from in Beitou, both public and private. If you're on a budget and don't mind sharing pools with (potentially) a lot of people, then you can go to a public facility. But if you're a couple and want more privacy, then you're better off going to a private hot spring resort.
Listed below are two hot spring resorts – one public and the other private – that you can visit in Beitou.
1. Millennium Hot Spring
Also known as Beitou Outdoor Public Hot Springs, Millennium Hot Spring is one of the most famous public baths in Beitou. It's located within Beitou Hot Spring Park so it's easy to get to from Xinbeitou Station. At just NTD 40 per person, it's one of the cheapest hot spring experiences you can have in Beitou.
Millennium Hot Spring contains five pools of varying temperatures – three hot and two cold. All five pools are situated outdoors and shared by both men and women, so bathing suits are required.
Groups of bathers are ushered into the resort in batches from 5:30AM till 7:30PM. They're allowed to bathe in two-hour sessions before being asked to leave to give way to the next batch. Pictured below is a long line of bathers waiting to be let in for the next session.
I initially wanted to try Millennium Hot Spring until I saw pictures of it on the internet. It's a nice facility but it's popular so it often gets very crowded. It looked like a human hot pot so we opted for a private hot spring experience instead.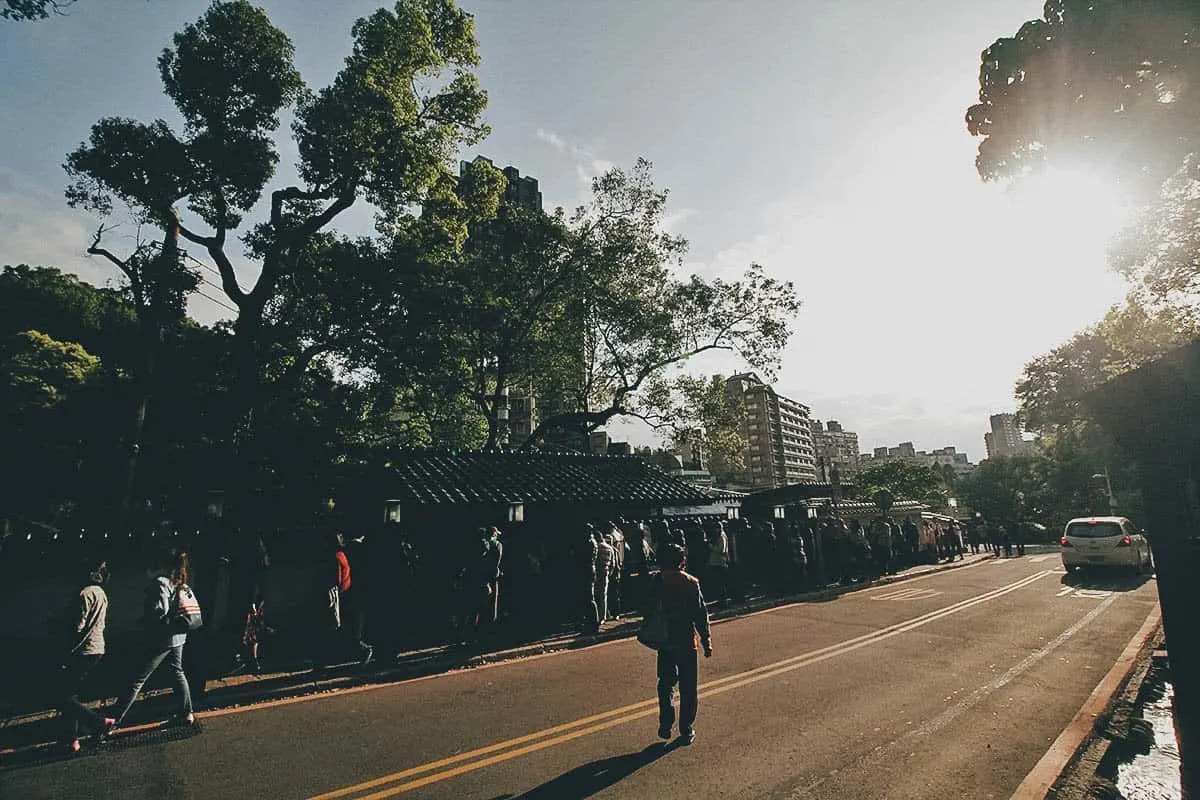 Operating Hours: 5:30AM-10PM, daily
Admission: NTD 40 for 2 hours
2. Beitou Hot Spring Resort
Beitou Hot Spring Resort is located just a few minutes from Xinbeitou Station on the left side of the park. It's a hotel offering 14 private hot spring rooms that are open 24 hours. For NTD 1,380 on weekdays and NTD 1,580 on weekends, up to two people can use each room for 90-minute sessions. It's a lot more expensive than a public resort but you are paying for the luxury of privacy.
Beitou Hot Spring Resort doesn't take advanced reservations so you can just walk in and book a hot spring room. Thankfully, we didn't have to wait at all for ours. You can check the Beitou Hot Spring Resort website for more information.
If you'd like to stay the night at Beitou Hot Spring Resort, then you can book a room through Klook.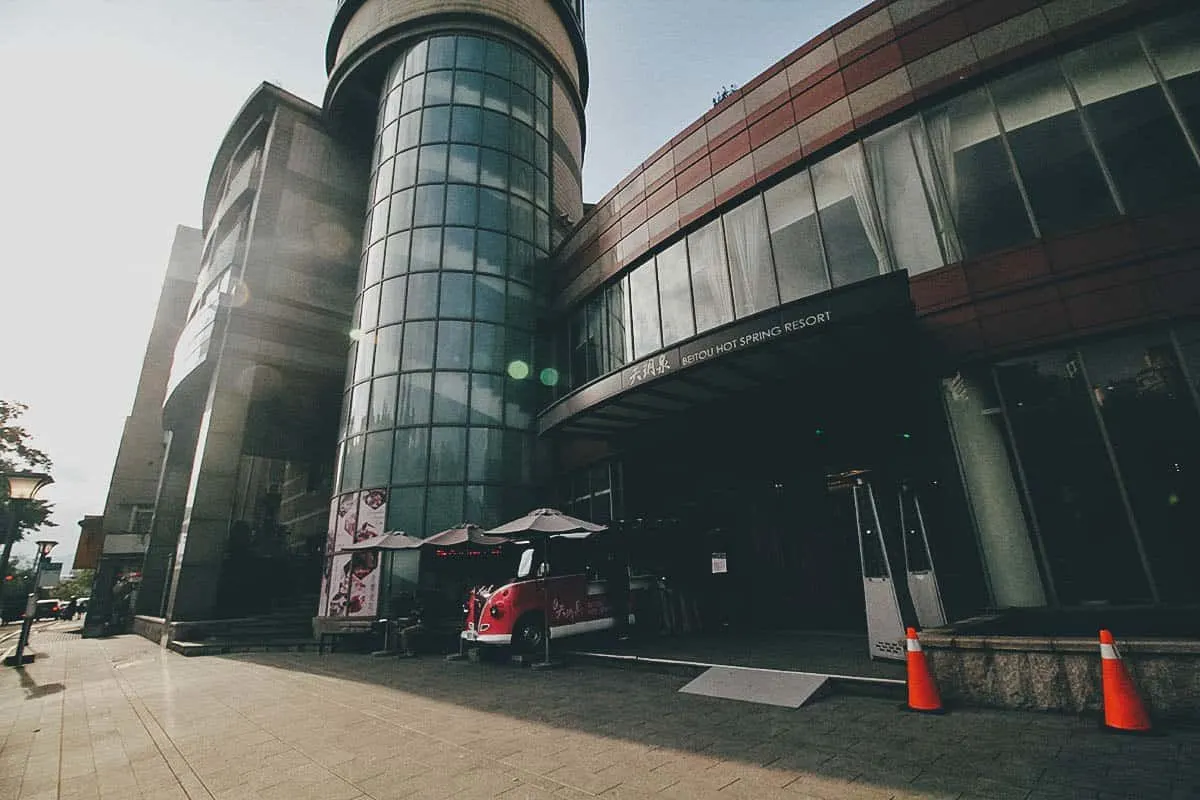 This is what each private room looks like. There's a hot spring pool, a cold water pool, a shower, a resting area with sofa lounge, and all the amenities you need. Nice right? Before your 90 minutes are done, you'll receive a phone call reminding you that your time is almost up.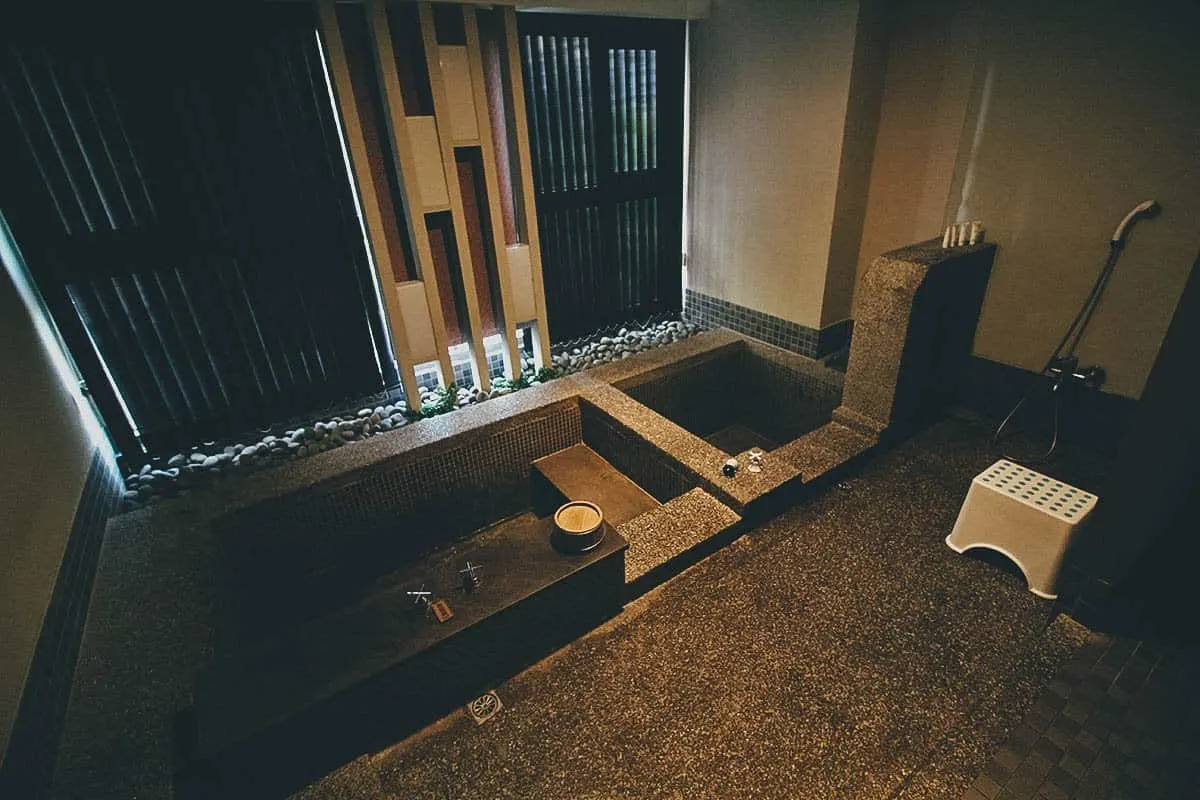 The water can get unbearably hot so you can adjust it to the desired temperature. There's an emergency cord inside the room which you can pull should you need immediate assistance.
We had our first hot spring experience not too long ago at an onsen in Japan. When you first get in the water, your instinct is to jump right out because the water feels too hot, especially is you aren't used to it. Give it a few minutes and you'll find your body adjusting to the temperature. If not, then you can temper it with some cold water.
Bathing in hot spring water makes you feel amazing afterwards. You feel so warm to the core that you're practically impervious to the cold. It's such a relaxing feeling. I love it.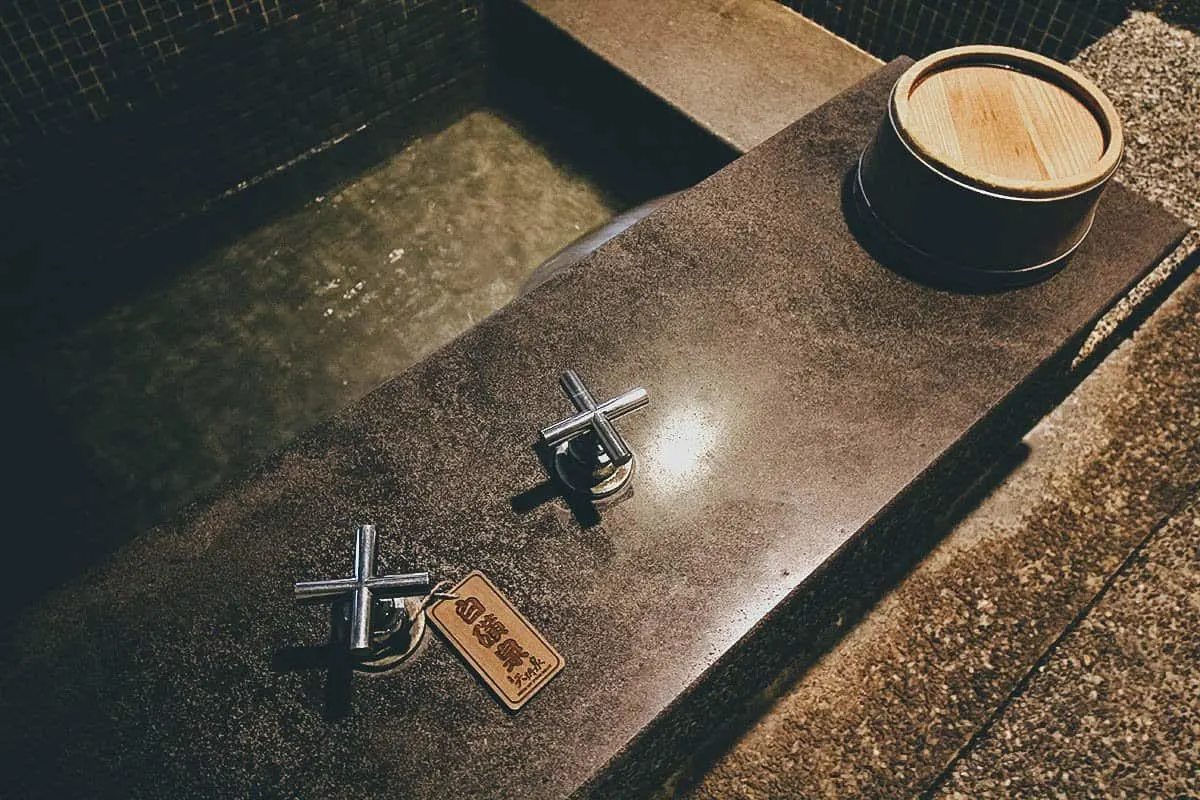 Each private hot spring rental comes with free coffee and dessert. You'll be given a stub which you can use to claim free coffee and dessert at the hotel's cafe.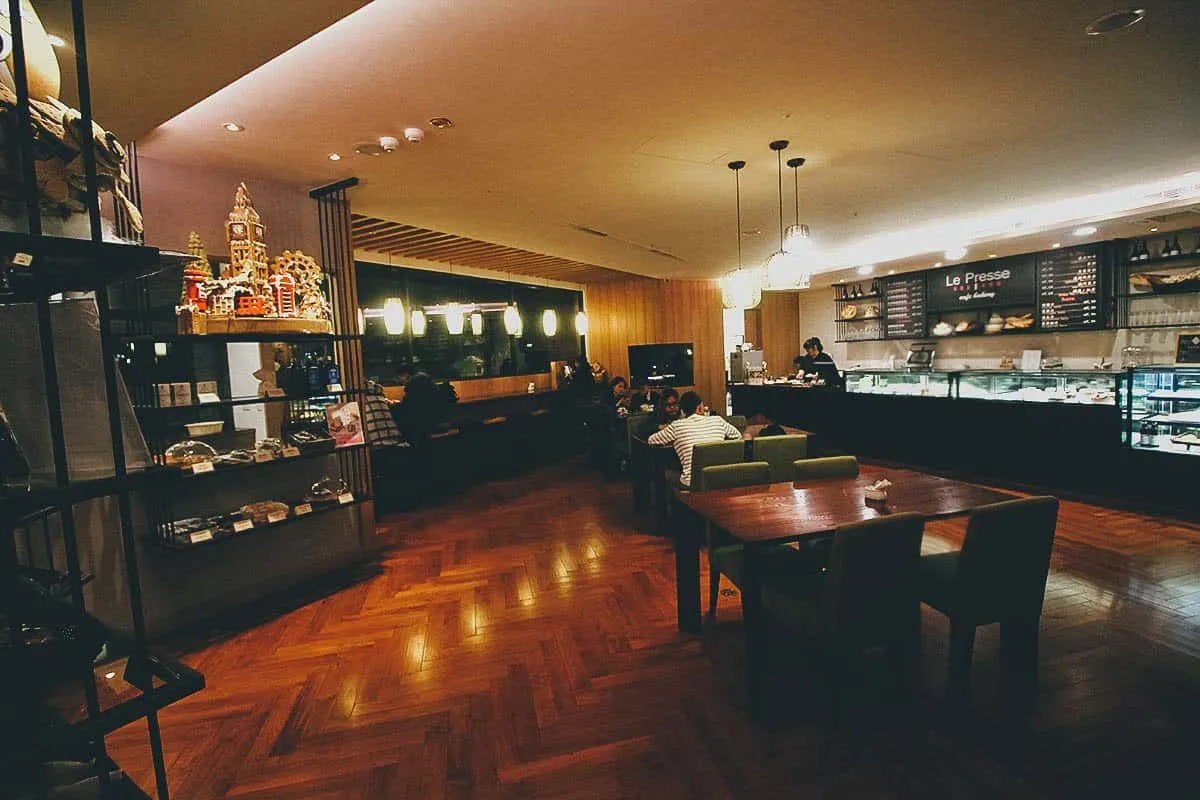 Coffee, biscuits, and cake waiting for us at the end of a wonderful hot spring session. If you've never soaked in hot springs before, then I strongly urge you to try it, especially if you find yourself in Taiwan in winter. You really do feel fantastic after.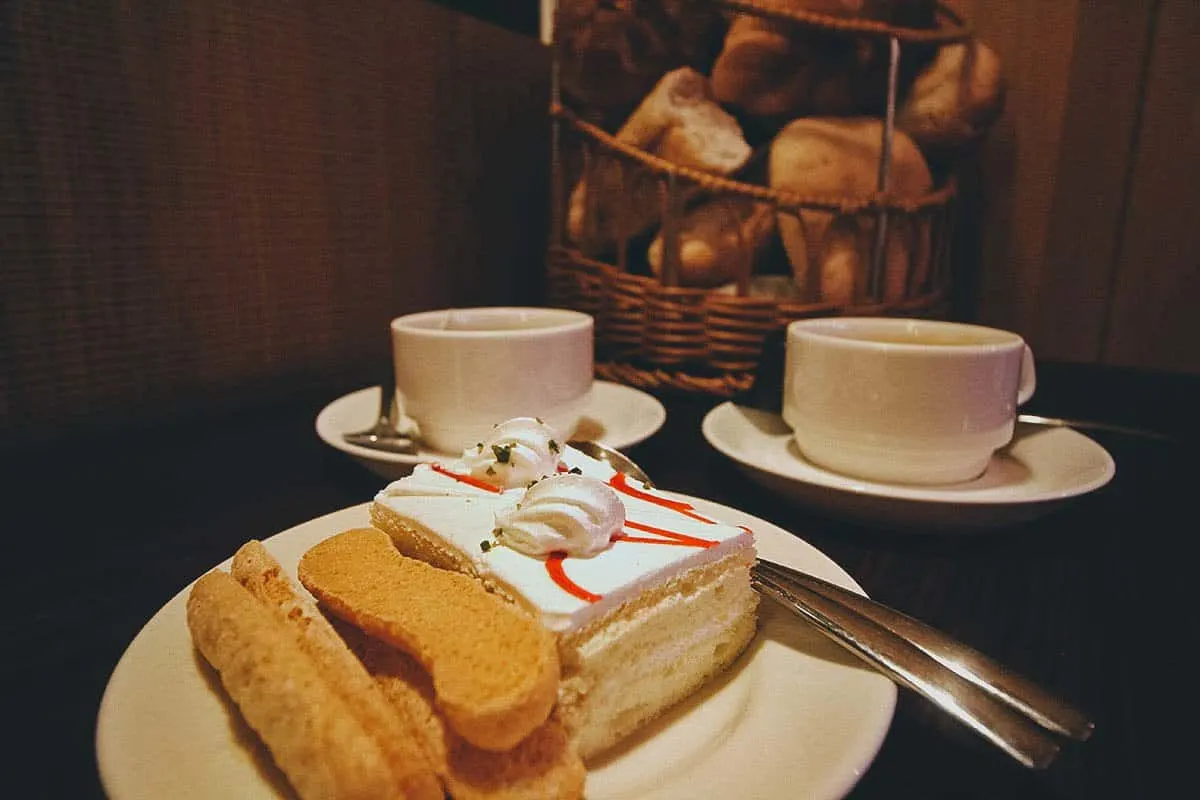 Operating Hours: 24 hrs
Admission: NTD 1,380 (weekdays), NTD 1,580 (weekends) for 90 mins
TAMSUI & BEITOU LOCATION MAP
It shouldn't be hard to find your way, but here's a Tamsui and Beitou location map to help you navigate to all the places mentioned in this guide. Click on the link for a live version of the map.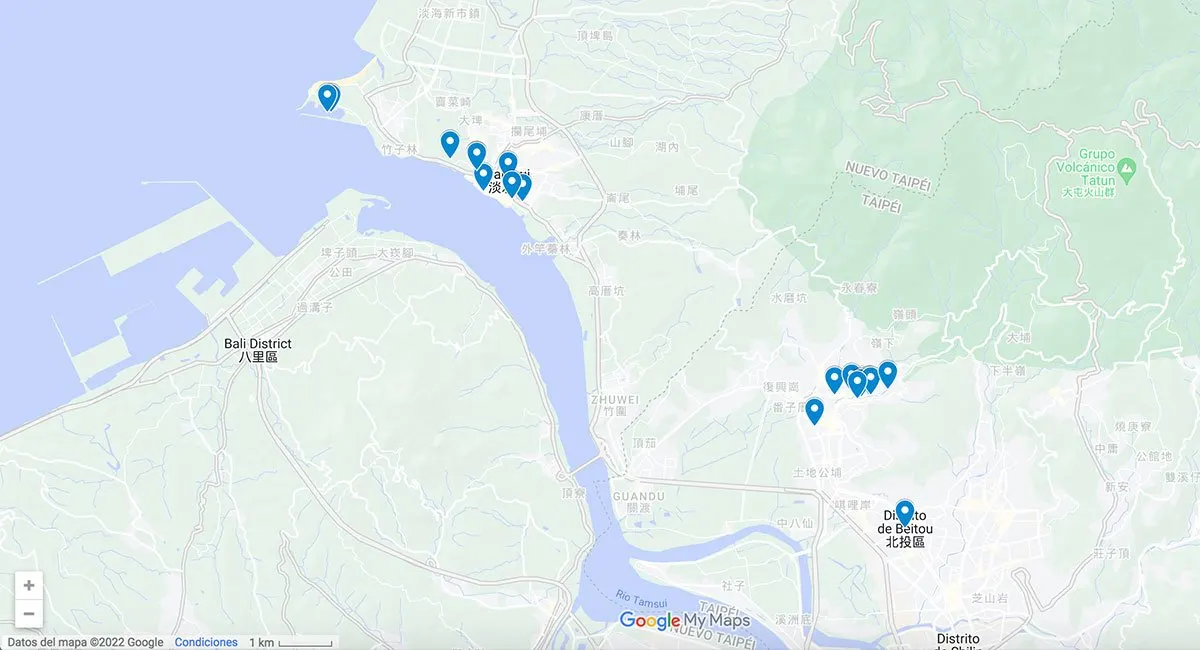 FINAL THOUGHTS ON VISITING TAMSUI AND BEITOU FROM TAIPEI
As described at the top of this article, their accessibility makes Tamsui and Beitou among the easiest day trips you can make from Taipei. They each offer something unique so it's fun to visit both on the same day.
Beitou is closer to downtown Taipei so many tourists go there first before proceeding to Tamsui. You may want to do this if you plan on enjoying the sunset and the nighttime illumination of Lover's Bridge.
We did it the other way around, Tamsui first then Beitou, because we wanted to save the hot spring experience for last. In my opinion, soaking in a thermal spring is one of the most relaxing things you can do in cold weather. We thought it would be the perfect ending to a full and fun day of exploring. It was.
Regardless of which destination you decide to visit first, people looking to go beyond Taipei should definitely visit Tamsui and Beitou. They're two interesting districts that are worthy of a spot on your Taipei itinerary.
Thanks for reading and have an awesome time exploring Tamsui and Beitou from Taipei!
Disclosure
Some of the links in this Tamsui and Beitou travel guide are affiliate links, meaning we'll earn a small commission if you make a booking at no extra cost to you. As always, we only recommend products and services that we use ourselves and firmly believe in. We really appreciate your support as it helps us make more of these free travel and food guides. Thank you!