UPDATE (30 Dec 2018): A reader informed us that RAW now accepts reservations as early as 60 days in advance (changed from 2 weeks). Woohoo! More chances to get a booking!
I first learned about RAW from the 2017 list of Asia's 50 Best Restaurants. I was reading up on Gaggan in Bangkok and was excited to find three restaurants in Taiwan on that list – RAW and Mume in Taipei, and Le Moût in Taichung. They were sitting at 24, 43, and 28 respectively.
Ren and I love finding the best and most interesting places to eat when we travel, so I've become a little obsessed with that 50 Best list. Like the Michelin Guide, I now use it as a barometer and compass to find the most highly regarded restaurants in any destination. In Taipei, and in all of Taiwan for that matter, that restaurant is RAW.
Save This on Pinterest!
No time to read this now? Click on the red save button and pin it for later!
What is RAW?
Opened in late 2014, RAW is the newest restaurant of Taiwanese-born chef André Chiang. In less than four years, it's become one of Taipei's hottest restaurants, praised equally for its striking interiors as it is for its innovative tasting menus. In 2018, it climbed from number 24 to number 15 on the list of Asia's 50 Best Restaurants.
Together with his chefs de cuisine Zor Tan Cheong Thin and Alain Huang, Chef Chiang offers what's known as "bistronomy" cuisine – a Parisian cooking style characterized by locally sourced, seasonal ingredients prepared using gastronomy techniques but presented in a less intimidating, bistro-like fashion. In short, it's accessible fine dining.
At RAW, Chef Chiang stays true to the tenets of bistronomy by serving Taiwanese dishes made with ingredients carefully selected from Taiwan's 24 micro seasons.
Who is Chef André Chiang?
Born in Taiwan, Chef André Chiang spent much of his early life in Japan where he learned to cook from his mother. He was expected to take over the family business but he moved to France instead to learn French cuisine. During his fifteen years there, he would work his way up to the position of chef de cuisine at three Michelin star restaurant Le Jardin des Sens.
Before moving back to Taiwan, he opened his flagship Restaurant André in Singapore in 2010. It shot up to number 2 on Asia's 50 Best Restaurants list and number 14 in The World's 50 Best Restaurants in 2017. Thinking it was "prefect as it is", Chef Chiang closed its doors permanently on 14 February 2018 to focus on RAW and other projects. At just 41 years of age, he recently became the 2018 recipient of The Diners Club Lifetime Achievement Award in Asia.
Chef Chiang has an approach to cooking which he likes to call his "Octaphilosophy". It's a culinary philosophy made up of eight elements – Unique, Pure, Texture, Memory, Salt, South, Artisan, and Terroir. According to him, each element plays a different role in the culinary journey, all of which makes up the complete, perfect meal.
The Complete, Perfect Meal
RAW is located in Zhongshan District in Taipei. They're open for lunch and dinner from Wednesday to Sunday and offer two tasting menus priced at NTD 1,850 and 2,680. It is notoriously difficult to get a reservation here, which you need to do via their online booking system. I realize now how incredibly lucky we were to secure a reservation, so I'll describe what I did at the bottom of this post.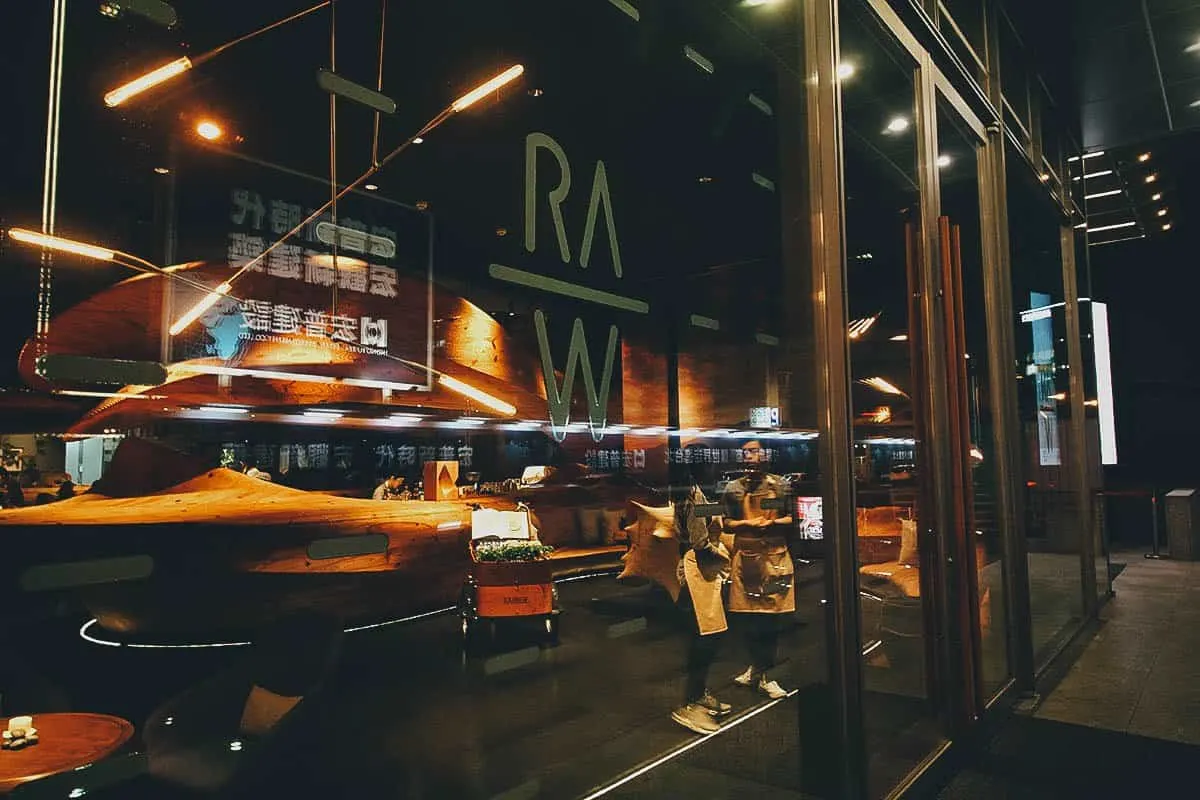 RAW's stunning interior, anchored by a sculptural bar fashioned from Taiwanese pine.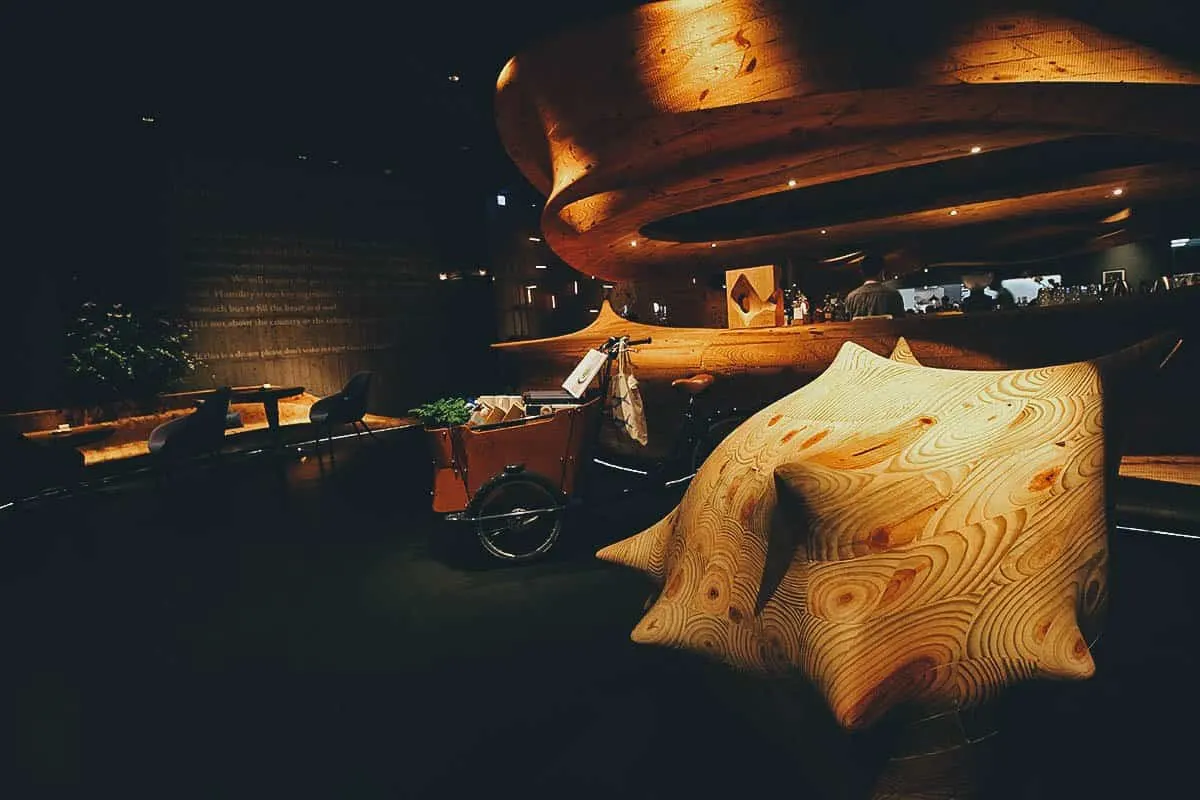 Your jaw will drop when you see this bar. It's bigger than it looks in pictures and is absolutely beautiful.

Bistronomy is defined as fine dining presented in a more accessible way. I certainly got that feeling at RAW. In spite of its sharp design, the restaurant didn't feel intimidating in any way.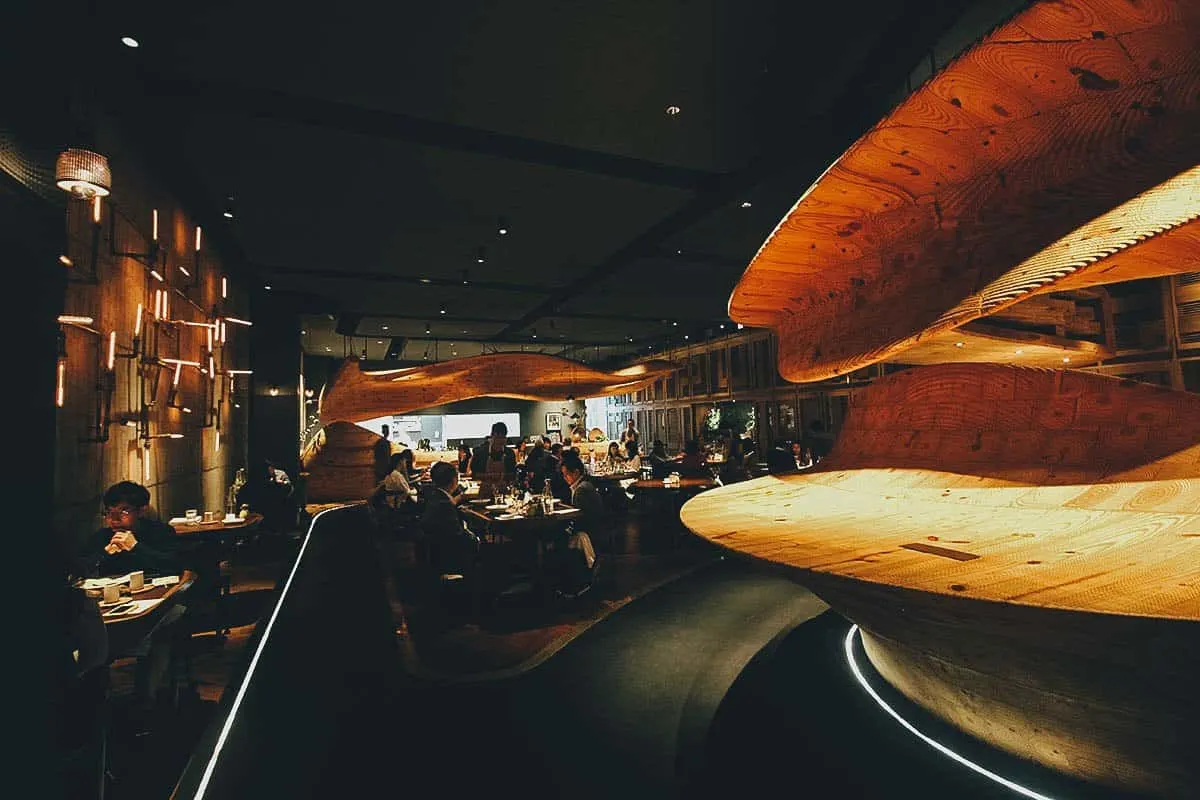 We felt relaxed here at RAW, as did that woman dining alone, with confidence, behind Ren. She rocks. I wish more people were like her.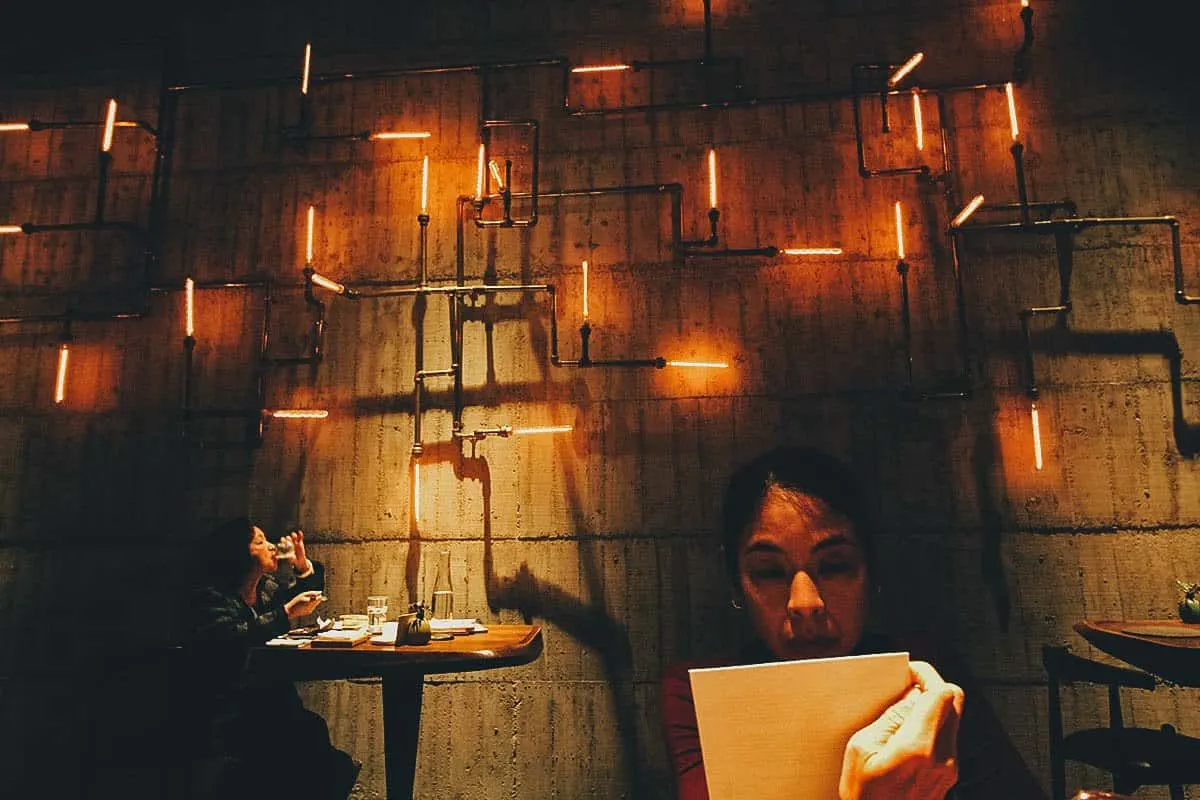 Weapons of mass degustation. At every seat is a pull-out drawer filled with utensils.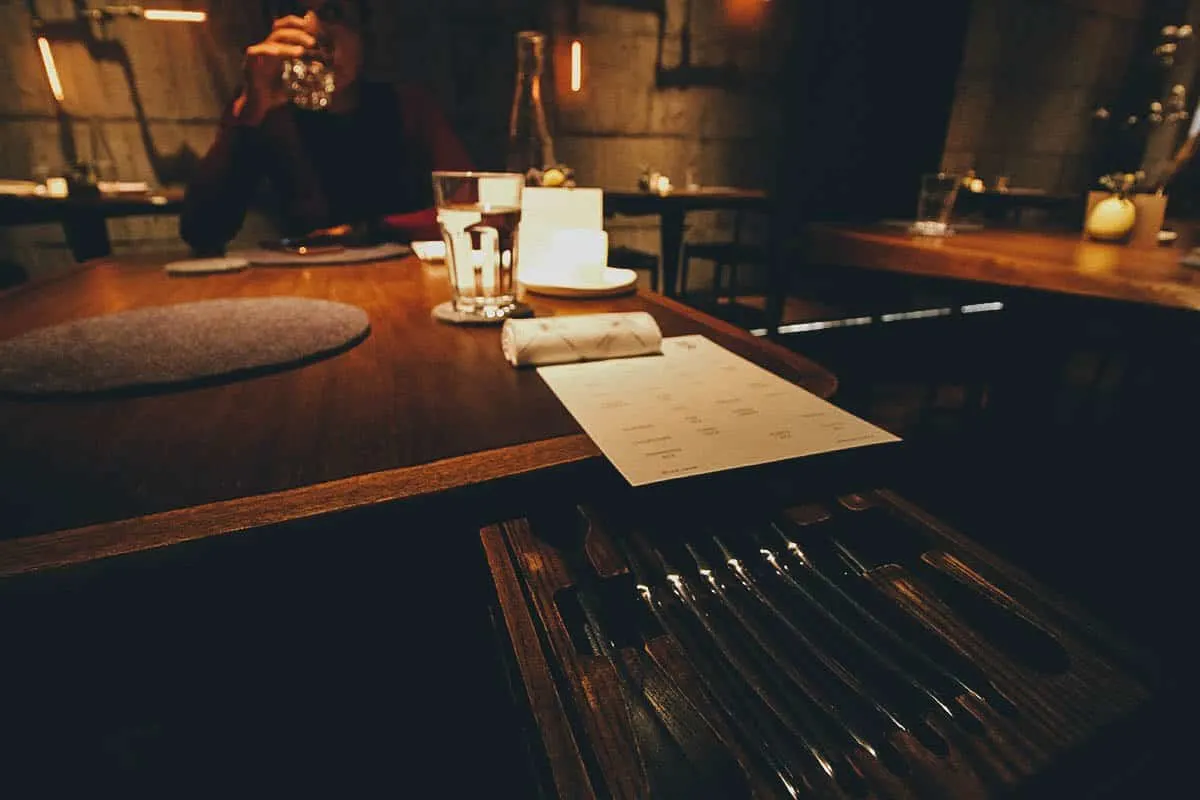 Did you know this about bottled water? 17.5 liters of water to make just 1 liter of bottled water?? That's crazy!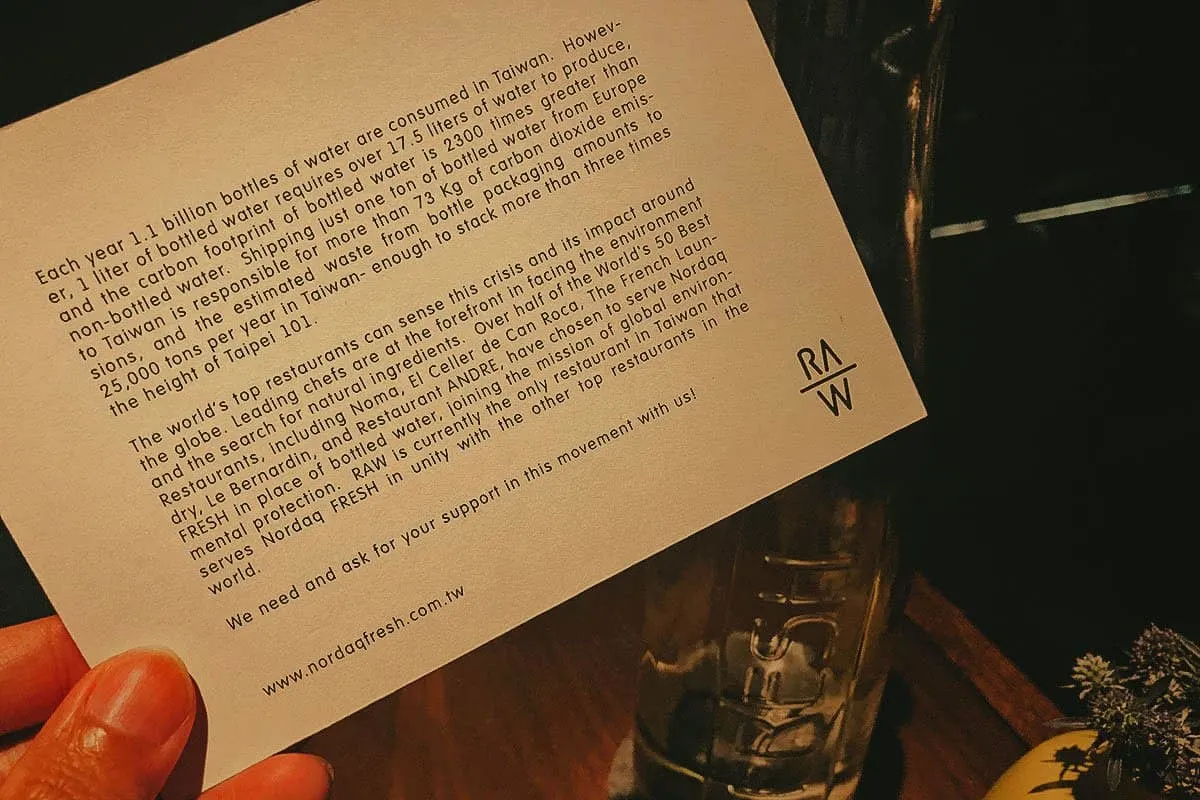 I'm not a wine drinker so I went with this interesting microbrew called Pilsner 9 to go with my meal. Bold and full-bodied, it was perfect for sipping.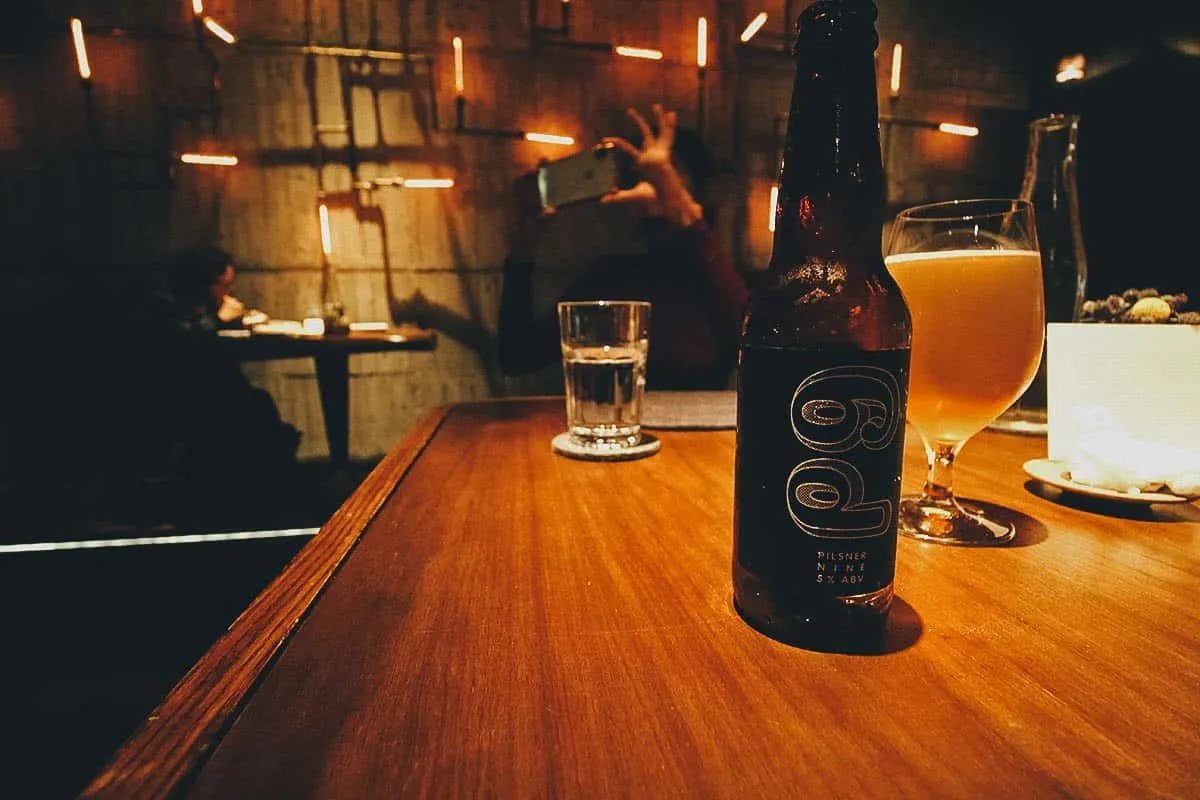 P9 is made exclusively for RAW.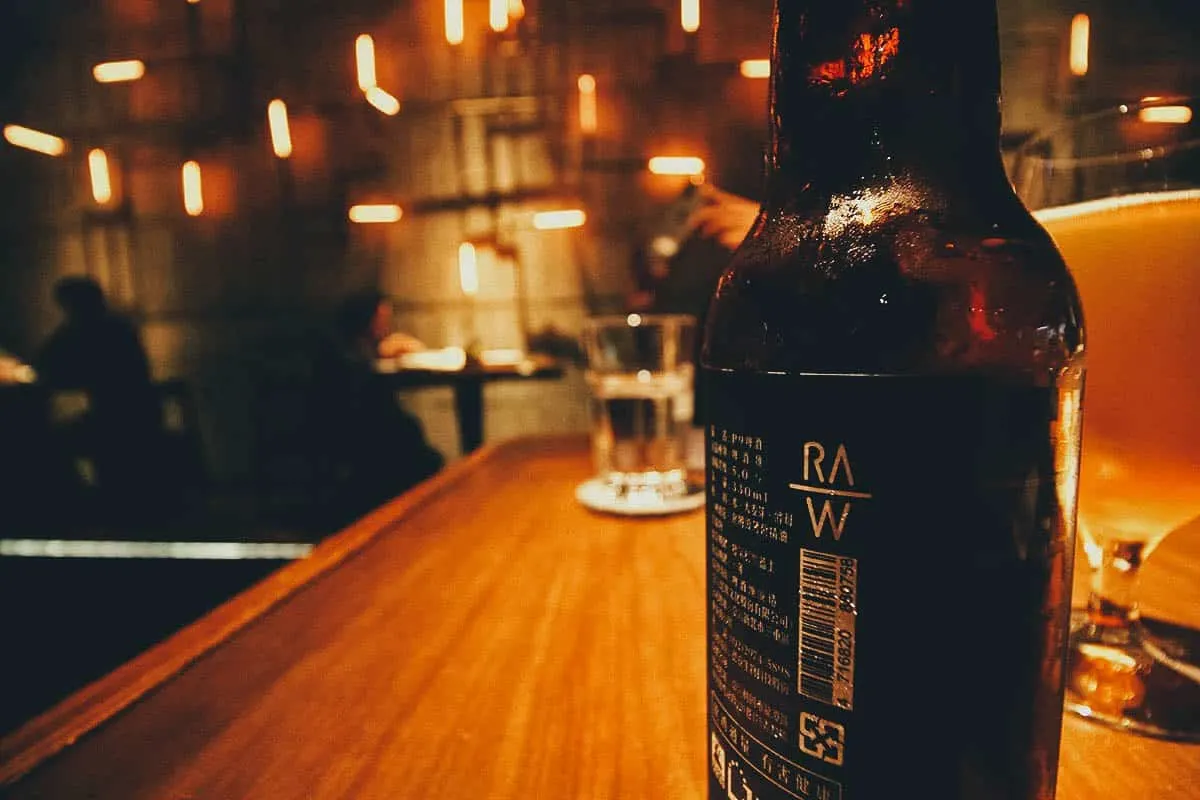 Ren and I both went with the NTD 1,850 tasting menu. I love to eat but I'm not the most knowledgeable or eloquent when it comes to describing cooking techniques, so I won't get into too much detail about each course. I'll just describe it in the best way I can remember.
FIRST COURSE: Freshest Taiwan Milk. For our first course, we were treated to a milk dish served in two forms – powder and liquid. You're meant to put the powdered form in your mouth first before downing it with the liquid.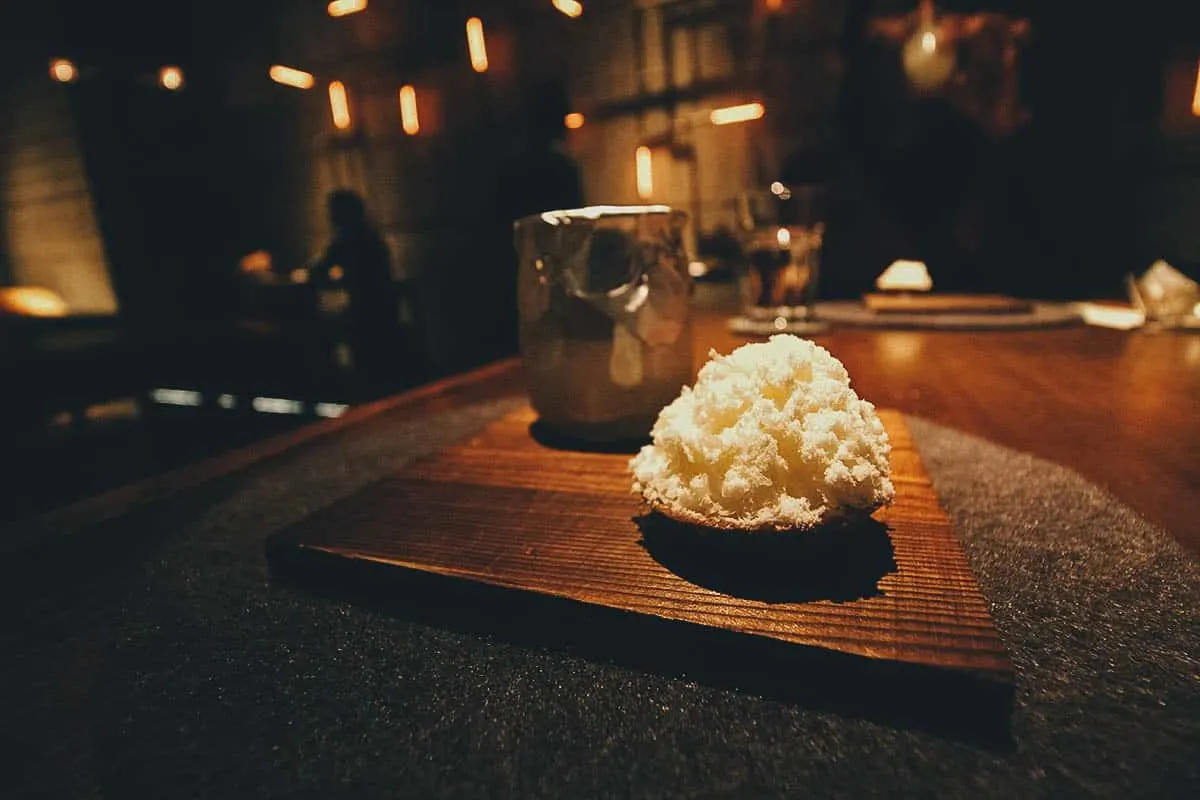 SECOND COURSE: Prawn, Mioga, Peas. This was delicious. I don't remember exactly how it was made but you're supposed to eat that green part with the puree first before following it up with the crunchy prawn. I looked it up and mioga is a type of ginger.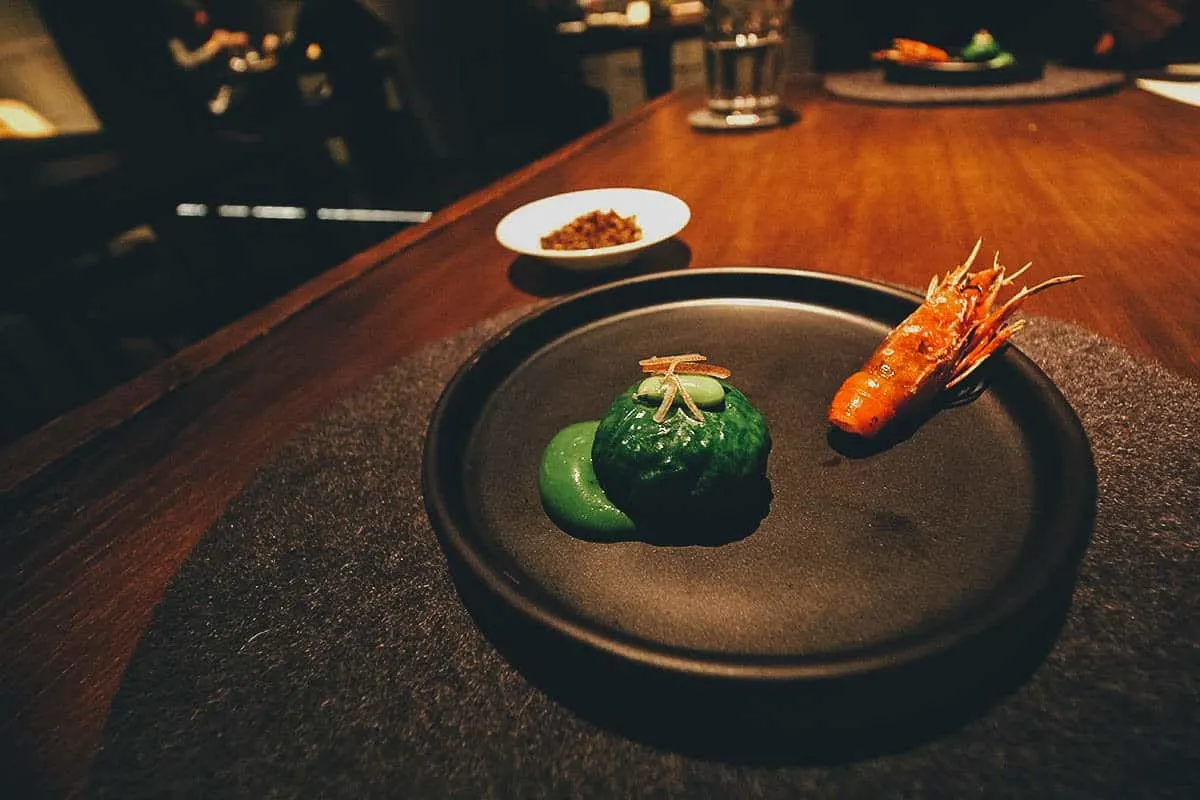 Their bread was delicious too. If I remember correctly, it was served with a butter spread sprinkled with some chocolate and dried berries.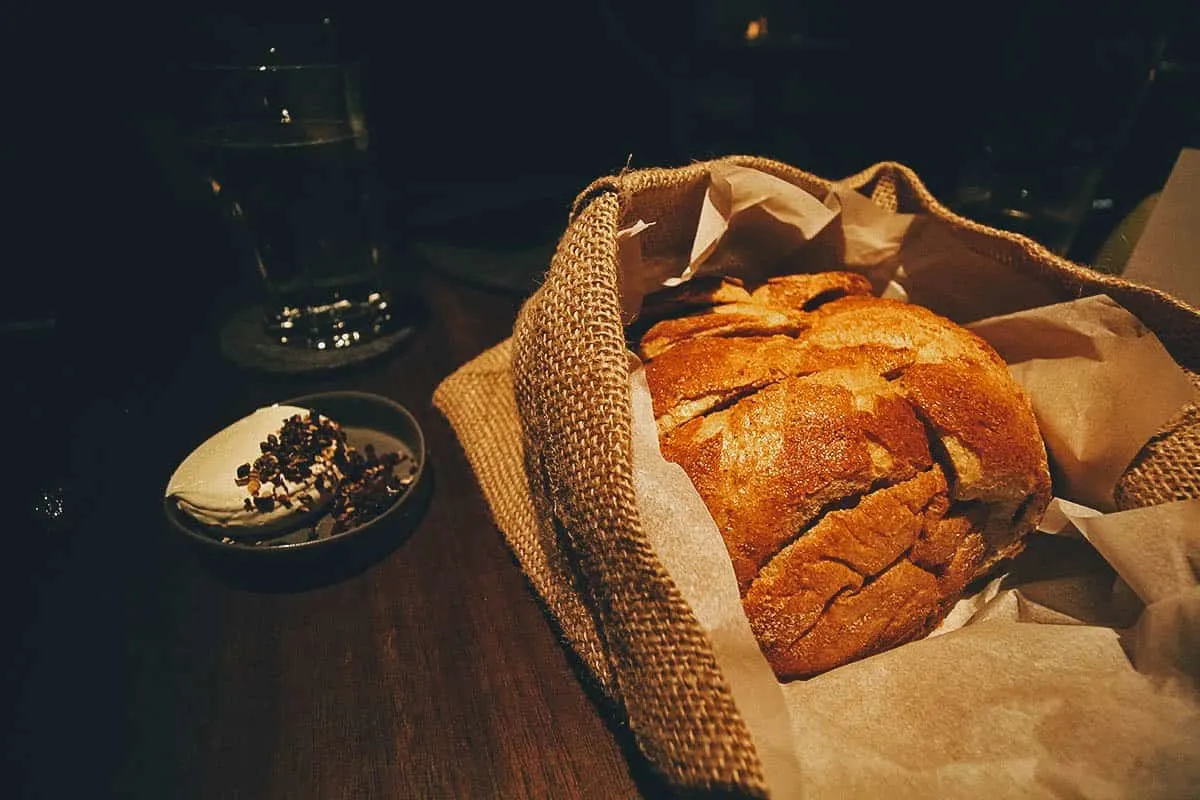 THIRD COURSE: Enoki, Scallop, Smoked Basil. Thinly sliced scallops with roasted enoki mushrooms and smoked basil.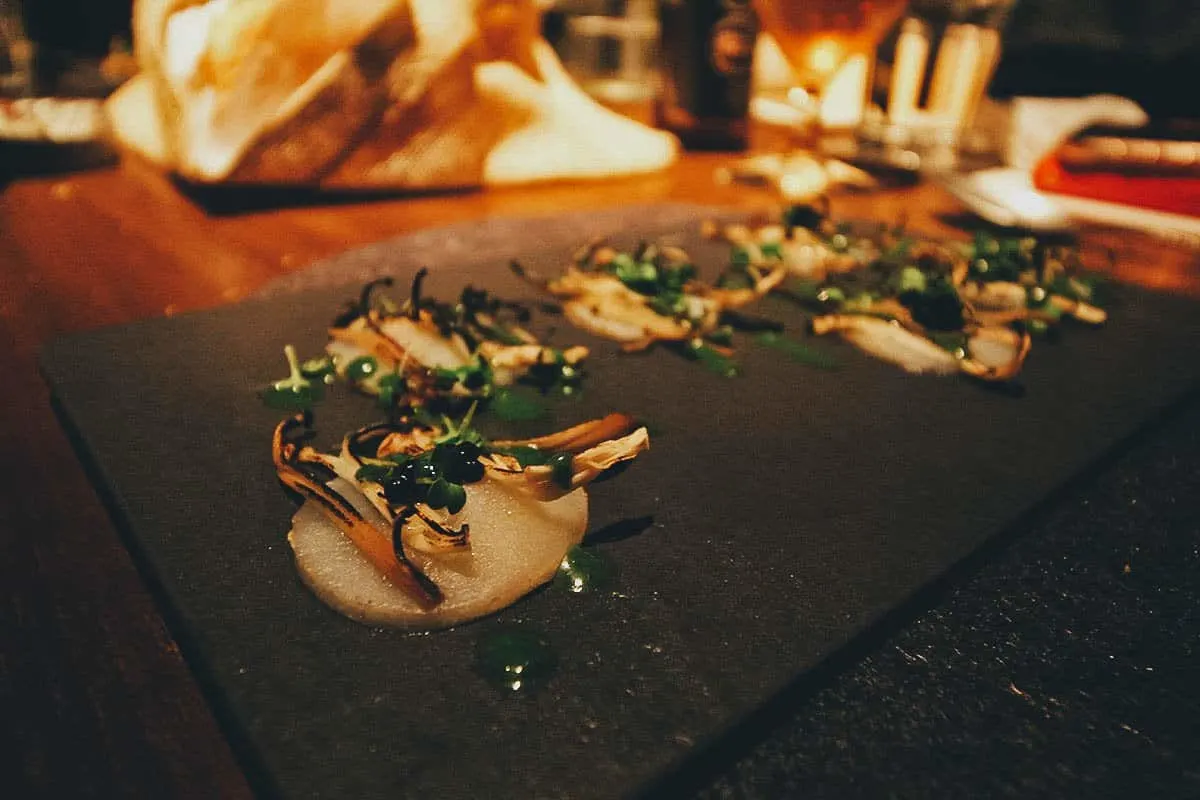 FOURTH COURSE: French Onion Soup. This was interesting. Presented in a crunchy shell, it's RAW's take on French onion soup.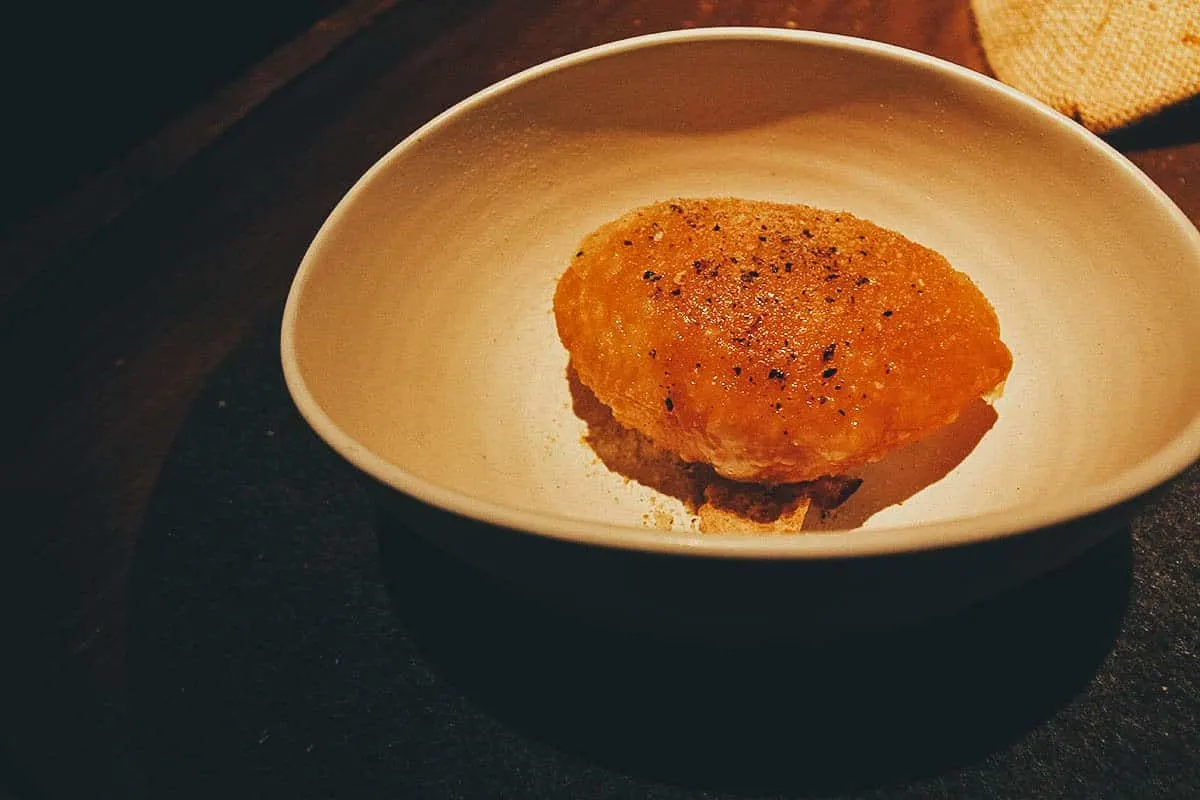 You crack the shell to uncover onions and cheese inside. It really did taste like French onion soup!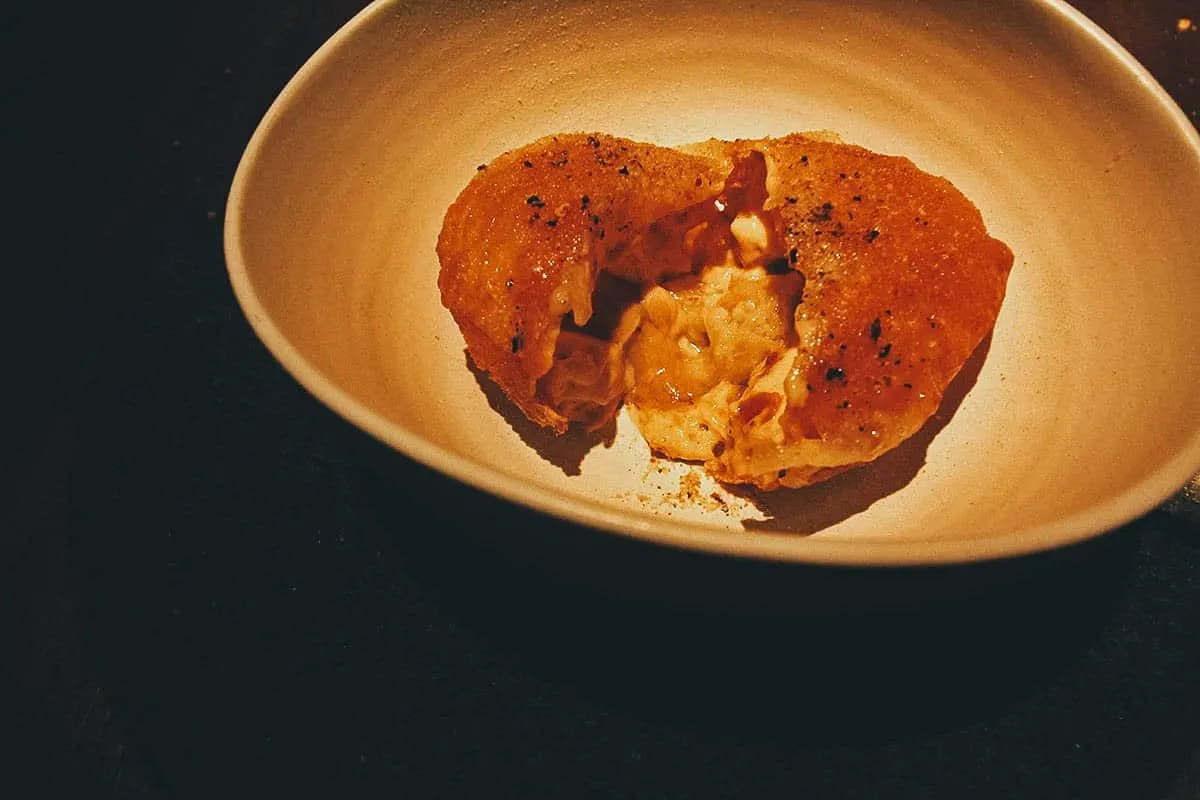 FIFTH COURSE: Caviar Aubergine, Silver Fish, Crispy Noodles. Apologies for the blurred image, but the power in the entire building went out momentarily so I had to take pictures with my phone. This course made to look like a takeout box with packets of seasoning wrapped around it is RAW's take on biandang, or Taiwanese bento box.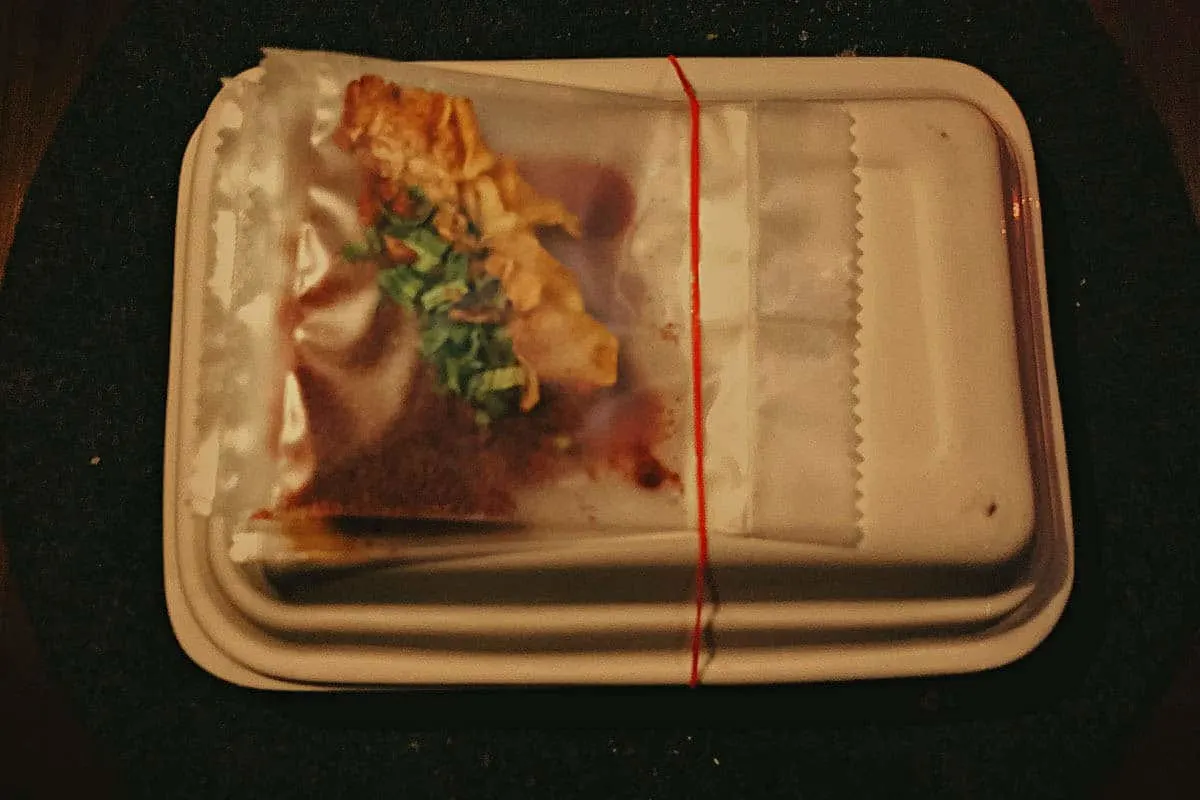 Before we were asked to open it, our server presented us with this pair of crayfish. They call them "silver fish"?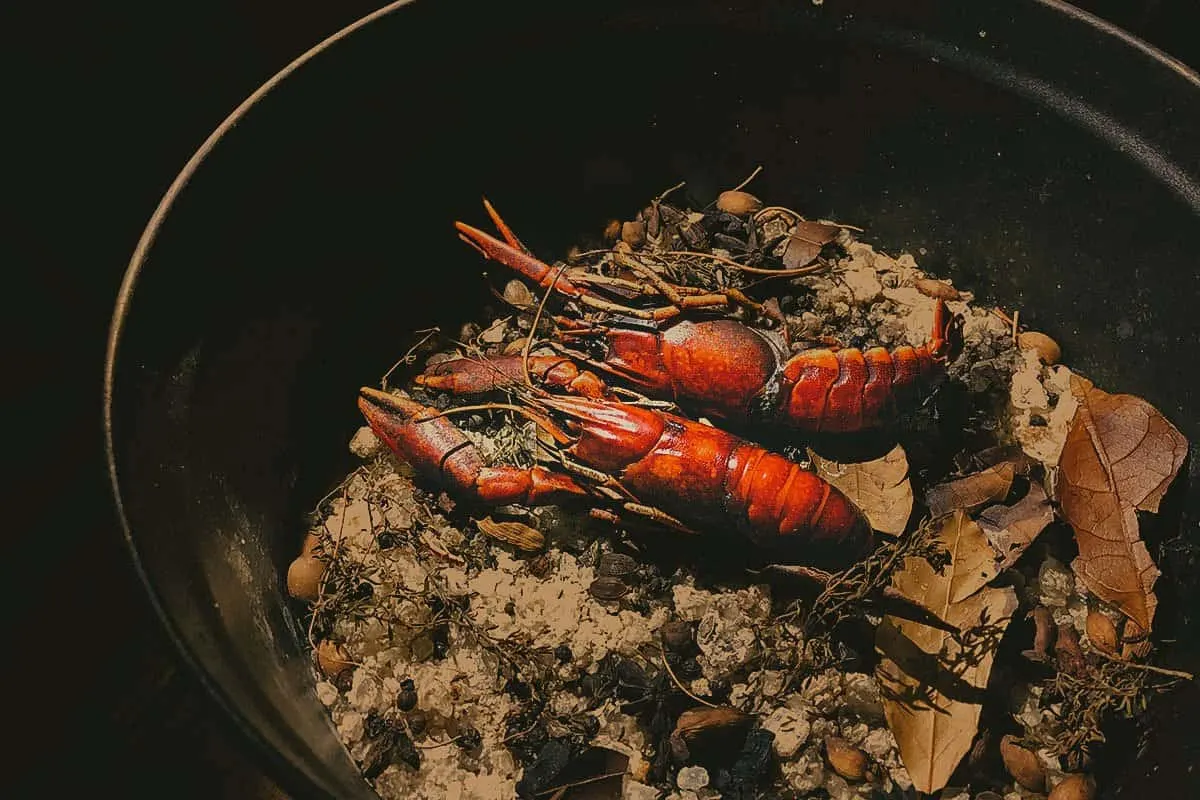 Open up the "box" and you'll find a block of crispy noodles with bok choy. Mix the seasonings into the noodles and you're ready to go. Fun!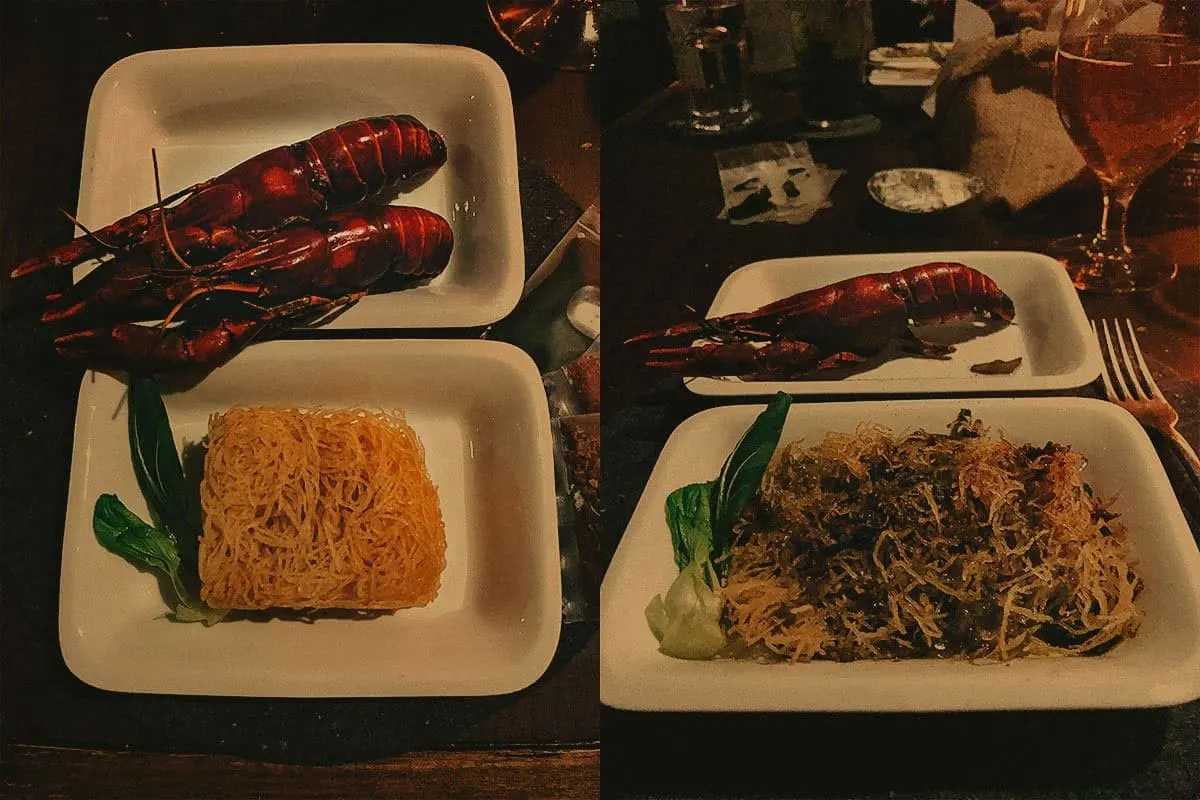 SIXTH COURSE: Corn, Sorghum, Gnocchi. This was one of my favorite courses from tonight's meal. Blankets of corn thinly shaved from the the cob are draped over gnocchi and garnished with popcorn made from sorghum grain.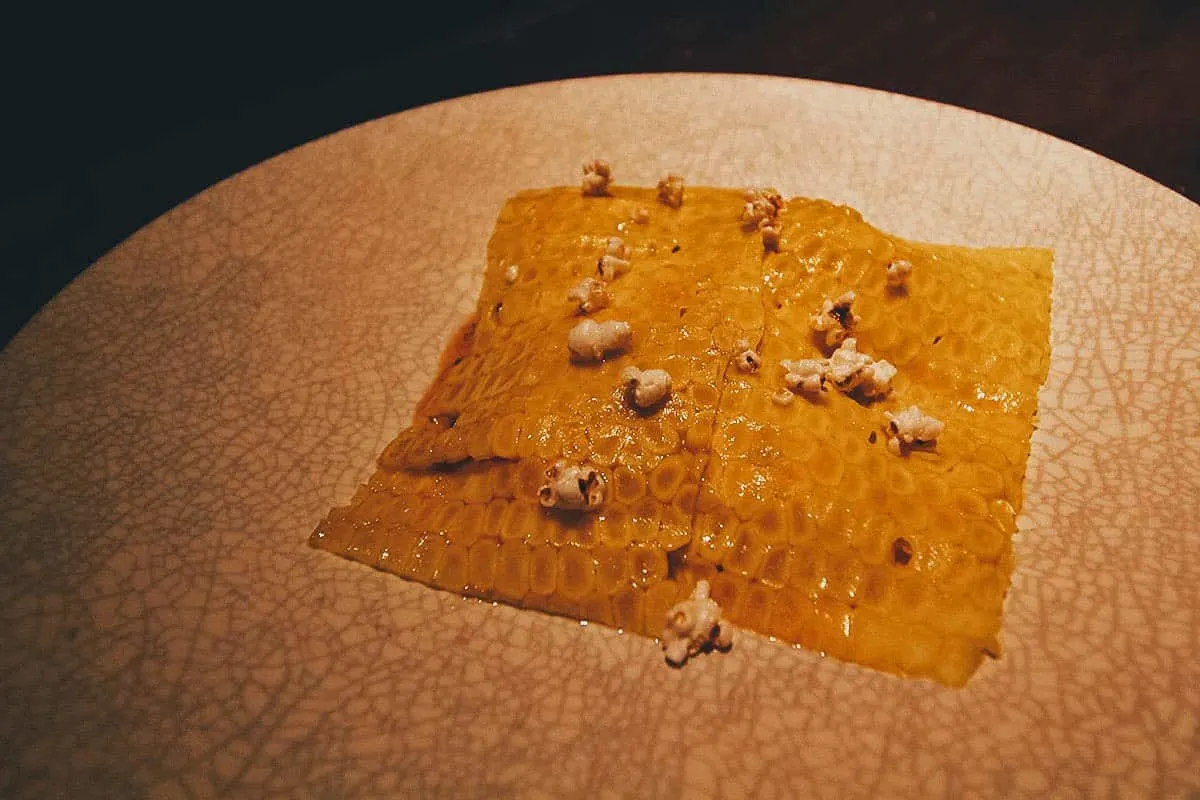 Break through the corn blanket to reveal a runny egg and gnocchi underneath. Delicious!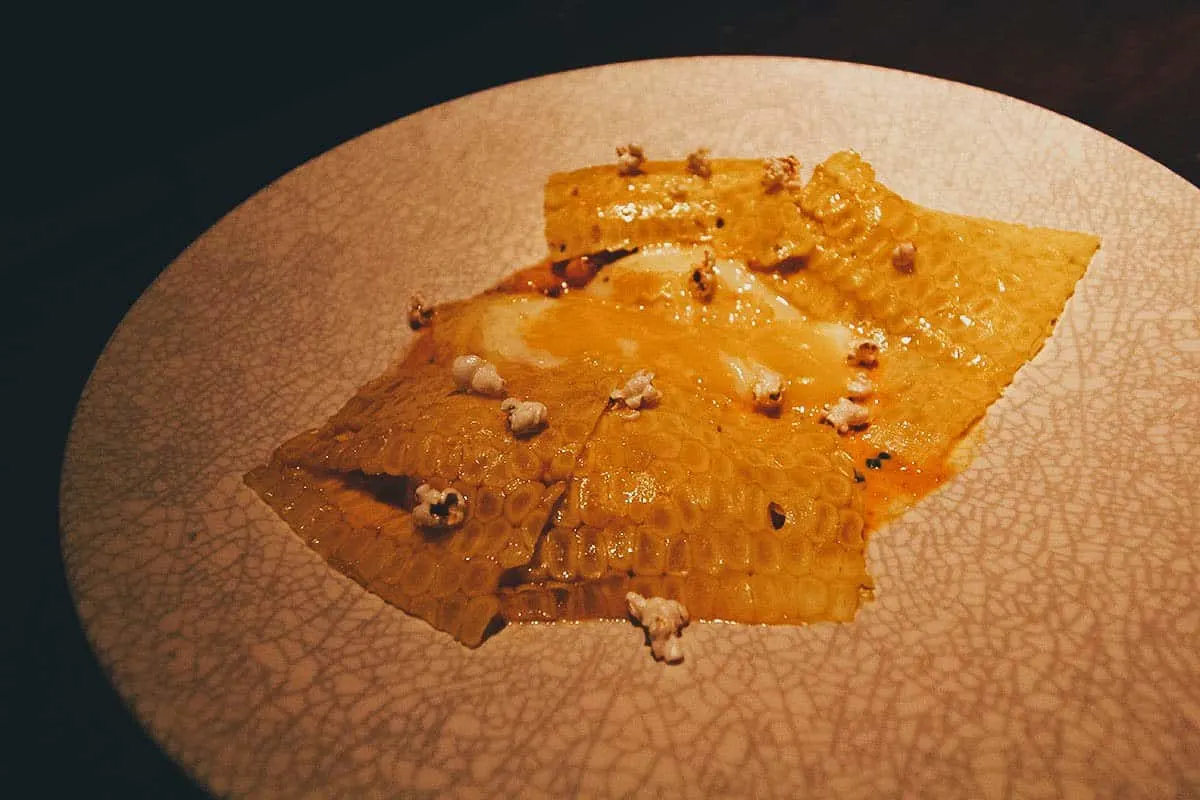 SEVENTH COURSE: Sturgeon, Puff Rice, Garden Greens. This was fantastic as well. Ultra thin, delicate slices of sturgeon are neatly arranged on one side of a bowl around a block of crispy puffed rice topped with fresh greens at the center.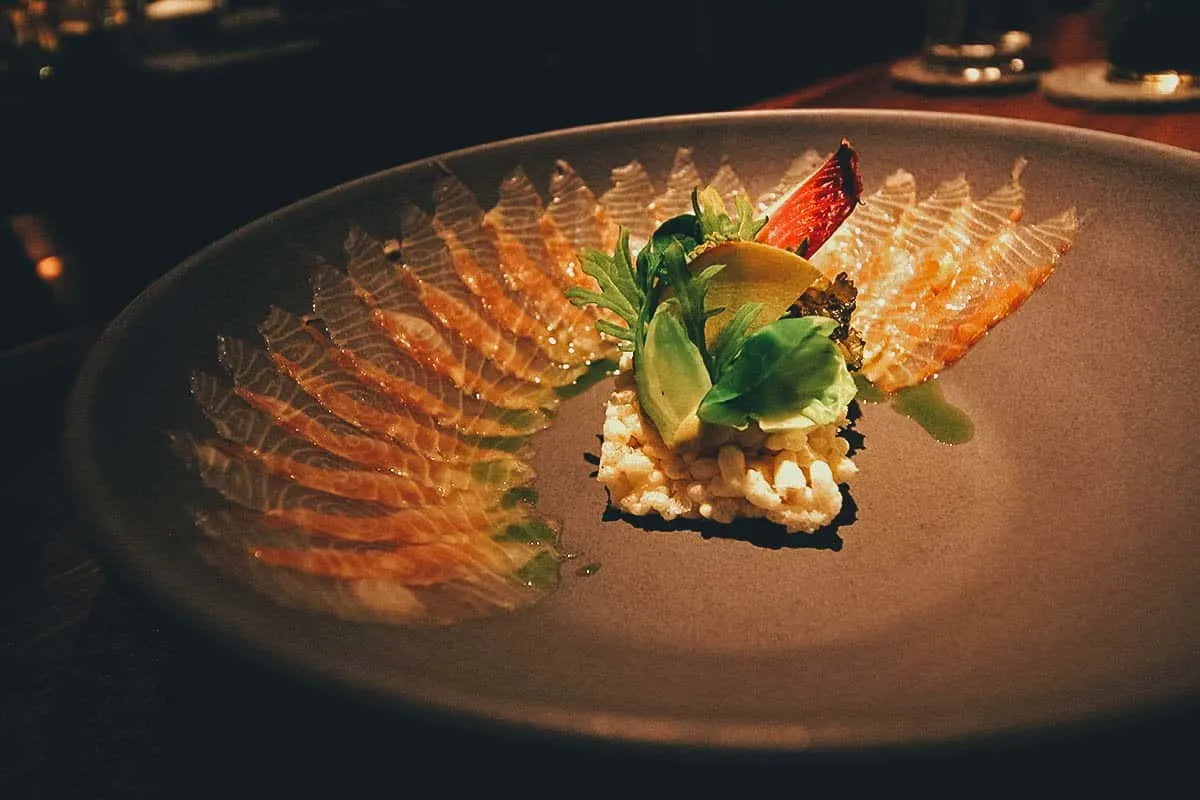 Our server poured a broth into our bowls before asking us to mix it all up to eat. It's RAW's take on Taiwanese hotpot or shabu shabu.

EIGTH COURSE: Cauliflower, Cherry Duck, Seaweed. All this for me? Just kidding. Our server was just showing us the beautiful whole duck breast they'd be using to prepare our next course.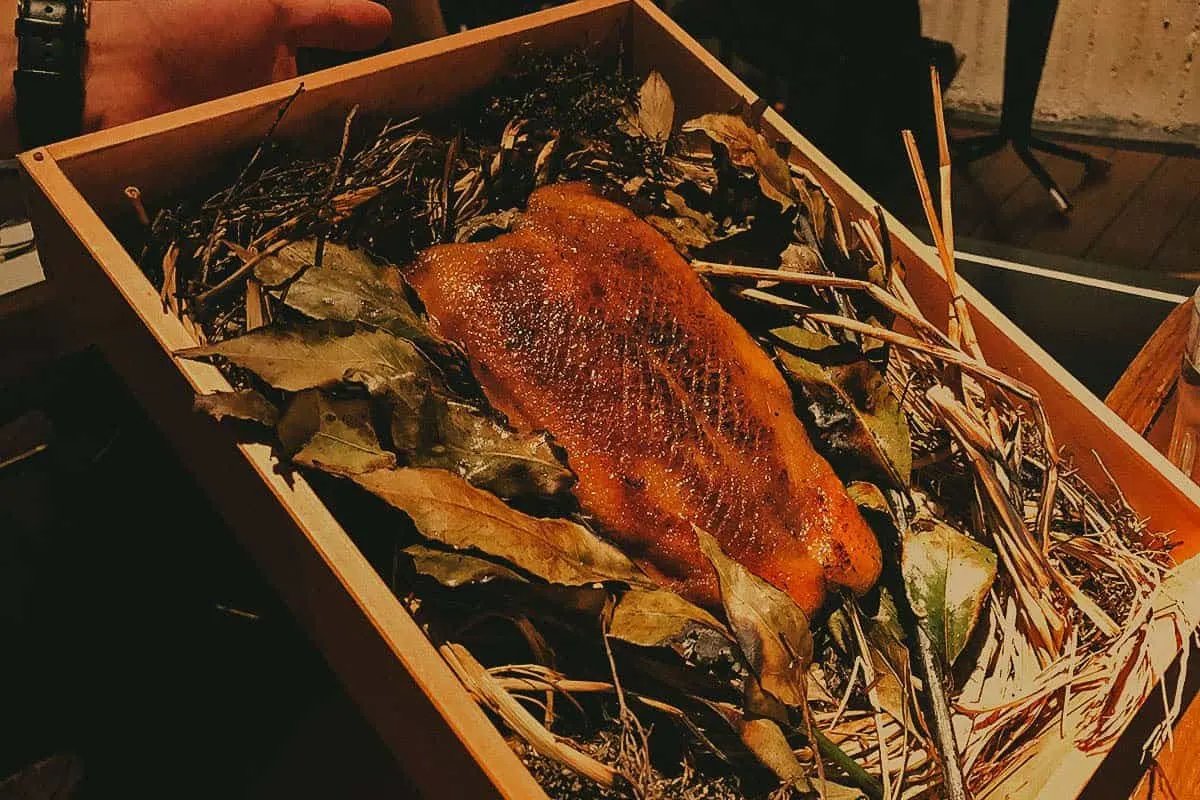 Sliced duck topped with seaweed and served with a side of roasted cauliflower. Yum.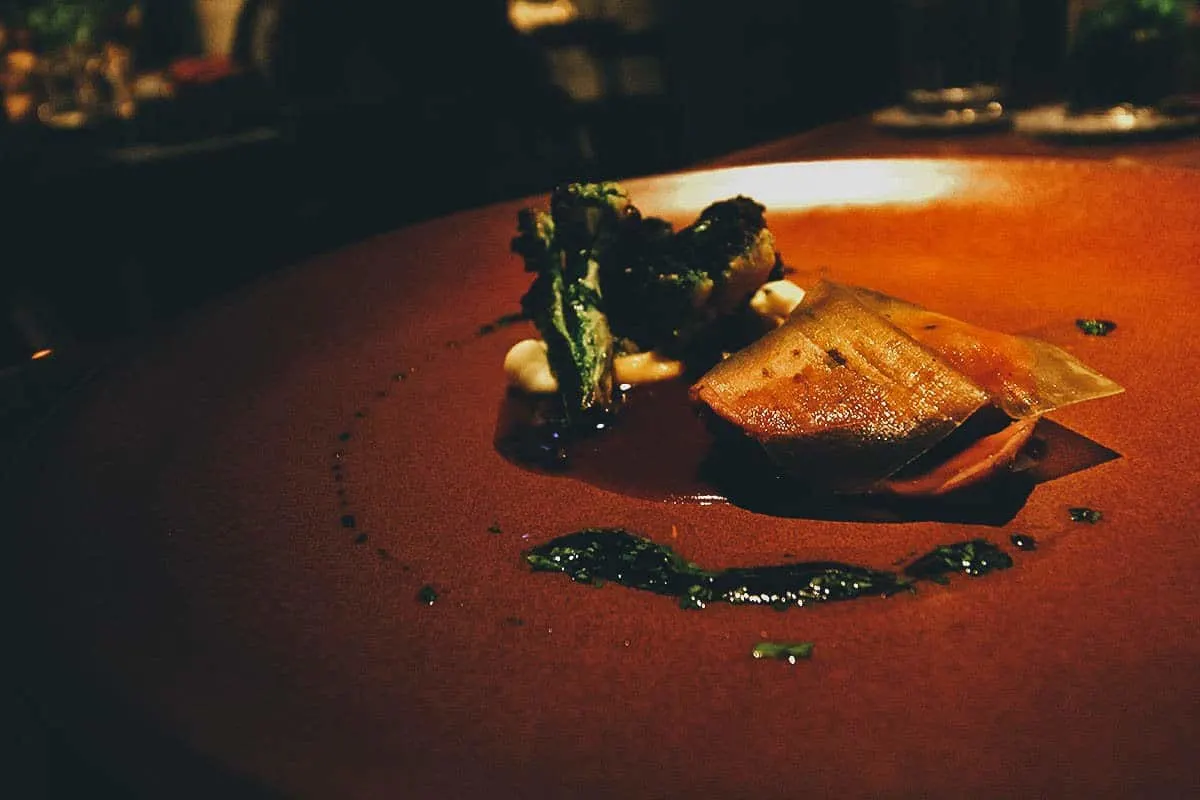 Tea before dessert. Aren't these cups and saucers beautiful?

NINTH COURSE: Fermented Rice, Purple Rice, Toasted Rice. A trio of rice served with panna cotta, fruit, and ice cream. Isn't it gorgeous? This was also one of my favorite dishes from the night.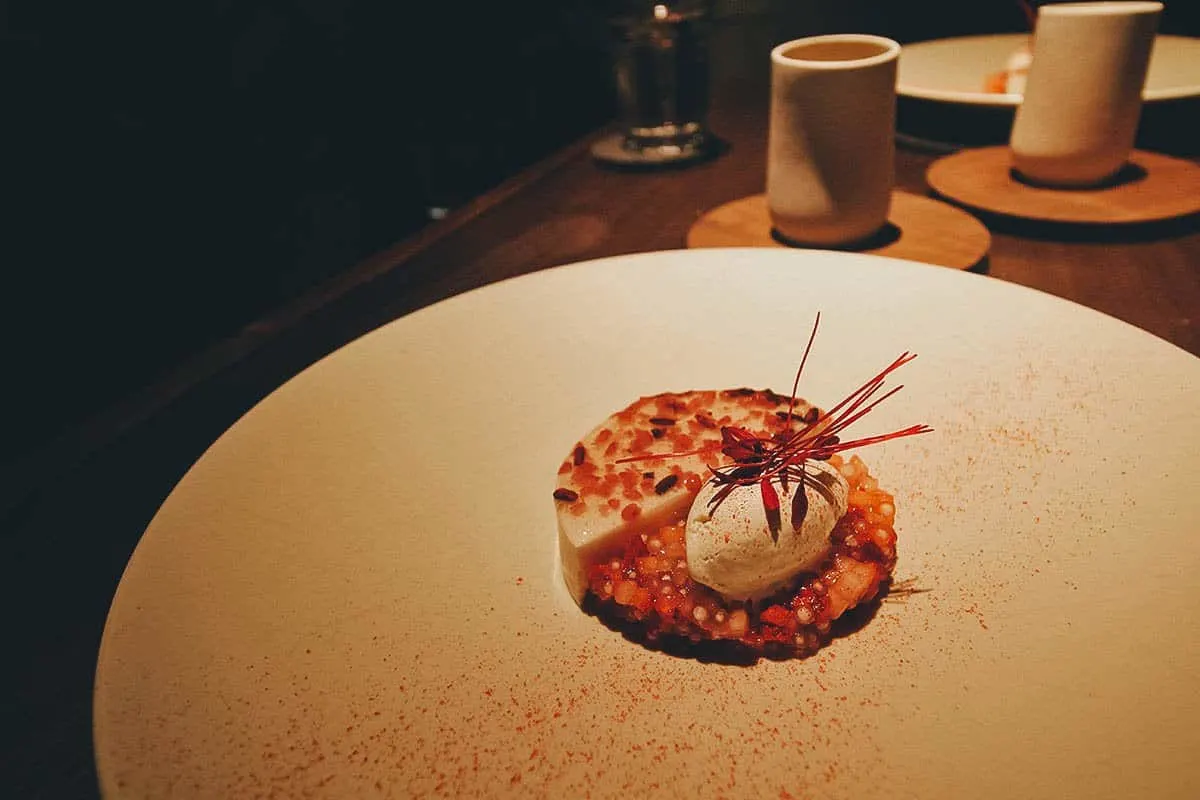 TENTH COURSE: This final course wasn't on the menu but it tasted like coffee crisps with a nougat-type filling sandwiched in-between. A delicious bite-sized dessert to end a fantastic meal.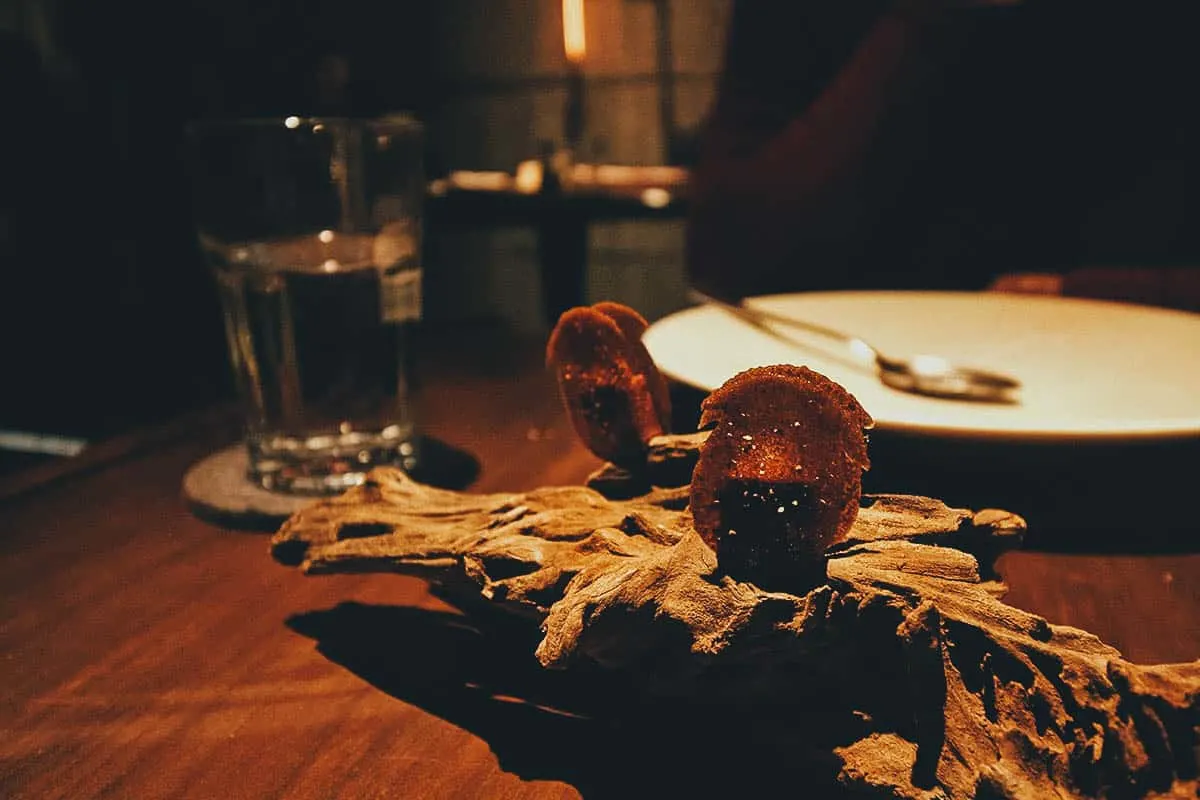 I've never posted a restaurant's bathroom before but I had to do it here. Isn't this incredible? I first walked into the bathroom when the power was out and it looked even more bizarre. I felt like I were standing in the bowels of some alien spaceship!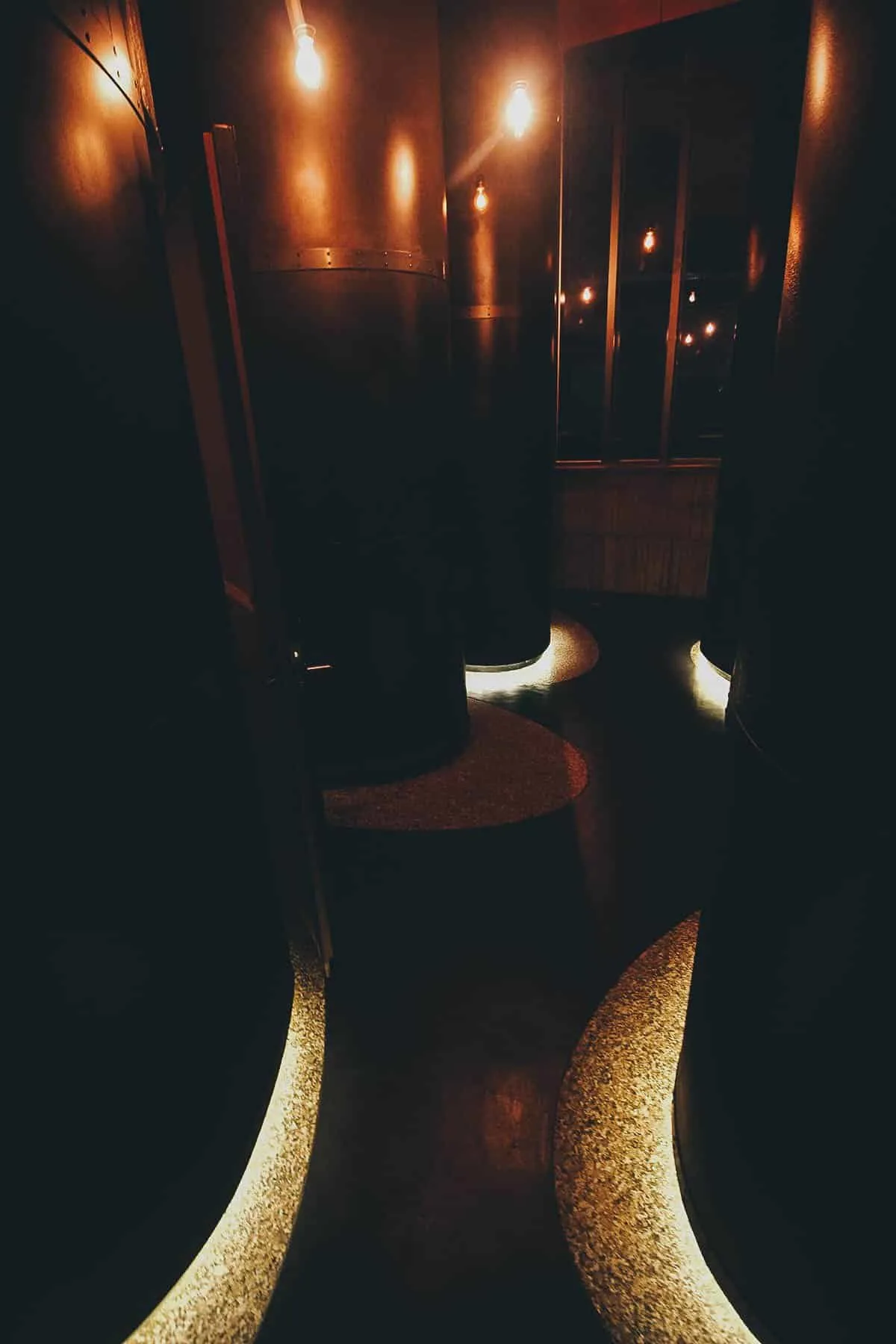 Inside each of these floor-to-ceiling metal capsules was a toilet. Push the flush and your business gets teleported into another dimension.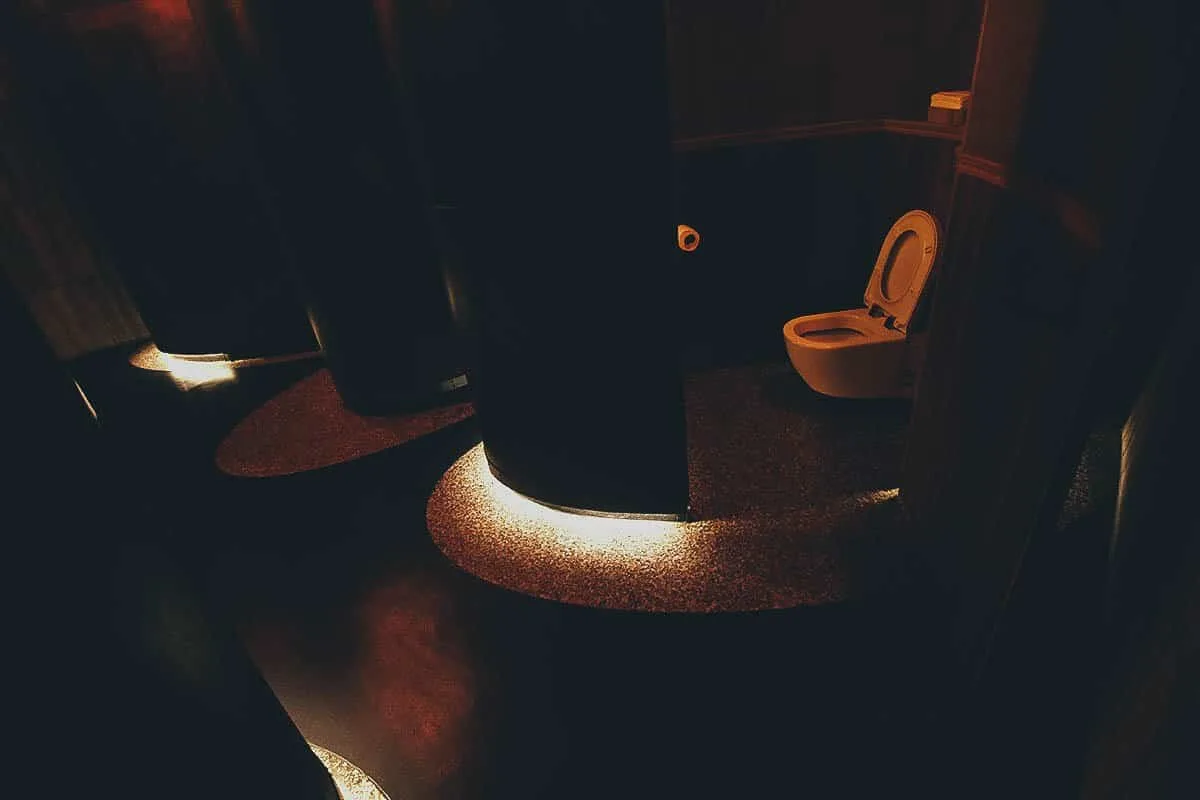 Conclusion
Our meal lasted about two hours and came out to NTD 4,170 with drinks. Pricey for sure, but not for a gourmet meal of this caliber. That's less than USD 75 per person with cocktails. We've paid more than that for lesser degustation meals in our native Philippines. All things considered, it felt like a bargain which I guess is keeping in line with the spirit of bistronomy.
The meal itself was fantastic. It felt playful and creative, not at all condescending like you'd often expect from French fine dining. It didn't befuddle and wow us like the molecular gastronomy techniques employed by Gaggan, but I don't believe that was the goal here. At RAW, they serve simple, artful fare using local seasonal ingredients prepared exceptionally well. We enjoyed it tremendously.
If you'll be visiting Taipei and want to enjoy a truly special meal, then this is the place to go, if you can get reservations that is.
How I Booked a Table at RAW
As described, reservations at RAW are done online and can be made up to two weeks in advance. For example, if you want to eat here on May 14th, then the earliest you can put in a reservation request is on May 1st.
I read on danielfooddiary.com that 4,000–6,000 reservation requests are made through their online booking system everyday, and that reservations per day are typically gone in 3 seconds. 3 seconds! That's how hot this place is! With those odds, it's hard enough for a local to get a reservation, but for a foreigner spending just a few days in Taipei, it sounds almost impossible. Honestly, I'm shocked I was able to get one, especially after reading about people who've been trying to get a reservation here for two years without success.
Soon as the date we wanted was two weeks away, I hopped onto their online system and put in my request. At that time, I didn't understand how difficult it would be so I sincerely though I'd get it on my first attempt. I didn't. Instead, I got an email telling me I was on the waiting list for that day and time. Bummer.
There are several time slots available per day so I tried again for the same day but for a different time slot. I tried using the same email address but my attempt was rejected, the system telling me that a request had already been made using that email address. I used Ren's email on my next attempt, and what do you know, I got it. Meant to be, or just dumb luck?
If you try to make a reservation at RAW and get put on the waitlist, then I suggest doing what I did and trying with different dates and time slots using multiple email addresses. Don't just sit on that one reservation request hoping you'll get off the waitlist. Chances are, you won't.
Instead, be proactive and try as many times as you can. You have nothing to lose. Like me, you may just get lucky.
RAW
No. 301, Lequn 3rd Road, Zhongshan District, Taipei City, Taiwan 104
Tel: +886 2 8501 5800
Website: raw.com.tw
Operating Hours: 11:30AM-2:30PM, 6-10PM, Wed-Sun
Expect to Spend: NTD 1,850 / 2,680++ per person
HOW TO GET THERE: Take the MRT to Jiannan Rd Station, Exit 3. Walk south on Jingye 3rd Road and make a left on Lequn 3rd Road. RAW will be a couple of blocks down on your left.
For more restaurant suggestions, check out our post on 13 Must-Eat Restaurants & Night Markets in Taipei.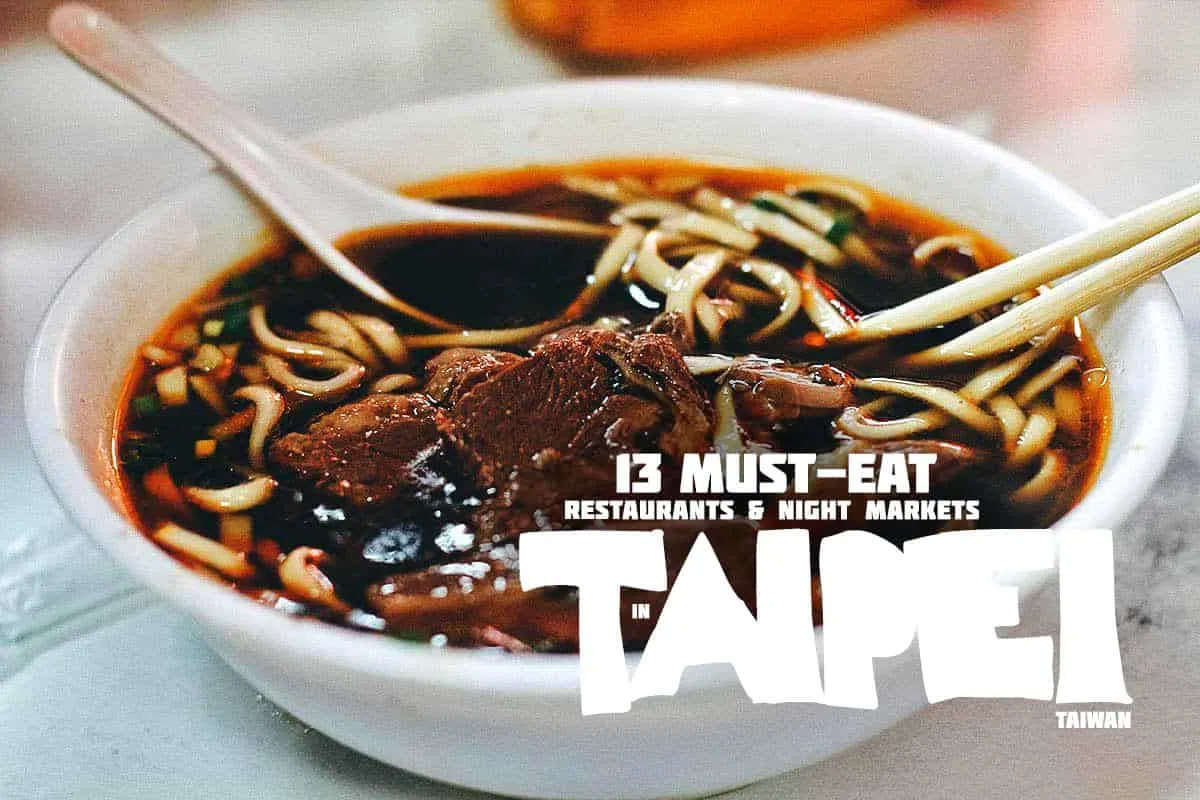 For travel tips to Taipei, check out our First-Timer's Travel Guide to Taipei, Taiwan.