EDITOR'S NOTE: Please be advised that this Tainan travel guide hasn't been updated to reflect 2022 prices and travel guidelines. We'll update it as soon as Taiwan fully reopens to tourism. Thanks for your patience.
There's a lot of history in Tainan. I felt it the moment we walked out of that train station. It felt more serious, even ceremonial, like it demanded your reverence and respect. I remember getting a similar feeling when we visited Nagasaki in Japan.
At first, I wasn't sure if we should make a stop in Tainan. Compared to more contemporary destinations like Taipei or Taichung, it didn't seem as much fun. Most of its attractions are historical in nature and people who've toured Taiwan didn't make it sound like a top priority. But in spite of that, there was something about it that made me want to go. It's the oldest city in the country and historically one of its most important. Surely it deserved a spot on our itinerary.
We spent one night in Tainan and truth be told, it wasn't as much fun as Taipei. It wasn't as naturally beautiful as Hualien or as laid-back as Kaohsiung, but it has a character all its own that makes it interesting and unique. I like to think of it as the eldest sibling in the family, the one with all the stories to tell and the one you could learn the most from.
Save This on Pinterest!
No time to read this now? Click on the red save button and pin it for later!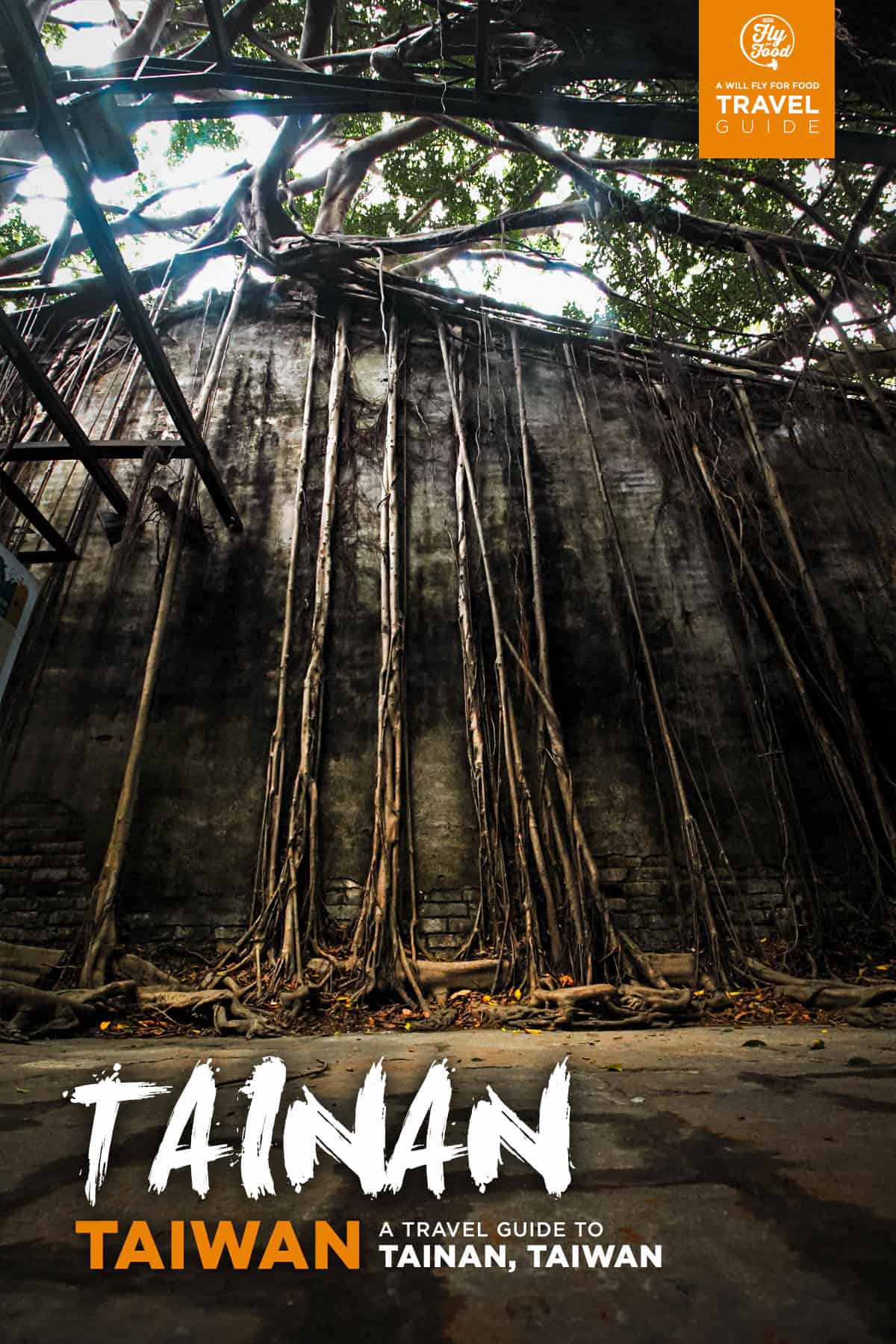 GUIDE TABLE OF CONTENTS
TRAVEL RESTRICTIONS
Because of the current global situation, travel guidelines change frequently. Our friends at SafetyWing created a website that lists detailed information on travel restrictions around the globe.
Before doing any serious planning, be sure to check the Flatten the Curve website for information on travel restrictions to Taiwan.
TAINAN AT A GLANCE
As described, Tainan is the oldest city in Taiwan. It's commonly referred to as the "Capital City" because of its 200-year history as Taiwan's capital under Koxinga and Qing Dynasty rule. At its historical heart is Anping District. It's the oldest urban area in the country and home to some of the city's most popular attractions like Anping Tree House, Anping Old Street, and Fort Zeelandia.
Fort Zeelandia is of particular historical significance. Built in 1624 by the Dutch East India Company, it was established as a ruling and trading post between China and Dutch-controlled Batavia in Indonesia. The Dutch settlement in southern Taiwan enjoyed much success in its 38-year history, with Fort Zeelandia becoming the center of Dutch trade between China, Japan, and Europe. The Dutch were overthrown by Koxinga in 1662 and Fort Zeelandia was renamed to its present day Anping.
Today, Tainan is regarded as one of Taiwan's foremost cultural capitals.
BEST TIME TO VISIT TAINAN
Tainan is located in Southern Taiwan so it doesn't get as cold there as it does in Taipei. We went in mid-March and apart from some bad luck with rain, the weather was pleasant and comfortable. Opinions vary on best time to go, but based on weather averages, November till April seems ideal. The weather is dry and temperatures are relatively mild.
NOV-APR: Weather in Tainan is most ideal from around mid-November to the first week of April. Temperatures are cool and it doesn't rain as often. It's warmer in Tainan than it is in the north, but if you're particularly sensitive to the cold, then it's probably best to avoid January and February.
MAY-OCT: It's rainier and warmer during these months so it's best to avoid them if you don't like hot humid weather. Typhoon season typically begins in July and can last till around mid-October.
Climate: Annual Monthly Weather in Tainan
Check out this data from weather-and-climate.com for more on Tainan's weather. To summarize, I've created average temperature and annual rainfall graphs below. Suggested months to visit are marked in orange.
Average Temperature


Annual Rainfall


TRAVELING TO TAINAN
We traveled to Tainan from Taichung by TRA train. The rail system in Taiwan is so efficient and reliable that I don't think you need to travel between cities any other way. On our last trip, we spent two weeks in Taiwan and traveled between five major cities, all by train.
It's important to understand that there are two major rail operators in Taiwan – Taiwan High Speed Rail (HSR) and Taiwan Railways Administration (TRA). They're completely independent of each other with their own set of tracks and train stations. Here are the main differences between HSR and TRA trains:
As its name suggests, HSR trains are faster. They can get you to your destination in less than half the time.
Because they're much faster, HSR trains are also more expensive. They can be twice as expensive but there are discounts available.
HSR tickets can be purchased online as early as 4 weeks in advance. TRA tickets can be bought no earlier than 2 weeks ahead.
HSR trains run only on the western side of Taiwan while TRA trains service the east as well.
Most HSR train stations are located outside the city, so you'll probably need to take a bus or arrange for a transfer to your hotel. TRA stations are located much closer to the city center.
Aside from the trains, you can get to Tainan by bus as well. I've created the comparison chart below to quickly summarize the cost and time differences between the three. For comparison's sake, let's assume you'll be traveling to Tainan from Taipei.
| | | |
| --- | --- | --- |
| From Taipei | Fare | Travel Time |
| TRA TRAIN | NTD 569 | 4 hrs 15 mins |
| HSR TRAIN | NTD 1,350 (undiscounted) | 1 hr 45 mins |
| BUS | NTD 460 | 8 hrs |
By TRA Train
Unless you're in a rush, then you don't really have to take the HSR train. We were perfectly fine taking TRA trains throughout our trip. You can check the TRA booking platform for a schedule of trains to Tainan from wherever you are. You can purchase tickets from there as well.
As described, you can purchase TRA tickets as early as two weeks before your trip. Train tickets have been known to run out, especially during peak seasons, so it's best to get them as early as possible. Check out the TRA website for more information.
By HSR Train
If you need to get to the next city as quickly as possible, then it's best to go by HSR train. It'll get you there in half the time. Tickets are more expensive but you can get up to 35% off if you buy them in advance or travel during off-peak hours.
You can check the Taiwan High Speed Rail website for a schedule of trains to Tainan from wherever you are. Like TRA train tickets, it's a good idea to get your ticket as early as you can. Check out the online ticketing page of the HSR website for more information.
KKday offers discounts on HSR train tickets as well. They offer an HSR Unlimited Pass and discounted single-journey HSR tickets to Tainan from the following cities (click on the links for more information):
If you'll be continuing on to another city from Tainan, then you can purchase a discounted HSR ticket for that journey as well.
By Bus
Traveling by bus is the cheapest option but it can take twice as long. Fares may vary depending on the bus company, so you can check the Taiwan Highway Bus website for information on fares, routes, and traveling times.
WHERE TO EXCHANGE CURRENCY
Taiwan's unit of currency is the New Taiwan Dollar (NTD). The majority of travelers will enter Taiwan through Taipei so you'll probably already have NTD with you, but if you need to exchange currency in Tainan, then you can do so at any bank. I suggest going for bigger banks like Bank of Taiwan because smaller institutions may charge a transaction fee.
The great thing about exchanging currency in Taiwan is that it's strictly regulated by the government. Only banks are allowed to carry out transactions so you never have to worry about winding up at unscrupulous currency exchange offices. Awesome!
If you'd rather not bring too much foreign currency with you, then an alternative would be to withdraw NTD from an ATM. Rates are comparable. Just be sure to inform your bank of your travel plans so they don't block your card or anything. I've tried using my ATM card in several countries and it works in some machines but not in others.
WHERE TO STAY IN TAINAN: KyoMachiya-Kagurazaka
KyoMachiya-Kagurazaka was one of the coolest B&Bs we stayed at in Taiwan. It appears to be a house that's been converted into a small boutique inn with a few rooms. Best of all, it's Japanese-inspired so it felt like you were staying at a ryokan. Awesome!
You can book a room at KyoMachiya-Kagurazaka on Agoda. If you don't feel this is the right place for you, then you can follow these links to find alternate listings in Tainan: Booking.com | Agoda.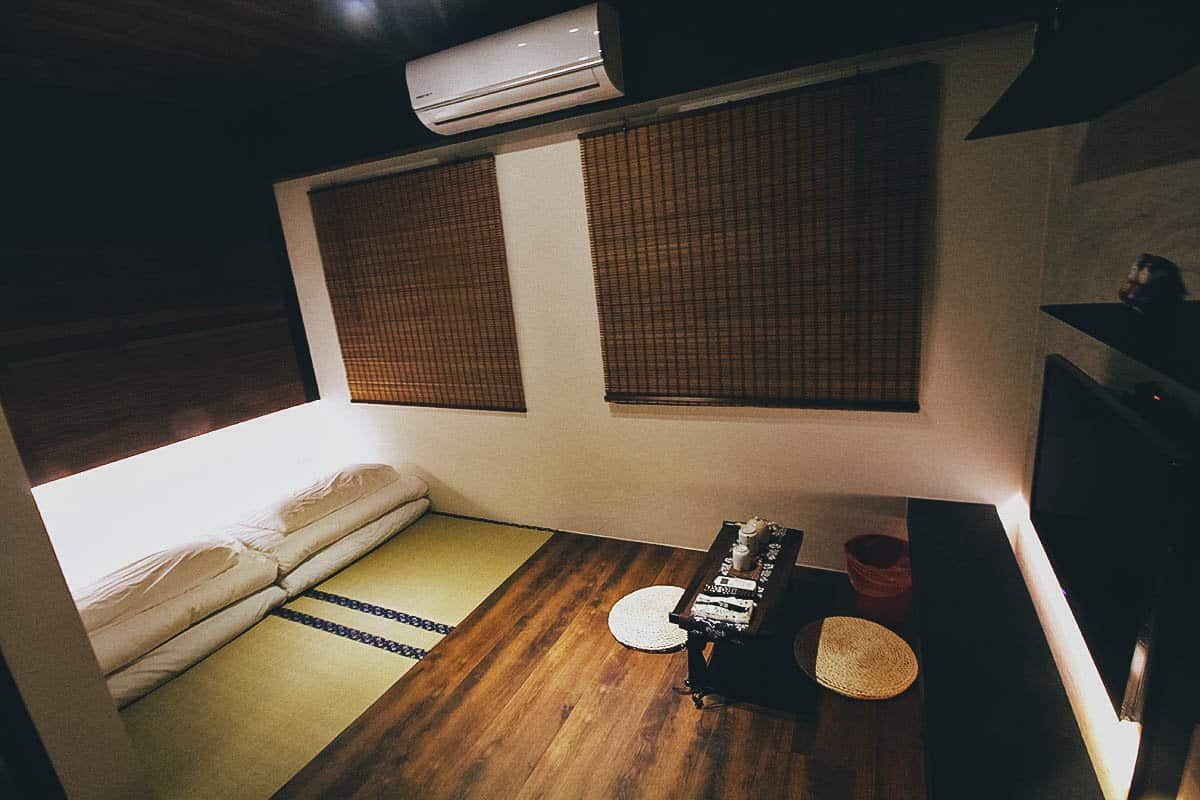 This is what the KyoMachiya-Kagurazaka's front door looks like. It's nestled deep within a network of residential alleys so it's a little hard to find. Be sure to ask the host for clear instructions on how to get here.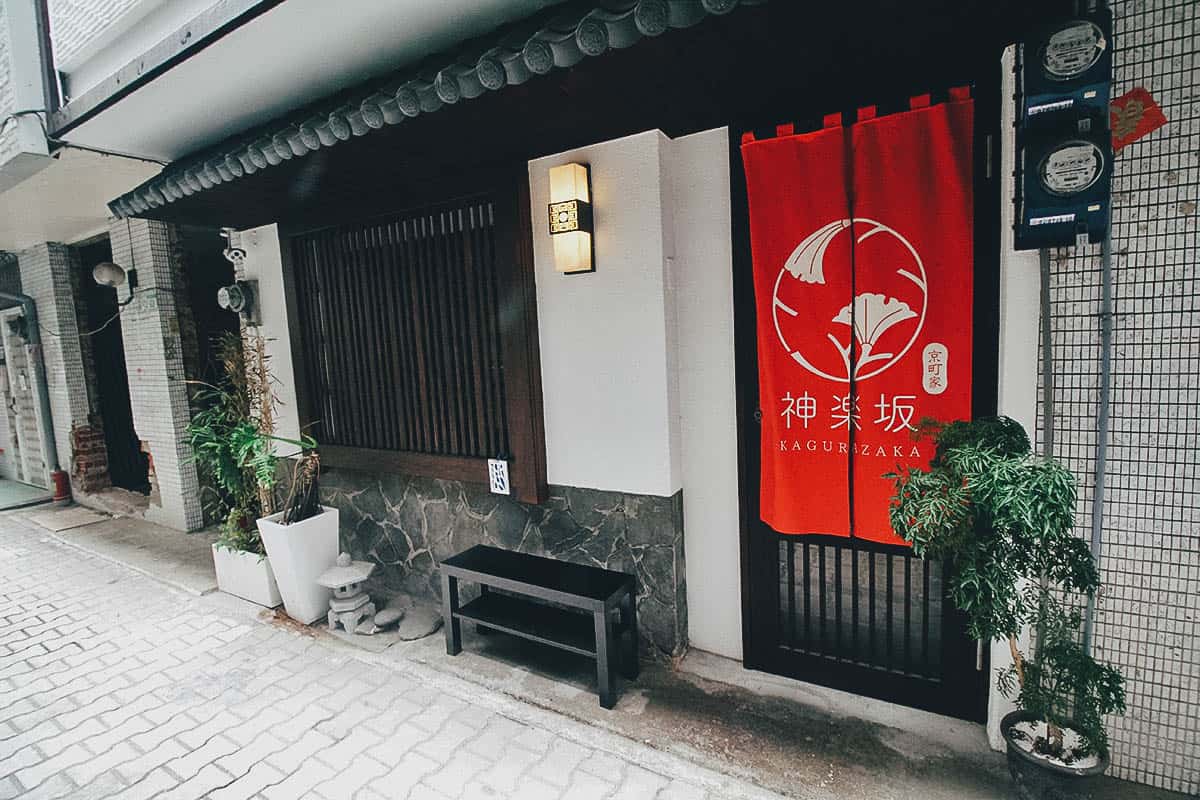 Approximate Room Rate: USD 39 per night (as of May 2018)
THINGS TO DO IN TAINAN
1. Climb Up Anping Tree House
This is perhaps the most popular tourist attraction in Tainan. At the very least, it's one of its most interesting.
What's known today as Anping Tree House occupies the former warehouse of Tait & Company, a Scottish-owned merchant house engaged in the export of granulated sugar and camphor. When they left, the building was used briefly by the Japan Salt Company and Tainan Salt Works before being abandoned in the 1940s. Over time, a large banyan tree grew and reclaimed the property, covering its walls, roof, and floor with a latticework of roots over the next 70+ years. It was thought of as a haunted house for decades before being reopened to the public as a tourist attraction in 2004.
I'm fascinated by the idea of nature reclaiming its own, so Anping Tree House was easily my favorite attraction in Tainan. Check out this short video I made of our trip to Anping Tree House.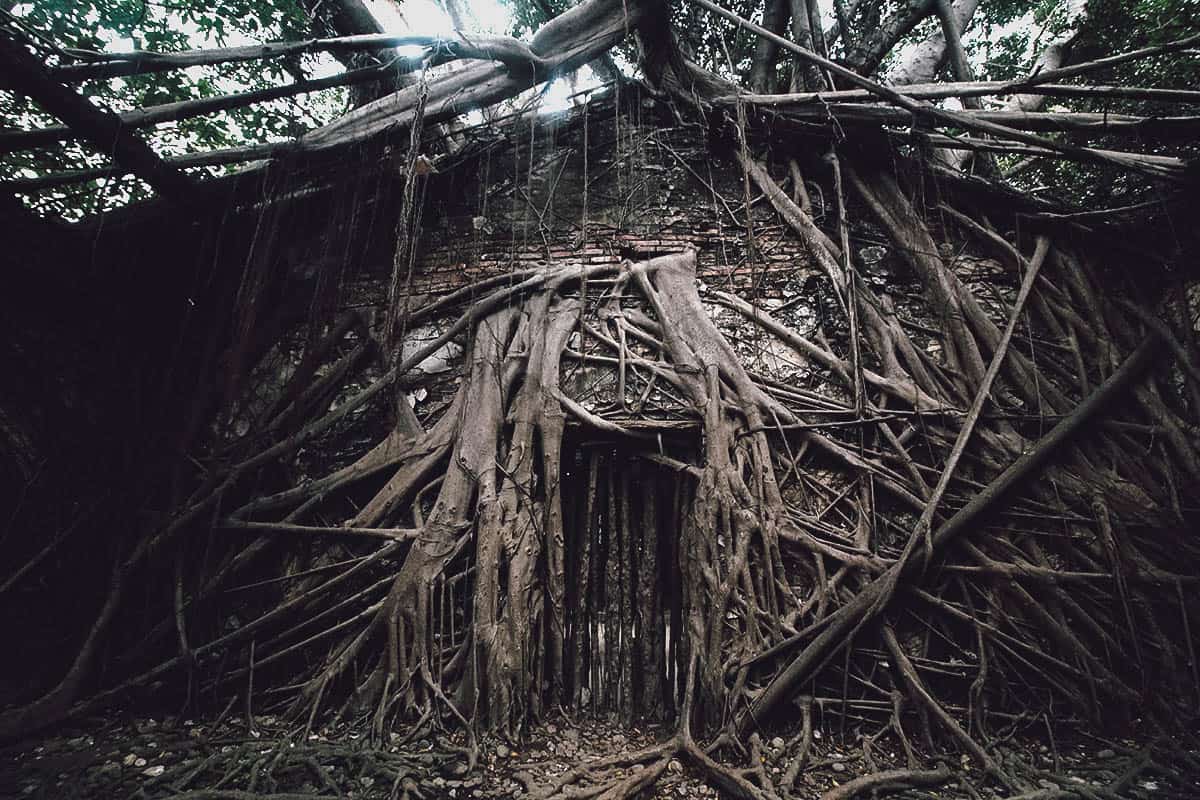 Estimated Time to Spend: 1 hr / Admission: NTD 50 per person
2. Visit Anping Fort (Fort Zeelandia)
Not too far from Anping Tree House is Anping Fort, a fortress built by the Dutch during their 38-year rule over southern Formosa. As described in a previous section of this guide, it was formerly known as Fort Zeelandia and served as a major trading post and stronghold for the Dutch army and navy. Today, it's mostly a park with remnants of the original fort and a museum showcasing important historical events from the Dutch occupation.
Anping Fort is between Anping Tree House and Anping Old Street, so you can make a stop here before stuffing your face silly with Tainan's famous street food.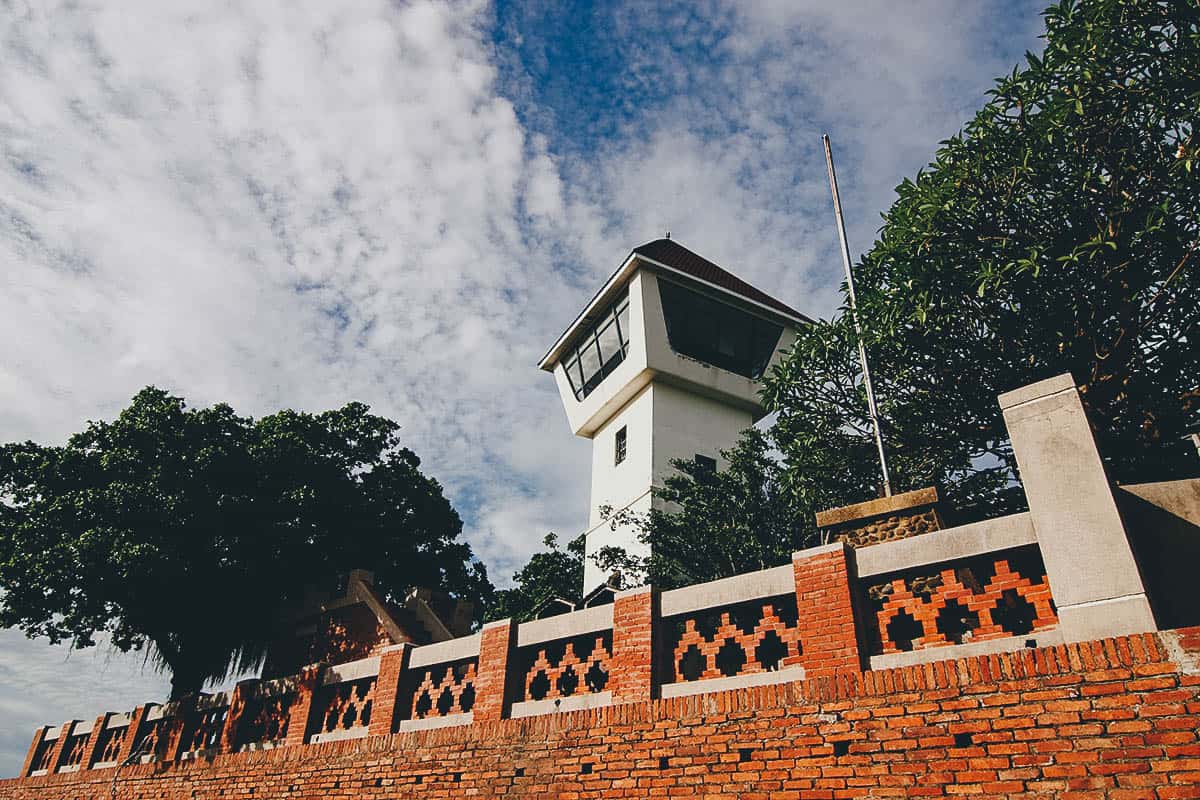 "20100617-安平-022" by 思弦 張, used under CC BY 2.0 / Processed in Photoshop and Lightroom
Estimated Time to Spend: 1-1.5 hrs / Admission: NTD 50 per person
3. Take Selfies at Blueprint Cultural & Creative Park
We made it a point to visit as many creative parks as we could in Taiwan. To my surprise, this one turned out to be one of our favorites. I wasn't expecting to find a place like this in the oldest city in Taiwan!
Blueprint Cultural & Creative Park is a relatively new creative park that's been open for a little over two years. It's home to several large murals and a section dedicated to "blueprint-style" setups. We've been to five of these creative art parks in Taiwan and for us, Blueprint was the most Instagrammable. There are several interesting boutiques here as well so you can easily spend a good two hours here.
On a quick side note, I've read a few blog posts that seem to point to a Tainan renaissance. Hipsters are modernizing pockets of the city and this creative park seems to be an example of that. It was our first trip here so I wanted to focus on the traditional, but this hipster side of Tainan is something we'll definitely be exploring on our next trip to the city.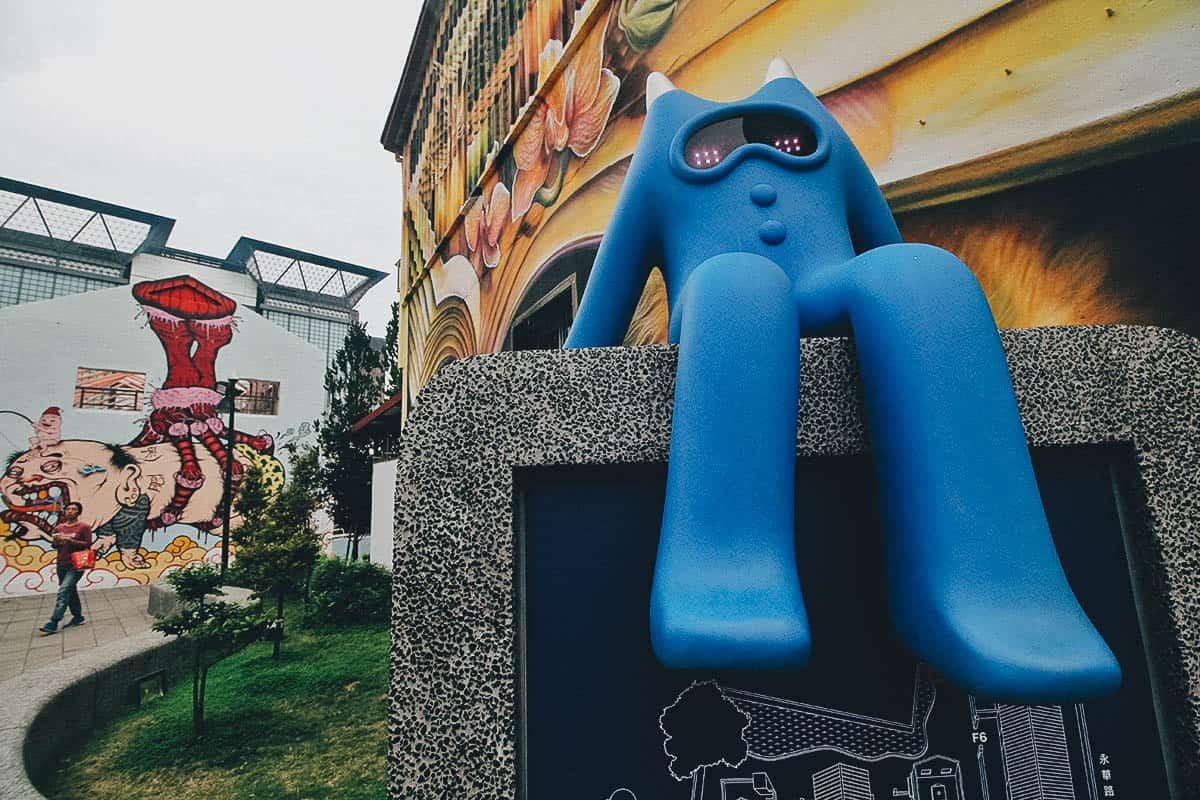 Estimated Time to Spend: 1-2 hrs / Admission: FREE
4. March to the Beat of Ten Drum Rende Creative Park
Like Blueprint, Ten Drum is another creative park located in the Rende District of Tainan. It occupies an abandoned sugar mill that's been taken over and converted into a rehearsal space by a local drumming troupe called the Ten Drum Art Percussion Group. They stage regular percussion shows here and allow visitors to see the production process of drums.
I really wanted to visit this place but it rained heavily the afternoon (and evening) of our only night in Tainan. It's a little far as well, about half an hour south of central Tainan by taxi, so we decided to just leave it for another trip. Bummer.
Apart from the percussion shows, I've read that what makes Ten Drum Rende Creative Park so interesting is the space itself. Check out its pictures on TripAdvisor. It looks like a super fun place to explore with lots to see and do so I suggest visiting this place if you'll be spending enough time in Tainan.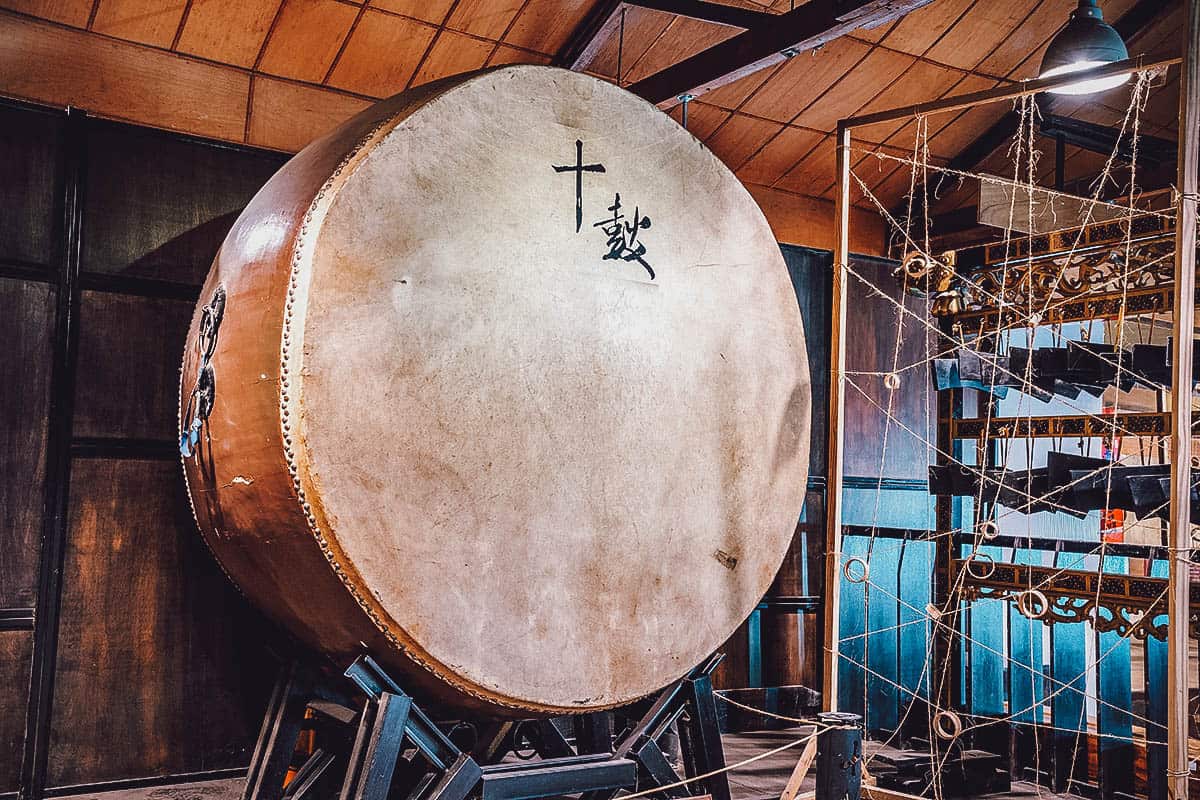 Estimated Time to Spend: 2-3 hrs / Admission: NTD 399 per person
Photo by Romix Image via Shutterstock
TAIWANESE FOOD GUIDE
Your Taiwan experience can't be complete without visiting at least one night market. There are so many delicious and interesting things to eat in this country. Tainan, in particular, is known for a few specialties like danzai noodles and coffin bread. If you're wondering what to eat in Tainan, then check out our list of must-try dishes in Taiwan.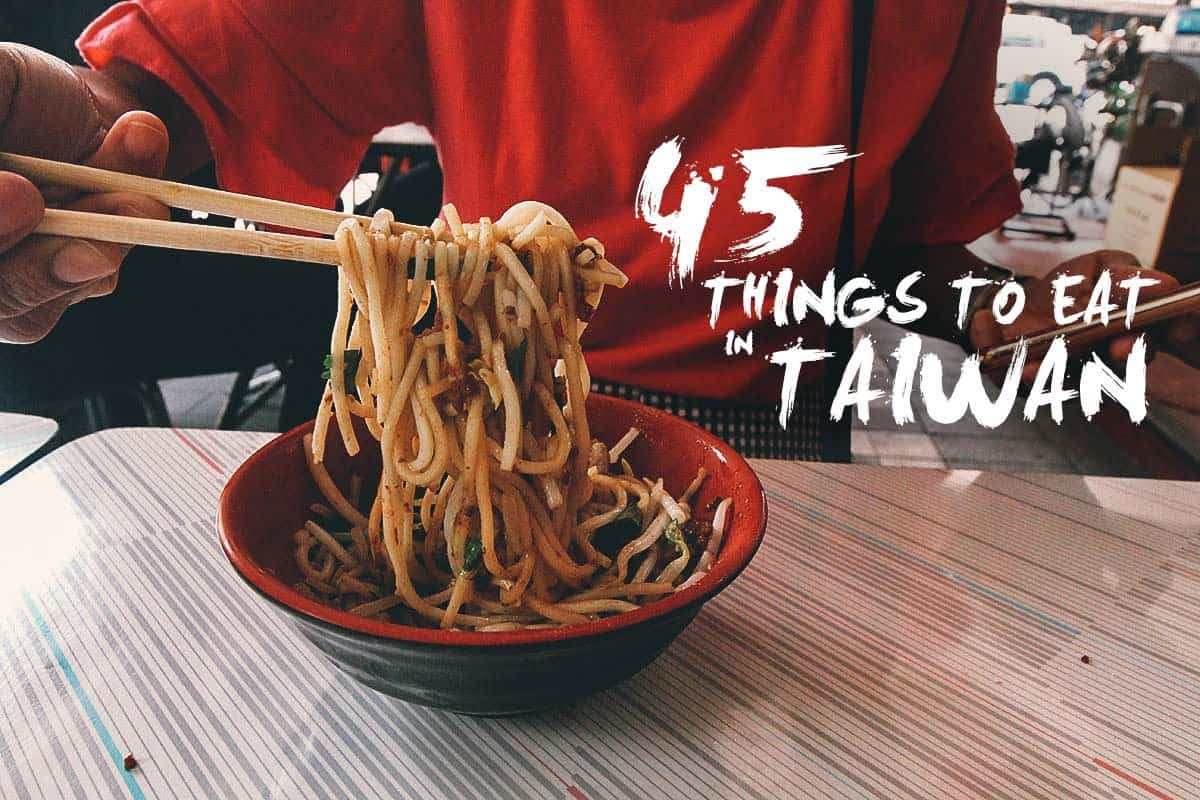 TAIWANESE DESSERTS
Taiwan is home to a wealth of delicious street food, but it's also got some pretty sweet desserts. If you've got a sweet tooth, then check out our list of the most delicious desserts in Taiwan.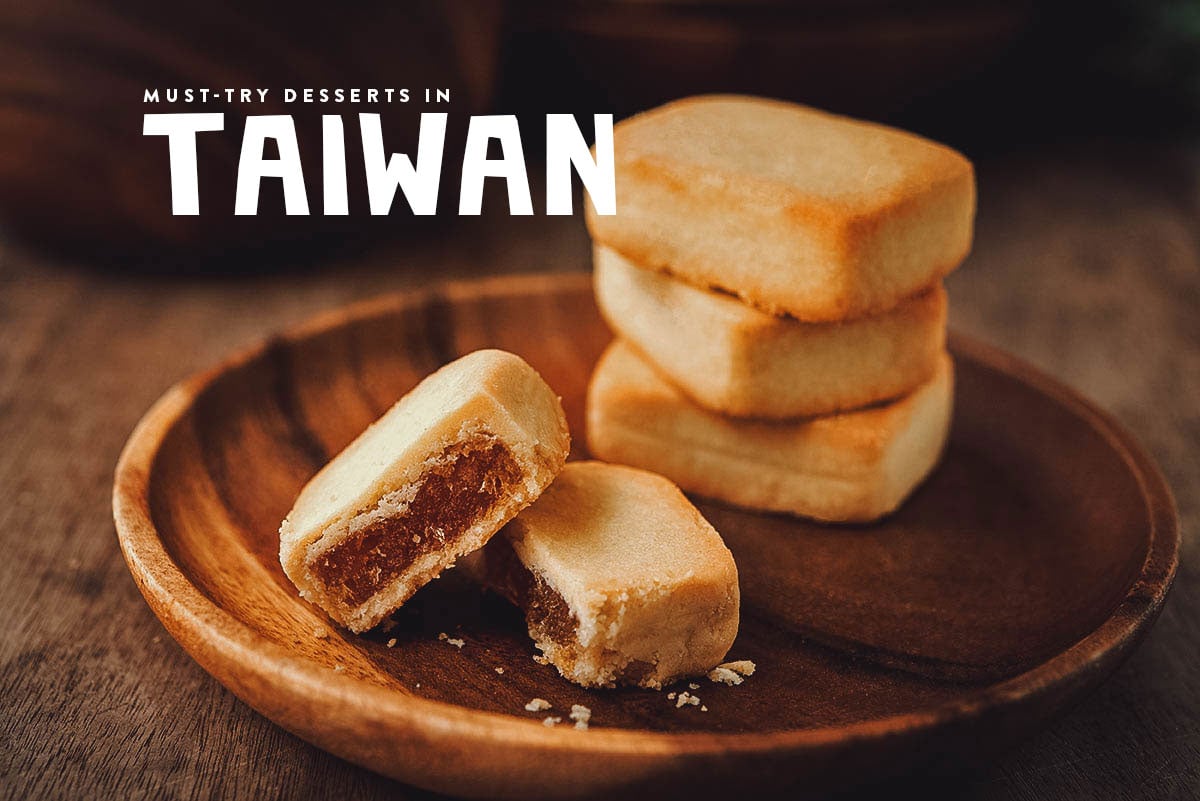 WHERE TO EAT IN TAINAN
1. Du Hsiao Yueh
If you were to try just one dish in Tainan, then it should probably be danzai noodles. Danzai noodles are a specialty of Tainan, and Du Hsiao Yueh has been serving it for over 123 years. Invented by southern Taiwanese fishermen, the dish consists of chewy wheat-based noodles in a seafood and meat broth topped with long-simmered pork and a lone piece of shrimp. At Du Hsiao Yueh, you can get it either wet or dry, both of which are very good.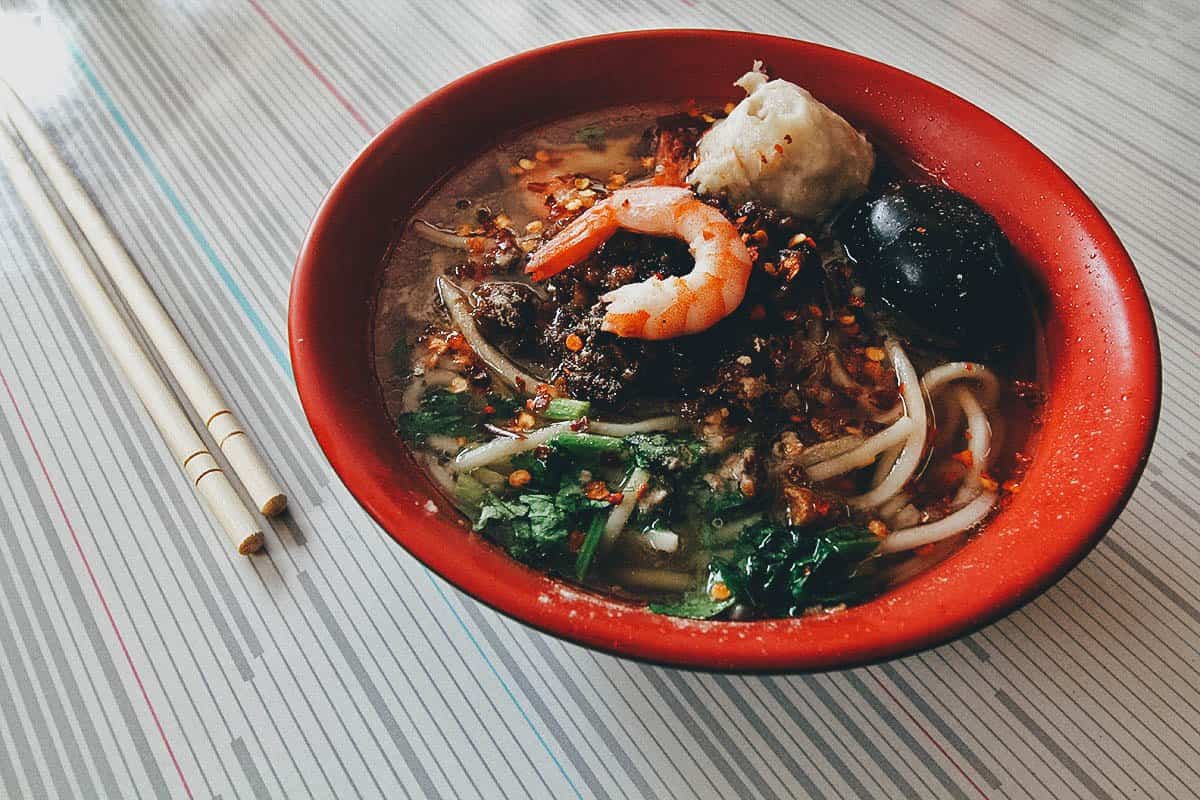 Du Hsiao Yueh is located at the corner of Chiqian Street and Section 2, Minzu Road. It's about a 20-minute walk from Tainan TRA Station.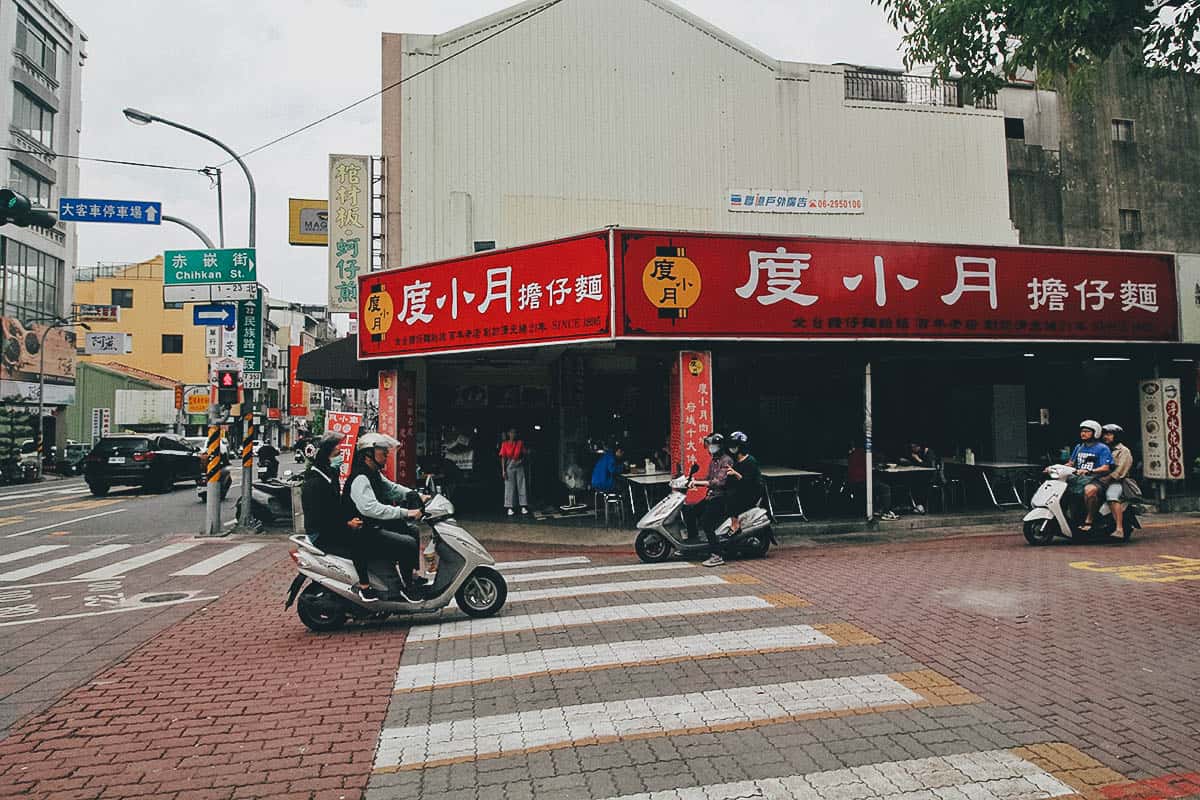 Expect to Spend: NTD 140 with drinks
2. Anping Old Street (Yanping Street)
Anping Old Street, or Yanping Street, is near Anping Fort and packed on both sides with old buildings, shops, and food stalls. This is perhaps one of the best places in Tainan to sample the city's many street food specialties. As described, one of the dishes Tainan is best known for is coffin bread. It's basically a thick block of hollowed out fried bread filled with creamy chicken, seafood, or vegetable chowder. As you can see in the picture below, it really does resemble a coffin. It's a hearty and satisfying snack that reminded me of chicken pot pie or chicken ala king served in a crunchy, bread vessel.
Aside from coffin bread, other dishes you should try along Anping Old Street are dry tossed noodles from Da You Xing Yi Noodles, iced mung bean soup from Jin Hua 61 Tau Suan, and rice cakes from Wang's Champion Rice Cakes.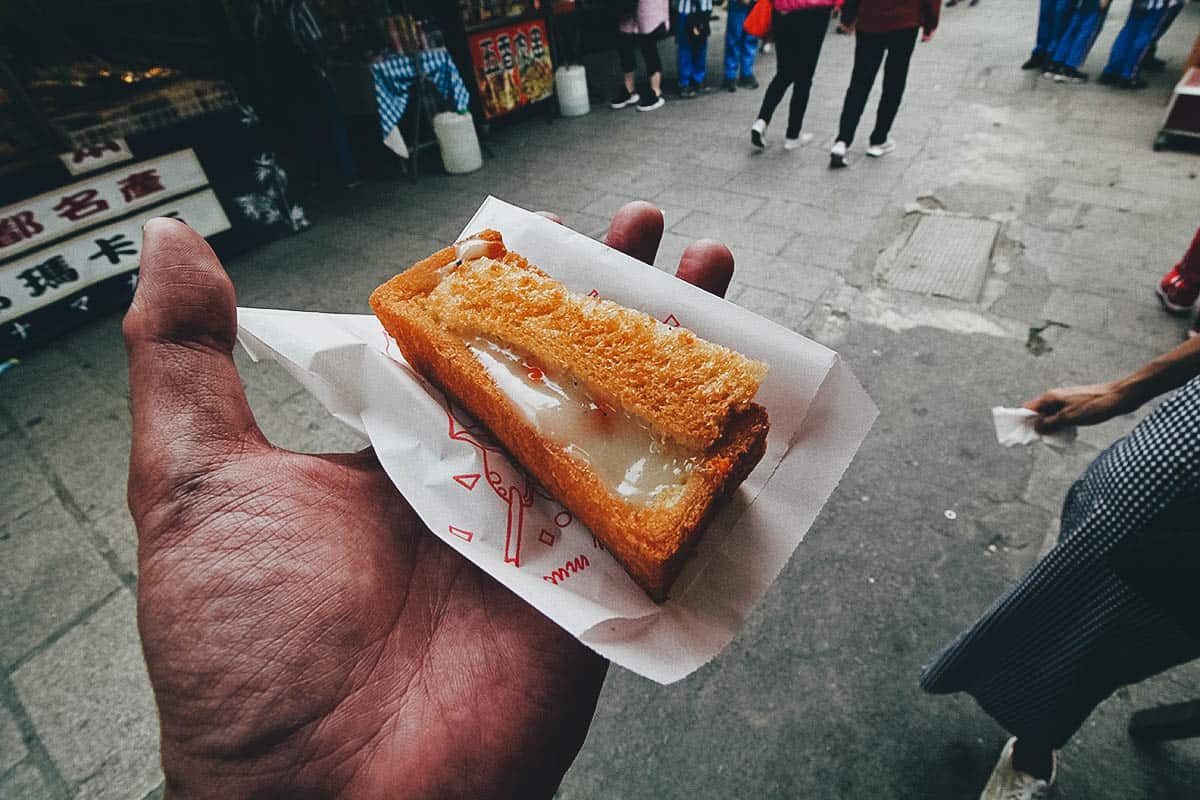 Expect to Spend: Around NTD 25-100 per dish
3. Flower Night Market
Flower Night Market is Tainan's biggest night market. In spite of being open for just three days a week (Thurs, Sat, and Sun), it's become one of Taiwan's largest and most famous night markets, on par with Shilin in Taipei and Fengjia in Taichung.
I timed our trip so we could be in Tainan on one of the nights it was open but unfortunately, it rained hard that night as previously described. Flower Night Market doesn't open at all on rainy days so we unfortunately weren't able to go. If you're going to be in Tainan on any of the three nights it's open, then you should definitely pay this place a visit.

Photo by CHEN MIN CHUN via Shutterstock
POINTS OF INTEREST IN TAINAN
To help you get your bearings, I've created this map so you get a better sense of where everything is. All the places recommended in this guide are pinned on this map.
HOW TO GET AROUND TAINAN
There's no metro system or Uber in Tainan so we found it a little harder to get around here. Traveling by taxi is the fastest and most convenient but the costs can add up. To give you an idea, the fare from Anping Old Street to Blueprint Cultural and Creative Park cost us NTD 145 each way. The flag down rate for taxis in Tainan is NTD 90.
We didn't do it but a more economical way of getting around Tainan is by public bus. There are tourist shuttle buses in Tainan (88 and 99) that take you to many of the city's main attractions. Looking at the routes, Bus 88 (Anping Route) takes you to tourist spots within the city, including Anping District and Blueprint Cultural & Creative Park, while Bus 99 (Taijiang Route) makes a few stops in Anping District before taking you farther north. Click on those links for more details on each route. Bus fares are NTD 18-36 per ride but I believe there are unlimited day passes you can buy from the information kiosk at the Tainan Railway Station. You might want to check that out if you plan on taking either of these buses.
Personally, I've always been intimidated by bus routes because I often find them very confusing. I started using the Google Maps app (iOS | Android) in Kaohsiung and I found it to be incredibly helpful. It tells you exactly how to get from one place to the next using any city's public transportation system. I've always been afraid of hopping onto the wrong bus and getting lost, but this free app makes it practically idiot-proof. Give it a try if you plan on getting around Tainan by bus.
HOW MANY DAYS TO STAY / SAMPLE ITINERARY
Compared to bigger cities in Taiwan, we found that there isn't as much to do in Tainan. Provided you can arrive in Tainan early, then I'd say an overnight stay is enough. Otherwise, you might want to stay two nights so you aren't rushing. Here's a sample one-day itinerary to help you plan your trip.
ONE-DAY ITINERARY
9-10AM – Explore Anping Tree House.
10-11:30AM – Visit Anping Fort.
11:30AM-1:30PM – Eat your way through Anping Old Street.
1:30PM – Take a taxi to Ten Drum Rende Creative Park.
2-4PM – Enjoy Ten Drum Rende Creative Park.
4PM – Take a taxi to Blueprint Cultural & Creative Park.
4:30PM-6PM – Enjoy Blueprint Cultural & Creative Park.
6PM onwards – Eat some more at Flower Night Market.
BUDGET / SUMMARY OF EXPENSES
Assuming you'll be traveling with one other person and staying just one night in Tainan, then a budget of around NTD 1,200 should be enough. This takes into account a moderately priced hotel, inexpensive meals, entrance fees, transportation, and pocket wifi rental.
ACCOMMODATIONS
How much to budget for accommodations depends on several factors like hotel preference and number of travel companions. We booked a room at a boutique hotel for about NTD 1,162 a night. Expect to pay much less if you're staying in a dorm room.
MEALS
Like accommodations, this is subjective, but based on our experience, I'd say around NTD 200-300 for the day per person with drinks. Budget more if you plan on dining at fancier restaurants.
ENTRANCE FEES
It'll cost you NTD 100 each to enter Anping Tree House and Anping Fort.
POCKET WIFI RENTAL
If you're sharing the cost with one other person, then you'll each be paying NTD 40 per day.
TRANSPORTATION
Information online is inconsistent, but I believe a one-day Tainan City Bus Pass costs NTD 199. That sounds a little high considering that single journey rides cost just NTD 18. I'd probably forgo that and just budget around NTD 150 for transportation, for both buses and taxis.
TOTAL


This comes out to about NTD 1,171 per person for the overnight stay. Ren and I are middle of the road travelers who enjoy good food and drink, so this is a budget that works for us. Feel free to adjust based on your own travel habits.
TRAVEL TIPS
1. Plan your Trip with Sygic Travel
I've been using this handy trip planning app for several years now, ever since it helped me create an itinerary for our first Osaka trip. It's easy to find a destination's top attractions. But what's difficult is putting it all together in an itinerary that makes sense. What this app does is allow you to visualize all points of interest on a map so you can easily create the most efficient itinerary. Check out my post on the Sygic Travel app for more information.
Sygic Travel is what I used to create the location map above. You can view it as a day-to-day itinerary as well. Follow this link to check out our overnight Tainan itinerary on Sygic Travel. You can also download our entire 2-week Taiwan itinerary in editable Word format from our EAT-ineraries page.
2. Rent a Pocket Wifi Device
It goes without saying that having a steady connection to the internet is a must these days, especially when you're exploring a foreign country. You'll need it to navigate, convert currencies, and find the coolest bar around your hotel. We never go anywhere now without renting a pocket wifi device first.
To get a steady wifi connection in Taiwan, you need to either rent a pocket wifi device or buy a sim card. We rented a pocket wifi device but either way is fine. You can arrange for both through KKday and pick them up from various airports in Taiwan.
3. Store Your Luggage with lalalocker
Depending on what time you get in to Tainan, you might need a place to store your luggage. That's what lalalocker is for. They're like the AirBnB for luggage. They help you find places in the city where you can store your luggage for a fee. If you find yourself in need of a safe place to store your luggage in Tainan, then I suggest checking out lalalocker.
4. Check for Discount Passes
I love going through online tour providers and finding interesting deals before a trip. Whenever we go to Taiwan, one of my favorite sites to browse through is KKday. They're a Taiwan-based e-commerce travel platform so for me, there's no better place to find deals in Taiwan than KKday. Follow the link to check out KKday's list of travel deals in Tainan.
5. Get Travel Insurance
Though we do buy travel insurance more often now, we don't always get it before every trip. It really depends on where we're going and what we'll be doing. If we're just spending a couple days somewhere stuffing our faces with street food, then we probably won't get it. But if we plan on doing any outdoor activities like we did in Taiwan, then we'll definitely get it. Simply put, you never know what could happen on a trip.
We buy insurance from World Nomads or SafetyWing. They're both leading travel medical insurance providers used by many digital nomads. Check out my article on why we buy travel insurance for more information. You can follow the links to get a free quote from World Nomads or SafetyWing.
6. Bring the Right Power Adapter
Taiwan has Type A and Type B electrical outlets so be sure to bring the right power adapters for your devices. Electrical voltage is 110V and the standard frequency is 60Hz.
VISA INFORMATION (for Filipinos)
TECO implemented a program in 2017 allowing Philippine passport holders to travel to Taiwan visa-free for stays of up to fourteen (14) days. The program will be reevaluated after 31 July 2020. Check out my post on Taiwan's visa-free program to see if you're eligible.
Have fun!
I'm by no means an expert on Tainan but I do hope that you find this post helpful. I'm only sharing some of the things I learned from our trip. If you have any suggestions or want to share your own experiences, then please feel free to do so in the comment section below. You're welcome to join our Facebook Travel Group as well.
Thanks for stopping by and have an awesome time in Tainan!
Disclosure
We're a Kkday affiliate and they provided us with a voucher for pocket wifi rental for use during our entire trip. Everything else in this guide was at our own expense. As always, all words and opinions expressed in this post are mine and mine alone.
This post contains affiliate links. That means we'll earn a small commission if you make a booking at no additional cost to you. We only recommend products and services that we use ourselves and firmly believe in. We really appreciate your support as this helps us make more of these free travel guides. Thank you!