Jiufen is known for its street food. I was in line for some taro ball soup when Ren spotted a stall selling these green, unappetizing-looking blobs. Those green blobs turned out to be glutinous rice cakes, a Hakka dish that's one of Jiufen's most popular delicacies.
Admittedly, I didn't like it at first. It's soft, glutinous coating led me to believe it had something equally soft and sweet waiting for me inside, like taro or red bean. It didn't. Instead, it had a savory vegetable filling, pickled and salty, like something my grandmother would eat.
It tasted like an old dish, a dying dish that you can find only in the most preserved of enclaves. Which fittingly, is exactly the kind of environment we were in. To me, it tasted like Jiufen.
It may not have been my favorite at the time, but it's one of the dishes I remember most from our trip, and the one I associate most with Jiufen. There's a character to this preserved mountain town that's unlike any we experienced in Taiwan. It's a character you can appreciate in its architecture, its tight alleyways, and of course, in its food.
If you're looking to visit Shifen and Jiufen on your next trip to Taipei, then I hope this guide can help you plan your trip.
VISIT JIUFEN & SHIFEN QUICK LINKS
This Shifen and Jiufen travel guide is long. For your convenience, I've compiled links to highly-rated hotels, tours, and other travel-related services here.
HOTELS
Recommended hotels near Jiufen Old Street, the most convenient areas to stay for first-time visitors to Jiufen.
TOURS
OTHER SERVICES
Save This on Pinterest!
No time to read this Shifen and Jiufen travel guide now? Click on the save button and pin it for later!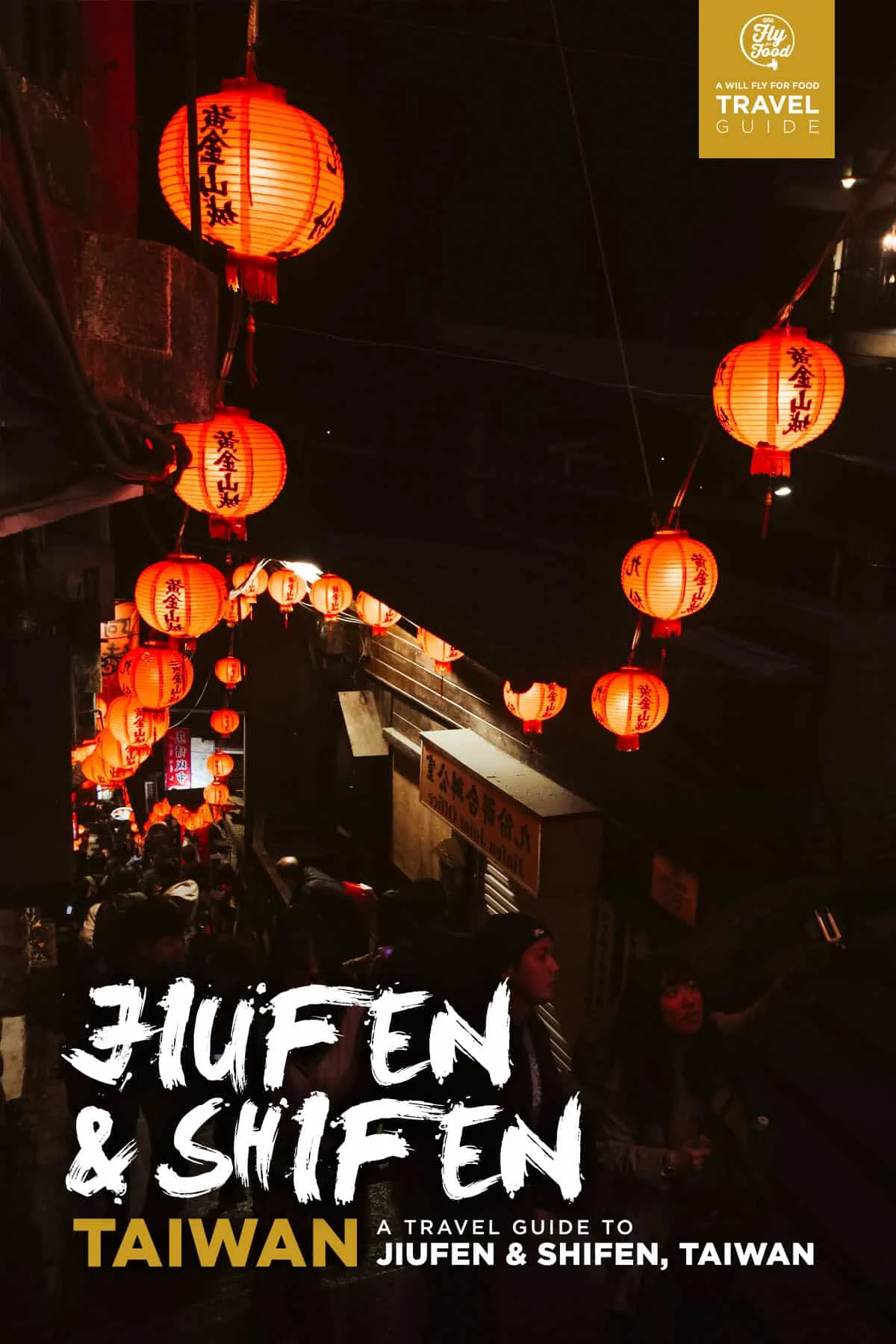 GUIDE TABLE OF CONTENTS
SHIFEN & JIUFEN TRAVEL RESTRICTIONS
Because of the current global situation, Shifen and Jiufen travel guidelines have been changing often. Our friends at Booking.com created a useful website that lists detailed information on travel restrictions around the globe.
Before planning a trip to Jiufen and Shifen, be sure to check Booking.com for information on travel restrictions to Taiwan. If you do decide to visit Jiufen and Shifen, then it's highly recommended that you get travel insurance with COVID coverage.
TAIWAN VISA
Depending on what type of passport you carry, you may need a visa and other travel documents to enter Taiwan. Check out iVisa.com to learn about the requirements and to apply for a visa (if necessary).
If you're a Philippine passport holder, then you'll be happy to learn that Taiwan has reinstated its visa-free program. Filipinos will be allowed to stay in Taiwan visa-free for up to 14 days from 29 September 2022 till 31 July 2023. Check out our guide on the Taiwan e-visa for more information.
SHIFEN & JIUFEN AT A GLANCE
Shifen and Jiufen are both small towns in New Taipei City, about an hour east of Taipei. Shifen is in Pingxi District while Jiufen is in Ruifang District.
As far as tourism is concerned, Shifen is known primarily for two things – Shifen Old Street and Shifen Waterfalls. Shifen Old Street is the area where sky lanterns are released, while Shifen Waterfalls is recognized as Taiwan's broadest waterfall, a distinction which has earned it the nickname the "Little Niagara of Taiwan".
Jiufen, on the other hand, is a former mining town that saw its peak during the gold rush of the Japanese era. It maintains much of its architecture from that time period and has developed into a popular tourist destination because of two films. First in 1989, when it was featured in the Taiwanese historical drama A City of Sadness, and again in 2001 due to its resemblance to a town in the highly acclaimed anime film Spirited Away.
Today, because of their proximity to the city, Shifen and Jiufen have become among the most popular day trip destinations you can make from Taipei.
BEST TIME TO VISIT JIUFEN & SHIFEN
More often than not, Shifen and Jiufen are side trips from Taipei. The best time to visit Taipei is typically from October till February, so that would be the ideal time to visit these places as well. Based on 2017's rainfall statistics however, October and November saw significantly more rain than the other months within that stretch. For that reason, I think December to February would be the ideal time to visit. The temperature and precipitation will be at their lowest. Jiufen gets terribly crowded so I wouldn't want to be there when it's hot and humid.
Climate: Annual Monthly Weather in Jiufen
Follow the link for more on the weather in Jiufen. For your convenience, I've included average temperature and annual rainfall graphs below. Suggested months to visit are colored in orange.
Average Temperature

Annual Rainfall

TRAVELING TO SHIFEN & JIUFEN
There are two ways to get to Shifen and Jiufen from Taipei – by public transportation or by guided tour.
By Public Transportation
This is the cheapest method, though not the easiest. You'll need to do it in two parts.
TAIPEI-SHIFEN: You'll need to take a TRA train from Taipei Main Station to Ruifang Station, then transfer to the Pingxi Line to Shifen Station. The trip should take you about an hour and a half. From Shifen Station, you can follow the signs to Shifen Old Street where the sky lanterns are released, and to Shifen Waterfalls which is about twenty minutes away on foot. You can check the TRA website for fares and train timetables.
SHIFEN-JIUFEN: There's no transportation from Shifen to Jiufen so you'll need to go back to Ruifang Station first. Make a left after exiting the station and walk down to Mingdeng Road. Next to the police station is a bus station where you can catch bus 827 or 788 to Jiufen. On weekends, you can also catch bus 825. Please be advised that you'll want to wait at the bus stop next to the police station. Buses across from the police station will take you back to Taipei. The ride to Jiufen takes about 20 minutes and costs around NTD 15.
By Guided Tour
This is what we did. It's the easiest and most convenient way to go. We went on a guided tour that took us to Yehliu Geopark, Shifen Old Street, Shifen Waterfalls, and Jiufen. But instead of taking the bus back, we stayed the night in Jiufen and took bus 1062 back to Taipei the next morning.
The tour we took cost us NTD 1,000 per person. It's the most hassle-free option. Plus, Yehliu Geopark is pretty cool too and not to be missed. You can book tours to Jiufen and Shifen on Klook.
WHERE TO EXCHANGE CURRENCY
Taiwan's unit of currency is the New Taiwan Dollar (NTD or TWD).
I didn't see any banks in Shifen or Jiufen so it's best that you exchange your currency in Taipei. You can do so at any bank, though bigger banks like Bank of Taiwan are probably better. We tried exchanging currency at a smaller bank once but they charged a transaction fee.
The great thing about currency exchange in Taiwan is that it's strictly regulated by the Taiwanese government. It's all done through banks so you never have to worry about getting ripped off.
Another option is to withdraw NTD from an ATM. I find myself leaning more towards this now. Rates are comparable and you don't have to bring large sums of foreign currency with you. Just make sure to let your bank know that you'll be using your ATM card overseas so they don't flag it or anything. In my experience, my card works in some machines but not in others.
TIP: When withdrawing NTD from an ATM, some machines may ask if you'd like to proceed "with or without conversion". NEVER proceed WITH conversion because this authorizes the foreign bank to do the conversion for you, usually at highly unfavorable rates. Always proceed WITHOUT conversion. According to this article on Medium, the difference between rates can be 10% or more.
WHERE TO STAY IN JIUFEN
Jiufen isn't that big but around Jiufen Old Sreet is where you'll want to be. It can be quite chaotic but it's where all the action is and where first-time visitors will be spending most of their time in Jiufen.
You can search for accommodations around Jiufen Old Street on Booking.com. Listed below are a few highly-rated accommodations in the area.
You can also book hotels and homestays in Jiufen using the handy map below.
THINGS TO DO IN SHIFEN & JIUFEN
Listed below are some of the top things to do in Shifen and Jiufen.
SHIFEN
1. Make a Wish & Release a Sky Lantern
This is the main reason why people flock to Shifen, to write prayers and wishes on paper lanterns before releasing them into the sky. It isn't a big annual event like the Yee Peng Festival in Chiang Mai. Instead, it's something you can do at any time of the year on the railway tracks of Shifen Old Street.
Lanterns come in different colors and combinations, each color representing a wish like good health, success, luck, and love. Single-color lanterns go for around NTD 150 apiece, 4-color for NTD 200, and 8-color for NTD 350. We wanted maximum luck so we went with the 8-color.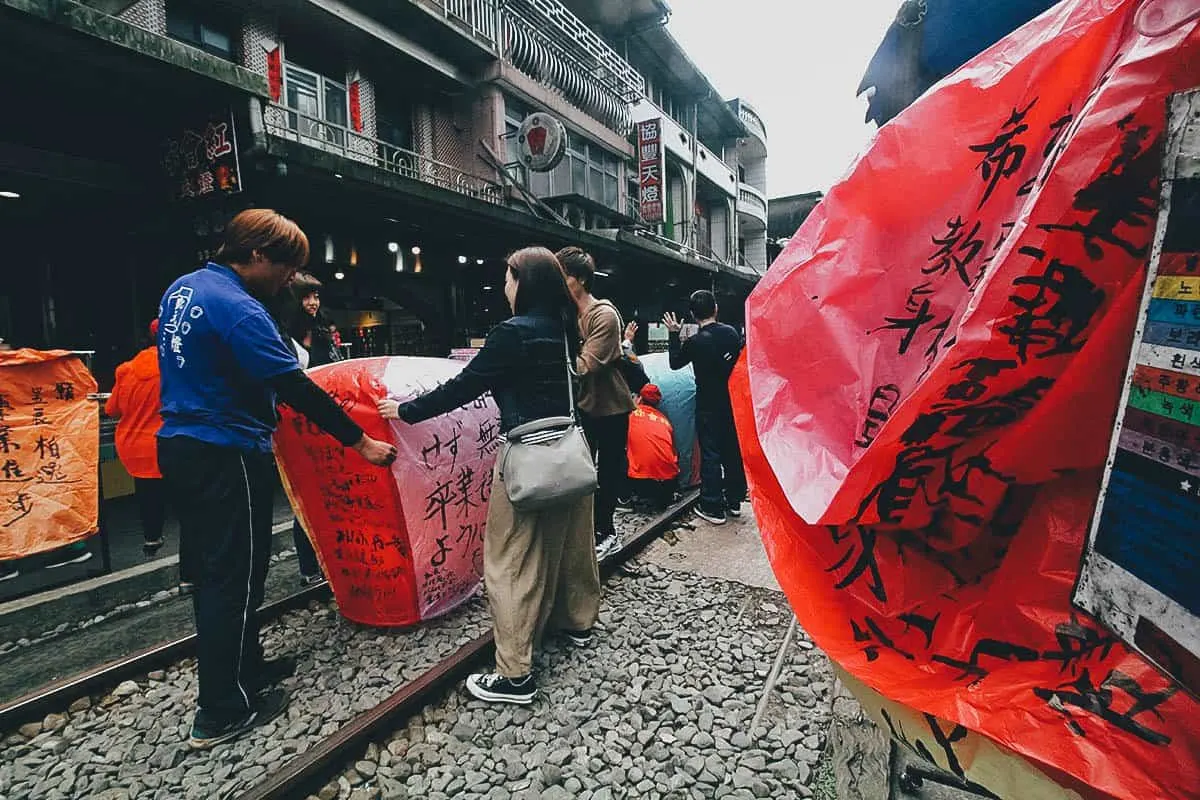 Estimated Time to Spend: 30 mins – 1 hr
Cost: At least NTD 150
2. Marvel at Shifen Waterfalls
Located about a 20-minute walk away from Shifen Old Street is this 20-meter tall cascading waterfall. It isn't the biggest waterfall but it's a pretty sight, with plenty of viewing platforms set up all around. You can spend about half an hour here taking pictures. Can you see the people standing there to the left of the waterfall?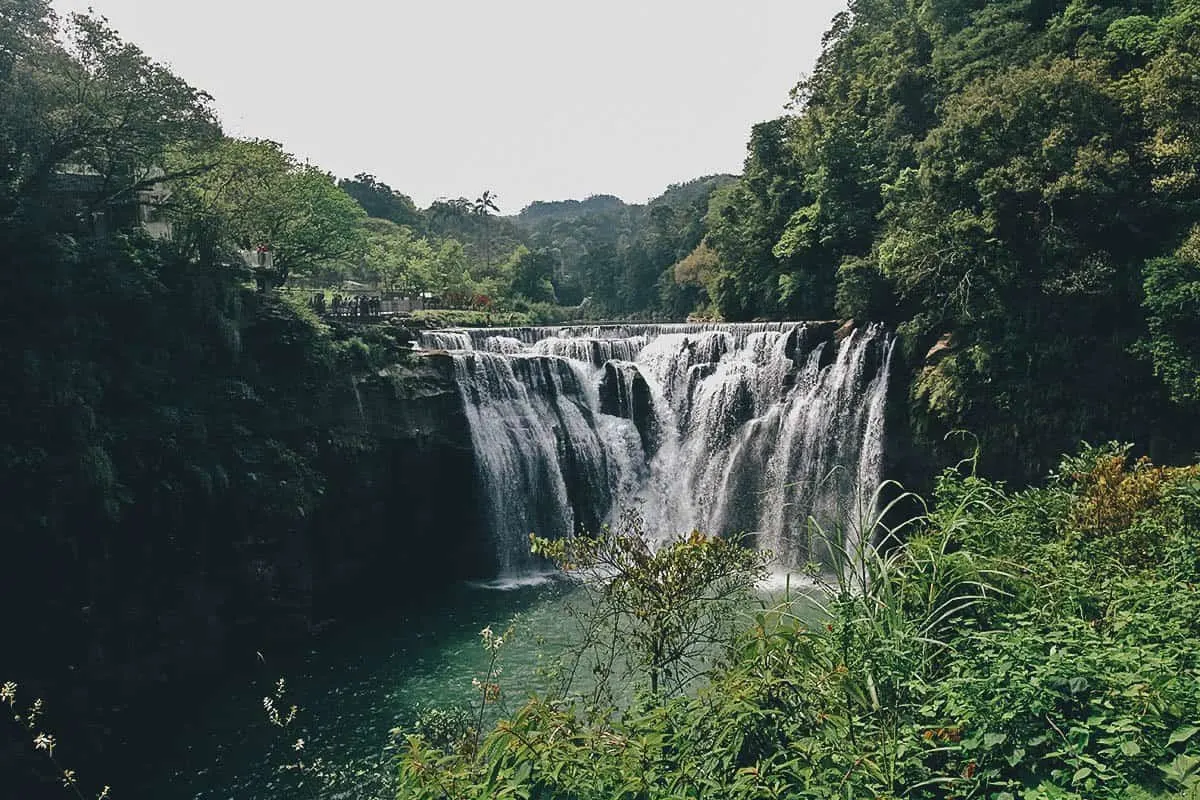 Estimated Time to Spend: 30 mins
Cost: FREE
JIUFEN
3. Eat Your Way Through Jiufen Old Street
This was the main reason why we wanted to visit Jiufen, to gobble our way like Pacman though Jiufen Old Street. We had read it's one of Taiwan's most popular food streets, and with good reason. From glutinous rice cakes to peanut ice cream rolls, there are tons of delicious streets food snacks to be had here. Jump to the What to Eat in Jiufen section of this post for more suggestions.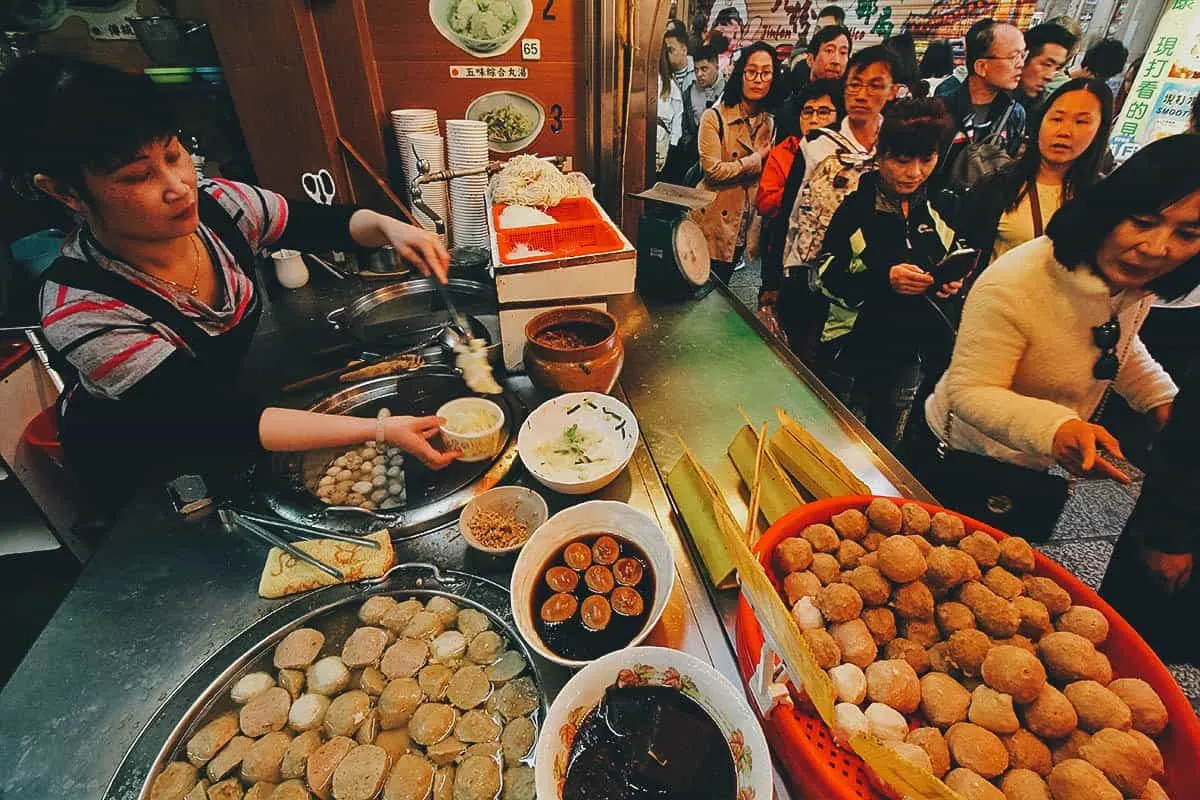 Estimated Time to Spend: As long as you want, or as long as your tour group allows you
Cost: Varies
4. Dress Up in a Qipao and Level Up Your Instagram Game
Aside from eating, the one other thing people like to do in abundance in Jiufen is to take pictures. It's a picturesque town with plenty of Instagram-worthy spots. If you really want to look the part and ramp up your #OOTD game, then why not rent a qipao? A qipao or cheongsam is a one-piece body-hugging dress traditionally worn by Chinese women.
You can rent a qipao in Jiufen through Klook. They offer rentals for women, men, and children.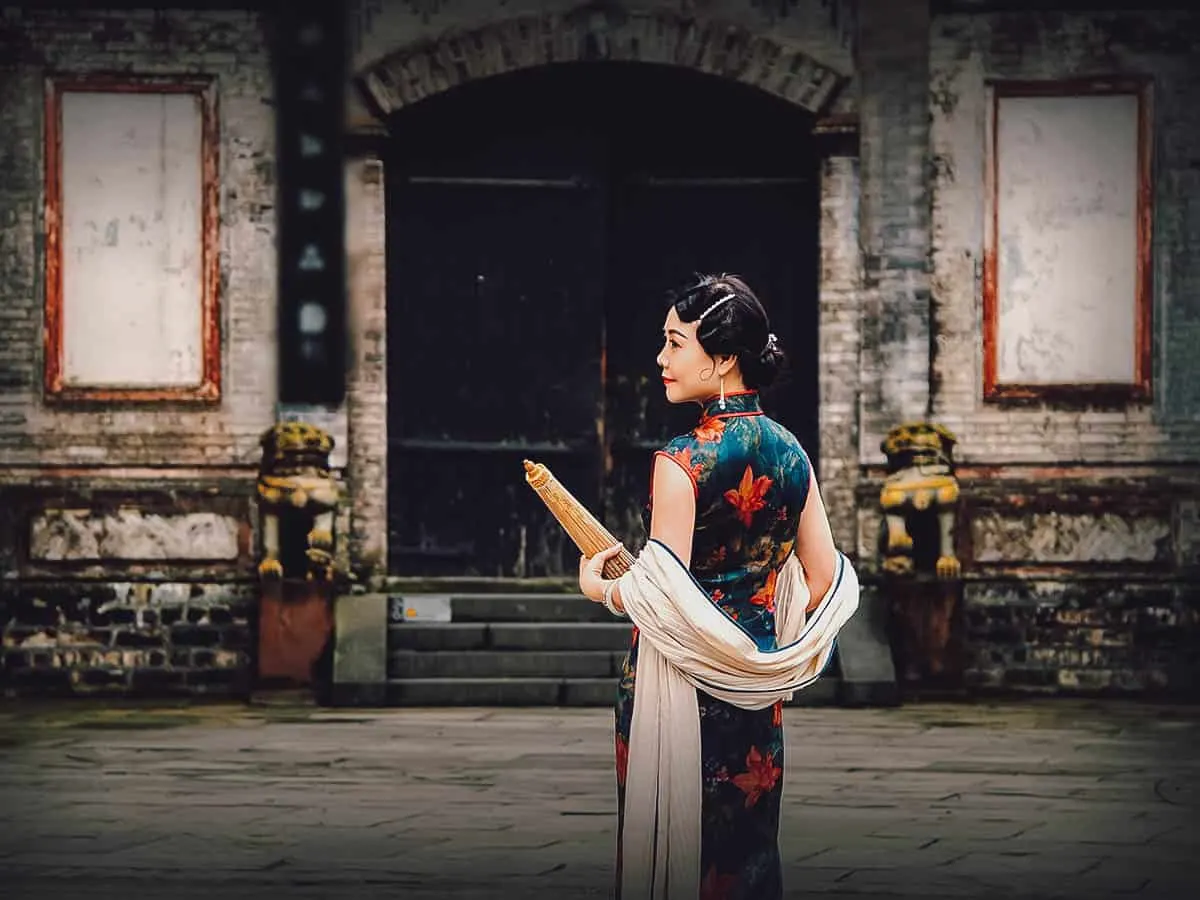 Photo by sanyanwuji via Shutterstock
5. Drink Tea at a Traditional Tea House
Ren and I aren't tea drinkers so we didn't do this, but drinking tea is a popular pastime in Jiufen. There are several Japanese-inspired traditional teahouses here, perhaps none more popular than A-MEI Tea House and Jiufen Teahouse. A-MEI Tea House is the most iconic building in town, the one that's often featured in pictures of Jiufen.
If you're interested in having tea at either place, then you can book vouchers in advance. Follow the links to book a tea drinking experience at A-MEI Tea House or Jiufen Teahouse.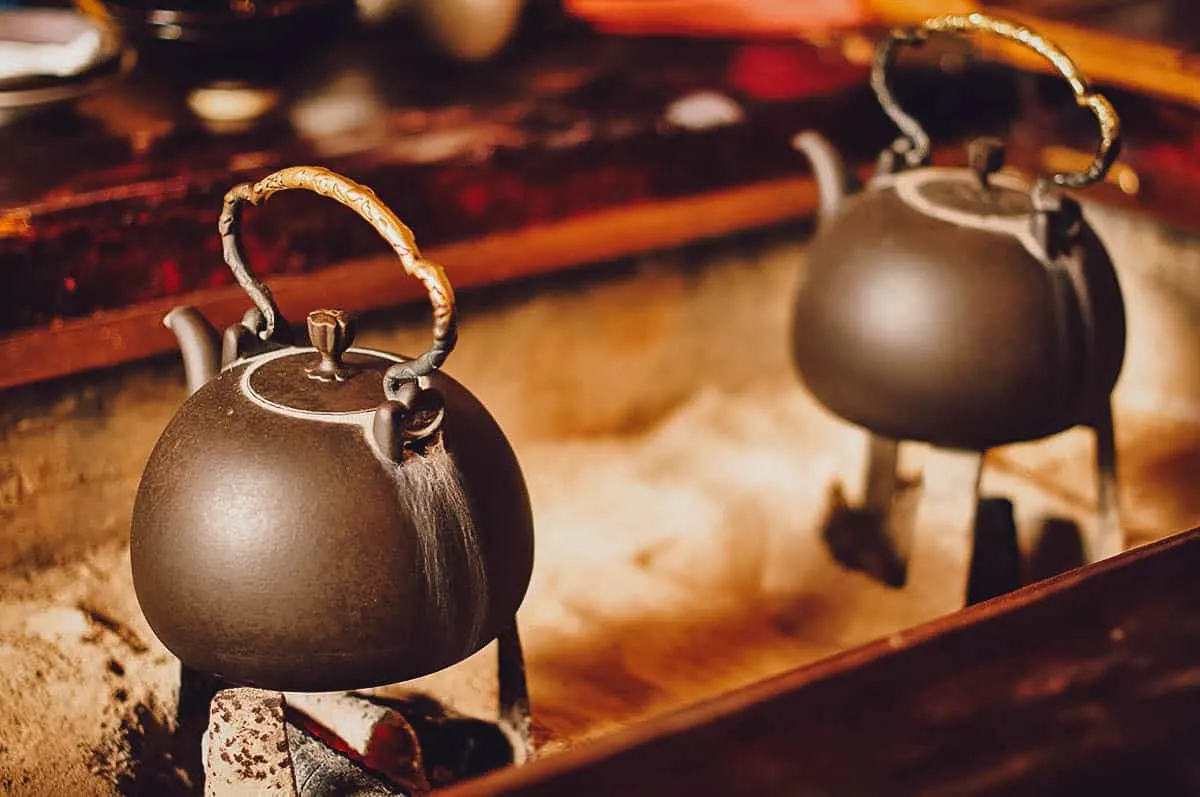 Photo by snpui via Shutterstock
6. Get Spirited Away by Studio Ghibli Merchandise
As described, part of the reason why Jiufen's become such a popular tourist destination is because of its resemblance to a town in Spirited Away. Which is funny because the film's writer and director, Hayao Miyazaki, has denied that Jiufen was the model city for his movie.
But that hasn't stopped people from associating it with the film anyway, as evidenced by all the Spirited Away and Studio Ghibli merchandise you can buy there. If you're a fan of Spirited Away or My Neighbor Totoro, then you're going to love Jiufen.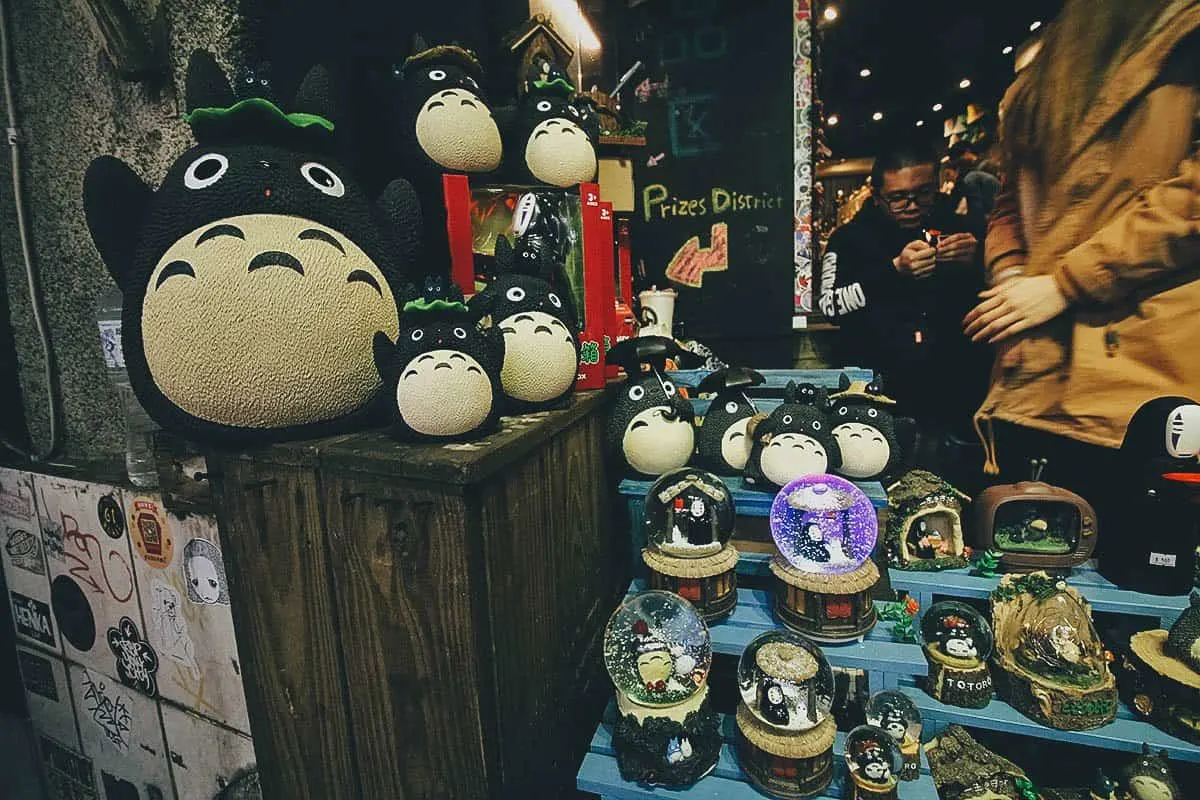 WHAT TO EAT IN JIUFEN
1. Glutinous Rice Cake
It's not going to happen, but if you were to limit yourself to just one dish in Jiufen, then this should probably be it. I'm basing this purely on how interesting it is.
Pictured below is a Hakka glutinous rice cake made with a variety of fillings like salted vegetable, preserved turnip, and sweet red bean. It's a curious snack that packs a major flavor punch. A few stalls sell glutinous rice cakes in Jiufen, but none are more popular than the Ah Lan Hakka Glutinous Rice Cake stall.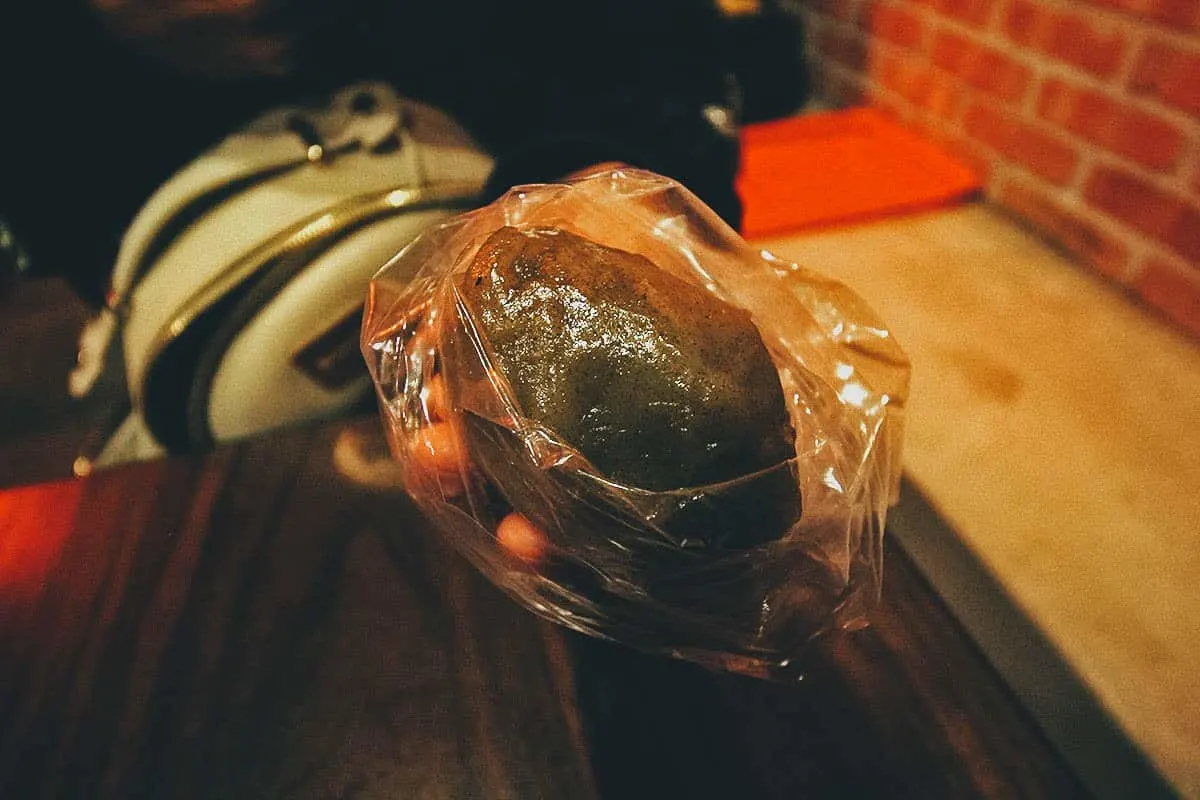 Where to Try it: Ah Lan Hakka Glutinous Rice Cake
Cost: Around NTD 10 per piece
2. Peanut Ice Cream Roll
This is another interesting, albeit slightly unusual dish. It's basically an ice cream peanut burrito. To make it, peanut shavings are spread over traditional popiah skin and topped with two scoops of ice cream. It's then folded up like a thin flat burrito before being cut into two and served.
Yes, it sounds a little odd, but it's delicious. The place to have it in Jiufen is at the Ah Zhu Peanut Ice Cream stall.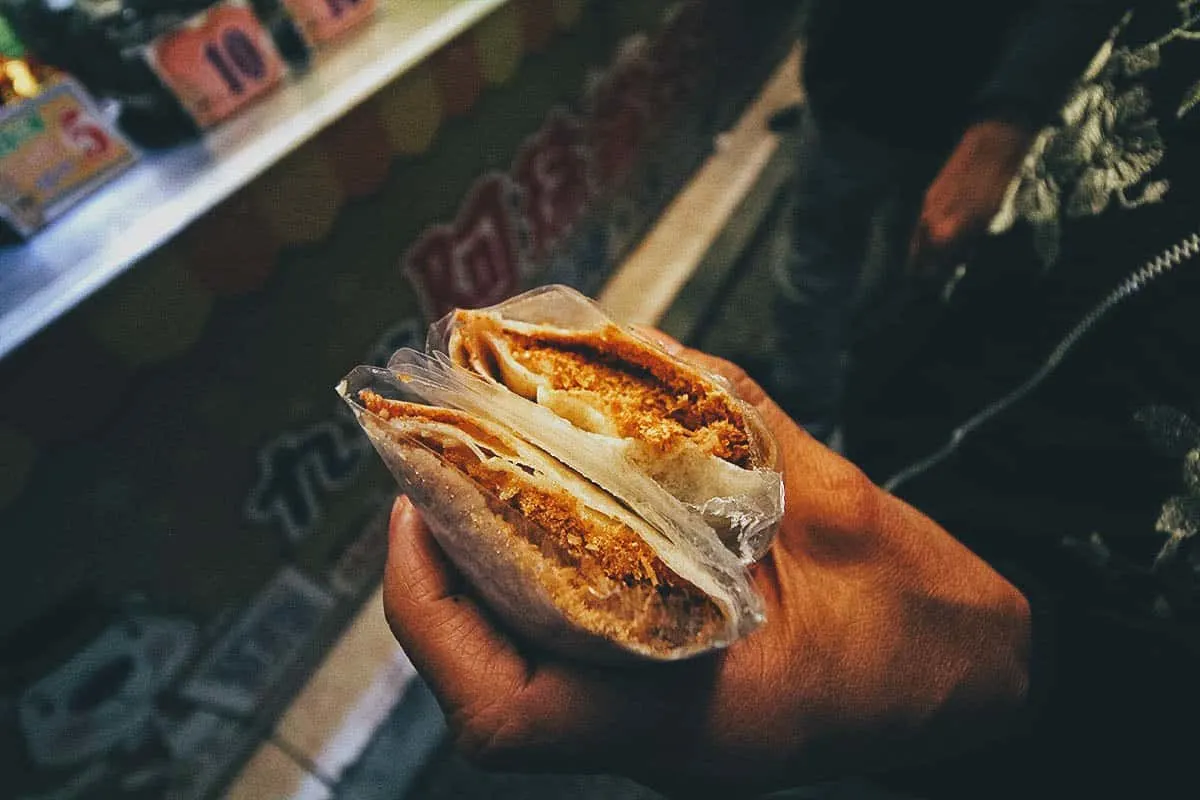 Where to Try it: Ah Zhu Peanut Ice Cream
Cost: Around NTD 10 per roll
3. Taro Balls
Like Ah Lan Hakka Glutinous Rice Cake and Ah Zhu Peanut Ice Cream, Grandma Lai's Taro Balls is one of the most popular stalls in Jiufen.
As their name suggests, they specialize in taro ball soup made with chewy handmade taro balls, sweet potato balls, green tea balls, and kidney beans. You can have it either hot or cold. We had it hot.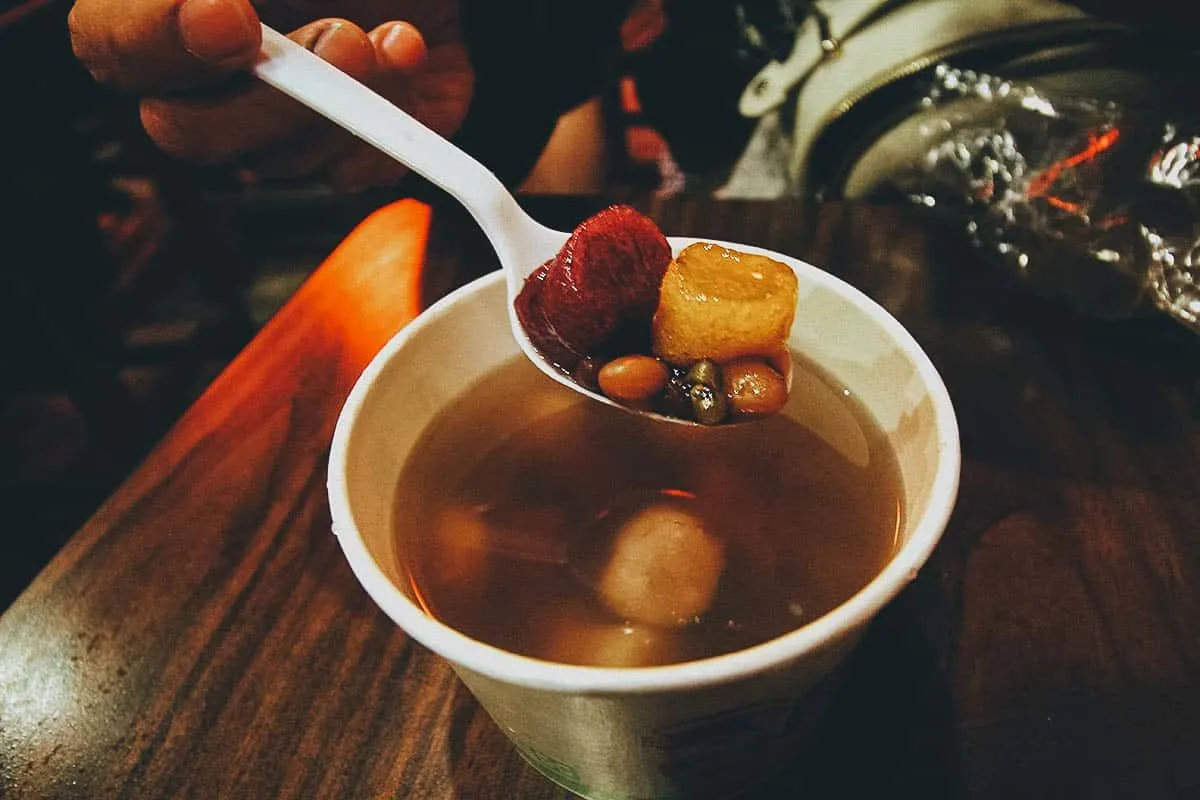 Where to Try it: Grandma Lai's Taro Balls
Cost: Around NTD 50 per bowl
4. Fish or Meat Ball Soup
Who doesn't like a good fish or meat ball? At Jiufen, you can have them made with different ingredients like fish, pork, squid, and vegetable, all served together in bowls of soup.
It's a delicious and hearty snack that's fun to eat with a side of noodles. Some of the more popular places to try it are Zhang Ji for fish balls and Jin Zhi for meat balls.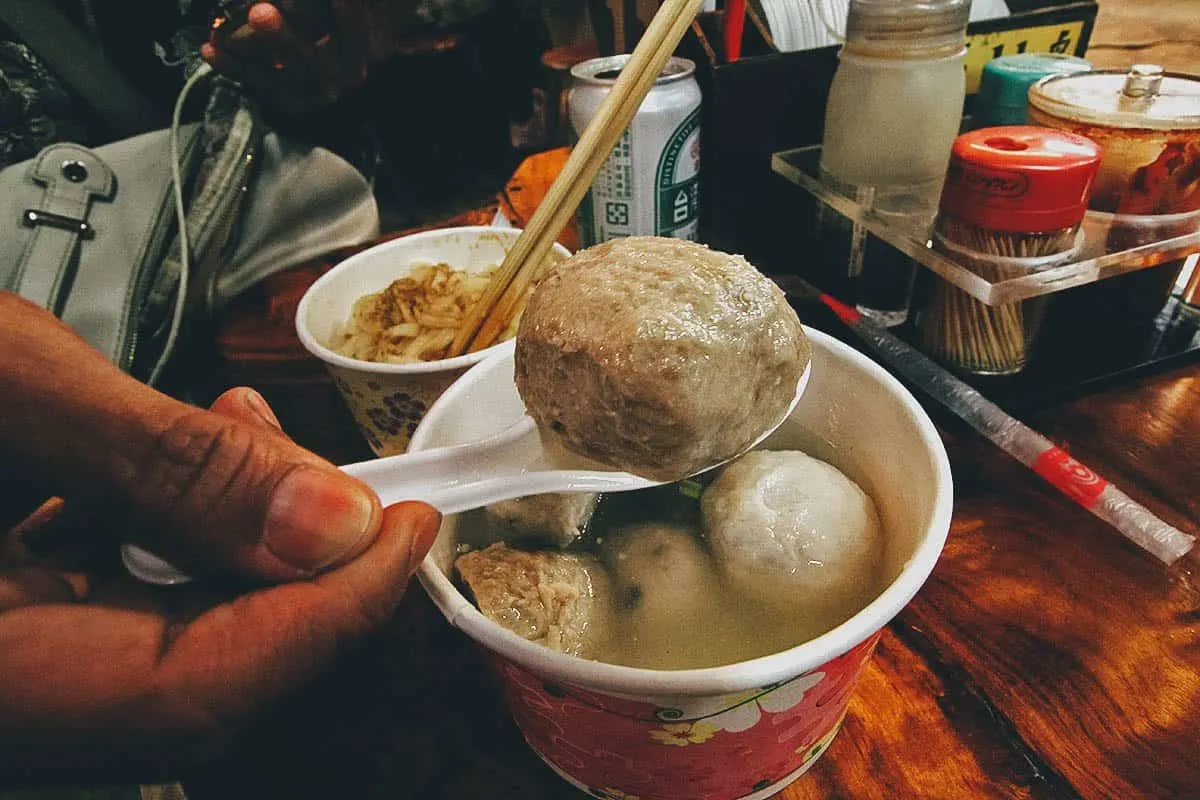 Where to Try it: Zhang Ji Traditional Fishballs, Jin Zhi (meat balls)
Cost: Around NTD 65 per bowl (combination meat ball soup)
5. Ice Cream Puff
Unless you're lactose intolerant, then I can't imagine anyone not enjoying this. It's basically two scoops of ice cream sandwiched between two halves of a flaky puff pastry. We had ours with raspberry and dark chocolate. Yum!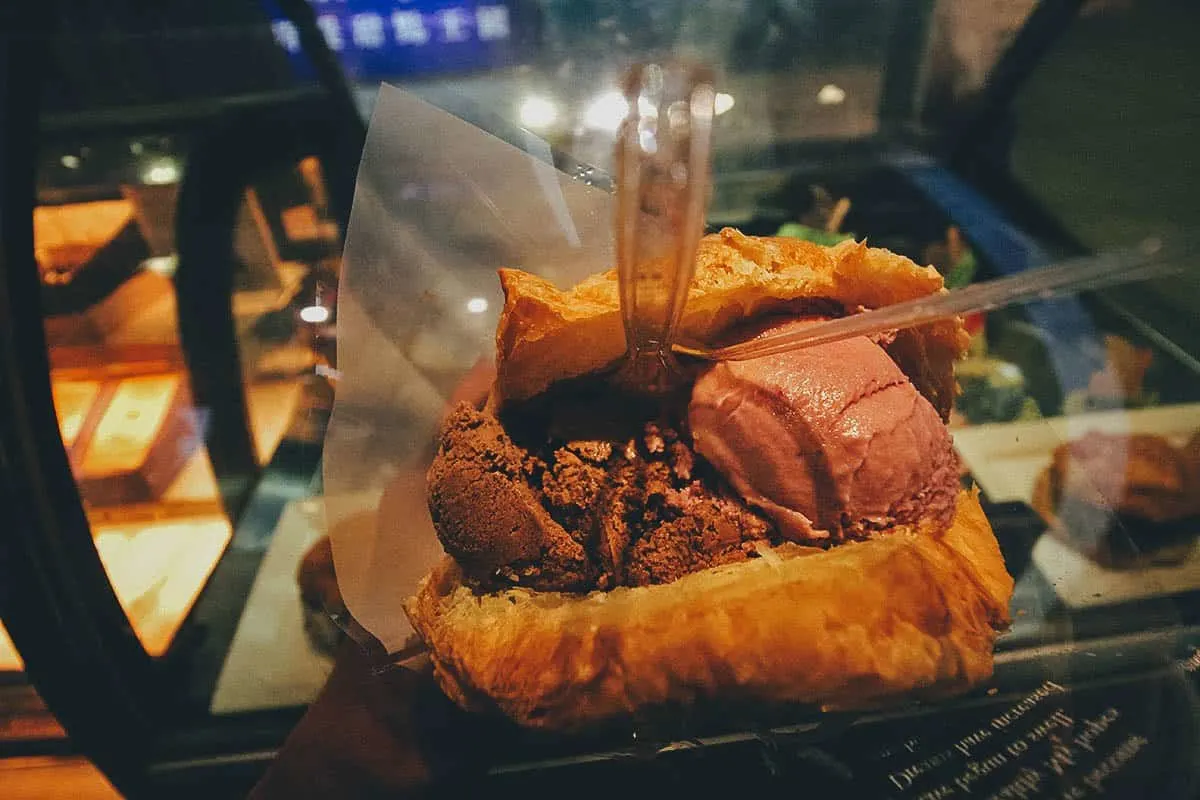 Where to Try it: Misty Cake
Cost: Around NTD 250 for a large puff pastry with two scoops of ice cream
If these five aren't enough for you, then check out our post on 10 delicious things to eat in Jiufen for more suggestions.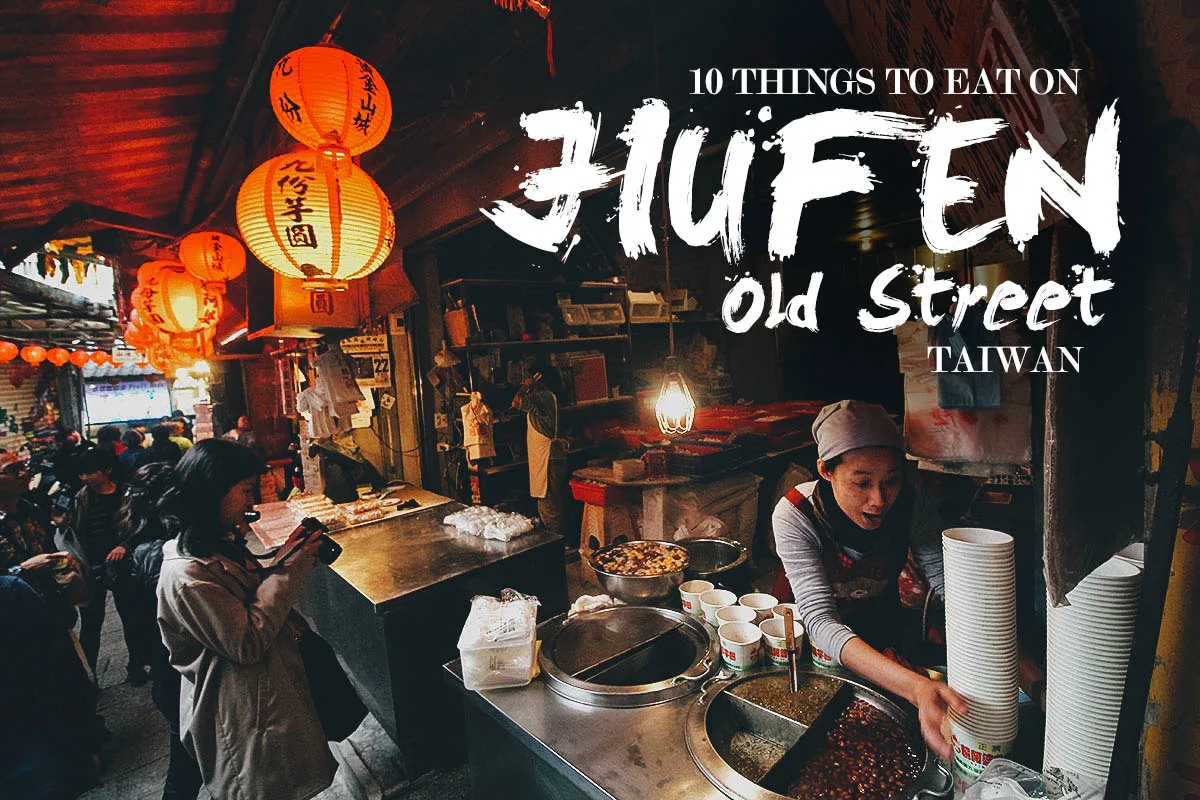 TAIWANESE FOOD GUIDE
Taiwan is synonymous with night markets and street food. There are so many more things to eat in Jiufen other than what's outlined above. For more Taiwanese food suggestions, check out our post and video on Taiwan's must-try dishes.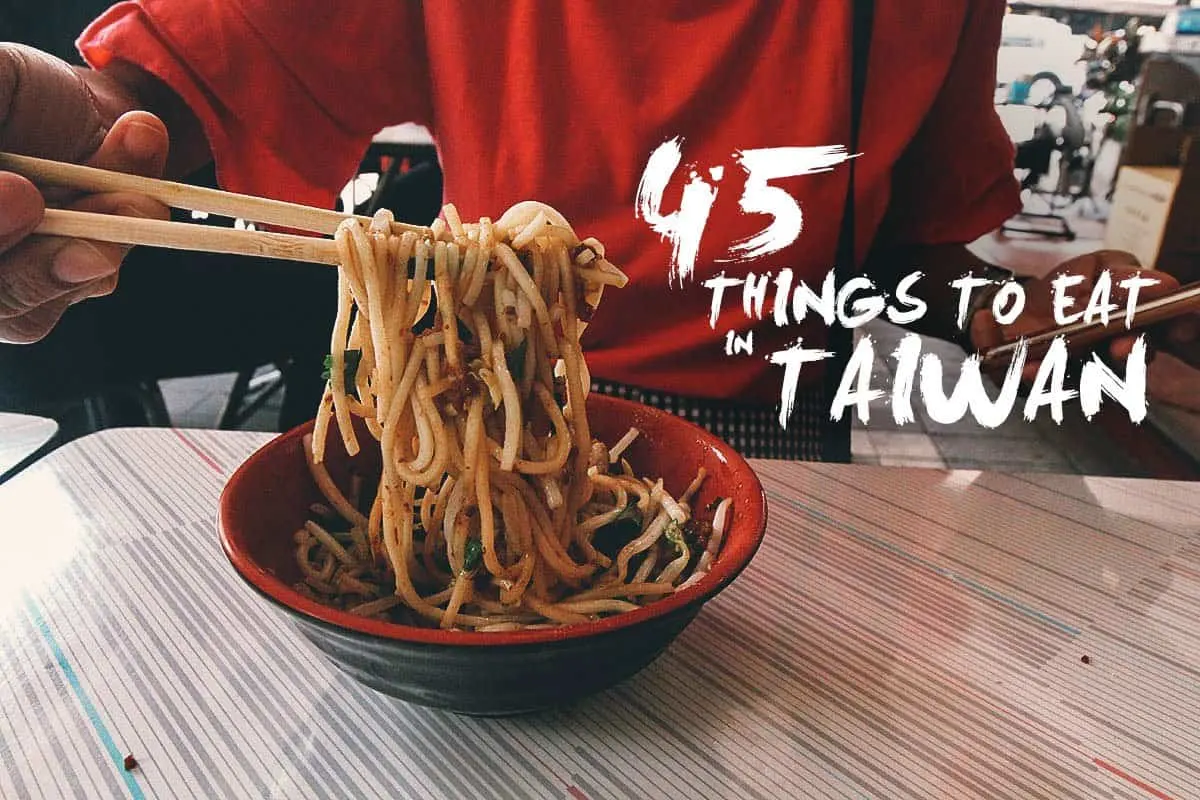 TAIWANESE DESSERTS
Taiwan is home to some amazing street food, but it's also got some pretty delicious desserts. If you have a soft spot for the sweeter things in life, then check out our list of must-try desserts in Taiwan.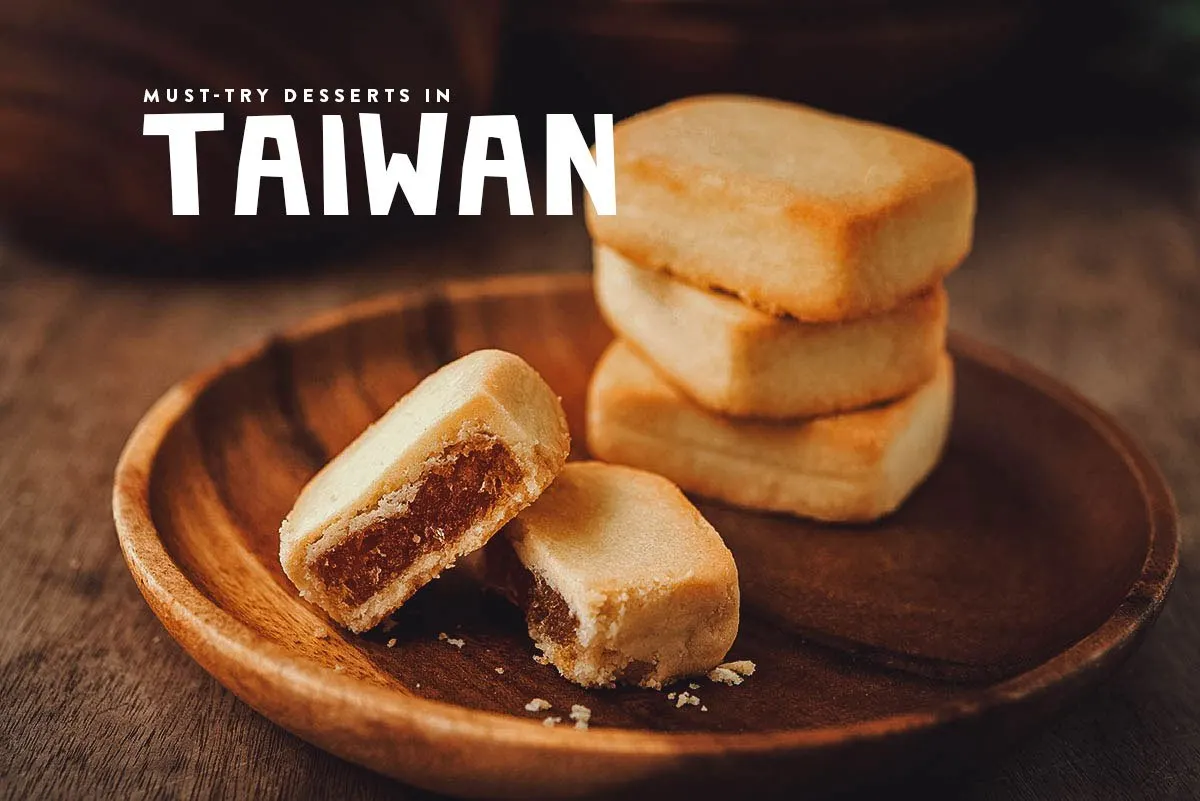 Photo by PantherMediaSeller via Depositphotos
HOW MANY DAYS TO STAY / SHIFEN & JIUFEN ITINERARY
You can visit both places on a day trip from Taipei but I suggest staying the night in Jiufen to maximize your experience. That way you can take your time at each spot and not have to rush.
Jiufen gets ridiculously crowded during the day so it's best appreciated at night, when the lanterns are lit and there are fewer people, or early in the morning. For that reason, I think an overnight stay is ideal.
DAY ONE
9AM – Take the TRA train from Taipei Main Station to Ruifeng Station.
10AM – Take the Pingxi train to Shifen.
11AM-12:30PM – Release a sky lantern at Shifen Old Street. Have a snack at one of the street food stalls by the rails.
12:30-2:30PM – Spend time at Shifen Waterfalls. Eat more here if you like. There are a few food stalls by the waterfalls.
2:40PM – Take the train back to Ruifang Station then catch the bus to Jiufen.
3PM onwards – Spend the rest of your time exploring Jiufen. Stay the night.
DAY TWO
8AM – Have breakfast.
9AM-12NN – Explore Jiufen some more.
12NN – Take bus 1062 back to Taipei.
Pictured below is the bus stop where you can catch bus 1062 back to Zhongxiao Fuxing MRT station in Taipei. The stop is on the opposite side of the road from the steps leading up to Jiufen Old Street (going down the mountain). Be sure to flag it when you see it, otherwise it won't stop. The fare is around NTD 98 (bus driver can't give change).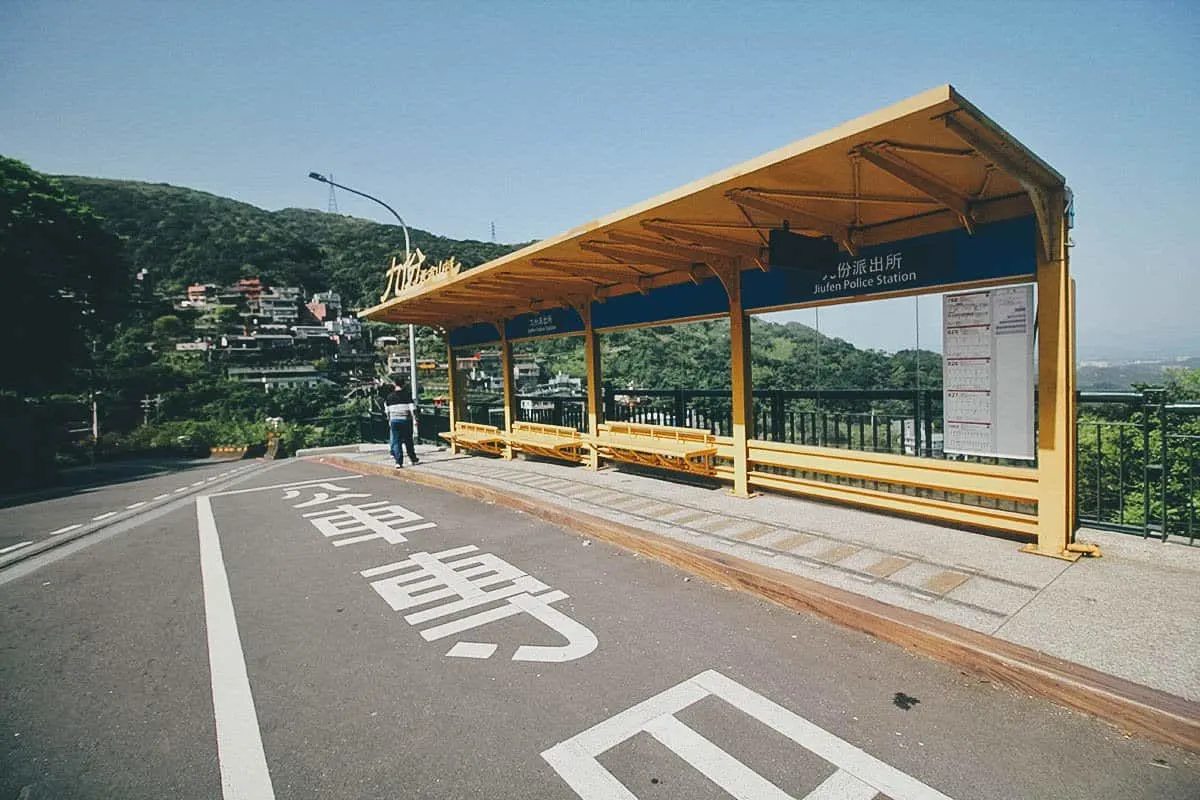 SHIFEN & JIUFEN TRAVEL TIPS
1. Stay Connected
Having a reliable wifi connection is a must when traveling these days. It makes everything so much easier. It allows us to convert currencies, navigate the transportation system, and upload our qipao pictures to social media with the tag #blessed.
Personally, we prefer renting pocket wifi devices with unlimited data so we don't have to worry about anything, but buying a sim card is fine too. You can get a wifi device or sim card through Klook.
2. All Sky Lantern Shops are Created Equal
Before letting us loose, our guide advised us that sky lantern pricing at Shifen Old Street is regulated. Don't waste your time going from shop to shop looking for the best deal because they all charge the same – around NTD 150 for one color, NTD 200 for four colors, and NTD 350 for eight colors.
3. Have Patience in Jiufen
This was something I needed more of myself. I expected Jiufen to be crowded, but I had no idea it would be THAT crowded. It was the most crowded place we visited in our two weeks in Taiwan. It made the simple act of walking incredibly frustrating which definitely detracted from the overall experience. We went on a Thursday too so I'm not sure if it makes a difference when you go.
In any case, there's nothing you can do about it so just prepare yourself for the huge throngs of tourists you'll be encountering there. This is another reason why I think it's best to stay the night. Jiufen is most pleasant late at night or early in the morning when the crowds are at their thinnest.
4. Check for Shifen & Jiufen Travel Deals
Depending on where we're going, I buy discount vouchers from several different websites. For Taiwan, my favorite is Klook.
If you're looking to buy vouchers for tours and other travel-related services, then I suggest going to Klook and doing a search for "shifen" and "jiufen". Even if you don't wind up buying anything, it's always fun to look just to see what's available.
5. Get Travel Insurance
To be honest, Ren and I don't always get travel insurance. It depends on the trip. If we plan on doing any outdoorsy activities like bike riding or skiing, then we'll definitely get it. But if all we'll be doing is shopping and eating for a couple of days, then we probably won't. It's really up to you if you think you need it.
When we do feel the need for insurance, we buy it from SafetyWing or Heymondo. They're popular travel insurance providers used by many long-term travelers. Follow the links to get a free quote from SafetyWing or Heymondo. Get 5% off on Heymondo if you purchase a policy through our link.
6. Bring the Right Power Adapter
Taiwan has Type A and Type B electrical outlets so be sure to bring the right power adapters for your devices. Electrical voltage is 110V and the standard frequency is 60Hz.
Have Fun!
I'm hardly an expert on Jiufen but I do hope this guide helps you plan your trip. I'm only sharing some of the things I learned from our time there. If you have any suggestions, then please feel free to leave them in the comment section below. You're welcome to join our Facebook Travel Group as well.
Thanks for stopping by and have a delicious time eating your way through Jiufen!
OUR GEAR
These are some of the things we brought with us to Jiufen and Shifen. For a complete list of our gear, check out what's inside our backpack. (NOTE: The following links are Amazon and other affiliate links.)
Disclosure
Some of the links in this Shifen and Jiufen travel guide are affiliate links, meaning we'll earn a small commission if you make a booking at no added cost to you. We only recommend products and services that we use ourselves and firmly believe in. We really appreciate your support as this helps us make more of these free travel guides. Thank you!