The First-Timer's Travel Guide to Taipei, Taiwan
I have a list of countries I want to revisit and Taiwan sits at the very top of that list. We've only been there once, for three days in Taipei, but we fell in love with it instantly. It surprised us on so many levels. The people were warm and friendly, the prices were surprisingly affordable, especially for a developed Asian country, and the street food? Phenomenal! None of this we knew going in which is probably why it was so surprising.
But do you know what else is surprising about Taiwan? It's progressiveness. In a landmark step for animal welfare, they became the first country in Asia to ban the consumption of dog and cat meat in 2017. Not just that, they're also on the brink of becoming the first Asian country to legalize same sex marriage. Yes, an Asian country that was under martial law a scant 30 years ago, is about to legalize gay marriage. We were already enamored with Taiwan after our trip, but learning how forward thinking they are makes us want to pack our bags and move there. It is such a cool country.
I attended a travel blogger conference last year and the closing keynote speaker was Patricia Schultz, New York Times Bestselling Author of "1,000 Places to See Before You Die". She presented a slideshow of the 10 best cities she's ever been to, and Taipei was one of those ten. I wasn't surprised anymore.
GUIDE TABLE OF CONTENTS
BEST TIME TO VISIT TAIPEI
Taiwan enjoys mild weather year-round with an average temperature of 22°C (71.6°F). The rainiest months are from May to September, with June to August being the height of typhoon season. Avoid those months at all costs. I had an aunt who visited Taipei during that time and she couldn't go to a single night market because it was raining hard every night. Night markets are a big part of the Taiwan experience so you don't want that to happen to you. Ideally, shoot for October to February if you can. The weather is cool and dry and air pollution is at a minimum.
HOW TO GET THERE
Unless you're on a cruise ship, most travelers to Taiwan will be arriving by air. Taipei has two international airports — Taoyuan and Songshan — but the vast majority of international flights are served by Taoyuan. You can get to the city from Taoyuan Airport by MRT, bus, taxi, or private transfer.
BY MRT: The airport MRT is the fastest way to get into the city from Taoyuan Airport. It takes about 35 minutes to get to Taipei Main Station from either terminal 1 or 2. The fare is TWD 160 with trains running from 6:12AM until 10:42PM. From Taipei Main Station, you can continue on the MRT to the station nearest your hotel.
BY BUS: The Kuo-Kuang Bus (Taiwan Bus Corp.) is a good alternative to the MRT, especially if you're arriving late in the evening. It operates 24 hrs and will take you to Taipei Main Station for TWD 125. After going through immigration and collecting your luggage, proceed to the city bus ticketing counters. You can follow this link for the Kuo-Kuang Line timetable. From Taipei Main Station, you can then take a taxi or the MRT to your hotel.
BY TAXI: Taoyuan is around 45 minutes away from the city center so a taxi will be expensive, around TWD 1,000-1,200 depending on traffic. This should be your last resort.
BY PRIVATE TRANSFER: A slightly cheaper alternative to a taxi is to go by airport transfer which you can book through sites like Klook or Kkday. Follow these links to book a private transfer from the airport on Klook or Kkday.
HOW MANY DAYS TO STAY
We stayed for 3 nights but it wasn't nearly enough. It allowed us to visit the major sights within the city, but Taiwan has so much more to offer than that. Located just outside the city's limits are hiking trails, hot springs, Taroko National Park, and Jiufen mining town — all of which I was disappointed to miss on our last trip. When we go back in March 2018, we'll stay for no less than a week, though I think 5 nights is probably enough for most people.
HOW MUCH MONEY TO BRING
As mentioned up top, Taiwan is surprisingly affordable. If you share an inexpensive hotel room with someone, travel by MRT, and eat modestly, then you'll be fine with a starting budget of around TWD 1,500 a day.
We hardly did any shopping so you can increase your daily allowance based on how much shopping you want to do. Even then, shopping at night markets is cheap. As is the food. You can enjoy a great Taiwanese street feast for under USD 10. Apart from the Taipei 101 Observatory and urban shrimping, admission to all the places that we visited was free. The MRT is cheap and efficient as well, with most journeys costing just TWD 25.
WHERE TO EXCHANGE CURRENCY
Banks offer the best exchange rates but the currency exchange booths at the airport are almost as good. There's one right before you go through immigration and another at the baggage claim area. For convenience, I'd exchange some currency at the airport especially if you arrive on a weekend. Hotels can exchange currency as well but at a less favorable rate. Be sure to keep any receipts issued because you'll need them to change back any unused TWD before departing Taiwan.
Alternatively, you can also withdraw TWD from an ATM. The rates are competitive. Just be sure to advise your bank you'll be using your ATM card overseas so you don't run into any problems. In my experience, my ATM card works in some machines but not in others.
WHERE TO STAY IN TAIPEI: Dong Wu Hotel
The Taipei MRT is cheap and efficient so you can pretty much stay anywhere in the city as long as it's near a station. Dong Wu Hotel is just a 5-minute walk from Daqiaotou MRT station and is located right next to a Family Mart. The rooms look a little dated (ie stuck in the 80s) but they're big, clean, and super comfortable. As of June 2017, the going room rate is USD 65 with breakfast for two already included.
You can book a room at Dong Wu Hotel through Booking.com or Agoda. Be sure to check both sites to find the best deal. If Dong Wu isn't to your liking, then you can browse both sites for alternate hotels. Perhaps something a little more modern? 😆 Alternatively, you can look for accommodations in Taipei through AirBnB. If you're new to AirBnB, then you can get USD 22 FREE travel credit by signing up through THIS LINK.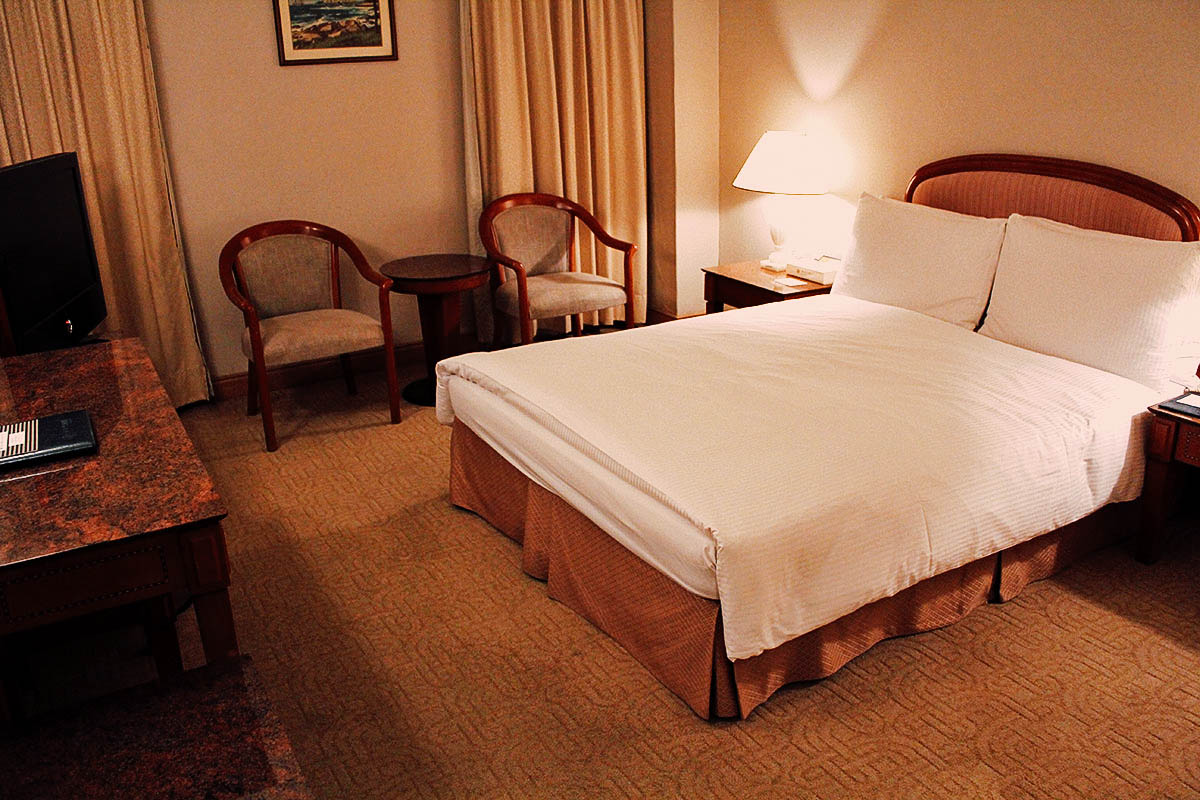 Approximate Room Rate: USD 65 per night (as of June 2017)
THINGS TO DO IN TAIPEI
1. See the City on a Hop On Hop Off Tour
I'm a big fan of these Hop On Hop Off tours. For me, there's no better way to get acquainted with a new city. For a set period of time, you can get on and off these double decker buses as many times as you want. They ply set routes through Taipei's top attractions like Taipei 101, National Palace Museum, Chiang Kai Shek Memorial Hall, Ximending, and more. Klook and Kkday offer several bus pass options. Not only will you see Taipei's top sights, but you can also use it as a way of getting around the city. You can follow these links to purchase tickets to Taipei's Double Decker Bus Tour on Klook or Kkday.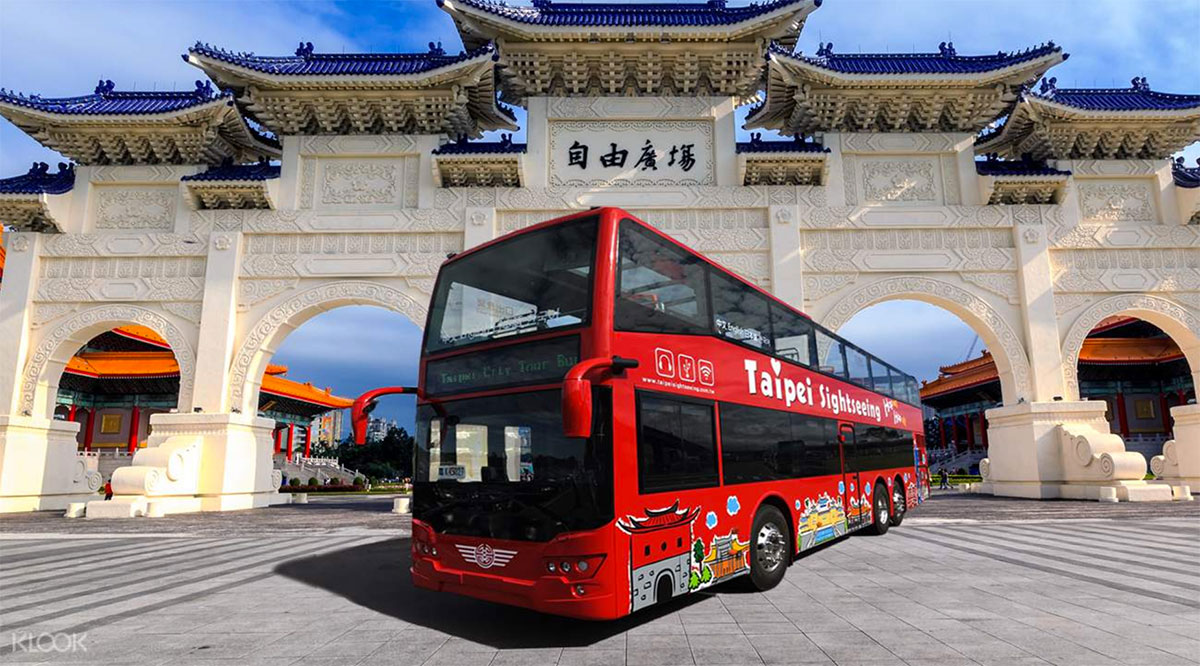 Cost: Starts at TWD 270 (Picture borrowed from Klook.com)
2. Eat Street Food and Go Shopping at a Night Market
Night markets are synonymous with Taipei. With several to choose from throughout the city, you should go to a different one every night if you can. If not, then Shilin and Raohe are two that you absolutely must go to. Open daily from 5PM to 12MN, you'll find great bargains and some of Taipei's best street food at these open air night markets.
Check out my post on Raohe and Shilin Night Markets in Taipei to see what you can find there.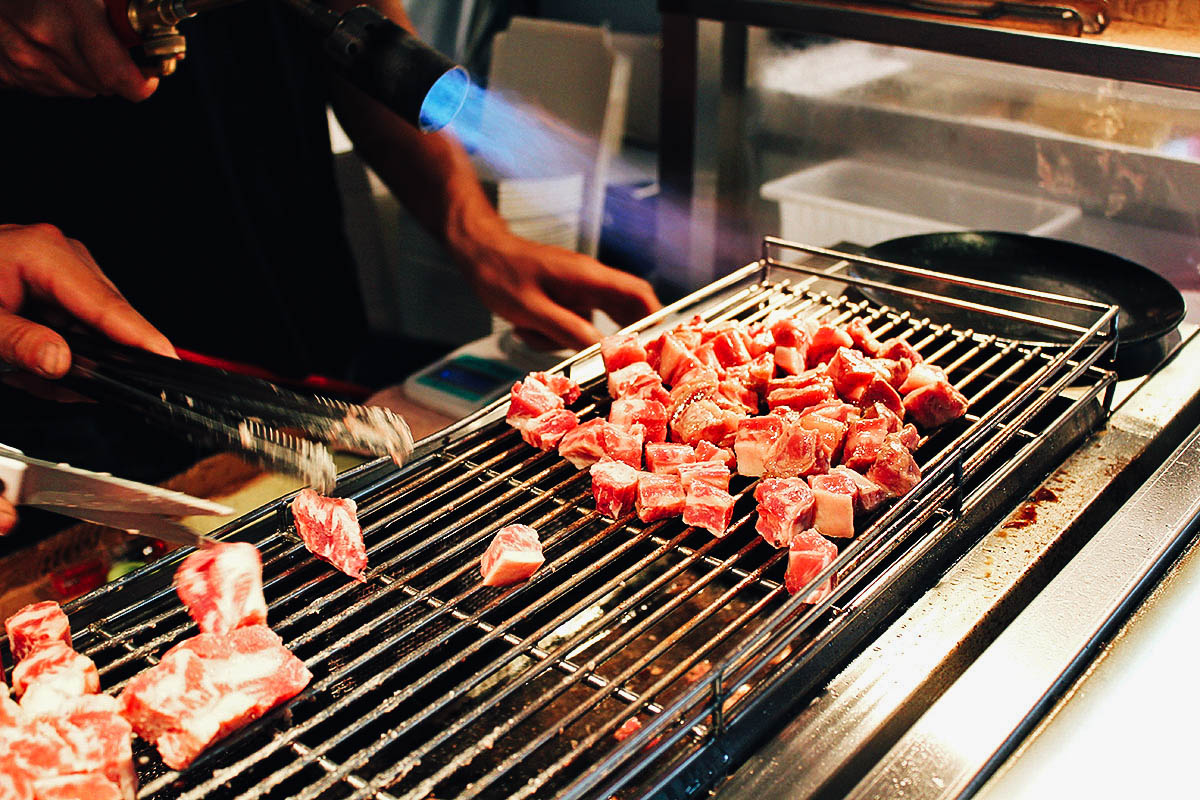 Suggested Length of Visit: 2-3 hrs / Admission: FREE
3. Get a Killer View of Taipei from the Taipei 101 Observatory
Once holding the distinction of being the world's tallest building, there's no better place to get a bird's eye view of Taipei than at the Taipei 101 Observatory. Located on the 89th floor, the world's fastest elevators will shoot you up to the observatory in a mind-numbing 37 seconds. Sure makes up for that 45-minute wait… 🙂 Tickets normally cost TWD 600 but you can get them at a discount if you purchase Taipei 101 Observatory E-tickets through Klook or Kkday.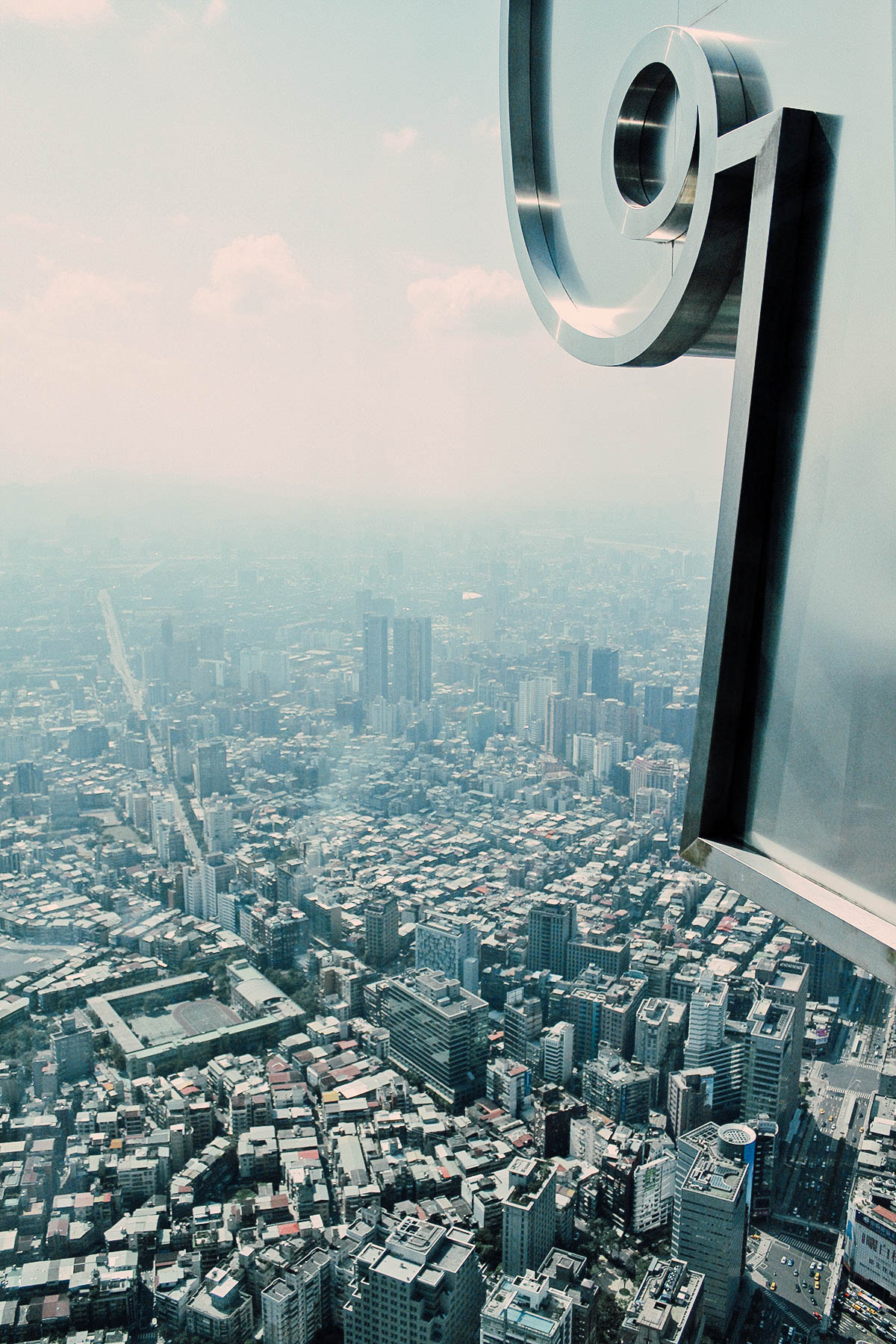 Suggested Length of Visit: 1-2 hrs / Admission: TWD 600 for adults
4. Go Urban Shrimping
This is one of the quirkier things to do in Taiwan but also one of its most fun. A popular Taiwanese pastime, you can spend a relaxing hour or two fishing for shrimp and drinking beers at one of these indoor concrete shrimping pools. Whatever you catch you can barbecue on the spot and eat.
Check out my post on urban shrimping in Taipei for more pictures and information.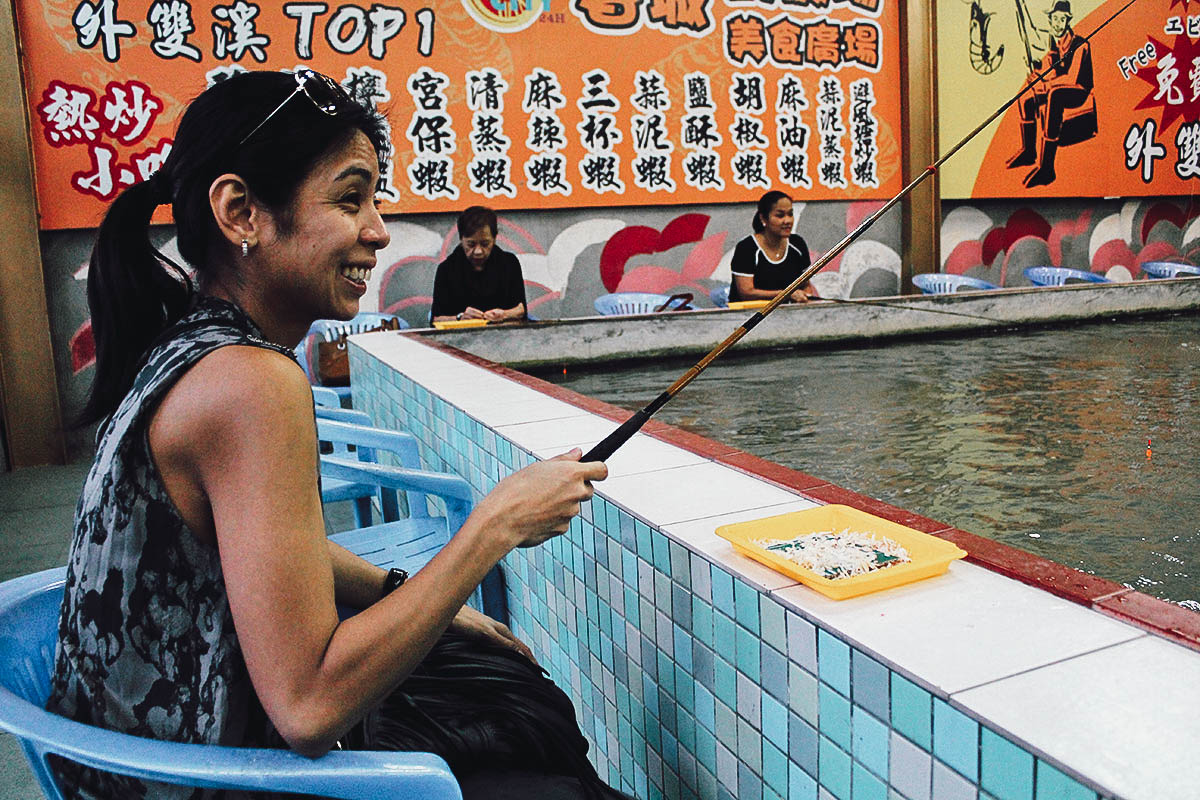 Suggested Length of Visit: 1-2 hrs / Cost: Minimum TWD 350
5. Feel Tiny at Chiang Kai-shek Memorial Hall
This is one of the most iconic structures in Taipei. If you have a friend or relative who's been to Taipei, then chances are they've posted a selfie with these gates in the background. 😆 A monument to former ROC president and KMT general Chiang Kai-shek, you'll be amazed by the sheer size of the place. It's MASSIVE.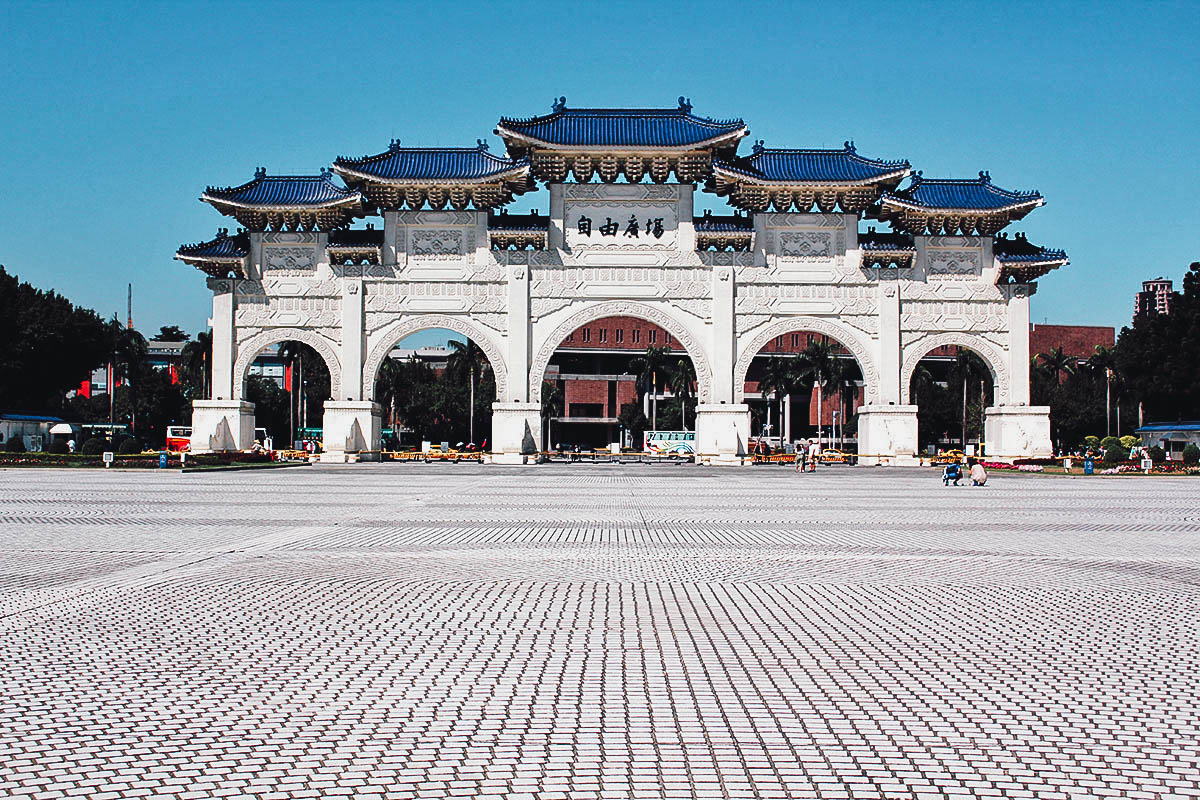 Suggested Length of Visit: 1 hr / Admission: FREE
6. Get Artsy at a Creative Park
Interested in something a little more contemporary than the National Palace Museum? If so, then look no further than Huashan and Songshan Creative Parks. Both are former factories that were repurposed into full-time arts and cultural venues. Apart from holding art exhibits and live cultural shows, they host fashion shows, product design expos, art seminars, and lifestyle bazaars all within an historic, industrial setting.
Check out my post on Huashan and Songshan Creative Parks in Taipei for more pictures and information.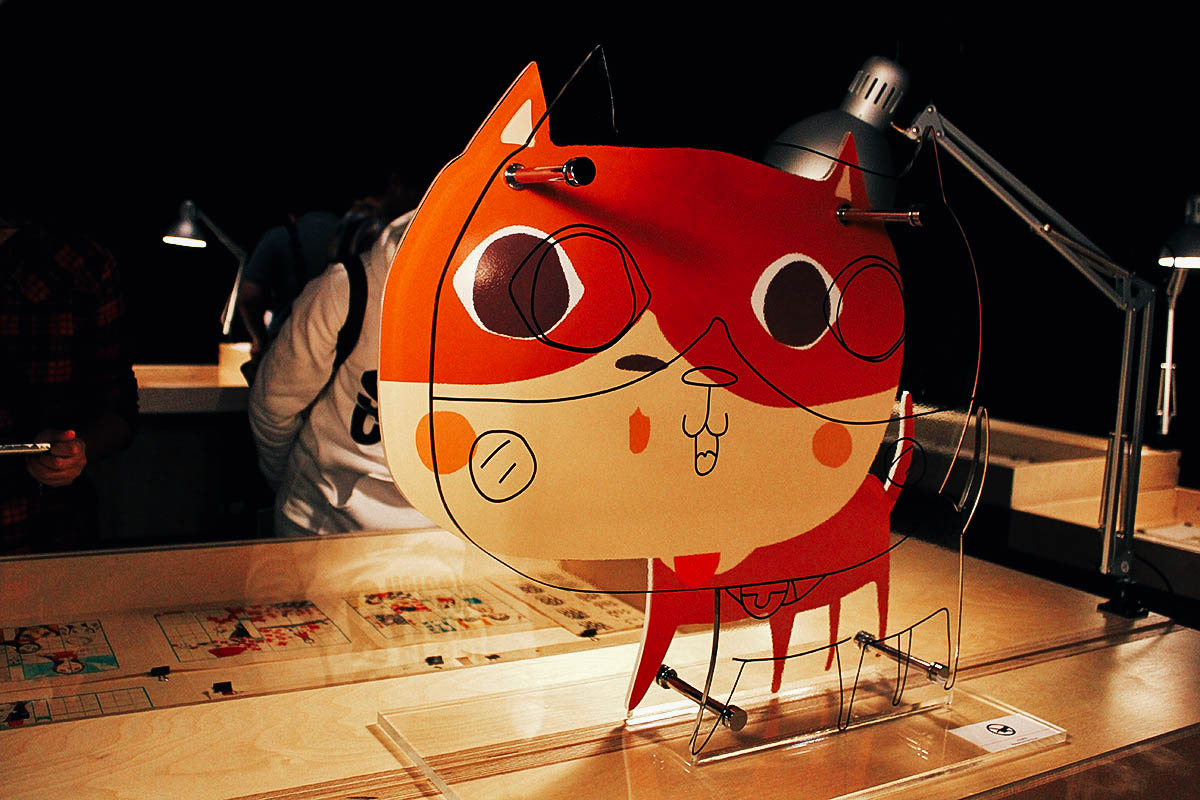 Suggested Length of Visit: 2-3 hrs each / Admission: FREE
7. Go Shopping in Ximending
Filled with trendy shops and boutiques, the Ximending area is where young Taiwan goes to shop and kill time. If you've been to Osaka or Seoul, then you'll find that it's similar to Shinsaibashi or Myeongdong.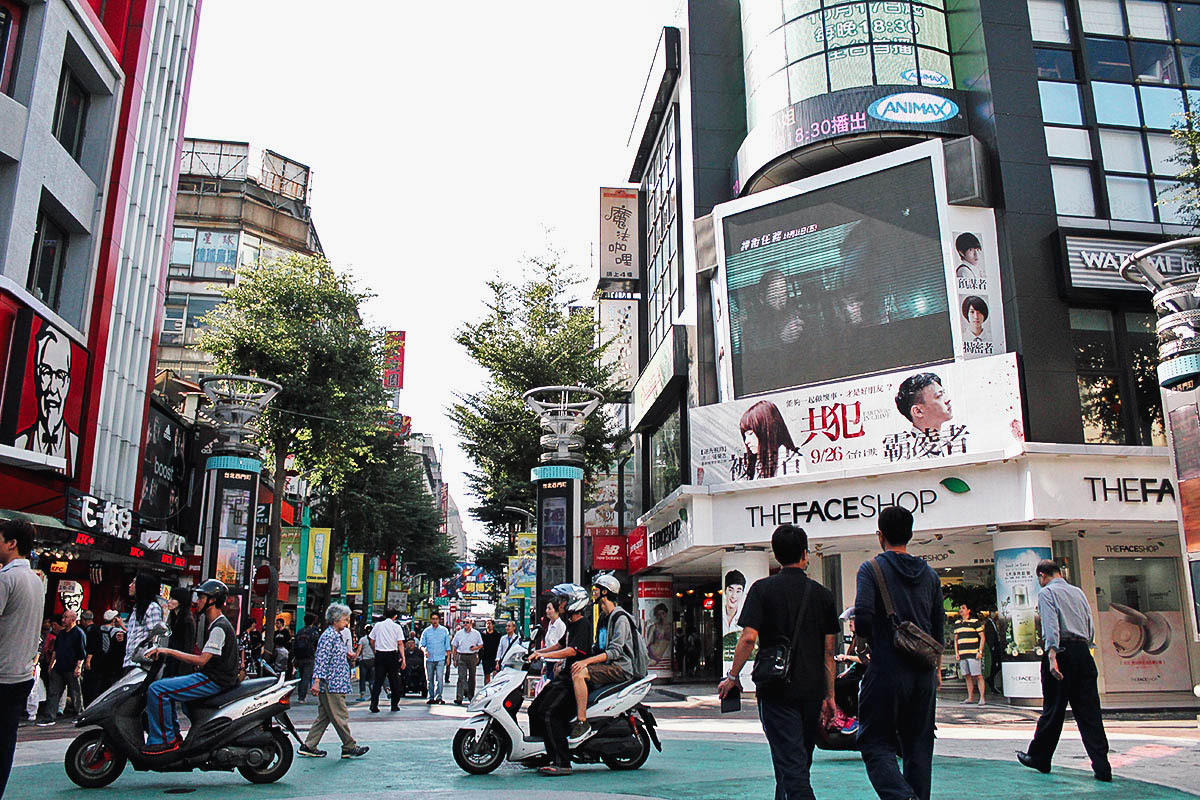 DAY TRIPS FROM TAIPEI
1. Jiufen Mining Town
I really wanted to visit this place but we just didn't have time. About an hour away from Taipei in the mountainous Ruifang District, Jiufen was once a prosperous gold mining town. Today, it's home to a maze of alleyways filled with interesting shops, teahouses, and food stalls. If you visit Taipei, then be sure to spend a day exploring this charming town. You can arrange for a full day tour of Jiufen and the northeast coast of Taiwan on Klook. If you prefer to explore on your own, then Klook offers just round trip transportation to Jiufen from Taipei too. You can check on Kkday for several Jiufen tour options as well. When we go back to Taiwan, this is the first place we'll visit.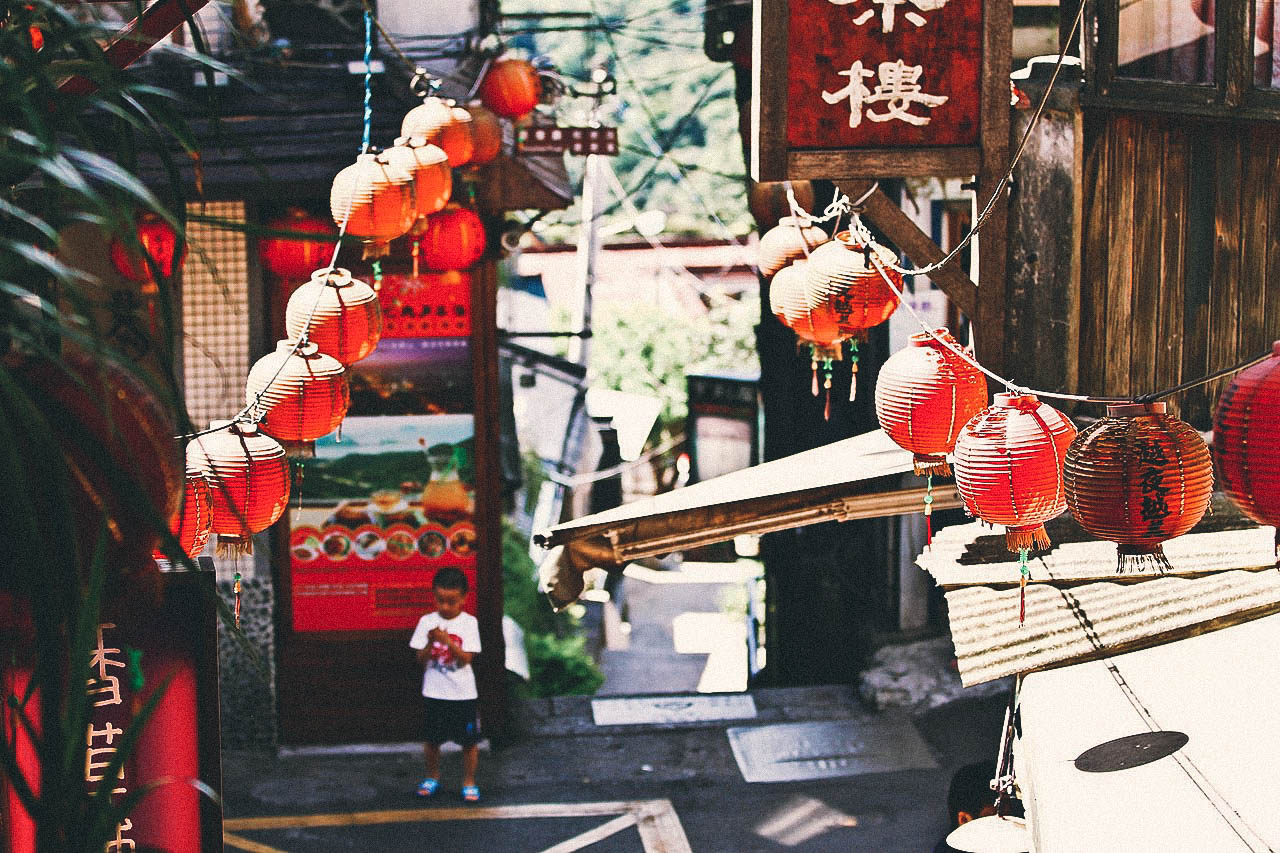 By Jordy Meow (Own work) [CC BY 3.0 (http://creativecommons.org/licenses/by/3.0)], via Wikimedia Commons
2. Taichung & Fengjia Night Market
Taichung is Taiwan's second biggest city. It's located about an hour south of Taipei via HSR train. If you travel for food like we do, then there are plenty of things to love about Taichung. It's the birthplace or boba or bubble tea and is home to the biggest night market in Taiwan – Fengjia Night Market. That alone makes it worthy of a day trip!
Check out my post on Taichung for information on how you can spend a day there from Taipei.

To inspire you to visit Taipei, check out this awesome 10 Days in Taiwan video by Sean Wang. Just watching it makes me want to experience Taiwan all over again. 🙂
TAIWANESE FOOD GUIDE
Taipei is all about night markets and street food. There are so many delicious and interesting things to eat there. I'll come up with a more comprehensive food guide after our next trip but for now, you can check out this post for a list of 9 things to eat in Taiwan.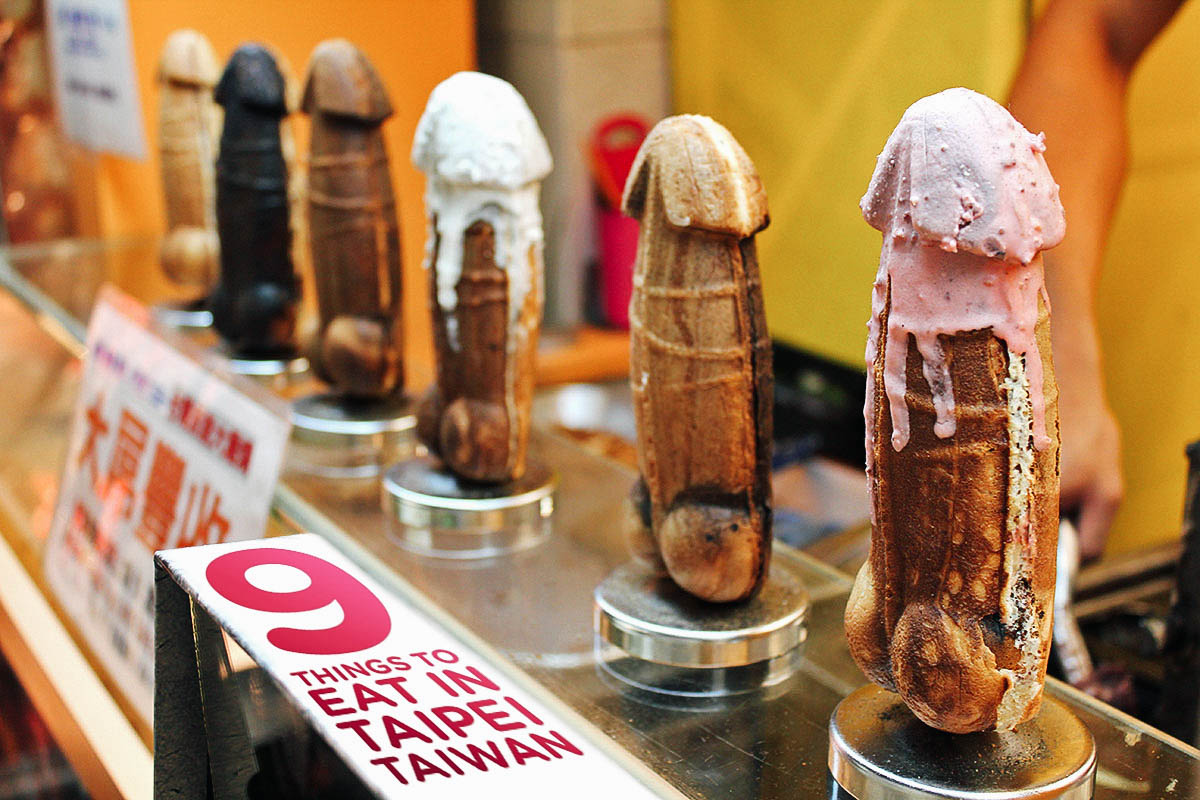 Red-bean-filled penis waffles
WHERE TO EAT IN TAIPEI
1. Din Tai Fung
Home to what's said to be the world's best xiao long bao. If you've never had a xiao long bao before, it's a type of pork dumpling filled with hot soup. There are many Din Tai Fung branches throughout the city but I suggest going to the one at Taipei 101. You can have lunch there before heading up to the observatory.
Check out my post on Din Tai Fung in Taipei for more pictures and information.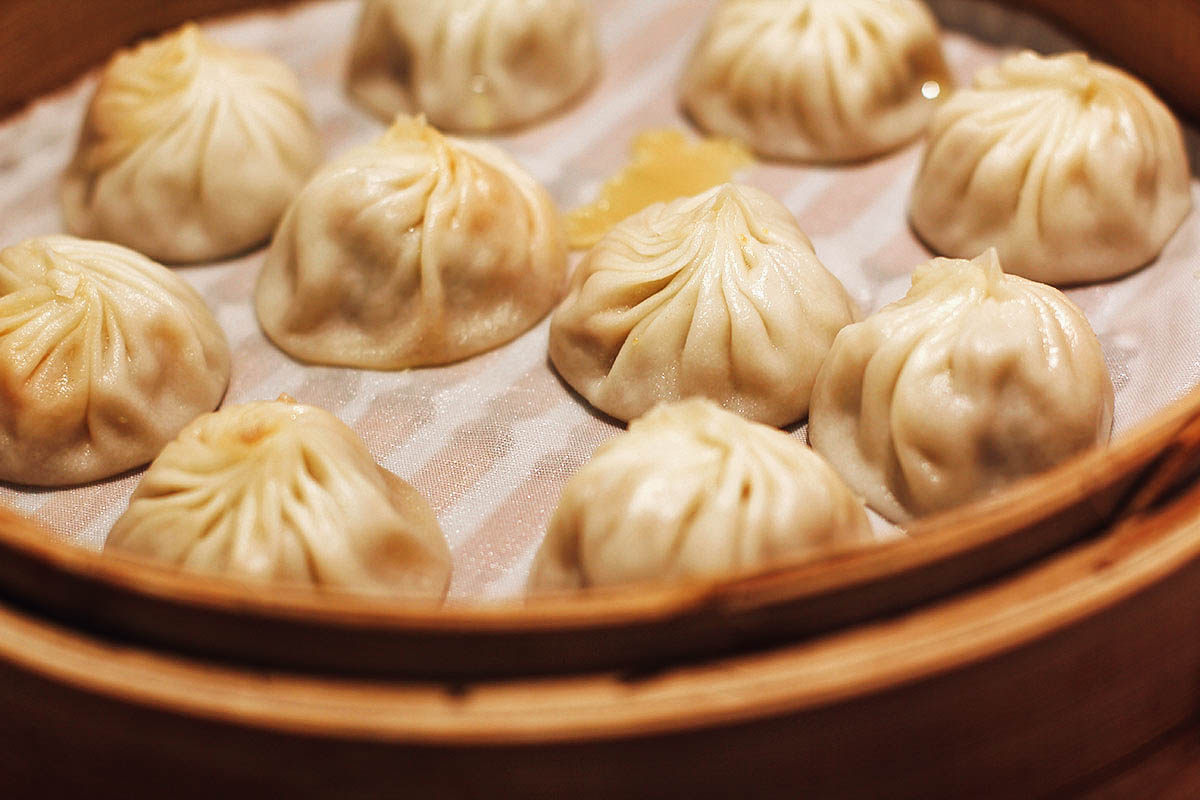 Expect to Pay: Around TWD 500 per person with drinks
2. Addiction Aquatic Development
A wet market / gourmet grocery / restaurant, Addiction Aquatic Development is home to some of the best and freshest seafood we've ever had. If you like seafood, then there's absolutely no way that you can go to Taipei without enjoying at least one meal here. It's so effing good. And surprisingly affordable too, considering the quality.
Check out my post on Addiction Aquatic Development in Taipei for more pictures and information.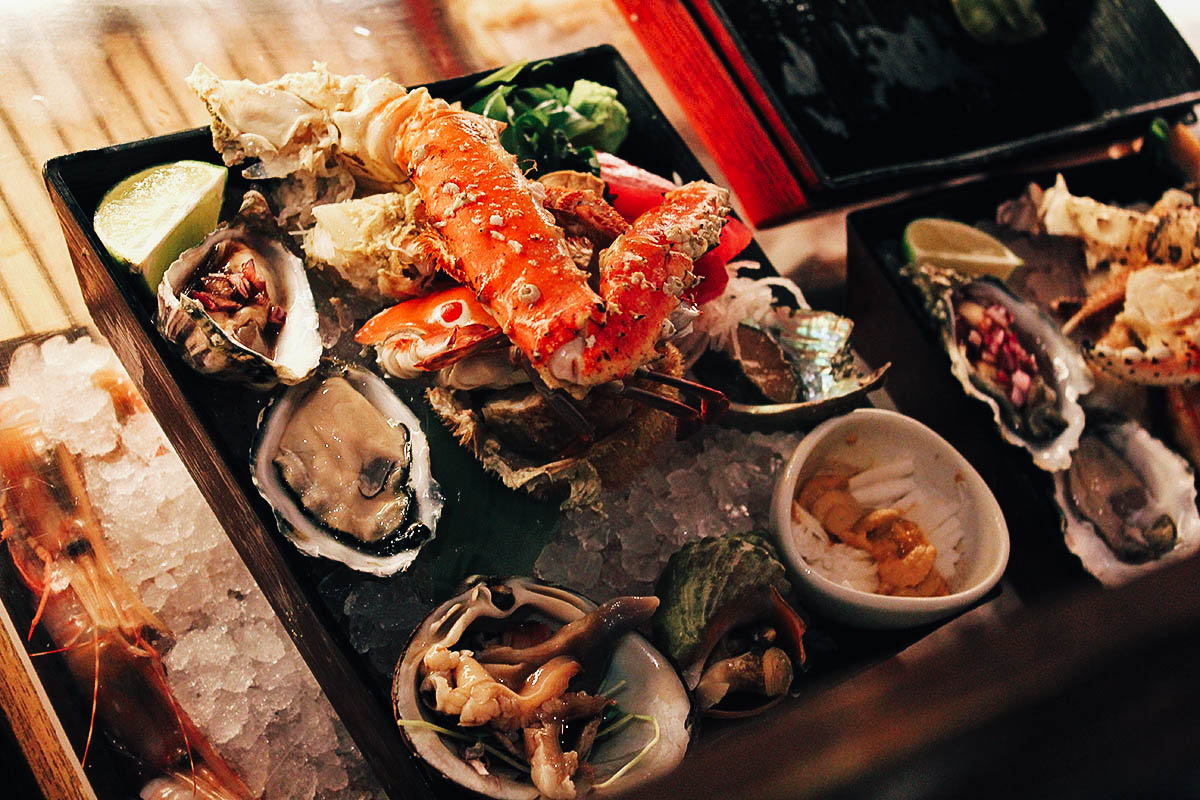 Expect to Pay: Around TWD 750 per person with drinks
3. Night Markets
With so much delicious street food to be had at night markets, there's really no need to have dinner anywhere else. You can stuff your face silly with just USD 8-10. Raohe is known for having some of the best street food in Taipei so I would definitely start there.
Check out my post on Raohe and Shilin Night Markets in Taipei for more pictures and information.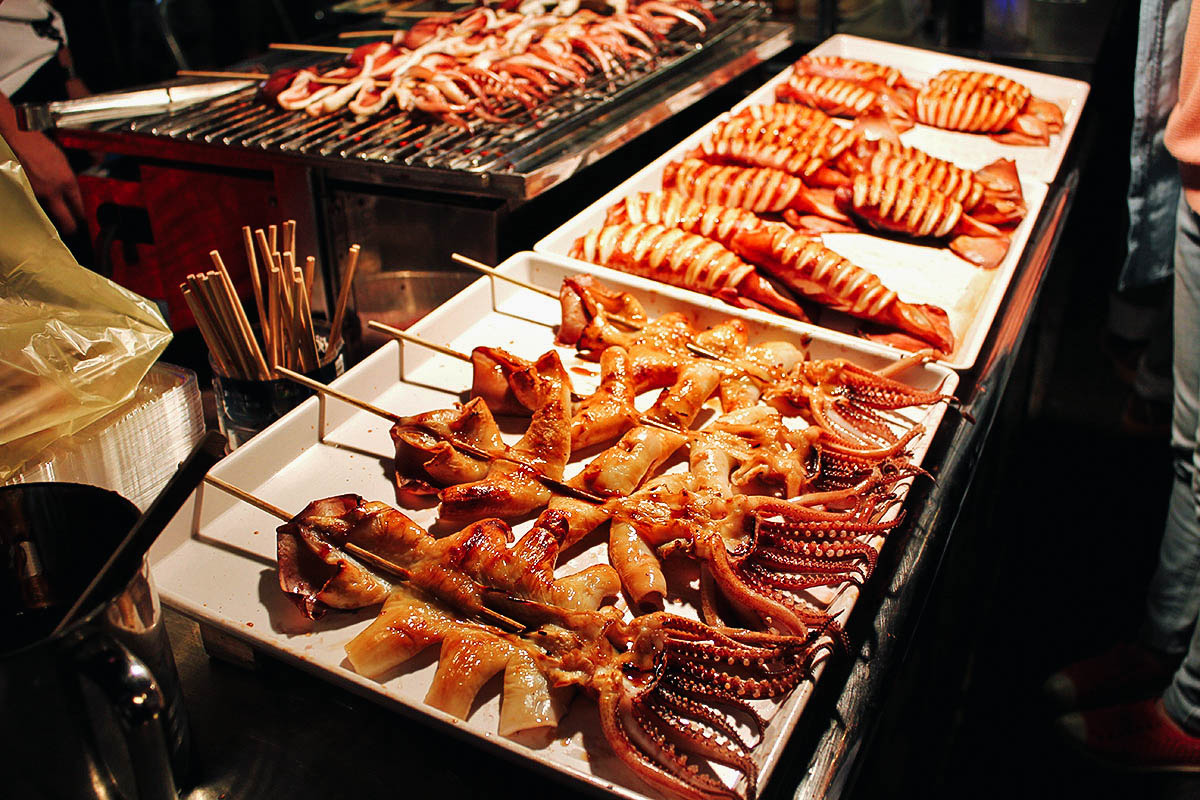 Expect to Pay: Around TWD 250 per person with drinks
4. Tao Yuan Street Beef Noodle Shop
You know that a restaurant is good when it doesn't have an actual name. Known only by its address — No. 15, Tao Yuan Street — this tiny, nondescript shop is one of just three restaurants that can lay claim to the title "Best Beef Noodle Soup" in all of Taipei.
Located near Ximending, you can have lunch here before shopping in the area. Get off at Ximen MRT station, exit 3. Go straight along Baoqing Road, then turn left on Taoyuan Road. You'll see the restaurant on your right just before a minor T-junction. Follow the link to see where it is on Google Maps.
It's pretty well-known so if you have any trouble finding it, just show the Chinese address to anyone on the street and they'll help direct you to the place.
桃源街牛肉麵/老王記牛肉麵大王 (Taoyuan Street Beef Noodles/Old Wang Beef Noodles)
台北市桃源街十五號 (No. 15, TaoYuan Street, Jhongjheng District, Taipei City)
Tel: +886 2 2375-8973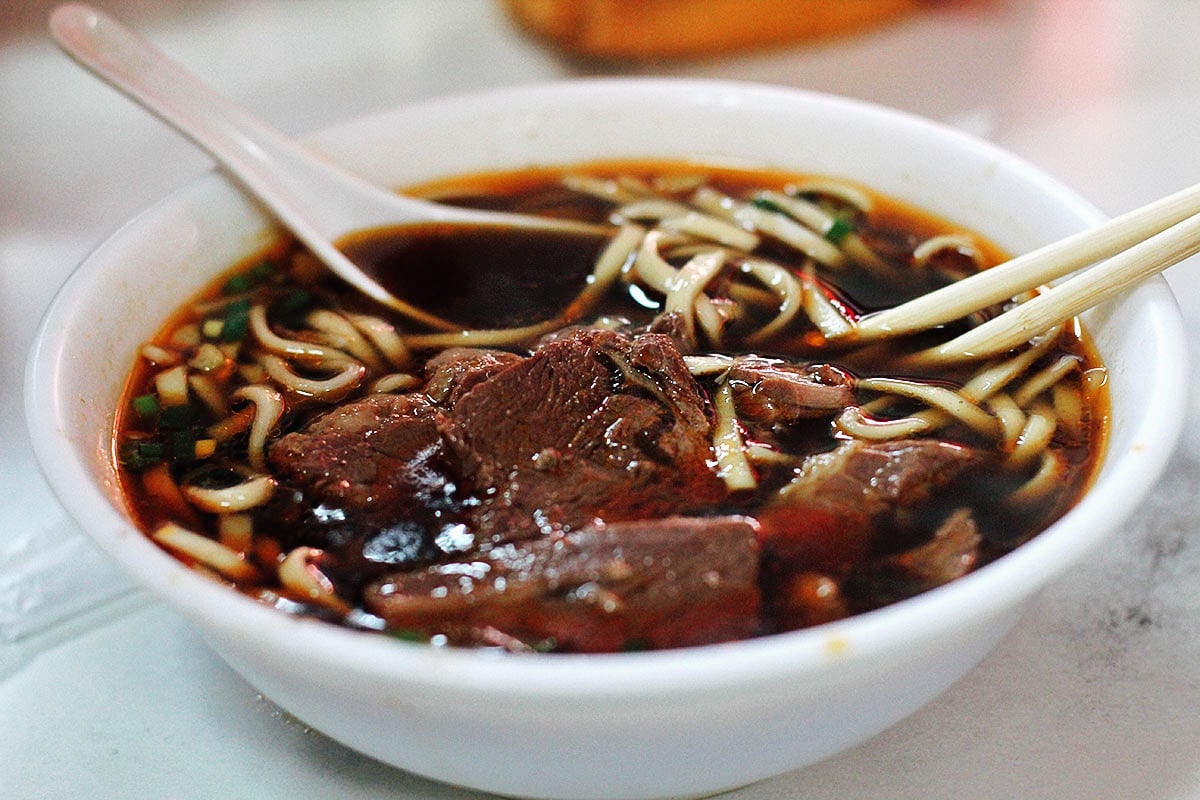 Expect to Pay: Around TWD 180 per bowl
INTERACTIVE TAIPEI MAP
To help you get your bearings, I've created this interactive map so you get a better sense of where everything is. Most of the places recommended in this guide are pinned on this map. (Tap on the thumbnail below to open up in full screen mode on mobile.)
TRAVEL TIPS
1. Plan Your Trip with Sygic Travel (formerly Tripomatic)
This is a great app. Available for free on desktop and mobile devices, Sygic Travel allows you to plot points of interest on a map, including your hotel, so you can see exactly how far you need to travel between points. It enables you to group attractions together so you can visit them in order and minimize travel time. With pocket wifi, it turns your mobile phone into a GPS tracking device so people with a poor sense of direction don't get lost. Pretty awesome right? Check out my post on the Sygic Travel app for more information.
2. Rent A Pocket Wifi Device
A constant wifi connection is a must when traveling these days. You'll need it to do research, convert currencies, use ride-sharing apps, post on social media, etc. We never go anywhere now without renting a pocket wifi device first.
On a recent trip to Taichung, I rented a 4G pocket wifi device from Kkday for NTD 79 a day. I picked it up and dropped it off a Taoyuan International Airport. It gave me fast and reliable access throughout my trip, not to mention excellent battery life. I would switch it on at 8AM and it would last me until around 5PM. It came with a power bank as well. If you rent a pocket wifi device from Kkday, then you can pick it up at Taoyuan, Songshan, or Kaohsiung airports.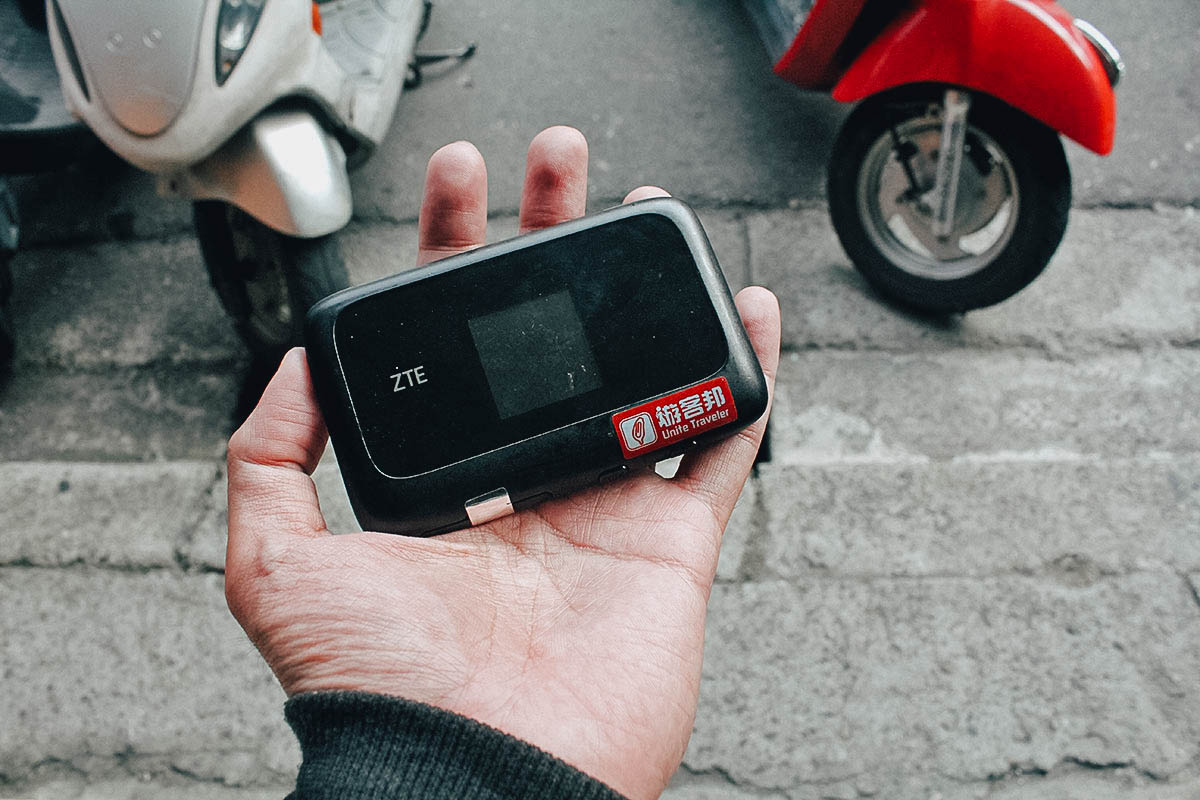 3. Check for Discount Passes
There are many websites that offer discount passes to tours and services. The websites I've used the most are Klook and Kkday. They offer deals in many cities around the world, including Taipei. If you're looking for deals on tours, entrance fees, airport transfers, etc, then you may want to search through these lists of Taipei attractions on Klook or Kkday. You'll often find interesting activities that you wouldn't normally think of yourself so it's definitely worth a look.
Another good website to look through is Viator. I haven't used it as much (probably because of the less pleasing interface) but they're actually one of the leading online providers of tours and activities. They're owned by TripAdvisor so you know they're solid. You can follow this link to search through tours and activities in Taipei on Viator.
4. Get Travel Insurance
To be honest, it was only recently when we started buying travel insurance. Back when we traveled just once or twice a year, it felt more like an added expense, one we didn't need. But now that we travel more, I understand how important it is to have it. Fact is, you never know what can happen on the road. It's one of those things that you hope you never have to use, but if you do wind up needing it, then you'll be thanking the gods that you had it. Or cursing them if you didn't.
Though I do find it more necessary now, it's still up to you if you think you need it. A 3-day food trip to Penang may not really call for insurance but if you plan on doing more active things like bungee jumping, atv riding, or even going on a city bike tour, then I'd say travel insurance is a must.
We buy travel insurance from World Nomads because every long-term traveler I know recommends it. From the sound of it, they're the best in the industry by a mile. Not only do they provide a high coverage limit for medical expenses (up to USD 5 million with the Standard package), they also cover things like trip delays, missed flight connections, theft/loss of passport and luggage, etc. Follow the link or use the widget below to learn more and get a free travel insurance quote from World Nomads. It's super quick and easy.
5. Bring the Right Power Adapter
Taiwan has Type A and Type B electrical outlets so be sure to bring the right power adapters for your devices. Electrical voltage is 110V and the standard frequency is 60Hz.
HOW TO GET AROUND
Taipei's MRT is one of the easiest, cheapest, and most convenient subway systems we've ever used. If you're staying within city limits, then you shouldn't need any other form of transportation. The only time a taxi became necessary was when we took one from Shilin MRT station to the shrimping pools clustered north of the city.
Most MRT rides will cost you no more than TWD 30 per destination. You can get an unlimited daily pass for TWD 150, but you may not need it. We traveled exclusively by MRT on most days and we never paid more than TWD 100 total on any given day. But f you think you'll need it, then you can follow this link to see the available metro passes in Taipei.
For Filipinos
VISA-FREE TRAVEL TO TAIWAN
TECO has made an official announcement that beginning 1 November 2017, Philippine passport holders will be able to travel to Taiwan visa-free for stays of up to fourteen (14) days, provided the following requirements are met. The visa-free program will be on a 9-month trial period from 1 November 2017 until 31 July 2018.
The applicant's passport is valid for at least six months starting from the date of arrival in Taiwan.
The applicant has an onward/return air/ferry ticket and a visa for that destination (if required).
The applicant has no criminal record in Taiwan.
The applicant can provide proof of accommodation (or host/sponsor's contact information or arrangements of tour, travel, visit, events and meeting etc.) in Taiwan.
HOW TO GET CHEAP AIRLINE TICKETS
Ever since I scored my first piso fare from Cebu Pacific, I've been hopelessly addicted to cheap airline tickets. Our tickets to Taipei with a shared 15 kg baggage allowance came out to just a little over PHP 5,000 each roundtrip. How awesome is that?
These piso fare tickets are limited and sell fast, so you have to be quick. To give yourself an advantage, I suggest liking their Facebook page and following them on Twitter to quickly find out about these seat sales. If you check off "Get notifications" on Facebook, then you'll receive instant alerts every time they post something new.
Other airlines that have direct flights from Manila to Taipei are Philippine Airlines, EVA Air, and China Airlines.
Have fun!
I'm not an expert on Taipei but I do hope that you find this post useful. I'm only sharing some of the things that I learned from our trip. If you have any suggestions or simply want to share your own experiences, then please feel free to do so in the comments section below. You're welcome to join our Facebook Travel Group as well. We'd love to hear from you.
Thanks for stopping by and have fun in Taiwan!
OUR GEAR
These are some of the things we brought with us to Taiwan. As you can tell, I document a lot of content for this blog so most of the things I bring are photo and video equipment. 😆 If you'd like to see what other gear we use, then you can check out our "What's in Our Backpack?" post. (NOTE: The following links are Amazon affiliate links.)
Disclosure
Some of the links in this guide are affiliate links, meaning we'll get a small commission if you make a purchase at NO extra cost to you. We only recommend products and services that we use ourselves and firmly believe in. We really appreciate your support as this helps us make more of these free travel guides. Thank you!