As Far as the Eye can See at Taipei 101, Taiwan
While standing 1,285 ft above ground at the Taipei 101 Observatory, I learn that I've traveled a little over one tenth of the world. How? TripAdvisor told me.
They have this fun little Facebook app that lets you pin destinations to a map. You can pin all the cities that you've been to, highlight the ones that you love, and put cities onto your bucket list.
Pinning Taipei to my map, I watch the counter move up one tick and congratulate me for traveling 13% of the world. 13% doesn't sound like much, but that translates to roughly 275,938 miles, 145 cities, 18 countries, and 4 continents. Not too shabby I guess when it's spelled out like that.
Still, it's thousands of miles away from my bucket list goal of 25%. If it's true that travel is the only thing you buy that makes you richer, then I'll be measuring my life not with how much stuff I have, but with how much of the world I've seen. Which is why this blog is so dear to me. Aside from being our memoir, it's a reminder to always be open-minded and live a curious life.
I'm sure all travel bloggers can relate to this, but looking back at our old travel photos never fails to put a smile on my face. I don't feel that way about anything material I've ever bought. With a wealth of memories and stories to share and leave behind, I'd be happy to die knowing that I lived as rich and curious a life as I could.
On top of the world today and one pin closer to becoming a wealthy man, I feel abundantly grateful for that 13% and all that's yet to come.
Taveling is ♥. Traveling with your significant other is ♥ ♥. LOVE Sculpture at the back of Taipei 101.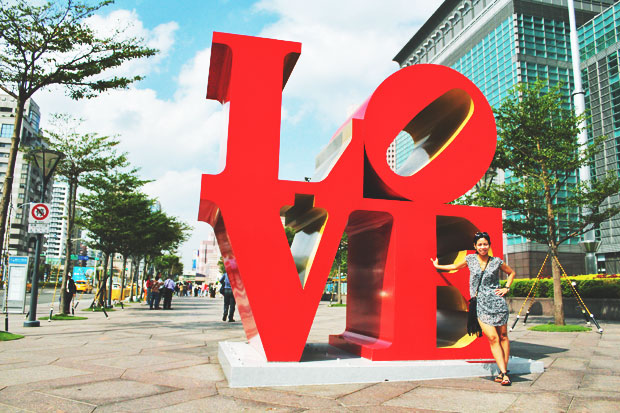 Womb sculpture made with cable from Taipei 101's record-setting elevators. Ascending at a rate of 1,010 meters per minute, Taipei 101's elevators hold the Guiness record for world's fastest elevators. They launch visitors from the fifth floor to the 89th-floor observatory in just 37 seconds!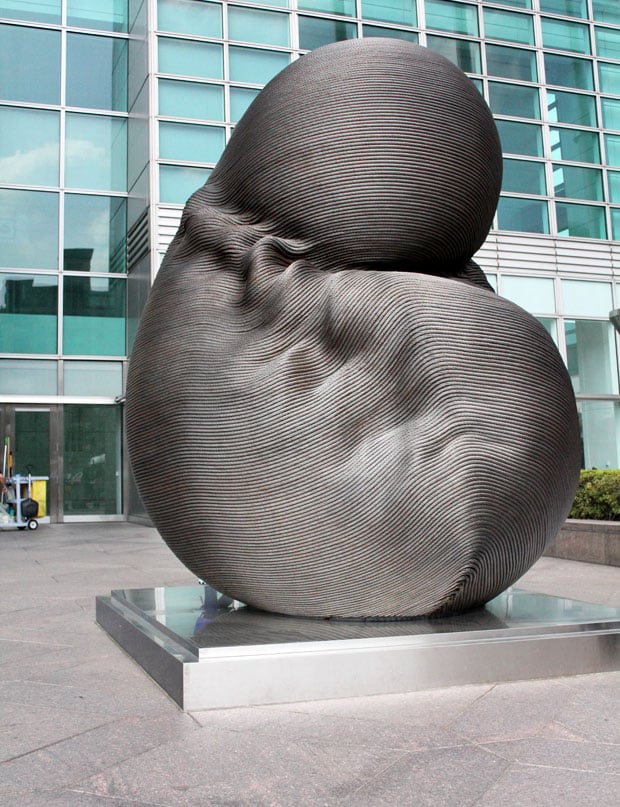 Undulating forms. Beautiful how something so organic-looking was created using industrial materials.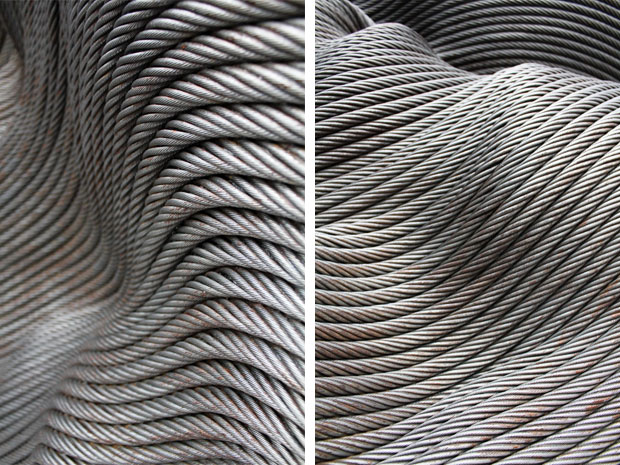 Series of domino-like walls made with colorful, translucent bricks. They each had Chinese writing on them. Names of donors maybe? What sayest thou, Reneelicious? ♥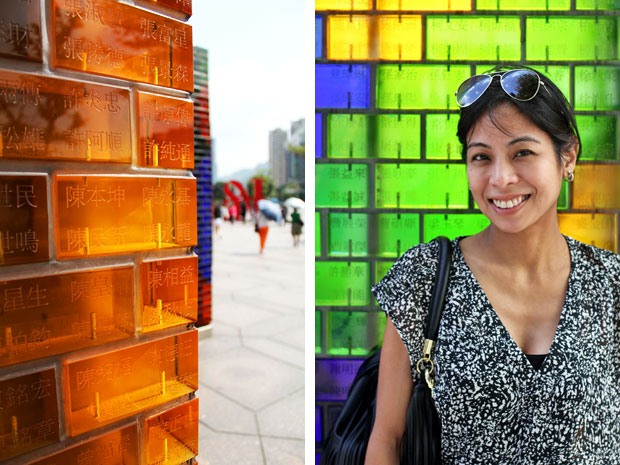 Makes you feel kinda puny doesn't it? Consisting of 101 floors and standing 1,667 ft from ground to spire, Taipei 101 once held the distinction of being the world's tallest building. It surpassed the Petronas Towers in 2004 before being displaced by the Burj Khalifa in 2010.
An icon of modern Taiwan, it's currently recognized as "the world's tallest green building" by the LEED, boasting an energy consumption that's 30% lower than that of an average building of its size.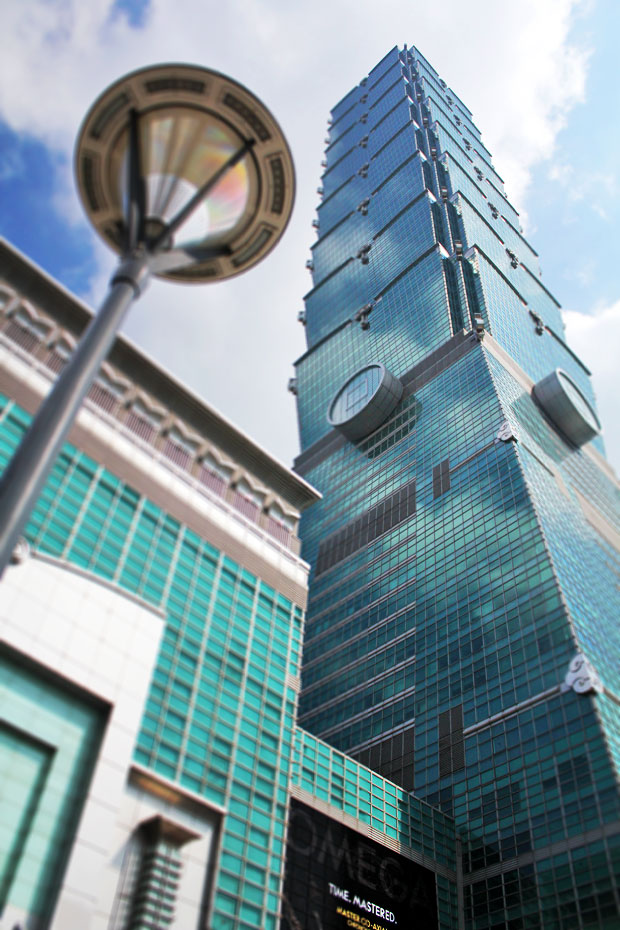 Taipei 101 shopping mall. Nice huh? At its basement you'll find a branch of the famed Din Tai Fung restaurant, home to what's said to be the world's best xiao long bao.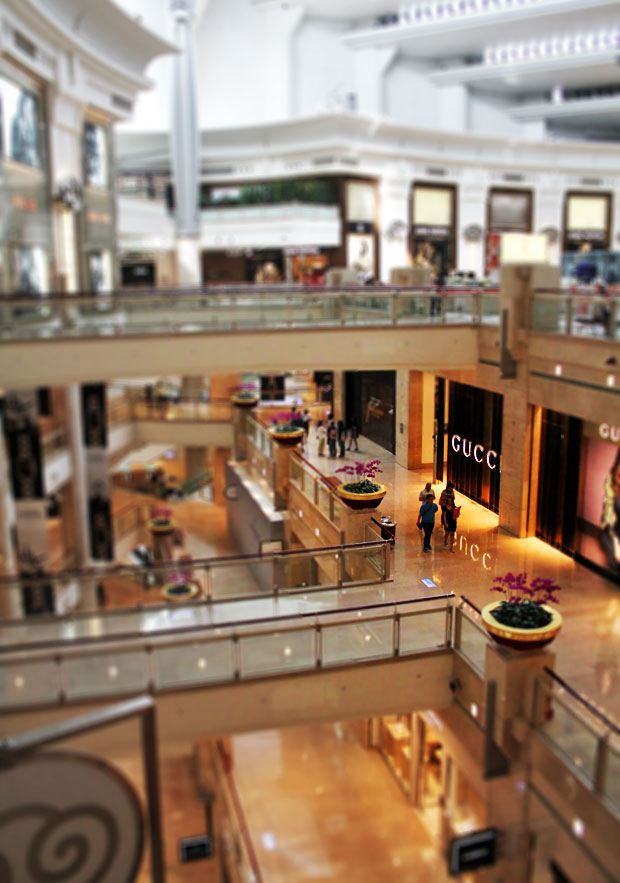 Filled mostly with ultra high-end designer brands like Burberry and Dior, Taipei 101 shopping mall makes you feel small in a different way. Spared at no expense, even the stores themselves look like architectural marvels.
TIP: Bring your passport if you plan on doing any shopping at Taipei 101. Single-receipt purchases of NT$ 3,000 and above will entitle tourists to a 5% tax rebate.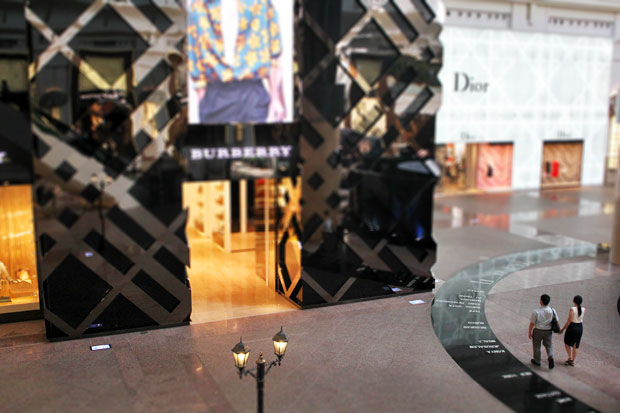 Tickets to the observatory can be purchased on the 5th floor of the shopping mall for NT$ 600 per adult, but discounts are available. More information at the bottom of this post.
Though they move fairly quickly, lines to the elevators can be a little long with an average wait of around 45 minutes or so. But as previously mentioned, their elevators are the world's fastest and will shoot you up to the 89th floor in just 37 seconds. Amazingly, you hardly feel it.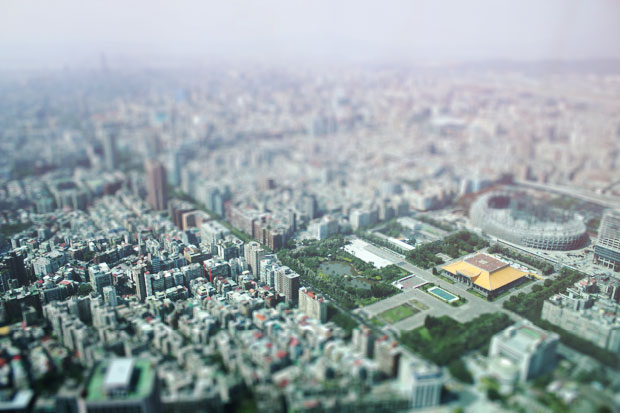 Upon entering the observatory, you'll be given an audio and video guide that you can play at marked stations. This will tell you everything you need to know about Taipei 101, like why it has 101 floors for example. With 100 being a traditional symbol for perfection, 101 is said to be 1 better than that.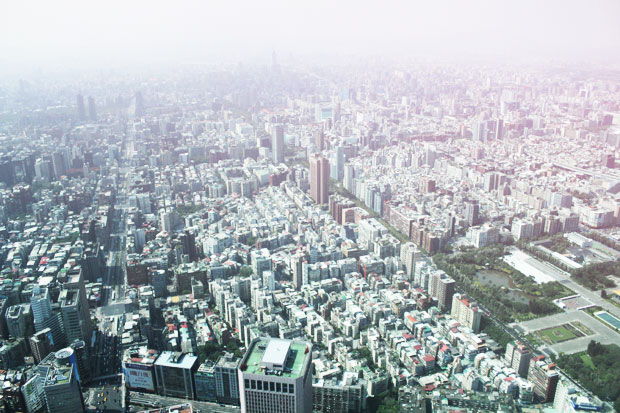 Like I said, as far as the eye can see. I've been to the top of tall buildings before but nothing like this. This was really impressive. Must be awesome to stand here on New Year's Eve.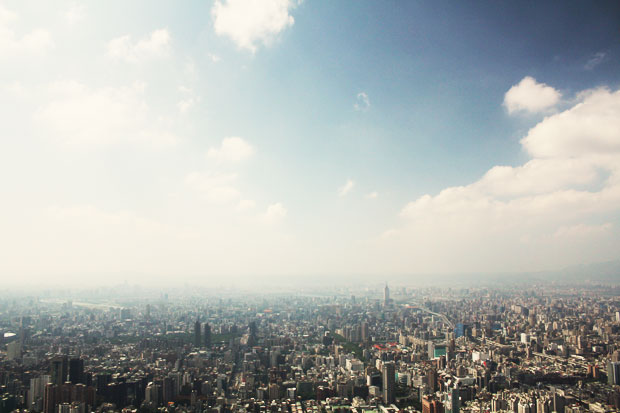 Not sure if this was intended, but there were these structural ornaments all around that resembled the number 9. 9 is said to be an auspicious number because it shares the same pronunciation with 久 (Jiu), which means "everlasting". Again, as far as the eye can see.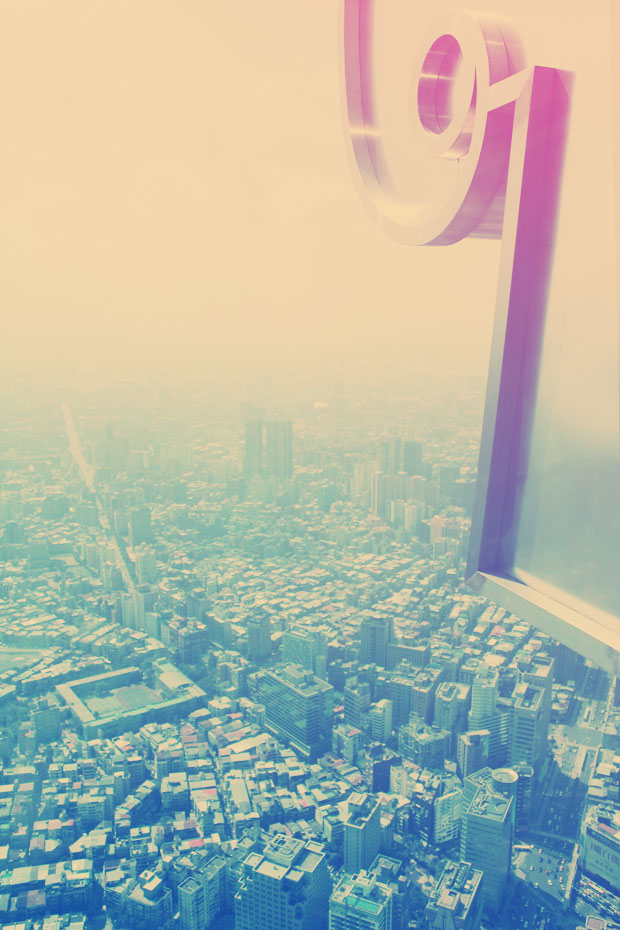 As mentioned up top, I'd like to have traveled at least 25% of the world by the time I hit the bucket. That includes a stop on all continents, including Antarctica. Destinations occupying the very top of my list are Machu Picchu, Madagascar, Bhutan, the Galapagos Islands, and Cuba. With a good twenty years of wanderlust ahead of us and not much want for material possessions, that's a pretty realistc goal don't you think? What about you? What are some of your most coveted bucket list destinations?
As mentioned above, tickets to the observatory are NT$ 600 per adult. You can get it for just NT$ 510 if you purchase it in advance from Klook. Follow this link to buy Taipei 101 Observatory tickets from Klook.
Taipei 101
No.7, Sec. 5, Xinyi Rd., Xinyi Dist., Taipei City 110, Taiwan, ROC
Tel: +866 2 8101 7777
Website: taipei-101.com.tw
Facebook: 101OB
Suggested Length of Visit: 1 hr
HOURS OF OPERATION:
Observatory – Mon-Sun, 9AM-10PM (ticket sales and entry end at 9:15PM)
Shopping Mall – Sun-Thurs, 11AM-9:30PM / Fri, Sat, Day before holiday, 11AM-10PM
OBSERVATORY ADMISSION:
NT$ 600 – Adults
NT$ 540 – Children under 12
NT$ 540 – Group ticket for 20 or more
NT$ 1,200 – Fast pass
HOW TO GET THERE:
By subway, get off at Taipei 101 World Trade Center MRT station, exit 4.
Disclosure
Some of the links in this post are affiliate links, meaning we'll get a small commission if you make a purchase or reservation at NO extra cost to you. We really appreciate your support as this helps us keep this website going. Thank you!
JB is one half of Will Fly for Food and its chief itinerary maker.  He's the one to blame for all the crappy photos and verbal diarrhea on this blog.  Don't listen to him.
Latest posts by JB Macatulad (see all)