We were having sushi in Shinjuku with our tour guide Nori when I asked him if he could name three or four dishes that best represented Tokyo cuisine. He thought about it for a moment before answering.
"That's a difficult question to answer because Tokyo has become such a melting pot. It's hard to narrow it down to just a few dishes."
He's right. Like New York, L.A., or any other large metropolitan city, Tokyo has become a melting pot of people from different parts of Japan. They've all brought their regional cuisines with them so you can pretty much get whatever you want in Tokyo. Dishes like Fukuoka's motsunabe, Sapporo's jingisukan, and Osaka's takoyaki are well represented here.
In light of that, I wanted to come up with as well-rounded a food guide as possible to adequately represent Tokyo's cuisine. Japan is one of the world's best countries for food and at the center of all that culinary excitement is Tokyo.
I consulted with locals, Tokyo food blogs, and restaurant review sites to come up with this list of the best restaurants in Tokyo. Itadakimasu!
THE BEST RESTAURANTS IN TOKYO
In this guide you'll find a mix of the best restaurants in Tokyo serving a good range of food. Popular dishes like sushi and ramen are well represented here, as are lesser known Tokyo specialties like monjayaki and fukagawa meshi.
This may come as a surprise to you but some restaurants in the city have developed a reputation for making pizzas that rival those in Naples. Savoy, the pizzeria featured in an episode of Ugly Delicious, is included in this list as well.
1. Nisshin Tasuke
We wanted to find good places to eat at Tokyo's famed Tsukiji Outer Market. When I read about Nisshin Tasuke and their JPY 200 unagi skewers, I knew we had found our first stop.
Unagi or barbecued freshwater eel is one of our favorite types of Japanese seafood. We usually eat it in sushi form or over rice in donburi boxes but this was the first time we've had them skewered like this. They were delicious – soft and smokey with the perfect amount of sweetness from the eel sauce.
Aside from unagi, Nisshin Tasuke offers other seafood skewers like squid and clam. We had grilled hotate (scallops) and they were excellent as well. They were soft and smokey and brushed with the same sauce as the unagi.
I'm not sure what they're called but the fleshy ring around the scallop (the gills?) was slightly charred making them a little crunchy in parts. Very nice!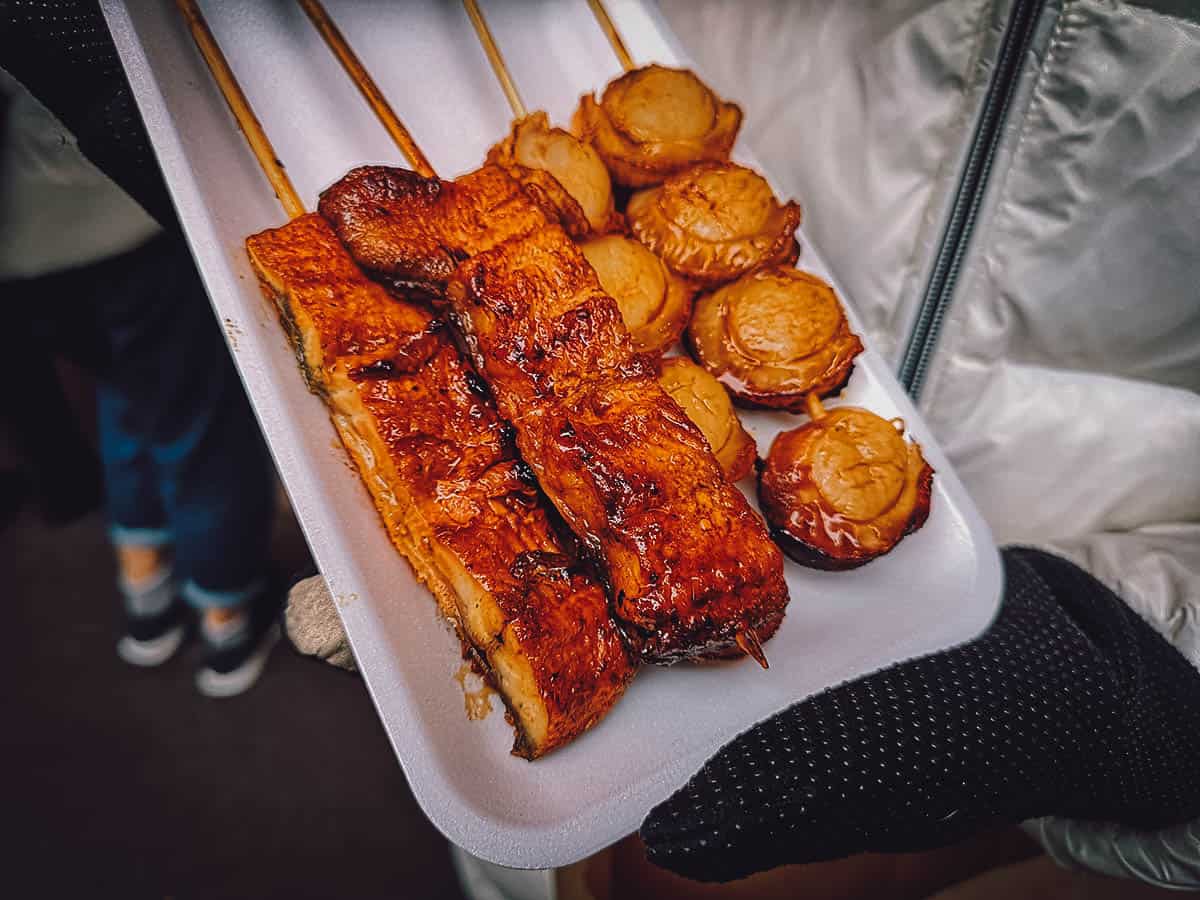 As you can see from their menuboards, Nisshin Tasuke specializes in eel. They offer unagi donburi bowls in varying sizes, starting at just JPY 980 which is a good deal for unagi, especially in Tokyo.
2. Minatoya
This beautiful bowl of anago (sea eel) and boiled scallops over rice was my very first meal in Tokyo. I love seafood so when I read about Minatoya and their kaisendon bowls going for as little as JPY 500, I immediately put them on the first day of my Tokyo itinerary.
Minatoya is a small seafood restaurant located in Ameyoko Market. They offer takoyaki balls and kaisendon bowls which are rice bowls topped with raw seafood. Minatoya gets their seafood from Tokyo's famed Tsukiji Market which explains why their seafood is so fresh and delicious.
This bowl of anago and scallops was fantastic and set me back just JPY 550. If you haven't tried anago, it's very similar to unagi or freshwater eel, but it's even softer in texture and isn't typically as heavily glazed with sweet eel sauce. I love it and try to order it as often as I can whenever we're in Japan.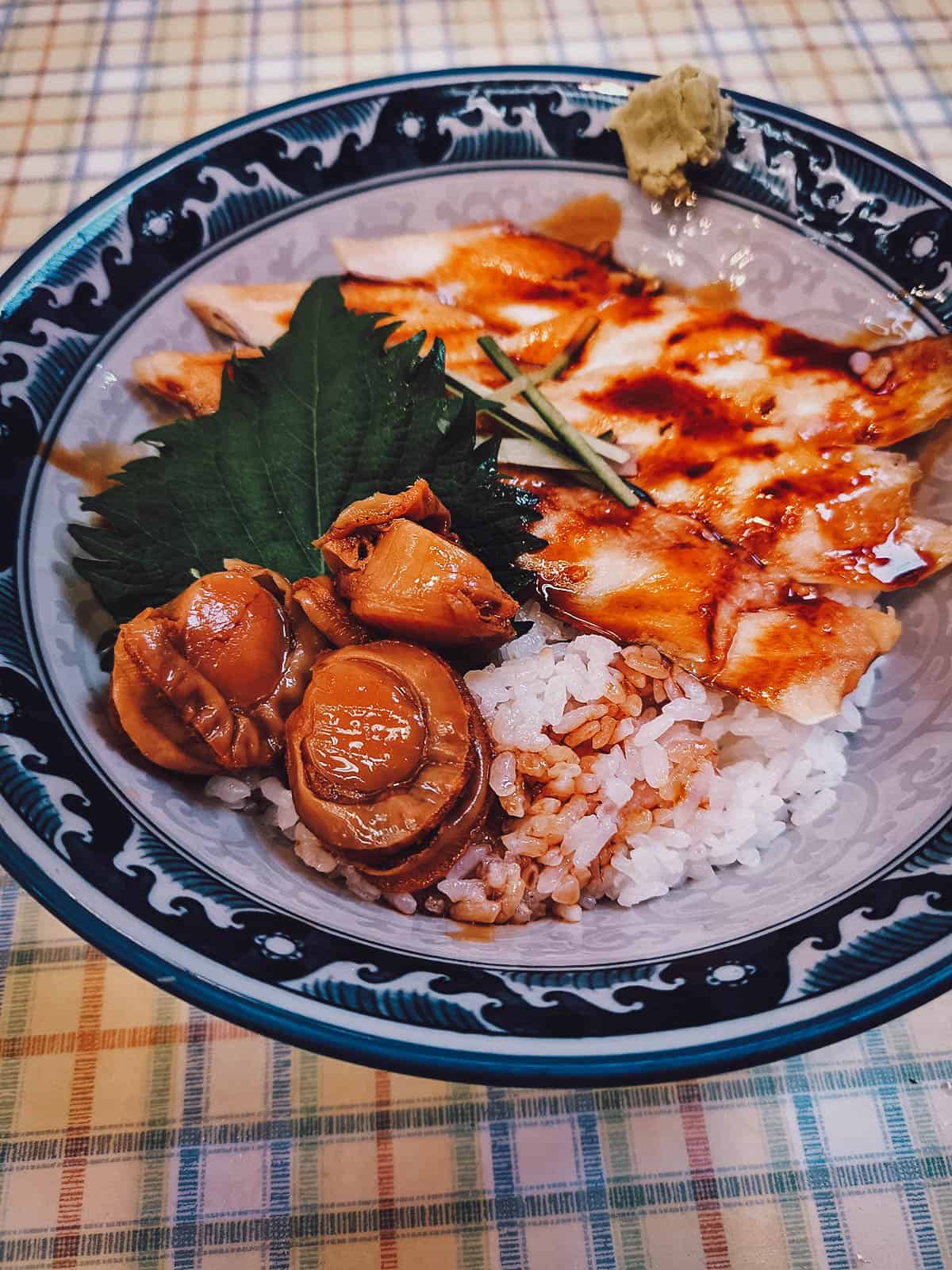 I scanned their overhead menu and saw that their cheapest bowls do go for JPY 500. This is just a part of their menu. They offer many more kaisendon combinations and every full bowl comes in half-portions for a little over half the price.
I didn't try them but I read that their takoyaki balls are reasonably priced as well, starting at just JPY 200 for four pieces. If we lived in Tokyo, then I'd definitely be a regular here.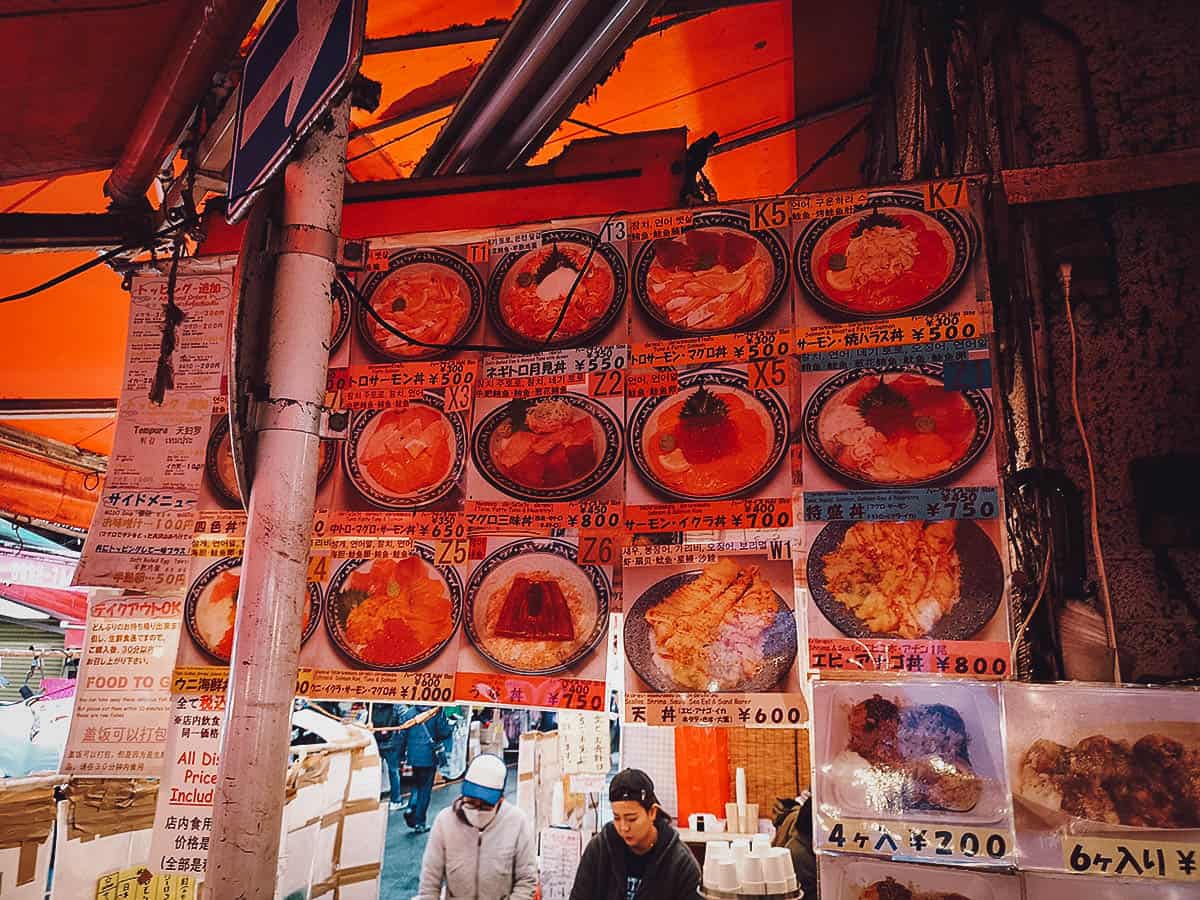 You can refer to the map at the bottom of this post to see exactly where Minatoya is at Ameyoko Market. Just look for this shop with all the kaisendon pictures.
3. Sushi Katsura
After our unagi skewer appetizers at Nisshin Tasuke, we walked over to Sushi Katsura which is located just a couple blocks north of Tsukiji Outer Market. I found them when I was doing research for affordable sushi restaurants in Tokyo. One reviewer described them as a serious contender for cheapest good sushi in Tokyo so naturally, we had to go.
We haven't eaten at enough sushi restaurants in Tokyo to definitively call them the cheapest but their sushi was indeed very good.
As you'd expect, they get all their fish from Tsukiji so you know their seafood is of the highest quality. This lunch sushi set with nine pieces of nigiri, six pieces of maki, and one tamago set me back just JPY 1,280. Awesome!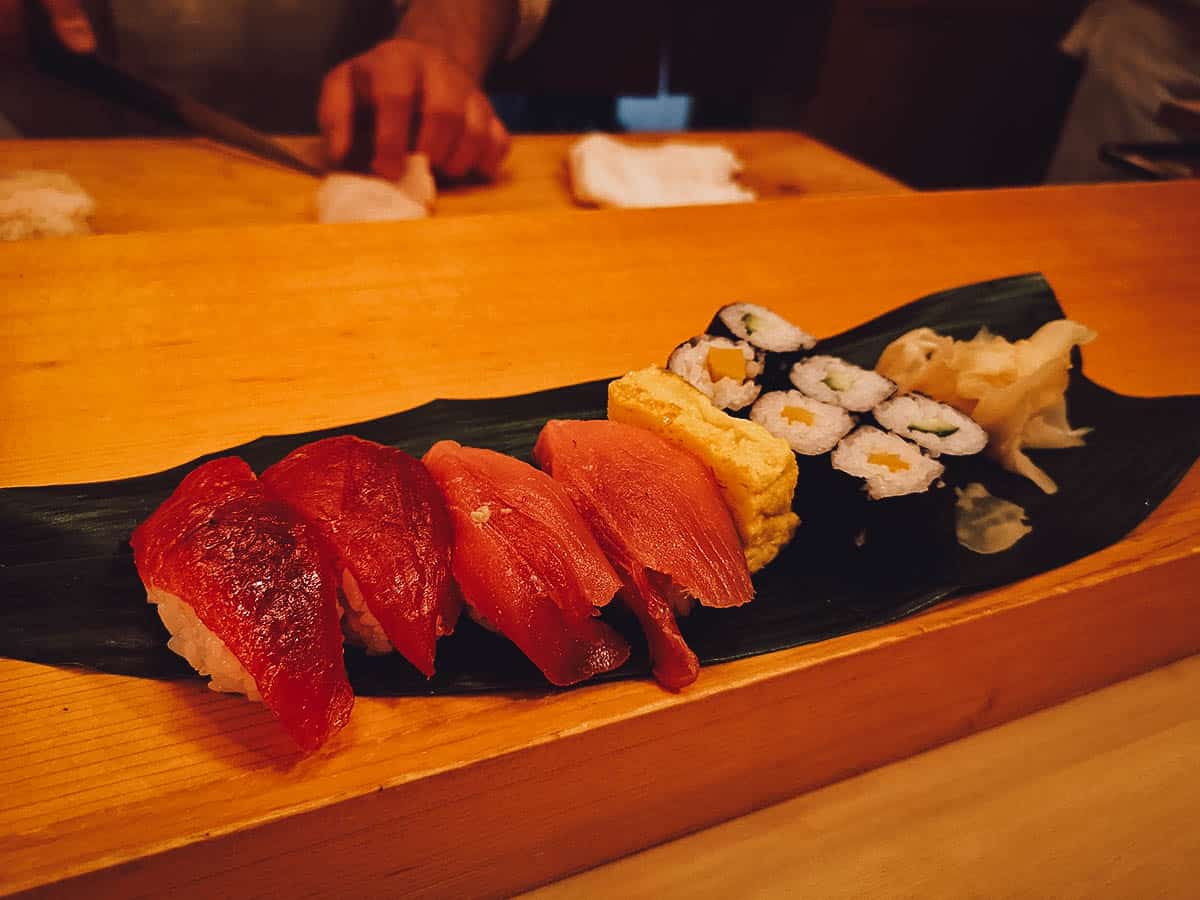 There wasn't enough space on my banana leaf to fit every piece of nigiri so he'd add more as I ate my way down the line. This was a terrific lunch.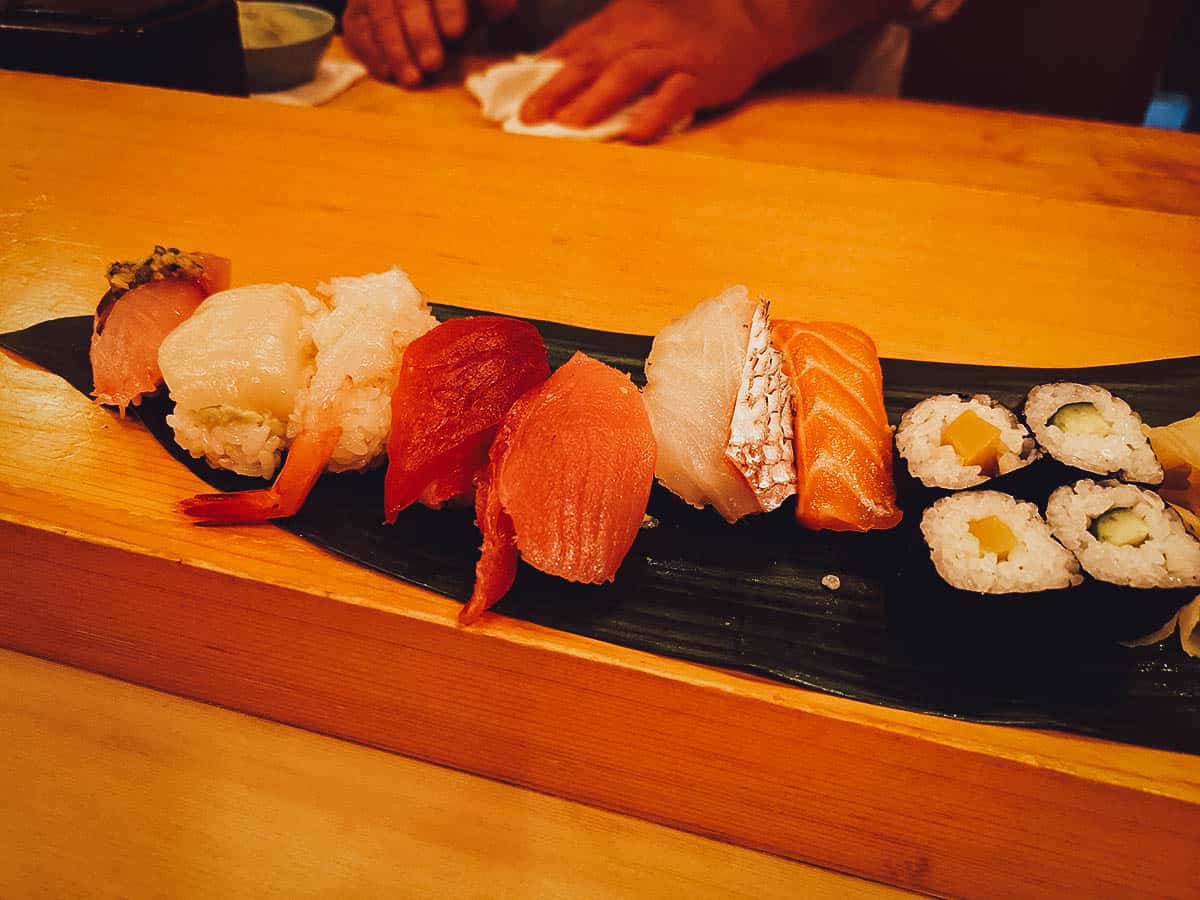 Ren went with this beautiful lunch chirashi set for just JPY 1,080. It came in two layers – the upper layer containing pieces of sashimi while the bottom layer was filled with rice, strips of egg, tobiko (flying fish roe), and a sweet sugar-like pink substance.
Based on my research, I believe it's called denbu which is a topping made with cooked cod, sugar, salt, sake, and red food coloring.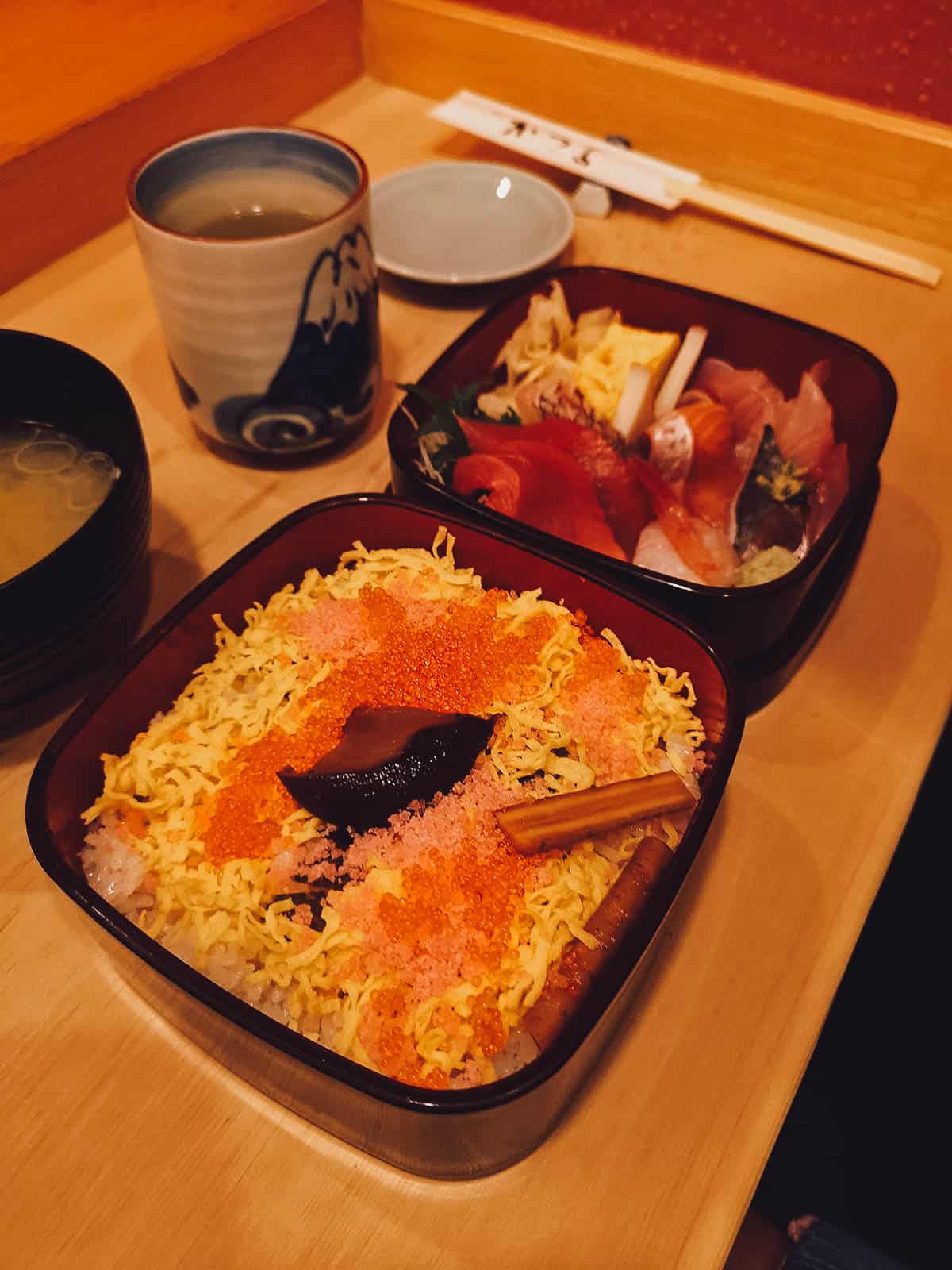 4. Sushiro
We love kaitenzushi restaurants. Eating sushi at a proper restaurant or sushi bar is great, but for us, nothing beats the experience of grabbing passing plates of sushi from a conveyor belt. It's so much fun.
Kaitenzushi refers to conveyor belt sushi restaurants. Every table is situated next to a conveyor belt that goes around the entire restaurant.
Color-coded plates of sushi travel along the conveyor belt which customers can freely grab. See a plate of maguro that you like? Go ahead and grab it! Plates are counted at the end of your meal to tally up your bill.
Kaitenzushi restaurants are ubiquitous throughout Japan. We've eaten at Kura Sushi and Daiki Suisan a few times in the Kansai region but this was our first experience at Sushiro, the most popular kaitenzushi chain in Japan. Every plate of sushi that passes along the conveyor belt costs just JPY 120.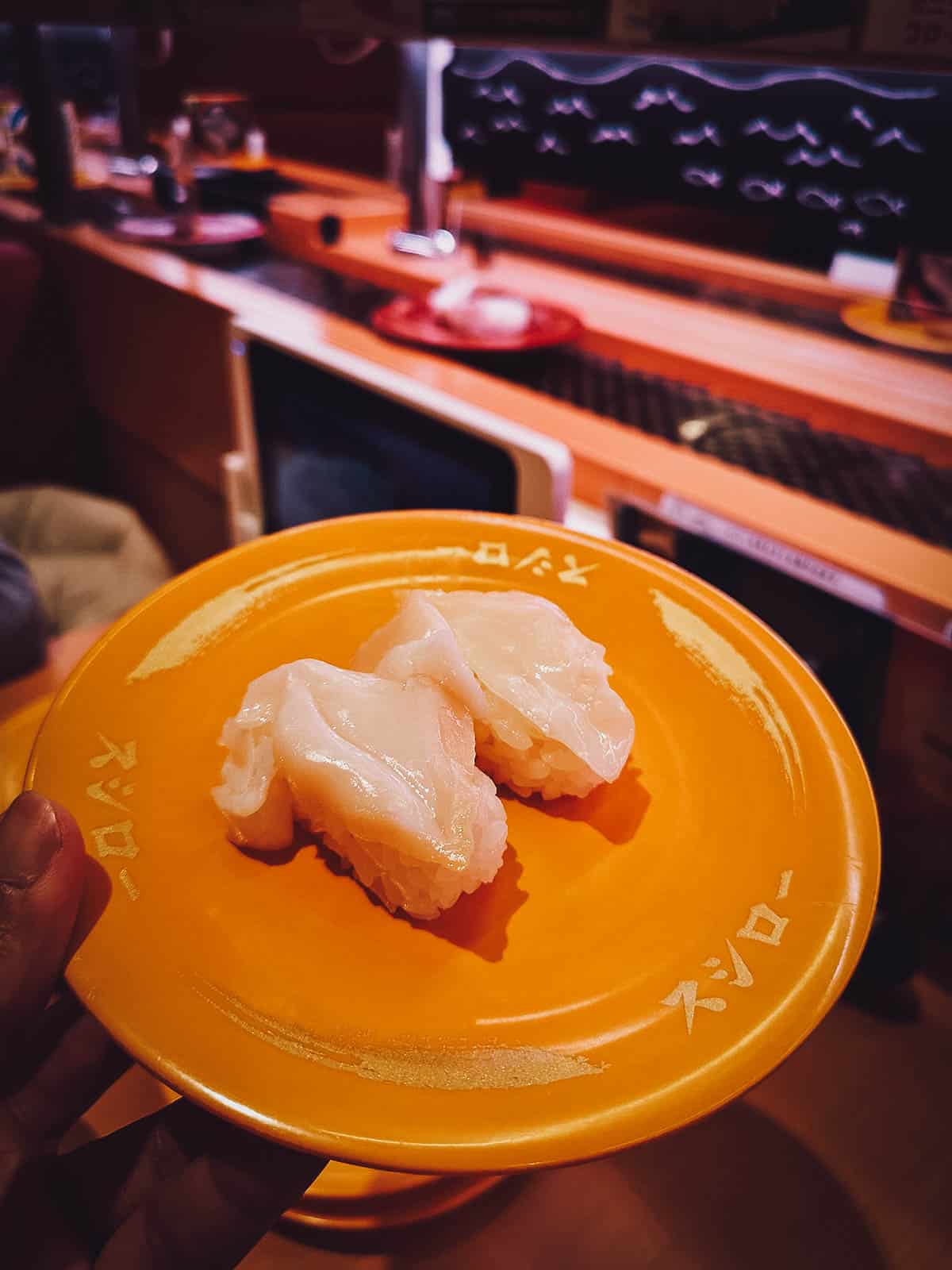 Kaitenzushi restaurants also give you the option of ordering a la carte from a tablet menu.
If there's something you're craving for but you aren't seeing it on the conveyor belt, then you can order it from the menu. It'll be delivered right to your table via a second conveyor above the main belt.
At kaitenzushi restaurants, you never have to order anything from a human server.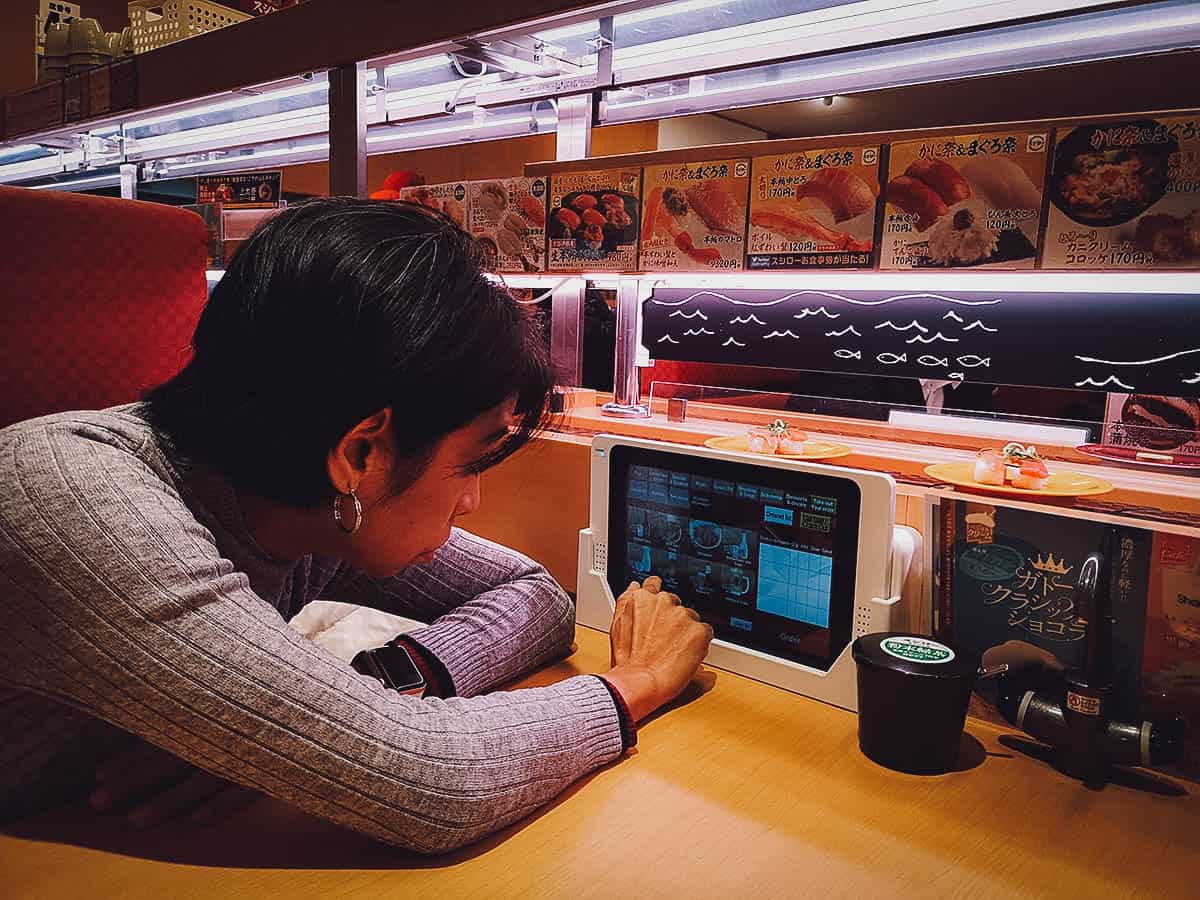 Pictured below is a trio of salmon sushi I ordered a la carte. This was more expensive at JPY 170 which is why it's on a different-colored plate.
As you'd expect, sushi at kaitenzushi restaurants isn't of the same quality as sushi from the best restaurants in Tokyo but they're cheap, convenient, and fun. We just love the casual atmosphere and the fact that we can grab whatever plates of sushi we want, whenever we want.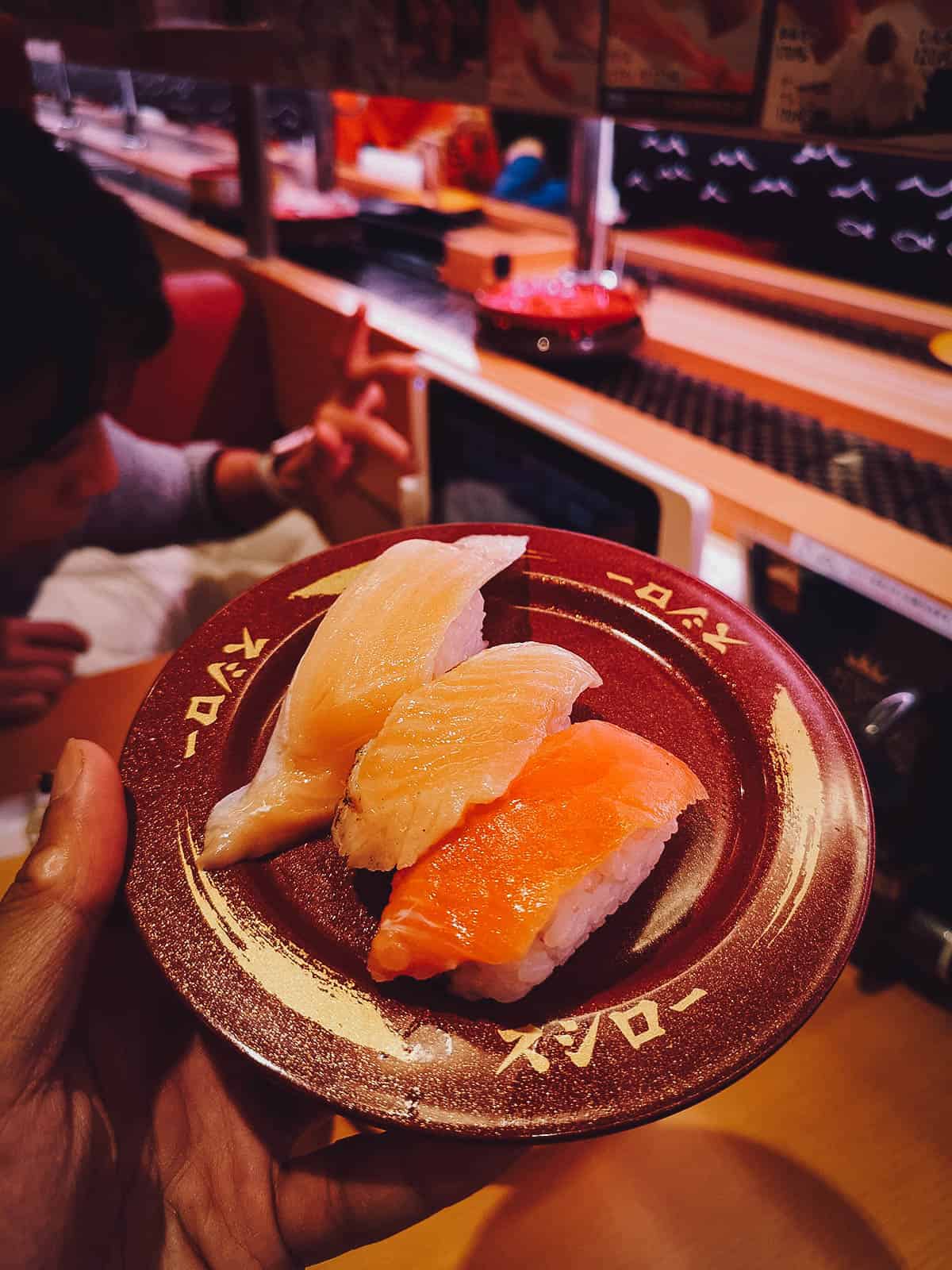 5. No Name Sushi Bar with 10 Yen Sushi
I've been obsessed about visiting this restaurant ever since I heard about the legend of the no name sushi bar in Tokyo offering sushi for just JPY 10 apiece. As it turns out, the legend is true. Well, sort of.
This place is a tiny standing room only sushi bar in the popular Shinjuku area. Like any sushi bar, they offer different types of sushi and sashimi at regular prices.
Their ten yen sushi I think is a marketing gimmick designed to attract people into the bar. To avail of the deal, you need to order at least one drink and every customer can have a maximum of fifteen pieces of the ten yen sushi.
I believe the type of ten yen sushi they give you changes by the day but I got fifteen pieces of kohada which is a type of gizzard shad fish. It was delicious and nothing about it told me it was low grade sushi. On their a la carte menu, kohada goes for JPY 130 for two pieces.
However, my bill for two beers at JPY 500 each and fifteen pieces of ten yen sushi amounted to JPY 1,590. Even with 10% tax and 8% service charge, it should have been no more than JPY 1,357.
It was still dirt cheap so I didn't make a fuss but I believe they expect you to order something off their a la carte menu in addition to the ten yen sushi. Whatever the case, it's still a great deal and something I'm happy to recommend.
6. Harajuku Gyoza Lou
Gyoza refers to Japanese dumplings filled with ground meat and vegetables wrapped in a thin sheet of dough. They're originally from China but have become very popular in Japan, served on their own or as a side to other dishes like ramen.
Gyoza is typically filled with ground pork, chives, green onion, cabbage, ginger, garlic, soy sauce, and sesame oil. They're most commonly pan-fried but they can be served steamed or deep-fried as well. Gyoza Lou, a popular gyoza restaurant in trendy Harajuku, serves them pan-fried or steamed.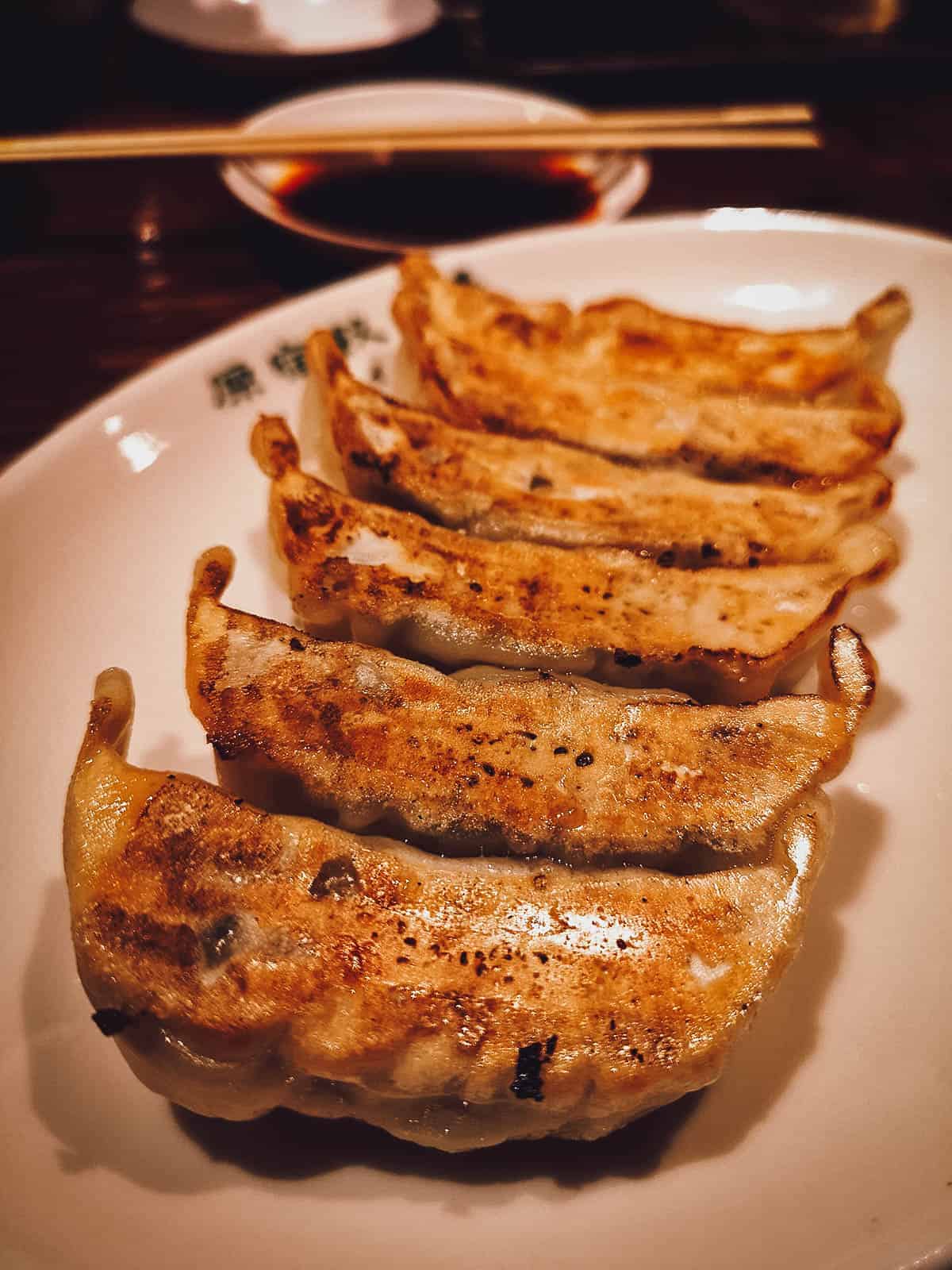 Each order of six pan-fried or steamed dumplings at Gyoza Lou goes for just JPY 290. I got an order each which you can have with just ground meat (original) or with the addition of garlic and chives.
I got the pan-fried with garlic and chives and the steamed with ground meat. Both were tasty, though the pan-fried with garlic and chives was better. It had more flavor and texture.
I got my orders of gyoza a la carte but many customers were enjoying them with rice and a few side dishes. If you're hungry, then it looks like you can get them in set meals at Gyoza Lou. Otherwise, they make for a terrific light mid-afternoon snack.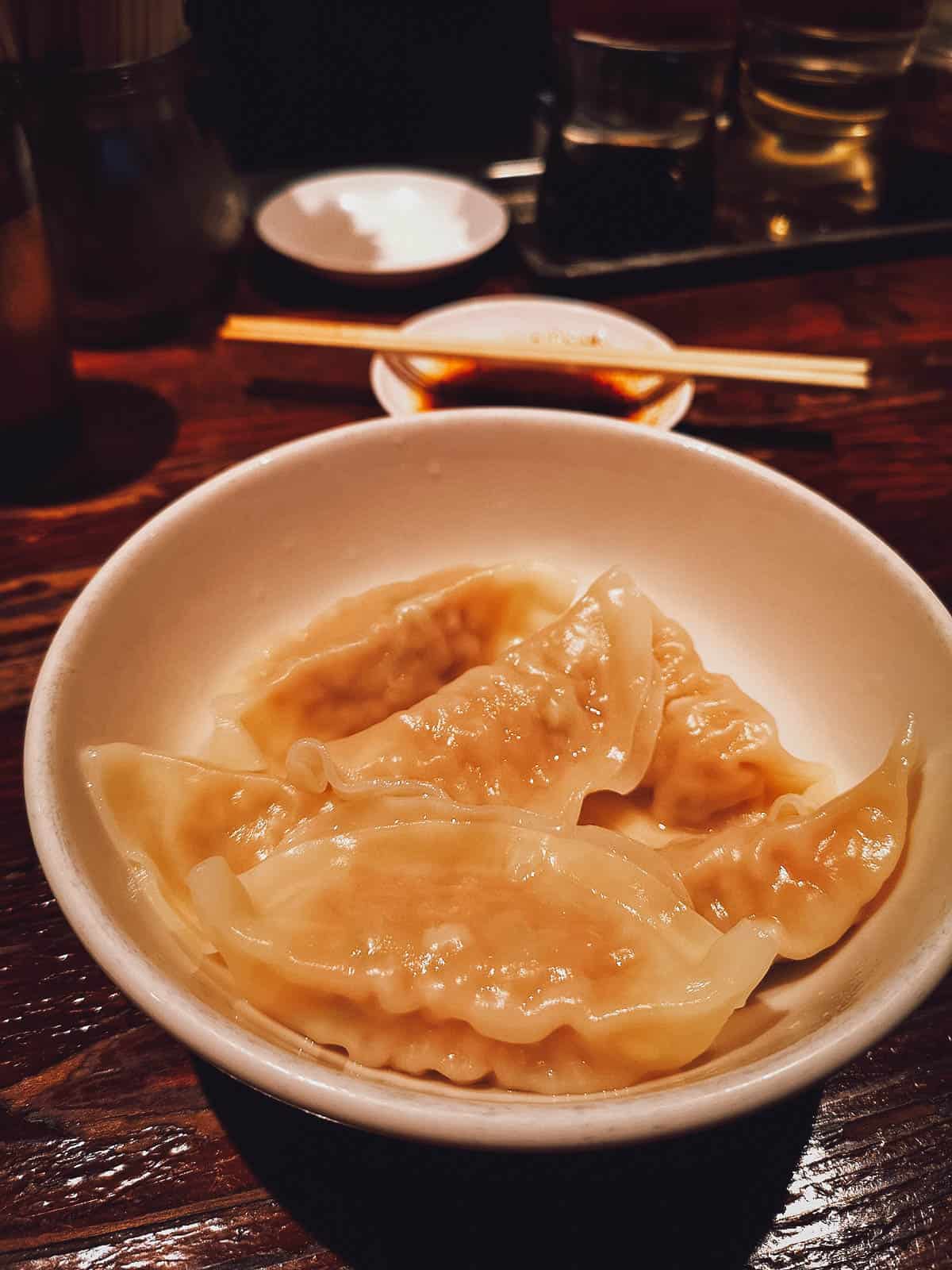 7. 好美家
One of my best friends is Japanese and his wife is originally from Tokyo. Her sister's friend provided me with a list of the best places to eat in Tokyo and this monjayaki restaurant was on it.
According to my Japanese friend, monjayaki is such an important Tokyo dish that you can't possibly talk about the food in Tokyo without including monjayaki, so here I am.
Monjayaki is a dish made with pan-fried batter. It's similar to okonomiyaki except dashi or water is added to the batter to make it much runnier. When cooked, it has the texture of melted cheese and doesn't quite solidify into pancake form the way okonomiyaki does.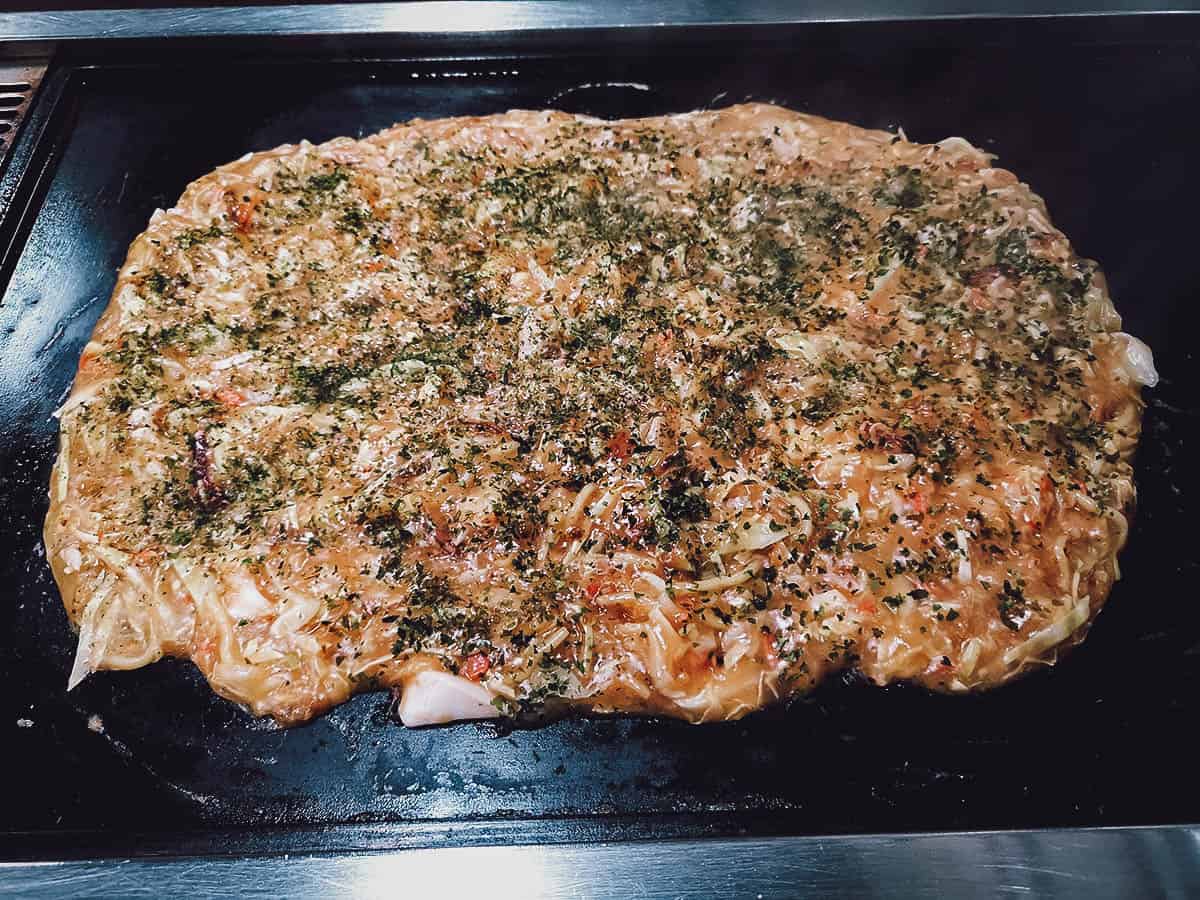 To cook, shredded cabbage is spread out over the griddle before being poured over with the batter. The server then mixes it all up for a few minutes before allowing it to rest and cook for a few minutes.
好美家 is a very local place so there's no English menu, but I understood the word "mixed" when my server was pointing at the menu so that's what I got. It had squid or octopus, pork, and perhaps a few other things.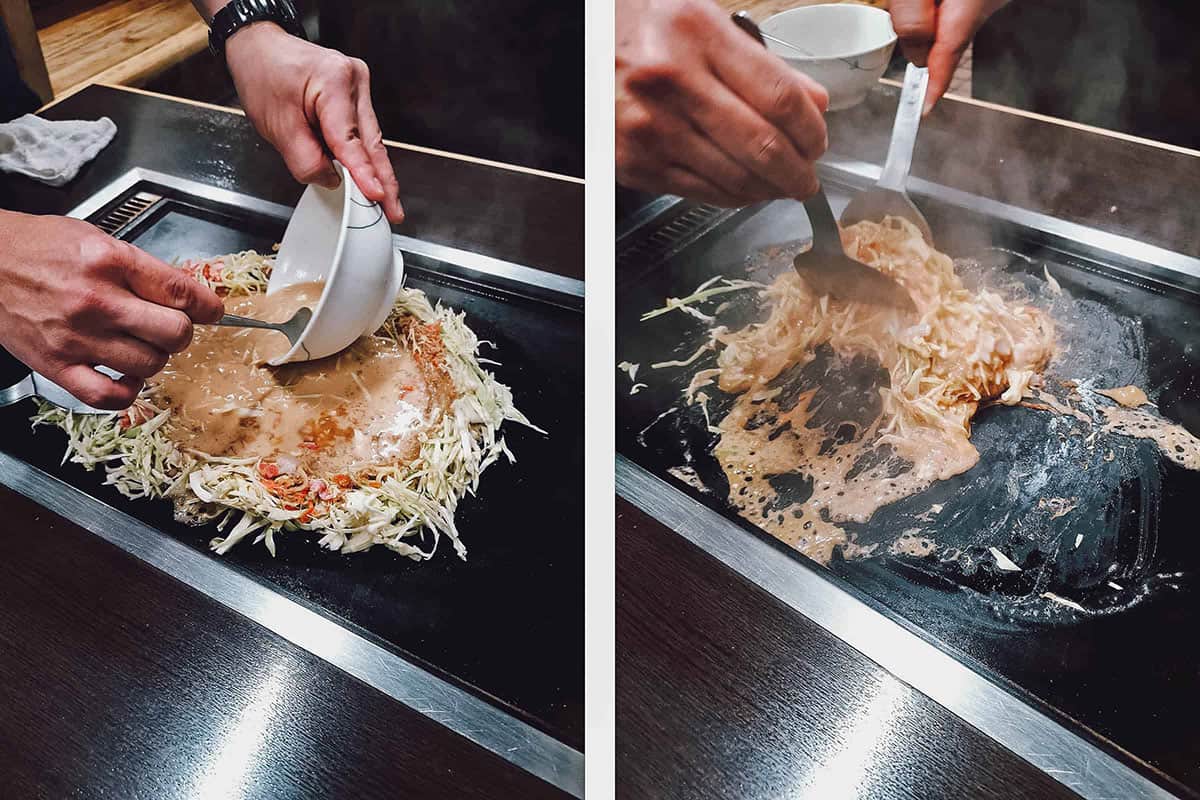 To eat, you use this small spatula to scrape up sections of the monjayaki onto your plate. The batter never wholly solidifies so all the texture comes from the cabbage and the chopped up bits of protein.
It's an interesting Tokyo food staple that goes well with beer. Based on my experience and the amount of food I was given, it seems to be a dish meant to be enjoyed in a group.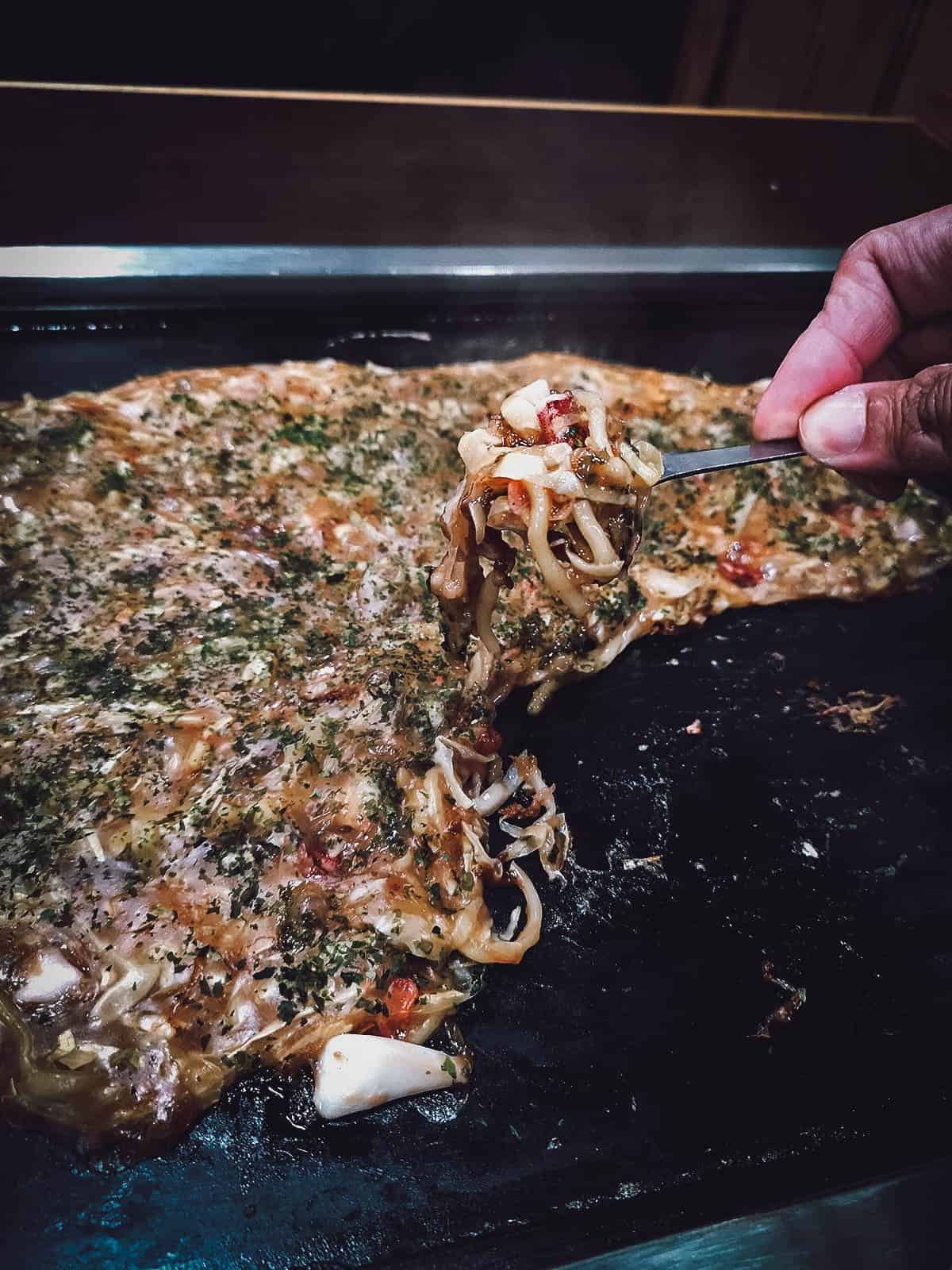 Like fukagawa meshi, monjayaki seems to be most easily available in a specific area. In this case, it's best to have it in Tsukushima. The list they gave me had a few monjayaki restaurants on it, all of which were in Tsukushima.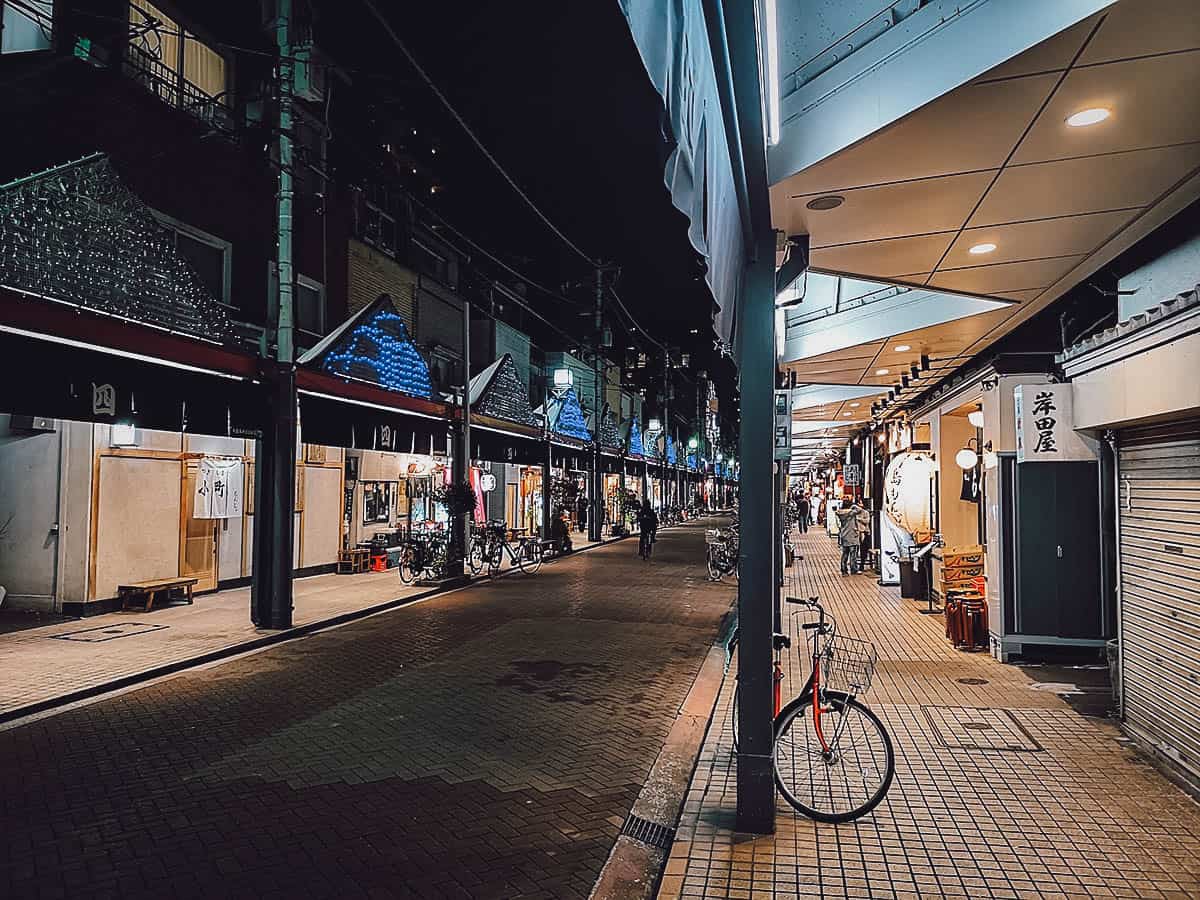 8. Oreryu Shio Ramen 俺流塩らーめん 円山町店
Can your trip to Japan ever be complete without eating at least one bowl of ramen? Like sushi, it's a popular and beloved Japanese dish and something you need to eat in order to have the full Japanese food experience.
These next two Tokyo restaurants were recommended to us by the same local who led us to the monjayaki restaurant so you know they're going to be good. Of the two, Oreryu Shio Ramen is much easier to get to as it's located just a short walk from Shibuya station.
Ren got the special roasted pork ramen while I went with the shio butter corn ramen. This was the first time I've ever tried ramen with butter and corn before.
It was delicious – light, creamy, and buttery with the natural sweetness and crunch of Japanese corn. The sweetness of the corn and the creaminess of the butter went very well with the saltiness of the shio broth. It was served with a couple slices of roasted pork, a ramen egg, and some veggies.
Ren gave me a small bite of her roasted pork and it was amazing. Soft, smokey, and fatty, it was charred in parts giving it some nice caramelization and texture.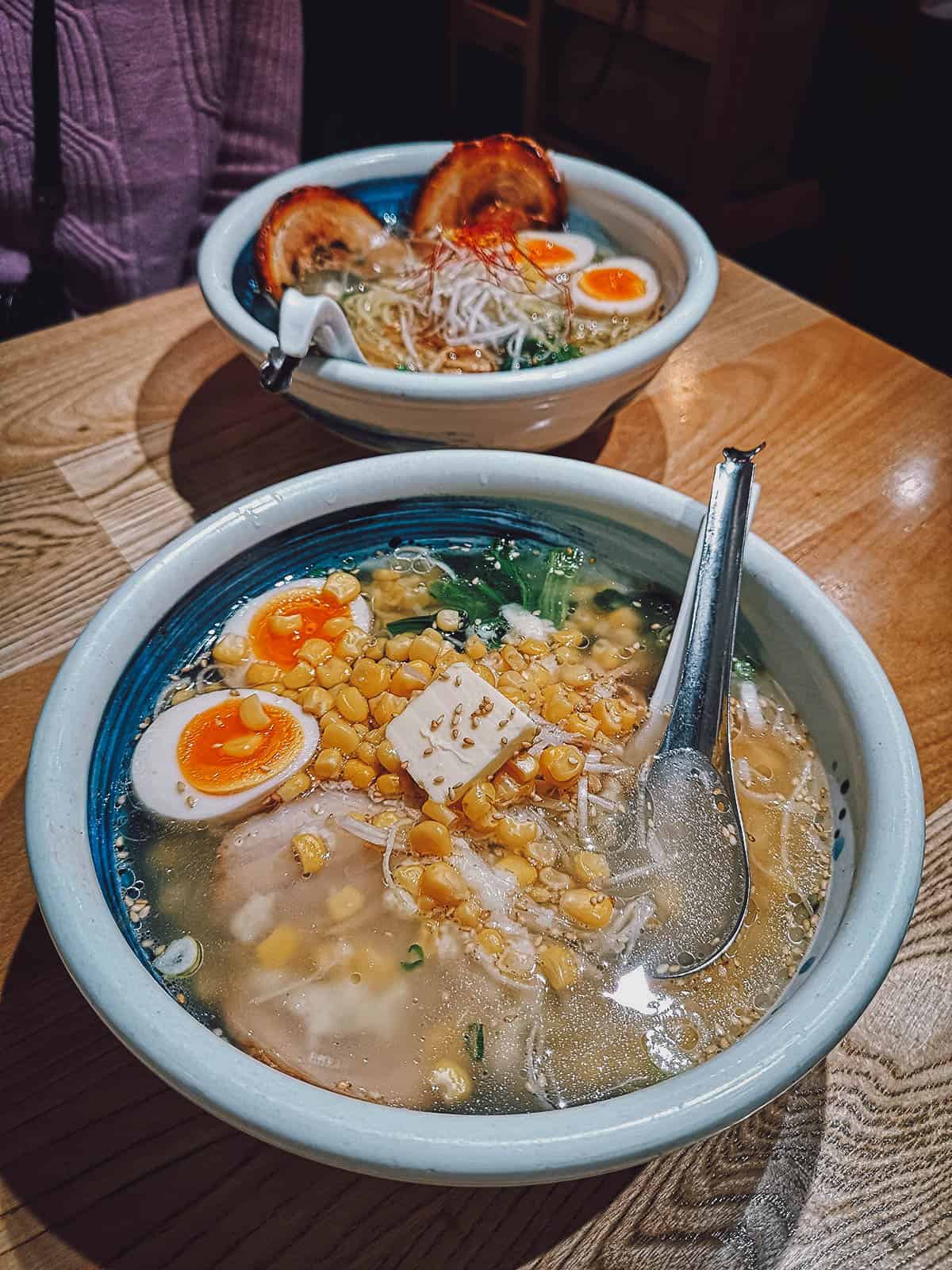 9. 麺処いのこ平和台店
The bowls of ramen we had at this restaurant were some of the best we've ever had in our lives. They were so damn delicious.
My Japanese friend ate here a few weeks before we did and was blown away by this ebi miso tsukemen. If you've never had tsukemen before, it's like a deconstructed type of ramen where the noodles and broth are served separately. To eat, you dip the noodles into the broth which is typically more concentrated in flavor than regular ramen broth.
One taste of this tsukemen broth and you'll understand why this place is so popular among locals. It is redolent with the flavor of shrimp heads!
Shrimp heads contain most of the flavor and are absolutely packed with umami. If you like sucking on shrimp heads, then you're going to love this ebu miso tsukemen because that's exactly what it tastes like.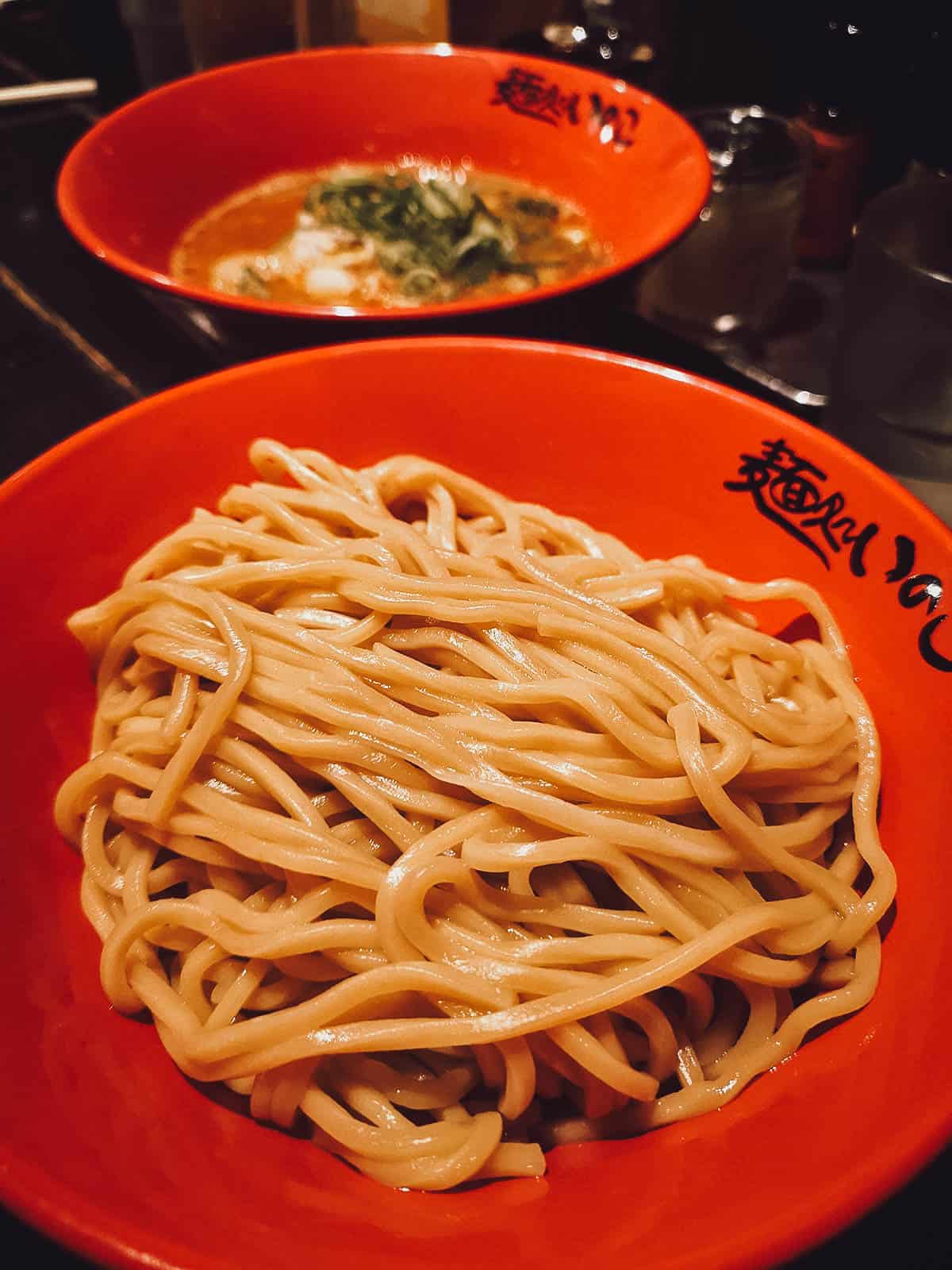 How beautiful does this look? My bowl of crab miso ramen came with a whole crab sitting on top! Like the ebi tsukemen, it's a miso-based ramen so it's deep and full-flavored.
Being a regular bowl of ramen, the broth isn't as intensely flavored as the tsukemen but it's incredibly delicious as well. Note the smear of crab fat on top.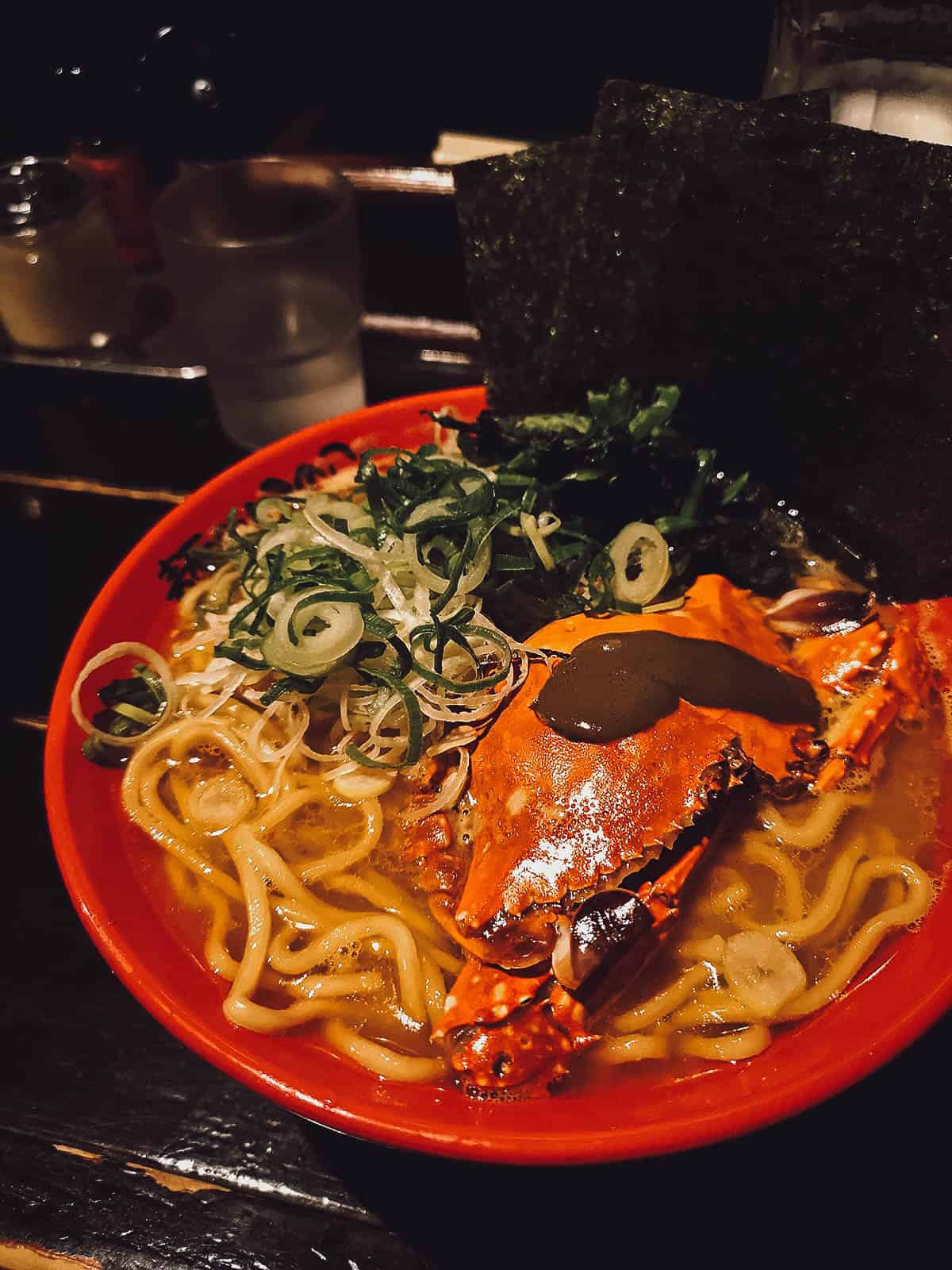 If you like crab, then you may want to try this crab miso ramen. Like the tsukemen, you can have it with either thin or thick noodles. So damn good.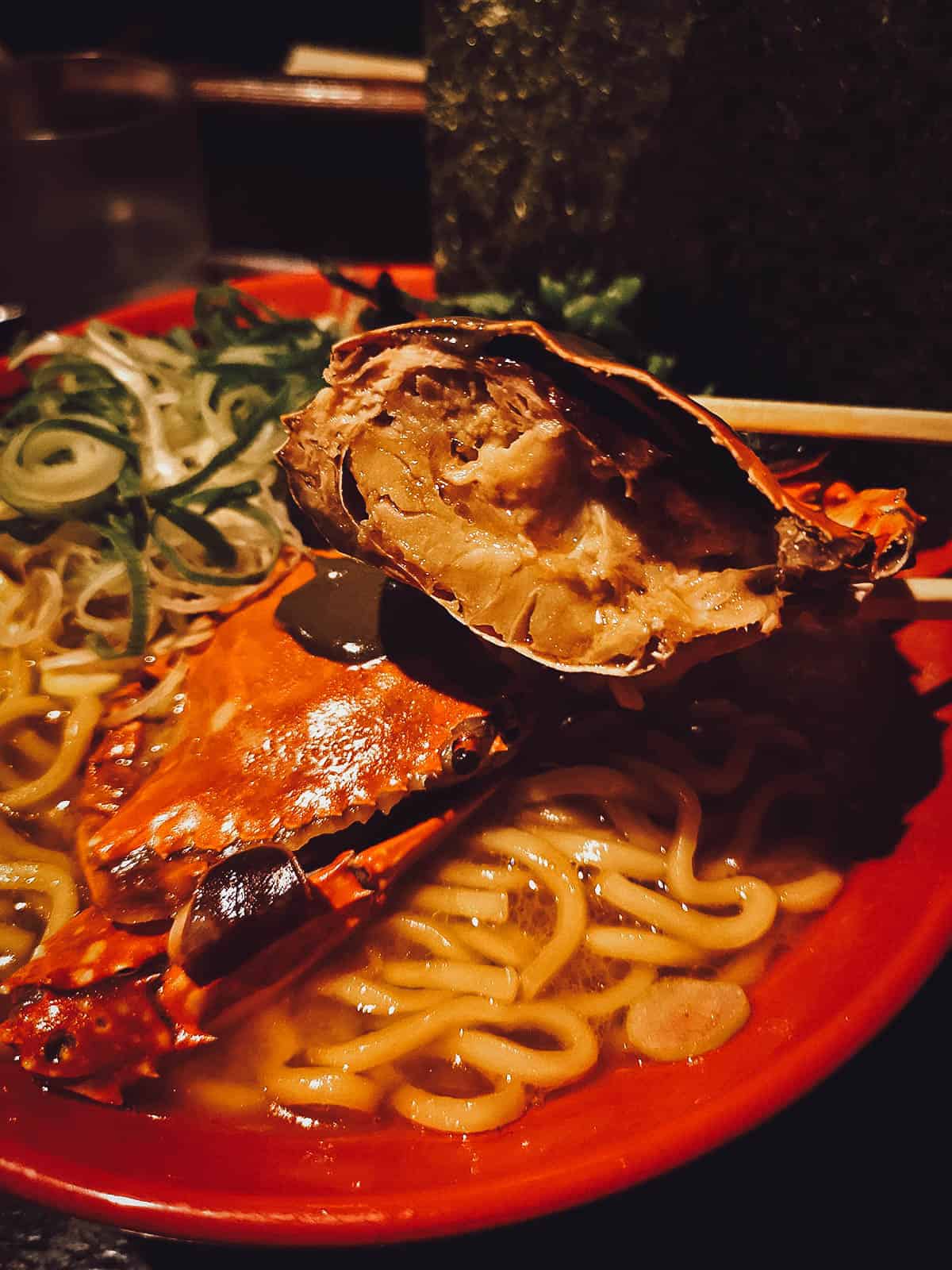 When the Tokyo local recommended this place to me, he asked that I not share it on our blog because lines at the restaurant are long enough.
But I was so blown away by this place that I begged him to let me share it! He relented on the condition that I lead you to a different branch, not the one he goes to. Ha!
10. Miyako
Each of Japan's prefectures has its own food specialties. In Tokyo, one of those regional specialties is fukagawa meshi which is a Japanese dish of clam and long onion cooked in miso and topped over rice.
I did some research on the dish and it's named after the area in Tokyo where it originated from – Fukagawa. The area used to be a fishing town and the people who lived there earned a living by catching fish, gathering clams, or harvesting laver.
This dish was invented during that time and is still enjoyed to this day. I tried it at Miyako which is located in the heart of the Fukagawa area.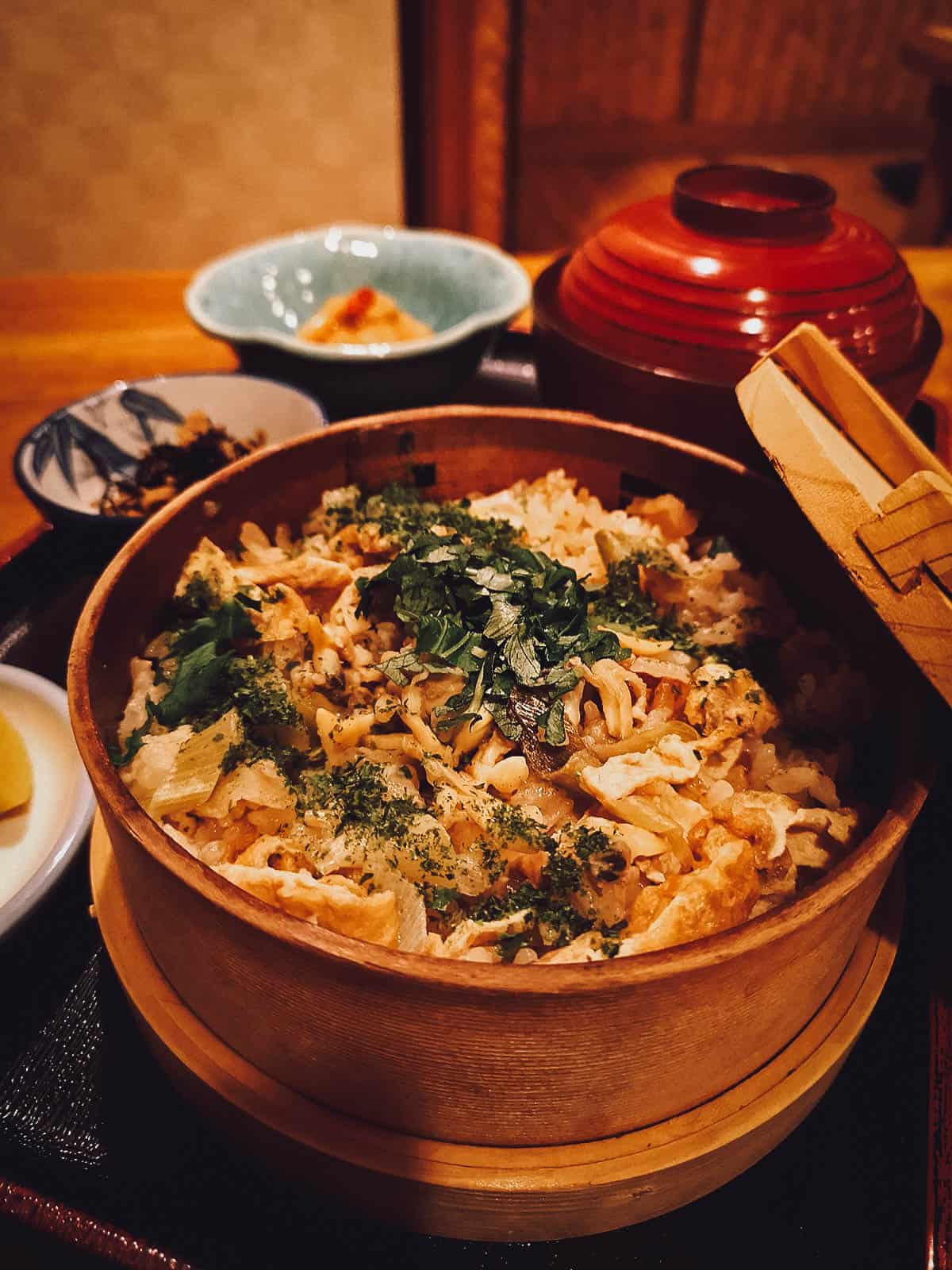 I read that fukagawa meshi was considered a humble working class dish but there's nothing humble about its flavors. It may be simple, but it's delicious.
The chopped clams are juicy and plump while the rice is soaked through with the subtle flavors of clam and miso. It's dusted with fried laver and chopped coriander.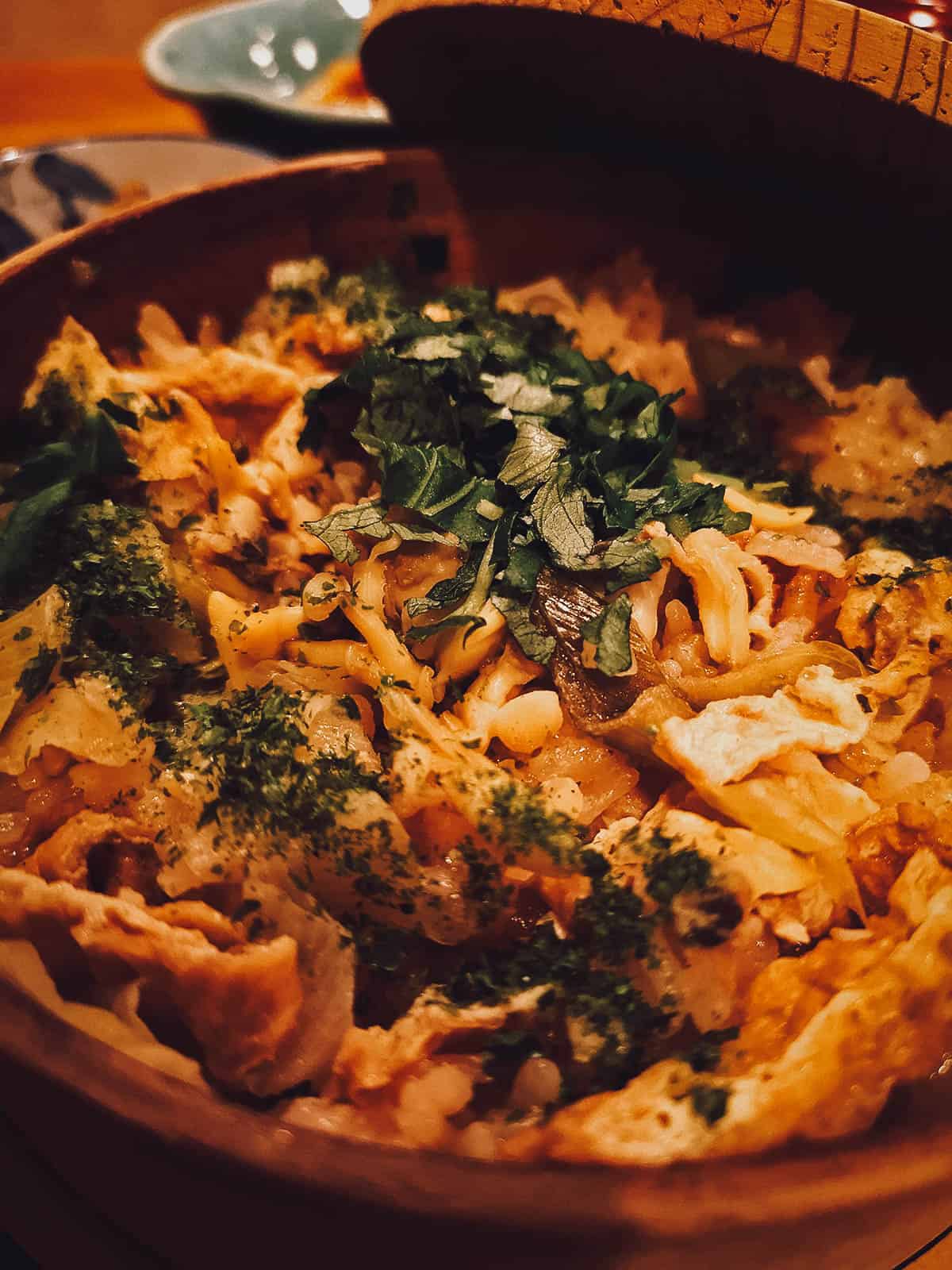 Miyako is a lovely traditional Tokyo restaurant with tatami mat seating. Based on their reviews, it seems to be a long-standing restaurant with a loyal local following.
There's no English menu and the servers only speak Japanese so just tell them you want the fukagawa meshi set. I believe they offer it with tempura or sashimi as well but I chose to have it with just fukagawa meshi as the main dish.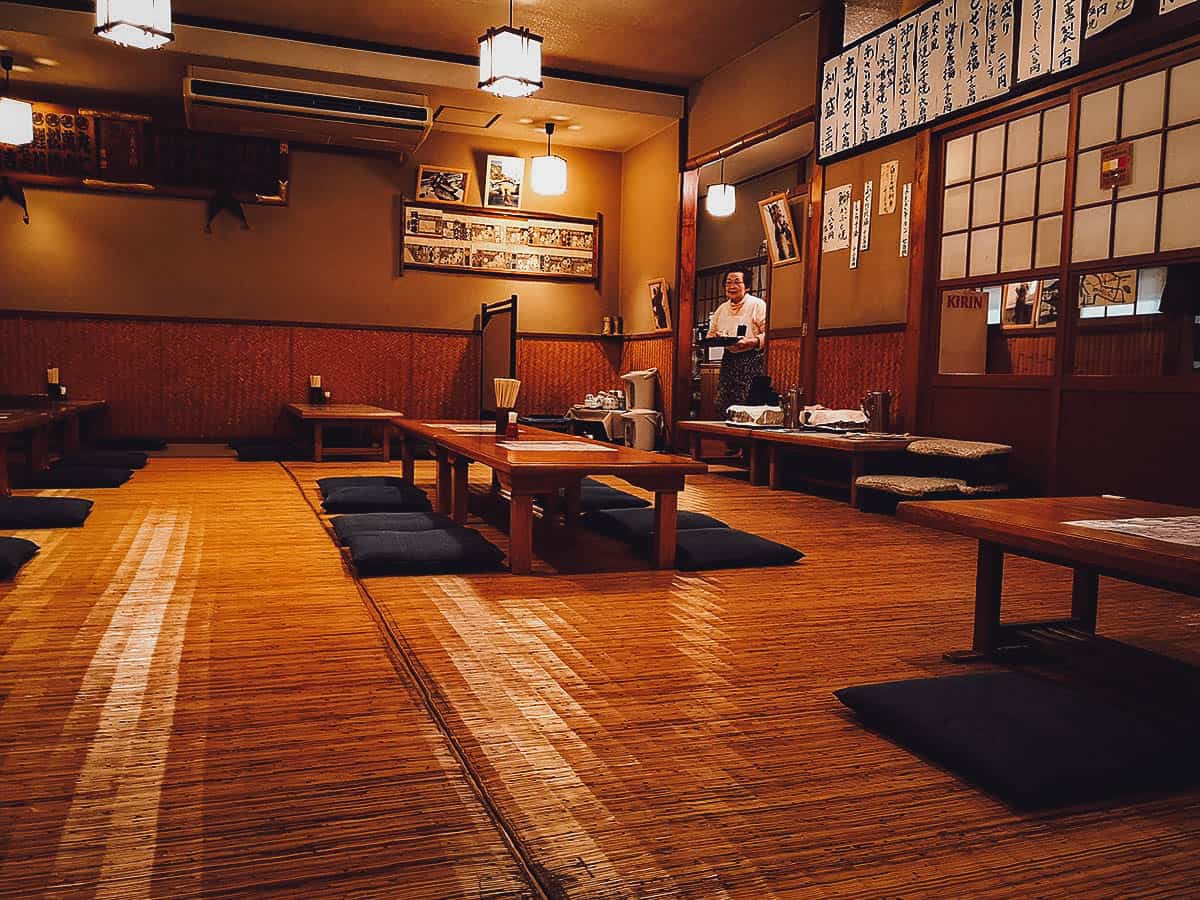 11. Kisaburo Nojo
Kisaburo nojo specializes in tamago kake gohan. Often referred to as "TKG", it's a popular Japanese dish of steamed rice topped with raw egg and soy sauce.
According to my Japanese friend, it's something they often eat for comfort, similar to Americans and peanut butter jelly sandwiches.
Ren is addicted to the Japanese reality program Terrace House and she learned about this restaurant from that show. According to her, the cast members were super excited about eating tamagio kake gohan at this place so I had to try it for myself.
Kisaburo Nojo offers an all-you-can-eat buffet of tamago kake gohan with different types of premium eggs sourced from farms throughout Japan. On their menu, I counted eight kinds but it looks like only five were available today.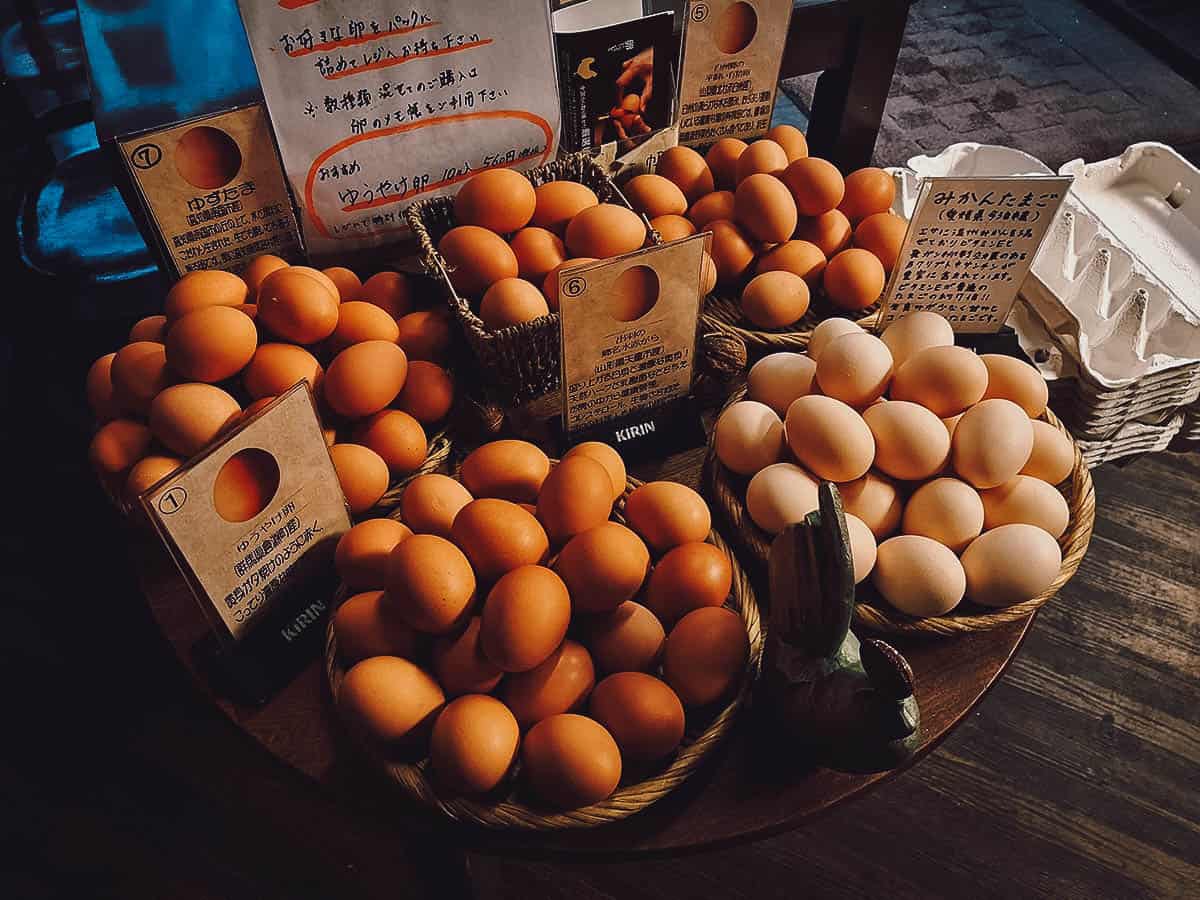 As much as I love eggs, I thought that raw eggs over rice would be a bit monotonous so I skipped the egg buffet and went instead with this tamago kake gohan with chicken set meal. It was delicious.
The egg they used tasted rich and clean and was clearly different from the eggs I'm used to in the Philippines. It just tasted like a more premium type of egg.
The chicken was soft and gave the dish welcome bite and texture. To me, it was like eating an oyakodon made with raw instead of cooked egg.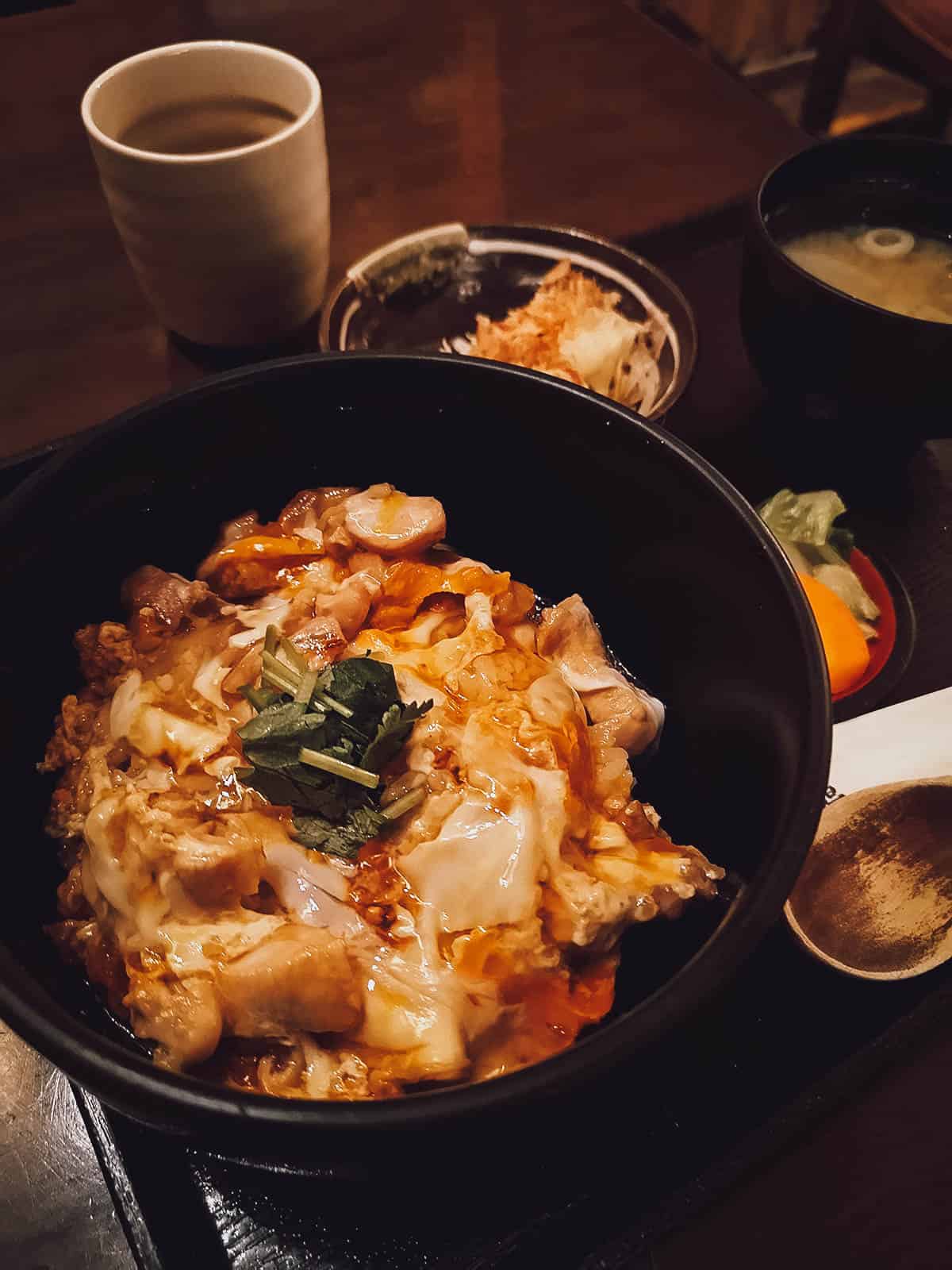 The restaurant has a warm farmhouse feel to it. It felt good being here.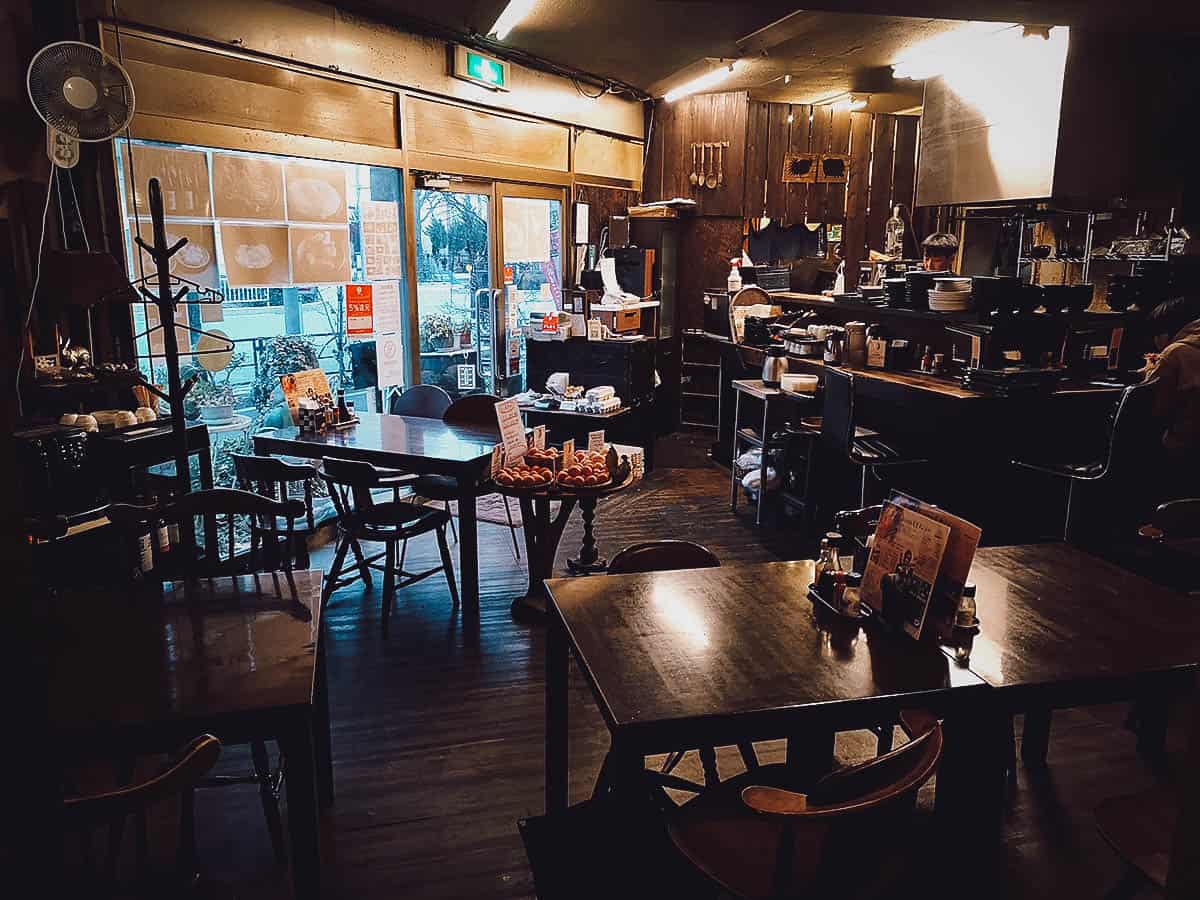 12. Hakata Motsunabe Yamaya Marunouchi
One of Ren's favorite Japanese dishes is motsunabe. Motsu means innards while nabe refers to hot pot so motsunabe is a hot pot dish made with beef or pork offal.
Innards like intestines and tripe are allowed to simmer in a soup base seasoned with soy sauce, miso, garlic, and chili pepper. Other ingredients like cabbage, garlic chives, tofu, and champon noodles are added to the pot as well.
Motsunabe is a dish associated with Fukuoka prefecture but it experienced a boom in Tokyo in the 1990s. It's declined in popularity since then but you can still find motsunabe restaurants in Tokyo.
Our research led us to Hakata Motsunabe Yamaya, a chain of motsunabe restaurants with several branches in the Kanto region.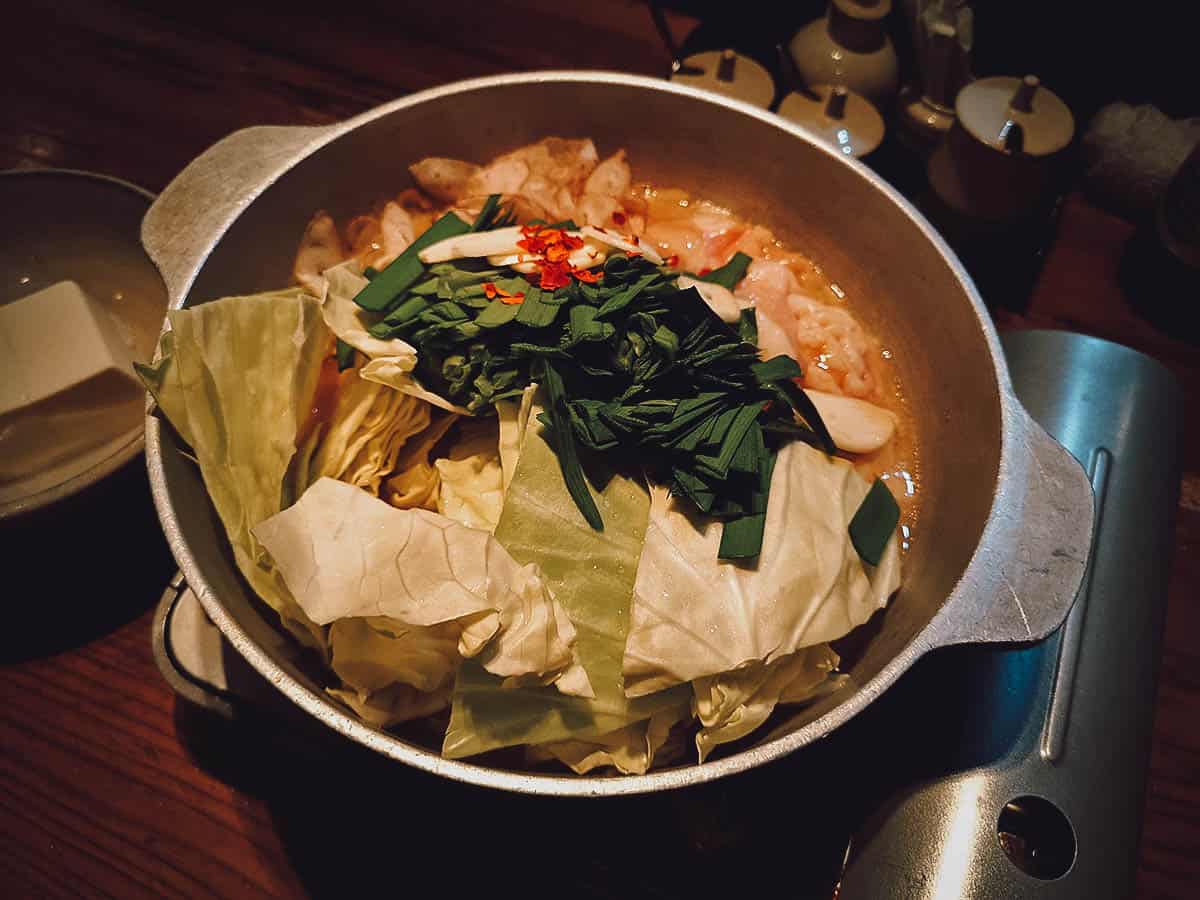 My beautiful first serving of motsunabe. Do you see that pinkish white blob in the middle? That's the offal. It was fatty and delicious albeit a little chewy.
They gave us the choice of either miso or soy sauce for the broth and we chose the former. It was delicious.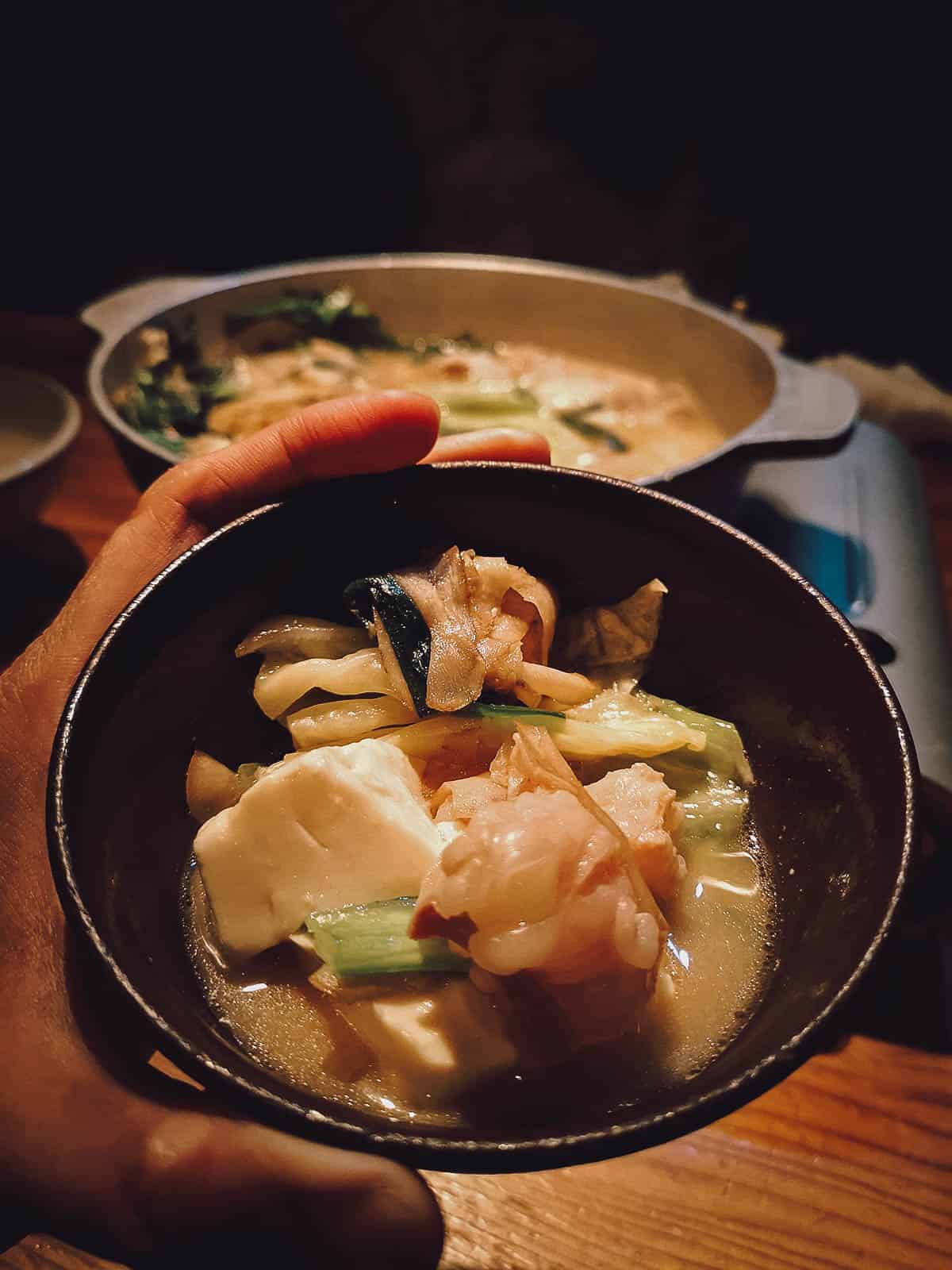 Our order of motsunabe didn't come with champon noodles so we ordered some. They're usually added at the end, to fill you up I guess similar to the way porridge is sometimes served at the end of hot pot meals. Champon is a Japanese-Chinese dish that originated in Nagasaki.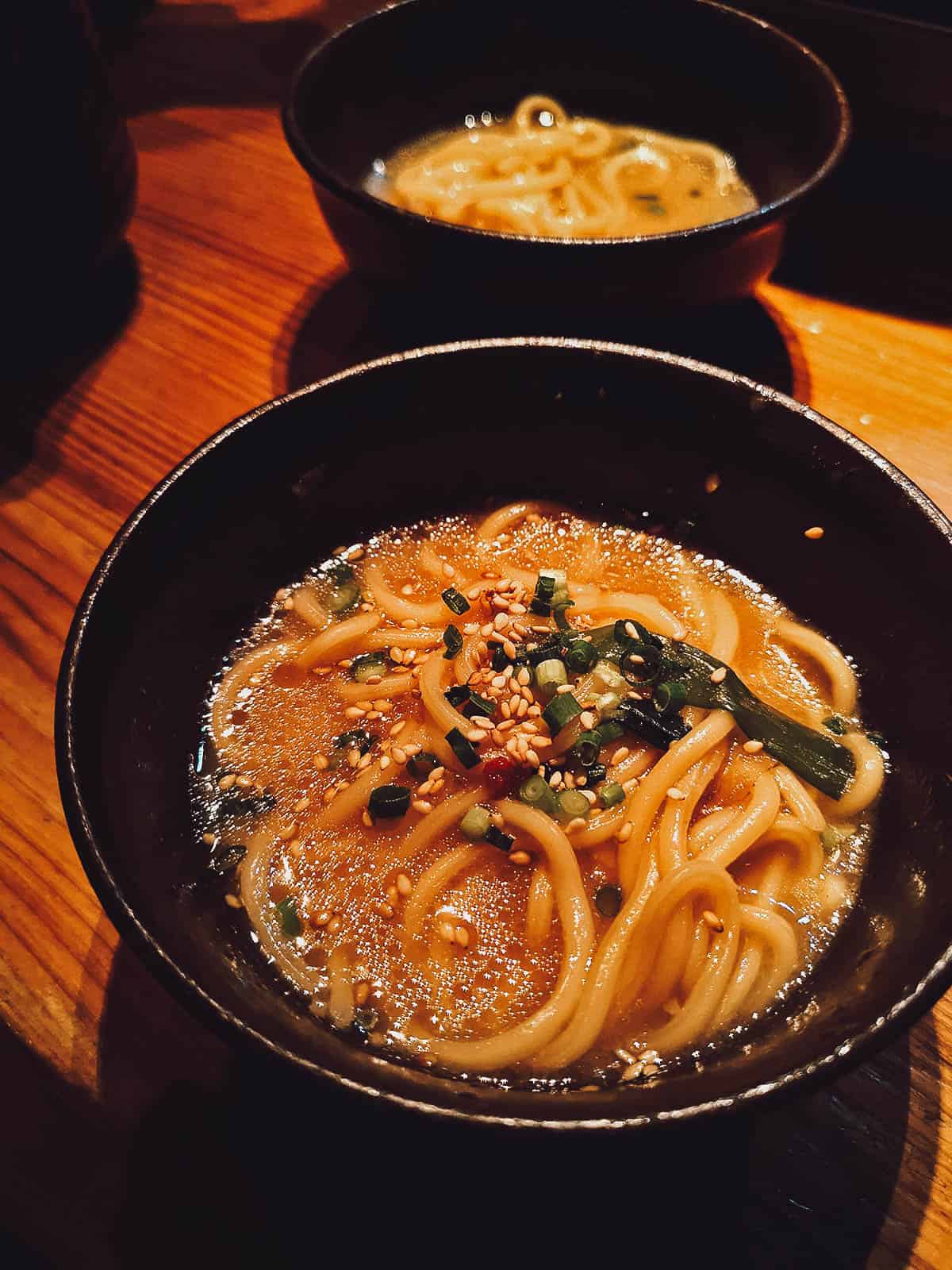 13. Rainbow Pancake
I don't remember when it started but Japan's souffle pancakes became famous after making their rounds on social media. They use the exact same ingredients as traditional American pancakes but they get their height and fluffiness from the addition of extra egg whites.
A meringue mixture is beaten and folded into the batter, which is then cooked in metal pastry rings at low temperature to help give the pancakes their distinctive height.
I wasn't with her when she had this but Ren ordered these ridiculously delicious-looking pair of macadamia souffle pancakes at Rainbow Pancake in Harajuku.
We had matcha souffle pancakes in Kaohsiung, Taiwan not too long ago and I thought those were the bomb. According to Ren, these were so much better. They were incredibly fluffy and light and drenched in a rich, milky cream sauce.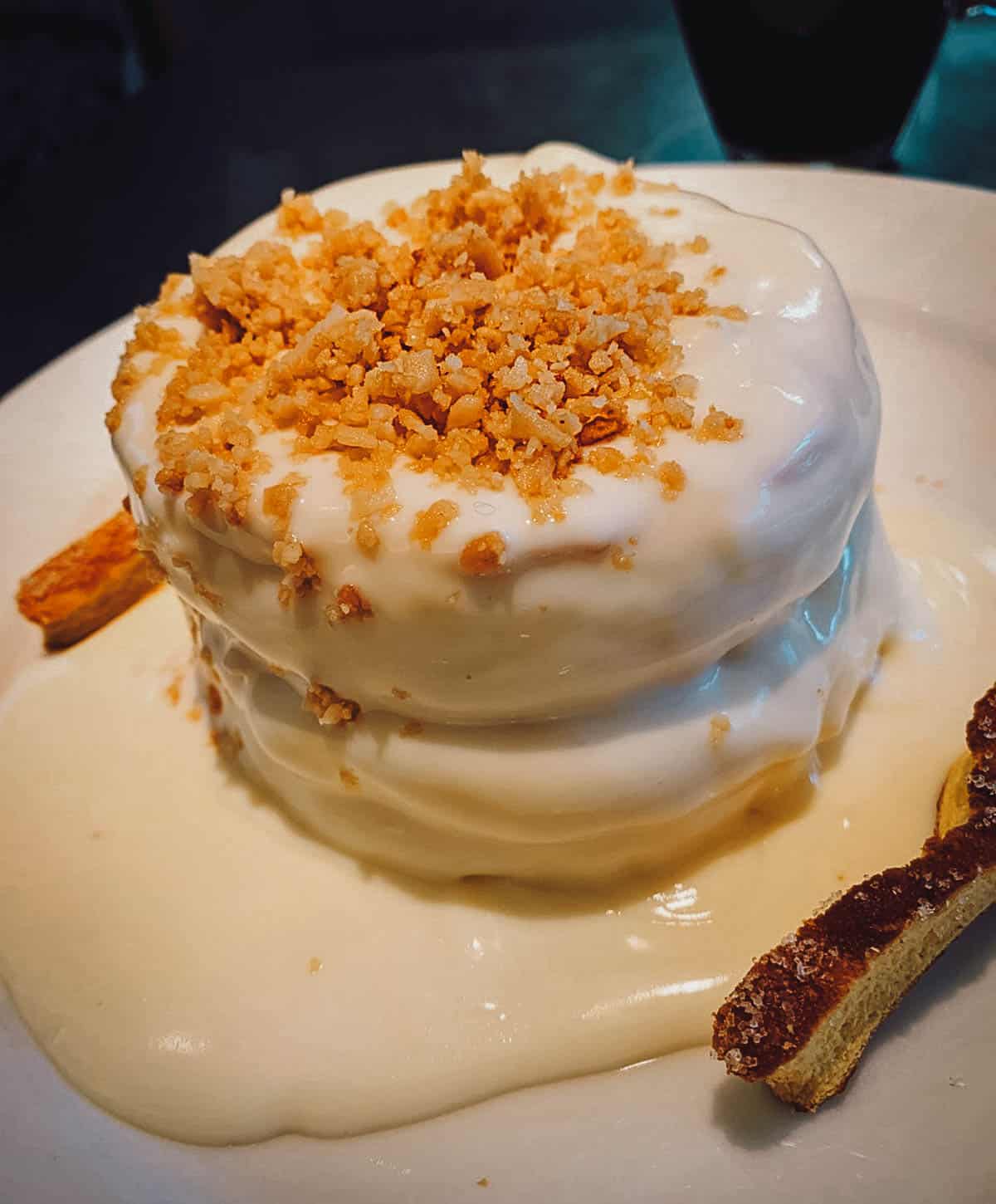 14. Ueno 500 Bar
Not too far from Minatoya is Ueno 500 Bar. We almost exclusively stick to local food when we travel but the concept of "one coin bars" was too intriguing to pass up.
Apparently, there's a thing in Tokyo called one coin bars where everything on the menu – from cocktails to bar food – can be paid for with one coin. The biggest coin in Japan is JPY 500 so that means everything on the menu costs JPY 500 or less.
Ueno 500 Bar is a one coin bar in Ameyoko Market that offers thin crust pizzas and tapas on their menu. All you have to do is order at least one drink and you can avail of as many JPY 500 pizzas as you want.
I got a beer for JPY 500 which is pretty much standard in Japan. For just JPY 500 a pizza in Tokyo, you'd think you'd be getting subpar food or a tiny pizza but you aren't. This melanzane was delicious and a good size too, maybe 8-10″ in diameter.
The crust was nice and thin and the sauce redolent with the flavor of fresh tomatoes. The crust would crisp up as you ate your way to the edges but it was that delicate kind of crisp, the type that would almost melt in your mouth while you chewed it. It was awesome.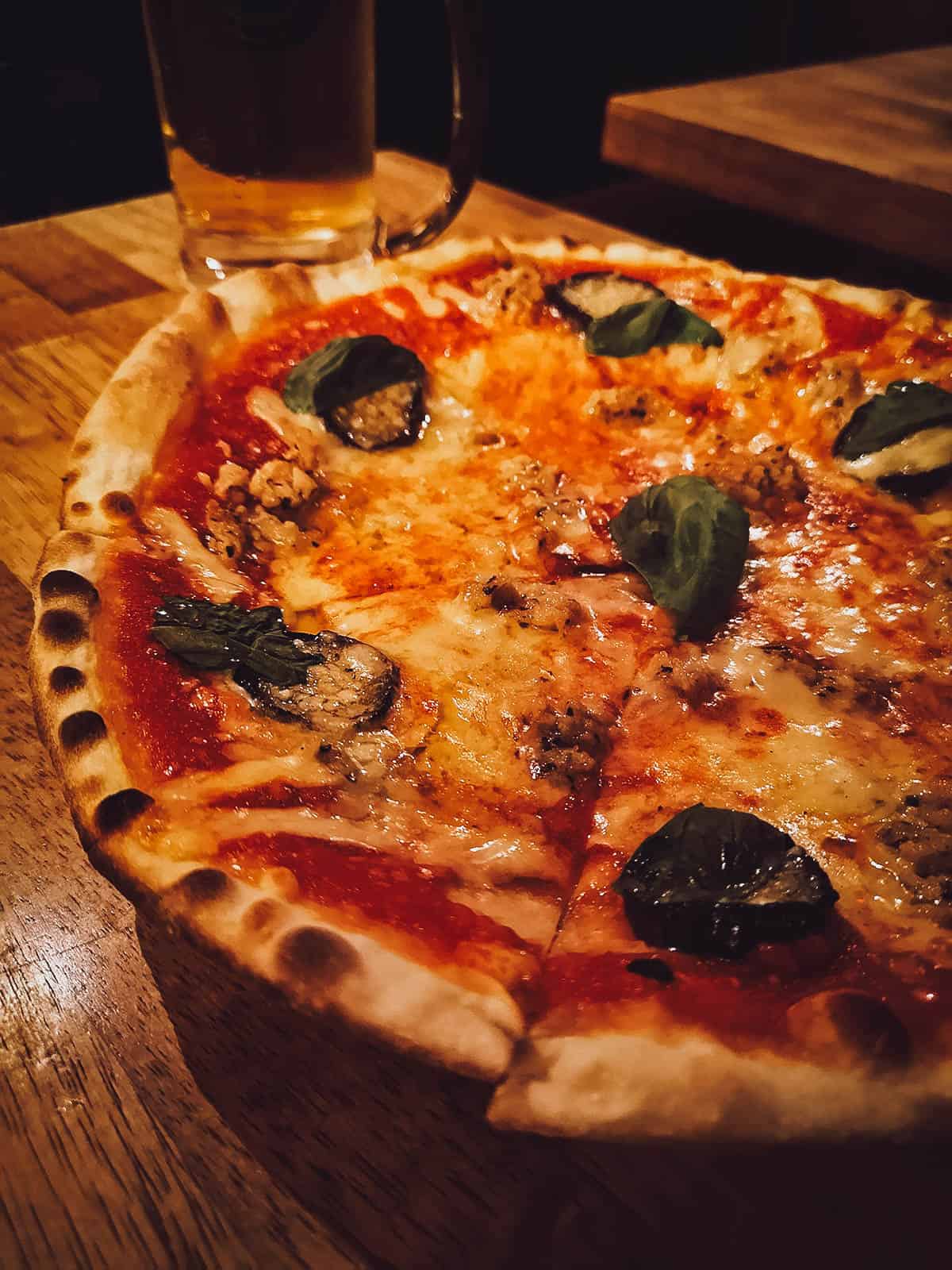 Uneo 500 Bar doesn't offer just one type of pizza either. As you can see on their menu, they offer twenty. Had I now just wolfed down a kaisendon bowl at Minatoya, then I would have loved to hang out here and try more.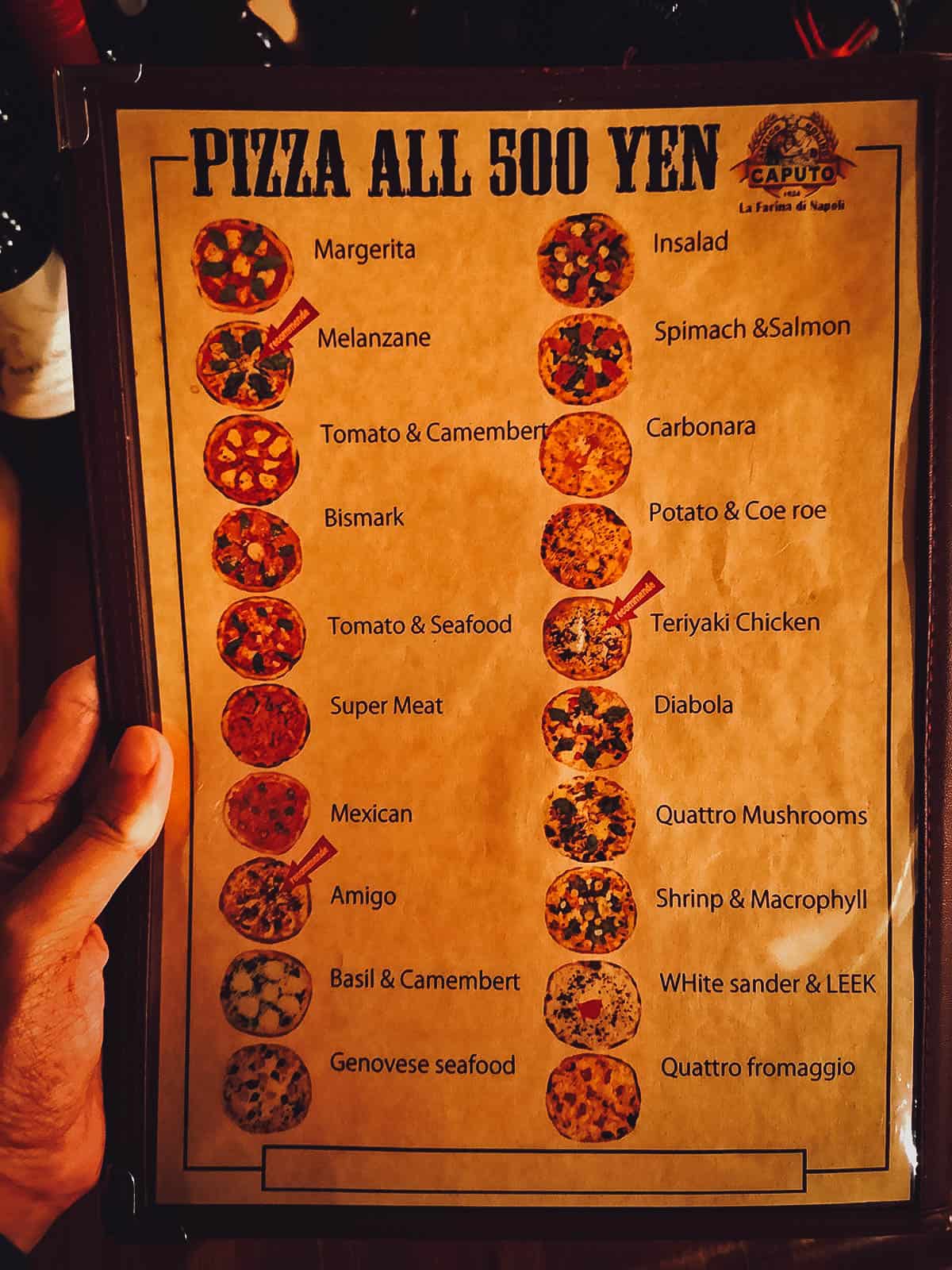 15. Savoy
This was the Tokyo pizza restaurant featured on an episode of David Chang's Ugly Delicious and perhaps the one we were most excited about.
It may seem odd for us to be so excited about pizza in Tokyo, especially considering how much we love Japanese food, but chefs in Tokyo KNOW their pizza. The city has been experiencing a pizza boom for the last decade so you'll find plenty of great pizza restaurants in Tokyo, one of the best being Savoy.
In fact, one TripAdvisor reviewer went so far as to say that "the best pizza isn't in Italy, it's in Tokyo!" He may be right.
We haven't been to Italy so we can't agree or disagree, but one thing we can tell you is that these were the best damn pizzas we've ever had in our lives. They were unbelievably delicious.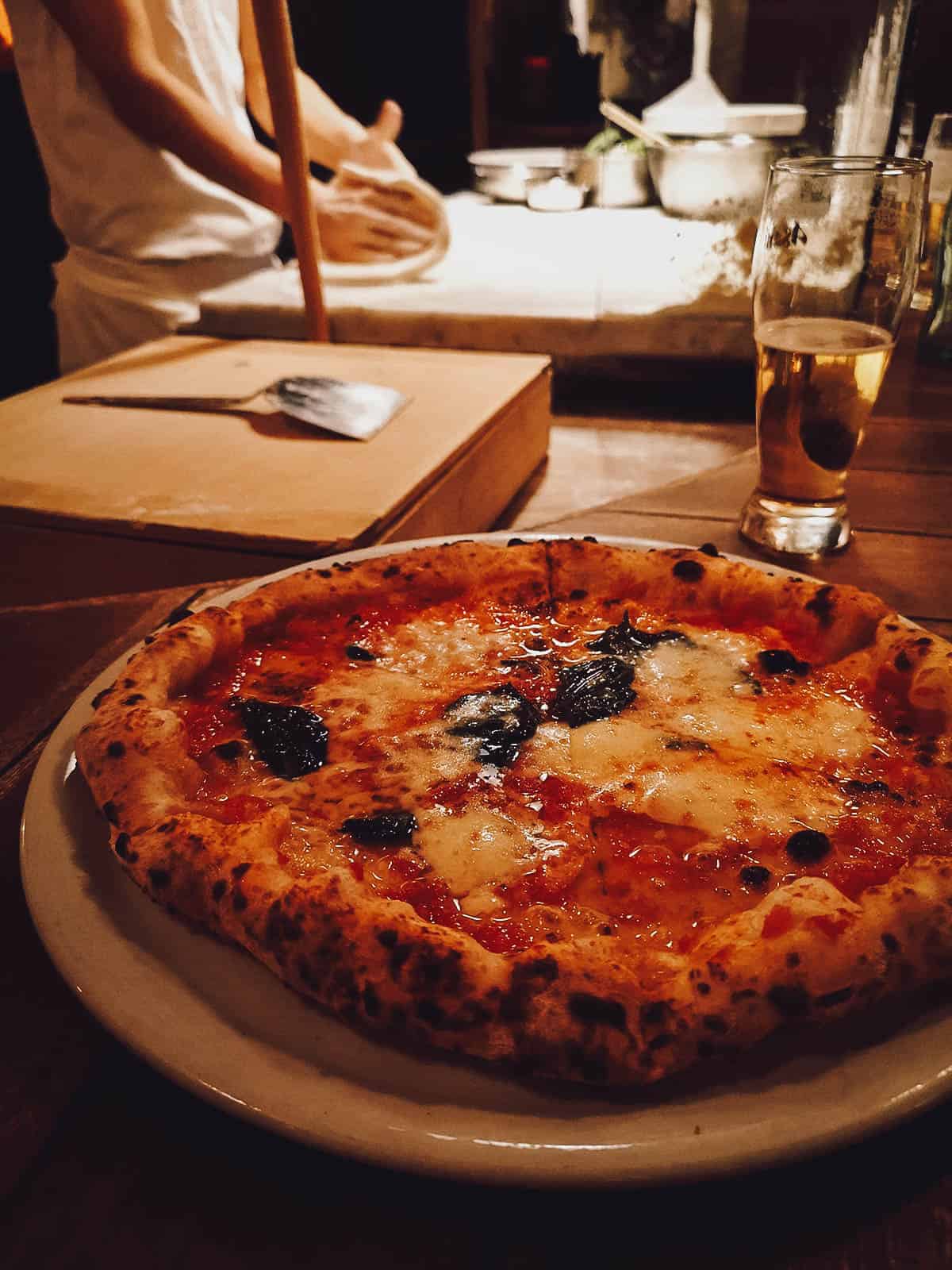 Savoy only offers two types of pizza – margherita and marinara. Both were so simple yet perfect in every way.
Savoy is a small restaurant with just one table and about nine or ten counter seats. If you're seated at the counter like we were, then you can watch the chef knead each ball of dough and top it with tomato sauce, mozzarella cheese, fresh basil, salt, and a generous helping of extra virgin olive oil.
They use premium ingredients but the secret seems to be in the dough which are pre-made into individual portions and neatly stored in wooden boxes.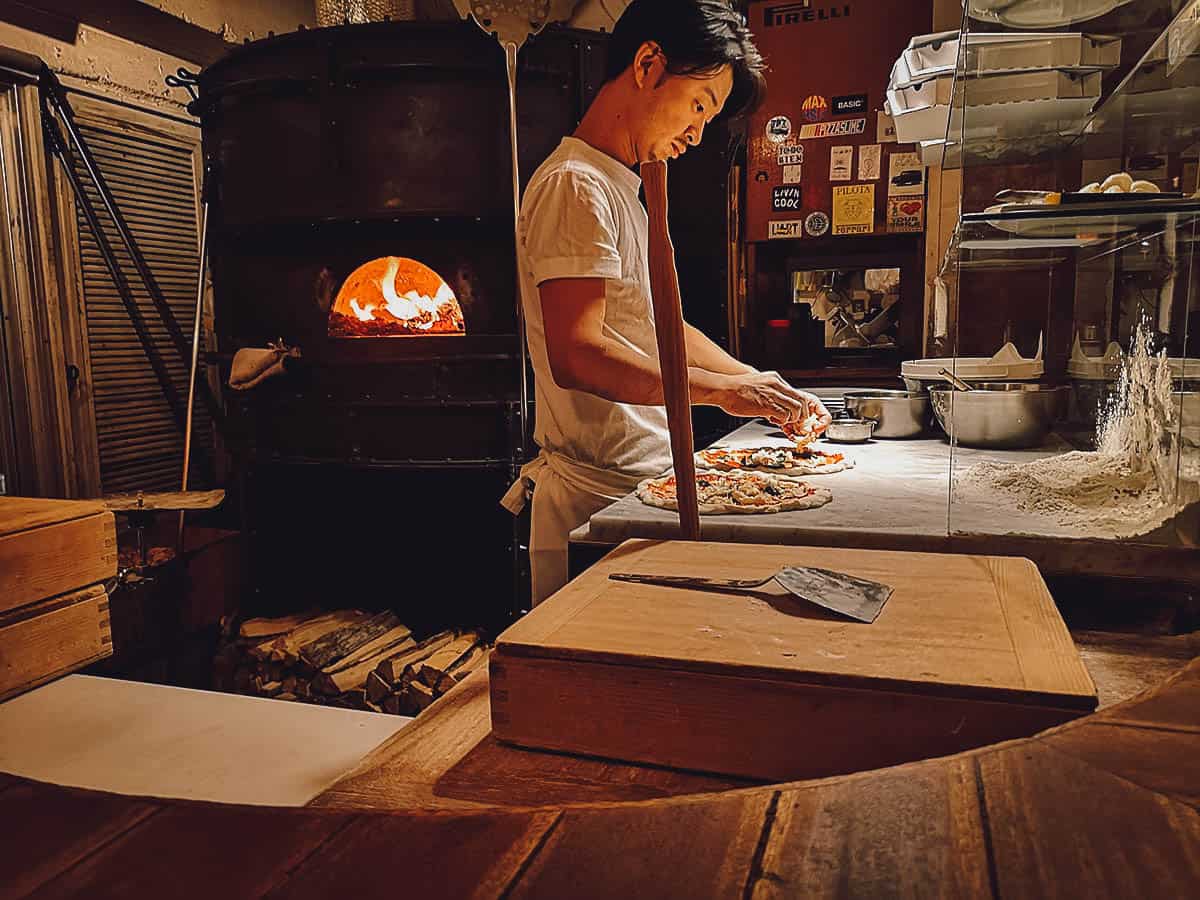 When the pizzas are ready to be baked, the chef would throw some salt into the brick oven before sliding in the pizzas to cook for a few minutes.
It would only take about five minutes, maybe even less, for the crust to bubble up and become charred in parts. I was watching his process and he seemed to use two types of wood to keep the fire going.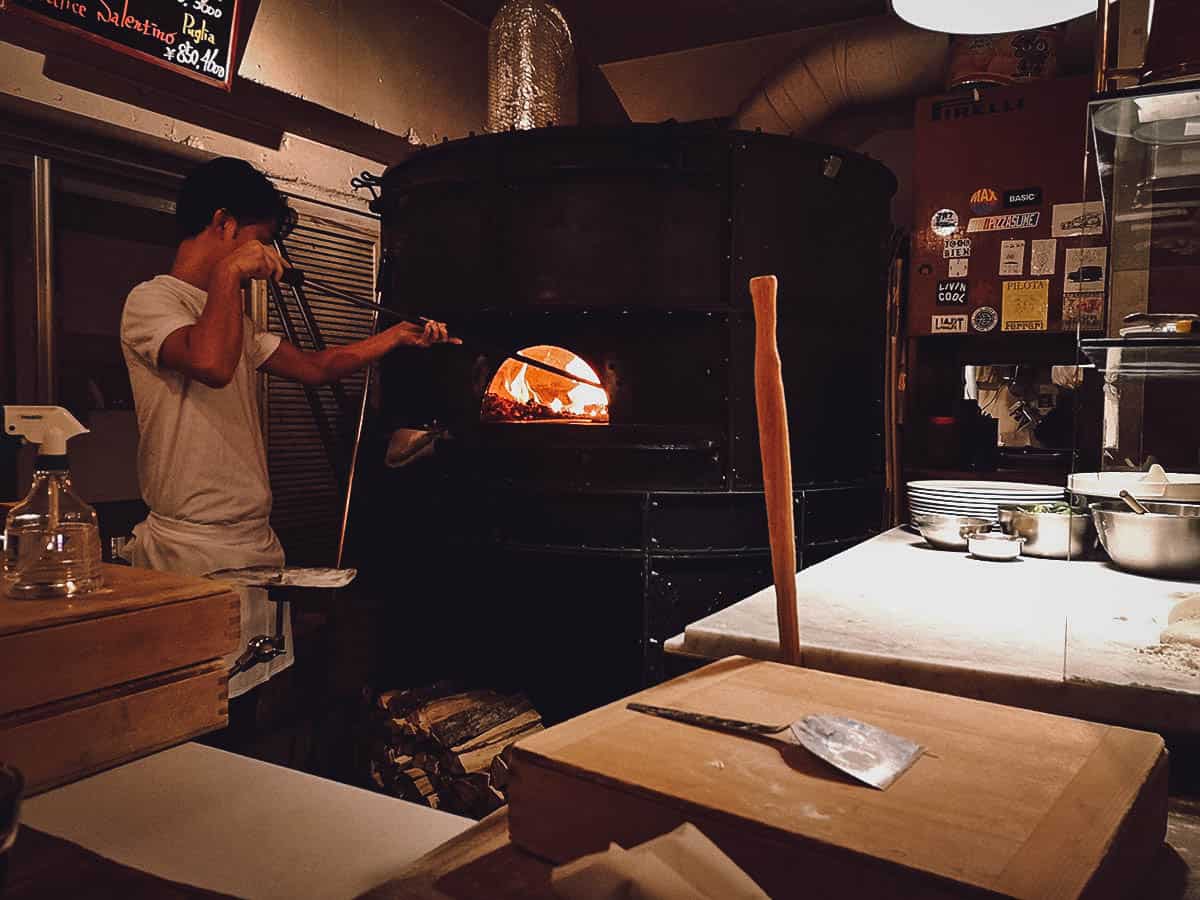 Pictured below is the marinara glistening with olive oil. Note the thinly shaved slices of garlic in the middle. The crust was nice and crisp but airy so it would practically dissolve in your mouth while you chewed. If you like pizzas, then you need to try this.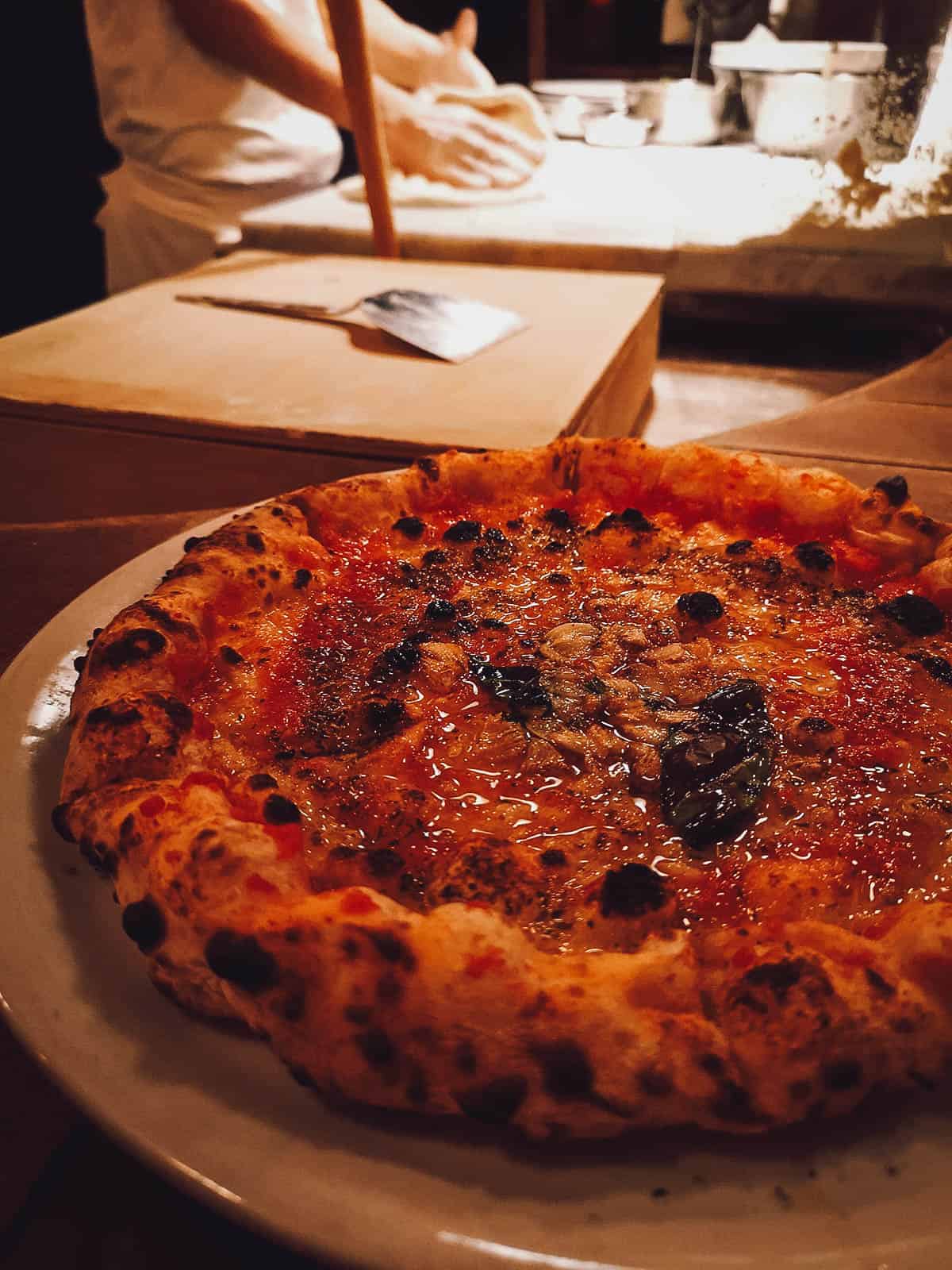 16-17. Eggslut / Luke's Lobster
I was first turned on to Eggslut after a friend posted about their Grand Central Market location in L.A. a few years ago. It caught my attention for three reasons. One, I liked the name. Two, I love eggs. And three, it was started by a Fiipino-American chef.
We told ourselves that we'd definitely check them out on our next trip to California. Thanks to this branch next to Shinjuku Expressway Bus Terminal, we didn't have to wait that long.
This building is comprised of three food brands – Eggslut on the first floor, Luke's Lobster on the second, and the Boul'ange bakery inside Eggslut. All three appear to be owned by the same group.
If you're leaving Tokyo by highway bus and moving on to another city in Japan, then this is a great place to eat or get takeaway.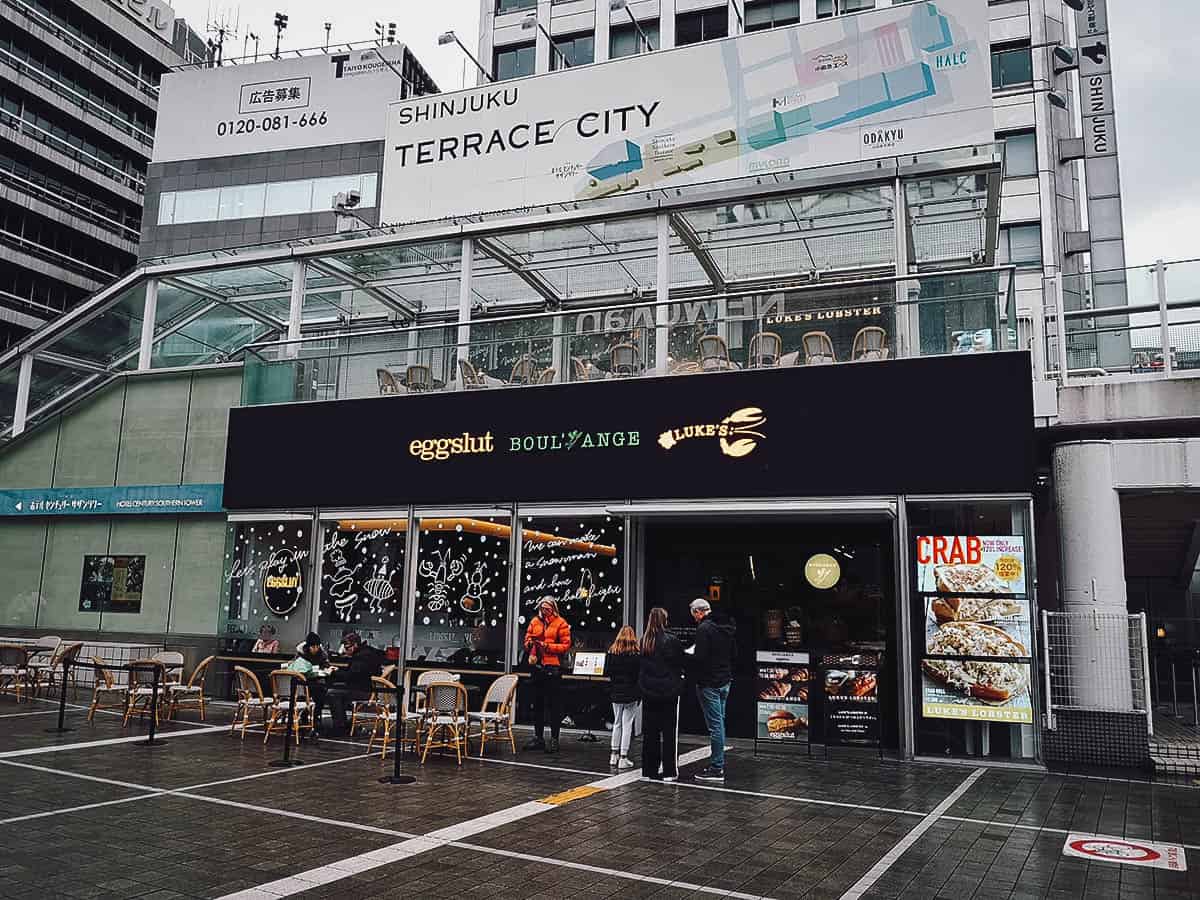 Behold the Route 20 Sandwich, Eggslut's Japan exclusive. It's basically a beef burger sandwiched between a brioche bun and topped with scrambled eggs, a fried egg, and cheddar cheese. It's a little messy to eat but it was satisfying and delicious.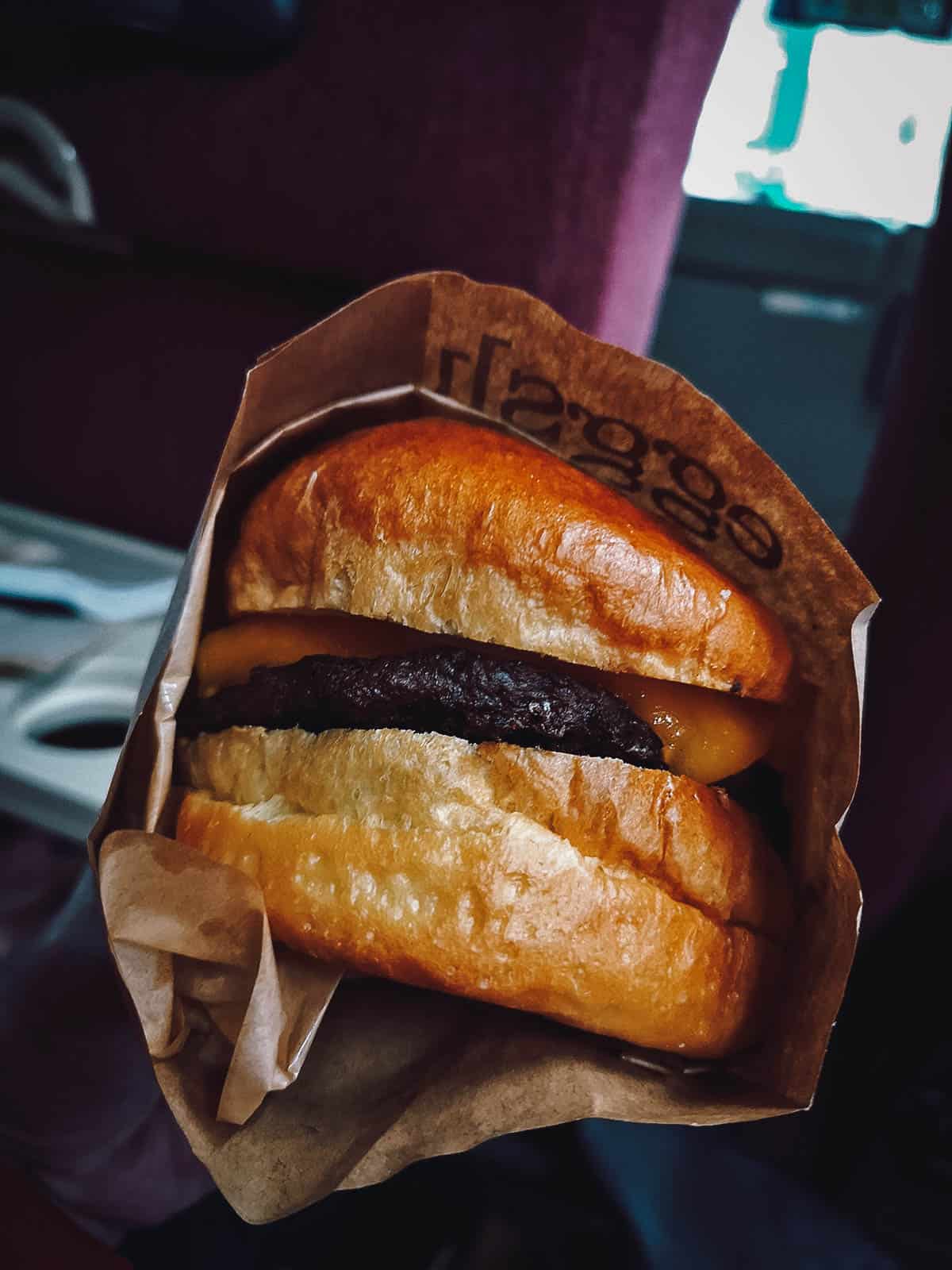 18. Tokyo Night Foodie Tour
This last entry isn't a restaurant but a food tour, a Tokyo food tour in Shinjuku led by locals who know and have a passion not just for Japanese food, but for food in general.
Our tour guide Nori took us to a sushi bar, a yakiniku place, and a gelateria before leading us through the fascinating maze of izakayas and bars at Omoide Yokocho (Piss Alley) and Golden Gai.
This Tokyo Night Foodie Tour is run by Magical Trip, a Japanese boutique tour company that offers food and sightseeing tours in major cities throughout Japan. It costs USD 99 per person and lasts for about three hours.
Pictured below was the sushi set we each had at our first stop. They give you the choice of either a sushi or vegetarian sushi set plus a drink like sake, beer, highball, or plum wine. The sushi was delicious.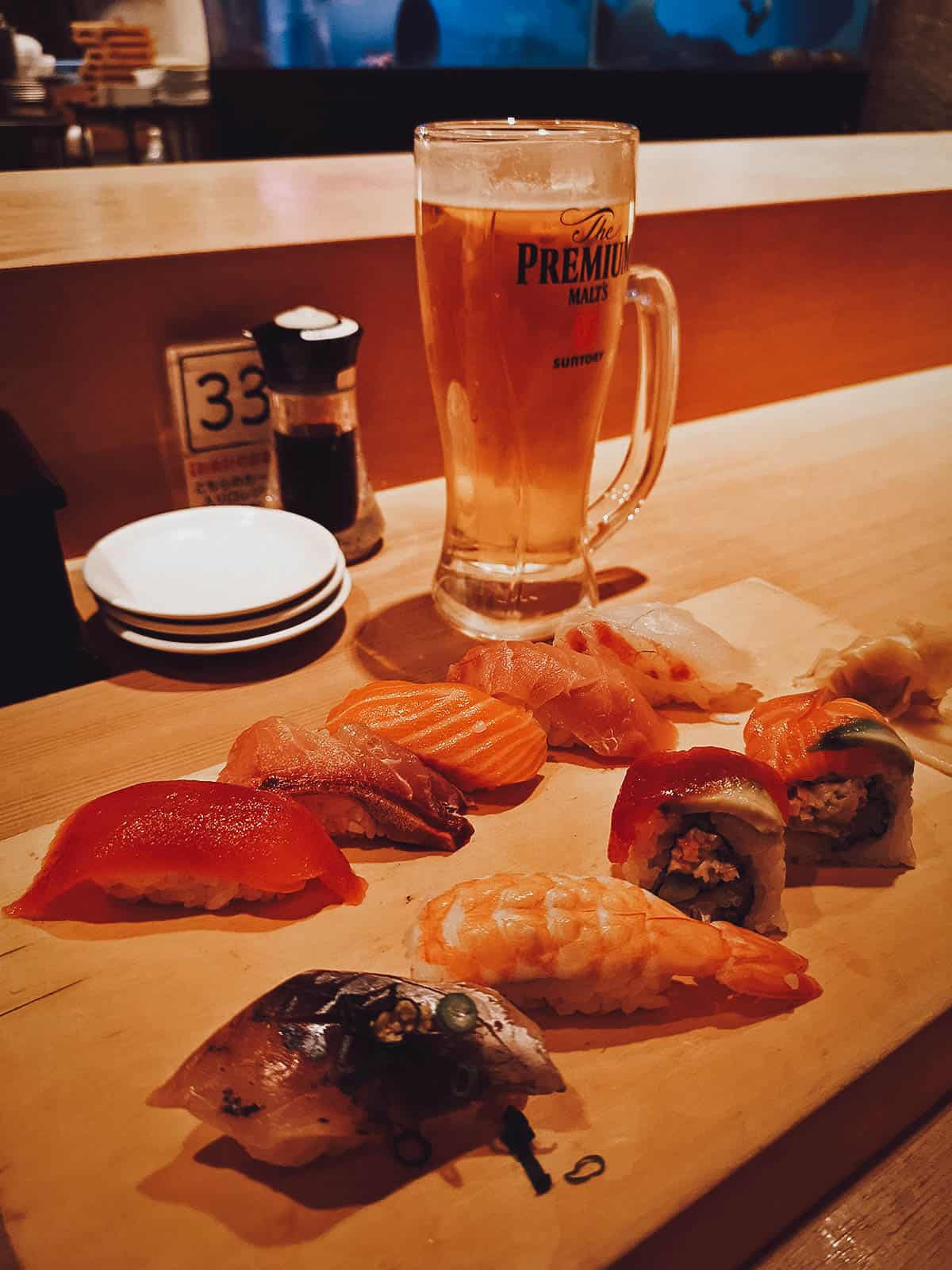 Our second stop was a yakiniku restaurant. Yakiniku refers to the Japanese way of grilling meat and vegetables on tabletop grills. Some restaurants use electric or gas grills but this place does it the best way – over hot charcoals to give the meat that nice smokey flavor.
Like the sushi bar, you'll have your choice of yakiniku set. You can either have the wagyu set, the pork and chicken set, or the vegetarian set. Of course we all had the wagyu set which was comprised of different cuts of beef.



Nori did all the cooking himself to make sure the meats were cooked perfectly. They were tender, smokey, and very juicy.
Nori is as passionate about food as we are. He spent time in the US and has extensive travel experience so he's familiar with many types of cuisines, not just Japanese. He's been to Italy so we asked him if he thought the pizzas in Japan or Italy were better. He said Japan.
FINAL THOUGHTS
Coming up with a guide for the best restaurants in Tokyo is difficult. It's like coming up with a restaurant guide for New York City. It's almost an impossible task so we focused on local restaurants and well-established brands that have withstood the test of time.
Most of the Tokyo restaurants on this list are local-approved. They aren't going anywhere anytime soon so you can be guaranteed of a good meal there.
In any case, I hope this first edition of our Tokyo food guide helps you navigate through Tokyo's dynamic but sometimes overwhelming culinary landscape. As always, it's something we'll be refining, updating, and improving upon with every return visit.
Thanks for reading guys and I hope you enjoy the food in Tokyo as much as we did. Arigato gozaimasu!
Disclosure
We're affiliates with Magical Trip and were given a free tour in exchange for an honest account of the experience. As always, all words, thoughts, and opinions expressed in this post are mine and mine alone.
This article contains affiliate links, meaning we'll earn a small commission if you make a booking or reservation at no extra cost to you. We really appreciate your support as it helps us keep this website going. Thank you!