When I think of the best things to do in Fukuoka, I usually think of three things – hakata ramen, yatai stalls, and motsunabe. All three are related to food which is unsurprising considering it's the number one reason why we travel.
But as much as we love Japanese food, there's more to do in Fukuoka City than fill your belly. Compared to busier cities like Tokyo and Osaka, Fukuoka is more laid back. It has an extensive transportation system and an even pace making it a fun and relaxing city to explore on your own.
If you're visiting for the first time, then listed below are ten of the most popular things to do in Fukuoka.
FUKUOKA ATTRACTIONS QUICK LINKS
To help you make the most of your time in Fukuoka City, we've compiled links to recommended hotels, tours, and other travel-related services here.
HOTELS
Top-rated hotels in Nakasu, one of the best areas to stay for first-time visitors to Fukuoka.
TOURS
OTHER SERVICES
FUKUOKA TRAVEL GUIDE
If you're planning a trip to Fukuoka City, then be sure to check out our detailed Fukuoka travel guide. It'll have all the information you need – like where to stay, what to do, where to go on a day trip, etc. – to help you plan your trip.
Save This on Pinterest!
No time to read this guide on the best things to do in Fukuoka City? Click on the save button and pin it for later!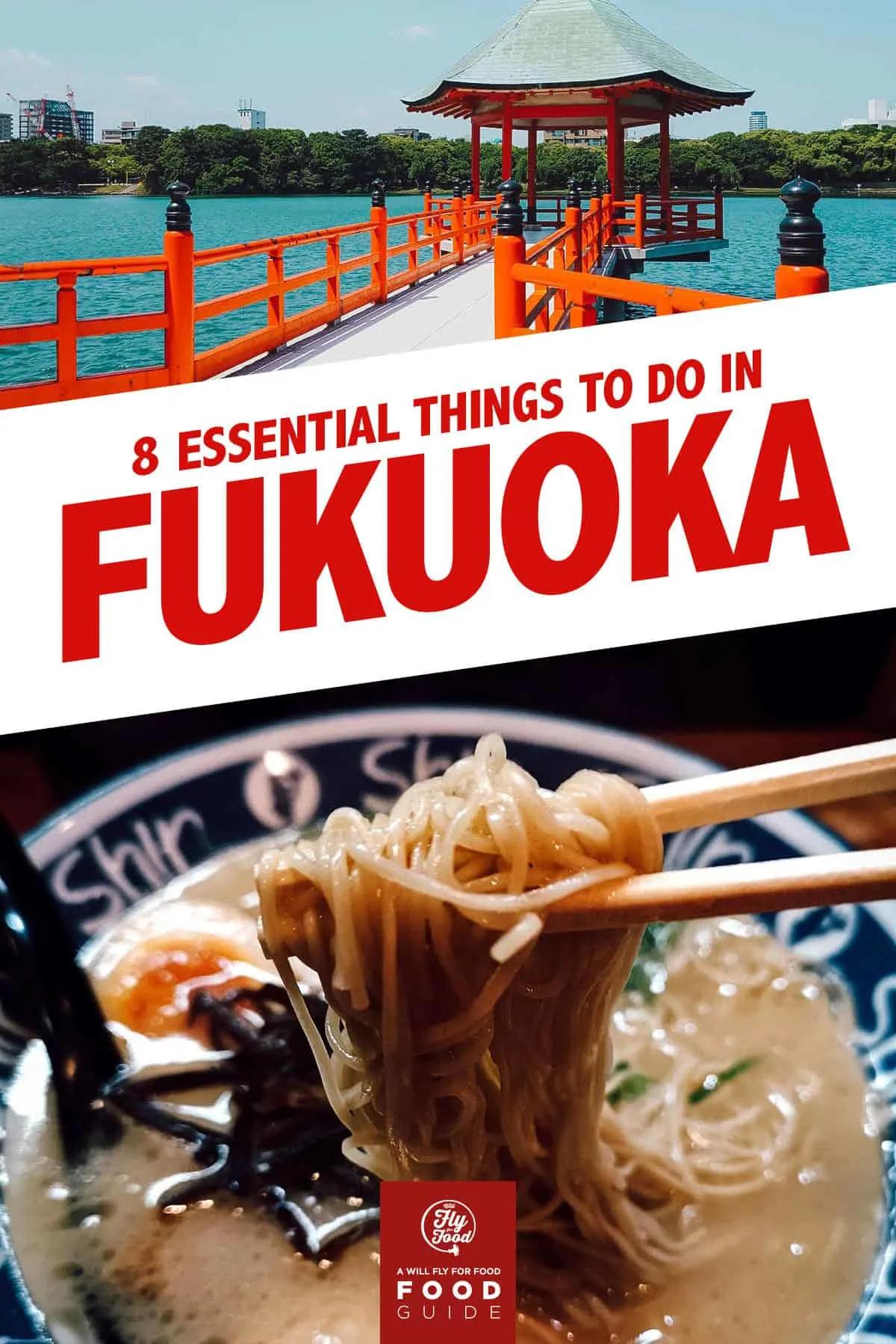 THINGS TO DO IN FUKUOKA
1. Eat at a Yatai Stall
The humble yatai stall is one of the most iconic and well-known attractions in Fukuoka City. You can think of it as a Japanese street food stall. A beloved symbol of Fukuoka, it opens only at night and serves a few izakaya-type dishes like hakata ramen, yakitori, kushiyaki, and grilled seafood.
Yatai stalls can be found in other Japanese cities but Fukuoka has the most – about 150 clustered in pockets throughout the city like Nagahama, Tenjin, and Nakasu. Pictured below is a row of yatai stalls in Nagahama.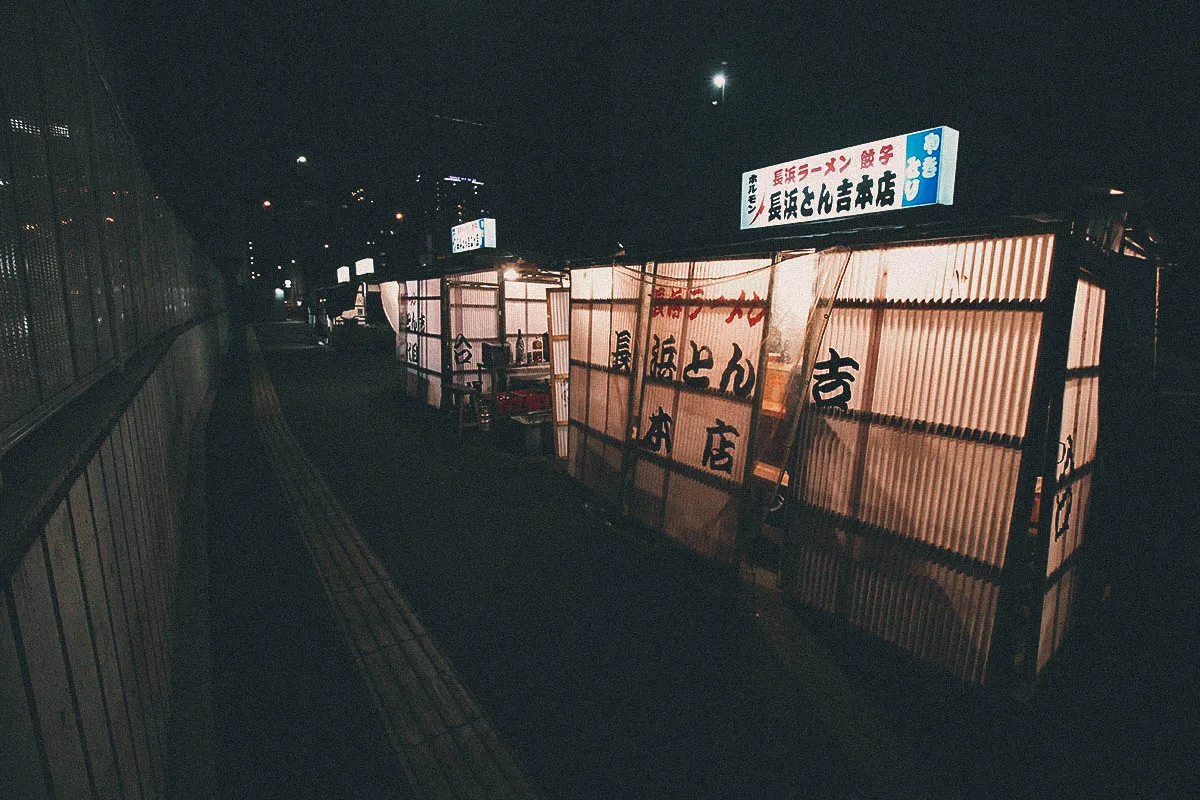 From the outside, yatai stalls look too tiny for anyone to fit inside but they're actually roomier than they seem. About 8-10 people can fit inside a standard yatai stall.
I've been to Fukuoka City four times, all in winter or fall, so every yatai stall I've been to was enclosed to preserve warmth. But I have seen pictures of stalls opened up in the warmer months.
If you want a truly local dining experience, then enjoying a beer and some late night bar chow inside a yatai stall is one of the best things to do in Fukuoka. Sitting in tight quarters, you'll literally be rubbing elbows with locals. Get Your Guide and byFood offer tours that take you to yatai stalls.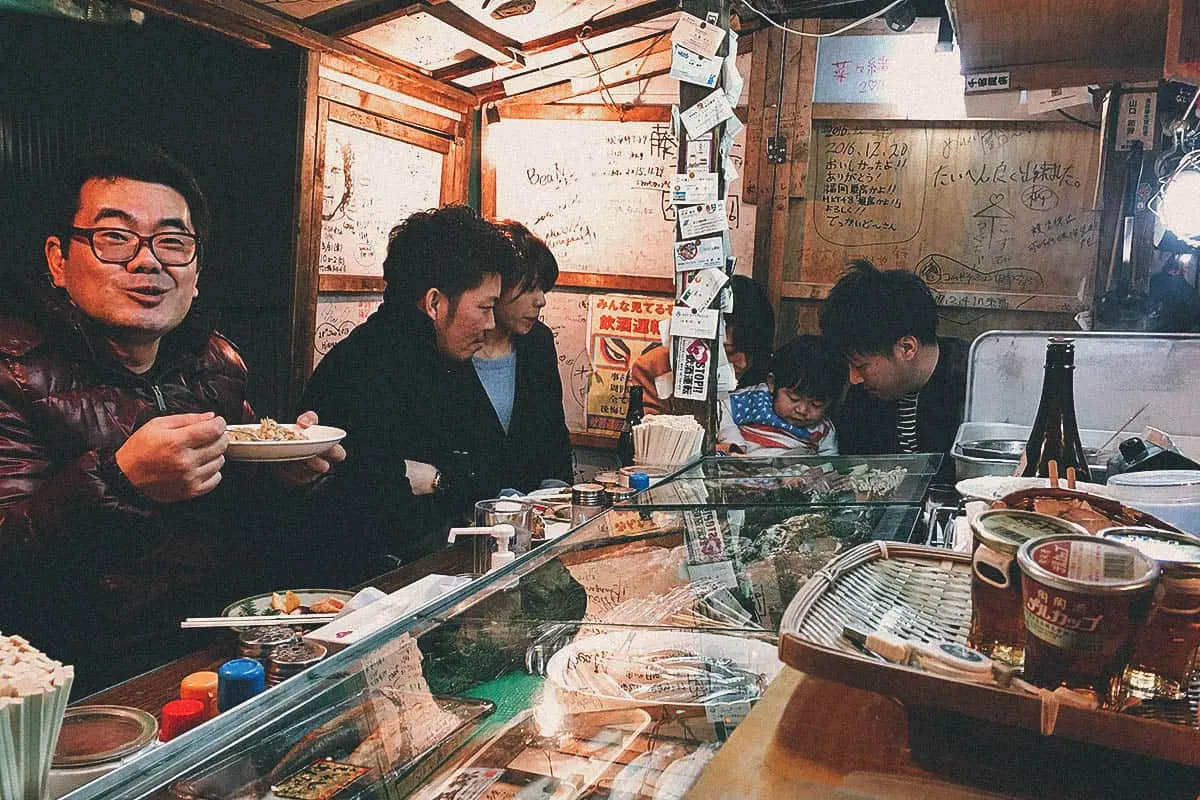 2. Eat Hakata Ramen at the Original Ichiran
If you were to have just one dish in Fukuoka City, then it should be hakata ramen. Not only is it one of Japan's most popular types of ramen, but it originated right here in Fukuoka.
Also known as tonkotsu ramen, hakata ramen is known for its characteristic cloudy broth made by boiling pork bones over a high flame for several hours. This long boiling process allows the marrow to seep out and create a rich and creamy soup.
Thin and chewy ramen noodles are added to the broth along with just a few choice toppings like chashu pork, chopped green onion, and wood ear mushrooms.
I went to several ramen shops in the city to try and find the best hakata ramen in Fukuoka. The global Ichiran chain, which started here in Fukuoka, was one of my favorites.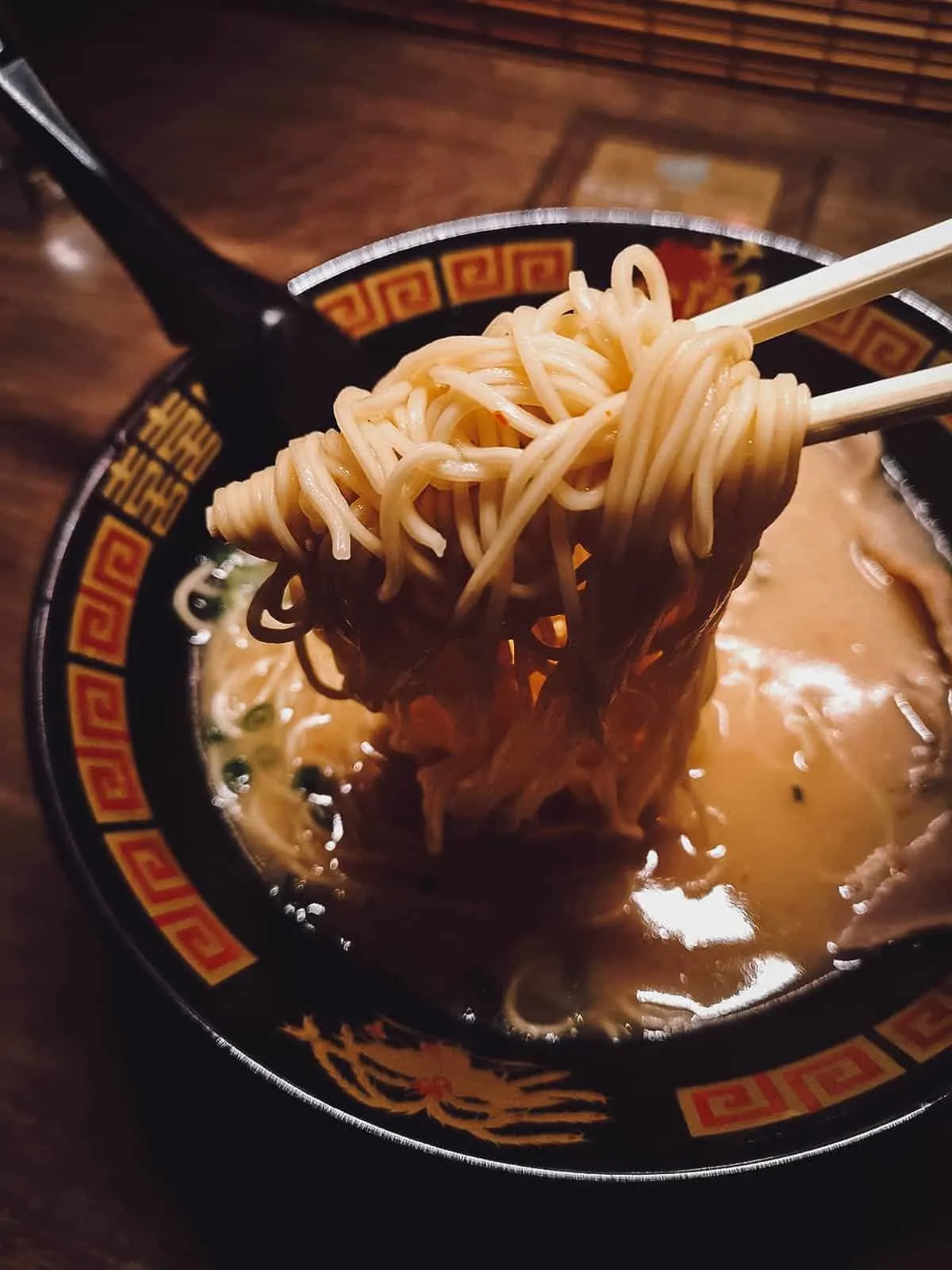 Ichiran has multiple outlets in Fukuoka City but I suggest going to the original branch located inside the building pictured below.
If you aren't familiar with Ichiran, they became famous not just for serving delicious hakata ramen, but for the unique way in which diners could enjoy it. Instead of regular tables or counters, customers could slurp down their bowls of hakata ramen in solo dining booths.
Every seat has partitions on either side to block other customers from view, allowing Ichiran diners to focus on one thing and one thing only – their ramen.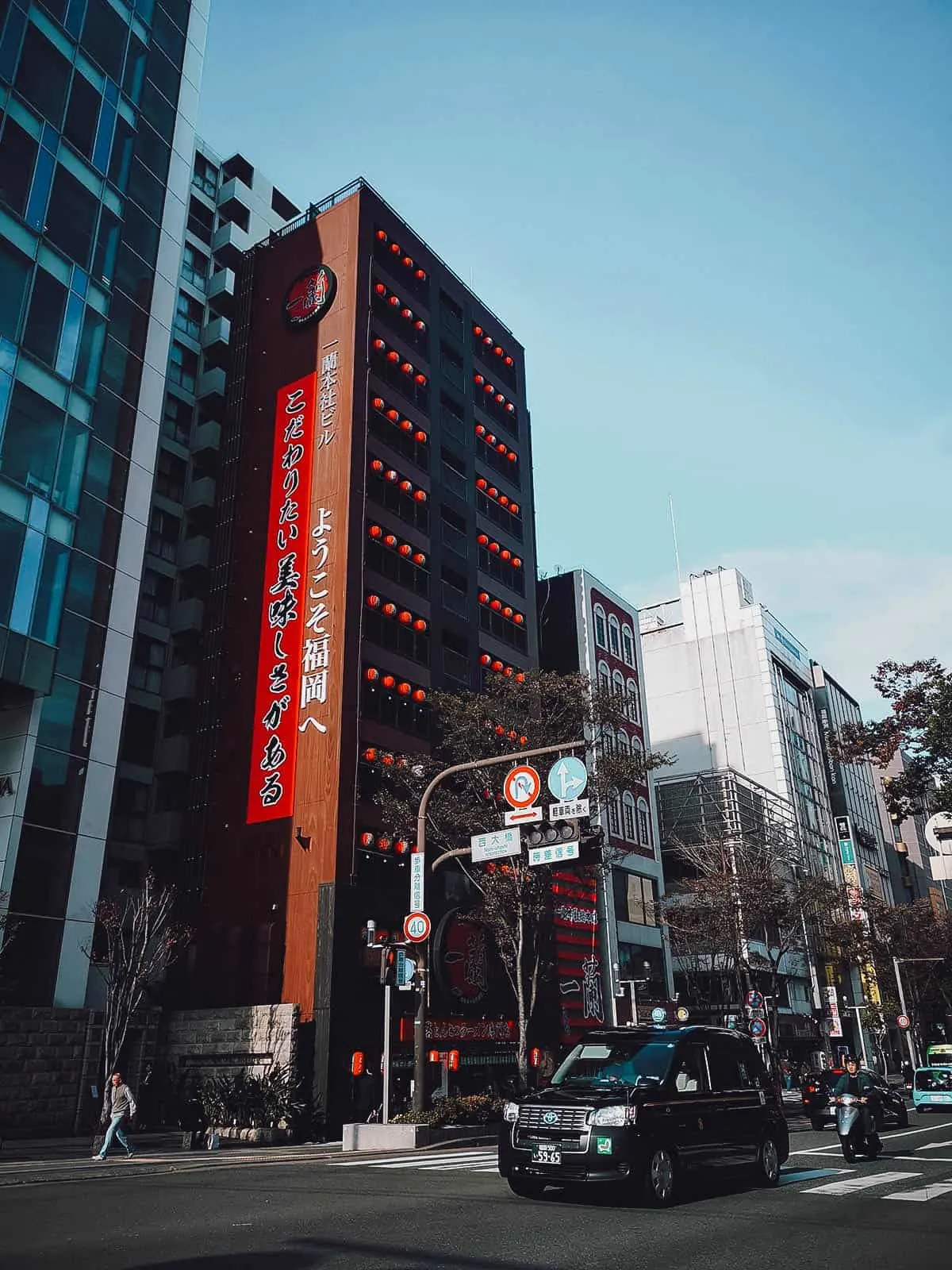 Address: 5 Chome-3-2 Nakasu, Hakata Ward, Fukuoka, 810-0801, Japan
Operating Hours: 24 hrs
Expect to Spend: About JPY 950 per bowl of hakata ramen
3. Visit Ohori Park
Ohori Park is a peaceful city park with a large pond at its center. Ohori means "moat" in Japanese and is in reference to this pond which used to be part of Fukuoka Castle's moat system. Unfortunately, not much of Fukuoka Castle remains apart from a few walls, turrets, and this central pond.
On a clear day, it's great to take a stroll around the lake and the Fukuoka Castle ruins. There's a Starbucks and many benches around the perimeter of the lake where you can sit and quietly take in the park's atmosphere. There are three interconnected islands and a pavilion (pictured below) you can explore as well.
On the eastern side of the lake are Fukuoka Art Museum and Ohori Park Japanese Garden. Admission is JPY 200 and JPY 250 respectively but entrance to the general park area is free. Get Your Guide offers a few tours that take you to Ohori Park.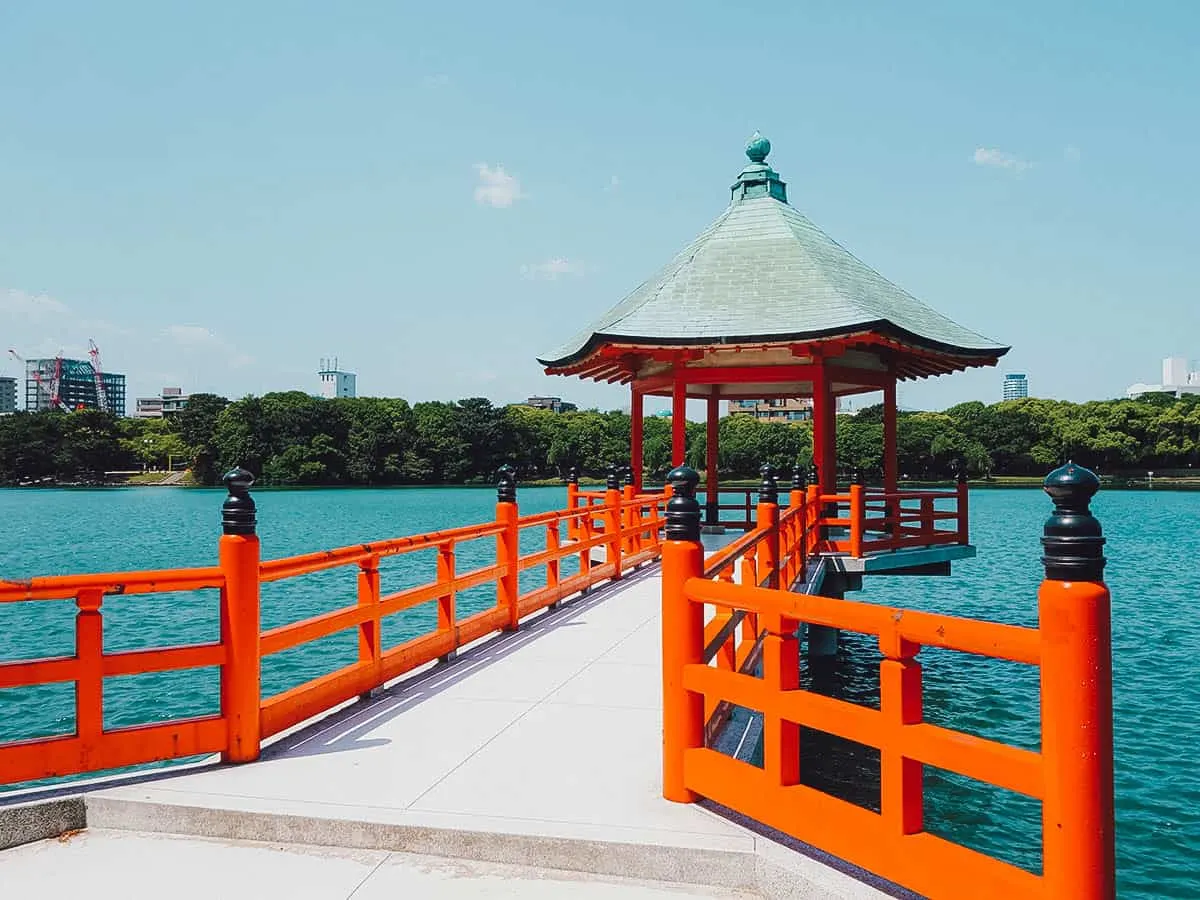 Photo by jacky-kou via Shutterstock
Operating Hours: 24 hrs
Admission: FREE
4. Go Shopping at Canal City Hakata and Tenjin Chikagai
If you're in the mood to go shopping, then Canal City Hakata and Tenjin Underground Shopping Center are two of the best places to drop some yen in Fukuoka City.
Called a "city within the city", Canal City Hakata is the largest shopping and entertainment complex in Fukuoka. It covers 2.5 million sq ft of space and boasts over 250 shops and restaurants built around a central fountain and canal area.
In contrast, Tenjin Chikagai is a 600-meter network of underground passageways that's home to over 150 small shops and restaurants. It's located about a kilometer west of Canal City Hakata so you can easily visit both on the same day.
5. Visit Uminonakamichi Seaside Park
Uminonakamichi Seaside Park is a large public park located across the bay from central Fukuoka. It's home to flower gardens, an amusement park, playgrounds, cycling trails, and large open spaces with flower fields.
The park measures about 4 km (2.5 miles) from one end to the other making it an ideal area to explore on bicycle. You can rent bicycles at the gate for JPY 500 for three hours or JPY 700 for the day.
If you visit between mid-March and early autumn, then you'll find millions of flowers blooming throughout different parts of the park. Cherry blossoms bloom in spring while other flowers like tulips, roses, hydrangeas, and sunflowers will be visible at different times of the year.
Uminonakamichi Seaside Park can be reached by metro or ferry from central Fukuoka. If you like aquariums, then you can visit Marine World Uminonakamichi on the same trip. It's located near the park just a short walk from Uminonakamichi Station.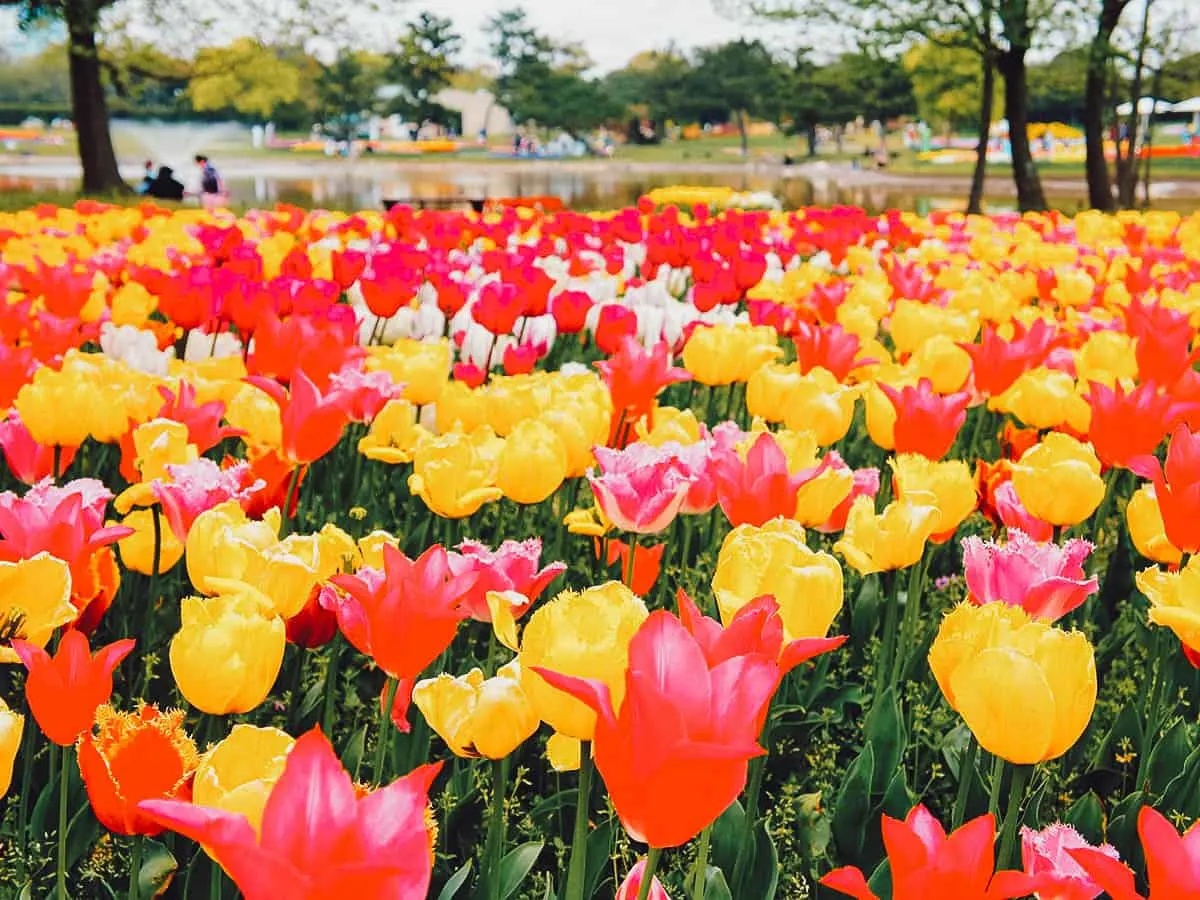 Photo by twilllll via Shutterstock
Operating Hours: 9:30AM-5:30PM, daily
Admission: JPY 450
6. Try Motsunabe
Like hakata ramen, motsunabe is a regional Fukuoka dish and one of the best things you can have in the city. It's a type of nabemono or Japanese hot pot dish made with beef or pork offal cooked in a shallow pot on your table with cabbage, garlic chives, and champon noodles.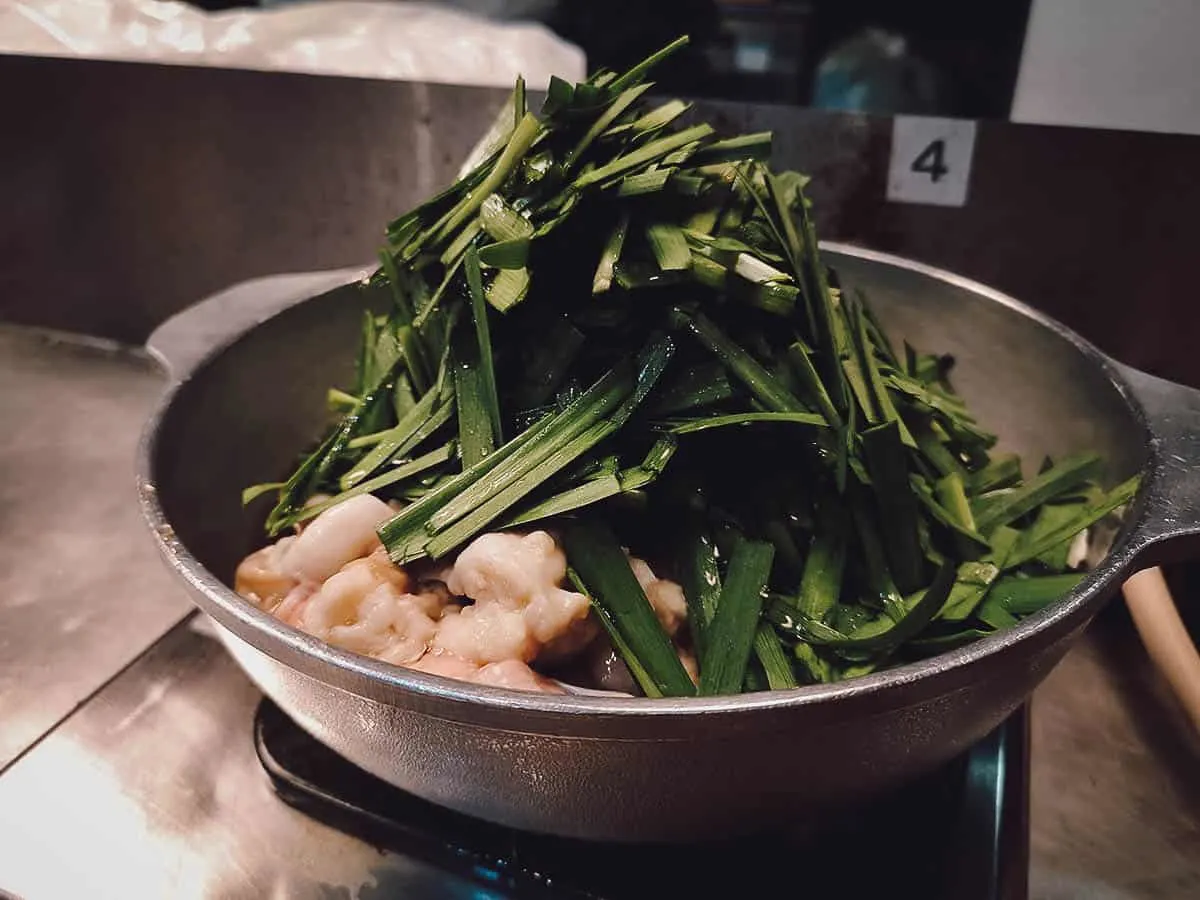 Pictured below is a soft and fatty piece of offal. Motsunabe is typically made with innards like beef intestine and pork tripe that are simmered in a soup base seasoned with soy sauce, garlic, and chili pepper. It's absolutely delicious and one of the best dishes you can have in winter.
There are many motsunabe restaurants in Fukuoka City, but one of the best is Hakata Motsunabe Yamanaka.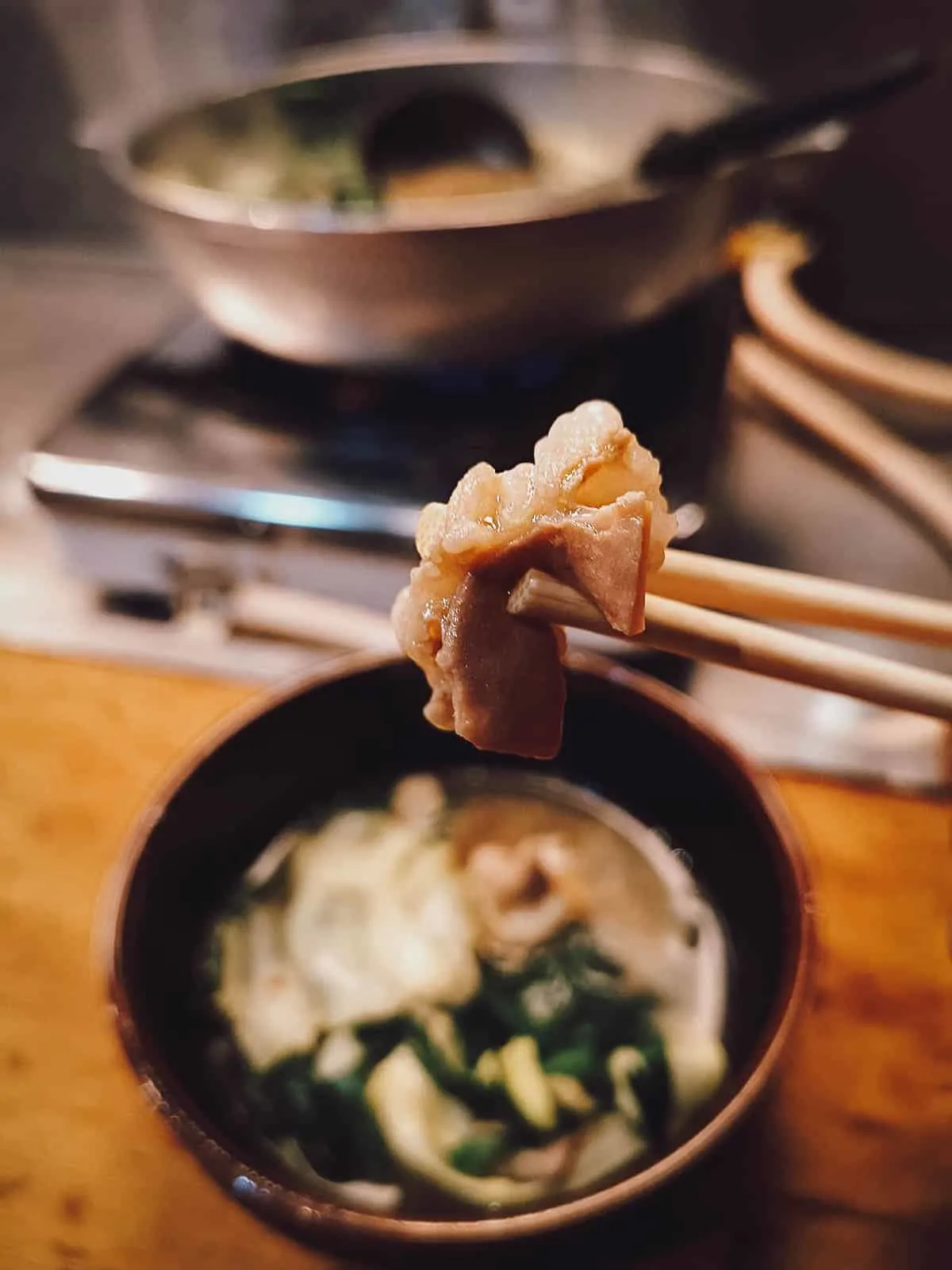 Address: 1 Chome-9-1 Akasaka, Chuo Ward, Fukuoka, 810-0042, Japan
Operating Hours: 5-11:30PM, Thu-Tue (closed Wednesdays)
Expect to Spend: About JPY 1,980 per person for motsunabe
7. Visit Kushida Shrine
Kushida Shrine is a top Fukuoka attraction and one of its most important Shinto shrines. It was founded in 757 and regarded by locals as the guardian temple of the city.
In July of every year, Kushida Shrine hosts the Yamakasa Gion Matsuri which is the biggest festival in Fukuoka. On the festival's last day, hundreds of men from seven teams representing Hakata's seven neighborhoods race while carrying giant floats called kazariyama.
Each of these floats is decorated with elaborate figures and scenes and can measure up to 10 meters tall and weigh over a ton. The largest of these floats are put on display at Kushida Shrine for the rest of the year. Klook and Get Your Guide offer tours that make stops at Kushida Shrine.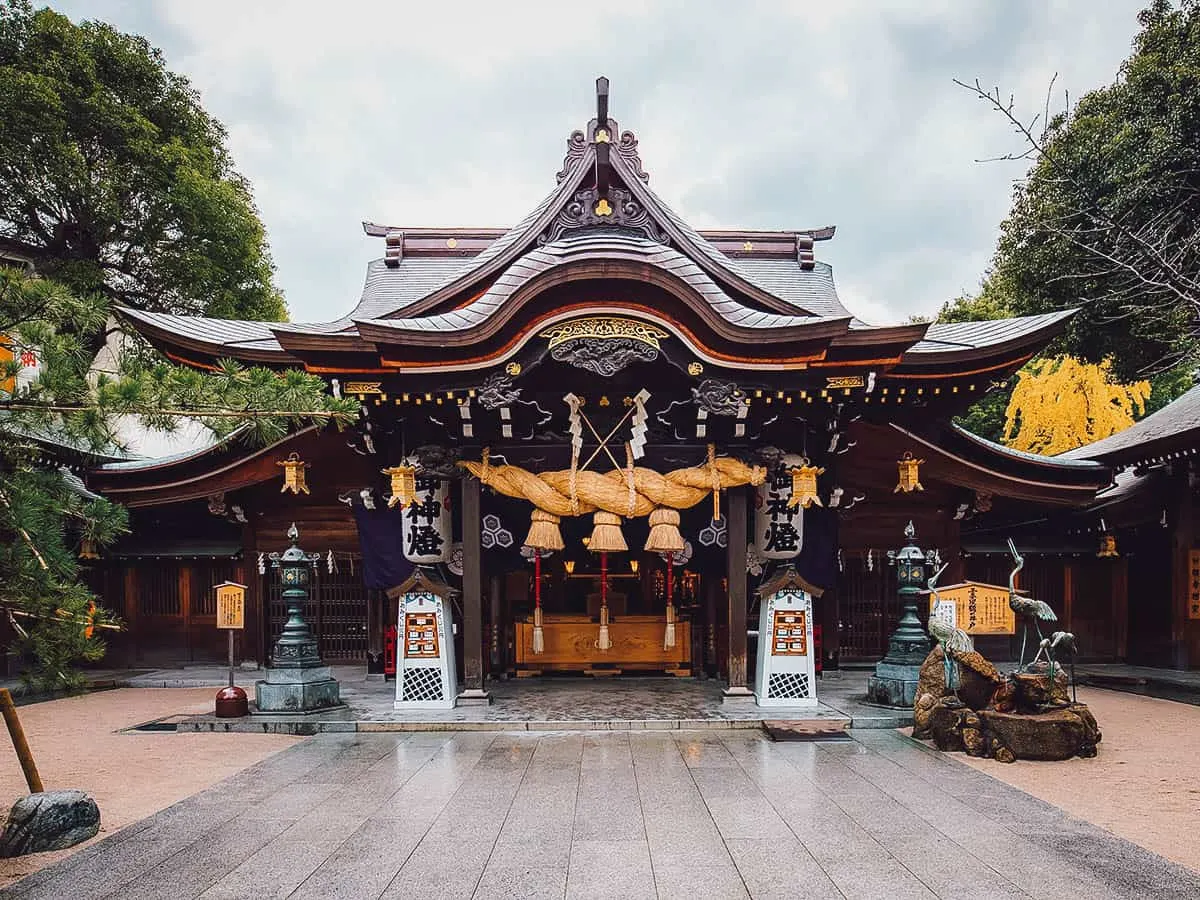 Photo by Nattee Chalermtiragool via Shutterstock
Operating Hours: 4AM-10PM, daily
Admission: FREE
8. Visit Chikuzen Sumiyoshi
About 1 km south of Kushida Shrine is Chikuzen Sumiyoshi. Also known as Sumiyoshi Shrine, it's a Japanese Shinto shrine that was once regarded as the most important shrine of the Chikuzen area (northern part of Fukuoka prefecture).
Built over 1,800 years ago, Chikuzen Sumiyoshi is the first of nearly 2,000 Sumiyoshi shrines in Japan. Sumiyoshi shrines are built in dedication to the Sumiyoshi sajin or the three Shinto gods of the sea and sailing.
Highlights at Chikuzen Sumiyoshi include the main hall, which is designated as a National Treasure of Japan, and the copper axe and sword which are regarded as important cultural properties of Fukuoka.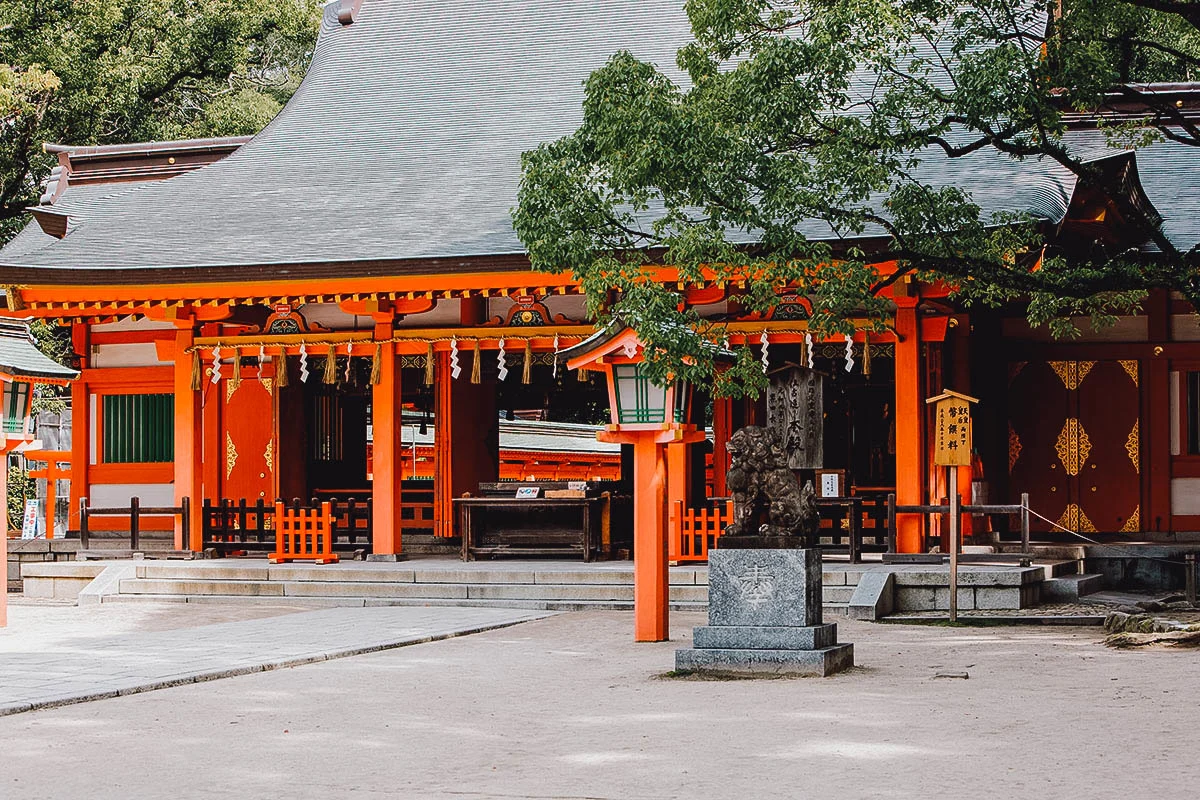 Photo by [email protected] via Depositphotos
Operating Hours: 9AM-5PM, daily
Admission: FREE
9. Enjoy the View from Fukuoka Tower
Fukuoka Tower is literally one of the top tourist attractions in Fukuoka City. Standing at 234 meters tall (768 ft) on the shores of Hakata Bay, it's the tallest seaside tower in Japan.
Located 123 meters (404 ft) off the ground, Fukuoka Tower features an observation deck that offers 360° views of the city and bay. If you like getting bird's eye views of the city, then this is the best place to do it in Fukuoka.
You can purchase tickets to the observation deck at the gate or in advance through Klook.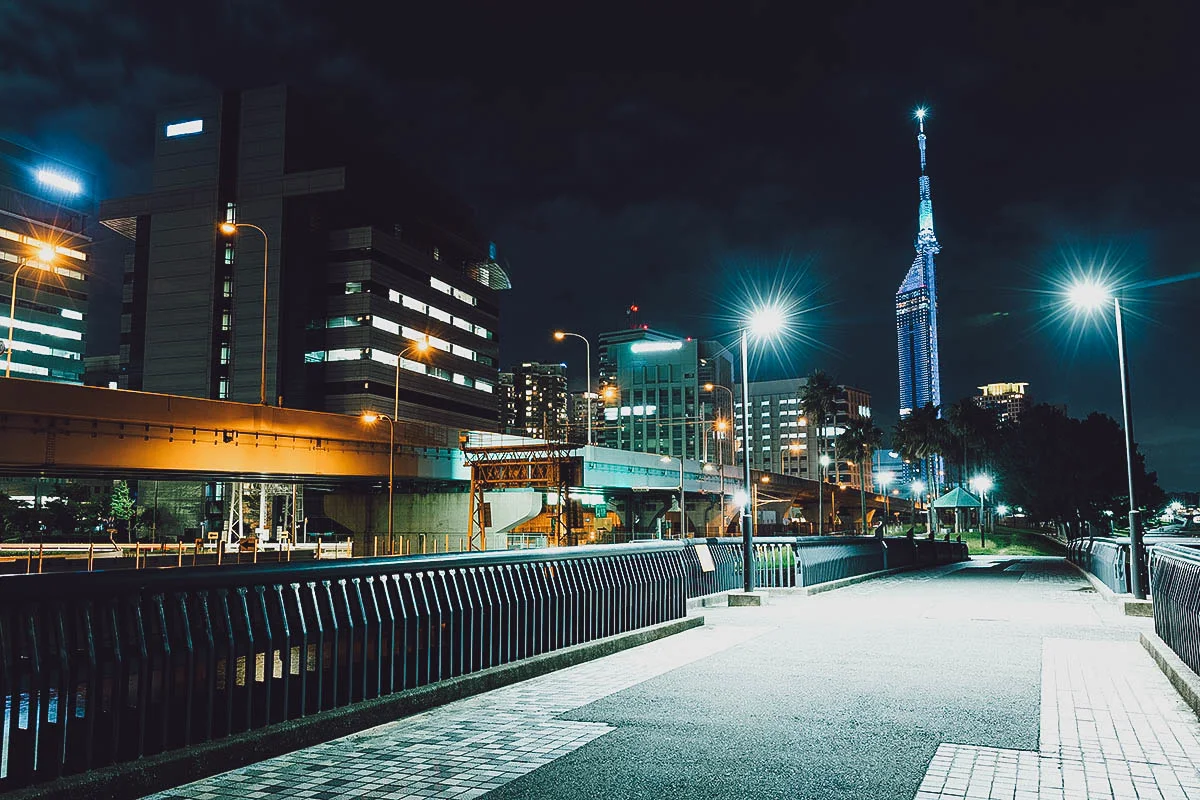 Photo by leungchopan via Depositphotos
Operating Hours: 9:30AM-10PM, daily
Admission: JPY 800
10. teamLab Forest
Sadly, Tokyo's teamLab Borderless closed its doors in 2022, but fans of the Japan-based art collective will be pleased to learn that Fukuoka is home to one of the team's newest projects – teamLab Forest. Like its predecessors, it features immersive digital exhibits that navigate "the confluence of art, science, technology, and the natural world."
teamLab Forest is divided into two main sections – "Catch and Collect Forest" and "Forest of Motion". You can purchase tickets at the gate but considering the exhibit's popularity, it's highly recommended that you purchase tickets in advance.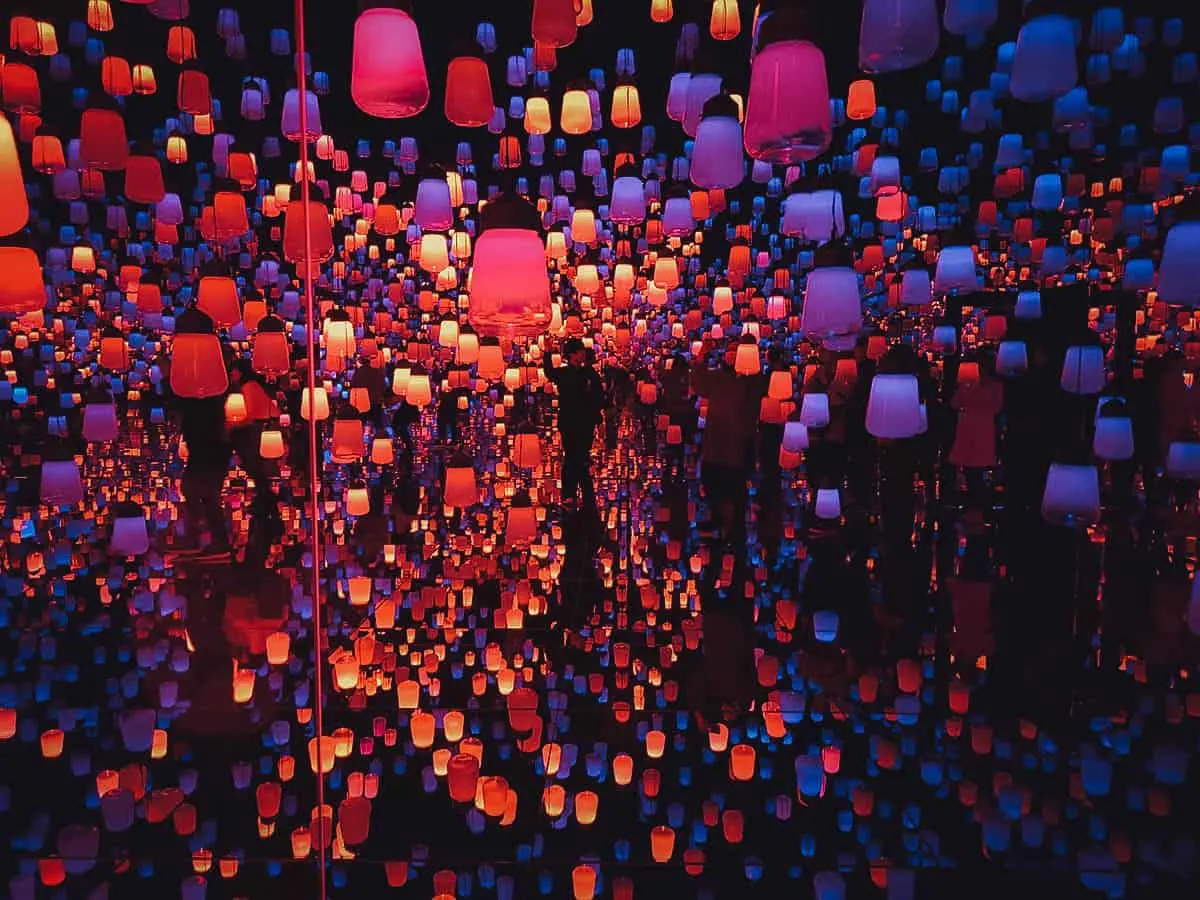 NOTE: The photo above is from teamLab Borderless in Tokyo.
Operating Hours: 11AM-8PM, Weekdays / 10AM-8PM, Weekends
Admission: JPY 2,200
BONUS: Go Beyond the City
There are many interesting destinations you can visit from the city. If you're staying long enough and you've already experienced Fukuoka's top tourist attractions, then you may be interested in going on a day trip.
Some of the most popular day trip destinations include Yanagawa, the "Venice of Kyushu", and Nanzoin Temple's giant reclining Buddha. If you'd like to spend the day soaking in a hot spring, then there are a number of onsen towns you can visit like Yufuin, Beppu, and Kurokawa Onsen.
Check out our article on the best day trips from Fukuoka for more suggestions.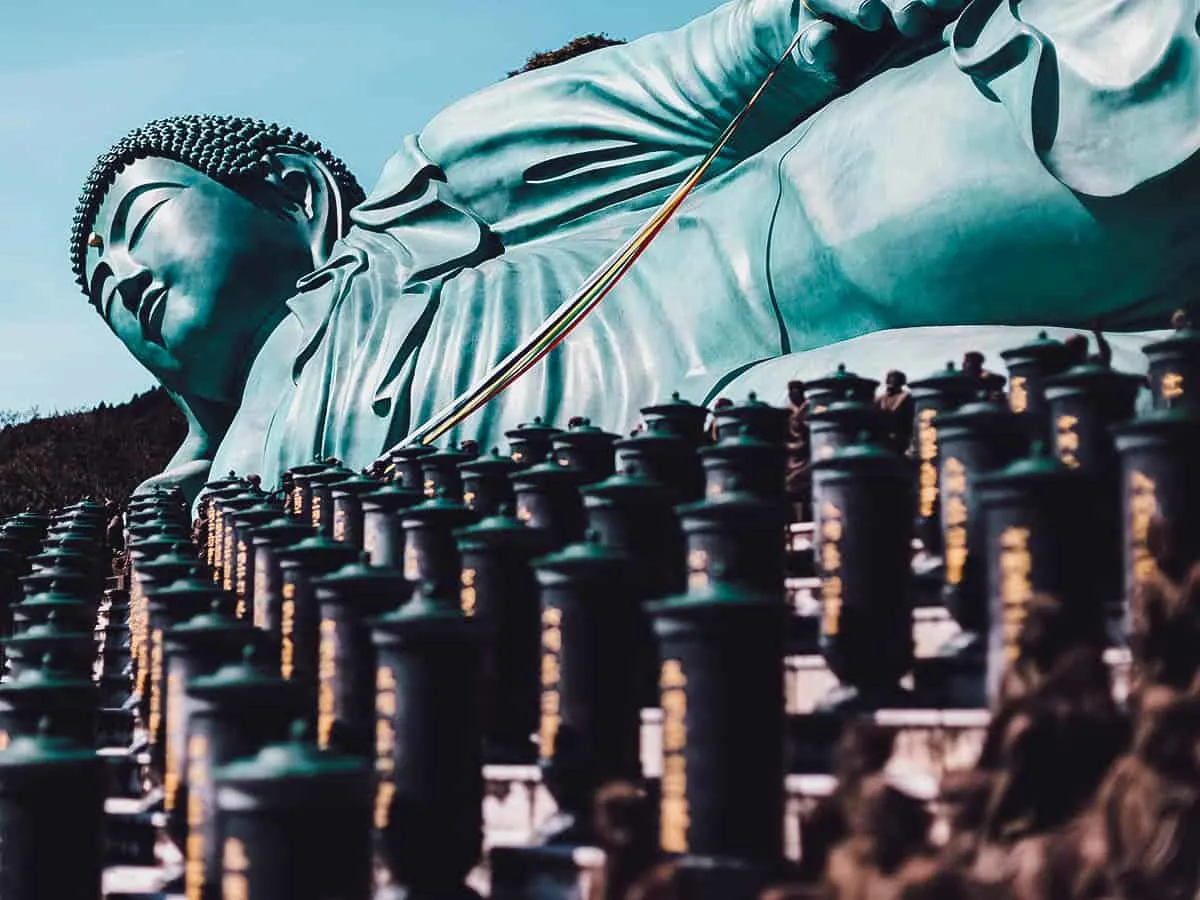 Photo by Thana Thanadechakul via Shutterstock
FINAL THOUGHTS ON THE BEST THINGS TO DO IN FUKUOKA
Fukuoka is the main entryway into Kyushu so people exploring this part of Japan will inevitably find themselves in this city.
Compared to more popular destinations like Tokyo, Osaka, Kyoto, and Sapporo, there aren't as many interesting things to do in Fukuoka City but it does have its charms. More importantly, it has some of the best regional food in the country.
This came as a bit of a surprise to me but my friend Syouri told me that when Japanese people travel for food, they usually go to one of three cities – Nagoya, Hiroshima, and Fukuoka.
Hakata ramen and motsunabe are two of the best dishes you can have in Fukuoka so if you travel for food like we do, then you may want to have them as often as you can when you're there.
Fukuoka City is appealing in its own ways but for me, the food is definitely the best reason to visit.
Disclosure
Some of the links in this article on the top attractions in Fukuoka City are affiliate links. We'll get a small commission if you make a purchase or booking at no additional expense to you. We only recommend products and services that we use ourselves and firmly believe in. We appreciate your support as it helps us make more of these free travel guides. Thank you so much!