Lisbon is cool. It's a gorgeous city that appreciates and fosters the arts.
I lived for a time in San Francisco in the late 1990s and Lisbon reminded me a lot of the city by the bay.
Like San Francisco, Lisbon is a waterfront city with a red suspension bridge that looks eerily similar to the Golden Gate Bridge. It's known for its hills and trams and its many restaurants offering a wide range of cuisines.
In many ways, the diversity of the Lisbon food experience is a reflection of the city's melting pot culture which is very much what San Francisco used to be like (until it got invaded by Silicon Valley).
But what reminded me of San Francisco the most was Lisbon's creative energy. It has an artistic vibe that appeals to creatives of every type. This was most apparent at Lx Factory and Embaixada, two creative hubs that were among my favorite spots to visit in Lisbon.
If you have an interest in contemporary art, design, fashion, and food, then Lx Factory and Embaixada need to be on your Lisbon itinerary.
Save This on Pinterest!
No time to read this now? Click on the red save button and pin it for later!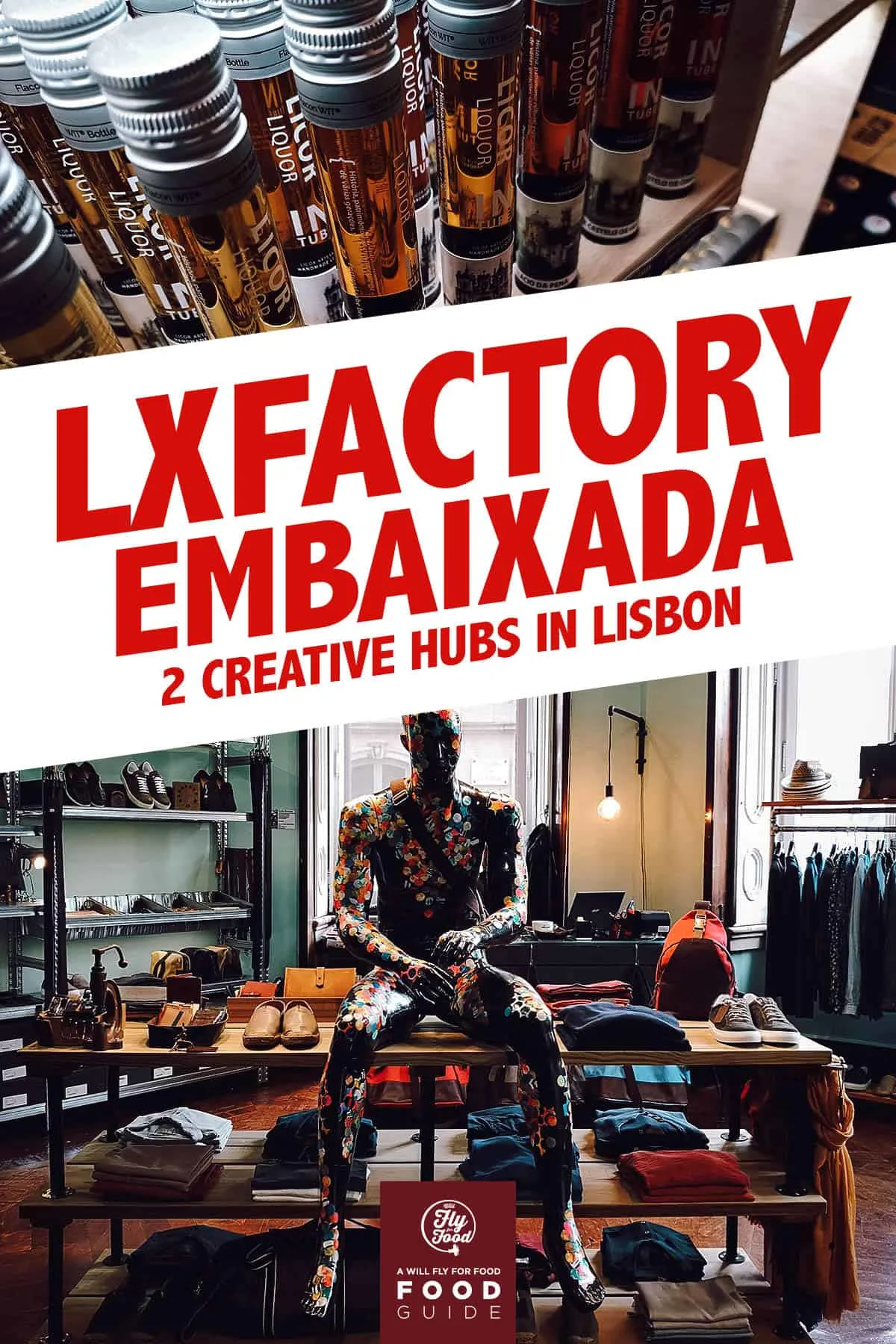 WHAT IS LX FACTORY?
Lx Factory is a creative hub and co-op occupied by an eclectic mix of shops, boutiques, art galleries, restaurants, cafes, and bars.
Located in the Alcantara neighborhood, it's situated by the Tagus River and near the 25 de Abril Bridge, in a waterfront industrial area halfway between Cais do Sodre and Belem. To get there, we took the tram from Cais do Sodre to Calvario. Lx Factory is about a 2-minute walk from the Calvario tram stop.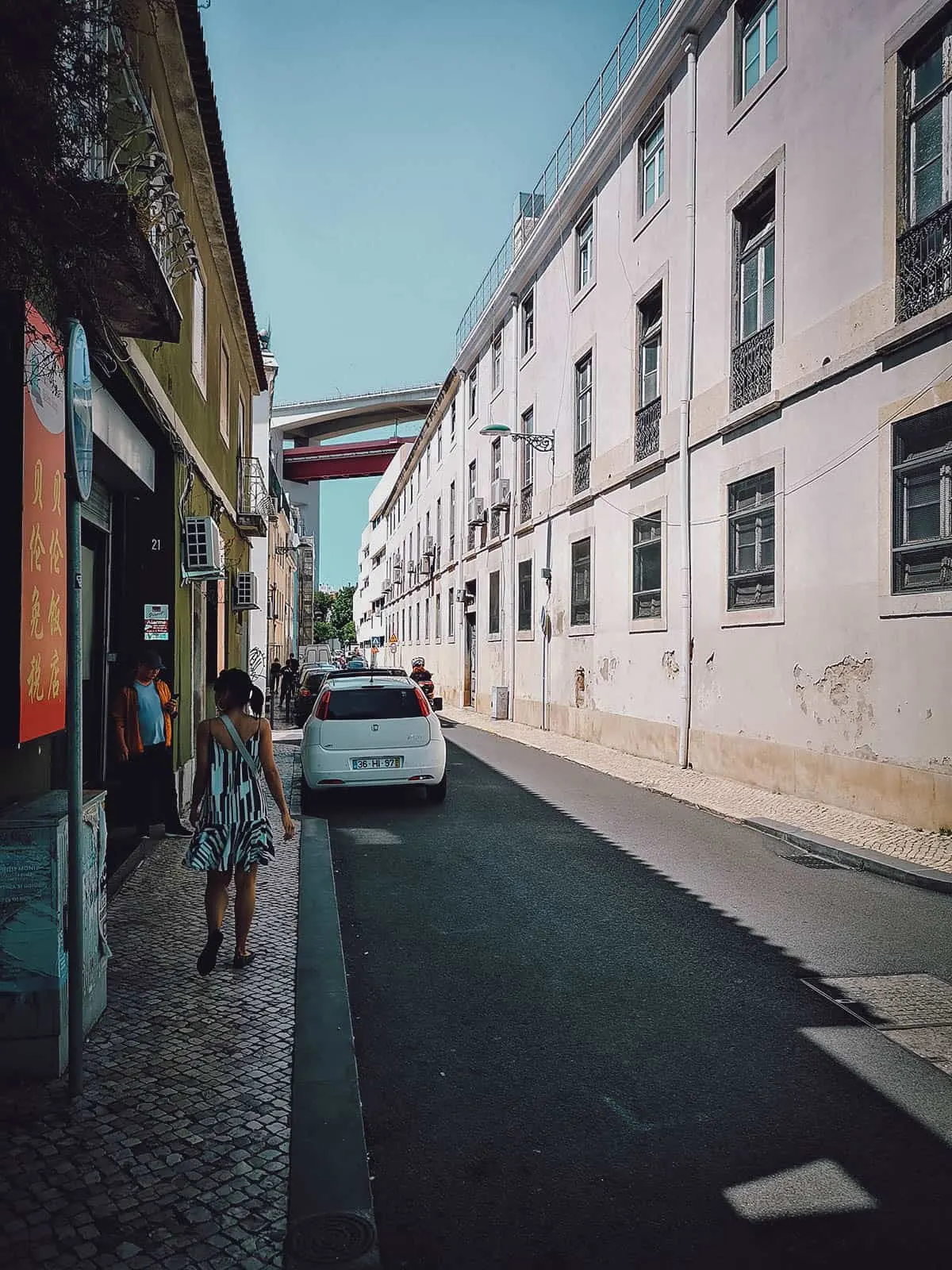 Before LxFactory opened, the area it occupies was little more than an abandoned industrial space that was the former home of Companhia de Fiaçao e Tecidos Lisbonense, a weaving and textile company that opened in Alcantara in 1846.
Over the decades, the space was occupied by the Anuario Comercial de Portugal and Grafica Mirandela printing companies, as well as the Companhia Industrial de Portugal e Colonias food processing plant. Vestiges of these companies can still be seen at the co-op today.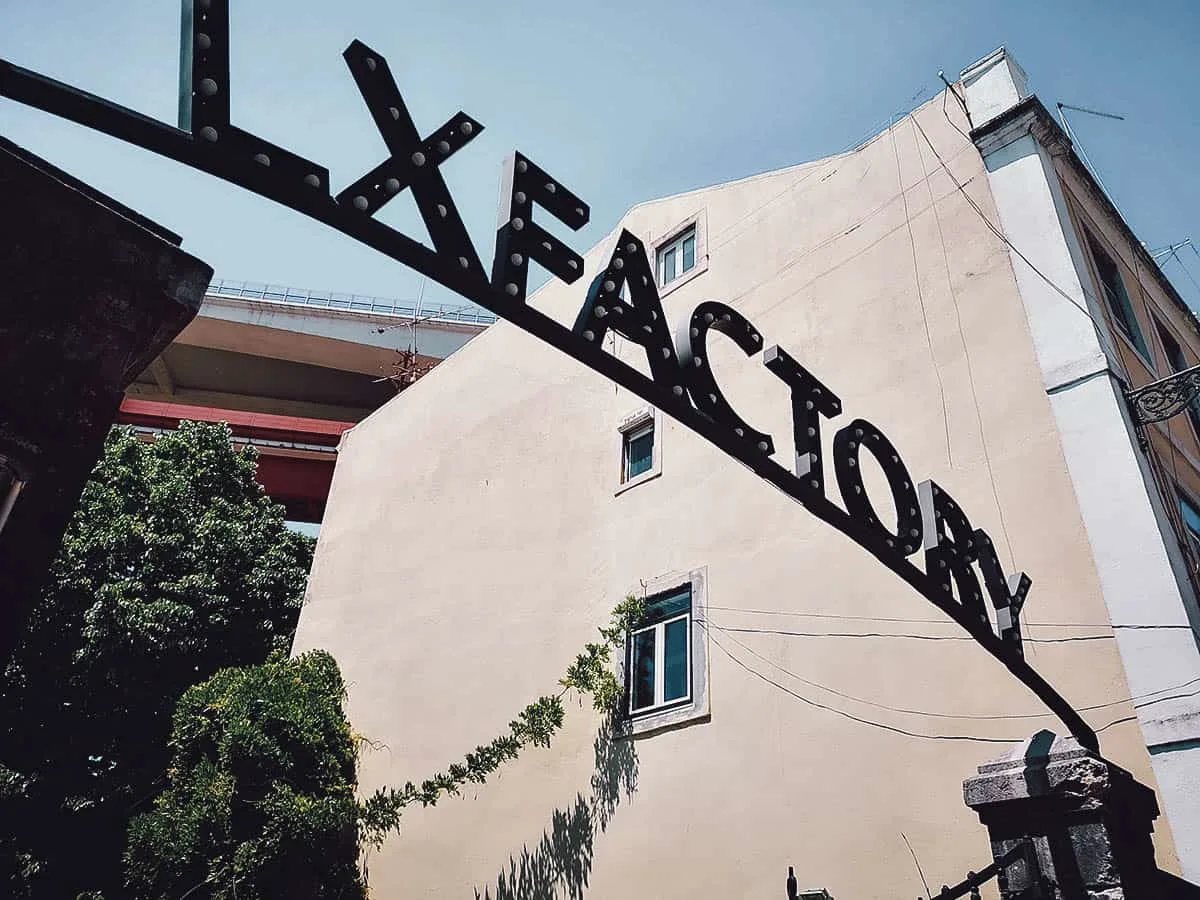 As soon as you walk in through the main gates, you'll be greeted by a lively street market atmosphere. We arrived shortly after it opened in the morning and the place was already buzzing with activity.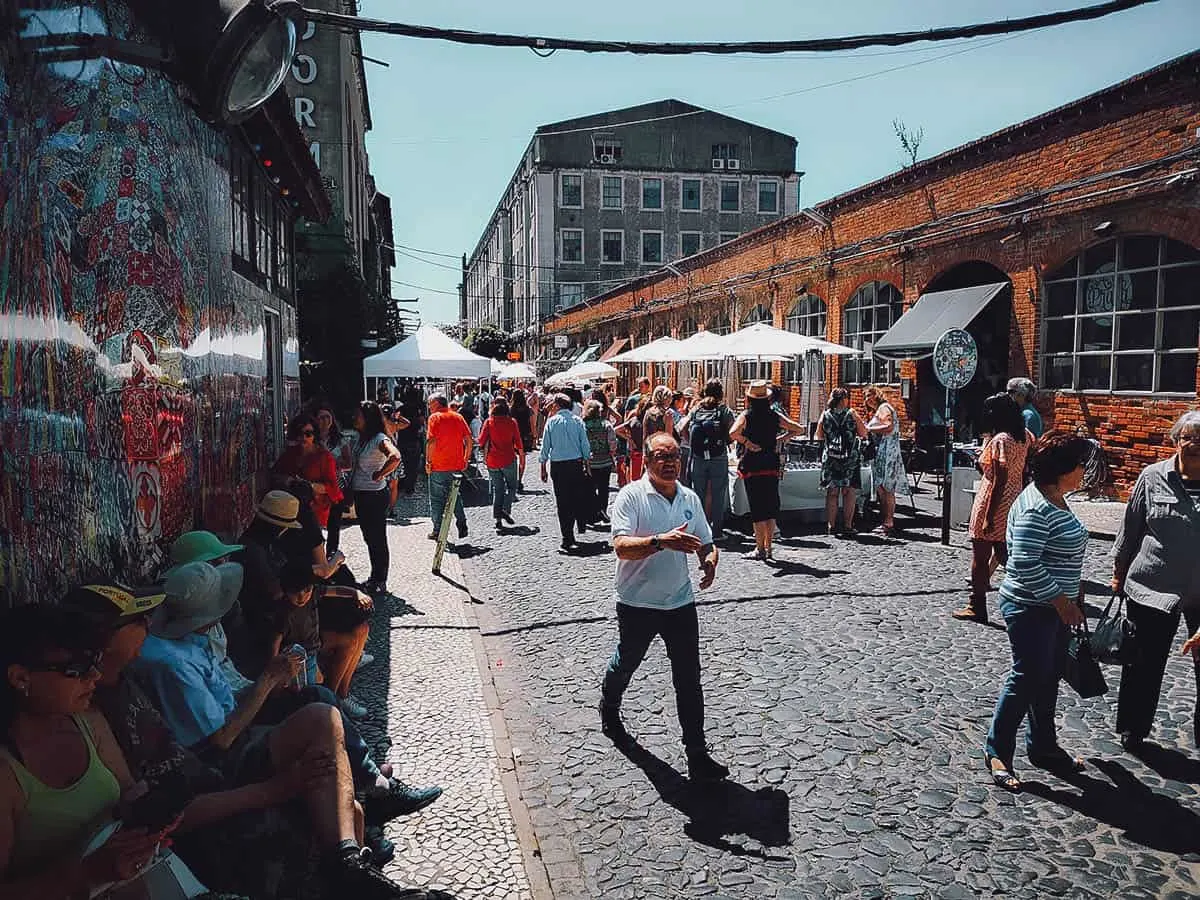 Lx Factory is comprised of dozens of shops, restaurants, and cafes that occupy indoor spaces and outdoor booths spread out over a large area measuring 23,000 square meters. There is so much to see and explore here so plan to stay for at least two or three hours. If you're traveling to Portugal with kids, then this is a great place to spend the day.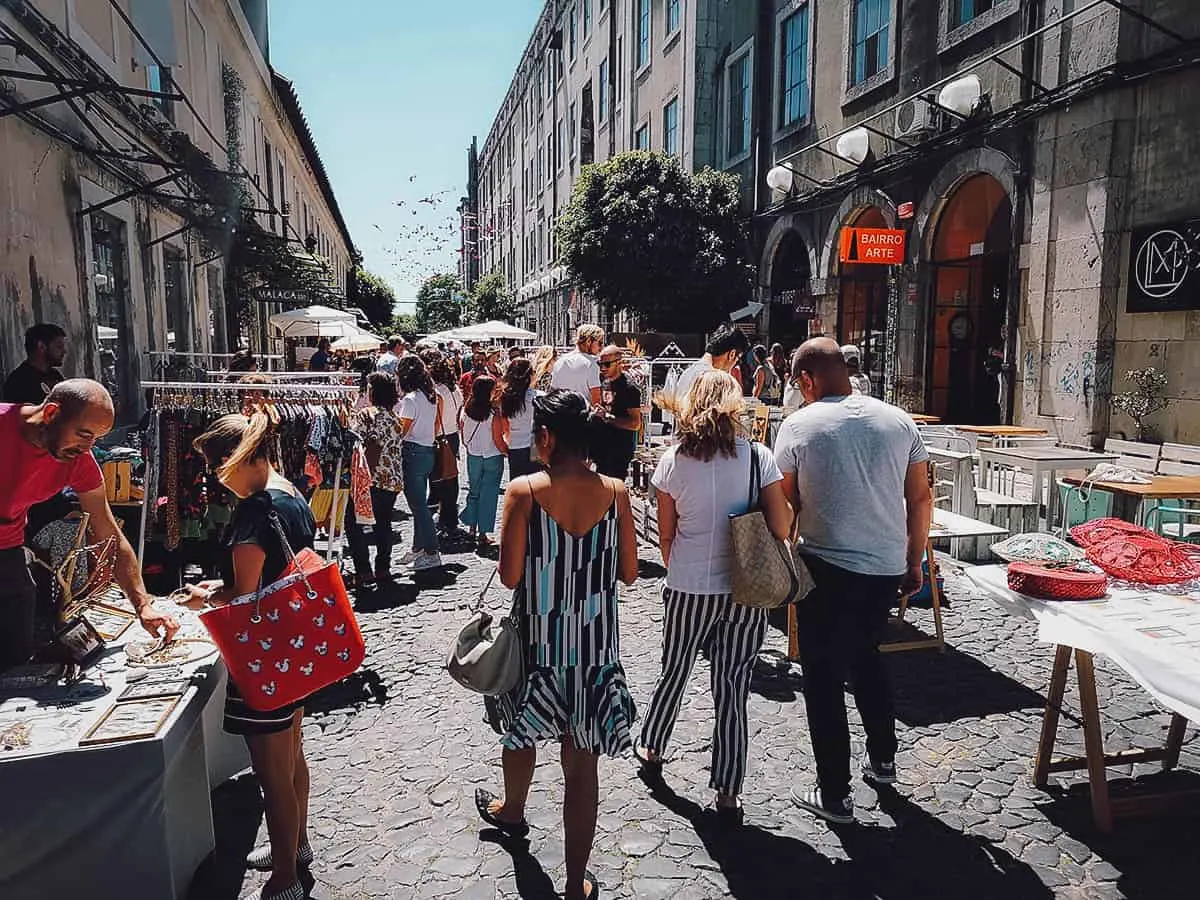 Lx Factory has a youthful and vibrant energy that feels very much like a weekend artisanal market. You'll find all kinds of interesting things here, like this woman making fresh fruit juice using a bicycle-powered juicer.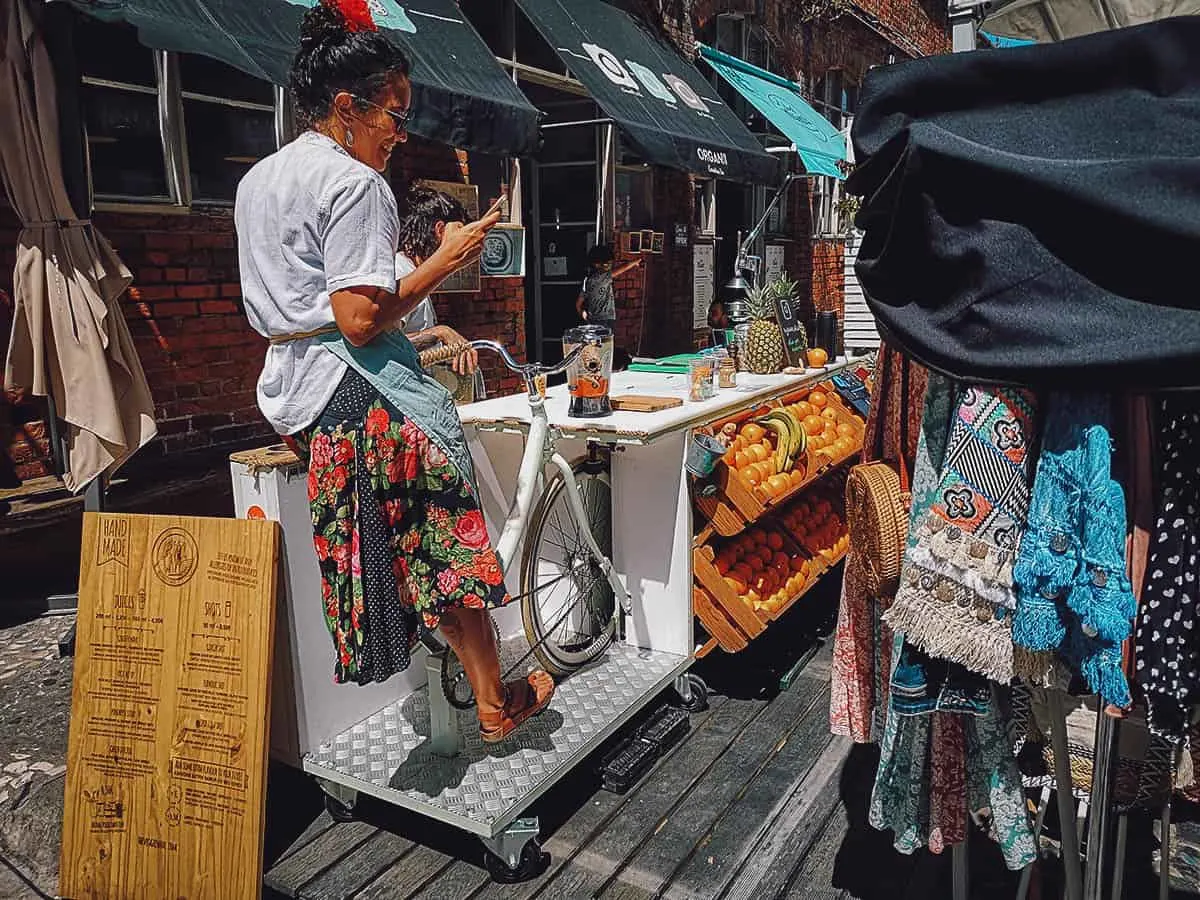 SHOPPING
If you're the type of shopper who enjoys poring over displays with quirky one-of-a-kind items, then you're going to love shopping at Lx Factory. There is so much cool stuff here covering an eclectic range of hobbies and interests.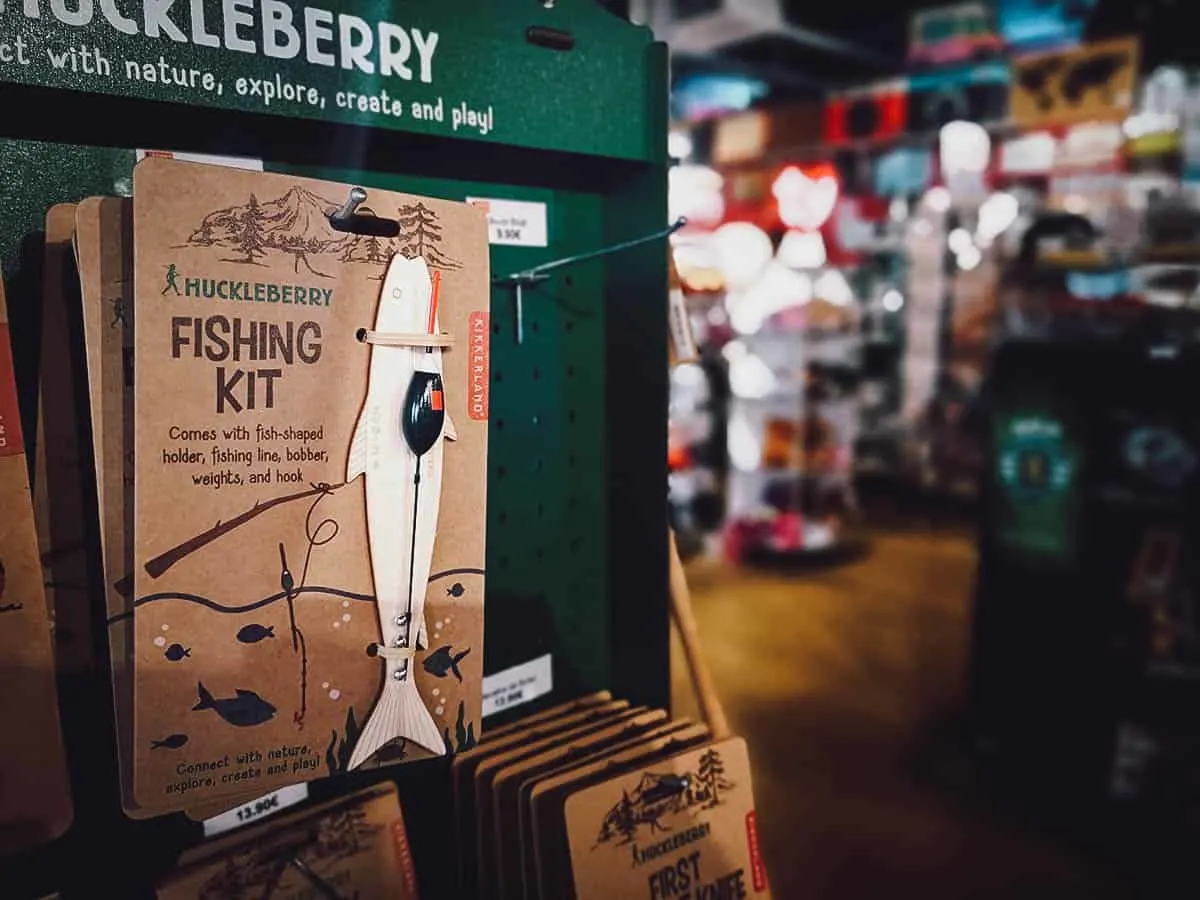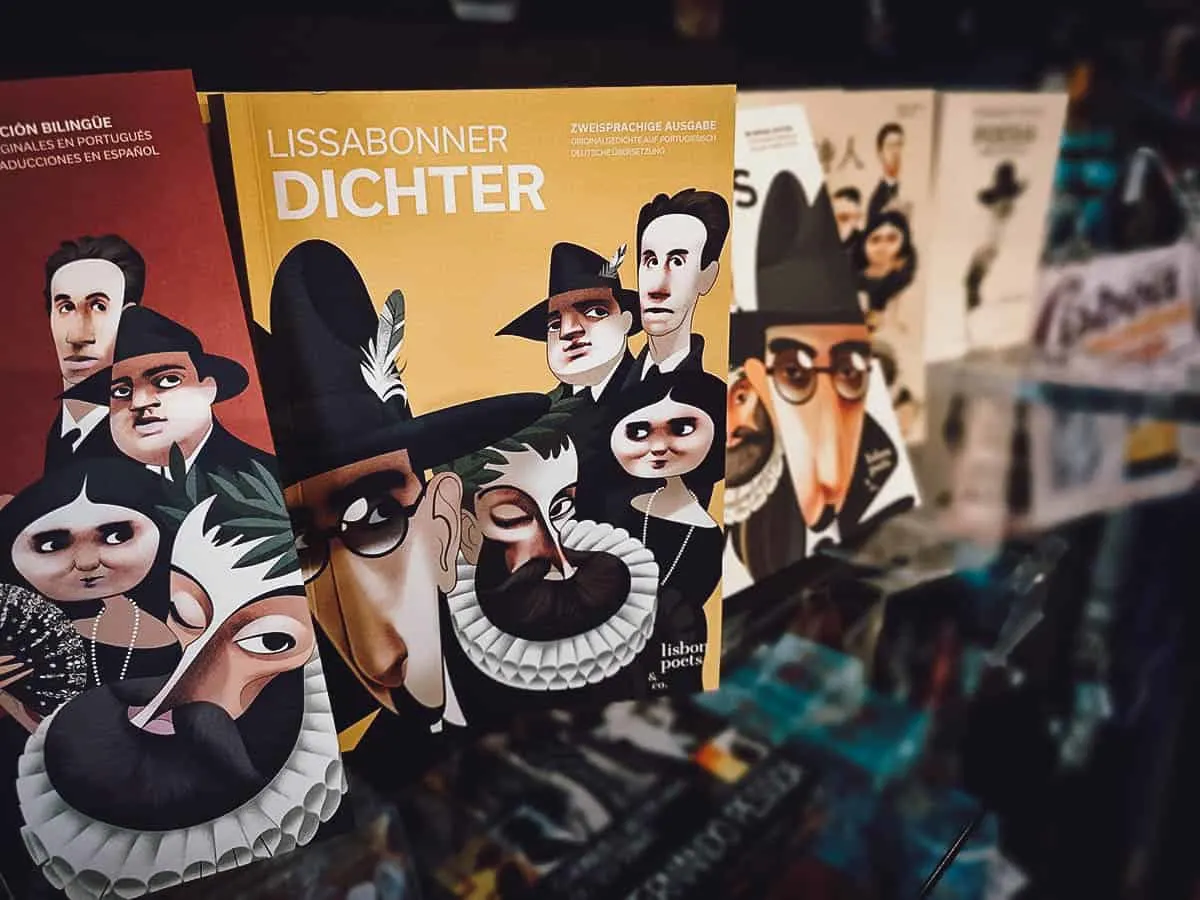 Ren and I considered purchasing this giant vintage alarm clock but we were worried about overweight baggage fees.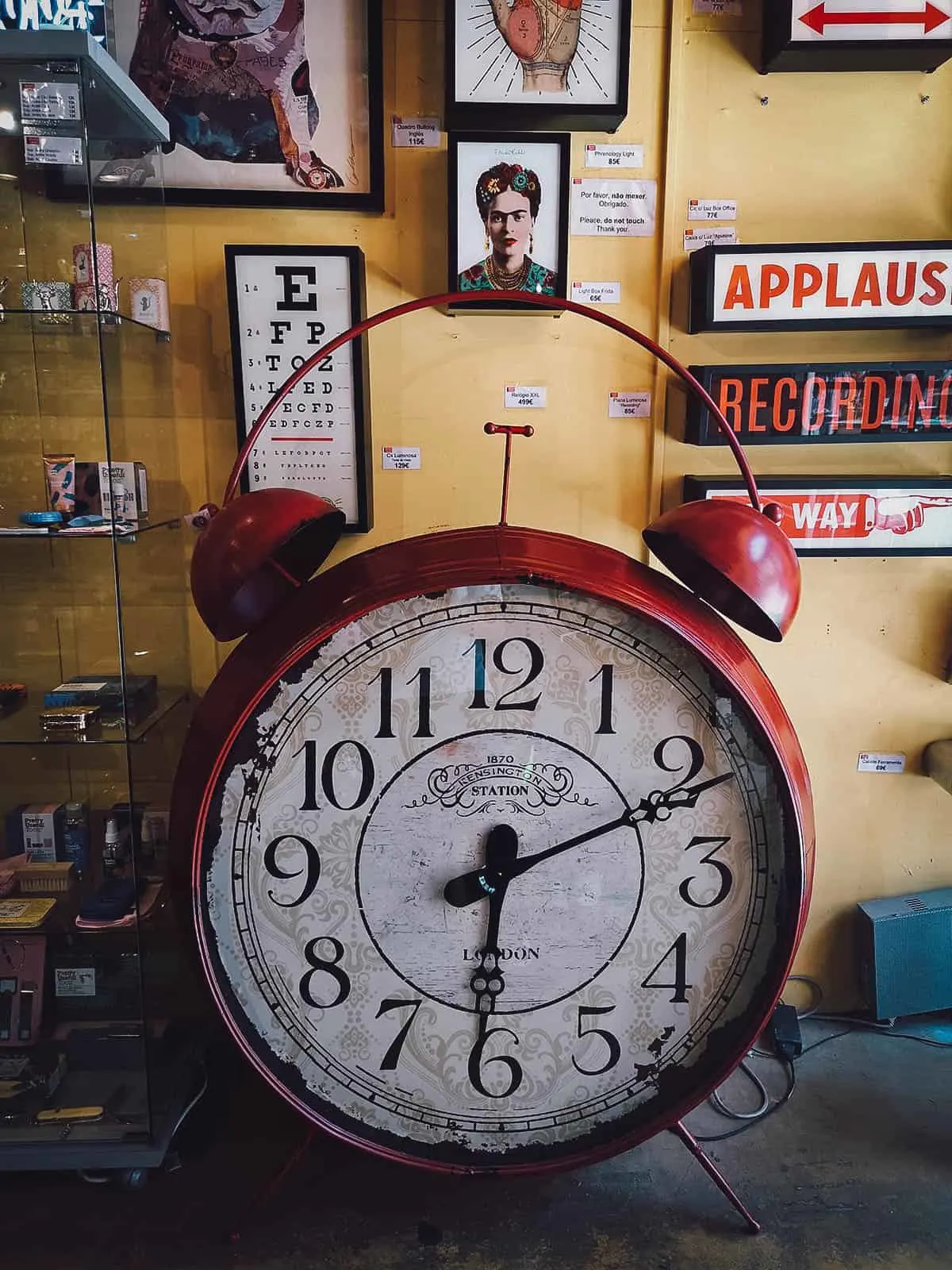 There are so many shops and booths spread out over a large area that it's easy to overlook things. Lx Factory is comprised of multiple warehouse-type spaces so shopping here feels a bit like a treasure hunt.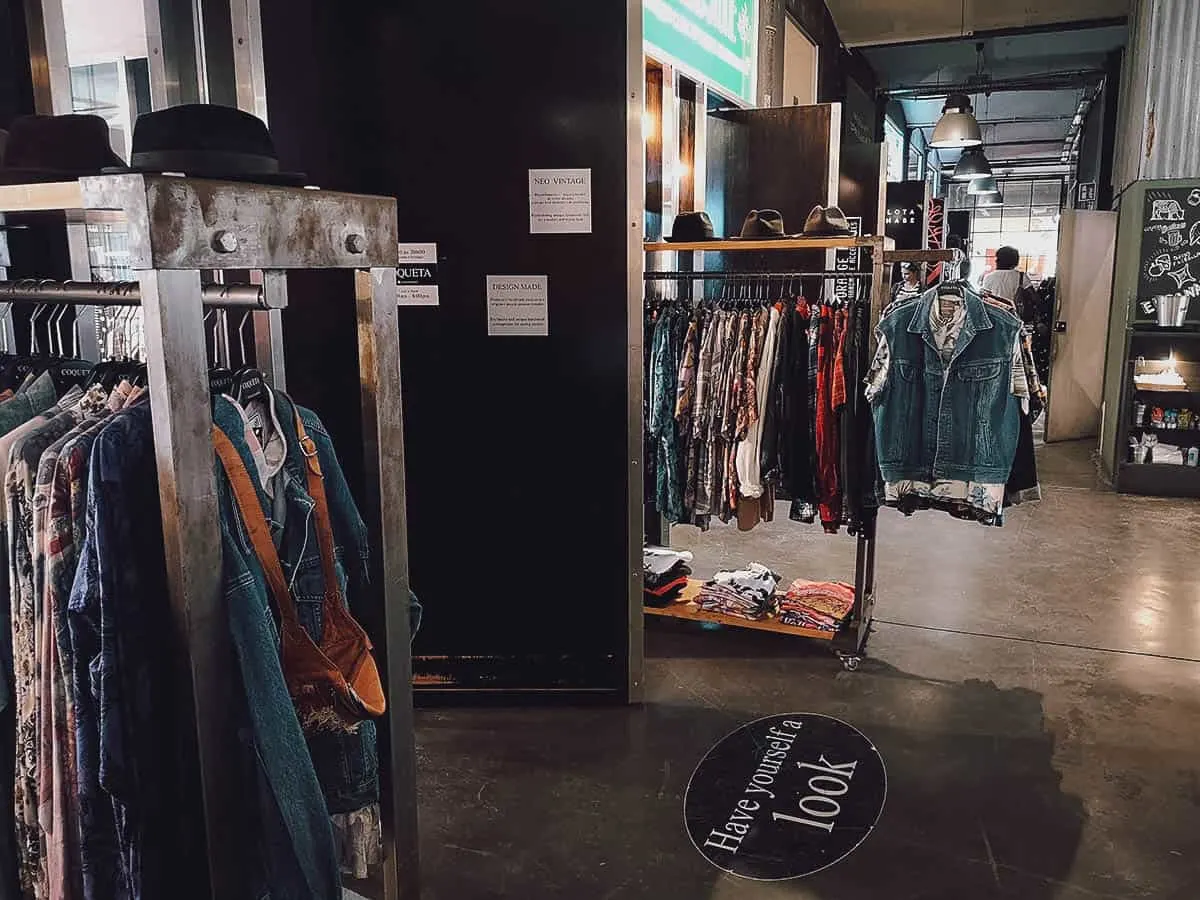 If I remember correctly, this was a vintage-themed barber shop.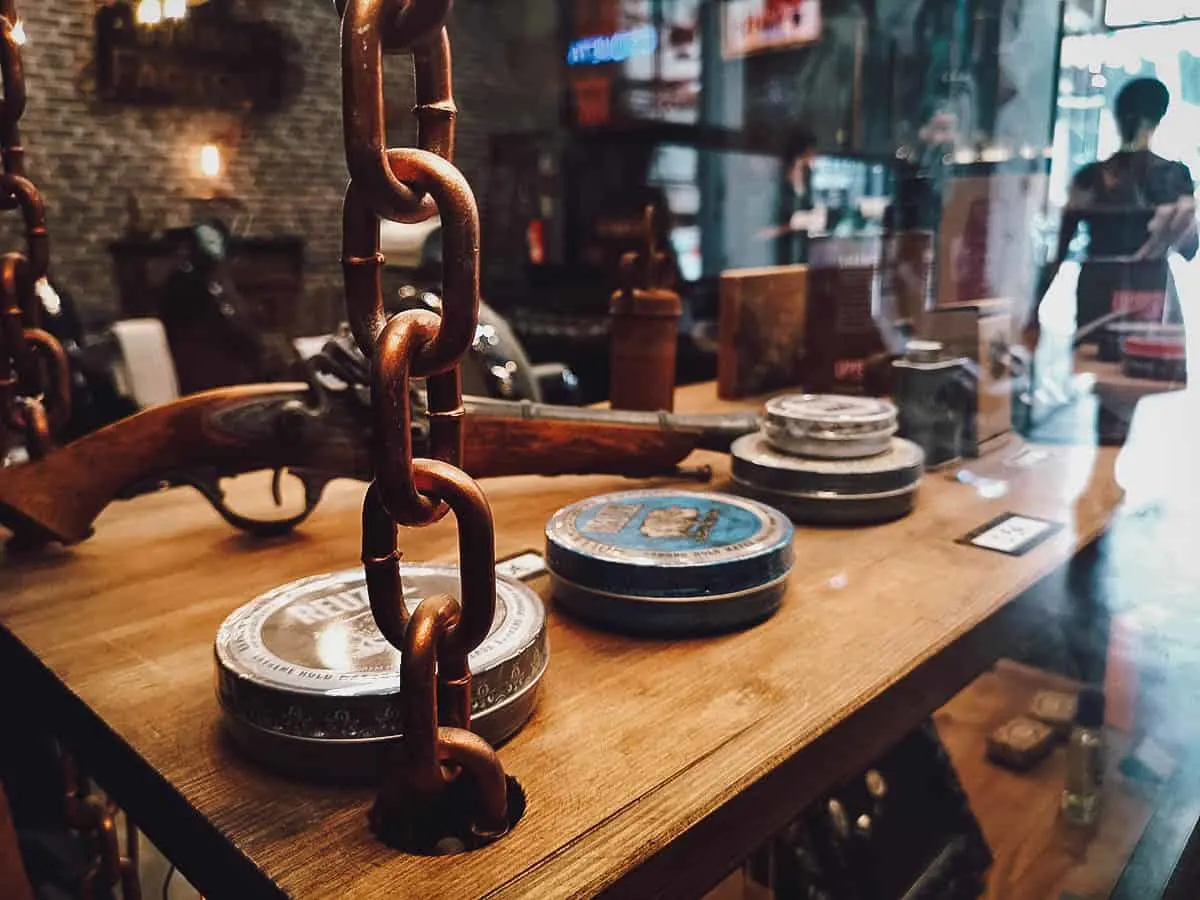 This bookshop was one of the biggest and most interesting spaces at Lx Factory. It's the former site of one of the aforementioned printing companies that used to occupy this facility. As you'll see in the next few pictures, this place is massive.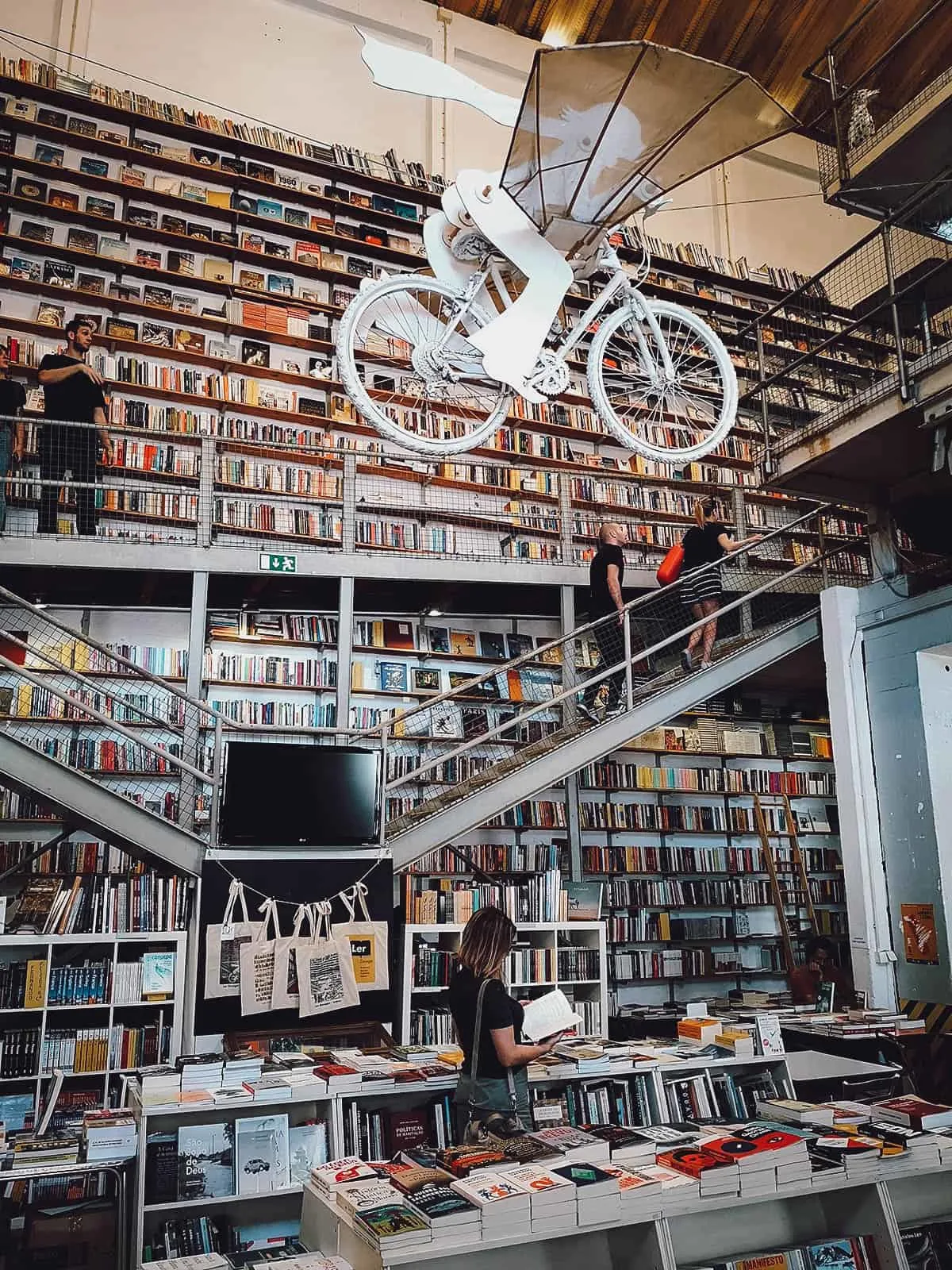 You can climb up to the second floor to check out the printing presses. I don't know if they're still operational but much of the machinery is still here. This area was partially cordoned off so they may be.

I went up to the very top which puts you about forty feet above the ground. Everywhere you went in this shop there was something interesting to pore over and inspect.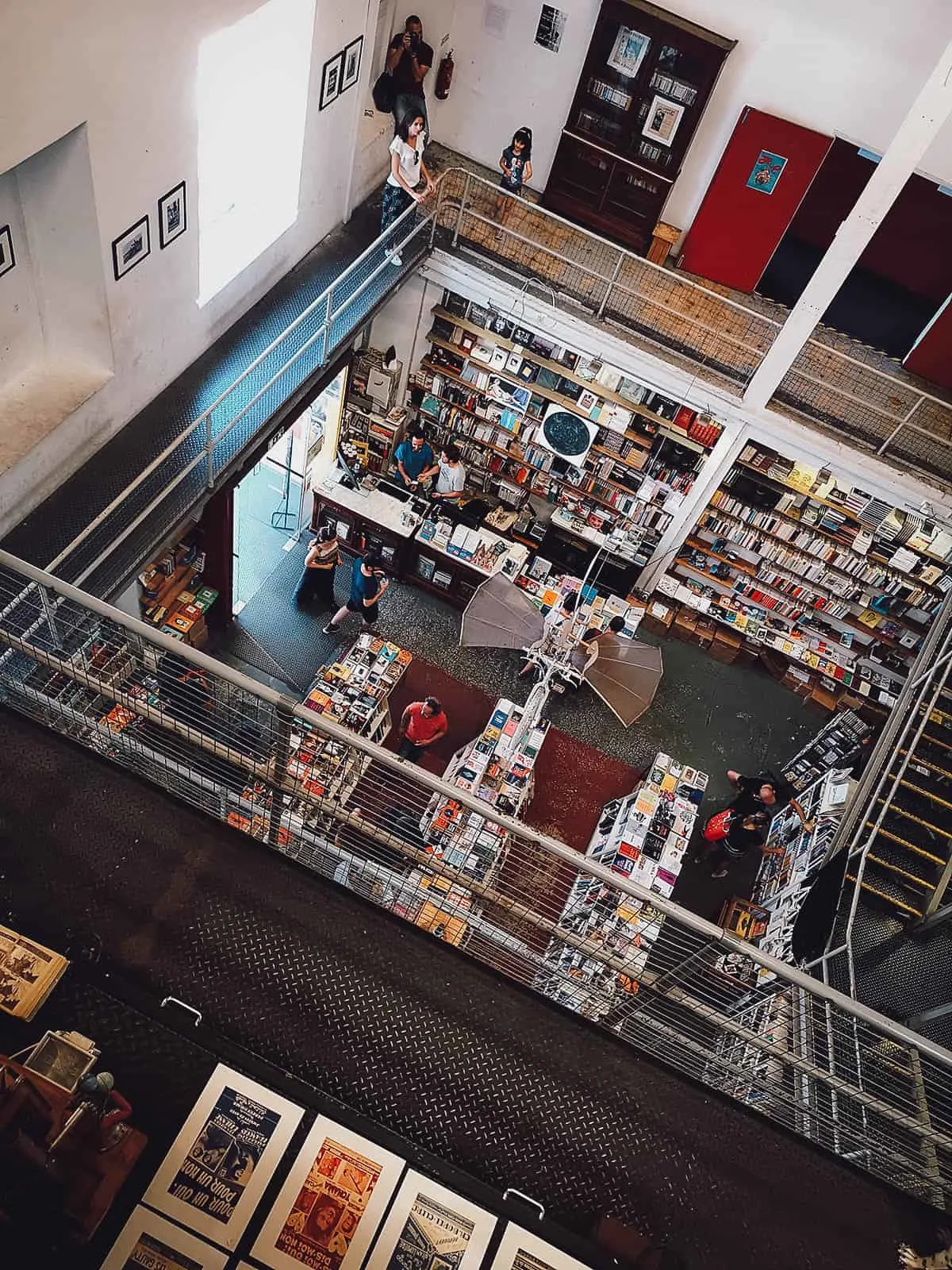 If you're looking for unique well-designed items to bring home as gifts, then Lx Factory is probably one of the best places to go in Lisbon. Pictured below are different types of flavored liqueurs.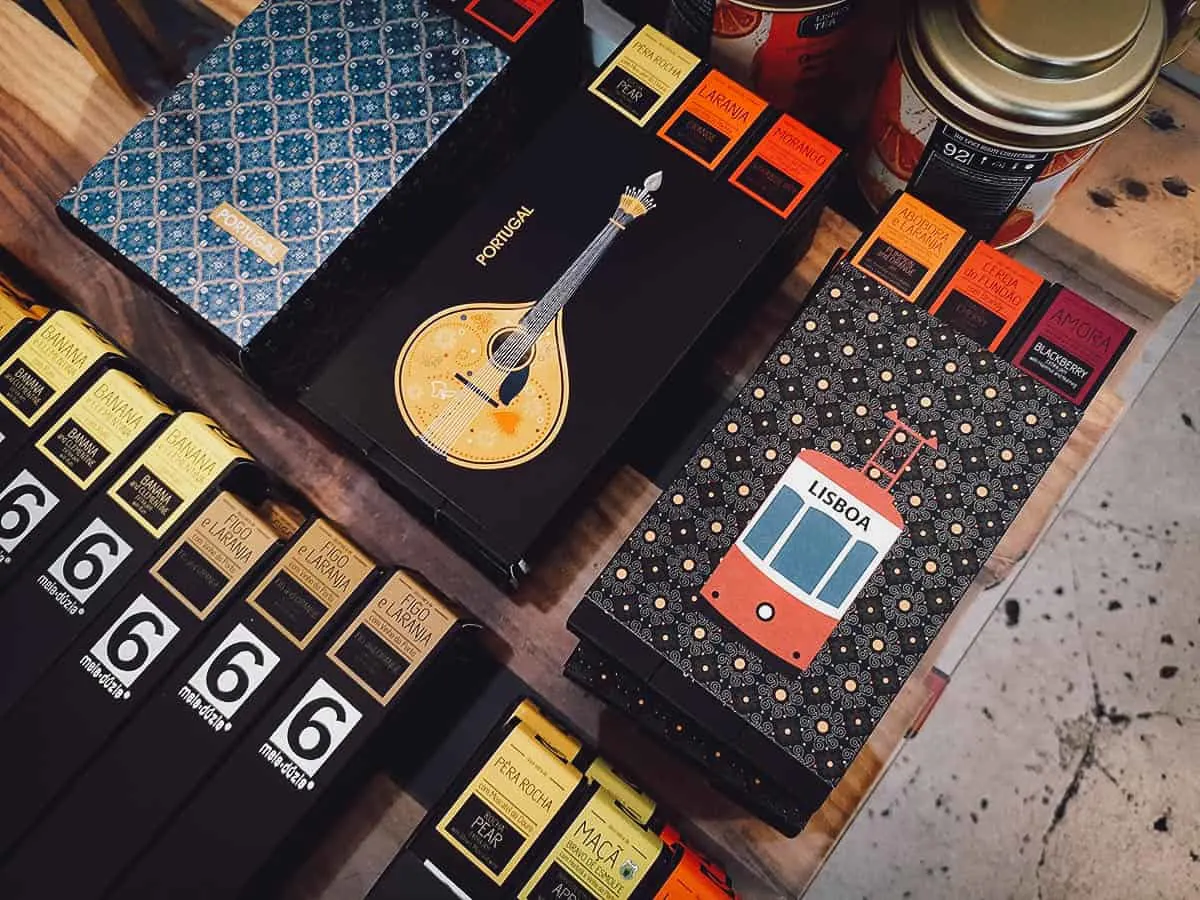 Aren't these cool? They're different types of liquor packaged in test-tube-like bottles.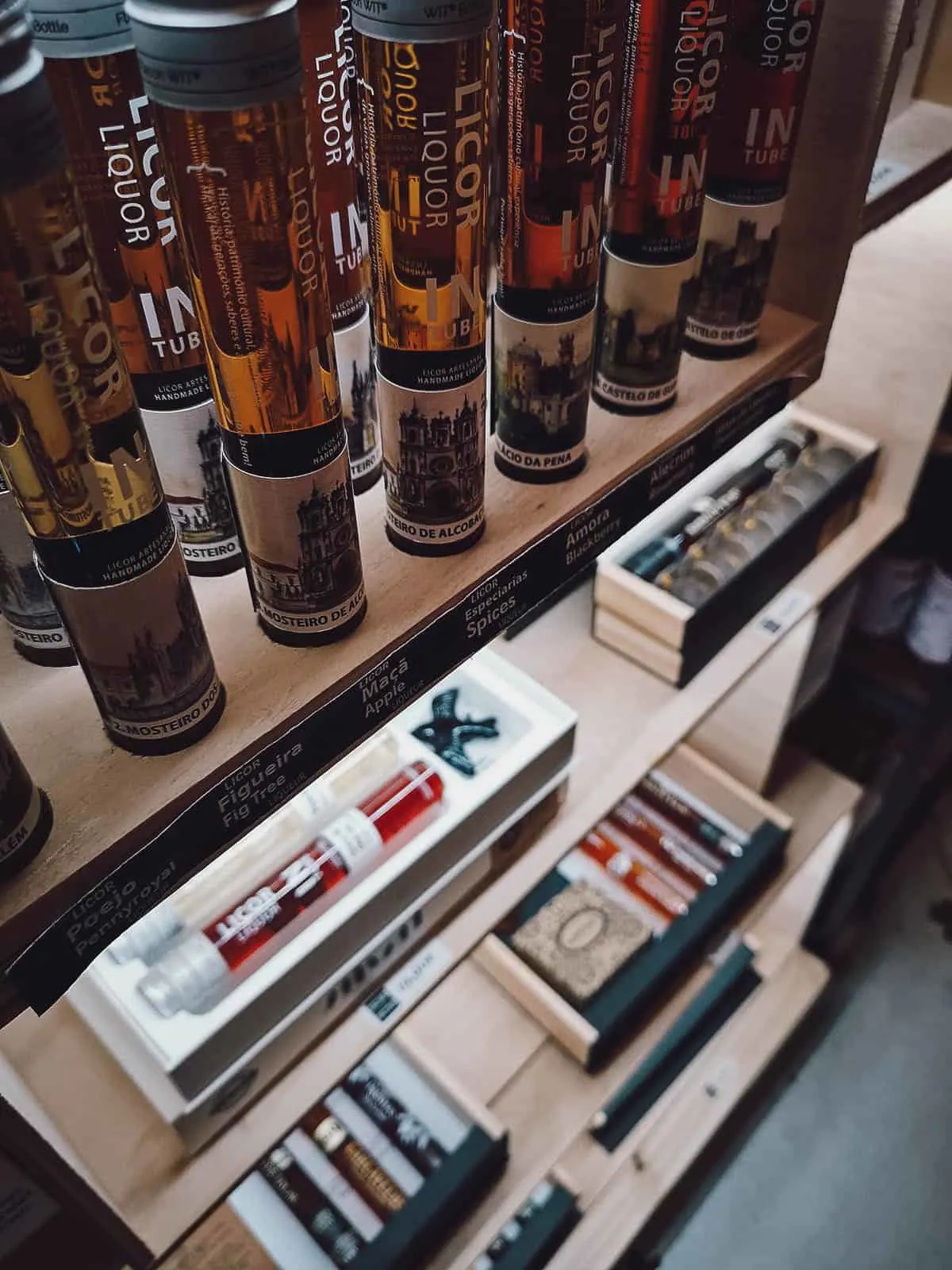 Ginjinha is perhaps one of the best souvenir food items you can bring home from Portugal. It's a type of sour Portuguese liqueur made from ginja berries. You can find it served throughout Lisbon in small edible chocolate cups.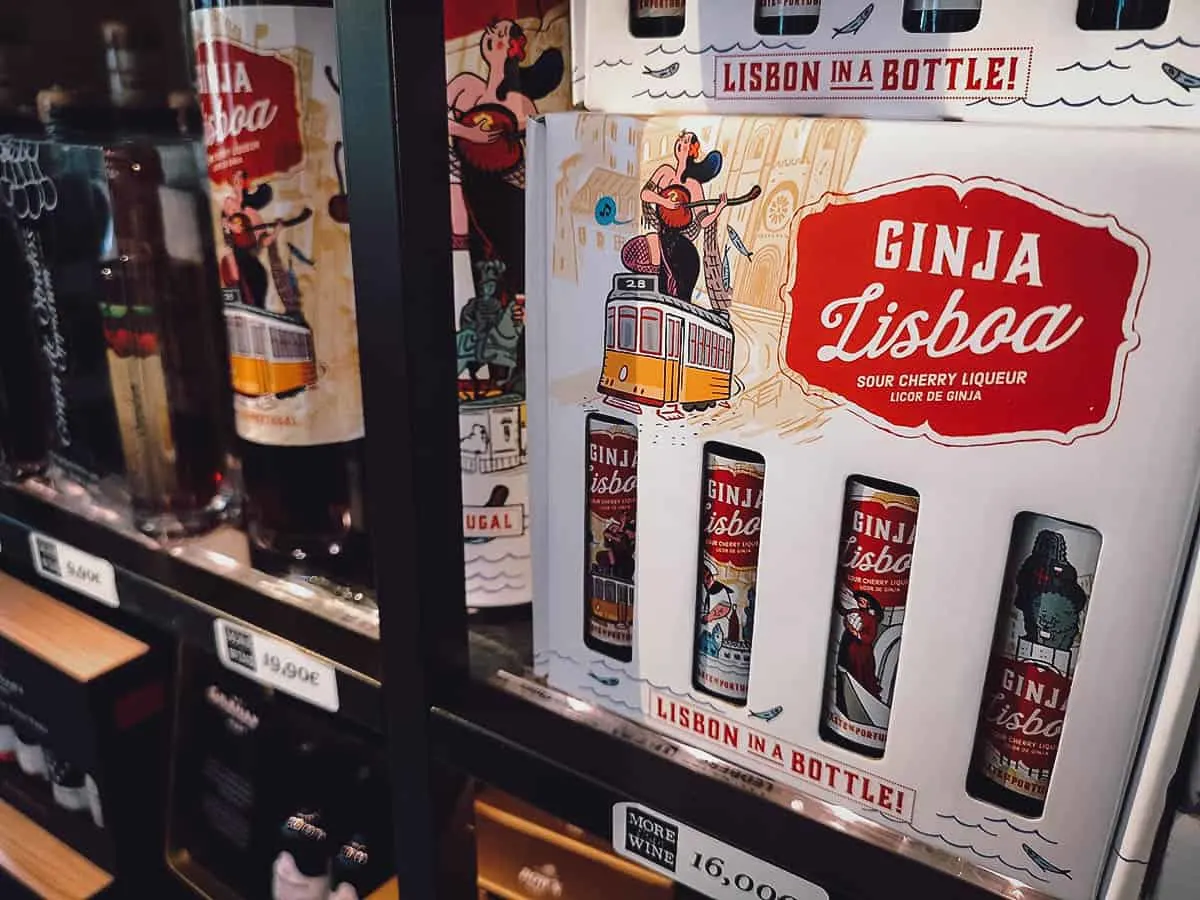 Lovely set of plates, bowls, and serving trays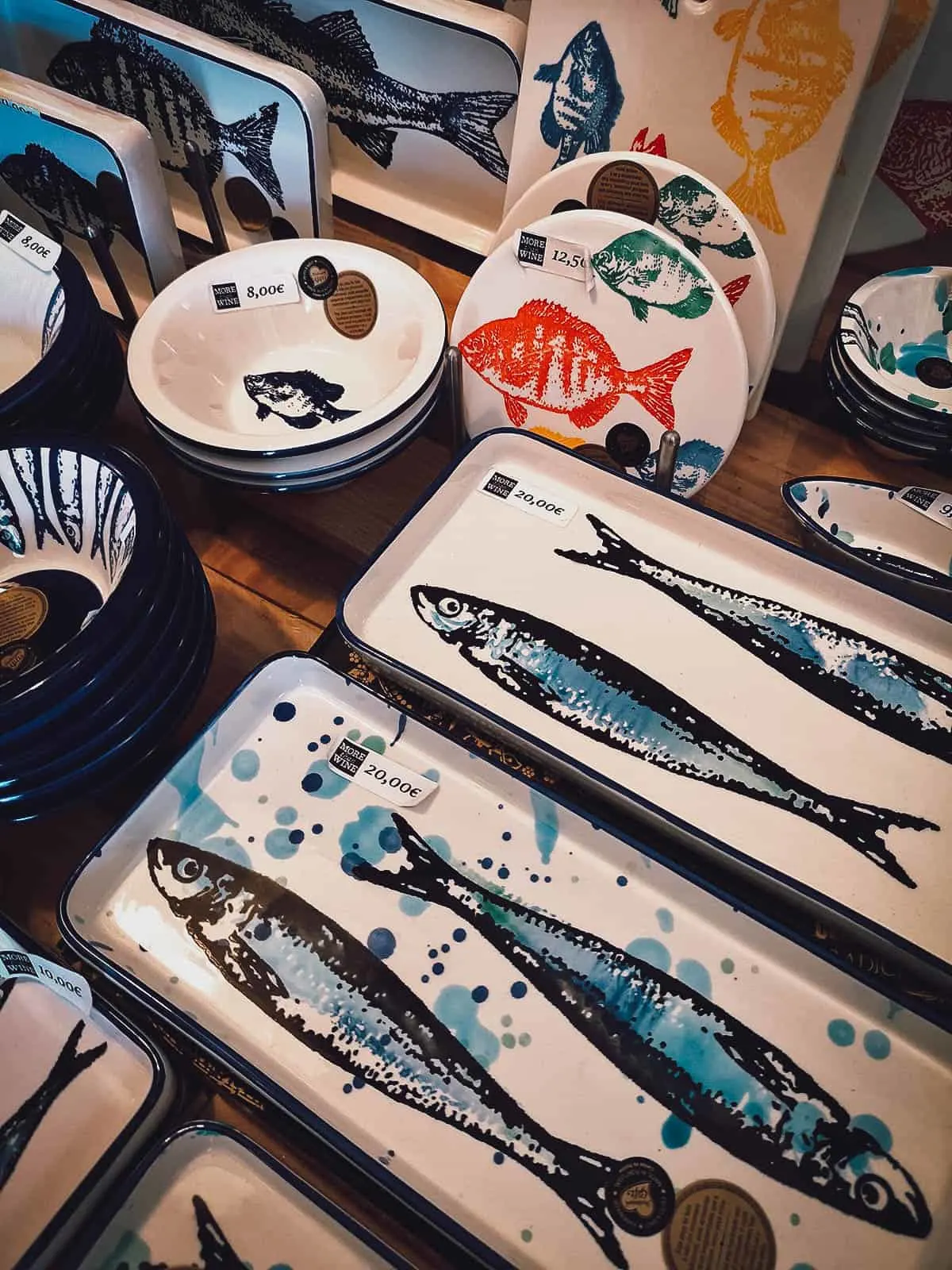 Anthem of the introverted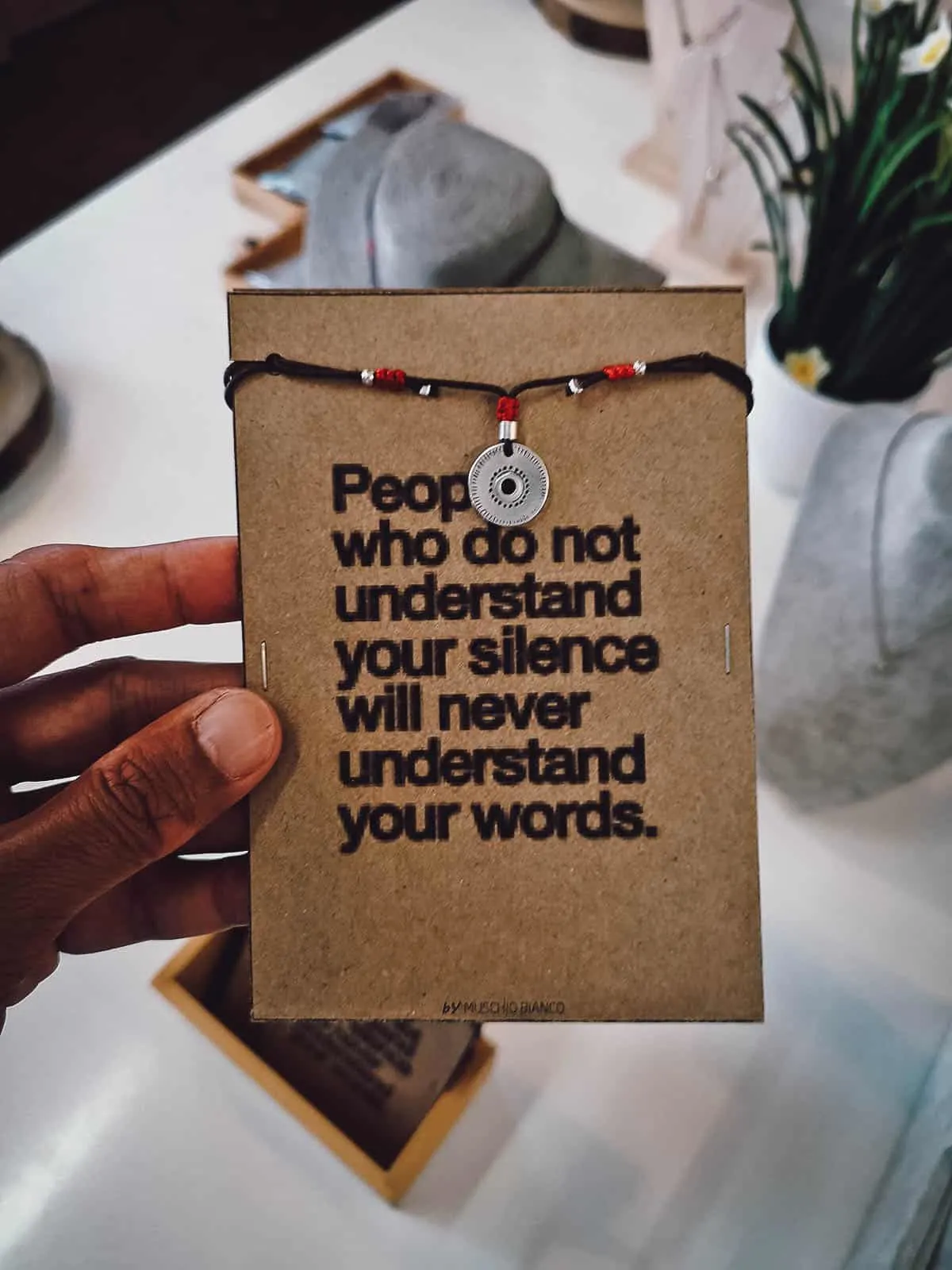 DINING
We were set on having lunch at Time Out Market so we didn't eat at Lx Factory, but there are plenty of dining options here covering a wide range of international cuisines from Portuguese to Mexican to Japanese to Thai.
Pictured below are colorful cans of conservas. Like ginjinha, these beautiful tins are among the best souvenir food items you can bring back from Portugal. Conservas refers to gourmet canned seafood popular in Portugal and Spain.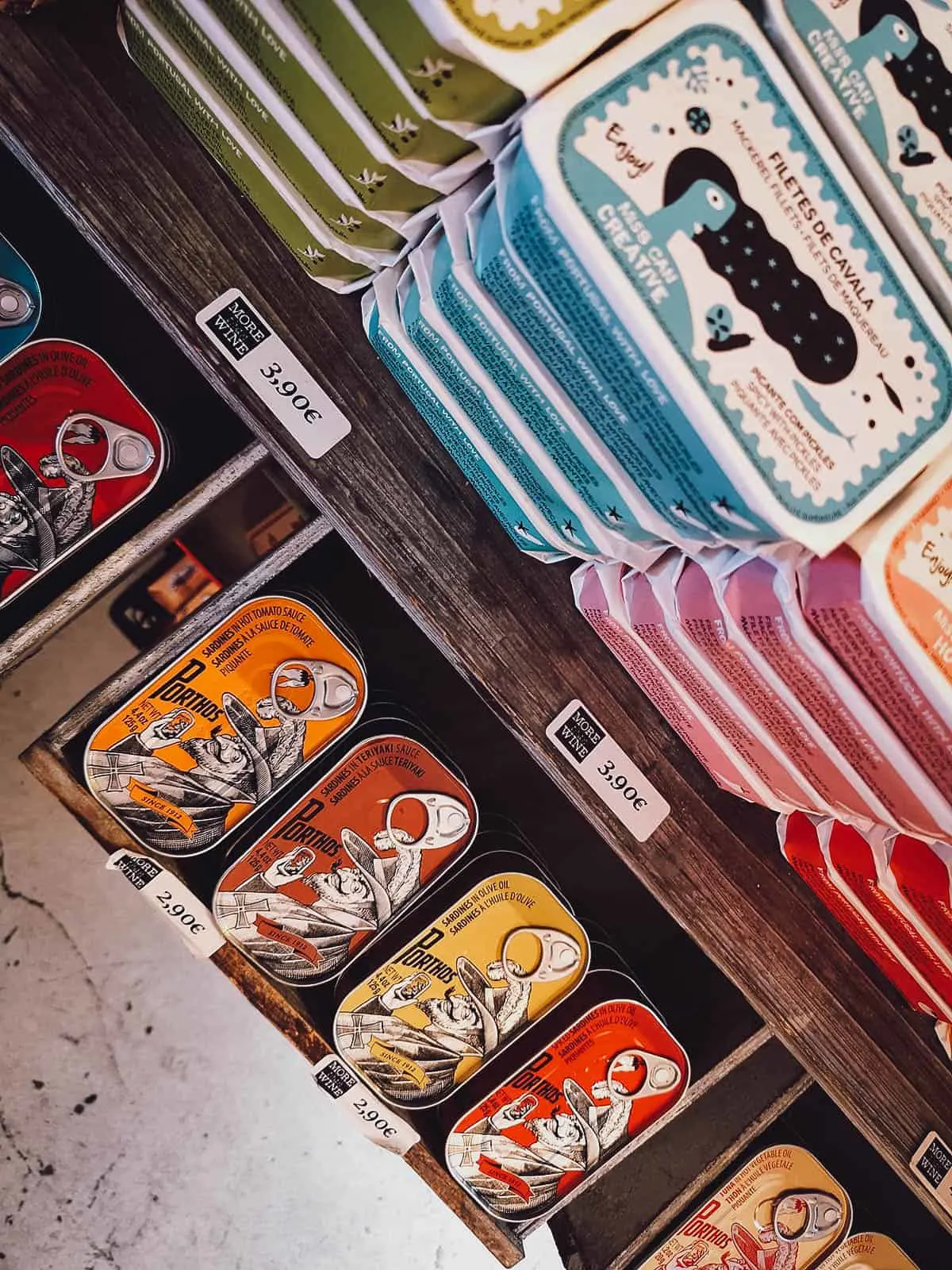 I read that this place is pretty good. As their name and logo suggest, Dogs serves gourmet hot dogs, beer, and other comfort food.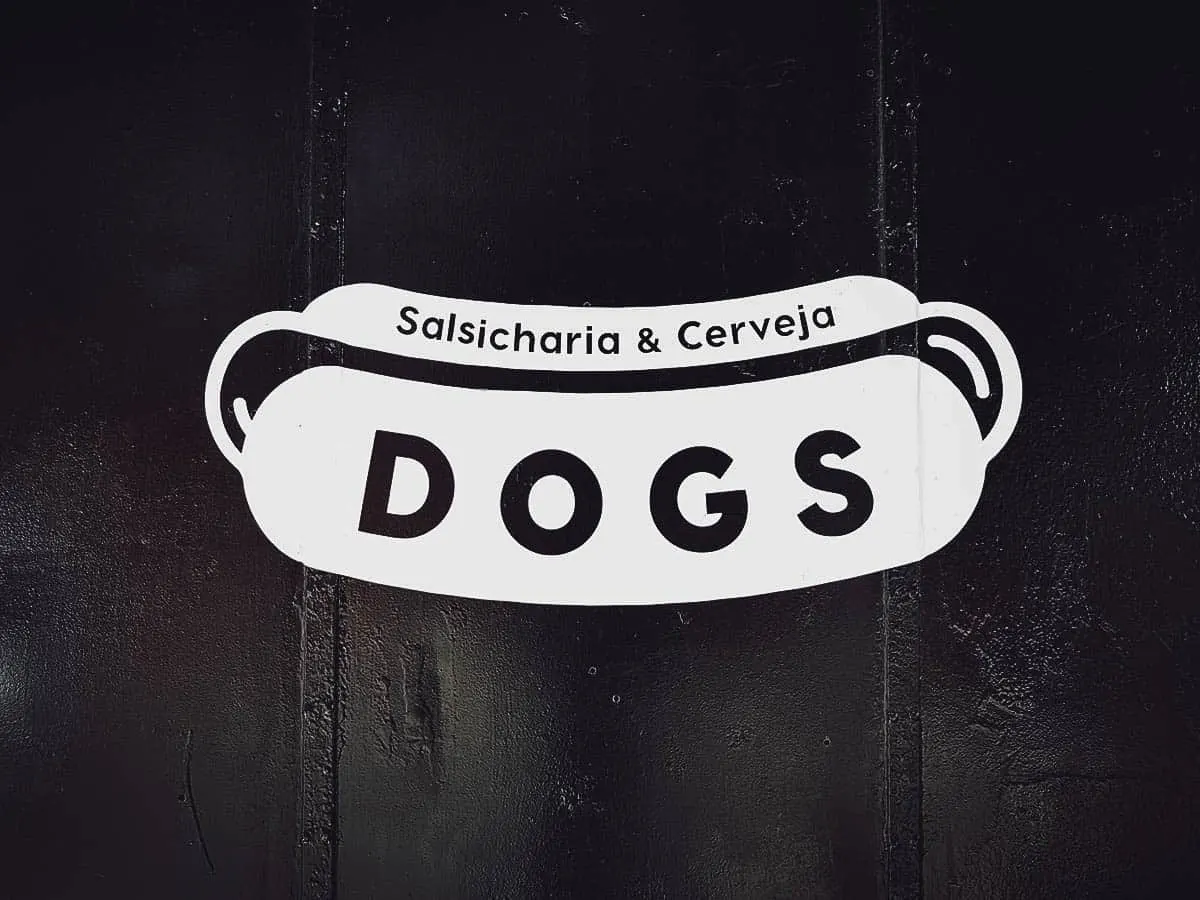 This was the interior of some random restaurant we walked through. All of the restaurants and food stalls at Lx Factory are well-designed like this one.
We didn't stick around but I read that the nightlife at Lx Factory is vibrant as well. It draws artisanal market shoppers during the day but at night, young Lisbon goes to Lx Factory to drink, listen to music, and socialize.
There are a number of bars at Lx Factory, many of which stay open till around 1AM.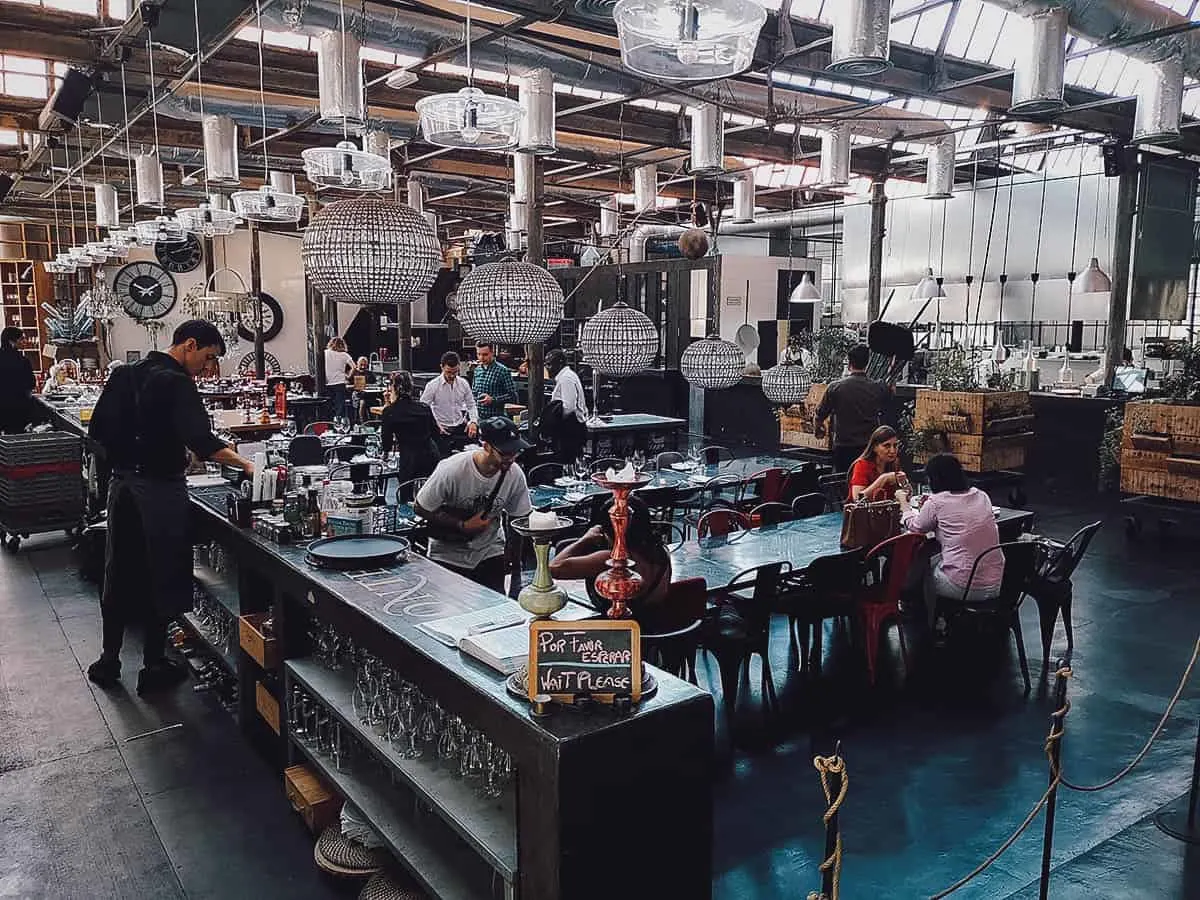 STREET ART
Lx Factory is a bastion for creativity so there is plenty of art to be appreciated here, most of which is in the form of large-scale street art. I read that they routinely ask local artists to paint murals so each return visit may reveal something new.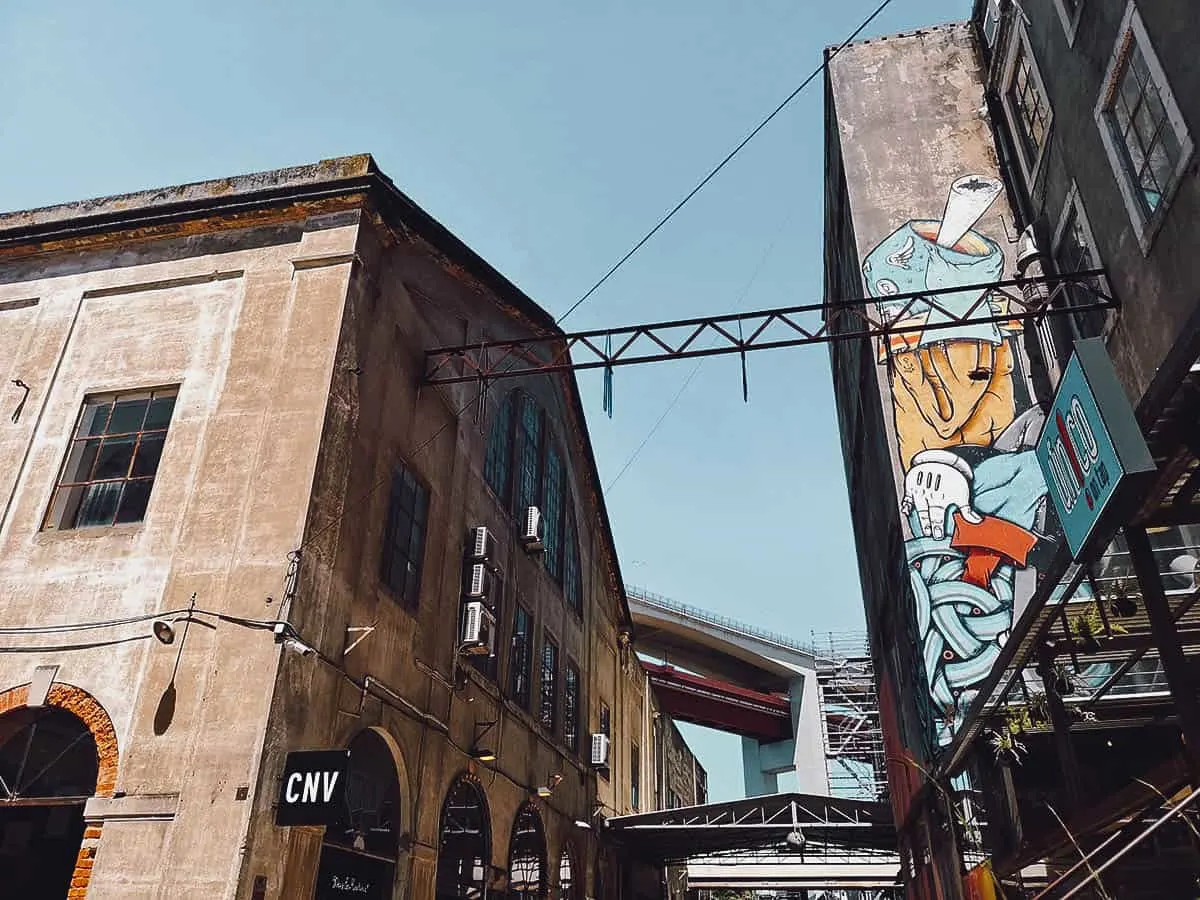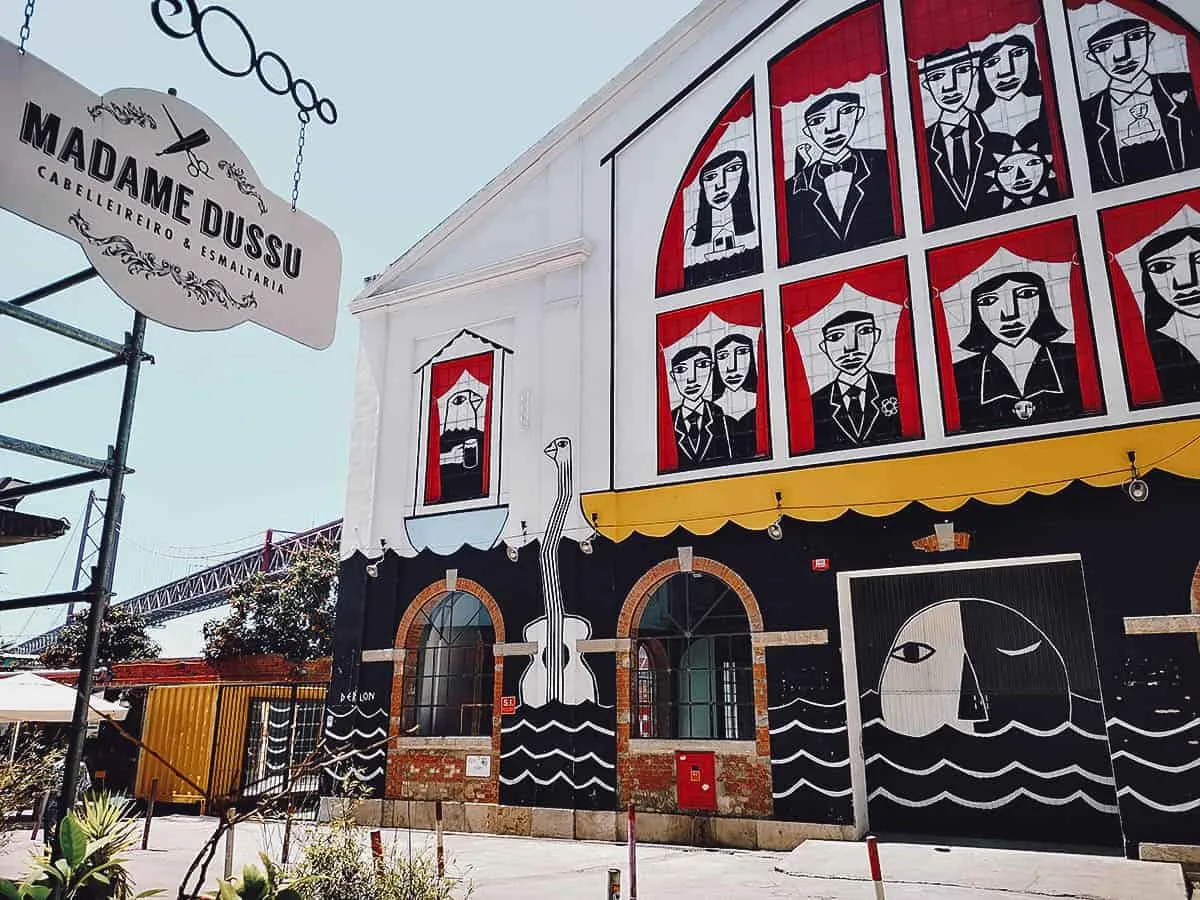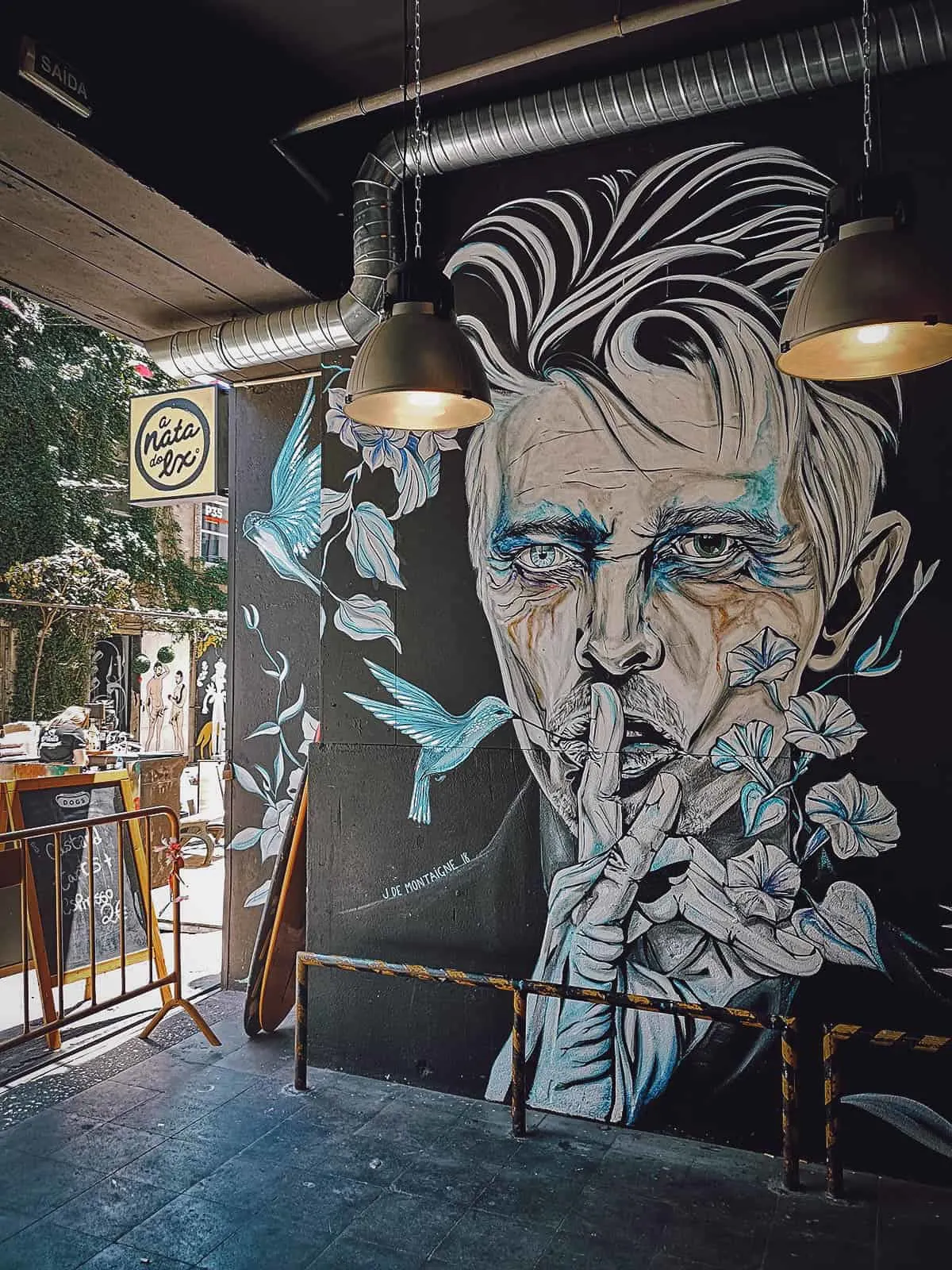 Could this painting have been done by the elusive Banksy?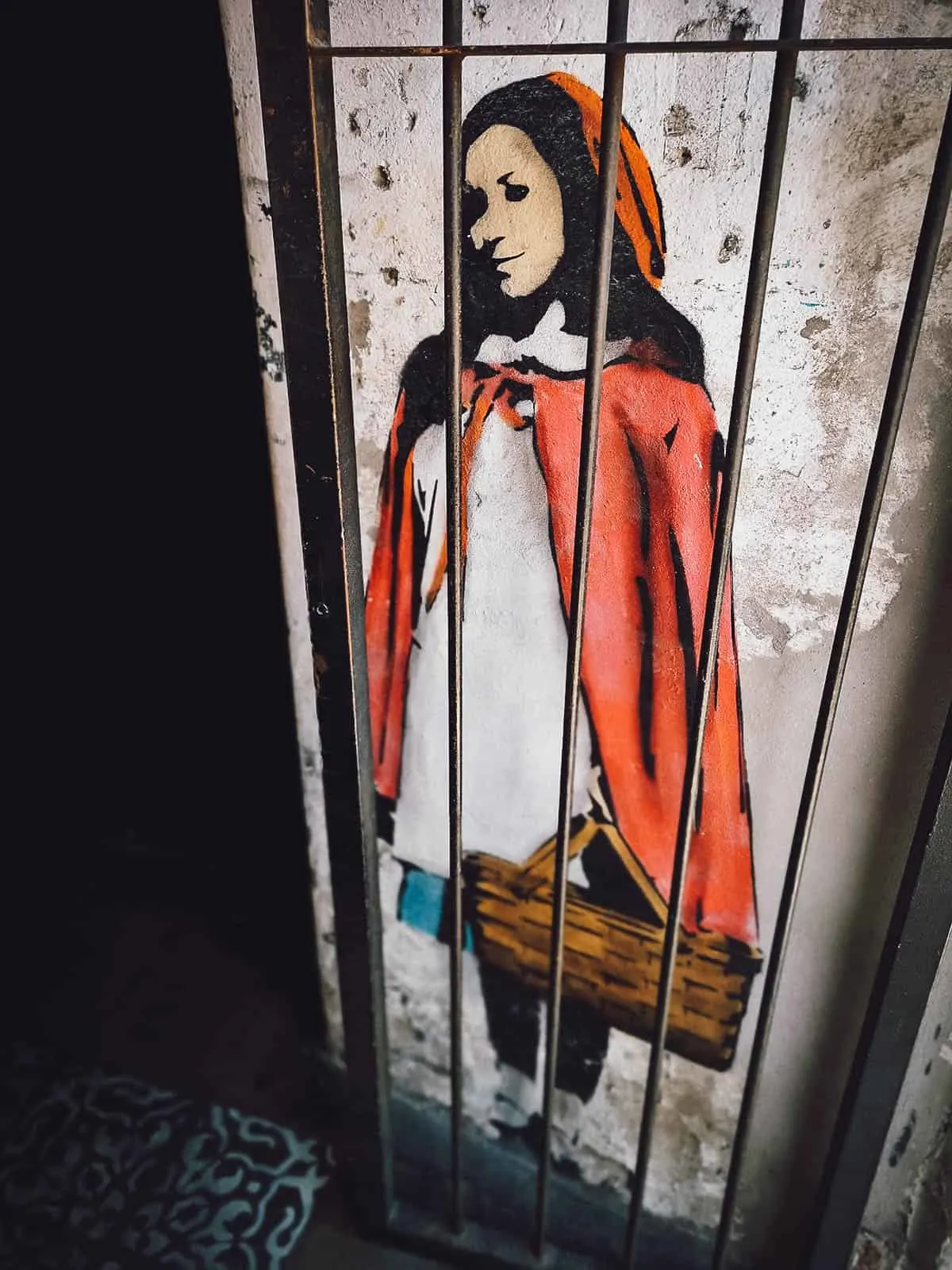 An installation of birds in flight dangling over outdoor market stalls at Lx Factory.
We spent a little over two hours here, but we had to leave to go meet people at Time Out Market. We easily could have spent the entire afternoon here.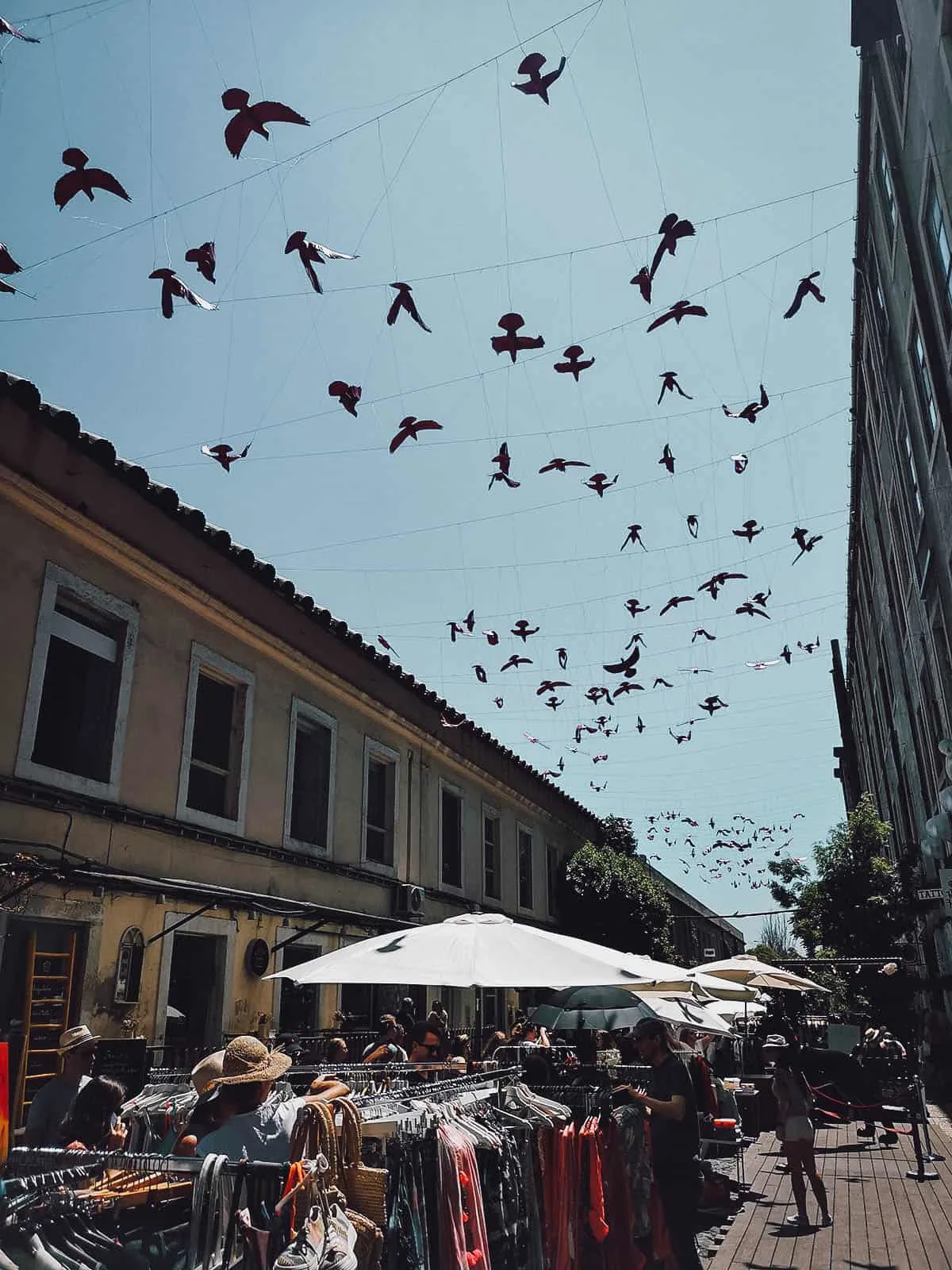 Lx Factory
Address: Largo do Contador Mor 17, 1100-160 Lisboa, Portugal
Closest Tram Stop: Calvario
Operating Hours: Varies per establishment
WHAT IS EMBAIXADA?
About 5 km east of Lx Factory, in a more central part of Lisbon, is Embaixada – a unique shopping gallery with restaurants and independent retailers showcasing the work of Portuguese artists and designers.
Meaning "Embassy" in Portuguese, Embaixada opened in September of 2013 in the trendy Principe Real neighborhood, in a building that's every bit as interesting as the boutiques that call it home.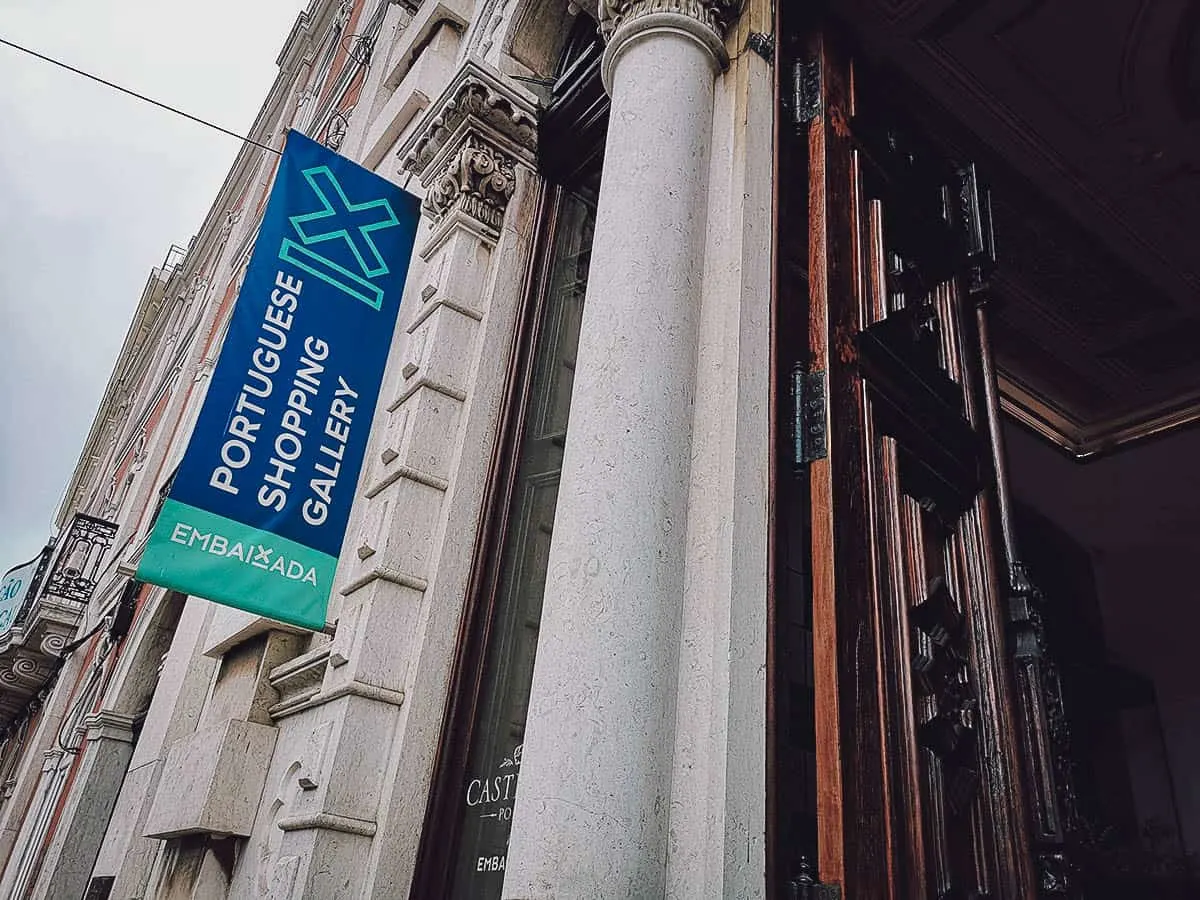 Embaixada is located in Palacete Ribeiro da Cunha, a late-19th century Arabian palace featuring Moorish-inspired architecture mixed with Art Nouveau details. This juxtaposition of trendy boutiques in an historical setting is what makes Embaixada so interesting.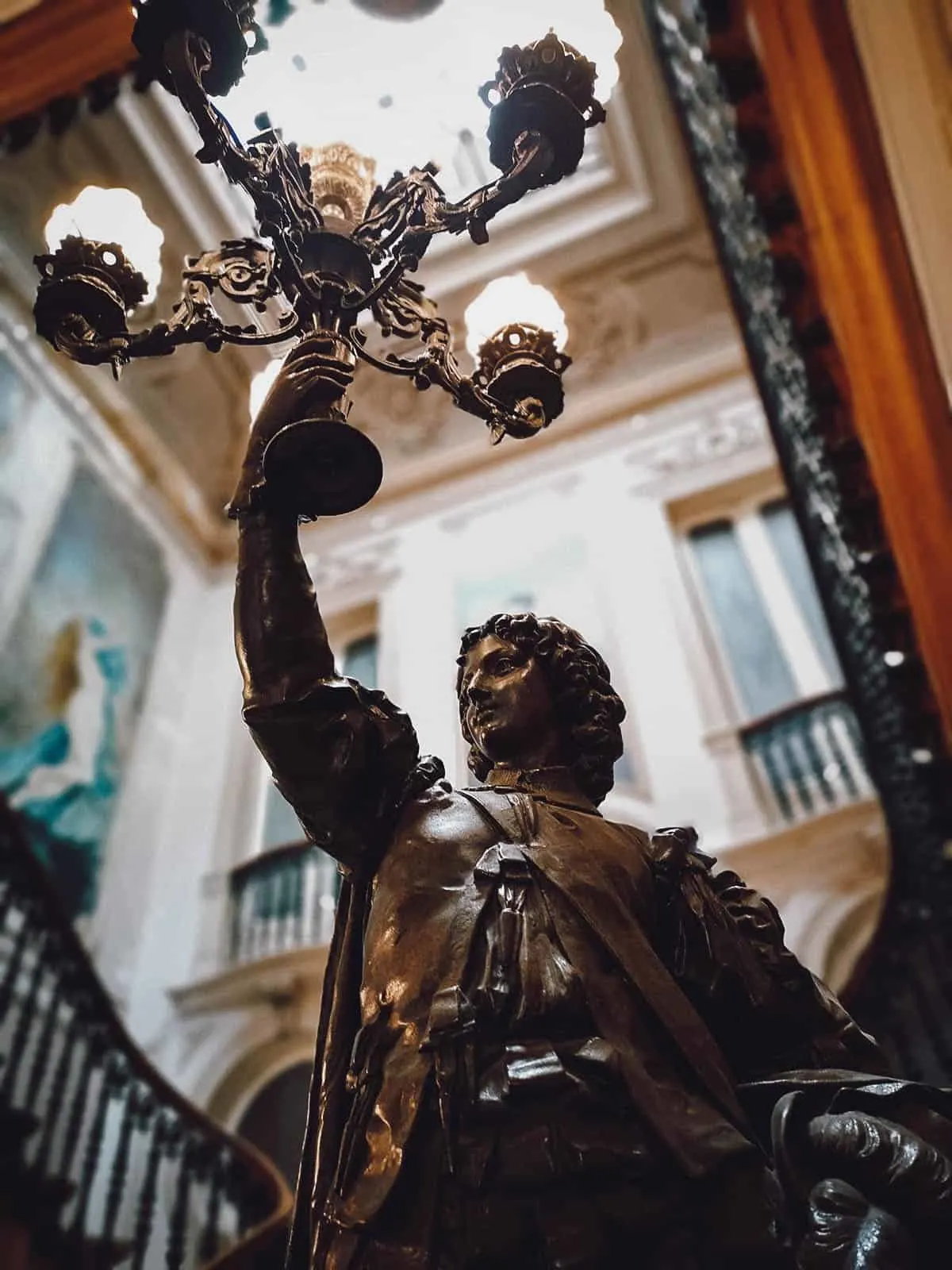 This is the main stairwell leading up to the second floor. The building has four floors but I think only the first two have commercial spaces. According to their website, there are presently 17 shops and restaurants at Embaixada.

This central inner courtyard is the building's most fascinating architectural feature. It's wrought with well-preserved detail from its tiled floor to its carved archways and intricate railings.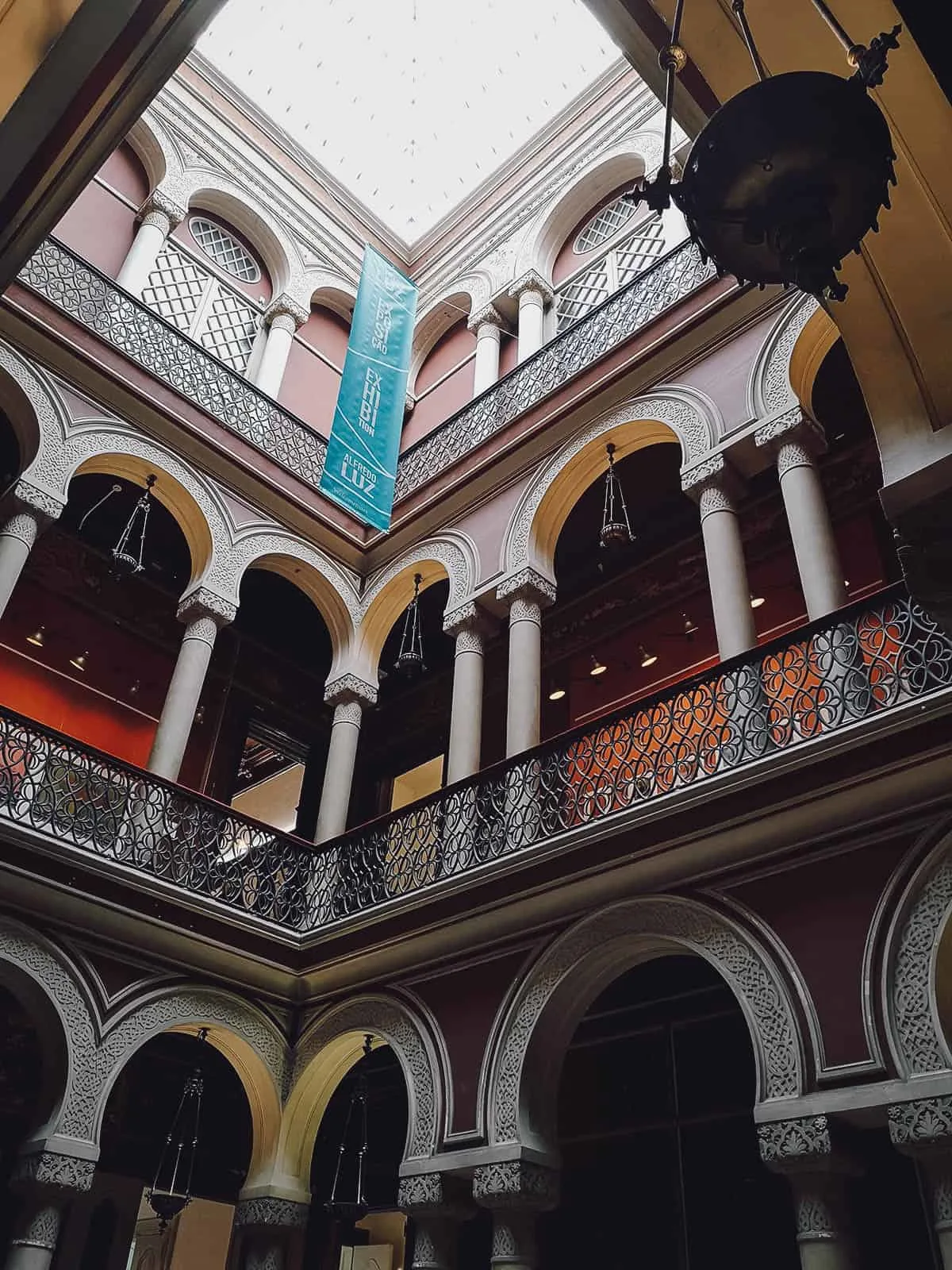 Morrish metalwork overlooking the first floor dining area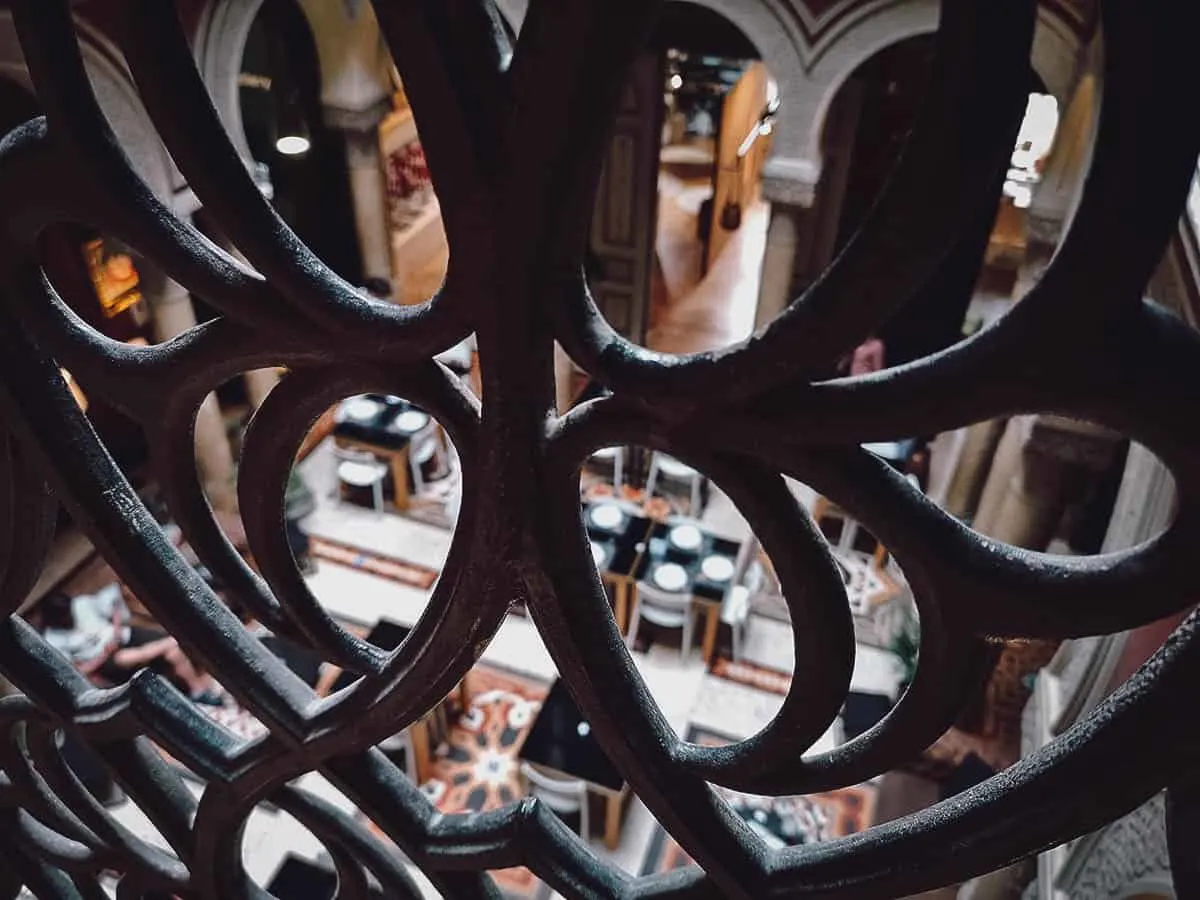 I don't believe the elevator is still operational but this is the view of the shaft from the back stairwell. From the looks of it, everything at Embaixada is still in its original condition.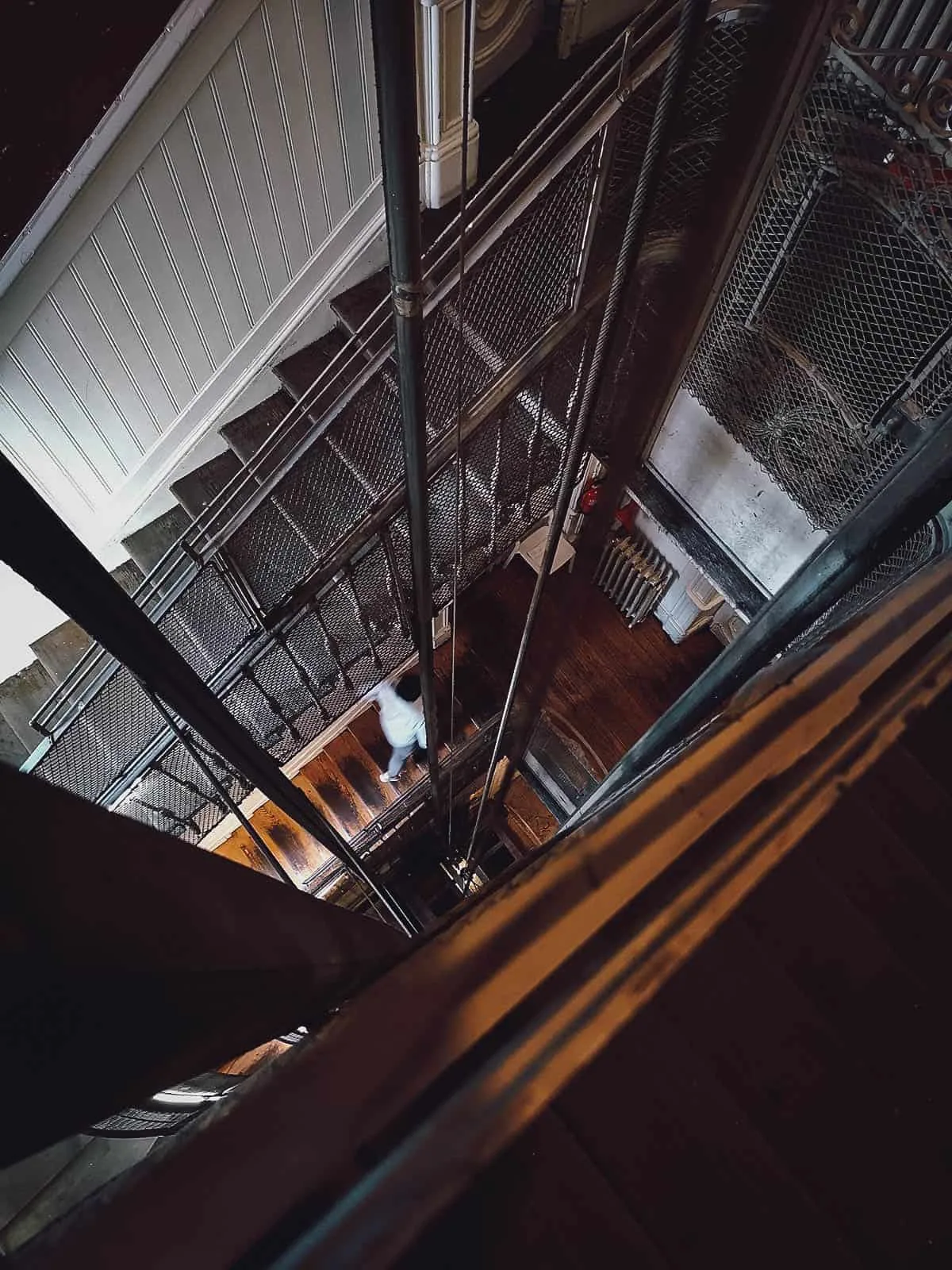 Decorative door handle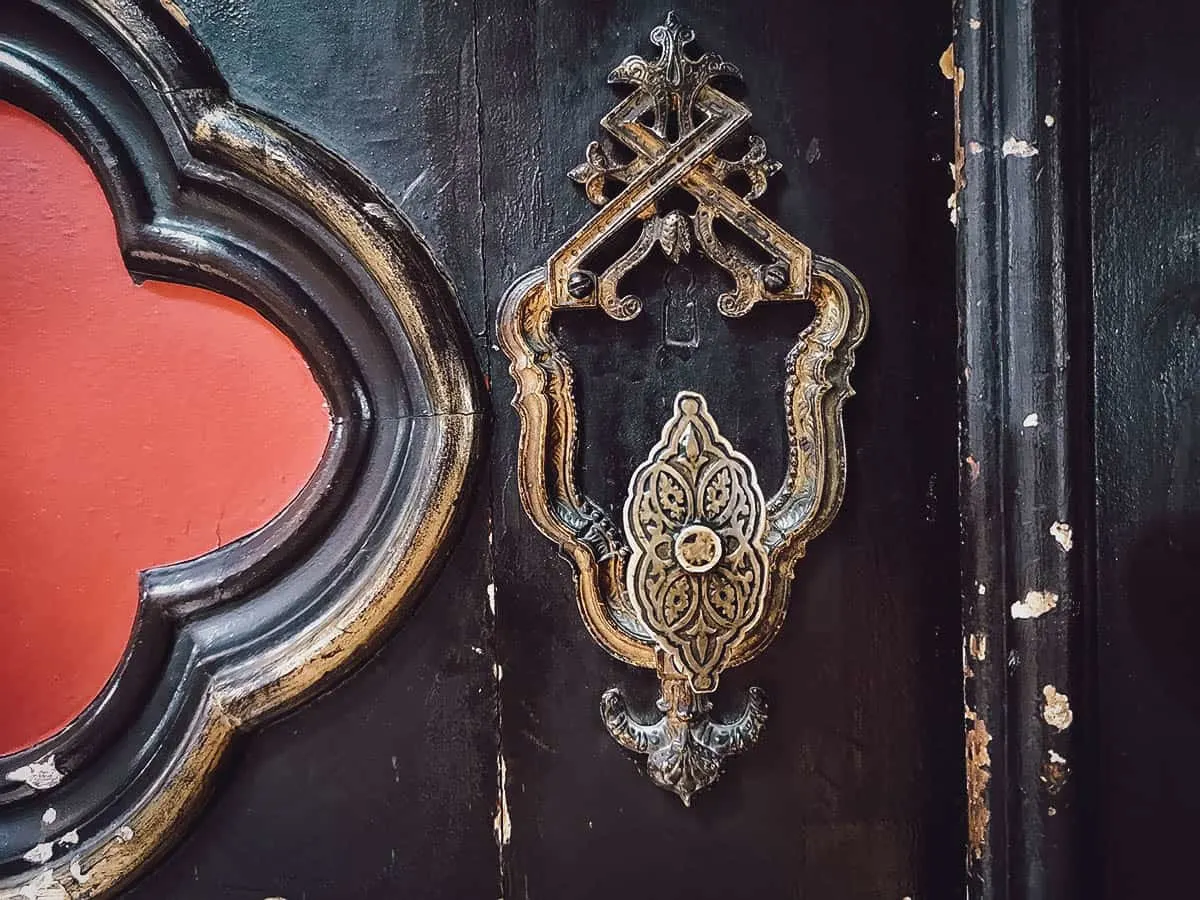 Interesting details adorn every square inch of this building. People with an eye for detail will enjoy exploring this space.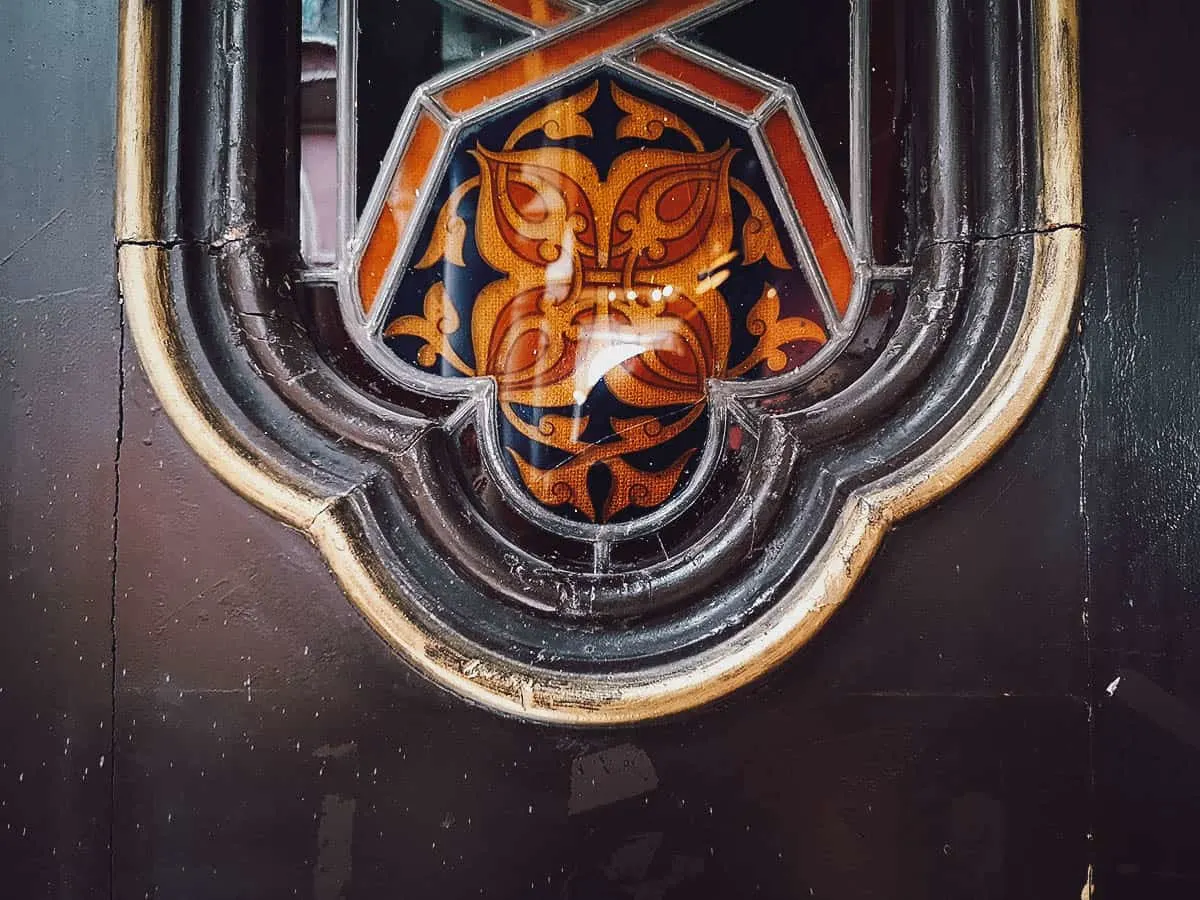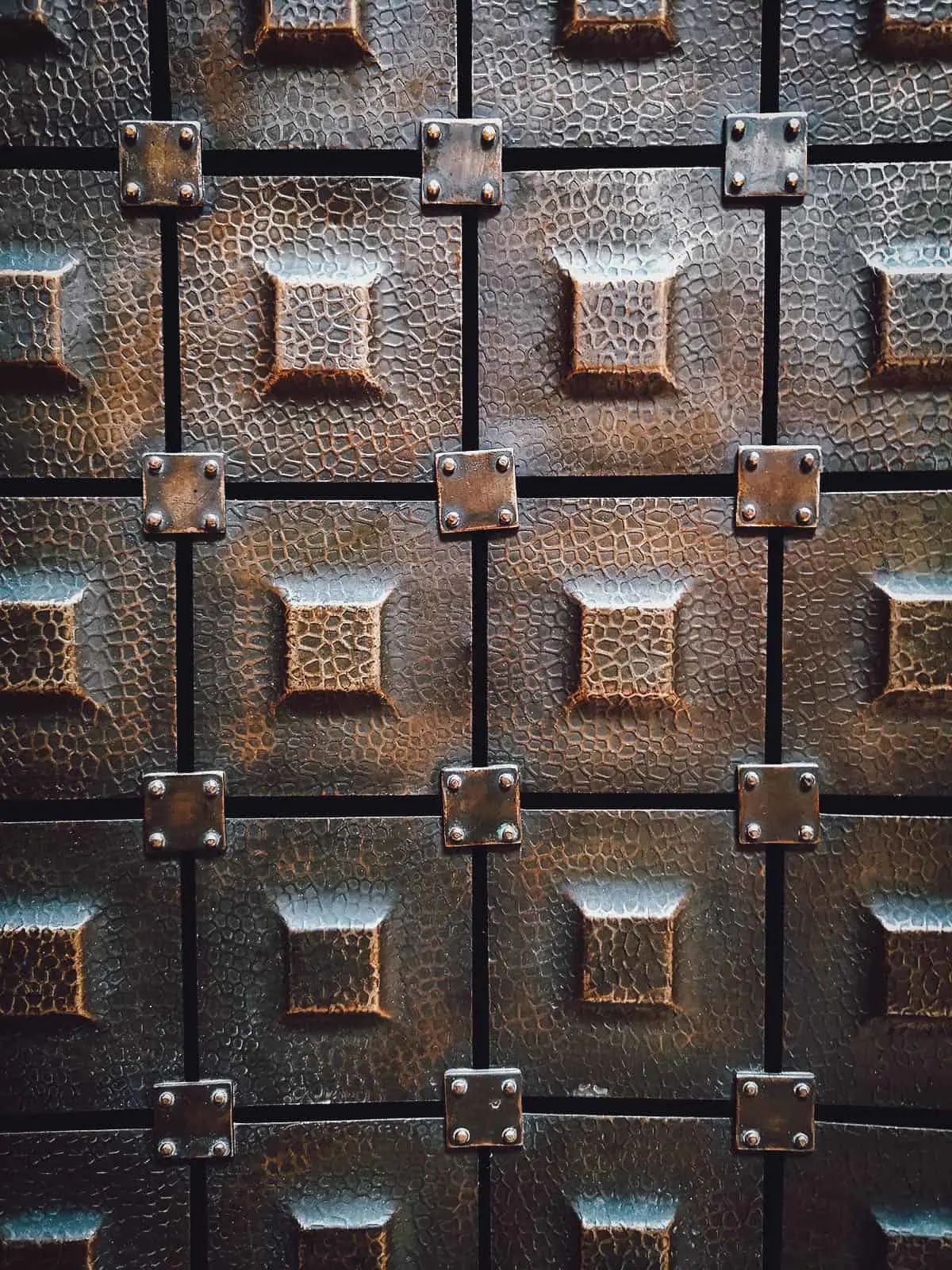 They've kept the original interiors intact and mostly unrestored, providing an interesting contrast between the palace's historical elements and its trendier features. These rope lights with hanging monkeys was the lighting system for a designer shoe shop.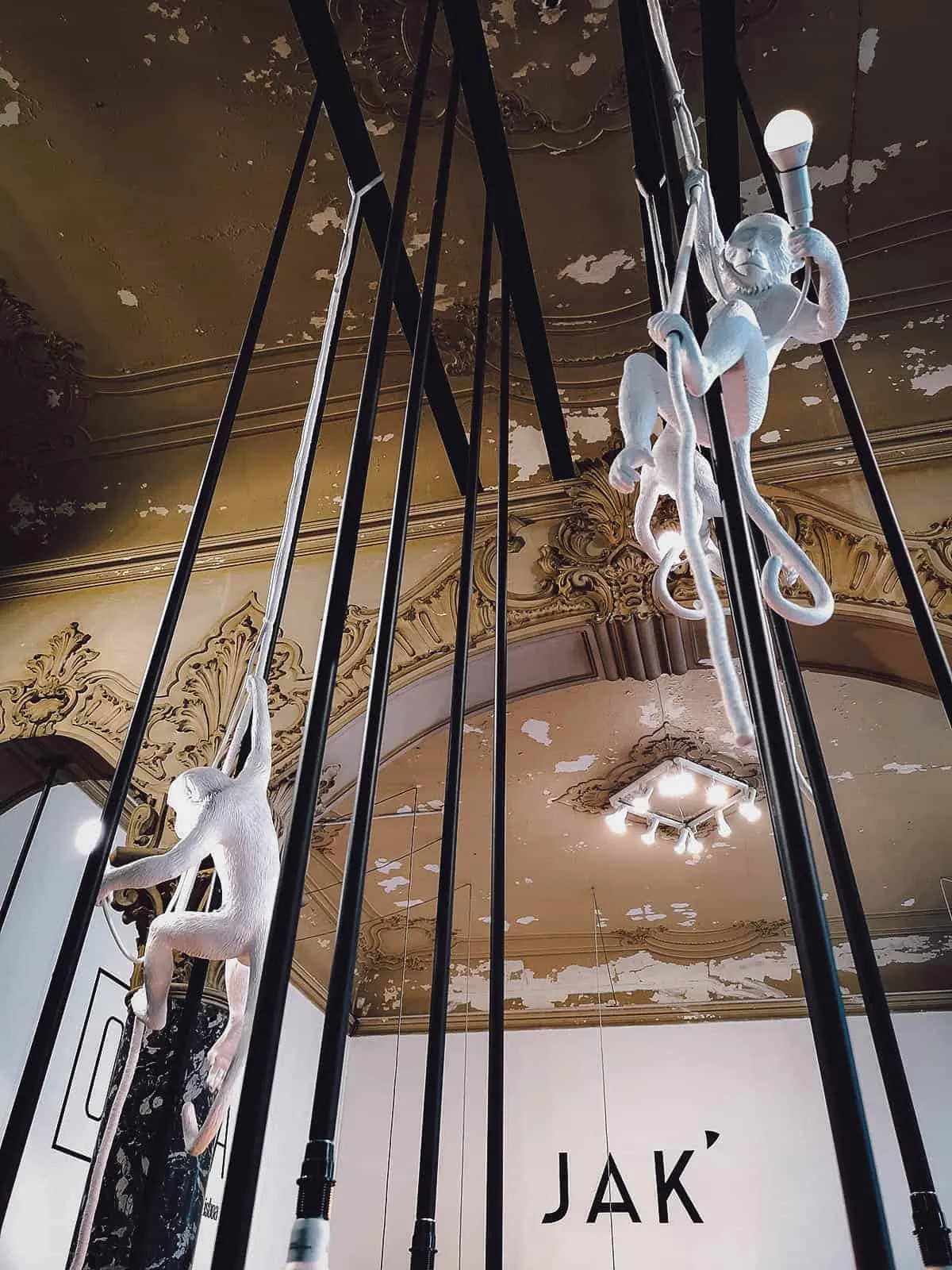 SHOPPING
The building itself is so interesting that you almost forget there are shops through these decades-old doors.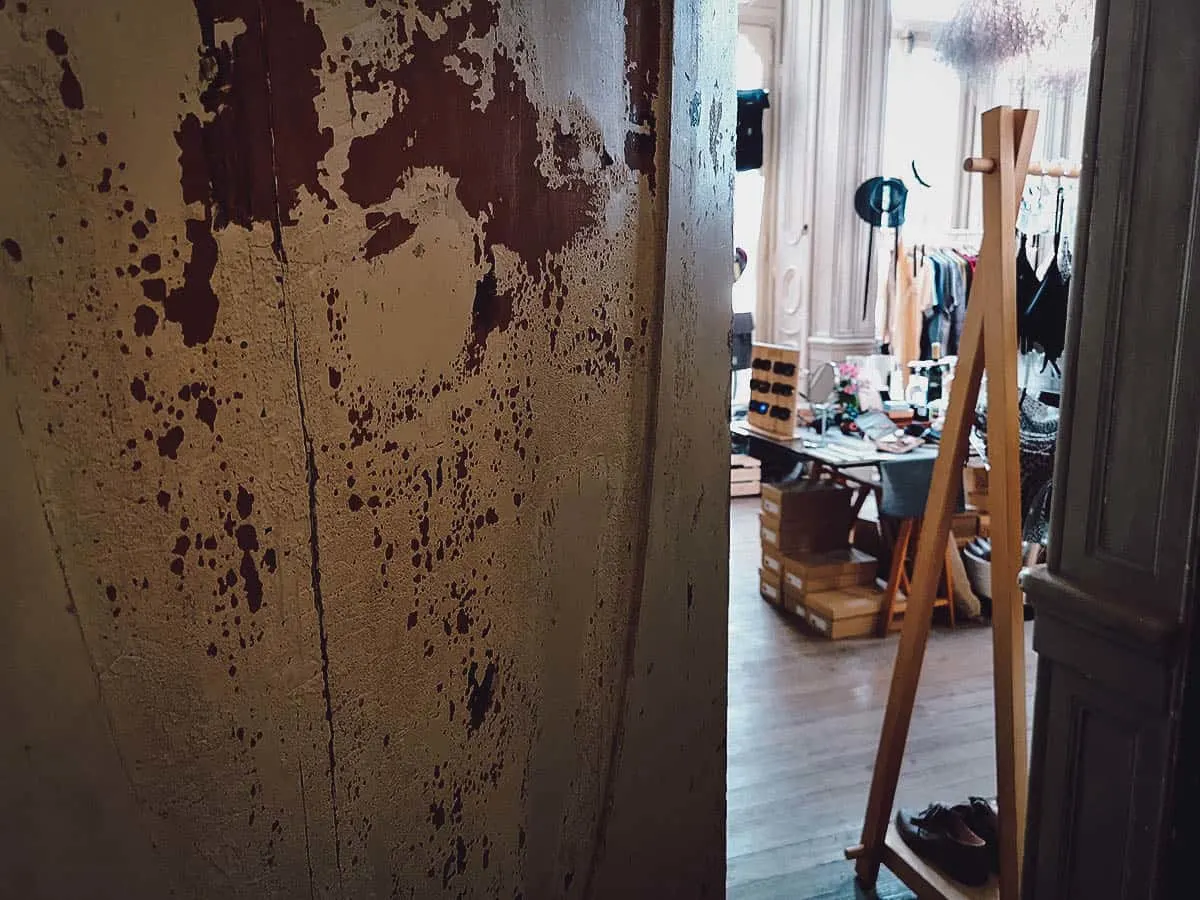 This furniture and lifestyle shop was beautiful. The shops at Embaixada seemed very meticulously curated.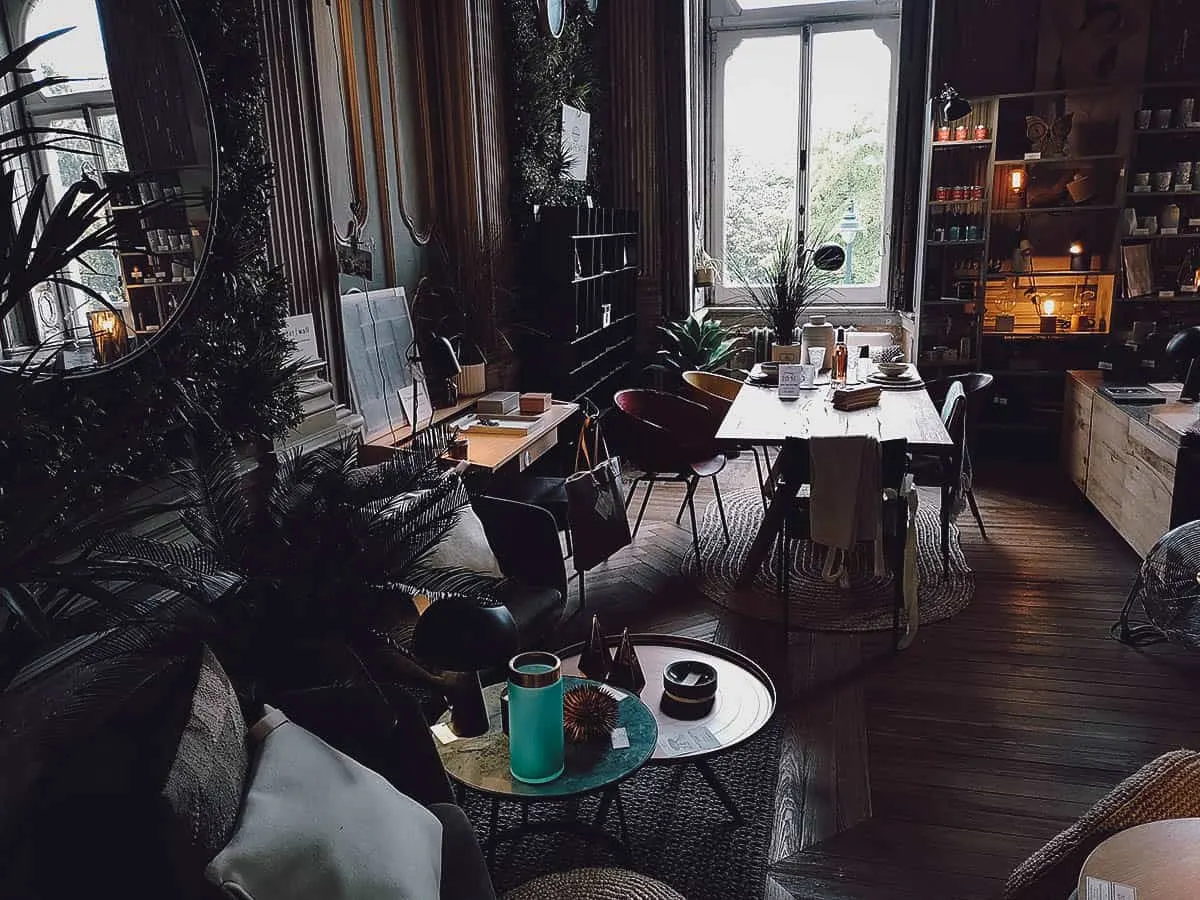 Cutting boards, boxes, bowls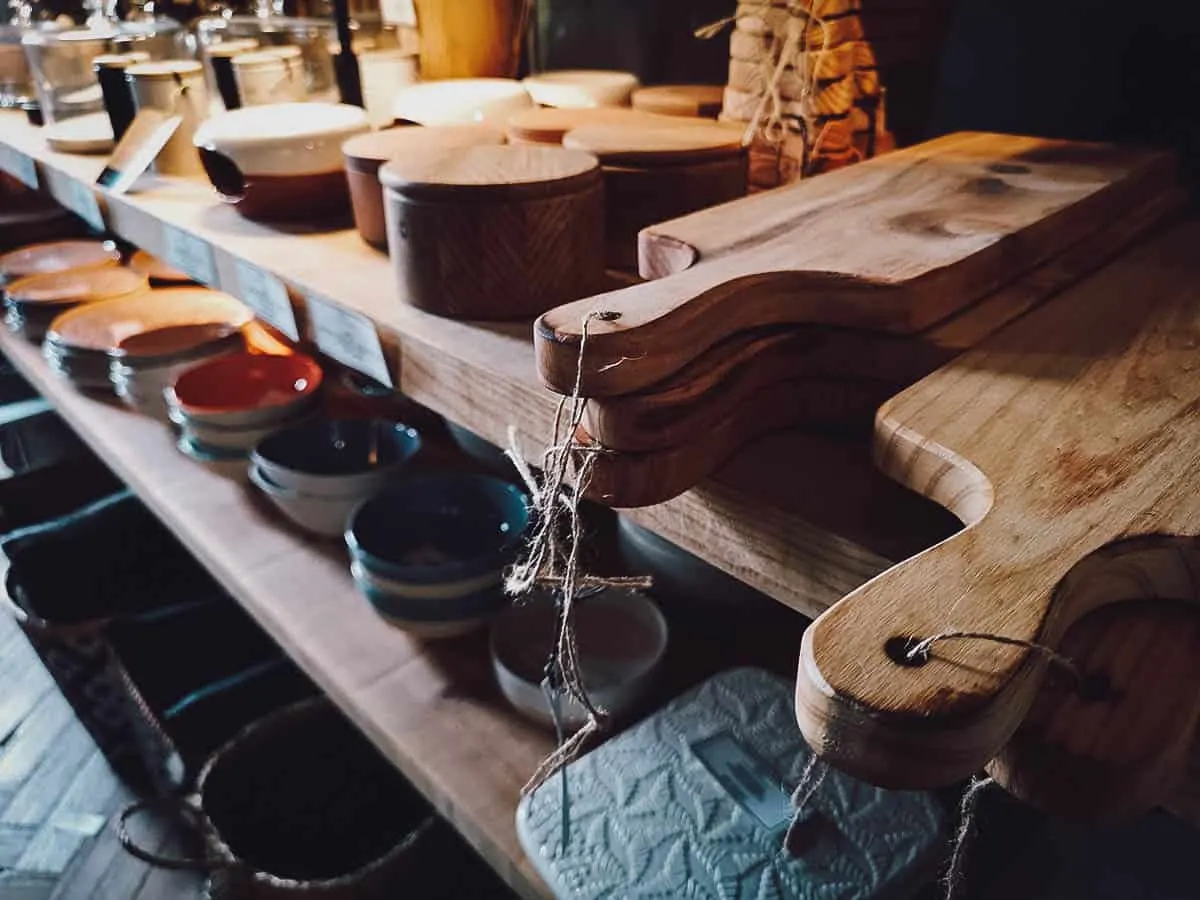 Going through the many unique items on display at Embaixada, you get the sense that most of these would be difficult to find elsewhere, like these handmade wine bottle stoppers.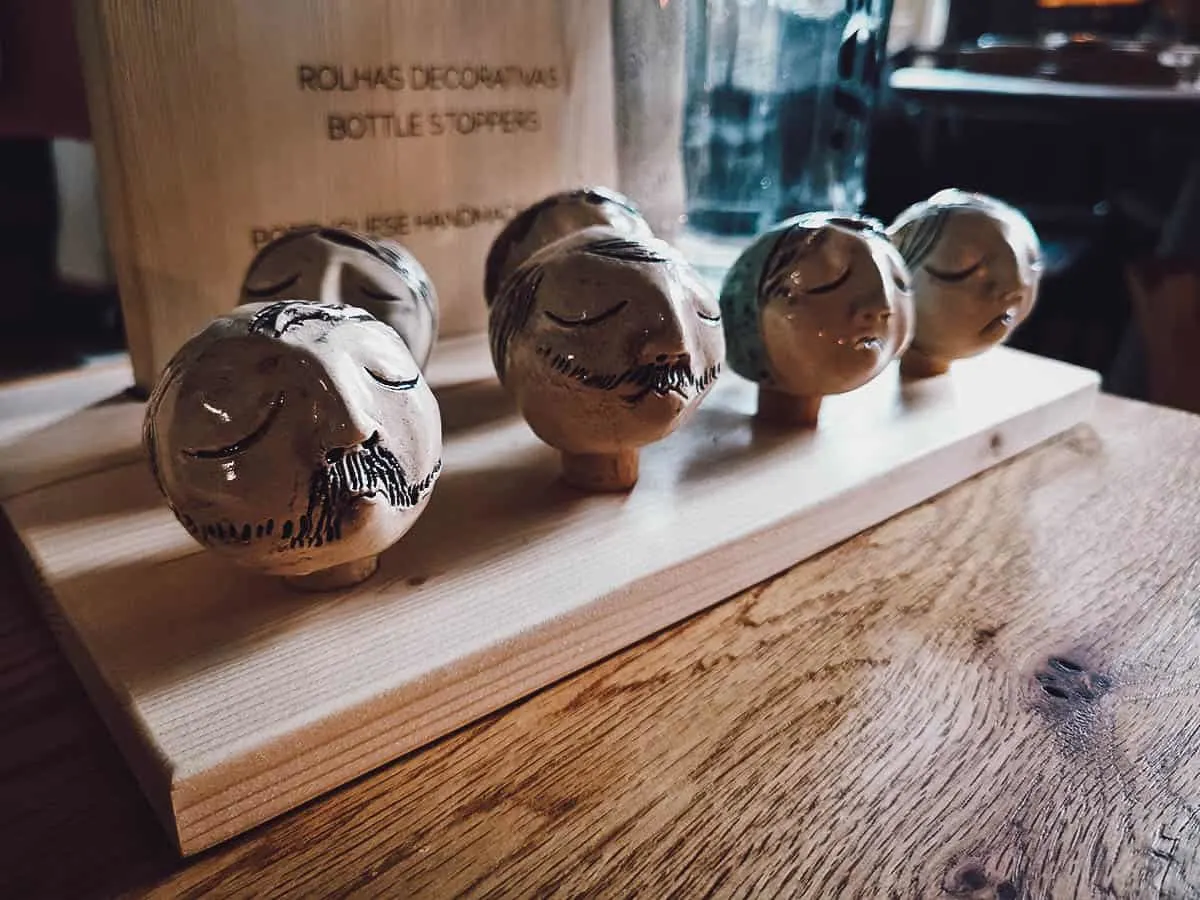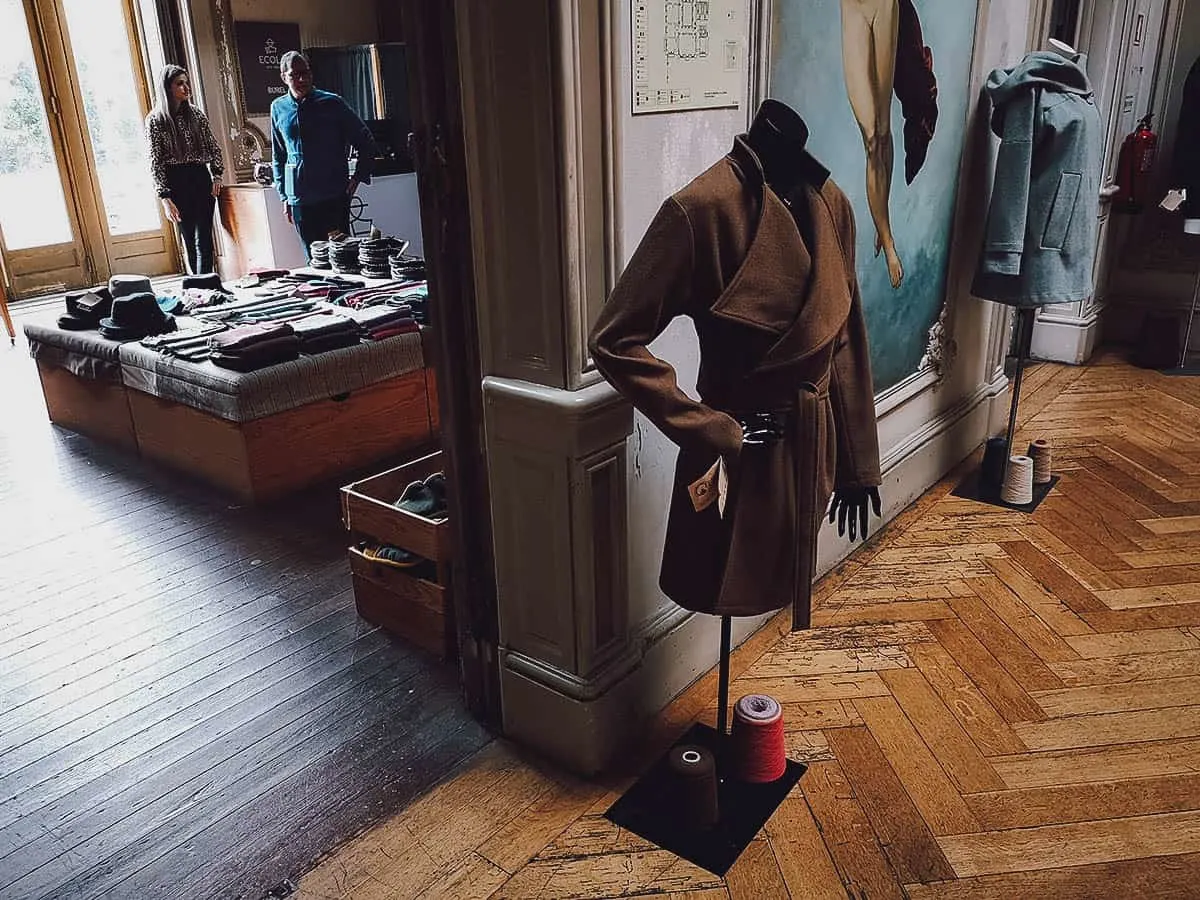 Shopping for clothes at Lx Factory felt a bit like flea market shopping while the boutiques at Embaixada are more upmarket and fashion-forward. Lx Factory is for hippies, Embaixada for fashionistas.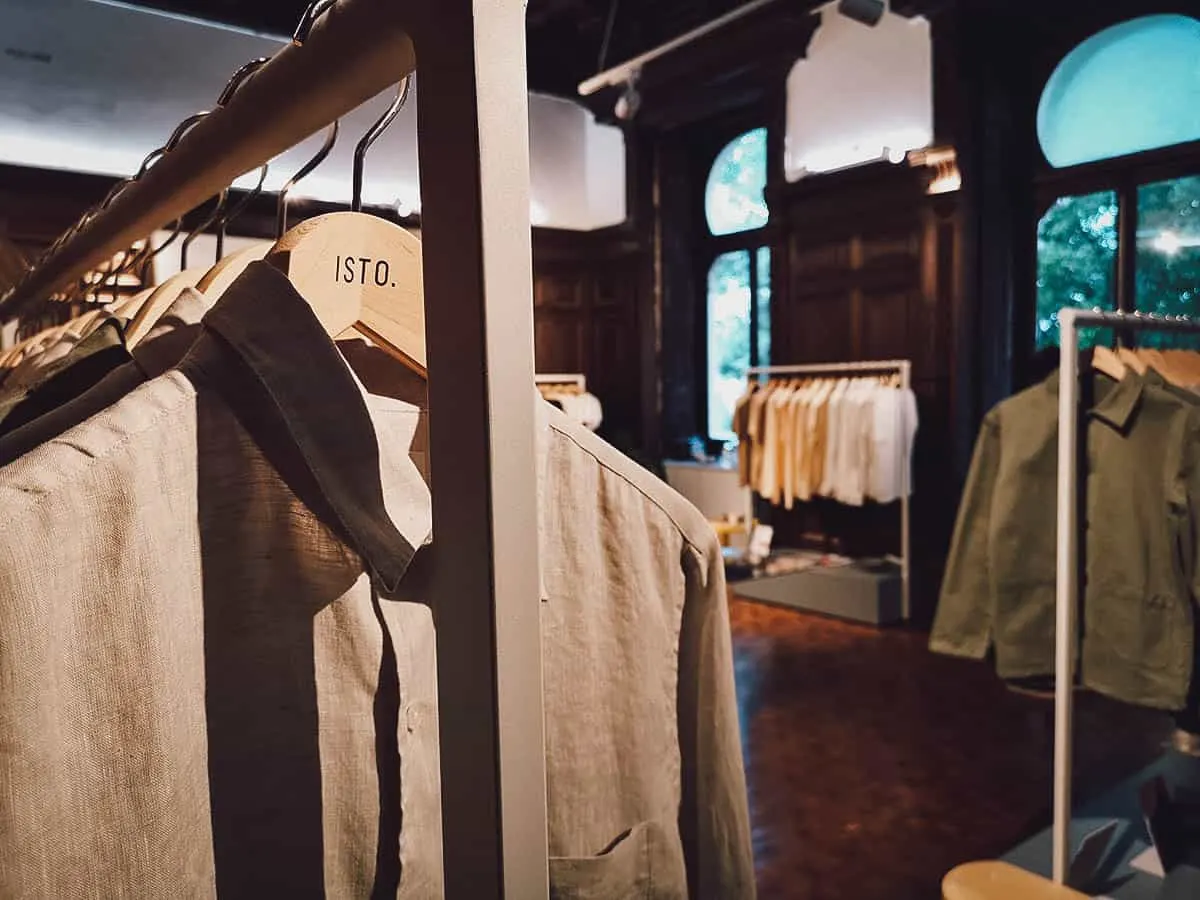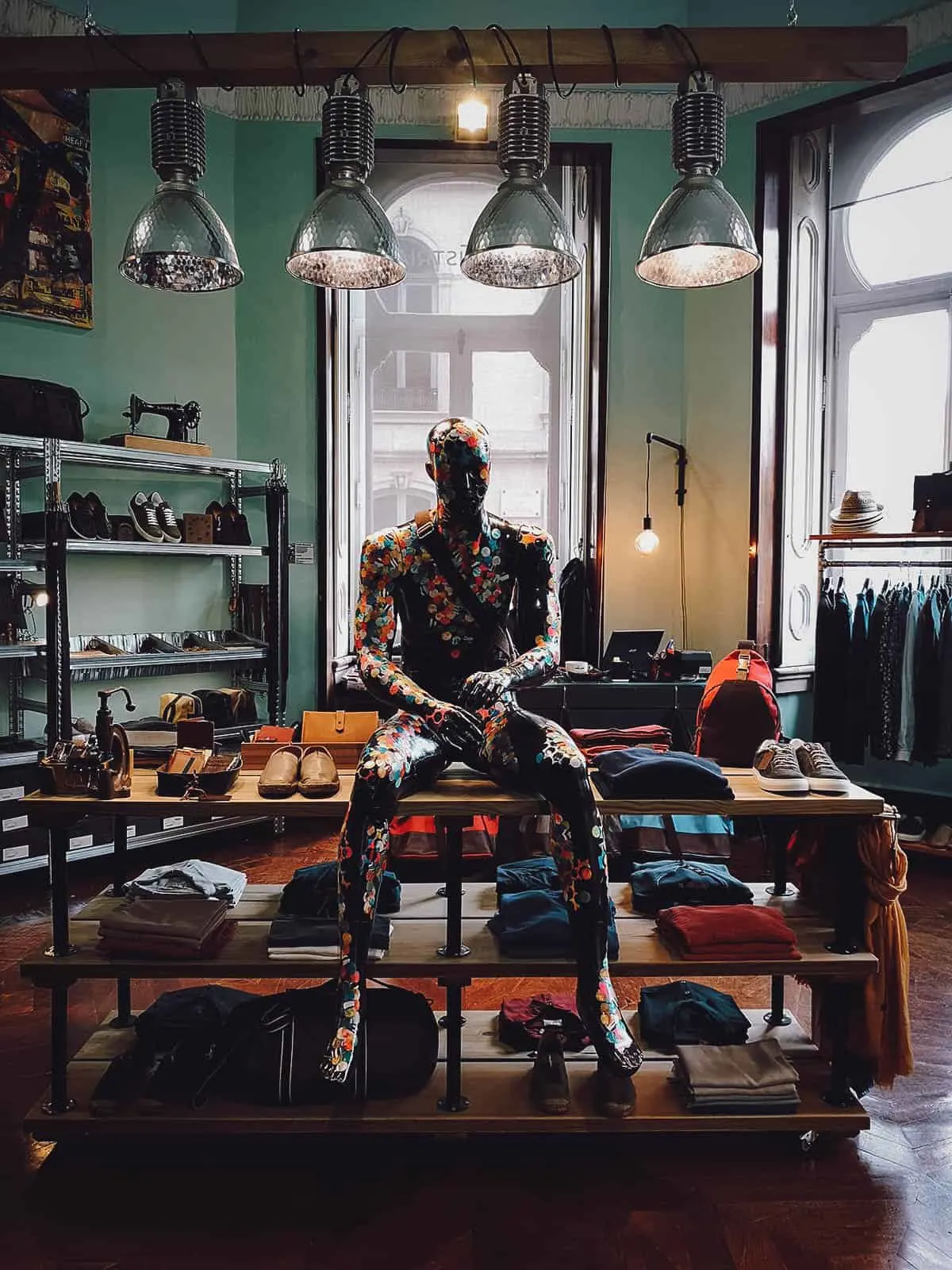 Ren's cousin bought three pairs of these funky-looking shoes. They didn't have them in her size so they had to ship them to her from Portugal. They don't manufacture their shoes en masse, which from what I understand is the type of retailer you can expect to find at Embaixada.
If you're shopping for unique items made by Portuguese designers, the type of design-driven products that you can't find at big retailers, then Embaixada is a great place to go.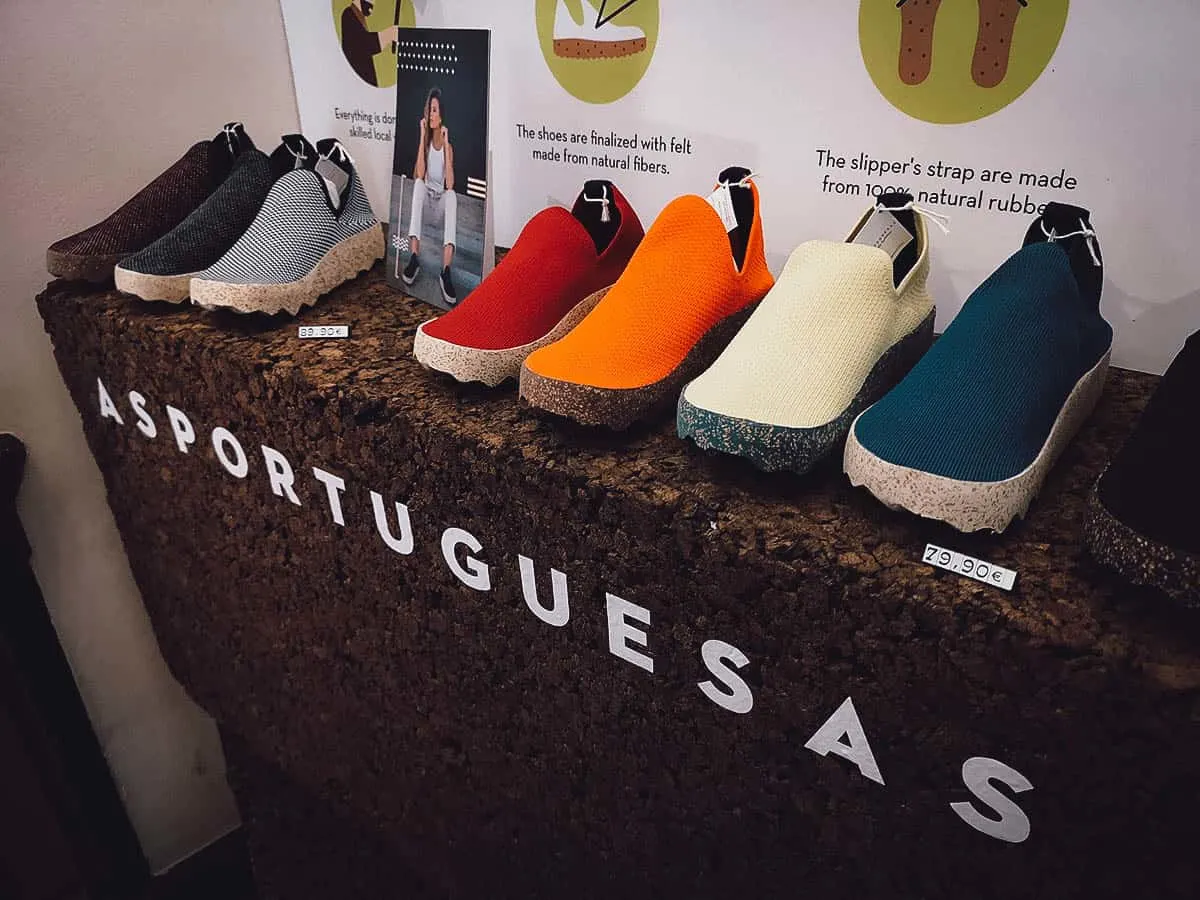 DINING
There are a couple of dining options on the first floor of Embaixada, highlighted by the courtyard seating area of the Gin Lovers Bar and Restaurant. We would have drinks and dessert here twice during our stay in Lisbon.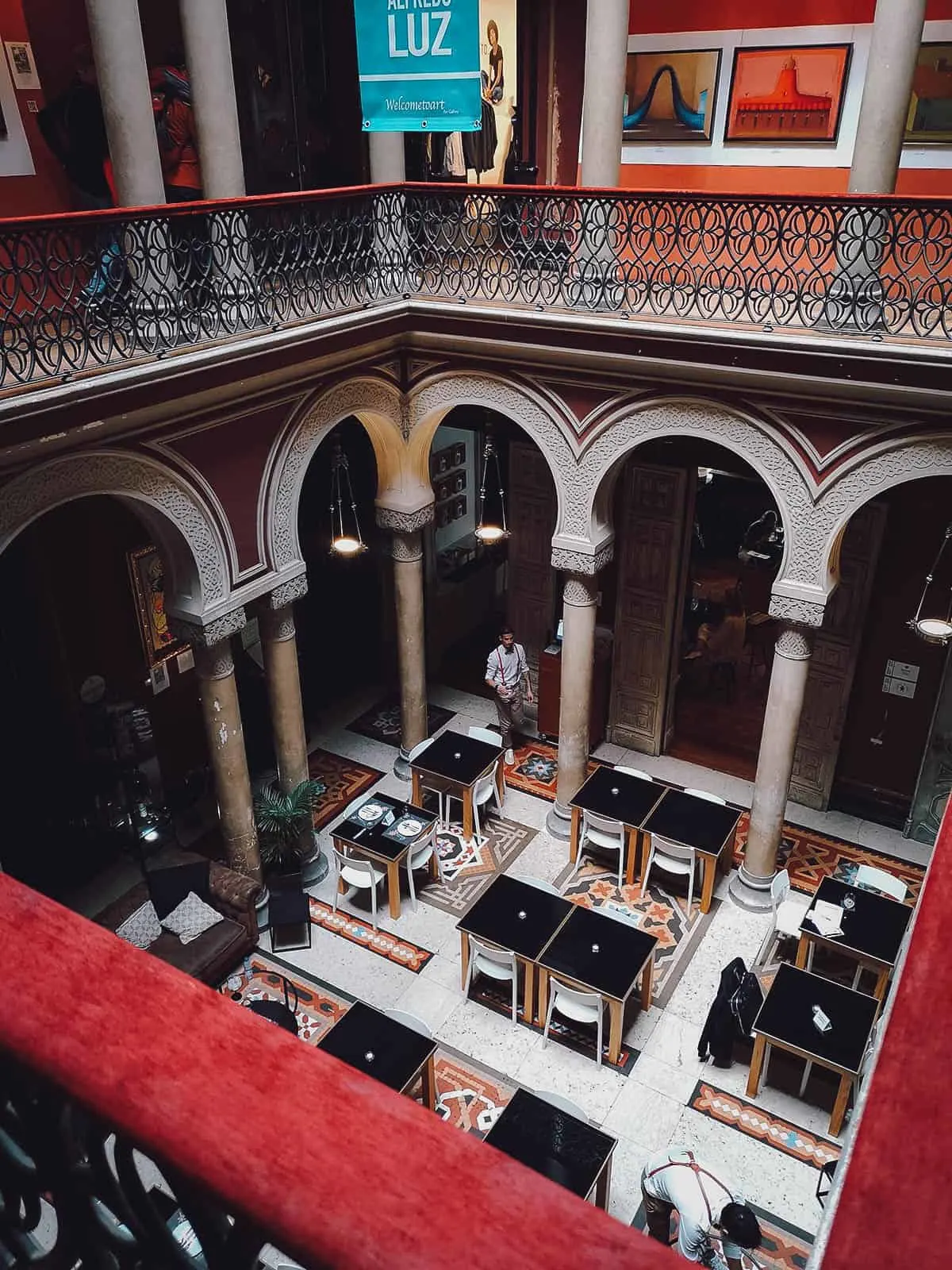 Gin Lovers offers over sixty brands of gin along with wine, cocktails, and Portuguese food created by Chef Fernando Semedo.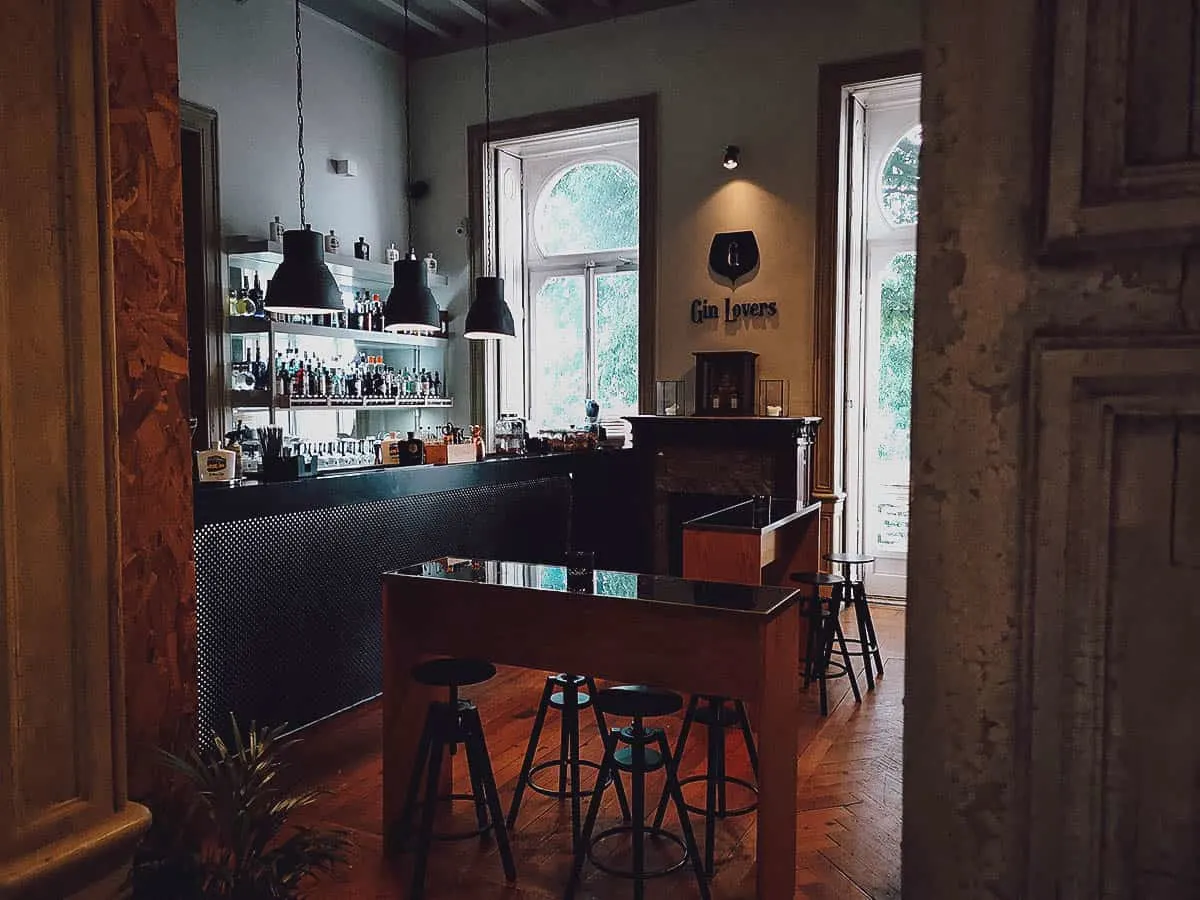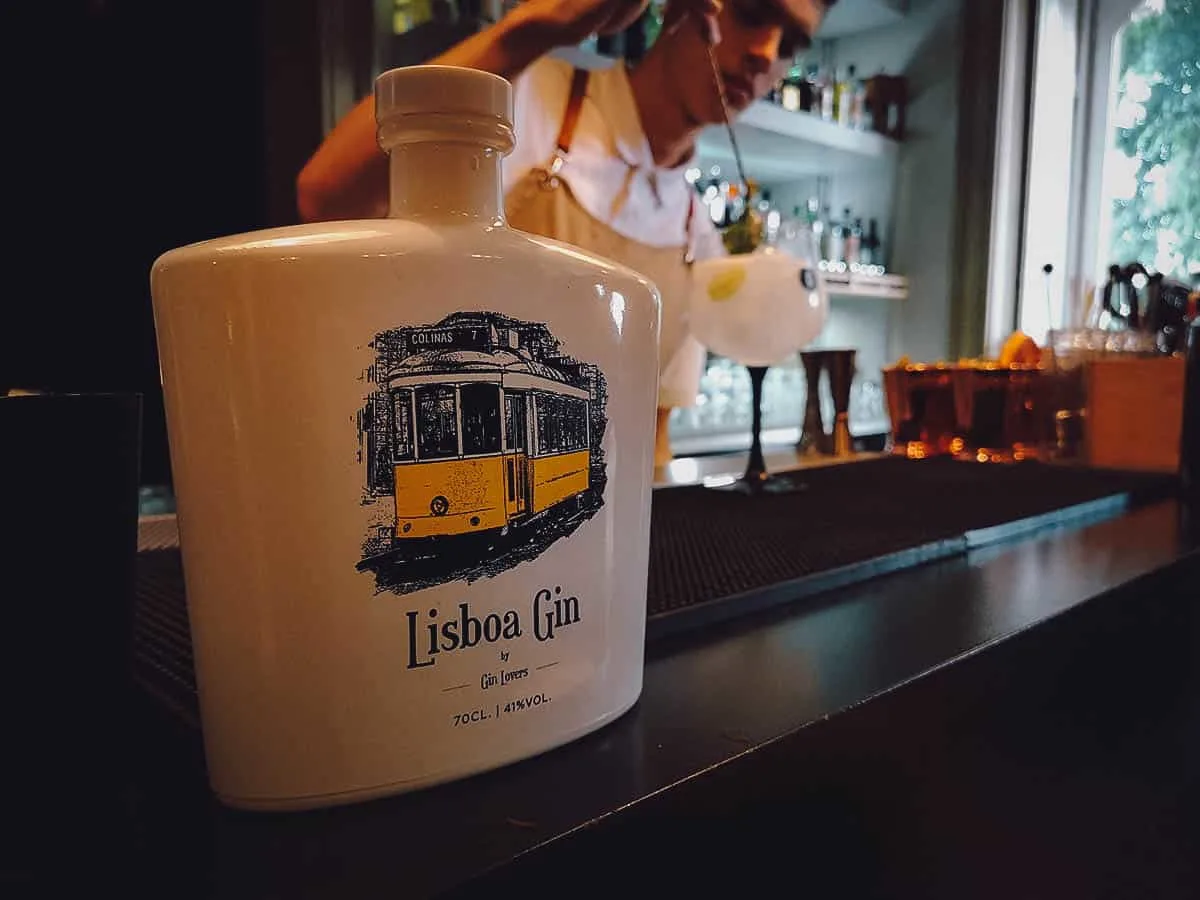 They have another restaurants at Embaixada called Atalho Real, a steak restaurant offering premium cuts of meat from different parts of the world. Both Atalho Real and Gin Lovers are TripAdvisor Certificate of Excellence awardees with near-perfect 4.5-star ratings.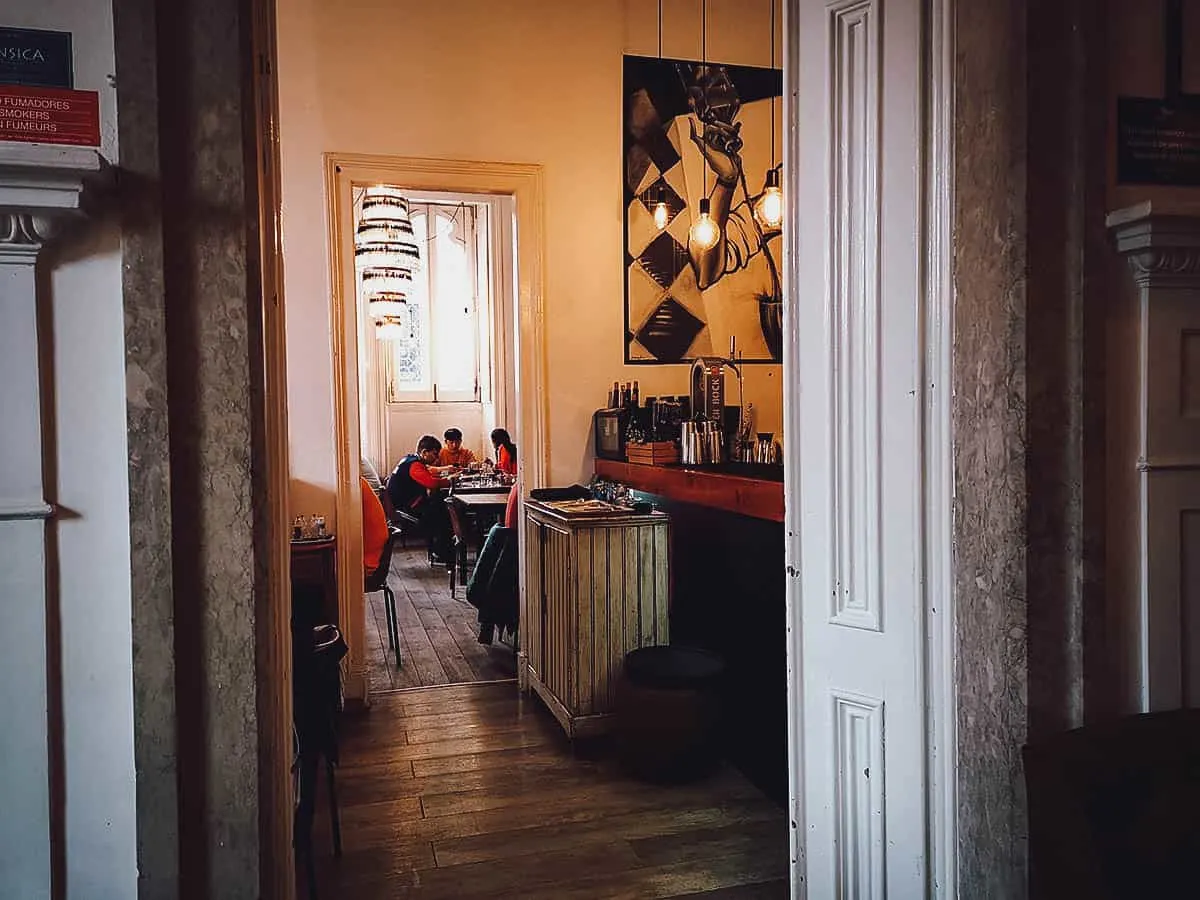 Embaixada
Address: Largo do Contador Mor 17, 1100-160 Lisboa, Portugal
Closest Transit Stop: Principe Real
Operating Hours: 11AM-7PM, daily
FINAL THOUGHTS
If you have an interest in art and design, then you're going to enjoy Lx Factory and Embaixada. They're both hubs of creativity that are similar in ways but different in others.
Lx Factory is the much bigger venue with more to see and do. It has a flea market vibe so it's more fun and energetic. If you like arts and crafts and rummaging for clothes on weekend market racks, then you'll probably enjoy Lx Factory more. There's something to enjoy for everyone though it does seem to cater to a younger crowd.
Embaixada isn't as big but what it lacks in quantity it more than makes up for in quality. It's an upmarket shopping gallery with unique boutiques offering a more refined range of products. It may not be as fun as Lx Factory but it's a fascinating space that appeals to a more mature and stylish demographic.
If you like art and design and have the time, then you should definitely visit both. Lx Factory and Embaixada are windows into the creative arena that is Lisbon, with each giving their own unique point of view.
We loved them both.
Disclosure
Some of the links in this guide are affiliate links, meaning we'll get a small commission if you make a purchase at NO extra cost to you. We only recommend products and services that we use ourselves and firmly believe in. We really appreciate your support as this helps us make more of these free travel guides. Thank you!