We travel for food so when I think of Fukuoka, three things immediately come to mind – tonkotsu ramen, yatai stalls, and motsunabe. They're three of my favorite things about this city that's regarded by many as the gateway into Kyushu.
To be honest, Fukuoka isn't my favorite city in Japan. I don't find it as exciting as Tokyo or Osaka or as charming as Kyoto or Kanazawa but what it does have, is amazing food. In fact, a Japanese friend of mine told me that it's one of three cities that Japanese people like to visit when they travel for food, the other two being Nagoya and Hiroshima.
Food tops the list of our favorite things to do in Fukuoka but there's enough to do in this city to merit a short stay. If you'll be visiting Fukuoka, even for just a day, then this comprehensive Fukuoka travel guide will tell you all you need to know to plan your trip.
VISIT FUKUOKA QUICK LINKS
This travel guide to Fukuoka is long. For your convenience, I've compiled links to hotels, tours, and other services here.
HOTELS
Top-rated hotels in Nakasu, one of the best areas to stay for first-time visitors to Fukuoka.
TOURS
OTHER SERVICES
Save This on Pinterest!
No time to read this Fukuoka travel guide now? Click on the save button and pin it for later!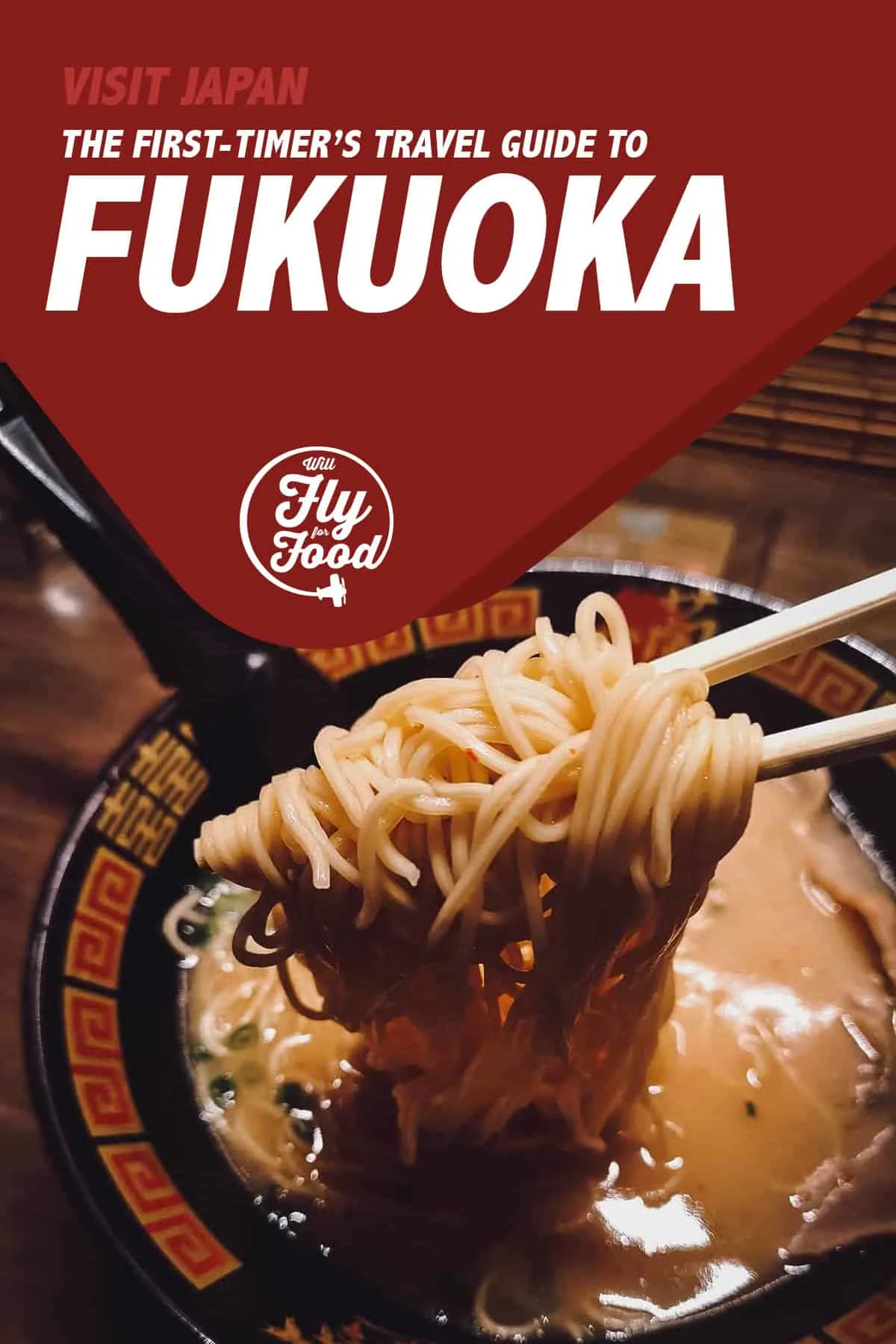 GUIDE TABLE OF CONTENTS
FUKUOKA TRAVEL RESTRICTIONS
Due to the current global situation, Fukuoka travel guidelines have been changing very often. Our partners at Booking.com created a website that lists detailed information on travel restrictions and advisories around the globe.
Before planning a trip to Fukuoka, be sure to check Booking.com for information on travel restrictions to Japan. If you do decide to visit Fukuoka, then it's highly recommended that you get travel insurance with COVID coverage.
JAPAN VISA
Depending on your passport, you may need to secure a visa and other travel documents to visit Fukuoka and Japan. Check out iVisa.com to learn about the requirements and to apply for a visa (if necessary).
If you're a Philippine passport holder residing in Manila, then check out our guide on how to apply for a Japan tourist visa for a step-by-step process.
FUKUOKA AT A GLANCE
Fukuoka is Kyushu's biggest city and the capital of Fukuoka prefecture. Bordered by the Sea of Japan, it's been an important harbor city for centuries thanks to its proximity to the Asian mainland. Geographically, it's closer to Seoul than it is to Tokyo.
Located on the northern shore of Kyushu, Fukuoka is home to one of the busiest international airports in Japan. It's a convenient entry point for people looking to explore the island of Kyushu and the rest of Japan. Kyushu is made up of eight prefectures, seven on the main island – Fukuoka, Nagasaki, Kumamoto, Saga, Oita, Kagoshima, and Miyazaki – plus Okinawa to the south.
As described, Fukuoka is famous for its food. It's the birthplace of tonkotsu or Hakata ramen – one of the most popular types of ramen in Japan – and it has the largest number of yatai or Japanese street food stalls in the country. So popular are yatai in Fukuoka that they've become an iconic symbol of the city.
BEST TIME TO VISIT FUKUOKA
Like many cities in Japan, Fukuoka is largely a year-round destination. You should have a pleasant time no matter when you go but spring and autumn are typically the best times to visit Fukuoka.
DEC-FEB: Because of its southern location, Fukuoka and the rest of Kyushu is warmer than other parts of Japan. It experiences mild winters with temperatures rarely dropping below 0°C. I've been to Fukuoka twice in winter and needed little more than a quilted jacket. If you don't mind cooler temperatures, then winter isn't a bad time to visit Fukuoka.
MAR-MAY: Because of the cherry blossoms, spring is one of the most popular times to visit Japan. Temperatures are mild and days are sunny and dry. If your goal is to catch the cherry blossoms, then aim to visit Fukuoka around late March to early April. I suggest avoiding Golden Week (end of April to early May) as this is peak season for domestic travel in Japan.
JUN-SEPT: Summers are hot and humid in Japan. In Fukuoka, expect thunderstorms in August and September and plenty of rain in June and July. If you dnon't enjoy too much heat and humidity, then it's best to avoid these months if you can.
OCT-NOV: Like spring, fall is one of the best times to visit Japan. The weather is mild and the autumn foliage is lovely, especially around late October to mid-November. For me, this is the best time to visit Fukuoka.
Climate: Annual Monthly Weather in Fukuoka
Check out climatestotravel.com for more on Fukuoka's weather. For your convenience, I've created the average temperature and annual rainfall graphs below. Suggested months to visit are indicated in orange.
Average Temperature

Annual Rainfall

TRAVELING TO FUKUOKA
From Fukuoka Airport
People arriving in Fukuoka by air will be landing at Fukuoka Airport (FUK), which is conveniently located within the city. From the airport, there are several ways to get to Hakata Station or Tenjin Station in downtown Fukuoka.
BY TRAIN: Traveling by train is the fastest and most convenient way of getting to downtown Fukuoka from the airport. Hakata Station is just two stops away while Tenjin Station is five stops from the airport.
BY BUS: Nishi-Nippon Railroad operates a bus that runs between Fukuoka Airport and Hakata and Tenjin stations. From Hakata Station, the ride takes around 18 minutes. From Tenjin Station, it'll be around 33 minutes.
BY TAXI: Traveling by taxi is convenient but it's also more expensive. A taxi ride from Fukuoka Airport to your hotel will run you around JPY 2,000.
BY PRIVATE/SHARED TRANSFER: Like taxis, private transfers are convenient but pricier. You can arrange for one in advance through Klook or Get Your Guide.
From Other Parts of Japan
If you're already in Japan, the you can take a train to Fukuoka. Check out hyperdia.com for train routes and schedules.
If you're planning on doing a multi-city tour of Japan, then you may be interested in getting a JR Pass. It'll give you unlimited use of all JR trains for 7, 14, or 21 consecutive days. You can purchase JR passes through Klook or Japan Rail Pass.
WHERE TO EXCHANGE CURRENCY
The unit of currency in Japan is the Japanese Yen (JPY).
BANKS / POST OFFICES: Banks and post offices have traditionally been the most reliable places to exchange currency in Japan. However, it usually involves a bit of paperwork so the process can take some time, up to 30 minutes or so.
KINKEN SHOPS: Kinken shops are small stores that buy and sell unused event tickets. Some also exchange currency and usually offer competitive rates. I haven't exchanged currency at a kinken shop in Fukuoka but you can usually find them clustered around major metro stations.
CURRENCY EXCHANGE MACHINES: I exchanged foreign currency through one of these machines in Nagasaki once and I haven't forgotten it. It was so quick and easy. It looks like an ATM but you insert your foreign currency and out comes the JPY equivalent. I haven't seen one in Fukuoka but you may be able to find them at busy commercial and tourist areas.
ATM MACHINES: This is my preferred method of acquiring JPY. Not only are rates competitive, but it saves me from the trouble of having to bring too much foreign currency into Japan. I suggest informing your bank that you plan on using your ATM card in Japan. That way they don't flag any transactions. In my experience, my ATM card works best at convenience store and post office ATMs.
TIP: When withdrawing JPY from an ATM, the machine may ask if you'd like to proceed "with or without conversion". Never proceed with conversion because doing so will authorize the bank operating the ATM to do the conversion for you, usually at terrible rates. From what I've read, the difference in rates can be as high as 10%.
BEST AREAS TO STAY IN FUKUOKA
Fukuoka is a big city but most of its top attractions are located in a relatively compact area. For convenience, first-time visitors should look for accommodations in Tenjin, Nakasu, or around Hakata Station.
I've created the color-coded map below to help you understand where these recommended areas are. Click on the link for a live version of the map. (Please note that marked areas are approximations only)
RED – Around Hakata Station
GREEN – Nakasu
PURPLE – Tenjin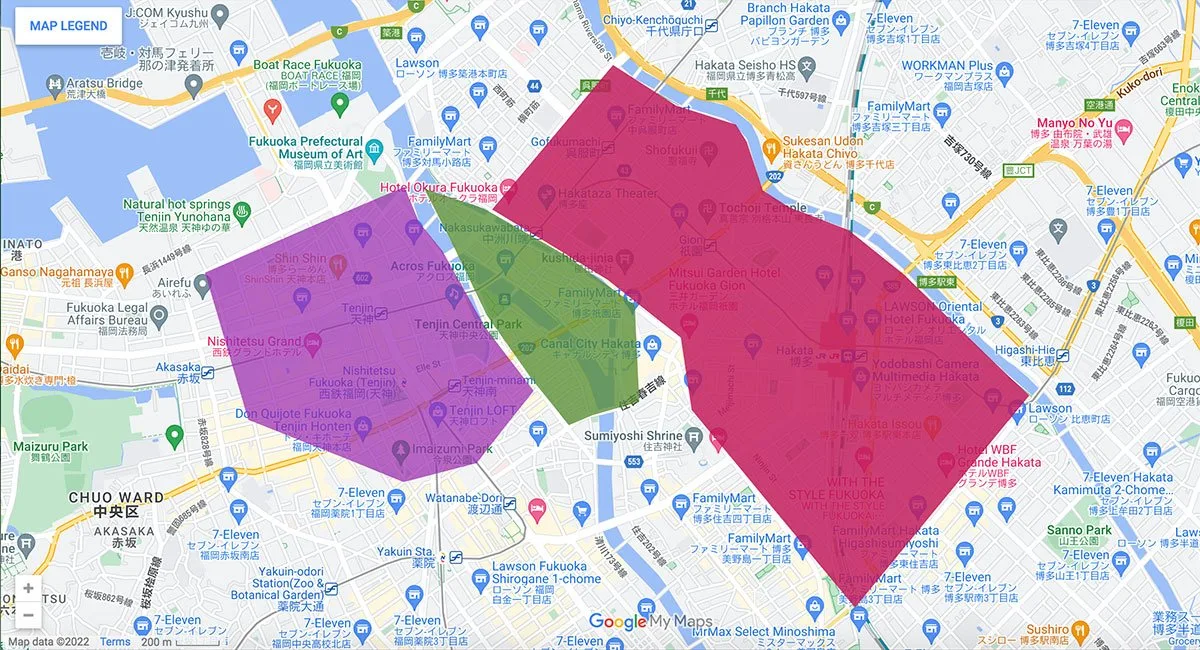 AROUND HAKATA STATION
Hakata Station is the main station in Fukuoka and a convenient area to stay for first-time visitors to the city. Aside from the train and bus stations, it's where you'll find some of Fukuoka's top tourist attractions like Kushida Shrine, Sumiyoshi Shrine, and Canal City Hakata.
On our first trip to Fukuoka many years ago, we only spent the night and had an early bus to catch the next morning so we needed to stay as close as possible to Hakata Station. Located in a shopping arcade, Fukuoka Hana Hostel is a hostel with a few private rooms. Not the nicest place but it was cheap and conveniently located.
You can book a room at Fukuoka Hana Hostel on booking.com. or Agoda. If you'd like to stay close to Hakata Station but don't think this is the right place for you, then check these links for alternate listings in the area: booking.com | Agoda. Here are a few of the top-rated hotels around Hakata Station:
NAKASU
Nakasu refers to a district on a small island in Hakata Ward. It's a lively entertainment quarter filled with nightclubs, restaurants, izakayas, and karaoke bars. It's home to the original branch of the Ichiran ramen shop and the most popular cluster of yatai food stalls. Of all the areas I've stayed at so far in Fukuoka, Nakasu is my favorite.
The Millennials Fukuoka is the COOLEST hostel I've ever stayed at. It's a chain of modern and stylish capsule hotels with branches in Fukuoka, Tokyo, and Kyoto. It'll take an entire post to describe all the cool things about this hotel so just check out their website for more pictures and information. When I was there, they offered daily happy hour with FREE beer and margaritas for guests. Need I say more?
You can book a pod at the Millennials Fukuoka on booking.com or Agoda. If you'd like to stay in the area but don't think the Millennials Fukuoka is the right place for you, then you can check booking.com for alternate listings. Check out some of the top-rated hotels in Nakasu:
TENJIN
Tenjin is one of the most popular neighborhoods in Fukuoka. It's a well-known shopping area with lots of restaurants, cafes, bars, and nightlife options. If you're young and like to party, then Tenjin is probably where you'll want to stay. You can search for accommodations in Tenjin on booking.com or Agoda. Check out some of the top-rated hotels in the area:
You can also book hotels and homestays in Fukuoka using the handy map below.
PLACES TO VISIT IN FUKUOKA
Listed below are a few of the city's top tourist attractions. For more suggestions, be sure to check out our guide on the most popular things to do in Fukuoka.
1. Ohori Park
Ohori Park is a spacious public park featuring the ruins of Fukuoka Castle and a large pond that used to be part of the castle's moat system. Ohori in Japanese means "moat".
Unfortunately, not much of the castle remains except for a few walls and lookout points but the pond is a great place to take a stroll on sunny days. You can also visit Ohori Park Japanese Garden and the Fukuoka Art Museum which are both located on the eastern side of the pond. Admission is JPY 250 and JPY 200 respectively but entrance to the park is free.
You can easily visit Ohori Park on your own but if you'd like to go on a guided tour, then you can book one through Get Your Guide. They offer several city tours that make stops at Ohori Park.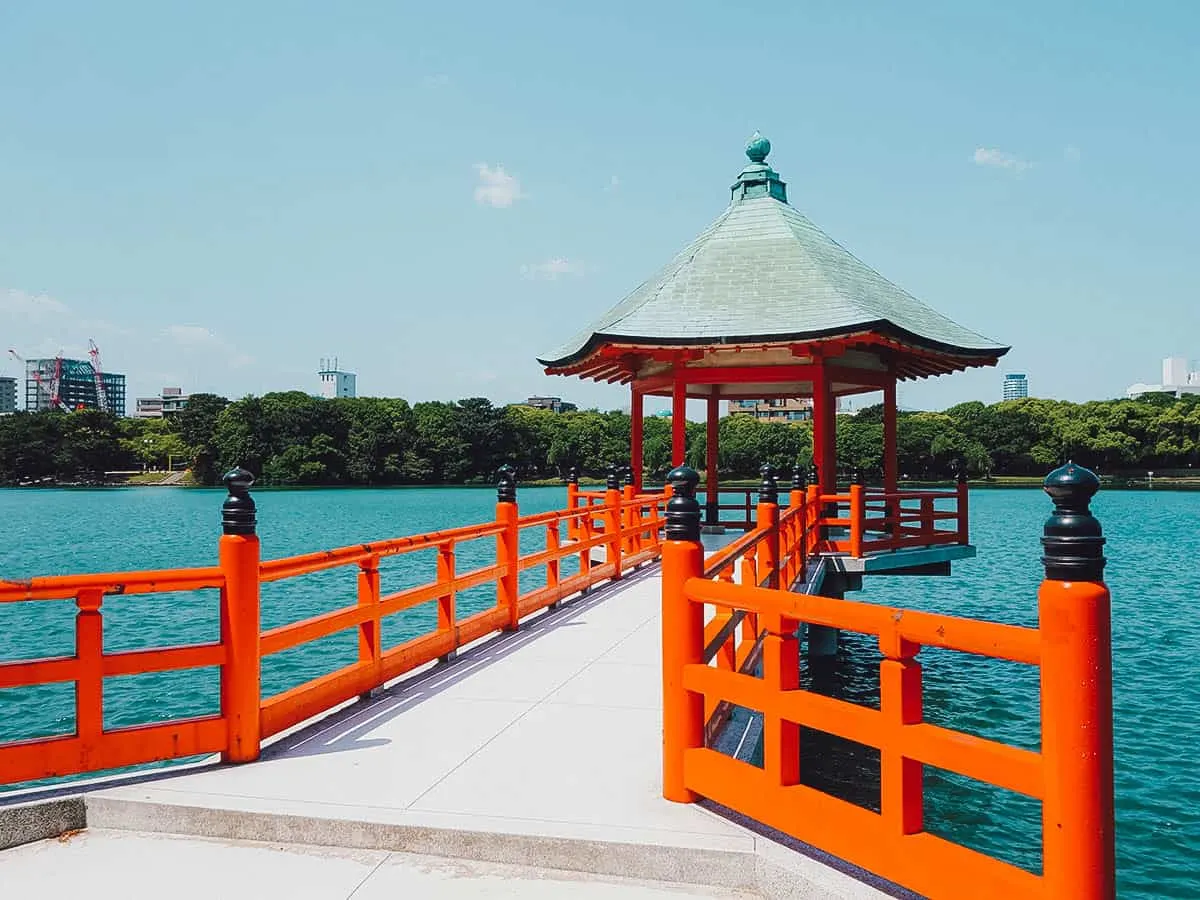 Photo by jacky-kou via Shutterstock
Suggested Length of Visit: 1-2 hrs
Admission: FREE to the general park area
Nearest MRT Station: Ohori Park (Fukuoka Art Museum) Station
2. Kushida Shrine
Kushida Shrine is one of the most important Shinto shrines in the city. It was built in 757 and regarded by locals as the temple guardian of Fukuoka.
If you visit Fukuoka in July, then you'll get to experience the biggest festival in the city – Yamakasa Gion Matsuri. It features large elaborately decorated floats measuring up to 10 meters tall and weighing over a ton. On the last day of the festival, hundreds of men representing Hakata's neighborhoods compete in a race while carrying these giant floats. The largest of these floats are then put on display at Kushida Shrine until the next festival.
Kushida Shrine is about one kilometer northwest of Hakata Station. You can go on your own or visit the shrine as part of a guided city tour.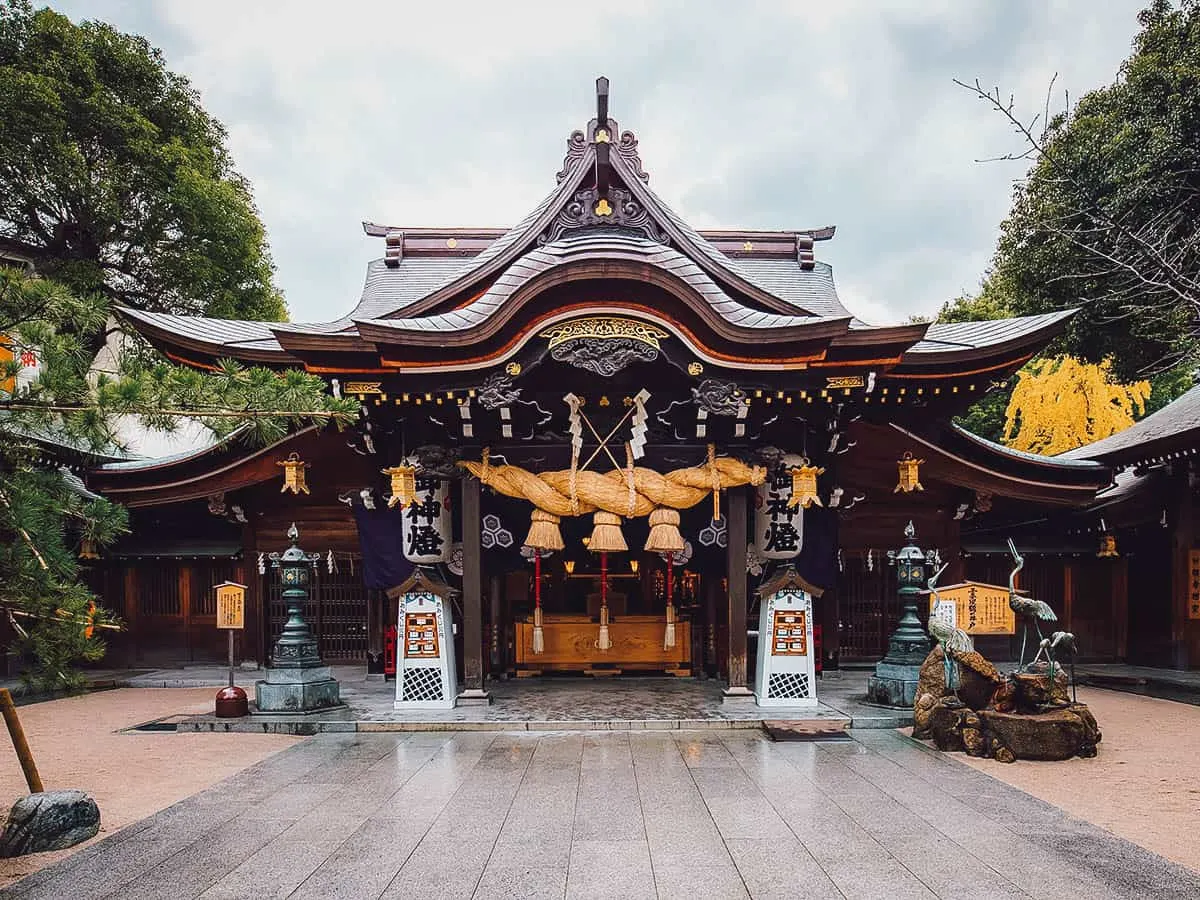 Photo by Nattee Chalermtiragool via Shutterstock
Suggested Length of Visit: 1 hr
Admission: FREE
Nearest MRT Station: Gion Station
3. teamLab Forest
We were lucky to visit teamLab Borderless in Tokyo before they permanently closed their doors in 2022. If you weren't so lucky, then you'll be pleased to learn that the popular art collective recently opened one of its newest projects in Fukuoka called teamLab Forest. Like Borderless, it's an immersive digital art installation that aims to "navigate the confluence of art, science, technology, and the natural world."
We've yet to visit teamLab Forest but I read that the space is divided into two main sections – "Catch and Collect Forest" and "Forest of Motion". You can purchase tickets at the gate but it's highly recommended that you purchase tickets in advance.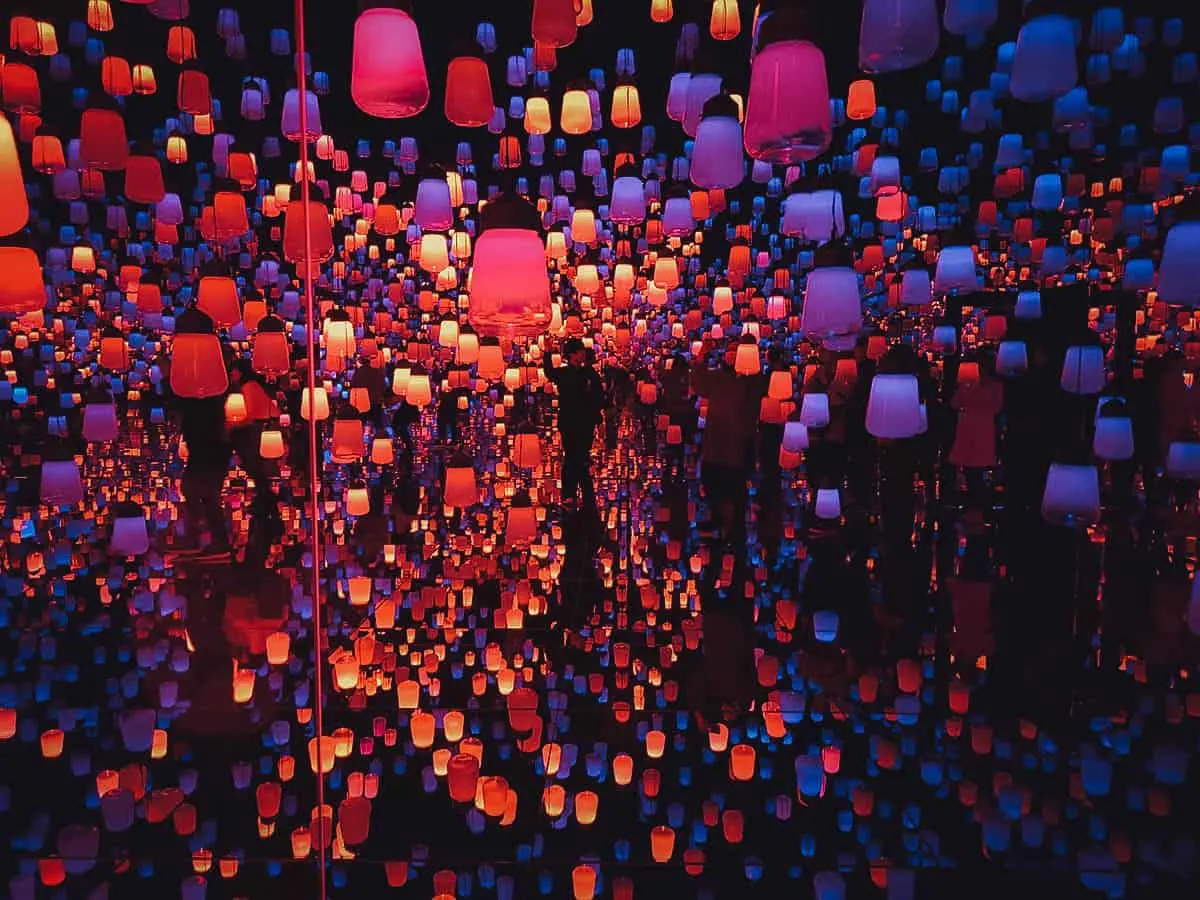 NOTE: The photo above is from teamLab Borderless in Tokyo.
Suggested Length of Visit: About 2-3 hrs
Admission: JPY 2,200
Nearest MRT Station: Tojinmachi Station
4. Fukuoka Tower
If you like lofty views, then you should visit Fukuoka Tower. At 234 meters tall (768 ft), it's Japan's tallest seaside tower and features an observation deck with 360° views from 123 meters (404 ft) above the ground.
Fukuoka Tower is located on the shore of Hakata Bay. The nearest metro station is about 1.5 km away so it's best to catch a bus from Hakata Station. You can purchase tickets to the observatory at the door or in advance through Klook.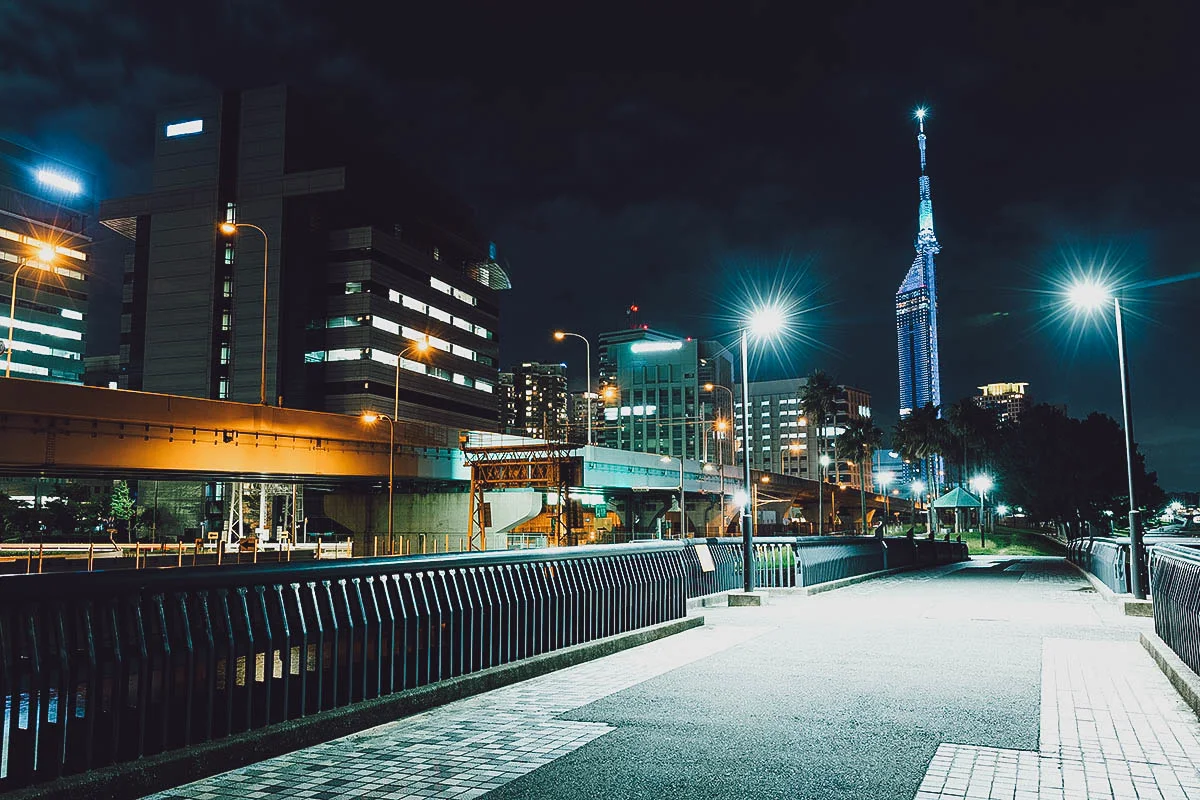 Photo by leungchopan via Depositphotos
Suggested Length of Visit: 1 hr
Admission: JPY 800
Nearest Bus Station: Fukuoka Tower Minamiguchi
THINGS TO DO IN FUKUOKA
1. Eat at a Yatai Stall
A yatai is the Japanese version of a street food stall. Street food isn't as widespread in Japanese culture so these yatai stalls are one of the few times you can experience authentic street food in Japan.
You can find yatai in other Japanese cities but Fukuoka has the most, about 150 clustered in different parts of the city. The most popular cluster is in the southern end of Nakasu. You'll find about twenty yatai attractively situated by the river. They're a beloved symbol of Fukuoka and a great way to rub elbows with locals.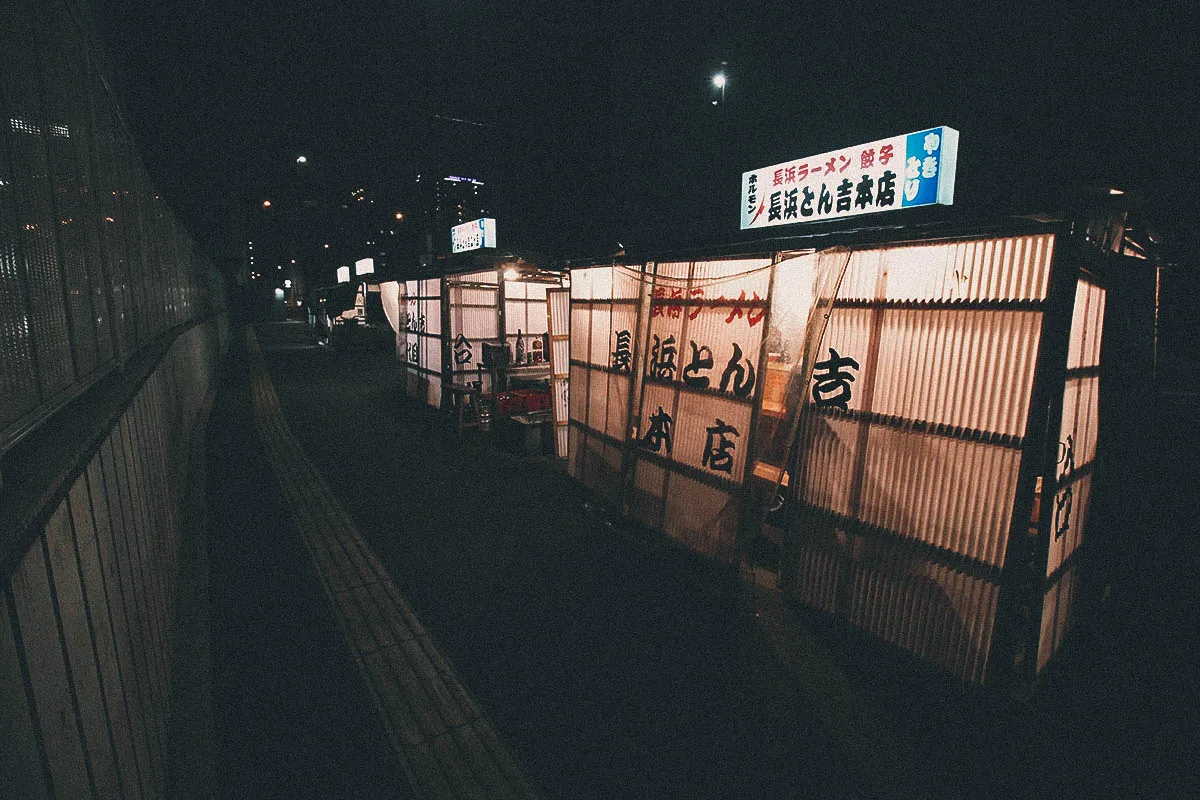 2. Go Shopping
If you enjoy shopping, then there are a few places where you can drop a few yen in Fukuoka. Canal City Hakata is the biggest shopping and entertainment complex in Fukuoka while Tenjin Chikagai is an underground shopping mall with about 150 shops and restaurants.
If you like bargain shopping, the you're going to love Don Quijote (Donki for short). Similar to Daiso, it's a popular chain of discount shops with over 160 outlets throughout Japan. They sell everything you can think of like cosmetics, snacks, electronics, household items, and souvenirs. Check the Don Quijote website for a list of branches in Fukuoka.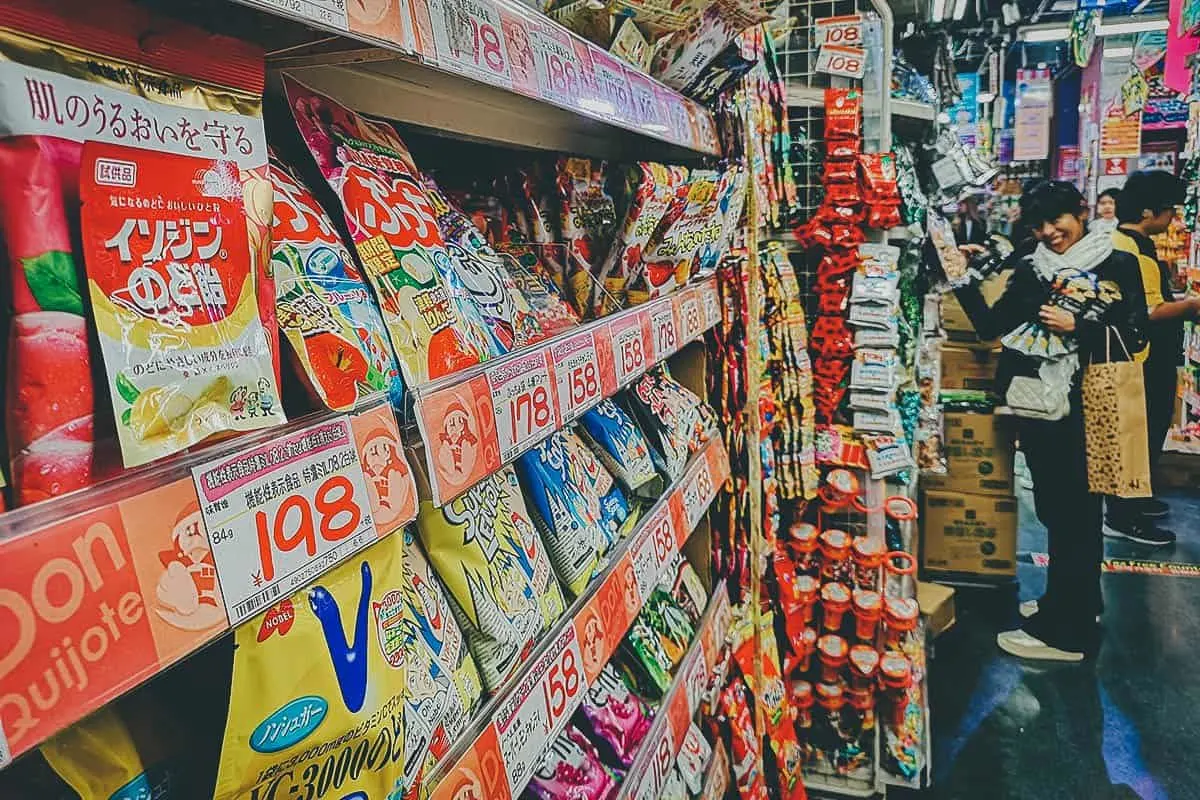 3. Take a Cooking Class
We enjoy taking cooking classes when we travel. For me, it's one of the best ways to learn about an unfamiliar cuisine. Eating ramen is one thing but learning how to make it is another. I didn't take one in Fukuoka but I did take a cooking class in Tokyo where I learned to make Japanese favorites like udon, tempura, and tamagoyaki. It was super fun.
If you'd like to take a cooking class in Fukuoka, then you can search through Cookly or byFood to find a class that suits you. You'll have dozens to choose from.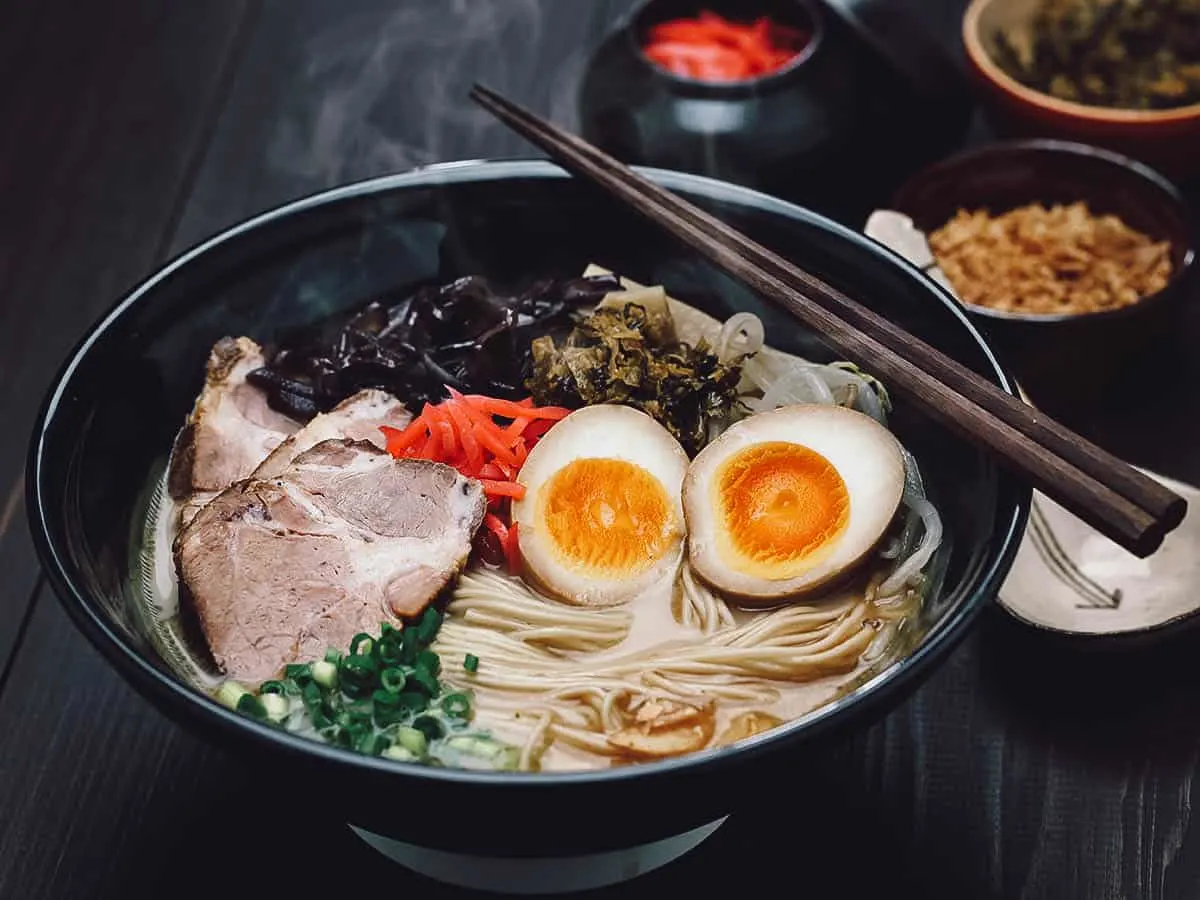 Photo by bonchan via Shutterstock
DAY TRIPS FROM FUKUOKA
There may not be as much to do in Fukuoka as other Japanese cities like Kyoto or Tokyo but it makes for a good base to do day trips. Listed below are some of the easiest and most popular but check out our article on day trips from Fukuoka for more recommendations.
1. Nanzoin Temple
Nanzoin Temple is one of the most popular day trips destinations from Fukuoka. It's a Buddhist temple that's home to a giant reclining bronze Buddha statue measuring 41 meters long (135 ft), 11 meters high (36 ft), and weighing in at nearly 300 tons. It's said to be the biggest bronze statue in the world.
To get to Nanzoin Temple, catch a train to Kido Nanzoin-mae Station. From there, it's about a 3-minute walk to the temple. Admission to the temple is free but there's a JPY 500 fee to enter the prayer room underneath the Buddha.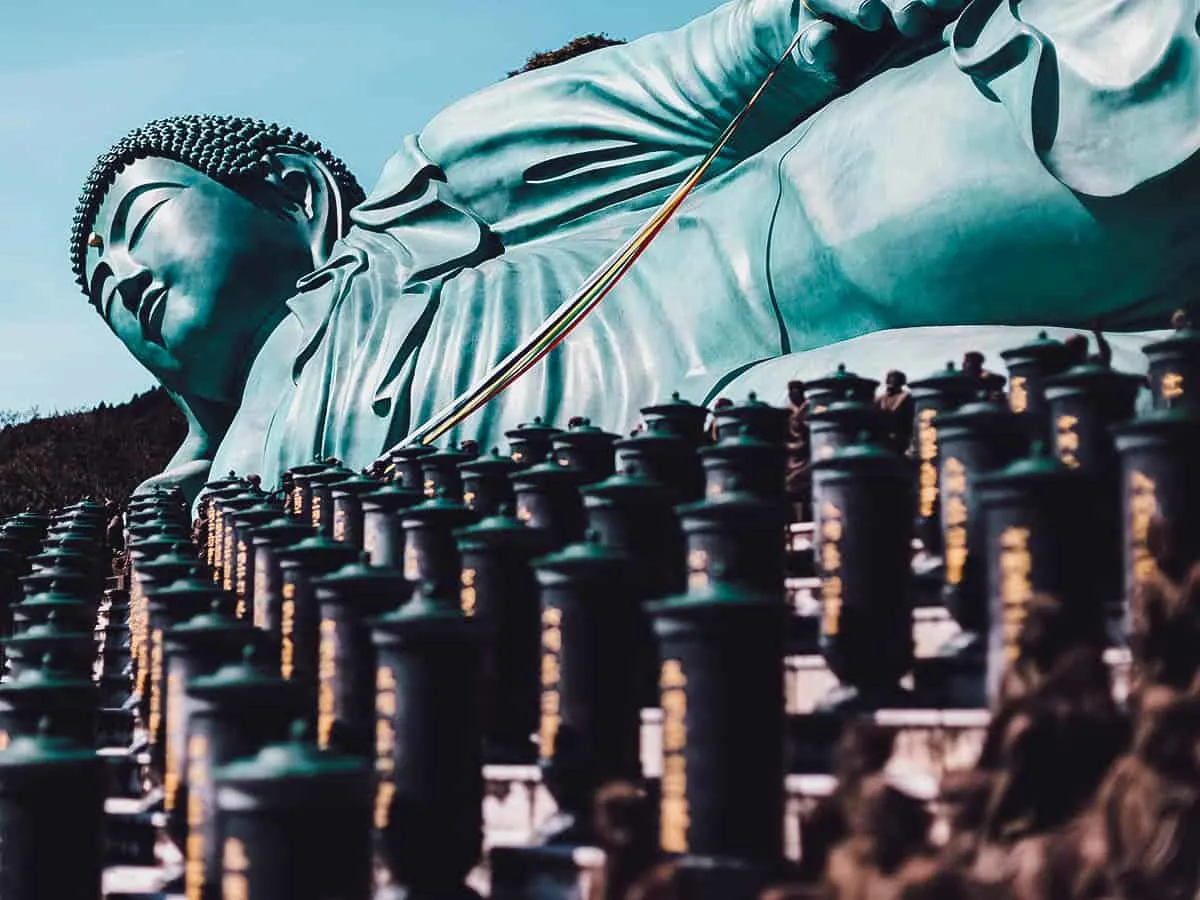 Photo by Thana Thanadechakul via Shutterstock
Travel Time: Around 30 mins
2. Dazaifu
The city of Dazaifu was once the administrative center of Kyushu. It no longer serves that role but it remains a key point of interest on the island with its many temples and shrines, none more important than Dazaifu Tenmangu Shrine. It's also home to the Kyushu National Museum, a large museum that hosts collections of Japanese artefacts related to the history of Kyushu.
Dazaifu is about 45 minutes away so you can easily visit on your own by bus from Hakata Bus Terminal.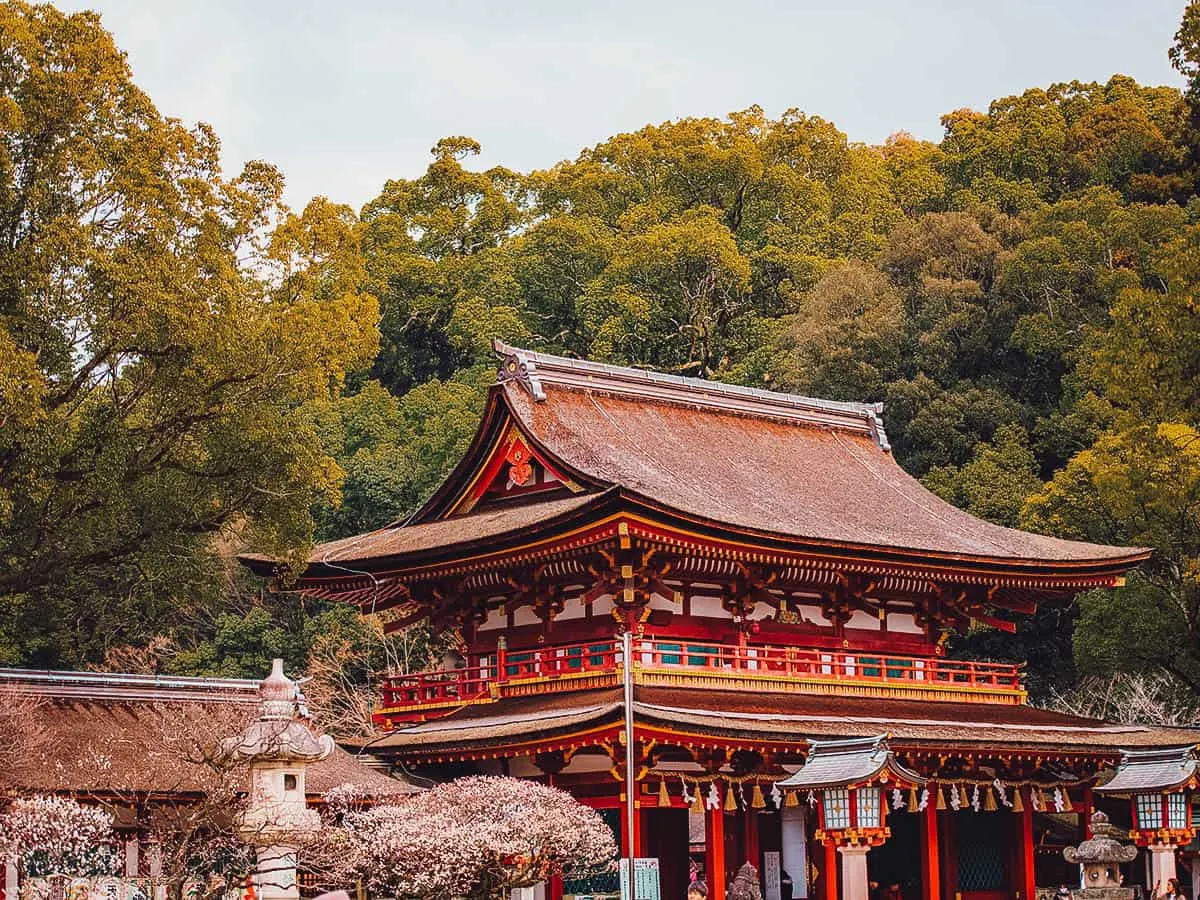 Photo by grandspy_photos via Shutterstock
Travel Time: Around 45 mins
3. Yanagawa
Yanagawa City is often referred to as the "city of water" or the "Venice of Kyushu" because of its famous network of canals totaling about 470 km (292 miles) in length. These canals were built for irrigation centuries ago but today, they're used mainly to take tourists on cruises using boats propelled by boatmen with bamboo poles.
Aside from its canals, Yanagawa is also famous for a steamed eel dish known as unagi seiro mushi. Unagi and strips of egg are layered over rice then steamed together in a bamboo steamer.
You can get to Yanagawa in less than an hour by train but if you'd prefer to go on an organized tour, then you can book one through Klook. Some tours may include a boat ride and an unagi seiro mushi lunch.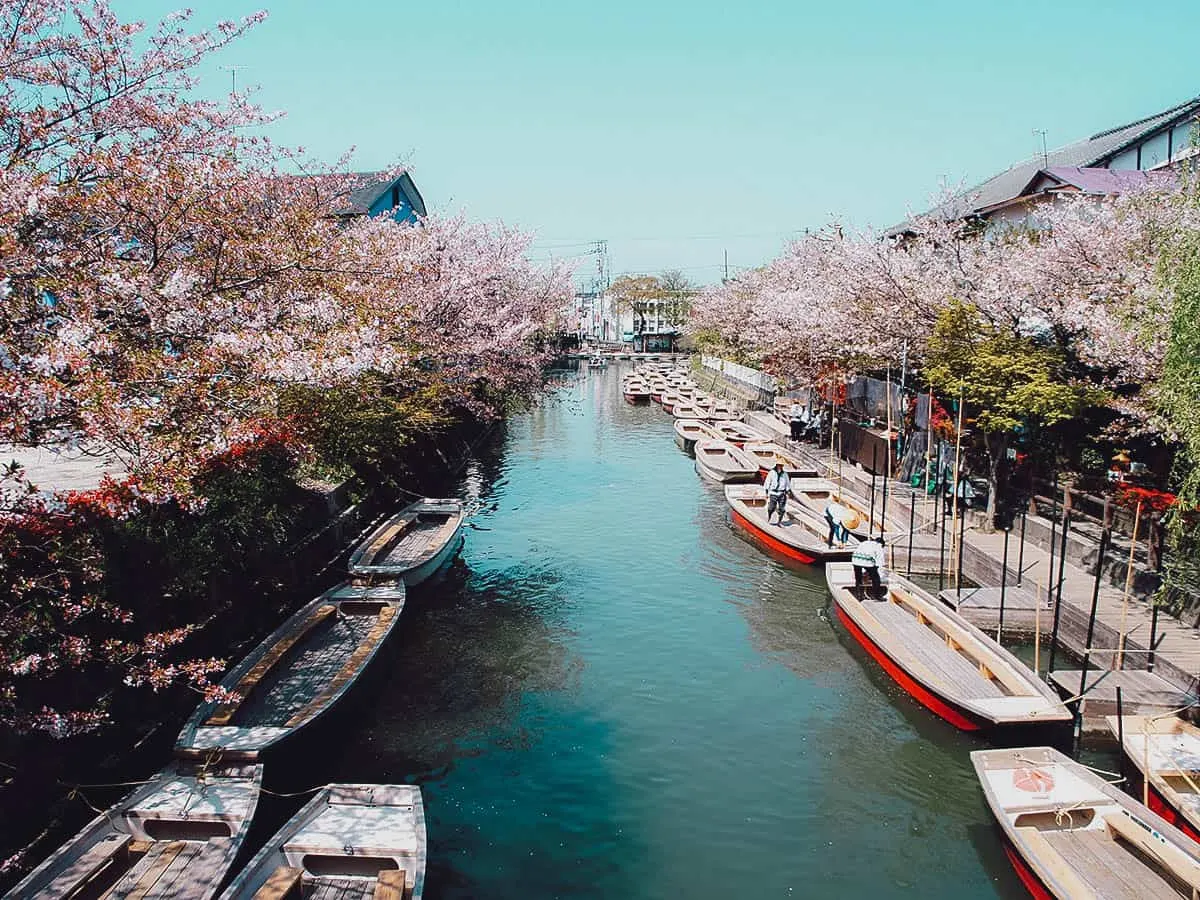 Photo by Hiya Hiyo via Shutterstock
Travel Time: Around 50 mins
JAPANESE FOOD GUIDE
If I had to eat just one cuisine for the rest of my life, then it would definitely be Japanese. It's my favorite cuisine in the world and a big reason why we love visiting this country. If you enjoy Japanese food as much as we do, then check out our Japanese food guide and Japanese dessert guide for a list of the best and most interesting dishes to try in Japan.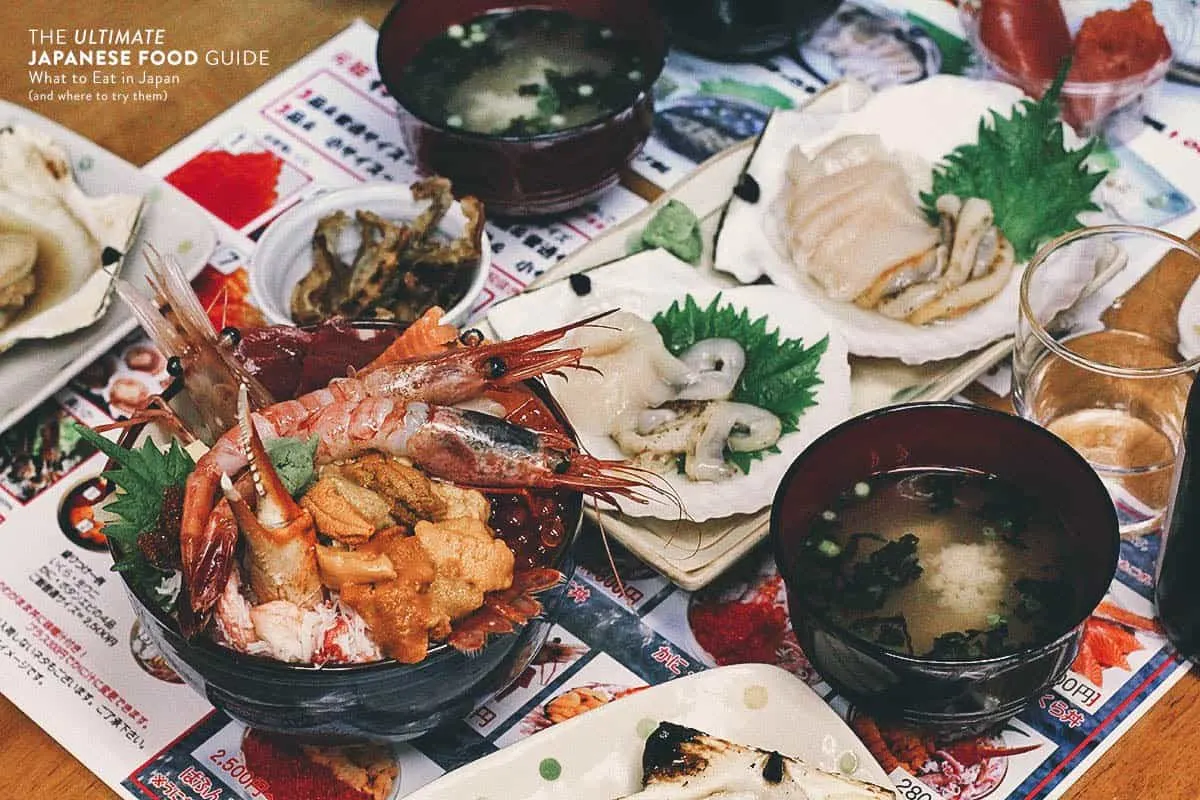 WHERE TO EAT IN FUKUOKA
Listed below are a few of my favorite restaurants in Fukuoka. Hakata ramen and motsunabe are must-try dishes but there are other regional specialties that you should look out for. Check out our Fukuoka food guide for a list of delicious dishes to eat in Fukuoka and where to try them.
1. Hakata Genki Ippai
On my last trip to Fukuoka, I ate almost nothing but tonkotsu ramen to try and find the best. Hakata Genki Ippai was one of my two favorites. Their Hakata ramen was rich and creamy and overflowing with wood ear mushrooms which I love.
I enjoyed Hakata Genki Ippai not just for the food, but for the experience. People refer to them as "blue bucket ramen" because they have a unique way of letting people know if they're serving ramen. If you see a blue bucket hanging outside their shop (which doesn't have a sign), then you're in luck. But if you don't, then you need to come back another day. Obviously, I was lucky that day.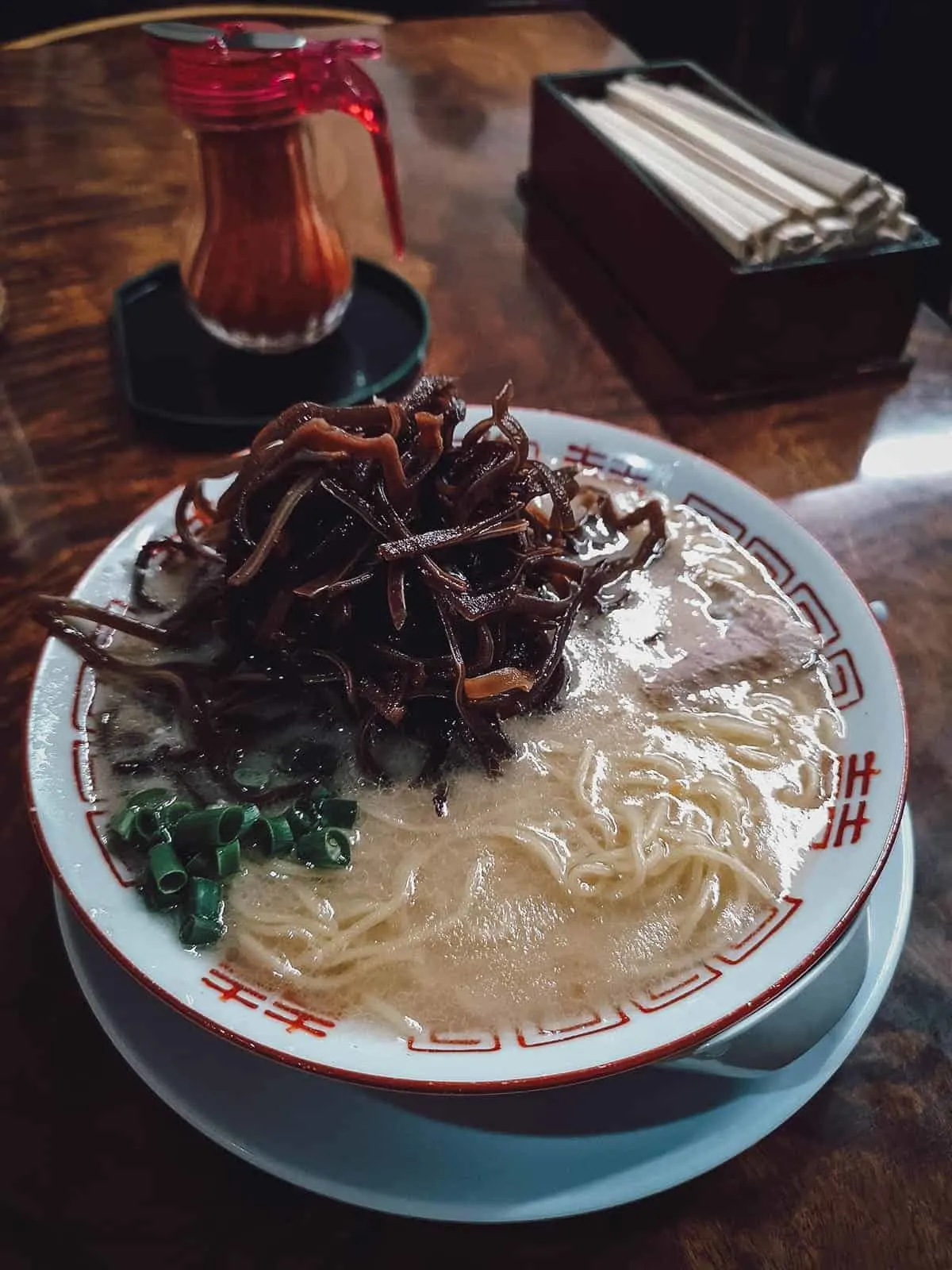 2. Ichiran
To be honest, I wasn't expecting to like Ichiran because it's a famous chain. But it turned out to be one of my two favorite bowls of Hakata ramen in Fukuoka. In fact, based on taste alone, it may have been my favorite. The broth is incredibly rich and creamy and simply delicious. I guess there's a reason why they're so famous.
Ichiran is a popular chain of ramen shops that started in Fukuoka. Aside from their delicious Hakata ramen, they're known for their solo dining booths that are meant to amplify the ramen dining experience. At Ichiran, it's all about the ramen. They have several outlets in Fukuoka but I suggest going to the original branch in Nakasu.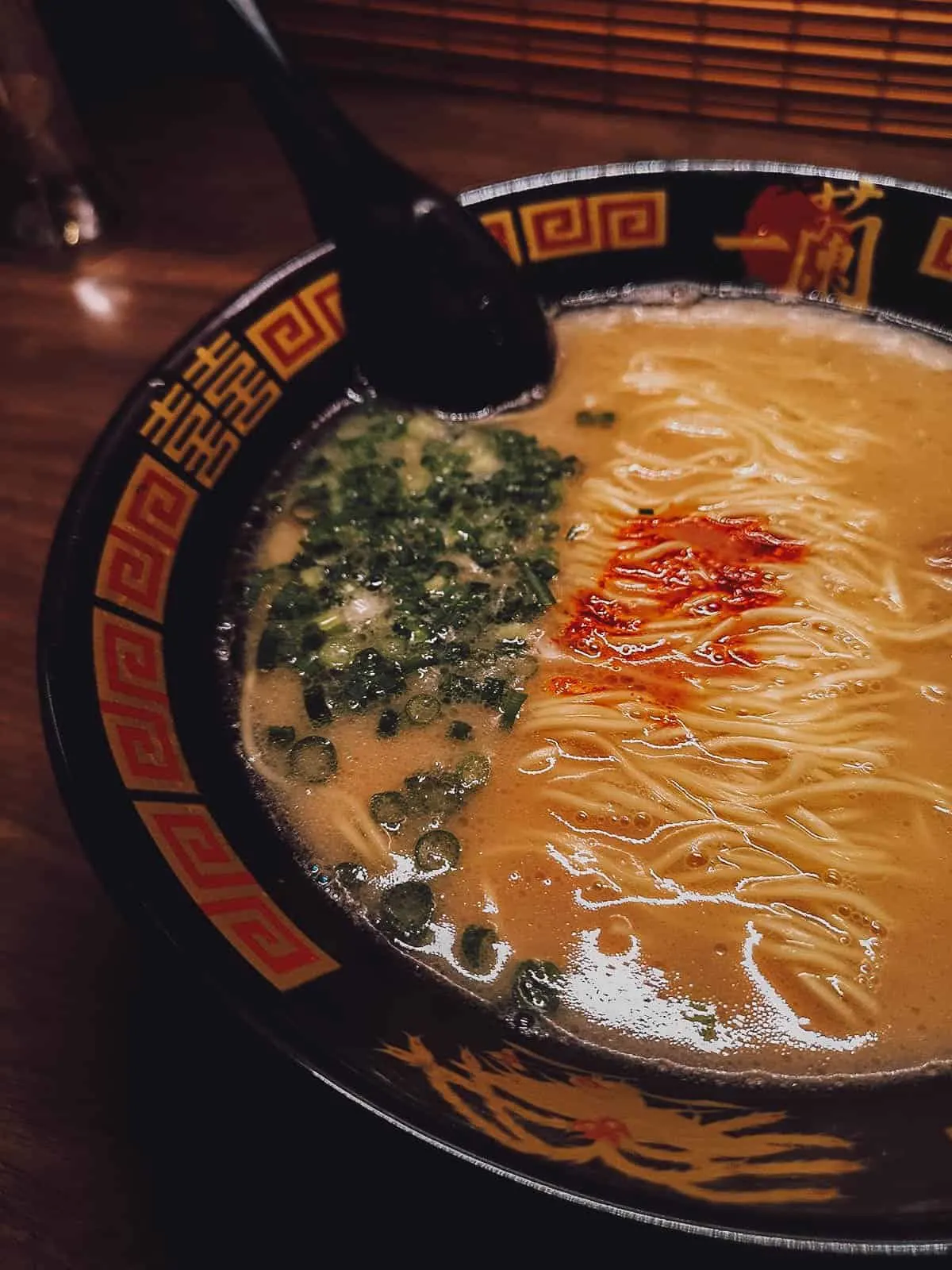 3. Hakata Motsunabe Yamanaka Akasakaten
Like tonkotsu ramen, motsunabe is one of our favorite regional dishes in Fukuoka. It refers to a type of nabemono or Japanese hot pot dish made with beef or pork offal served in a flavorful broth with cabbage, garlic chives, and champon noodles. It's a dish that's meant to be shared and perfect for winter.
I've had motsunabe at a few places but Hakata Motsunabe Yamanaka Akasakaten is my favorite. It's a big and expensive-looking restaurant but don't let that intimidate you. Their prices are very reasonable.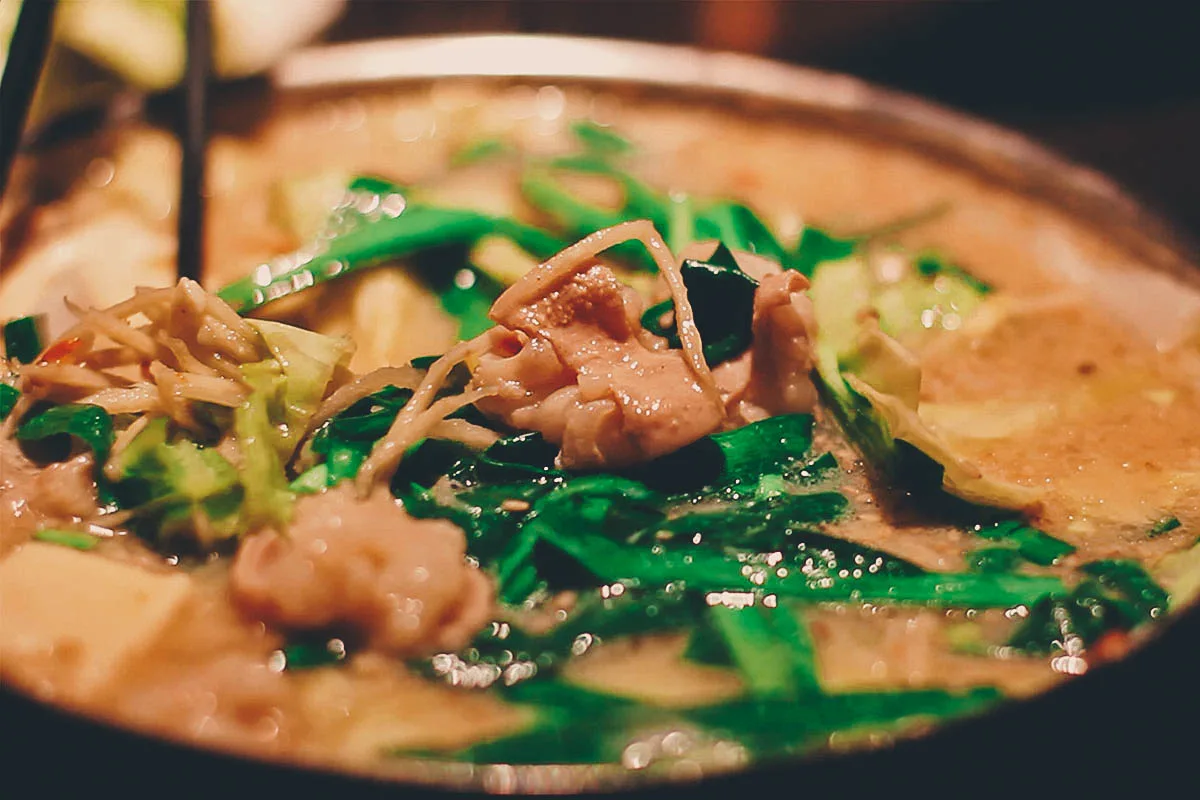 POINTS OF INTEREST IN FUKUOKA
To make it easier for you to visualize where everything is, I've pinned most of the places recommended in this Fukuoka travel guide on a map. Click on the link for a live version of the map.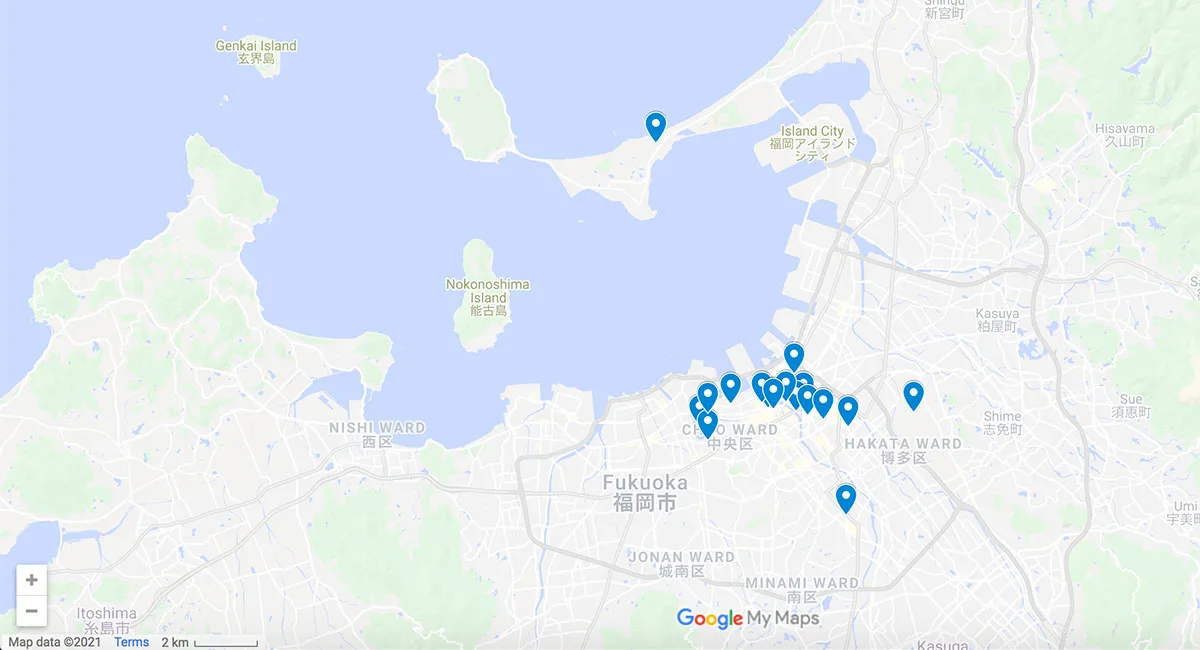 HOW TO GET AROUND IN FUKUOKA
Like any big city in Japan, Fukuoka has an extensive public transportation system that makes it easy to get around. However, Fukuoka's weather is mild and its top tourist attractions are in a fairly compact area so you may not need to use the subway as much. Whenever I visit Fukuoka, I get around mostly on foot.
If you don't plan on venturing far from the Hakata, Nakasu, and Tenjin areas, then a good way to get around is the 100 Yen Bus. It runs on a loop between Hakata and Tenjin stations and passes by Canal City Hakata and Nakasu yatai stalls. It costs just JPY 100 per ride and runs every 10 minutes or so.
No matter how you choose to get around in Fukuoka, it's highly recommended that you navigate with Google Maps (iOS / Android). It'll tell you exactly how to get from point A to point B either by walking or using any city's local transportation system. It's super helpful and accurate and something we never travel without.
If you'd like to get a transportation card, then there are a few available in Fukuoka:
1-Day Subway Pass
The 1-day subway pass will give you unlimited use of Fukuoka's metro system for one calendar day. It costs JPY 640 and can be purchased from vending machines at any metro station.
Fukuoka Tourist City Pass
Aside from giving foreign tourists unlimited use of virtually all Fukuoka metro and bus lines for one calendar day, the Fukuoka Tourist City Pass will provide discounted or free admission to some tourist attractions as well. It comes in two versions – the JPY 1,500 pass which is good for Fukuoka only and the JPY 1,820 version which also includes the Nishitetsu train to Dazaifu.
The Fukuoka Tourist City Pass can be purchased from the Fukuoka Airport tourist information desk or the ticket offices of the Hakata and Tenjin subway and bus stations.
Sugoca / Nimoca / Hayakaken IC Cards
IC Cards are stored value cards that can be used on the public transportation system in many cities throughout Japan. Available at all metro stations, they won't give you a discount on fares but they'll save you from the trouble of having to buy single journey tickets every time.
In Fukuoka, there are three IC Cards available – Sugoca, Nimoca, and Hayakaken. They're owned by different companies but they all pretty much do the same thing. The great thing about IC Cards is that you can use them in many cities throughout Japan. On my last trip, I bought the Suica IC Card in Tokyo and used it other cities like Kanazawa, Nagoya, Kyoto, Hiroshima, and Fukuoka. You can do the same with any of the three Fukuoka IC Cards.
You can even use your IC Card to pay for items at convenience stores. When your balance runs low, you can easily top it up at machines found in every metro station. They're super convenient and my preferred transportation card in Japan. Click on the link for more information on Japan's IC Cards.
HOW MANY DAYS TO STAY / FUKUOKA ITINERARY
Fukuoka is a big city but it doesn't have as many tourist attractions so you can realistically see everything in one full day. Here's a suggested 1-day Fukuoka itinerary to help you plan your trip.
DAY ONE
• Ohori Park
• Ohori Park Japanese Garden
• Fukuoka Art Museum
• Fukuoka Castle Ruins
• teamLab Forest
• Fukuoka Tower
• Original Ichiran (late lunch)
• Kushida Shrine
• Chikuzen Sumiyoshi
• Canal City Hakata
• Nakasu Yatai (dinner)
FUKUOKA TRAVEL TIPS
1. Plan your Trip with Sygic Travel
If you're like me and enjoy creating your own travel itineraries, then you're going to enjoy using Sygic Travel. It's a free trip planning app that allows you to pin all points of interest on a map to create as efficient an itinerary as possible. I've been using this for several years now and still find it very useful. You can download it for free on iTunes and Google Play.
2. Stay Connected
Having a reliable internet connection when traveling is a must these days. You'll need it to do research, book hotels and tours, and make sense of Japan's efficient but often confusing railway system.
In Japan, you can get access to the internet by renting a pocket wifi device or buying a sim card. We prefer connecting through pocket wifi devices because we find them to be more reliable, but either is fine. You can arrange for them before your trip through Klook (pocket wifi | sim card) or Get Your Guide.
3. Bookmark Hyperdia or Get the App on your Mobile Device
I can't stress enough how helpful Hyperdia is when commuting in Japan. Not only will it give you precise train arrival and departure times, but it'll tell you exactly how to go from one station to the next so you don't get lost. It makes commuting so much easier so be sure to download the app or bookmark the website on your mobile device.
WEBSITE: hyperdia.com
4. Check for Fukuoka Travel Deals
If you need to book tours, get discounts on attraction tickets, or buy travel-related vouchers, then you can do so through Klook or Get Your Guide. There are many of these online travel marketplaces but these are two of the biggest and most reliable.
Check out Klook and Get Your Guide to search for Fukuoka travel deals. Even if I don't buy anything, it's always fun to look just to see what's available.
5. Get Travel Insurance
When we were younger, getting travel insurance seemed like an unnecessary expense. But now that we're older, it's easier for me to understand its value. The fact is, you never know what can happen on a trip. Most of the time, everything goes smoothly but it's good to have an insurance policy just in case they don't.
We always get travel insurance from SafetyWing or Heymondo. They're travel insurance companies often used by many digital nomads. Click on the links to get a free quote from SafetyWing or Heymondo. Get 5% off on Heymondo if you purchase a policy using our link.
7. Bring the Right Power Adapter
Japan has Type A or Type B electrical outlets so be sure to bring the right power adapters for your devices. Electrical voltage is 100V and the standard frequency is 50/60Hz.
8. Learn Basic Japanese Etiquette
Japan is a country with many unwritten rules. You don't want to be the dumb foreigner who offends the locals so I suggest reading up on this basic overview on Japanese etiquette for tourists.
Have Fun!
I've been to Fukuoka four times in the last four years but I don't consider myself an expert. With that said, I do hope you find this guide useful as I'm only sharing the things I've learned from my trips. If you have any questions or suggestions, then do let us know in the comment section below. You're welcome to join our Facebook Travel Group as well.
Thanks for stopping by and have a wonderful time sampling all the delicious food in Fukuoka!
OUR GEAR
These are some of the things we brought with us to Fukuoka. Have a look inside our backpack for a complete list of our travel gear. (NOTE: The following links are Amazon and other affiliate links.)
Disclosure
This Fukuoka travel guide contains affiliate links, meaning we'll earn a small commission if you make a booking or purchase at no additional cost to you. We only recommend products and services that we use ourselves and firmly believe in. We really appreciate your support as this helps us make more of these free travel guides. Arigato gozaimasu!