Roast goose is one of Hong Kong's core dishes. It's something you have to eat whenever you're there. Some people like it so much that they frequently bring it back whenever they visit. We did, as gifts to our parents. 🙂 For first-time visitors, going to Hong Kong without eating roast goose would be like visiting Osaka and not trying takoyaki balls. It's just something you have to do.
There are countless places that offer roast goose in Hong Kong but only a handful can lay claim to being the best. Yat Lok and Kam's are two of them. Well-respected and each possessing one Michelin star, we couldn't decide which one to go to so we decided to try both.
Here's what we thought.
Save This on Pinterest!
No time to read this now? Click on the red save button and pin it for later!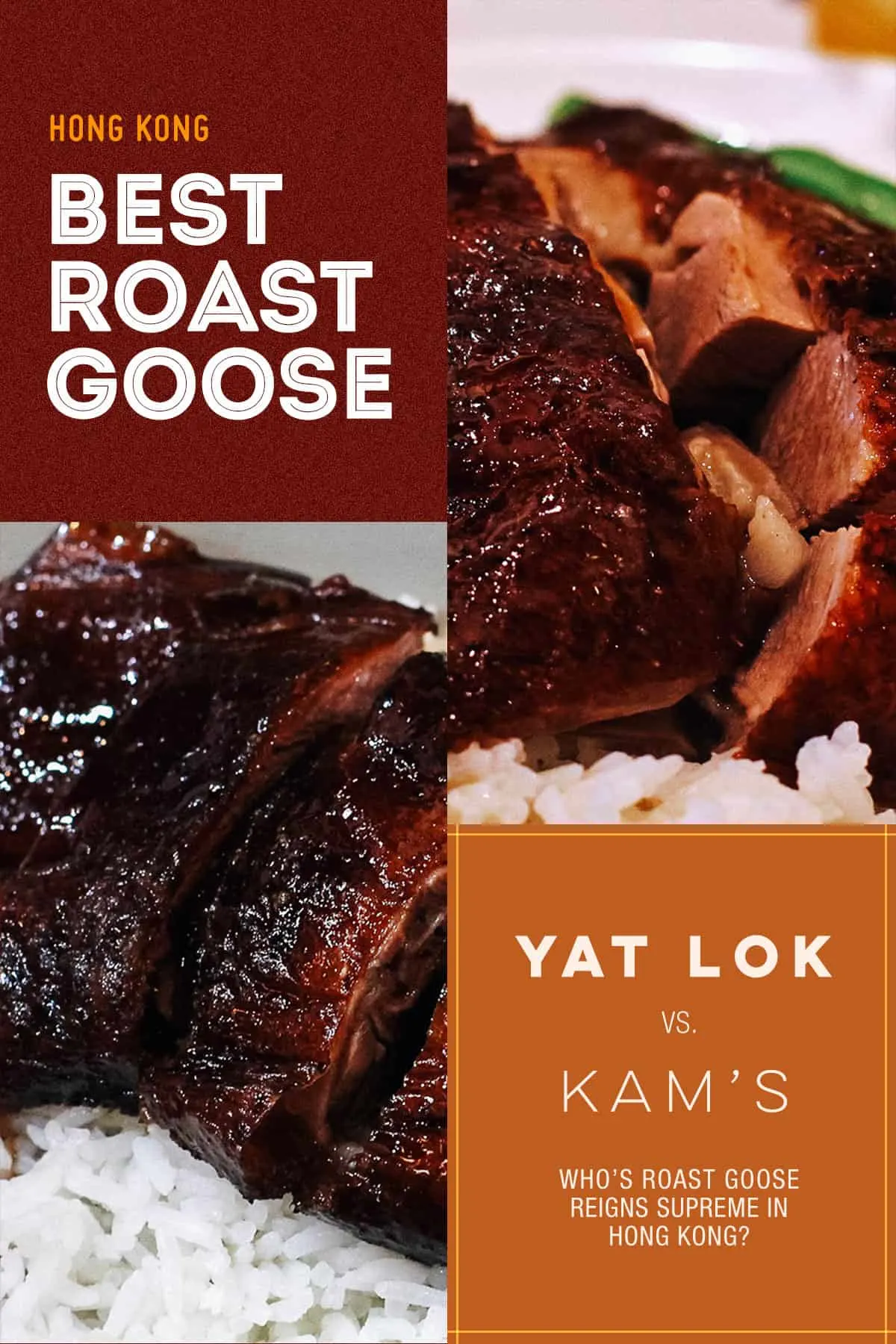 Yat Lok Restaurant
Yat Lok is located in the Central district just a short walk from the MTR station. Based on friends' suggestions and blogger recommendations, Yat Lok is widely considered to serve the best roast goose in Hong Kong. It's popular with both locals and in-the-know tourists alike. Though we didn't experience it ourselves, don't be offended by their curt service. Like their goose, Yat Lok is apparently known for that. 😆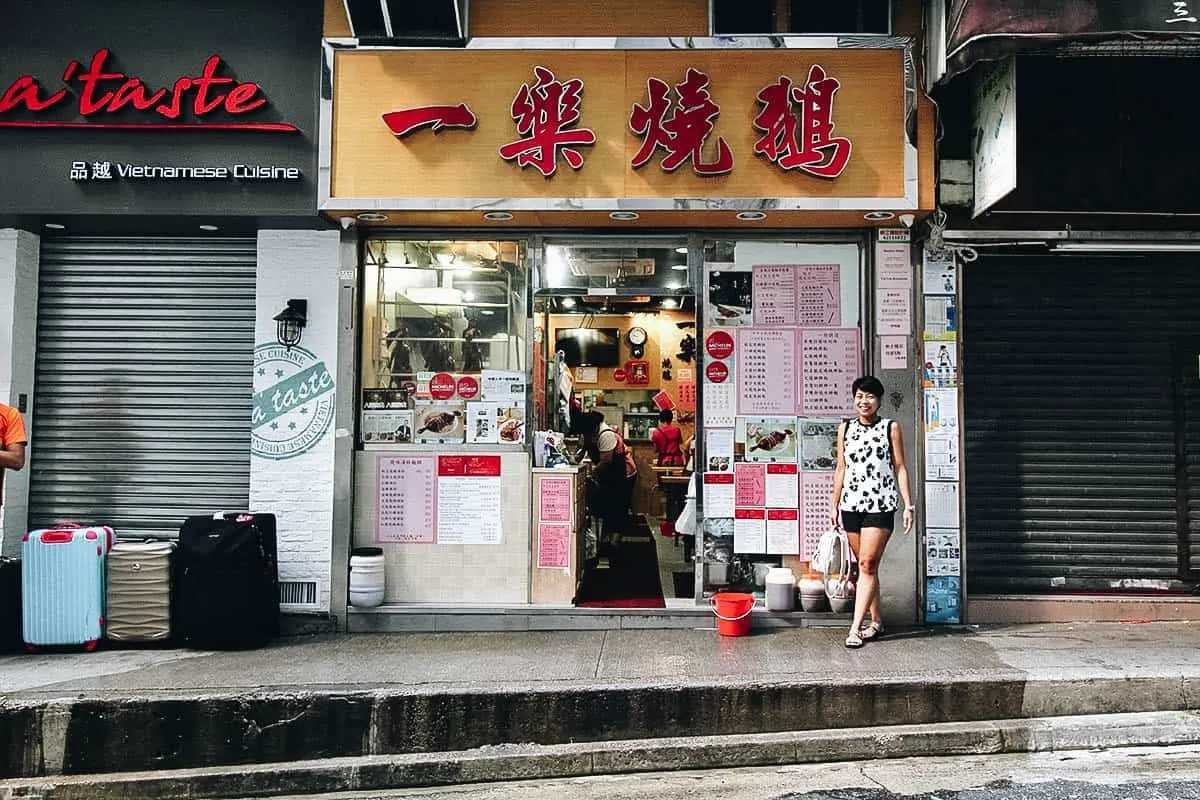 Roast Goose Leg over Rice — HKD 102
The leg seems to be the most coveted part of the goose since it's the most expensive. You can have it over rice or in a noodle soup. I'm not an experienced goose eater but I enjoyed the goose here at Yat Lok. It's juicy and very flavorful, although perhaps a touch on the greasy side.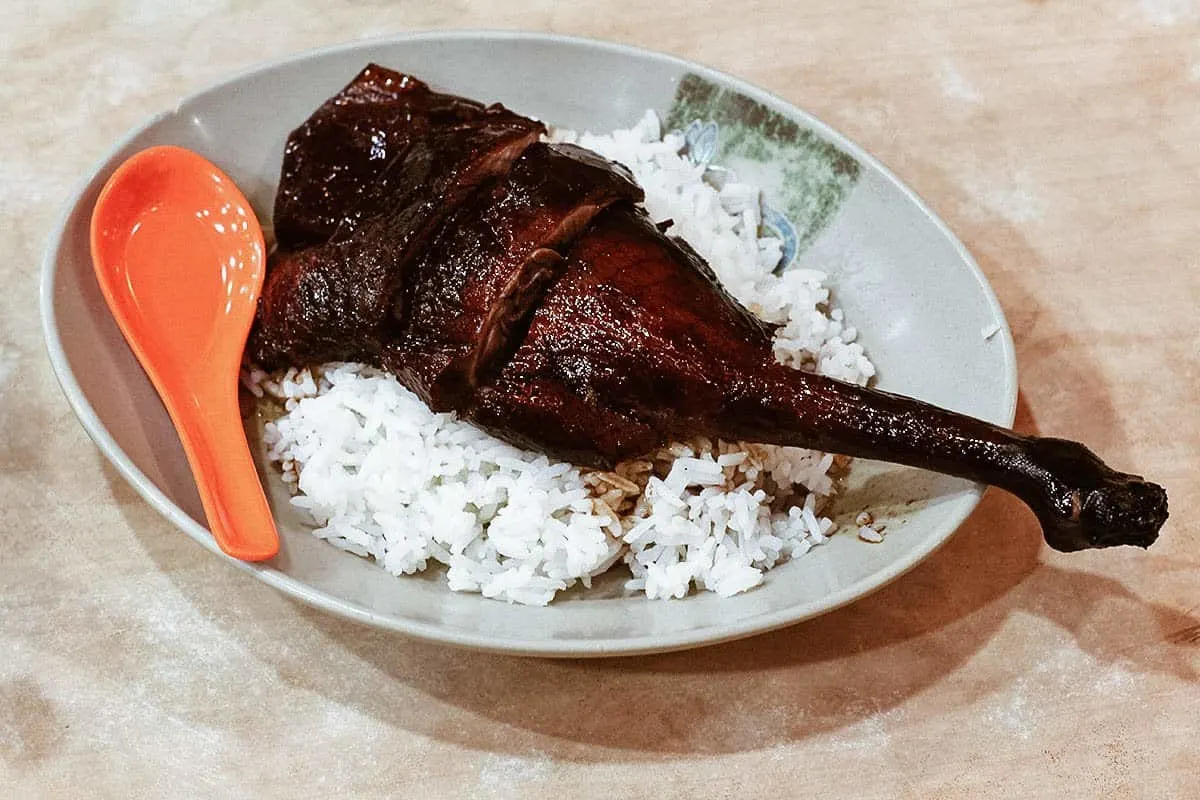 Roast Goose Leg over Noodles — HKD 102
Ren went with the goose leg over noodles which she enjoyed very much. She said the noodles and broth wasn't infused with much flavor so as not to overwhelm the taste of the goose.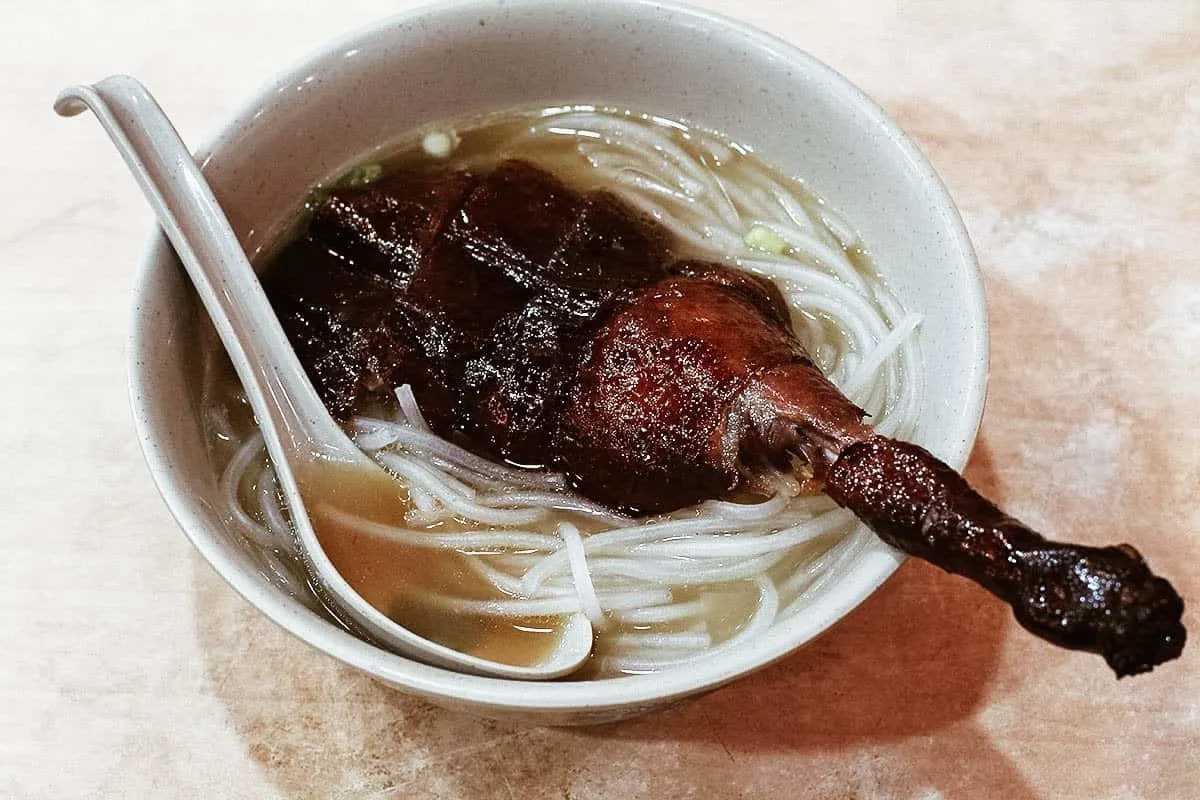 Yat Lok Restaurant, Central, Hong Kong
G/F, 34-38 Stanley Street, Central, Hong Kong
Tel: +852 2524 3882
Operating Hours: Mon-Sat, 10AM-9PM / Sun, 10AM-5:30PM
What we paid: HKD 102 per order of roast goose leg
HOW TO GET THERE:
Take the MTR to Central station (Exit D2). Walk northwest then make a left on Theatre Ln. Cross Queen's Road Central to D' Aguilar St. Make a right on Stanley St. Walk up Stanley St and Yat Lok will be on your left.
Kam's Roast Goose
Kam's Roast Goose is located in Wan Chai not too far from the MTR station. It's a cleaner and nicer-looking restaurant than Yat Lok. We got there before opening and as you can see, a queue was already forming.
Based on what I've read online, Kam's was started by the grandson of Yung Kee's founder which is arguably the most legendary roast goose restaurant in Hong Kong. Many say it's better than Yung Kee and Michelin Hong Kong seems to agree. Yung Kee hasn't been awarded any Michelin stars but it took Kam's a little over a year to earn their first.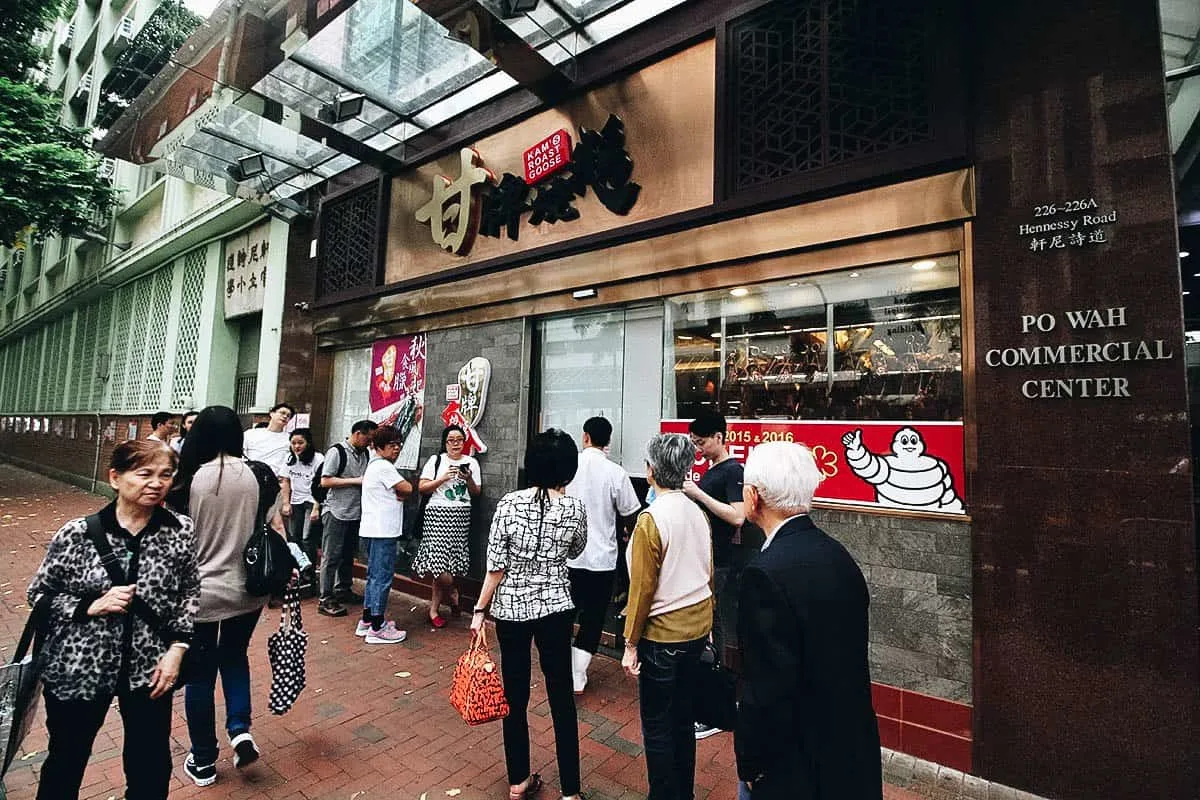 We ordered the roast goose over rice which came with this tofu appetizer.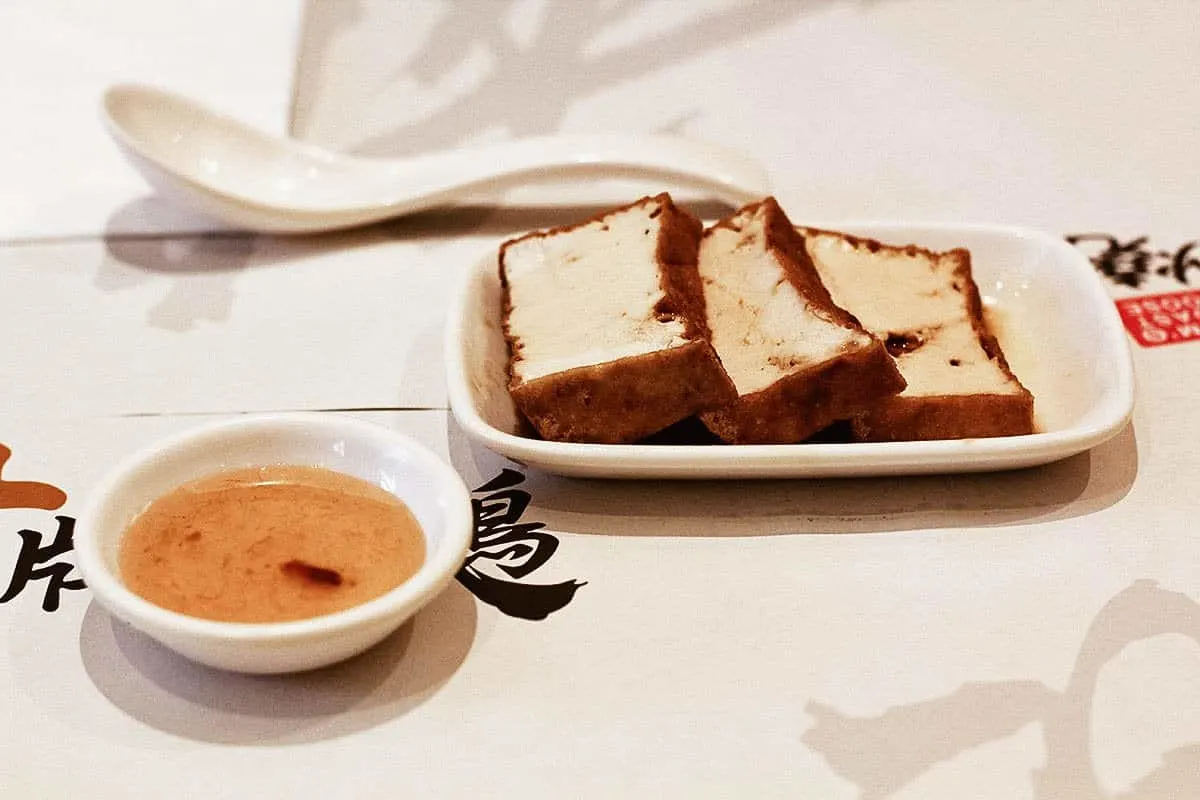 Roast Goose over Rice — HKD 72
We ordered the regular roast goose over rice but you can upgrade to the leg for an additional HKD 30. Kam's roast goose was really good as well. It probably wasn't as flavorful as Yat Lok's but it tasted cleaner and not as greasy.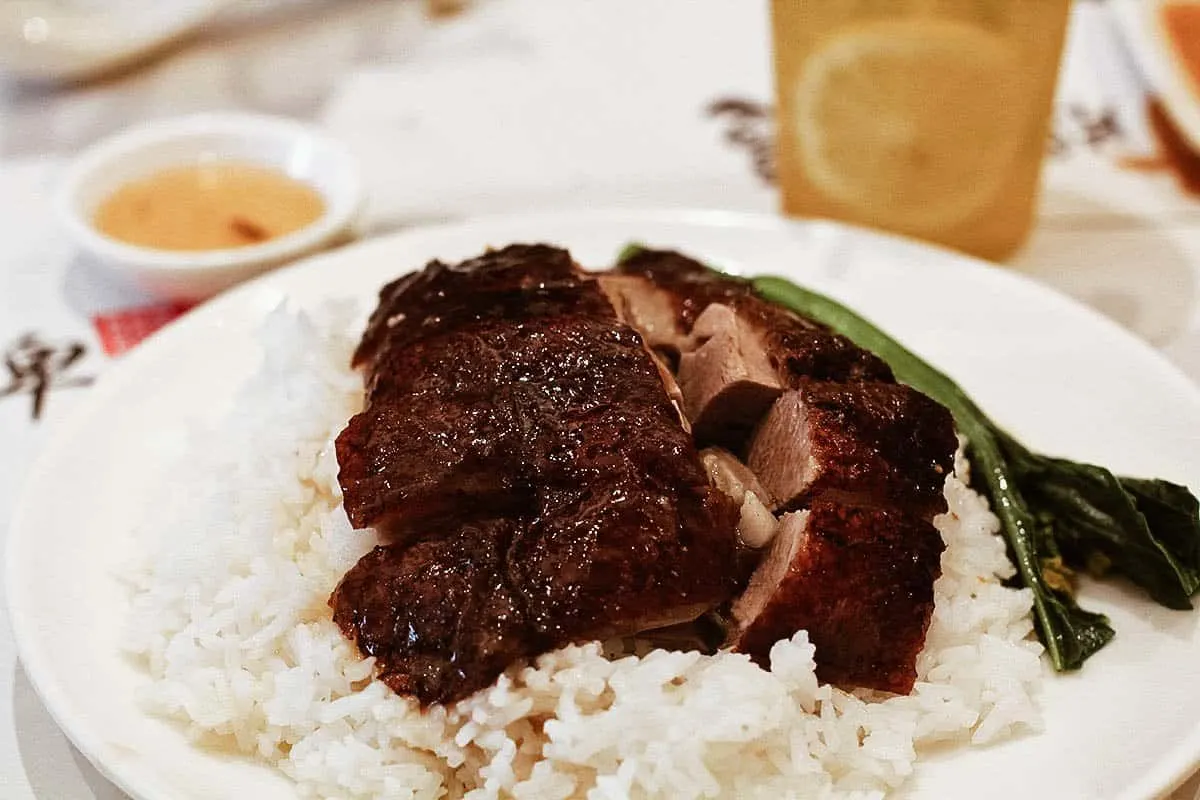 Kam's Roast Goose, Wan Chai, Hong Kong
Po Wah Commercial Centre, G/F,, 226 Hennessy Rd, Wan Chai, Hong Kong
Tel: +852 2520 1110
Website: krg.com.hk
Facebook: kamroastgoose
Email: [email protected]
Operating Hours: 11:30AM-9:30PM daily
What we paid: HKD 72 per order of roast goose (Add HKD 30 for the leg)
HOW TO GET THERE:
Take the MTR to Wan Chai station (Exit A4). Walk east on Hennessy Rd and Kam's Roast Goose will be on your right.
* * * * *
Conclusion
I'm not sure if this comparison is entirely fair since we didn't have the roast goose leg at Kam's, but we preferred Yat Lok by the smallest of margins. It was just tastier overall albeit a little greasy. Its skin may have been crispier too. As described above, Kam's wasn't as flavorful as Yat Lok's but it did taste cleaner and less unctuous. Their restaurant is nicer and more pleasant as well.
As always, taste is subjective so you may not feel the way we do. If you have the time and love roast goose, then I suggest giving both restaurants a try. They're both Michelin-starred restaurants so you can't go wrong with either.
Check out our Hong Kong food guide for more food recommendations.