One of my closest friends is Taiwanese. He was born and raised in Taipei, and currently living there as well. This guy really knows his food.
Back when we were both living in San Francisco, I remember him driving to Napa with his family to have dinner at The French Laundry. It was just starting to become recognized as one of the best restaurants in America at the time, but for them, it was a regular thing. He and his family have always known good food like that.
When I asked him to recommend a good hot pot restaurant in Taipei, he suggested without hesitation – Orange Shabu Shabu House. There was no debate, no deliberation. No "this place is good, but that place is good too" kind of talk. Orange Shabu Shabu House, according to him, was the best hot pot restaurant in Taipei. And as usual, he was right.
I'm not an expert so I honestly didn't expect to notice the difference. I knew it'd be better, but I didn't think it would be that much better. I was wrong. It was far and away the best damn hot pot we've ever tasted in our lives.
What is Taiwanese Hot Pot?
Hot pot is a core Taiwanese dish and something many travelers enjoy at least once on every return trip to Taiwan. It's popular in East Asian countries and consists of a soup made with a variety of ingredients like thinly sliced meat, seafood, leafy vegetables, mushroom, wonton, noodles, tofu, and various fish and meat balls.
A simmering pot of flavored soup stock is left on a burner at your table, so diners can place the raw ingredients into the pot themselves to cook. Once ready, the ingredients are usually eaten with a dipping sauce.
Equally popular in China and Japan, I was wondering how hot pot differed between countries (and regions) and it seems the main difference lies in the dipping sauce. They're differentiated by the soup base and type of meats as well, though the most telling difference appears to be the sauces and condiments used to flavor the meats.
For Japanese shabu-shabu, it typically contains ponzu (citrus-based sauce) and goma (sesame sauce). For sukiyaki, it's a raw beaten egg. The dipping sauce for mainland Chinese hot pot depends on the region.
With Szechuan hot pot, for example, sesame oil can often be the only sauce. Szechuan hot pot is known for its spiciness so the sesame oil coats your tongue to help nullify the heat. For Manchurian hot pot, the dipping sauce is either a thick sesame paste or soy sauce.
In Taiwan, where hot pot is also referred to as shabu-shabu because of the Japanese influence, the dipping sauce is often made with shacha sauce and raw egg yolk. Shacha sauce is a Chinese condiment made from soybean oil, garlic, shallots, chilis, brill fish, and dried shrimp.
The Best Hot Pot in Taipei
Orange Shabu Shabu House has two branches, both in the Da'an District of Taipei. According to my friend, it's difficult to get a reservation here. You can't do it by email. You have to call in advance, which thankfully, he did for me and we got it!
We were extremely lucky with reservations on this trip. This was the second "difficult to reserve" restaurant in Taipei that we successfully got reservations for, the first being André Chiang's RAW. The culinary gods must have been smiling down on us.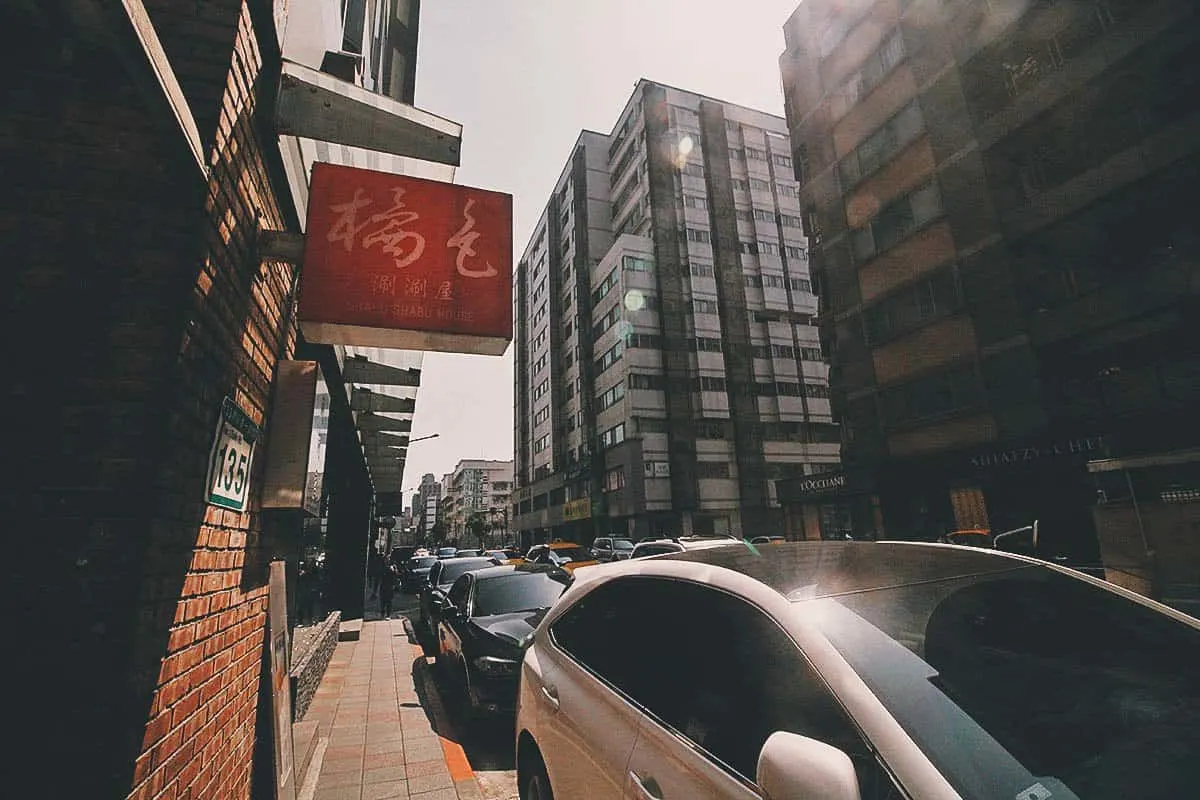 It was dark in the restaurant so I didn't take many pictures, but this place is swanky. It has a stylish interior but don't let that intimidate you. It isn't as expensive as it looks. In fact, we found it to be fairly priced for the quality.
We ate at the often recommended Ding Wang Hotpot restaurant in Taichung and our bill there came out to NTD 1,485 with drinks. Here, it was just NTD 1,474 without drinks. Not bad!
Aside from the food, what I loved most about the restaurant was the privacy. They put you in these sectioned off rooms so you can enjoy your hot pot in isolation away from other diners.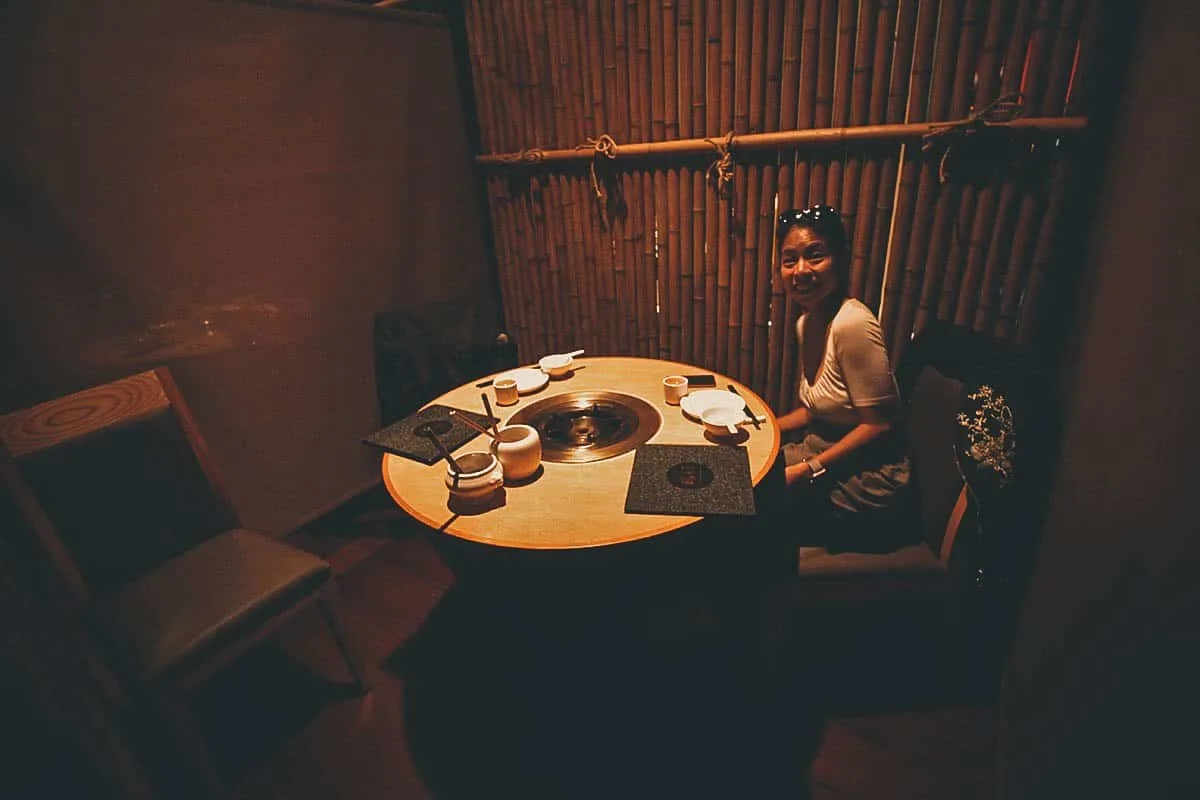 Starter salad dressed with a tasty, nutty sauce.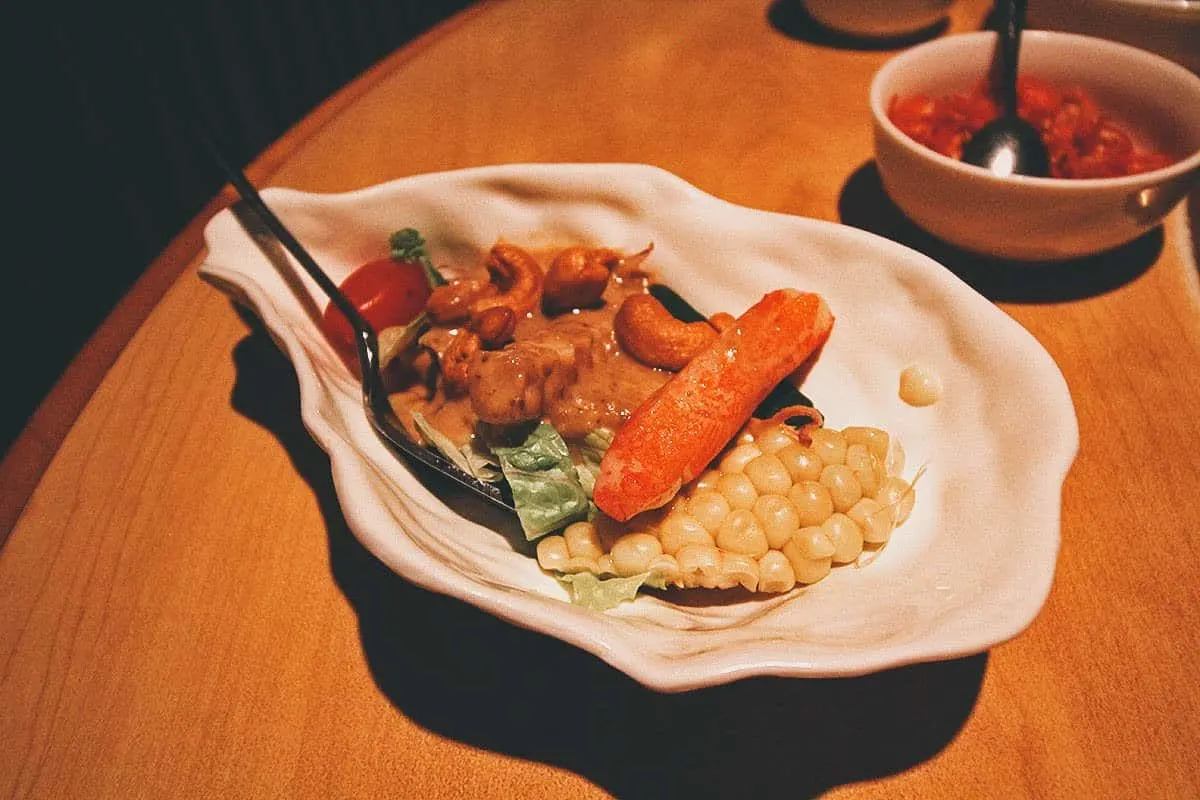 As described earlier in this post, what makes hot pot distinctly Taiwanese is the shacha dipping sauce mixed with raw egg yolk. However, I read that Orange Shabu Shabu House doesn't use that type of sauce.
I read a Yelp reviewer describe how their dipping sauce consists of ponzu, green onion, and radish. It has a slight citrus flavor, hence the name Orange Shabu. I'm not an expert but that sounds about right.
Many hot pot restaurants leave you to mix your own dipping sauce so I never thought it mattered that much, but this one changed my mind. It makes a huge difference! That side bowl of noodles was very tasty as well.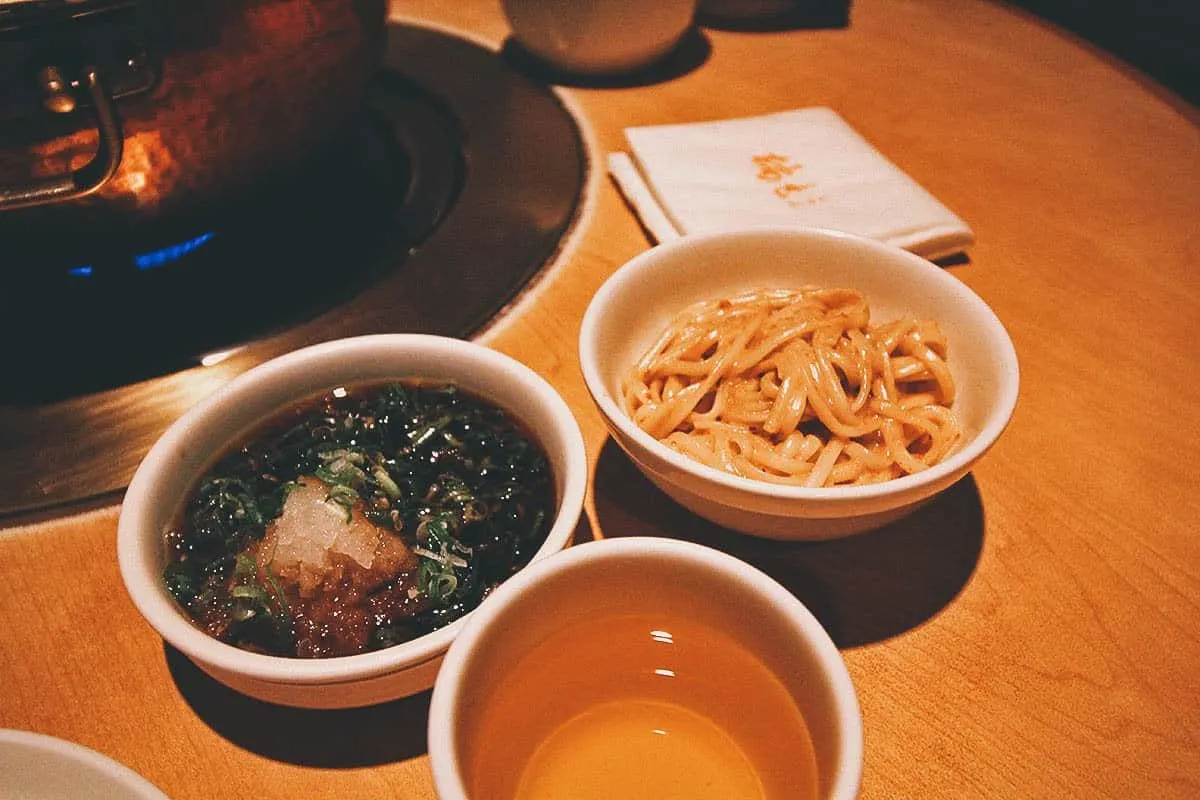 Our beautiful hot pot simmering in a copper bowl. We ordered Australian lamb chops, two types of seafood balls, mushroom, and vegetables.
Can you see the balls floating just beneath the surface there on the right? You'll see it more clearly in the video at the bottom of this post.
The balls didn't come pre-kneaded like they do at other restaurants. Instead, they came in paste form in a bamboo tube which our server cut into balls and dropped into the pot. I guess they do it that way to make sure the balls don't get over-kneaded? The texture was wonderful, soft and springy and not at all tough.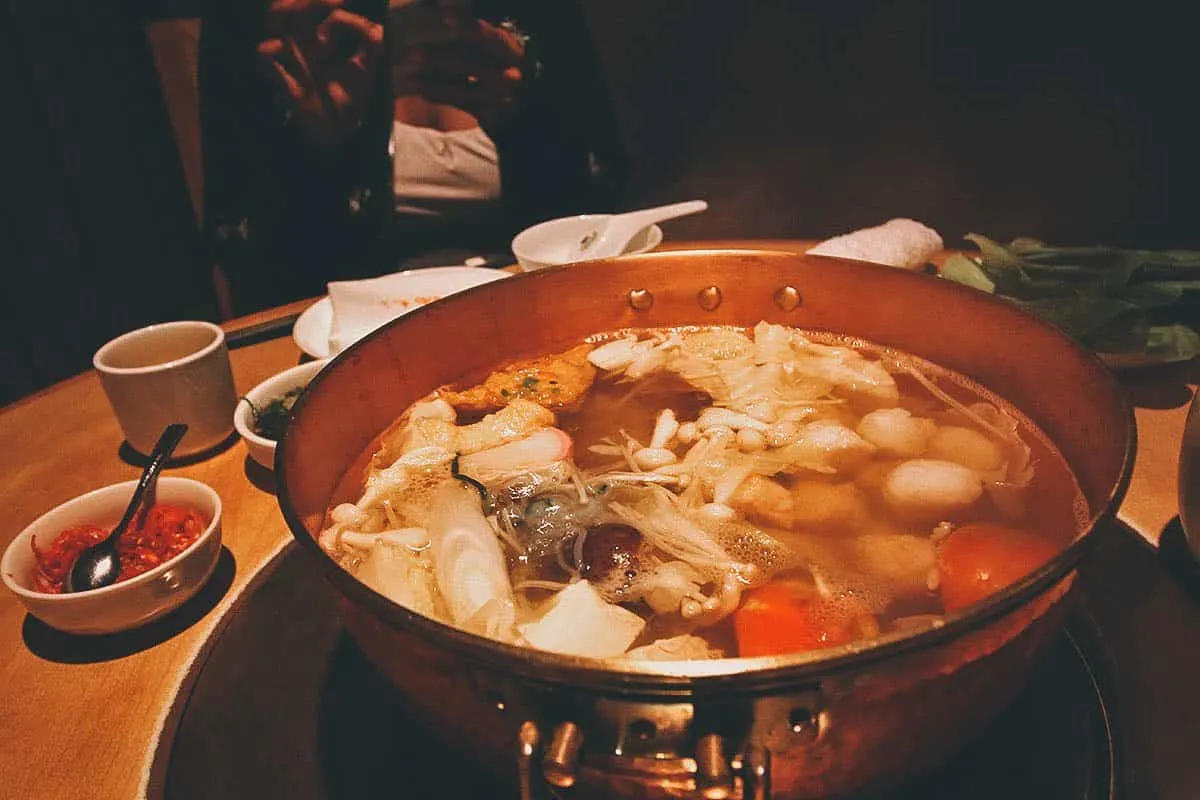 Thin cuts of Australian lamb chops. These were fantastic as well. We stuck with more affordable ingredients but if you want to go all out, then you can splurge on more premium items like lobster, live crab, and wagyu short ribs.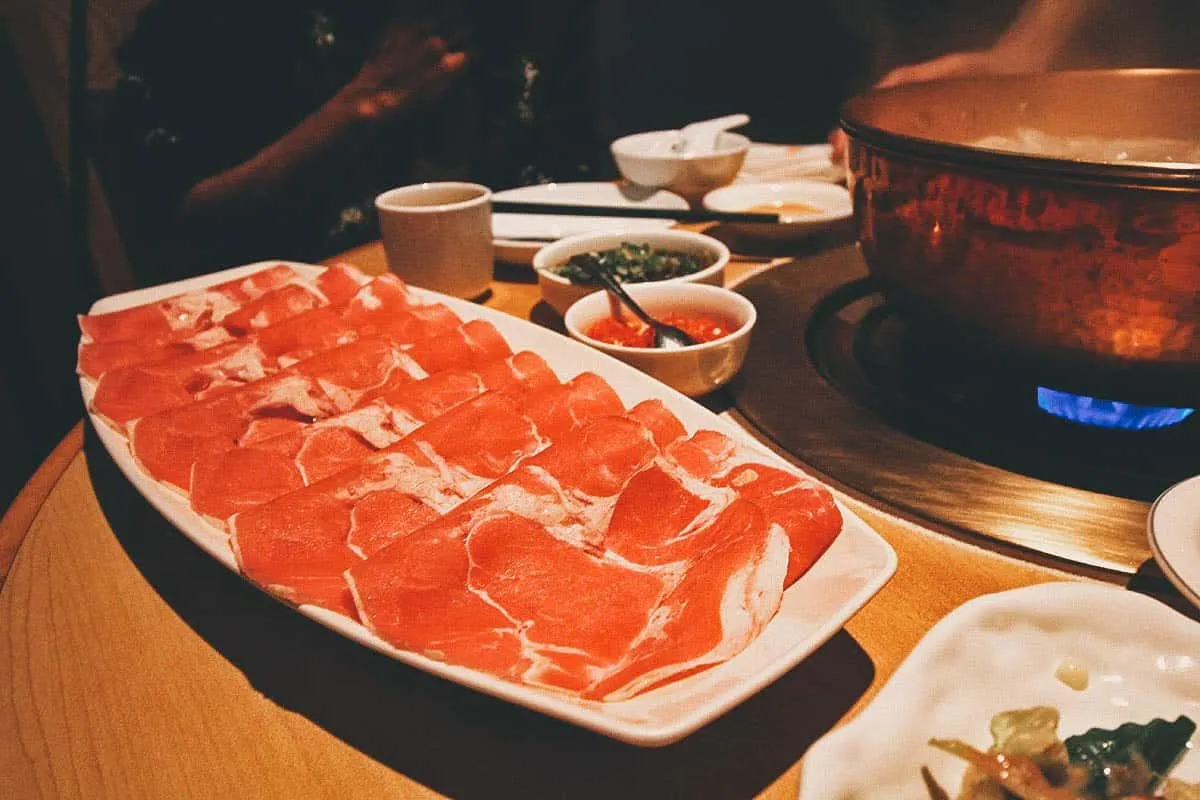 After we polished off the lamb and seafood balls, our server came with these ingredients to prepare our porridge.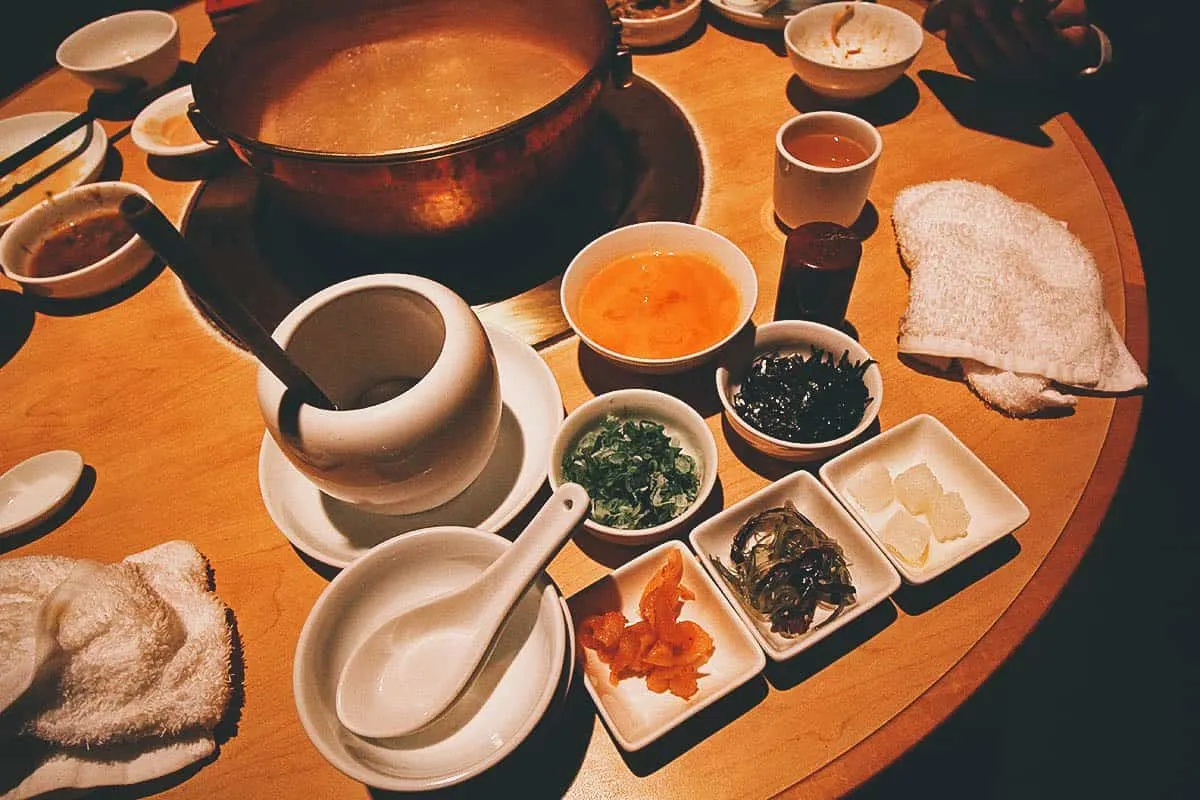 Stirring up the pot…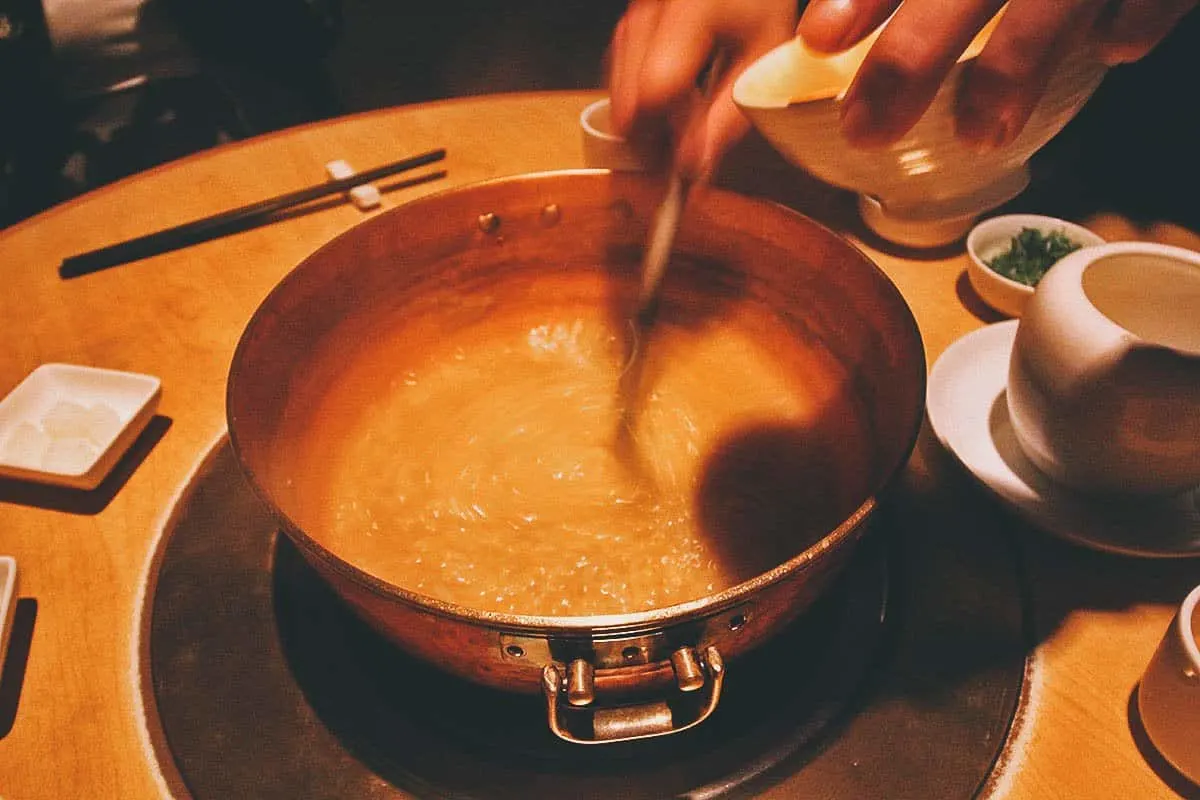 …to make this delicious bowl of porridge to end a fantastic meal.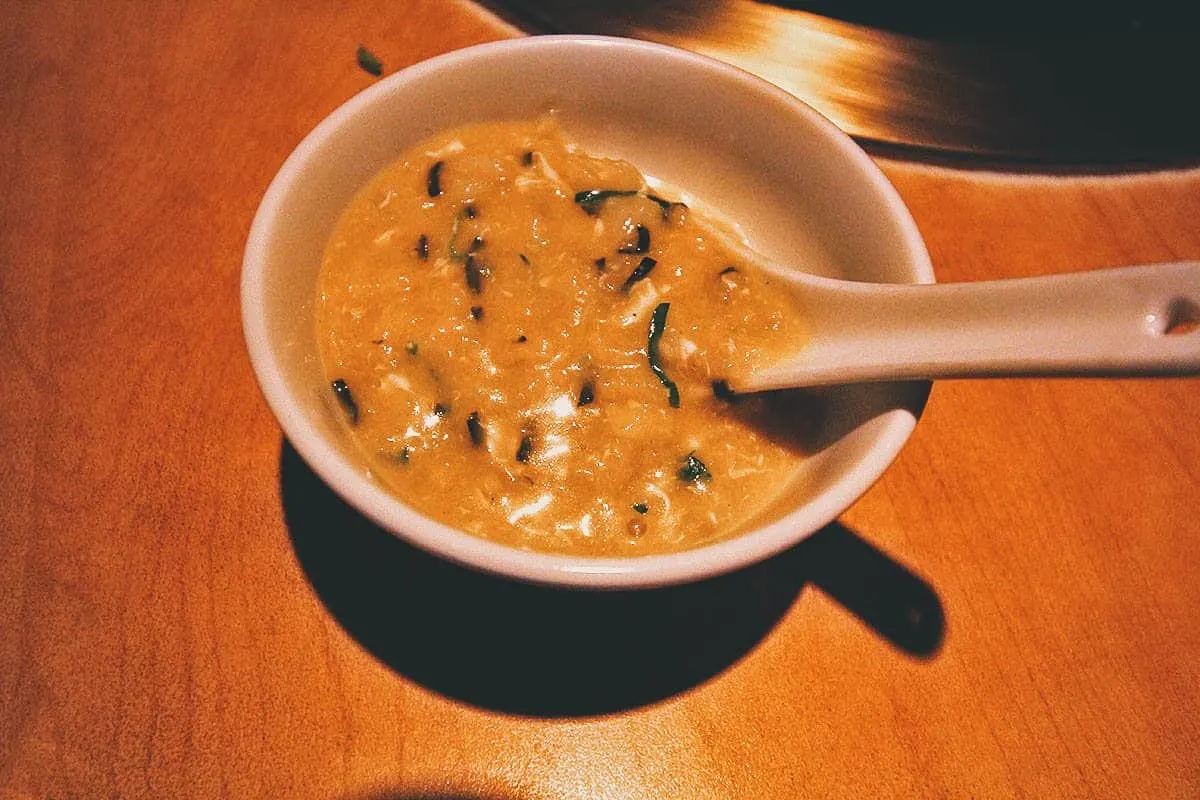 As described, I'm not an expert on hot pot so I honestly didn't think I'd be able to tell the difference. I knew it would be better, but I never thought it would be this much better, especially since we had just enjoyed a delicious hot pot at Ding Wang in Taichung. Orange Shabu Shabu House's hot pot is head and shoulders above any other hot pot we'e tried in our lives. It's that good.
Apart from the quality of the ingredients, what makes their hot pot so special is the dipping sauce and broth. I thought the quality of a hot pot hinged solely on the ingredients, but that's obviously not the case. You could really taste the difference here. Ren thinks the copper pot had a lot to do with it as well.
If you can get reservations, then I strongly urge you try the hot pot at Orange Shabu Shabu House on your next trip to Taiwan. Like my Taiwanese foodie friend said, it's the best damn hot pot in Taipei.
Orange Shabu Shabu House
B/1, No. 135, Section 1, Da'an Road, Taipei, Taiwan ROC
Tel: +886 2 2776 1658
Operating Hours: 11:30AM-11PM, daily
Email: [email protected]
What We Spent: NTD 1,474 for two
Reservations: Highly recommended
HOW TO GET THERE: Take the MRT to Zongxiao Fuxing Station (Blue/Brown Line, Exit 3). Walk south on Section 1, Fuxing South Road. Make a left into Lane 219, Section 1, Fuxing South Road. Walk straight then make a right onto Section 1, Da'an Road. The restaurant will be on your left side.
For more restaurant suggestions, check out our post on 13 Must-Eat Restaurants & Night Markets in Taipei.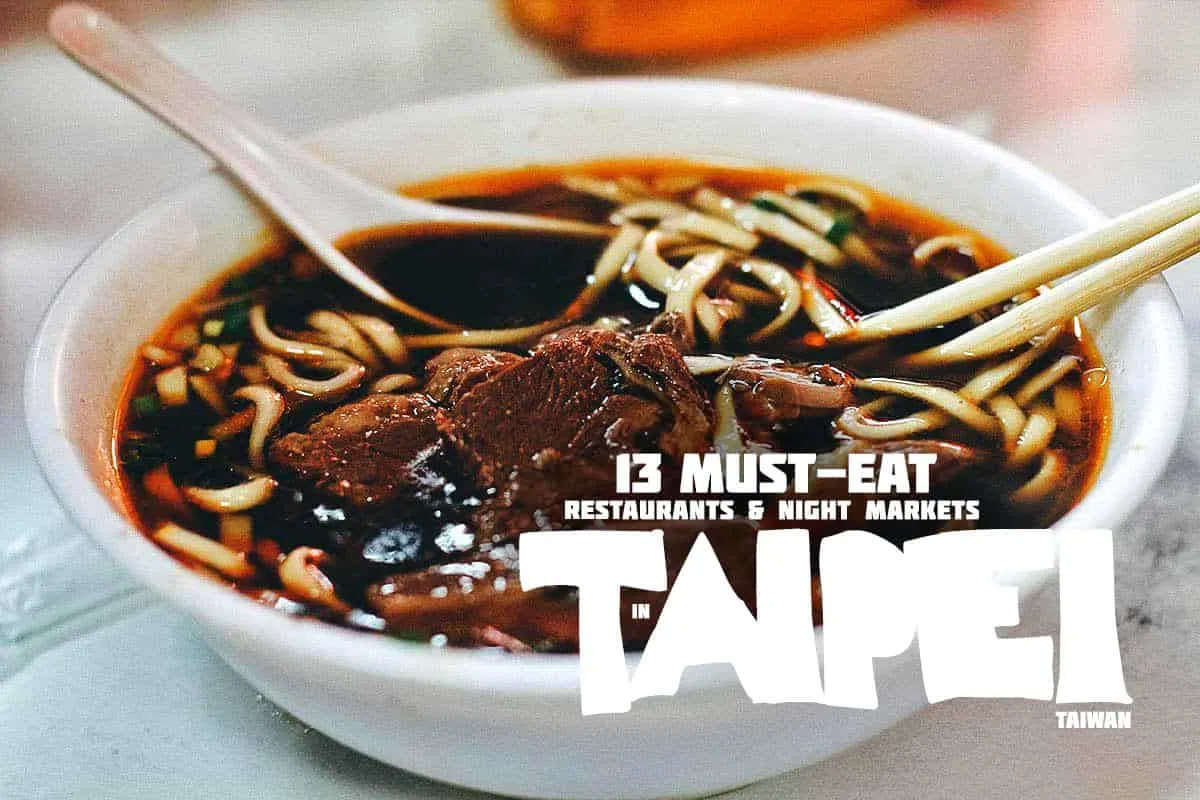 For travel tips to Taipei, check out our First-Timer's Travel Guide to Taipei, Taiwan.