EDITOR'S NOTE: Please be advised that this Hualien travel guide hasn't been updated to reflect 2022 prices and travel guidelines. We'll update it as soon as Taiwan fully reopens to tourism. Thanks for your patience.
It was just a day after our tour of Taroko Gorge, and we were already talking about coming back. There's so much natural beauty to be found here that the two days we spent in Hualien felt hardly enough.
But as breathtaking as Hualien is, it wasn't just its natural beauty that resonated with us. We fell in love with the atmosphere too, and its vibe. Compared to other cities we visited in Taiwan, Hualien felt the most laid back. It has a mountain town feel that's even-paced and unrushed, perfect for middle-aged travelers like us. If you're drawn to nature and partying isn't part of your vocabulary anymore, then you're going to enjoy spending time in Hualien.
Before our trip, I read how Hualien and the eastern coast of Taiwan is a special place for many Taiwanese. As short as our trip was, it was more than enough time for us to understand why.
Save This on Pinterest!
No time to read this now? Click on the red save button and pin it for later!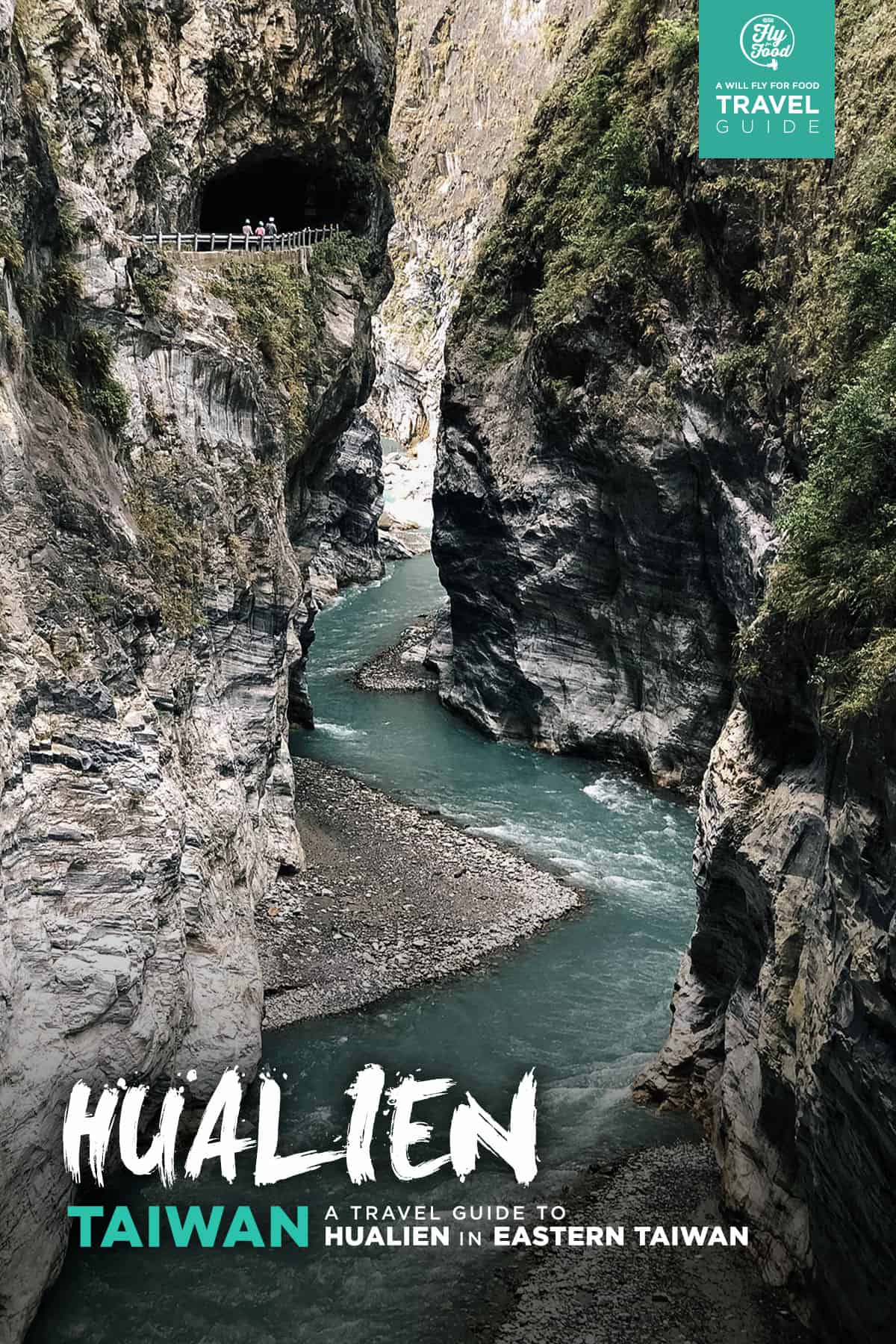 GUIDE TABLE OF CONTENTS
TRAVEL RESTRICTIONS
Because of the current global situation, travel guidelines have been changing frequently. Our friends at SafetyWing created a website that lists detailed information on travel restrictions around the globe.
Before doing any serious travel planning, be sure to check the Flatten the Curve website for information on travel restrictions to Taiwan.
HUALIEN AT A GLANCE
The name Hualien can refer either to the city or the county that it's in. Hualien County is the biggest county in Taiwan by area, while Hualien City is Eastern Taiwan's second largest city. Even then, it feels more like a small town than anything, much more laid back than any city in Taiwan's west coast.
Many travelers visiting Hualien use it as a base to explore Taroko Gorge, a 92,000 hectare national park which spans Hualian, Taichung, and Nantou counties. If you're reading this, then chances are it's the exact why you're planning a trip to Hualien.
BEST TIME TO VISIT HUALIEN
I read that it's known to rain throughout the year in Hualien. I got that feeling even though we were there for just two days in March. Something in the air made me feel that sunny days aren't as common. Most if not all travelers to Hualien visit Taroko National Park, so it's best to go when precipitation is at its lowest. Based on my research, that would be around November to April.
NOV-APR: Weather in Hualien is most ideal from around mid-November to the first week of April. Temperatures are cool and it doesn't rain as often. Even then, it's advisable that you bring a raincoat or a foldable umbrella just in case. We were there in March, supposedly one of the drier months, but it still rained while we were at Taroko Gorge. Bummer.
MAY-OCT: It's rainier and warmer during these months so it's best to avoid them if you can. July to September is typhoon season. On average, Hualien sees 3-6 typhoons during that stretch. Oddly enough, October seems to have the least number of rainy days but it's total amount of precipitation is one of the highest. I guess it doesn't rain as frequently in October but when it does, it pours.
It's worth noting that the Taroko Music Festival happens in October or November every year. It's a live classical music event held somewhere in the park. You can watch this video from a previous festival. It must be incredible to listen to live classical music in that environment so it's something you may want to consider when planning your trip.
Climate: Annual Monthly Weather in Hualien
To help you better understand the weather in Hualien, I've included average temperature and annual rainfall graphs below. Suggested months to visit are indicated in orange.
Average Temperature

Annual Rainfall


TRAVELING TO HUALIEN
We traveled to Hualien from Kaohsiung by train. The train system in Taiwan is so efficient that I wouldn't even think of traveling any other way. We traveled between five cities in two weeks, all by train. Unless you're in an extreme rush or couldn't purchase train tickets, then traveling to Hualien by train is the best way to go.
By Train
Intercity travel in Taiwan is serviced by two types of trains – high-speed trains (HSR) and regular trains (TRA). The HSR is faster and more expensive but it only services the western half of Taiwan. For Hualien, you'll have no choice but to take the TRA, which is just fine. The train ride from Kaohsiung to Hualien took around 5 hours and cost us NTD 705 each. I imagine the majority of travelers will be coming from Taipei so you can check the TRA website for fares and schedules.
Keep in mind that trains in Taiwan run in a loop around the perimeter of the country, so it's important to look at journey times when looking at train schedules. If a particular train's estimated journey time seems too long, then it means it's running the opposite way. For the Taipei-Hualien route for example, most trains take just 2-3 hours but one train takes almost 11 hours. Unless you have a train fetish, then you won't want that one. Only choose trains that have the shortest estimated times.
You can purchase tickets from the TRA website as early as two weeks in advance. I read that train tickets do run out, especially during peak seasons, so it's advisable you purchase them as soon as possible. Once you make the purchase, you'll be issued a confirmation and a ticket pickup form. You'll need to take this, along with the ID you used to purchase the ticket (passport in my case), to the train station ticketing office or any convenience store (7-11, FamilyMart, Hi-Life, or OK Mart) no later than 30 minutes before your departure time to claim your train ticket.
By Plane
Unless you're in an extreme rush, then I don't see the point in flying to Hualien. It's considerably more expensive plus you'll need to deal with the hassle of checking in, going through security, etc. But if you really need to fly, then you can take Uni Air or Mandarin Airlines, depending on which city you're flying from.
By Bus
With the convenience of trains, the only time intercity bus travel makes sense is if you couldn't purchase train tickets. From the looks of it, there are often no direct routes by bus between cities as is the case from Taipei to Hualien. But if you really need to travel by bus, then you can take the Kamalan Bus from Taipei Bus Station to Luodong Bus Terminal. You can then transfer to Luodong Train Station and take any train to Hualien.
That's so much more complicated than traveling exclusively by train! This is why I think it's important to plan ahead and secure your train tickets early.
WHERE TO EXCHANGE CURRENCY
Taiwan's unit of currency is the New Taiwan Dollar (NTD). Most people will probably arrive in Hualien already with NTD, but if you need to change currency, then you can do so at any bank. You don't have to worry about finding reputable currency exchange offices in Taiwan. It's regulated by the government so only banks are allowed to change your currency. I suggest changing currency at bigger banks like Bank of Taiwan because smaller banks may charge you a transaction fee.
If you'd rather not bring large amounts of cash to Taiwan, then an alternative would be to withdraw NTD from an ATM. Rates are comparable but be sure to inform your bank that you plan on using your ATM card abroad so you don't run into any problems. In my experience, my ATM card works in some machines but not others.
WHERE TO STAY IN HUALIEN: Cozy Homestay
When we booked a room here, I thought we were renting a room in someone's home. But as it turns out, Cozy Homestay isn't a homestay at all but a fairly new boutique inn. Cool! As you can see in the picture below, the rooms are huge and sparklingly clean. There's cable TV, a small refrigerator, and a hotpot. In the lobby is a water dispenser as well as packets of shampoo, shower gel, and other free amenities you may need during your stay.
The hotel is a little hard to spot since they don't seem to have any clear signage. Luckily, the owner offered to pick us up from the train/bus station. Cozy Homestay is only about ten minutes away from the station so it's easy to get there on your own on foot.
You can book a room here through Booking.com or Agoda. Be sure to check both sites to find the best deal. If Cozy Homestay isn't right for you, then you can go through those websites to find alternate listings in Hualien: Booking.com | Agoda.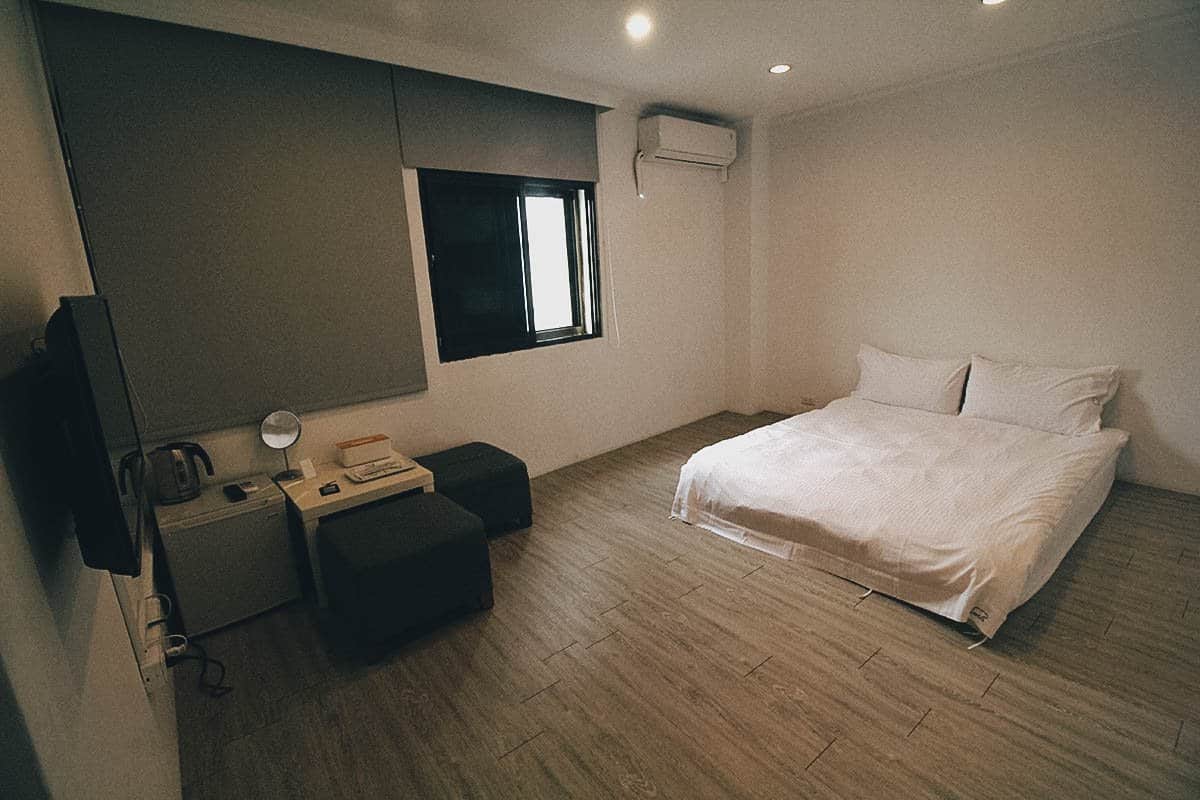 Approximate Room Rate: USD 40 per night (as of Apr 2018)
THINGS TO DO IN HUALIEN
1. Explore Taroko National Park
A trip to Taroko Gorge is the best thing you can do in Hualien. I'd say it's what the vast majority of travelers come here for. Taroko National Park is one of nine national parks in Taiwan, covering an area of over 92,000 hectares. It features many natural wonders like mountains, gorges, rivers, and cliffs. Many people feel that the eastern half of Taiwan is the country's most beautiful, and I'm pretty sure Taroko National Park has a lot to do with that.
We went on a guided day tour of Taroko Gorge through Kkday, but you can explore the park on your own by renting a car or taking the bus. Check out my post on Taroko National Park for more pictures and information.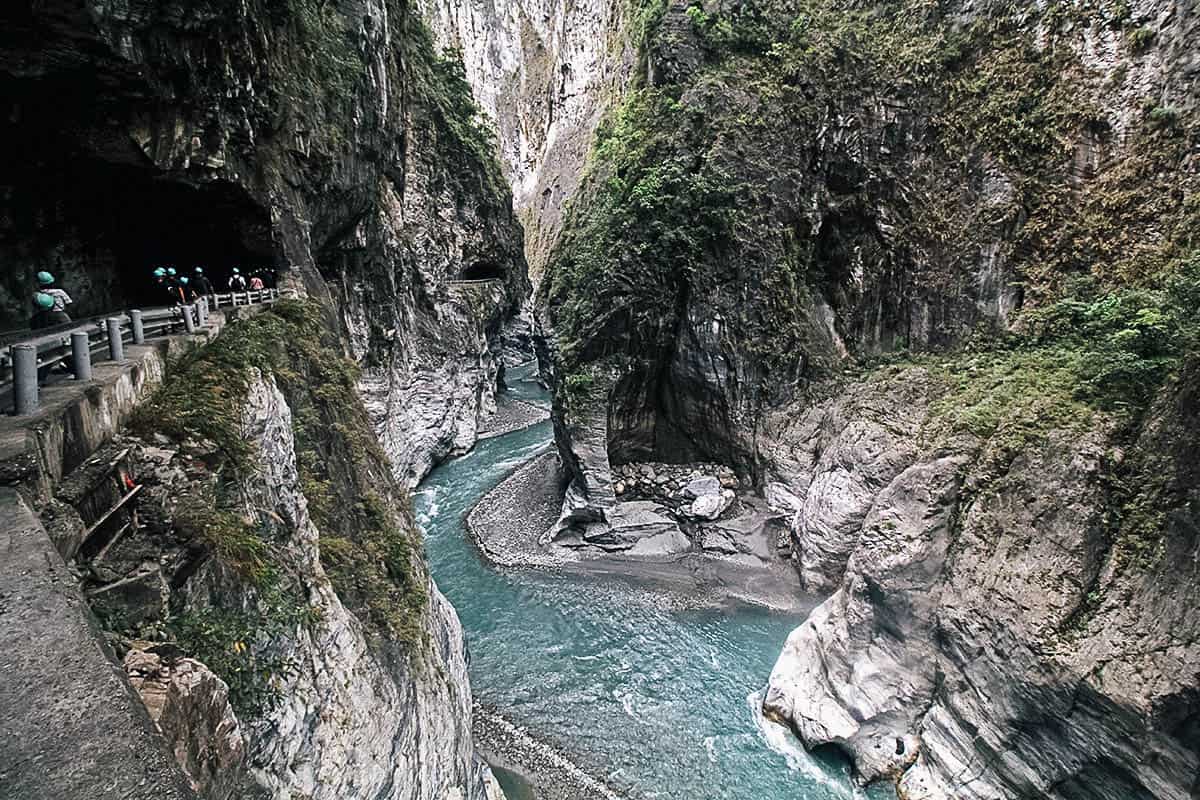 Tour Duration: 8 hrs / Cost: Starts at NTD 1,000 per person
2. Take a Stroll Along Qixingtan Beach
We visited Qixingtan Beach as part of our Taroko Gorge Tour. Qixingtan Beach is a beautiful crescent-shaped pebble beach in Xincheng Township. It's between Hualien City and Taroko Gorge so you can make a quick stop here en route to (or returning from) the park. You can get to Qixingtan Beach from Hualien Station via the Taroko Tourist Shuttle Bus (1133A).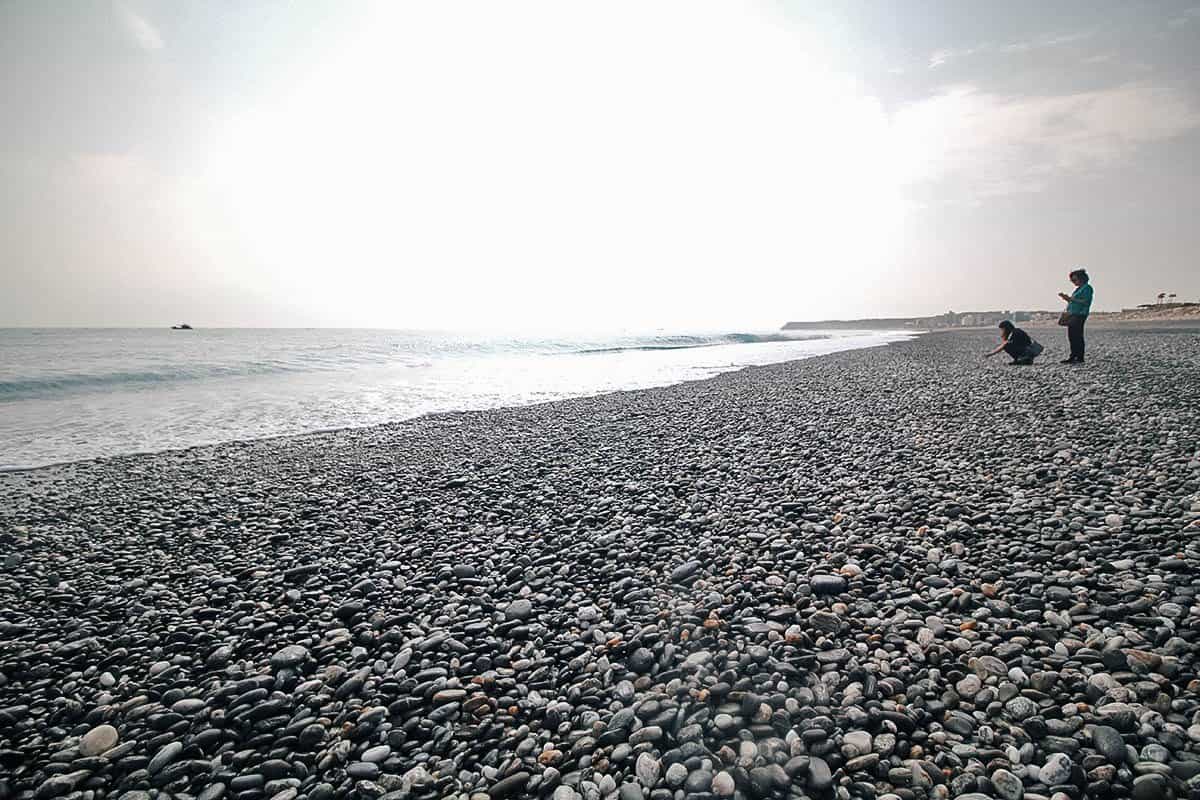 Estimated Time to Spend: 1 hr / Cost: FREE
3. Go River Shrimping at Night
We went urban shrimping in Taipei a few years ago and had a lot of fun catching our dinner. This time, we did it for real in a river on the outskirts of Hualien City. So much fun! And don't worry, catching the shrimp is just for entertainment. Any shrimp you catch is released into the river unharmed. Your real dinner – either hot pot or surf and turf barbecue – will be waiting for you by the side of the river.
Like the Taroko Gorge tour, we booked this river shrimping activity through Kkday. Check out my post on River Shrimping in Hualien for more pictures and information.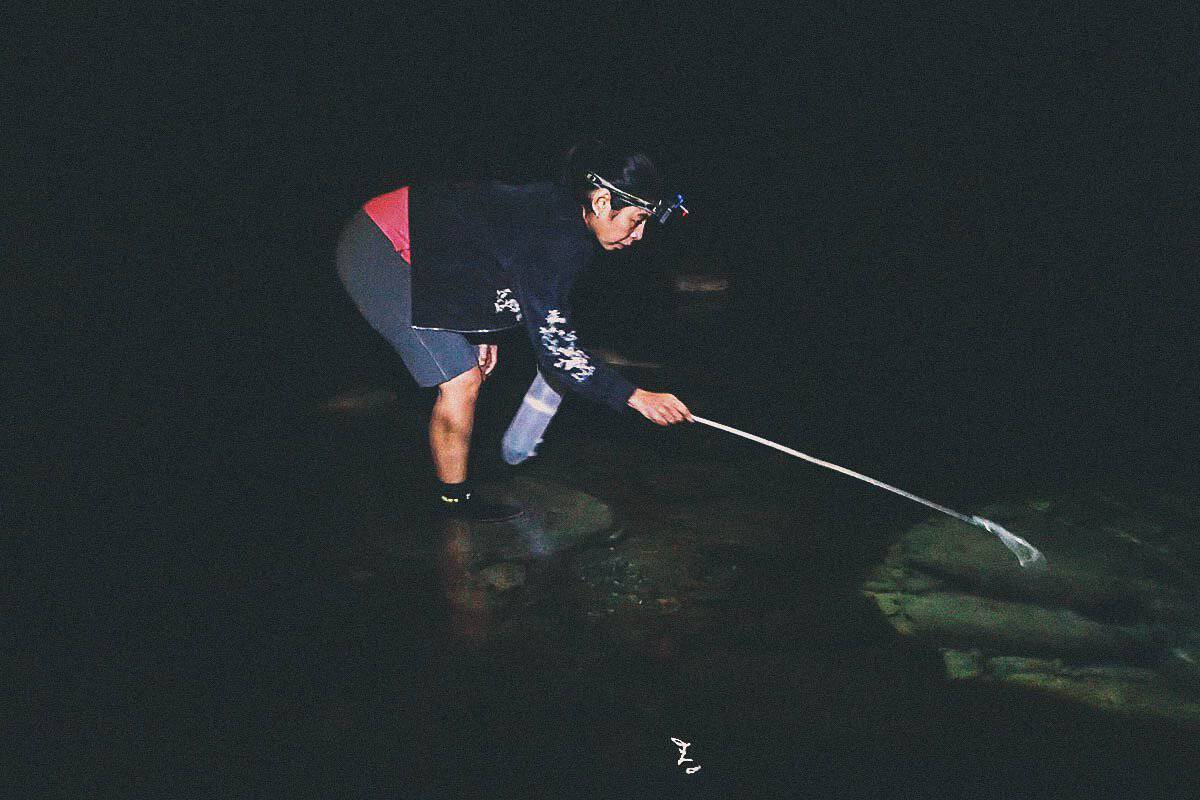 Activity Duration: 3 hrs / Cost: NTD 852 per person
4. Go Whale and Dolphin Watching
If you like marine mammals, then you should definitely do this. Hualien is an excellent place to go whale and dolphin watching as there's a very high likelihood of successful sightings. We didn't have time to go on this tour but I've read that between April and October is the ideal time to do this. It's the best time to spot cetaceans like sperm whales, beaked whales, Fraser's dolphins, Risso's dolphins, and spinner dolphins, among many others. Follow the link to book this whale and dolphin watching tour on Kkday.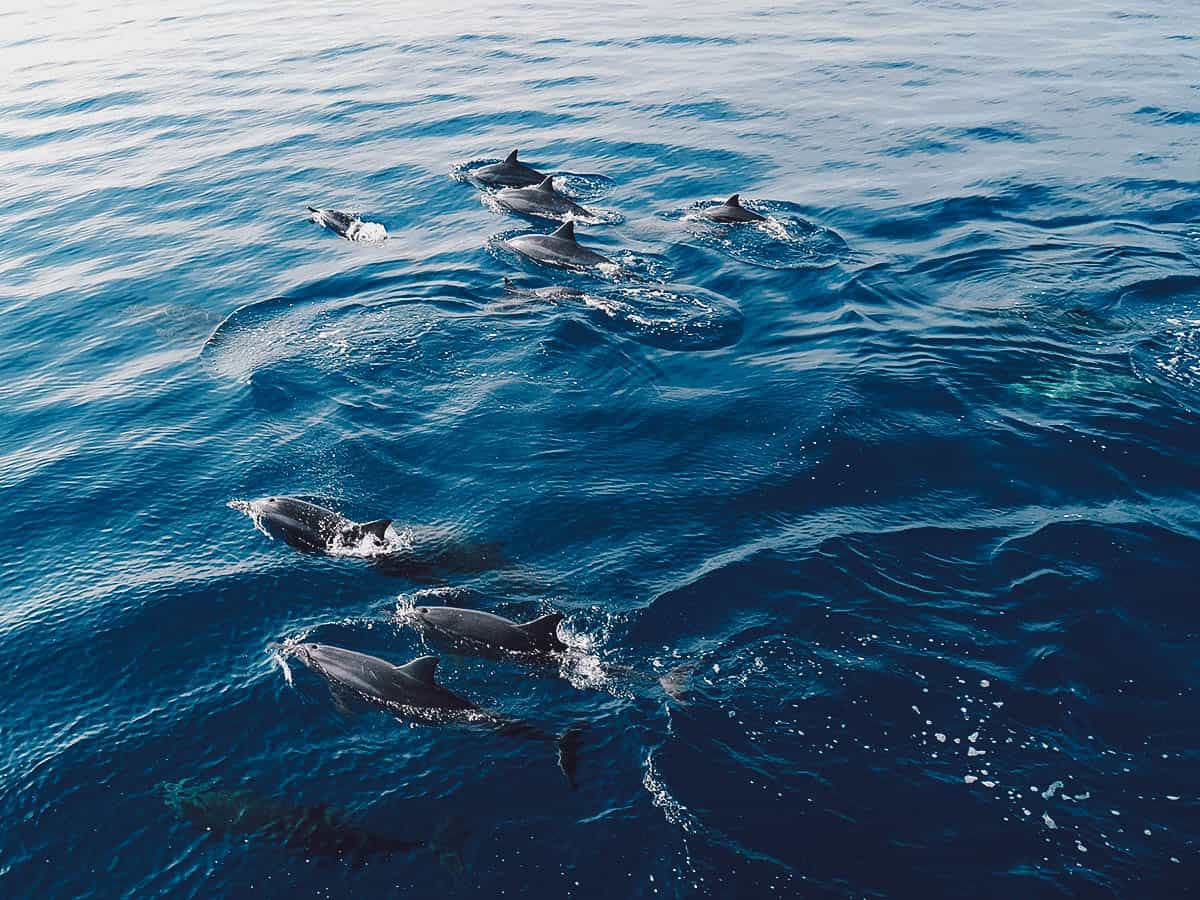 Activity Duration: 2 hrs / Cost: NTD 750 per adult
Photo by yuanj via Shutterstock
5. Take a Cooking Class
I don't cook so I had no idea how much fun it could be, until we took this cooking class in Hoi An. Since then, we've taken cooking classes in Indonesia and Thailand. Not only is it fun, but there's simply no better way of getting to know the local cuisine than by taking a cooking class. It's like looking under the cuisine's hood.
Cookly is a booking platform that offers cooking classes in many cities around the world. They usually have several per city but it looks like they only have one so far in Hualien. However, it involves learning how to make aboriginal food and looks really interesting.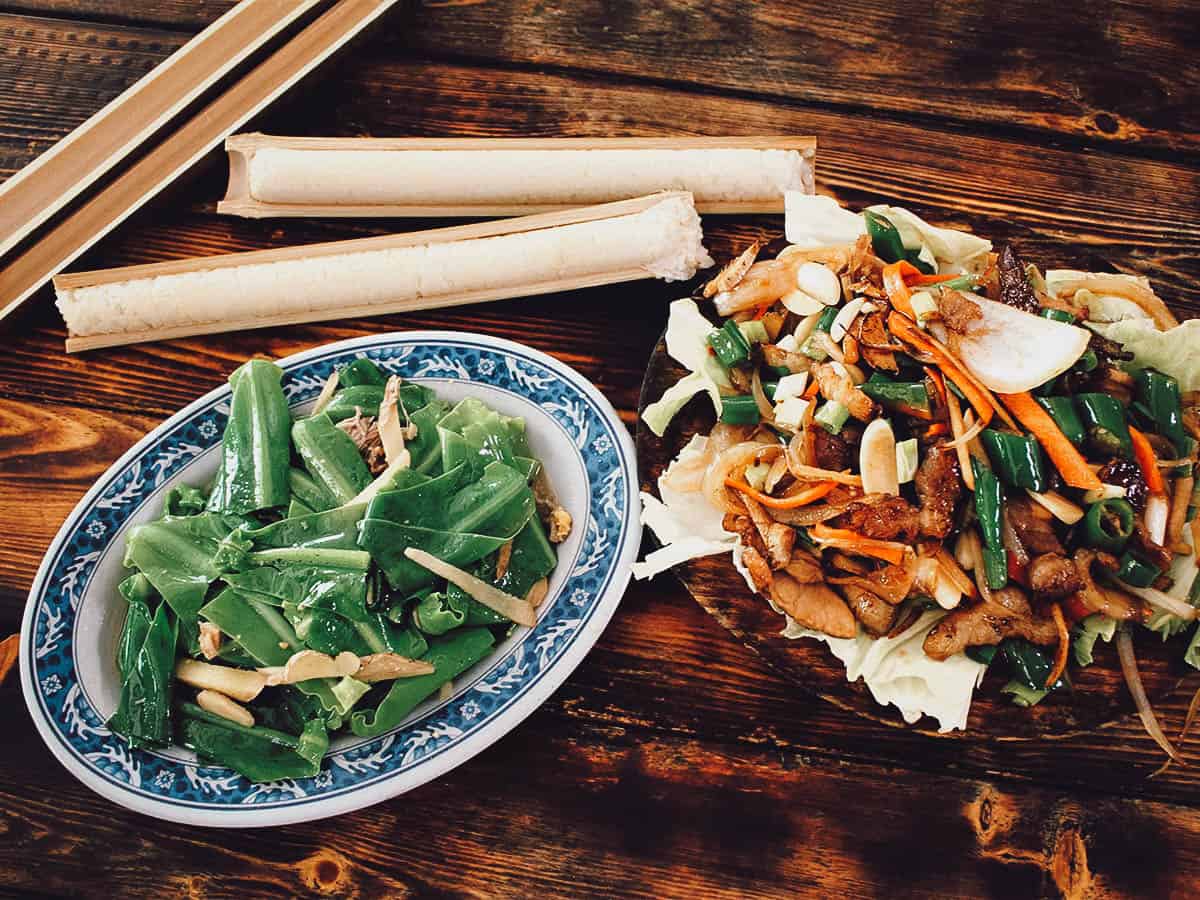 Activity Duration: 3 hrs / Cost: USD 40
Photo by Alice Chen via Shutterstock
6. Enjoy Eastern Taiwan's Breathtaking Landscape from the Sky
I really, really wanted to do this. In fact, I had it on our itinerary till the very last minute. Unfortunately, we decided to spend an additional day in Kaohsiung so we had to scratch this from our itinerary. In Hualien, you can enjoy Eastern Taiwan's breathtaking landscape from the sky by booking a paragliding experience with KKday. If you enjoy doing adventurous things, then you may want to do this.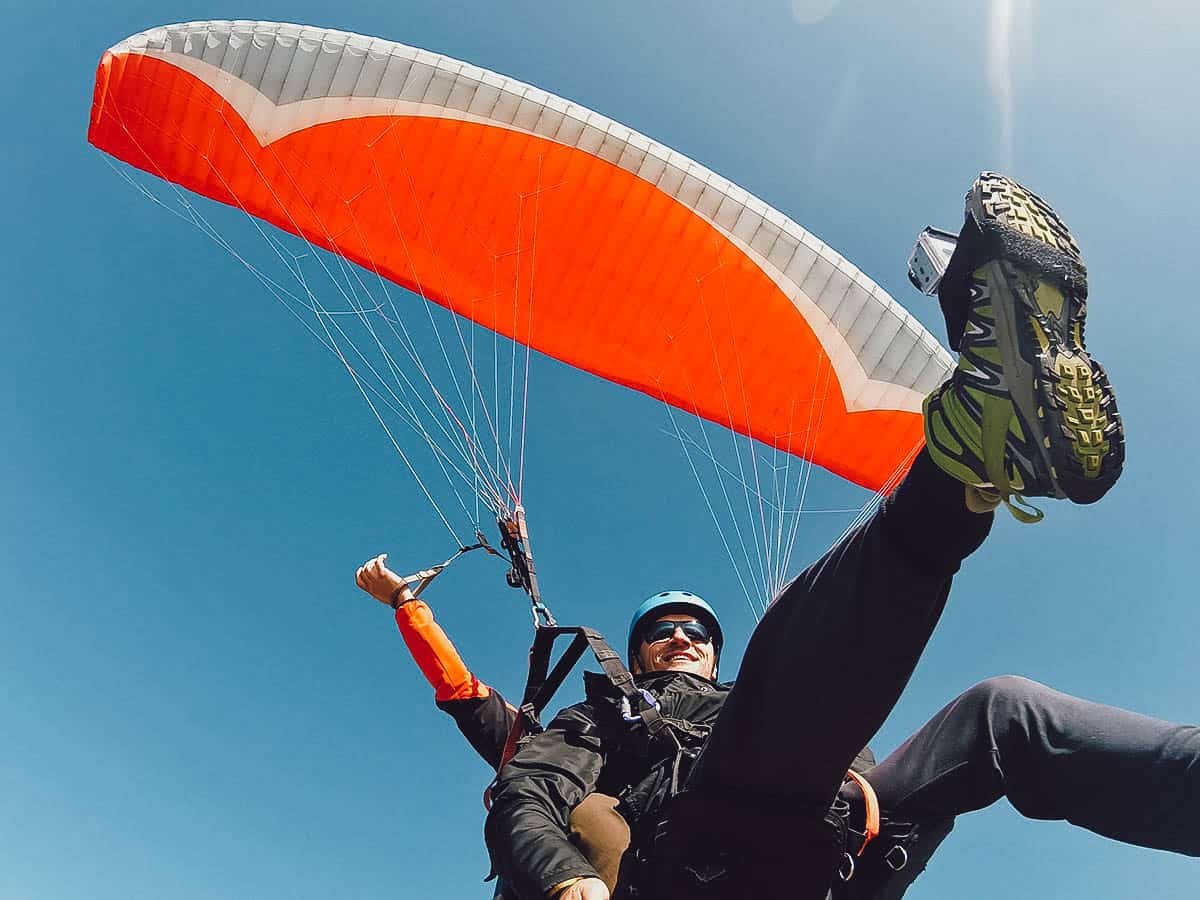 Activity Duration: 2 hrs / Cost: Starts at NTD 2,556
Photo by zefart via Shutterstock
7. Get Artsy at Hualien Cultural & Creative Industries Park
Everyone knows about Taiwan's night markets. But did you know they have many of these creative parks as well? In every city from Taipei down to Kaohsiung, we visited creative parks which are basically abandoned industrial spaces that have been converted to art and music venues. There you'll find art exhibits, craft shops, music shows, even street performers. Admittedly, Hualien Cultural & Creative Industries Park was the least interesting of all the creative parks we visited in Taiwan, but it still merits a quick stop if you have the time.
Check out my post on creative parks in Taiwan for more pictures and information.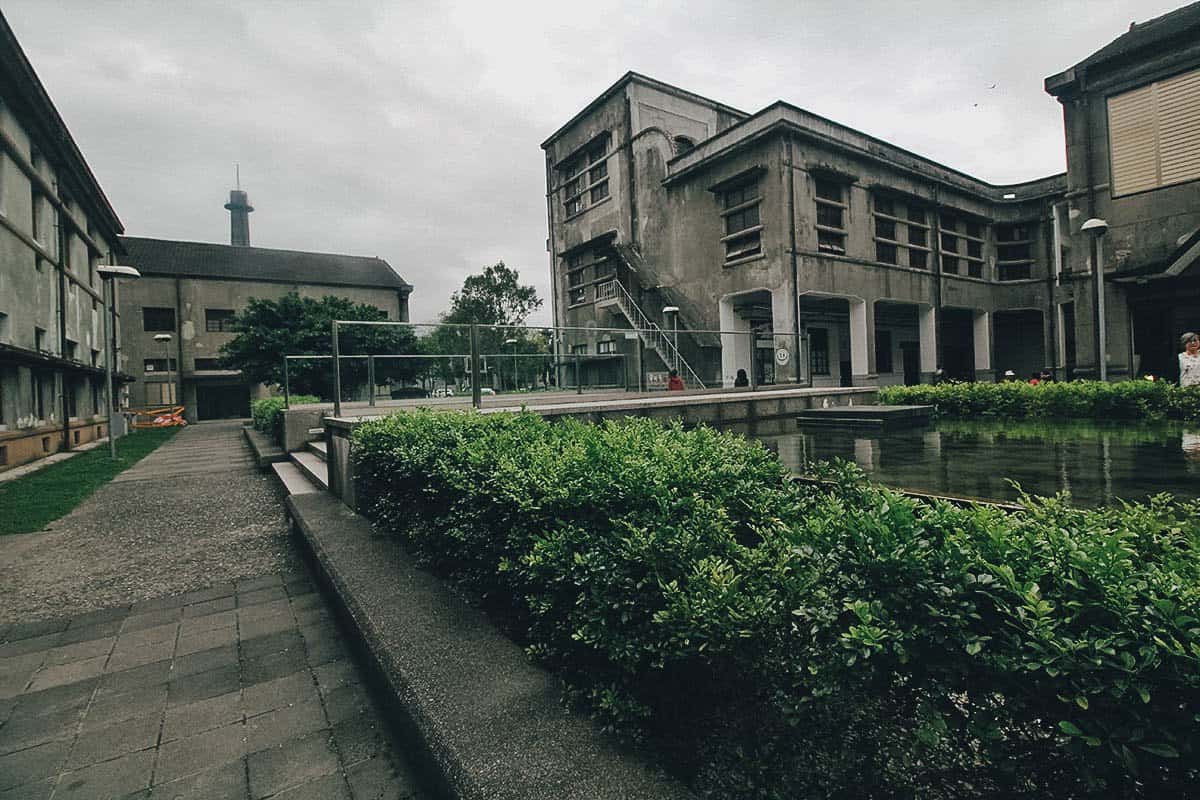 Time to Spend: 1-2 hrs / Admission: FREE
TAIWANESE FOOD GUIDE
Taiwan is all about night markets and street food. There are so many delicious and interesting things to eat in this country. If you're wondering what to eat in Hualien, then check out our list of must-try dishes in Taiwan. Many of the dishes listed there are available throughout the country, including Hualien.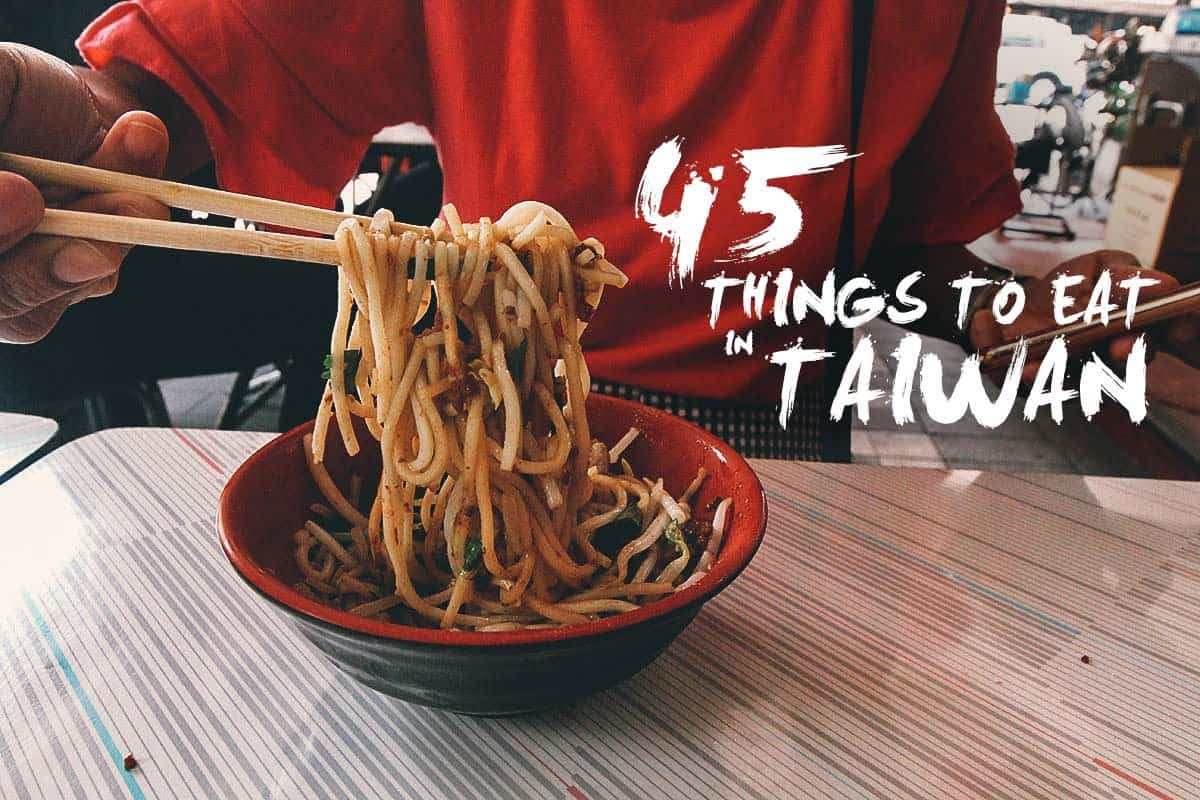 TAIWANESE DESSERTS
Taiwan is home to incredible night markets and amazing street food, but it's also got some pretty sweet desserts. If you've got a taste for the finer things in life, then check out our list of must-try desserts in Taiwan.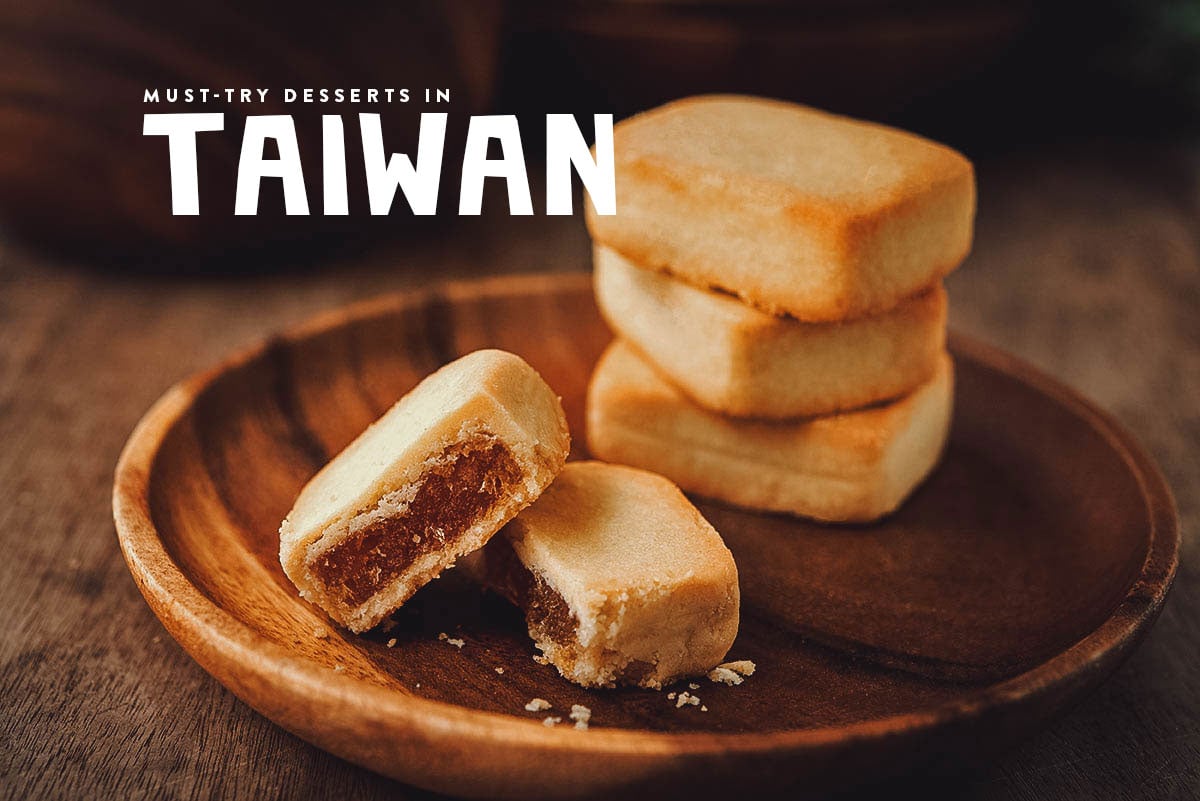 WHERE TO EAT IN HUALIEN
1. Dongdamen Night Market
We've been to eight night markets in Taiwan and Dongdamen Night Market is one of our favorites. Unlike some night markets, the area is closed off entirely to traffic. The alleys are wide and it's easy to make your way through the market. Some night markets we visited had just food, which is perfectly fine, but Dongdamen has a good mix of food and game stalls which made for a more fun environment. Don't miss this!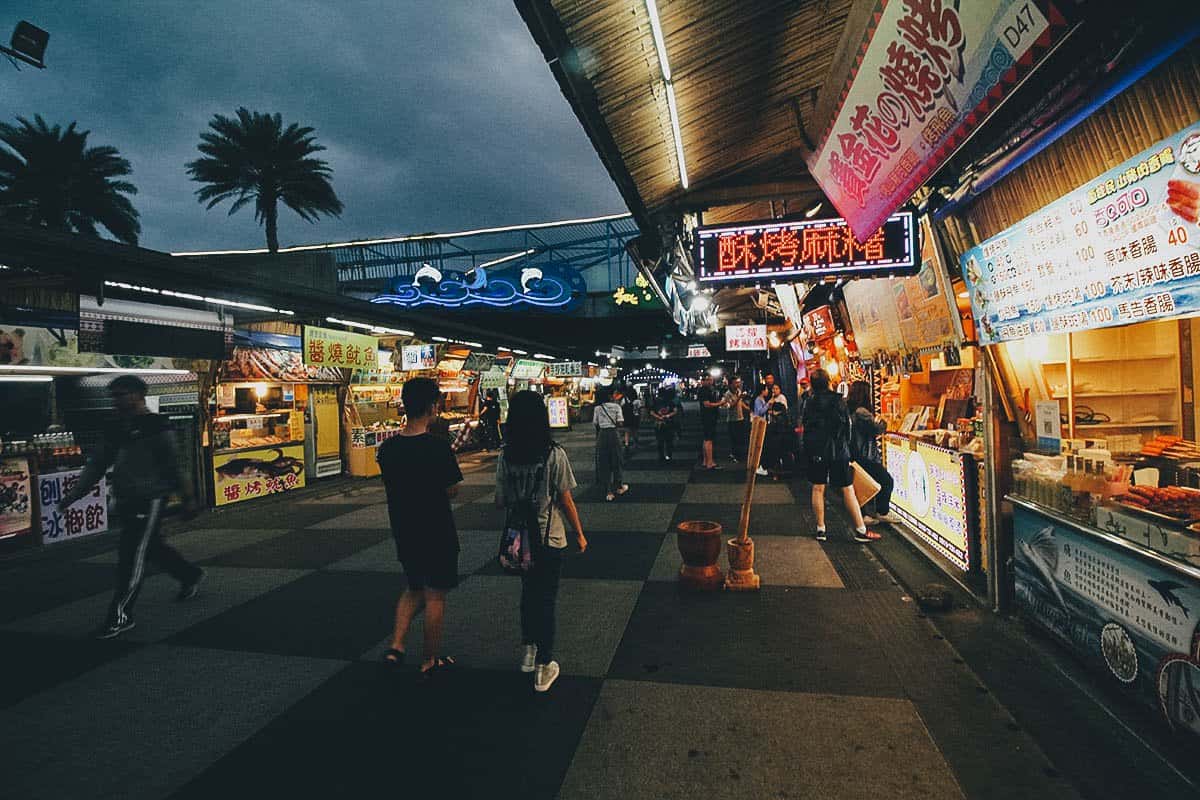 Dongdamen Night Market has a few of these large gate entrances. They're open from 5:30 till 11:30PM every night.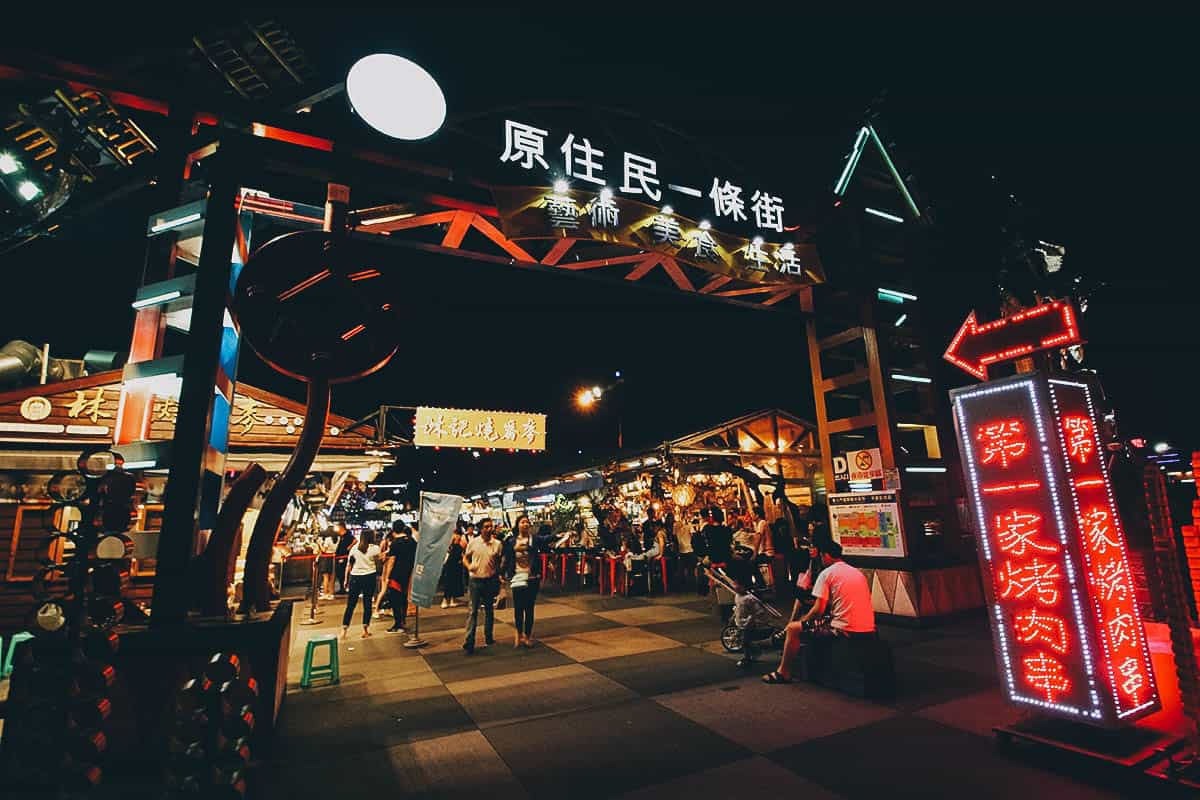 2. Mr. Goose
If you've been to Hong Kong, then you've probably tried their famous roast goose. But have you ever tried steamed goose? We hadn't, until we tried it here at the often recommended Mr. Goose restaurant.
Unlike roast goose which can be fatty and unctuous, steamed goose tastes cleaner, like Hainanese chicken, but it's still gamey and flavorful. Our server recommended the steamed goose with chicken so that's what we had. It's served with finely julienned ginger and a soy sauce, basil, and goose fat dipping sauce that really brought out the flavor of the meat. Delicious! Be sure to order the deep-fried fish eggs with mayonnaise as well. They're like crunchy little umami bombs that go very well with the steamed goose.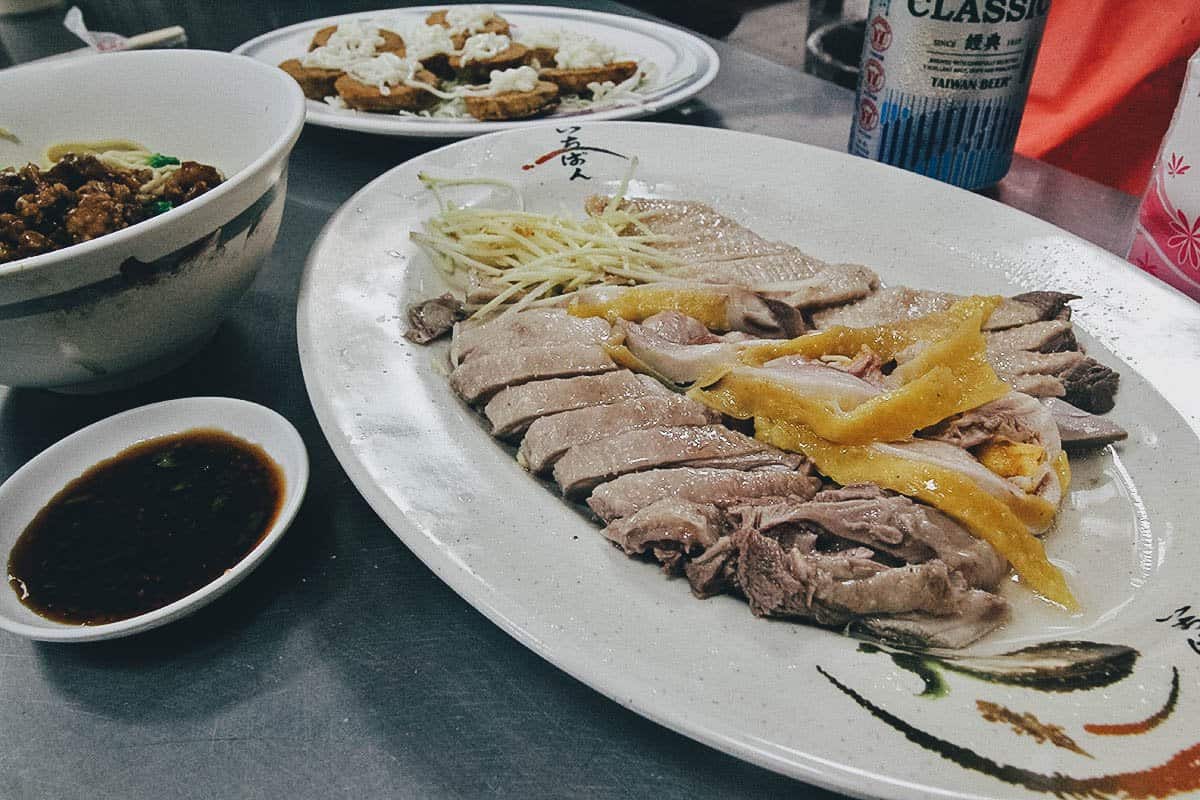 Mr. Goose is along Zhongshan Road. Just look for the shop pictured below with the goose logo on its signage.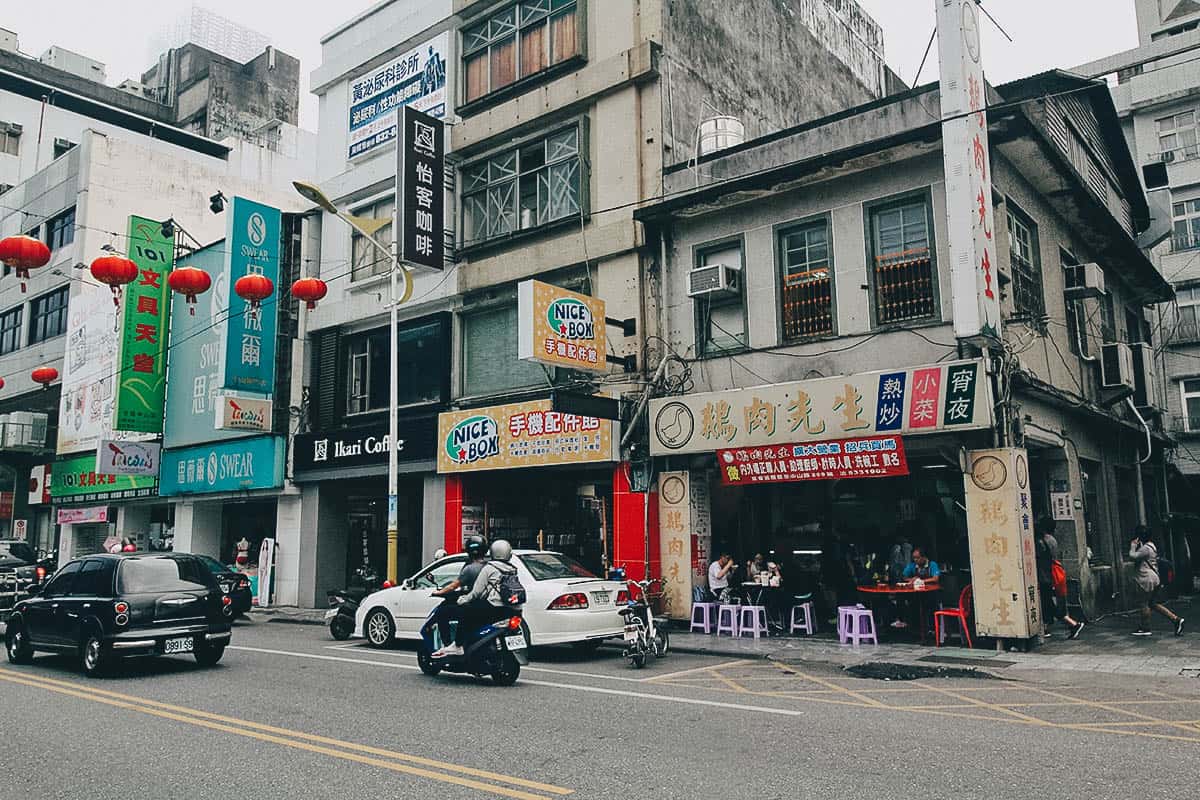 Expect to Spend: Around NTD 400-500 for two with drinks
3. Gongzheng Baozi
Baozi is a Chinese steamed bun filled with a variety of ingredients like meat and vegetables. In Hualien, one of the most popular places to have it is Gongzheng Baozi. They offer soupy pork and green onion buns served with a delicious homemade garlic dip. These buns are filling and cheap, just NTD 50 for a basket of ten! We were watching the locals eat and everyone seemed to be enjoying them with a bowl of what tasted like hot and sour soup. It made for a tasty and hearty pairing.

Gongzheng Baozi is just a block away from Mr. Goose on Zongshan Road. It's the shop right at the corner pictured below.

Expect to Spend: NTD 50 per basket of 10
4. Tzen's Mochi
Hualien is known for its mochi. It's one of the county's signature products and you'll find many mochi shops along Zhongshan Road. According to our Taroko Gorge guide, the best mochi in Hualien is made by Tzen's Mochi. Made fresh daily, their mochi contains no preservatives and is meant to be eaten within two days. We didn't get to try it but people online rave about its soft and perfectly chewy texture.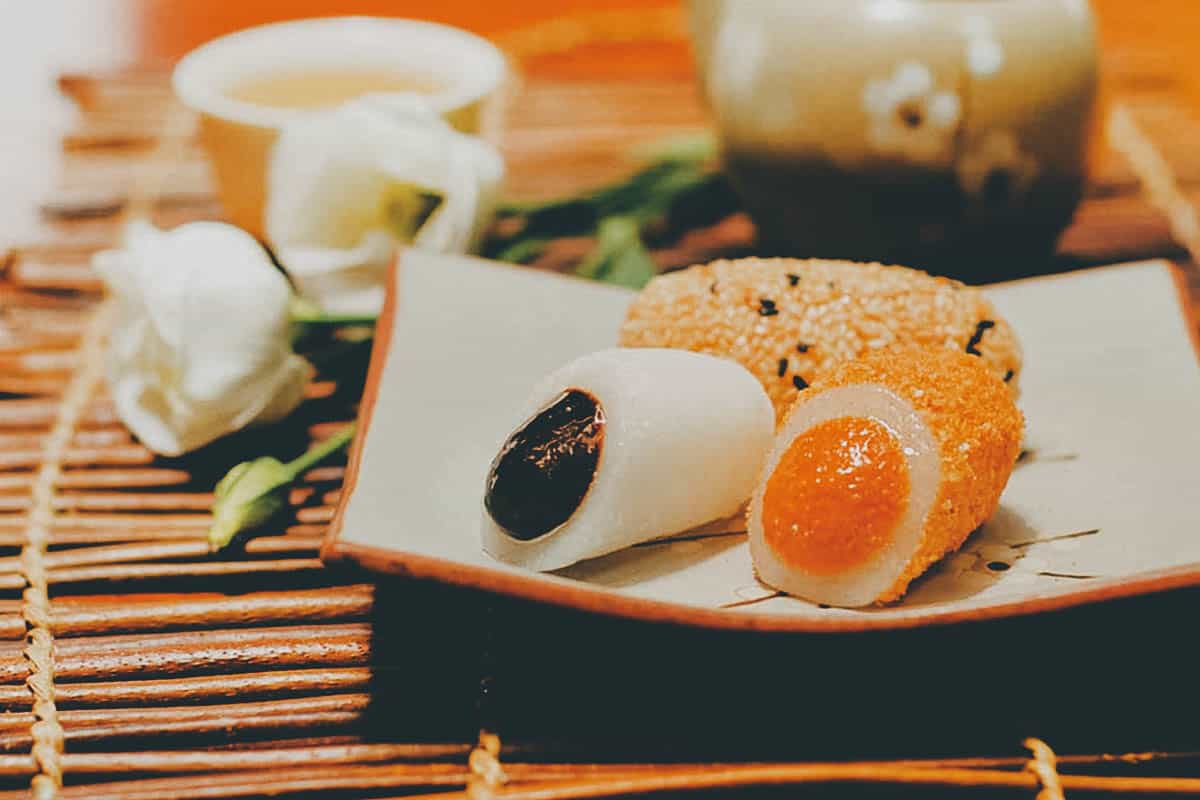 Tzen's Mochi has several branches in Hualien. You can spot their shops easily by their distinctive yellow-orange branding. I borrowed both pictures posted here (with permission) from the Tzen's Mochi website.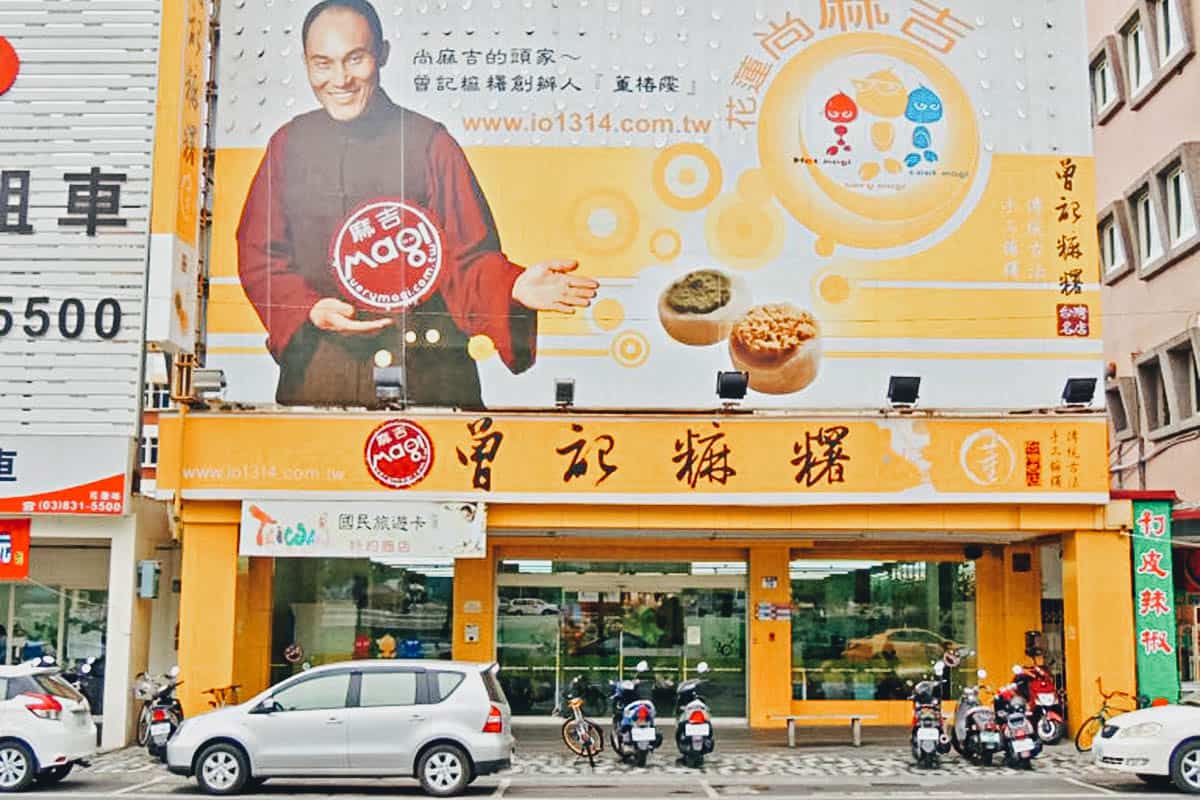 Expect to Spend: NTD 225 per box
POINTS OF INTEREST IN HUALIEN
To help you get your bearings, I've created this map so you get a better sense of where everything is. Most of the places recommended in this guide are pinned on this map.
HOW TO GET AROUND HUALIEN
There's no metro system in Hualien but it's small enough that you can easily get around on foot. If I remember our guide correctly, he described how the three major roads in the city intersect to form a triangle. Most of the shops and restaurants seem to be around Zhongshan Road and this triangular area so you shouldn't have any problems finding your way through the city.
If you have mobility issues or prefer not to walk, then you can take a taxi. There are no ride sharing services like Uber in Hualien and I read that the bus system is confusing and not the most convenient for tourists either, especially with the language barrier. In Hualien, the taxi flag down rate is NTD 100 . You probably won't have to pay much more than that if you're only traveling within the city. We took a taxi twice and we paid just NTD 100 both times.
HOW TO GET TO TAROKO GORGE BY BUS FROM HUALIEN
If you want to explore Taroko National Park on your own by public transportation, then you can catch the Taroko Tourist Shuttle Bus (1133A) from Hualien. This is the cheapest way to do it. The bus leaves from a bright orange building next to Hualien Train Station. You can get a 1-day pass for NTD 250 or a 2-day pass for NTD 400. This bus will take you from Hualien Train Station all the way to Tianxiang in about one and a half hours, making multiple stops at scenic areas in Taroko Gorge along the way. You can hop on and off at your own leisure, and take the same shuttle bus back from Tianxiang to Hualien Train Station.
You can check the Taroko National Park website for more information about this shuttle bus. Based on the timetable, bus 1133A runs every hour or so from Hualien to Tianxiang from 7AM till 3:10PM. From Tianxiang back to Hualien, it runs from 8:40AM till 5PM. Here's a quick rundown of all the stops it makes:*
HUALIEN-TIANXIANG: Hualien Station – Qixingtan – Xincheng Station – Taroko Arch Gate – Taroko Visitor Center – Shakadang Trail – Buluowan – Yanzikou (Swallow Grotto) – Lushui – Tianxiang
TIANXIANG-HUALIEN: Tianxiang – Lushui – Yanzikou (Swallow Grotto) – Eternal Spring (Changchun) Shrine – Taroko Visitor Center – Taroko Arch Gate – Xincheng Station – Qixingtan – Hualien Station
*Note that the stops vary slightly between the inbound and outbound routes.
HOW MANY DAYS TO STAY / SAMPLE ITINERARY
We only stayed two full days in Hualien but if I could do it over again, then I'd like to stay no less than three. Hualien City isn't that big but there are a lot of fun outdoorsy things you can do in Hualien County. Unless you're really into hiking and want to spend as much time as you can exploring Taroko Gorge, then I'd say 3 full days is ideal for most people. Here's a sample itinerary to help you plan your trip, assuming you'll only be spending one day at Taroko National Park.
DAY ONE
• Zhongshan Road
• Hualien Cultural & Creative Industries Park
• River Shrimping
DAY TWO
• Qixingtan Beach
• Taroko National Park
• Dongdamen Night Market
DAY THREE
• Dolphin and Whale Watching
• Paragliding / Motor Glider / Sling Light Aircraft Experience
BUDGET / SUMMARY OF EXPENSES
Assuming you'll be traveling with one other person, then a budget of around NTD 1,200 per day for three days should be plenty. This takes into account a moderately priced hotel, inexpensive meals, transportation, and pocket wifi rental.
ACCOMMODATIONS
This depends on many factors like hotel preference and number of travel companions. We booked a room at a boutique hotel for about NTD 1,170 a night. Expect to pay much less if you're staying in a dorm room.
MEALS
Again, this is subjective, but based on our experience, I'd say around NTD 200-300 a day per person with drinks. This is at inexpensive restaurants like Gongzheng Baozi or Dongdamen Night Market stalls. Budget more if you plan on dining at fancier restaurants.
POCKET WIFI RENTAL
If you're sharing the cost with one other person, then you'll each be paying NTD 40 per day.
TRANSPORTATION
As described, Hualien City isn't that big so you can easily get around on foot. If you'd prefer to take a taxi, then the flag down rate is NTD 100 as described. If you'll be exploring Taroko Gorge by shuttle bus, then the cost of an all-day ticket is NTD 250.
TOTAL


This comes out to about NTD 1,075 a day per person (without taxi fare). This assumes you'll be exploring Taroko Gorge via the cheapest option which is by bus. If you plan on renting a car instead or going on any tours, then adjust your budget accordingly.
TRAVEL TIPS
1. Plan your Trip with Sygic Travel
I've been using this travel planning app for many years now. What it does is allow you to visualize points of interest on a map so you can create an efficient itinerary. You can lump attractions together so you don't waste too much time in transit. Check out my post on the Sygic Travel app for more information.
Sygic Travel is what I used to create the location map above. You can view it as a day-to-day itinerary as well. Follow this link to check out our 2-day Hualien itinerary on Sygic Travel. You can also download our entire 2-week Taiwan itinerary in editable Word format from our EAT-ineraries page.
2. Rent a Pocket Wifi Device
How are you going to post your Taroko Gorge #OOTD on social media without a wifi connection? Being able to connect to the internet is so important these days, especially when traveling. You'll need it to check email, convert currencies, and find the best baozi this side of Taipei.
You can get wifi access in Taiwan by renting a pocket wifi device or buying a sim card. We rented a pocket wifi device through KKday which you can pick up and drop off at many airports throughout the country.
3. Buy Your Train Tickets Early and Plan Well
If you intend to visit Taroko Gorge independently, then be sure to plan ahead. Don't just show up thinking you can figure it all out there. Taroko National Park is massive so you don't want to waste valuable time figuring out which spots to visit and how to go from one place to the next. Consult the Taroko National Park website and map out your itinerary before your trip.
As previously described, we arrived in Hualien by train from Kaohsiung. If you'll be arriving by train as well, then be sure to purchase your tickets early. You can purchase them as early as two weeks in advance from the TRA website. We traveled almost exclusively by train throughout Taiwan and I bought all our tickets two weeks early. I suggest you do the same.
4. Store Your Luggage with lalalocker
If you're staying at a homestay, then you may need a place to store your luggage if you arrive in Hualien early. Thankfully, there's lalalocker. They can help you find places to temporarily store your luggage in many cities throughout Taiwan, including Hualien.
5. Stay the Night at Taroko Gorge
After our trip to Hualien, I realized that one day at Taroko Gorge isn't enough. It'll give you a taste of the park but it'll leave you wanting more. Taroko National Park is huge with a lot to see and do so it's best explored on your own. For an immersive experience, I suggest renting a car and staying the night at a hotel or campsite within Taroko Gorge. Renting a car is more expensive than taking the bus but it'll give you the most freedom to explore the park at your own pace. Split between enough people, it may be worth it. Check out my post on Taroko National Park for more information.
6. Get Permission to Fly Your Drone
Taroko Gorge is a great place to fly a drone. If you're planning on bringing your drone with you, then be advised that the fying of drones in Taroko National Park is allowed only if you have a permit. I applied for one before our trip and I was issued a PDF permit within seven days. You can apply via THIS LINK. It's in Chinese but you can use Google translate to convert it to your native language. Fines for illegally flying drones in Taiwan can be hefty so I wouldn't do it without getting permission first.
As perfect a place as Taroko Gorge is for aerial photography, be careful when you fly a drone here. I don't know if it happens all the time but aside from Qingshui Cliff, the GPS signal on my Mavic Pro was weak. It went into Atti Mode a few times near trees, sending my stomach into my throat every time.
7. Check for Discount Passes
I buy discount passes from many tour providers but for Taiwan, KKday is the best. They're a Taiwanese e-commerce travel platform so in my opinion, there's no better website to purchase Taiwan deals from than KKday.
If you're looking for deals on tours, shows, transfers, pocket wifi rental, etc, then you may want to search through KKday's website for a list of Hualien attractions. You'll often find interesting activities that you may not think of yourself, so it's definitely worth a look.
8. Get Travel Insurance
Whether or not to get travel insurance is something you need to deliberate before every trip. Personally, we only get it if we plan on doing physical activities. We did a lot of that in Taiwan so we bought insurance policies for this trip. But if all you'll be doing is just eating and shopping in Taipei for a few days, then you may not really need it.
We buy insurance from World Nomads or SafetyWing. They're both leading travel medical insurance providers used by many long-term travelers. Check out my article on why we buy travel insurance for more information and a description of the two. You can follow the links to get a free quote from World Nomads or SafetyWing.
9. Bring the Right Power Adapter
Taiwan has Type A and Type B electrical outlets so be sure to bring the right power adapters for your devices. Electrical voltage is 110V and the standard frequency is 60Hz.
VISA INFORMATION (for Filipinos)
Philippine passport holders can travel to Taiwan visa-free for stays of up to fourteen (14) days provided they meet the requirements. This visa-free program is valid till 31 July 2020. Check out my post on Taiwan's visa-free program for more information.
Have fun!
I'm definitely not an expert on Hualien but I do hope that you find this post useful. I'm only sharing some of the things I learned from our trip. If you have any questions or suggestions, then please feel free to let us know in the comment section below. You're welcome to join our Facebook Travel Group as well.
Thanks for stopping by and have an awesome time exploring Taroko National Park!
Disclosure
We're a KKday affiliate and they gave us vouchers to the Taroko Gorge Day Tour, River Shrimping Tour, and Pocket wifi rental in exchange for an honest account of the experience. Everything else like airfare and accommodations was at our own expense. As always, all words and opinions expressed in this post are mine and mine alone.
This article contains affiliate links. What that means is we'll earn a small commission if you make a booking at no extra cost to you. We only recommend products and services that we use ourselves and firmly believe in. We really appreciate your support as this helps us make more of these free travel guides. Thank you!