When I was working on our Taiwan itinerary and divvying up days between cities, I wasn't sure whether to allocate one night or two to Kaohsiung in southern Taiwan. It's one of Taiwan's biggest cities but compared to Taipei or Taichung, it didn't have as many attractions that resonated with us. It seemed plausible to see its highlights in just one full day but in the end, we decided to stay two nights.
We spent our first day visiting popular attractions like the Dragon and Tiger Pagodas, Pier-2 Art Center, and Ruifeng Night Market. On our second, we rented bikes and spent the whole day riding around Cijin Island.
The day that almost didn't happen turned out to be my favorite in our two weeks in Taiwan. Here's why.
VISIT CIJIN ISLAND QUICK LINKS
To help you plan your trip to Cijin Island and Kaohsiung, we've compiled links to recommended hotels, tours, and other services here.
HOTELS
Top-rated hotels in Xinxing District, one of the best areas to stay for first-time visitors to Kaohsiung.
TOURS
OTHER SERVICES
KAOHSIUNG TRAVEL GUIDE
If you're visiting Kaohsiung for the first time, then be sure to check out our detailed Kaohsiung travel guide. It'll tell you everything you need to know – like where to stay, which attractions to visit, what to eat, etc. – to help you plan your trip.
Save This on Pinterest!
No time to read this article on Cijin Island in Kaohsiung? Click on the save button and pin it for later!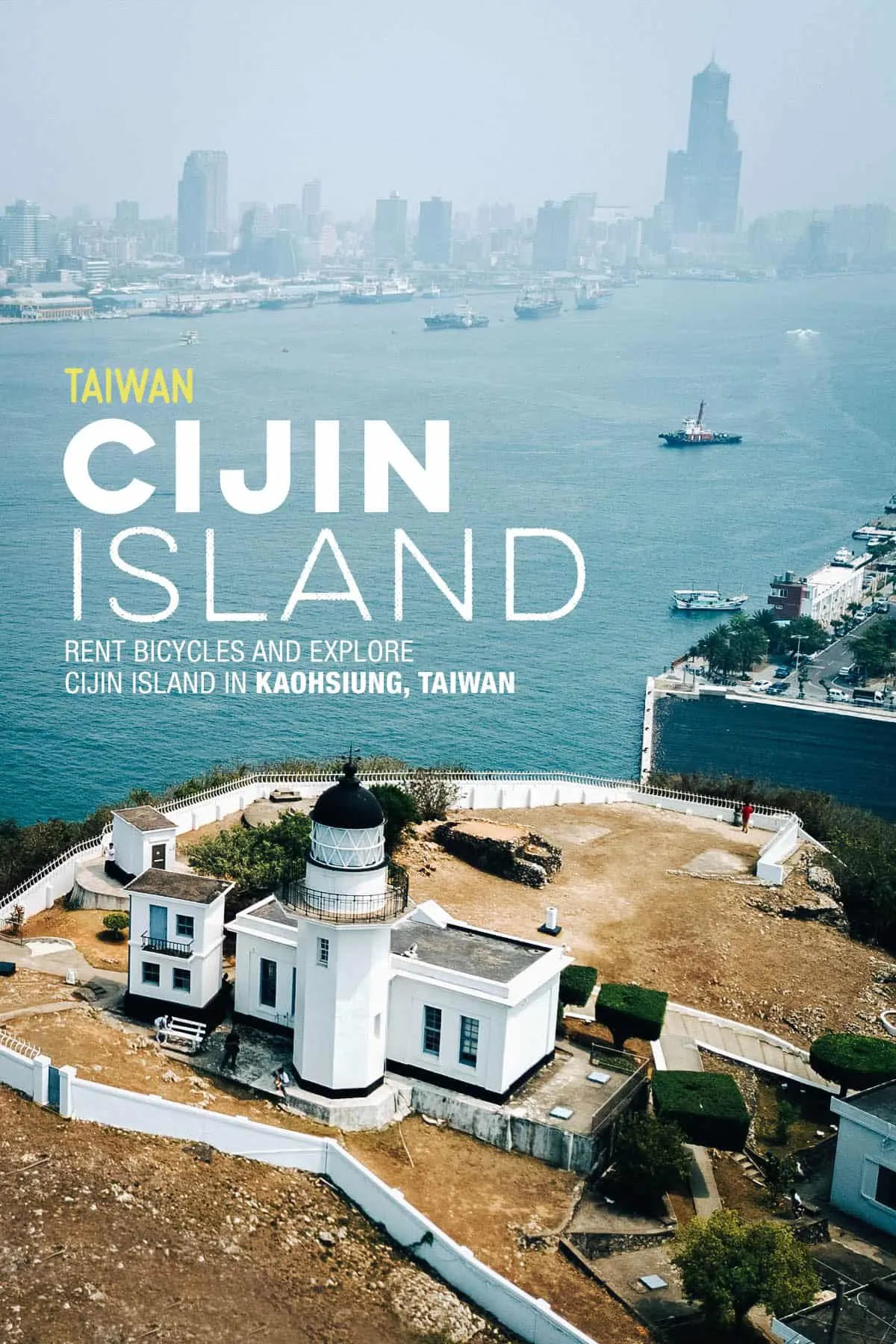 What is Cijin (Qijin) Island?
Cijin or Qijin Island is a small and narrow island about 10-15 minutes away by ferry from Kaohsiung harbor. It's a popular day trip destination known for its long stretch of black sand beach, its historical and religious structures, and some of the best seafood in Kaohsiung City.
How to Get to Cijin Island
To explore Cijin Island, you'll need to take the Kaohsiung MRT to Sizihwan Station. From there, it's about a 5-10 minute walk to the Gushan ferry pier station where you can take a quick ferry to Cijin Island. A ferry ticket will cost you NTD 25 each way. You can pay for this using an EasyCard if you have one.
Many people who visit Cijin Island do so on bikes or electric scooters. There are many bike rental shops on Cijin Island but you can rent them from the mainland and ride them onto the ferry, which is what we did. There were a few rental shops across the street from Sizihwan Station so we rented ours from there.
We originally wanted to get electric scooters but they cost a lot more than bikes do. Bikes go for NTD 100 for the whole day while electric scooters will run you something like NTD 100 per hour. The difference was significant so we rented bikes instead.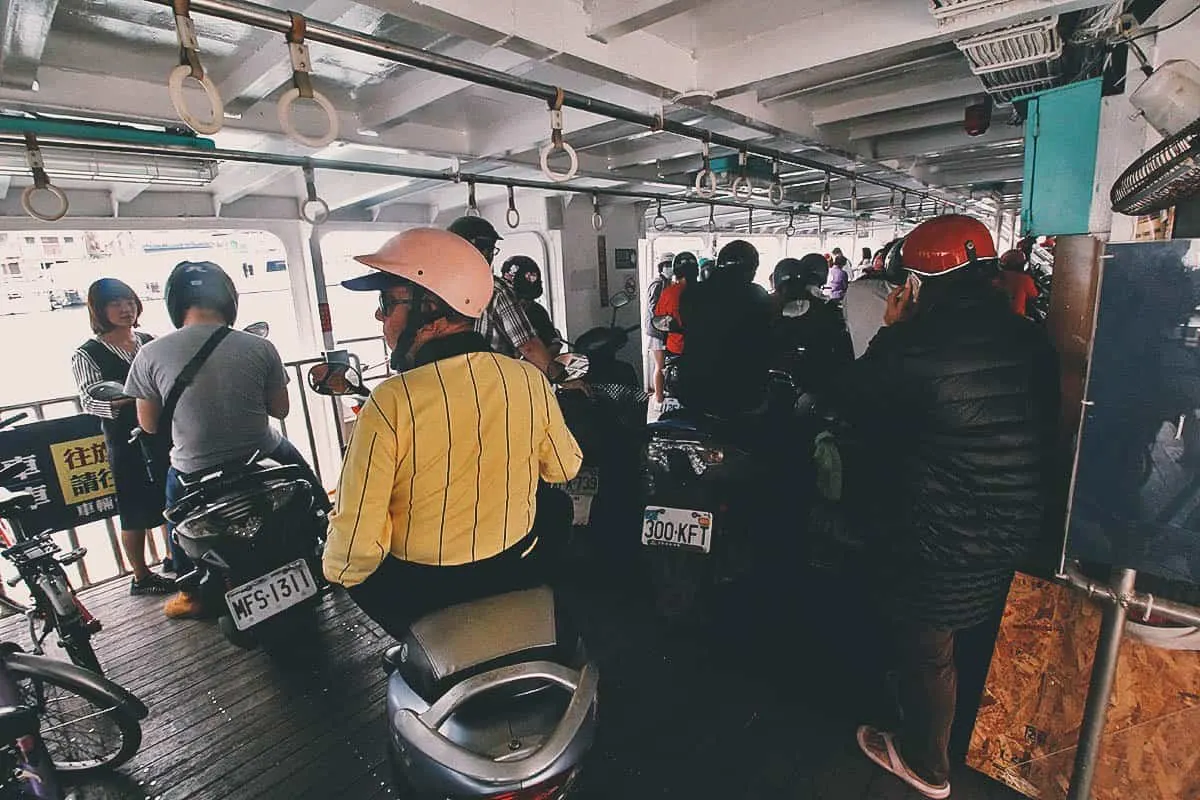 Here's Ren on the ferry ride to Cijin Island. If you plan on exploring Cijin Island by bike, then you may want to rent one from the mainland. The reason for this is that there are two separate lines to board the ferry – one for pedestrians and another for bicycle/motorcycle riders.
On both trips, the line for the latter was significantly shorter. It doesn't cost a lot more either, just NTD 35 for cyclists and NTD 50 for motorcyclists. Aside from not having to wait as long, getting on and off the ferry on our bikes made us feel like true locals too.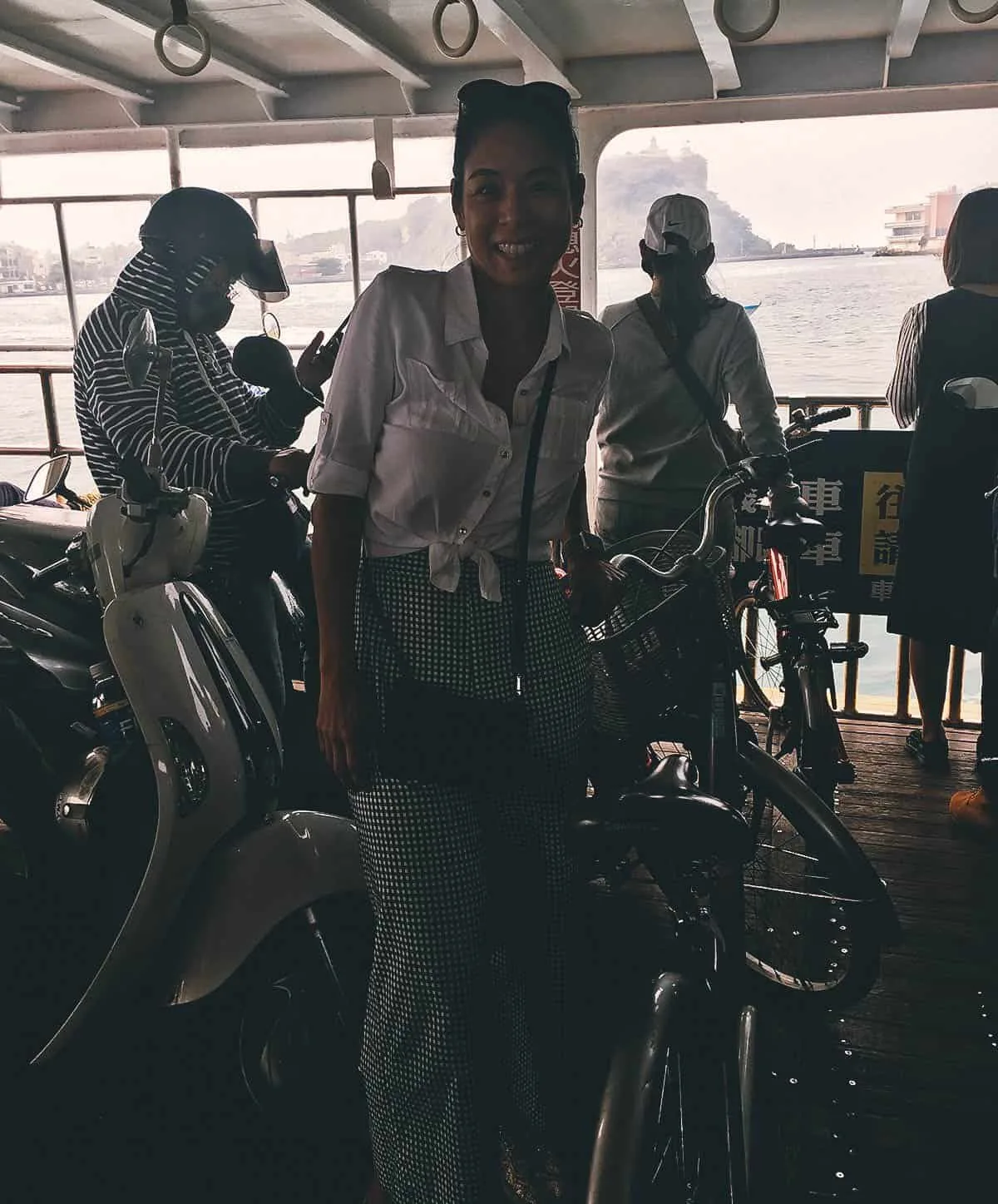 Cijin Island Attractions
There are a few notable attractions you can visit on Cijin Island, though it isn't really a destination that calls for vigorous exploration. It's a laid back island that invites you to ride around aimlessly on bicycles, take off your shoes and walk along the beach, or just sit at a bar drinking beers and enjoying the vibe.
This is a big reason why I enjoyed it so much. It was a nice change of pace from the frenzy of trying to document as much content as possible for this blog. Here, I could just sit back and relax, like I was really on vacation.
Chi Jin Mazu (Cihou Tianhou) Temple
Chi Jin Mazu or Tianhou Temple is one of Cijin Island's foremost attractions. Opened in 1673, it's Kaohsiung's very first temple dedicated to Mazu, the Chinese goddess of the sea.
It's said that Cijin Tianhou Temple was built to house a Mazu idol brought by Fujianese fishermen who were the first settlers on the island.
They drifted to the island from mainland China during a storm and fell in love with its beauty, eventually returning with settlers and building a bamboo and thatch structure that served as the first version of this temple. The town, over time, grew from here.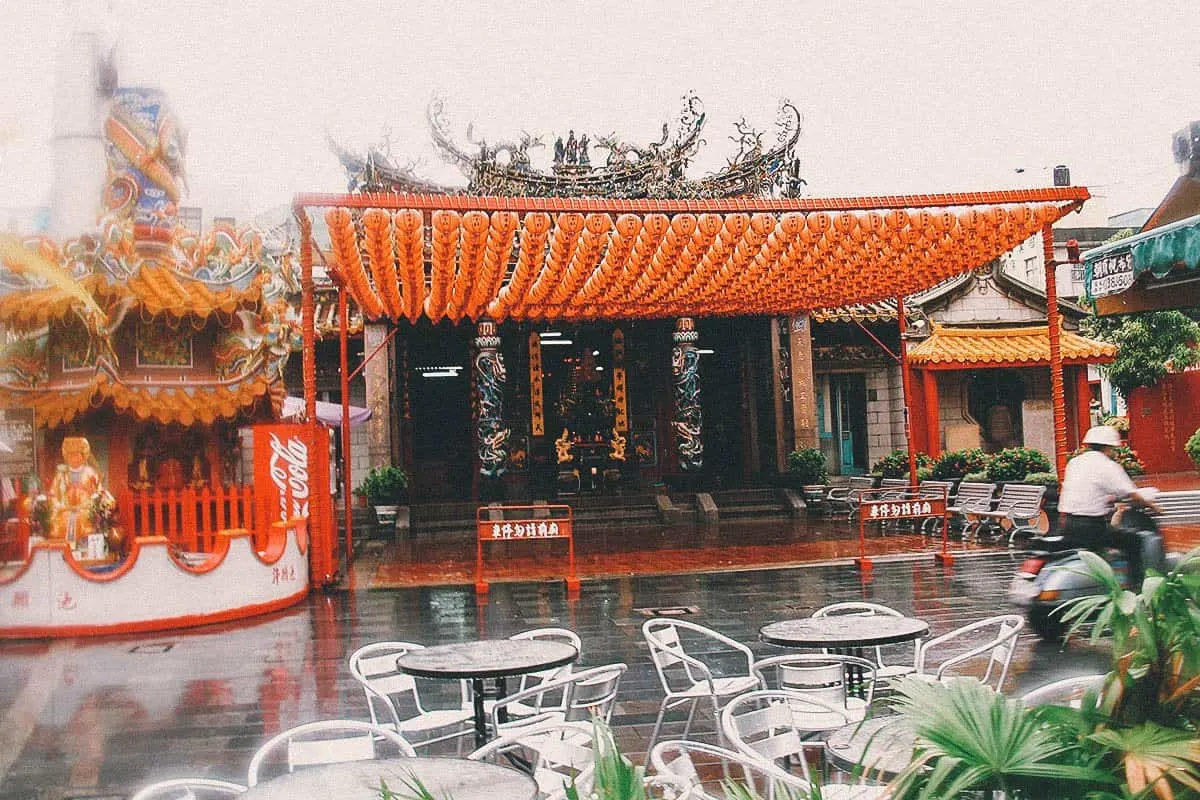 "Tianhou Temple" by dmcdevit, used under CC BY-SA 2.0 / Processed in Photoshop and Lightroom
Cihou Lighthouse
This was the first stop we made on Cijin Island. It's located on top of a hill giving you spectacular views of the harbor. I took the picture at the top of this post from this lighthouse using my drone, footage from which I'll post in a video I'll be creating soon.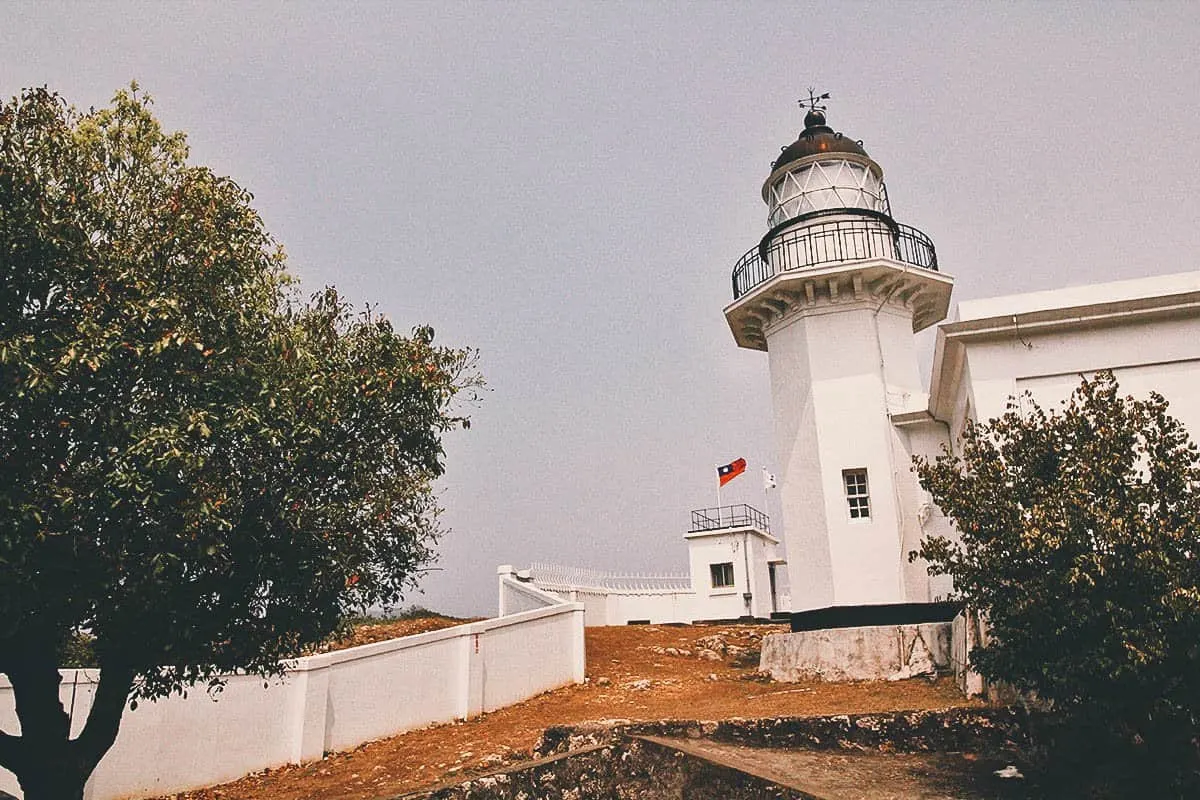 Cihou Fort
We didn't go to Cihou Fort but it's only about a 5-minute walk from Cihou Lighthouse. It was constructed in 1876 and turned into a Municipal Historic Site in 1995. Like the lighthouse, it sits atop a hill and offers great views of the ocean and island.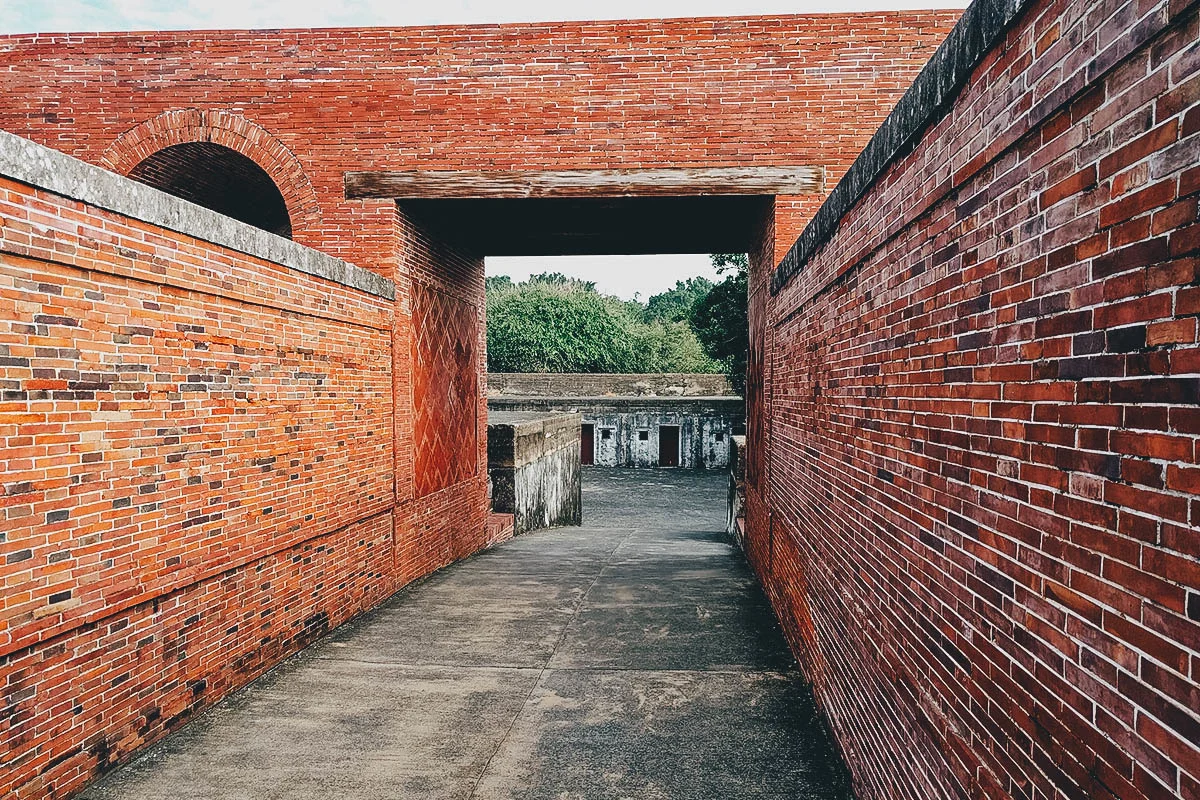 "Cihou Fort" by x768, used under CC BY-SA 2.0 / Processed in Photoshop and Lightroom
Black Sand Beach
We parked our bikes and took a stroll along black sand Cijin Beach. Cijin Beach isn't the prettiest but it's long and wide and it gave me plenty of opportunities to fly my drone. There are designated swimming areas here as well, not to mention a few bars and restaurants overlooking the beach.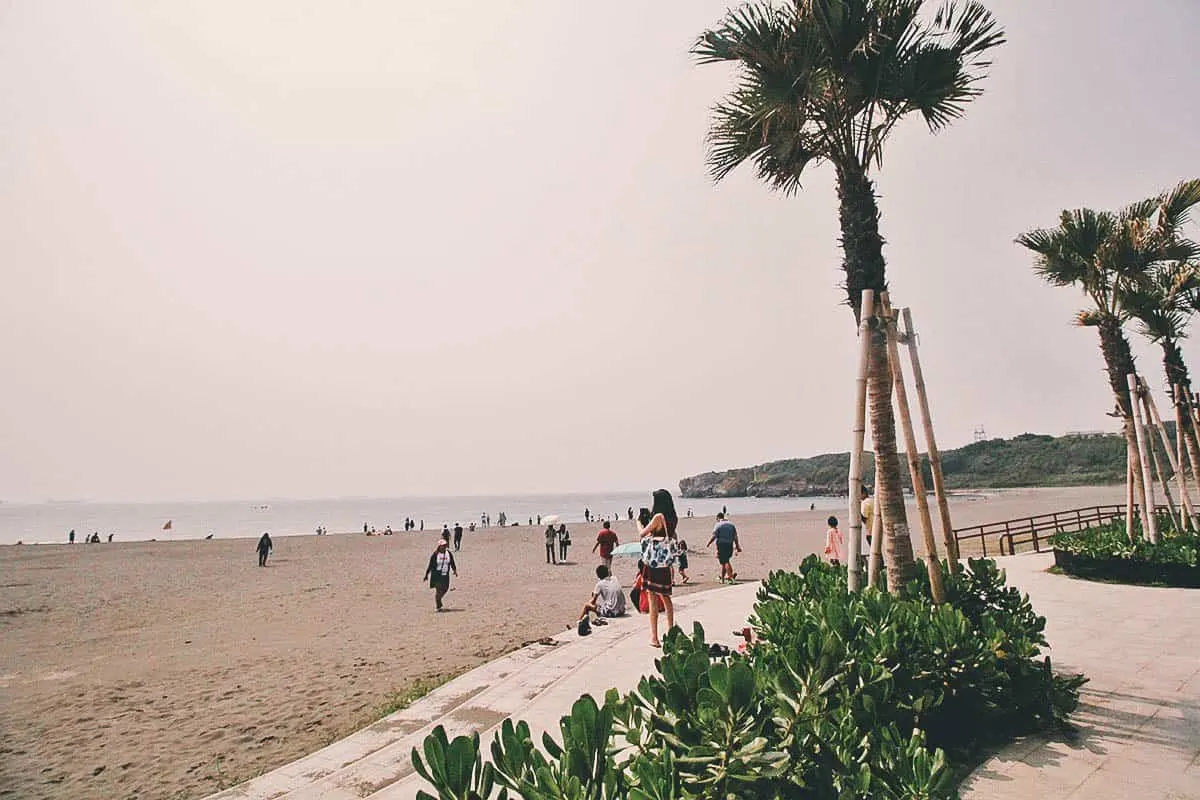 Here I am having fun with my Mavic Pro. You're allowed to fly your drone in the northern half of the island as long as you observe height restrictions and stay away from people. You can refer to this helpful map for no fly zones in Taiwan, including Cijin Island.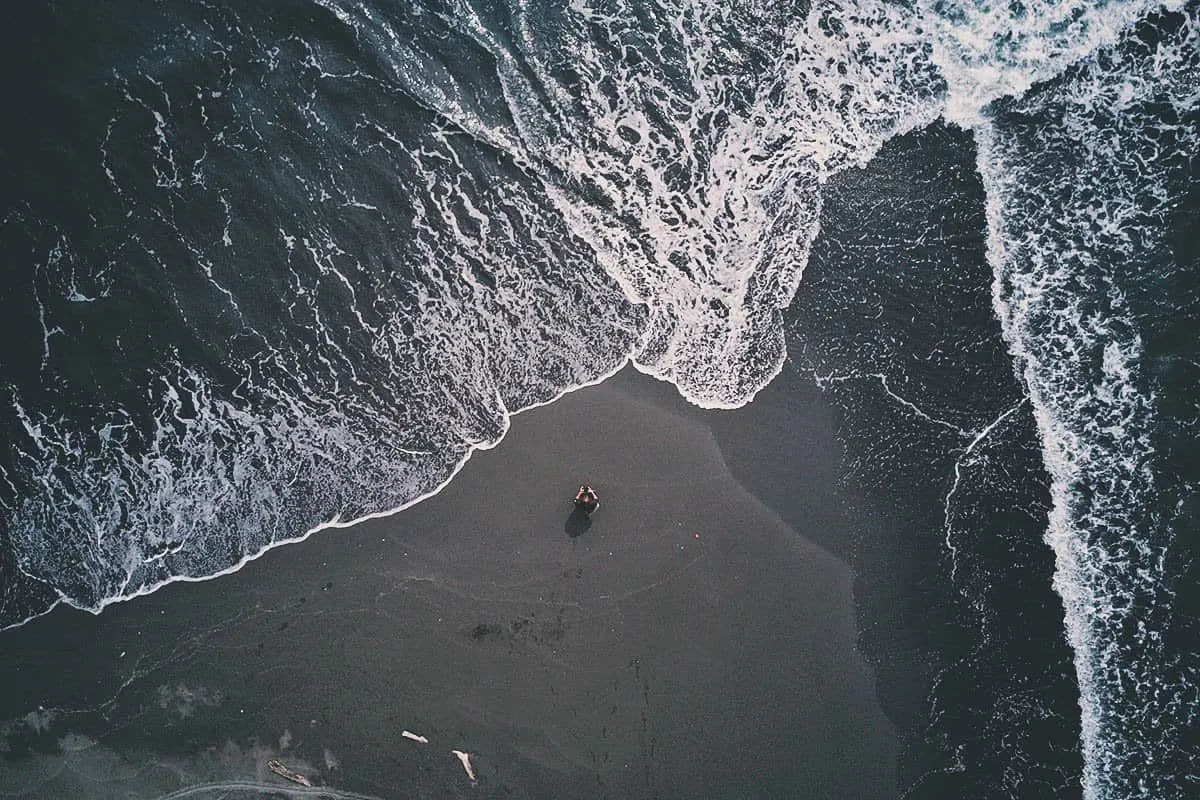 Rainbow Church
Instagrammers will love these next few attractions. Rainbow Church isn't actually a place of worship but a colorful architectural feature located at Cijin Seaside Park. It consists of two structures standing next to each other where people can pose for photos with the ocean in the background. It's popular so be prepared to wait your turn.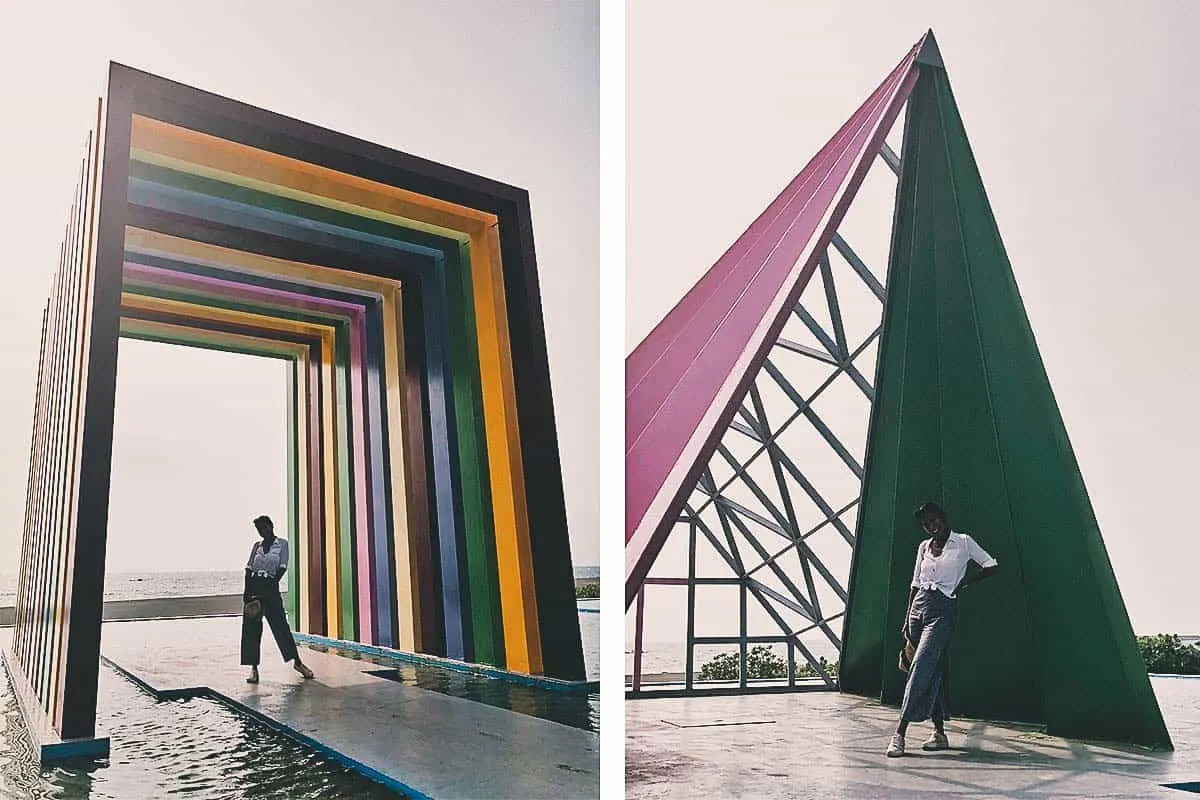 Sea Pearl
Further down the bike path is this giant tunnel-like clamshell known as the Cijin Sea Pearl. Like Rainbow Church, I don't think it serves any other purpose than be an interesting backdrop for Instagram photos. Pose away.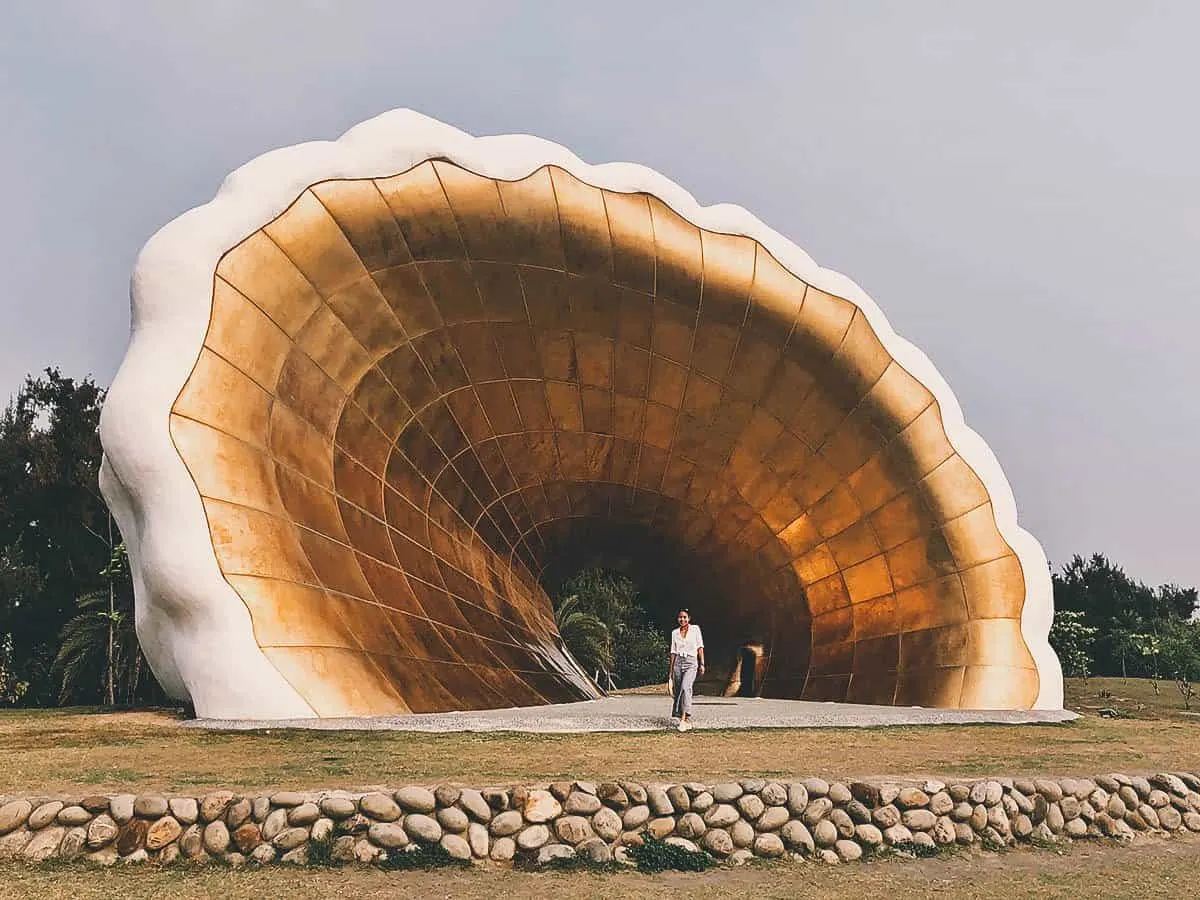 Seafood Street / Street Food
Near Cijin Ferry Terminal is an area with many seafood restaurants. I read that the seafood here is the best in Kaohsiung, though some people say its quite expensive. We had plans of eating at Liouhe Tourist Night Market that night so we didn't bother checking any of these restaurants out. But if you like seafood and want to indulge in a feast while you're here, then this is the place to do it.
If you want to save money, then there are plenty of Taiwanese street food vendors around the Cijin Terminal area as well. We had this delicious sheng jian bao which is a type of Shanghainese baozi.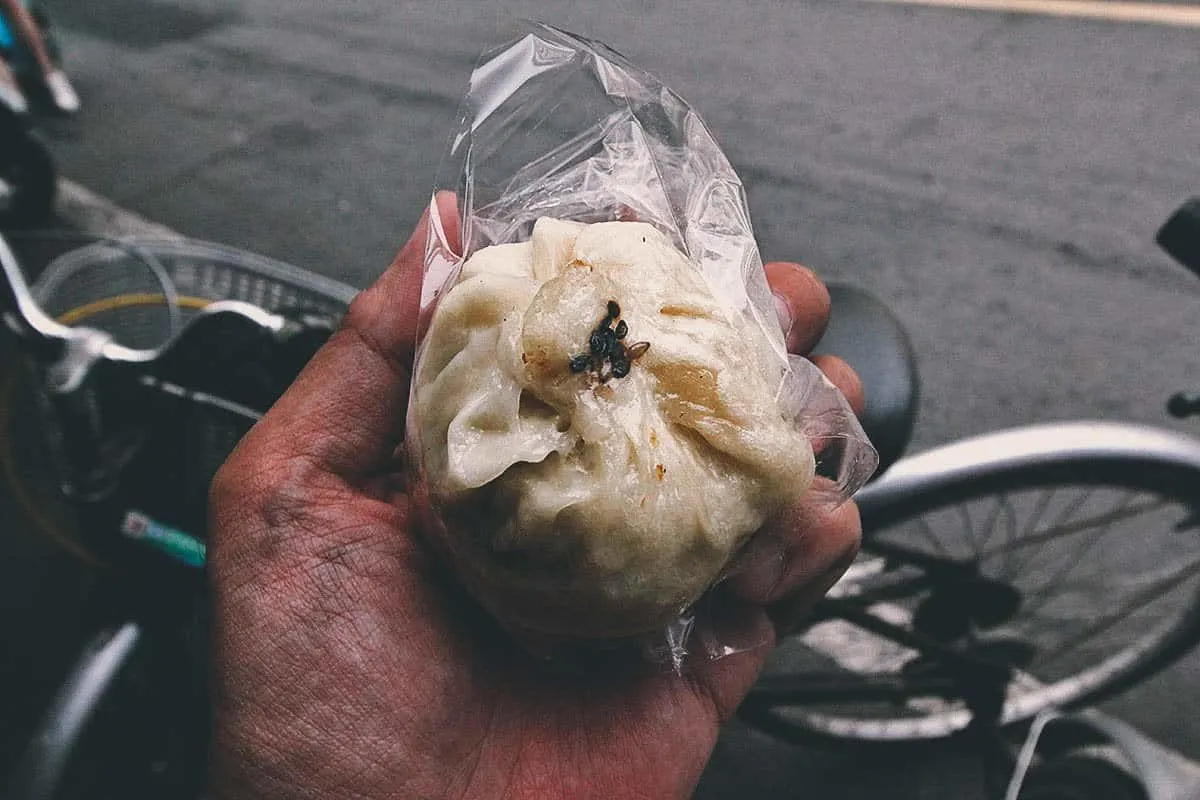 Sheng jian bao is a pork-filled bun that's fried in a shallow pan until the bottom turns brown and crunchy. Yum!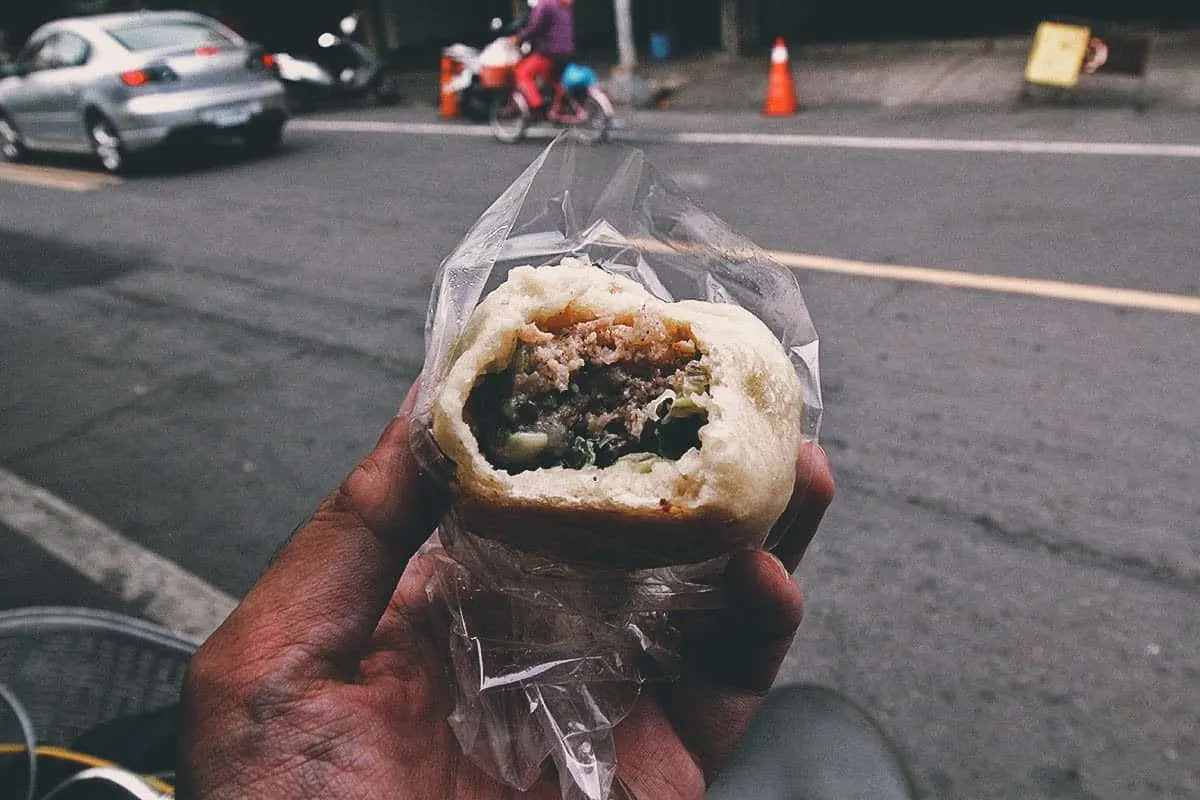 We had these tasty scallion pancakes as well while waiting to take the ferry back to Gushan Terminal.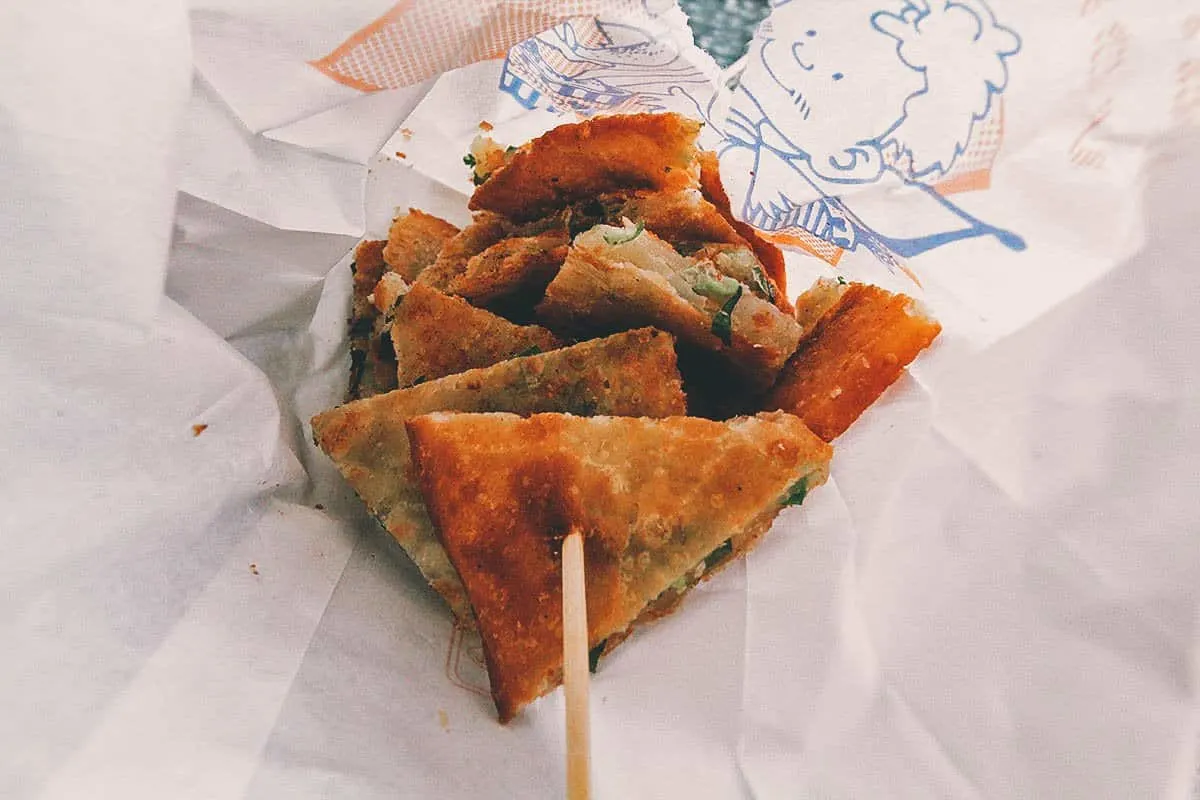 Final Thoughts on Cijin Island
Unlike most days on our itinerary, we visited Cijin Island with no set agenda. We didn't have anything planned other than to make a left after disembarking from the ferry and riding our bikes around the perimeter of the island. That's how we found all of the places mentioned here. We didn't plan on visiting them. They just happened.
As described, nearly every minute of our trips is planned ahead of time so I can document as much content as possible for this blog. I rarely do anything spontaneous when we travel which is why I enjoyed Cijin Island so much. It was fun to just ride around and enjoy the island without having any kind of agenda. It's the kind of place that invites spontaneity.
There are more attractions you can visit on the island like the Shell Museum and Cijin Tunnel (Starlight Tunnel). But like the other places mentioned in this post, I don't think any of them are major "must-see" attractions. You won't miss much if you skip them because Cijin Island itself is the main draw.
After flying my drone on the beach, I joined Ren at one of the bars overlooking the ocean. We sat there for over an hour sipping our beers and enjoying the view. That for me, is one of the best things you can do here.
Disclosure
Some of the links in this article on Cijin Island are affiliate links, meaning we'll earn a small commission if you make a booking at no added expense to you. We only recommend products and services that we use ourselves and firmly believe in. We really appreciate your support as this helps us make more of these free travel guides. Thank you!