Before my first visit to Hiroshima, I associated the city with three things – the Peace Memorial Museum, okonomiyaki, and oysters. Japanese cuisine is my favorite so it isn't surprising that two of those three things had to do with food.
As expected, okonomiyaki and oysters were two of my favorite attractions in Hiroshima while the Peace Memorial Museum was the most impactful. Outside of these three experiences, I wasn't excited about anything else, but I should have been.
The day I went hiking on Miyajima Island was one of my best days in Japan. Hiroshima Castle turned out to be one of my favorite castles while Shukkei-en was one of my favorite Japanese gardens. Many travelers know about Nagoya's Toyota Museum but not as many have heard about Hiroshima's excellent Mazda Museum.
Whether you're into food, history, nature, hiking, or cars, Hiroshima has something for you. If it's your first time visiting the city, then listed below are ten of the most popular things to do in Hiroshima.
HIROSHIMA ATTRACTIONS QUICK LINKS
To help you make the most of your time in Hiroshima, we've compiled links to recommended hotels, tours, and other travel-related services here.
HOTELS
Top-rated hotels in downtown Hiroshima, the most convenient area to stay for first-time visitors to the city.
TOURS
OTHER SERVICES
HIROSHIMA TRAVEL GUIDE
If you're planning on visiting Hiroshima, then be sure to check out our detailed Hiroshima travel guide. It'll have all the information you need – like when to go, which attractions to visit, where to eat, etc. – to help you plan your trip.
Save This on Pinterest!
No time to read this guide on the best things to do in Hiroshima? Click on the save button and pin it for later!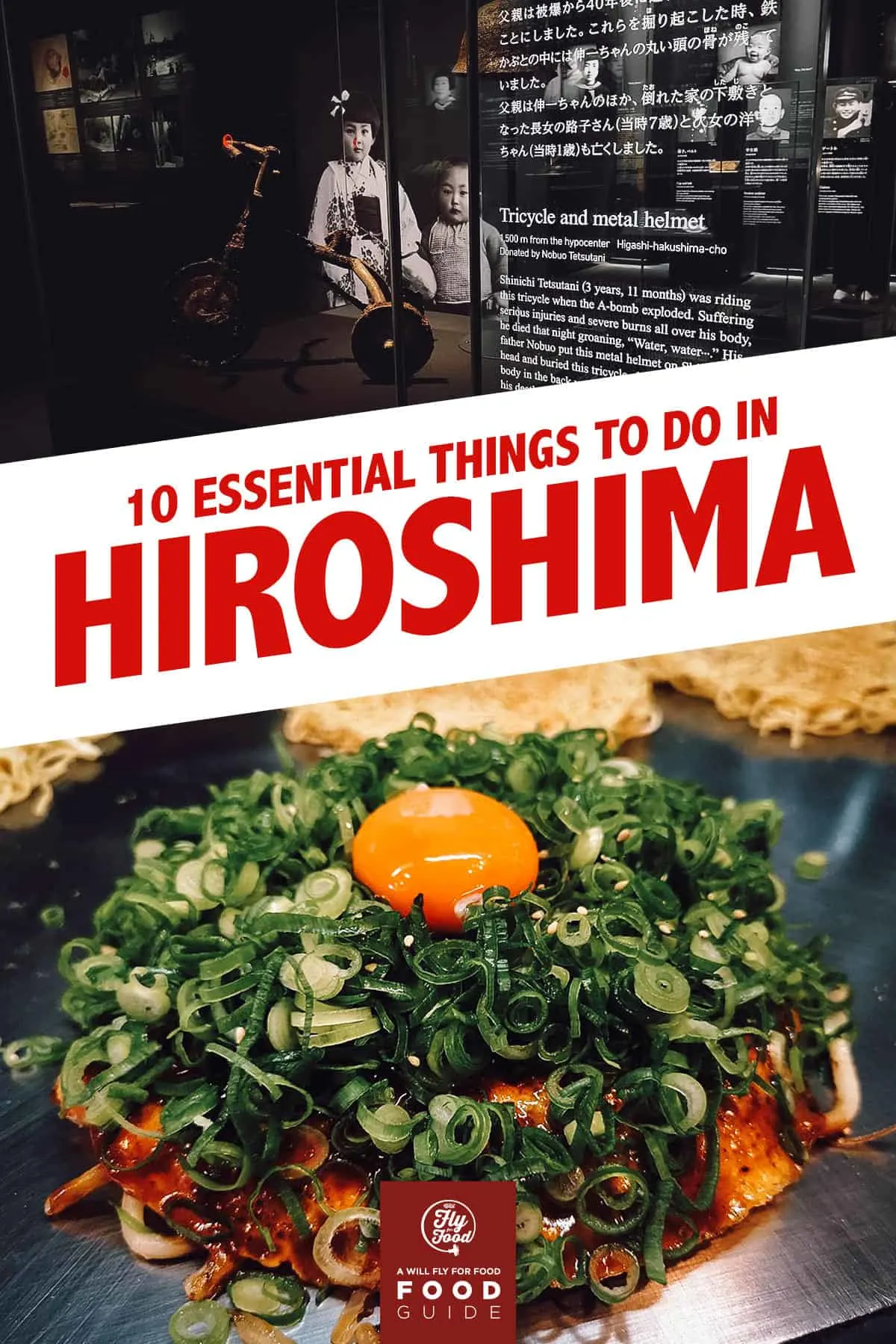 THINGS TO DO IN HIROSHIMA
1. Visit Peace Memorial Park & Museum
Hiroshima Peace Memorial Park is the most well-known tourist attraction in Hiroshima. It's a memorial park with monuments and a museum dedicated to the victims of the nuclear attack of World War II.
Occupying an open space of over 120,000 square meters, the park is located in an area that was once a prominent commercial and residential district in Hiroshima.
Given the codename "Little Boy", the US Army's uranium bomb was detonated about 580 meters (1,903 ft) above this area. It released an equivalent of 16 kilotons of energy and destroyed everything within a 1.6 km (1 mile) radius.
The A-Bomb Dome (pictured below) or Hiroshima Peace Memorial is the most prominent memorial at the park. It was the building closest to the hypocenter and represents the skeletal ruins of the former Hiroshima Prefectural Industrial Promotion Hall.
In spite of being so close to the hypocenter, it was one of the few buildings left standing after the attack. It was inscribed as a UNESCO Word Heritage Site in 1996 and stands as a reminder of Hiroshima's unique though tragic past.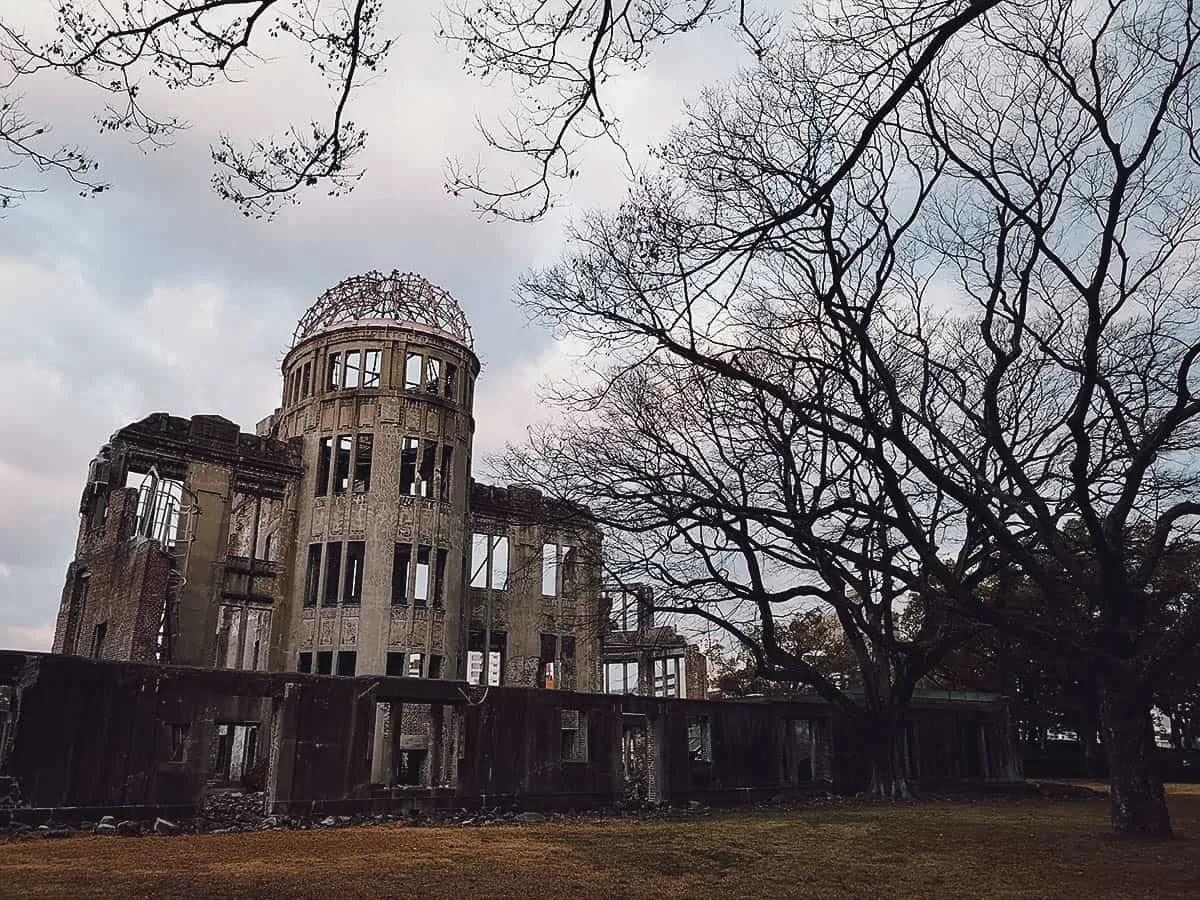 You'll find multiple monuments at the park, some of the most prominent being the Cenotaph for the Atomic Bomb Victims and the Children's Peace Monument (pictured below). The Children's Peace Monument is dedicated to the memory of children who died as a result of the bombing.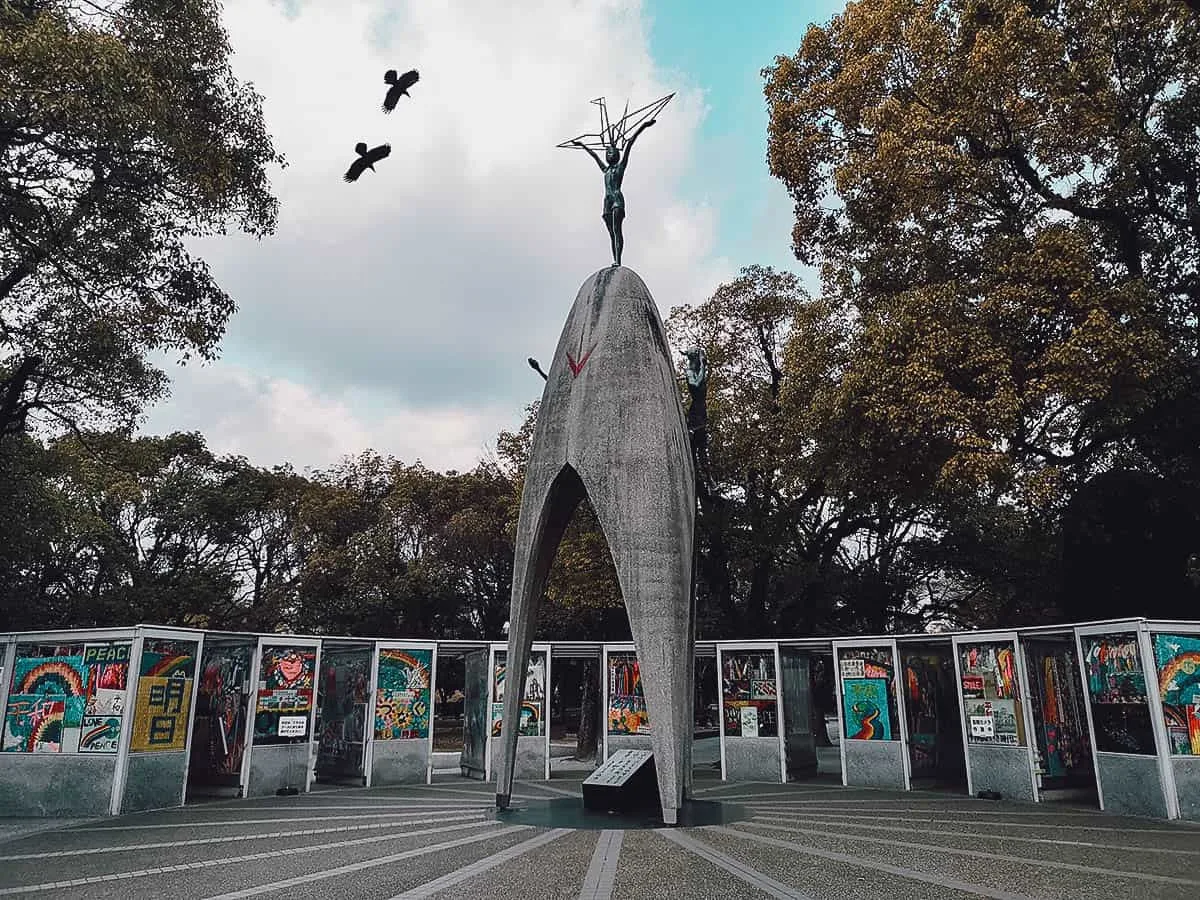 The Hiroshima Peace Memorial Museum is the main facility at the park. Opened in 1955, it consists of two buildings with exhibits recounting the events of the atomic bombing.
Can you read the exhibit text below? It says "Hot, I'm hot!" and features a pair of children's underpants along with a picture of the 2-year old boy who owned them.
When the nuclear bomb detonated, the boy was badly burned which caused him to scream out in pain and beg his mother for water. These were the underpants he was wearing on August 6, the day of the bombing.
Many of the museum's exhibits are first-hand accounts like this one and can be quite upsetting to read. I visited the Atomic Bomb Museum in Nagasaki a few years ago and found the exhibits at this museum to be more powerful and gut-wrenching. The Nagasaki museum focuses more on the nuclear weapons while this one personalizes the tragedy and brings you closer to the victims.
I visited the Hiroshima Peace Memorial Park and Museum on my own but if you'd like to go with a guide, then you may be interested in this Hiroshima and Miyajima guided tour. As powerful as the experience was, it would have been even more impactful with a guide putting everything in context.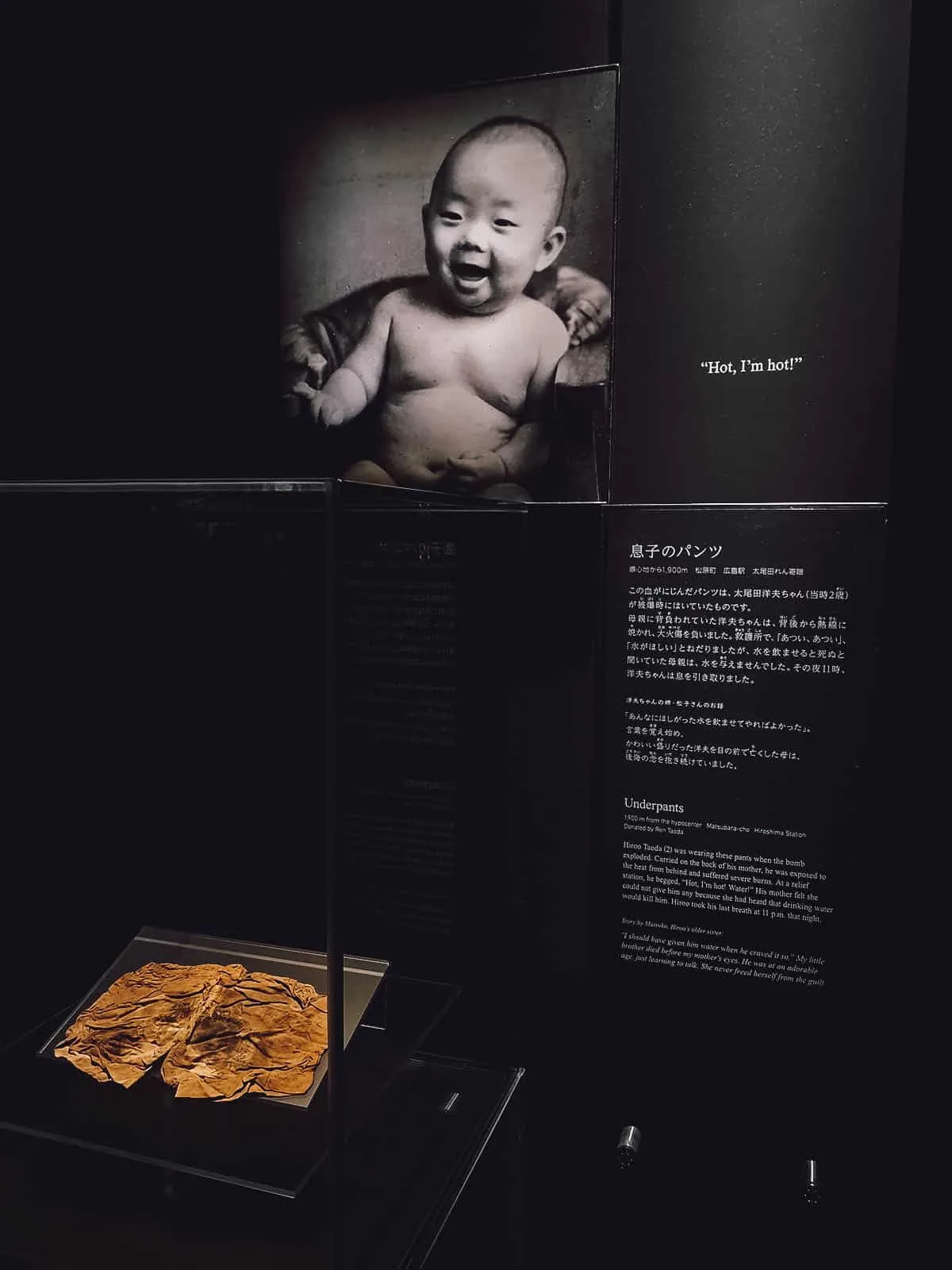 Operating Hours: 8:30AM-6PM, daily
Admission: JPY 200
2. Try Okonomiyaki
If you like the okonomiyaki in Osaka, then this should be at the top of your list of things to do in Hiroshima. Like Osaka, it's a core Hiroshima dish and one of the best things you can eat in this city.
Okonomiyaki refers to a Japanese pancake-like dish made with wheat flour batter mixed with eggs, grated yam, shredded cabbage, and any number of optional ingredients. It's cooked on a teppanyaki grill and drizzled with Japanese mayonnaise and okonomi sauce, which is a dark sweet and savory sauce.
You can have okonomiyaki everywhere in Hiroshima but one of the best restaurants to try it is Nagata-ya. It's a popular okonomiyaki restaurant located near Hiroshima Peace Memorial Park. You can read more about Nagata-ya and other great Hiroshima restaurants in our food guide.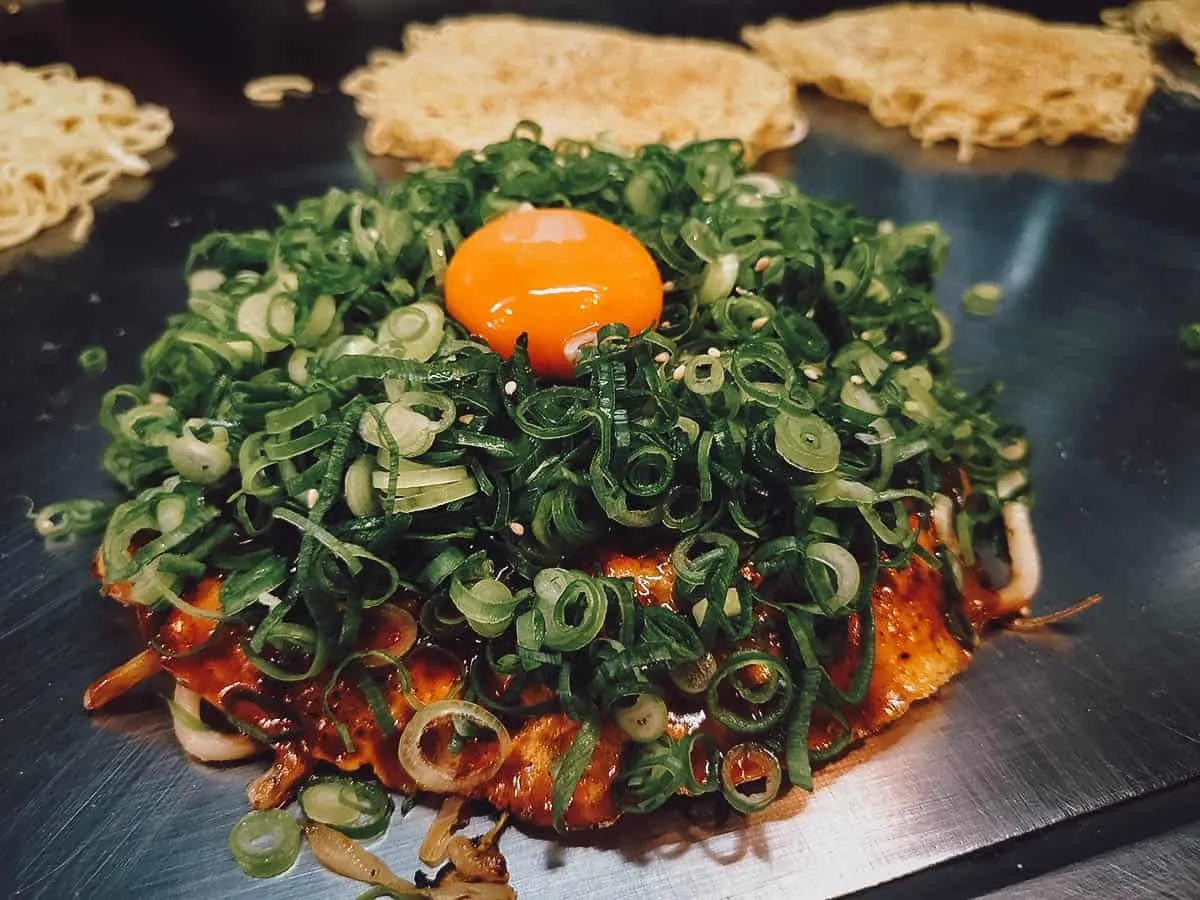 Okonomiyaki is associated with both Osaka and Hiroshima but there are differences between the two. Can you tell what they are from looking at the picture below?
In Osaka, the fillings are pre-mixed into the batter before being cooked on the grill, but in Hiroshima, they're layered one at a time.
Hiroshima okonomiyakis area also made with about three to four times as much cabbage as Osaka okonomiyakis. They're piled high at first before being flattened with a spatula.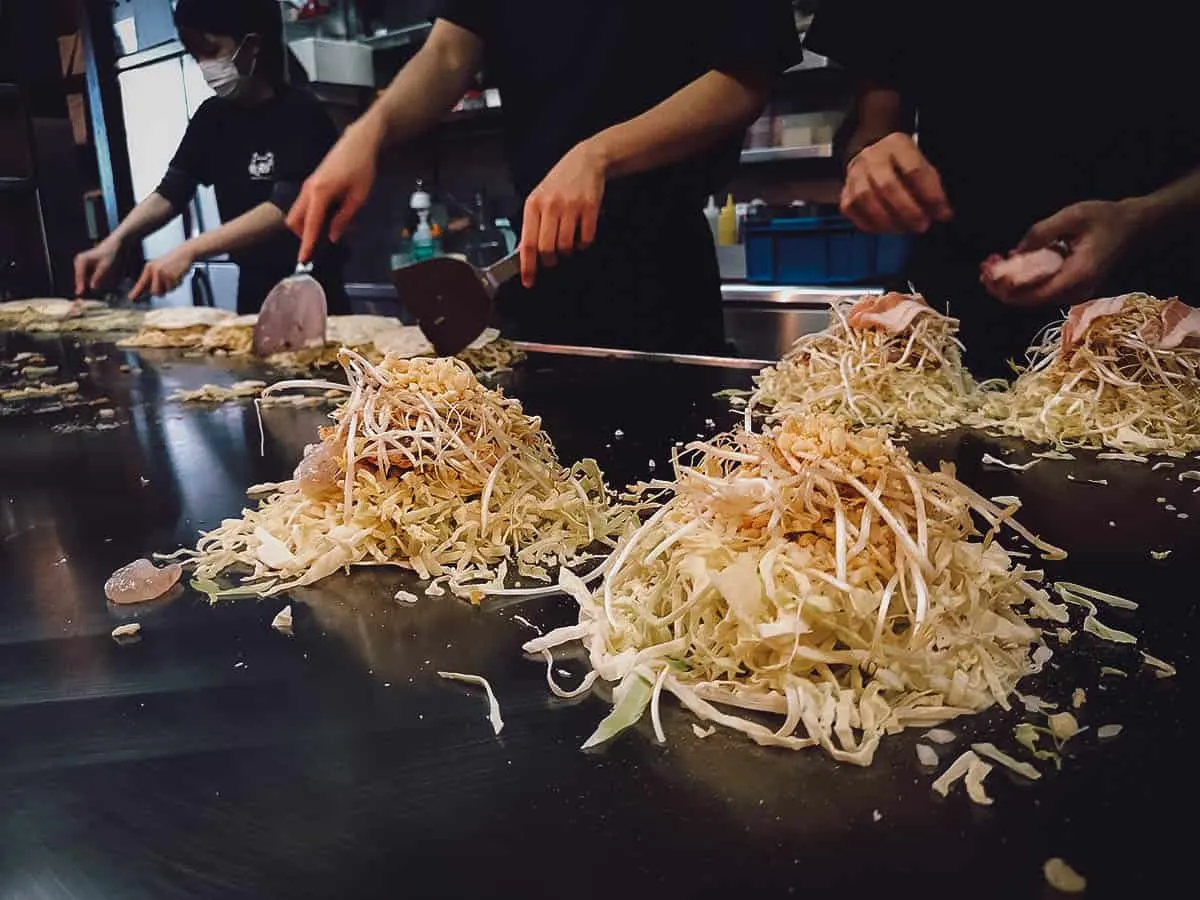 Address: Japan, 〒730-0051 Hiroshima, Naka Ward, Otemachi, 1 Chome−7−19 重石ビル 1F
Operating Hours: 11AM-8:30PM, daily
Expect to Spend: About JPY 1,200 per okonomiyaki
3. Eat Oysters
If you like seafood, then eating oysters is one of the most enjoyable things to do in Hiroshima. Like okonomiyaki, they're a popular delicacy in Hiroshima. They've been cultivated in Hiroshima Bay for nearly 500 years with the region accounting for more than two-thirds of oyster production in Japan.
Unlike in other parts of the world where oysters are served mostly raw, oysters are more commonly eaten cooked in Japan. They're typically grilled, deep-fried, smoked, steamed, or pan-fried.
I'm no sure if you can tell from the picture below but Hiroshima's oysters are larger than average. They're about the size of a baby's balled fist. They're at their most plump in January and February when the water of Hiroshima Bay is at its coldest.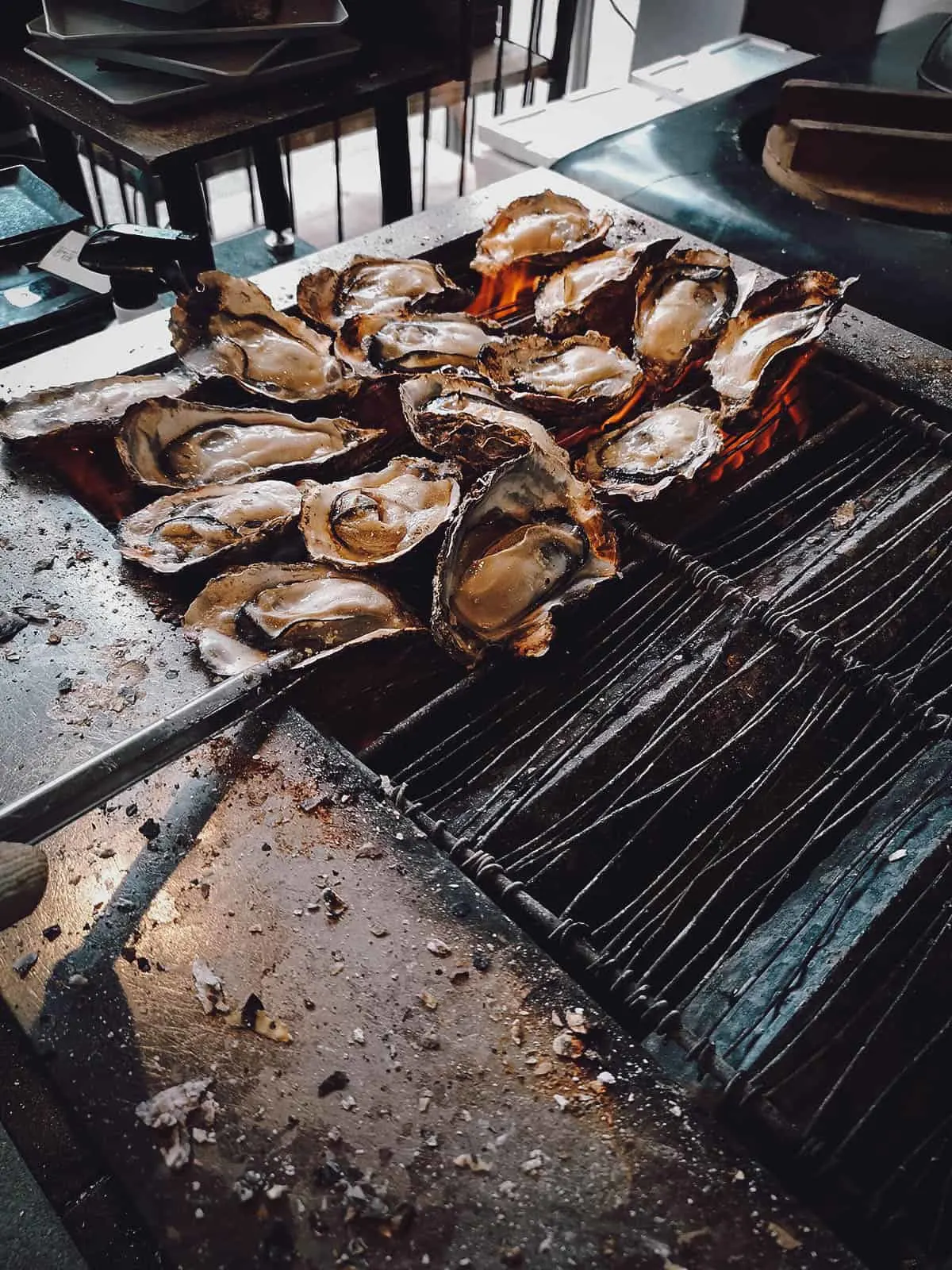 Miyajima Island is said to be home to some of the biggest and freshest oysters in Hiroshima. Pictured below was the oyster set I had at Kakiya in Miyajima.
It had grilled oysters, deep-fried breaded oysters (kaki fry), smoked oysters, oyster miso soup, pickled oysters, and kaki meshi.
Kaki meshi is a dish made with oysters cooked in soy sauce and topped over rice steamed in oyster broth. This was absolutely delicious and one of the best meals I've had in Japan.
I didn't try it but you can combine Hiroshima's two most popular dishes into one meal – oyster okonomiyaki. Some restaurants like Nagata-ya serve okonomiyakis made with four big fat juicy oysters.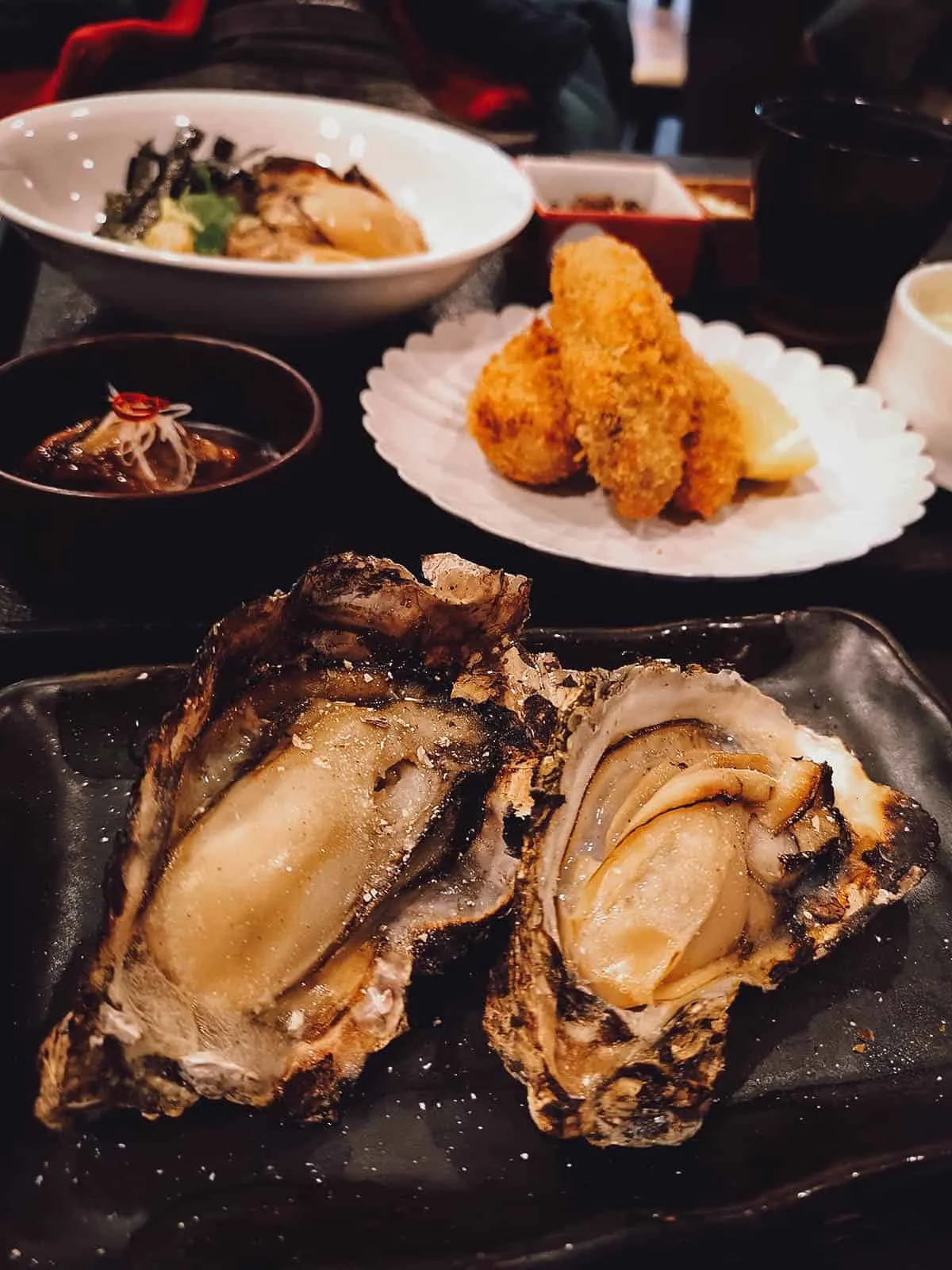 Address: 539 Miyajimacho, Hatsukaichi, Hiroshima 739-0588, Japan
Operating Hours: 10AM-6PM, daily
Expect to Spend: About JPY 2,150 for the Kakiya set
4. Go Hiking on Miyajima Island
I loved Miyajima Island. I didn't plan on doing it, but hiking on Mt. Misen turned out to be one my favorite things to do in Hiroshima.
Formally known as Itsukushima, Miyajima is a small island in Hiroshima prefecture, about an hour south of Hiroshima City. It's more commonly referred to as Miyajima or "Shrine Island" because of its close association to Itsukushima Shrine, a Shinto shrine and UNESCO World Heritage Site famous for its giant torii gate that appears to float on water at high tide.
Along with Amanohashidate in northern Kyoto and Matsushima Bay in Miyagi, Itsukushima Shrine's torii gate is one of Japan's three most celebrated views. It's without a doubt the most visited attraction in Hiroshima.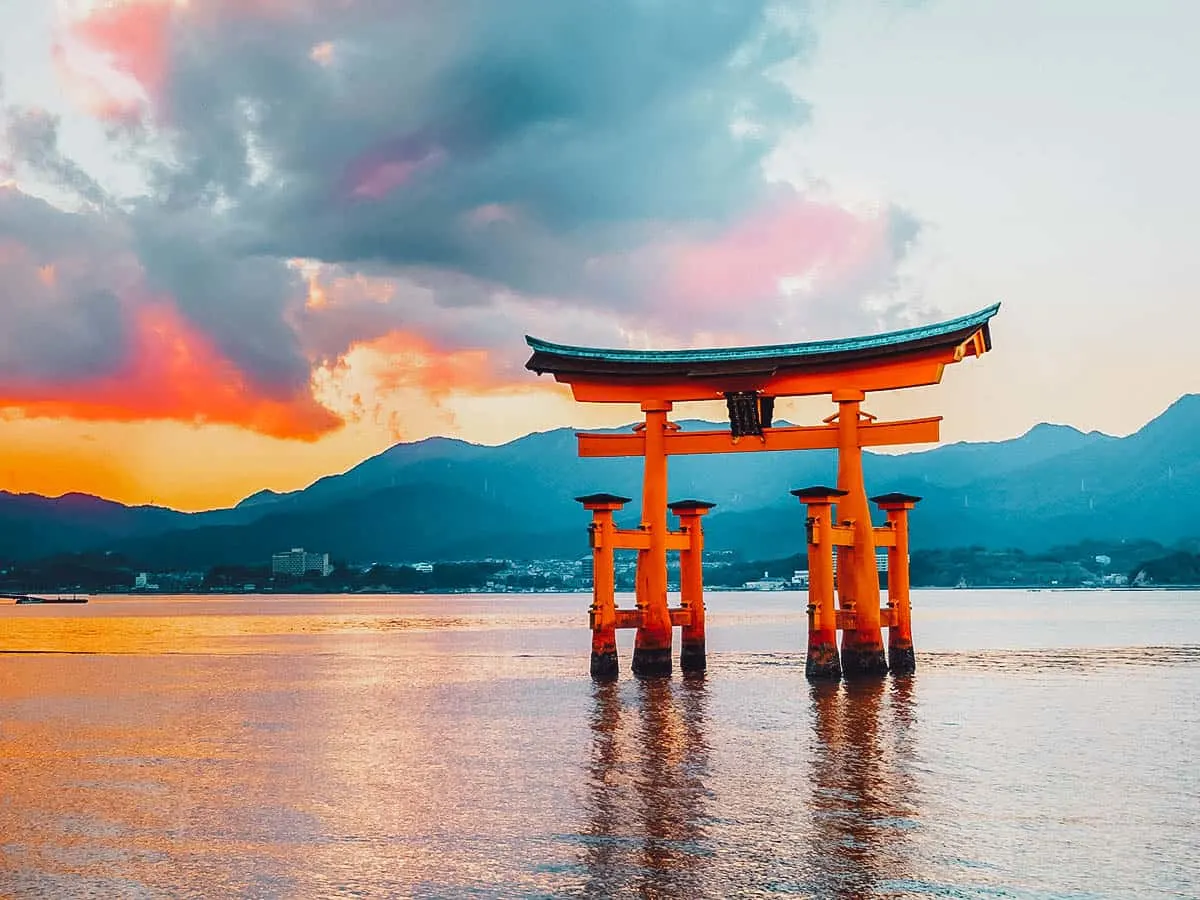 Photo by cowardlion via Shutterstock
Aside from Itsukushima Shrine and its "floating" torii gate, Miyajima is also home to a cluster of smaller temples and shrines like Daisho-in Temple and Daiganji Temple. My favorite was Gojunoto, the five-storied pagoda right next to Toyokuni Shrine.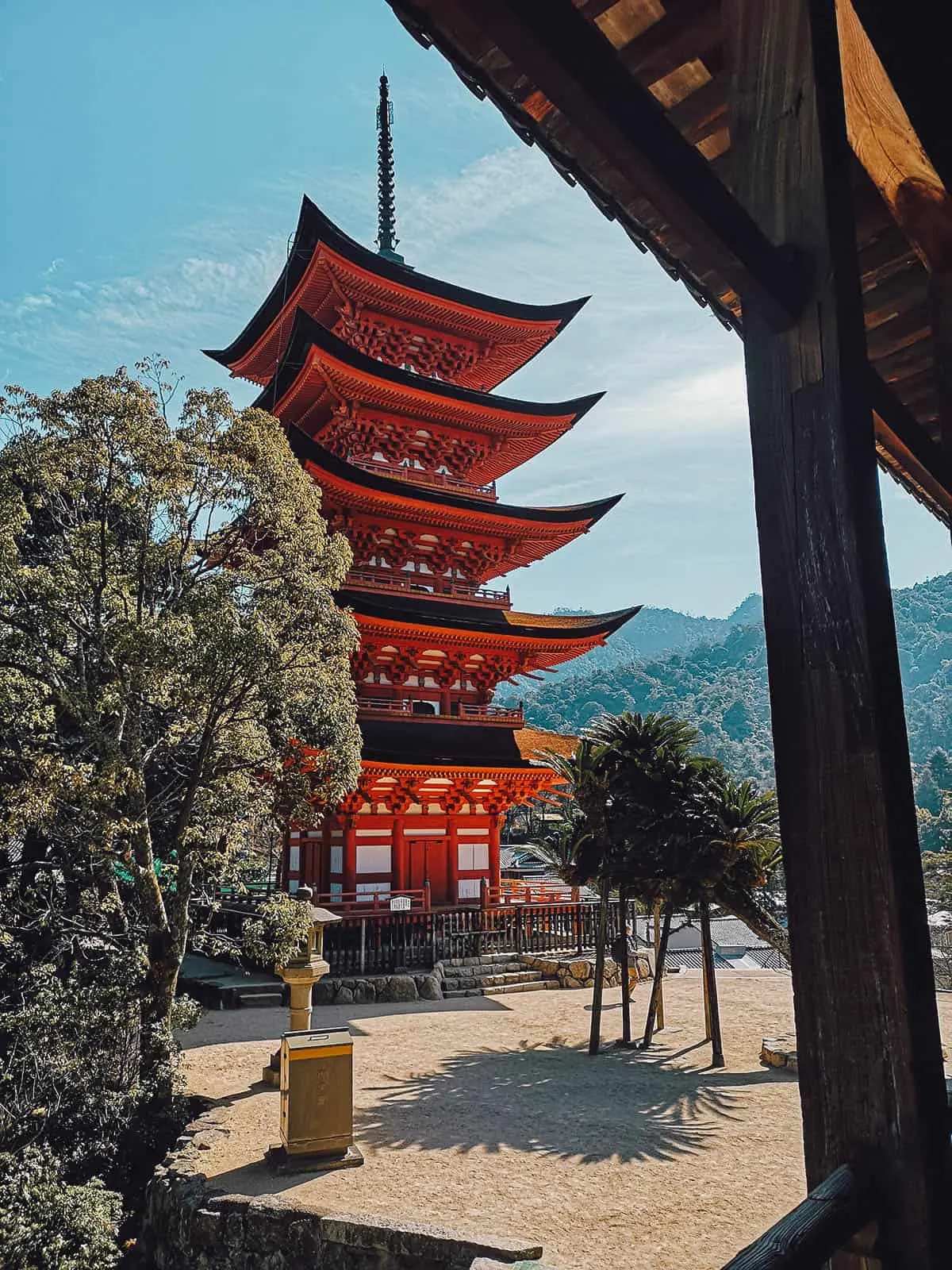 Another interesting structure to look for is the two-storied Tahoto Pagoda. Many cherry trees were planted around the pagoda making it a great place to view the cherry blossoms in spring.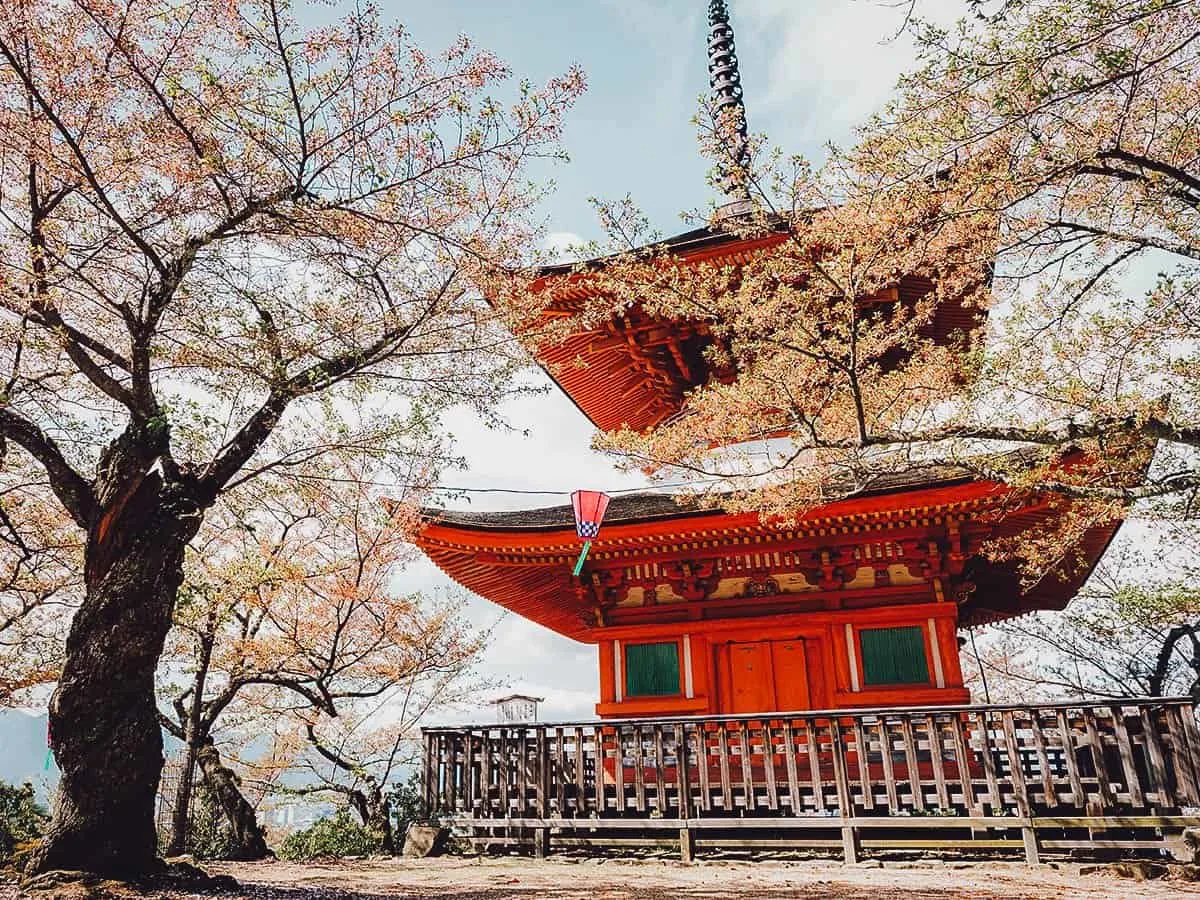 Photo by Marquicio Pagola via Shutterstock
As much as I enjoyed the food and temples on Miyajima, my favorite part may have been the hiking. The island is home to a number of scenic hiking trails that take you up Mt. Misen through thick forests that change in color with the seasons.
I was in Miyajima in late January and I found the scenery to be stunningly beautiful. I can only imagine how gorgeous it must look in autumn or in the spring during cherry blossom season. I read that there are quite a number of cherry blossom trees on the island.
This picture was taken from the summit of Mt. Misen. If I remember correctly, it took me about an hour or so to reach the top. The trail was tiring in parts but not too bad. I ran into a few wild deer as well.
It was closed for maintenance at the time but people who'd rather not hike can take the Miyajima Ropeway to the top. You can take it to the summit then walk down.
I explored Miyajima on my own but if you'd like to go on a guided tour, then you can book one through Klook (Option 1 | Option 2) or Get Your Guide. Many tours will take you to the top attractions in both Hiroshima City and Miyajima Island.
5. Take a Stroll Around Shukkei-en Garden
I've been to a few gardens in Japan but Shukkei-en was one of my favorites. It isn't as big or impressive as Kenroku-en in Kanazawa but I found it's design to be pleasant and relaxing.
Shukkei-en was established in 1620 shortly after the construction of Hiroshima Castle. It features a large central pond with a rainbow bridge and meandering walking paths that take you through the different sections of the garden. Taking a stroll through the grounds is one of the most relaxing things to do in Hiroshima.
Shukkei-en in English means "shrunken scenery garden". Like all Japanese gardens, it's meant to represent Japan's landscapes in miniature. There are a few tours on Klook and Get Your Guide that makes stops at Shukkei-en Garden.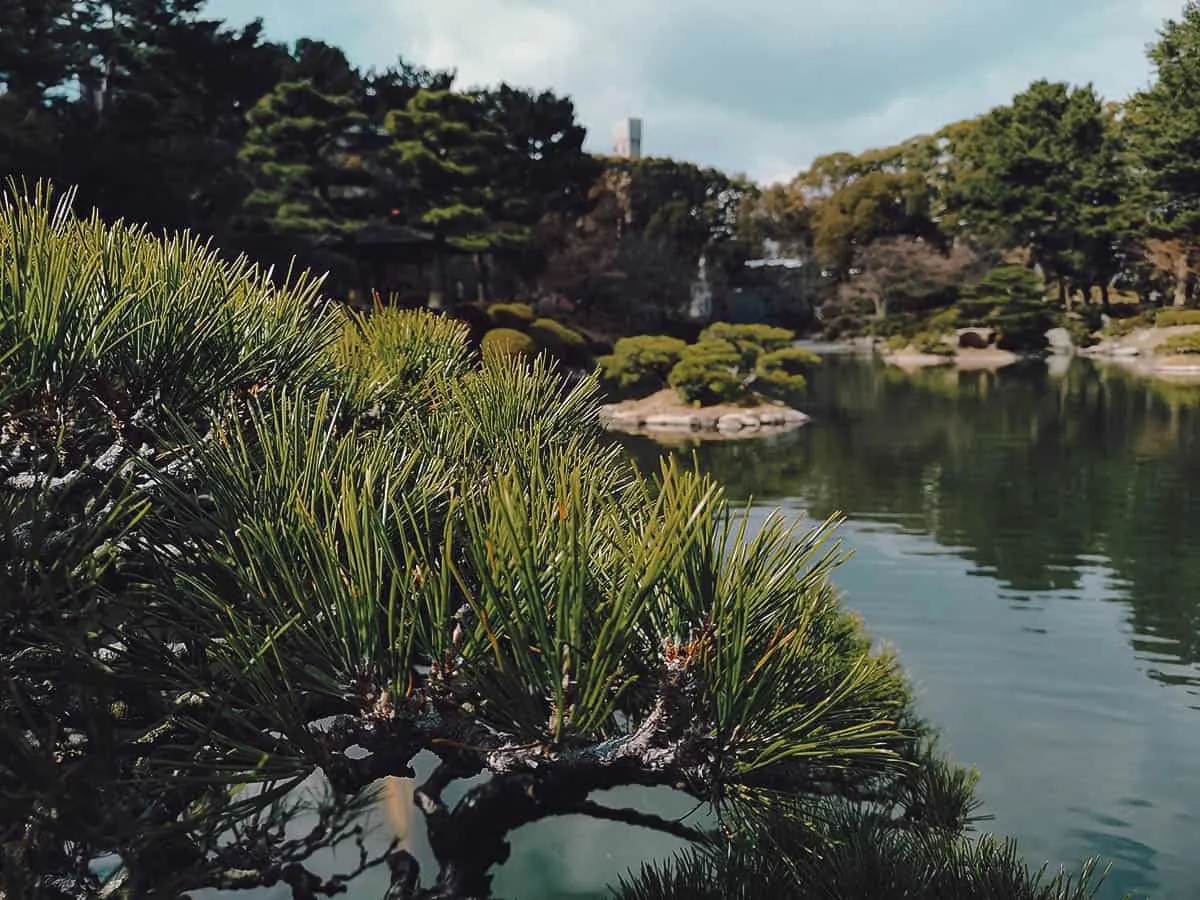 Operating Hours: 9AM-6PM, daily
Admission: JPY 260
6. Visit the Mazda Museum
People who've explored the Chubu Region in Japan may be familiar with the excellent Toyota Techno Museum in Nagoya. But did you know that Hiroshima has its own noteworthy automobile museum as well?
Hiroshima has been the home of the Mazda Motor Corporation since 1920. The company retains its corporate headquarters in the city and has opened a museum and part of its factory to the public.
Guided tours in English are held at 10AM daily but they need to be reserved in advance by phone or email. Walk-ins aren't allowed so it's important to reserve a slot in advance. The tour is free and lasts about an hour and a half.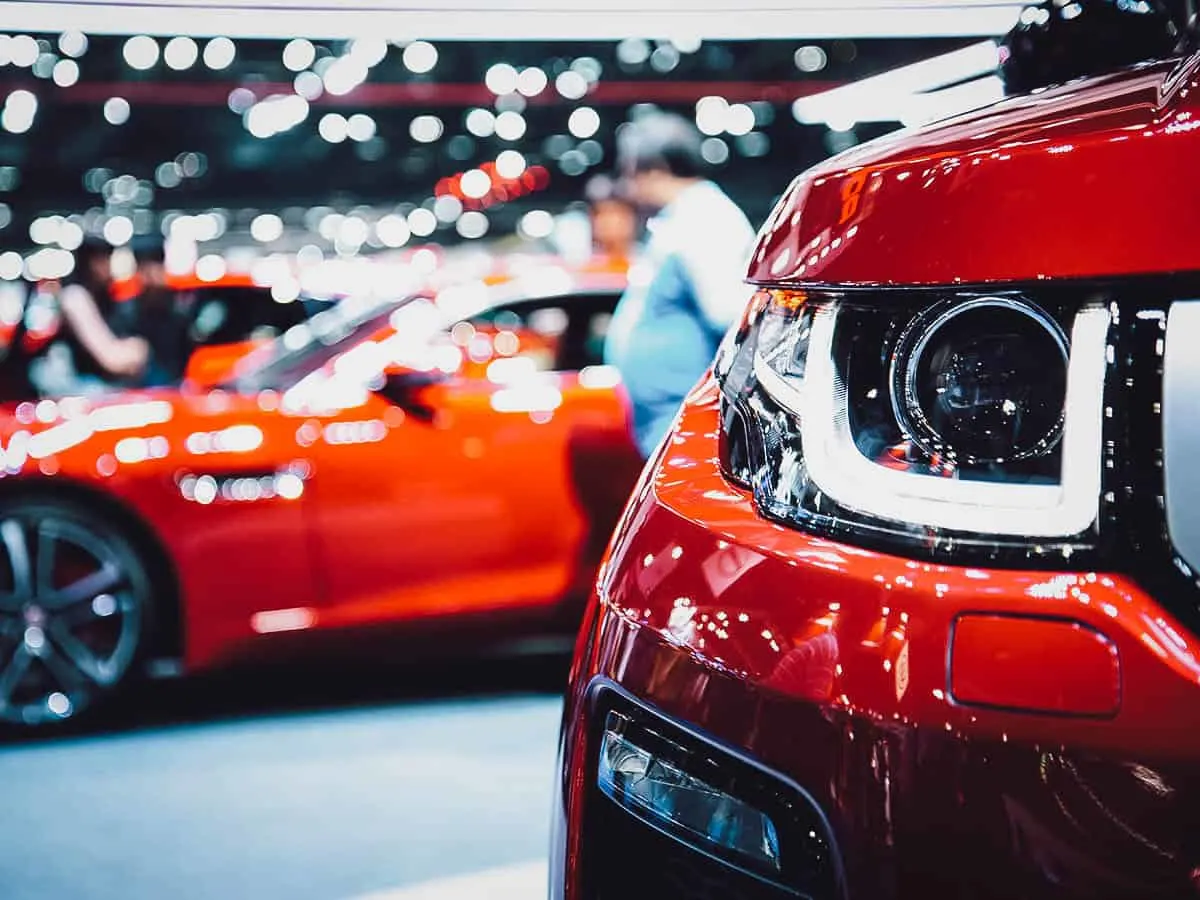 Photo by superoke via Shutterstock
Time of Tour: 10AM, Mon-Fri
Admission: FREE but must be reserved in advance (walk-ins not allowed)
7. Eat Anago Meshi
If you like unagi donburi, then you're probably going to enjoy anago meshi. It's a similar dish made with anago or seawater eel, instead of unagi which is freshwater eel.
Anago meshi is a Hiroshima specialty of broiled conger eel served on a bed of rice. Compared to unagi, anago is softer in texture and glazed with a sauce that's less sweet than kabayaki or eel sauce. It's more subtle in flavor and less oily.
Between the two, I prefer unagi, but anago is delicious as well and may be preferable to people who enjoy less sweetness in their eel. A great place to try anago meshi is Tsuki Akari which is just a few doors down from Nagata-ya.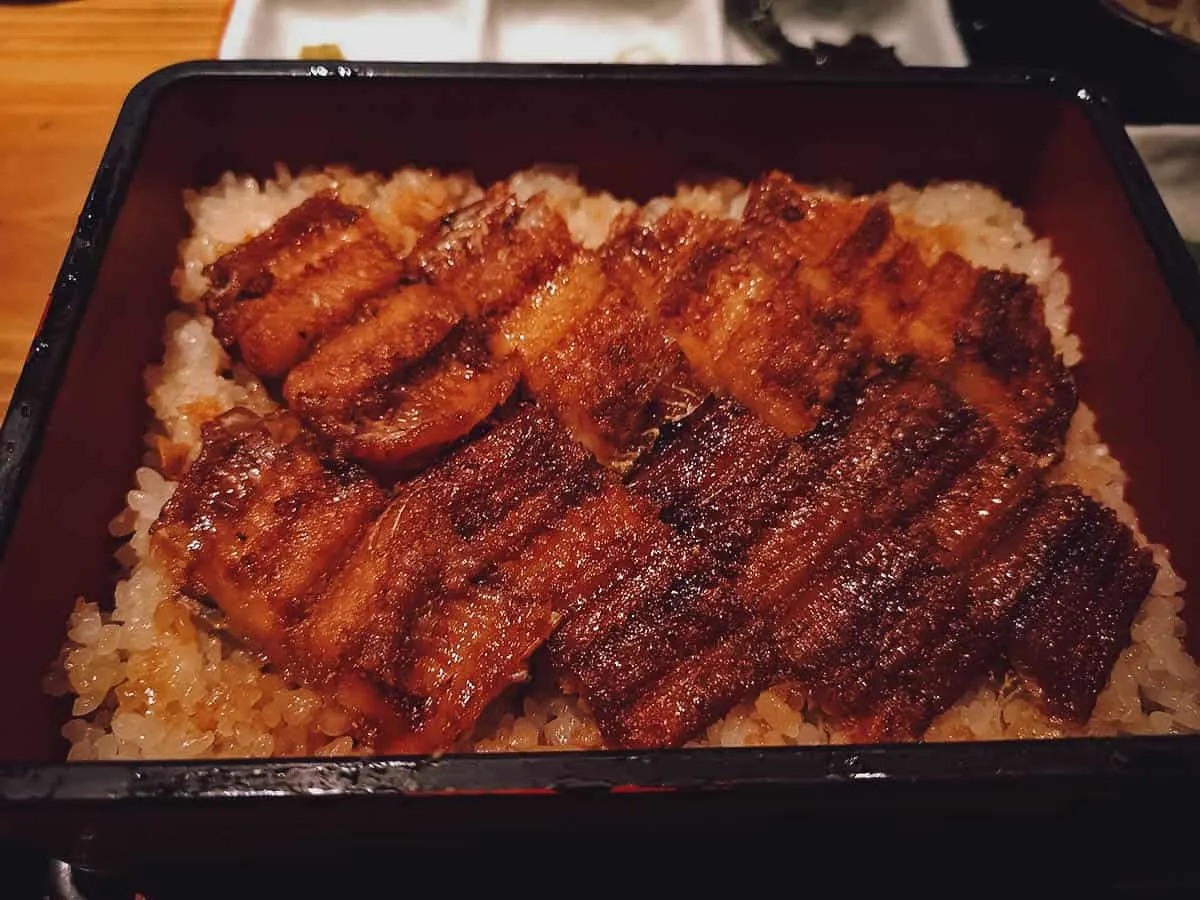 Address: 1 Chome-8-9 Otemachi, Naka Ward, Hiroshima, 730-0051, Japan
Operating Hours: 11:30AM-2PM, 5PM-12MN, daily
Expect to Spend: Starts at JPY 1,600 for anago meshi
8. Visit Hiroshima Castle
There are many beautiful castles in Japan. Two of my favorites are Himeji Castle in Hyogo and Matsumoto Castle in Nagano. You don't hear about Hiroshima Castle as much which is a shame because it's one of the more attractive castles I've visited in Japan.
Also known as the Carp Castle, Hiroshima Castle isn't as striking as Himeji or Matsumoto Castle, but I found its exterior of white and black with dark brown wooden panels to be more aesthetically pleasing. It looked different and stood out from the more sterile-looking white and green of Osaka and Nagoya Castle.
Hiroshima Castle was constructed in 1589 but it was destroyed by the atomic bomb in 1945. It was rebuilt in 1958 and opened to the public as a museum of Hiroshima's history before World War II.
You can visit Hiroshima Castle on your own or you can book a guided tour through Get Your Guide.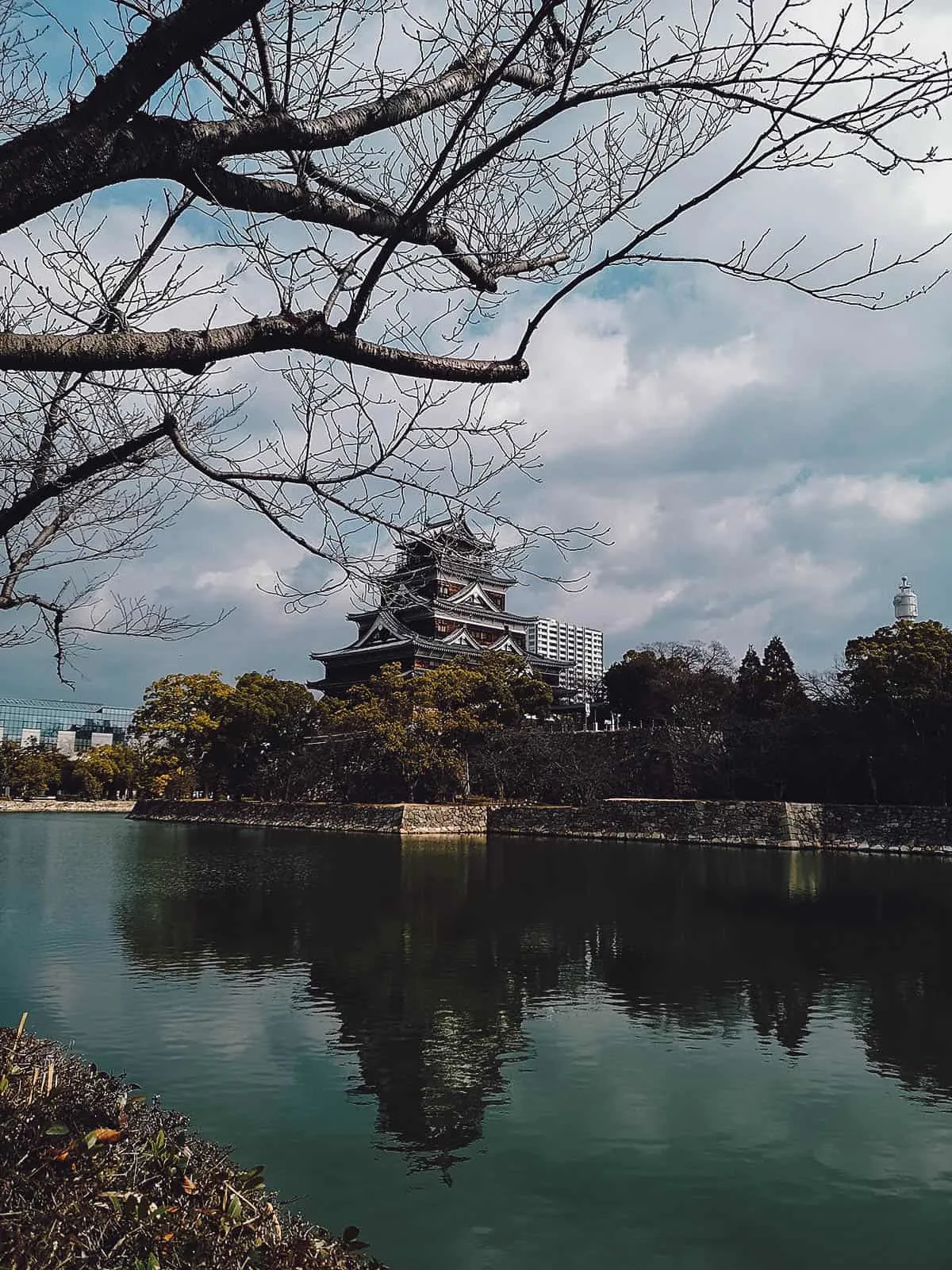 Operating Hours: 9AM-6PM, daily (till 5PM in winter)
Admission: JPY 370 (main keep)
9. Take a Day Trip to Tsunoshima Bridge and Motonosumi Inari Shrine
If you're staying long enough in Hiroshima and have already visited Miyajima Island, then perhaps you'd like to go on another day trip. One of the most interesting day trips you can make from Hiroshima is to Tsunoshima Bridge and Motonosumi Inari Shrine.
Measuring 1,780 meters in length, Tsunoshima Bridge is the second longest bridge in Japan. It connects the main island to Tsunoshima Island and offers a scenic drive with nothing but clear blue ocean on either side. Tsunoshima Island is a small island popular in summer for its white sand beaches.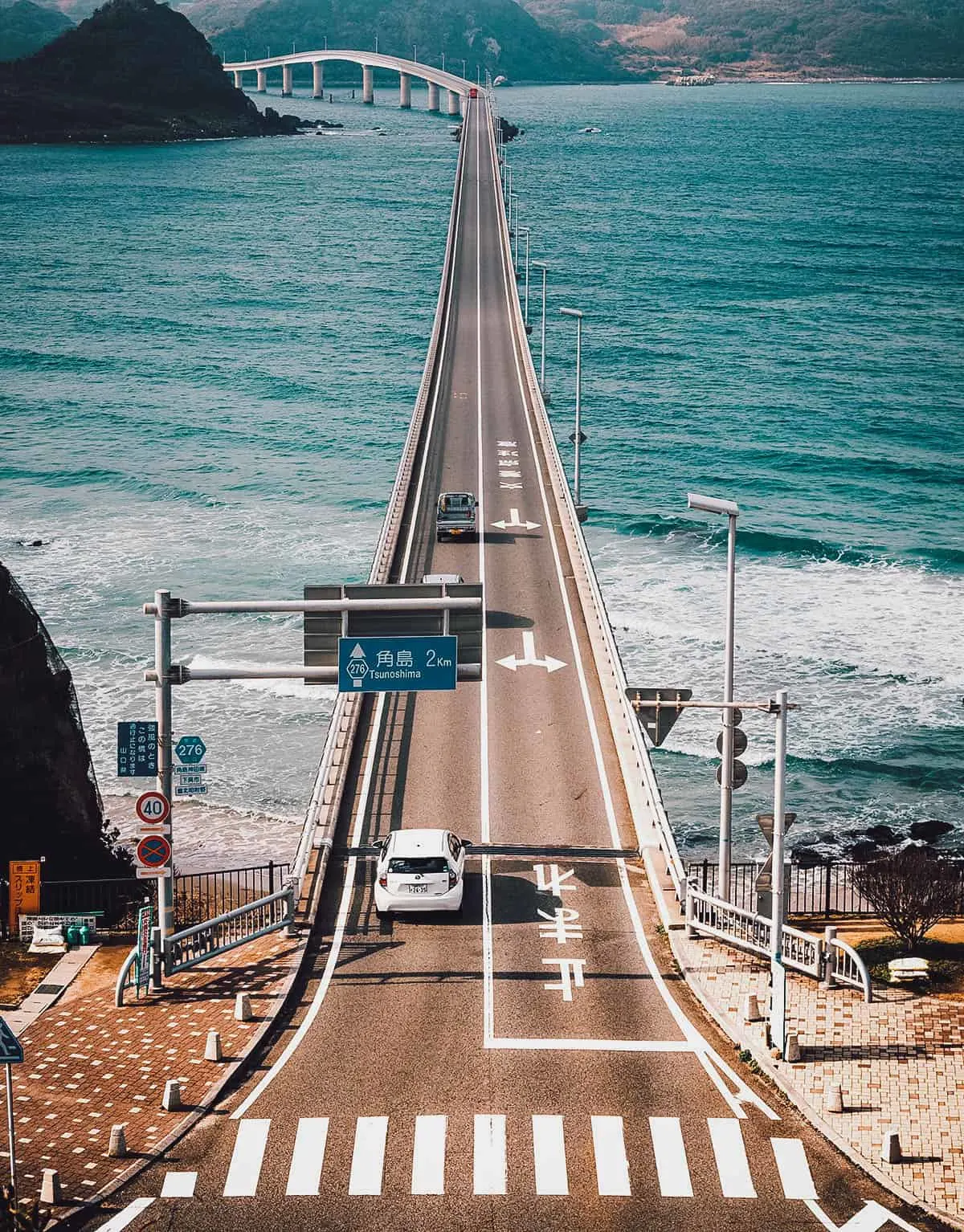 Photo by Samuel Yeo via Shutterstock
On the way to Tsunoshima Bridge is Motonosumi Inari Shrine, a Shinto Shrine in Nagato famous for its 123 red torii gates leading up a cliff and overlooking the Sea of Japan. If you enjoyed the orange torii gates at Fushimi Inari Shrine in Kyoto, then you may want to pay a visit to Motonosumi Inari Shrine.
Motonosumi Inari Shrine and Tsunoshima Bridge are three hours west of Hiroshima by car so it's easiest to go on a guided tour. If you have an international driver's license, then another option would be to rent a car and drive there yourself.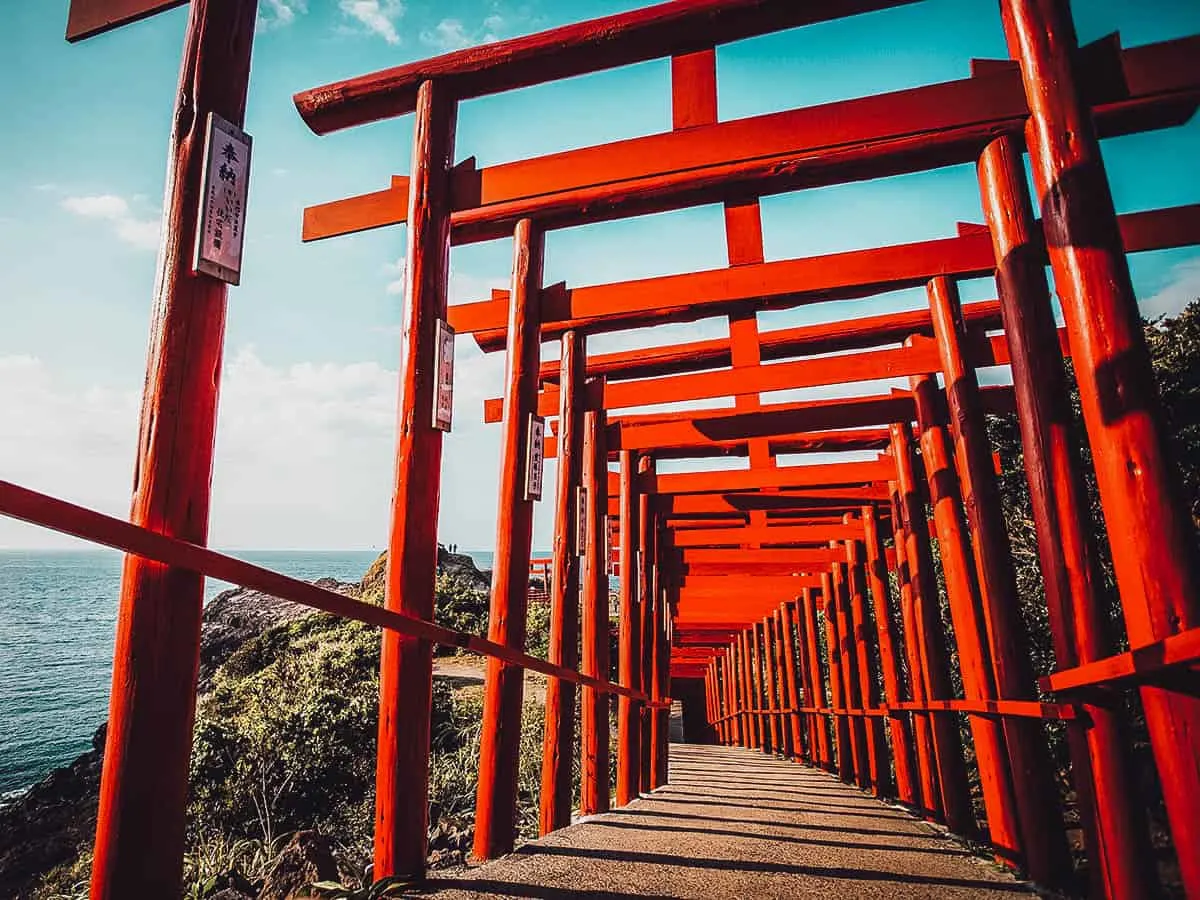 Photo by journeykei via Shutterstock
10. Go on a Food and Bar Hopping Tour
We do a lot of food research before every trip to find the best local eateries in every city. Thorough research is key but nothing beats local knowledge, which is why we enjoy going on food tours. It's the best way of finding obscure hole-in-the-walls frequented by locals.
If you'd like to go on a food tour in Hiroshima, then perhaps you'd be interested in this bar hopping food tour by Magical Trip. They're a boutique tour provider that offers local-led tours in different cities throughout Japan, including Hiroshima.
I haven't done this particular tour but I've been on their food tours in Tokyo and Kyoto and enjoyed them both. Magical Trip maintains a perfect 5-star rating on TripAdvisor, even after over 1,400 reviews.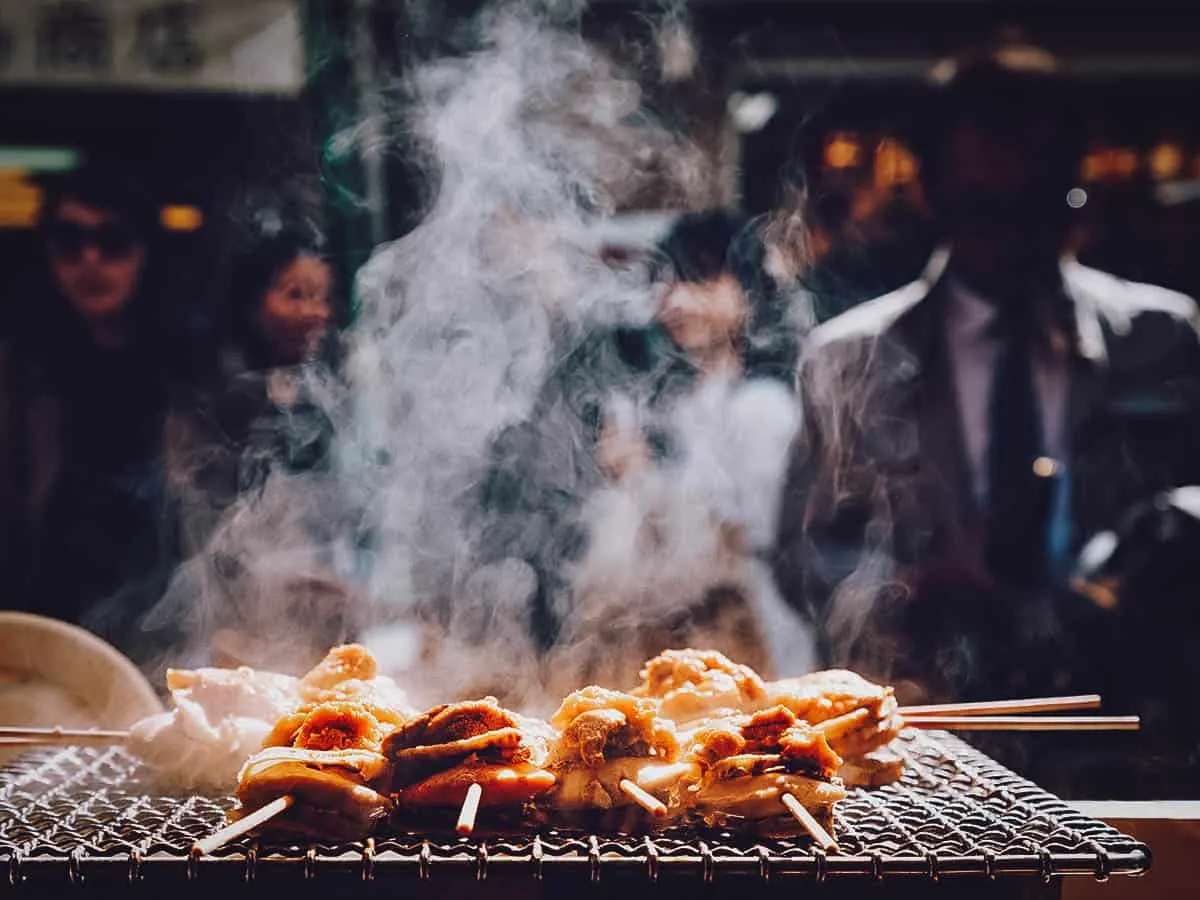 Photo by Gumpanat via Shutterstock
FINAL THOUGHTS ON THE BEST THINGS TO DO IN HIROSHIMA
As described, I went on a food tour in Kyoto with Magical Trip and my guide Syouri told me that when Japanese people travel domestically for food, they usually go to one of three cities – Nagoya, Fukuoka, and Hiroshima.
This came as a surprise to me because I always assumed it would be the bigger and more cosmopolitan destinations like Tokyo or Osaka. This just goes to show that when it comes to food, local insight truly is invaluable.
Hiroshima has enough interesting attractions to make it fun for first-time visitors but clearly, food is a highlight in this city. If you travel for food like we do, then you're going to love Hiroshima.
Thanks for reading and I hope you enjoyed this article on the best things to do in Hiroshima. Have an amazing time in Japan!
Disclosure
This article on the best things to do in Hiroshima contains affiliate links, through which we'll get a small commission if you make a purchase or booking at no extra cost to you. We only recommend products and services that we use ourselves and firmly believe in. We truly appreciate your support as it helps us make more of these free travel guides. Thank you!