When I think of Hiroshima, the first thing that comes to mind is the atomic bomb. The Peace Memorial Park and Museum are the most visited attractions in Hiroshima.
Many first-time visitors are aware of the museum but what they may not realize, is that Hiroshima is also one of the best food cities in Japan. Like Osaka, it's famous for its okonomiyaki and has long been the source for the best oysters in the country. In fact, according to my Japanese friend, Hiroshima is one of three cities that the local Japanese like to visit when they travel for food, the other two being Nagoya and Fukuoka.
If you enjoy hiking, then you'll want to spend the day on Miyajima Island which is less than an hour south of the city center. It's home to lovely hiking trails and one of the three most celebrated views in Japan, not to mention some of the freshest oysters in Hiroshima.
The Peace Memorial Museum may be the most famous attraction but there are plenty of other things to see and do in Hiroshima, especially if you travel for food like we do. If you're visiting Hiroshima for the first time, then this detailed travel guide will tell you all you need to know to plan your trip.
VISIT HIROSHIMA QUICK LINKS
This travel guide to Hiroshima is long. For your convenience, I've compiled links to hotels, tours, and other services here.
HOTELS
Top-rated hotels in downtown Hiroshima, the most convenient area to stay for first-time visitors.
TOURS
OTHER SERVICES
Save This on Pinterest!
No time to read this Hiroshima travel guide now? Click on the save button and pin it for later!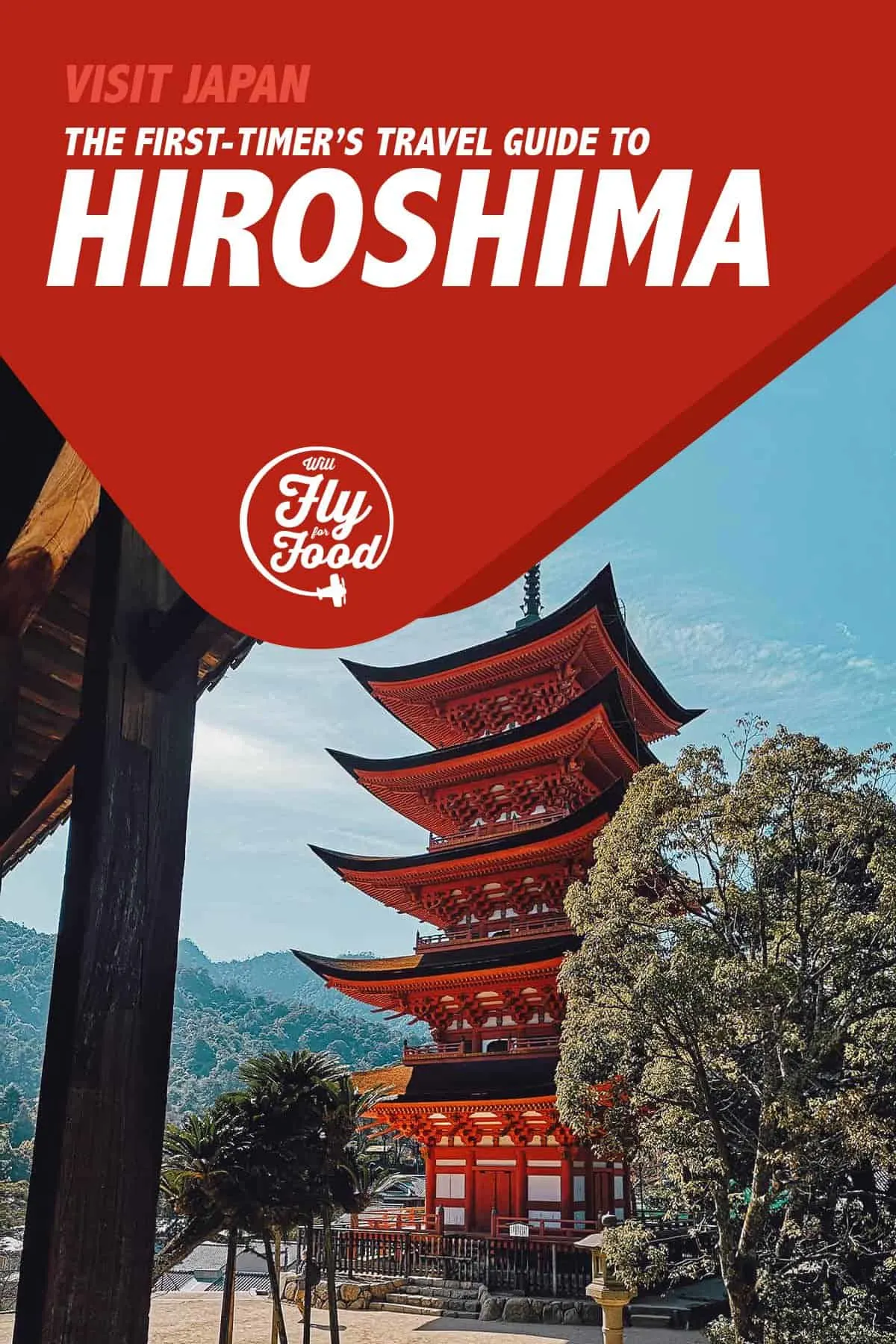 GUIDE TABLE OF CONTENTS
HIROSHIMA TRAVEL RESTRICTIONS
Due to the current global situation, Hiroshima travel guidelines have been changing very often. Our partners at Booking.com created a website that lists detailed information on travel restrictions and advisories around the globe.
Before planning a trip to Hiroshima, be sure to check Booking.com for information on travel restrictions to Japan. If you do decide to visit Hiroshima, then it's highly recommended that you get travel insurance with COVID coverage.
JAPAN VISA
Depending on what type of passport you carry, you may need a visa and other travel documents to visit Japan. Check out iVisa.com to learn about the requirements and to apply for a visa (if necessary).
If you're a Philippine passport holder residing in Manila, then check out our guide on how to apply for a Japan tourist visa for a step-by-step process.
HIROSHIMA AT A GLANCE
Hiroshima is a former castle town that was an important center for military activity during the imperial era. It played significant roles in multiple wars, though none more remembered perhaps than the second world war when it was the first of two Japanese cities targeted by a nuclear weapon. The second was Nagasaki.
About 70% of the city's buildings were destroyed by the atomic bomb, but Hiroshima has since rebuilt itself to become the biggest city in the Chugoku region of western Honshu, the largest island in Japan.
Today, the site of the nuclear attack is one of the top tourist destinations in Japan. It's comprised of three attractions clustered within downtown Hiroshima – Peace Memorial Museum, Peace Memorial Park, and the Atomic Bomb Dome, whose skeletal remains stand as a grim reminder of the devastation of nuclear war.
BEST TIME TO VISIT HIROSHIMA
Hiroshima has a temperate climate so it's largely a year-round destination, though some seasons are definitely more comfortable than others. For the most ideal weather, spring and autumn are typically the best times to visit Hiroshima.
DEC-FEB: This is winter in Hiroshima and the coldest time of the year. I was in Hiroshima in late January, and while the days were cold and occasionally rainy, it was mild compared to more northern cities in Japan. I was perfectly fine wearing just a quilted jacket and light gloves. If you don't mind colder weather, then winter is a great time to visit Hiroshima. Crowds are thinner and the oysters are at their most plump. Do note that many businesses will be closed from 29 December till 3 January.
MAR-MAY: Spring is one of the most pleasant times to visit Hiroshima thanks to mild weather and the blossoms. The plum blossoms will start to come out in mid-March while the famed cherry blossoms will be in full bloom around the end of March to early April. If you're after the cherry blossoms, then spring is the only time to go. Do note that cherry blossom season is peak tourist season in Japan so expect heavier crowds.
JUN-AUG: Summers in Japan are hot and humid and generally not the most comfortable time to go. It's rainiest from around late June to early August and hottest from July till about mid-September.
SEPT-NOV: Autumn is another great time to visit Hiroshima. Like spring, the weather is mild and visitors will be treated to the turning colors of the season. For peak fall colors, plan to be in Hiroshima in early to mid-November.
Climate: Annual Monthly Weather in Hiroshima
Check out climatestotravel.com for more on Hiroshima's weather. For your convenience, I've created the average temperature and annual rainfall graphs below. Suggested months to visit are indicated in orange.
Average Temperature

Annual Rainfall

TRAVELING TO HIROSHIMA
Though Hiroshima does have an international airport, it only services routes from a few Asian countries like South Korea, Thailand, Taiwan, and China. The majority of travelers to Hiroshima will probably arrive by train or bus.
From Hiroshima Airport
Hiroshima Airport (HIJ) is located about 50 km (31 miles) east of downtown Hiroshima. The limousine bus is the cheapest way to get to Hiroshima Station (or Hiroshima Bus Center) from the airport but you can also go by taxi or private/shared transfer.
BY BUS: The limousine bus will get you to Hiroshima Station or Hiroshima Bus Center in about 50 minutes. It operates from 8:40AM till 9:20PM.
BY TAXI: A taxi is faster and more convenient but it's also a lot more expensive. You'll get to downtown Hiroshima in a little over 30 minutes but expect to pay between JPY 15,000-20,000 for the fare.
BY PRIVATE/SHARED TRANSFER: Like taxis, private/shared transfers are faster than the limousine bus they're also considerably more expensive. You can book one in advance through Get Your Guide.
From Other Parts of Japan
As described, most travelers to Hiroshima will probably be arriving by train or bus. Buses are generally cheaper but trains are more comfortable, they're more convenient, and they're often easier to book. You can check hyperdia.com for train routes and schedules to Hiroshima from wherever you are in Japan.
If you're going on a multi-city tour of Japan, then you may be interested in getting a JR Pass. It'll give you unlimited access to all JR trains for 7, 14, or 21 consecutive days. You can purchase a JR Pass through Klook or Japan Rail Pass.
WHERE TO EXCHANGE CURRENCY
The unit of currency in Japan is the Japanese Yen (JPY).
BANKS / POST OFFICES: Banks and post offices have traditionally been the most reliable places to exchange currency in Japan. With that said, the process is almost always slower. I've exchanged currency at a few banks throughout Japan and the process can often take up to 30 minutes or so.
KINKEN SHOPS: Kinken shops are small stores that buy and sell unused event tickets. Some also exchange currency, and usually at competitive rates. I haven't exchanged currency at a kinken shop in Hiroshima but you can usually find them around major metro stations.
CURRENCY EXCHANGE MACHINES: I haven't seen these too often but I did exchange currency once through one of these machines in Nagasaki. It was the easiest currency exchange I've ever done. Just insert your foreign currency into the ATM-like machine and out comes the JPY equivalent. I didn't notice any in Hiroshima but you may be able to find them at busy tourist and commercial areas.
ATM MACHINES: This is my preferred method of exchanging currency in Japan. I find that rates are competitive and it saves me from the trouble of having to bring too much foreign currency to Japan. In my experience, my ATM card works best at convenience store and post office ATMs. Just be sure to advise your bank that you plan on using your ATM card abroad so you don't run into any problems.
TIP: When withdrawing local currency from an ATM, some machines may ask if you'd like to proceed "with or without conversion". Always choose WITHOUT conversion so your local bank does the conversion. If you choose "with conversion", then that authorizes the foreign bank operating the ATM to perform the conversion, usually at highly unfavorable rates.
BEST AREAS TO STAY IN HIROSHIMA
There are two ideal areas to stay for first-time visitors to Hiroshima – the city center and Miyajima Island. It all depends on what you're looking for and what you plan on doing during your stay in Hiroshima.
HIROSHIMA CITY CENTER
If your main goal is to visit the main attractions in Hiroshima City, then it's best to stay in the area immediately east of Hiroshima Peace Park. This puts you close to the city's top tourist attractions like the Atomic Bomb Dome, Hiroshima Peace Museum, Hiroshima Castle, and Shukkei-en Garden. You'll also have your pick of the best restaurants and be close to many shopping malls and arcades.
I stayed at the Capsule Hotel Cube which is one of the most comfortable capsule hotels I've ever stayed at in Japan. It was more like a small room with a desk, cabinet, and capsule for sleeping. You can book accommodations at Capsule Hotel Cube on booking.com or Agoda.
If you'd like to find accommodations in downtown Hiroshima but don't think this is the right place for you, then you can search for alternate listings on booking.com or Agoda. Check out some of the top-rated hotels in downtown Hiroshima:
MIYAJIMA ISLAND
If you'd like to be closer to nature, then it's best to stay on Miyajima Island which is less than an hour south of central Hiroshima. Located in Hiroshima Bay, it's home to several temples and shrines, none more famous than Itsukushima Shrine and its floating torii gate. Miyajima is also home to lots of free-roaming deer and hiking trails that take you up Mt. Misen for spectacular views of the city and bay.
It's easy to travel between downtown Hiroshima and Miyajima so staying on the island won't be a problem. You can find accommodations on Miyajima Island on booking.com or Agoda. Check out some of the top-rated hotels on the island:
You can also book hotels and homestays in Hiroshima or Miyajima (aka Itsukushima Island) using the handy map below.
PLACES TO VISIT IN HIROSHIMA & MIYAJIMA
Listed below are some of the most popular attractions in central Hiroshima and Miyajima Island. Check out our article on the best things to do in Hiroshima for more suggestions.
HIROSHIMA CITY
1. Peace Memorial Park & Museum
As described, the Peace Memorial Park and Museum are the most visited attractions in Hiroshima. The park is in an open space of over 120,000 square meters and features multiple monuments dedicated to the victims of the nuclear attack.
The most prominent structure at the park are the skeletal remains of the Atomic Bomb Dome. Despite being the closest building to the hypocenter, it was one of just a few structures that was left standing after the attack. You can see the building's dome through the sculpture's arch below.
Opened in 1955, the Hiroshima Peace Memorial Museum consists of two buildings with exhibits recounting the events of the nuclear attack. It features items like toys and articles of clothing that survived the bombing, along with the human stories behind them. As you can imagine, it's very emotional and not the easiest museum to get through.
We visited the Atomic Bomb Museum in Nagasaki a few years ago. Both museums are powerful but I found this one to be much more impactful. The museum in Nagasaki focused on the events surrounding the bombing while the Hiroshima Peace Museum zeroes in on the human tragedy. You could literally hear a pin drop in spite of the museum being full of tourists.
I visited the museum on my own but if you'd like to go with a guide who can explain everything in more detail to you, then you may want to book a tour through Get Your Guide or Magical Trip.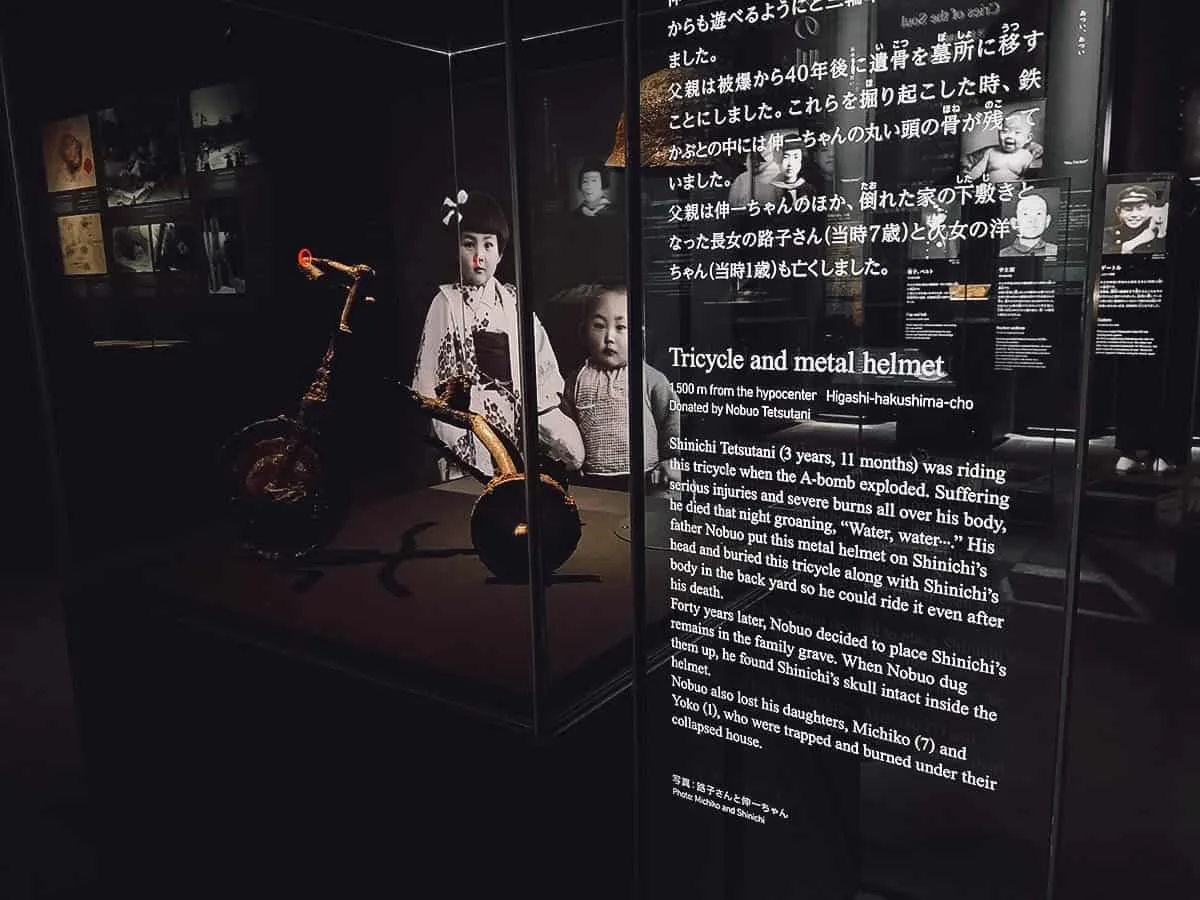 Suggested Length of Visit: About 2 hrs
Admission: JPY 200
Operating Hours: 8:30AM-6PM, daily
Nearest Tram Station: Genbaku Dome-Mae station
2. Shukkei-en Garden
If you like Japanese landscaped gardens, then you'll enjoy spending time at Shukkei-en Garden. Located just east of Hiroshima Castle, it's a medium-sized garden featuring a central pond with a rainbow bridge and multiple walking paths.
Shukkei-en isn't as big as Kanazawa's Kenroku-en but it's beautiful in its own right and a great place to spend an hour or so in Hiroshima. I visited the garden on my own but there are a few tours on Get Your Guide that make stops at Shukkei-en.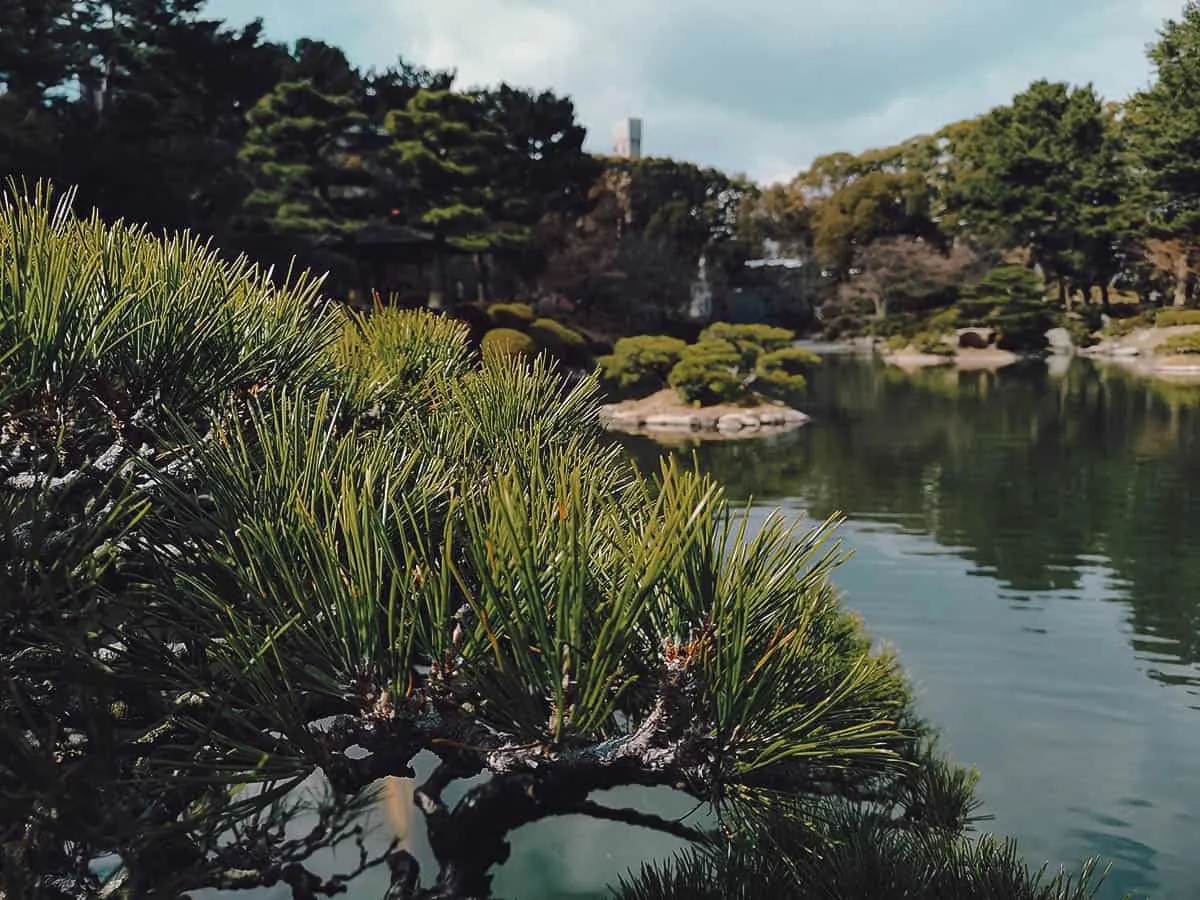 Suggested Length of Visit: About 1 hr
Admission: JPY 260
Operating Hours: 9AM-6PM, daily
Nearest Tram Station: Shukkeien-Mae station
MIYAJIMA ISLAND
3. Itsukushima Shrine
Itsukushima Shrine is the main reason why people visit Miyajima Island. It's a Shinto shrine and UNESCO World Heritage Site renowned for its large torii gate that appears to float on water at high tide.
Together with Amanohashidate in northern Kyoto and Matsushima Bay in Miyagi, Itsukushima Shrine's floating torii gate is one the three most celebrated views in Japan. So renowned is this shrine that the island used to be called Itsukushima Island. Today, it's more commonly known as Miyajima which means "shrine island". When the water recedes at low tide, visitors can walk up to the gate and see it up close.
It's easy enough to go to Miyajima from central Hirsohima, but if you'd like to go on a guided tour, then you can book one through Klook, Get Your Guide, or Magical Trip. Many tours will take you to the top tourist attractions in both downtown Hiroshima and Miyajima Island.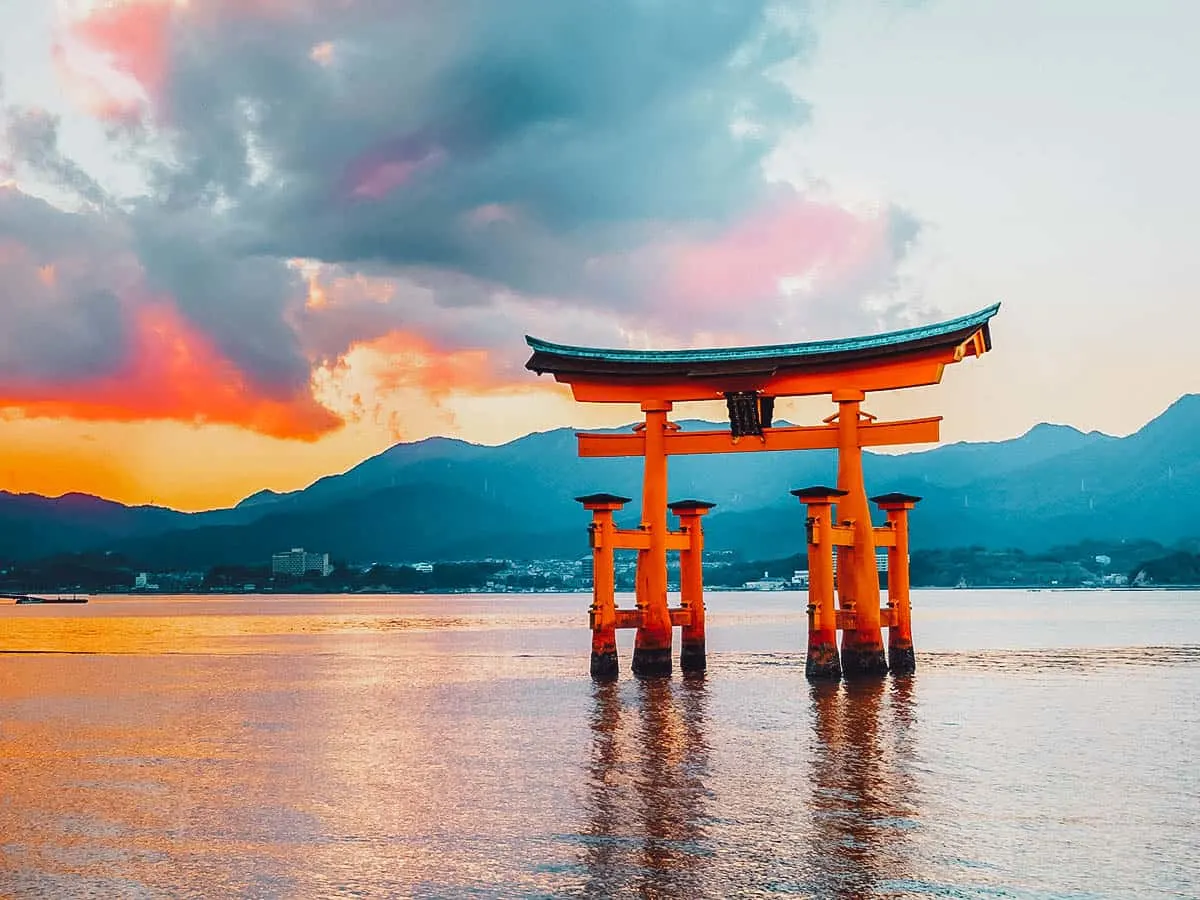 Photo by cowardlion via Shutterstock
Suggested Length of Visit: About 2 hrs
Admission: JPY 300 (JPY 500 yen with the Treasure Hall)
Operating Hours: 6:30AM-6PM, daily
Nearest Tram Station: Miyajimaguchi Station, then a ferry to Miyajima Island
4. Toyokuni Shrine & Gojunoto
Perched on top of a hill, Toyokuni Shrine stands apart from the main structure of Itsukushima, though from what I understand, it's considered part of Itsukushima Shrine. It features a large unpainted hall called Senjokaku and the five-storied pagoda, Gojunoto, right next to it.
Originally built as a Buddhist library, Senjokaku Hall is basically just a large open space without much to see or do, but it does offer fantastic views of Hiroshima Bay. It's a great place to just sit and enjoy a few moments of quiet on Miyajima Island.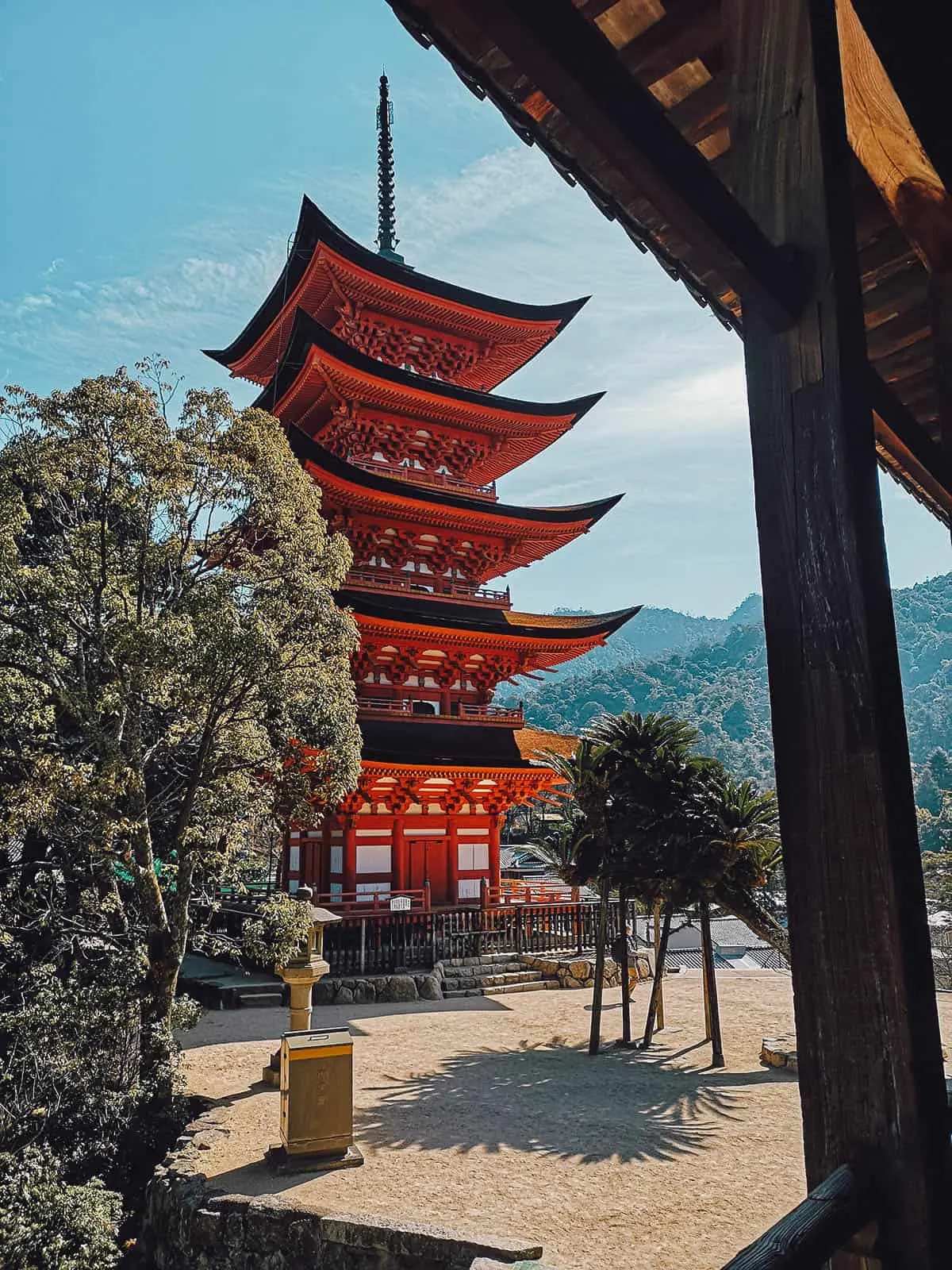 Suggested Length of Visit: About 30 mins
Admission: JPY 100 (Senjokaku Pavilion)
Operating Hours: 8:30AM-4:30PM, daily
5. Daishoin Temple
Located at the base of Mount Misen, Daishoin Temple is one of the most important temples of Shingon Buddhism. It consists of multiple buildings with numerous statues, religious items, and meditation halls. Compared to Toyokuni Shrine, there's a lot more to see at Daishoin Temple. Pictured below is a cave with 88 statues representing the temples of the Shikoku Pilgrimage.
Daishoin Temple is located at the start of one of the hiking trails so you can spend a few moments here before making the trek up to the summit of Mount Misen.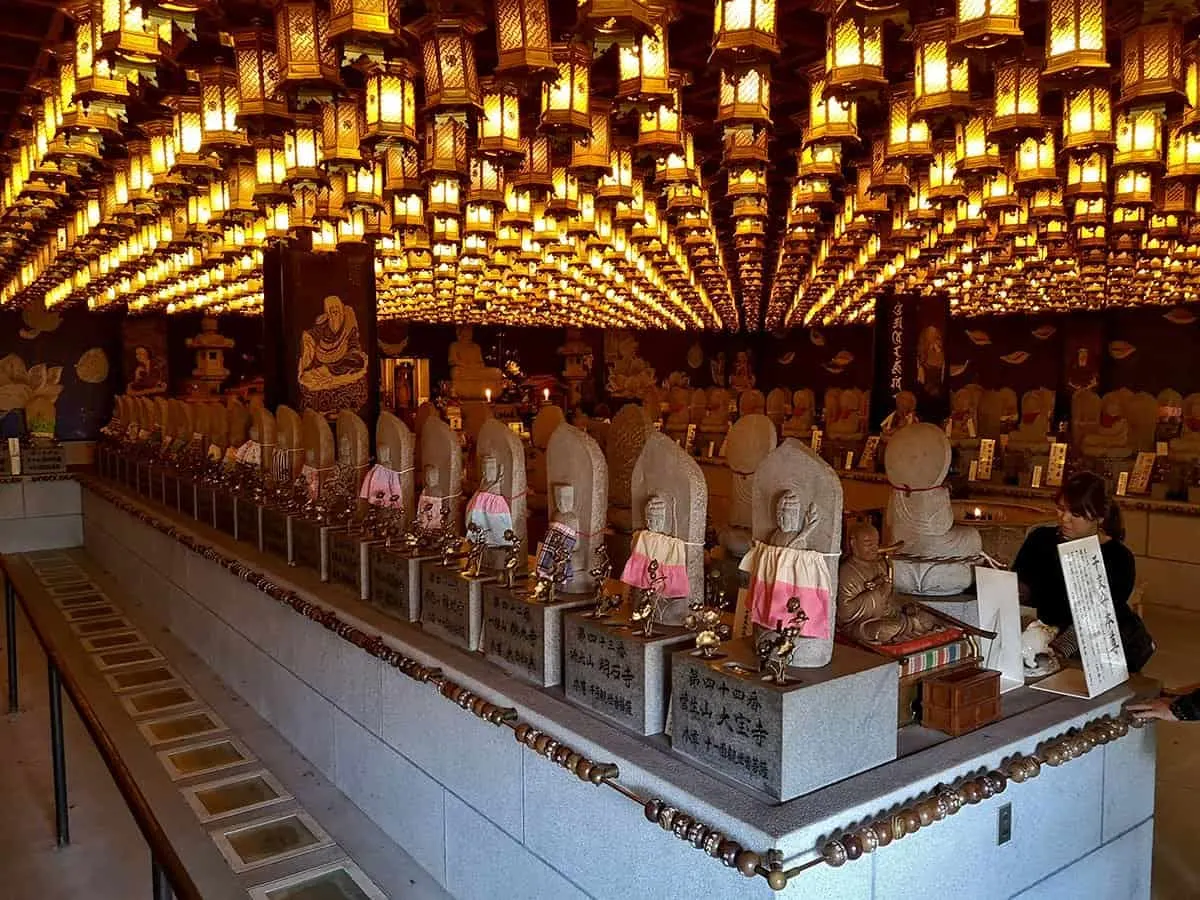 Suggested Length of Visit: About 1 hr
Admission: FREE
Operating Hours: 8AM-5PM, daily
THINGS TO DO IN HIROSHIMA & MIYAJIMA
Listed in this section are suggestions on some of the most fun things you can do in Hiroshima City and Miyajima Island.
HIROSHIMA CITY
1. Go on a Food Tour
As much as we love finding hole-in-the-walls on trips, we also enjoy going on food tours. It's one of the best and easiest ways to experience a city's local delicacies.
With Hiroshima being a popular food city among the Japanese, what better way to experience its regional specialties than by going on a food tour with a knowledgeable local? The language barrier can sometimes be intimidating when going to restaurants in Japan, so it's nice to go with a local who can take care of everything so all you have to do is eat.
You can book a food or bar hopping tour in Hiroshima on Klook, Get Your Guide, byFood, or Magical Trip.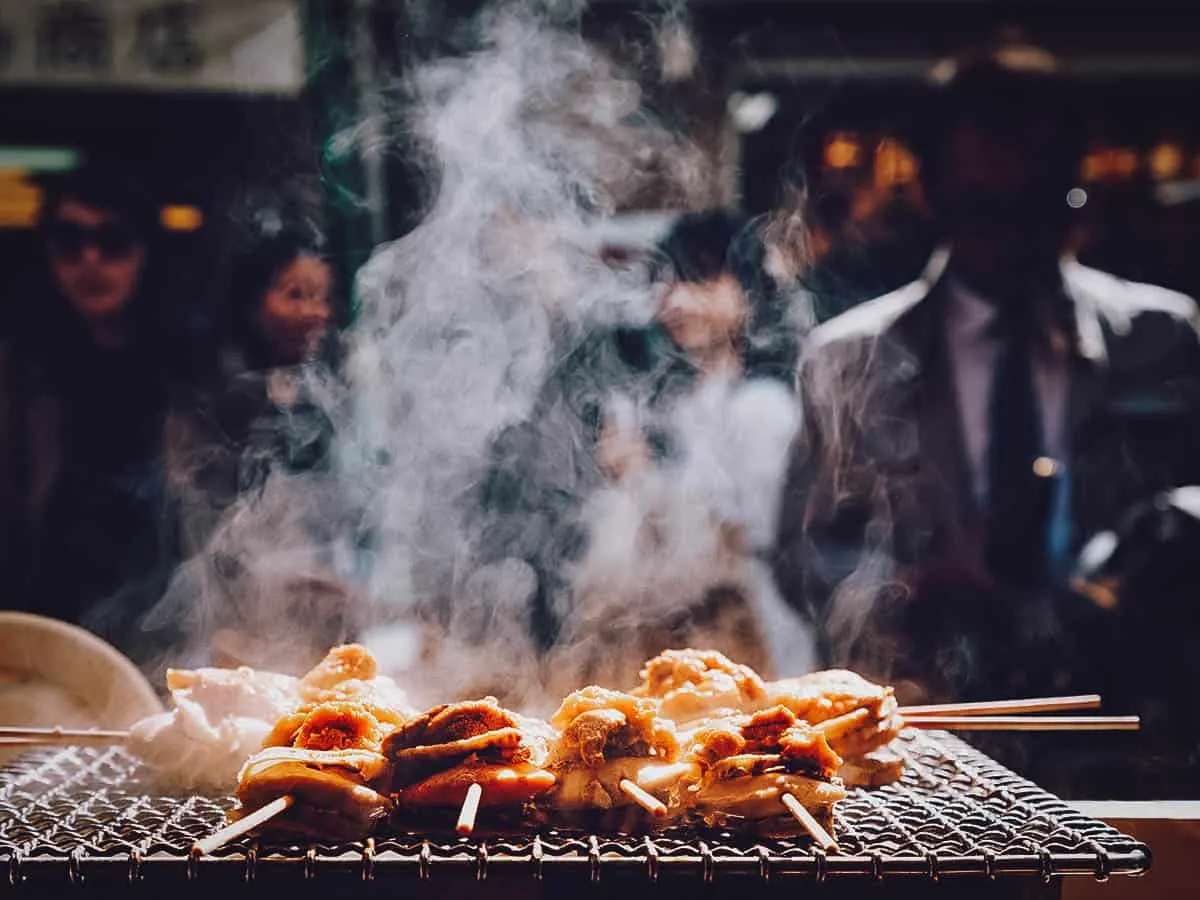 Photo by Gumpanat via Shutterstock
2. Go on a Cycling Tour
The tourist attractions in central Hiroshima are in a relatively compact area. The streets are flat and fairly wide so I think it's a great city to explore on a bicycle, especially if you don't enjoy too much walking.
If you're visiting Hiroshima during the dry season, then you may be interested in booking a cycling tour on Klook or Get Your Guide.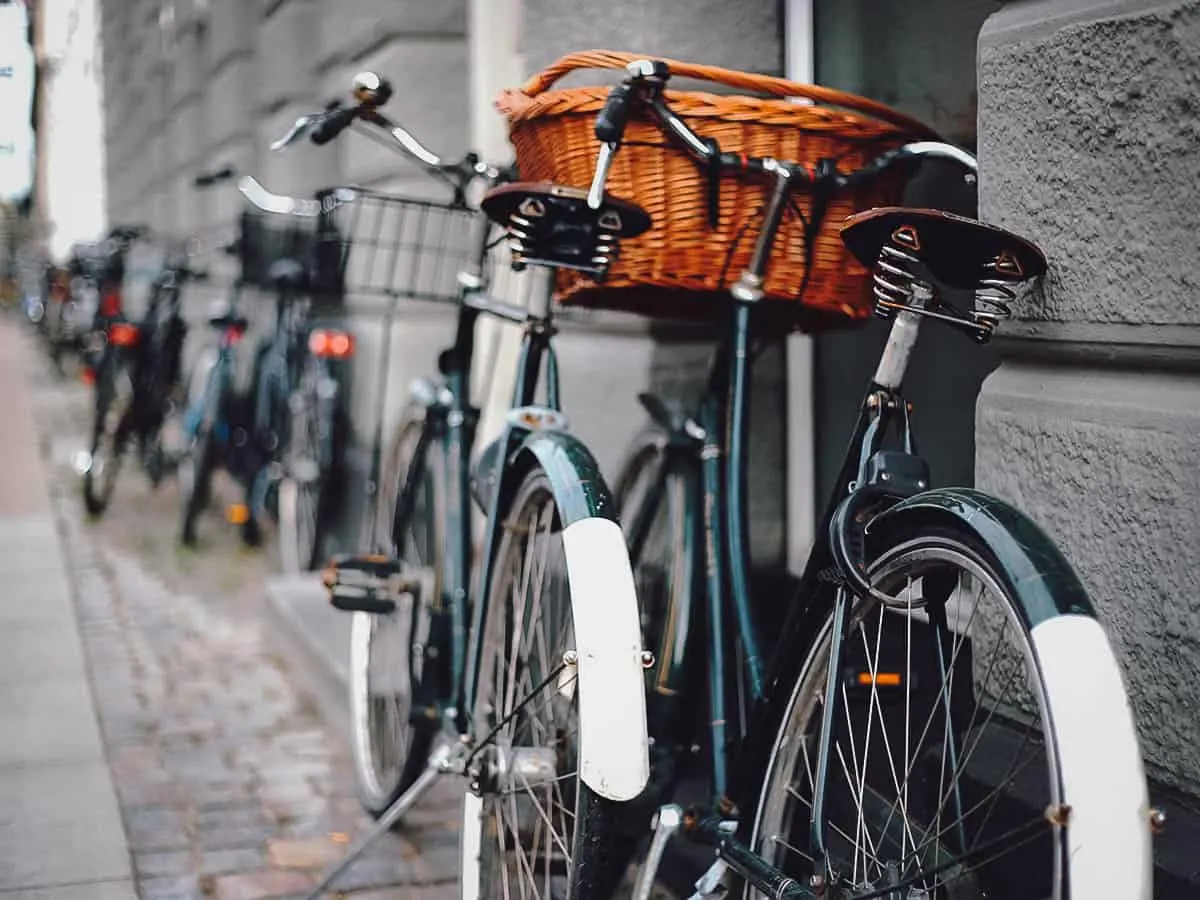 Photo by CAN KAYA via Shutterstock
3. Take a Cooking Class
If you love Japanese food and like to cook, then you may be interested in taking a cooking class. For me, it's one of the best ways to learn about the local cuisine. It's like looking under the cuisine's hood.
I didn't take one in Hiroshima but I did take a cooking class in Tokyo where I learned to make classic Japanese dishes like udon, tempura, and tamagoyaki. It was loads of fun. Check out byFood for a list of cooking classes in Hiroshima.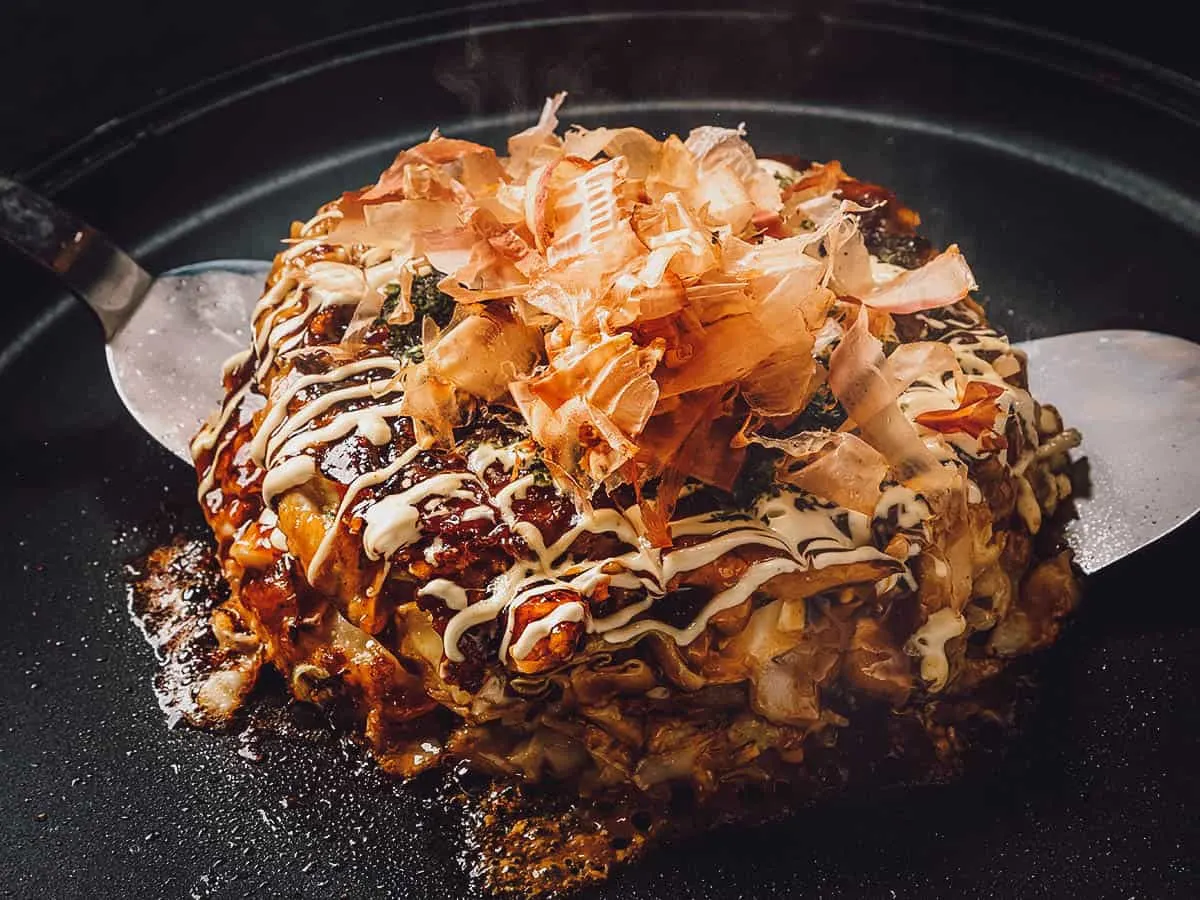 Photo by norikko via Shutterstock
MIYAJIMA ISLAND
4. Go Hiking on Mount Misen
I didn't plan on doing it but hiking up Mount Misen turned out to be one of the best days on my last trip to Japan. At 500 meters (1,640 ft) above sea level, Mount Misen is the highest peak on Miyajima Island and offers spectacular views of Hiroshima Bay.
There are three hiking trails that take you up Mount Misen, each taking between 1.5-2 hours to reach the summit. I took the easiest trail which gave me a decent workout, but if you're relatively fit, then you shouldn't have any problems trekking up the mountain. The scenery is beautiful and you'll probably cross paths with many of the free-roaming deer on the island.
If you'd rather not walk the entire way up, then an alternative would be to take the Miyajima Ropeway. For JPY 1,100 each way (JPY 2,000 round trip), it'll take you to the upper station at Shishi-iwa Observatory which is about 30 minutes from the summit. Pictured below is the observation deck at the very top.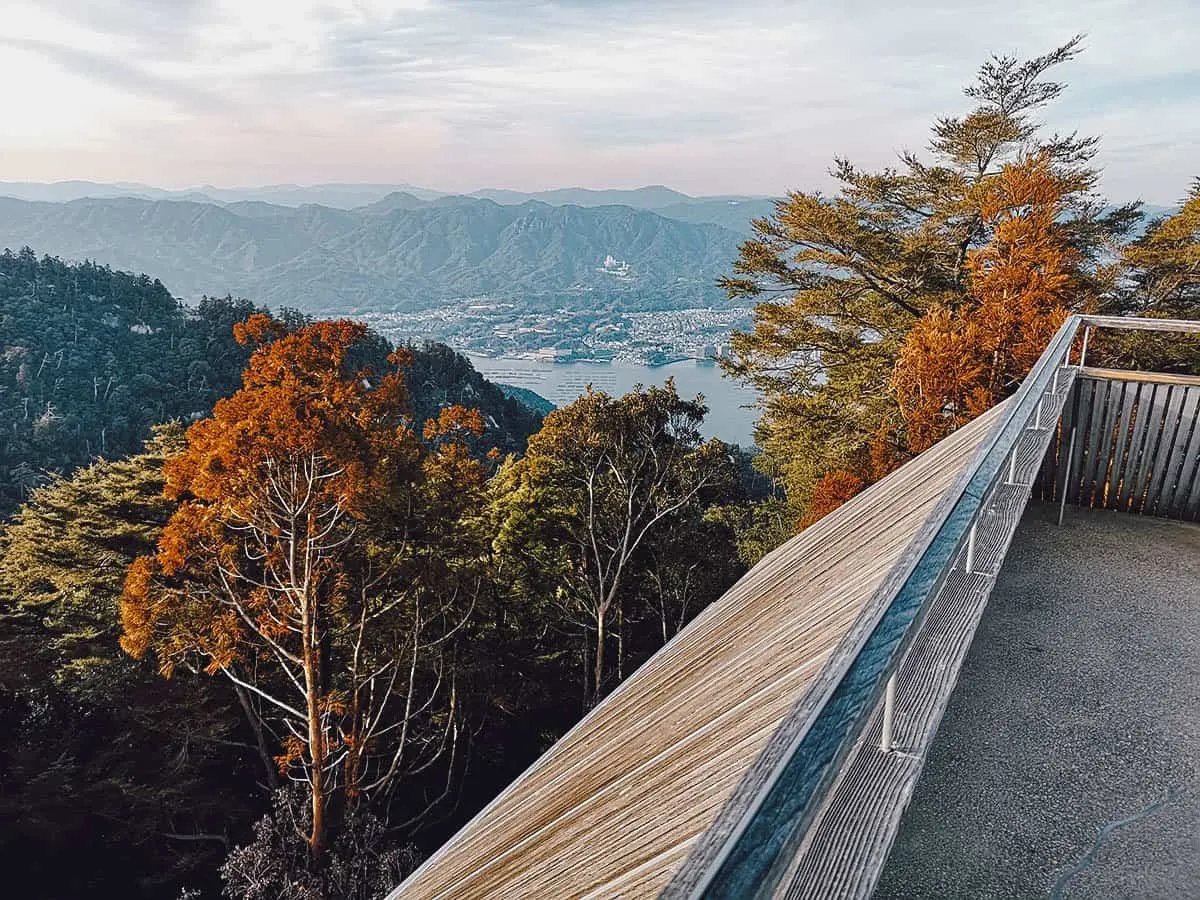 On my way down, I passed through Momijidani Park, one of the most famous places to view the autumn foliage in Japan. I went in winter when the trees were mostly bare but visitors in early to mid-November will be treated to the spectacular reds, oranges, and yellows of the fall season. The park is located near Momojidani Station, the base station of the Miyajima Ropeway.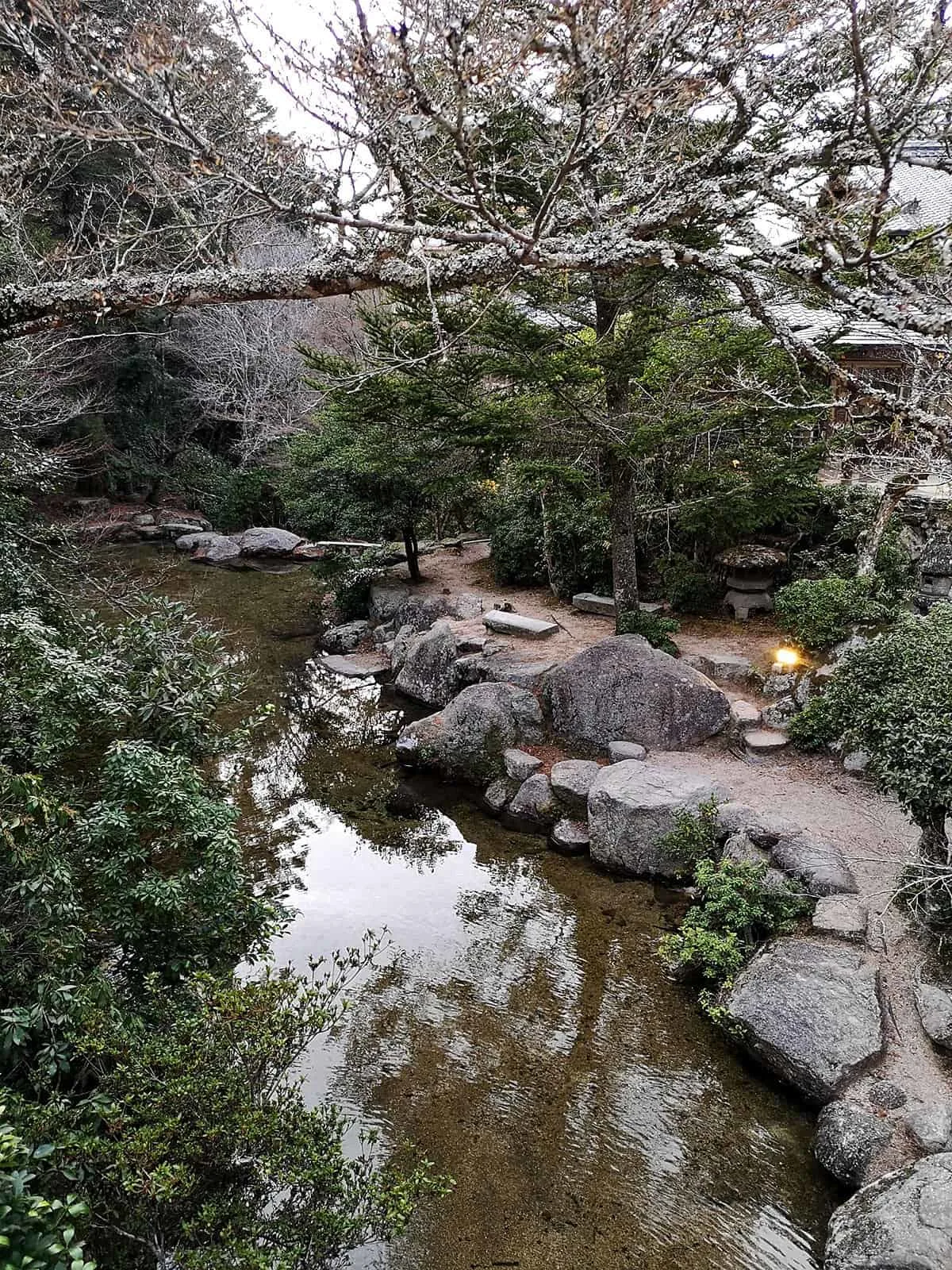 5. Enjoy a Tea Ceremony
If you'd like to do something cultural on your trip, then you may be interested in putting on a kimono and experiencing a tea ceremony on Miyajima Island. Klook, Get Your Guide, and byFood offer cultural experiences that allows guests to partake in an informal tea ceremony while learning calligraphy and enjoying traditional Japanese confections called wagashi.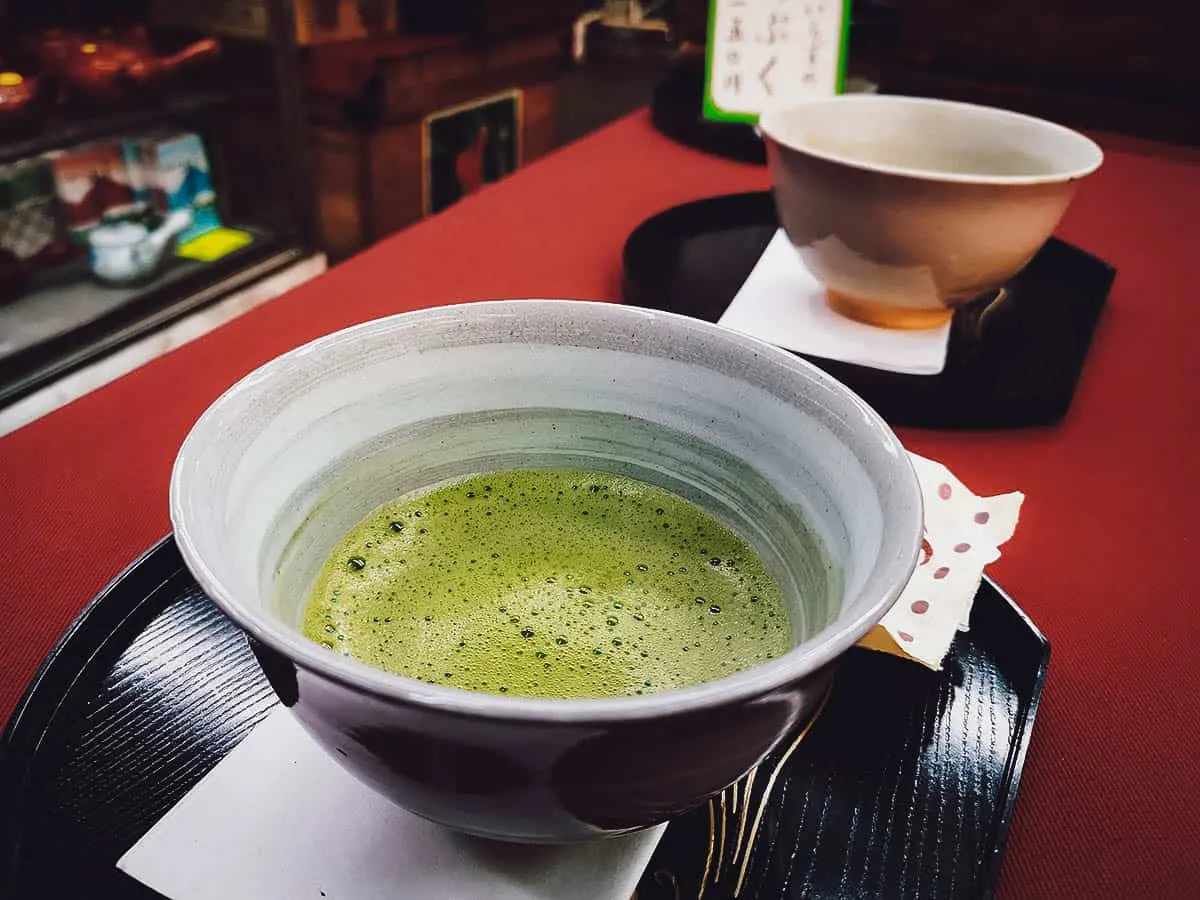 DAY TRIPS FROM HIROSHIMA
1. Motonosumi Inari Shrine
Motonosumi Inari Shrine is a Shinto shrine famous for its spectacular series of bright red torii gates. Located in Yamaguchi prefecture, 123 torii gates are aligned like a tunnel and lead visitors towards a cliff facing the Sea of Japan. If you want striking Instagram photos in Japan, then this is a great place to visit on a day trip.
Motonosumi Inari Shrine isn't near any major towns and is three hours away from Hiroshima, so it may be best to go on an organized tour. Klook offers a guided tour that takes you to both Motonosumi Inari Shrine and Tsunoshima Bridge. If you have an international driver's license, then another option would be to rent a car and drive there yourself.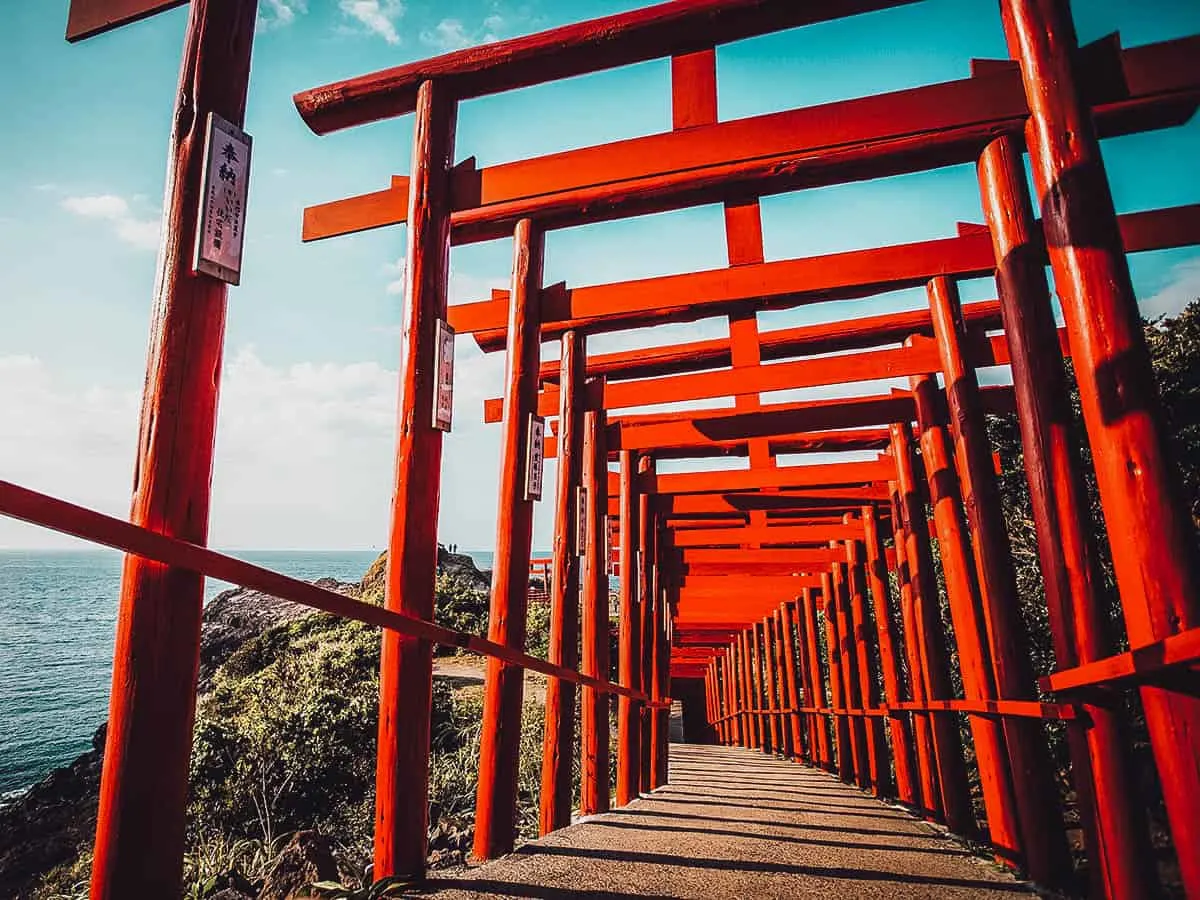 Photo by journeykei via Shutterstock
Travel Time: Around 3-3.5 hrs by car
2. Tsunoshima Bridge
Located less than an hour's drive from Motonosumi Inari Shrine is Tsunoshima Bridge, the second longest bridge in Japan. Measuring 1,780 meters (5,840 ft) in length, it connects the mainland with Tsunoshima Island via a scenic drive with clear views of the ocean on either side.
Like Motonosumi Inari Shrine, Tsunoshima Bridge is a bit difficult to get to using public transportation so it may be best to go on an organized tour or renting a car. As described, Klook offers a tour that combines Tsunoshima Bridge with Motonosumi Inari Shrine.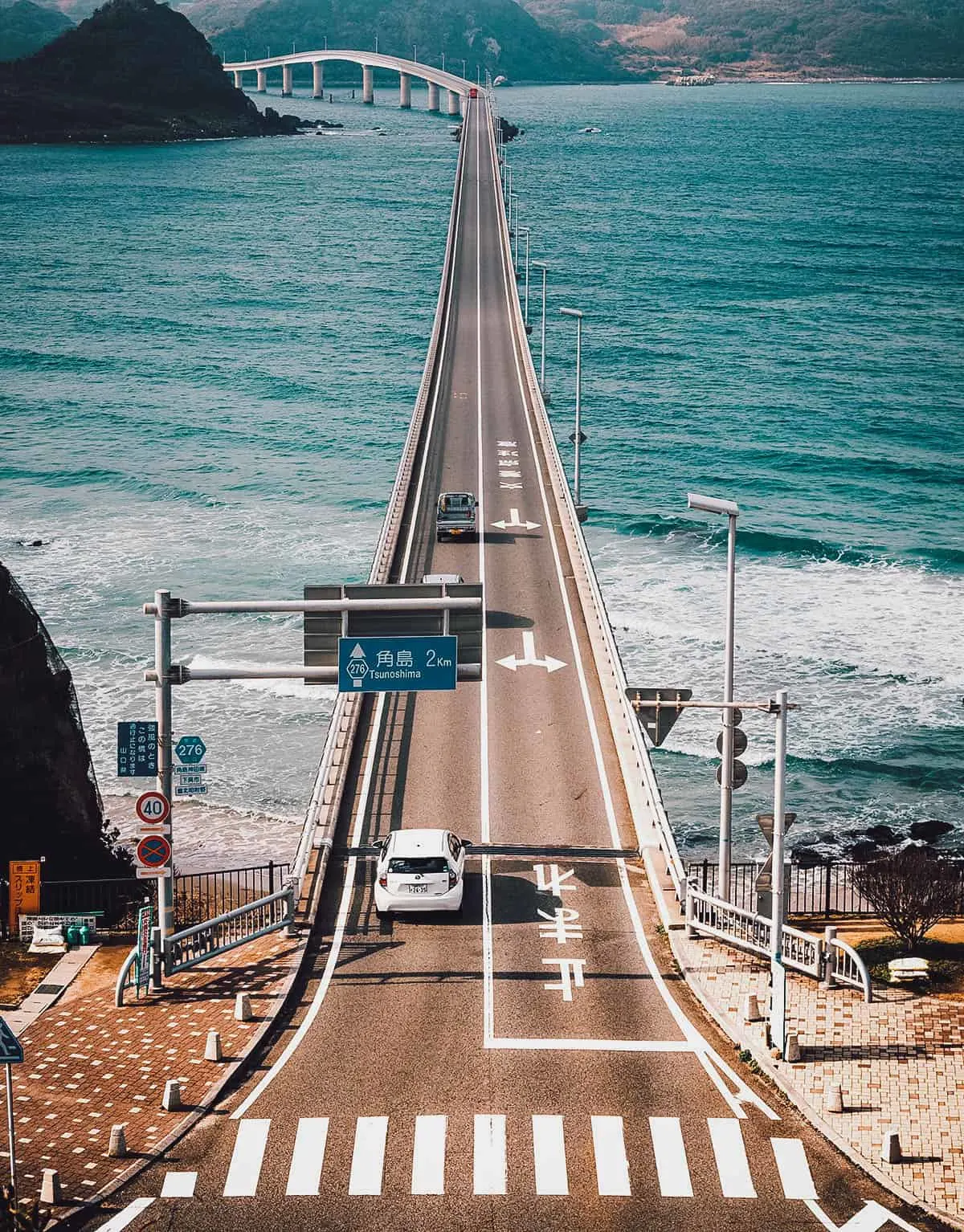 Photo by Samuel Yeo via Shutterstock
Travel Time: Around 3-3.5 hrs by car
3. Sandankyo Gorge
If hiking on Miyajima Island isn't enough to satisfy your craving for nature, then you may be interested in going on a day tour to Sandankyo Gorge. Located about 1.5 hours northwest of Hiroshima, it features lush greenery and waterfalls and offers plenty of trekking and canoeing opportunities for nature seekers in Hiroshima.
Sandankyo Gorge is closer to the city than the previous two destinations, but buses from Hiroshima Bus Center are limited (click here for a schedule). If you'd rather not worry about catching the bus, then you may be interested in booking a tour or renting a car instead.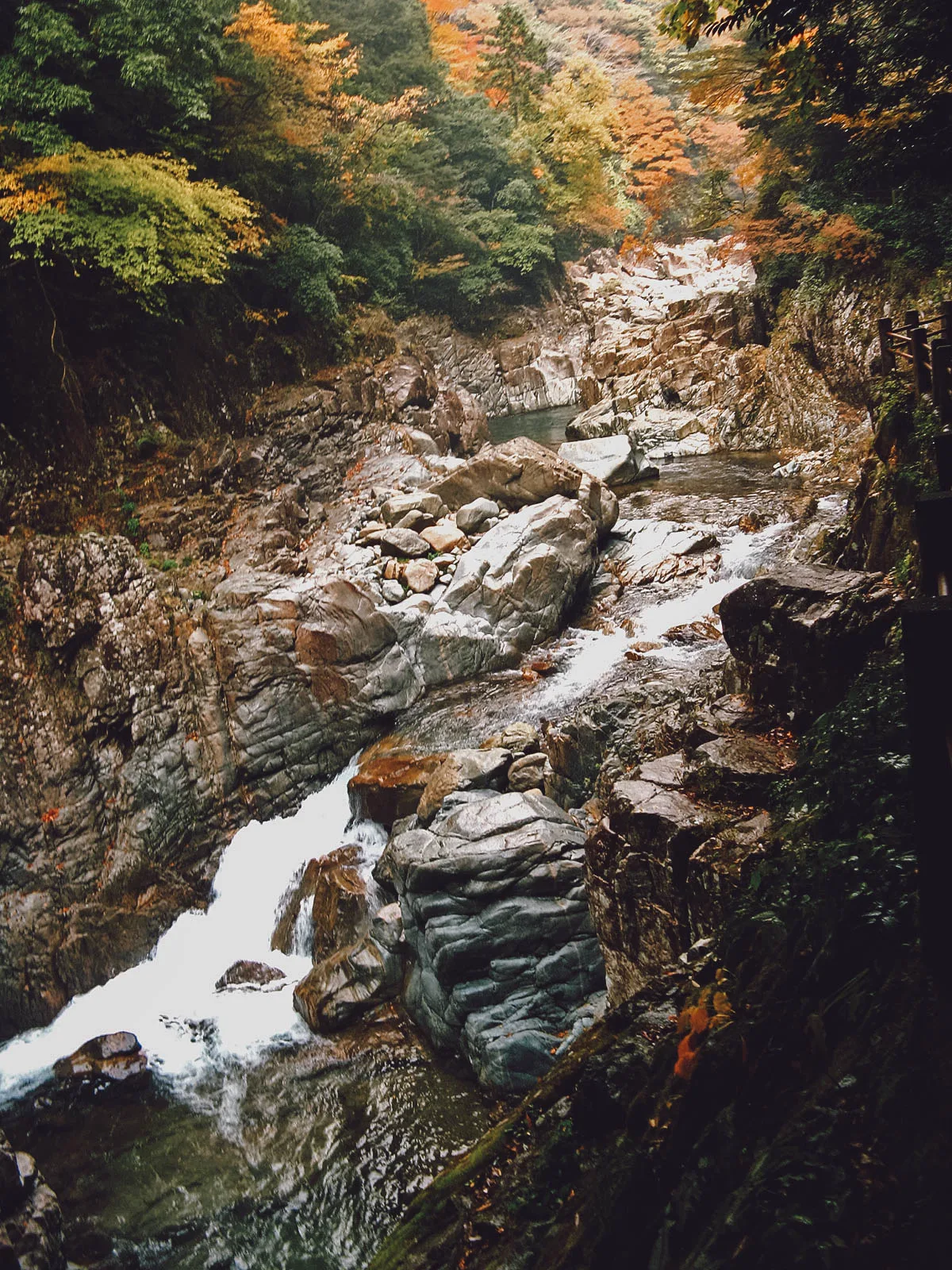 "三段峡" by kagawa_ymg, used under CC BY 2.0 / Processed in Photoshop and Lightroom
Travel Time: Around 1.5 hrs
JAPANESE FOOD GUIDE
If I had to eat just one cuisine for the rest of my life, then it would definitely be Japanese. It's my absolute favorite cuisine in the world and a big reason why we enjoy visiting this country so much.
If you enjoy Japanese food as much as we do, then be sure to check out our Japanese food guide and Japanese dessert guide for a list of the best and most interesting dishes to try in Japan.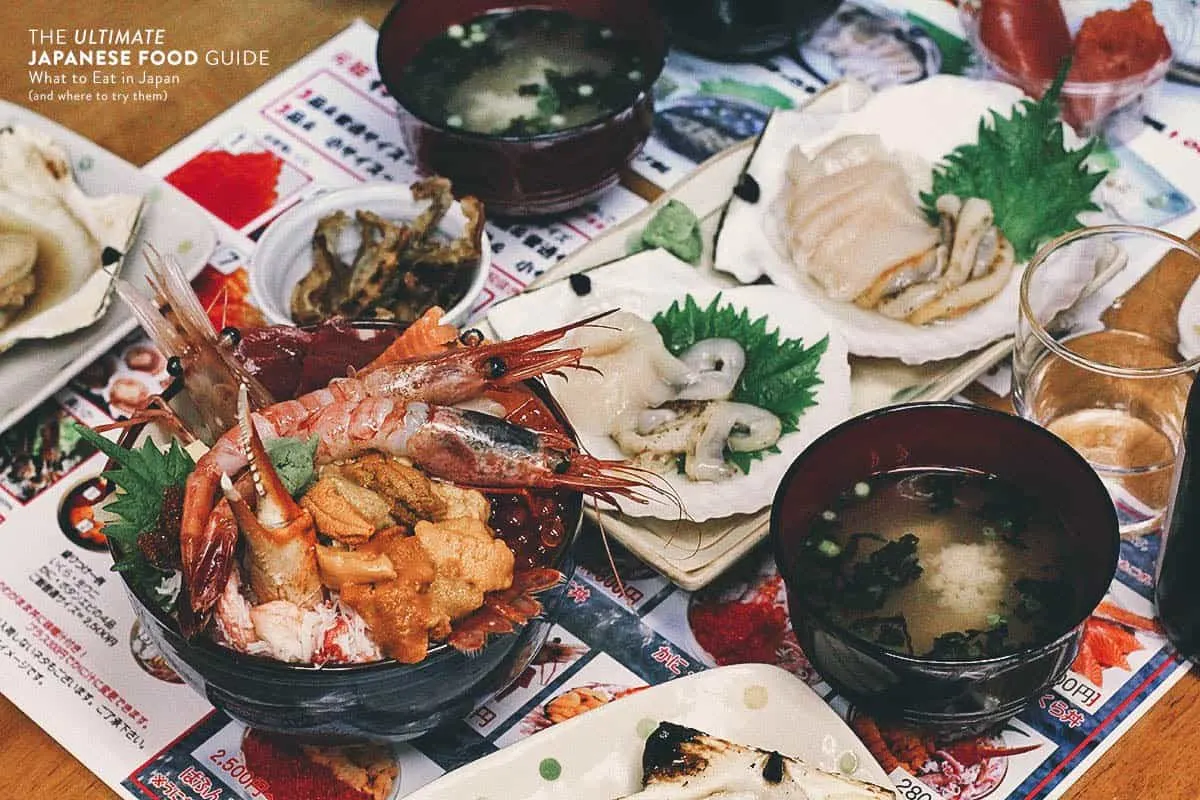 WHERE TO EAT IN HIROSHIMA
As described, Hiroshima is a favorite destination for food among the Japanese. Okonomiyaki, oysters, and anago meshi are three of the best dishes you can have in Hiroshima. Listed below are three great places to try them but be sure to check out our Hiroshima and Miyajima food guide for more recommendations.
HIROSHIMA CITY
1. Nagata-ya
Like Osaka, the one dish that Hiroshima is best known for is okonomiyaki. If you've never had it, it's a Japanese savory-sweet pancake made with wheat flour batter mixed with eggs, grated yam, shredded cabbage, and a host of supplemental ingredients.
Osaka and Hiroshima okonomiyaki are slightly different versions of the same dish. Both are delicious but for me, Hiroshima-style okonomiyaki is better than Osaka's version. You can read our Hiroshima food guide to learn about the differences between the two.
Located near Hiroshima Peace Park, Nagata-ya is a popular restaurant known for being one of the best places to try okonomiyaki in Hiroshima.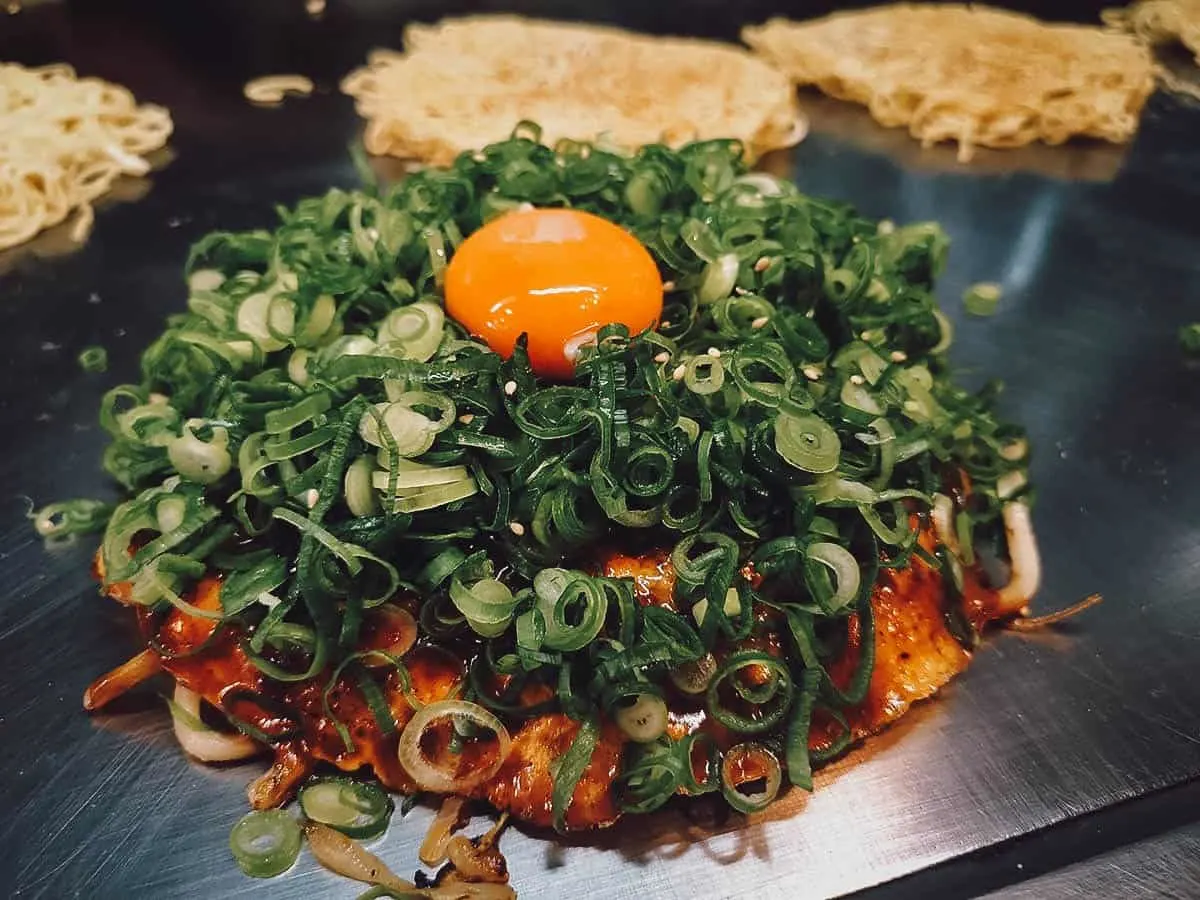 2. Tsuki Akari
Okonomiyaki and oysters may be more well-known to foreigners but some locals believe that anago meshi is the best regional dish in Hiroshima. It refers to a dish of broiled conger eel served over a bed of rice.
If you like unagi donburi, then you're probably going to enjoy anago meshi. They're very similar dishes except unagi donburi is made with freshwater eel while anago meshi is made with saltwater or conger eel. They're similar in taste and texture but anago is less sweet.
Located just a few doors down from Nagata-ya, Tsuki Akari is a good place to try anago meshi in central Hiroshima.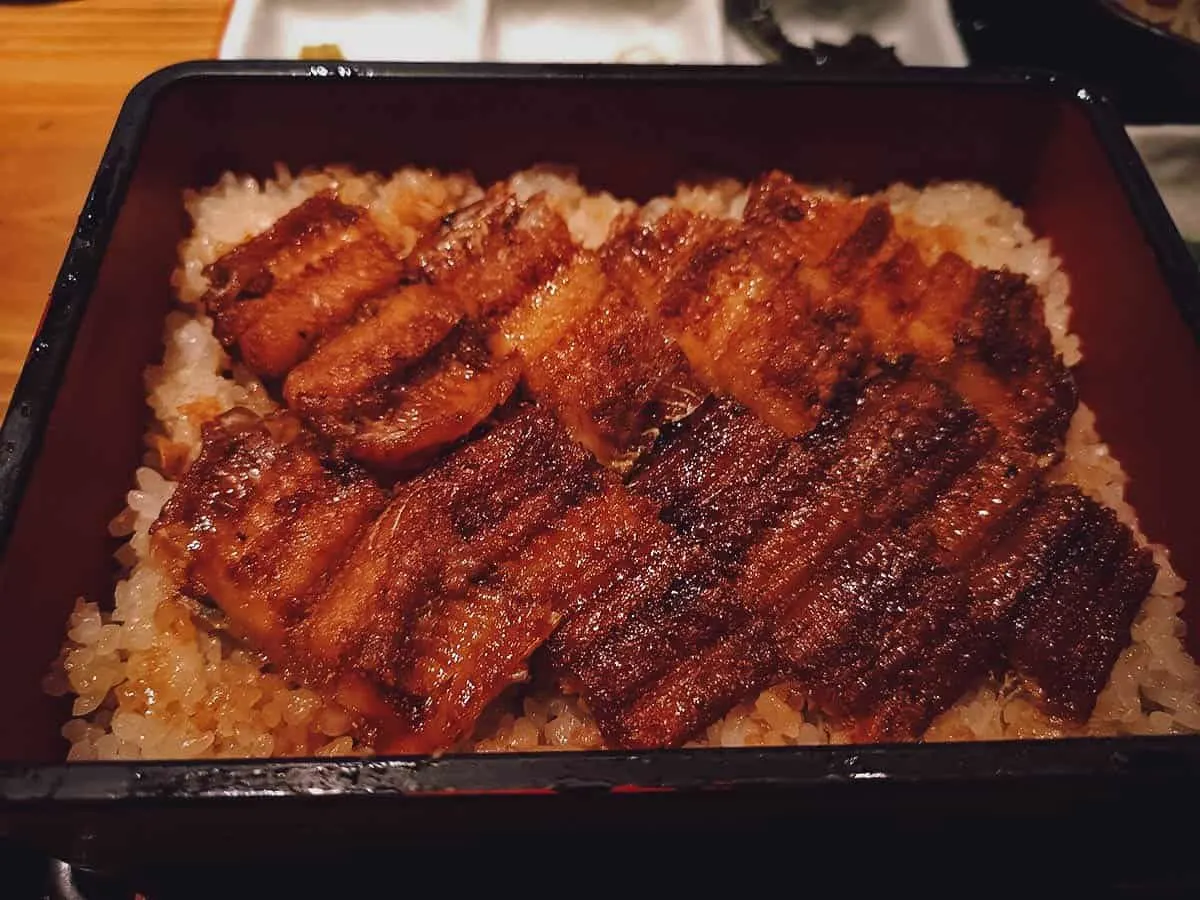 MIYAJIMA ISLAND
3. Kakiya
You can find oysters everywhere in Hiroshima, but the best are said to come from Miyajima Island. Oysters have been cultivated in Hiroshima Bay for nearly 500 years so it only makes sense that the freshest oysters can be found on Miyajima.
My search for the best oysters in Hiroshima led me to Kakiya and this incredible Kakiya oyster set. On the tray are deep-fried breaded oysters, grilled oysters, smoked oysters, oyster miso soup, pickled oysters, and kaki meshi. My god was this good.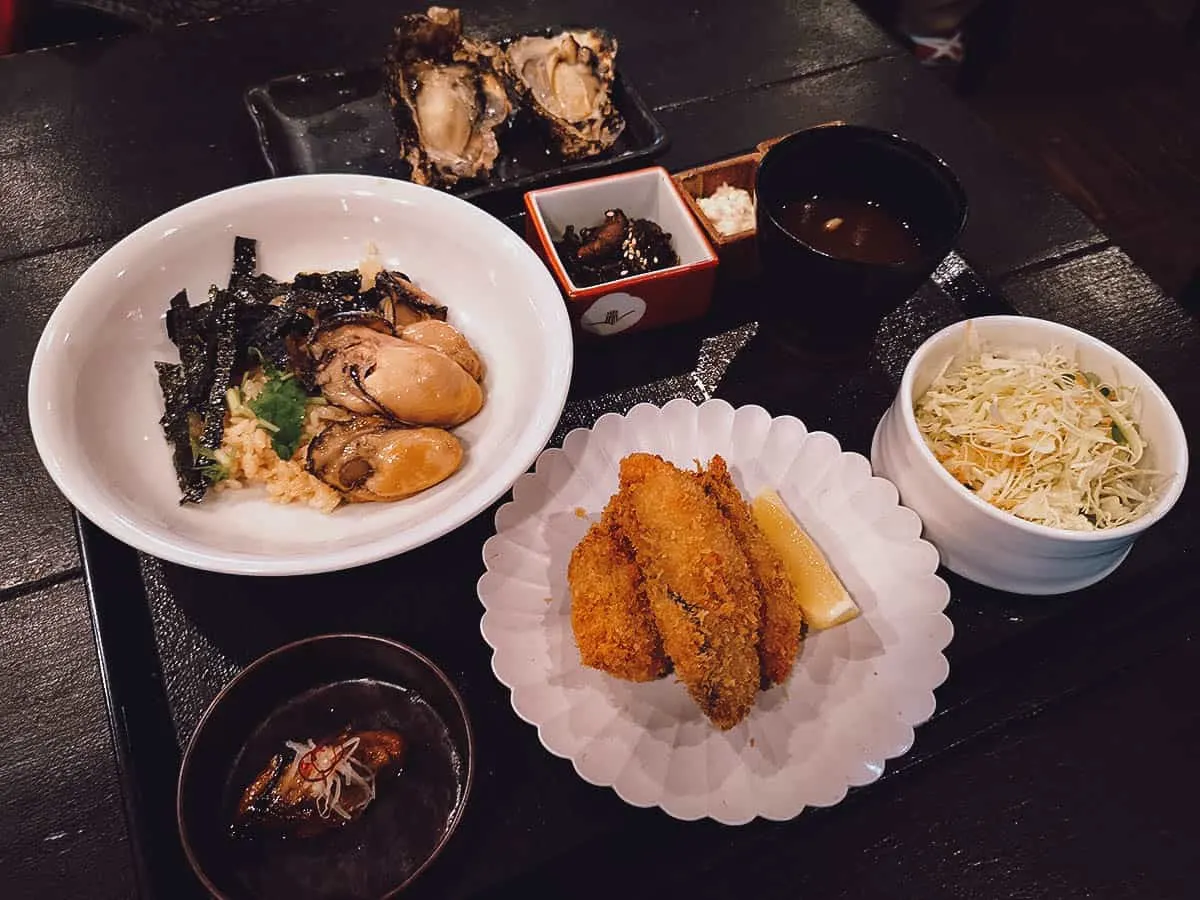 POINTS OF INTEREST IN HIROSHIMA & MIYAJIMA
To make it easier for you to visualize where everything is, I've pinned most of the places recommended in this Hiroshima travel guide on a map. Click on the link for a live version of the map.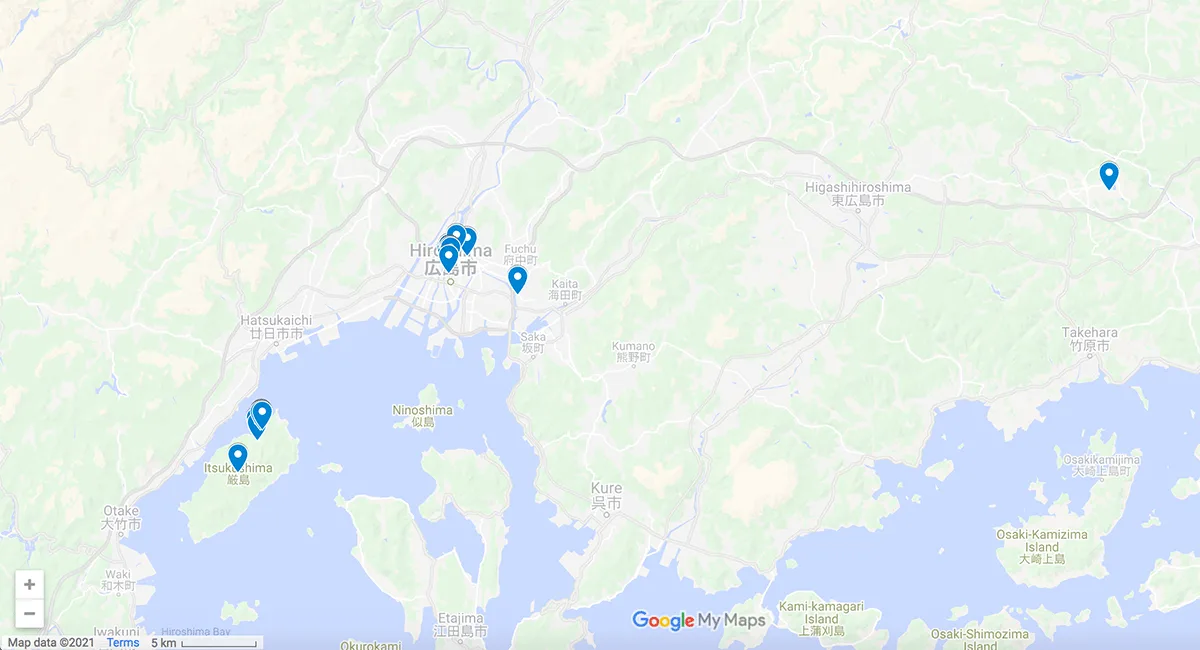 HOW TO GET AROUND IN HIROSHIMA
Hiroshima has the largest network of trams in Japan, with eight lines giving you easy access to many of the city's top tourist attractions. In fact, I took a tram all the way to Miyajimaguchi where I hopped on a ferry to get to Miyajima Island.
Many of Hiroshima's top tourist attractions are located within a relatively compact area so it's easy to get around by tram or on foot. The fare for a single tram ride within central Hiroshima is JPY 190. If it's a nice day and you'd prefer to walk, which is what I did most of the time, then you can use the Google Maps app (iOS / Android) to navigate.
If you'd like to get a transportation card in Hiroshima, then there are a few you can choose from:
1-Day Pass
For JPY 700, the 1-day pass will give you unlimited rides on Hiroshima's tram network for one calendar day. For an additional JPY 200, you'll also get a roundtrip ferry ride to Miyajima Island on the Matsudai ferry. If you're visiting Miyajima, then this is definitely worth it because roundtrip tram and ferry tickets from Hiroshima Station to Miyajima Island alone will run you JPY 1,200.
On top of that, either version of the 1-day pass will entitle you to a discount on the Miyajima Ropeway so you'll wind up paying JPY 1,500 instead of the usual JPY 2,000 for a roundtrip cable car ticket. You can purchase the 1-day pass on the trams or at the Hiroshima Station information desk.
Hiroshima Sightseeing Loop Buses
If you have a Japan Rail Pass or a participating regional JR Pass, then you can use it for unlimited rides on Hiroshima's Sightseeing Loop Buses. They're a network of tourist buses that ply three set routes around the major tourist attractions in central Hiroshima.
If you don't have a rail pass, then you can purchase a 1-day pass for JPY 400. Otherwise, it costs JPY 200 per ride. You can purchase the 1-day pass on the bus or at the bus ticket counter near the JR Hiroshima Station shinkansen exit.
Visit Hiroshima Tourist Pass
The Visit Hiroshima Tourist Pass will give you unlimited rides on trams, buses, and Miyajima ferries for 1, 2, or 3 consecutive days. It costs JPY 1,000, JPY 1,500, and JPY 2,000 respectively and can be purchased in advance through Klook. People who buy the pass will receive a voucher book with discount coupons to various restaurants and tourist facilities in Hiroshima.
IC Cards
If you already have one of the ten major IC Cards like the Suica, Pasmo, or Icoca, then you can use it towards tram, ferry, or public bus fares in Hiroshima. I had the Suica IC Card from Tokyo and I was able to use it without any problems in Hiroshima.
If you're unfamiliar with Japan's IC Cards, they're stored value cards similar to Hong Kong's Octopus Card or Seoul's T-money Card. They don't give you discounts on fares but they do save you from the trouble of having to buy single journey tickets every time. Plus, you can use them to pay for items at convenience stores. I rarely have a need for 1-day passes so IC Cards are my preferred transport cards in Japan.
Hiroshima has a local version called the Paspy IC Card which can be used to pay for tram and bus fares in Hiroshima. However, it can't be used in other cities so you're better off getting one of the ten major IC Cards if you plan on doing a multi-city tour of Japan.
HOW MANY DAYS TO STAY / HIROSHIMA ITINERARY
Two full days should be enough time to see Hiroshima's top tourist attractions – one day for central Hiroshima and another for Miyajima Island. Here's a sample 2D/2N Hiroshima itinerary to help you plan your trip.
DAY ONE (Central Hiroshima)
• Atomic Bomb Dome
• Hiroshima Peace Park
• Hiroshima Peace Museum
• Hiroshima Castle
• Shukkei-en Garden
DAY TWO (Miyajima Island)
• Itsukushima Shrine
• Toyokuni Shrine
• Momijidani Park
• Miyajima Ropeway
• Hike down Mt. Misen
• Daishoin Temple
• Tahoto Pagoda
HIROSHIMA TRAVEL TIPS
1. Plan your Trip with Sygic Travel
If you enjoy travel planning like I do, then you're going to love Sygic Travel. It's a free trip planning app that allows you to create custom itineraries to different destinations around the world. I discovered Sygic Travel many years ago, back when it was called Tripomatic, and I still use it to create every itinerary. You can download it for free on iOS and Android.
2. Stay Connected
Being able to connect to the internet when traveling is a must, especially when you're in a country with a significant language barrier like Japan. You'll need it to navigate, to translate signs, and to make sense of the highly efficient but equally confusing rail system.
You can get access to the internet in Japan by renting a pocket wifi device or buying a sim card. Personally, we prefer pocket wifi devices because they're more foolproof but either is fine. You can arrange for either in advance through Klook (pocket wifi | sim card) or Get Your Guide.
3. Bookmark Hyperdia or Get the App on your Mobile Device
I can't stress enough just how helpful Hyperdia is when making sense of Japan's railway system. Not only will it give you precise train arrival and departure times, but it'll tell you exactly how to go from one station to the next so you don't get lost. It makes commuting so much easier so be sure to download the app or bookmark the website on your mobile device.
WEBSITE: hyperdia.com
4. Check for Hiroshima Travel Deals
There are many websites that offer tours and travel deals to different cities around the world. For Japan, my favorites are Klook, Get Your Guide, byFood, and Magical Trip. They're all reliable sites that offer many interesting tours and activities in Japan. Be sure to check all four sites to find Hiroshima travel deals that may interest you. Even if I don't buy anything, it's always fun to look just to see what's available.
5. Get Travel Insurance
When we were younger, we rarely bought travel insurance before a trip. We saw it as a frivolous expense, something that we didn't need. But now that we're older and travel more often and longer, we understand just how important it is.
The fact is, you never know what can happen on a trip. You can get hurt walking down a flight of steps so it's good to have a travel insurance policy to cushion the fall. Chances are, all goes well and you won't need to use your policy which is the best-case scenario. But again, you never know.
We always get travel insurance from SafetyWing or Heymondo. They're popular travel insurance providers used by many long-term travelers. You can follow the links to get a free quote from SafetyWing or Heymondo. Will Fly for Food readers get 5% off on Heymondo when using our link.
7. Bring the Right Power Adapter
Japan has Type A or Type B electrical outlets so be sure to bring the right power adapters for your devices. Electrical voltage is 100V and the standard frequency is 50/60Hz.
8. Learn Basic Japanese Etiquette
Japan is a country with many unwritten rules. Courtesy and etiquette are of the utmost importance so I suggest going over this overview on Japanese etiquette for tourists before your trip.
Have Fun!
I'm definitely not an expert on Hiroshima but I do hope that you find this guide useful. I'm only sharing the things I've learned from my many trips to Japan. If you have any questions or suggestions, then feel free to let us know in the comment section below. You're welcome to join our Facebook Travel Group as well.
Thanks for stopping by and have an amazing time in Hiroshima!
OUR GEAR
These are some of the things I brought with me to Hiroshima. See what's in our backpack for a complete list of our travel gear. (NOTE: The following links are Amazon and other affiliate links.)
Disclosure
This Hiroshima travel guide contains affiliate links, meaning we'll earn a small commission if you make a booking or purchase at no extra cost to you. As always, we only recommend products and services that we use ourselves and firmly believe in. We really appreciate your support as this helps us make more of these free travel guides. Thank you so much!