Do you like Kyoto? I do, which is why I enjoyed Kanazawa. It's affectionately called "Little Kyoto" for its beautifully preserved neighborhoods, its sprawling landscaped garden, and handful of interesting museums.
I was drawn to Kanazawa City after reading about its popularity with domestic tourists. It exudes the charm of Kyoto minus the crowds, which is always a good thing. Like Kyoto, Kanazwa escaped destruction from air raids in WWII, leaving its atmospheric samurai and geisha entertainment districts remarkably intact.
Speaking of atmosphere, Kanazawa's charm is none better exemplified than by Kenrokuen, one of Japan's three best landscaped gardens and considered by many to be the most beautiful of them all.
If you're drawn to Japan's atmospheric charm like I am, then you're going to enjoy Kanazawa. Here are ten of the best things to do in Kanazawa City for first-time visitors.
KANAZAWA ATTRACTIONS QUICK LINKS
To help you make the most of your time in Kanazawa, I've compiled links to popular tours and activities here.
TOURS
OTHER SERVICES
Save This on Pinterest!
No time to read this guide on the top attractions in Kanazawa? Click on the save button and pin it for later!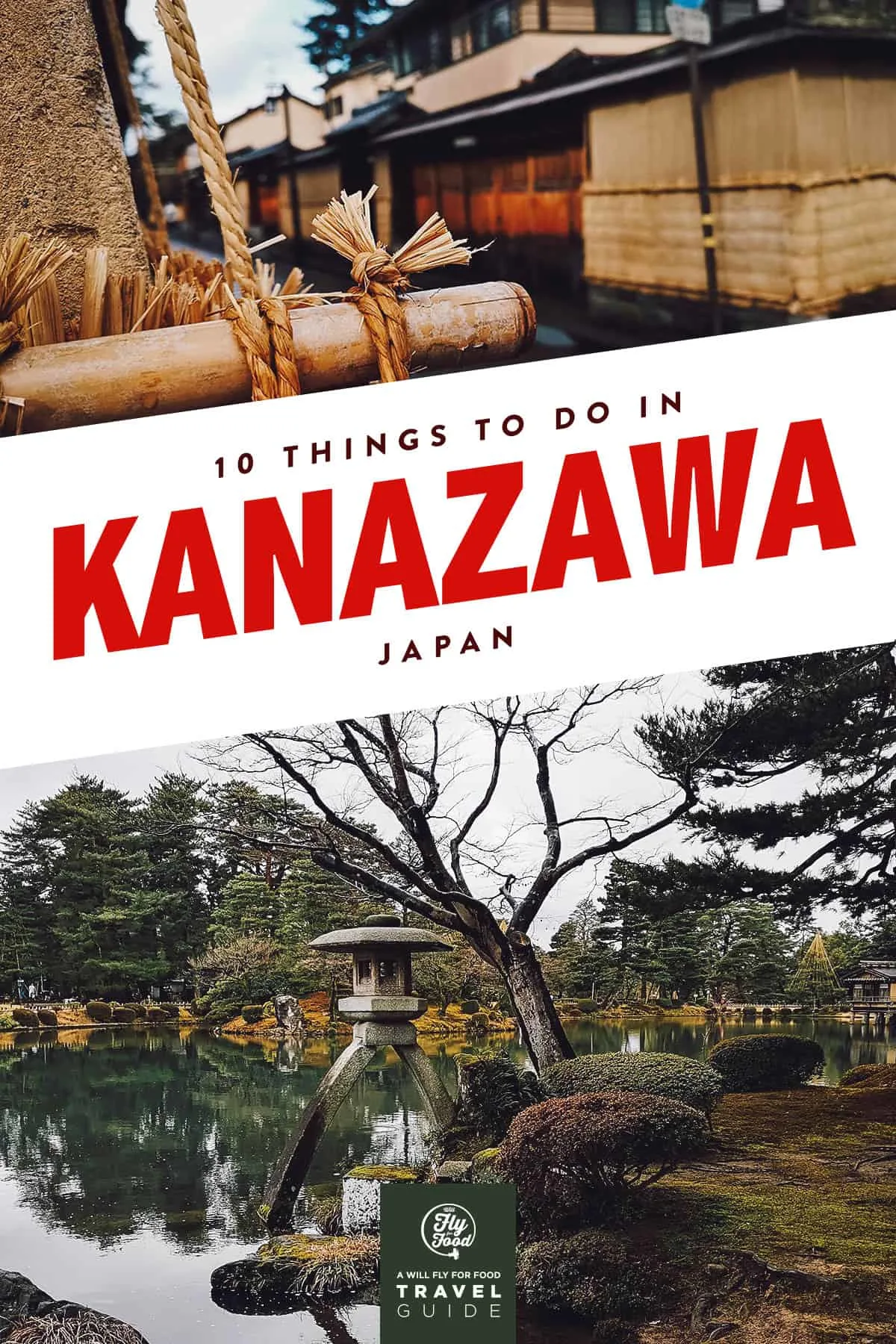 THINGS TO DO IN KANAZAWA
1. Say "Konichiwa Kanazawa!" at Tsuzumi-mon Gate
This isn't really an attraction in Kanazawa, but more like a welcome. The majority of travelers visiting Kanazawa will be arriving at Kanazawa Station, and the vermillion-colored Tsuzumi-mon Gate, located in front of the East Exit, will be the first thing many people see.
Made almost entirely of wood, the gate's design is based on traditional Japanese hand drums or tsuzumi. It's an impressive, imposing design which in some ways, has become a symbol of Kanazawa. Snap a few pictures here before checking in to your hotel.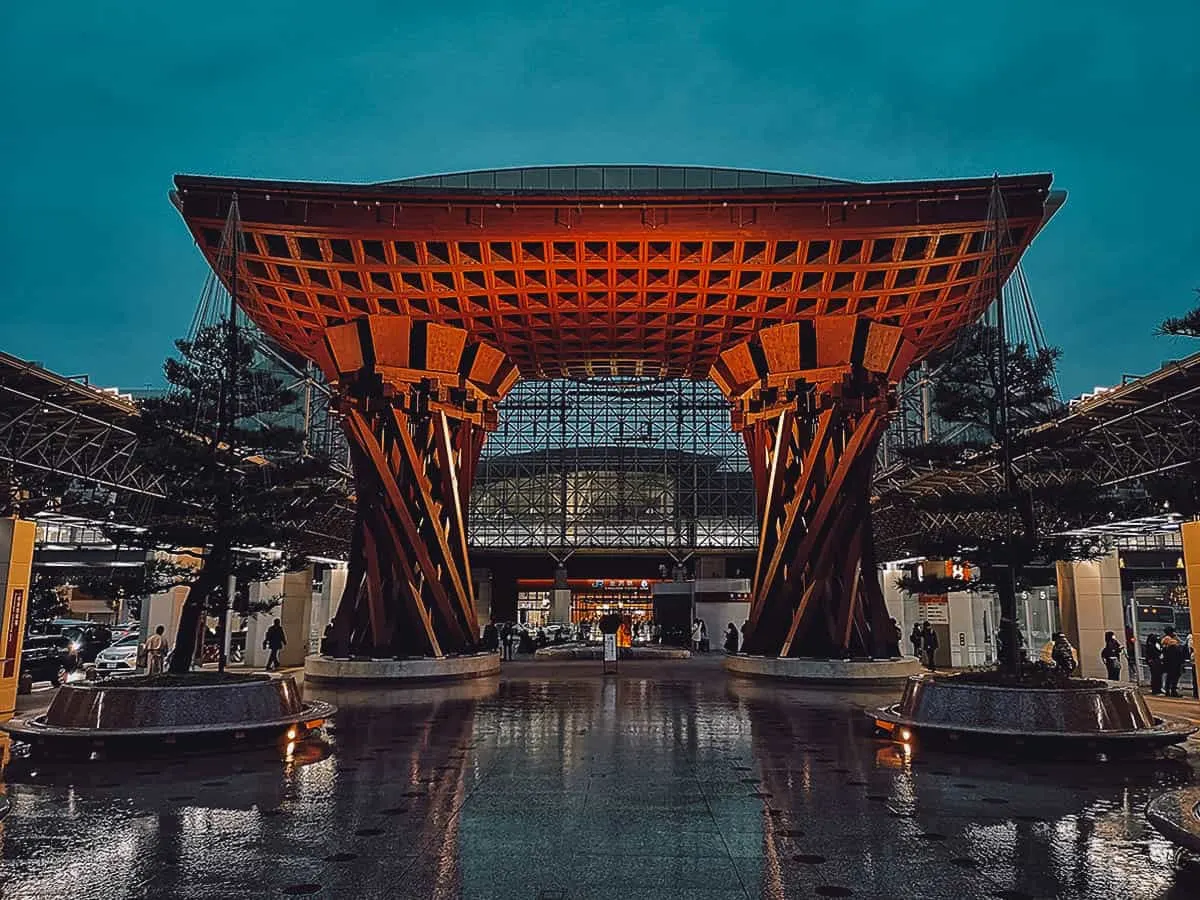 Operating Hours: 24 hours
Admission: FREE
Estimated Time to Spend: 15 minutes
2. Visit a Geisha District
Exploring one of its well-preserved chaya districts is one of the most popular things to do in Kanazawa. A chaya is an exclusive type of restaurant or teahouse where guests are entertained by geishas performing song and dance. During the Edo period, chayas were clustered in designated entertainment districts. You can find these geisha districts in certain cities throughout Japan like Kyoto, Tokyo, Osaka, and Kanazawa.
Kanazawa has three well-preserved chaya districts – Higashi Chayagai, Nishi Chayagai, and Kazuemachi. I went on my own but it may be interesting to go with a guide who can explain everything to you. Klook and Get Your Guide offer tours that take you to Kanazawa's chaya districts.
Higashi Chayagai
Higashi Chayagai is the biggest and busiest of Kanazawa's chaya districts. If you had time to visit just one chaya district in Kanazawa, then it should probably be this one. It's the liveliest of the three with the most establishments you can visit.
Most of the chayas in Kanazawa have been converted to restaurants, shops, and teahouses, though I did read about one that continues to operate as a geisha house – Kaikaro Teahouse. It's open at night by invitation only but the general public can visit and enjoy tea service during the day.
Another chaya you can visit is Ochaya Shima. It's a preserved teahouse that now operates as a chaya museum.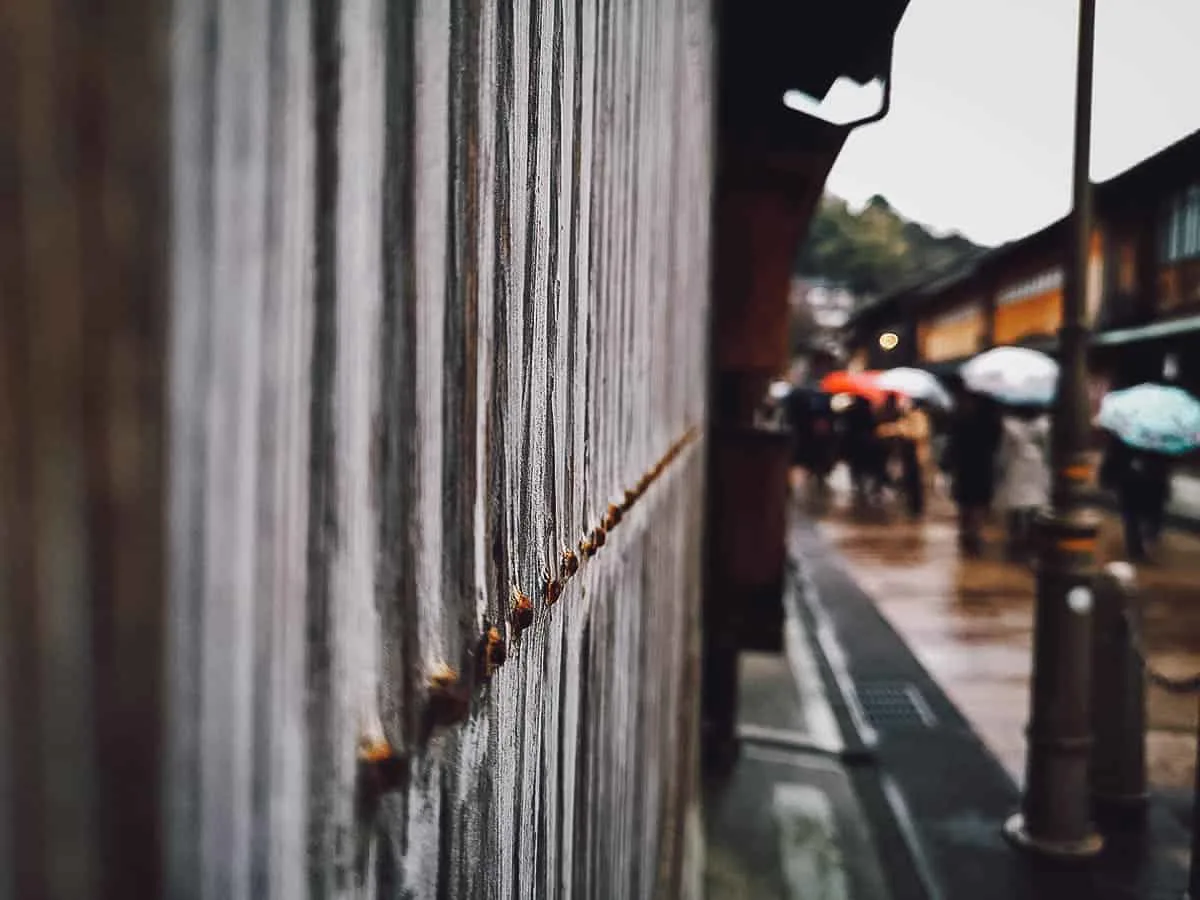 To be honest, I didn't find the establishments to be all that interesting but I did enjoy taking pictures of the traditional wooden houses. I love the atmospheric vibe of preserved neighborhoods like this.
If you're considering renting a kimono or yukata for more memorable pictures, then Higashi Chayagai is the perfect backdrop. You can rent a kimono in Kanazawa through Get Your Guide.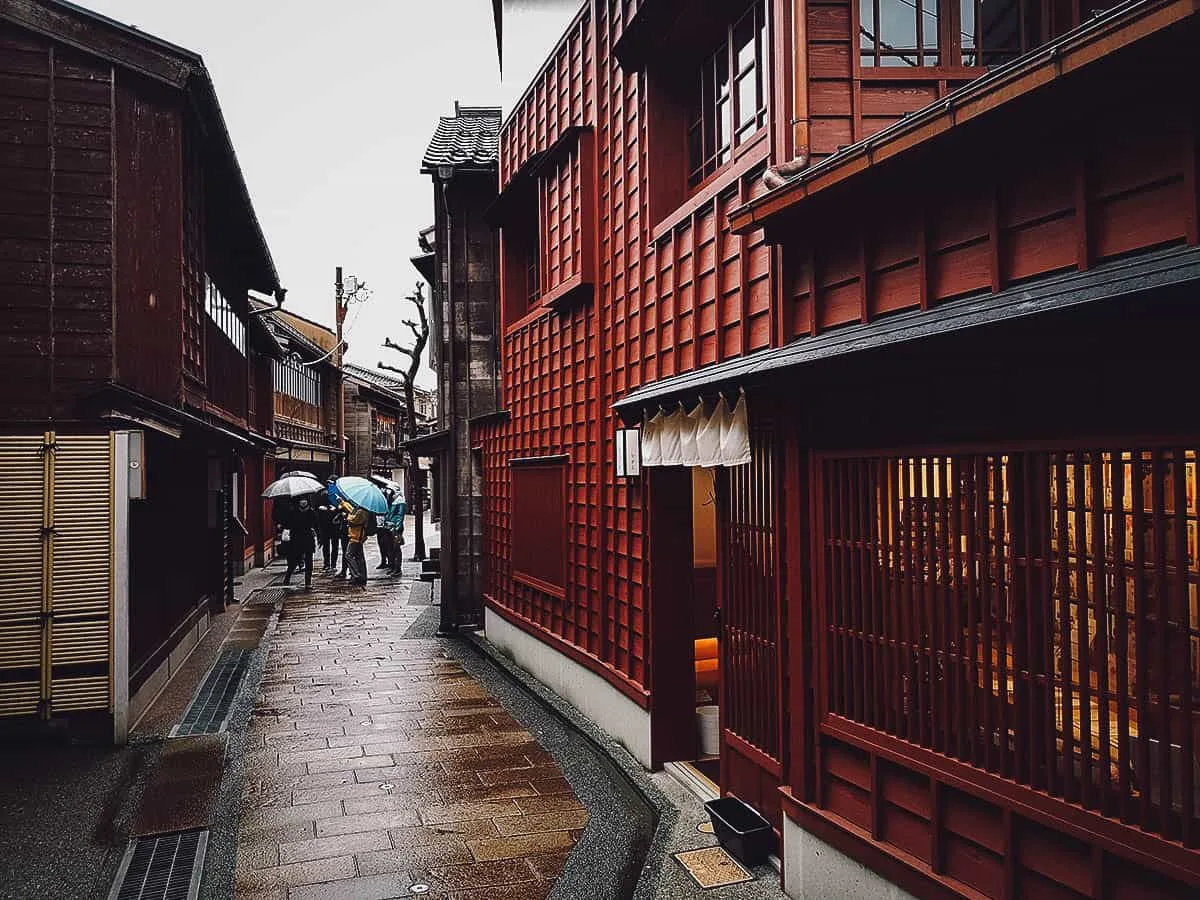 It was interesting to learn that Kanazawa produces 99% of Japan's high-quality gold leaf. In fact, the name Kanazawa literally means "marsh of gold".
If you're interested in souvenirs made from gold leaf, then you may want to check out Hakuichi. It's a souvenir shop that's also become famous for serving gold leaf soft serve ice cream.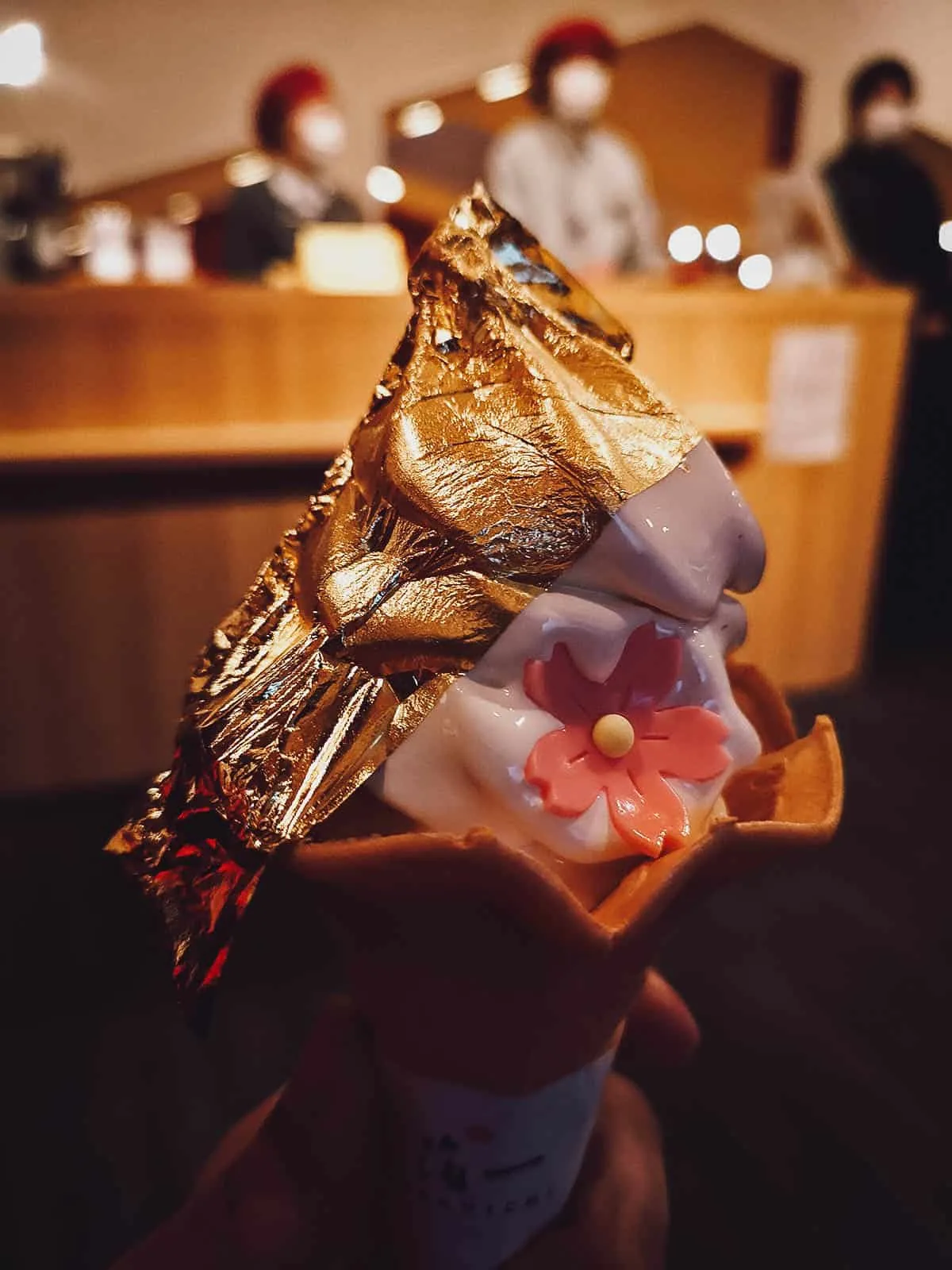 Nishi Chayagai
Nishi Chayagai is considerably smaller than Higashi Chayagai. Aside from the chayas that have been converted into shops and restaurants, there isn't anything of interest here except for a small museum dedicated to the history of the district (Nishi Chaya Shiryokan).
Unless you have a particular interest in geisha culture, then I suggest skipping this one. It's about a 45-minute walk from Higashi Chayagai, in an area that doesn't have many attractions.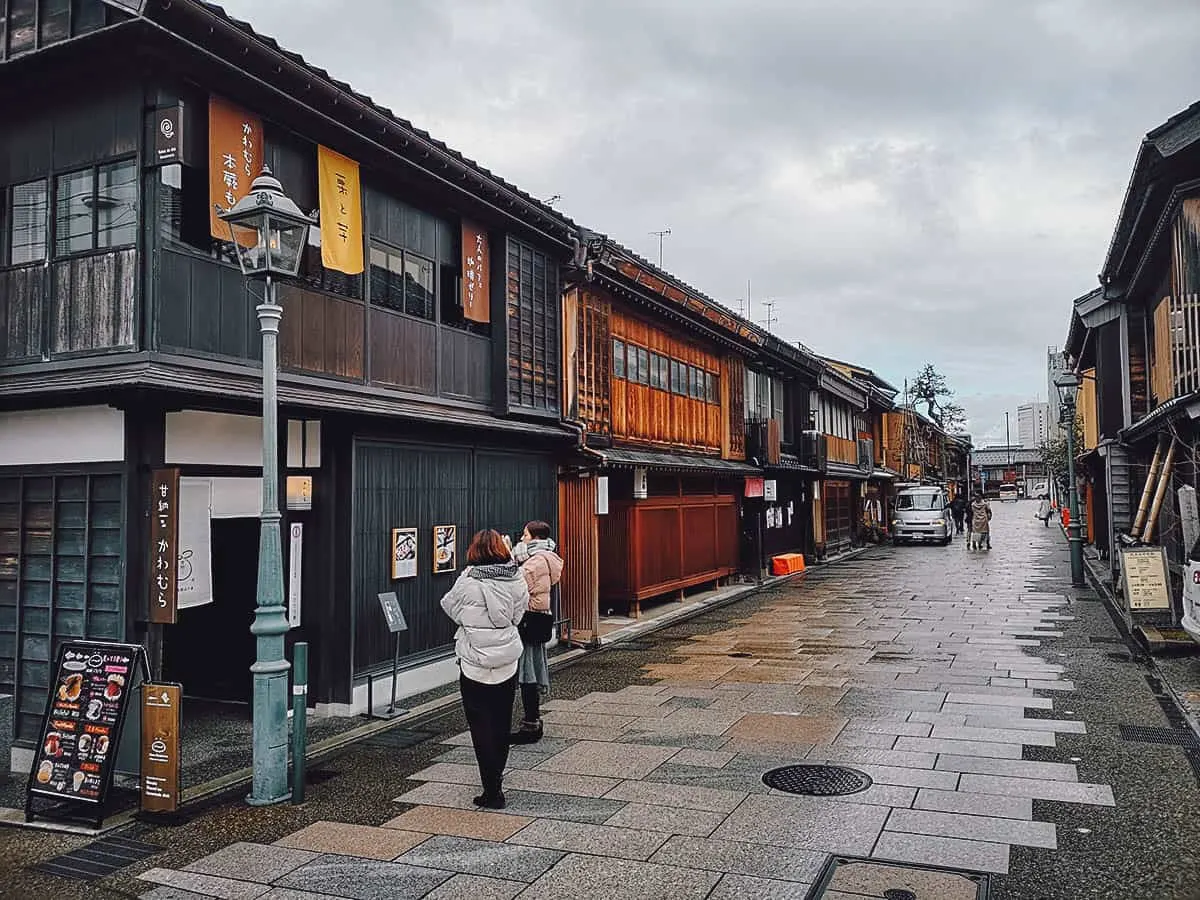 Kazuemachi
This was my favorite chaya district in Kanazawa. It's the least active of the three which is part of the reason why I enjoyed it so much.
Kazuemachi is located by the river, between Asanogawa Ohashi and Naka-no Hashi bridges. It seems to have the least number of restaurants and shops but it's the most picturesque. In fact, I was drawn to the place without even realizing it was one of the three chaya districts. It was one of my favorite areas in Kanazawa.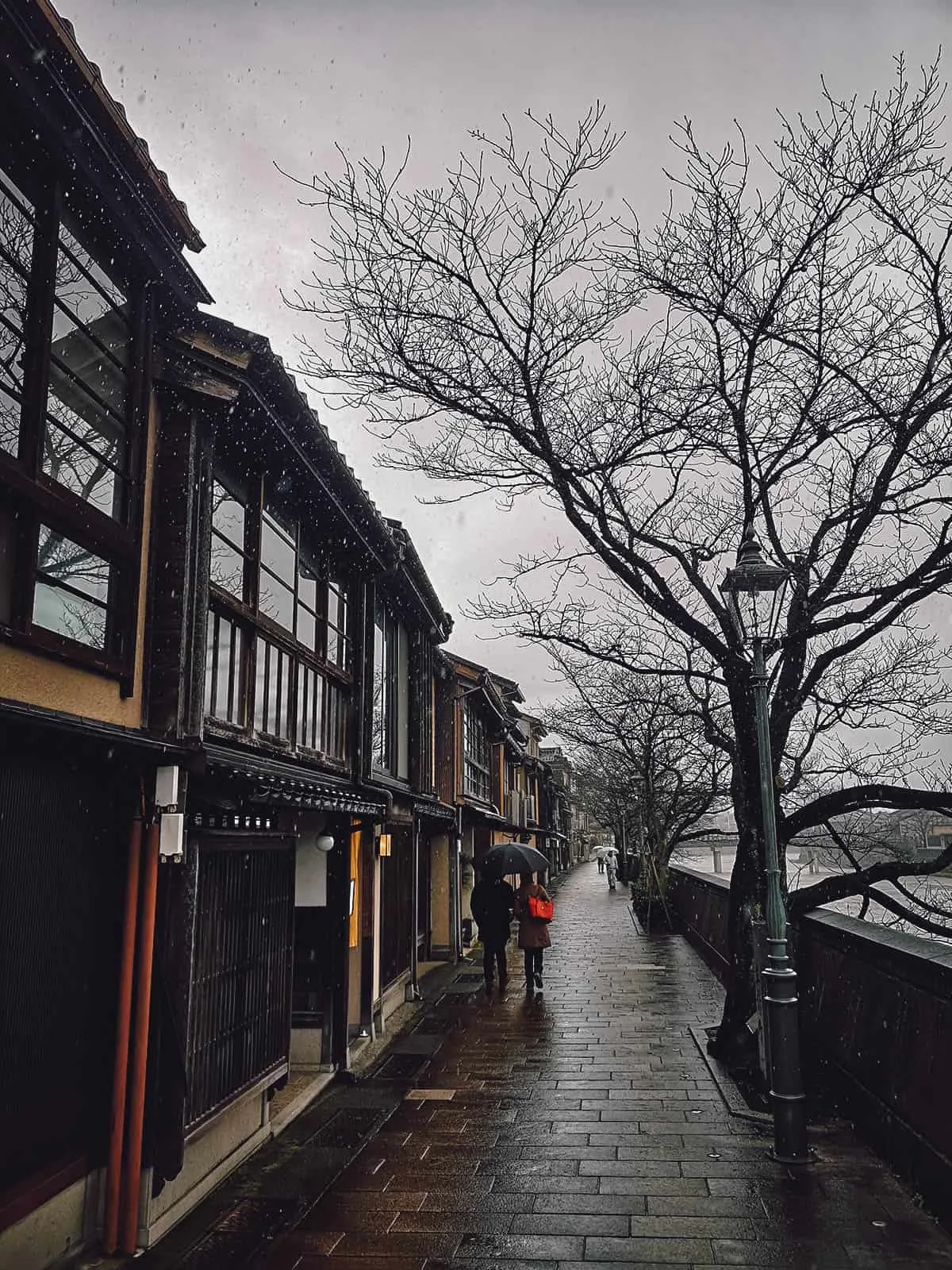 I loved this narrow alleyway with chayas on either side. It runs parallel to the riverside street pictured above.
Kazuemachi is about a 5-minute walk from Higashi Chayagai so it's definitely worth a visit.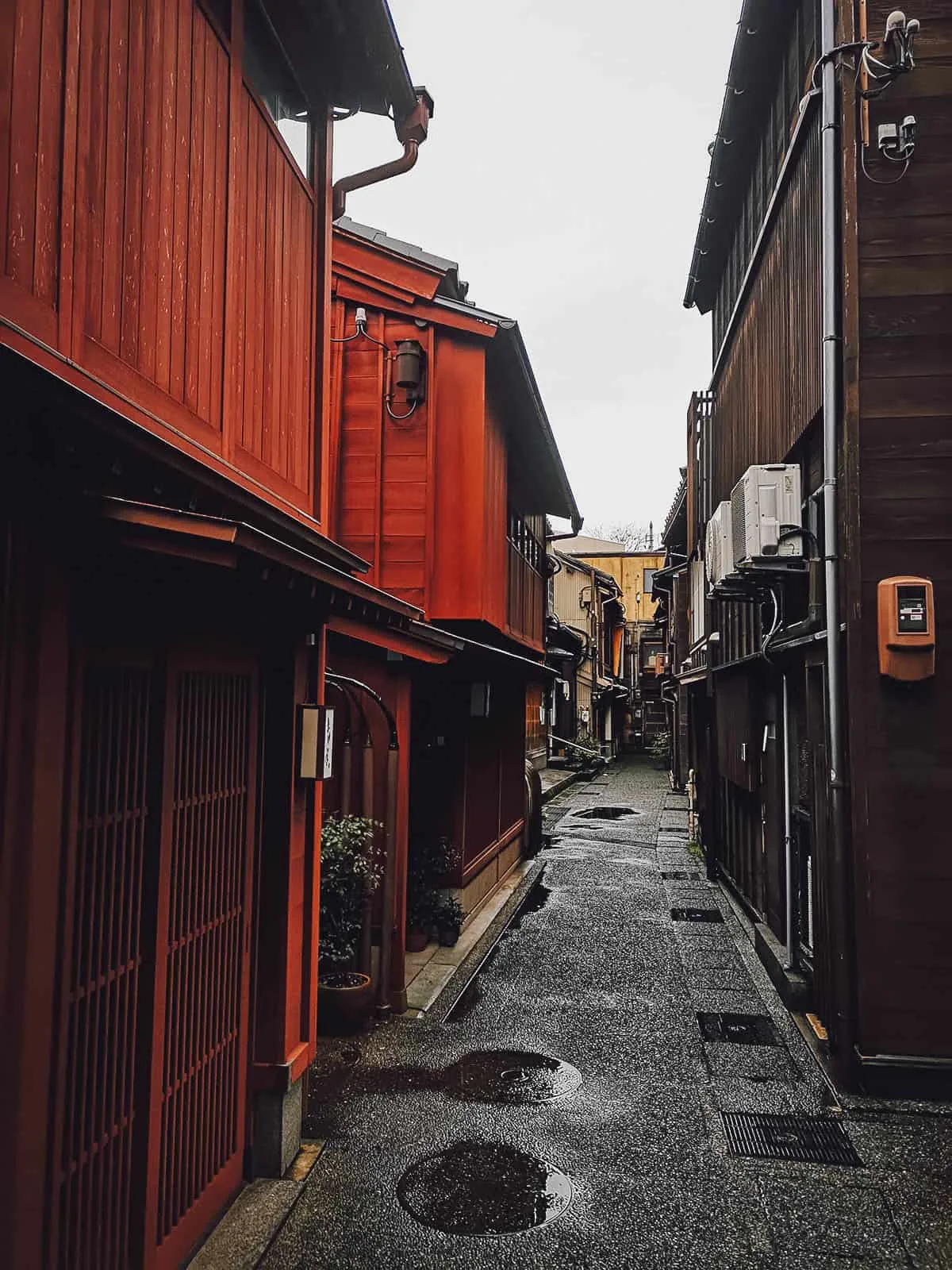 Operating Hours: 24 hours (establishments close but the area stays open)
Estimated Time to Spend: About 1 hour per district
3. Explore Nagamachi Samurai District
Like the Chaya districts, Nagamachi Samurai District is also one of the top attractions in Kanazawa. If you grew up with a fascination for samurai culture, then you're going to enjoy this nighborhood. It's a district near Kanazawa Castle where samurai and their families used to live.
There are a few museums in Nagamachi but like the chaya districts, the main draw was the neighborhood itself. Noted for its preserved samurai houses with distinctive earthen walls, it's an historic neighborhood that makes you feel like you're in a different era in Japan.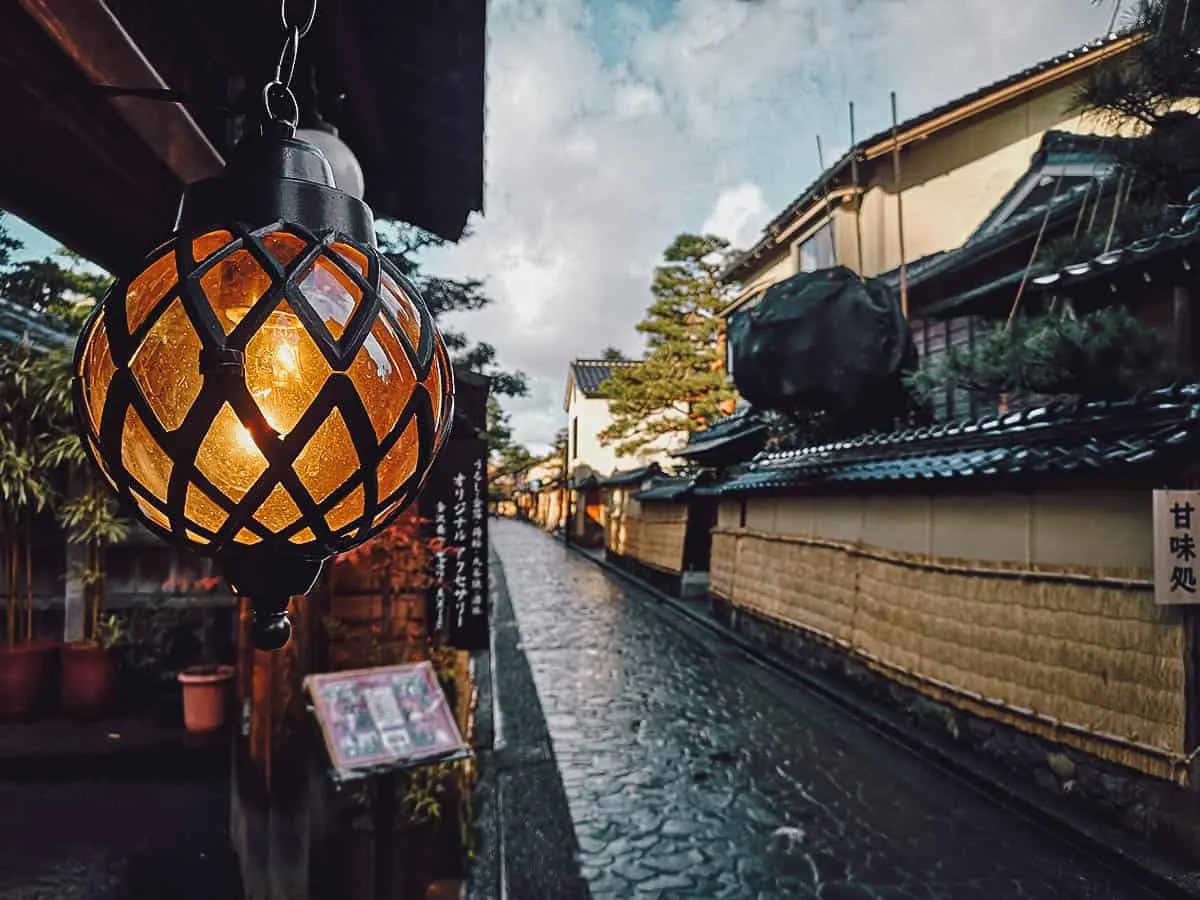 I went into a couple of museums but to be honest, I found them to be a bit underwhelming, especially since many of the exhibits were only in Japanese. Exploring the neighborhood and taking photographs was definitely the highlight for me.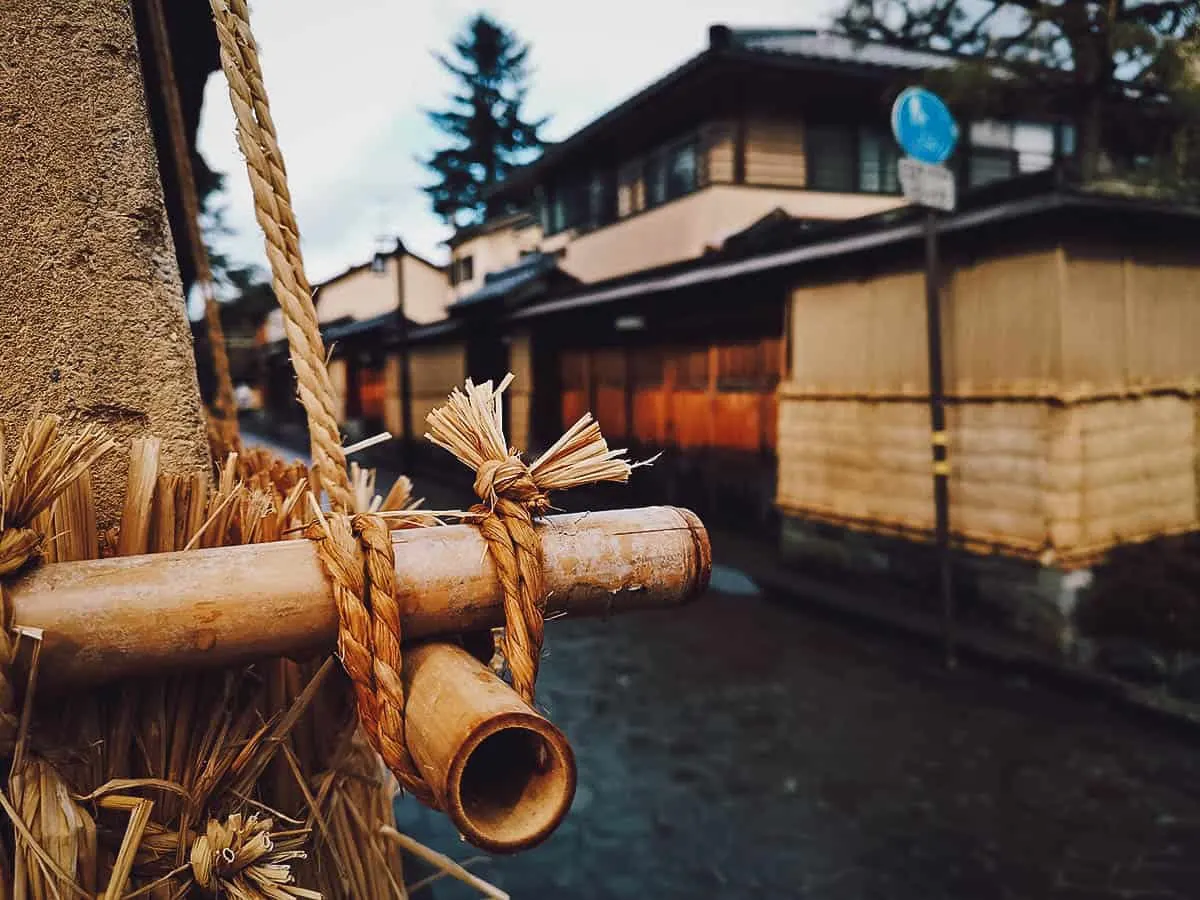 I love ultramodern Tokyo but traditional neighborhoods like Nagamachi is what I love most about Japan. I explored it on my own but if you'd like to go with a guide, then Klook and Get Your Guide offer tours that take you to Nagamachi Samurai District.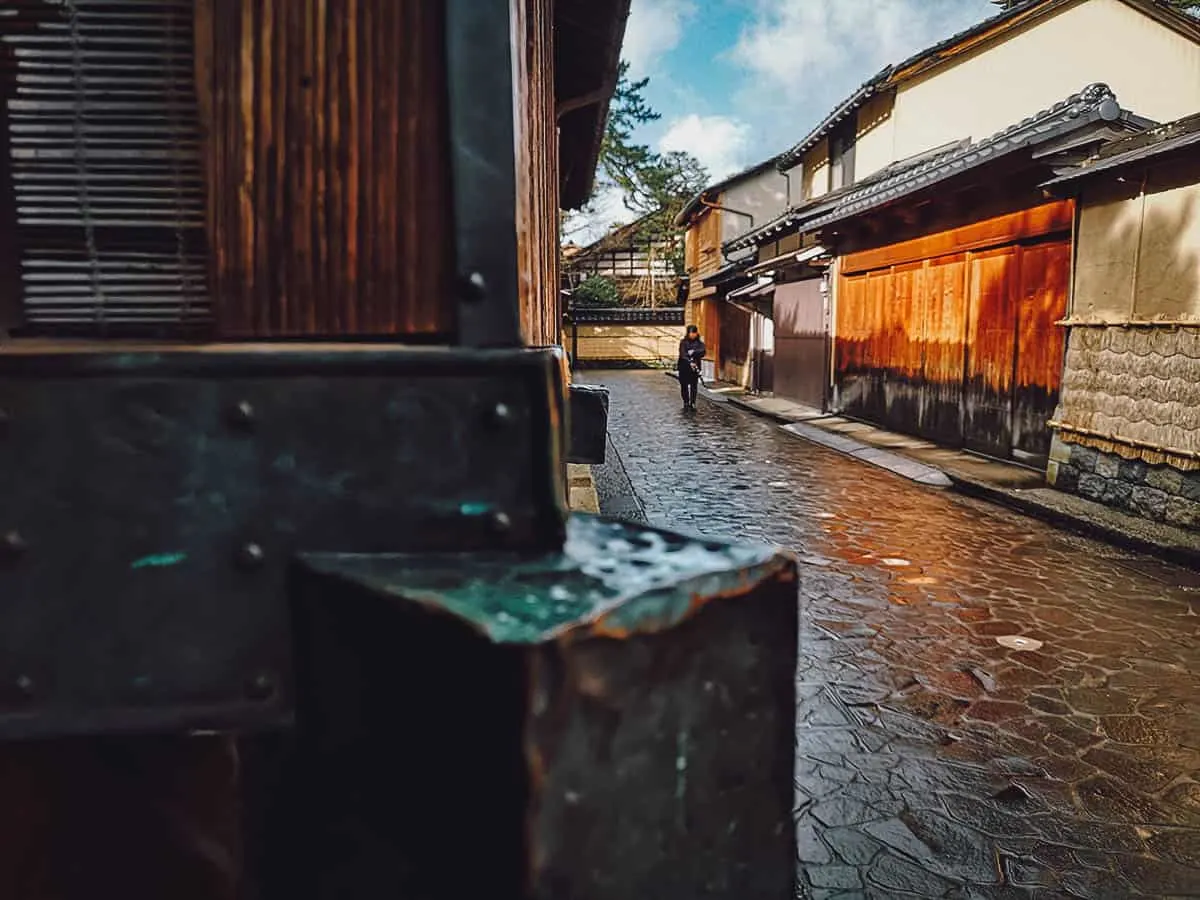 Operating Hours: 24 hours (establishments close but the area stays open)
Admission: FREE
Estimated Time to Spend: About 1-2 hours
4. Relax on a Bench at Kenroku-en
Spending a few hours at Kenrokuen is one of the most popular things to do in Kanazawa. Kenrokuen is a landscaped garden that's considered one of the three most beautiful in Japan, alongside Kairakuen in Mito and Korakuen in Okayama. Opened to the public in 1871, it was constructed by the ruling Maeda family over a period of nearly two centuries.
The name Kenrokuen literally means "Garden of the Six Sublimities", the six sublimities being spaciousness, seclusion, artificiality, antiquity, abundant water, and broad views. These are said to be the six essential attributes that make up the perfect garden.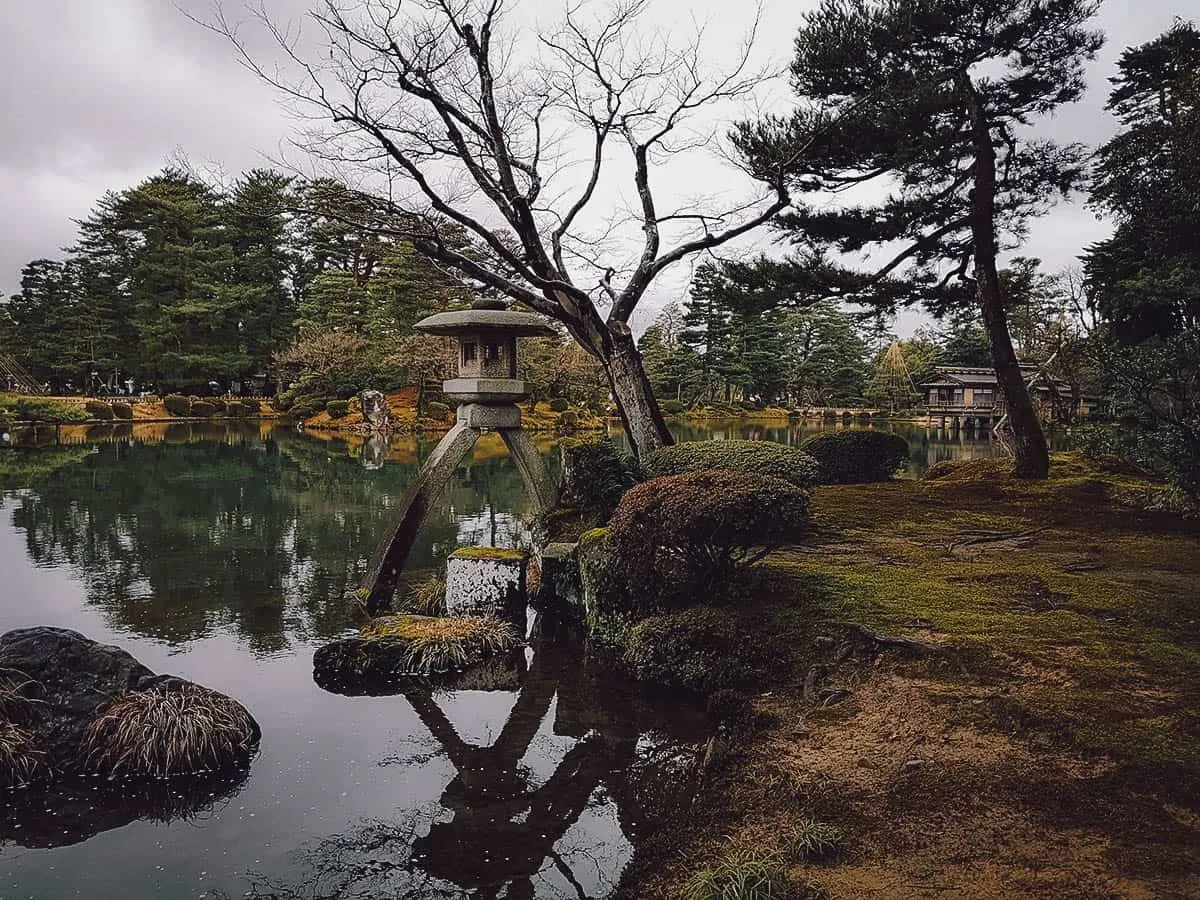 See those ropes affixed to a central pole? It's called yukitsuri, a Japanese technique of preserving trees and shrubs from heavy snow. Ropes are tied to fragile branches in winter so they don't break from the weight of the wet snow.
I went to Kenrokuen twice in the span of a few weeks and it rained both times, but it didn't matter. The place was still achingly beautiful. I can only imagine how magical it must look covered in snow or teeming with blooming flowers.
Kenrokuen is a place that invites contemplation so try to allocate at least an hour or two here. It's best to go early in the morning to avoid the crowds. It's the top attraction in Kanazawa so it draws its share of international and domestic tourists.
I went to Kenroku-en on my own because I wanted to spend as much time as I could there, but if you'd like to go on a guided tour, then you can book one through Klook or Get Your Guide. Like the chaya districts, it's a great place to rent a kimono for pictures.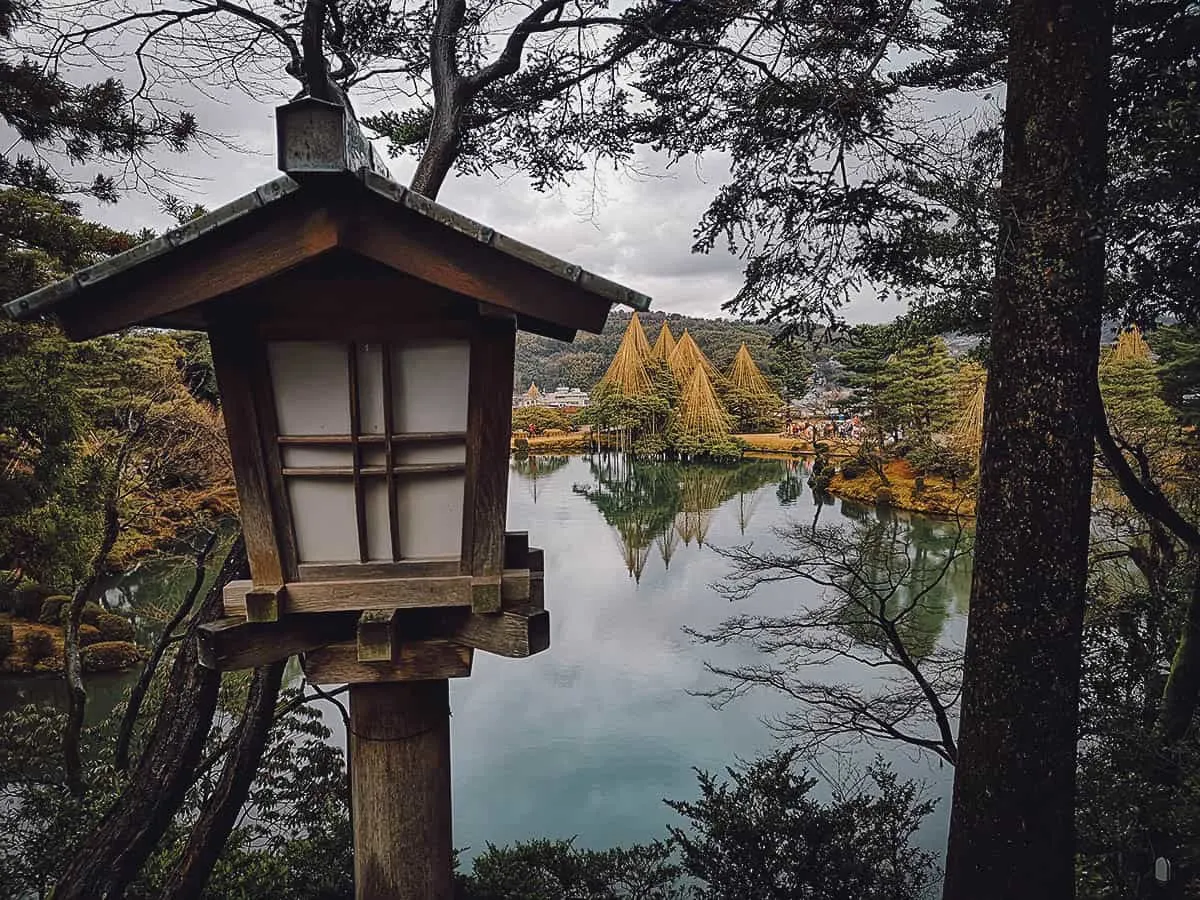 Kenrokuen changes with the seasons. We were treated to plum blossoms at the end of February but in April, cherry blossoms are the draw. Autumn is noted for its fall colors while winter can cover the garden in a thick blanket of snow. As described, Kenrokuen is beautiful at any time of the year.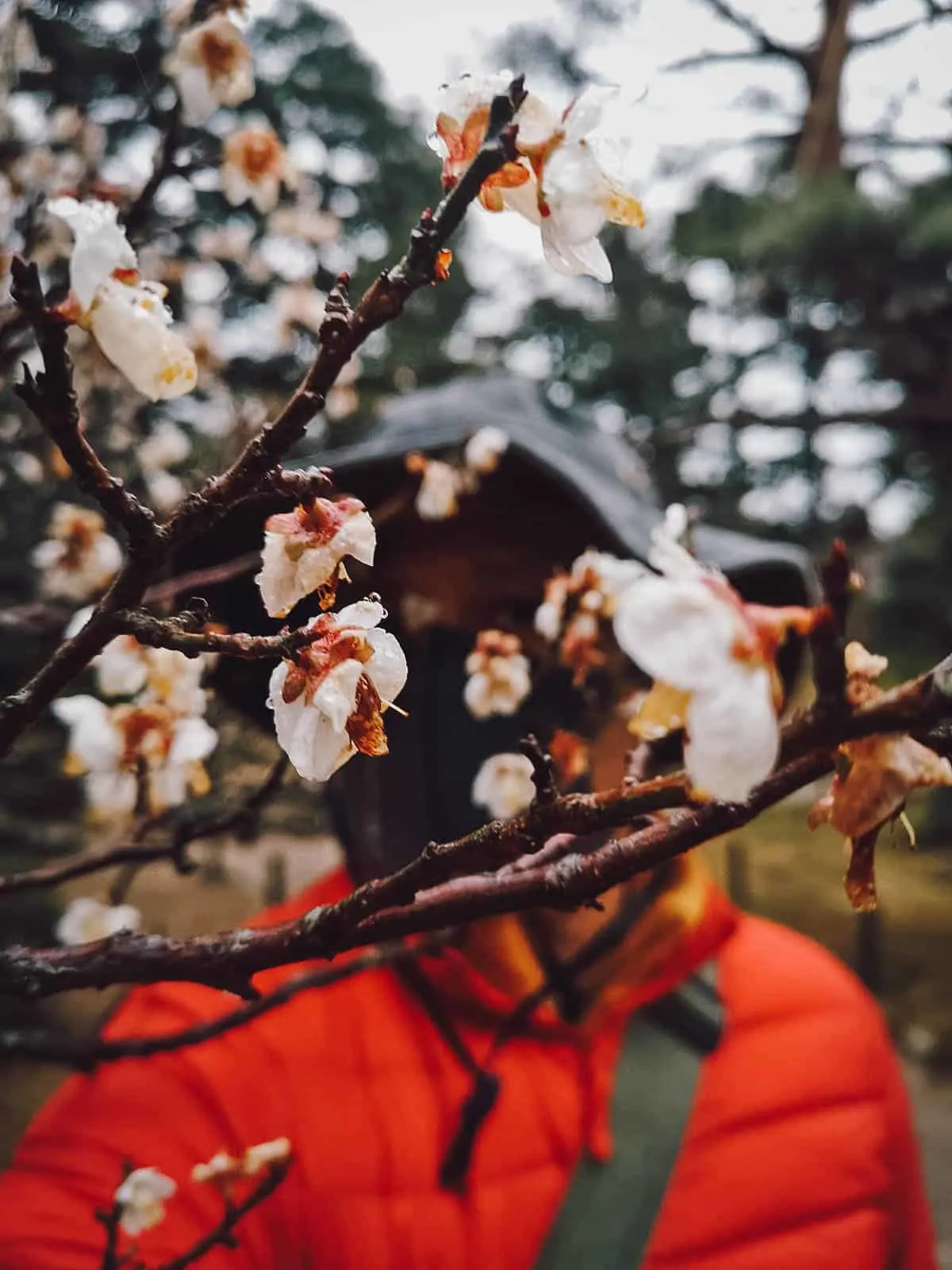 Operating Hours: 7AM-6PM (1 Mar – 15 Oct) / 8AM-5PM (16 Oct – 28 Feb)
Admission: JPY 320
Estimated Time to Spend: About 1-2 hours
5. Visit Kanazawa Castle
Kanazawa Castle was the seat of the Maeda clan, the second most powerful feudal clan during Japan's Edo period. It's located in the same area as Kenrokuen, the 21st Century Museum of Contemporary Art, and D.T. Suzuki Museum.
Unfortunately, the main castle burnt down in 1881 and hasn't been rebuilt so there isn't as much to see. Still, entrance to the castle grounds is free so it's worth a quick walk-through en route to the other attractions on this list. Kanazawa Castle Park is a large area with lots of open space.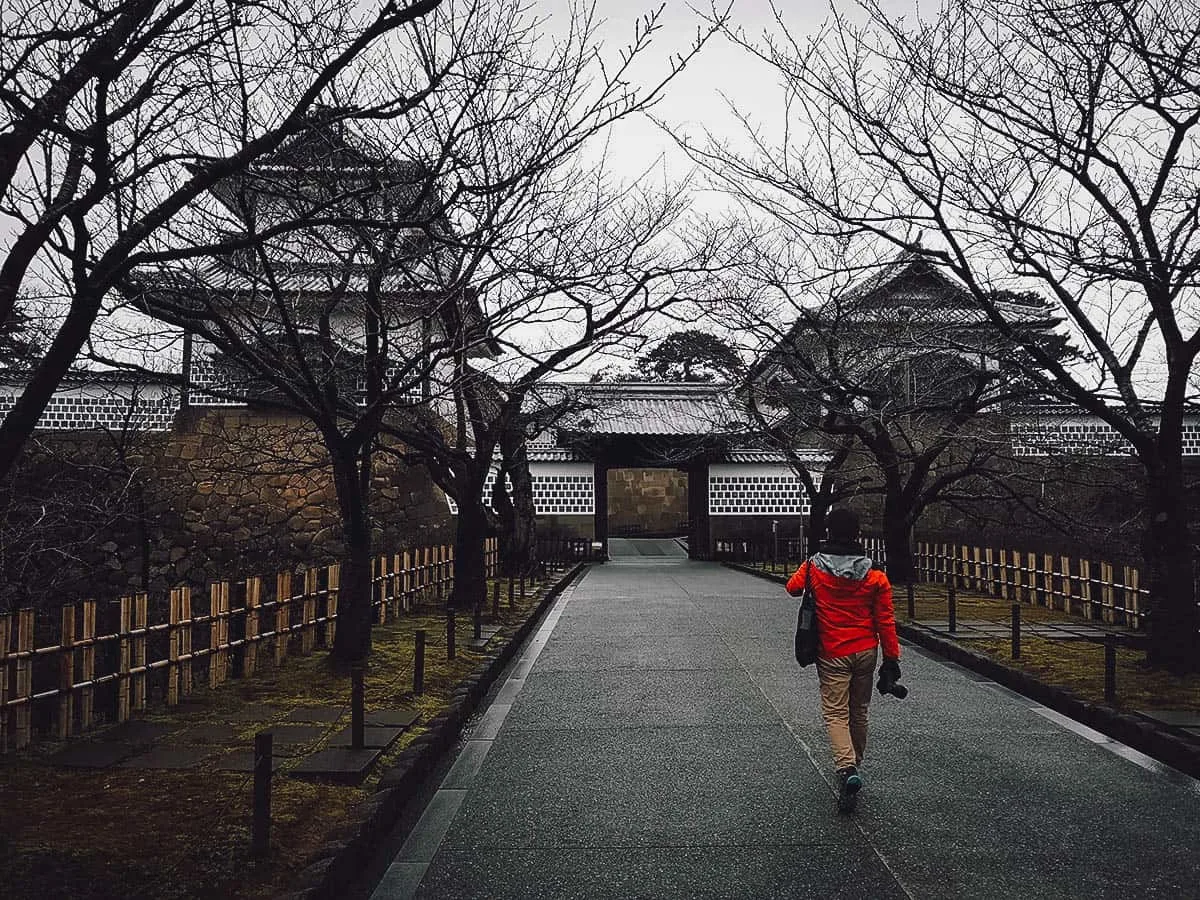 Operating Hours: 7AM-6PM (1 Mar – 15 Oct) / 8AM-5PM (16 Oct – 28 Feb)
Admission: FREE (castle grounds)
Estimated Time to Spend: About 1 hour
6. Enjoy a Tea Ceremony Overlooking Gyokusen-Inmaru Garden
I loved this little garden. Built in 2015, it's located on the grounds of Kanazawa Castle and features a central pond with a circular walking path. You can take a stroll through the garden or enjoy the view while sipping matcha from a teahouse.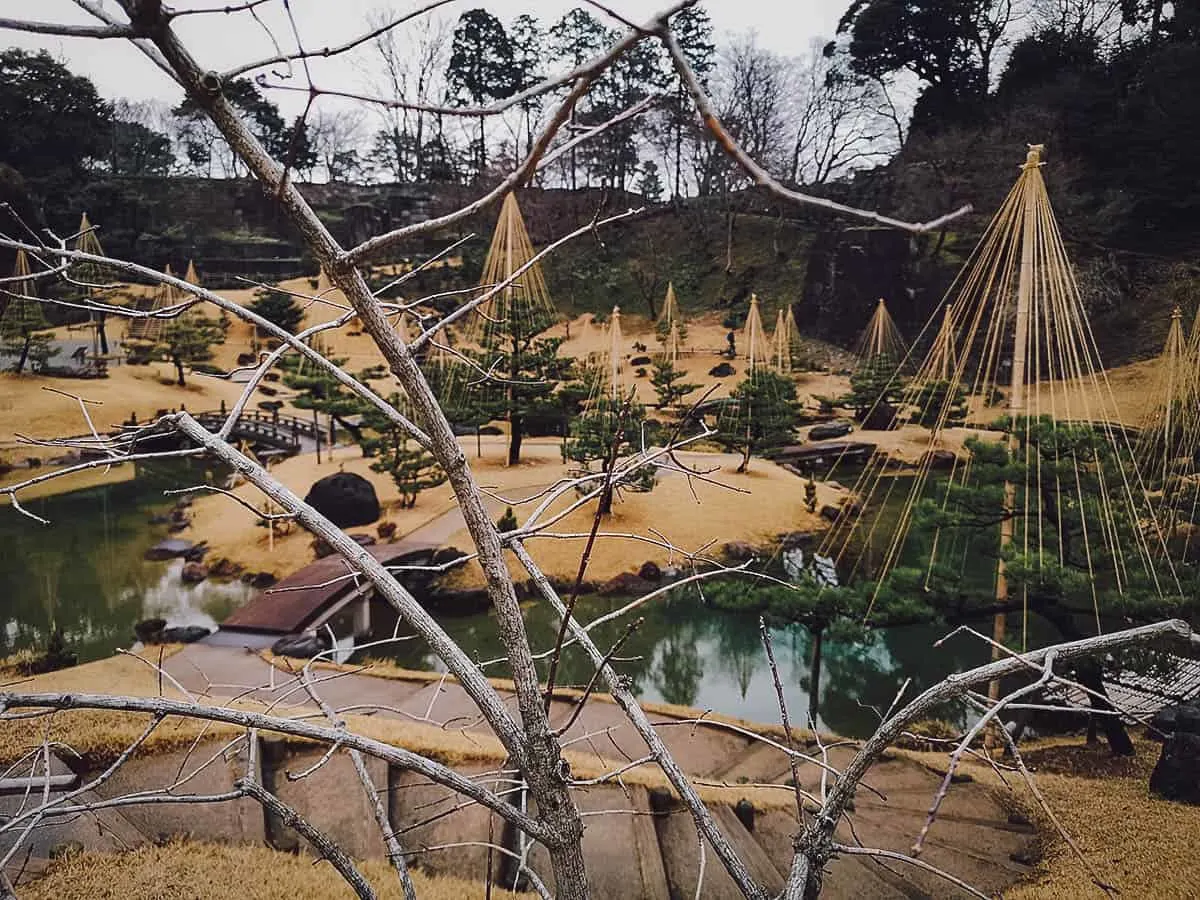 This is the view from the teahouse. For JPY 730, you can have an informal tea ceremony on tatami mats while enjoying this view.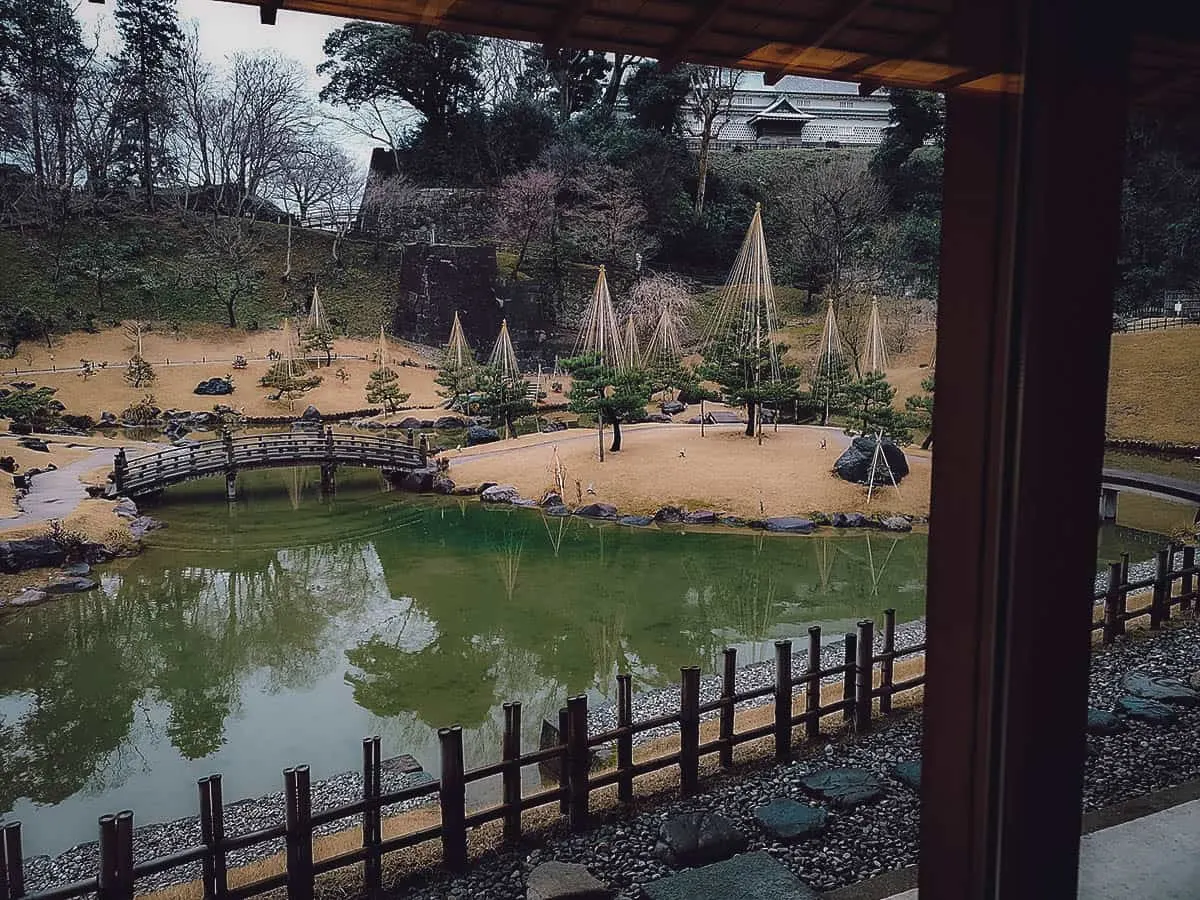 This was the best bowl of matcha I've ever had. Kanazawa is known for its wagashi, which are these artful Japanese confections typically served with tea. They can be made with any number of ingredients, some of the most common being mochi, azuki bean, and fruit.
Sipping this fantastic bowl of green tea while enjoying the view of Gyokusen-Inmaru Garden was one of my favorite moments in Kanazawa.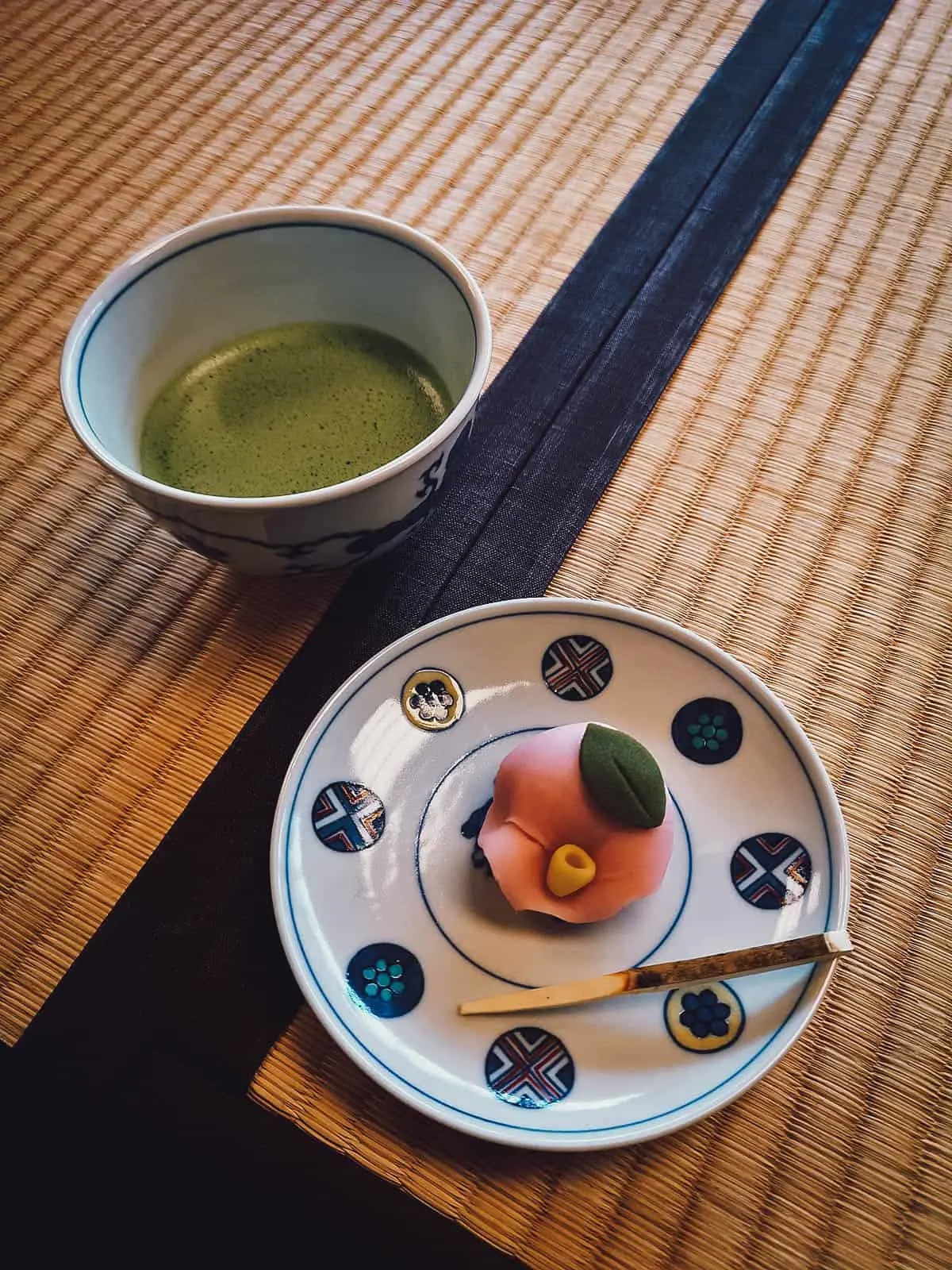 Operating Hours: 9AM-4PM (Teahouse)
Tea Ceremony: JPY 730
Estimated Time to Spend: About 1 hour
7. View the Exhibits at 21st Century Museum of Contemporary Art
If you have an interest in modern art, then visiting this contemporary museum is one of the best things you can do in Kanazawa. I was looking forward to my visit but unfortunately, they were transitioning between exhibits so the entire museum was closed at the time. Bummer.
As its name suggests, the 21st Century Museum of Contemporary Art showcases the work of contemporary artists from Japan and across the globe. It's noted for its unique circular building and interesting permanent installations, none more famous perhaps than Leandro Erlich's "Swimming Pool". You may have seen it on social media. It gives the impression that people are walking underwater.
Around the perimeter of the museum are these permanent sculptures and installations. I couldn't get in to the museum but at least I had these to play with.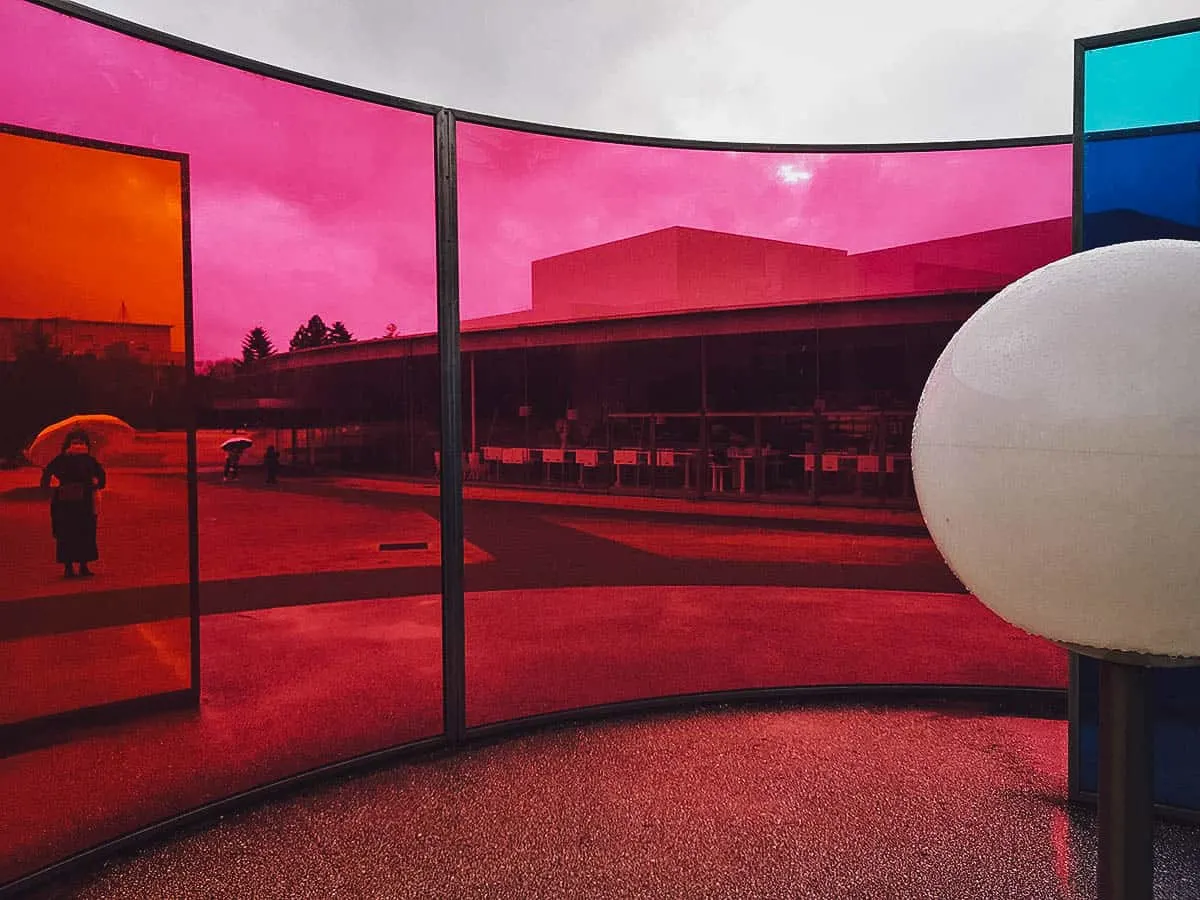 Operating Hours: 10AM-6PM, Sun, Tue-Thurs / 10AM-8PM, Fri-Sat (closed Mondays)
Admission: Varies by exhibition, but typically JPY 1,200
Estimated Time to Spend: About 2-3 hours
8. Sit and Contemplate at D.T. Suzuki Museum
D.T. Suzuki Museum was one of the most surprising museums in Kanazawa. It was surprising because I didn't expect to like it as much as I did.
When I first saw pictures of it online, I didn't understand its appeal. It just looked like a simple, unadorned cube of a building. What was so appealing about that? Only when I spent time there did I understand that its simplicity was in fact its appeal.
The D.T. Suzuki Museum is a museum dedicated to the life of Daisetsu Teitaro Suzuki, a prominent philosopher who was instrumental in introducing Japanese Zen philosophy and Zen Buddhism to the west. Comprised of a main exhibit hall, a garden, and this cube-shaped contemplative space, there isn't much to see here but I guess that's the point.
True to the teachings of Mr. Suzuki, it's a tranquil uncluttered space that invites contemplation.
Surrounded by water, this is what the contemplative space looks like from the inside. There are openings on all sides and benches arranged in a square, so you can quietly sit and meditate while looking out over the water and the lush greenery just beyond the museum's walls. I loved this space and found it to be one of the more interesting places to visit in Kanazawa.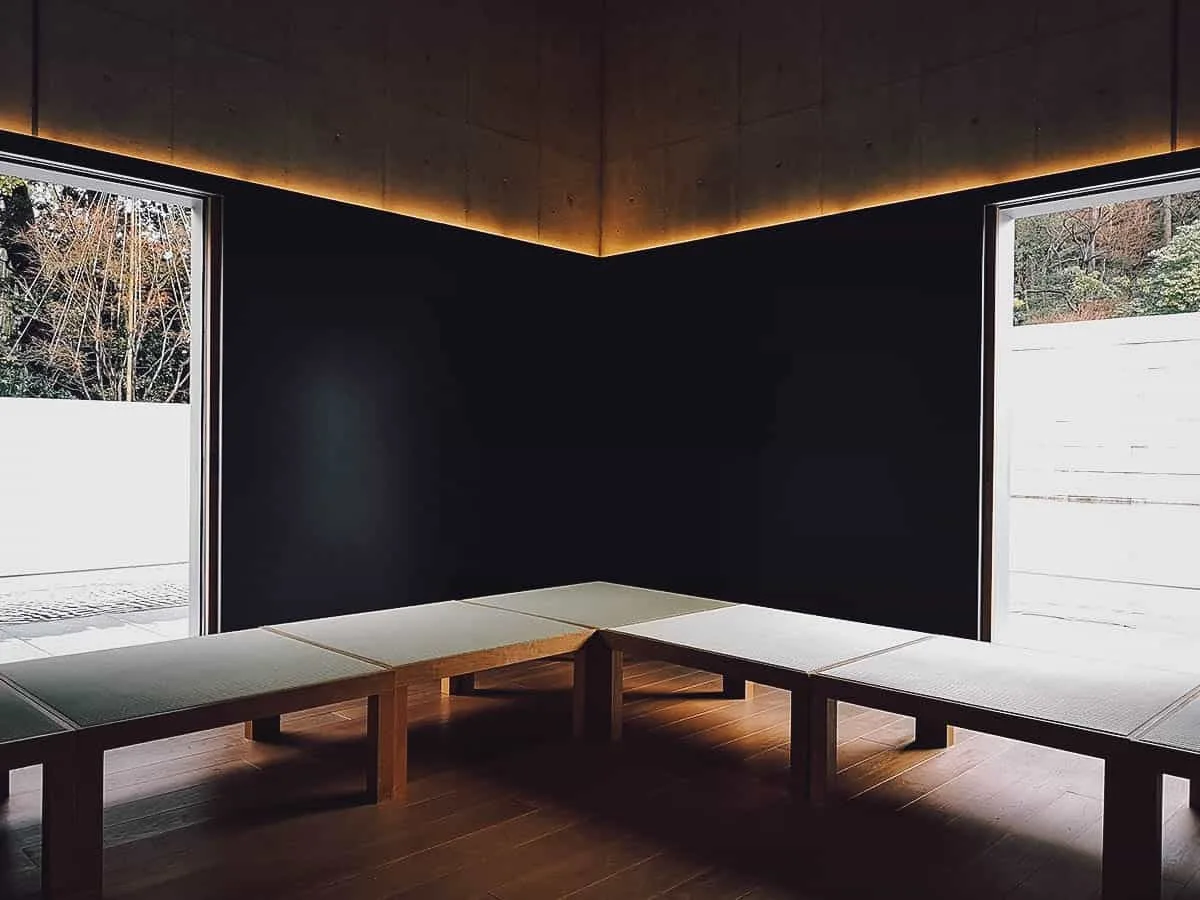 Operating Hours: 9AM-5PM, Tue-Sun (closed Mondays)
Admission: JPY 310
Estimated Time to Spend: About 1-2 hours
9. Eat Seafood at Omicho Market
Omicho Market is a popular Kanazawa attraction and the very first place I visited in the city. I made a beeline here after checking in to my hotel.
Similar to Osaka's Kuromon Ichiba Market and Kyoto's Nishiki Market, Omicho is a covered market with over 200 shops and restaurants selling fresh produce and seafood fished from the Sea of Japan. It's been Kanazawa's largest fresh food market since the Edo period.
I went to Omicho Market on two occasions and it never got more crowded than what you see below. This is in pleasant contrast to Kuromon Ichiba, Nishiki, and Tokyo's Tsukiji Market which can all get annoyingly crowded.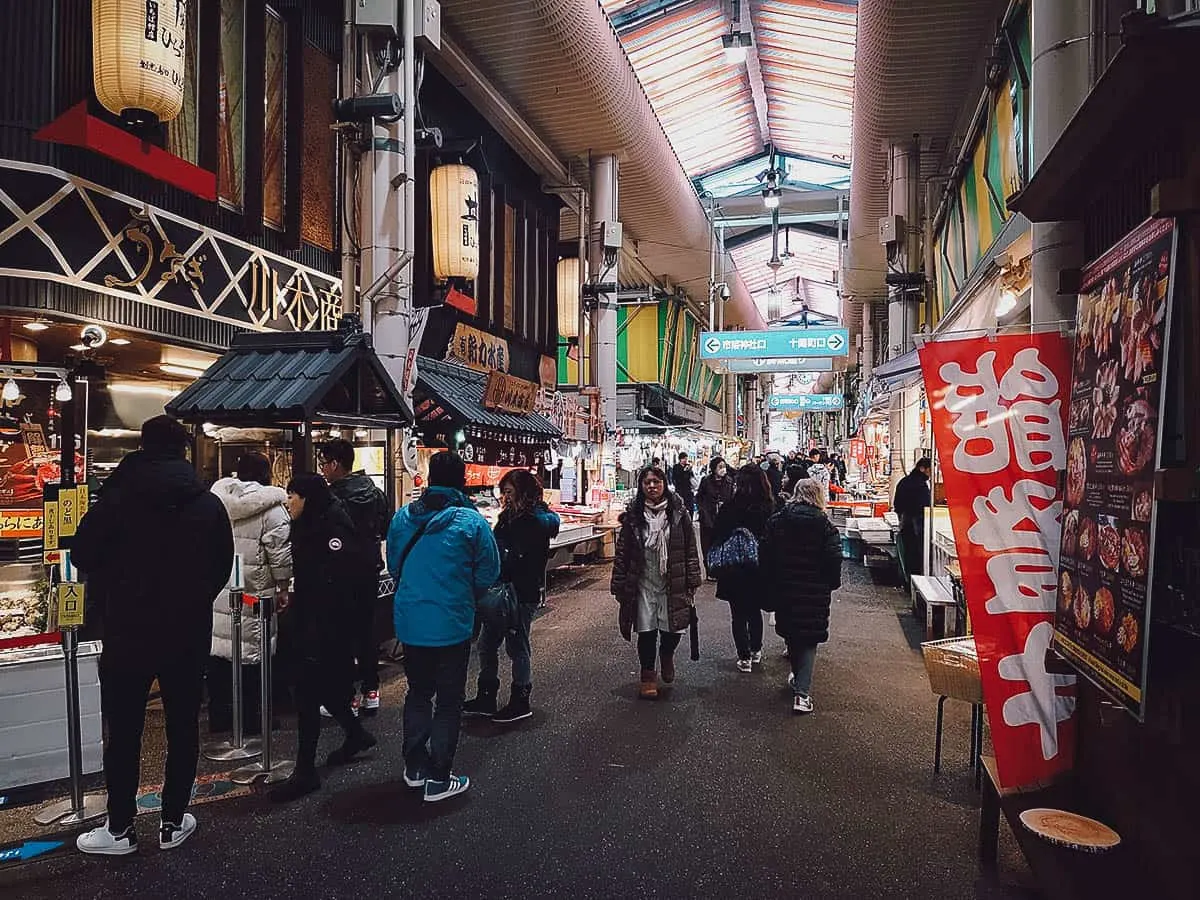 Kanazawa borders the Sea of Japan so it's home to some amazing seafood, like these king, snow, and hairy crabs. Along with live seafood, there are plenty of Japanese food stalls here so you can snack on things like roast crab, unagi, and zuke while making your way from one end of the market to the other.
I had lunch at two different restaurants at Omicho Market. I had sushi the first time and kaisendon the next. Both were fantastic.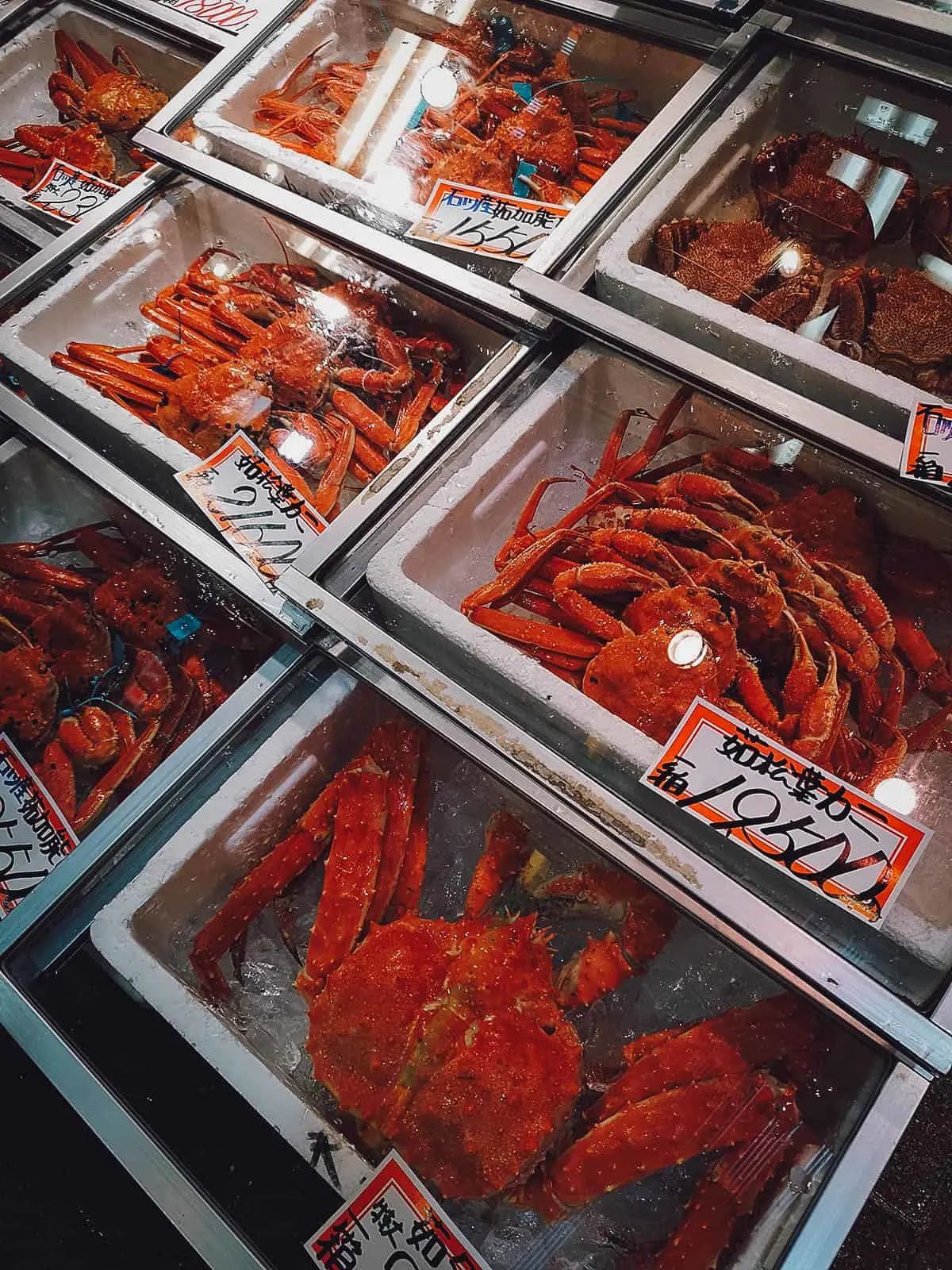 Operating Hours: 9AM-5PM, daily
10. Stuff Your Face with Sushi
As described, Kanazawa is bordered by the Sea of Japan so it's known for its seafood. I try to diversify my food choices on all our trips but in Kanazawa, I had sushi at almost every meal. It is so fresh and relatively cheap too.
This platter of sushi at a kaiten-zushi restaurant in Omicho Market set me back just JPY 500. You can read more about it and other great Kanazawa restaurants in our food guide.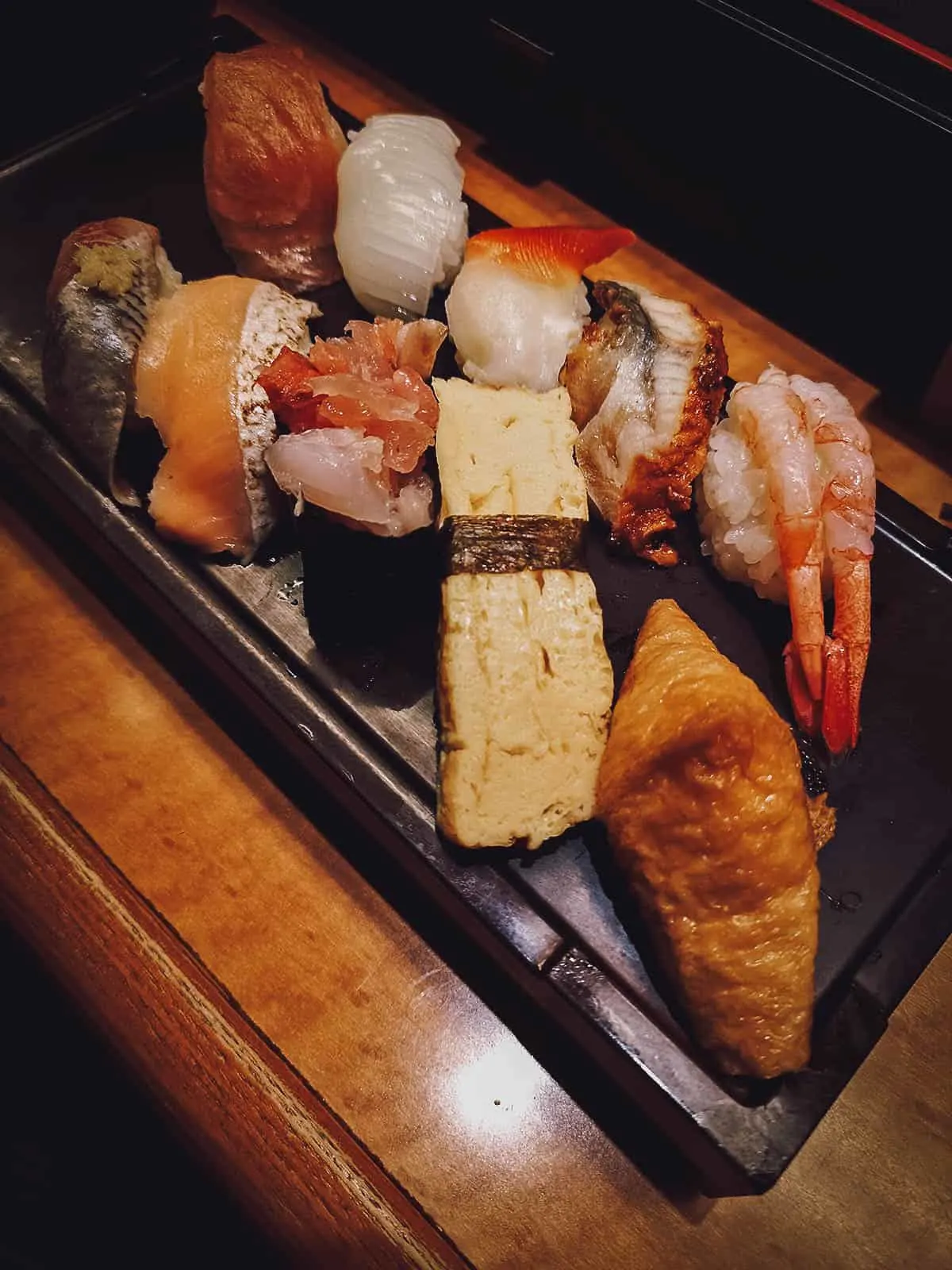 This is kabura zushi, a type of fermented nare sushi that's a specialty of Kanazawa. It's made with salted buri (Japanese amberjack or yellowtail) wrapped in pickled turnip and fermented wtih koji, the same starter mold used to make sake and soy sauce. It's an interesting winter dish unique to Kanazawa and neighboring Toyama.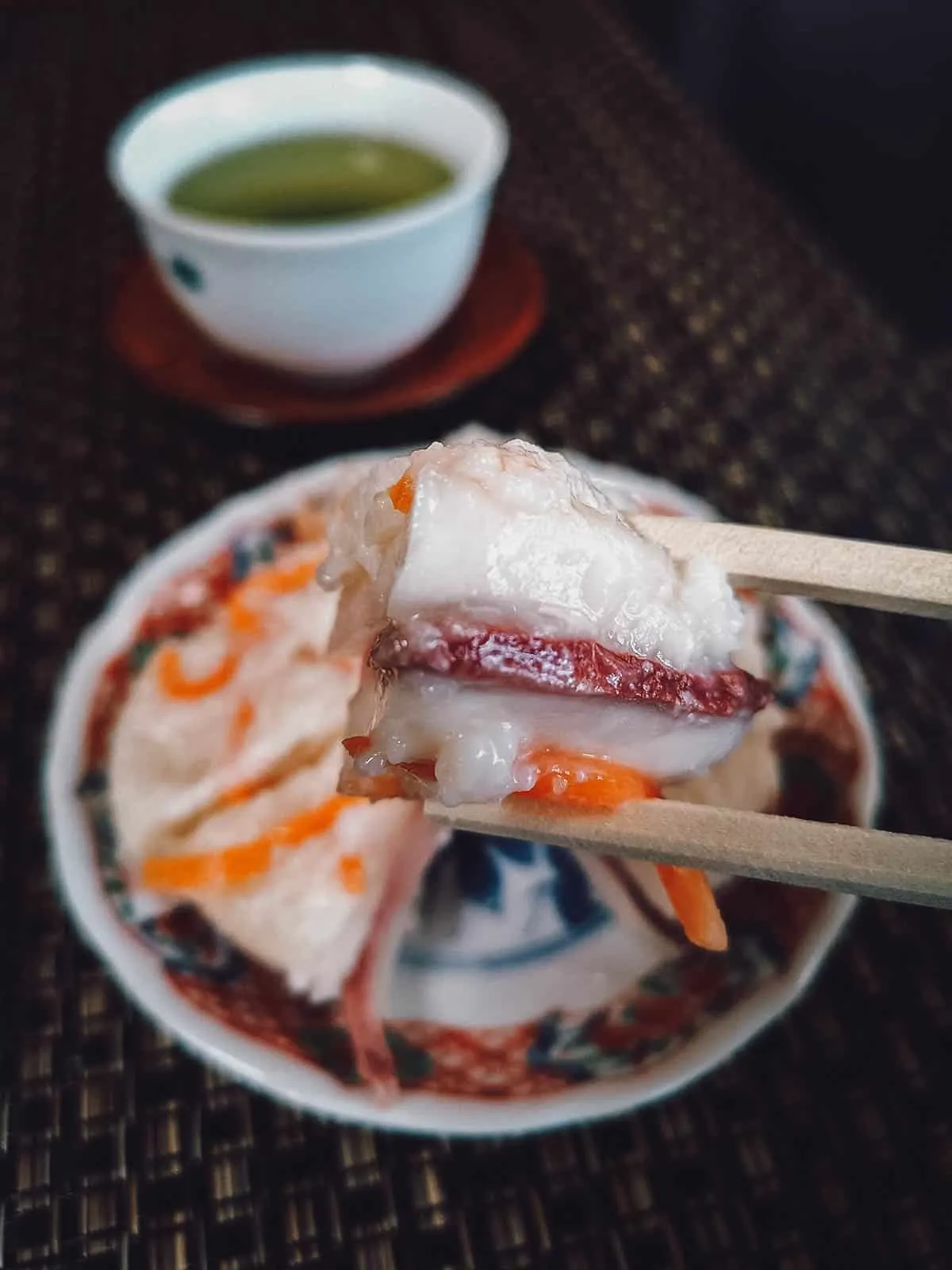 FINAL THOUGHTS ON THE TOP ATTRACTIONS IN KANAZAWA
Kanazawa endeared itself to me quickly. It has a good mix of modern and traditional attractions that are easy to explore on foot. On top of that, the sushi is fantastic and some of the cheapest I've found in Japan.
If you're looking for something a little different on your next trip to Japan – something other than the usual Tokyo, Osaka, Kyoto, or Sapporo – then Kanazawa in central Japan is a great city to consider.
I visited Kanazawa twice, the first time on my own and the second on a press trip with JR Central. They took us on a tour of Japan's Chubu region using a Takayama-Hokuriku Area Tourist Pass. If you're looking to explore Kanazawa and the Chubu region, then this is a great pass to have. You can click on the link to learn more about it. You can also check out our 5-day Chubu itinerary to help you plan your trip.
I'll be writing a more comprehensive Kanazawa travel guide soon, but until then, thanks for reading and have an amazing time in the "Little Kyoto" of central Japan!
Disclosure
Some of the links in this article on the best things to do in Kanazawa are affiliate links, meaning we'll get a small commission if you make a purchase at NO extra cost to you. We only recommend products and services that we use ourselves and firmly believe in. We really appreciate your support as this helps us make more of these free travel guides. Thank you!