We stayed in Fukuoka for two nights total on our most recent trip to Japan. The first was at Hotel Sunline Fukuoka Hakata Ekimae the night before we flew out to Sapporo. The second was here after flying back to Fukuoka from Sapporo then leaving by bus for Nagasaki the very next morning.
Since both were essentially transit stays, we needed to find inexpensive hotels that were conveniently located so we wouldn't have trouble making our connections the next morning. Whether you're leaving by plane, train, or bus, in Fukuoka that meant being close to Hakata Station which both of these hotels were.
We had a stellar stay at Hotel Sunline Fukuoka Hakata Ekimae. Here's what we thought of Fukuoka Hana Hostel.
Fukuoka Hana Hostel
Fukuoka Hana Hostel is located in Kawabata Shopping Arcade about a 15-20 minute walk from Hakata Station. If you'd rather not walk that far, then you can take the subway to Nakasuwabata Station. It's about a 5-minute walk from there.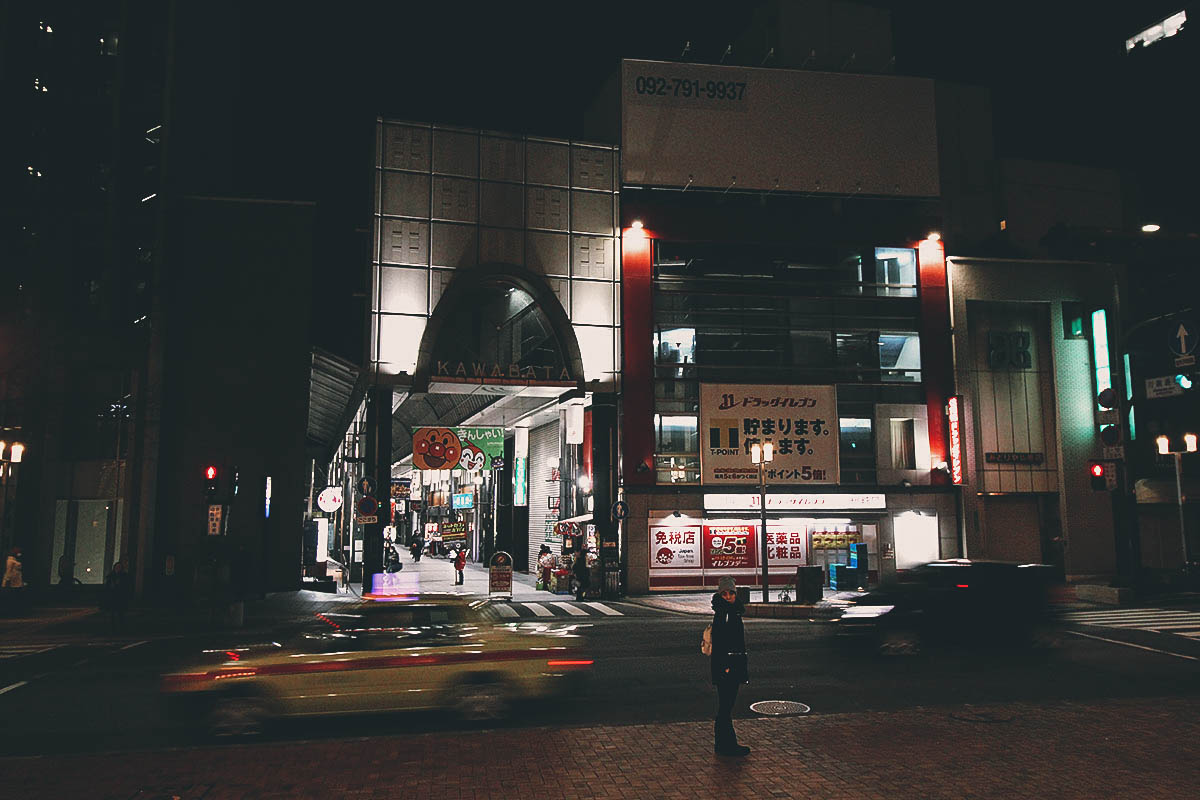 If you're staying in Fukuoka for a few days, then this is a convenient place to be. It's centrally located and there are shops and restaurants all around.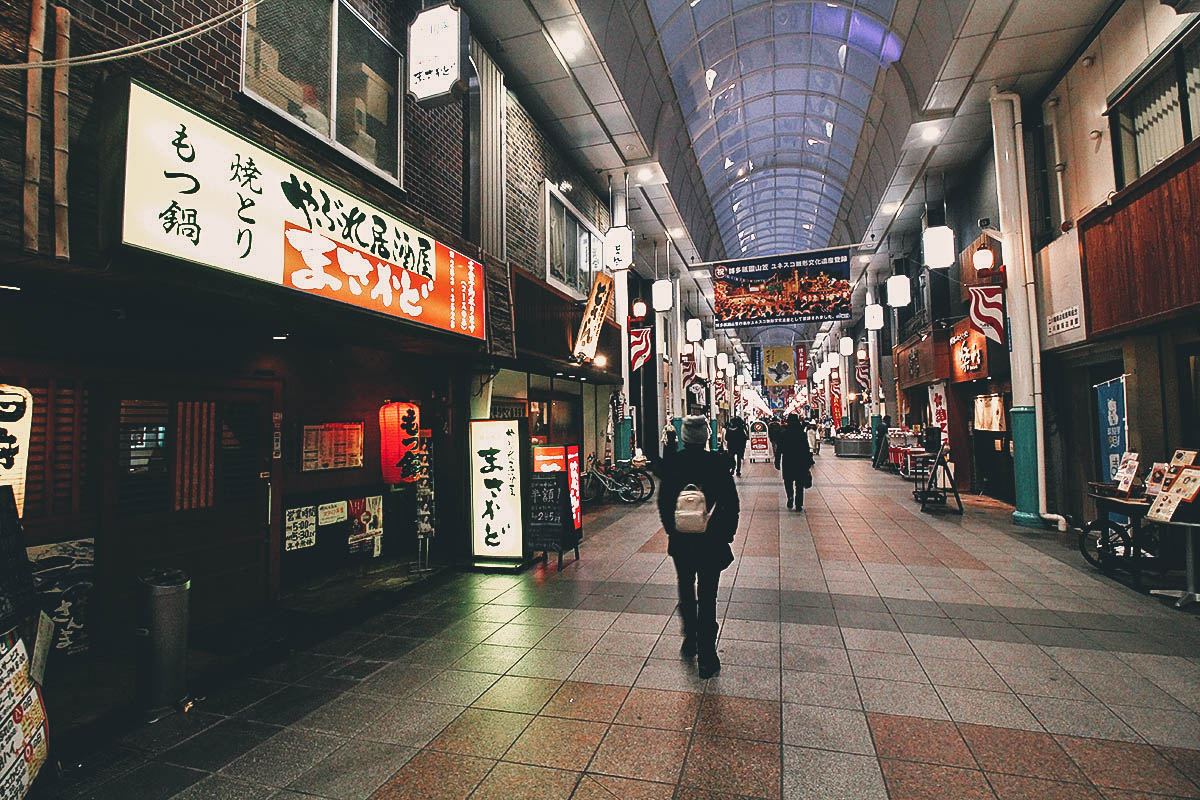 The hostel is at the far end of the arcade from Nakasuwabata Station. You'll see it on your right.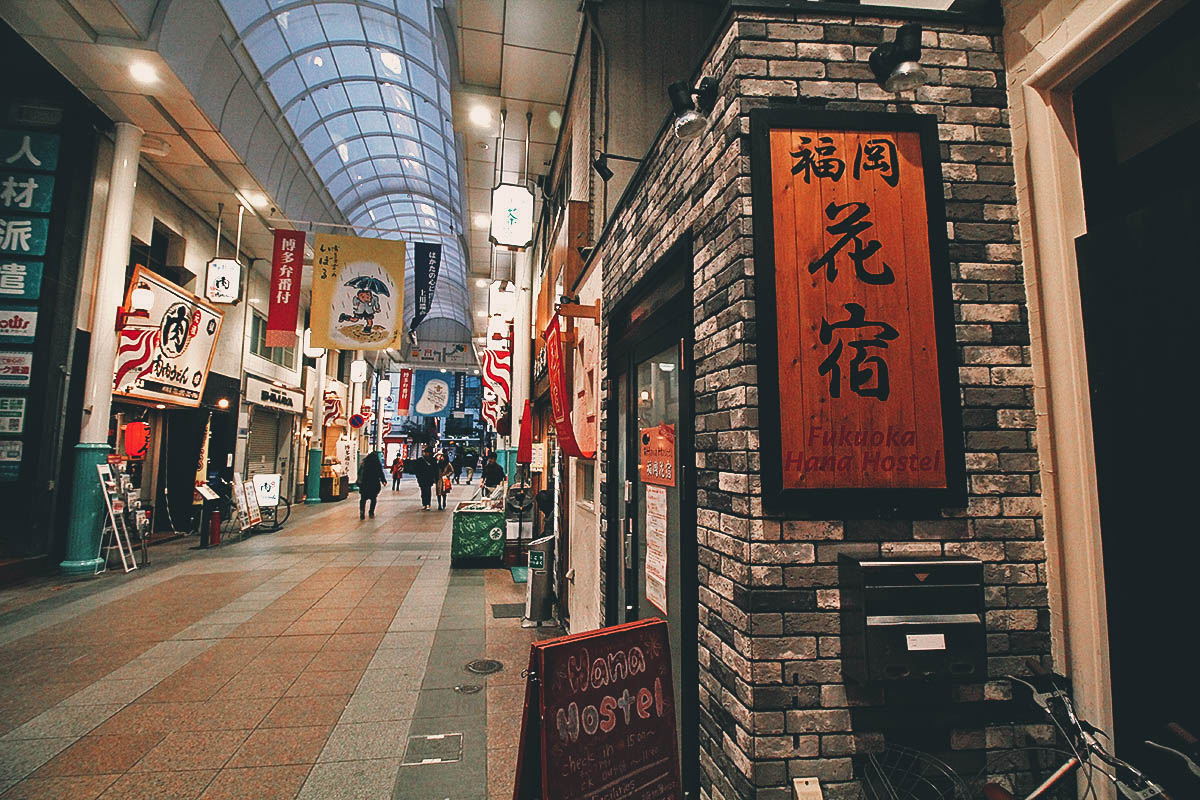 Common Area
Cute right? Fukuoka Hana Hostel, as its name suggests, is a hostel so it caters mainly to backpackers. They do have a few private rooms. Towels aren't included in the room rate though, even with private rooms. You can rent them for an additional JPY 100 each.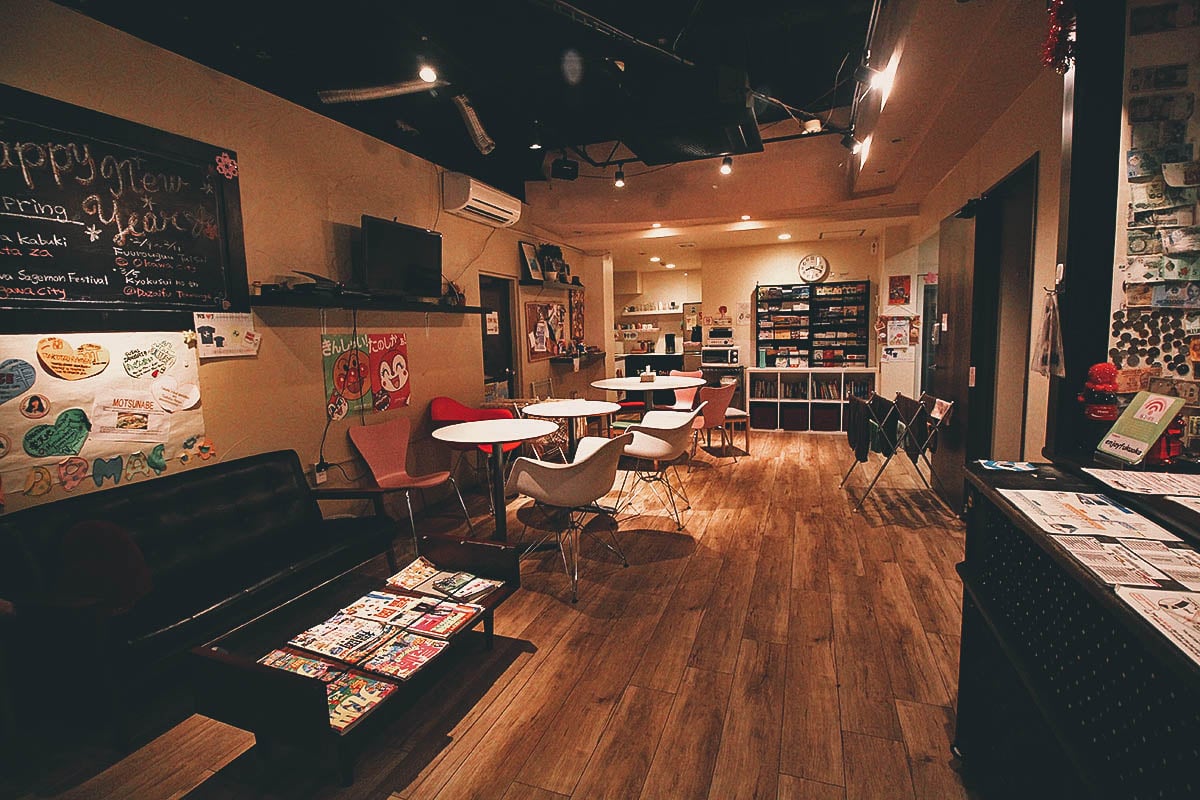 Computers for guest use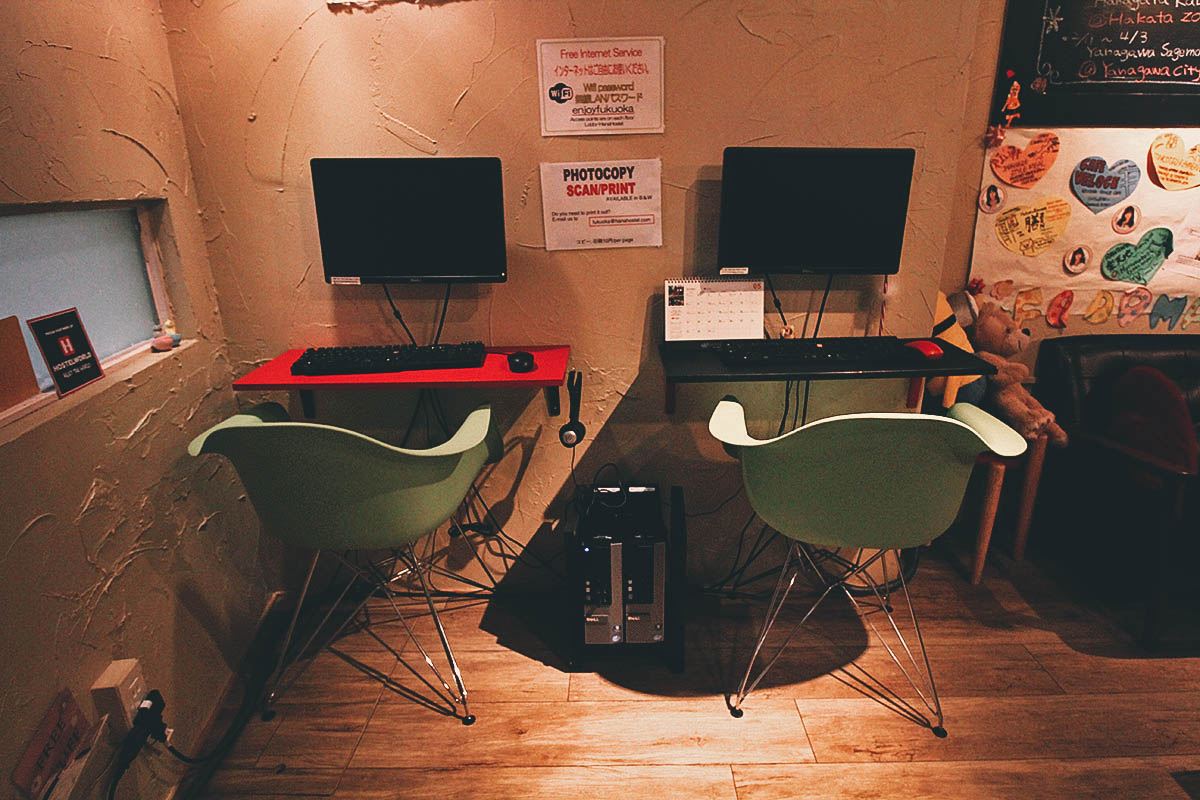 Brochures, pamphlets, et al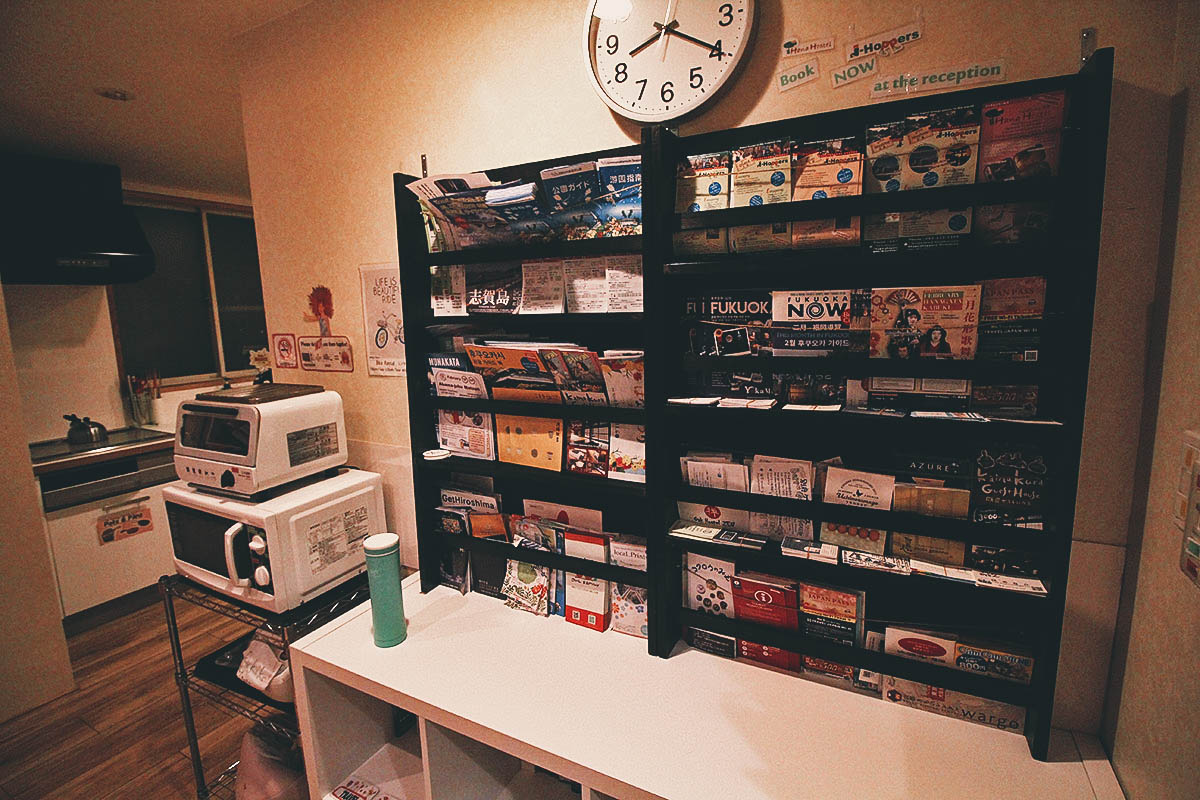 Kitchen
As far as I know, breakfast isn't included in the room rate. From the looks of it, they may not have a breakfast option at all.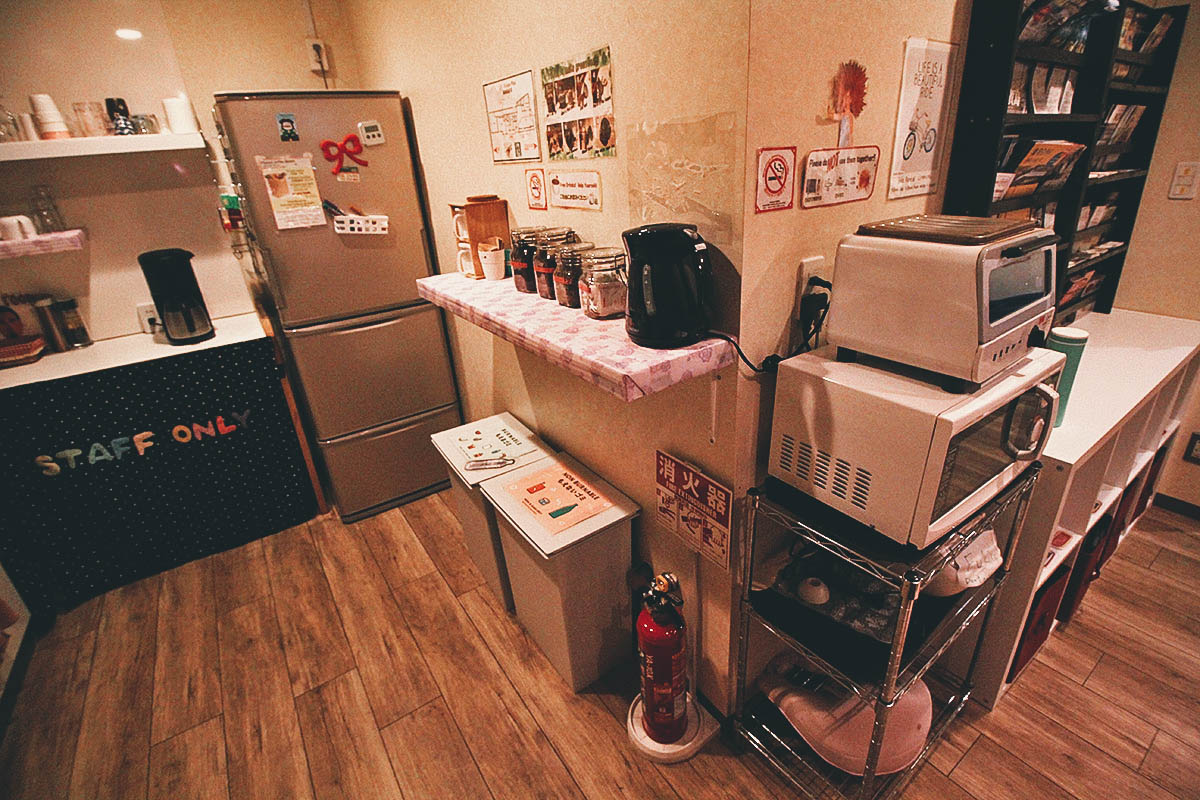 What they do have though are free hot drinks like coffee and tea.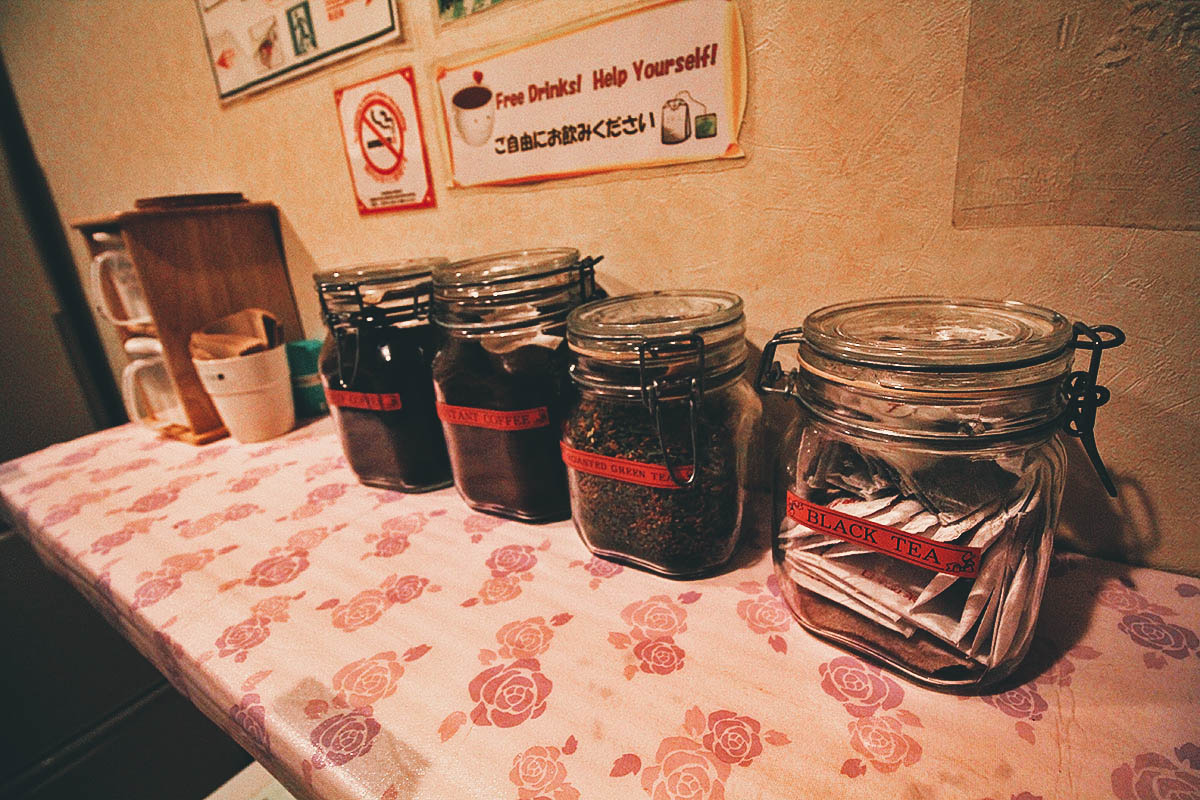 Private Room
This was our private room which was all the way at the top floor. I can't remember if the building had three or four floors. What I do remember is that there was no elevator so I had to carry our luggage all the way to the top! 😡 In our room was this platform-type thing with a Japanese mattress and futon covering half of it. Not sure what the other half was for but we used it as a luggage rack. There was a flat screen TV in the room but no refrigerator or complimentary bottles of water.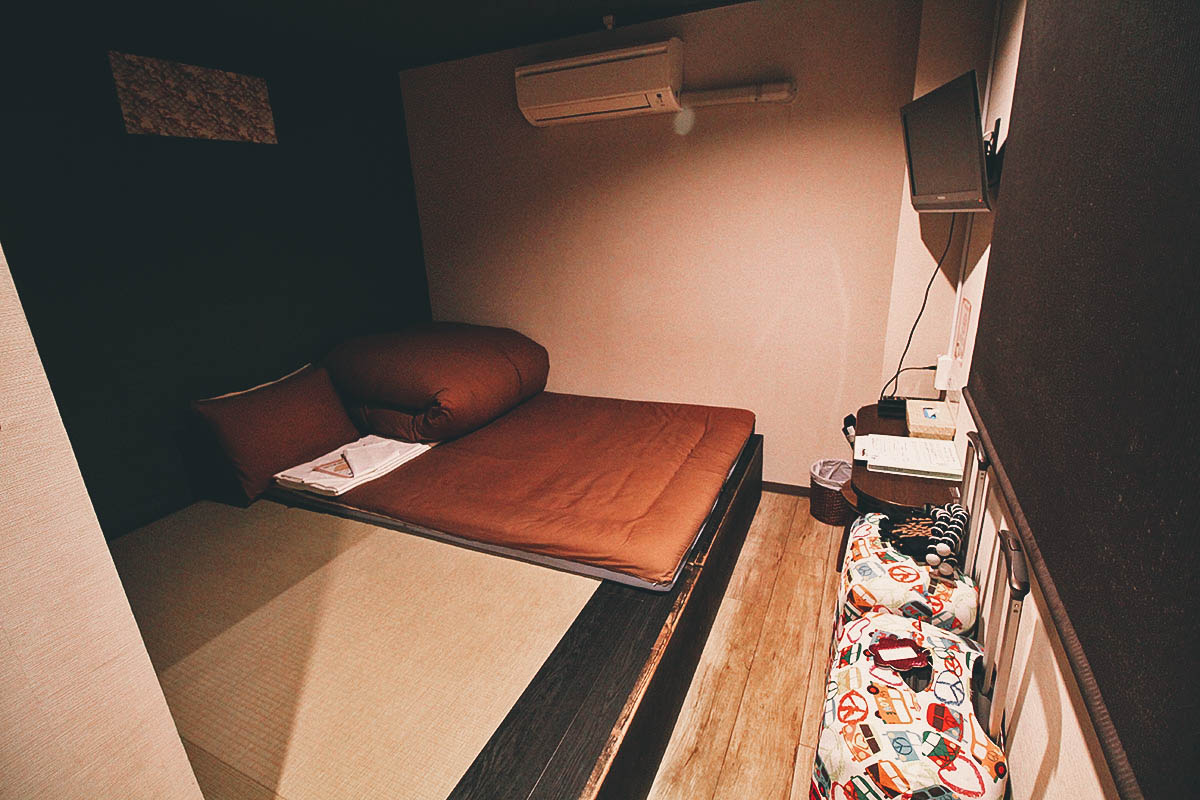 Having a private bathroom was nice, but do you notice anything about that toilet? It ain't too smart. Of all the hotel rooms we've stayed at in Japan throughout the years, this was the first one that didn't have a smart toilet.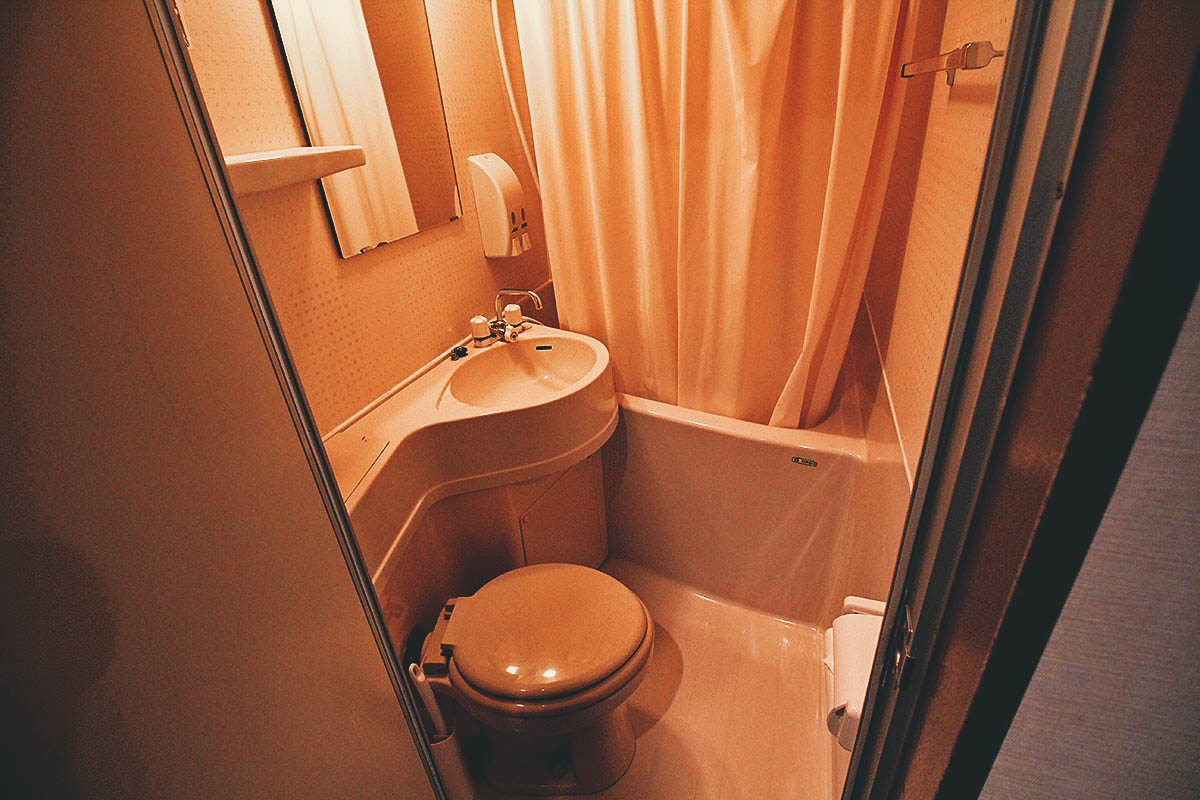 As you can probably tell by now, I wasn't too thrilled with our stay here. Not that it was terrible. I mean, it's pretty much what you can expect from a hostel. But since we rented a private room, I had something much better to compare it to. Hotel Sunline Fukuoka Hakata Ekimae was superior in EVERY way.
Hotel Sunline Fukuoka Hakata Ekimae is a business hotel so there's no point in comparing the rooms or hotel facilities. It's like night and day. Just click on the link to see what I mean. Hotel Sunline Fukuoka Hakata Ekimae is also closer to Hakata Station than this one. On top of that, it was cheaper too! We paid USD 63 to stay here whereas we paid around USD 50 to stay at Hotel Sunline Fukuoka Hakata Ekimae. Not sure if we just lucked out with the room rate, but I see no reason to rent a private room here when there's a chance you can have one that's much better and cheaper at Hotel Sunline Fukuoka Hakata Ekimae.
With that said, Fukuoka Hana Hostel is first and foremost a hostel so it caters to younger travelers, mostly millennials who travel with backpacks and have legs that don't mind stairs. I did a dummy booking and a dorm room stay costs at least USD 25 a night. This place has solid marks all around which is why I decided to give it a try. It has a rating of 8.6 on Agoda, 8.7 on Booking.com, and 4 on TripAdvisor. If you're closer to 30 than you are to 50 and want to mingle with other travelers, then you'll probably like this place. But if you're our age and want a little more comfort, then it's best to go for a real hotel.
If you'd like to make a reservation at Fukuoka Hana Hostel, then you can do so through Booking.com or Agoda. Prices often vary so be sure to check both sites to find the best deal. You can browse through those links for other listings in Fukuoka as well.
Fukuoka Hana Hostel, Fukuoka, Japan
812-0026 Fukuoka, Fukuoka, 4-213 Kamikawabata-machi, Hakata-ku, Japan
Tel: +81 92-282-5353
Website: fukuoka.hanahostel.com
APPROXIMATE ROOM RATES: (as of February 2017, without breakfast)
Private room with bathroom: USD 63 per night
Bed in dormitory room: USD 25-28 per night
HOW TO GET THERE:
Take the subway to Nakasuwabata Station. Enter Kawabata Shopping Arcade and walk straight. Fukuoka Hana Hostel will be on your right.
MAKE A RESERVATION: Booking.com | Agoda
Disclosure
Some of the links in this post are affiliate links, meaning we'll get a small commission if you make a purchase at NO extra cost to you. We really appreciate your support as it helps us keep this website going. Thank you!