To be honest, Fukuoka isn't my favorite Japanese city. Aside from Hakata ramen and yatai stalls, it doesn't have as many interesting tourist attractions. It's a modern metropolis that lacks the character of Kyoto or the energy and excitement of Tokyo or Osaka.
Unless you're there specifically for the food, then there isn't as much to keep you busy in Fukuoka. You can see its top tourist attractions within a day but thankfully, there are many destinations you can visit within a couple of hours of the city center.
If you're staying for a few days and want to go beyond the city, then listed below are twelve of the most interesting day trips you can make from Fukuoka.
FUKUOKA DAY TRIPS QUICK LINKS
To help you plan your trip to Fukuoka, we've compiled links to highly-rated hotels, tours, and other travel-related services here.
HOTELS
Top-rated hotels in Nakasu, one of the best areas to stay for first-time visitors to Fukuoka.
TOURS
OTHER SERVICES
FUKUOKA TRAVEL GUIDE
If you're planning a trip to Fukuoka, then be sure to check out our detailed Fukuoka travel guide. It'll have all the information you need – like when to go, which attractions to visit, what and where to eat, etc. – to help you plan your trip.
Save This on Pinterest!
No time to read this article on day trips from Fukuoka? Click on the save button and pin it for later!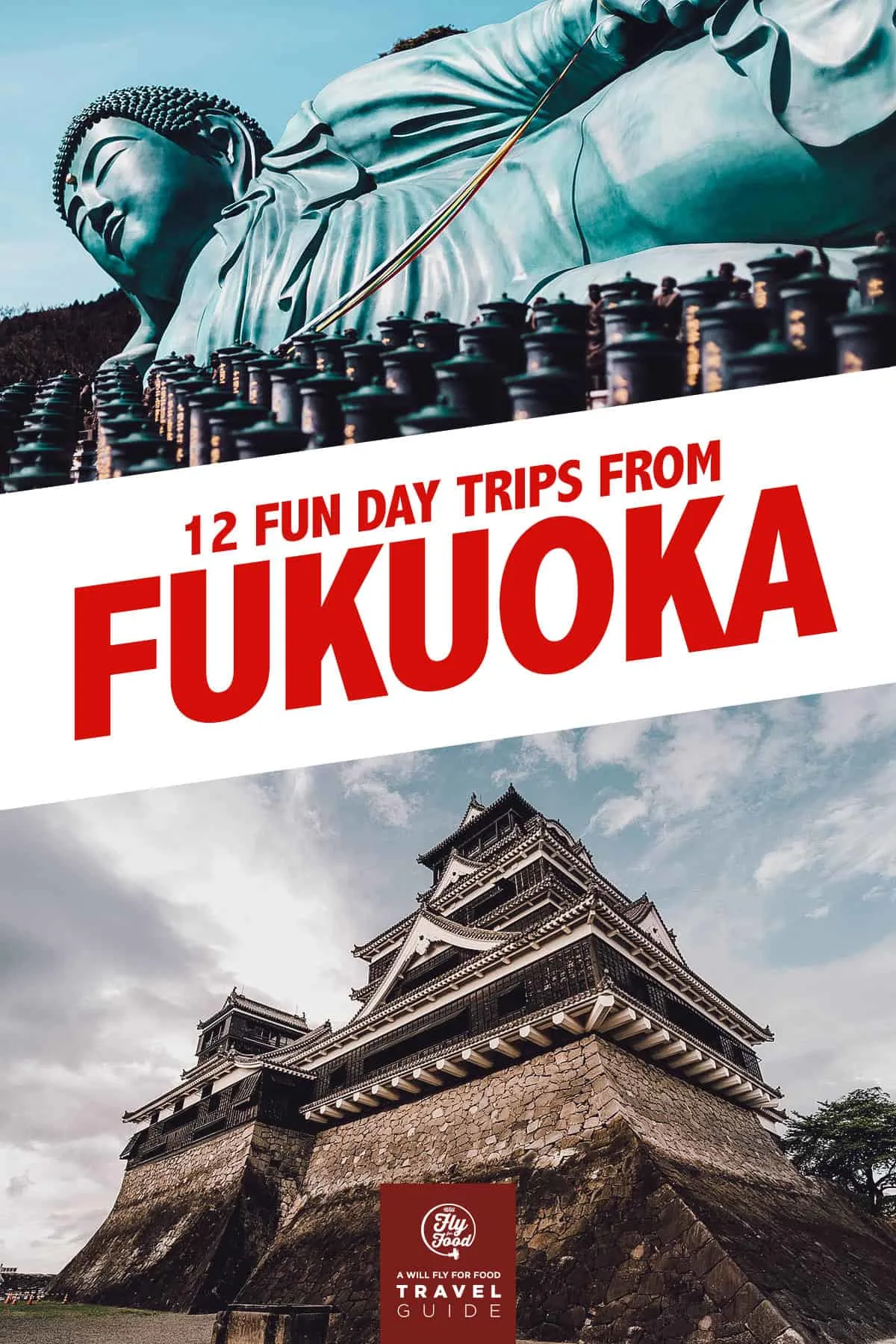 BEST DAY TRIPS FROM FUKUOKA
1. Nanzoin Temple
Nanzoin is one of the most popular day trip destinations from Fukuoka. It's a Buddhist Temple that's home to a giant bronze statue of a reclining Buddha.
Measuring an impressive 41 meters long (135 ft), 11 meters high (36 ft), and weighing nearly 300 tons, Nanzoin Temple's Buddha is said to be the largest bronze statue in the world.
To put those measurements in perspective, the Statue of Liberty from its heels to the top of its head measures about 34 meters (112 ft). It weighs in at a relatively modest 225 tons which gives you a sense of just how massive this reclining Buddha is. Entrance to the temple is free though there's a JPY 500 fee to enter the prayer room underneath the Buddha.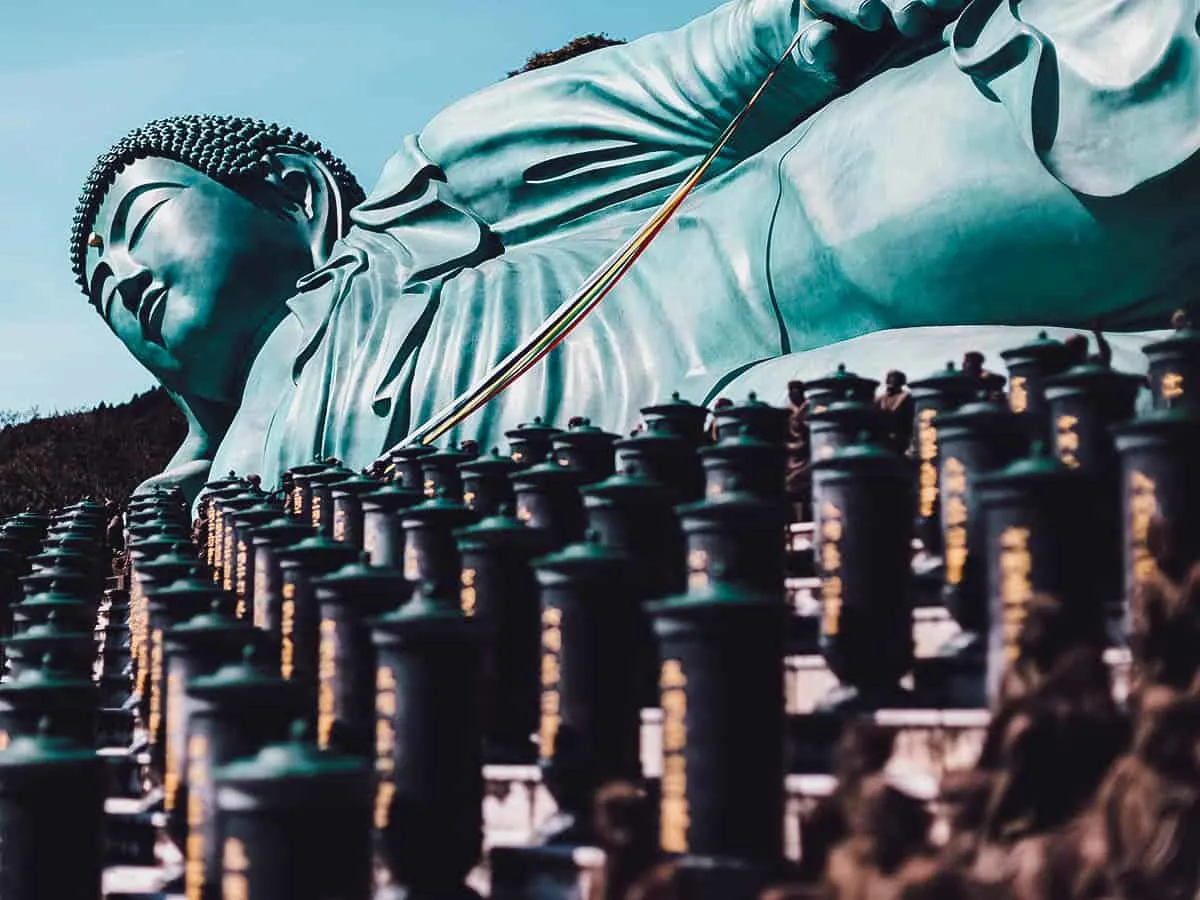 Photo by Thana Thanadechakul
How to Get There: Catch a train to Kido Nanzoin-mae train station. From there, it's about a 3-minute walk to the temple.
Approximate Fare: Around JPY 380 each way
Average Travel Time: About 30 mins
2. Dazaifu
Dazaifu served as the administrative center of Kyushu for over 500 years. It facilitated diplomatic relations and was once the main point of interaction between Japan and the rest of Asia.
Dazaifu is no longer the administrative center it once was but it remains a key point of interest in Kyushu. It's home to a number of temples and shrines, none more important than Dazaifu Tenmangu Shrine. It's also where you'll find Kyushu National Museum, a large museum that hosts collections of Japanese artefacts related to the history of Kyushu.
You can easily visit Dazaifu on your own using public transportation.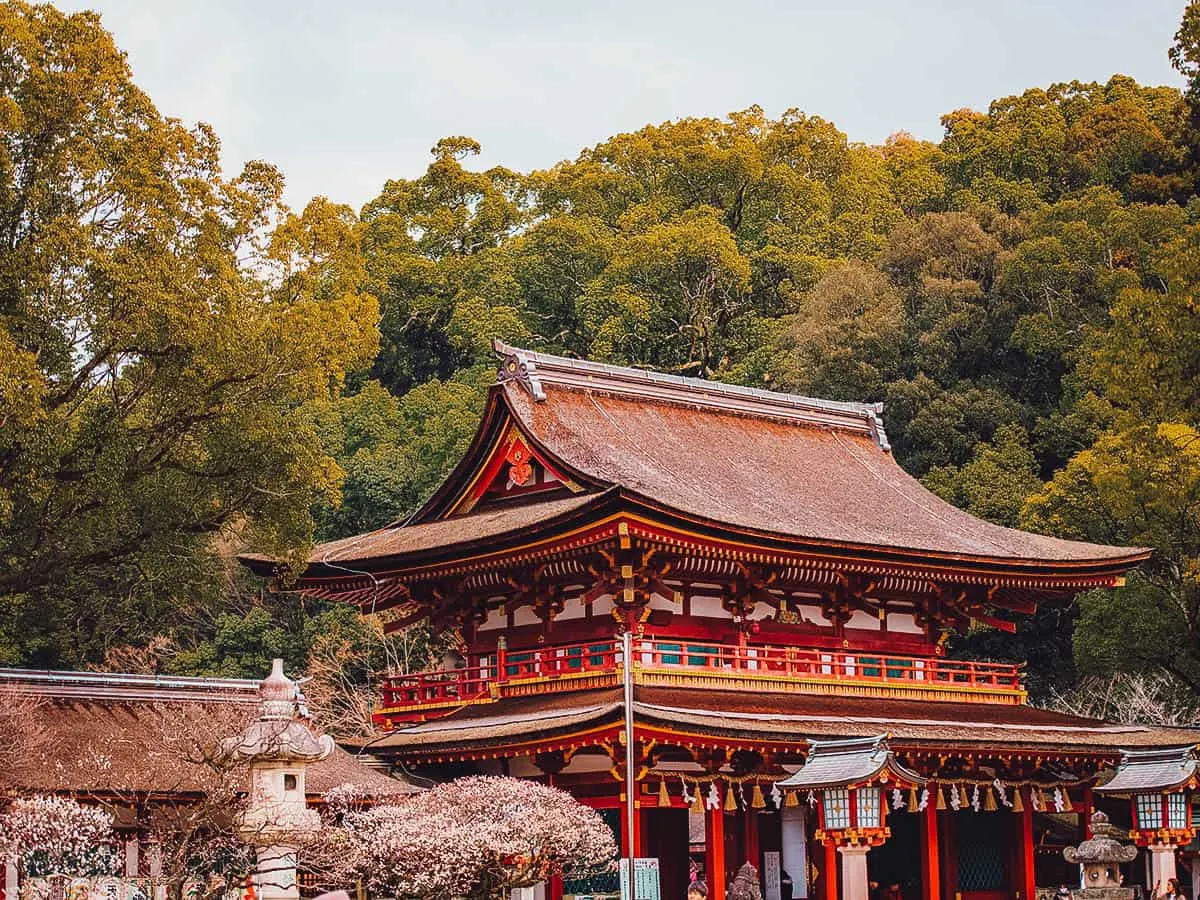 Photo by grandspy_photos
How to Get There: The easiest way to get to Dazaifu from Fukuoka is by bus. A direct bus takes you from Hakata Bus Center to Dazaifu Station in about 45 minutes.
Approximate Fare: Around JPY 610 each way
Average Travel Time: About 45 mins
3. Yanagawa
Yanagawa is a city in southern Fukuoka prefecture, about 56 km (35 miles) south of Fukuoka City. Sometimes referred to as the "city of water" or the "Venice of Kyushu", it's famous for its network of canals totaling about 470 km in length.
Built hundreds of years ago, these canals were originally used for irrigation and harken back to Yanagawa's past as a farming village. Today, they're used to take tourists on cruises (kawakudari) using boats powered by men with bamboo poles (donkobune). Kawakudari cruises cost about JPY 1,500 per person and last 30-70 minutes.
Yanagawa can be reached by train from Fukuoka in less than an hour. If you prefer, then you can also go on a guided tour. Some tours will include a kawakudari cruise and a lunch of steamed eel which is a Yanagawa specialty.
Known locally as "unagi seiro mushi", Yanagawa has a unique way of preparing eel. It involves placing grilled eel and strips of egg over rice drenched in sauce, then steaming it in a bamboo steamer. If you like unagi, then you need to try this.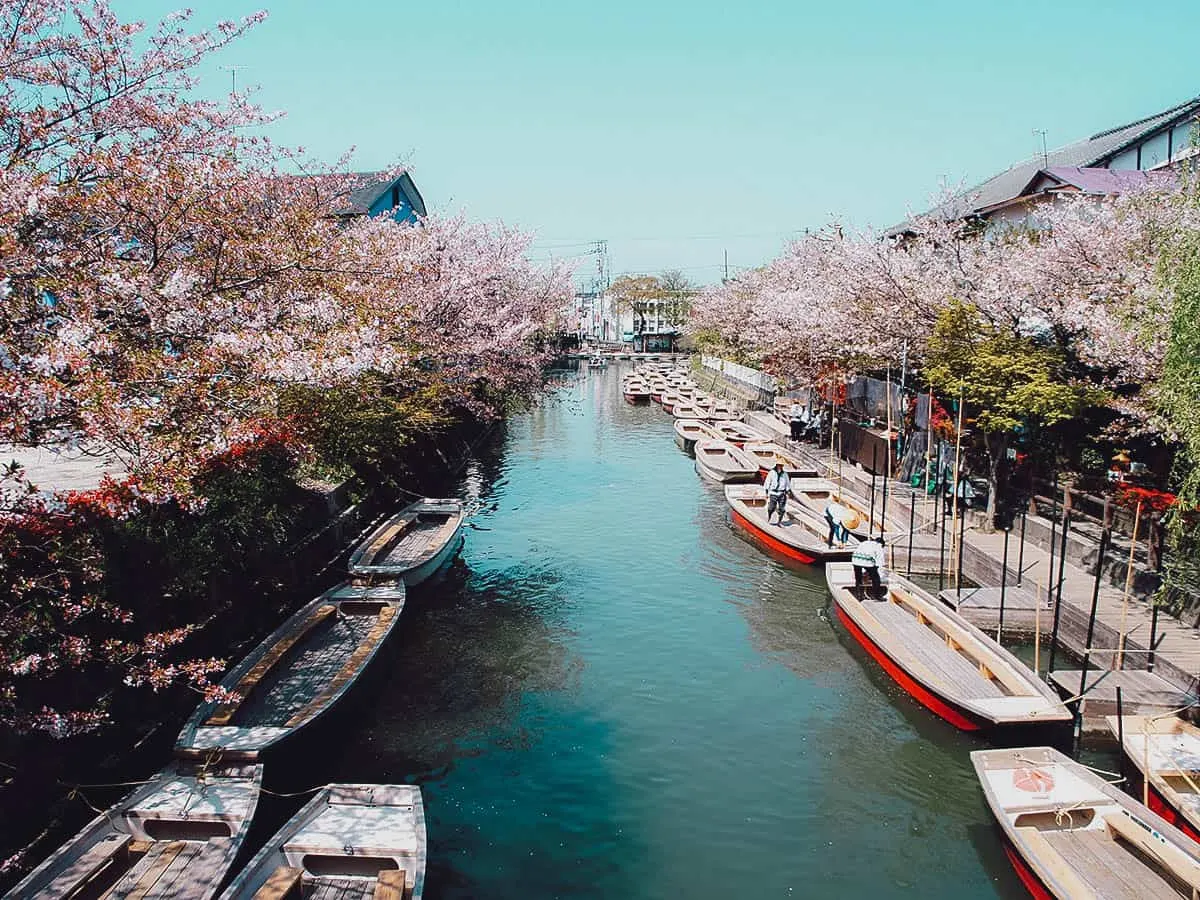 Photo by Hiya Hiyo
How to Get There: Catch a train from Nishitetsu Fukuoka (Tenjin) Station to Nishitetsu-Yanagawa Station.
Approximate Fare: Around JPY 860 each way
Average Travel Time: About 50 mins
4. Yufuin
Yufuin is an atmospheric onsen town in Oita prefecture, about 125 km (77.7 miles) southeast of Fukuoka. It's situated in a valley surrounded by mountains, the most recognizable features being the twin peaks of Mount Yufu.
We went to Yufuin in February and found it to be one of the most picturesque towns we've visited so far in Japan. It was especially beautiful during that time with its backdrop of mountains covered in snow.
Yufuin is famous for its many ryokans and hot springs, not to mention a central shopping street with boutiques, cafes, restaurants, and quirky museums. There's a lovely lake near the heart of town as well (pictured below).
You can visit Yufuin on your own like we did or go on a guided tour. It's possible to do it on a day trip but there's plenty to see and experience to merit a longer stay. You can check out my article on Yufuin for more pictures and information.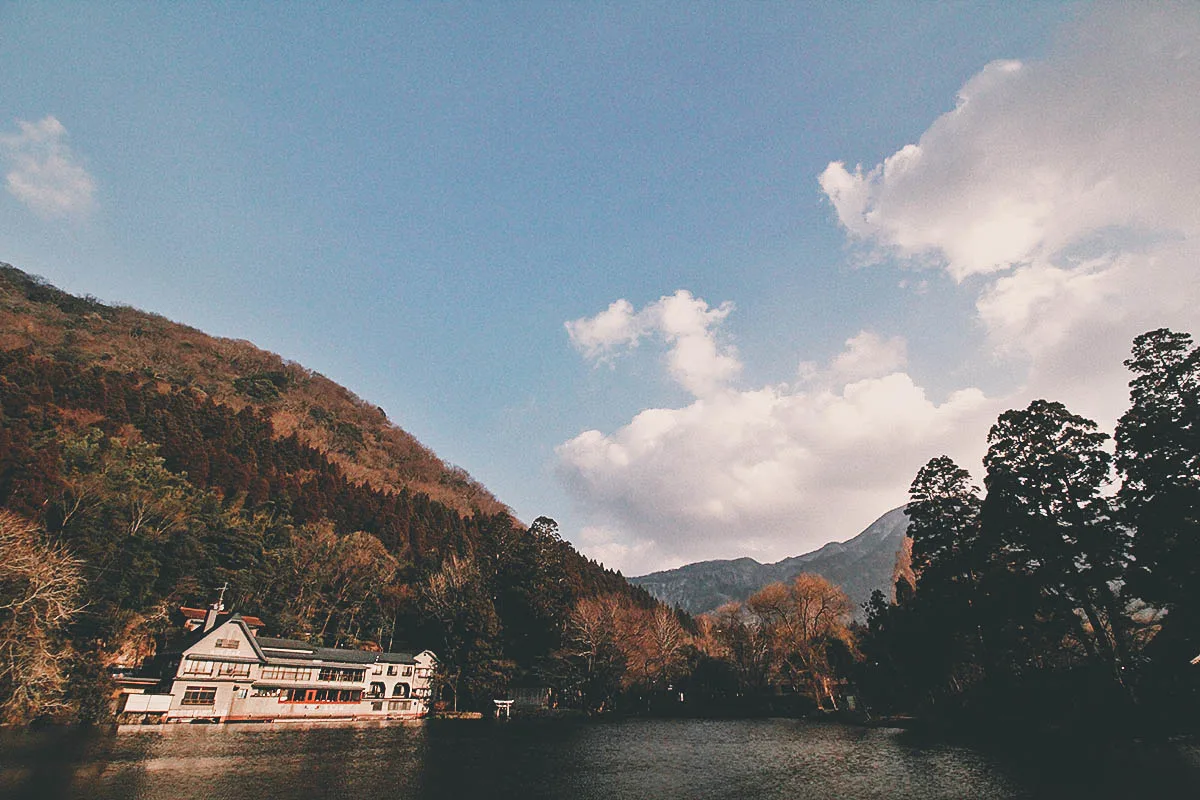 How to Get There: You can get to Yufuin by bus or train from Hakata Station.
Approximate Fare: Around JPY 2,930 (bus) or JPY 4,500 (train) each way
Average Travel Time: About 2 hrs 30 mins
5. Beppu
Beppu is a much larger and more developed onsen town about 30 km (18.6 miles) east of Yufuin. It's one of Japan's most popular hot spring resorts, famous for its bevy of thermal baths and jigoku or hot spring "hells" (pictured below).
When we were planning our Kyushu trip, we were deliberating between Yufuin and Beppu. We decided on Yufuin based on its more intimate size and rural feel, but if you're looking for a more complete onsen experience, then it may be best to go with Beppu. You'll have a wider range of onsen experiences to choose from like hot water baths, steam baths, mud baths, and sand baths.
You can travel to Beppu on your own or book a guided tour through Klook (Option 1 | Option 2). Like Yufuin, it's possible to visit on a day trip but people looking for a full onsen experience may want to stay longer.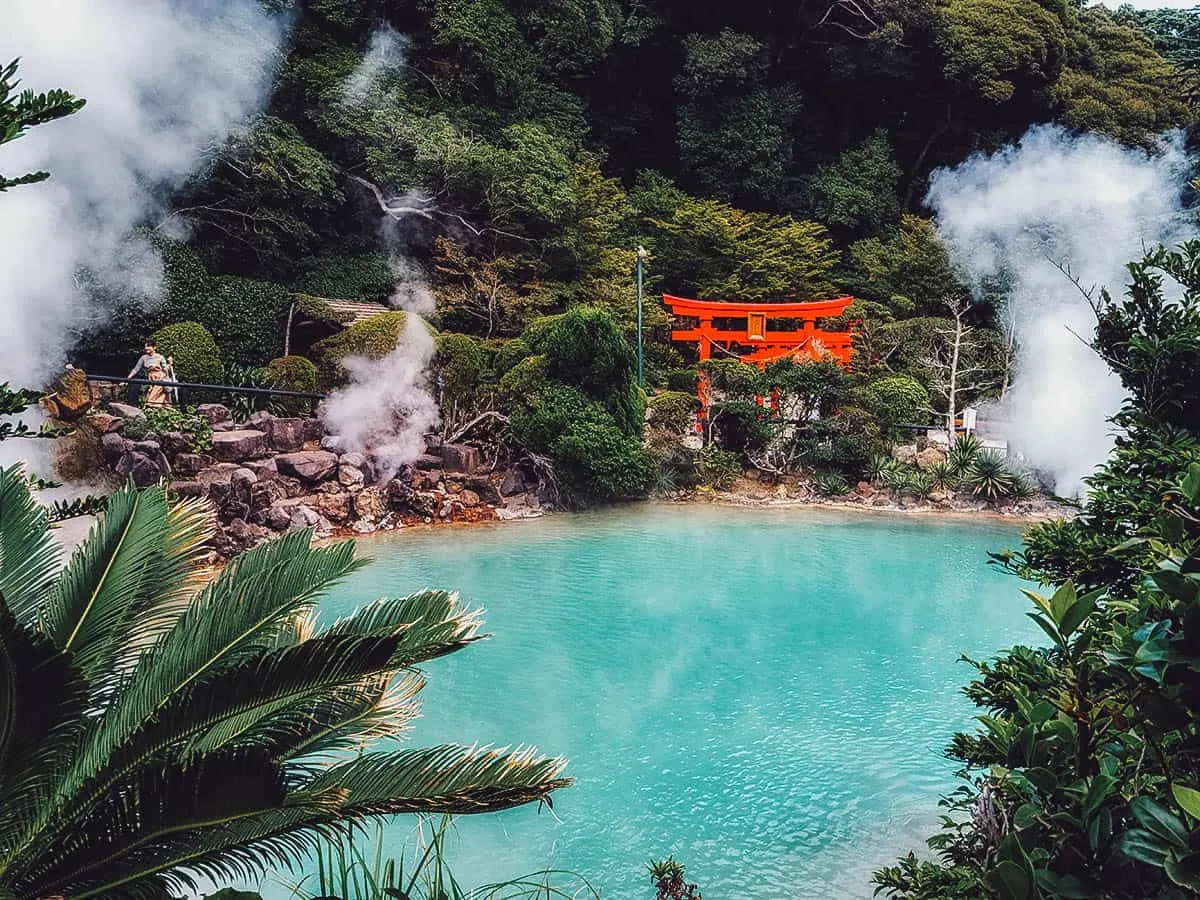 Photo by aaron choi
How to Get There: The fastest way to get to Beppu is by Sonic limited express train from Hakata Station.
Approximate Fare: Around JPY 5,500 each way
Average Travel Time: About 2 hrs 30 mins
6. Kurokawa Onsen
Kurokawa Onsen was one of our favorite stops in Kyushu. Like Yufuin and Beppu, it's an onsen town famous for its many ryokans and hot spring baths.
Kurokawa Onsen is a small town tucked away in the mountains of Kumamoto prefecture. Even smaller and more remote than Yufuin, it's surrounded by pine trees and devoid of any large concrete hotels. It's a peaceful place that's much more natural and traditional in feel.
We stayed the night and had use of our ryokan's baths, but day trippers can use either of two public baths or engage in what's known as rotemburo meguri or "onsen hopping". For JPY 1,300, you can use the baths of up to three different ryokans. You can refer to our Kurokawa Onsen travel guide for more information.
You can catch a direct bus to Kurokawa Onsen from Fukuoka. Alternatively, you can book a guided tour through Klook.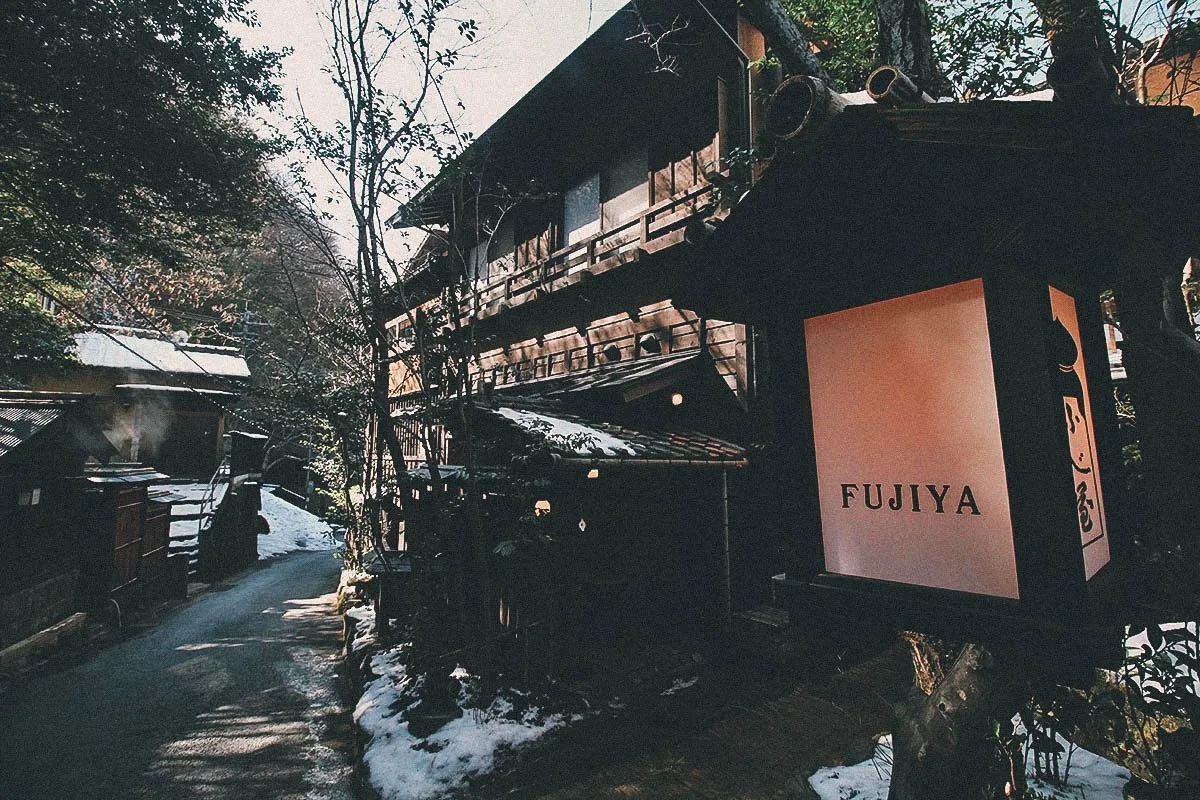 How to Get There: You can reach Kurokawa Onsen by bus from Hakata Station, Tenjin Bus Center, or Fukuoka Airport.
Approximate Fare: Around JPY 3,150 each way
Average Travel Time: About 2 hrs 30 mins
7. Mount Aso
Located in Kumamoto prefecture, Mount Aso is the largest active volcano on Japan and one of the largest in the world. Its caldera has a diameter of 25 km (15.5 miles) and a circumference of about 120 km (75 miles).
The volcano's central cone consists of five peaks. Mt. Taka is the highest while Mt. Nakadake is the only one accessible to tourists. Its crater contains an active volcano that continually emits smoke, causing it to sometimes be closed off to visitors due to toxic gases and the risk of volcanic activity.
Mount Aso is challenging to get to on a day trip using public transportation so it's best to go by rental car.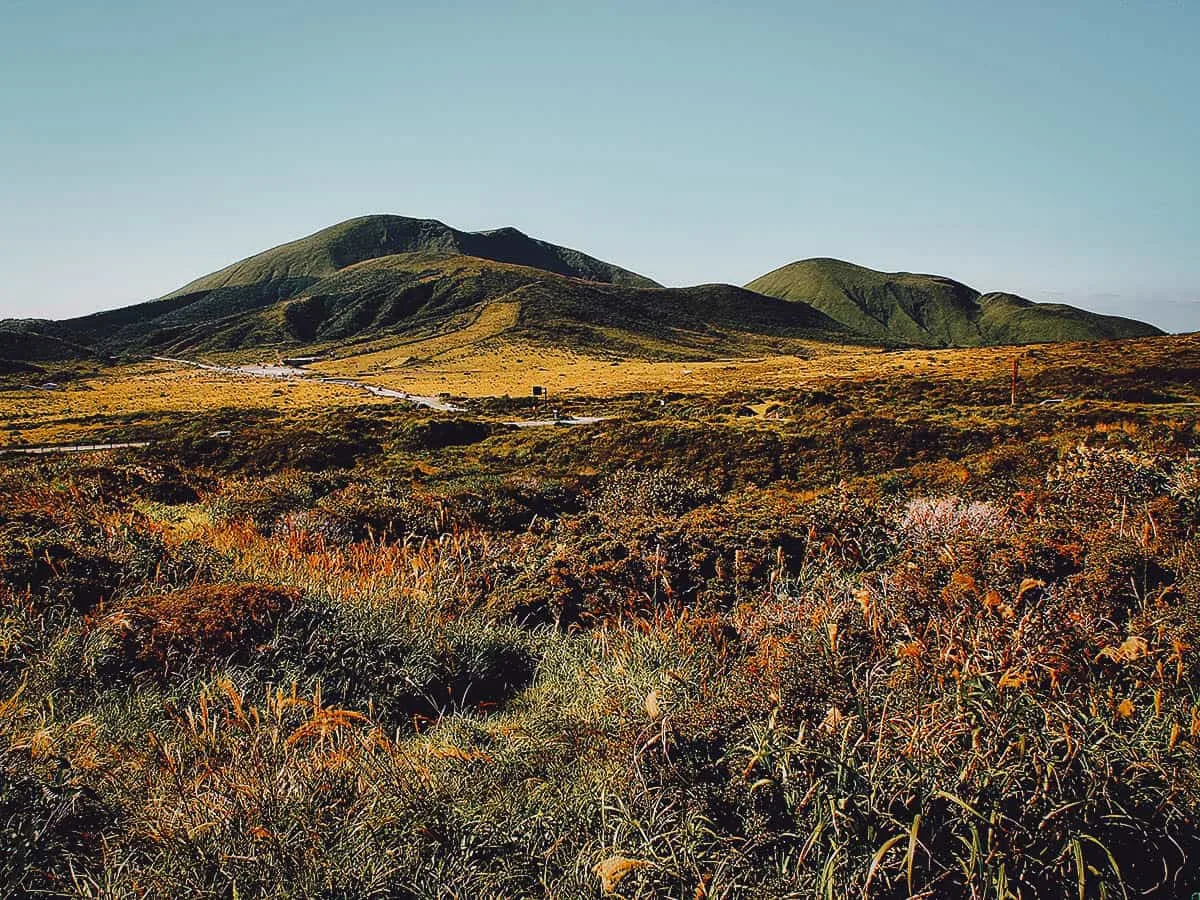 Photo by b-hide the scene
8. Kumamoto Castle
Together with Matsumoto and Himeji castles, Kumamoto Castle is considered one of the three premier castles in Japan. Impressive in its size and design, it's renowned for its imposing black exterior with sloping ramparts that were designed to prevent ninja attacks.
Unfortunately, much of the castle has been damaged or destroyed since its original construction in 1607. Few of its original structures remain intact so much of what you see today is a modern reconstruction.
Sadly, the castle suffered considerable damage in the earthquake of 2016 so it's currently undergoing a complete restoration. It remains open to visitors though none of its buildings can be entered.
You can visit Kumamoto Castle on your own using public transportation. Home to about 800 cherry trees, it becomes especially beautiful in spring.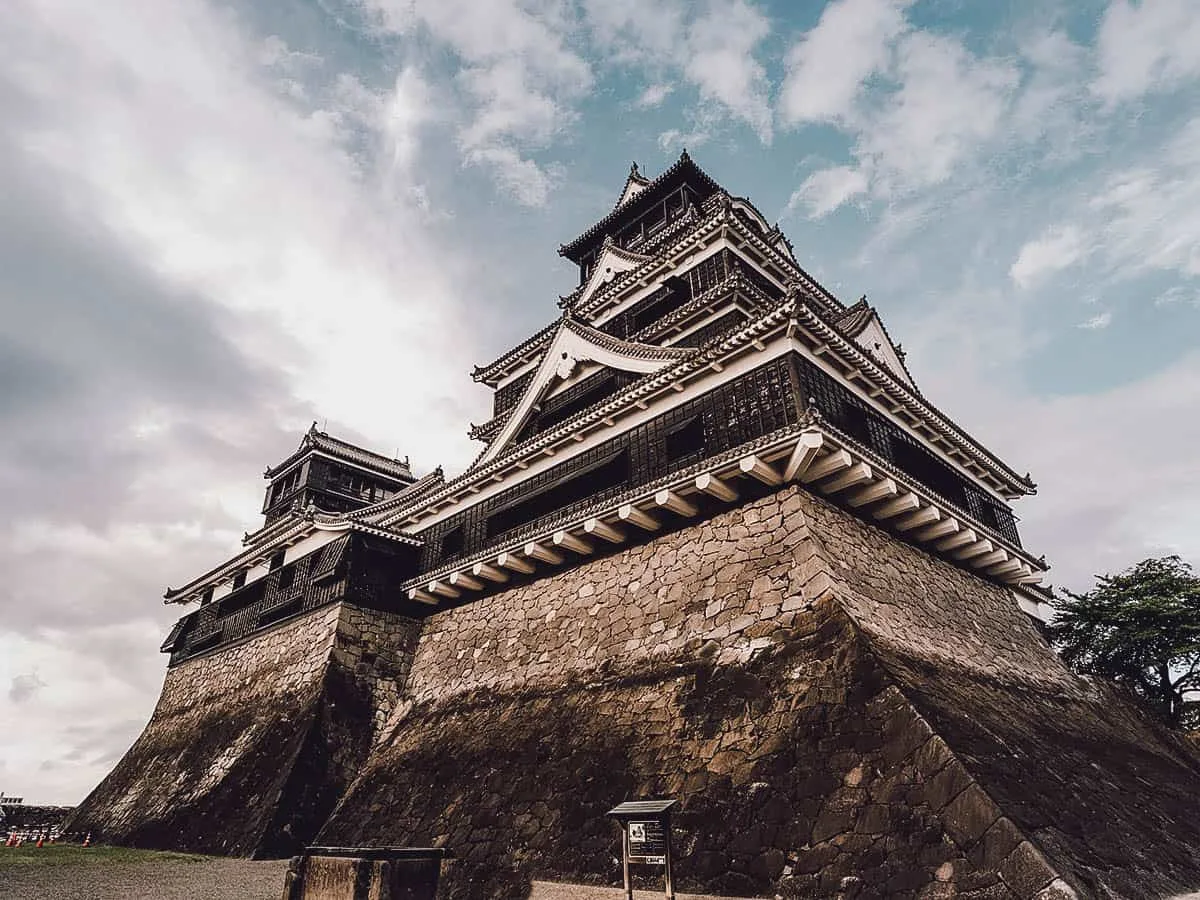 Photo by tinnanut
How to Get There: It's cheaper to go to Kumamoto City by local train or bus but it's much faster to go by shinkansen. All options depart from Hakata Station. From the train or bus station in Kumamoto, you can then take the tram or walk to the castle.
Approximate Fare: Around JPY 2,340 (local train), JPY 2,280 (bus), or JPY 4,870 (shinkansen) each way
Average Travel Time: About 1 hr by shinkansen, 2.5-3 hrs by local bus or train
9. Nagasaki
Nagasaki is one of the most well-known destinations in Kyushu. Personally, I found it to be one of the most unique and peculiar cities we've visited so far in Japan.
Nagasaki has always been a prominent port city throughout its history. It was the most important port among just a handful that remained open to foreign trade during Japan's period of isolation.
This influx of foreign traders shaped Nagasaki. Today, vestiges of foreign influence can still be seen in the city's many Catholic churches, its western-style houses, and local dishes influenced by Chinese and Portuguese cuisine.
There's much to see and do in Nagasaki like Gunkanjima, Mt. Inasa (pictured below), and Nagasaki Peace Park. It merits a longer stay but people pressed for time can do it as a day trip from Fukuoka. You can check out our Nagasaki travel guide for more information.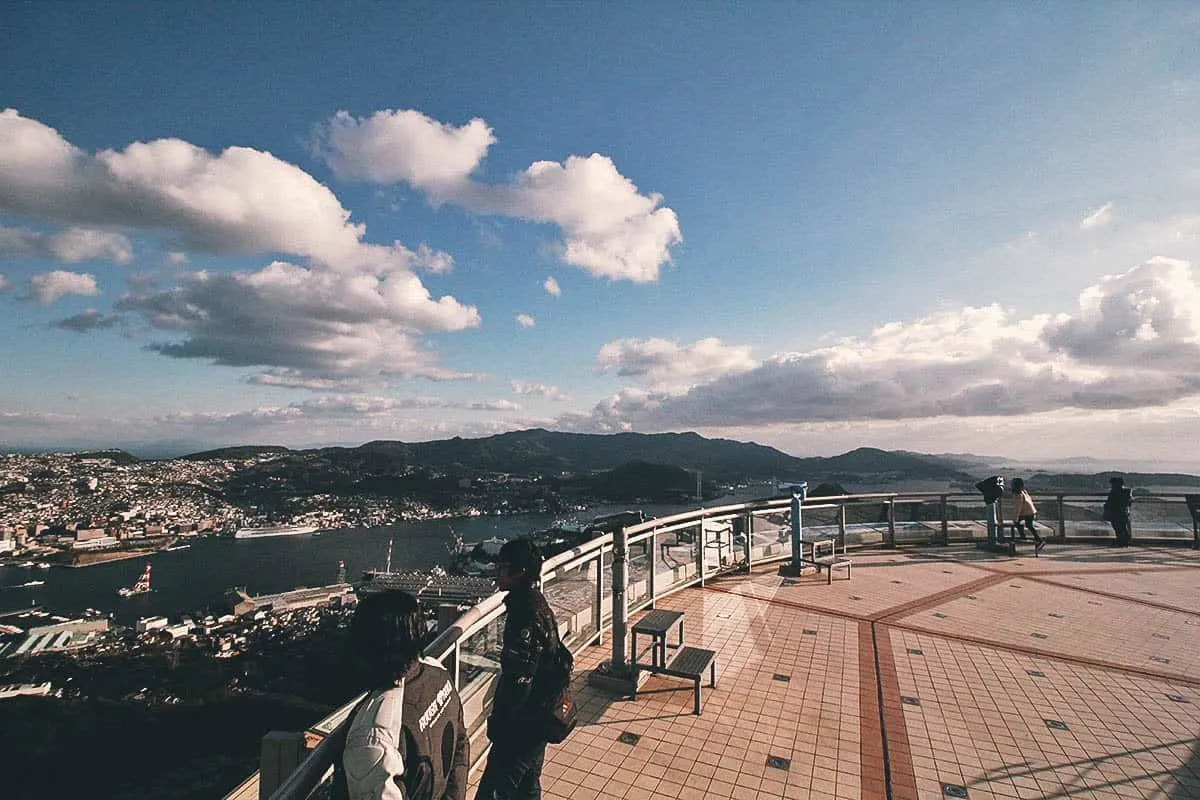 How to Get There: The cheapest way to travel from Fukuoka to Nagasaki is by Nishitetsu highway bus. Buses depart from Hakata Station or Tenjin Bus Center.
Approximate Fare: Around JPY 2,620 each way
Average Travel Time: About 2 hrs 30 mins
10. Tsunoshima Bridge
Tsunoshima is an island in the Sea of Japan, about 2 km (1.2 miles) off the northwest coast of Yamaguchi prefecture. It's white sand beaches make it popular with locals in the summer, but what makes it truly interesting is the bridge that connects it to the mainland.
Measuring almost 1.8 km (1.1 miles) in length, Tsunoshima Bridge is the second longest bridge in Japan. Popular with motorists, it offers a scenic drive with spectacular ocean views on either side.
Tsunoshima Bridge doesn't offer pedestrian access so it's best experienced by rental car or on a guided tour.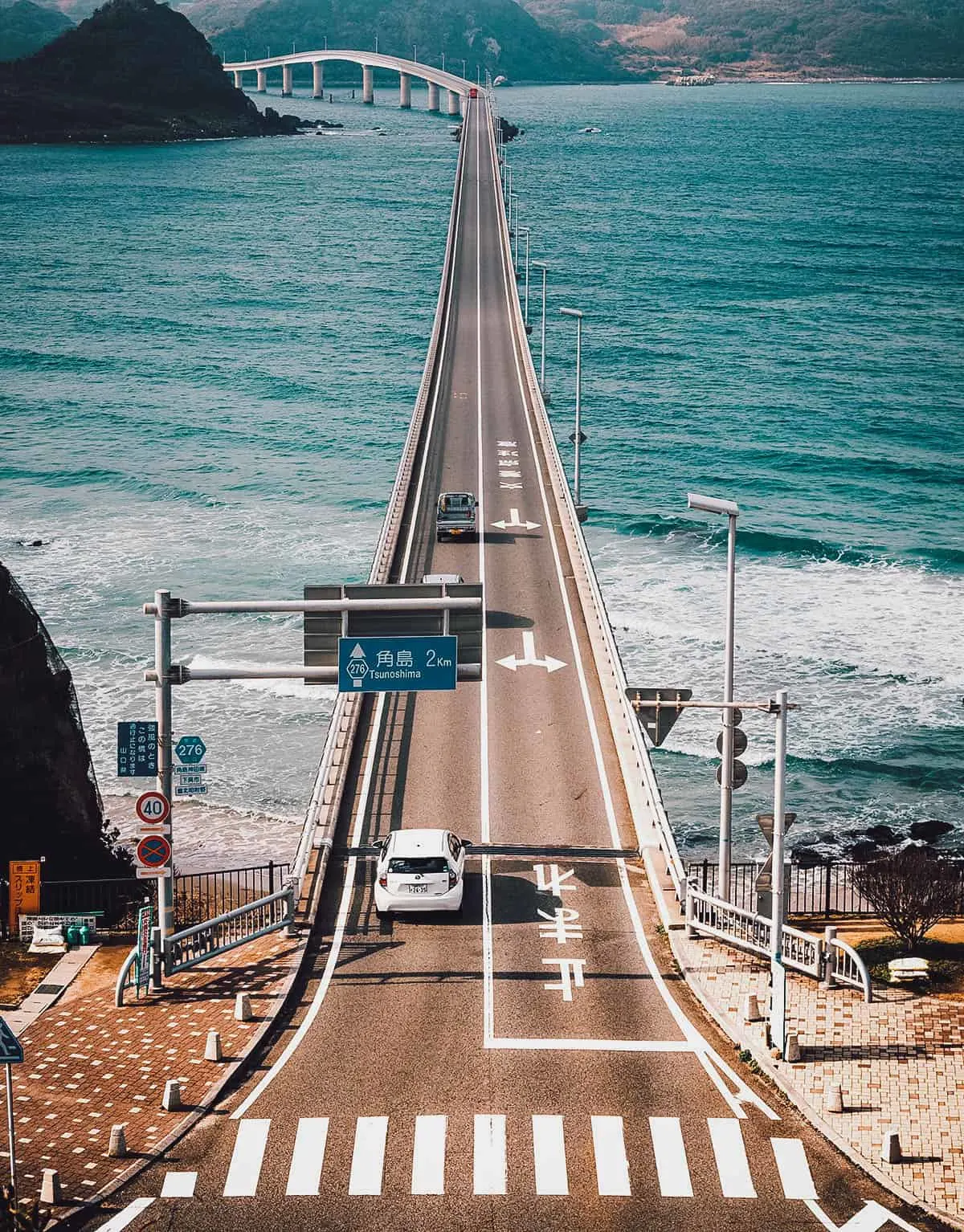 Photo by Samuel Yeo
11. Motonosumi Inari Shrine
The torii gates at Shinto shrines are always a picturesque site, but perhaps none more so than at Motonosumi Inari Shrine in Yamaguchi. It's famous for its series of 123 red torii gates going up a cliff and overlooking the Sea of Japan.
Like Tsunoshima Bridge, Motonosumi Inari Shrine isn't as easy to get to on your own, especially on a day trip from Fukuoka, so it's best visited by rental car or on a tour. This guided tour from Klook takes you to both Tsunoshima Bridge and Motonosumi Inari Shrine as well as Karato Market.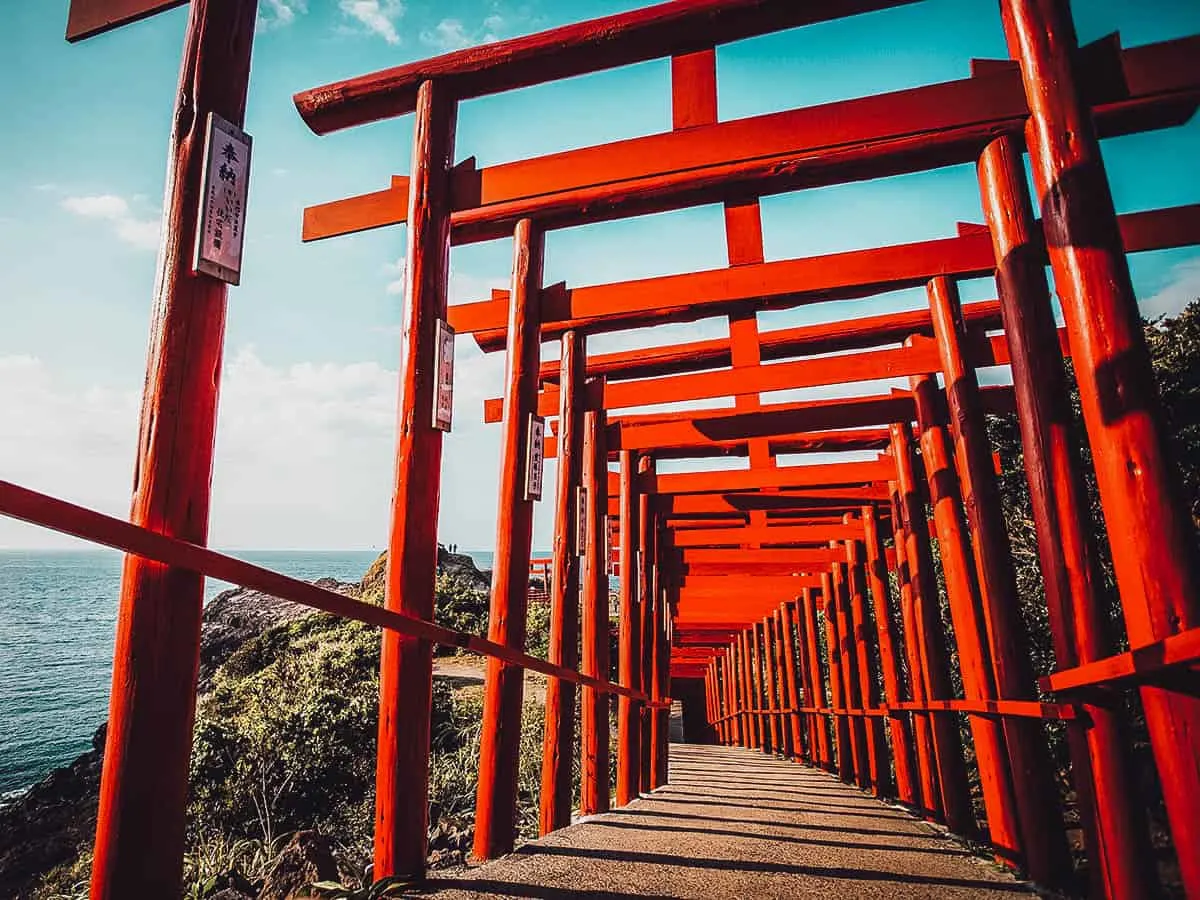 Photo by journeykei
12. Takachiho
Takachiho is a town in northern Miyazaki prefecture. It's an area steeped in Japanese mythology and renowned for its astounding natural beauty.
Takachiho's most famous attractions include Amano Iwato Shrine and the spectacular Takachiho Gorge (pictured below). You can explore the gorge on a rental boat or via a paved path that runs along the top of the gorge.
Takachiho is about 180 km south of Fukuoka. It may be difficult to reach on a day trip so it's best to go by rental car or on a guided tour. If natural attractions are your thing, then Takachico is well worth the journey.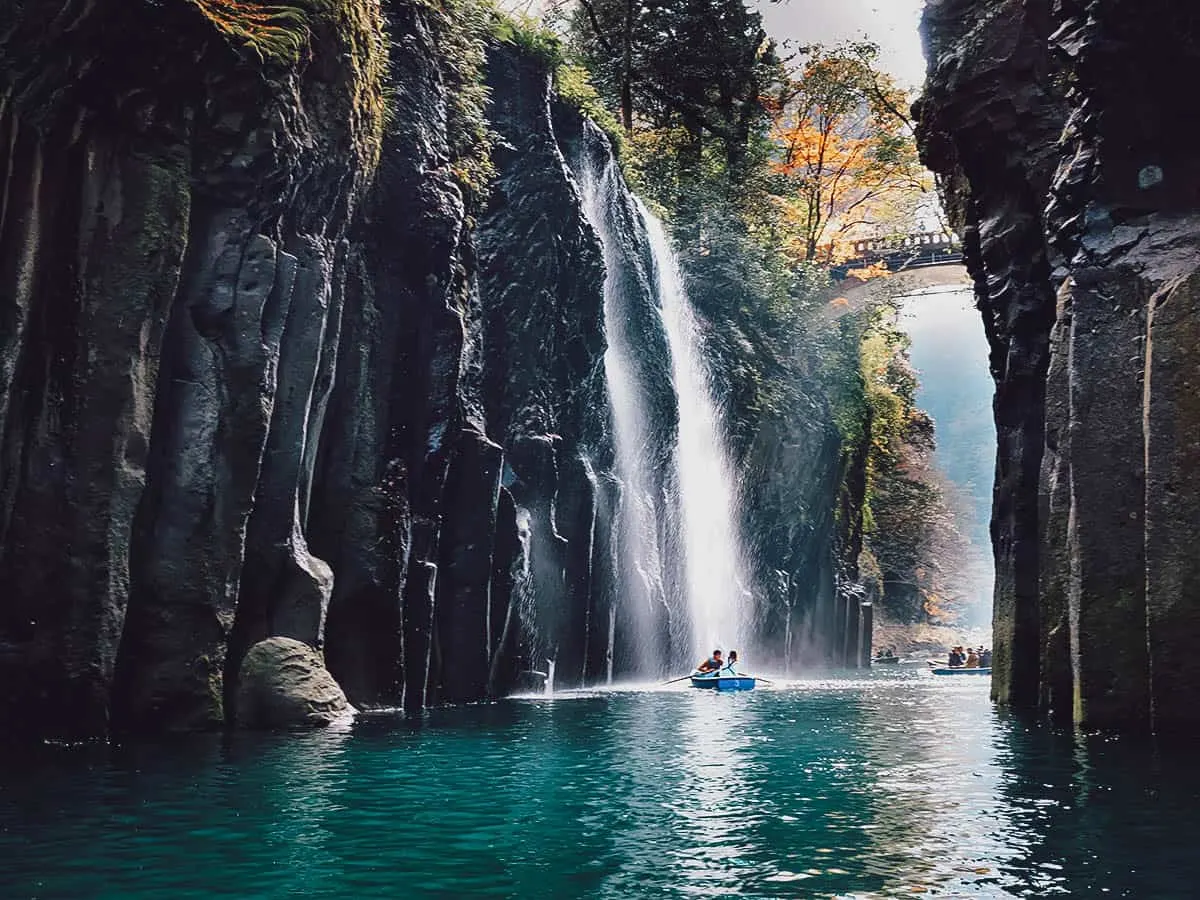 Photo by Norimoto
Disclosure
Some of the links in this article on day trips from Fukuoka are affiliate links, meaning we'll get a small commission if you make a purchase at NO extra cost to you. We only recommend products and services that we use ourselves and firmly believe in. We really appreciate your support as this helps us make more of these free travel guides. Thank you!
Stock photos via Shutterstock