We had four days to fill with activities in Hanoi. We had already mapped out our meals, which is always a priority when we travel, so it was time to figure out what we could do between bites.
Ha Long Bay was an obvious choice so we booked an overnight cruise with Klook. I was searching for other interesting things to do in Hanoi and this day trip to Hoa Lu and Tam Coc caught my eye. About two hours south of Hanoi in Ninh Binh province, it features a boat ride through the Hoang Long River amidst rice paddies and towering limestone mountains on all sides. Like many people, I've come to associate these limestone formations with Northern Vietnam so it seemed a great way to spend the day.
Save This on Pinterest!
No time to read this now? Click on the red save button and pin it for later!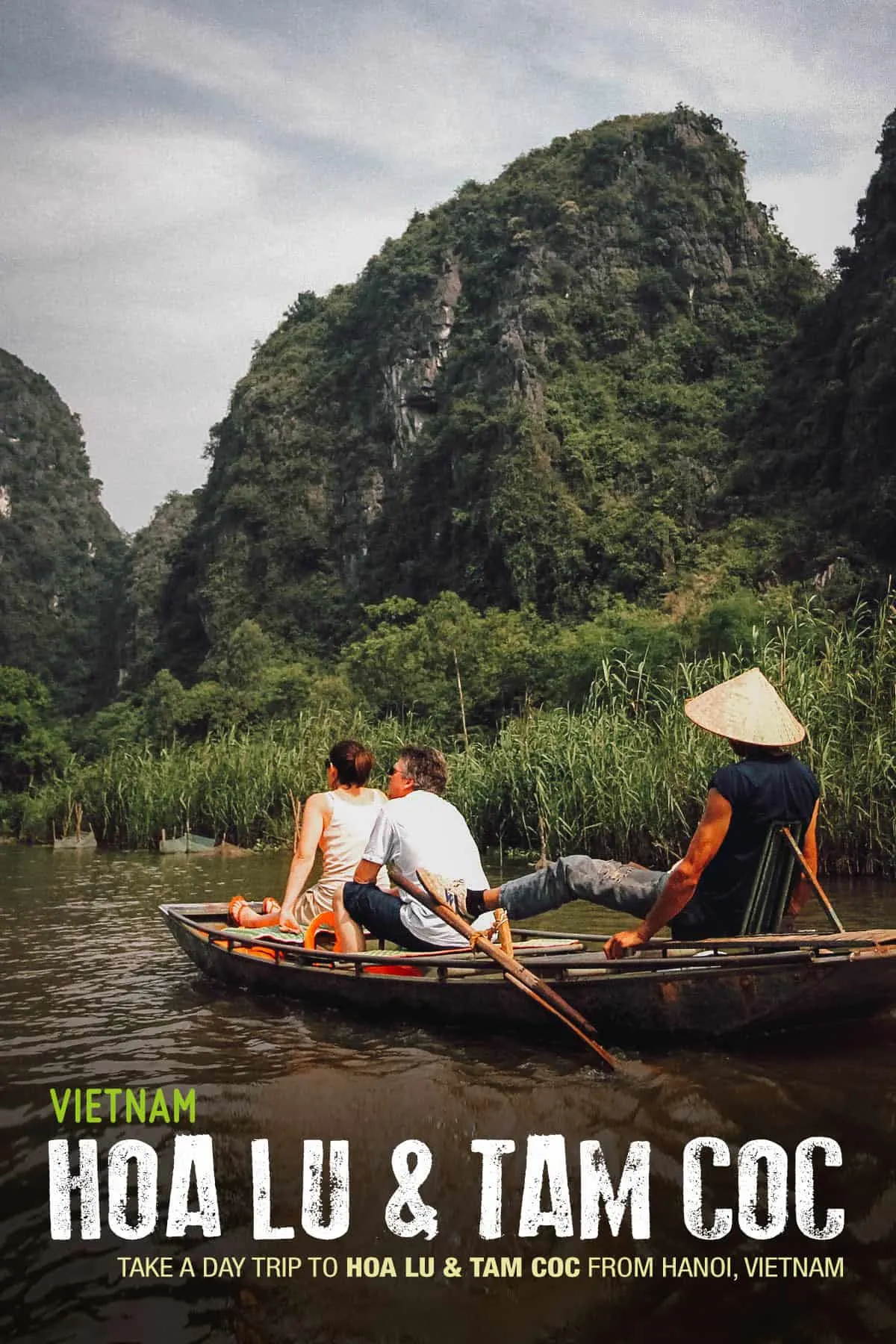 Hoa Lu – Tam Coc Day Trip
We booked this Hoa Lu – Tam Coc Day Trip on Klook for USD 36 each. There's our guide Feng Shui giving us a rundown of the day's itinerary. I can't remember exactly why he calls himself Feng Shui. I think it has something to do with his name either sounding like or meaning "wind" in English. In any case, he was a lot of fun. He kept flirting with that German lady seated on the right. "236? That's you're room number right?" *wink wink* 😆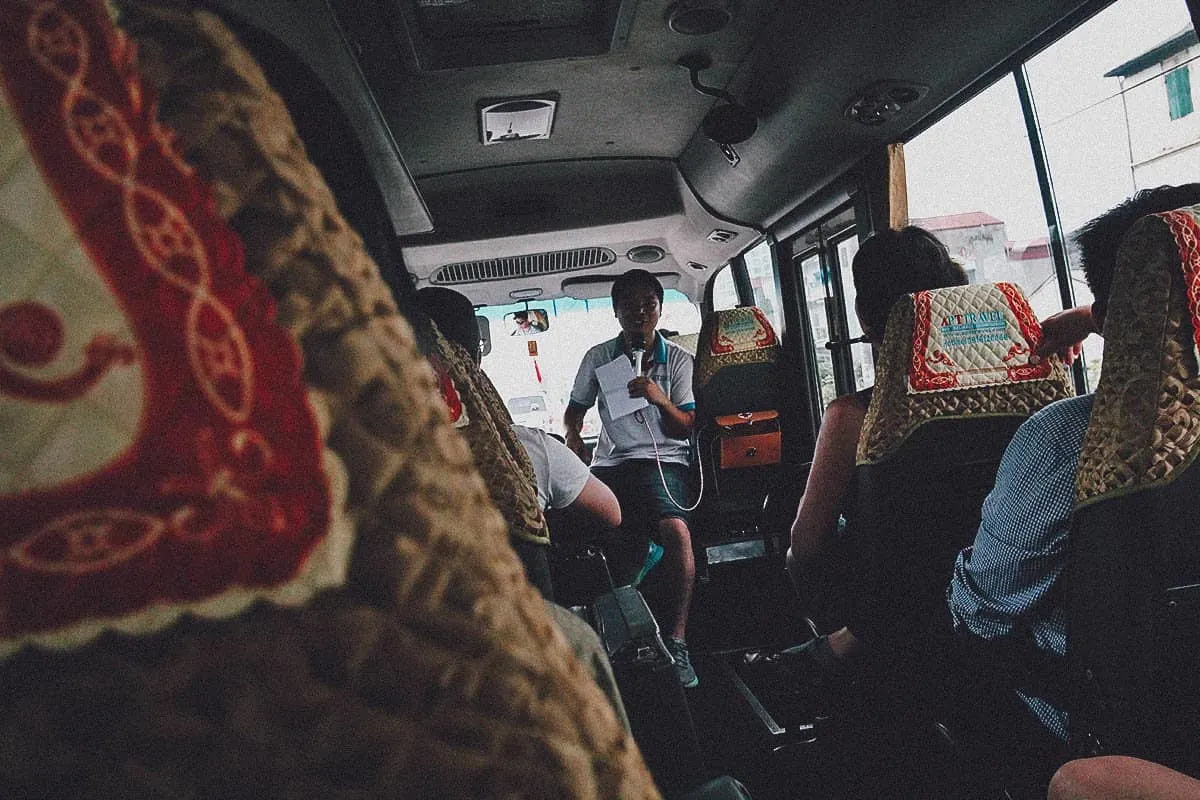 King Dinh Temple
Soon as we arrived in Hoa Lu, we visited the King Đinh and King Lê Temples. Hoa Lu was the capital of Vietnam in the 10th and 11th centuries and was home to the country's first two imperial dynasties – the Đinh Dynasty founded by Đinh Tiên Hoàng, and the Early Lê Dynasty founded by Lê Đại Hành. Pictured below is the gateway to the King Đinh Temple.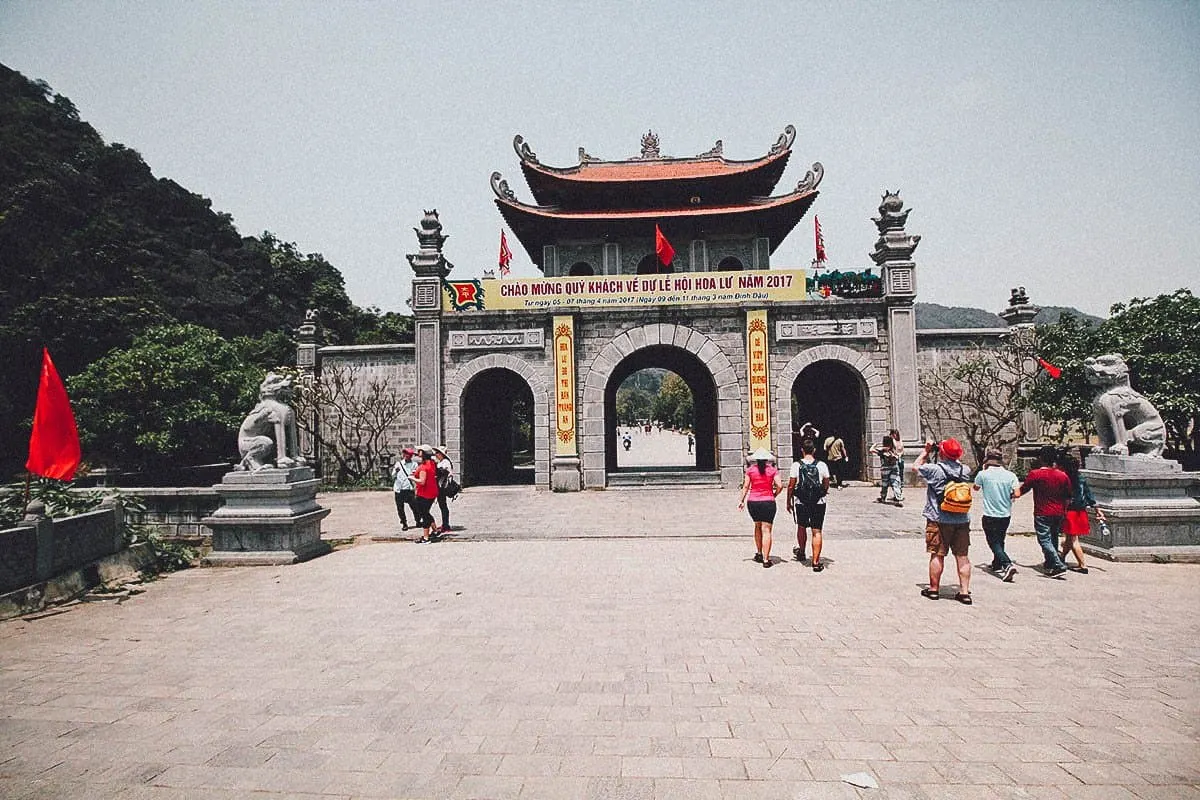 Like most of Vietnam, it was super hot here today so you may want to wear a hat, especially since you'll be out in the sun for much of the day.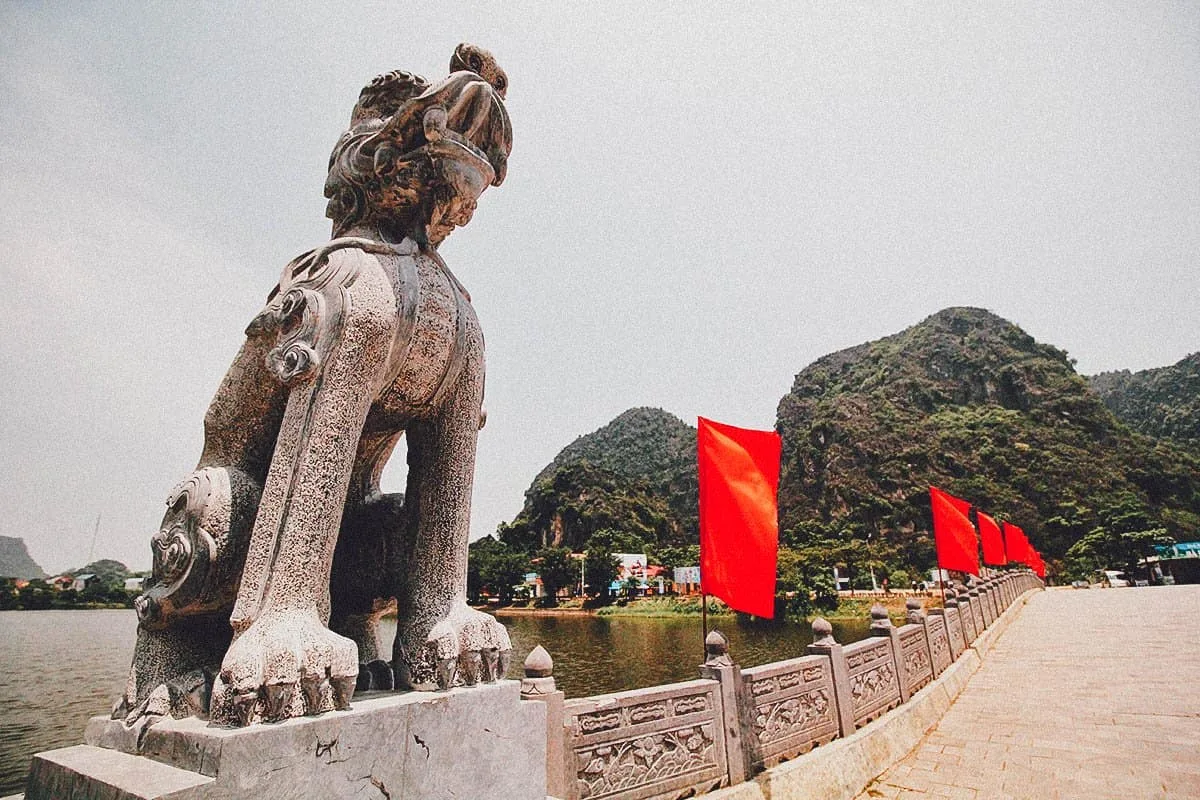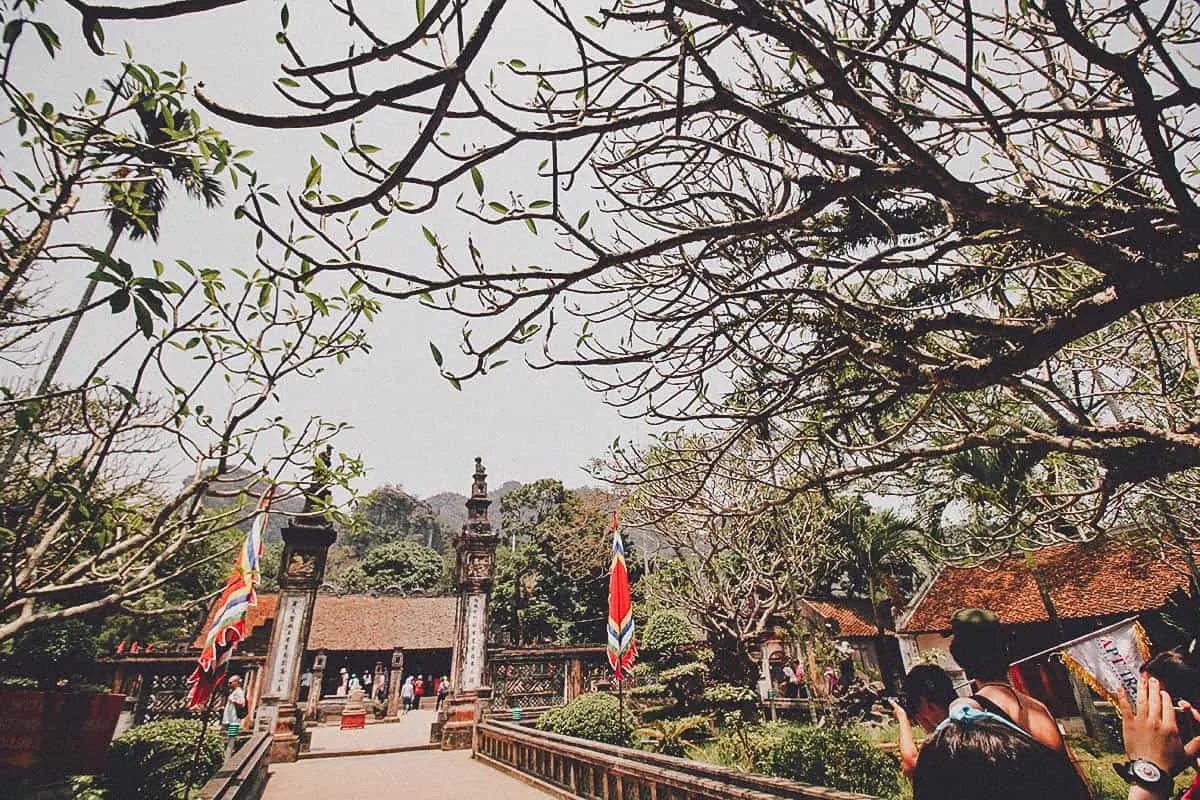 Ngo Mon or "Ngo Gate" to the King Đinh Temple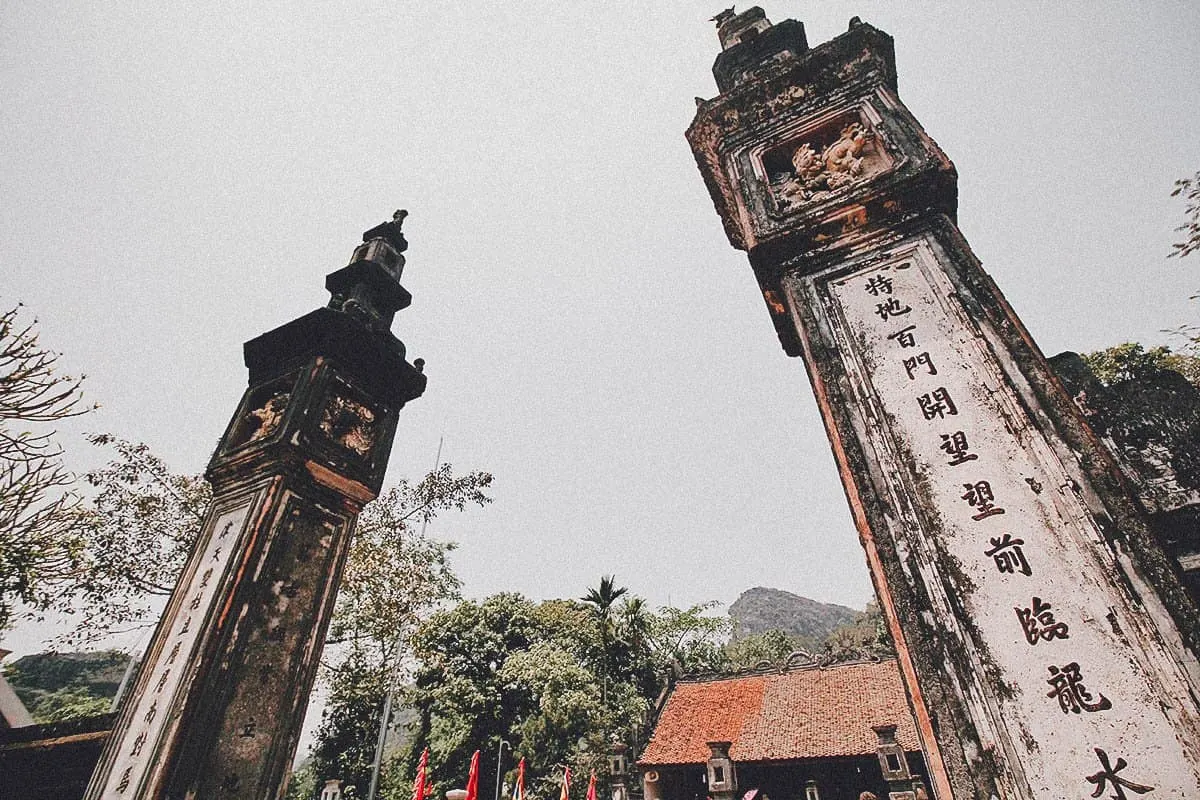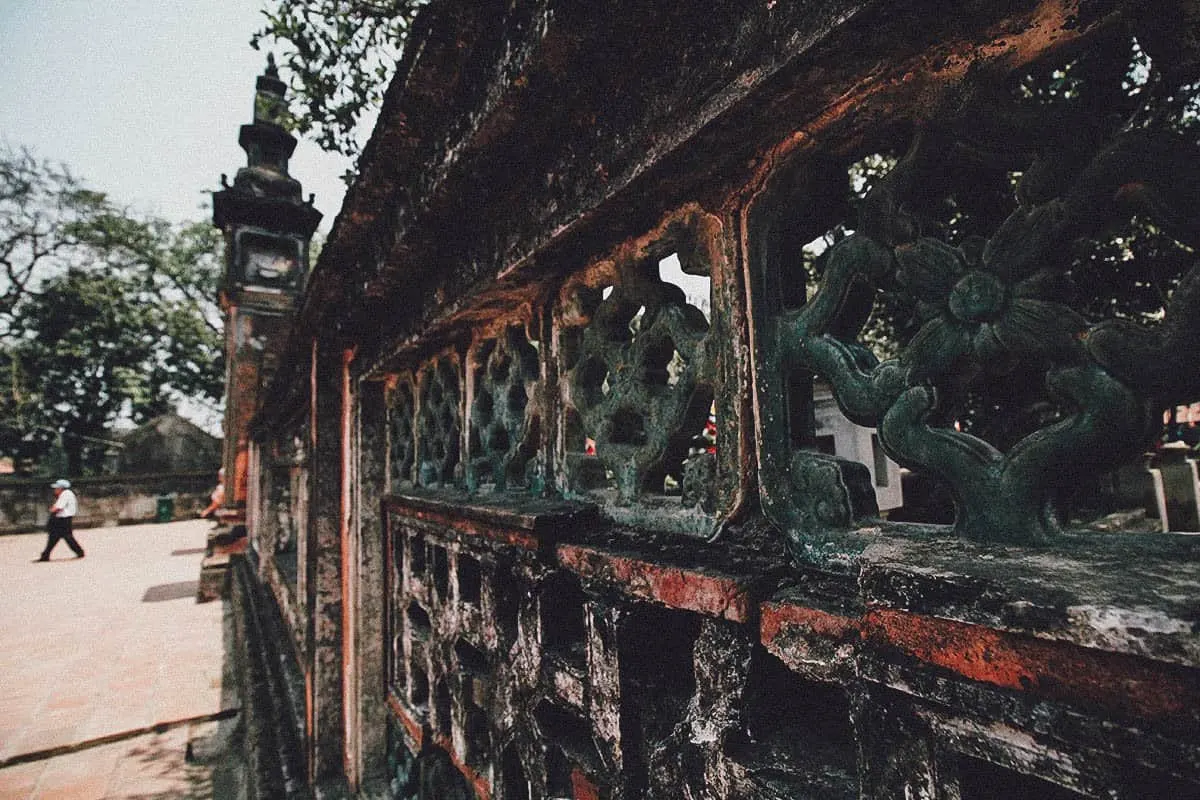 Inside the courtyard is a carved stone royal bed with Nghe, or imaginary animals from the olden times, standing on both sides.

Stone unicorn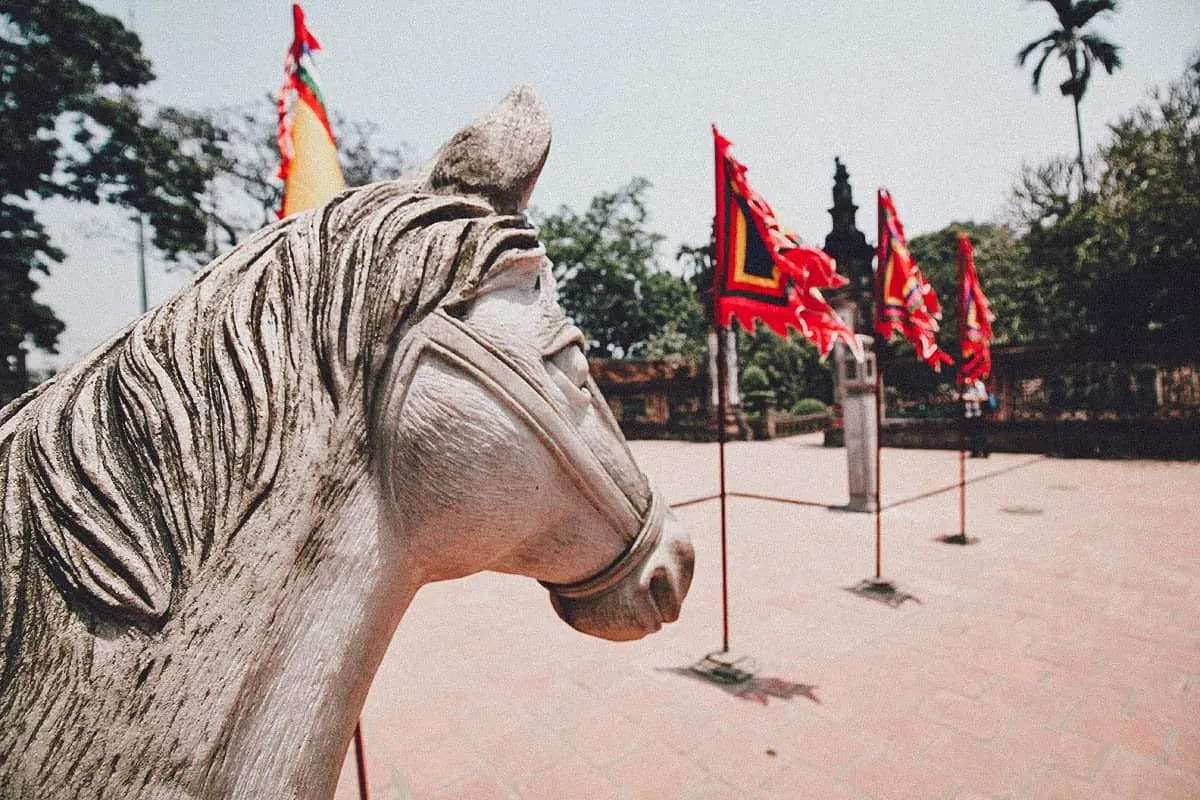 Dragon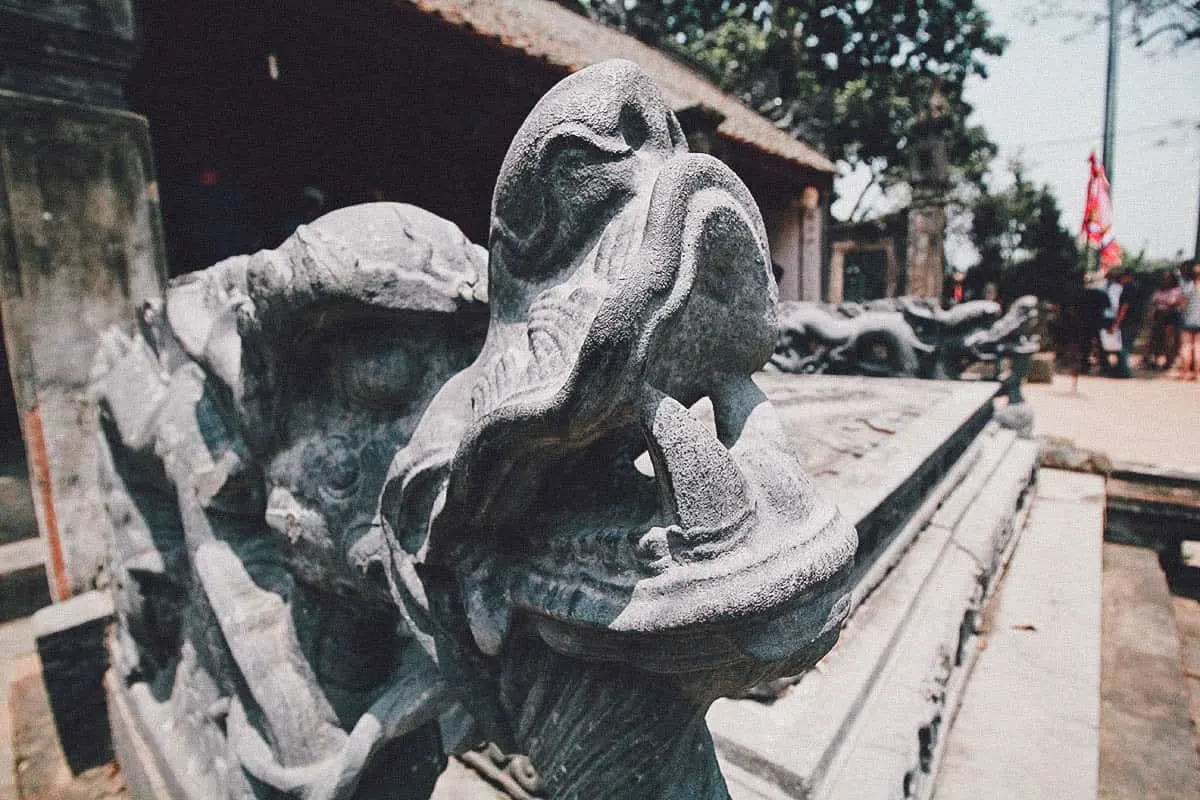 Inside the temple. General Dinh Bo Linh reunified Vietnam in year 968 after defeating all twelve local lords. He ascended to the throne shortly after as King Dinh Tien Hoang.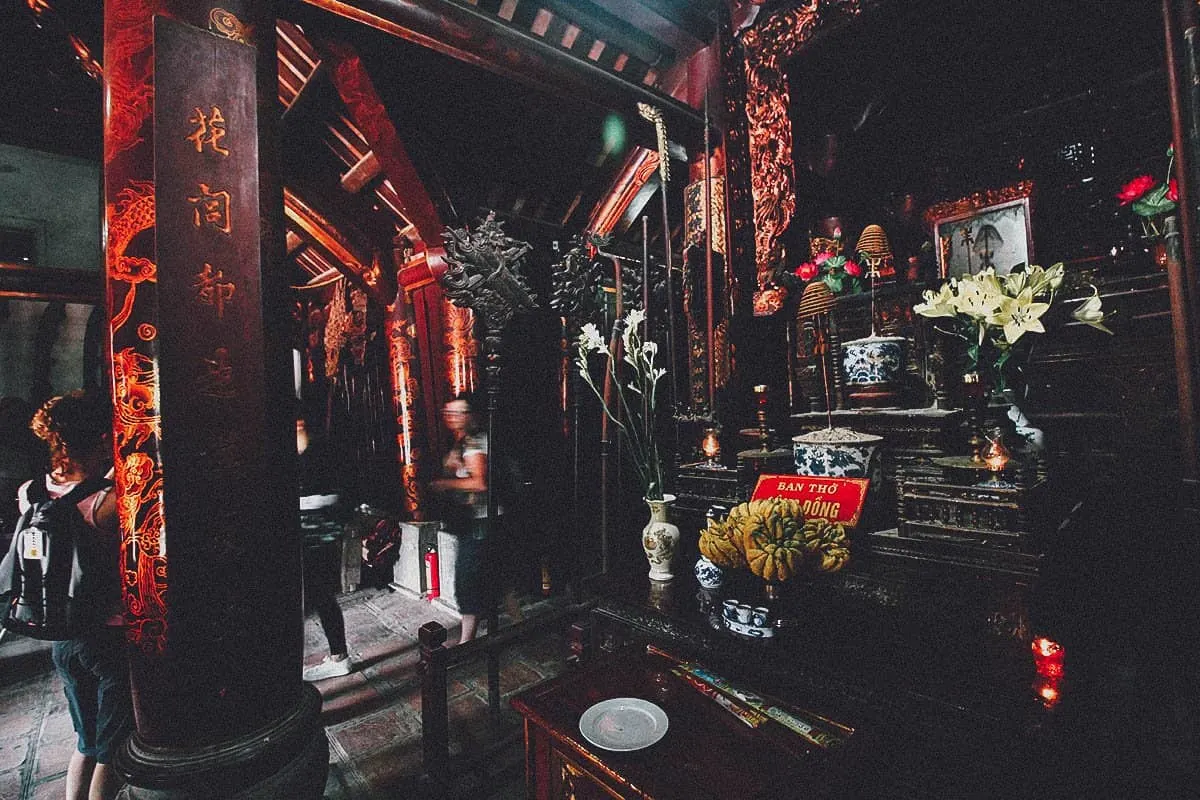 I can't remember if this was taken at the King Đinh or King Lê Temple. The two temples are 500 meters apart and structurally very similar.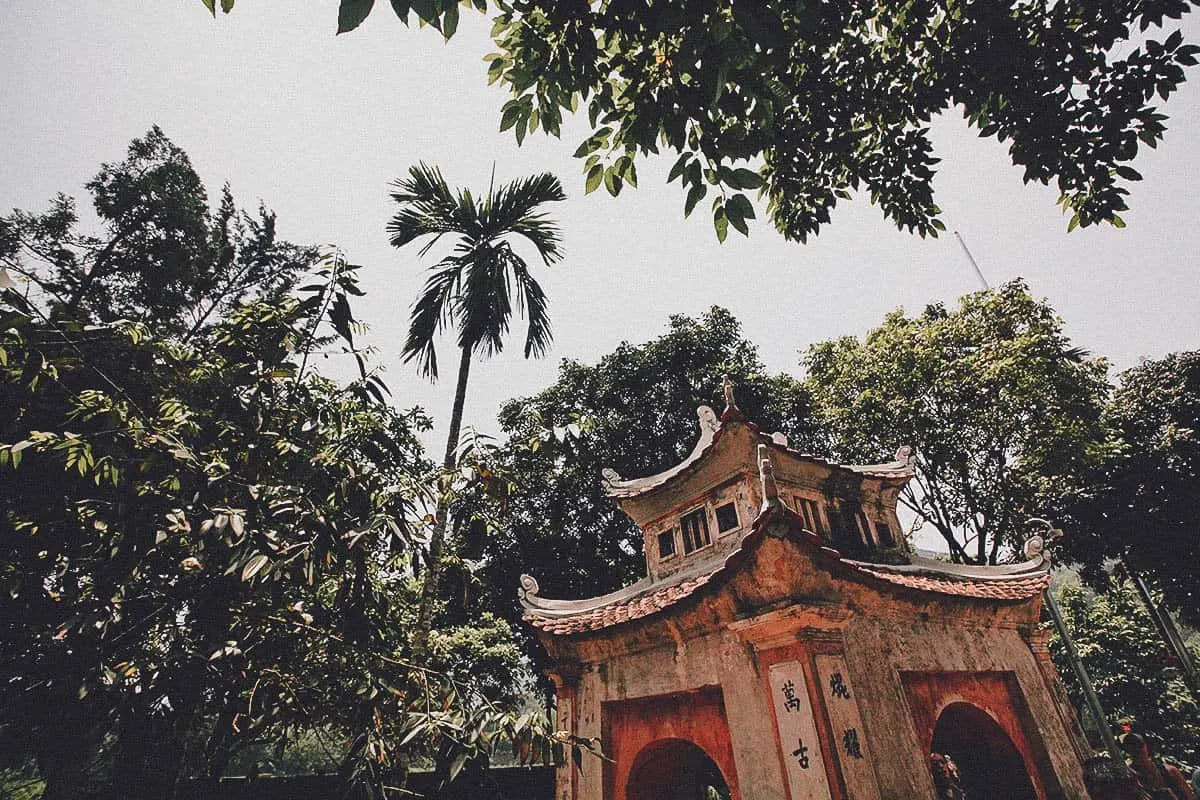 Buffet Lunch
After spending a couple of hours at the temples, we continued to Tam Cốc Village for lunch.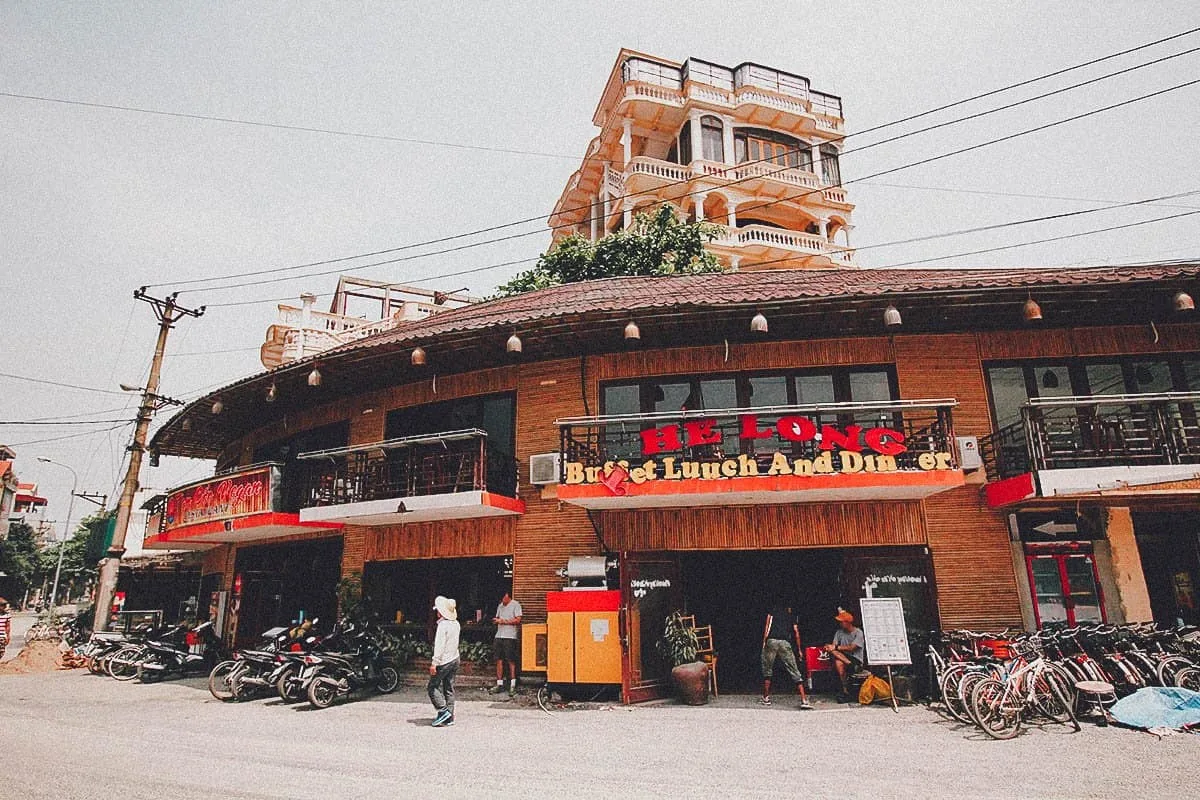 A buffet lunch of local Vietnamese dishes was included in the tour cost. A far cry from the delicious food in Hanoi but no surprise there.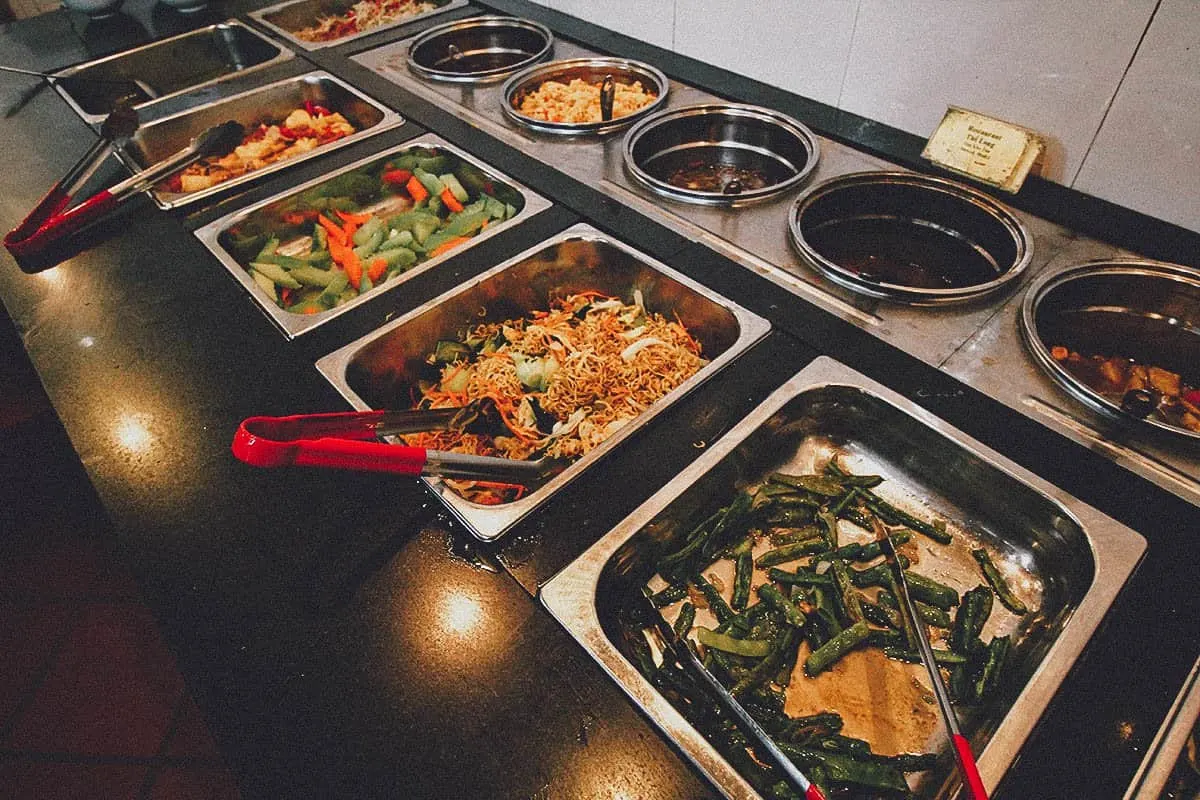 As expected, lunch wasn't very good. In our experience, it rarely is on these group tours. Everything tasted like it had been sitting out for hours.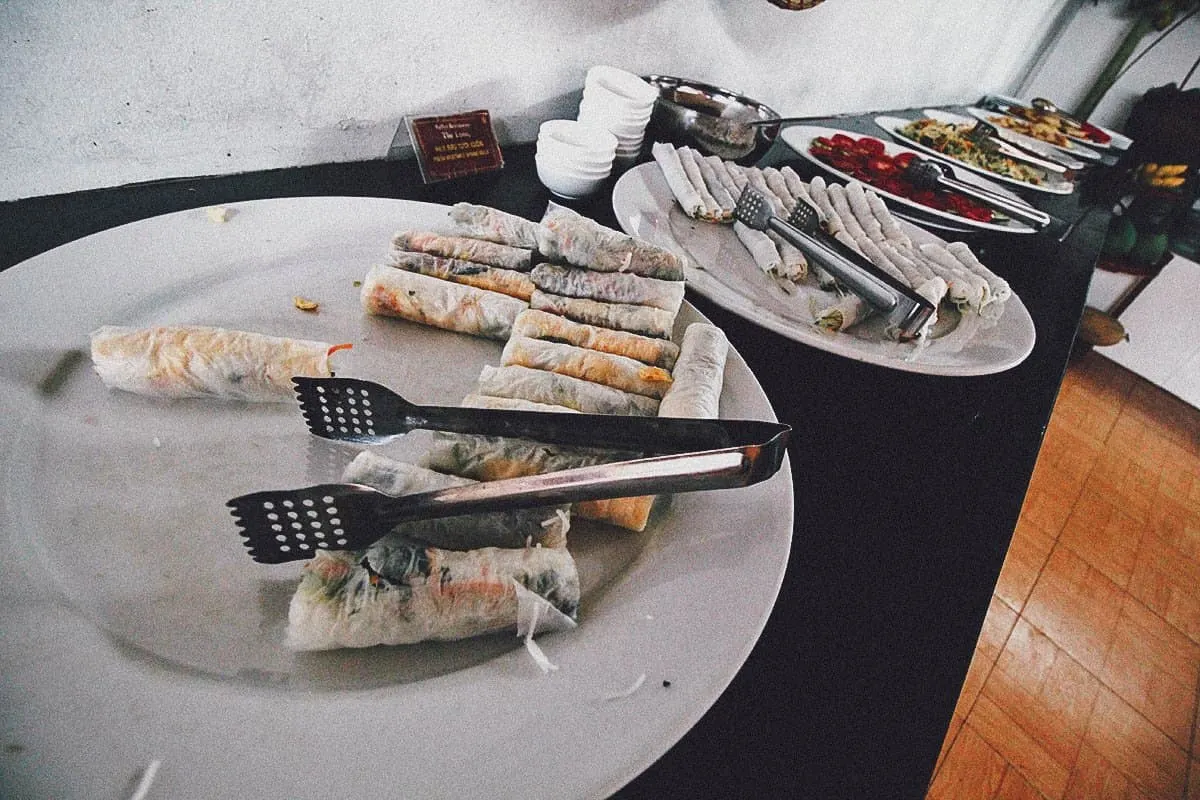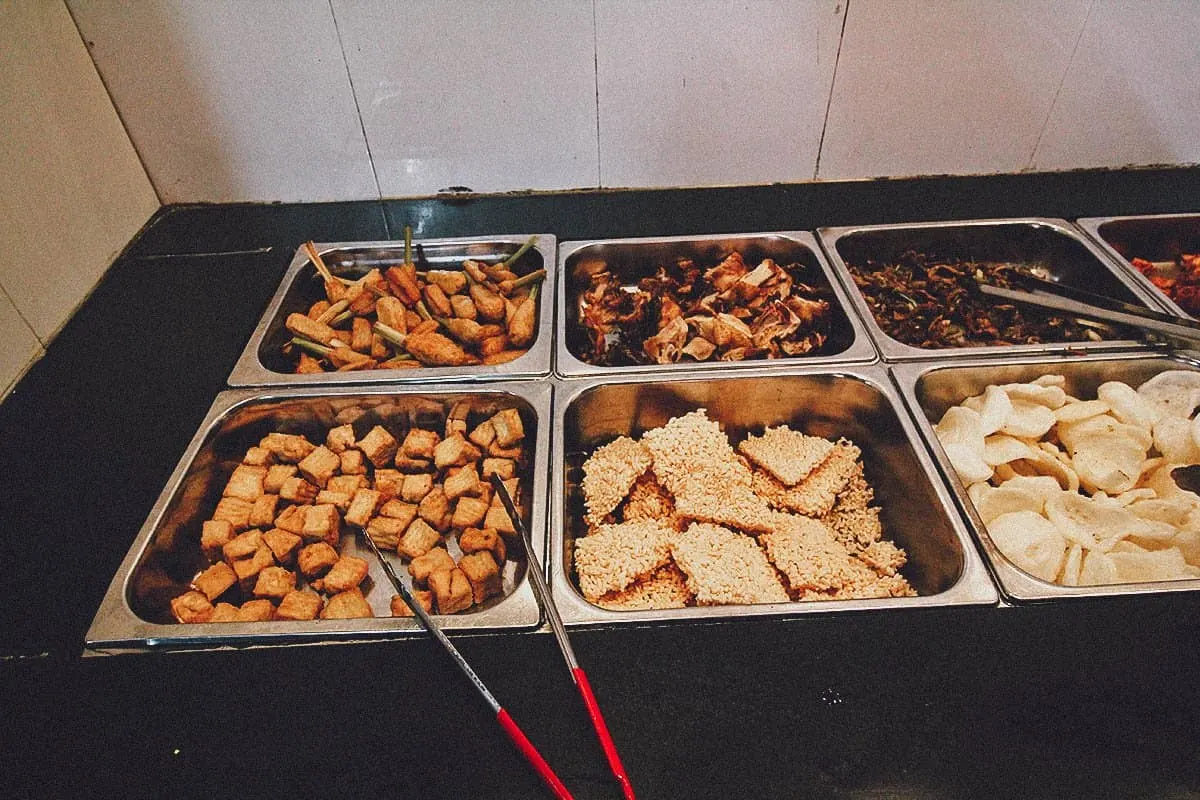 Hoang Long River
As mentioned up top, cruising on the Hoang Long or "Golden Dragon" River is the main draw of this tour.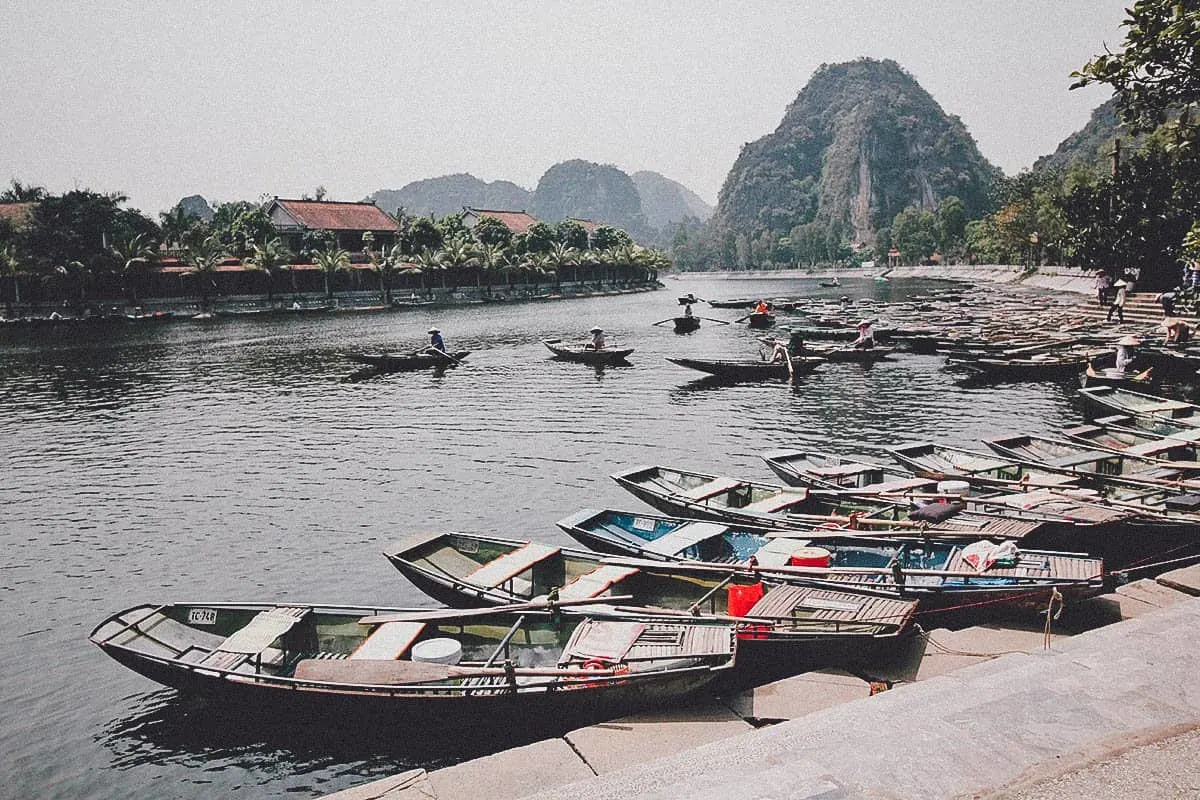 Two tourists are assigned per steel-clad boat which the rower takes up and down the river in a trip that lasts about 2 hours.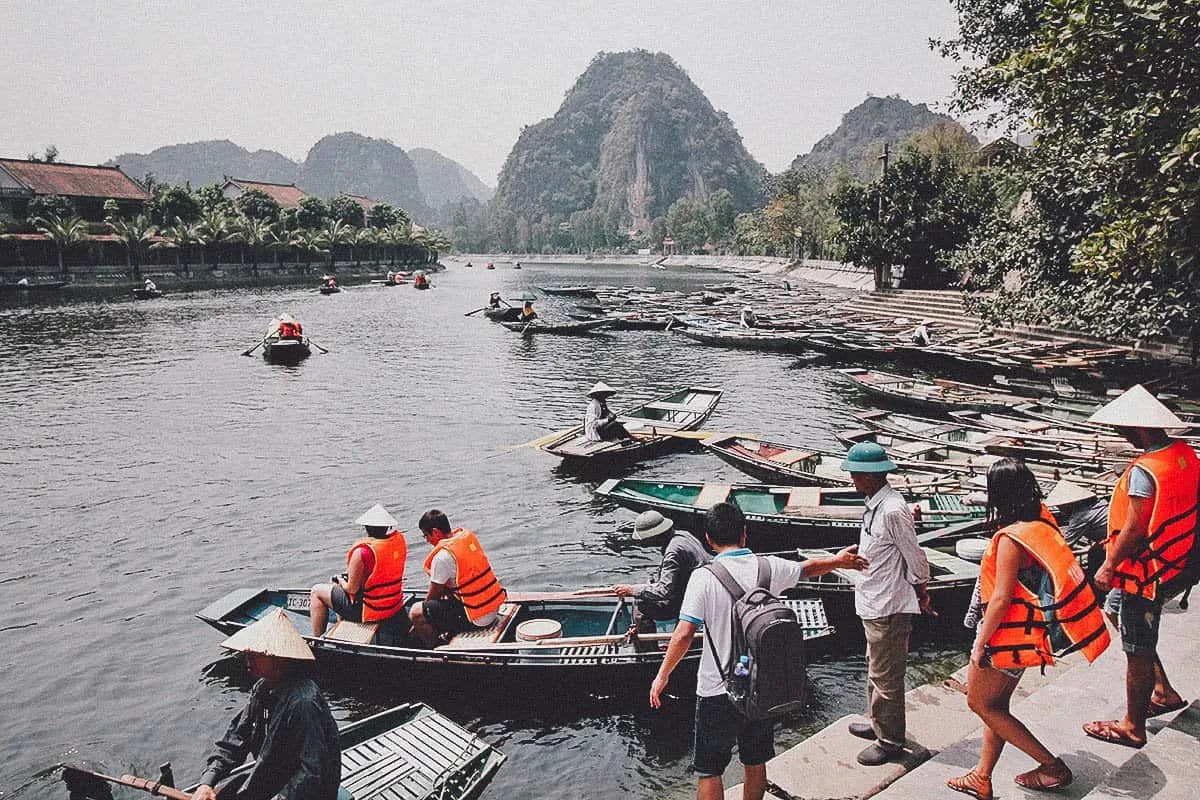 What makes these boat rides unique? The rowers paddle with their feet! I'm not sure how the practice came to be, maybe they needed to free their hands to do something else? It was hot as balls out here today so most of the rowers were holding up umbrellas for shade.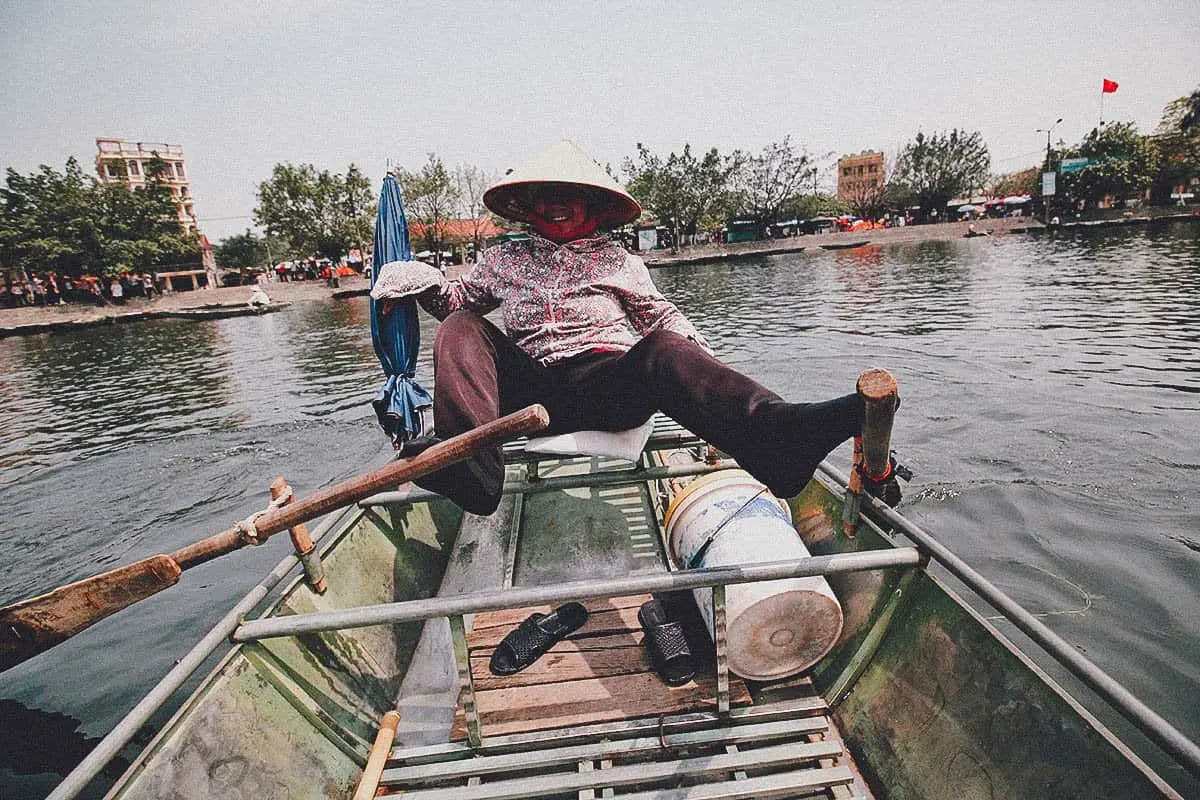 Some were even photographing tourists, like this lady up ahead. Just tell them no if you don't want to be harassed to buy the pictures later.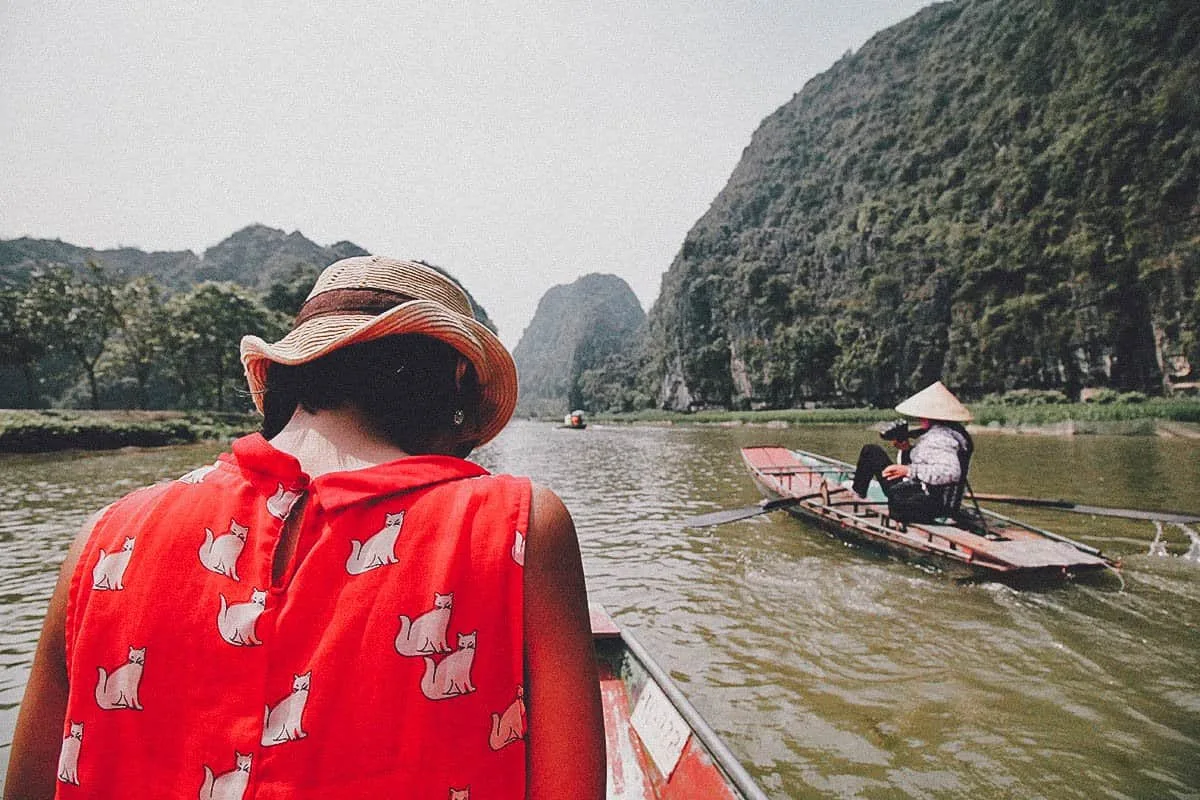 The limestones mountains of Hoa Lu are stunning. What a dramatic scene it was to have them rising up from all around us.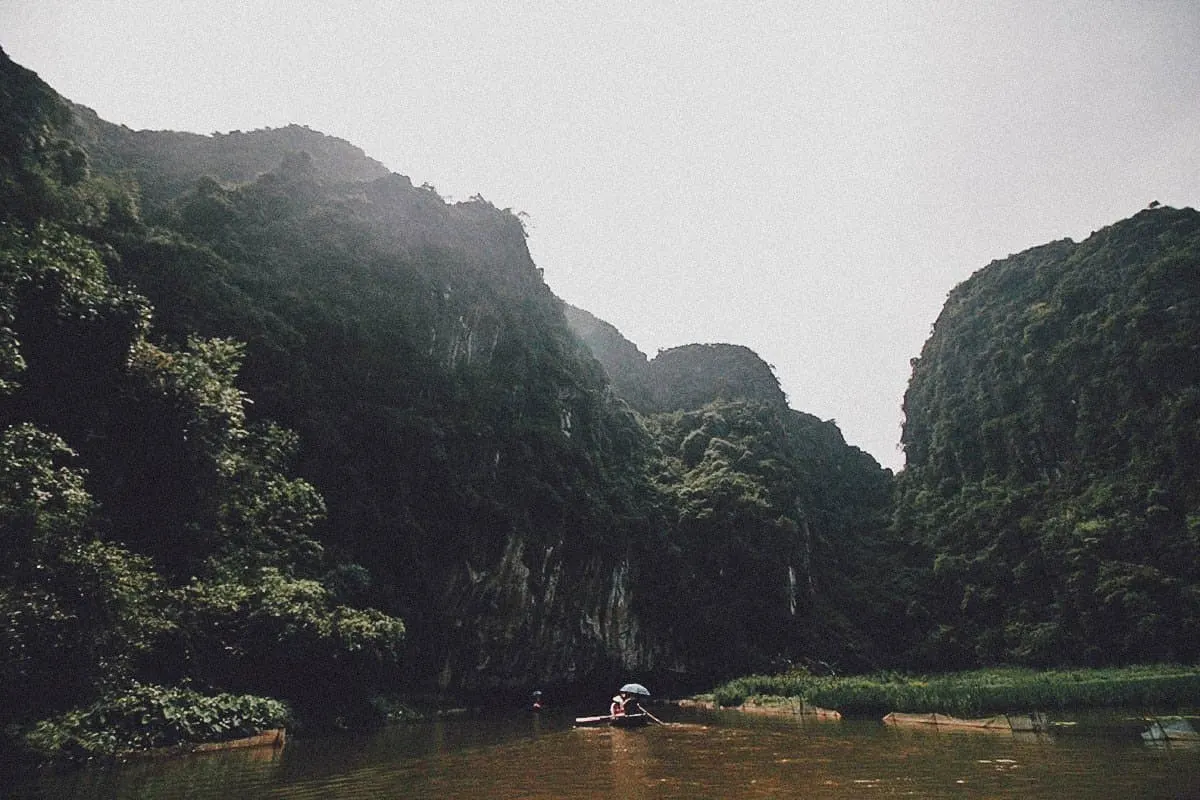 This was the most fun part of the cruise. The river cuts through a few of these limestone formations so you'll be going through two or three of these caves during the tour. I know the space looks tight but the ceiling isn't actually as low as it seems in this picture. You'd be cruising through the cave for less than a minute each time.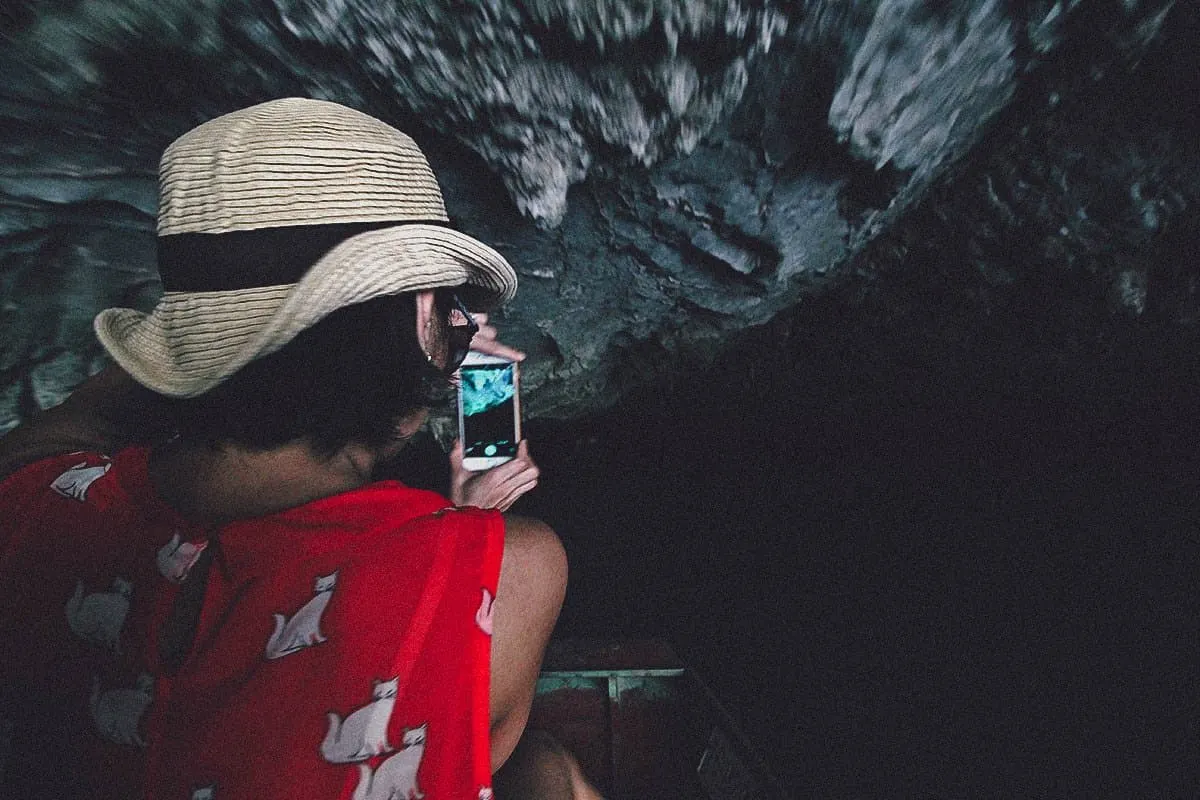 And out we go through the cave and on to the other side. Many of these limestone mountains are so steep they're accessible only to mountain goats that live in the area.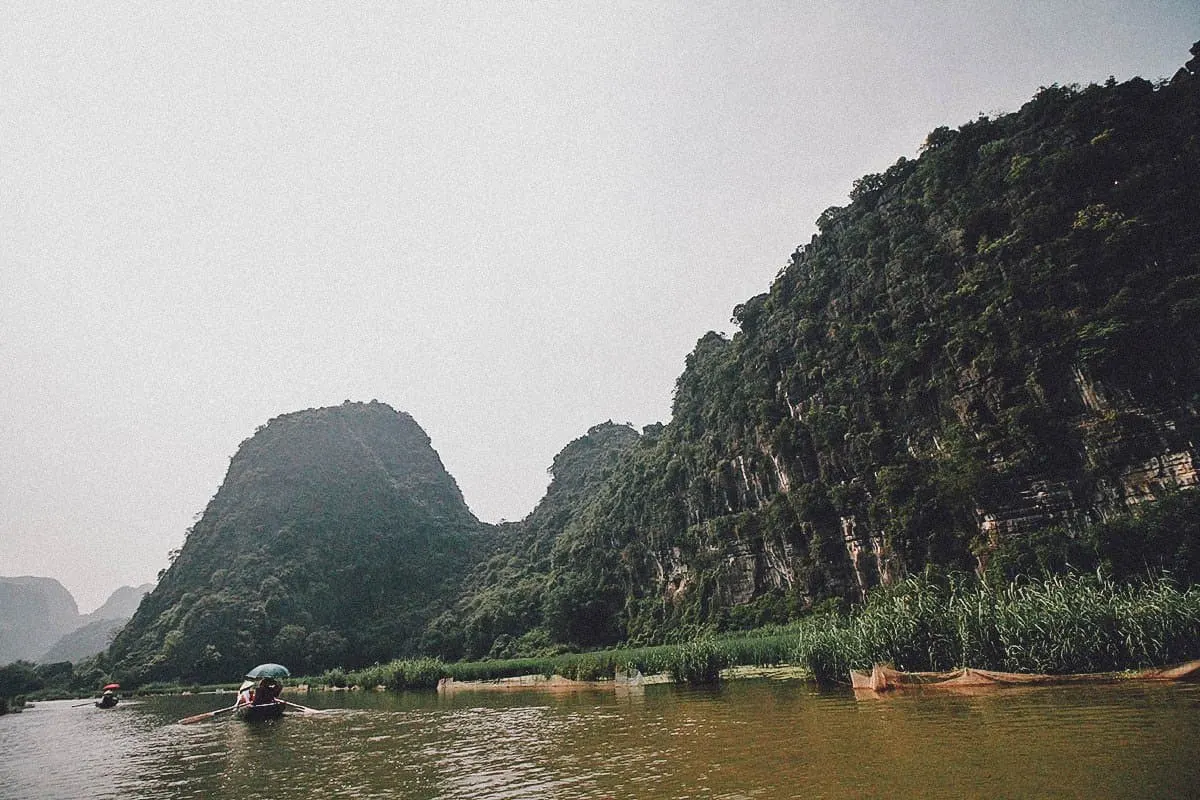 The scenery is beautiful but it can get extremely hot with no cover. It's recommended that you wear those Vietnamese non la or conical hats during the cruise.

It was a funny sight watching the rowers paddle with their feet while holding umbrellas. Some would even be on their mobile phones or playing games on their iPads! 😆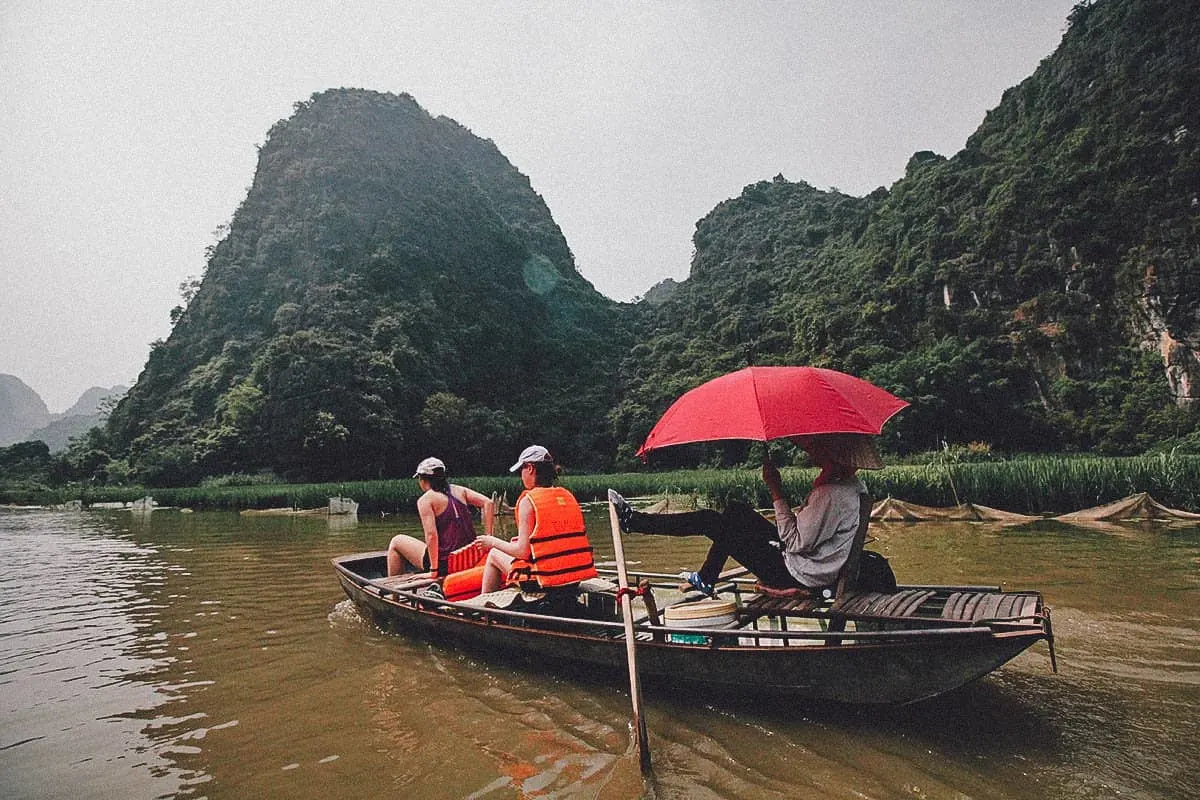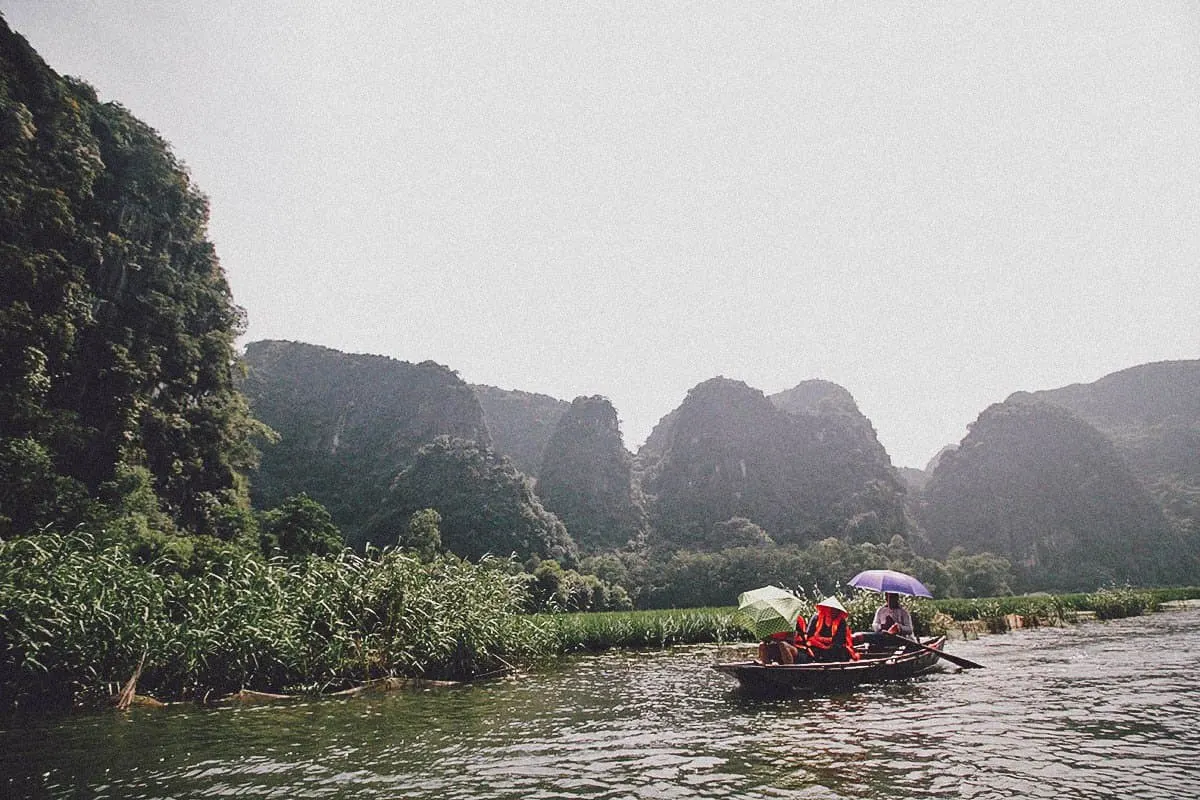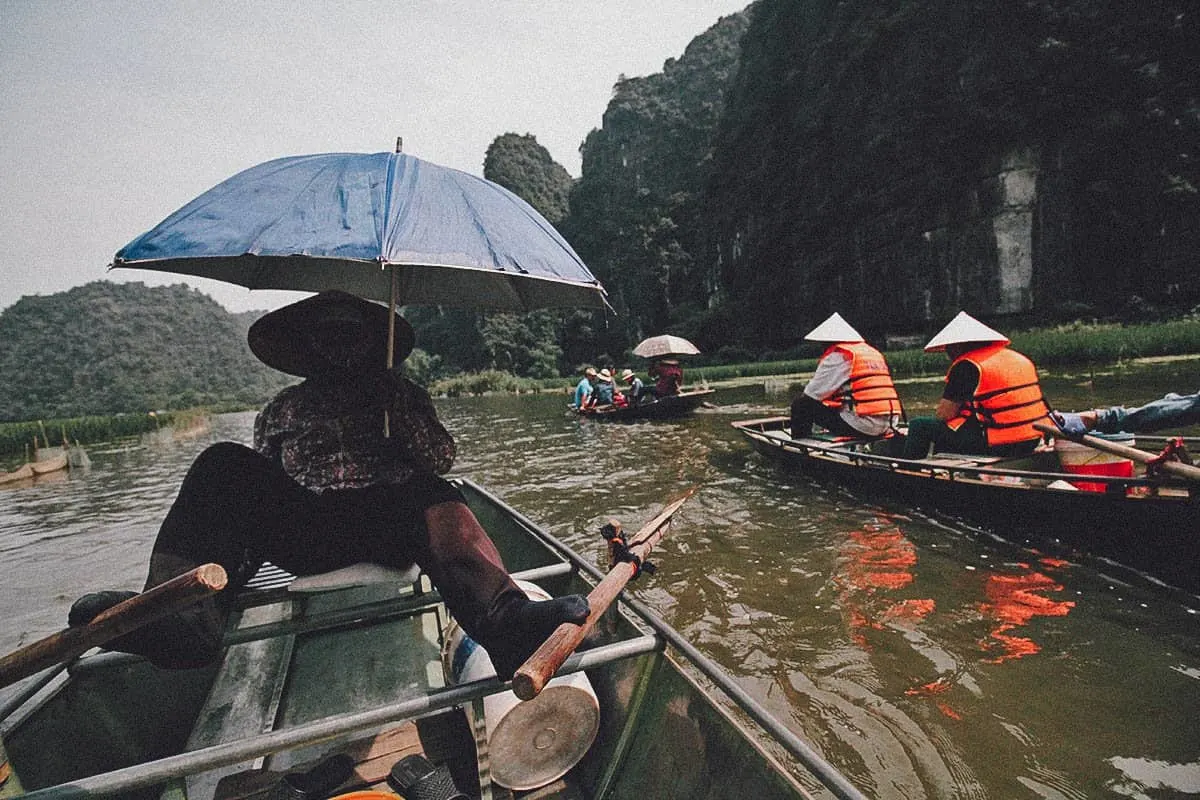 Nearing the end of our cruise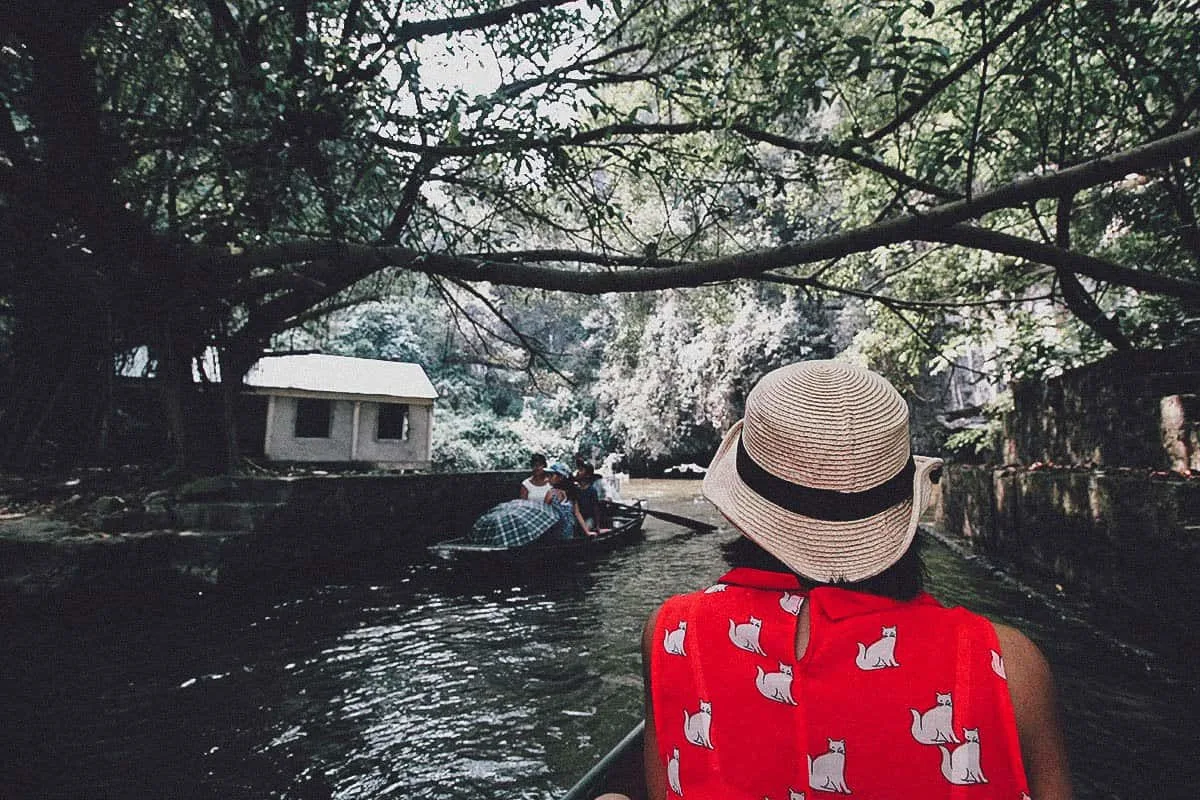 Through that cave was my least favorite part of the tour.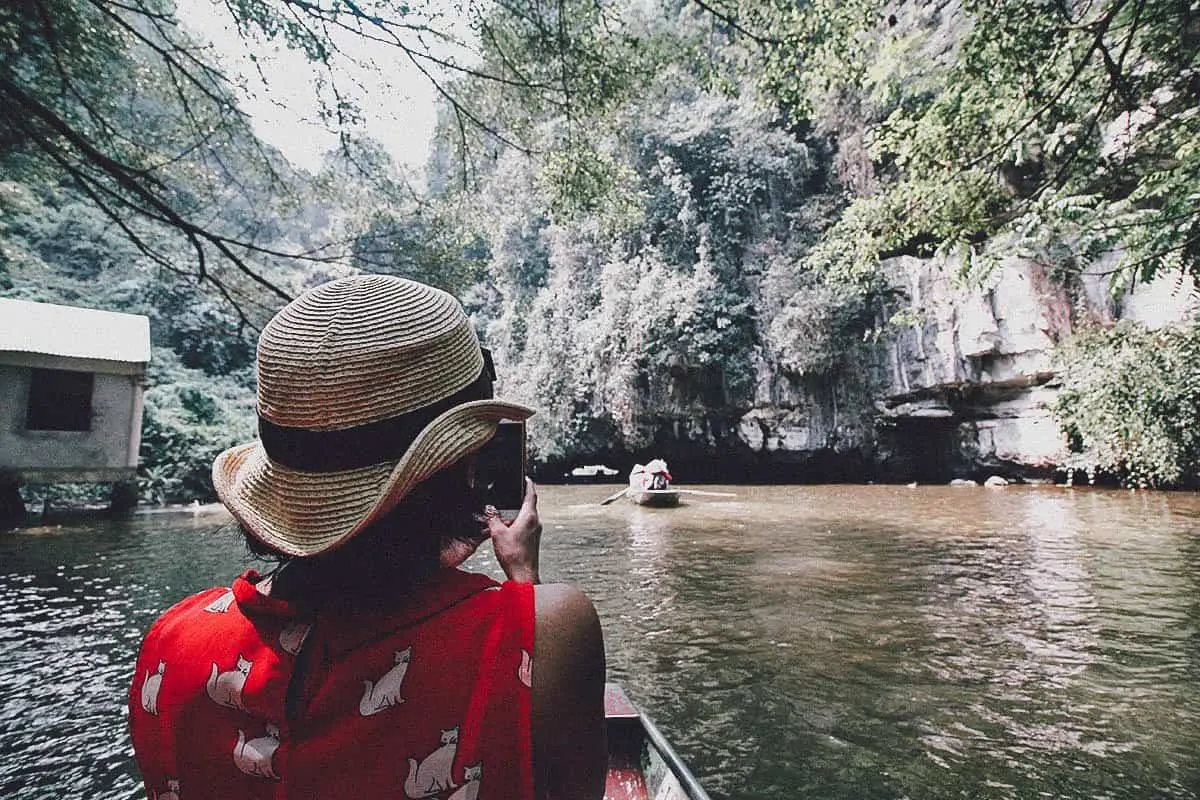 In this area, tourists have the "option" of purchasing overpriced snacks and drinks for themselves and/or their boat's rowers. Prices seem arbitrary too. We almost got into an argument with the seller after overhearing what sounded like a lower price quoted to another boat. You're heavily pressured to buy something here so be ready for it. Most people aren't in the mood to argue so they just buy something to be done with it. The cost isn't much but no one likes feeling forced to do something they don't want to do. 😡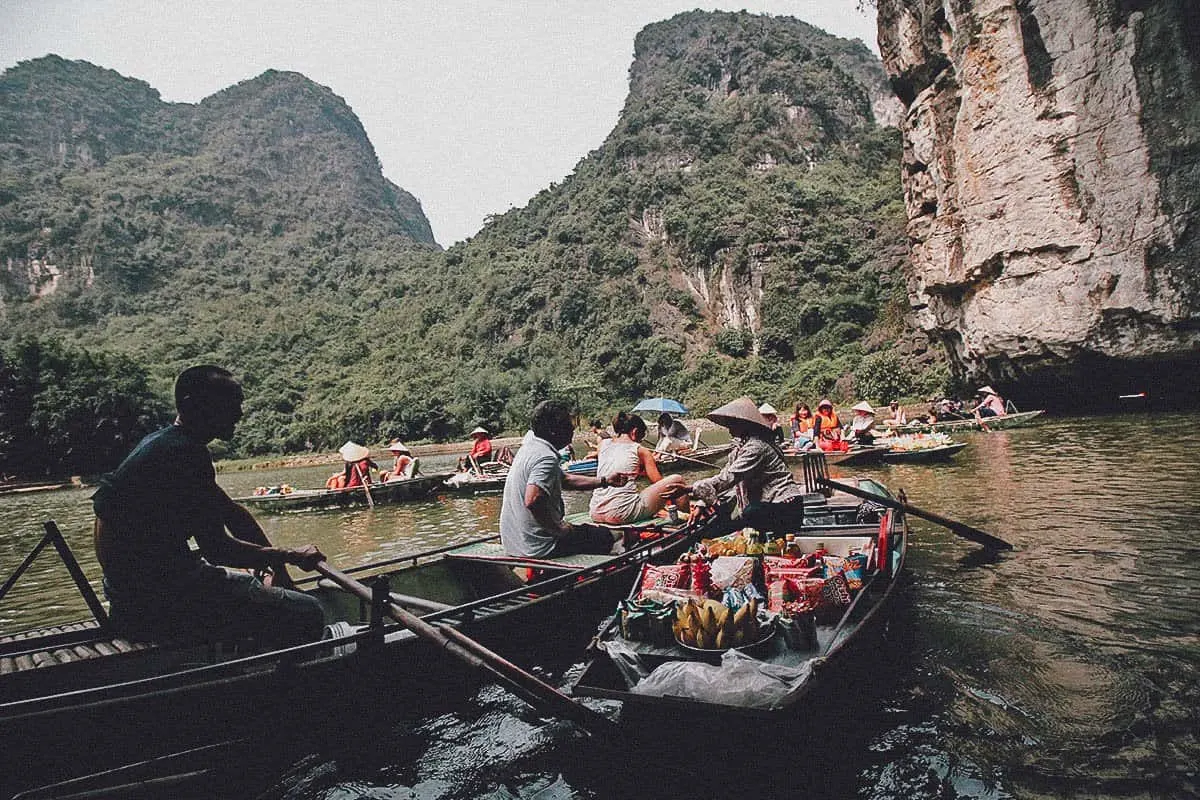 After giving your donation to the snack mafia, the rower turns your boat around and paddles back to the dock.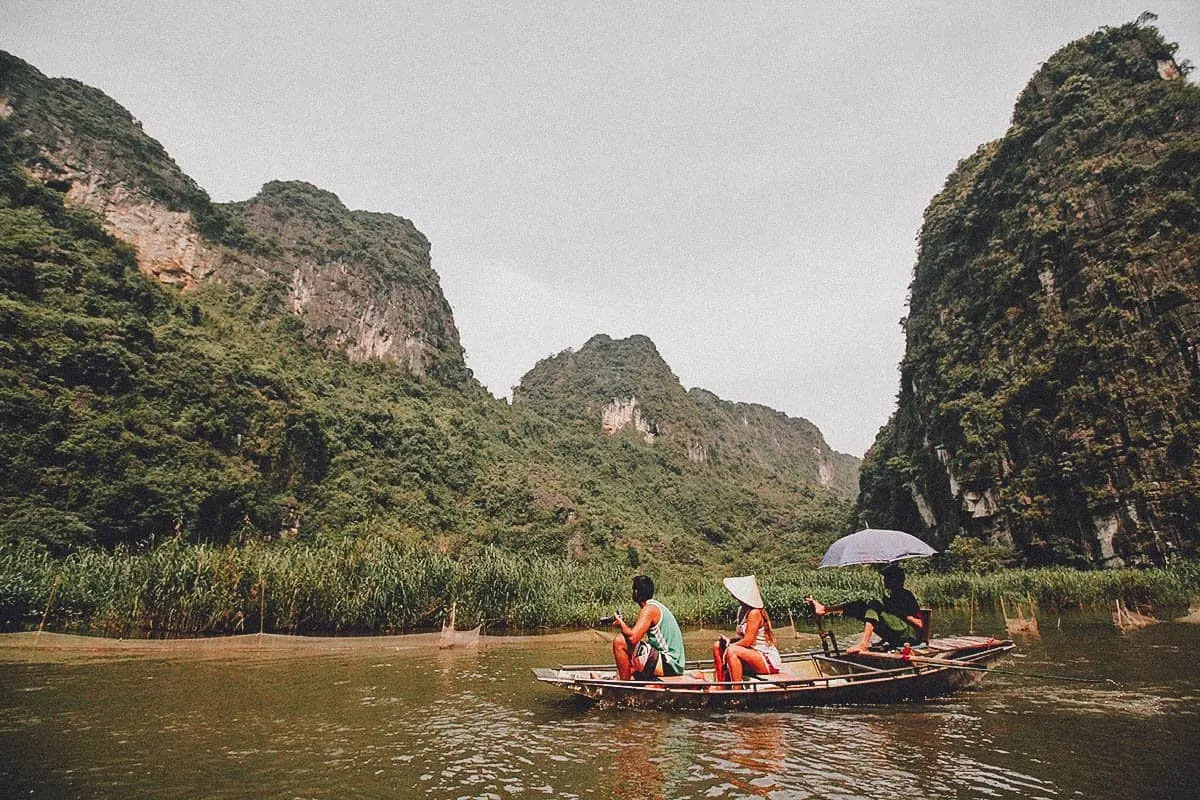 "Yo! How much did you pay for that can of Coke?"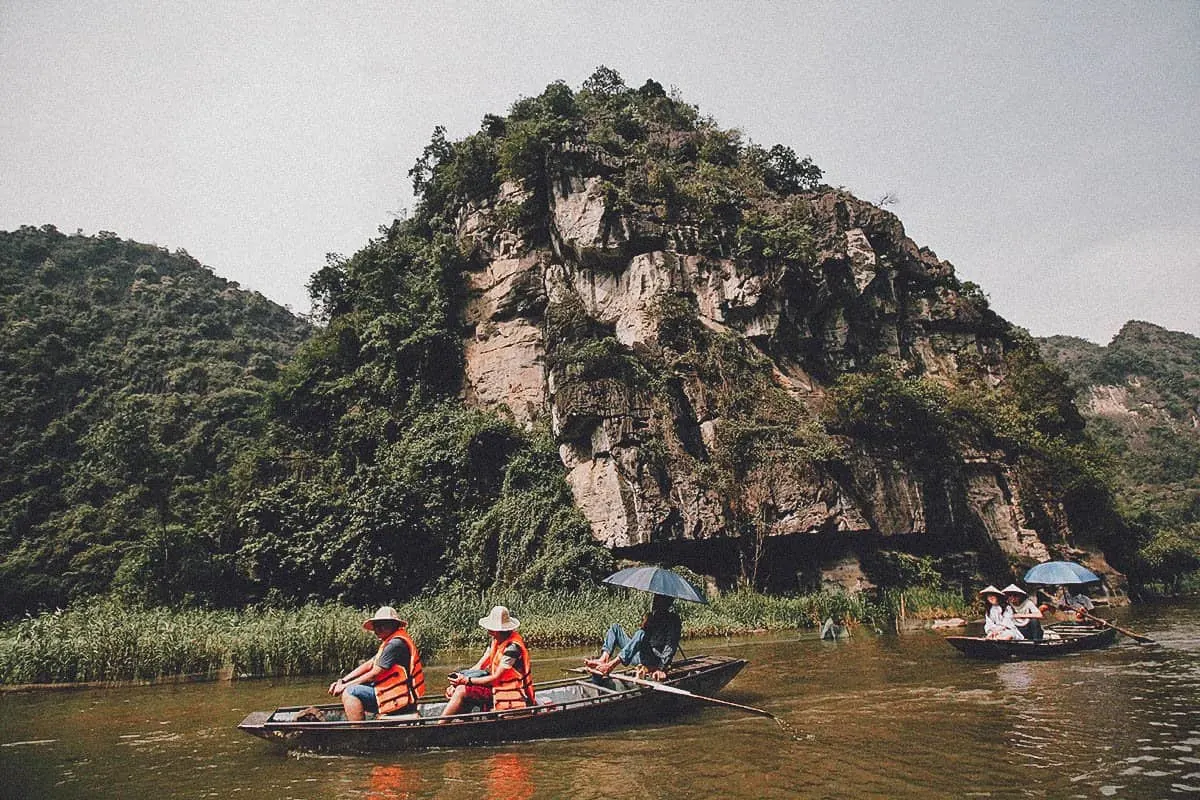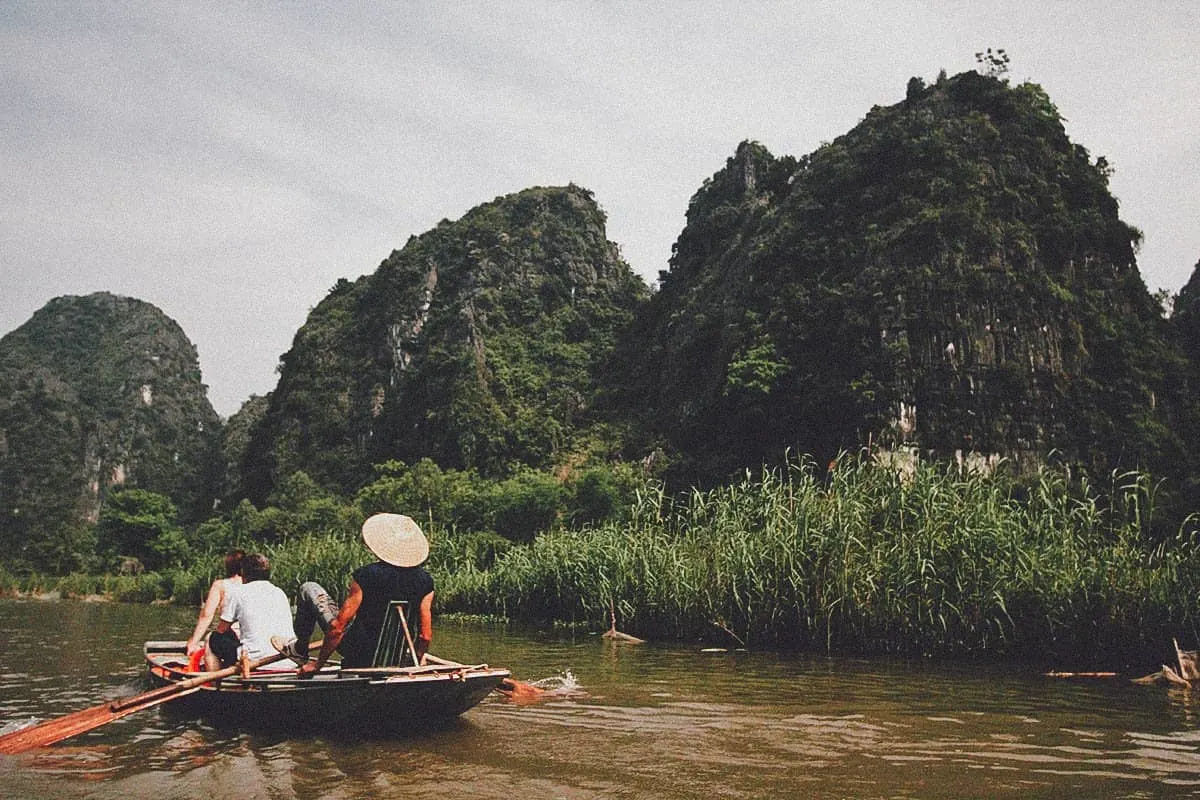 We saw this on the way back. The area is so beautiful it isn't surprising that couples want to have their wedding photographs taken here. I had my drone with me. I wonder how much they would have forked over for some drone shots. 😆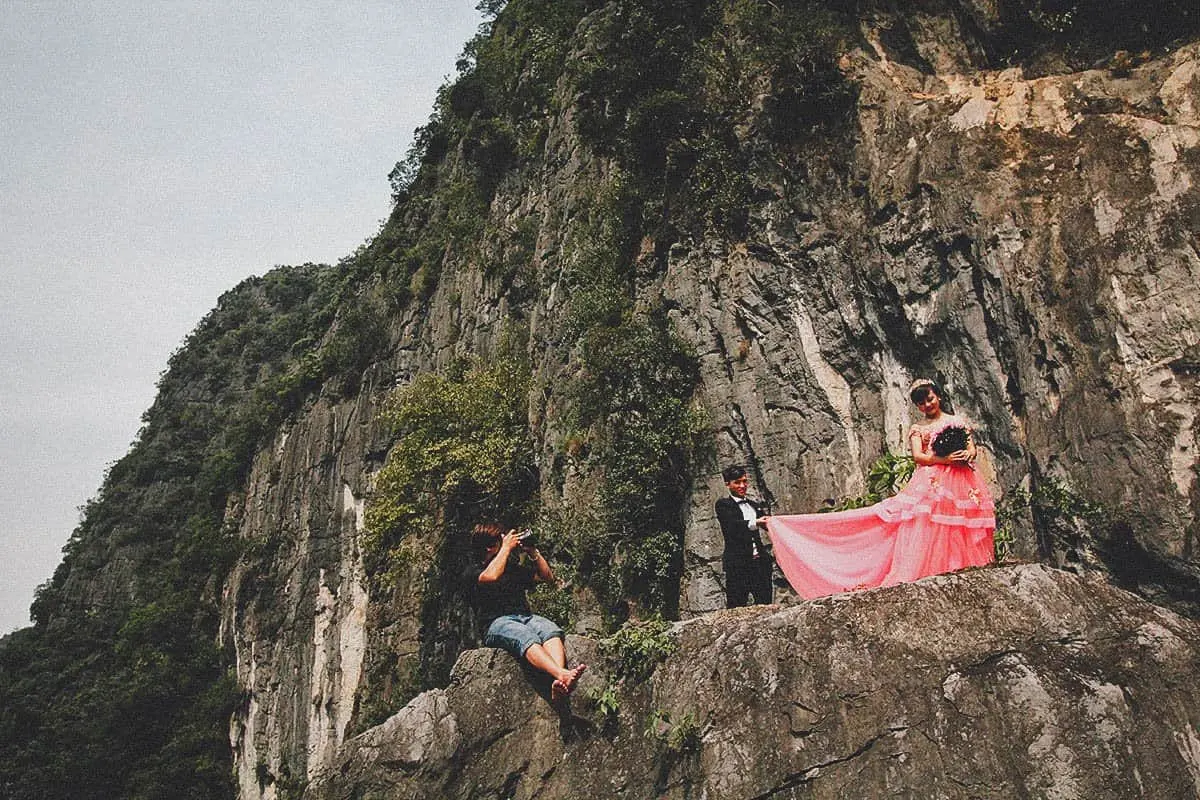 After getting back to the pier, our guide Feng Shui took everyone on a 1-hour bike ride to visit a few villages and enjoy more sightseeing. It's part of the tour but we opted out of it. Ren rested at the restaurant while I went out to fly my drone.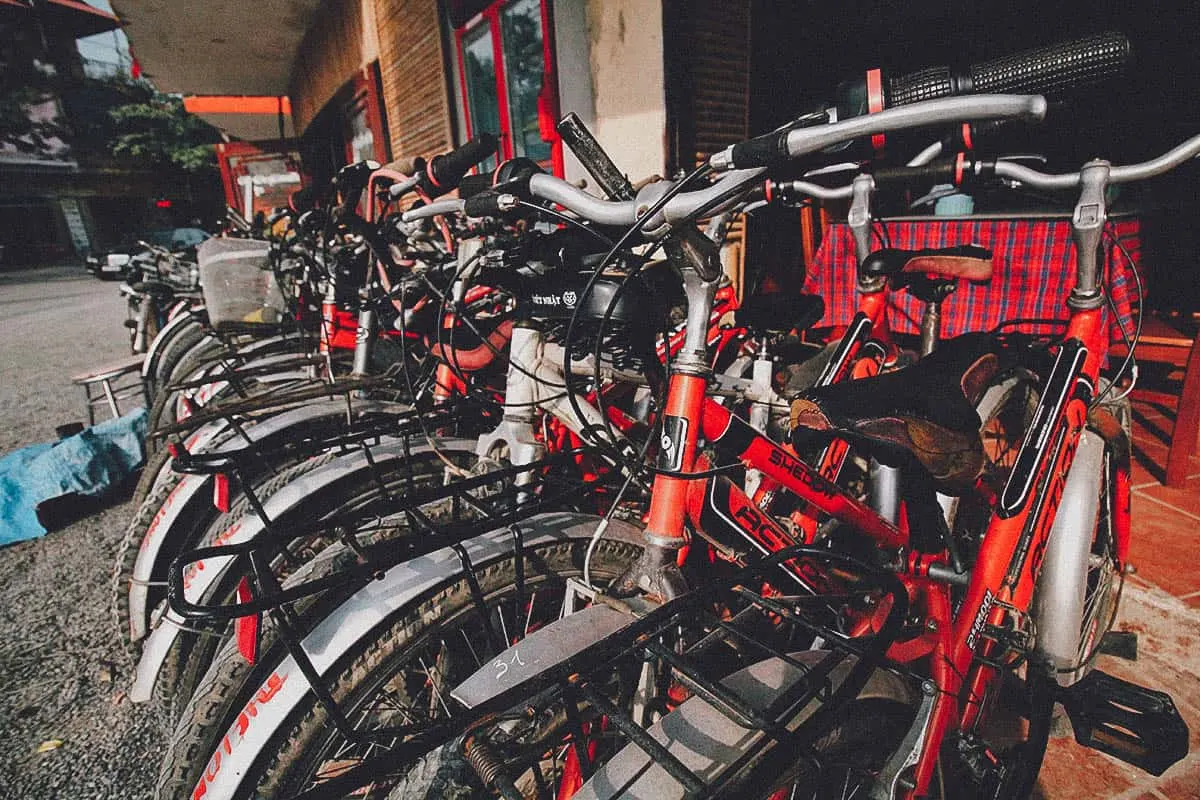 Here are a couple of stills taken from the video. Beautiful right? I'll post the actual footage in a video I'll be making about Vietnam soon.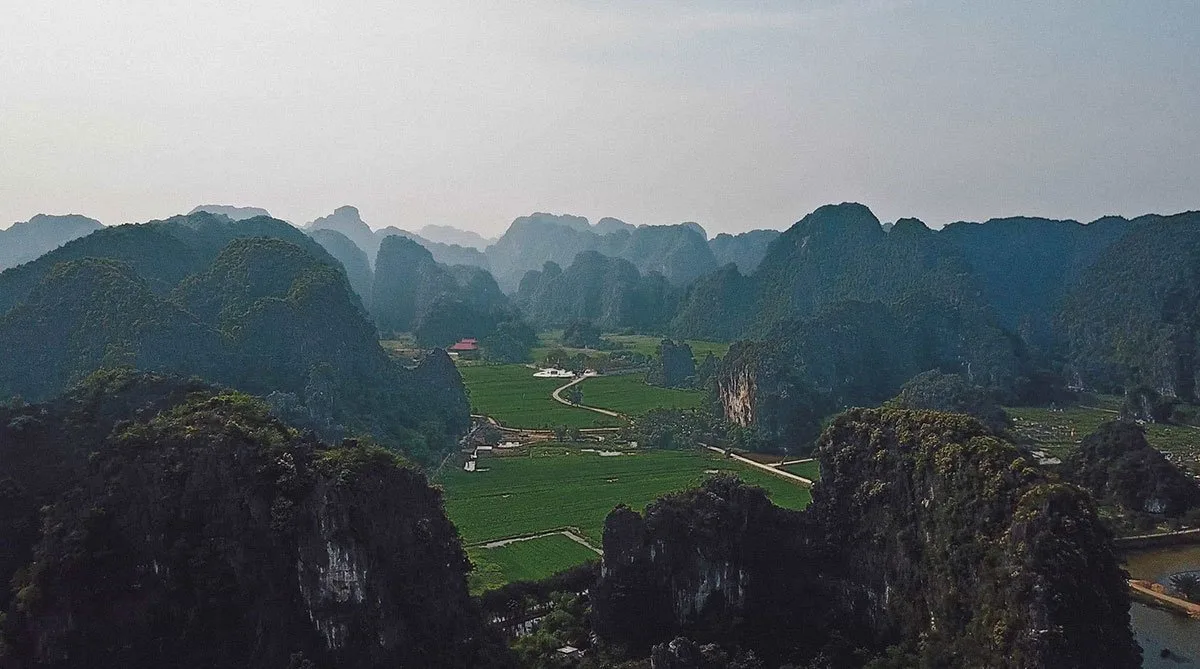 Here's a shot of the village and dock area.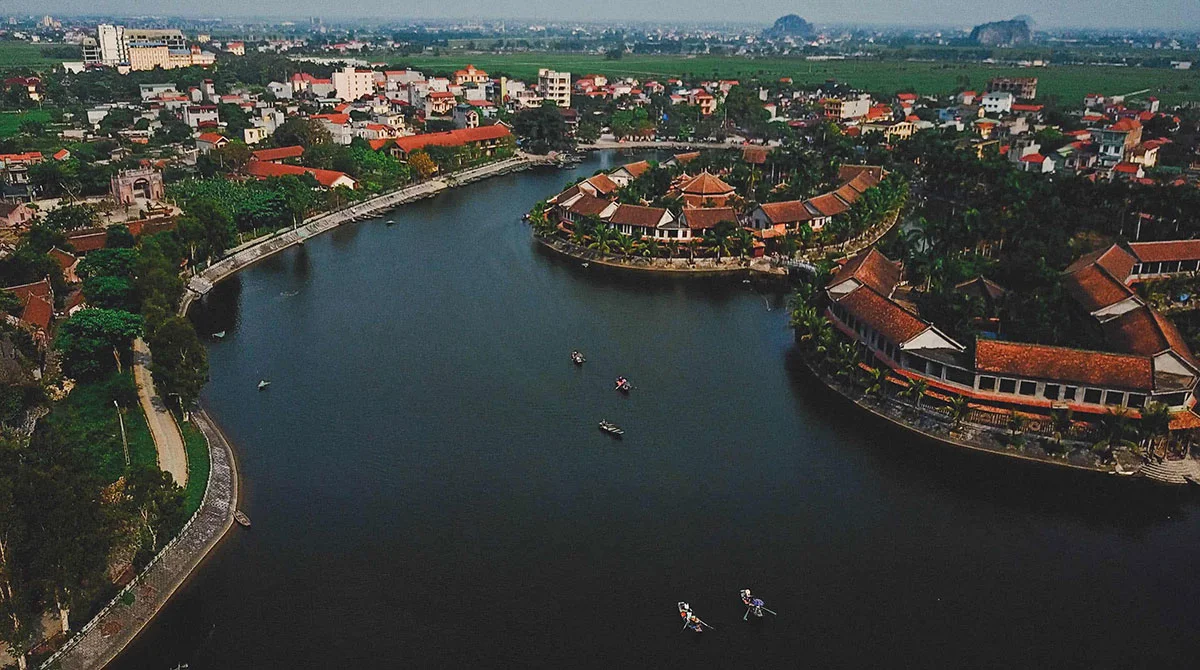 So was it worth devoting a day to Hoa Lu and Tam Coc? Yes and no. The Hoa Lu landscape is beautiful and cruising on the Hoang Long River is a pleasant experience in spite of the heat. If you won't be going on a Ha Long Bay cruise, then it's a good place to visit. But there are definitely things I didn't like about it.
For one, the snack mafia at the midway point of the cruise sucked. Like I said, no one ever wants to be pressured to do something they don't want to do. It put a damper on things, and it didn't end there. Before we even got in the boats, Feng Shui told us that it was up to us if we wanted to give our rowers a tip. He advised that should we decide to give them one, that we should do it after we got off the boat. Because if they weren't happy with the tip, then they can stop paddling altogether and demand that we give them more money before taking us back to the dock. Some rowers have been known to do that. Shitty right?
A couple hundred feet from the dock, our rower was already telling us "tip tip". I told her yes, I'll give it to her at the dock. In fact, I already had it in my hand. But as soon as we docked and stepped off her boat, she grabbed my arm and wouldn't let go until I gave her some money. How annoying is that? I have no problems giving tips, but I didn't appreciate being grabbed like that and basically being forced to give her one. It left a bad impression on an otherwise enjoyable cruise. 😡
Would we go on this tour again knowing what we do now? Probably not. And it isn't just because of snackgate and rowergate either. As beautiful as the limestone mountains in Hoa Lu are, they're even more stunning in Ha Long Bay. If you have limited time or funds, then you may just want to skip this and save it for a Ha Long Bay cruise instead. For anyone interested in booking this Hoa Lu – Tam Coc Day Tour, you can do so through Klook.