Hue was the one city I was most excited to visit on a 2019 trip to Vietnam. We skipped it two years before then and had been regretting it ever since, especially after hearing it's home to many interesting dishes like banh loc goi, bun bo hue, banh khoai, and com hen.
I did my research so I had all those dishes on my eat-tinerary, but what I didn't know until I got there was that Hue is home to a unique blend of coffee as well – ca phe muoi or salt coffee. As its name suggests, it's made with salt and fermented milk and served with ice. Interesting right?
Like ca phe trung to Hanoi, ca phe muoi is a coffee creation with its roots in Hue. It was invented in 2010 so it isn't as established and well-known as egg coffee, but it will be. It's delicious and makes you wonder why no one thought of it sooner.
Salt coffee piqued my curiosity and urged me to visit as many cafes as I could, both in 2019 and again in 2023. If you're planning a trip to Hue and looking to explore its coffee along with its cuisine, then here are ten interesting (and Instagram-worthy) cafes to consider.
Be sure to check out our Hanoi coffee guide to learn about the different types of coffee you can have in Vietnam. If you're spending any time in Hoi An, then you may be interested in our Hoi An coffee guide as well.
HUE CAFES QUICK LINKS
To help with your Hue trip planning, I've compiled links to hotels, tours, and other services here.
HOTELS
Recommended hotels and homestays in the Imperial Citadel, one of the most convenient areas to stay for people on their first trip to Hue.
TOURS
OTHER SERVICES
HUE TRAVEL GUIDE
Before you visit Hue, be sure to check out our detailed Hue travel guide. It'll tell you all you need to know – like when to go, where to stay, what and where to eat, etc. – to help you plan your trip.
Save This on Pinterest!
No time to read this Hue coffee guide now? Click on the save button and pin it for later!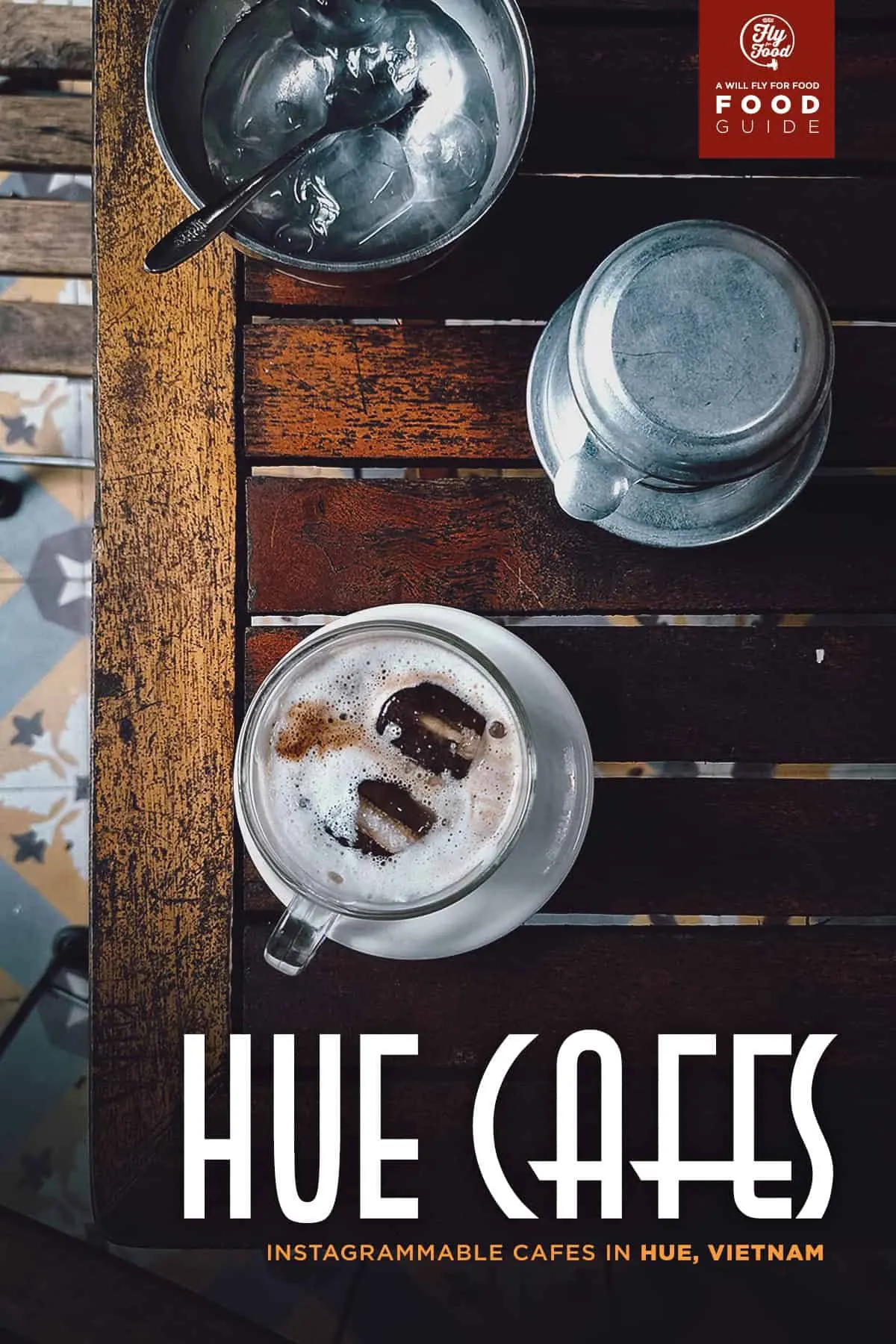 INSTAGRAMMABLE CAFES IN HUE
1. Ca Phe Muoi
If you had time to visit just one cafe in Hue, then this should definitely be it. Ca Phe Muoi is the coffeehouse credited for inventing the coffee drink of the same name. Ca phe muoi literally means "salt coffee".
I believe Ca Phe Muoi has two branches in Hue. I went to what appears to be the original branch, the one directly behind the north wall of the Imperial City. Just look for a Ca Phe Muoi sign at the mouth of an alley along Dang Thai Than Street. The coffeehouse is at the end.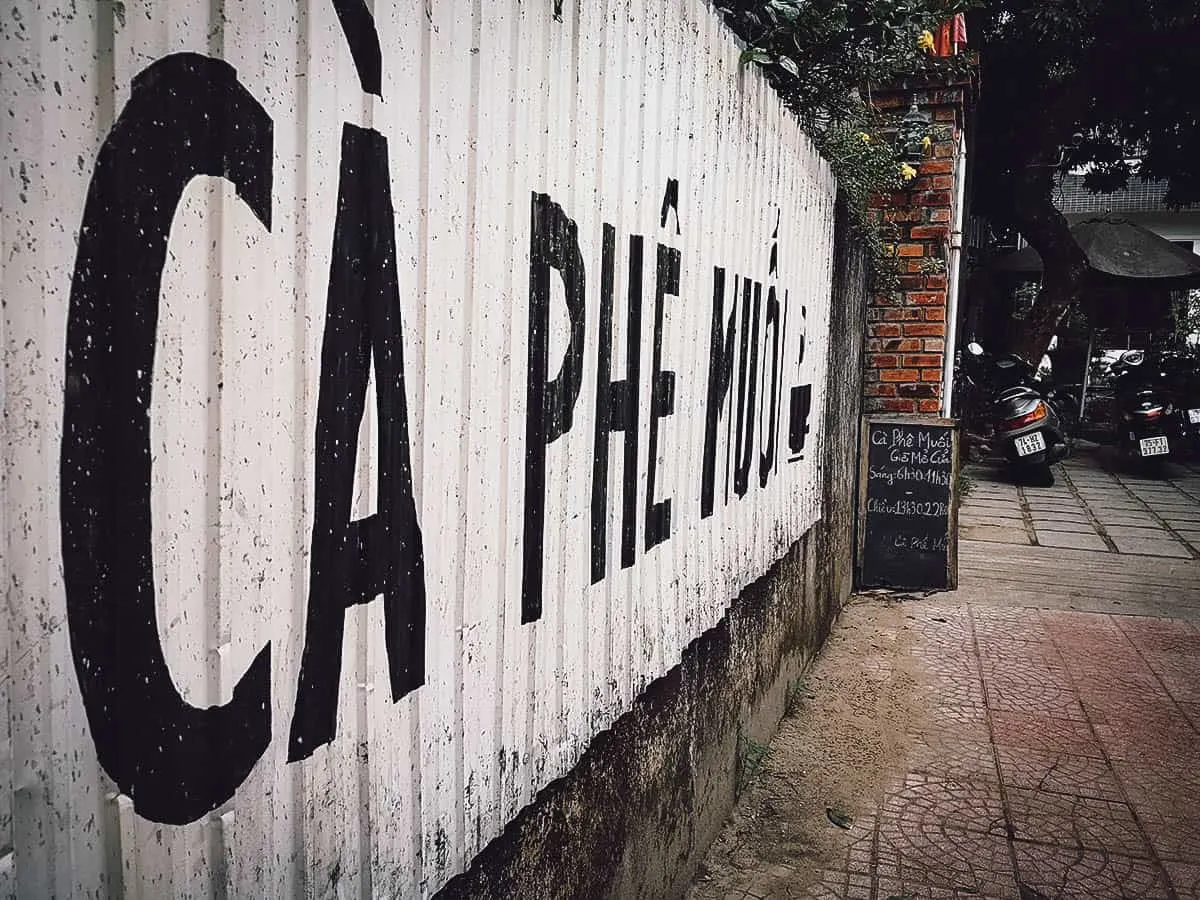 My cup of ca phe muoi (salt coffee) with a tall glass of yaourt ca phe (yogurt coffee) behind it. It was hot that day.
I'm not sure how it's prepared, but I believe the salty component is made by whipping salt with fermented milk and cocoa powder. It's transferred to a cup and served to you with a traditional phin filter over it. Like any cup of Vietnamese drip coffee, you wait for the brew to filter through before adding a few cubes of ice to the cup.
Salt coffee sounds off-putting at first but it's actually brilliant. It's just salty enough to bring out the sweetness of the cocoa and milk while tempering the bitterness of the coffee. Someone described it as being reminiscent of a chocolate brownie, which in a strange way, it is.
When I first visited Hue in 2019, salt coffee wasn't that popular. Fast forward to 2023 and virtually every cafe in Hue, Hoi An, and Da Nang serves it. You can enjoy salt coffee anywhere but you should definitely have it here at the place that started the trend – Ca Phe Muoi.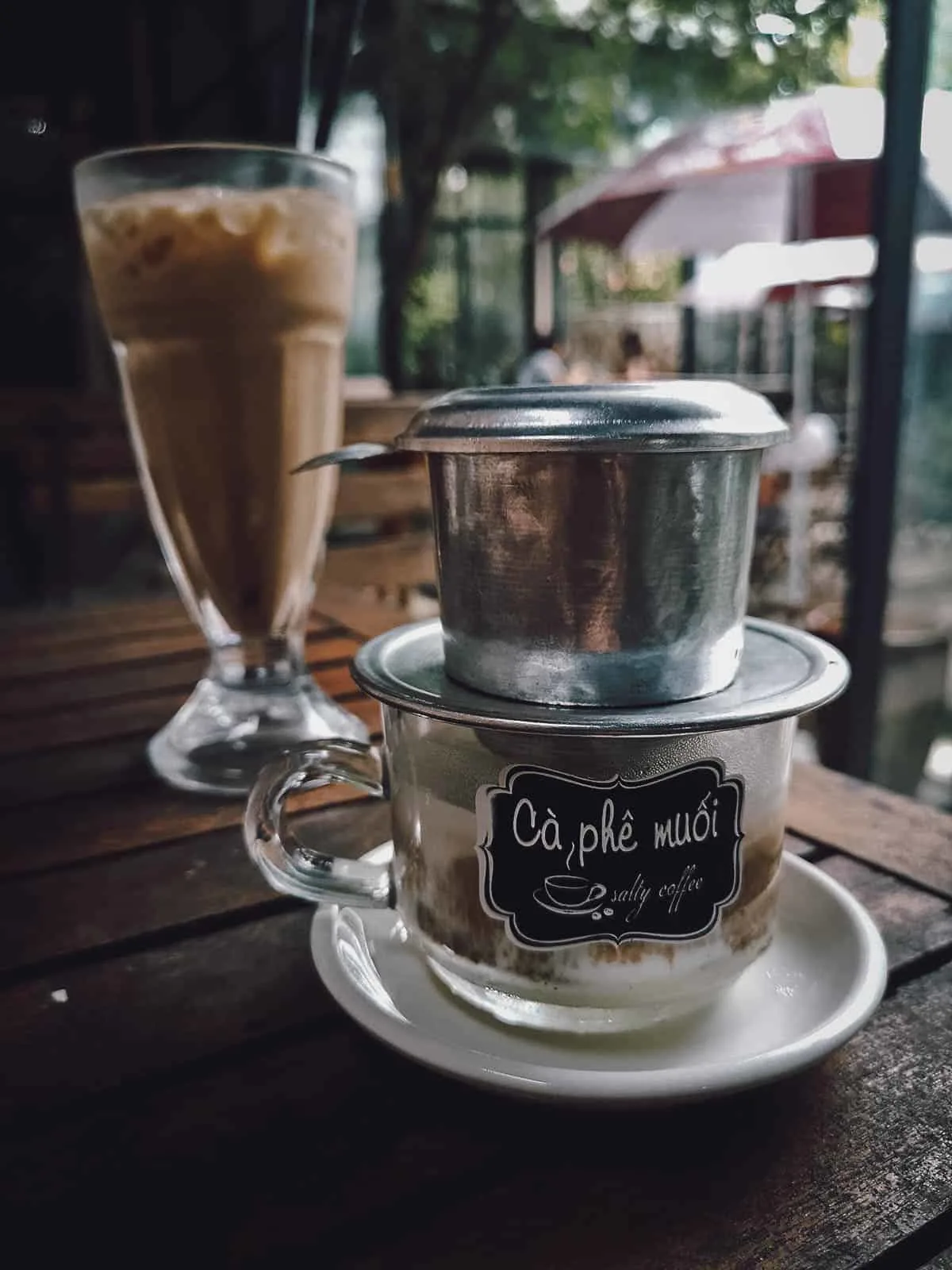 Ca Phe Muoi
Address: 142 Đặng Thái Thân, Thuận Hoà, Thành phố Huế, Thừa Thiên Huế, Vietnam
Operating Hours: 6:30-11:30AM, 1:30-10PM, Mon-Fri / 6:30AM-10PM, Sat-Sun
2. Root Coffee Roastery
I found this place on my way home from dinner one night. I wanted to be spontaneous and visit the first interesting cafe along my route. Thankfully, I came across Root Coffee and its gritty but stylish interior.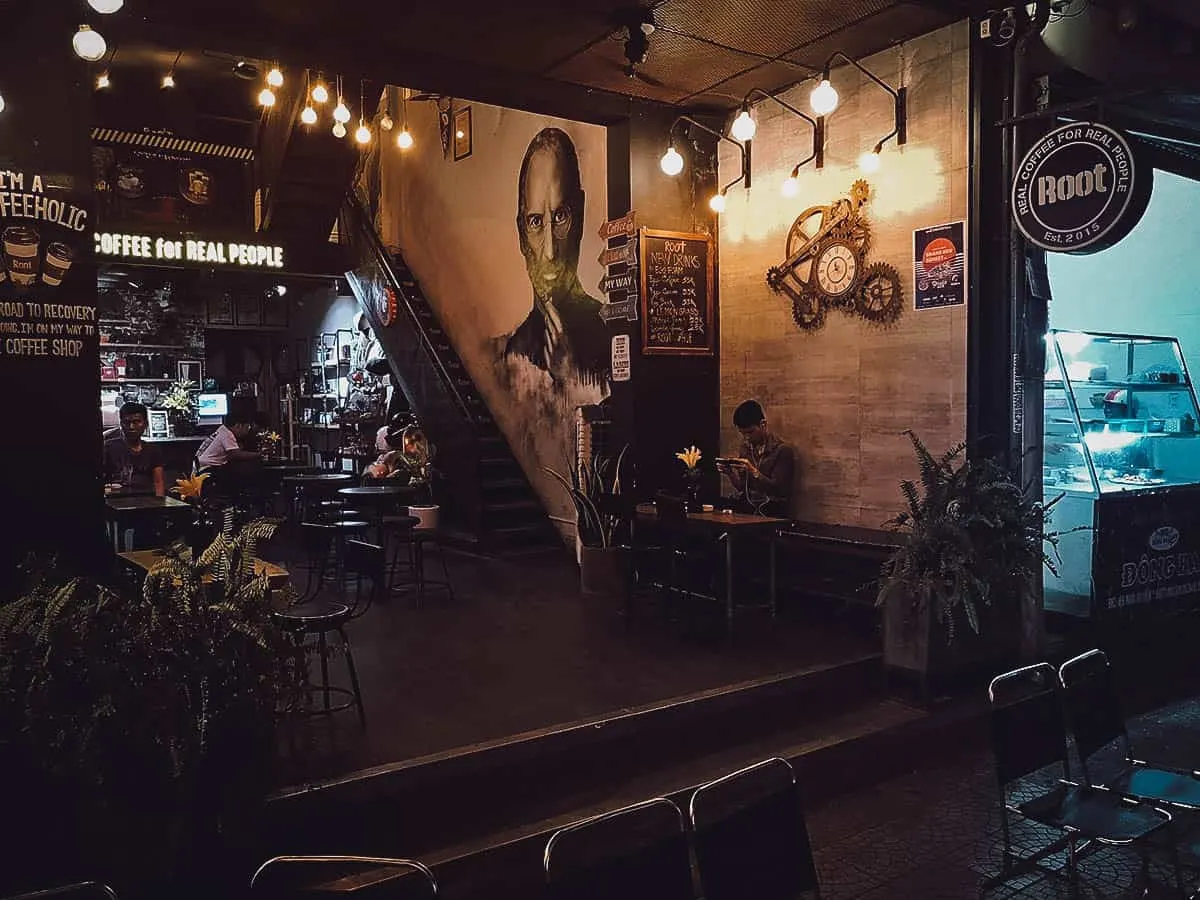 I loved the urban look and feel of this cafe.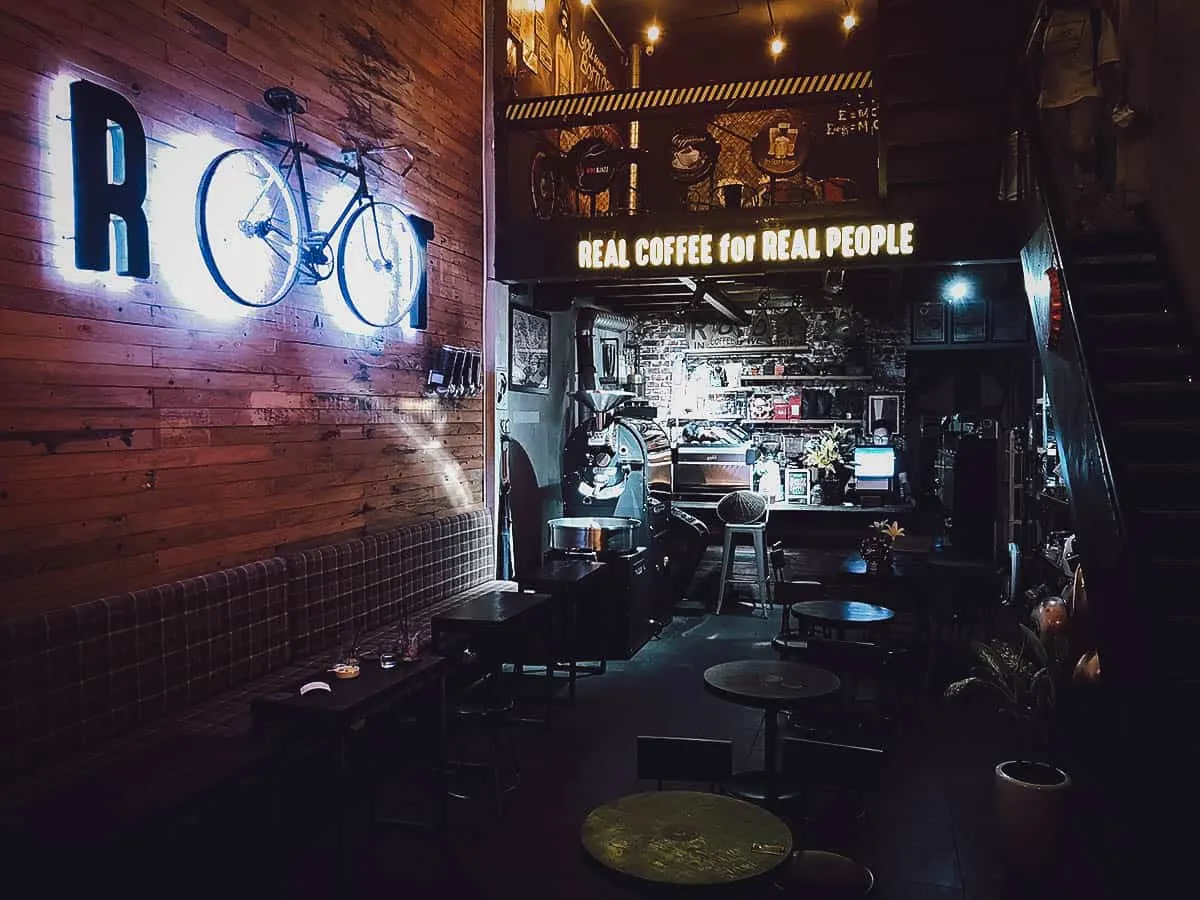 Tell me the interior of Root Coffee wasn't designed for Instagram. Attached perpendicular to the wall, you won't notice this sign unless you're looking down from the second floor railing.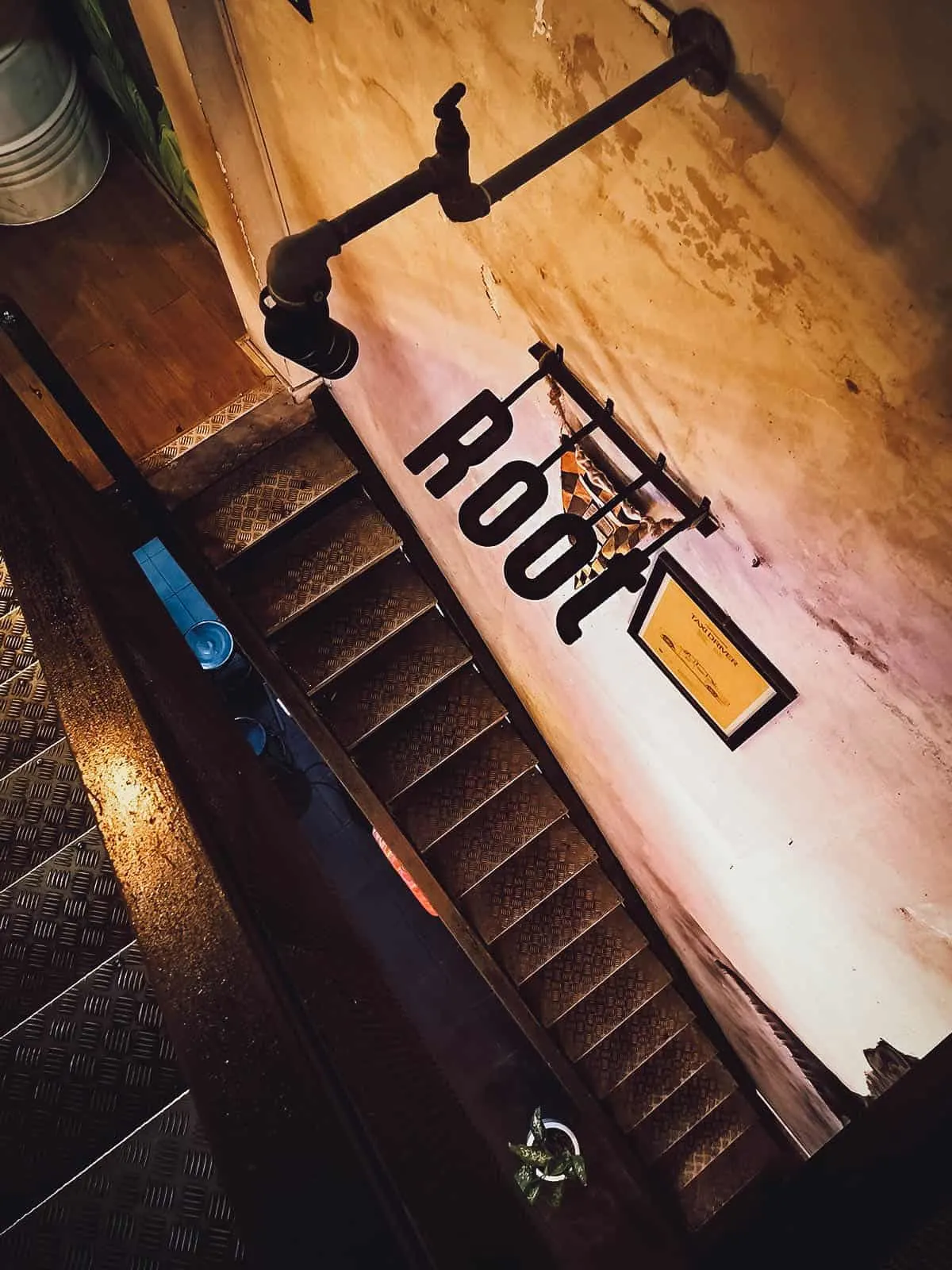 My server misheard me and thought I wanted my coffee to go. Root Coffee offers both Vietnamese and western coffee. I went with their "Secret Coffee" which I think is just a fancy way of saying cafe latte with a twist.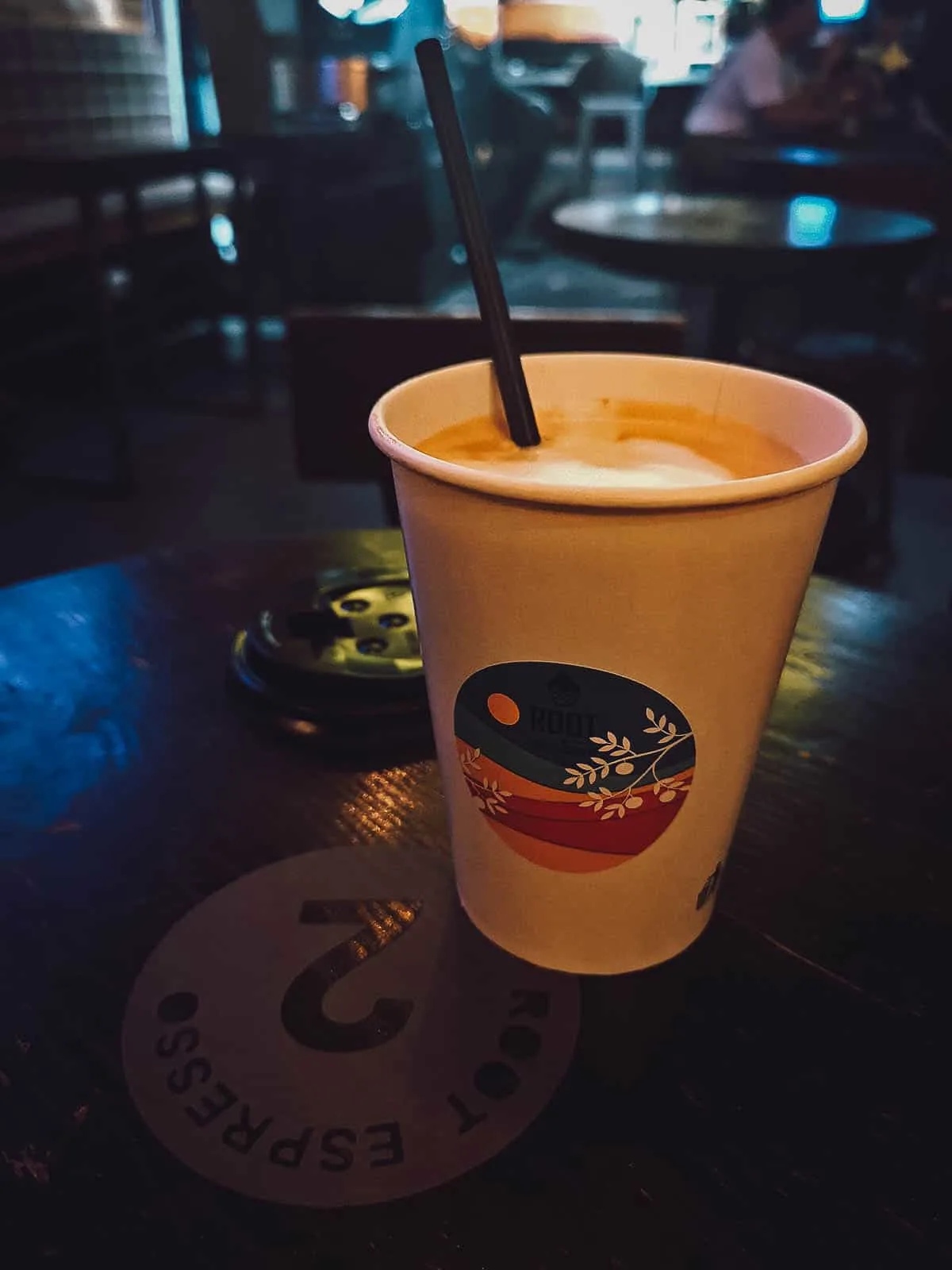 Root Coffee Roastery
Address: 43 Ngô Quyền, Vĩnh Ninh, Thành phố Huế, Thừa Thiên Huế, Vietnam
Operating Hours: 7AM-10PM, daily
3. Vỹ Dạ Xưa
This was one of a few riverside cafes I visited in Hue. Vy Da Xua is located along the banks of the Perfume River and appears to be a restaurant / banquet hall / traditional teahouse.
The cafe's grounds are lovely. Walk through the front entrance and you'll find this central dining area with plants, bonsai trees, and a stone garden with water features on either side. I wanted to sit by the river so I walked past this space and through what looked like a private events area to get to the outdoor cafe.
This was one of the best riverside cafes I visited in Hue. You're far enough away from the street so you don't hear any traffic. It was so relaxing to sit under this row of trees with a clear view of the river and Con Hen Island. I had their special ca phe vy da xua which tasted like black coffee spiked with alcohol. Perfect!
I didn't know this until I got to Vy Da Xua, but Con Hen Island is where local Hue delicacies com hen and che bap were invented. Those were the exact two dishes I had for lunch before going to this cafe! I walked to the island after my coffee for the best com hen and che bap I had in Hue.
Vy Da Xua
Address: 131 Nguyễn Sinh Cung, Vỹ Dạ, Thành phố Huế, Thừa Thiên Huế, Vietnam
Operating Hours: 6AM-10PM, daily
4. Sông Xanh Cafe
Song Xanh is a lovely riverside cafe overlooking the confluence of the Perfume and Nhu Y Rivers. It isn't as fancy as Vy Da Xua but it's just as relaxing with even better views. I believe the cafe is right next to, or turns into the Garden Riverside Bar at night.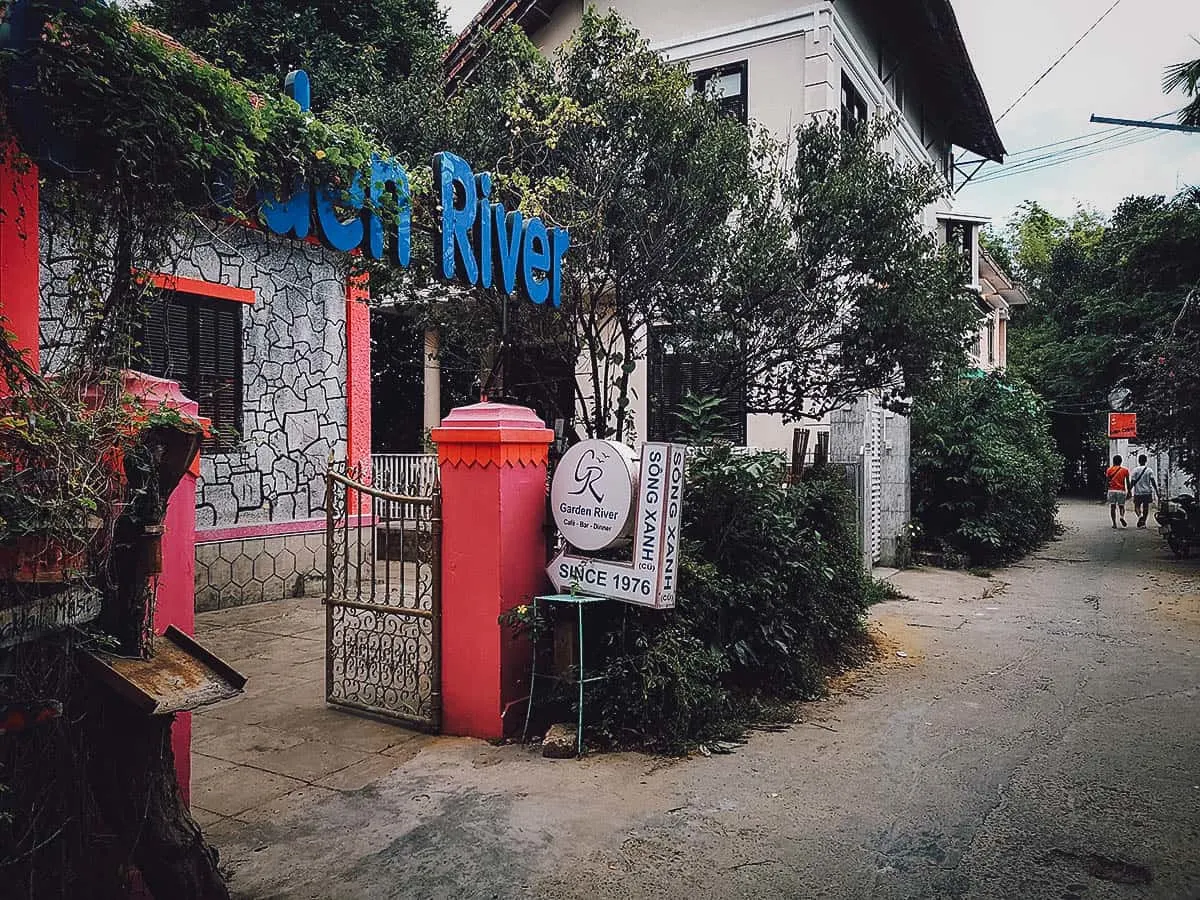 I don't know if they do this all the time but when I was there, they were giving every guest this complimentary fruit platter. I had only ordered a ca phe sua da at that point so I was pleasantly surprised when they set this down on my table. How nice!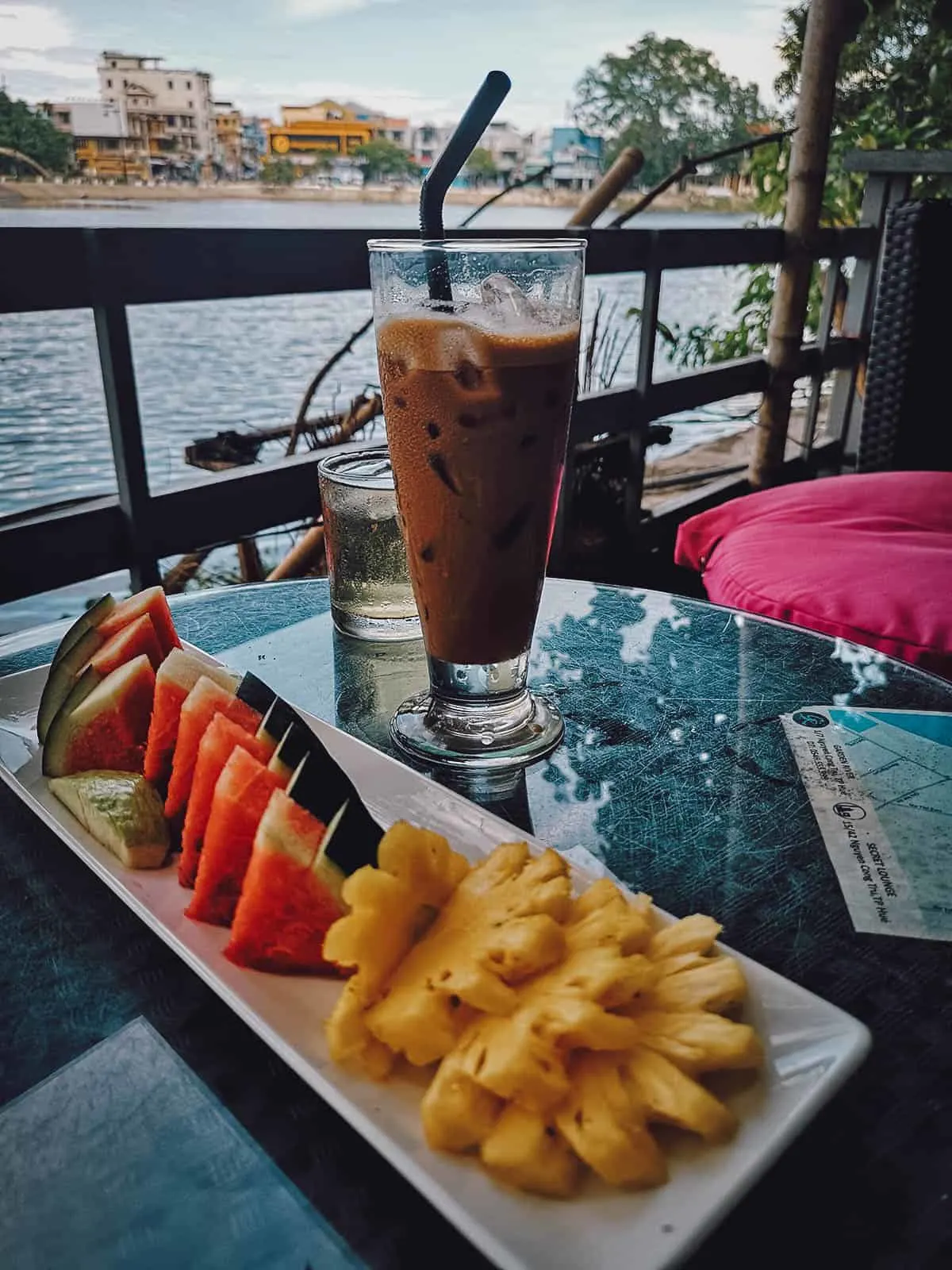 I was pleased to find outlets by every table so I decided to stay and work here. I ordered a second drink, this time a ca phe den da. I would have stayed longer had the sun not inched its way over my laptop's screen. It's such a lovely and pleasant environment and from what I've read, a great place to watch the sunset.
Sông Xanh Cafe
Address: 9 Nguyễn Công Trứ, Phú Hội, Thành phố Huế, Thừa Thiên Huế, Vietnam
Operating Hours: 6:30AM-10PM, daily
5. Daudo
Located just a few doors down from Song Xanh Cafe, Daudo may be the best riverside cafe we've visited thus far in Hue. It's a bit more modern than the previous two cafes and seems to be favored by a younger Vietnamese crowd.
Ca phe muoi has quickly become our favorite coffee drink in Vietnam. Daudo's version is delicious.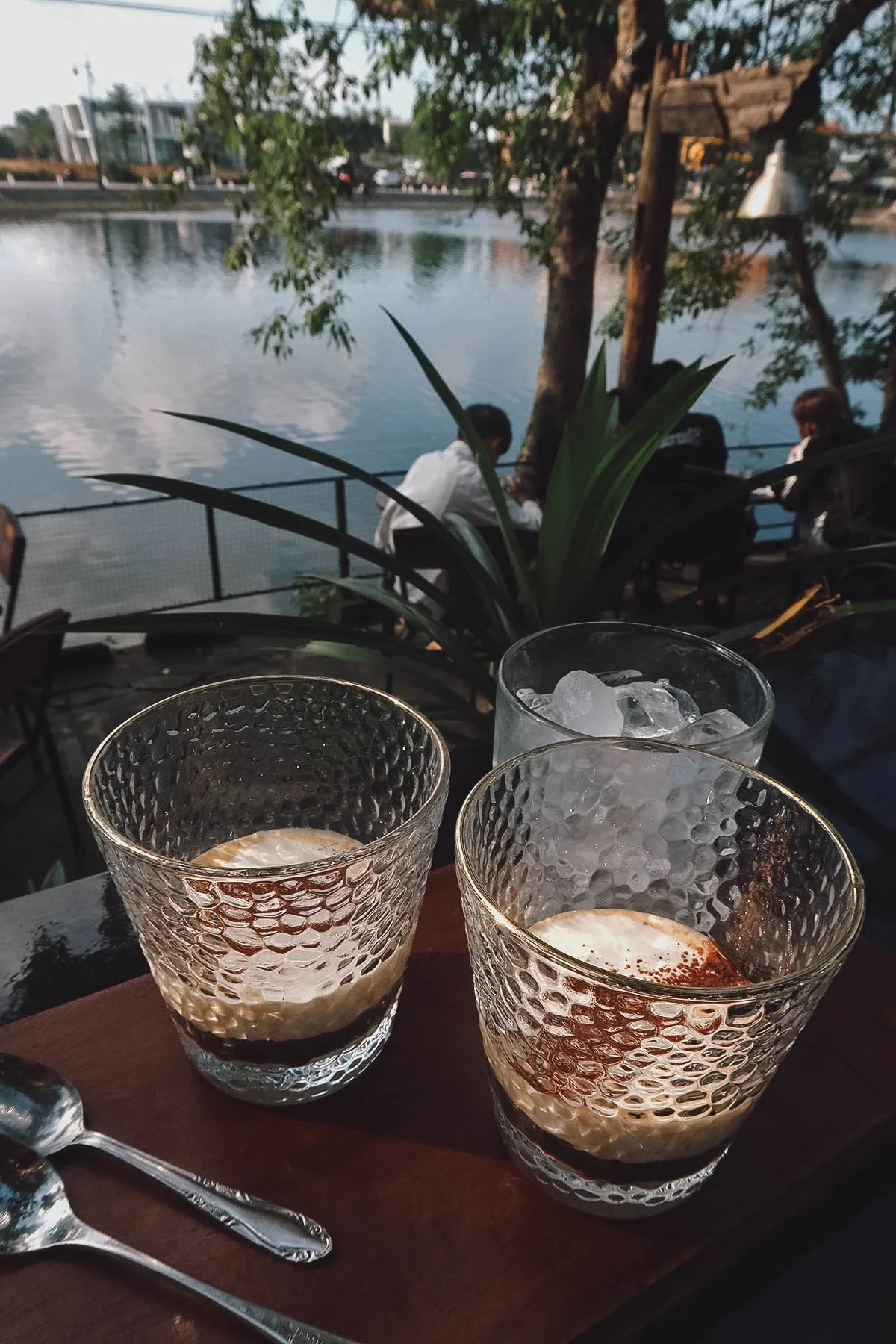 You'll find many riverside cafes in Hue but Daudo is one that you should definitely check out. They play great music here too.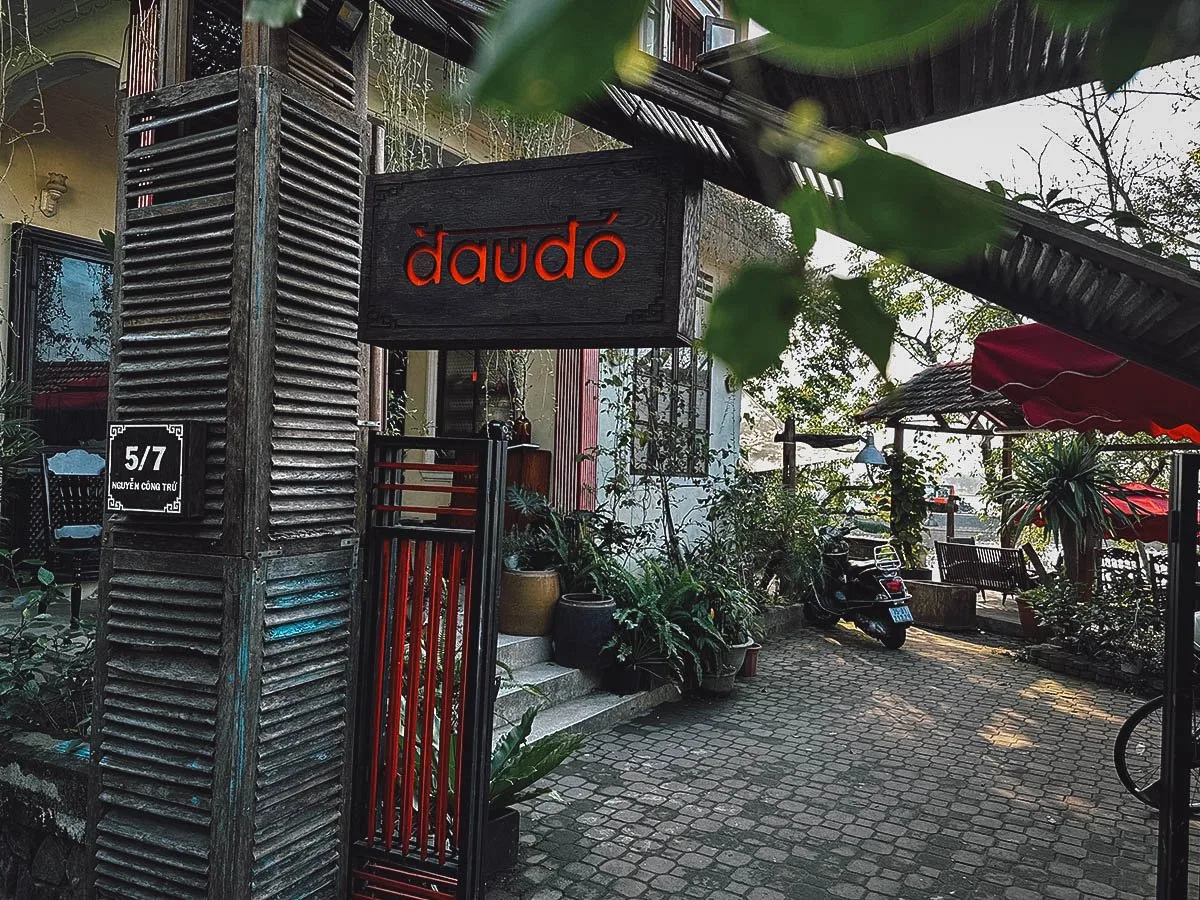 Daudo
Address: 7 Nguyễn Công Trứ, Phú Hội, Thành phố Huế, Thừa Thiên Huế, Vietnam
6. Cafe Do Con
We found this quiet little cafe after having a banh khoai and nem lui lunch at Hue Xua. It's yet another riverside cafe, but this time in a part of town that few tourists probably get to visit.
There's nothing fancy about Cafe Do Con. It's just a small unpretentious cafe that serves good coffee by the Perfume River. Sometimes, that's all you really need!
Here I am mixing my cup of ca phe muoi before adding in the ice. God I love salt coffee.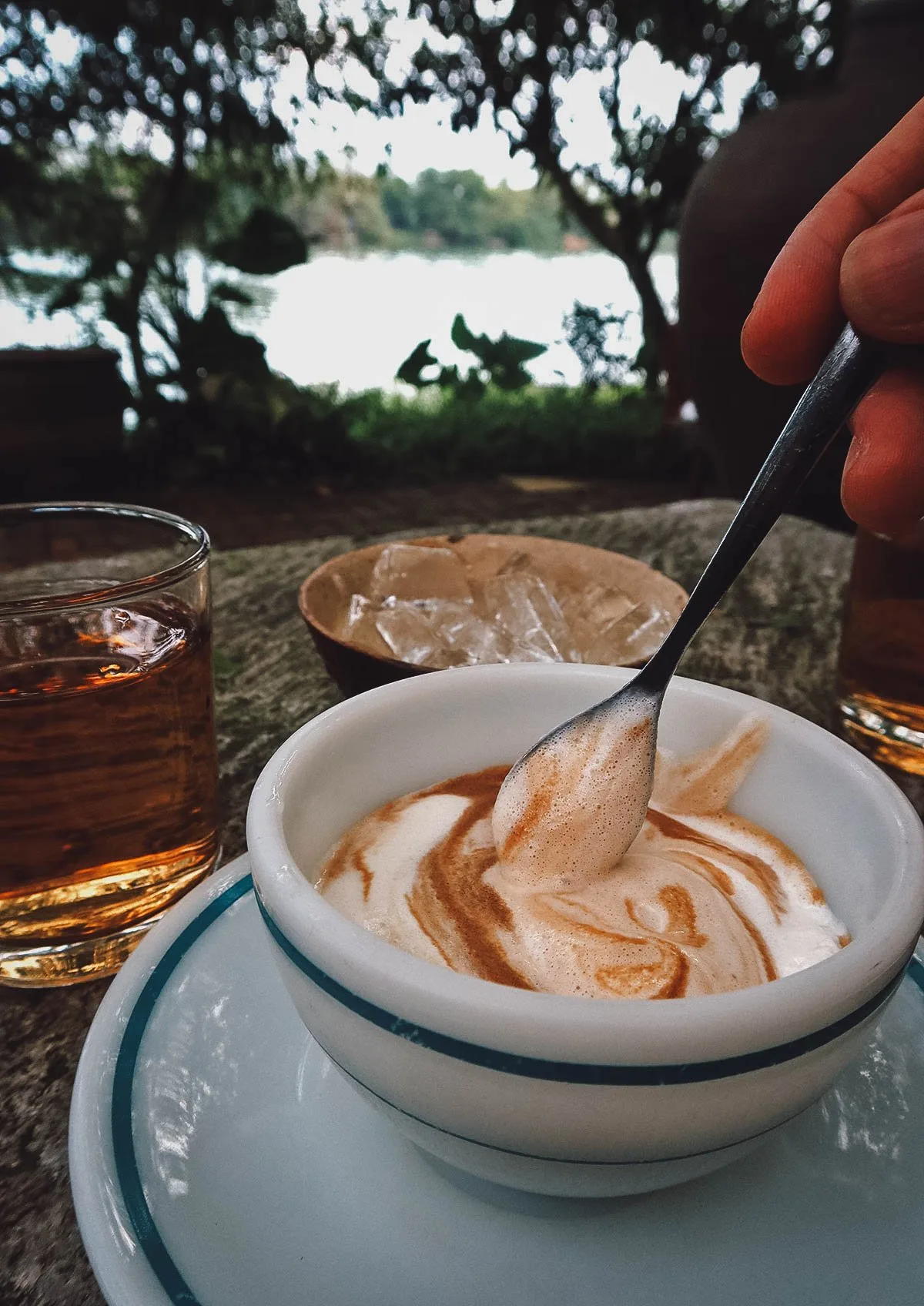 Can you really ask for a better setting than this? I don't know the name of the area but Cafe Do Con is located east of the Citadel and west of Con Hen Island.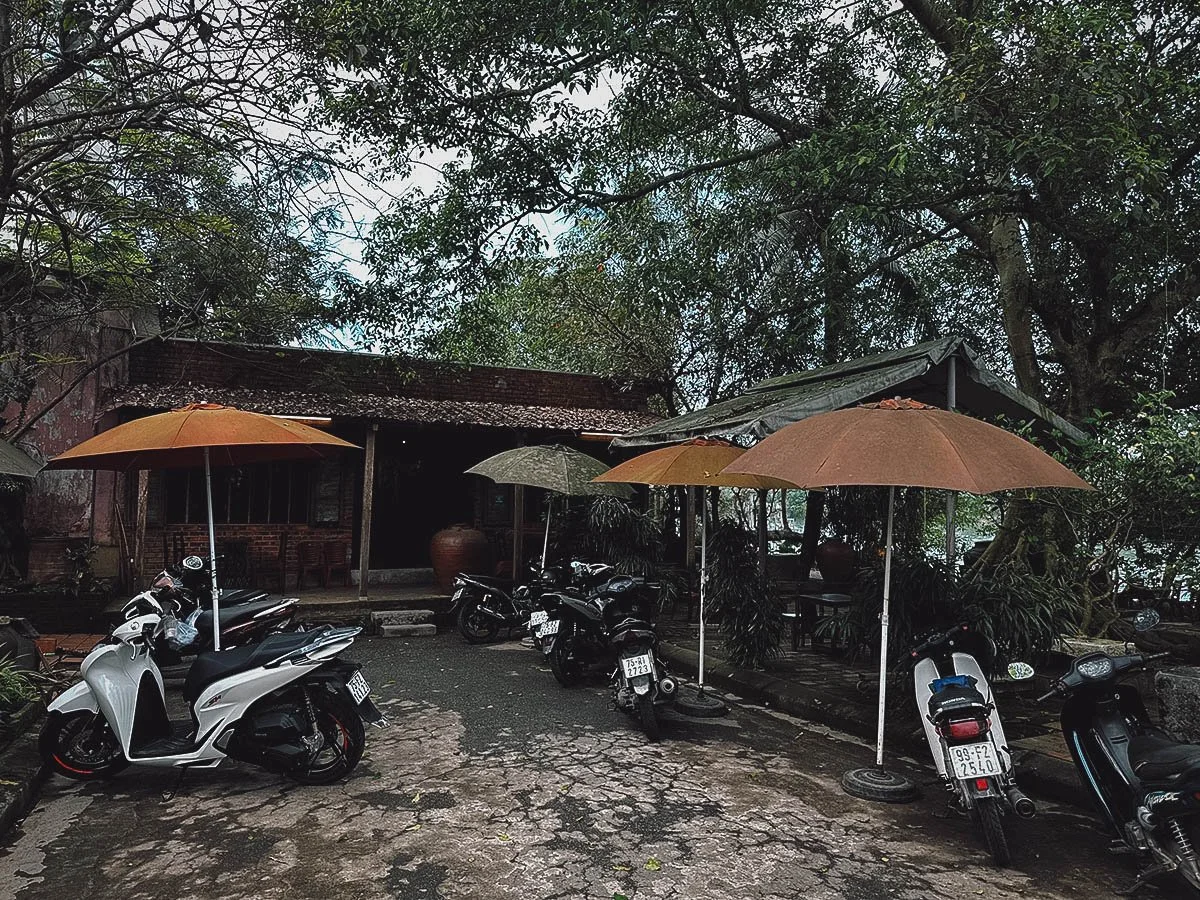 Salt coffee, trees, the Perfume River, and a view of Con Hen Island. What more can you ask for in Hue? (Voice in my head: A bowl of bun bo would be nice…)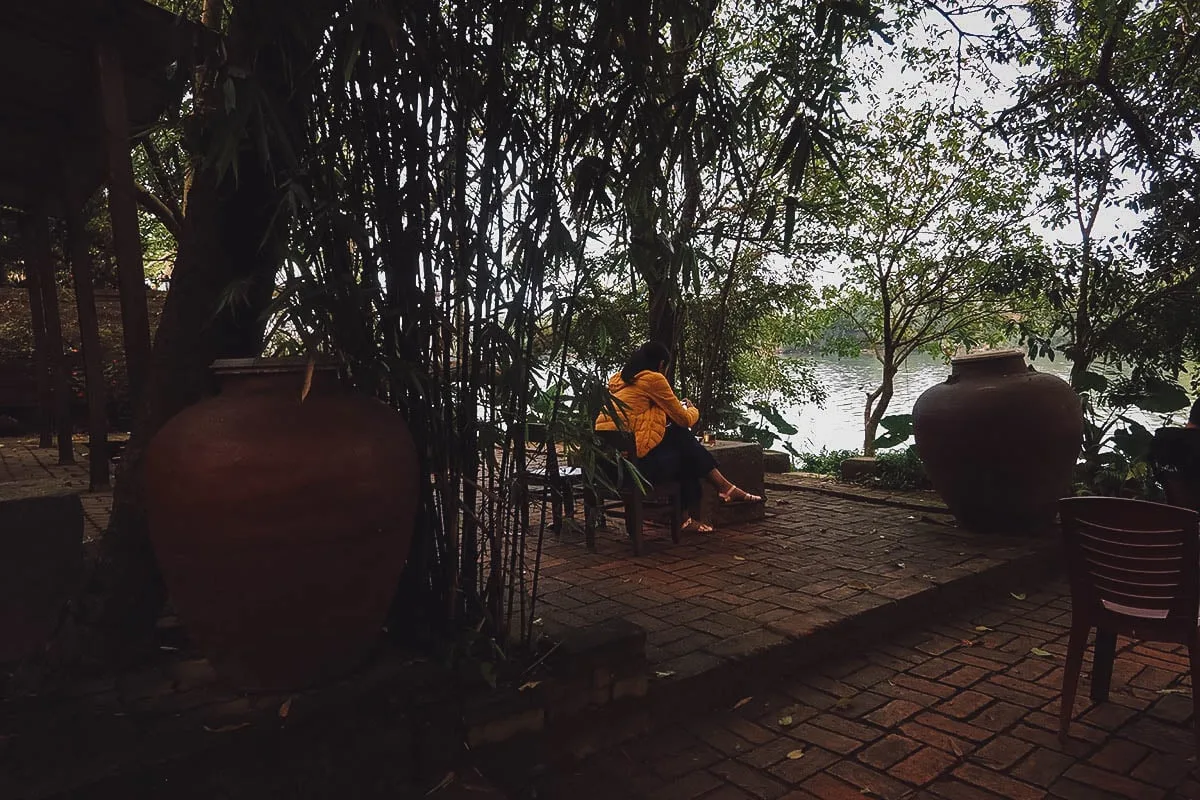 Cafe Do Con
Address: 222 Chi Lăng tổ 8, Phú Hiệp, Thành phố Huế, Thừa Thiên Huế, Vietnam
Operating Hours: 6AM-10PM, daily
7. PhinHolic
PhinHolic is one of the most beautiful cafes we've visited so far in Hue. Located in the heart of the downtown area, they have an extensive menu featuring different types of coffee, tea, and fruit juices.
The "Phin Signature" section of the menu immediately catches your eye. It features five robusta coffee drinks layered with different ingredients like matcha, cheese, coconut milk, and caramel. Pictured below are two of their most popular – robusta salt coffee and robusta milk matcha.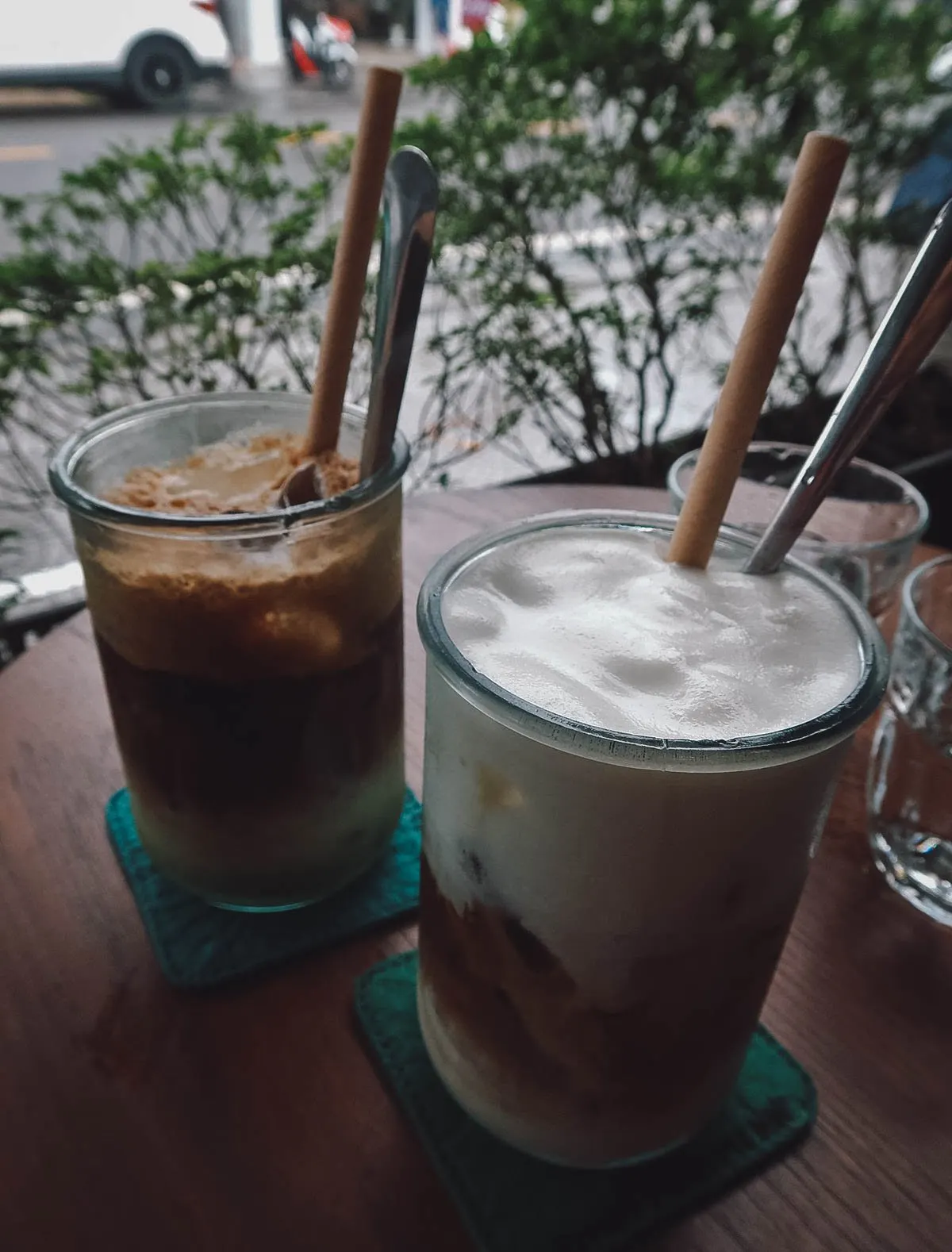 If you need a good place to work, then PhinHolic is an excellent choice. The cafe consists of two floors with large tables and lots of outlets.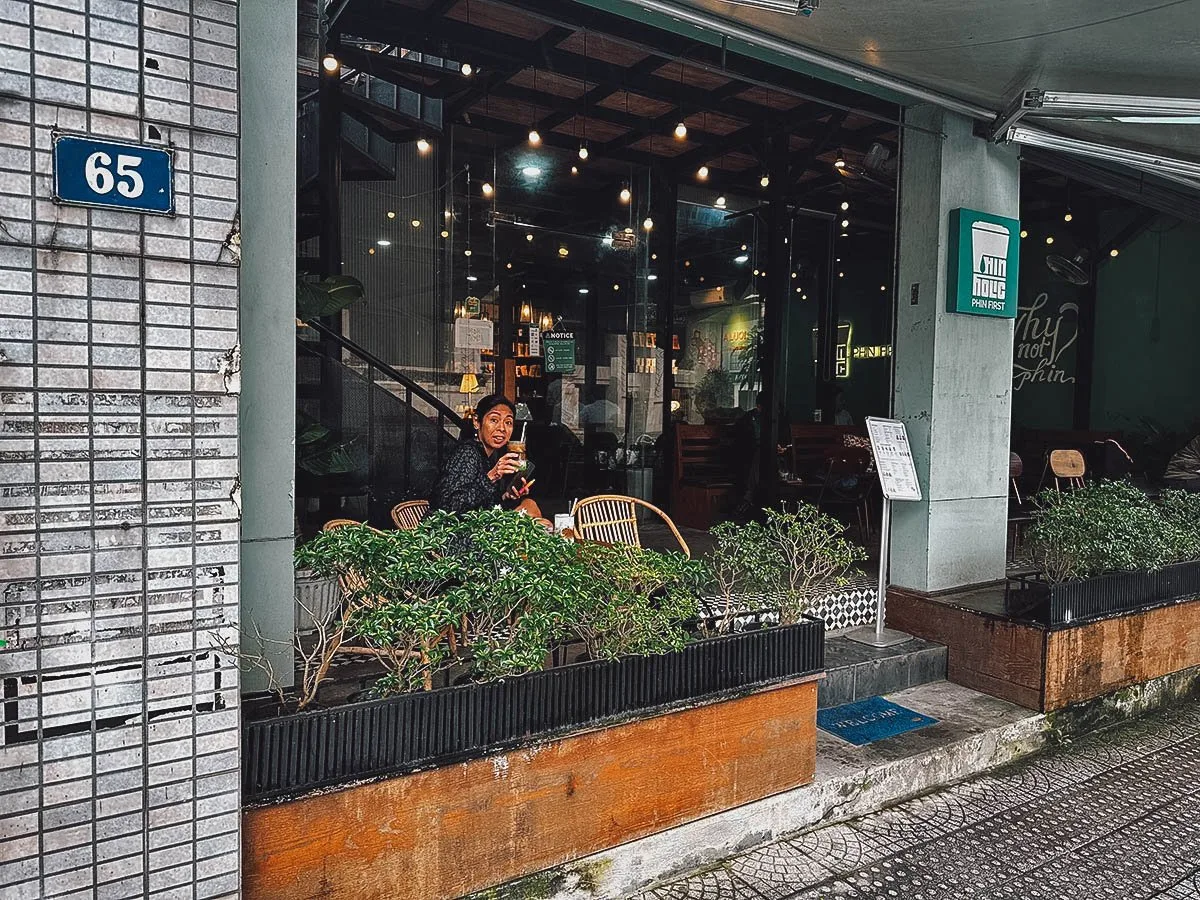 This is what the first floor seating area looks like. There were several people here on their laptops so it looks to be a popular place to work in Hue.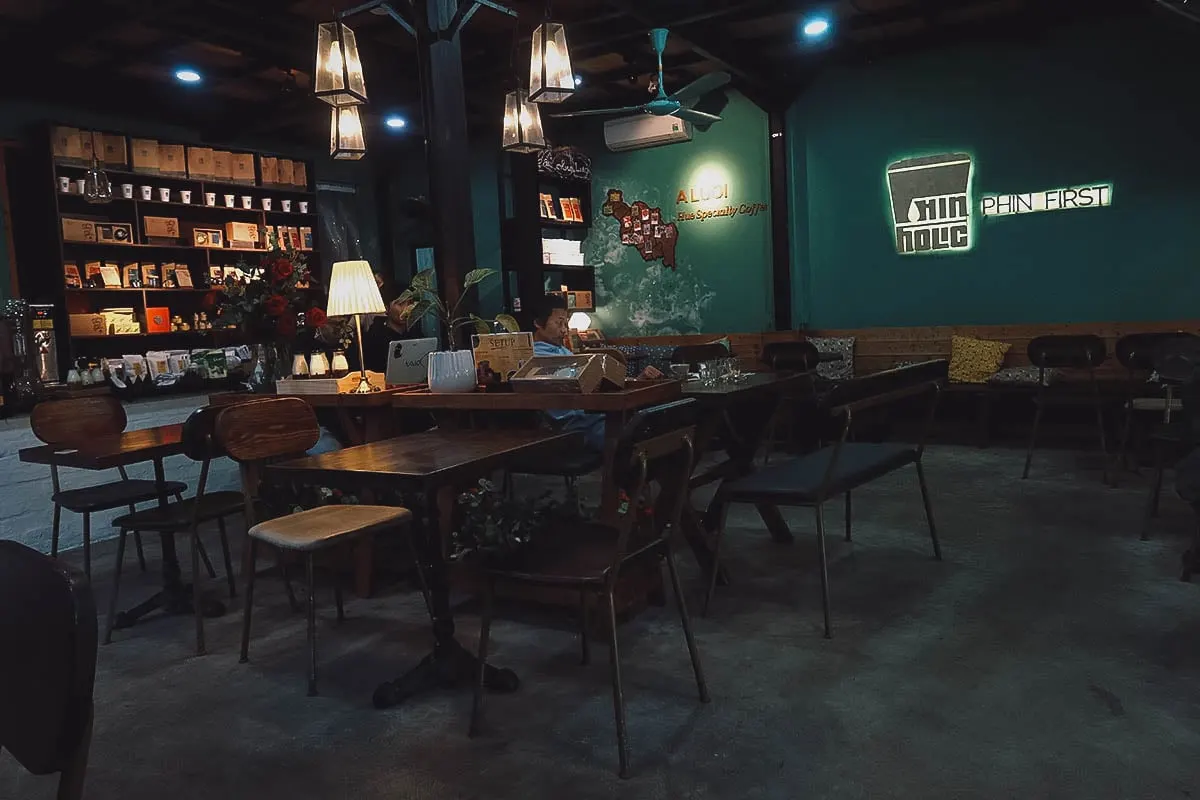 This is the second floor balcony area. To the left of the picture is a large room with lots of large tables. The wifi was fast so if I needed a place to do some serious work in Hue, then PhinHolic would be my first choice.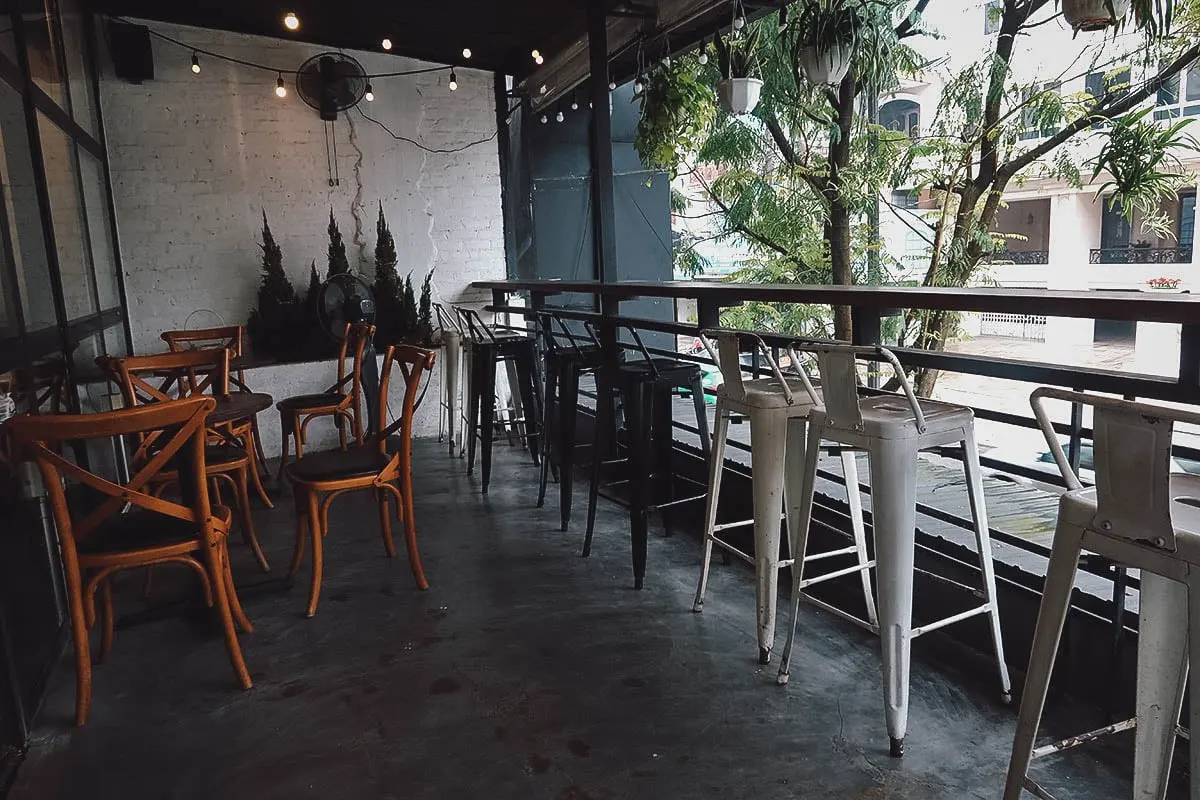 PhinHolic
Address: 65 Bến Nghé, Phú Hội, Thành phố Huế, Thừa Thiên Huế, Vietnam
Operating Hours: 7AM-10PM, daily
8. Laph Cafe
Like any big city in Vietnam, pretty cafes are a dime a dozen in Hue. Many boast just a handful of patrons but a few, like Laph Cafe, are overflowing with customers. I don't know what the secret formula is but great coffee is definitely part of the equation.
The salt coffee and lychee lotus tea are highlighted on their menu so that's what we went with. Both were excellent.
It's funny, I was taking my time photographing our drinks when the server came over and started mixing my salt coffee for me. She probably thought I didn't know how to drink it. Ha! Definitely not the first time that's happened in Vietnam.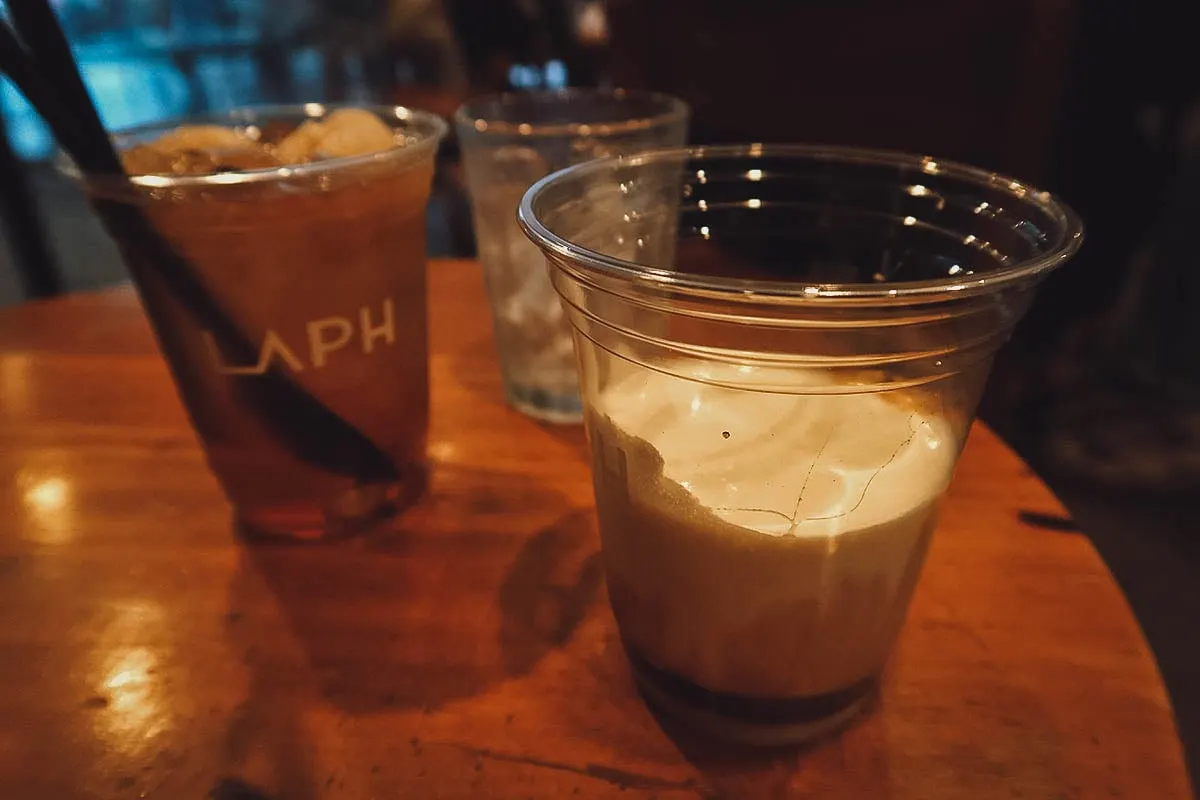 As you can see, Laph Cafe is packed with local customers. It's definitely one of the most popular cafes we've visited in Hue.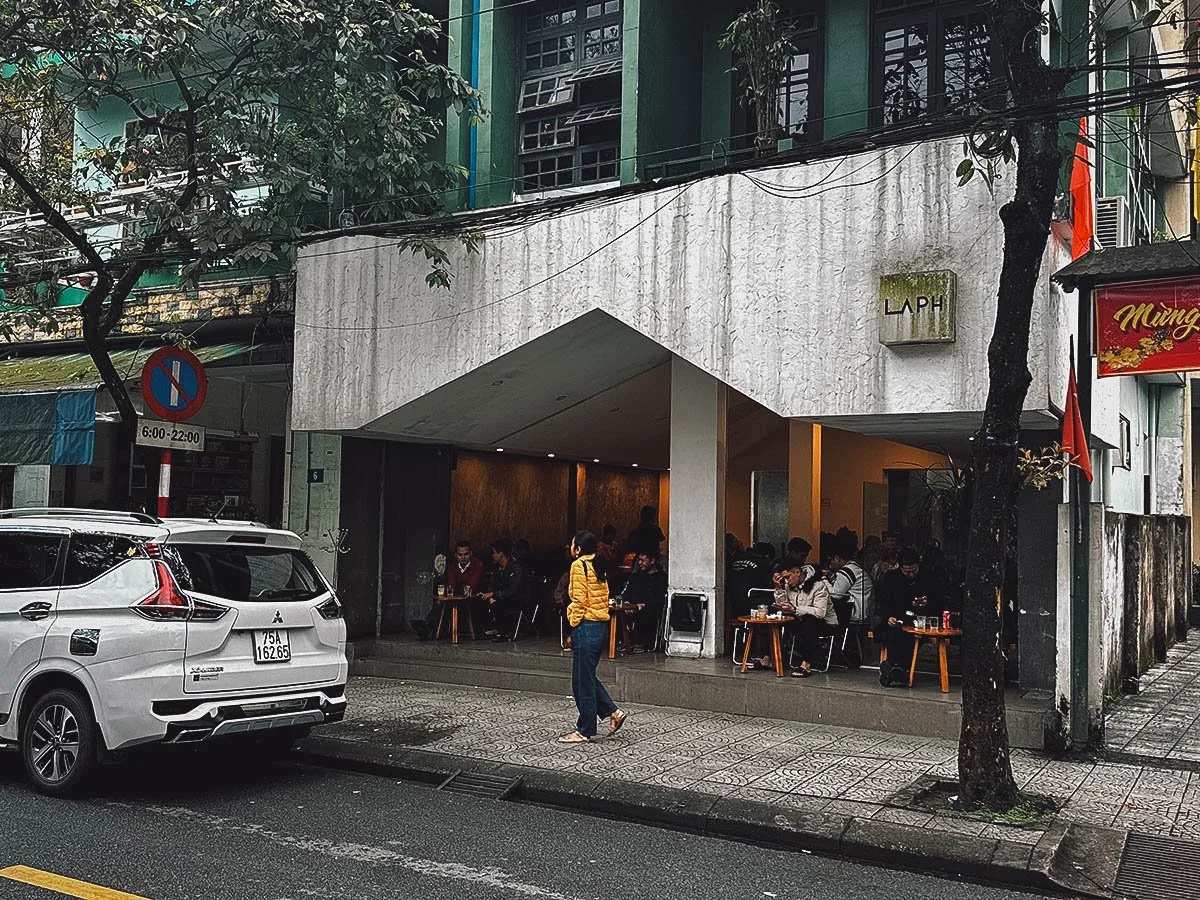 Laph Cafe
Address: 4 Trương Định, Vĩnh Ninh, Thành phố Huế, Thừa Thiên Huế 530000, Vietnam
Operating Hours: 6AM-10PM, daily
9. tan.cafe (Phạm Hồng Thái branch)
Shortly after checking in to our homestay, the kind people working at the front desk gave us tips on where to eat. They recommended a bun bo restaurant, a banh mi shop, and this cafe.
We took them up on their bun bo advice (which was amazing) and proceeded to tan.cafe after lunch to have salt coffee and egg coffee (ca phe trung).
Like Laph Cafe, tan.cafe was overflowing with locals. Our homestay staff was right. It's clearly one of the most popular cafes in Hue, especially with younger Vietnamese.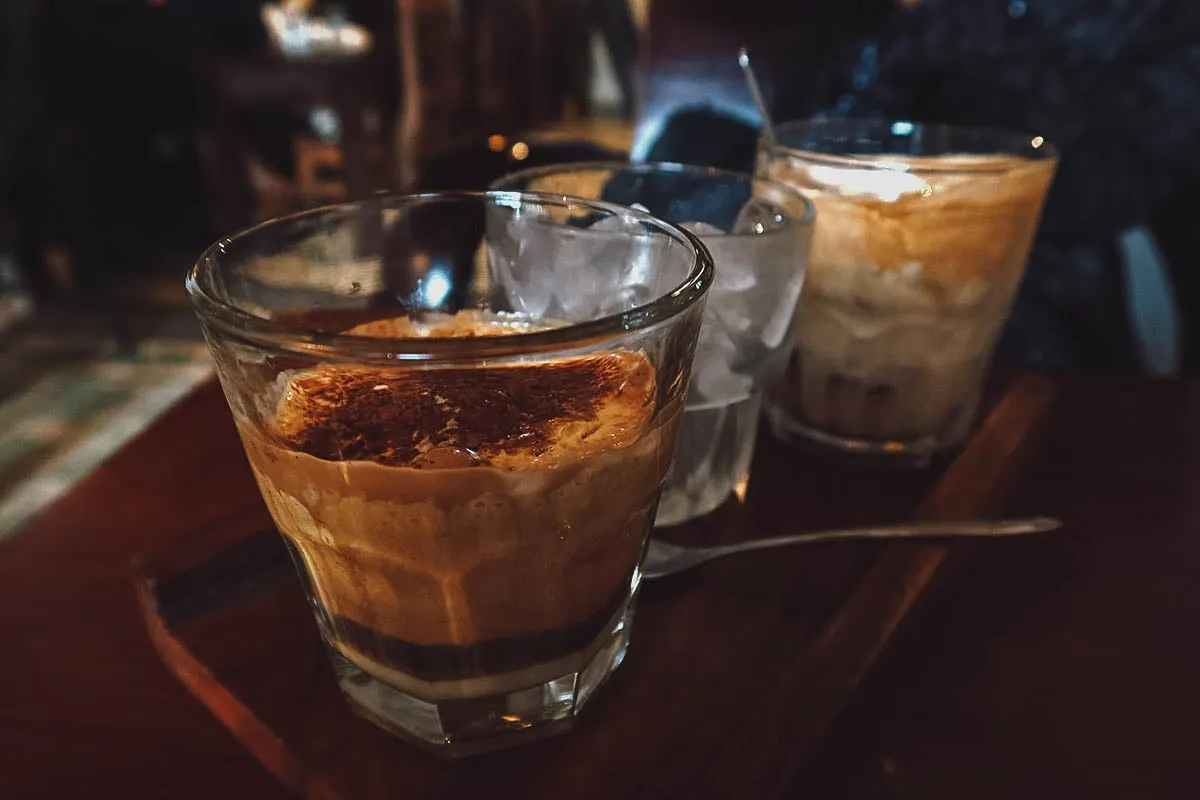 If you want to rub elbows with young locals while taking sips of your salt coffee, then tan.cafe is the place to go in Hue. They have a second branch in the Citadel as well that's bigger and better than this one.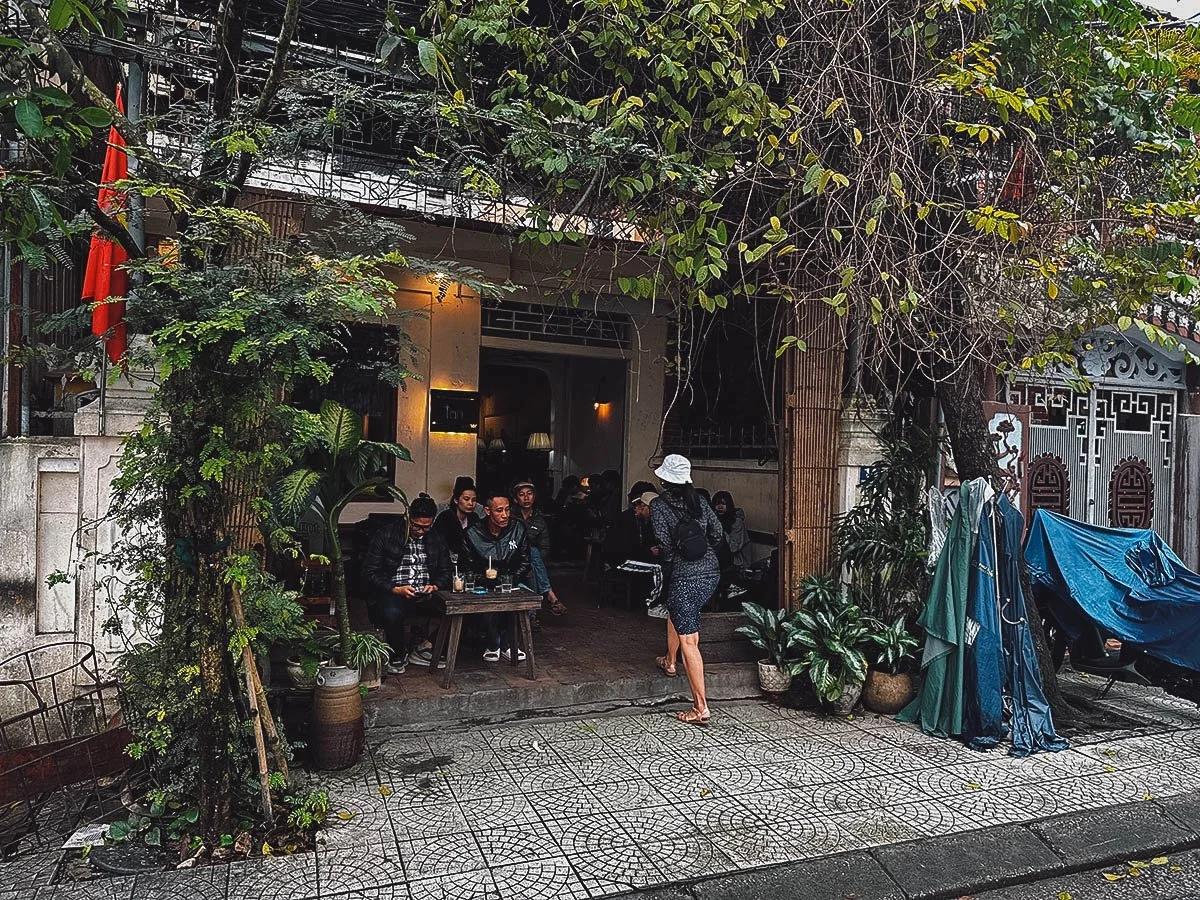 tan.cafe
Address: 14 Phạm Hồng Thái, Vĩnh Ninh, Thành phố Huế, Thừa Thiên Huế 52000, Vietnam
Operating Hours: 6:30AM-10PM, daily
10. tan.cafe (Đinh Tiên Hoàng branch)
I didn't know they were two branches of the same cafe but we were pleased to find the Dinh Tien Hoang outlet of tan.cafe. The branch on Pham Hong Thai Street was nice but this one was amazing and easily our favorite cafe in Hue. They seem to offer a few coffee drinks that the other branch doesn't.
Virtually every cafe serves salt coffee. Many serve coconut coffee while just a handful offer egg coffee. The Dinh Tien Hoang branch of tan.cafe was the only cafe we went to in Hue and Vietnam that had ca phe bap. Ca phe bap is Vietnamese for "corn coffee". Yes, coffee with corn!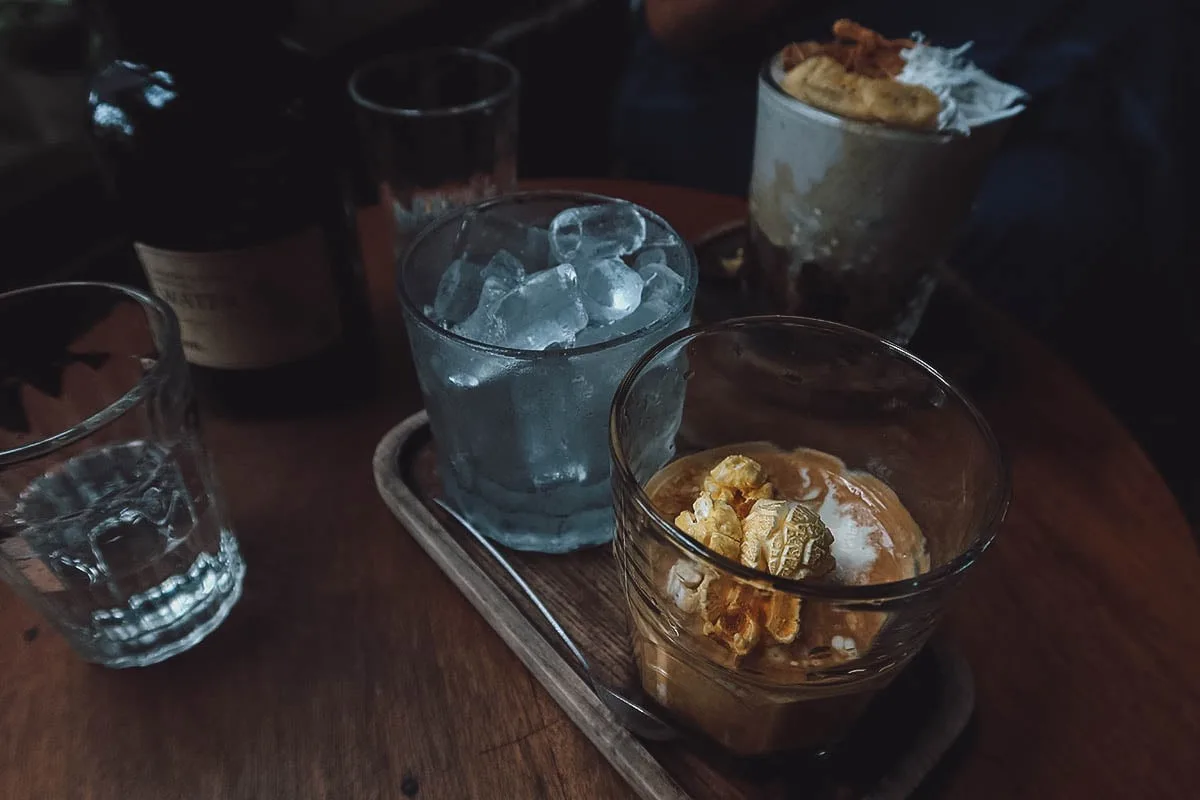 I don't know how they make it but ca phe bap is one more in a long line of interesting coffee drinks you'll find in Vietnam. Aside from the few pieces of popcorn that are used to garnish the drink, there are no solid kernels of corn in the coffee. But similar to che bap, it tastes very much like corn.
Like salt, egg, or coconut, the western world would never think to add corn in coffee but it actually works! I still prefer salt coffee but I would definitely look for this at tan.cafe on every return trip to Hue. It's interesting and oddly delicious.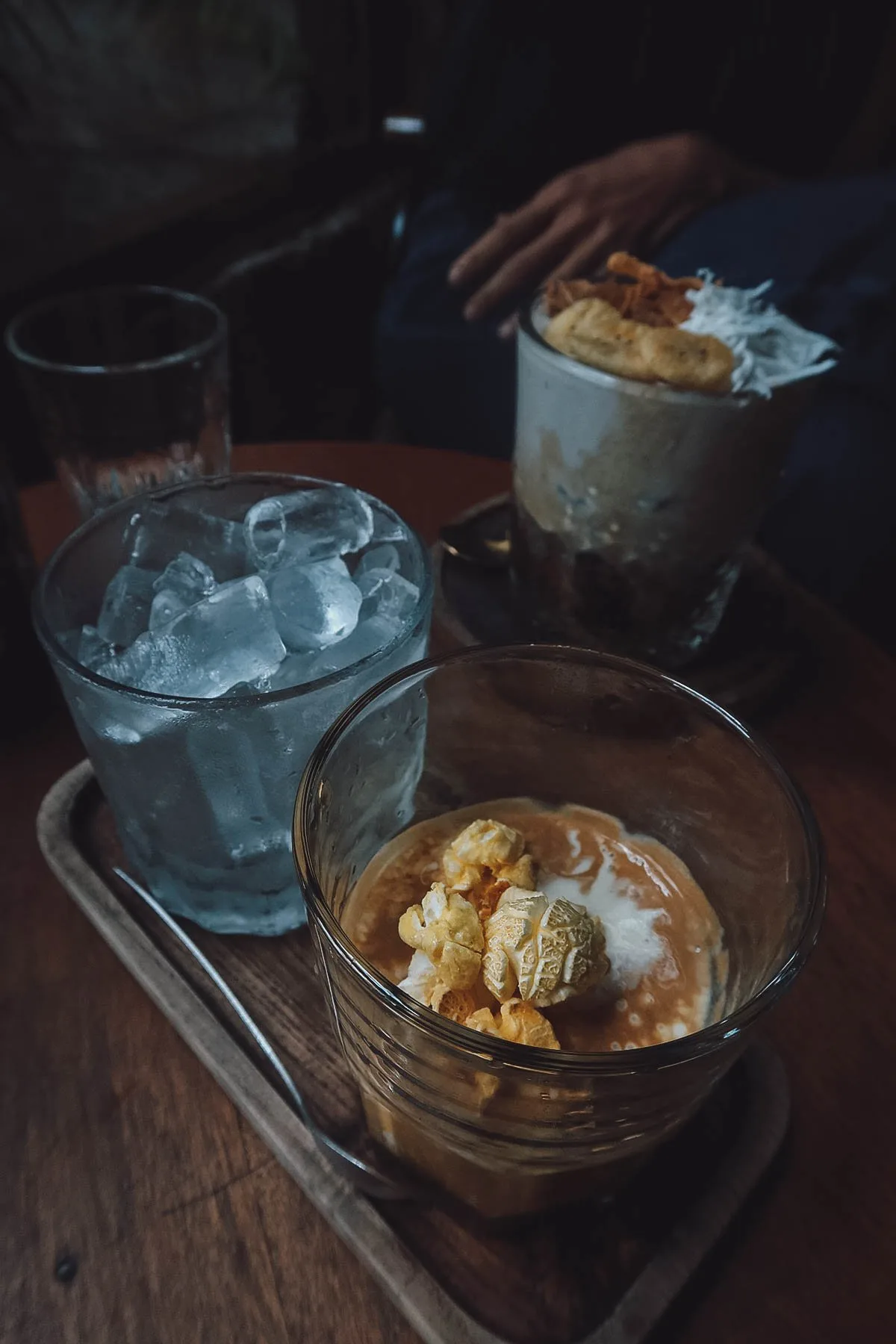 If you thought seeing popcorn on coffee was weird, what do you think about this one? This equally unusual and eye-catching coffee drink is called Banutfee. It's a variation of coconut coffee garnished with banana chips and coconut.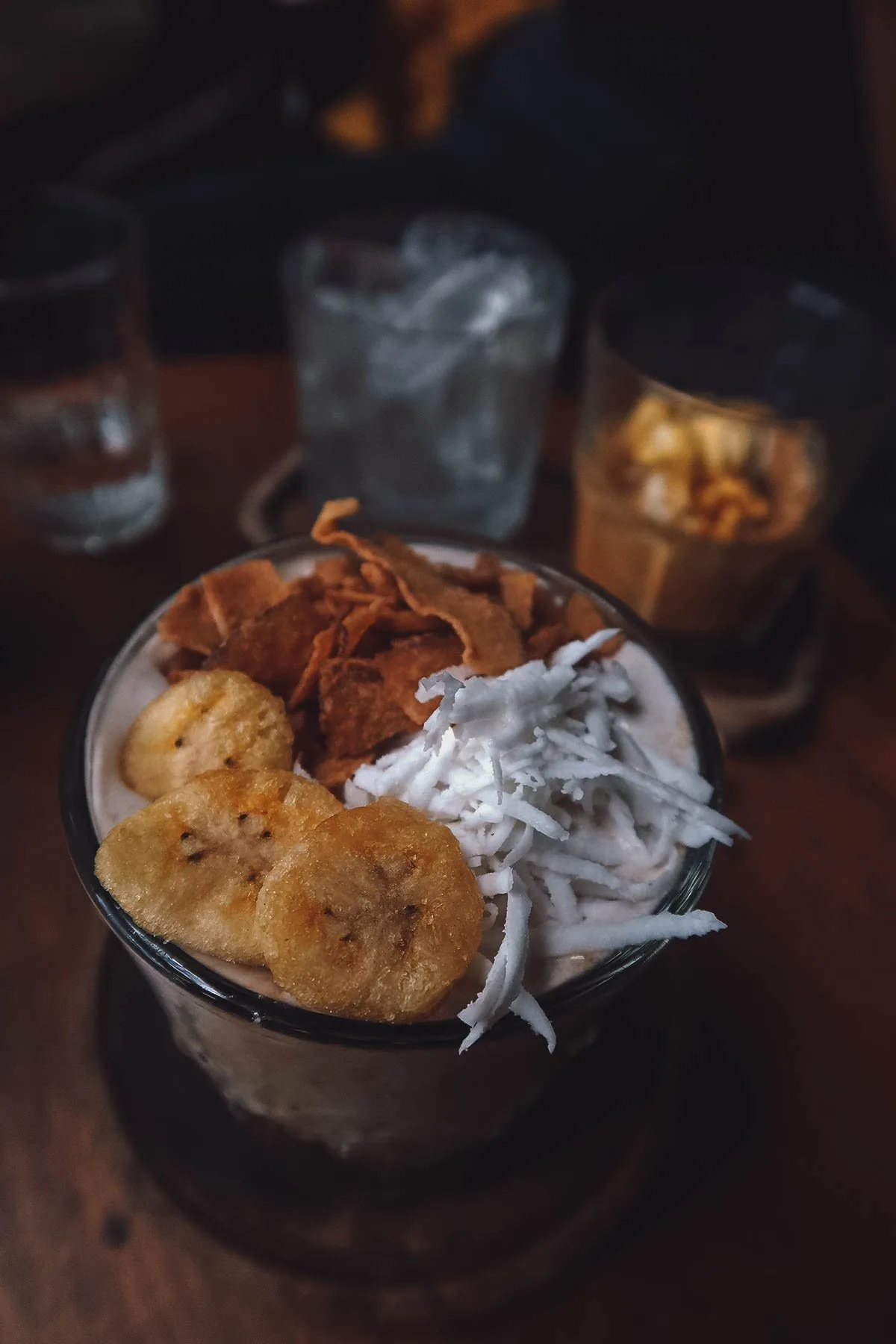 From their inventive signature coffee drinks to their well-designed interior, we loved everything about the Dinh Tien Hoang branch of tan.cafe. Even their drinking water served in these opaque apothecary jars was cool!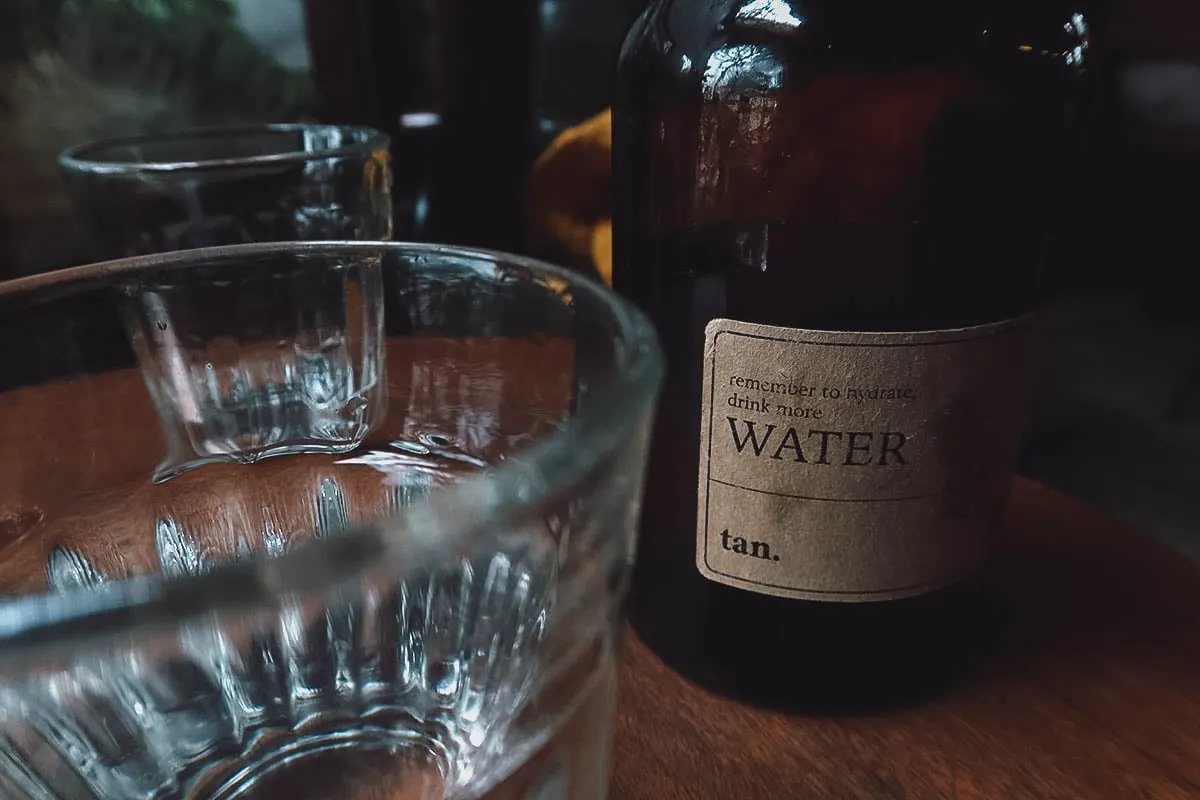 The cafe's exterior is awesome too. Look out for the number 86 on this crumbling facade because their sign is hard to spot. The Dinh Tien Hoang outlet of tan.cafe is located in the Citadel, just a block east of the Imperial Palace.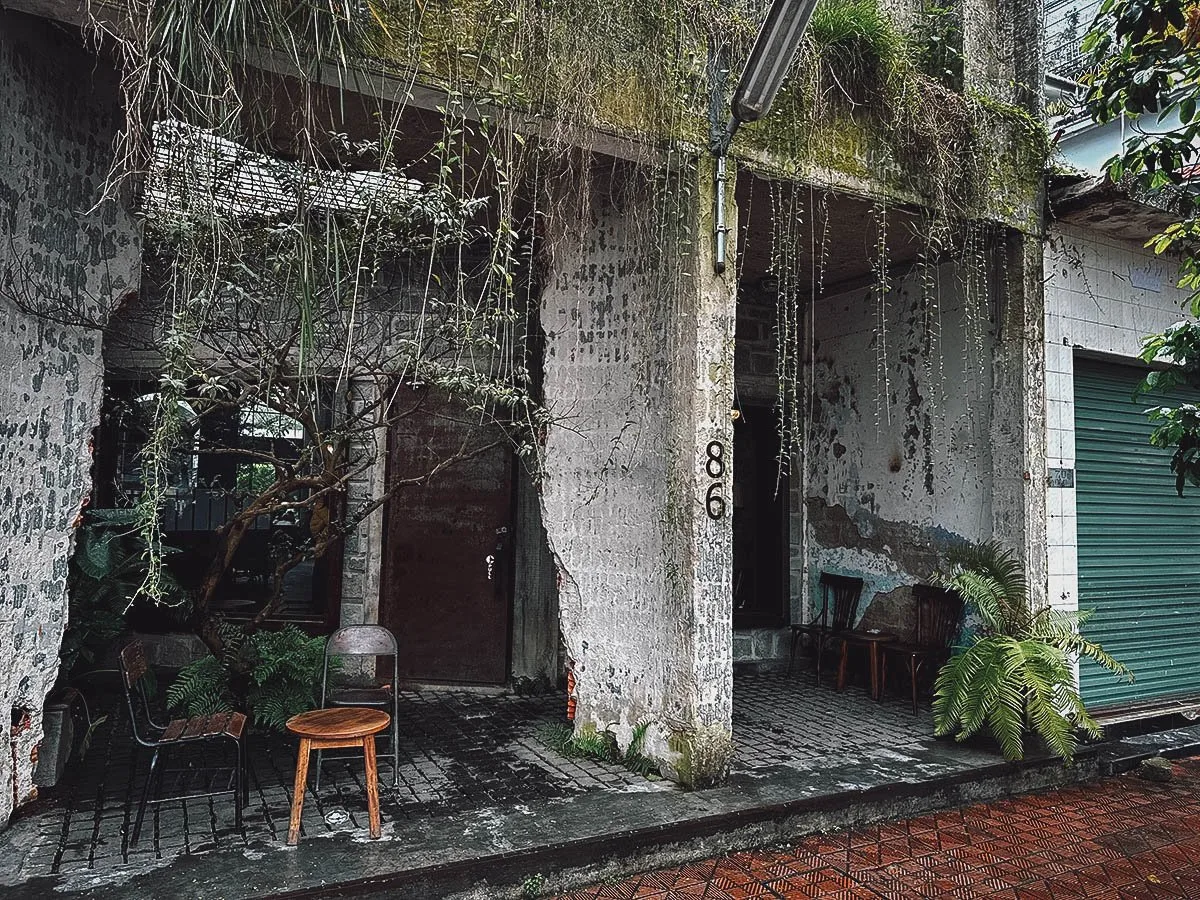 The Pham Hong Thai branch of tan.cafe is located in an old shophouse so it's much smaller and more crowded than this one. The Dinh Tien Hoang outlet is situated in what appears to be an industrial space or warehouse.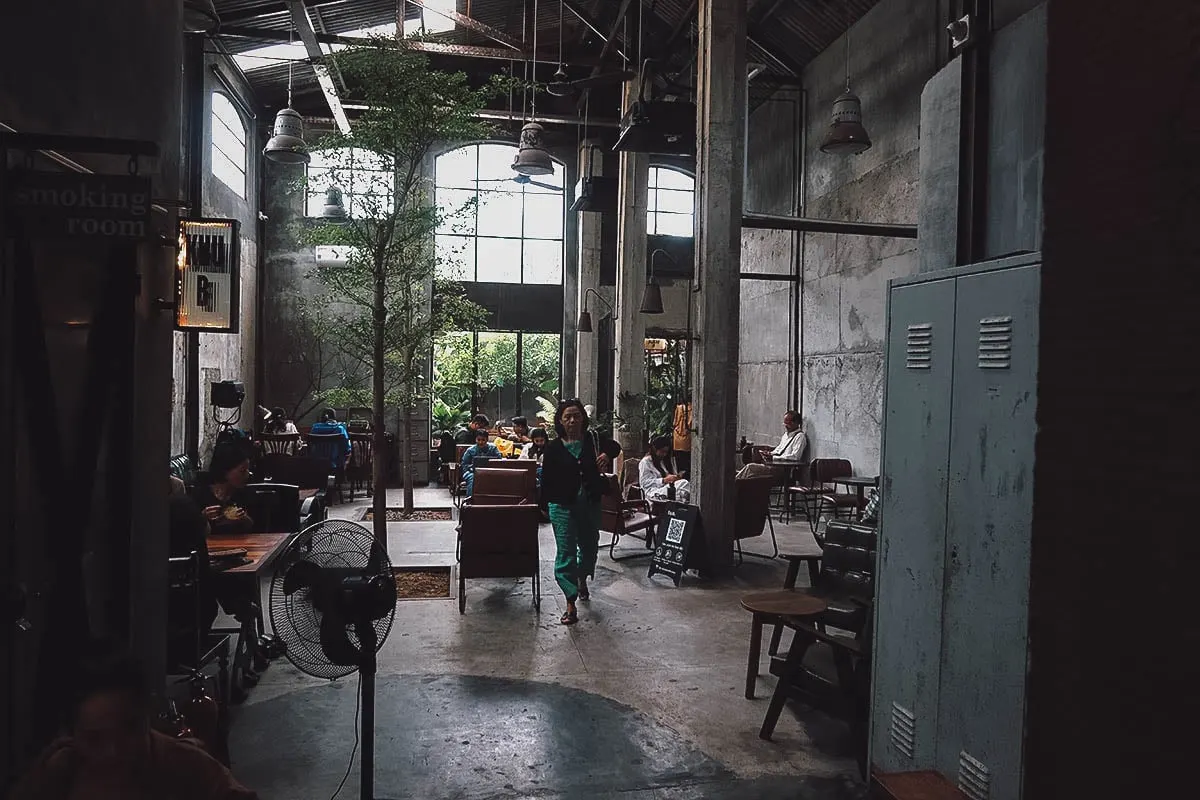 If the industrial steampunk setting isn't for you, then perhaps you'd prefer to sip your coffee in this leafy outdoor garden space instead. Like I said, we absolutely loved everything about this cafe.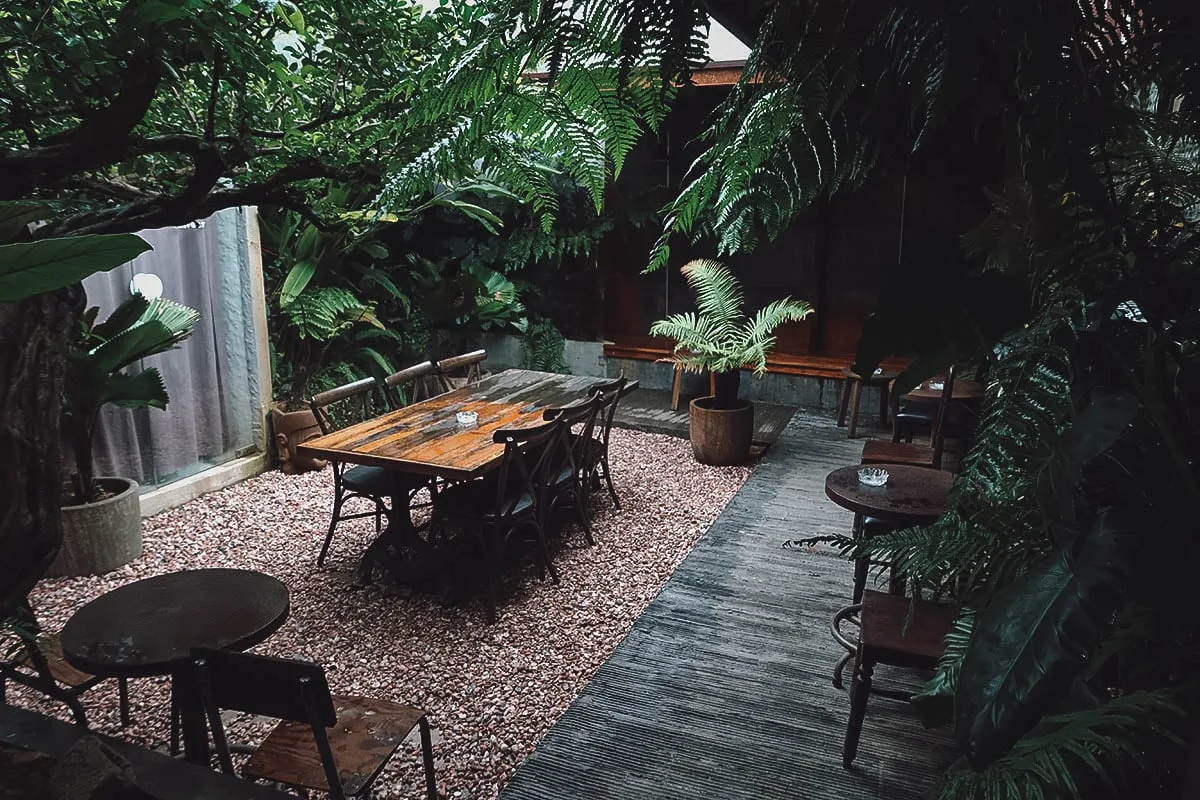 tan.cafe
Address: 86 Đinh Tiên Hoàng, Phú Hậu, Thành phố Huế, Thừa Thiên Huế, Vietnam
Operating Hours: 7AM-10PM, daily
HUE CAFES LOCATION MAP
To help you navigate to these Hue cafes, I've pinned them all on this map. Most are located south of the Perfume River. Click on the link for a live version of the map.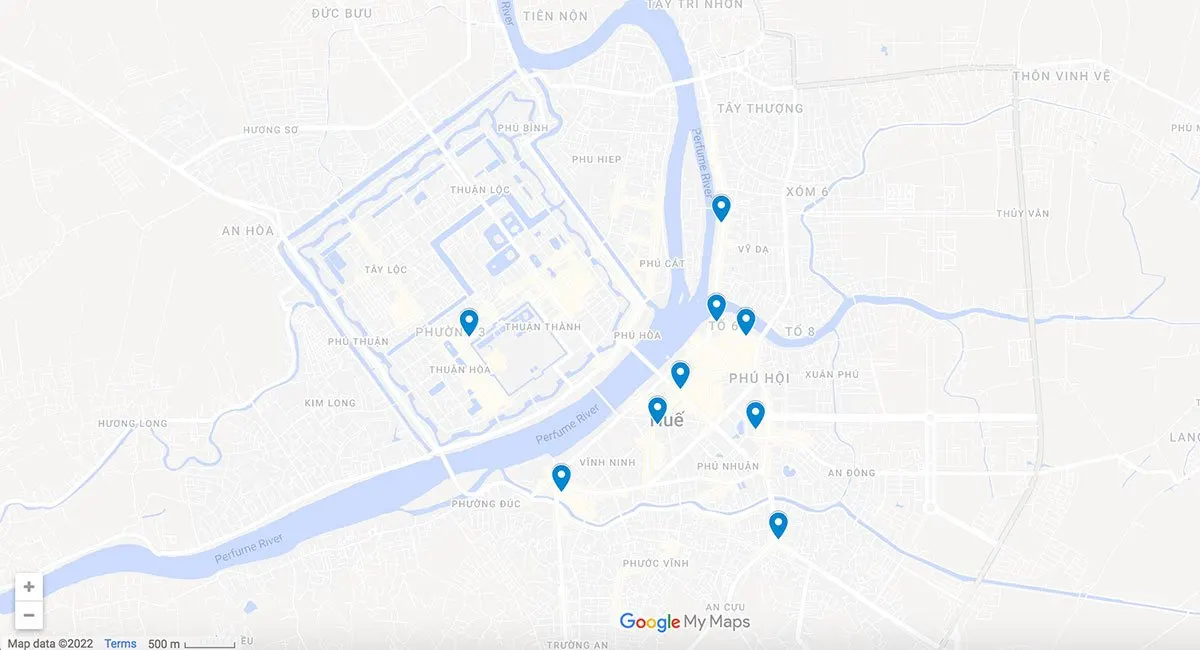 FINAL THOUGHTS ON THE COFFEE IN HUE
The coffee culture in Hue doesn't seem to be as storied as Hanoi or as diverse as Saigon, but having ca phe muoi makes it interesting. Like ca phe trung to Hanoi, ca phe muoi is a unique Hue creation. It doesn't have the history and fame of egg coffee yet but it's something travelers will look for, if they know about it.
I posted pictures of salt coffee on our Instagram account and many people were excited about the concept, using adjectives like "interesting", "cool", and "bloody brilliant" to describe it. Half-jokingly, Ren's cousin even asked me to bring some home! Clearly, it was something people wanted to try given the opportunity.
If you like coffee, then you should definitely try ca phe muoi next time you're in Hue. I flew to this city to experience dishes like com hen, banh loc goi, and bun bo hue. Salt coffee deserves to be on that list as well.
Disclosure
This article on the best cafes in Hue contains affiliate links, meaning we'll earn a small commission if you make a purchase or booking at no extra cost to you. We really appreciate your support as it helps us keep this website going. Thank you!