After spending a month drinking the coffee in Vietnam, I seriously don't know how I can adjust to normal life. I mean it.
I drink about 3-4 mugs of cheap supermarket coffee everyday. I'm taking a sip now as I write this article and guess what? It isn't taking me back to Vietnam. I take my coffee black – no cream, no sugar – so there's nothing to mask the inferiority of these beans. It tastes more like boiled bong water than real coffee. Damn you Vietnam.
You can have great coffee anywhere in the country, but for me, the most enjoyable was in Hanoi, largely because of its plethora of interesting and quirky cafes. If you're planning a trip to Hanoi, then here are thirteen coffeehouses to perk up your palate and your Instagram feed.
HANOI CAFES QUICK LINKS
To help facilitate your Hanoi trip planning, I've compiled links to hotels, tours, and other travel-related services here.
HOTELS
Top-rated hotels in Hoan Kiem, one of the best areas to stay for people on their first trip to Hanoi.
TOURS
OTHER SERVICES
HANOI TRAVEL GUIDE
Before you visit Hanoi, be sure to check out our detailed Hanoi travel guide. It'll have all the information you need – like where to stay, which attractions to visit, what and where to eat, etc. – to help you plan your trip.
Save This on Pinterest!
No time to read this Hanoi coffee guide now? Click on the save button and pin it for later!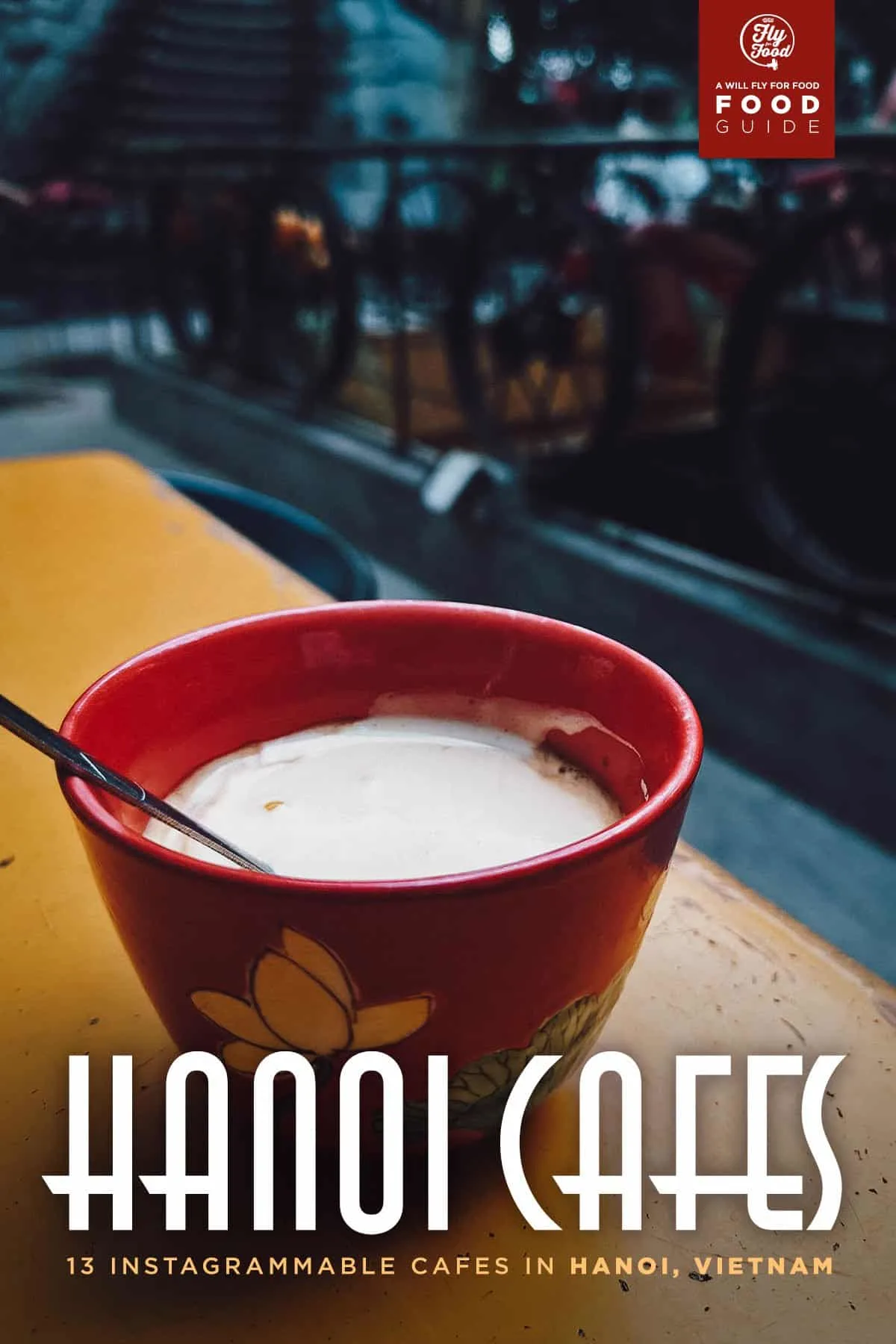 AN INTRODUCTION TO VIETNAMESE COFFEE
Before diving into this list of Hanoi cafes, I just wanted to talk briefly about the different types of Vietnamese coffee and what makes it so special.
History of Vietnamese Coffee Production
I didn't know this until our first trip two years ago, but Vietnam is the second largest producer of coffee in the world, behind only Brazil. I went on this interesting coffee tasting tour and my guide Mai told me that prior to the introduction of coffee, the Vietnamese were a tea-drinking people. Coffee was introduced to Vietnam by the French in 1857 more as a cash crop rather than for personal consumption.
Thanks to the plantation system, Vietnam's coffee industry flourished before being disrupted during and immediately after the Vietnam War. The industry was collectivized thereby limiting the production of coffee.
It wasn't until 1986 – when privately owned enterprise was again permitted – did the industry experience a resurgence in growth. Today, coffee is Vietnam's second largest agricultural export, after rice.
Types of Vietnamese Coffee
Mai told me that Vietnam produces Robusta and Arabica beans, with the former accounting for about 97% of the country's coffee production. Vietnam grows so much Robusta that they contribute to about 40% of the world's total Robusta production.
Though considered inferior to Arabica, Robusta is easier to care for and produces a higher yield, resulting in a coffee that's quite bitter with twice the amount of caffeine. Sounds like my cup of coffee!
According to Mai, different cafes will vary in how much Robusta and Arabica beans they use in each blend. Some will do a mix of 80%-20%, others 70%-30%, and so on. Most coffee in Vietnam is prepared using a small metal drip filter called a phin.
This isn't an exhaustive list but here are some of the most common types of coffee you'll find in Hanoi and Vietnam. The different types and terminology can be confusing but I did my best to simplify and make sense of it all. (NOTE: Accents are important in the Vietnamese language but I've removed them from the terms below to make the text easier to read for non-Vietnamese speakers.)
Ca phe den – This refers to black coffee. Ca phe means "coffee" while den means "black". You can have it either hot (nong) or iced (da), so ca phe den nong (hot black coffee) or ca phe den da (iced black coffee).
Ca phe nau / ca phe sua – This refers to coffee made with milk. Northern Vietnamese say ca phe nau while people from the south refer to it as ca phe sua. Nau means "brown", which probably refers to the color of the coffee after it's been lightened with milk, while sua means "milk". Like ca phe den, you can also have it either hot or iced.
Ca phe trung – This is arguably Hanoi's most famous coffee creation. It refers to egg coffee made with heavily whisked egg yolks. It's said to have been invented at Cafe Giang in Hanoi, which I'll talk more about later in this post.
Bac xiu – This is basically the same as ca phe nau or ca phe sua but made with less coffee and more milk. It's referred to as "white coffee" and as far as I can tell, it's always served cold. From what I understand, it's mostly enjoyed in the south and may or may not contain coconut milk.
Ca phe dua – Dua means "coconut" so this refers to coffee made with condensed and coconut milk. Served either hot or cold, I guess it's like a coconut bac xiu but made with more coffee and less milk. The popular Cong Ca Phe chain makes a type of frozen coconut coffee called ca phe cot dua. It's absolutely delicious, but more like a milkshake than coffee.
Ca phe sua chua – This refers to yogurt coffee, sua chua meaning "yogurt". I had a delicious frozen ca phe sua chua at Ca Phe Duy Tri in Hanoi, but I believe it can be served hot as well.
Ca phe muoi – Like ca phe trung, ca phe muoi is one of the more interesting coffee varieties in Vietnam. It means "salty coffee" and refers to coffee made with salt and fermented milk. It was invented by a cafe in Hue of the same name, so I'm not sure if it's available in any other city.
COFFEE LOVERS WALKING TOUR
UPDATE (7 JULY 2022): Backstreet Academy appears to have ceased operations till further notice.
The first three cafes on this list were from a fantastic coffee tasting tour I took with Backstreet Academy. It's led by Mai, a Vietnamese local who's lived in Hanoi for many years and knows this city like the back of her hand.
The coffeehouses she takes you to aren't the types of places tourists can easily find on their own. In fact, had it not been for her tour, then I probably would have walked by these cafes without giving them a second glance. They're virtually hidden in plain sight which seems to be a recurring theme for coffeehouses in Hanoi. Not only do these three cafes serve some of the best coffee in the city, but each has an interesting story to tell.
If you're looking for a good coffee tour in Hanoi, then you may want to check out this Coffee Lovers Walking Tour from Backstreet Academy. It costs USD 26 per person and lasts about three hours.
1. Cafe Dinh
Cafe Dinh was the first stop on the Coffee Lovers Walking Tour. It's located on the north side of Hoan Kiem Lake which is a popular tourist area. Many people probably walk by its entrance everyday without knowing that up a flight of stairs is one of Hanoi's most important cafes.
As you can see from the picture on the right, Cafe Dinh isn't the prettiest cafe. It resembles a typical local Vietnamese coffeehouse with its low stools and bare interior. But what it lacks in aesthetics it more than makes up for in history, and great coffee.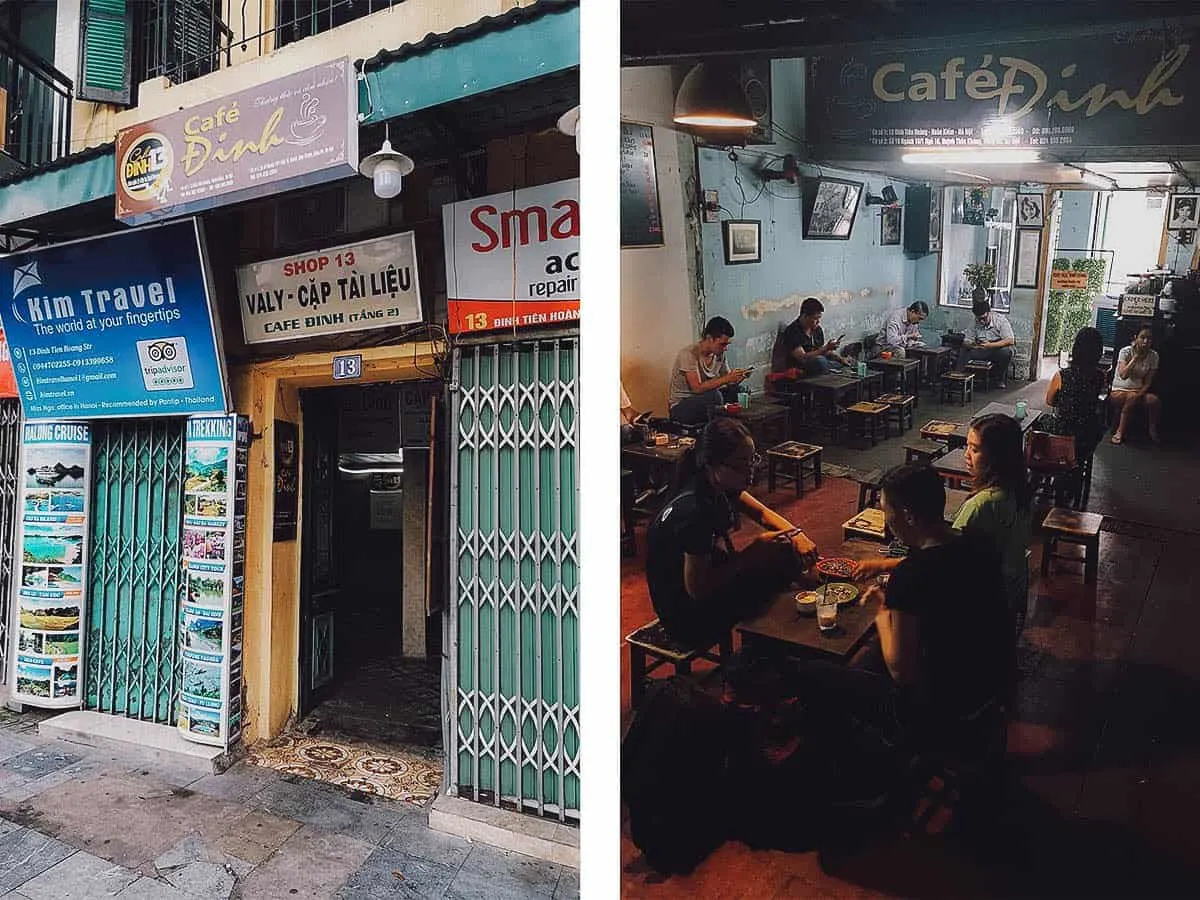 Cafe Dinh is owned by the same family as Cafe Giang, the coffeehouse credited for inventing ca phe trung or egg coffee. According to Mai, Chef Giang had many children. He entrusted the original Cafe Giang to one son while Cafe Dinh is owned and operated by another. If I'm not mistaken, he opened three branches, two under the Cafe Giang name and each run by a different son.
Many cafes today serve ca phe trung in Hanoi but the Giang family still serves the best. Mai explained that the original recipe is a well-guarded family secret.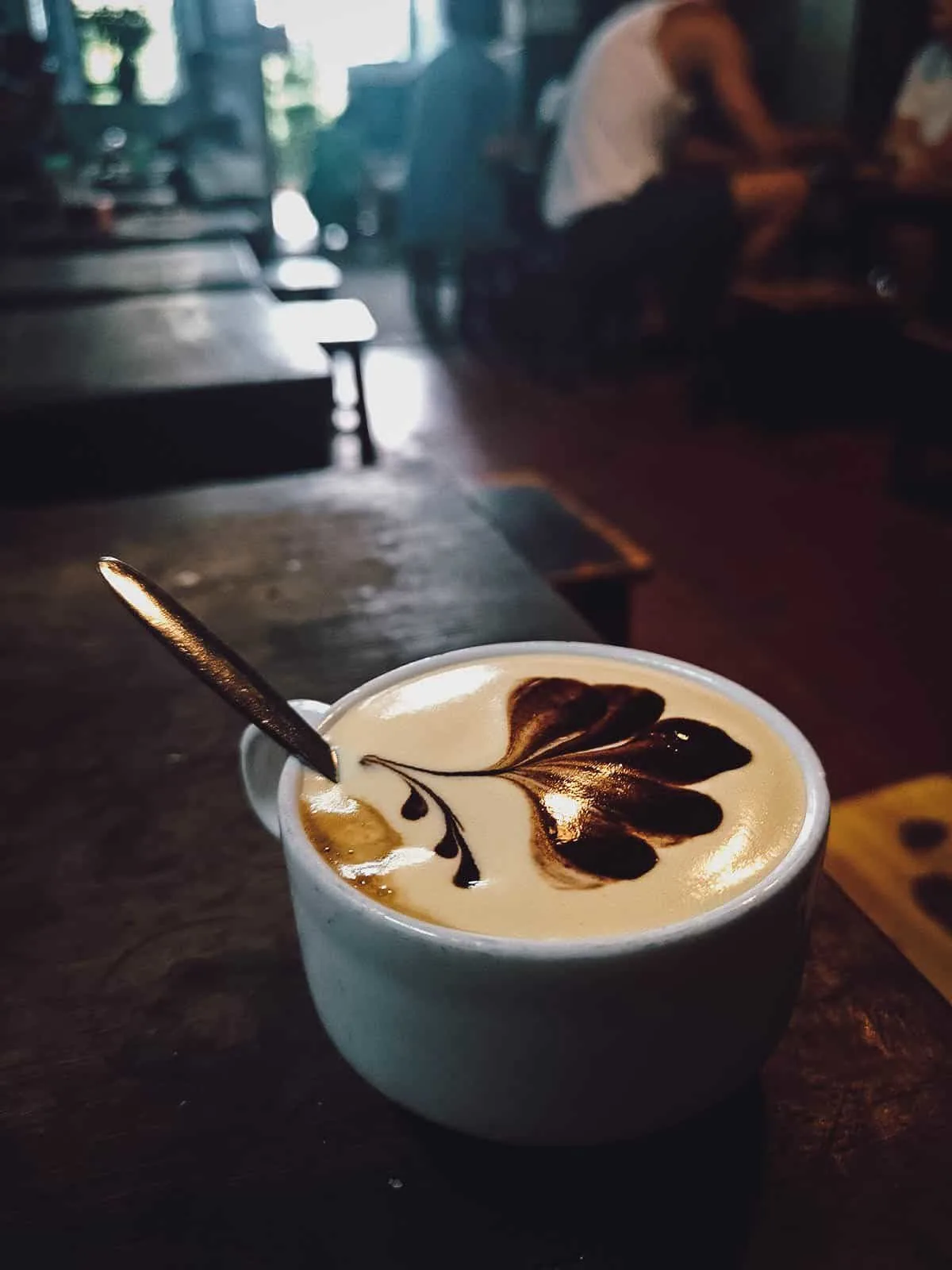 According to Mai, Chef Giang came up with the recipe for ca phe trung in the late 1940s while he was working at Hanoi's Sofitel Legend Metropole hotel. Fresh and condensed milk were scarce at the time, so he came up with the idea of using whisked egg yolks as a replacement.
He beat egg yolks with coffee and sugar then topped it with egg cream to create a rich and frothy coffee drink. Today, it's become almost a symbol of Hanoi and something every first-time visitor to the city must try.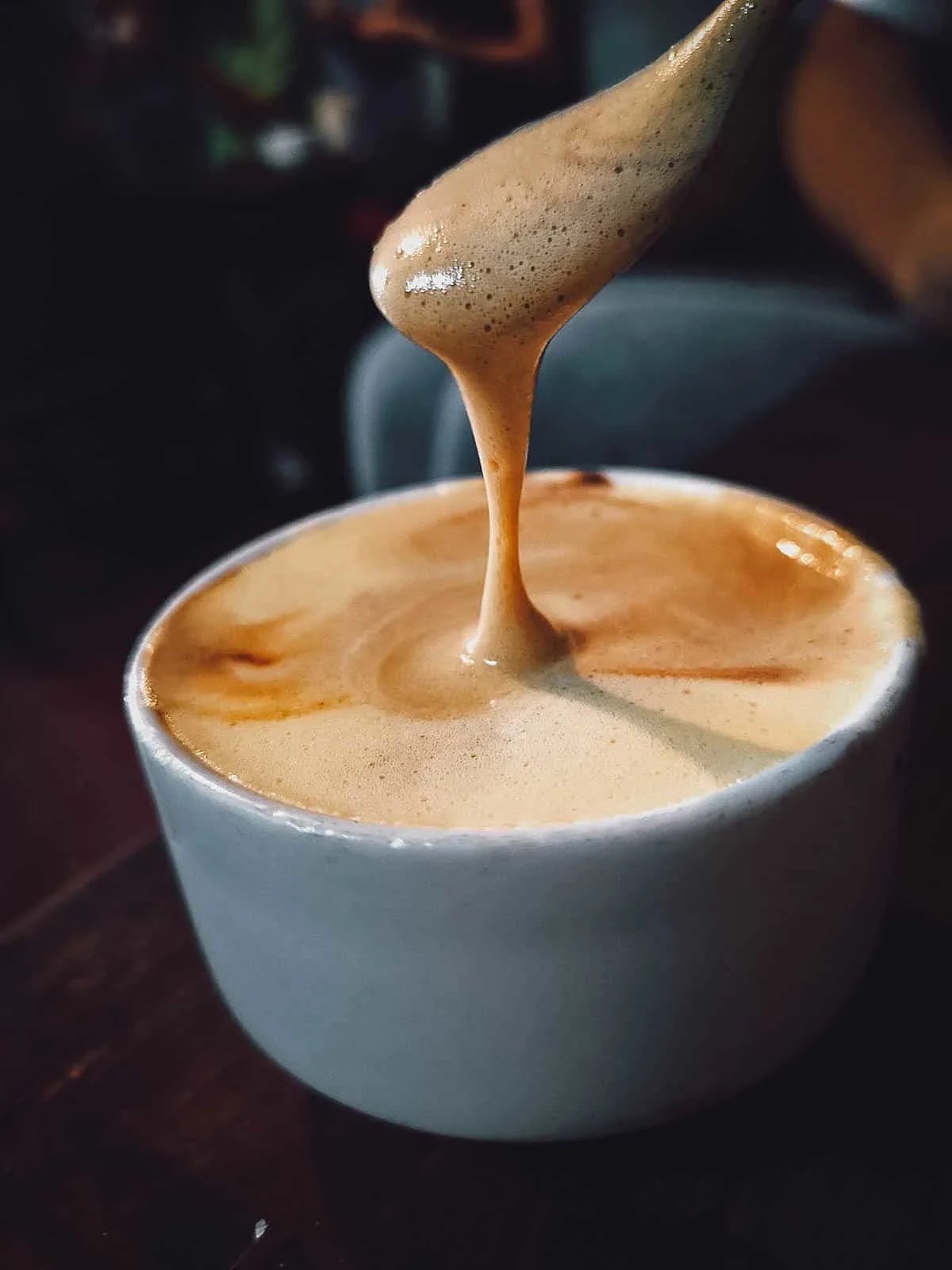 Cafe Dinh
Address: 13 Đinh Tiên Hoàng, Hàng Trống, Hoàn Kiếm, Hà Nội, Vietnam
Operating Hours: 7AM-9:30PM, daily
2. Loading T Cafe
A short walk from Cafe Dinh is Loading T Cafe, a much prettier coffeehouse on the second floor of this French colonial building. It doesn't have the backstory of Cafe Dinh but it does offer something interesting and unique.
I remember this building well from our first trip to Hanoi in 2017. The building is so pretty I even took a picture of Ren in front of it! But I had no idea that it had a cafe inside. This is what makes the coffeehouse scene in Hanoi so interesting.
There are many of these hidden secret cafes at the ends of alleyways or on the second floor of crumbling buildings, with barely any clues to their existence from the street. When you find one, it makes you feel like you've discovered something remarkable.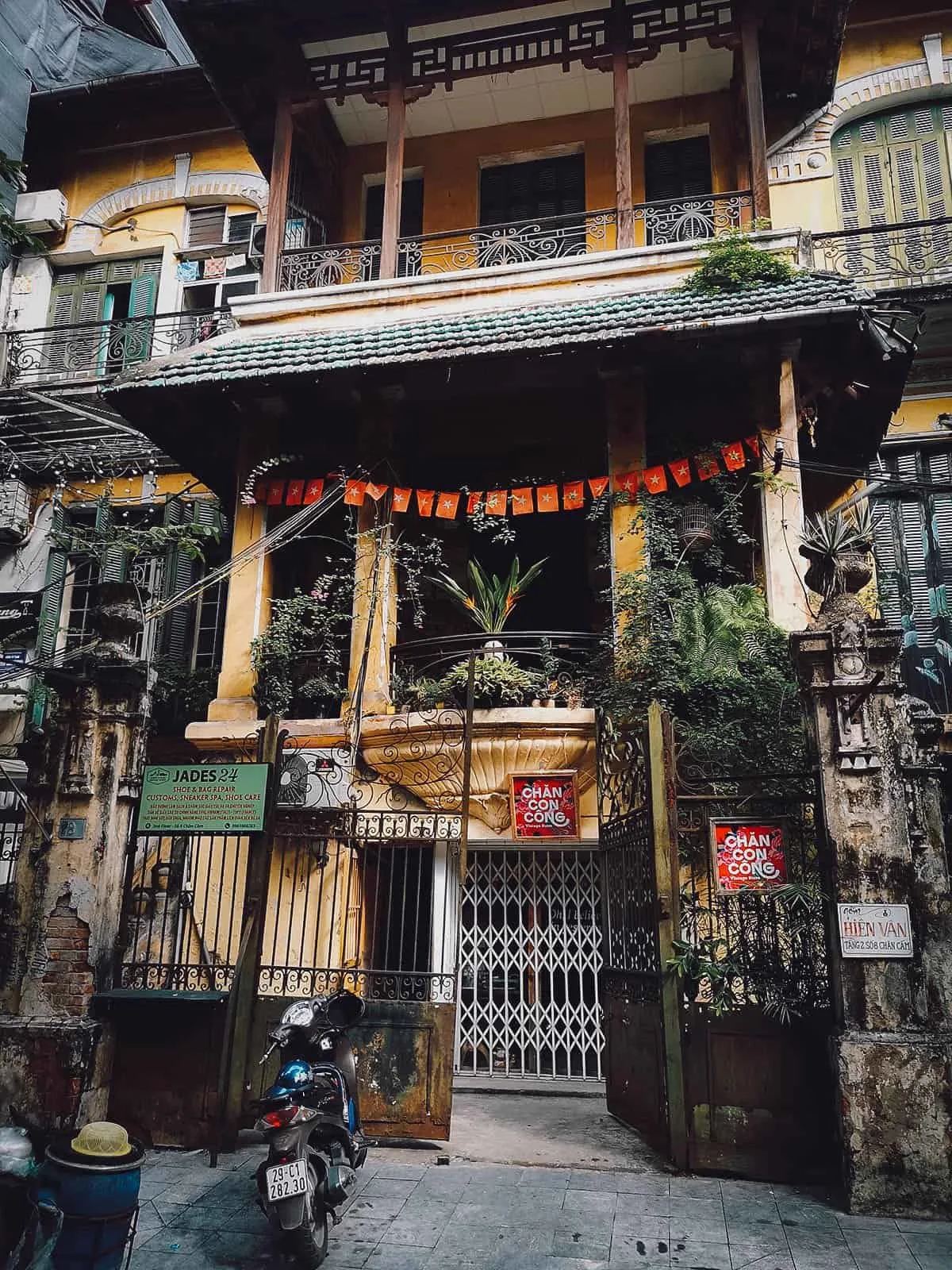 There are several shops and boutiques in this building. Loading T Cafe is through this main door and to the left.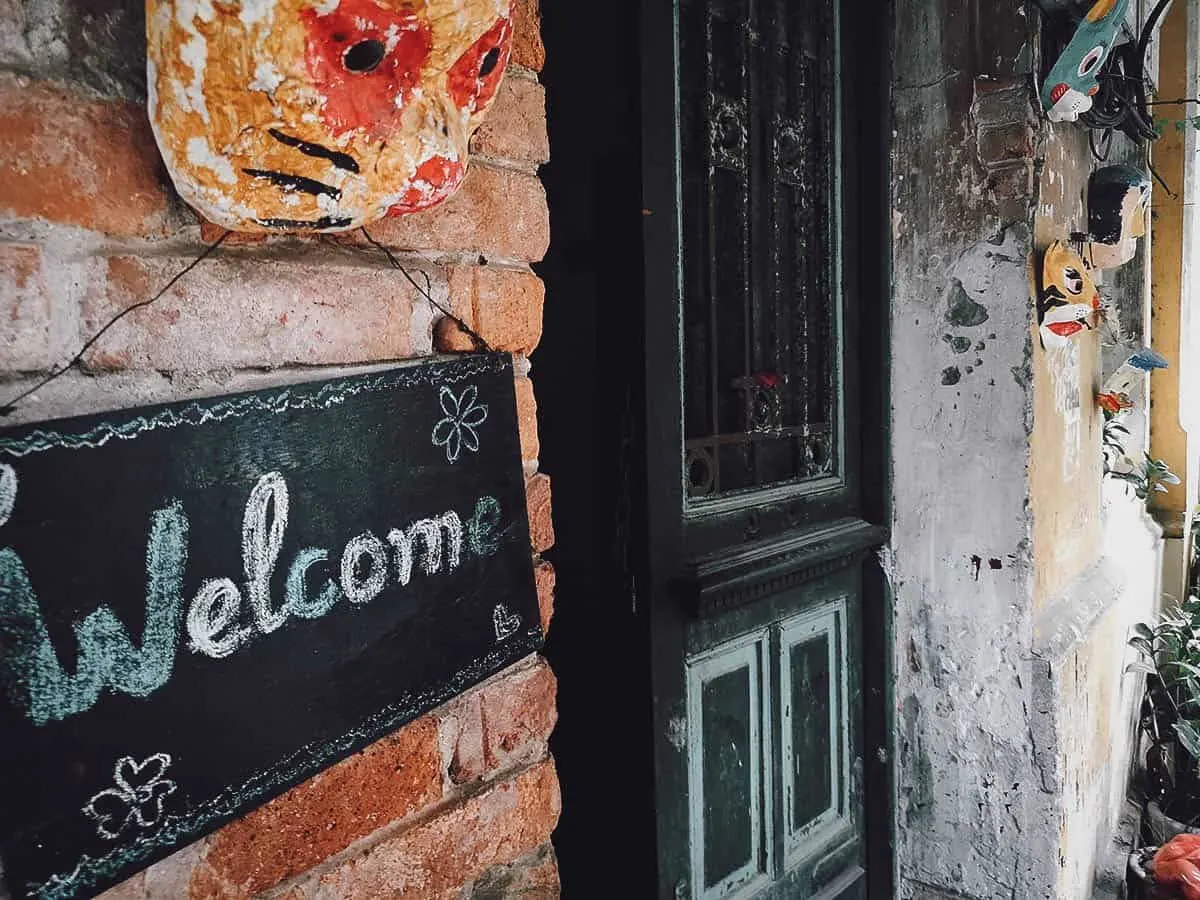 Like I said, this place is a lot cuter than Cafe Dinh. Definitely worthy of your Instagram feed!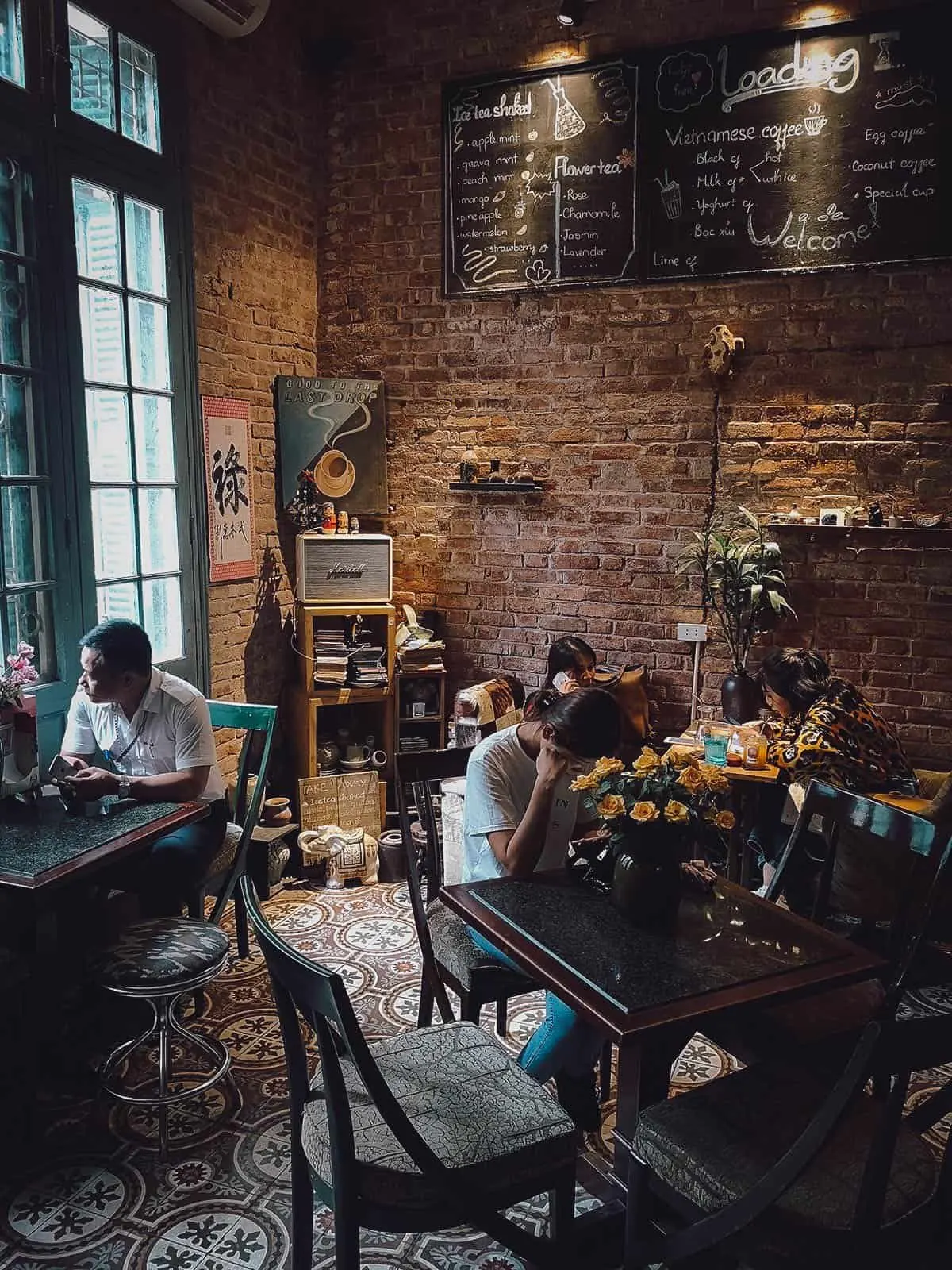 As described, Loading T Cafe is known for something unique. Mai ordered me this cup of black coffee and challenged me to guess what its secret ingredient was. I took a whiff and smelled cinnamon, but I couldn't taste it. I told Mai I wanted to say cinnamon, but I wasn't sure.
She confirmed that the secret ingredient was indeed cinnamon, but it wasn't used in the typical way. Instead of adding cinnamon powder to the coffee, this place roasts cinnamon sticks with the coffee beans. This unique process imparts the beans with the aroma of cinnamon with just a hint of its flavor. Interesting!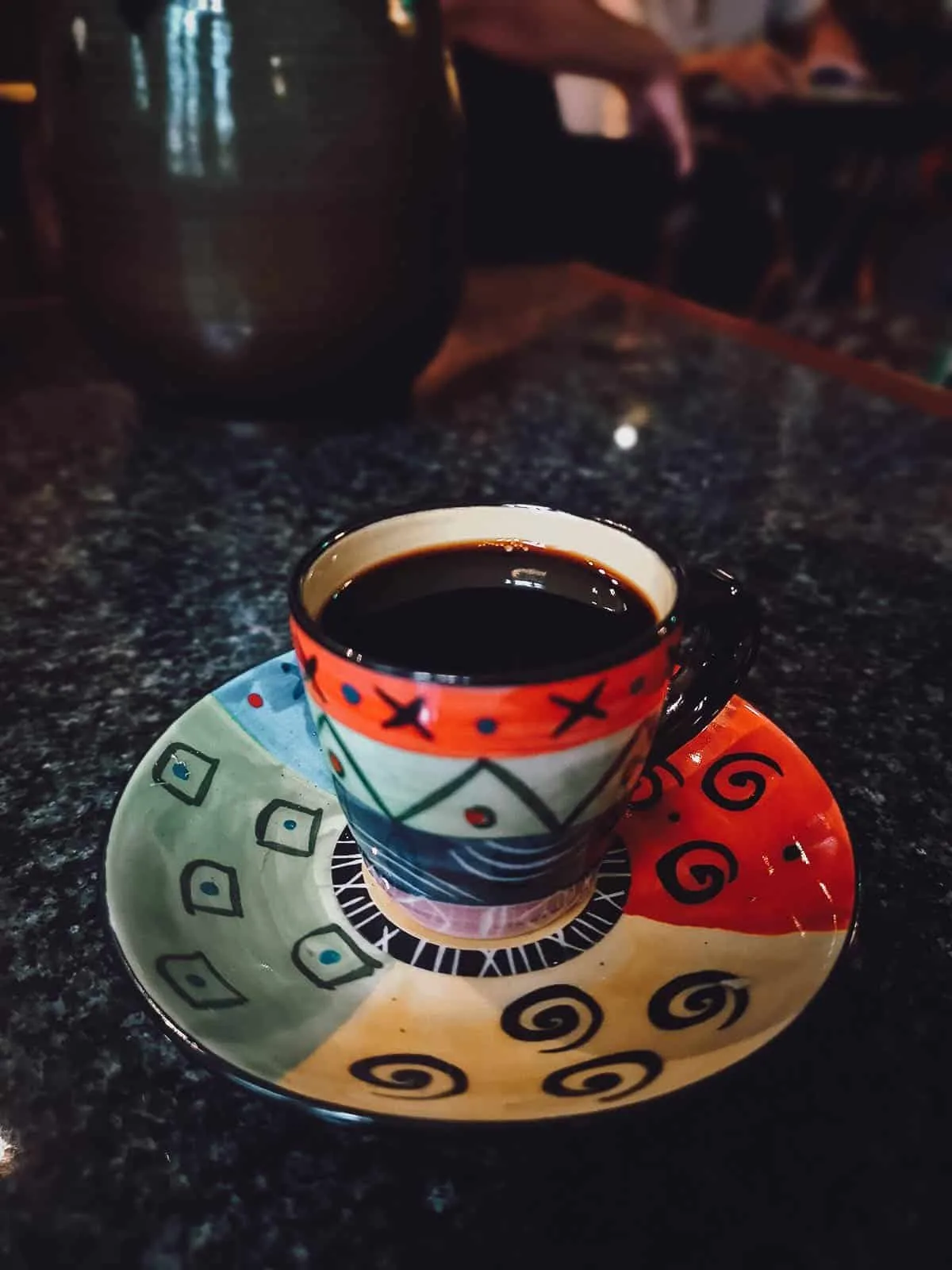 Loading T Cafe
Address: 8 Chân Cầm, Hàng Trống, Hoàn Kiếm, Hà Nội, Vietnam
Operating Hours: 8AM-10PM, daily
3. Ca Phe Duy Tri
Unlike the first two, Ca Phe Duy Tri isn't hidden in plain sight but it's located about 3 km north of the Old Quarter, in an area that isn't frequented by tourists. Among the three stops on this coffee tasting tour, this is probably the cafe you're least likely to visit on your own.
As you can see from the sign, they've been open since 1936 and are known for two types of coffee. So popular is this place among locals that my guide from a different tour – a Hanoi market and street food tour – tried to take me here the very next day.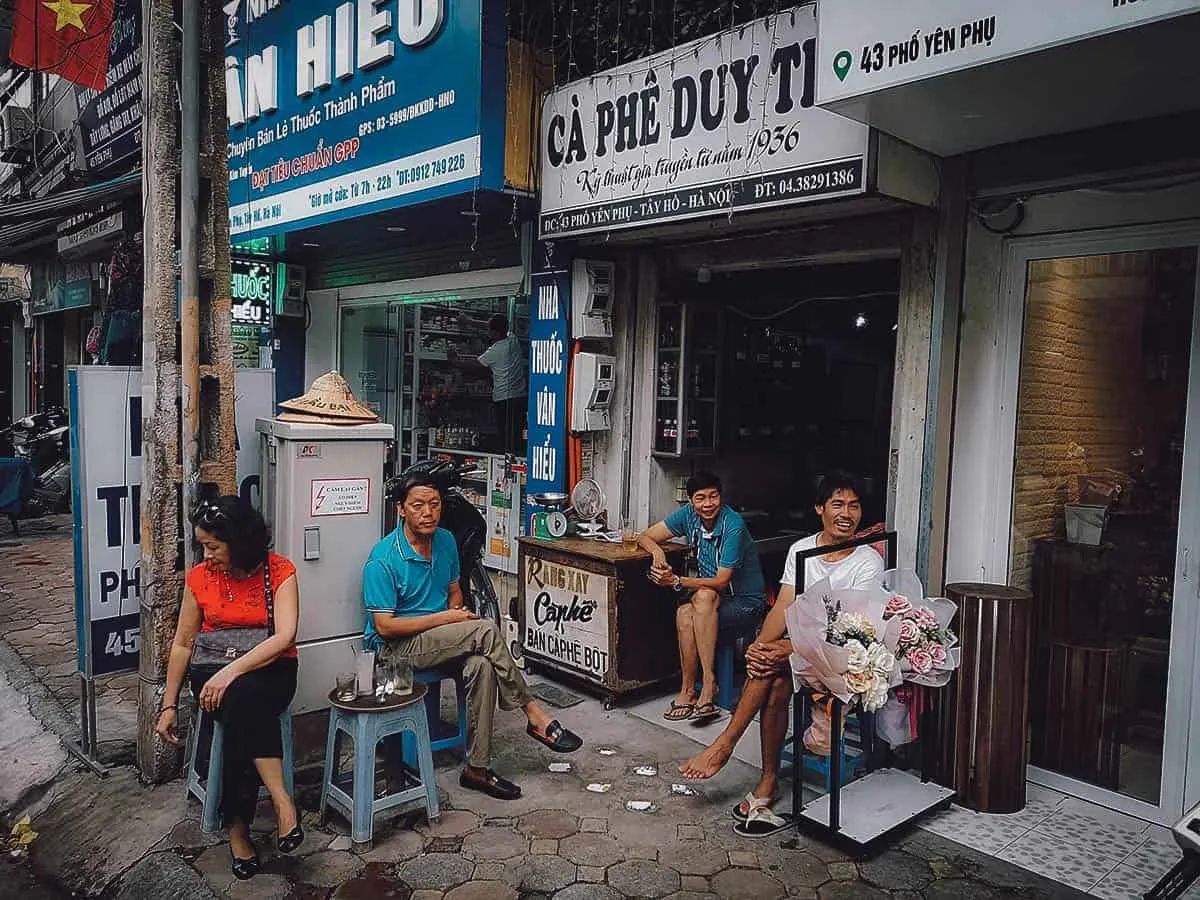 Ca Phe Duy Tri makes coffee blends from Robusta, Arabica, and Moka coffee beans. Moka is a type of Arabica bean known as Arabica Bourbon. It's the most expensive of the three and was introduced by the French to cater to the high class. Coffee made from this bean is what Mai had me try here today.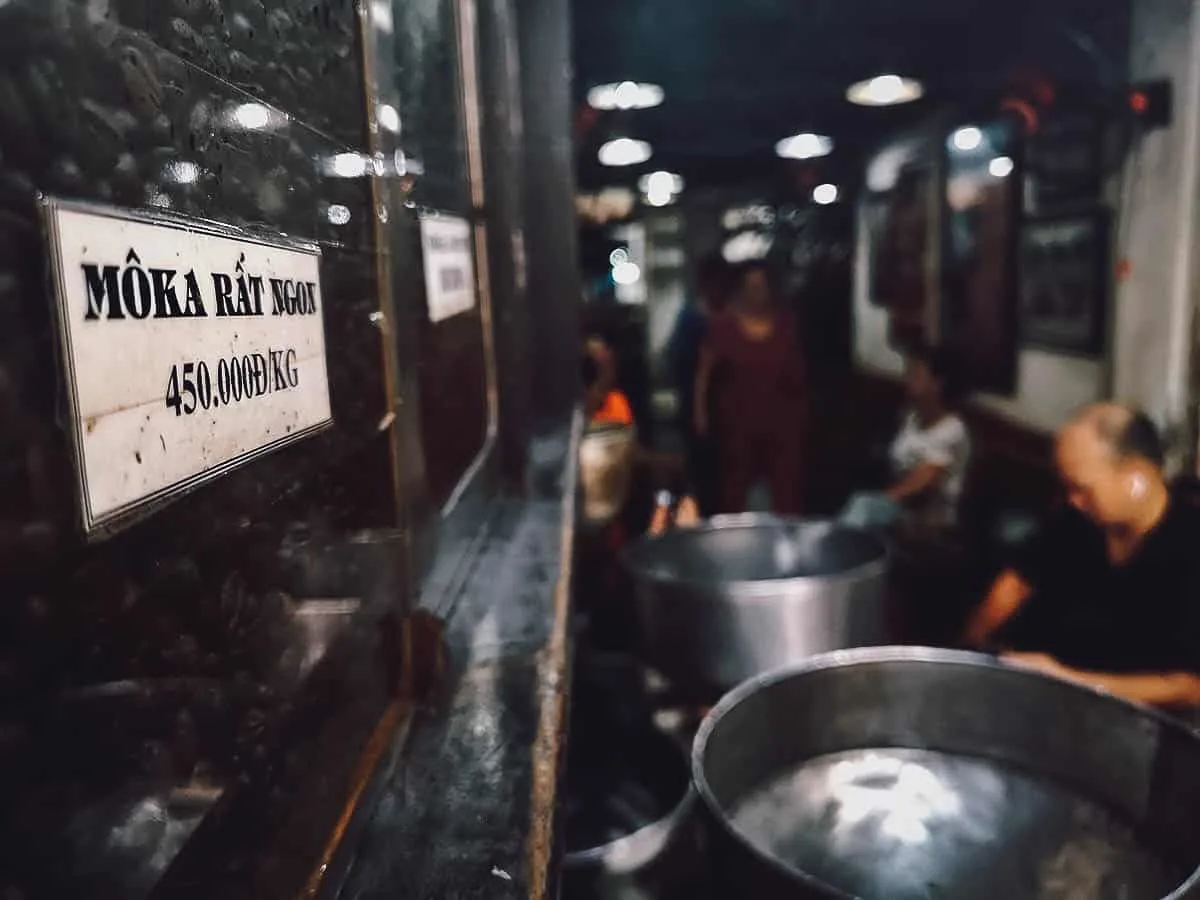 Like Cafe Dinh, what Ca Phe Duy Tri lacks in ambiance it more than makes up for in authenticity and history, not to mention some of the best coffee in the city.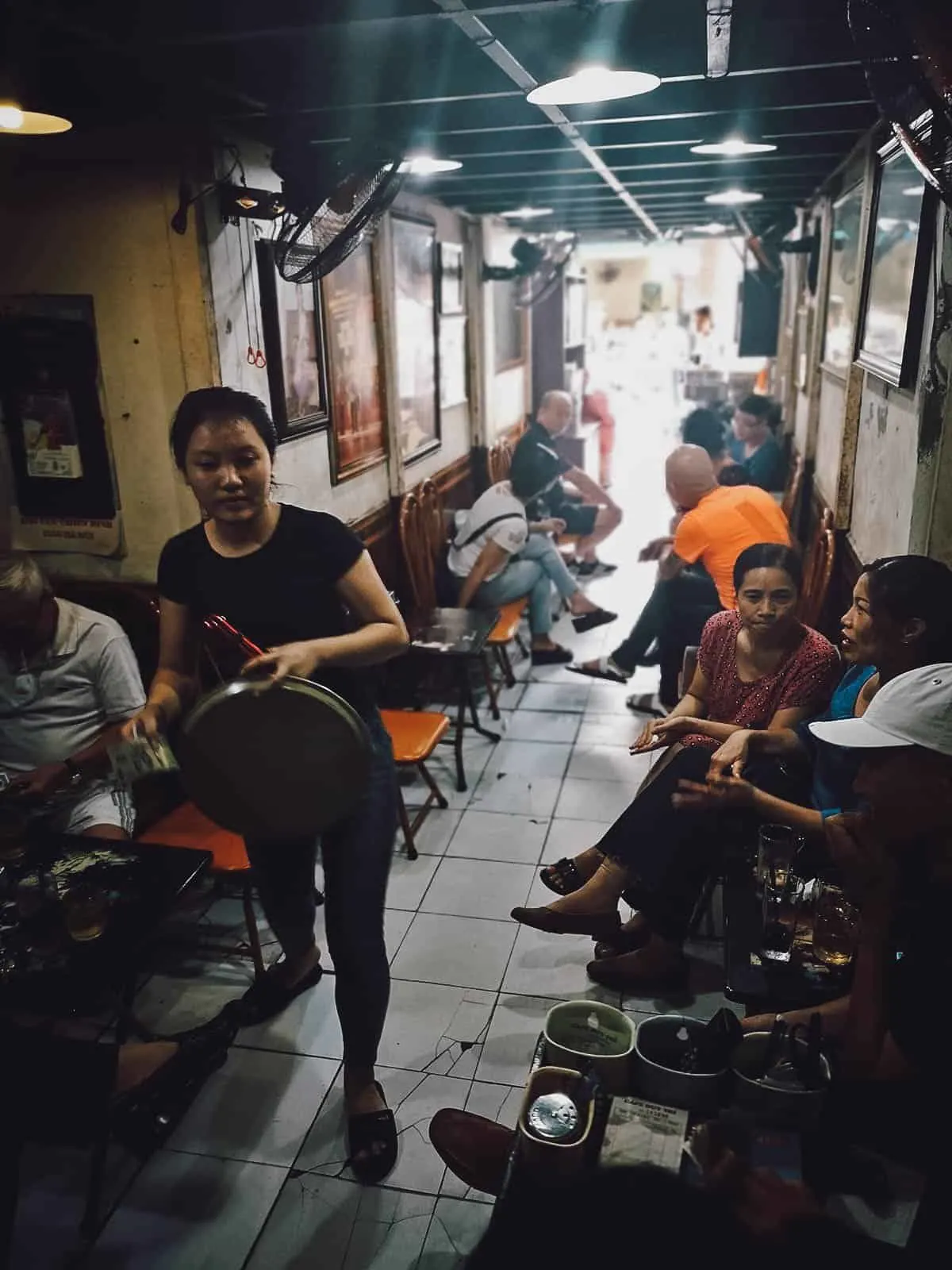 The first type of coffee Mai had me try was this ca phe sua chua or yogurt coffee. According to her, no one else in the city makes it quite like this place. If I remember correctly, they make their yogurt in-house which makes all the difference. Reminiscent of a slushie, it was creamy, a little tart, and very refreshing.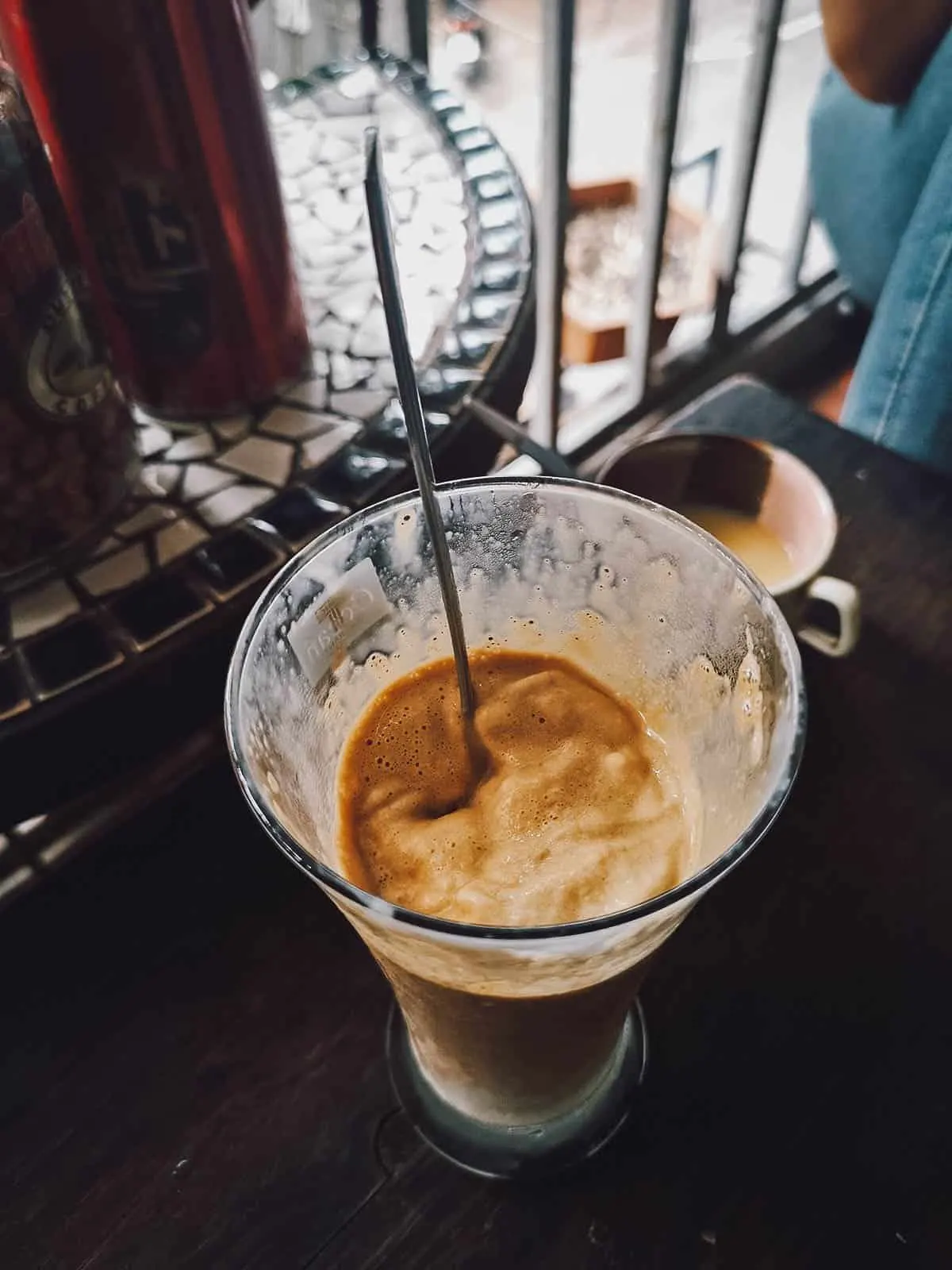 Their ca phe sua chua was delicious but what I found most interesting was their black coffee or ca phe den. Most cafes filter their coffee using a phin like this one, but what sets this place apart is how long they spend doing it. They filter their coffee so slowly it can take a good twenty minutes to produce one serving!
According to Mai, the owner of Ca Phe Duy Tri is a connoisseur who takes pride in her coffee. Aside from using only the best beans, she's devised a method of filtering the coffee to maximize its flavor. She first wets the coffee grinds to remove any air pockets. That way any droplet of water seeping through becomes fully imbued with the coffee's flavor.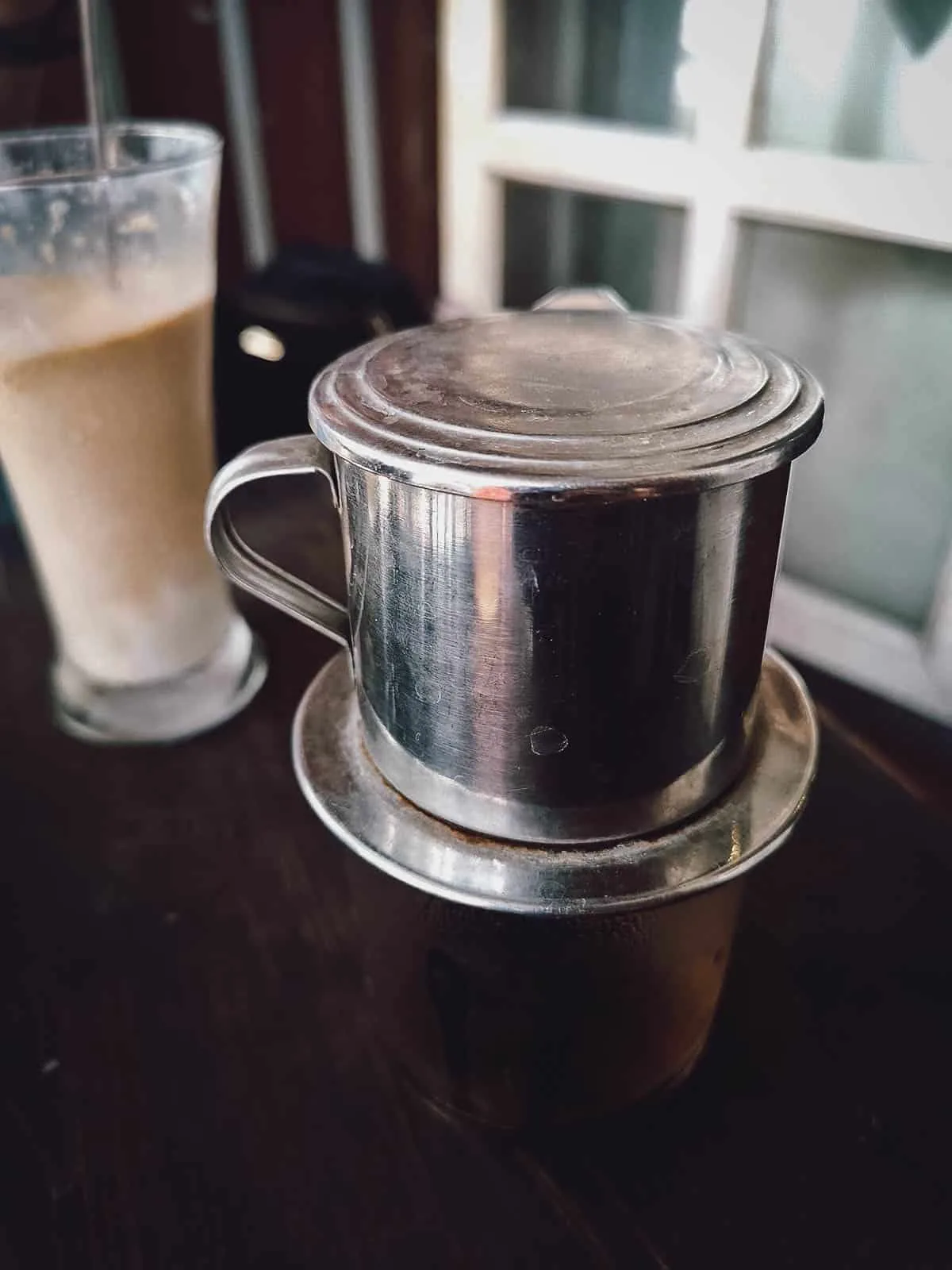 She only pours a thin layer of water into the phin each time, about 2-3 mm, allowing it to filter completely through before pouring in the next. It's a time-consuming process so you'll need to have enough free time if you plan on having coffee here.
And don't think you can fast-track your way to a full cup of coffee either. She lets Mai do the filtering process herself for the purpose of this tour, but otherwise, it's all done by the staff in the back to ensure no one cheats and does it incorrectly.
I'm not an expert but the results speak for themselves. This was one of the most robust, most full-bodied cups of coffee I had in Vietnam. It was exceptional.
To be honest, I was a bit disappointed when I found out we'd be visiting only three cafes on this tour. Then I remembered we'd be having coffee, not Vietnamese street food. Vietnamese coffee is strong so my head was buzzing after four servings of coffee. Three stops in three hours is just right. Again, anyone interested can book this same tour on Backstreet Academy.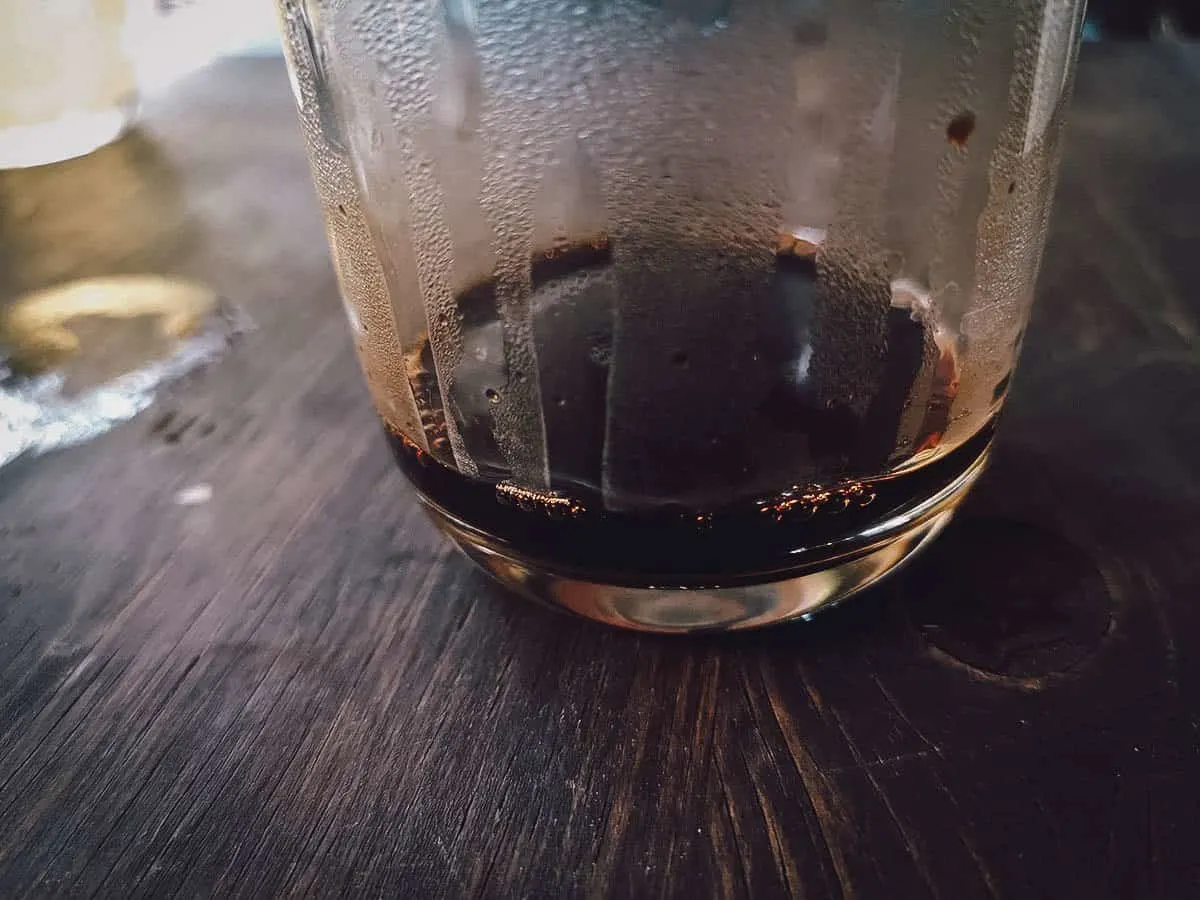 Ca Phe Duy Tri
Address: 43A Phố Yên Phụ, Yên Phụ, Tây Hồ, Hà Nội, Vietnam
Operating Hours: 7AM-10:30PM, daily
ON LEGENDS, CUTE CAFES, & HIDDEN GEMS
To be honest, I love coffee but I wasn't planning on visiting this many cafes during my trip. But the Coffee Lovers Walking Tour turned me on to the idea. The coffee in this country is just too good not to examine more closely. I wound up visiting at least two or three coffeehouses a day not just in Hanoi, but throughout my stay in Vietnam.
Listed below are ten more interesting cafes in the nation's capital to spruce up your Instagram feed. To help you find them, I've pinned them all on the map at the bottom of this post.
4. Cong Ca Phe
Cong Ca Phe is one of the most successful homegrown coffeehouse chains in Vietnam. They have one or more branches in virtually every major city in the country. I usually don't go for these types of places but Cong Ca Phe turned out to be one of my favorite cafes in Vietnam. Their interiors are cute and their coffee is always good. Plus their wifi is fast so it's a great place to get some work done.
I had ca phe den at this branch, but Cong Ca Phe is known for their ca phe cot dua which is like a frozen coconut coffee slushie. It's more like a milkshake than coffee but it's seriously delicious and something I enjoyed more than once in Vietnam. It's a great way to beat the heat so be sure to try one on your visit.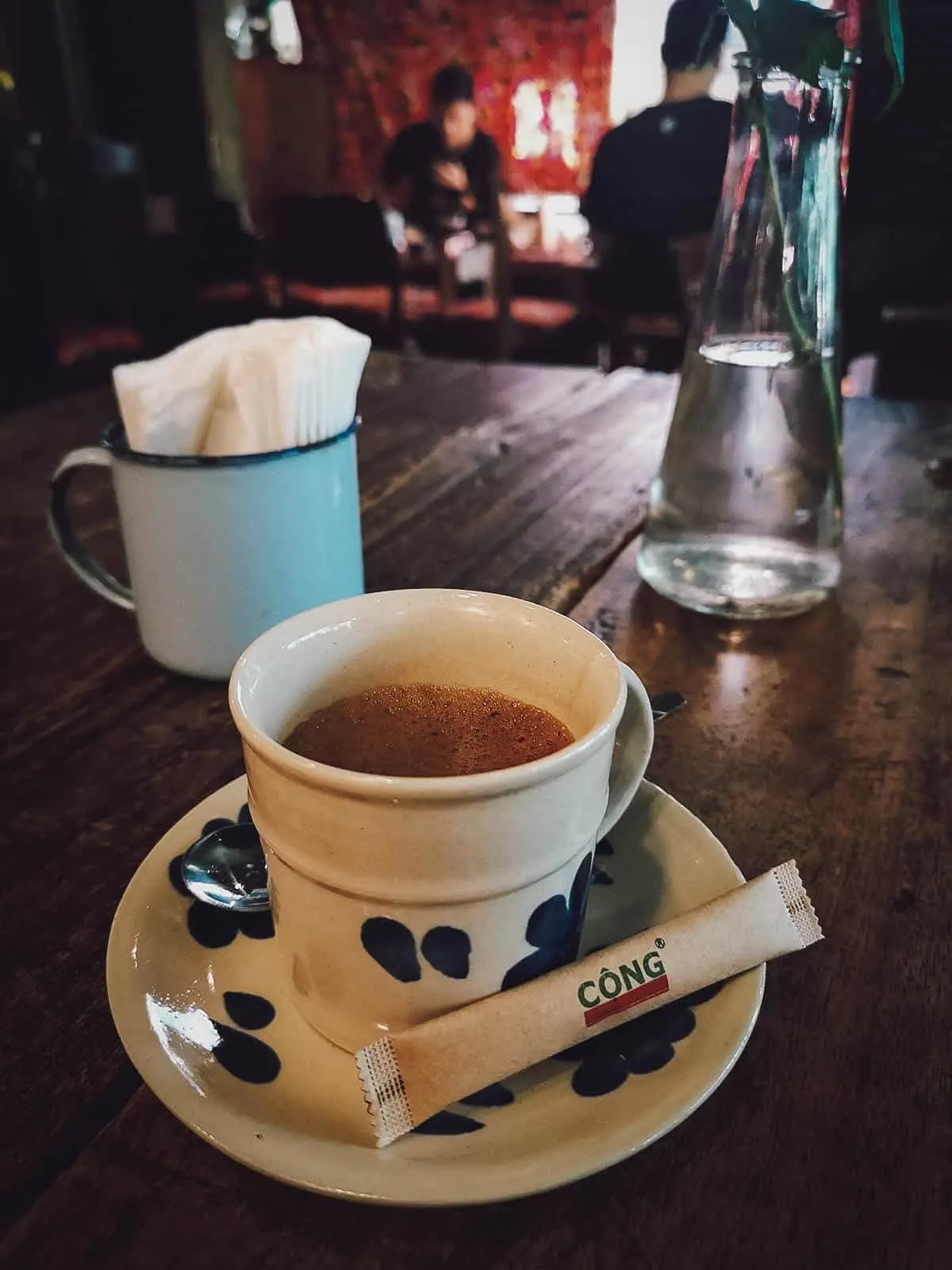 I love the branding at Cong Ca Phe. It's a Viet-Cong-inspired chain of cafes so it has an interesting well-though-out communist theme. Every branch is consistent in feel so you always know what to expect, which is comforting.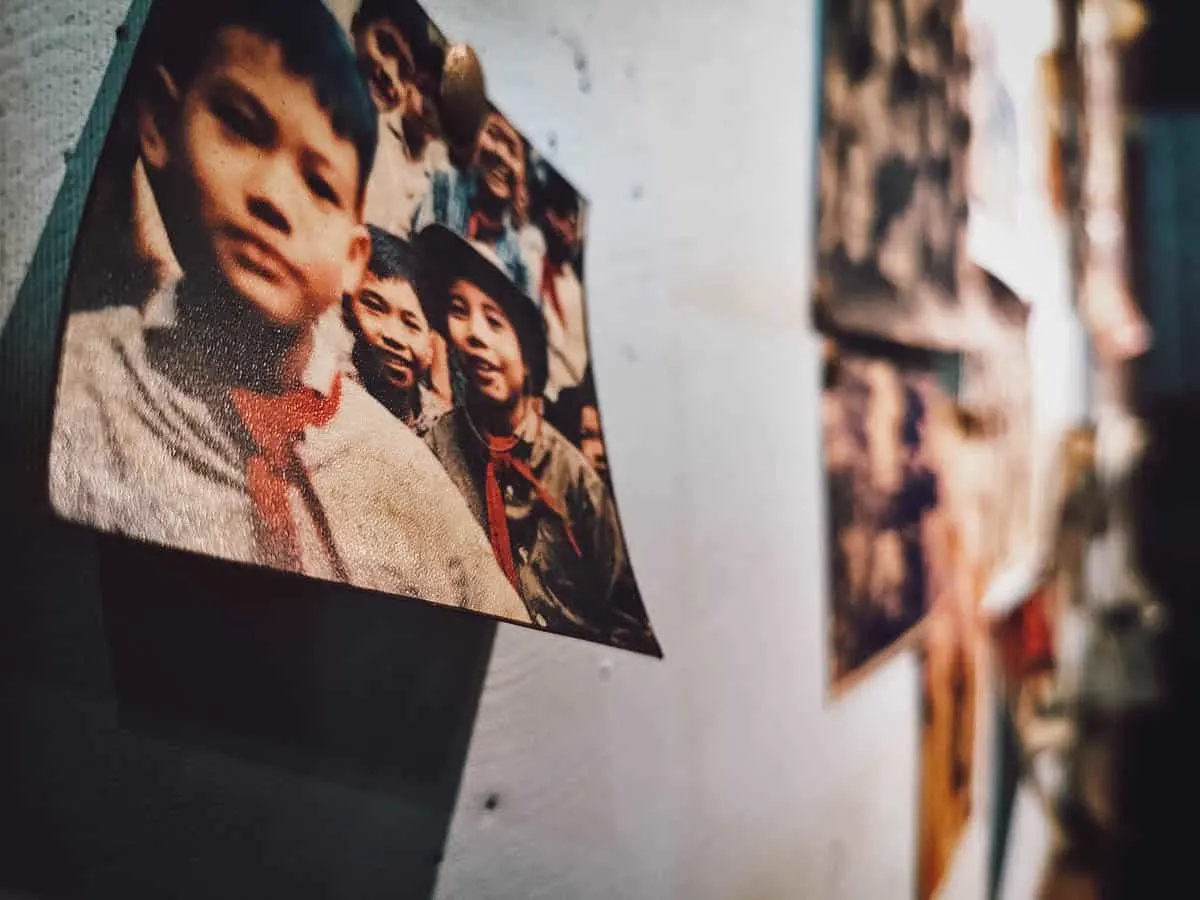 Cong Ca Phe
Address: Cong Ca Phe currently has 26 branches in Hanoi.
Operating Hours: Varies per branch
5. Tang Tret Cosmo Cafe
I learned about Tang Tret Cosmo Cafe and a few others places on this list from sillylittlekiwi.com (thank you!). She described having a cup of coffee here after visiting the Temple of Literature, so I did the same.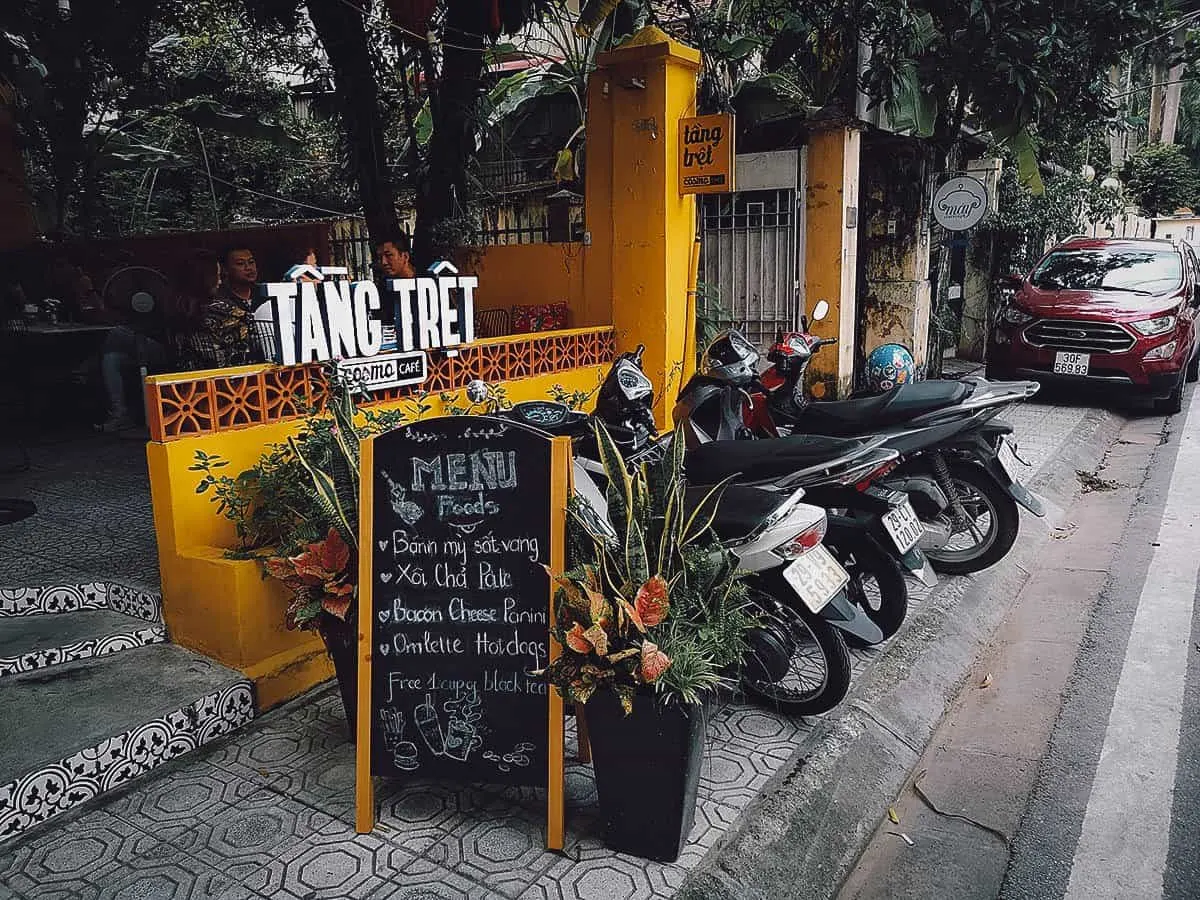 I was sweaty and parched after walking all day so I ordered an iced ca phe nau and a mango yogurt smoothie, both of which coincidentally matched the color scheme of the cafe. Tang Tret Cosmo Cafe is a cute and comfortable space with air-conditioning and fast wifi, making it a great place to relax and do work.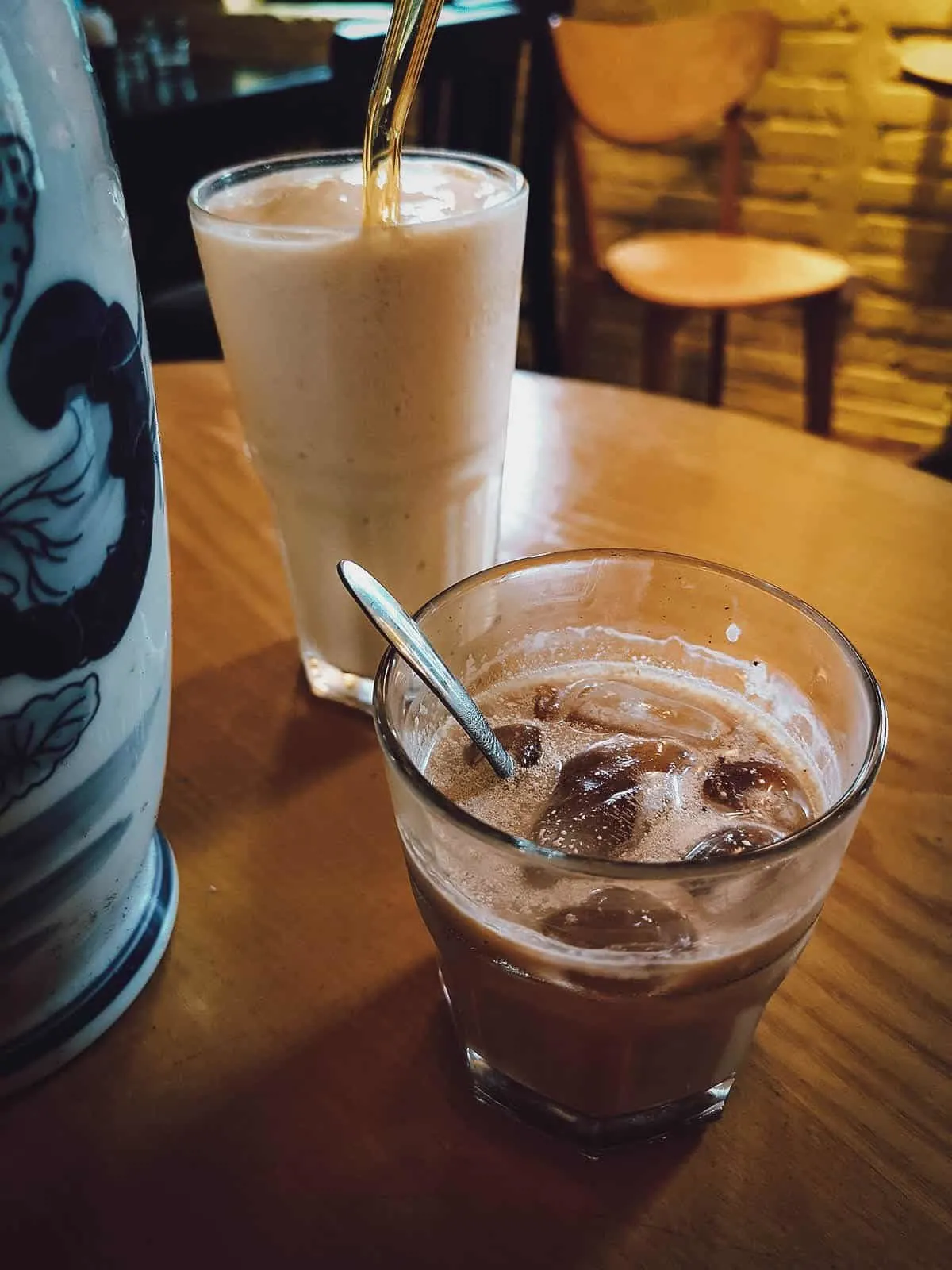 Tang Tret Cosmo Cafe
Address: 10 Khúc Hạo, Điện Bàn, Ba Đình, Hà Nội, Vietnam
Operating Hours: 8AM-10:30PM, daily
This was one of my favorite cafes in Hanoi. Not only was the space beautiful and the coffee delicious, but I found it on my own which made me feel like I discovered something cool and new.
Hidden Gem Coffee is a lovely coffeehouse that truly lives up to its name. Can you spot the entrance to the cafe in this picture? I walked past it twice before seeing it. As described, many coffeehouses in Hanoi are hidden in plain sight like this.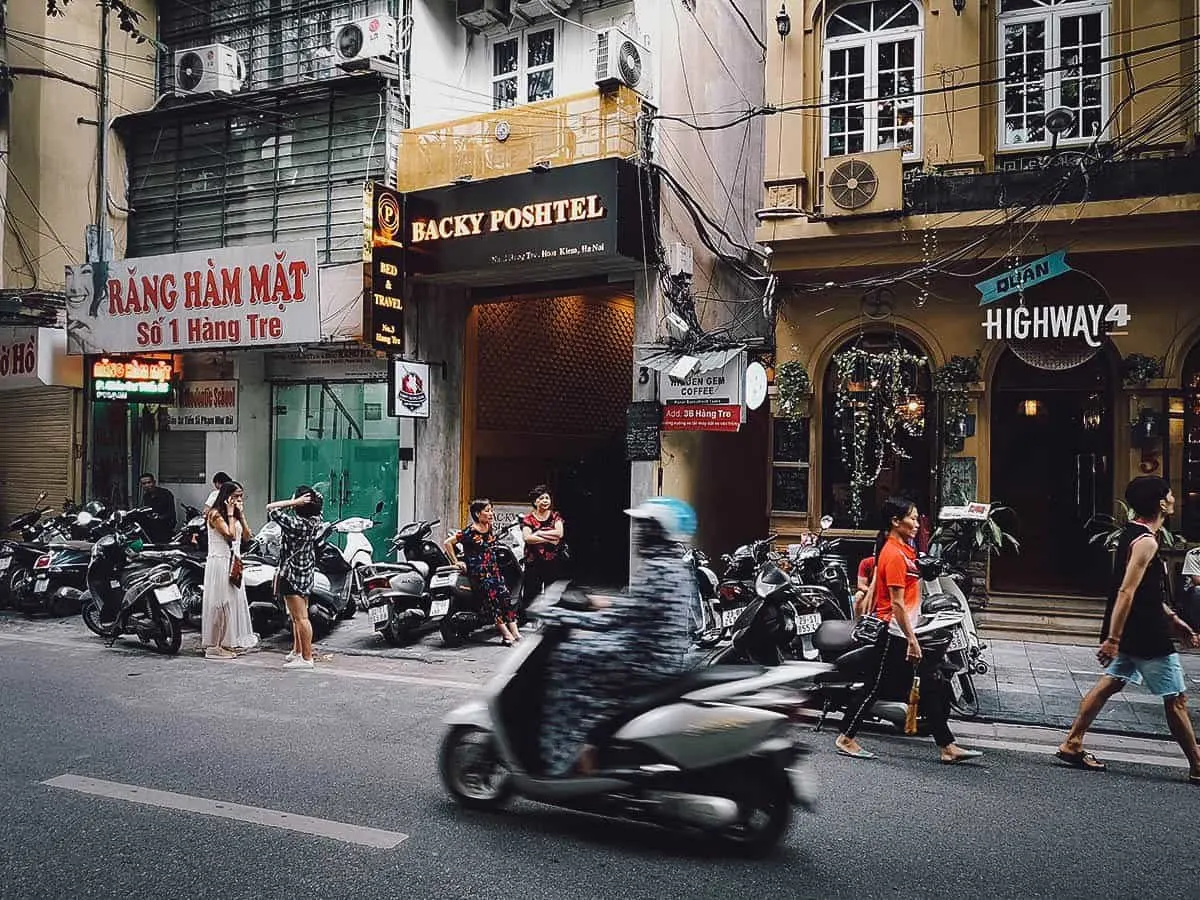 Go through the alleyway and up a flight of stairs and you'll find this texture-rich seating area on the second floor. Check out the table made from a repurposed tractor.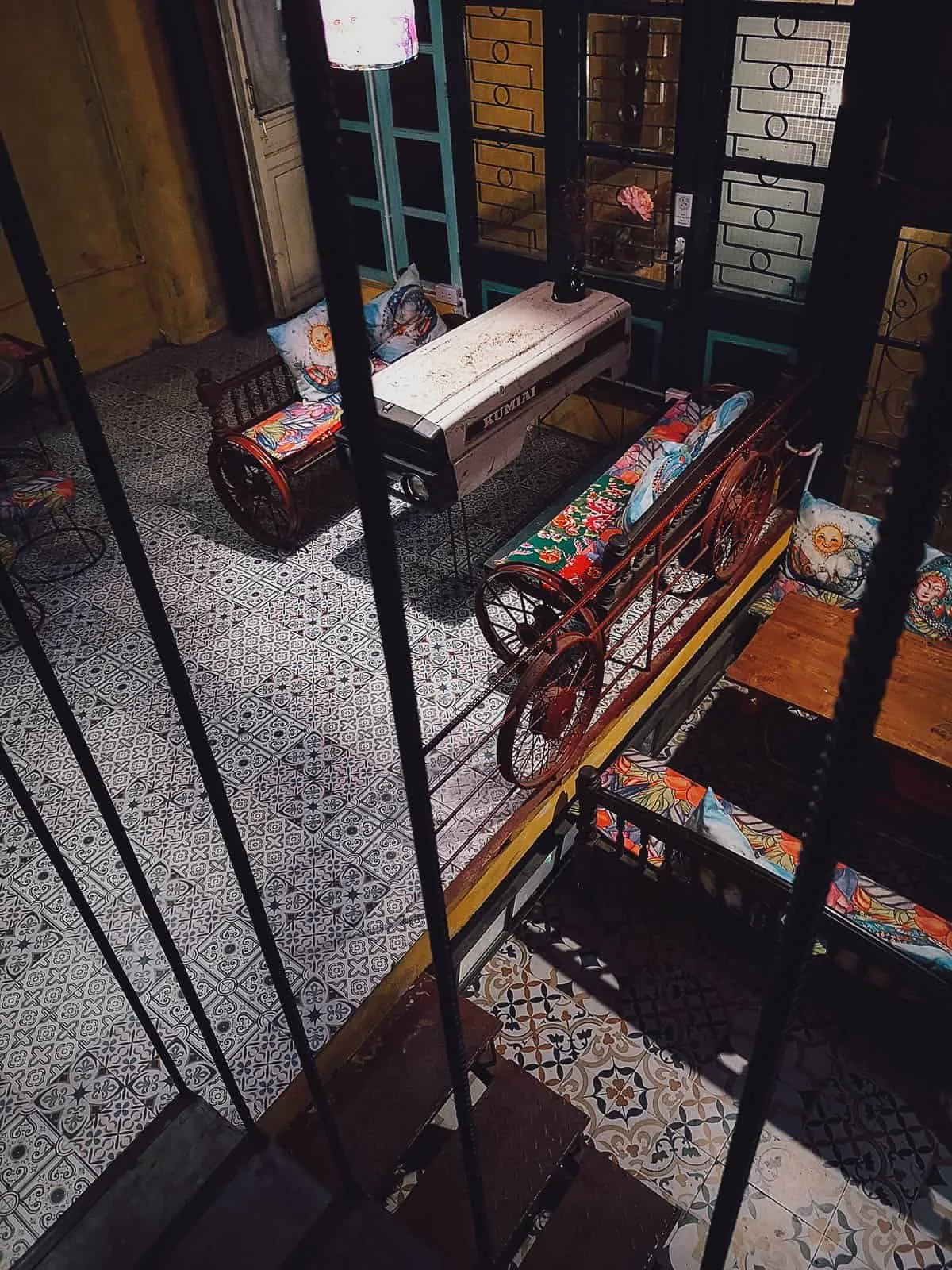 Walk up to the top and you'll find this covered roof deck with murals and a balcony overlooking the floor below. This was such a cool and refreshing space to be in!
I asked the server what their specialty was and she recommended the ca phe trung. It was delicious. I really enjoyed just sitting up here with my coffee and whiling away the time.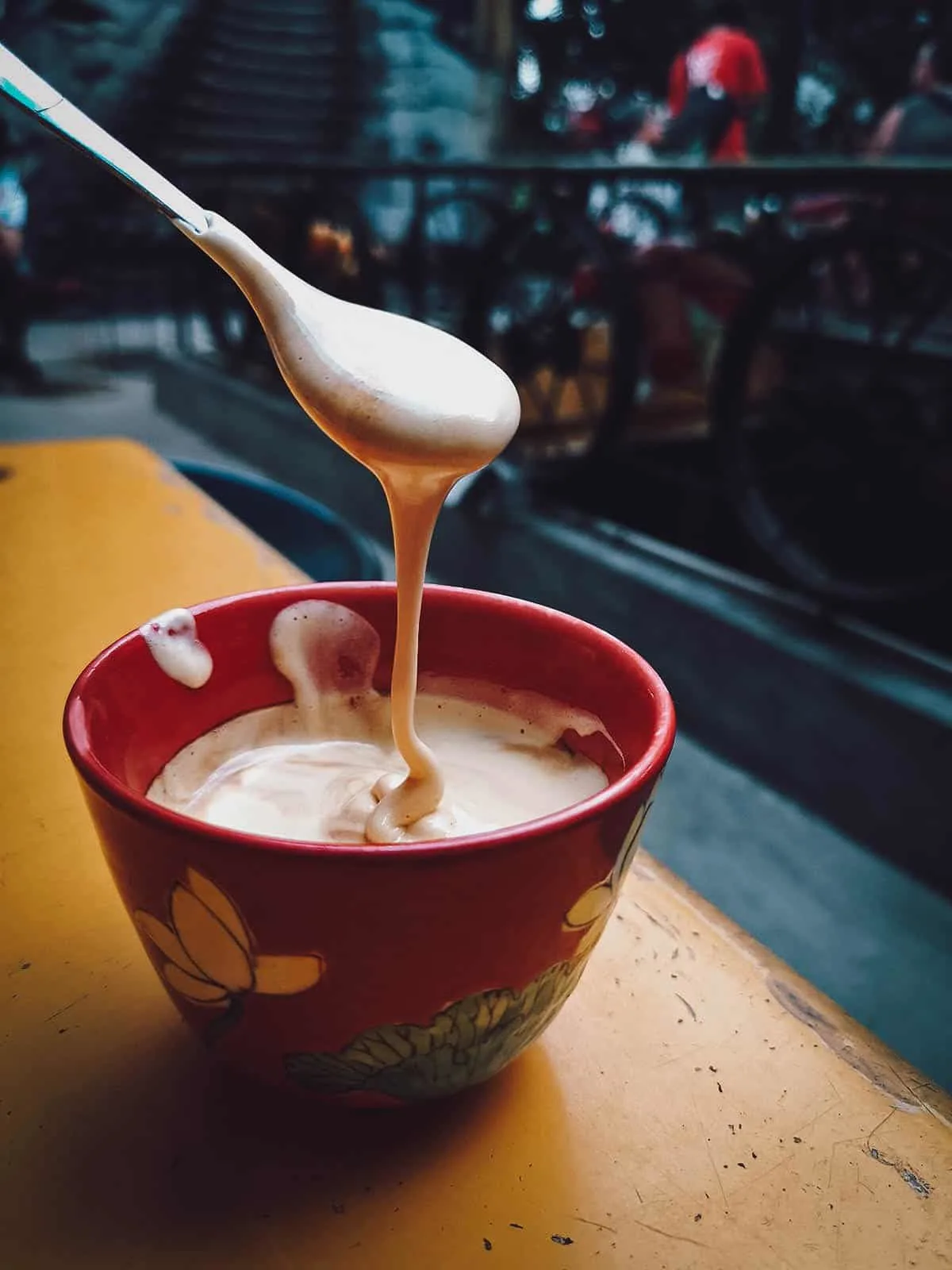 Hidden Gem Coffee
Address: 3B Hàng Tre (in the alley – trong ngõ Hà Nội Hanoi City, Vietnam
Operating Hours: 8AM-11PM, daily
7. The Railway Hanoi (Choo Choo Cafe) – CLOSED
Without realizing it, I was lucky to book a homestay one street away from Hanoi's famous railroad tracks, the one that cuts through a narrow space with occupied buildings on either side. I had to cross the rails to get to the Old Quarter everyday so I'd walk along Tran Phu, a street that intersected Train Street.
There are cafes and boutiques on either side of Train Street with loads of tourists taking selfies along the tracks. The section of Train Street just north of Tran Phu is considerably busier than the area to the south. The Railway Hanoi or Choo Choo Cafe is located south of Tran Phu, along a quieter section of Train Street.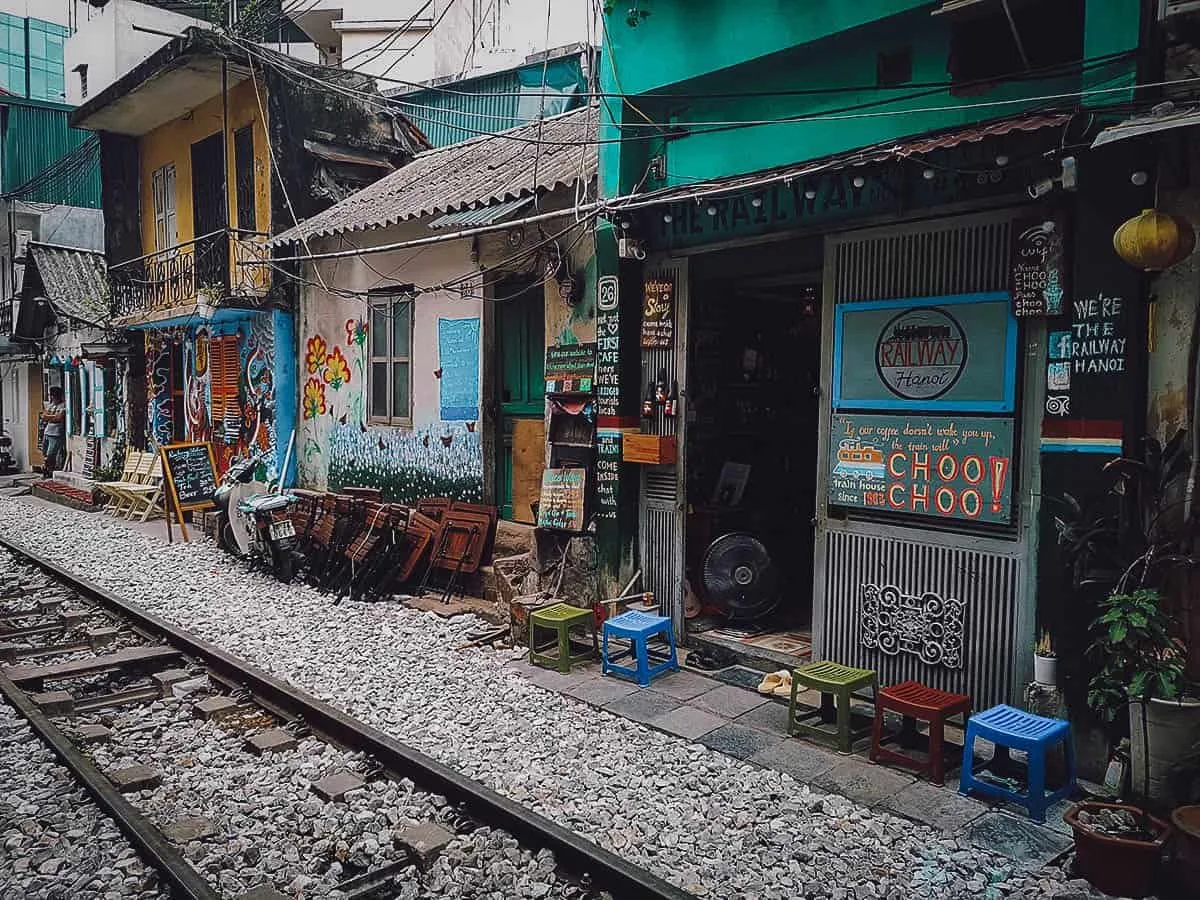 What makes Train Street a favorite spot for Instagrammers isn't the tracks or cafes themselves, but the fact that trains still run through here several times a day! I never stuck around to watch a train go by, but they do operate on a schedule so you can plan on being here when the next one barrels through just inches from your ca phe.
This is just my observation, but I'm guessing the real estate along the tracks didn't have the highest value before Instagram came along. Now it's one of the most popular areas in Hanoi with plenty of commercial spaces opening up on either side. Amazing what social media can do.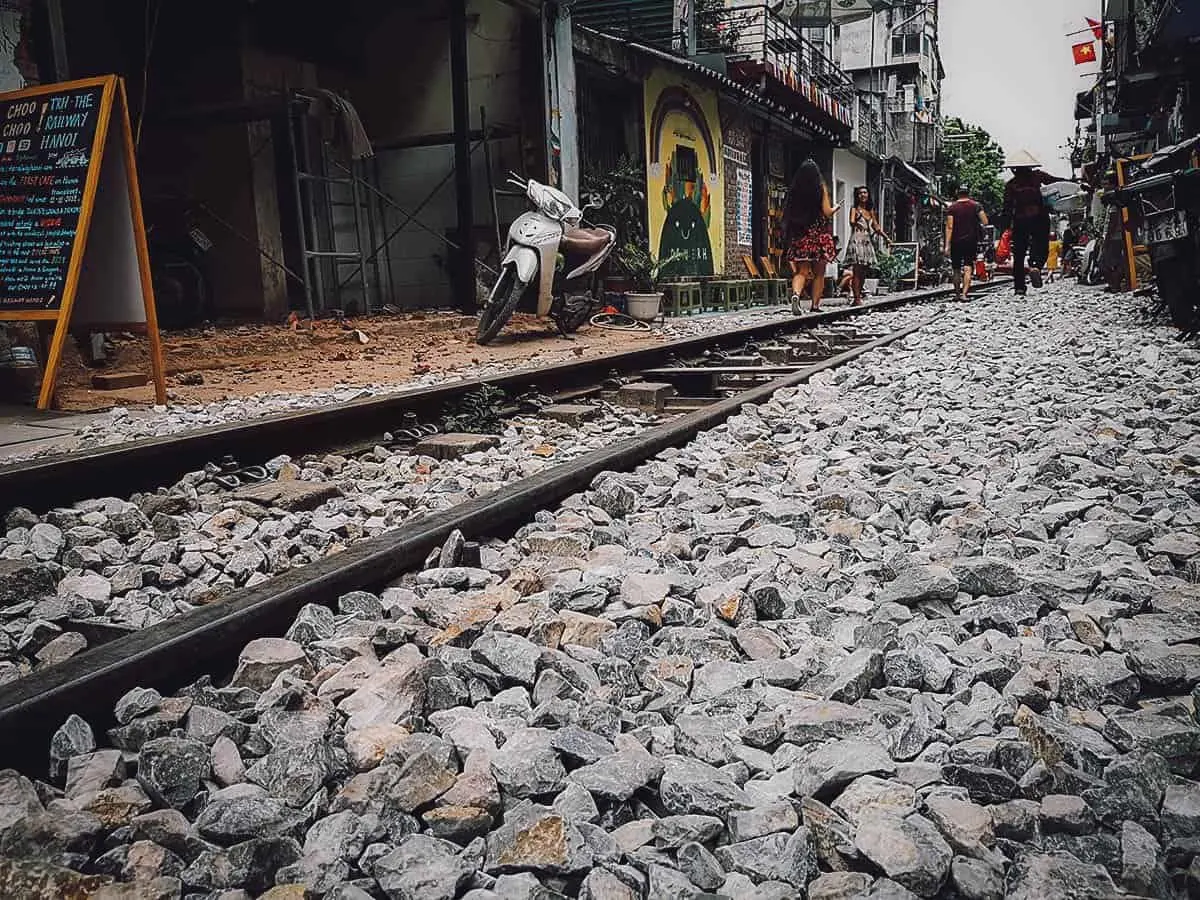 I sipped my iced ca phe den while watching Instagram husbands and boyfriends being put to work. The cafe plays great jazz music as well making this a great place to just chill out and enjoy the day, with or without a train passing through.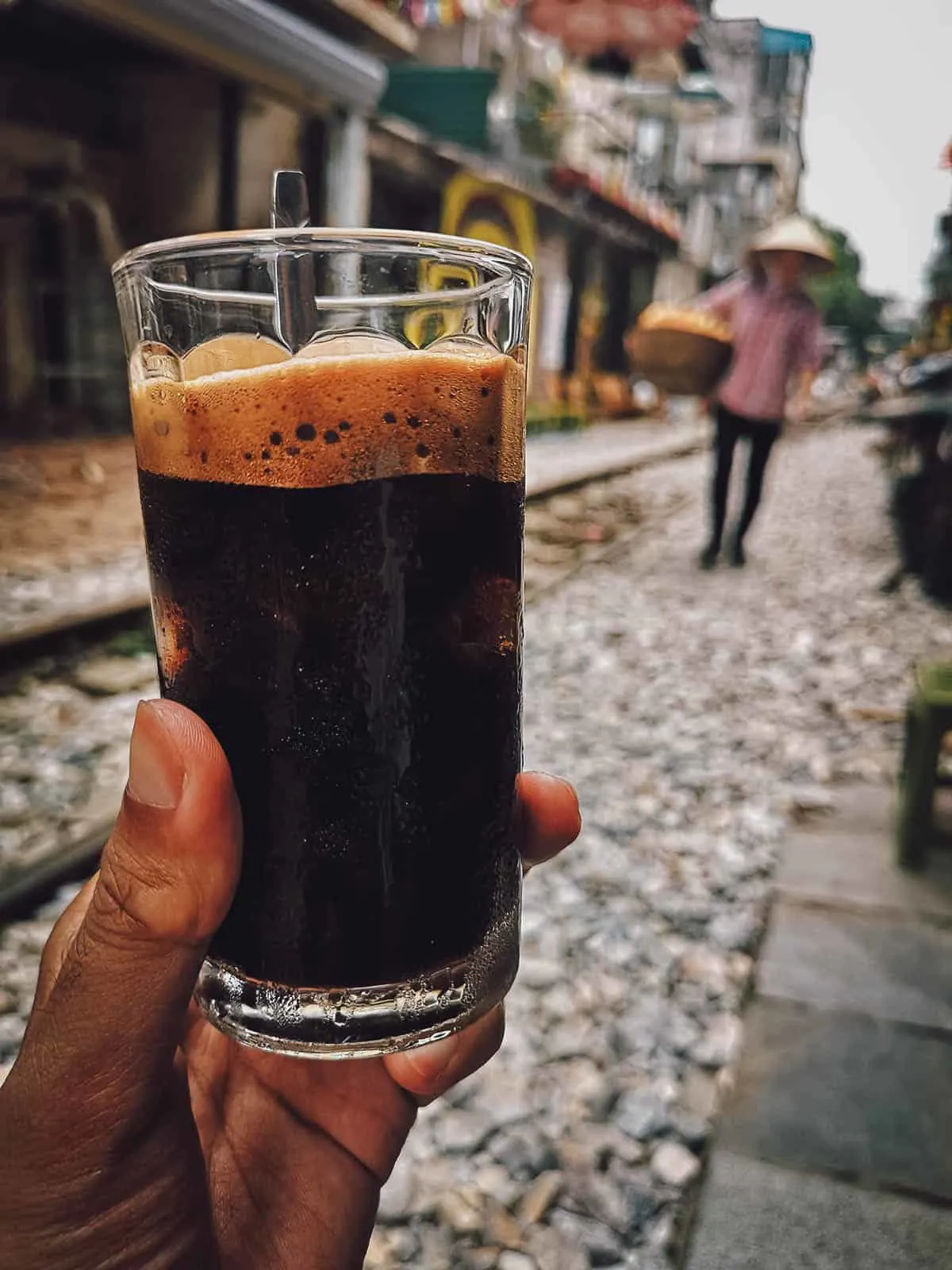 They gave me a free cream puff to enjoy with my coffee. Isn't that nice? The people who work here are warm and super friendly. They have seating upstairs too if you don't want to sit outside too close to the tracks.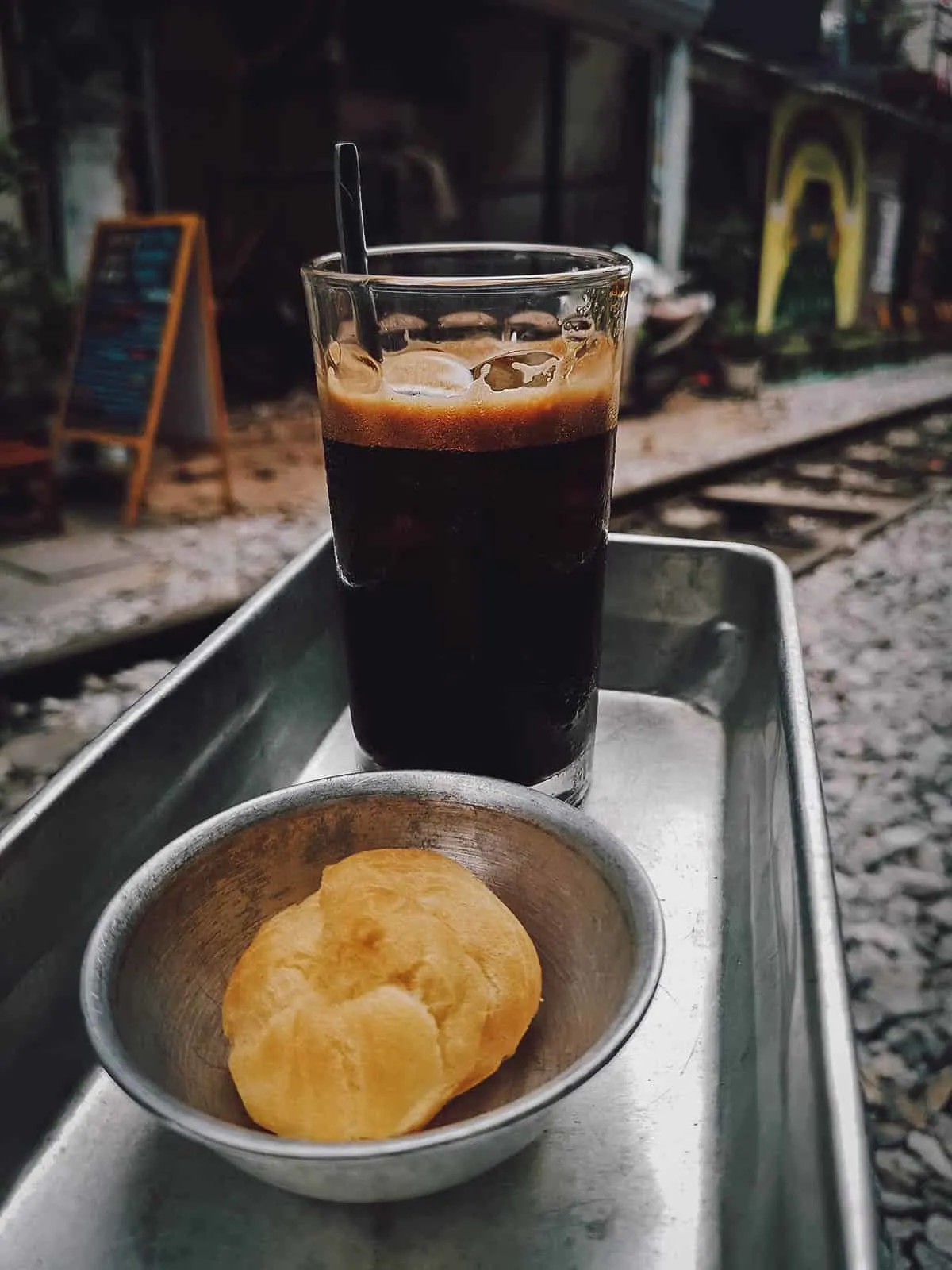 The Railway Hanoi – CLOSED
Address: 26 / 10 Điện Biên Phủ, Điện Bàn, Ba Đình, Hà Nội, Vietnam
Operating Hours: 10:30AM-9:30PM, Wed-Fri / 9AM-8:30PM, Sat-Sun / 1-9:30PM, Mon-Tues
8. Hanoi House
Hanoi House is another coffeehouse that falls under the hidden gem category. As you can see from the sign, there's no indication that they're even a cafe! It just tells you to follow the stairs inside to who knows what.
Hanoi House is located on the second floor so you just need to follow the signs after going through the alleyway.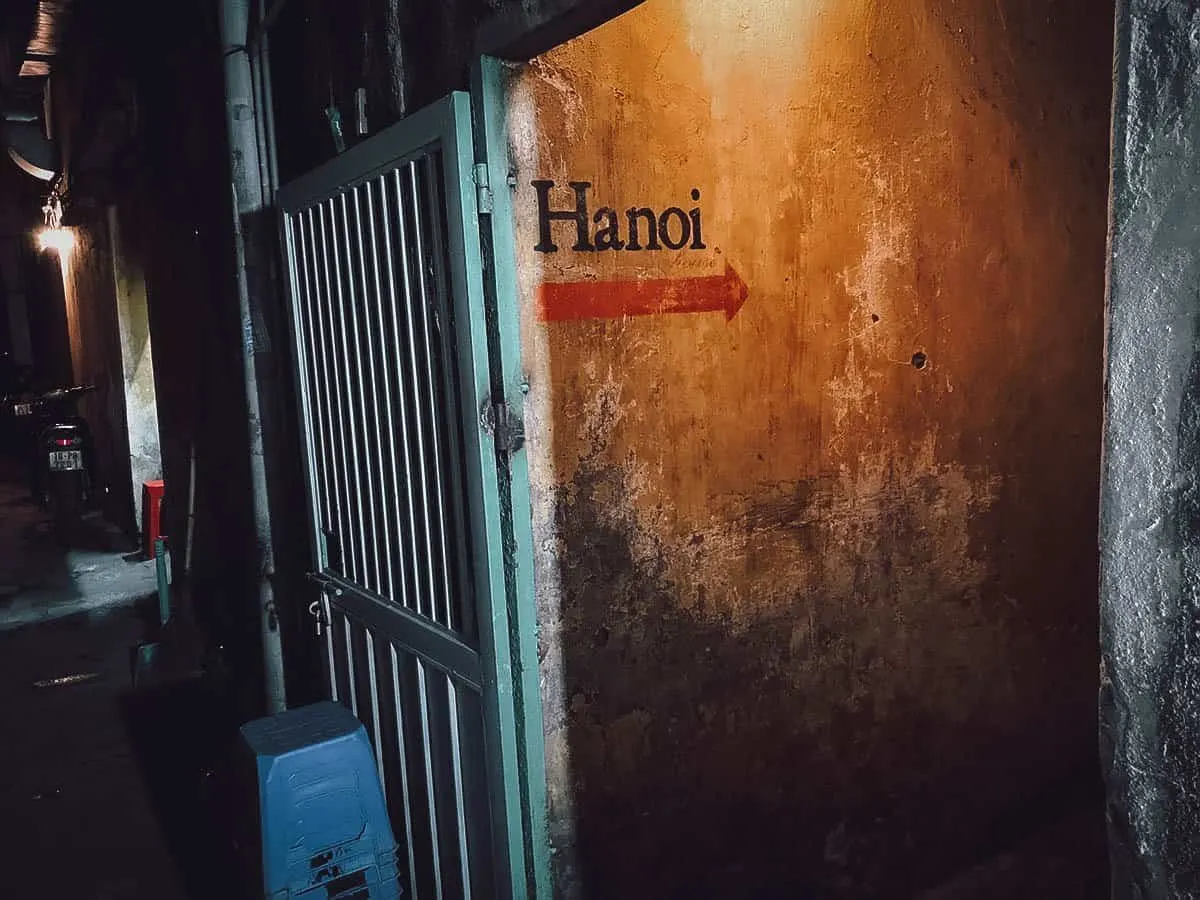 Trust the signs and voila! You'll find yourself in this intimate and thoughtfully decorated space with a balcony overlooking St. Joseph's Cathedral. Outside on the balcony is where I sat to enjoy the evening and my cup of ca phe den. Being here at night made me feel like I was in French colonial Vietnam.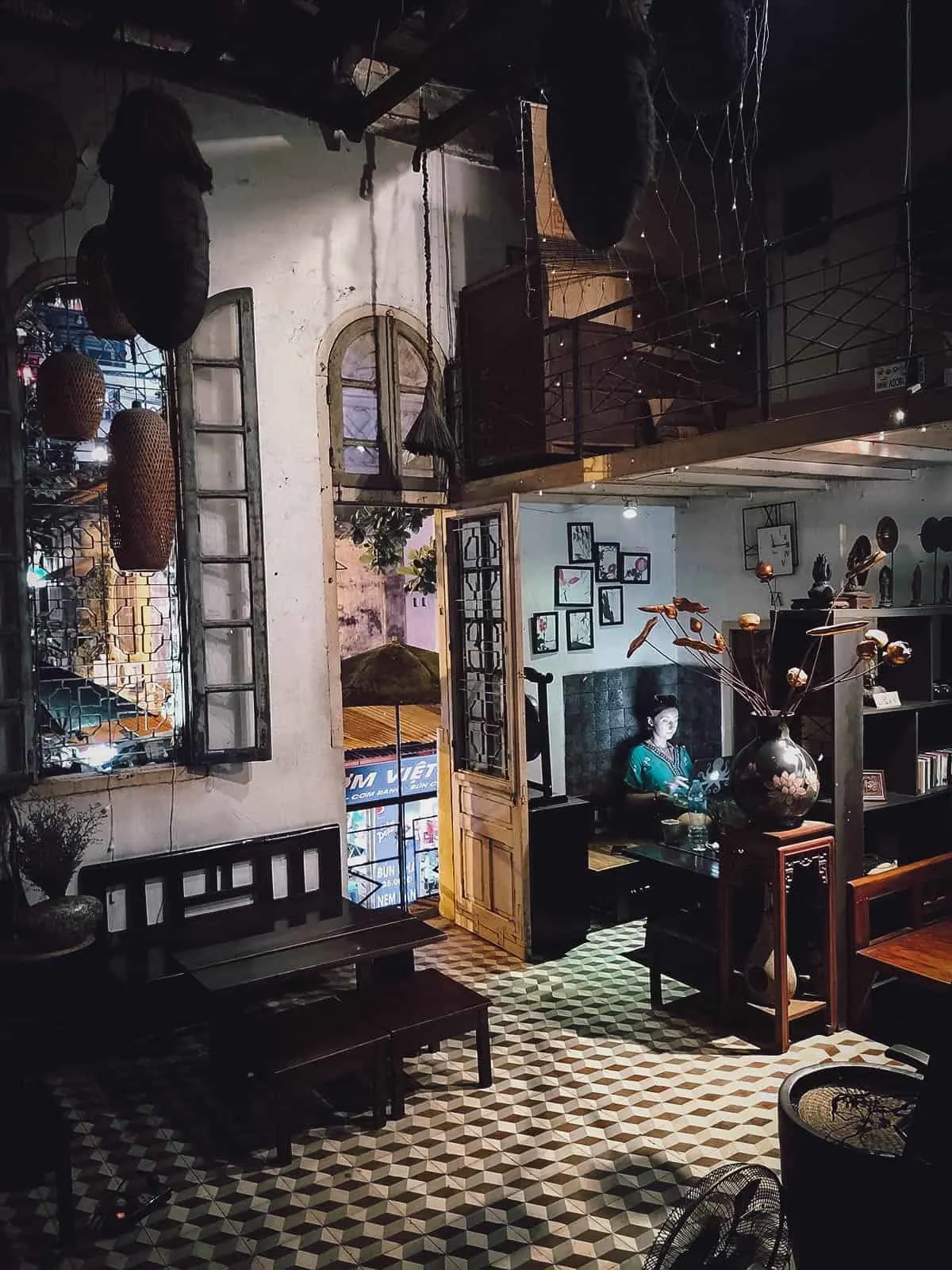 Hanoi House
Address: Level 2, 47A Ly Quoc Su St., Hanoi 10000, Vietnam
Operating Hours: 8:30AM-11PM, daily
9. The Note Coffee
This is without a doubt the cutesiest cafe on this list. Located by Hoan Kiem Lake, The Note Coffee is a popular coffeehouse with colorful Post-it notes covering every square inch of the cafe. It's recommended in virtually every "cafes to visit" list in Hanoi.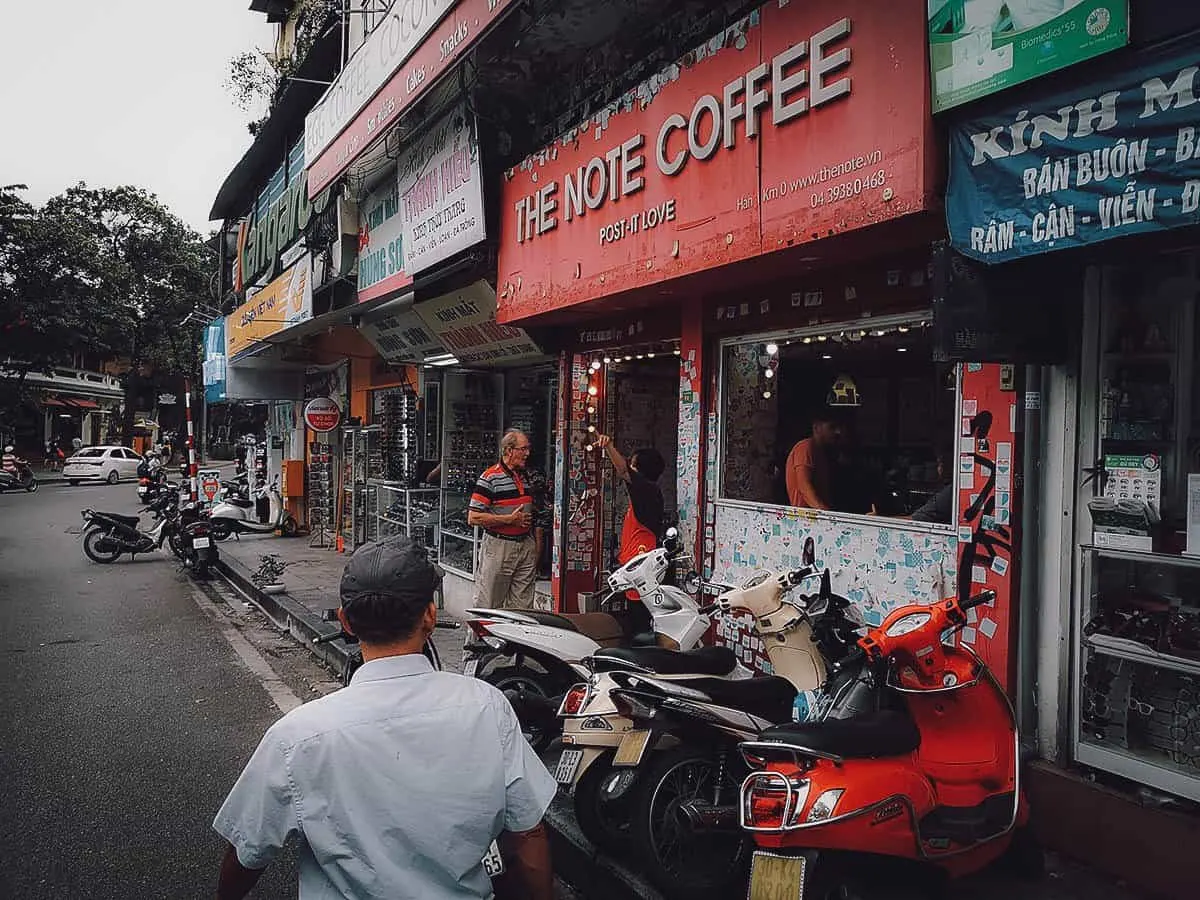 The cafe has three or four levels covered in well wishes and we were heres. Such a happy place.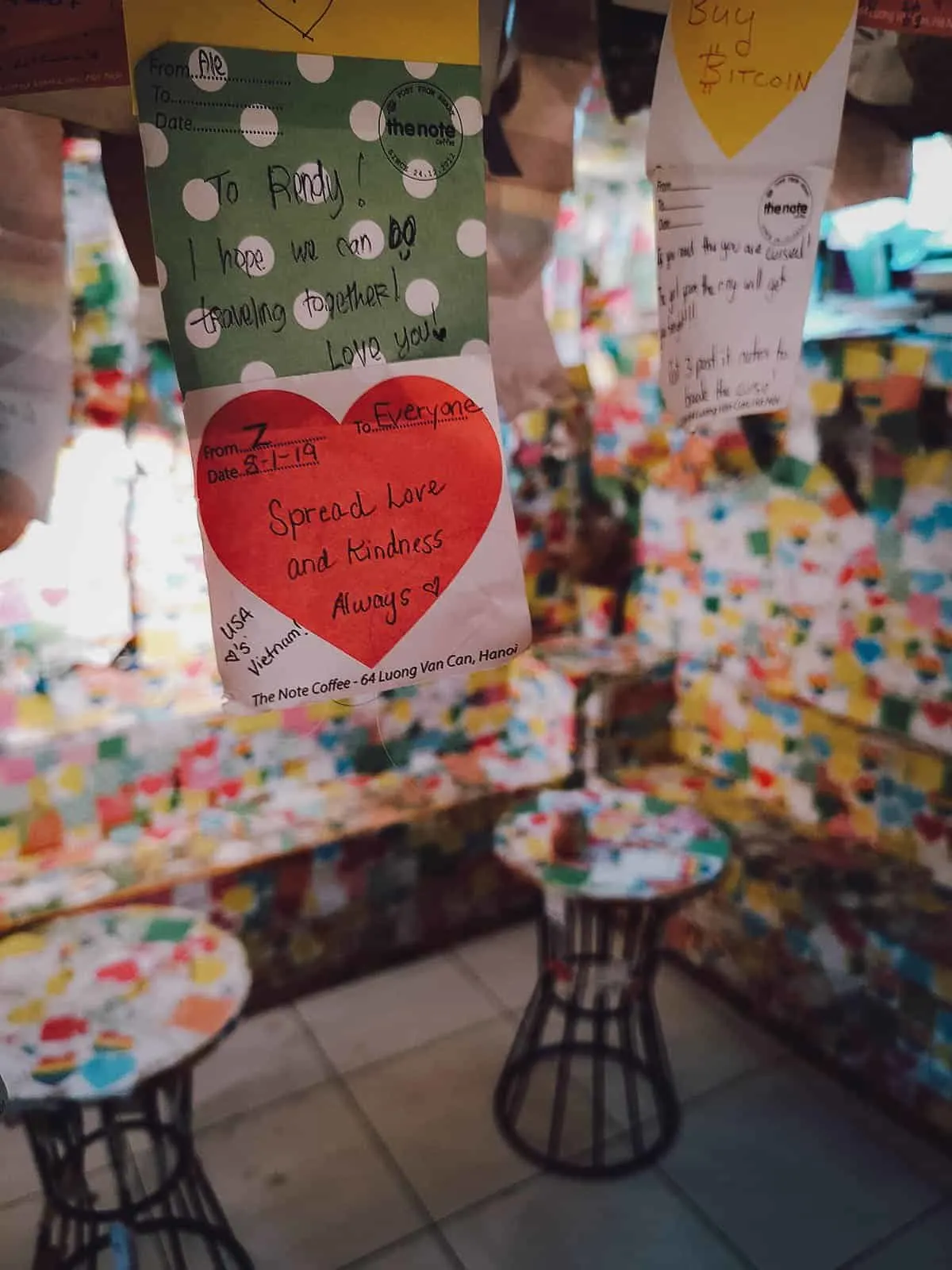 On the top level overlooking Hoan Kiem Lake are some of the best seats in the house. I loved these huge breezy open windows.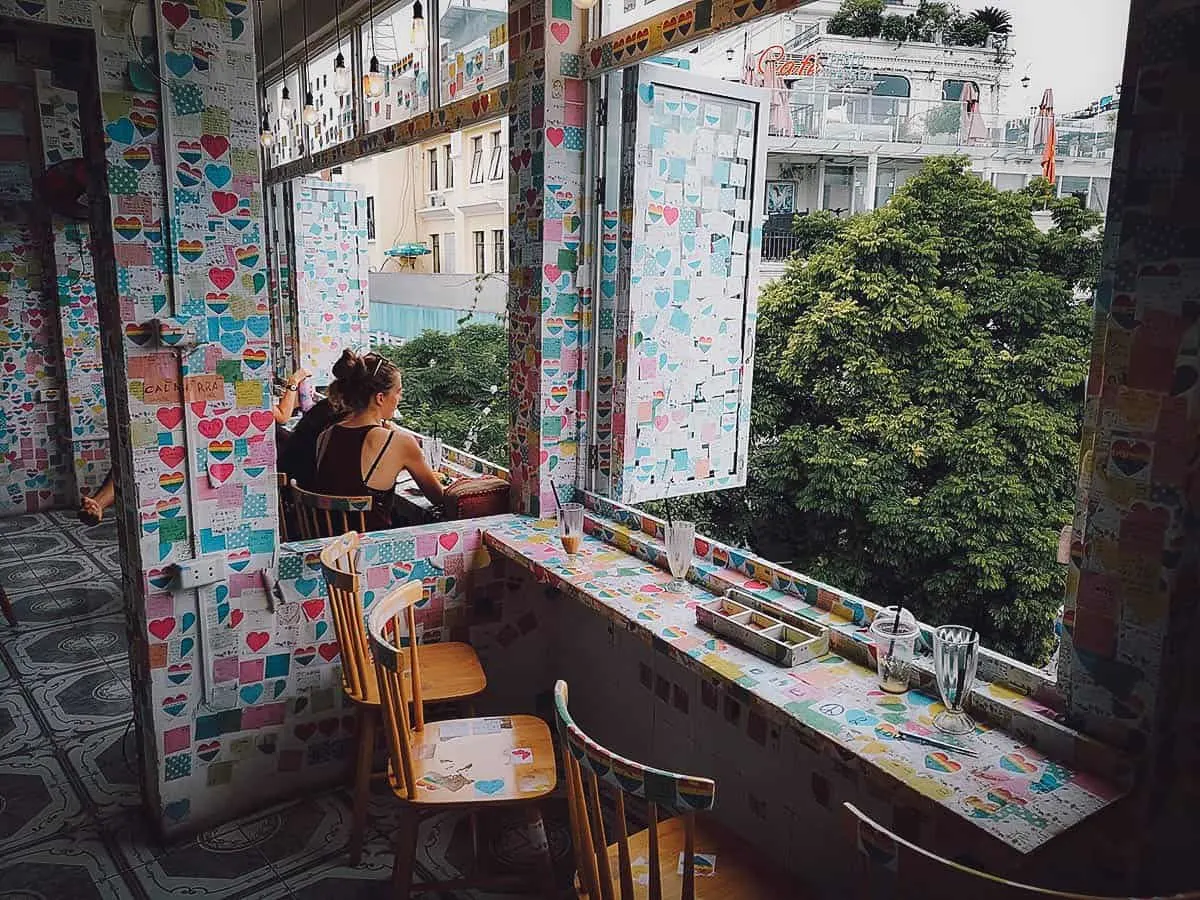 This was awesome. I was in Vietnam on my first trip as a full-time travel blogger, so getting this note with my hot cup of ca phe dua or coconut coffee was timely and encouraging. It felt like a message from my guardian angels, reassuring me that I was doing the right thing. I kept the note and will be framing it for inspiration.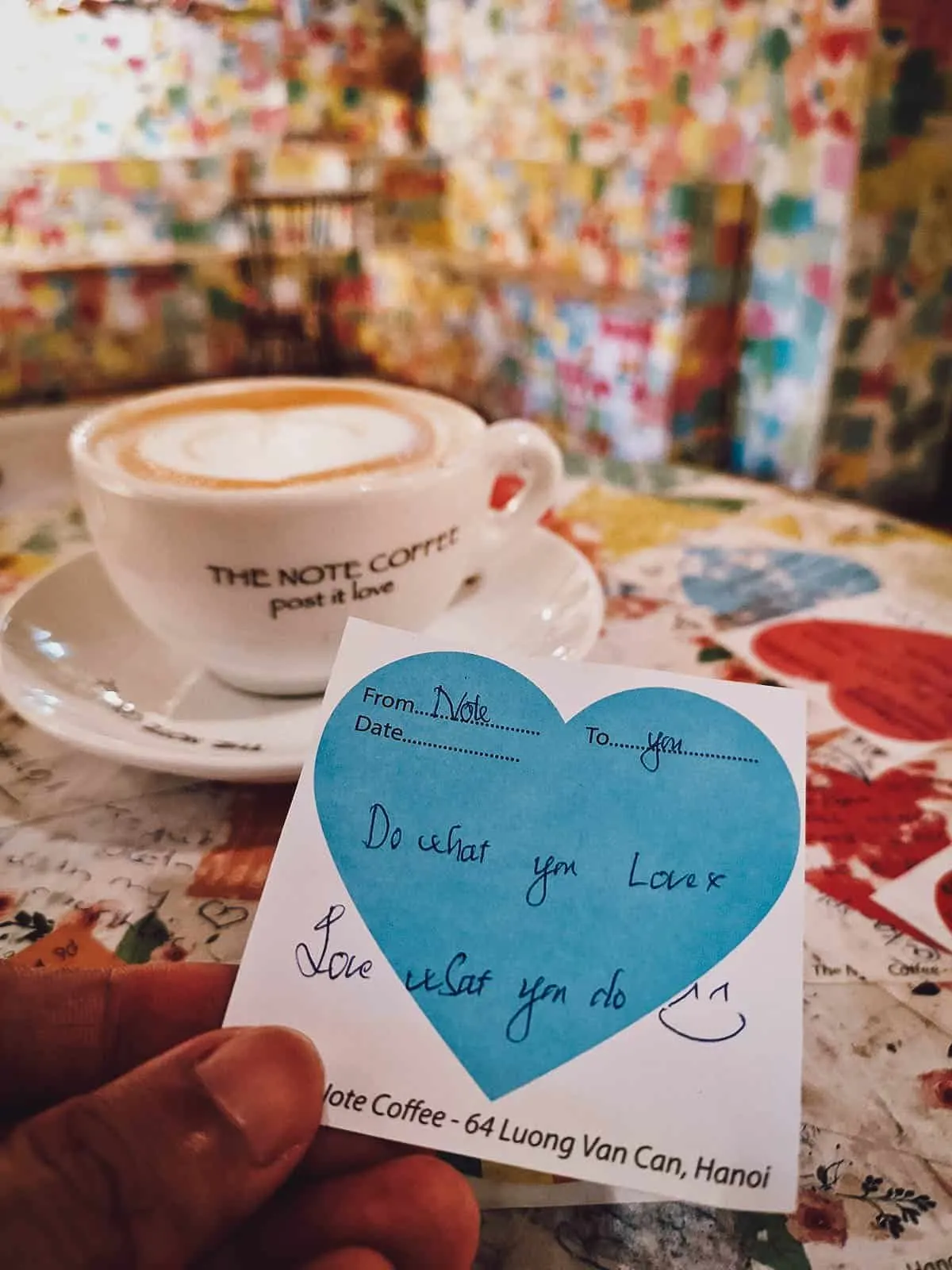 The Note Coffee
Address: 64 Lương Văn Can, Hàng Trống, Hoàn Kiếm, Hà Nội, Vietnam
Operating Hours: 6:30AM-11PM, daily
10. Cafe Nola
NOTE: The status of Cafe Nola as of 31 March 2022 is unknown. The last TripAdvisor review is from February 2020 and the cafe no longer shows up on Google Maps. I'll be sure to update this post once I confirm.
Cafe Nola is another of Hanoi's hidden coffeehouses. Well, perhaps not as hidden as the others on this list with that big blue banner telling you where they are.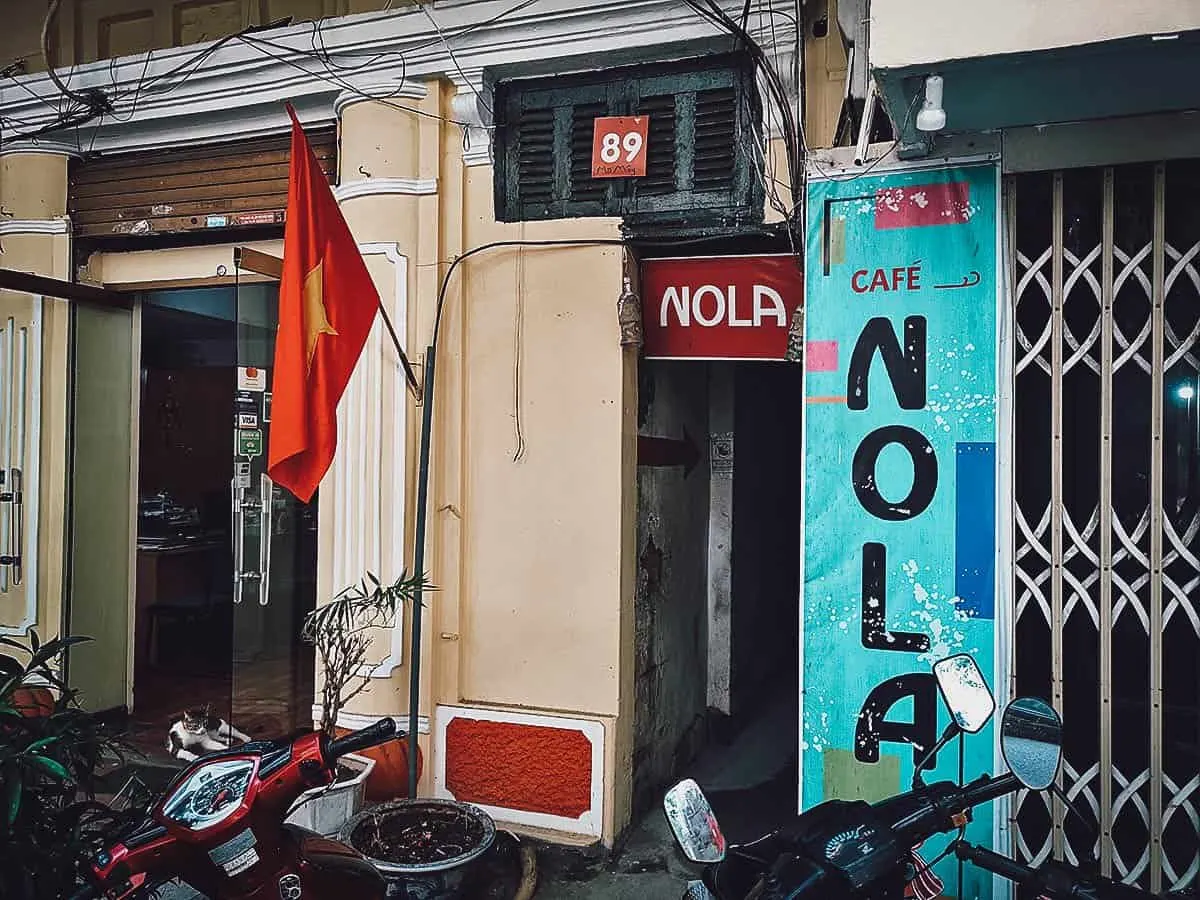 Like the others, you just need to follow the signs after going through the alleyway to find the cafe.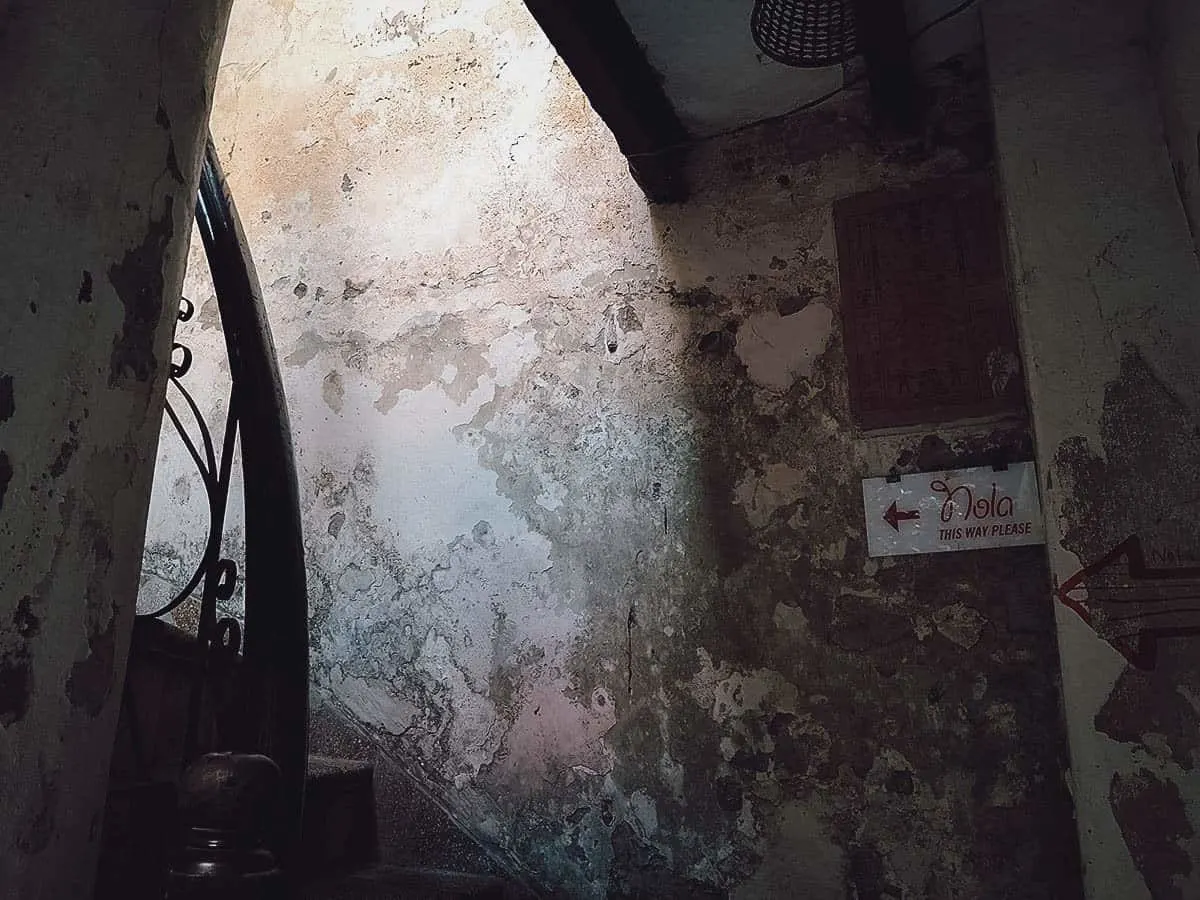 Nola Cafe was probably the coziest of all the cafes on this list. It truly felt like you were enjoying a cup of coffee in someone's home.
It doesn't look like they did many changes to the house to convert it into a cafe, or perhaps that was intentional? This appears to have been the family's living room.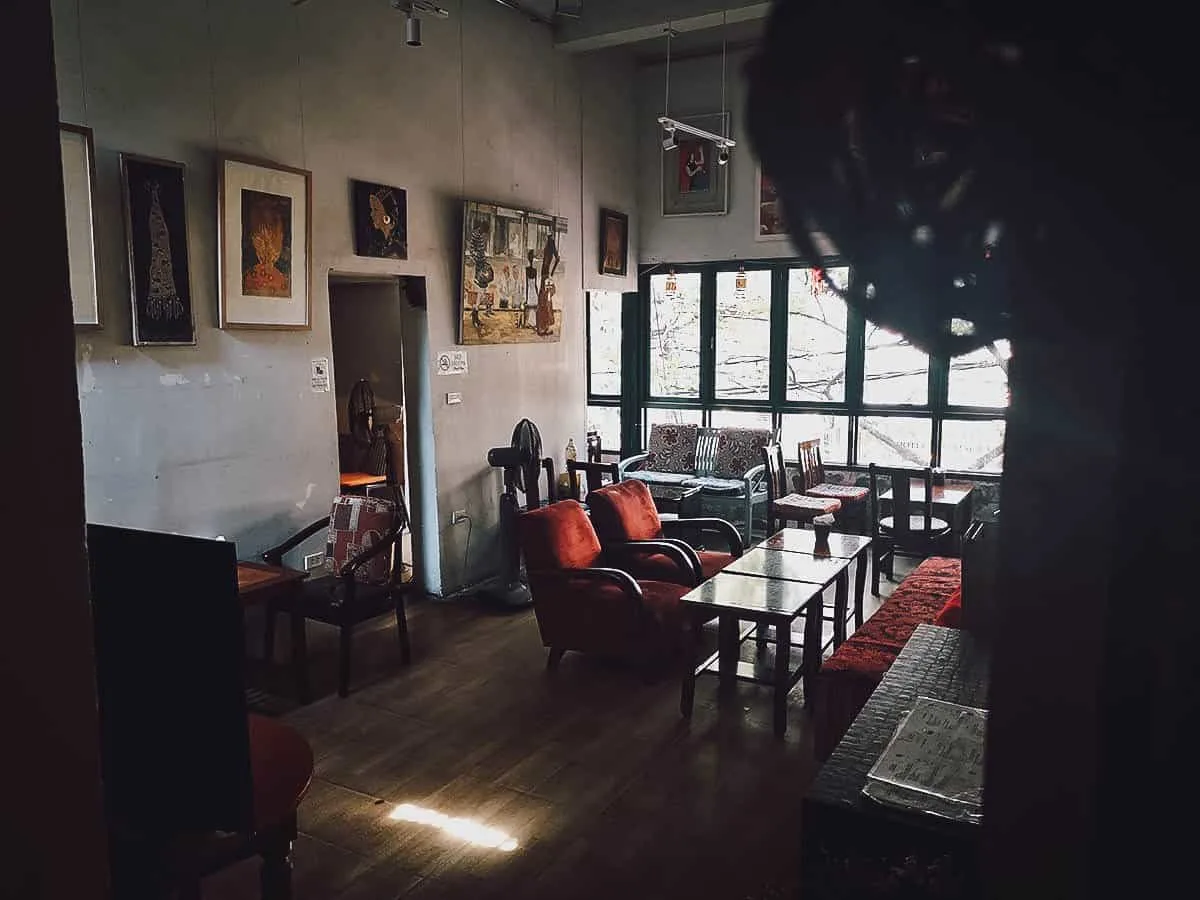 Cafe Nola is bigger than it looks so feel free to explore. There are plenty of seating areas in various nooks and crannies, some even in a garden setting.
It was early so I was the only customer here at the time. It felt a bit like I had wandered into someone's house and helped myself to a cup of ca phe den. I sat here for some time looking out onto the street and watching Hanoi life go by. Lovely.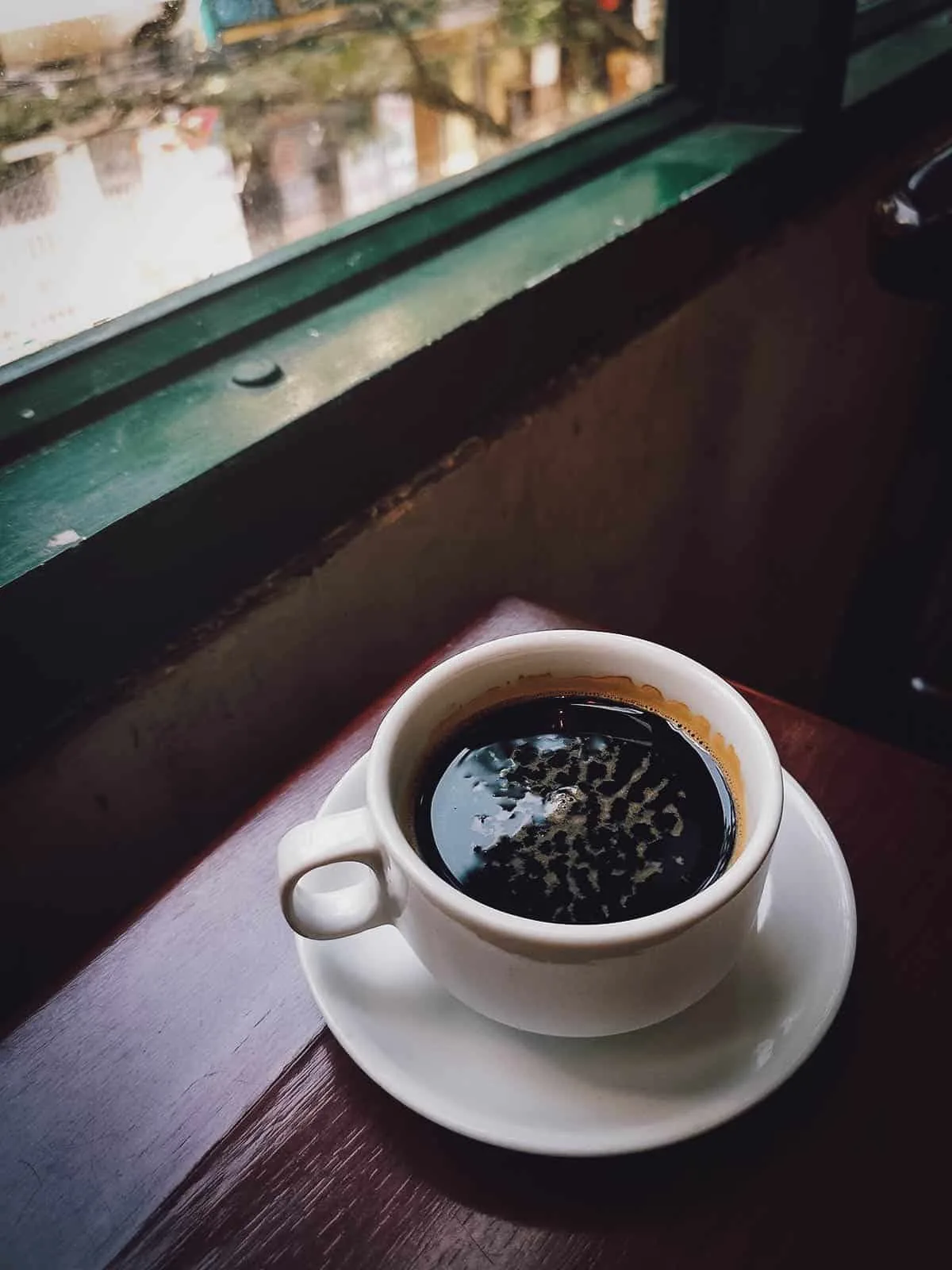 Cafe Nola
Address: 89 Phố Mã Mây, Hàng Buồm, Hoàn Kiếm, Hà Nội, Vietnam
Operating Hours: 10AM-11PM, daily
11. The Hanoi Social Club
The Hanoi Social Club is a popular hangout in the city. It seems well-known, particularly among expats. From the looks of it, people come here to eat, socialize, and work. I believe they offer cocktails and host live music events at night.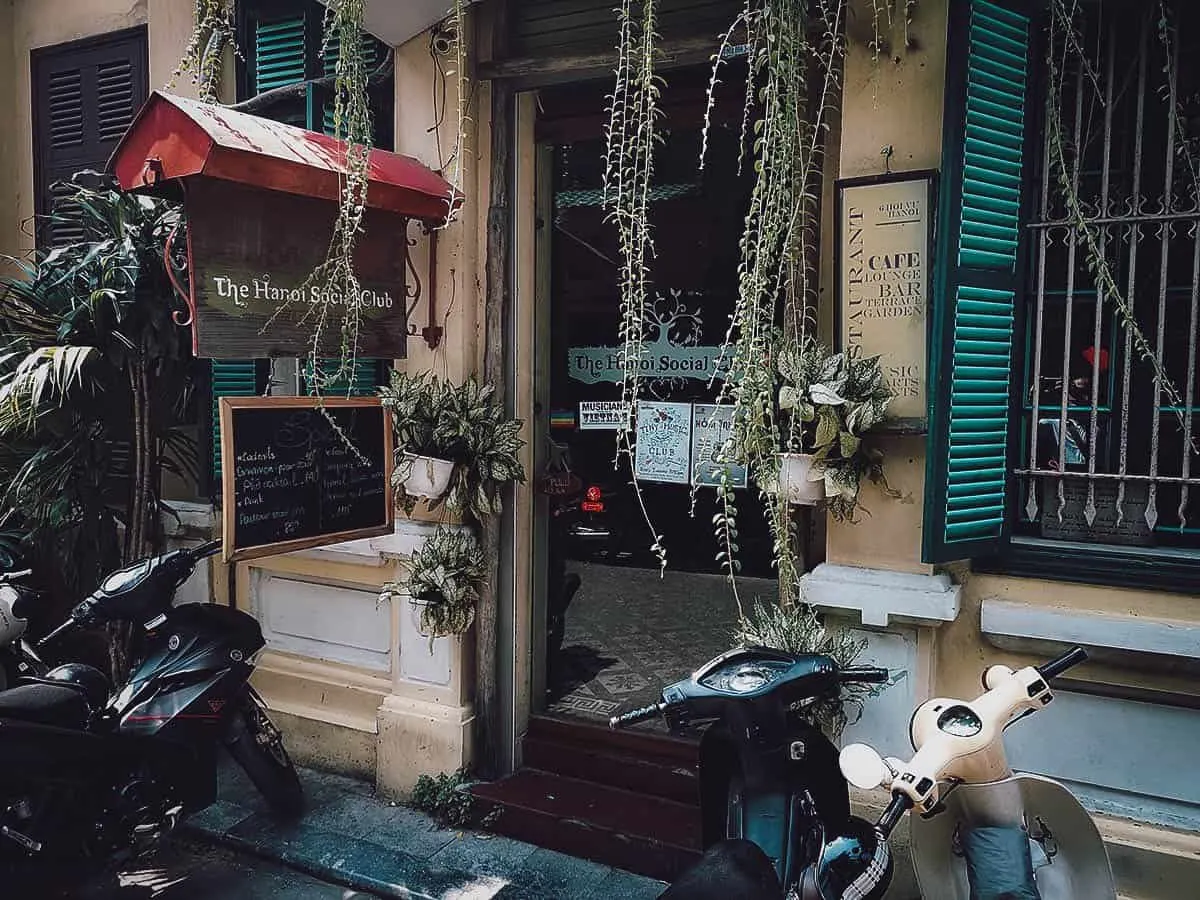 Like its name, The Hanoi Social Club's interior is hip with its tiled floors, contemporary artwork, and unmatchy-matchy furniture. The room on the second floor is quiet and air-conditioned, making it a comfortable place to work. I stayed on the first floor socializing with my cup of ca phe den.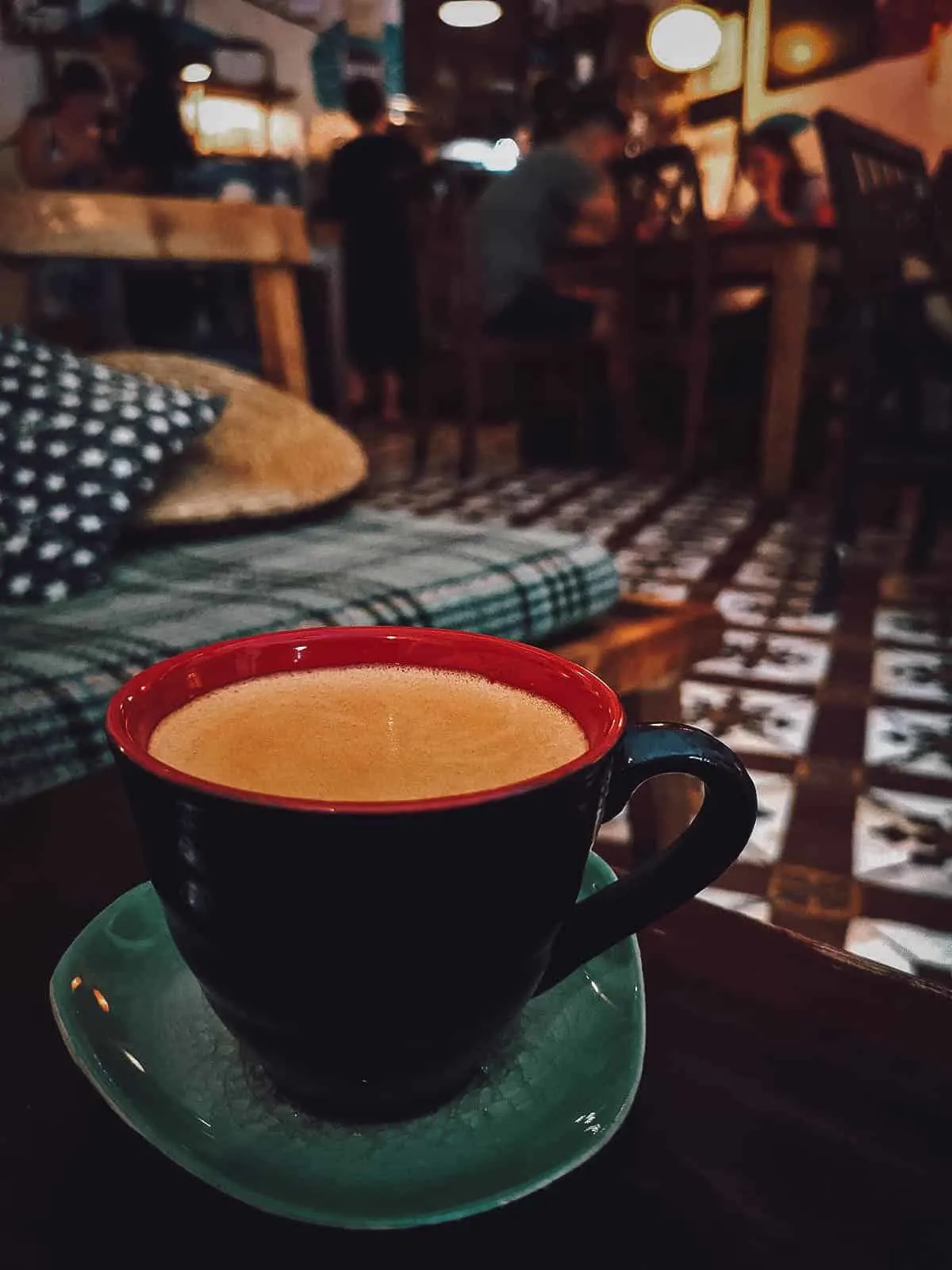 The Hanoi Social Club
Address: 6 Ngõ Hội Vũ, Hàng Bông, Hoàn Kiếm, Hà Nội, Vietnam
Operating Hours: 8AM-11PM, daily
12. Tranquil Books & Coffee
This was another of my favorite cafes in Hanoi. I just loved the atmosphere and decor at Tranquil Books & Coffee. As its name suggests, books form a big part of its identity making it a great place to chill and read, or do some work.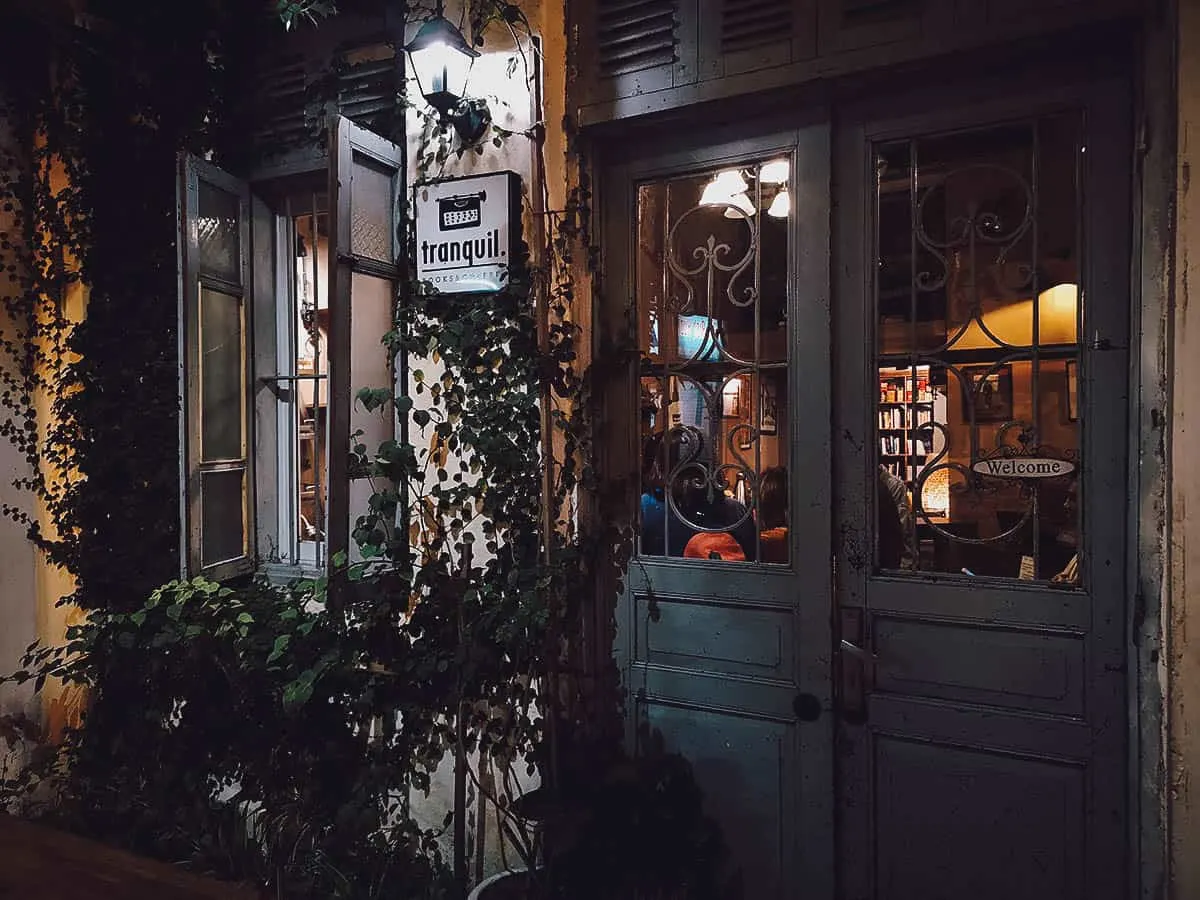 This refreshing glass of iced ca phe nau was one of the best cups of coffee I had in Hanoi. This cafe was comfortable and felt more contemporary than the others. I really enjoyed it here so I'm definitely going back on every return trip to the city.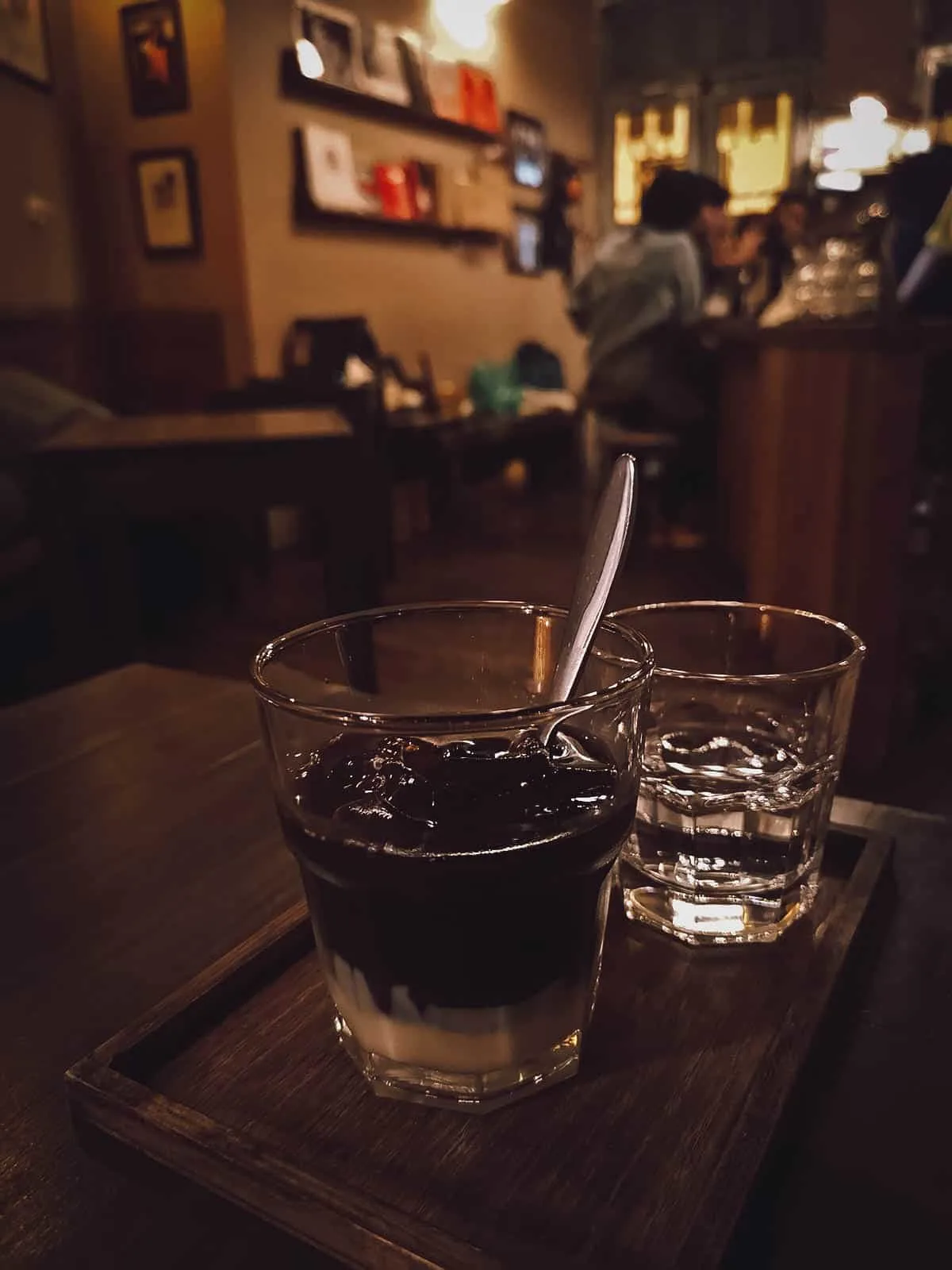 Tranquil Books & Coffee
Address: 5 Nguyễn Quang Bích, Cửa Đông, Hoàn Kiếm, Hà Nội, Vietnam
Operating Hours: 8AM-10PM, daily
13. Cafe Giang
Last but definitely not least is Cafe Giang, perhaps the most famous of all the cafes on this list. As described, Cafe Giang is largely viewed as the birthplace of ca phe trung or egg coffee.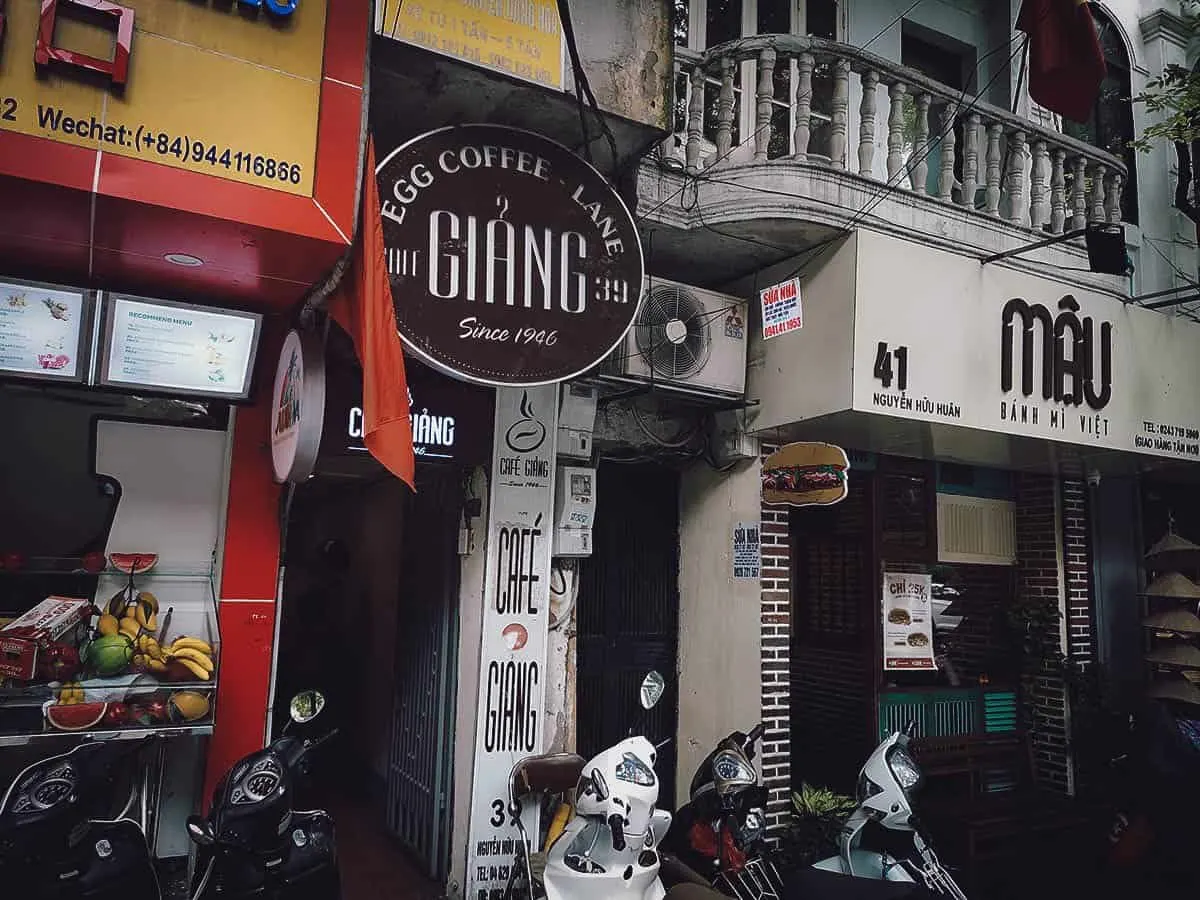 I went to Cafe Giang twice on this trip, once by myself and another time on a food tour. Take note of the scene below. This is uncommon for Cafe Giang and a sight you'll see only in the morning shortly after opening. This place is incredibly popular with locals and tourists so it's packed to the brim at any other time of the day.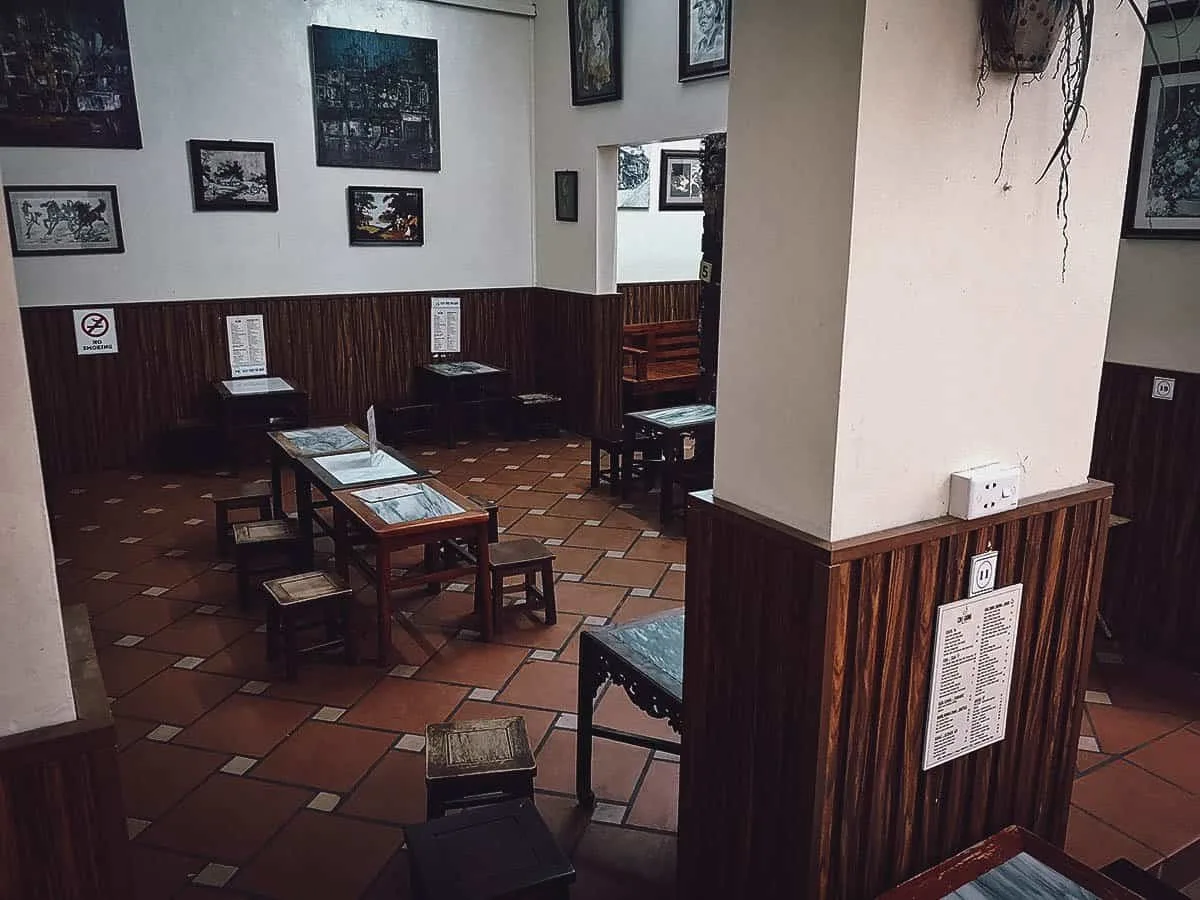 As previously mentioned, Cafe Giang is owned by the same family as Cafe Dinh and credited for serving the best ca phe trung in Hanoi. They're an institution in Hanoi so enjoying a cup of their egg coffee is a must for any first-time traveler to the city.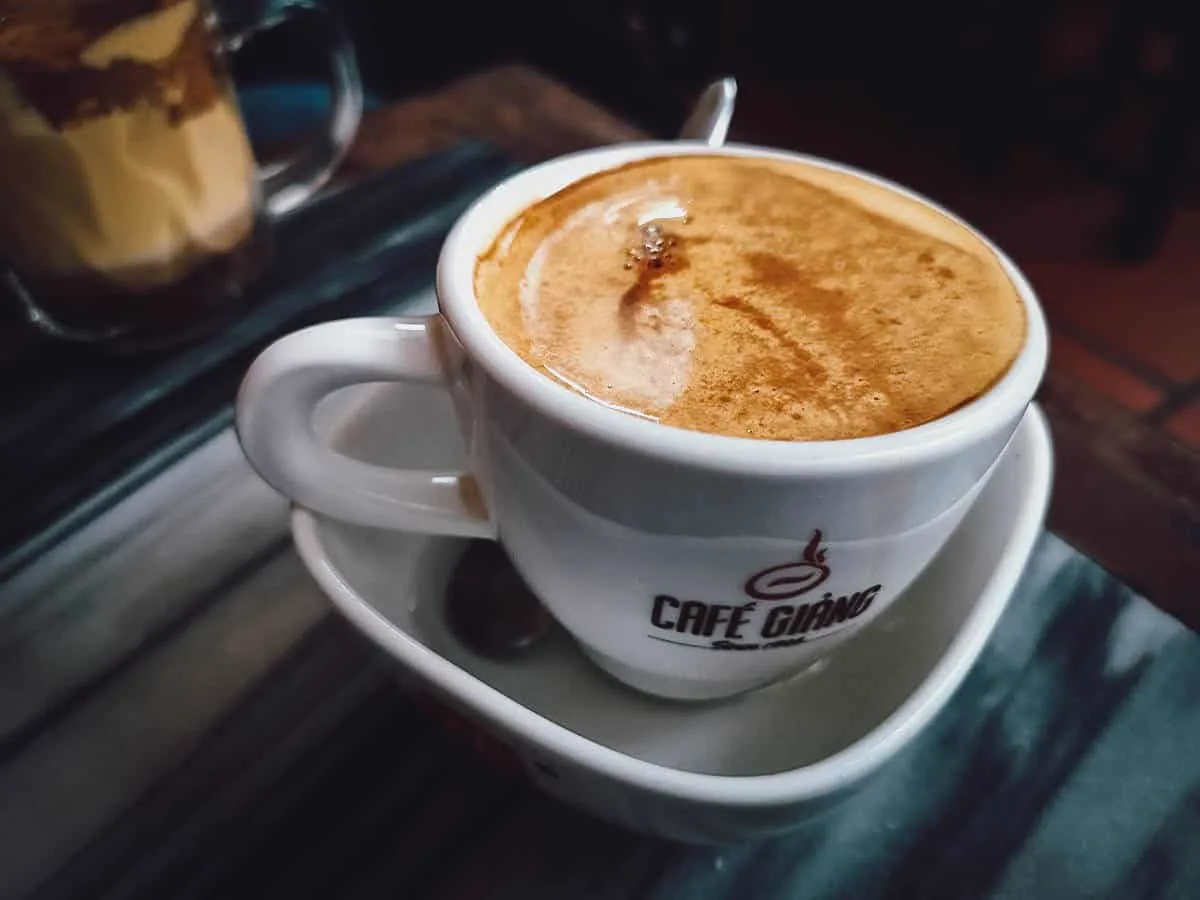 Raw egg yolks in coffee sounds weird, perhaps even gross, until you try Cafe Giang's version. It's absolutely delicious, like a frothy cup of liquefied tiramisu.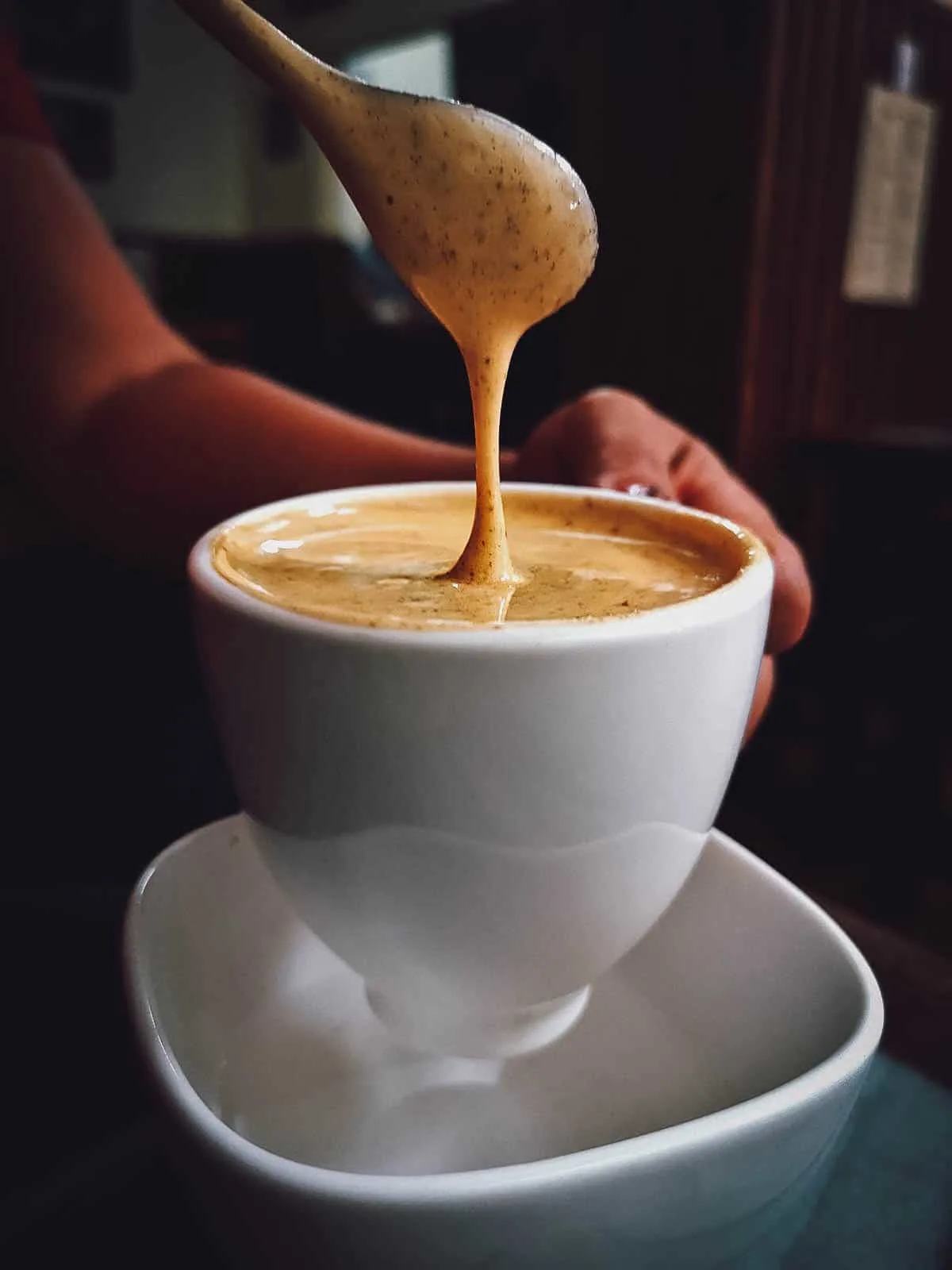 Cafe Giang
Address: 39 Nguyễn Hữu Huân, Hàng Bạc, Hoàn Kiếm, Hà Nội, Vietnam
Operating Hours: 7AM-10PM, daily
HANOI CAFES LOCATION MAP
To help you find the Hanoi cafes on this list, I've pinned them all on the map below. Click on the link for a live version of the map.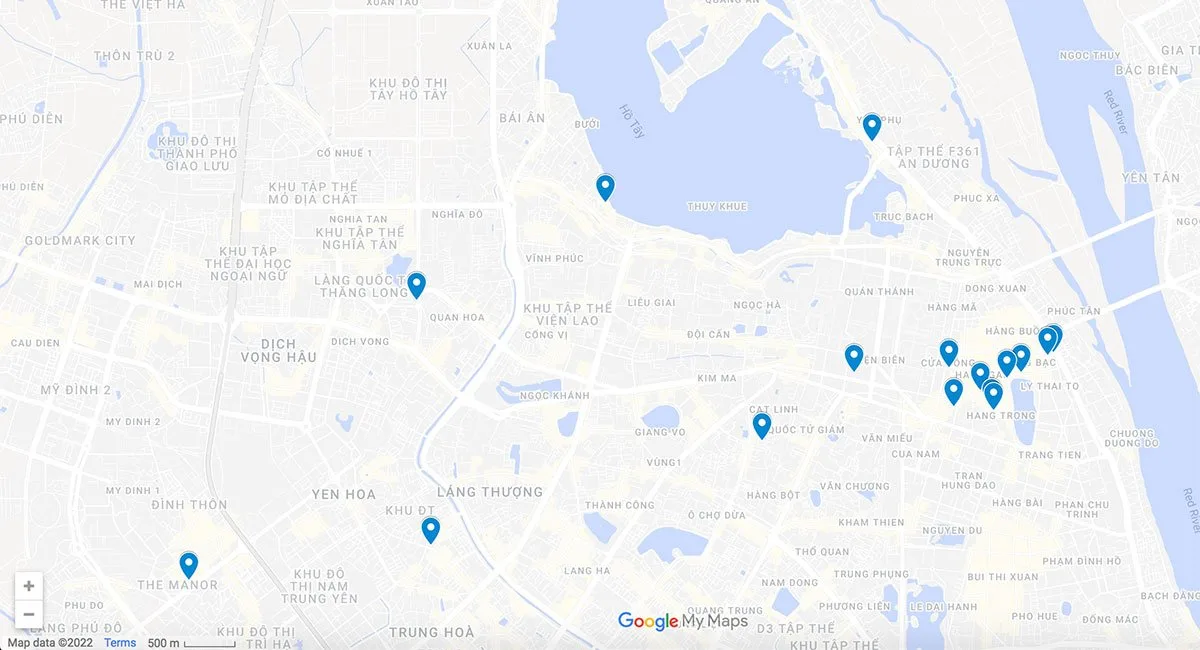 FINAL THOUGHTS ON THE COFFEE IN HANOI
There are so many interesting cafes in Hanoi, which shouldn't come as a surprise considering how good Vietnamese coffee is. It's consistently good no matter where you are and one of the things I miss most about Hanoi. That and bun cha.
My list is just one of many you'll find on the web recommending which coffeehouses to visit in the city. Lists like this are helpful and point you in the right direction, but they're also subjective. While I invite you to visit as many of these cafes as you can, I also encourage you to seek out and discover new ones on your own. As much as I enjoyed their coffee, finding these hidden cafes was half the fun.
With more time, I would have loved to spend the day aimlessly walking around the Old Quarter, trying to uncover as many of these hidden cafes as I could. As refined as their coffee culture is, I'm sure there are many, many more waiting to be discovered.
Thanks for reading guys and I hope you have as much fun exploring Hanoi's cafes as I did. Be sure to check out our food guide as well to find the best places to eat in Hanoi.
If you're traveling to Saigon, Hoi An, Da Nang, or Hue, then you may want to check out our coffee guides in those cities. Saigon has these quirky apartment block cafes while Hue has its own unique coffee creation in ca phe muoi or salt coffee.
Disclosure
We're Backstreet Ambassadors so I was given a free coffee tasting tour by Backstreet Academy in exchange for an honest account of the experience. As always, all thoughts, words, and opinions expressed in this post are mine and mine alone.
This article on the best cafes in Hanoi contains affiliate links, meaning we'll earn a small commission if you make a purchase or booking at no extra cost to you. We really appreciate your support as it helps us keep this website going. Thank you!