What started off as an itinerary with just a few notable cafes in Hanoi quickly escalated into a nationwide hunt for the best and most interesting coffeehouses in Vietnam. Vietnam is the second largest producer of coffee in the world, behind only Brazil, so you can find cafes serving excellent coffee no matter where you are in the country.
I've spent months at a time in Vietnam, stopping at as many cafes as I could in popular destinations like Hanoi, Sa Pa, Hue, Hoi An, Da Nang, Saigon, and the Mekong Delta. Thinking back on all the coffee shops I've visited in Vietnam – which is probably close to a hundred by now – I found that Hanoi had the most historic cafes, Saigon the coolest, and Hoi An some of the prettiest, which in hindsight was pretty much consistent with the character of each city.
If you're spending time in central Vietnam and want to enjoy a good cup of Vietnamese coffee, then you may want to check out these ten Instagram-worthy cafes in Hoi An.
You can refer to our Hanoi coffee guide as well to learn more about the different types of coffee you can have in Vietnam.
HOI AN CAFES QUICK LINKS
To help with your Hoi An trip planning, I've compiled links to hotels, tours, and other services here.
HOTELS
Top-rated hotels in Hoi An Ancient Town, the most convenient area to stay for people on their first trip to Hoi An.
TOURS
OTHER SERVICES
HOI AN TRAVEL GUIDE
Before you visit Hoi An, be sure to check out our detailed Hoi An travel guide. It'll tell you all you need to know – like when to go, which attractions to visit, which restaurants to go to, etc. – to help you plan your trip.
Save This on Pinterest!
No time to read this Hoi An coffee guide now? Click on the red save button and pin it for later!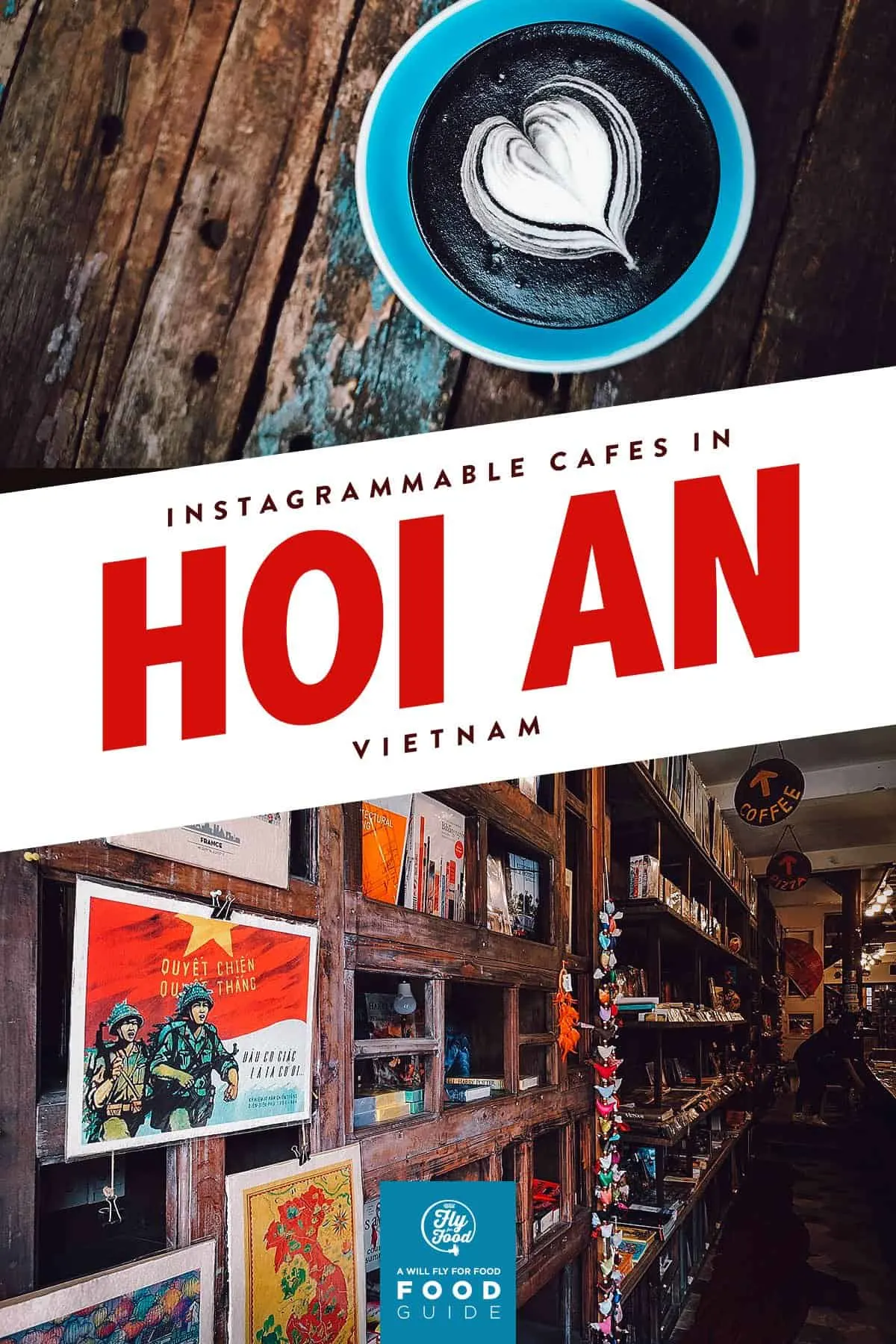 INSTAGRAMMABLE CAFES IN HOI AN
1. Reaching Out Tea House
Reaching Out Tea House is perhaps the prettiest and most interesting place on this list. Located along busy Tran Phu Street in the Ancient Town, they serve both coffee and tea which you're meant to enjoy in silence.
Reaching Out was started in 2000 by a group of physically impaired Vietnamese locals as a way of earning an independent living for themselves. It started off as a craft shop selling handmade homeware and jewelry before they opened this teahouse in 2012. It's managed by the speech and hearing impaired which is why you're encouraged to enjoy your coffee or tea in silence.
According to the description on their menu, the Reaching Out craft shop now employs and works with almost a hundred physically impaired artisans throughout the country.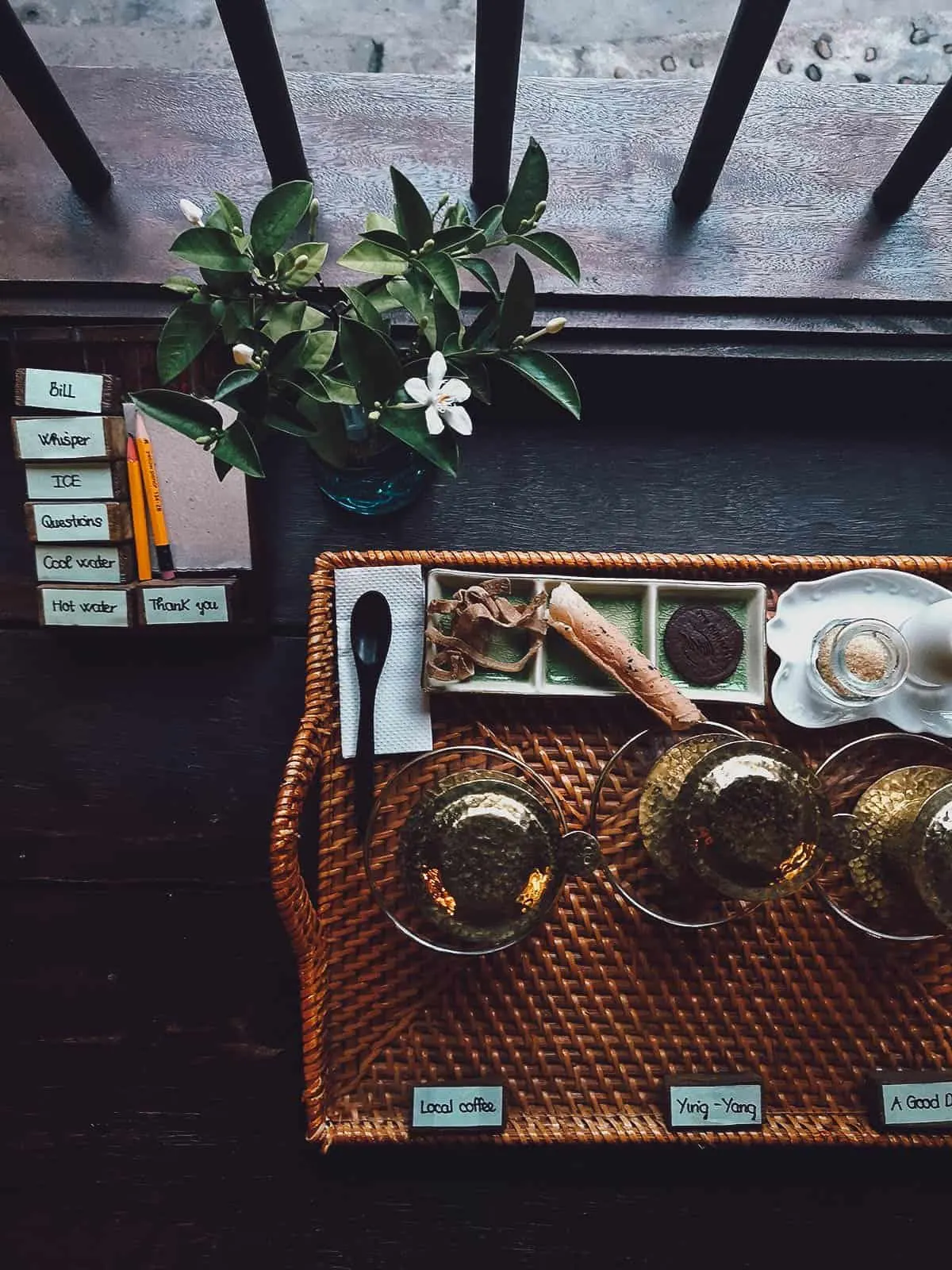 Reaching Out Tea House offers four types of tea and three coffee blends. If you're unsure what to get, then you can order tea or coffee tasting sets of three, which is what I did.
I drink black coffee all day everyday but by no means am I a connoisseur. However, I could easily taste the difference between these three coffee blends. According to their menu, "Local Coffee" is made with Cau Dat arabica and Ea H'leo robusta beans, "Yin-Yang" with Dalat bourbon arabica and moka, and "A Good Day" with Cau Dat arabica. Local Coffee may have been my favorite.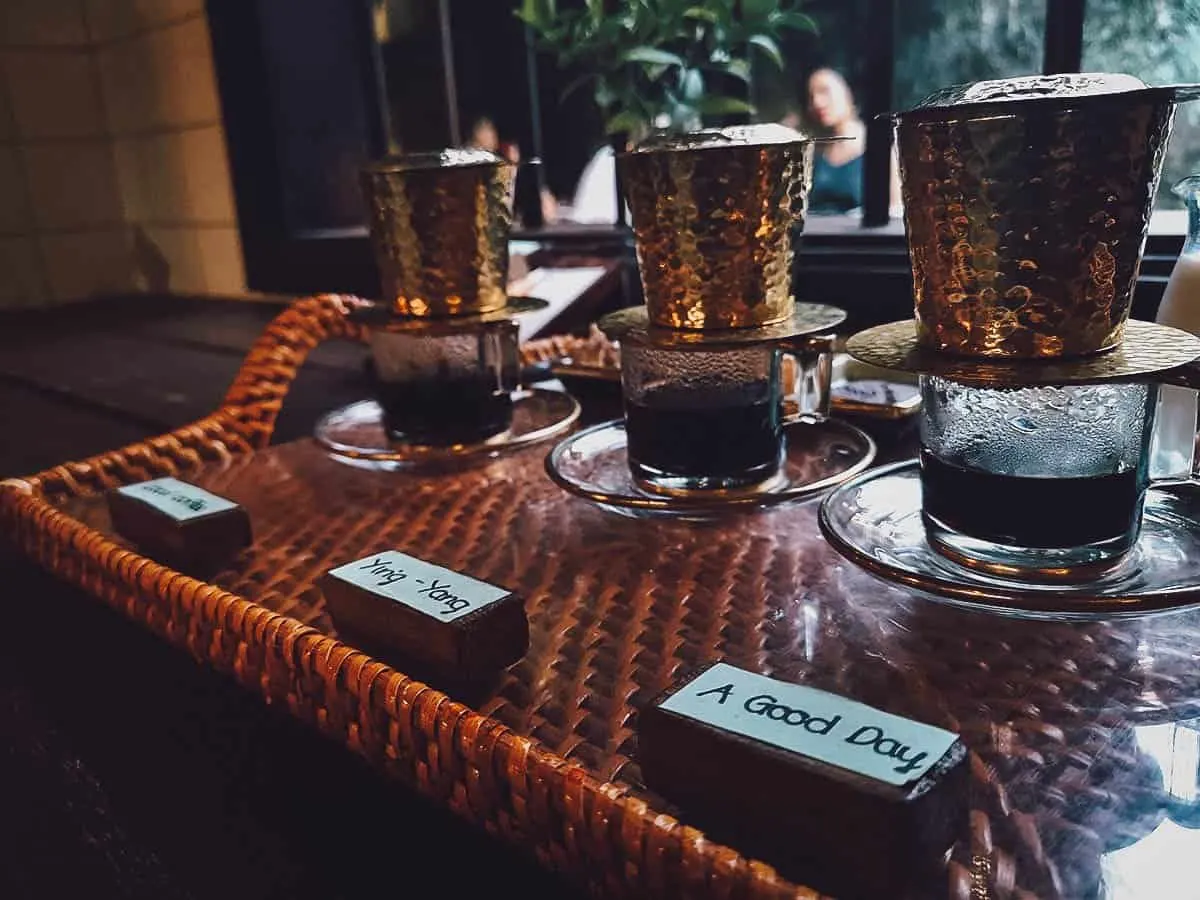 Because the servers are hearing impaired, you can communicate with them through handwritten notes or by presenting these blocks with often used messages like "Bill", "Ice", or "Thank you". I communicated with my server using mime.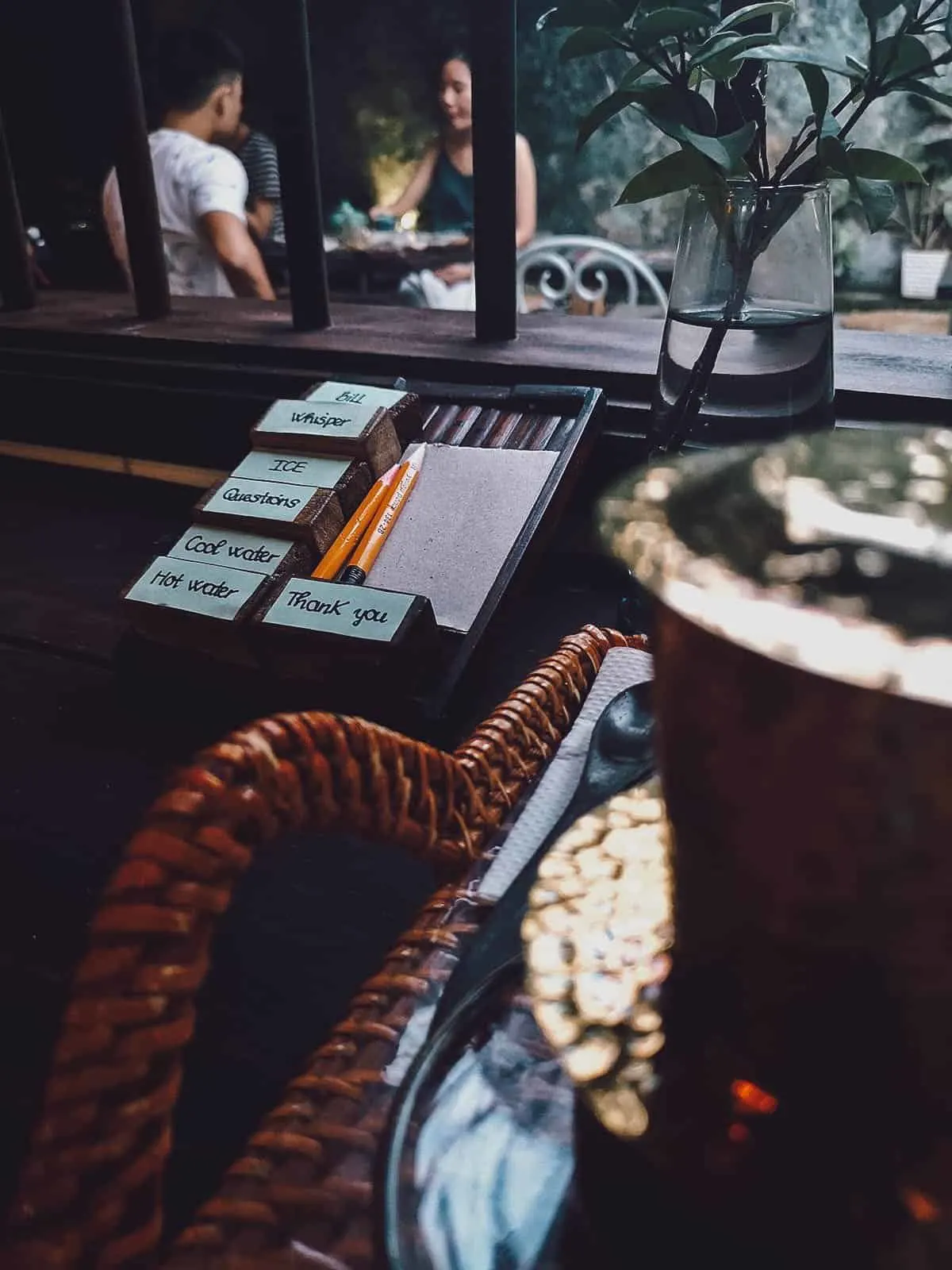 Aren't these coffee or tea sets pretty? I must have taken over a hundred pictures here. These tasting sets are served with a few high-tea-type snacks like biscuits and dried fruit.
Reaching Out Tea House is one of the most beloved establishments in Hoi An. They're a TripAdvisor Certificate of Excellence awardee with a perfect 5-star rating, even after over 2,600 reviews and counting.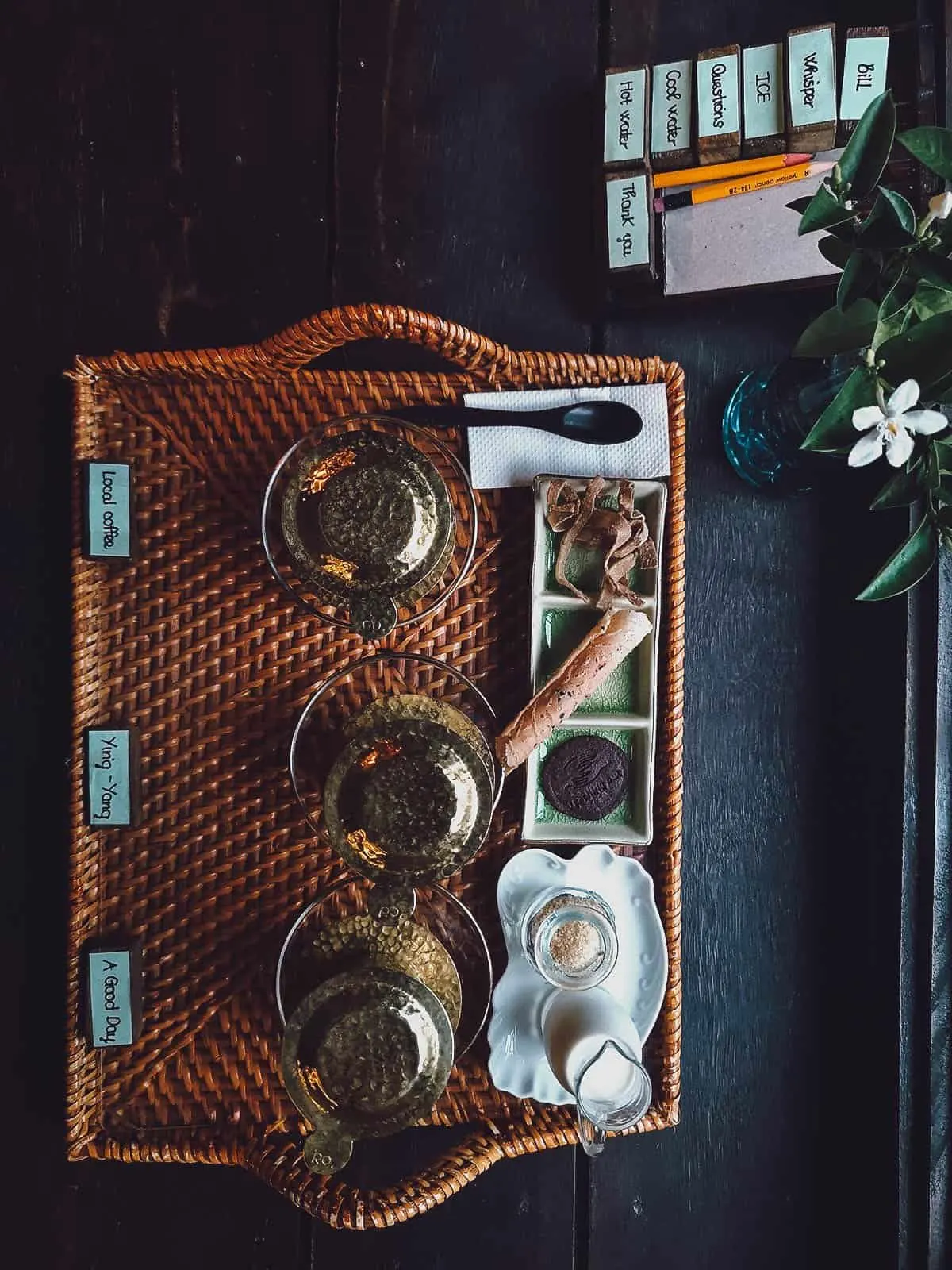 Reaching Out Tea House
Address: 131 Trần Phú, Phường Minh An, Hội An, Quảng Nam, Vietnam
Operating Hours: 8:30AM-9PM, Mon-Fri / 9:30AM-7PM, Sat-Sun
2. Phin Coffee (Original)
I was sold on Phin Coffee after a local blog declared their coffee to be some of the best in Hoi An. I'm not experienced enough to agree or disagree, but their coffee was excellent indeed and one of my favorites in Hoi An. I enjoyed it so much I wound up visiting two of their branches (the second I went to is now closed).
I believe Phin Coffee still has two outlets in Hoi An, with the original branch located at 132/7 Tran Phu Street. Tucked away in a labyrinth of alleyways in the Ancient Town, it isn't as easy to find but it's definitely worth seeking out. They have a lovely garden seating area in front with lots of trees and picnic-style tables and benches.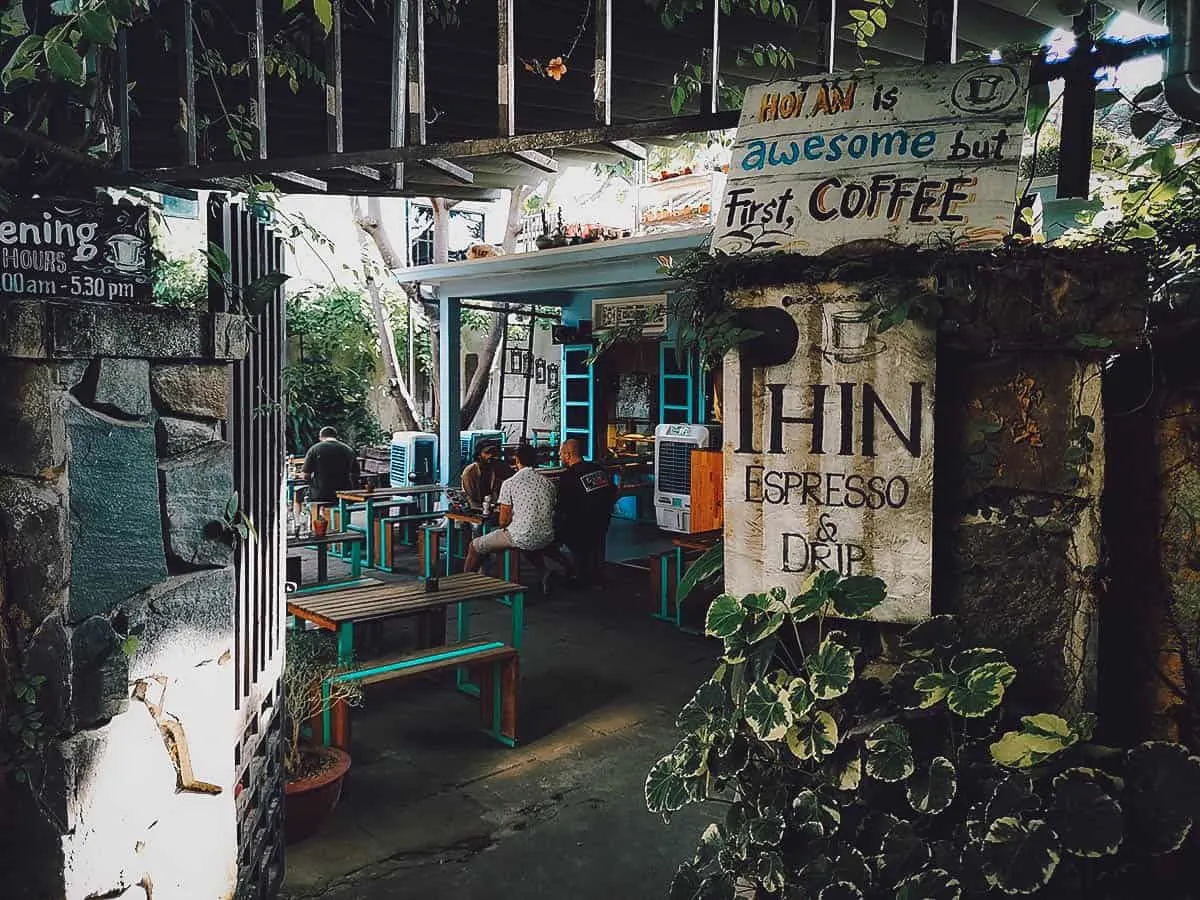 The baristas at Phin Coffee are described as being some of the most knowledgeable in Hoi An. That may be true. On both my visits, I was invited to watch my coffee being brewed while the barista gave me a blow-by-blow description of the process. The term phin refers to the metal device used to filter the coffee.
I ordered the phin coffee which you can have hot, iced, or served with condensed milk. They also offered phin tasting sets that came with a cup of 100% arabica, 100% robusta, and a cup with 70% arabica and 30% robusta.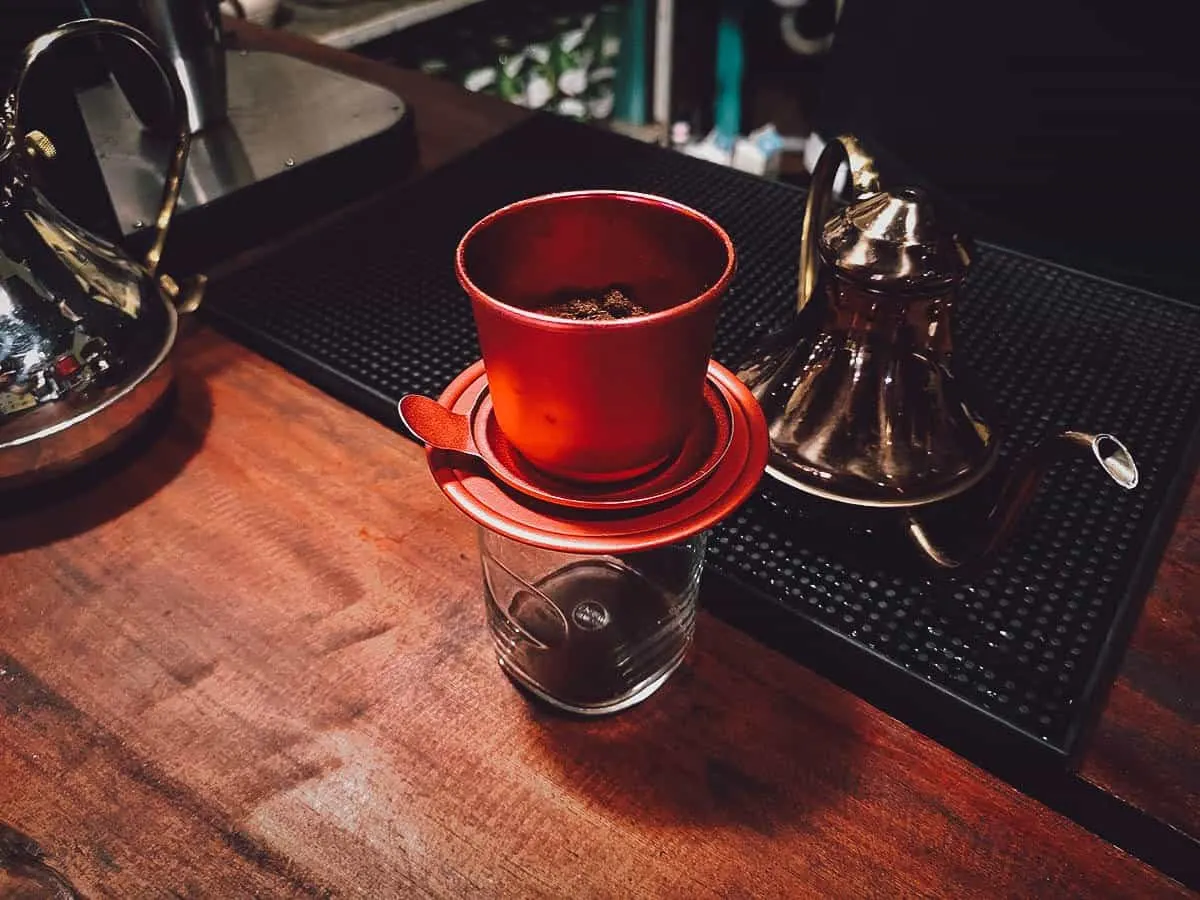 It was a hot day so I got mine iced with condensed milk. As described, this cup of coffee was delicious – robust and full-flavored. Like Reaching Out Tea House, Phin Coffee is a TripAdvisor Certificate of Excellence awardee with a perfect 5-star rating.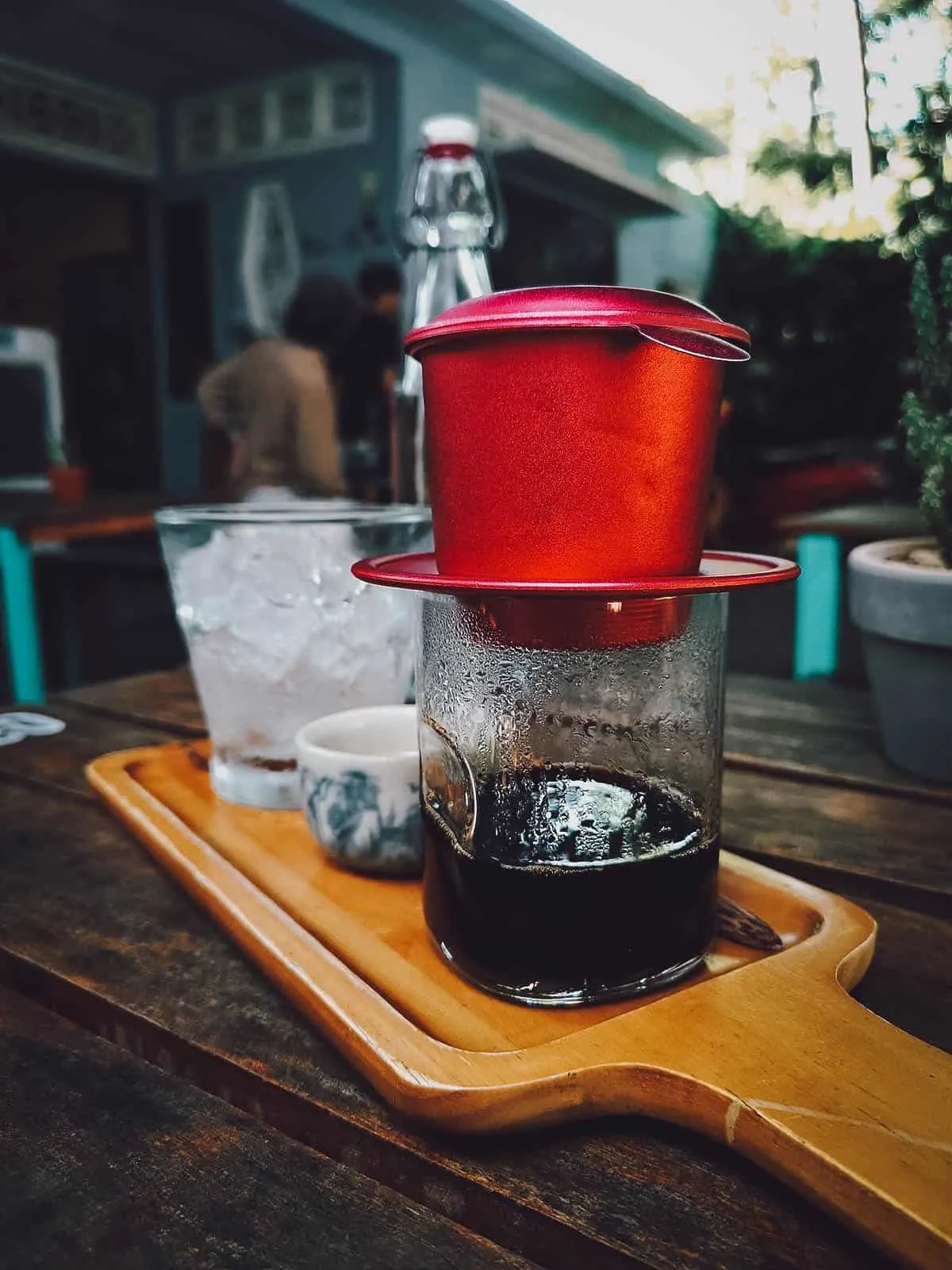 After all the water seeps through the phin, you can pour the coffee into your glass with ice then add the condensed milk. Coffee in Vietnam is often served in this way.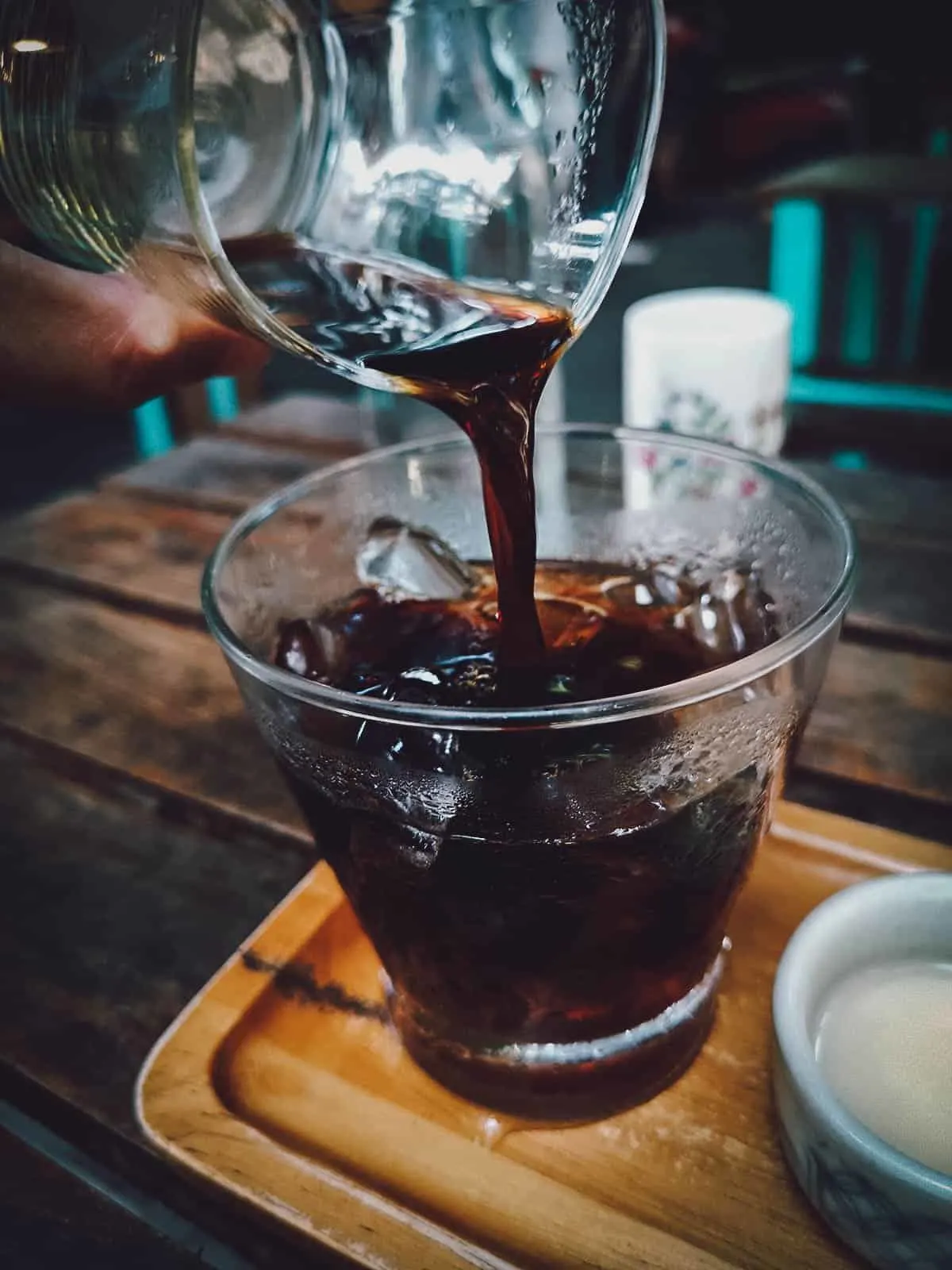 Phin Espresso & Drip (Original)
Address: 132/7 Trần Phú, Phường Minh An, Hội An, Quảng Nam, Vietnam
Operating Hours: 8AM-5:30PM, daily
3. Hoi An Roastery
This is probably the most successful coffee chain in Hoi An. With several branches throughout the city, I like to think of them as the Starbucks of Hoi An.
Hoi An Roastery is a polished coffee brand that offers good coffee in a comfortable, well-designed environment. It may not be the most interesting or unique but you can expect the same level of service, comfort, and quality at every Hoi An Roastery branch. Just like Starbucks.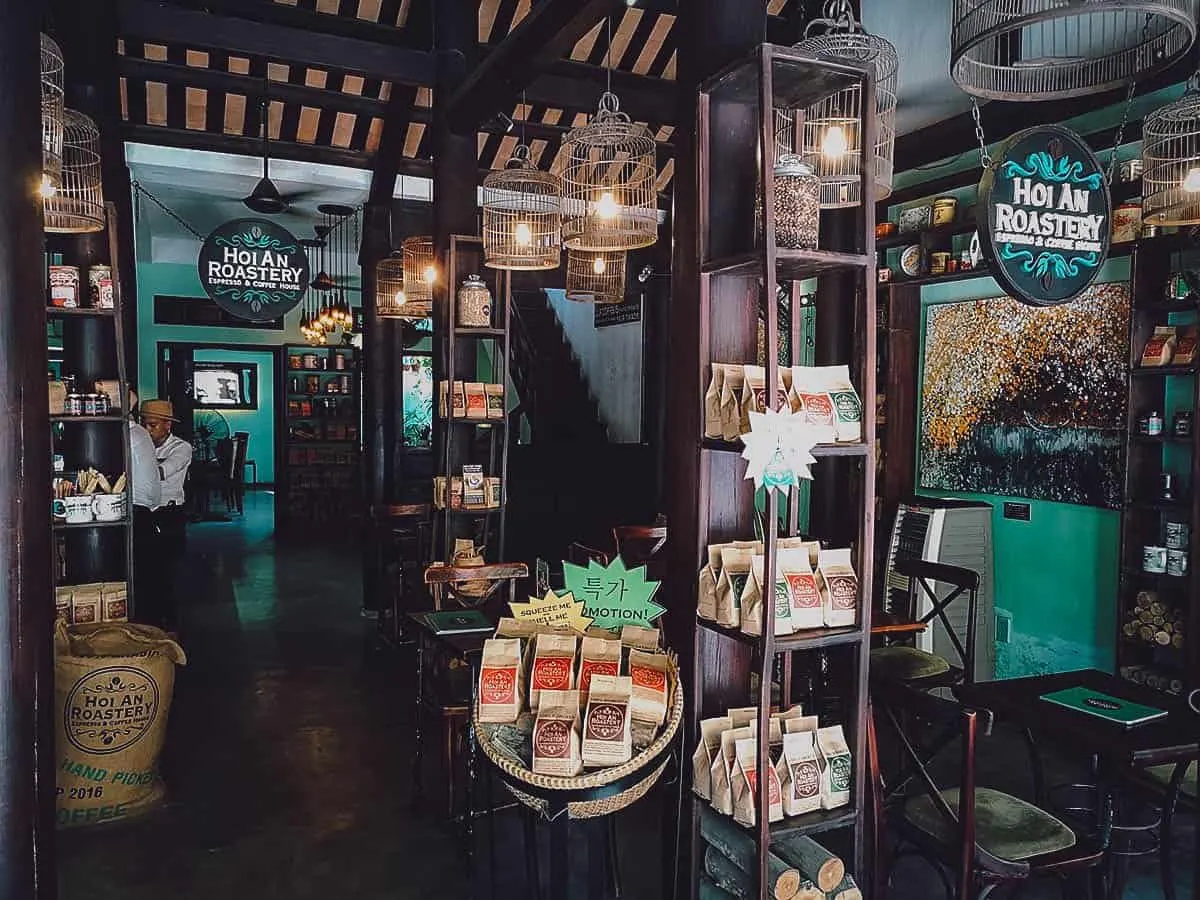 It was a sweltering afternoon in Hoi An so I ordered a large ca phe sua da and retreated to the air-conditioned room upstairs. If you're used to the comforts of a western-style cafe, then you're going to like Hoi An Roastery.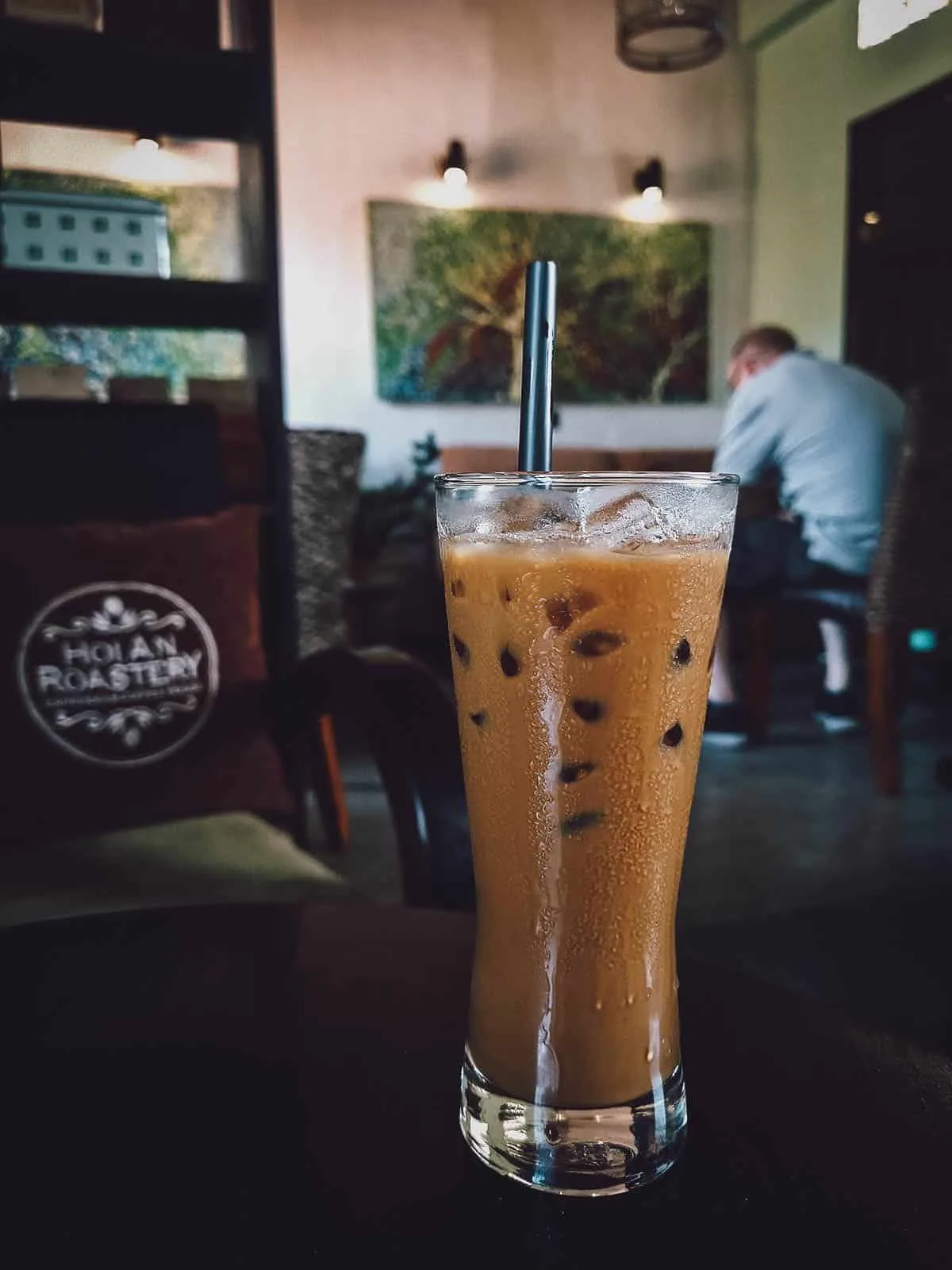 Hoi An Roastery
Address: Multiple branches
Operating Hours: Varies per branch
4. The Espresso Station
This was my favorite cafe in Hoi An. The space wasn't the most interesting or comfortable but they served the best, most innovative cups of coffee I had in town. You'll see what I mean in the next picture.
Like a few of the cafes on this list, The Espresso Station is a TripAdvisor Certificate of Excellence awardee with a perfect 5-star rating. It's tucked away in the Ancient Town's labyrinth of alleyways but it's well worth seeking out.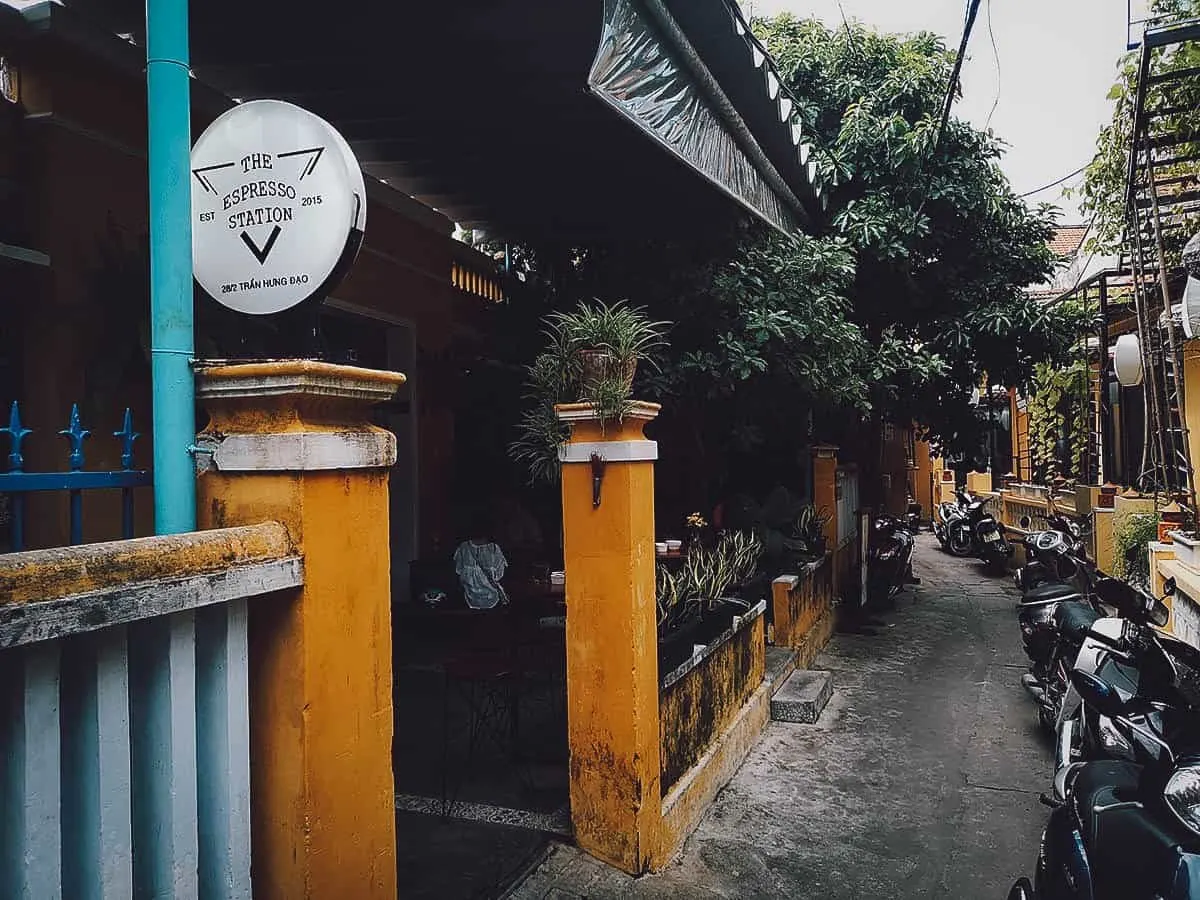 No, this picture wasn't Photoshopped. It really was this black. Called "dark soul latte", this cup of joe as black as your ex's heart is an espresso blended with milk and activated charcoal. It was delicious and not just a gimmick.
The Espresso Station serves a selection of Vietnamese and western-style coffee like affogato, macchiato, and cubano cortado, but I suggest getting one of their signature brews. Aside from this dark soul latte, another drink that caught my eye was their "coffee ice cubes", which are frozen coffee cubes topped with cocoa powder and served with a side of warm milk. I'm definitely trying that one on our next trip to Hoi An.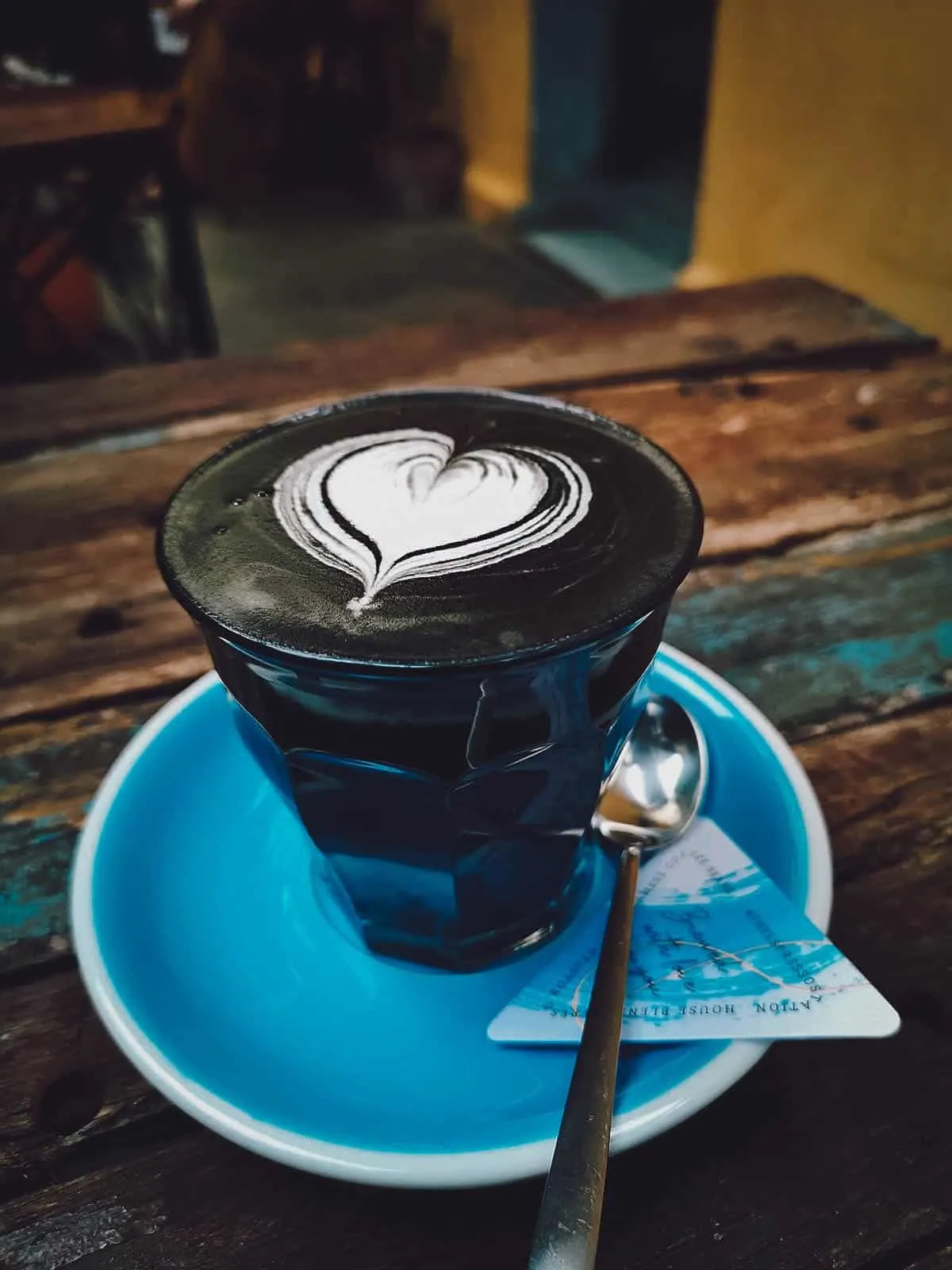 The Espresso Station
Address: 28/2 Trần Hưng Đạo, Phường Minh An, Hội An, Quảng Nam, Vietnam
Operating Hours: 7:30AM-5PM, daily
5. Nhỏ ơi Cafe
In 2019, ca phe muoi or salt coffee wasn't a thing in Hoi An yet. Fast forward to 2023 and this delicious Hue coffee creation is available at pretty much every cafe in Hoi An (and Da Nang). Salt coffee has become our go-to coffee drink in Vietnam and we enjoyed it several times in Hoi An, including here at Nho oi Cafe.
If you haven't tasted salt coffee yet, then I highly recommend trying it. It's incredibly delicious and something we drank everyday – sometimes several times a day – on our most recent month-long trip to central Vietnam.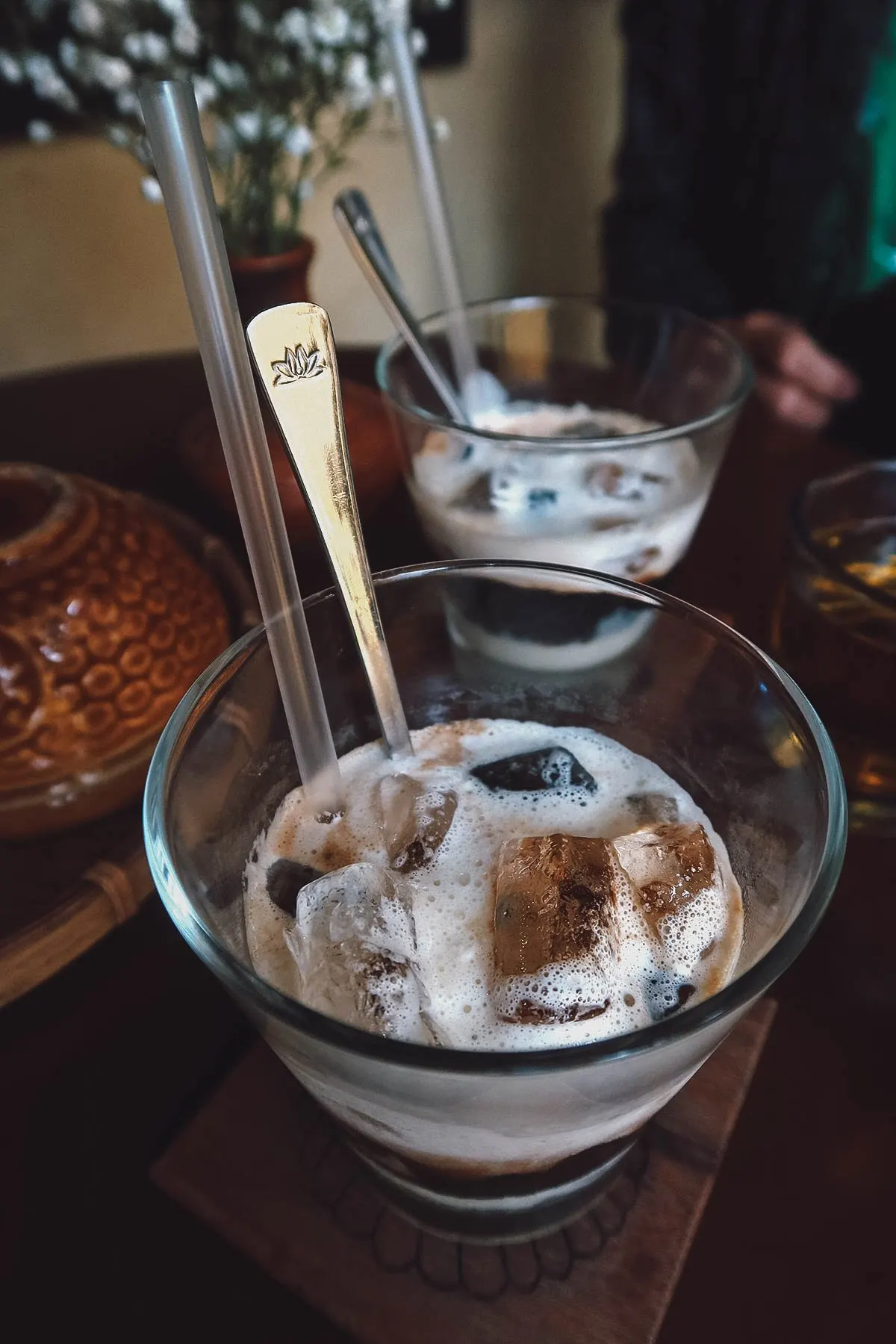 Nho oi Cafe is a cute cafe located in the heart of the Ancient Town.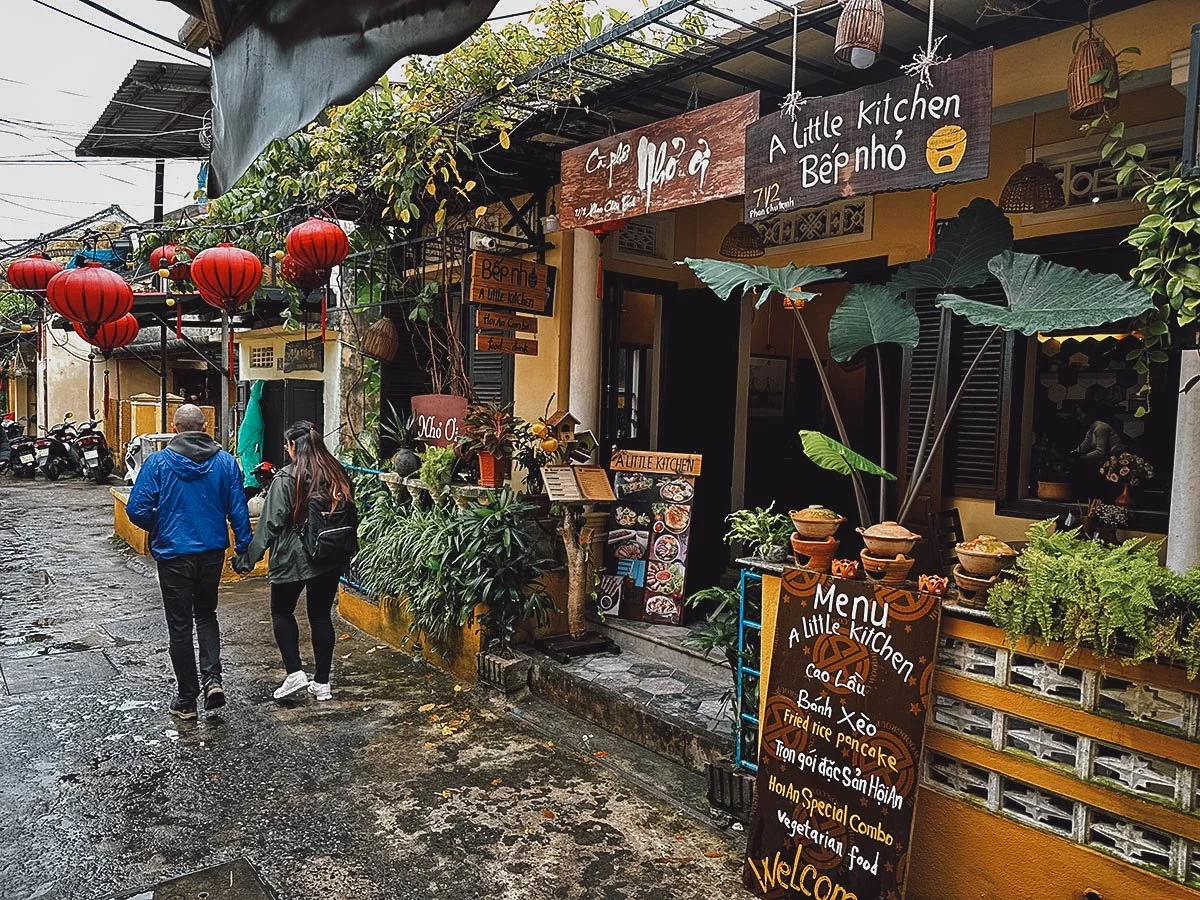 When we visited, ca phe muoi wasn't printed on their menu but they do offer it. Just ask the server for it.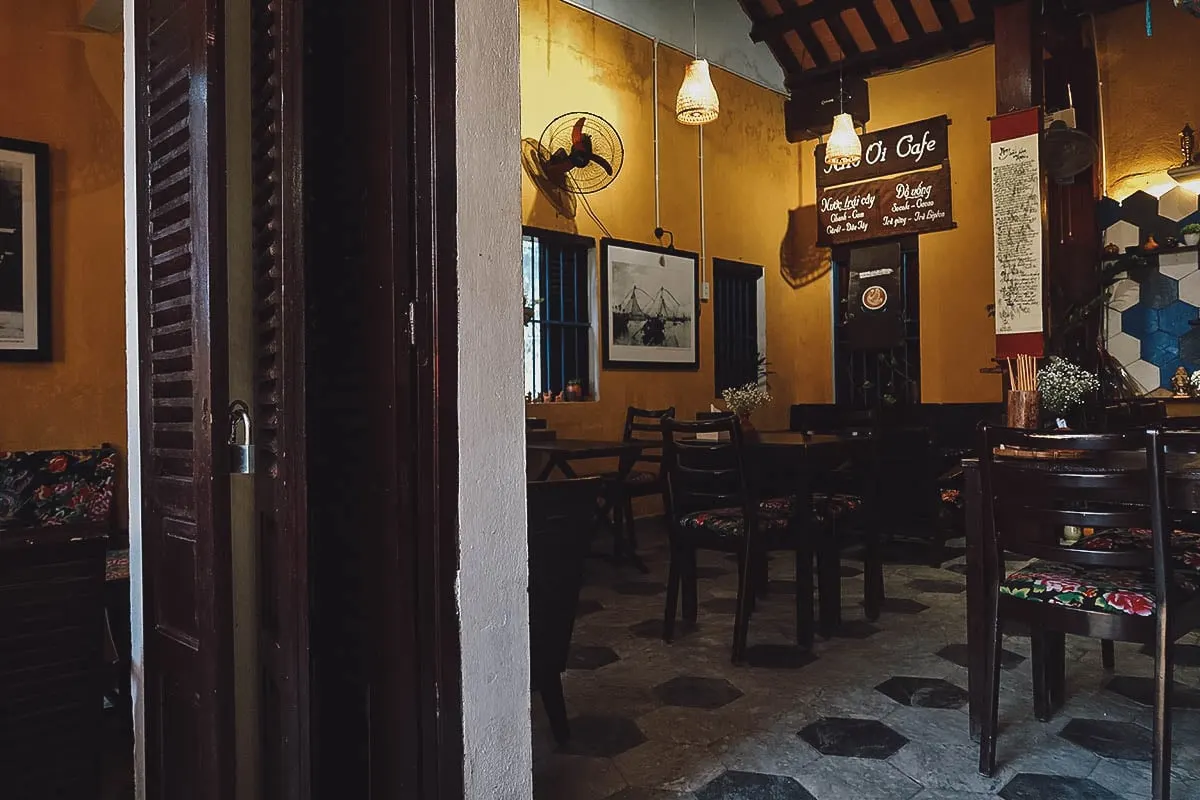 Nho oi Cafe
Address: 71 Phan Chu Trinh, Phường Minh An, Hội An, Quảng Nam, Vietnam
Operating Hours: 6AM-10PM, daily
6. Chin Coffee & Juice
There are many beautiful cafes in Hoi An. Some are in plain sight while others, like this one, are partly hidden. Chin Coffee & Juice is located in an alley and offers an extensive menu of coffee, tea, soda, smoothies, and juice drinks.
Whenever we see "ca phe muoi" or "salt coffee" on a cafe's menu, we know exactly what we're getting.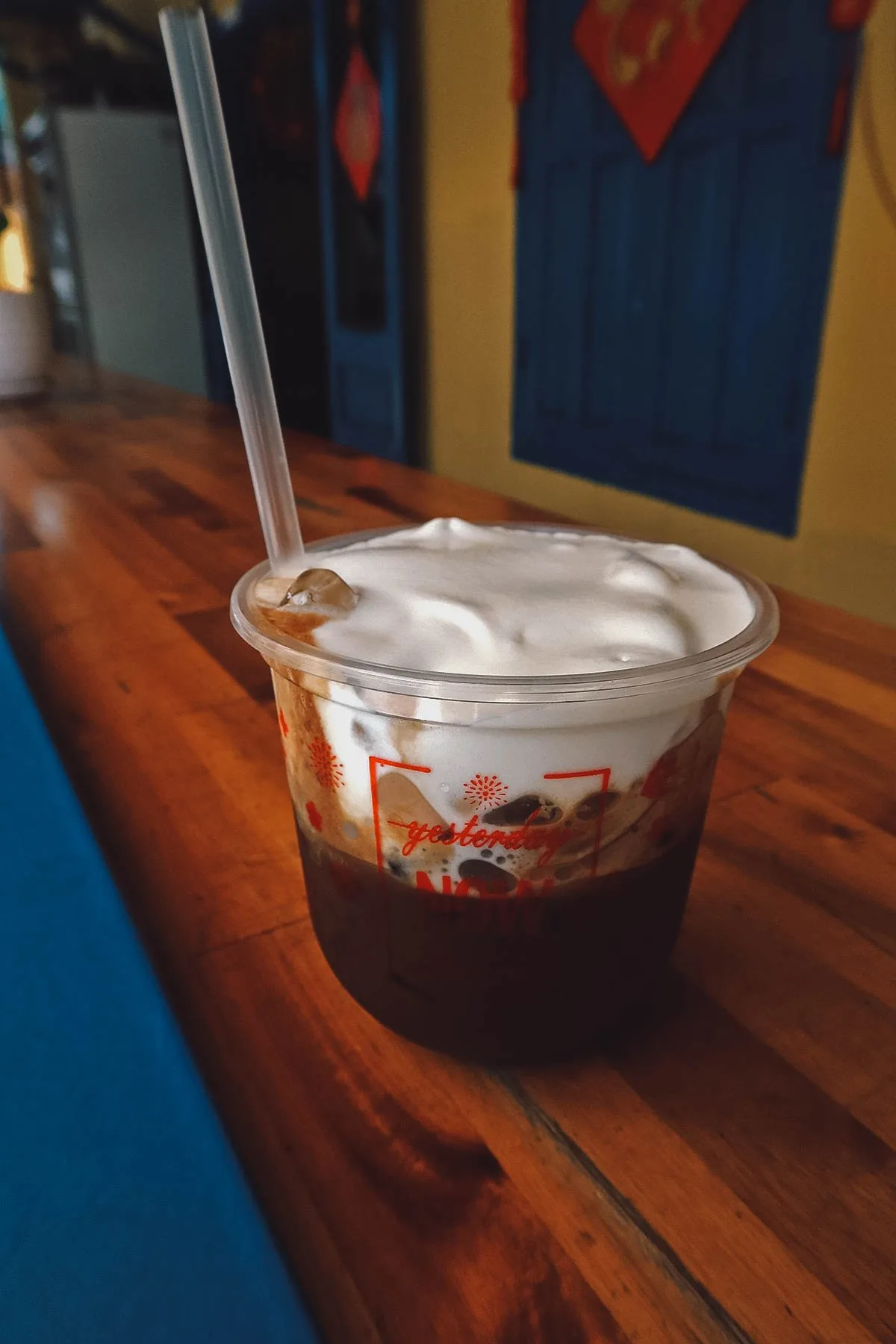 Hoi An is extremely popular so the main streets are almost always flooded with tourists. If you'd like to sip your coffee in peace, then Chin Coffee & Juice is a great place to go. Now if only they had hammocks…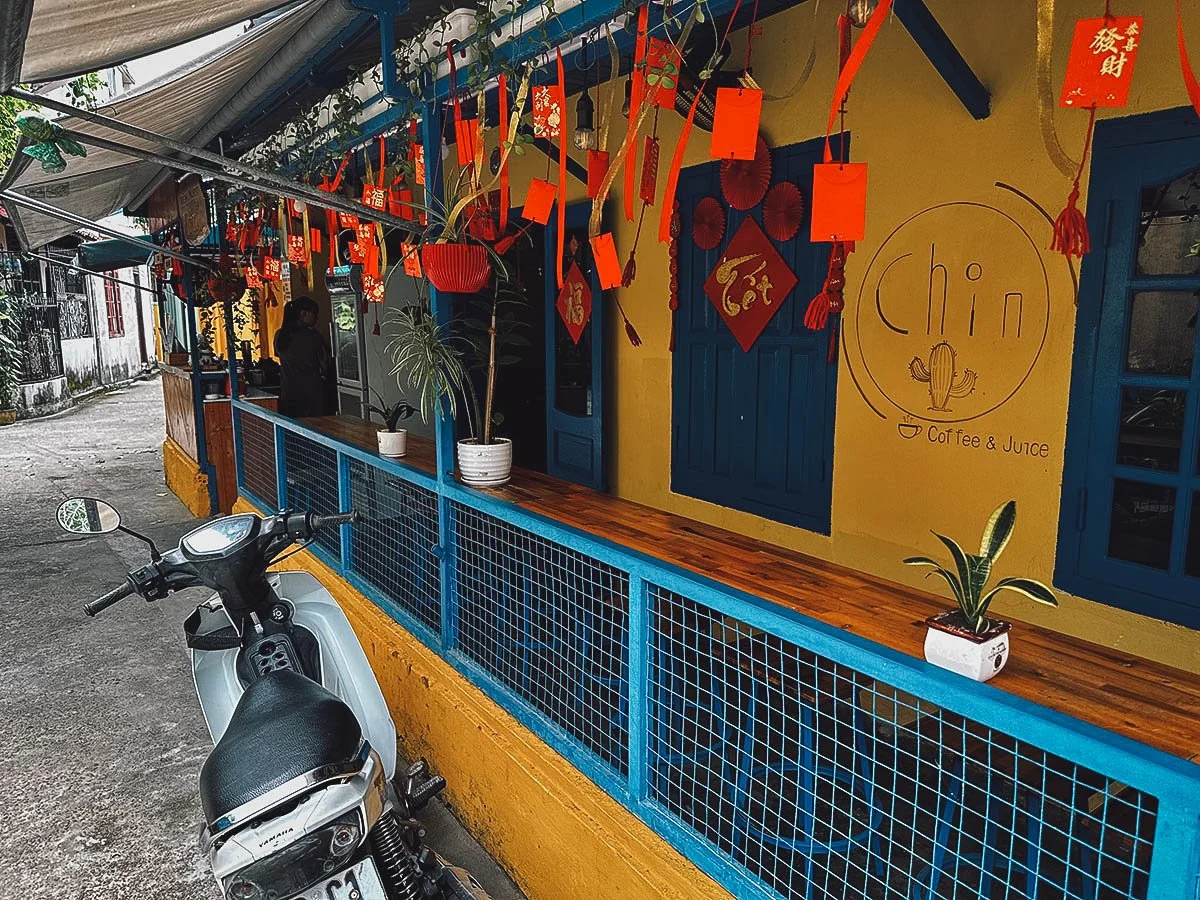 Chin Coffee & Juice
Address: 6 Lê Lợi, Phường Minh An, Hội An, Quảng Nam, Vietnam
Operating Hours: 7AM-9PM, daily
7. Hoi An Coffee Hub
This may be our new favorite cafe in Hoi An. Located at the end of a short alley, Hoi An Coffee Hub is another cute cafe that offers some of the best and most unique salt coffee drinks we've enjoyed thus far in Vietnam.
On the left below is the standard salt coffee while on the right is matcha salt coffee. If you enjoy the taste of matcha or Japanese green tea, then you need to try this as well. It's delicious.
Aside from the varieties, what makes Hoi An Coffee Hub's salt coffee different is that the salt cream layer is at the bottom of the glass. Usually added to the top, most cafes will want you to mix your drink so the salt cream mixes with the coffee. I don't recommend doing that here.
Hoi An Coffee Hub's salt coffees are perfect as is. I made the mistake of mixing our drinks halfway through and instantly regretted it after taking a sip. There's a reason why uncle adds the salt cream layer first, so don't mix it!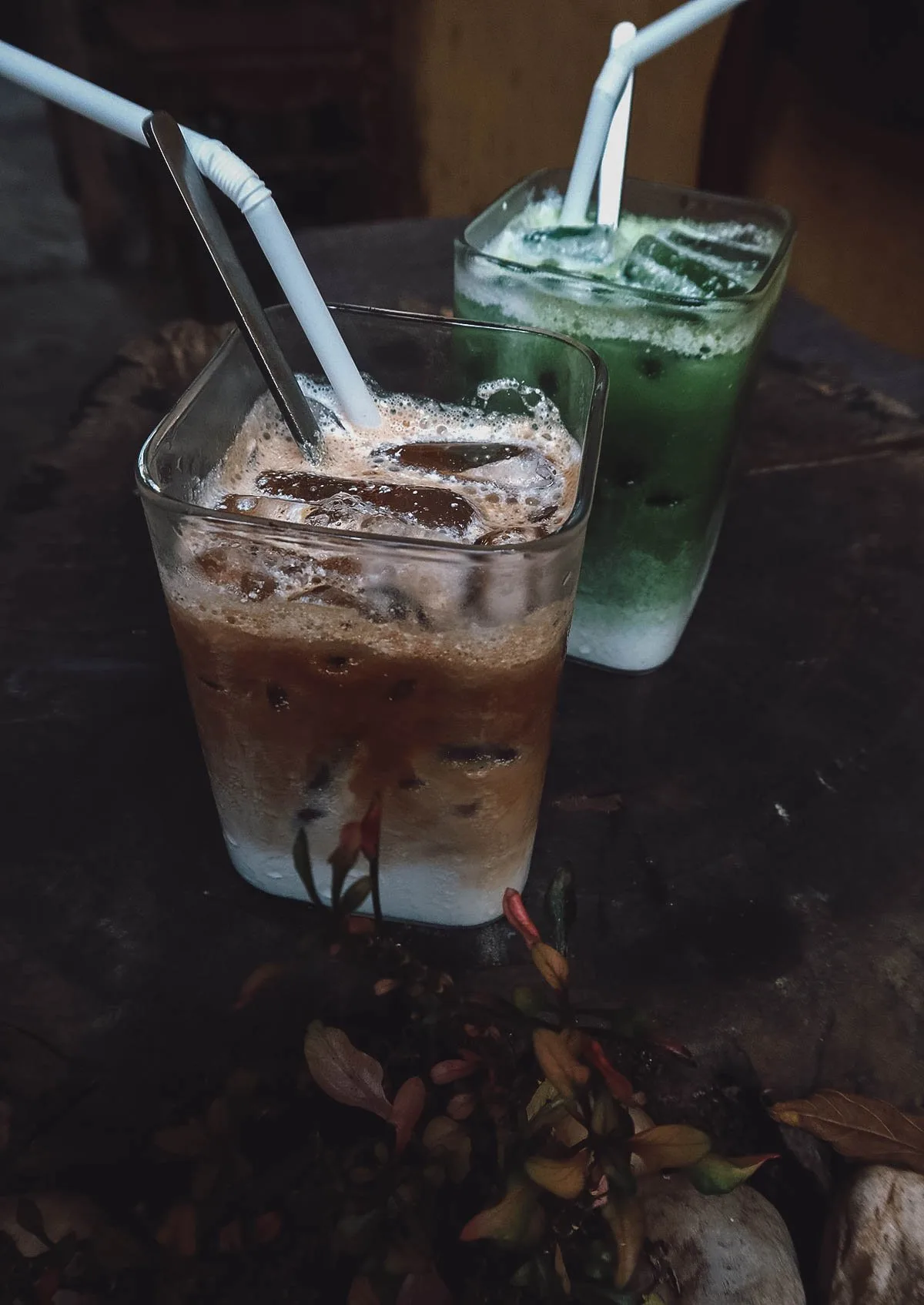 We've seen salt matcha coffee in one other cafe in Da Nang but this was the only place we've seen salt strawberry. More of a true dessert than a drink, this was absolutely delicious as well. It's topped with chunks of strawberry preserves.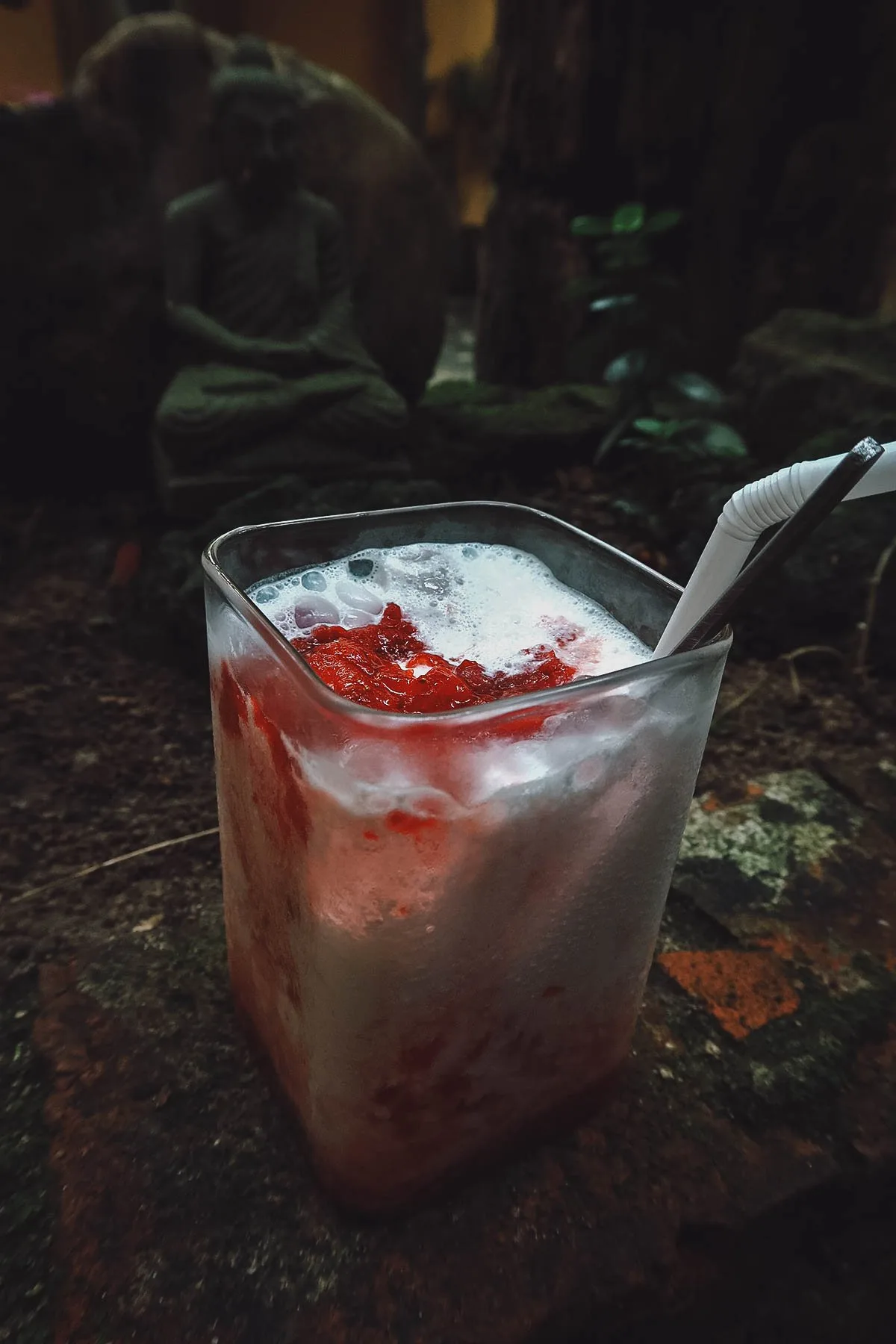 Unless you were looking for it, Hoi An Coffee Hub is easy to miss. It's tucked away at the end of this short alley so look out for the green sign pictured below.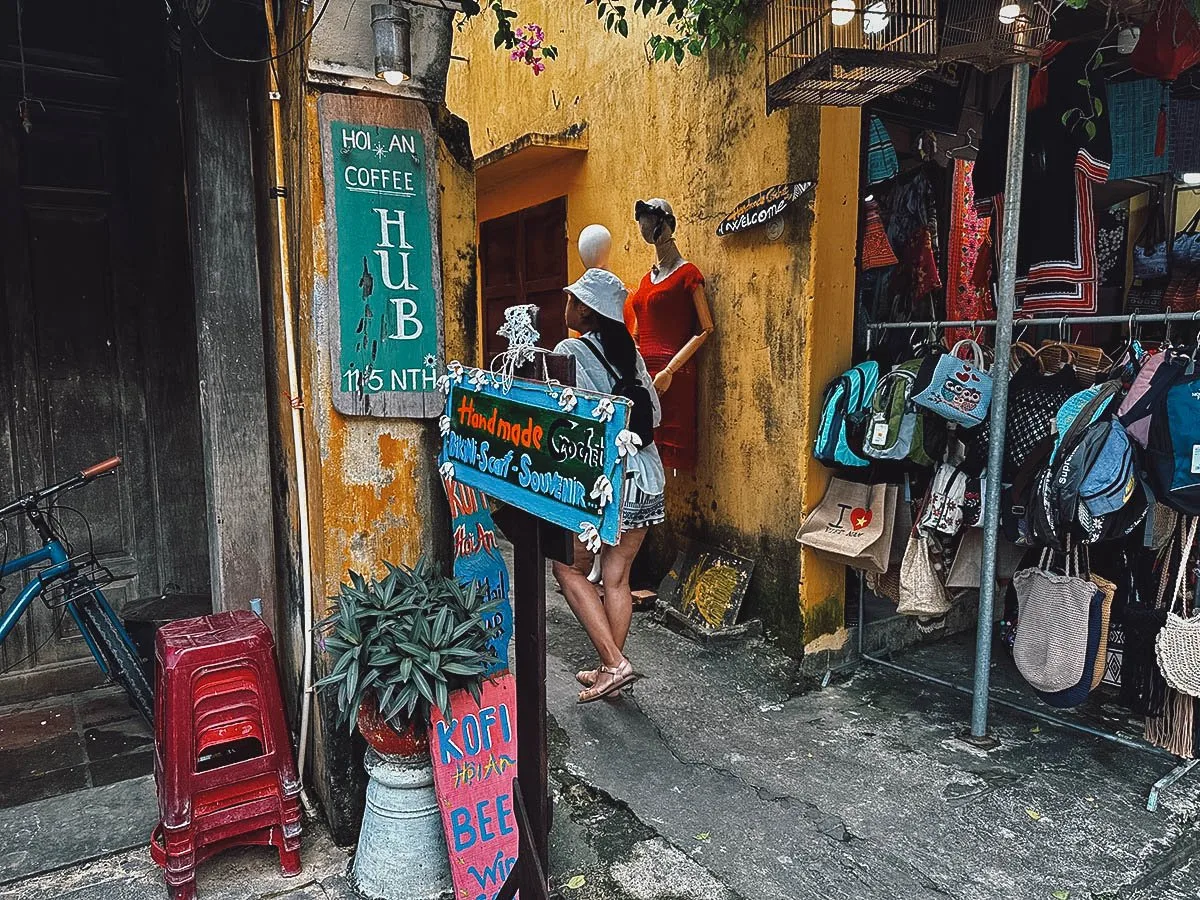 Hoi An Coffee Hub is rustic and airy and makes some of the best salt coffee creations we've had anywhere in Vietnam.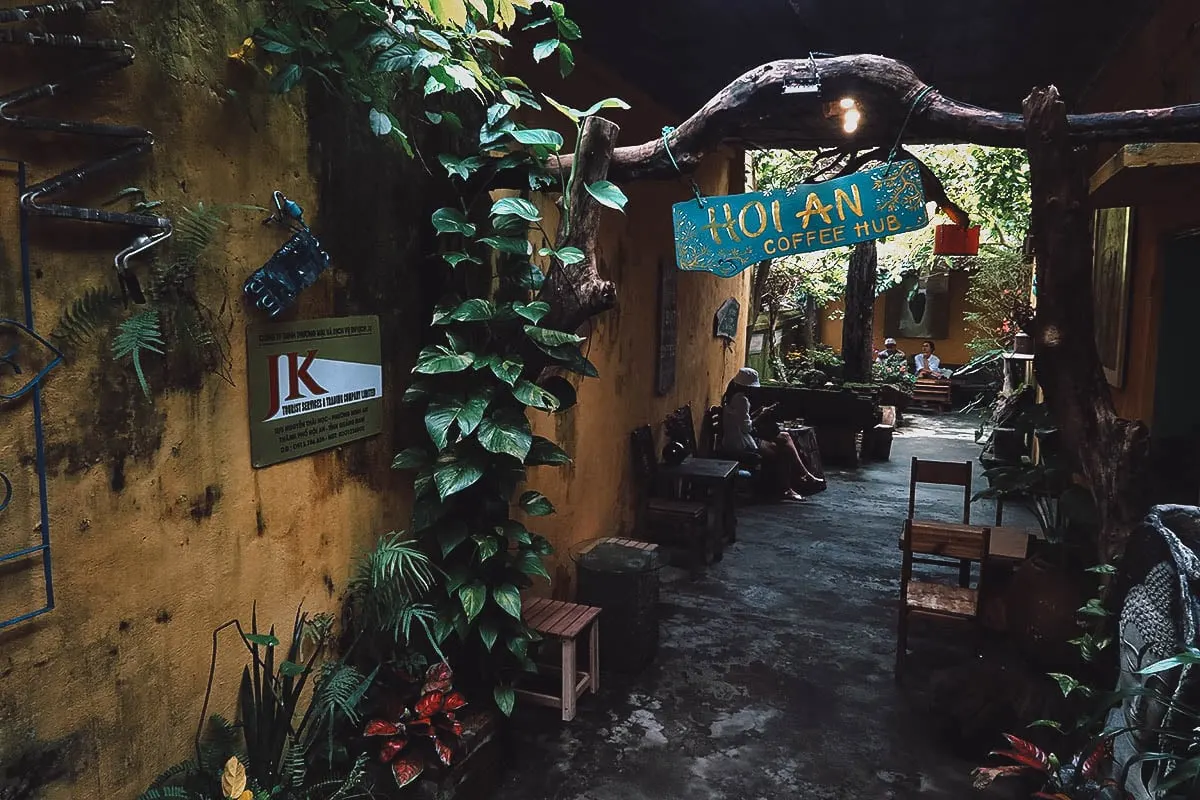 Hoi An Coffee Hub
Address: Hẻm 11 Nguyễn Thái Học, Phường Minh An, Hội An, Quảng Nam 56000, Vietnam
Operating Hours: 7AM-10PM, daily
8. Xua Zone Coffee Shop
We stayed on An Hoi island on our most recent trip to Vietnam and found this charming cafe not too far from our homestay. It's run by a lovely young Vietnamese family that offers macrame workshops as well.
I ordered my usual salt coffee and made the mistake of asking for it hot. I did that because I was curious why salt coffee was always served cold and I learned why after this glass. While ca phe muoi is still enjoyable when hot, the flavors of the drink don't fully come out unless it's served cold with ice.
Xua Zone is one of the few coffee shops I can remember that serves their salt coffee with a dusting of cinnamon. Nice.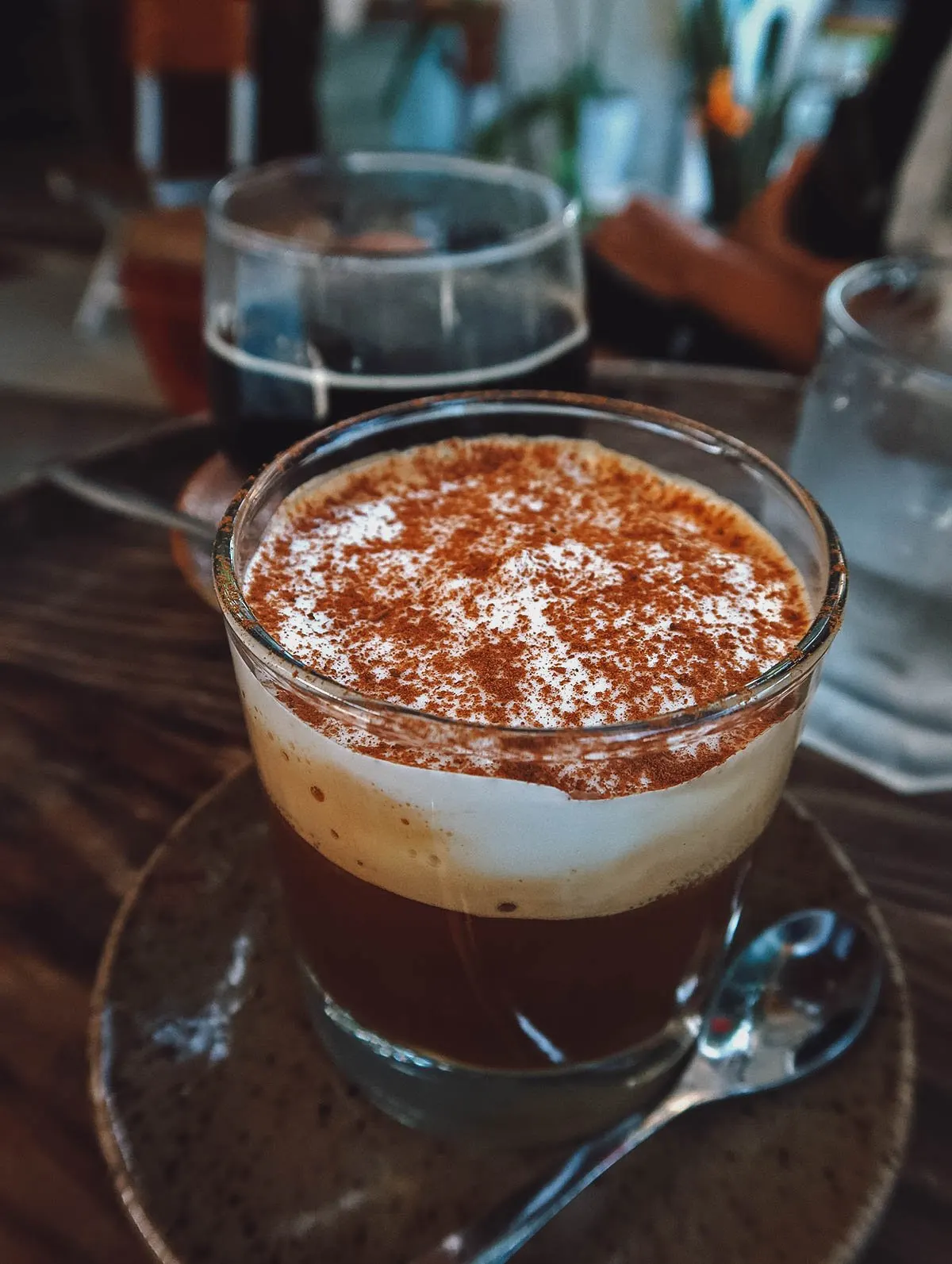 An Hoi island is home to the Hoi An night market so you may want to check out Xua Zone while you're there.
As described, Xua Zone offers macrame workshops so you may want to book a class if that's something that interests you. The few reviews they have on Google are positive.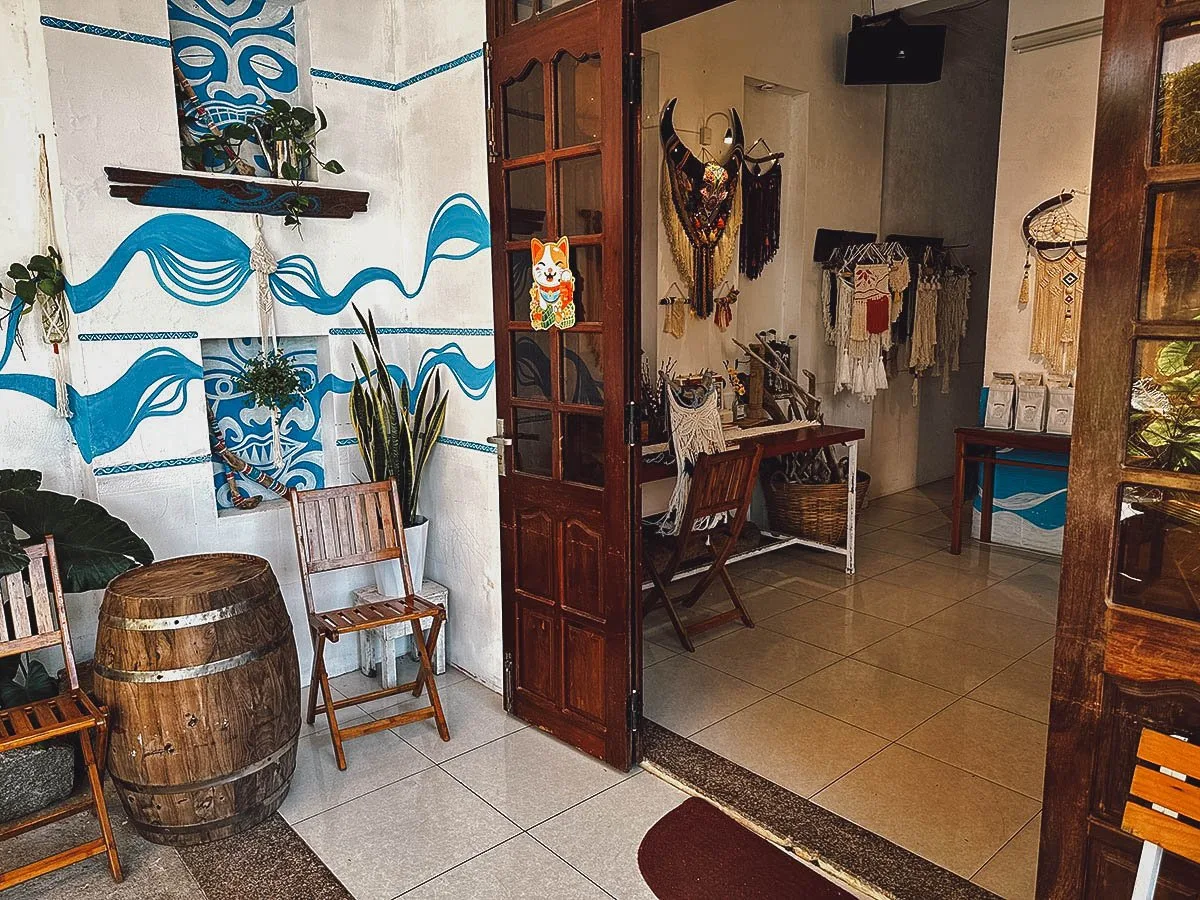 Xua Zone Coffee Shop
Address: 131/2 Nguyễn Phúc Tần, Phường Minh An, Hội An, Quảng Nam 51309, Vietnam
Operating Hours: 7:30AM-11PM, daily
9. Olivier Coffee
Exploring Hoi An on a bicycle is one of the best ways to experience this town. Almost every homestay or hotel offers bikes to their guests so it shouldn't be hard to rent one.
We spent one afternoon cruising around Cam Nam island and stopped at this cafe for refreshments. They offer different types of coffee, tea, smoothies, fruit juices, yogurt drinks, and ice cream. At the suggestion of the owner, I went with this tall glass of Saigon-style milk coffee.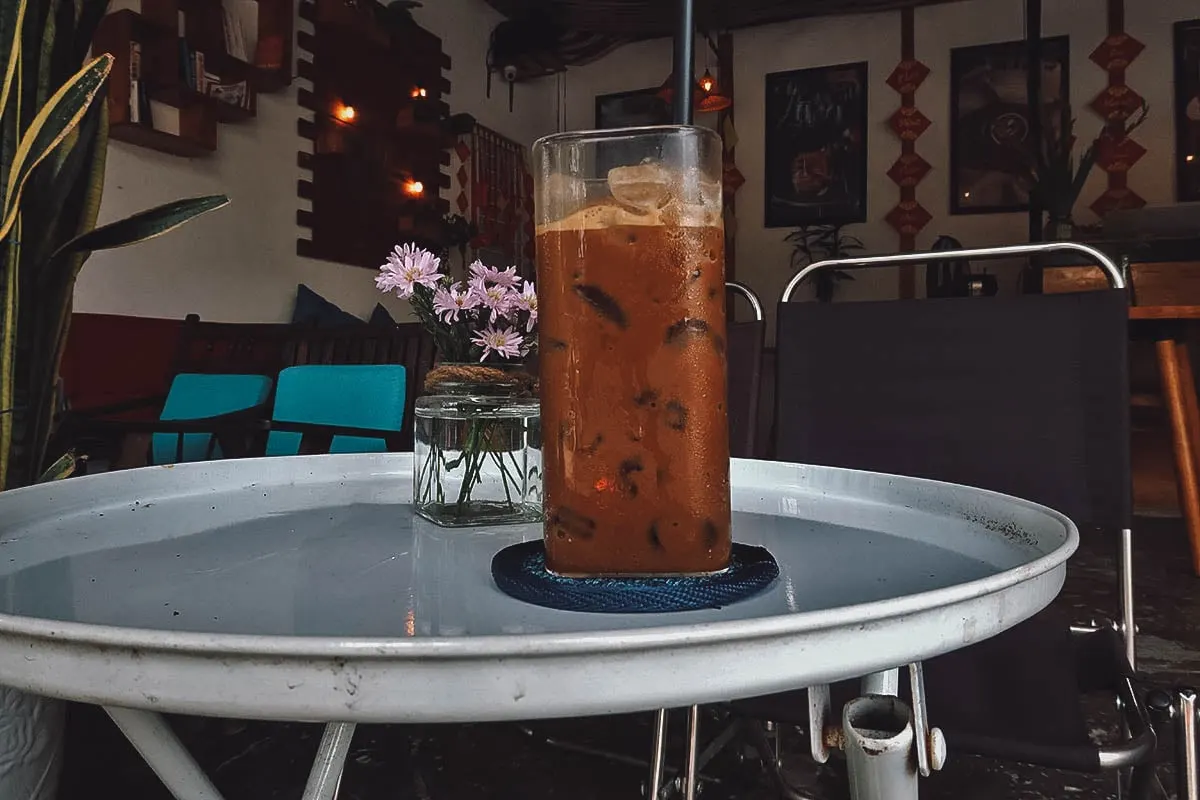 Sitting outside while facing the street and sipping on good coffee is one of our favorite pastimes in Vietnam. I could seriously do this everyday.
We sat here for a good half hour or so chatting with the warm Vietnamese couple that owns the cafe. One of the husband's brothers is a Catholic priest who's been based in Dumaguete, Philippines for several years now. We're originally from the Philippines and plan on retiring in Dumaguete so we enjoyed swapping stories with him. Lovely couple.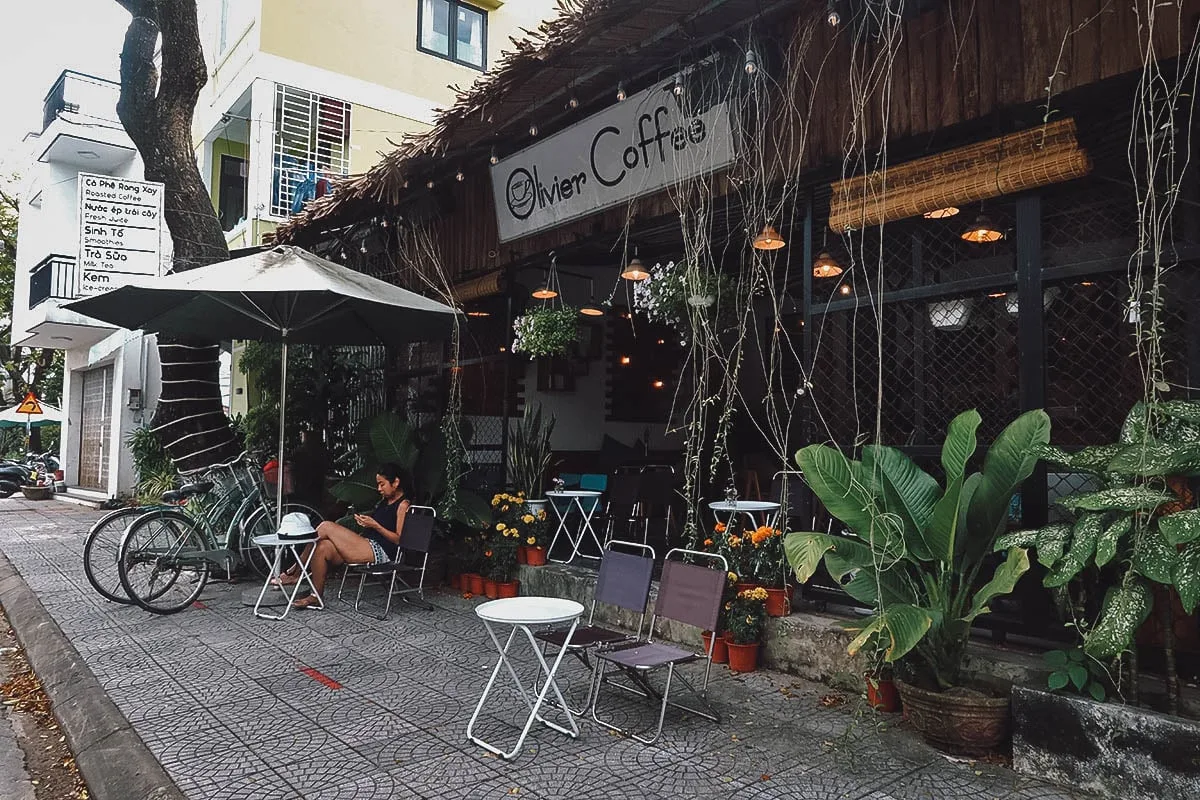 Olivier Coffee
Address: 56 Nguyễn Tri Phương, Cẩm Nam, Hội An, Quảng Nam, Vietnam
Operating Hours: 7AM-6PM, daily
10. 28 Nguyen Du
One of my favorite coffee experiences in Hoi An was also one of the simplest. Other than its address – 28 Nguyen Du Street – I don't even know if this place had a formal name (no, it's not "Cafe Giai Khat"). It's basically just a small sundries shop by the river which happens to serve coffee. It's clearly the least remarkable place on this list but what I enjoyed about it was its authenticity.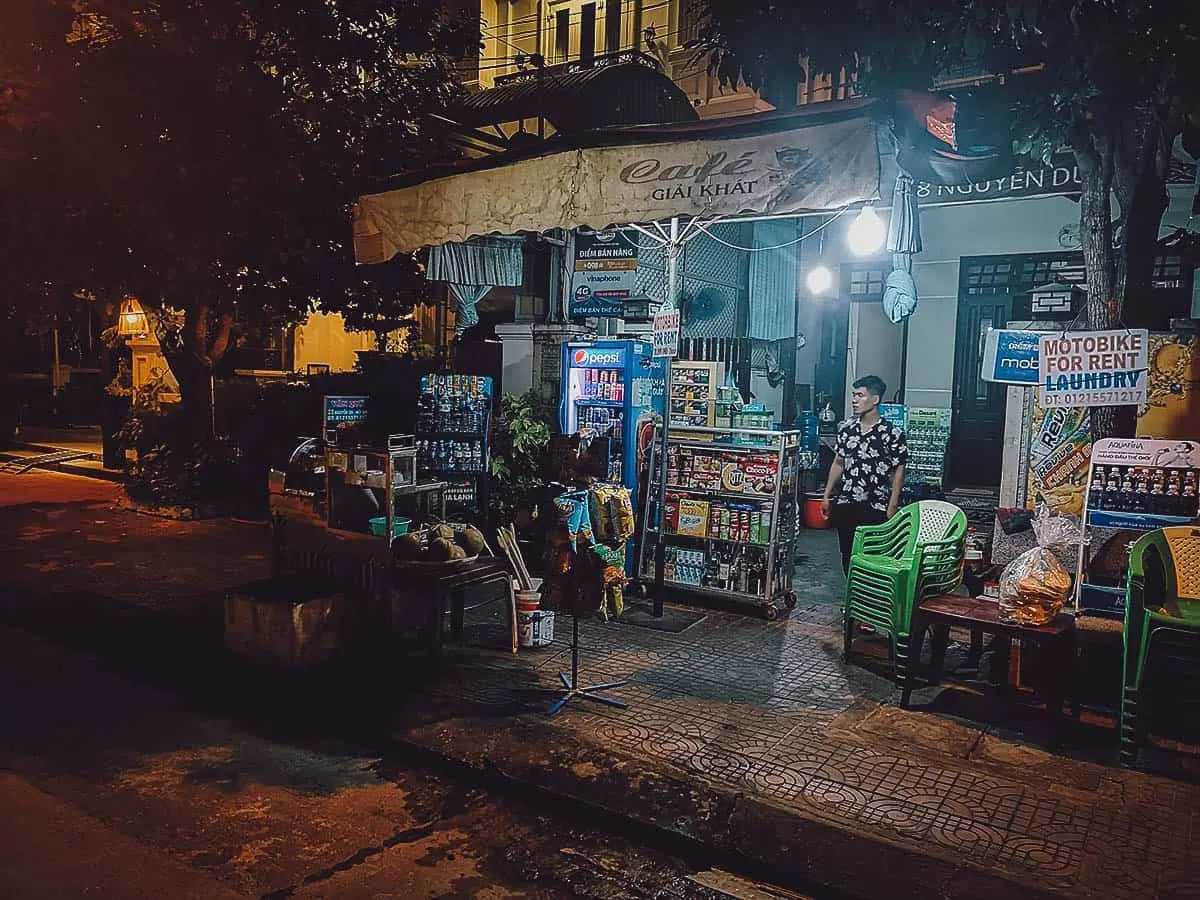 As beautiful as Hoi An is, it's also terribly touristy, especially in the Ancient Town at night. I wanted to have coffee by the Thu Bon River but I hated the crowds that would always form around the pedestrian bridge. Thankfully, I had this place to go to.
Located near my hotel in a much quieter area of town was a series of humble establishments that would set up plastic tables and chairs by the river at night. I'd pass this area every evening and see locals enjoying drinks by the river. I walked up and down the Thu Bon and as far as I could tell, only this shop at 28 Nguyen Du street served hot coffee at night.
I spent my last night in Hoi An here, sipping black coffee by the river and quietly enjoying the town's cool evening air. No fancy shop, no heart-shaped latte art. Just good Vietnamese coffee and loads of atmosphere.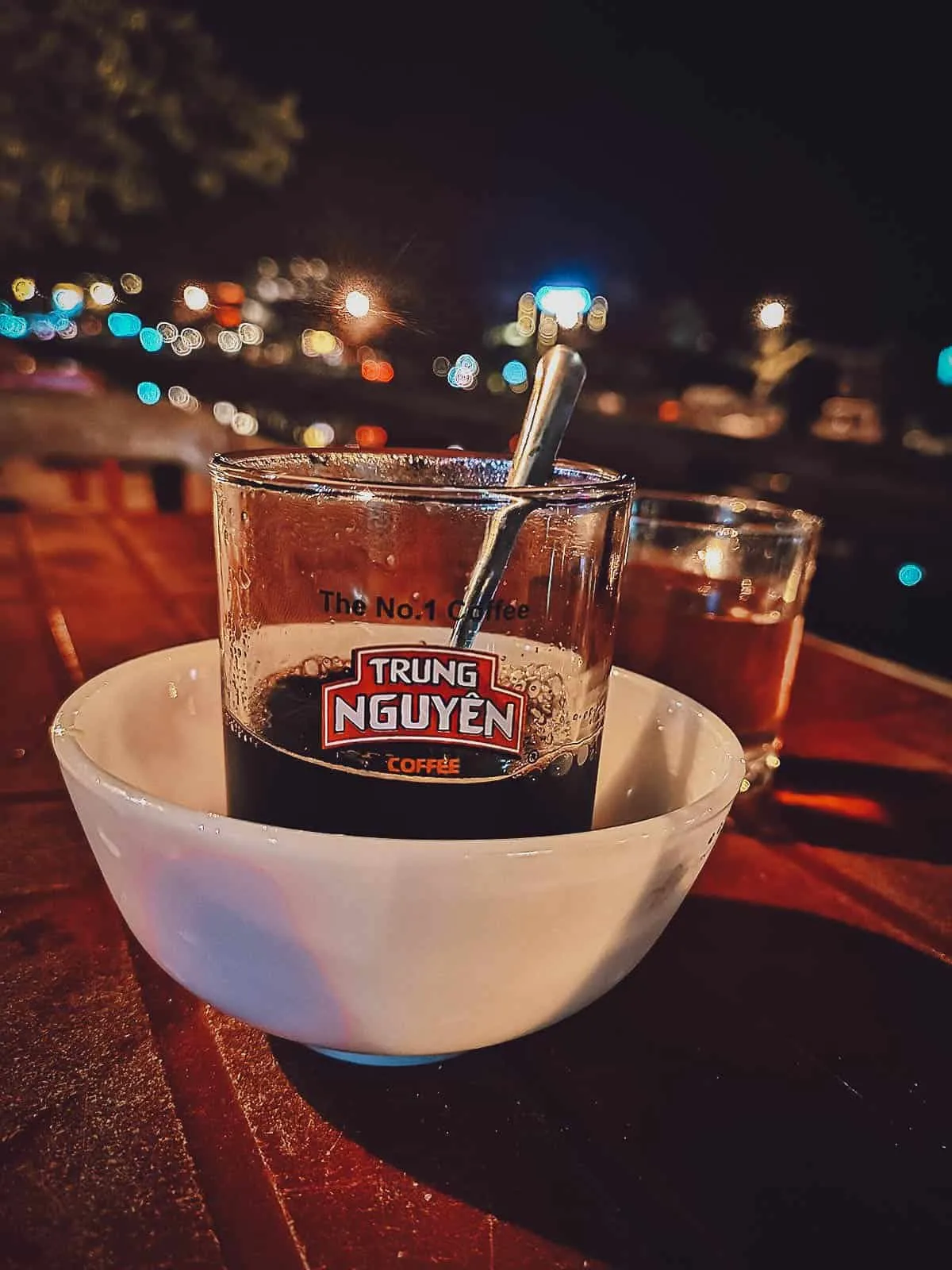 BONUS: Mot Hoi An
I added this herbal tea shop as a bonus because it isn't coffee and it doesn't fit in to our Hoi An food guide. I didn't even know about this place until I saw the long queue of people on Tran Phu Street waiting to be served this iced herbal drink. As a general rule, if people are lining up for something, then it must be good.
From the looks of it, Mot Hoi An is a tea shop and restaurant most famous for these herbal drinks served by the side of the road. They're a TripAdvisor Certificate of Excellence awardee with a stellar 4.5-star rating.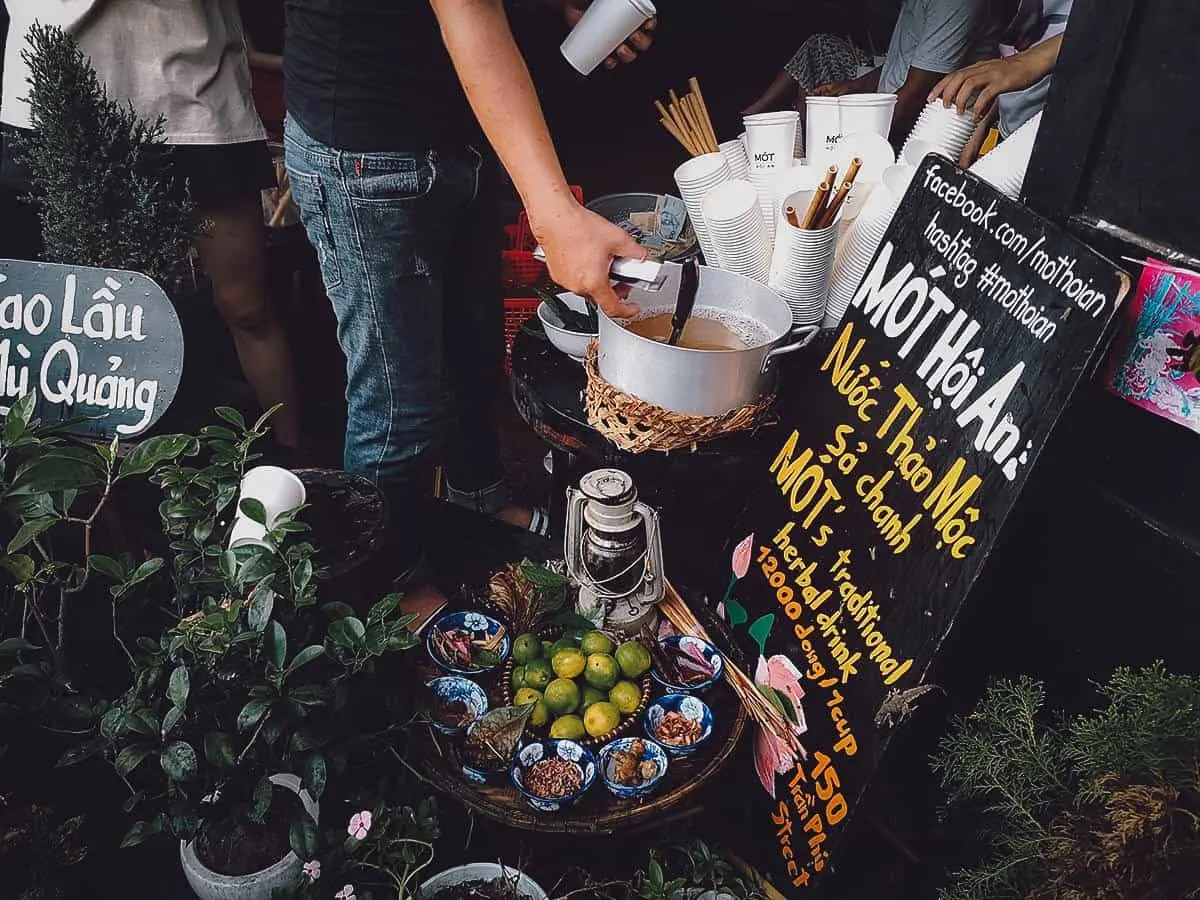 Aside from citrus fruit, I can't tell you what's in it but it's pretty good – nice and refreshing. According to one website, it's made with a mix of ingredients like luo han guo fruit, lemon, lemongrass, cinnamon, honeysuckle, and more.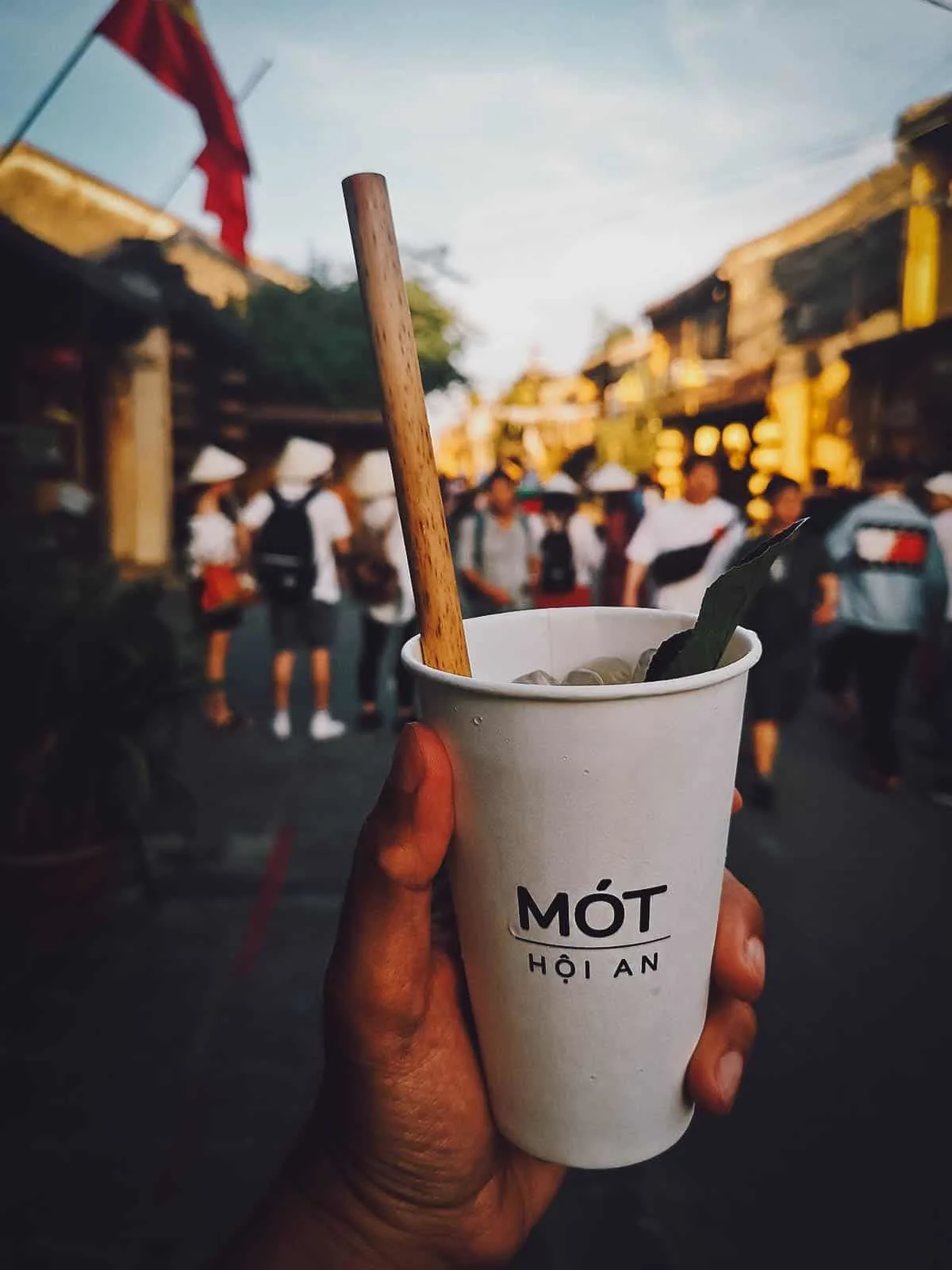 Mot Hoi An
Address: 150 Trần Phú, Phường Minh An, Hội An, Quảng Nam, Vietnam
Operating Hours: 8AM-9:30PM, daily
HOI AN CAFES LOCATION MAP
To help you find these Hoi An cafes, I've pinned them all on this map. Most are located in the Ancient Town so you shouldn't have any trouble getting to them. Click on the link for a live version of the map.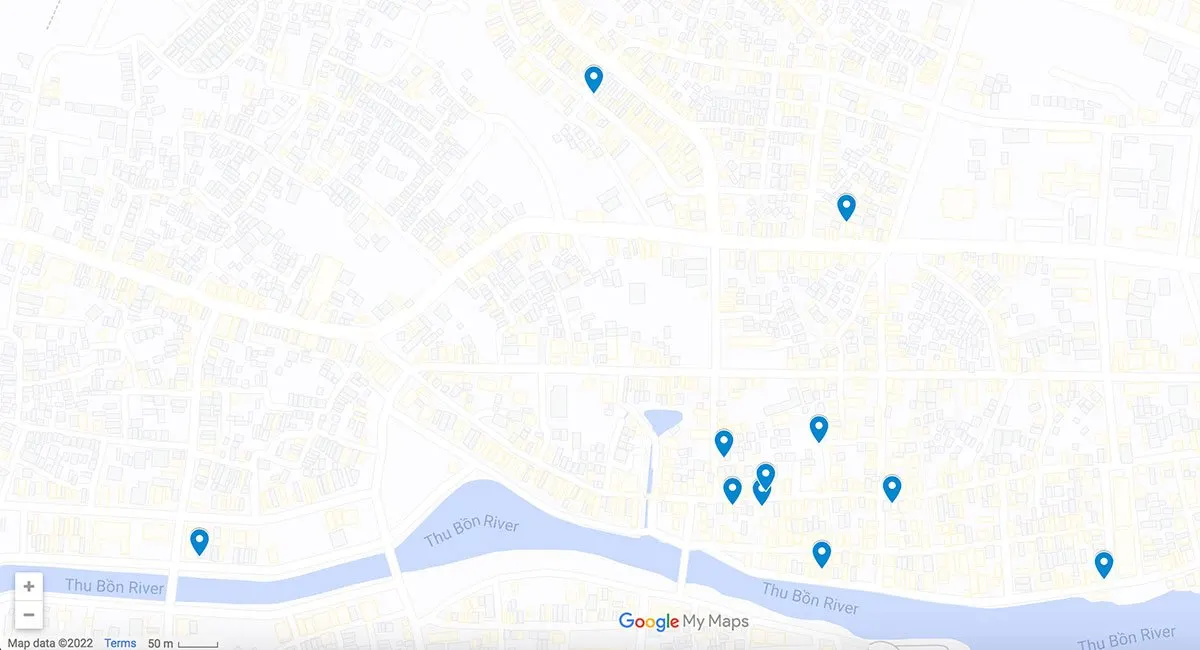 FINAL THOUGHTS ON THE COFFEE IN HOI AN
Hoi An may not have anything unique like Hanoi's ca phe trung or Hue's ca phe muoi, but it does have some of the prettiest and most pleasant cafes I visited in Vietnam. Not to mention some of the tastiest regional Vietnamese food.
Like the Mekong Delta region where I'd spend hours swinging and sipping coffee from a hammock, life is just slower in Hoi An. Sitting at a cafe all day doing little more than people watching or getting lost in a good book (or Netflix series) wasn't a day poorly spent.
If you aren't staying long enough in central Vietnam and just want the best cups of coffee, then I recommend The Espresso Station, Phin Coffee, or Hoi An Coffee Hub. Those three places stood out and were easily my favorite coffee shops in Hoi An.
Disclosure
This article on the best cafes in Hoi An contains affiliate links, meaning we'll earn a small commission if you make a purchase or booking at no extra cost to you. We really appreciate your support as it helps us keep this website going. Thank you!