As I described in our Hanoi coffee guide, Vietnam is known for its coffee production. They're the second largest producer of coffee in the world, behind only Brazil.
I wasn't planning on featuring too many cafes during my time in Vietnam, but the coffee in this country is too good not to highlight. I visited eight cities in a month and made it a point to check out one or two cafes everyday, sometimes even more.
I had the most fun coffee hunting in Hanoi but Saigon held its own. They don't have homegrown creations like egg coffee or salty coffee, but what they lacked in unique recipes and history they more than made up for with their plethora of Instagram-worthy cafes. The apartment block cafes were a highlight and one of the most exciting surprises from my trip.
If you'd like to visit interesting Saigon cafes, then listed in this guide are ten of the coolest cafes in Ho Chi Minh City. Be sure to check out our Hanoi coffee guide as well to learn about the different types of coffee you can have in Vietnam.
SAIGON CAFES QUICK LINKS
To help with your Ho Chi Minh City trip planning, I've compiled links to hotels, tours, and other services here.
HOTELS
Top-rated hotels in Dictrict 1, the most convenient area to stay for people on their first trip to Ho Chi Minh City.
TOURS
OTHER SERVICES
SAIGON TRAVEL GUIDE
Before you visit Ho Chi Minh City, be sure to check out our detailed Saigon travel guide. It'll have all the information you need – like when to go, how to get around, where to eat, etc. – to help you plan your trip.
Save This on Pinterest!
No time to read this Saigon coffee shop guide now? Click on the save button and pin it for later!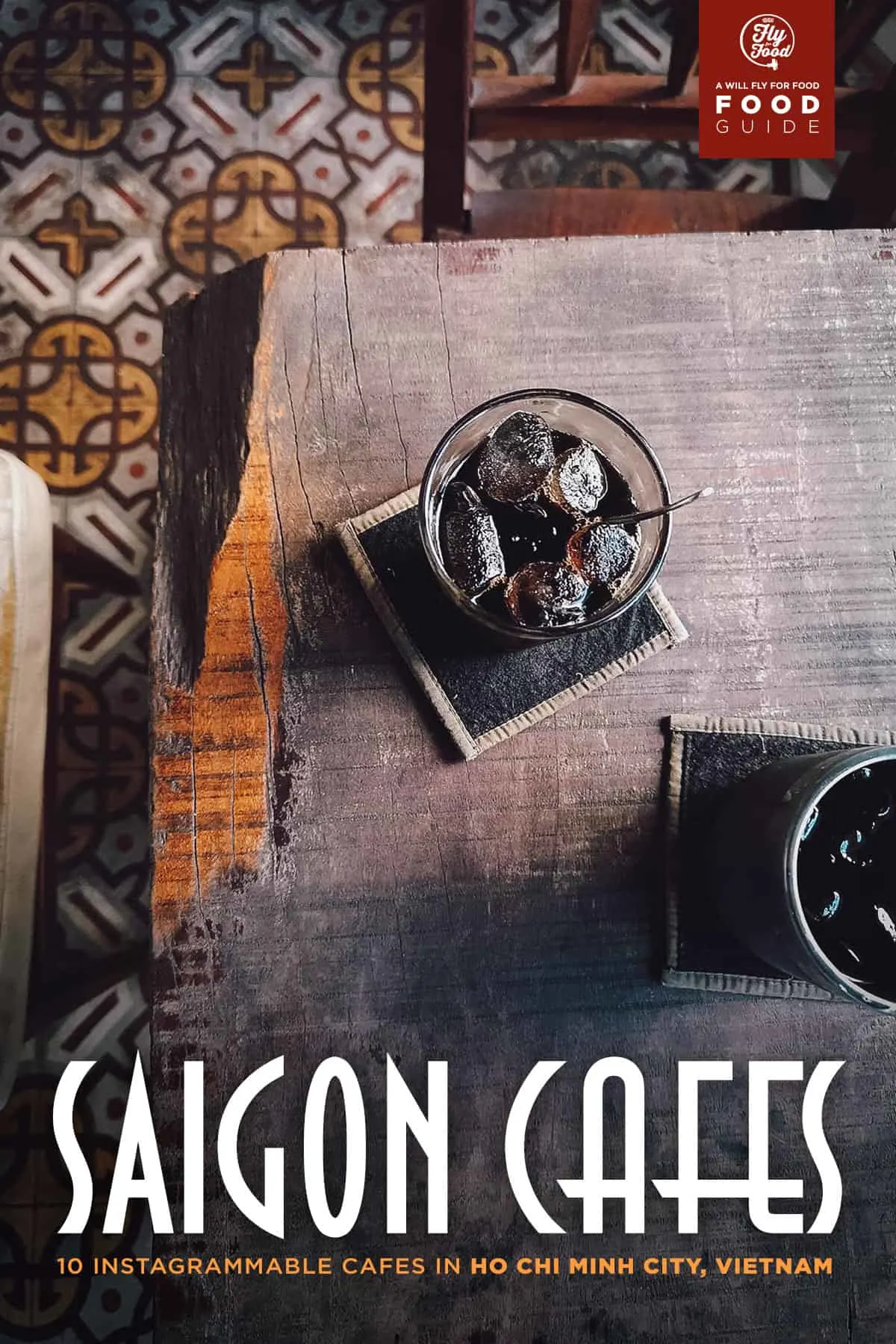 THE BEST CAFES IN HO CHI MINH CITY
1. 1987's House Coffee & Flower – CLOSED
Like many of our favorite Vietnamese food finds, I stumbled upon this Saigon coffee shop by accident. I had a pho breakfast at Pho Mien Ga Ky Dong and spotted this coffeehouse across the street.
The odd (and grammatically incorrect) name caught my attention so I took a peek inside and found a cute, nicely decorated cafe filled with, you guessed it – flowers.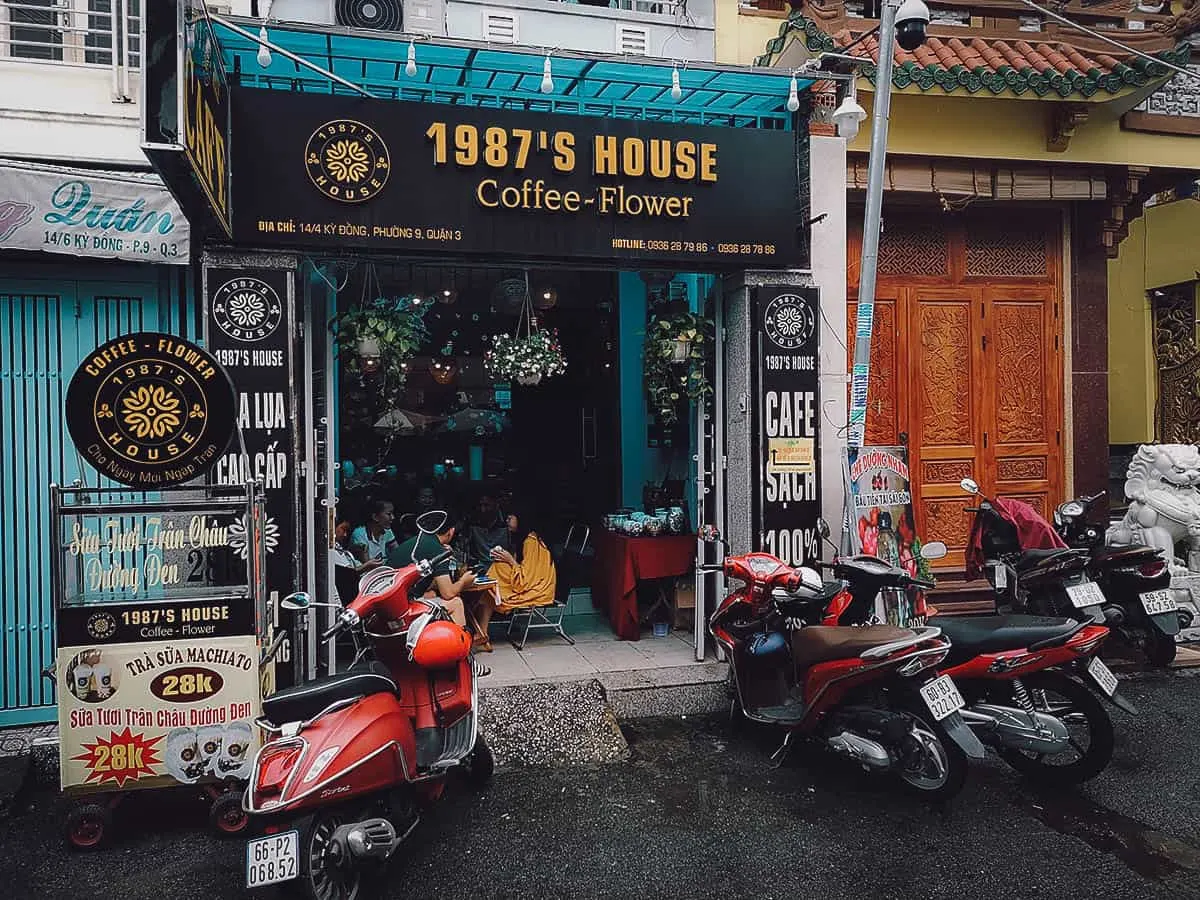 1987's House Coffee & Flower looks like it may be both a coffee and a flower shop. I didn't examine them too closely, but there are different types of flowers throughout the cafe and it looks like the vases on that shelf may be for sale.
Whatever it is, it's a nice quiet place to have coffee after a bowl of noodle soup at Pho Mien Ga Ky Dong.
I talked about this in our Hanoi cafe guide, but ordering hot black coffee in Vietnam can sometimes be a challenge. More often than not, baristas will assume that you want iced coffee. It's what most locals drink because of the hot weather.
There were many days when I ordered hot black coffee (ca phe den nong) but was given a glass of iced milk coffee (ca phe sua da) instead.
At this cafe, I even pointed to where it said "HOT BLACK COFFEE" on the menu. The barista nodded yes, that she understood, then brought me this ca phe sua da. I just laughed to myself and enjoyed it anyway. That's Vietnam.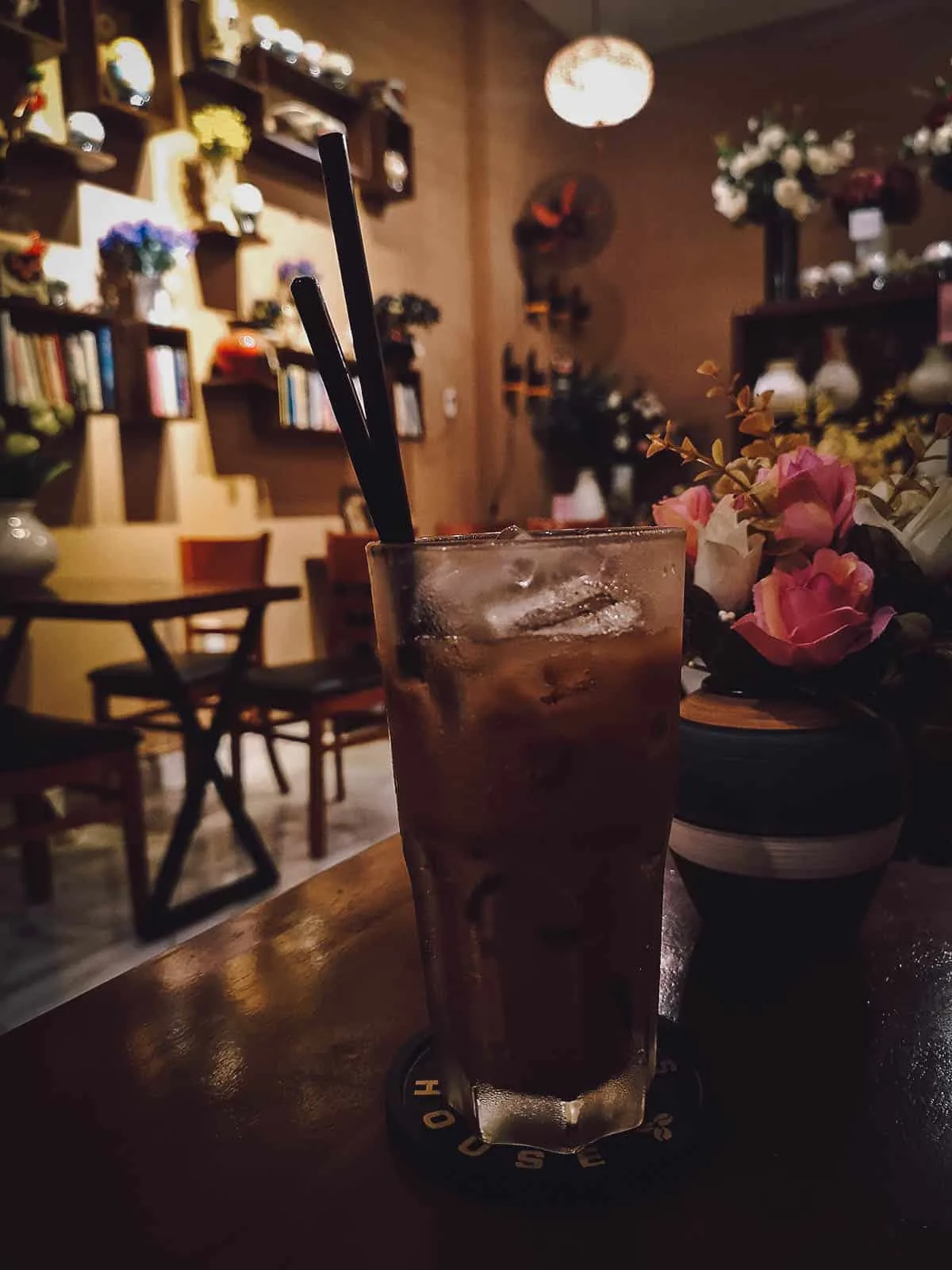 1987's House Coffee & Flower – CLOSED
Address: Hẻm 14/4 Kỳ Đồng, Phường 9, Quận 3, Hồ Chí Minh, Vietnam
Operating Hours: 6:30AM-10:30PM, daily
2. Barista Collective
This Saigon coffee shop looks to be popular with students and online workers. Practically everyone in the cafe was sitting in front of a laptop.
We had our own pocket wifi device so we didn't try to connect to theirs, but I assume they have a fast wifi connection. If you need to get some work done, then this looks like a good place to go.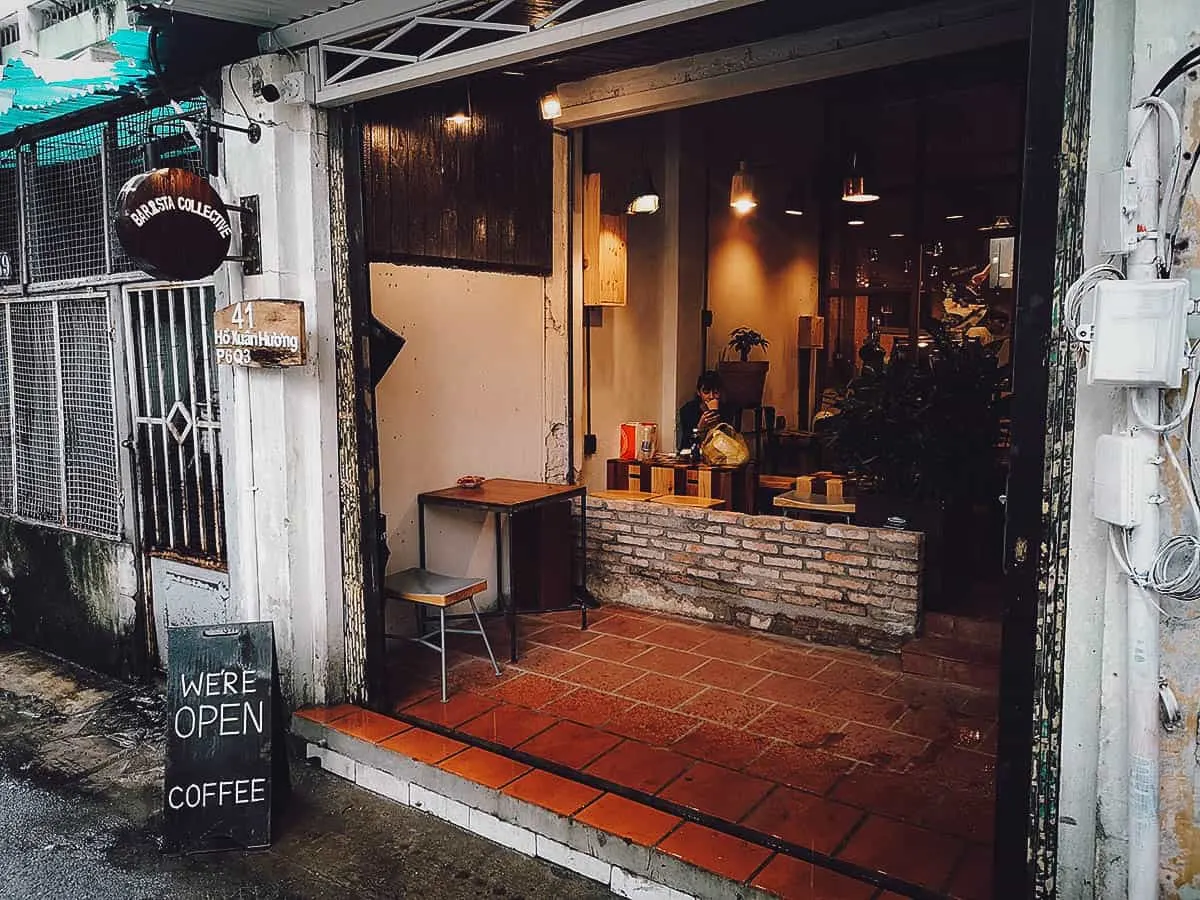 Barista Collective is my kind of cafe – warm and simple without any fuss. They have great air-conditioning too so it's a good place to escape Saigon's heat.
They're located on the same block as Cha Ca La Vong (yes, they have a branch in Saigon), another place I'll be featuring in our Ho Chi Minh City food guide.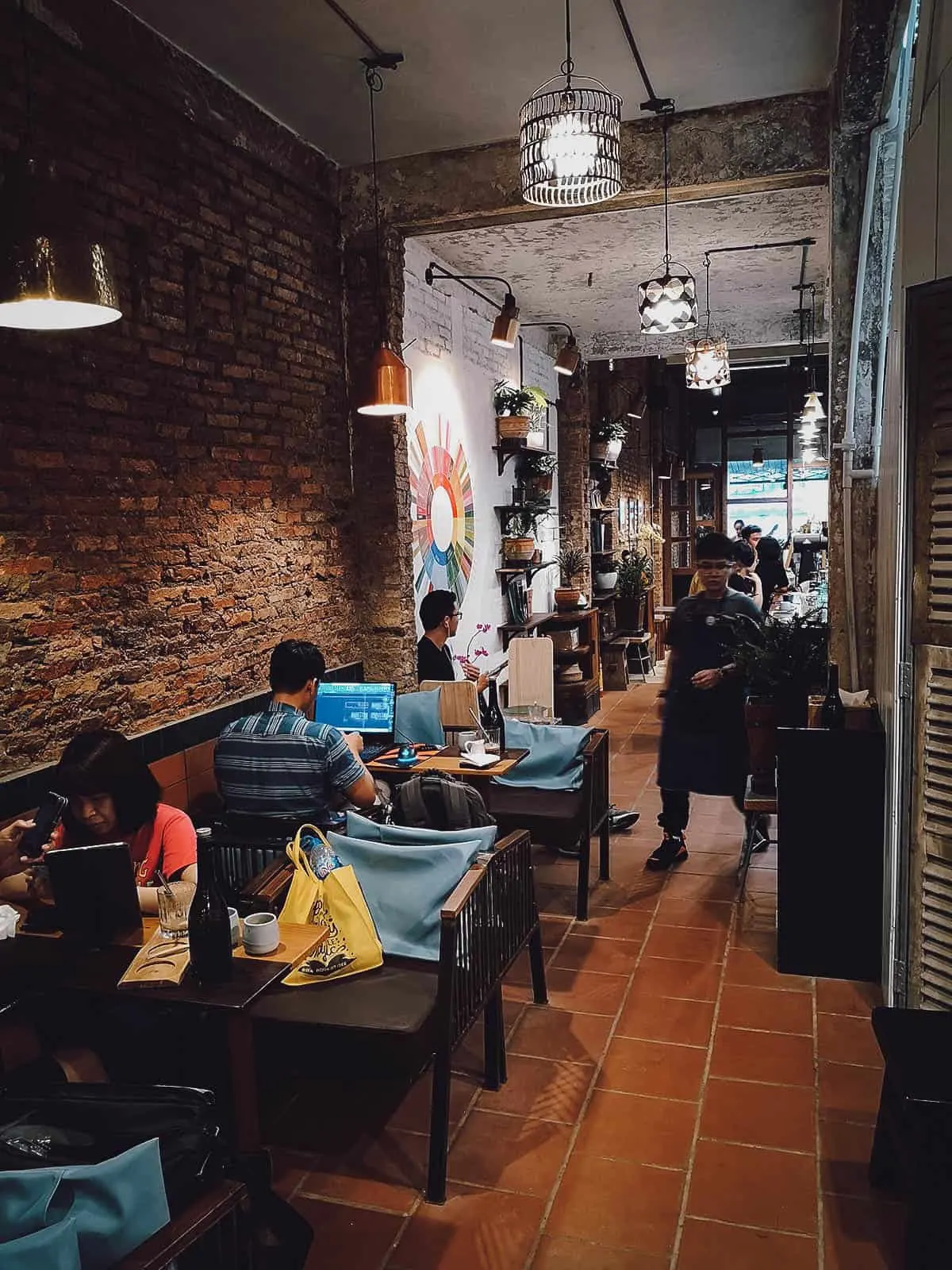 Yes! This place got our orders right. We each had black coffees – one hot (ca phe den nong) and the other iced (ca phe den da).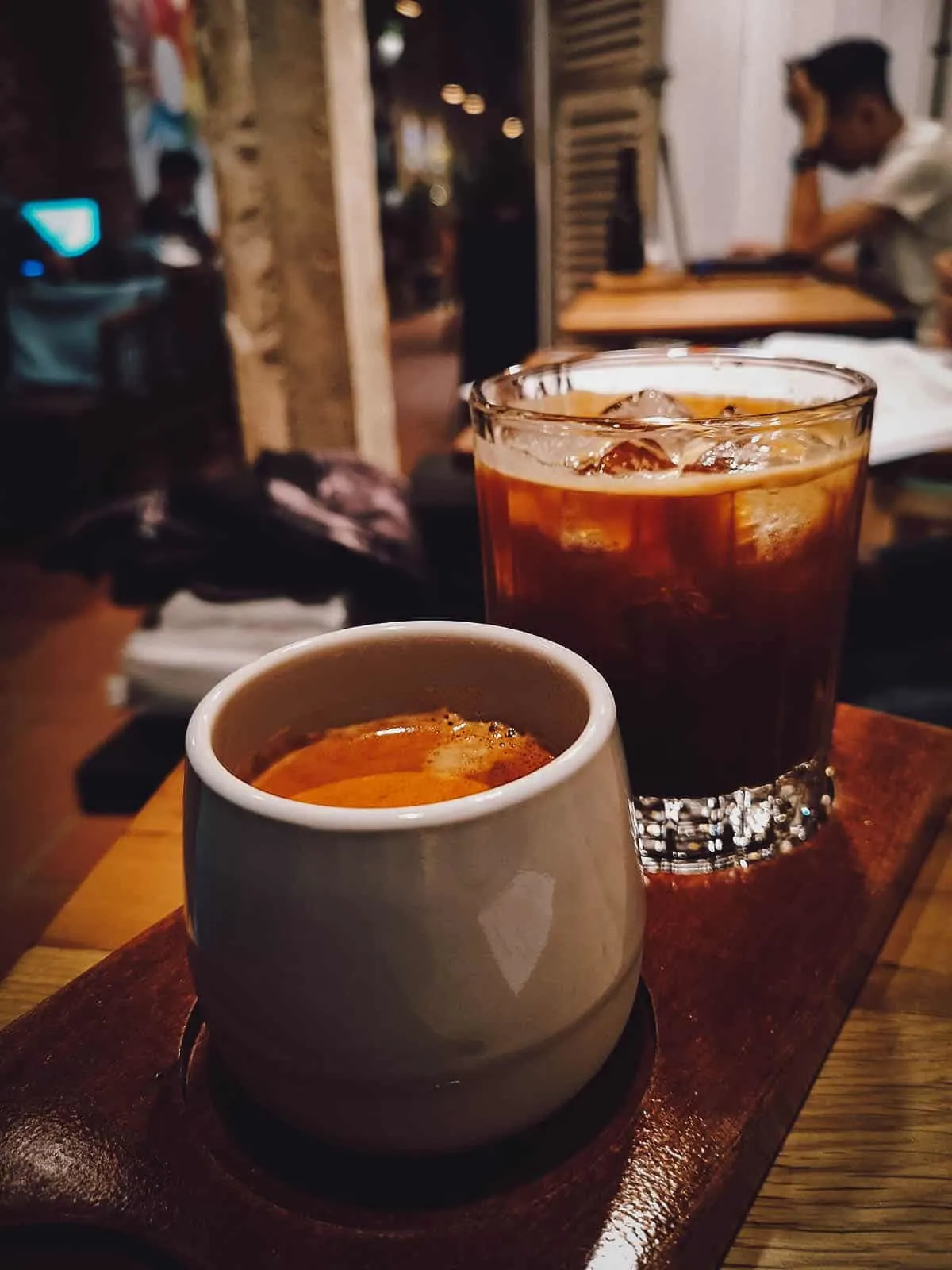 Barista Collective
Address: 41 Hồ Xuân Hương, Phường 6, Quận 3, Hồ Chí Minh 700000, Vietnam
Operating Hours: 7AM-10PM, daily
3. Cong Ca Phe
Cong Ca Phe is one of the most successful homegrown coffee chains in Vietnam. The brand opened its first branch in Hanoi but you can find a Cong Ca Phe in pretty much every major city in Vietnam now.
There are several Cong Ca Phe outlets in Saigon, but we went to the one along popular Bui Vien walking street in District 1.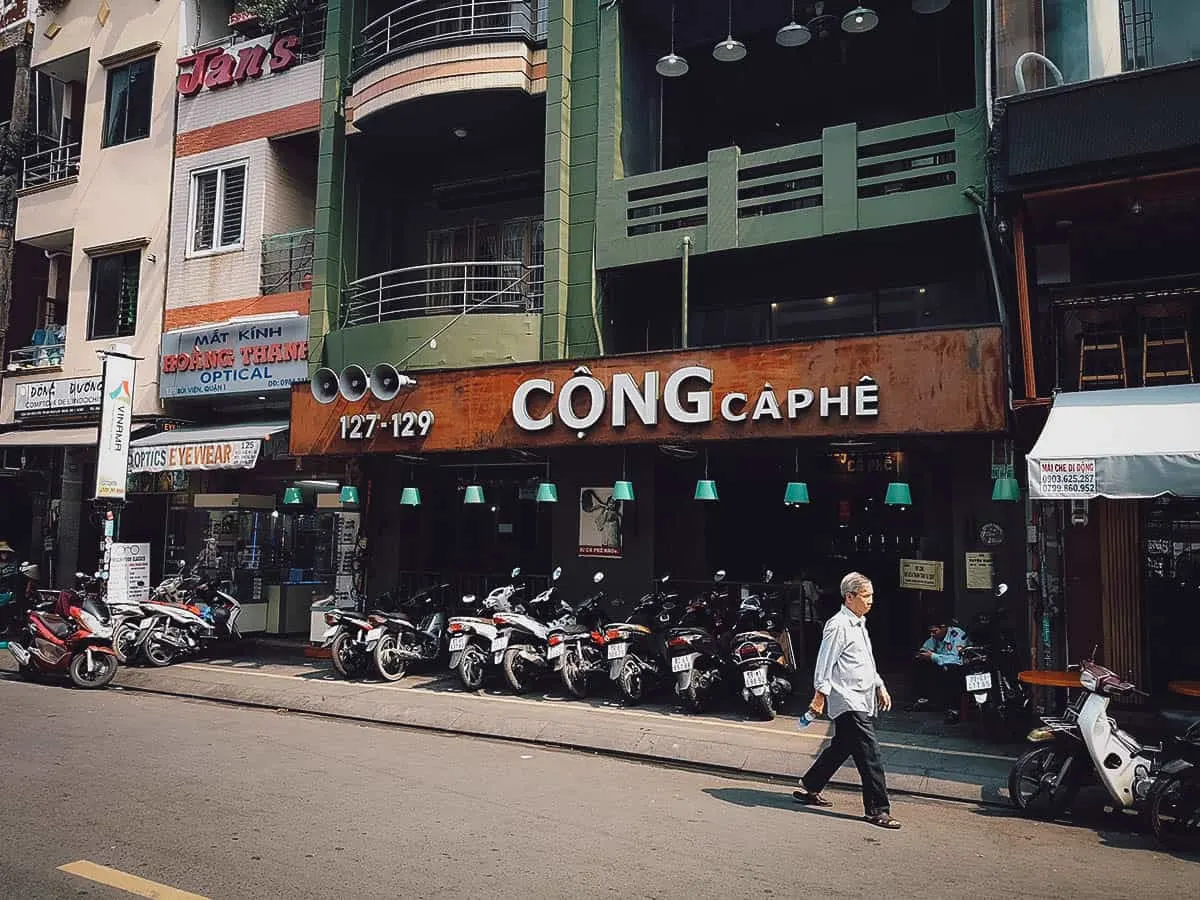 Aside from serving good coffee, what I like most about this brand is its consistency. Like Starbucks, you know exactly what to expect no matter which branch you go to.
Cong Ca Phe has a communist theme so the branding and interior of every branch is Viet-Cong-inspired. I went to three outlets in Vietnam and they all looked similar to this one – simple but stylish, like communist chic.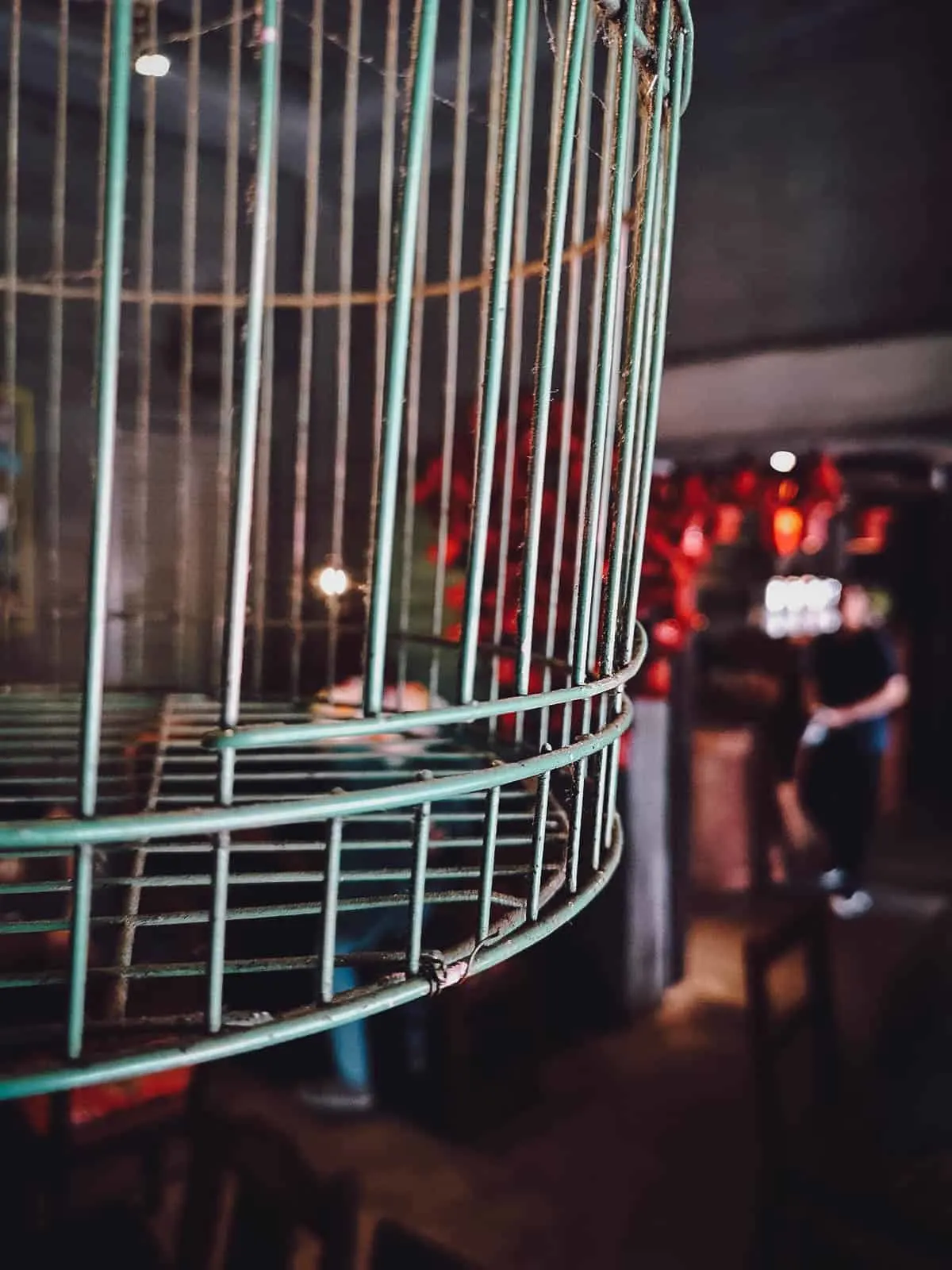 Every Cong Ca Phe branch I went to was a good size with at least two floors. They have big tables and fast wifi making it a great place to work. I got a lot of work done at the Cong Ca Phe branch in Sa Pa.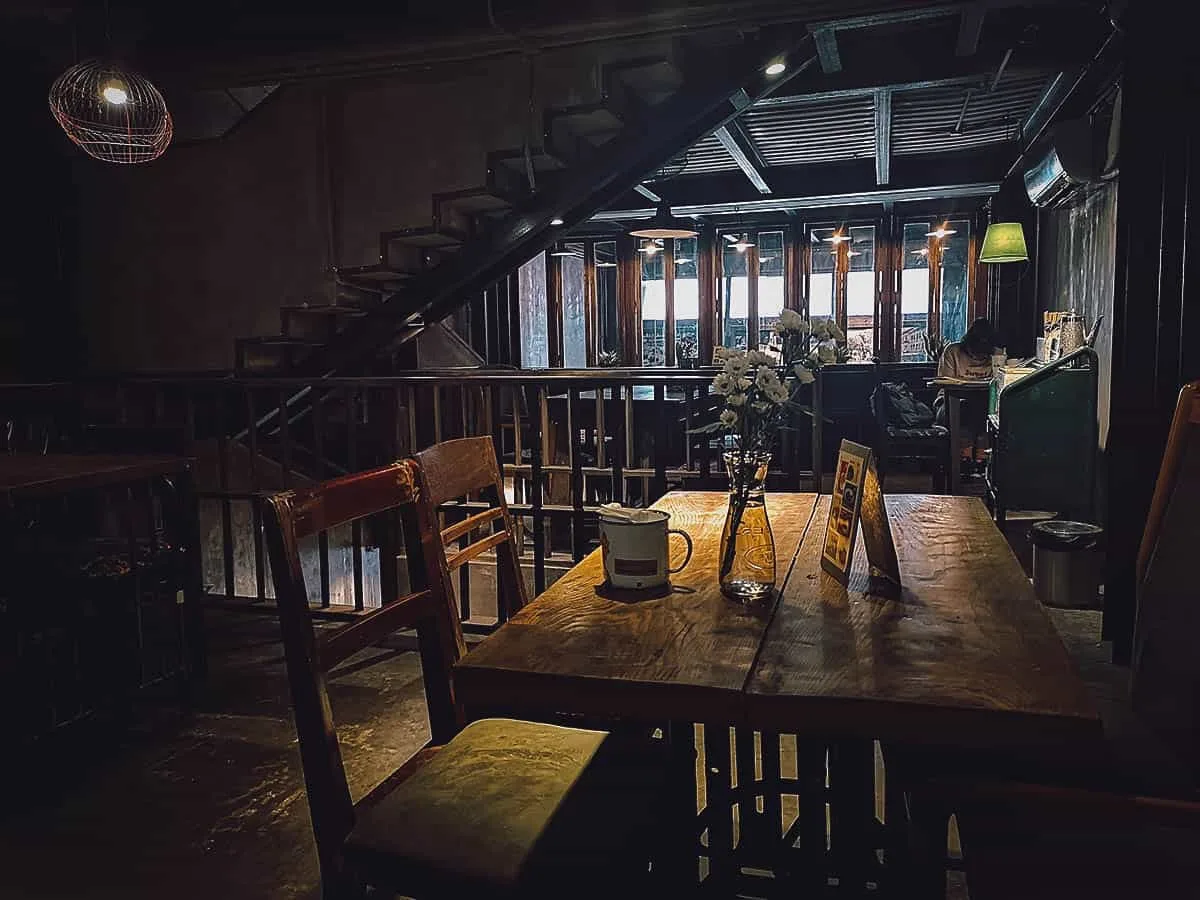 Cong Ca Phe makes good coffee all around, but what they're really known for is their ca phe cot dua or cold coconut coffee. Made with condensed and coconut milk, it's like a frozen coconut coffee slushie.
When the heat in Vietnam gets too much and you need something to cool you off, then head over to the nearest Cong Ca Phe and get this. It's super refreshing and delicious.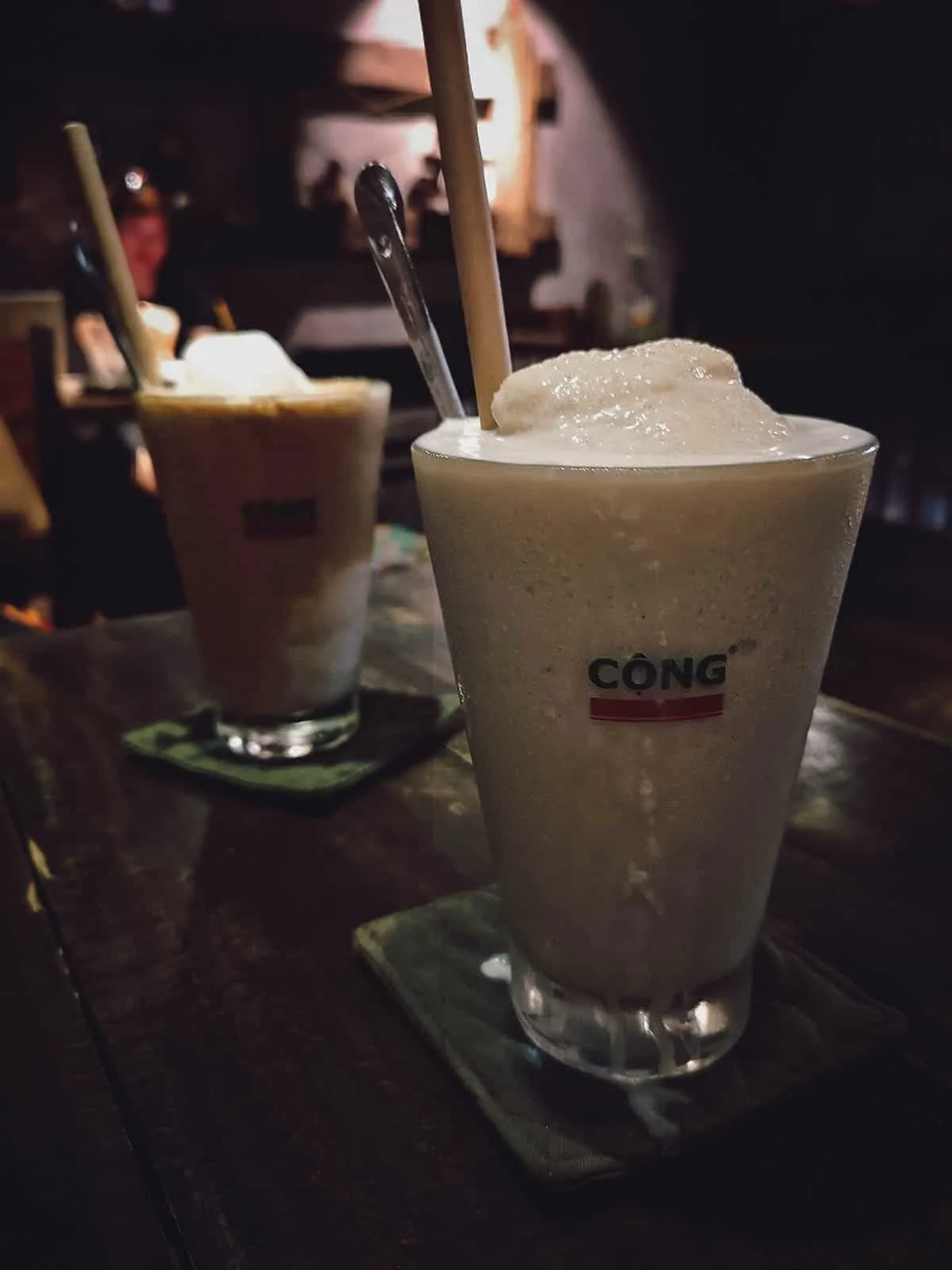 Cong Ca Phe
Address: Multiple branches in Saigon
Operating Hours: Varies per branch
4. The Coffee House
The Coffee House is another popular chain in Vietnam. They currently have over a hundred outlets across the country but they started right here in Ho Chi Minh City.
The branding isn't quite as charming or unique as Cong Ca Phe, but it's a lovely and equally popular chain that's considered one of the best Saigon cafes.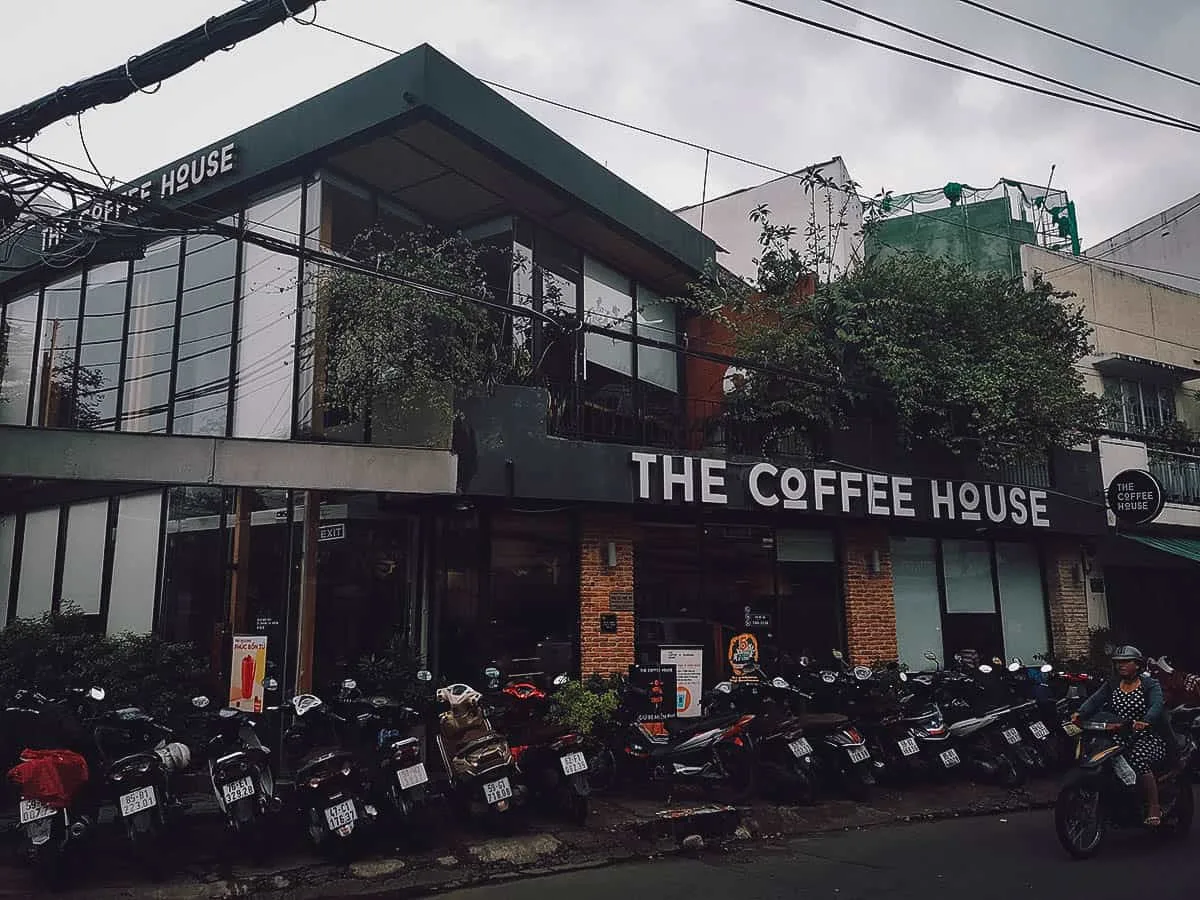 These larger coffee chains employ people who are proficient in English so ordering is never a problem. I had the ca phe den nong or hot black coffee. Don't you just love their logo and coffee cups?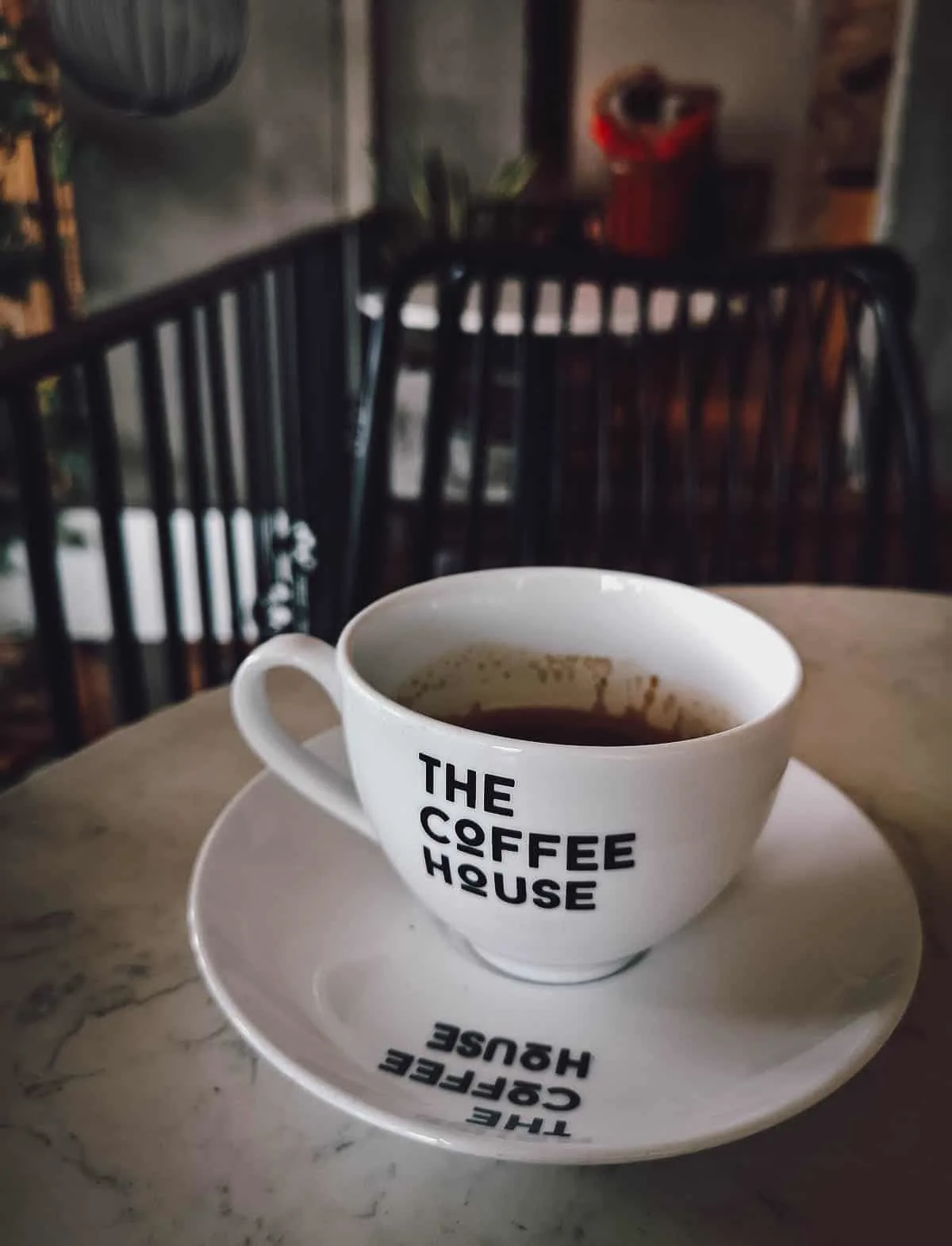 The Coffee House feels lighter and more airy than Cong Ca Phe. The outlet I went to had good air-conditioning and large floor-to-ceiling windows.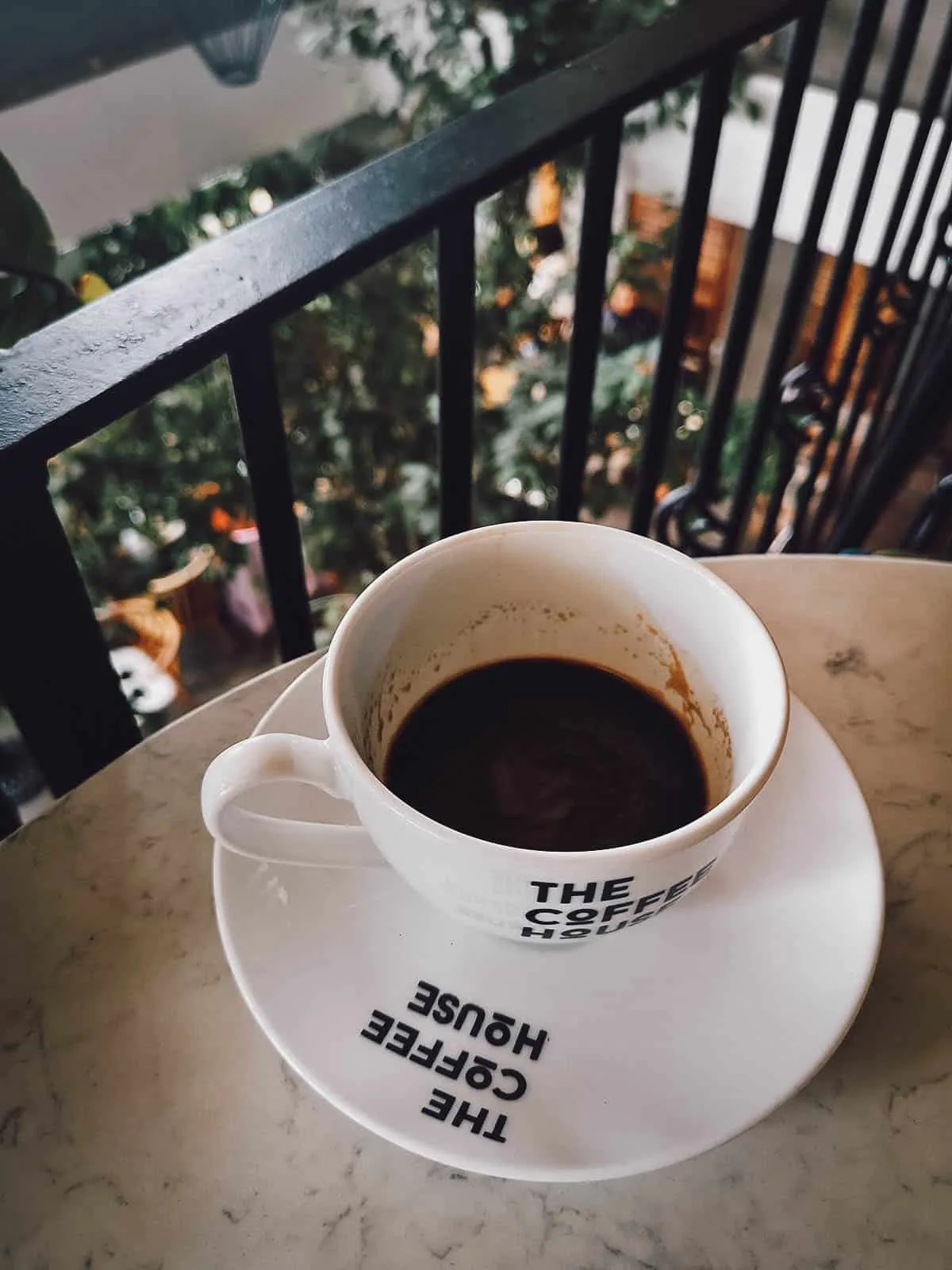 The Coffee House
Address: Multiple branches in Saigon
Operating Hours: Varies per branch
5. Ca Phe Do Phu
Ca Phe Do Phu is one of the coolest and most surprising Saigon cafes I went to. It was one of our stops on a Saigon evening motorbike tour. It was so close to our hotel but probably not something I would have found on my own.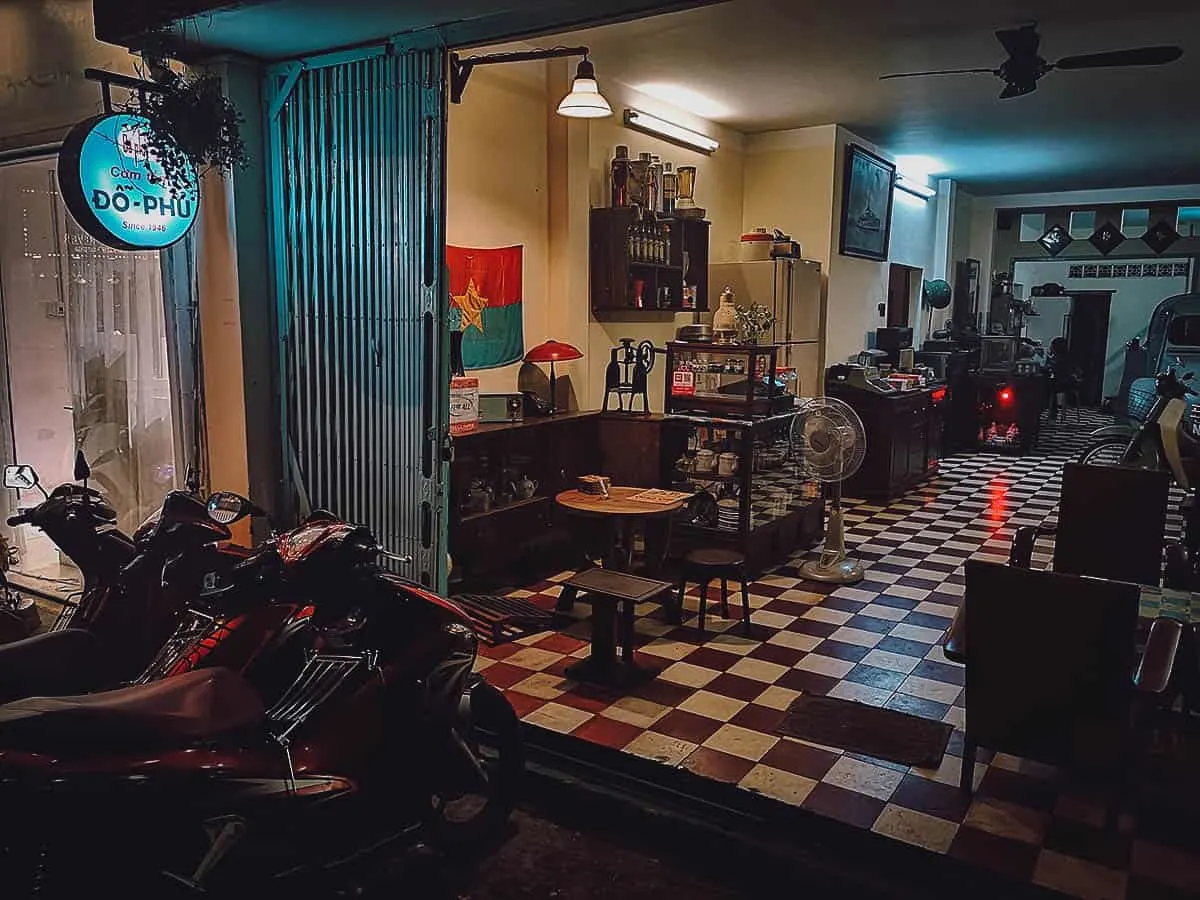 When you first walk into Ca Phe Do Phu, what immediately catches your eye is the classic Citroen. You'd think this was just some quirky Saigon coffee shop with a vintage theme but it's so much more than that.
I learned from my tour guide that this cafe used to be the home of a Viet Cong supporter, and that it played a significant role in the Vietnam War. More on that in a bit.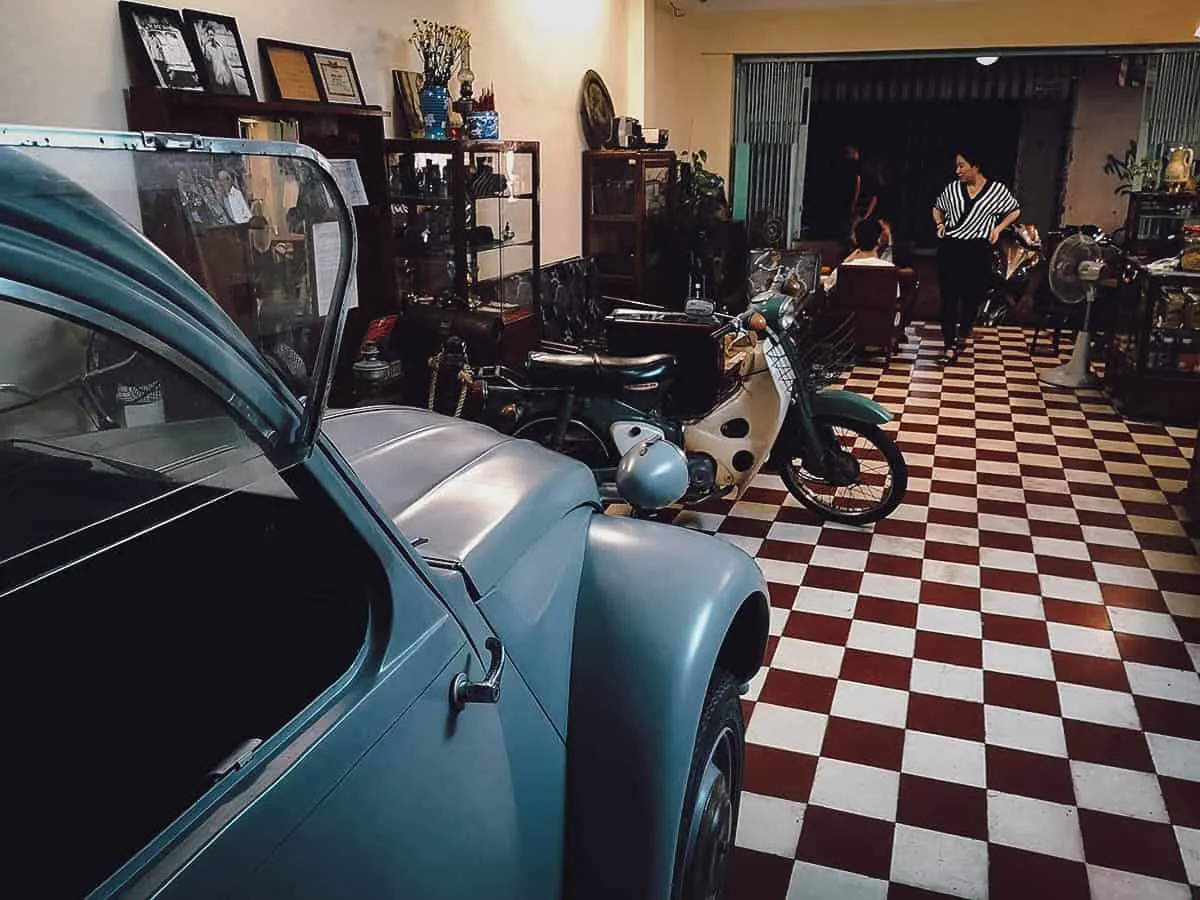 As you'll soon see, this unassuming cafe holds many secrets. According to my guide, it's also home to one of his favorite com tam suon nuong (broken rice with grilled pork chop) in Saigon.
We love com tam and Vietnamese pork chops so Ren and I came back the next day to try it. He was right, it was delicious. You can read about it in more detail in our Saigon food guide.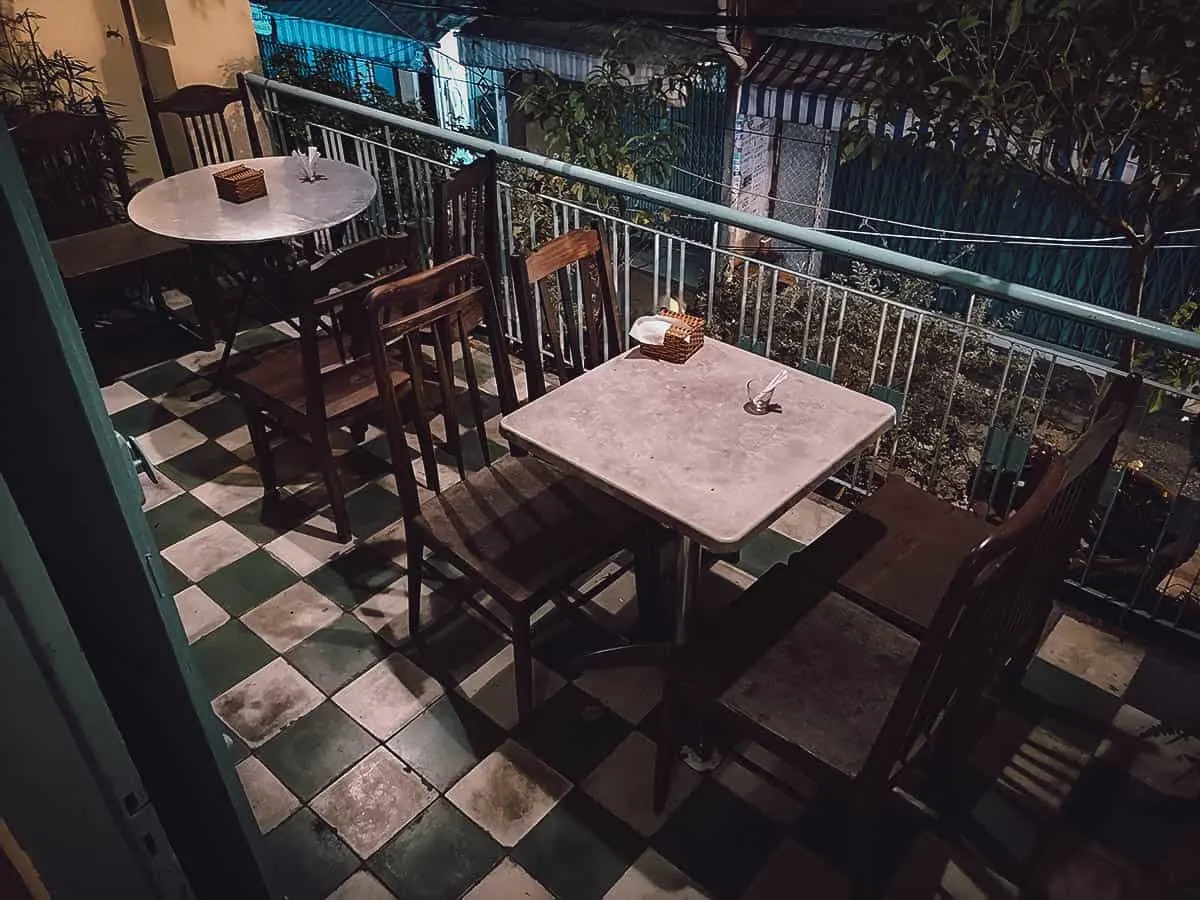 My glass of ca phe den da or iced black coffee. I loved this cafe but it didn't have air-conditioning so it would get pretty hot and stuffy inside. Out here on the balcony is the best place to sit.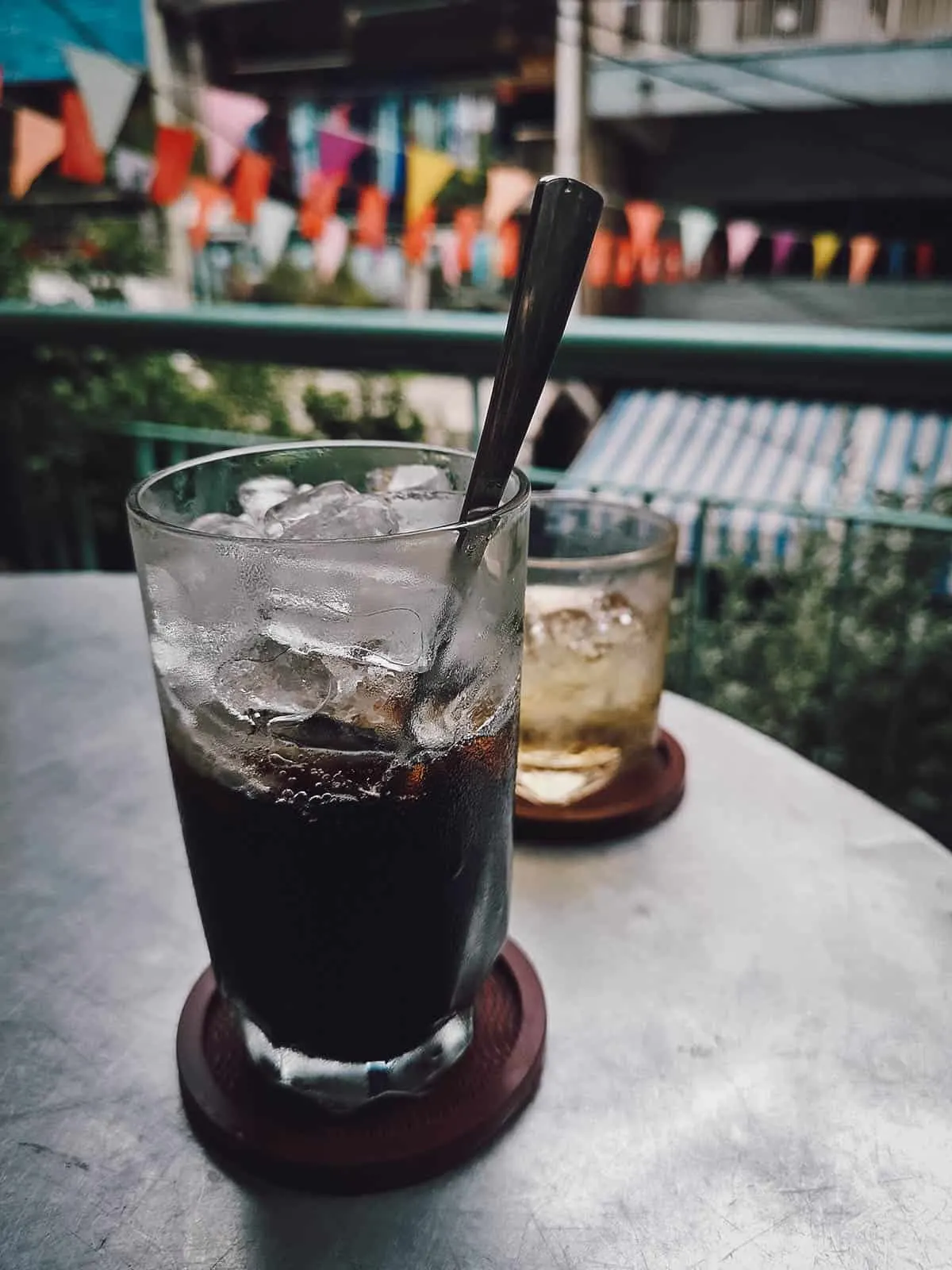 If you didn't know the history of this house, then you'd never think to look for this trap door which leads to an underground bunker.
My guide explained that the owner of this house used to hold secret meetings here with members of the Viet Cong. He'd hide weapons and artillery, even provide refuge to soldiers and officers wanted by the Americans.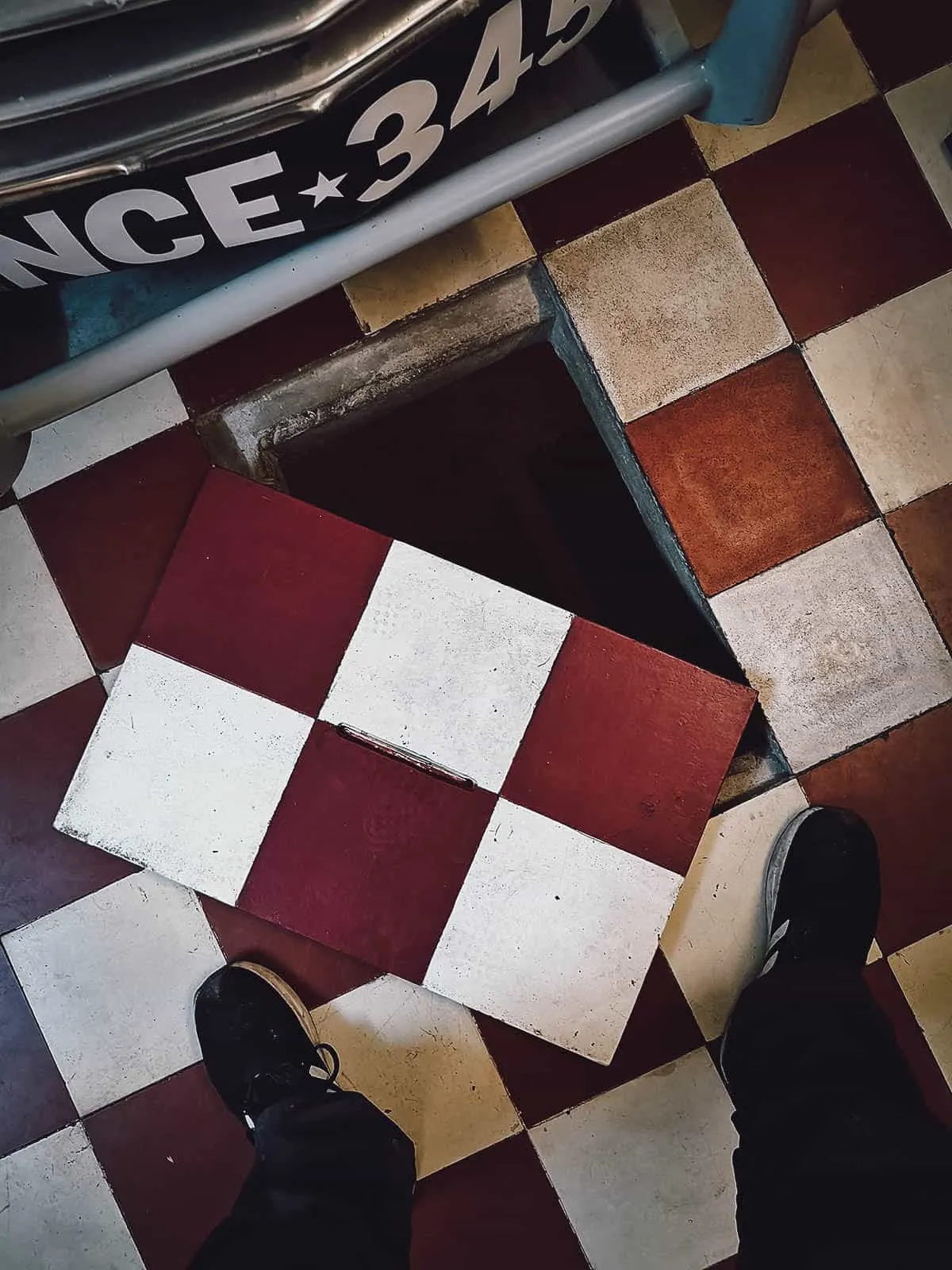 Descend into the bunker and you'll find a cache of old weapons and uniforms. This bunker is just one of Ca Phe Do Phu's many wartime secrets.
Throughout the cafe are passageways and ladders that served as escape routes for the Viet Cong in case their meetings were discovered. How cool is that?
My guide took me through the whole house as part of our tour, but you can visit this place on your own and ask for an informal tour.
If you have an interest in the Vietnam War, pork chops, or one-of-a-kind Saigon cafes, then you absolutely need to visit Ca Phe Do Phu. Based on uniqueness alone, it may be the best cafe in Ho Chi Minh City.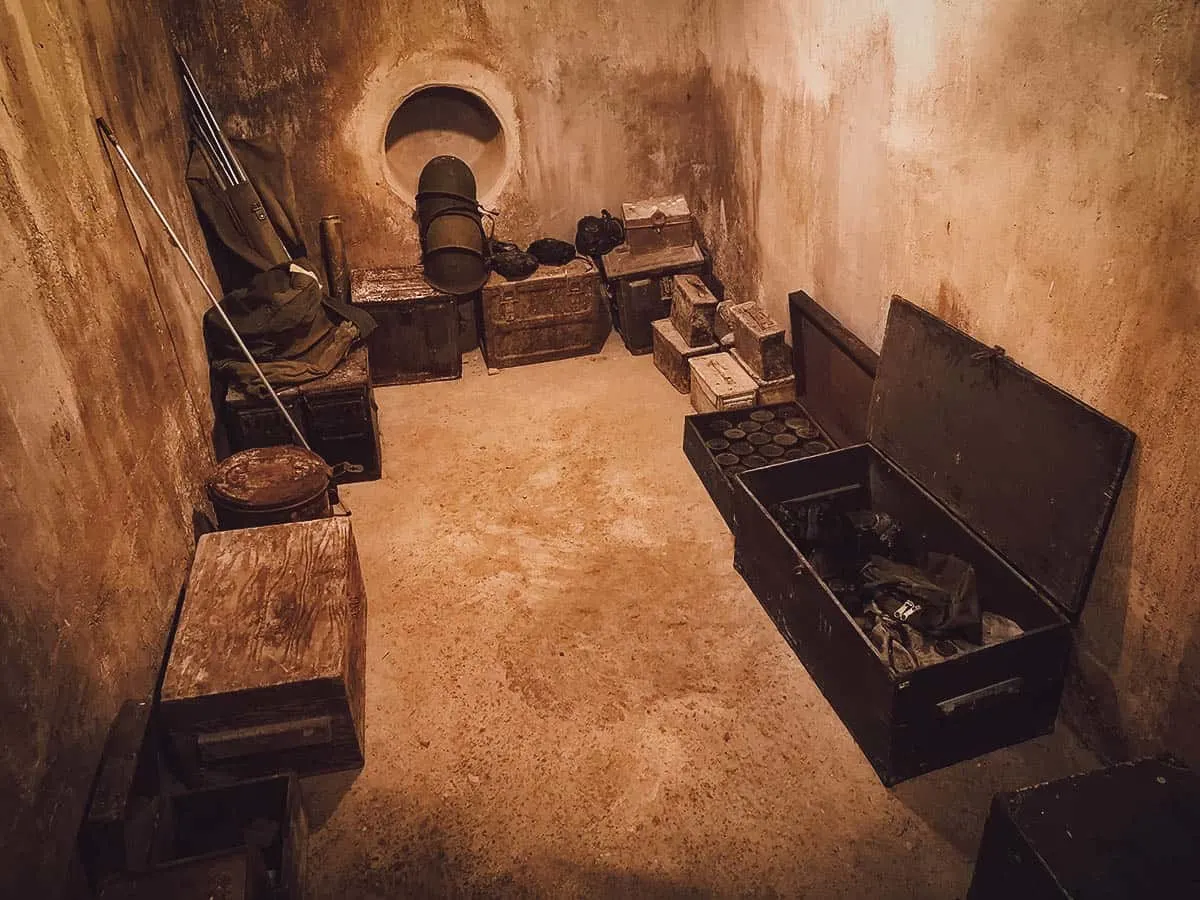 Ca Phe Do Phu
Address: 72 Nguyễn Đình Chiểu, Phường 5, Quận 3, Hồ Chí Minh, Vietnam
Operating Hours: 7AM-10PM, daily
6. Saiigon Lão Quạ Coffee – CLOSED
Saiigon Lão Quạ Coffee was one of my favorite cafes in Ho Chi Minh City. I liked it because of its warm, well put together interior filled with Hollywood vintage posters and memorabilia.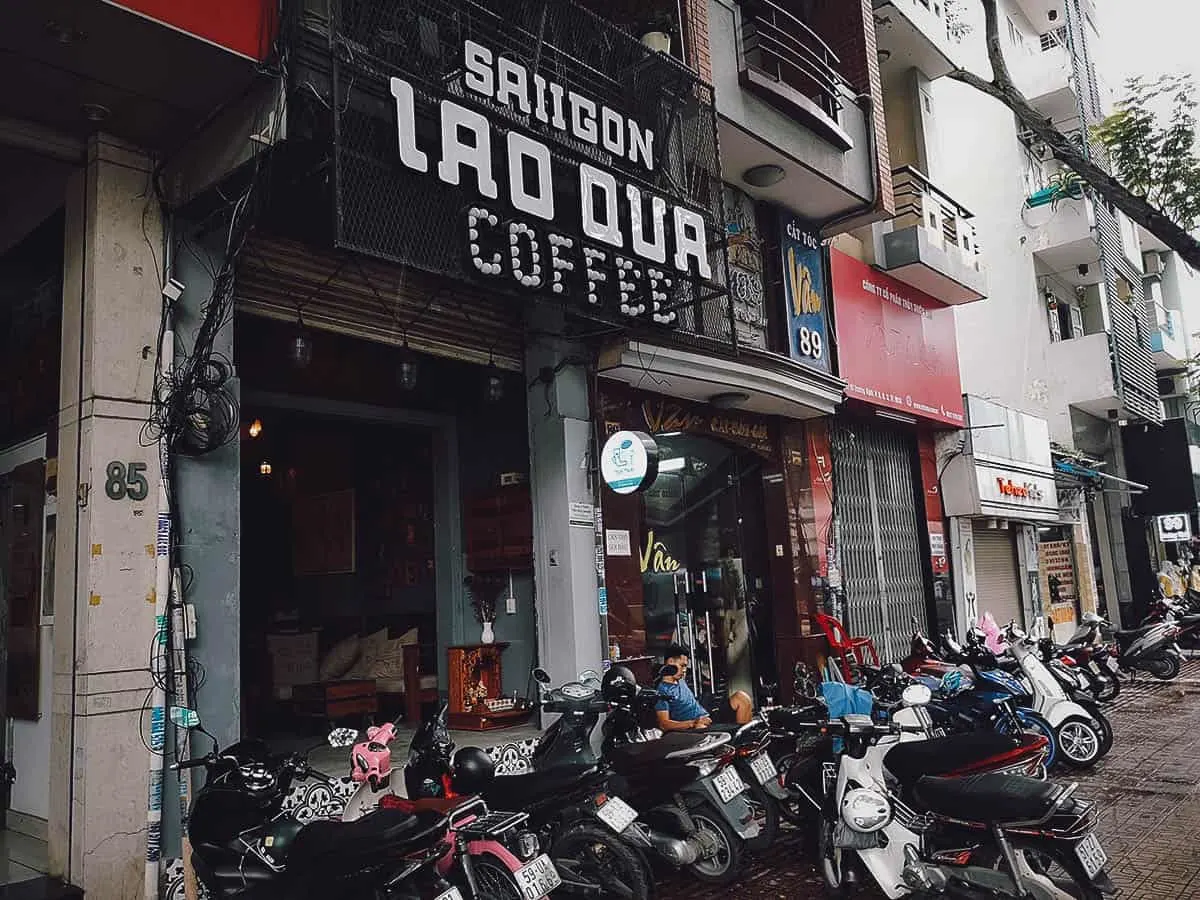 The cafe has two floors with the most comfortable chairs and sofas. It's located down the block and around the corner from Barista Collective.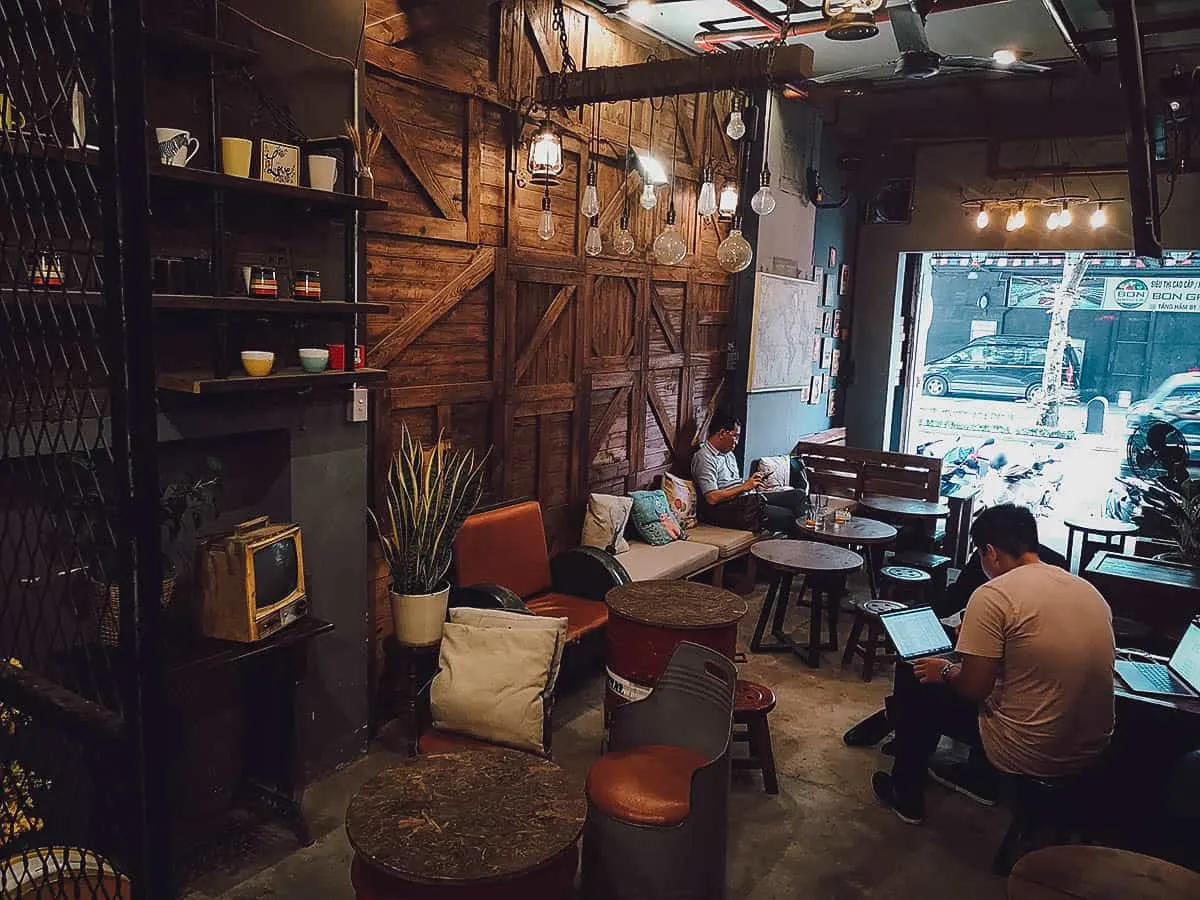 Go up to the second floor and you'll find this small air-conditioned room with floor cushions and low tables. This place wants you to sit and chill.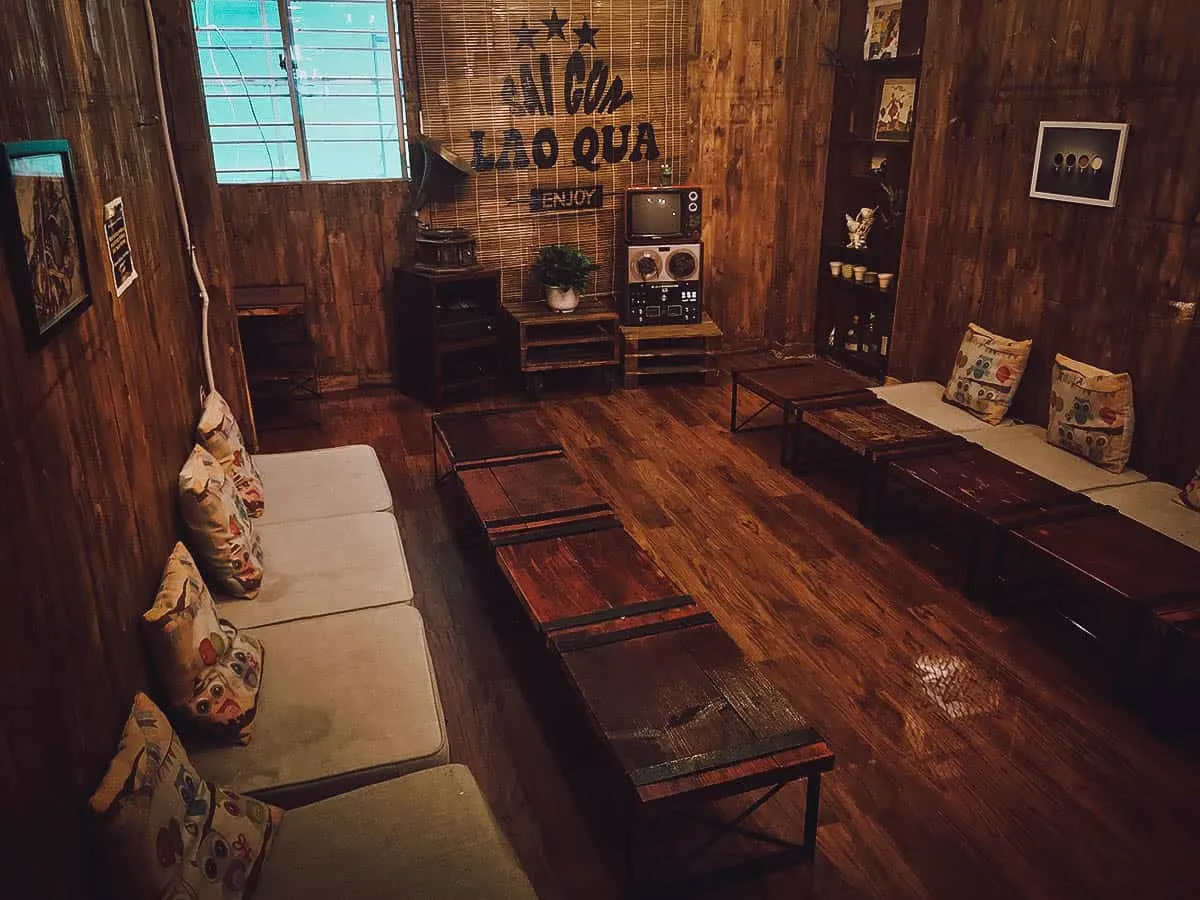 This was the main room on the second floor and where we sat to enjoy our coffee. As you can see, they have big tables and plenty of space to work.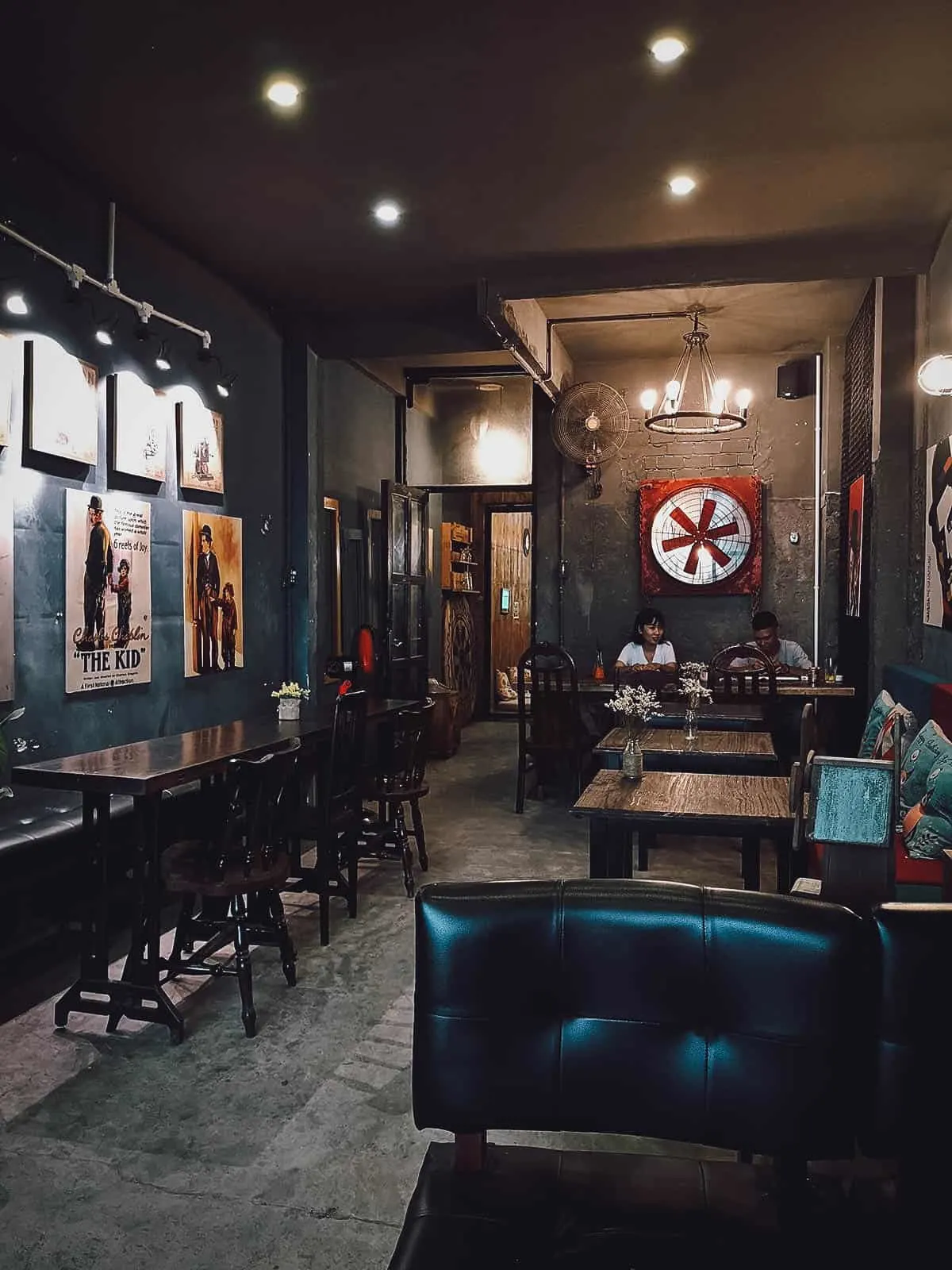 You'll find interesting vintage paraphernalia throughout the cafe like this Parisian wall clock.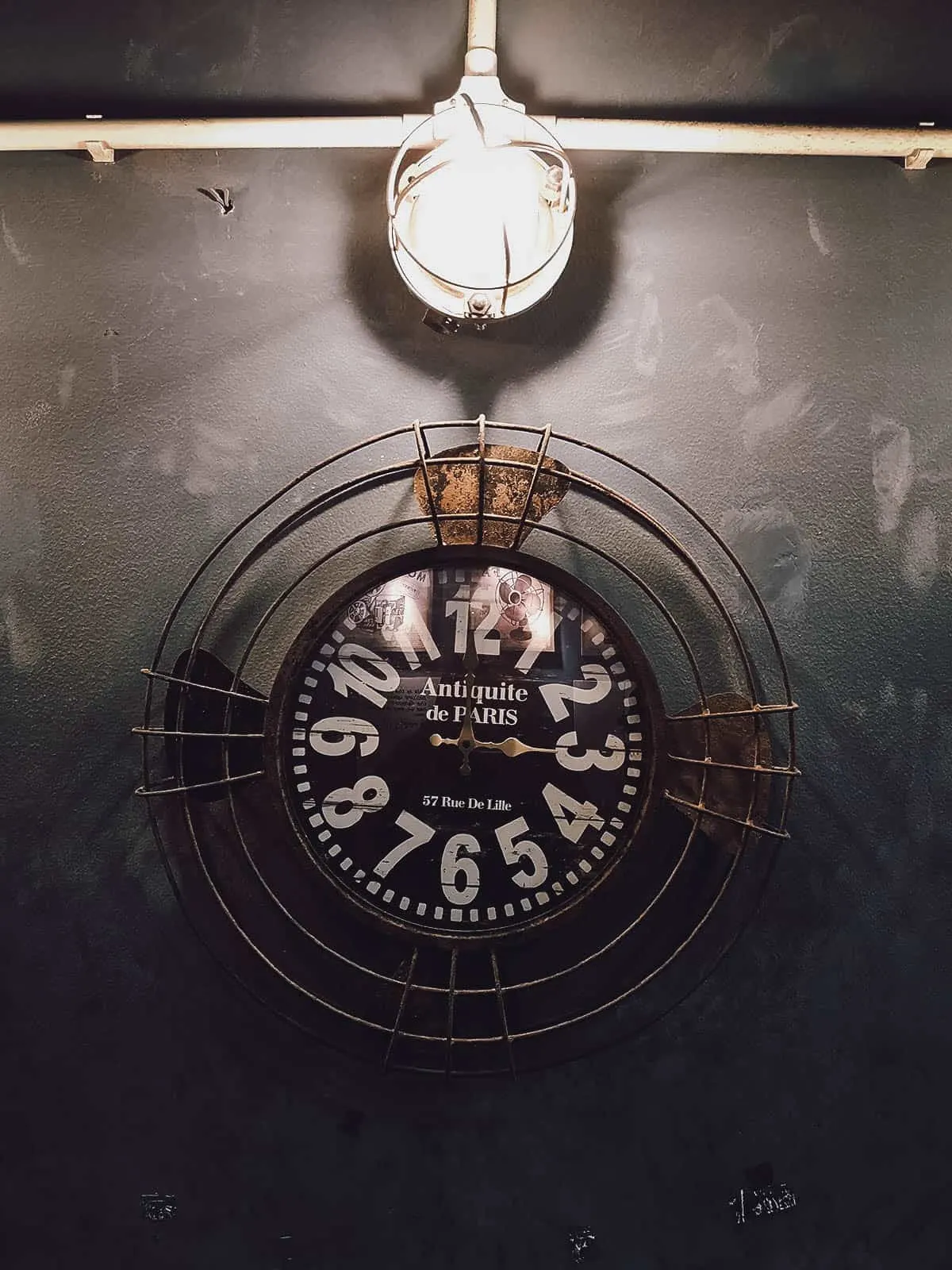 Enjoying my glass of ca phe sua da or iced milk coffee on a vintage trunk covered in old license plates.
In a few of these pictures, you'll find a glass with what looks like yellowish iced water next to my coffee. That's iced tea. They'll often serve you a glass of unsweetened iced tea with your coffee in Vietnam.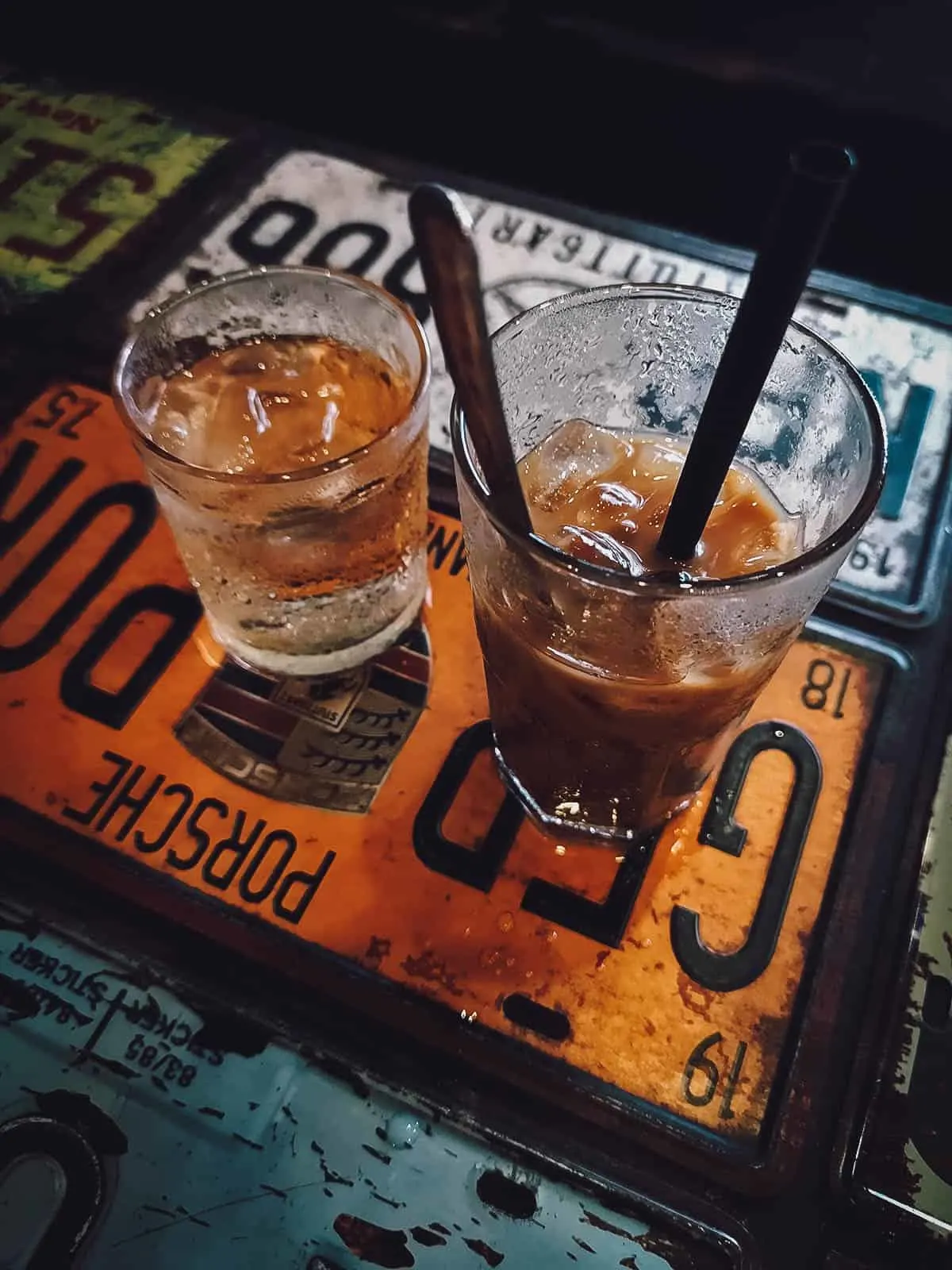 Saiigon Lao Qua Coffee – CLOSED
Address: 87 Trương Định, Phường 6, Quận 3, Hồ Chí Minh, Vietnam
Operating Hours: 7AM-12MN, daily
APARTMENT BLOCK CAFES IN SAIGON
As described at the top of this post, these apartment block cafes were one of my favorite discoveries in Saigon.
I read about the Cafe Apartments on an inflight magazine but I didn't realize they had more just like it in the city. I tried to find as many as I could and wound up visiting four of these rejuvenated apartment buildings.
From the looks of it, they're old and perhaps even partially abandoned buildings that have been repurposed to house quirky and unique boutiques and cafes.
THE CAFE APARTMENTS
This building on 42 Nguyen Hue Street did its rounds on social media so it's arguably the most well-known of these hidden apartment block cafes. It's collectively called The Cafe Apartments and houses eight or nine floors of restaurants, bars, boutiques, and cafes.
The building stands out not just because of all the colorful signs on its facade, but it seems to be the only non-modern building along this walking street. It looks even cooler at night with each of those apartment blocks lit up in different colored lights.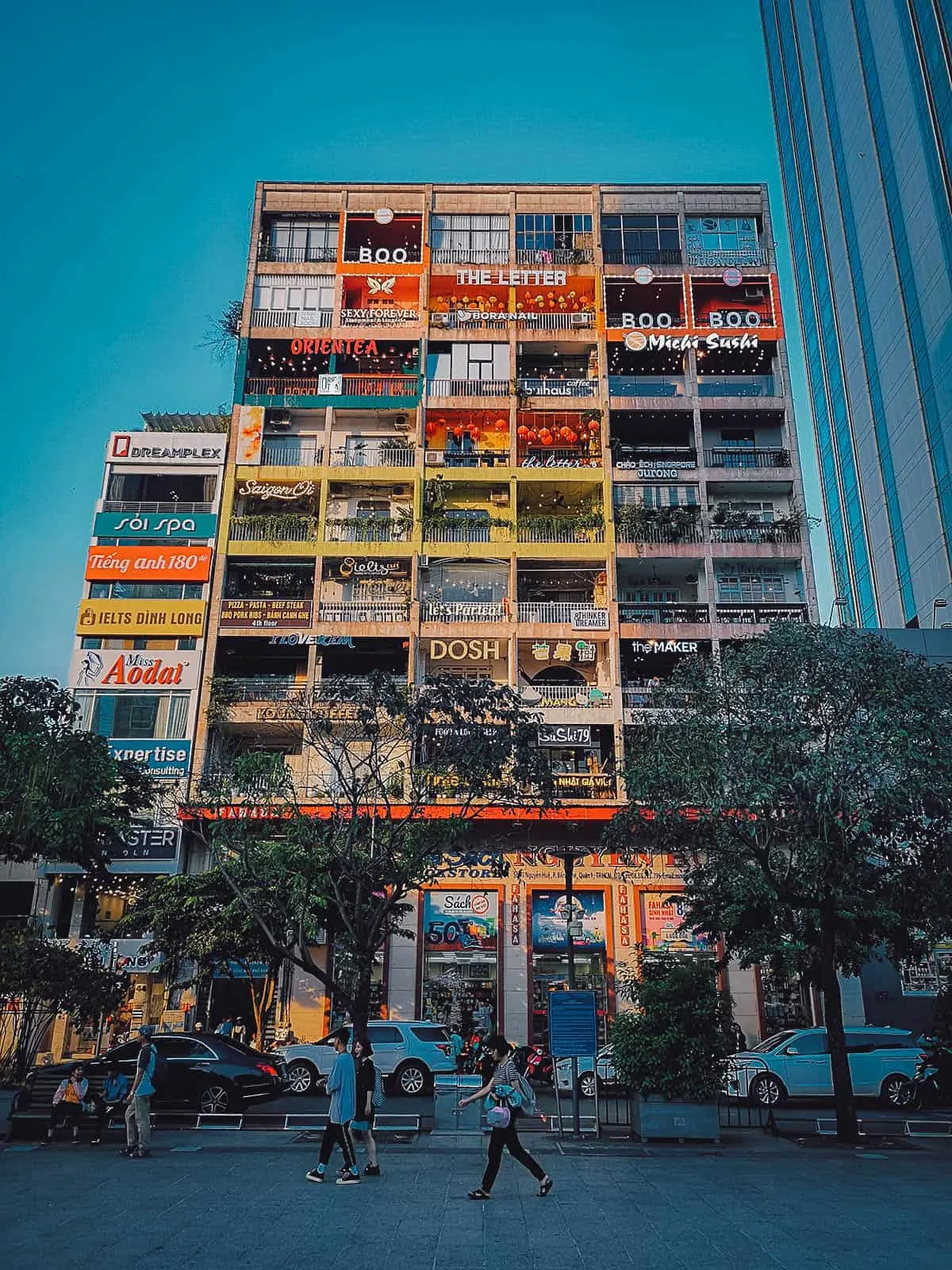 Of the four apartment buildings I visited, this one was the nicest and most well-maintained. It's located in a prime walking area and has the most eye-catching facade, which is probably why it's so popular.
The Cafe Apartments were great but in my opinion, it was perhaps a little too nice. It reminded me of those gritty neighborhoods that were cool until they were gentrified. It's charming, but too much polish and it starts to lose some of its magic.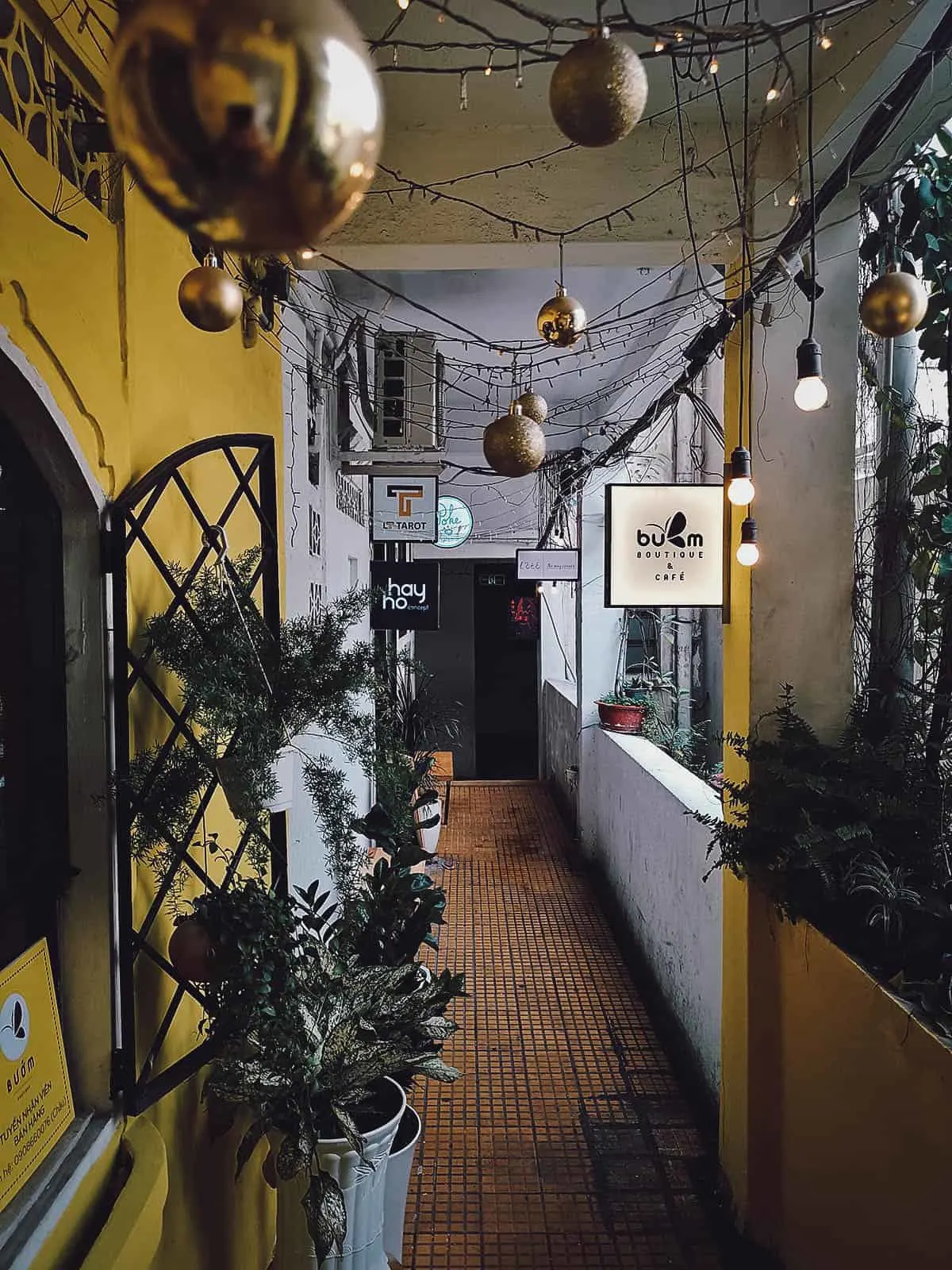 Every floor is laid out the same so it's easy to explore the building. With more time, I would have loved to enter each and every one of these shops.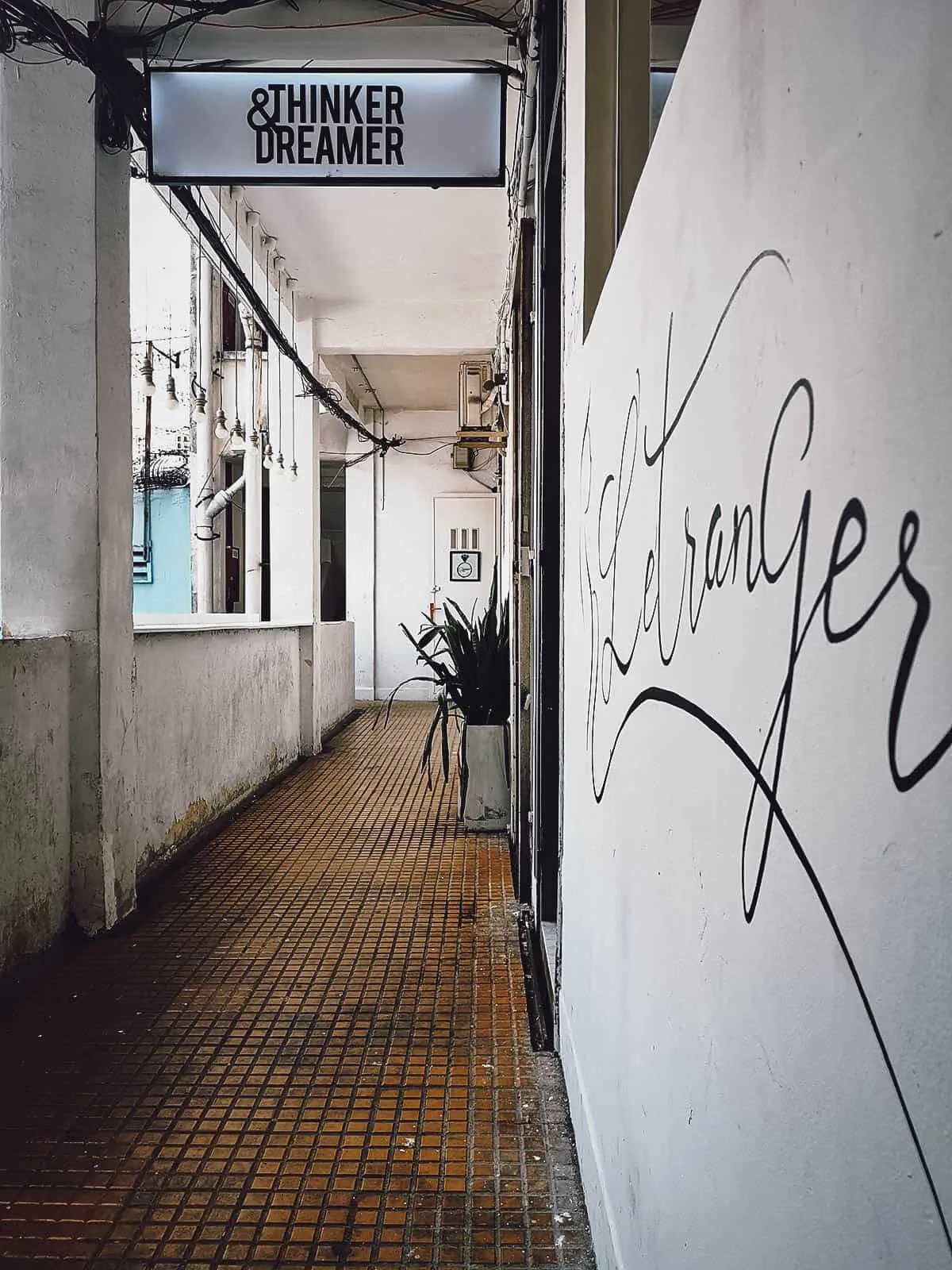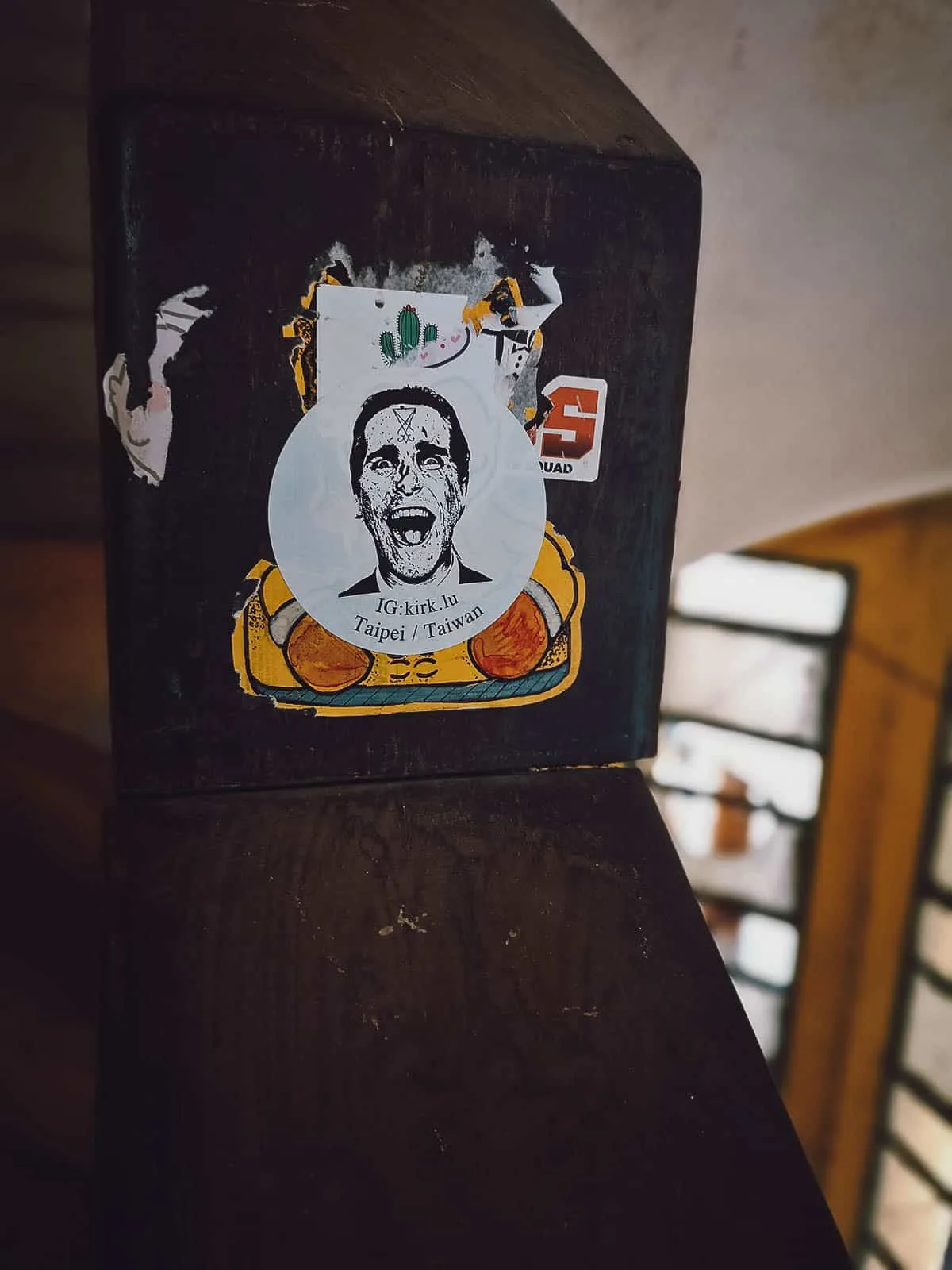 7. Saigon Oi
We only visited one cafe in this building – Saigon Oi. The hallways and stairwells look old and a little rundown, but the interiors of the shops are clean and contemporary.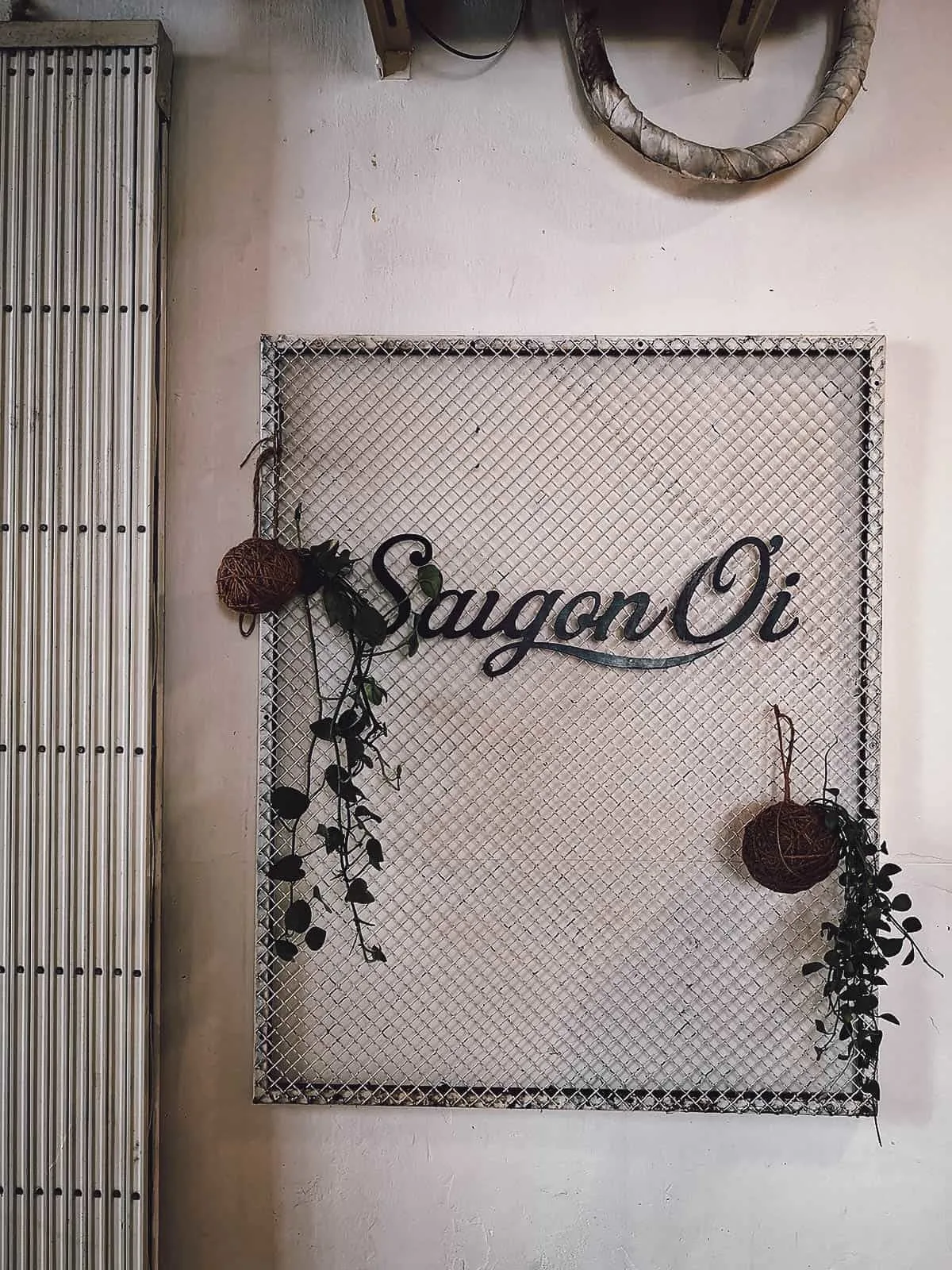 See what I mean about the modern interiors? We took a peek inside many of the shops and they were in such stark contrast to the building itself.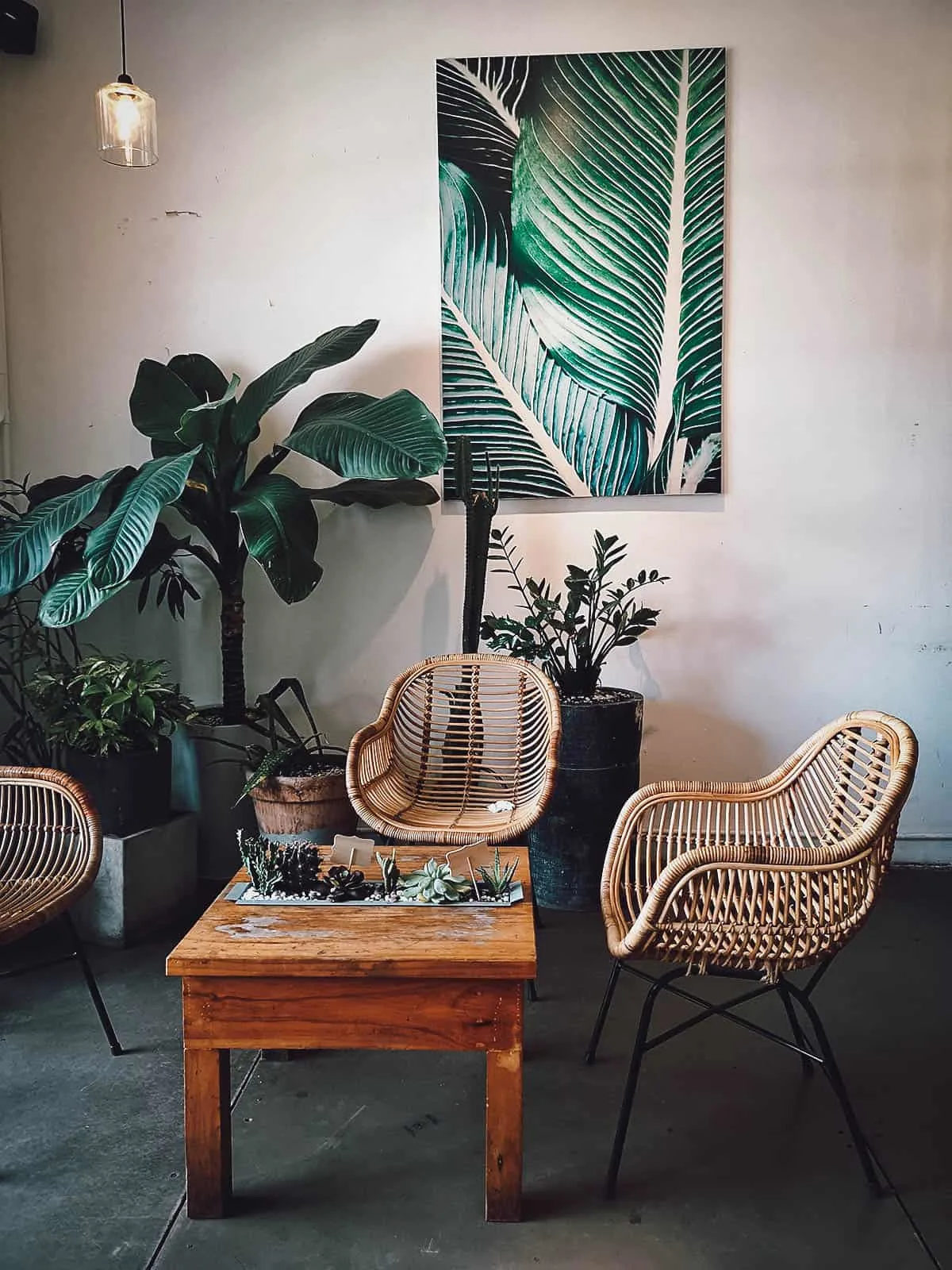 Saigon Oi had this sectioned-off room where you could sit and chill on the floor.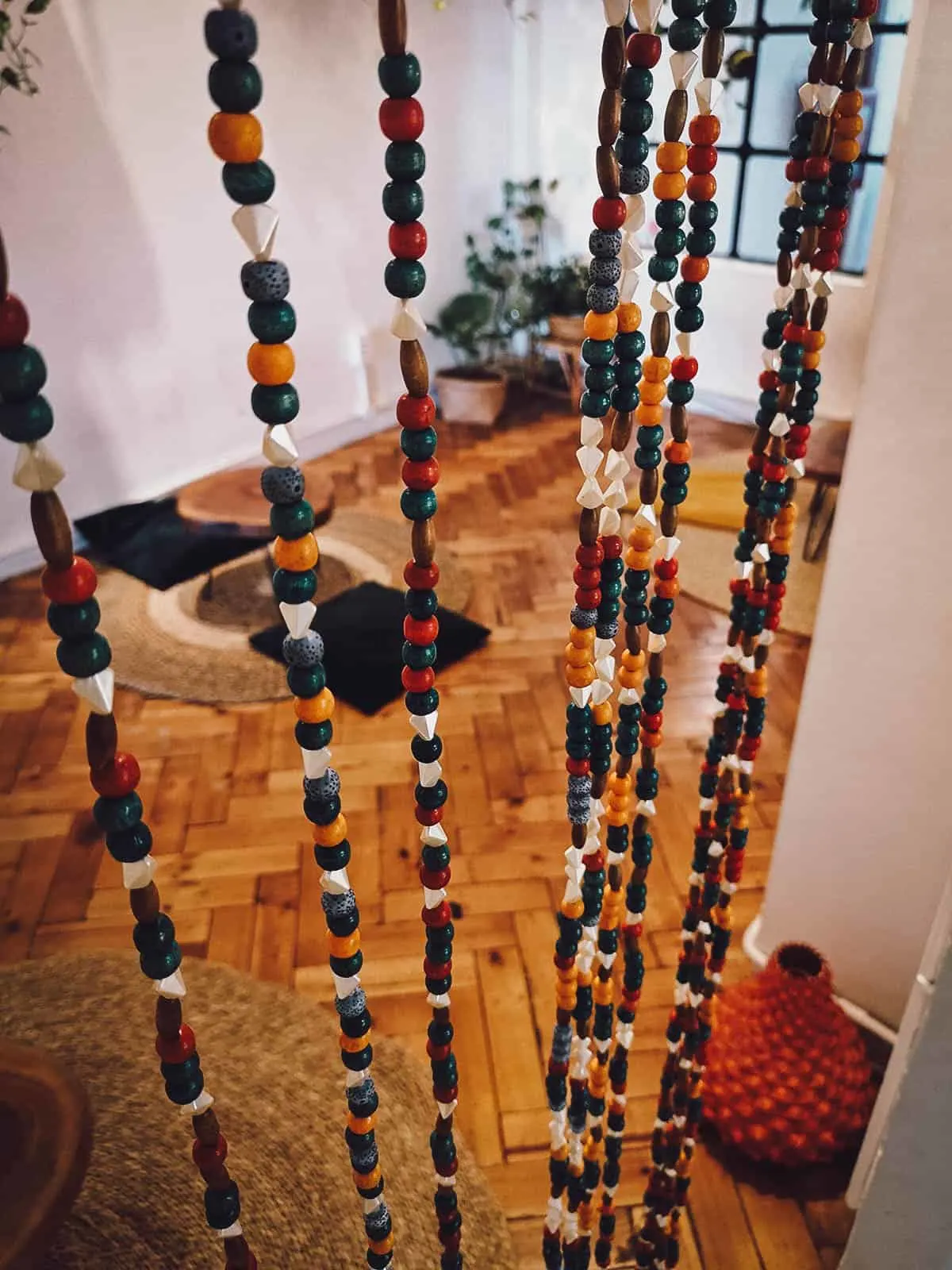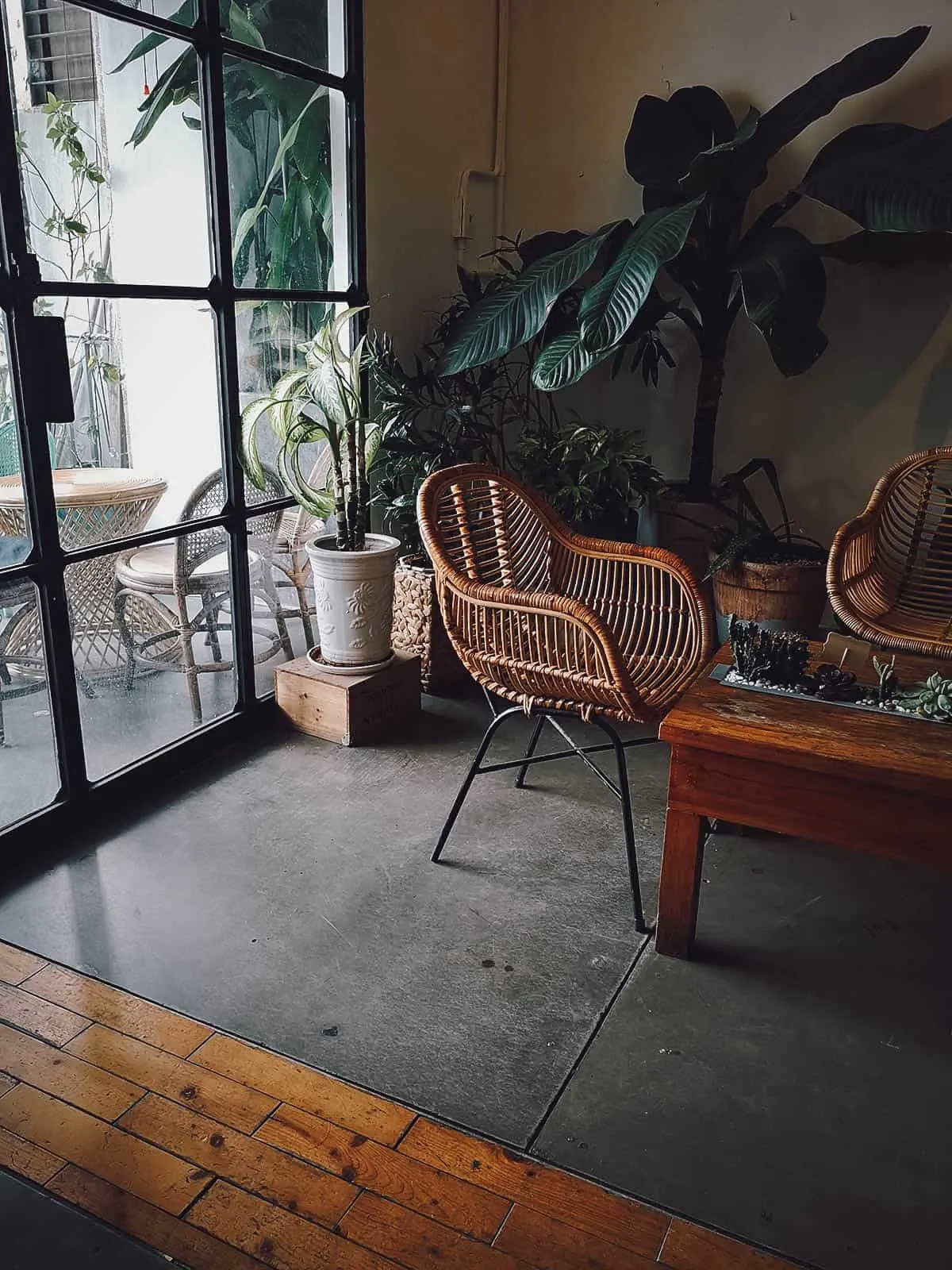 I loved the color scheme of this cafe. It was so soothing to the eye. With cafes as stylish as this – each one uniquely different and all under the same roof – you could spend the entire day here filling up your Instagram feed.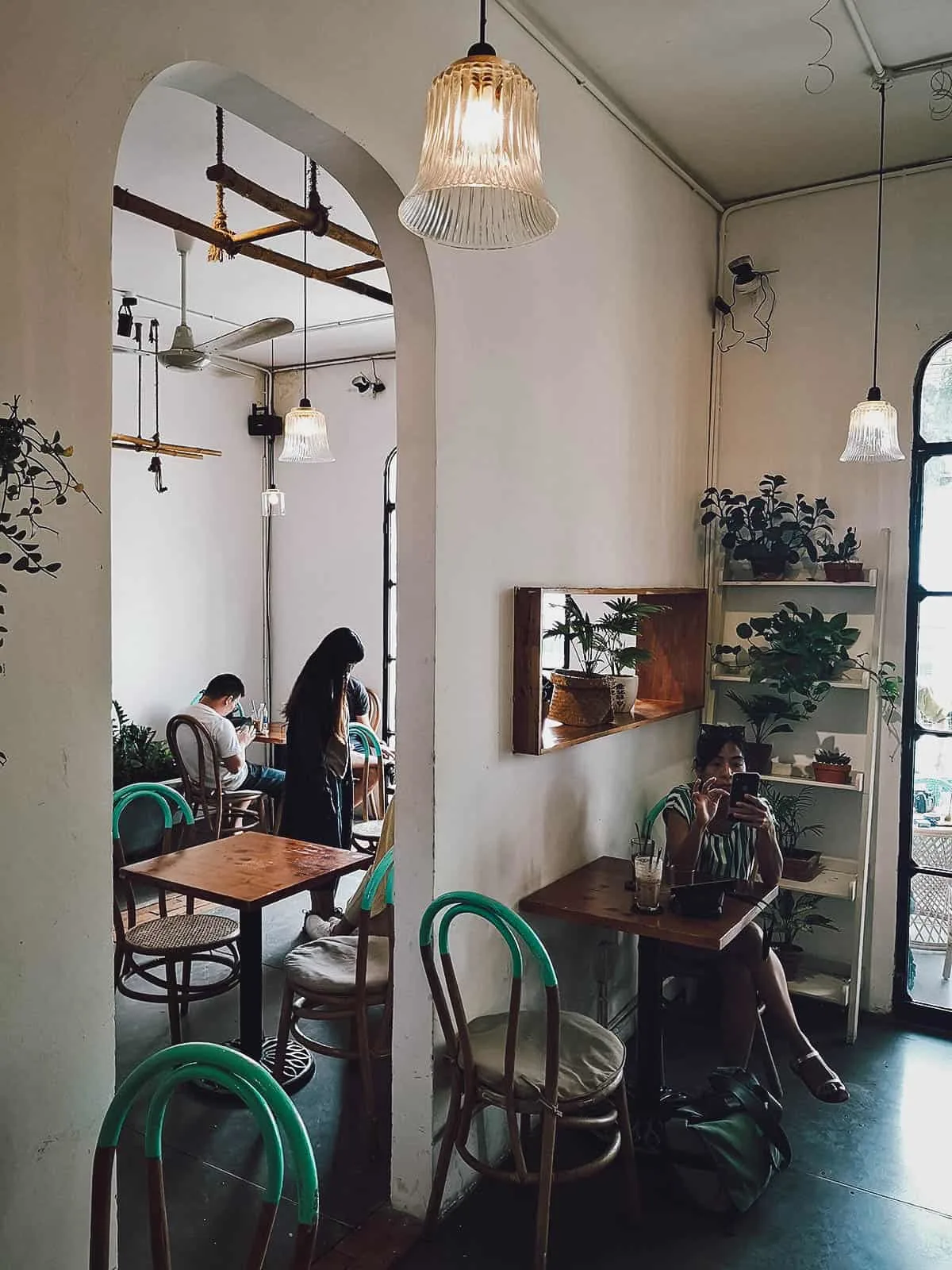 This may look like regular ca phe sua da, but it isn't. It's actually iced durian coffee. I love durian so I'm always willing to try it in any form. This coffee was good, if you like durian.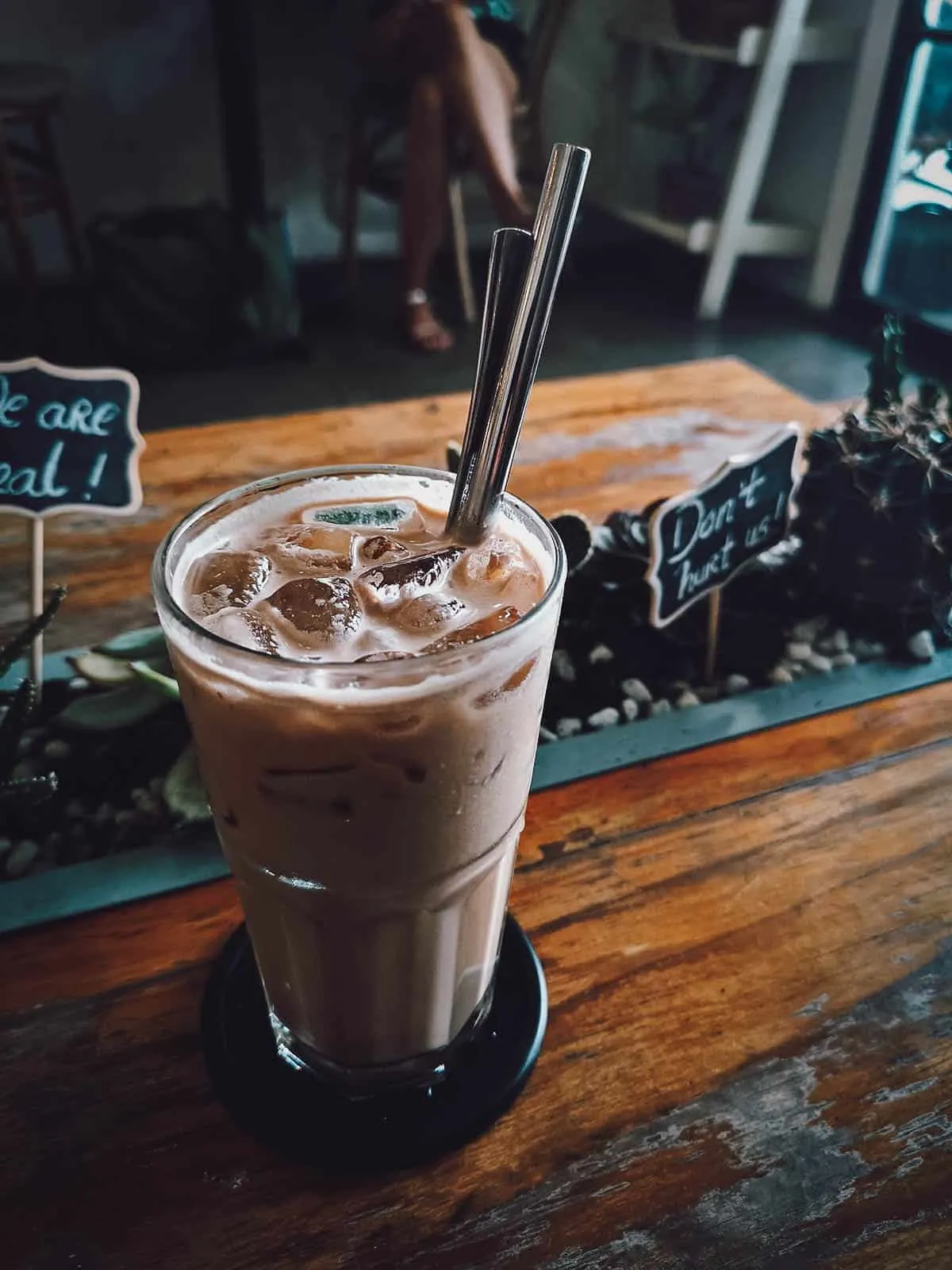 Saigon Oi
Address: 42 Nguyễn Huệ, Bến Nghé, Quận 1, Hồ Chí Minh, Vietnam
Operating Hours: 9AM-10PM, daily
14 TON THAT DAM
14 Ton That Dam was by far my favorite of these apartment block cafes. It was the grittiest and most decrepit-looking, which only added to its appeal. It wasn't nearly as visible and easy to find either.
According to the article I read, the building was located at 14 Ton That Dam Street. I was looking at Google Maps so I knew I was in the right place, but I couldn't see anything from the street resembling commercial spaces.
Unlike The Cafe Apartments, there weren't any signs on the building's facade. I kept walking past this driveway and the only clue I could find was that small black sign on the left that read "Whisfee Cafe". I was ready to give up but I decided to check it out before leaving.
Thank god I did, because only after entering this driveway did I realize that I was absolutely in the right place.
Go through the driveway and you'll find this stairwell on the right. On the wall are hand-painted signs telling you exactly what's waiting for you upstairs. Jackpot.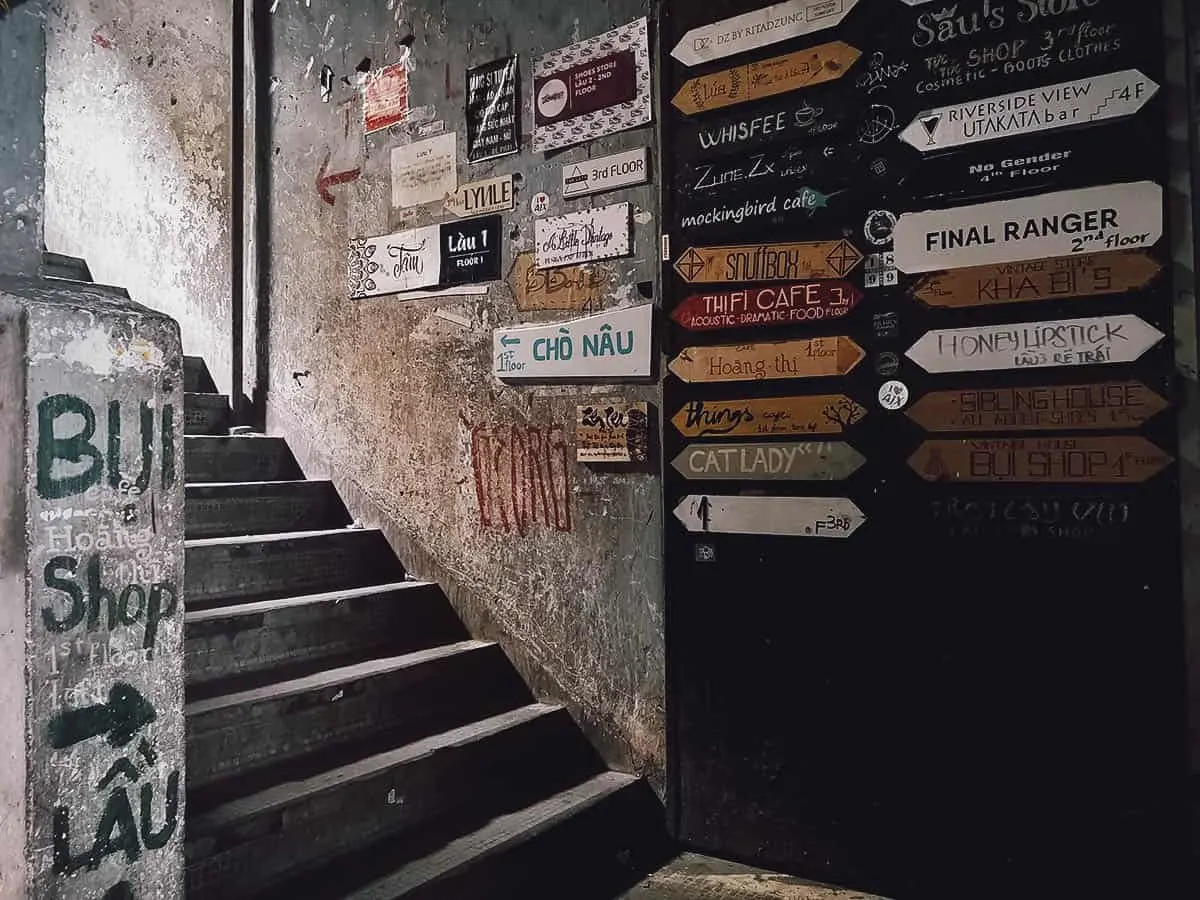 Unlike The Cafe Apartments, this building really does look like it's abandoned. Windows were missing, the stairwell looked like it hadn't been swept since the war, and graffiti was everywhere.
Many of the signs were painted directly on the walls. Some establishments even challenged you to find them! Being in a building like this truly made you feel like an urban explorer.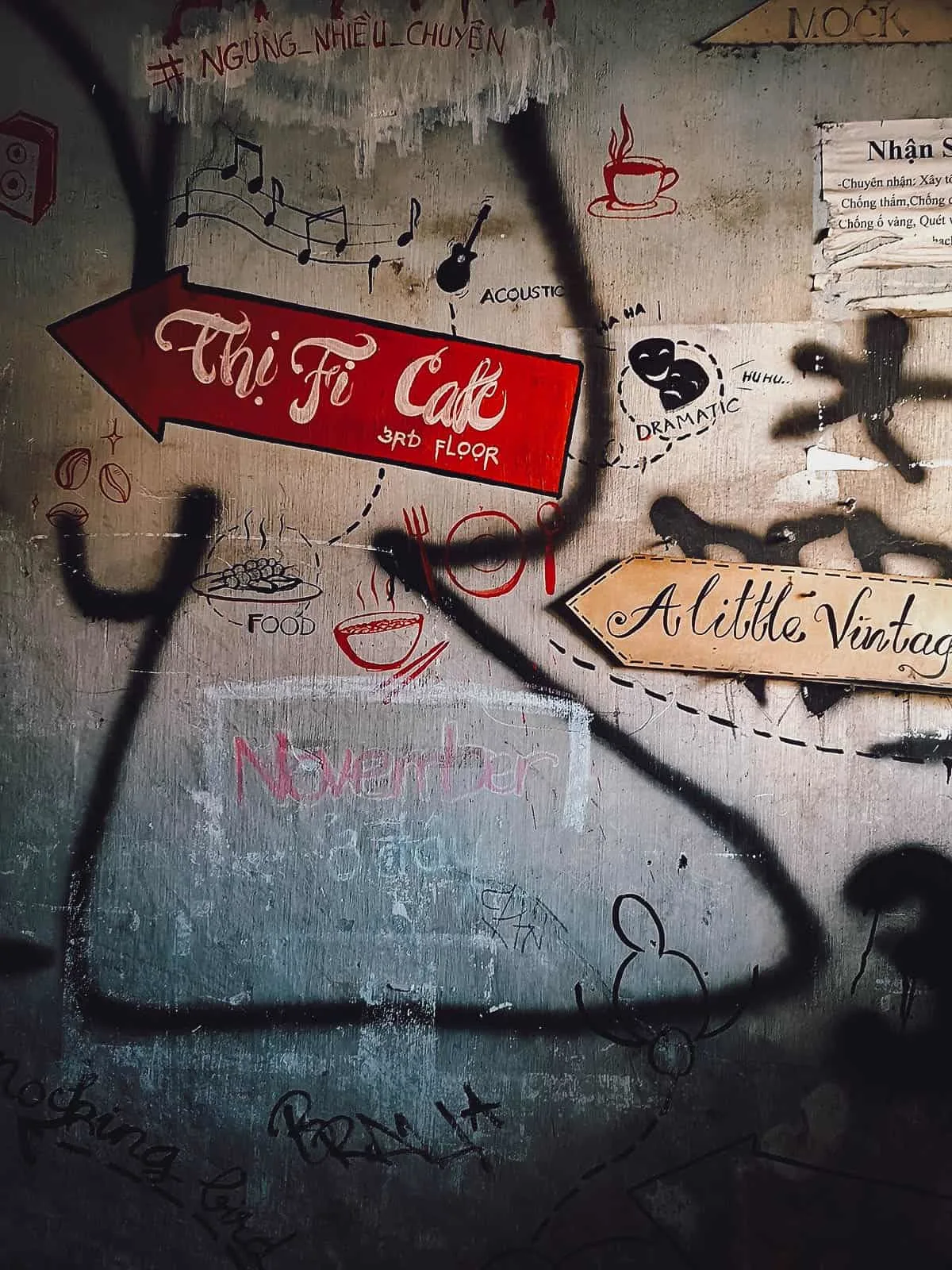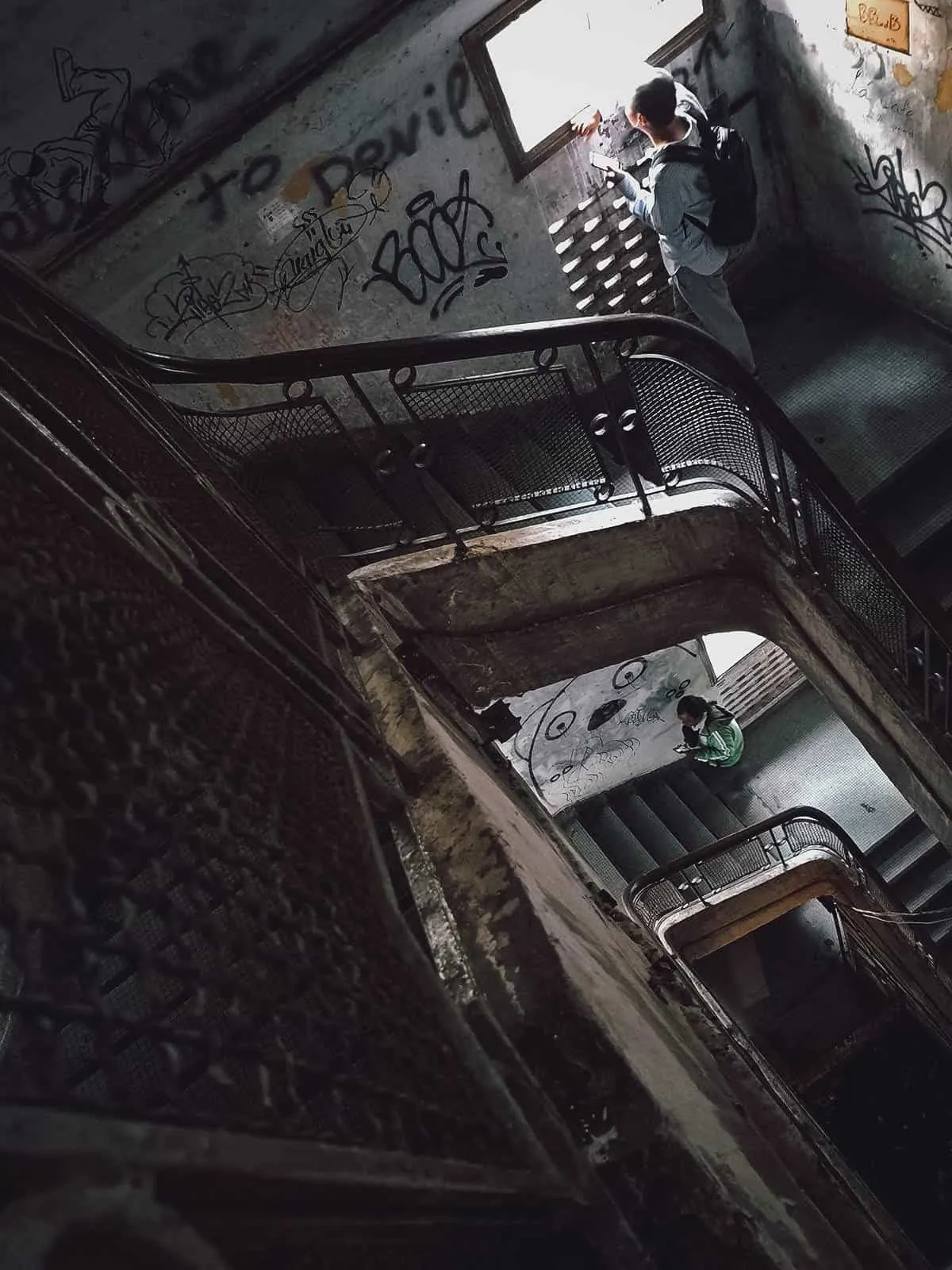 14 Ton That Dam seems to be a popular venue for photoshoots. There were people doing portrait photography throughout the building.
These young girls were probably just taking pictures for their Instagram but there seemed to be professional photographers here too. One group even had a model who did several costume changes.
I'm not a professional, but the gritty feel of the building and the natural light streaming through the broken windows seemed an ideal backdrop for portrait photography.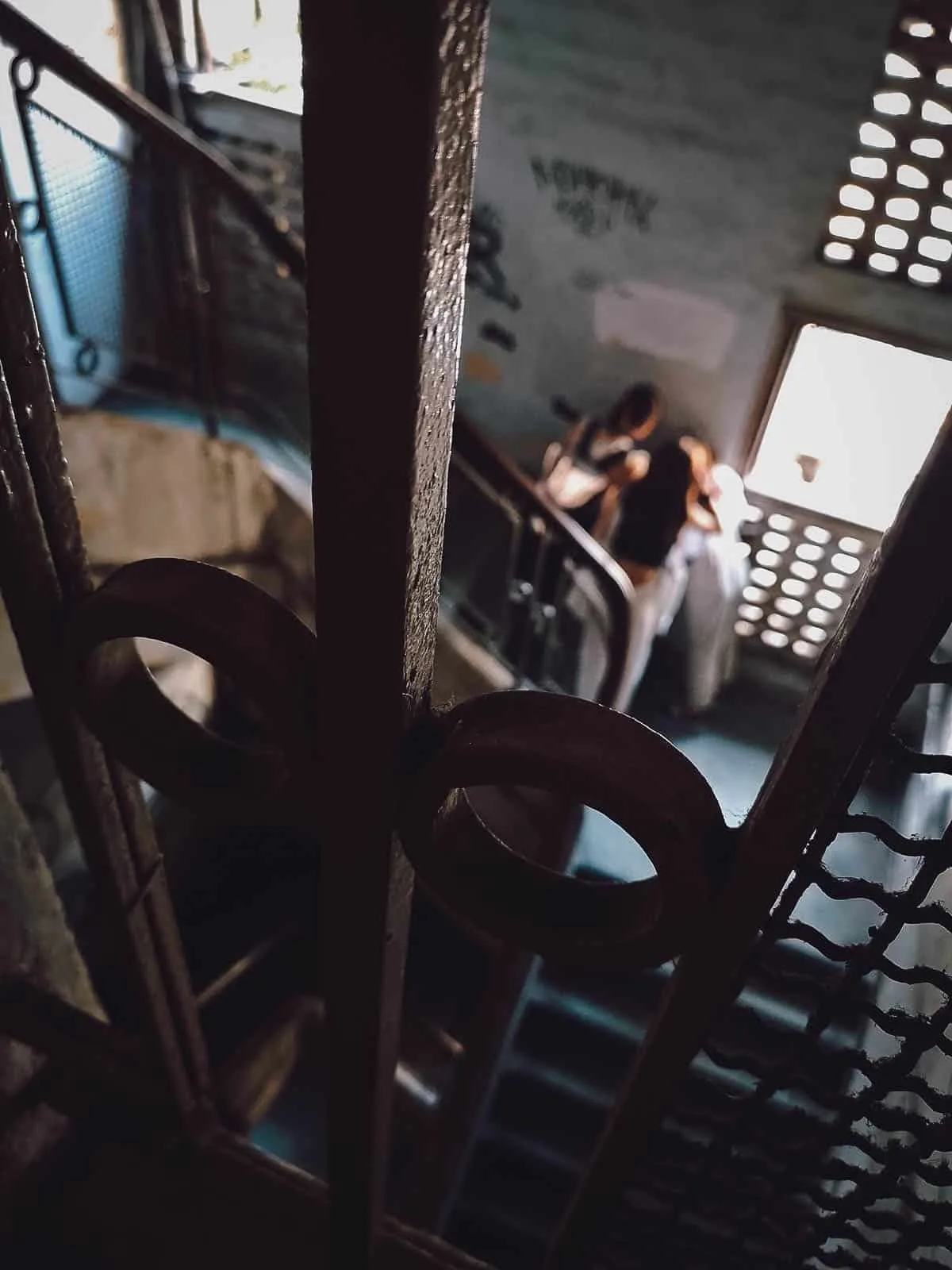 Like The Cafe Apartments, 14 Ton That Dam had interesting boutiques and cafe restaurants, even a photography studio.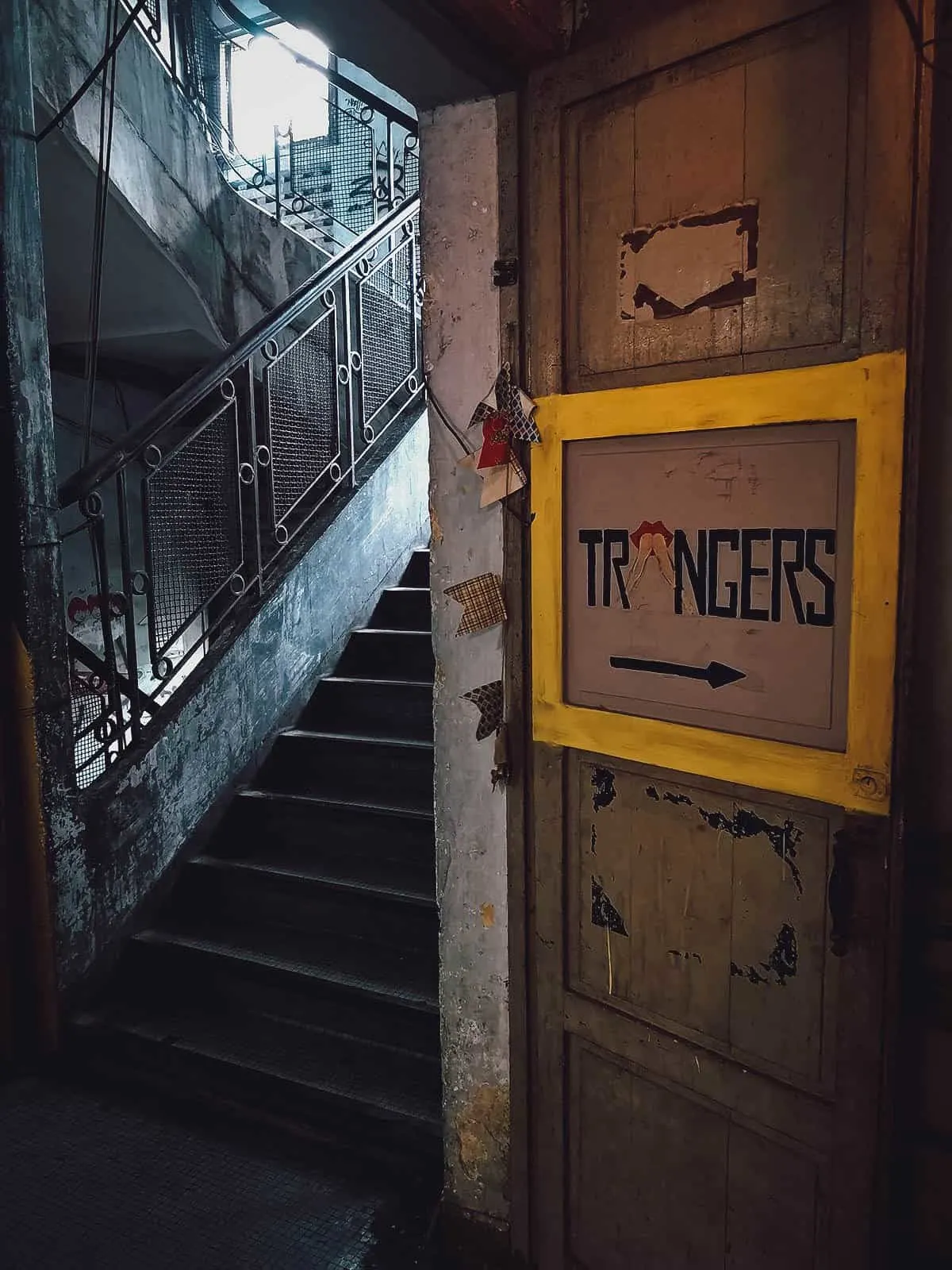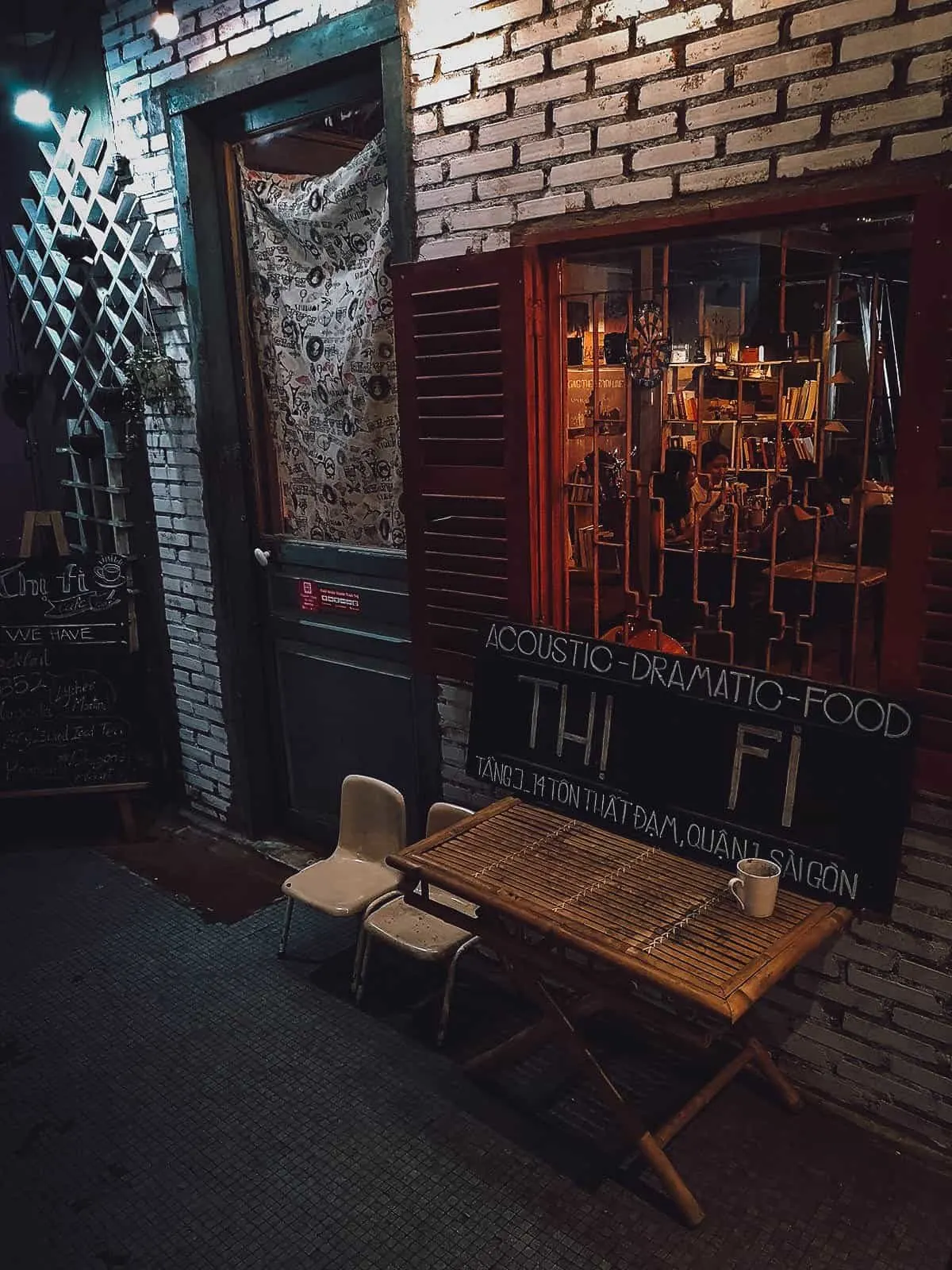 8. Whisfee Cafe
I think I really was meant to go to Whisfee Cafe. I explored every floor of the building before deciding on which cafes to visit, and I found Whisfee Cafe to be the most appealing. It was the first of two cafes I visited in the building.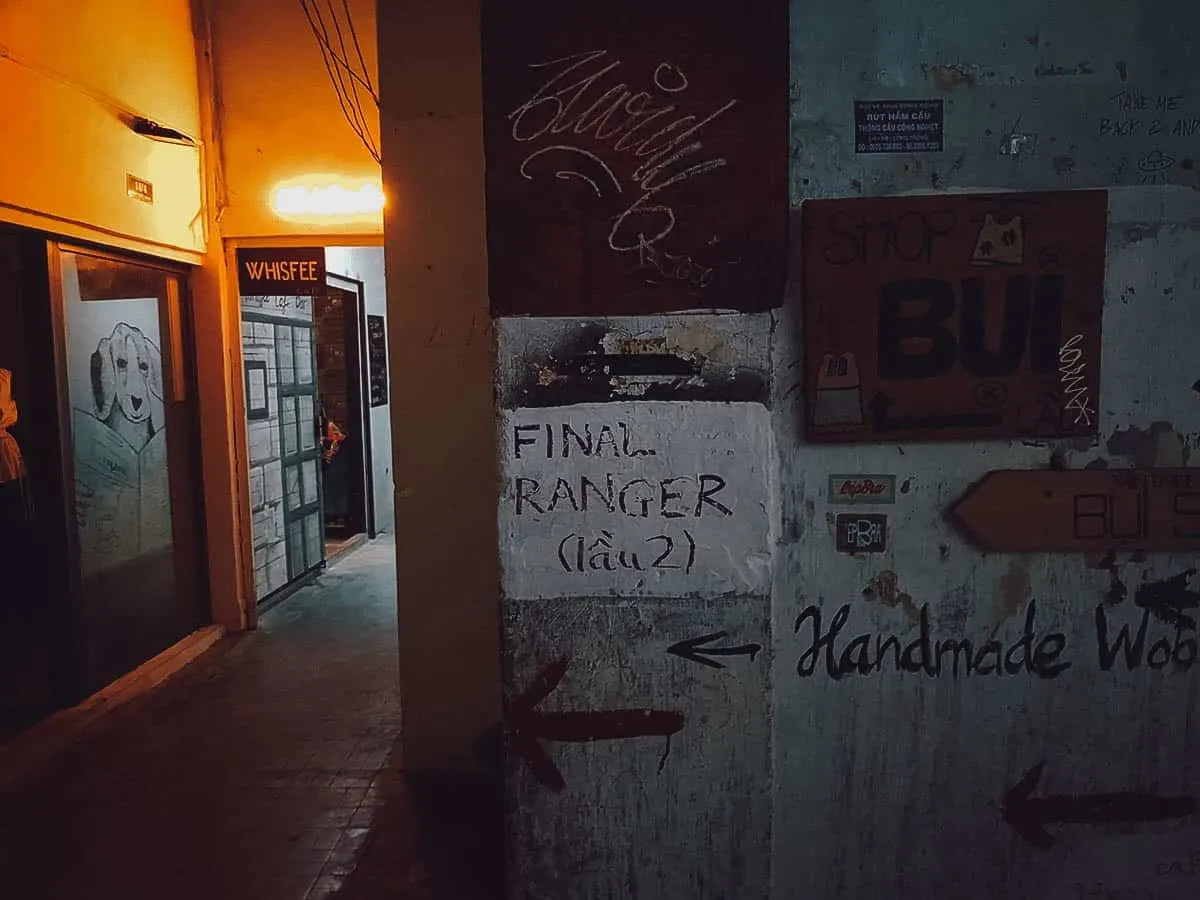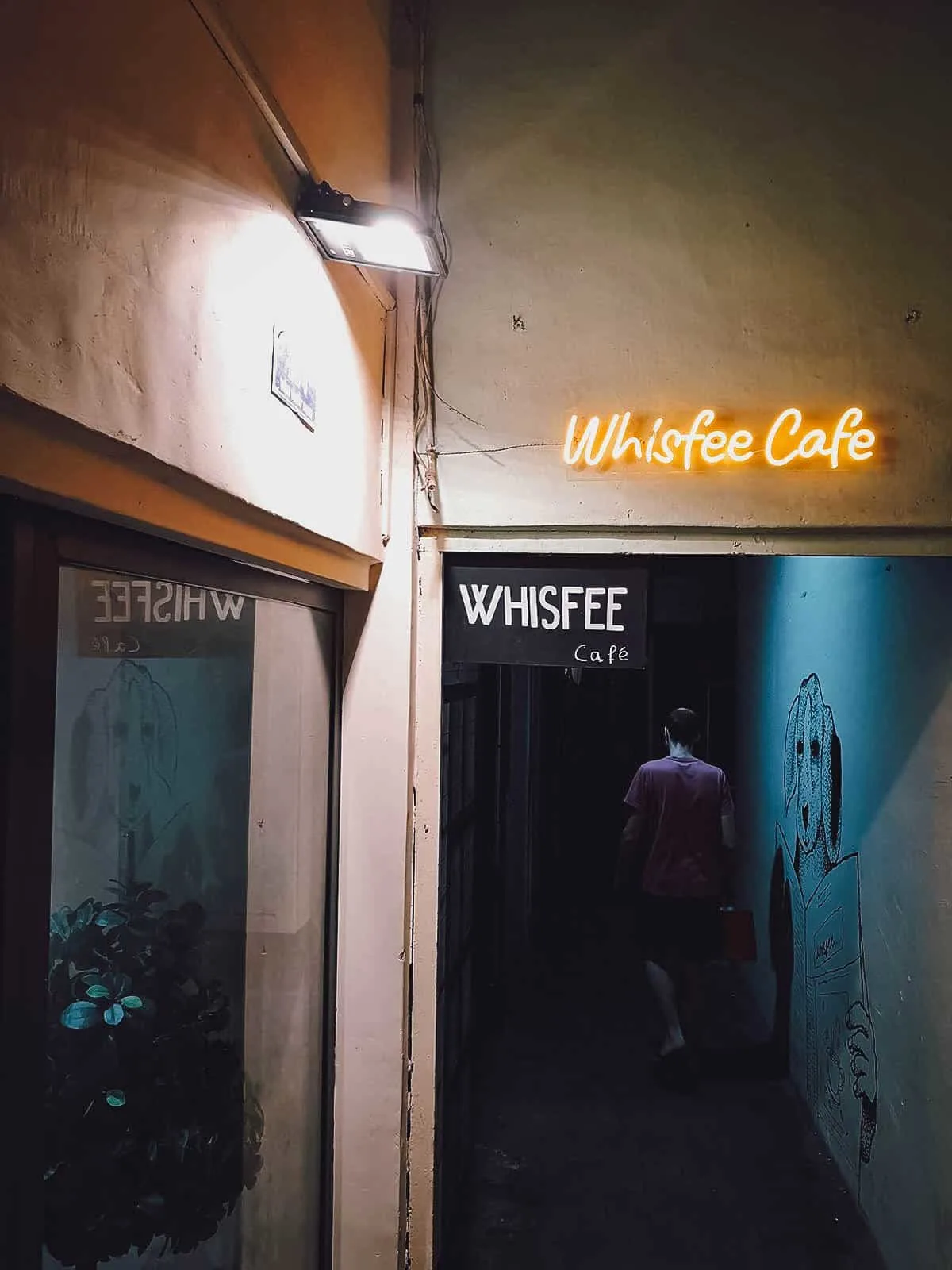 I loved the warm and cozy feel of Whisfee Cafe. It felt like you were in a study with its dark wood and leather tufted chairs.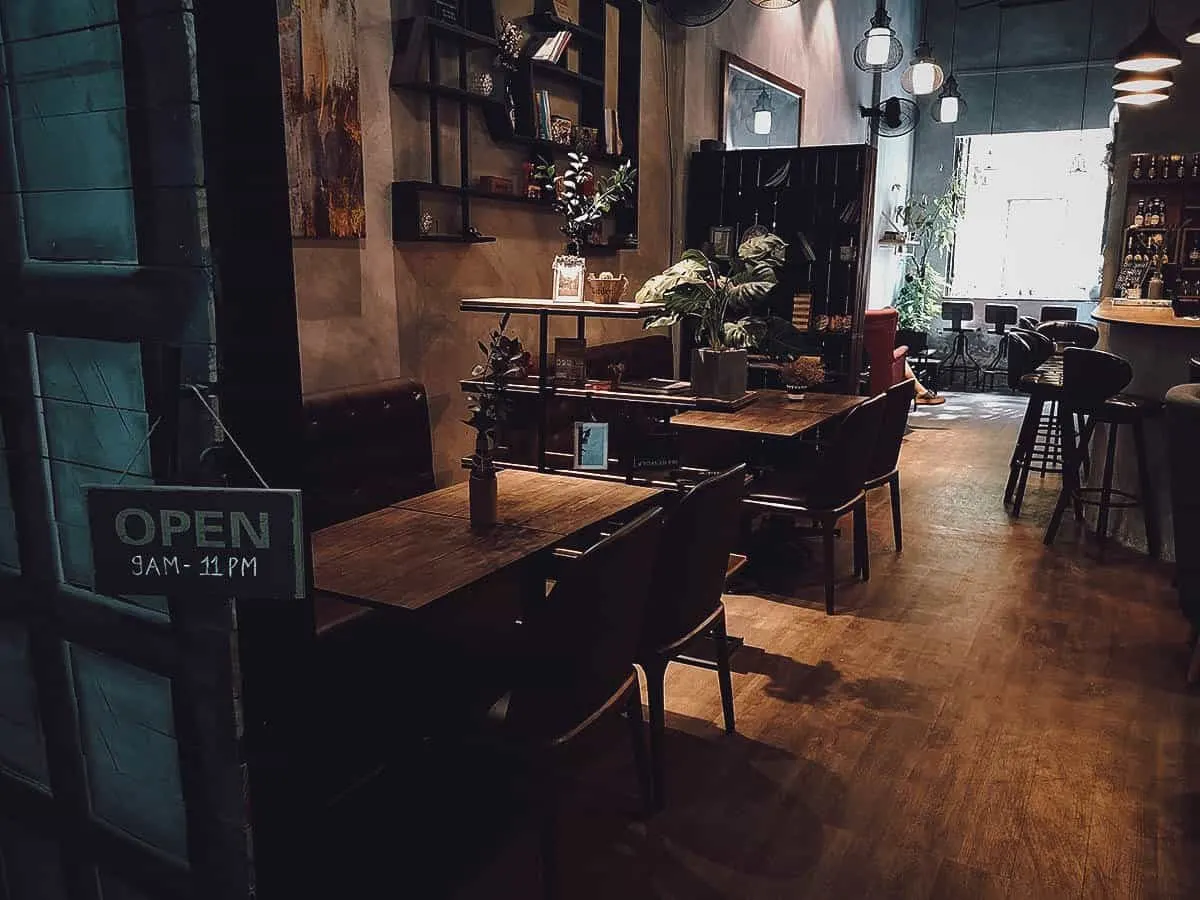 I asked my server about these apartment block cafes and she told me that some even have homestays. I think I came across a few apartments in these buildings that were indeed homestays. I'd love for us to stay in one of them on our next trip to Saigon.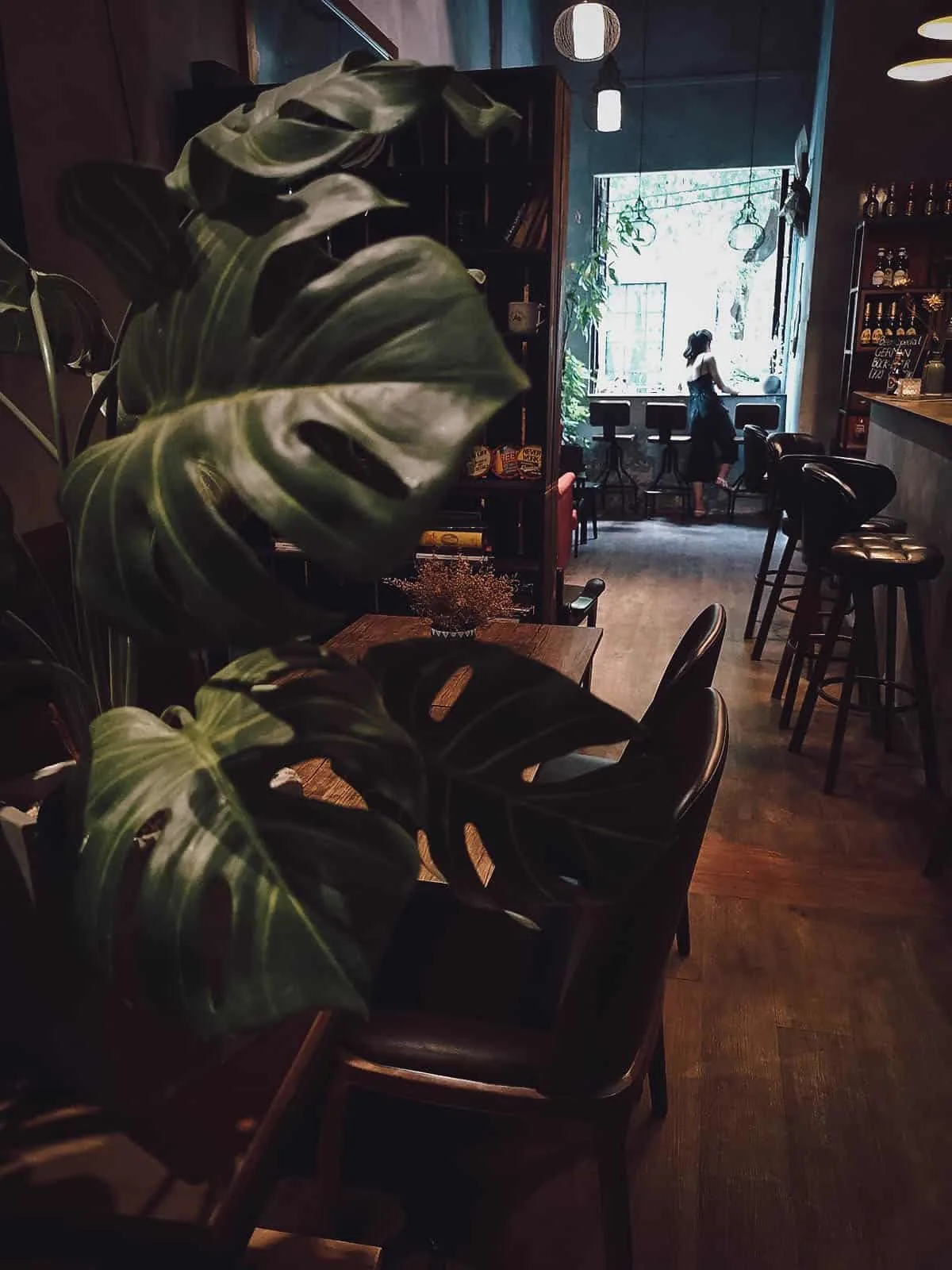 My cool frothy glass of ca phe den da, with a metal straw I might add.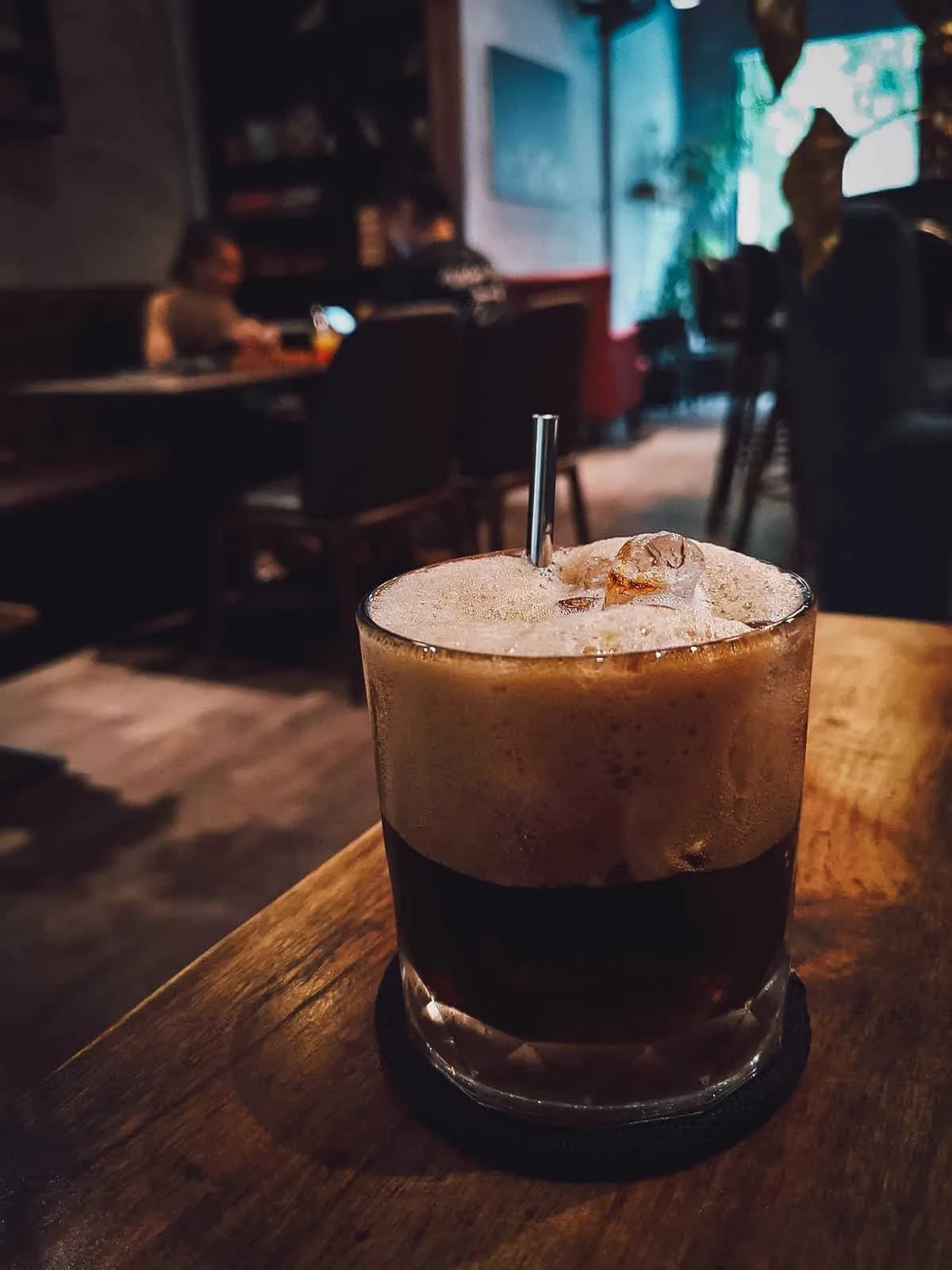 Whisfee Cafe
Address: 14 Tôn Thất Đạm, Phường Nguyễn Thái Bình, Quận 1, Hồ Chí Minh 700000, Vietnam
Operating Hours: 9AM-11PM, daily
9. Hoang Thi Cafe
Through this entryway and past the tiled floor is Hoang Thi Cafe, the second coffee house I visited at 14 Ton That Dam.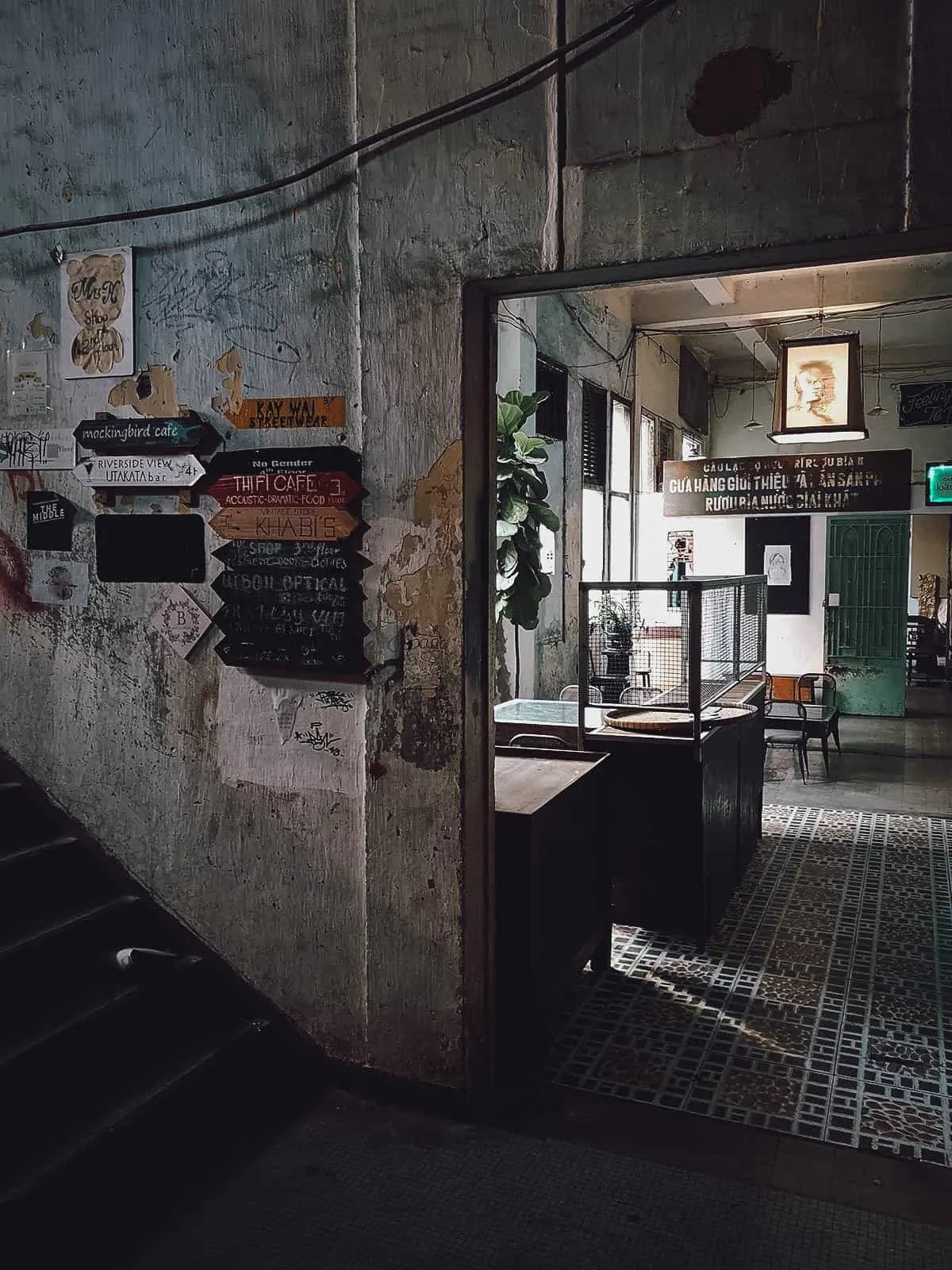 Of all the cafes in this building, Hoang Thi was the most popular. It seems to be a favorite among Saigon's young artsy set. There were a few customers in here sporting dyed hair and Dr. Martens boots.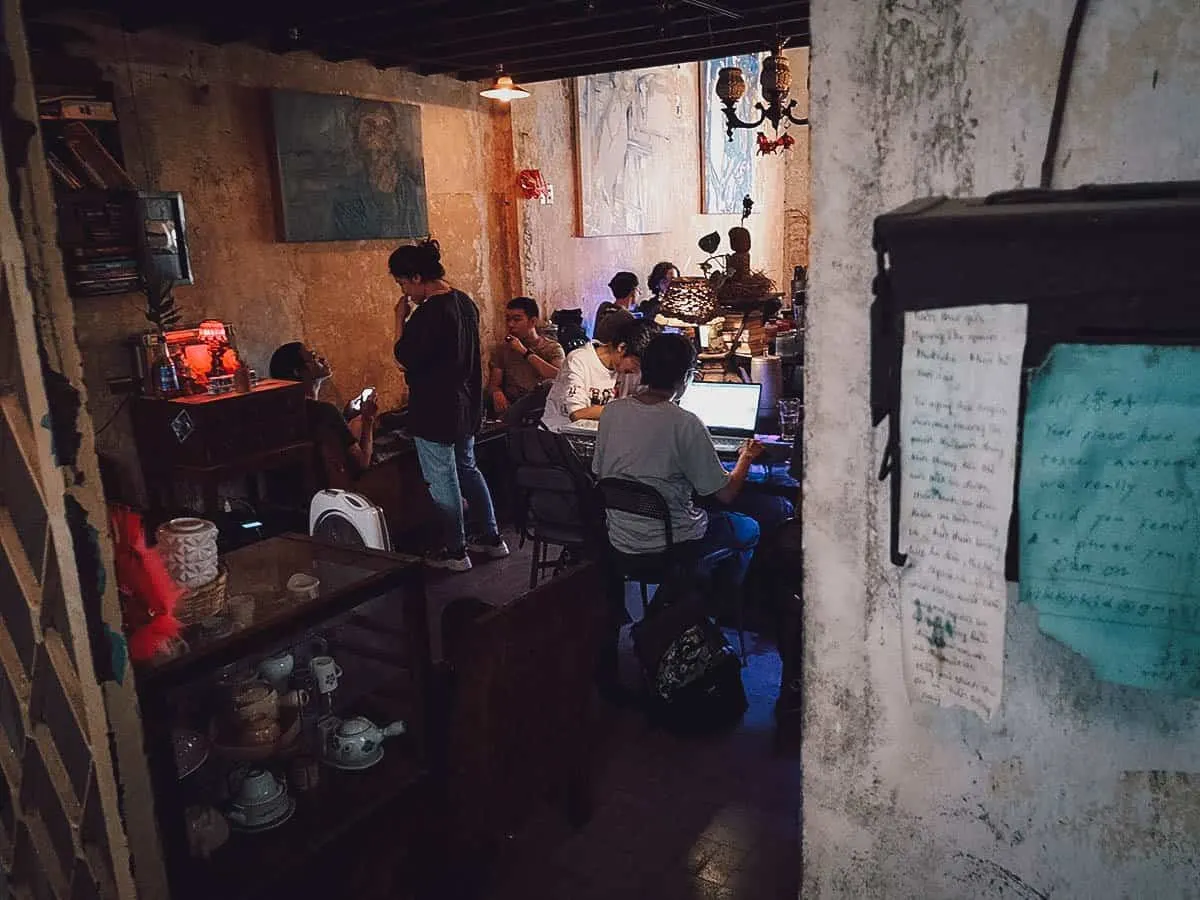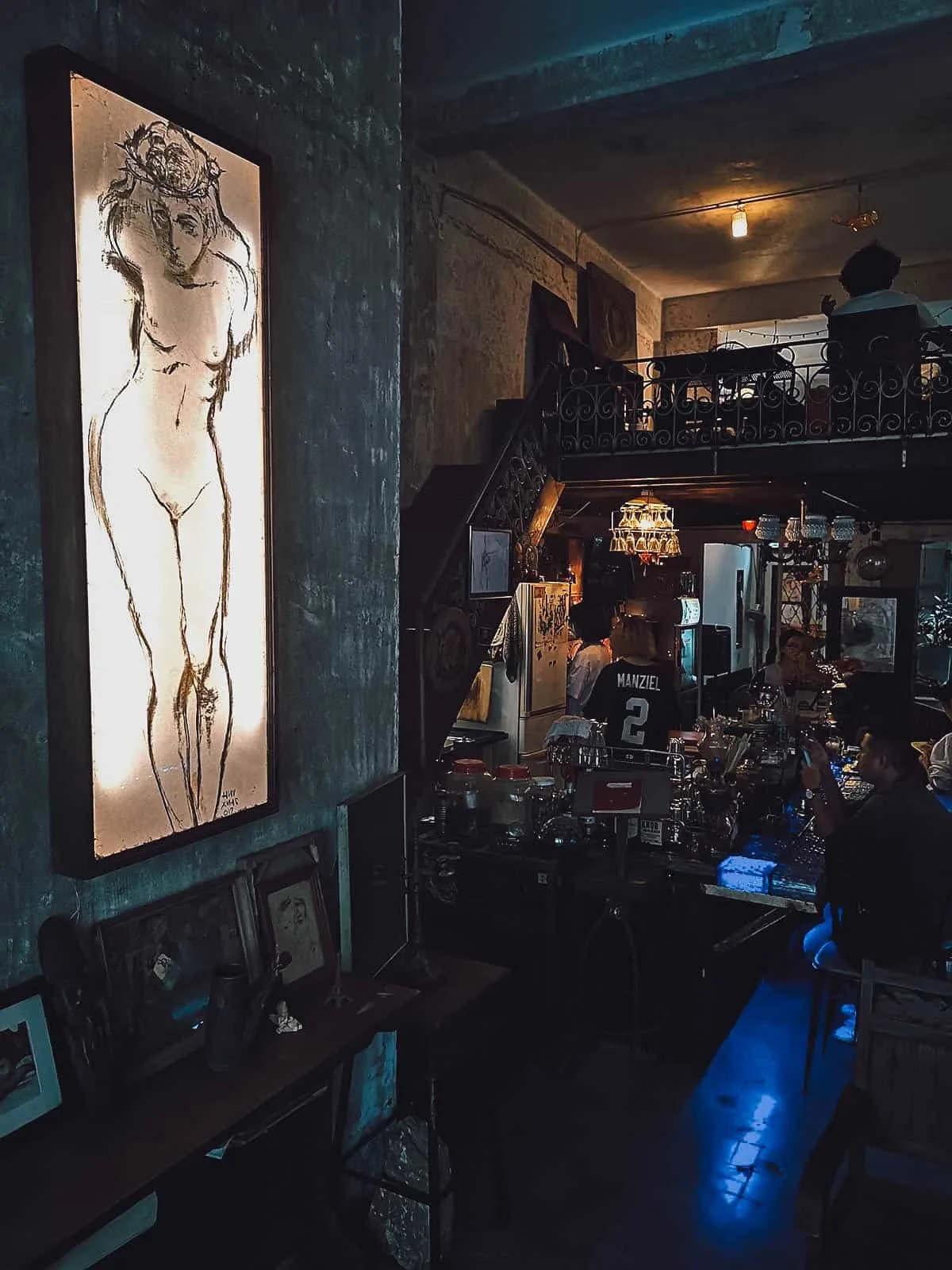 Another cafe, another glass of ca phe sua da. It's warmer in the south so I found myself ordering iced coffee here more often.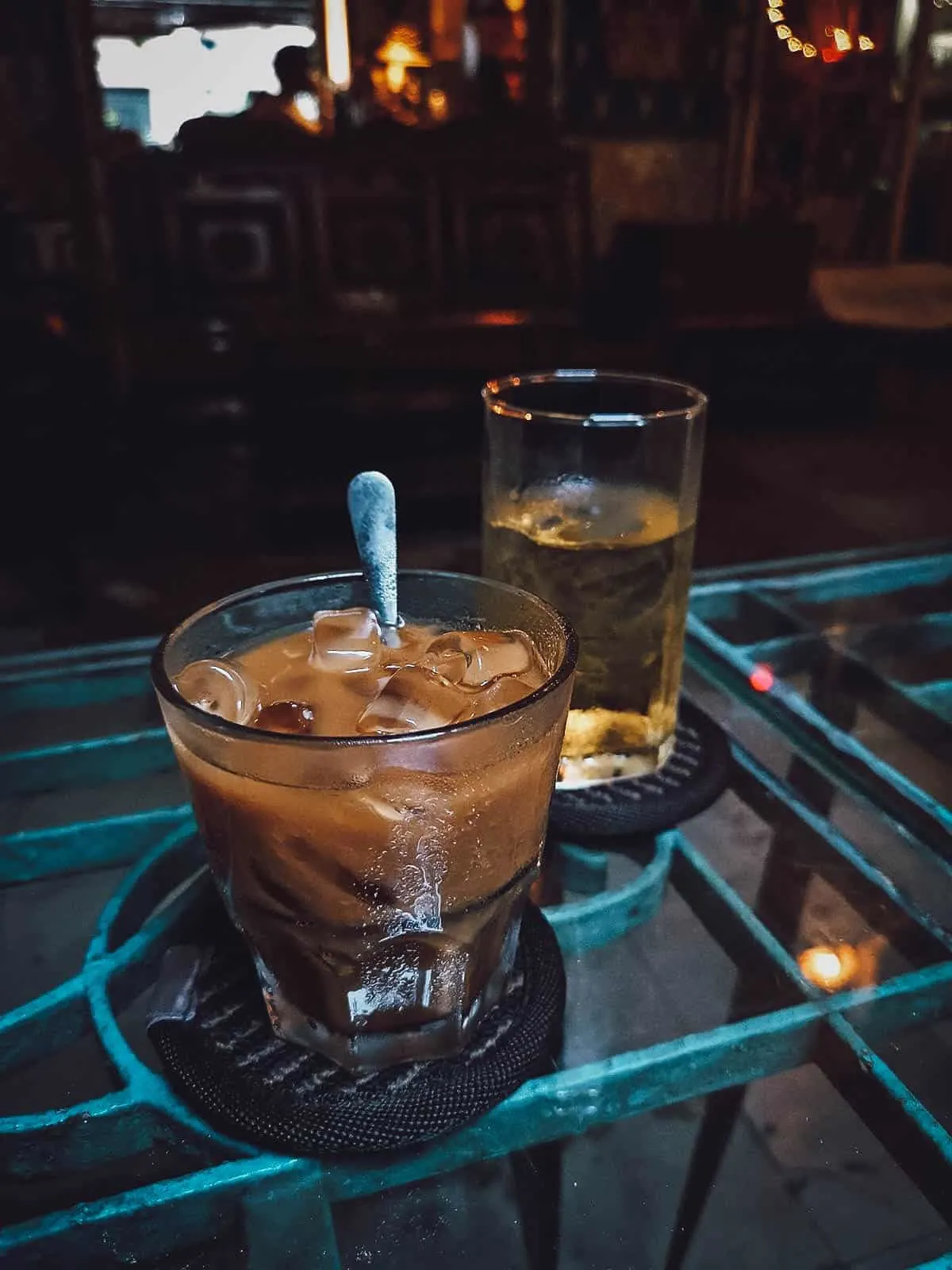 Hoang Thi Cafe
Address: 14g Tôn Thất Đạm, Phường Nguyễn Thái Bình, Quận 1, Hồ Chí Minh 700000, Vietnam
Operating Hours: 7:30AM-12MN, daily
9 THAI VAN LUNG
As far as I could tell, this building only had two cafes but they were both cool. Located at 9 Thai Van Lung Street, just look for this entrance and go up the stairs. You'll find one cafe on each floor.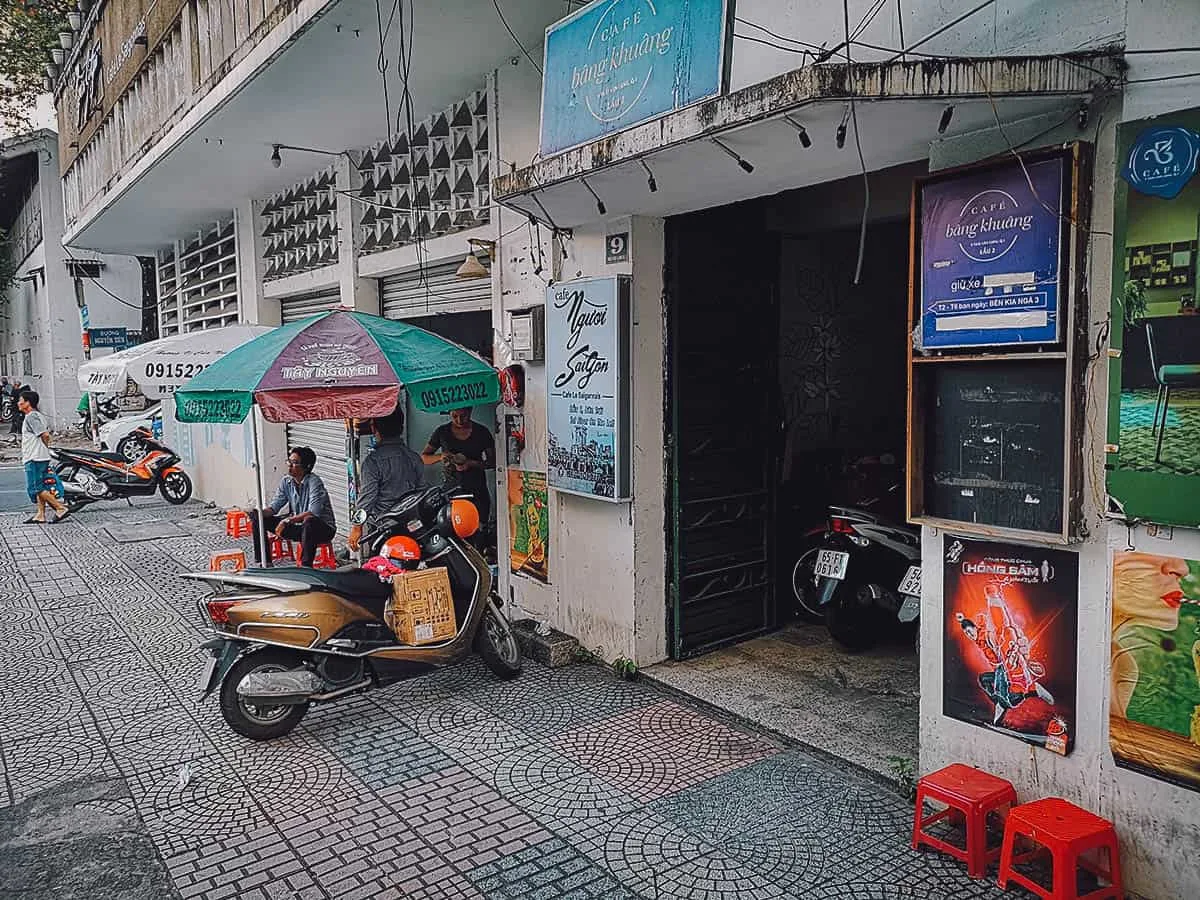 I didn't catch the name but this was the cafe on the second floor.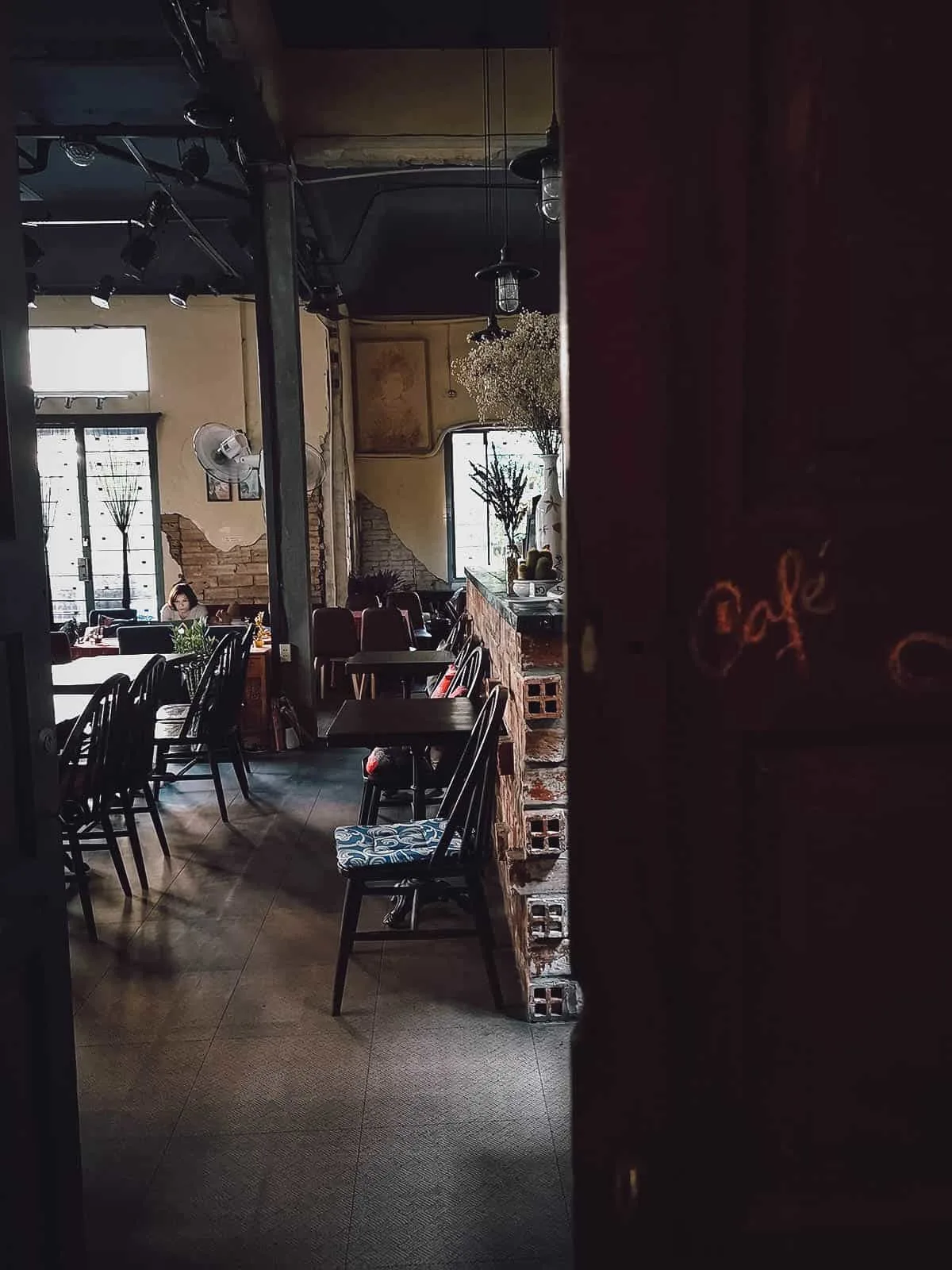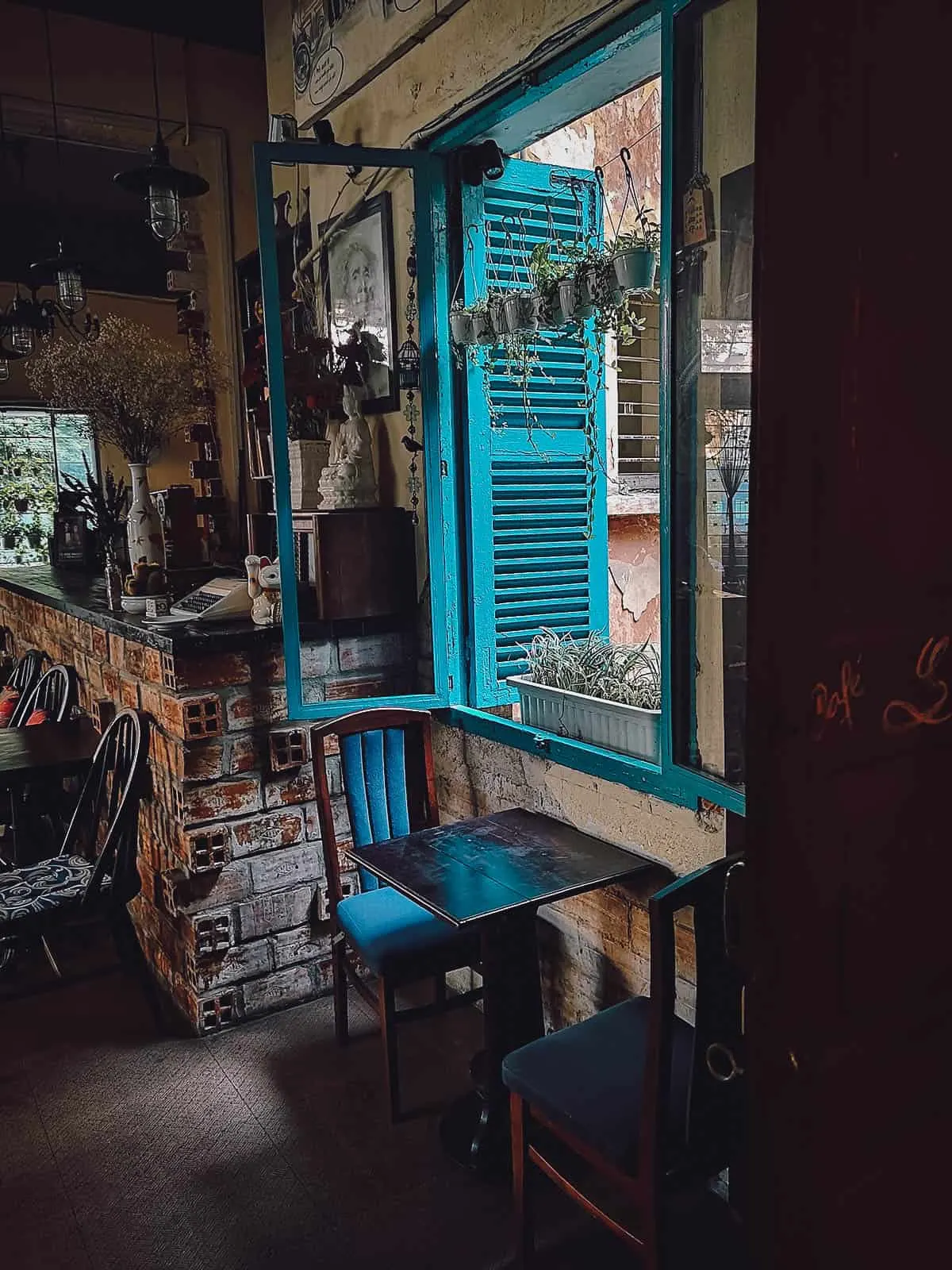 10. Bang Khuang Cafe
Bang Khuang is the cafe on the third floor and the one I went to. It had a lovely interior with tiled floors and vintage memorabilia. It was air-conditioned and quiet with big tables ideal for working.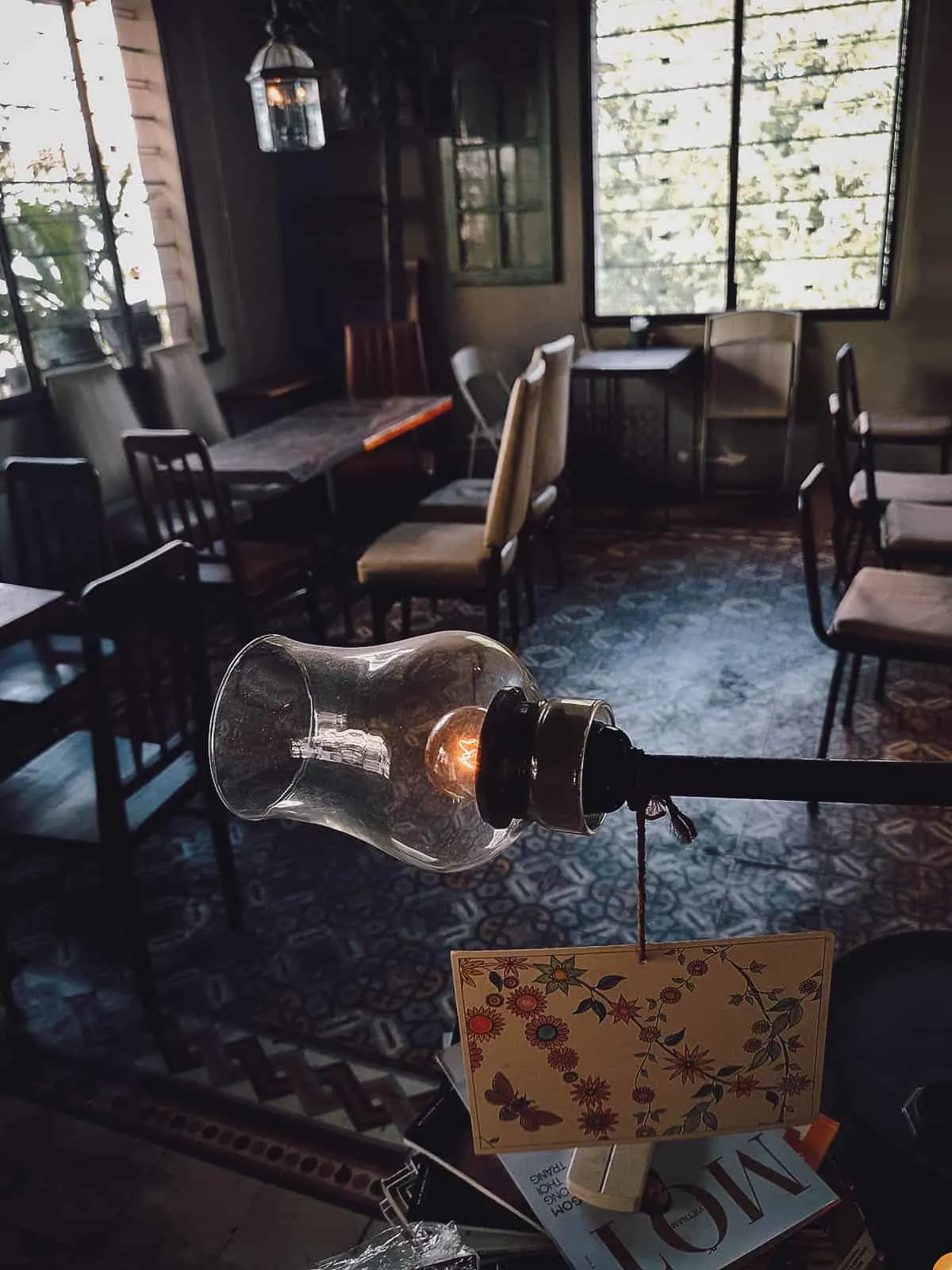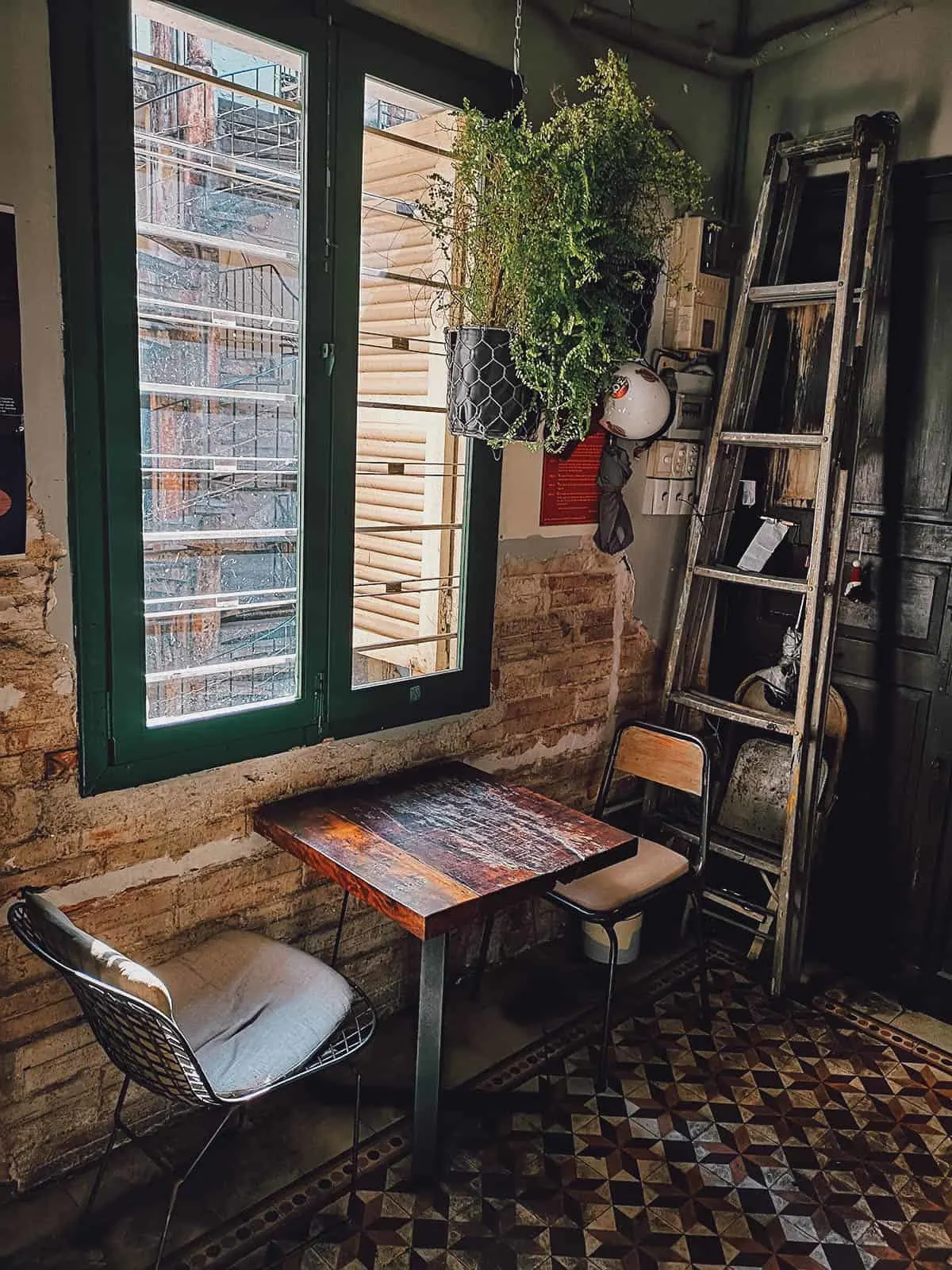 And yet another glass of ca phe den da. Vietnamese coffee is strong so my head would start to buzz after the third or fourth cup.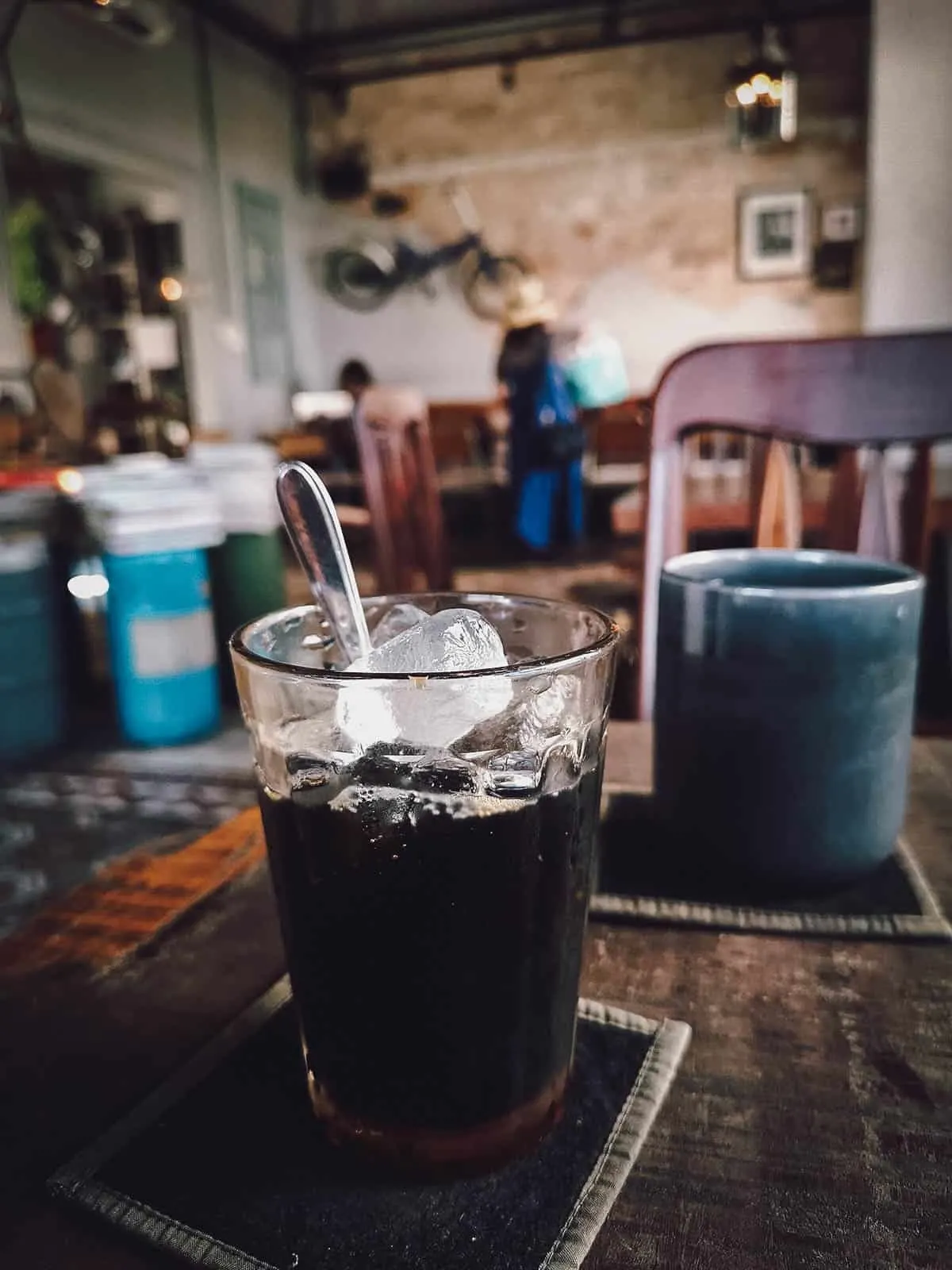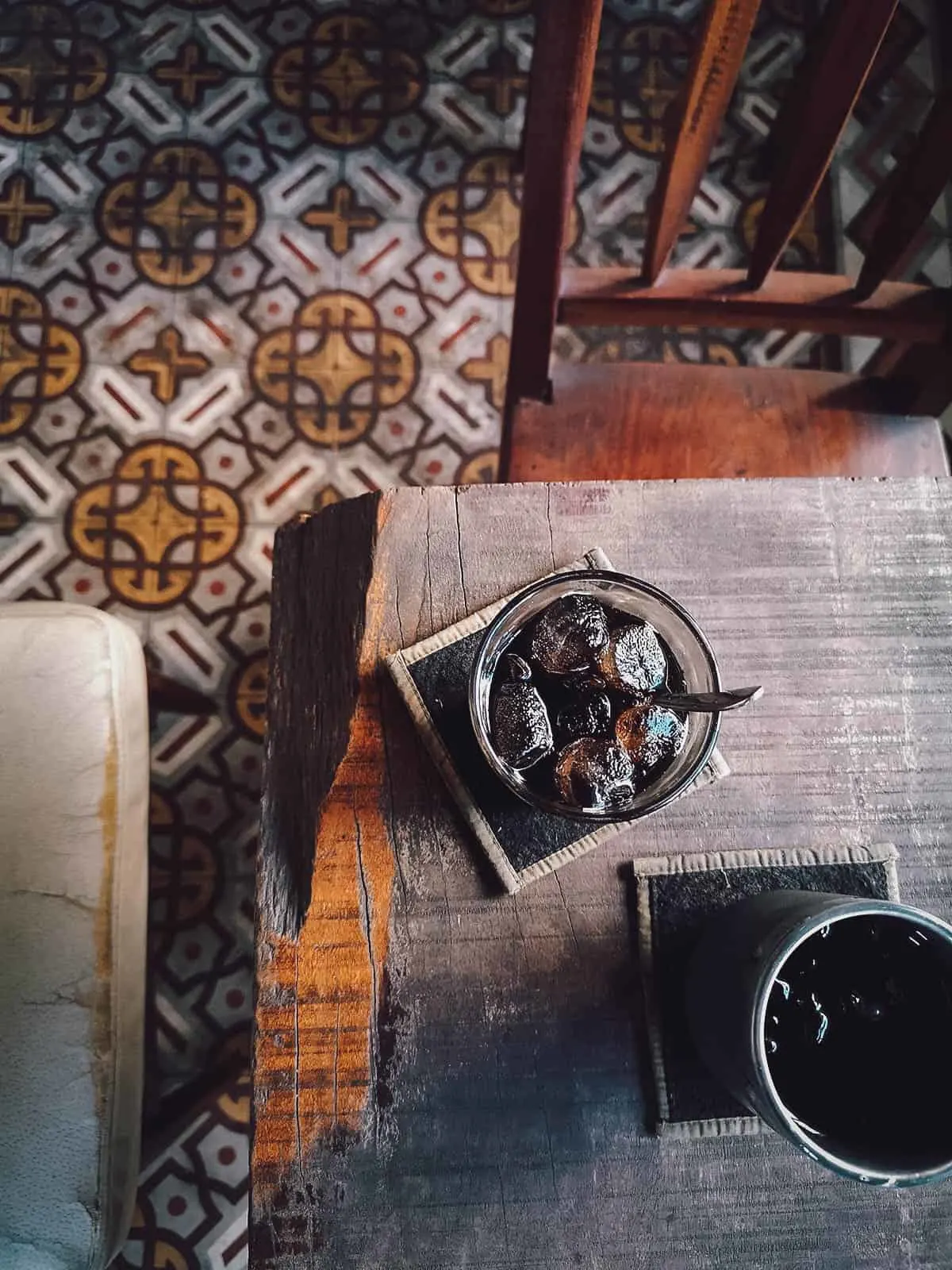 Bang Khuang Cafe
Address: 2nd floor, 9 Thái Văn Lung, Bến Nghé, Quận 1, Hồ Chí Minh, Vietnam
Operating Hours: 7AM-10:30PM, daily
26 LY TU TRONG
This is the fourth apartment block cafe I visited and for me, the least interesting one. The building itself is beautiful, but I went through every floor and all I could find were bigger and more polished coffee chains like Cong Ca Phe. I love Cong Ca Phe but in these buildings, I prefer unique one-of-a-kind coffeehouses.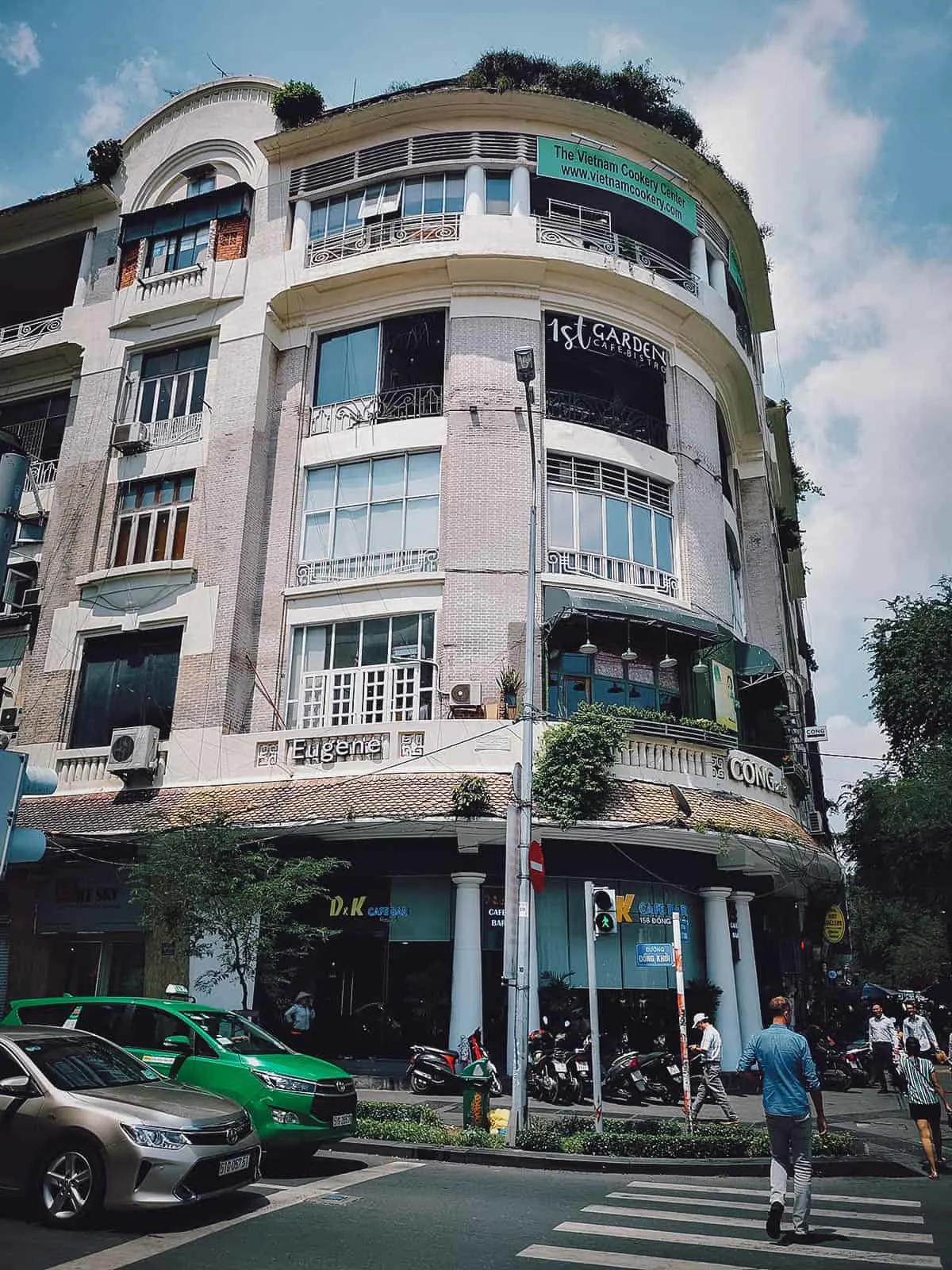 26 Ly Tu Trong also had more fashion boutiques than it did cafes.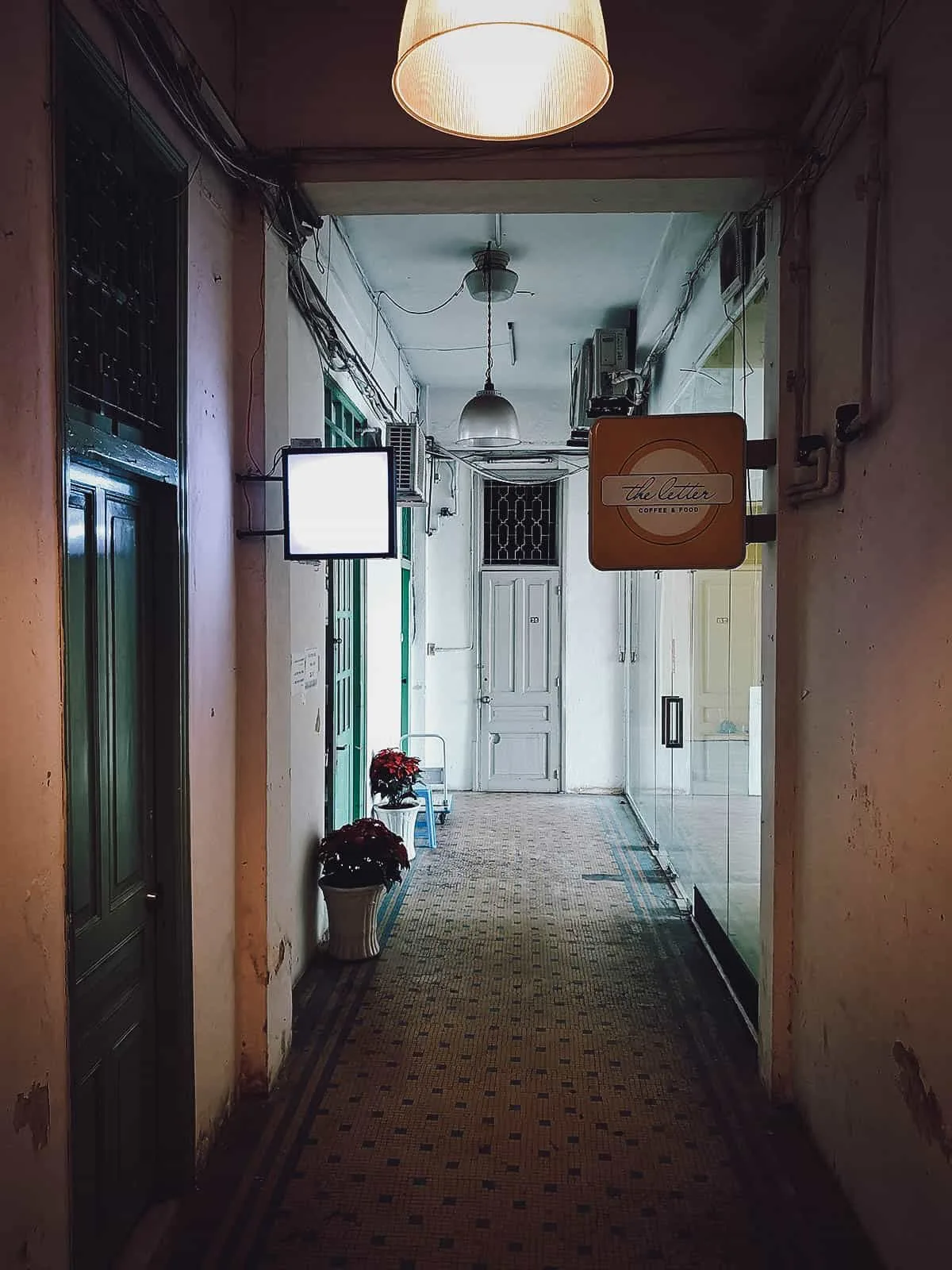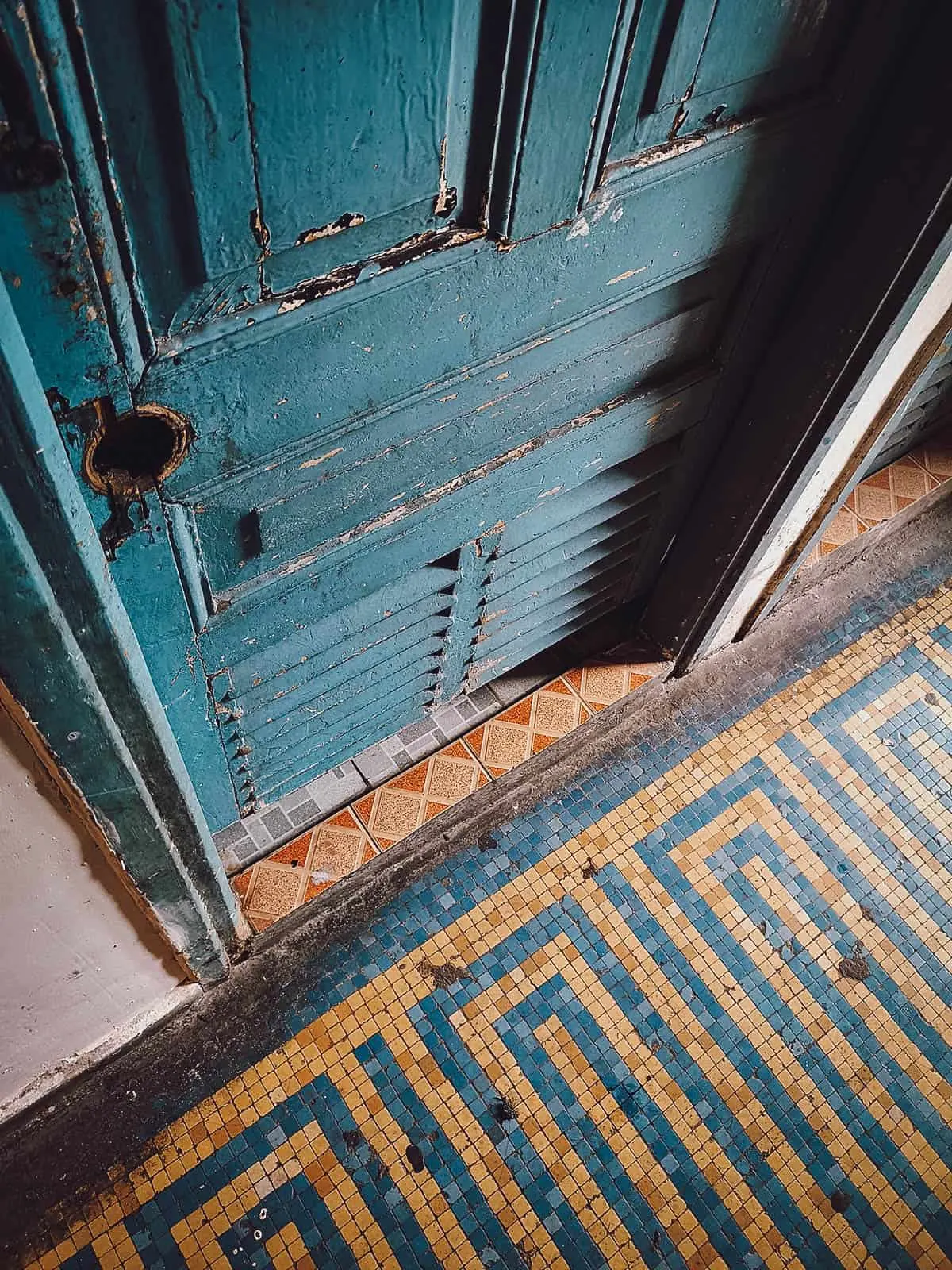 See what I mean about all the fashion boutiques?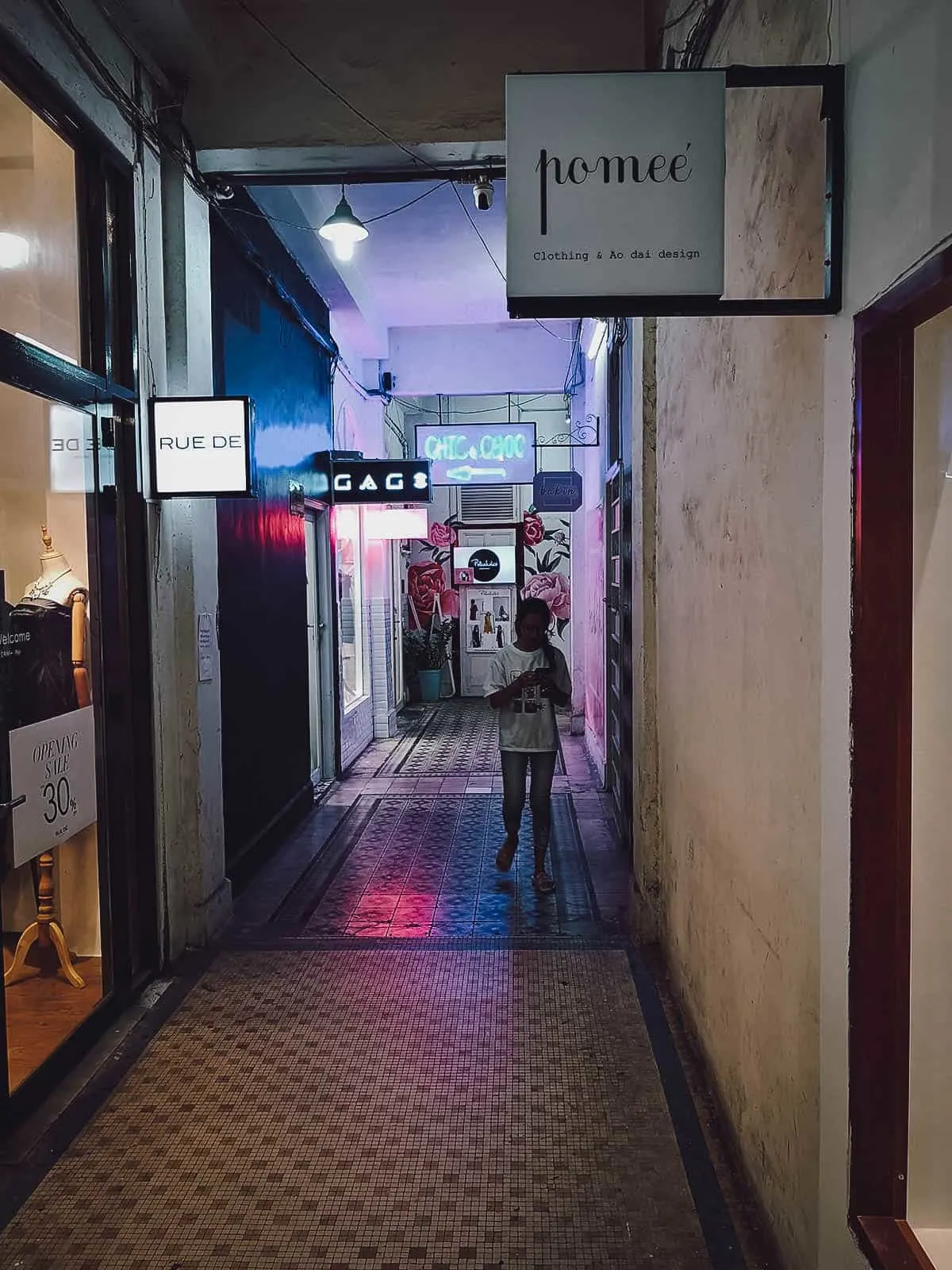 I did find this one corner cafe on the top floor. It's tucked away at the very end of the hall. I took a peek through the door and saw that it looked like someone's home.
I thought I had discovered something cool, like some in-the-know living room cafe where you say a secret password and they let you in to enjoy ca phe den da on their couch. But as it turns out, it really is just a home that offers homemade drinks to go.
There's one low plastic table with a pair of stools in the hallway, but it's way too hot to sit there for very long. It's more a waiting area for customers to sit while their coffee is being prepared.
Mine came in this dented to-go cup with Highlands Coffee branding. Does this mean they just wash and reuse old takeaway cups?! Ewww…definitely not the best cafe in Saigon.
I'm all about the 3 Rs (reduce, reuse, recycle) but I have my limits. You'll probably want to skip this cafe, and this building altogether. The others have more to offer.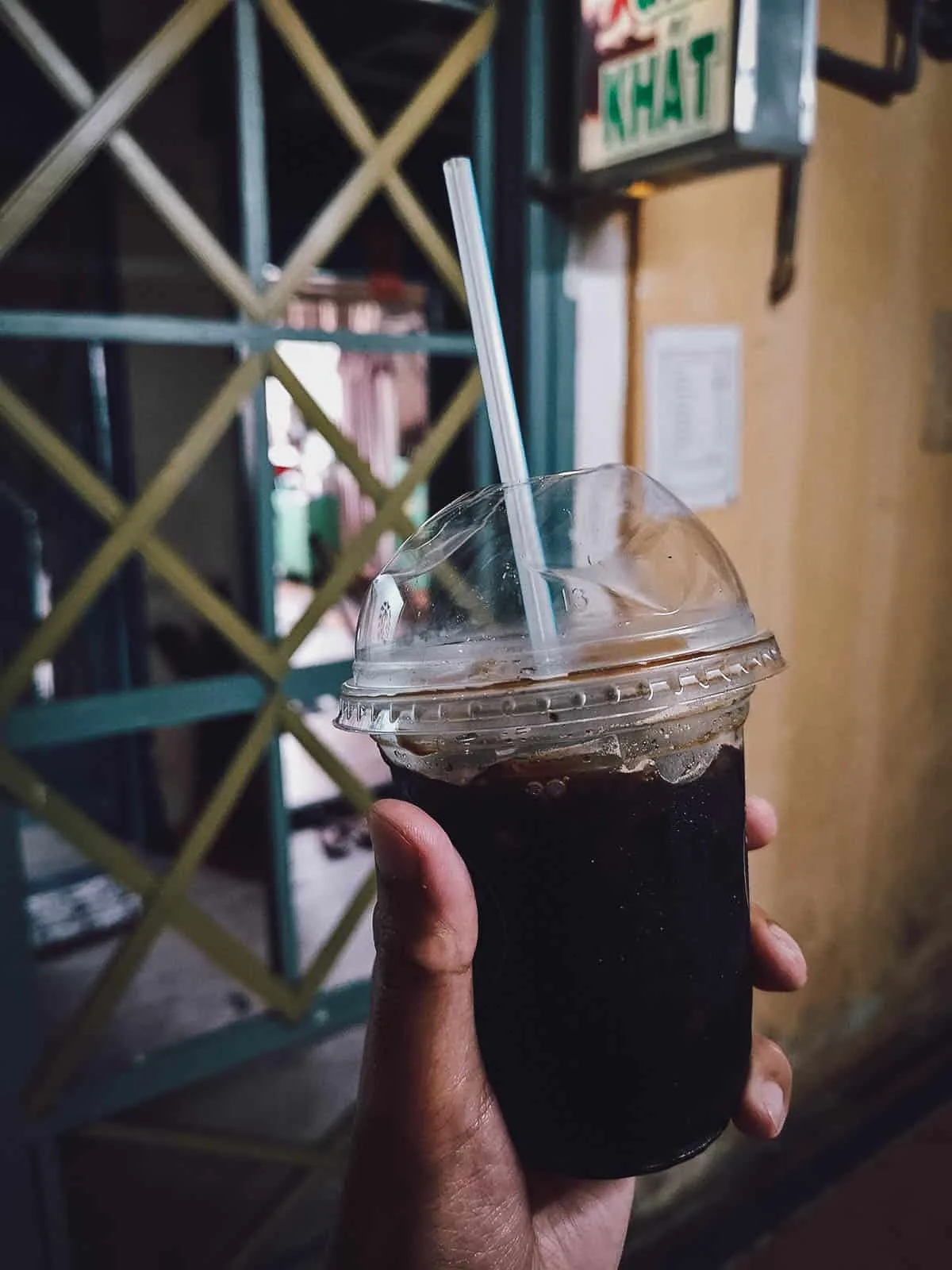 SAIGON CAFES LOCATION MAP
To help you find these Saigon coffee shops, I've pinned them all on this map. As described, some of the buildings are harder to locate so you can make your way to the pinned locations then refer to the pictures in this post to find the entrances. Click on the link to open a live version of the map.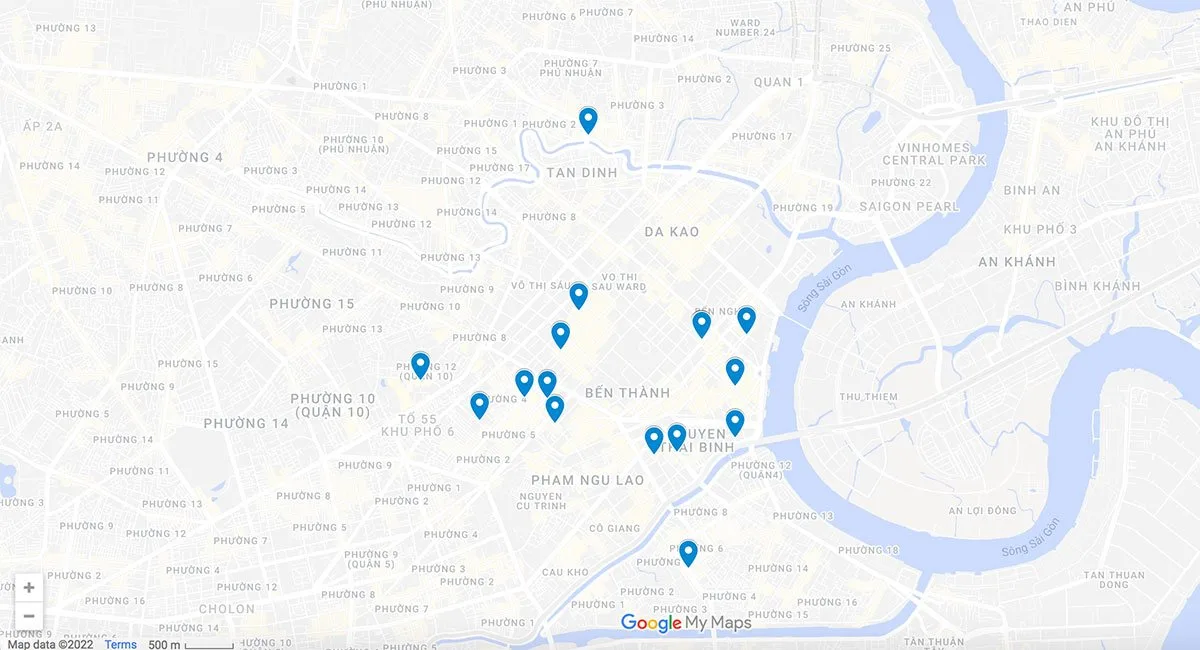 FINAL THOUGHTS ON THE COFFEE IN SAIGON
As described at the top of this post, Saigon doesn't seem to have Hanoi's storied coffee culture. It doesn't have ca phe trung or anything unique like that which people instantly associate with the city. When people visit Hanoi, having egg coffee is a priority and on many people's list of "must-dos".
Saigon cafes are more contemporary and they tend to resemble cafes you'd find in developed western countries. They don't quite have the old world charm of Hanoi's cafes and I think a lot of that has to do with the city itself.
Saigon is more developed and more modern than Hanoi. It resembles any major Southeast Asian metropolis, unlike Hanoi which still retains its colonial look and feel.
This is a big reason why I enjoyed Saigon's apartment block cafes so much, because they offered something different. I liked their gritty feel and the uniqueness of their shops and cafes.
I loved how many of them were hidden in plain sight. Seeking them out was fun and made me feel like I had discovered something secretive and cool, like I was privy to something not too many people knew about.
Unlike food, the cafe experience for me is just as much about the place as the coffee itself, especially in a country like Vietnam where good strong coffee is the standard. If you feel the same way, then you're going to love these hidden Saigon coffee shops.
If you're traveling to central Vietnam, then you may want to check out our coffee guides to Hoi An, Hue, and Da Nang as well. Like ca phe trung in Hanoi, Hue has its own quirky coffee creation called ca phe muoi. Meaning "salt coffee", it's an interesting coffee drink made with salt, fermented milk, and cocoa.
Disclosure
This article on the best cafes in Ho Chi Minh City contains affiliate links, meaning we'll earn a small commission if you make a purchase or booking at no extra cost to you. We really appreciate your support as it helps us keep this website going. Thank you!