It wasn't until I got married to Ren that I realized just how many interesting Filipino dishes I had missed out on as a child.
Unlike the kids from school who got excited over dishes like dinuguan, arroz caldo, and chicken tinola, I didn't even know what many of those dishes were. Not that I was deprived or anything, it's just that my brothers and I were never forced to eat Filipino food as children. We rarely even had adobo, growing up instead on a more western, kid-centric diet of fried chicken and pork barbecue.
I remember often seeing very Filipino dishes like bahay guya and stewed fish heads at the dinner table, but they were usually reserved for my parents and grandmother. I wasn't forbidden to eat them, but as a kid, given the choice between a pig's boiled uterus or crispy fried chicken lollipops, making that decision was never difficult. Add to that the fact that I was sent to the US for school at a young age, it became apparent that I wouldn't develop a taste for Filipino cuisine until a much later time in my life, if at all.
Now a grown man, married, and again living in the Philippines, that time has clearly arrived. Thanks to this beautiful little tornado named Reneelicious, who lovingly whips up inspired dishes week after week, I finally get to catch up and enjoy all the delicious, culturally rich foods that I so missed out on in my youth.
I've said it before and I'll say it again, I am, without a doubt, the luckiest man in the world. 😉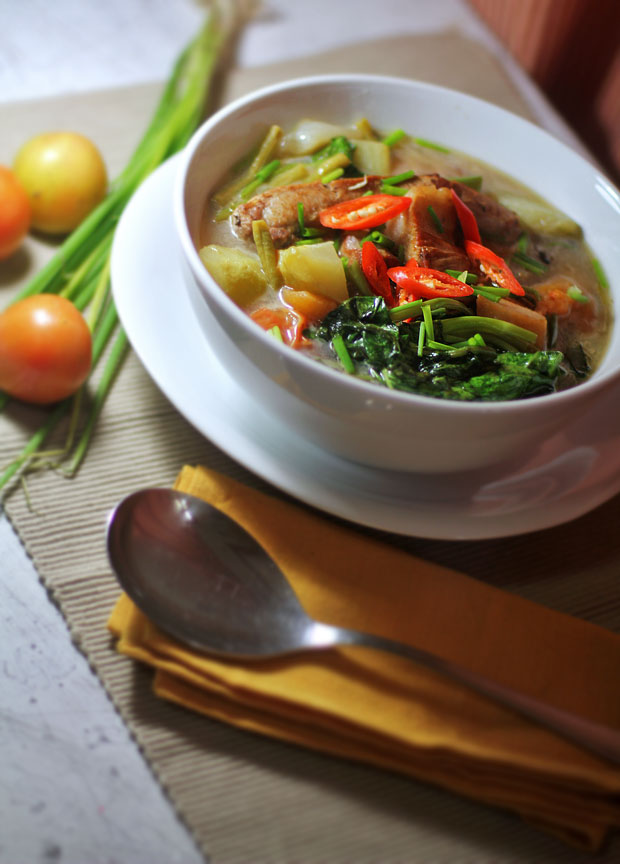 With all the recent frustrations surrounding the RH Bill, plagiarism, and that ridiculous cybercrime law, this Reneelicious sinigang dish provided much needed comfort from all the madness. Absolutely dee-licious, especially with the browned pieces of pork belly.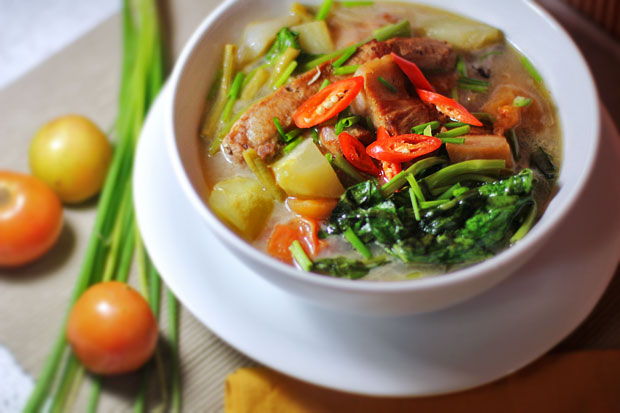 Ingredients
1 1/2 lbs or 650 g of pork belly, cut into large cubes
3-4 cups chicken stock
2 stalks lemongrass, lower 1/3 bruised with the back of a knife
3 kaffir lime leaves
2-3 Tbsps fish sauce, or to taste
1-2 small red chilies, chopped (reserve some for garnish)
1 large white onion, quartered
2 medium tomatoes, quartered
1 thumb-sized ginger, sliced
1/2 cup coconut milk (add more or less to taste)
3 Tbsps tamarind paste, or to taste (diluted with some simmering broth)
2 Tbsps fresh calamansi juice, or to taste
2 tsps brown sugar
3 large green chilies, chopped or left whole (reserve some chopped, for garnish)
1 bunch string beans, cut into 2-inch lengths
1 large chayote, peeled and cut into large chunks
1 bunch kangkong/water spinach or spinach, washed and drained
Directions
In heavy bottomed pot over medium-high heat, brown pork cubes on all sides then transfer to plate. Remove excess oil/fat from pot and return to heat. Add in ginger and onion, then sauté for a few seconds or until fragrant. Put back pork cubes and add in 2 Tbsps fish sauce and stir for a few seconds. Pour in stock and lemongrass and allow it to come to a full boil.
Cover and reduce heat to simmer. Add chili, lime leaves, and tomatoes. Simmer until pork is tender (about 30-40 minutes).
Add in diluted tamarind paste, calamansi juice, brown sugar, fish sauce, and coconut milk. Test soup for spice and salt, adding more chili and/or fish sauce (instead of salt) as desired. If too sour, add 1 tsp brown sugar. If too salty, add a squeeze of calamansi juice. Add more coconut milk if you want your soup richer/creamier, or if it's too spicy for your taste.
Add in rest of vegetables except kangkong or spinach. Simmer for another 8-10 minutes or until vegetables are crisp tender.
Turn off heat, add in kangkong or spinach, cover, then wait for a minute or so before serving. Garnish with both red and green chilies. Serve with steamed white rice.
DID YOU KNOW?
That though traditional Filipino sinigang is tamarind-based, some versions derive their sourness from ingredients such as guava, calamansi, bilimbi, or unripe mangos? Regardless of the souring agent, one ingredient that is never used to make sinigang sour is vinegar, because doing so will classify your dish less as a sinigang and more as a paksiw.