Taste is subjective, so when you ask people where to find the best this and that dish, expect a rainbow of responses.
Ask Filipinos where to find the best pork sisig in Manila and the names Trellis, Icebergs, and Gerry's Grill often come up. The best pork barbecue? Aristocrat, Grill Queen, and Aline Nene's are the usual suspects. What about the fluffiest bibingka? Ferino's and Via Mare frequently get the nod.
As varied and arbitrary as these responses can be, there's one dish that elicits a definitive answer, yet the question rarely gets asked – "Who makes the best adobo?"
True-blooded Filipinos know better than to ask a stupid question like that because the answer will always be "my mom of course!"
Near and dear to every Filipino's heart, adobo is the one dish that transcends top 10 lists. Don't even think of writing a "Best Adobo in Manila" list because you'll have everyone's mother to contend with. Adobo is part of our culture and our upbringing. It's central to who we are as a people and the only answer most Filipinos will give when asked – "What is the Philippines' national dish?"
Without a doubt, it's adobo.
Save This on Pinterest!
No time to read this now? Click on the red save button and pin it for later!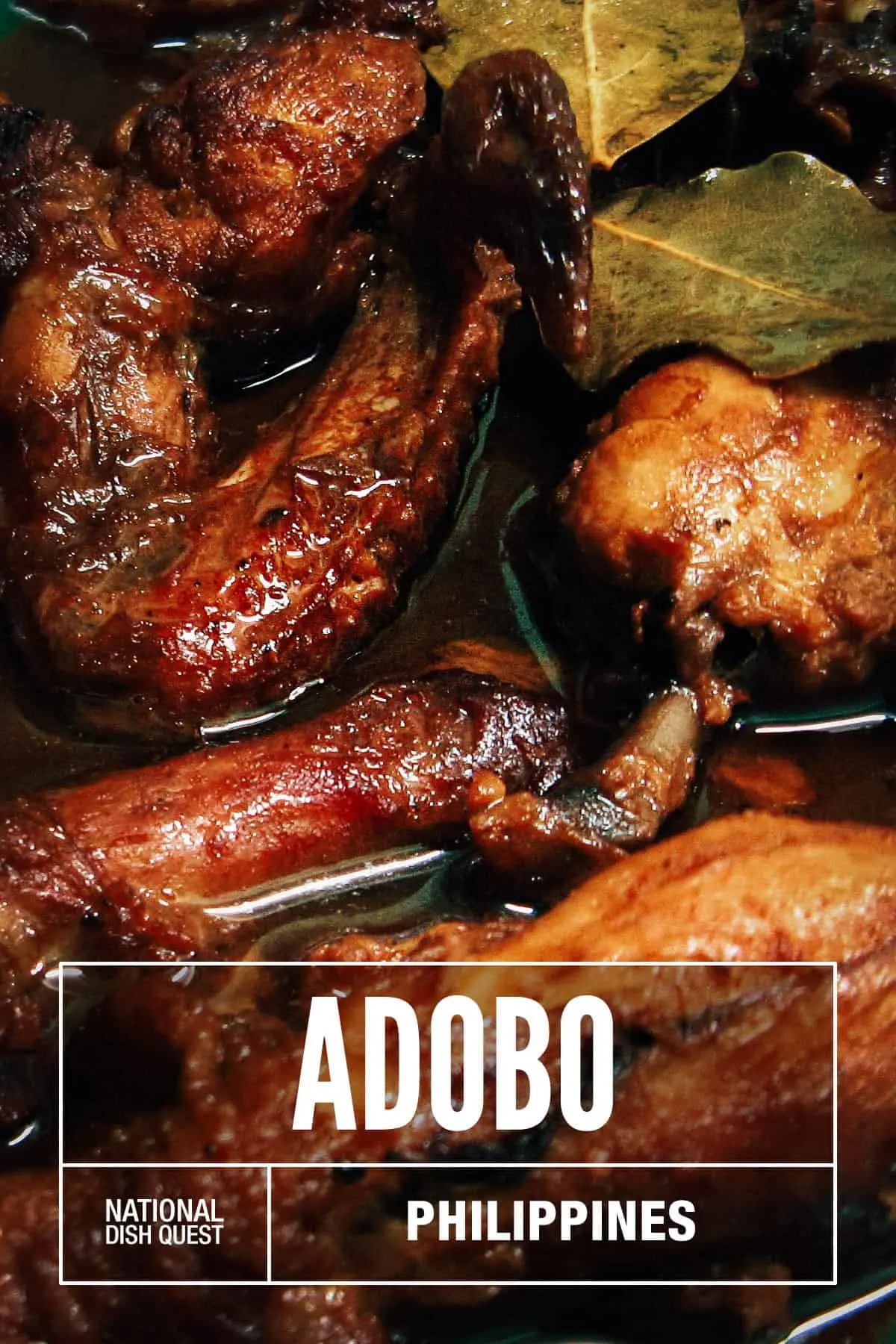 "Lutong Bahay – Chicken Adobo" by dbgg1979, used under CC BY 2.0 / Processed in Lightroom
WHAT IS ADOBO?
The name adobo stems from the Spanish word adobar, which means "to marinate". It refers to a dish and cooking method that involves meat, seafood, or vegetables marinated in a braising mixture of vinegar, soy sauce, black peppercorn, bay leaf, and garlic. Most commonly made with chicken and pork, the meat is left to simmer over low heat until it breaks down and becomes fork-tender in a thick, flavorful sauce.
Having a name with Spanish roots, you'd think the dish was introduced during the Spanish colonial era but it wasn't. In fact, the cooking method is indigenous to the Philippines. Early Filipinos would often cook their food by immersing it in vinegar and salt, perhaps as a means of preservation. This cooking method dates back to the pre-Hispanic period and was used to prepare pork and chicken.
If adobo is indigenous to the Philippines, then how did it get its Spanish name? When the Spanish colonized the Philippines in the late 16th and early 17th centuries, they encountered this cooking process and named it adobo de los naturales, which means "adobo of the native peoples". The name stuck, with the original term for the dish ultimately getting lost to history.
Being a proud Filipino, I wanted to know what that original name was so I did some digging. As it turns out, the dish's true name was (allegedly) never recorded which is why it's been forgotten. Anyone know what that original term was?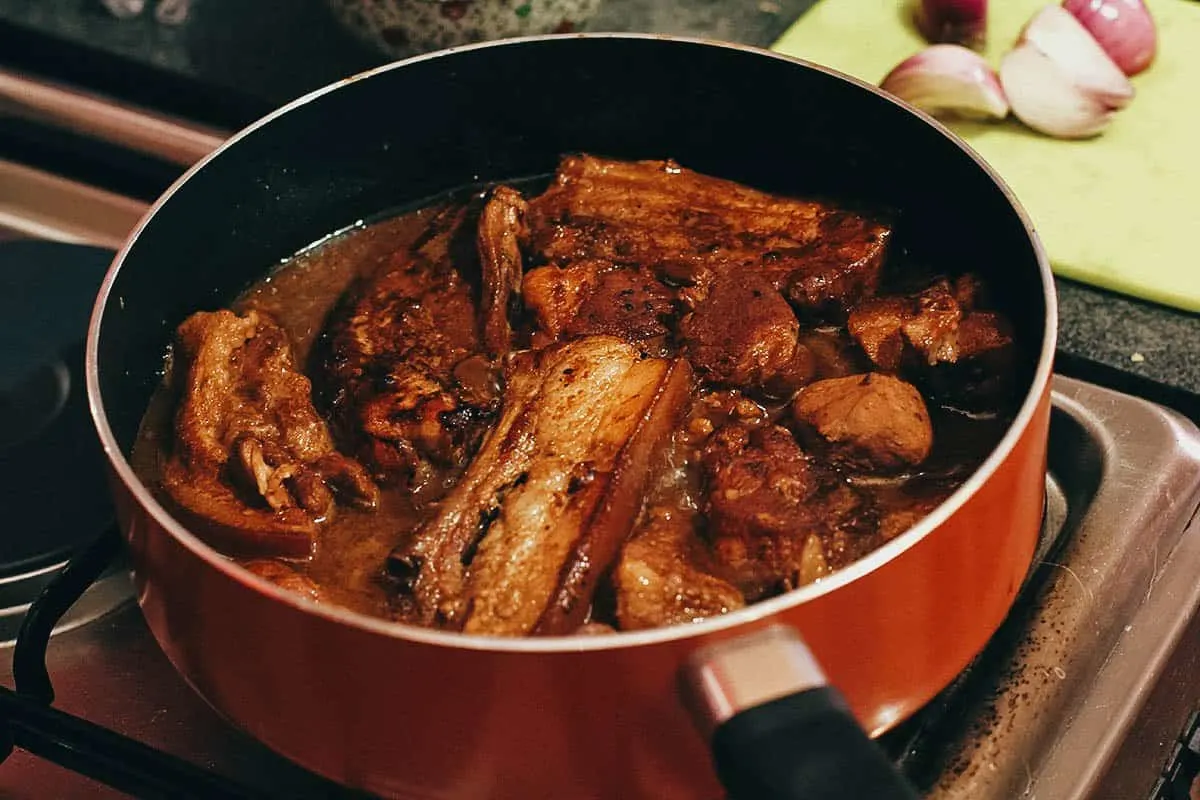 WHAT ARE THE DIFFERENT TYPES OF ADOBO?
There are many types of adobo but the classic version is made with chicken and pork. Listed below are some of the most common types of adobo you'll find in the Philippines.
Chicken Pork Adobo – The classic version made with chicken and pork.
Adobong Puti (white adobo) – This version of adobo substitutes soy sauce with salt. It's said to be the closest version to the original pre-Hispanic adobo, before Chinese traders introduced soy sauce to the Philippines.
Adobo sa Gata (adobo in coconut milk) – Popular in Southern Luzon, this Bicolano spin on adobo adds coconut milk to the braising liquid and substitutes black peppercorns with green finger chili peppers.
Adobong Dilaw (yellow adobo) – Popular in Laguna, turmeric gives this version of adobo its distinct yellowish color.
Adobong Pusit (squid adobo) – I love squid so this is easily my favorite type of adobo. Squid ink is added to the braising liquid resulting in an even darker sauce. So much yum!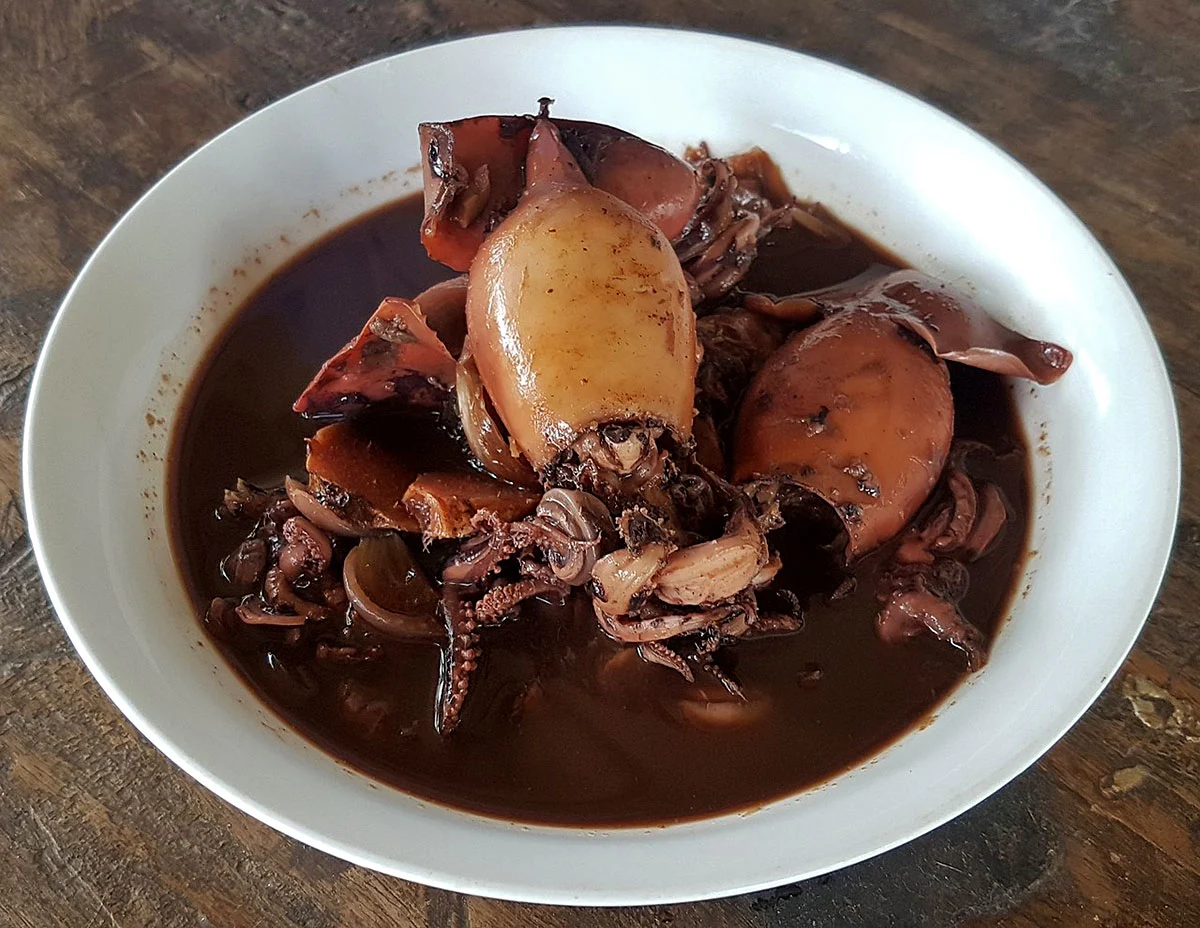 Obsidian Soul, CC0, via Wikimedia Commons
It's important to note that there are many other types of adobo as well based on its main ingredient. Other meat-based adobos include adobong baka (beef), adobong pugo (quail), adobong hito (catfish), and adobong hipon (shrimp). Adobo made with vegetables as the main ingredient include adobong kangkong (water spinach), adobong talong (eggplant), and adobong puso ng saging (banana flowers). For the daring, we even have exotic versions like adobong sawa (snake), adobong palaka (frog), and adobung kamaru (mole crickets). The varieties are endless!
FILIPINO PORK ADOBO RECIPE
Speaking of endless varieties, here's a recipe for Ren's hipster adobo, where she makes use of other Asian ingredients like Chinese dark soy sauce, kecap manis, and Chinese black vinegar. It's delicious so we hope you enjoy it. Just try not to get any on your beard. 😉
INGREDIENTS
500 grams pork belly, cut into small chunks
1 Tbsp butter plus 2 tablespoons olive oil
2 Tbsps Chinese dark soy sauce
1 Tbsp sweet soy sauce or kecap manis
1 Tbsp Chinese black vinegar
1 Tbsp water
4 garlic cloves, cracked
1/4 tsp freshly ground black pepper
1 head garlic, minced
1 bay leaf, optional
3 eggs or 8 quail eggs, hardboiled, optional
DIRECTIONS
Heat butter and olive oil in medium saucepan over medium high heat. Sear pork pieces until browned on both sides, then remove from heat.
Place rest of ingredients, except garlic and eggs, in saucepan with pork. Heat over medium high heat until it comes to a boil. Cover and allow to simmer for 35 minutes or until tender. Remove pork pieces and transfer to serving plate.
Allow sauce to reduce to desired consistency then pour over pork.
Top with browned garlic bits and serve with eggs and steamed rice.
Ren's adobo simmering in low heat to slowly break down the meat's collagen and tough fibers. Yum!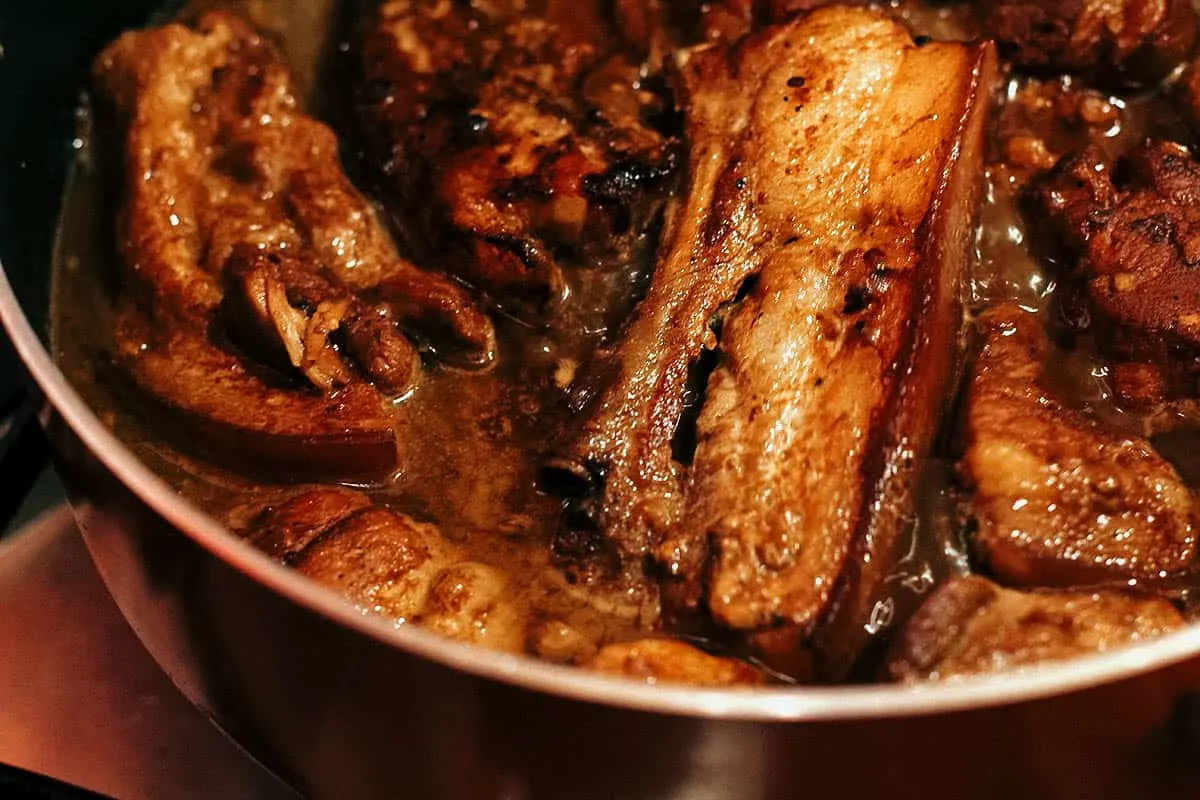 Top with browned garlic bits and serve with hard-boiled eggs and rice for the ultimate adobo experience.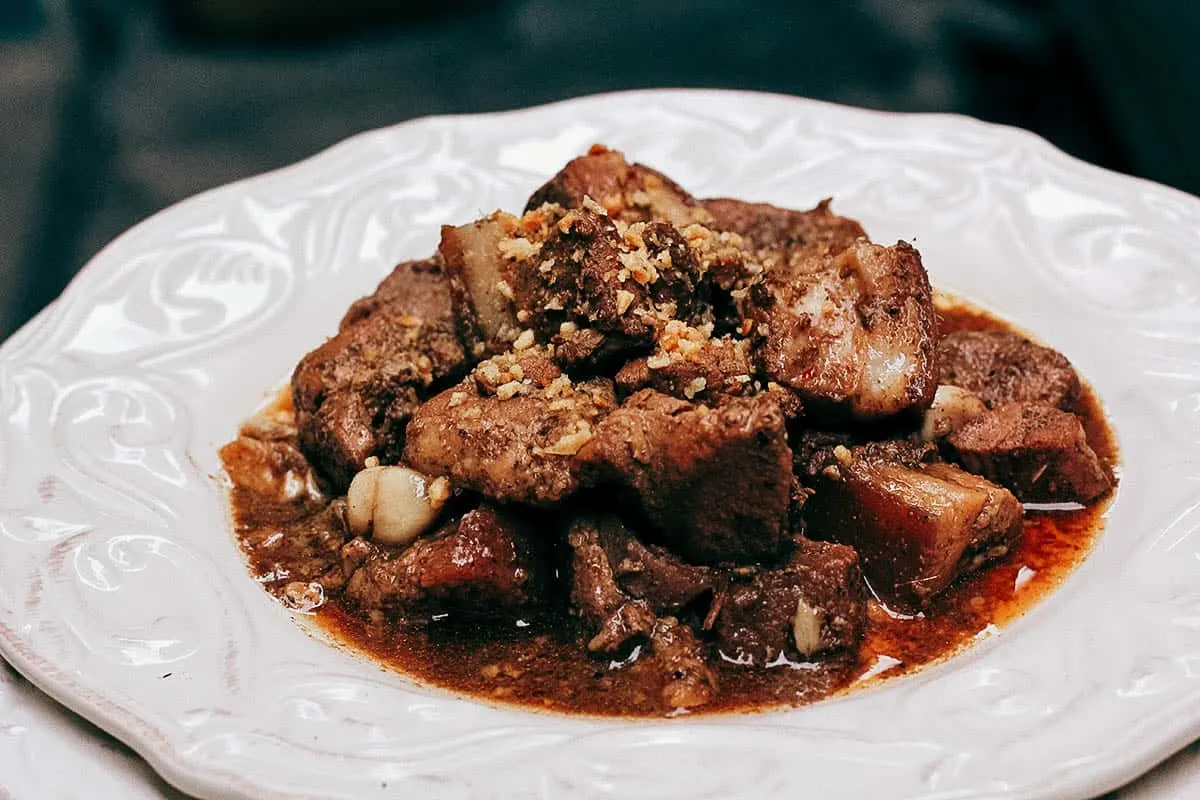 Take a bow adobo. We Filipinos salute you.