If you've read our Spanish food guide, then you know how much we love the food in Spain. To us, Spain is one of the best countries in the world for food.
We love going to Spain to eat traditional Spanish dishes like paella, callos, and tortilla de patatas, but classic Spanish desserts like churros con chocolate and crema catalana get us just as excited to visit our favorite country in Southern Europe. Sweets are an important part of Spanish culture and cuisine and are often made to celebrate holidays and festivals.
If you have a sweet tooth and want to experience as many Spanish desserts as you can, then keep reading to learn about twenty of the most delicious and popular desserts for you to try in Spain.
SPANISH DESSERT QUICK LINKS
If you're planning a trip to Spain and want to really dive into the cuisine, then you may be interested in going on a food tour or taking a cooking class.
TOURS
Save This on Pinterest!
No time to read this article on traditional Spanish desserts? Click on the save button and pin it for later!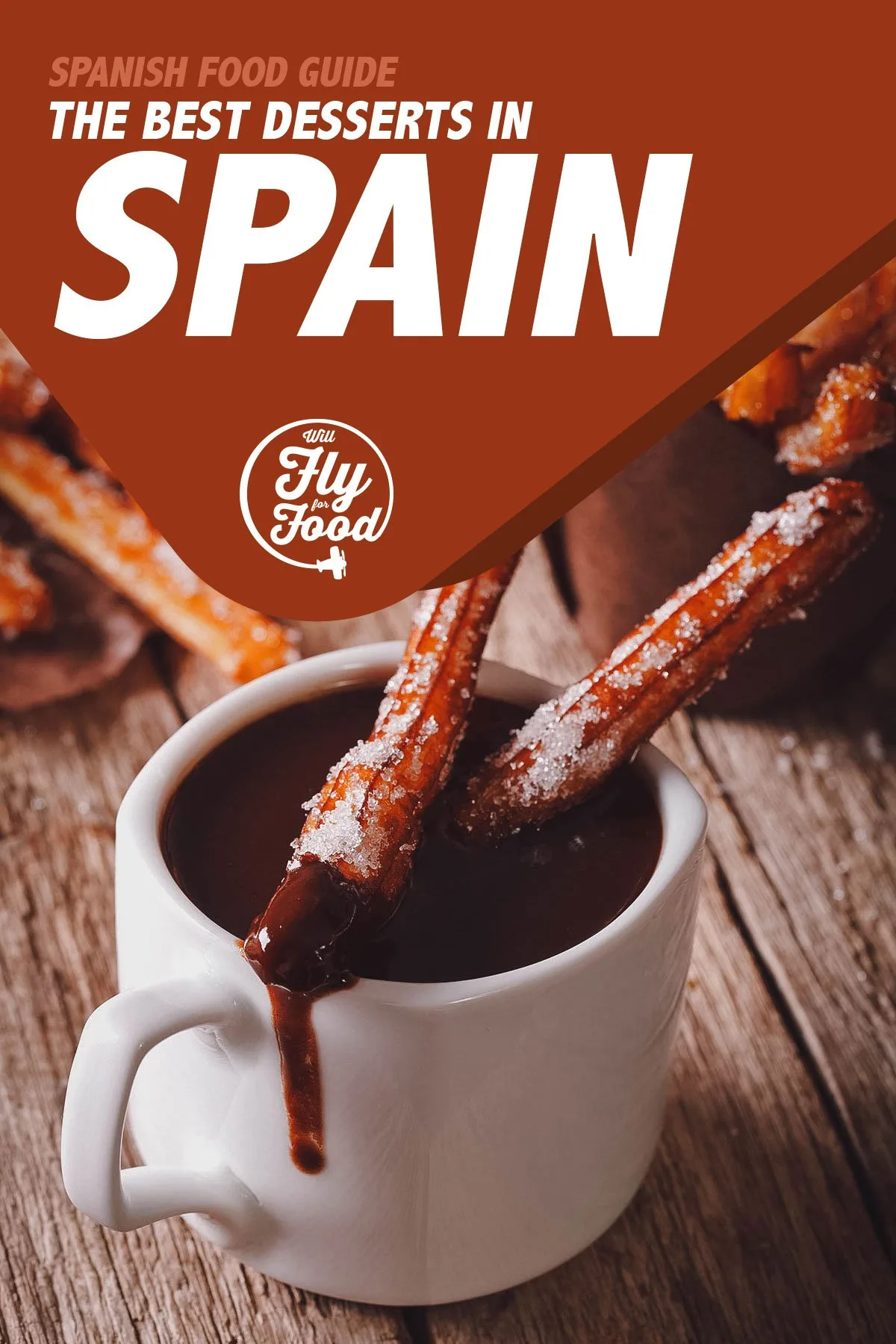 Photo by lenyvavsha
THE BEST SPANISH DESSERTS
1. Churros con Chocolate (Classic Spanish Dessert!)
Churros con chocolate is one of the most popular and beloved Spanish pastries. Personally, it's one of my favorite Spanish desserts and something I will always look forward to on every return visit to Spain.
Churros are similar to doughnuts. They're deep-fried pastries usually eaten for breakfast or as a snack with hot chocolate or cafe con leche. Typically dusted with sugar, churros are crunchy in texture and can be straight, curled, or spiral in shape. They have a characteristic ridged surface that's formed after being extruded through a churrera – a syringe-like tool with a star-shaped nozzle.
Churros are popular in Spain and Portugal and in former Spanish and Portuguese colonies like the Philippines and Latin America. In Spain, these delicious treats can be enjoyed pretty much anywhere, from Spanish pastry shops to humble food carts. We had these delicious churros con chocolate at the iconic Chocolateria San Gines in Madrid.
If you'd like to try making this irresistible treat yourself, then check out this classic recipe for traditional Spanish homemade churros from The Spruce Eats.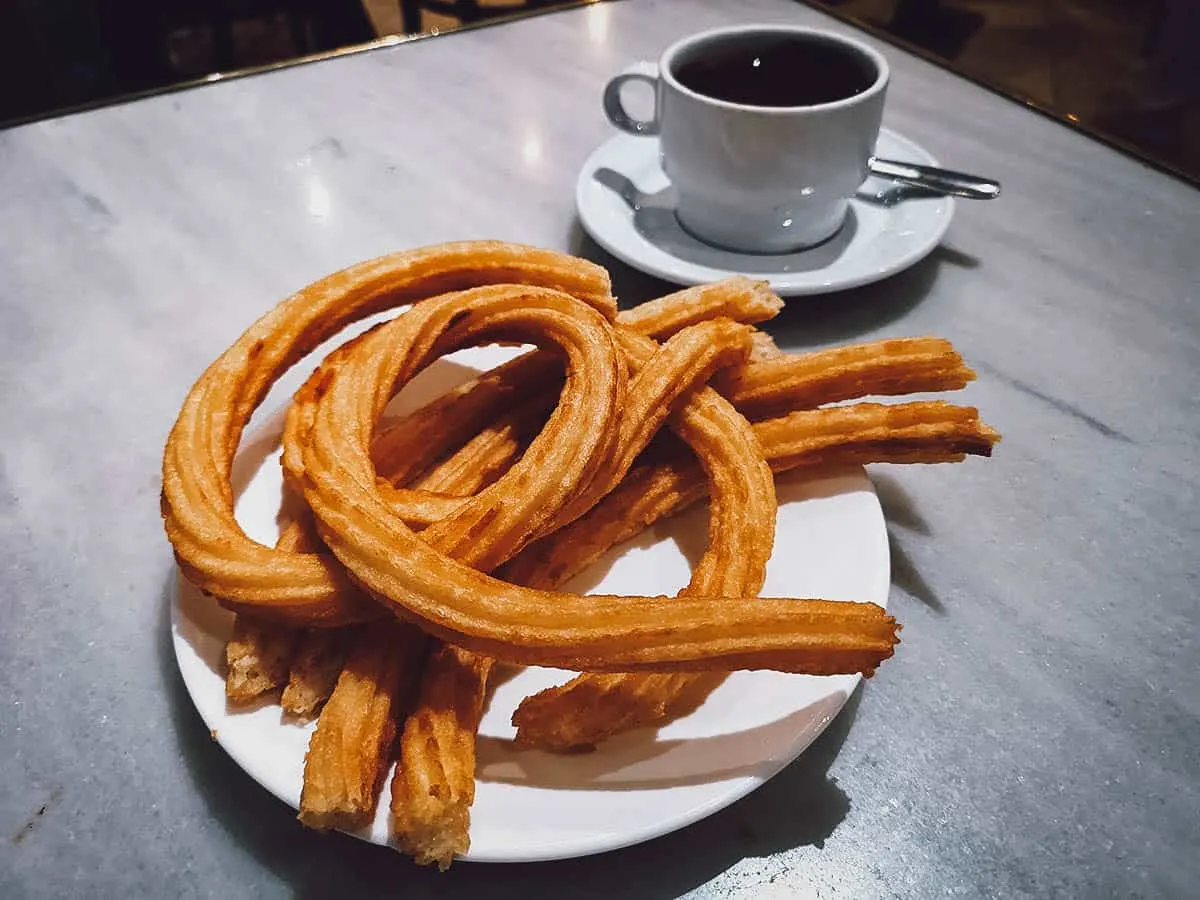 2. Torrijas
Torrija refers to the Spanish version of french toast. Unlike the American version that's commonly regarded as a breakfast dish, torrijas are traditionally prepared for Lent and Holy Week as a dessert. They're also popular in Portugal and Brazil where they're known as rabanadas.
Aside from how they're eaten, torrijas differ from their American cousins in how they're prepared. Torrijas are made with stale crusty bread that's soaked in flavored milk or wine with honey and spices. The bread is dipped in beaten egg and then fried to a golden brown in olive oil, resulting in a pastry that's crispy on the outside but smooth and custardy on the inside. You can think of it as a cross between french toast and bread pudding.
Torrijas are usually sprinkled with cinnamon sugar or drizzled with honey before serving. Though not traditional, this delicious Spanish dessert can also be enjoyed dipped in a hot chocolate sauce.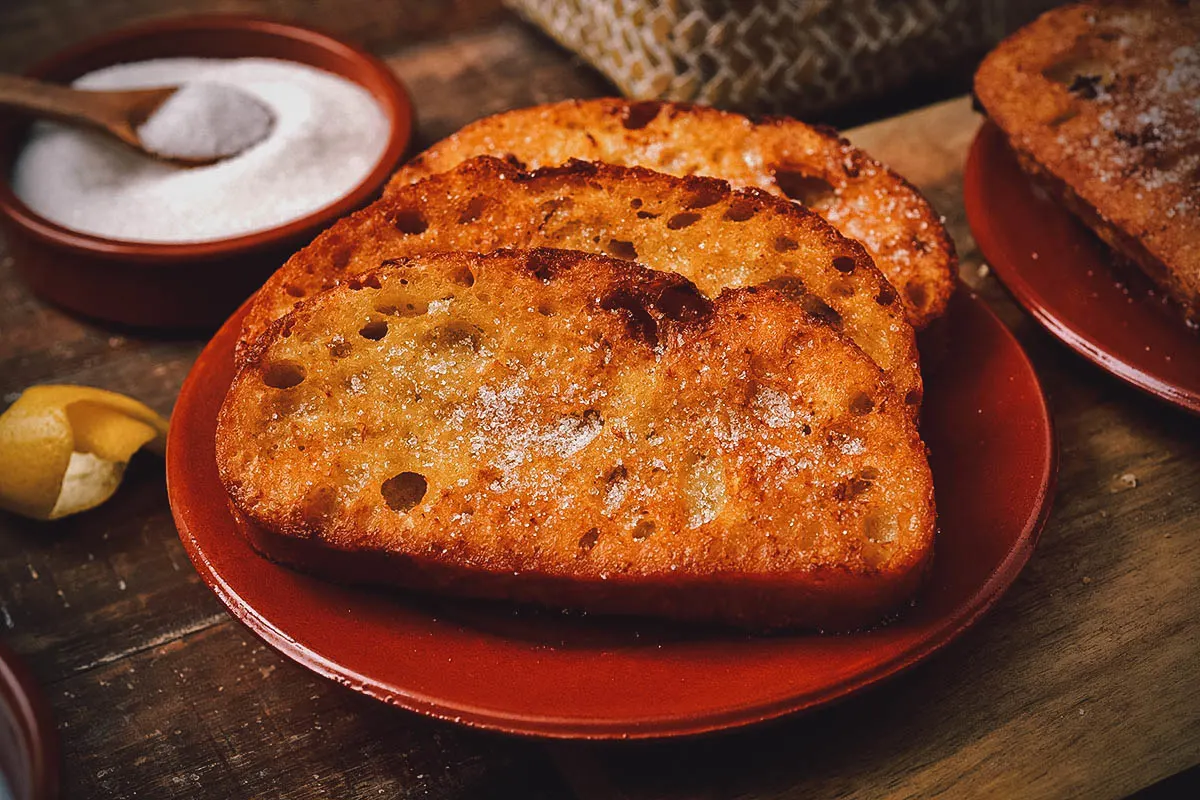 Photo by nito103
3. Ensaimadas
Ensaimadas are among my favorite Spanish desserts. They're extremely popular in the Philippines where they're made with butter but in Spain, they're made with a type of reduced pork lard called saïm.
The ensaimada is a traditional Spanish dessert originally from Mallorca. They were traditionally made as a type of sweet bread for Easter but they can now be enjoyed throughout the year, usually for breakfast or as an afternoon snack.
Ensaimadas are formed into a coil and sprinkled generously with powdered sugar on top. Classic versions are served plain but they can be filled with different ingredients like pastry cream, pumpkin jam, chocolate, or turrón paste (nougat).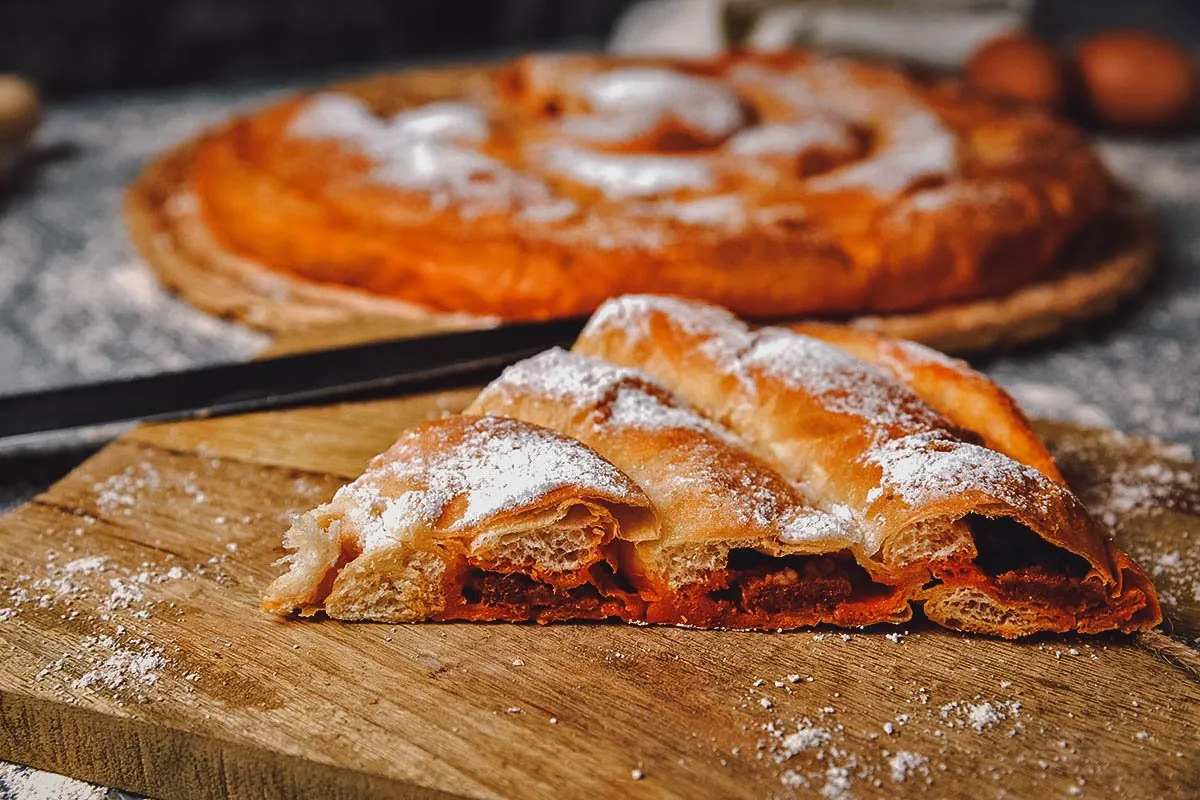 Photo by nito103
4. Crema Catalana
Like churros con choclate, crema catalana is one of the most famous Spanish desserts on this list. Originally from Catalonia, it's a type of Spanish custard made with beaten egg yolks, milk, cinnamon sticks, citrus peel, and caramelized sugar. You can think of it as the Spanish version of French crème brûlée, but with some differences.
Unlike crème brûlée, this classic Spanish dessert is flavored with orange and lemon peel instead of vanilla. It's also made with whole milk instead of cream and is cooked on a stovetop rather than baking in a bain marie bath. Both have the same crisp caramelized crust that you crack with a spoon to get to that soft and creamy egg yolk custard.
Crema catalana is often enjoyed for dessert after a hearty lunch, usually with an espresso, cafe con leche, or a Spanish dessert wine.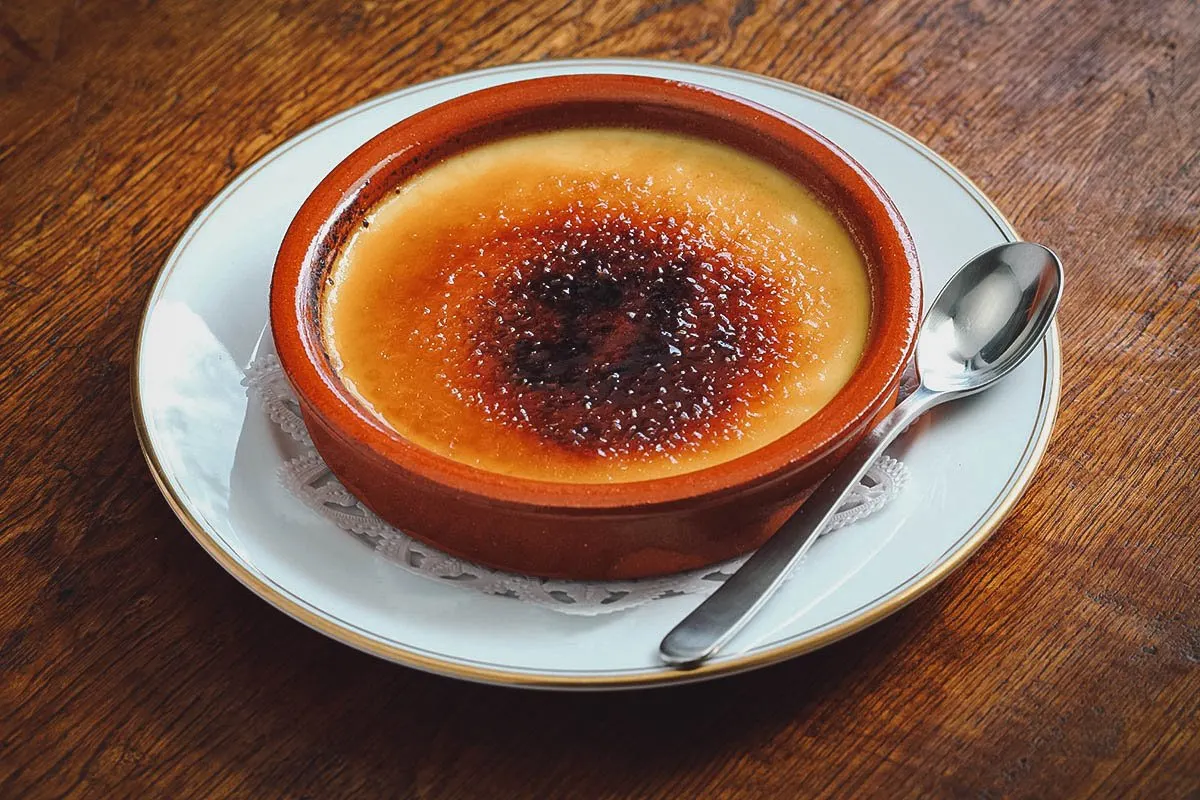 Photo by asimojet
5. Yema de Santa Teresa
Yema means "egg yolks" and refers to a Spanish dessert traditionally associated with Ávila, the birthplace of Saint Teresa. It's a simple but delicious dessert made with just 4-5 ingredients – egg yolks, water, granulated sugar, powdered sugar, and sometimes lemon zest.
Yemas de Santa Teresa are traditionally prepared on October 15th each year to celebrate the feast day of Saint Teresa. They're a specialty of many Spanish pastry shops, particularly in Ávila, and sold in individual tartlet papers.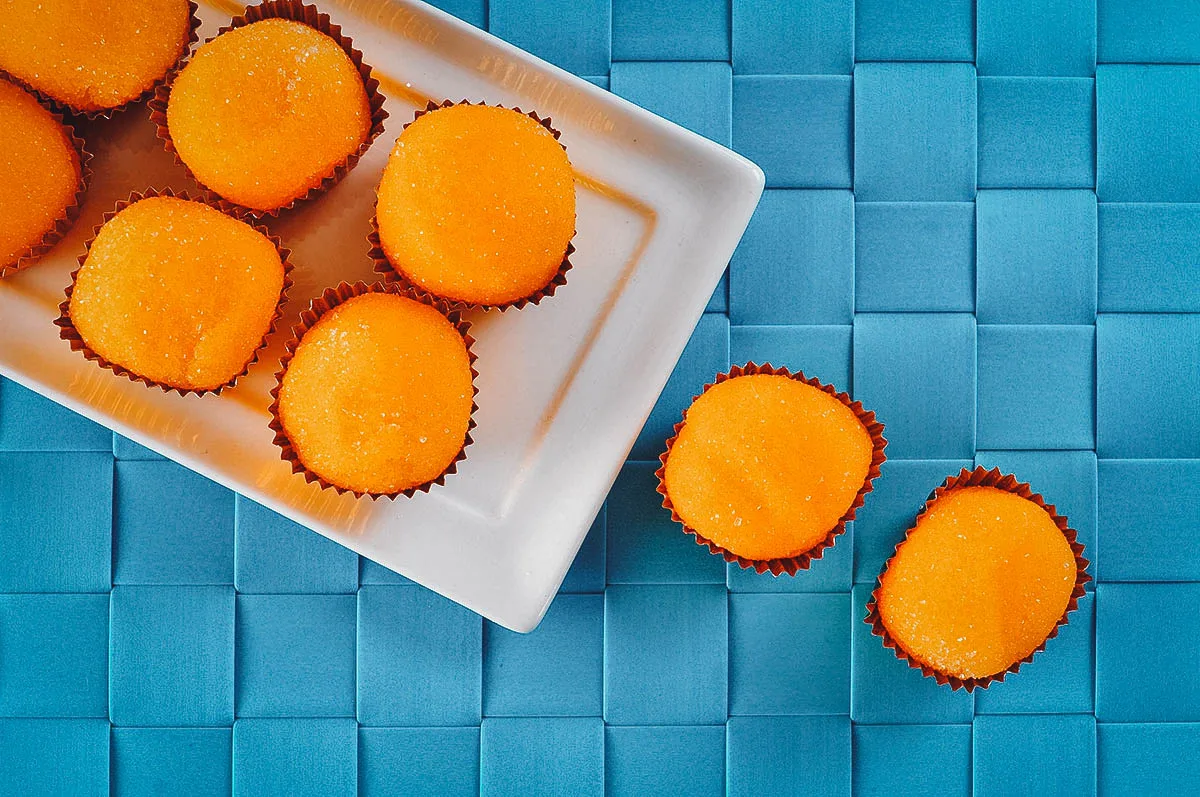 Photo by nito103
6. Arroz con Leche
Arroz con leche is a comforting dish and one of the most well-known traditional Spanish desserts. It literally means "rice with milk" and refers to a thick Spanish rice pudding that dates back to the Moorish period in Spain.
Recipes vary but Spanish rice pudding is typically made with cooked rice, milk, cinnamon sticks, sugar, and either orange or lemon peel. Delicious warm or cold, arroz con leche is a popular Spanish dessert served in many households throughout Spain.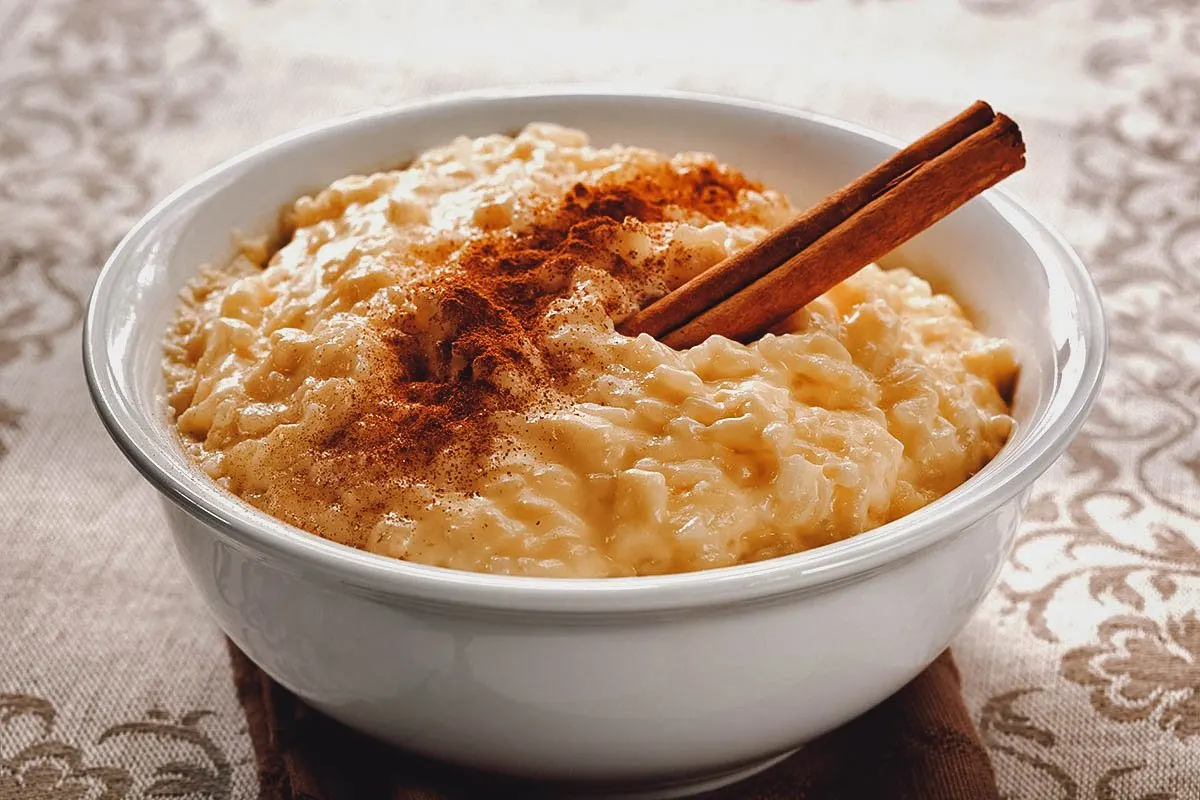 Photo by robynmac
7. Buñuelos de Viento
Buñuelos de viento are light and airy Spanish fritters (viento means "wind"). They're a popular Spanish dessert traditionally eaten around Christmas time and other holidays like Easter and All Saints' Day.
Buñuelos have been likened to doughnuts but they're closer in texture to choux pastry. Made with a lightly fried dough enriched with lemon zest, they're much airier than doughnuts and can be served plain or filled with various ingredients like pastry cream, custard cream, and marmalade.
Buñuelos de viento are commonly eaten for breakfast, for dessert, or as an afternoon snack, often with coffee or hot chocolate. They're typically served with a generous dusting of powdered sugar though some people like to have them with other sweet flavorings like chocolate sauce and dulce de leche.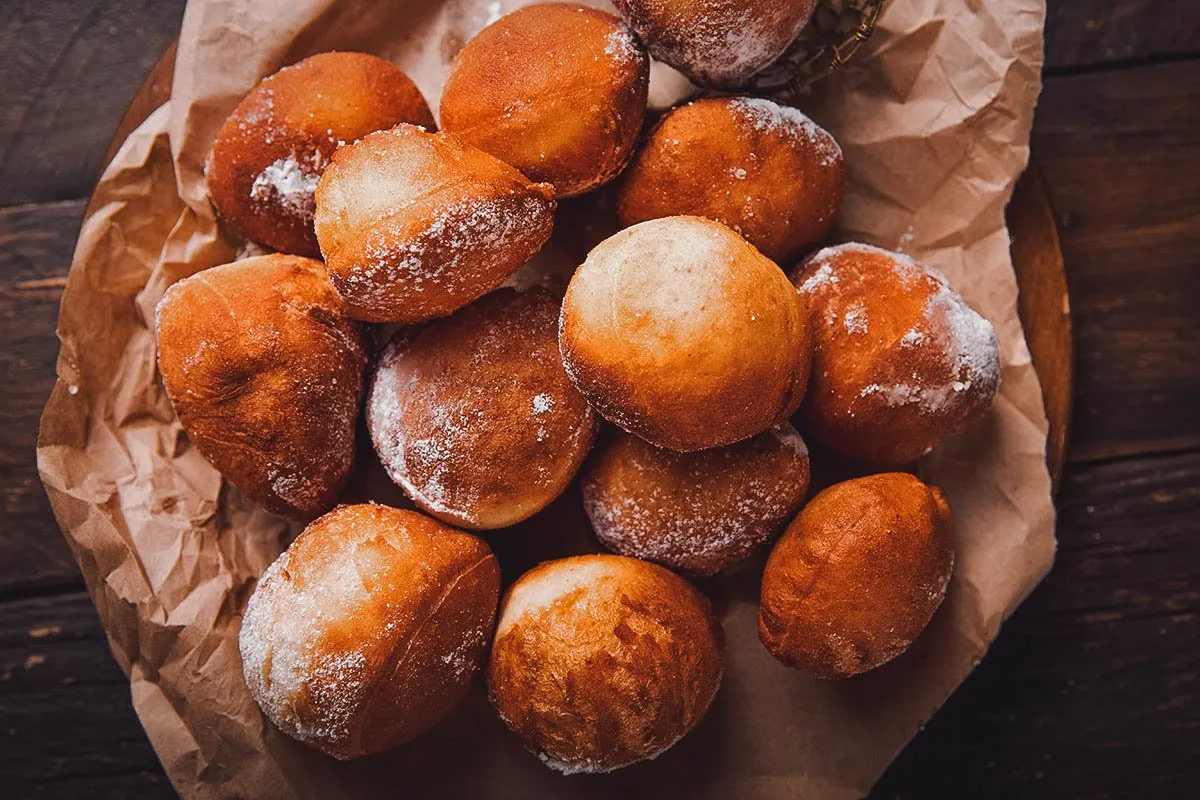 Photo by sokor
8. Goxua
Goxua is a Spanish dessert that originated from the Basque Country in northern Spain. It literally means "sweet" in Basque and refers to a delicious dessert made with layers of whipped cream, liquor-soaked ladyfingers, and custard cream. It can be made into a large cake for sharing or assembled in individual clay dishes or bowls.
Goxua is said to have been inspired by crema catalana. It's traditionally topped with a caramelized sugar crust though it can be topped with caramel sauce as well. We enjoyed this irresistible treat at the popular Pasteleria Oiartzun in San Sebastian.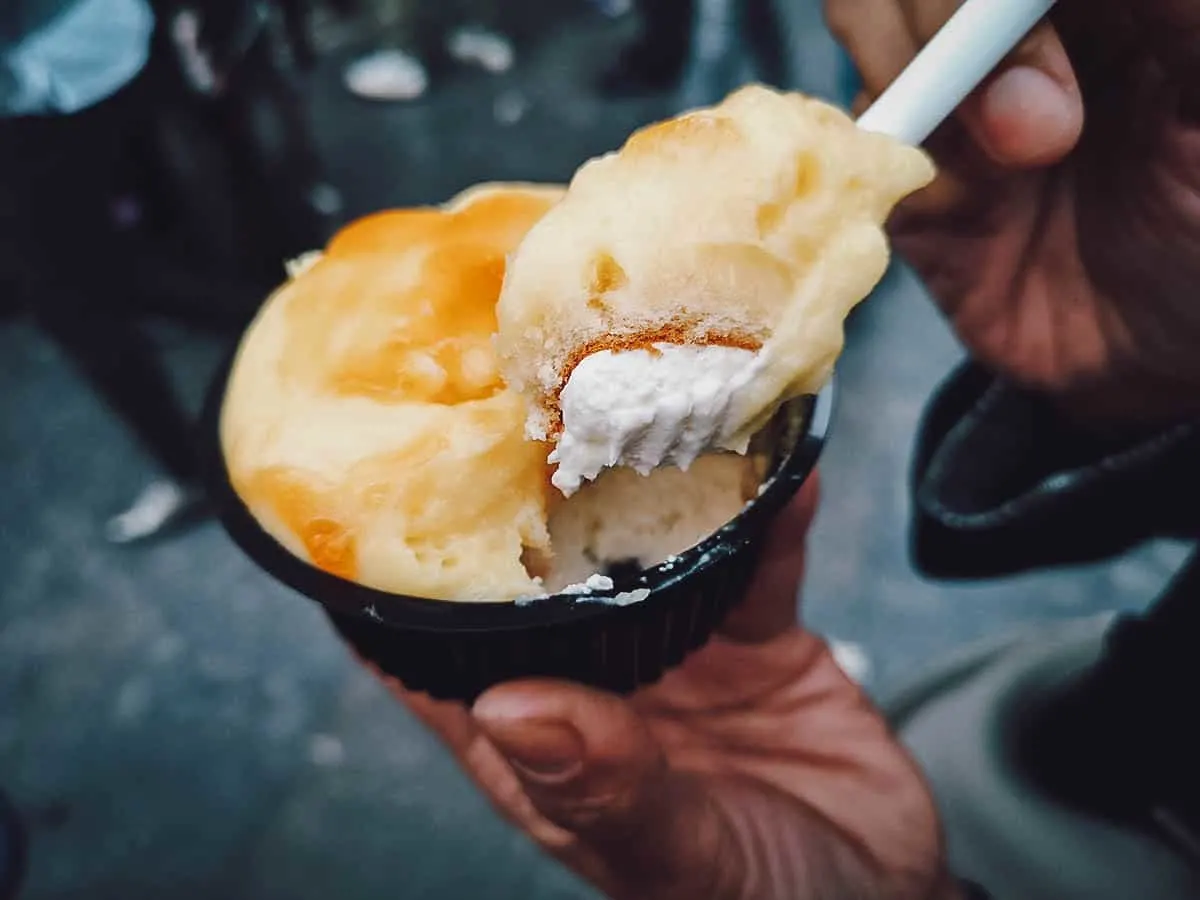 9. Tarta de Santiago
If you visit Santiago de Compostela in Galicia, then one of the best Spanish desserts for you to try is tarta de santiago. It refers to a popular Spanish almond cake made with a base of ground almonds, eggs, and sugar, along with additional ingredients like lemon zest, brandy, and grape marc.
As you can see below, this traditional Spanish dessert is known for its characteristic imprint of the St. James Cross. A mask of the cross is placed on the almond cake before it's given a generous dusting of powdered sugar.
Tarta de santiago is one of the most unique Spanish desserts on this list and something you need to have in Galicia. It was awarded PGI status by the EU in 2010, meaning it must be made in Galicia with at least 33% almonds to be considered a true tarta de santiago.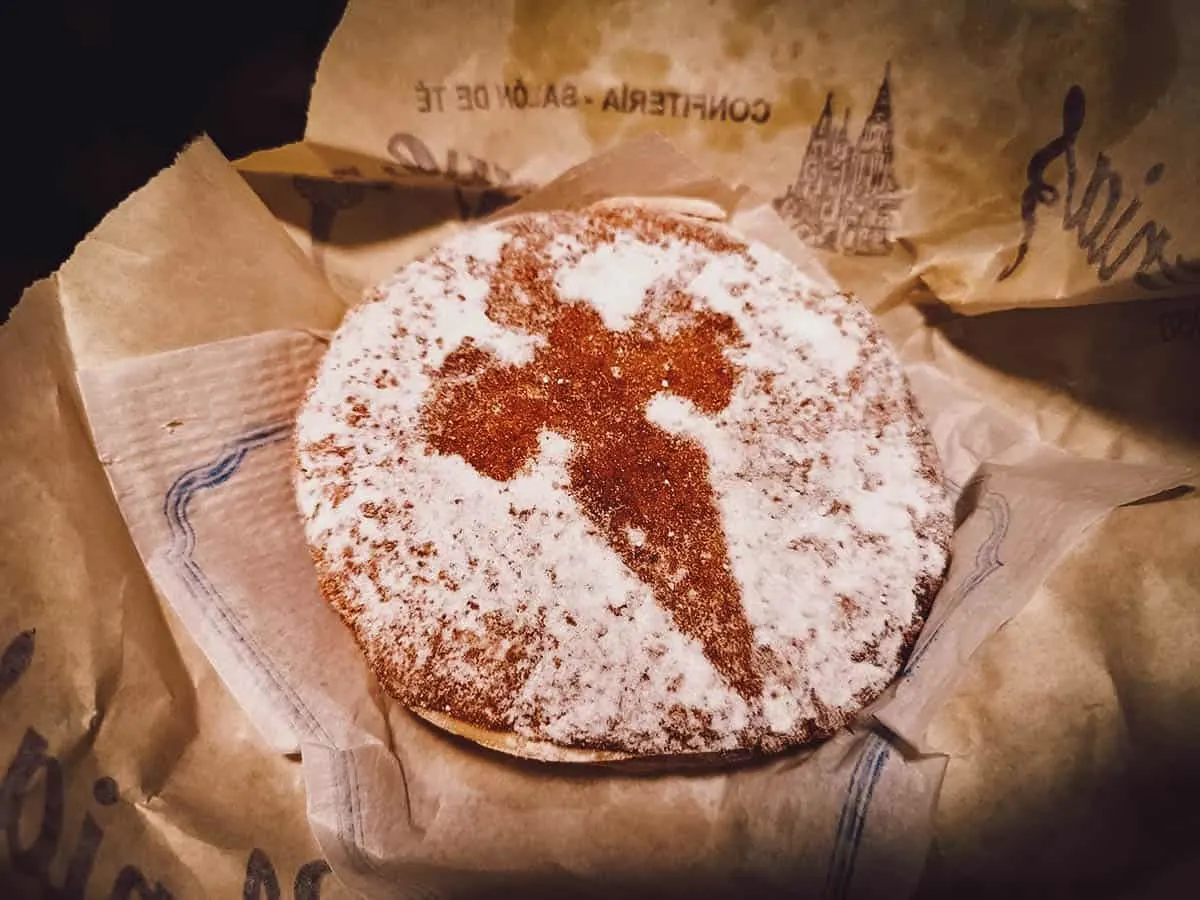 10. Carbayones
The carbayon is a classic Spanish dessert from Oviedo. It refers to a type of Spanish almond puff pastry filled with a mixture of ground almonds, egg, cognac, lemon zest, and sugar. It's covered in an egg yolk cream and topped off with a glaze made from egg whites, icing sugar, and lemon juice.
In Oviedo, the carbayon is more than just a puff pastry, it's regarded as a cultural symbol of the city. For centuries, a massive oak tree that stood in the heart of the city was considered an important symbol of Oviedo. People became upset when the tree was cut down in 1879 to make way for the construction of a road leading to the railway station.
To commemorate the felled tree, a local baker created this puff pastry in honor of the oak tree that the people of Oviedo loved so dearly. Today, it's an important part of the city's identity and something you need to try when you visit Oviedo.
Camilo de Blas, the bakery credited for inventing carbayones, is still in business and remains one of the better places to try this delicious puff pastry. I suggest trying it there and at Confiteria Rialto, one of the best pastry shops in Oviedo.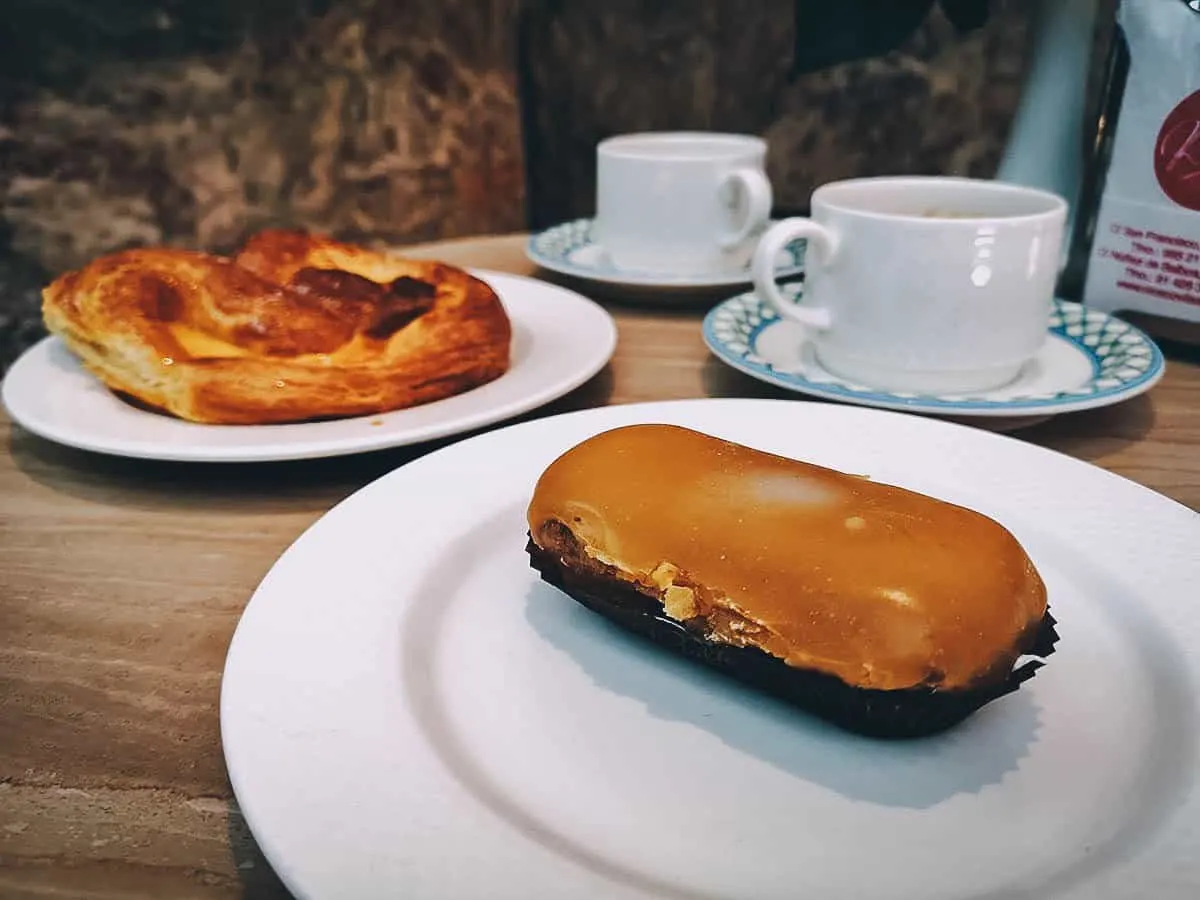 11. Menjar Blanc
Menjar blanc is the Spanish version of blancmange, a European dessert made with milk or cream thickened with rice flour and flavored with almonds. Enjoyed since the Middle Ages, it's linked to the Terres de l'Ebre region in Catalonia where it was traditionally served as a Lenten dessert, when animal milk was substituted with almond milk.
Menjar blanc is a simple but delicious dessert made with just a few ingredients – almond milk, rice flour, citrus peel, cinnamon, and sugar.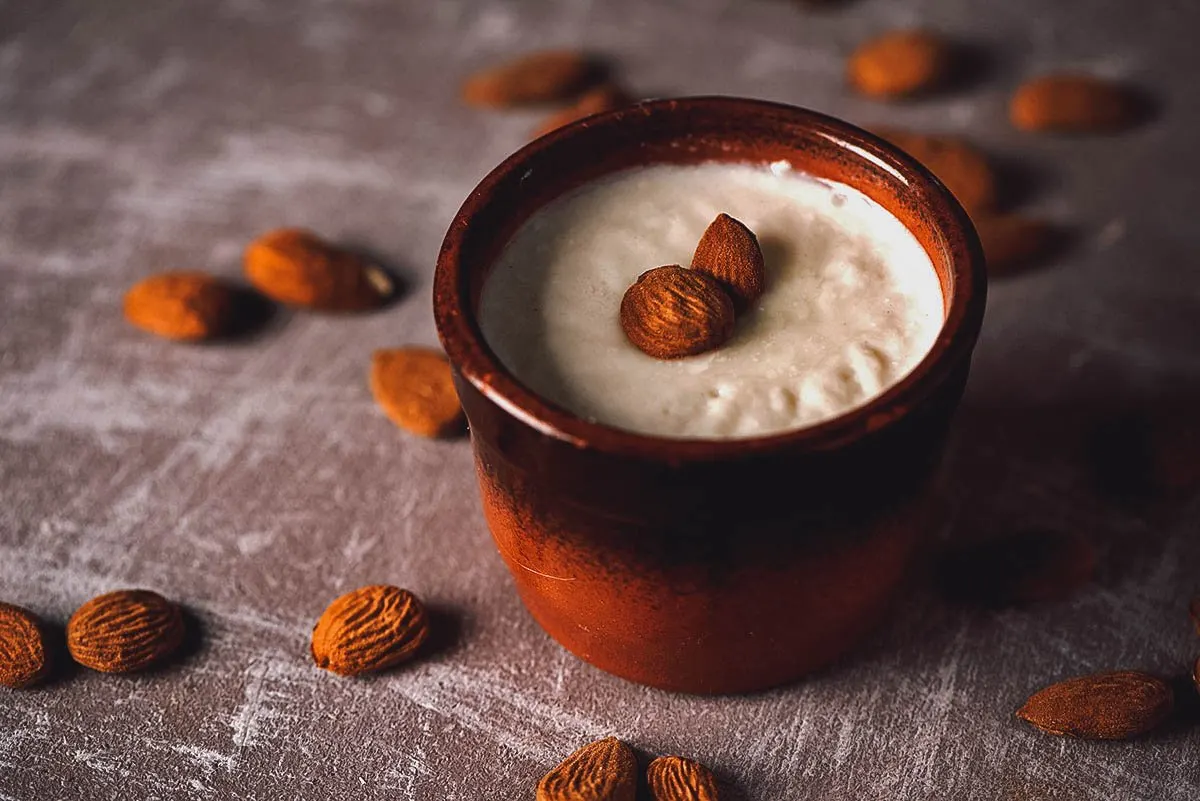 Photo by nito103
12. Huesos de Santo
Huesos de santo literally means "bones of saints" and refer to these bone-like Spanish desserts made with marzipan paste, egg yolks, and sugar. They're traditionally prepared on November 1st to celebrate All Saints' Day.
Huesos de santo are made by mixing ground almonds and sugar into a paste. The marzipan paste is then rolled out and formed into tubes before being filled with a thick yellow paste made from egg yolks and sugar.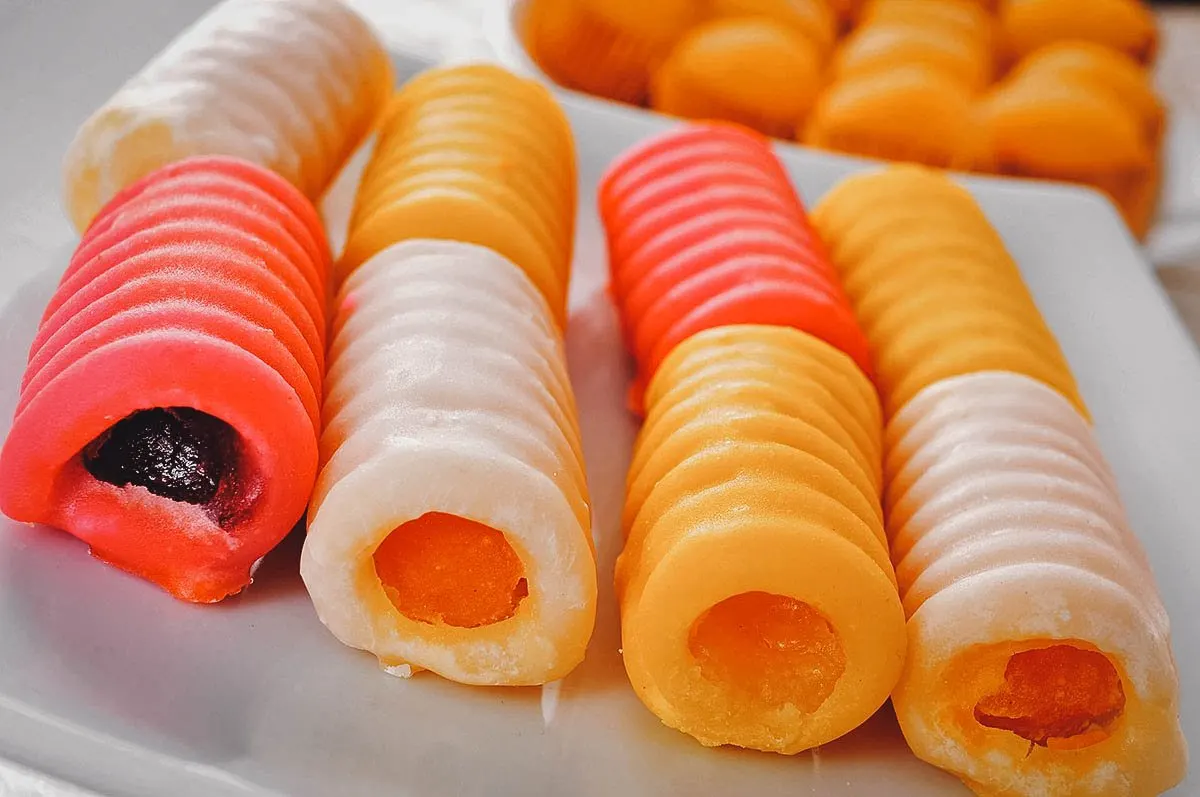 Photo by nito103
13. Basque Burnt Cheesecake
Basque burnt cheesecake is one of our favorite Spanish desserts. During the travel slowdown, it became hugely popular in Manila so we felt lucky to try it in San Sebastian where it's from to know exactly how an authentic version of this delicious dessert is supposed to taste.
As you can tell from its name, this version of tarta de queso or Spanish cheesecake is originally from the Basque region. It was invented by the La Viña bar in San Sebastian and is known for its burnt top and slightly molten interior.
New York-style cheesecake is one of my favorite desserts but for me, Basque burnt cheesecake is even better. Unlike New York-style cheesecake that's dense and evenly firm throughout, this tarta de queso is soft and fluffy around the edges and more gooey towards the center. It's light and creamy with an irresistibly strong cheese flavor.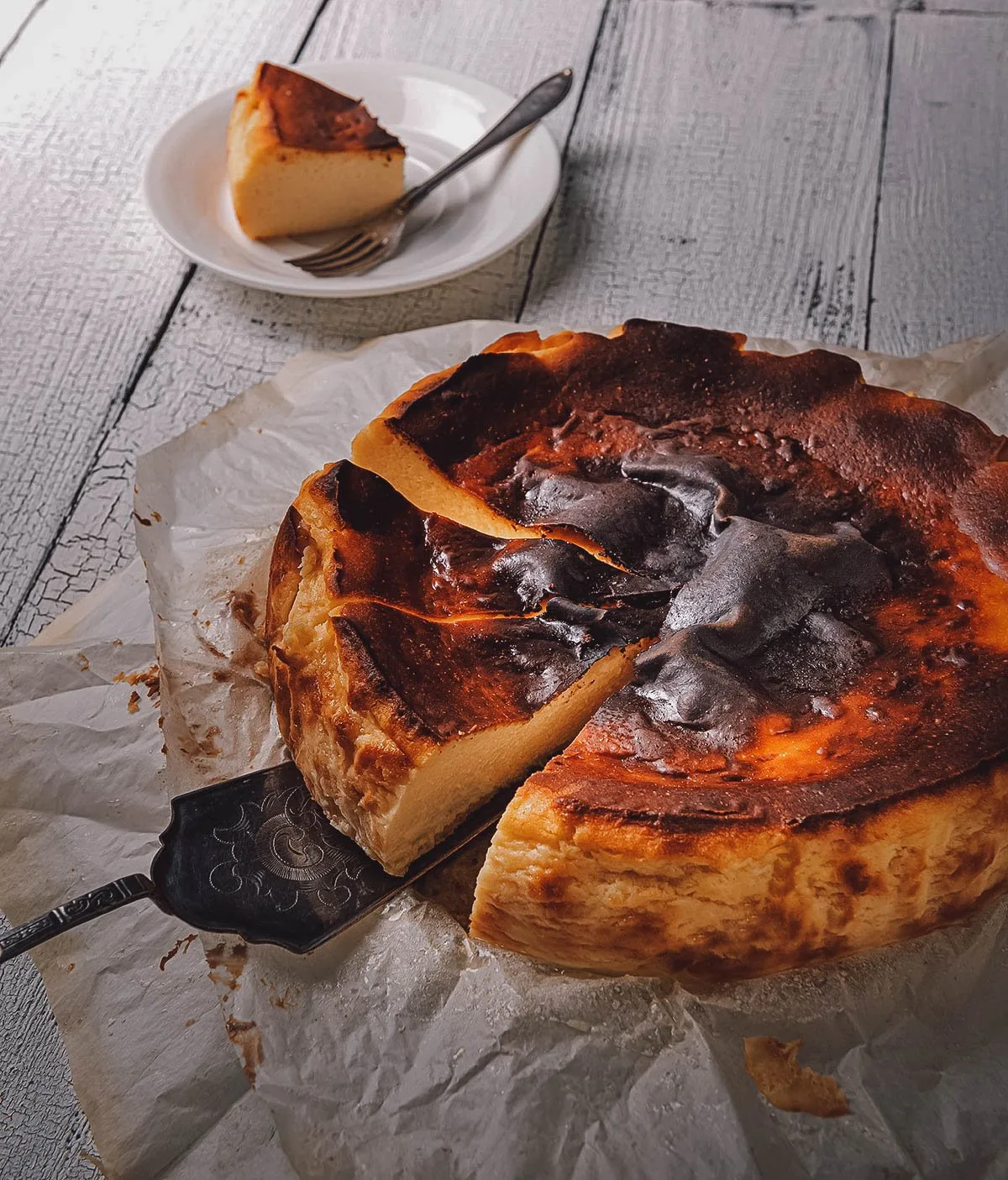 Photo by OlhaPashkovska
14. Mel i Mató
Mel i mató is another Spanish dessert from Catalonia. It literally means "honey and curd" in Catalan and refers to a simple pairing of honey and a subtly sweet fresh cheese made from cow, sheep, or goat's milk.
We tried mel i mató while on this excellent bodega tour in Barcelona. Often enjoyed at home or at restaurants, this classic Spanish dessert can be served as is or with additional ingredients like nuts, jam, and dry or fresh fruit.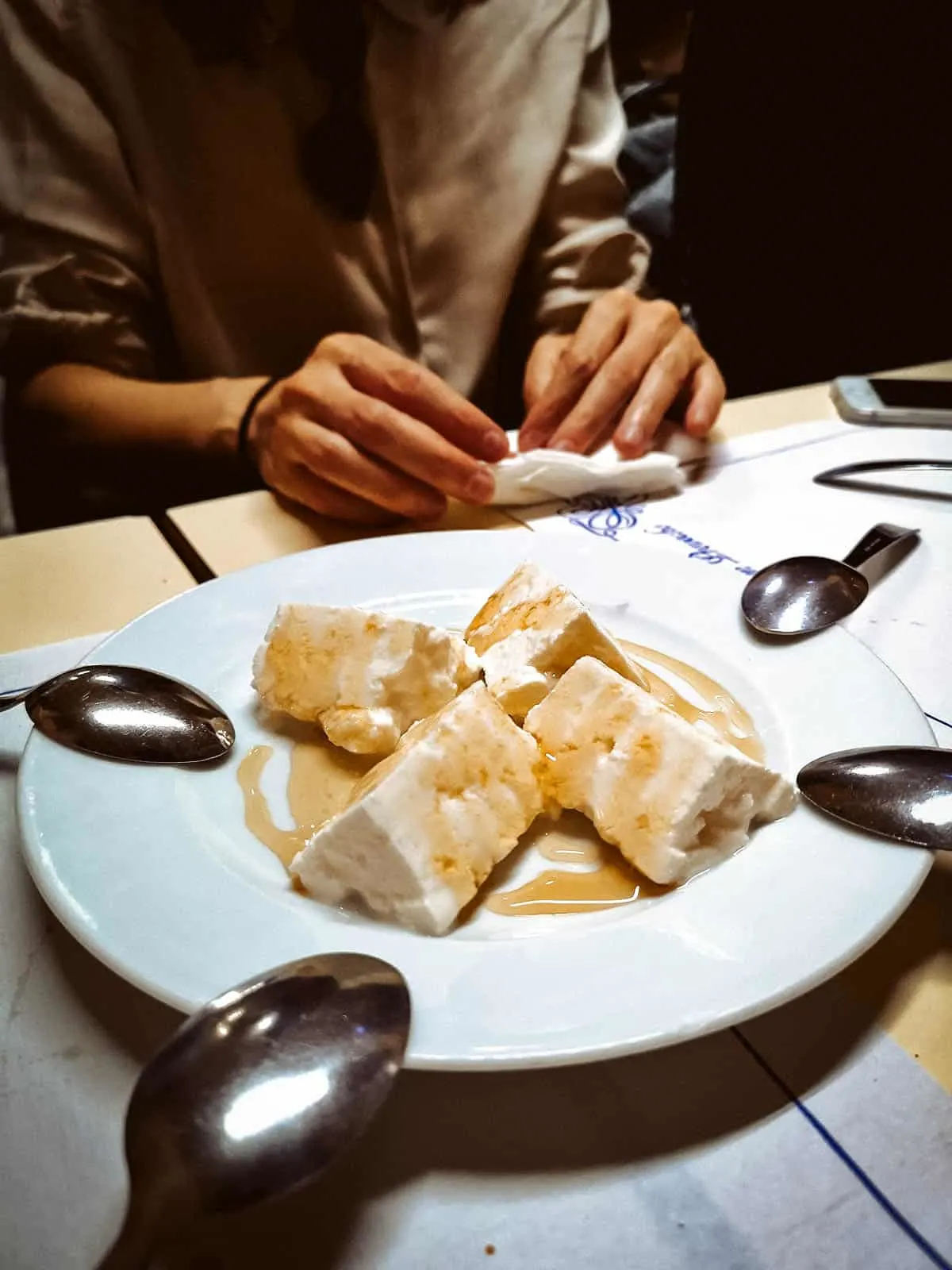 15. Tocino de Cielo
Tocino de cielo is a heavenly Spanish dessert that originated from Jerez de le Frontera in the Andalusian region. Its name translates to "bacon from heaven" though it contains no pork or lard. It gets its name from its high fat content and the fact that it was invented by nuns at a convent.
Jerez de la Frontera has specialized in sherry production for thousands of years. Historically, sherry wine was clarified using egg whites which led to a surplus of egg yolks. Nuns at the Convent of the Sacred Spirit were said to have used these egg yolks to make Spanish desserts, one of them being tocino de cielo.
Tocino de cielo is similar to Spanish flan, except it isn't made with any condensed milk. Instead, it contains just three ingredients – eggs, sugar, and water. Modern renditions of this rich Spanish custard are often enhanced with additional ingredients like nuts, fresh fruit, and caramel sauce but traditional versions are made with just those three ingredients.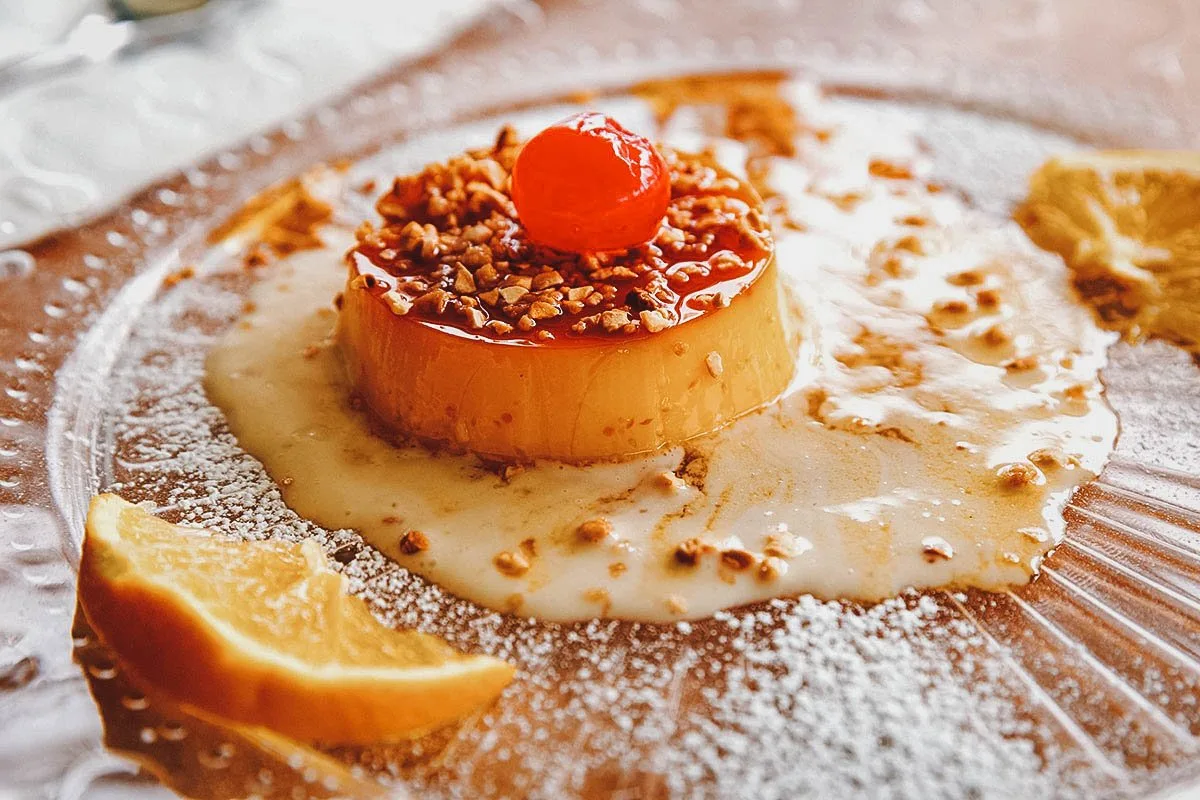 Photo by Jim_Filim
16. Leche Frita
Leche frita is one of my favorite Spanish desserts. Its name literally means "fried milk" and refers to a classic Spanish dessert made with a sweet milk pudding encased in a crunchy fried shell.
Leche frita is made with a thickened mixture of cornstarch, flour, sugar, and milk flavored with cinnamon. After setting, the milk pudding is cut into squares and coated in flour and beaten eggs before being deep-fried in olive oil and rolled in cinnamon sugar. The result is an incredibly delicious fried milk dessert that's crunchy on the outside but soft and creamy on the inside.
Leche frita can be enjoyed hot off the fryer, chilled, or at room temperature. They're delicious any which way by I like them best when they're hot and served with a scoop of ice cream.
Photo by demidoff
17. Pionono
Piononos are small Spanish pastries traditionally associated with Santa Fe, a small town adjacent to Granada. This delicious dessert consists of two parts – a bottom layer of rolled sponge cake drenched in syrup and a crown of toasted pastry cream. It's soft and spongey and typically consumed in one or two bites.
Pionono is originally from southern Spain but it's become popular in former Spanish colonies like the Philippines, Argentina, Venezuela, Colombia, Peru, and Cuba. In Latin America, it's typically made with dulce de leche and can even be prepared in savory versions.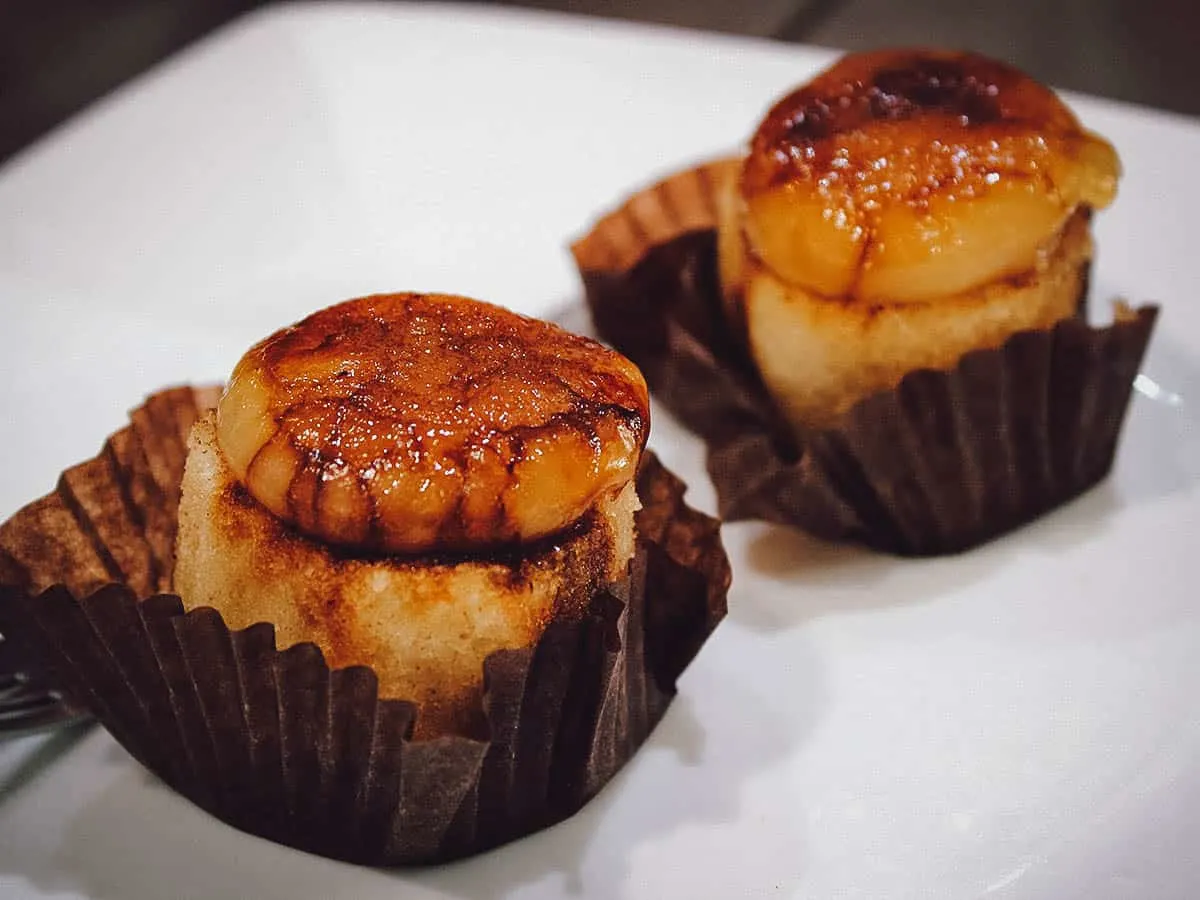 Photo by Jimenezar via Shutterstock
18. Rosquillas
Rosquillas are deep-fried Spanish doughnuts. They're similar to churros in their ingredients and cooking methods but resemble American-style doughnuts. They're round with a hole in the middle but are generally smaller than their American cousins.
Rosquillas are traditionally enjoyed as a snack or for dessert in Spain. You'll typically find them coated with powdered sugar or drizzled with chocolate sauce.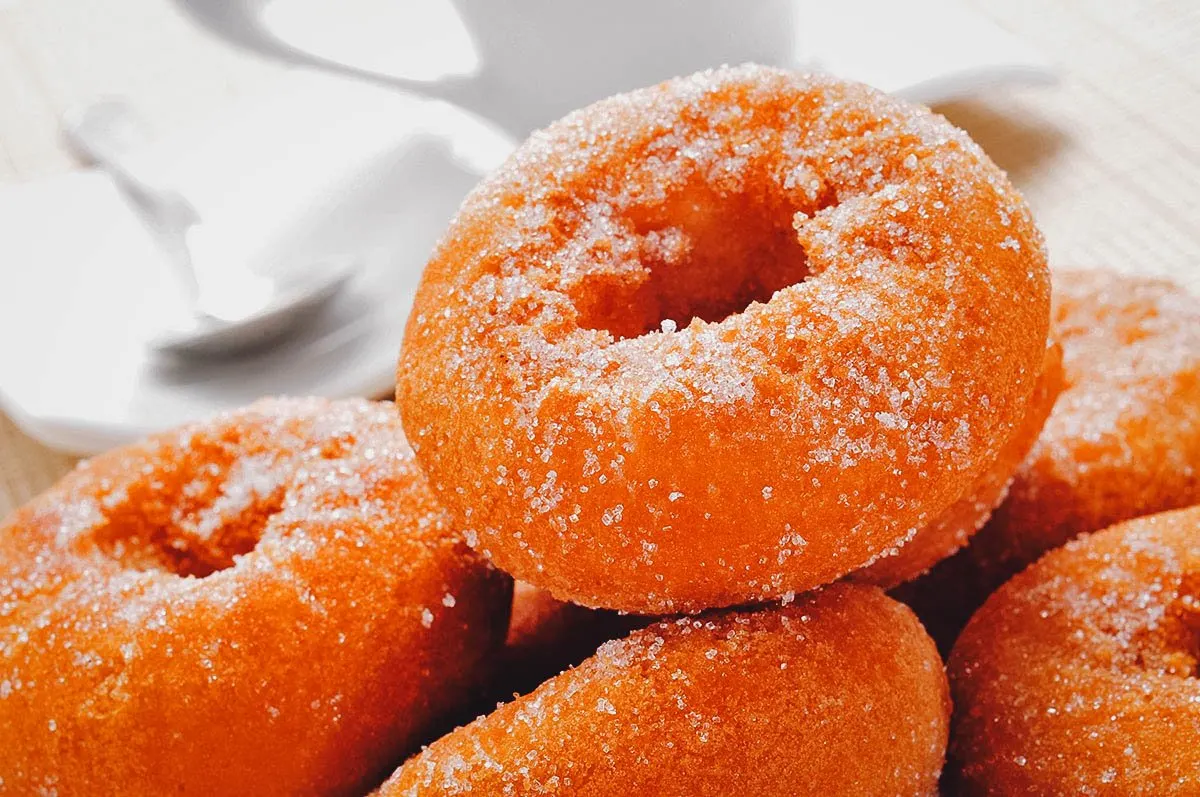 Photo by nito103
19. Pestiños
Pestiños are deep-fried Spanish pastries popular in Andalusia and other regions of southern Spain. They're typically prepared for Christmas or Easter and are made with pieces of dough that are deep-fried in olive oil and then glazed in honey or sugar.
Pestiños are a traditional Spanish dessert with Moorish roots. If you're familiar with Moroccan food, then you may find them to be quite similar to chebakia.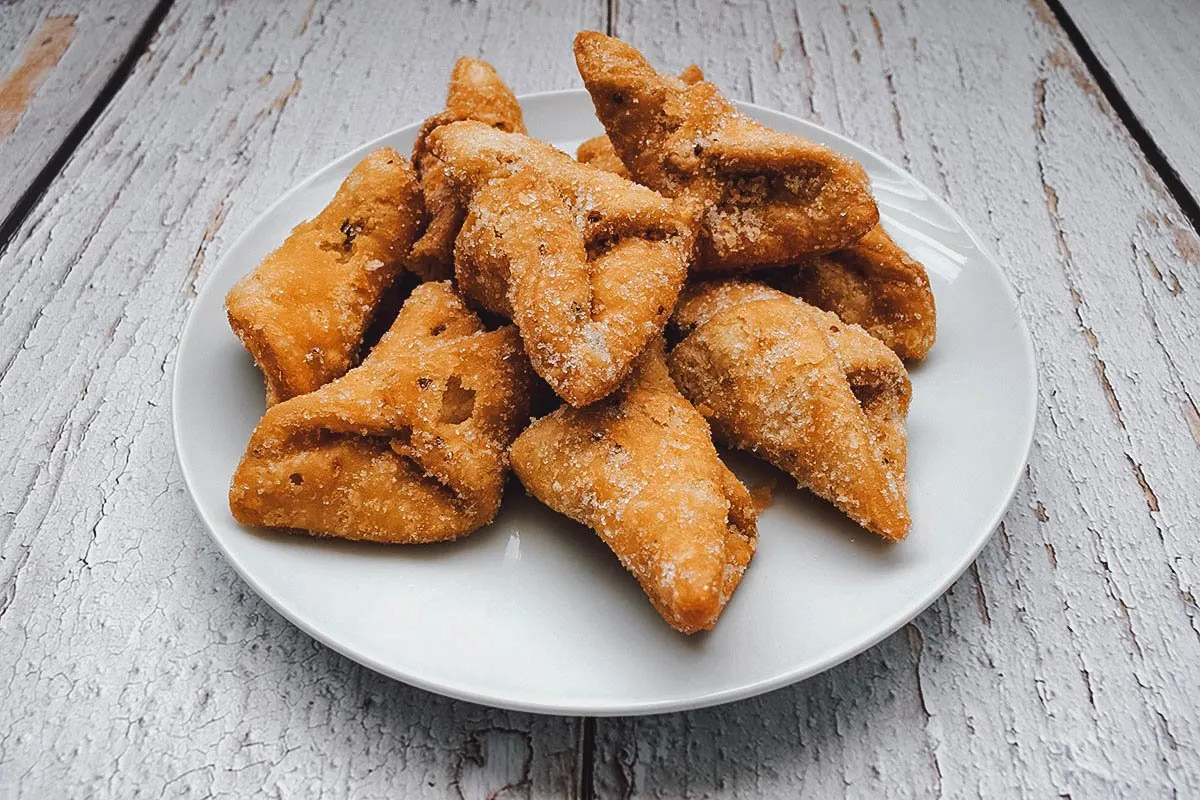 Photo by Wirestock
20. Mantecados / Polvorones
Like many of the Spanish desserts on this list, mantecados and polvorones have strong ties to the holidays. They refer to crumbly Spanish cookies that are typically made to celebrate the Christmas season in Spain.
Mantecados and polvorones are made with flour, lard, sugar, and almonds. They're very similar cookies known for their crumbly texture. The main difference between the two is that mantecados are round while polvorones are oval-shaped and dusted with powdered sugar. Mantecados can also be made with a larger variety of ingredients like cocoa powder, lemon flavoring, sesame seeds, and coconut.
Like ensaimadas, piononos, churros, and other Spanish desserts, polvoron has become popular in the Philippines and Latin America. Instead of lard and almonds, the Filipino version is made with butter or margarine and a large amount of powdered milk.
Photo by nito103
SPANISH FOOD TOURS
If you're visiting Spain and want to learn more about Spanish desserts and cuisine, then you may want to go on a guided tour. It's one of the best ways to learn about the local cuisine and immerse yourselves in Spanish culture. Check out Get Your Guide for a list of food tours in Barcelona, Madrid, and other destinations throughout Spain.
SPANISH COOKING CLASSES
You can learn a lot from a food tour, but if you want to really dive into Spanish cuisine, then one of the best things you can do is to take a cooking class. Eating crema catalana is one thing, but learning how to actually make it yourself is another. If you enjoy cooking, then check out Cookly for a list of cooking classes in Spain.
FINAL THOUGHTS ON SPANISH DESSERTS
Pastries and desserts are an important part of everyday life in Spain. This list of twenty Spanish desserts barely scratches the surface but I hope it's enough to get you even more excited about visiting Spain. As previously mentioned, we think that Spain has one of the best cuisines in the world and Spanish desserts have a lot to do with that.
Disclosure
Some of the links in this article on Spanish desserts are affiliate links, meaning we'll get a small commission if we make a sale at no added expense to you. We only recommend products and services that we use ourselves and firmly believe in. We really appreciate your support as this helps us make more of these free travel guides. Thank you!
Featured image by odua. Stock images via Depositphotos.