EDITOR'S NOTE: Please be advised that this Taal travel guide hasn't been updated to reflect 2023 prices and travel guidelines. We'll update it as soon as we can. Thanks for your patience.
I almost missed it. Had I not put my phone down and stepped away from our table, I wouldn't have noticed that its legs were made from the bottom half of a vintage Singer sewing machine. I love details like that.
In today's 6-second Vine age, I wonder how many of these little details we miss on a daily basis. We're bombarded with so much stimuli on social media that it's easy to overlook things like that. As Prince Ea puts it in his viral video on human connectivity, it's ironic how these touchscreens can make us lose touch.
But not here.
Not at a place like Taal Heritage Town where time stands still and yesterday is still today. Such is the magic of a place like this. It encourages you to slow down and appreciate the little things. Like the antique legs of a table. Or that family member sitting across from you.
When you drive through those arches, you'll be taken back to a time that many of us have forgotten, but need to remember. With the world moving at 4G LTE speeds, we sometimes need to be reminded of who we are and where we come from. This town can do that for you.
Welcome to the heartland of Tagalog culture. Welcome to Taal.
Save This on Pinterest!
No time to read this now? Click on the red save button and pin it for later!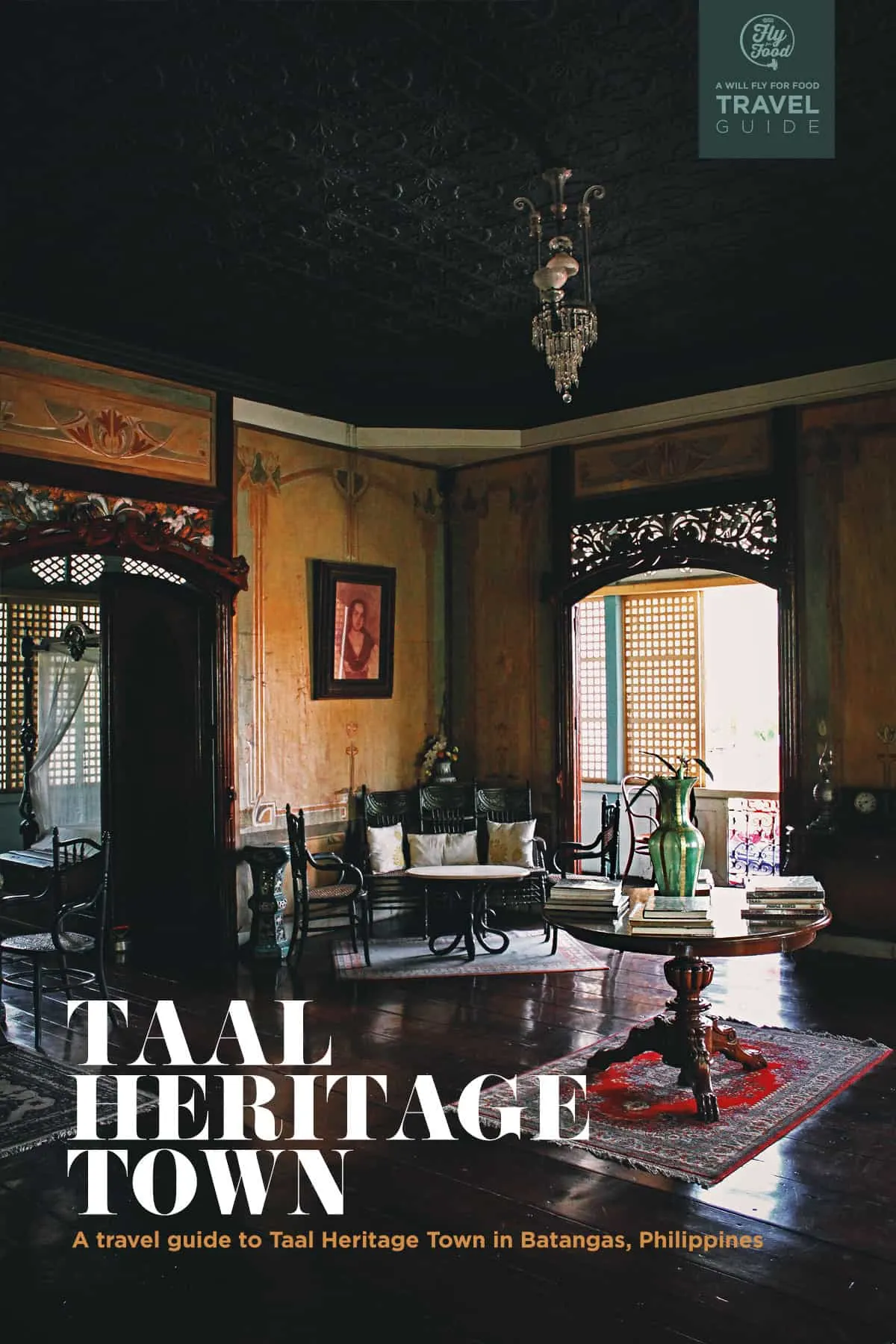 GUIDE TABLE OF CONTENTS
TRAVEL RESTRICTIONS
Because of the current global situation, travel guidelines change frequently. Our friends at SafetyWing created a website that lists detailed information on travel restrictions around the globe.
Before doing any serious planning, be sure to check the Flatten the Curve website for information on travel restrictions to the Philippines.
WHEN TO GO
Like the rest of the Philippines, Taal is hot, its hottest months being April and May when daytime temperatures frequent the lower 90s. This peak of summer is then followed by the monsoon season from May to October. If you aren't a fan of such weather extremes, then I suggest avoiding these months. Instead, shoot for December to February. It's the coolest and driest time of the year.
HOW TO GET THERE
If you're a tourist and don't have access to a vehicle, then you can hire a chauffeured car for the day through Klook.
Driving Directions
Via Lipa
(The fastest way to Taal from Manila. Approximate travel time – 2 hrs from SLEX Magallanes)
From Manila, take the South Luzon Expressway (SLEX) all the way until it becomes the Star Tollway.
Take the Lipa exit from Star Tollway. After the exit, turn left at the National Highway towards Taal/Lemery/Cuenca.
Drive straight for about 3.5 kms until you see a Phoenix gas station on your right. Make a right at the road immediately before the gas station. This is the road to Cuenca/Taal/Lemery.
Follow this winding road for about 11.5 kms and drive through Alitagtag town's welcome arch. Around 1.7 kms after passing the arch, you'll see a Pacific One station on your left. Veer right towards Alitagtag Poblacion (town proper).
Go straight for another 3 kms until you see the welcome arch of Sta. Teresita Town. Drive through the arch and go straight for another 1.5 kms until the end of the road, until you reach the National Highway Junction. You'll see a Petron Gas Station at the end of this road. Turn right towards the town of Taal.
After around 5 kms, you'll reach a fork with a Flying-V gas station right in the middle. Keep left of the fork and drive straight. Taal town proper will be another 2 kms from here.
Via Tagaytay
(Longer than the Lipa route, but more scenic. Approximate travel time – 3 hrs from SLEX Magallanes)
From Manila, take the South Luzon Expressway (SLEX) and exit at Sta. Rosa. Make a right towards Tagaytay after passing the toll booths. Make a right at the end and drive along the main Tagaytay National Highway towards Nasugbu.
Before the Nasugbu sign, you'll see the San Miguel Convention Center on your left. Make an immediate left on the small road after the San Miguel Convention Center (before the Petron Station on the left). This small road is called Diokno Highway and will take you to the town of Lemery. (NOTE: If you've passed the arch of Nasugbu, then you've already missed Diokno Highway so you must turn back.)
After around 40 mins, make a left at the end of the road going towards Lemery town proper.
Go straight until the dead end and you'll see the river and the Pansipit Bridge, which is the entrance to Taal Heritage Town. Make a left going uphill towards Taal town proper.
By Bus
You can take the JAM Liner bus to LEMERY leaving from either their Cubao or Buendia stations. If you're staying in the Makati area, then the Buendia station will be closer to you.
From Buendia, buses run from 4AM until 8PM and the fare each way is PHP 178. From Cubao, it's PHP 186 each way with buses running from 4:15AM until 7:30PM. Be sure to ask the driver to drop you off at TAAL TOWN so you don't miss your stop.
Follow the link for JAM Liner bus terminal information.
Ala eh! You made it!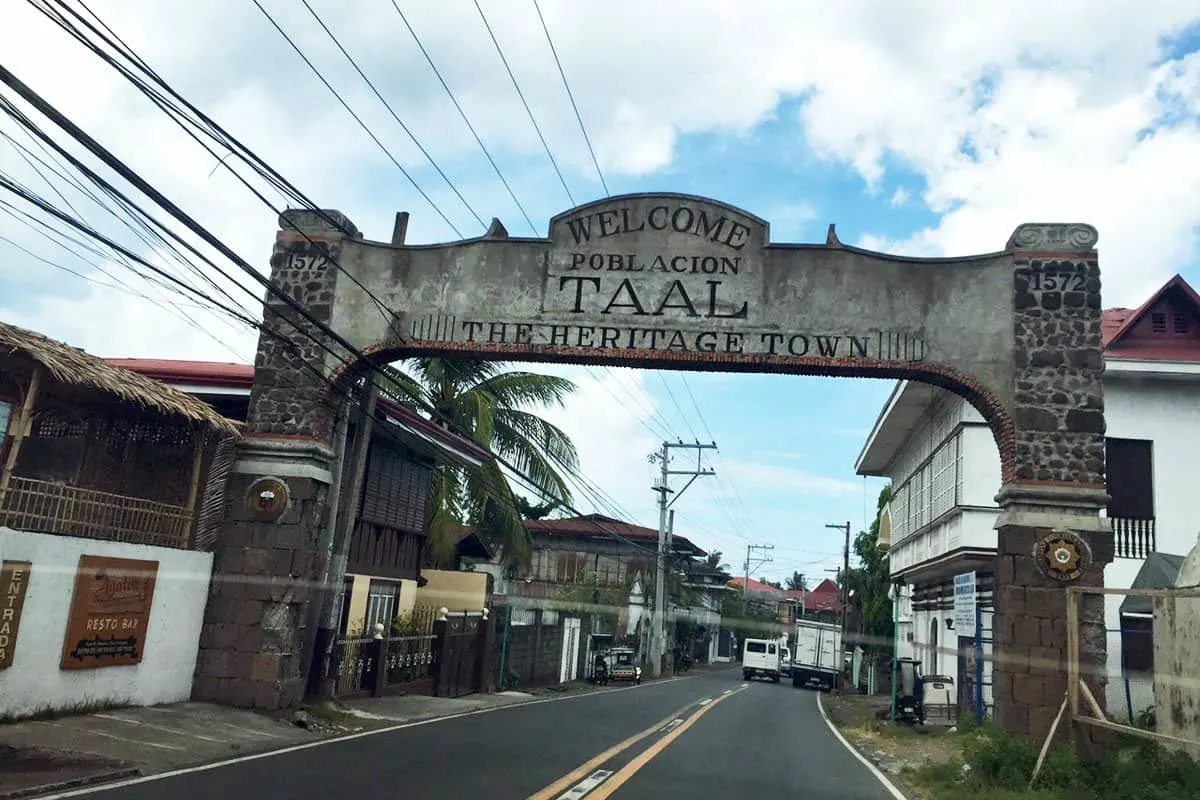 HOW LONG TO STAY
Taal is a small town so one night should be enough. Provided you arrive before noon and leave around mid-afternoon the next day, then you should have enough time to see all the major sights. You can even pair it with a trip to Tagaytay if you like.
HOW MUCH MONEY TO BRING
Taal Heritage Town is mostly inexpensive. Assuming that you're traveling with a companion and staying overnight, then a budget of PHP 3,000 for the entire trip should be plenty. That includes round trip bus tickets, accommodations, museum entrance fees, and food (3 meals).
The only thing pricey in Taal is the lodging. I called every bed and breakfast and rooms on average cost around PHP 2,000 a night. Unsurprising I guess since these are ancestral homes after all. You're paying for the experience as much as the lodging. The cheapest rooms I could find are at Tampuhan Cafe. They offer air-conditioned rooms with shared bathroom and free wifi for just PHP 850 a night per person, inclusive of Filipino breakfast. Their rooms are old and a little musky (with woven solihiya beds), but this seems to be the most economical option for solo travelers.
I'm not sure how many banks and ATMs there are in town, so be sure to bring enough cash with you.
WHERE TO STAY: Paradores del Castillo
A charming 7-room bed and breakfast built in a renovated ancestral house, Paradores del Castillo is hands down the best place to stay in Taal Heritage Town. Its brand new, opening its doors just this past March 2015. We loved our stay here and would highly recommend it to anyone. The rooms are gorgeous. You can make a reservation through Booking.com or Agoda. Be sure to check both sites to find the best deal. Check out my post on Paradores del Castillo in Taal Heritage Town for more pictures and information.
If you don't think Paradores del Castillo is the right place for you, then you can check Booking.com for alternate listing in Taal Town.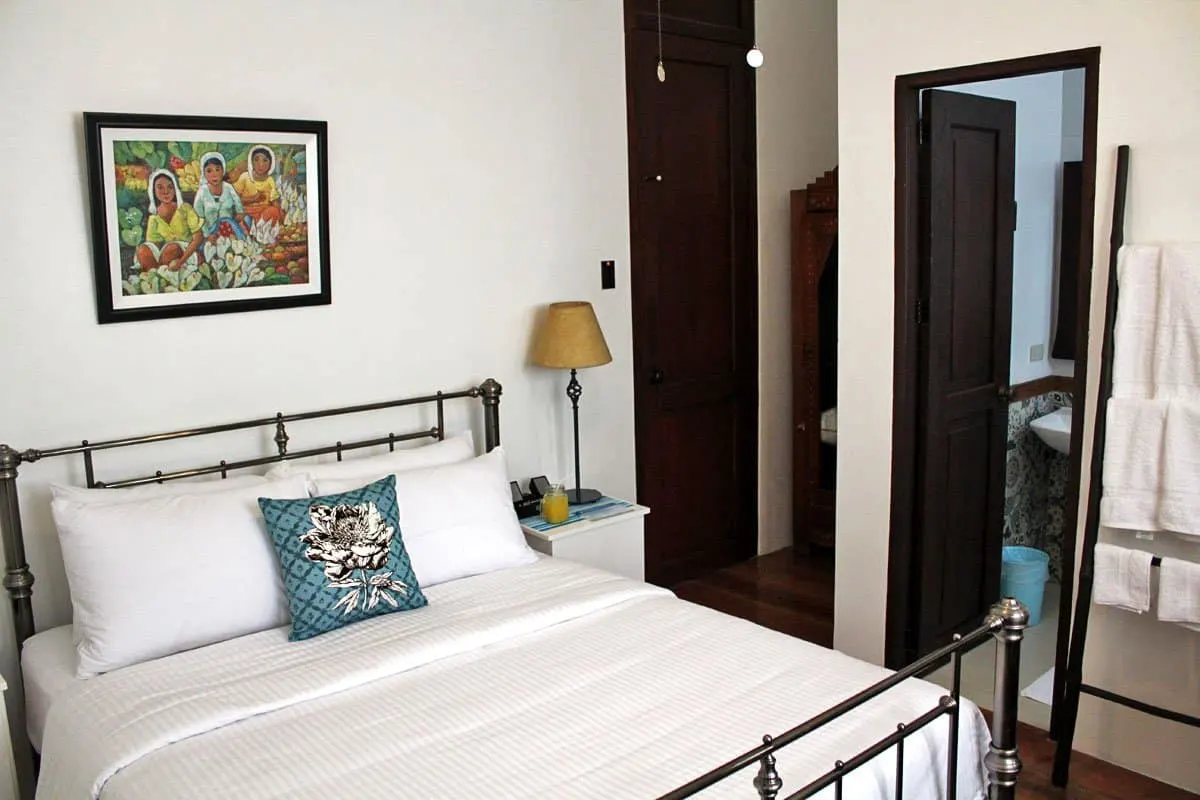 Approximate Rates: Rooms start at PHP 2,500 a night, inclusive of breakfast (as of June 2015)
WHERE TO GO / WHAT TO DO
1. Do the Taal Heritage Town Food & Walking Tour with Pio Goco
If you're only in town for the day and want to see as much of it as possible in a limited time, then I highly recommend you do Pio's tour. It starts with lunch at 11AM at the Goco ancestral home, and takes you to various key points in Taal like Caysasay Church, Galleria Taal, and Agoncillo Mansion. Lasting around 6 hours, it ends with a killer view atop the bell tower of the Basilica at sunset.
Check out my post on Pio Goco's food and walking tour in Taal Heritage Town for more pictures and information.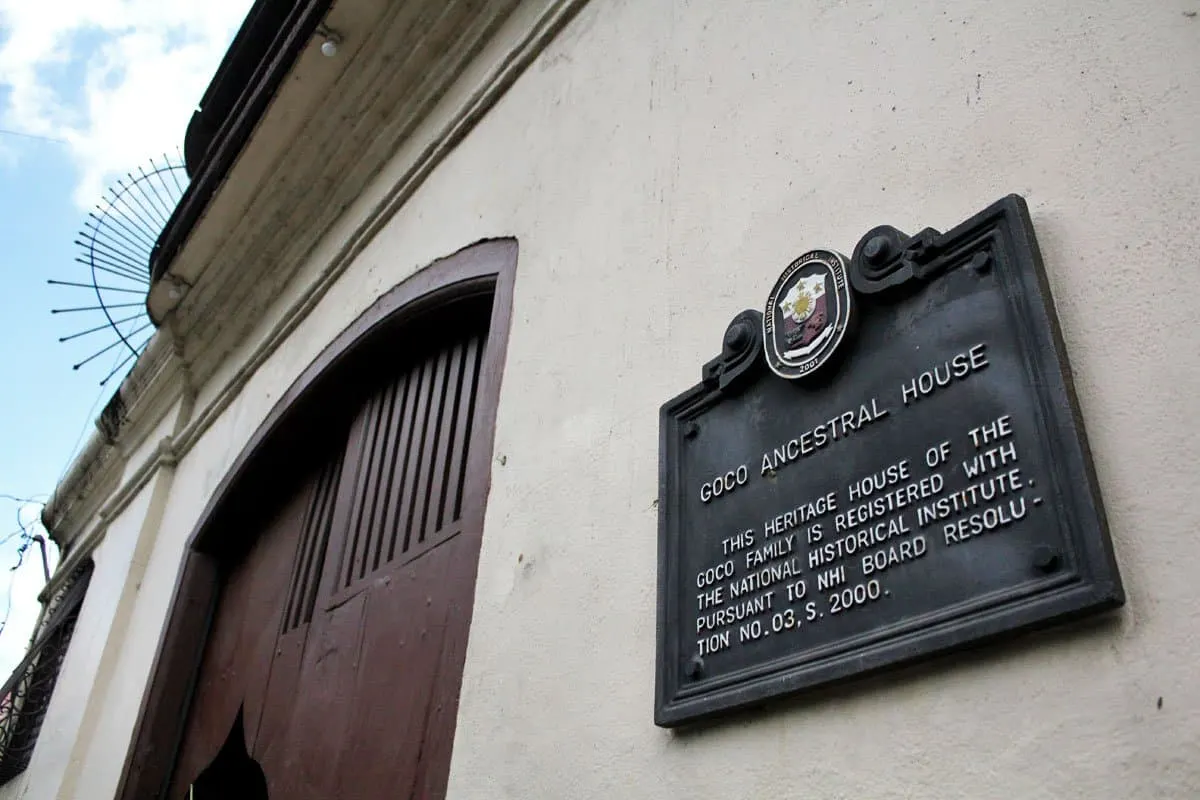 Length of Tour: Around 6 hours / Cost (inclusive of lunch and museum entrance fees): PHP 1,500 per person (7 pax and below), PHP 1,380 per person (8 pax and above)
2. Step Back in Time at an Ancestral House
These ancestral houses are the main reason why people come to Taal. From the hand-pressed tin ceiling tiles of Casa V, to the intricate stencil work of the Wedding Gift House, to the period costumes of Villa Tortuga, there is plenty to see and appreciate here. Beautiful stuff with much history behind it.
Check out my post on Taal Heritage Town's ancestral houses for more pictures and information.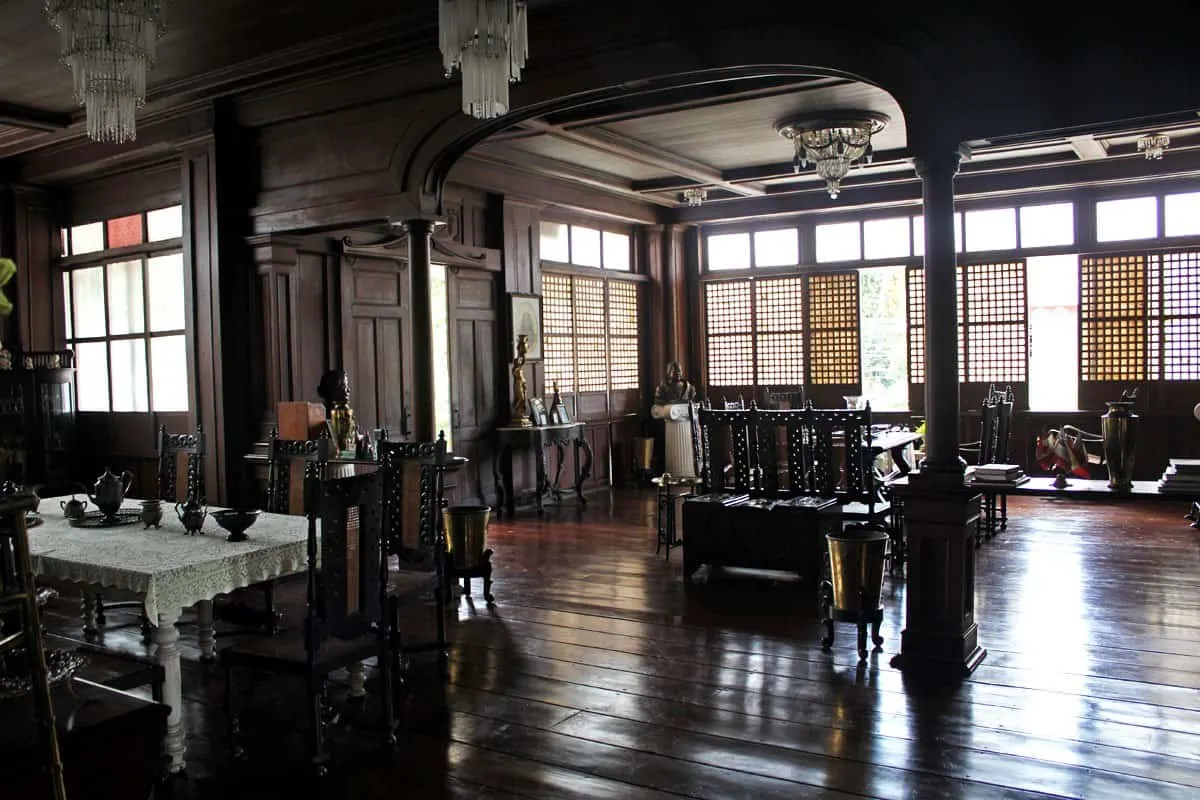 Cost: Around PHP 80 per ancestral house
3. Visit the Biggest Church in Southeast Asia
Standing 88.6 meters (291 ft) long and 48 meters (157 ft) wide, the Basilica of Saint Martin of Tours is the largest church in all of Southeast Asia. It is a breathtaking sight, especially at sunrise or sunset.
The Basilica is part of Pio Goco's food and walking tour in Taal Heritage Town.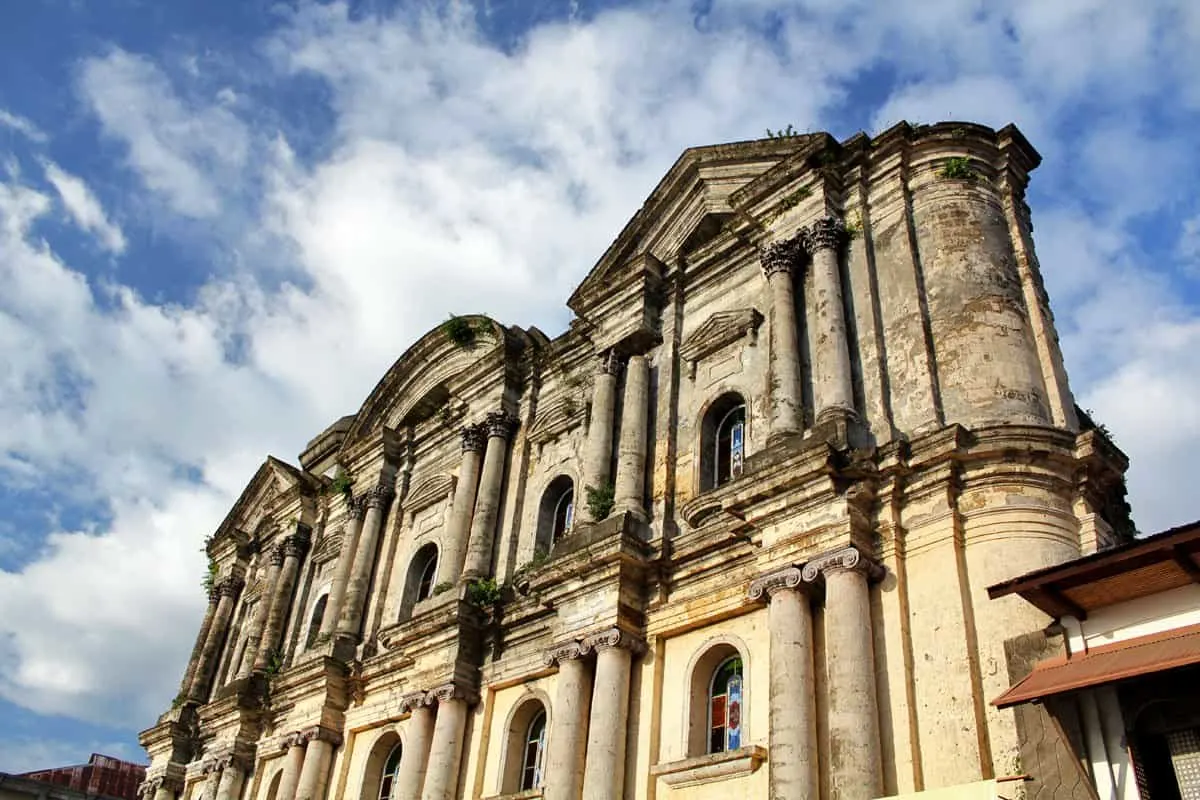 Cost: FREE
4. Take Part in a Healing Miracle at the Sacred Well of Sta. Lucia
A sacred pair of wells, the waters of Sta. Lucia Well are said to have healing powers. This was the very spot where an apparition of Our Lady of Caysasay was seen in 1611, the very first recorded sighting of the Virgin Mary in Philippine history. If you believe in miracles, then you can't miss this.
Sta. Lucia Well and nearby Caysasay Church are also part of Pio Goco's food and walking tour in Taal Heritage Town.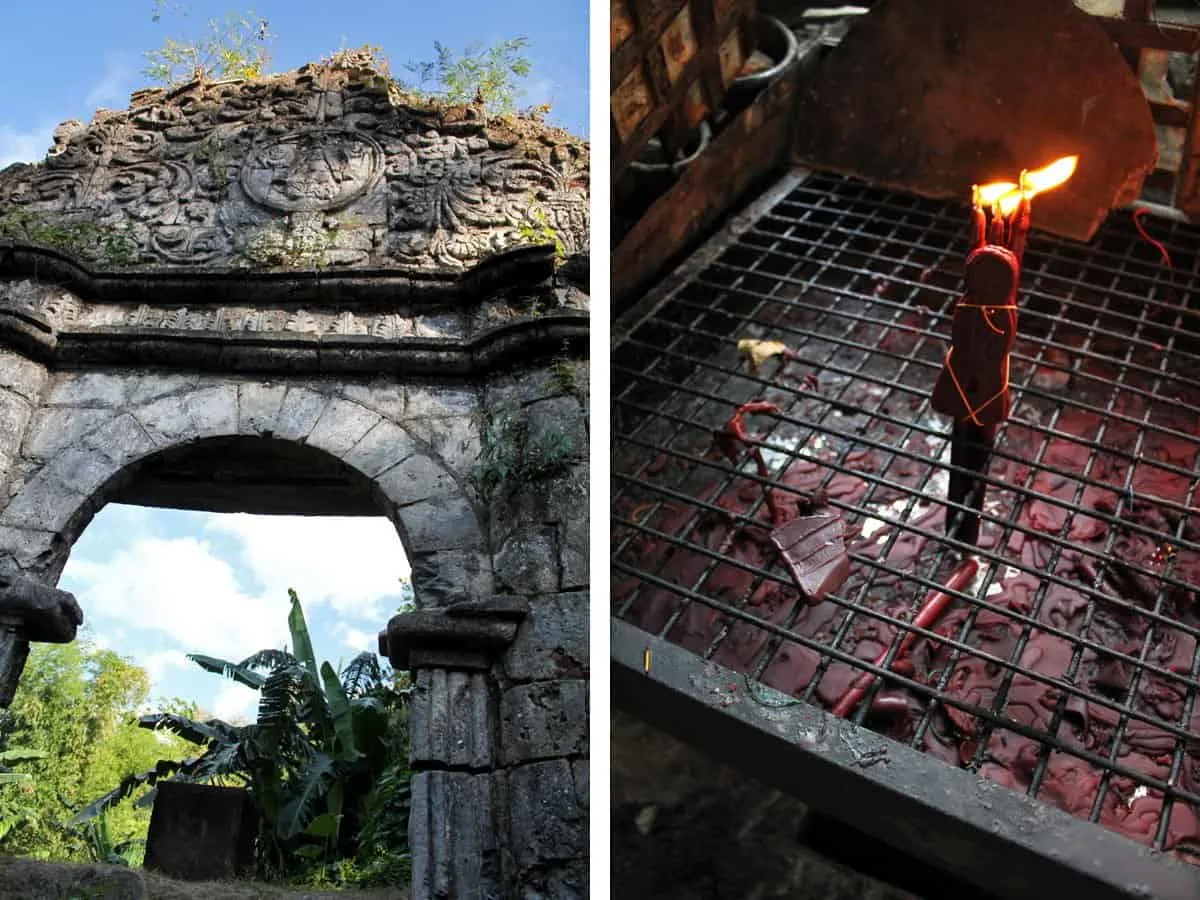 Cost: FREE to drink from the sacred well, candles are PHP 20 a set
WHERE TO EAT
1. Don Juan BBQ Boodle House
This restaurant isn't just delicious, it's fun too. Set in the heart of town right next to the public market, Don Juan BBQ is known for these large spreads of food called "boodles". Served on banana leaves, they offer different types of boodles, each meant to be shared between 4-6 people.
There were just two of us so we went with the inihaw (roasted) platter below that's good for 2-3 people. It had squid, chicken, pork, fish, eggplant, and a few sides. Non-Filipino travelers who have never experienced this will surely enjoy a meal here.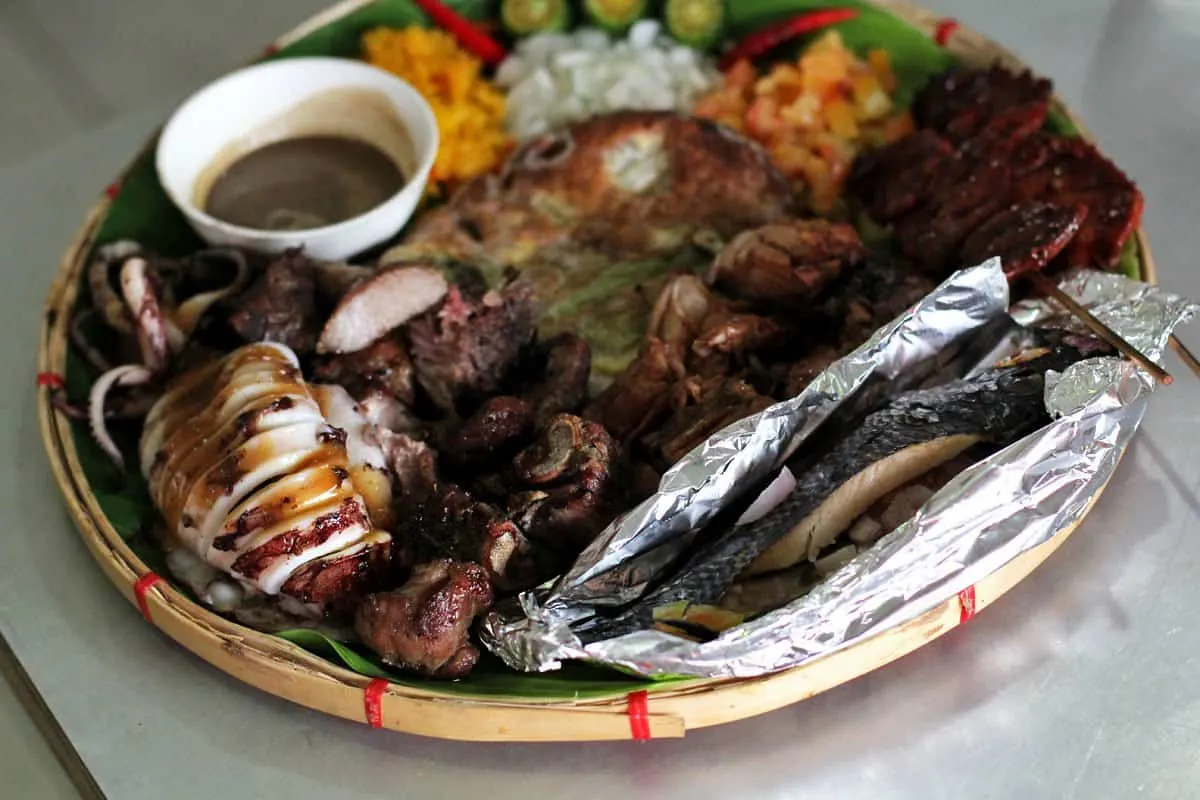 Expect to Spend: Around PHP 350 per person with drinks
2. Tampuhan Cafe
Situated between the Apacible Museum and Villa Tortuga, the aforementioned Tampuhan Cafe is a great place to beat the midday heat. Frappés seem to be a popular choice here, as are snacks like crepes and mini-pizzas.
They don't have an extensive menu so I suggest stopping by here for merienda (afternoon snack). They offer breakfast as well.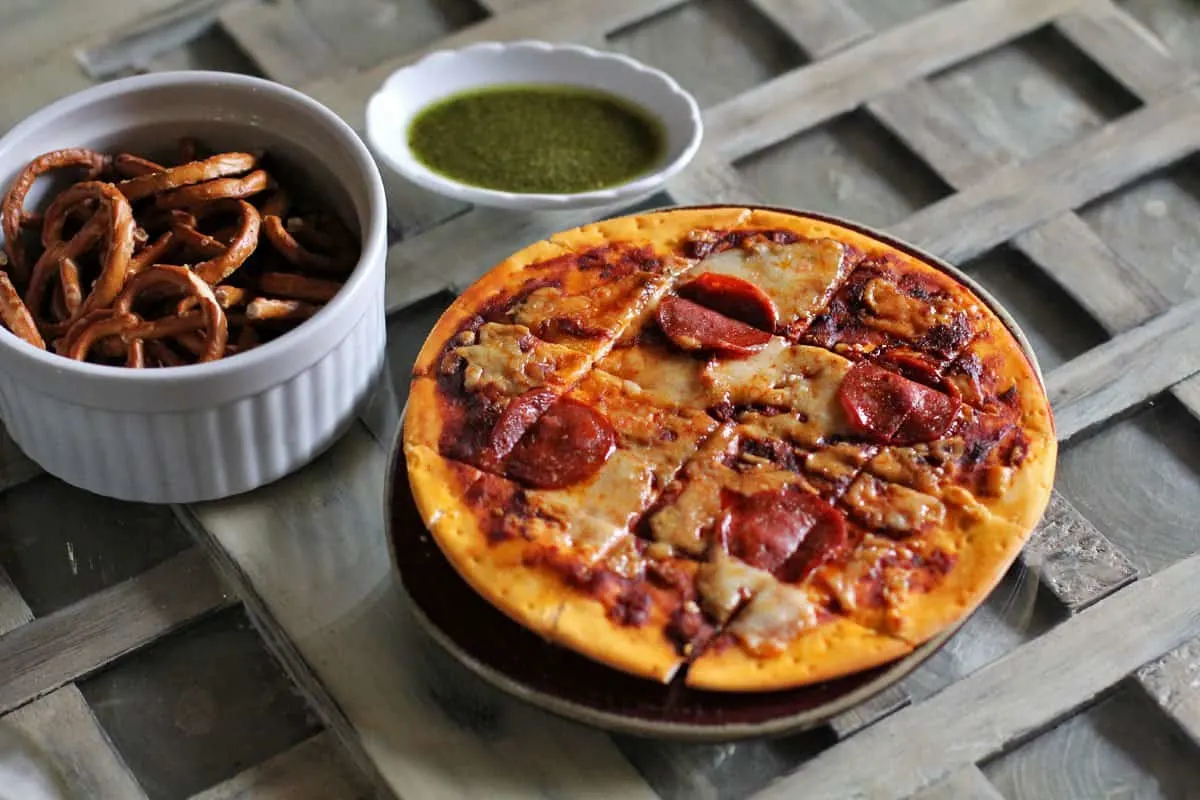 Expect to Spend: Around PHP 180 per person with drinks
3. Halo-Halo by the Car Wash
So just how good is this halo-halo? Ren said that she'd go back to Taal just for this, and she doesn't even like halo-halo! She called it the best halo-halo she's ever had.
If you've never heard of halo-halo before, it's an iconic Filipino dessert made with shaved ice, evaporated milk, and a plethora of ingredients like sweet beans, jello, candied Filipino fruits, pinipig (pounded immature rice), and leche flan (custard). What sets this halo-halo apart is that the ice is so finely shaved that it almost has the consistency of a thick milkshake. It's delicious and refreshing, especially on a scorching summer day.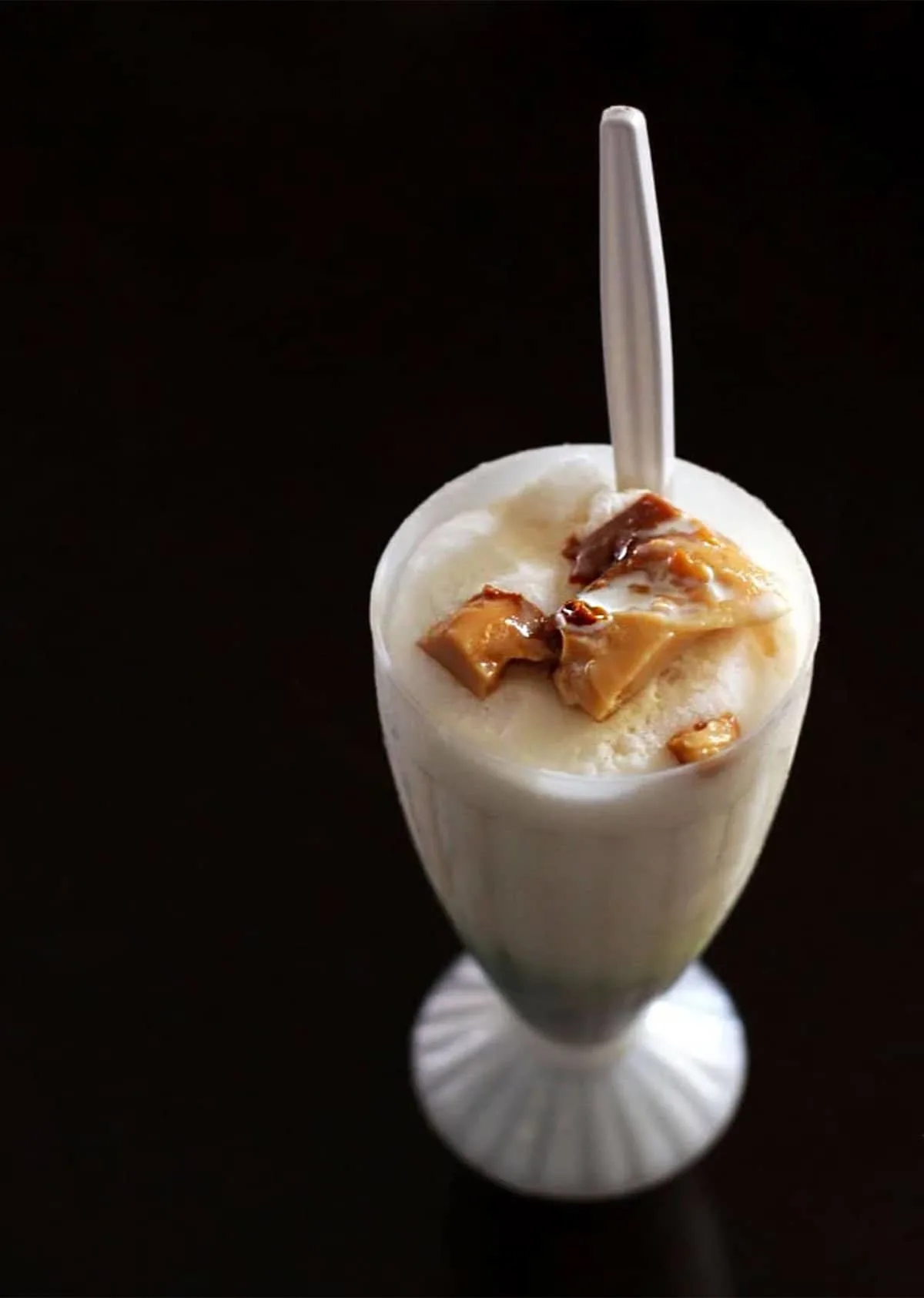 Expect to Spend: PHP 50 per person
I called it "Halo-Halo by the Car Wash" in the title because that's exactly what it is. It isn't served at a restaurant. It's served in Jhun Estacio's house, which is right next to a car wash fronting the Agoncillo Mansion (White House). How funny is that?! I love finds like this. 😀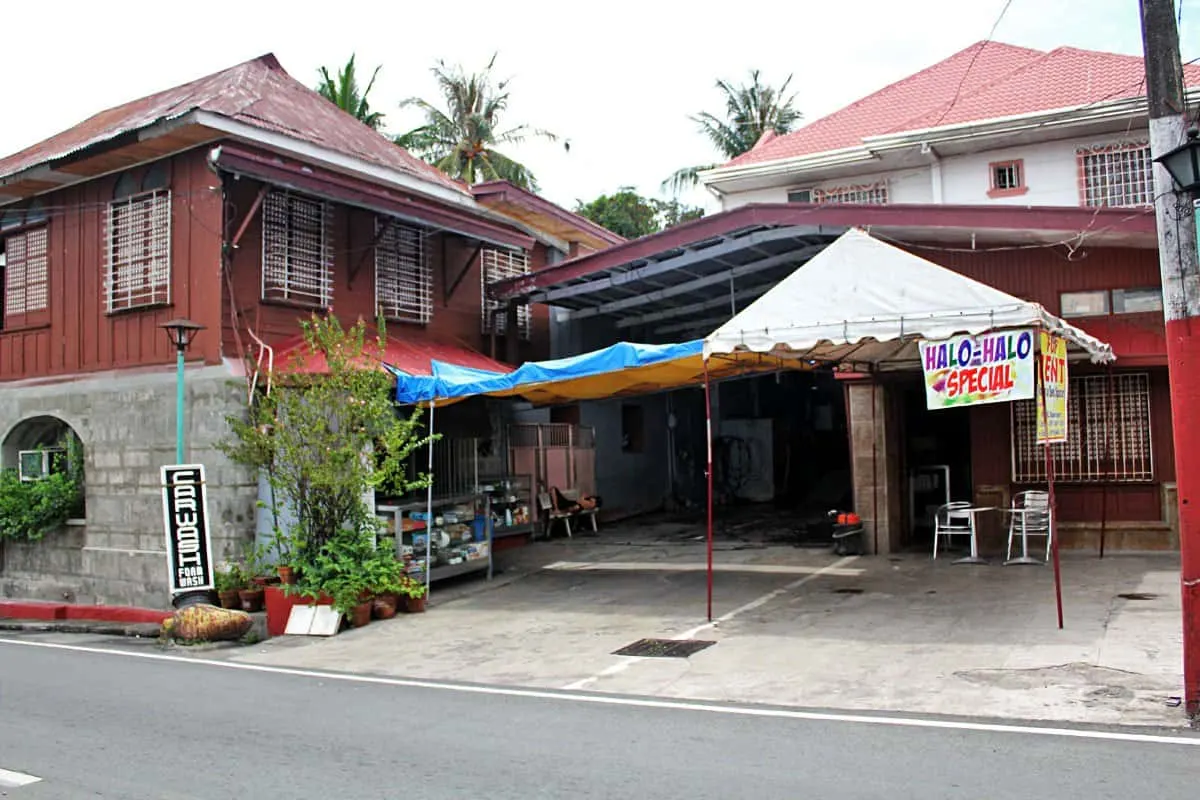 TRAVEL TIPS
1. Rent a Pocket Wifi Device
If you're a foreigner backpacking through the Philippines, then you'll need to have a good wifi connection. You can either get a sim card or a pocket wifi device. Personally, I prefer pocket wifi devices because they're simpler in spite of being more expensive.
If you book them in advance, then you can pick them up from the airport or have them delivered to your hotel. Follow the links to purchase a sim card or rent a pocket wifi device through Klook.
2. Get Travel Insurance
If you're a non-Filipino, then I strongly suggest you get travel insurance before visiting the Philippines. Much of the infrastructure isn't as developed and if you go to places like Sagada or Batad where you can slip and hurt yourself when hiking, having travel insurance will be a godsend.
Personally, we don't buy insurance before every trip but when we do, we buy it from SafetyWing. They're a popular travel insurance provider used by many long-term travelers. Click on the link to get a free quote from SafetyWing.
Have fun!
I'm not an expert on Taal but I do hope this guide can help you plan your trip. If you have any questions or suggestions, then please feel free to let us know in the comment section below. You're welcome to join our Facebook Travel Group as well.
Thanks for reading and have a great time in Taal Heritage Town!
Disclosure
This post contains affiliate links, meaning we'll get a small commission if you make a purchase at no additional cost to you. We only recommend products and services that we use ourselves and firmly believe in. We really appreciate your support as it helps us make more of these free travel guides. Thank you!