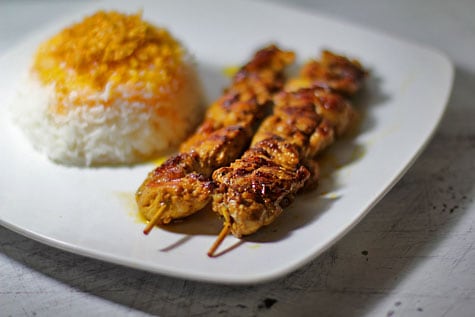 NOTICE: Your health and safety come first. Please adhere to the WHO recommendations and avoid any non-essential travel at this time. If travel is unavoidable for you, then please refer to these advisories on COVID-19 coverage from our friends at World Nomads and SafetyWing. Please be advised that all information on this website is for travel pre-COVID-19. We'll update the information soon as new travel guidelines become clearer.
DISCLOSURE: Some of our articles contain affiliate links. The ones that do will have a disclosure statement at the bottom. You can refer to our privacy policy and terms of use for more information.
As far as Ren and I are concerned, chicken inasal is the culinary equivalent to marijuana. A gateway dish, it's led us down the path to more obsessive, life-altering habits.
Take this blog for example. Bacolod Chicken Parilla, a restaurant known for its chicken inasal, was our very first post back in 2009. Despite a sluggish start, that inaugural write-up has paved the way for 300+ posts (and counting), and reduced me to a pathetic heap perennially on the hunt for his next post fix. (I swear, that "Publish" button looks like a rolled-up dollar bill on my worst days.)
More recently, this Reneelicious Recipe for chicken inasal has inadvertently introduced my wife to the alluring, mystifying world of dhungar. Having created a near perfect inasal dish, the only element missing was that smoky flavor attained through charcoal-grilling. Grilling over hot coals however, is a laborious and messy process that she wasn't too willing to deal with at the time. Determined to find an alternative, she scoured the web and discovered the seductively delicious but surprisingly easy Awadhi practice of dhungar, a procedure for smoking food which I'll be talking about more in subsequent posts.
Until then, please enjoy this fantastic recipe for chicken inasal which has spawned not only this blog, but a soon to come surge of deliciously obsessed, dhungar-smoked Reneelicious Recipes as well.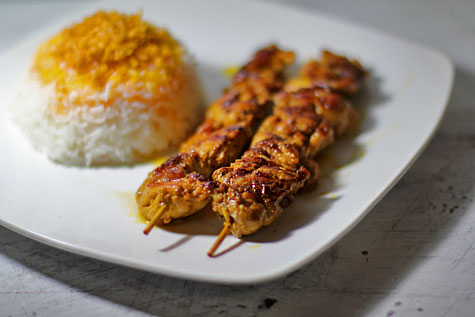 "Hey girl! Whatchoo been smokin'?!"
Scrumptuous and near perfect, the only thing missing was that smoked charcoal flavor. Thanks to Ren's recent addiction to dhungar, never again will it be. 😉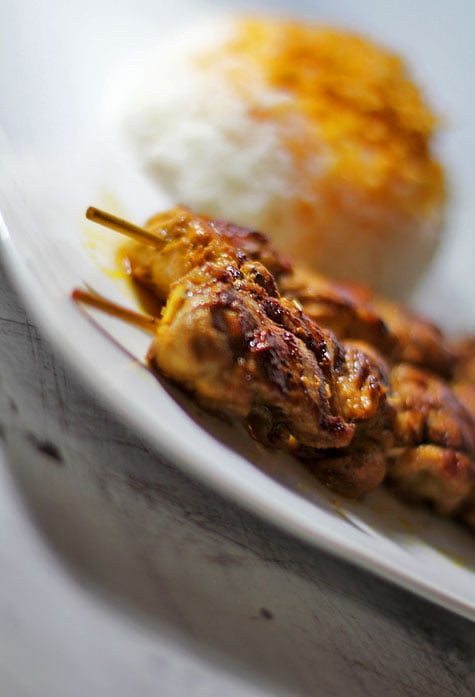 Ingredients
5 boneless chicken thigh fillets, cut into chunks
Bamboo skewers
FOR MARINADE
1/4 cup each sinamak (Iloilo spiced vinegar) and soykurat (Iligan City spiced coconut vinegar with soy sauce)
1/2 Tbsp calamansi juice, or to taste
8 stalks lemon grass chopped
1/4 cup of annatto oil
5 cloves garlic minced
1 onion, sliced
2 thumb-sized ginger, peeled and sliced
Sugar, to taste (optional)
Salt and freshly cracked black pepper, to taste
FOR BASTING SAUCE
4 Tbsps star margarine
1/4 cup annatto oil
Directions
Combine all marinade ingredients in ziplock bag and marinate chicken for at least 12 hours or overnight in refrigerator. (I marinated mine for 48 hrs and it came out great! The vinegar, contrary to popular belief, did not cook the chicken nor change its texture at all.) When ready to grill, put chicken pieces on skewers and set aside.
For basting sauce, combine annatto oil and melted margarine.
Grill chicken over hot coals, basting occasionally with basting sauce to avoid sticking on grill, until done. Be careful not to overcook. Alternatively, you can roast in oven or grill on cast iron grill pan. (I grilled mine on a cast iron grill pan but it was missing the charcoal taste.)
Best served with steamed white rice topped with toasted garlic, atchara and sinamak vinegar mixed with a little soy sauce and calamansi juice.
DID YOU KNOW?
That as far as inasal restaurants go, our personal favorite is the aforementioned Bacolod Chicken Parilla? Located at the corner of Sct. Gandia and Sct. Reyes in Quezon City, it also happens to be the inaugural post of this blog. 😉