I wish we could have stayed here longer.
With just two full days in Kyoto, we tried to cram as many sites as we could in 48 hours, leaving us just an hour or two to spend at every attraction. For many places, that was enough. But not here. I wish we could have stayed the entire day in Arashiyama. That's how beautiful it was.
The last stop on our itinerary, we arrived in the area a little after 5 o'clock, just when the temples were closing down for the night. Taking the side street off the main road towards the bamboo groves, I looked up in search of the green that I had seen so often in the weeks leading up to our trip. One look at the photographs told you that this was a magical place. Mystical even. Steeped in folklore with spririts and sprites playfully darting about, visible only from the corners of our eyes.
Walking for a few meters and dodging the occasional bicycle or rickshaw, the narrow trail meandered before sloping upwards, steadily, as if in crescendo. Then turning a corner, there it was, a symphony in viridian, just like in the pictures.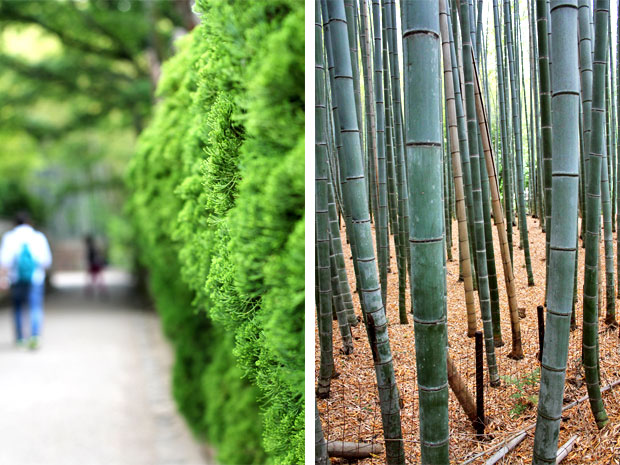 Like that iconic scene from Crouching Tiger, Hidden Dragon, I half expected to hear the distant clanging of steel and find Jen Yu giving chase to Li Mu Bai atop its canopy. These bamboo groves are a dead ringer for that place.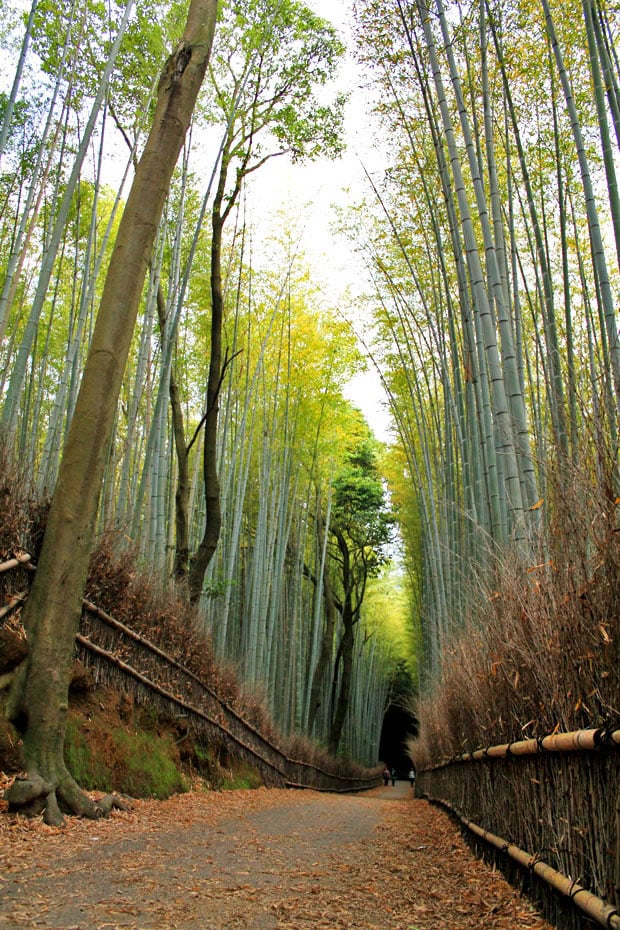 Behold, the bamboo whisperer. I love how the bamboo culms look like they're stooping down, listening to Ren. I wonder how many marriage proposals this forest has been privy to over the centuries? 🙂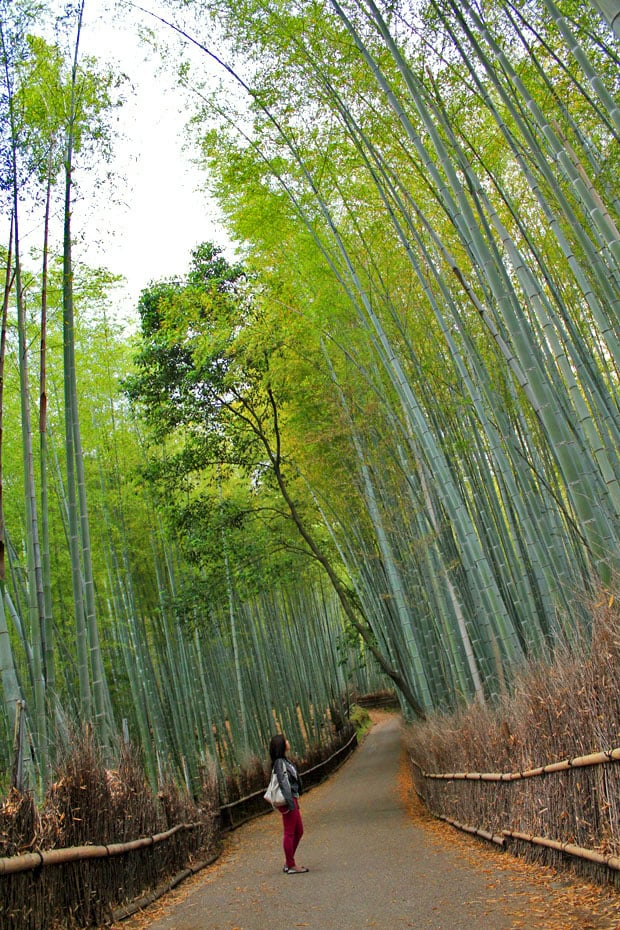 After a long day walking around Kyoto, we were pretty exhausted at this point so we didn't stay for very long. With more energy, I would have loved to spend a few hours here with my tripod. The place just begs to be photographed.
The lovely Reneelicious with my buddy Tom. Check out his sneakers. They match the bamboo. 🙂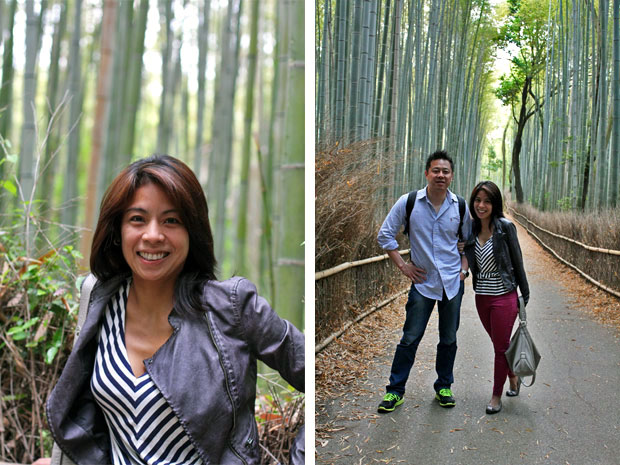 "He's sucking in his gut right now.", Spirits of Arashiyama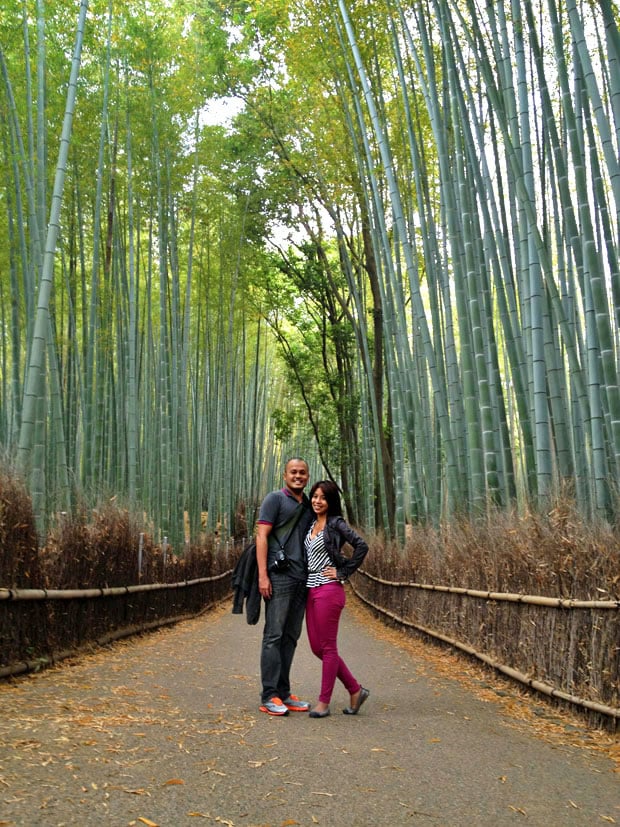 After walking through the bamboo groves, we made our way down to Togetsukyo bridge and the river. Along the way were many shops, restaurants, gardens, and temples. Unfortunately, it was well past 5 PM so we couldn't visit any of the temples or shrines. I would have especially loved to see the Tenryuji Temple, considered one of Kyoto's five great Zen temples and a UNESCO World Heritage Site. 🙁
Cherry blossom tree overlooking the Oi River. This place must be fairy-tale-like in late April or fall.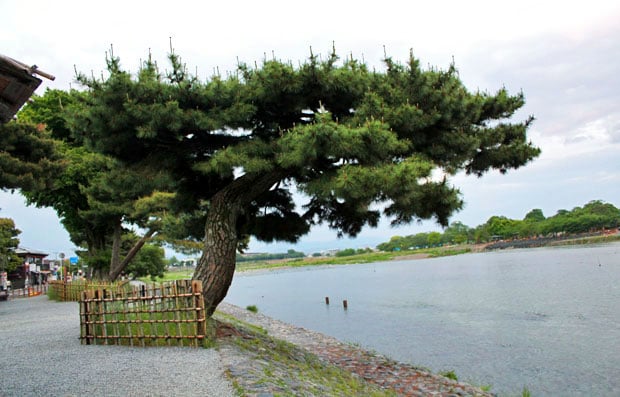 Ren whispering sweet nothings in my ear with Togetsukyo Bridge as the backdrop. Meaning "Moon Crossing Bridge" in Japanese, Togetsukyo is Arashiyama's central and most iconic landmark. In the fall, those mountains in the back erupt with color, kinda like my face here. 😳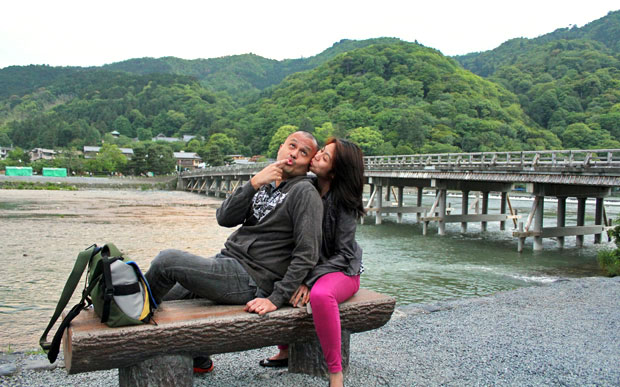 Though happy to visit the bamboo groves, we were sad to say goodbye to a place we had just met, especially one with as much character and charm as Arashiyama. I really would have loved to spend a few more hours here just exploring the place.
If you're planning a trip to Kyoto and have enough time to spare, then I highly recommend spending at least half a day here, on bikes preferrably. It's the ideal setting to enjoy nature and while away the time, leisurely biking from temple to temple. And as the day draws to a close, make these bamboo groves your final stop. The light here is beautiful during the golden hour. The crowds are thinner too.
A mystical setting straight out of a storybook, rarely have I seen a place as picturesque and otherworldly as this. Leaves whispering, the culms swaying gently in the wind, bursts of sunlight peeking through the bamboo, it truly is a magical place.
For more on the bamboo groves and Arashiyama, CLICK HERE.
Arashiyama Bamboo Groves
Togetsukyo, Saga, Ukyo-ku, Kyoto, Kyoto Prefecture 616-8383, Japan
Operating Hours: Always open
Admission: FREE
Suggested Length of Visit: 30 mins – 1 hour
HOW TO GET THERE:
The fastest way to get to Arashiyama from Kyoto Station is by the JR Sagano Line (15 minutes, ¥240). From there, it's a 5-10 minute walk to central Arashiyama. CLICK HERE for more information.