Bacolod Chicken Parilla Revisited
Bacolod Chicken Parilla is located on the corner of Sct. Gandia and Sct. Reyes in Quezon City. Tel: 371-8522.
16 April 2011. 132 days. If memory serves me correctly, that's how long it's been since our last meal at Bacolod Chicken Parilla. We used to come here regularly every Friday to get our inasal fix. But since the rebirth of this blog, we hadn't been back until last night.
Ren's cousin and favorite drinking buddy Sep texted us asking what we were up to, so we decided to take him here to sample what in our opinion was the best inasal in town. This also gave me the opportunity to write this long overdue revisited review.

Paa (leg & thigh) – PHP 80 / Pakpak (wing) – PHP 75 – What you see here are 2 orders of paa and 1 order of pakpak (3 wings per order).
Simply the best. Without exaggeration, Bacolod Chicken Parilla serves the tastiest, juiciest inasal in town.
The marinade is just right with a slight tangy flavor that's highlighted by the sinamak, soy sauce, chicken oil, calamansi and chili dipping sauce. The meat stays tender and juicy with some parts charred from the grilling process. Absolutely delicious.
Another thing that's great about this place is that unlike many inasal chains, you can get sticks of just pakpak or isol (chicken bottoms). Other restaurants that do serve isol often run out, but this place never does, at least in our experience and we've been here countless times.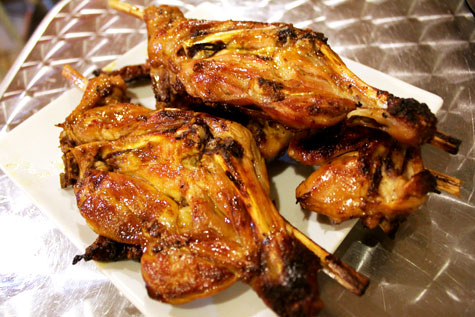 Pork sisig – PHP 110
Aside from serving the best inasal, they also offer one of the best pork sisig dishes I've tried.
Though I do enjoy the crunchy varieties of sisig served at places like Congo Grill, I much prefer this version which is similar to the one served at Trelli's. It isn't crunchy and has a slight tangy flavor, possibly from added vinegar. I normally don't like mayonnaise on my pork sisig as it usually makes it too unctuous, but I don't mind it here. The extra acidity probably has something to do with that as well.
I love eating it with the abovementioned DIY dipping sauce and their garlic rice teeming with little bits of crunchy toasted garlic. Add a drizzle of chicken oil to the rice, mix it up and you're goood to go. Yum yum yum!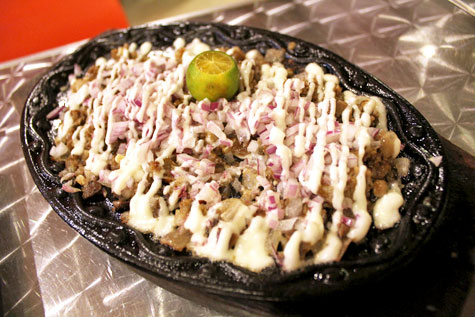 It's good to see that Bacolod Chicken Parilla is as good as ever. The place was packed the entire time we were there, with a turnover of around 2-3 seatings per table. With inexpensive, familiar food that's this good and ice-cold SMLs for only PHP 35/bottle, their popularity and success come as no surprise.
After this experience (or should I say reminder), we realized that 132 days between visits is way too long. Ren asserted that she wants to eat here regularly again as a reward for cooking me up all those fabulous Reneelicious Recipes.
Hey sweetheart, reward or no reward, that's just fine by me. 😉
JB is one half of Will Fly for Food and its chief itinerary maker.  He's the one to blame for all the crappy photos and verbal diarrhea on this blog.  Don't listen to him.
Latest posts by JB Macatulad (see all)