We went on a week-long tour of Northern Kyushu earlier this year. We wanted to explore as much as we could in the limited time we had so we moved around quite a bit, staying no more than two nights in any one place. Moving from city to city by bus, always departing early in the morning, it was important for us to find hotels that were near each city's bus station. In Japan, seats on highway buses need to be reserved and paid for in advance, so we couldn't afford to miss any of our connections.
In Nagasaki, that hotel near a bus station turned out to be a hostel named Hostel Casa Noda Nagasaki.
Hostel Casa Noda Nagasaki
We arrived in Nagasaki by highway bus from Fukuoka. The hostel is around a 10-15 minute walk from Nagasaki Station.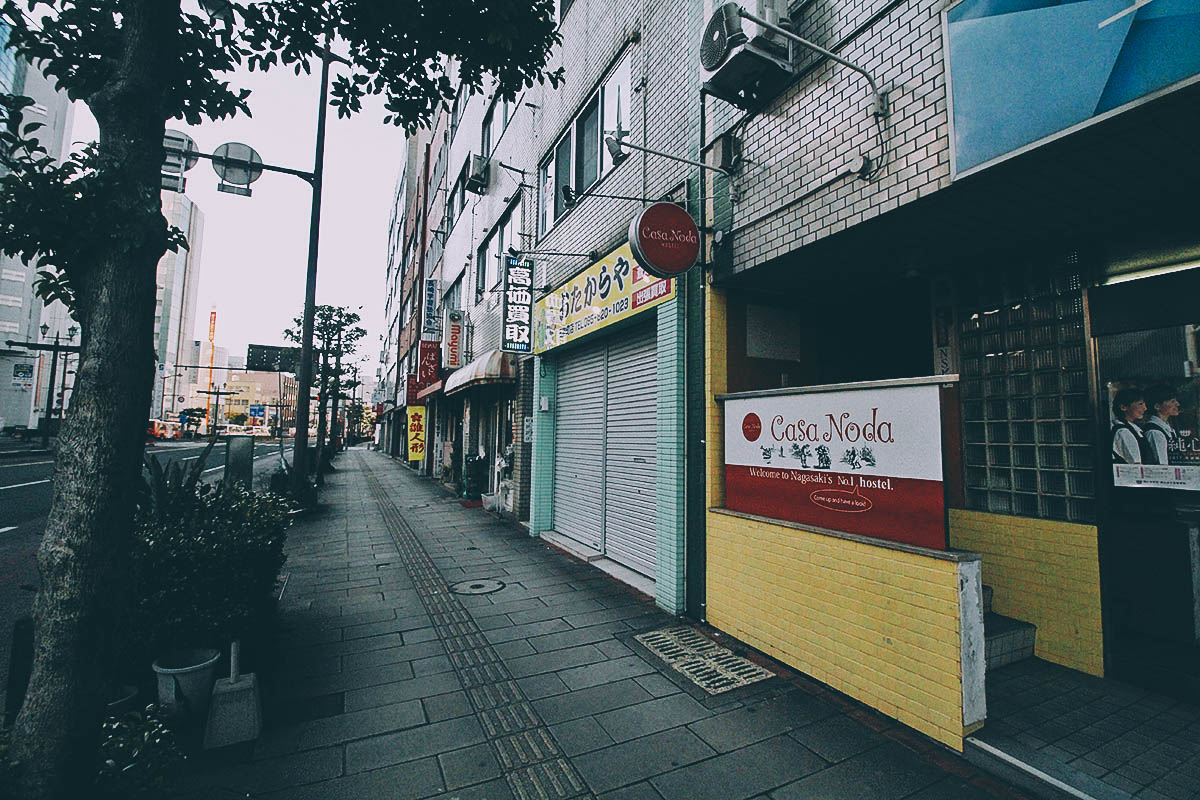 Common Area
Hostel Casa Noda Nagasaki caters mainly to backpackers though they do have a couple of private rooms available. This common area is where travelers can mingle and show off their latest travel scars. There's even a hammock there on the right.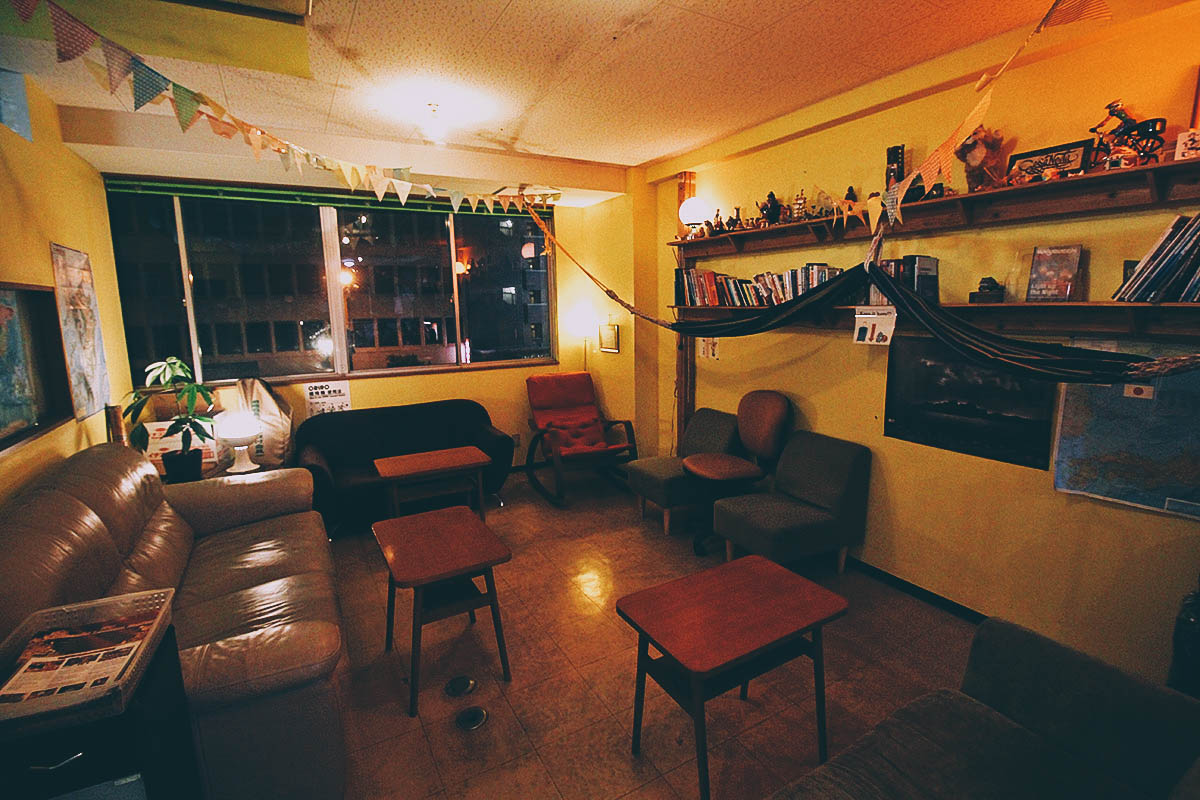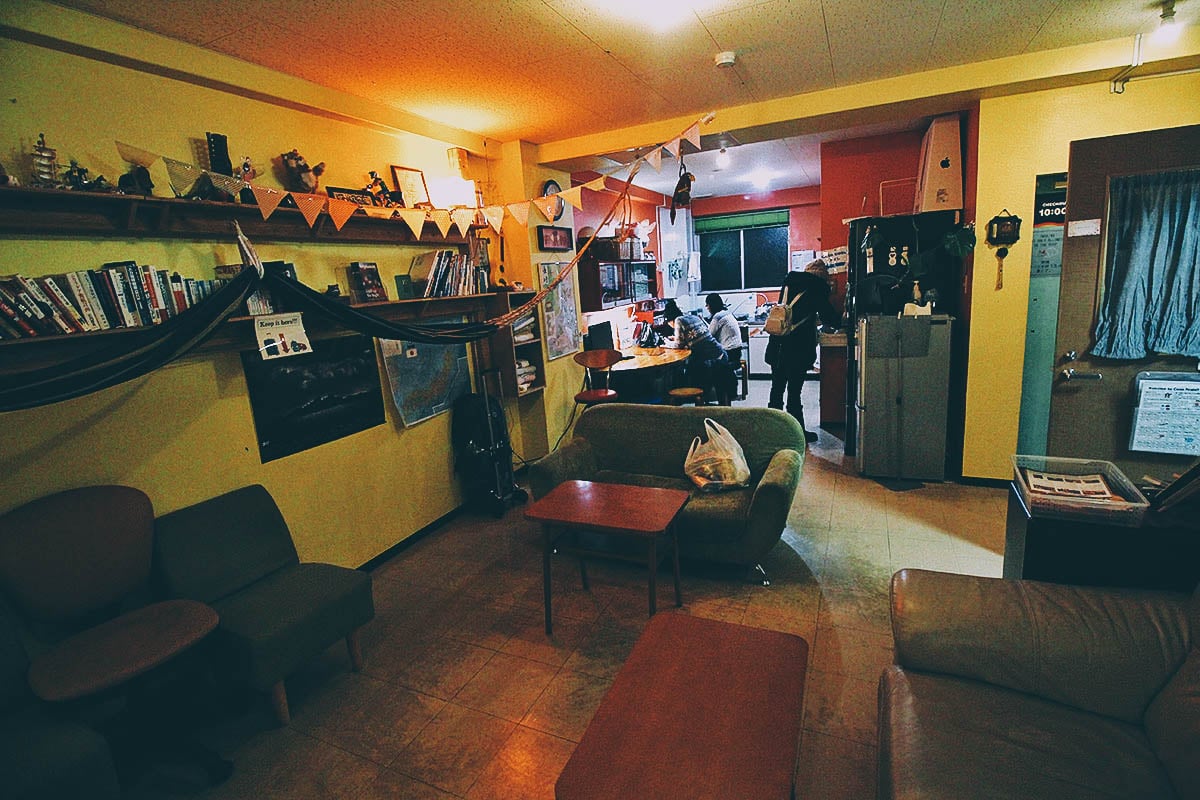 Workstation with computer and kitchen. We didn't avail of it but I believe basic breakfast like toast and eggs are included in the room rate.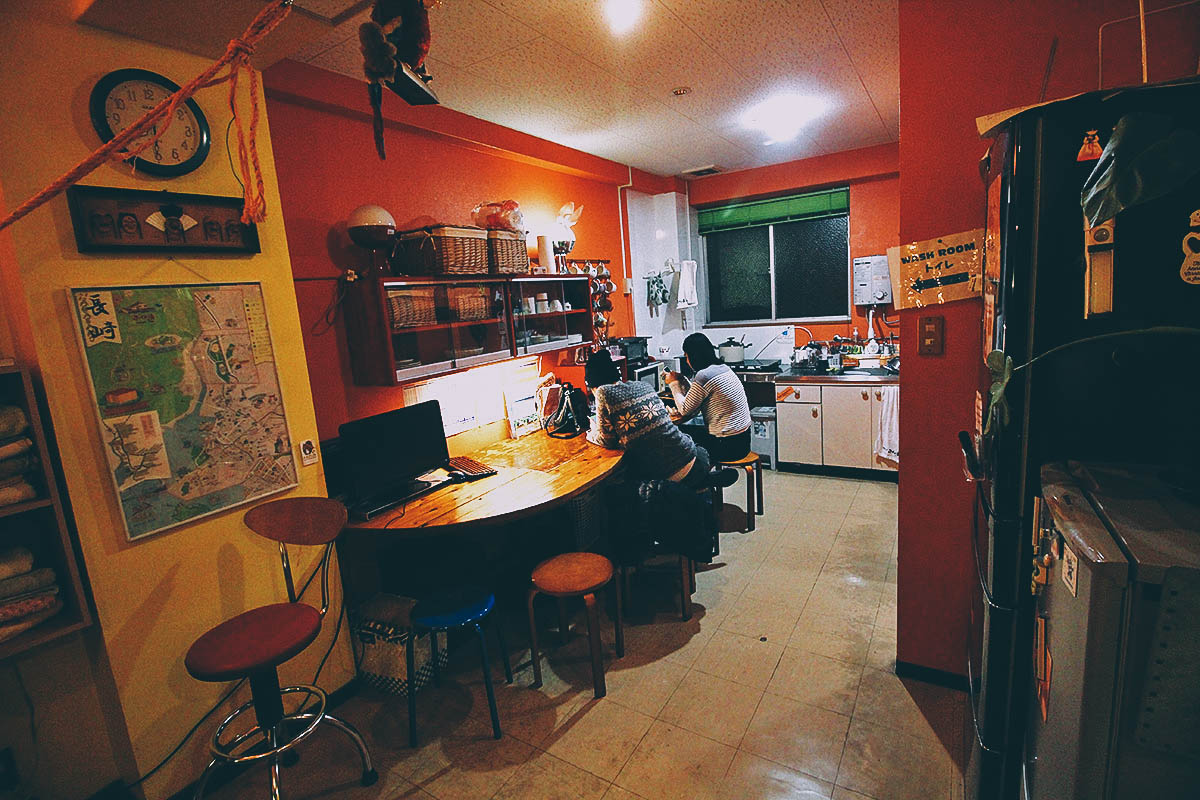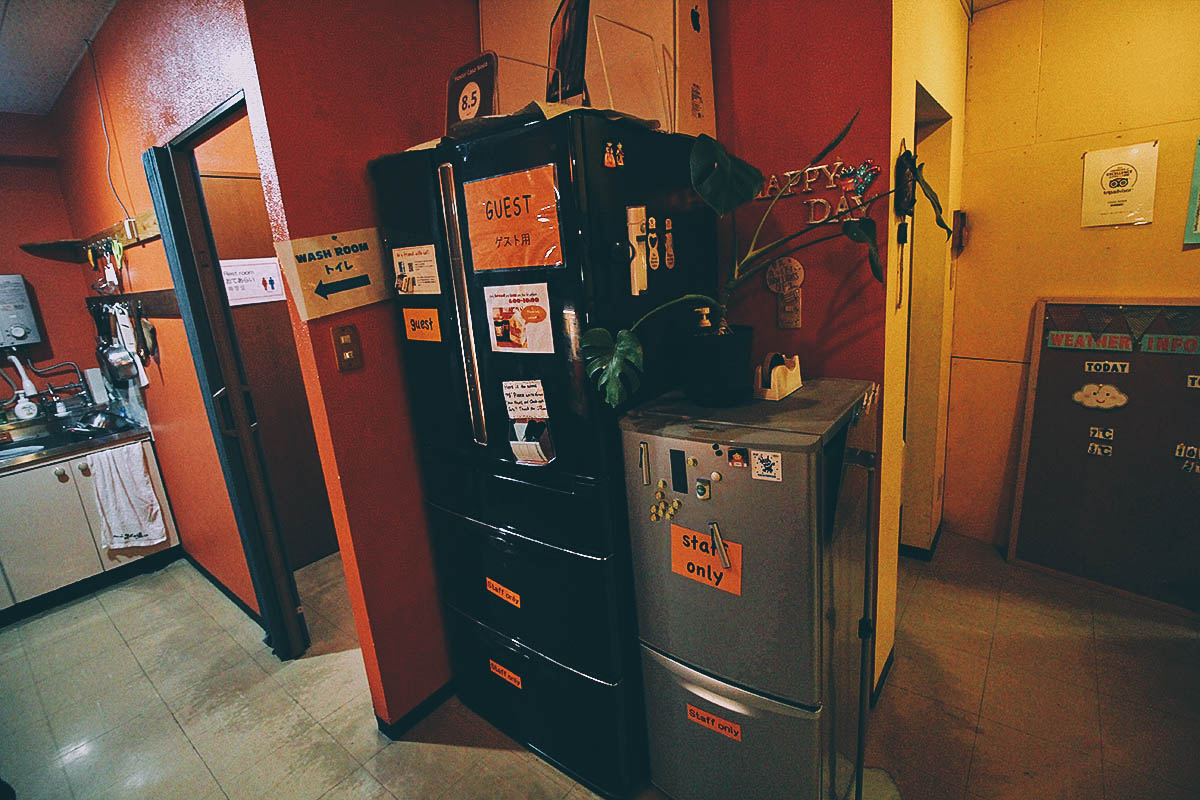 Towels aren't included, even with private rooms, so you'll have to rent them for JPY 100 apiece. I guess this is standard practice at hostels. You can grab a towel from the rack after sticking your coin in the cat. Wait…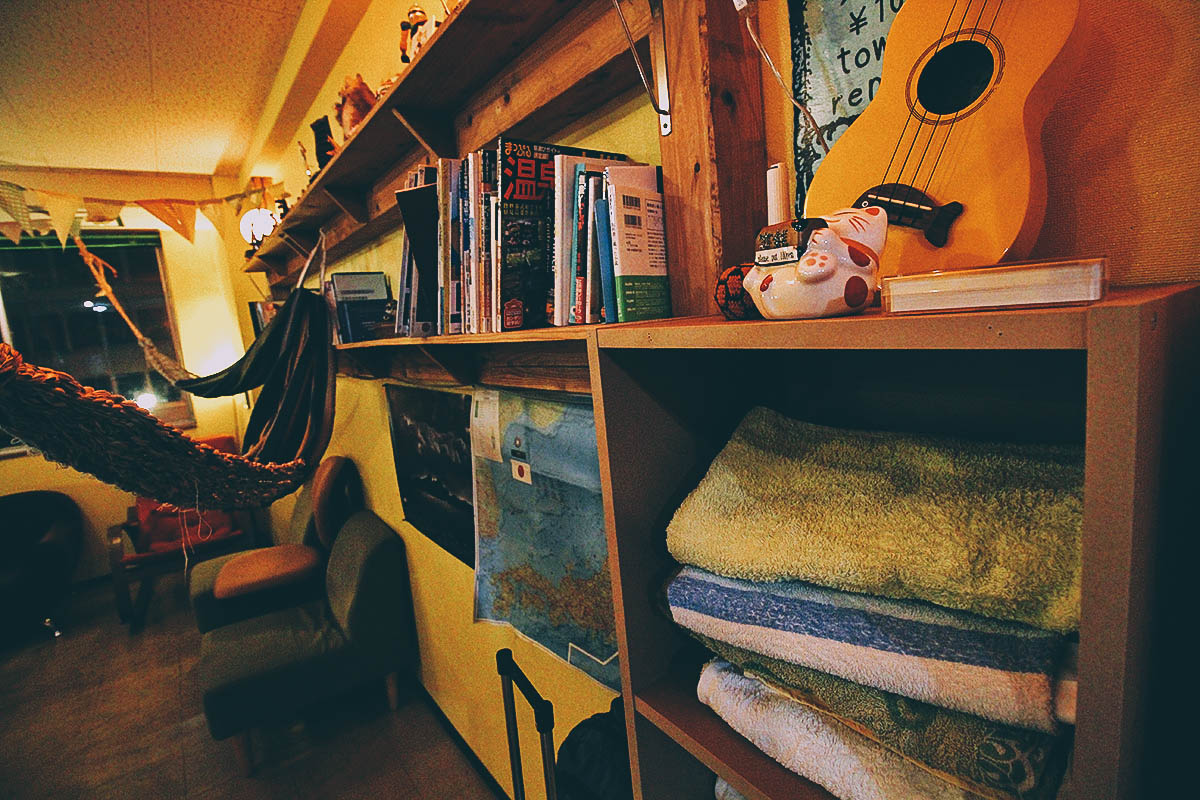 Private Room
This was one of two private rooms at the top floor of the hostel. We were pretty happy with our room. Shaped like an "L", it was big and had two single beds. Like the hostel we stayed at in Fukuoka though, Hostel Casa Noda Nagasaki doesn't have an elevator so I had to carry our luggage all the way to the top! This time was even worse because I had to lug them up four or five flights of stairs. 😡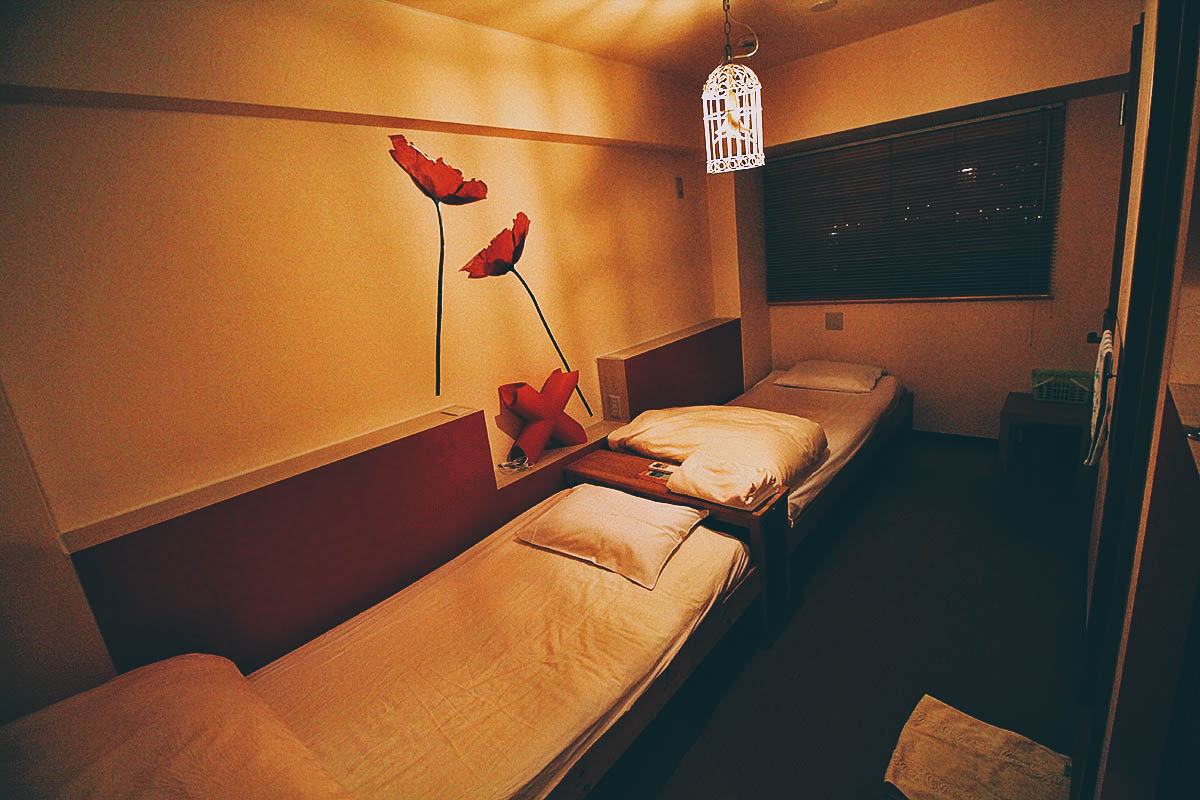 The toilet and shower room are separate which was convenient. Don't you just love how the Japanese figure out ways to maximize space? The back of the toilet doubles as a sink.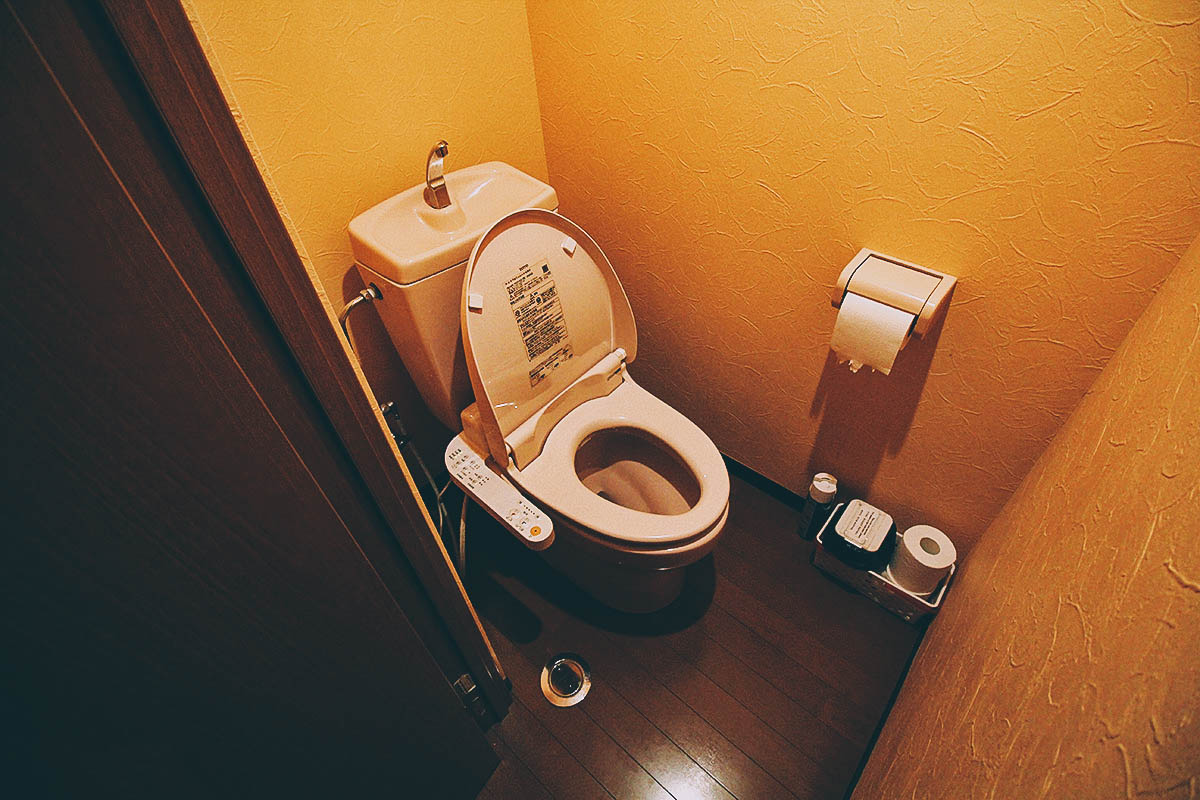 Shower with bathtub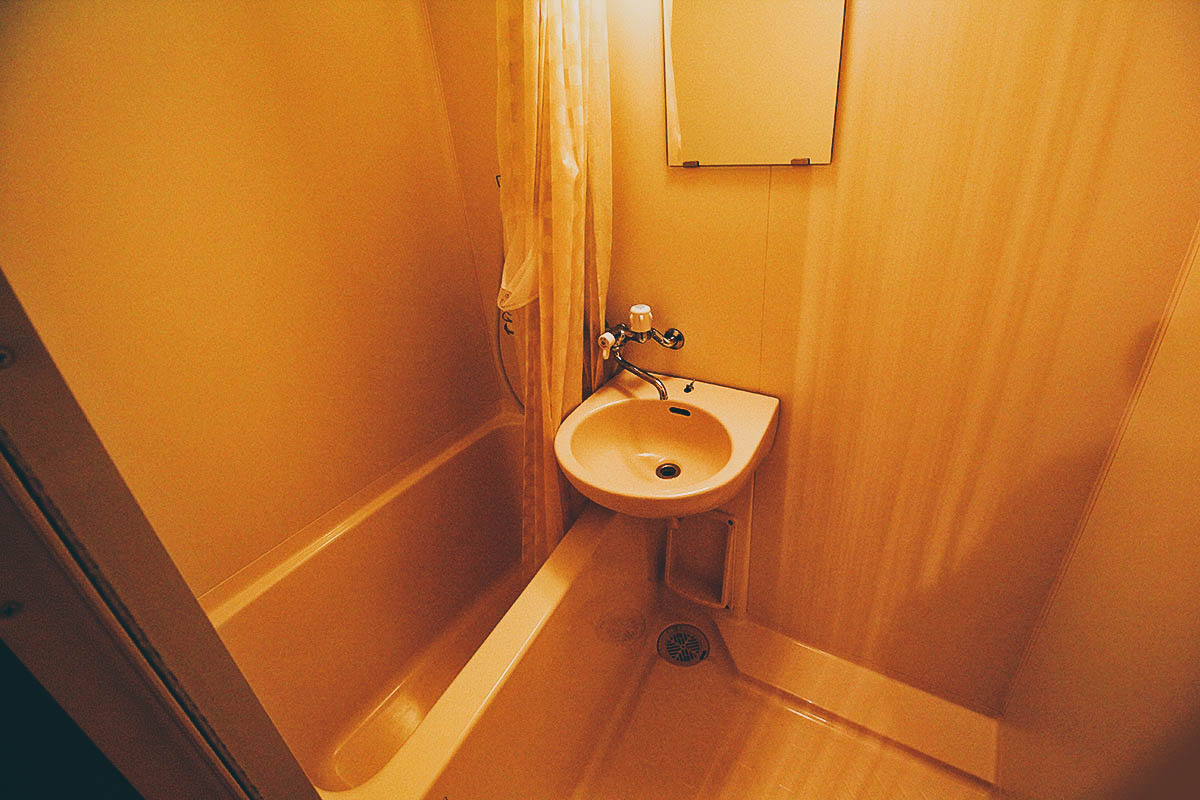 Laundry Area
The two private rooms are at the very top floor, next to a door leading out to the roofdeck. There's a washing machine up here and drying racks if you need to do laundry.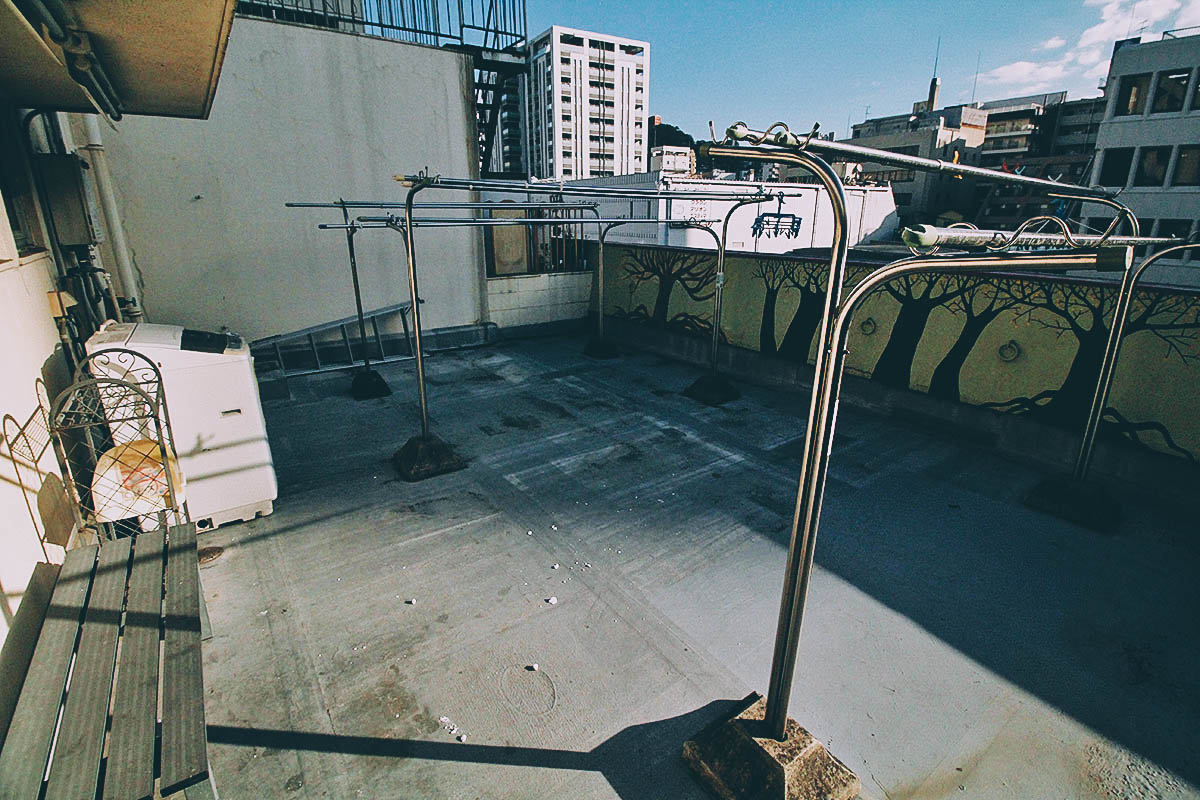 Hostel Casa Noda Nagasaki may have private rooms but it really is geared towards backpackers. We paid USD 53 a night for our private room in February 2017. Not bad. I think a bed in one of the dorm rooms start at around USD 23 with breakfast included.
If you're young and looking to meet other travelers, then Hostel Casa Noda Nagasaki is a good place to stay. They have solid ratings all around – 8.5 on Agoda and Booking.com and 4.5 on TripAdvisor. But if you're closer to our age and want more comfort, then it's probably best you stay in a real hotel. Business hotels are a good choice in Japan. They aren't that expensive and have rooms much nicer than private rooms at hostels. Here's an example of a good business hotel in Fukuoka.
If you'd like to make a reservation at Hostel Casa Noda Nagasaki, then you can do so through Booking.com or Agoda. Prices often vary so be sure to check both sites to find the best deal. You can browse through those links for other listings in Nagasaki as well.
Hostel Casa Noda Nagasaki, Nagasaki, Japan
〒850-0035 Nagasaki Prefecture, Nagasaki, 元船町6−1 NSビル
Tel: +81 95-800-2484
Website: casanoda.jp
APPROXIMATE ROOM RATES: (as of February 2017, with breakfast)
Private room with bathroom: USD 53 per night
Bed in dormitory room: USD 23 per night
HOW TO GET THERE:
If you're arriving via Nagasaki Station, then you can walk south along the main road to Hostel Casa Noda Nagasaki. It's about a 10-15 minute walk and the hostel will be on your right. If you'd rather not walk, then you can take the streetcar to Gotomachi Station. The stop is almost right in front of the hostel.
MAKE A RESERVATION: Booking.com | Agoda
Disclosure
Some of the links in this post are affiliate links, meaning we'll get a small commission if you make a purchase at NO extra cost to you. We really appreciate your support as it helps us keep this website going. Thank you!
For travel tips to Nagasaki, check out our First-Timer's Travel Guide to Nagasaki, Japan