Chalk this place up as one of the reasons why Nagasaki, for me, is one of the oddest cities we've ever been to in Japan. By odd, I mean it's the most un-Japanese city we've visited so far. For many Westerners, that might actually make it the most "normal".
I've come to love the oddities that make Japan what it is, but you won't find any of that here. There are no giant robots or mechanical crabs. Instead, you'll find Catholic churches and Western-style buildings, many of which are the oldest in the country. They can be traced back to Nagasaki's prominence as a port city throughout much of its history.
It was a center of Portuguese and Dutch influence from the 16th to the 19th centuries during which it was the only port in Japan open to foreign trade. When Japan reopened its doors to diplomatic relations during the Meiji period, Nagasaki was declared a free port which then created a flourishing community of British, Dutch, American, and Russian traders.
The effect this influx of foreign influences had on Nagasaki's culture is evident today. We noticed it in their food and in the architecture. Sometimes strikingly un-Japanese, it felt at times like we were in a different country. Glover Gardens, one of Nagasaki's most visited attractions, is one such place.
Glover Garden Open Air Museum
Glover Garden is an open air museum that stands on a hill. Its key feature is the Glover Residence, the oldest surviving Western-style house in Japan and one of Nagasaki's most popular tourist attractions.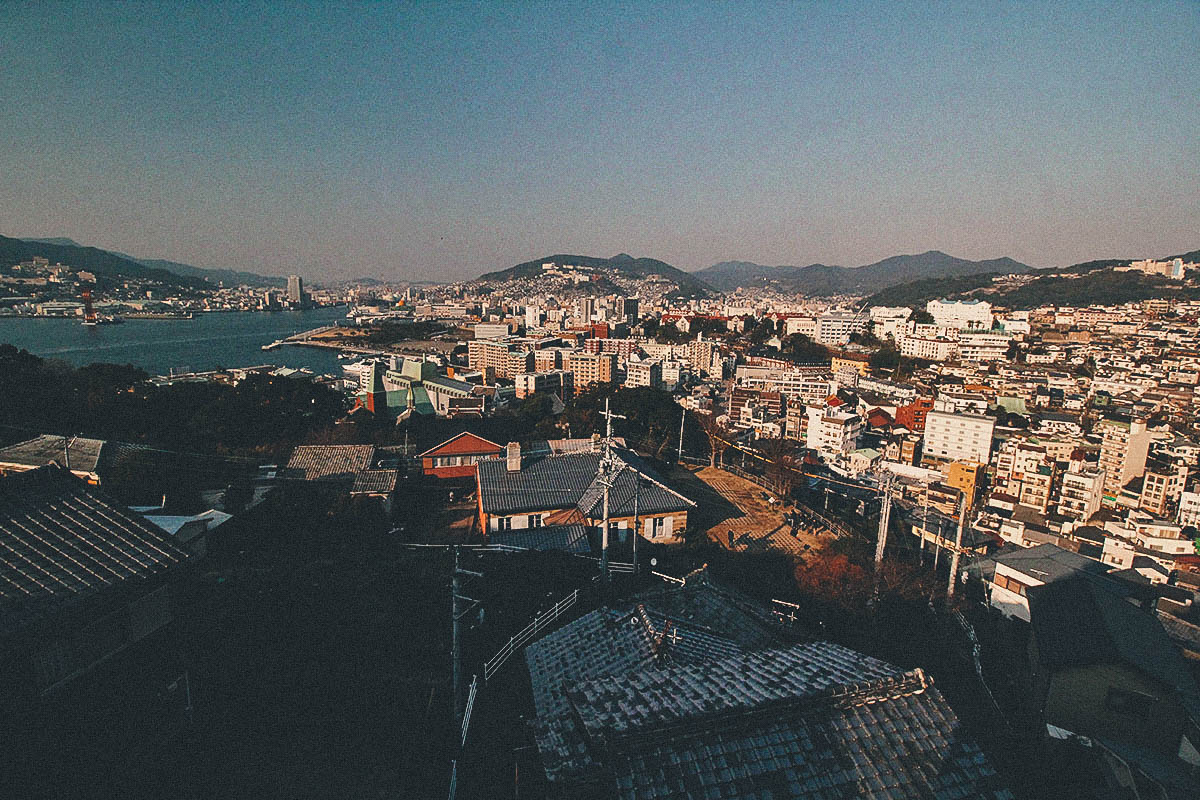 We entered the garden from the top of the hill via an escalator and made our way down, but I think many people do it the other way around. They start by the entrance right next to Oura Catholic Church. Entrance to Glover Garden is JPY 620.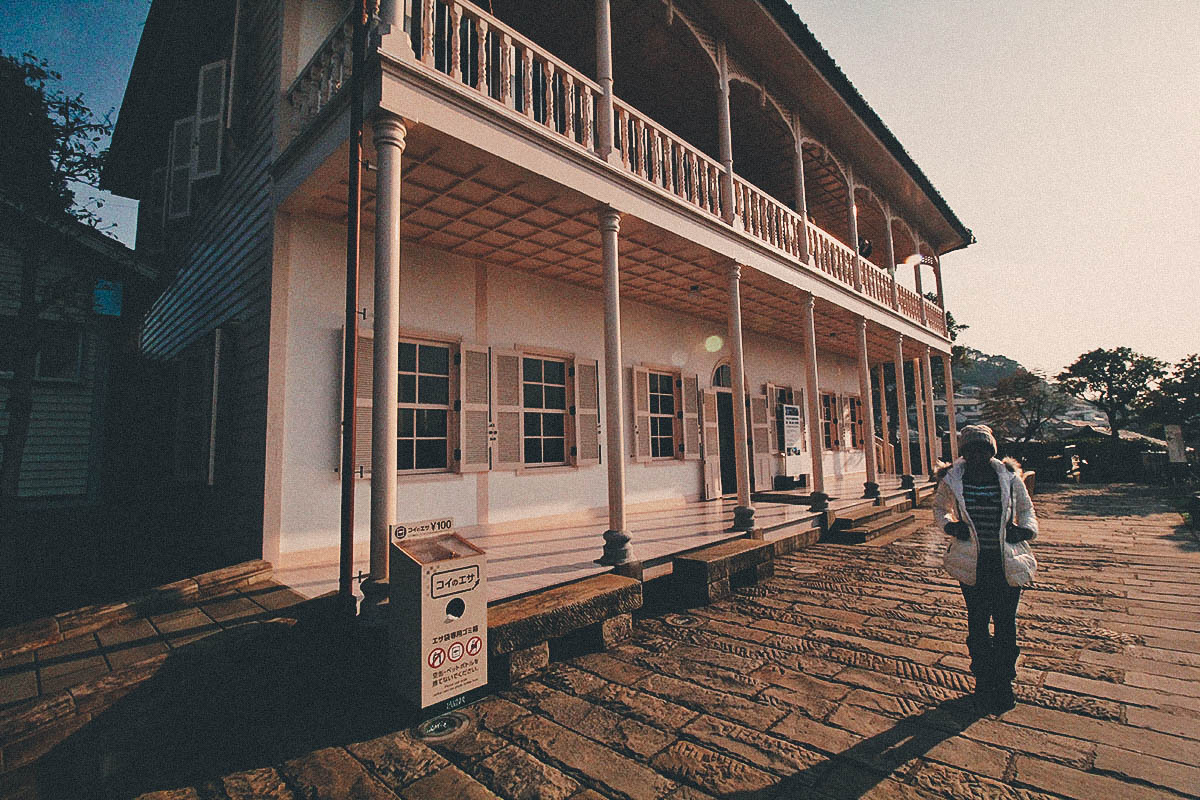 This was taken from the second floor balcony of the building on top of the hill. Known as the old Mitsubishi second dock house, it was used to house seafarers whose ships were docked for repair. You can get some great views of Nagasaki from up here.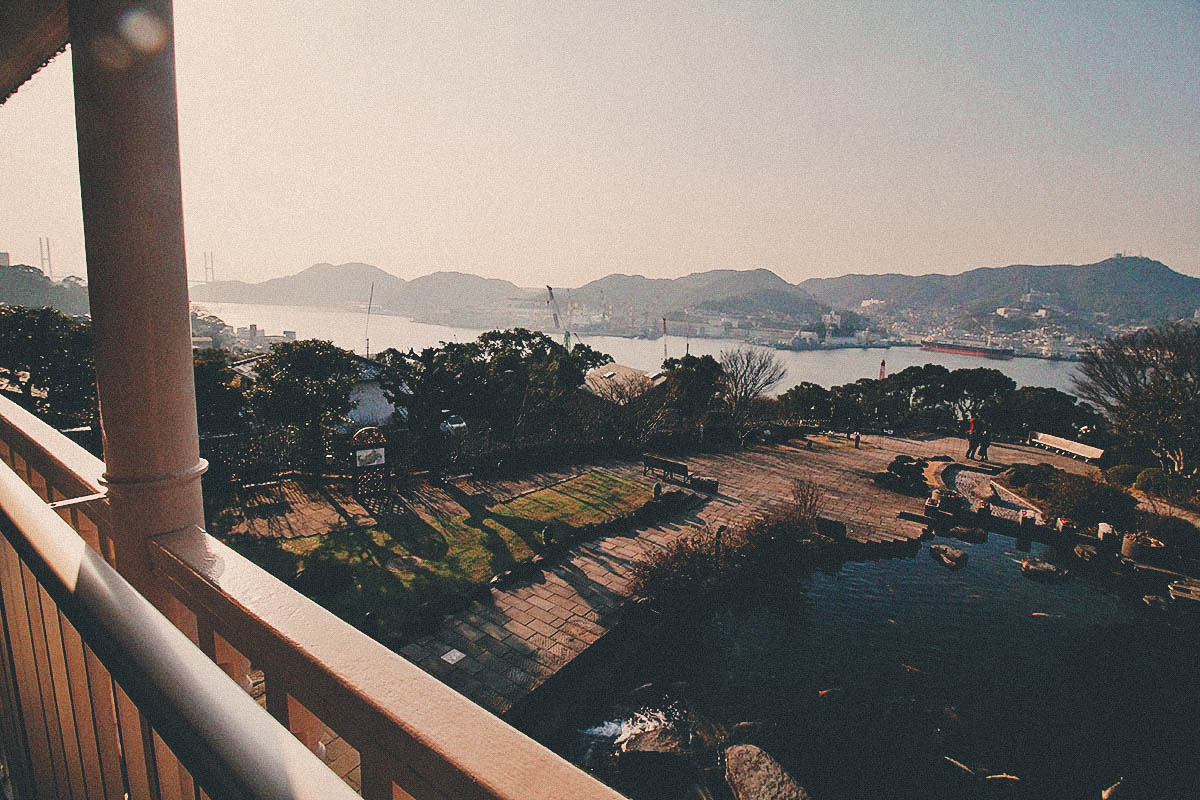 Nagasaki is the most foreign-looking place we've ever visited in Japan. Noted for their blend of Western and Japanese elements, I read that the buildings in Glover Garden closely resemble the one-story bungalows used by foreigners in Hong Kong or Shanghai during that period. This style of architecture was said to have been imported to Japan by British traders.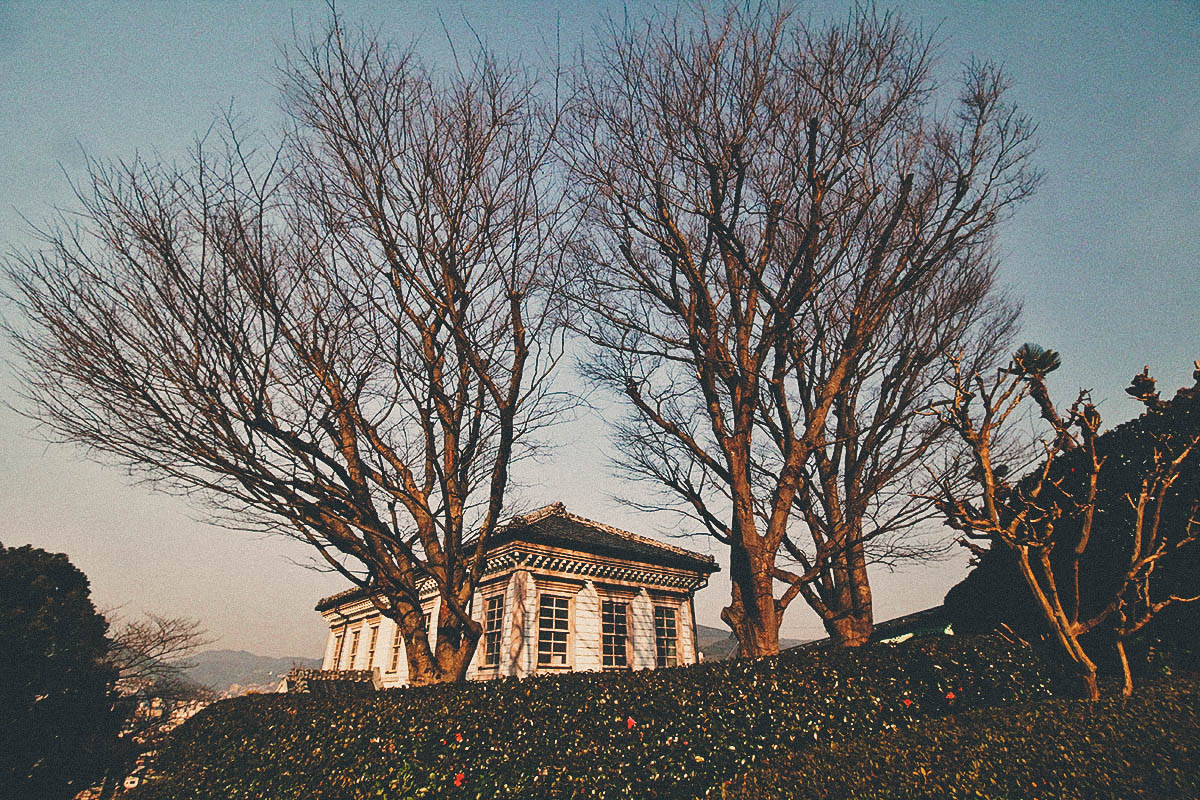 Would you think you were in Japan by looking at this?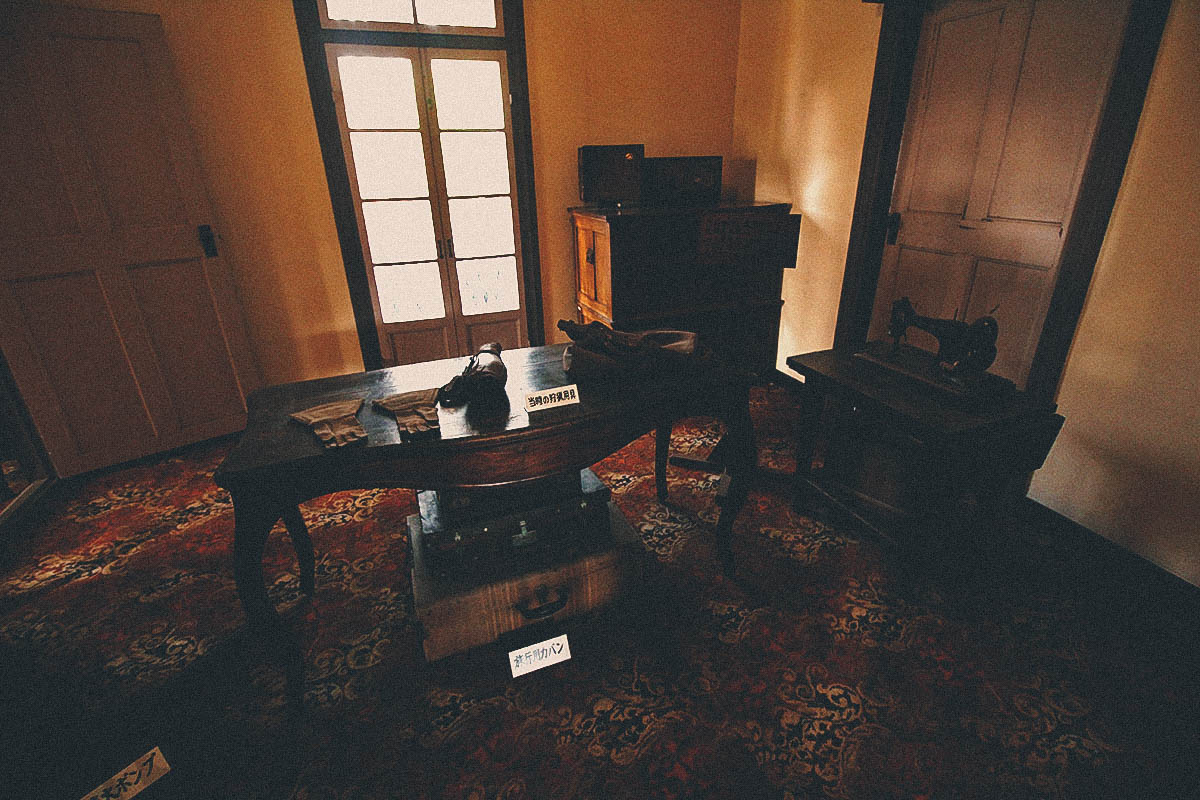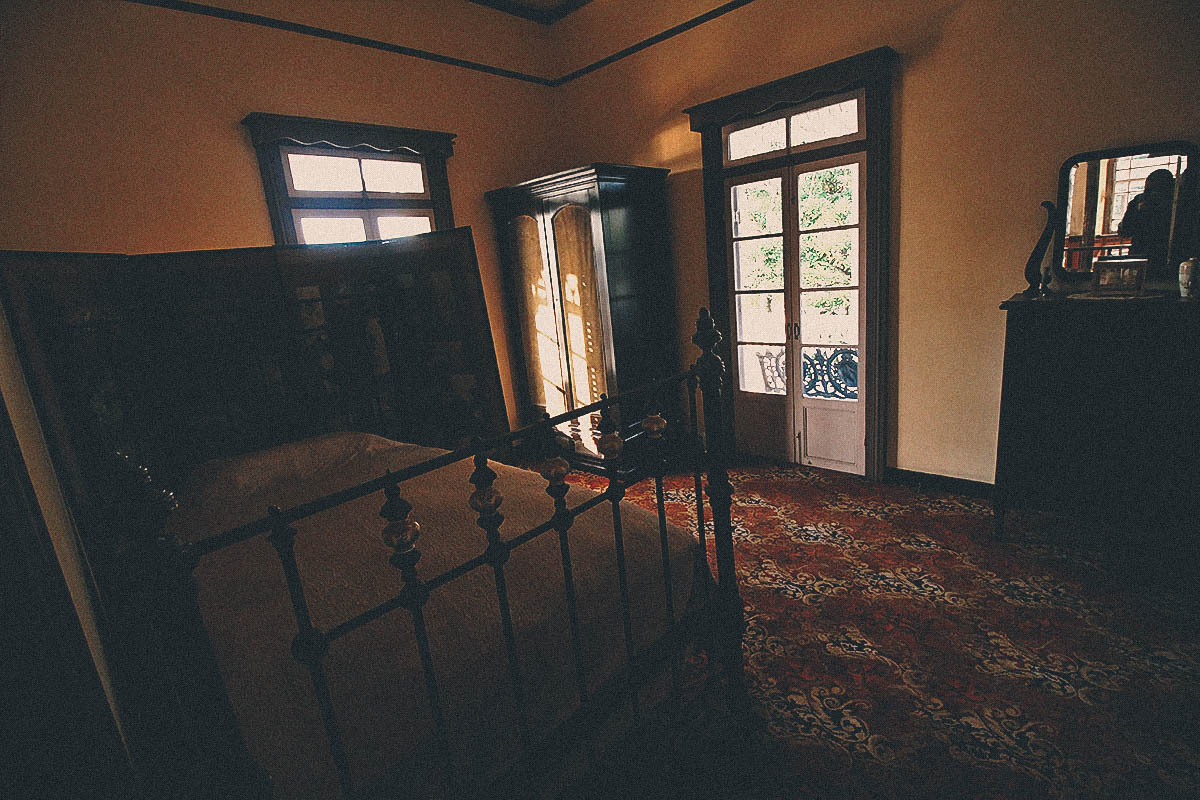 In this building is the Glover Garden Tea House. Built in the early 1900s, it has the distinction of being the first Western-style restaurant to open in Japan. There you can enjoy tea and a slice of castella cake, one of Nagasaki's signature food items.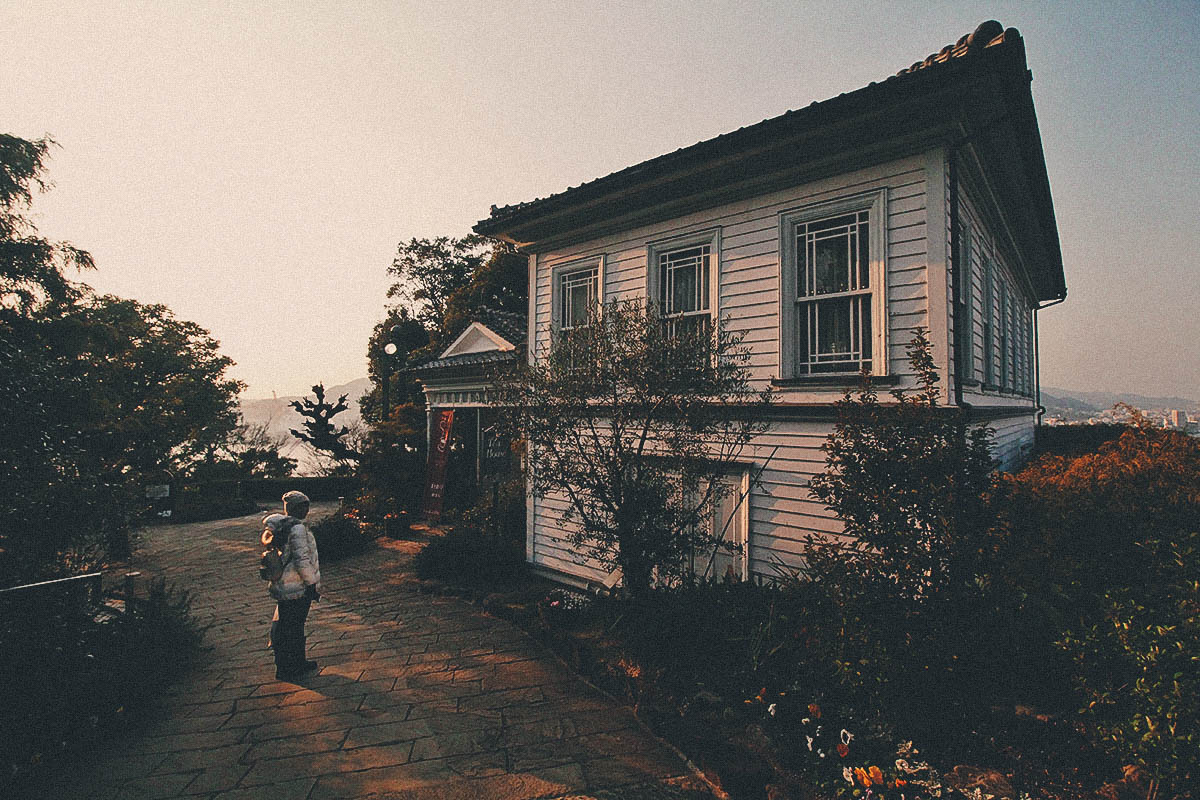 Statue of Giacomo Puccini. The Glover Residence and its surroundings are said to be reminiscent of Puccini's opera, hence its nickname the "Madame Butterfly House". We didn't see it but there's apparently a statue of Tamaki Miura nearby, a Japanese opera singer famed for her role as Cio-Cio-san in Madame Butterfly.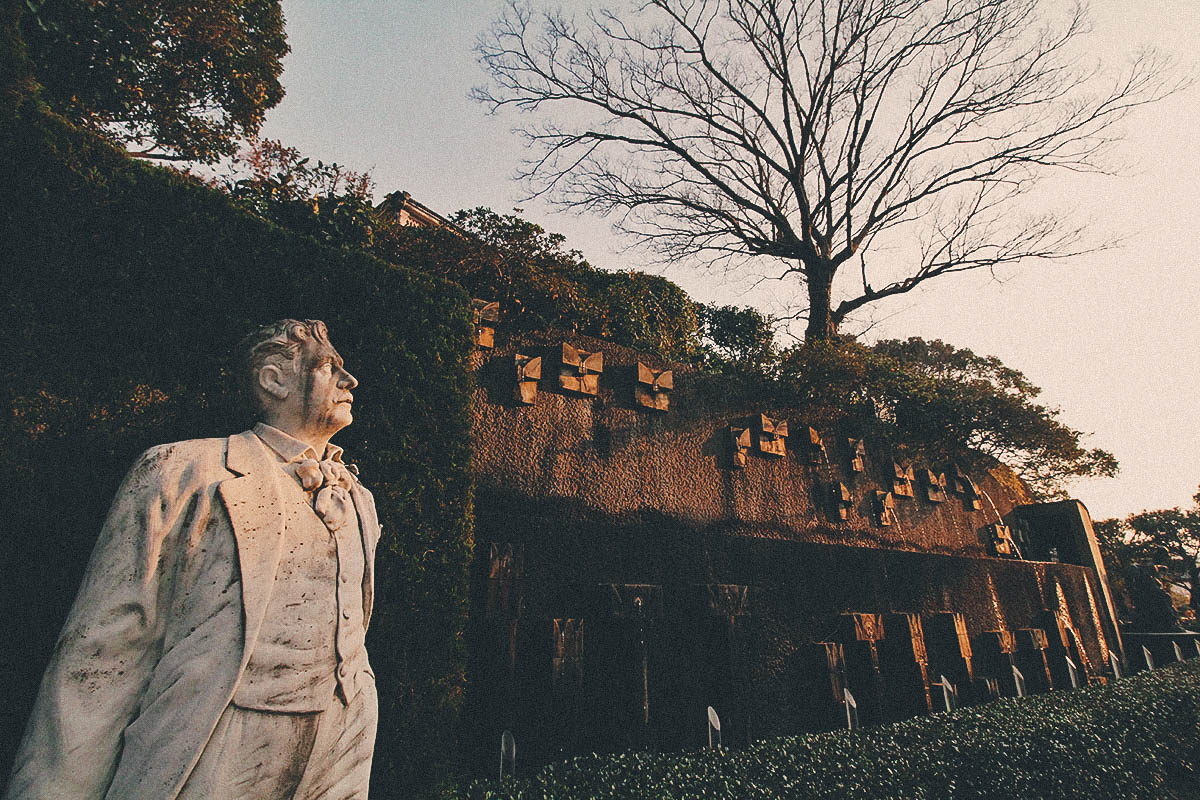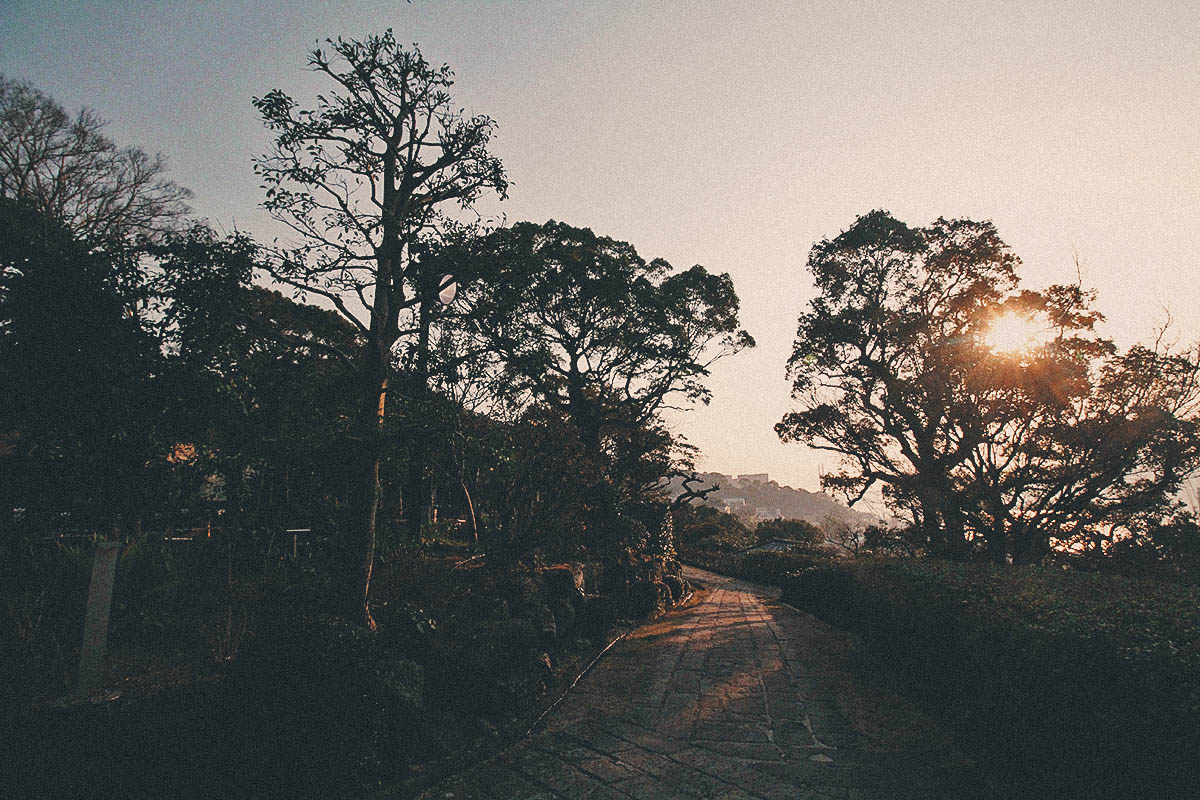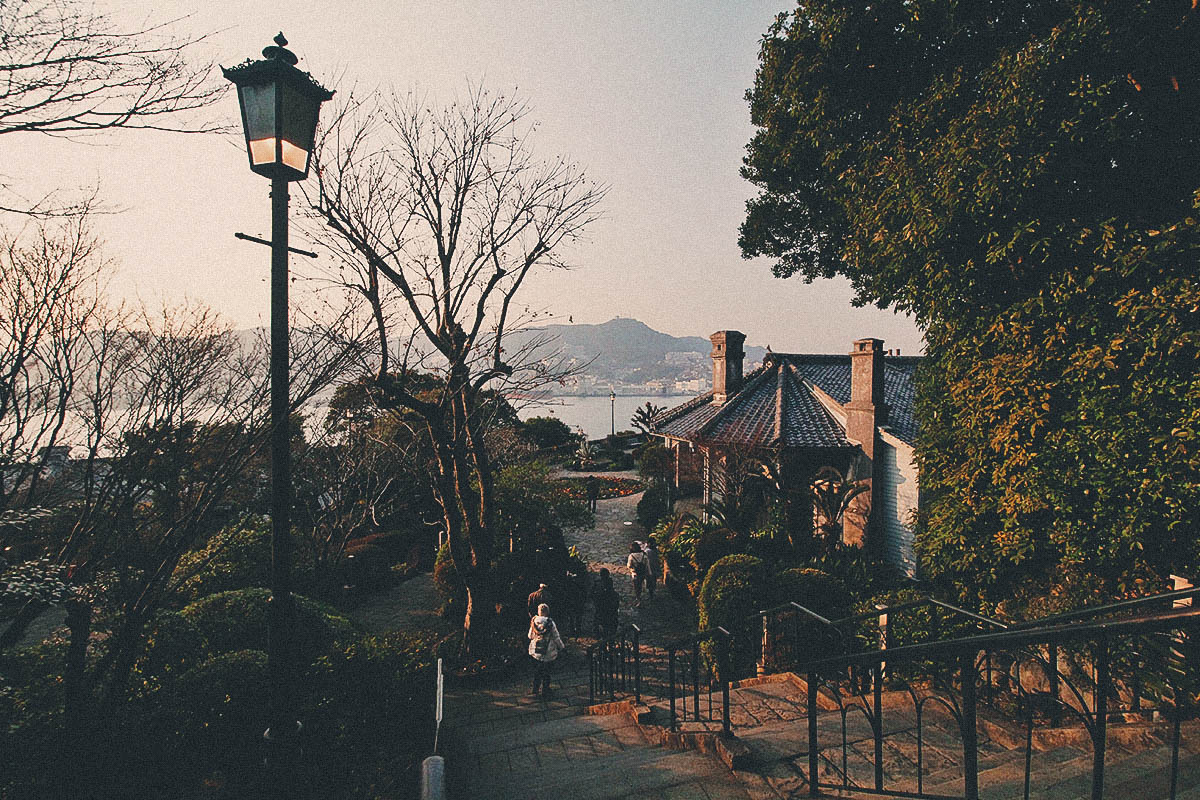 This beautiful structure is the actual Glover residence. Though it may look foreign, its basic construction is Japanese. Note the Japanese tiled roof.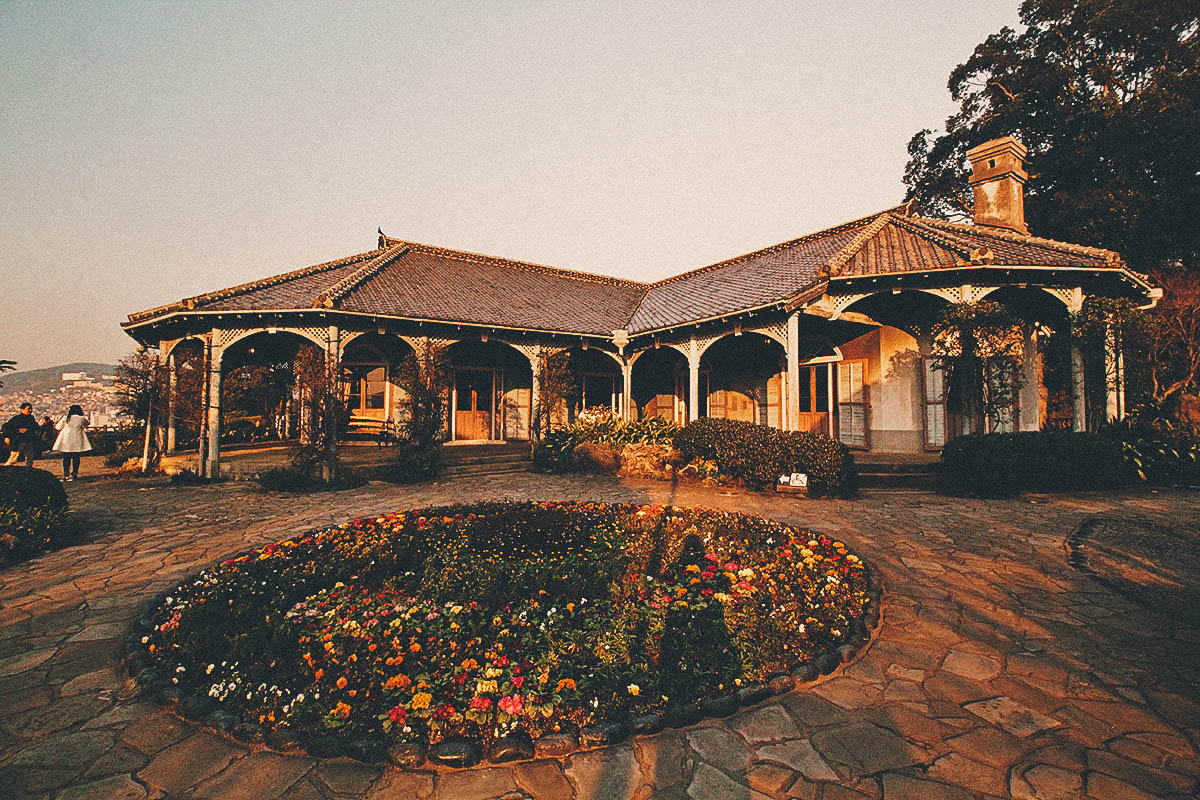 Inside the house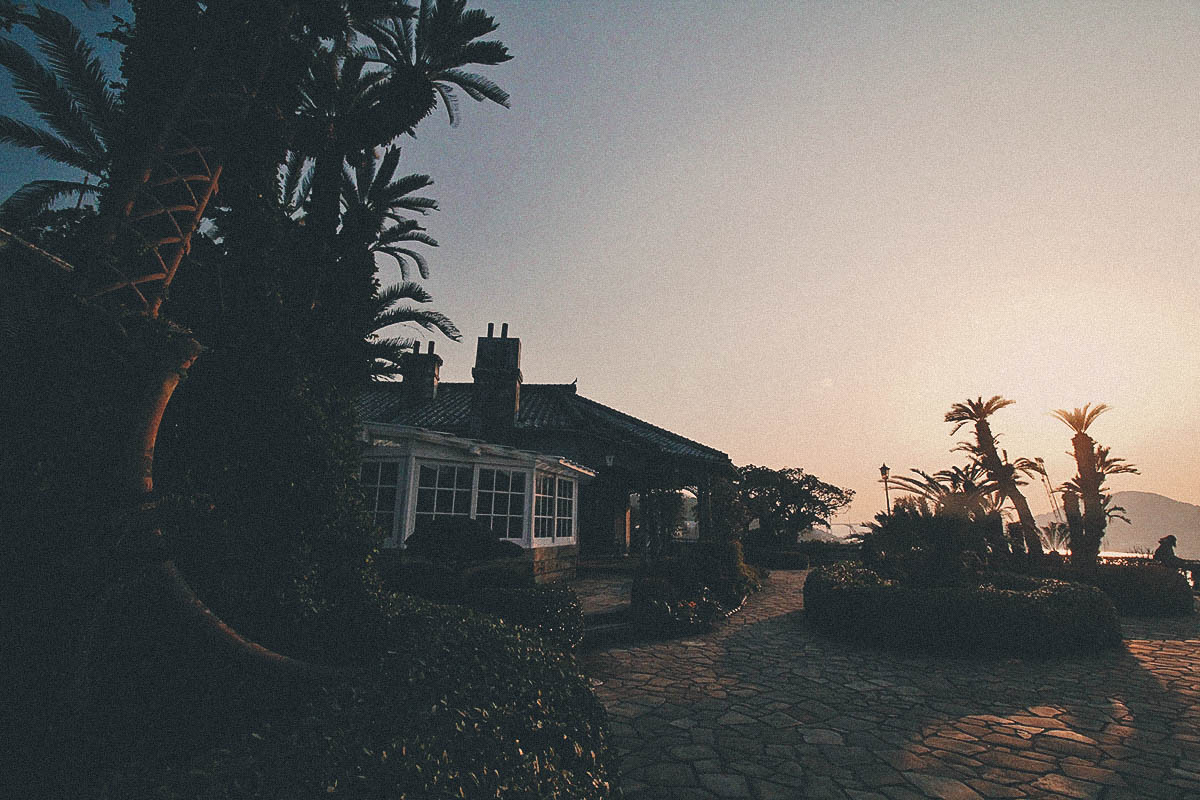 A bust of Thomas Blake Glover after whom this museum is named. Glover was a Scottish merchant who was a key figure in the industrialization of Japan. He's credited for his role in the foundation of a shipbuilding company now known as the Mitsubishi Corporation, as well as helping establish the Japan Brewery Company which later became known as the Kirin Brewery Company.
In fact, there's an urban myth claiming that the mustache on the mythical creature on Kirin beer labels was added in homage to Glover.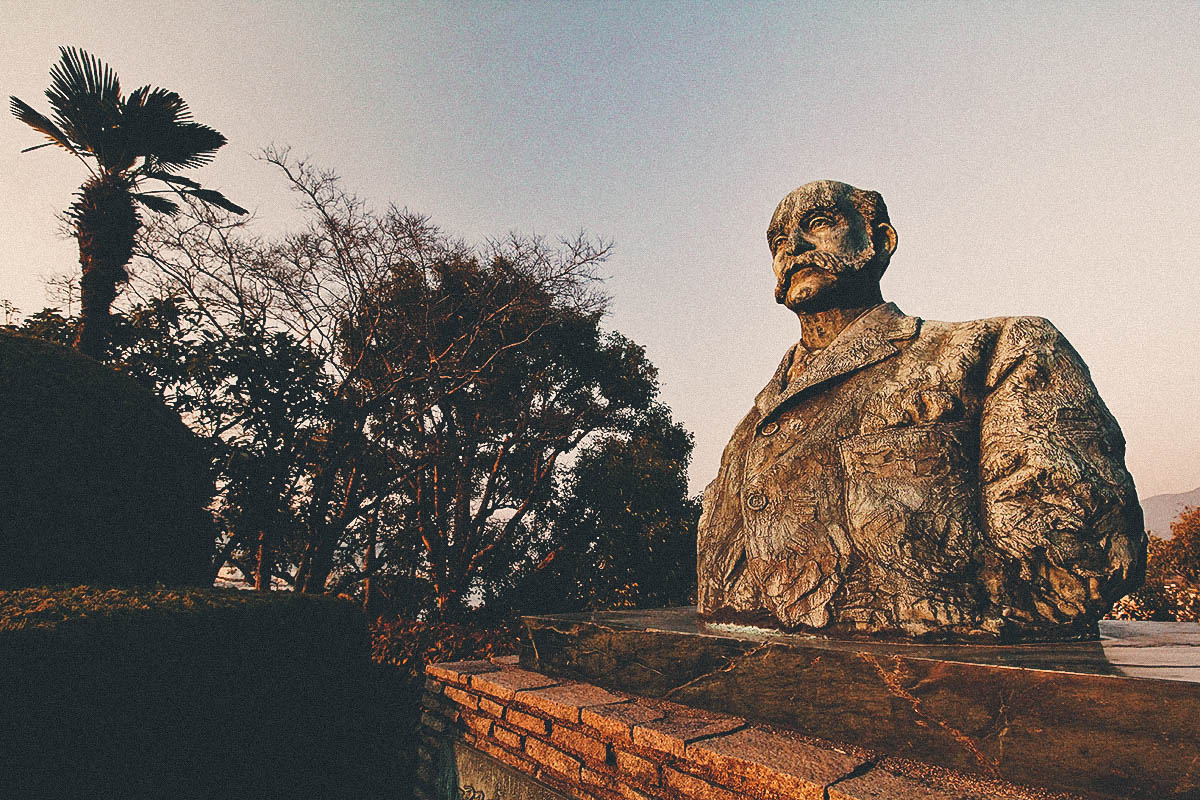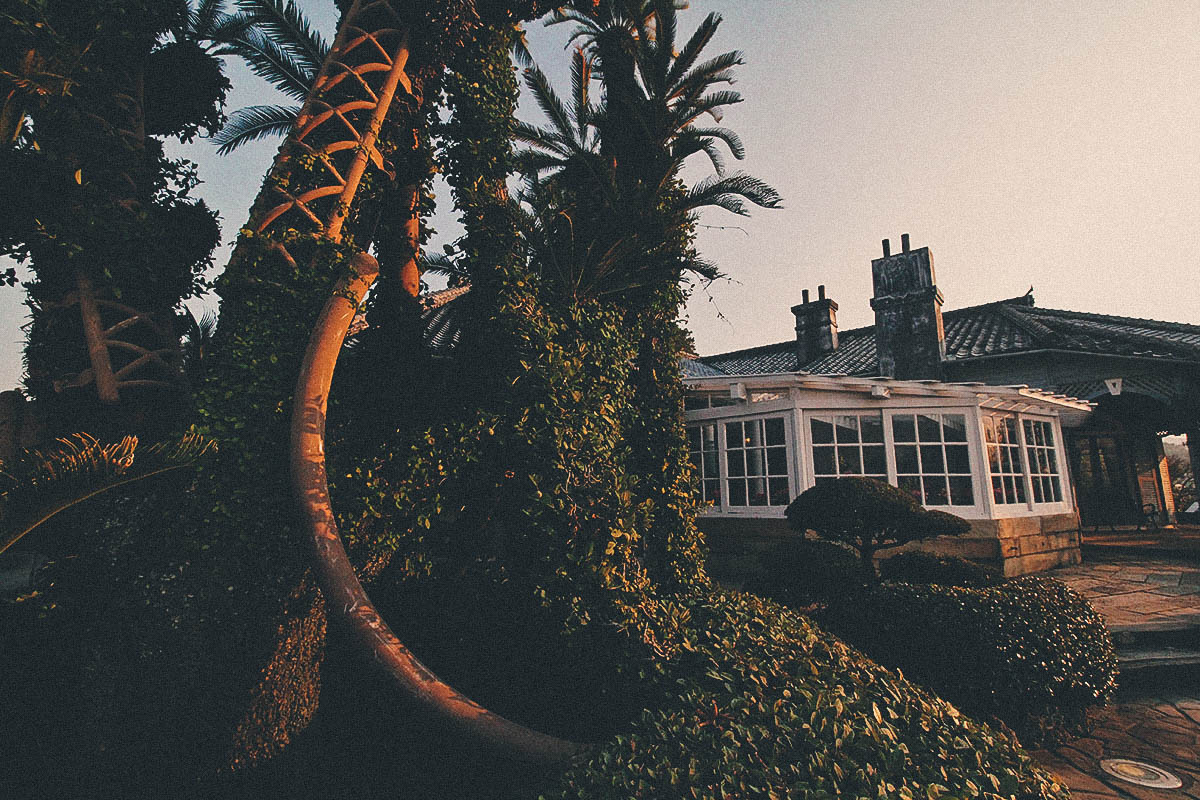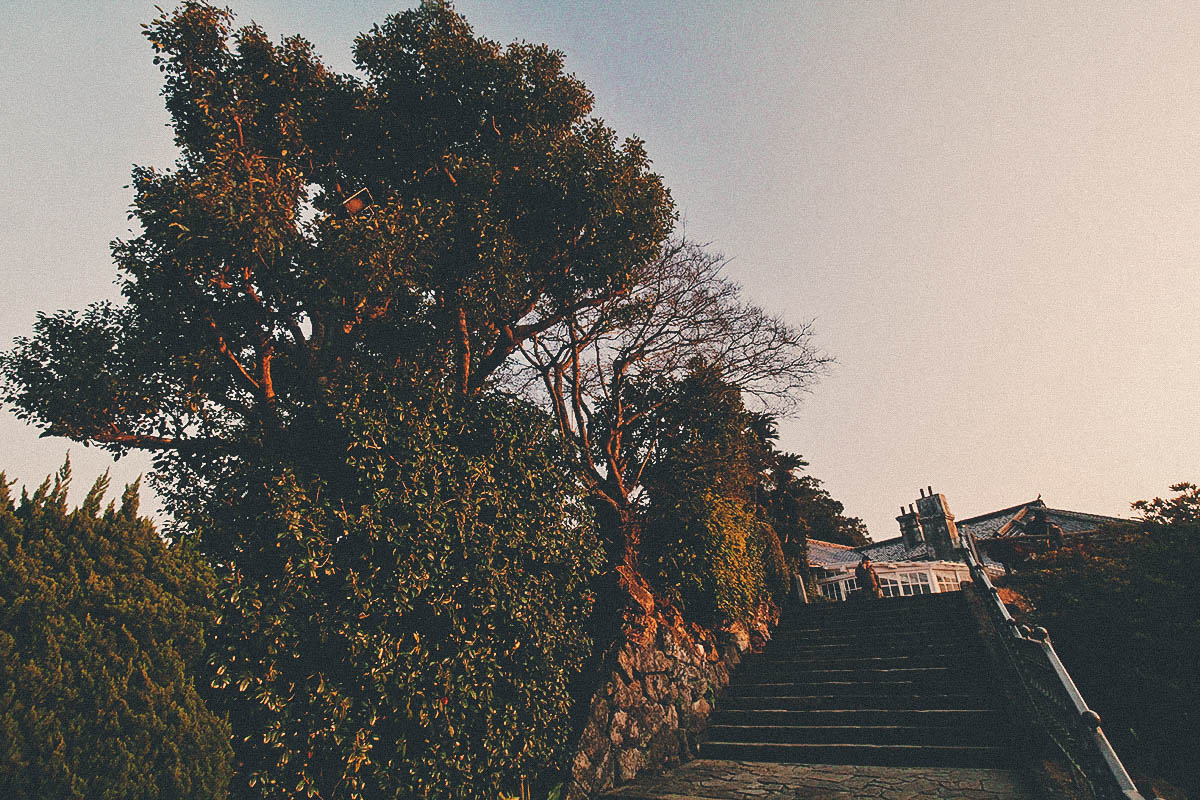 The gardens here are wonderful.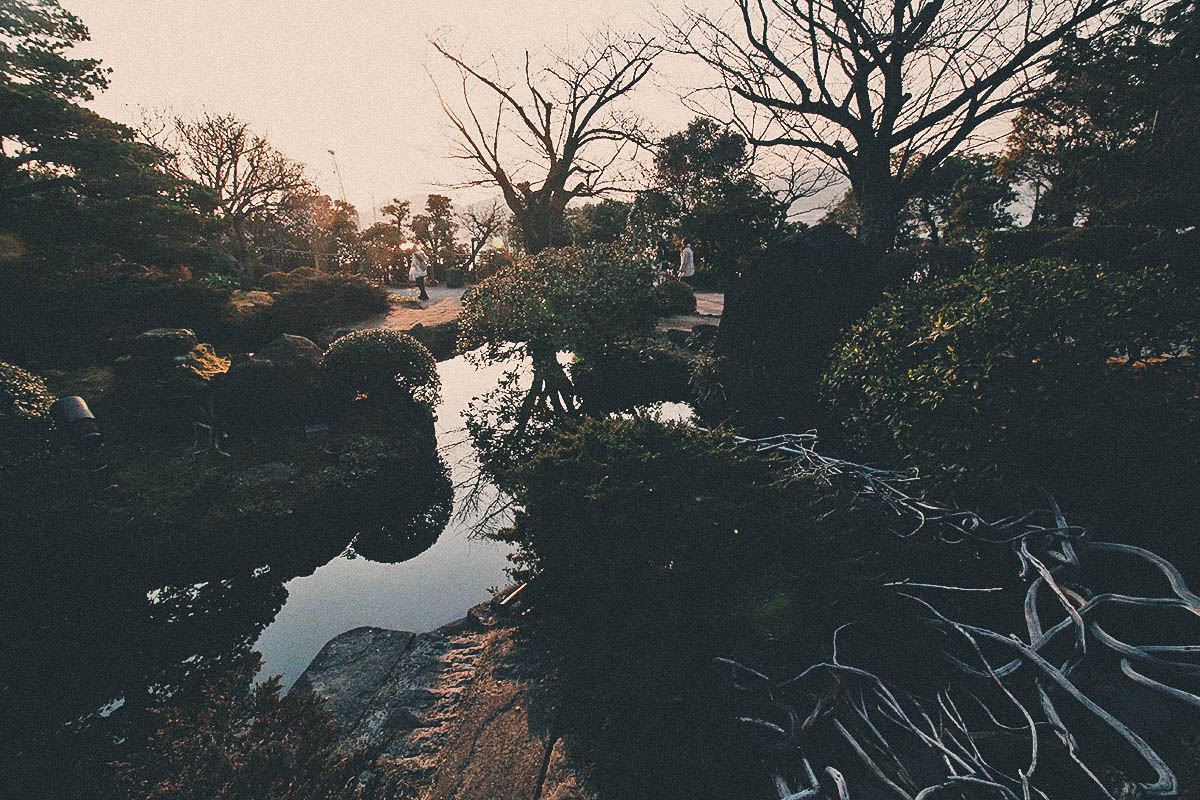 If you enjoy taking photographs, then save your visit for sunset. The place is stunning bathed in this orange afterglow.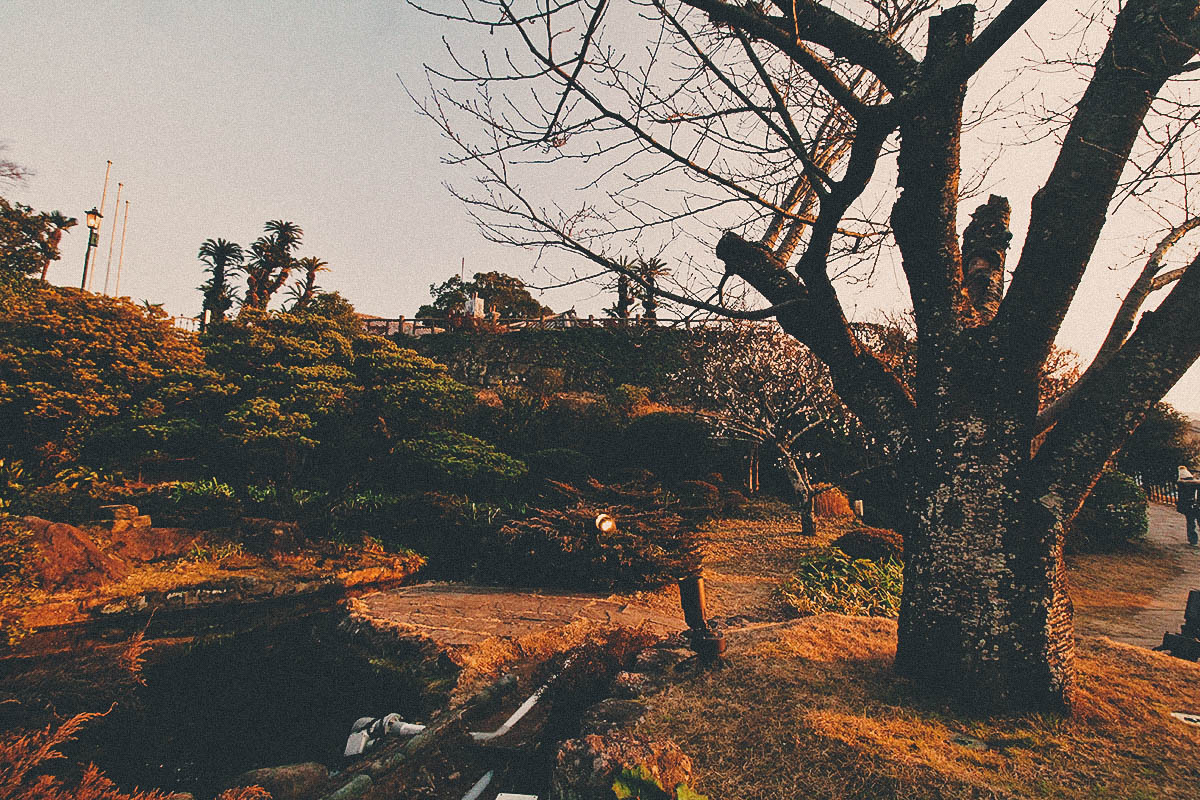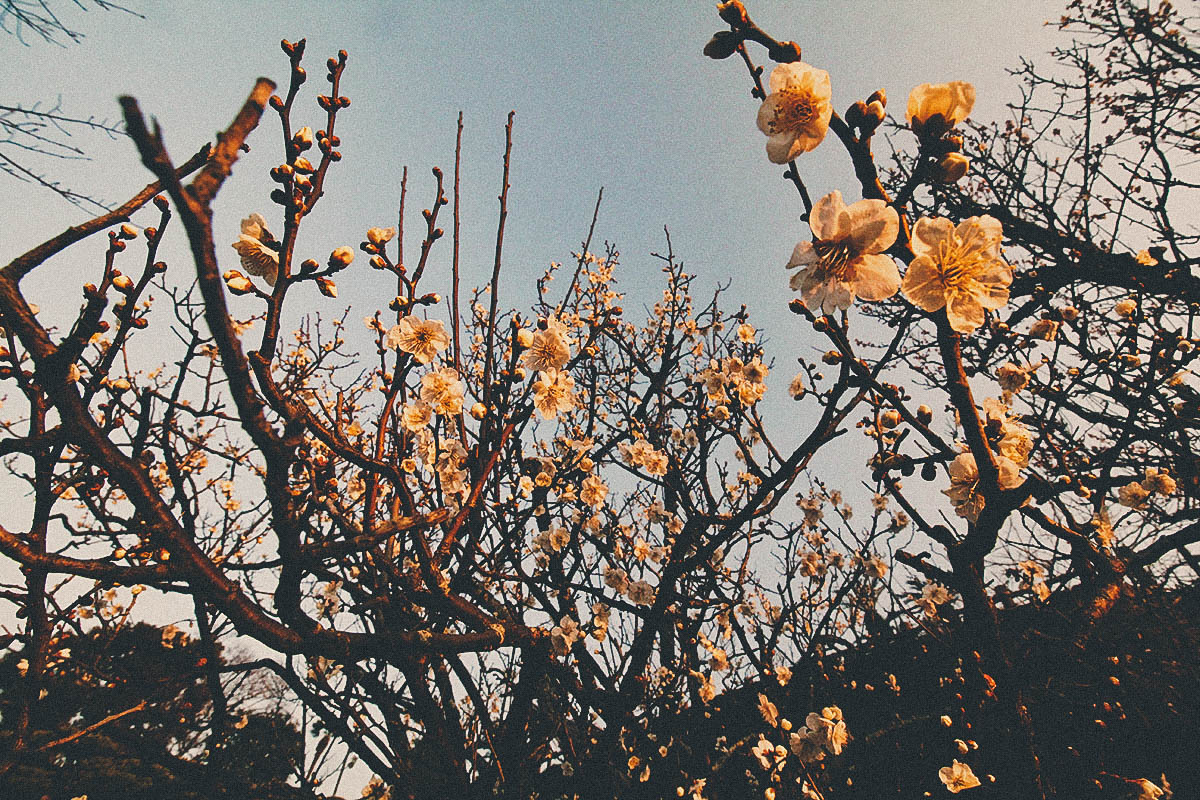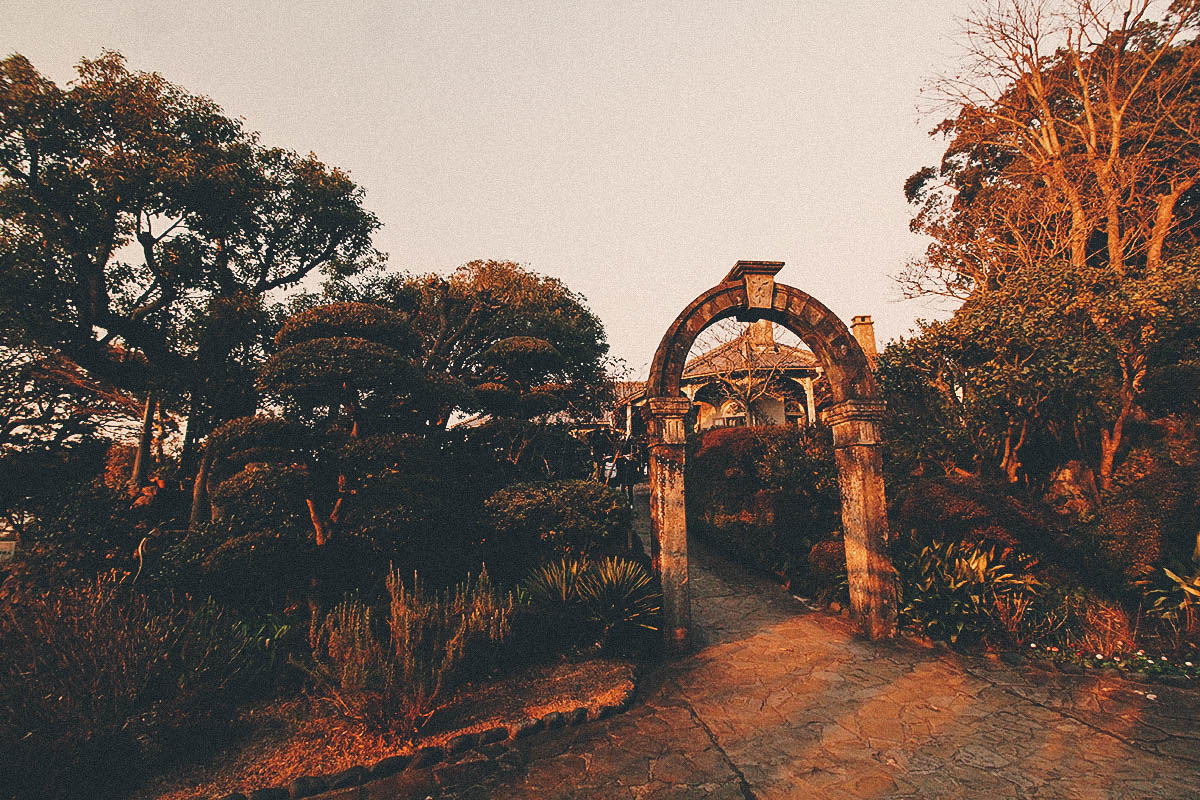 We started at the top so we make our way down and out by Oura Catholic Church. Nagasaki was known as the center for Roman Catholicism in Japan.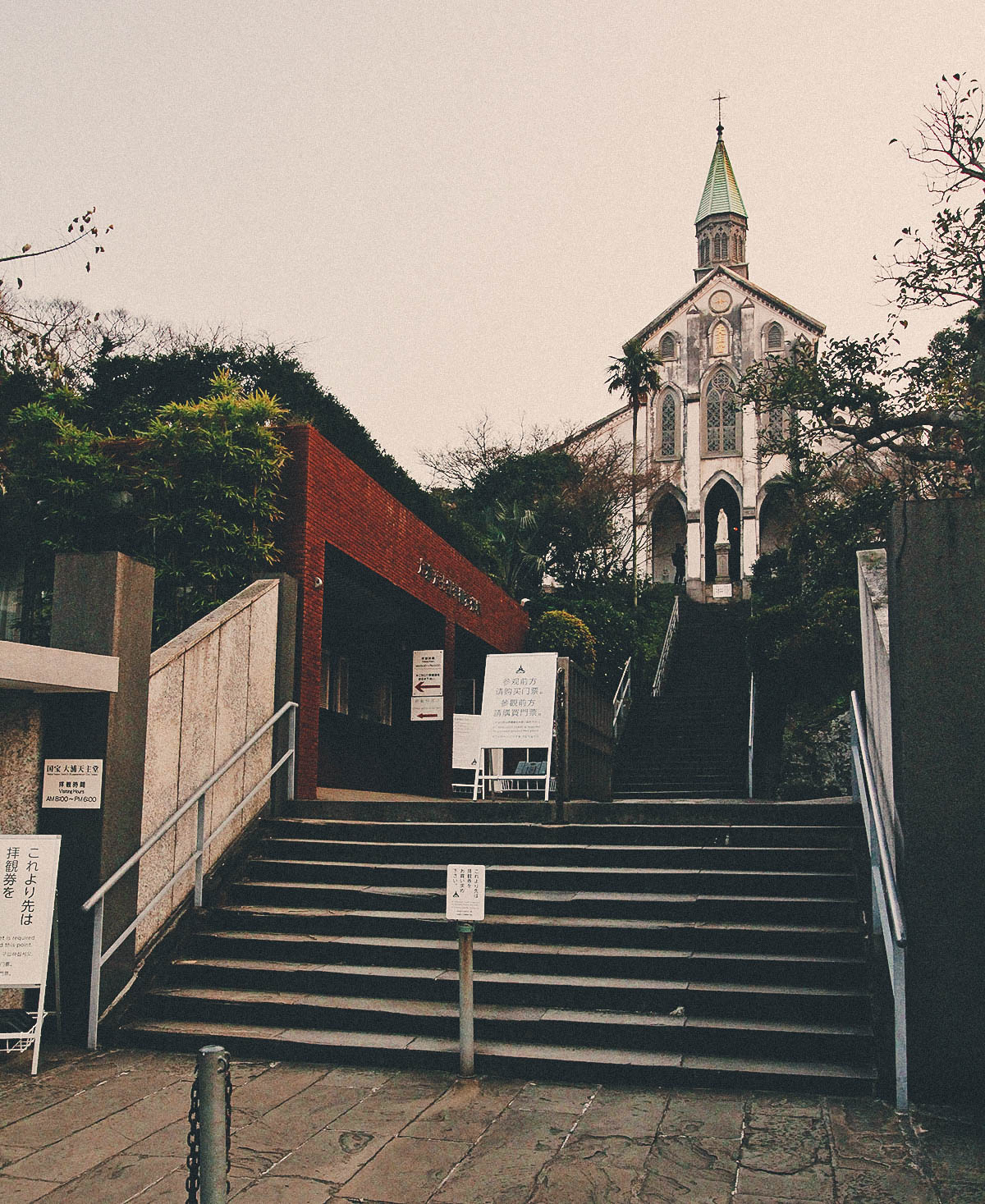 Located by the Oura Church entrance, this place looked cool but it was already closed at the time. It appeared to be a museum for children's picture books.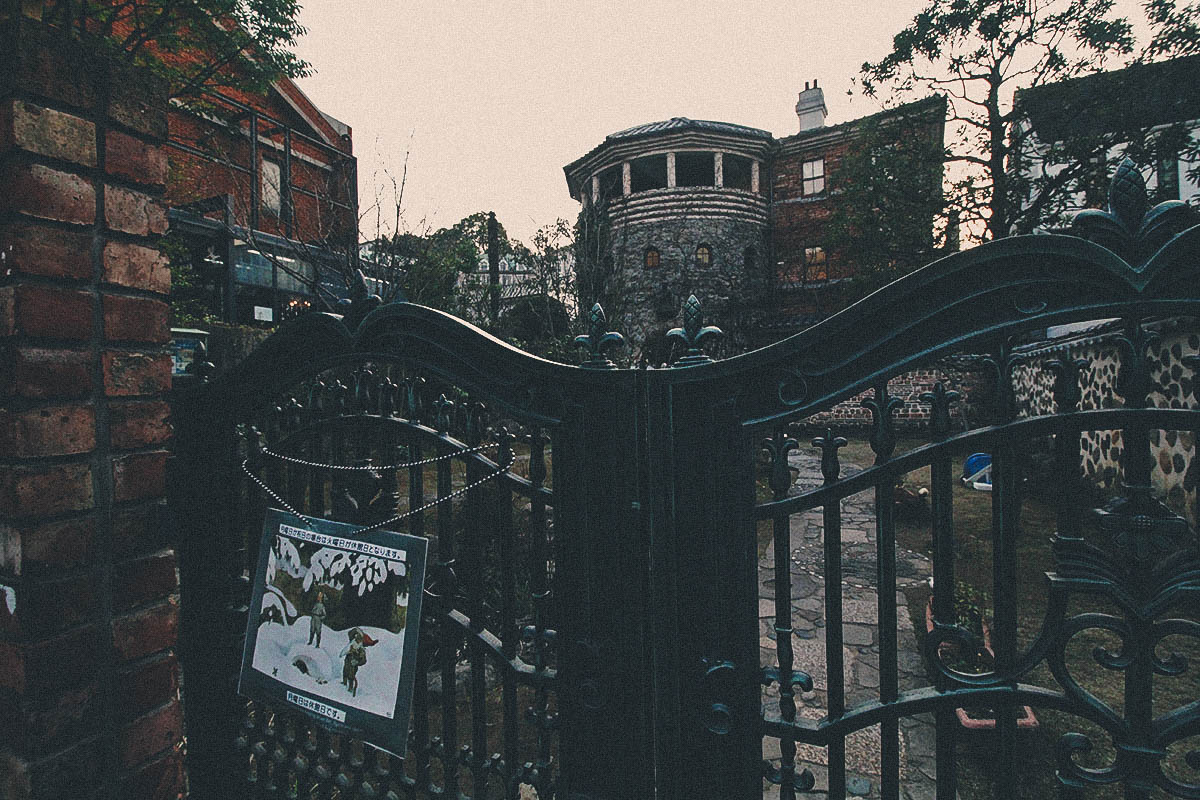 Along the path from Glover Garden are souvenir and snack shops. Here's one selling Nagasaki's famed castella cake, a sponge cake made with sugar, flour, eggs, and starch syrup. It's originally a Portuguese dish that was brought to Japan by merchants in the 16th century. It was adapted by the Japanese and has since become one of Nagasaki's most popular snack items.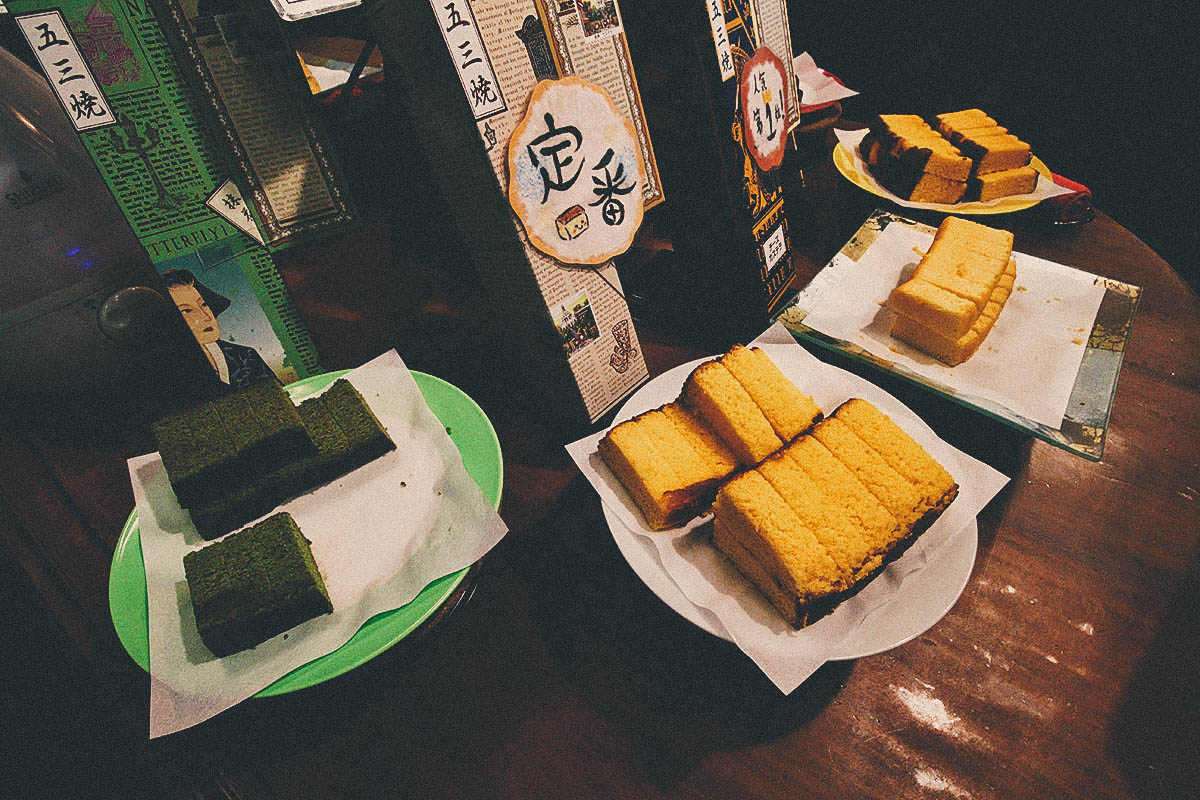 Here's another regional Japanese dish that Nagasaki in known for. Introduced to Japan by the Chinese, kakuni manju is a Japanese-style pork belly bun.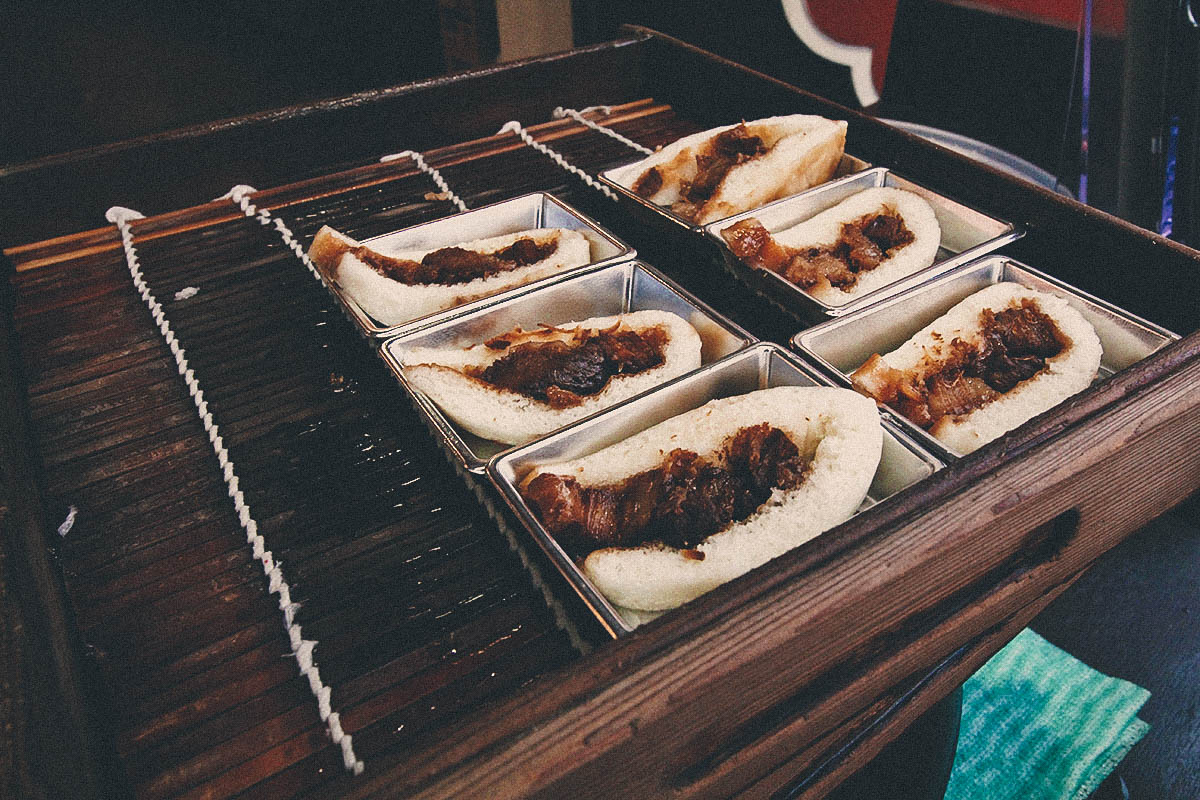 It's typically served out of bamboo steamers like this and is widely available throughout the city, especially around Chinatown.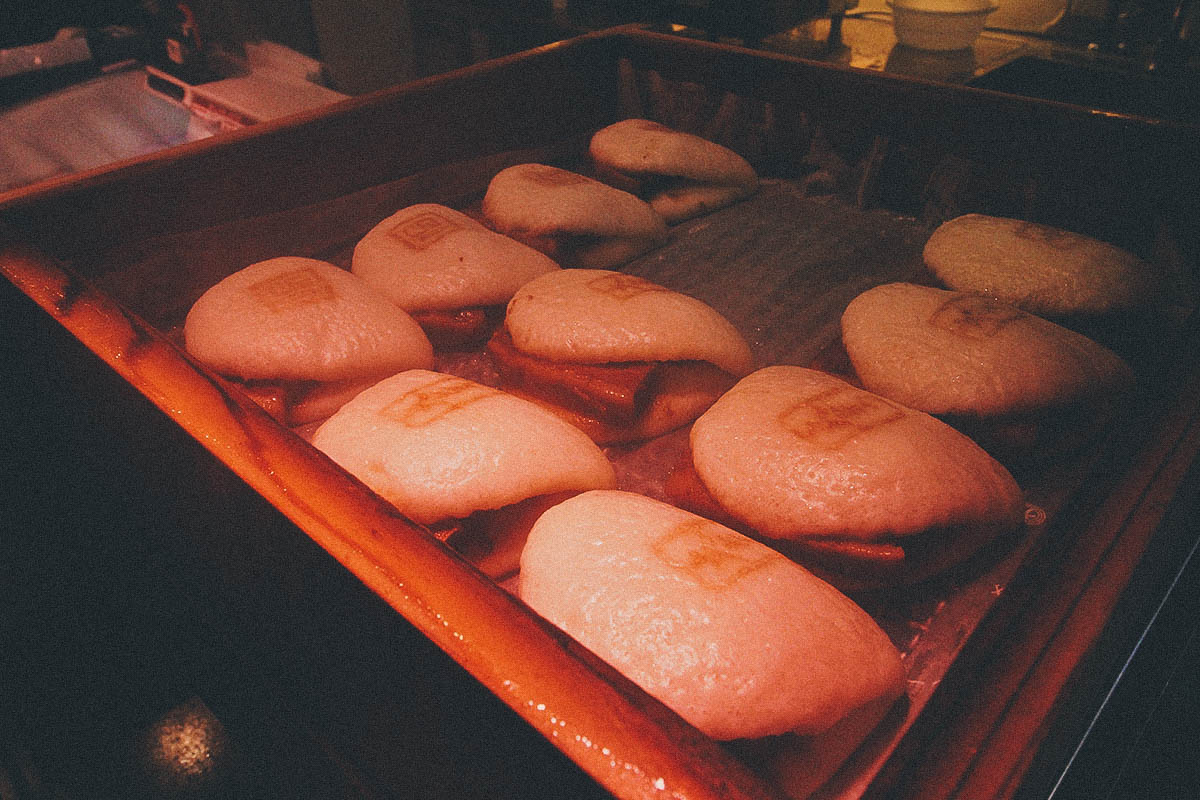 Glover Cosplay
If you like cosplay or want a more amusing memento of Glover Garden, then you'll probably enjoy this. For JPY 600, you can dress up in a period outfit for half an hour.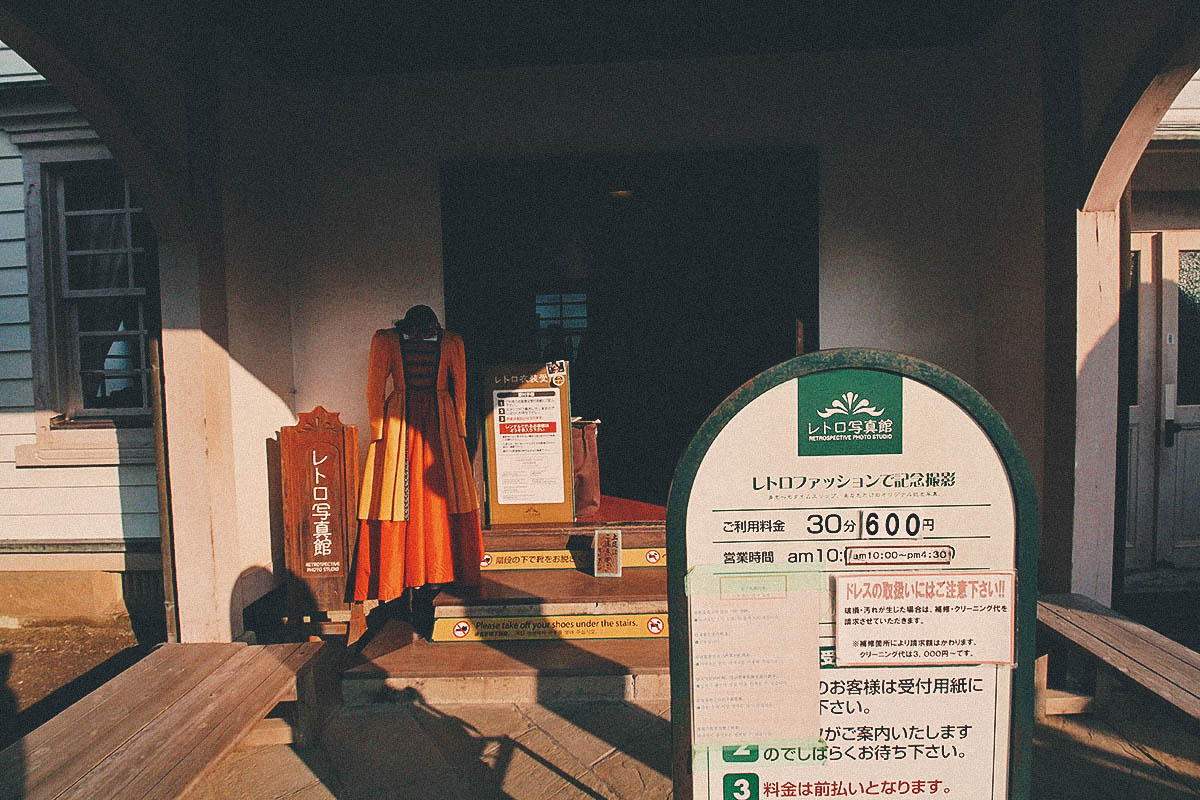 I wash my hands of this, it was all Ren's idea. 😆 I guess this is what Western women in Nagasaki wore at the time. Note the picture at the back. The lone Japanese woman is wearing a kimono while the Western women are wearing dresses similar to this one.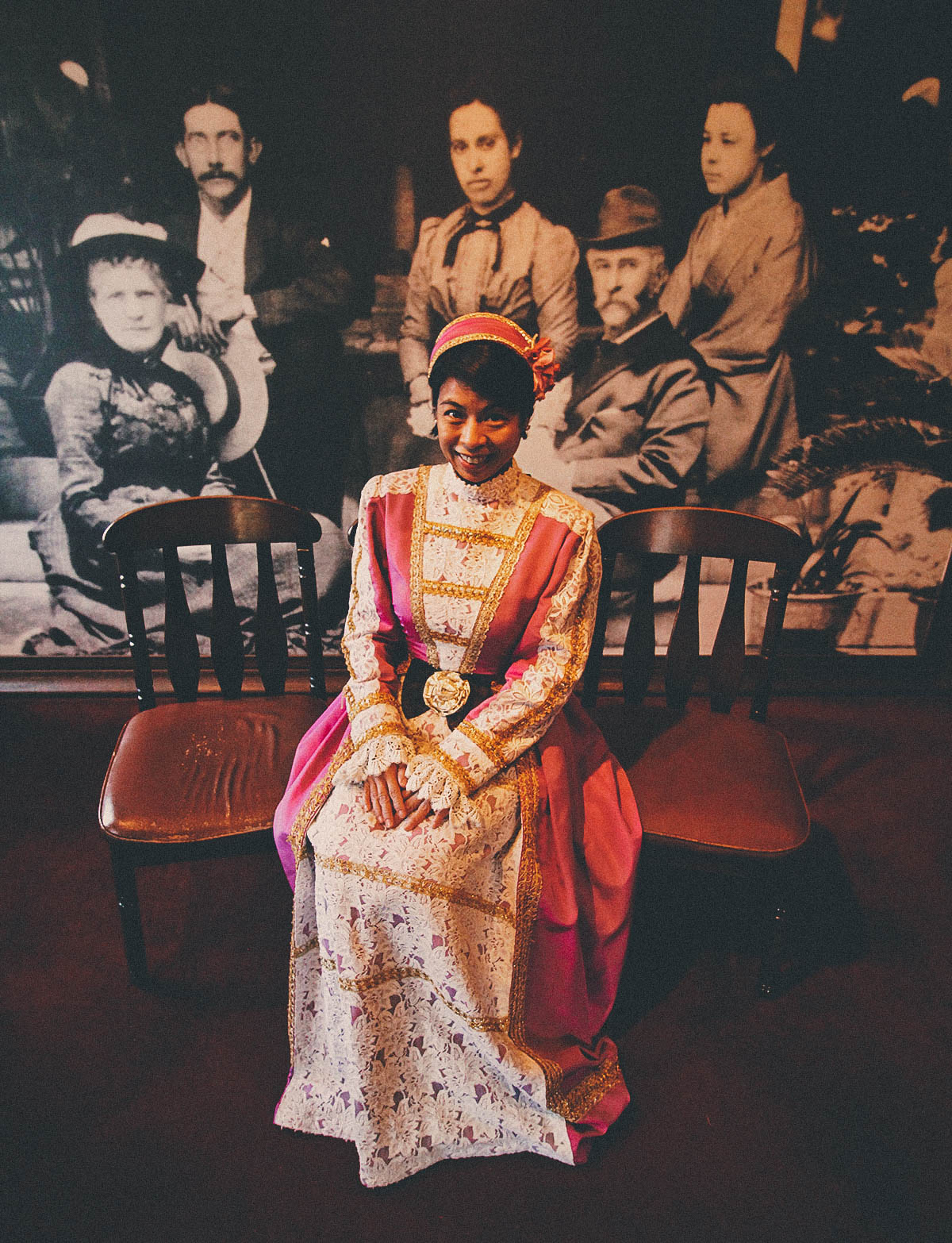 Ren getting into character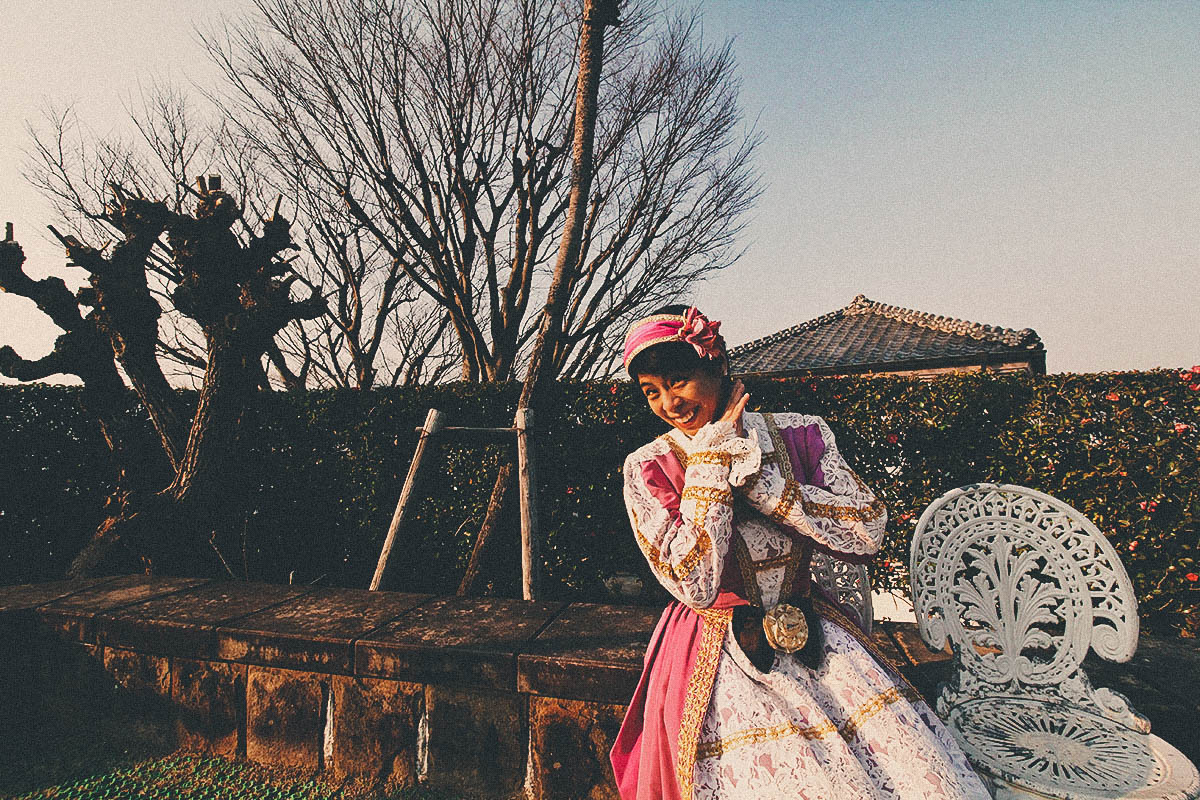 That feeling you get when you open the bathroom door and the toilet is one of those awesome Japanese smart toilets.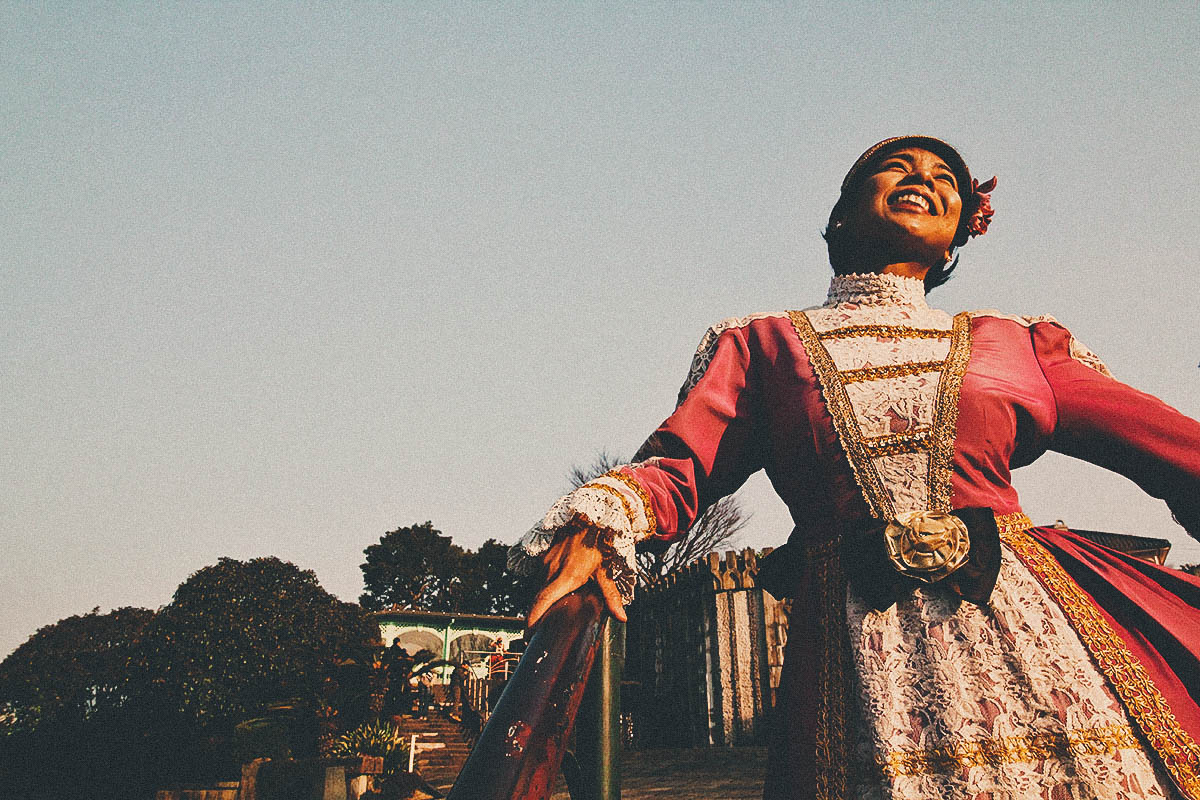 Ren showing off the lovely lace patterns on her dress. "You see? They match the criss cross patterns on the porch!"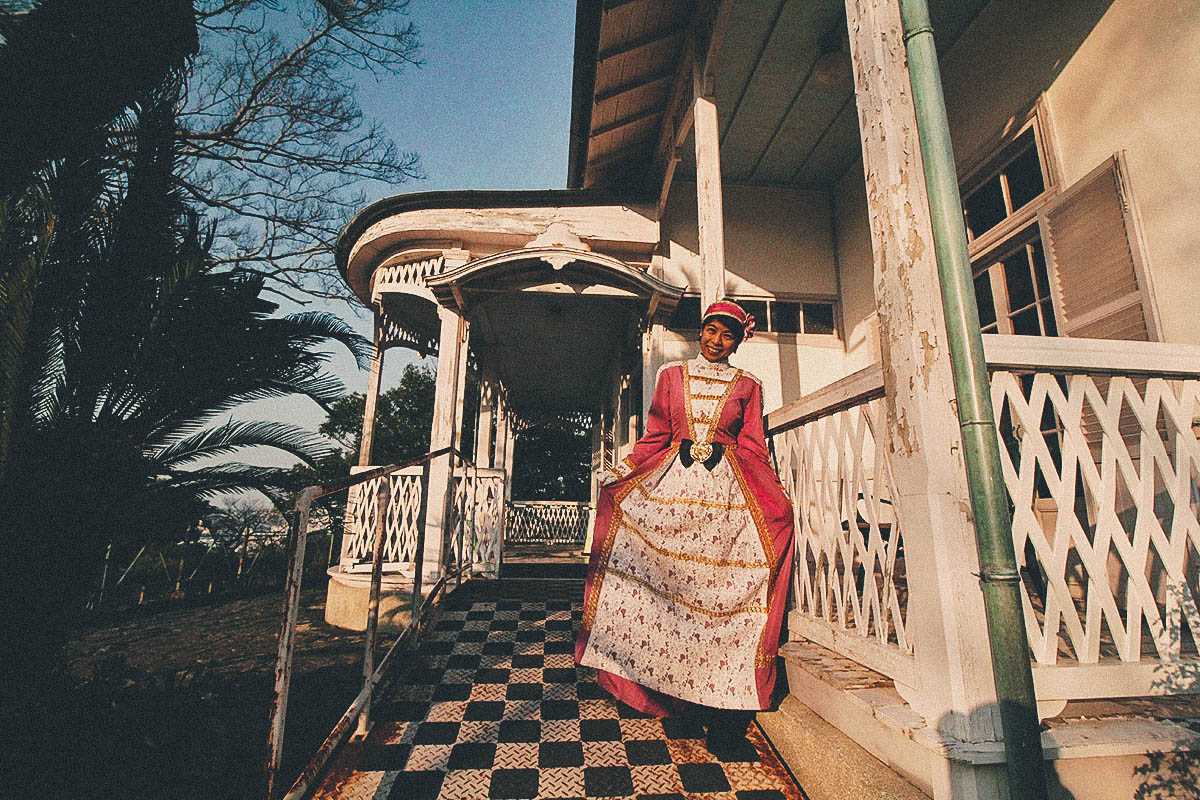 Care for some tea dah-ling?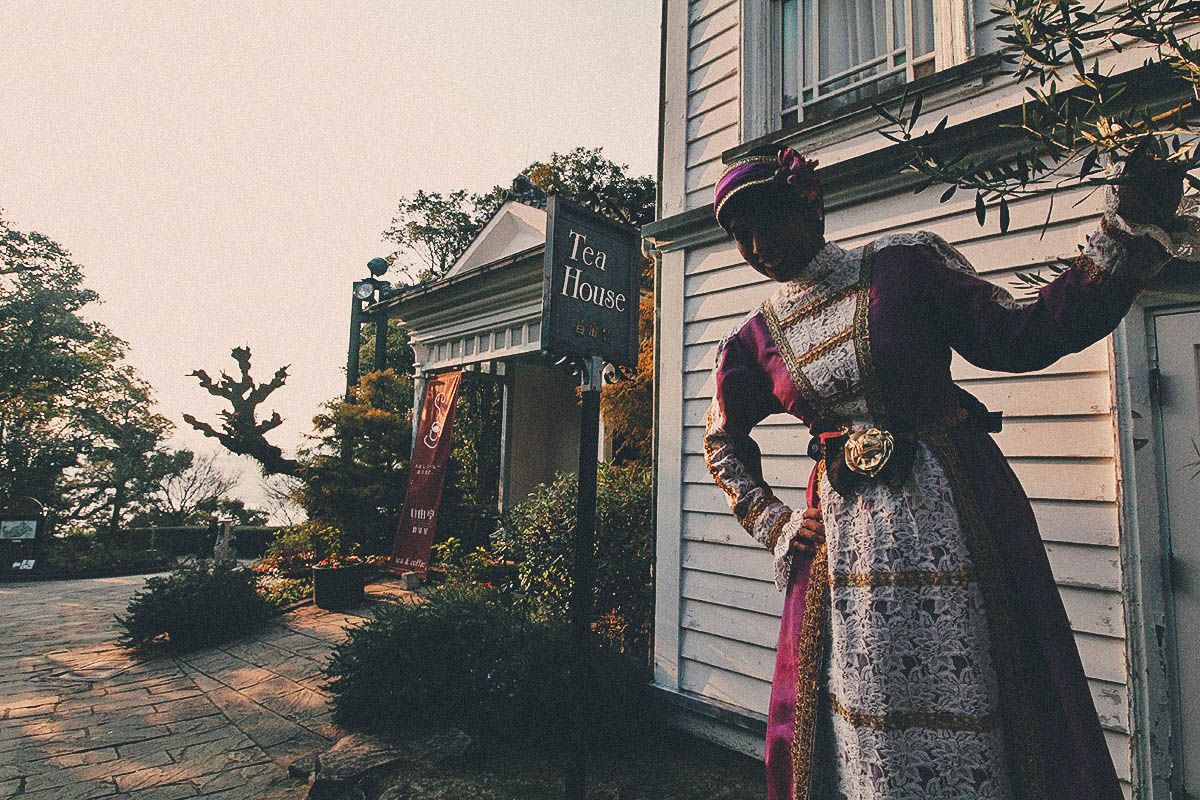 Ren's half hour was almost up so she got the sudden urge to run up and down this slope. "The hills are alive with the sound of music…" 😆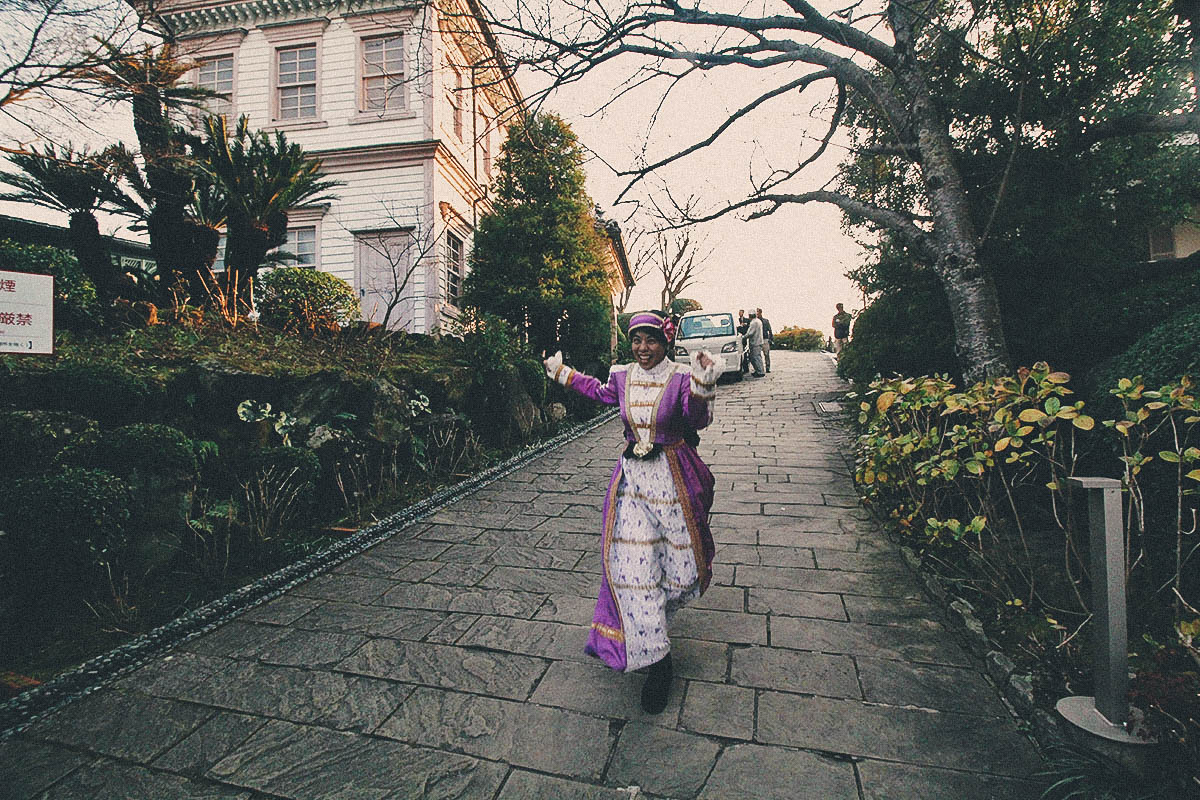 Glover Garden may not look quintessentially Japanese, but it's a good place to spend an hour or two to take pictures and learn about the unique history of Nagasaki. Like I said, it's different from any city we've been to thus far in Japan.
As you can see from these pictures, Glover Garden is a beautiful place teeming with well-manicured gardens on the side of a hill. You can get great views of Nagasaki Harbor from up here. And for an additional JPY 600, you can leave with some pretty funny pictures as well. 😉
Glover Garden, Nagasaki, Japan
Glover Garden Management Office, 8th No. 1 Minamiyamatecho Nagasaki-shi, Nagasaki Prefecture, 850-0931
Tel: +81 95-822-8223
Fax: +81 95-823-3359
Website: glover-garden.jp
Email: [email protected]
Operating hours: Mon-Sun, 8AM-6PM
Admission: JPY 620
HOW TO GET THERE:
Take the tram to either Ouratenshudo-shita or Ishibashi station. From there it's about a 10-minute walk to Glover Garden.
For travel tips to Nagasaki, check out our First-Timer's Travel Guide to Nagasaki, Japan