On a trip to Hong Kong three years ago, I remember standing still for a few moments in busy Tsim Sha Tsui to take in my surroundings. Everywhere I looked there were restaurants, siu mei shops, fast food joints, and street food stalls.
I remember looking up at a four or five story building and marveling at how every floor of that structure was occupied by a restaurant. I felt quite literally, surrounded by food.
That for me, is what Hong Kong is all about. It's a gastronomic city in every way, offering a range of experiences from fine dining to street food, a lot of it at a very high level.
Case in point, the Michelin Guide has a section dedicated to Hong Kong street food which I believe was the first of its kind anywhere in the world. The fact that the bible of all things haute cuisine decided to recognize street food – for the first time ever in Hong Kong – speaks volumes about the food in this city.
The sheer volume of good food in Hong Kong is exciting, but it can also be intimidating. How do you choose? Who makes the best char siu? Where can I find the most delicious dim sum?
Those are the questions we set out to answer when we compiled this list of nineteen of the best Hong Kong food experiences.
THE BEST RESTAURANTS IN HONG KONG
To help organize this list of restaurants in Hong Kong, I've categorized them by location – Kowloon side and Hong Kong Island – though a few of them have multiple outlets with branches in both. Whichever branch we ate at is where I put each restaurant.
KOWLOON SIDE
1. Yee Shun Milk Company
I've been hearing about this popular breakfast/dessert shop for many years, and I finally got to try it on my most recent trip to Hong Kong. The experience matched my expectations. It was so damn good.
Yee Shun Milk Company is known for their double skin steamed milk pudding. It's made from buffalo's milk which is steamed using a special technique, producing a lighter-than-tofu pudding with a thin skin of milk on top.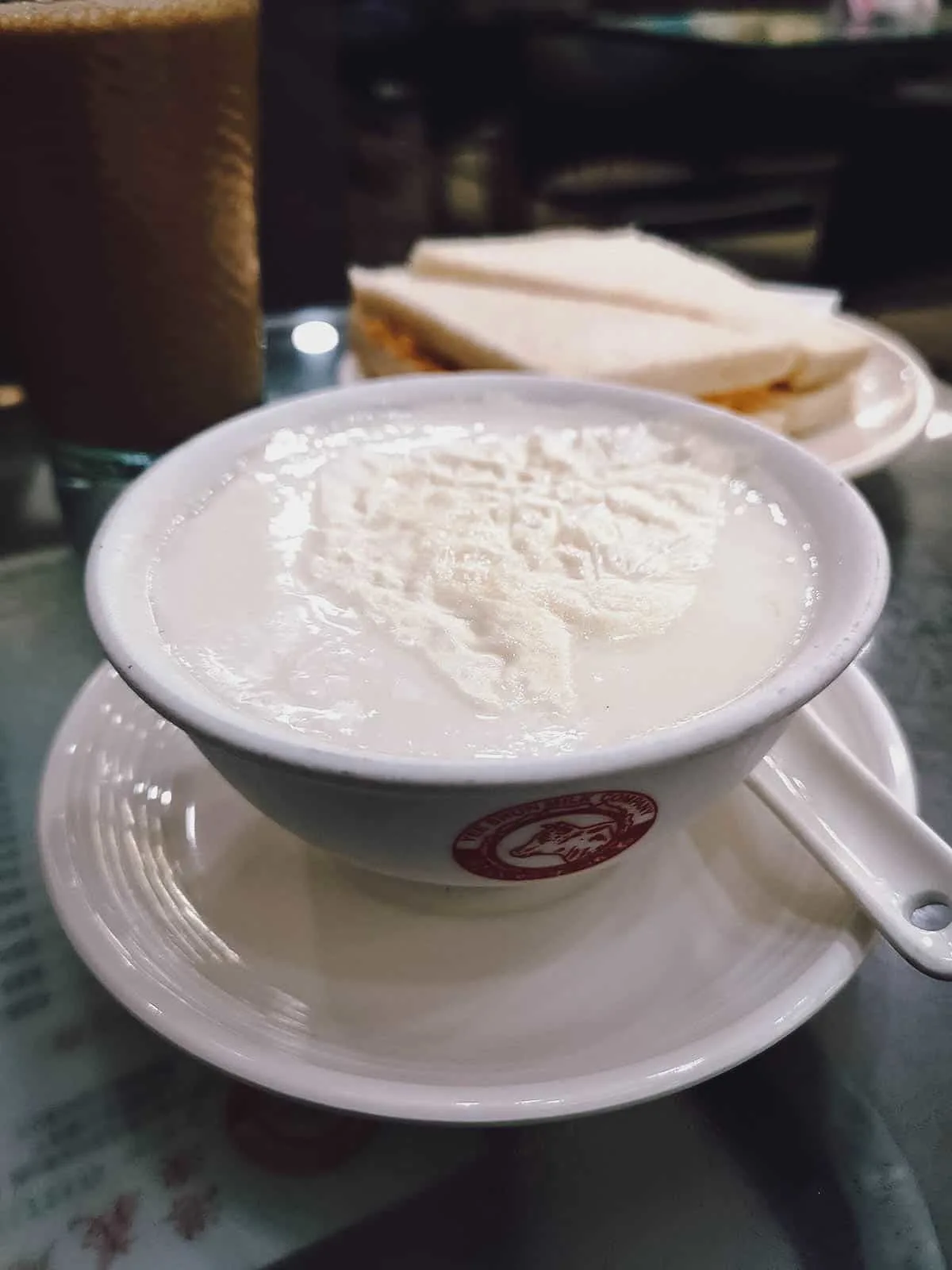 I became a fan after this very first spoonful, and decided right then and there that we'd be coming back to this shop on every return visit to Hong Kong.
Because it's made with buffalo's milk, the pudding is incredibly rich and creamy with just a teeny bit of texture from the milk skin. You can have it either hot or cold. I had the cold and it was uh-mazing. Don't miss this!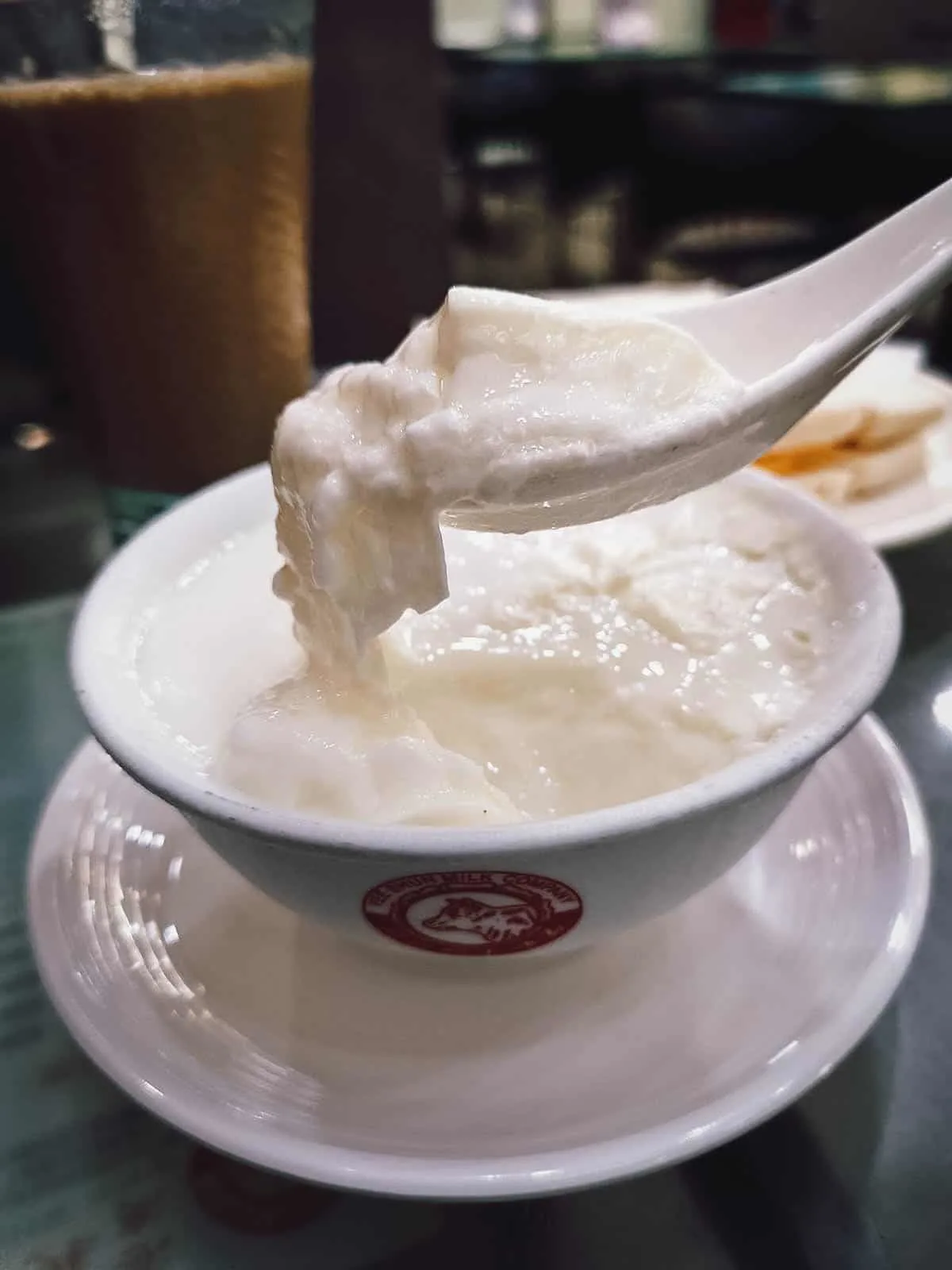 I had heard about their scrambled eggs as well so I had the egg sandwich to go with my milk pudding. The scrambled eggs were served between slices of soft untoasted white bread. It was good, but not as eye-openingly good as the steamed milk pudding.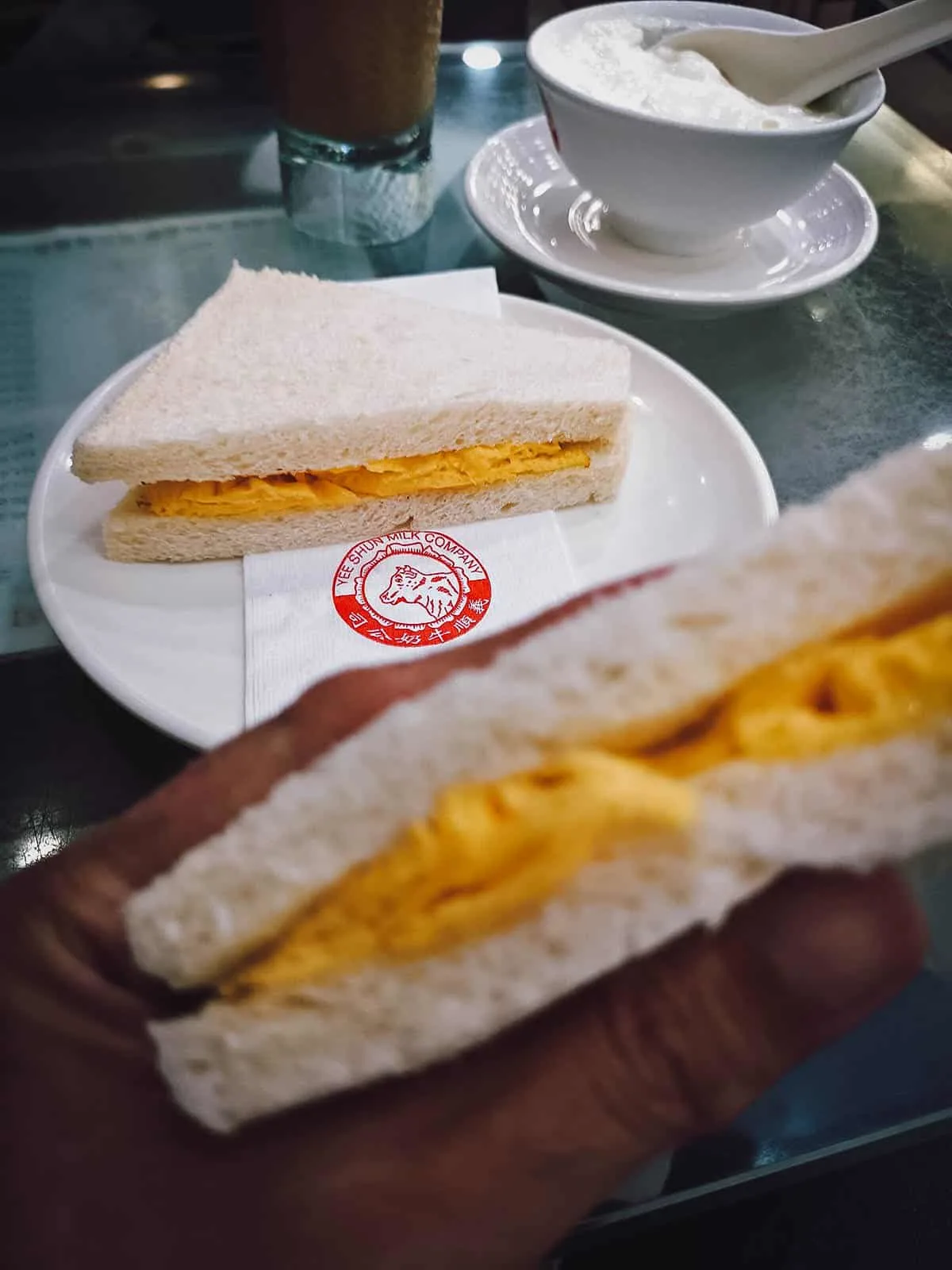 Yee Shun Milk Company has several branches throughout Hong Kong but the one I went to was in Yau Ma Tai, along Nathan Road. Their most famous branch may be the one along Pikem Street in Jordan. It's famous because it's a block away from rival shop Australia Dairy Company.
Yee Shun Milk Company and Australia Dairy Company are almost always mentioned in the same breath, because of the proximity of these two Hong Kong restaurants and the fact that they're both considered the best when it comes to this type of comfort food in Hong Kong.
2. Kung Wo Tofu
Keeping to puddings, tofu pudding is a Hong Kong food favorite but have you ever had Michelin-recommended tofu pudding? As described, the Michelin Guide now has a section listing the best street food in Hong Kong. This purveyor of all things tofu is on it.
Kung Wo Tofu offers different types of tofu and breakfast dishes, none more popular perhaps than their silken tofu pudding. It's a popular Chinese snack made with the silkiest tofu and a clear syrup. Tofu pudding isn't as soft as Yee Shun's milk pudding but it's every bit as delicious.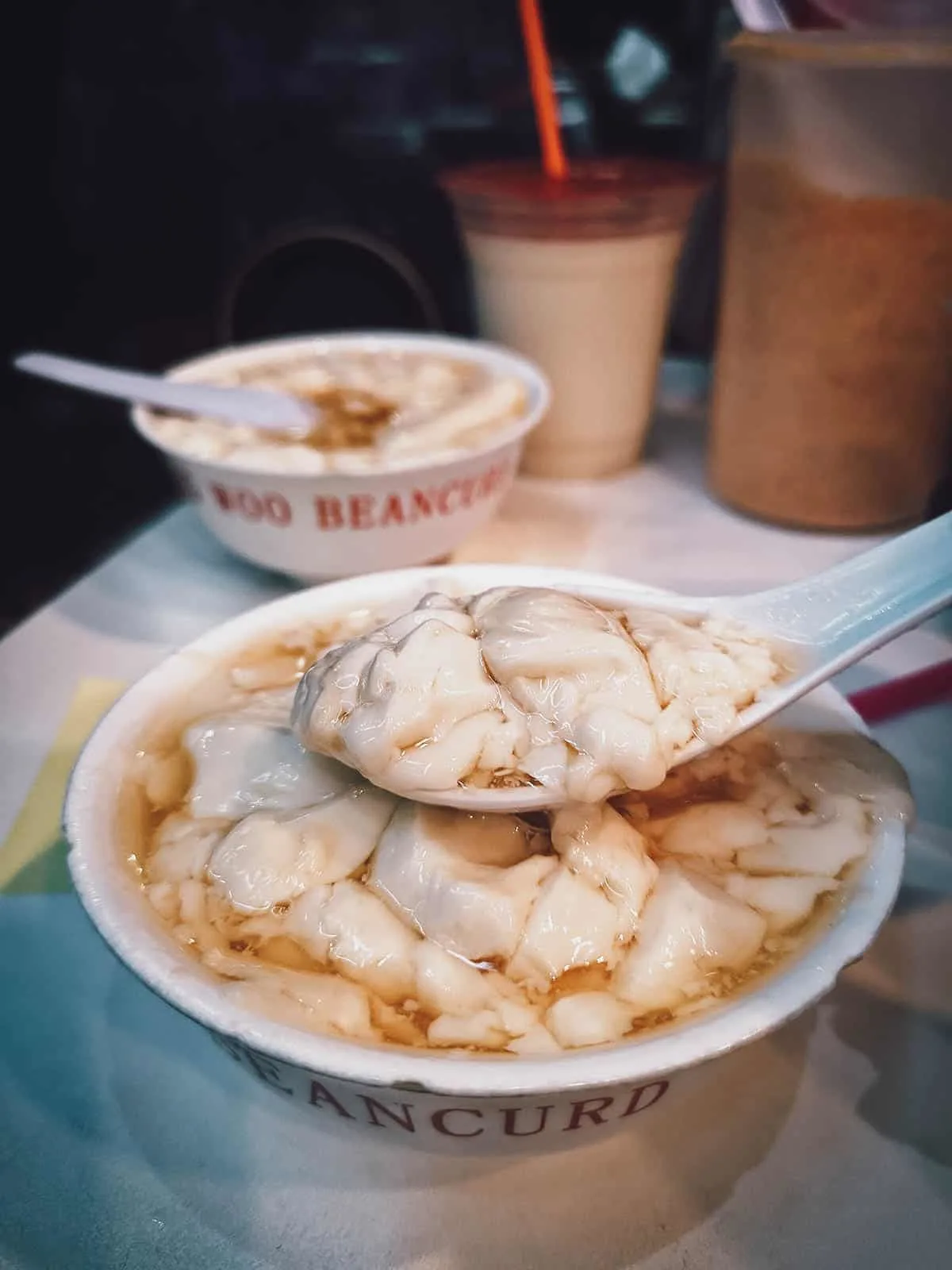 A refreshing cup of soy milk to wash it all down. The tofu they use at Kung Wo is as fresh as you can make it which is why it's so good.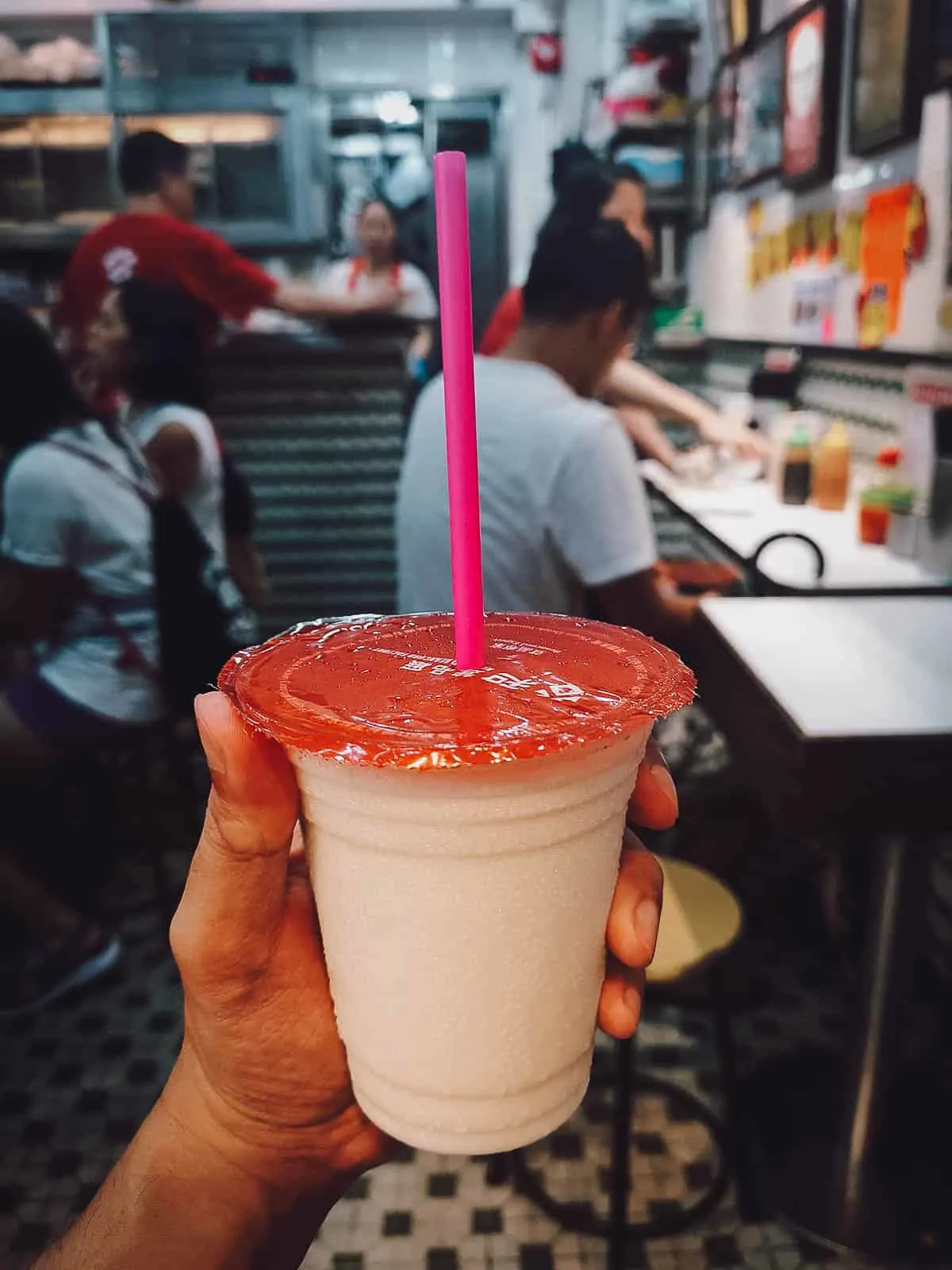 Their deep-fried tofu is delicious as well – lightly crispy on the outside and soft and silky in the middle. We had it three years ago and still remember it well.
3. Tim Ho Wan
No discussion of the best best Hong Kong food experiences can be complete without mentioning Tim Ho Wan – once lauded as the cheapest Michelin-starred restaurant in the world.
What started off as a humble 20-seater dim sum shop in Mong Kok has since expanded to a global brand with 46+ outlets in a dozen or more countries.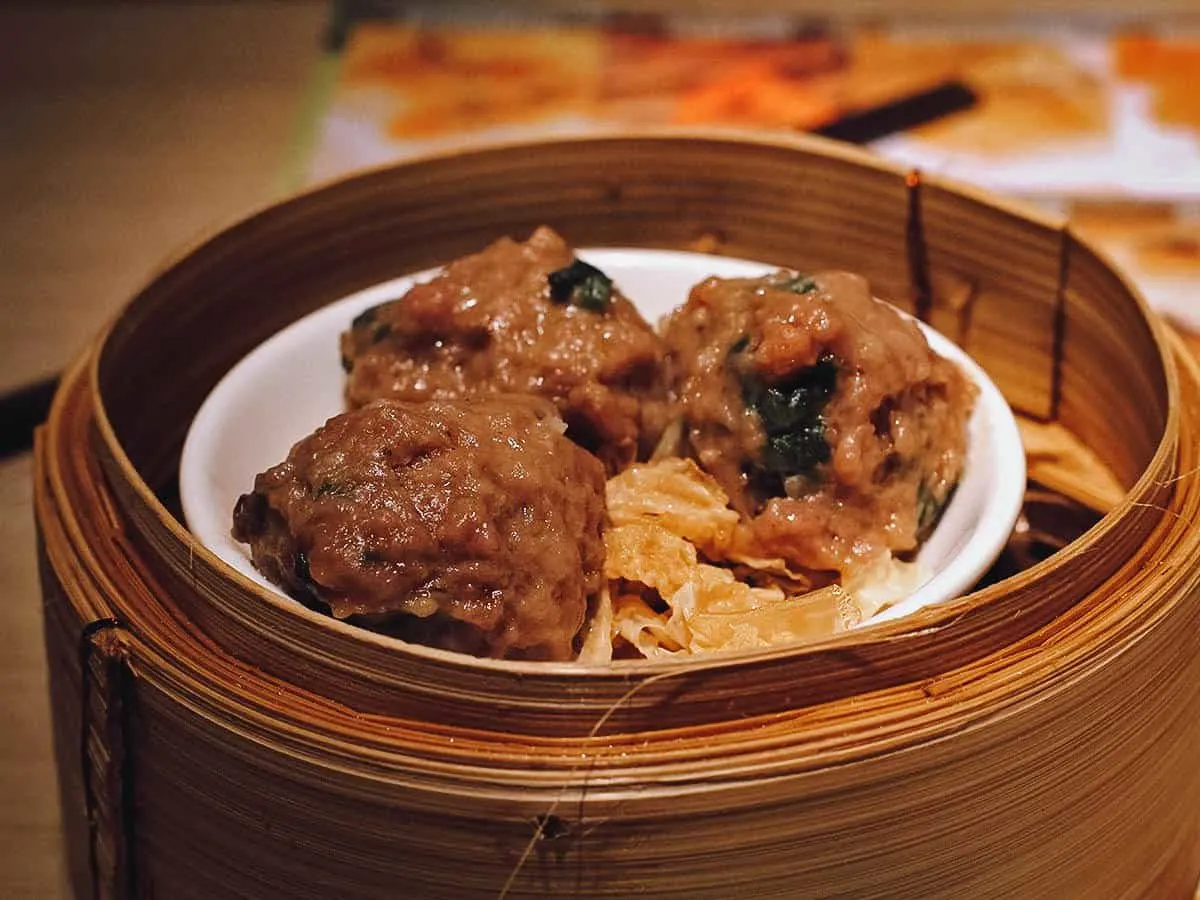 Tim Ho Wan offers many delicious dim sum dishes on their menu but the clear star of the shop is their baked bbq pork buns. These baked clouds of porky deliciousness have become so legendary that you can't talk about Tim Ho Wan without mentioning them in the same sentence. Take a bite and you'll understand.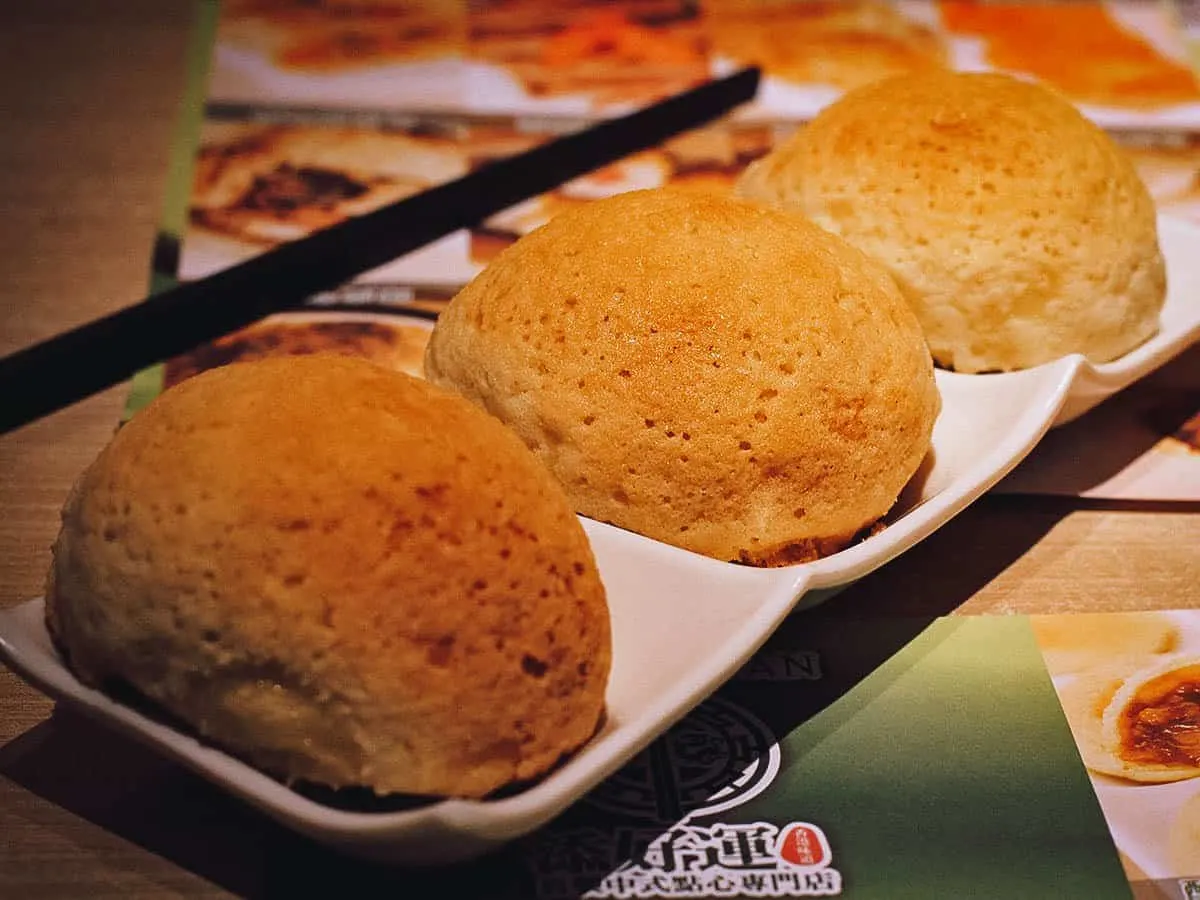 Your first bite of Tim Ho Wan's baked bbq pork bun is like your first kiss – you never forget it. Mine came by way of takeout and it still blew me away.
Made fresh daily, the buns are incredibly light but have a thin coating on top which makes them slightly sweet and crunchy. Take a bite and the whole thing caves in on itself like a collapsed souffle. You can kind of see that in the picture below.
Billowing with steam, inside you'll find heavily sauced chunks of barbecued char siu pork made with just the right amount of sweetness.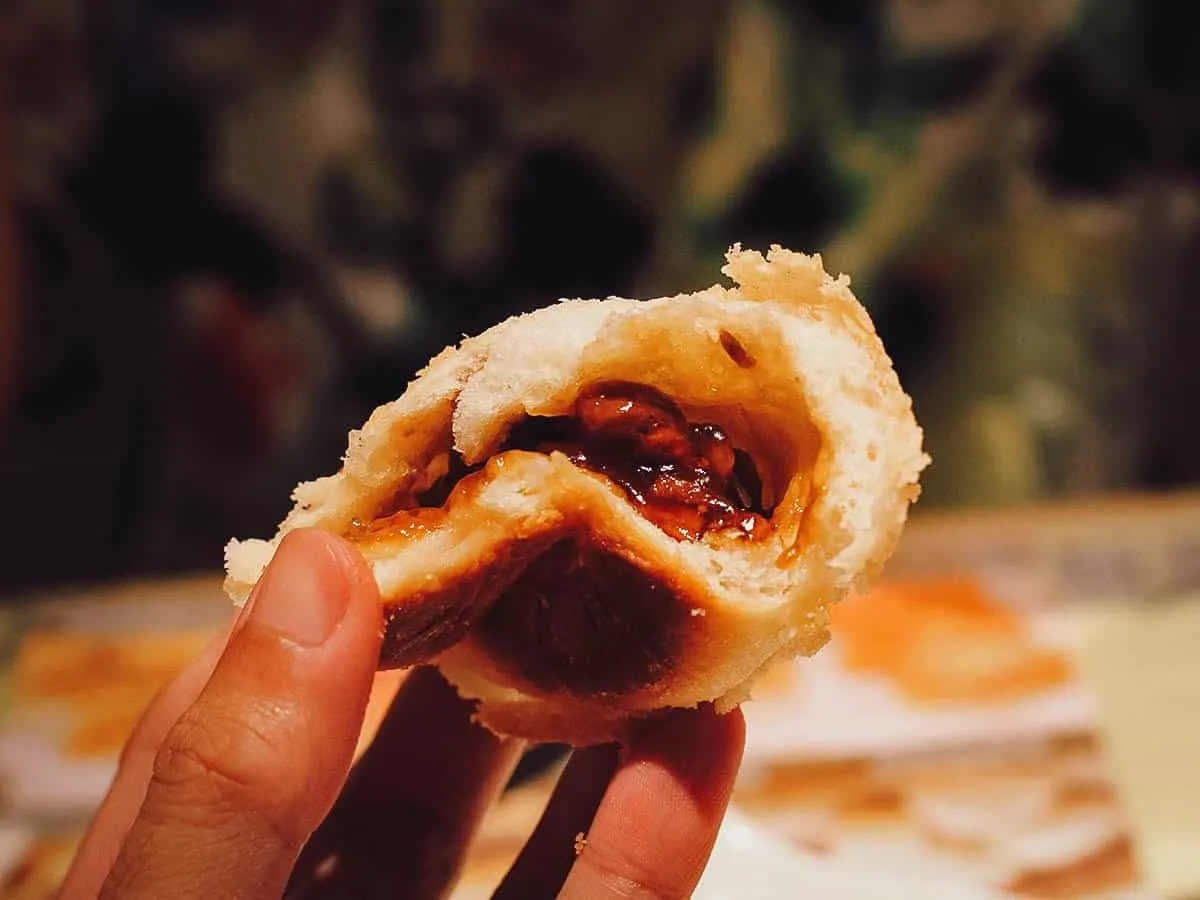 The original branch in Mong Kok has since relocated to Olympian City, which is the branch we went to. If you're going to the outlet in Sham Shui Po, then you can get a voucher for their dim sum set from Klook.
4. One Dim Sum
I Googled "best dim dum in hong kong" and two restaurants often came up – Tim Ho Wan and One Dim Sum. I had already been to Tim Ho Wan a few times so I decided to give One Dim Sum a try. It was the best meal on my most recent trip to Hong Kong.
I had done my research before coming here so I knew what to order. Not by coincidence, they were the few dishes pictured on the restaurant's placemat menu.
Clockwise from the top: pork dumplings, steamed bbq pork buns, shrimp and vegetable dumplings, and steamed beef balls. Everything was delicious.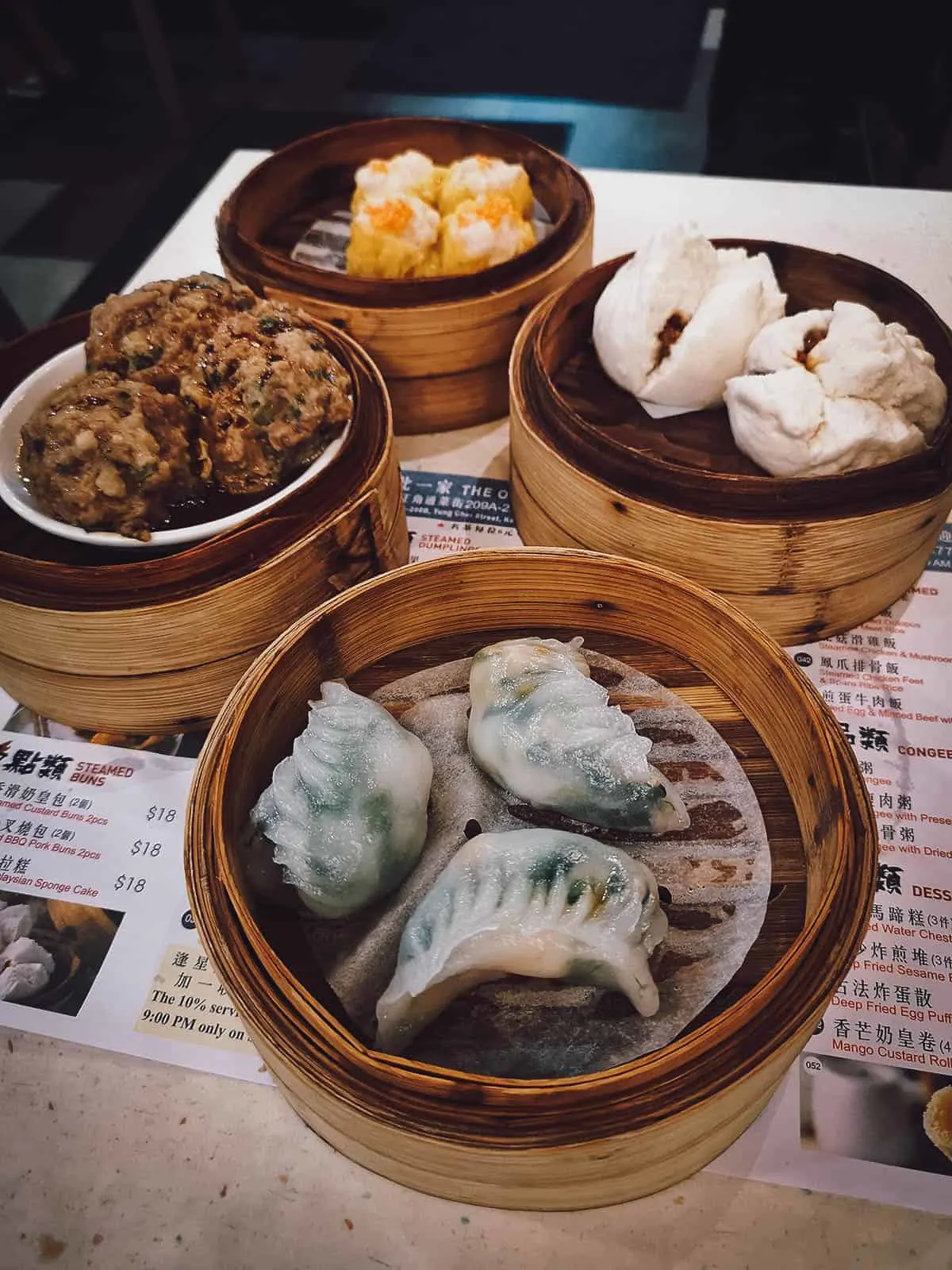 One Dim Sum serves the more traditional type of char siu bao or steamed bbq pork buns. The buns are pillowy soft and filled with the most delicious bits of savory-sweet char siu pork.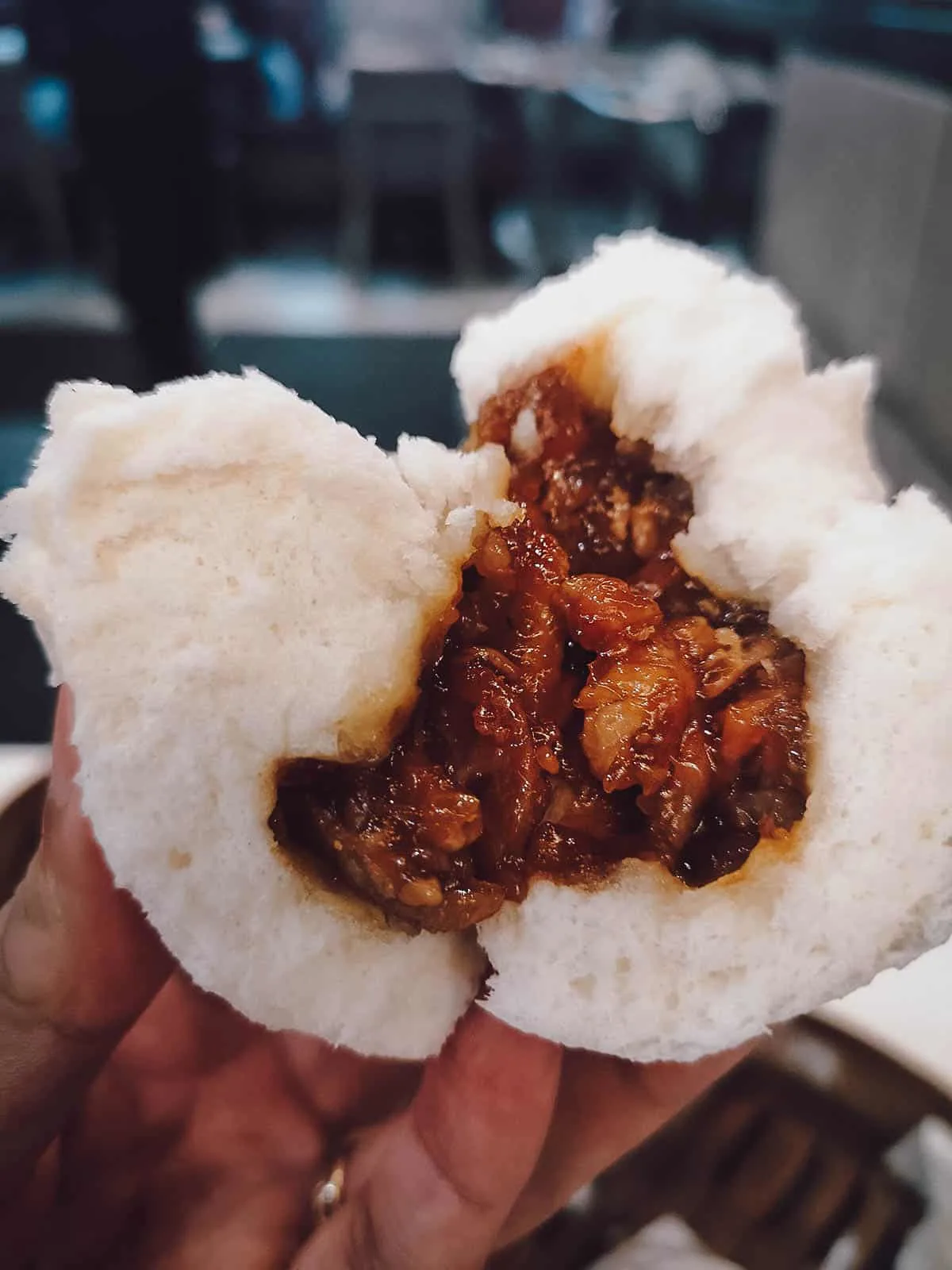 I enjoyed everything at One Dim Sum but these deep-fried glutinous rice pork dumplings were my favorite. Like Tim Ho Wan's baked bbk pork buns, they're airy orbs of meat that collapse in on themselves when you take a bite.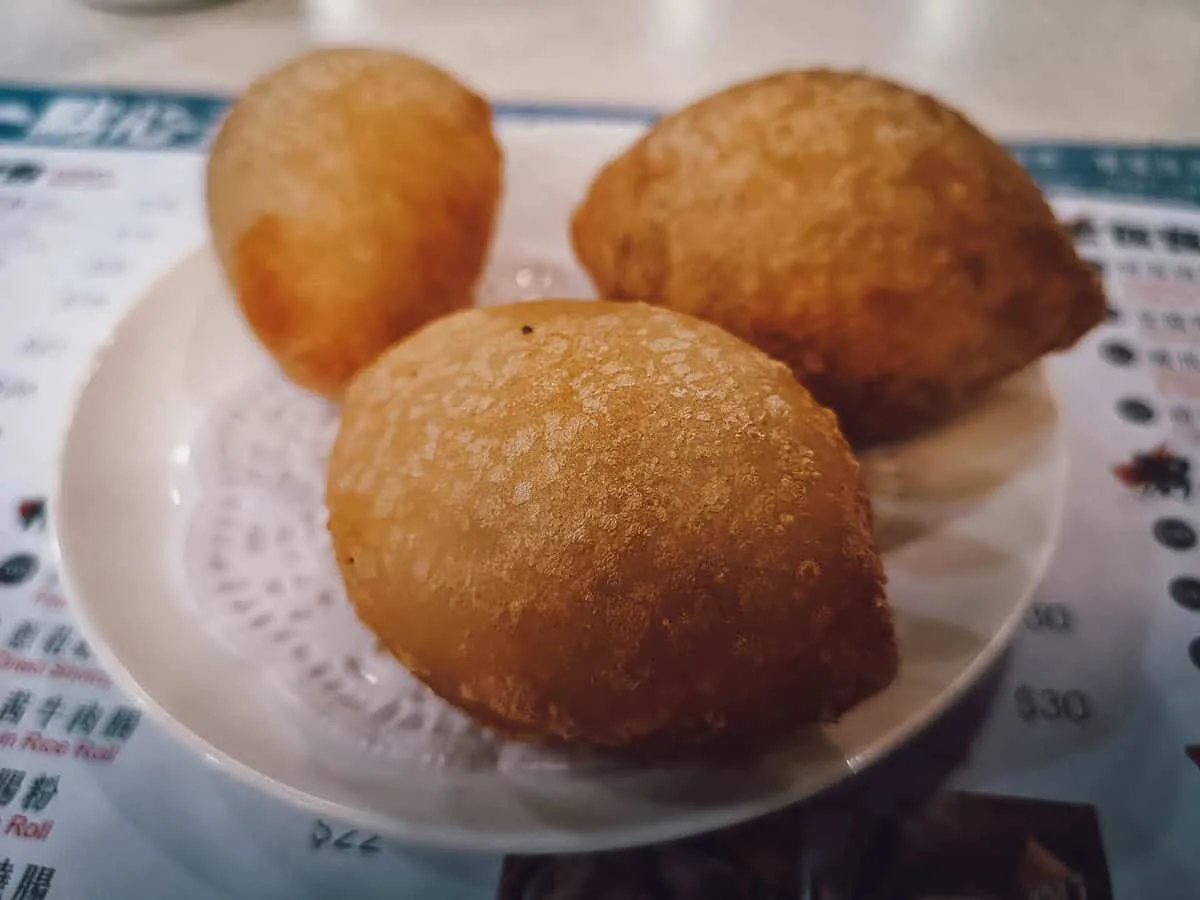 Here's what it looks like inside. The pork filling isn't sweet like char siu, and the glutinous rice coating has the chewy consistency of mochi. It's deep-fried so the coating is crunchy, though perhaps a little oily. Absolutely delicious nonetheless.
5. Dim Dim Sum
Dim sum is a Hong Kong food staple so featuring just one or two places isn't enough. We had to add a third to this list – Dim Dim Sum. It's a Hong Kong restaurant that was once cited by a group of top chefs as one of the 101 best places to eat around the world. Ren's cousin, who works as a pilot for Hong Kong Airlines, took us here.
Pictured below is a tasty trio of xiao long bao with black truffle. Yes, black truffle in a soup-filled pork dumpling. Life is good!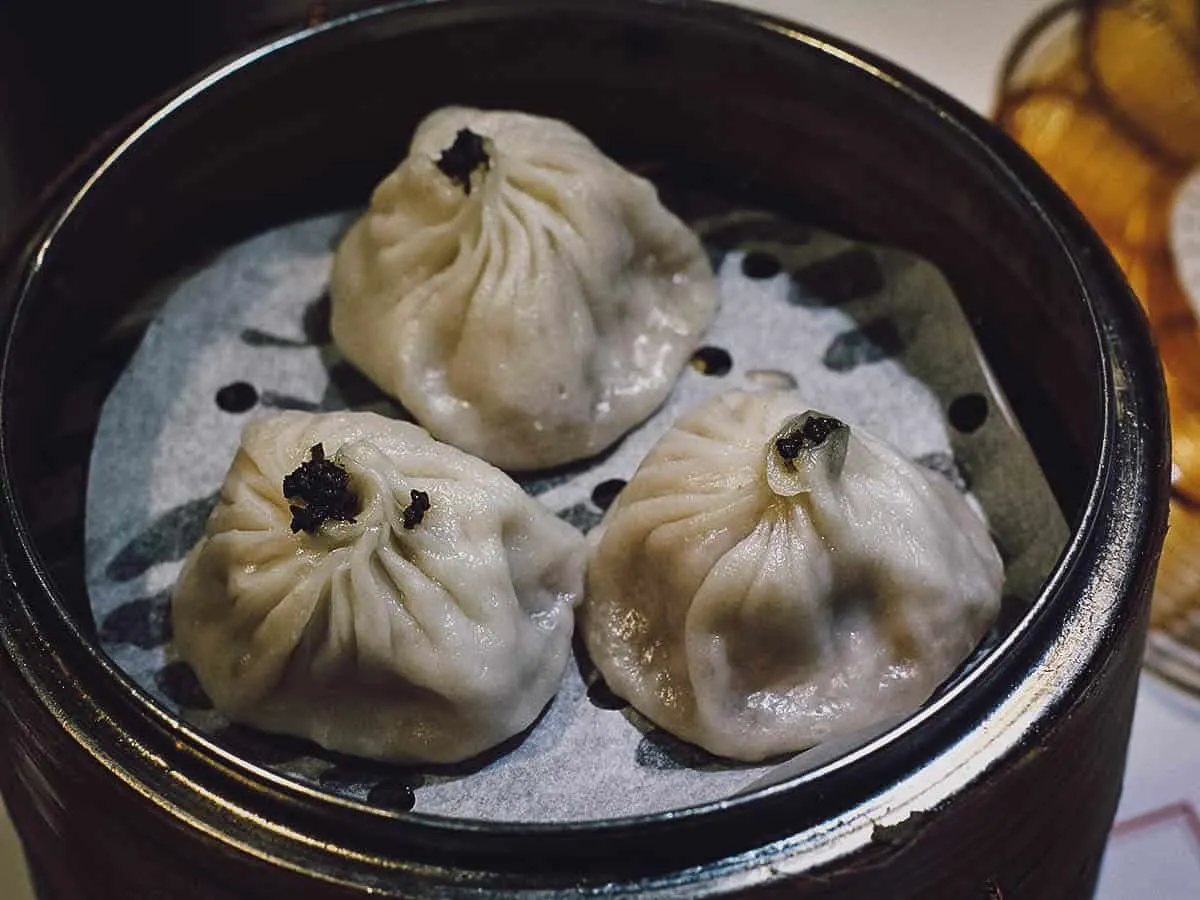 Nothing to see here, just a delicious bowl of steamed squid with garlic which I didn't share with anyone.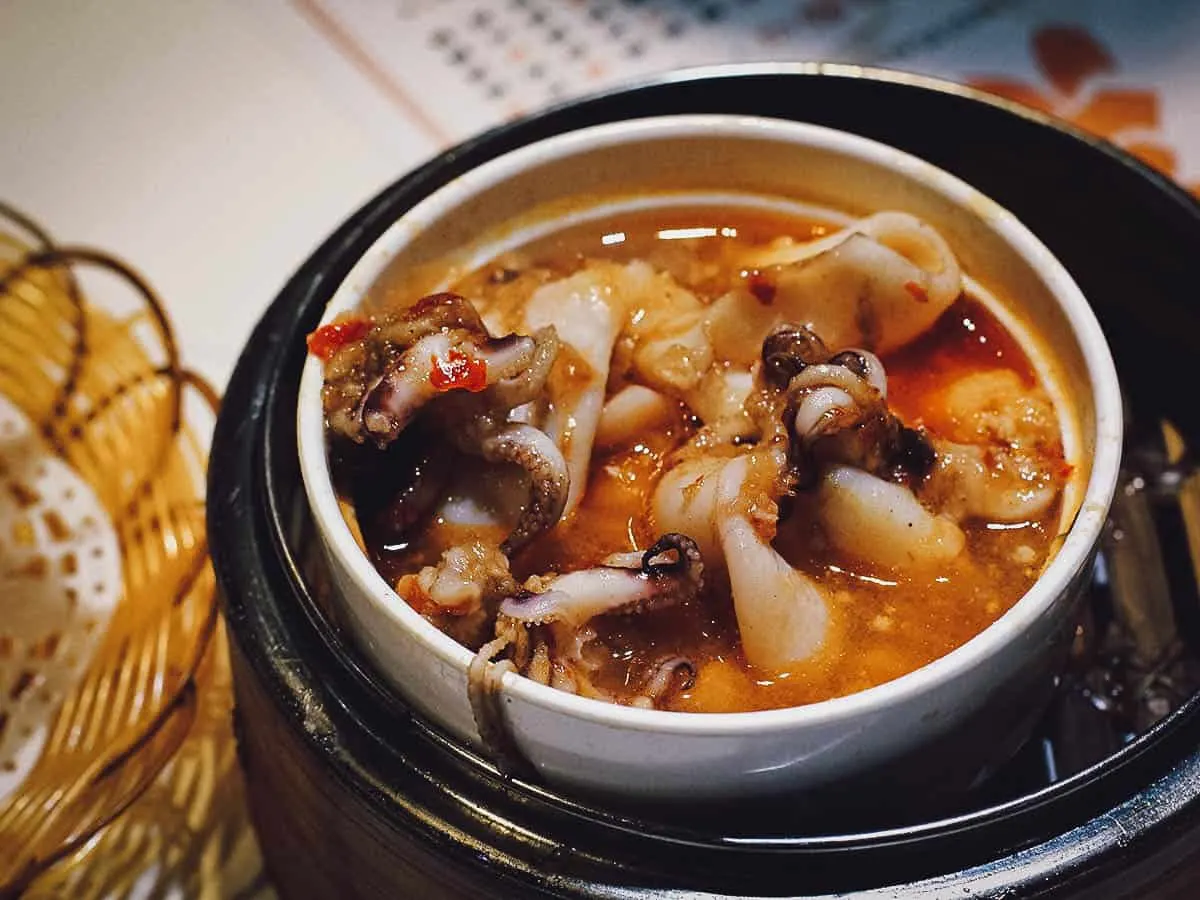 These vegetarian rice flour rolls were probably my favorite dish from tonight's meal. Known as cheong fun, they're thin slippery sheets of rice noodle that can be served filled or plain. These were made with minced mushroom and vegetables.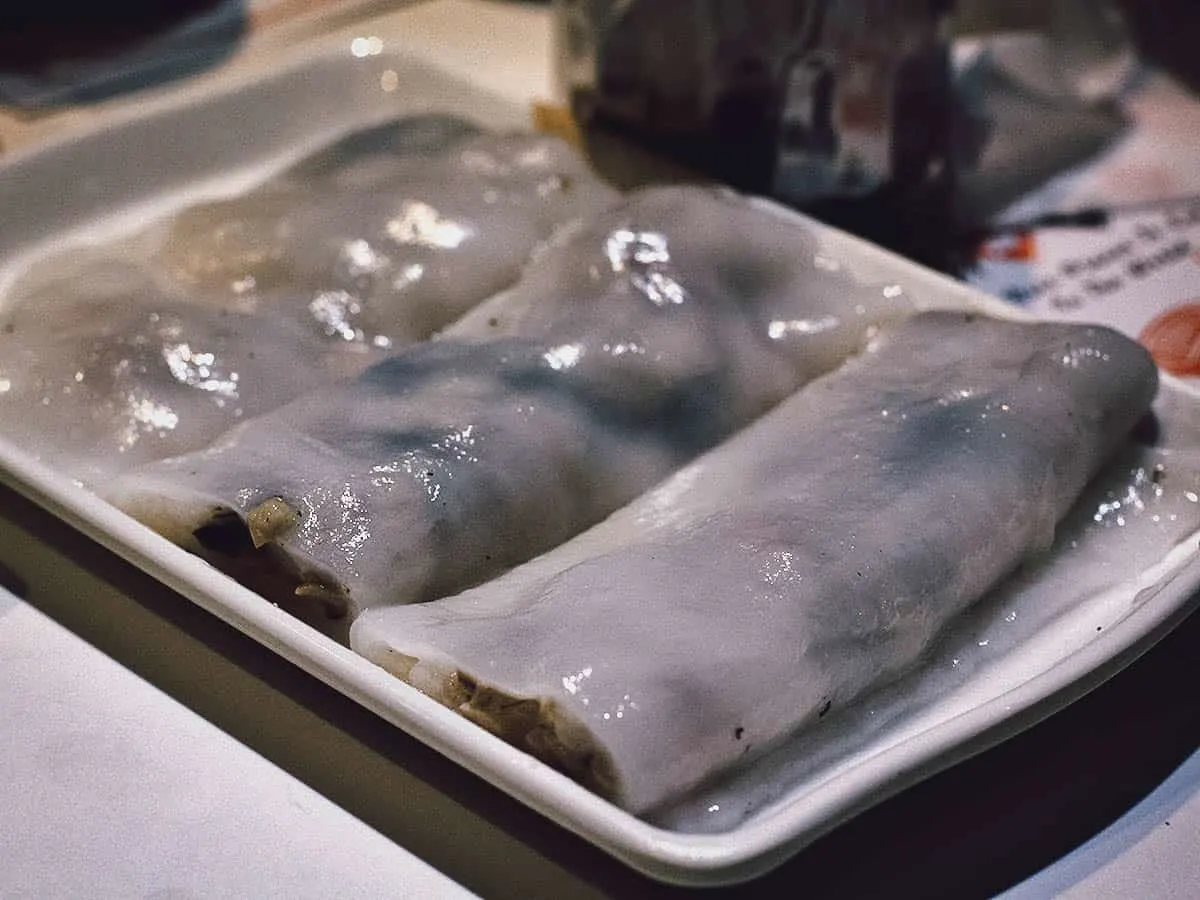 Dim Dim Sum has a few branches in Hong Kong. We went to the Jordan branch which is a TripAdvisor Certificate of Excellence awardee.
6. Cheung Hing Kee
Cheung Hing Kee was on the inaugural Michelin Hong Kong street food guide but it appears to have dropped out since. I don't know the reason but they're still damn good.
They're known for their black truffle sheng jian bao which is a soup-filled dumpling similar to xiao long bao, except they're made with a thicker dough and pan-fried.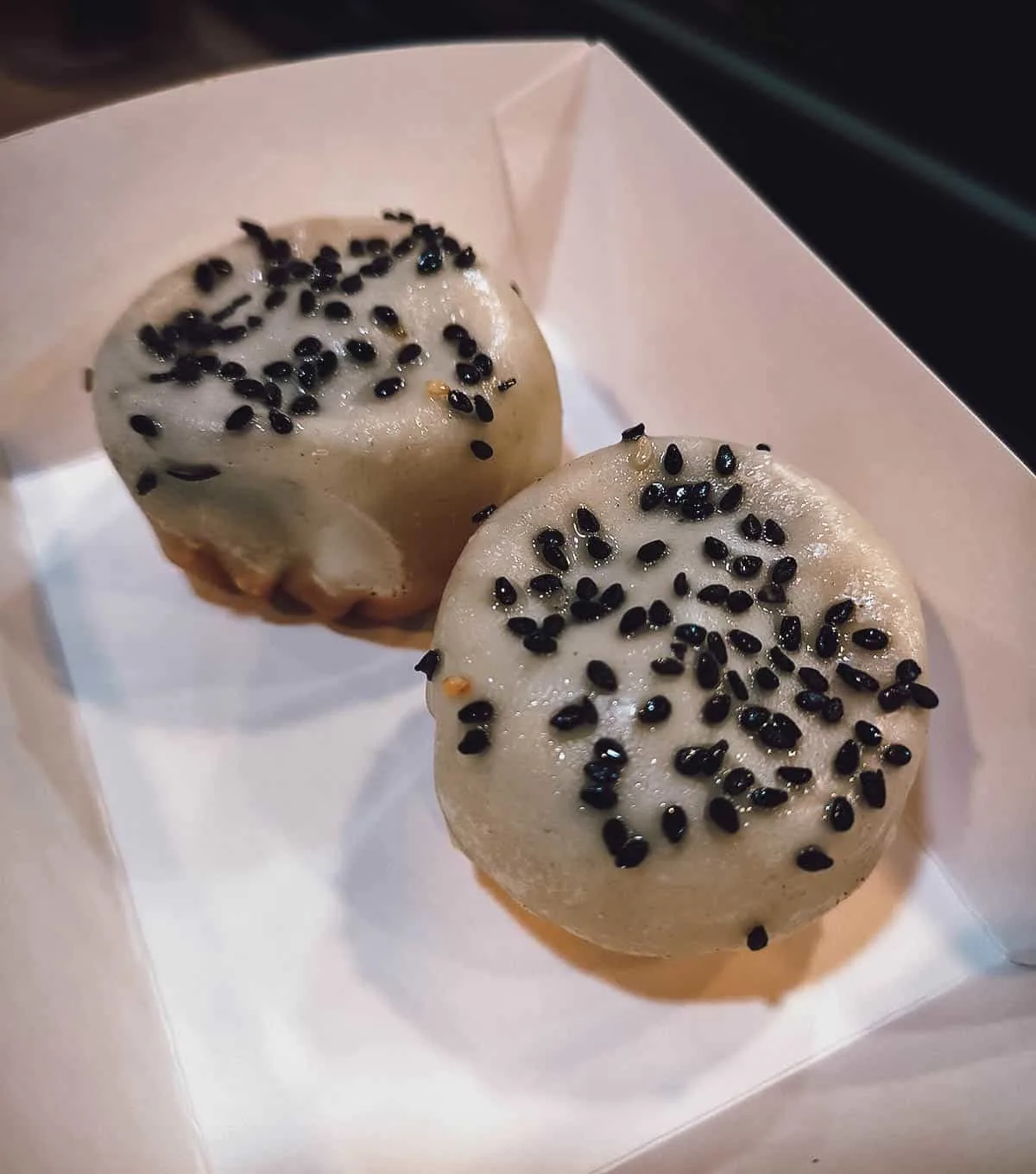 Look at all that truffle! The moment you take a bite, the woodsy aroma of truffle envelopes your senses. The combination of soup with the black truffle and pork is absolutely delicious. I actually prefer sheng jian bao to xiao long bao because of its crisp pan-fried bottom.
Cheung Hing Kee was one of our favorite places on the Michelin Hong Kong street food guide so I was surprised not to find it on the current list. Thankfully, I got to have it again on the Old Kowloon Eats food tour with A Chef's Tour.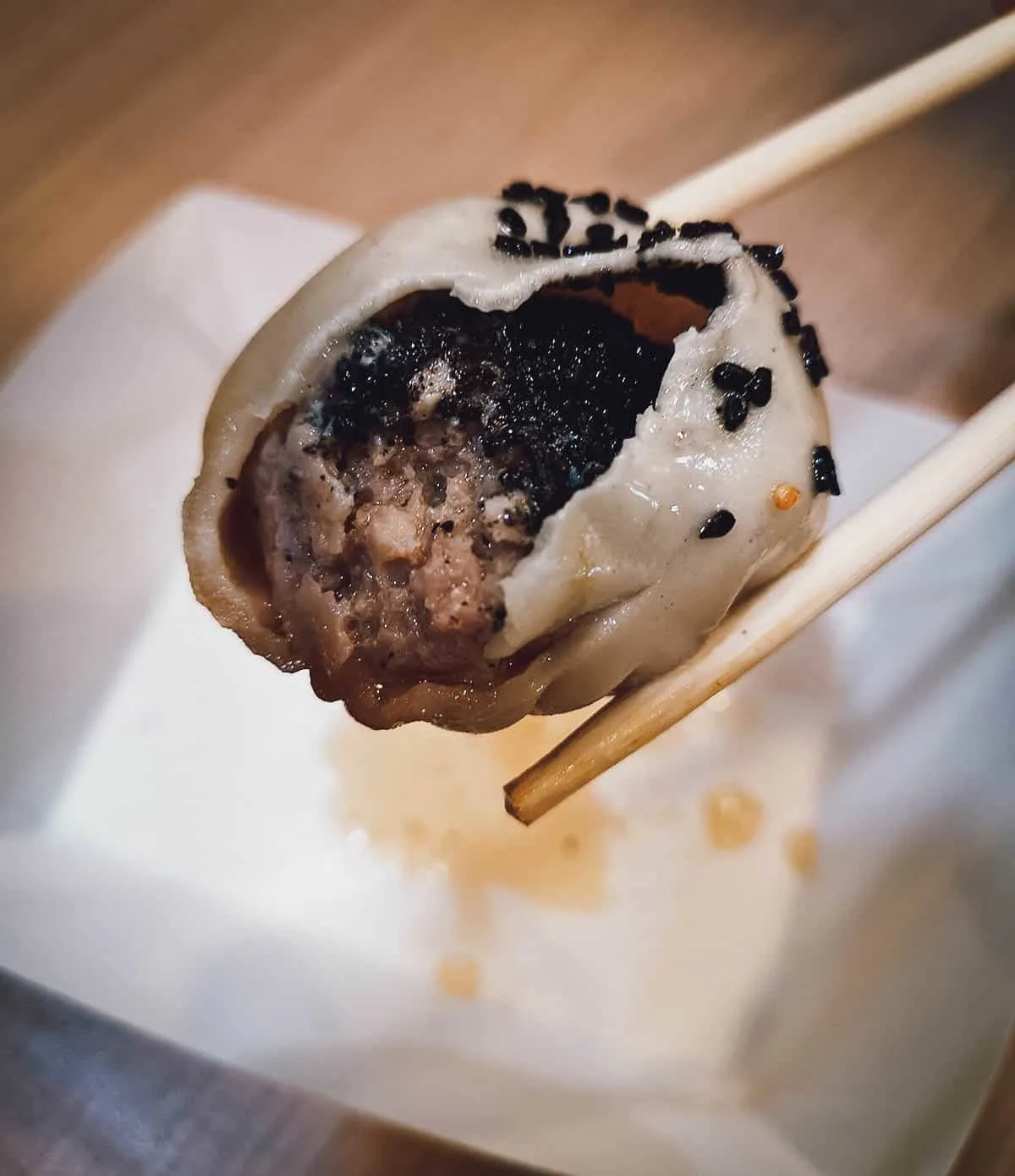 7. Hop Yik Tai
This is the second street food stall in Sham Shui Po recommended by the Michelin Guide. It's also one of the stops on the Old Kowloon Eats food tour.
Hop Yik Tai is a humble stall known for serving this Hong Kong food classic known as cheong fun or slippery rice rolls. Unlike the rice rolls I showed you at Dim Dim Sum, these are unfilled and rolled into cylinders, before being drizzled with sesame seeds and two sauces – the first a seasoned soy sauce and the second perhaps some type of peanut sauce.
These rice rolls were one of our favorites from the Michelin street food guide, and they were just as good today as they were three years ago.
The sauces are delicious but the real star for me are the rice rolls. They're super slick to the tongue without being slimy. I love their texture.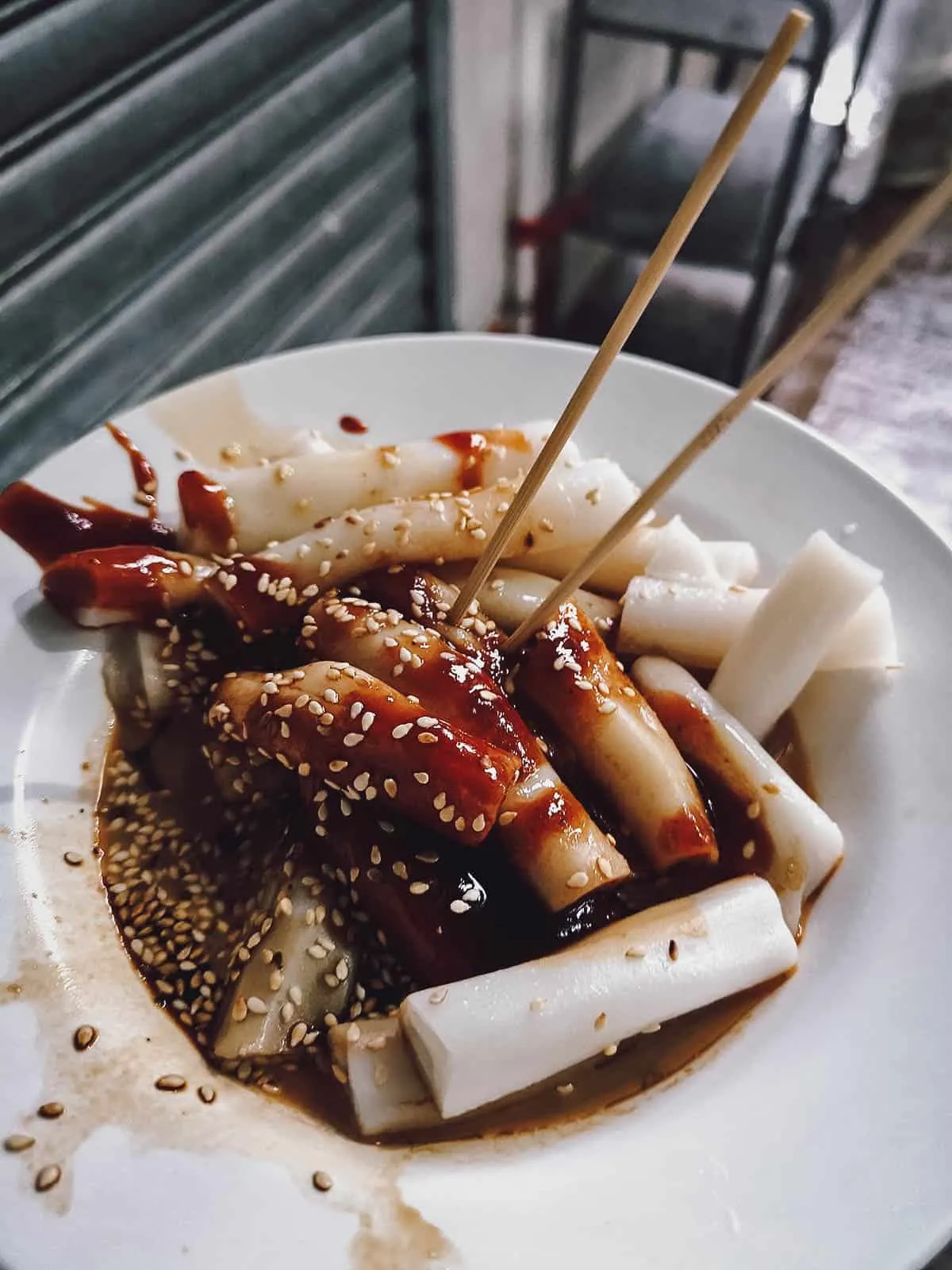 8. Fat Boy
Fat Boy is another Michelin-recommended street food stall that specializes in one thing – skewers of meat. Their most popular item is the marinated octopus but they offer different types of offal as well like beef tongue, pig intestine, gizzard, and duck stomach.

They drizzle the skewered meat with two types of sauces – one dark and the other yellowish. I'm not sure what the first one is but the second is spicy, like a horseradish or wasabi mustard.
In any case, they're delicious – soft and clean-tasting with great textures. I couldn't pick a favorite.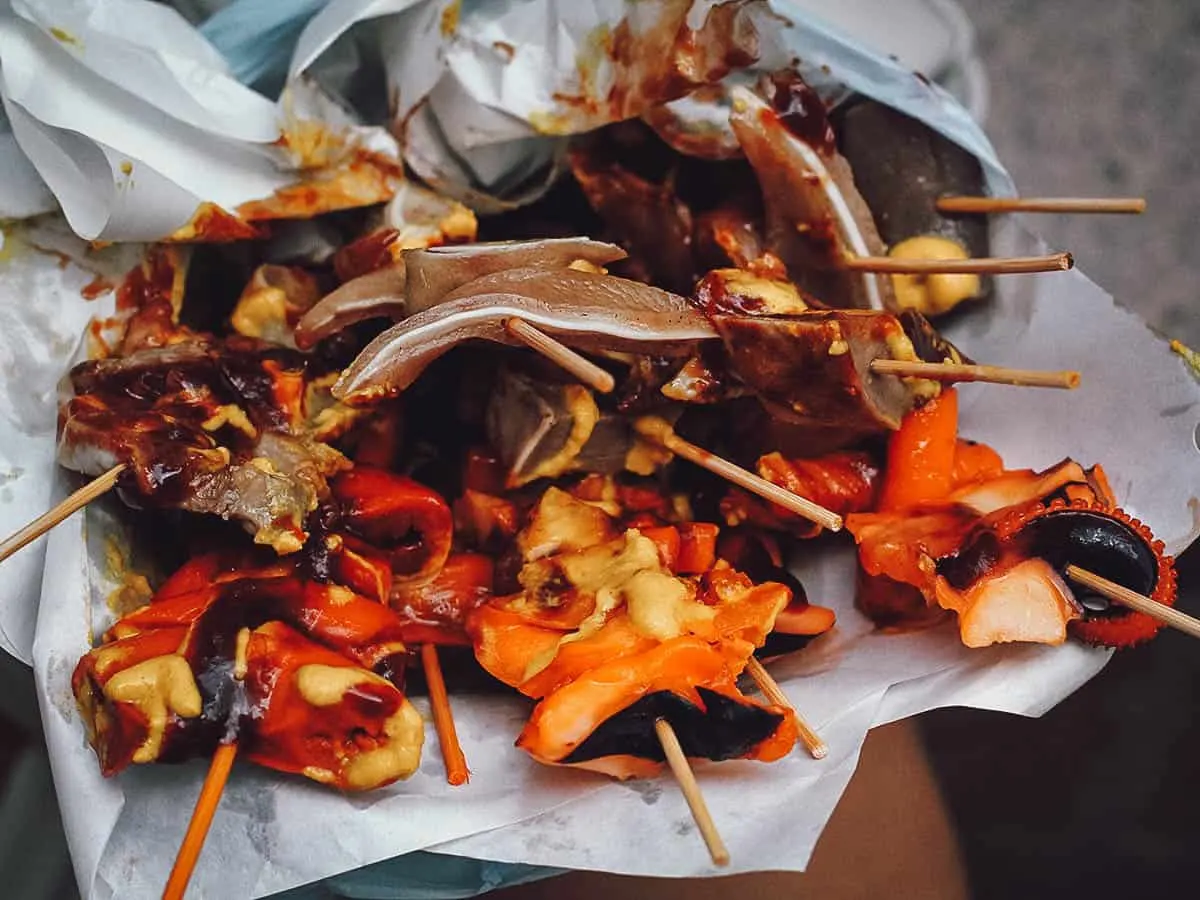 Fat Boy is just a stall in Tsim Sha Tsui with no seating. They do serve you the skewers wrapped in paper so you can easily bring them with you and eat on the go.
9. Block 18 Doggie's Noodle
Block 18 Doggie's Noodle is yet another Michelin-recommended street food stall. They offer a few things on their menu, most notably these bowls of short and thick springy noodles made with shrimp, mushroom, dried radish, and fried pork fat.
The noodles had great bouncy texture and the bits of fried pork fat were like little bombs of flavor. So good.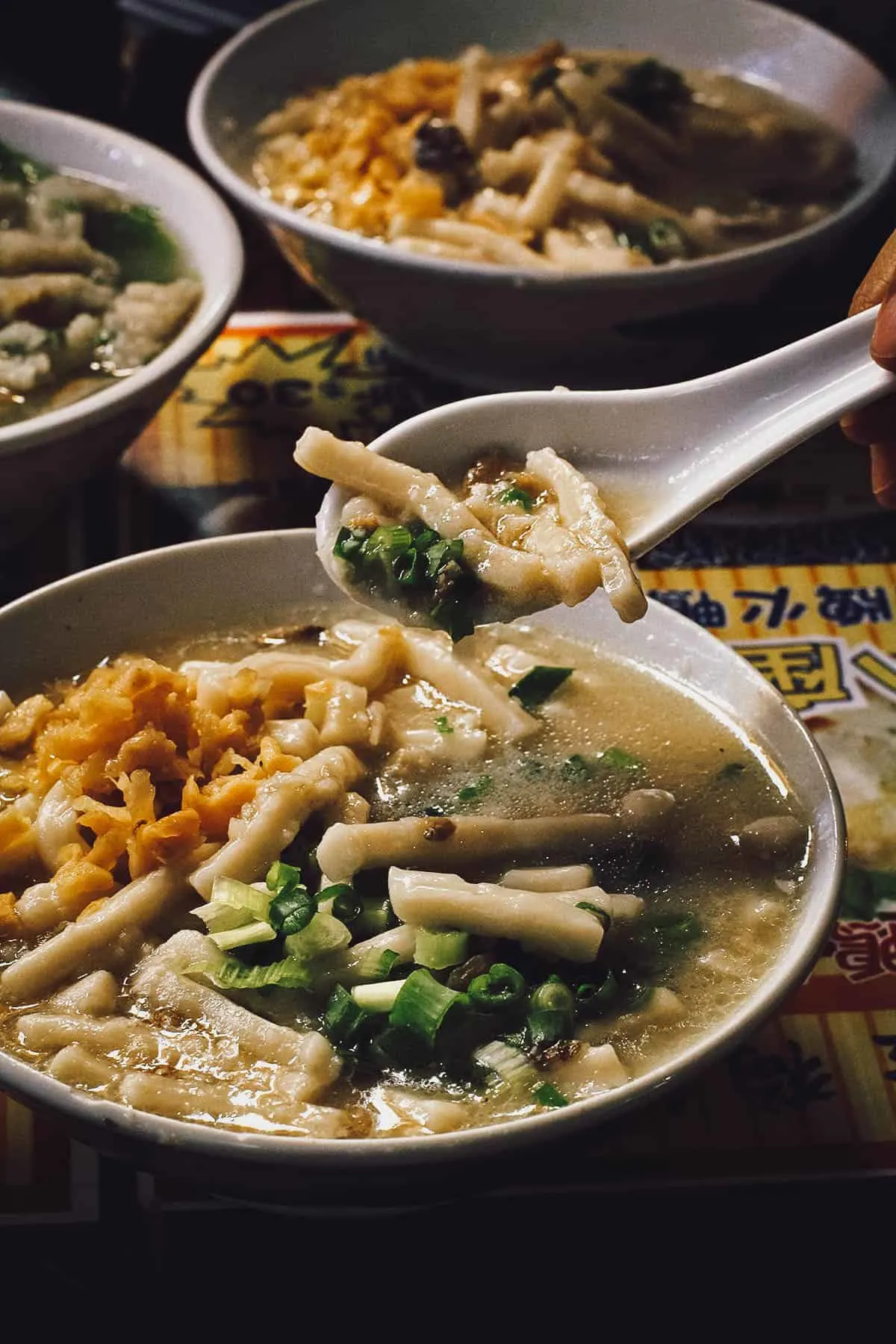 None of the menus were in English so we didn't really know what we were eating, but this fish cake noodle soup was also featured prominently on their menu. It was almost as good as the bowl of springy noodles.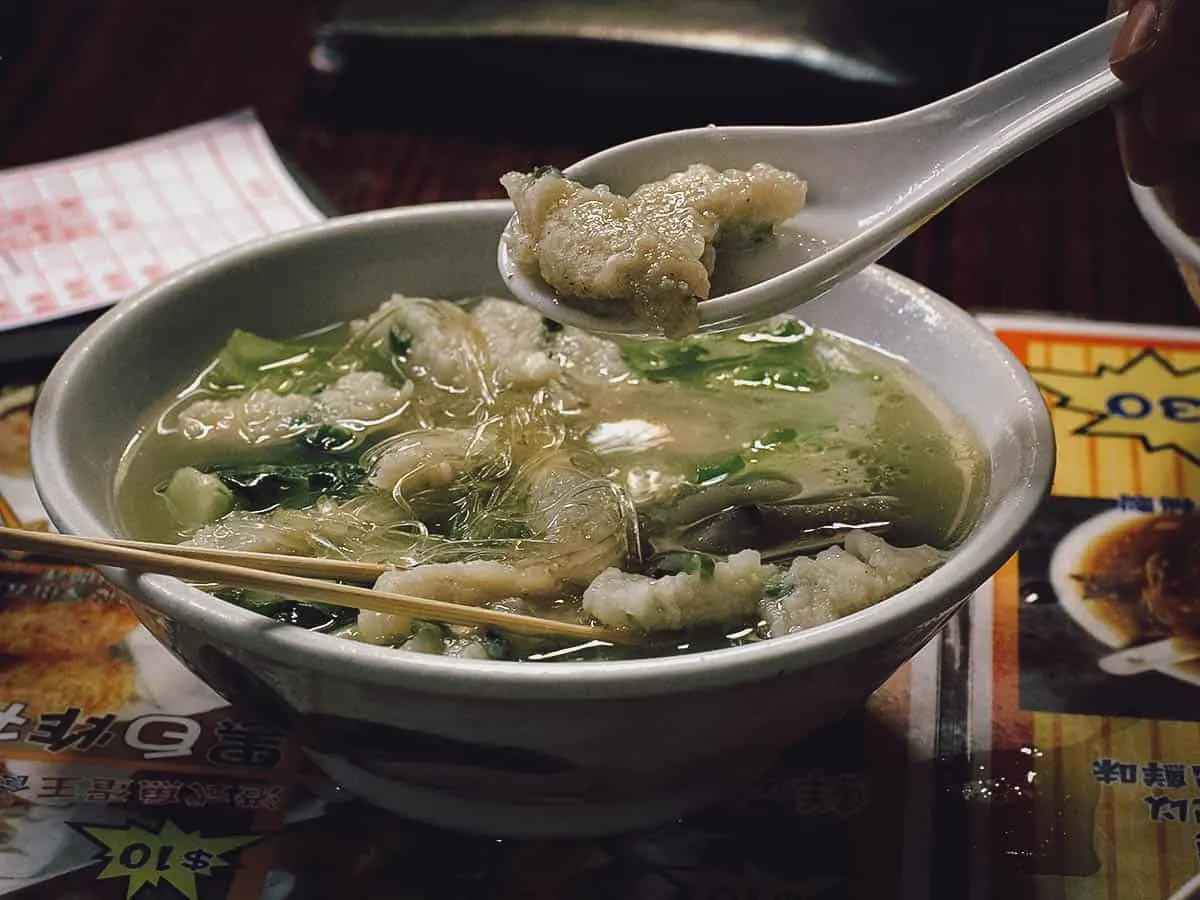 10. Chin Sik
Chin Sik is a Michelin-recommended street food stall that specializes in the Hong Kong food classic known as cart noodles.
Cart noodles simply refer to a type of noodle sold streetside in the low income districts of 1950s Hong Kong. They've all but vanished but the style of noodles have become iconic and persevere to this day.
I'm not entirely sure what constitutes Hong Kong cart noodles, but based on this experience and what I've read, it's defined by the ability to choose from different types of noodles and a wide variety of toppings.
In the picture below, you can see the noodle varieties in the back and the myriad of toppings in front. We basically just pointed to whatever we wanted.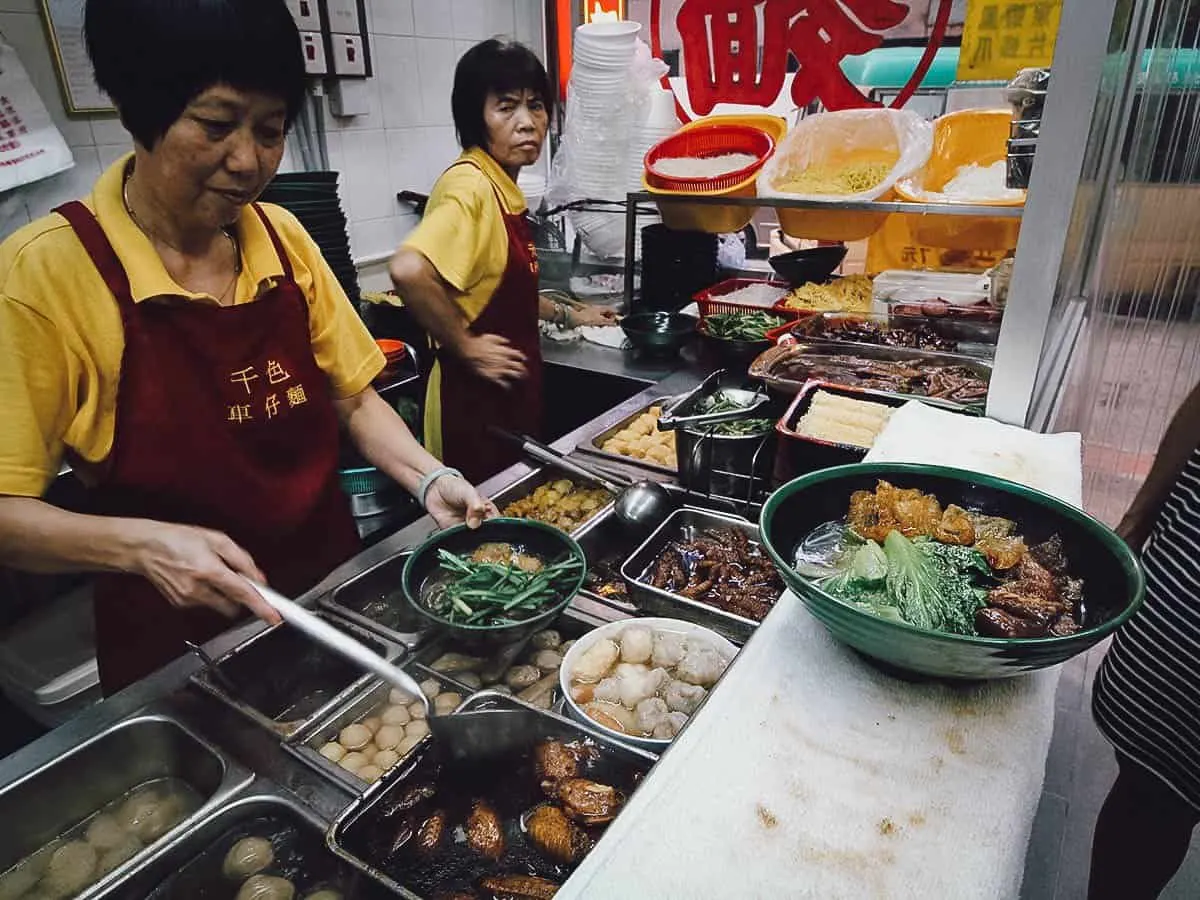 Noodle options include ho fan, udon, and thick or thin noodles. You can get them topped with all kinds of ingredients like pork intestine, Chinese sausage, fish ball, wonton, and fish cake.
Based on this picture, we chose thin noodles with green vegetables, pork skin, shiitake mushrooms, and perhaps a few other things. Our concoctions were delicious.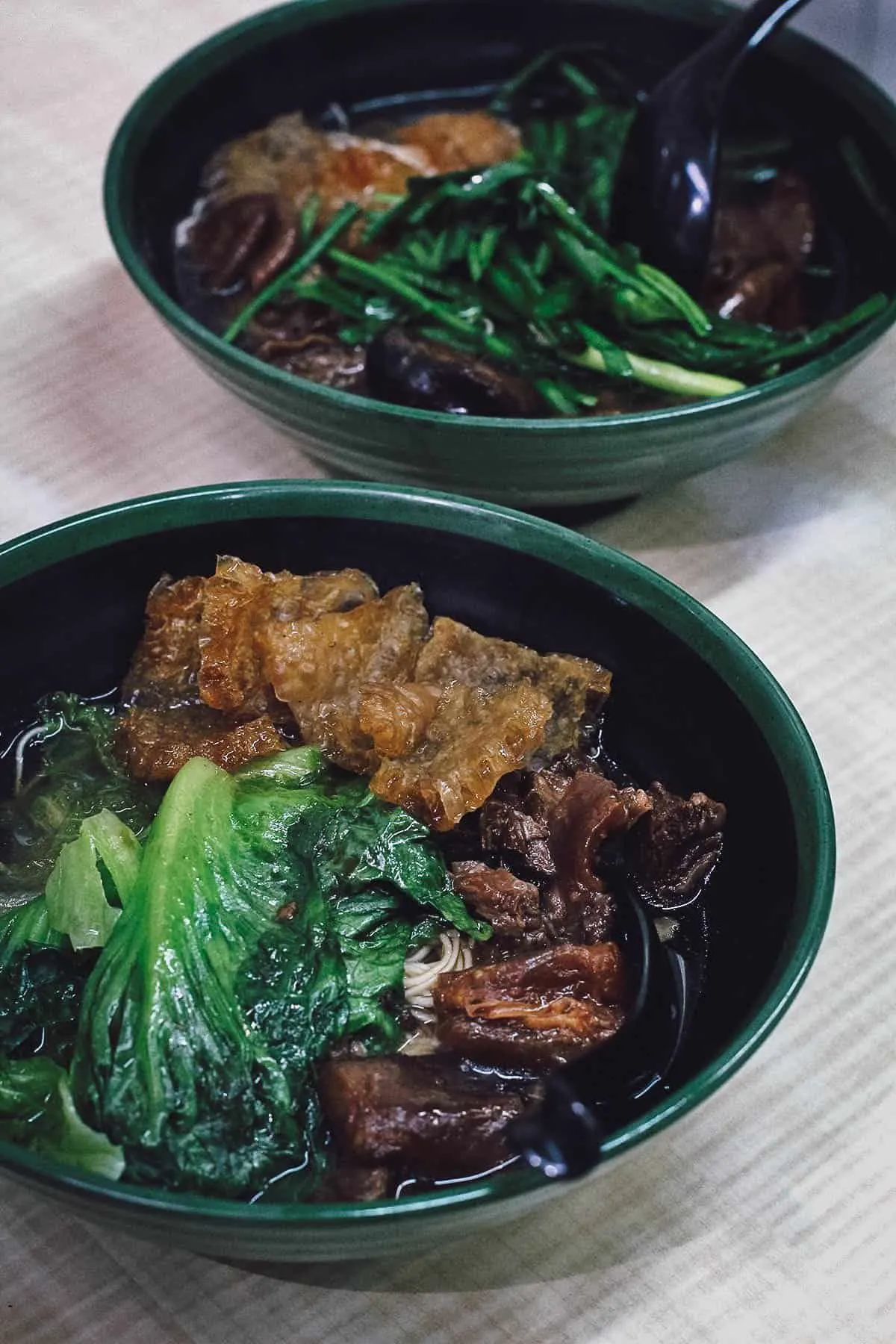 11. Four Seasons Clay Pot Rice
Ren's cousin took us to this Hong Kong restaurant late one night to enjoy the most delicious clay pot rice.
Clay pot rice is Chinese-style rice cooked and served in a clay pot and topped with an assortment of ingredients like chicken, pork, duck, Chinese sausage, and vegetables.
The pots are slow-cooked over charcoal, creating a layer of crunchy rice at the bottom of the pot similar to the socarrat in paella.
Pictured below is chicken and Chinese sausage claypot rice. Four Seasons has conventional toppings like chicken, pork chop, and beef, but adventurous eaters may want to try more unusual specialties like cured duck leg, eel, and frog's legs.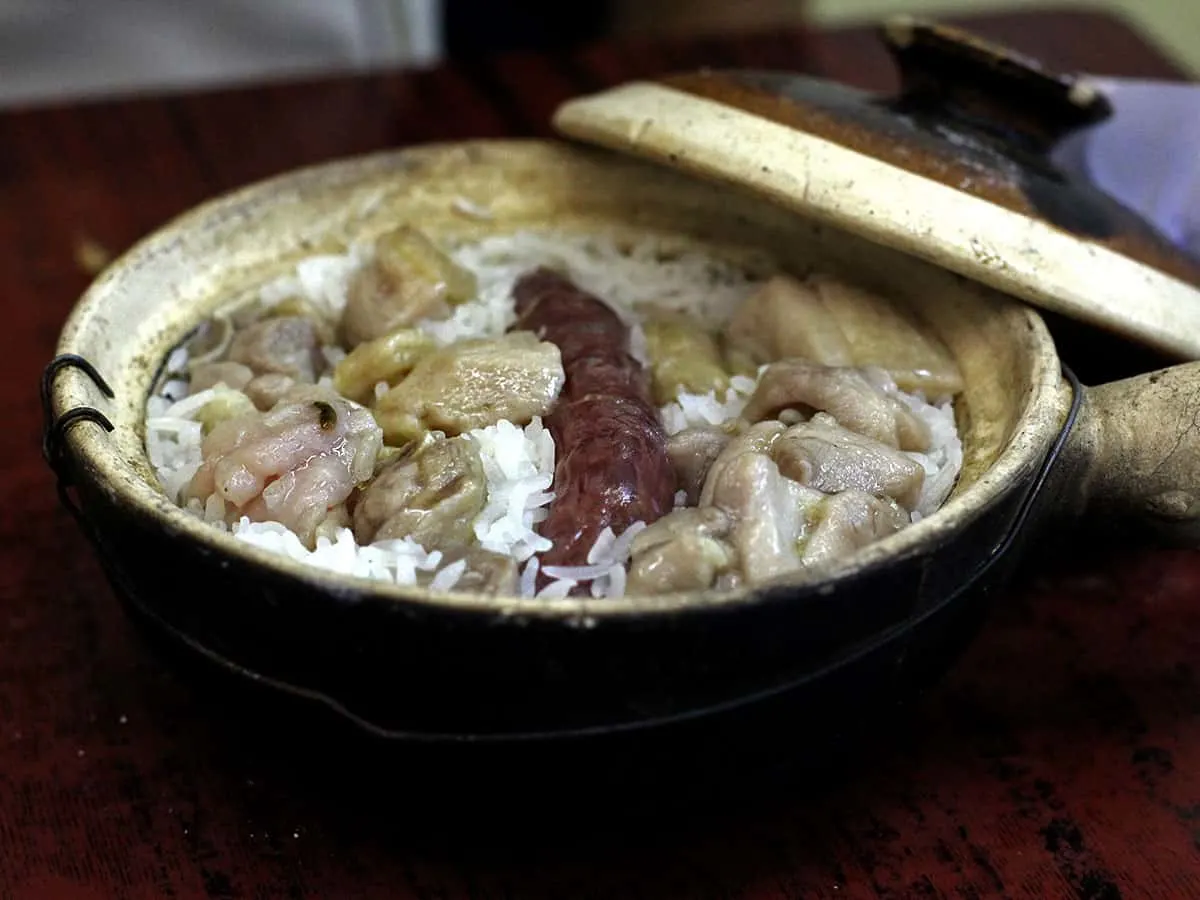 Claypot rice looks colorless and bland but it's deceptively flavorful, especially after you pour the dark sauce over it. The mixture of the sticky and crunchy rice with the toppings is delicious and comforting.
This is exactly the type of dish I'd like to have after a night of drinking, which is probably why Four Seasons is open only from 6PM till 1AM. It's filling and makes for excellent drunk food.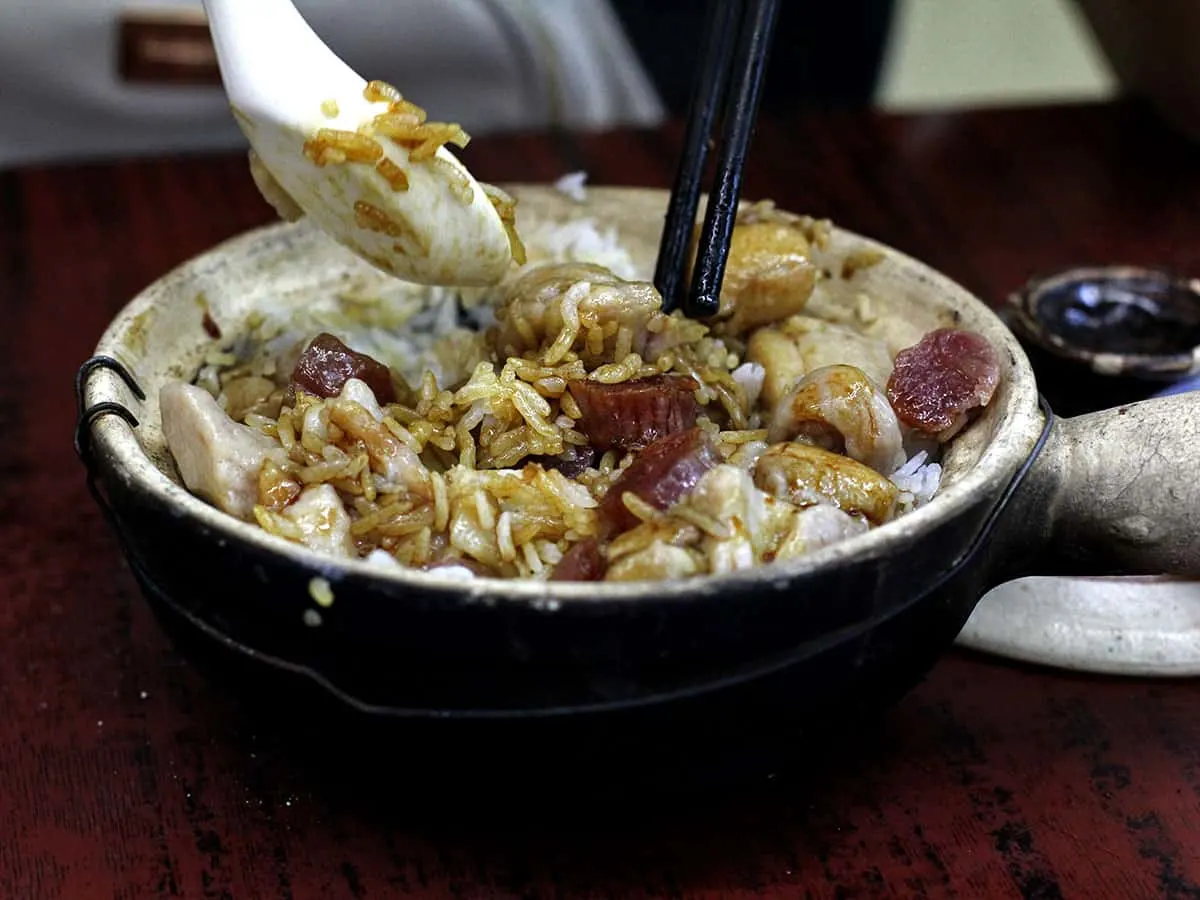 Apart from the claypot rice, Four Seasons is known for their duck egg oyster cake as well. They're basically crunchy deep-fried fritters made with duck egg and oysters. They're delicious and go well texturally with the claypot rice.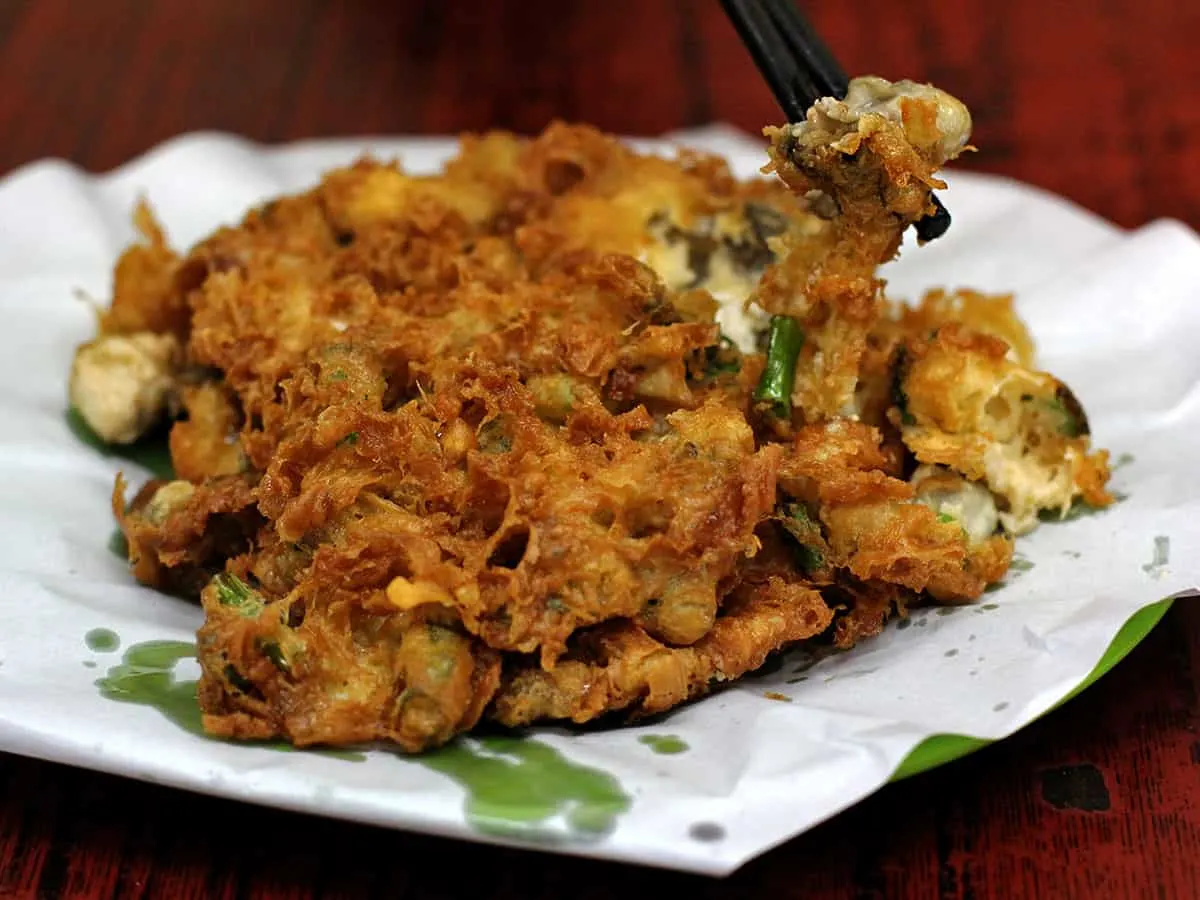 12. Mammy Pancake
Mammy Pancake is another Michelin-recommended street food stall. They specialize in a Hong Kong food favorite known as egg puffs – those spherical bubble-wrap-looking snacks that are among the most popular and fun things to eat in Hong Kong.
At first, I couldn't understand how a simple egg puff stall could make the Michelin Guide. It's basically just a waffle made with egg-rich batter. But taste lesser egg puffs and you'll understand – it's all about the texture.
Few places get it right but Mammy Pancake does it perfectly. Pictured below is their coffee egg puff.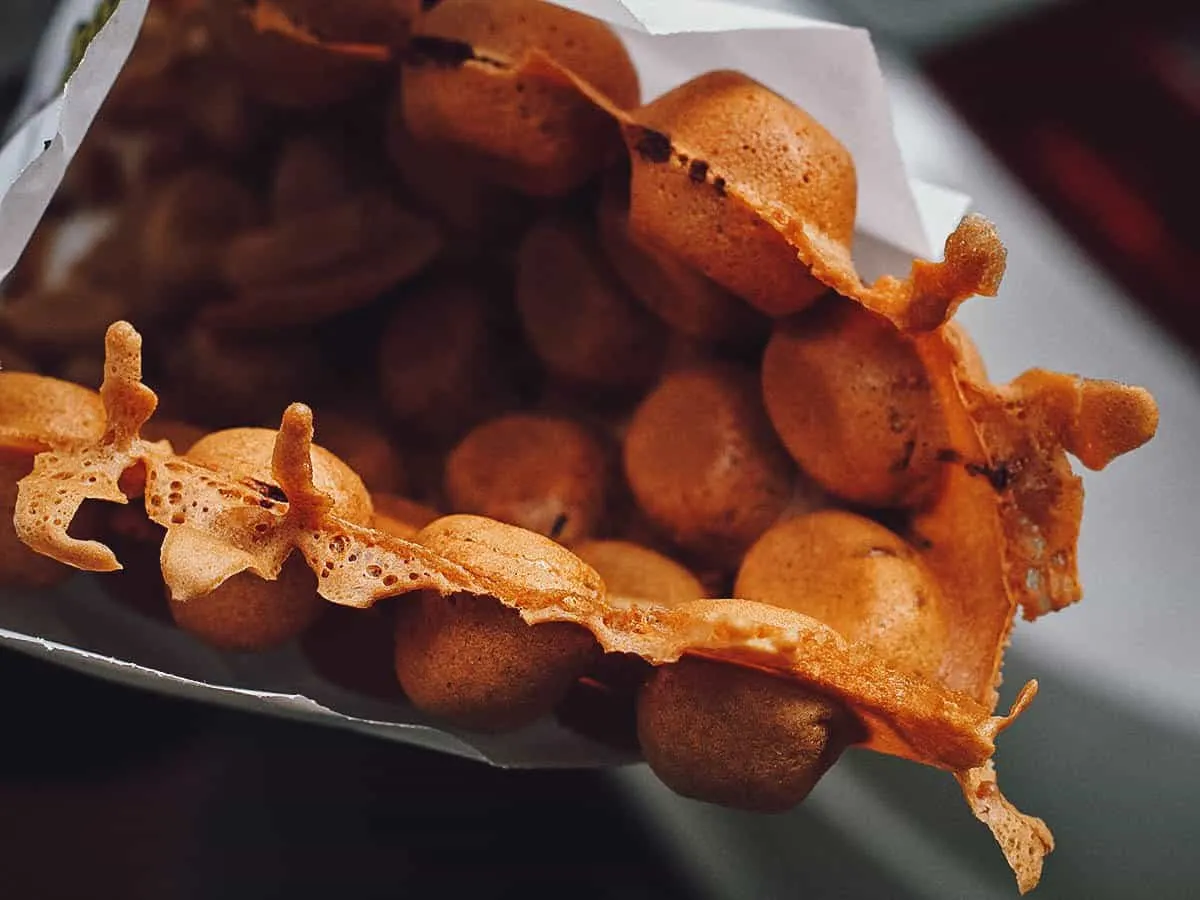 This is the matcha egg puff. You can get it with just one basic flavor or with more exotic ingredients like salted egg yolk, chestnut, and pork floss.
Crisp on the outside but pillowy soft on the inside, these have got to be one of the most addictive things in Hong Kong. I dare you to eat just one puff.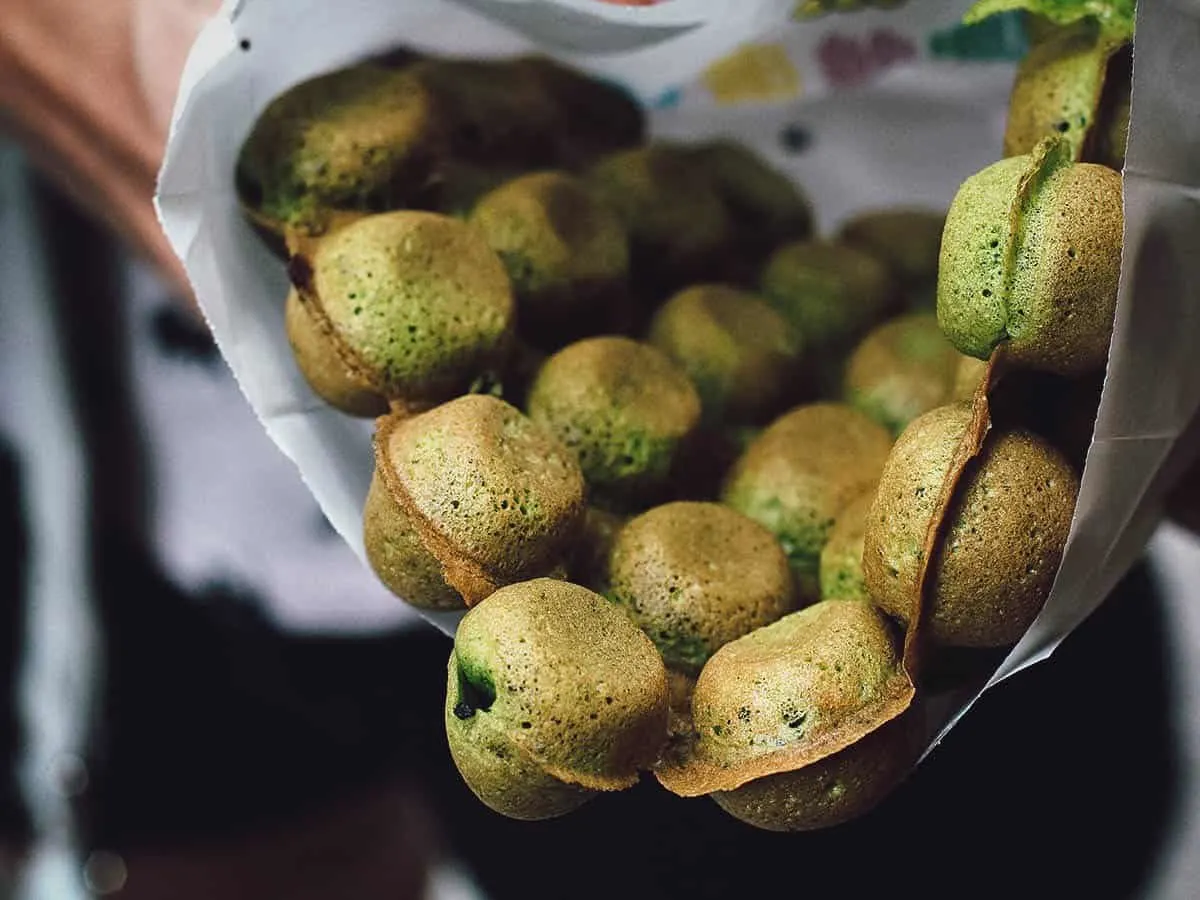 The Mammy Pancake stall in Tsim Sha Tsui is so small we almost missed it. I walked right past it and was clued in to its location only after getting a whiff of that heavenly batter.
13. Old Kowloon Eats: Private Hong Kong Food Tour
This next entry isn't a restaurant or street food stall, but a Hong Kong food tour led by Lulu of A Chef's Tour.
It's a 4.5-hour eating binge that takes you through the streets of Kowloon stuffing everything in your mouth from curry fish balls to slippery rice rolls to pineapple buns and wonton soup.
If you want an authentic and immersive street food dining experience in Hong Kong, one that will have you bursting at the seams after, then you may want to check out this tour.
Pictured below is a cup of spicy curry fish balls, a Hong Kong food icon and one of 15+ dishes you'll be sampling on this tour.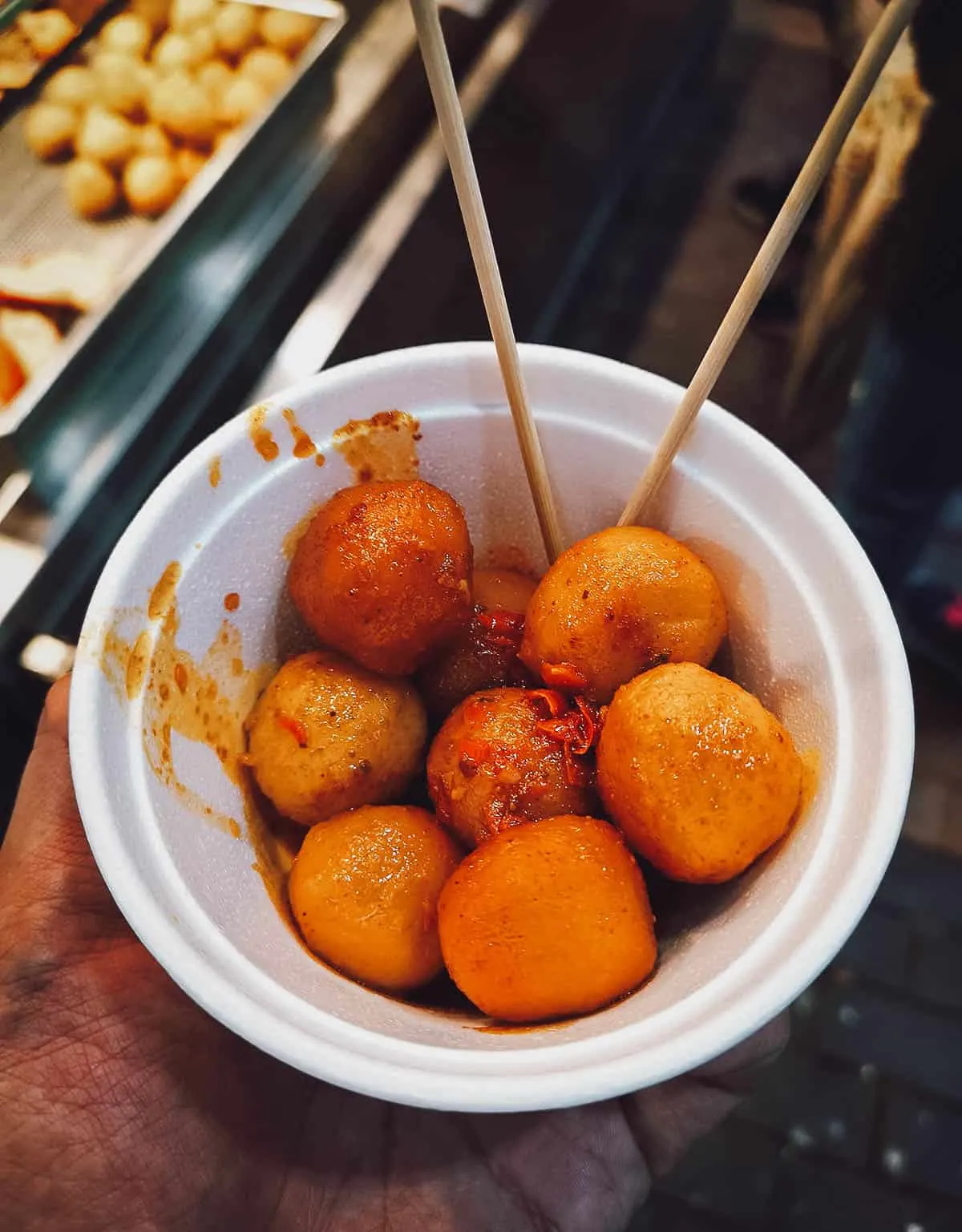 A beautiful plate of deep-fried tofu with chili and garlic. Many of the stalls you'll be visiting on this tour are off the tourist circuit and known only to locals. This is precisely why we like going on food tours like this one, to discover deeply local places that you can't easily find on Google.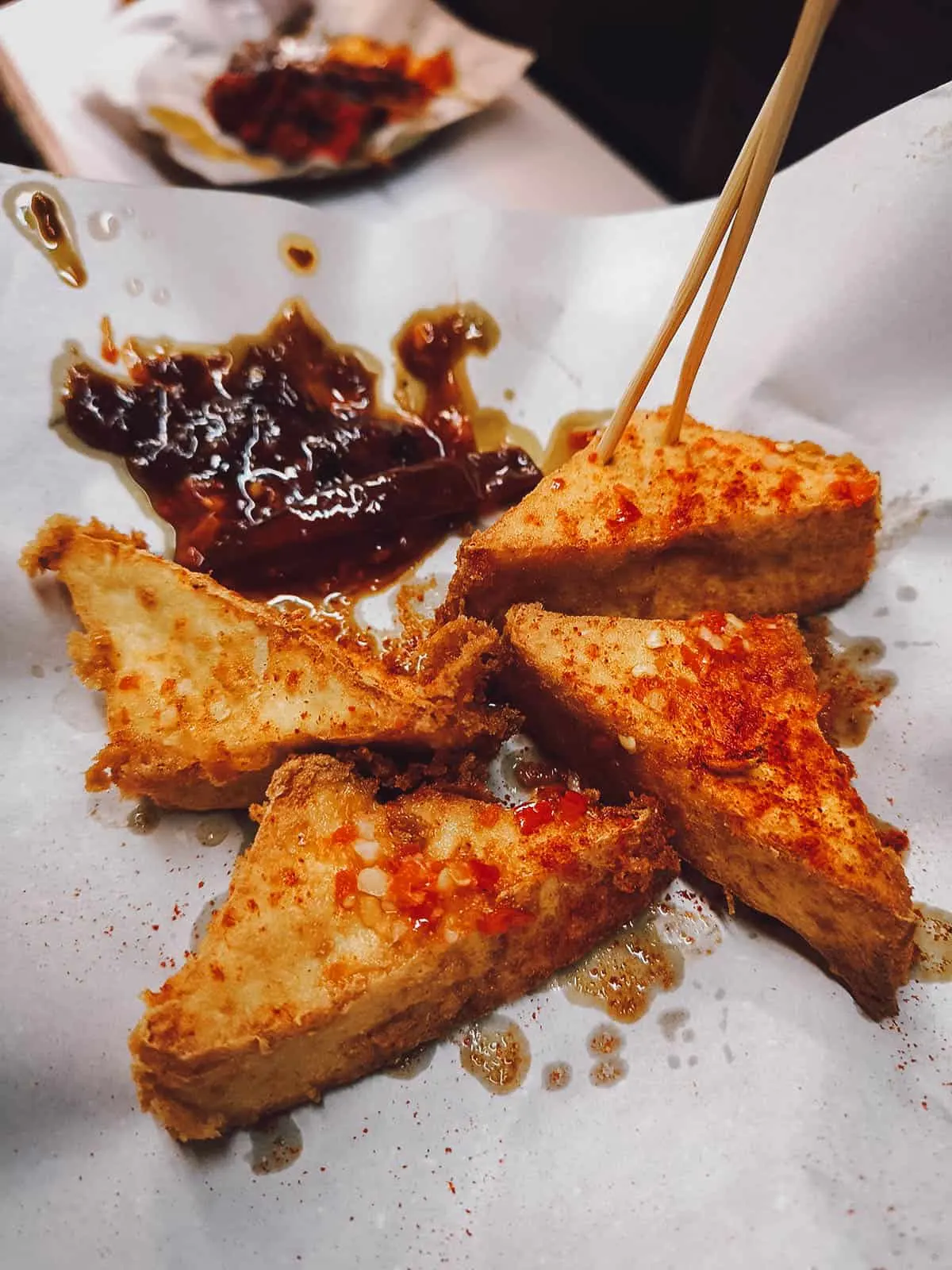 Lulu will take you to several Michelin-recommended street food stalls, including this Chinese bakery famous for their red bean glutinous rice cakes. You can check out my article on this Old Kowloon Eats food tour for more pictures and information.
HONG KONG ISLAND
14. Yat Lok
Roast goose is another Hong Kong food favorite and one of the most sought-after dishes in the city.
Whenever someone we know goes to Hong Kong, friends and family will ask them to bring back a parcel of roast goose. Like egg puffs or dim sum, it's a dish many people associate with Hong Kong.
When the subject of the best roast goose comes up, two places are often mentioned – Yat Lok and Kam's Roast Goose. Both have one Michelin Star and are known for serving some of the best roast goose in Hong Kong.
Here's a serving of Yat Lok's famous roast goose drumstick over rice. It was juicy and very flavorful, though perhaps a bit on the greasy side.
If you've never had goose before, it's typically gamier and oilier than chicken, though it's also more flavorful.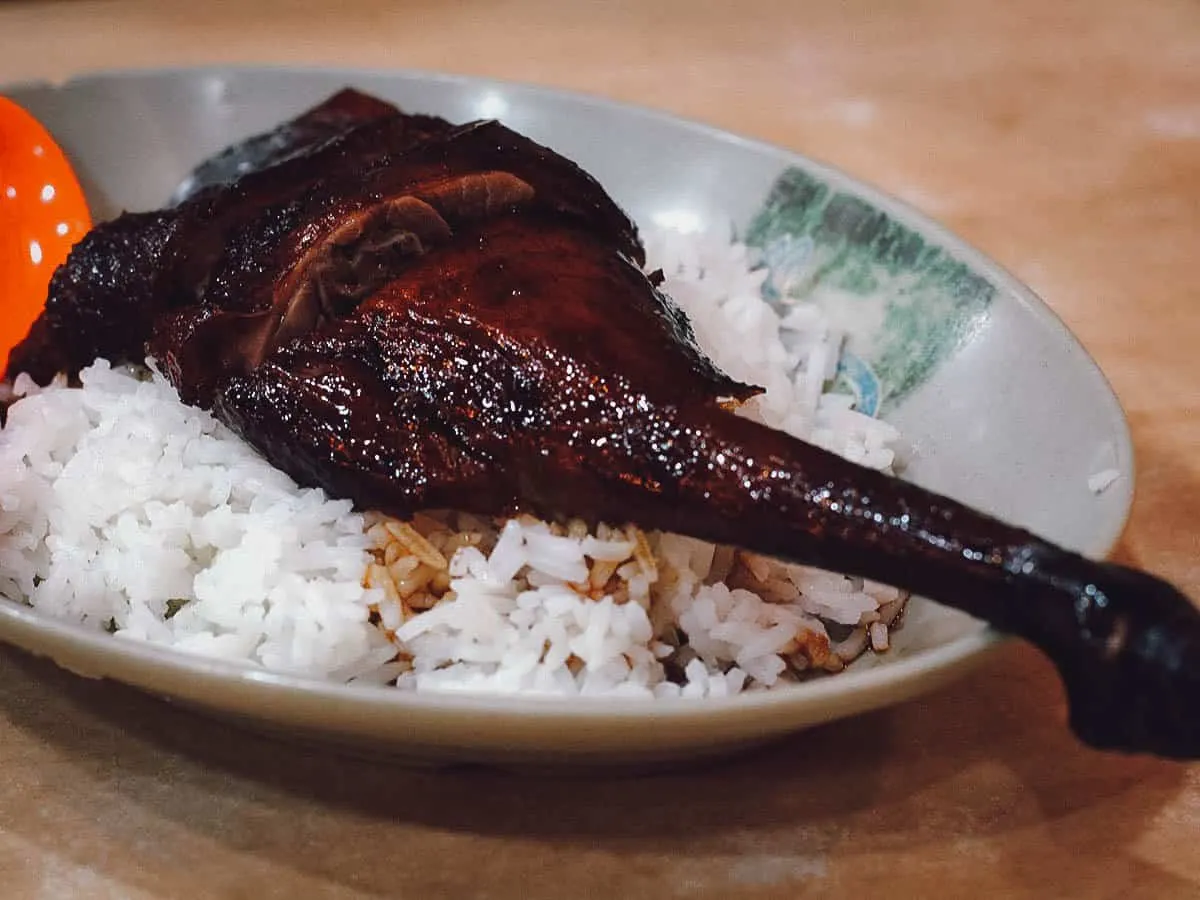 You can have the roast goose drumstick over rice noodles as well. The broth tends to make the skin less crispy so I prefer mine over rice.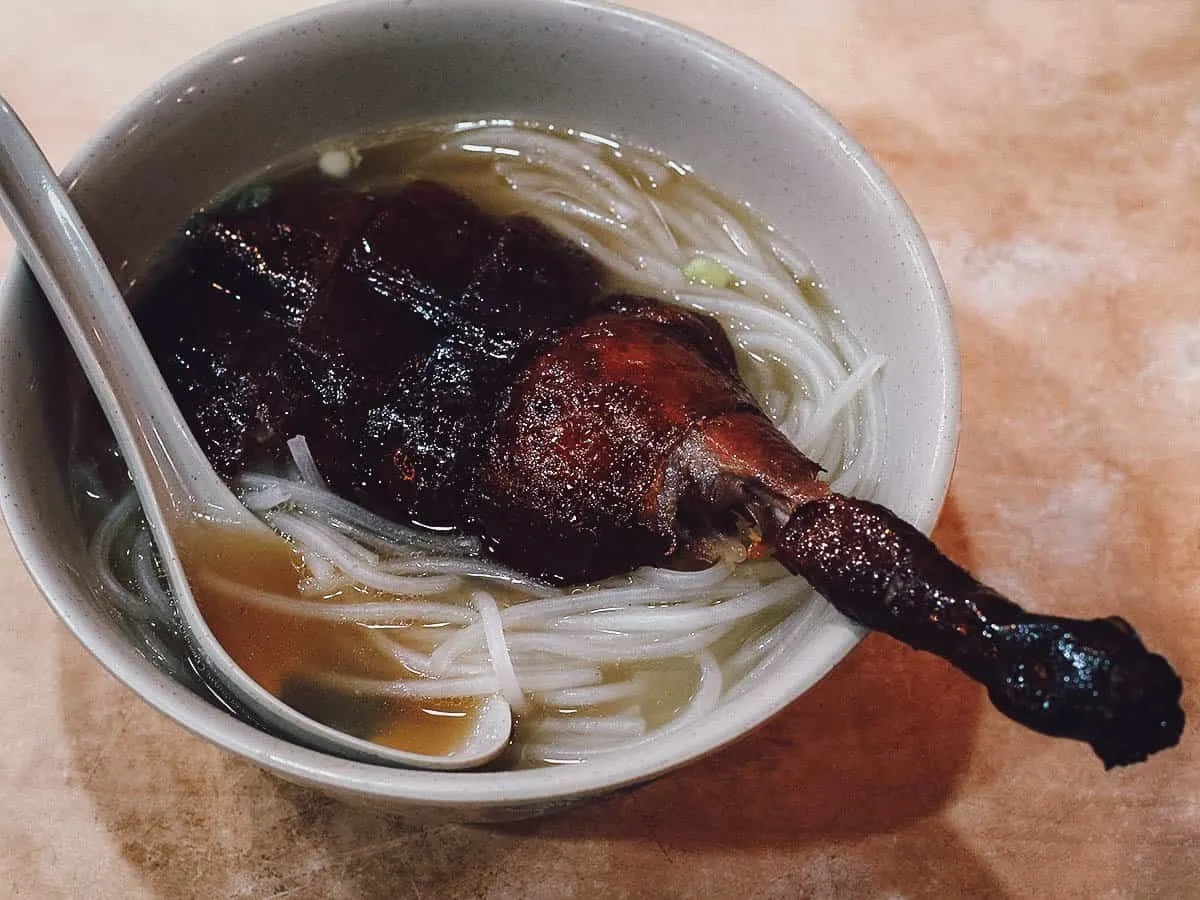 15. Kam's Roast Goose
As described, Kam's is another contender for best roast goose in Hong Kong. Unlike Yat Lok which still retains its traditional siu mei shop feel, Kam's Roast Goose feels more like a proper sit-down restaurant with tablecloths and fancier cutlery. Personally, I prefer the atmosphere at Yat Lok.
We tried the roast goose over rice at Kam's. I'm not the most seasoned roast goose eater but the offerings at Kam's seemed less flavorful than Yat Lok's, but it was cleaner-tasting and less greasy. Both were very good so there's no clear winner for me.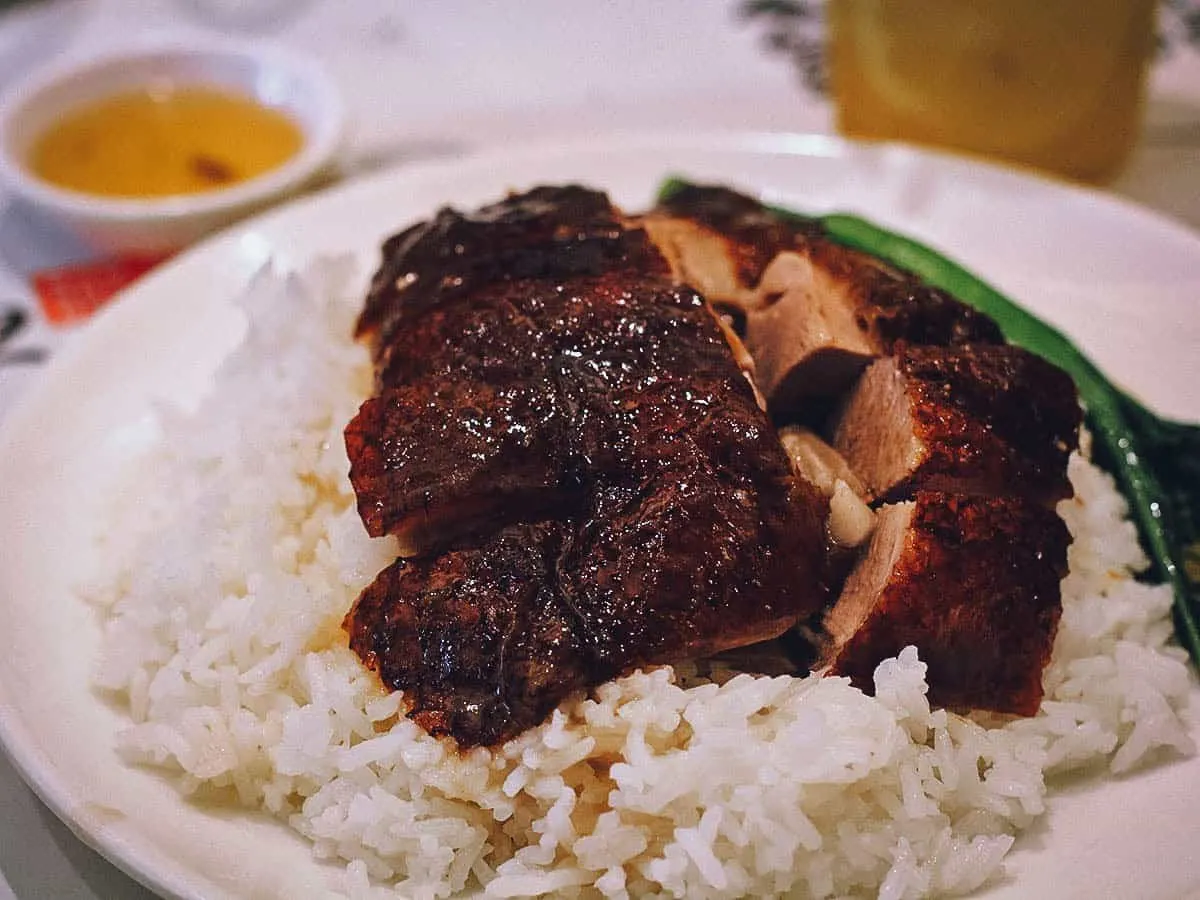 16. Joy Hing Roasted Meat
The term siu mei is the Cantonese catchall phrase used to refer to any type of roasted meat. Roast goose, roast duck, and roast pork are all examples of siu mei. But the most important type of siu mei is perhaps char siu, which is barbecued pork. It's a Hong Kong national dish.
I Googled "best char siu in hong kong" and the majority of the responses pointed me to Joy Hing Roasted Meat. It's a siu mei restaurant with a long history.
It first opened in Guangdong, China in the late 19th century before moving to Hong Kong in the early 1900s. Yes, this place has been serving siu mei for over a hundred years so they know what they're doing.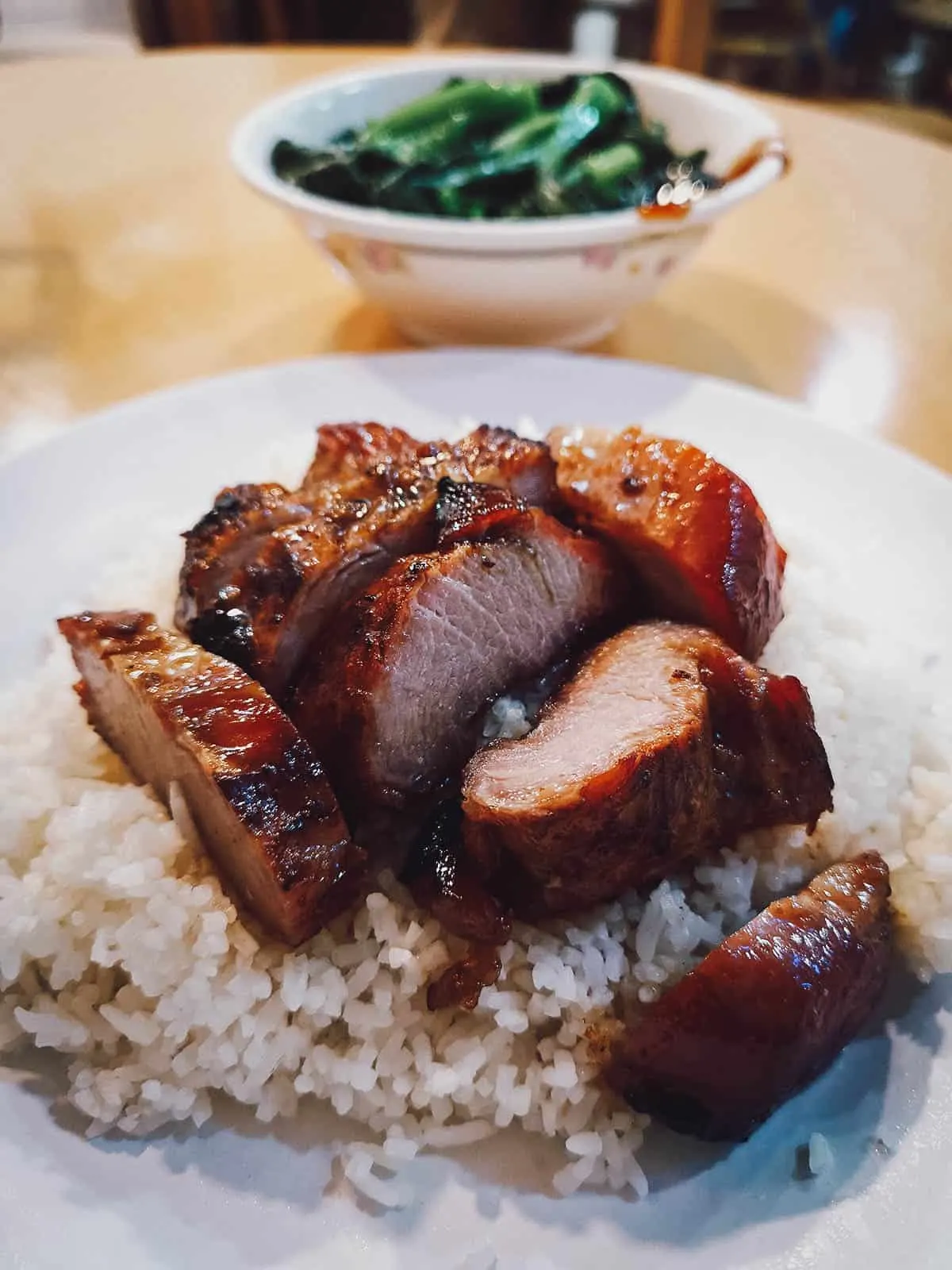 Joy Hing is famous for different types of siu mei but I was here for one thing, the char siu. Pictured below is their char siu over rice which many say is the best in Hong Kong. I'm no expert but it was pretty damn good.
The term char siu literally means "fork roasted" and refers to how the pork is cooked. Strips of seasoned boneless pork are skewered with long forks before being roasted.
The meat is typically seasoned with ingredients like honey, five spice, fermented bean curd, and hoisin sauce, giving it that savory-sweet, almost aromatic flavor characteristic of char siu.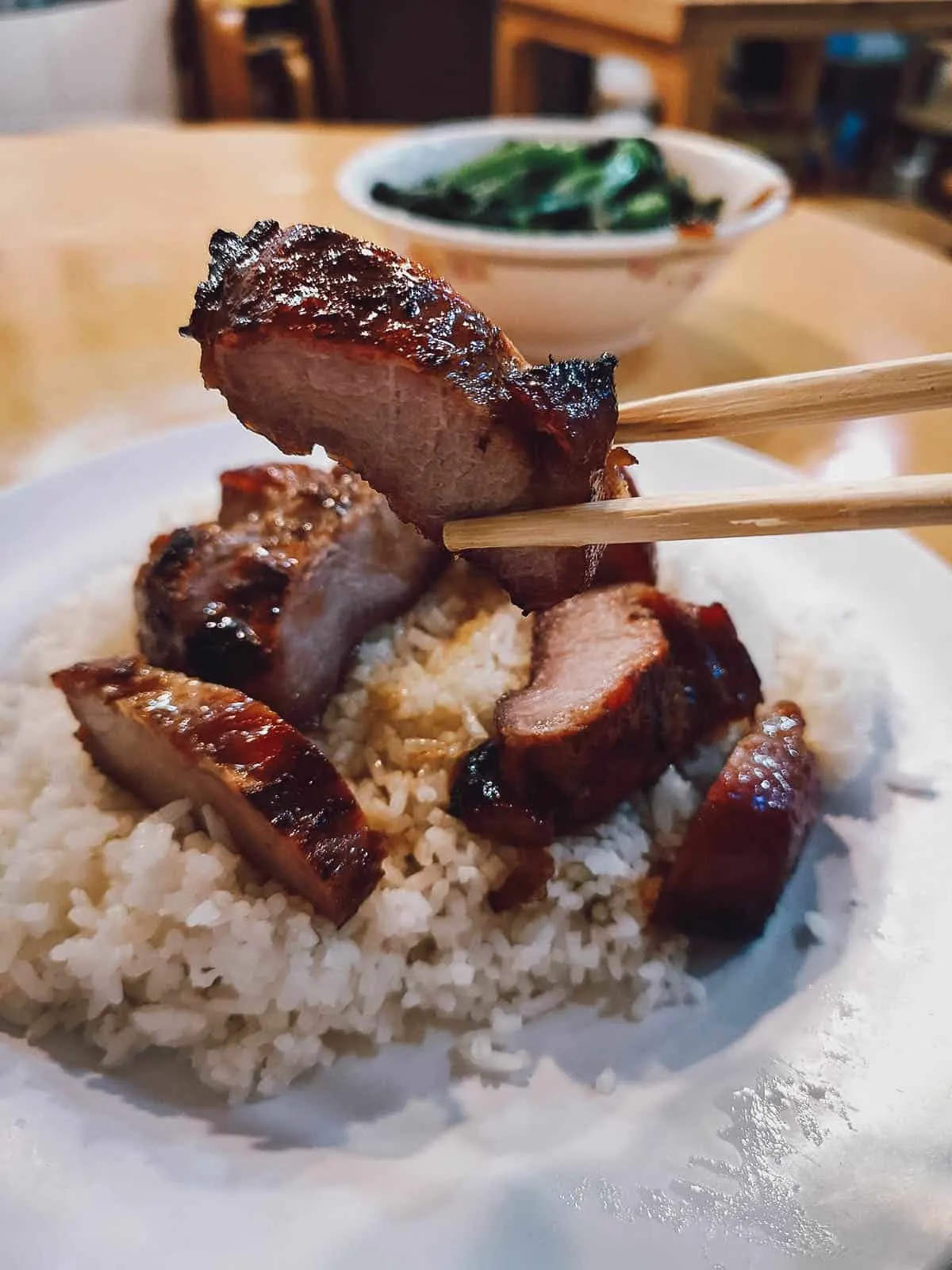 I was halfway through my meal when the server advised me to use their secret sauce. I poured a few drops on the barbecued meat to elevate its flavor even more. The sauce was sweet, savory, and a little tangy. It was delicious.
I was here strictly for the char siu but if you want a sampling of their different types of siu mei, then you may want to get their Three-Treasure Rice. It features char siu, roast duck, and roast chicken over a mound of steamed white rice.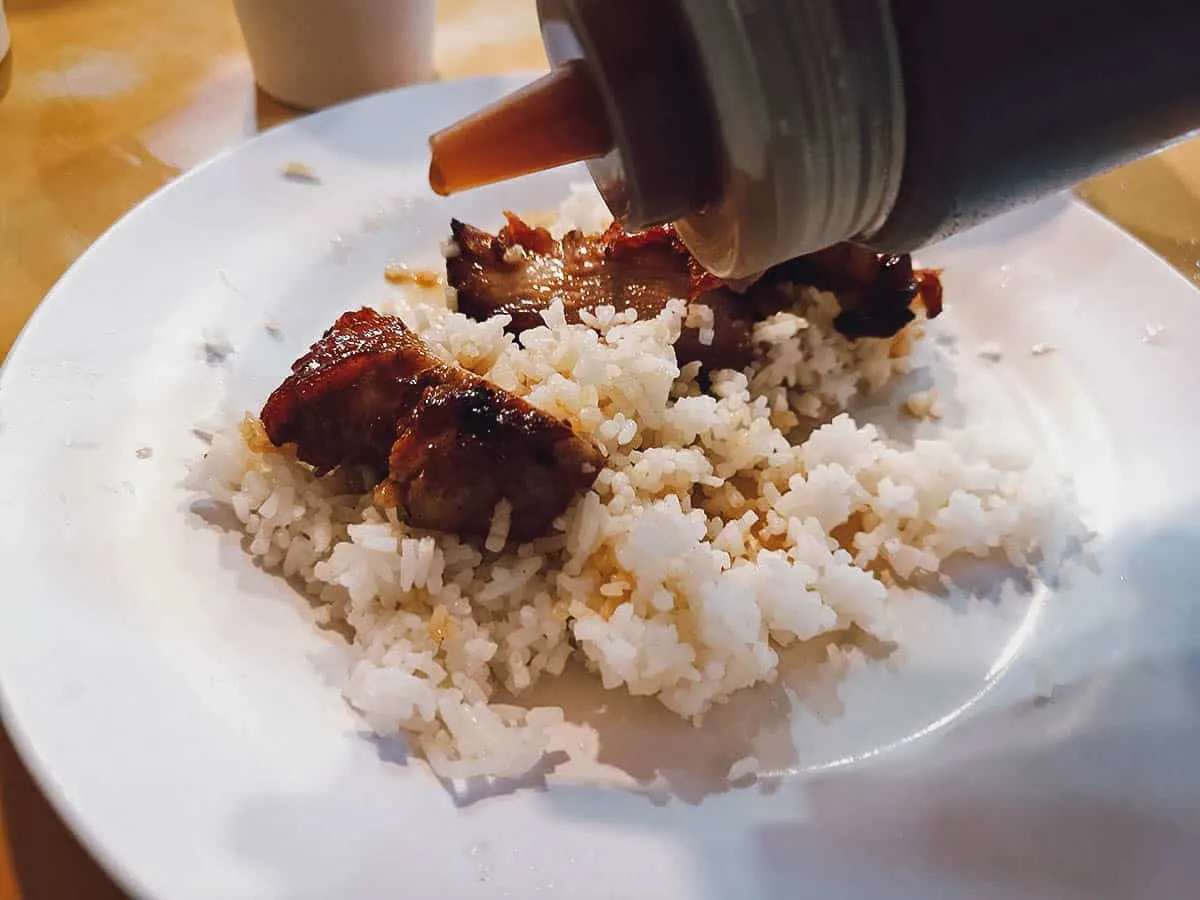 17. Tai Hing
Though not nearly as often as Joy Hing, Tai Hing is also included in some articles citing the best char siu in Hong Kong.
Unlike Joy Hing which is a traditional siu mei shop with just one branch, Tai Hing is a chain of proper sit-down restaurants in Hong Kong. They have several branches throughout the city, including one at the airport.
They offer rice meals with your choice of two types of siu mei. I chose char siu and roast pork over rice.
The char siu was good, though not as good as the char siu at Joy Hing. It was milder in flavor and not quite as juicy. I actually enjoyed their roast pork more. It was juicy with nice crunch from the skin.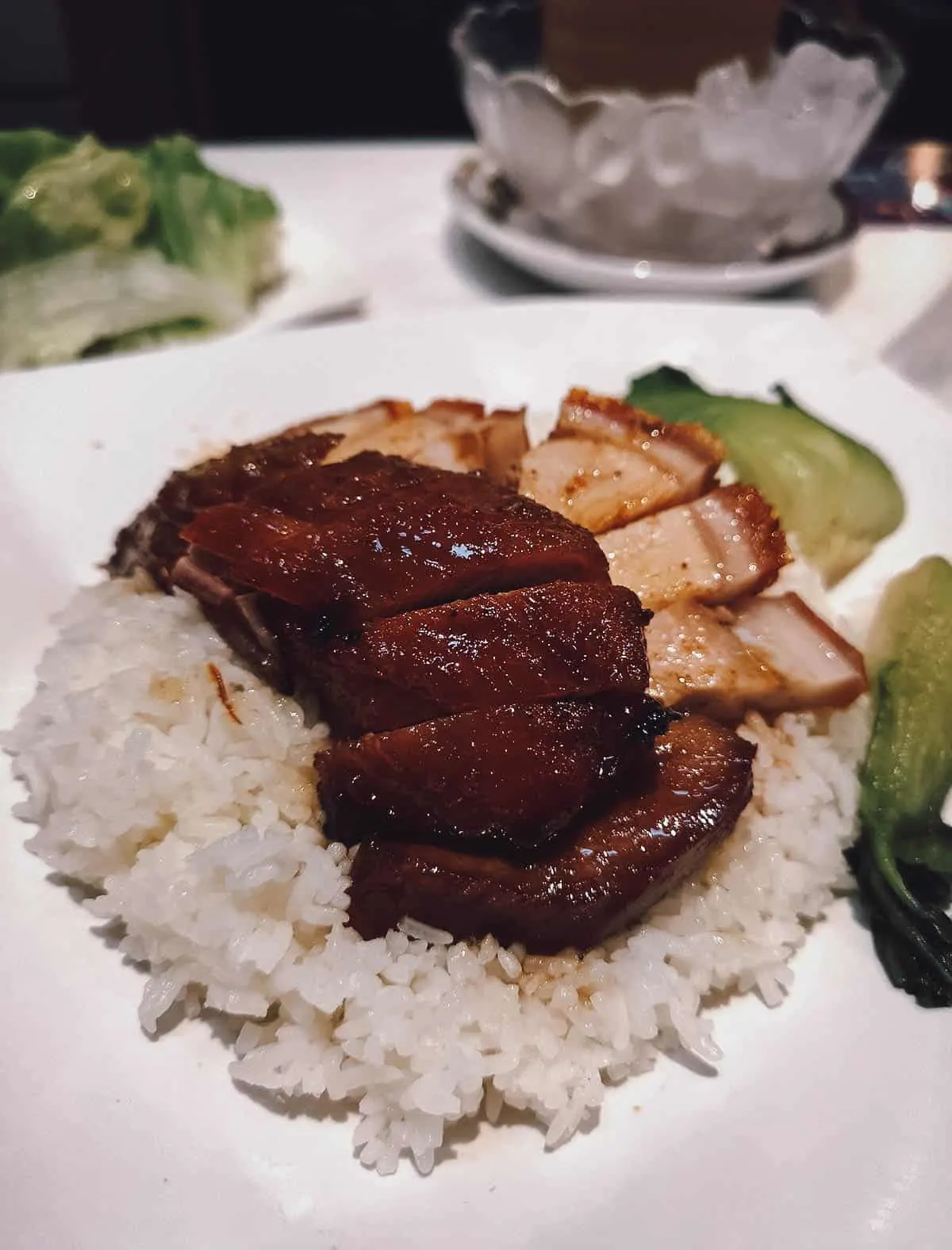 Speaking of roast pork, I was going through my archives and only then remembered that we had actually eaten at the Jordan branch of Tai Hing three years ago. I don't recall what this dish of roast pork strips was called, but it was cracklingly crisp and delicious.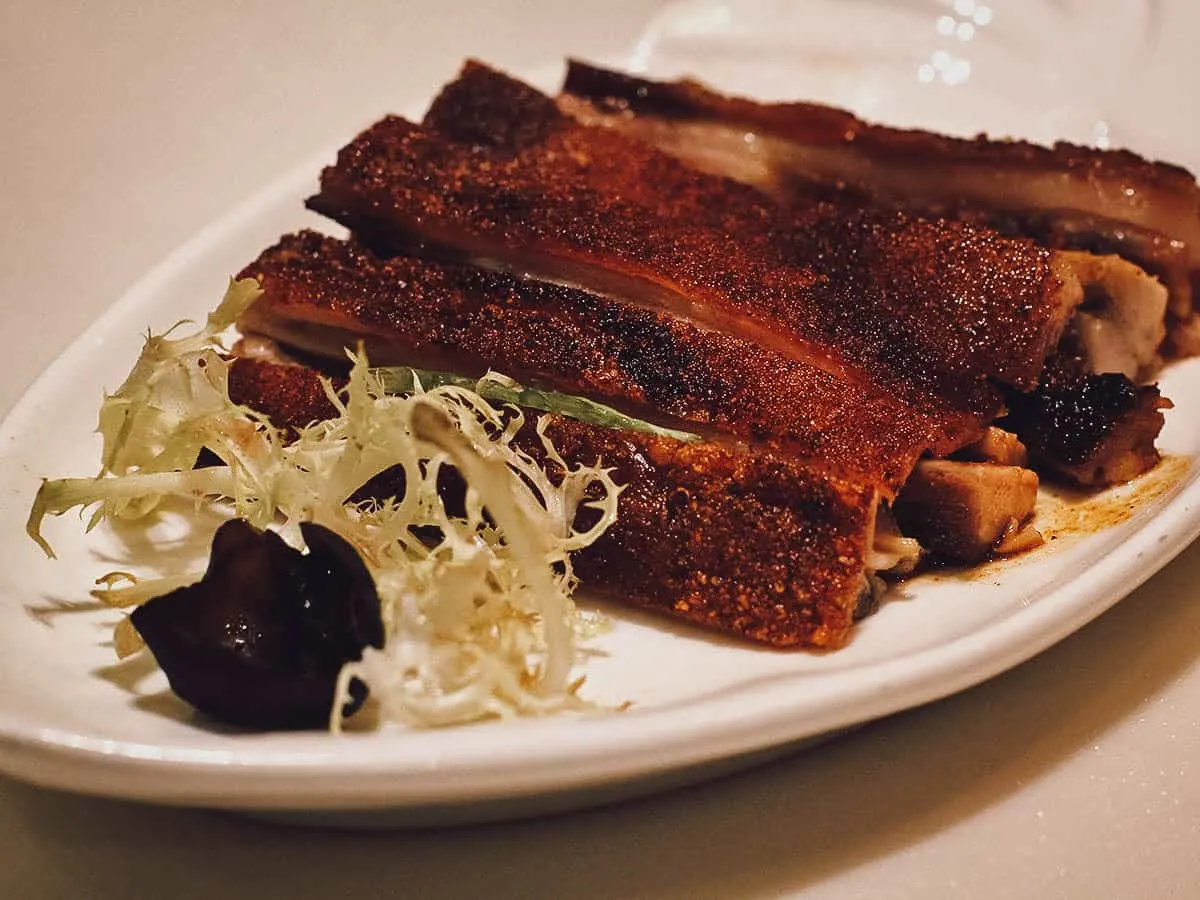 Some people might be under the impression that sweet and sour pork is a Chinese-American creation, but it isn't. The dish has a long history and is believed to have originated from the Chinese province of Hunan.
Traditional Cantonese sweet and sour pork gets its scarlet-like color and tartness from hawthorn, preserved plum, and vinegar.

18. Tung Po
Tung Po in North Point is one of my favorite places in Hong Kong.
It's basically an indoor dai pai dong, which is traditionally a type of open-air Hong Kong food stall similar to a hawker center in Penang or Singapore. Anthony Bourdain once featured Tung Po on an episode of No Reservations and he clearly loved the place, both for the food and the experience.
Tung Po offers a wide range of dishes on their menu, but what I enjoyed most was the seafood. Pictured below is a beautiful platter of salted duck egg yolk shrimp. It's crrrrunchy! You can clearly see an orange layer of rich egg yolk between the shrimp and the batter.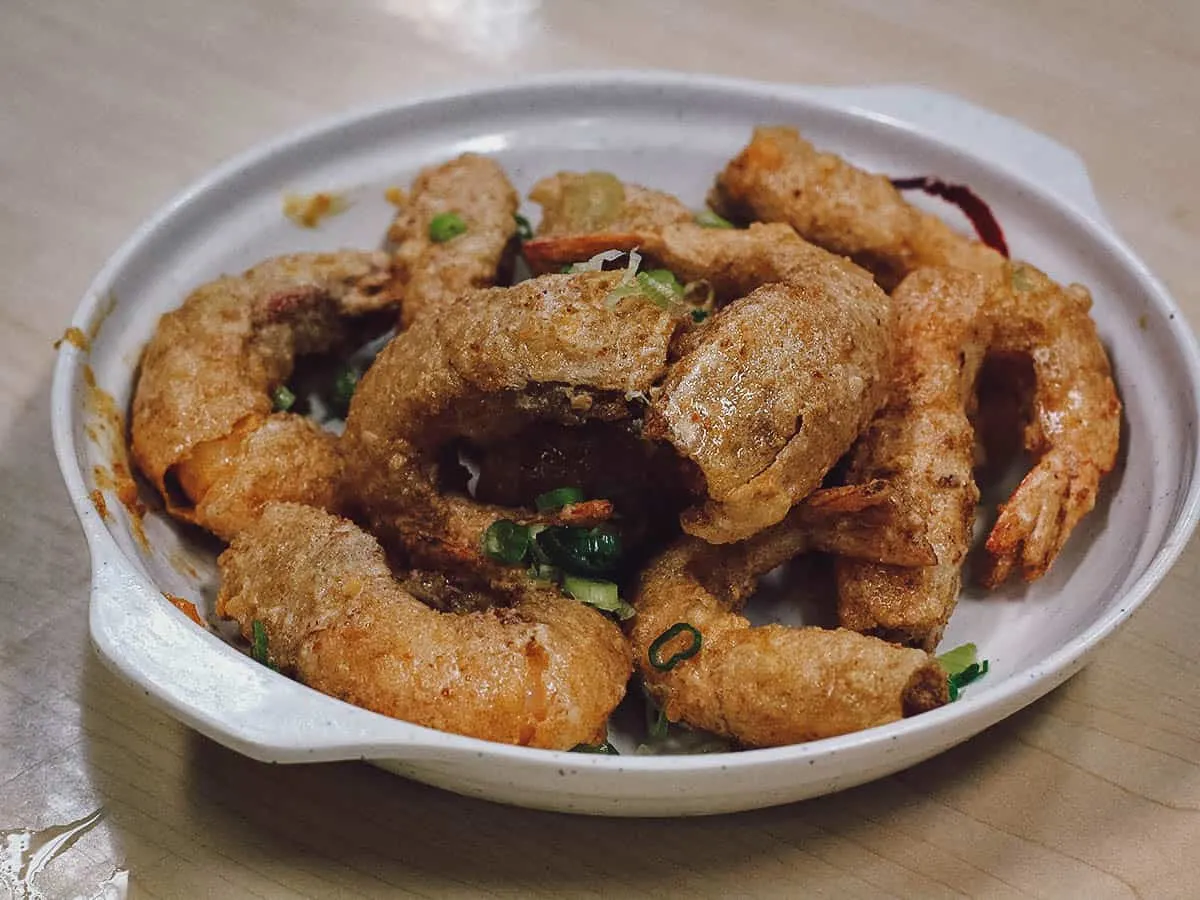 You can't tell from this picture but these razor clams with garlic and Chinese wine were huge. They were like little skis! Check out my article on Tung Po to see just how big each of these razor clams were.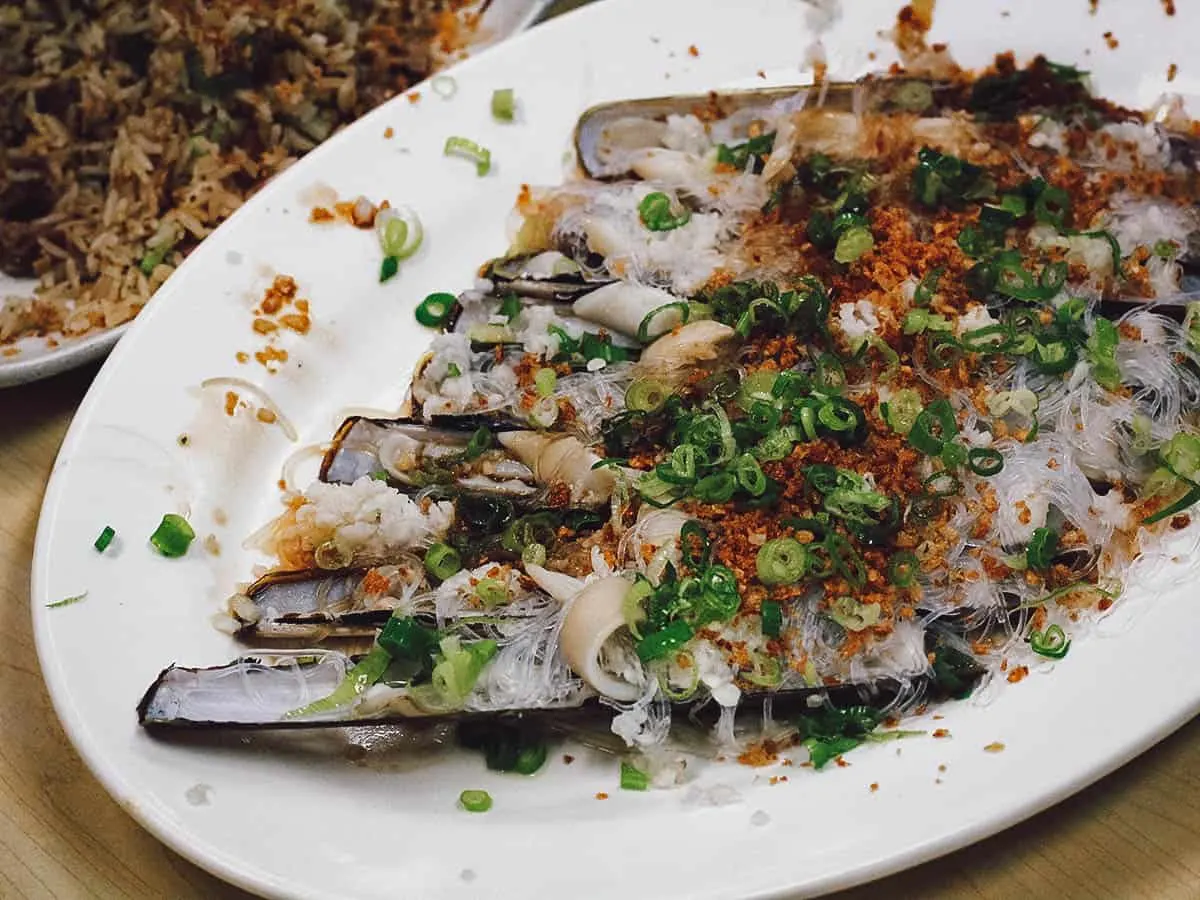 Like Bourdain, I enjoyed Tung Po not just for the food, but for the experience. They took the classic dai pai dong street food experience and put it indoors.
The place is dirty but no one seems to mind. Everyone sits on cheap plastic stools with Cantonese pop music blaring over speakers. It's a fun unpretentious environment that's all about the food.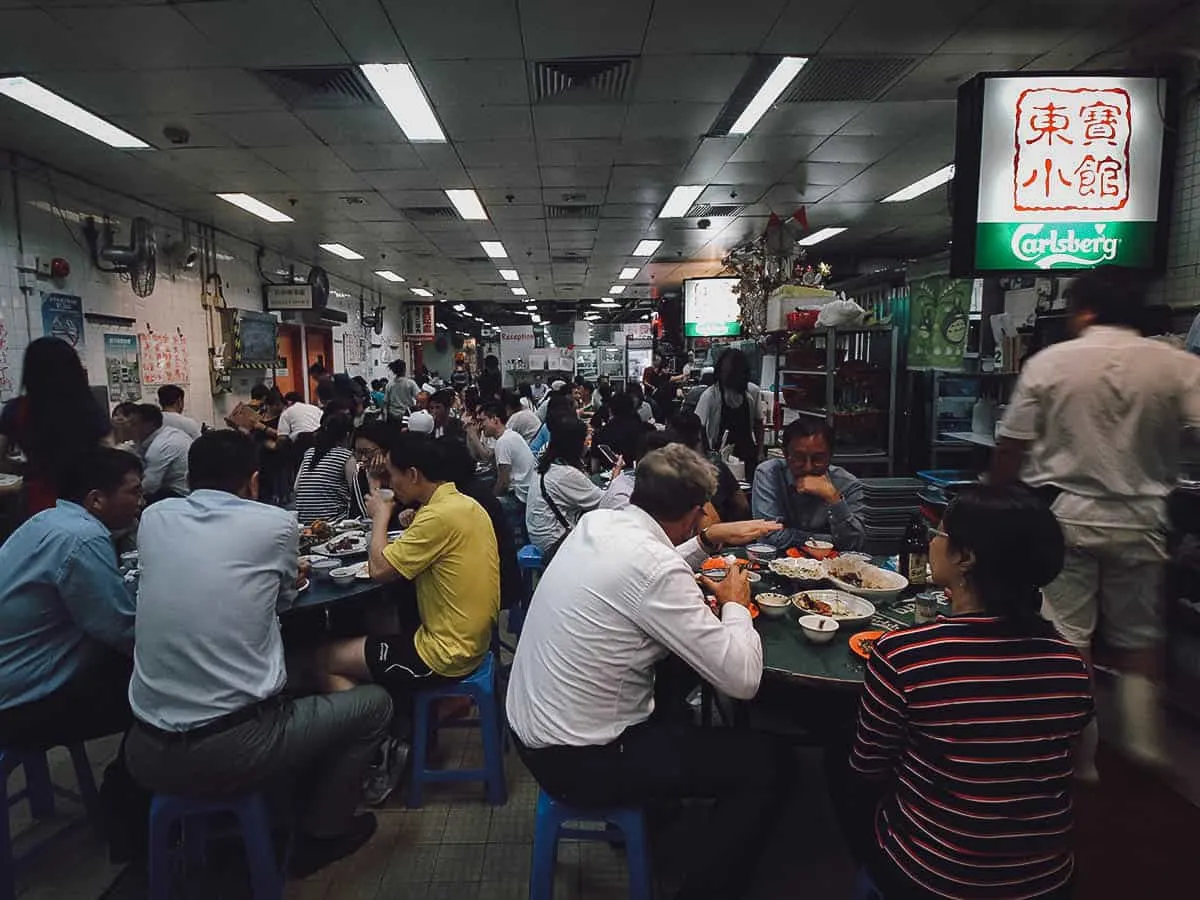 Mention Tung Po to any local and they'll ask if you drink beer. Aside from its great food and raucous atmosphere, Tung Po is known for serving beer in these Chinese porcelain bowls. If you're lucky, owner and chef Robby Cheung may moonwalk to your table and open your beer bottles with chopsticks!
19. Bo Innovation: X-treme Chinese Cuisine
If you're looking for a truly special meal, then Bo Innovation is one to consider. It's one of seven 3 Michelin-starred restaurants in Hong Kong.
Bo Innovation is helmed by Chef Alvin Leung who created a style of cooking he likes to call "X-treme Chinese Cuisine".
We had the lunch set menu and some extras like this molecular "xiao long bao". Instead of dumpling wrapper, they use algae jelly topped with a strip of preserved ginger to create this molecular version.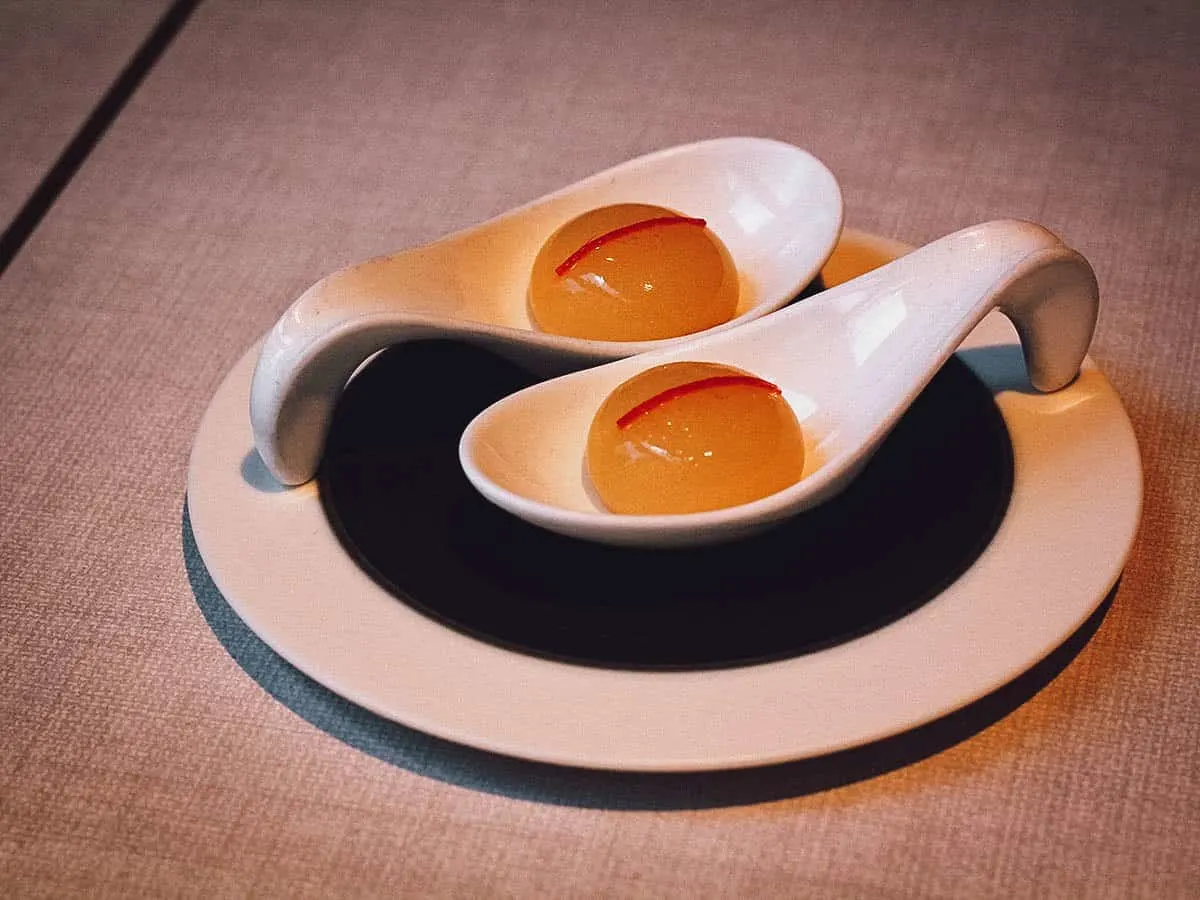 This suckling pig with roasted sichuan pineapple and pork jus was my favorite dish from today's meal. The pork was juicy and the skin smashingly crisp, like a porky potato chip.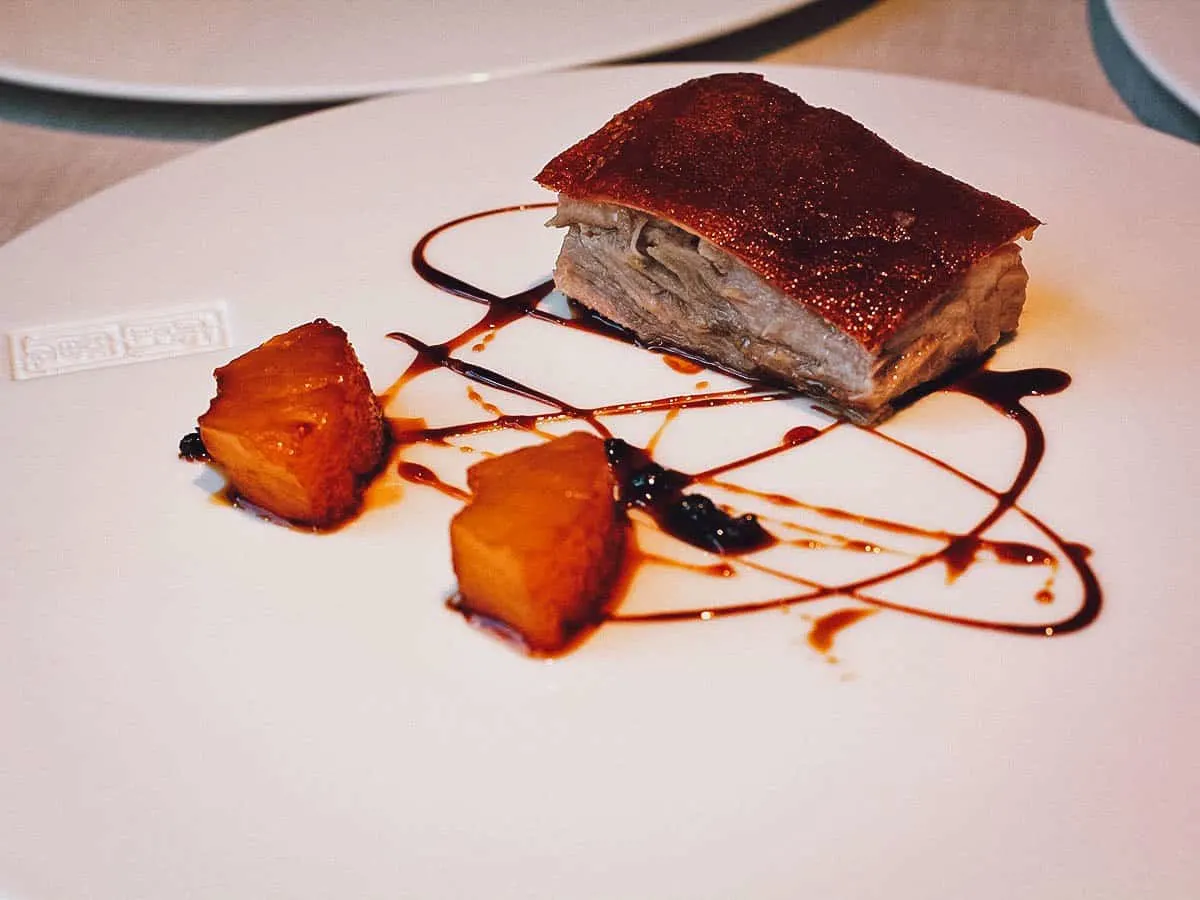 Chef Leung likes to dabble in molecular gastronomy so you an expect some tableside theater at Bo Innovation.
This was our dessert of coconut ice cream with palm sugar, desiccated coconut chocolate, cherry, pandan avocado, and an avalanche of "piña colada snow". You can check out my article on Bo Innovation for pictures of every dish.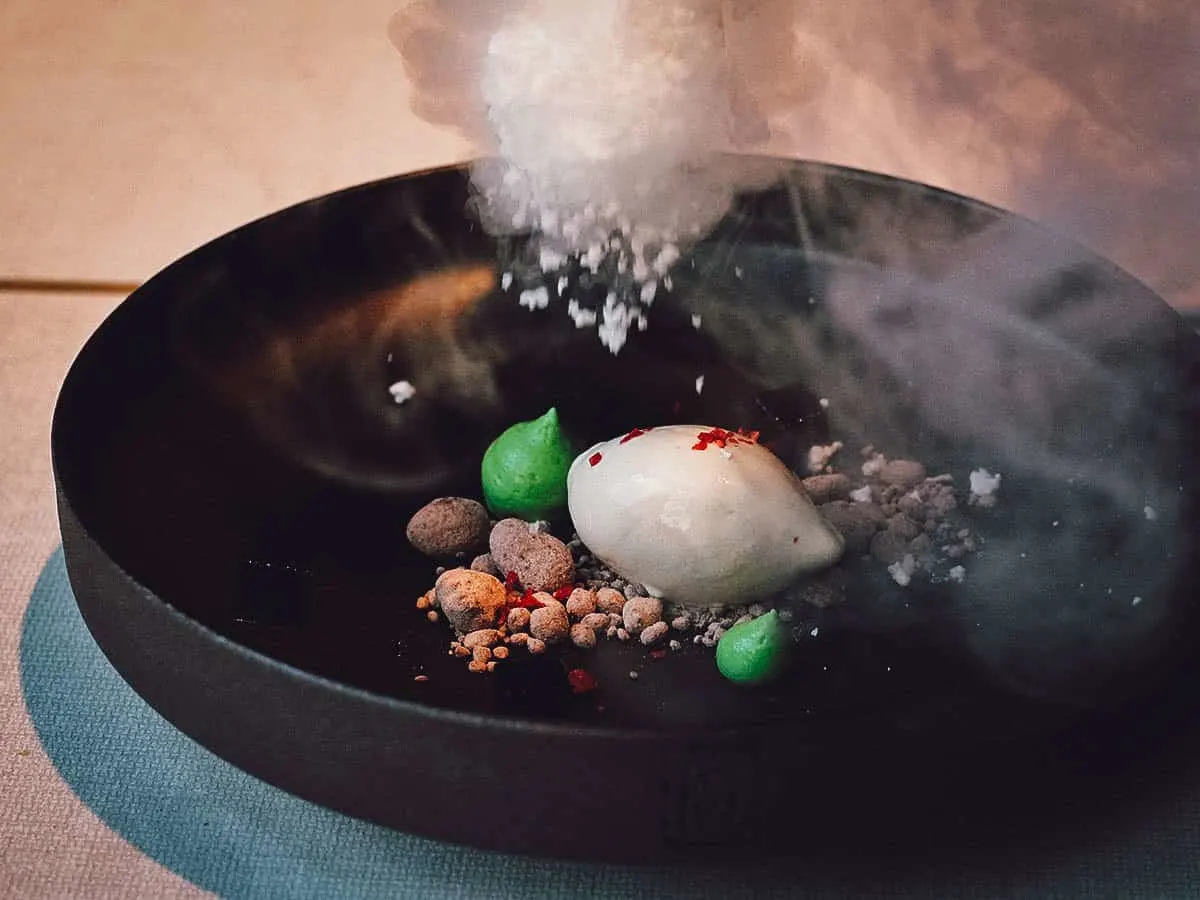 FINAL THOUGHTS
Like I said, there are so many good restaurants in Hong Kong, especially for a relatively small city. It can be confusing to decide where to go but I hope this list of nineteen gives you some ideas.
As always, we seek out the best local restaurants specializing in dishes that represent the cuisine well. Touristy and overpriced restaurants are like vegemite to us (sorry Australia) so you'll never find any of those types of places in our food guides.
If you're in Hong Kong to experience the best and most authentic Cantonese cuisine, then this list of nineteen will point you in the right direction.
Thanks for reading and have a delicious time eating your way through Hong Kong!
Disclosure
This post contains affiliate links, meaning we'll earn a small commission if you make a purchase or booking at no extra cost to you. We really appreciate your support as it helps us keep this website going. Thank you!