NOTICE: Some of the information on this website may have changed due to the current global situation. It's important to check with the proper authorities for the latest updates on travel restrictions and requirements.
DISCLOSURE: Some of our articles may contain affiliate links or sponsorships (disclosed at the bottom). You can refer to our terms of use for more information.
I love skiing. The feeling you get when you're sailing through a trail with no one else around is indescribable. It's the closest thing to flying I've ever experienced. You feel so free.
A Russian friend of mine who's skied everywhere once told me that Hokkaido has the best skiing in the world. Specifically, it has the best snow. I was surprised by that because I never thought that the holy grail of skiing would be in Japan. I expected him to name a resort in Switzerland or some other mountain range in Europe but no, he said Japan. Right here in Asia. Hard to believe right? He loved it so much that he now goes skiing at Niseko every year.
Neither Ren nor I have gone skiing since moving back to the Philippines in the early 2000s, so we were a little worried about today. We thought the possibility of us breaking our necks or falling off the mountain was high. But as it turns out, skiing is a lot like riding a bike – you never really forget.
Sapporo Teine Trail Map
Sapporo Teine consists of two zones – Highland and Olympia. They're connected by ski lifts and runs so you can easily switch between zones. They have a combined 15 runs – 7 green (beginner), 4 red (aka blue, intermediate), and 4 black (expert) – as well as specialized areas like Hit Park, Beginner's Cross, and a Kid's Park. We didn't visit these specialty areas but I believe Hit Park has jumps while Beginner's Cross is an area for people just learning how to ski or snowboard. Children can ski, go tubing, or go sledding at the Kid's Park. Follow this link for more information on Sapporo Teine's slopes and specialty areas.
Do you see that long meandering green line that starts a the top of Highland Zone and goes all the way to the bottom of Olympia Zone? That's actually two runs called "Natural" and "Rainbow". They're a combined 5,700 meters long (18,701 ft) and take you through the entire mountain. What a beautiful run!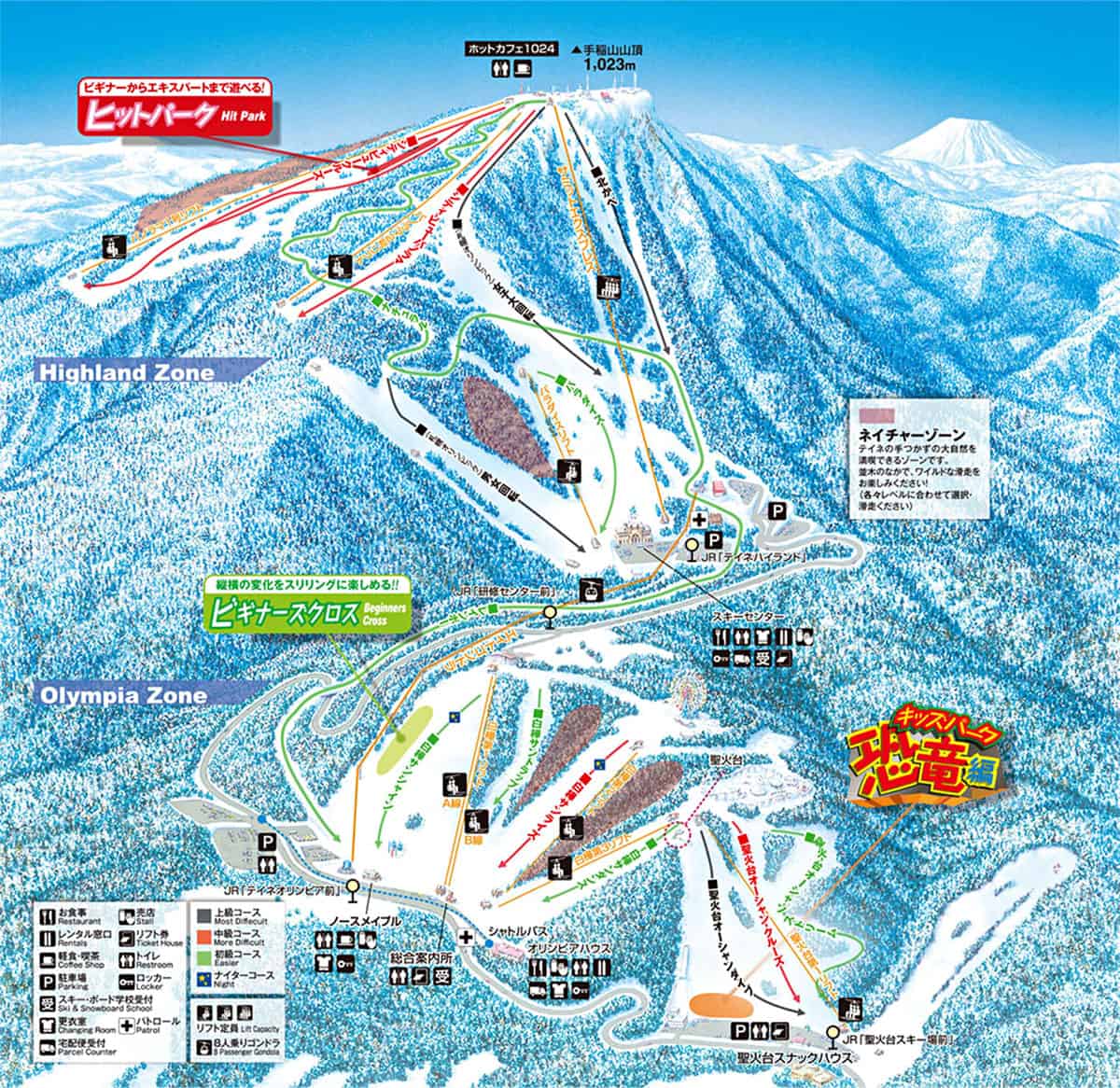 Getting to Sapporo Teine
From Sapporo, take a JR train to Teine station. Once there, you'll see a sign leading you to the bus stop just outside the station. Take the No. 70 bus bound for Teine Highlands and get off at the resort. The whole trip takes less than an hour and costs around JPY 650 each way.
The bus will stop at both zones. We got off and rented our equipment at Highland but I believe there are rental facilities at Olympia as well. As described, the two areas are connected by ski lifts so you can get off at either zone.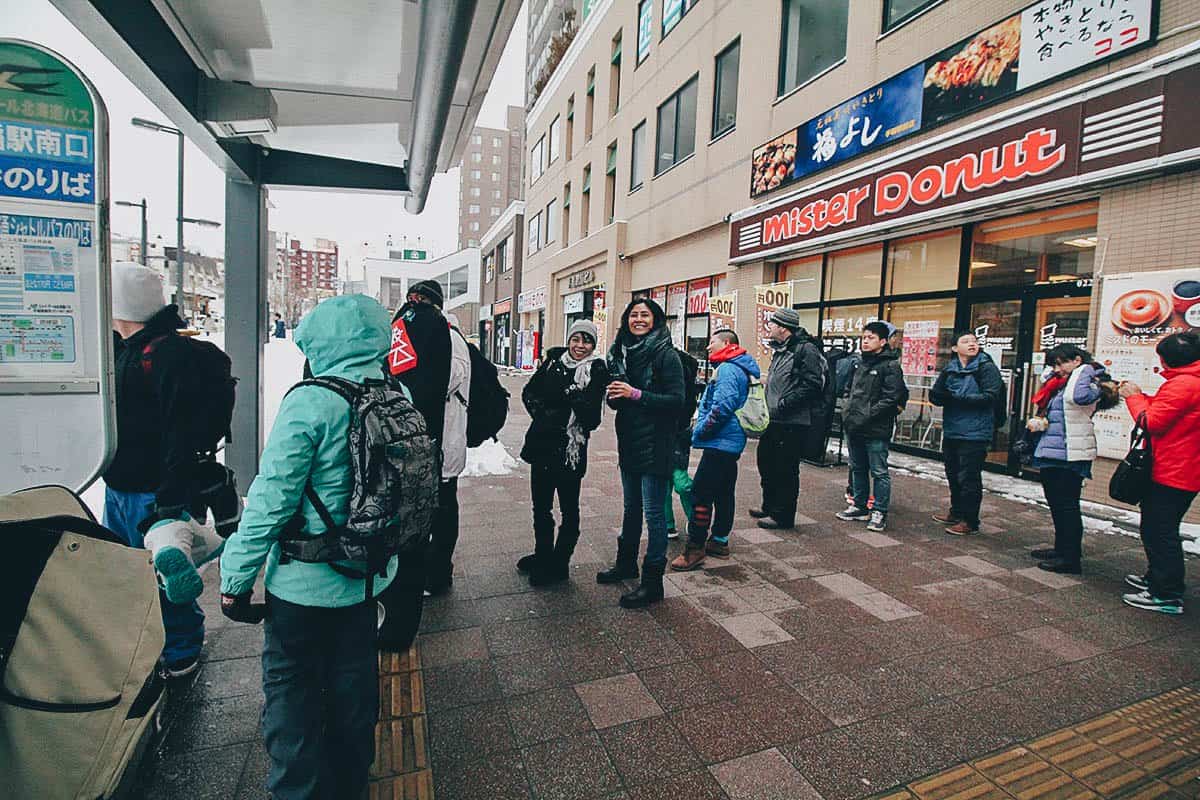 Sapporo Teine
We're here! Niseko may be the best and biggest ski resort in Hokkaido but it's about three hours from Sapporo. On top of that, it's expensive. If you're staying in Sapporo and want to ski just for the day, then Teine is an excellent choice. It isn't as big as Niseko but it's cheaper and more accessible.
If there's one thing I've learned about Japan, it's that they love ferris wheels. I mean they really REALLY love ferris wheels. I've seen it next to an aquarium, on top of a mall, and now right here at a ski resort. Never in my life did I think I would see a ferris wheel at a ski resort! 😆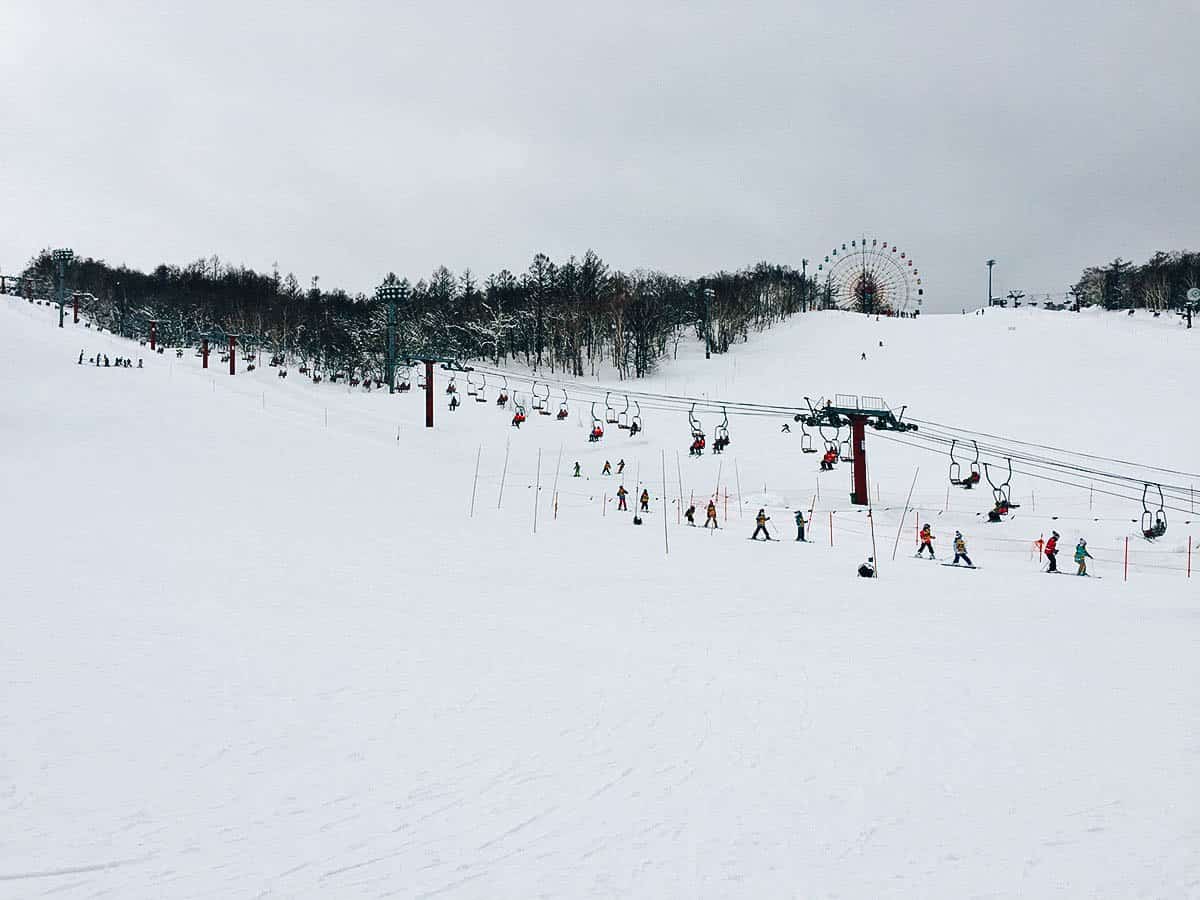 Isn't it gorgeous? For me, few things in this world are more beautiful than a snow-covered landscape.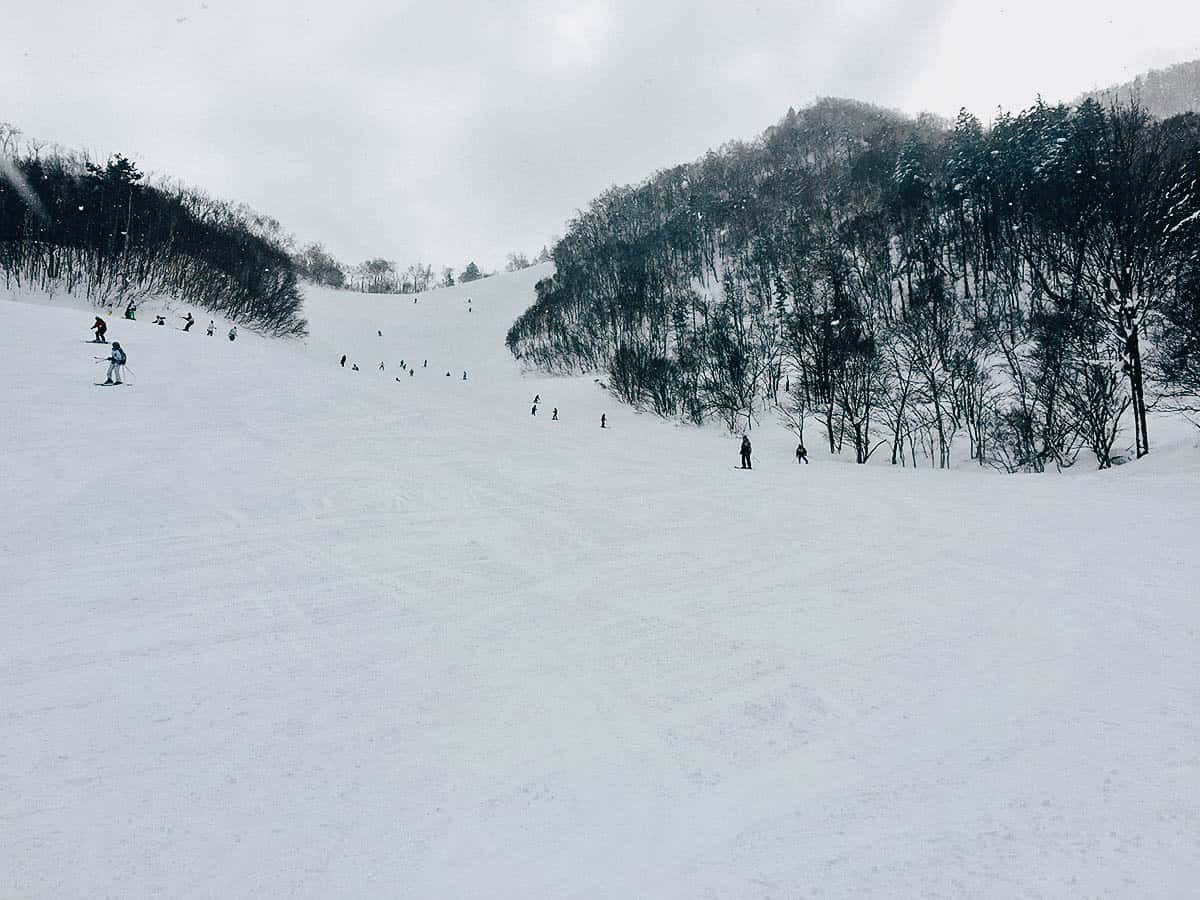 After renting our equipment and strapping on our boots, we pose for a few selfies…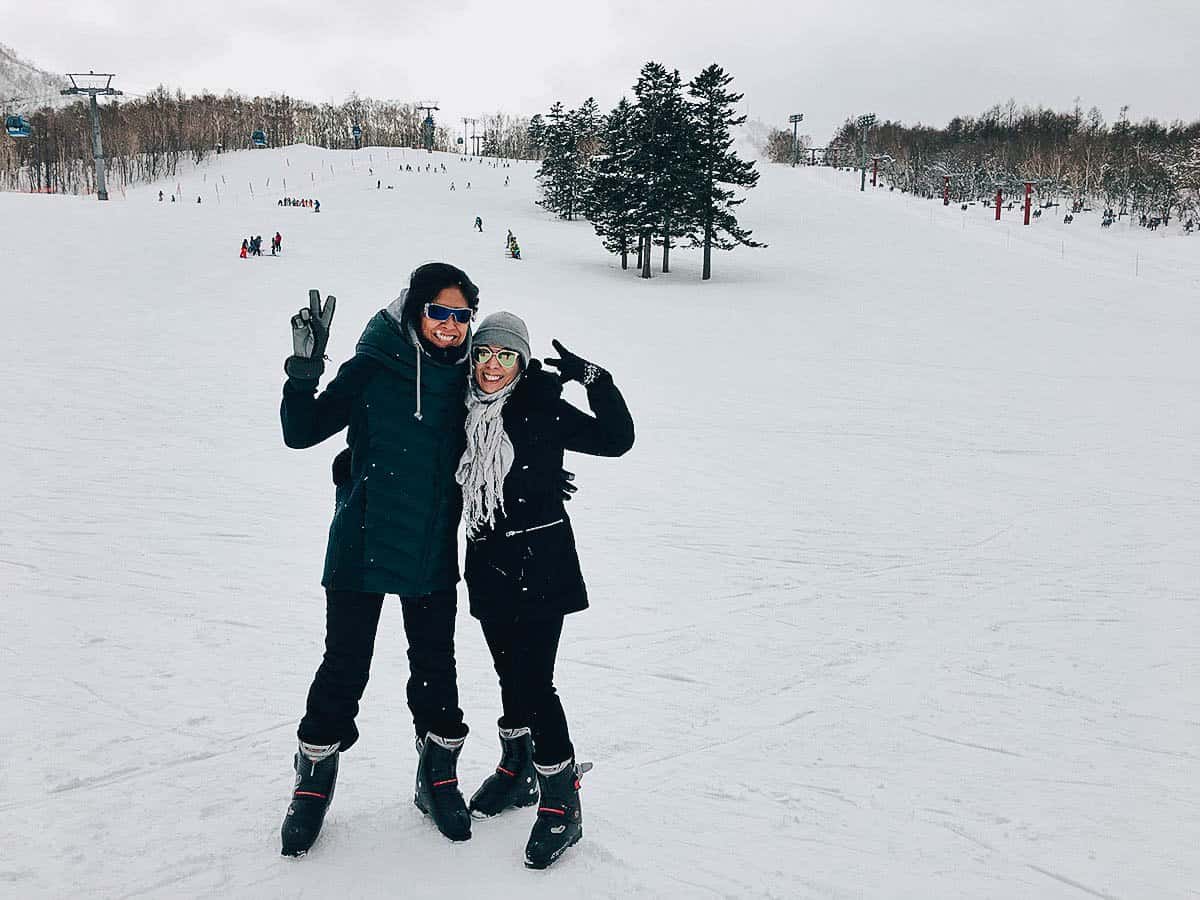 …we dab a little (or a lot)…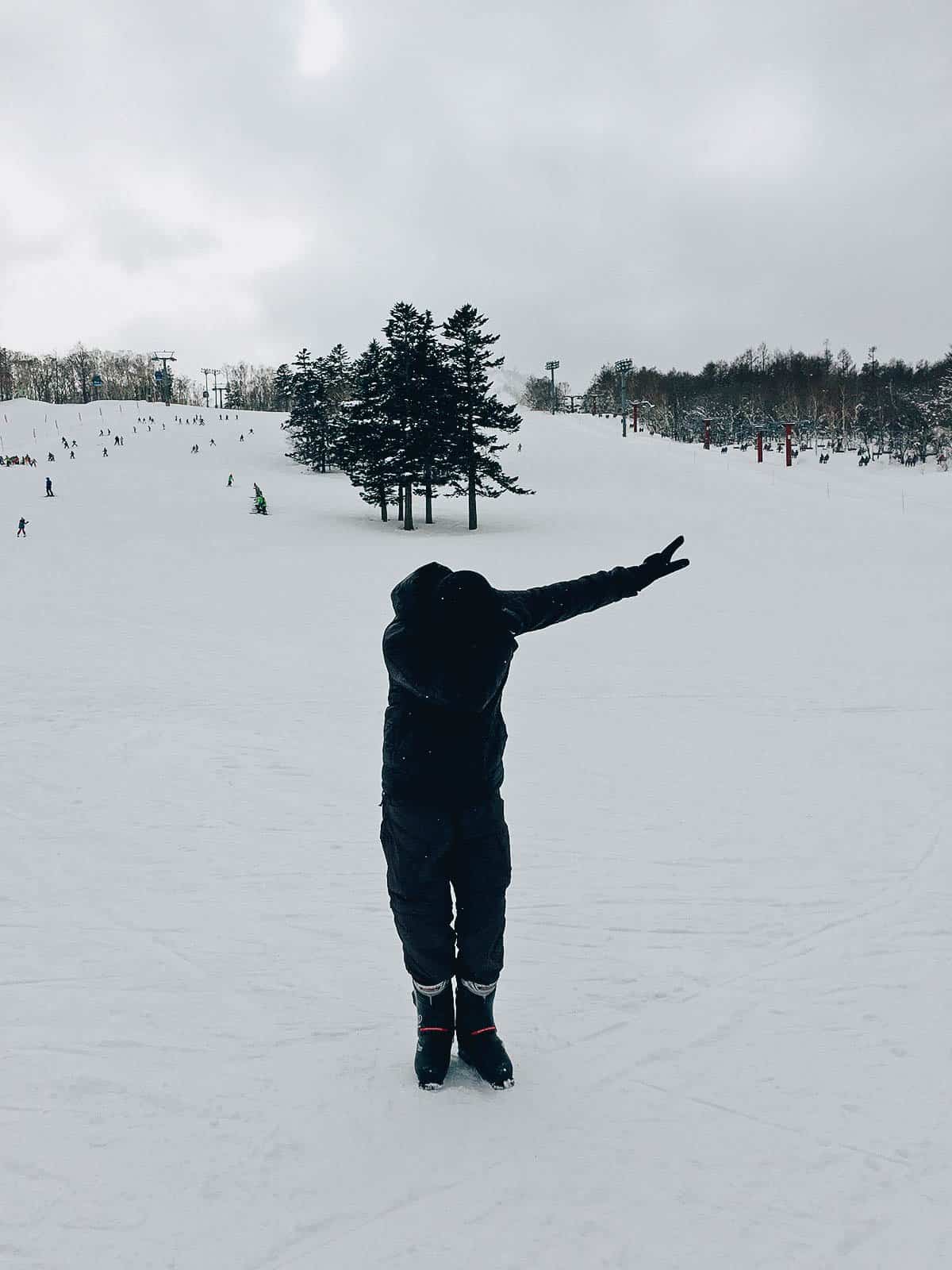 …and we're ready to go! It was snowing almost the whole day too making the experience even more magical.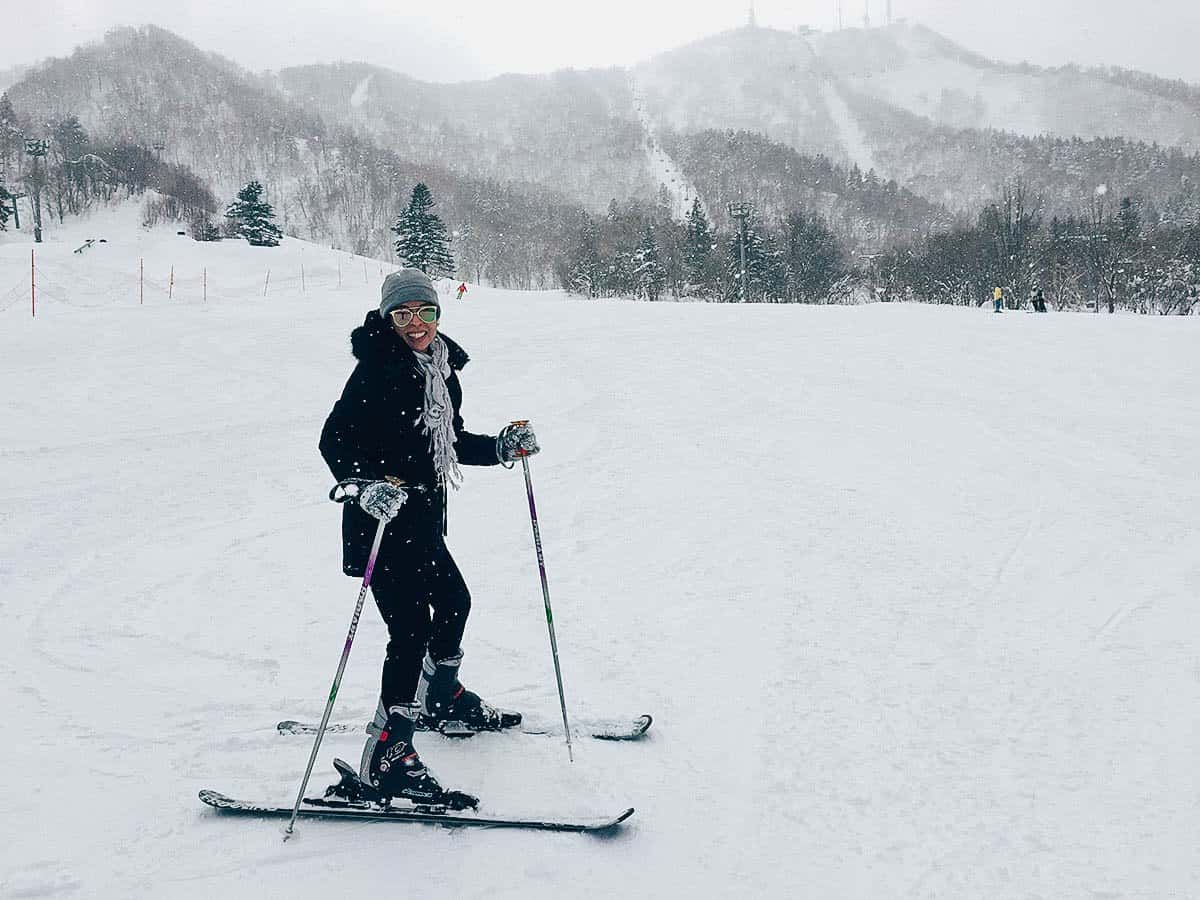 The last stop on the bus drops you off at the base of Highland Zone so you'll still need to ride a lift to get to the top of the mountain.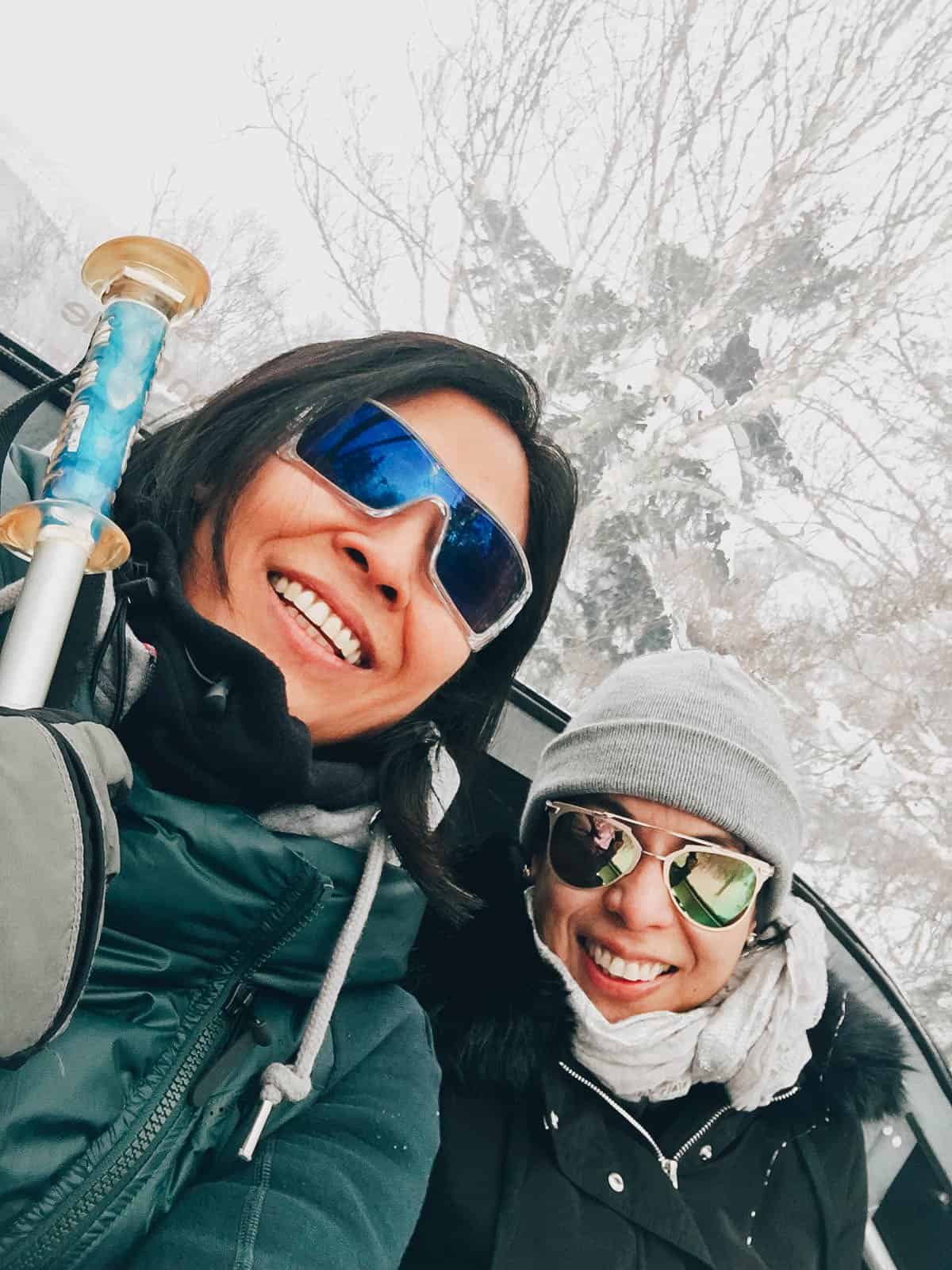 The three musketeers. Cowabunga dude. 🙂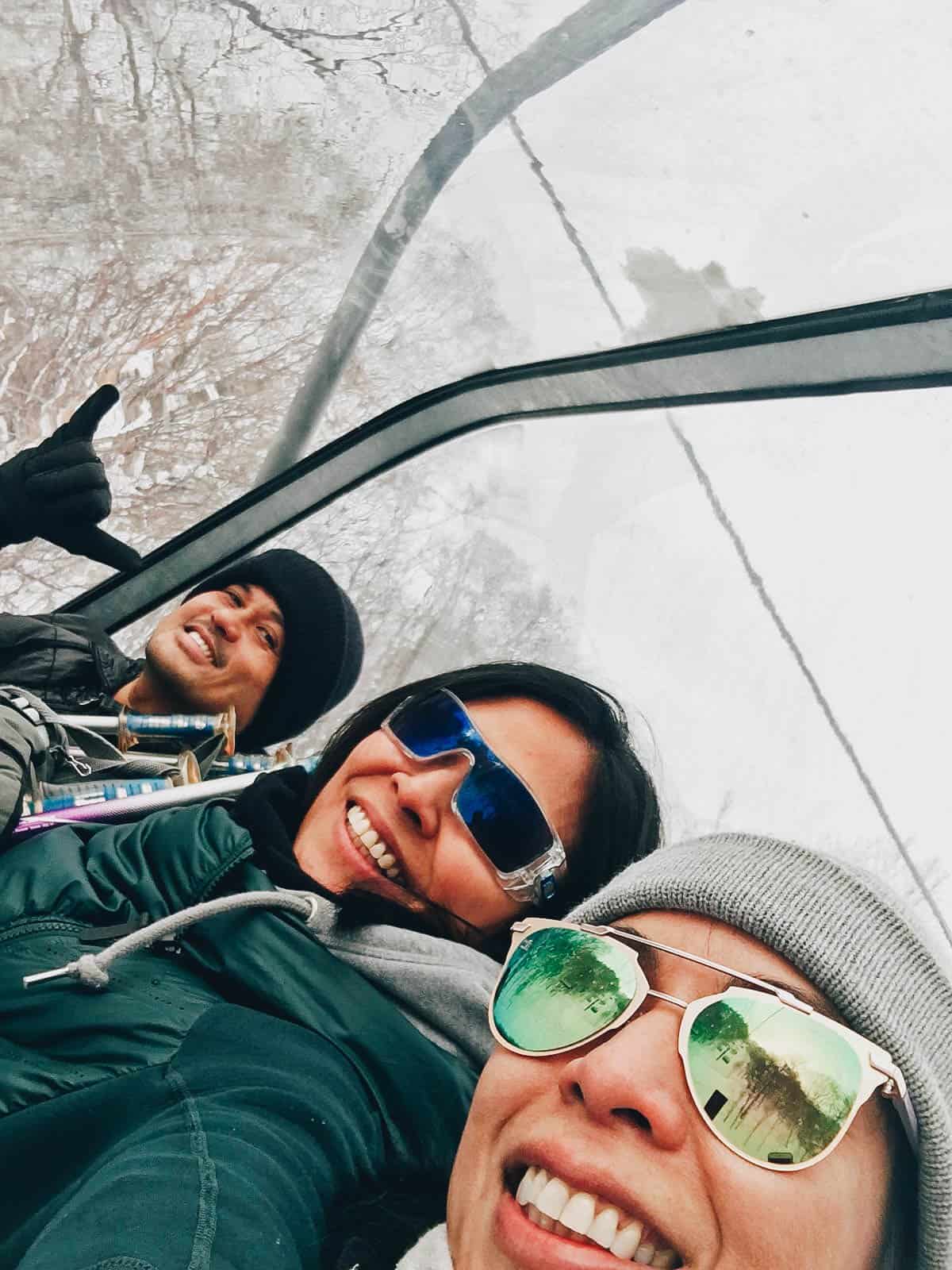 There's no better feeling than having a beautiful run like this all to yourself. This is that 5,700 meter run I was telling you about. It was my favorite run at Sapporo Teine. ♥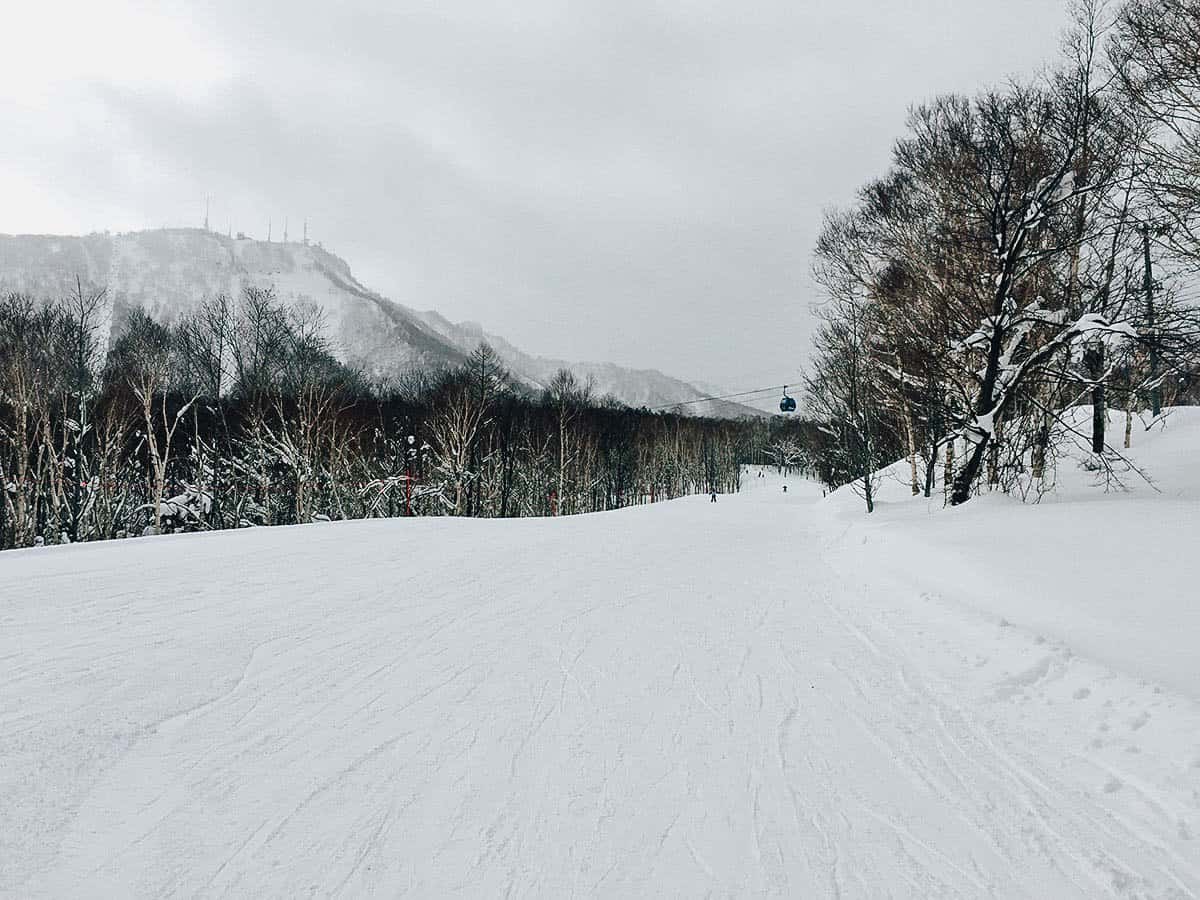 How magical does that look? It snowed through the night so every trail was covered in a thick fluffy blanket of fresh powder.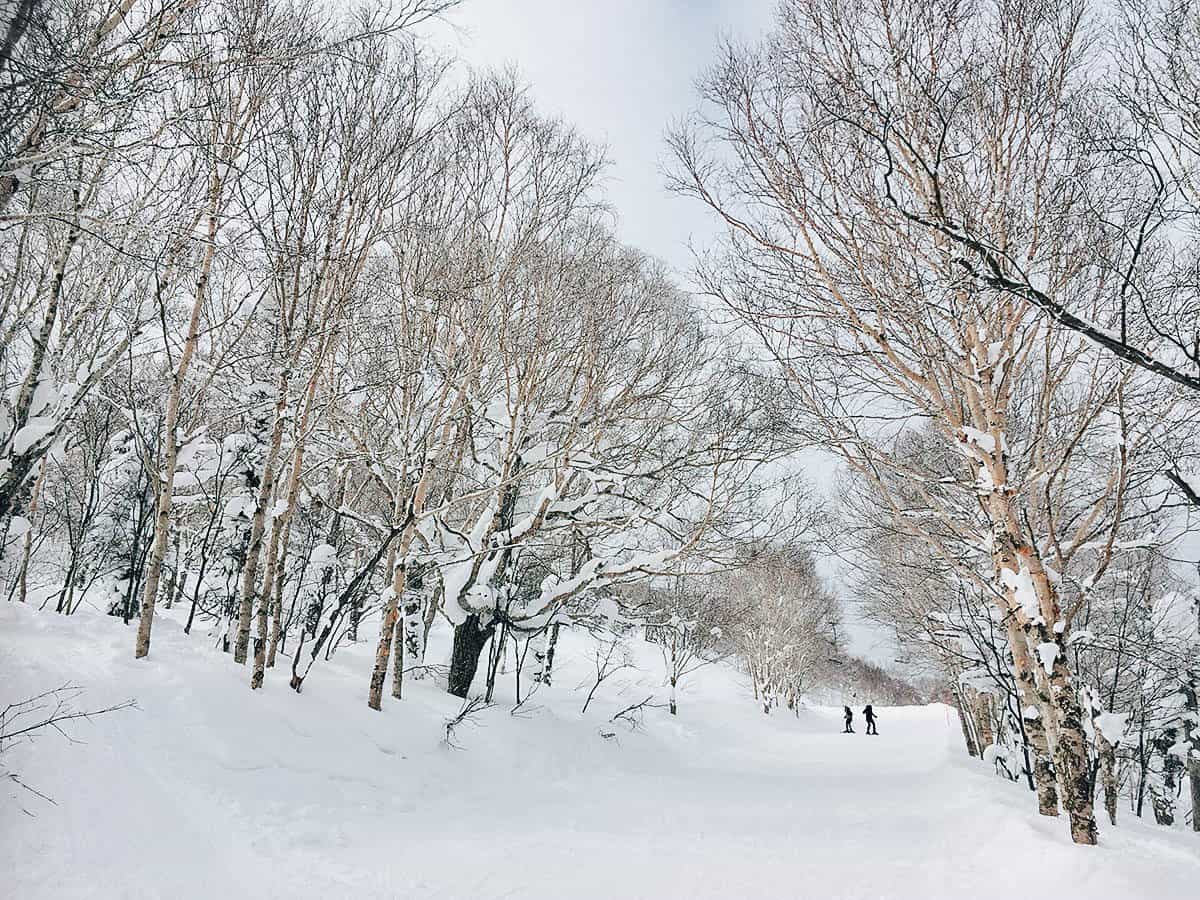 You would get great views of Sapporo City from some parts of the mountain.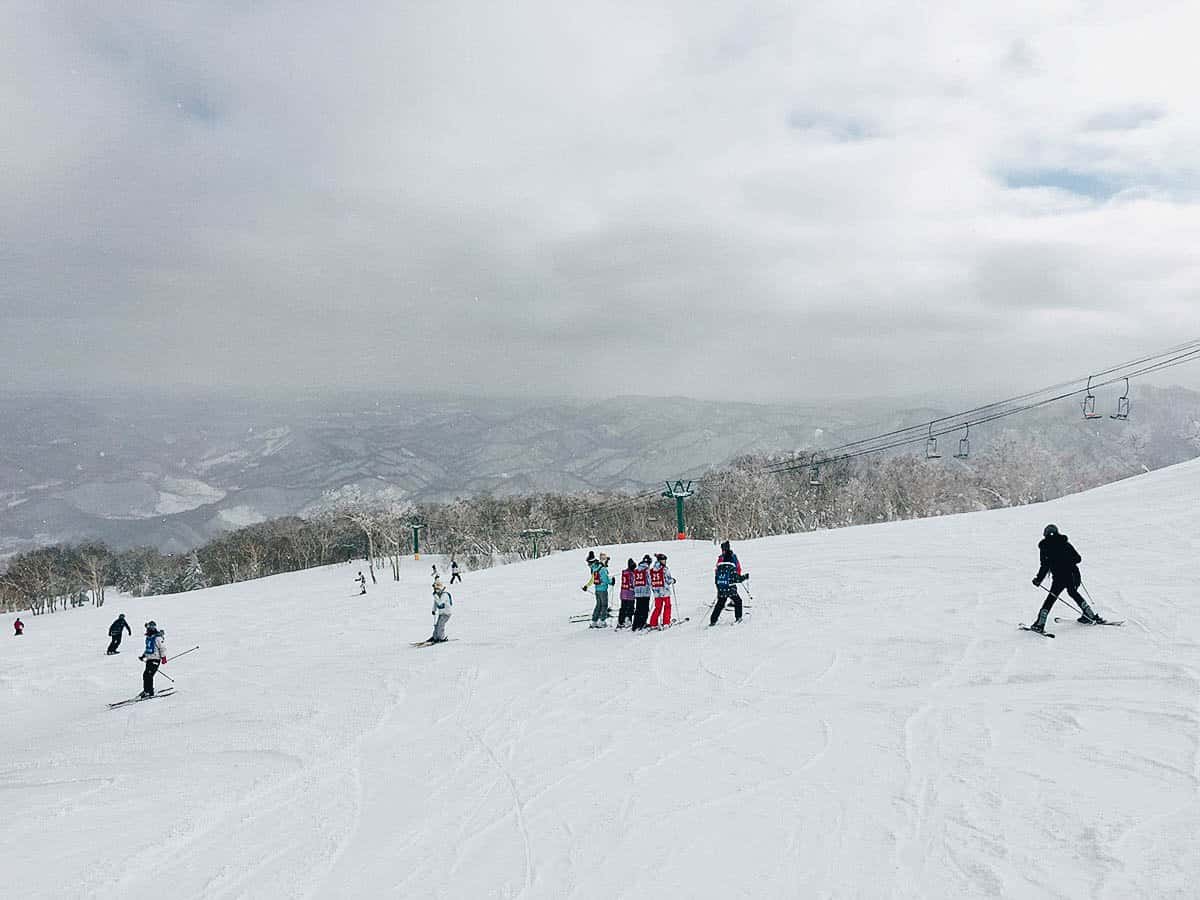 It's so peaceful up here, the only sound being your skis gliding across the snow.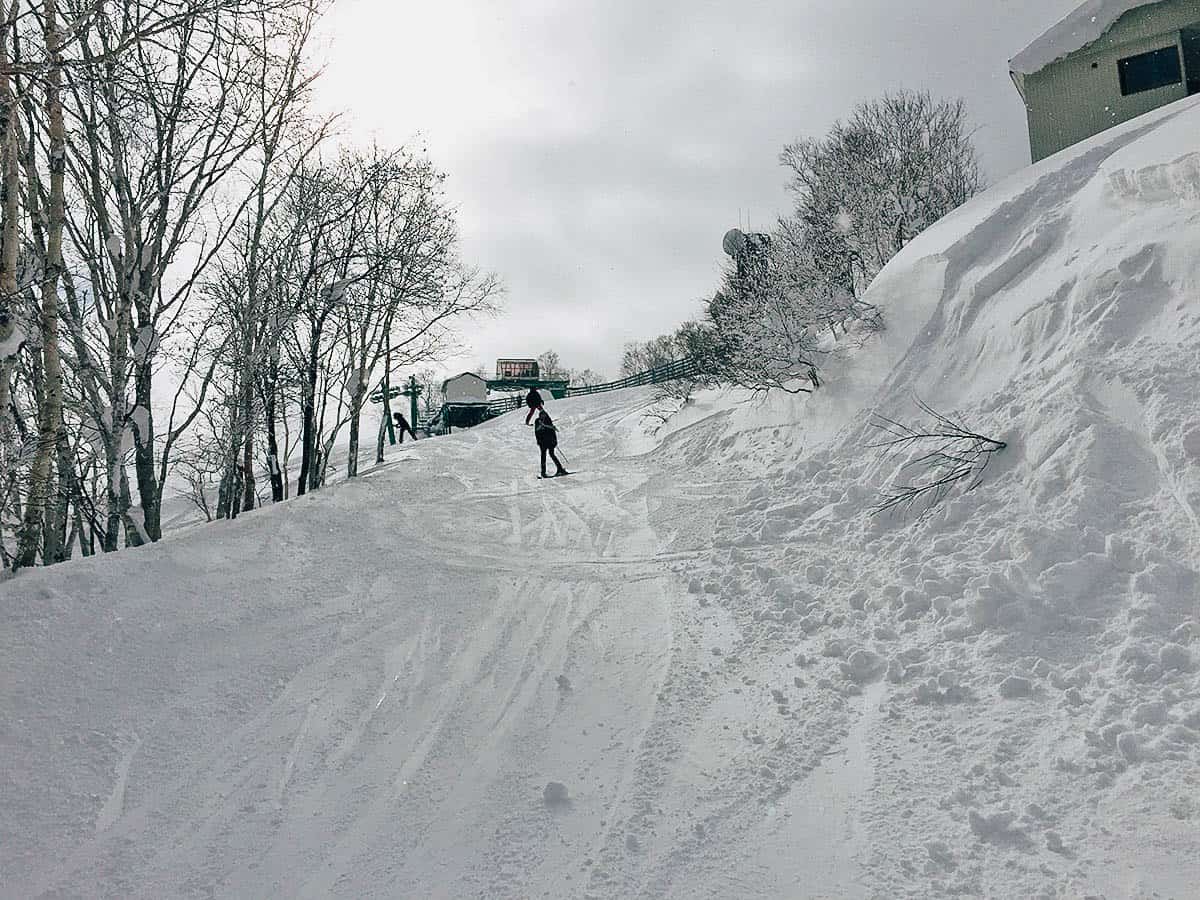 Like a postcard. ♥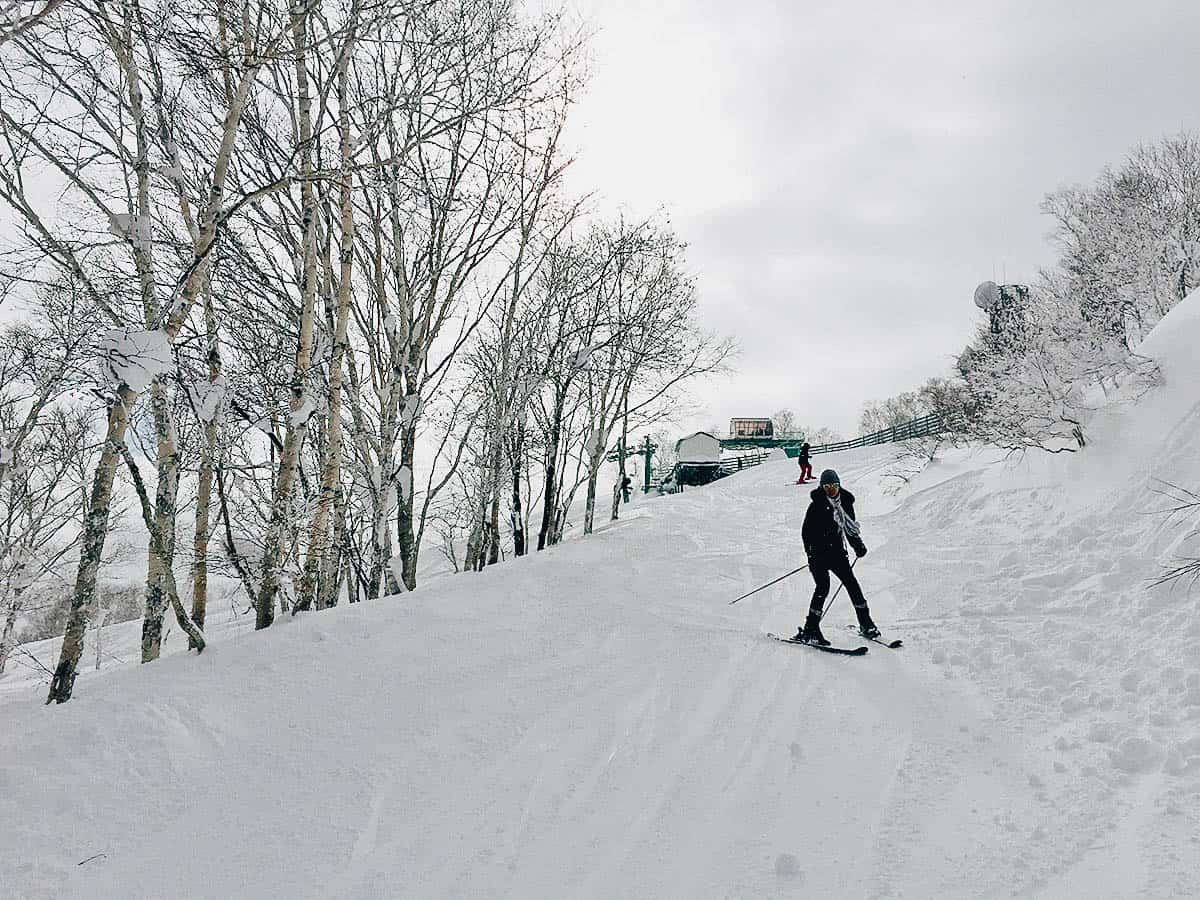 There's Ren coming in to the lodge. At the bottom of Olympia Zone is North Maple lodge where we stopped for lunch.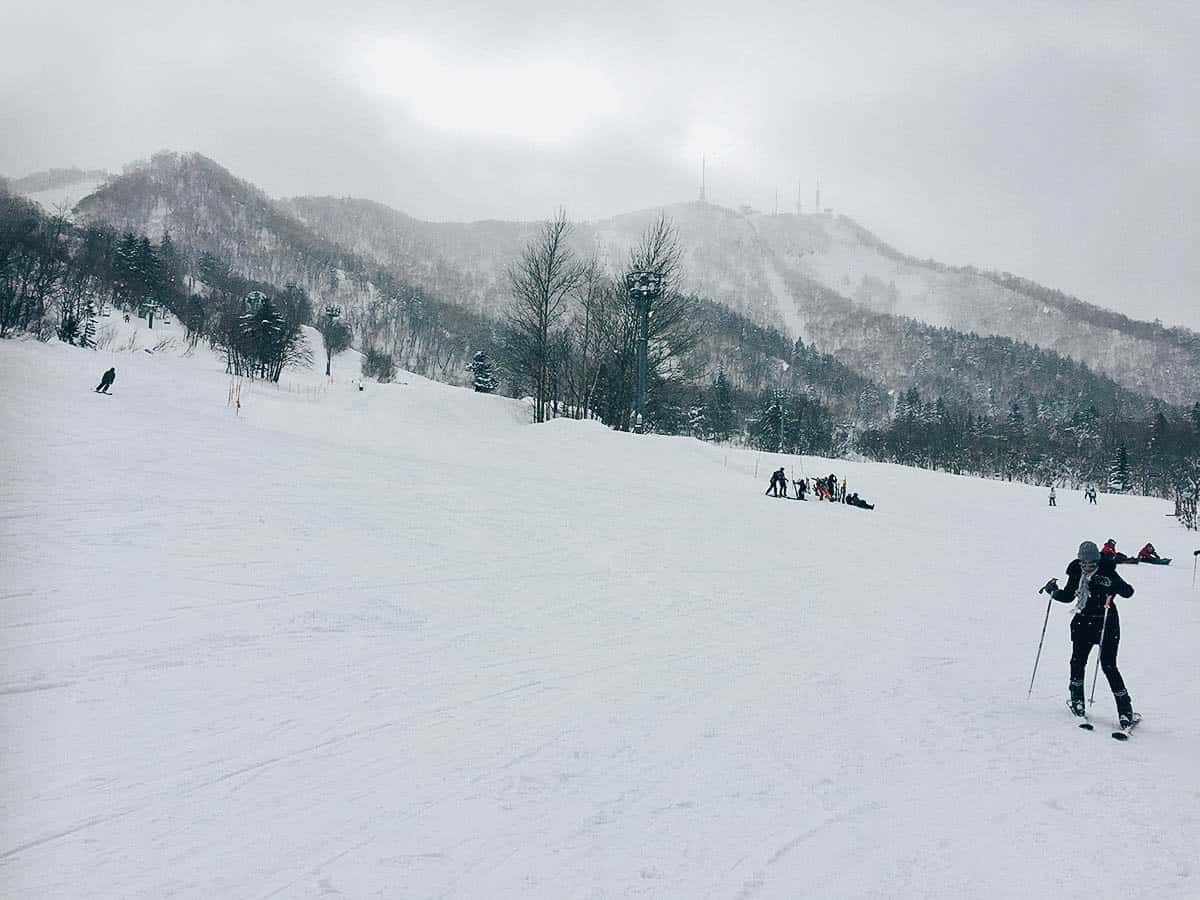 Ever since I watched the Hokkaido episode of No Reservations, I've come to associate skiing with soba noodles. Sadly, they didn't offer soba noodles at this lodge but they did have these super tasty bowls of gyudon and miso soup which I demolished with a vengeance. 😈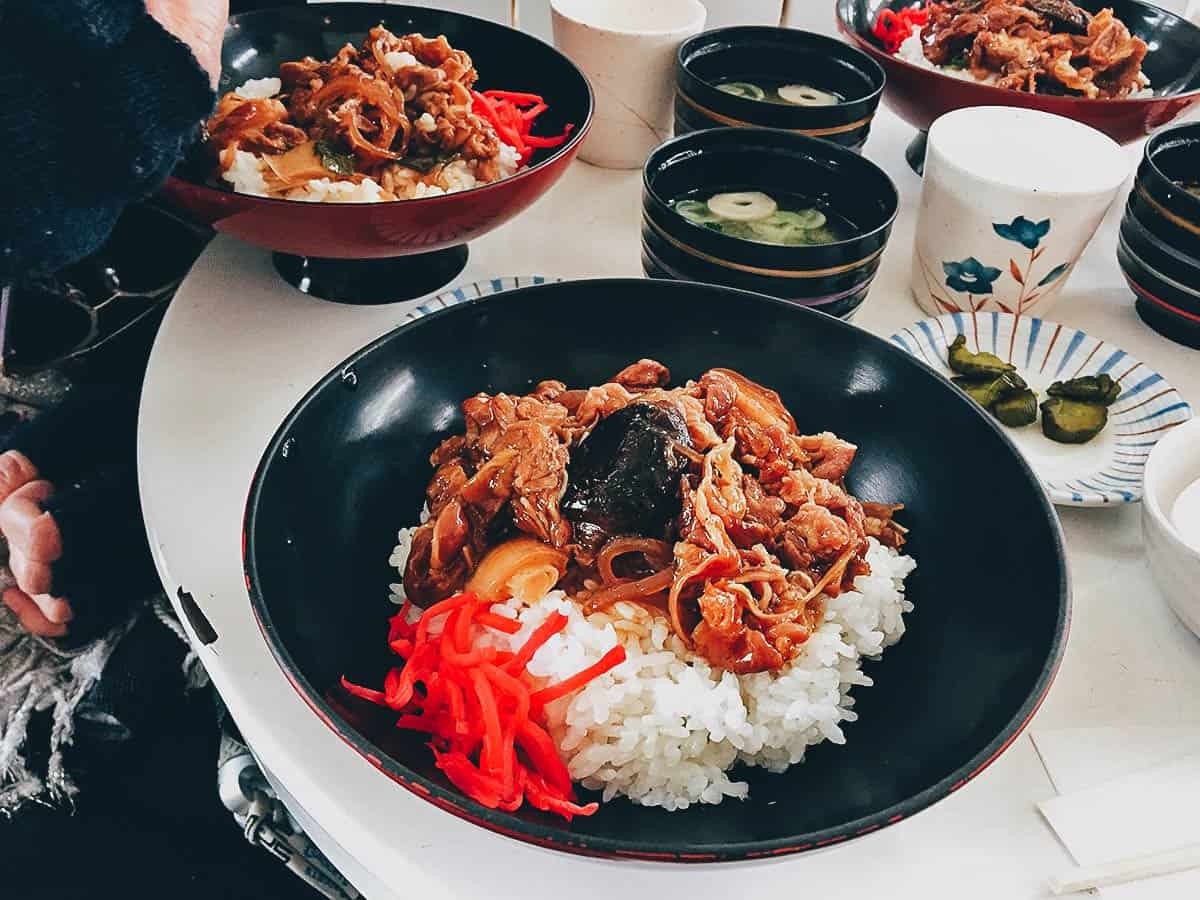 Ok, you done eating? Let's go! 😀 You like Ren's shades by the way? She looks cooh right? Sunglass Warehouse was kind enough to send us sunglasses with cord straps so they wouldn't fall off while skiing, and they didn't! I'll write a dedicated post about the sunglasses soon, but for now, you can follow this link to buy shades from Sunglass Warehouse.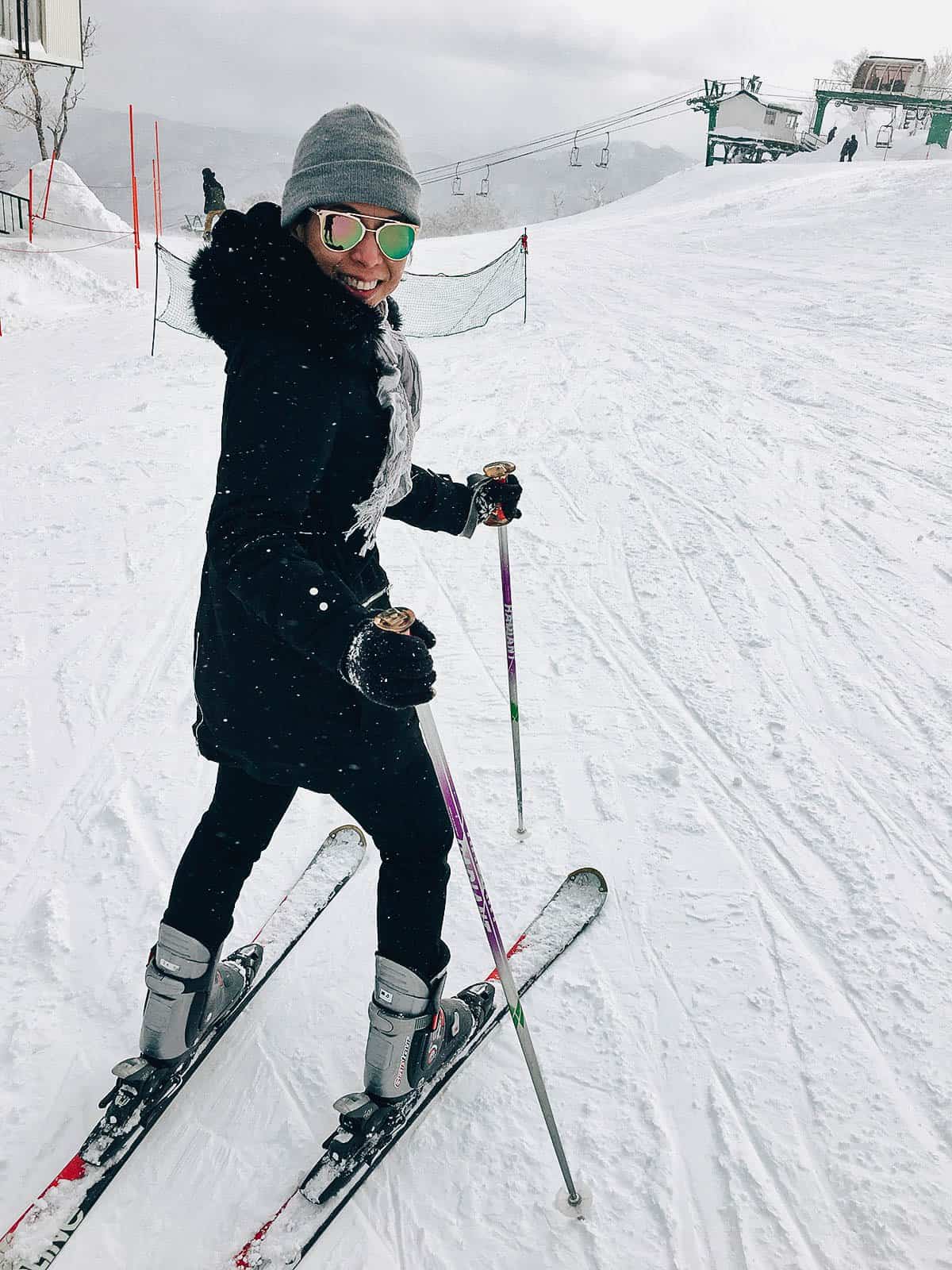 This bigger, enclosed gondola takes you from Olympia back to Highland Zone.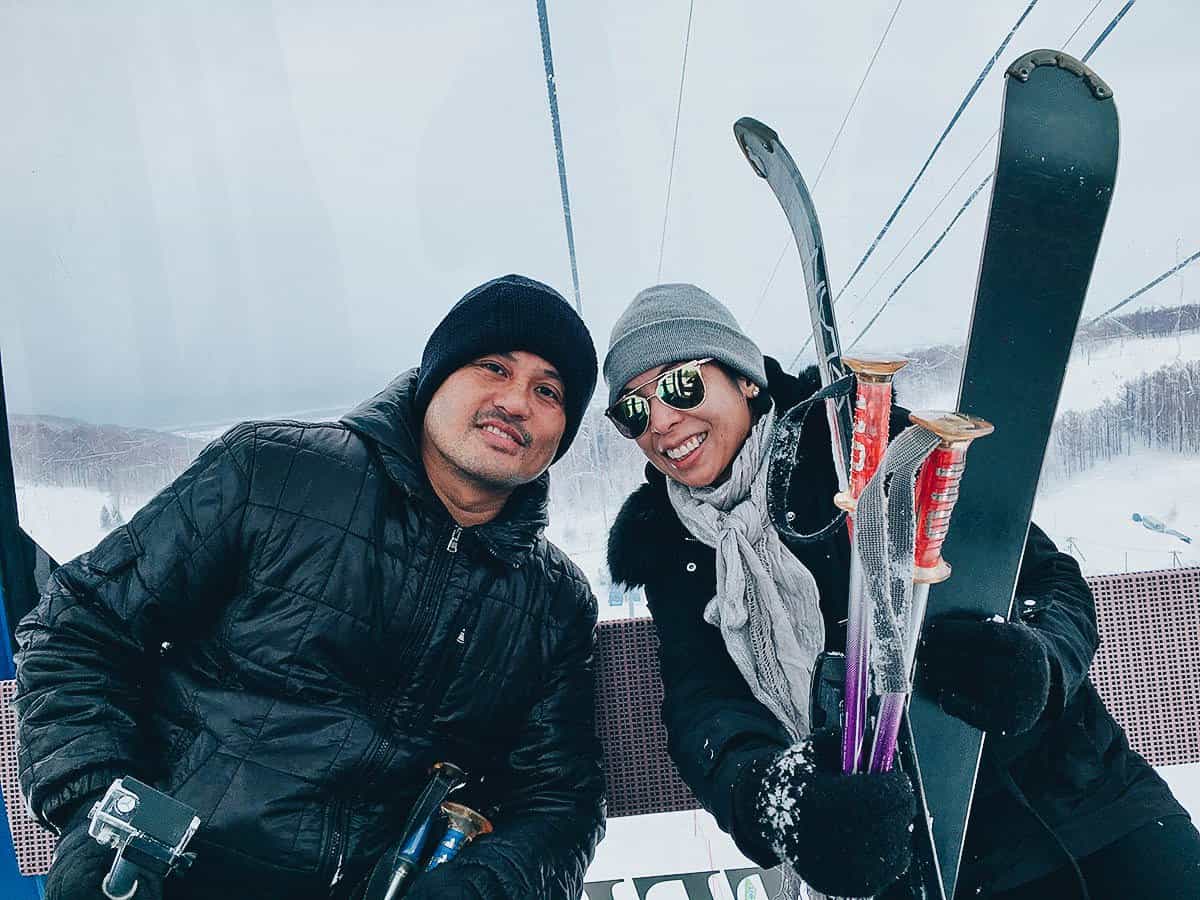 There's me photobombing Brooke's selfie.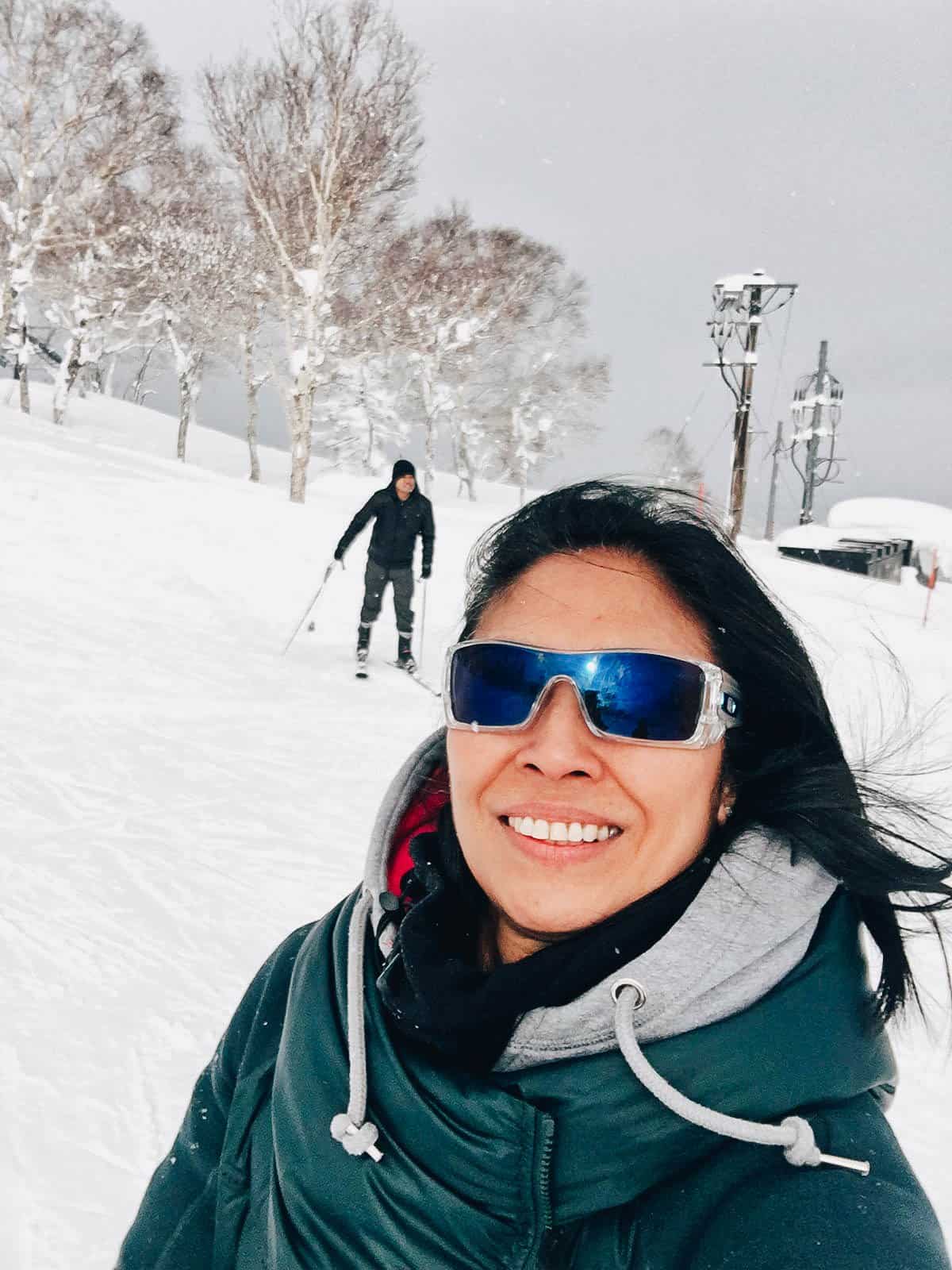 You'll see plenty of people here, mostly kids, learning how to ski. If you've never skied before, then you can take ski lessons through the resort.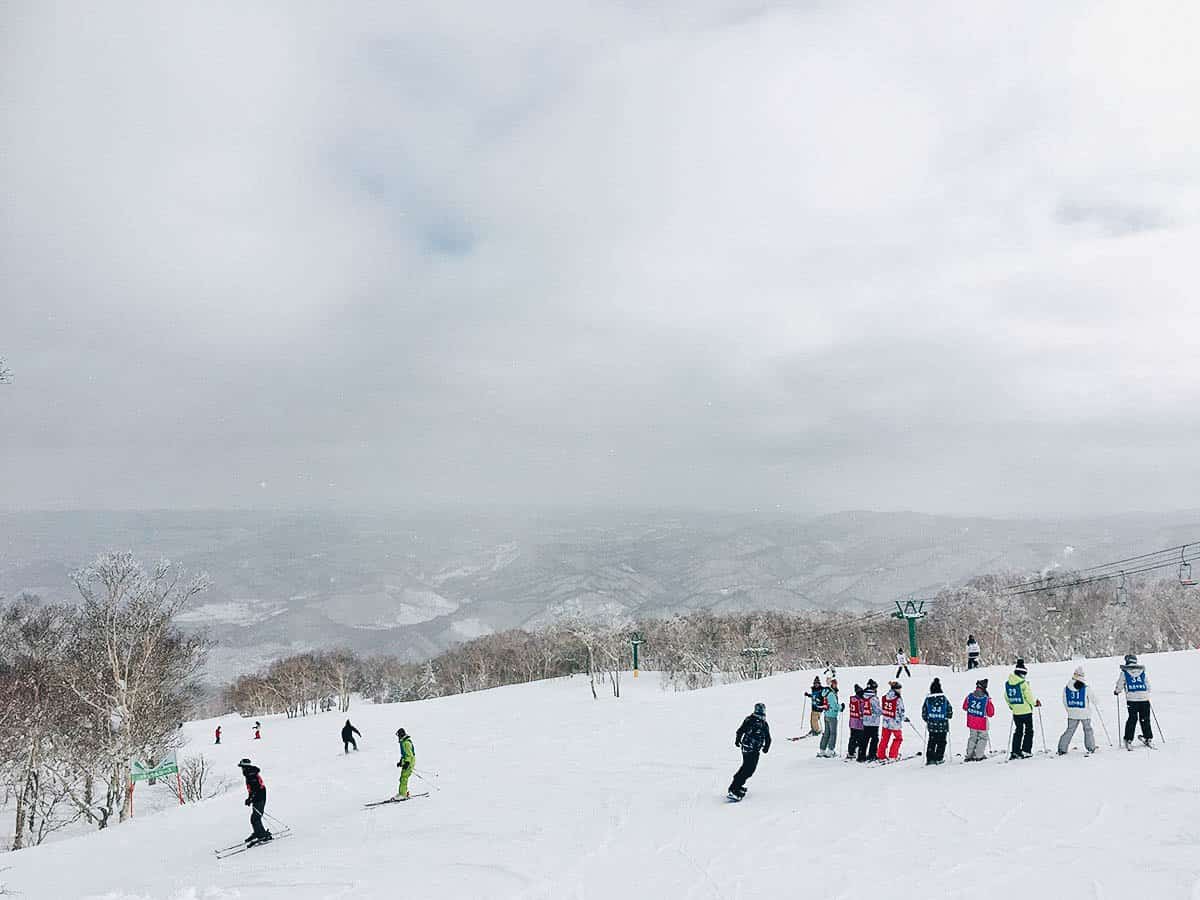 Ren and Brooke weaving their way down the mountain.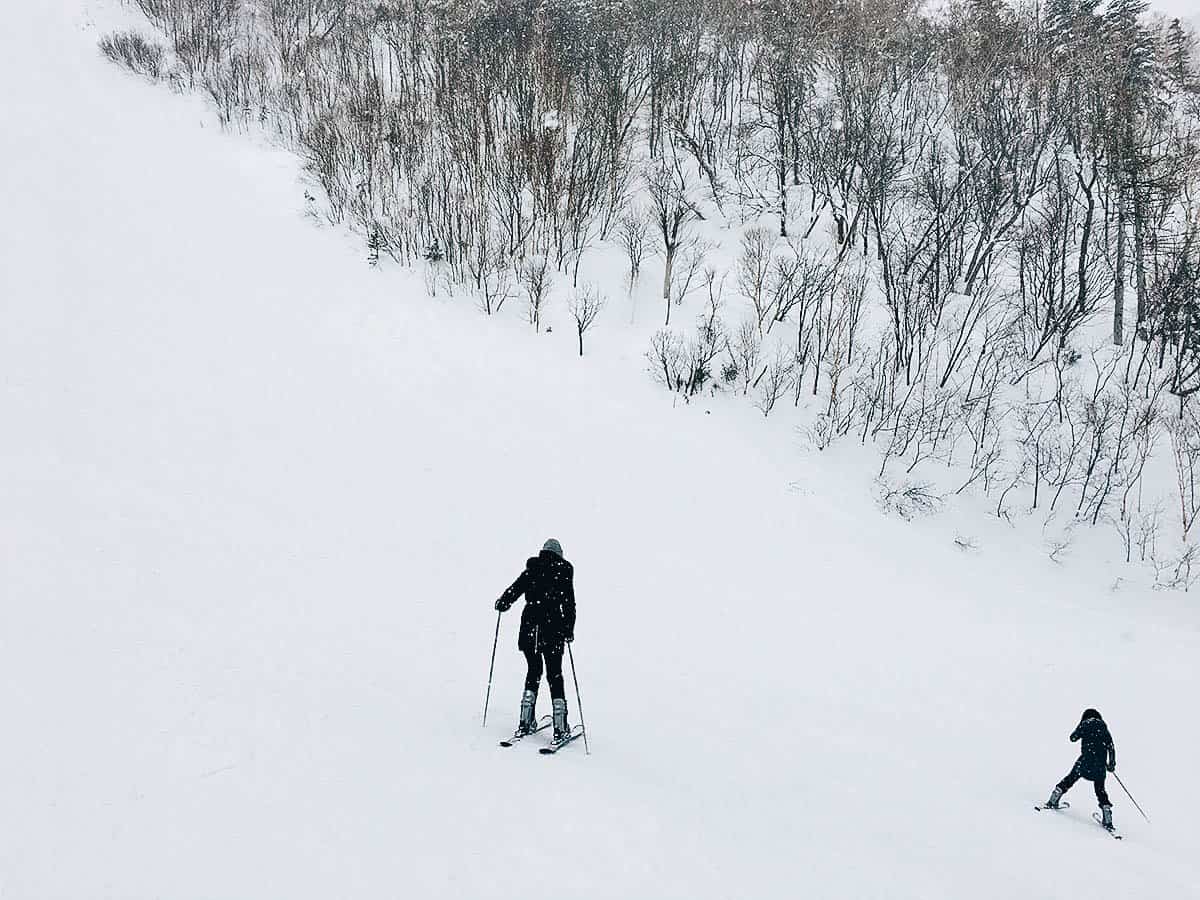 By the time we made it back down, we still had about half an hour left on our 4-hour lift ticket. I wanted to make one last run so I went back up while Ren and Brooke waited for me at the lodge. I went to school in New England so I did a bit of skiing in my teens. I was never an expert-level skier but I was good enough to get down black lines and weave through moguls without falling (too much). I wanted to see if I could still do it. 😉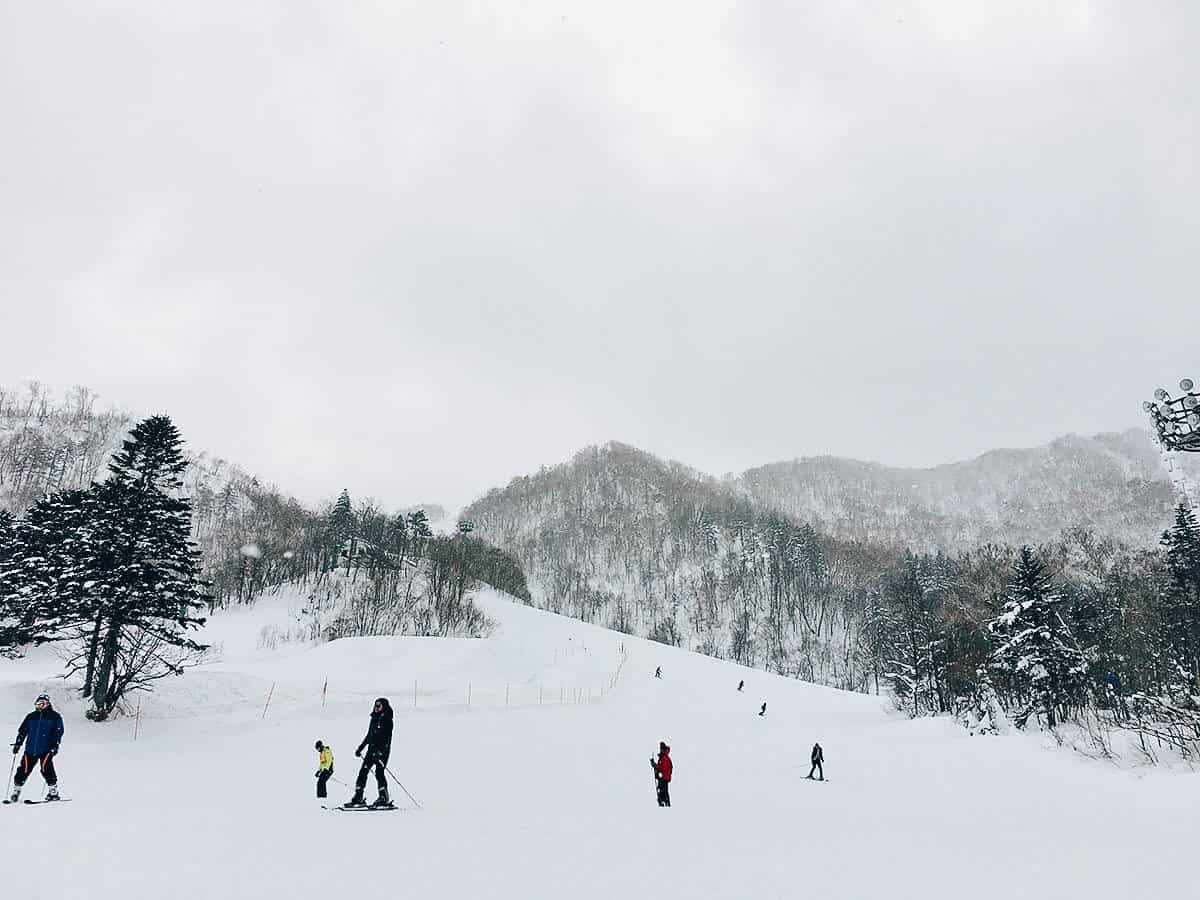 With a stunning view of Sapporo City before me, here I was standing at the precipice of this black line. You can't see the slope because it's a sharp drop after the edge. There was no other way out from here but down that steep slope. What the hell did I just get myself into? 😆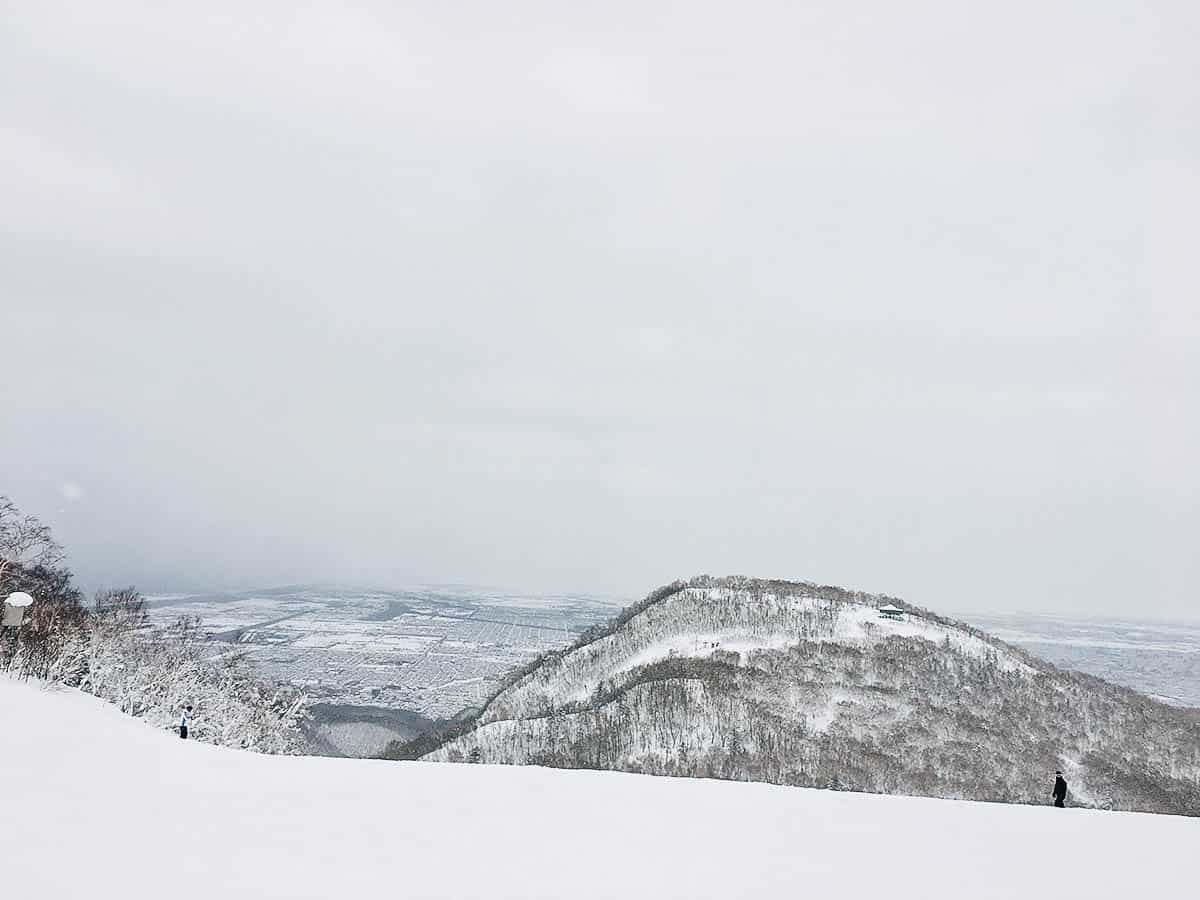 Let's do this! Banzaiii!!! 😈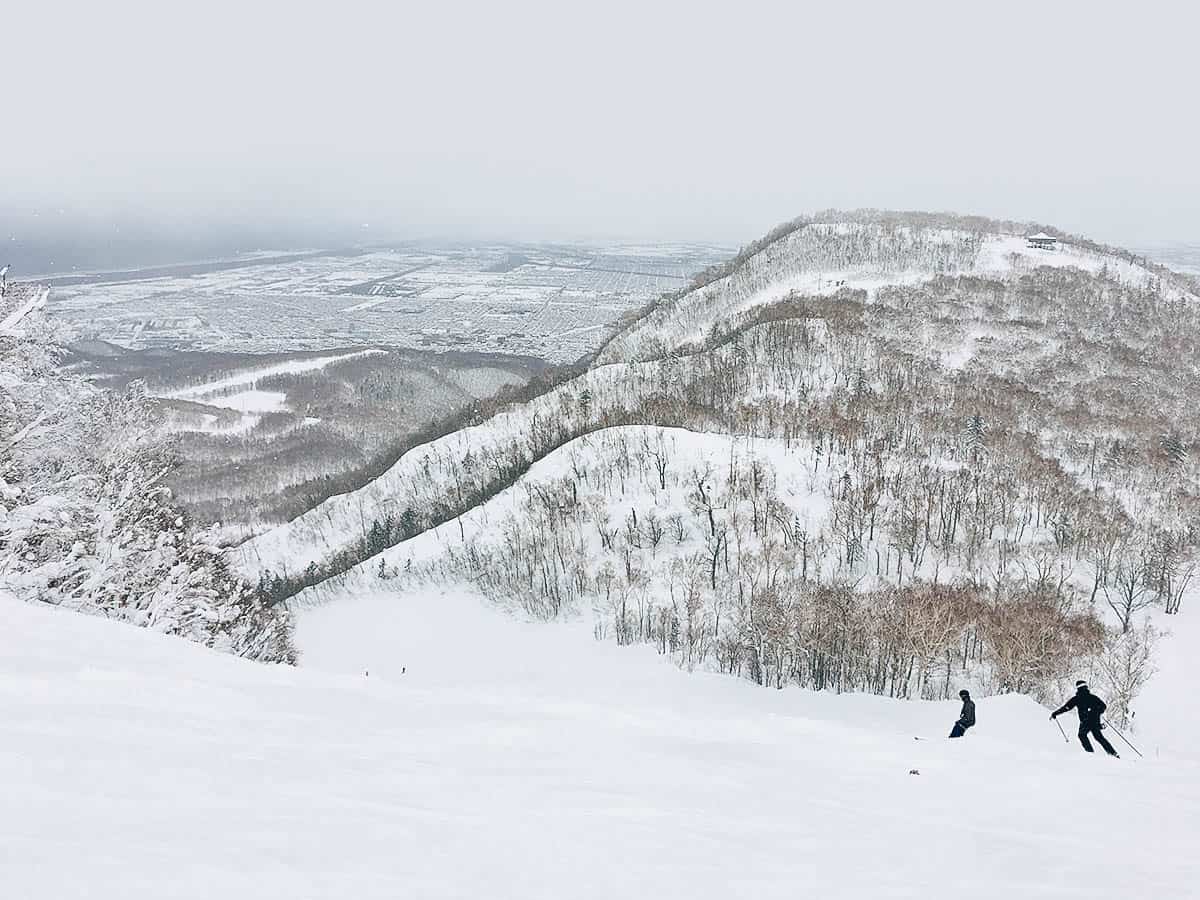 I survived! 😆 There's the slope I just skied down from. Unlike the green lines that were all powder, this one had patches of ice that made it even faster. It wasn't as much fun to ski on but it was exhilarating. Despite not having skied for almost twenty years, I managed to make it down while falling just once. It just goes to show that skiing really is like riding a bike – you never forget.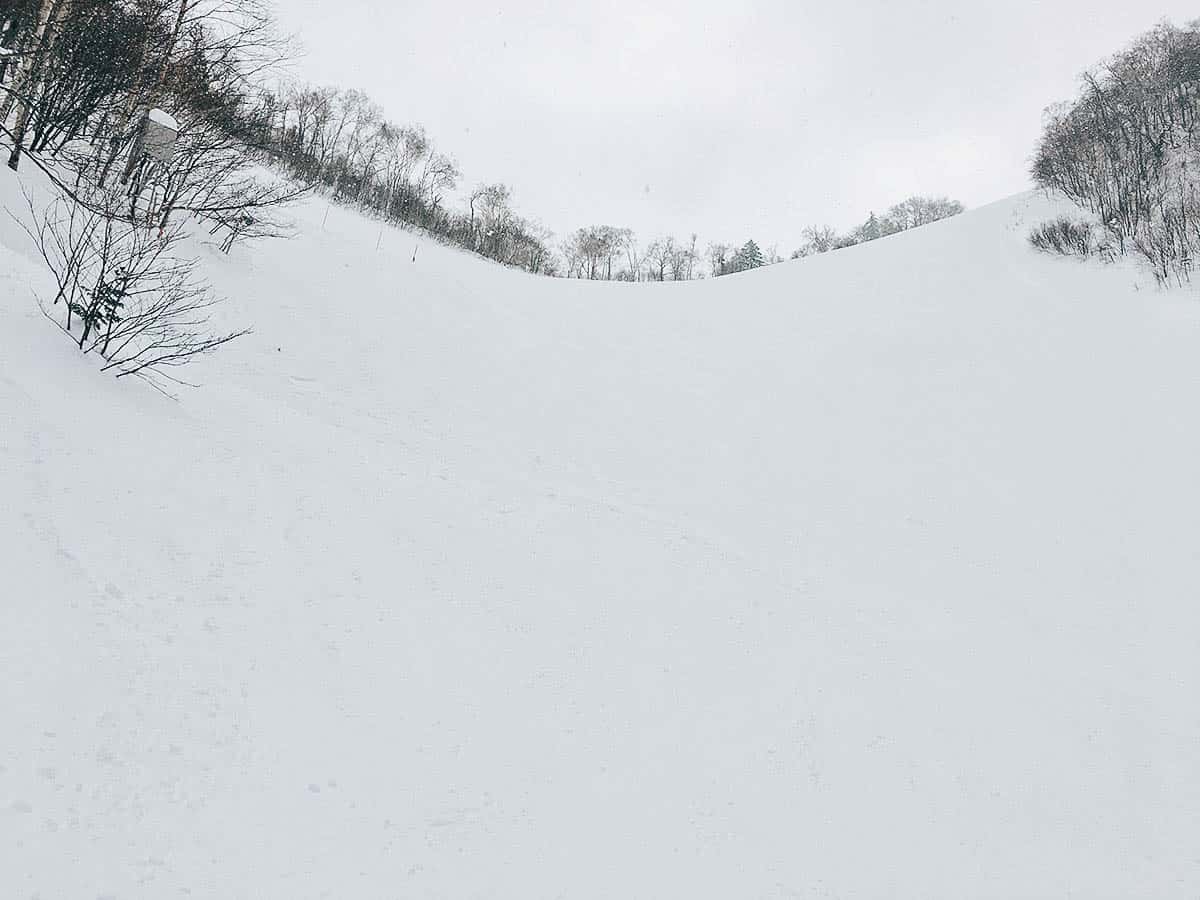 Taking one last selfie before calling it a day. Thank you God for keeping us safe and giving us this amazing day! ♥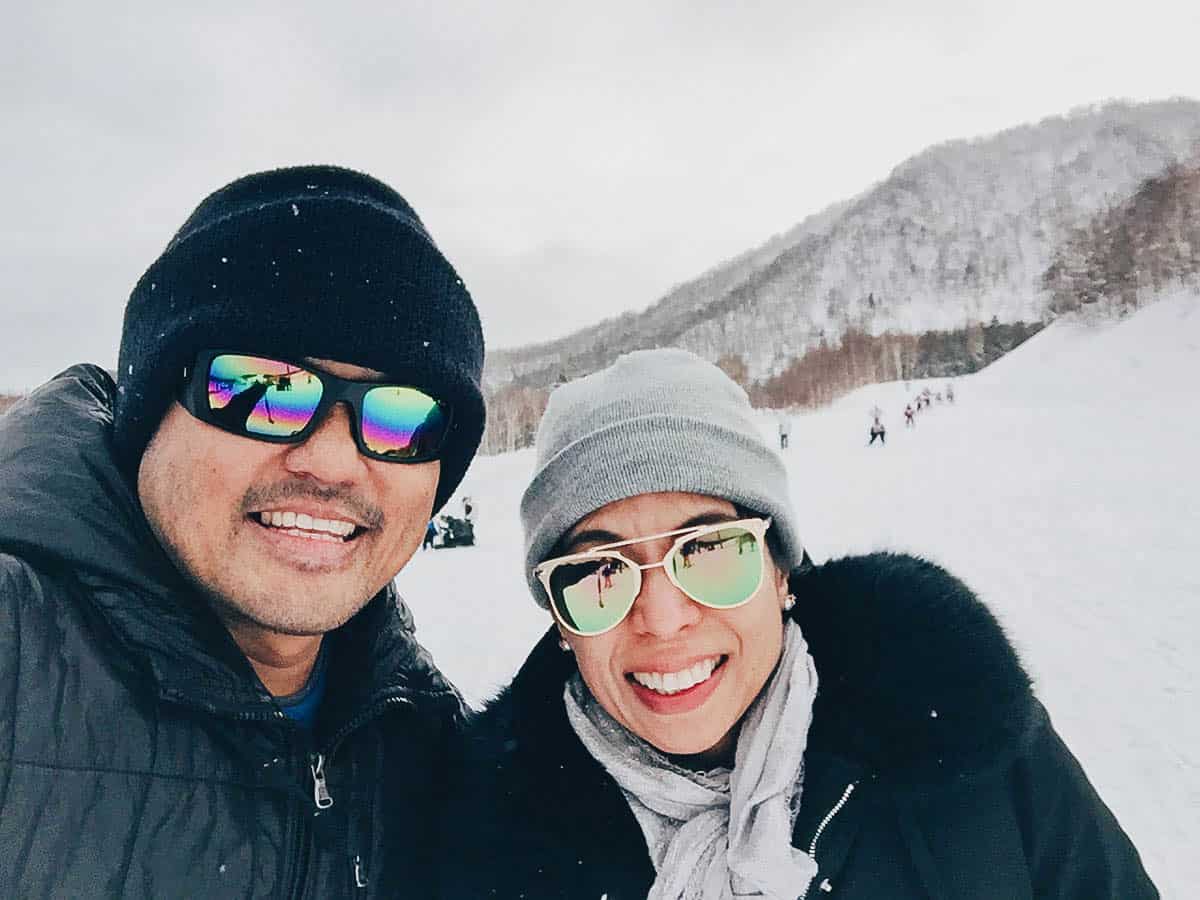 As described, Niseko is the premier ski resort in Hokkaido. But if you're not a hardcore skier, then Teine will do just fine. It's less than an hour away from Sapporo making it an ideal choice for a day skiing trip from the city. It isn't the biggest ski resort but it's got a good variety of black (advanced), red (intermediate), and green (beginner) lines for all skill levels.
Highland Zone is open from 9AM to 5PM while Olympia Zone offers night skiing until 9PM. A whole day lift pass goes for JPY 5,200 for adults. There are also 6-hour and 4-hour passes for JPY 4,200 and 3,800 respectively. We went with the 4-hour pass which felt a little short in hindsight. Riding the lifts eats up time so if you don't want to get a full day pass, then a 6-hour pass is better. Those 2 extra hours will make a difference.
It's funny, back when I used to ski almost 20 years ago, a lift ticket came in the form of a sticker on a wire which you'd hang from your ski jacket. Now it's a card which you scan through turnstiles every time you ride a lift. How times have changed! 😯
Whether you're a skier or a snowboarder, you can rent all your equipment from the resort. A set of skis, boots, and poles can be rented for JPY 5,200 for the whole day and JPY 4,900 for 4 hours. It costs the same to rent a snowboard set. If you don't have proper ski wear, then you can rent a complete outerwear set with jacket, pants, gloves, hat, and goggles for JPY 4,000 and 3,700 respectively. You can check the Teine website for a complete list of lift rates and equipment rental rates.
As for Hokkaido's snow being the best in the world, I haven't skied enough to really know but it was pretty damn awesome. I'm definitely not waiting another 20 years to do it again. 🙂
Sapporo Teine, Sapporo, Japan
172 Teine-kanayama Teine-ku Sapporo Hokkaido 006-0049 Japan
Tel: +81 11-682-6000
Fax: +81 11-682-8942
Website: sapporo-teine.com
Facebook: sapporo.teine
Email: [email protected]
OPERATING HOURS:
Highland Zone: Mon-Sun, 9AM-5PM
Olympia Zone: Mon-Sun, 9AM-9PM (4-9PM, night skiing)
HOW TO GET THERE:
From Sapporo, take a JR train to Teine station. Once there, you'll see a sign leading you to the bus stop just outside the station. Take the No. 70 bus bound for Teine Highlands and get off at the resort. The whole trip takes less than an hour and costs around JPY 650 each way.
Disclosure
Sunglass Warehouse sent us two pairs of shades with cord straps to use for this skiing trip. Their links in this post are affiliate links, meaning we'll get a small commission if you make a purchase at NO extra cost to you. We really appreciate your support as this helps us keep this website going. Thank you!
For more travel tips to Sapporo in winter, check out our Sapporo Winter Travel Guide.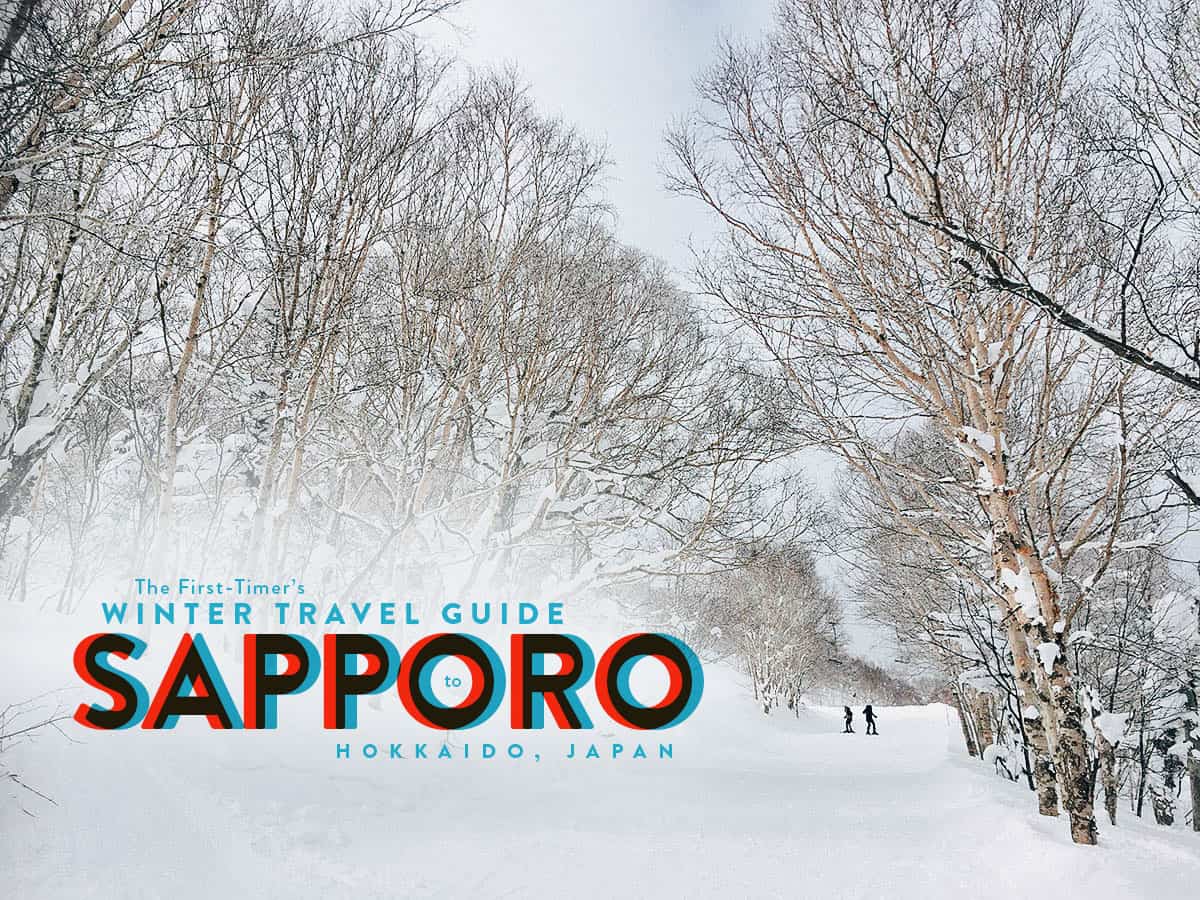 Saturday 15th of February 2020
Hi! I am planning to go to Sapporo Teine early March 2020 and i would like to spend the whole day there. However i have doubts about the wear rental as this is my first time to ski. I have 2 question to ask.
1. Does it compulsory to rent all the equipment such as beanie, gloves, cloth and goggle if I have none?
2. But if I have all the equipment and i bring it from home, is there any additional charges that I need to pay?
Thankyou and have a nice day :)
Monday 17th of February 2020
Hi Izzul, to answer your questions:
1. No, we only rented skis and poles. 2. No, I don't think so.
Hope that helps and enjoy Japow! :)
Wednesday 25th of December 2019
Hi! My friends and I plan to visit Sapporo on Feb2020 and we all haven't skied before. Would you still recommend Tiene Ski Resort for us? :)
Friday 27th of December 2019
Hi Pam, yes I would! You can take ski lessons there. They have a bunny slope where you can practice. If you get confident enough, then there's a beautiful loooong green line that you can ski on from the top all the way to the bottom. It's really gorgeous and even somewhat flat in parts. Have an awesome time in Sapporo! :)
Tuesday 12th of February 2019
Thanks for sharing. Mind if I ask, how did you get back to Teine station from Teine Highlands? I checked the schedule of bus No. 70 and it looks like the last bus is at 16:10, which makes it quite impossible to take the 6-hour pass at the resort. Thank you.
Wednesday 13th of February 2019
Hi Shah, we took the bus. You need to ski down to Teine Olympia. The las bus from there leaves at 21:10. Please check this link for a timetable.
Monday 11th of February 2019
Good day! your article is so helpful! my friends and I will be going to Sapporo to ski for the first time. (that means first time also to see actual snow ) I was wondering if the resort allows first time skiiers to use the slopes without availing their crash course? i checked the prices of the basic course and its too expensive. thanks
Monday 11th of February 2019
Hi Tisha, yes they do. You don't have to be an experienced skier to ride the lifts. Best to stick to the green lines though as going down more advanced runs without any experience can be dangerous. Hope that helps and have an awesome time in Sapporo! :)
Thank you for that info. Your blog is so fun and informative. It helped me a lot when I was planning for our first trip to Japan (Osaka & Kyoto guides) last year. We'll be back in November since we loved and enjoyed Japan so much, this time with a side trip to Seoul. Keep up the good work guys! Now, let me check out your Ultimate Seoul Guide...!
Thanks for the kind words Liz! We're really happy you found the guides useful. We completely understand how you feel about Japan. We feel the same way too. Have an awesome time in Japan and Korea! :D